These DIY paper Christmas decorations are a great way to kick off the holiday crafting season. Planning your holiday decorations is one of the few times when you can let your imagination run wild. Some of these projects are perfect to make with anyone young at heart, while others crave an experienced crafter's attention. Wherever you are in your crafting journey, there are ideas in the list below waiting for you to bring them to life.
The Top 23 DIY Paper Christmas Decorations for Anyone Who Loves to Create

Compared to other crafting materials, paper might seem humble. However, paper offers a malleable nature, a relatively inexpensive price, a myriad of colors, a wide range of weights, and nearly endless possibilities. Before jumping into these craft ideas, you will get to figure out what type of paper is best suited to your home, your crafting style, and your project. Is elaborately patterned scrapbook paper right for your aesthetic, or do you prefer the crisp straightforward charm of white paper? A benefit to using white paper is that you can embellish it with watercolors, finger paints, or stamps before assembling your craft. Different projects are suited to different weights, and choosing between cardstock and construction paper can radically transform a decoration's look and feel.
The two easiest techniques to transform paper are cutting and folding. Everyone has different preferences and equipment. Paper cutting can be done either via scissors, a crafting knife, or a cutting machine. While cutting machines erase monotonous hours of paper clipping, they facilitate incredible precision and an unprecedented level of detail. However, not everyone has access to one of these devices. Luckily, scissors and crafting knives make many of these projects doable. If cutting paper does not sound like your style, you might enjoy folding crafts more. Although they might seem more complicated at first, your hands are capable of folding some absolutely stunning holiday décor. Whichever ideas below resonate with you, there are usually ways to modify them to your preferred crafting methods.
1. Embroidery Hoop Village with Paper Pine Needles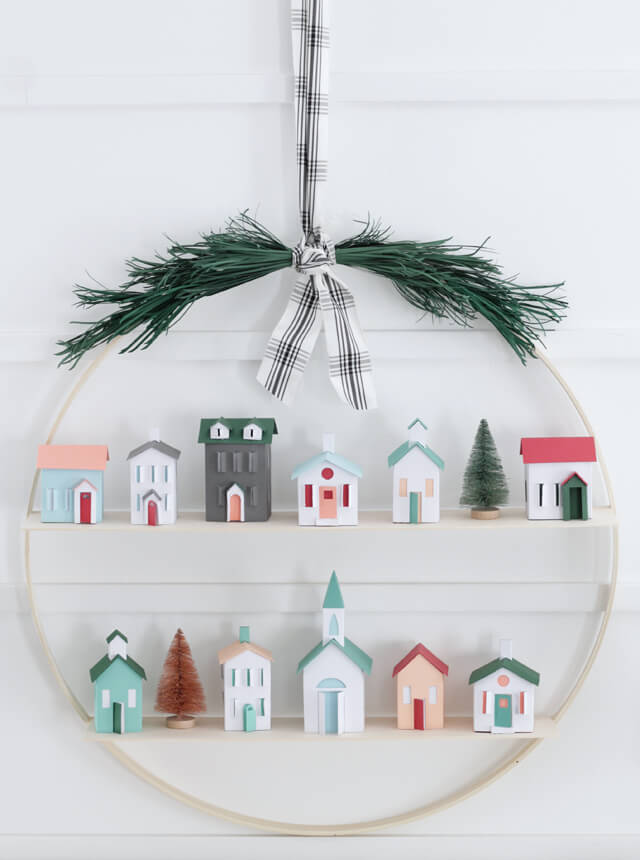 Framed by a 32-inch embroidery hoop, this Christmas village gives off cozy Scandinavian vibes. Beyond the unfinished wood, the unconventional addition of aqua to the color scheme achieves this effect. For a farmhouse-style village, imagine white buildings, brown roofs, and green accents. To give your village a fanciful Christmas feel, choose paper patterned in plaid or peppermint. Apply candy stickers to brown buildings to transform this village from a Scandinavian hamlet into a gingerbread house settlement. Whether you choose to restrict yourself to traditional village colors or not, this project is made possible with a cutting machine. If you do not have access to a cutting machine, try making house silhouettes instead of these three-dimensional buildings. A cascade of paper pine needles provides a focus as well as a healthy helping of Christmas spirit. To add to the festivity, imagine painting the embroidery hoop.
2. 20-Minute Handmade Paper Christmas Decorations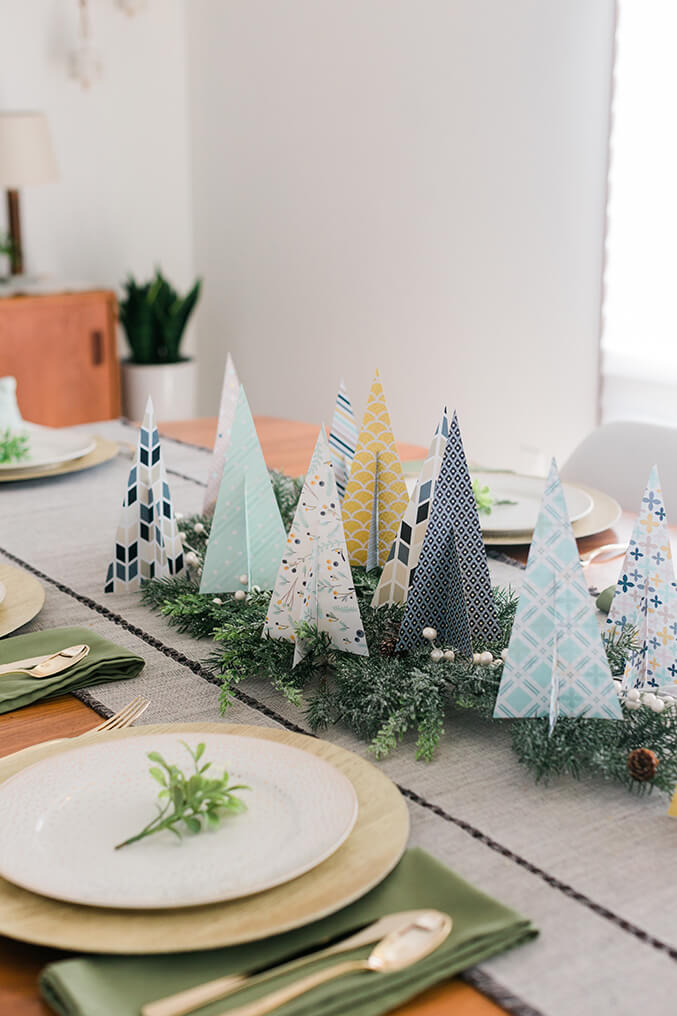 The patterned paper brings this evergreen tree project to life. Choose coordinating paper patterns, and your evergreen forest will provide the perfect amount of energy to any holiday centerpiece. For maximum effect, use double-sided paper with a different pattern on each side. Of course, if you seek a sleekly minimalist effect, choose white cardstock. Whether the paper you select is patterned or plain, how you style your trees will determine the final effect. For a farmhouse effect, imagine buffalo plaid trees with coordinating napkins. To take the rustic vibes up a notch, add pinecones to the greenery and opt for paper with inviting hints of brown. Because this is a fast centerpiece to make, you can rustle up a woodland wonderland customized to any color scheme or dinner party theme. Best of all, at the end of the season, they fold flat for easy storage.
3. Dramatic Paper and Pine Cone Wreath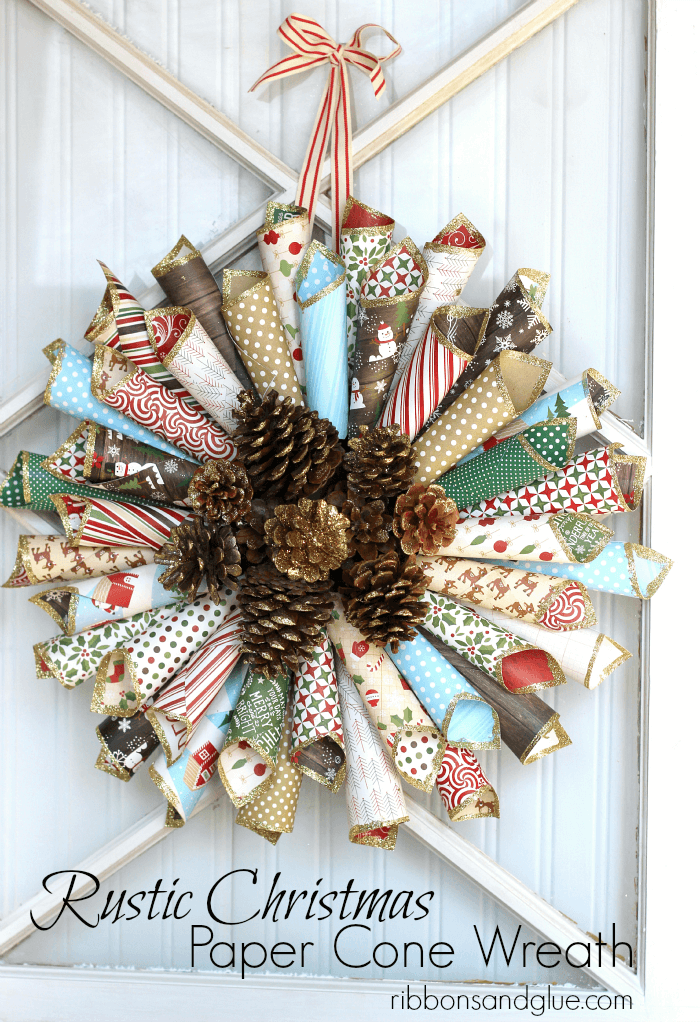 This exhilarating wreath can be as bold or as subtle as you desire. Gold sparkles and lots of loud Christmas-themed paper may give this wreath a big personality, but you could switch it up to suit your style. Choose your favorite coordinating paper, and you can whip up your own wreath bursting with character. To achieve a wreath that exudes rustic chic, experiment with brown craft paper, sheet music, and a dusting of red or green glitter. Give it a white Christmas aura by using white paper, white-painted pinecones, and silver glitter. Alternatively, you could go all-in on Christmas by using peppermint-themed paper and switching out the pine cones for candy canes. One of the reasons this wreath has so much energy is the starburst shape. This shape directs the eye outwards to take in all the other Christmas decorations you have to display.
4. Cute Cut Paper Village Craft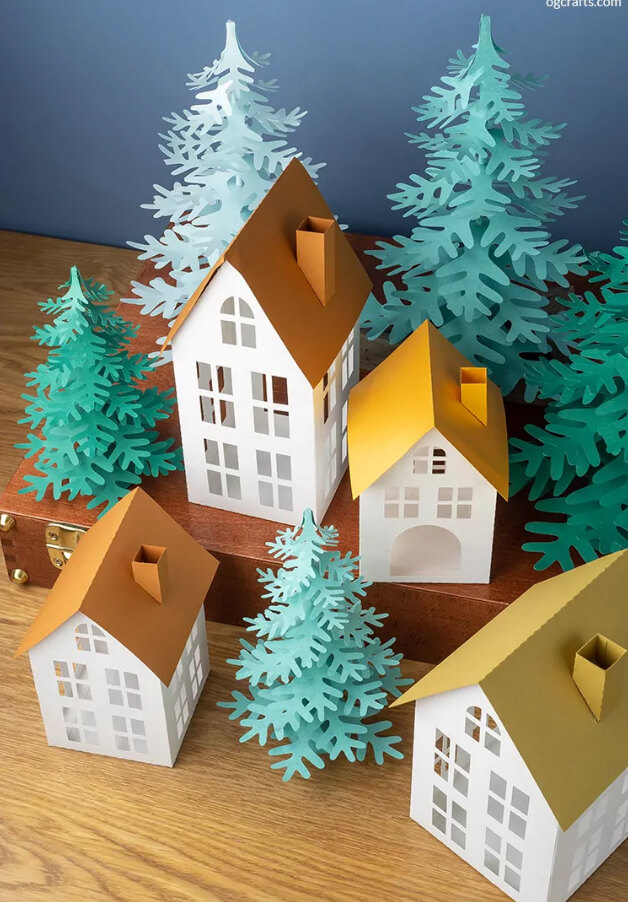 One way to transform a sheet of paper into something magical is simply to cut it. While this tutorial makes use of a cutting machine, you could also use a crafting knife or scissors to create your own tiny village. Although the white and yellow color scheme is reminiscent of whitewashed cottages thatched with straw, you could use any paper color to create your tiny village. Of course, houses are only half the magic – the trees work with the village to create a Christmas scene. Notice that the trees and cottage roofs showcase a variety of hues to give this miniature scene a little dimension. In styling your village, you might also want to incorporate multiple levels as shown in this image. To give your tiny town a functional purpose, place flameless candles inside each building. All the windows make them ideal lanterns.
5. Kid-Friendly DIY Christmas Paper Crafts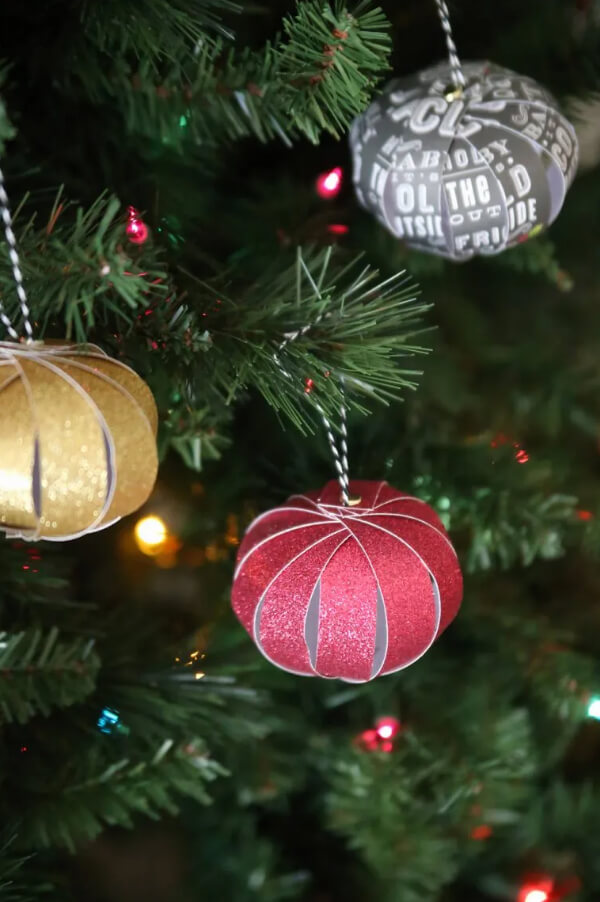 A few sheets of your favorite scrapbooking paper make it possible to craft exquisite ornaments personalized to your tree's décor. This is also a great way to display last year's Christmas cards, repurposed sheet music, or even old calendar pictures. While this craft may be simple enough to create with children, it can be elevated to look sophisticated enough for any home's holiday theme. Glittering scrapbook paper will sparkle in your Christmas lights for an effect that seems at once glamorous and enchanting. To give your Christmas tree an artistic ambiance, use watercolors to paint your cardstock strips before assembling the ornament. If you are not a fan of the plain interior shown in this image, choose double-sided cardstock or paint the paper's underside before assembly. If you choose a glossy metallic paint, the inside will appear to radiate light from within.
6. Easy Rudolph DIY Paper Ornaments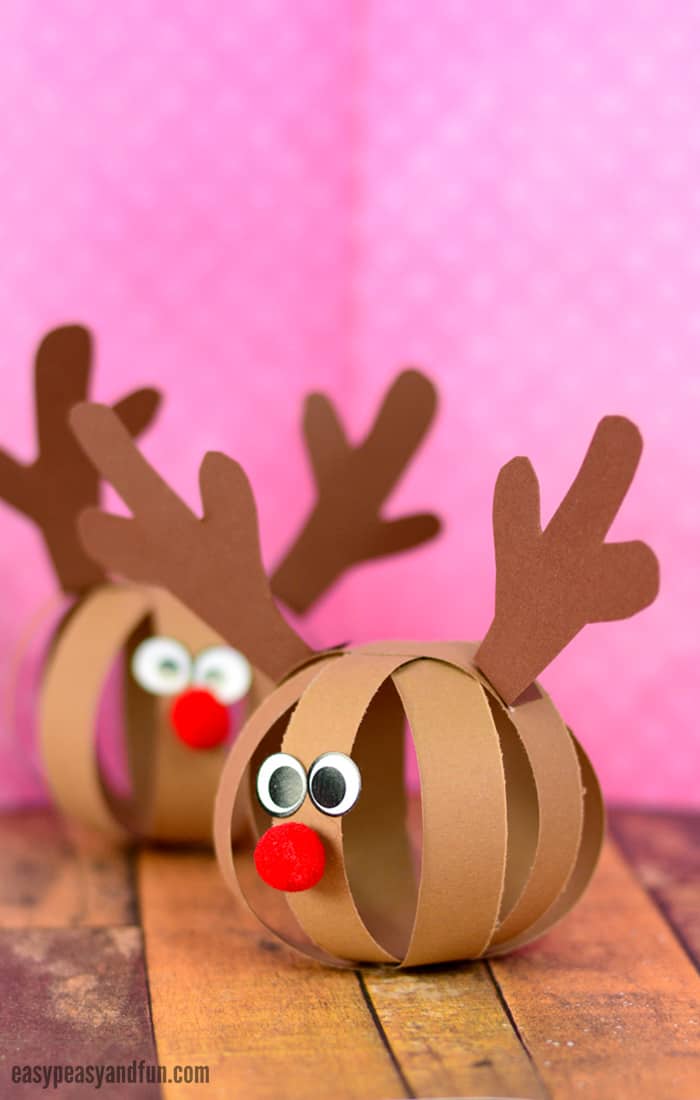 In this tutorial, brown paper strips turn a beloved Christmas carol into a reality. Rudolph decorations are a way to infuse an instant sense of fun into your Christmas ambiance. Each reindeer orb strikes a delightful balance between playful energy and sleek modern décor. To make a herd of frisky Rudolph-style reindeer, follow this image's example of red pom-poms and eye stickers. Using markers to create faces will make this project more kid-friendly. Leaving the facial features off altogether will result in Scandinavian reindeer that emanate unequivocal charm. In contrast, you can give your ornaments a glamorous makeover by adding glitter or sequins to the antlers. However you decide to decorate your herd of paper reindeer, they are an adorable accent to any space. Depending on your setup, you can hang them as ornaments, string them together to make a garland, or display them on flat surfaces.
7. Assembling a Paper Gingerbread House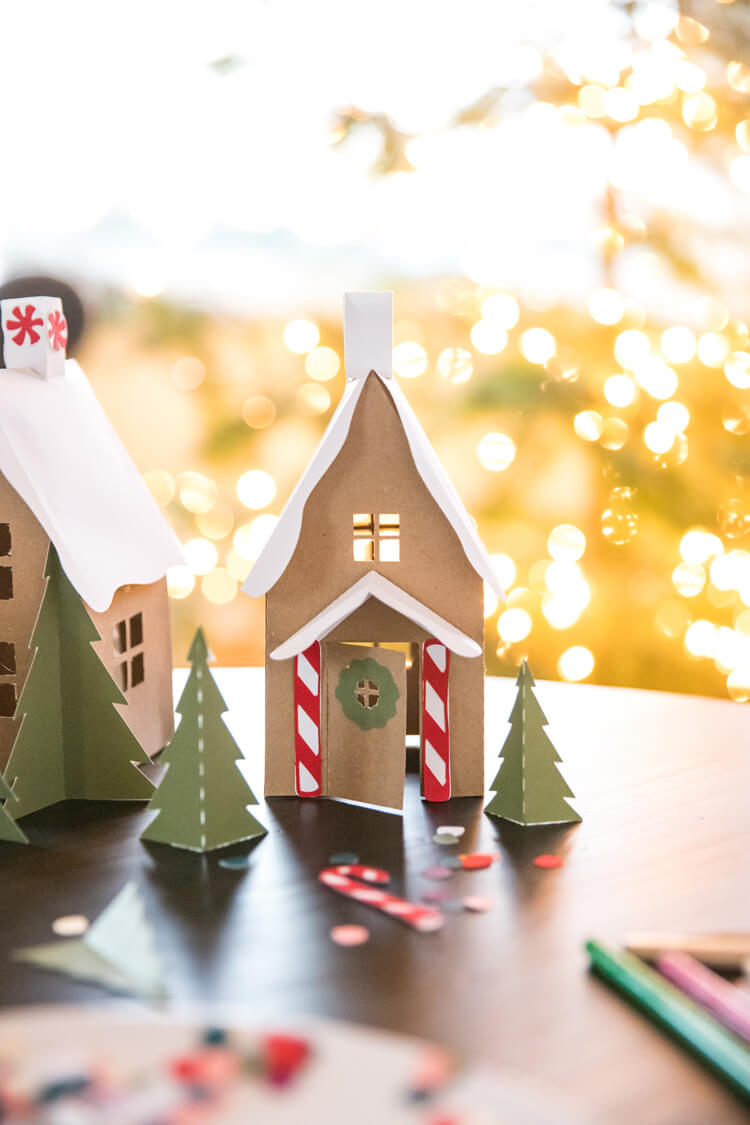 Yes, it is possible to make a gingerbread house without baking acres of gingerbread and messing with sticky candy. While nothing can replace the memories of making an edible gingerbread house, this paper variation is a relaxing way to get into the crafting groove. Like making a candy gingerbread house, this project embraces creativity as you still get to decide where to put which candy. A snow-covered roof, peppermint accents, and foldable pine trees set the mood. Because this project requires a considerable amount of cutting, using a cutting machine will save a great deal of time. One of the beautiful parts of making a paper gingerbread house is that there is no single right way to decorate it. If you want to make these with a group of kids, it might be easier to use candy-themed stickers than to cut and assemble all the candy from paper.
8. Celestial Angels DIY Paper Ornaments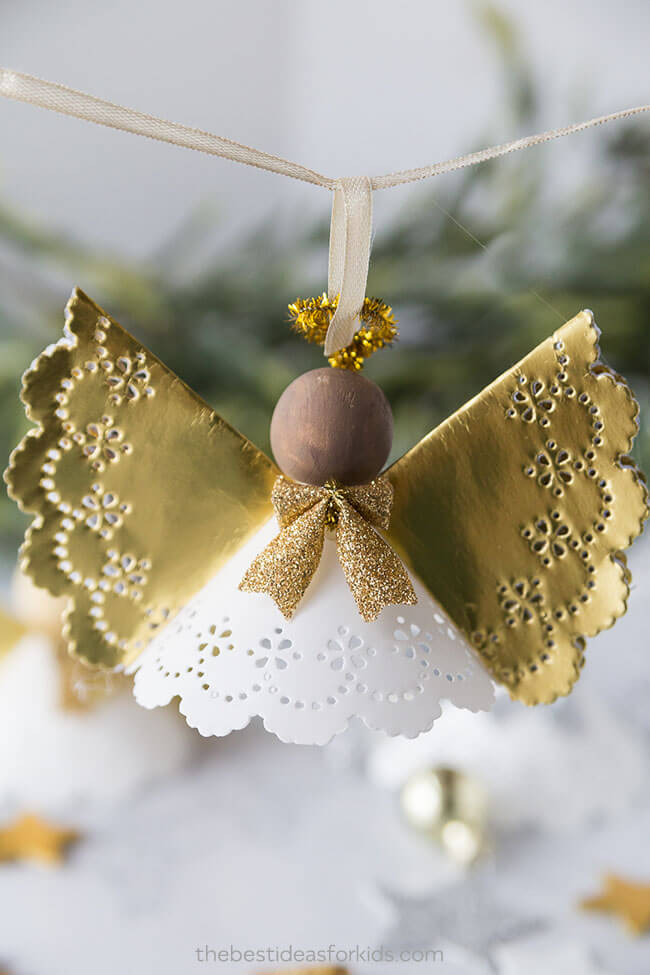 Something magical happens when you use paper doilies to decorate for Christmas. Lustrous gold doilies add an extra sense that this angel is special. Using differing doily colors for the angel's wings and gown creates contrast and helps give this angel an undeniable presence. Feel free to switch out the colors to coordinate with your Christmas theme. While the doilies are integral to this design, small details like the halo and glitter-covered bow are important additions. To give your angels a little more personality, try drawing eyes on the wooden face. One of this project's best features is how versatile it is. Because these angels stand independently, they can be displayed as part of a tabletop scene or on a mantle. Alternatively, you can hang a host of them to create a heavenly garland. These doily angels are also a charming addition to a nativity scene.
9. Paper Star Ornament Adorned with Buttons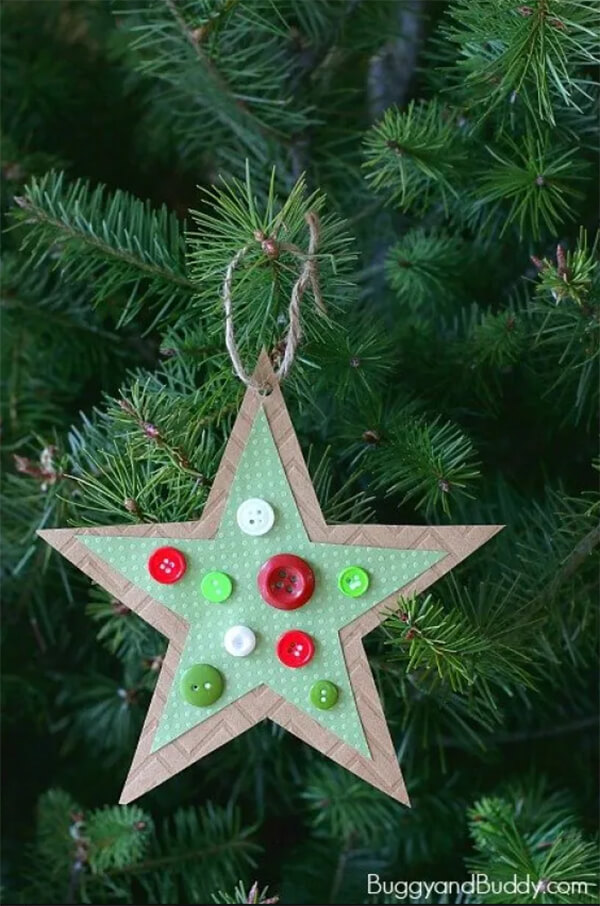 Inspired by Don Freeman's heartwarming tale about Corduroy the bear and his lost button, this ornament is a great project to make with children. Textured brown cardstock acts as an anchor for the patterned green paper and assortment of buttons. For a texture that is both interesting and eco-friendly, try using reclaimed cardboard as your star's background. Like many of these craft ideas, you can choose paper in any color or pattern that matches your Christmas aesthetic. If you are filling a tree with these ornaments, try to include a variety of patterns, textures, and colors. While you could leave the buttons off the two-toned star ornament, they add a charming rustic touch. This image showcases the buttons sprayed in an attractively random way. By arranging the buttons in a pattern, your star ornaments will feel more orderly and structured.
10. DIY Paper Ornaments with Tons of Texture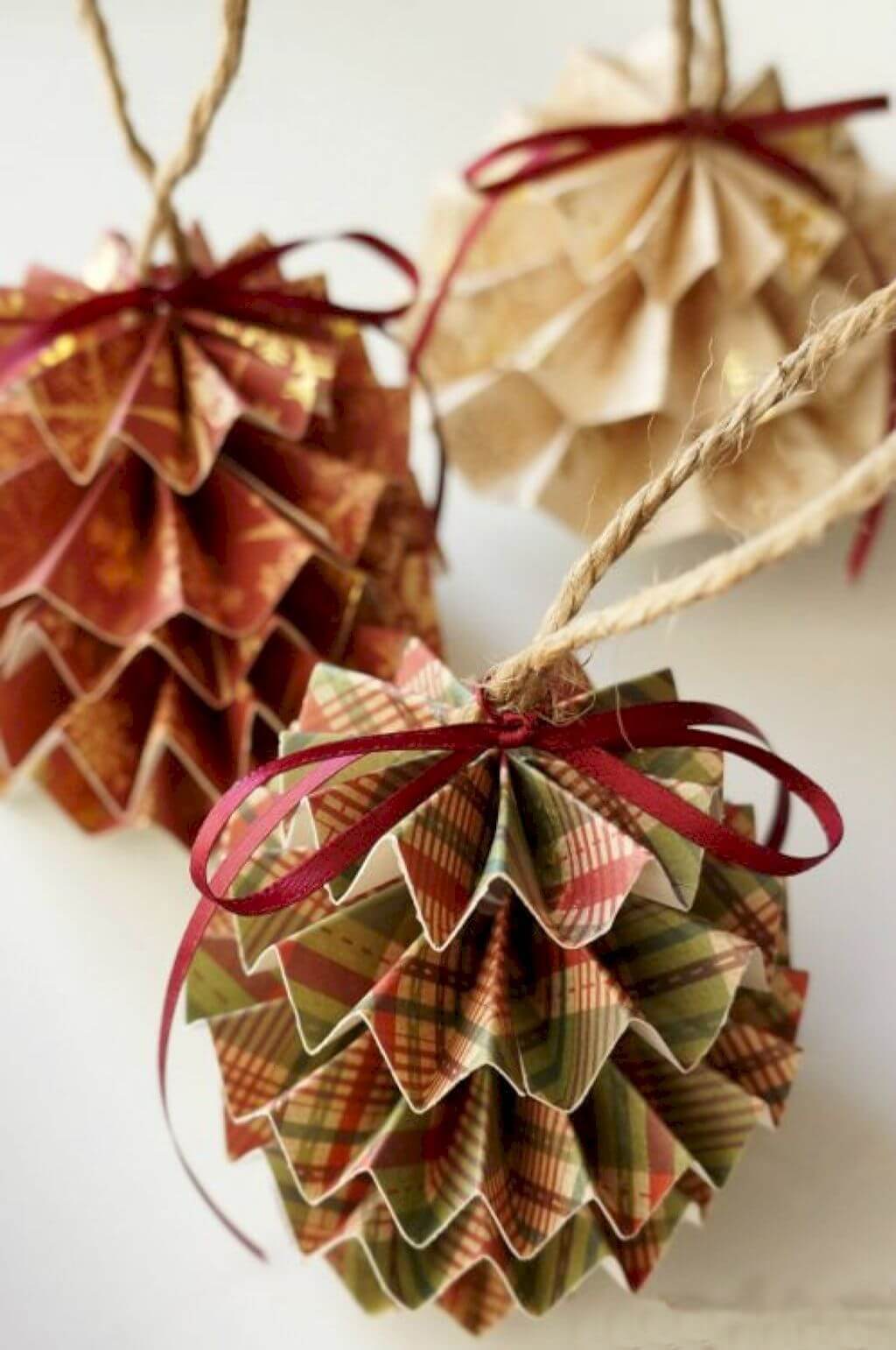 Although this paper project mimics the classic spherical Christmas ornament shape, it offers a great deal more dimension. When hung next to your Christmas tree lights, each accordion fold is an opportunity for an interesting interplay between light and shadow. Although this image shows single-sided scrapbooking paper, you could also use cardstock that offers colors on both sides. Trimmed with a delicate burgundy bow and hung by twine, these ornaments exude rustic charm. Switch out the bows to an embellishment that resonates with your other décor to achieve ornaments that add to your aesthetic. To make these ornaments a feast for the nose as well as the eyes, add a few drops of your favorite essential oil to each. String a few jingling bells on the hanging twine to make these ornaments an auditory treat. Alternatively, forgo these extras for paper ornaments that offer perfection via minimalism.
11. Vibrant Paper Christmas Bulb Advent Calendar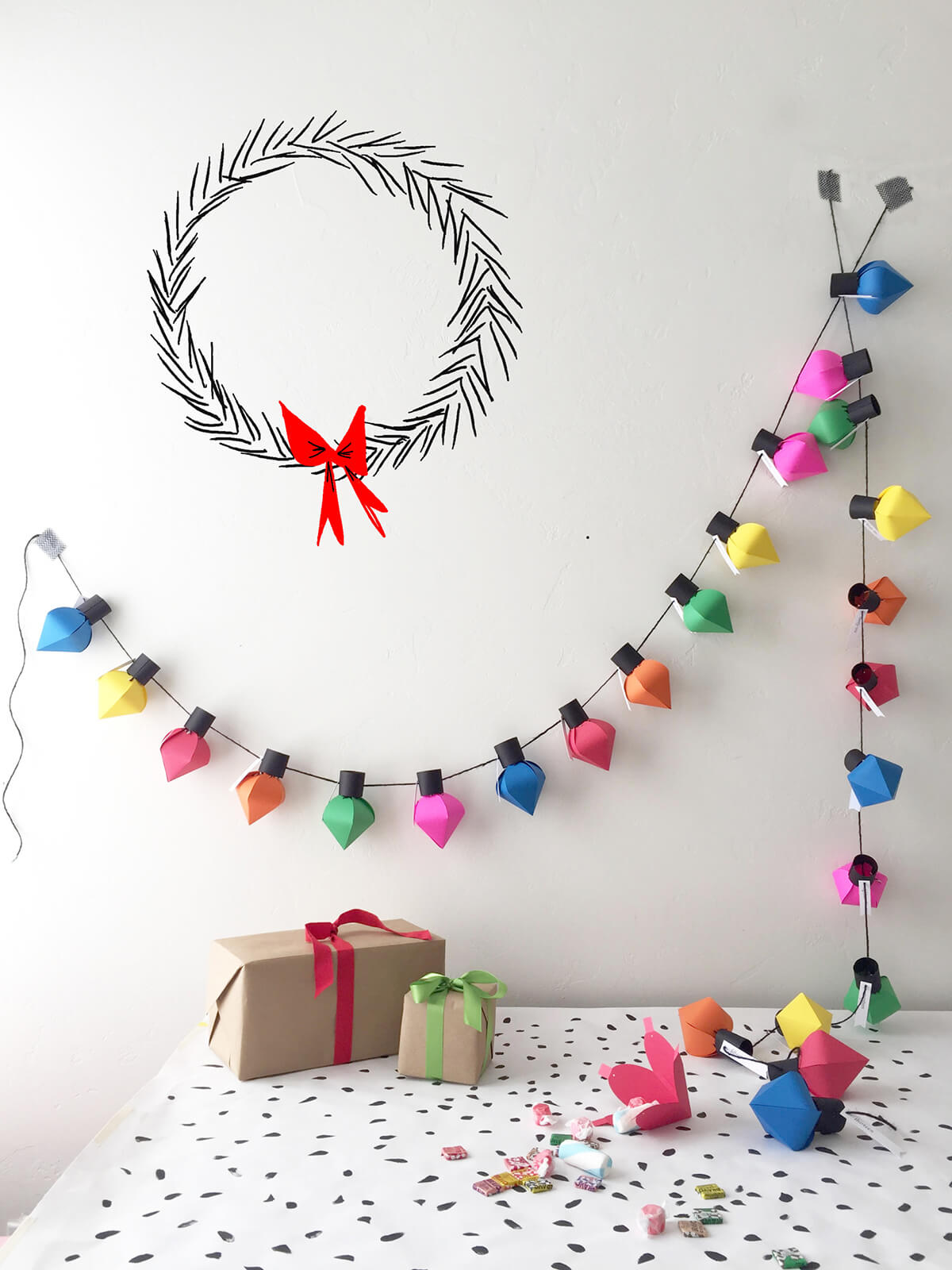 As one of the best DIY paper Christmas decorations for counting down to Christmas, this cheerful advent wreath is both beautiful and functional. After a bit of cutting and tying, you can bask in a Christmas garland that exudes joy. While this image showcases a vivacious variety of colors, you can limit your palette to coordinate with your other Christmas décor. Although paper in solid colors feels effervescent, you can use subtly-patterned scrapbook paper for a more mature effect. To use this garland as an Advent calendar, follow this tutorial's directions and use a small numerical tag next to each bulb. On the inside, each bulb offers plenty of space for a handful of sweet treats. Because the bulbs are paper, these delicacies will need to be lightweight. Of course, if you prefer, you can keep the bulbs intact and use this project as a garland.
12. Three-Dimensional Christmas Tree Craft for Kids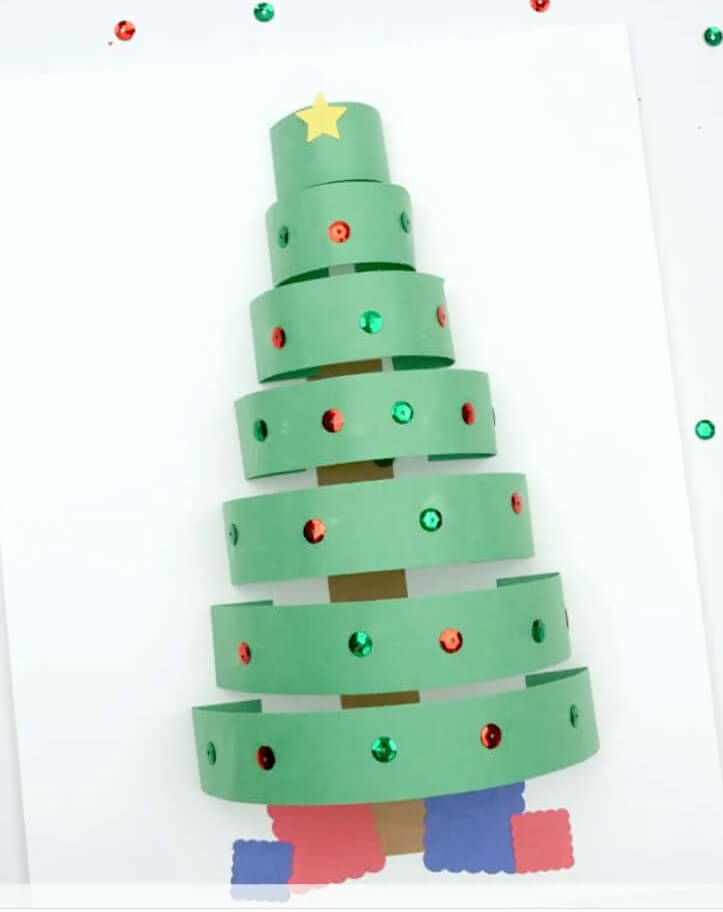 With a little tab folding, you can transform a flat paper-strip Christmas tree craft into something special. Depending on the group you are working with, you can decorate your tree with sequins, stickers, glitter, beads, buttons, or markers. As you can see in this image, red and green sequins are a simple and beautiful way to decorate the trees. The presents at the tree's base are a jolly touch that can easily be customized via ribbon, stickers, or markers. Leave the embellishments off for a minimalist effect. To give this project a little extra presence, give the white paper background a little love. With a subdued nature, watercolors would make the ideal abstract background. If you are working with younger children, consider turning the background into a thumbprint craft. Older kids might enjoy coloring a scene behind the tree with markers, crayons, or colored pencils.
13. Creating Your Own Shaped Ornaments from Paper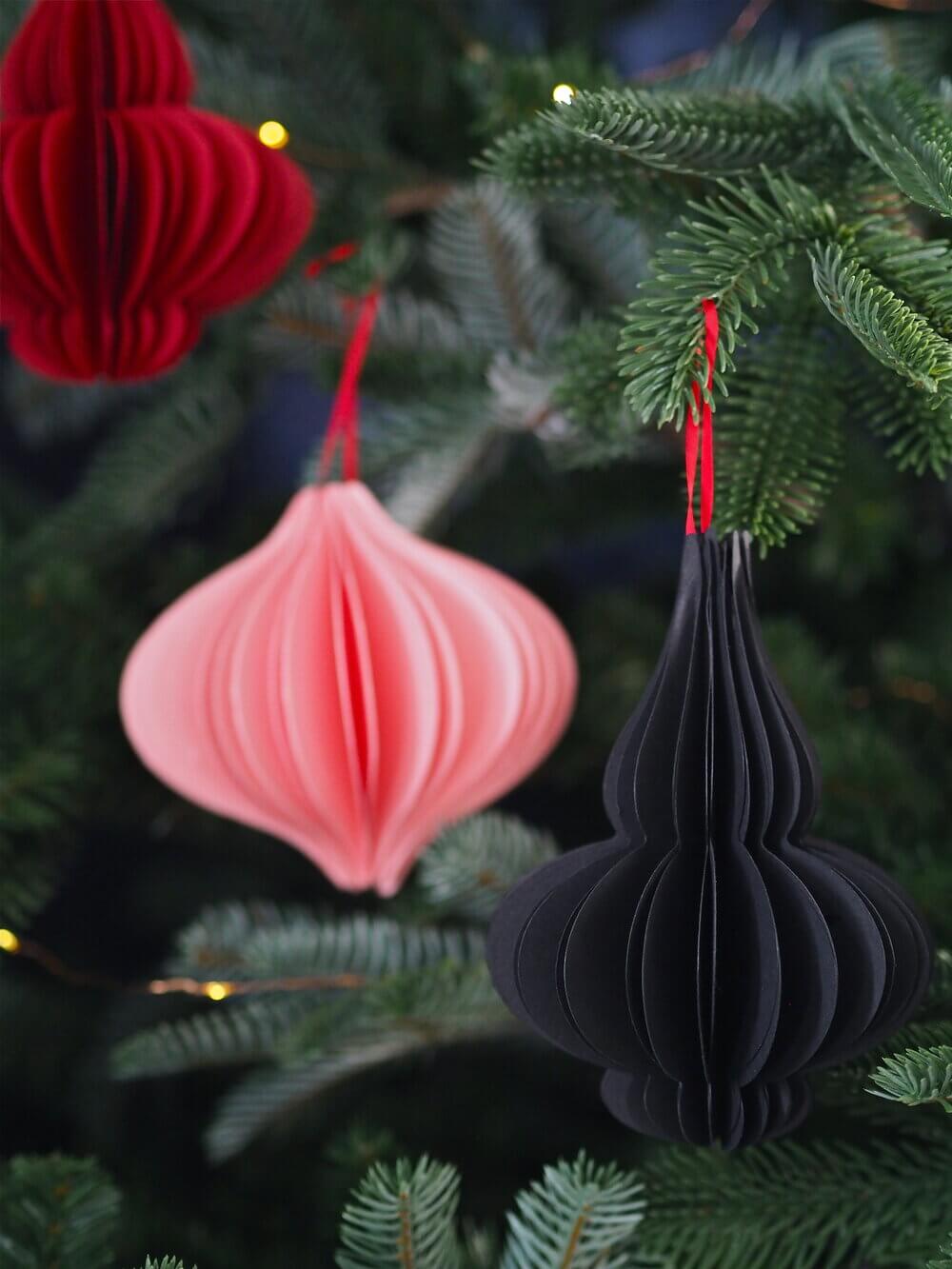 A nostalgic silhouette imbues these ornaments with debonair sophistication. From the classic egg shape to the definitive lamp shape, this ornament tutorial puts you in charge of how intricate (or simple) your ornaments' silhouettes are. Because this technique only requires cutting and gluing, it is one of the best DIY paper Christmas decorations for anyone ready to switch up their crafting sessions. To fill out each ornament, you will need about 50 copies of the same shape. For less tedious cutting and the ability to use more intricate silhouettes, use a cutting machine. These ornaments even fold flat for easy storage if you use a clip in place of glue. While many projects look amazing with patterned paper, these ornaments look particularly stunning when made with cardstock that is a solid color. Hang with twine, ribbon, string, fishing line, or anything that looks good in your home.
14. Snow-Covered Evergreen Forest Made from Doilies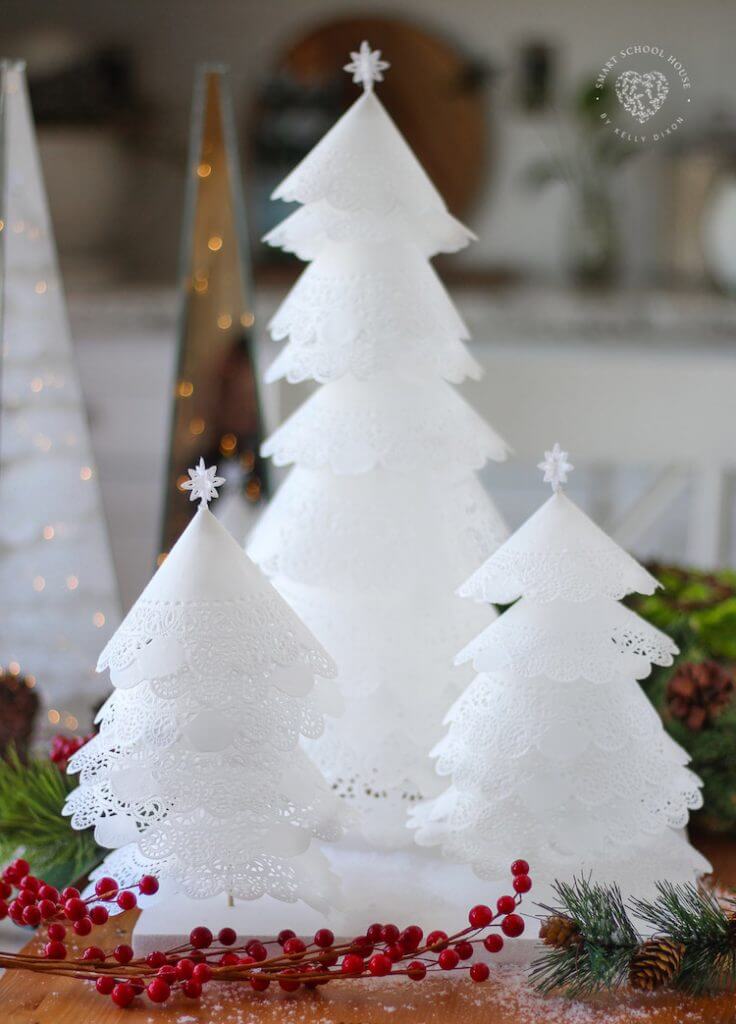 With layers of lace-tipped doilies showcased in these Christmas trees, creating chic yuletide décor is easy. Because every doily layer is speared on a bamboo skewer, each tree feels as organic as a snow-covered tree found in nature. Because they are cool, crisp, and minimalist, white doilies coordinate gorgeously with many Christmas color schemes. If you prefer a splash of color, do not be afraid to choose vibrant Christmas-themed doilies. By using darker shades at the bottom that fade towards the top, you can elevate your trees with an ombré effect. Metallic gold or silver doilies can add extra magic to these intricate holiday decorations. Beyond color, experiment with skewer height, number of layers, and patterns of the doilies themselves. In their straightforward simplicity, these trees offer endless customization to best fit your space.
15. Metallic Angel Votive Candle Holders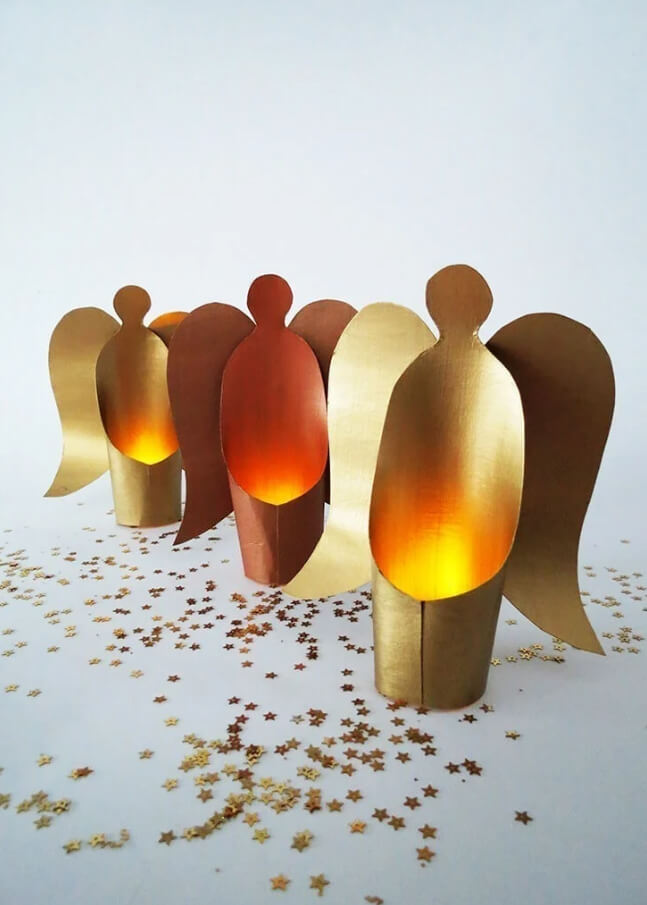 Because metallics reflect light, they intensify candlelight's illuminating power. If the warm-toned metallics shown here are not right for your space, cool silver will work as well. As these angels are made from flammable cardboard, they are best used to cradle battery-operated candles. While most angel decorations go a little overboard on the details, these are simple silhouettes that exude nuanced energy. Because of their simple lines, these angels are compatible with modern Christmas décor. Of course, as DIY Christmas paper crafts, you are more than welcome to add extravagant embellishments. To give these angels a dose of farmhouse flair, try dry-brushing brown or white paint for a distressed effect. For a Bohemian vibe, experiment with a marker to freehand geometric designs before applying any glue. Anyone decorating for a coastal Christmas can use hot glue and seashells to give the wings a little texture.
16. Unique Paper Chain Christmas Tree Garland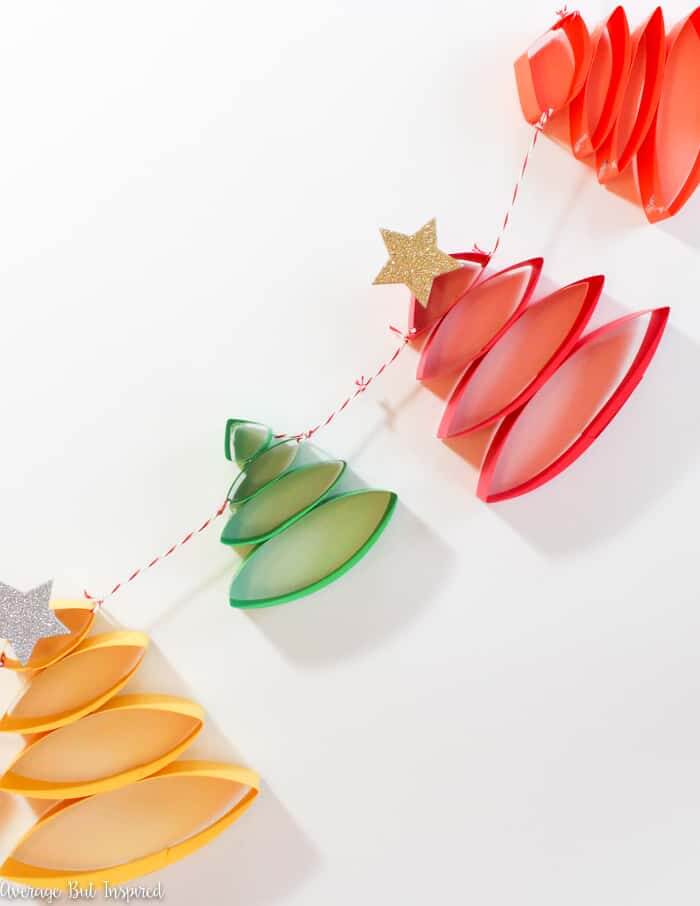 Part of the fun of decorating for Christmas is finding ways to fill every blank space with holiday cheer. With graceful swooping lines, garlands are a fantastic way to suffuse a space with Christmas ambiance. This garland uses elegant marquise-shaped paper rings to make Christmas trees with just a hint of playfulness. Because not much of the paper shows, it is best to choose a color that contrasts with your wall color. With a palette of bright yellow, green, red, and orange, this example harnesses fiesta vibes for a fun atmosphere. Although this tutorial uses cardstock, you could use any kind of paper as long as it includes color on both sides. Because not much of the paper's surface area is visible, the best way to jazz up this project is to use metallic-hued paint on the paper's edges.
17. Faceted Freestanding Cardstock Christmas Tree Craft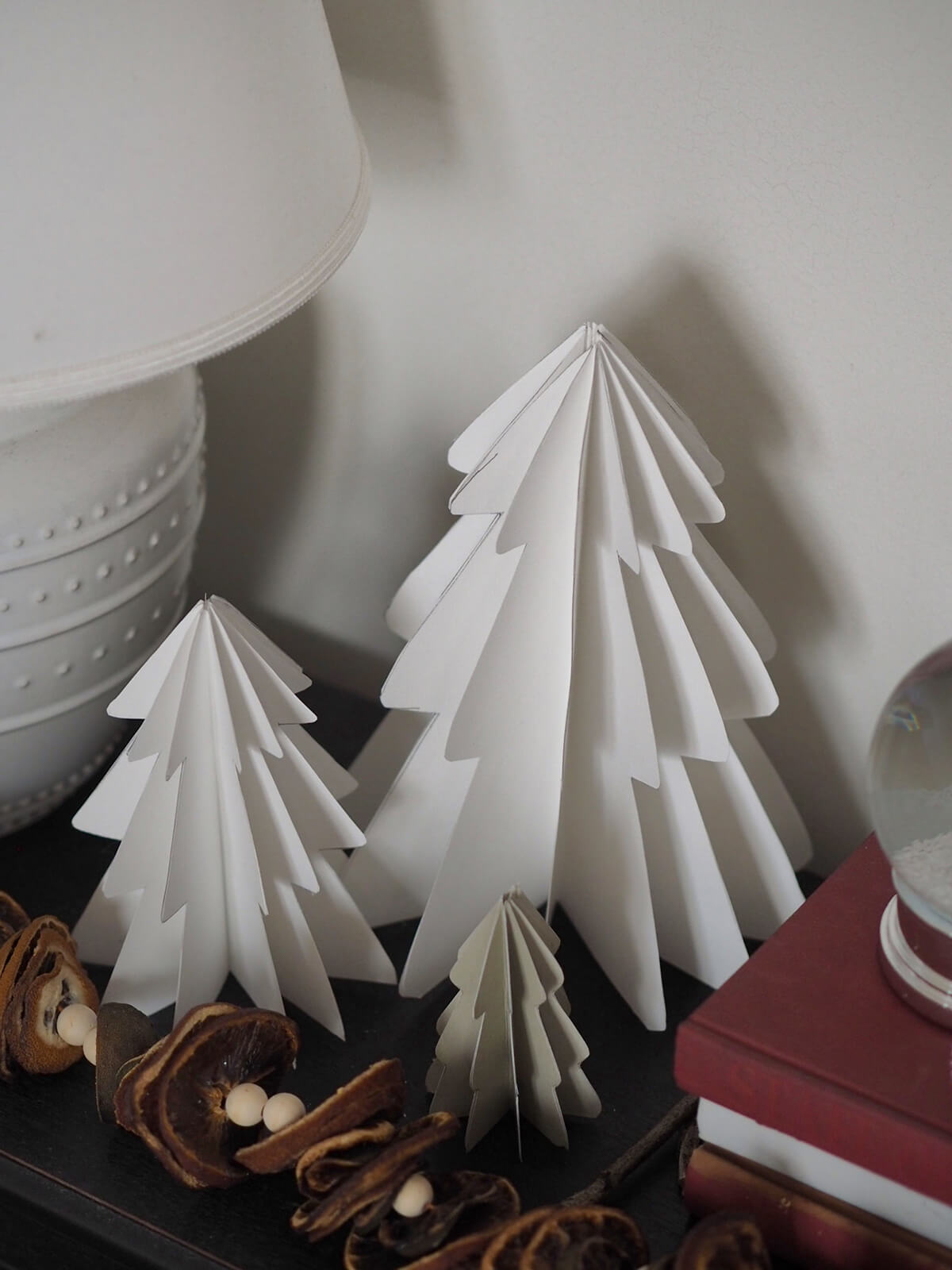 While most Christmas tree crafts involve horizontal layers, this project's vertical lines draw the eye upward and help these trees seem taller. When made with white cardstock, these evergreen trees appear blanketed in snow. To create a cute winter scene, place them on white batting, paper, or even a tray. If you usually gravitate towards color, try using paper printed on both sides. Finger paint and stickers on white silhouettes are an option to make this Christmas craft kid-friendly. Another option would be to break out a green inkpad and turn this project into a thumbprint tree. However you decide to decorate your paper trees, they can add yuletide ambiance to many different types of Christmas decorations. While evergreen trees cohesively pair with many types of winter décor, you can use this technique to make a variety of holiday shapes.
18. Rustic Tree Handmade Paper Christmas Decorations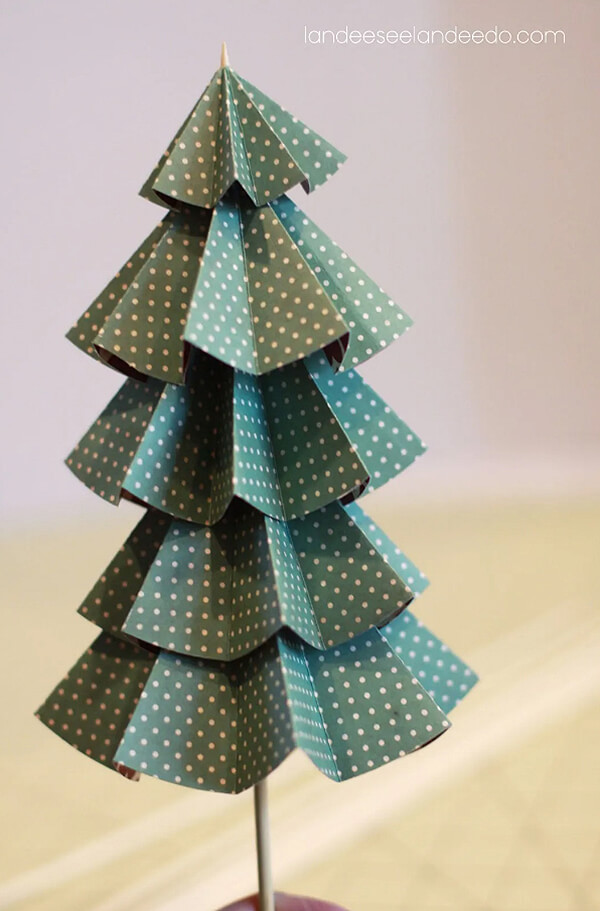 While many paper crafts require intense focus, precision, and attention to detail, these evergreen trees are easy to assemble. If you can execute an accordion fold, you can make your own forest of rustic trees. The playful polka-dot pattern shown in this image will fill any decoration with pizazz, but you can use any heavy-weighted paper that suits your fancy. For a touch of holiday sparkle, imagine plain white cardstock dusted with glitter. If you are making these trees with kids, stickers, sequins, or markers are easy ways to jazz up this project. To give your paper forest a farmhouse-worthy upgrade, try mounting each tree inside a wooden candle holder. Dress it up a little by decorating it with a miniature garland made of slender ribbon or imitation pearls. As a final touch to this terrific handmade tree, add a tree topper of your choice.
19. Making a "Merry Christmas" Pennant Garland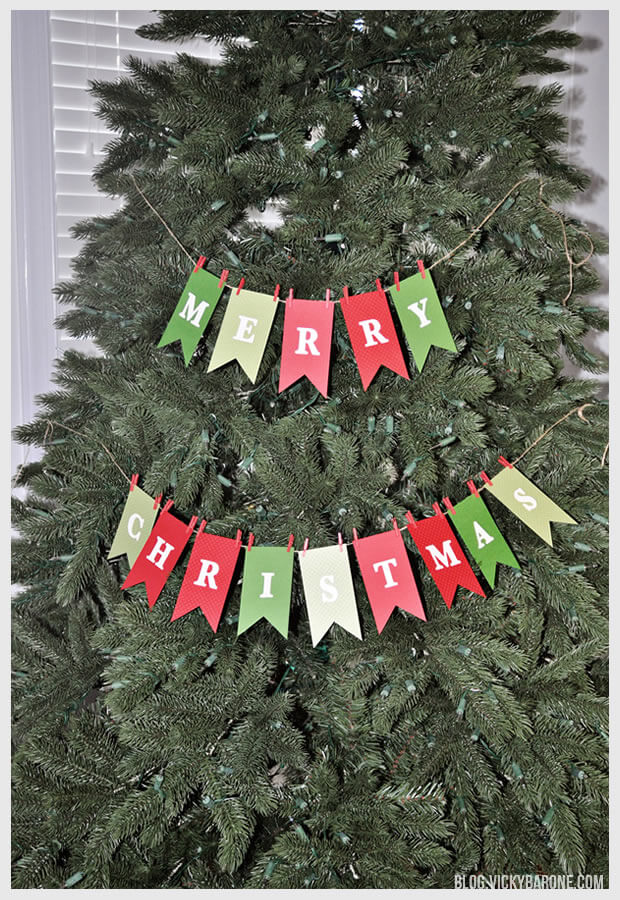 Using scrapbook paper with nuanced texture in a variety of holiday hues is a great way to infuse your space with dimension. While the color scheme shown here harnesses the classic red-and-green combination, choose cool shades of blue and sparkling silver to get winter wonderland vibes. This tutorial recommends using scrapbooking letters because they offer a subtle pop to your pennant garland. If "Merry Christmas" is not your style, use words from your favorite Christmas carols to make this one of the best DIY paper Christmas decorations in your arsenal. Another option would be to find Christmas-themed scrapbooking embellishments that resonate with your style. If you enjoy switching your decorations up throughout the holiday season, the miniature red clothespins are a good choice. All you need to do is make up a few different sets of pennants and swap them out when you are ready for something new.
20. Holly and Mistletoe Miniature Wreath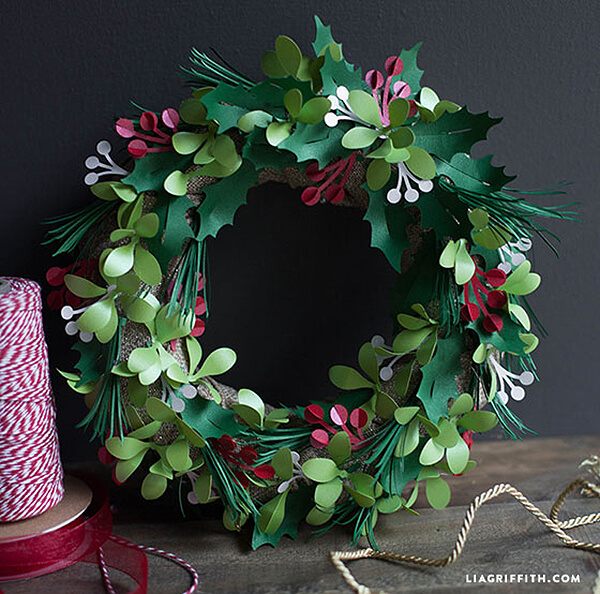 If you have a cutting machine, this festive Christmas wreath is not only an easy project to make but also a fun decoration to display. Because the wreath form is wrapped in a rustic brown ribbon, you can, should you desire, leave gaps between the holiday-themed greenery. Of course, if your tastes are more maximalist, fill every inch of the wreath form with handmade paper Christmas decorations. Because this is a miniature wreath, it is the ideal size to fill any awkward empty spots in your decor. Alternatively, you could use your handmade paper wreath project as a table centerpiece or mantle decoration. If you choose to display it on a flat surface, imagine how gorgeous it will look when paired with white pillar candles that emerge from its center. Of course, for fire safety, the pillar candles should live on non-flammable candle holders.
21. Mandala Christmas Trees that Light Up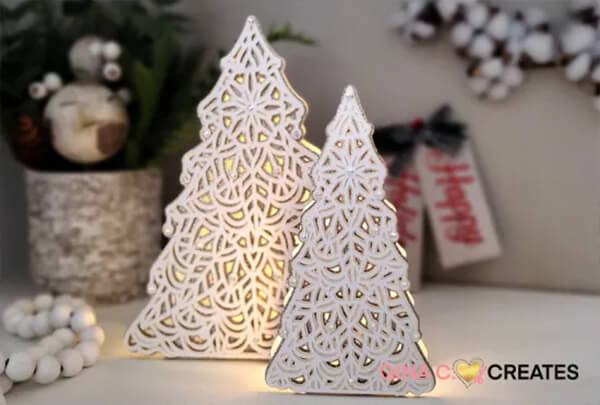 Holidays are hectic, and these mandala-inspired Christmas trees are a fantastic reminder to take a deep breath and cherish every moment. A cutting machine, a few layers of cardstock, string lights, and your favorite embellishments are all you need to bring this little corner of zen to life. Foam dots between the layers help develop some three-dimensional flair. This tutorial uses a glittering backdrop for ivory-hued cardstock, but any combination would result in a beautiful decoration. Using plain cardstock on top means that you can embrace embellishments like imitation gems to give your Christmas trees a little extra sparkle. Because these paper trees resemble snowflakes, they are a perfect fit for anyone with a white Christmas theme. Switch out the glittering cardstock for something less ostentatious, and your DIY Christmas paper crafts will look stunning in a Scandinavian setting.
22. DIY Christmas Paper Crafts: Poinsettia Garland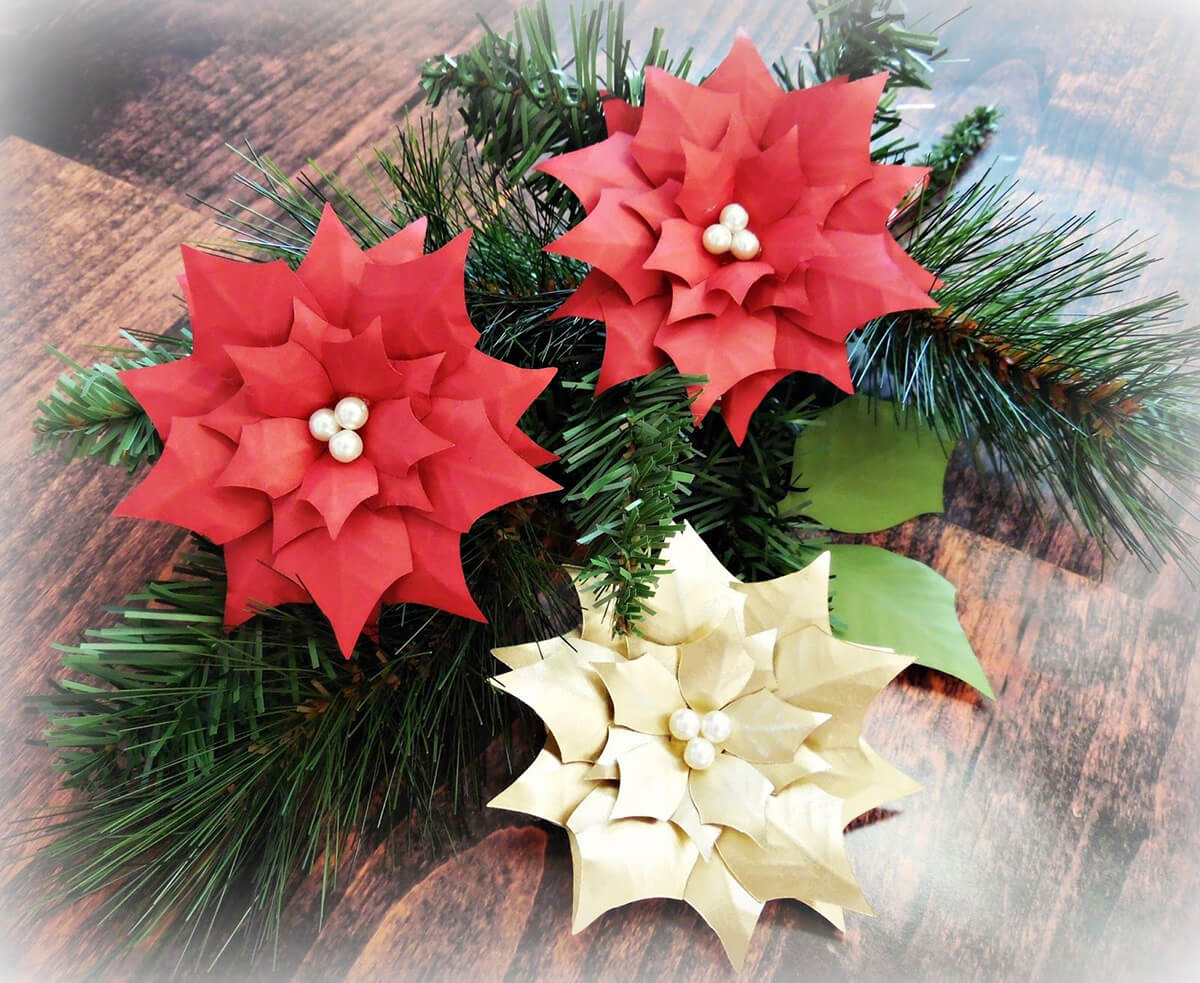 Bursts of bright crimson and opulent gold are a great way to deck your halls with Christmas color. Unlike living poinsettias, you do not have to worry about these florals around pets or kids. Beyond precise cutting and multiple layers, the key to transforming paper into lifelike poinsettias is to use a rolling tool. Luminescent pearls are the finishing touch to these red and gold flowers. However, when it comes to pistils and stamens, you are limited only by your imagination. For a more realistic poinsettia, choose yellow-tinted pearls. To use this garland as an illuminating feature, thread lights through the poinsettias. Whether or not you use lights, this garland works well when hung or when used to decorate a flat surface like a mantle, a table, or a banister. Wherever you decide to display your garland, it is a fantastic way to energize a space.
23. Oversized Holly Leaf Garland Bursting with Color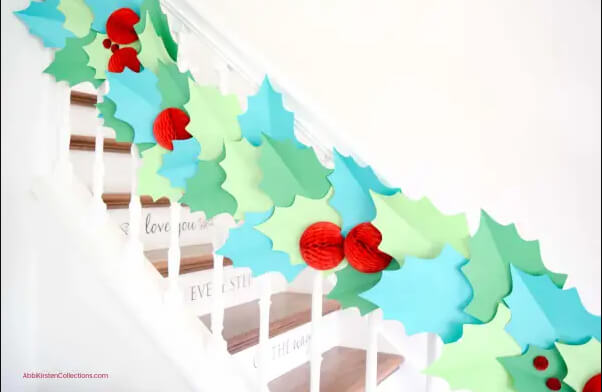 Shades of scintillating blue, green, and red give this gigantic garland lots of personality. Including blue holly leaves in your garland is a great way to tie blue décor into your Christmas decorations. Even if you do not choose blue, including a variety of hues infuses this garland with dimension. While this tutorial uses each color in equal parts, you could develop some fascinating effects by switching up the color ratios. In addition to a variety of colors, this garland showcases a feast of textures even though it is made from paper. By contrasting flat leaves with honeycomb-style berries, this garland is a study in the successful use of texture. To add even more variety, try including huge poinsettias along with the holly berries. If, even with all the colors and textures, you want to add more embellishments, try glamming it up with glitter, sequins, or artificial snow.
The 23 Best DIY Paper Christmas Decorations for Paper Crafters of All Ages
As you have seen, there are many approaches to handmade paper Christmas decorations, and most can be modified to fit your style. When it comes to personalizing your projects, embellishments are some of the most important parts. These can be as simple as adding glitter to as complicated as finding a way to incorporate jingling bells. You know your style better than anyone, and finding ways to customize your crafts is limited only by your imagination. If you will be making any of these projects with kids, a few easy options include paint, markers, and stickers.
It takes vision to transform a one-dimensional piece of paper into something special for the holidays. Many of these ideas can be combined to create the best DIY paper Christmas decorations for your home. If you fall in love with an ornament design, try stringing several together to create a fun-filled garland. Some of the village houses can be modified so they can hang as Christmas ornaments on your tree. However you decide to display your hand-crafted projects, they help develop the perfect ambiance for this year's Christmas decorations. Each of these decorations uses different techniques to achieve beauty, but you can certainly combine techniques to suit your equipment, materials, and vision.