Wreaths can easily brighten up any home, but when you have the best DIY paper wreath ideas, you can create stunning works of art that are made to last.
18 Creative DIY Paper Wreath Ideas that will Keep You Busy

When it comes to DIY projects, it is common for people to gear towards creating their own wreaths. They can provide something that store-bought ones may lack: a personal sort of charm. As such, there are numerous materials you can make use of to create a wreath. Paper is one of those surprising materials that, when used correctly, can create remarkable wreaths that are designed to stand the test of time. Not only that but the sheer appearance of paper wreaths is meant to capture attention, making them work well when hung up inside and outside of your home.
A nice notion about creating a homemade wreath from paper is that you can customize it however you feel. The limits are merely your imagination. If you want something that emulates flowers, then it's possible to mold paper into faux flowers. You can make something that looks like a typical wreath too using colored paper, or you may even lean toward holiday-themed wreaths such as for Christmas or the fall season.
If it's easier or more practical, you can take a bare wreath from the store and use that as a starting point for your paper wreath. It works whether you fill up the entire wreath to hide the background away or simply use a portion of it for your paper design. With the number of routes available, just about anyone can handle this from those who are veterans at DIY projects to those of you just getting into the fad.
Whatever your reasoning, we are here to provide you with some incredible and versatile handmade paper wreath designs so that you have plenty to choose from when deciding on which project is right for your home decorating needs.
1. Beautiful Fluffy Paper Heart Wreath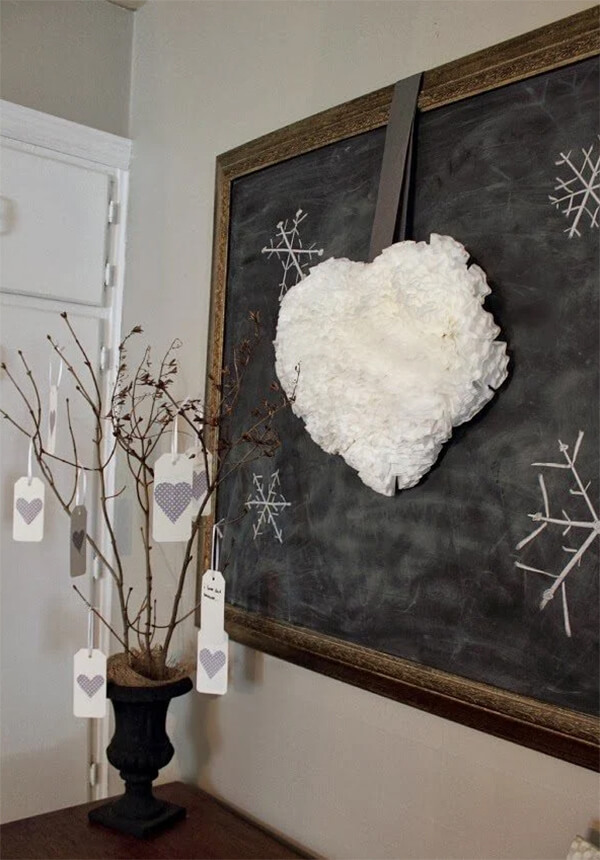 Who knew that something as trivial as coffee filters could be used to create such a lovely work of art? In this unique project, the coffee filters work well at helping you build up on the elegance of this paper heart. It also allows everything to look fluffy and inviting, making your wreath the envy of all your guests. To help you capture the shape of a heart, use something like a cut pizza box to serve as a guideline. This will also grant the wreath some much-needed stability so that it holds up well once you're ready to hang it.
2. Upcycled Farmhouse Style Paper Wreath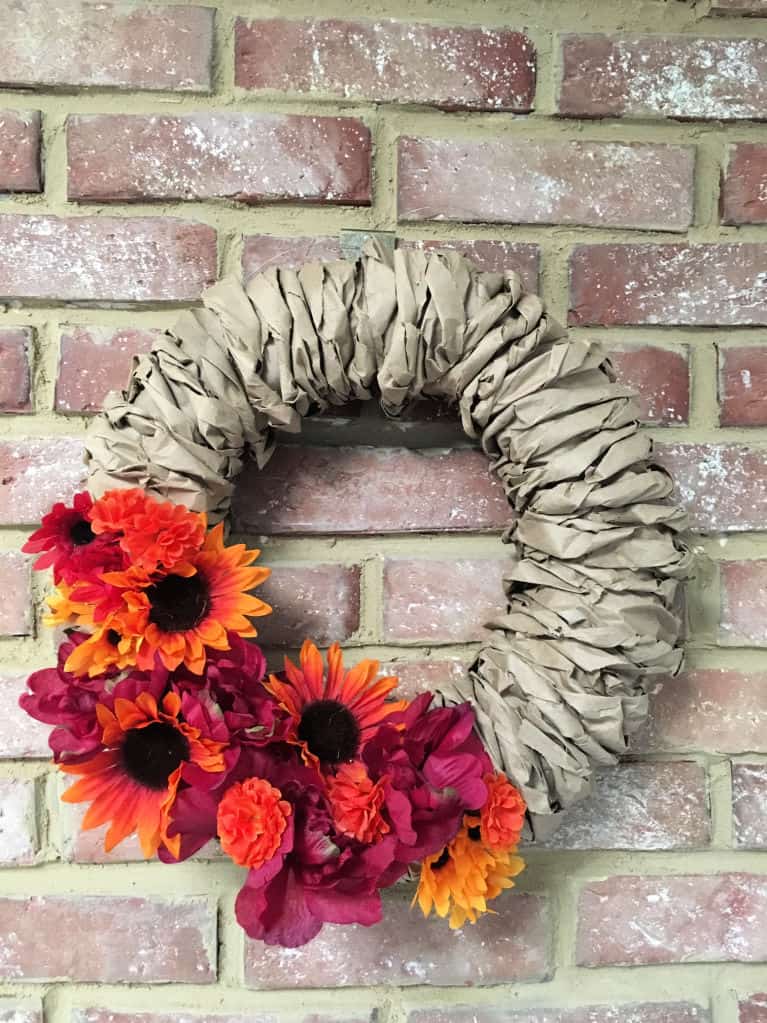 A cool way to create a paper wreath is by using old shopping bags. It's common for many households to accumulate numerous paper bags trip after trip to the store, so it helps to recycle them out by putting them to better use. Brown paper bags are best in this scenario considering they can help you make a wreath that comes across as far more rustic. It is an ideal choice as that better helps it stick to that farmhouse theme. Feel free to add more decorative items to it if you wish to toss in some pops of color to it. The resulting wreath won't look out of place if used in the kitchen or living room.
3. Stunning Paper Micro Flower Wreath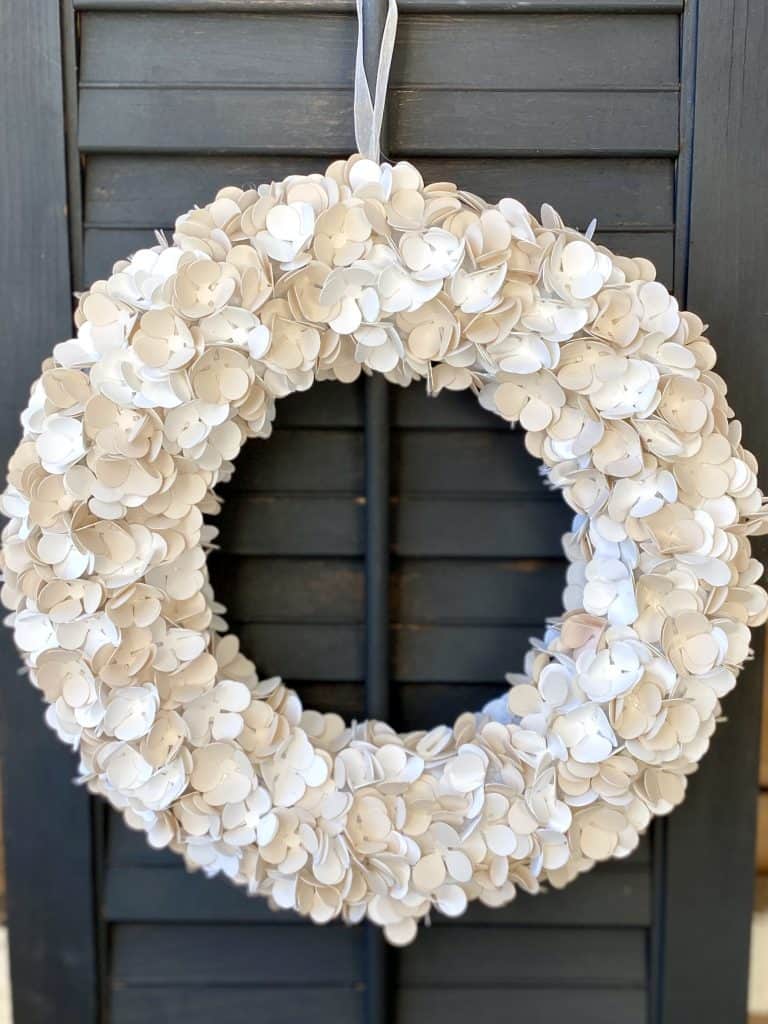 It's incredible the shapes that paper can create, and these tiny flowers are no exception to this. This particular homemade wreath from paper is not a quick project by any means. You will probably go through hundreds of these micro flowers. However, at the end of the day, your labor will be worth it. The individual flowers stand out effortlessly within this reach, and once full, there is an easy elegance about the wreath that will make you want to proudly show it off. It's also a wreath that can work for any season, making it a year-round decorative display.
4. Creative Wrapping Paper Leaf Wreath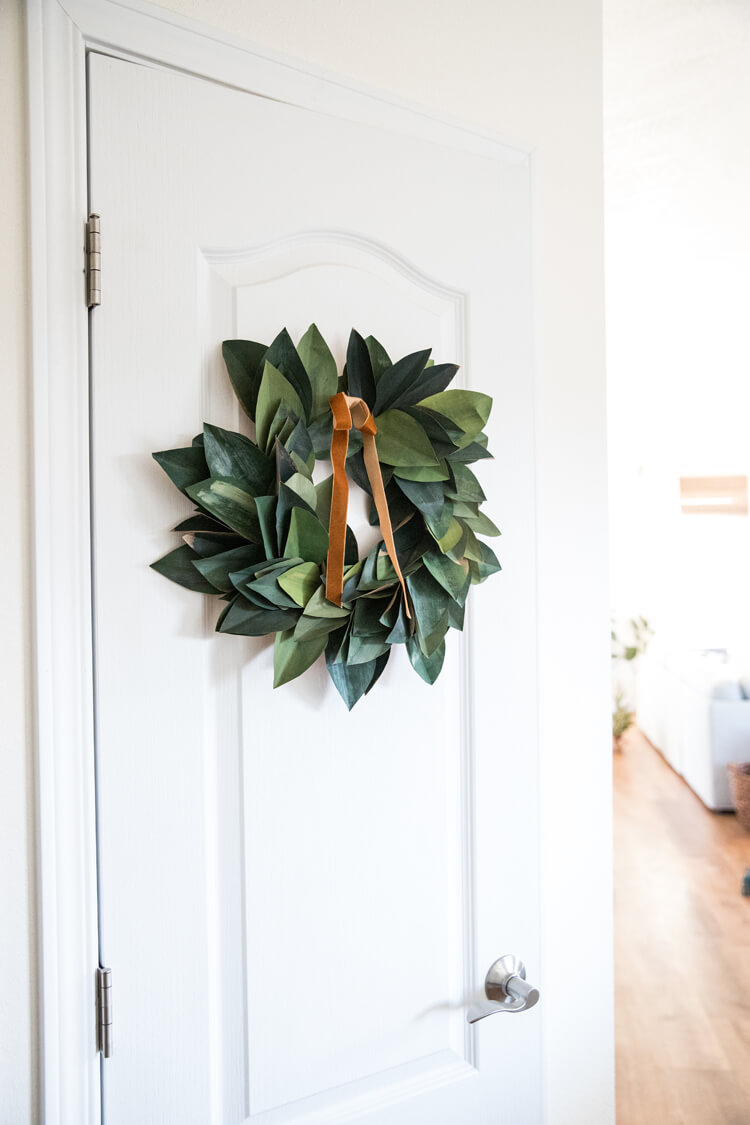 A great way to go about customizing your decorative wreaths is by creating one using wrapping paper. Wrapping paper can provide such a nice touch of texture to your wreath, and since they come in various colors, it makes it easier to create something that is more personal to a particular style. In this case, using green is a perfect choice if you wish to make a faux leaf wreath. There is just enough pattern in wrapping paper to help cement the natural appearance of the leaf, and it works out even better if you used paper that features different tones of the same color. It can give it a better sense of depth and contrast.
5. Miniature Pretty Paper Rose Wreath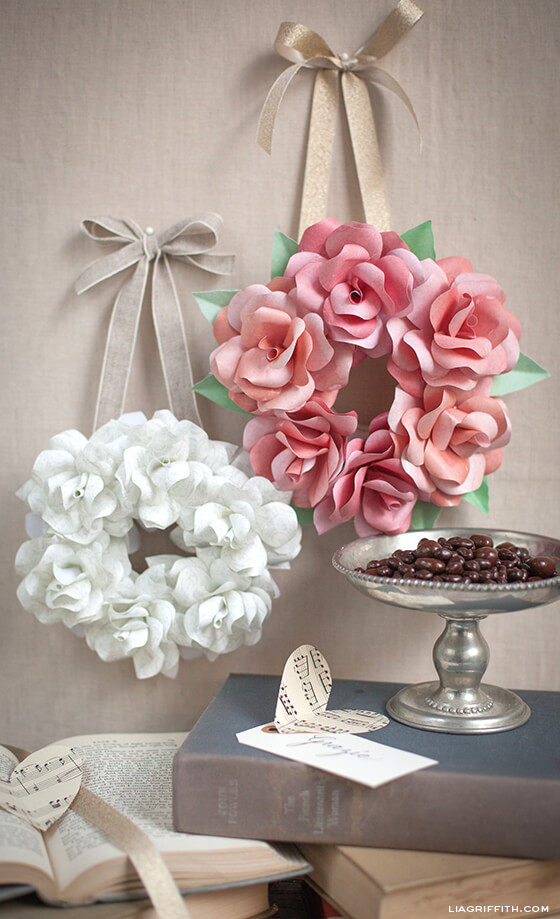 Wreaths don't have to be the traditional size that hangs on the door. Rather, you can create an amazing homemade wreath from paper that leans more toward the miniature size. The smaller status doesn't detract from the sheer beauty of the product, however. There are so many shades within these paper roses that help them resemble the real thing. It may take some time for those of you new to this to create such seamless roses, but it is worth the time spent on it. The varied coloring pairs effortlessly with the leaves in the background that further helping give this faux wreath a more distinctive and lively appearance.
6. Sweet Scrapbook Paper Lemon Wreath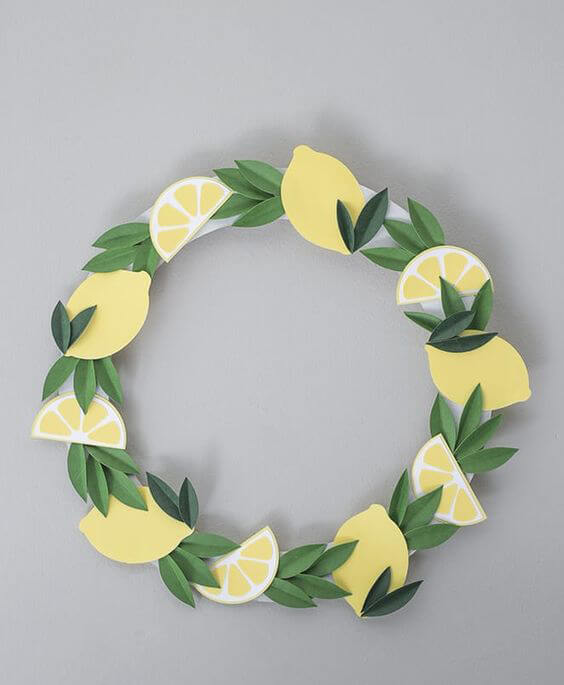 If you have some unused scrapbook paper lying around, consider saving it as it works out well for creating a homemade wreath. This can turn out to be a simple project, in fact. Even with its simplicity, it will stand out. The coloring is superb what with the balance between the vivid green paper used for the faux leaves and the lovely yellow used for the lemons. Utilizing both whole lemon shapes and half lemon wedges creates a nice flow to the piece. This is the type of wreath that looks as good in the springtime as it can inside a farmhouse-styled kitchen.
7. Three Dimensional Paper Flower Wreath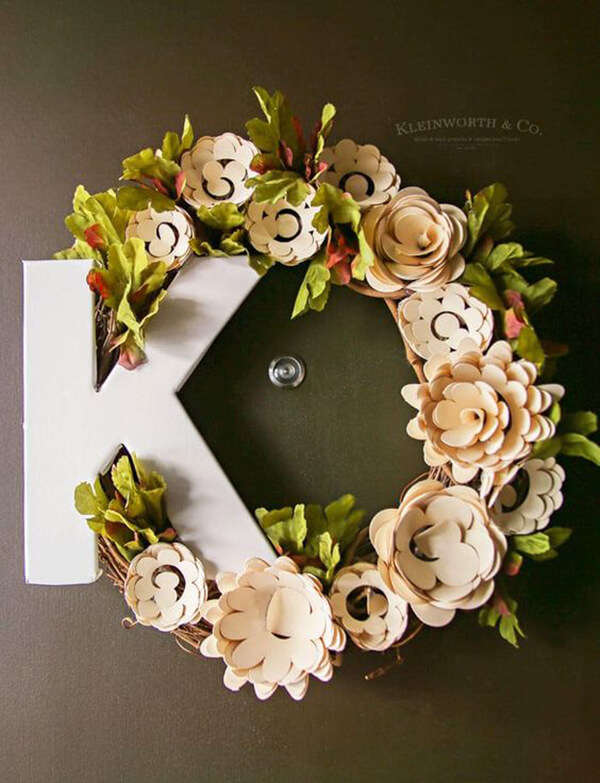 Depending on how you use paper, you can form some awesome flowers that appear 3D in nature. This is done easily enough by layering everything, and thanks to the paper design, each layer is visible at all times within the wreath. It doesn't just add some depth, but it also gives these flowers a slightly realistic touch despite the plain coloring from the paper. If you do want some color, there should be more than enough room left on the wreath to add some additional decorative pieces like faux greenery, and this doesn't even have to be made from the paper if you don't wish it to.
8. Eucalyptus and Hydrangea Paper Wreath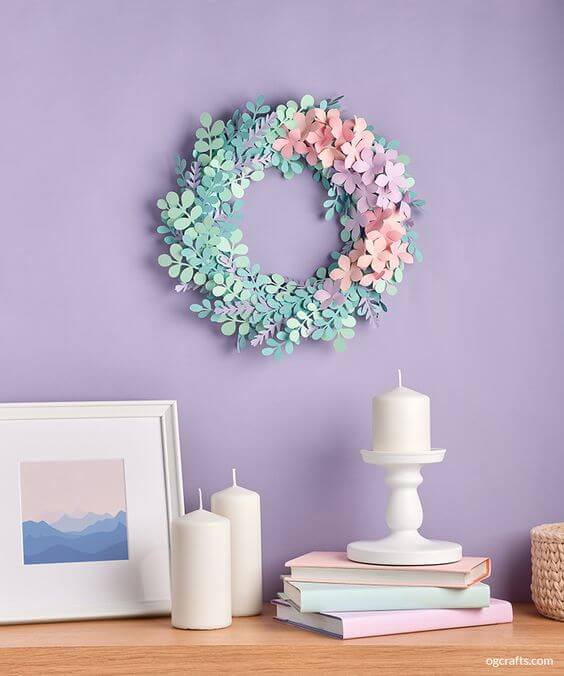 Eucalyptus and hydrangeas are such attractive and fun flowers to use for a wreath because of how bright and vibrant they are. These flowers look well across multiple seasons too, making them helpful no matter where you hang it up at as well as working with numerous decorations you may already have. You don't even have to use real flowers either. With the right materials, you can create a stunning paper wreath using the coloring and style of those flowers instead. It may not give off the pleasant flowery scent, but it can certainly offer the same carefree and bright vibe.
9. Multicolor Succulent Paper Wreath Design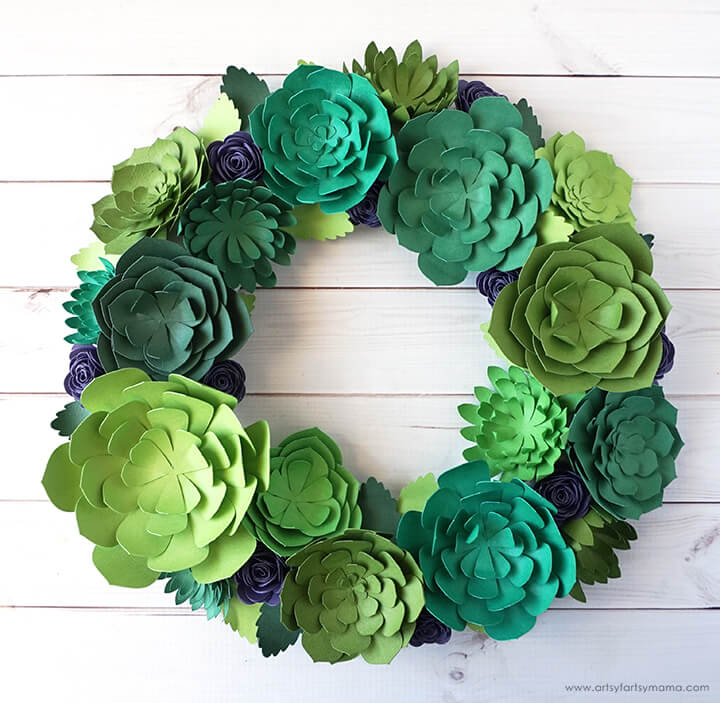 With this paper wreath, you can reap the advantage of using succulents to decorate your home with without having to use real succulents. Instead, you can create some beautiful succulents out of paper. Consider using a few different shades of green too, or even think about adding in some other colors you can find succulents in. That way, the designs won't get lost among each other, and instead, each individual one you make will effortlessly stand out. The size difference between them all work well too, making this wreath have a sense of flow. This looks excellent hung up anywhere throughout the house and can make a great addition to the fall or winter season.
10. Vintage Book Paper Wreath Design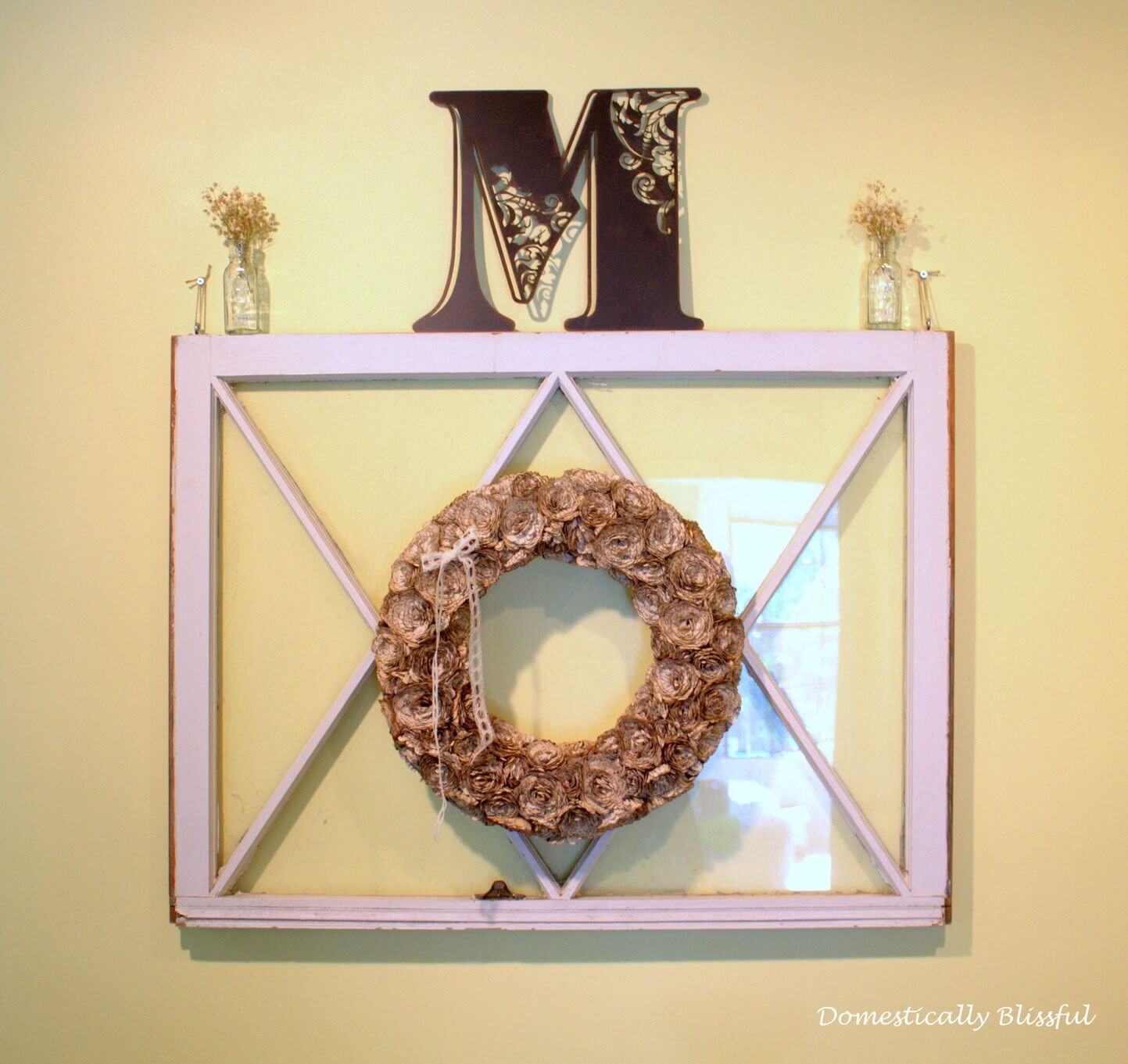 A unique way to get rid of an old book or two without throwing it out or giving it away is by transforming the pages into a wreath. The words from the pages look absolutely lovely on the wreath too, granting it a lot more creativity that is especially fitting for those who want more classic-geared, smart décor in their home. If you want to add on another layer of charm, you can dip the completed designs into coffee, giving the tips a far darker appearance. This can help age up the pages, giving it far more of an old-fashioned look.
11. Fun Upcycled Paper Tube Wreath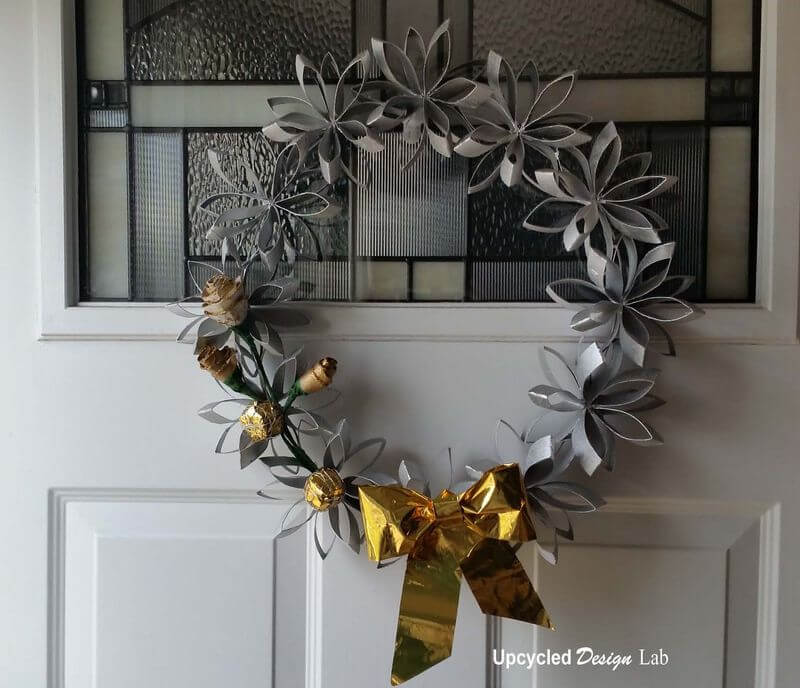 From toilet paper rolls to paper towel rolls, once you're finished using them, those paper tubes can come in handy in more ways than one. Children, of course, know all about using them for sword fights or telescopes, but they can also work well for creating some fun wreaths. You can cut them and style them up to look like bows, making them fitting for the winter holidays. In fact, you can even paint them to better work with the theme, going for traditional holiday colors like silvers, blues, golds, etc. With this type of wreath, you should still have the freedom to apply other decorative items to it.
12. Oversized DIY Flower Paper Wreath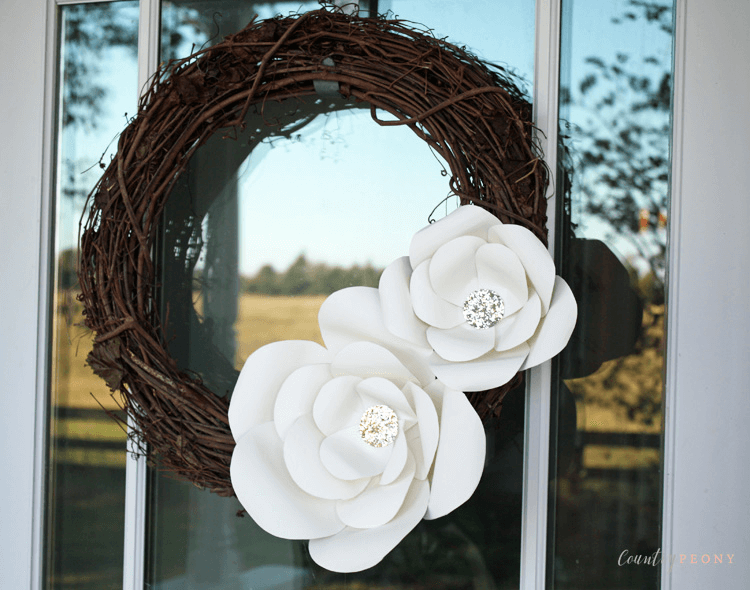 Some of the best DIY paper wreath ideas successfully utilize both paper and a traditional wreath background. This one focuses on enhancing a simple grapevine wreath, using oversized paper flowers to serve as embellishments. You don't have to cover the wreath in this instance, allowing both to speak for themselves. There is just the right amount of charm with this that it is effective at creating a more elegant, yet still, a slightly rustic wreath that works well hanging outside your front door to be the first thing that visitors see, giving them a good idea about your style.
13. Colorful and Festive Holiday Paper Wreath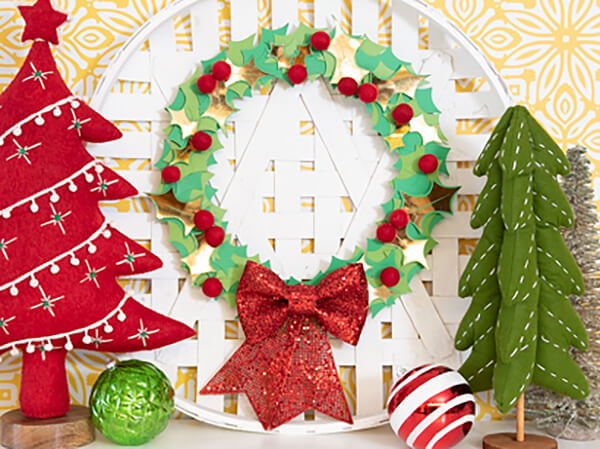 An embroidery hoop is the perfect starting point to creating an amazing holiday paper wreath. Using cut-out-shaped foil is a remarkable choice as it can help you make something that is far more distinctive, creative, and simply fun to make and admire. The right stencils can leave you with beautiful holiday designs too, further emphasizing the style you wish to have. Gold or silver foil can work in this case too since both colors are fitting for the theme. This frees you to add several other accent pieces to make your ideal holiday wreath come to life.
14. Modern Paper Foam Fall Wreath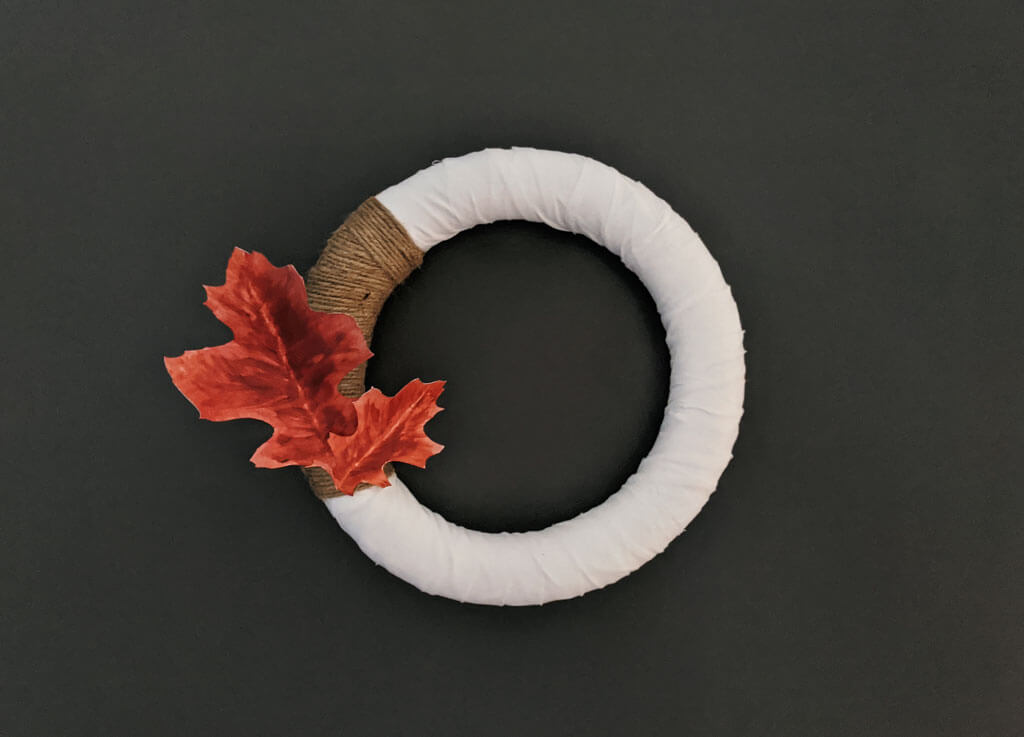 A modern take on fall décor can be something as simple as this incredible paper foam wreath. It combines the different mediums well, utilizing the firm foam as a base that does well at holding a cloth so you can wrap it up with whatever colored fabric you wish that fits with the autumn theme. Sticking to colors such as beige or even just white is a good starting point as this gives you room to grow on your coloring scheme via paper embellishments. If you want to stay with the minimalistic design, then you can consider simply making a few paper leaves with autumn coloring applied to them.
15. Vibrant Scrapbooking Paper Wreath Décor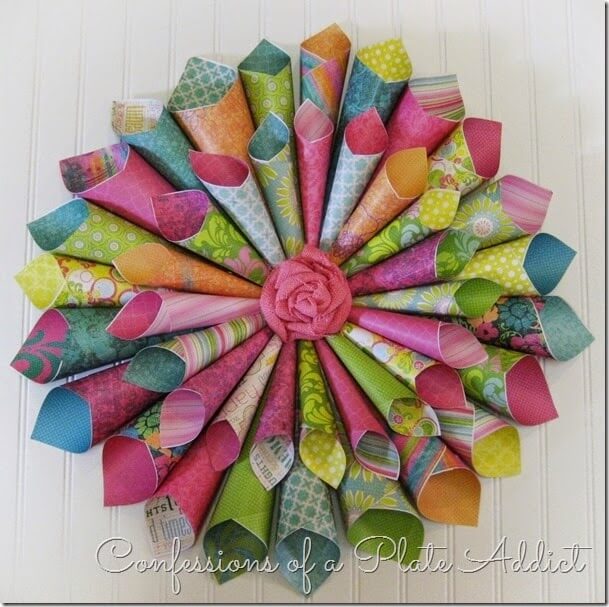 Scrapbook paper can come in a wild variety of designs, and the more colorful and outrageous the better in this case. Find yourself some paper that has a multitude of colors and design patterns on them. This will grant your wreath an insane amount of detailing and depth that you may get lost staring at it. Also, consider adding some different sizes as this will help give the wreath even more diversity as well as some movement in terms of how you view it. With how bright and colorful this wreath will turn out, it is certainly befitting a home that has an artistic theme in terms of style.
16. Multicolor 3D Paper Stars Wreath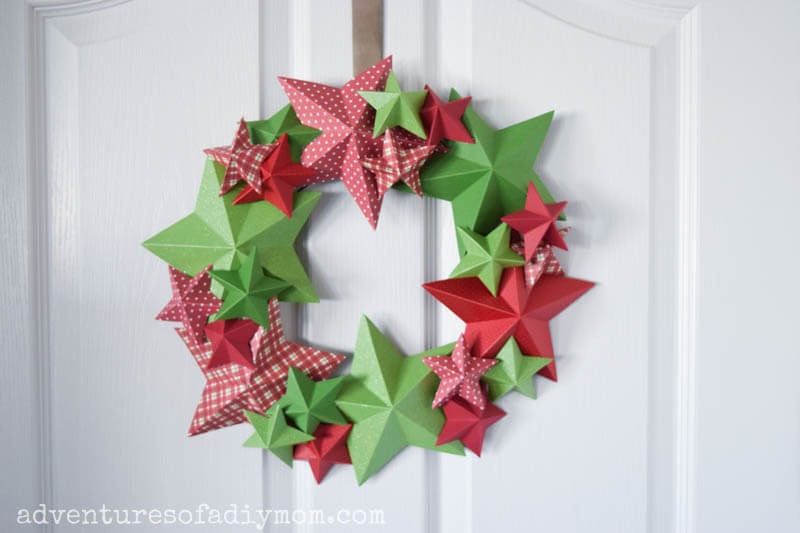 Round up a healthy amount of paper in various colors with diverse patterns to create a cool, distinctive holiday wreath. The stars are granted an incredible 3D style that truly makes them pop. Giving your wreath some complexity makes it instantly grab attention no matter where you hang it up at. It can single-handedly bring forth the holiday spirit into your home, especially if you have children seeing just how colorful it is. It helps that the stars vary not just in color and patterns but also in size. Such size differences can further help liven up the wreath and give each individual star its proper attention.
17. Black and White Music Sheet Wreath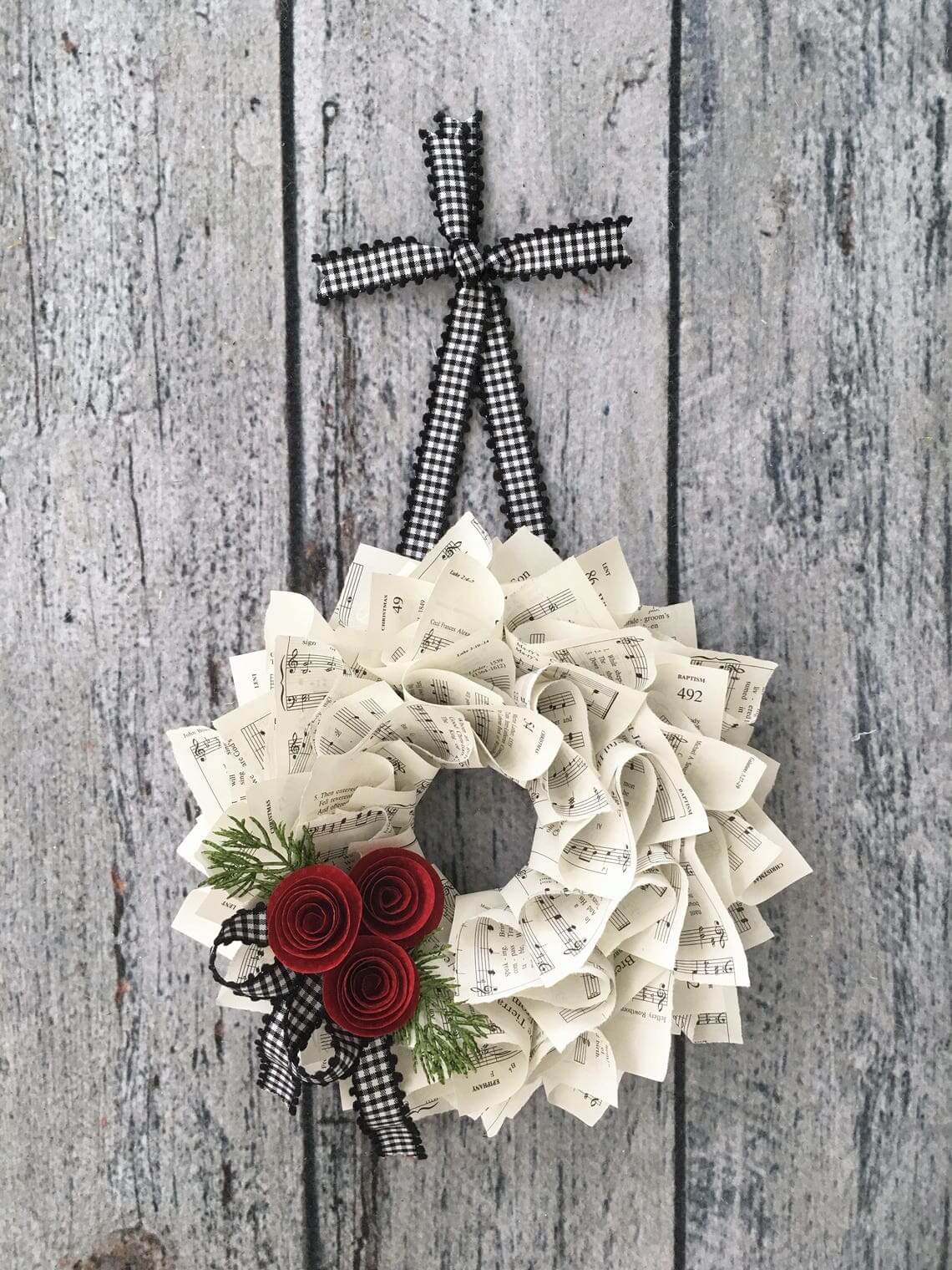 Music lovers can appreciate the charming touch granted with this music sheet paper wreath. It not only complements a farmhouse style, but it can work well in a contemporary home thanks to the music sheets alone. That's not all there is to appreciate about this wreath though. There are beautiful red paper flowers on the front of the wreath as well, and these bold flowers contrast so well with the rest of the wreath. It is just the right amount of color that makes this wreath pop and demands all the right attention when used among the rest of your décor.
18. DIY Fall Paper Wreath Printout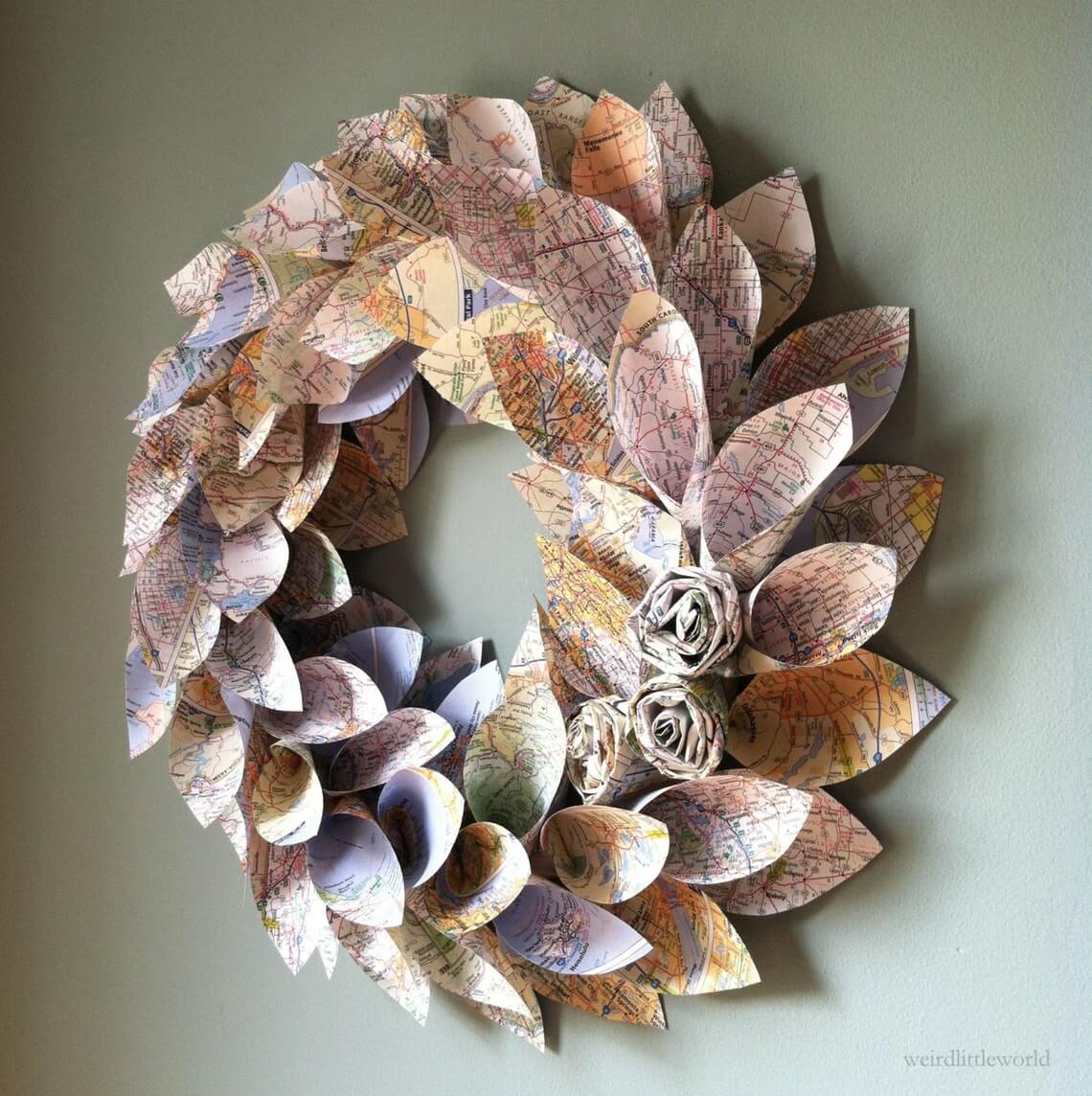 This cool printout comes with 17 full-color pages as well as step-by-step instructions that will help you create a beautiful wreath perfect for fall. There is a nice multitude of colors available in these printouts, and each of them blends well with the autumn environment. This is ideal considering the leaf design you will make out of these papers. You don't just create the leaves. Rather, you can also create elegant roses that balance out the entire wreath and the fall style.
18 Fun Handmade Paper Wreath Designs You can Easily Create
Paper wreaths provide you with the opportunity to truly express yourself in your home décor. They are lovely in the sense that you can mold and mesh paper into whatever design you can think of, creating a great faux wreath appearance that can look real at a distance. There is a lot of freedom in terms of what you can create from the traditional wreath to more artistic takes on the decorative item that can fit within specific seasons, holidays, or simply your personal style.
As there are different routes to take, creating a paper wreath isn't only meant for those who are used to making homemade decorative items. Anyone can jump into this type of project, and it can even serve as a fun family affair to keep busy at home over the holidays. With our chosen best DIY paper wreath ideas, we hope that you can find the best project to do at your home so that you can come away with a far more creative and fun to look at wreath.