Is your patio going to waste? Both the front and back porches of the house are so often ignored, left empty or barely utilized. What do you have on your own veranda? Maybe a plastic chair, or two? An ugly old table you never use? Nothing at all?
If you aren't taking the chance to use up that space, what you need are some awesome DIY patio decoration ideas to get the juices flowing. These twenty five people decided to dip into their imaginations and came out with some of the best DIY patio decorations on the web. With these designs, you will finally have the perfect spot for any social gathering!
25 DIY Patio Decoration Ideas to Turn Yours Into a Getaway Spot
1. Elegant Wooden Hanging Flower Garden and Plant Box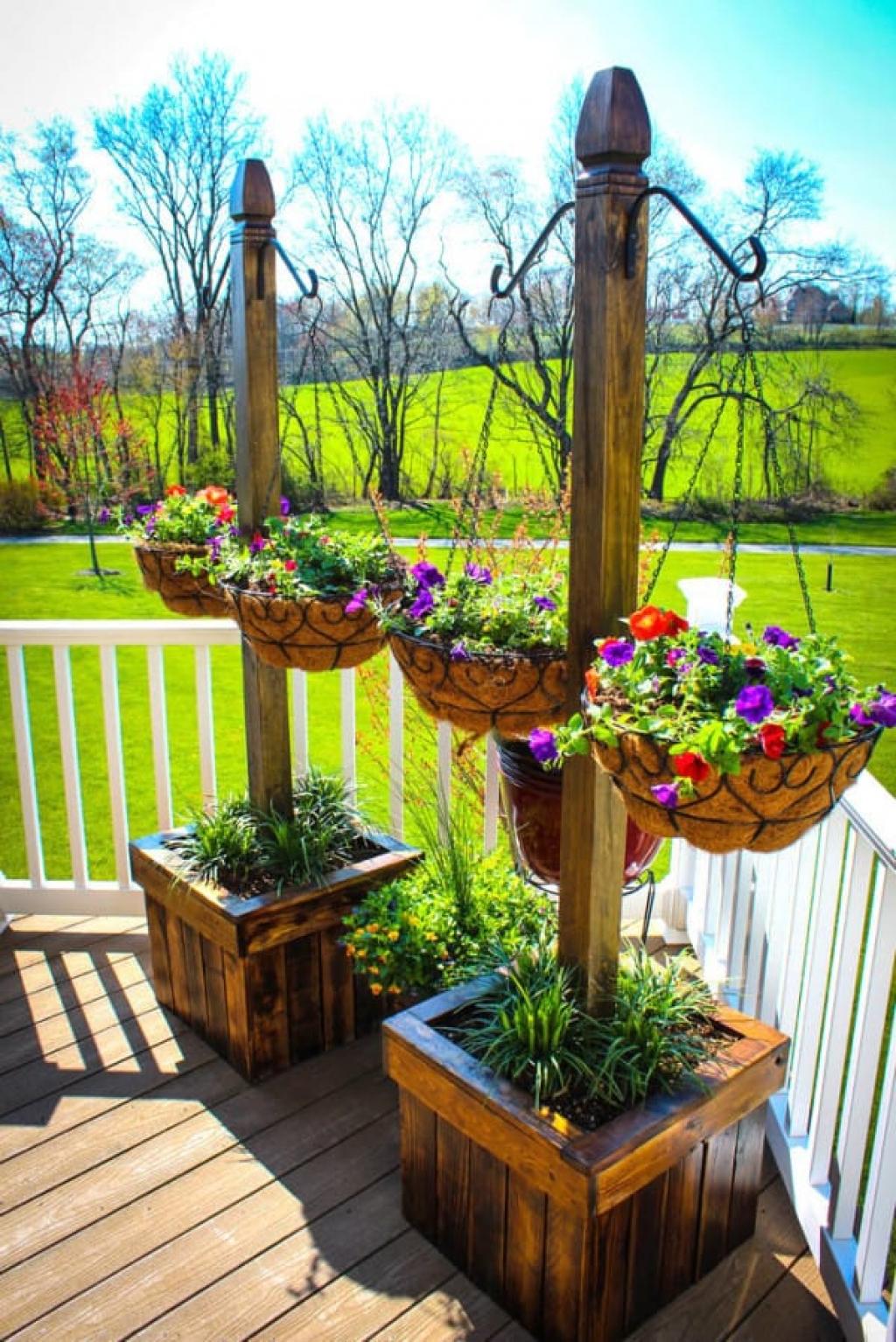 This fun concept combines hanging coir baskets with square wooden box planters. Each one has hooks that hang two baskets. These are planted with bright and cheerful petunias on top and with lush greens on the bottom. Try these planters in a sunny spot and brighten any corner of your patio.
2. Shaded Gazebo and Lifted Polished Bench With Cushions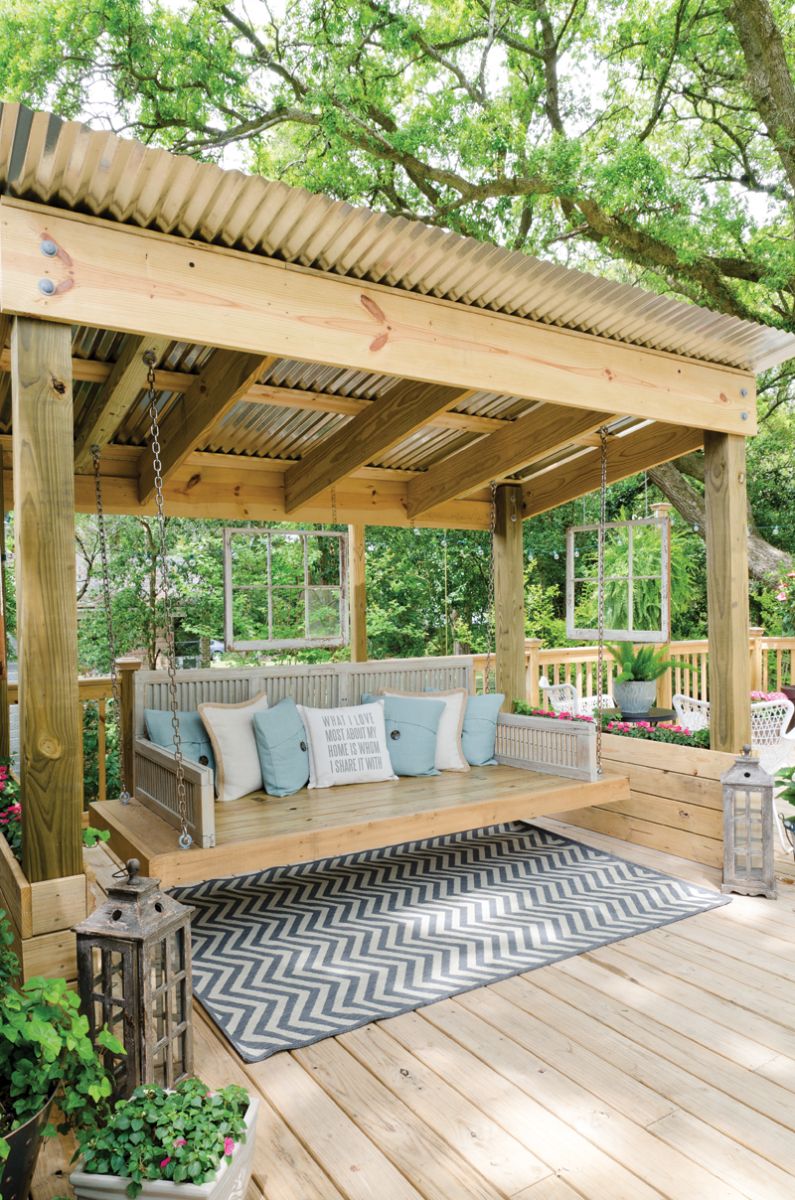 Create a restful seating area by constructing a gazebo with a metal roof. The unique feature of this gazebo is the hanging swing couch. This couch is wider than regular swings, giving it a fresh and updated look. Add a collection of comfy outdoor cushions to complete the seating area.
3. Outdoor Living Room DIY Patio Decoration and Table Set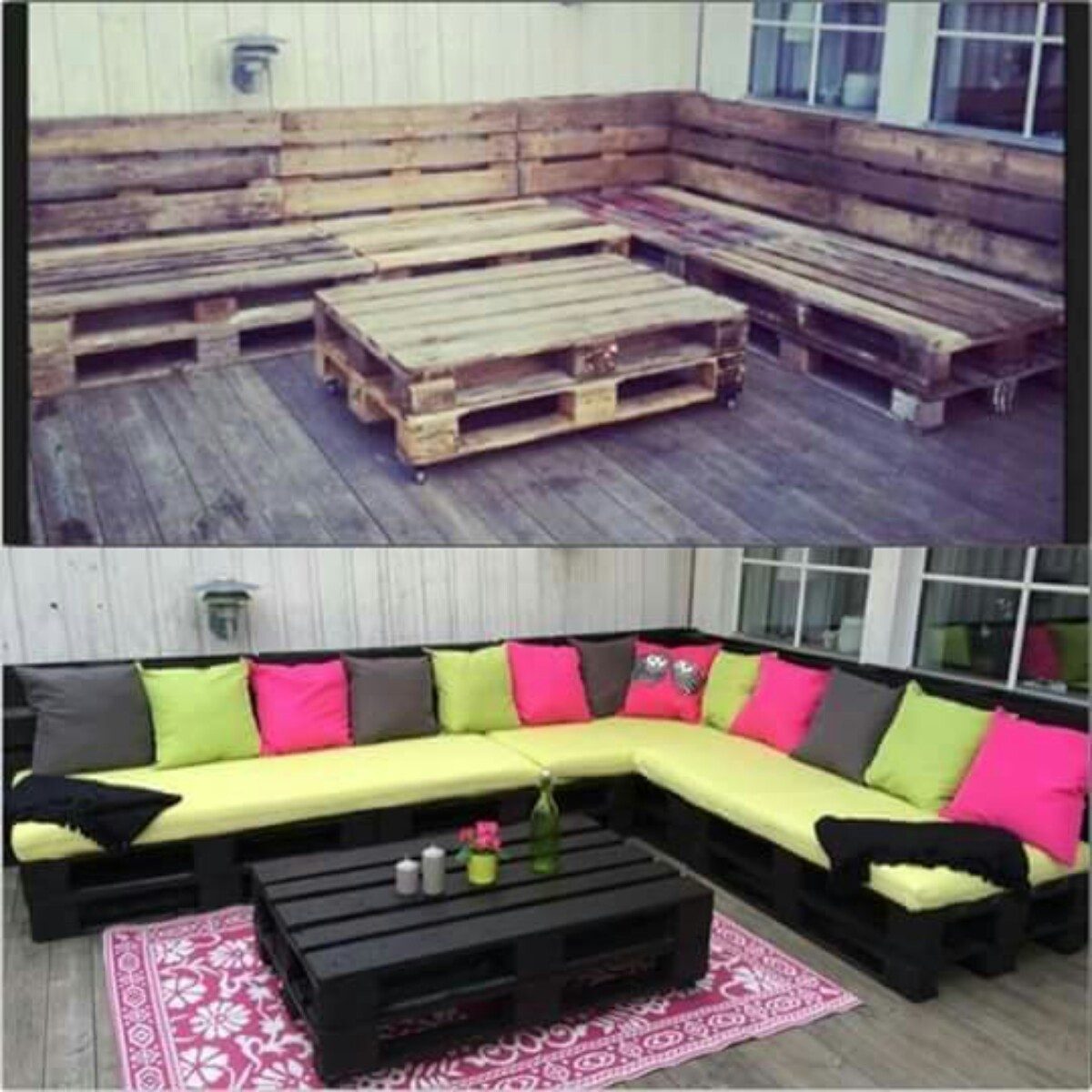 This stylish patio set is made from wood pallets. The pallets are stacked to make a coffee table, and combined to make the sectional couch. Painting the pallets black gives the furniture a stylish and contemporary look. Add cushions in vibrant spring green, hot pink, and neutral gray to brighten the look. Add an indoor/outdoor rug for the finishing touch.
4. Playful Mix and Match Seating and Fire Pit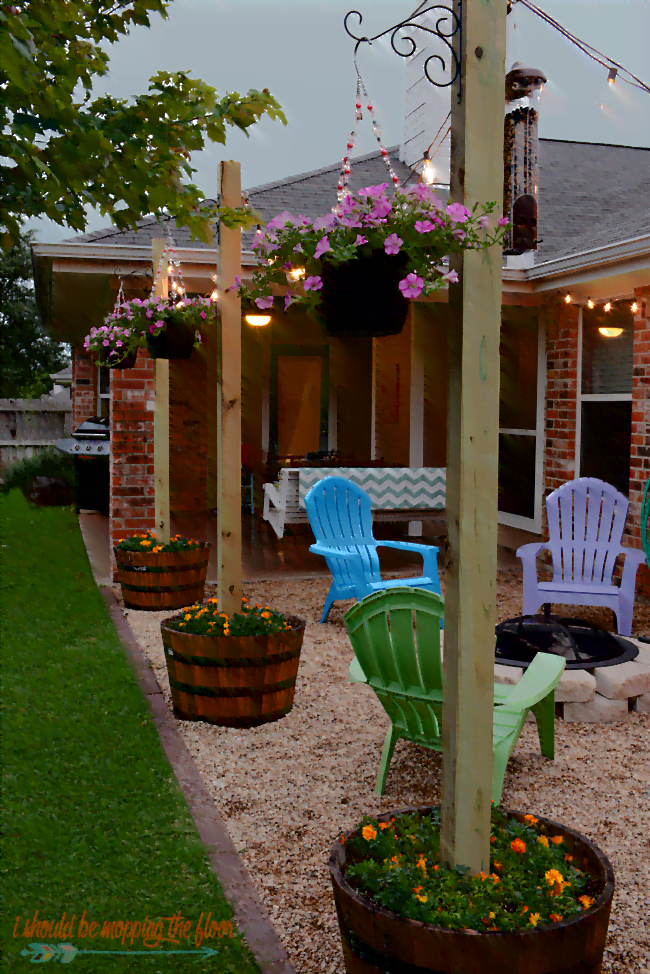 This cute and casual patio area has tall posts in traditional barrel planters. Hanging planters with fun beaded wire adorn the tops of the posts. These are planted with cheerful petunias. The bottom of the planters are filled with marigolds. The colorful patio chairs encircle a DIY fire pit. Another seating area has a swinging bench seat with a zig-zag striped throw.
5. Oversize Planter Pots and Tikki Torch
For a fun touch on patio lighting, try putting tiki torches in oversized planters. Surround the torches with a vibrant mix of annual flowers and greens. The different colors and types of foliage give your patio a fun, playful look. The flowers brighten the patio during the day and the tiki torches take over at night.
6. Comfortable Wicker Seating Set and Fairy Lights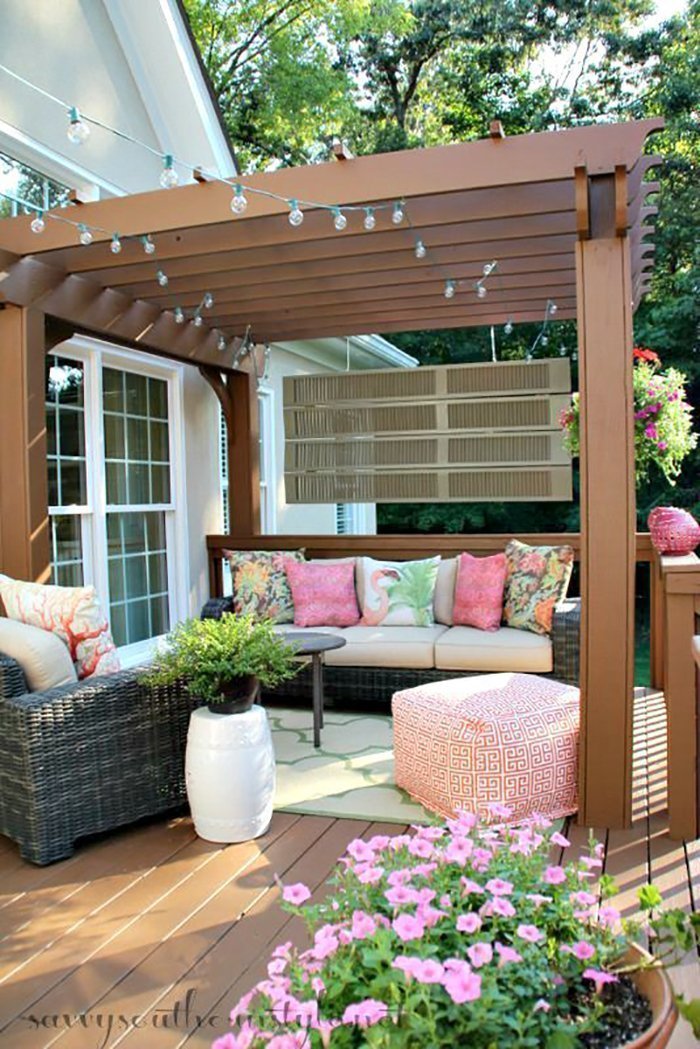 This patio set nestles under a graceful arbor strung with fairy lights. Comfortable wicker furniture and an oversized bean bag cushion fill the space. An old folding closet door hung from one of the open sides of the arbor provides shade. Finish the look with a set of fun flowered cushions for comfort and style.
7. Understated Brick and Wood Fire Pit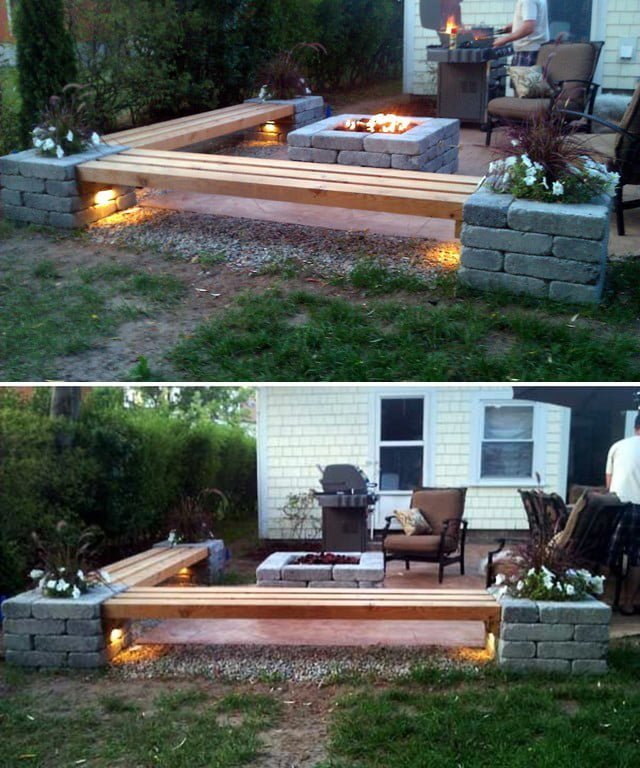 This contemporary style seating area echoes the square lines of a DIY fire pit. The benches are attached to strong stone planters with built-in lighting underneath. The wood is simply stained and waterproofed for a durable finish. This would be a great space for your family to gather and enjoy an evening fire and some tasty s'mores.
8. Earthy Picnic Table and Hanging Lights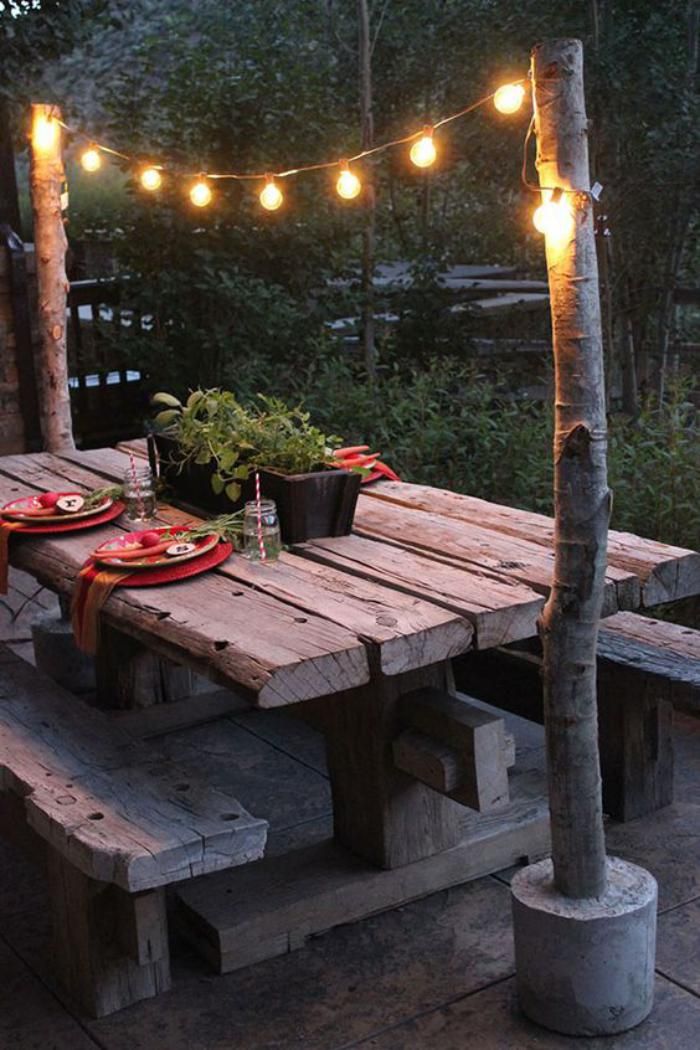 This rustic DIY picnic table is accented by hanging fairy lights. Use solar lights to keep from having loose cords on your patio. To hang the lights, stand birch logs in concrete molds and let the concrete set. Finish the table with an herb planter and enjoy a delicious meal with your family and friends.
9. Upcycled Painted Cinder Block Cushioned Bench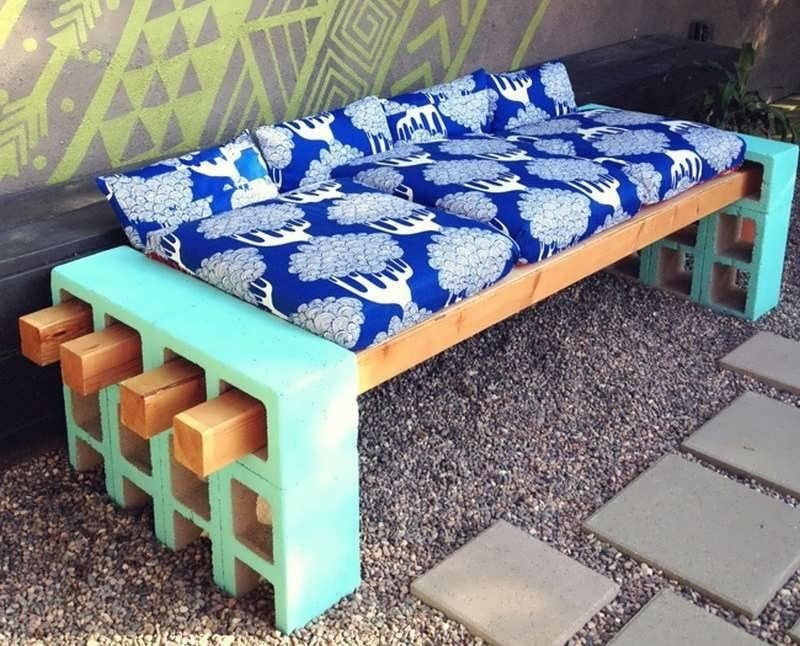 It's easy to make this bench with upcycled cinder blocks, 2 X 4s, and a colorful cushion. Paint the cinder blocks in an appealing light color to bring a modern touch to the bench. The 2 X 4s support the cushion and make an interesting visual statement as well. Choose a daybed sized cushion to top your new bench.
10. Festive Party DIY Patio Decoration Ideas With Hats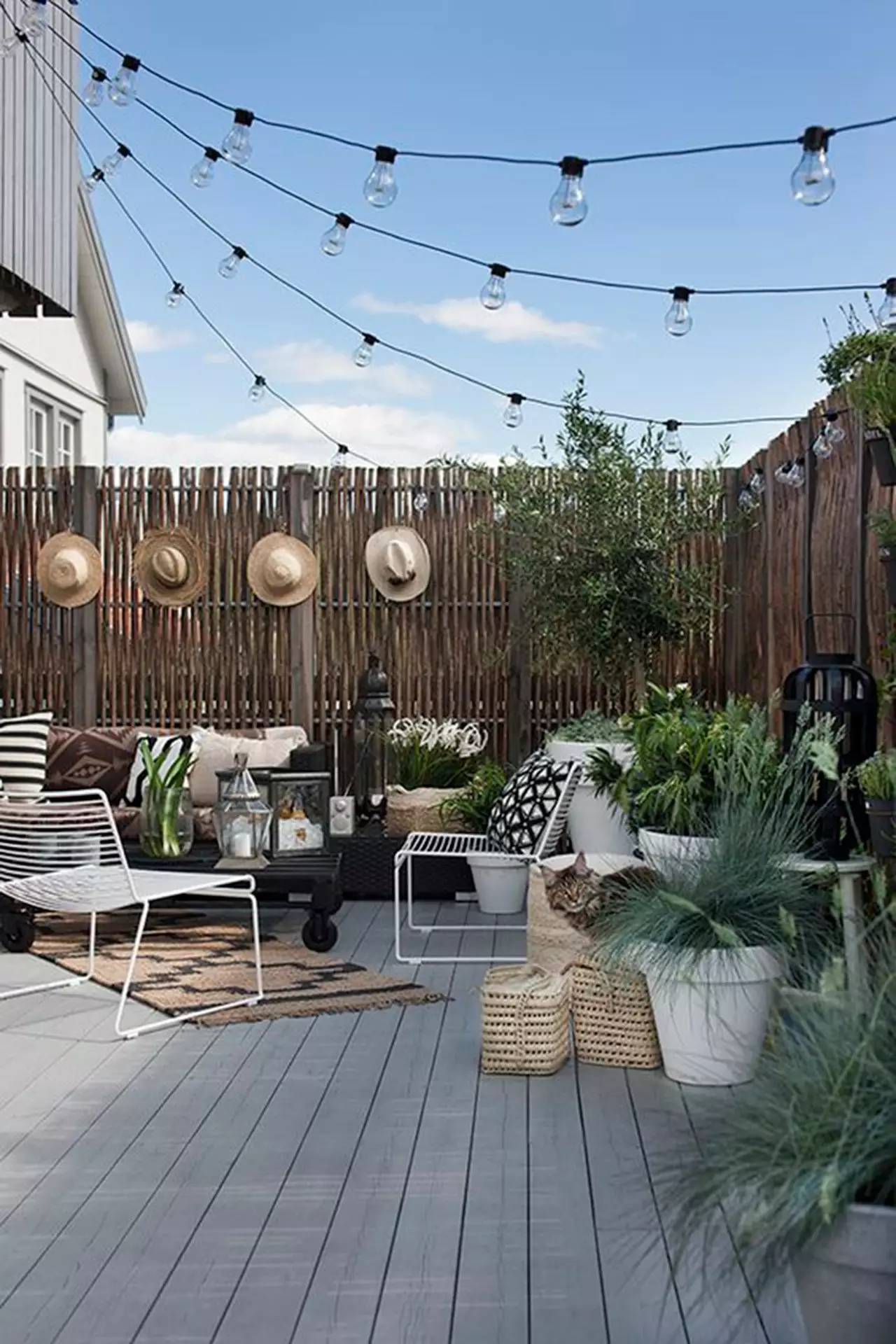 Straw hats bring a fun and whimsical touch to this patio arrangement. A rolling coffee table made from an old pallet is encircled by white wire chairs and a comfortable couch with brown cushions. A pretty lantern accents one of the side tables. The patio is surrounded by lush greens in oversized planters. Globe lights hang overhead for a modern touch.
11. Beige Sectional and Hanging Antique Lantern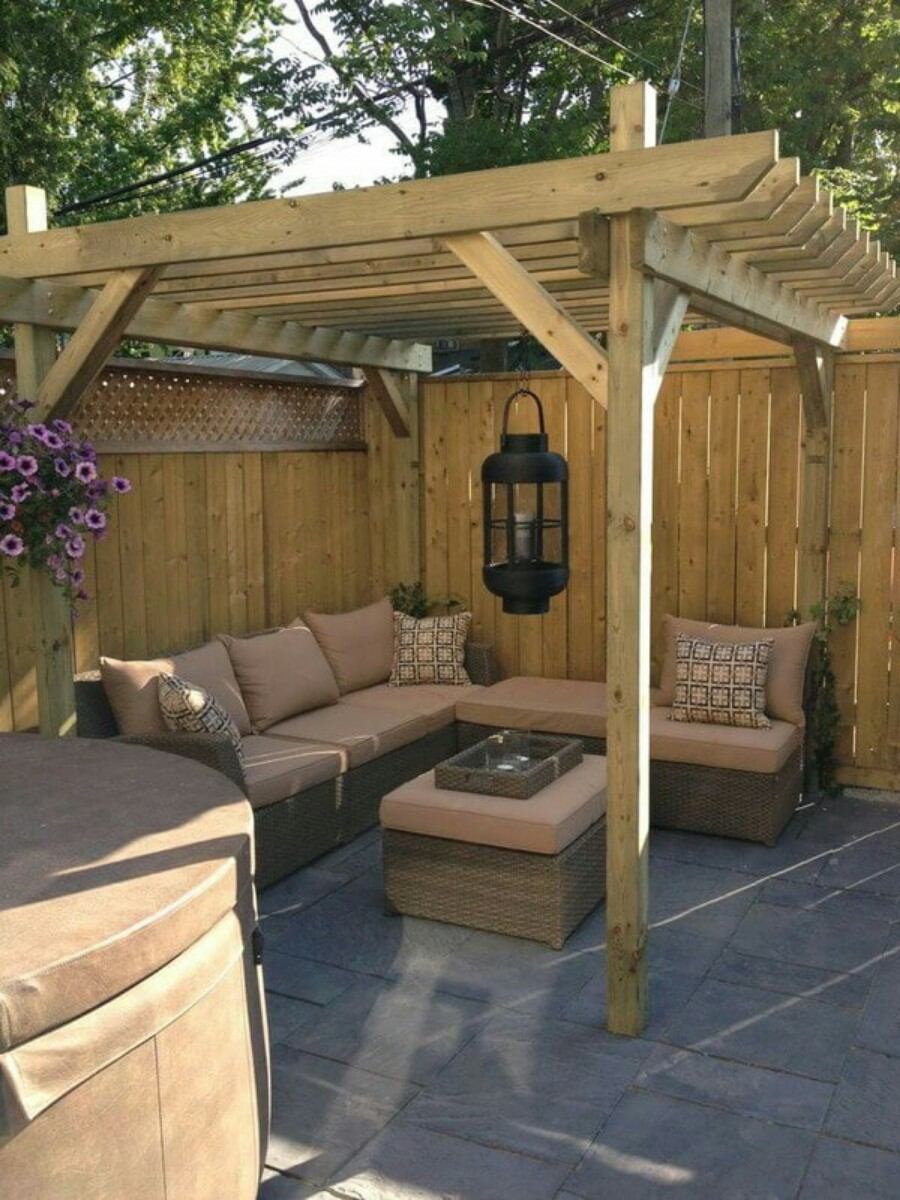 On this relaxed patio, a lovely arbor provides shade to a sectional seating arrangement. A large antique lantern hangs from the arbor, making a charming focal point. The couch arrangement in shades of brown and beige gives a refined feeling to the patio. A hanging basket of purple petunias provides a pop of brilliant color.
12. Centered Fire Pit With Sofa and Matching Armchairs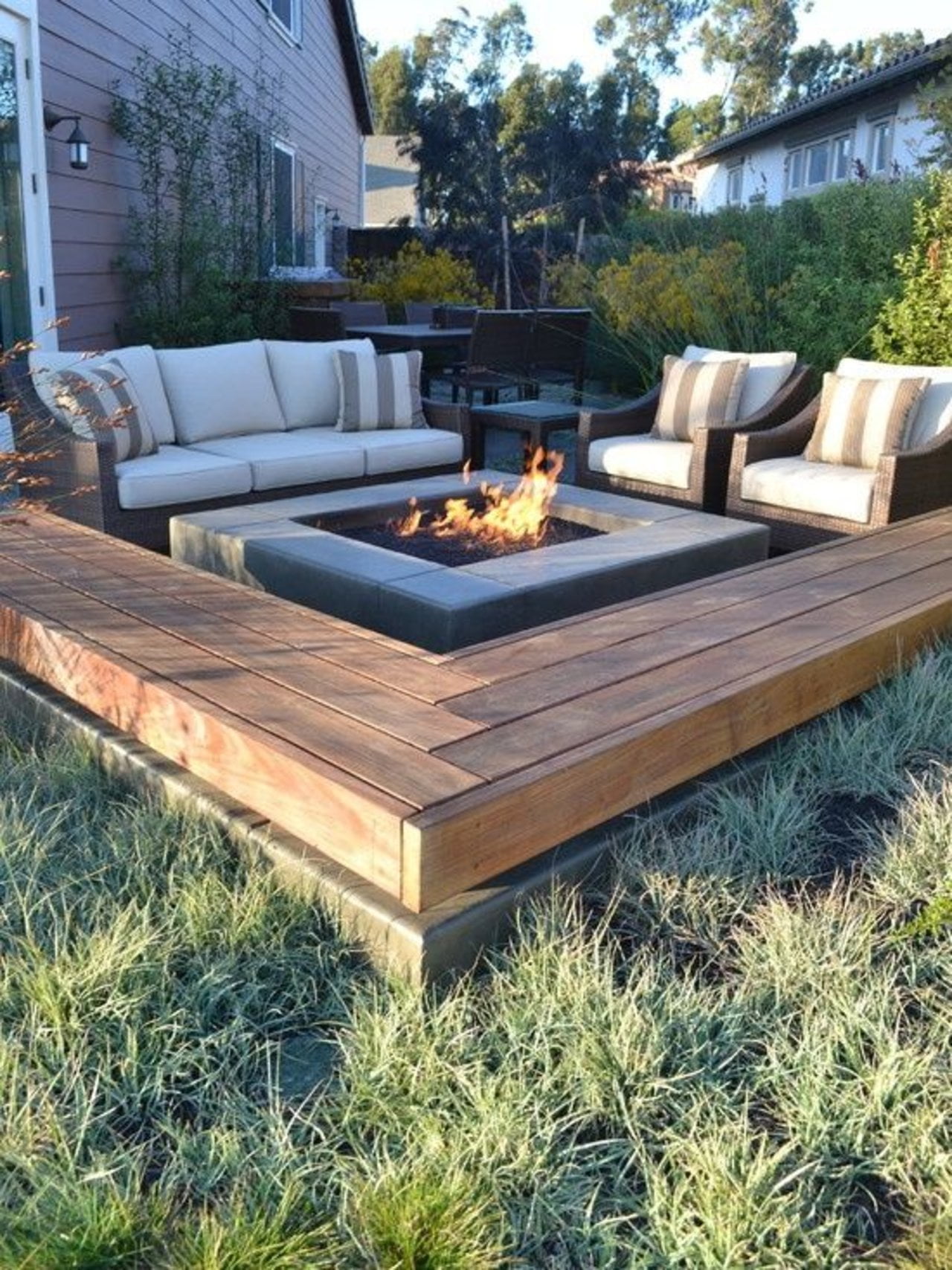 This large, square fire pit and surrounding benches bring a modern, sleek look to this patio arrangement. The matching couch and chairs complete the seating arrangement in shades of beige and white. This fire pit is a gracious and welcoming place for family and friends to sit in the evening and in cooler weather.
13. Upcycled Painted Pallet and Concrete Table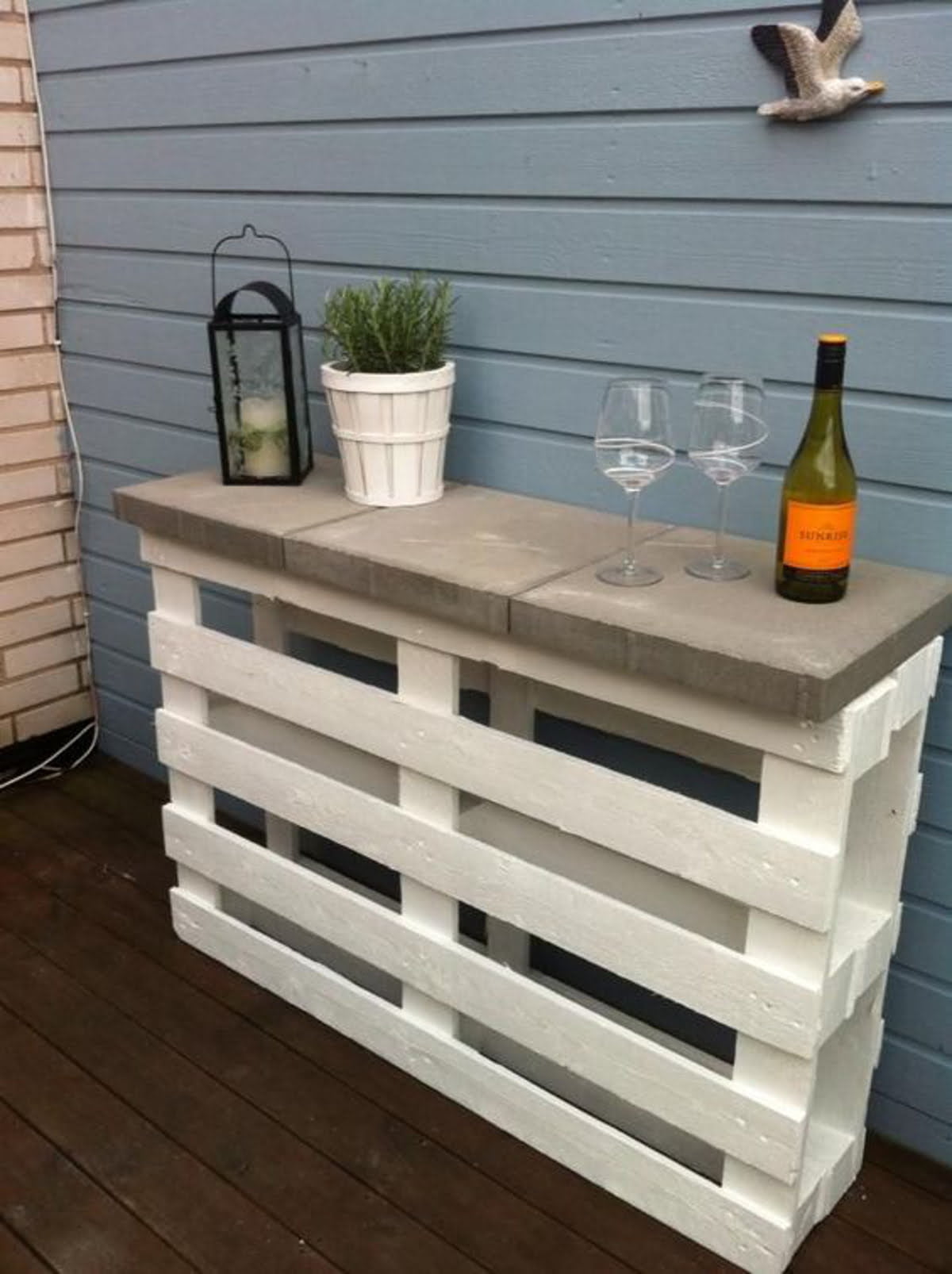 This ingenious table is made from two upcycled wooden pallets stood on their ends. The pallets are painted white and concrete paver blocks are added to the top for a table surface. The table is accented with a potted plant and a candle lantern. This is an easy and inexpensive project that brings much needed serving space to your patio.
14. Light Mini Secluded Love Seat and Washtub Tables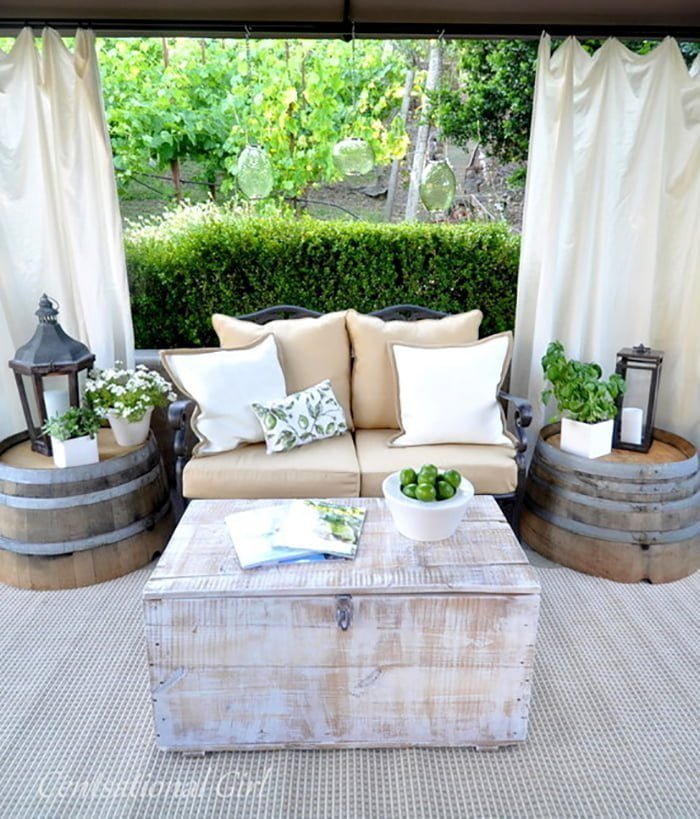 This cozy seating area has a metal loveseat with inviting cushions. The side tables are simply turned over washtubs. These are accented with candle lanterns and potted plants. A reclaimed wood crate takes its place as a coffee table. White curtains are hung behind the seating area to provide privacy and shade. The seating area is finished with an indoor/outdoor carpet.
15. Sparkling Fairy Lights and Lounge Chairs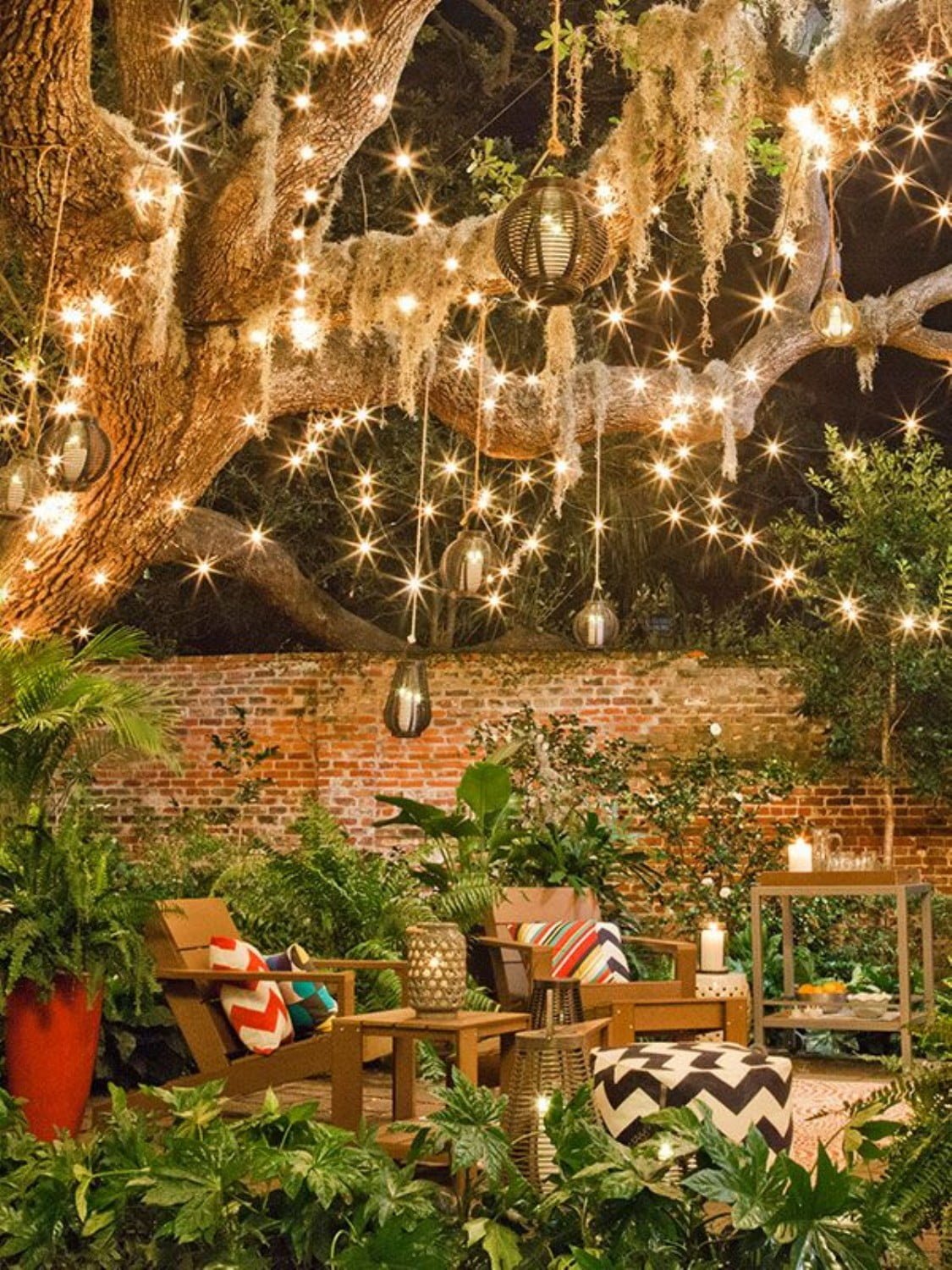 This seating area has two wooden Adirondack style chairs with a modern, angular sensibility. The chairs have vibrant zig-zag patterned cushions, echoing the pattern on the ottoman. The standout feature of this patio is the sparkling lighting. Fairy lights are strung from the high branches of the tree, and candle lanterns hang down to provide variety.
16. White Stamped Wooden Table and Wire Chairs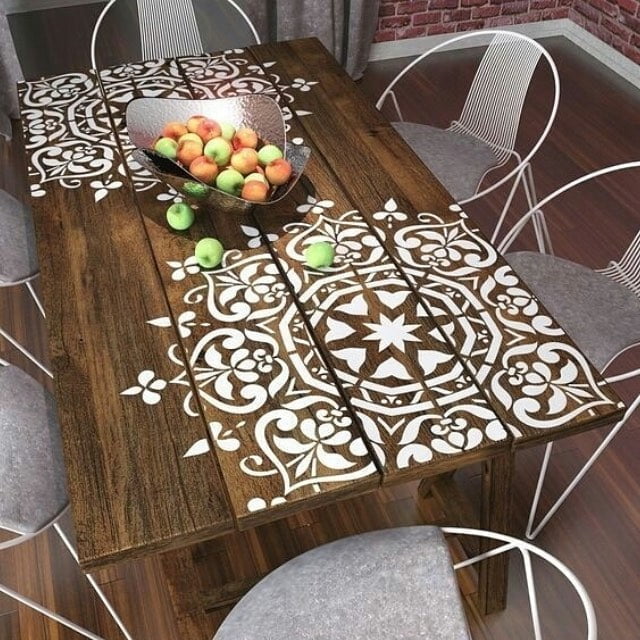 An intricate stencil brightens this plain wooden table. A stencil is easy to accomplish at home and requires only a little bit of painting skill. The stencil gives an exciting modern touch to the traditional rectangular table. Wire chairs and a bountiful fruit bowl complete the look.
17. Cinder Block Built Base Bench with Cushions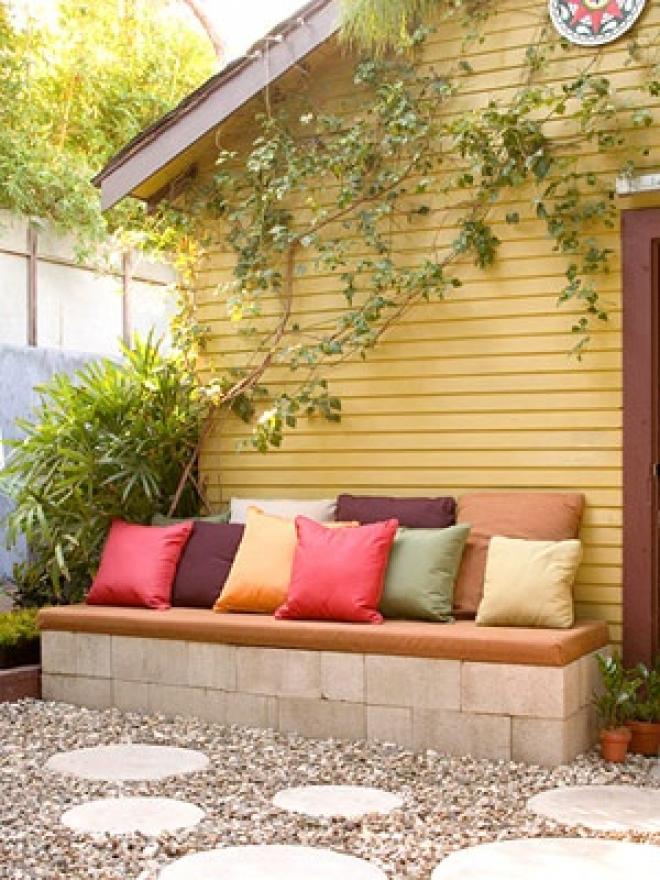 Making a bench with cinder blocks is simple and inexpensive. Simply stack the blocks and add comfortable padding to the top. Bountiful cushions in rich shades of pink, yellow, green, beige, and white complete the look and make the bench inviting. The patio is made of simple gravel with round paving stones as accents.
18. Square Sectional with Keg Tables and Hanging Lanterns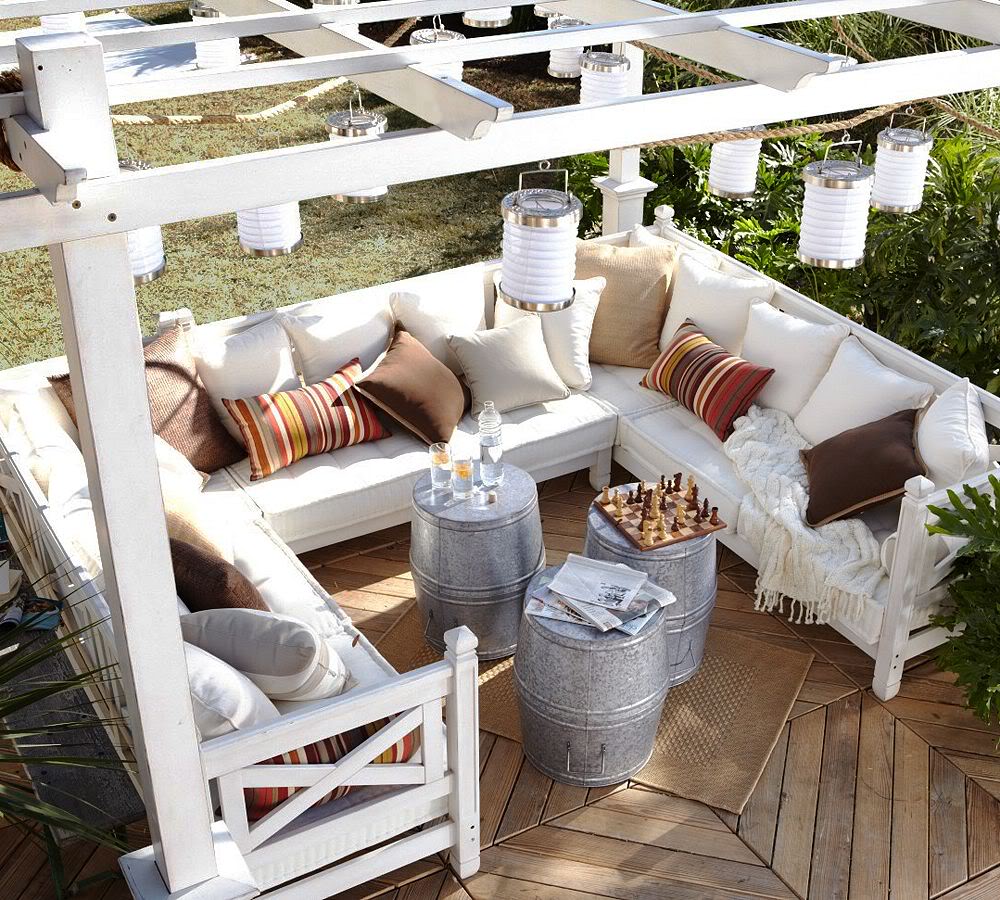 This outdoor sectional sofa has posts that form an arbor. Fun lanterns are hung from the arbor for light in the evening. The tables are made from overturned kegs. The galvanized metal makes a nice contrast with the beige and white sofa. The sofa is finished with a selection of brown, beige, and white cushions with striped accents.
19. Upcycled Nature Wood Pallet Plant Shelf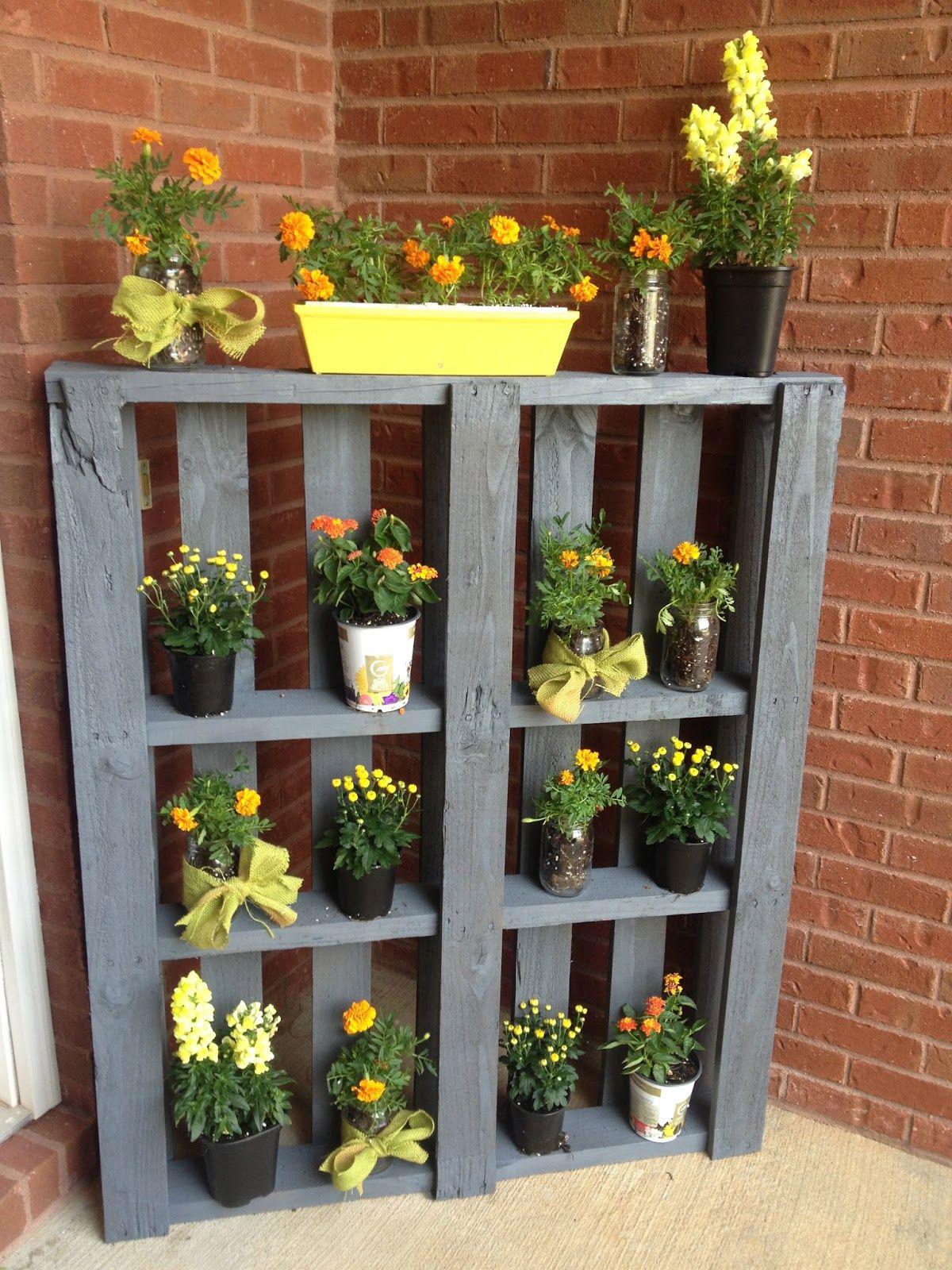 This is a super easy DIY project featuring a wooden pallet. Simply paint the pallet in any color you wish and turn it on its end. Place plants of your choice on the shelves and on top. This pallet is painted in a soft blue-gray and has a variety of yellow flowers for a pleasing color contrast.
20. Fairy Light Fence and Cinder Block Benches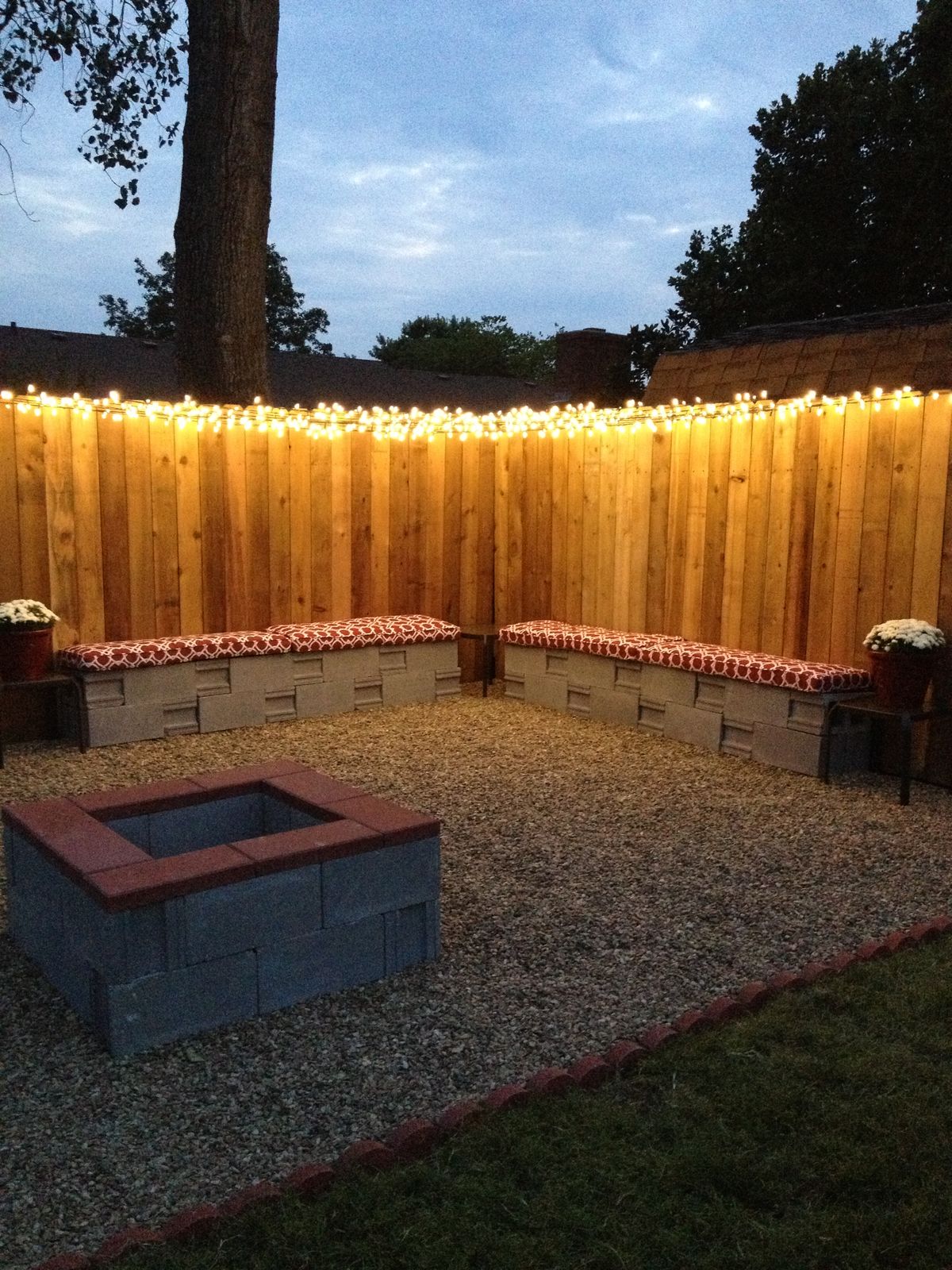 Benches made of cinder blocks can be given interesting design touches by turning the blocks in an alternating checkerboard pattern. The benches are finished with comfortable cushions in a maroon and white pattern. The area is finished with densely packed fairy lights along the top of the fence. This gives the area a modern and fun touch.
21. Patterned Mounted Gazebo With Simple Seating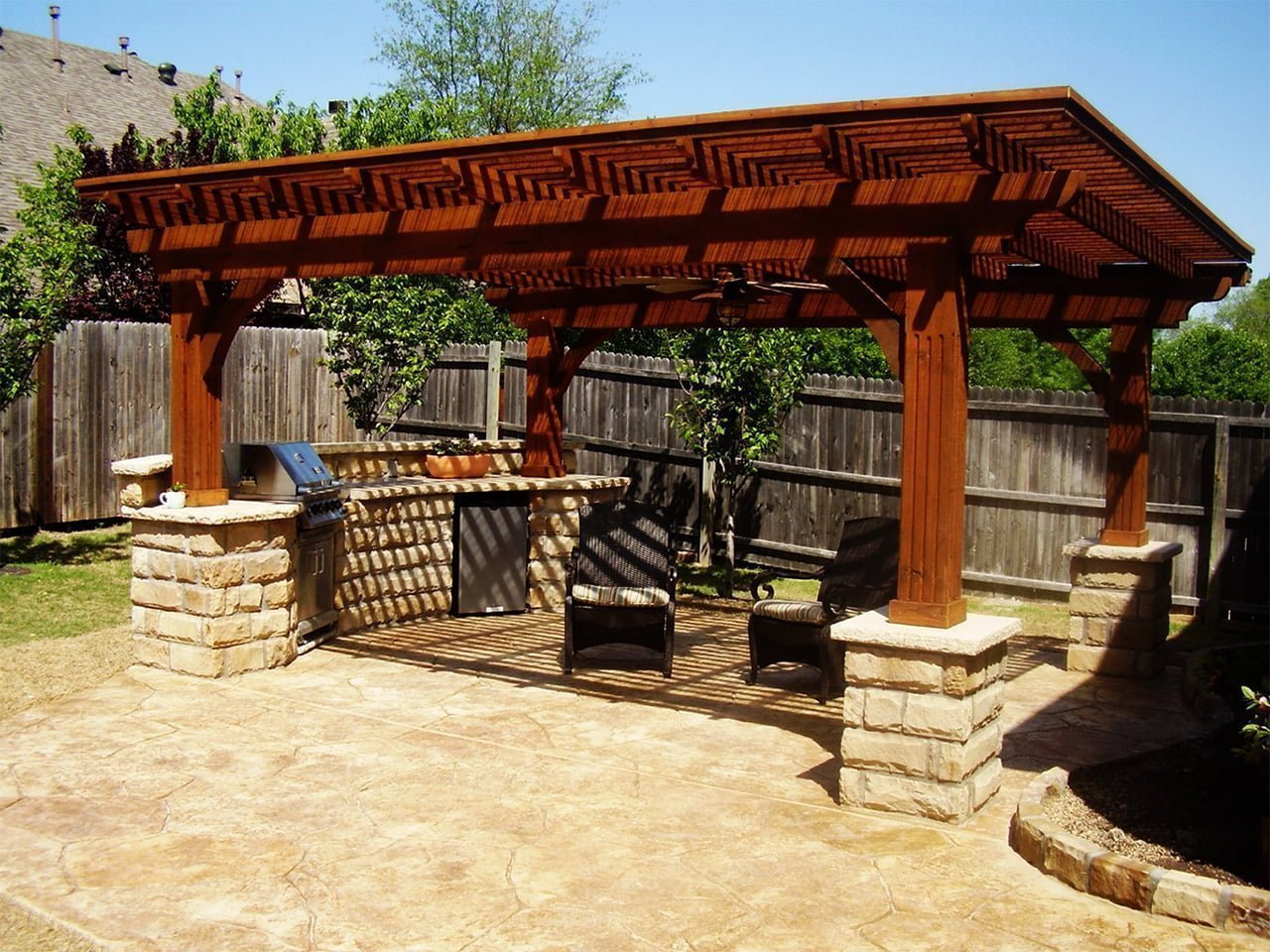 This gazebo is intricately carved with vertical line patterns. It is stained in a beautiful rich brown, contrasting with the rough stone supports. In the shade of the gazebo sit two simple armchairs ready for a peaceful afternoon of relaxation. A gas grill is tucked in the corner of the gazebo for convenient cooking.
22. Recycled DIY Patio Décor With Wooden Flower Planter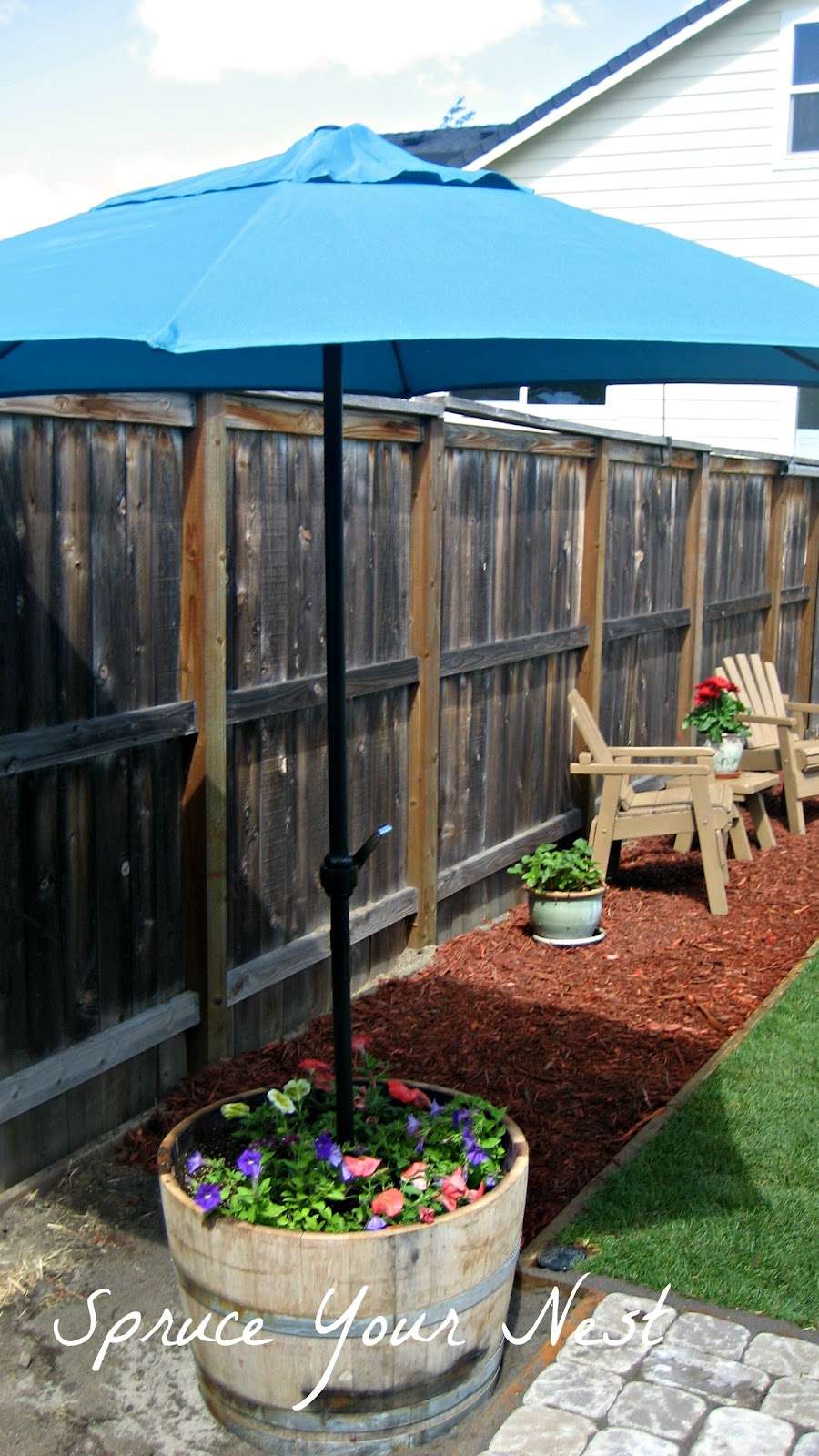 Reuse your old barrel planters by using them as umbrella stands. It is best to anchor the umbrella in the stand with concrete so that the arrangement does not tip over. The umbrella stand is surrounded with bright and cheerful annuals in shades of purple, pink, and white.
23. Hanging Chain Link Mini Planters and Office Chair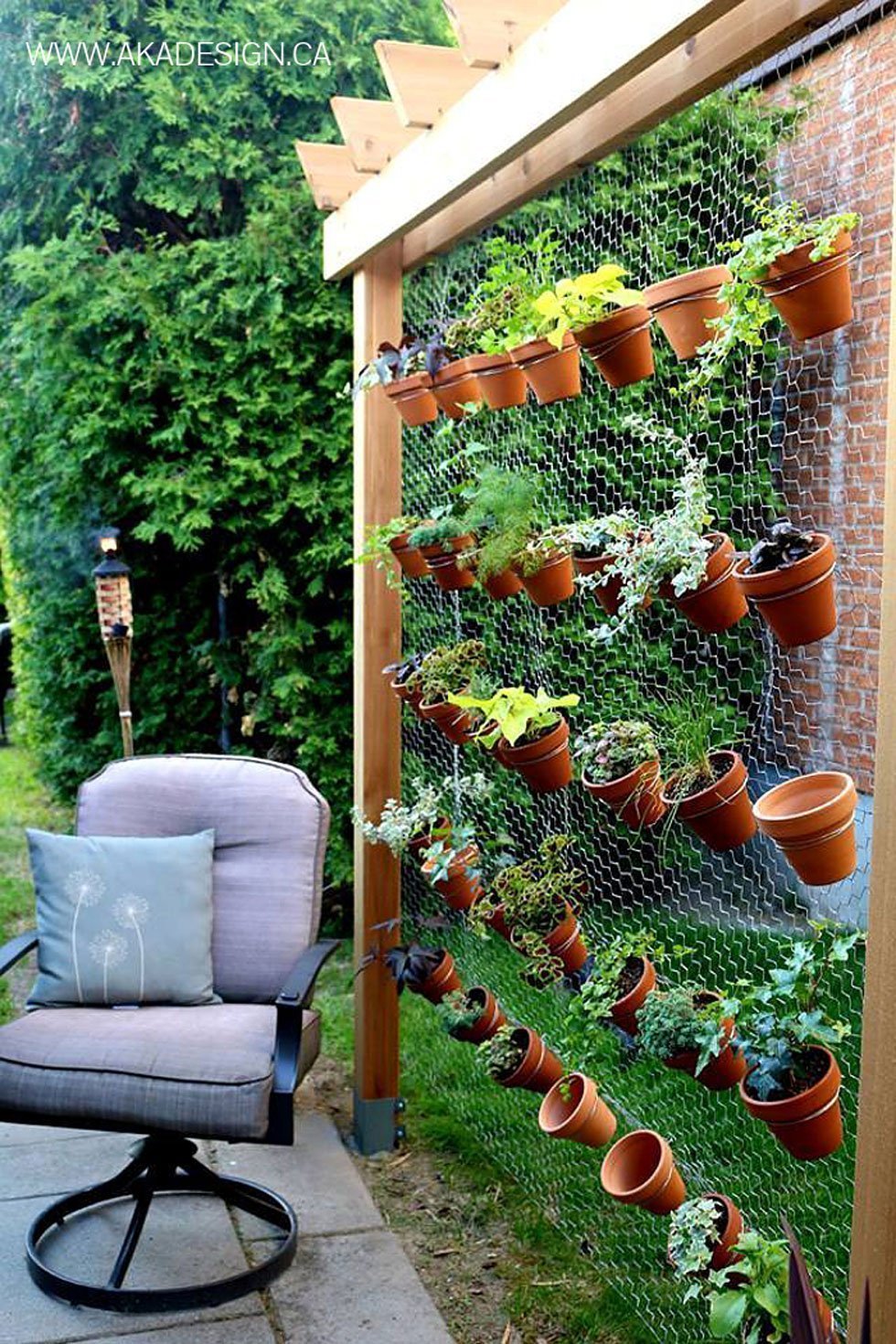 With the ingenious use of chicken wire, hang rows of terra cotta pots on this planter wall. This would be a great place to grow annuals, herbs, and greens. The frame of the planter wall is a single strut from an arbor. This wall provides a cute backdrop to any seating area.
24. Mounted Curtains With Lounge and Dining Sets
Tall supports stand at the edge of this patio. Curtain rods are set into the supports, and beige curtains are hung from them. The curtains help to visually separate the lawn area from the patio. The patio seating is gracious and inviting, with a pretty scrollwork pattern on the upholstery and coordinating sage green and beige cushions.
25. Plant Lovers Paradise With Armchair and Table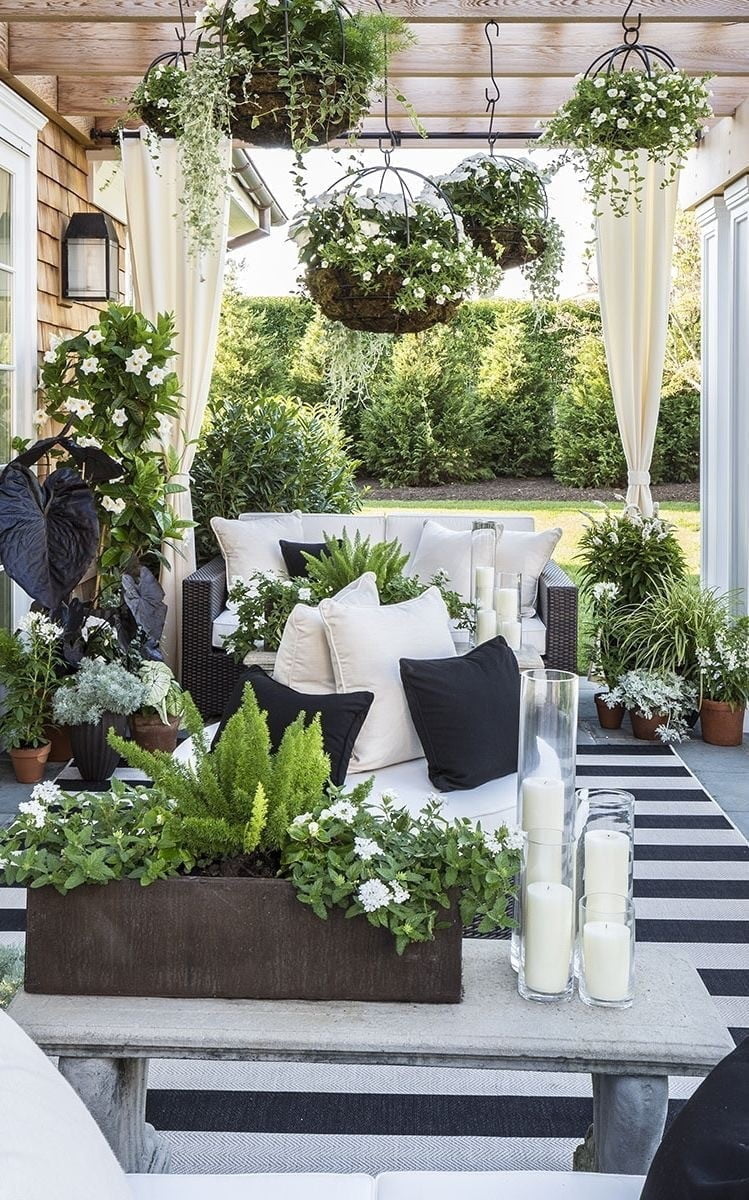 This lushly planted patio area has an arbor for shade. Planters hang gracefully overhead and surround the patio. The flowers are planted in white with foliage accents, complementing the white upholstery. White candles echo the color of the flowers. The seating area is finished with a brown and white striped rug.