Pegboard may be something you associate with stores and workshops. However, it can be useful in organizing more than a workshop, and it can even be decorated so that it can be used in any room in the house. The versatility of being able to use shelves, baskets, hooks, and pegs allows you to use a pegboard organizer for a wide variety of items. These DIY pegboard ideas should provide a wide variety of inspiration for you, including using pegboard as a way to create changeable shelf arrangements as a focal point display area in a room.
23 Decorative DIY Pegboard Ideas that will Add Fun to Organization

There are just a few things to consider as you create pegboard organizers. First, you need to hang the pegboard so that there is enough space between it and the wall to use hooks on the pegboard. Second, you need to consider the weight of the items that you will be hanging on it. The board and hangers need to be sturdy enough to hold these items. Further, you need to consider the overall weight of the loaded board and be sure that you hang it securely enough that it will not fall.
1. Pegboard Christmas Tree for Cards, Artwork or Ornaments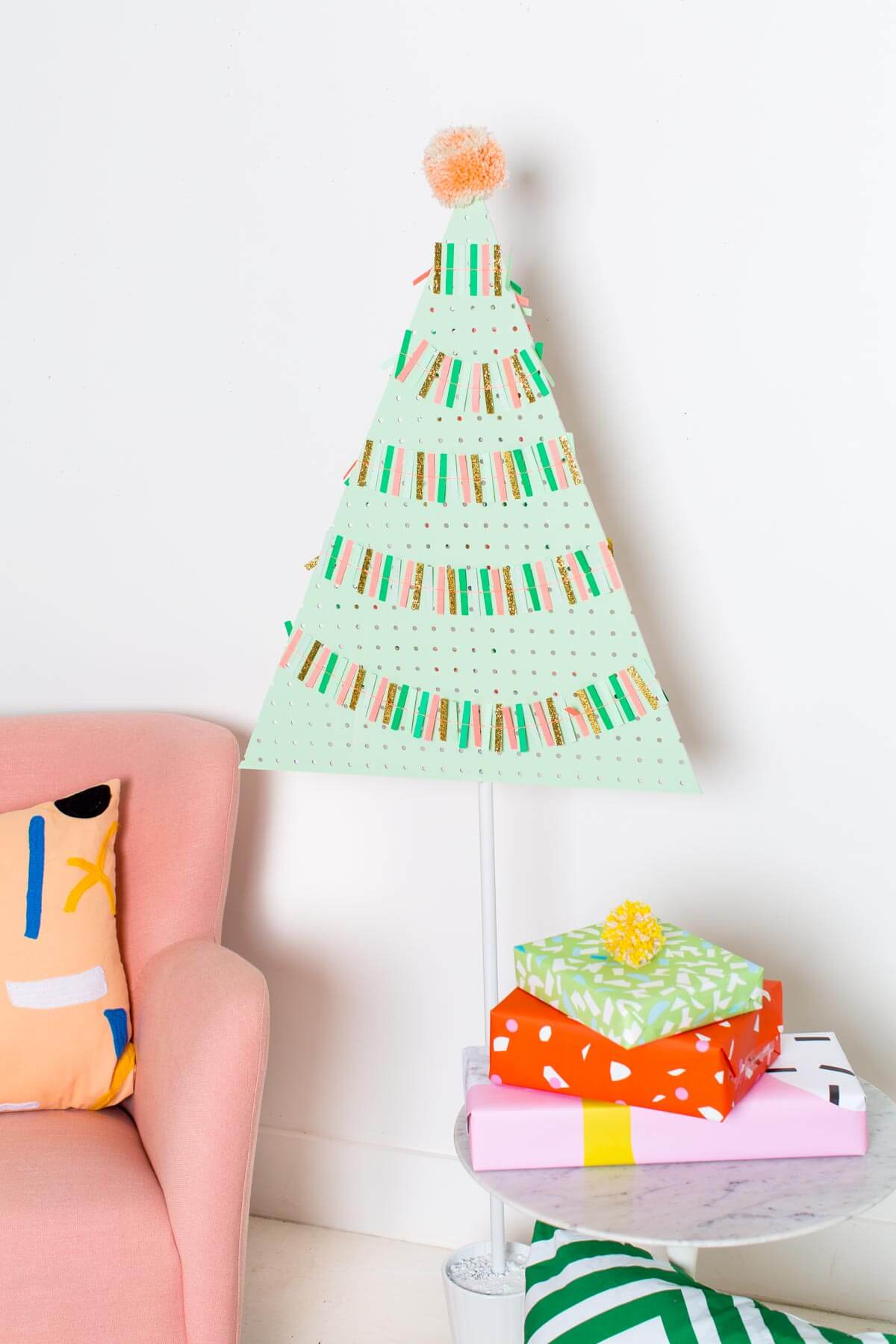 This pegboard Christmas tree can display your cards, your kid's artwork, or decorations. If you have limited space, this tree can be a solution. This tree also shows you can cut pegboard into shapes that coordinate with your decor. As you browse through all the following DIY pegboard ideas, consider different shapes for your decor.
2. Colorful Pegboard Organizer for Your Craft Room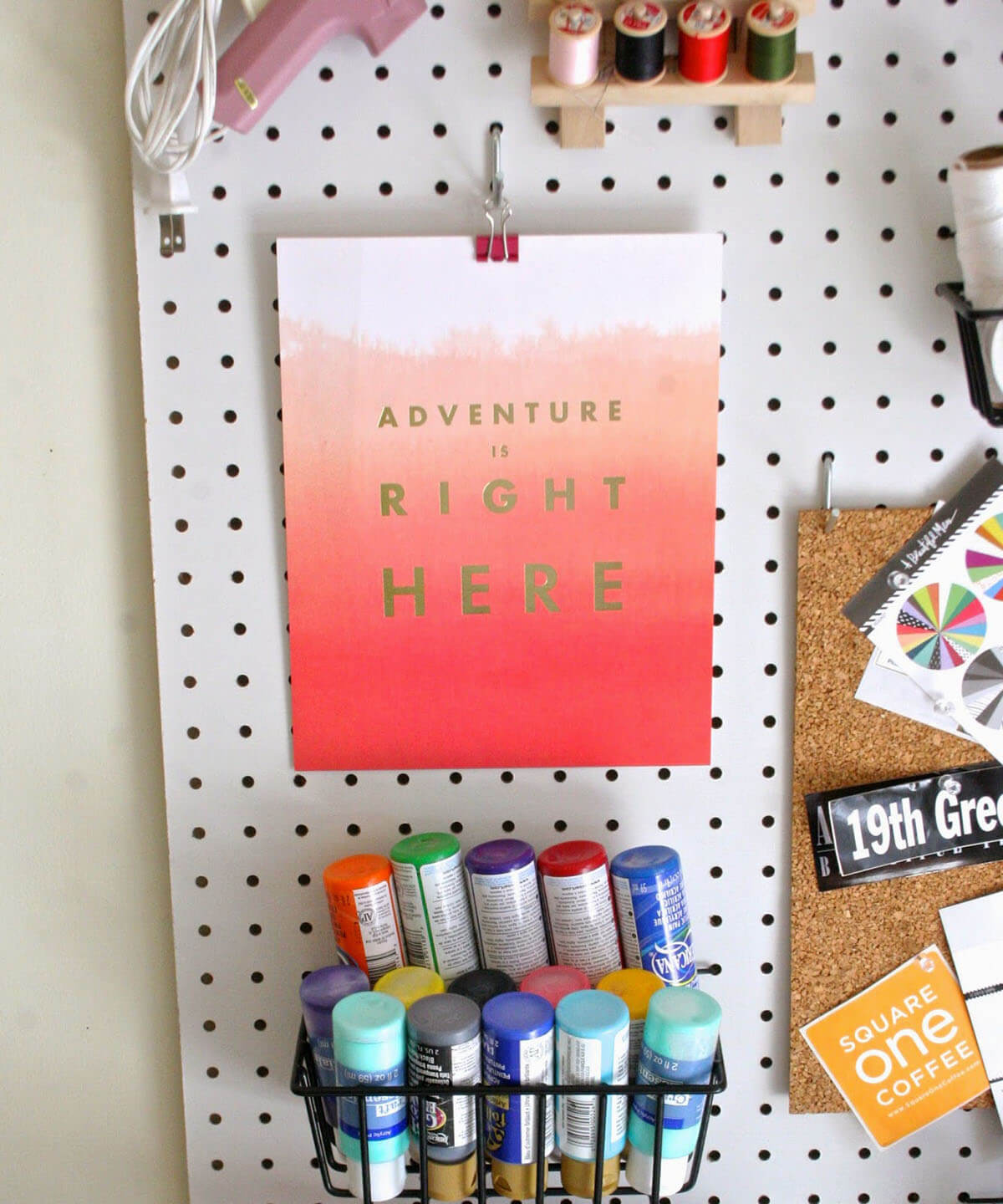 This organizer shows how pegboard is not just utilitarian but can also be a decorative focal point in your work area. Supplies are arranged in a way that is visually interesting, and colors have also been carefully arranged. Another idea to take from this organizer is the items you can use to hold supplies including baskets, painted tin cans, shelves, hooks, and pegs.
3. Pegboard Spice Rack Framed Organizer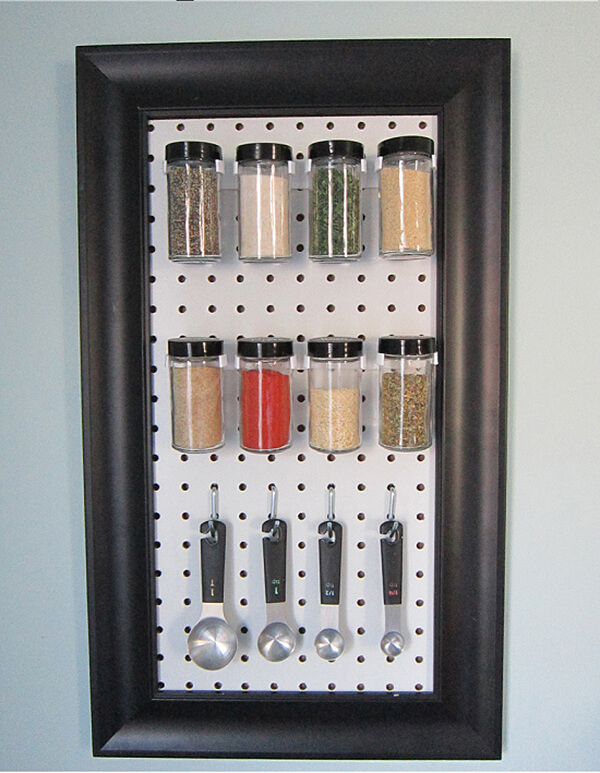 This pegboard spice rack shows that a plain pegboard back can create a decorative organizer. Again, carefully spacing items, arranging colors, and varying the shapes of the items creates an interesting and useful kitchen accent. The frame defines the organizer as a decorative item that makes spices easily accessible.
4. Creating an Organized Wall with Pegboard and Shelving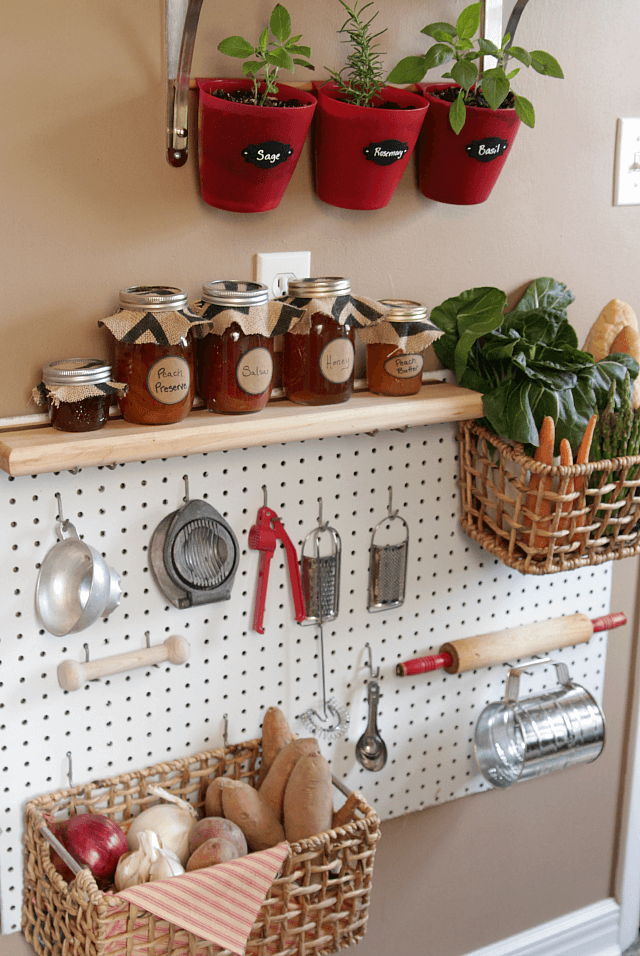 Using pegboard and shelving turns empty walls into organized spaces that are decorative. Cupboards and drawers can become disorganized spaces where you dig for items. If you lay out items that you would like easily accessible, you can plan how to use shelving, pegboard, canisters, cans, jars, baskets, and hooks to create a decorative, useful, and changeable organized wall space.
5. More Framed Pegboard Organizer Ideas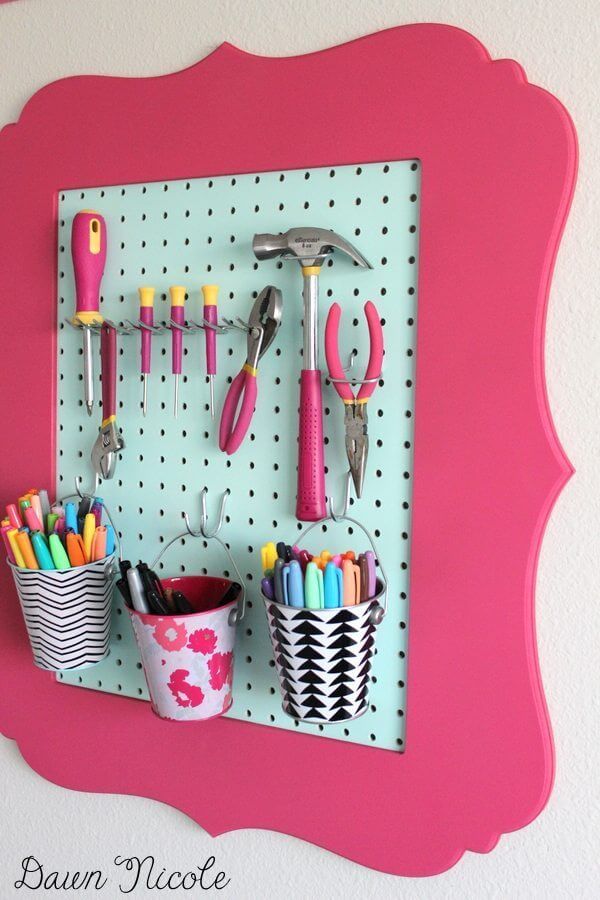 The colorful frame, the painted pegboard, and the buckets of this pegboard organizer could be adapted to a child's room. Using painter's tape can help you create a multicolored pattern on the pegboard. The buckets can hold items such as crayons. The buckets also can be taken down from the wall and be used to hold the crayons as your child colors.
6. Wall Desk Organizer for Dorm Rooms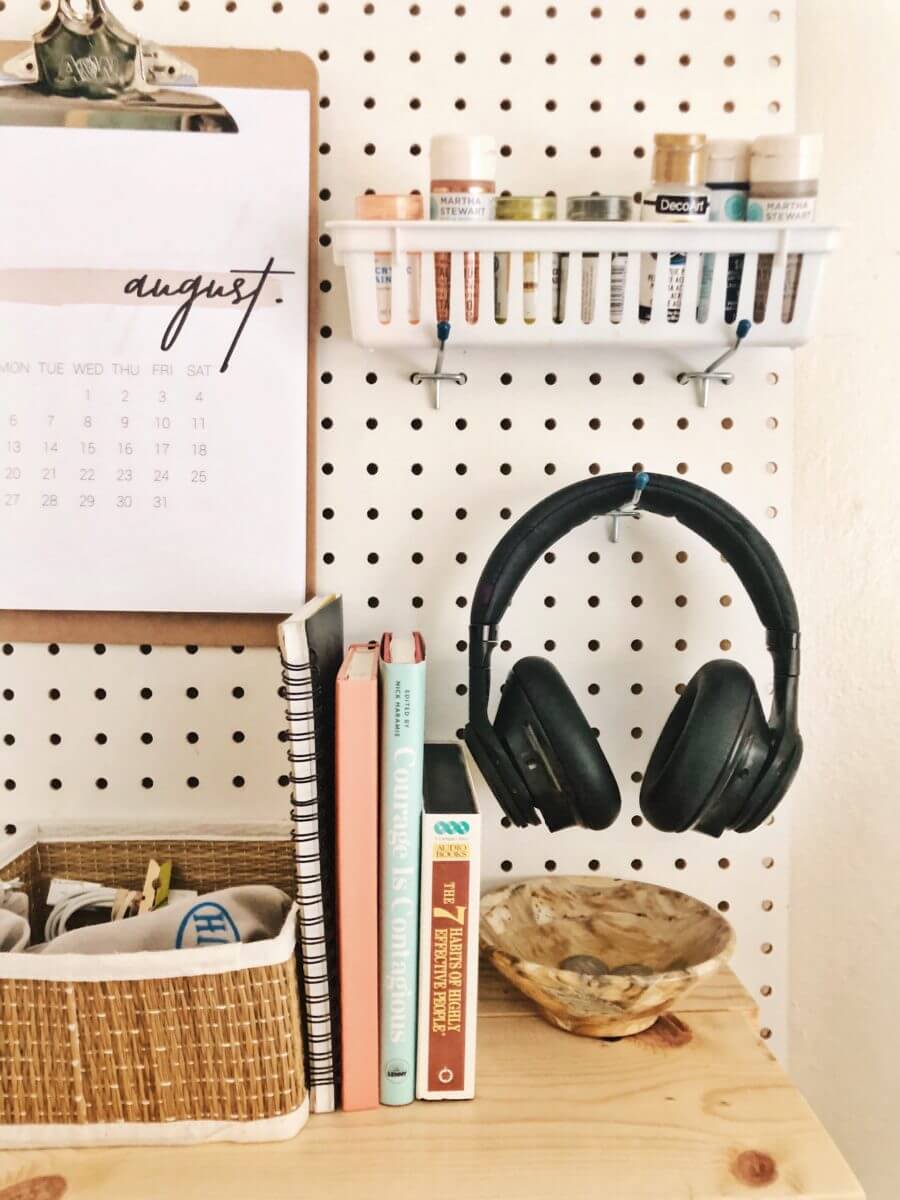 For dorm rooms or small apartments, pegboard organizers used in desk areas hold headphones, a calendar, coupons, and miscellaneous items that clutter desktops. Add a shelf, and you have a place for a few books, CDs, and videos. This not only clears the top of your desk but also does not take up floor space as a bookcase do.
7. Organizer with Cross Stitch Design and Unique Holders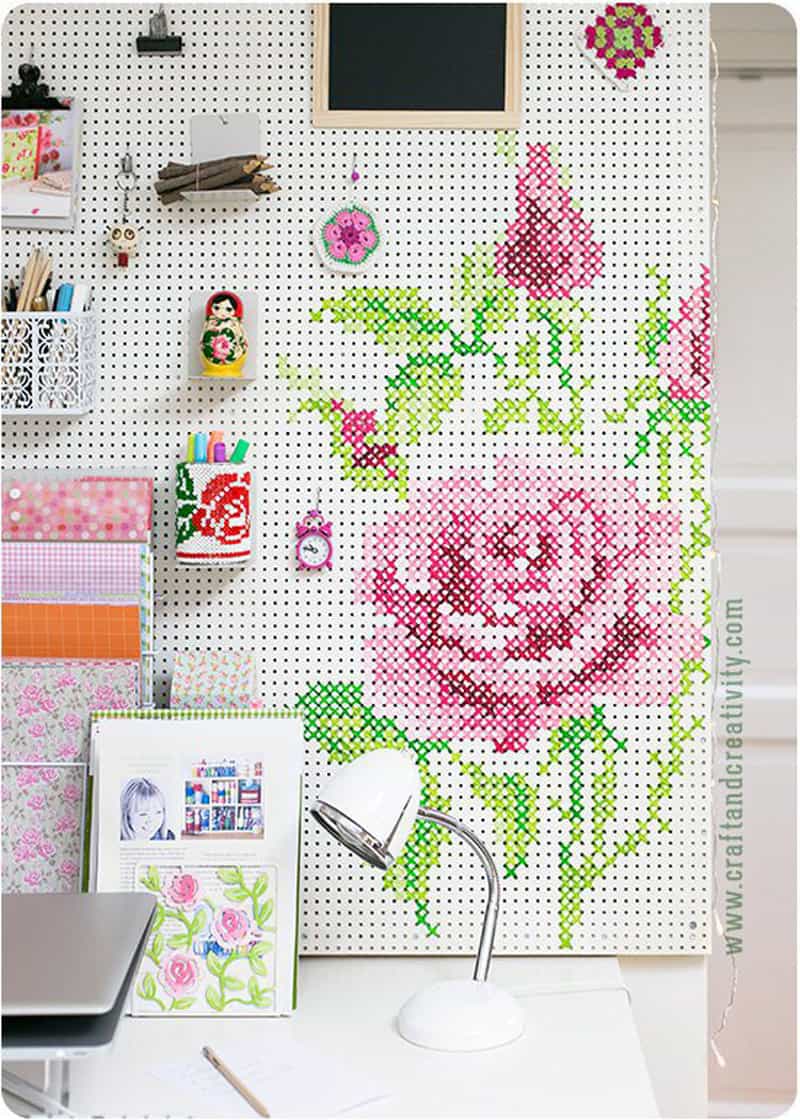 Using the holes and a cross stitch design, anyone can create a design that coordinates a pegboard organizer with their decor. Additional noteworthy ideas from this board are the dowel rod and the paper holders. The dowel rod can hold items such as ribbon or thread. The wall racks can hold magazines or files.
8. Full-length Pegboard Wall Desk Organizer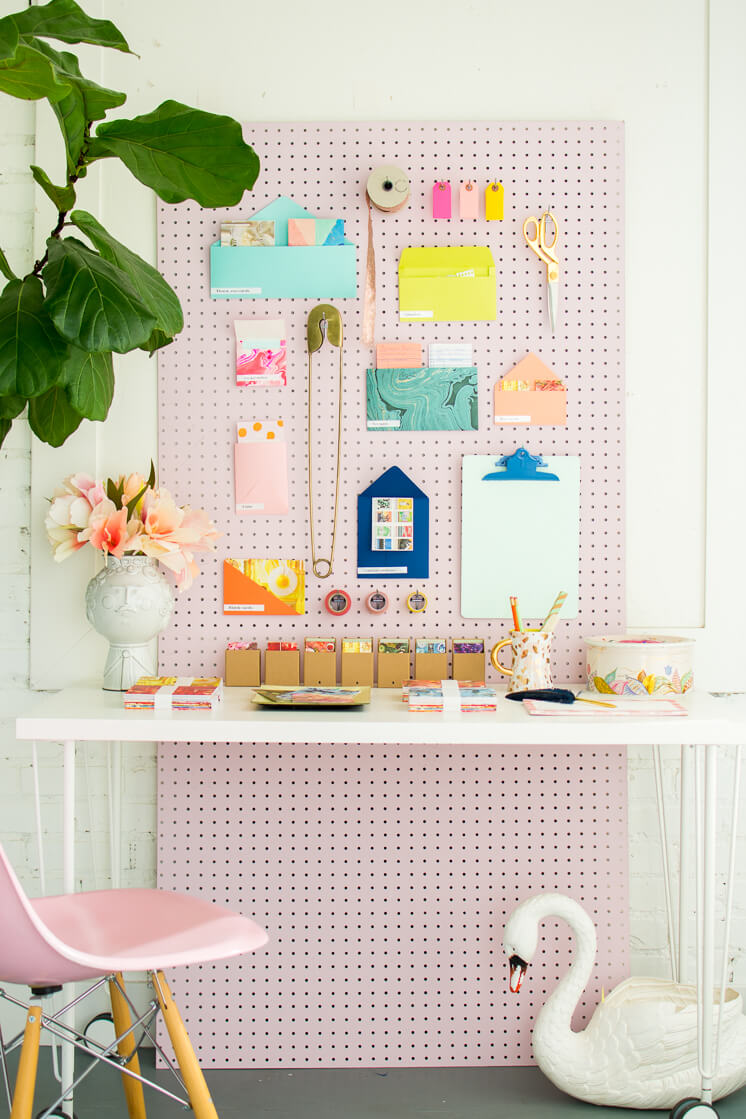 This pegboard organizer is not wall to ceiling, but it could be. Think about creating a short wall-to-ceiling pegboard section on a wall and painting it in the same color as the wall or in an accent color. It does not have to be an organizer, you could use it to arrange shelving for displays. The best part is the shelving can be rearranged.
9. Wall-to-Ceiling Pegboard Organizer for Craft Room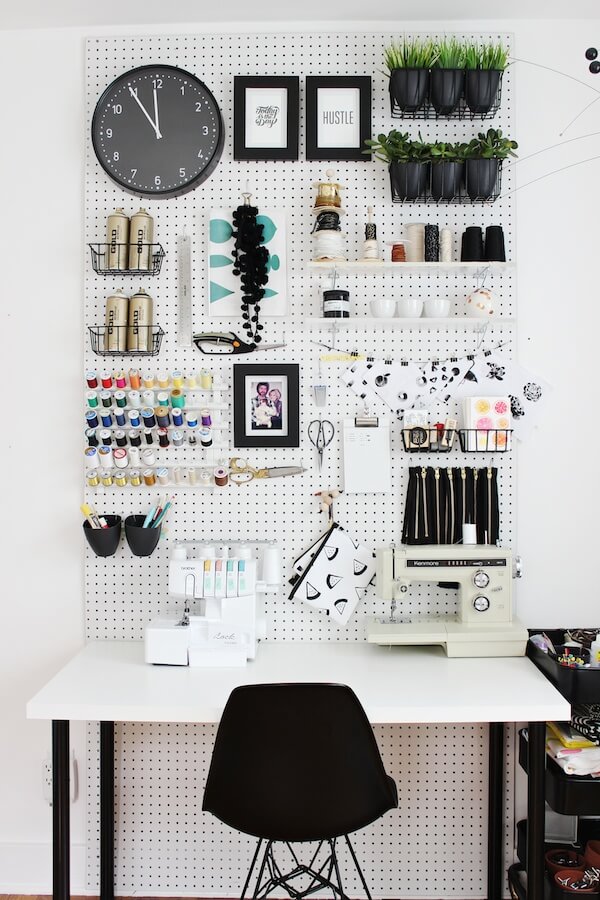 This organizer idea shows a wall-to-ceiling organizer like the idea discussed in the previous image. This idea uses the white pegboard with contrasting black decor. However, as discussed in previous DIY pegboard ideas, the board can be painted in one or more colors and a variety of designs to work with any decor.
10. Creating Decor with Pegboard Letters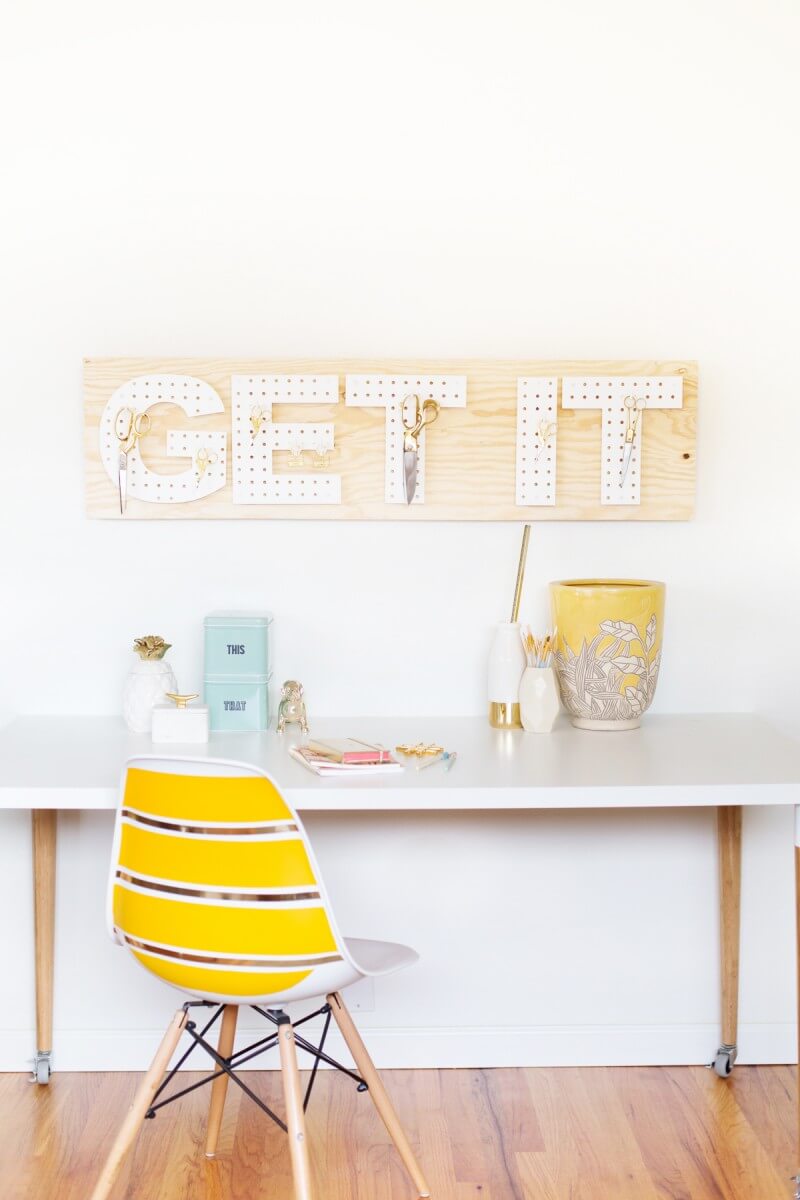 As mentioned previously, you can cut pegboard into shapes such as these letters. Letters can also be purchased pre-cut. Use them separately or add them to a board. Just remember, as mentioned previously, to leave space between the pegboard and the board for hooks. Use the holes in the pegboard letters for the organizing or decor ideas already suggested.
11. Color Blocked Pegboard Organizer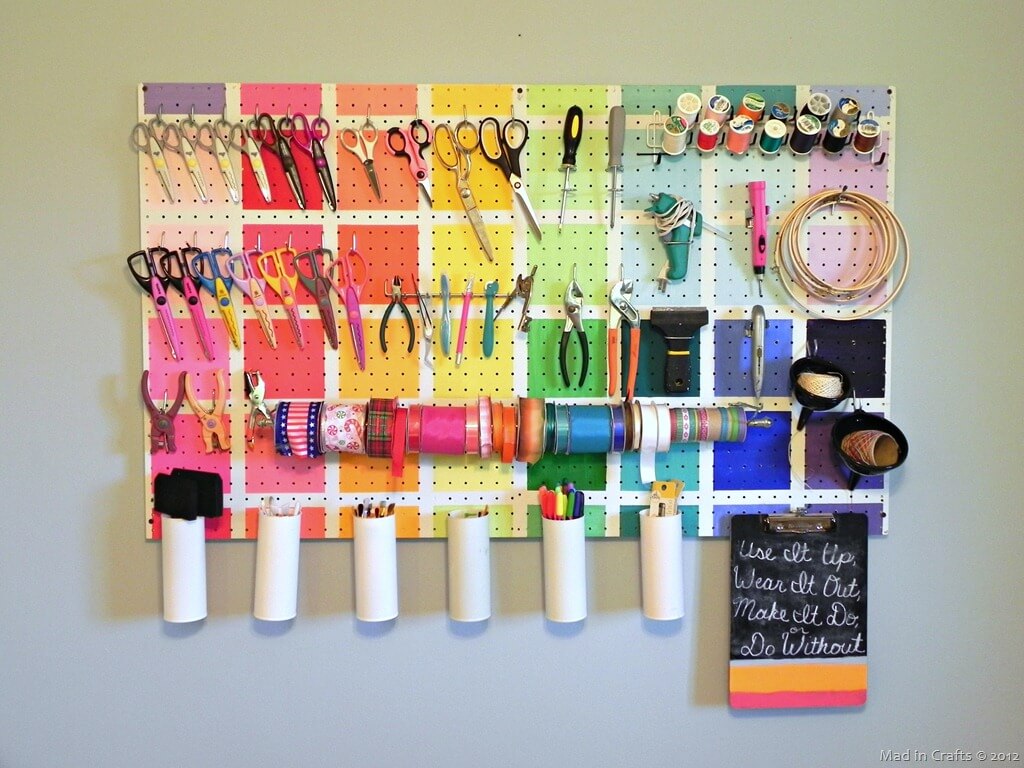 This idea uses painter's tape to create painted squares on the pegboard. For a simple but more decorative look, choose fewer colors and use the colors in a repeated or random pattern. For a more sophisticated look, use vertical and horizontal rectangles as well as squares. You can also vary the sizes of the color blocks making this board idea one that can fit into any room.
12. Pegboard Spinning Organizing Jewelry Rack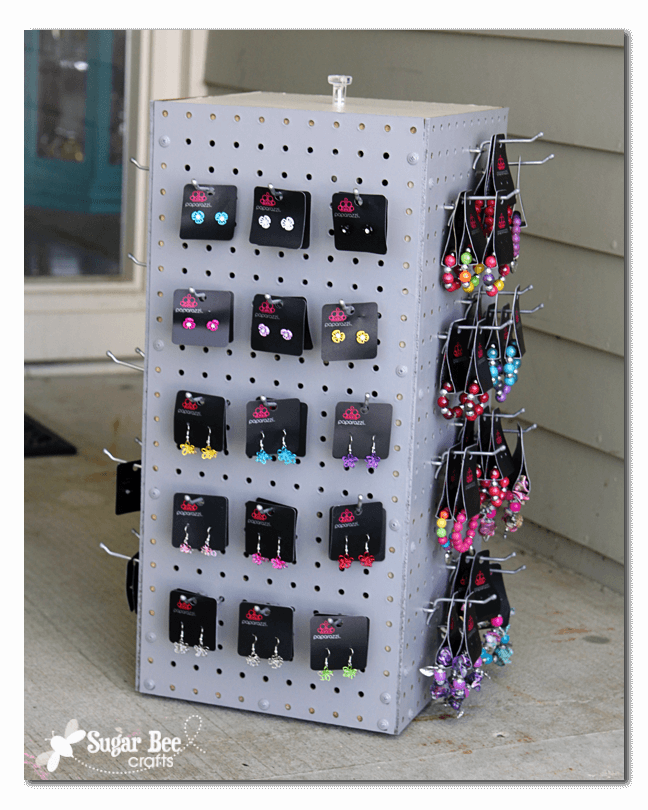 Just like the luminary above, this idea uses pegboard to create a three-dimensional item. The pegboard can help organize items such as jewelry in a small easily accessible space. Adding a lid on top provides additional space to store items. This spinning rack can be painted to coordinate with your room.
13. Other Decorative Pegboard Ideas for the Less Artistic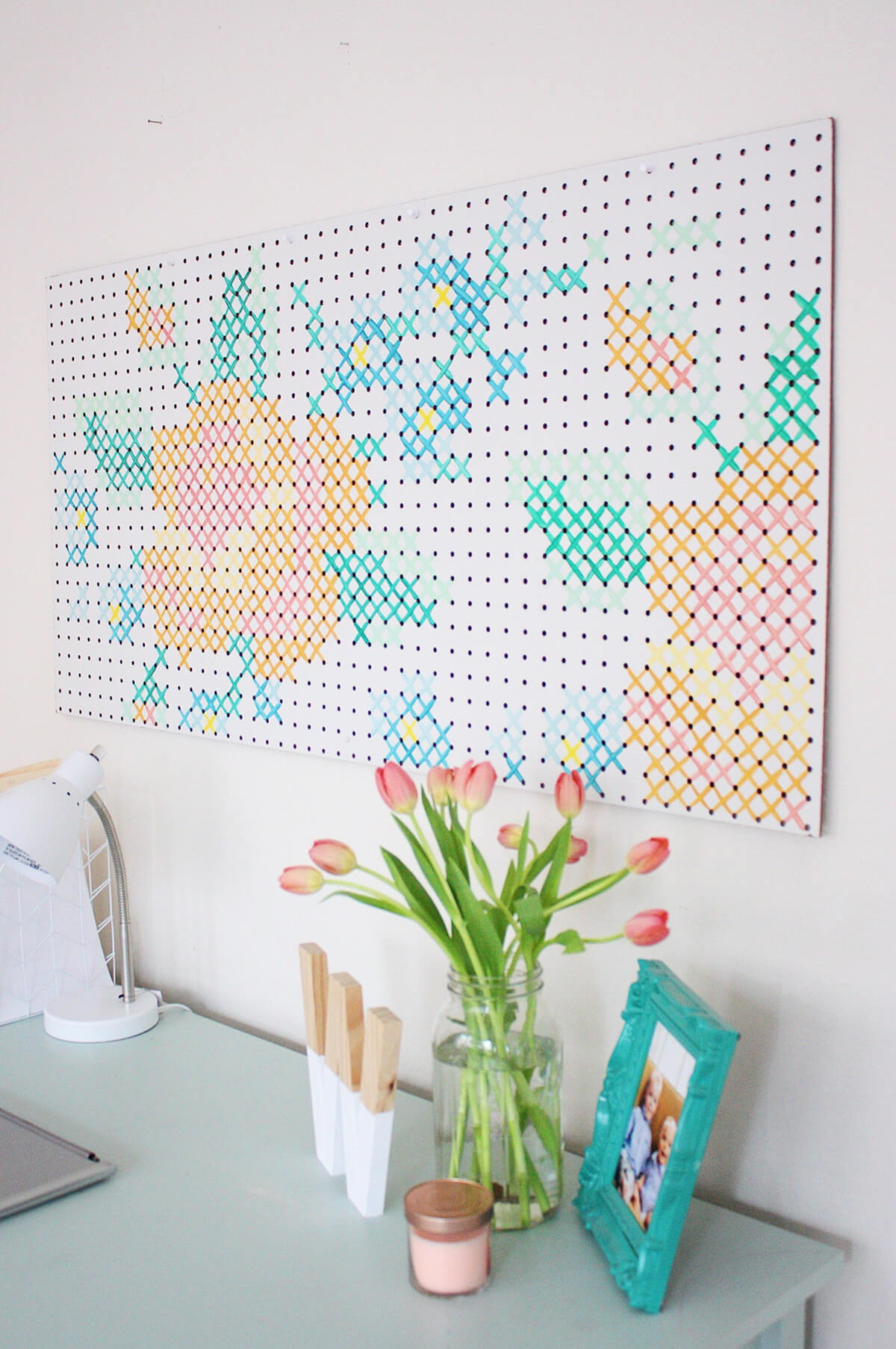 Instead of painting or cross-stitching your pegboard organizer, consider using self-stick paper, felt, or other fabric. It will provide an opportunity for more complex backgrounds and different textures on your organizer. Non-stick fabric and paper can help you coordinate the board with your room.
14. Cross Stitch or Cutout Christmas Tree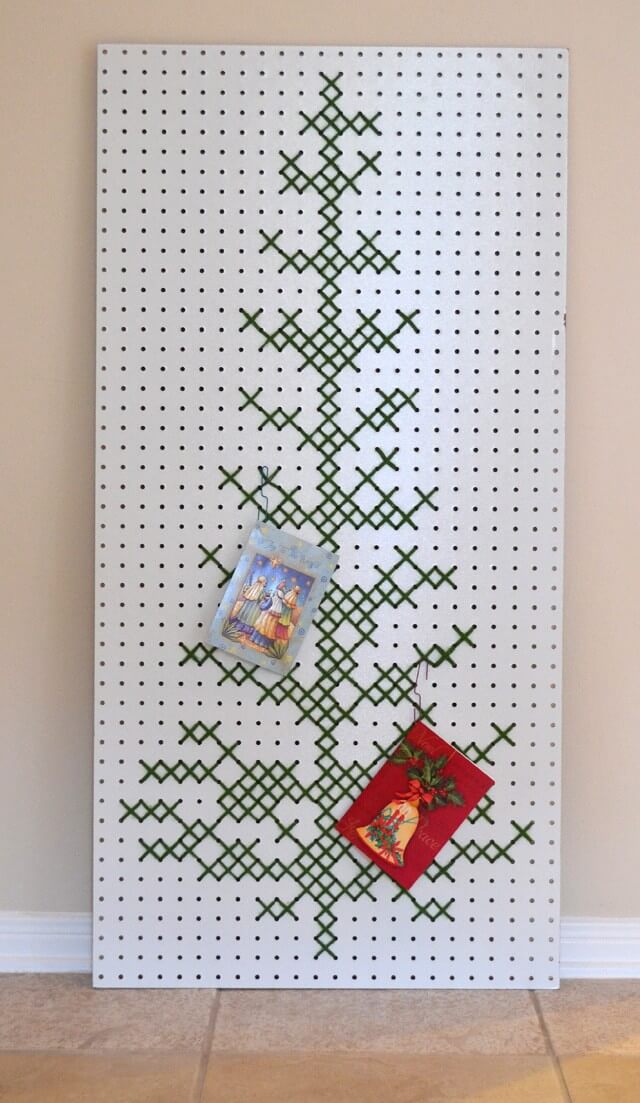 The first image shows a cutout Christmas tree. This image shows a cross stitch Christmas tree. Here's one more idea — wall decals. Wall decals are available in a variety of sizes and complexities. Just apply them to the pegboard.
15. Using Pegboard to Create Changeable Wall Decor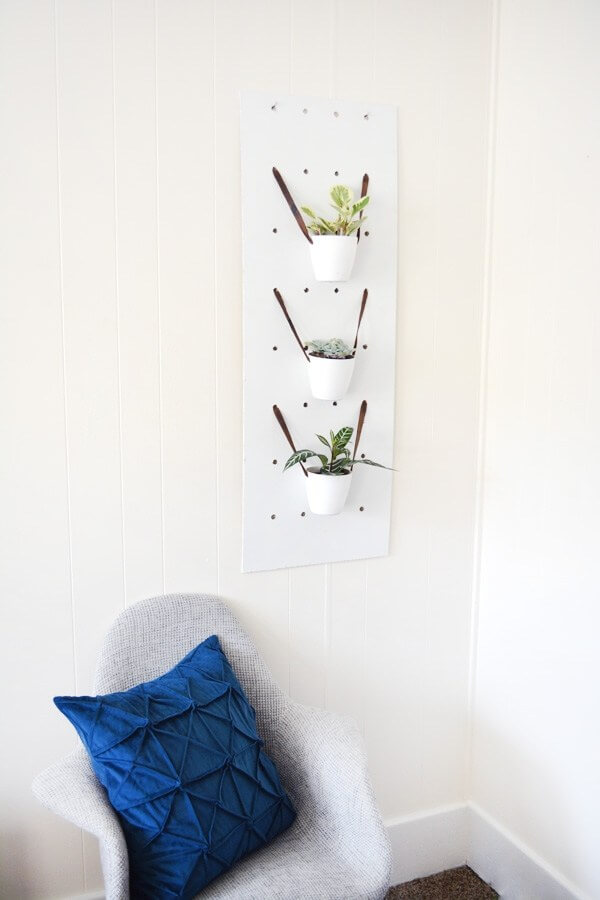 Small pieces of pegboard can be hung vertically or horizontally to create an interesting, changeable wall decor. This version of a triple vertical planter can be altered with shelves instead of hangers or round metal straps to hold canning jars.
16. Pegboard Jewelry Organizer Wall Hanging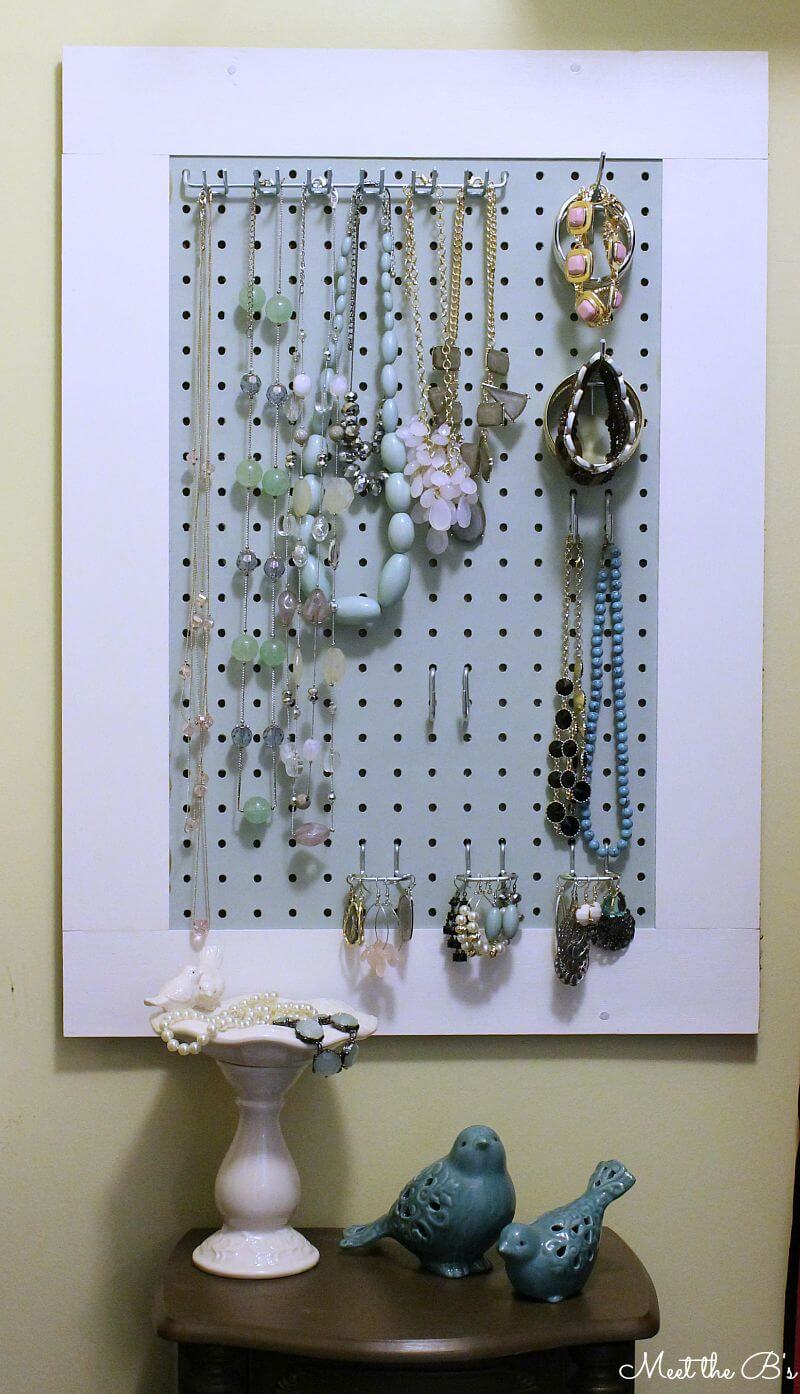 This jewelry organizer gets your jewelry out of a box where earrings get separated and necklaces and bracelets get tangled. In addition, if you have some vintage pieces, they can be hung on this organizer to add a decorative touch to your bedroom wall and eliminate some clutter from your vanity.
17. Make Your Own Wooden Pegboard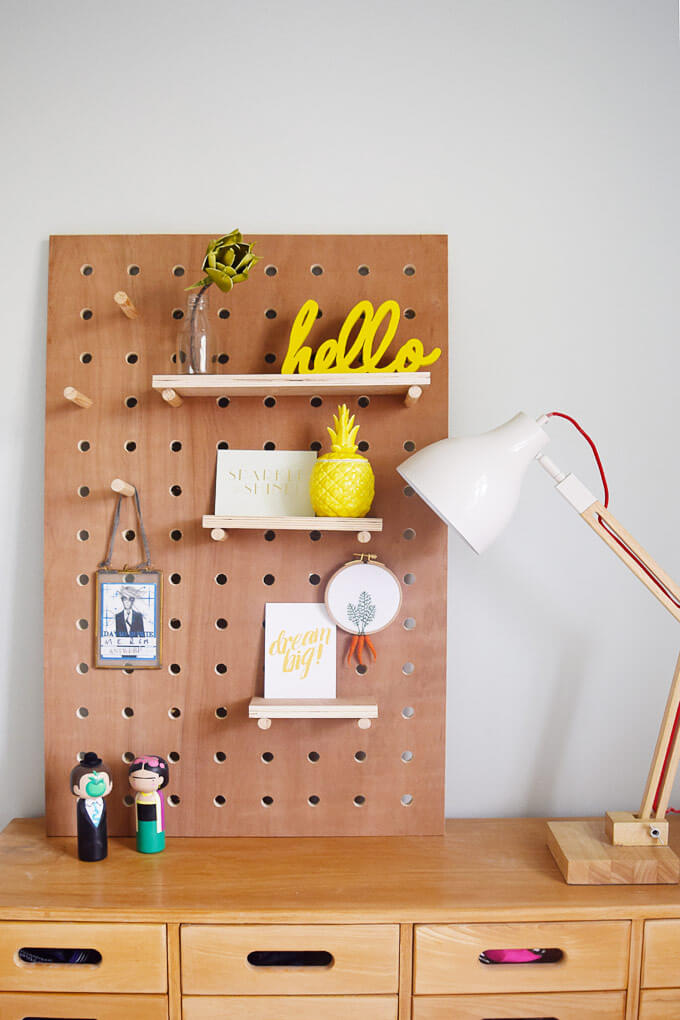 If you want control over the size of the holes and how far apart the holes are separated, consider getting plywood and make the pegboard yourself. This wood pegboard with dowel rod pegs fits into any room even better. For rooms with modern decor, consider using Plexiglas for the pegboard.
18. Create Cross-Stitch Pegboard Signs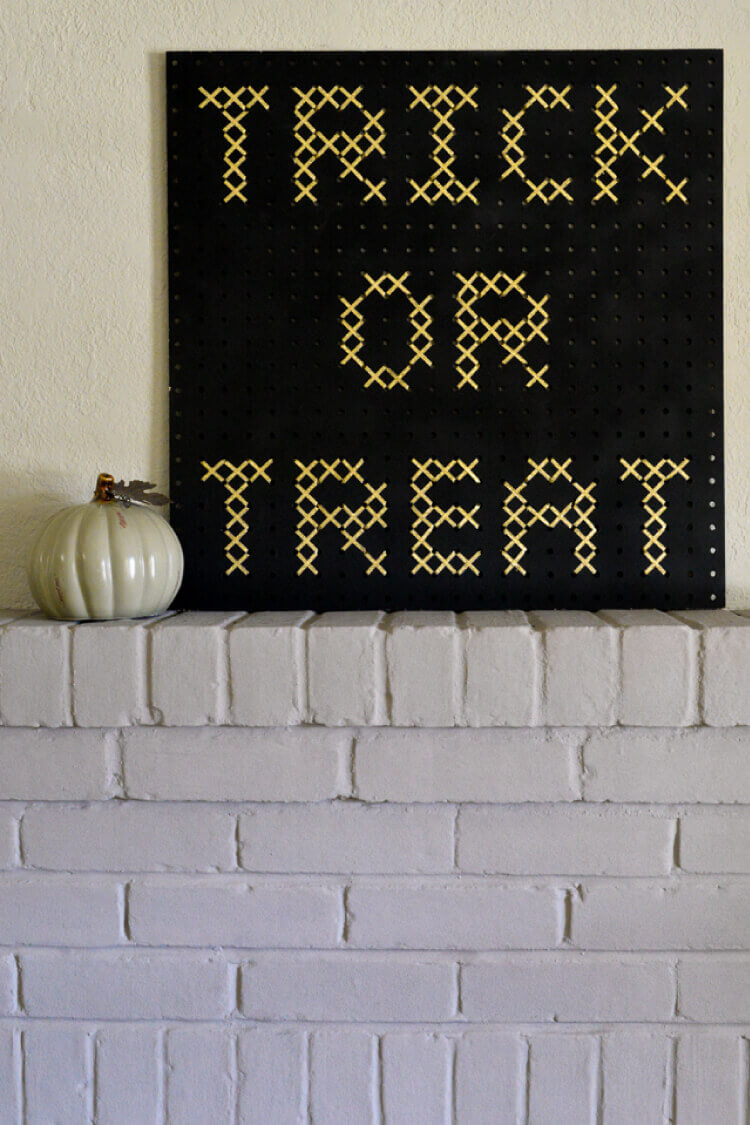 Using cross stitch to form letters and these DIY pegboard ideas to make signs opens a new world of possibilities. Varying the shape of the board, you can create, among other things, a personalized coat rack for your child's room, a message center, or a Christmas cardholder with cards hanging beneath the pegboard.
19. Pegboard Jewelry Organizer for Back of Closet Door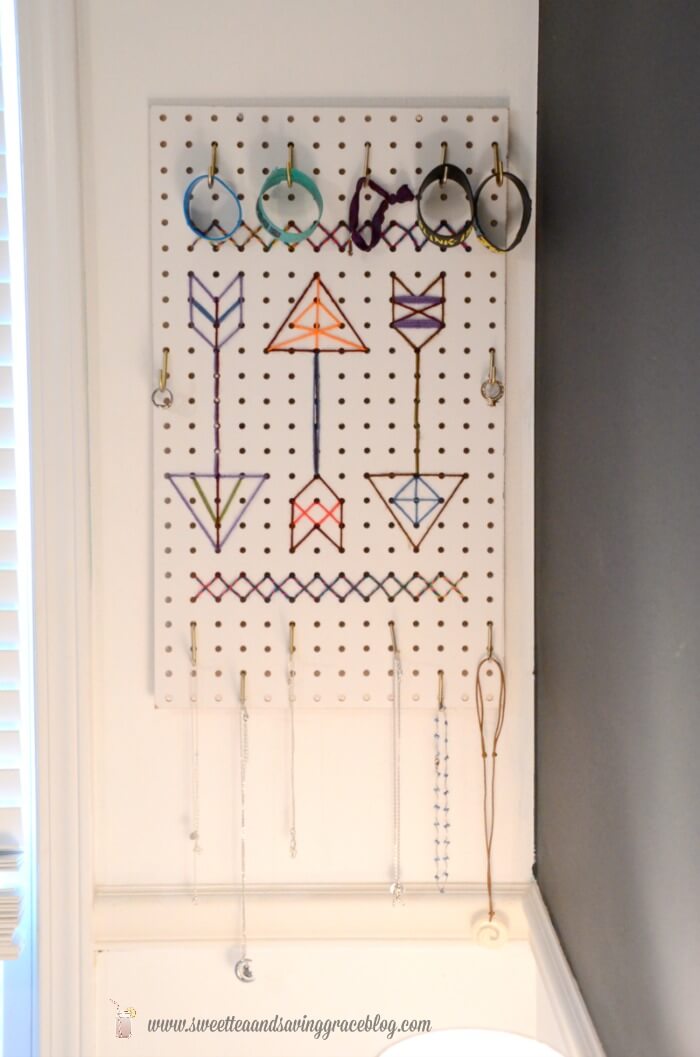 This jewelry organizer provides another idea especially for college students in dorm rooms or those living in small spaces. To create more storage space, pegboard organizers can be hung on the back of closet and cupboard doors. This utilizes one more otherwise unused surface to help organize your life.
20. DIY Pegboard Organizer for Large Size Items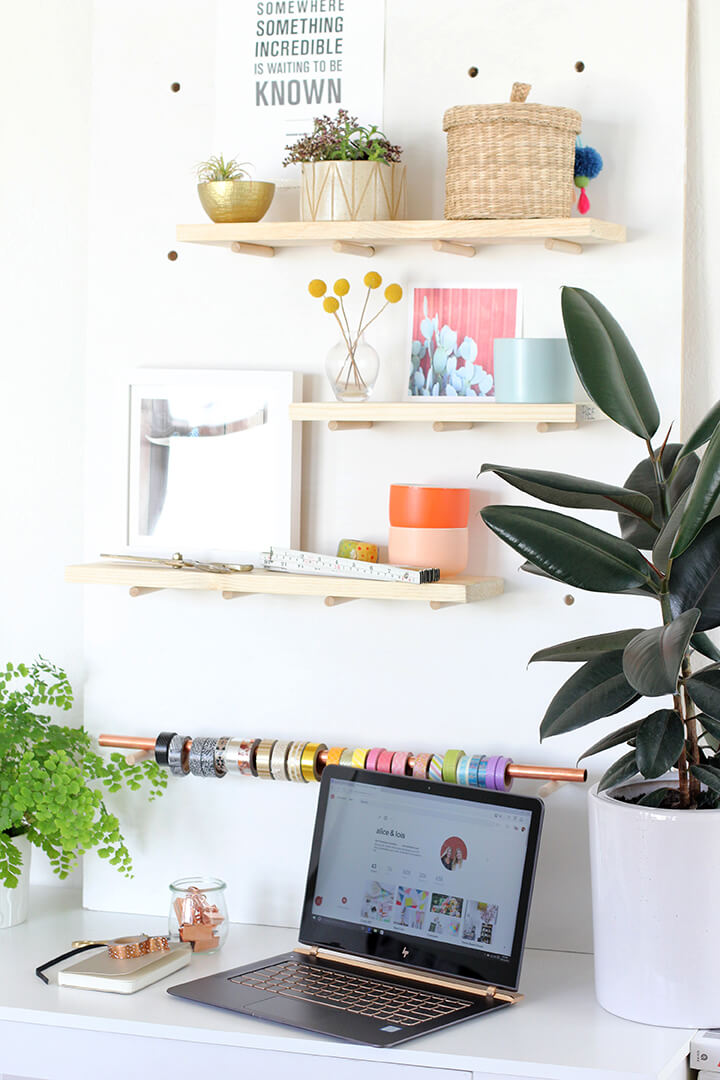 For college students in dorms and others living in small spaces, floor space for furniture is at a premium. Creating pegboard organizers can help find places for larger items such as books. This requires a larger, heavier wood or plastic board, holes drilled farther apart, and careful hanging to make sure the board is secure. However, it can provide college students and others with wall-mounted bookcases.
21. All-weather Pegboard Organizer for the Mudroom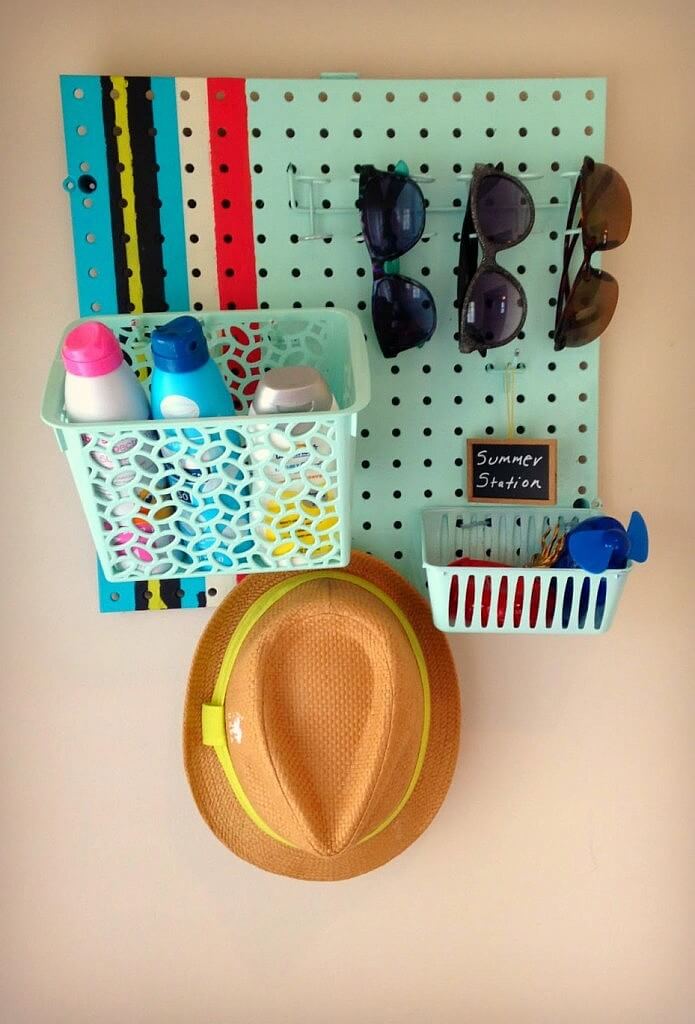 The mudroom definitely needs a pegboard organizer to hang items when your family enters. As mentioned previously, a pegboard provides the versatility to create the space needed for individual items. For the mudroom, a plexiglass pegboard is recommended since sometimes items may be wet. This is another area where creating your own pegboard might be the best idea, and be sure to create one that is large enough for your family.
22. Pegboard Votive Candle Holder or Luminary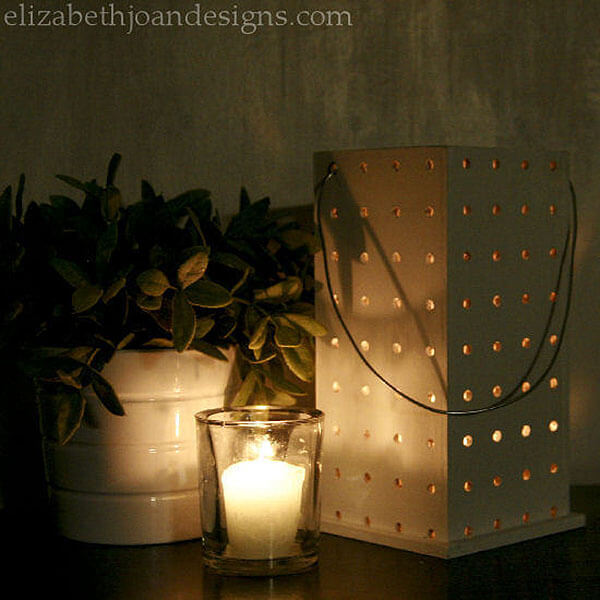 Pegboard does not have to be a flat surface that is hung on the wall. It can be used just like other wood to create three-dimensional objects. The holes in pegboard can provide special features to your three-dimensional projects. For this luminary idea, the holes in the pegboard allow the light from the candle to shine through the pegboard.
23. Pegboard Window Box Table Centerpiece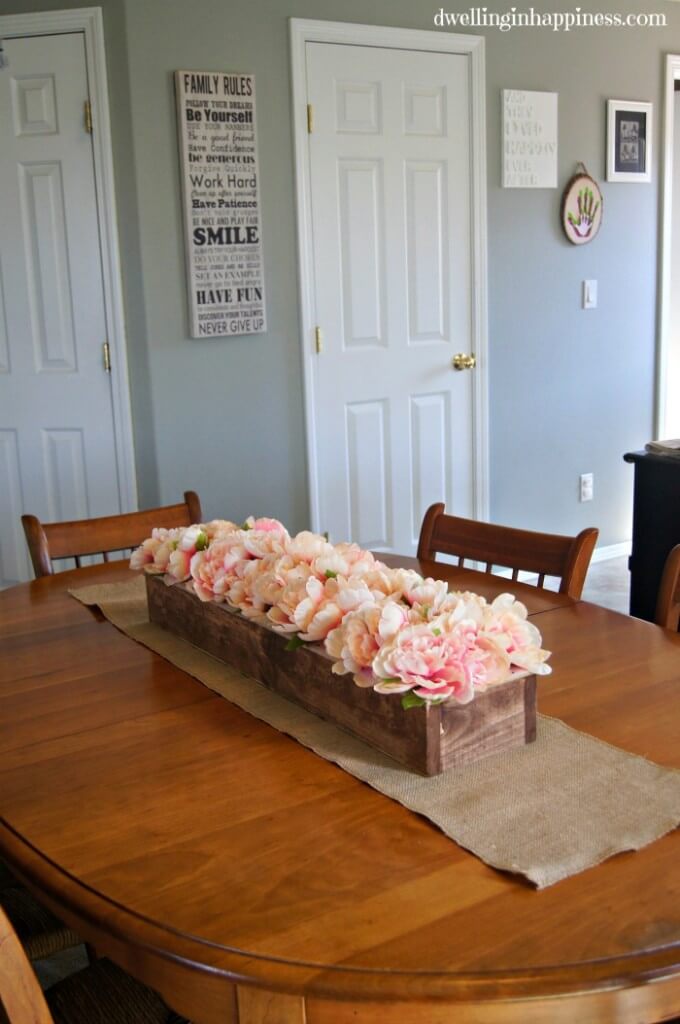 This centerpiece uses pegboard to arrange the flowers for the centerpiece. The holes keep the flowers in place. You can change this idea to suit your table decor. Just change the shape of the container and cut the pegboard to fit, or create multilevel displays and use pegboard to hold the flowers.