For some of us, it's hard to get motivated to organize even before budgeting in the cost of the project. Fortunately, we've got lots of cool dollar store organization ideas that won't break your bank. Best of all, some of them are so simple, easy and attractive that you might actually enjoy doing them.
50+ Thrifty Dollar Store Organization and Storage Ideas to Help You Declutter

If you've got cans falling off your shelves and can never find the right kitchen utensil, then you'll love our kitchen organizing ideas. On the other hand, maybe your weak spot is the bathroom. Tired of digging through your makeup drawer? Want an easy way to keep clean towels off the floor when you don't have closet space? We've got some great ideas for your powder room, too.
They say cleanliness is next to godliness. You'll definitely feel like a Martha Stewart level domestic goddess after applying some of these fun organizational ideas. You can find everything you need to tidy up your space at the dollar store, so there's no reason to put it off any longer. Roll up your sleeves, tie on your head scarf, and get ready to free up some shelf space and unveil your better, more organized self.
1. Gold Animal Vanity Storage Jars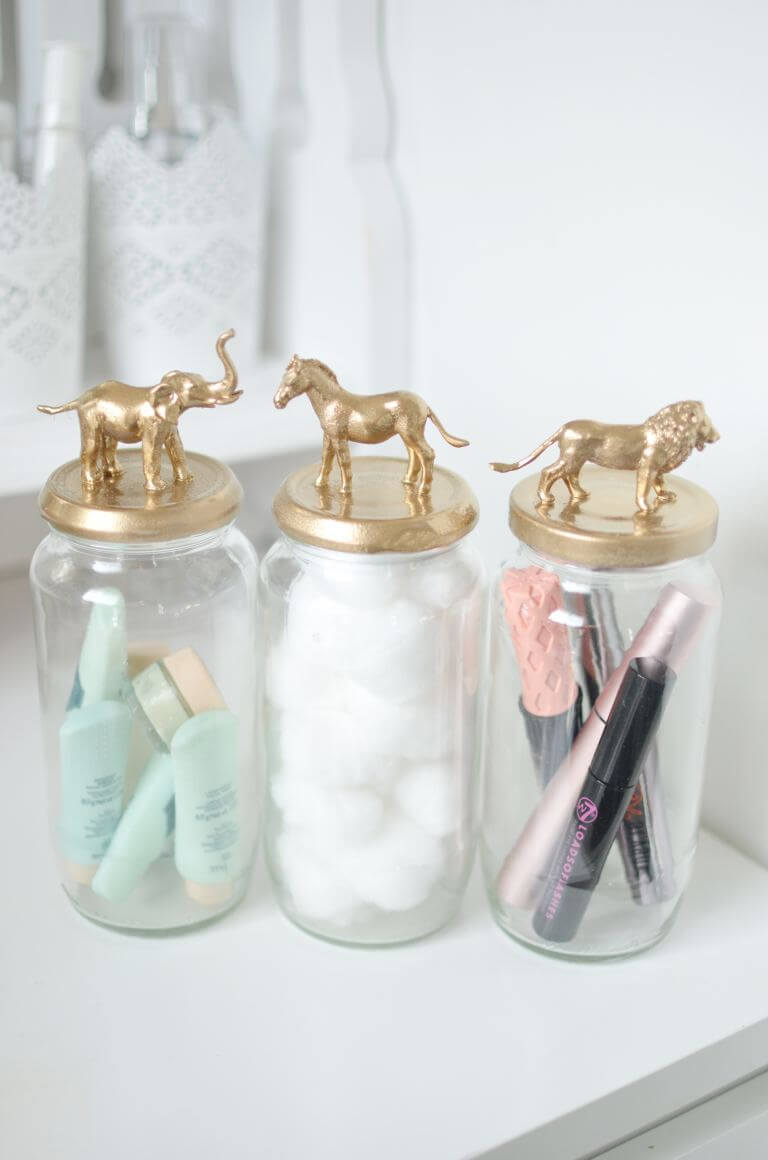 Getting your home organized doesn't need to be expensive. With a bit of creativity, you can turn dollar store items into attractive storage or organization solutions. A few jars from the dollar store, hot glue, plastic toys, and some gold paint is all you need to make these cute jars. You could use these in the bathroom, a child's room, or anywhere in your home, you like.
2. Painted Wooden Crate Wall Storage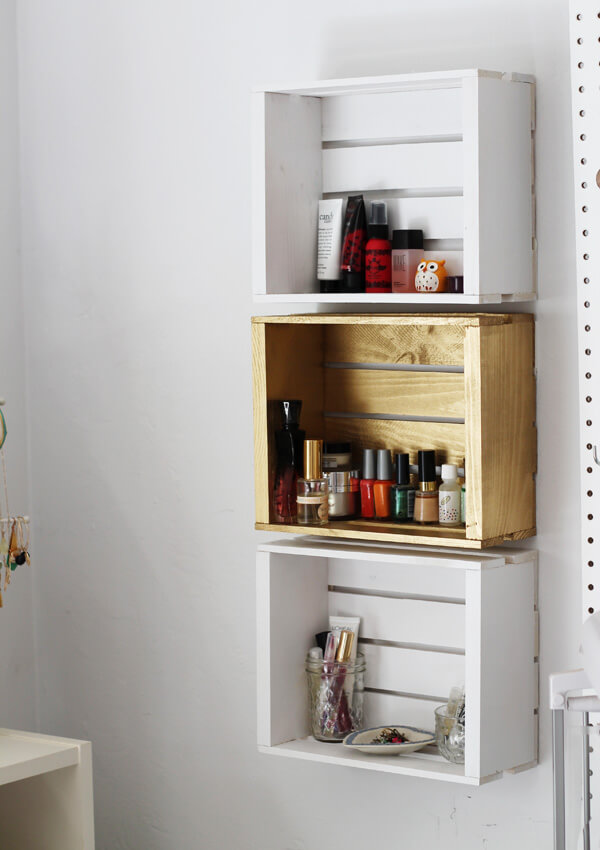 By painting some cheap wooden boxes, you can make some great shelving. You just need hanging hardware and paint. You may also want to have an extra piece of wood if the bottom of your new shelf will have a gap like this example.
3. Drawer Organization with Plastic Tubs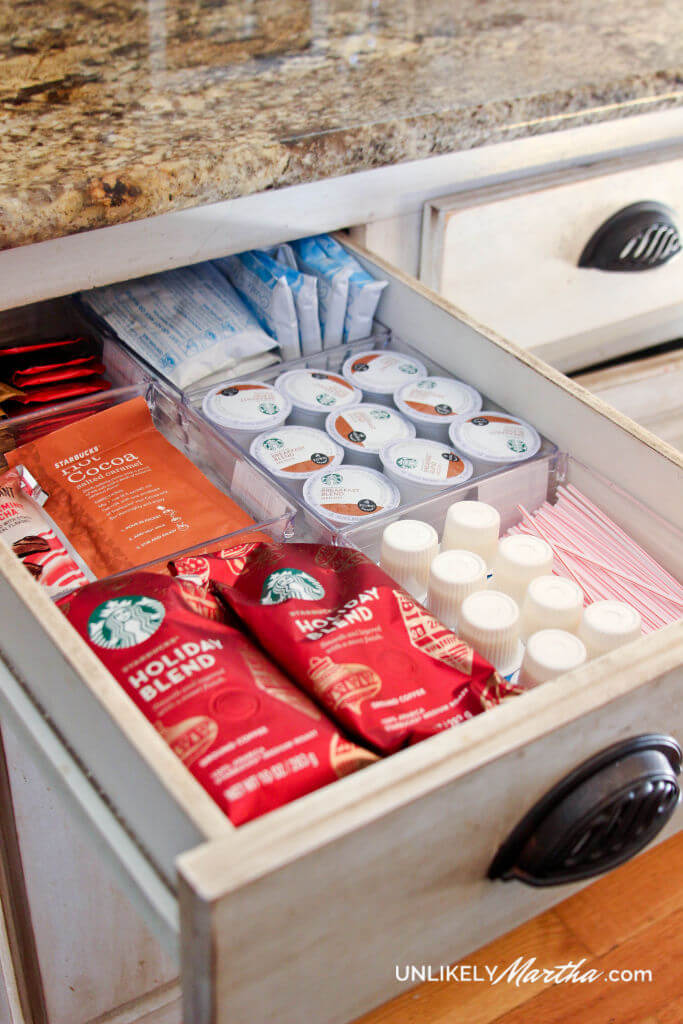 Most dollar stores have small, cheap plastic bins for sale. Buy a few of these and you can organize your drawers. You can hold small beauty supplies, or organize your coffee drawer in your kitchen.
4. Cheap Pantry Door Spice Rack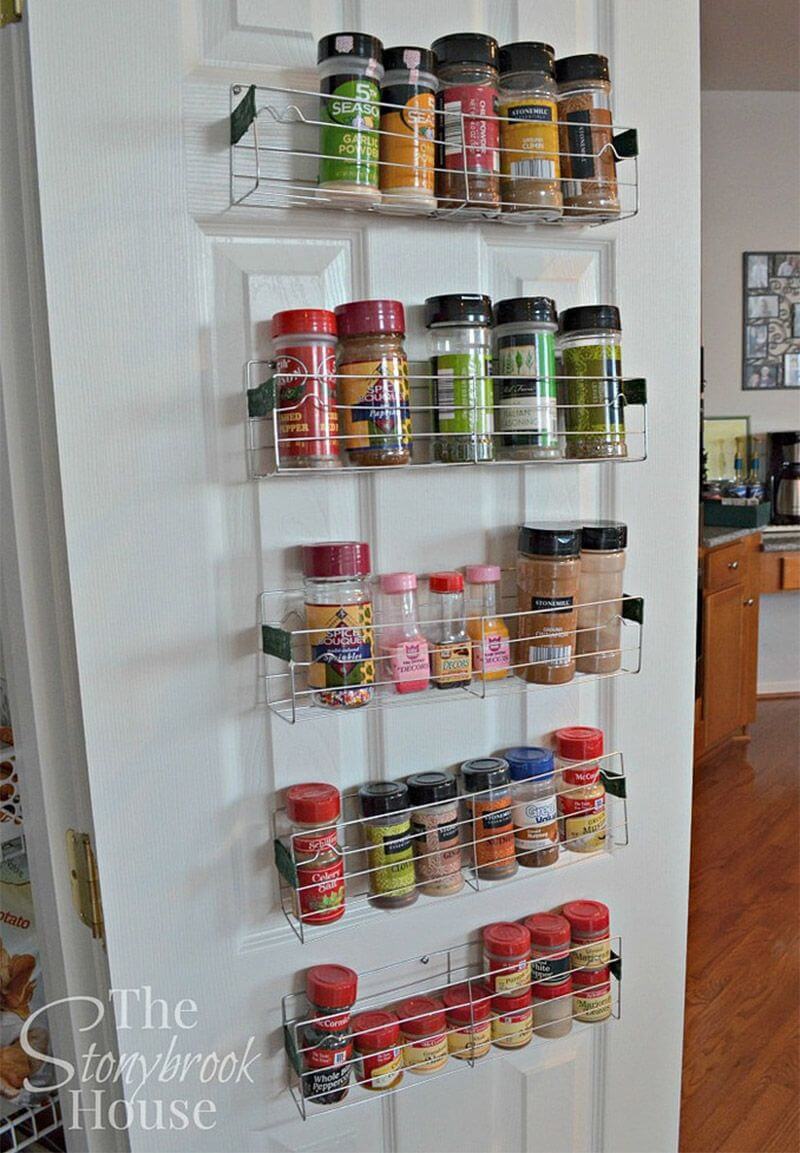 Buying some cheap racks from the dollar store can let you make a storage area on the inside of any drawer or cabinet. You just need some screws to attach it and your rack is ready to use.
5. Hot Hair Tool Storage Box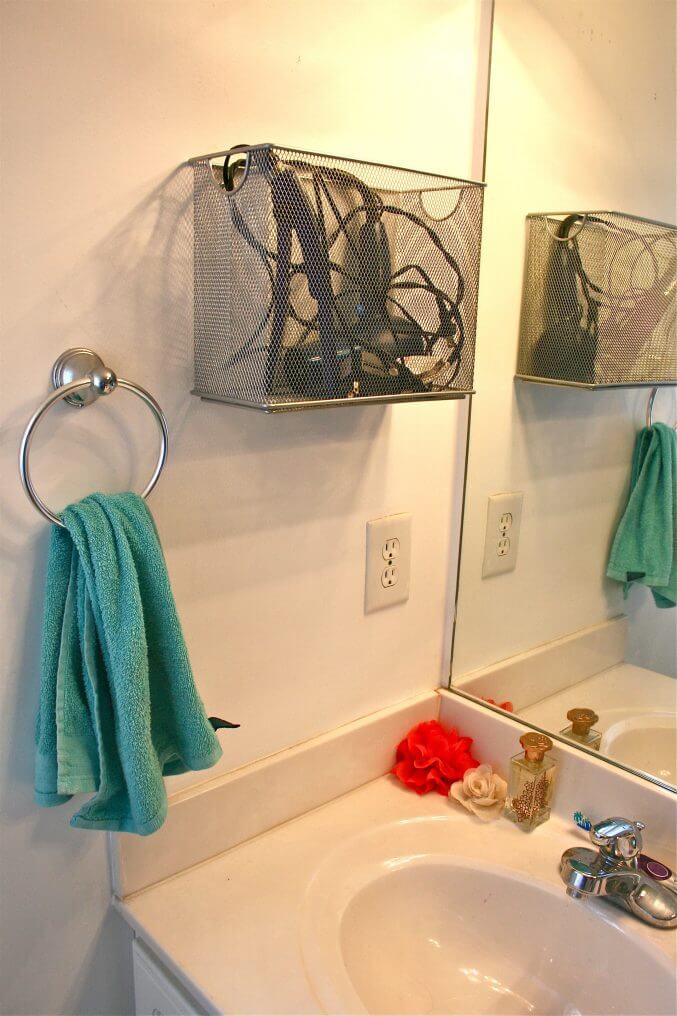 Hairstyling tools can take up a lot of space in a bathroom cabinet. By using a cheap wire basket, you can hold all your tools on the wall where you can reach them easily. Using a metal basket means your tools don't need to be completely cool before you store them.
6. Labeled Plastic Bins for Toiletries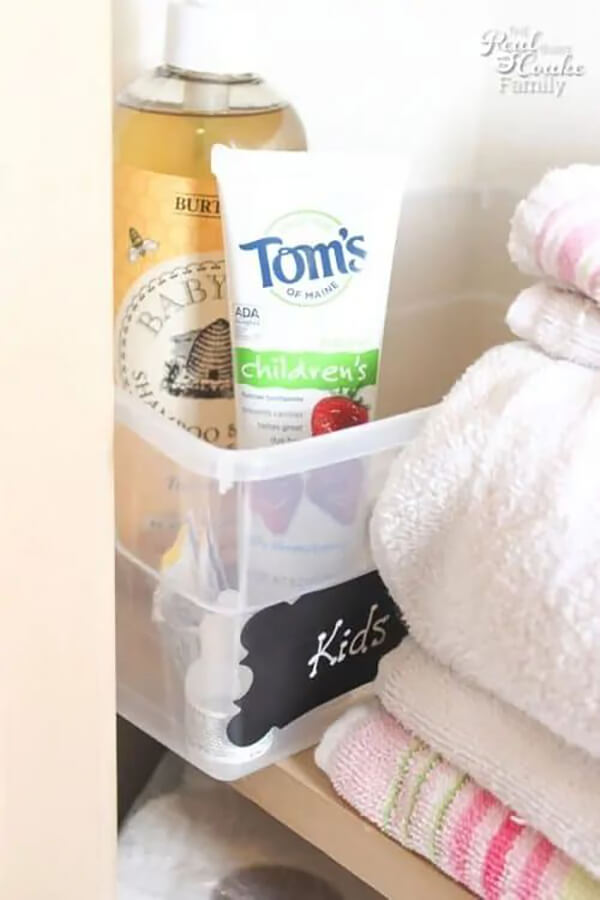 Using some labels on plastic bins can give all those random items that clutter up your home their own space. You can give each family member their own bin so you won't deal with arguments over who that shampoo belongs to. You can even drill or cut a few holes for drainage so they can bring the bin right into the shower with them.
7. Wood and Clothes Pins Becomes Accessory Organizer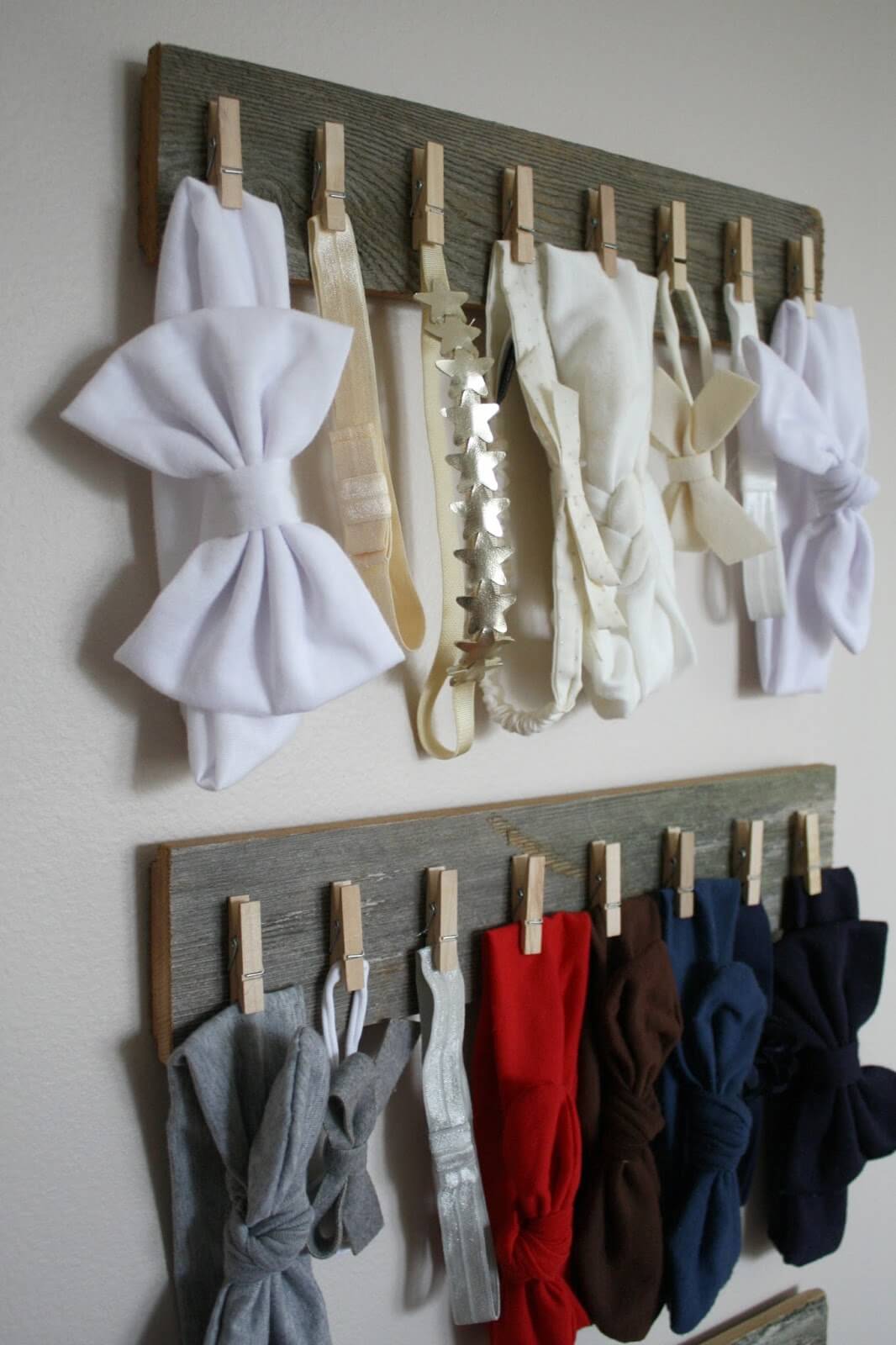 Wood, stain, clothespins, and hardware are all you need to make this organizer. This could be used to hold anything, whether hair accessories like in the image or jewelry. It leaves all your options in easy view, so you won't forget you own something again because it was buried in a drawer.
8. Rake and Twine Becomes Necklace Holder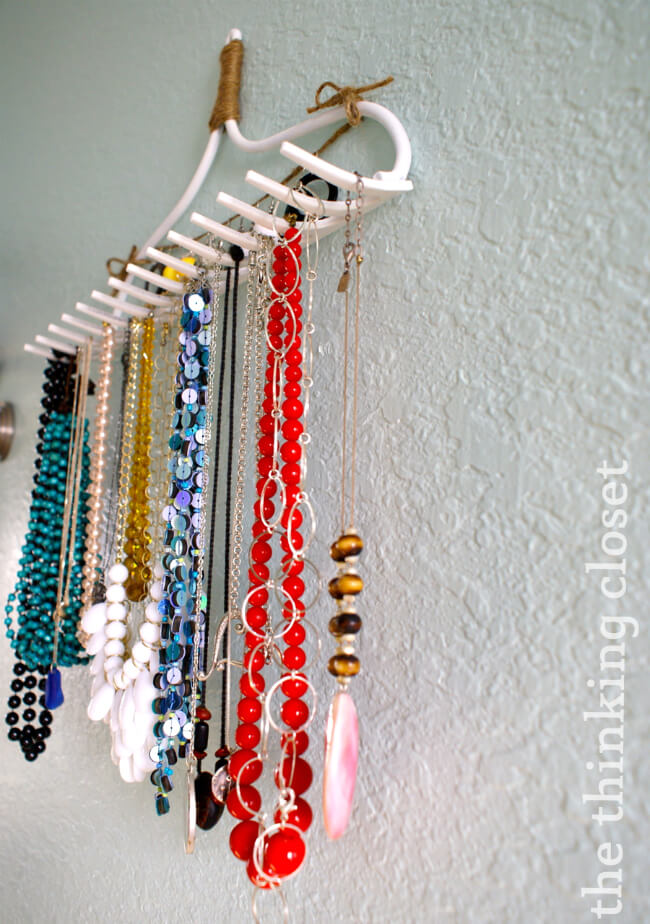 The head of a rake makes a great jewelry holder so you don't have any more tangled necklace. Just paint your rake, add some twine, and hang it up. The twine on the back is a great way to hold earrings while each tine of the rake will keep your necklaces from tangling together.
9. Craft and Holiday Organization with Bins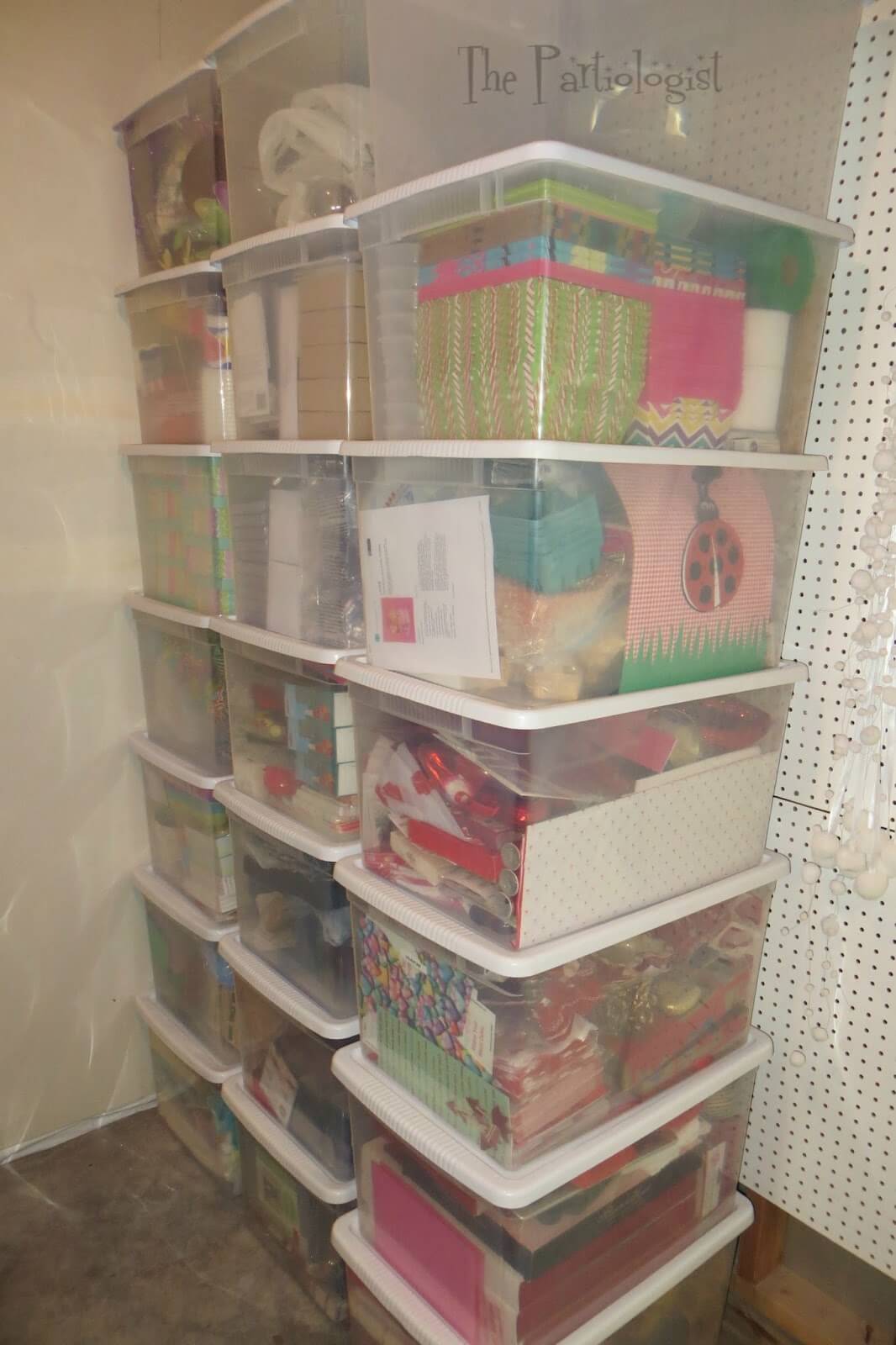 Plastic storage bins are a great way to hold anything you don't use too frequently. Get clear ones, and you won't be opening every bin to find which one has your Christmas ribbons or Easter baskets. So long as your items aren't too heavy, you can stack plenty of even the cheapest bins.
10. Over-the-Door Coathanger Becomes Cleaning Tool Organizer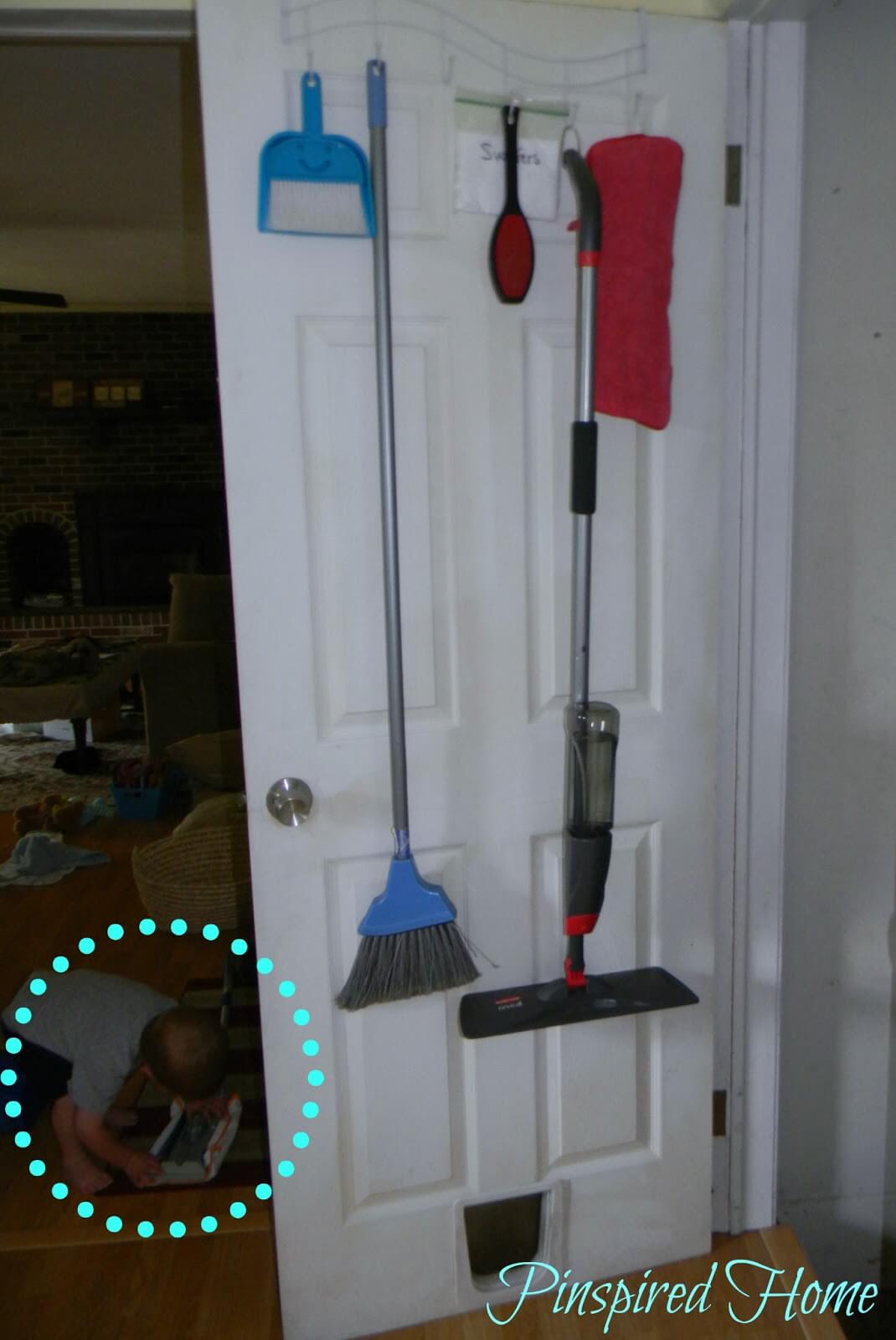 Things like coathangers can have many uses. You can hang up things like your mops and brooms so long as they have a hole on the handle. This keeps bulky items like mops and dusters off the floor of your closets and gives you more space.
11. Metal Bins on the Stairs for Lost Toys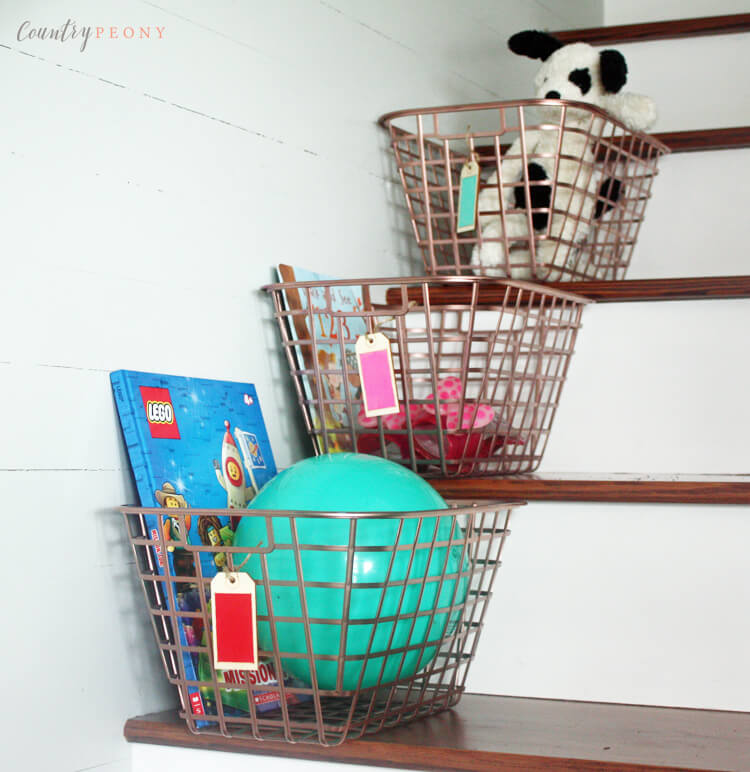 If your children's toys end up all over the place, getting them back in their rooms can be a bit of a hassle. Baskets on the stairs let you put any toys you find there and your kids can return them to their rooms easily. Label each basket with a luggage tag for each of your children.
12. Coathanger and Clothespins Becomes Ribbon Holder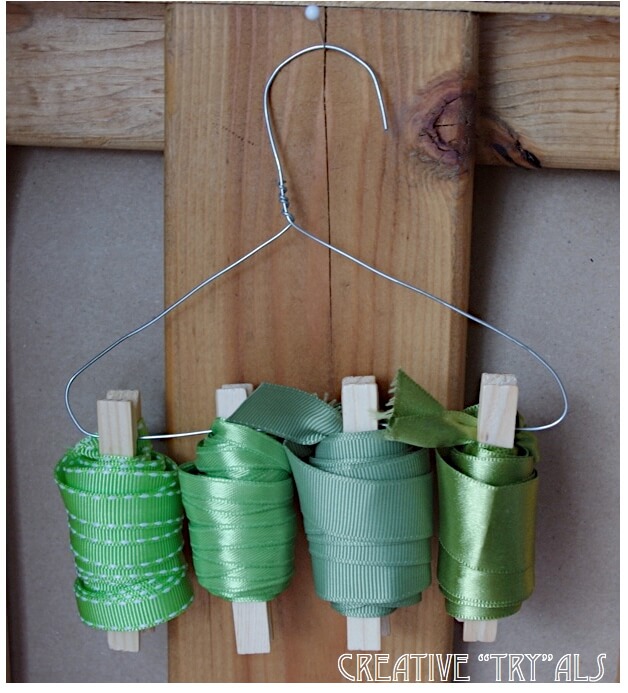 Ribbon for wrapping presents or crafts can get out of hand very quickly. Using clothespins to hold them keeps them neat. Put them on a hanger and you can hang them up easily to save space. You can make a few of these to sort your ribbons by color so you aren't digging around for the ribbon you want.
13. Bin and Chalkboard Paint Mailbox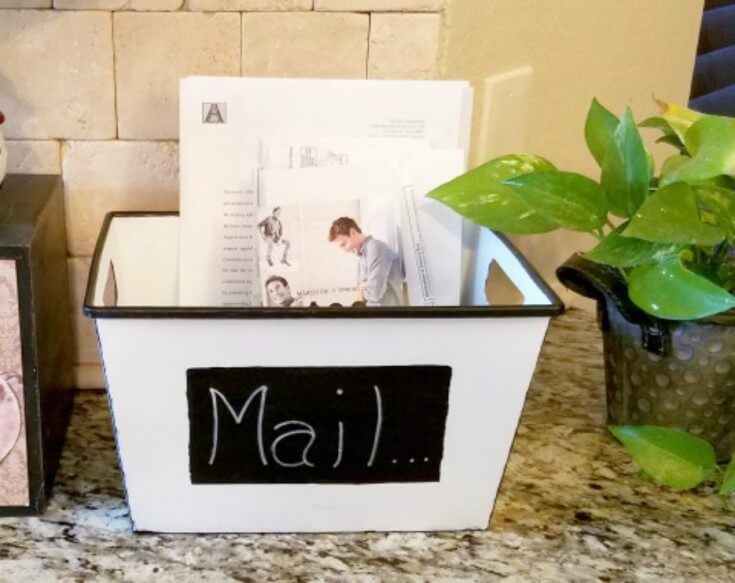 A nice looking bin can be labeled easily with a small can of chalkboard paint. You can use it to organize your mail so it doesn't travel all over your home. If you can't find a bin or basket you like, you can always paint one however you like to match your home's decor.
14. Boxes and Felt Becomes a Jewelry Box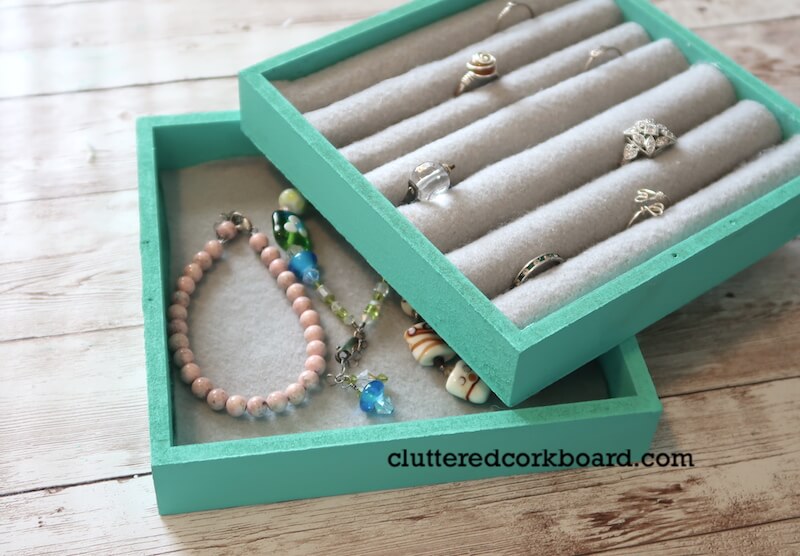 Two simple wooden trays and some felt are all you need to make a jewelry box you can set on your dresser or stack up. Use rolls of felt to make a ring holder and felt to line the bottom of a box to hold bracelets and necklaces. You can use any paint you like to match your home.
15. Frame and Contact Paper Makes Tray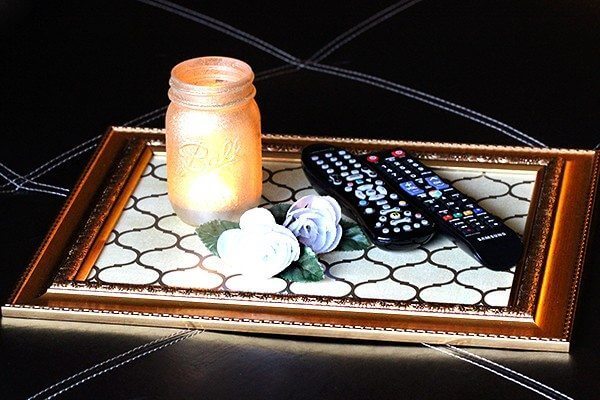 You can use a picture frame, paint, and a nice patterned paper to make a tray to hold things like your remotes. If you have something soft like an ottoman near your couch, this can be placed on top to hold things like your remotes and make it another table to use.
16. Ice Cube Tray to Organize Earrings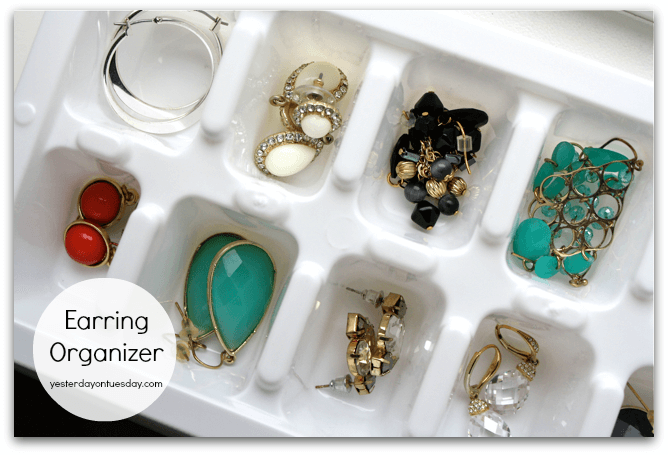 Ice cube trays are great for organizing small things like earrings. It won't look very nice set out, but it would work great to organize a drawer. You can use ice cube trays for organizing small items like beads for crafting as well. This would also work for holding individual necklace chains so they can't tangle together easily.
17. Picture Frame and Hooks Becomes Key Holder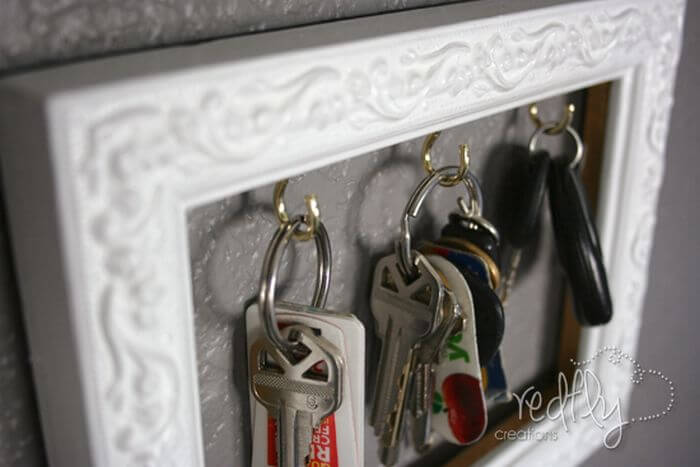 A small picture frame with the backing a glass removed will make a great key holder. Just attach some hooks, paint it, and hang it up near your door to keep your keys from getting lost. A wooden frame will be the easiest to add the hooks to. Paint your frame to match your walls and it won't look out of place.
18. Use Plastic Bags to Hold Cookie Cutters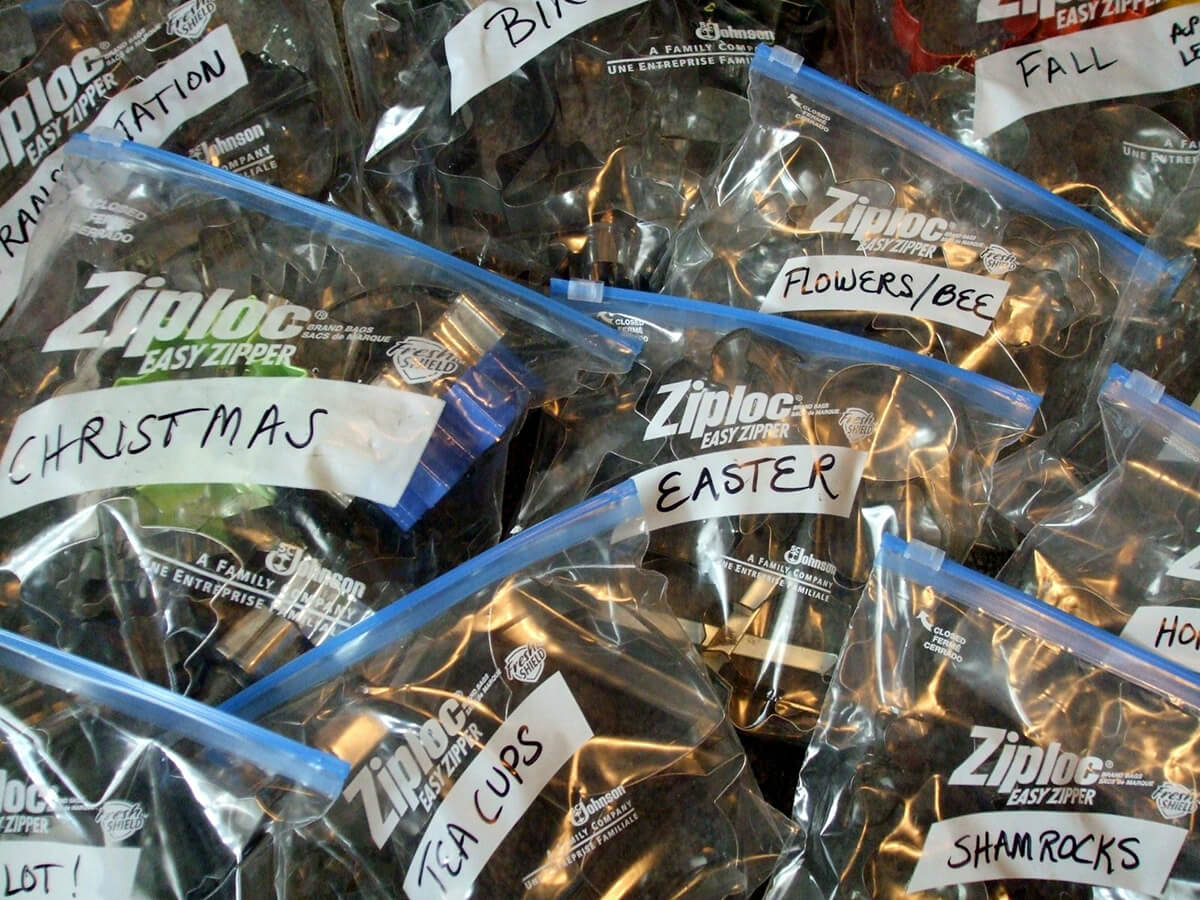 If you love baking, you will likely end up with a ton of cookie cutters crammed in a drawer. Finding the exact shape you want can become a pain. You can just put your cutters into large plastic food storage bags and label them to be able to find exactly the one you want. Buy the gallon or larger size to hold more cookie cutters.
19. Cutlery Holder Organizes Toothbrushes and Toothpaste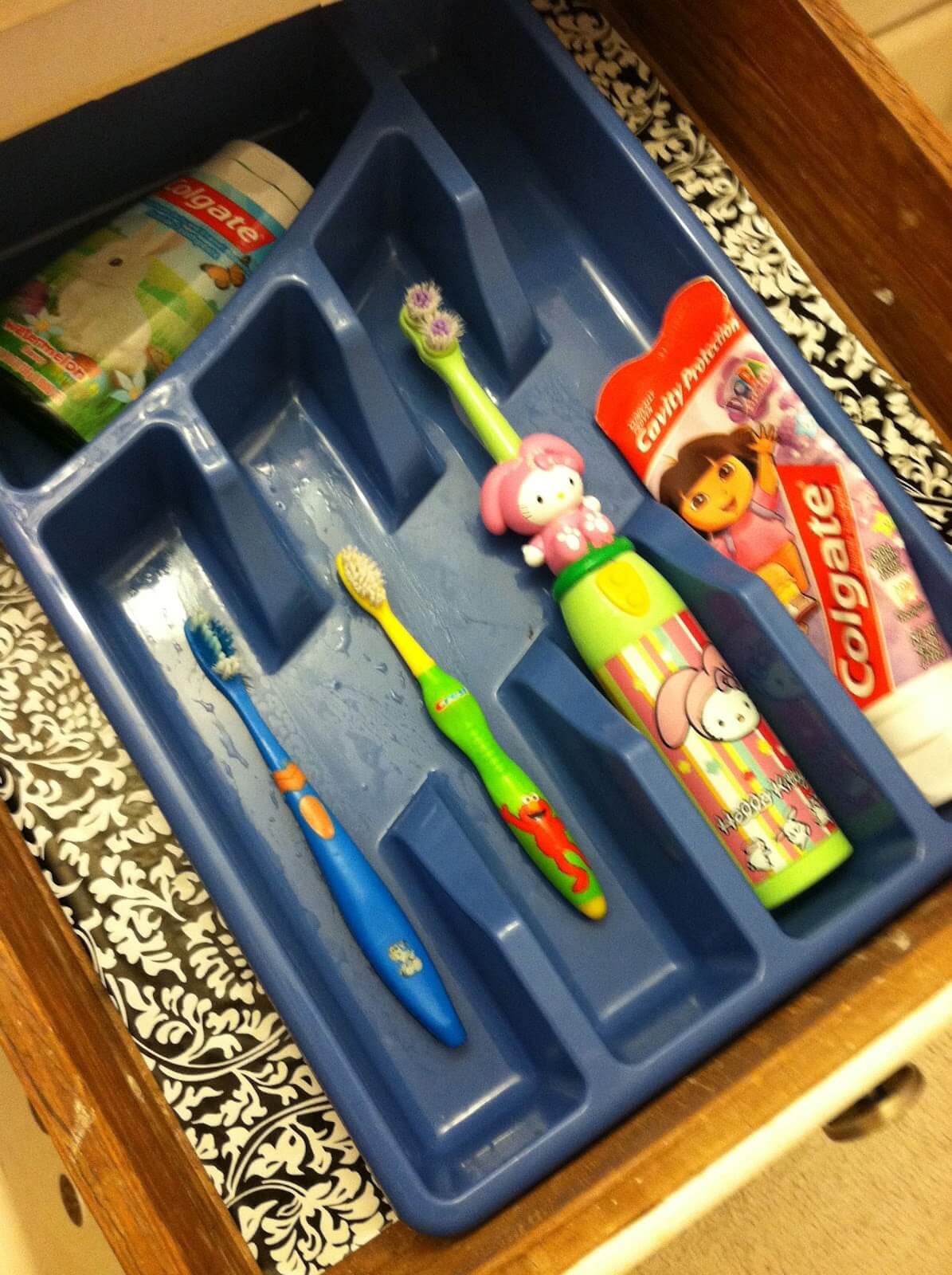 A drawer organizer meant for cutlery can help keep the family's toothbrushes and toothpaste separate. If your kids will argue over which toothbrush belongs to them, you can use stickers or a permanent marker to label each space. You can also use this idea to separate out hairbrushes or other grooming supplies. You will need larger drawers in your bathroom for this to work. You can find smaller bins that could do the same thing if your drawers are too narrow.
20. Easy Canned Good Pyramid Dispenser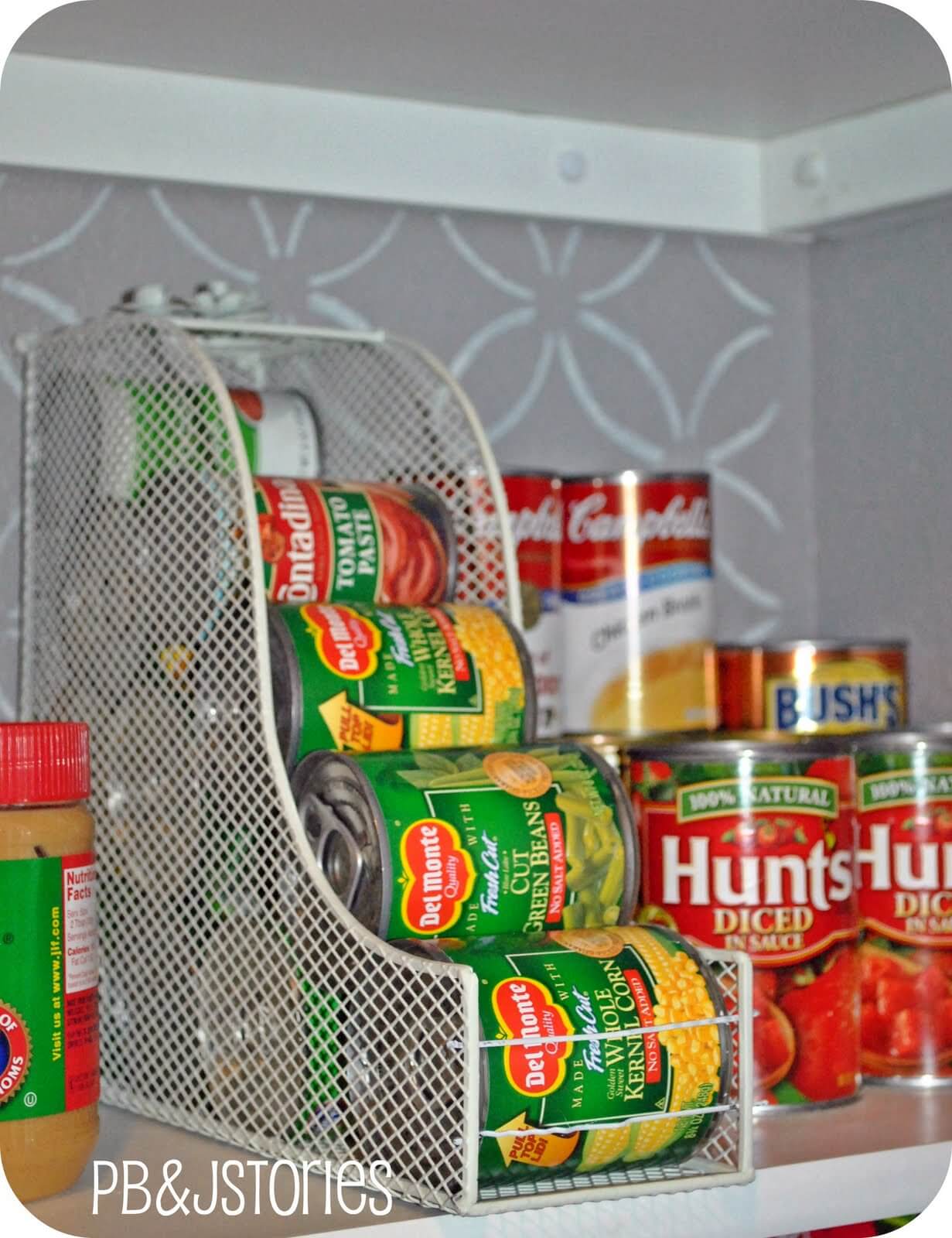 Do you have a limited cabinet or shelf space in your kitchen? Try using a pyramid can dispenser to store canned goods. Because of its sturdy wire construction and compact design, this easily accessible holder keeps clutter off the counter and clears valuable shelf space, and its simple style adds some cottage chic flair while remaining functional.
21. Your Own Hidden Hair Styling Station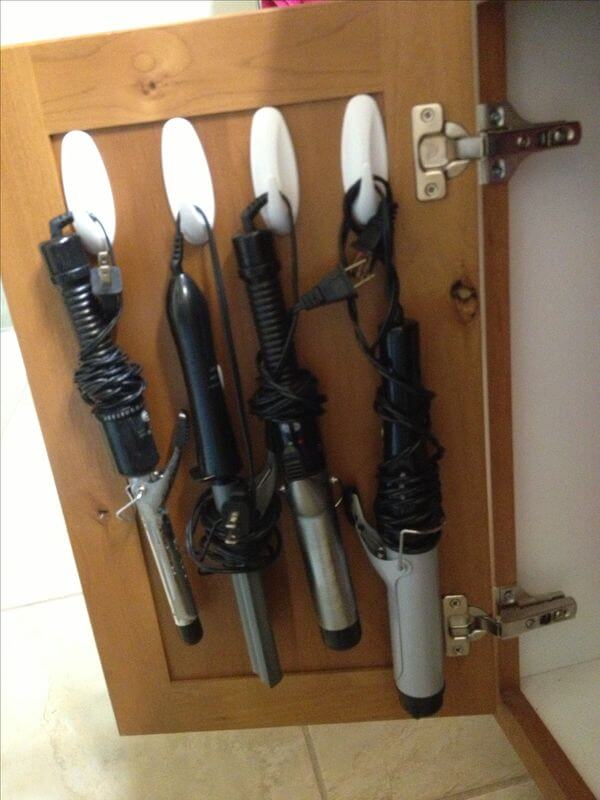 beneathmyheart.net
Hair styling tools are tough to store in small bathroom cabinets, but that doesn't mean you have to give up your favorite curling iron. Simply attach some adhesive hooks to the inside of a bathroom cabinet, and hang your tools by their cords. This system may save you a few extra minutes in the morning by keeping your tools easily accessible.
22. Wall-Mounted Bathroom Basket Shelves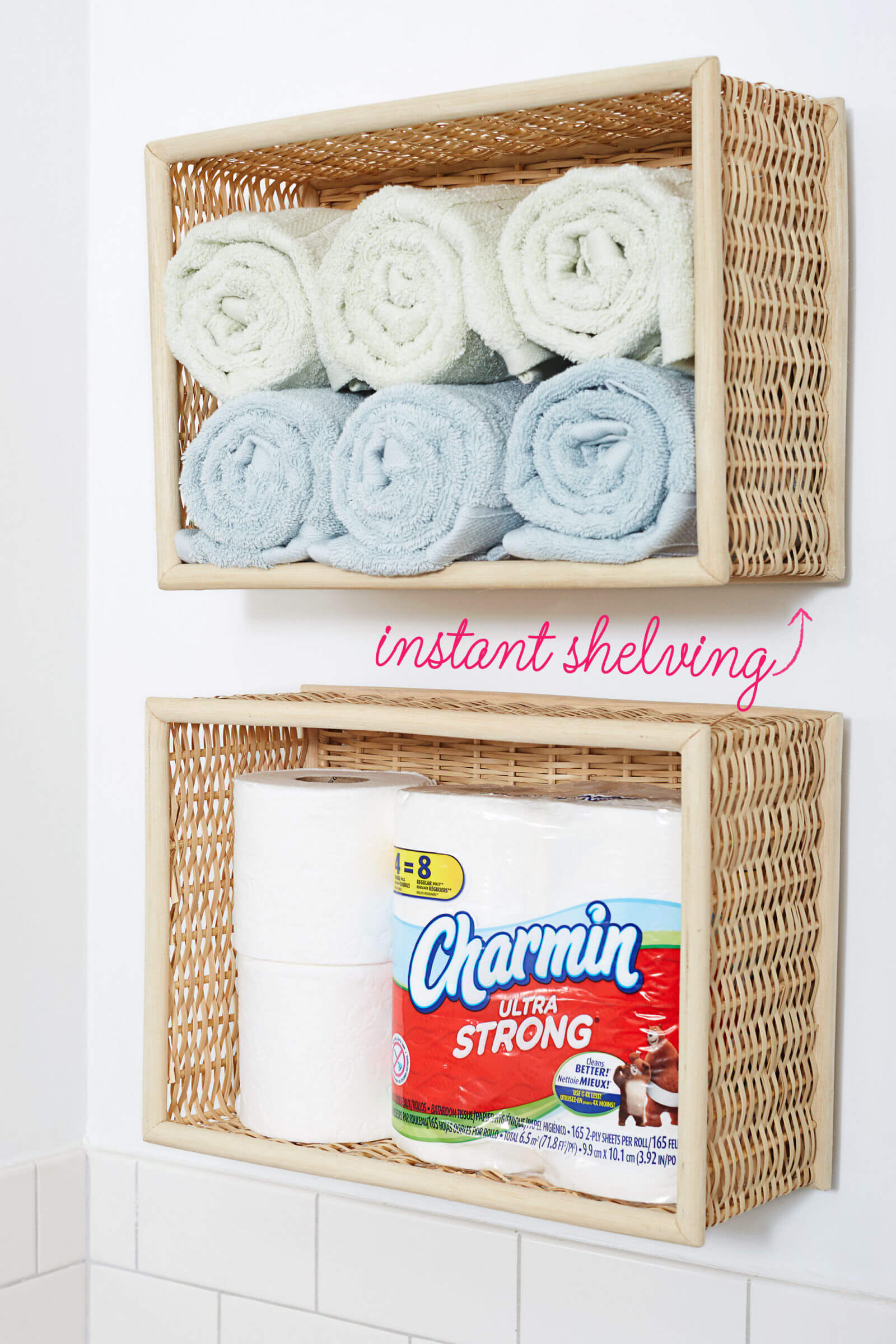 Those wicker baskets are not just for countertops. Try mounting them to a bathroom wall above the sink or near the bathtub. These baskets can store anything from towels to toiletries and keep useful items within arm's reach. The wicker styling adds a casual style element that is reminiscent of the beach or cottage chic, and the color can be changed with paint as needed.
23. Baskets and Labels Dollar Store Organization Ideas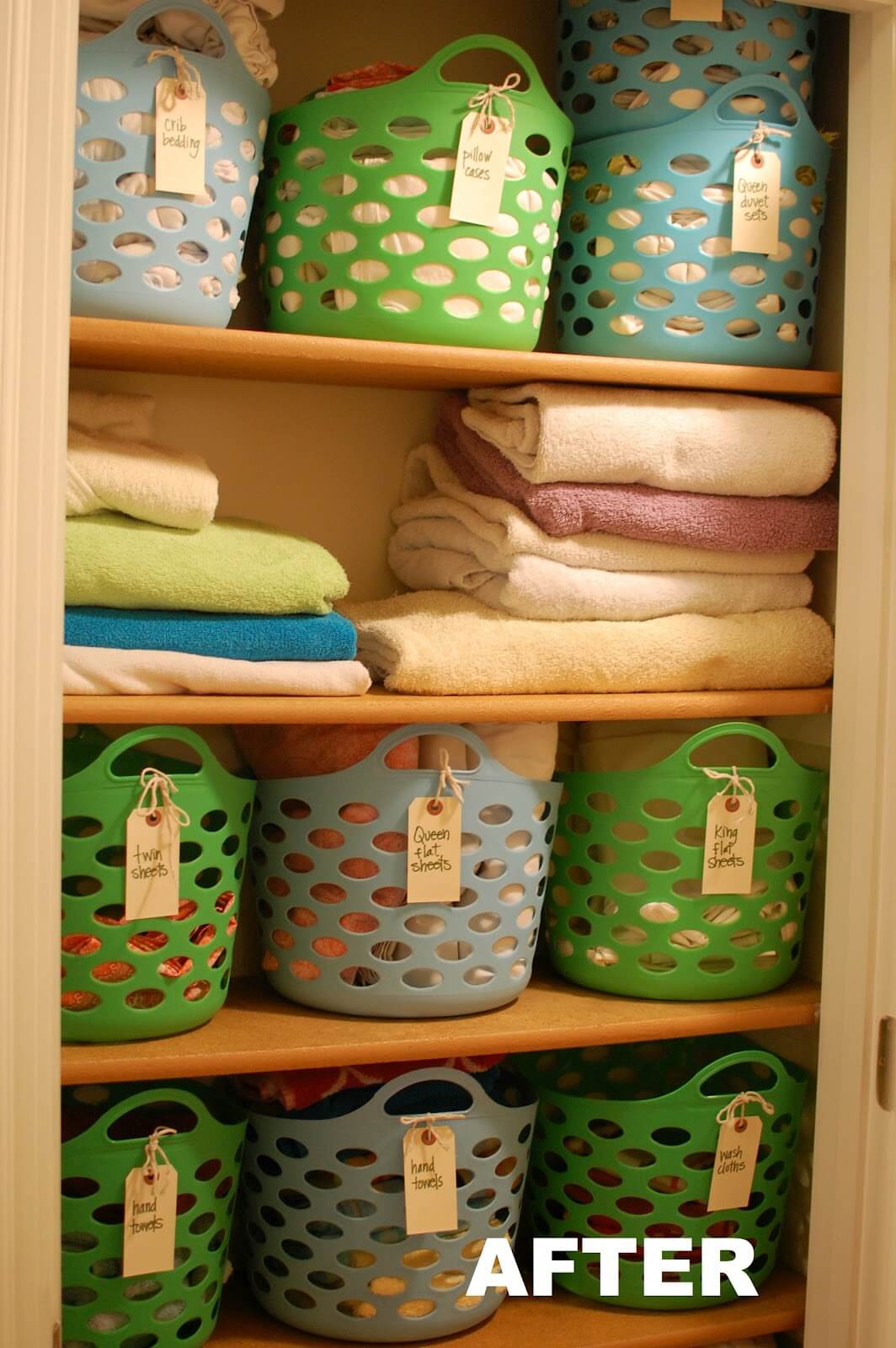 To keep your closets organized but still looking cute, try using the Dollar Store labels and baskets. The baskets keep everything in its place, and the labels make finding items easy. For an extra decorative touch, tie the label strings in small bows. They add some country flair to an otherwise humdrum closet space.
24. Concentric Vertical Pan Stacking Rack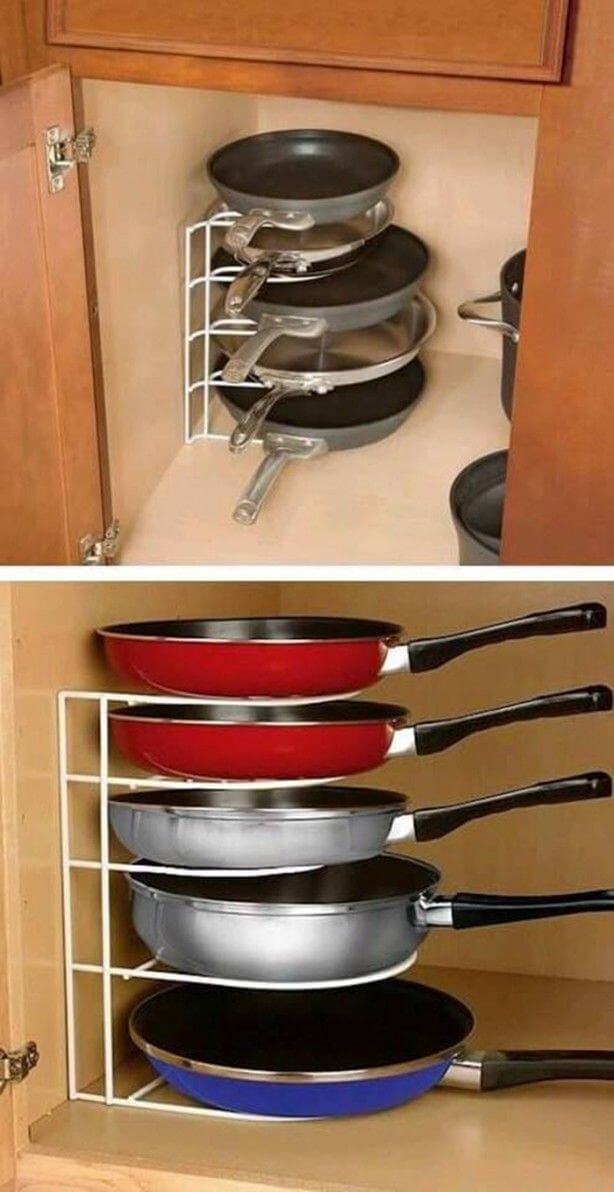 A concentric vertical pan stacking rack can be a true space saver for anyone with very little storage room in the kitchen. The rack makes stacking pans by size and shapes easy, and it prevents damage that may occur when stacking pans on top of each other. By keeping the pans stacked in order of size, they can be easily identified and accessed with very little noise or be rummaging.
25. DIY Tubside Bath Toy Organizer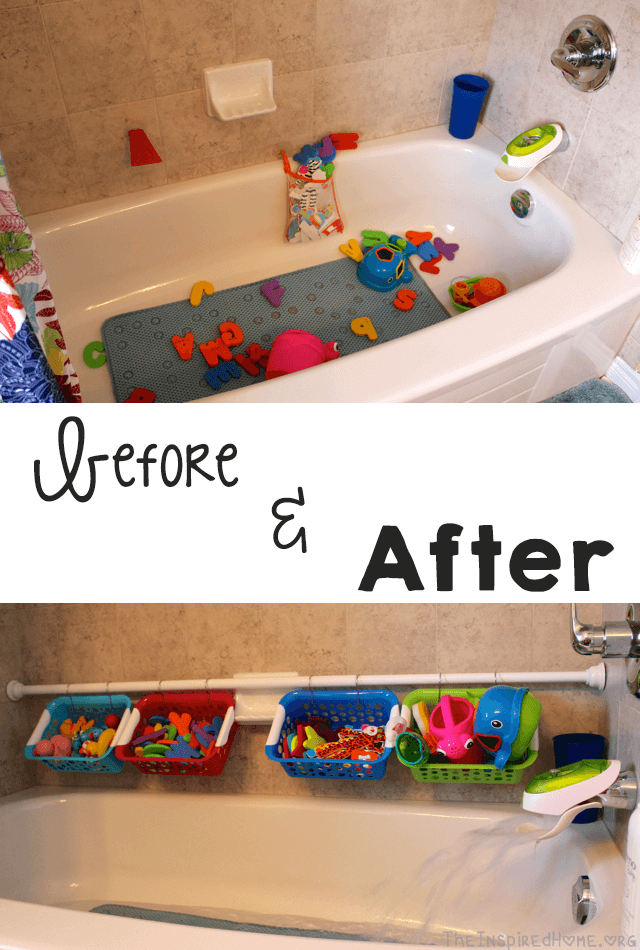 If bath time doubles as play time in your house, this bath toy organizer is for you. Hang brightly colored storage baskets from an expandable shower rod. Not only is this solution easy and useful, it is non-permanent and doesn't require any hammering or extensive renovation. It's also easy to use for little ones.
26. Instant Access to Storage and Sandwich Bags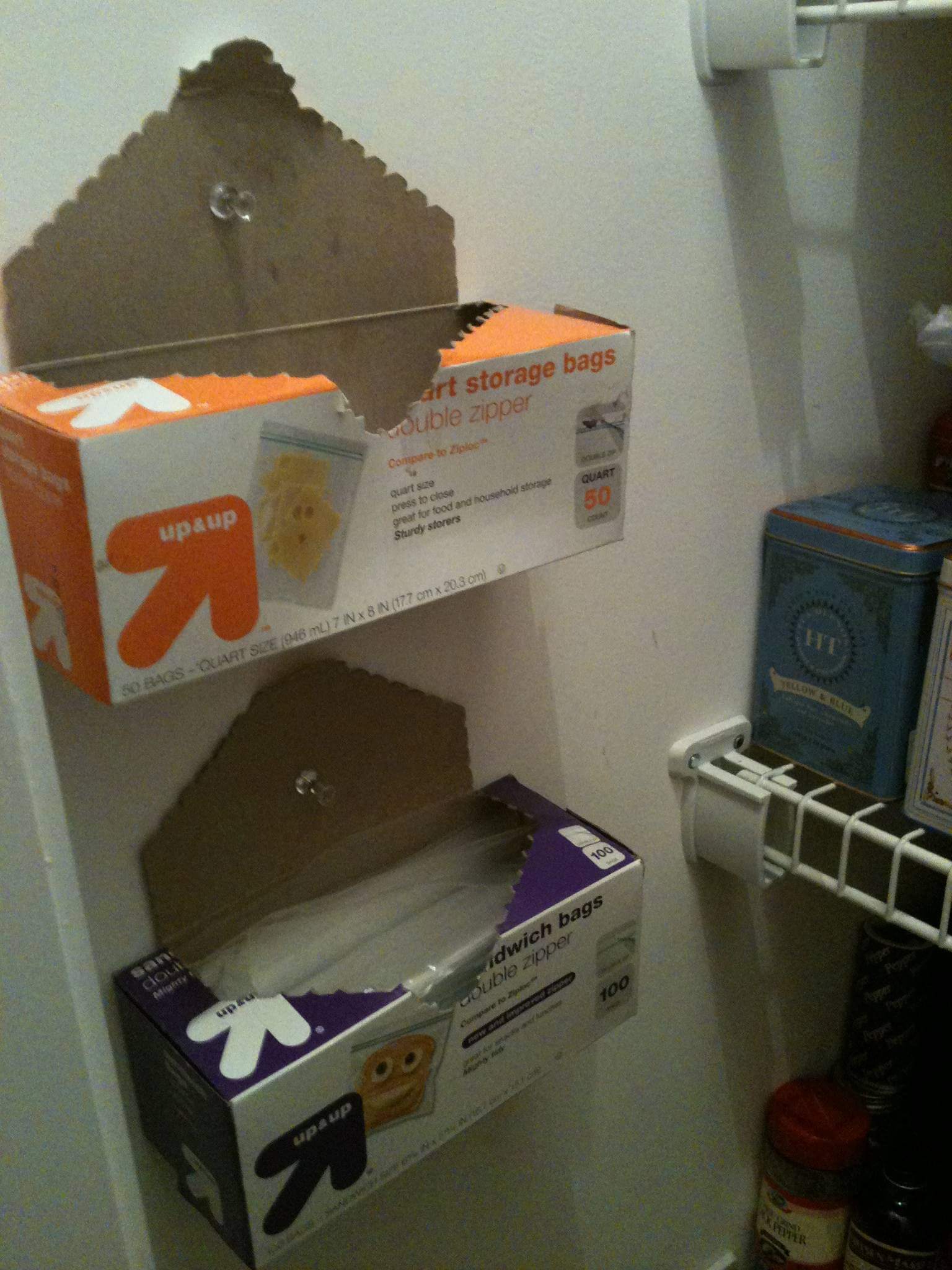 Whether you have limited cabinet space in your kitchen, or whether you simply want a more convenient location for sandwich bags, pinning a sandwich bag to the wall with a clear thumbtack can make life easier. Also, pinning an empty sandwich bag box to the wall is a super easy way to recycle, and it makes for convenient storage of small items.
27. Under-Shelf Kitchen Paper and Wrap Organizer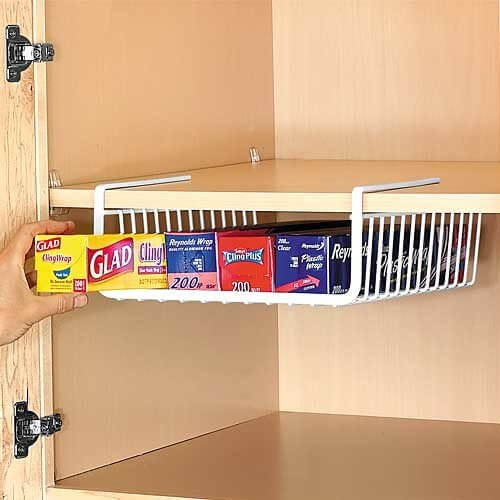 Make the most of your small cabinets by trying this under-shelf organizer. It can hold several boxes of wrap and paper materials, and its open design makes it easy to see what you're grabbing. Also, if you want to avoid damaging your cabinet shelves, it easily attaches to the shelf with no nails, glue, or extra tools needed.
28. A Pretty Way to Display Makeup Brushes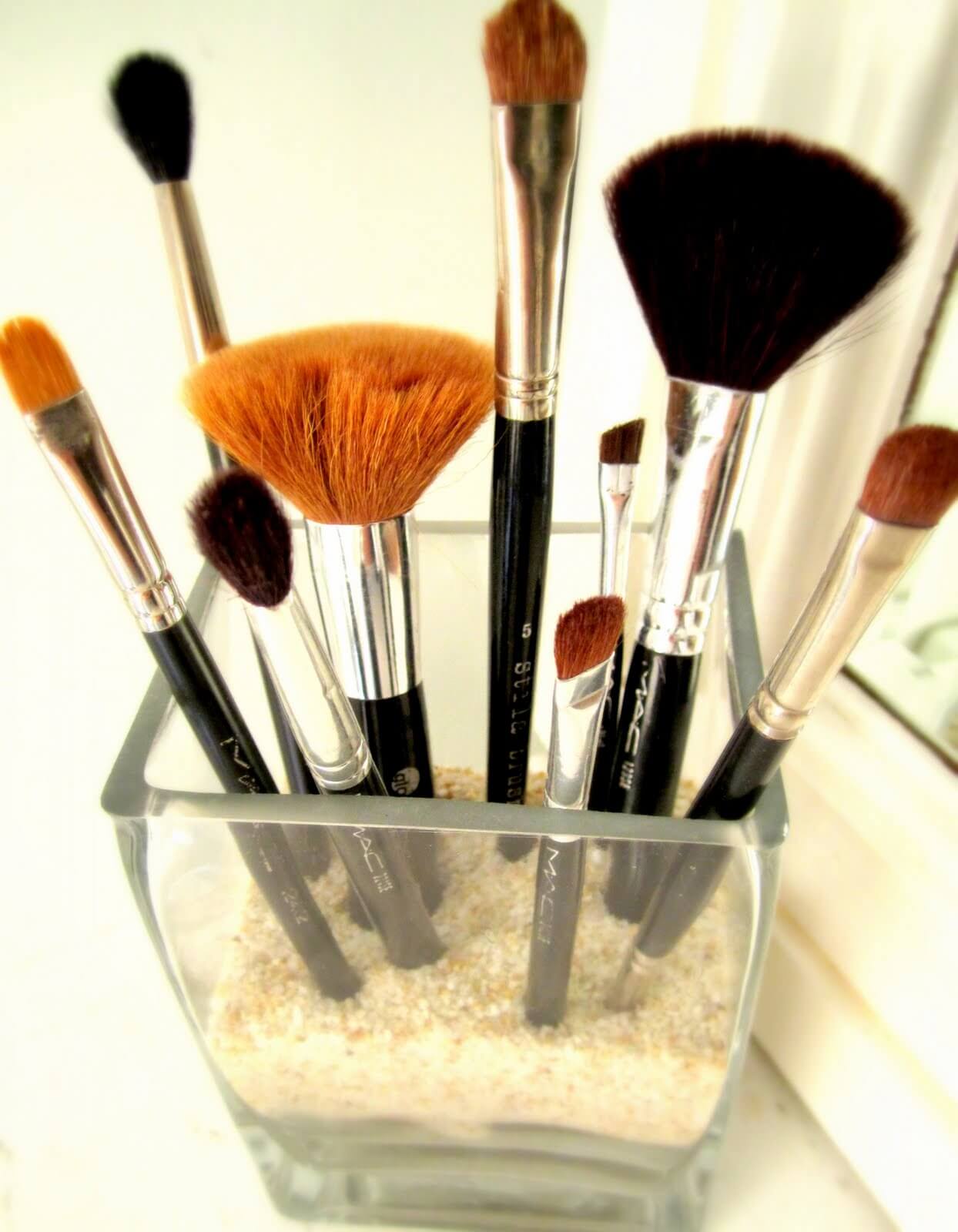 Storing several makeup brushes can be difficult, but here is a cheap and elegant way to do it. Use a decorative votive candle holder and pour some sand in the bottom. The sand will weight the glass and keep your brush handles in place, while the glass holder provides some flair to what might otherwise be a utilitarian storage solution.
29. Lightweight Wire Guest Bedding Tote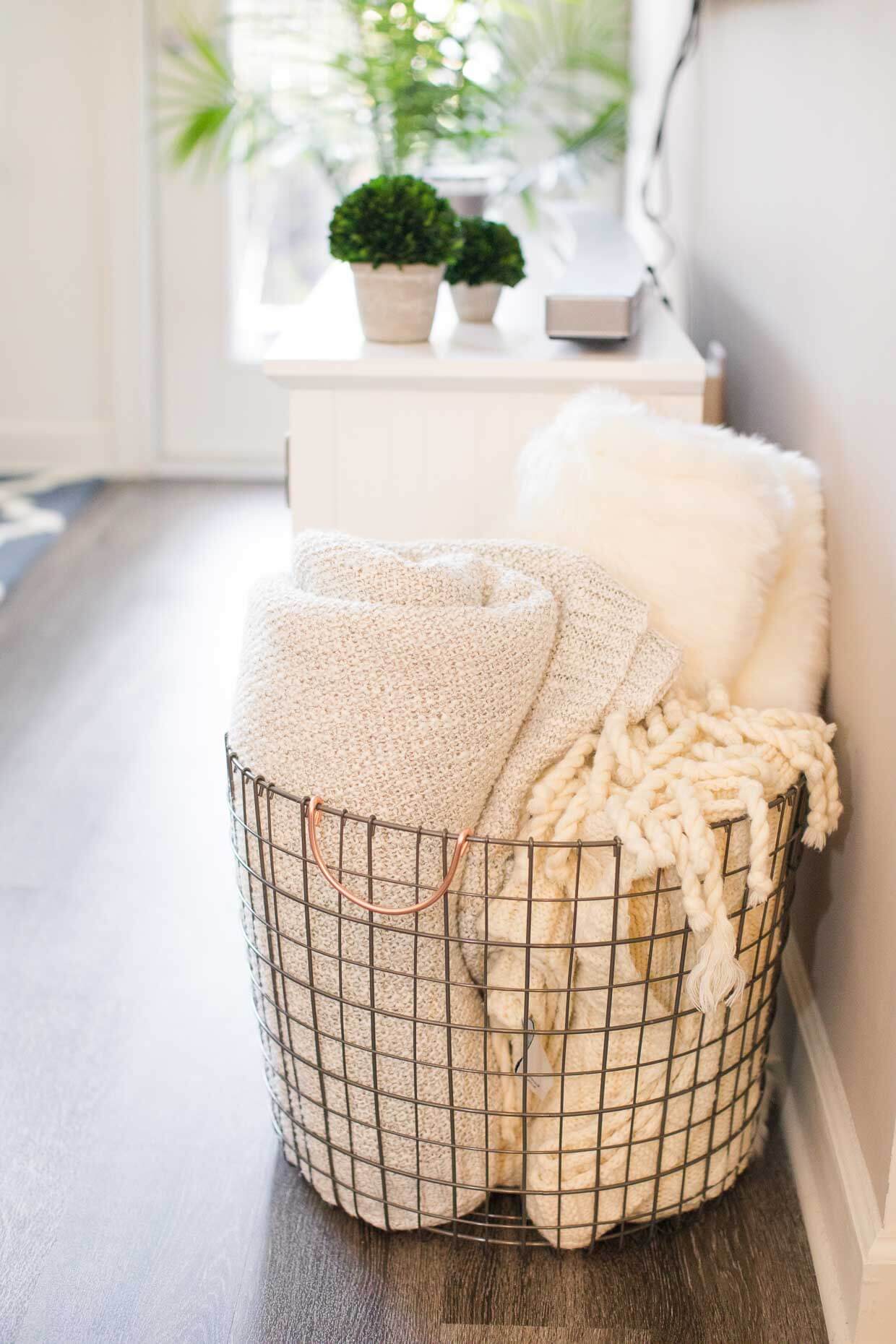 Minimalist and practical, this wire linen holder provides style and usefulness. Because it is lightweight, it makes carrying linens from room to room a cinch, and its rustic appearance against soft linens can complement any decor. Displaying bed linens in this item can make a room feel homey but stylish.
30. Aluminum Foil and Cling Wrap Holder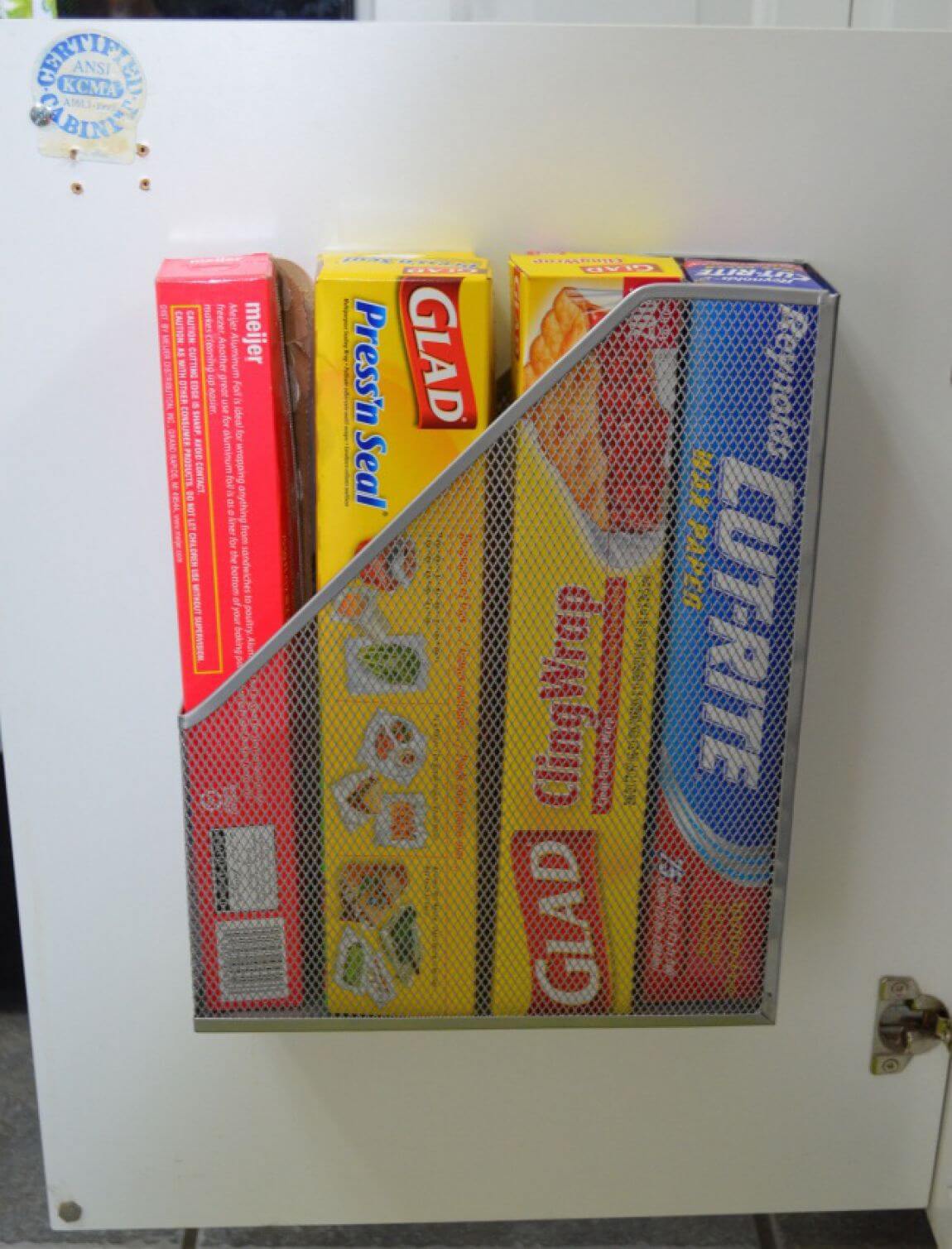 Attaching this aluminum foil and cling wrap holder to the inside of a kitchen cabinet effectively provides another shelf for kitchen necessities. Since it is on the door, it frees up actual shelf space within a cabinet and keeps things looking neat and organized. Its geometric lines complement the shape of the cabinet door.
31. High and Dry Fresh Fruit Crate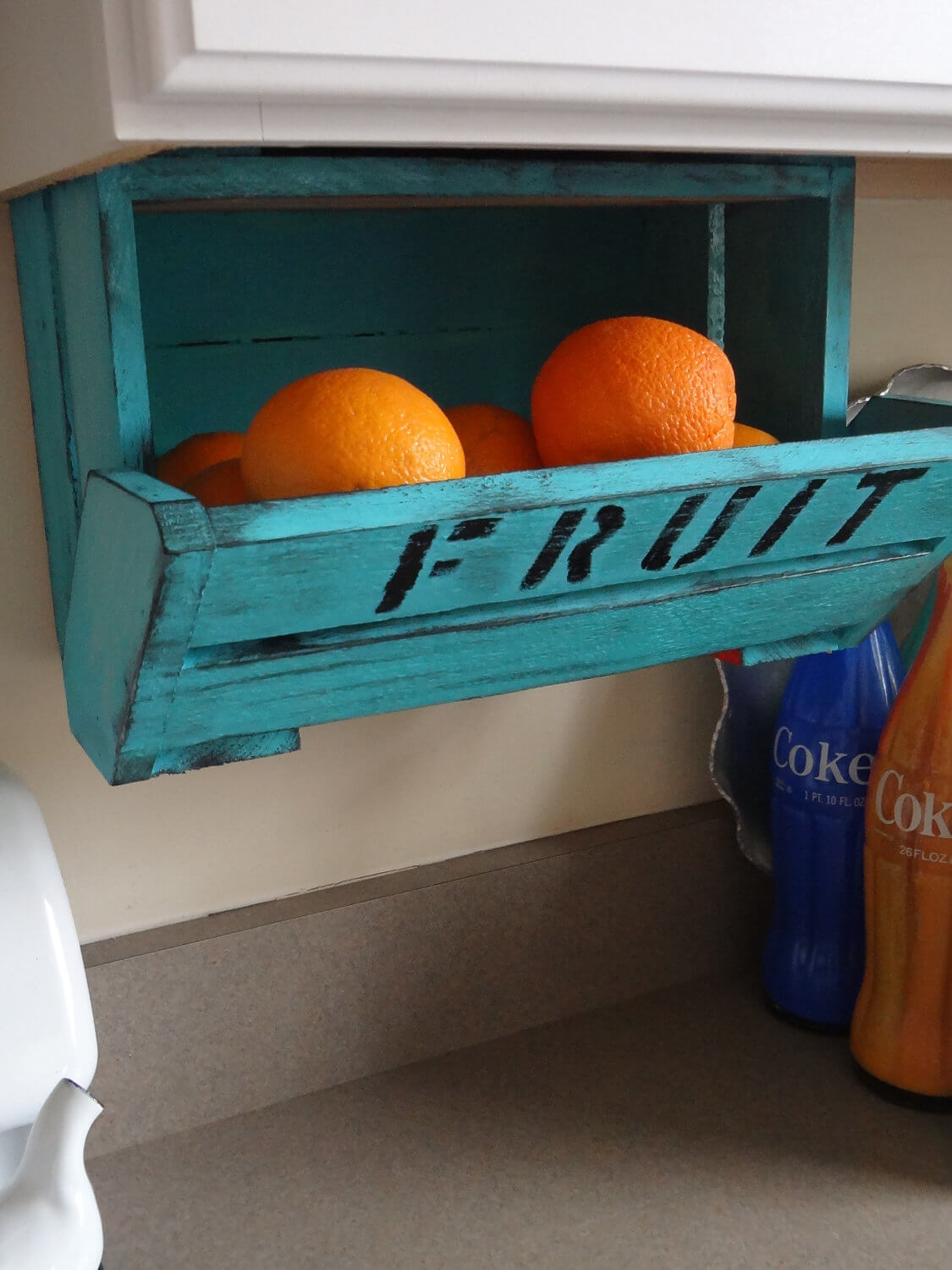 This fresh fruit crate not only provides a unique style element to a kitchen, it also functions as an extra basket. It can also cure a crowded countertop by keeping food items up out of the way. The colorful design and stenciled lettering can add some rustic style and brighten up an otherwise white or bland kitchen.
32. Store Festive Leftover Cupcake Liners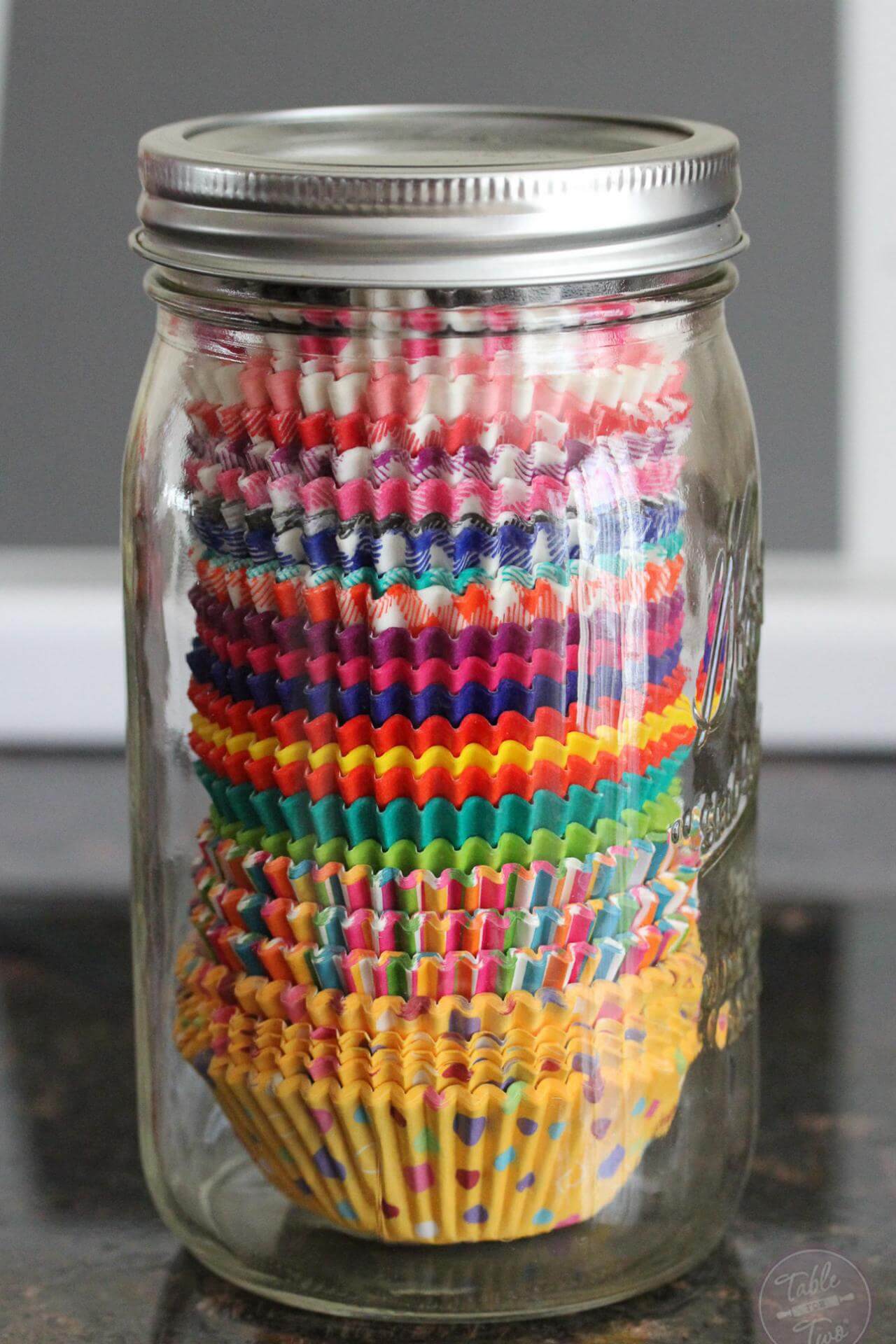 Use a mason jar to store fun, brightly-colored objects like leftover cupcake liners. A glass jar can bring a touch of the country, and the colorful cupcake liners are kept in one easily accessible place. Not only is it practical, but this easy storage solution can add some dimension to any countertop or table. The jars can also be lined up on top of cabinetry for out of the way storage.
33. Kids Craft and Coloring Bucket Bar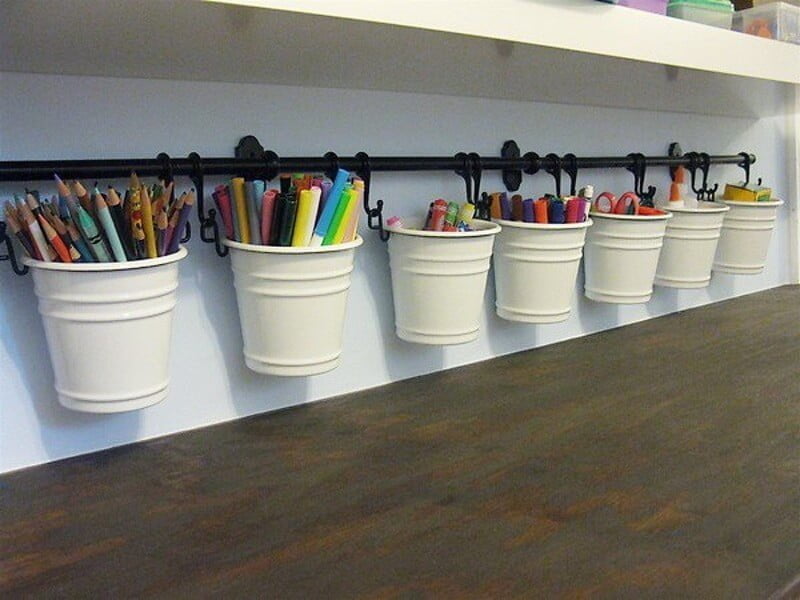 Instead of using drawers or closets to store an endless number of crayons and craft supplies, try this do it yourself storage method. Mount a curtain rod above a desk or inside a playroom, hang plastic flower pots from the curtain hooks and place supplies inside. This solution offers some geometric interest to what might be a chaotic area.
34. Laundry Basket Ribbon Dispenser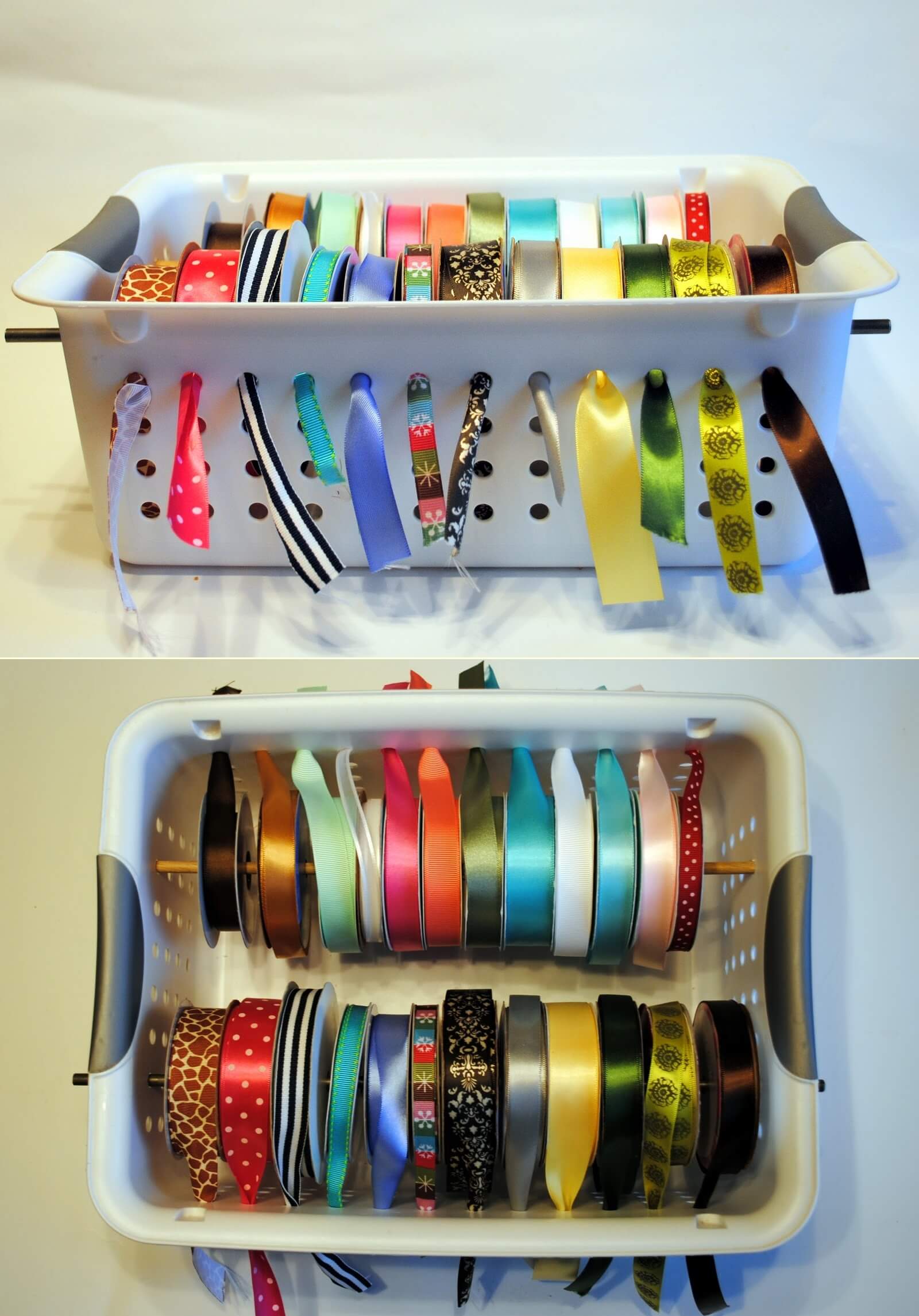 If crafting is one of your hobbies and you have a lot of ribbons, try using a laundry basket to organize several spools of ribbon. Simply line up the ribbon spools, place a dowel rod through the middle, and allow each ribbon to have its own exit hole in the side of the basket. This can make storing and using each type of ribbon easy.
35. DIY Wall-Mounted Trash Bag Rollers

Instead of struggling with trash bag containers kept in inconvenient cabinets, try wall-mounting a roll of trash bags for quick access. The small brackets hold a dowel rod which can be slipped through the bag roll. Also, use contrasting bag colors in order to add visual interest to a bare wall. The black and white bags and silver fixtures complement each other well.
36. A Zen Garden for Makeup Brushes

Create a peaceful and ordered area on your makeup counter by using this unique tip. Fill a small glass globe with colorful rocks, and place your makeup brushes inside. The rocks will securely hold your brushes in place, and the appearance is simple and refined. Add other simple and elegant design touches, like flowers or a perfume tray.
37. When Accessories Are on the Menu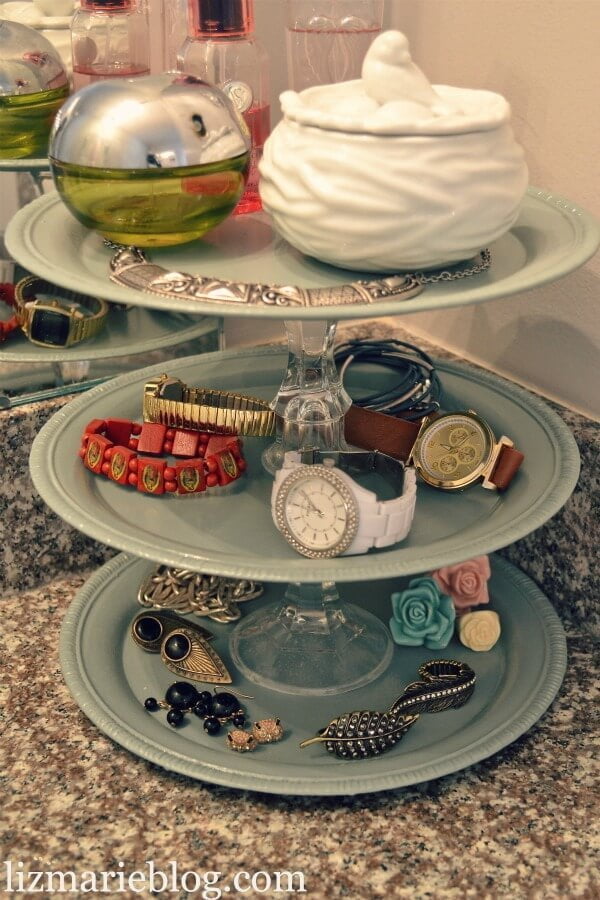 If your bureau is lacking personality, try using a stacked dessert tray to spice up the space. Not only will it offer tiers of storage space for small accessories like jewelry, hair ties, or perfumes, but it will add an elegant flair to the space. Use bright or unexpected colors to make a statement. This item can also be used in a bathroom to increase storage space on a small sink area.
38. Garden-Inspired Wrought Iron Fruit Baskets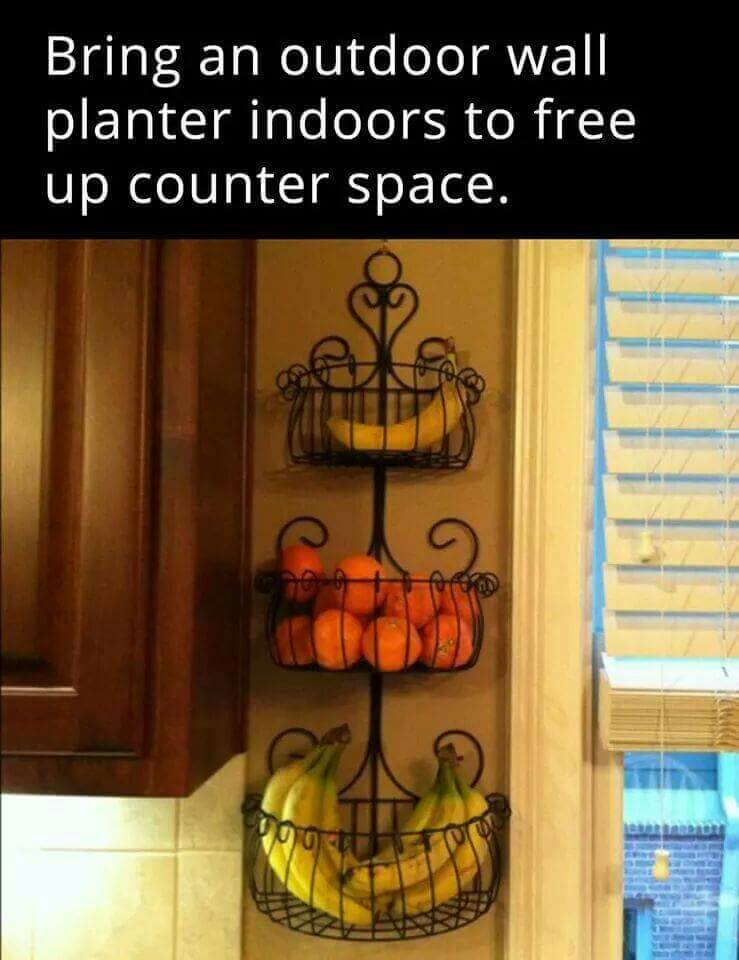 Make garden planters work overtime by using them to create beautiful and charming fruit baskets indoors. Mount them on a kitchen wall for maximum design impact. The wrought iron design is not only graceful but very sturdy, and it can offer a beautiful touch to a bare wall. Even when not in use these wall decorations can make a statement.
39. All Your Muffin Tins in One Basket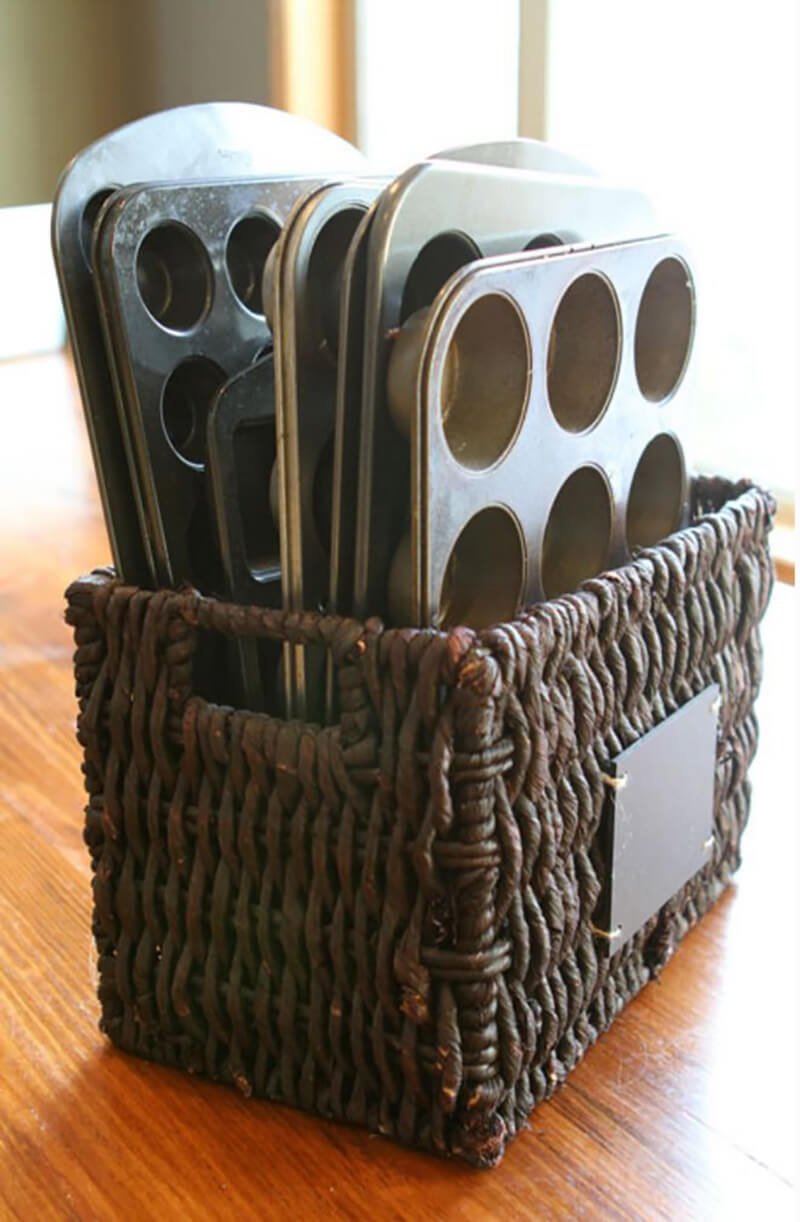 Eliminate the noisy clang of looking for muffin tins by storing them efficiently and elegantly in a rattan storage basket. The texture of the basket softens the more utilitarian metal of the tins and can be displayed in the open for easy access. The basket's open wickerwork also allows for drying after a tin is washed and put away.
40. Hanging Kitchen Utensil Hooks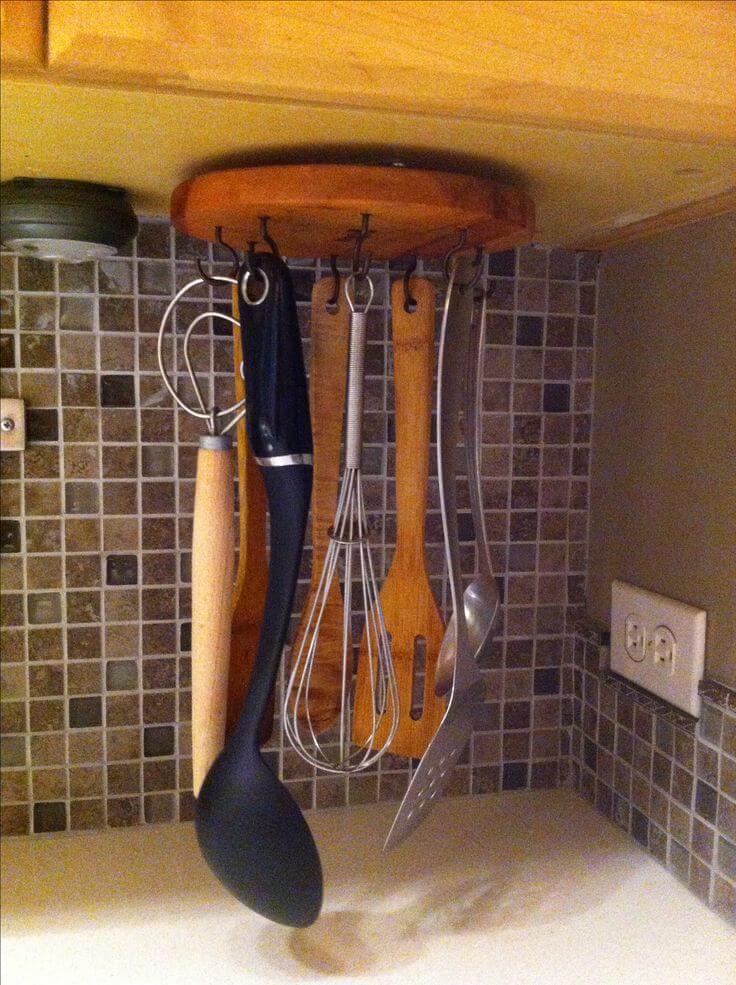 Using metal hooks to hang utensils from is an inventive storage solution that eliminates the need for a holder or a shelf. By attaching a wooden disc to the bottom of a kitchen cabinet and inserting screw hooks into it, you can make finding the right utensil an easier and more visually interesting experience.
41. Sweet and Tidy Fruit Juicing Station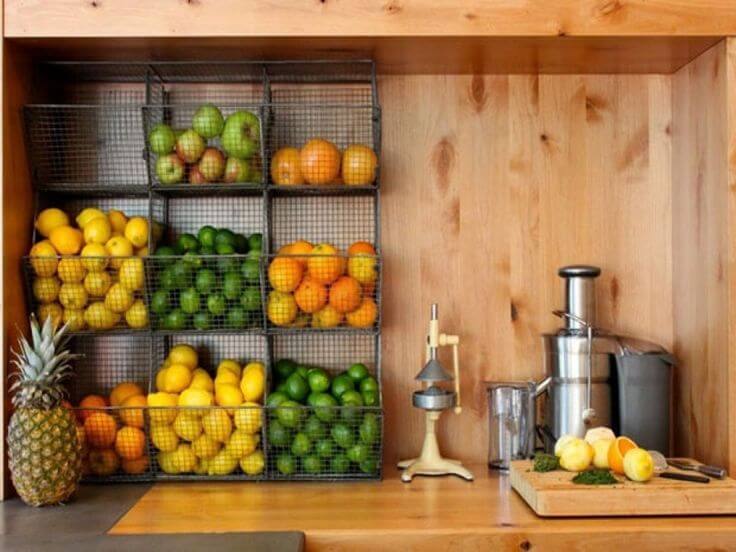 To keep a kitchen or bar area looking bright and organized, try creating a juicing station. A multi-level wire organizer keeps fruits separate and maximizes color impact, while small wooden and stainless steel appliances accent it. Organize fruit according to color or size. The wire organizer keeps things tidy while remaining easy to empty and fill.
42. Dollar Store Organization Ideas for Makeup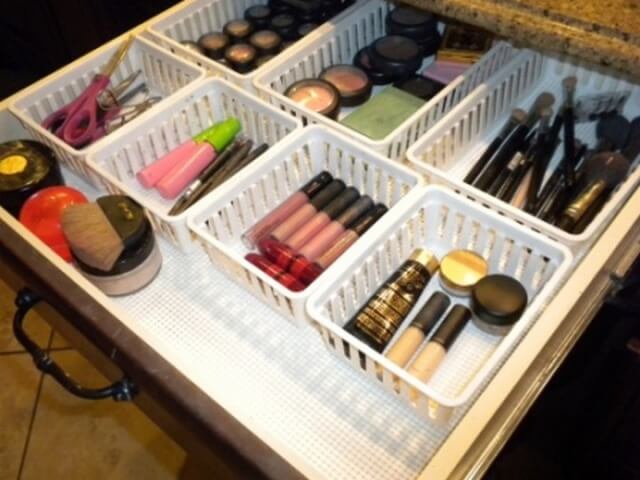 Get the most out of a drawer by using dollar store plastic containers to separate makeup and beauty products. The simple, open bins allow for easy access, and this solution can keep countertops clear while keeping makeup tidy. A rubber drawer liner is also helpful and keeps storage containers from sliding around.
44. Gift Wrapping Accent Wall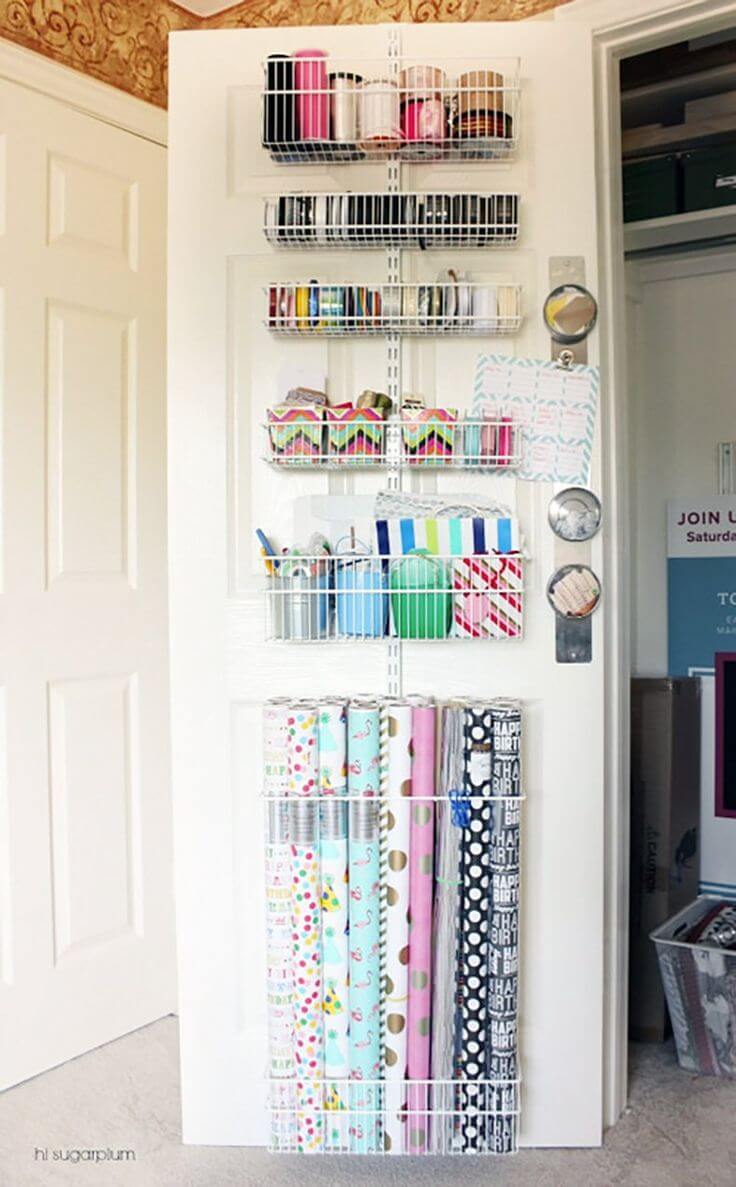 Use a shoe tree to store gift wrap and all the accompanying items like ribbon, bows, labels, and tape. The colorful ribbon and wrap will offset a white or bare wall or door, and the storage compartments will keep things separate and tidy. Prevent closets from becoming cluttered with old rolls of paper and bows by storing them with this device.
45. A Rainbow of Tanks on One Hanger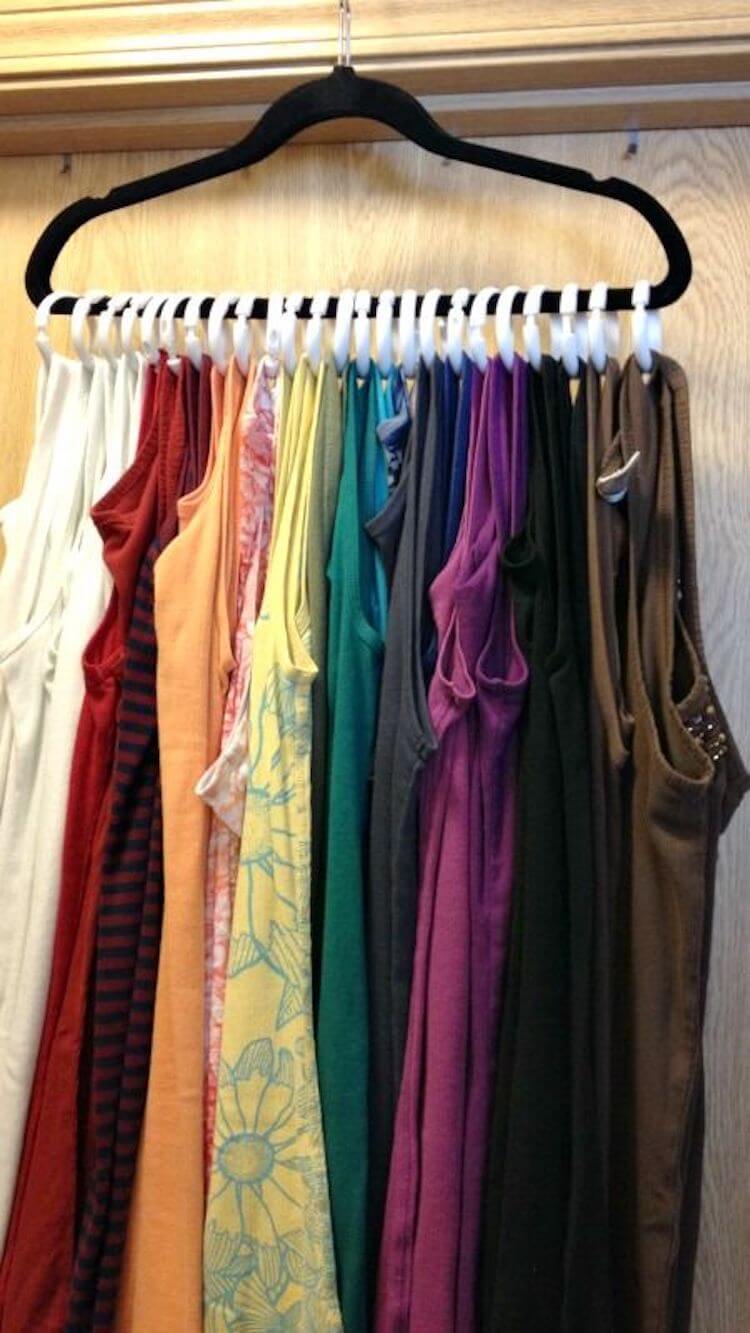 A small closet does not have to limit your wardrobe. Store many tank tops on one hanger using shower curtain loops. For visual impact, order the shirts by color. Not only will this make getting dressed in the morning more efficient, but it creates a pleasing color gradation that gives the impression of tidiness.
46. Pretty End-of-Day Face Cleaning Display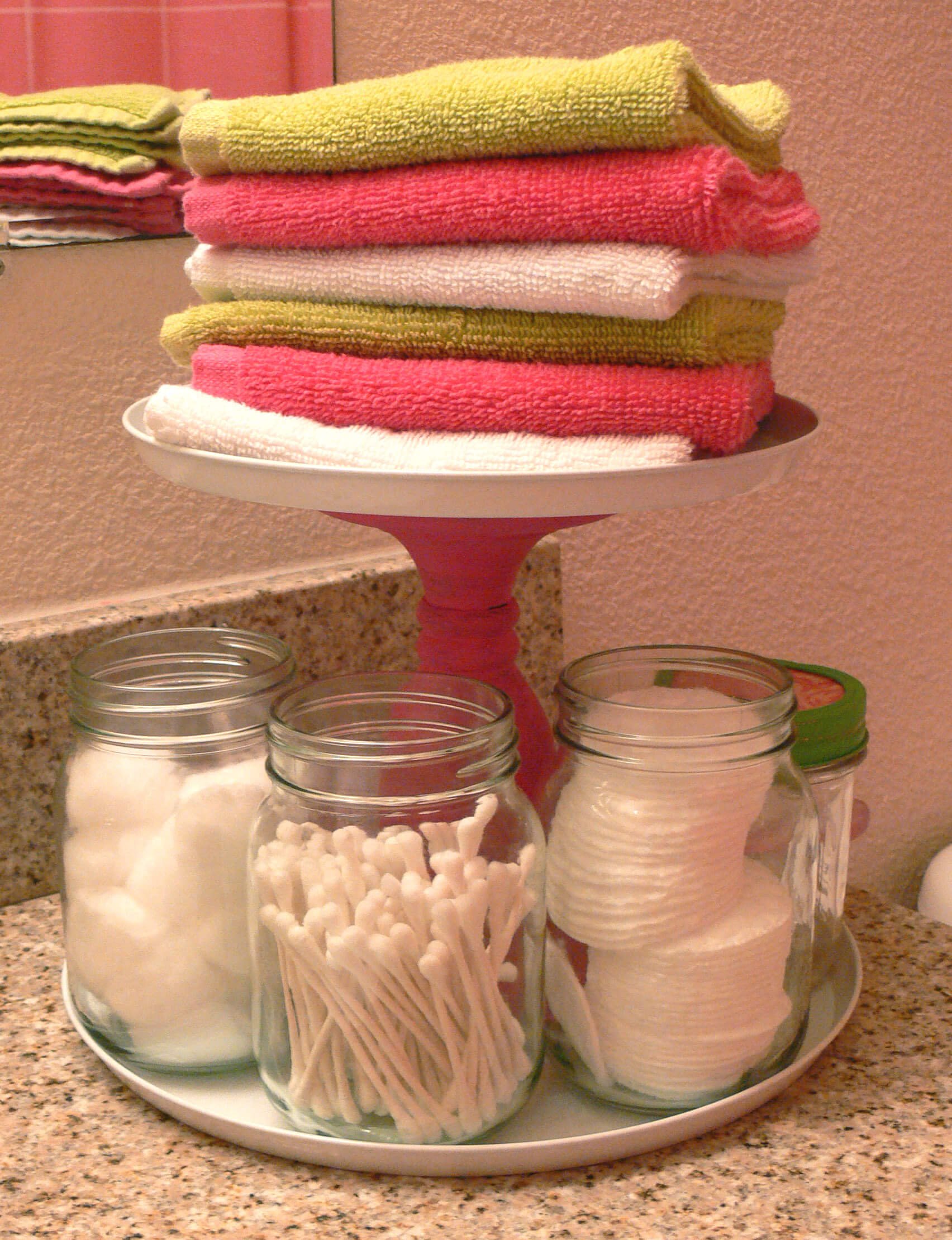 Make a statement by color-coordinating your "me time" bath and beauty supplies. Get creative by using a colorful cake stand as a towel holder and mason jars as beauty holders. To finish with flair, stack hand towels in alternating or contrasting colors. This presentation makes pampering yourself a fun and functional.
47. Under Counter Bathroom Nesting Bins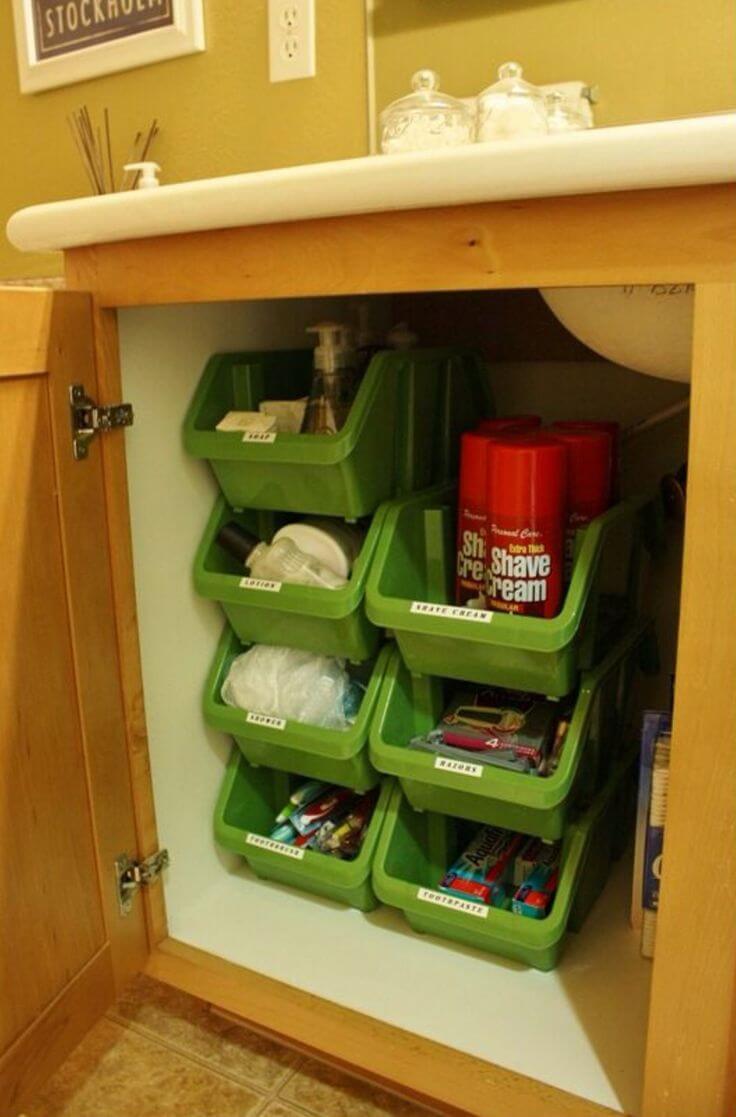 Practical bathroom items need practical storage solutions. Try nesting bins under the counter to keep things organized. The bins are sloped at the edges, making it easy to see what is in each container, and the fun color distracts from any dreary pipework under the sink. When not in use, these bins can collapse for compact storage.
48. Clean and Collected Cutting Board Organizer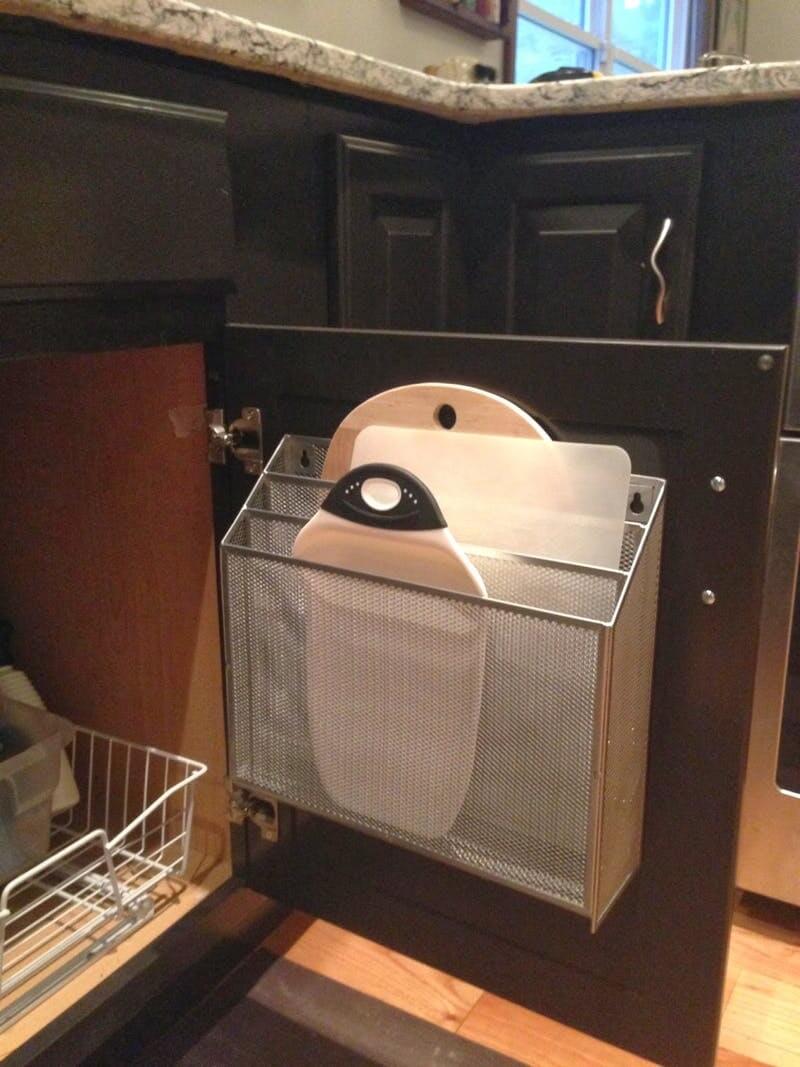 Keep your cutting boards cleverly stacked inside the door of a cabinet by mounting this multi-pocket wire container. Not only is the metal wire design clean and simple, it easily stores flat objects like cutting boards without cluttering a shelf or counter. Other flat kitchen items can be similarly stored within this container.
49. Magnetic Strips for Small Bathroom Tools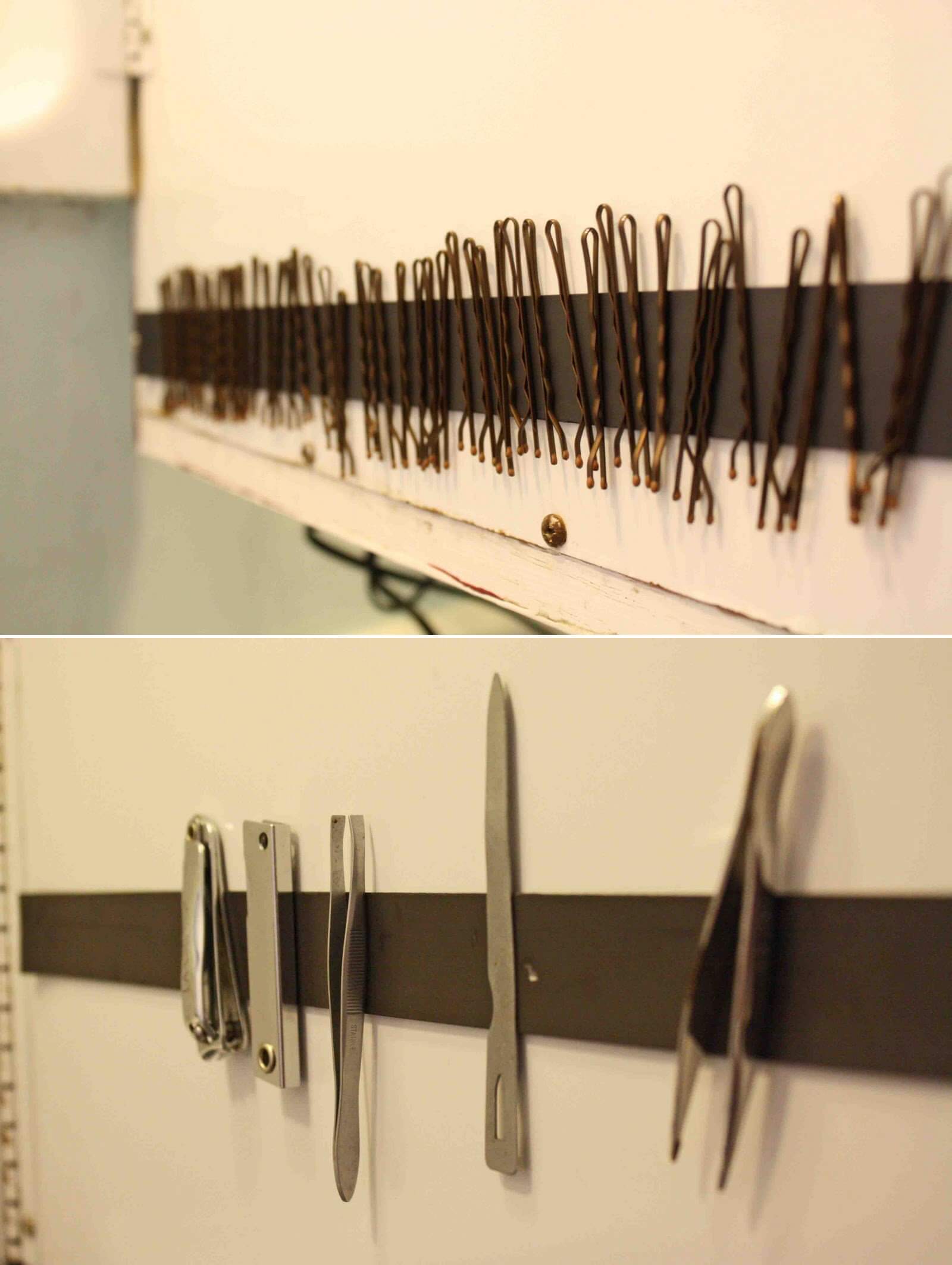 If your style is minimalist and quirky, try using a magnetic strip in the bathroom to keep track of small bathroom items like hairpins, clippers, and other grooming tools. This utilitarian look does double duty by adding visual interest while keeping things neat and tidy. It can also save counter space by storing things in a surprising way.
50. Cool PVC Pipe Styling Tool Tree

Both innovative and functional, a PVC pipe painted and decorated to match your style can offer a surprising way to store items like hair dryers or curling irons. Simply spray paint and apply extras like glitter to transform it from a common household object to a useful centerpiece for the bathroom sink.
51. See-Through Linen Closet Caddies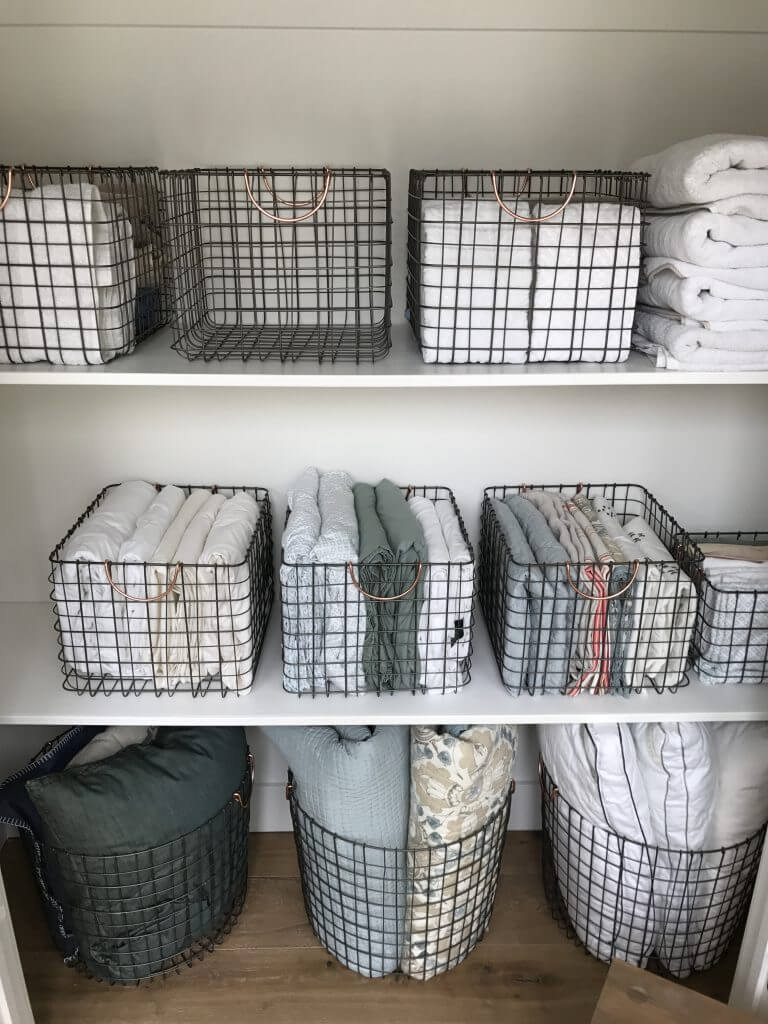 Using see-through linen caddies inside a closet makes finding things easy. The wire texture of the caddies can punch up an otherwise boring closet, especially if linens are monochromatic or if the interior of the closet is flat white. These also make for easy carrying in case linens need to be transported from the closet to a distant bedroom.
52. Pop Art PVC Shoe Tree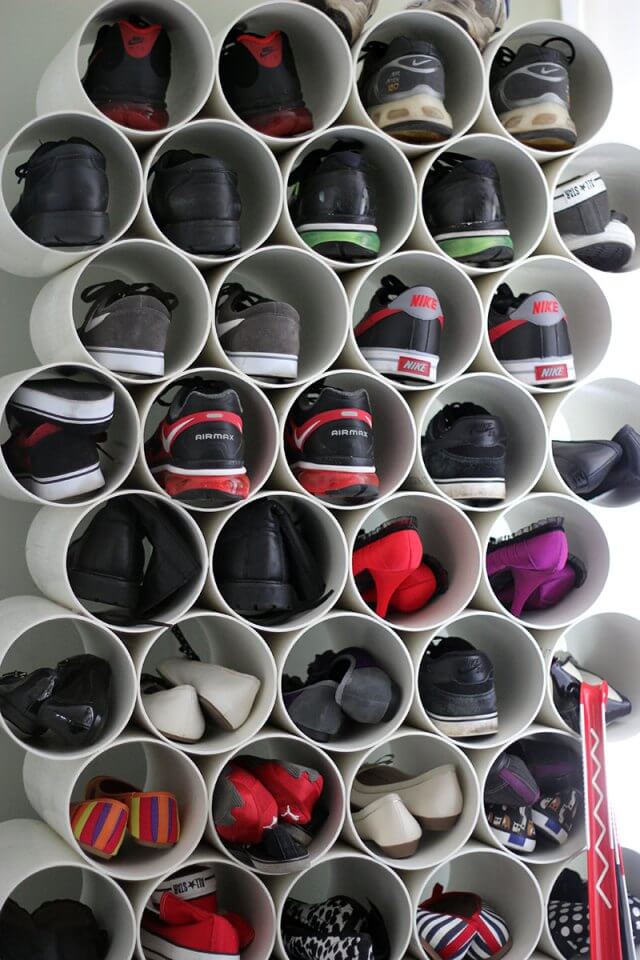 Add a striking design element to your bedroom by using PVC pipe to create a stacked shoe tree. This unique DIY project uses a repeating honeycomb-like effect to stylishly display a large or unruly shoe collection. Pipes can be glued onto one another in an alternating stack. Shoes may be arranged within each cell according to color or brand.
53. High and Dry Power Strip Basket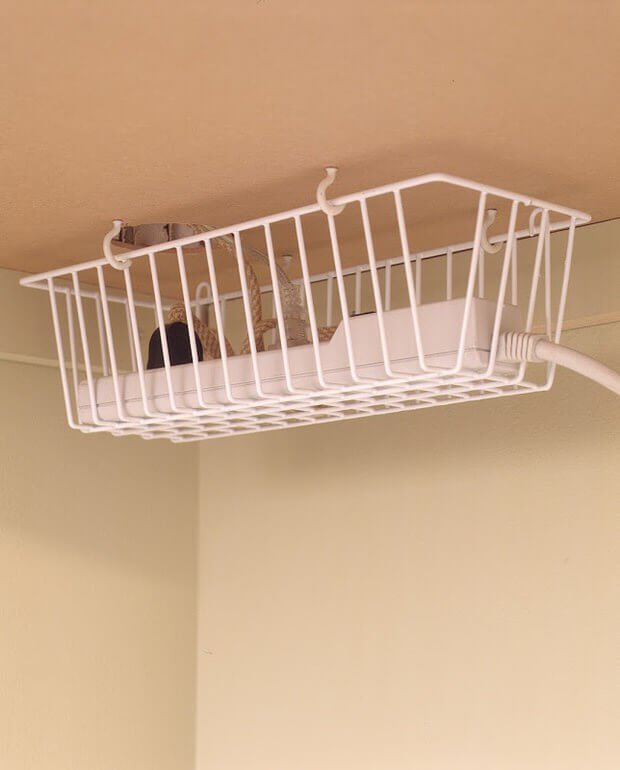 Keep ugly cords and power strips away from feet and out of sight with this under-desk mounted storage basket. Using screw hooks to attach a wire basket to the underside of a desk, you can easily keep your wires from getting tangled or stepped-on. Best of all, it makes for quick access in case a device needs plugged or unplugged.
54. Instant in-the-door Broom Closet Idea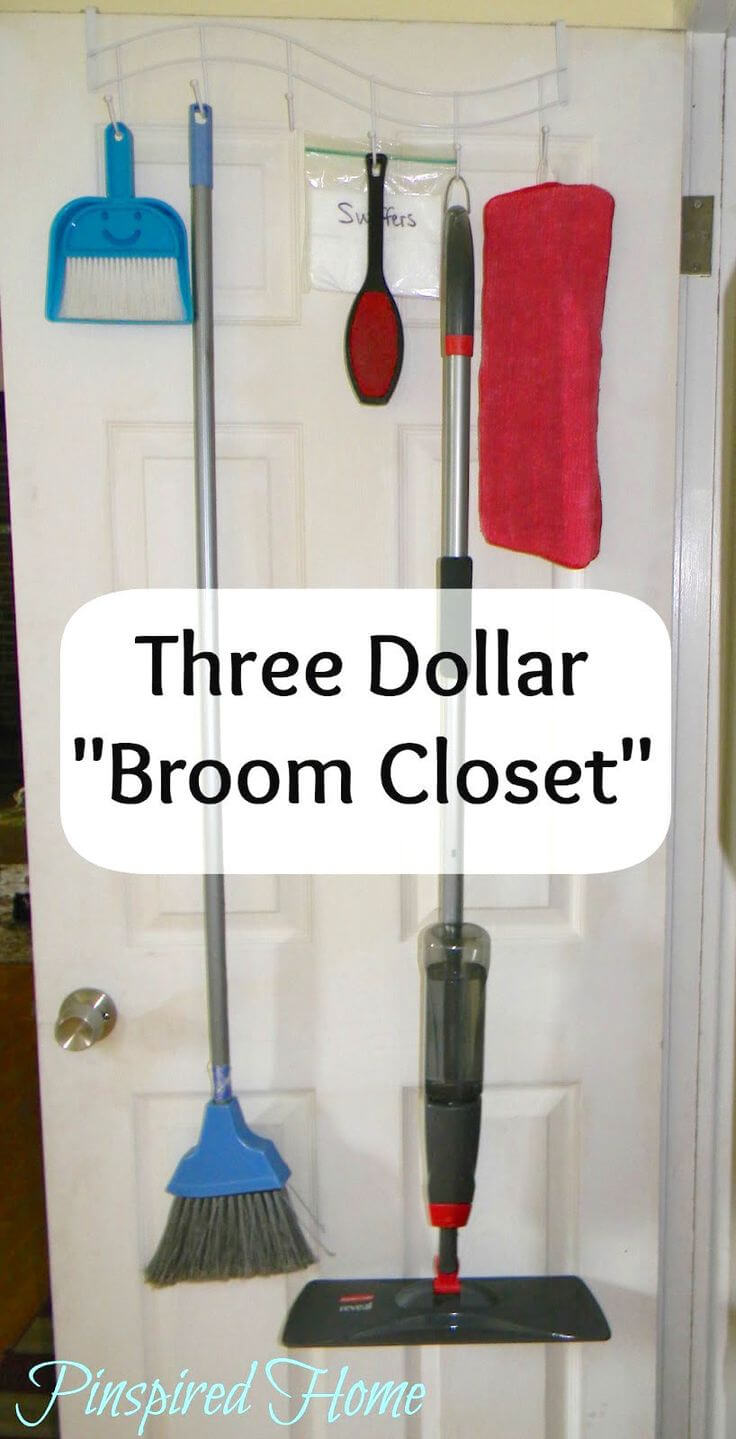 Storing cleaning tools can get messy and cumbersome, and can take up a lot of unnecessary room. Using this in-the-door attachment can help keep brooms, mops, and other tools conveniently accessible while looking tidy. The wave design of this hook display adds a little extra design element for the area.
55. Easy One Hanger Scarf Rack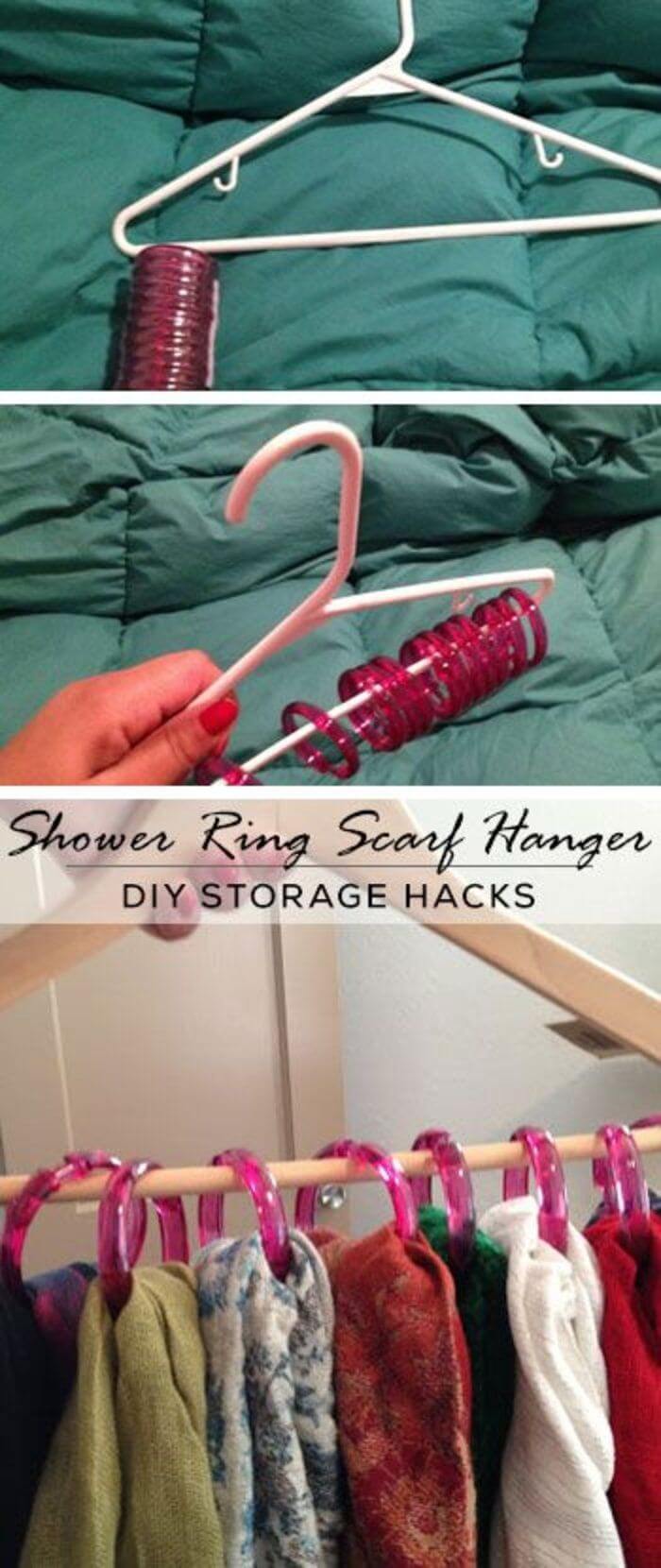 Organize scarves efficiently and beautifully by using this hack. Hang each scarf on a colored shower ring, and then place the shower rings onto a single wooden hanger. Not only will this trick free up drawer space, but the scarves, combined with the shower rings, are so visually appealing that the hanger may be hung outside the closet if needed.
56. Pool Tube Shoe and Boot Forms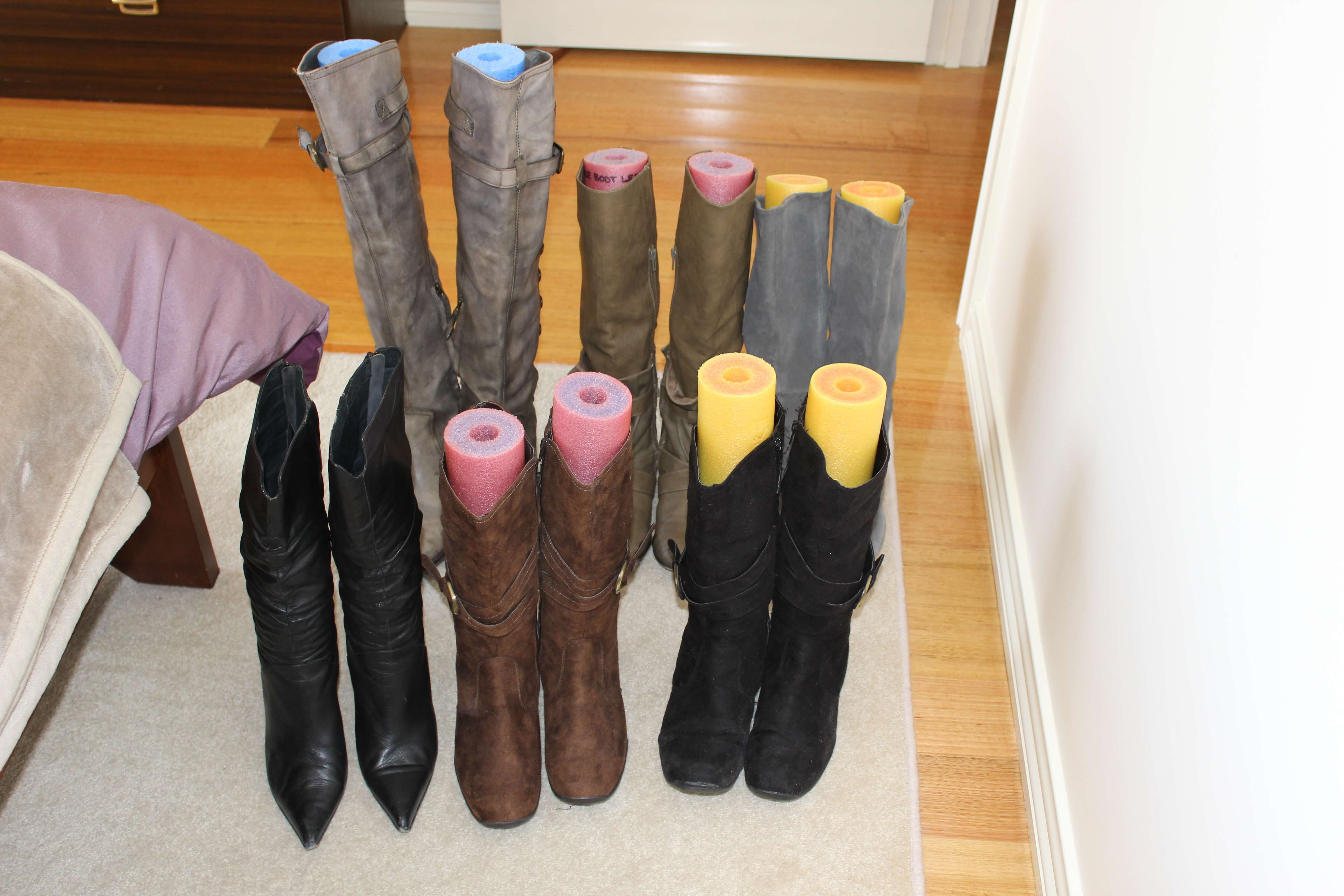 Do your boots always flop over during storage? Try inserting foam pool tubes into your boots to keep them standing straight. In addition to being convenient, it can also extend the life of your boots by helping them to keep their proper shape in between wears. The colors of the foam tubes can also help you keep pairs of boots together.
57. Shelf-Free Hanging Shower Tote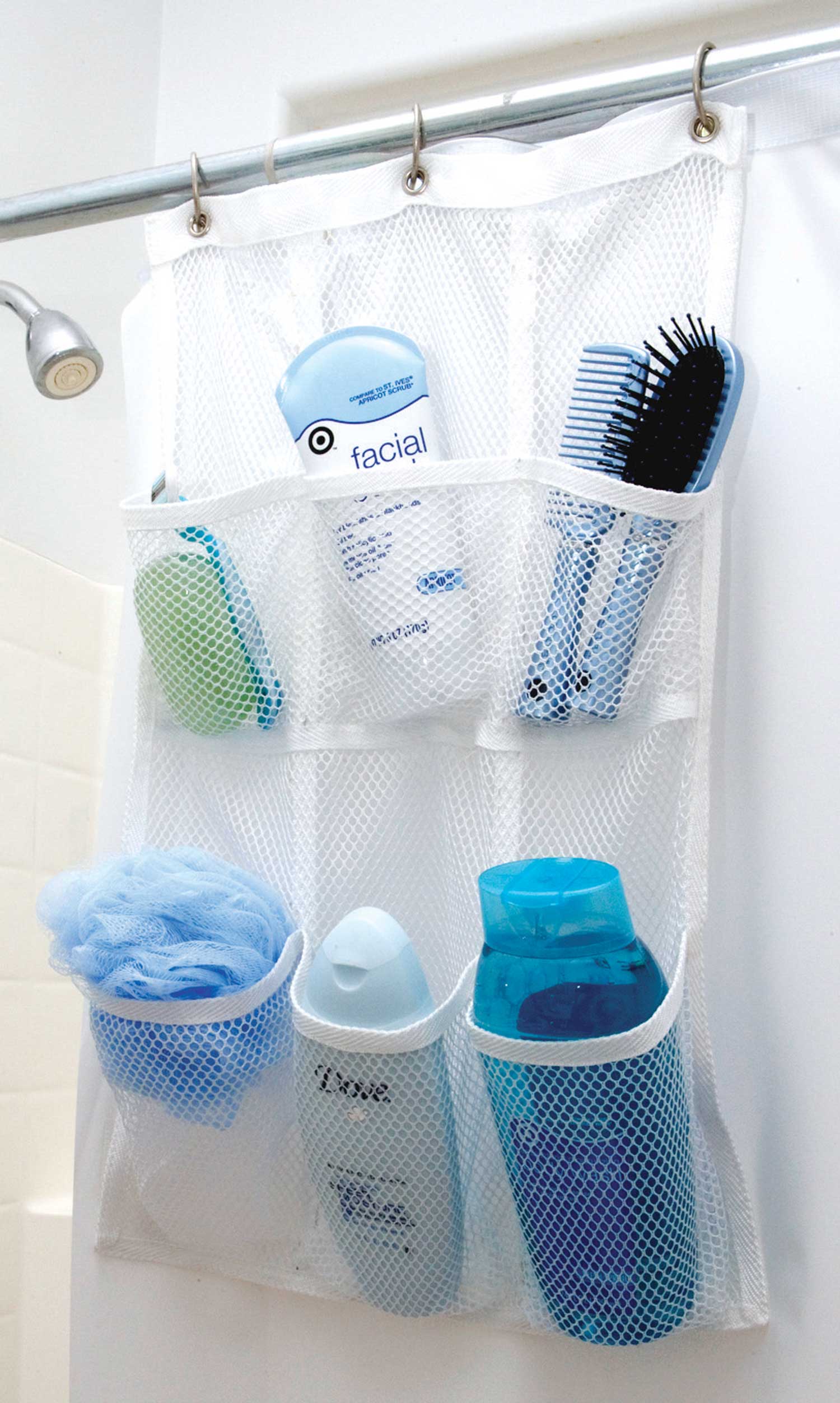 This mesh shower caddie is the answer for small bathtubs with little or no shelf space. Store all your bathtub items in its see-through and flexible pockets. For ultimate convenience, it hangs from the shower rod and can move as needed. Match the color to your shower liner, and you will have a great, unobtrusive accessory for the shower.
58. His and Hers Shower Organizers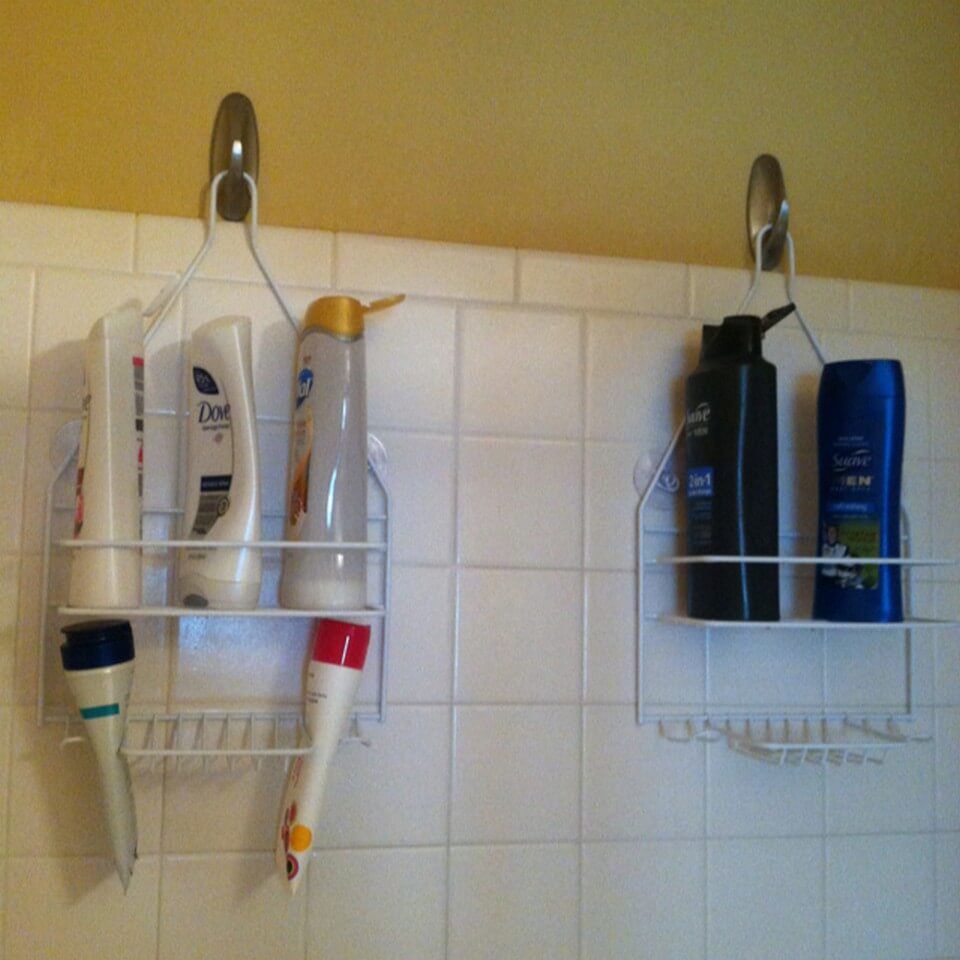 Using adhesive hooks and wire shelving, create this easy his-and-hers shower set. To make sure each storage shelf doesn't announce itself too loudly, use hooks and wire shelves match the color of the tile of the bathtub. Keeping items separate can make showering more efficient, and it adds a charming touch to the tub.
59. Plastic to Rustic Rope Basket Makeover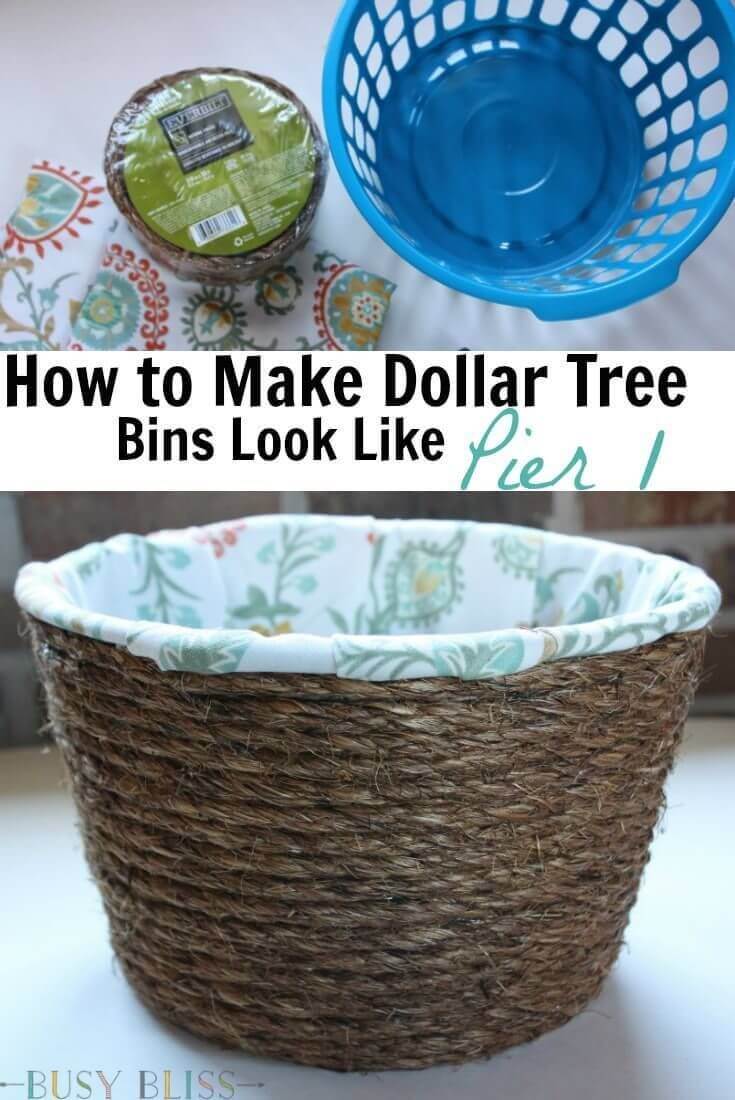 Dress up a plain plastic bin by weaving rustic rope in and out of the holes in one continuous motion. Tie off each end on the inside of the basket, and glue some decorative fabric inside to finish. This can be a money-saving method of upscaling a laundry basket or small storage container and can add interest to a room.
60. By the Door Mail Baskets

To keep mail organized, try using small wire caddies as holders. Mount them to a wall just inside a door for maximum convenience, and add labels to give them a polished, finished look. Use darker caddies on lighter walls and lighter caddies on darker walls to add visual impact, or add several to one wall to keep multiple items separate.
61. Fun Wall-Mounted Coloring Book Corral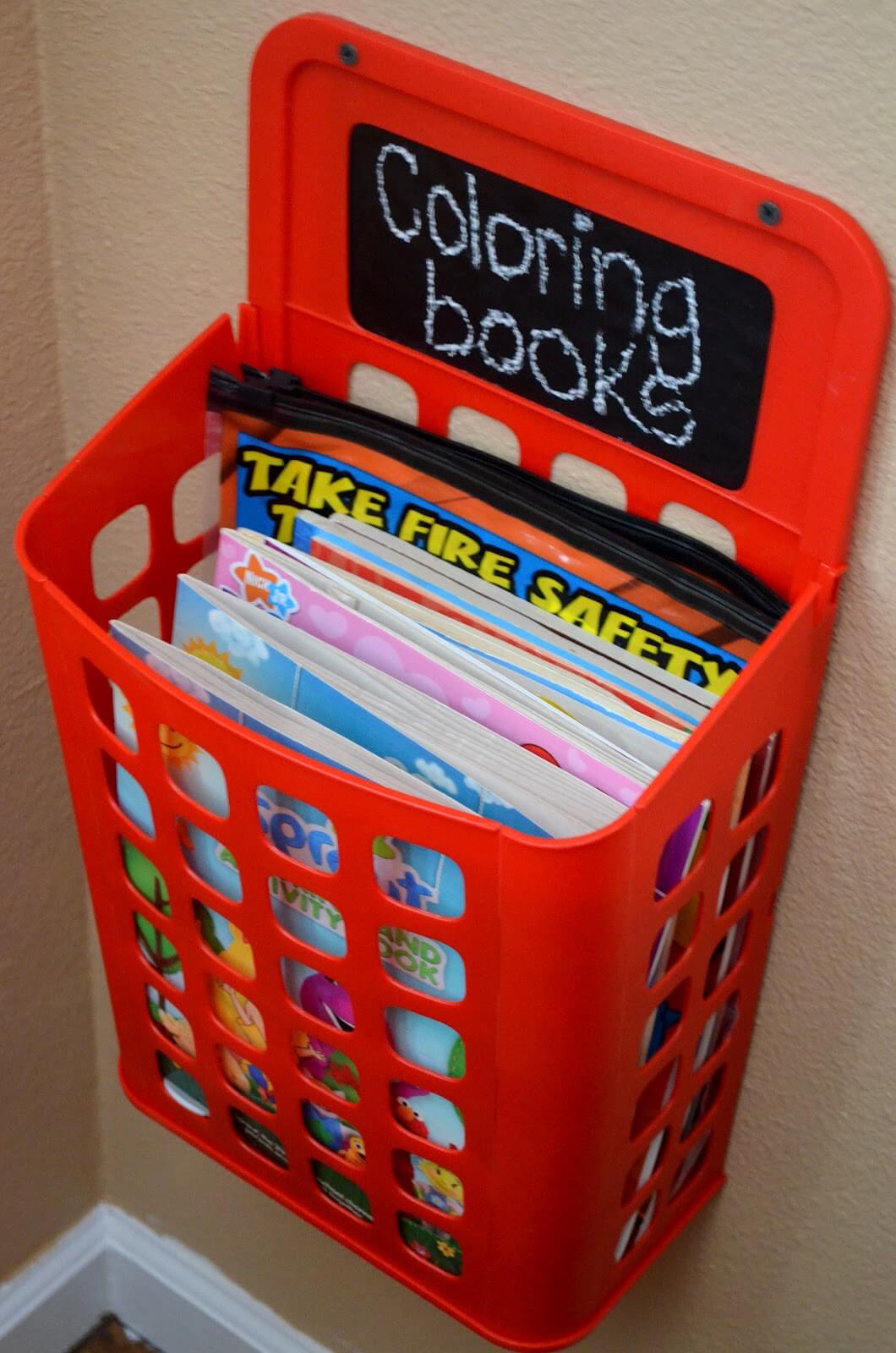 Use a colorful storage bin mounted to a wall to keep coloring books tidy. A large label can be added for easy identification, and to add appeal for kids, use chalkboard paint. If mounted to a wall this container can free up counter and floor space, and can also make tidying up fun for little ones. The see-through holes also add visual interest.
62. Extra Bathroom Space for Extreme Couponers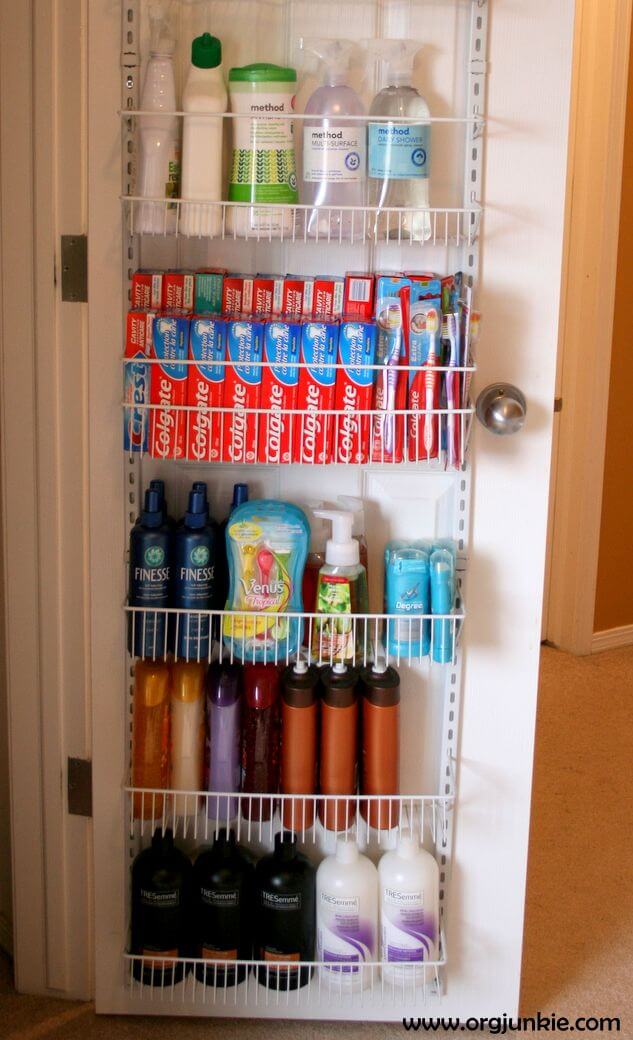 If you participate in extreme couponing, then you buy in bulk, which can make storage an issue. However, add to your bathroom space needs by adding a feature inside a door. Attach two sturdy metal brackets that run the length of the door. Wire containers can be hung at any level necessary, and several small items can be stowed away until needed.
63. A Home for All Your Cords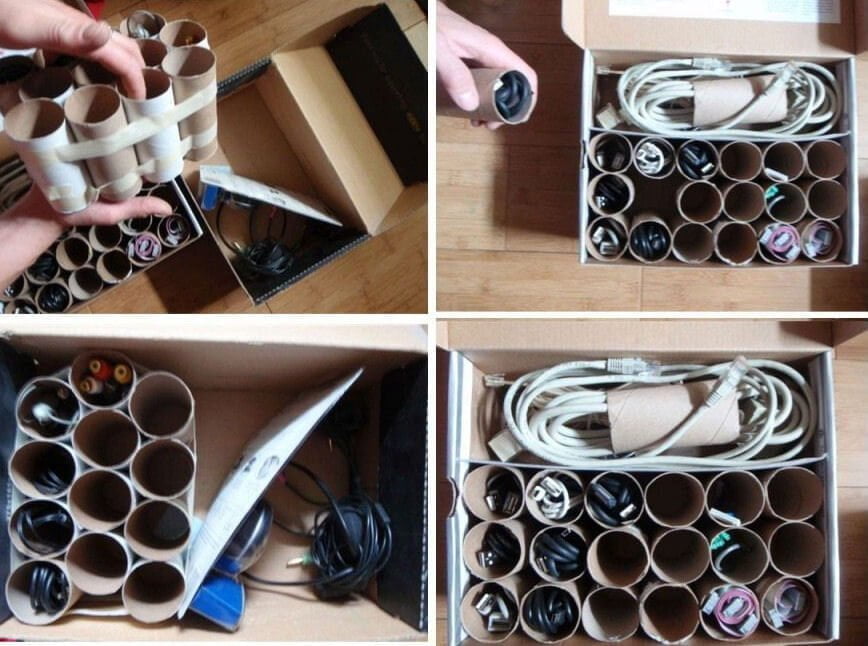 Cords and wires can get out of hand, but using toilet paper rolls to keep them separate can fix that problem. Tape several cardboard rolls together and place them upright inside a shoe box. Then place each cord in a separate compartment to keep things tidy. Not only is this a helpful tool, but the geometric effect of the rolls looks great.
64. Transparent Lip Product Pyramid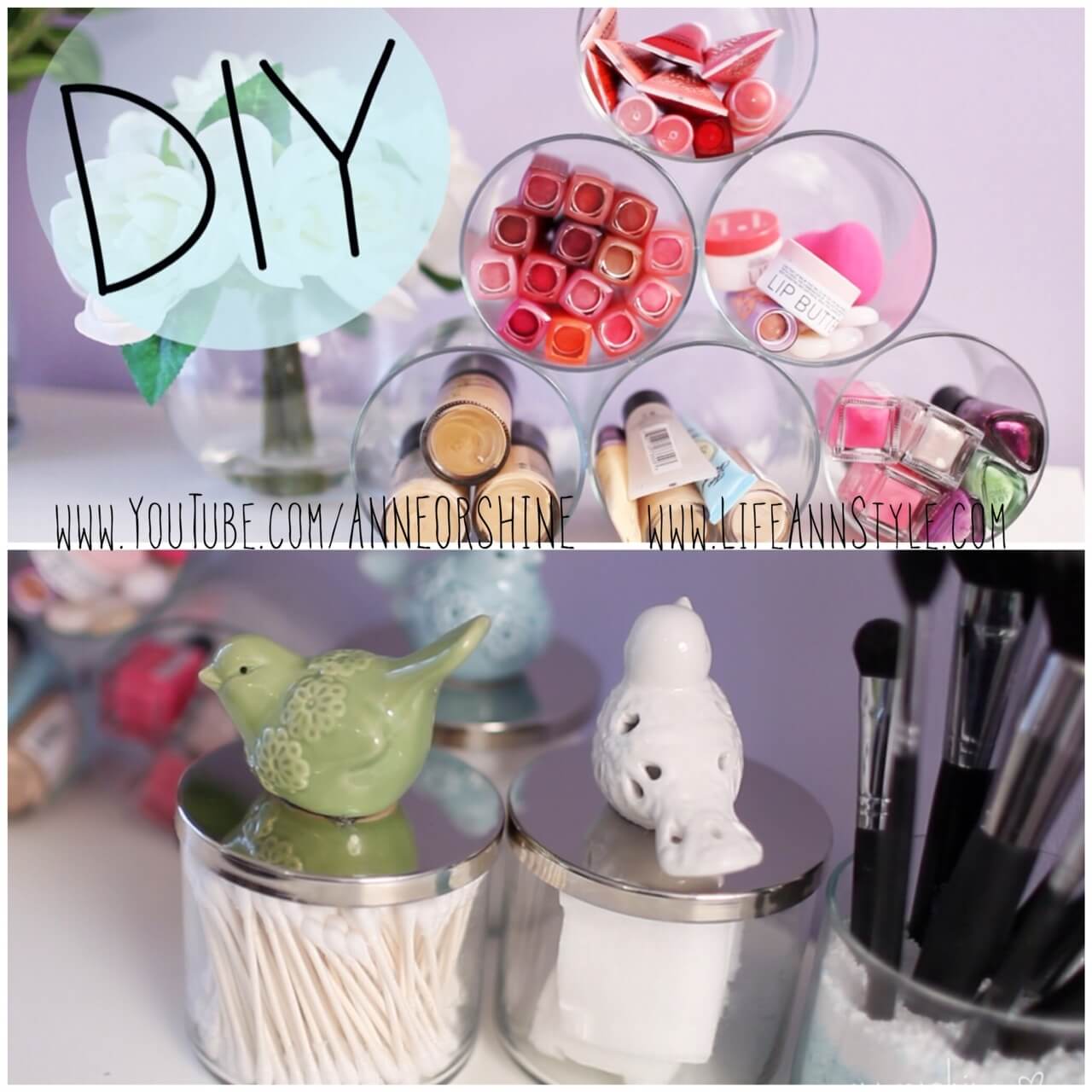 Keep lip products organized in a fashionable manner with this unique project. Tip small glass votive holders on their side with all the open ends facing one way, stack them in a pyramid shape and glue them together. The distinctive design will add some flair to your makeup area, and the names of lip products may be more visible.
65. Adult Goals Important Paperwork Station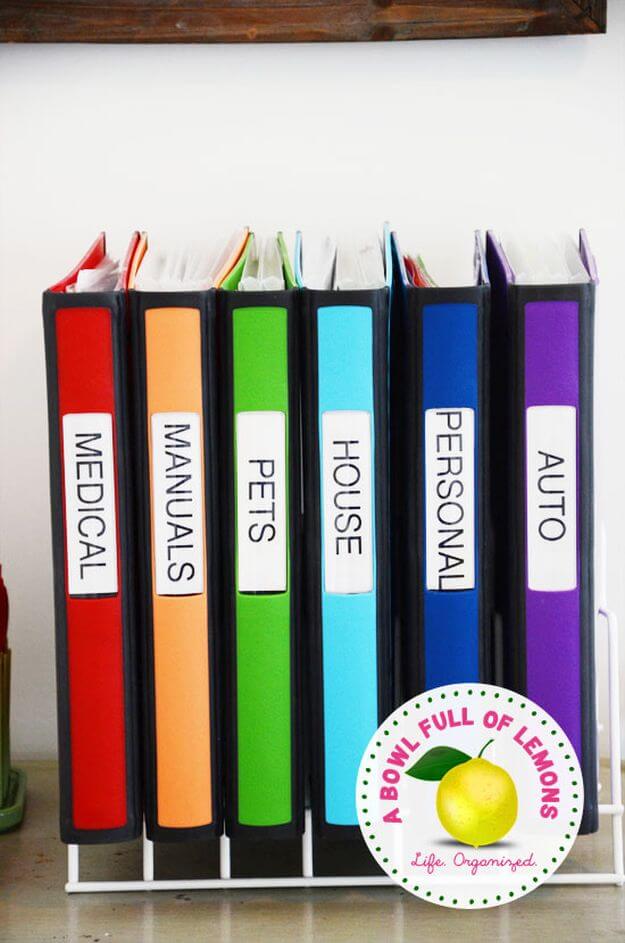 Add a pop of color to your workspace by using color-coordinated three-ring binders to keep paperwork organized. Use labels on the spines so you know exactly what is inside each binder, and set them on a wire rack for a clean and tidy look. The color coding can also aid in keeping them in order, and the wire rack makes for easy transportation if needed.
66. Adorable Candy Jar Craft Shelf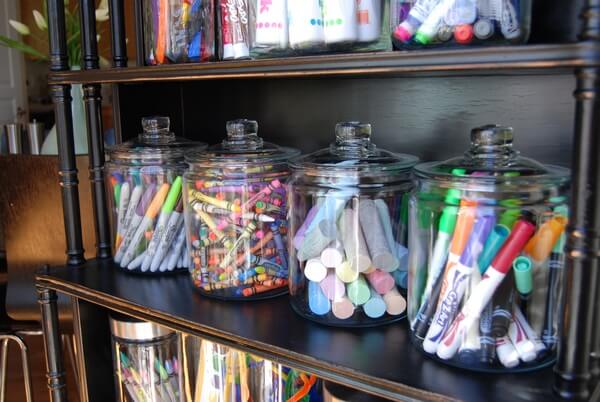 Sweeten up your craft area by using large candy jars to separate and tidy brightly-colored supplies. The clear glass offers quick visual identification of where items are stored, and the cute style of the jars cleverly shows off crayons, chalk, or markers. The lids make for easy access, and the size of the jars offset any craft clutter.
67. Falling Tiers Accessory Tree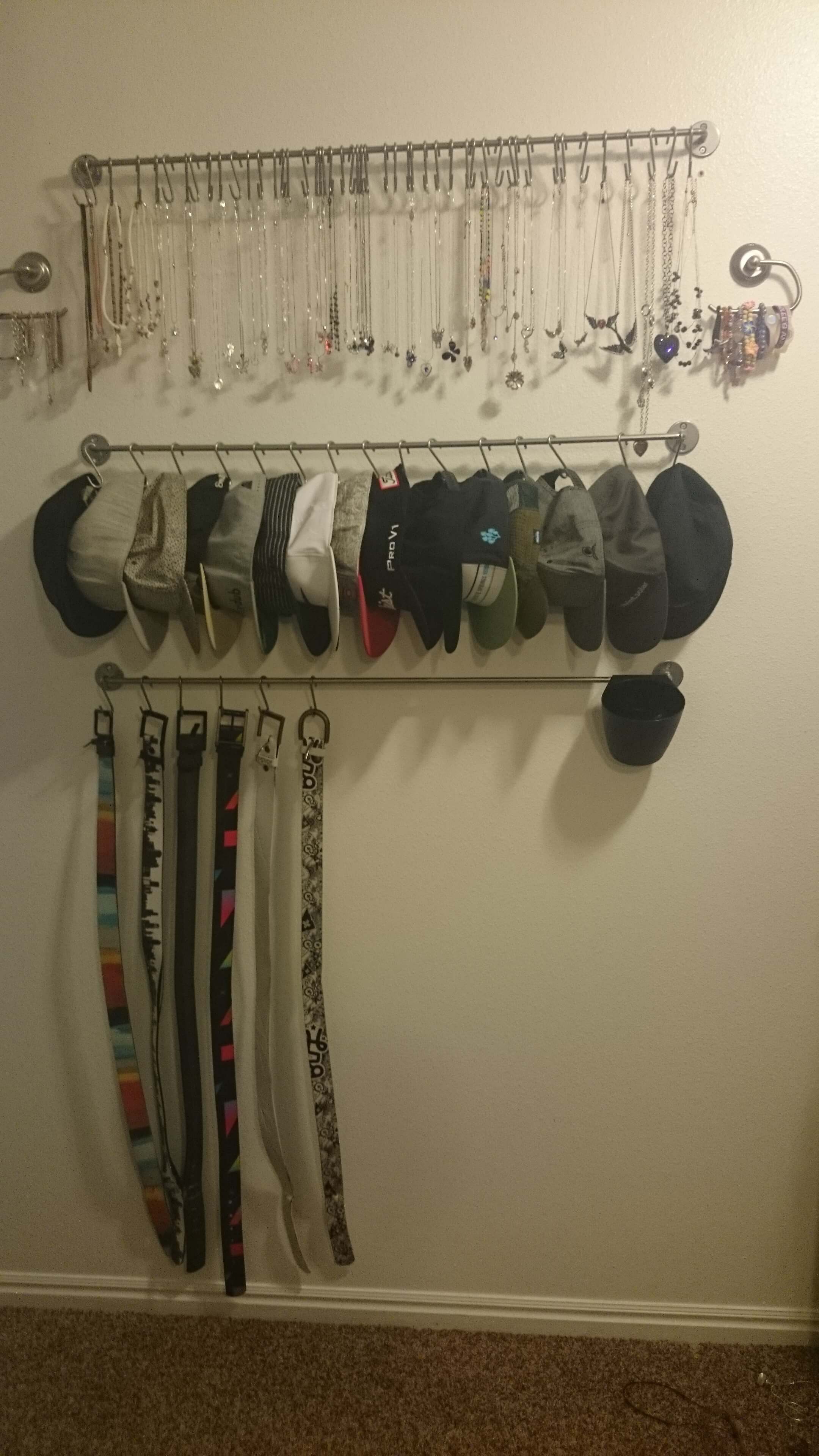 Instead of hiding your jewelry or accessories, make them part of the decor. Using utilitarian metal rods that are mounted on a wall, S-hooks secure hats, belts, necklaces, and other small items. These rods keep order while making a dramatic style statement, and keeping everything straight and evenly spaced is important to pull off this look.
Our Favorite Farmhouse Storage Items to buy on Amazon