Pine cones are fun to collect and even more fun to craft with — here are some of the best DIY pinecone wreath ideas. No two pinecones are alike, and there are lots of ways to approach making a pinecone wreath. After killing any mold or creepy critters that might still be alive in the pine cones, they can be used to make some unique wreaths. Pinecone wreaths are spectacular gifts, especially if you are on a budget.
29 Awesome Ideas to Make Pinecone Wreaths Everyone Will Love
Wreaths are fantastic decorations because they can go anywhere. They can welcome visitors at the front door or add some woodsy ambiance in a bedroom, dining room, or even a bathroom. Often, the wreath at the door is swapped out as the seasons pass. The list below includes options that will work with your lifestyle — whether that is leaving a neutral wreath up year-round or showing off a new seasonal wreath every few weeks.
Another great thing about wreaths is that they can be constructed from just about anything. Materials like moss, acorns, and glitter are all equal contenders. Because of this variety, wreaths are a versatile decoration that can look good in every home decor style, with every palette, and in just about any room in the house. You can customize a pinecone wreath to fit your personal preferences without spending a lot of money or doing a lot of extra work.
An easy way to use a surplus of pine cones is to make a wreath. Pine cones can be placed on the wreath in random orientations to mimic nature. Or, all the pine cone ends can be pointed in the same direction to create interesting visual effects. They can be snipped into their layers to make pine cone "flowers." Both the pointed top and the wide bottom of the pine cone creates an interesting texture.
1. Glittery Winter Wreath Packed with Pine Cones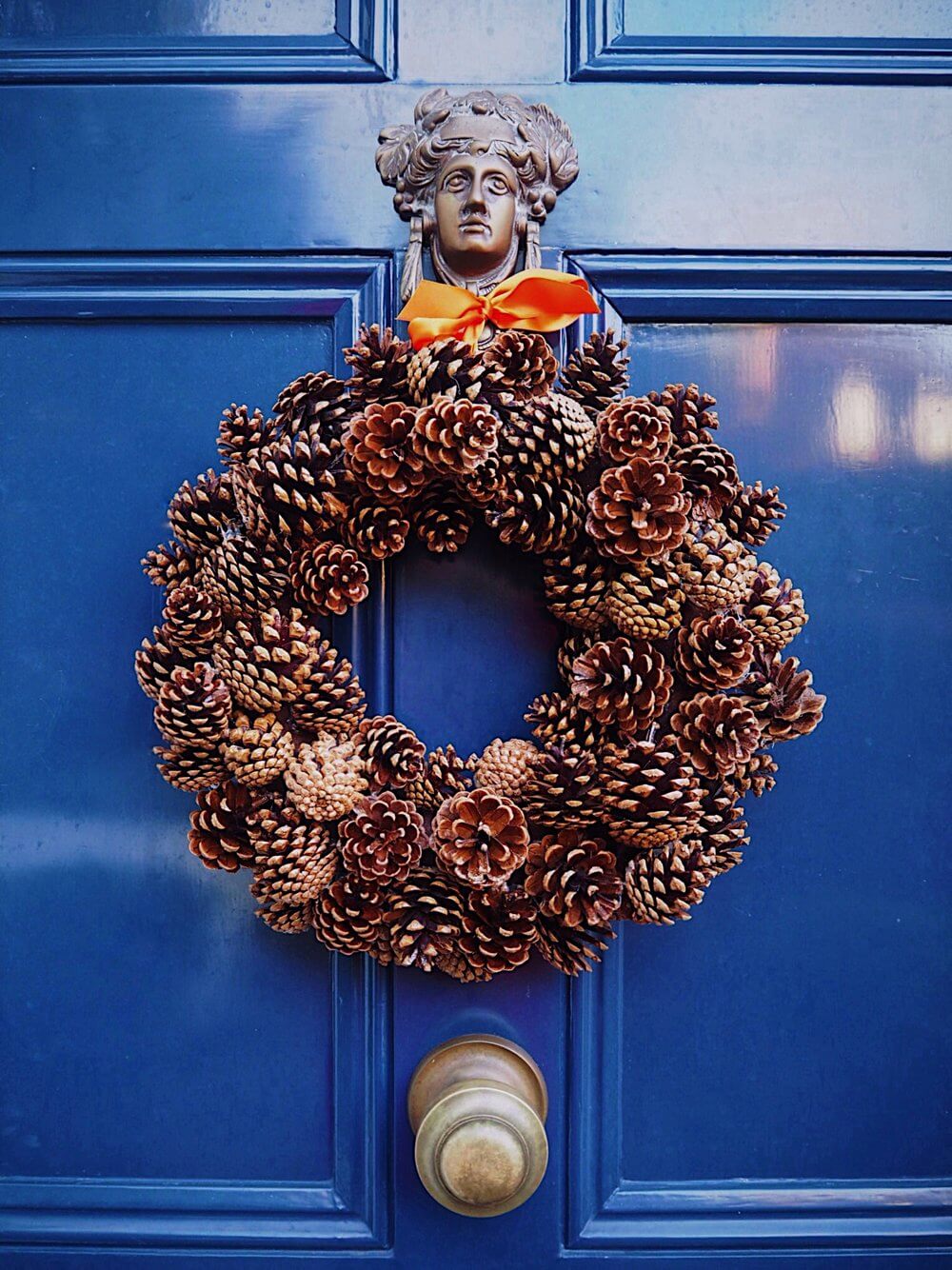 This wreath highlights the natural beauty of pinecones. Brown felt wrapped around the polystyrene base allows the pinecones to melt together, giving the illusion that this wreath is made only from pinecones. While this tutorial uses an orange ribbon, you can use any color. Imagine using a Christmas-patterned ribbon to customize this wreath for a holiday. The possibilities here are just about endless — a simple white ribbon could be used for a pinecone wreath that could be displayed all year. A touch of glitter spray adds just enough sparkle to hint at magic. For more magic, you could definitely scale the glitter upon this wreath.
2. Kid-Friendly Red & Green Christmas Wreath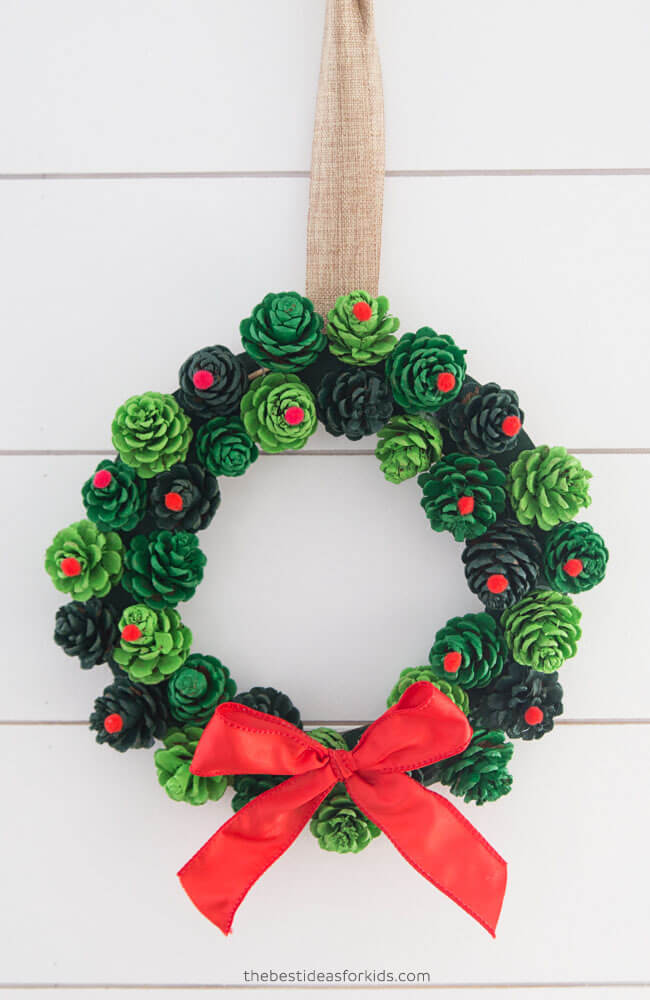 With brightly cheerful green pine cones and red pom-poms, this is an awesome idea to craft with kids. Children can help prepare the cardboard base, paint the pinecones, and glue everything together. Each child can be set up to paint a different shade of green. For younger kids, getting the pom-poms ready could be a fun time to practice counting. For older kids, you could experiment with a gradient — having darker pinecones on the bottom and lighter pinecones toward the top. For a Bohemian effect, you could paint the pinecones white and alternate yellow and teal pom-poms. Endless possibilities await!
3. Crimson Berry & Snowy Pine Cone Christmas Wreath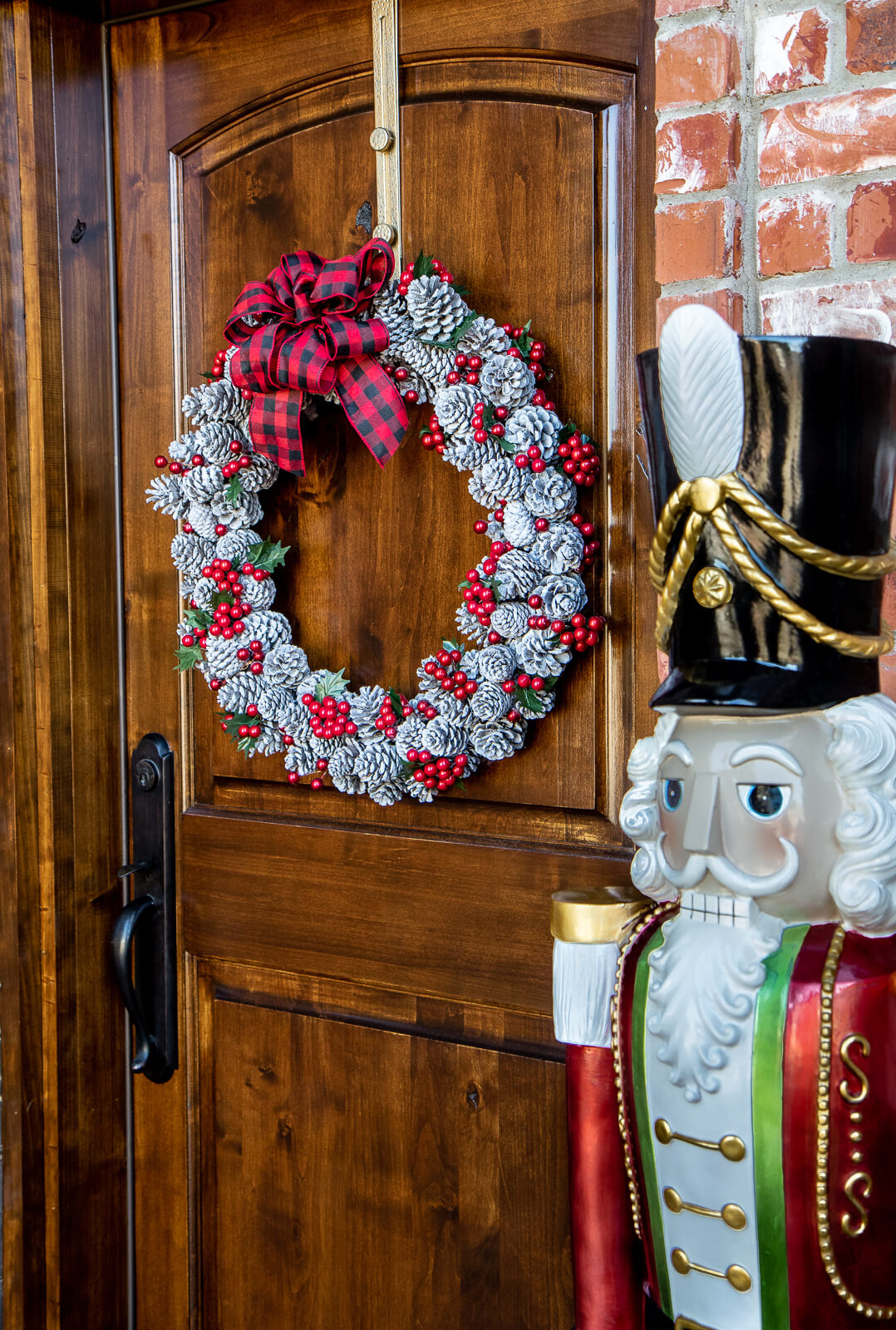 Frosty pine cones provide an elegant backdrop for the crimson berries to take center stage in this DIY pinecone wreath. A buffalo plaid bow accents the red and makes this wreath the perfect fit for farmhouse or rustic decor. This tutorial uses SnoFlock to achieve a snowy effect on the pine cones. The beauty of this wreath is how easy it is to tailor it to your space. The holly sprigs could be spray-painted to better fit your palette. Swapping the buffalo plaid for burlap would give this wreath a more rustic appearance while using a silky red damask ribbon would give it a regal feel.
4. Unique Pine Cone Flower Fall Wreath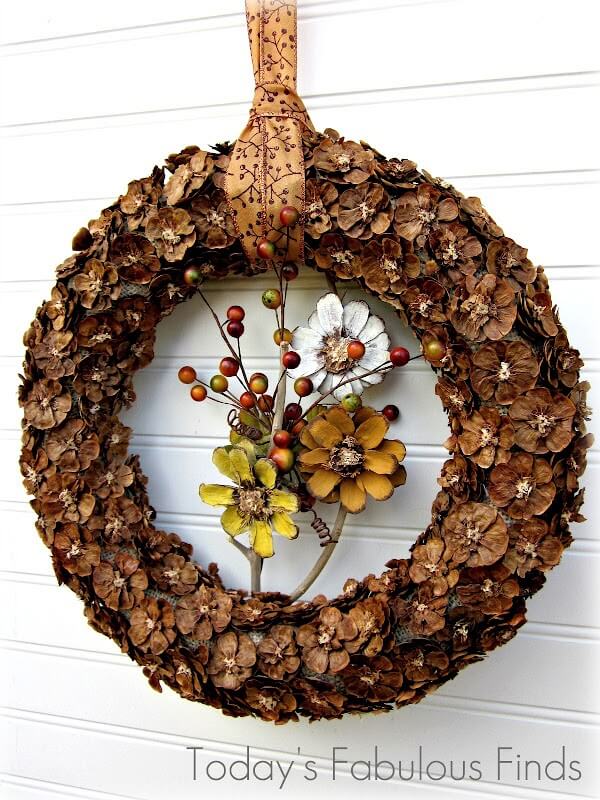 Pine cone flowers are made using only a pair of pruners and, of course, some pinecones. The whimsical effect achieved makes this one of the best DIY pinecone wreath ideas. With a modular design, the centerpiece can be changed depending on the season or space. To personalize this wreath to your space, you could try painting the edges of the pine-flowers on the wreath with a color that complements your decor palette. Of course, the natural look adds an understated elegance to any room, regardless of the palette. Whether you make this wreath as it is in the tutorial or you customize it, this wreath is sure to receive compliments.
5. Tremendously Textured Fall and Winter Wreath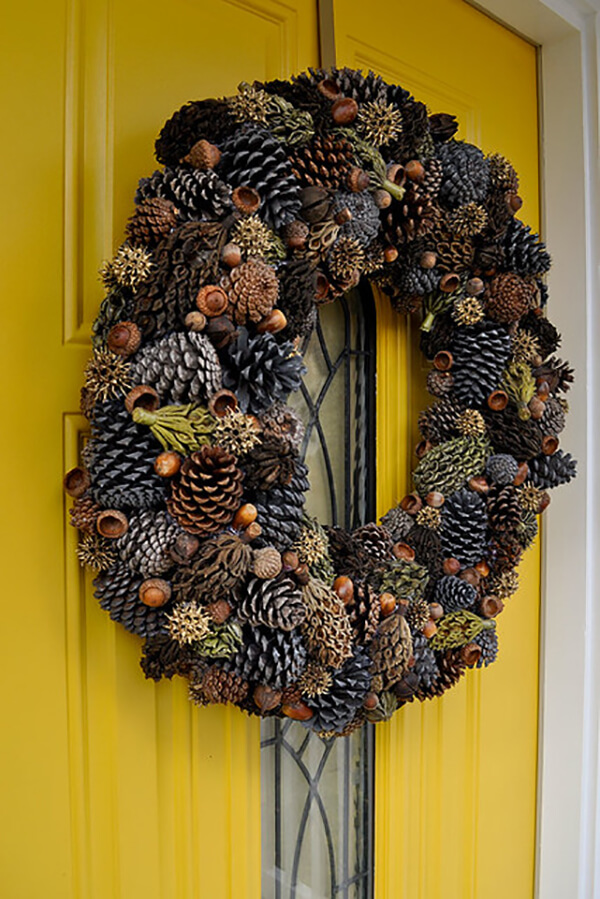 Making a pinecone wreath can be lots of fun, both in the assembling and the gathering. Each wreath tells a different story because it depends on what other seed pods you decide to use as accents for the pine cones. Collecting the seed pods and pine cones used in this wreath with kids could be a fun outdoor activity. While the seed pods and pine cones would be beautiful in their natural colors, this tutorial uses spray paint to give the wreath more dimension. Of course, you are able to adjust the spray paint colors to complement your space and home decor theme.
6. Cheerful Paint-Rolled Pine Cone Wreath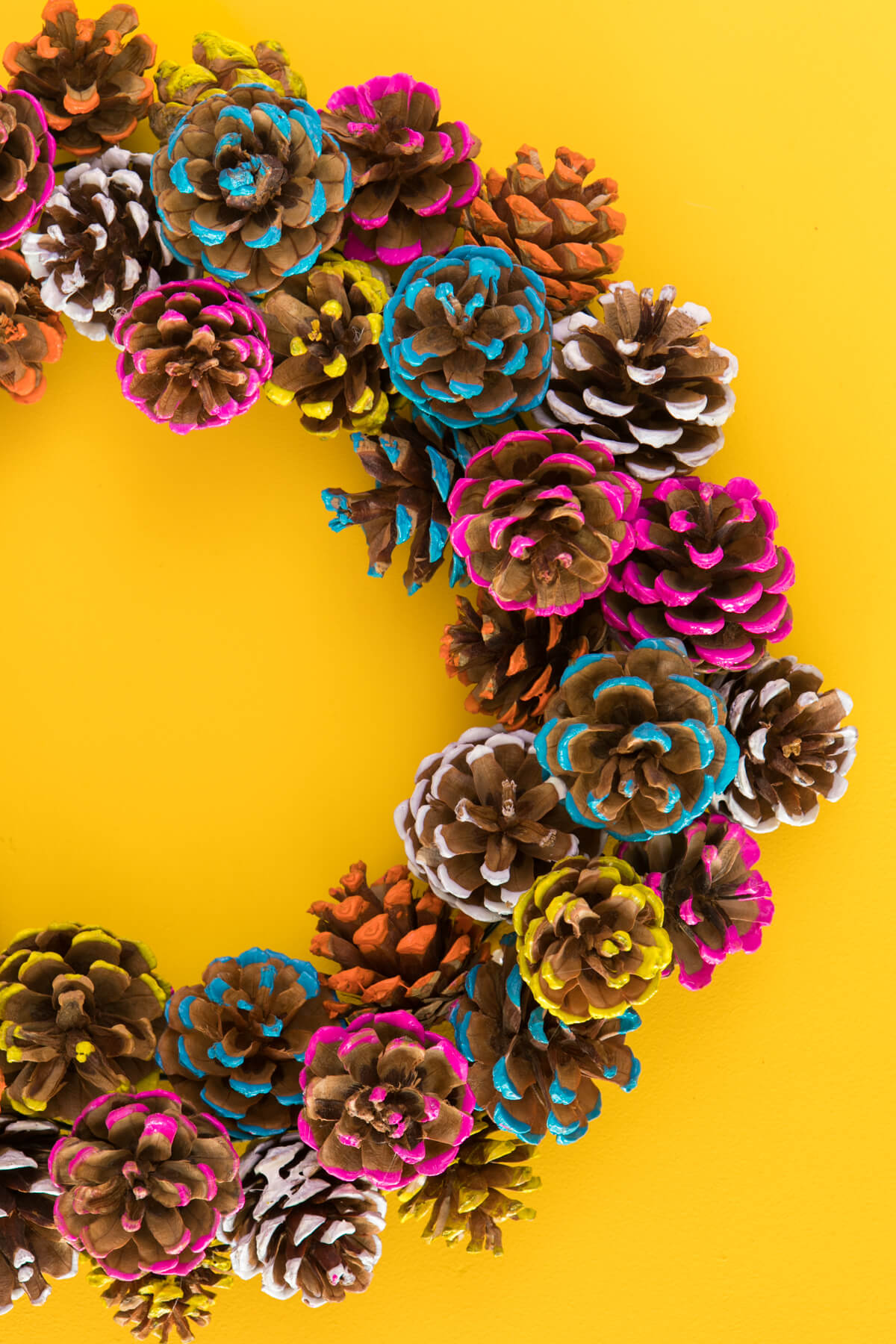 Perfect to display from late summer to early spring, this painted pine cone wreath is so much fun to make. Deciding which colors to use is the hardest part! This rolling technique can be used in any of the other pine cone wreaths, making it one of the best DIY pinecone wreath ideas. It is also another kid-friendly pinecone craft idea. To add regal elegance to an entryway, try rolling the pinecones in gold paint. Using white will achieve a snowy effect. A collection of bright colors will seamlessly fit in the Bohemian home decor scheme. Be careful — once you start rolling pine cones in paint, it may be difficult to stop!
7. Heart-Shaped Natural Pine Cone Wreath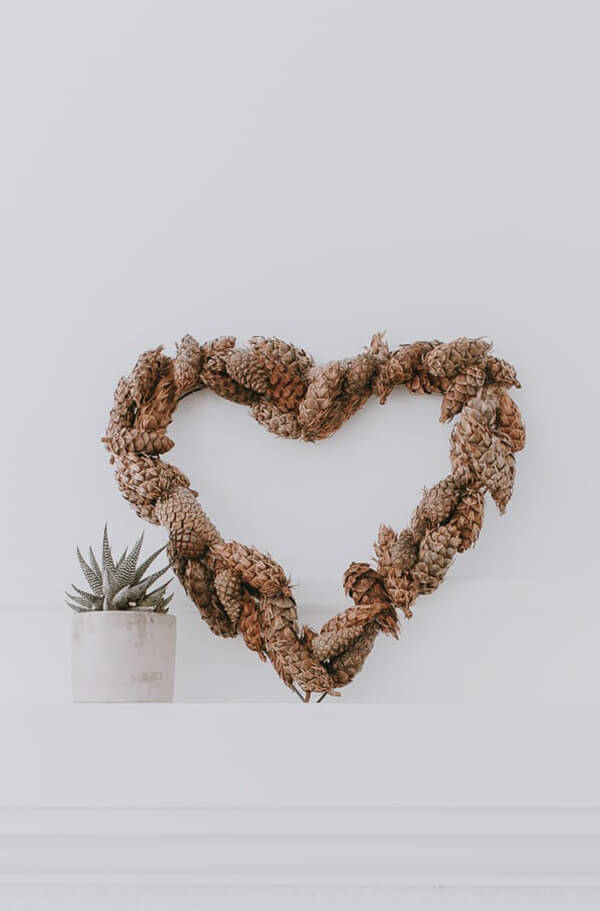 This heart-shaped wreath is the perfect addition to a woodsy-themed nursery or a winter wedding. In their natural state, the pinecones are absolutely beautiful. However, not everyone's space vibes with natural pine cones. If your space would look funky with natural pine cones, consider finishing this wreath with a layer of glitter or metallic paint. Even if the pine cone shows through beneath the paint, it will give this heart an ethereal feel. If your space would look good with natural browns, following the tutorial as-is will give you an exquisitely unique textural element.
8. Unique Sunflower Painted Pine Cone Wreath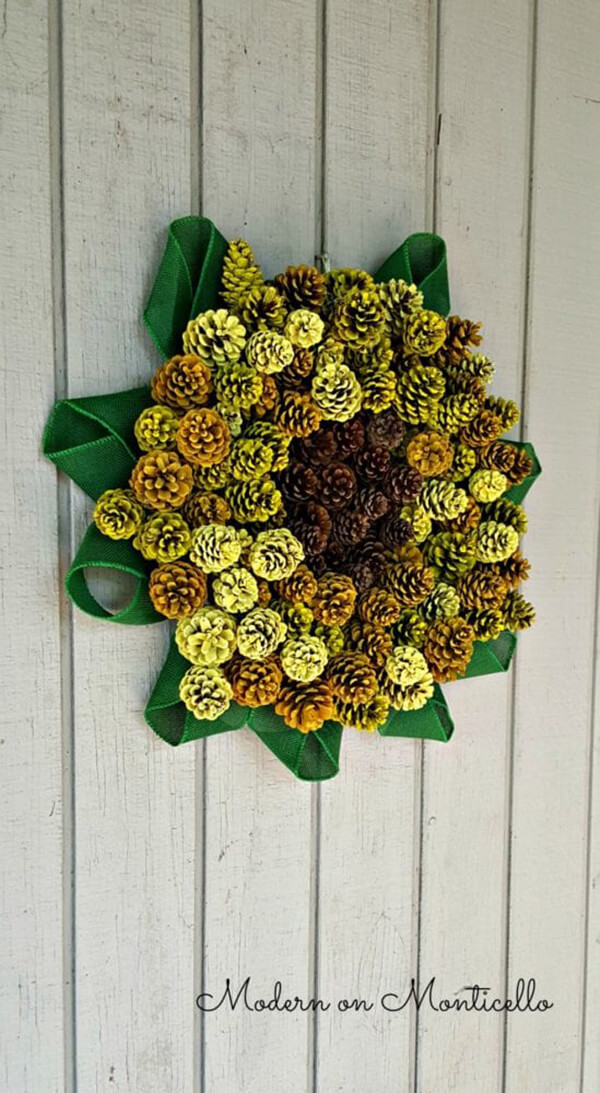 A stylish summertime sunflower sculpted from a surplus of pine cones can enliven any space! If you are ready to harness your inner DIY Van Gogh, get some green ribbon and yellow paint together. To give this wreath some dimension, a few different shades of yellow are used. The inside pine cones are painted brown to give more contrast to the yellow pinecones. Of course, leaving the center pinecones unpainted will achieve a more natural, rustic look. To make a wreath honoring veterans, this tutorial can be easily tweaked with red paint to make a poppy instead of a sunflower.
9. Quick & Easy Pine Cone Christmas Wreath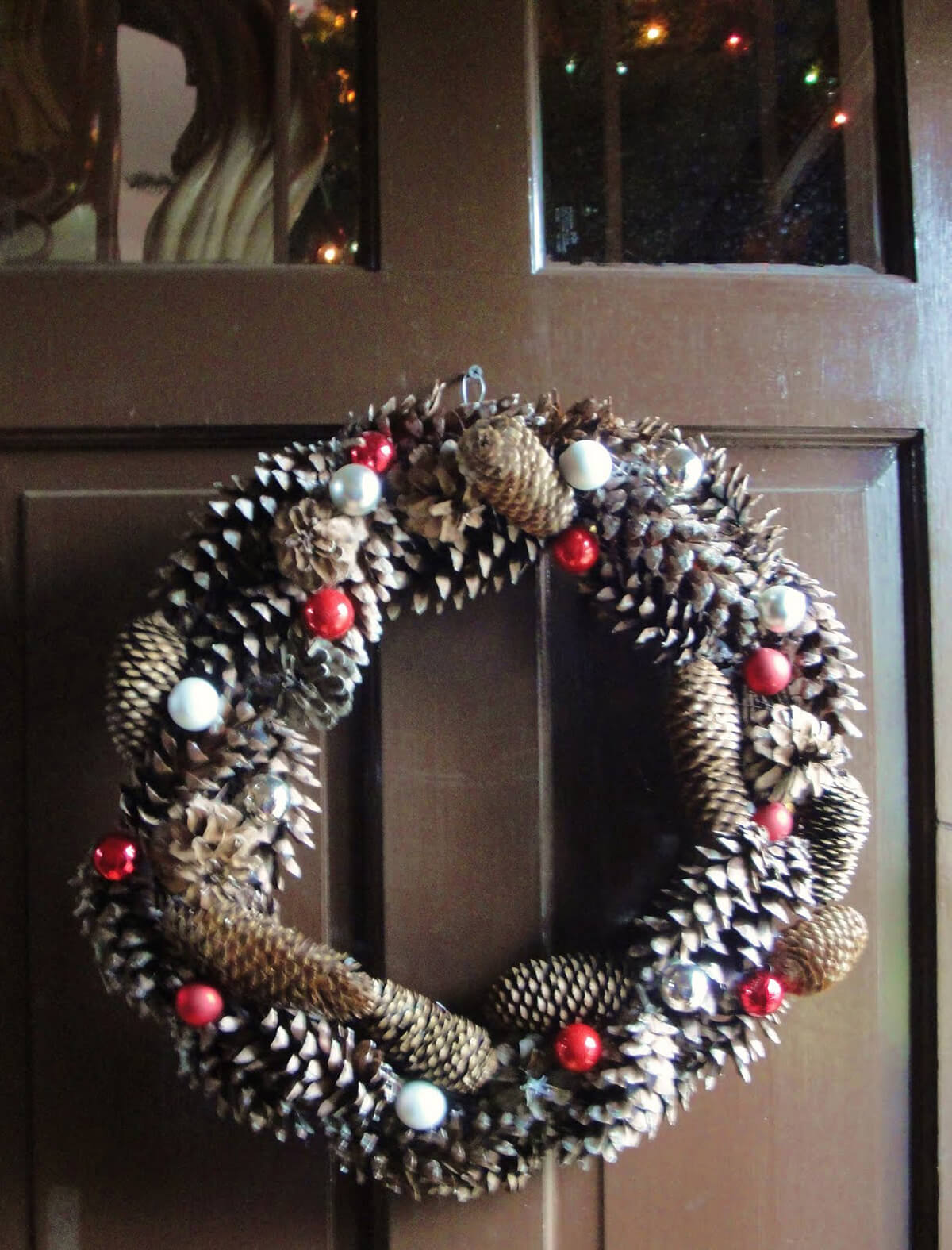 The holidays are a busy season. This is one of the best DIY pinecone wreath ideas because it takes easy enough to relieve some stress, but is fast enough that it will not interfere with other holiday plans. A few different kinds of pine cones add some textural interest. Using other seed pods or large acorns can also add some interesting variety. Of course, you are able to customize this wreath for your space in your ornament choice. Because this wreath is traditional, it will fit in almost any home decor scheme. To customize it for a more modern theme, consider painting the pinecones a glossy black and using silver Christmas ornaments.
10. Simple Snow-Tinged Pine Cone Wreath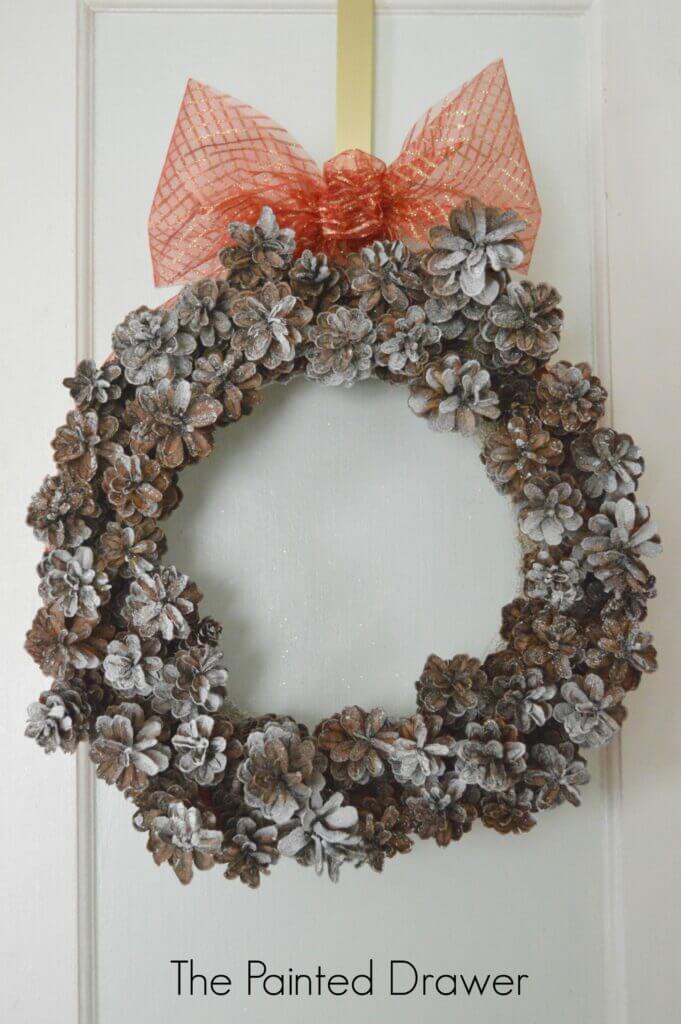 The simplicity of this wreath makes it perfect for almost any home decor style. Because the pinecone tips are snipped off and it uses a flat wreath mold, this wreath has a slimmer profile. That slimmer profile makes it a great way to add some festive cheer to a high-traffic area like a hallway — less risk of jabbing residents. If you skip the snow spray and choose pastel paints, this pine cone wreath would be a great wreath for spring. Swap the pastel paints for red, white, and blue and you will have a patriotic wreath.
11. Pretty Pinecone and Chestnut Wreath DIY Idea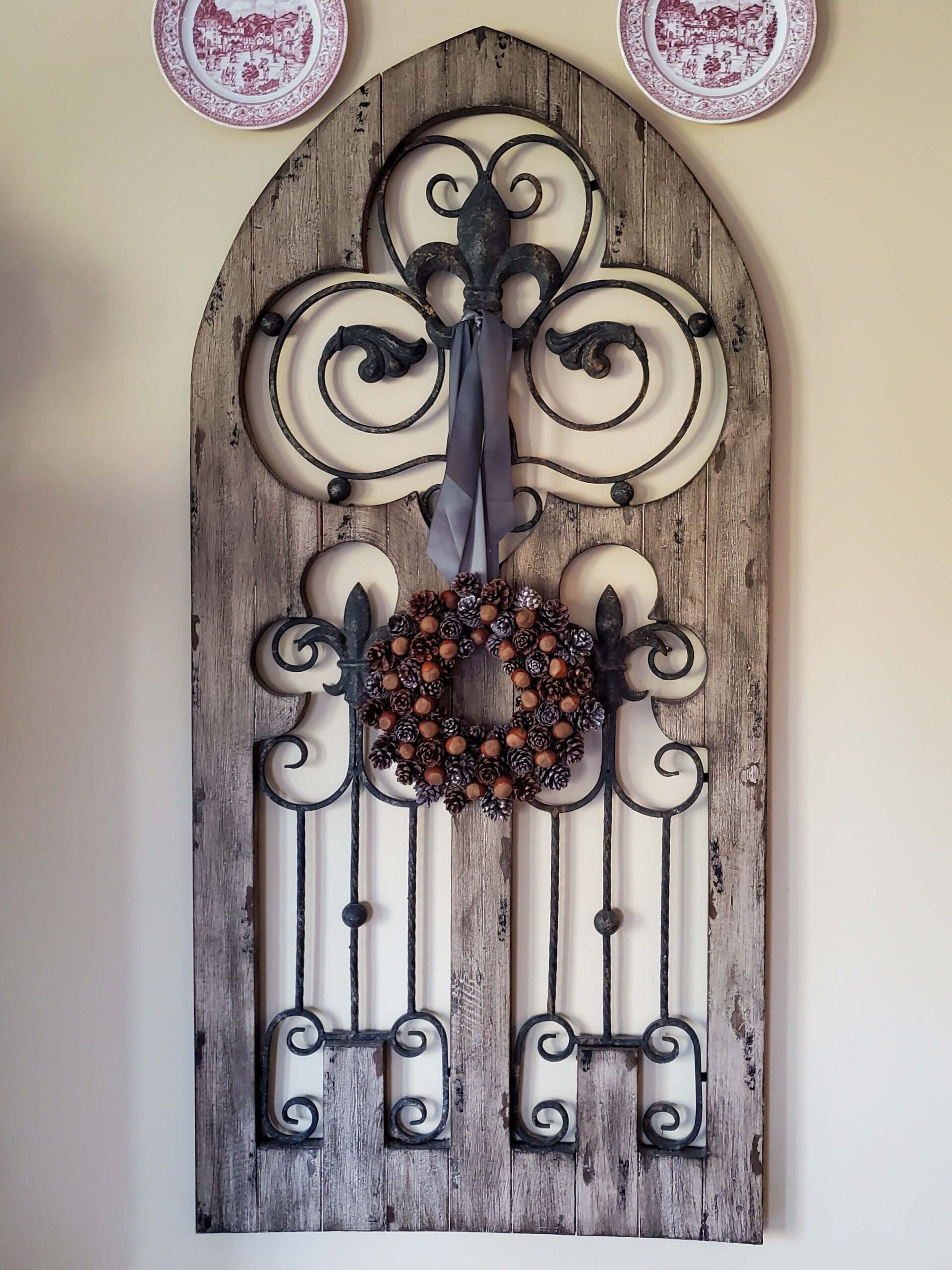 Here's a fun DIY idea for creating a unique wreath from some of nature's bounty. This incredible pinecone and chestnut wreath adds so much style, texture, and warm brown goodness to your decorating scene. Use a thick ribbon as a hanger for a perfect contrast to the rugged texture of the woody pinecones. It's a simple project that takes little time to complete but provides a lot of curb appeal when hung on your front door. It can also be used to accent a large candle or hurricane vase as part of a dynamic centerpiece idea.
12. Gray & Glitter Winter Pinecone Wreath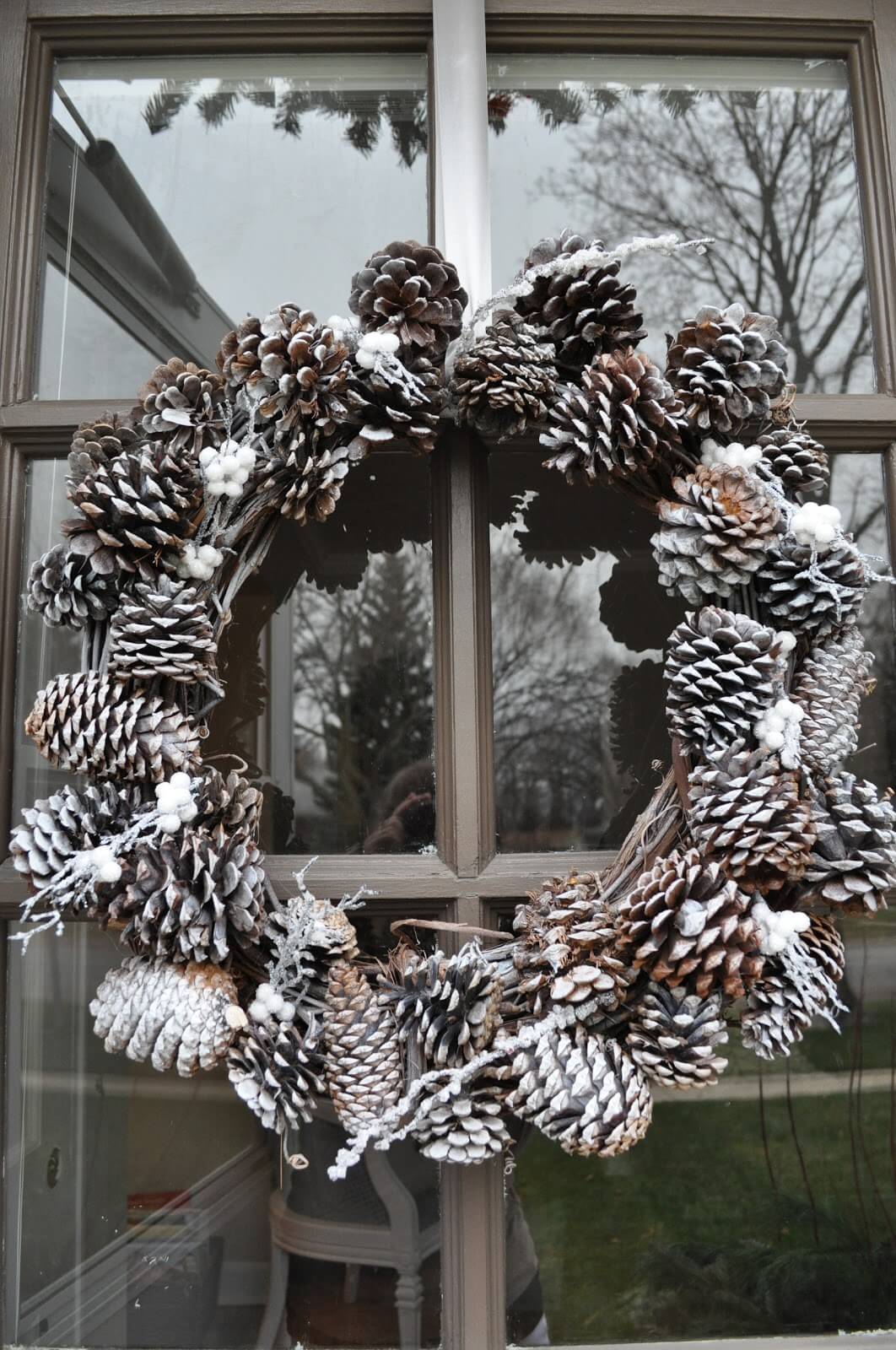 This wreath in cool shades of silver, gray, and white is a perfect DIY craft because it can be displayed all winter long. The trick is spray painting lightly, although that is a personal preference. To add some dimension, you could try spraying different shades of white or gray. That, of course, depends on what you have on hand. Attractive indoors or outdoors, this winter wreath will blend in many home decor themes because gray is so versatile. One of the best DIY pinecone wreath ideas, this tutorial shows how to construct an elegantly understated wreath.
13. Woodsy Wreath from Recycled Materials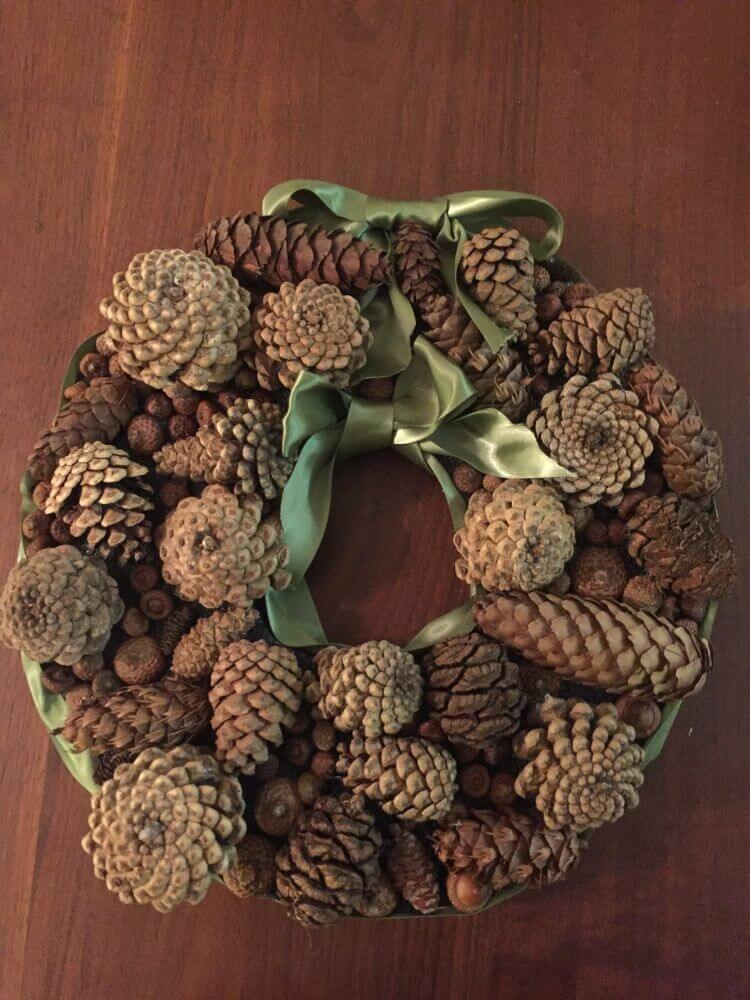 Who knew that recycled packing foam, pine cones, acorns, and some green ribbon could make such a beautiful pinecone wreath? Woven through the pine cones, the satin ribbon elevates this wreath. Green and brown are appropriate all year round, making this wreath one of the more versatile options. Of course, you can switch up the ribbon and add some glitter, snow or paint to make this wreath better suited for Christmas. Without customization, this wreath would fit in rustic, farmhouse or lodge themed space. Add some seashells, and this wreath would blend with coastal decor. However you choose to customize this wreath, it is a great way to use leftover packing material.
14. Santa's Belt Pine Cone Wreath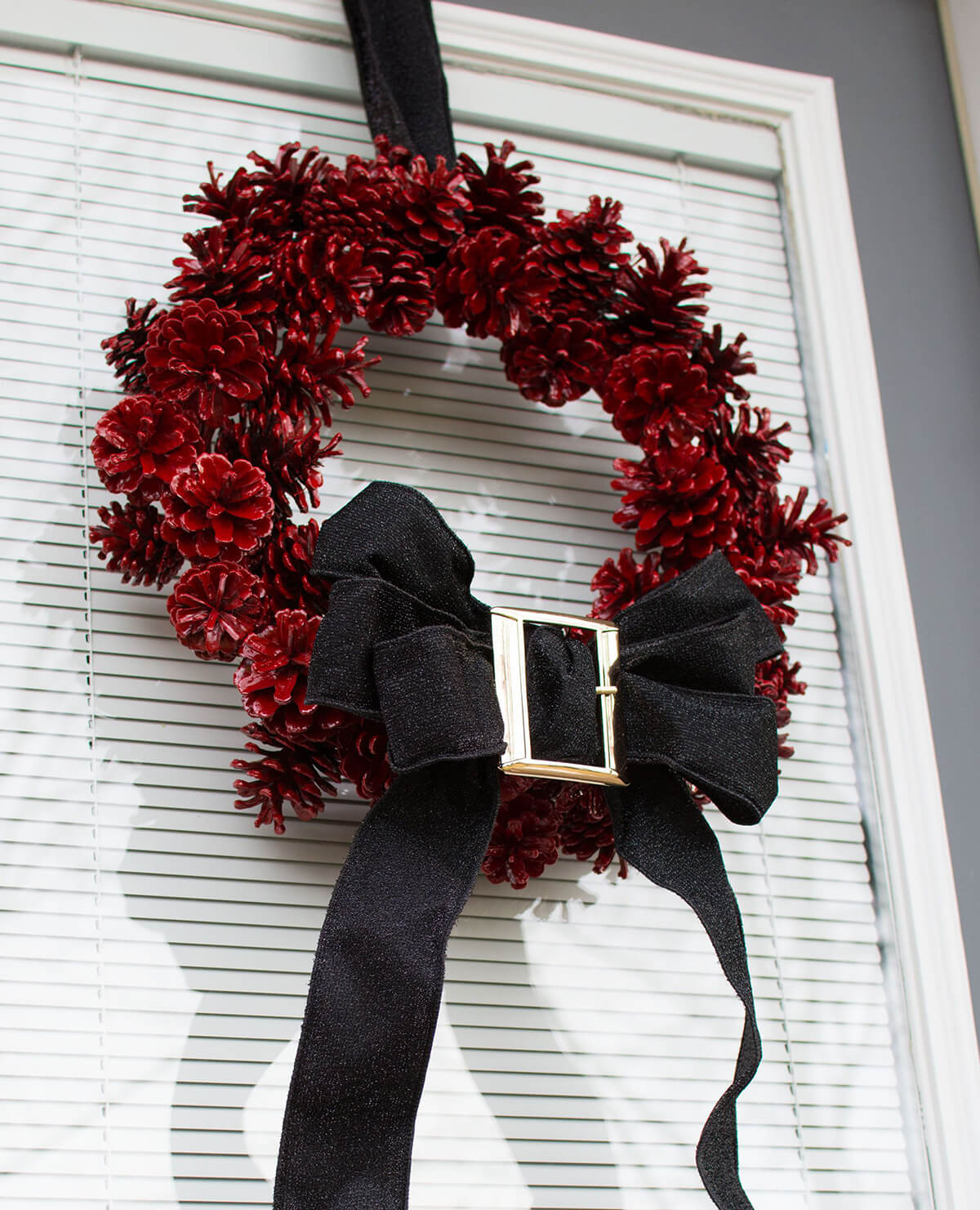 For a unique Santa decoration, this wreath is one of the best DIY pinecone wreath ideas. Glossy red paint and an oversized belt buckle catch the eye and make this wreath a great conversation piece. Santa fits in most holiday decor schemes, and this wreath will look good anywhere Santa would be welcome. To make this wreath even more festive, consider placing a Santa hat on top. This wreath only uses one color of glossy red paint, but if you want to add more dimension, consider using a few different shades and layering the pine cones. One thing is for sure — making this wreath will put you on the "nice" list!
15. Rustic Burlap & Berry Pine Cone Christmas Wreath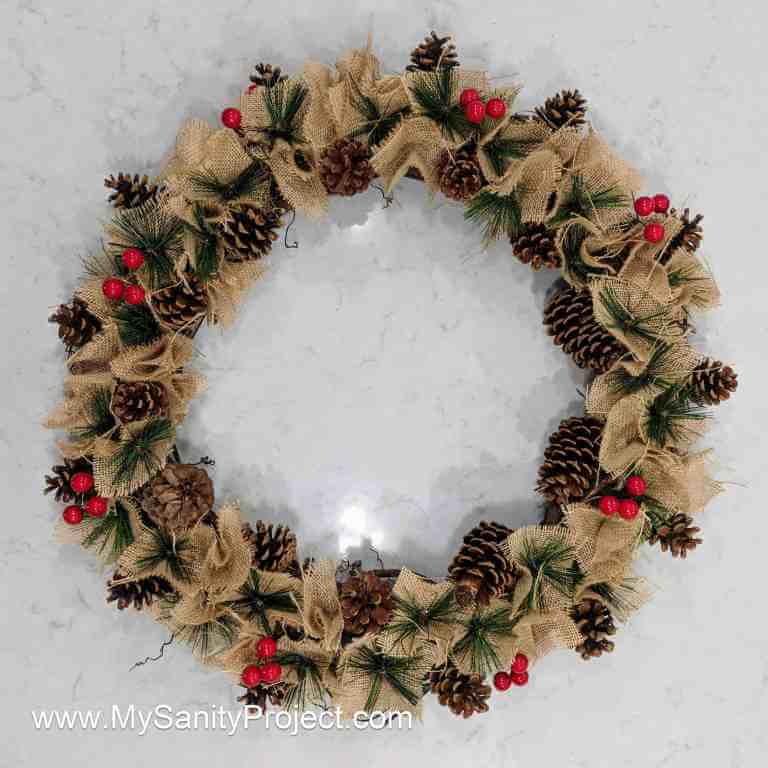 If you love everything burlap, you know how expensive it is to purchase rustic Christmas decorations. Luckily, making a pinecone wreath is not only inexpensive but also makes for a fantastic conversation piece. No matter where you put this wreath, it will be a compliment magnet. If your holiday color palette includes red, green, beige, and brown, this wreath will look absolutely spectacular. If not, switch out red berries for white or spray paint the evergreen sprigs. To make this wreath look even fancier, you could try painting just the edges of the pine cones a metallic gold.
16. Simple 30 Minute Pinecone Wreath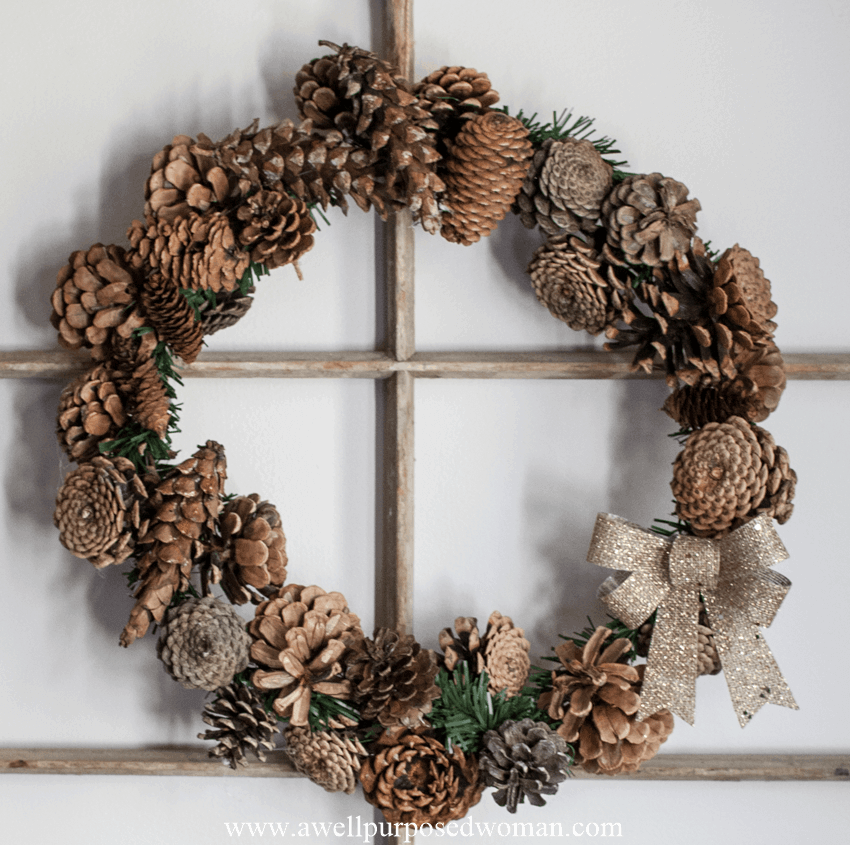 After the pinecones are prepared, this wreath takes 30 minutes or less to make. Because three of these wreaths can be made from one wire wreath form, this wreath is budget-friendly. While this simple wreath is not a show-stopping statement piece, it is compatible with any space and helps create a winter ambiance. Select a ribbon that complements your space, and this simple wreath will be the perfect addition to begin welcoming winter. Because this tutorial does not use any snow, this wreath can come out as soon as the summer decorations are put away. If you are looking for budget-friendly decorations or gifts, this simple wreath is an awesome idea.
17. Easy Pinecone Wreath with a Big Bow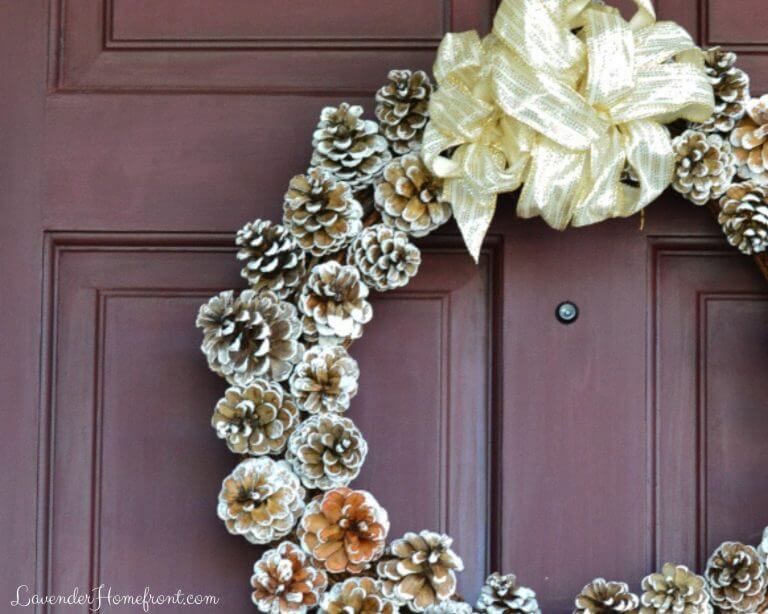 Nothing says "happy holidays" like a behemoth seasonal bow. This tutorial starts with bleached pine cones, but you can leave them natural or even paint them. Picking the pine cone finish and bow pattern are the biggest customizable options for this wreath tutorial. If you want a more festive wreath, you could add holiday accents like garland or holly sprigs. For a wreath that can be on display all winter, you could add evergreen cuttings. For a year-round wreath, you could paint the pinecones in a glossy white with a bow that complements your space. However you decide to customize this wreath, it will gracefully add visual and textural interest.
18. Minimalist Glitter Pine Cone Wreath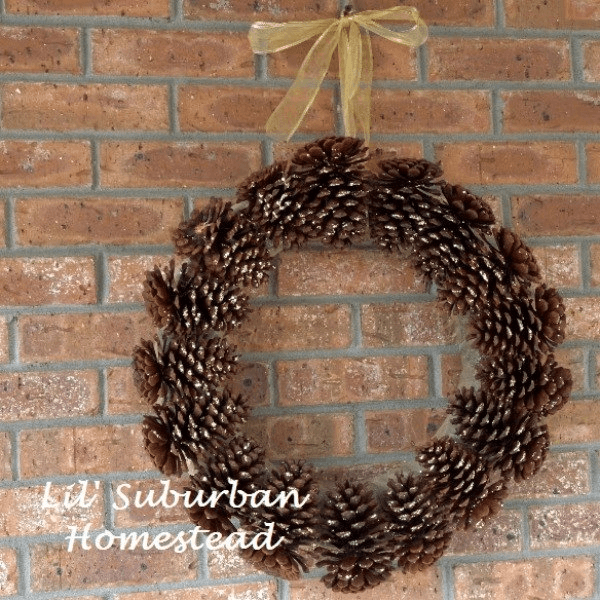 This wreath uses the pine cone's natural shape to form a geometrically interesting result. A light dusting of gold glitter lends some warmth and some visual interest. Using silver glitter would achieve a cool, winter effect. Because this wreath is so simple, there are lots of ways to customize it to make it perfect for your space. You could use this tutorial to make a Bohemian pinecone wreath — all you need to do is paint the pinecones glossy white and attach multi-colored pom-poms to the pinecone's big ends. For a more rustic look, leave the glitter off and hang them as they are.
19. Showstopping Rustic Star-Shaped Pine Cone Wreath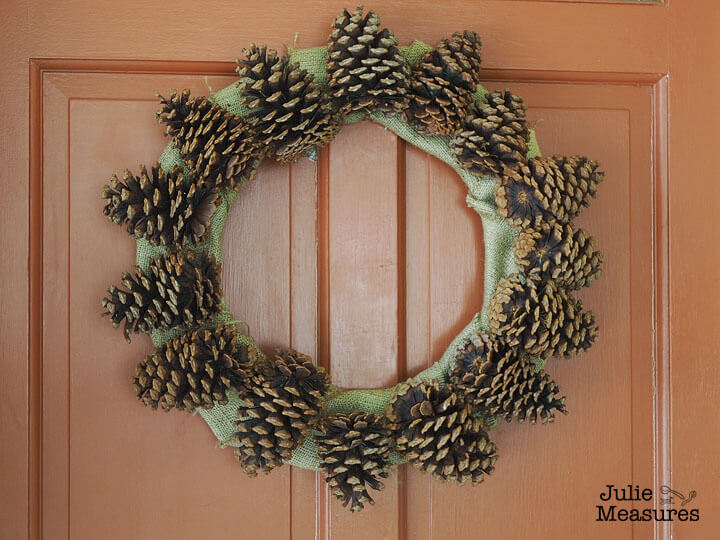 Pointing the pine cones outwards results in a visually stimulating sun or star. To achieve a warm, rustic feel, this tutorial uses a burlap-covered wreath form. This wreath would be an excellent design accent just about anywhere. A perfect addition to a woodland themed nursery, this wreath could frame the little one's name. For a fall or winter wedding, this geometric wreath would show who the star really is. Even hung on a dining room wall or outside the door, this wreath is a conversation piece. To make it more suitable for your space, you could add glitter or use a little paint.
20. Wire-Wrapped Pine Cone Wreath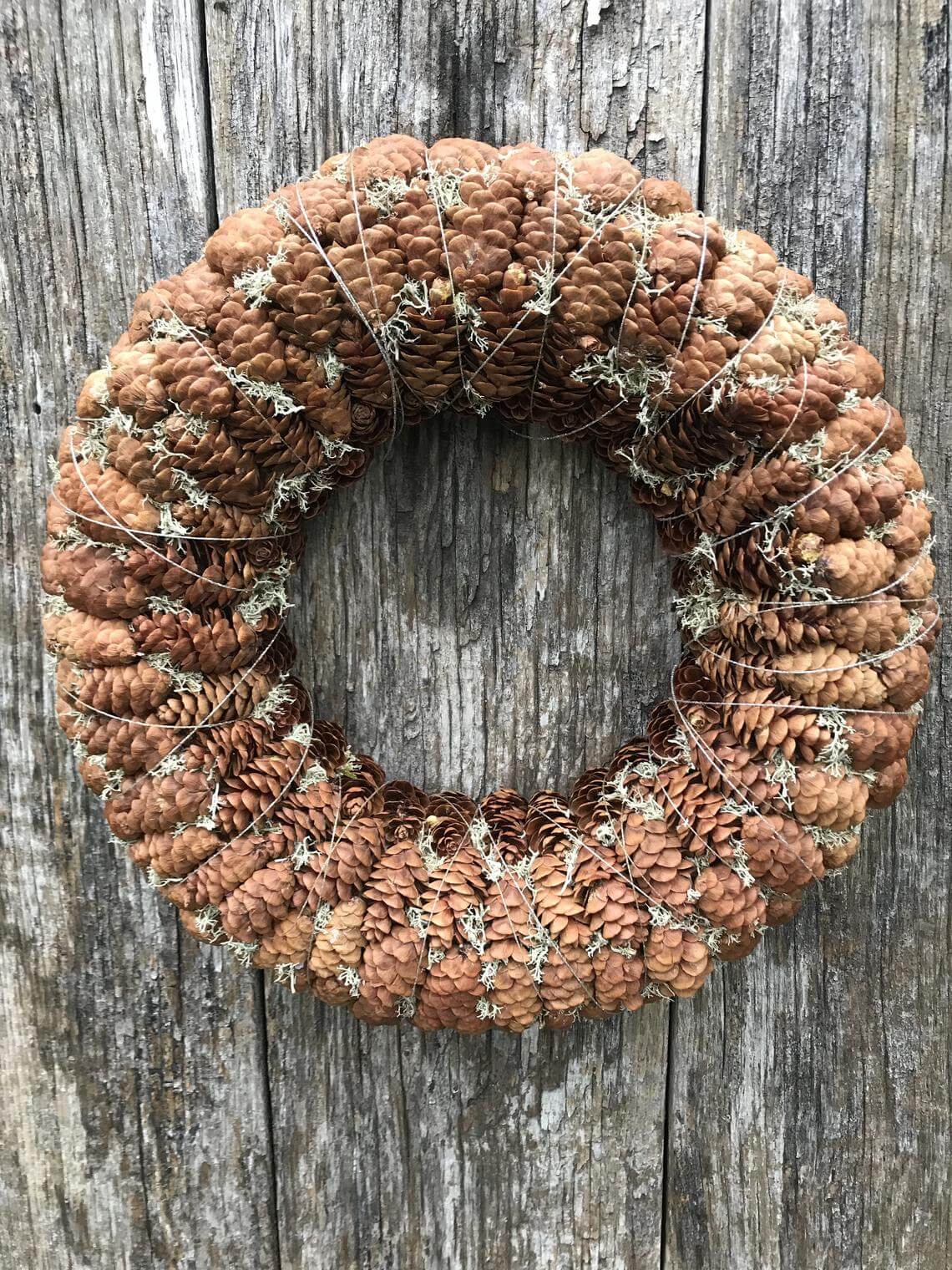 Silver wire, pale green moss, and an abundance of pine cones make this wreath a textural feast. While it would look good in any space, this wreath would live up to its full potential close to a fireplace. The flickering firelight would cause the silver wires to shimmer, adding a new dimension to the decoration. The brown, pale green, and silver palette in addition to the full design would blend with most holiday decor schemes. Natural brown pine cones make this a great fit for a Farmhouse, rustic, or lodge theme. The wire makes this a great conversation piece for an industrial-themed space.
21. Bodaciously Blue Painted Pine Cone Wreath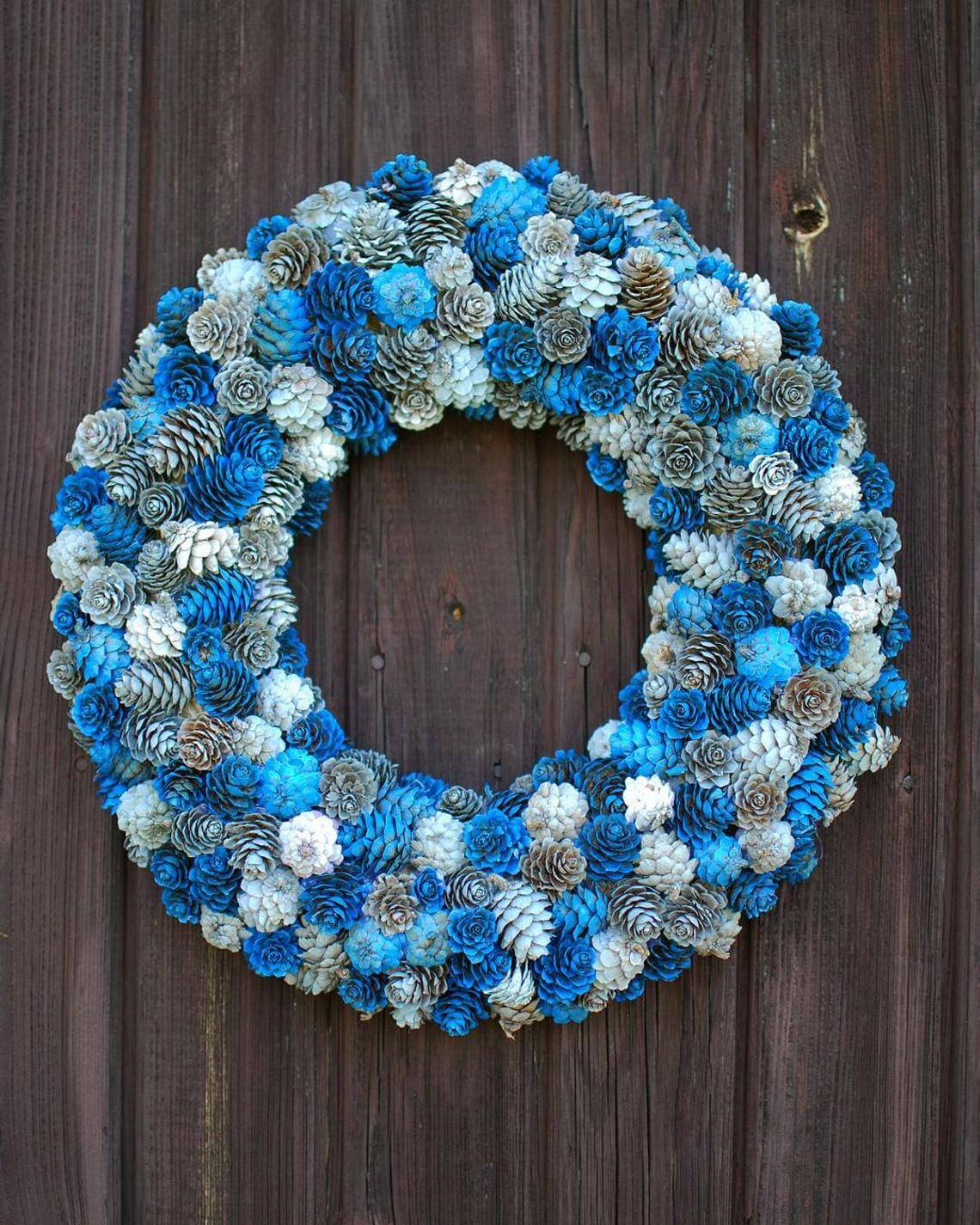 Cheerfully and unapologetically bright blue, this cheerful wreath is sure to chase your blues away! Depending on your other decorations, it is interesting enough to be the centerpiece but simple enough to emphasize other pieces. One of the larger wreaths, it measures 18 inches in diameter. This wreath is recommended to keep inside or on a covered porch, as lots of moisture can give this wreath the blues. If taken care of, this wreath will last a lifetime. Because there are a variety of blue shades, you do not need to worry about whether it will match other decorations exactly.
22. Classic Cornucopia-Colored Pine Cone Wreath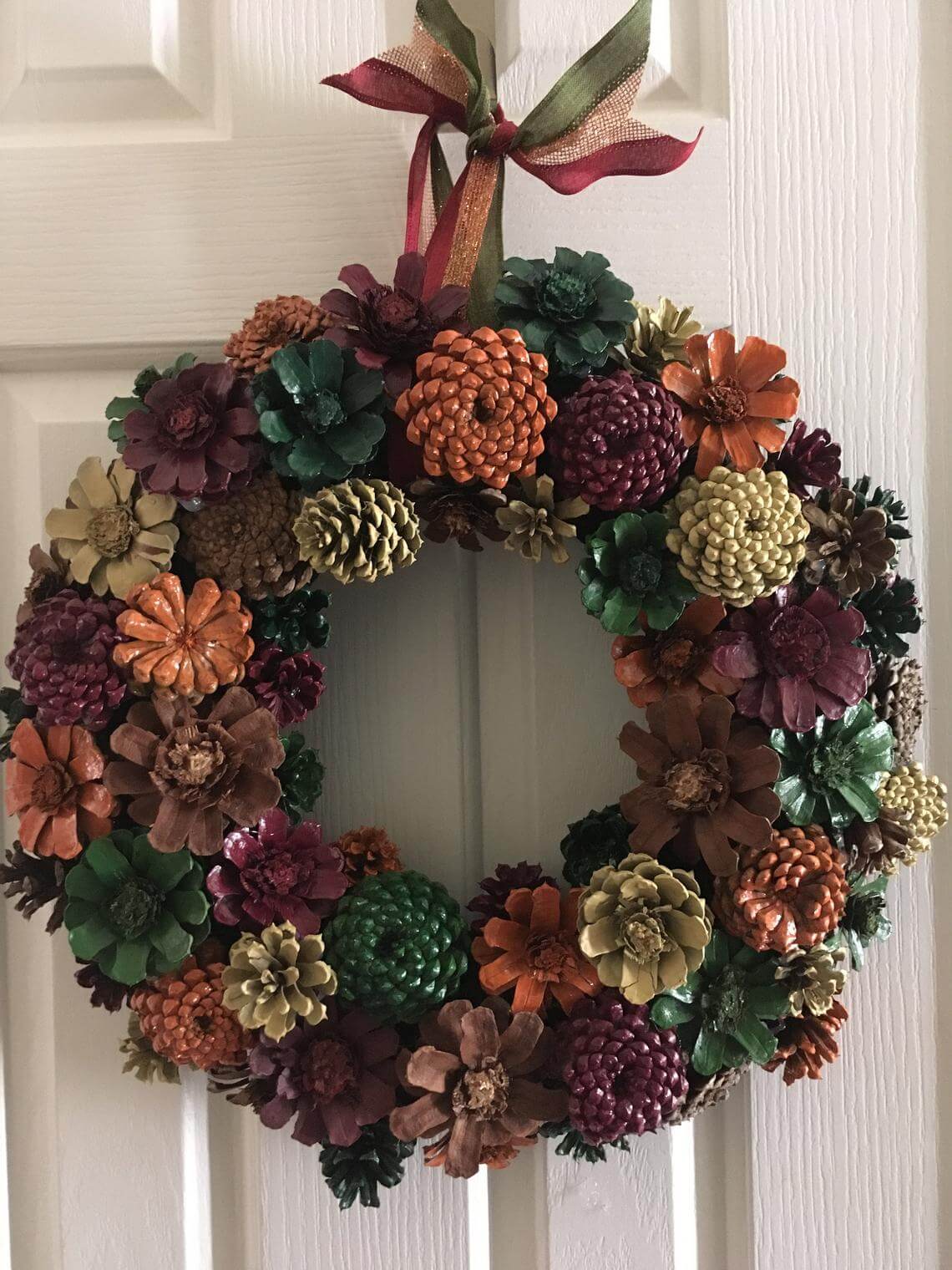 Fall harvest colors of orange, cream, maroon and dark green combine to make this fall pine cone wreath. The pine cones on this wreath make it appear like a flower bouquet as much as a painted pine cone wreath. Giving this wreath as a gift would be like giving someone a bouquet that never dies and could be displayed year after year. The best part of this wreath is how interesting it is to look at — the longer you look, the more you notice. This wreath is perfect for a welcoming front door or even a virtual meeting background.
23. Pinwheel Red and White Pine Cone Wreath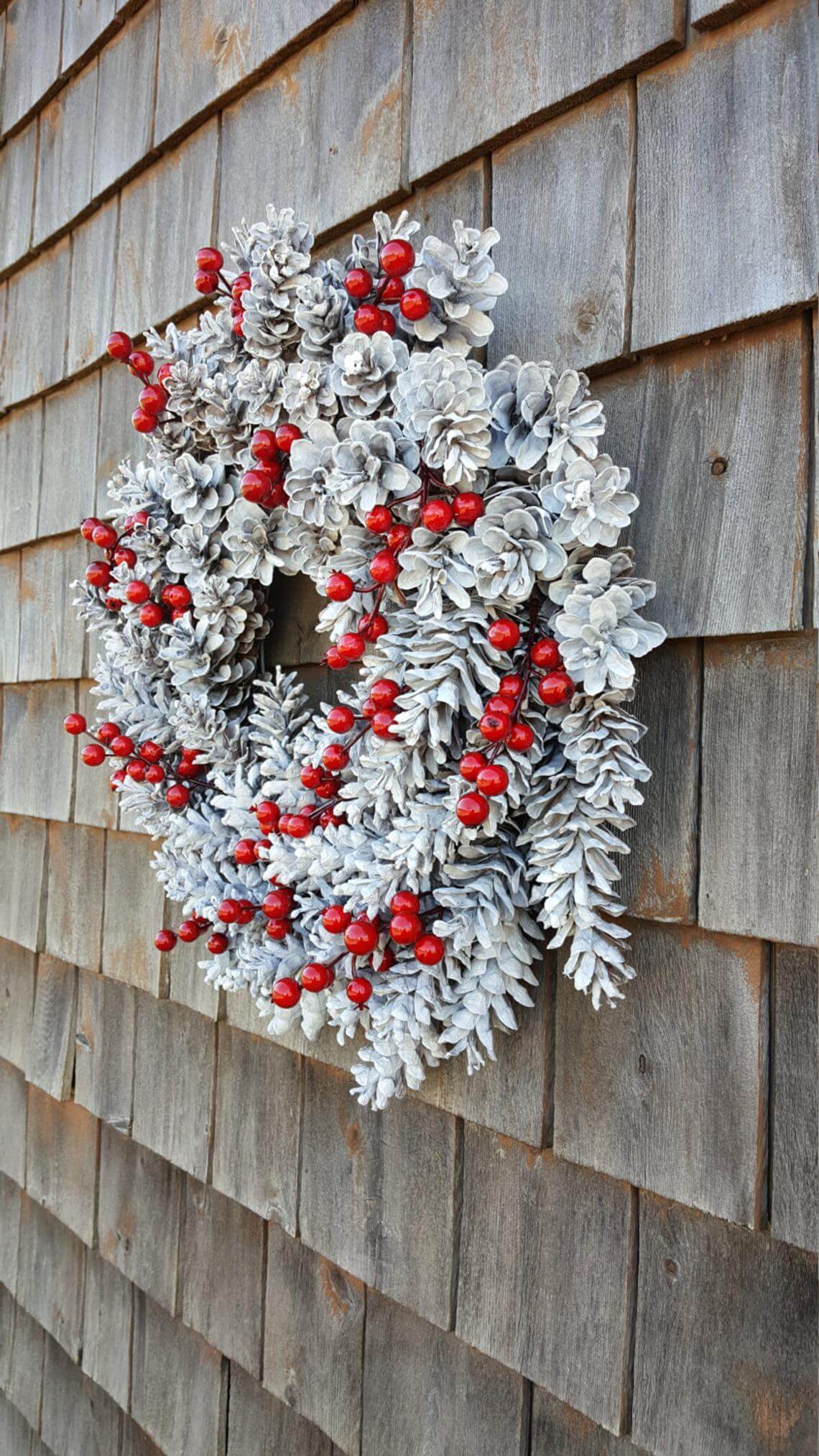 Mimicking a winter snowstorm, this aggressively pinwheeled pine cone wreath is sure to be a conversation piece. Perhaps inspired by New England winters, this wreath is constructed from fresh-harvested Maine pine cones. Glossy red and white will look good in most holiday decor palettes, but this wreath would contrast best if hung on a dark backdrop. White goes with everything, so this wreath will fit in almost any home decor theme. Few wreaths fit both farmhouse and industrial, but this wreath does that. It is available in 18, 24, and 32-inch diameter options to best fit your space.
24. Delicate Pine Cone & Willow Wreath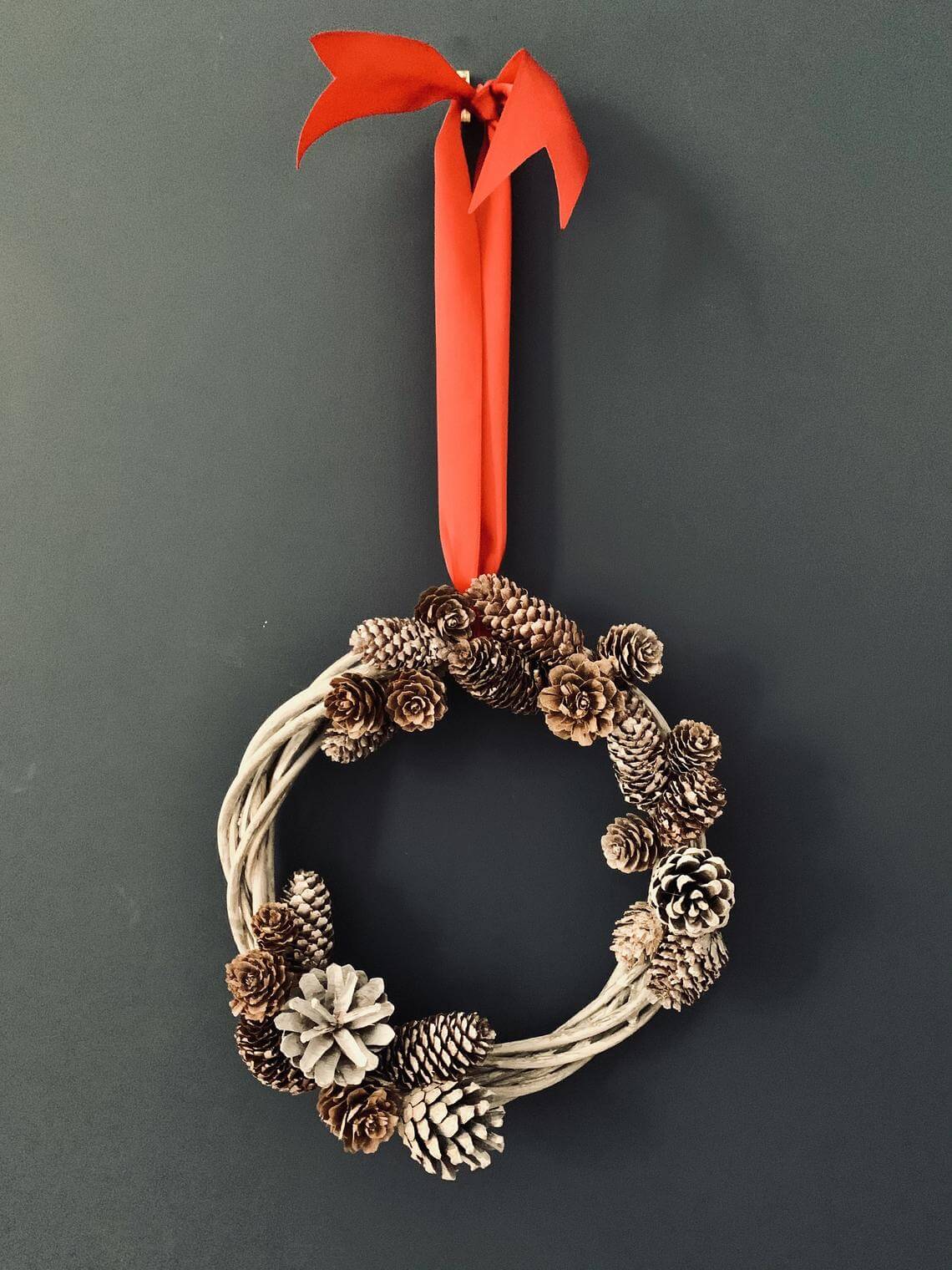 Petite pine cones are mounted on a willow wreath form to a simple, Scandinavian effect. Unlike other wreath approaches where the wreath form is hidden, the willow wreath form shines through to emphasize the pine cones' intricate texture. This pine cone wreath is not painted, giving the natural brown pine cones the spotlight. Natural browns look fantastic in most home decor palettes. Simple enough to melt into a room's ambiance, but intricate enough to hold your attention, this wreath is a versatile option. While not quite truly minimalist, this wreath definitely offers a pared-down pinecone wreath that is not textural overload.
25. Unique Crimson and White Painted Pine Cone Wreath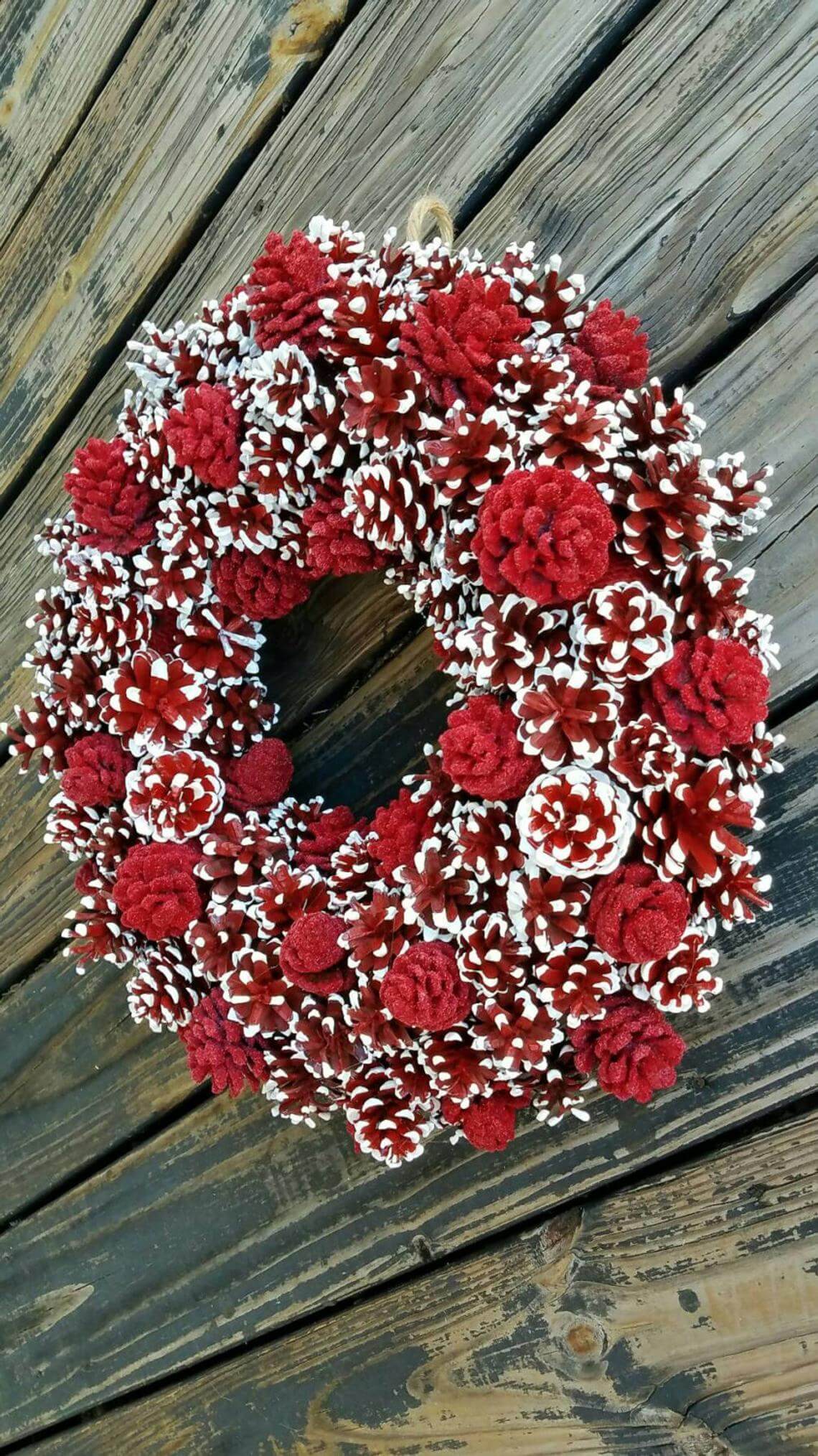 This wreath almost looks like an exotic coral formation or rare plant. Because pinecones are not immediately recognizable in this wreath, it can be displayed all year long. If your space can handle this much red, you will have a dazzling conversation piece. It is weatherproof and can be hung on your front door. Even if you are not expecting any visitors, this eye-catching wreath will be sure to elicit smiles from anyone who sees it. If you need a bold design centerpiece in your home decor, this is the right wreath for you. Even if you do not have a place for it all year long, this wreath can come out during Christmas, Valentine's Day, and Independence Day (provided it can be paired with blue), making it a versatile option.
26. Colorful Pine Cone Flower Wreath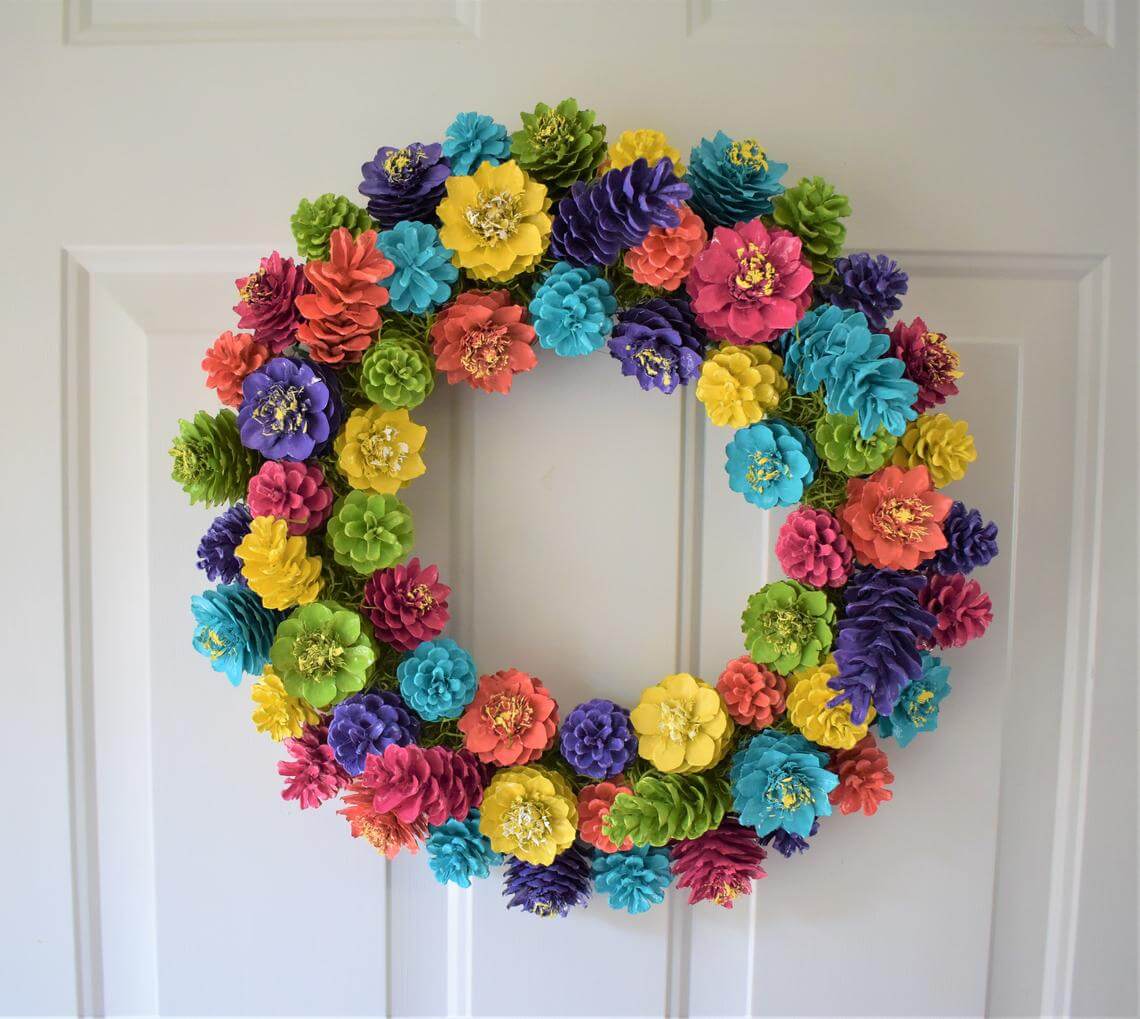 Usually, pine cone decorations are relegated to the cool months, but this wreath is a great addition to your home decor during the warm months. Some of these Michigan pine cones are painted to resemble flowers, making this wreath a wonderful first herald of spring. Coming in colors like yellow, turquoise, lime green, hot pink, and purple, this wreath embodies springtime cheerfulness. Because not all the colors are pastels, this wreath can remain on display from spring until late summer. While it is recommended to avoid hanging this wreath in direct sunlight, it can be hung outdoors provided it is in a covered area.
27. Woodland Pine Cone & Moss Wreath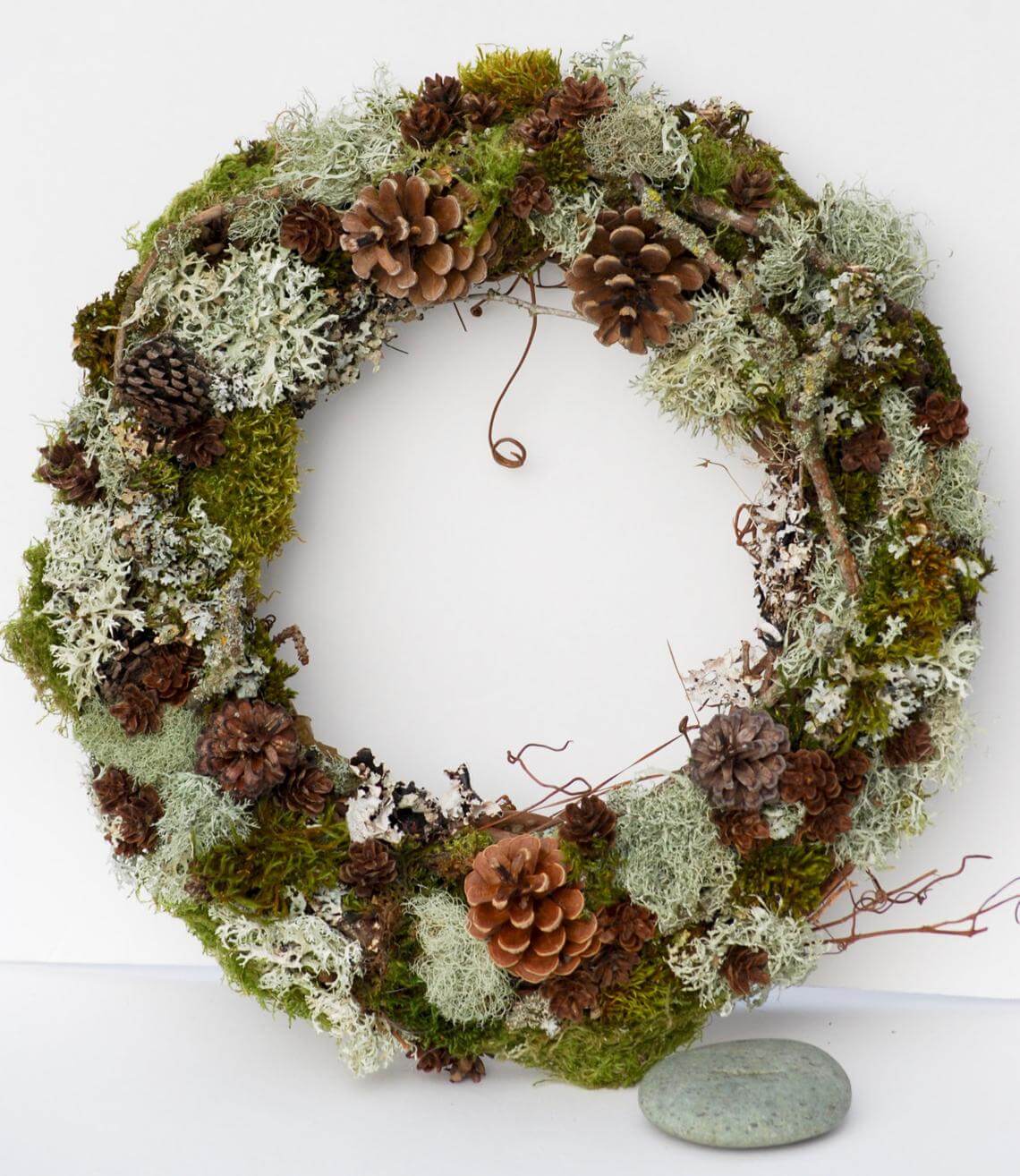 For a truly one-of-a-kind decoration, this wreath brings the forest floor into your home. All the lichens and mosses used to construct this wreath are collected after wind storms in the Pacific Northwest. Both warm and cool greens are used, so this wreath will look good anywhere the forest floor would look good. Because this wreath is so fragile, it is suited only for inside display. One awesome idea would be to hang it in a woodland or storybook themed nursery. Of course, it would look good in any room as it brings some outdoor imagination inside.
28. Golden Pine Cone Wreath with a Bow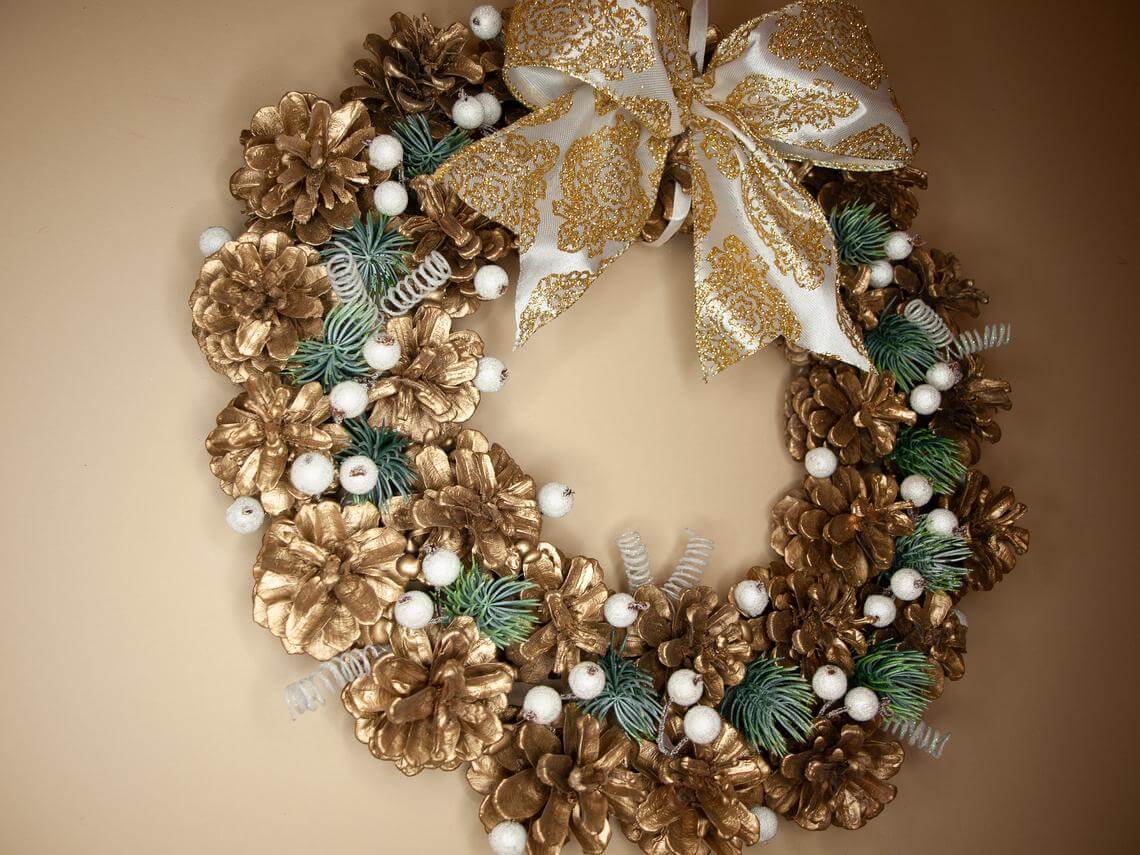 Golden pine coneflowers and a damask bow give this wreath a regal feel. It works well as a Christmas wreath but could be displayed all winter long. The pastel greenery even makes this a good choice to display around Easter. If gold, white or green are colors in your decor palette, this wreath would look good on display year-round. At 13 inches in diameter, it is a smaller wreath. However, that smaller size makes it a great addition to a nursery or bedroom. It is interesting to look at but leaves the center stage for more ostentatious decorations.
29. Small Acorn & Pine Cone Wreath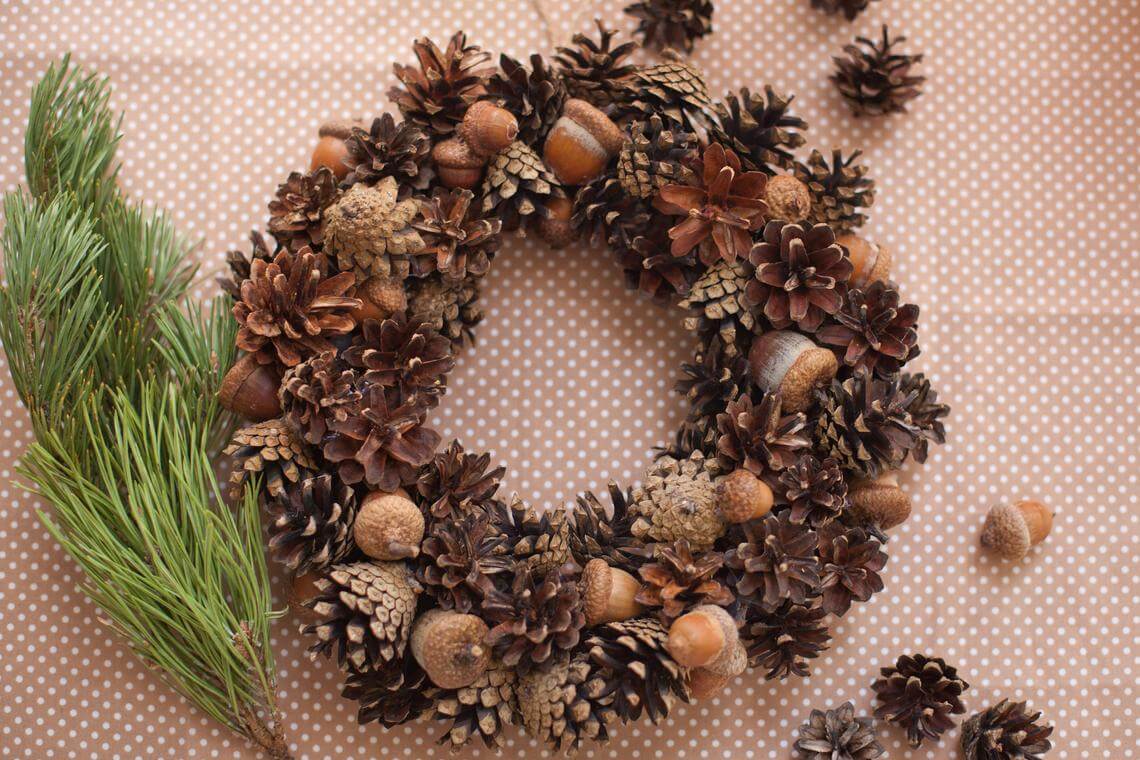 Rich browns and a variety of textures make this small wreath a treat to behold. It is only 10 inches in diameter, it is perfect to hang in some creative places. Bigger wreaths have more limitations on where they can be displayed. Made up of a variety of brown shades, you will not need to worry about matching browns. This wreath is great for farmhouse, rustic, or country decor themes. Because there are no colors besides the natural finish, you are able to display this wreath year-round. It would also look good in a nursery, a bedroom, the kitchen, or even a bathroom.
29 Versatile Techniques for Making Pine Cone Wreaths That Will Look Amazing Anywhere
These are a few ideas to get you started. There are many ways that you can adjust these wreaths to fit your needs and home decor. Paint, glitter, and ribbons are the easiest ways to make a wreath unique to you. When making a pinecone wreath to give as a gift, these personalizing touches make a gift very special.
Techniques used in one tutorial can be combined with techniques used in another tutorial to make the optimal wreath for you. The techniques used to change the pinecones themselves include creating pine cone "flowers," bleaching pine cones, and using different orientations to create different effects. Pine cones can be painted thoroughly such that no brown is left, or be rolled in the paint to only color the edges. Each technique takes a different amount of time and different materials.
Whether you are looking for a quick project with kids or an elaborate show-stopping wreath, this list is full of the best DIY pinecone wreath ideas. Having fun and making good memories are the most important parts of making a pinecone wreath.
Choose Rustic Wall Decor Ideas to Make Your Home Warm and Inviting