With the best DIY play kitchen ideas, you can build your child a personal haven that is completely their own. You would be hard-pressed to find a child that does not love a play kitchen. It is the ultimate area for children to express themselves and mimic what they see the adults in their lives doing. Plus, it is a wonderful place for kids to explore a love of cooking, something that may follow them well into adulthood. Although there are numerous play kitchens in the store, you can always turn this into a home project and build them a personal one instead. It is a nice way for you to stretch your creativity while allowing your kid to show off theirs.
17 DIY Play Kitchen Ideas to Liven Up a Playroom

But what exactly do you build? Well, much of this depends on the child in question and the room you will set it up in. Sometimes, a connected sink with a stove is more than enough. These types of handmade play kitchen designs are straightforward and fit well when space is a concern. This is also fitting for just one child or younger children to play with. Or perhaps you want something a bit grander? You can go the route of adding a refrigerator along with a stove, oven, sink, etc. This is perfect when you have the space for it as well as for kids that dive full-on into the imaginative kitchen play. Plus, this allows multiple kids to enjoy it at once.
With the multitude of ways you can approach homemade play kitchen decor, it is easy to find yourself overwhelmed. When this happens, you can always check out our favorite DIY play kitchen projects. These can give you a great place to start your building journey so your child will come away with something they will remember forever.
1. Repurposed Low-Profile Play Kitchen Decor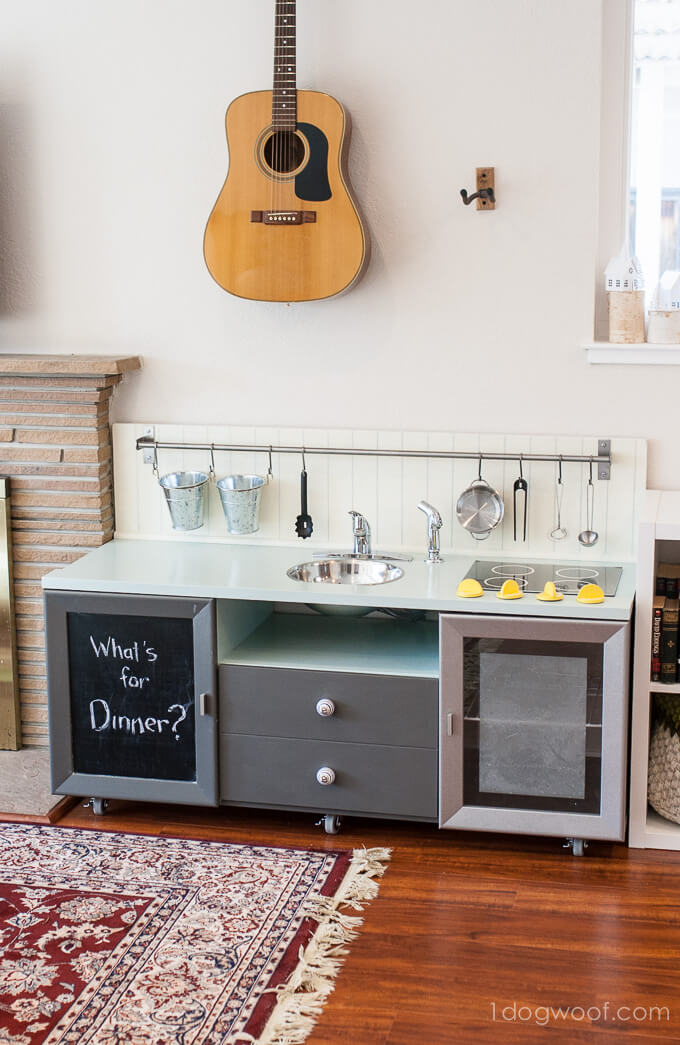 Sometimes, the best way to build a play kitchen is to start with the furniture you would otherwise throw out. This kitchen has a lovely low-profile so it can fit in a child's room or playroom with ease. The chalkboard is a great touch to further push a child's creativity.
2. Remolded IKEA Play Kitchen Build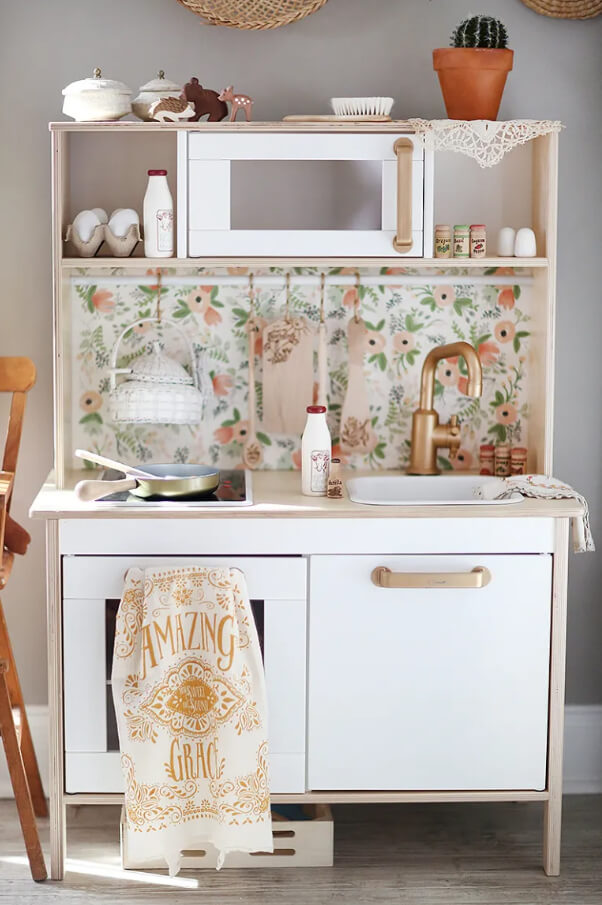 With your IKEA play kitchen, you can remodel it into anything that will fit better with the decorations already in your home. This way, you can set the kitchen up anywhere you have the room from your own living room to your child's bedroom.
3. Stunning Play Kitchen Makeover Design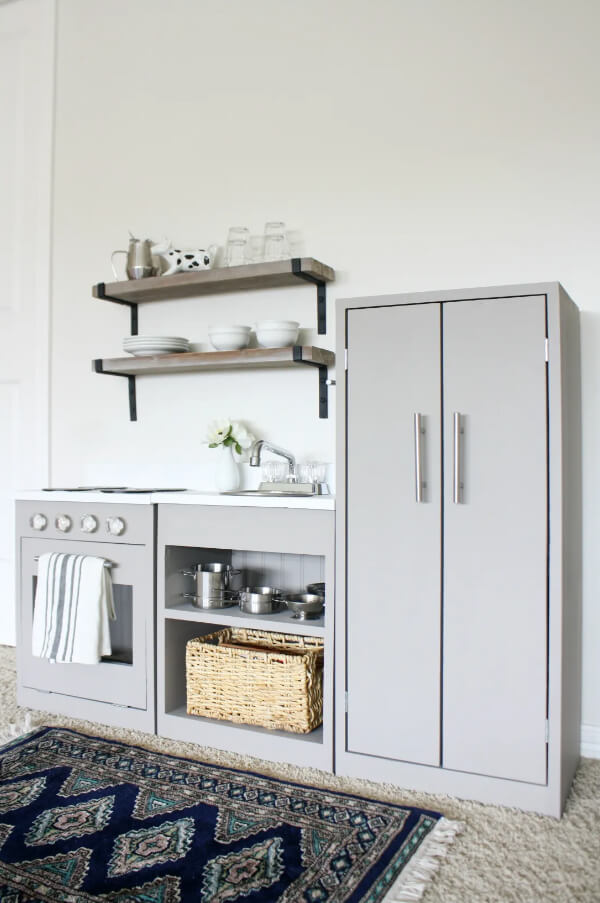 When you want something simple, you can always paint over a play kitchen you bought from the store. You can paint it in any way your child would like, giving them something cool and personal to add to their room.
4. Cute Play Kitchen Design Hack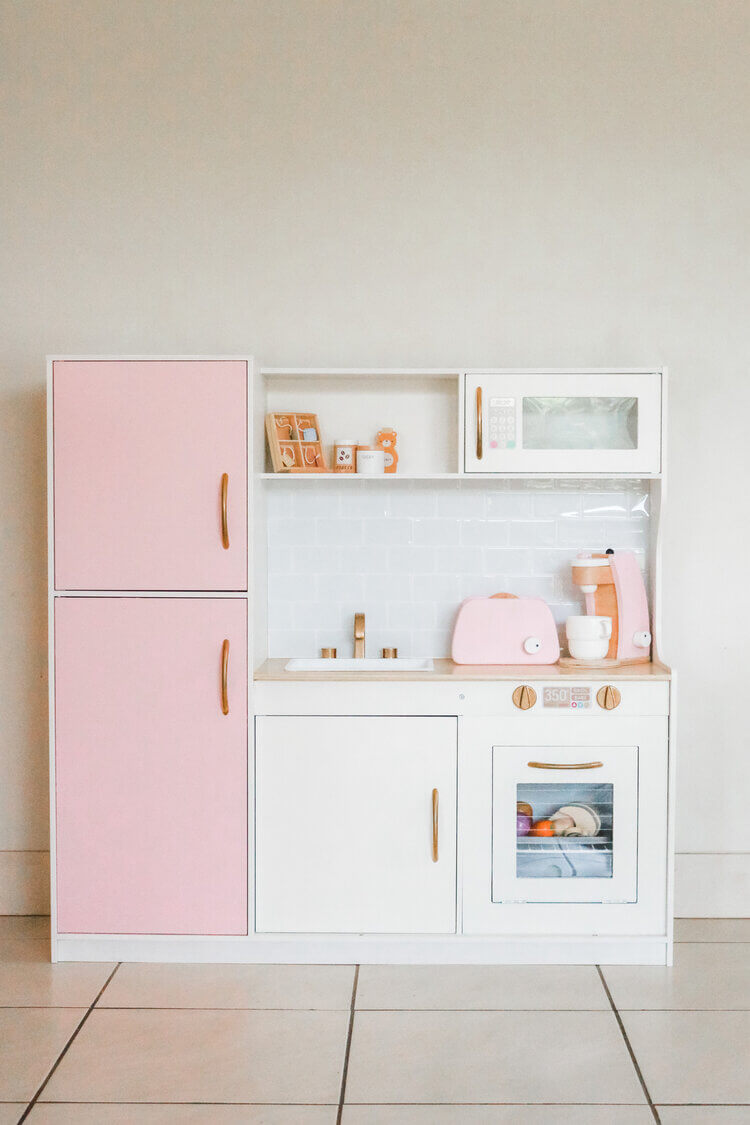 You don't have to start from scratch to build a play kitchen. In fact, you can take one from the store and twist it around to suit your needs better through a little DIY work. It is a fun way to create something unique with a color style that fits the room and your child.
5. IKEA Play Kitchen Painted Makeover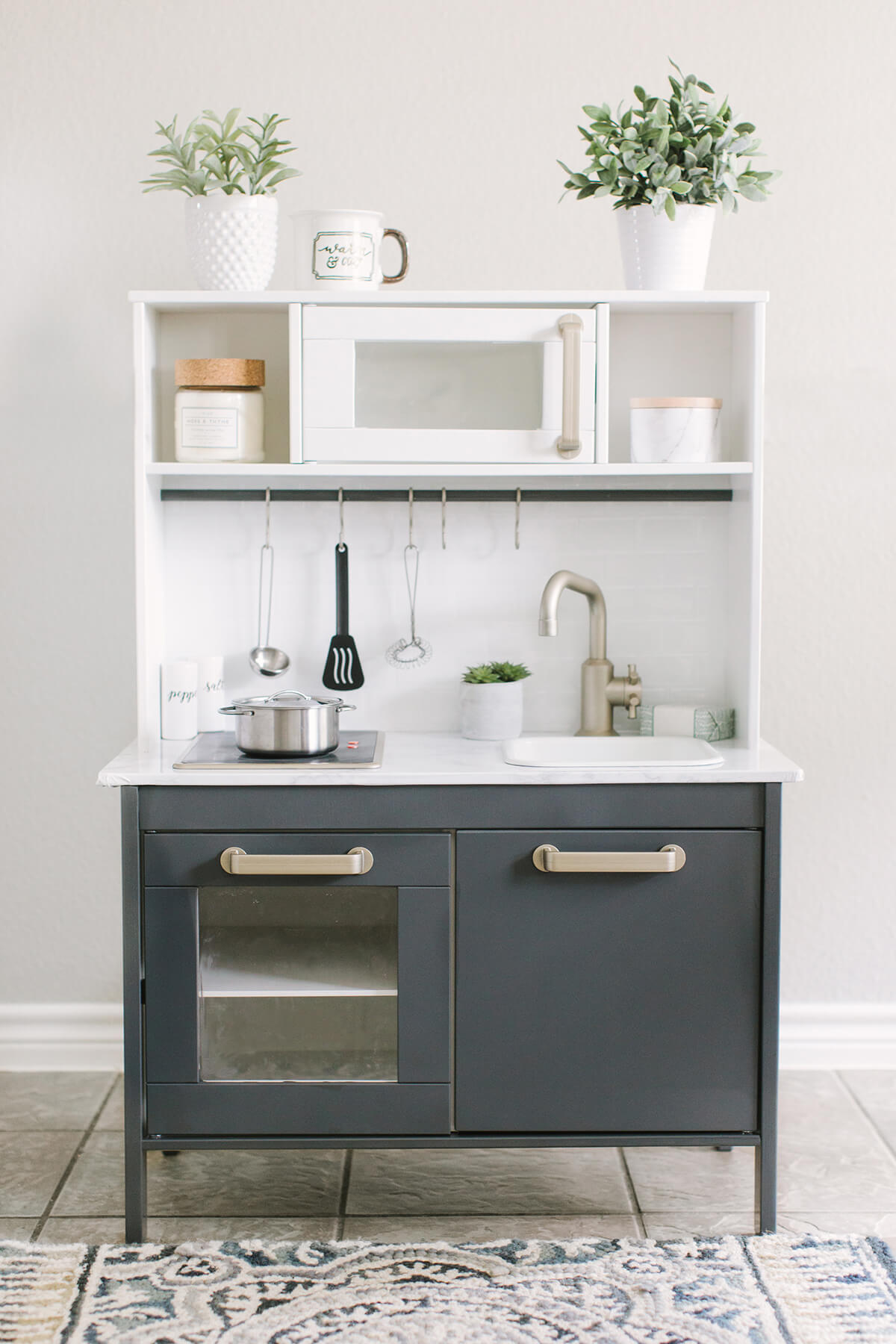 Thankfully, IKEA furniture is easy to transform. In this case, you can make this play kitchen over piece by piece until you are left with something that is compelling, personal, and better suited for the bedroom or playroom decor.
6. Stylish DIY Play Kitchen Decor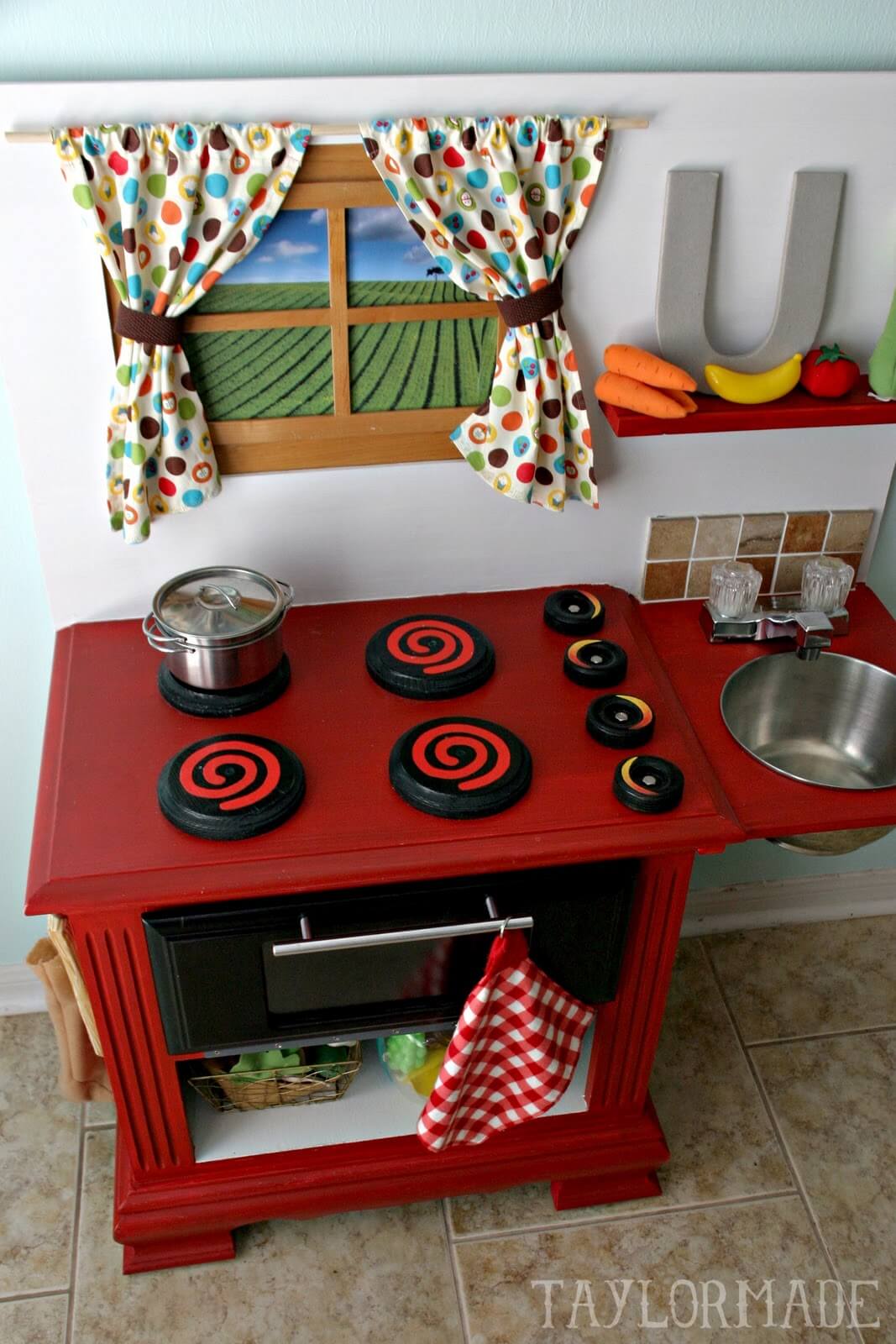 This play kitchen design is an adorable addition to any playroom. The bold coloring allows it to stand out. Meanwhile, the openness under the sink gives this kitchen a more contemporary touch that can blend with your home's decor well.
7. Vintage DIY Play Kitchen Build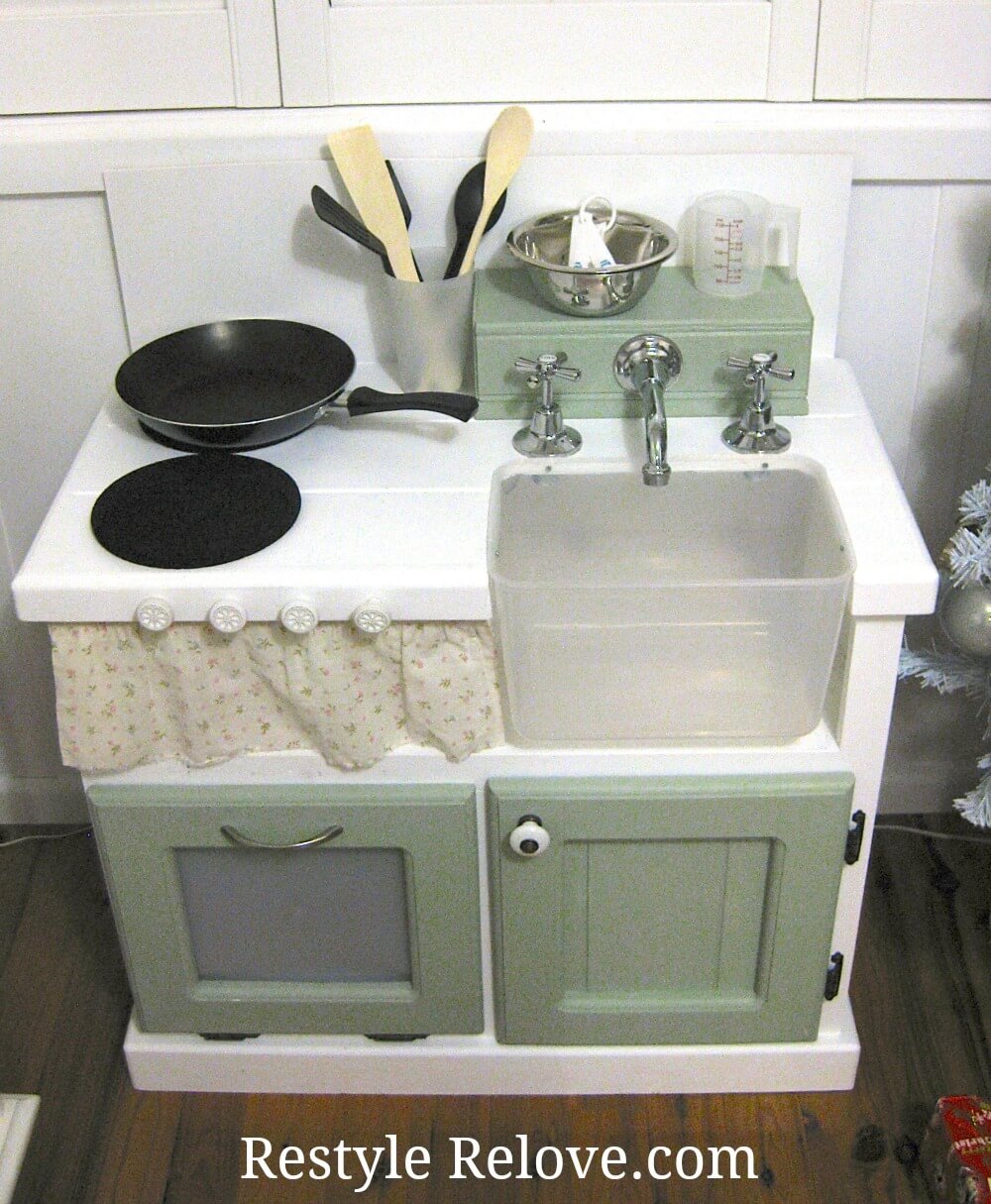 This is among the best DIY play kitchen ideas when you want something made in a more classic style. Perhaps it better matches your own kitchen? Either way, this kitchen has plenty of space without taking up too much room.
8. Sweet IKEA Play Kitchen Design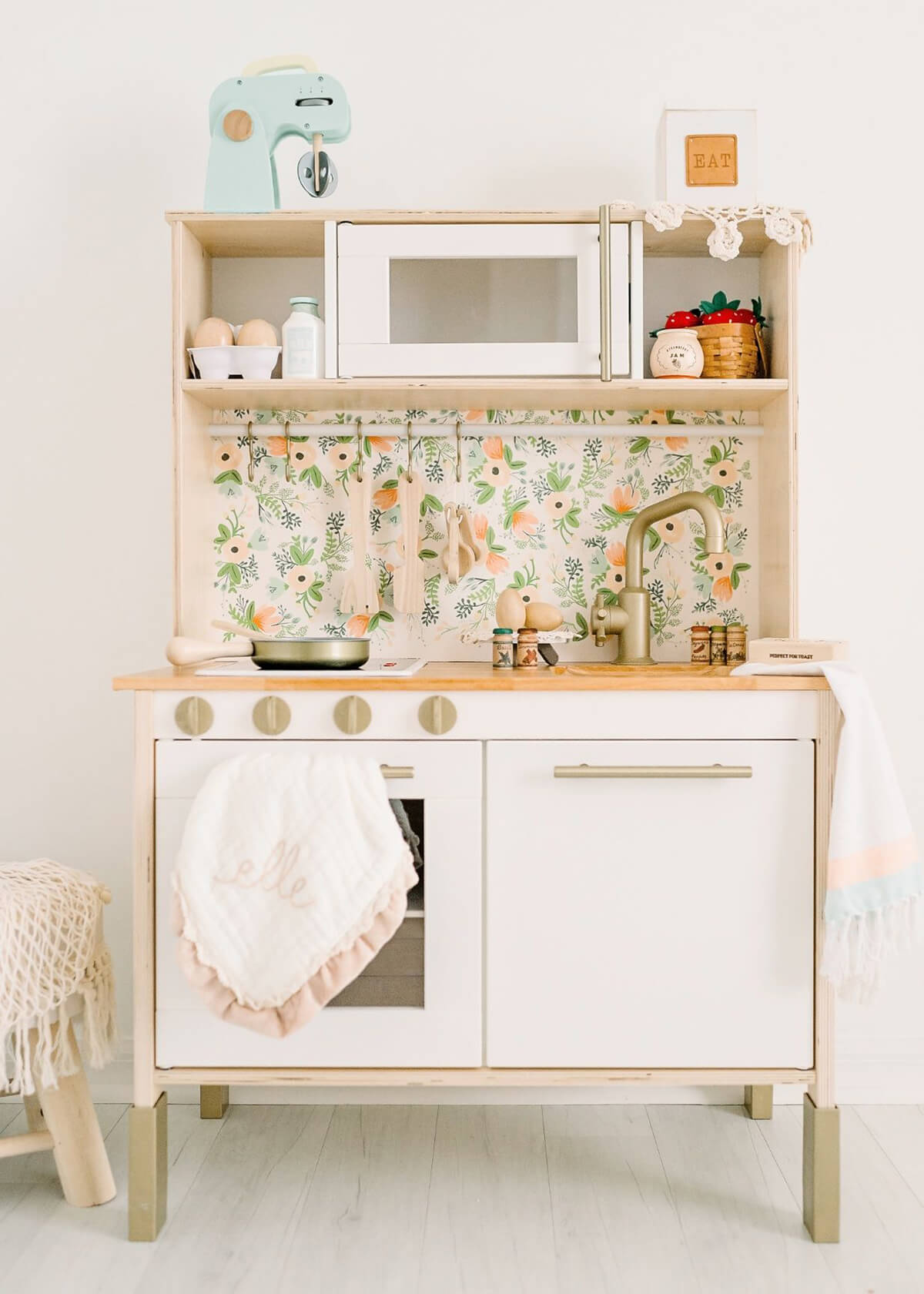 Some brighter paint makes all the difference when it comes to upgrading your IKEA play kitchen. You can even add a backsplash to the kitchen to make it more realistic and distinctive, allowing your child to feel as though they are just like the adults.
9. Bright DIY Blue Retro Kitchen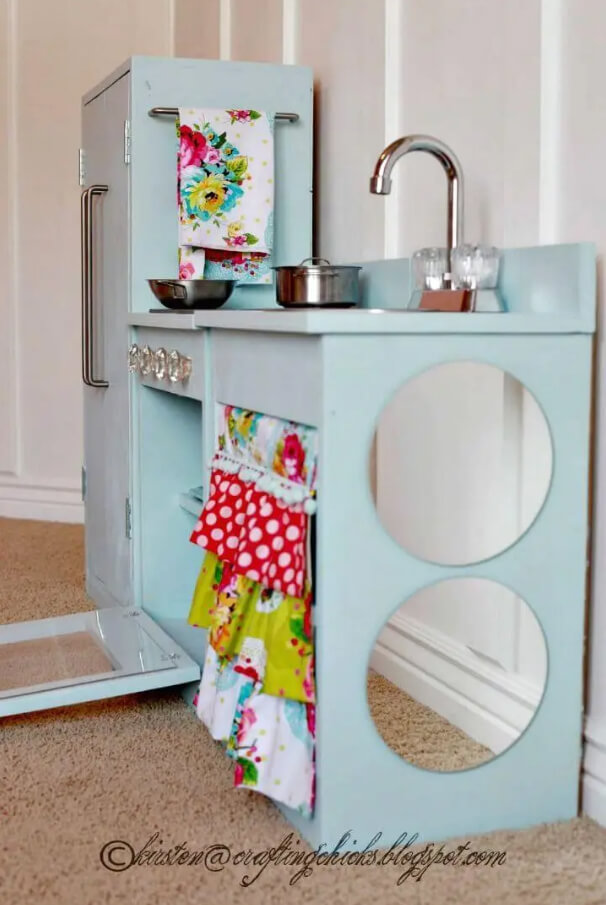 This handmade play kitchen is an adorable addition to your little one's room. It has everything they need to feel like they are playing house. There is even more than enough room to invite a sibling or friends to join in on the fun.
10. Upcycled Mini Play Kitchen Design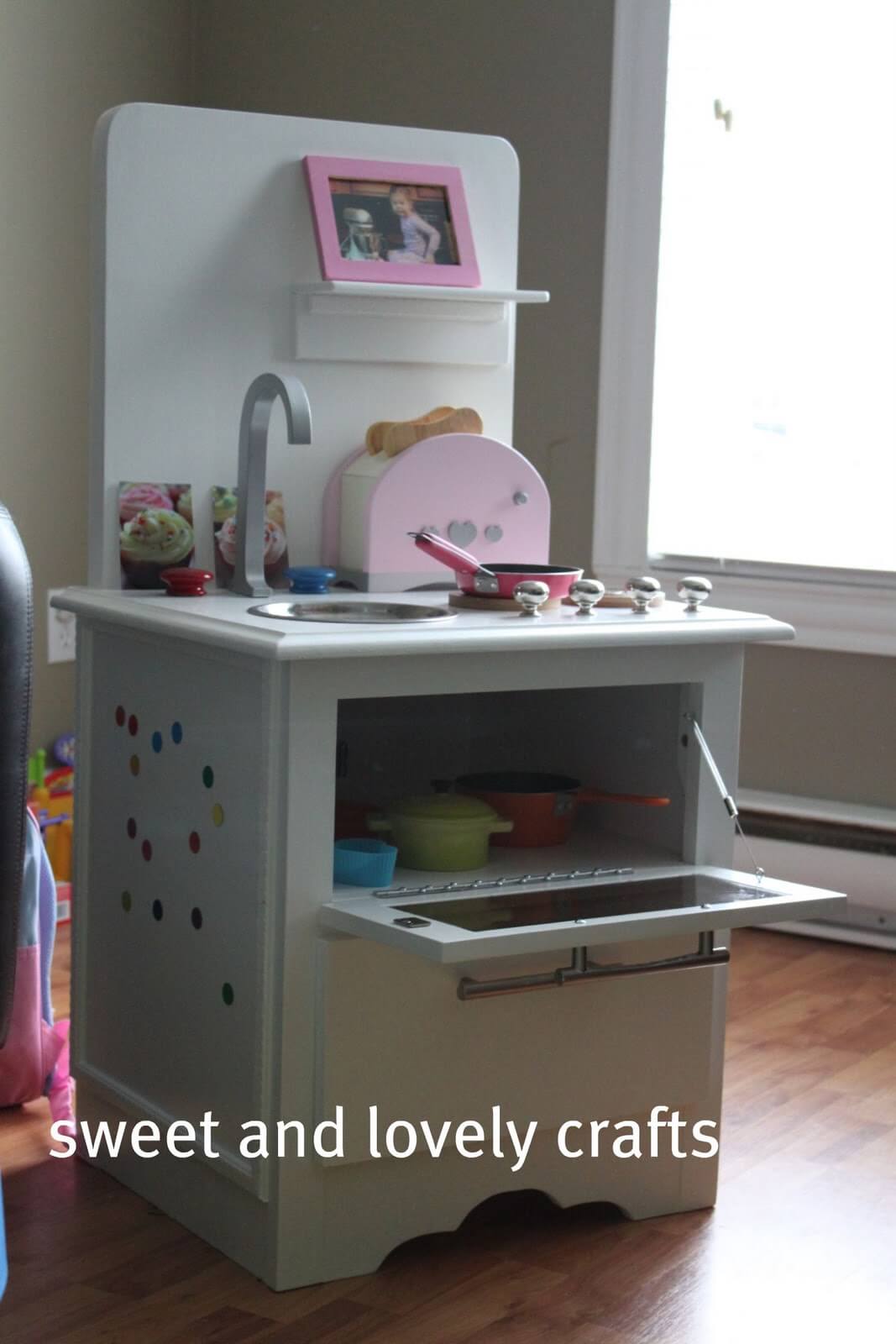 Have an old dresser in need of some love? Well, you can give it new life by upcycling it into adorable homemade play kitchen decor. This is petite enough to fit anywhere in the home, yet it has enough to keep a small child busy.
11. IKEA Play Kitchen DIY Hack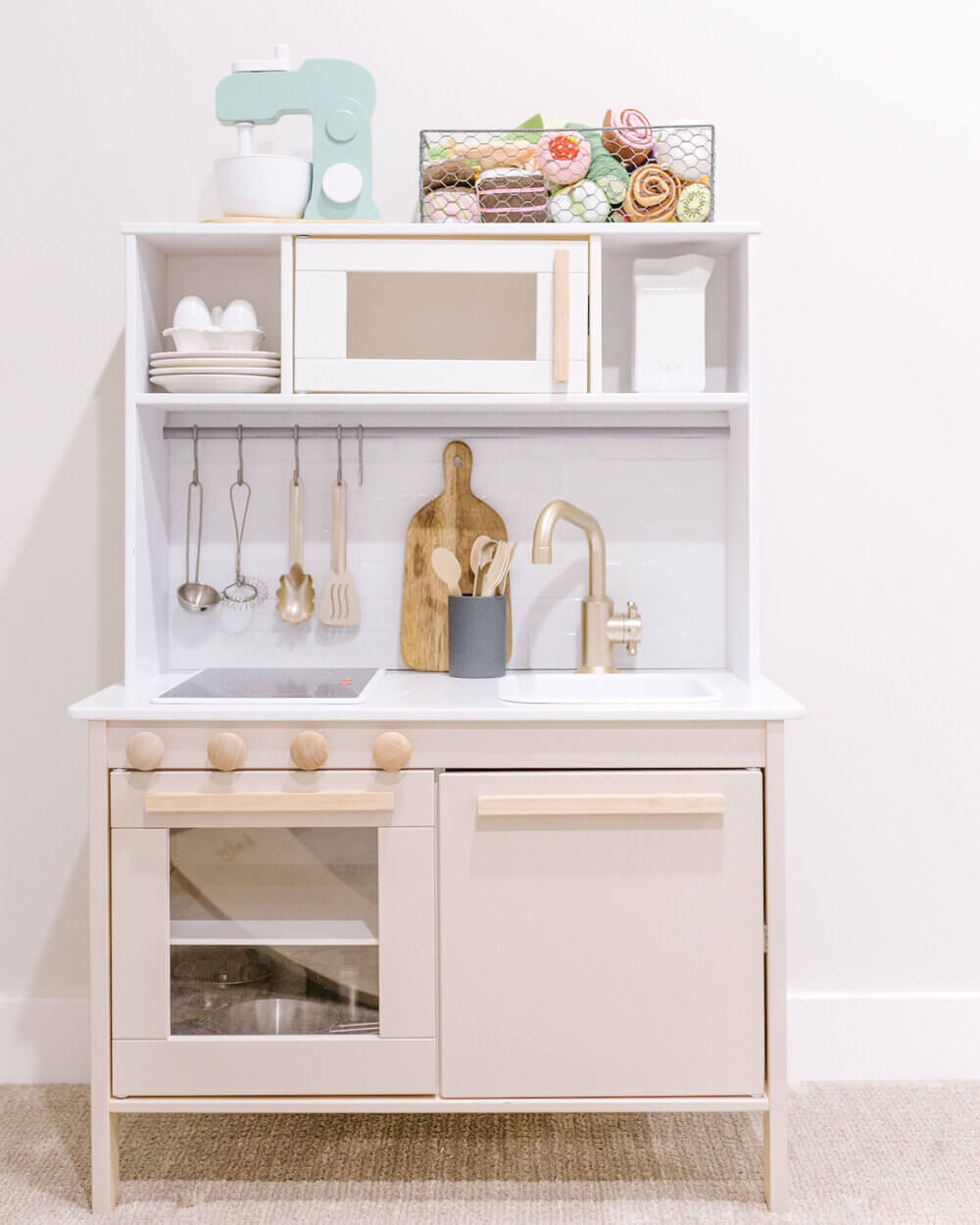 Some pre-made play kitchens need some extra love, and they are ideal when you don't want to build from the ground up. You can still add some extra areas to this kitchen and make it a little brighter so that it better stands out.
12. Miniature Charming Play Kitchen Design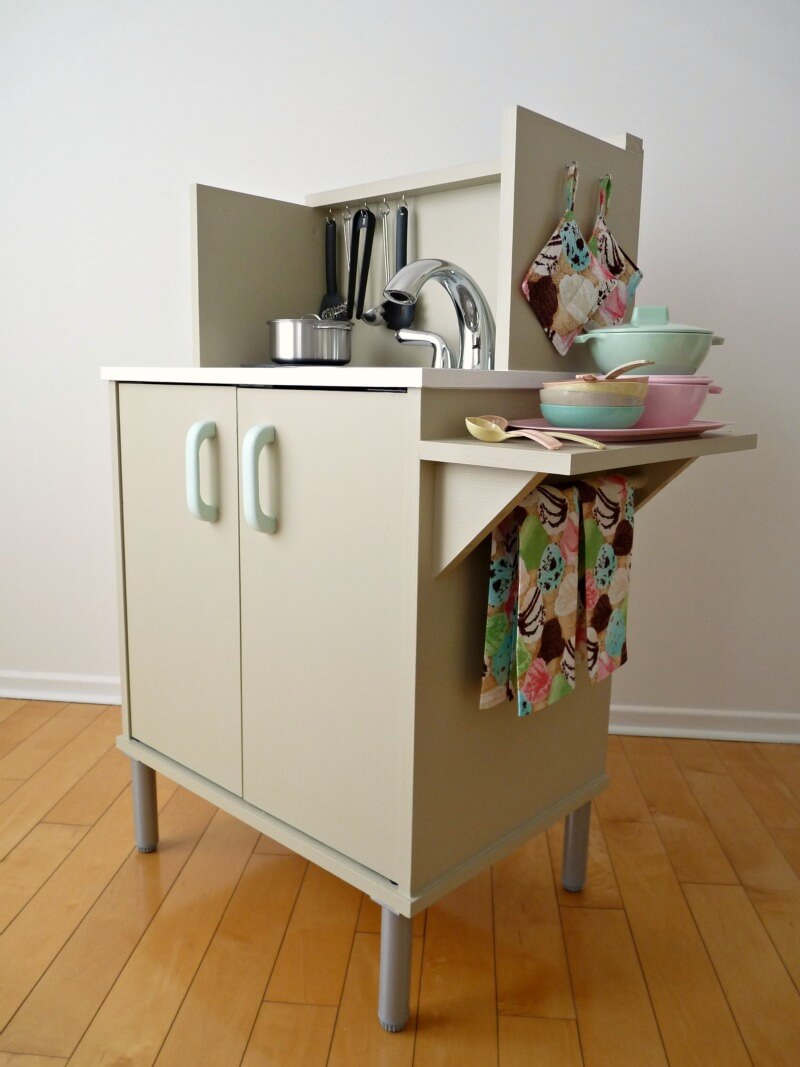 This small-space play kitchen will add a charming touch to any room. The little table on the side is the perfect place for dishes, and the hooks are excellent for hanging all the utensils they need to "cook" with.
13. Personalized Kmart Play Kitchen Hack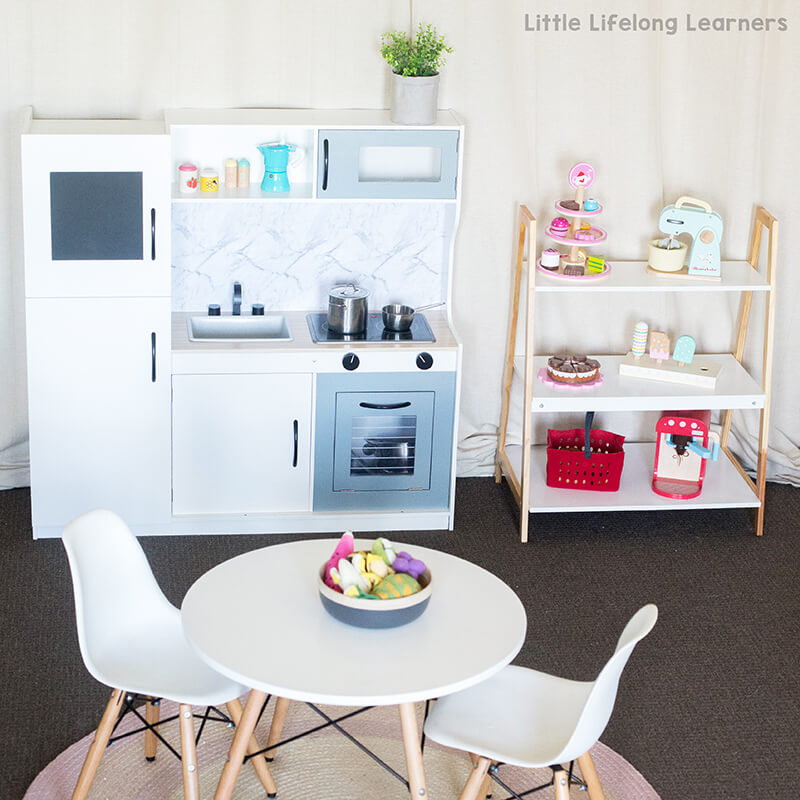 A store-bought play kitchen can sometimes lack the desired color style a child wants. In this case, you can always spruce it up a bit with some fresh paint and perhaps some new hardware. This way, your child will have something far more personalized to play in.
14. Nightstand Turned Play Kitchen Design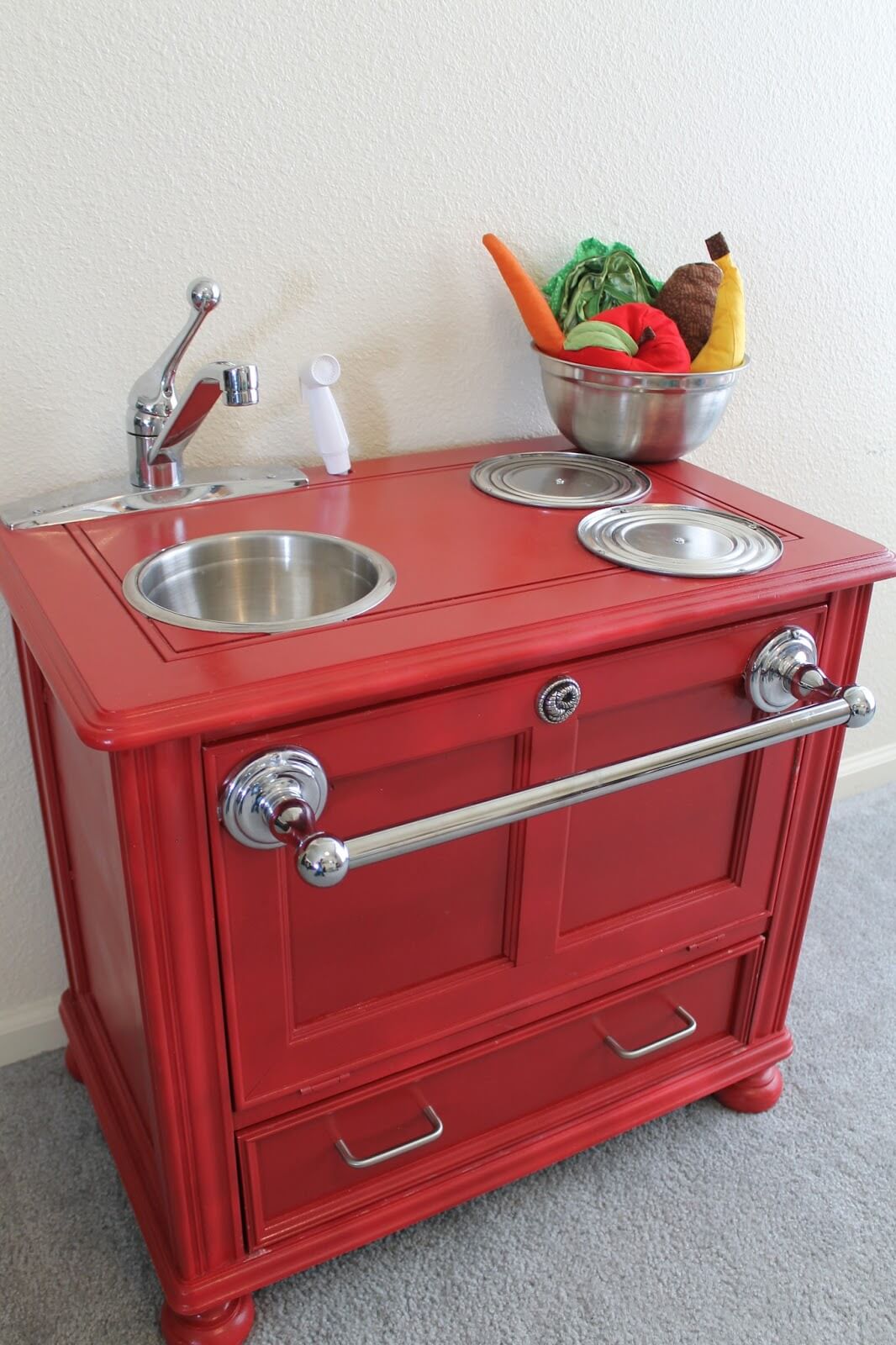 That old nightstand can become your next upcycling project. It can help you create a charming play kitchen that won't take up too much space, freeing your little one to "cook" to their heart's content just like their parents.
15. Unique Upcycled Chair Play Kitchen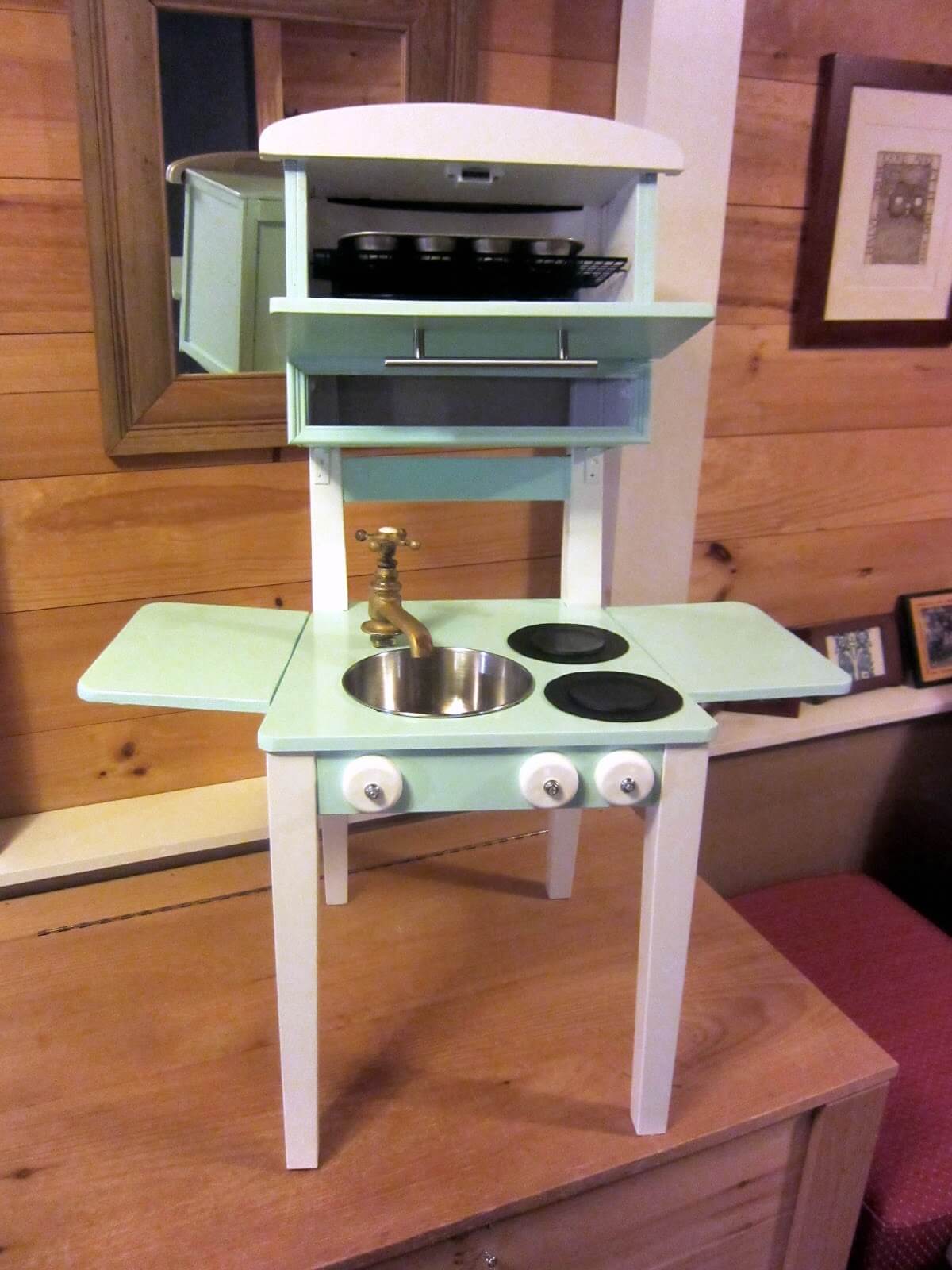 Looking for a play kitchen design that is more distinctive? Then pull out that old chair as it is a wonderful base to help you create a sweet, small-space-styled play kitchen. You can even add in a tiny oven on top to round it all out.
16. Cool IKEA Play Kitchen Hack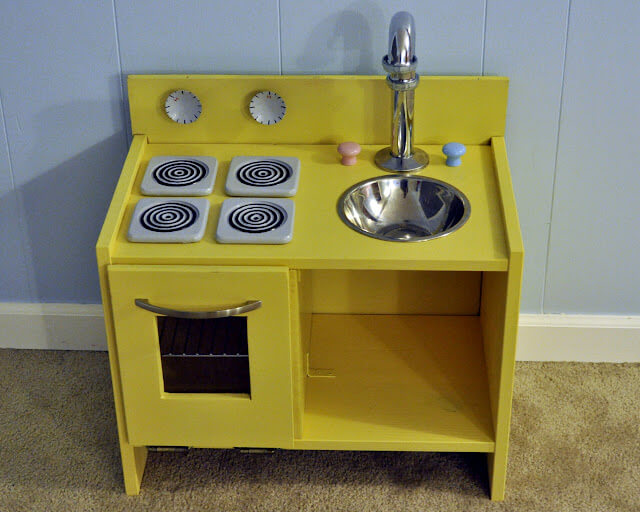 IKEA furniture is wonderful to use as a hack to create a cute play kitchen. Not only does this have a sink, stove, and oven, but there is also a nice storage area for kids to stash all their cooking items.
17. Adorable Mini DIY Play Kitchen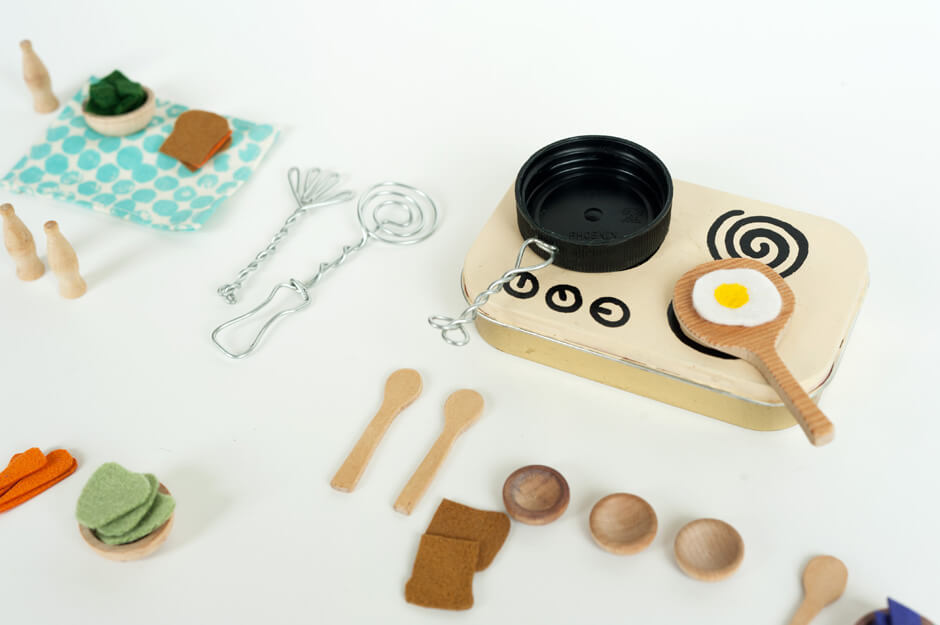 Maybe your tot does not need such a large play kitchen to enjoy. Instead, this miniature kitchen is travel-size. So, they can take their imaginative play anywhere they go. You can even make miniature pots and pans to go along with it.
Cool Homemade Play Kitchen Decor to Delight Any Child
With a play kitchen, you can give the budding chef in your life a place of their own to stretch their creativity and imagination. Building one for them rather than purchasing one from the store is the perfect way to give them something that is more personal. These child-sized kitchens are also ideal when you want a toy that will last them. Play kitchens are used at multiple ages from toddlers to elementary-aged kids, making them something that they can keep in their rooms for years to come.
This is why it pays to build one yourself. You can ensure the material that you use so that you know just how long it will last and how hard your child can play with it. With handmade play kitchen designs, your child can add their own touch to it, making this a family-friendly home project. It is even a good way to upcycle some items around the home rather than throwing them away. If you are ever stuck when it comes to ideas, feel free to use the list of our favorite best DIY play kitchen ideas to get a spark of creativity.