Changing the look of your home's interior can be easy and cheap with some of the best DIY pom-pom decoration ideas found here. After spending so much time at home, we have all taken notice of our intimate interiors and perhaps you've decided it's time to mix it up. Generally, two problems arise- namely, cost and time. Time is aplenty at the moment in comparison to years past, so you just need a means that's budget-friendly. That's where pom-poms decorations come in!
Cheer Up Your Space with DIY Pom Pom Decorations

These super simple and cheap pom-pom DIY projects are some of the most frugal crafts on the planet. Obviously, the yarn is as cheap as you choose, and the other accessories are either crafting staples or can be repurposed items you already own. In case you are wondering how to use DIY pom poms, it's actually quite simple. They can be used in nearly any room of your home and in so many amazing ways. As a garland, they make great accent pieces to an existing display or further embellish your holiday tree. Applied to a pillow or throw, they add a ton of texture and color to an otherwise boring room.
For kids, the appeal of pom-pom decor is big since they are basically fluffy balls in a variety of colors. You can really liven up a kid's space by hanging them from a curtain rod or creating a work of art with them to hang on the wall. If a more grown-up design is what you have in mind, it can be used as interesting and one-of-a-kind bouquets. And who doesn't adore a bouquet that doesn't require watering and lives forever?
With a little creativity, you can quickly craft some of these best DIY pom-pom decoration ideas to give some love to the four walls you've been staring at for the past year. Here are 15 fun and interesting possibilities to get your yarn ball rolling!
1. Tropical Colors Pom Pom Rainbow Wall Art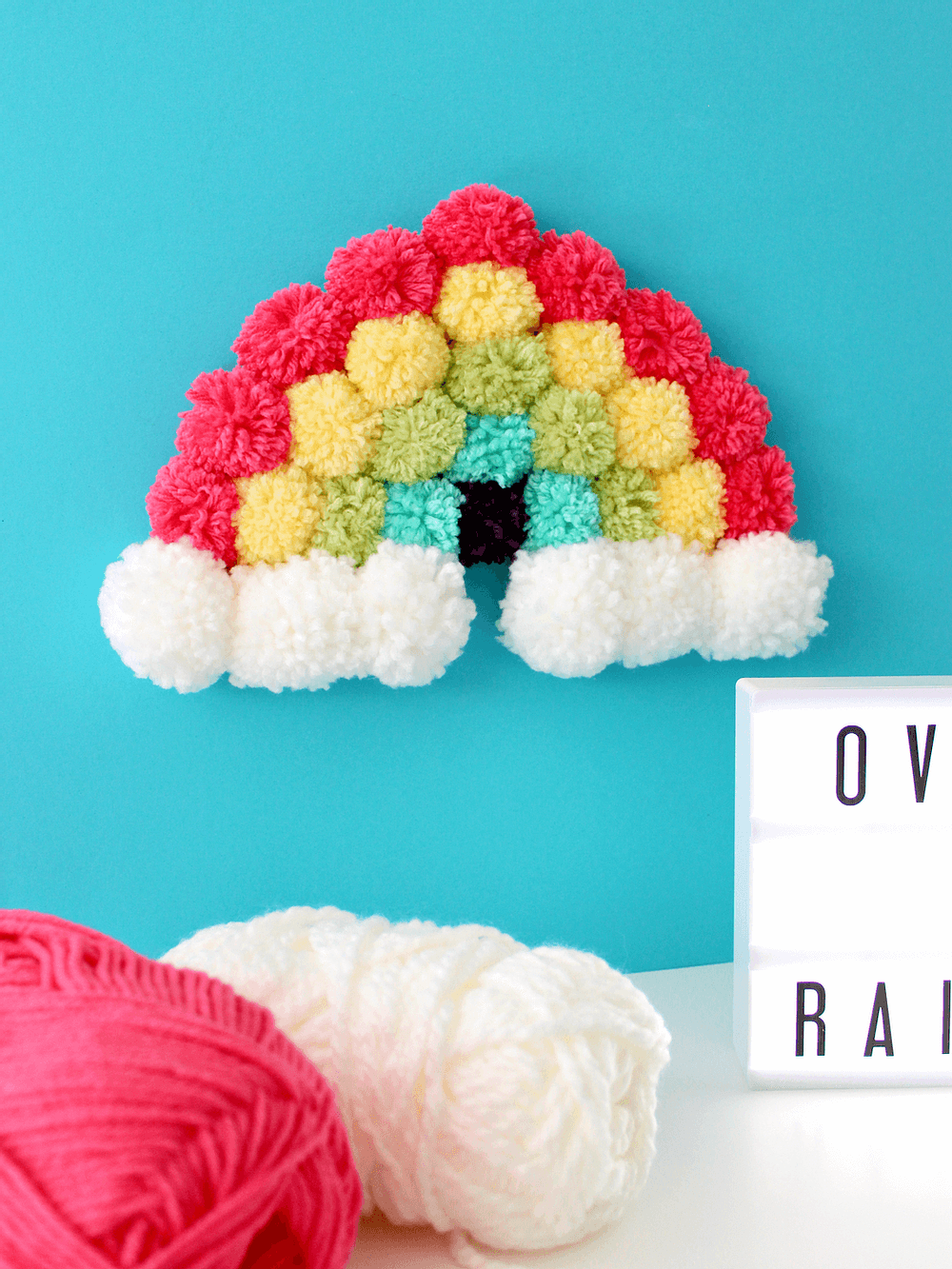 Infuse some gorgeous colors this summer into your home with the tropical hues that form this cute pom-pom rainbow wall art. Any little girl will adore adding this to her wall space as it's full of color and will blend in perfectly with her endless unicorn collection. The sky's the limit in terms of ways to use this in her room. You can hang it next to her mirrored dresser, above her door, or over her bed. It would be a phenomenal party activity for her next slumber party where all the girls could make one and take it home to hang in their own rooms!
2. Warm Pom Pom Branch Tree Home Decor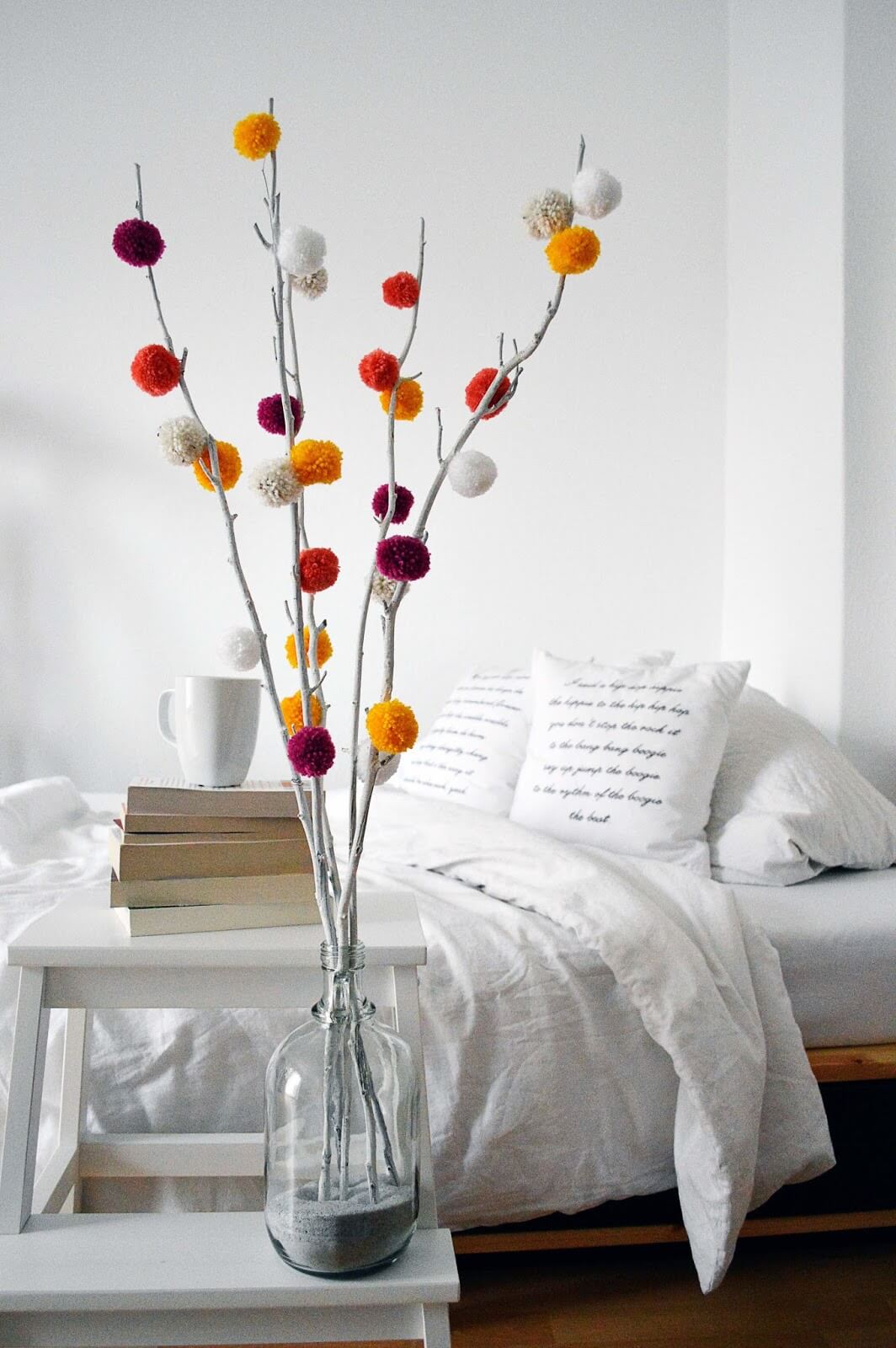 Set amid a blank canvas space of white, this unique and interesting pom-pom branch tree adds a punch of personality and color! The height of the tree branch gives depth to the design while the warm colors of the pom-poms infuse the space with that bold splash of color that adds to a modern appeal. Place this on a coffee table, dining table, or on the nightstand in the bedroom. Housed in a glass jar, the sand in the bottom that keeps the branches in place further adds to the texture and charm of this amazing home decoration.
3. DIY Pom Pom Covered Pencil Jar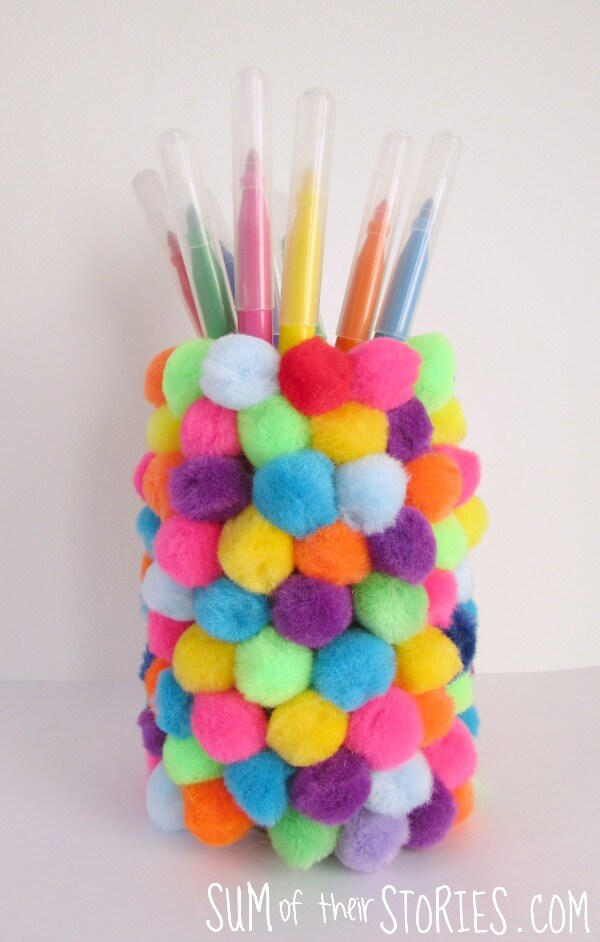 Create a coral for all of your pencils, markers, and colored pencils in a fun way with this DIY pom-pom-covered jar. It's just the right size to keep your art supplies organized so you can easily grab them when it's time to create. They make your desk space look neat and tidy with their amazing organizational properties while keeping a fresh and youthful vibe in their fluffy and colored design. Make the most of a rainy day and create some of these useful storage jars. Give one to your favorite teacher to cheer up her desk space and keep all of her red pens nearby.
4. Homemade Fusion Macrame Grapevine Pom Pom Wreath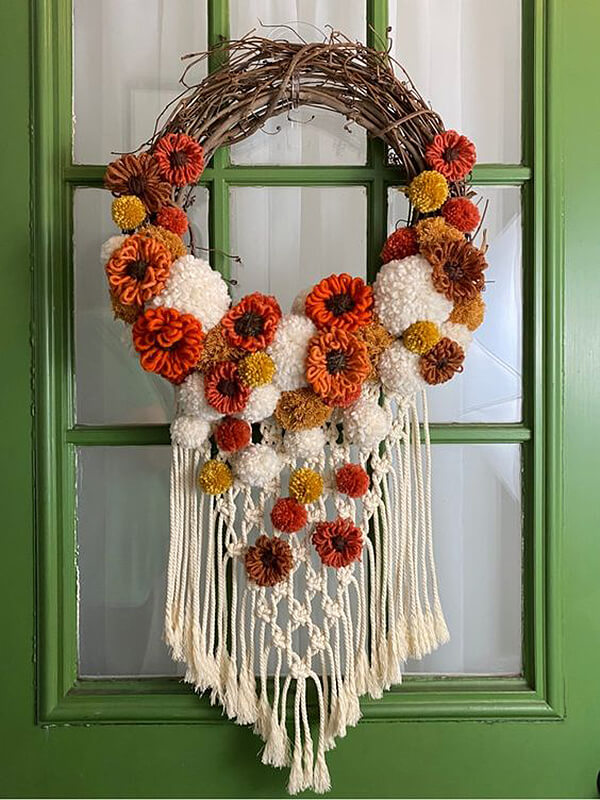 Can't decide on which wreath for your front door? Consider a fusion of your favorites! With a grapevine base, this one-of-a-kind wreath incorporates all of the fun and frugal DIY elements into one masterpiece wreath. The pom-poms cascade down the midway point of the wreath and extend onto the macrame fringe at the bottom. With rich and rustic reds and oranges throughout, this makes a warm and inviting look for the season of fall. Give this lovely creation to that hard-to-buy-for friend who has it all as this is a truly unique wreath gift option.
5. Bright and Beautiful Pom Pom Covered Letters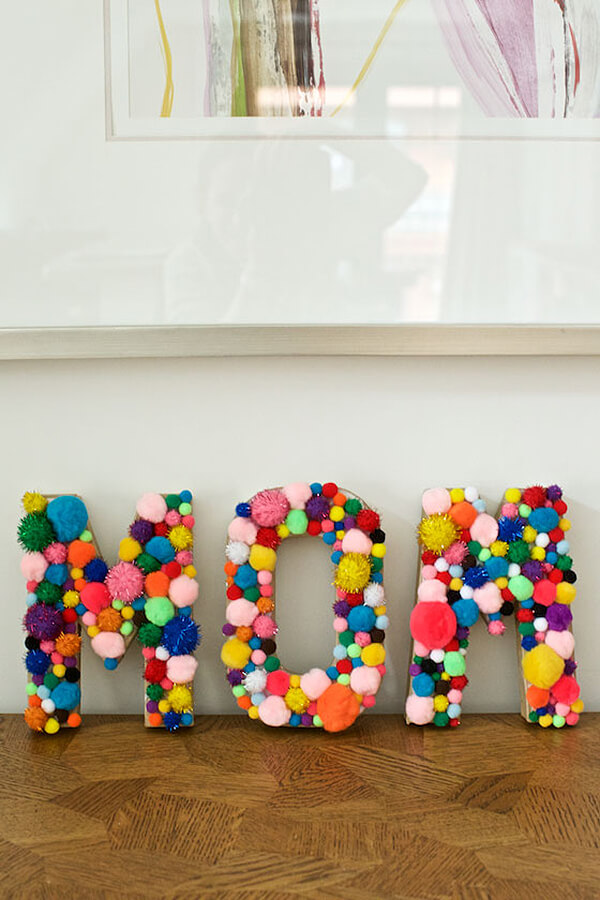 Root for your favorite young lady and cheer her on to an amazing try-out followed by a celebration of her making the cheer squad with these pom-pom covered letters! Use her initials or full name to make an original decoration for her bedroom. Invite the whole squad to create their own customizations as a way to commemorate this special time. The choice is theirs to use a rainbow of colors, their personal favorites, or to express their school spirit with their mascot's iconic colors. No matter the theme of their bedrooms, all girls will enjoy this fluffy and colorful personalized piece to add to their rooms.
6. Feeling Blue Big Pom Pom Small Wreath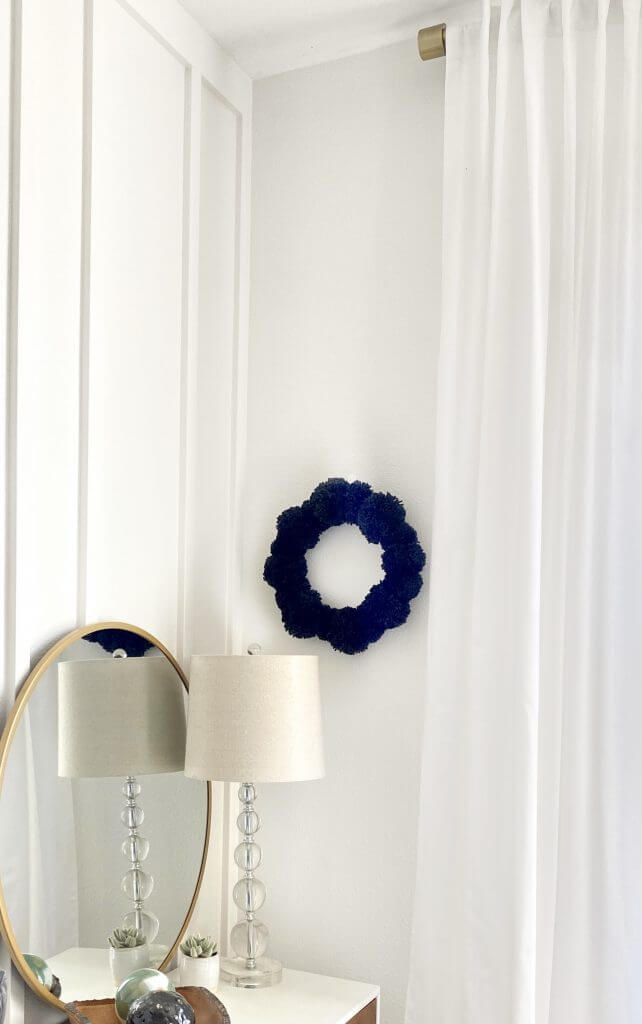 These large and fluffy pom poms show off a rich and luxurious blue hue that's going to be a hit in any room of your home! Arranged in a circle to form a small wreath, you can hang this beauty on the wall or prop it up within a tabletop display. In modern and neutral decor, it gives a subtle hint of color to the room without veering away from the overall look and design. The fun texture makes it a great choice for a kid's space while the use of such an elegant hue makes it a perfect option for grown-ups in the home office or bedroom space.
7. Fluffy and Festive Pom Pom Wreath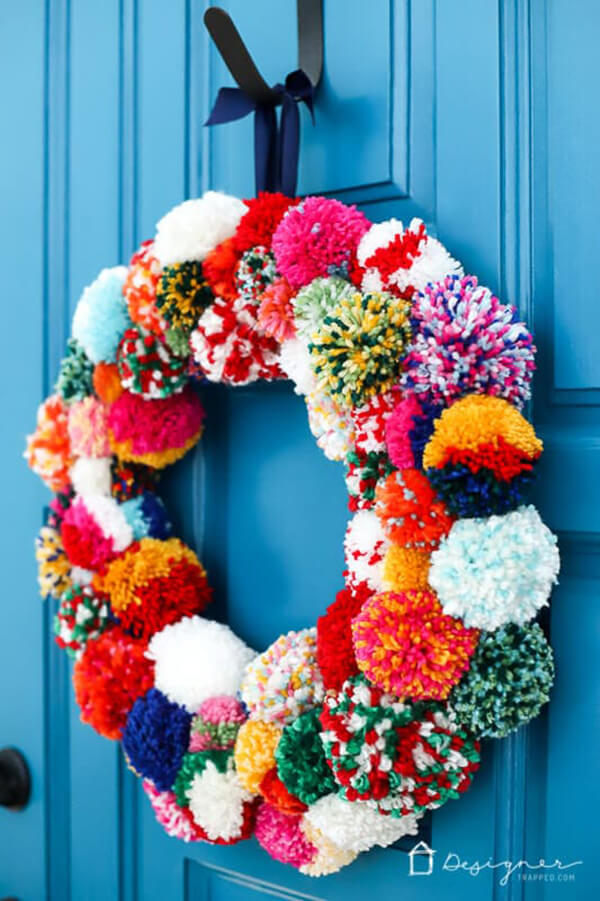 Your front door will be the life of the party with this bright and bold pom-pom art wreath. Featuring every color in the rainbow, the clustered poms burst to life as they are tightly nestled together to form this thick wreath ring. It's an awesome idea for adding some color to your curb appeal for the warmer months to mimic the beautiful colors of the summer's flower garden. This would also be a great look showing off the school colors for a teacher or coach to kick off the school year or upcoming sports season.
8. Three Square Fluffy Pom Pom Pillow Case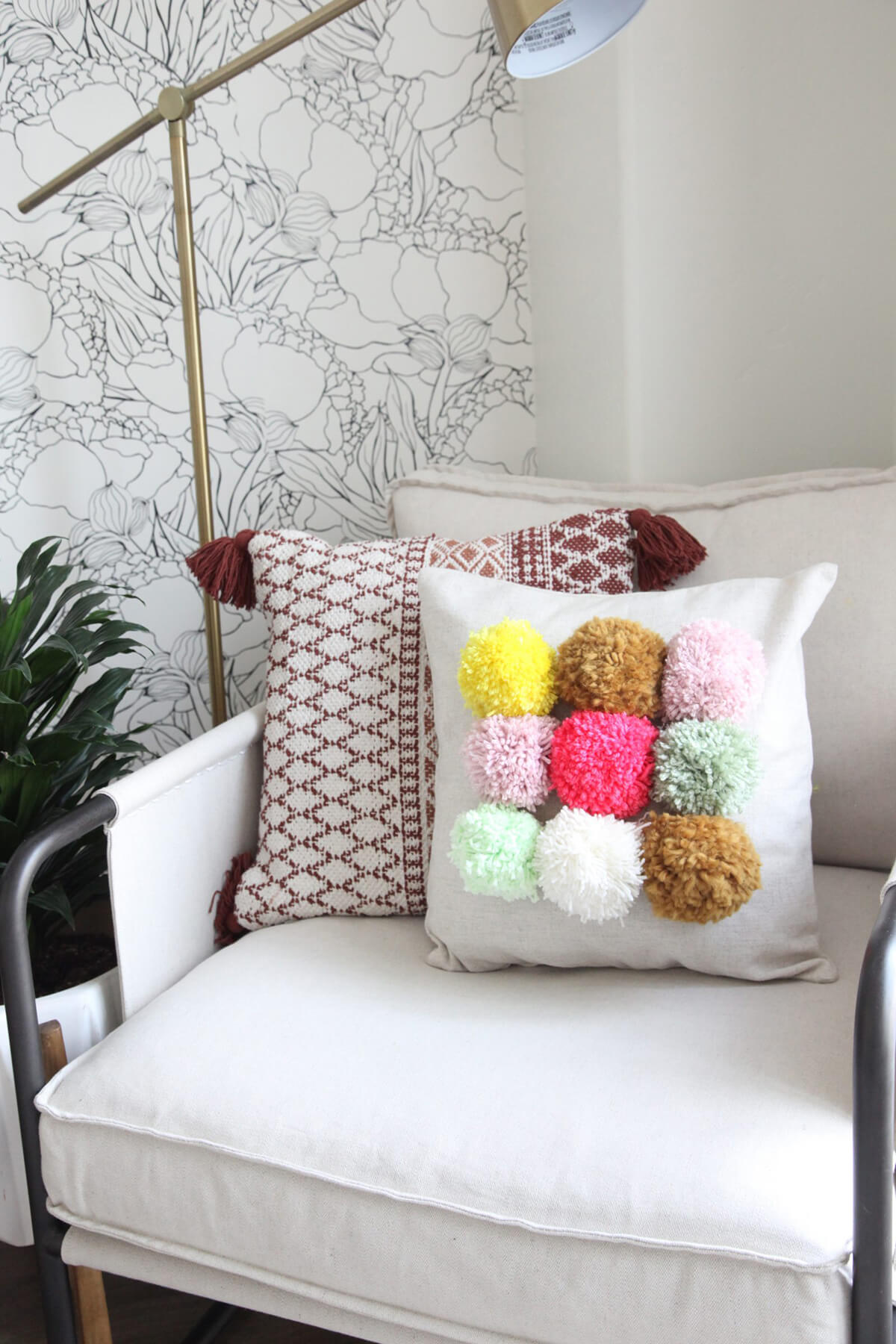 Brighten up a corner of your home by simply adding a new covering to an old pillow. Choose your favorite colors and create this three-by-three square that's reminiscent of a tic-tac-toe board. Nestled closely together, there is still a thick border of the plain pillowcase to give plenty of contrast to add to your finished look. This makes a fun pillow to toss in a chair or add to a teen's bed. No pillow fighting permitted with these cute and creative pom-poms decorations.
9. Pretty Pom Pom Potsticker Bouquet Decorations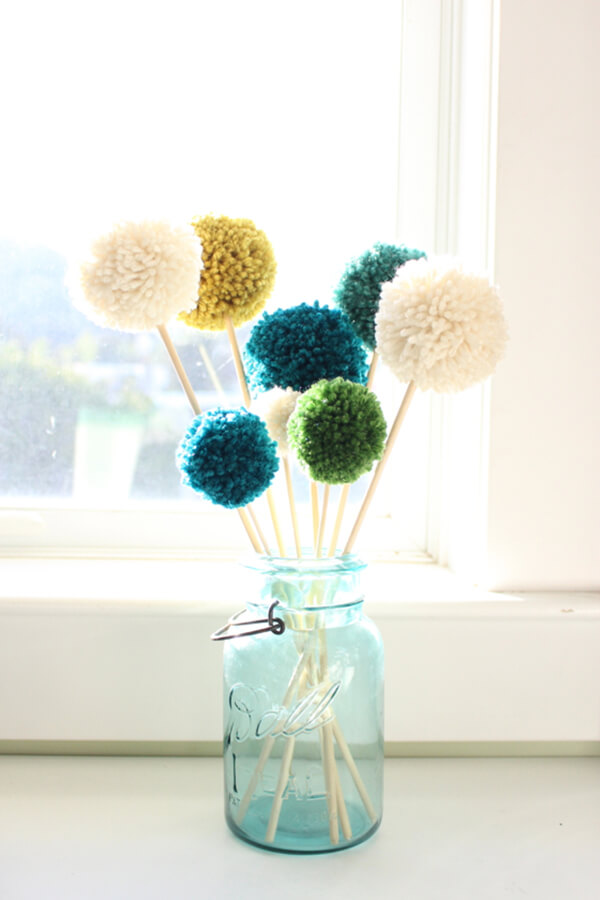 Add a fresh bouquet that won't die with this pretty pom-pom potsticker creation. Attached to kabob sticks, these bright and lively pom poms bring a nice, welcomed addition of color to your home. Mix and match them with the existing color scheme in your room or make them reflect the colors of the season. Corralled in a decorative mason jar, they would look perfect on a windowsill or on top of a side table. And since they are a bouquet, they make a fun and unexpected gift in lieu of a fresh flower arrangement.
10. Pom-Pom Clustered Chair Cushion Carpet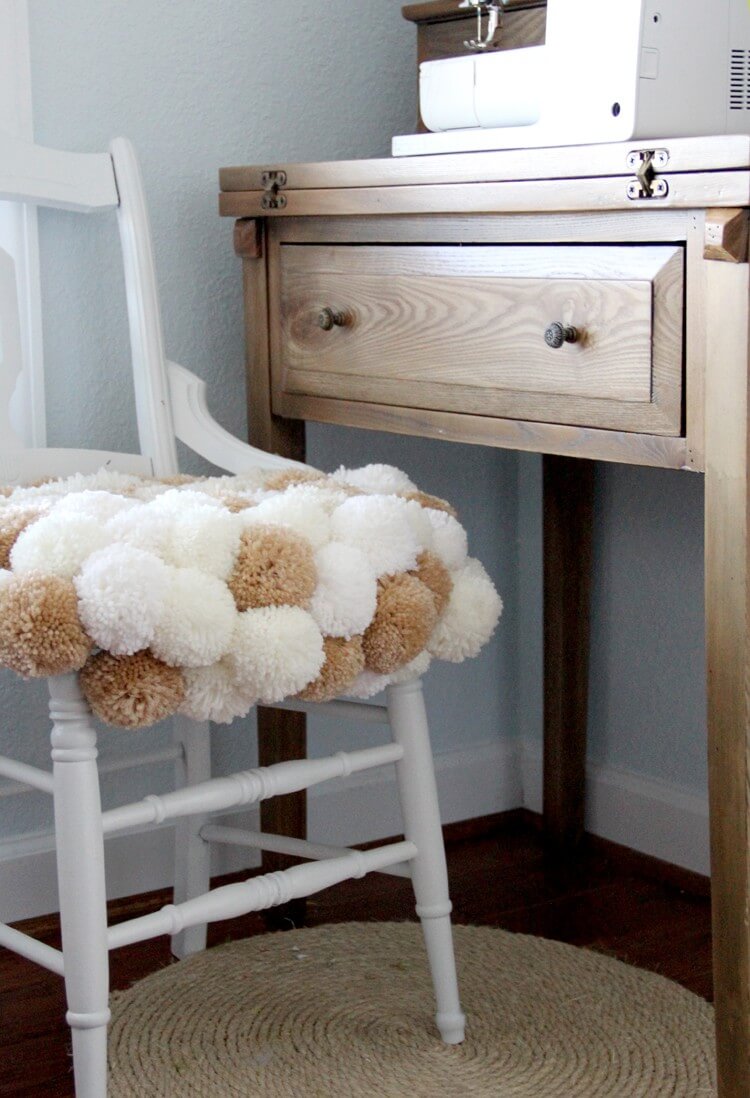 Add some comfort and style at the same time with this clustered chair cushion crafted from a collection of pom-poms. All those long hours spent working from home and completing online assignments deserve a cushy place to rest your tushy. This new pom-pom carpet cushion not only feels nice, but it looks cool and unique for your interior design. It's a great option for a home office and for use at your kid's desk. Stick with neutral tones or rev up the color with a variety of hues to give it a personal and custom touch.
11. Interesting Pom Pom Hanger Wall Art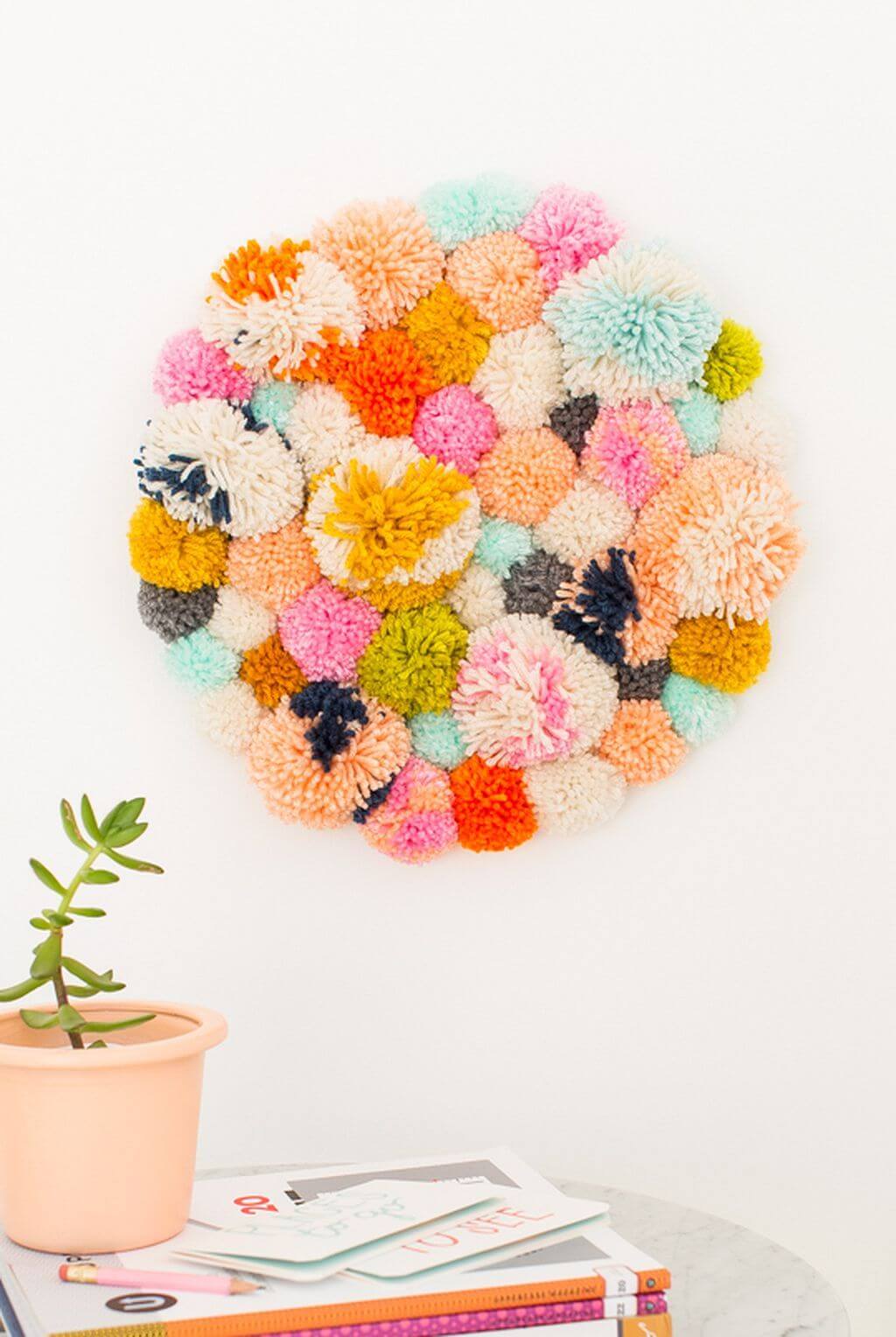 If macrame isn't your thing, you can always create a pom-pom version to incorporate the wall hanging trend into your home. This circular one features a collection of pom-poms in various sizes and color combinations to make it a custom look. I love the idea of splashing some bold color into the main living space or hanging it in the kid zone of your home where it will effortlessly tie together all of the color combinations in the room. It would be a gorgeous nursery decoration especially using a combination of neutrals or classic black and white. Either way, this modern wall art is cheap and easy so grab some yarn and get to work.
12. Fun and Feminine Decorative Pom Pom Storage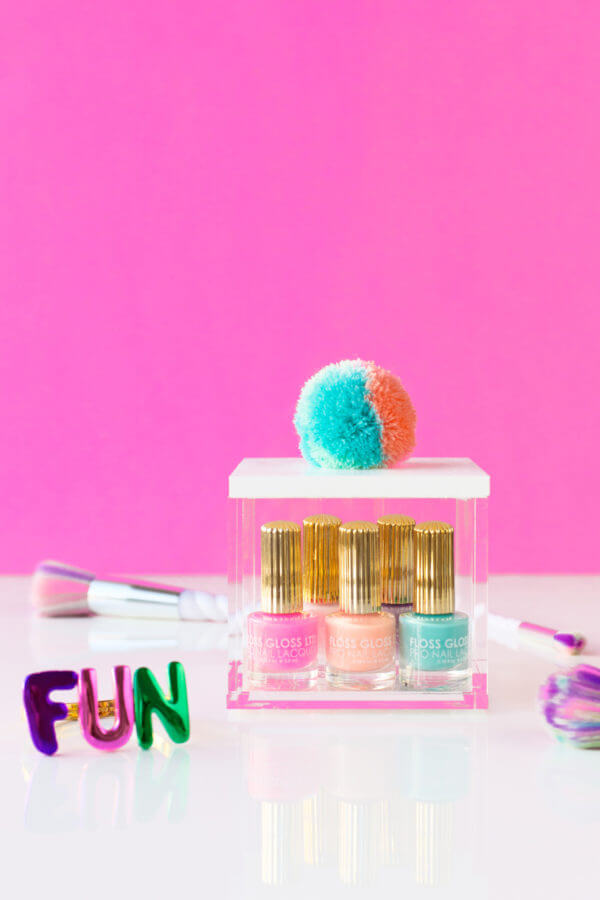 How cute is this super girly nail polish holder? It would be one of the best DIY pom-pom decoration ideas that makes a great gift! Choose five favorite colors of polish to put inside and it's a great birthday gift or favor if you're hosting a party. The clear container shows off the gorgeous colors while the pom-pom attached to the lid complements so well. It would look so cool sitting on a vanity in a teen or preteen's bedroom or even in a grown-up master bath!
13. Decorative Pom Pom String Garland Home Decor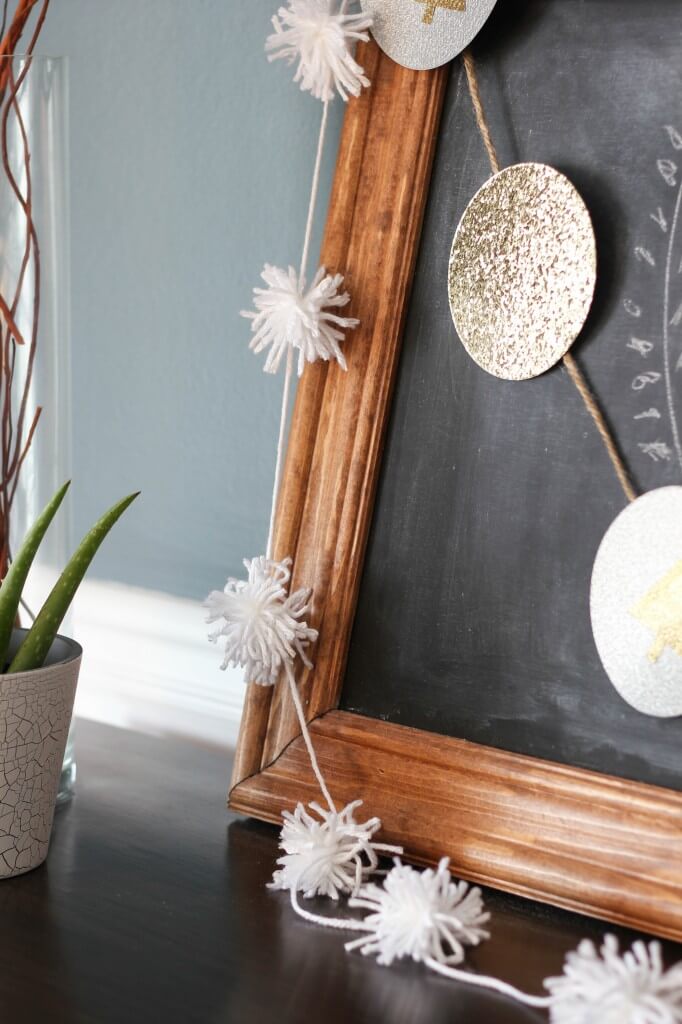 Light and airy, this white pom-pom string garland is a home accent that works in so many ways. Drape it on the mantle with your existing display, hang it over a large piece of wall art, or use it as an embellishment on your window coverings. You could even wrap it around your Christmas tree to complement your popcorn garland. The simple design and single-use of color make this a fun choice for shabby chic, farmhouse, or modern decor alike.
14. Dress Up the Window with Pom Poms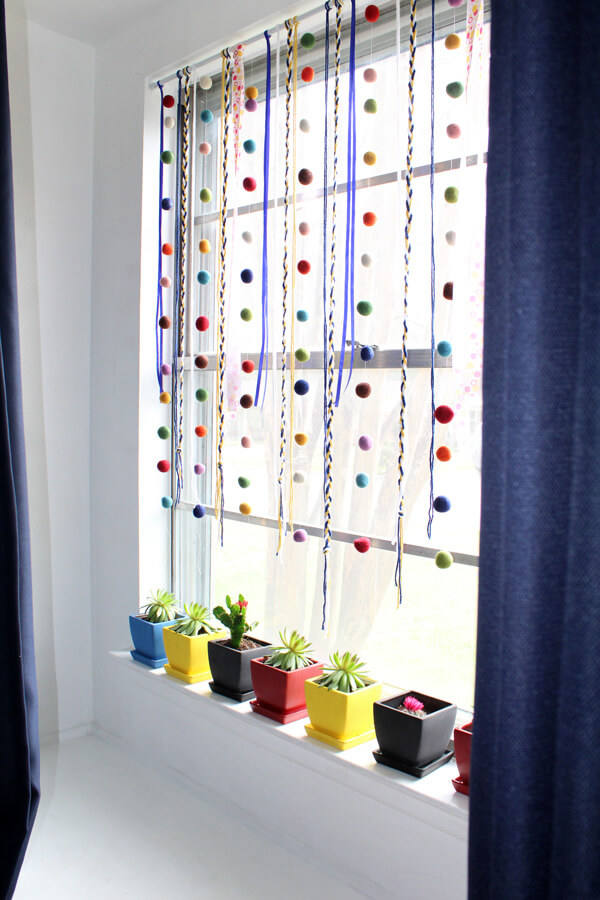 Decorate the forgotten space of your window with these streamers of pom-poms. Set off with a braided yarn rope in between them, these DIY pom poms are a fun way to bring a lot of color and character into a kid's room. They would also look fabulous lining the window of a classroom at school or church. With a simple design, these pom poms are suspended in mid-air to create a cool illusion as they jazz up your window.
15. Kid-Friendly Pom Pom DIY Photo Ornaments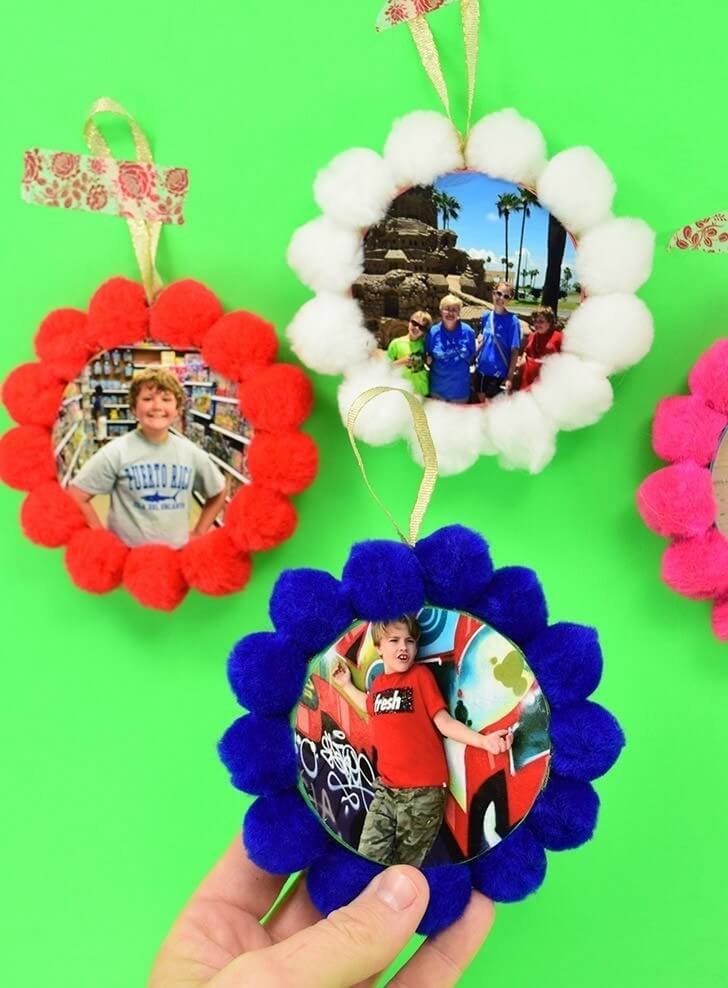 Here is an awesome idea for keeping boredom at bay and making a great gift at the same time! These kid-friendly, and mother-approved, photo ornaments are some of the best DIY pom-pom decoration ideas that work for everyday or special occasions. Consider red and green for crafting ornaments for the Christmas tree. This would be an amazing time saver when the kids are eagerly awaiting the arrival of Santa. Maybe your family really loves Halloween. Why not take an old tree branch to make a spooky holiday tree that holds your collection of these pom-pom art expressions that feature the kids dressed in their favorite costumes?
16. Pom Pom Tassel Shabby Chic Thin Throw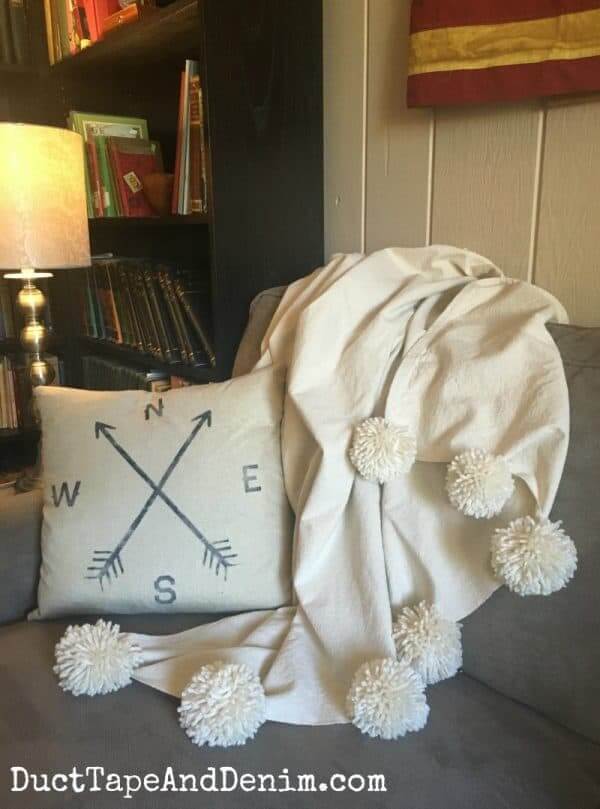 When you're maintaining a neutral color palette throughout your home, don't let it become drab. Be sure to include lots and lots of texture to liven up the look. One easy way to do that is with these simple DIY pom poms that are added to the bottom of a throw to form an interesting and fluffy new tassel. Pom-Pom decor doesn't have to be frilly or girly; it simply is there to add a textural element to a plain space. Spread this blanket on the side of your sofa to show off these plush yarn balls.
17. Somewhere Over the Rainbow Pom Pom Blanket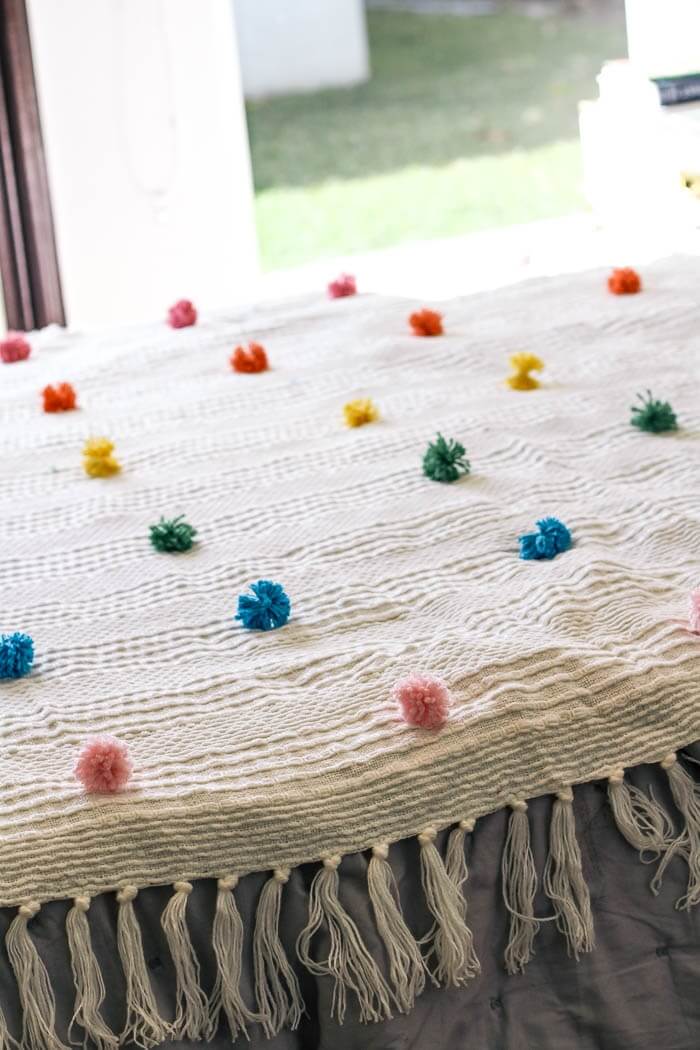 Infuse some life into a tired throw by adding some pom poms! Just like a blank canvas, this ho-hum plain blanket is the perfect backdrop for carefully arranged pom-pom rows that flow in a rainbow-hued formation. Your new creation works wonderfully as a refreshing duvet on the bed, yet would look comfortable draped over the back of your relaxing reading chair. The simplicity of the design with the bright splash of color allows this look to work in both the rooms of the young and young at heart.
18. Large and Fluffy Multi-Colored Pom Pom Throw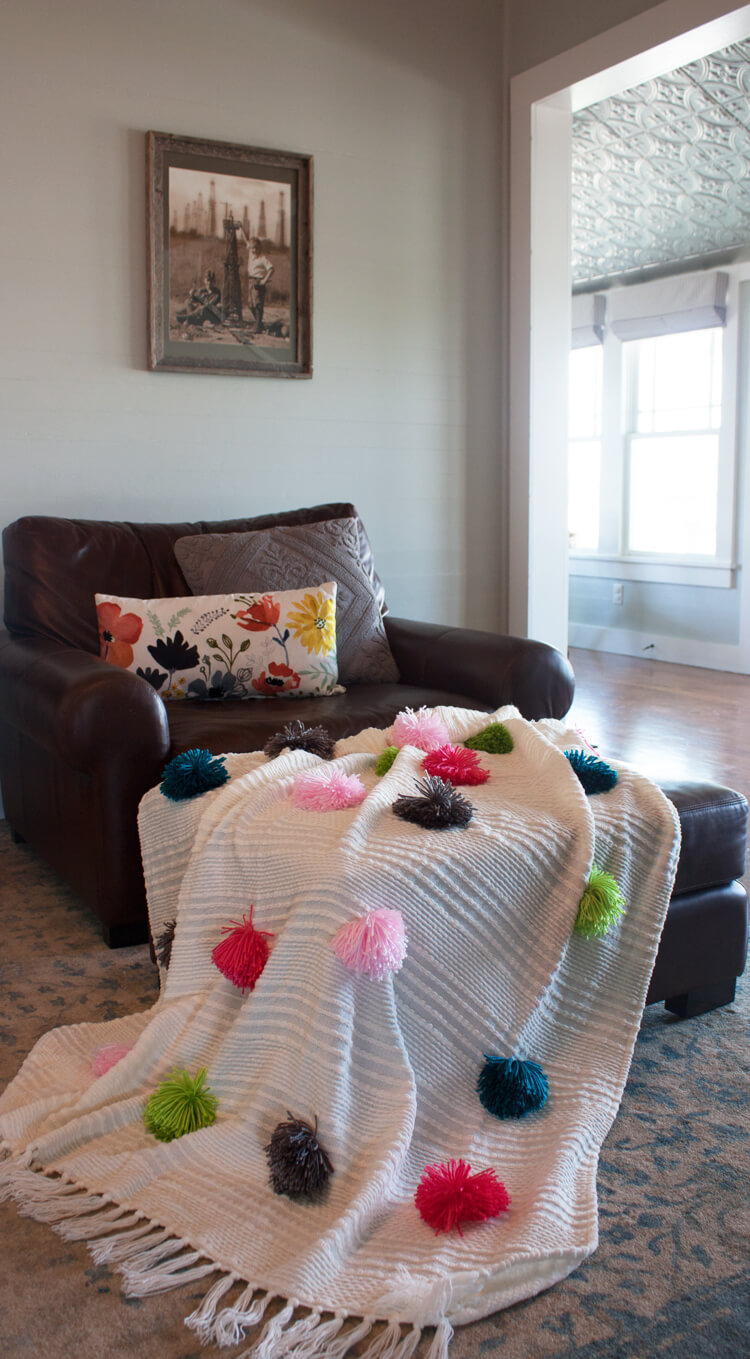 Give your classic white throw a fun and festive update with these big and bushy pom poms. In your neutral home, the bright and bold pops of color will spice up your decor. Kids of all ages will enjoy touching these fluffy, colorful balls. To coordinate the look, add a few to a plain pillowcase and tie the entire room together. If multi-colored isn't your taste, consider using several shades of green and blue for a sea-colored, more natural look.
19. Yarn Wrapped Napkin Ring with Pom Pom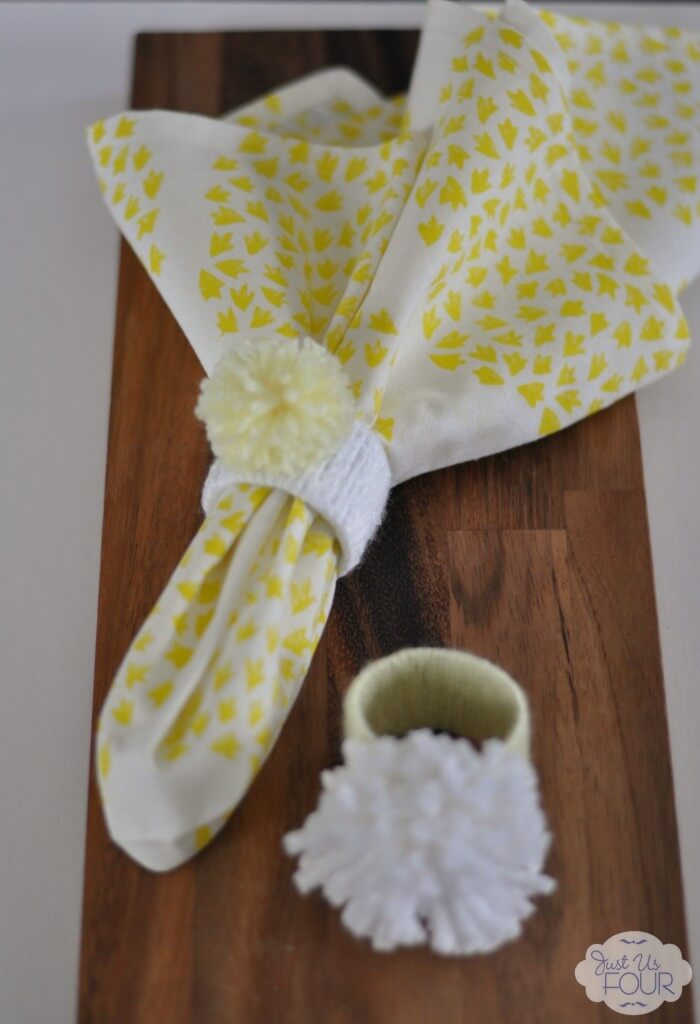 Sometimes finding the perfect napkin ring for everyday use is hard, but not when you create this easy DIY pom-pom art yourself. After wrapping the ring with yarn, keep the texture flowing as you attach a single pom-pom to the top. It adds charm and character without all the frills of a dinner party or holiday meal. Gather the kids to help in creating these frugal finds for the dining room table. Each place setting will feel the love of these fuzzy and fluffy embellished napkin rings.
20. Glorious Goldenrod Pom Pom Flower Bouquet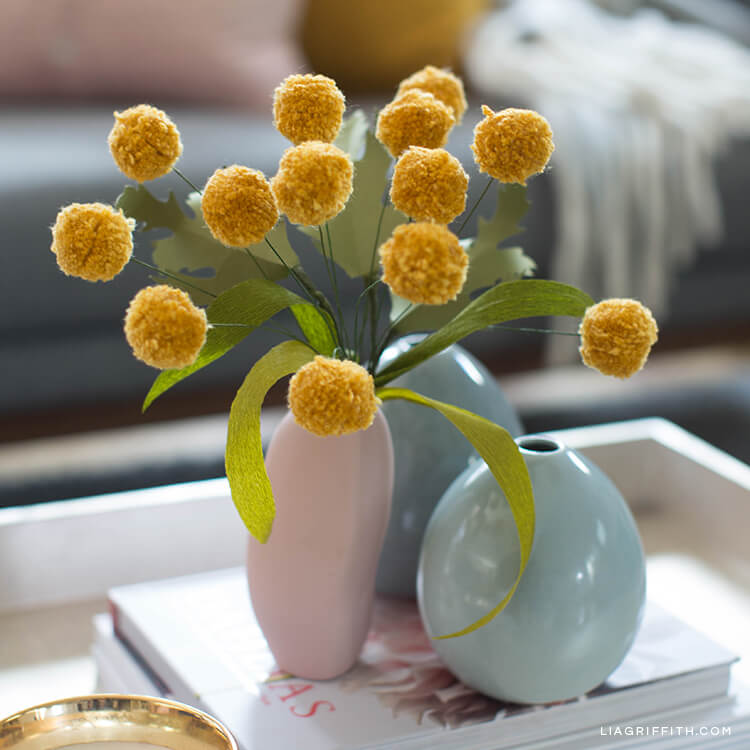 From the moment you display this flower bouquet in your home, it will become quite the conversation piece as friends and family admire its unique beauty and inquire about it. Bouquets of flowers are a staple in home decorating, so make one that harbors your original spirit with the charm and character of these pom-pom flower creations. Choosing a rich and bold goldenrod yellow makes them really pop while blending into any existing color palette in your decor. This would be a fun project to enjoy with your own kids or as part of 4-H or scouting activities. The end result is a nice and original gift they've created on their own.
21. We All Scream for Ice Cream Garland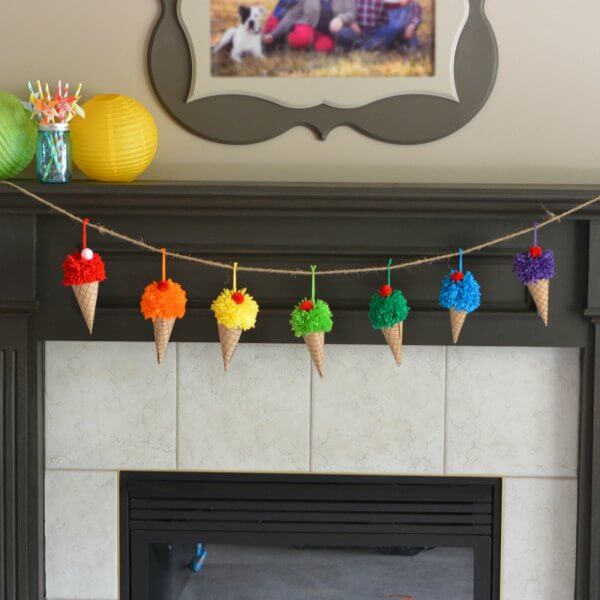 Make your ice cream social the event of the summer featuring these super cute pom poms decorations and colorful garlands. Stretched across your mantle or over the doorway, you are about to embark on a brain freeze extravaganza! Each cone features a unique color pom-pom to create the ice cream flavor of your choice. Use the full spectrum of the rainbow, go with a simple Neapolitan display, or choose your favorite flavors to showcase. At a birthday party, this would be an amazing activity for the kids to make and take home as a party favor!
Add Some Spirit to Your Home with Pom Pom Decor
At the end of the day, it's always fun to dream of new spaces and ways to makeover your home. Why not tackle one of the amazing ideas above to turn that into a reality? Grab a friend to make pom-pom DIY projects fun and quick. You'll enjoy yourself, give yourself a mental break from work, and produce more pom poms in the end.
Start with a goal in mind. Have you had your eye on an amazing piece of overpriced wall art? Or do you need some festive embellishments for your cozy throw? Whatever the case, decide on a project and get to work.
Of course, kids will love helping with these best DIY pom-pom decoration ideas too, so don't hesitate in having them join in! The pom-pom bordered photo ornaments are sure to be a hit as fun crafts and lovable gift ideas. Strands of pom-poms hanging from the window add instant charm and happiness to any kid's space.
Everyone will fight over your pom-pom tasseled throw and pom-pom accented pillow, so be sure to make more than one! They look fun and fabulous on the sofa or arranged at the head of the bed. Or give the gift of your pom-pom creations in a mason jar vase as an everlasting bouquet that's both practical and pretty! No matter which cool DIY pom-pom project you tackle, you'll have fun and be pleased with your finished product.