The best DIY rainbow crafts can make certain that your home is always filled with color and brightness.
Whenever you seek a crafting project that is fun and carefree, rainbows are always a good choice. There is a multitude of colors within it that helps you match whatever you create to any room in the home. Perhaps you wish to spruce up a living room? Maybe your kitchen is in desperate need of some brightness on the walls? Or maybe you are aiming to lighten up a child's bedroom or a nursery with these stunning colors? Thankfully, a rainbow is a versatile theme to work with, so you are never limited to where you want to go.
Gorgeous DIY Rainbow Crafts for Fun Home Decorations

As you decide on a location, the hard part comes in figuring out what exactly you want to create. There are several ways you can go about decorating with rainbows. Make rainbow-themed letters to hang out to spell a cute saying or a child's name. This goes well on a wall above a bed or a couch. You can always create a doormat or a rug if you want to focus on decorating your flooring as well. A wreath is another excellent choice as wreaths are always go-to DIY projects seeing as you can do anything with them.
When you are deciding on a project, remember that you don't always have to go with the traditional rainbow colors either. Of course, those colors are appealing and vibrant, able to create a splash and snatch attention. However, if you don't want those colors or if they simply do not blend well into the room you are decorating, then consider a different set of tones. As long as you go the multi-color route, any collection of colors will leave you with that rainbow theme.
So, if you are ready to start pulling ideas, take a look at our favorite selection of handmade rainbow craft projects.
1. Oversized DIY Rainbow Door Wreath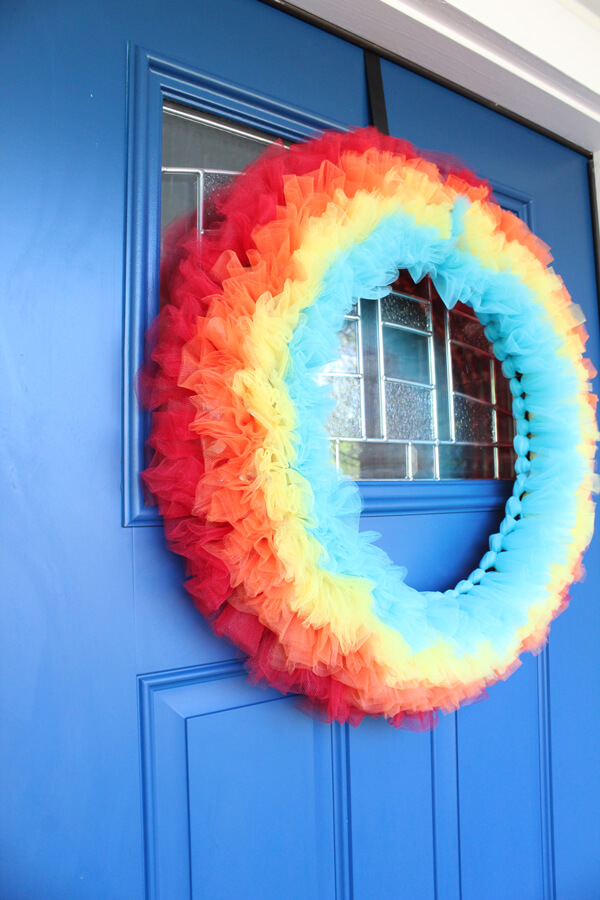 Looking for something different to hang up on your door? This rainbow wreath is a wonderful way to go about it. Only a handful of colors are used, but they are more than capable of capturing attention and never letting it go.
2. DIY Rainbow Wall Art Decoration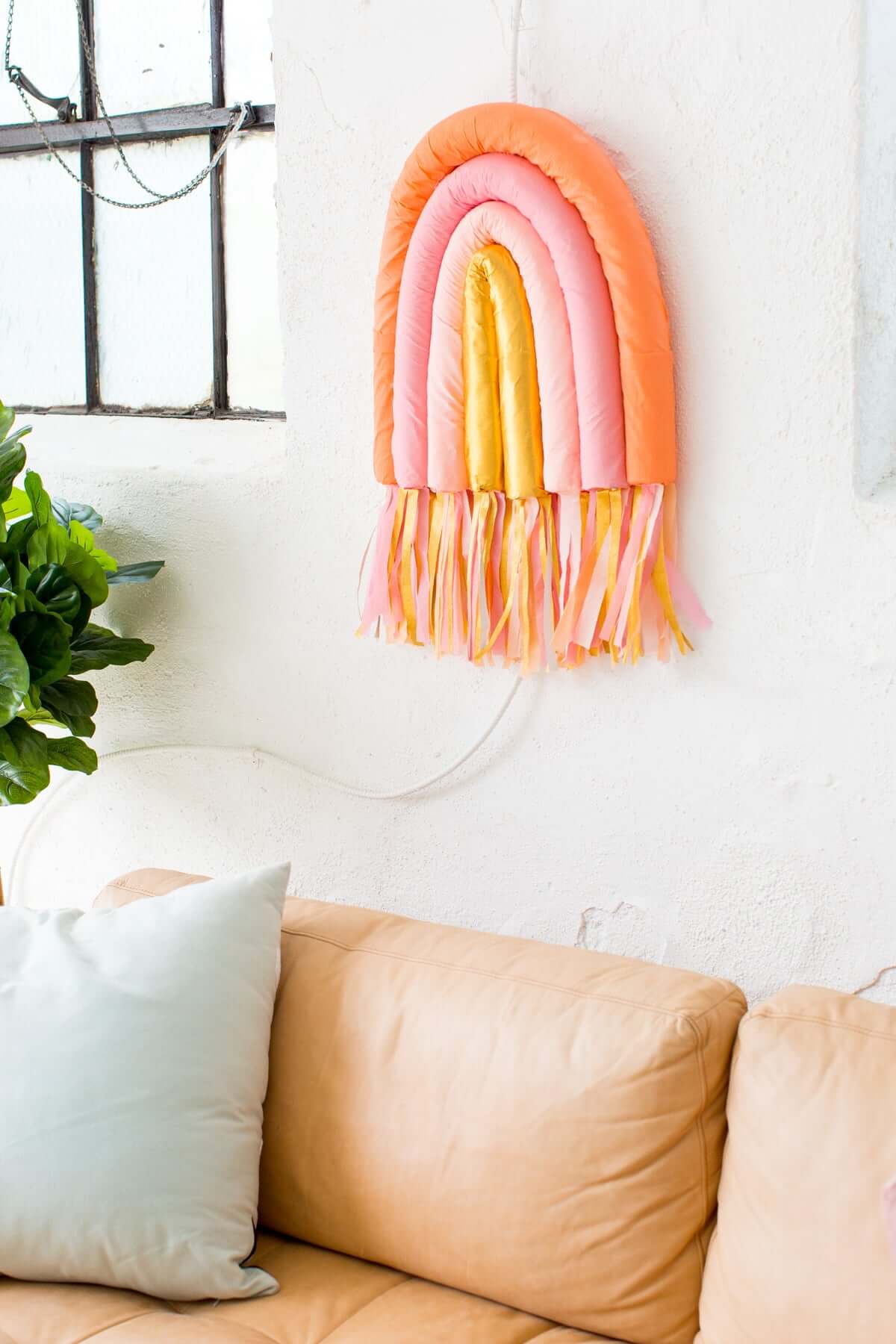 Whenever any wall is in need of some love, a rainbow crafting project like this is a wonderful solution. It is large enough to take up plenty of space, and when used against a white or lighter backdrop, the rainbow truly shines.
3. Fun Rainbow Wall Hanging Design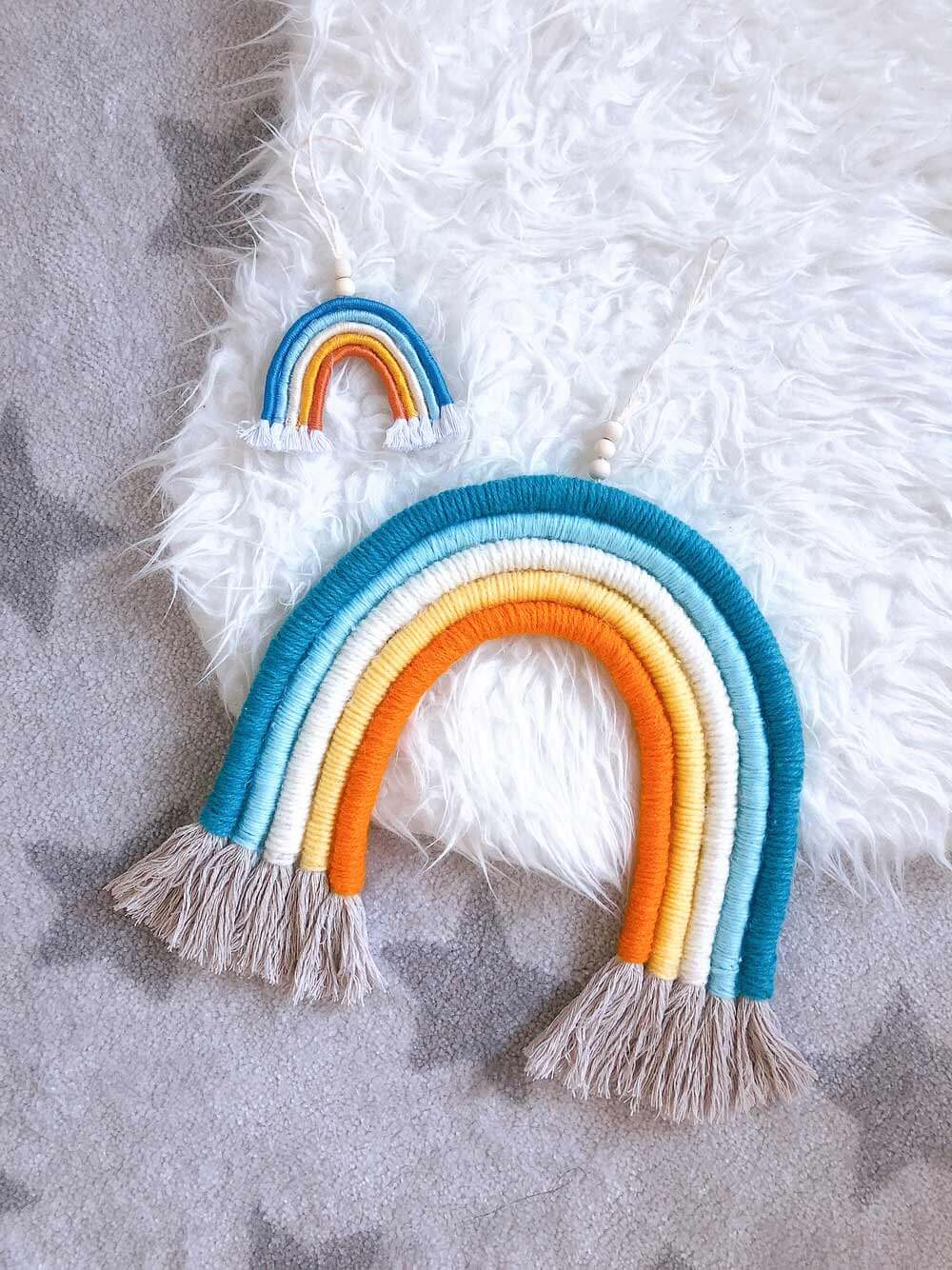 Ready to hang up some decor? Then this rainbow wall hanging is a perfect choice. It does not use all the colors, but there is enough to make the theme and leave an impression. Also, you can make this as small or as big as you'd like, freeing you up for more creativity.
4. Handmade Latch Hook Rainbow Wall Hanging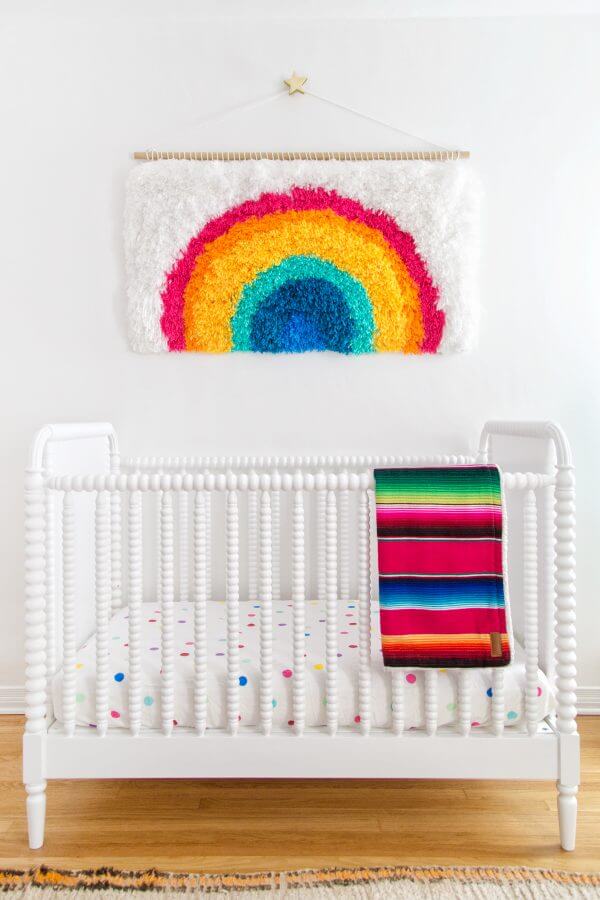 It is possible to create stunning works of art with a latch hook. That is true for a rainbow as well. This can easily liven up any space you hang this in. Against the white background, the rainbow better stands out too, appearing vivid and full of life.
5. Handmade DIY Rainbow Circle Shelf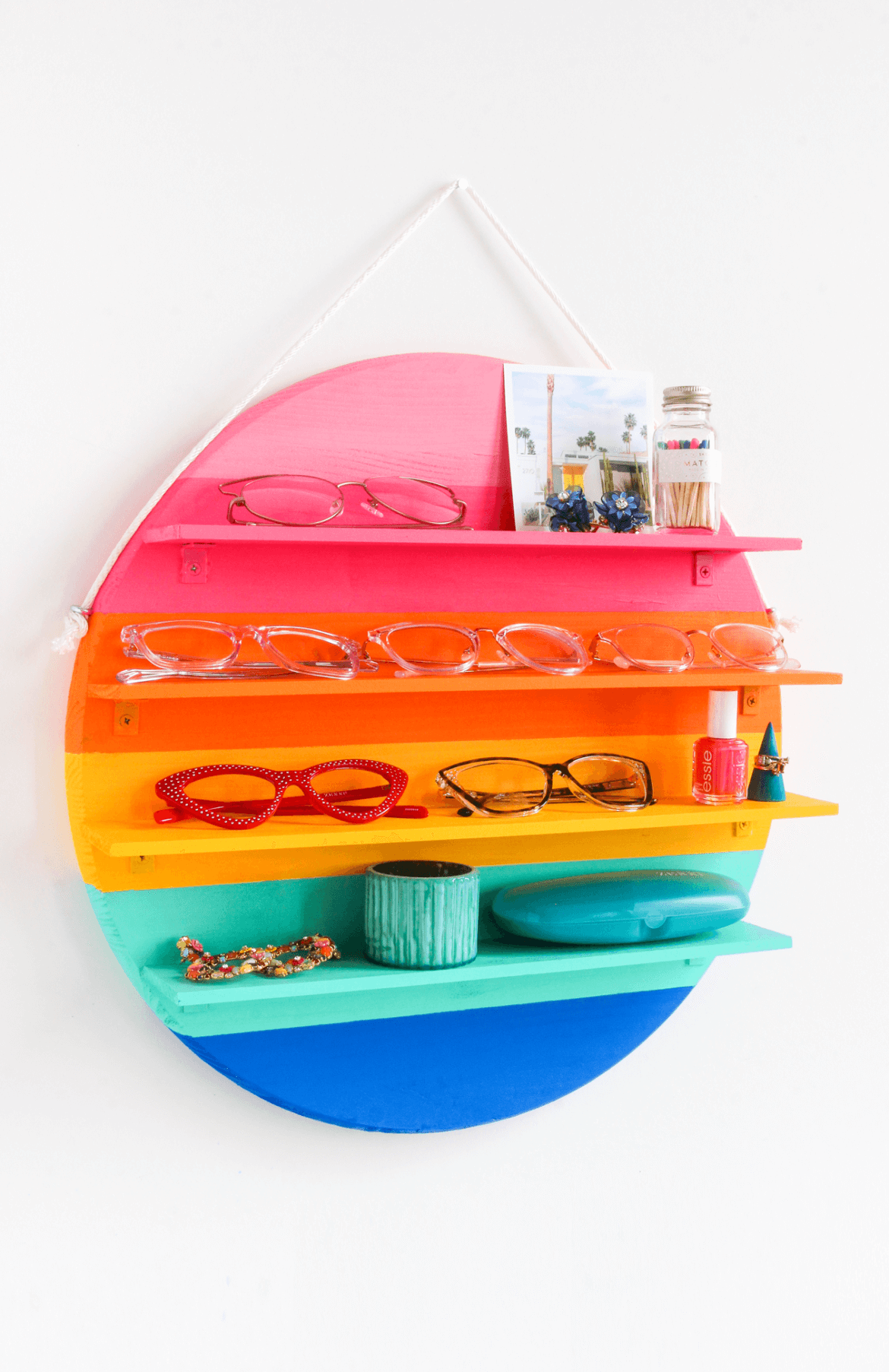 Some of the best decoration is functional to the point that you can use them every day. If you need a place to store things on the wall, why not do it in style with this rainbow circle wall shelf? It is great for smaller items while adding some color to the room at the same time.
6. DIY Yarn Fringe Pendant Light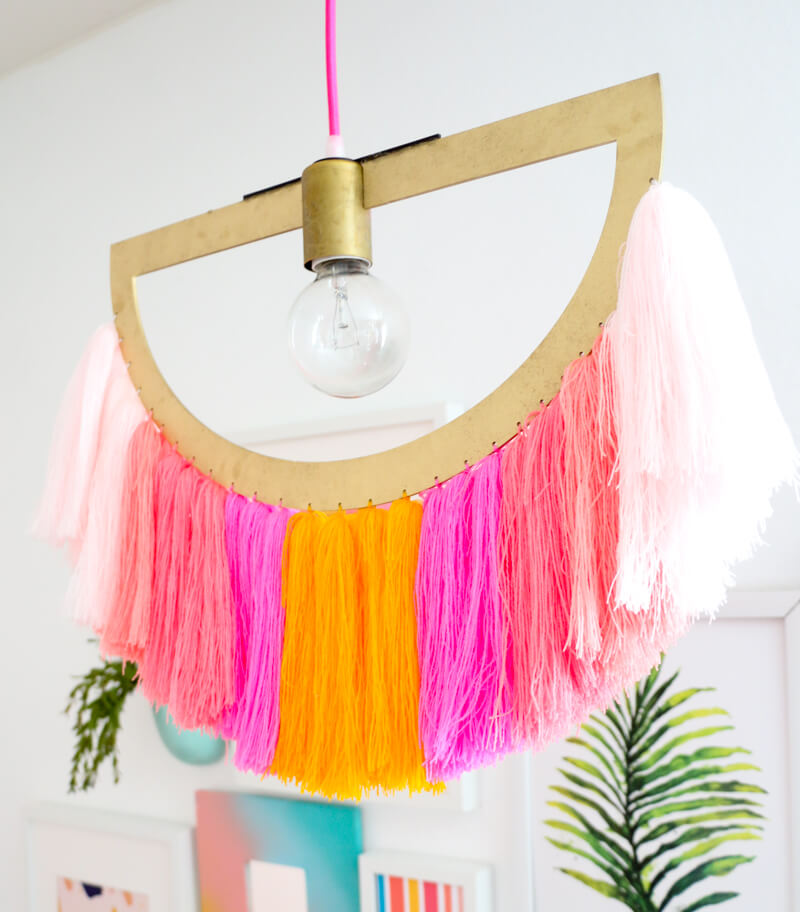 Some of the best DIY rainbow crafts focus on an area you may not think of. Take this pendant light, for example. The rainbow fringe adds some color to your light fixture. Also, with it being so close to the light, the rainbow will shine anytime it is on.
7. Upcycled Napkin Holder Rainbow Décor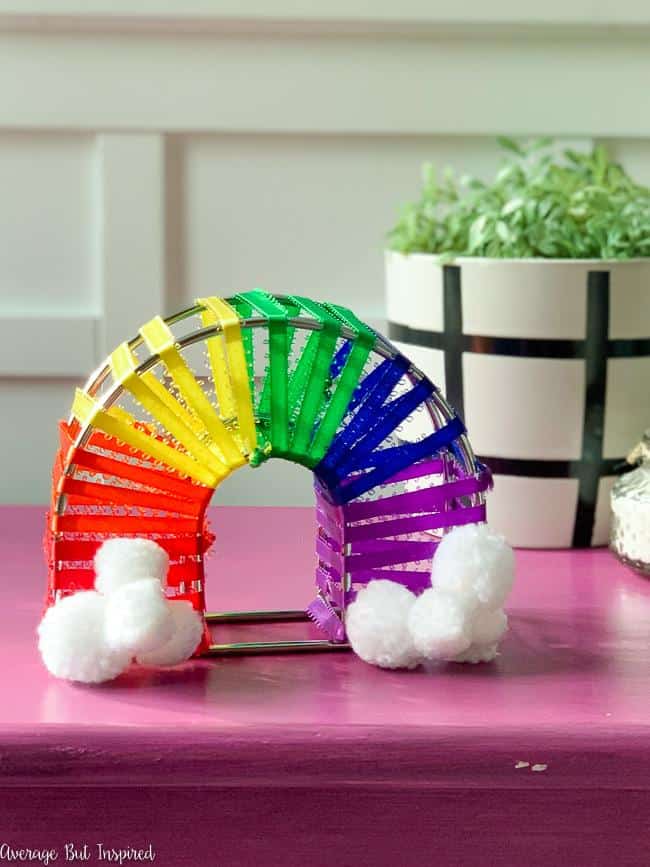 Upcycling a napkin holder you can find at a dollar store is a cool way to create affordable crafts that end up looking more expensive than they are. Additionally, this rainbow is an ideal way to add some depth to your decor thanks to its 3D layout.
8. Sweet DIY Rainbow Windsock Craft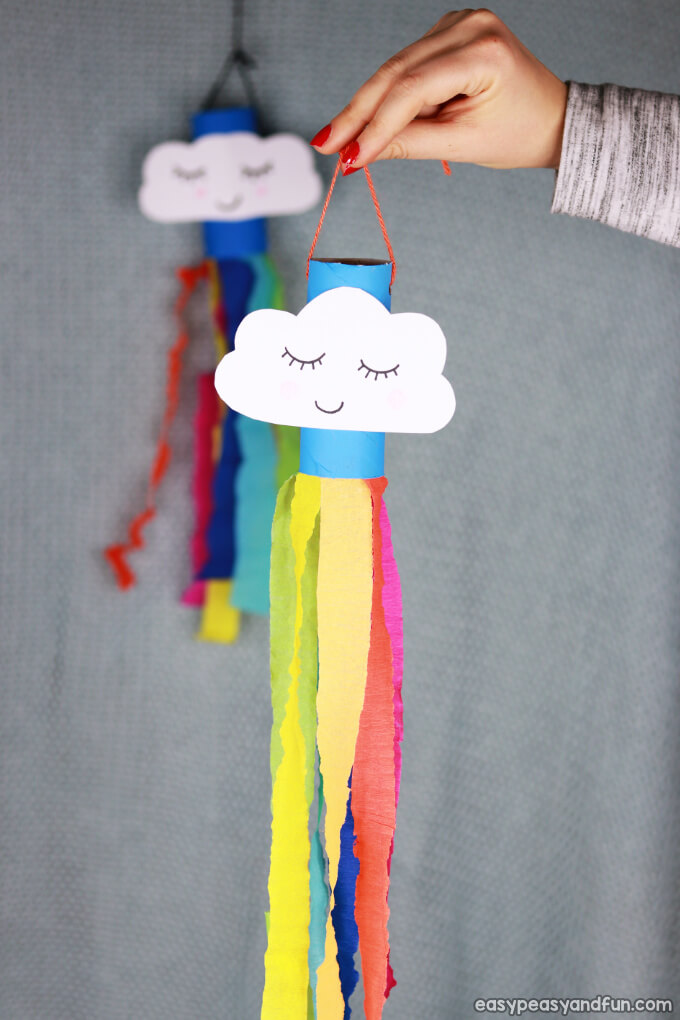 Want something to take out on a windy day with the kids? Then this windsock is the perfect rainbow crafting project. Not only does it recycle toilet paper rolls, but it leaves behind something cute and fun the kids will love.
9. Beautiful DIY Large Scale Wall Rainbow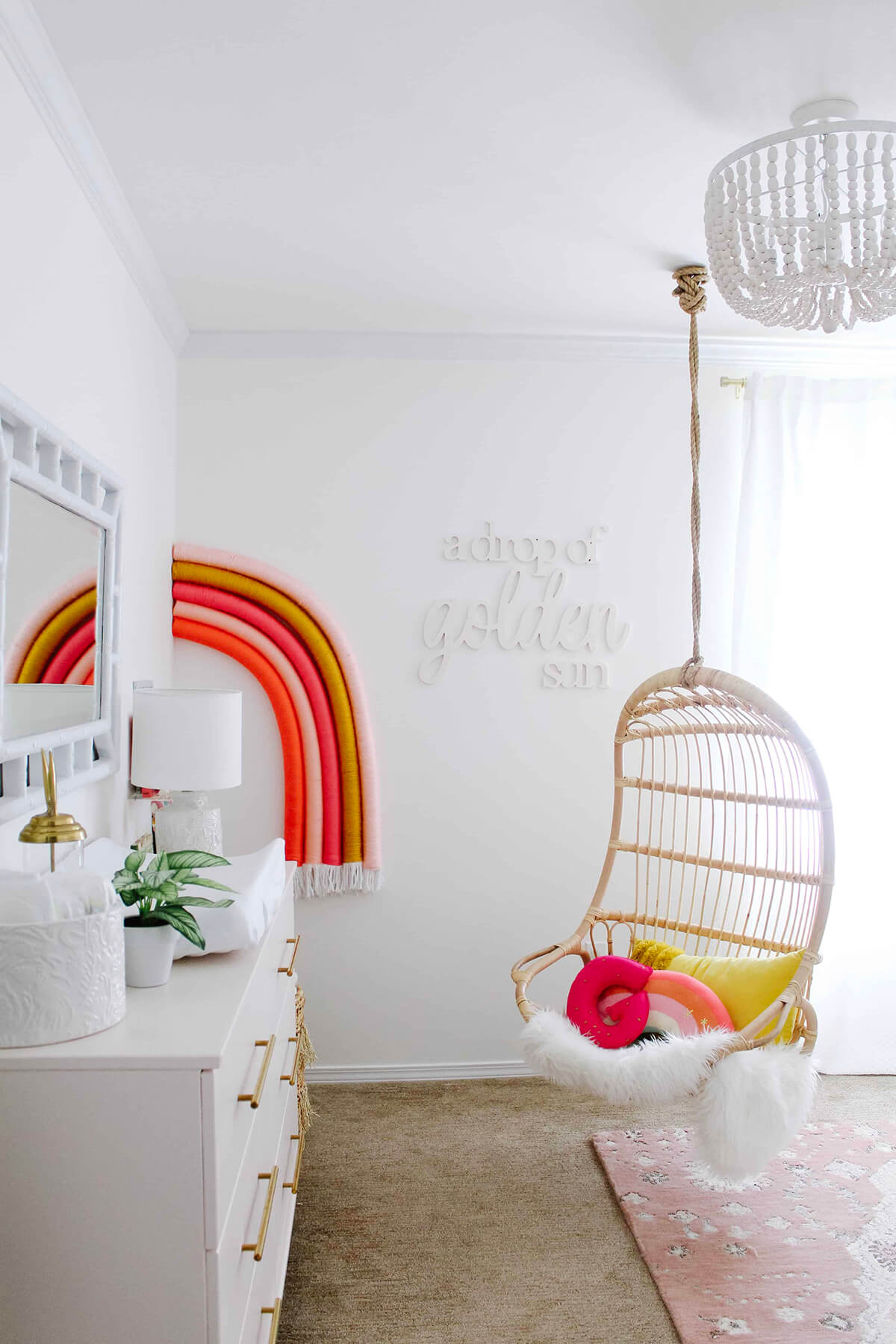 Is there a large, empty spot on the wall begging to be filled? Well, why not fill it with this large, half-rainbow? Using whatever set of colors you wish, this homemade rainbow decor effortlessly stands out and makes a bold and loud statement.
10. Contemporary DIY Rainbow Wall Art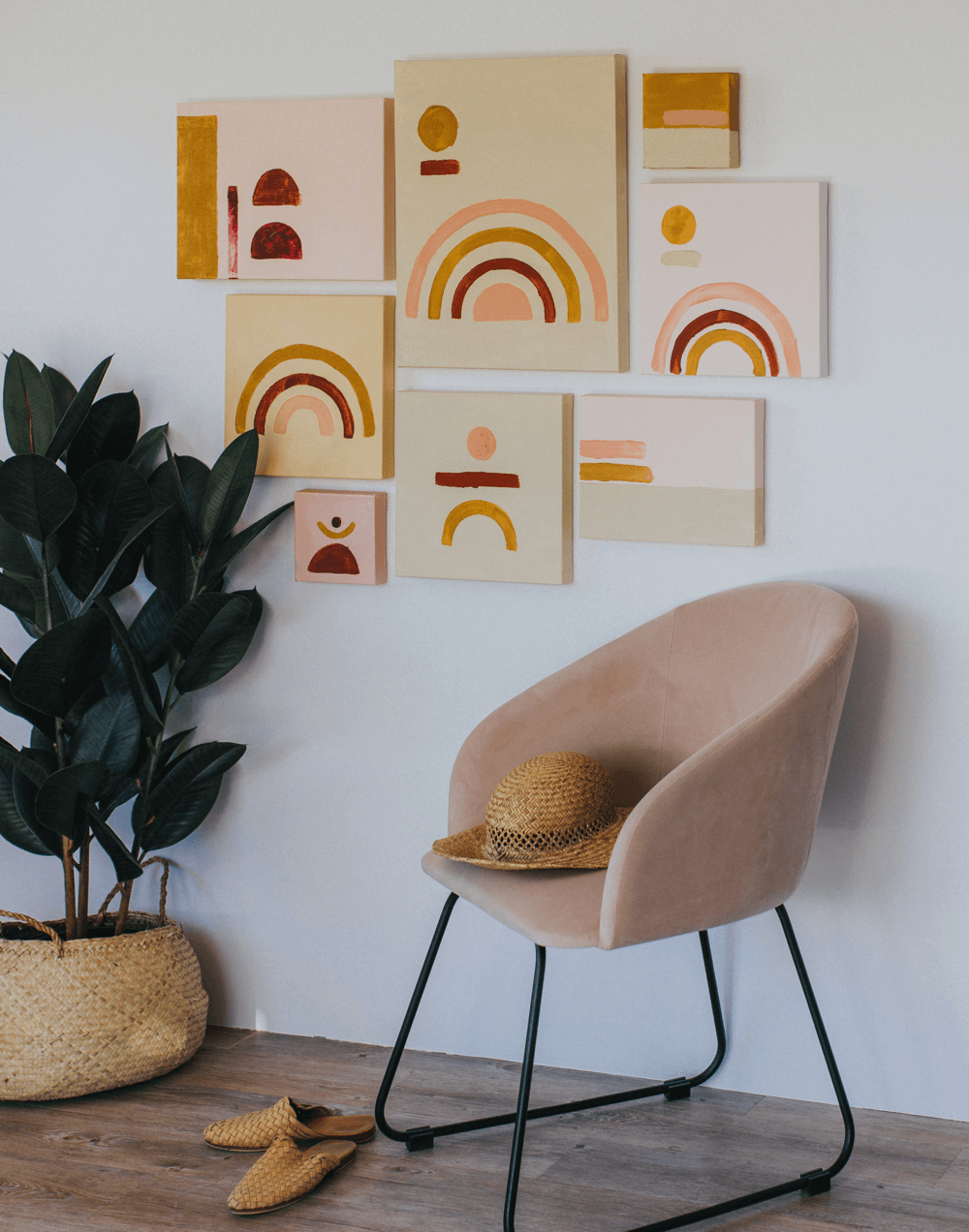 Aiming for that more contemporary or modern approach? Then this living room wall art is the route for you. It allows you to use homemade rainbow decor in a distinctive way as this opts for the use of muted color tones rather than bright and bold ones.
11. Knitted DIY Rainbow Wall Art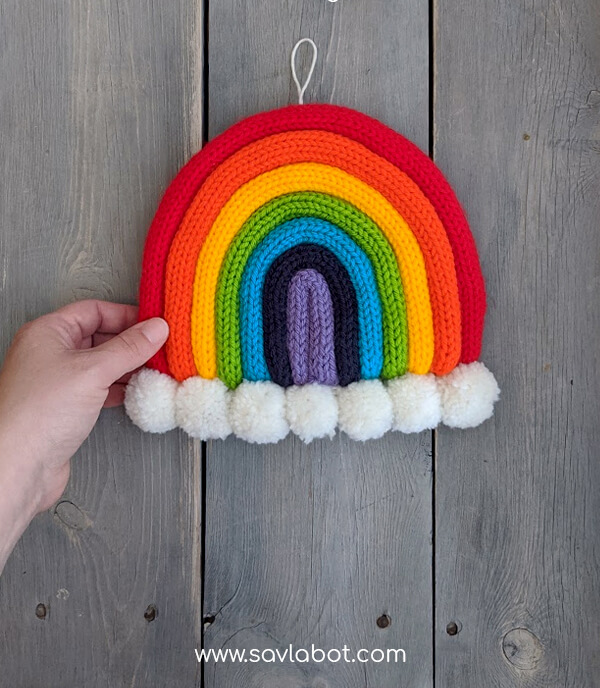 With some knitting, you can create a compelling work of wall art in the style of a rainbow with clouds on the bottom. The colors are all bold, while the clouds add a different sort of texture to the piece to break things up a bit.
12. Fun Rainbow Pom-Pom Letter Decoration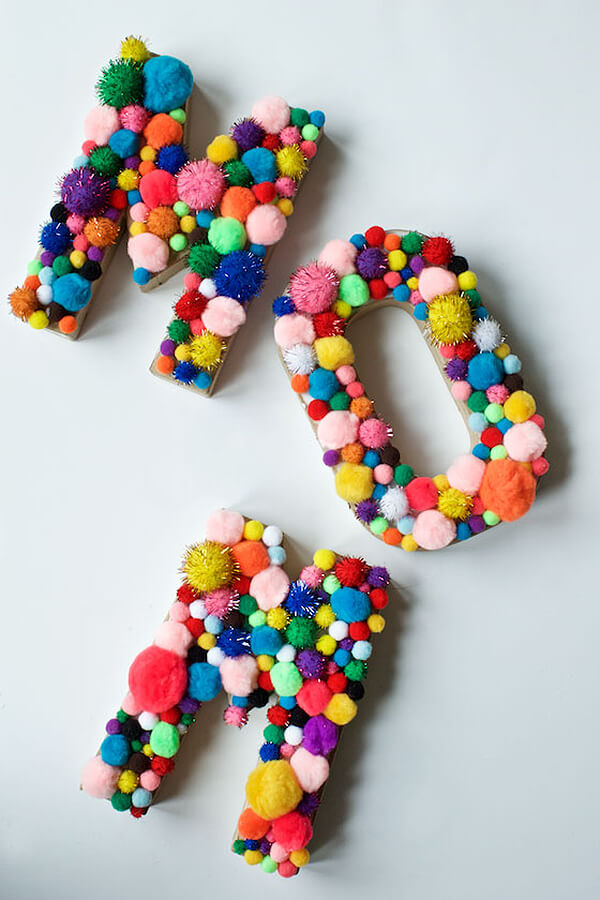 Enhance your letter decorations with these adorable pom-poms. Not only does the color variety allow the letters to stand out, but the fact that the pom-poms are varied in terms of size too helps create a sense of flow within the piece.
13. Cricut Joy Rainbow Decor Design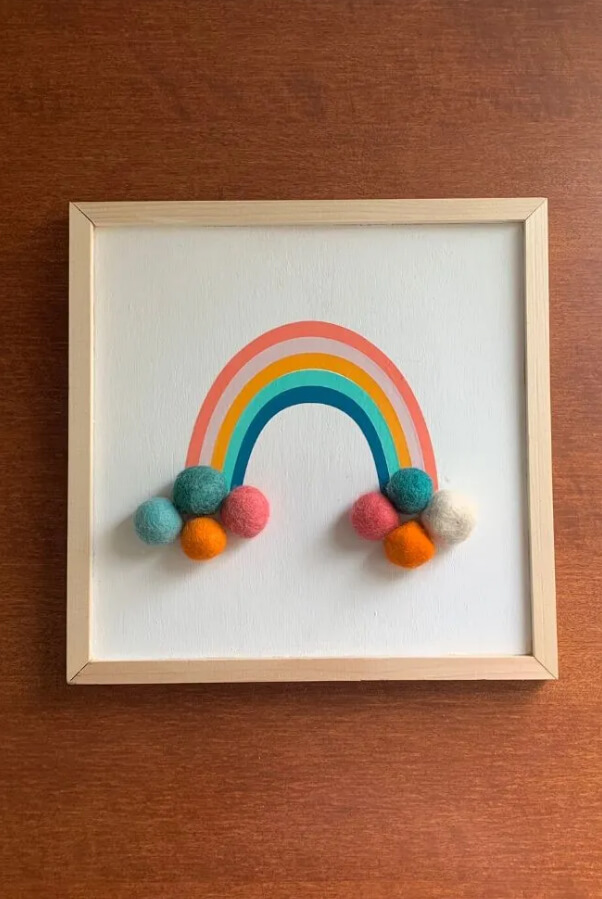 With some Cricut vinyl, you can make an artistic and creative rainbow-themed art decoration. This works out well whether used in the main room in the home or in a child's room. Finally, the pom-poms round it all out.
14. Rainbow Painted Wall Letters Design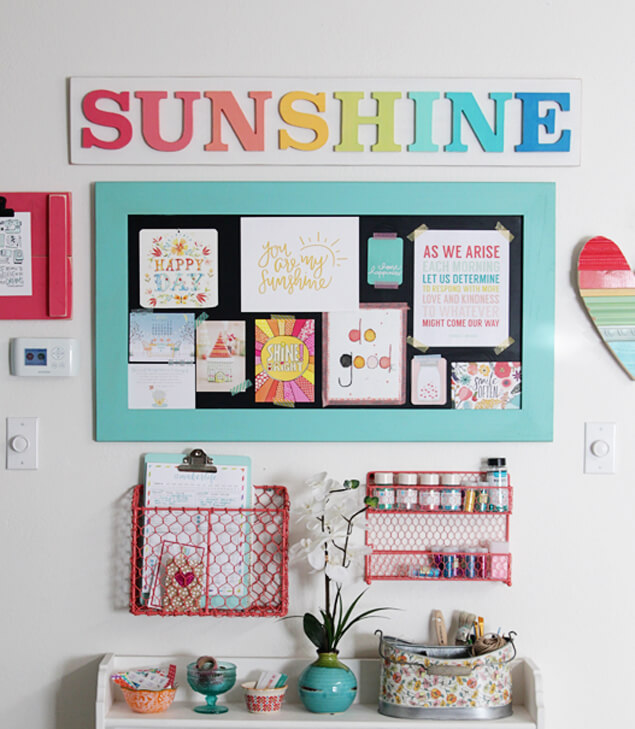 These types of letters are versatile enough that you can use them anywhere you please in the home from the kitchen to the bedroom. Paint them a variety of colors to capture the feel of a rainbow. From there, it is only a matter of decorating around the words.
15. DIY Rope Rainbow Craft Design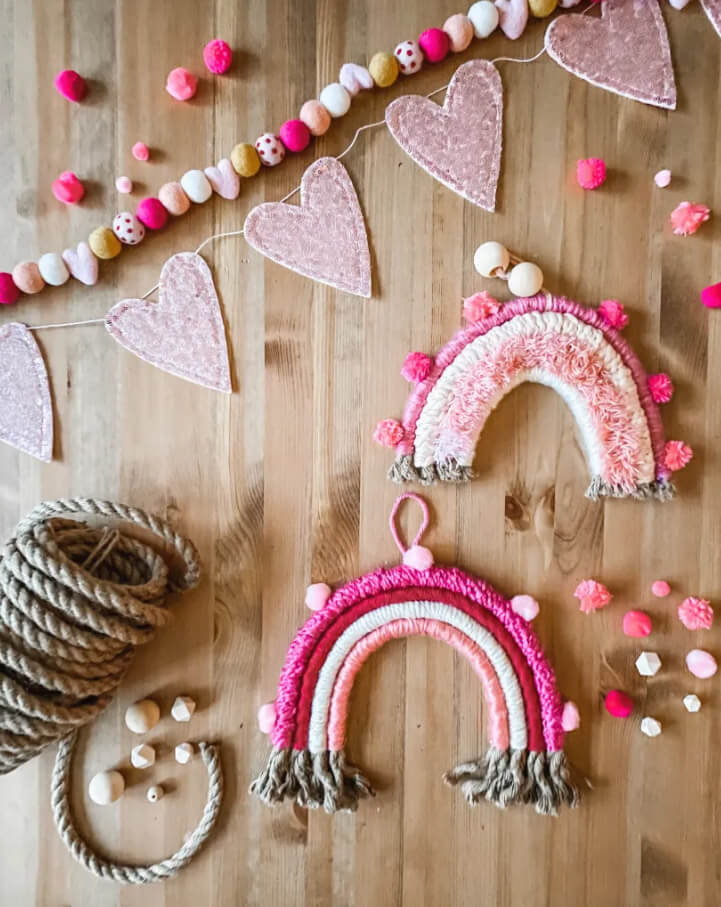 Who knew that rope could look so stunning when designed in a rainbow style? This rope is an excellent choice to hang up around the room. Plus, you can easily use alternative colors beyond the traditional rainbow colors to make this more distinctive.
16. Adorable DIY Pom-Pom Picture Frame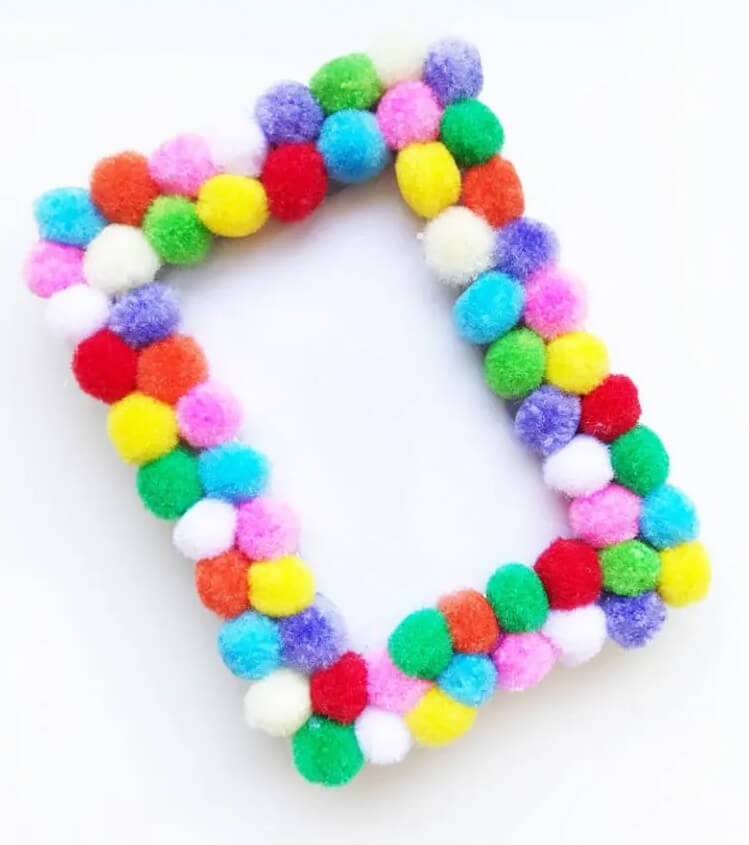 What is cuter than a pom-pom decorated picture frame? This is such a perfect gift given by a child or as something to decorate their bedroom with. The rainbow attracts the eye, urging anyone to check out whatever picture you hold dear inside the frame.
17. DIY 3D Rainbow Butterfly Wall Art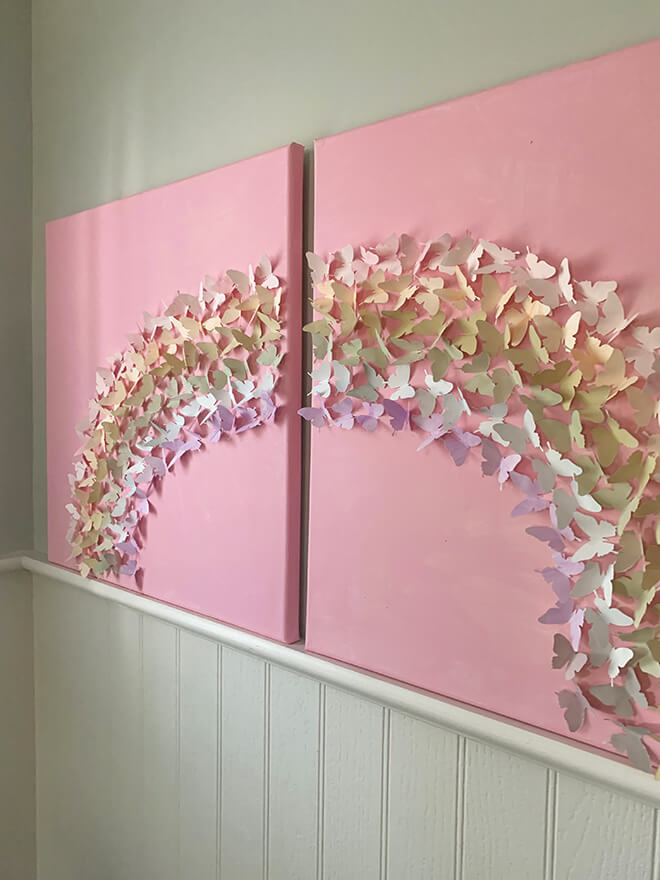 Combine your love of butterflies with a gentle rainbow-themed coloring style in this incredible wall art. The 3D element of the butterflies allows them to look as though they are in flight. Meanwhile, the rainbow aspect is muted, yet apparent enough to steal attention.
18. Cool DIY Painted Rainbow Abacus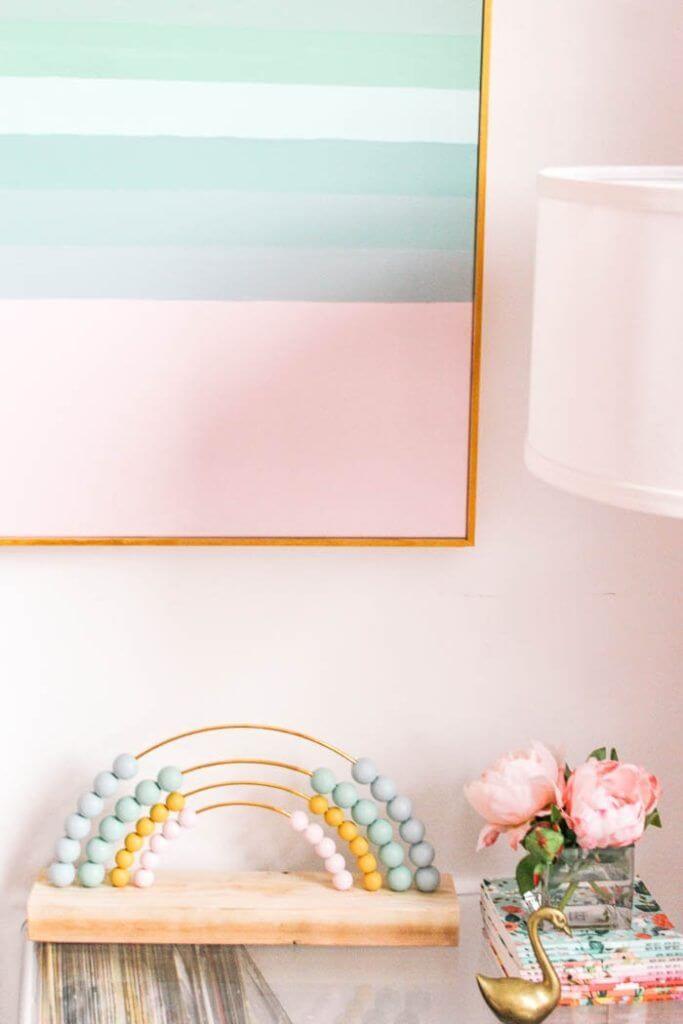 It is not difficult to find an abacus to use for decoration, but you can save money and create a more personal one yourself using a rainbow theme. This gives you a chance to paint the beads in any color pattern you wish to better suit the room you will use this in.
19. Beautiful DIY Rainbow Tassel Wreath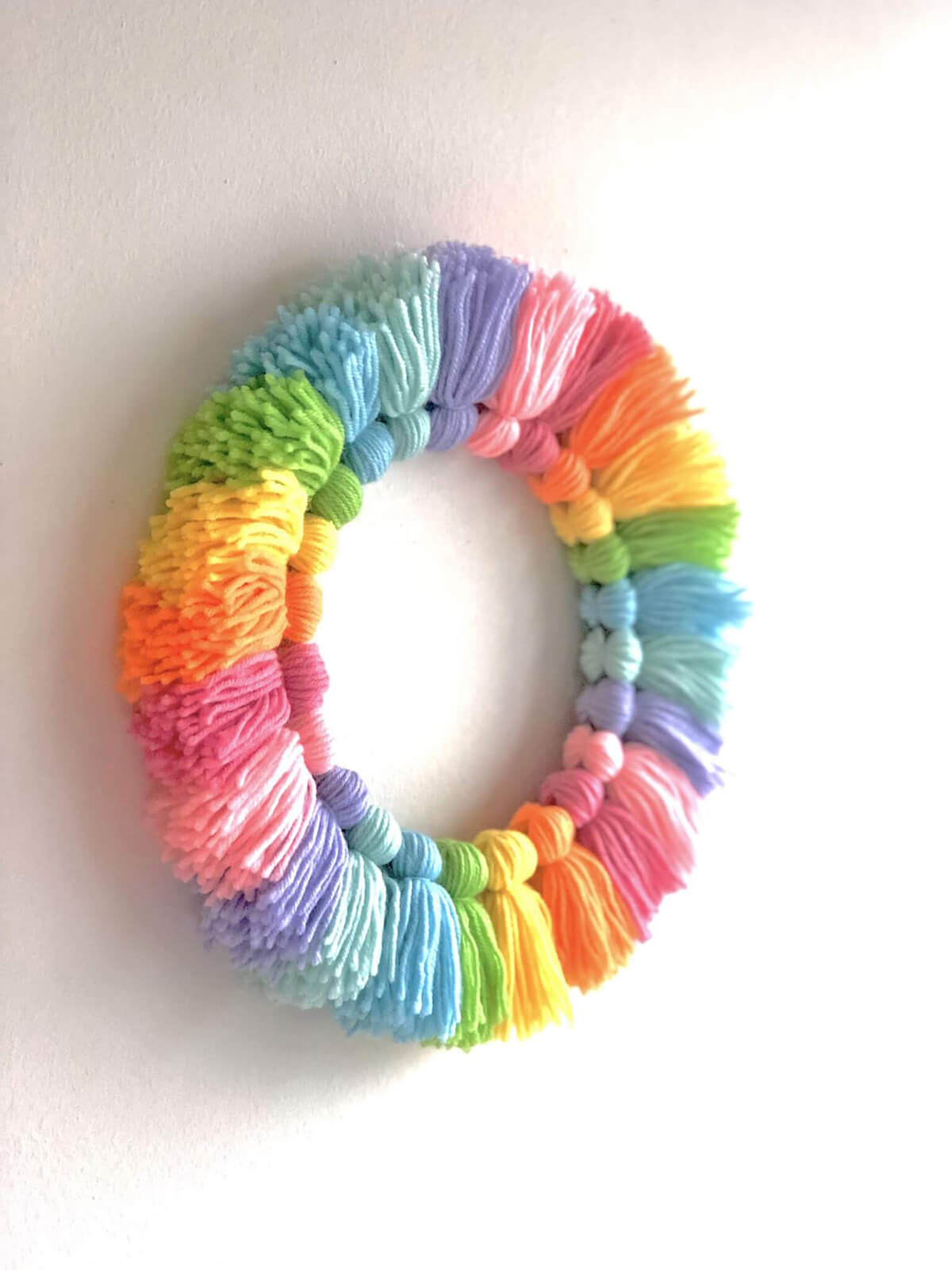 Create a cute and compelling wreath using rainbow-colored tassels. It is not too large, making it a perfect fit to decorate the walls in a child's room or playroom area. There is a playful look about this rainbow wreath too that makes it so interesting to look at.
20. Playful Rainbow Spinner Toy Decoration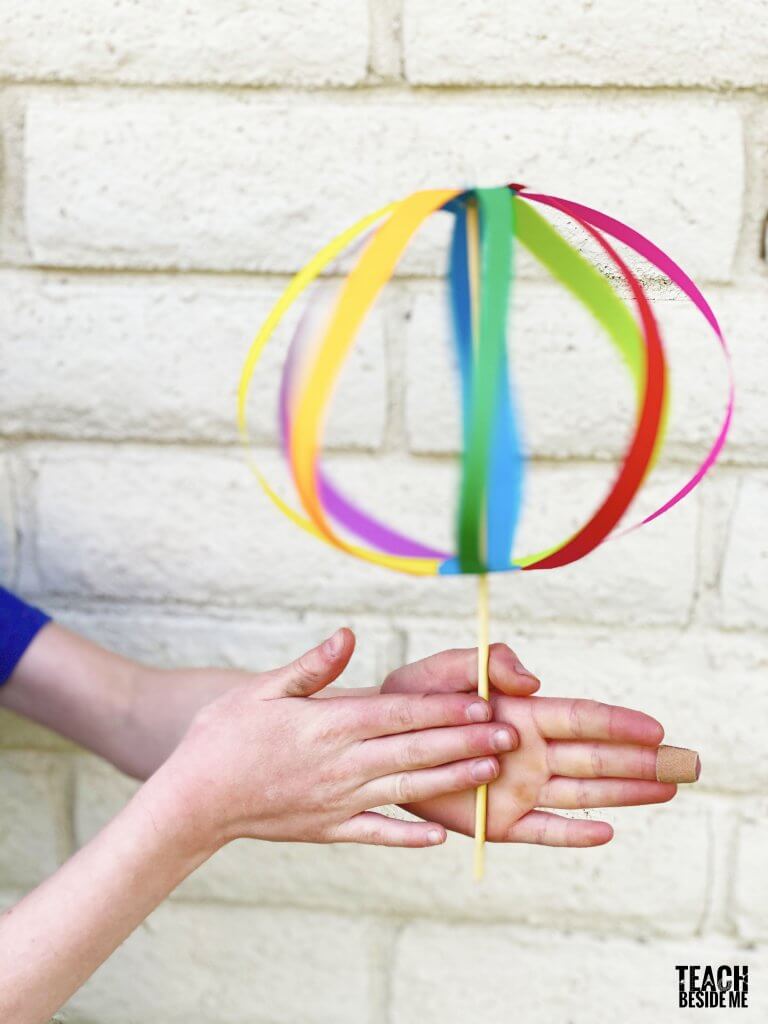 Sometimes, functional decoration is the perfect way to bring a rainbow style to a child's room. In this case, the child can also play with the decoration. It doubles down as a spin toy, giving them something vibrant, bright, and colorful to look at and play with.
21. Charming Pot of Gold Rainbow Shaker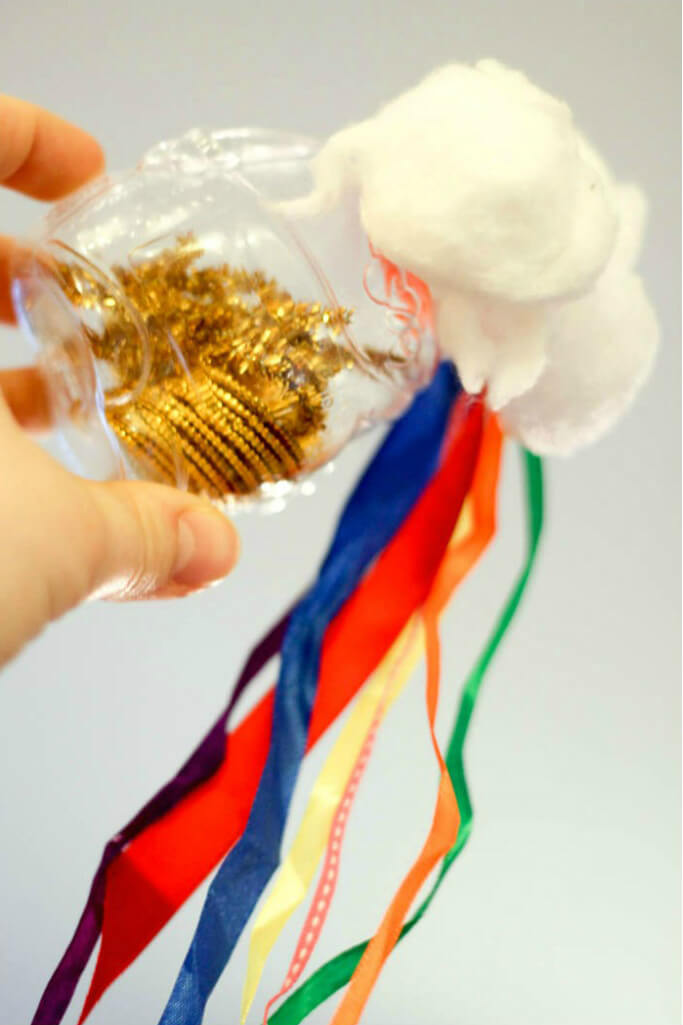 This shaker is a unique way to decorate using a rainbow theme. You don't just get the cute rainbow colors here. Rather, you also get a pot of gold waiting for you at the end of the rainbow. It's not just an adorable decoration, but an excellent sensory toy.
22. Mini Tassels DIY Rainbow Garland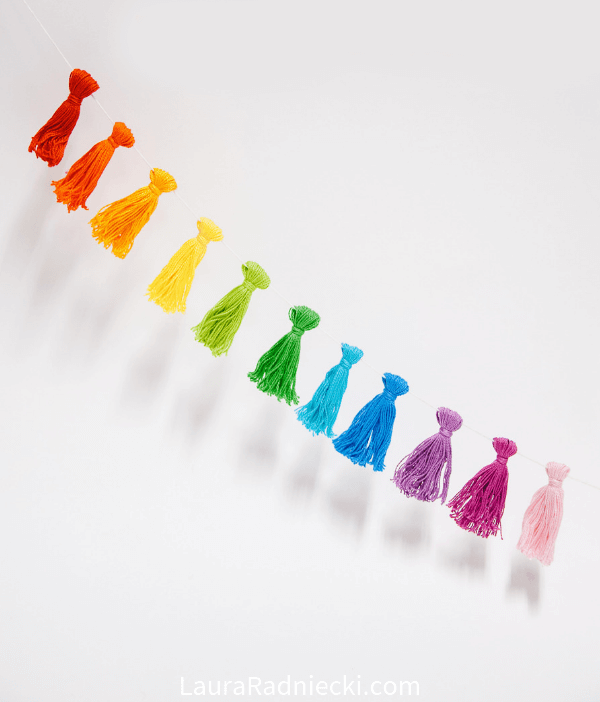 If you are eager to explore handmade rainbow craft projects, then making your garland never hurts. The mini tassels are each colorful, and when spaced apart, manage to capture the eye well. String this up on the wall, over the fireplace, or anywhere else that could do with some color.
23. DIY Rainbow Themed Outdoor Doormat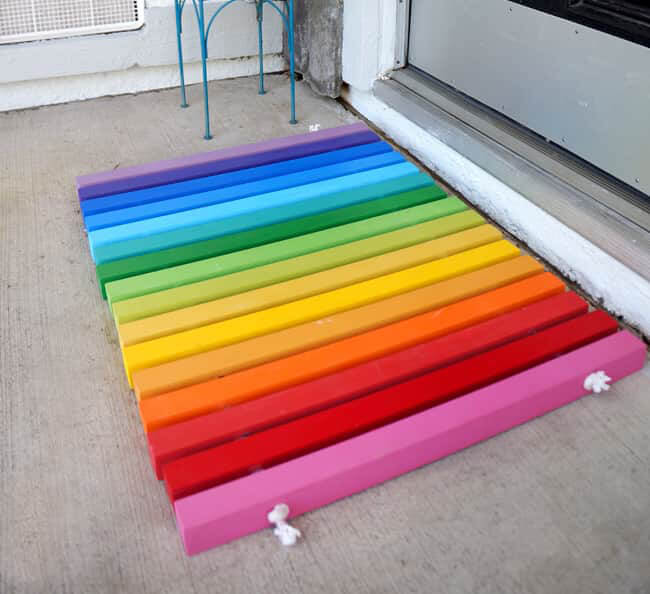 Is your outdoor space lacking something? Well, an easy way to add color is with a doormat. With the hard material, this is a mat that is meant to last season after season. This way, you can always have that accent color in your outdoor decor.
24. DIY Cute Rainbow Wood Slice Decor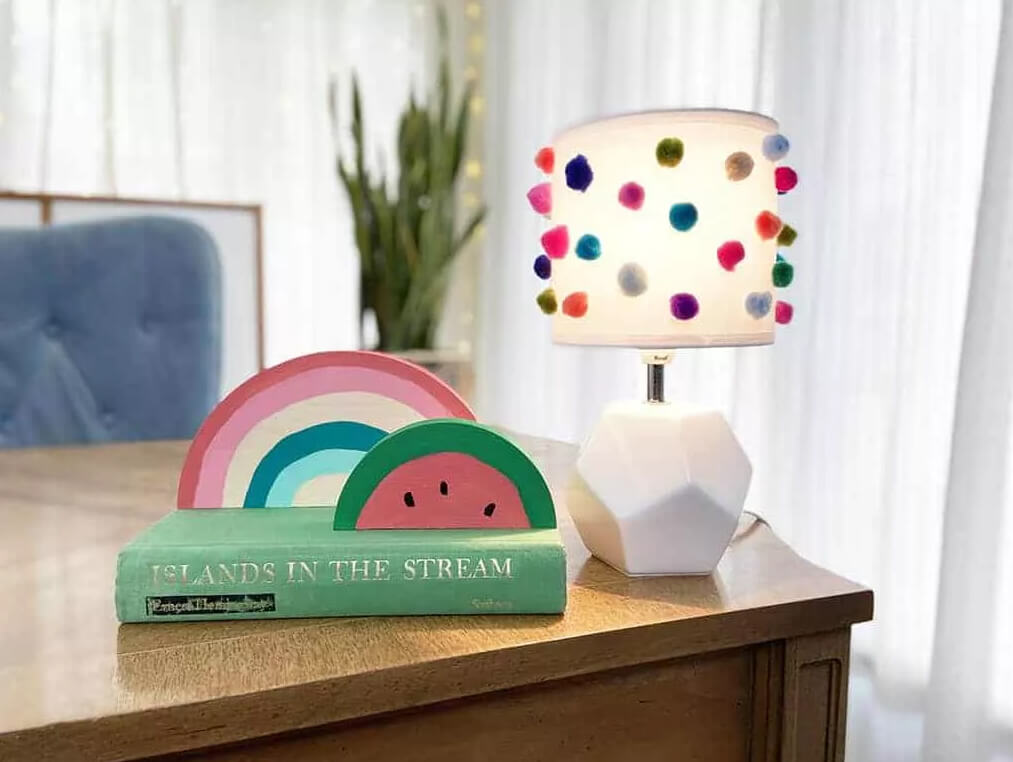 Add some fun to any room with these cool rainbow wood slice decorations. They are simple, and thanks to them being hand-painted, provide you with a way to better personalize your decor. For parents looking for kid-friendly projects, this works for that too.
25. Incredible DIY Rainbow Cloud Wreath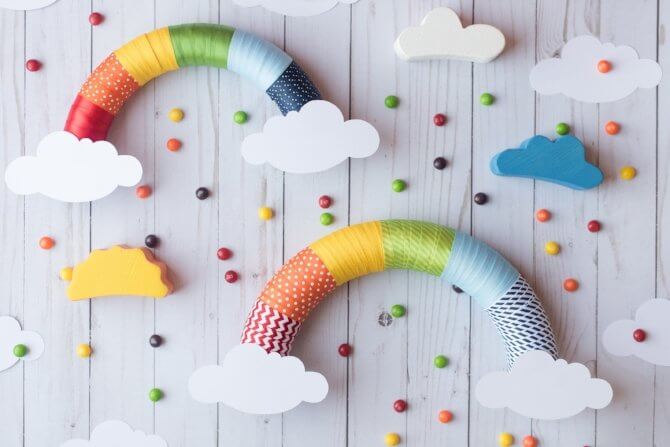 Not every wreath has to be traditional. A case in point is this beautiful half-wreath design of a rainbow with clouds on either end. This is an awe-inspiring project that leaves you with something you can show off and put up on the wall anywhere.
26. Exciting Rainbow Theme String Art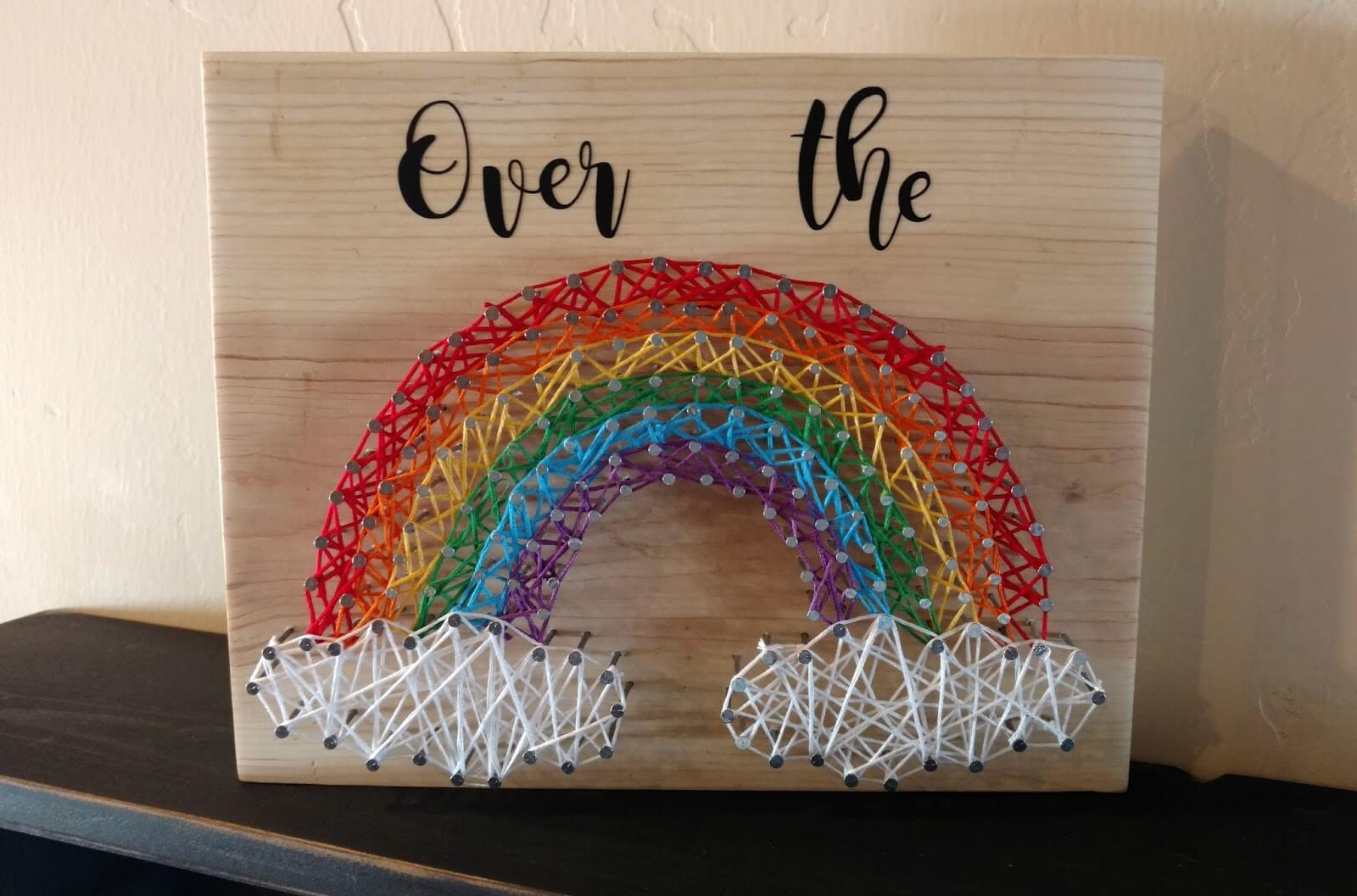 If you have the time for it, consider trying your hand at string art. The pattern left from this art is eye-catching and stunning. Meanwhile, the rainbow colors all individually stand out well down to the white clouds on the bottom.
26 Fun Homemade Rainbow Decor Projects to Add Color to Your Home
Rainbows are always a joy to decorate with. A great thing about them is that you can take them into just about any room in your home. They work well as wall decor, as decoration to spruce up a desk or table, or even on the floor like with a rug. With such an incredible amount of ways you can interpret a rainbow in your home's decor, you may struggle with finding a place to start. We hope that our choice of some of the best DIY rainbow crafts will guide you along the way.
You can always go the traditional route such as using the classic rainbow shape in your project. Alternatively, you can always focus on the colors and build from there, opting to go a unique route in terms of shape. Either way, your decoration is bound to capture the right mood and attention. Rainbows can add to a room that is already filled with color, blending in and further enhancing the space. Also, rainbows work out just as well in a room with more muted colors or no color at all. They can serve as the accent piece, giving that pop of brightness.
No matter which way you go with it, remember to keep our favorite projects in mind as you work to create some incredible homemade rainbow decor.