It can truly take years to create a large, beautiful plush garden with rows upon rows of thriving crops. If you don't have the time or the space to cater to a large garden, you can still have the gratifying garden you've always dreamed of having. Raised garden beds are the shortcut to a plentiful supply of fresh fruits and veggies, even in the first year.
13 Amazing DIY Raised Garden Bed Ideas to Enhance Your Outdoor Space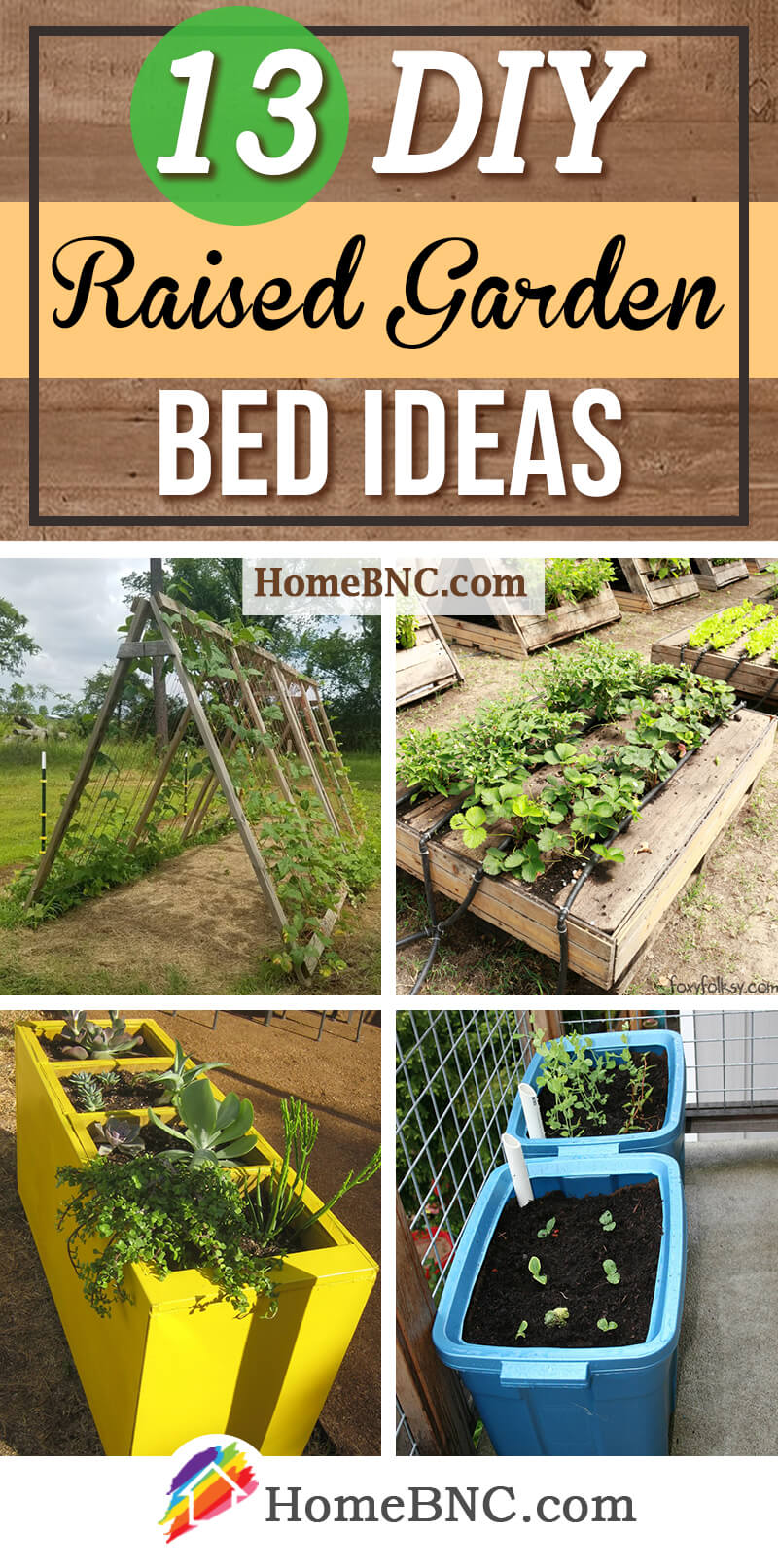 Raised garden beds have many benefits. It's a small-space gardening technique that ensures every inch of space is used which means more food or flowers in return. There's also better soil with raised garden beds since you're starting off with a fresh blend of soil along with fewer weeds since raised beds are densely planted.
Raised garden beds come in a wide range of sizes and shapes. The more soil depth you have, the more freely the roots of your plants and vegetables will grow. Increased soil also holds more moisture, which means less frequent watering. For optimum plant growth and productivity, your raised garden bed should get at least eight hours of full sun every day so be sure to place your garden in the sunniest area of your yard.
The main objective of having a raised garden bed is to maximize productivity. You want to grow as much as possible, while refraining from overcrowding your plants. Plants that are placed too closely together may never reach their full potential due to poor air circulation and fighting for water and root space. Fill your garden with the fruits and vegetables you like to eat. If you love a fresh garden salad, consider planting lettuce, cherry tomatoes, carrots and cucumbers. If you enjoy cooking, consider planting onions, peppers, potatoes and herbs.
You can build your own raised garden bed using a variety of materials. Whether you choose to use cedar, recycled plastic, galvanized steel or any other raw material, you can build your garden bed with ease. Let's look at some of the most creative garden beds that you can make right in your own backyard.
1. The Corrugated Metal Raised Garden Bed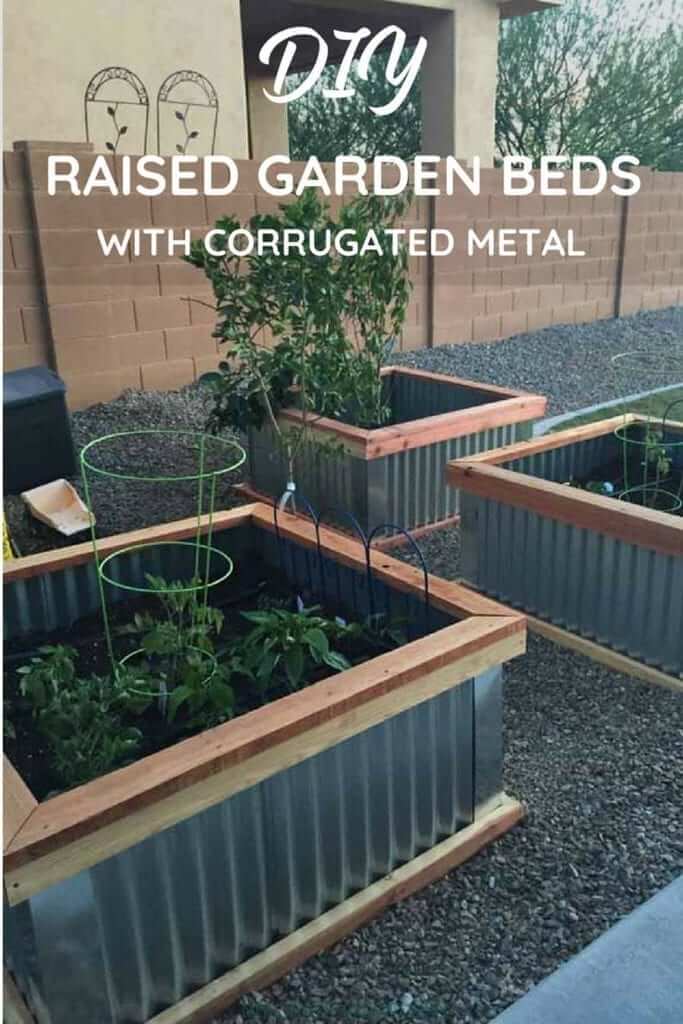 Looking for a fun DIY for your backyard? This raised garden bed has an outer frame built of wood with the center of the planter made from corrugated metal. This raised bed has great curb appeal and is ideal for gardeners of all levels. Custom build your own garden box in any size or even add a few to your backyard oasis.
2. A Beautiful Framed Garden Trellis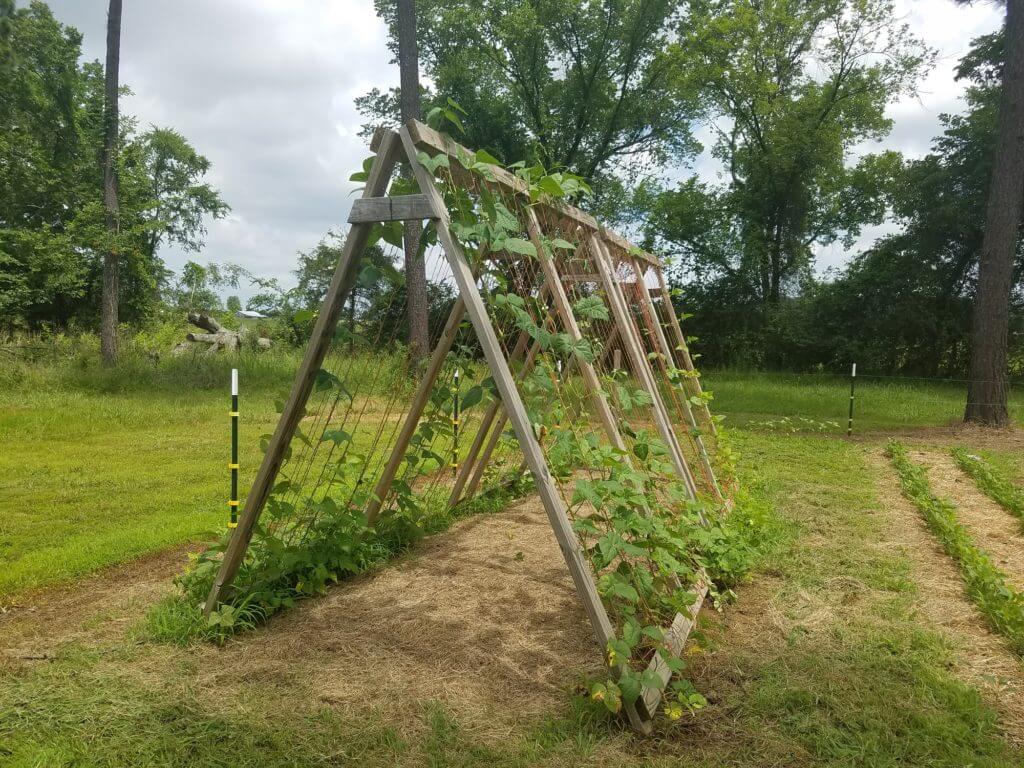 If you're looking to expand your raised garden bed but space is limited, consider framing it upwards creating a trellis. This option is not only a decorative design, but also great for growing pole beans, tomatoes, peas or any other climbing plants. This would be such a gorgeous feature for your outdoor landscaping.
3. Raised Planter Stand with Tub Inserts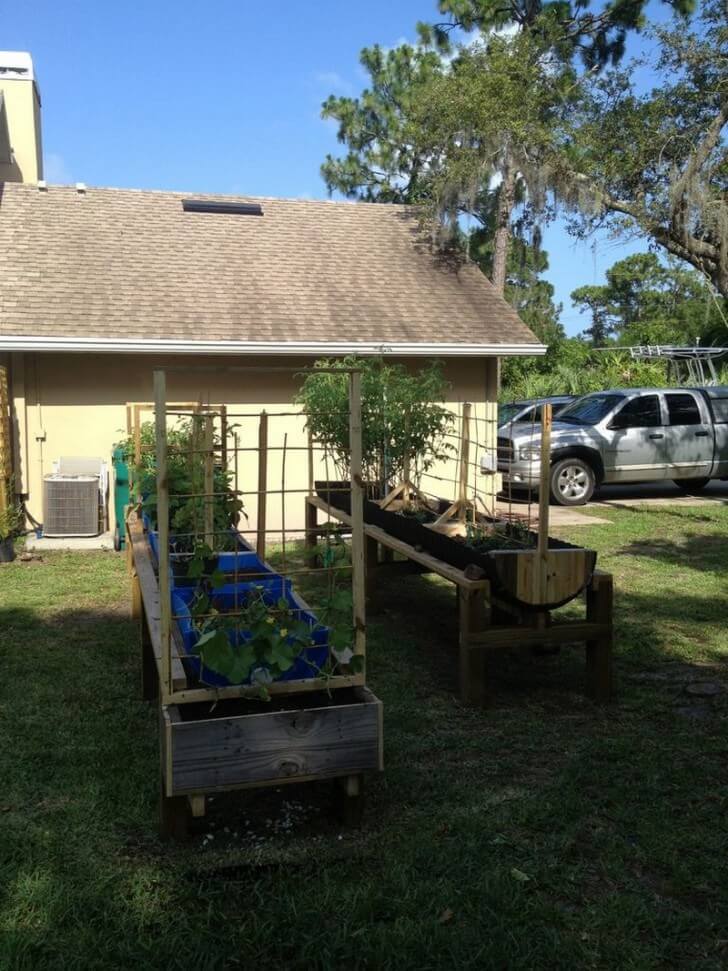 This is such a unique and clever take on building your own garden. This vegetable table is very low maintenance and is a great way to sort out your plants without compromising on space. Leave it as is for a simple elevated garden or add a trellis to help your plants grow upward instead of taking up space within the bed itself.
4. Simple Statement Raised Garden Box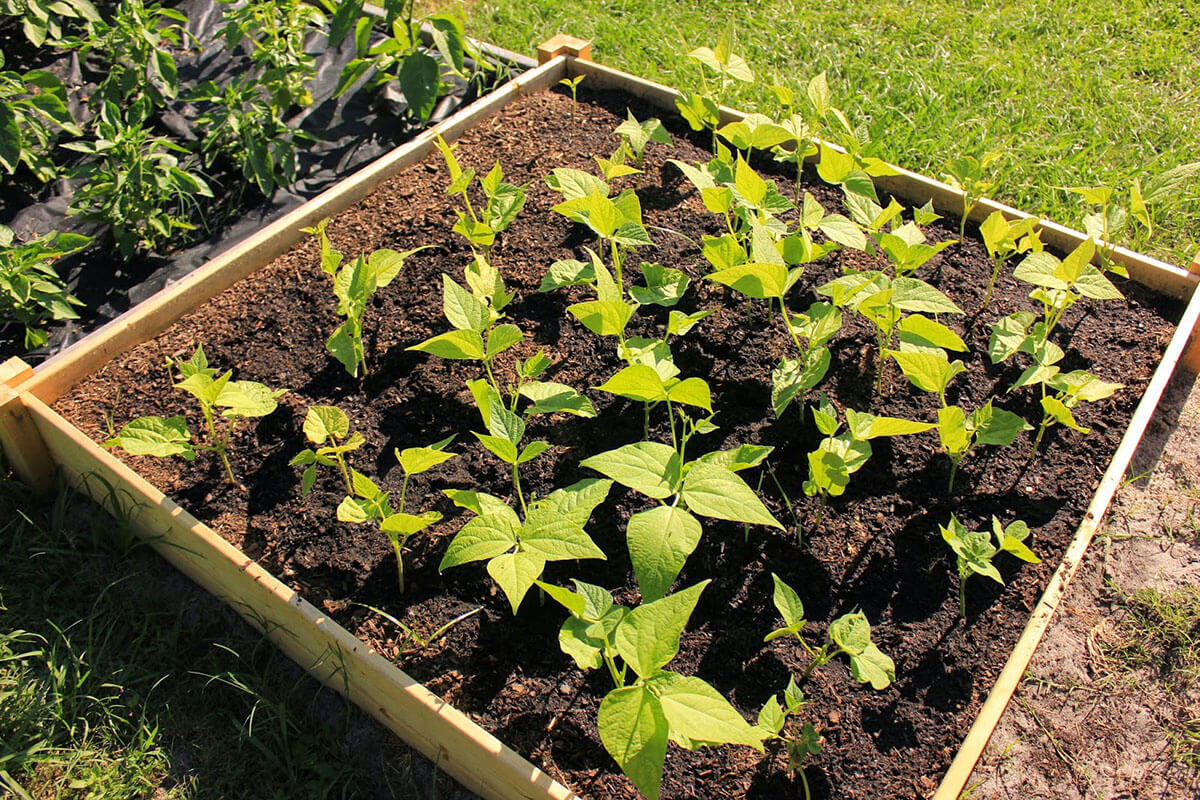 This traditional raised garden bed is easy to create with very little effort. The perfect square shape makes it convenient to place anywhere in your yard whether you place it off in the corner, along the fence or right in the center. For added protection, you can even add a little fence made from chicken wire around your garden box.
5. The Perfect Apartment-Style Garden Bed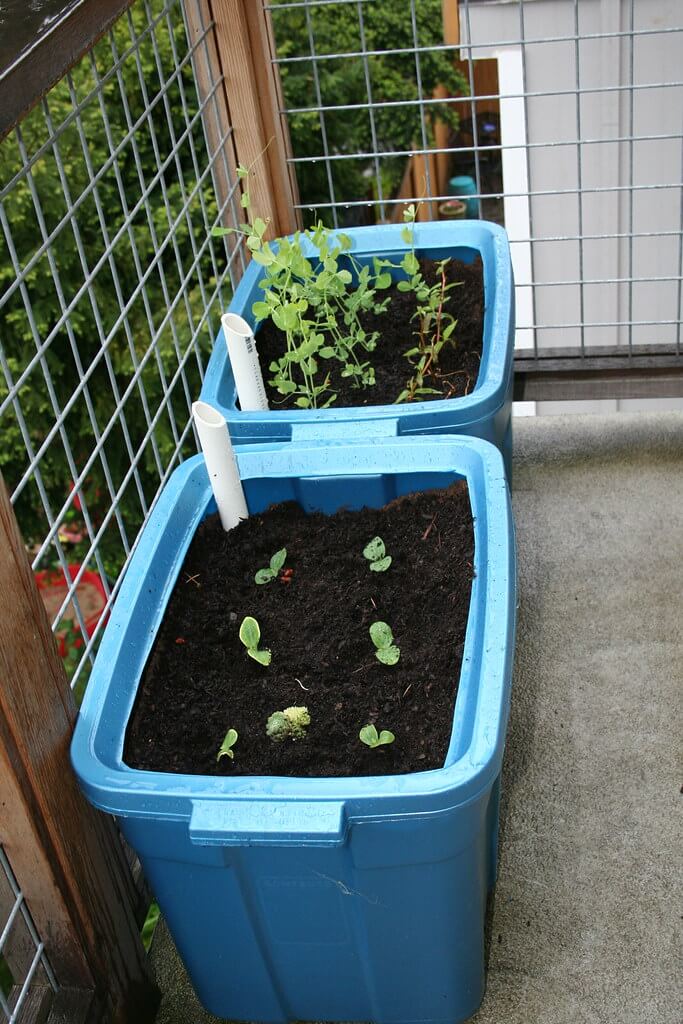 If you have strict HOA guidelines or live in an area where you don't have much of a yard, this apartment-style garden in a tub is perfection! This raised garden has been custom made to water itself with inserts on the bottom where water can be absorbed up through the plants. What a perfect way to have a compact, low-maintenance garden.
6. High Elevated, Functional Garden Planter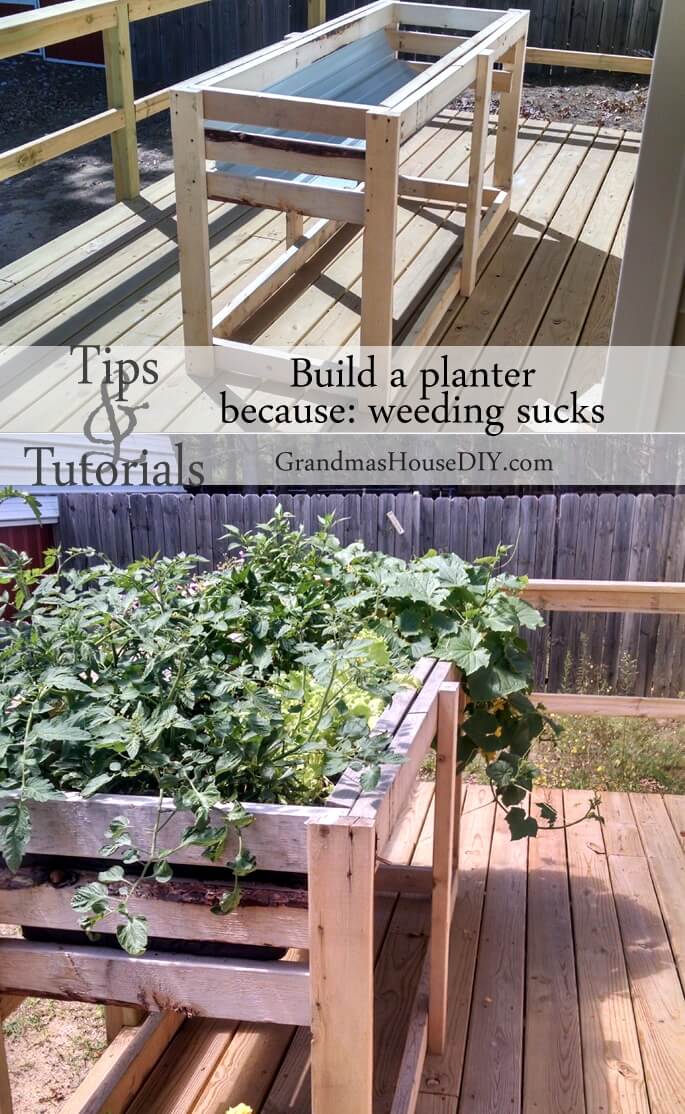 This is the perfect raised garden bed if you're on a budget. Whether you create yours from pallets, 2x4s or scrap pieces of wood, this is an afternoon project you can hardly pass up. The benefits to this raised garden are endless. The unique style is sure to add curb appeal to your outdoor area as well as the elevated height keeping away those pesky weeds and making gardening easier on your back.
7. Vibrant Raised Garden That Makes a Statement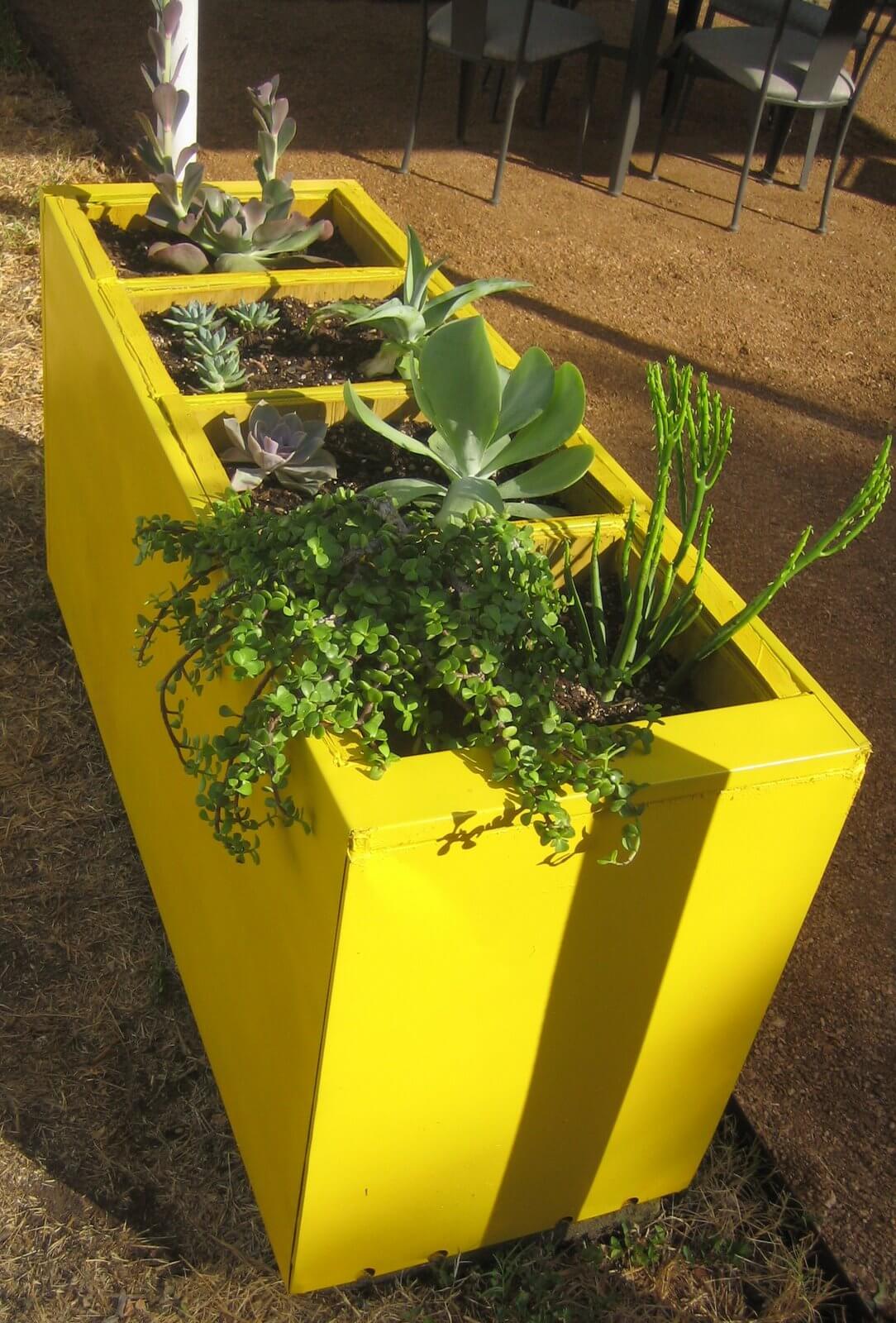 Looking for a new focal point for your backyard? This bright yellow boxed garden is such a unique and eye-catching design that features various types of plants. Some plants need to be separated from others, so this four-part planter box makes gardening simple. The size is just perfect to keep those bunnies away and a height your furry animals can't reach.
8. Raised Pallet Garden Stand Project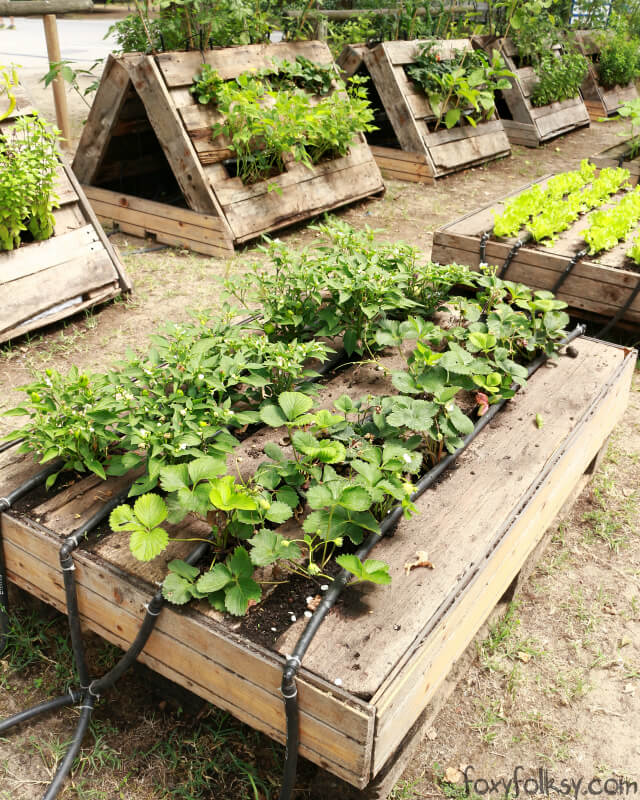 Wooden pallets can be found nearly everywhere and most often even free. This container garden idea has such a unique design with a pyramid-like shape making it easy to identify and tend to your plants. Parsley, strawberries, eggplants and tomatoes are all plants that would be perfect for these boxes.
9. Space Saving Square Foot Garden with Crates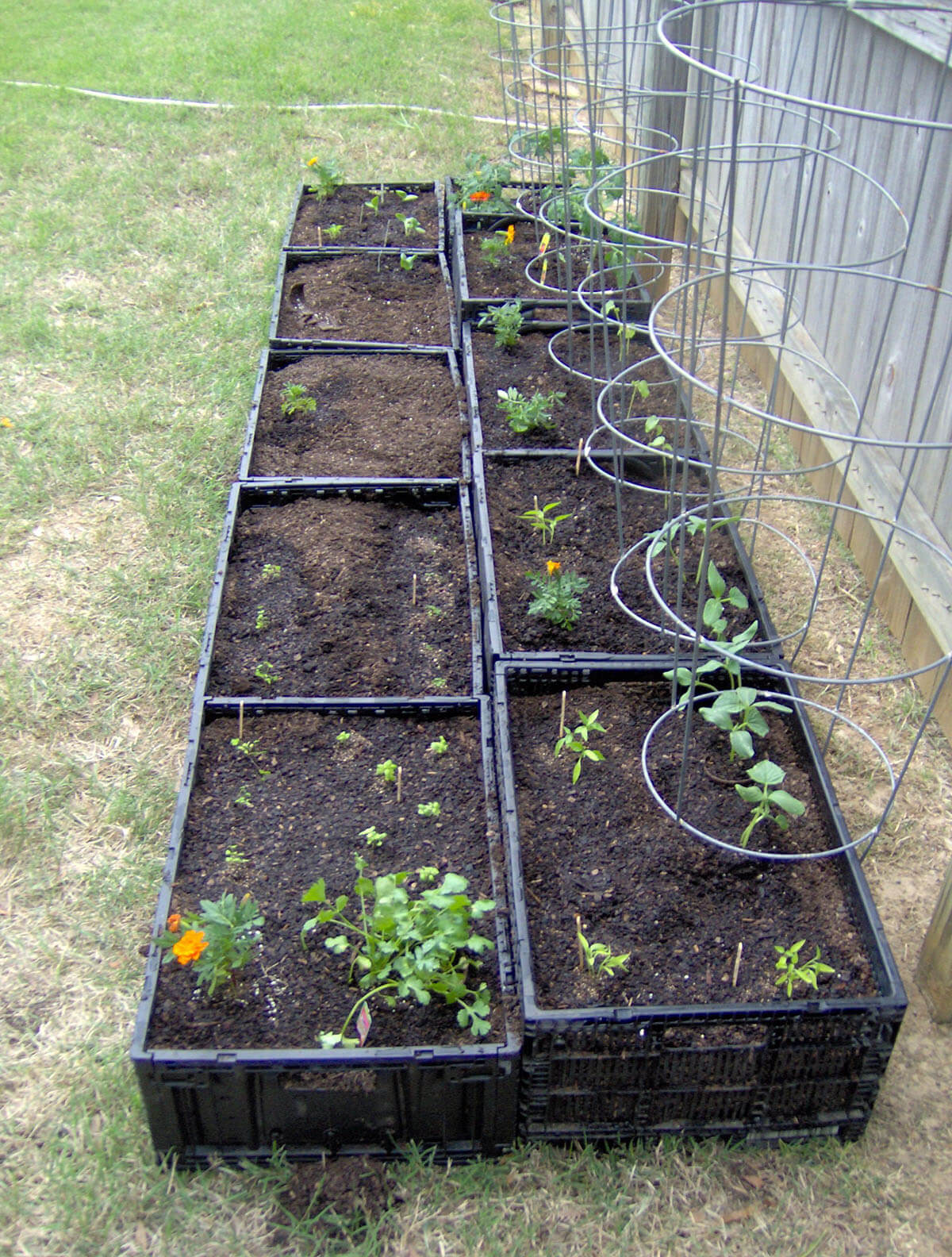 Have any spare plastic crates laying around? This square foot garden is a way you can garden nearly anywhere. Customize your garden box with as few or as many crates that best fits your space. This is such a simple raised garden that anyone can construct. Place the crates wherever you'd like, fill them with dirt and plants and they're ready to grow.
10. Simple Cedar Raised Garden Boxes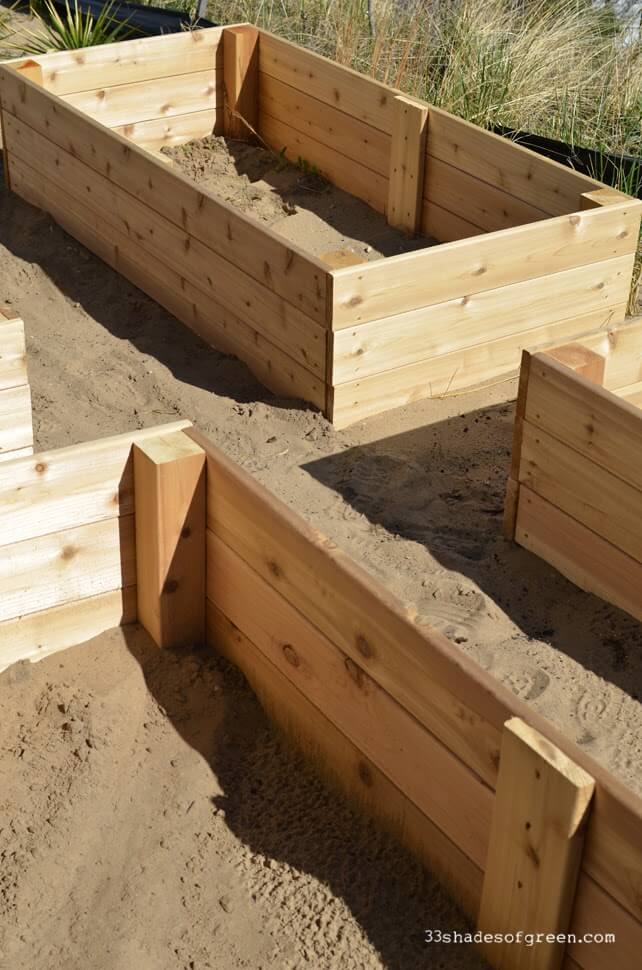 This is a more traditional raised garden bed made from cedar. It has such a clean look to it and will certainly make your backyard pop. The three-tier garden box is tall enough to keep critters away as well as making it easier to reach in and tend to your luscious plants.
11. Cinder Block DIY Raised Garden Bed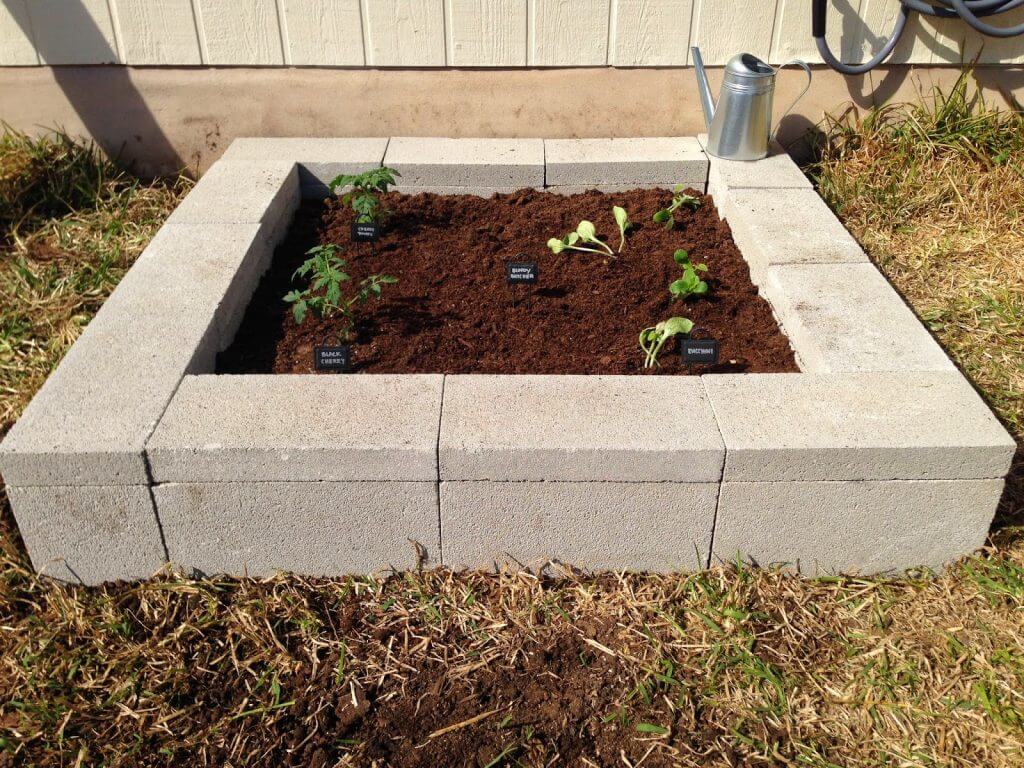 This is such an inexpensive and easy way to build a raised garden bed. The cinder blocks provide a sleek look and the concrete top caps give it a polished finish. Lay your blocks where you want them, fill with soil and plant your little garden any way you wish.
12. Space Saving Raised Garden on a Budget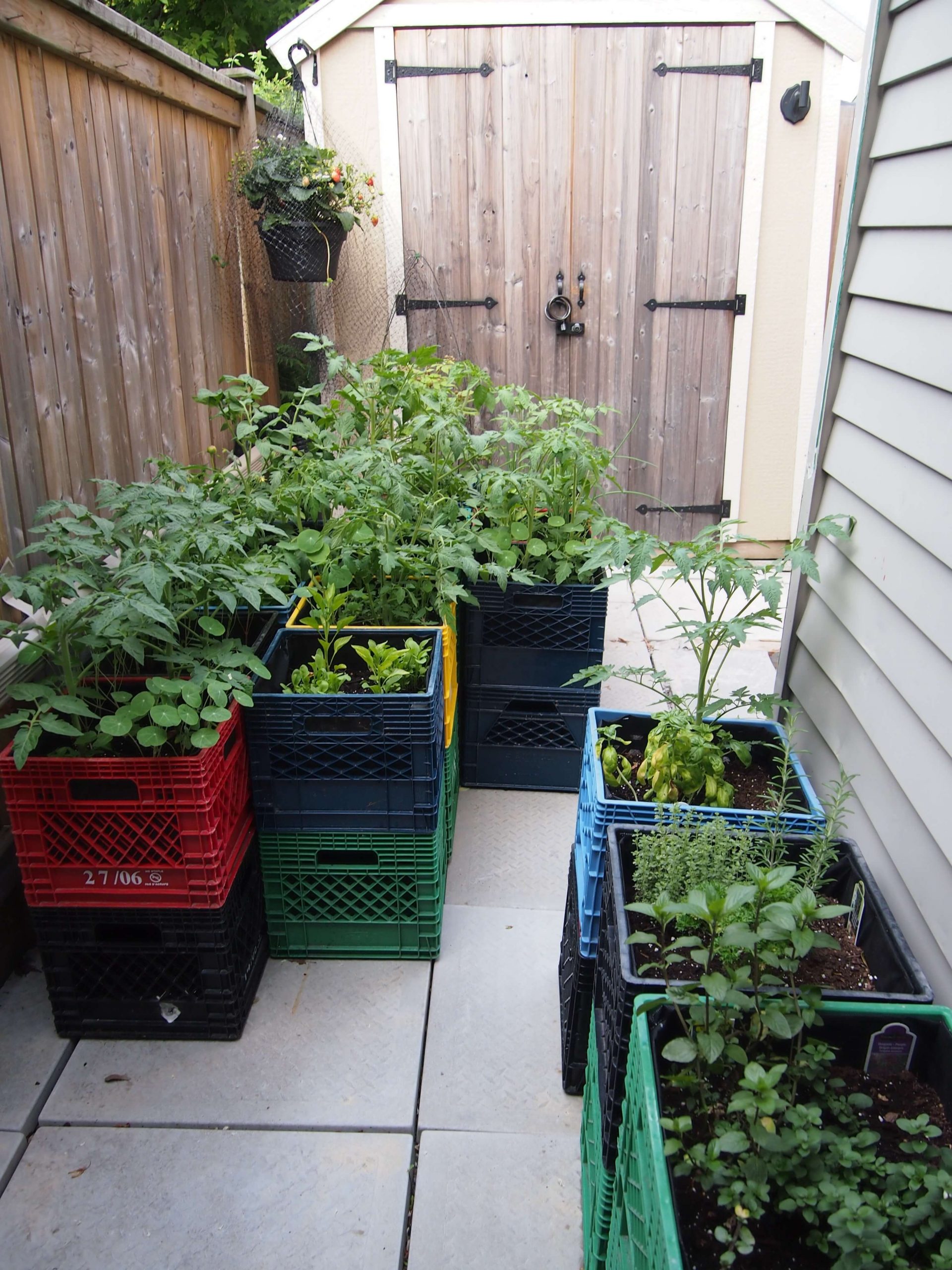 If you don't have any extra milk crates laying around, you can usually find them behind most big box stores sitting next to the recycling. This is a great project for small areas, especially if you don't have any green space to work with. The best part about using crates for your raised garden is that they can easily be moved if your plants need more shade or additional sunlight.
13. Simple and Stylish Fence Raised Garden Beds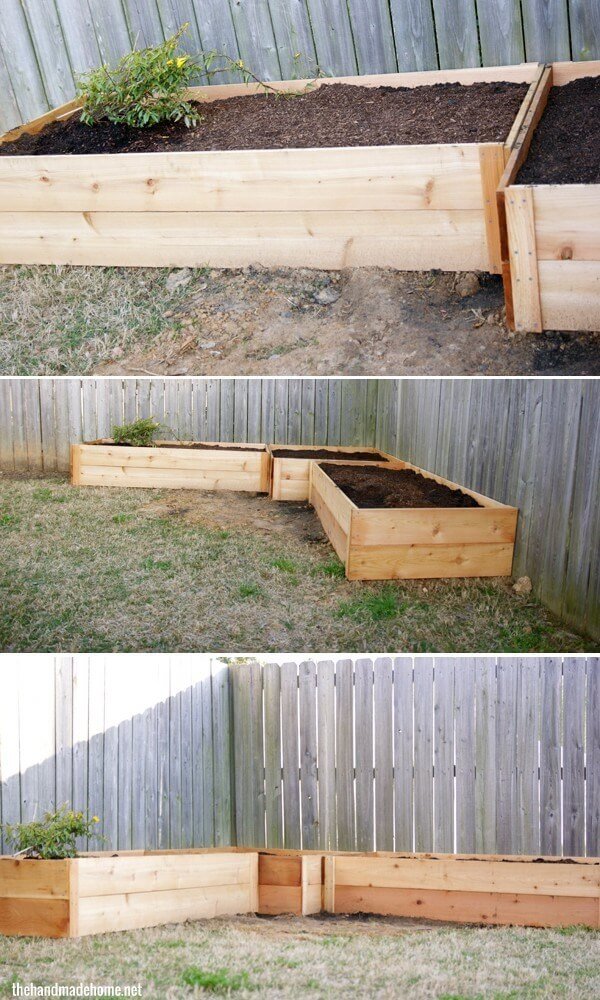 One way to spruce up your privacy fence is to add a raised garden bed next to it. This is a great way to have a garden without compromising space in your backyard. It's also a stylish option as it looks custom built into the fence. The elevated level makes your garden easy to maintain without needing to bend down and eliminates all the prep work that most ground-level garden beds need.
Our Favorite Outdoor Decorations to buy on Amazon