Your home might be your castle, but having a beautiful yard will make you really feel like royalty. Whether you're throwing backyard barbeques or just sitting around relaxing with your family, consider starting with a well-planned backyard design.

Everyone has different needs when it comes to the backyard. Will you do the design and maintenance yourself or let someone else handle the work? Do you want something that stays the same over the years or something you can change each year? In particular, you'll want to consider the following important aspects when looking at backyard design ideas:
Available space
Watering, especially if you live in a draught-ridden area
Regular upkeep, including weeding and mowing around the area
Whether you want perennial plants that regrow each year or annual plants you will replace
Cost
The best landscape design for you is one that fits with your personal home design style. It should make you want to spend time in your backyard and fit with your lifestyle. Check out the following garden ideas to get inspired to make your backyard even better.
50 Backyard Landscaping Ideas to Inspire You this Year
1. Mountains of Plants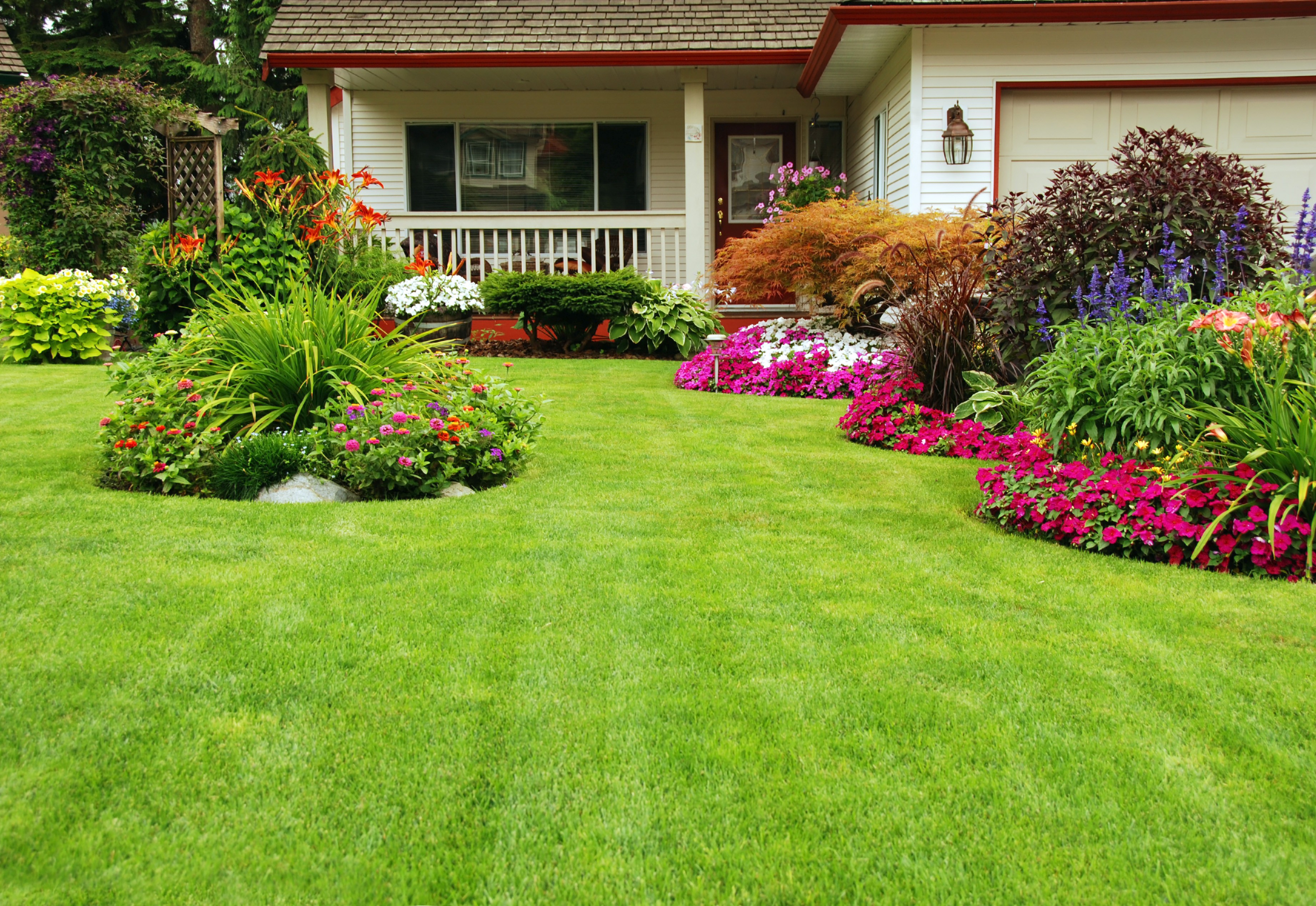 Carving out circular areas or curved paths among the green grass is a common idea for incorporating flowers into the backyard design. Note how the homeowner has placed taller plants in the center of these areas and surrounded them with colorful flowers closer to the ground. This almost gives the areas a mountainous look, but the intent is to draw the eye upward. Having several separate but defined spaces in the garden allows you to experiment with different types of plants rather than sticking with a few favorites.
2. Wandering Paths Backyard Landscaping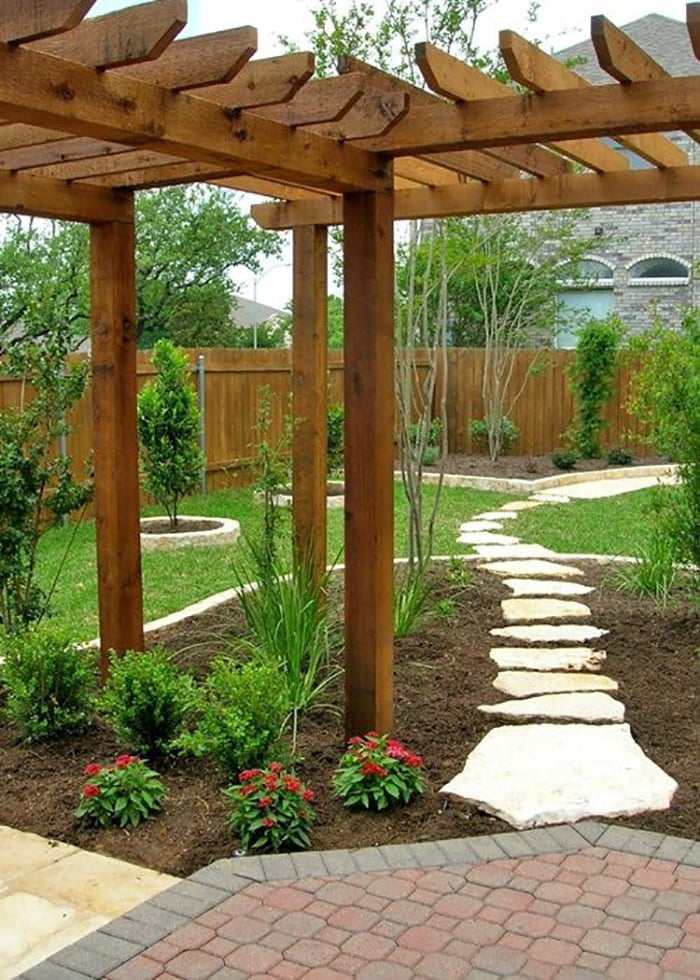 Though the backyard deck shown here is relatively small, it feels big with the stone path leading you on a journey throughout the space. This would be great for taking a meditative walk to clear your mind in the morning. Using flat rocks rather than traditional pavers gives the path a more natural feel. The patio and pergola create a separate "hang out" space, and stone edging helps keep the garden design weed-free. There's just enough green grass here to lend color to the space, but you won't have to spend a lot of time mowing every weekend.
3. Focus on the Fire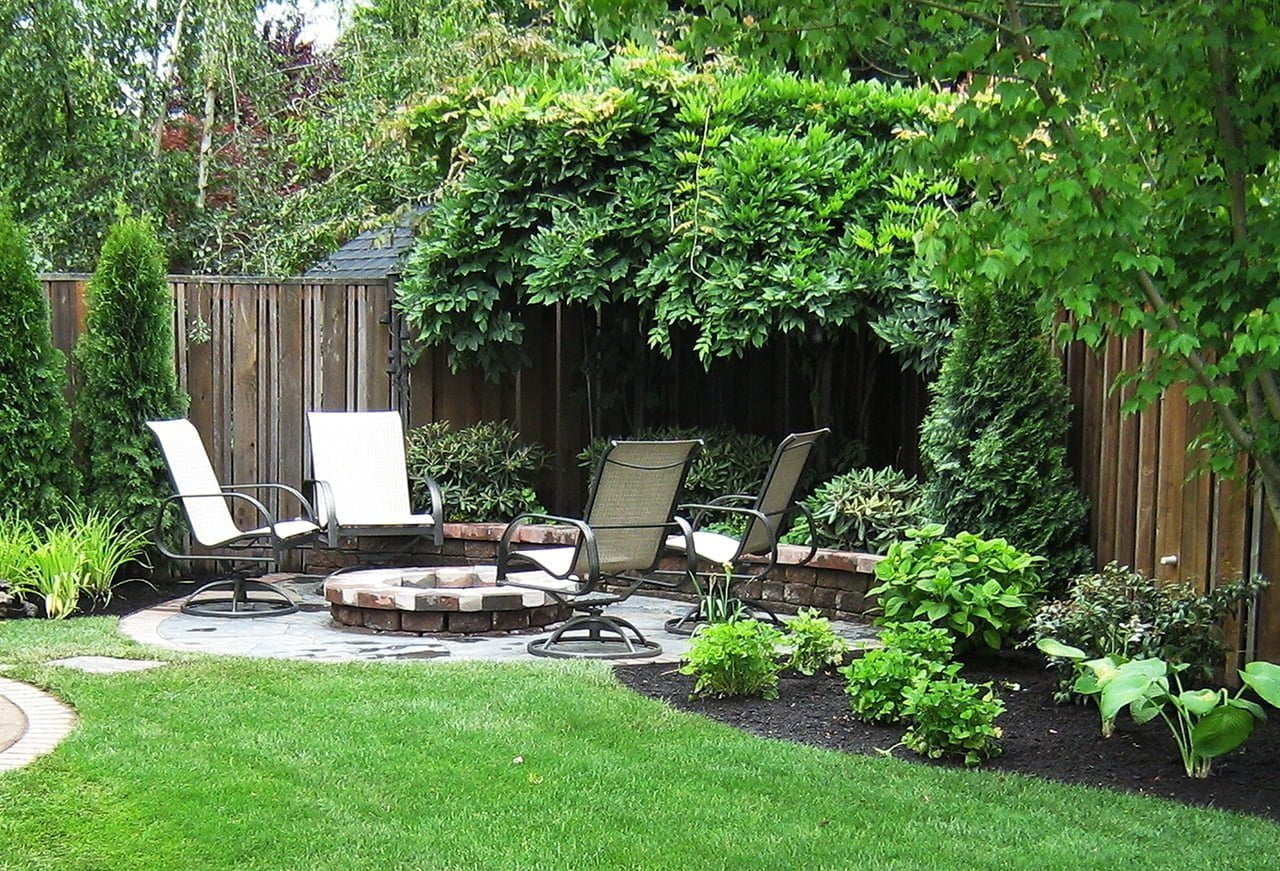 Who doesn't love a firepit in the backyard? Many backyard ideas incorporate this popular space. The brick patio is essential for safety when lighting a fire, so don't forget to plan for that. Though the garden is definitely well-designed and intentional, it serves more as a backdrop than a focal point. Sticking with green plants allows you and your guests to focus on the fire and on each other. Best of all, green plants like this tend to be perennial, so you won't have to fuss with planting new things year after year.
4. Finding Room for Color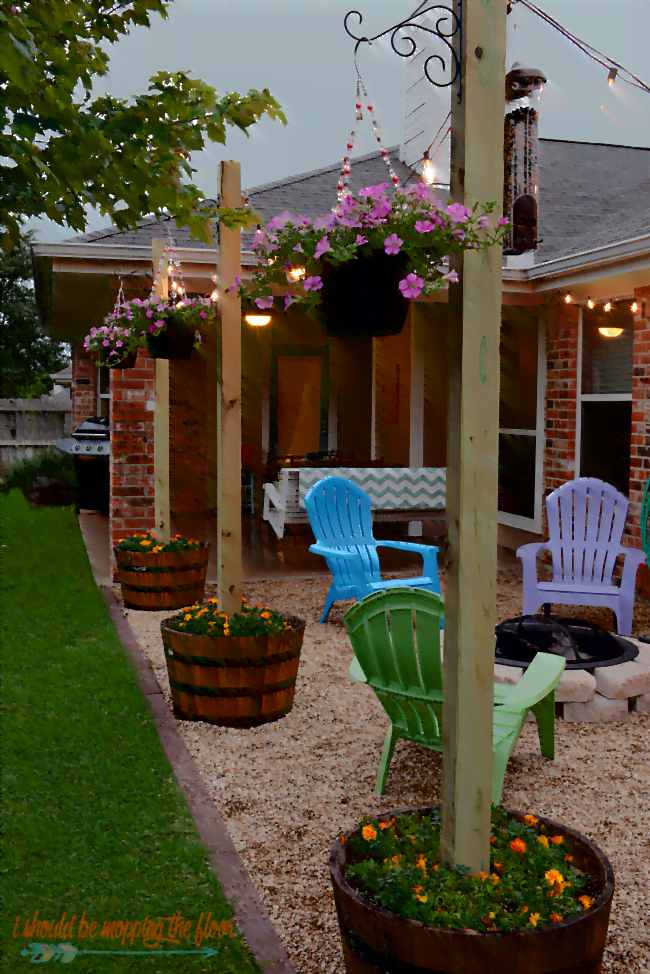 Having a grassy area with straight lines certainly makes it easier to mow, but you might feel like you're missing out on all the color that flowers add to the space. That won't happen if you take advantage of this backyard landscaping idea. The fire area uses small pebbles rather than bricks to keep things safe, but poles around the exterior of the space help define the area vertically. They're a place to hang flowers and sparkling lights to give ambient lighting when the sun goes down. Large barrels around these poles are a creative way to add some flowers.
5. Design for First-Timers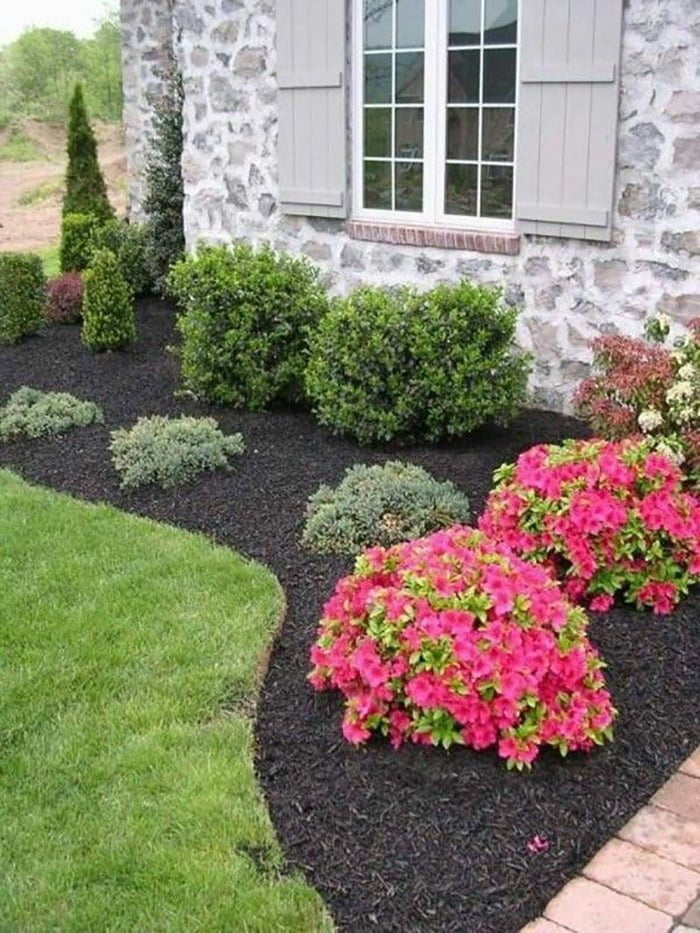 If you're looking for backyard design ideas that are perfect for beginners, check out this idea. The curves on this landscaped area are easy to do on your own, and they've simply placed large plants or flowers in this space. Bushes like these are easy to care for and will last year after year with a bit of trimming. To get the beautiful look of flowers shown here, let the nursery take care of the flower design. Simply purchase hanging planters of flowers and plant them into the ground rather than keeping them in their pots.
6. Mini-Makeover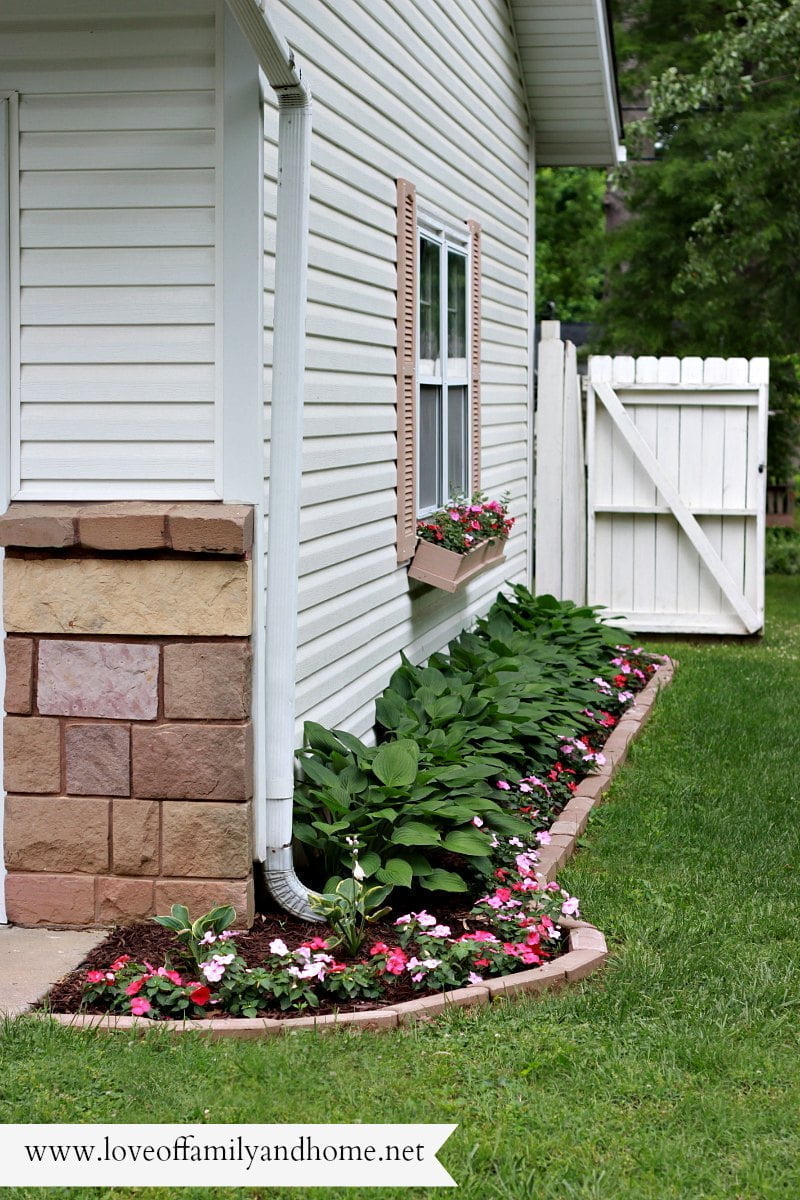 If you'd like to do something with your backyard, but aren't really into backyard ideas that dominate the space, you'll love this idea. Simply dig out a small area for flowers around the outside of the home and use bricks as edging. The large green plants here are hostas, which are ridiculously easy to take care of and come back year after year. You can also get striped varieties if you want something a little different. Pair those with the color of impatiens – or any other type of color flower you like – and you've got a great match. This homeowner has taken things a step further by matching the flowers in the garden with the flowers in the window box. Best of all, you could complete a design like this on your own in a single weekend.
7. A Waterfall of Flowers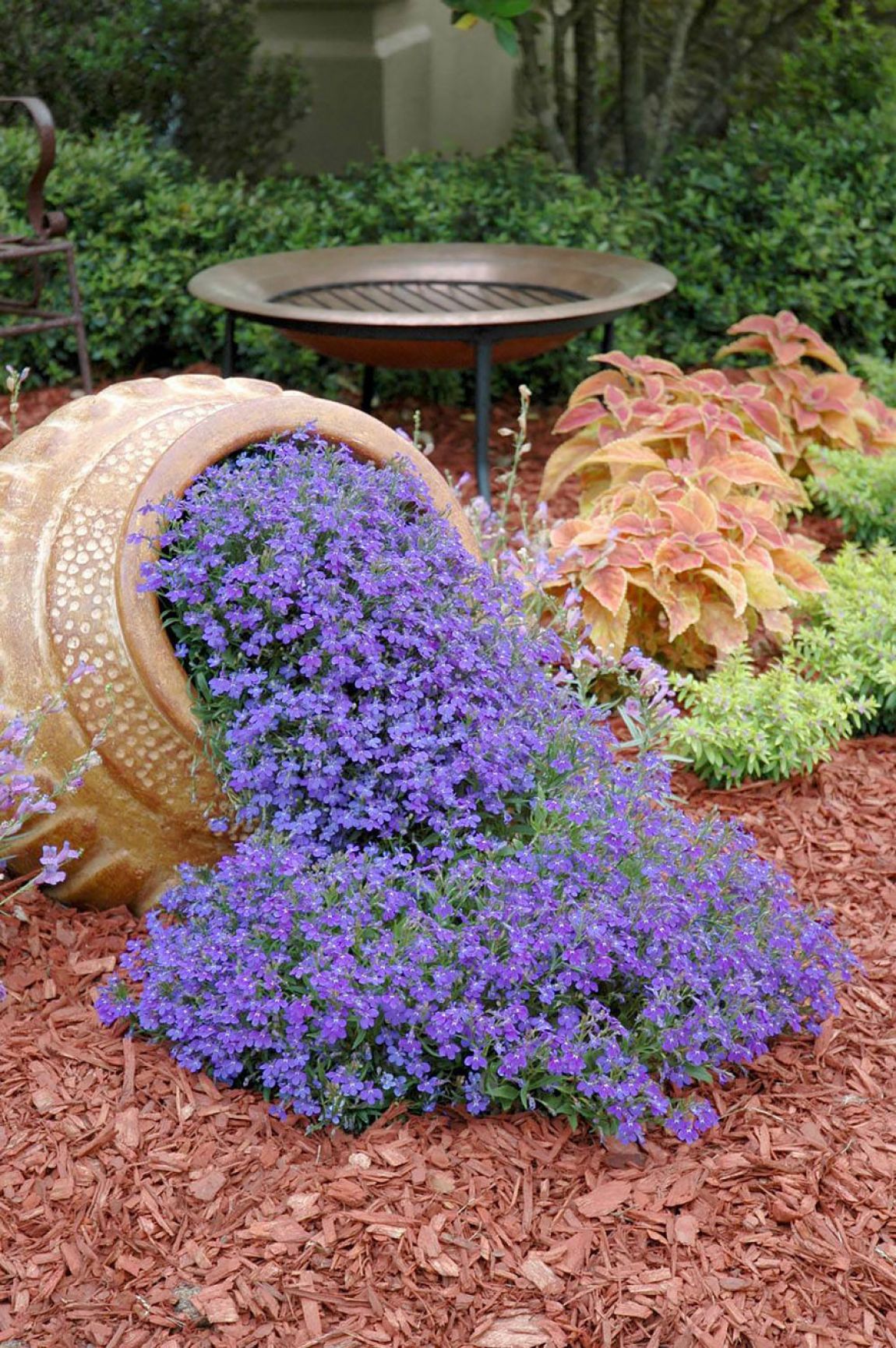 This beautiful look is perfect for almost any type of garden. Though it looks like a pot of flowers has been tipped over, with the flowers spilling out, it's actually carefully designed to look that way. You can purchase a large pot like this at most garden shops. There will be a flat bottom that places the opening on the side. While you do want flowers that look like they're spilling, you'll have to plant some in the ground to create that same effect.
8. Just Swinging in the Garden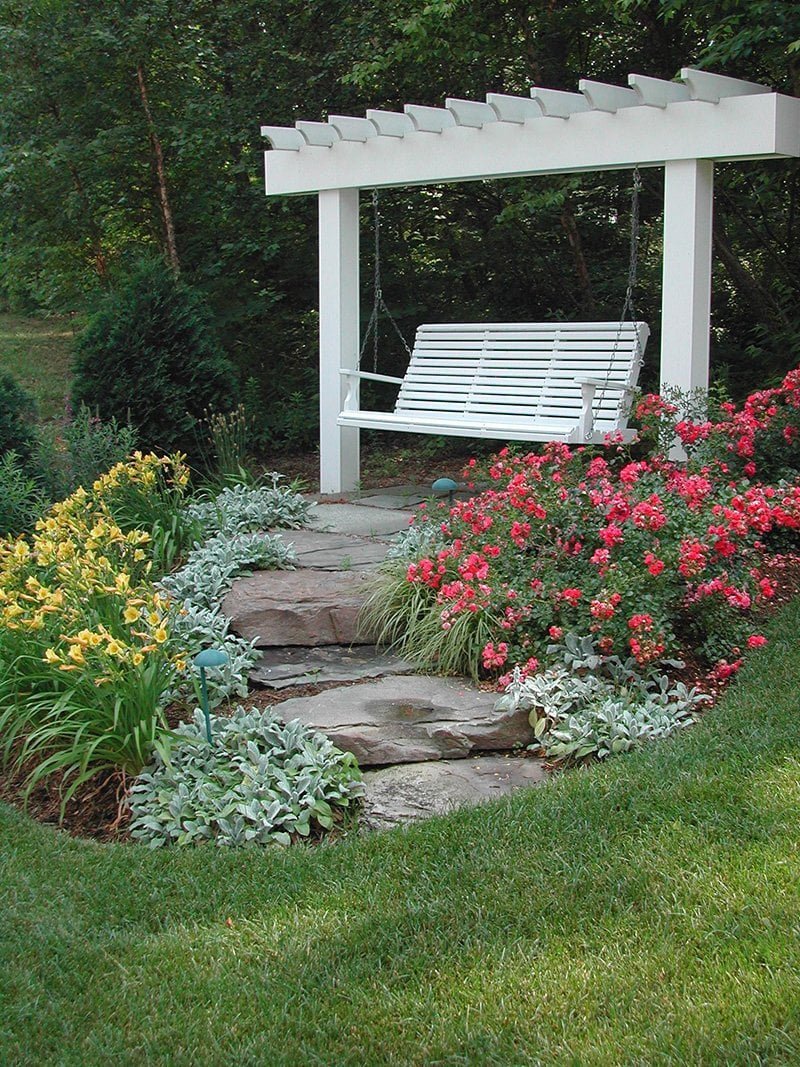 What good is a well-planned backyard design if you're not going to actually use the space? Here, rustic stones create a path through the landscaped area to reach a garden swing. It's the perfect spot to relax the day away. If you'd like even more color than this look provides, consider adding vining flowers to the pergola above the swing. Sweet-smelling varieties will make this an even better place to hang out.
9. Modern Patio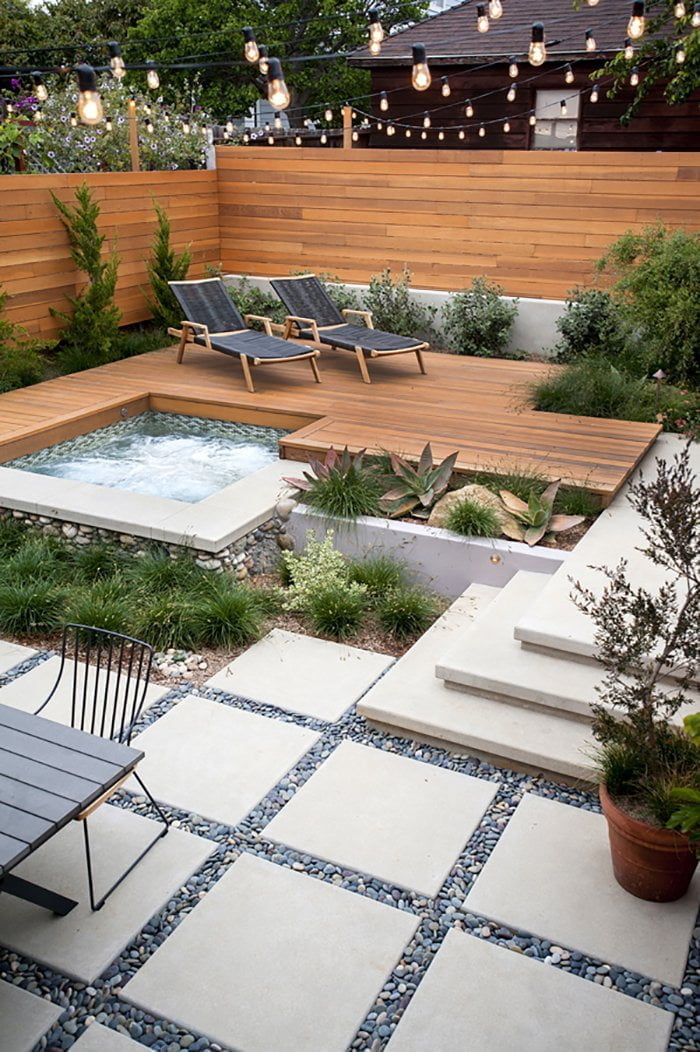 If you live in an area that doesn't get a lot of rain, you'll want to think twice about backyard landscaping ideas that focus on lush greenery and mounds of flowers. Here, the backyard is primarily made up of wooden planks and stone squares, which don't require water. Small areas of native plants help create that backyard feel that you want without driving up your water bill. If you're not sure which plants are native to your area, speak with a professional landscaper or someone who works in a local nursery.
10. Keeping Weeds at Bay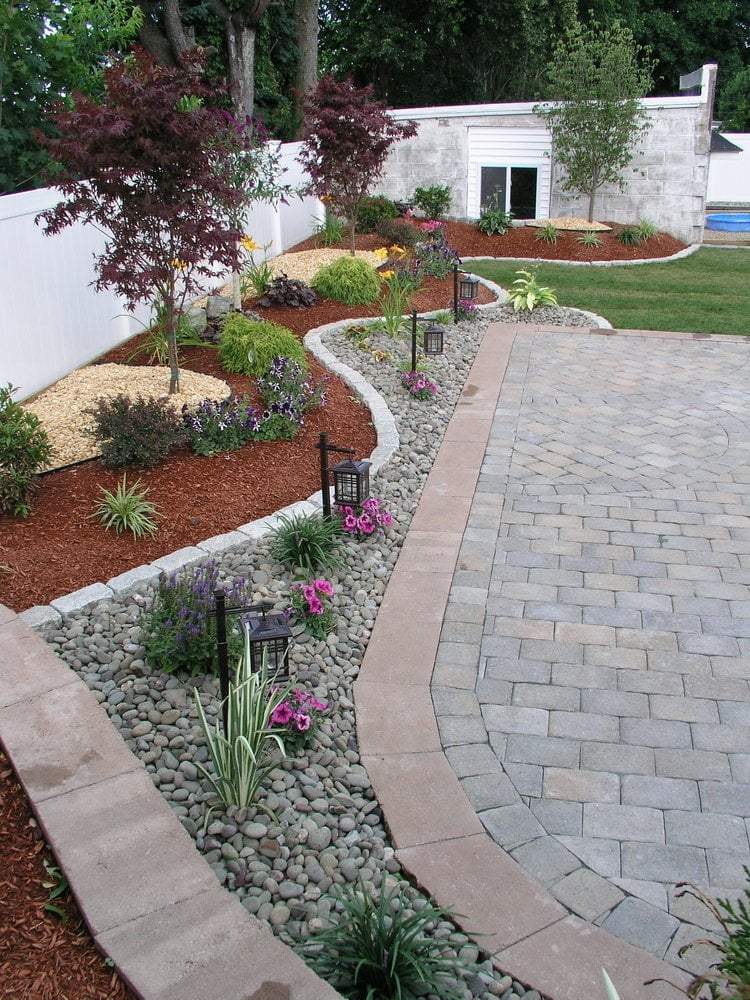 One of the biggest challenges in most garden designs is having to keep the weeds from creeping back into your garden area. Sometimes, you have to make a plan to weed daily to make sure that your garden looks just the way you want it to look. That's not as much of a problem when you put down a good layer of mulch, as you'll see in this picture. For a bit of variety, this homeowner has changed the colors of the mulch, with the light brown mulch around the trees and the red mulch in the other area. Small rocks can also act as a weed-blocker, and they're used here as a contrast to the two types of mulch.
11. Keeping the Tree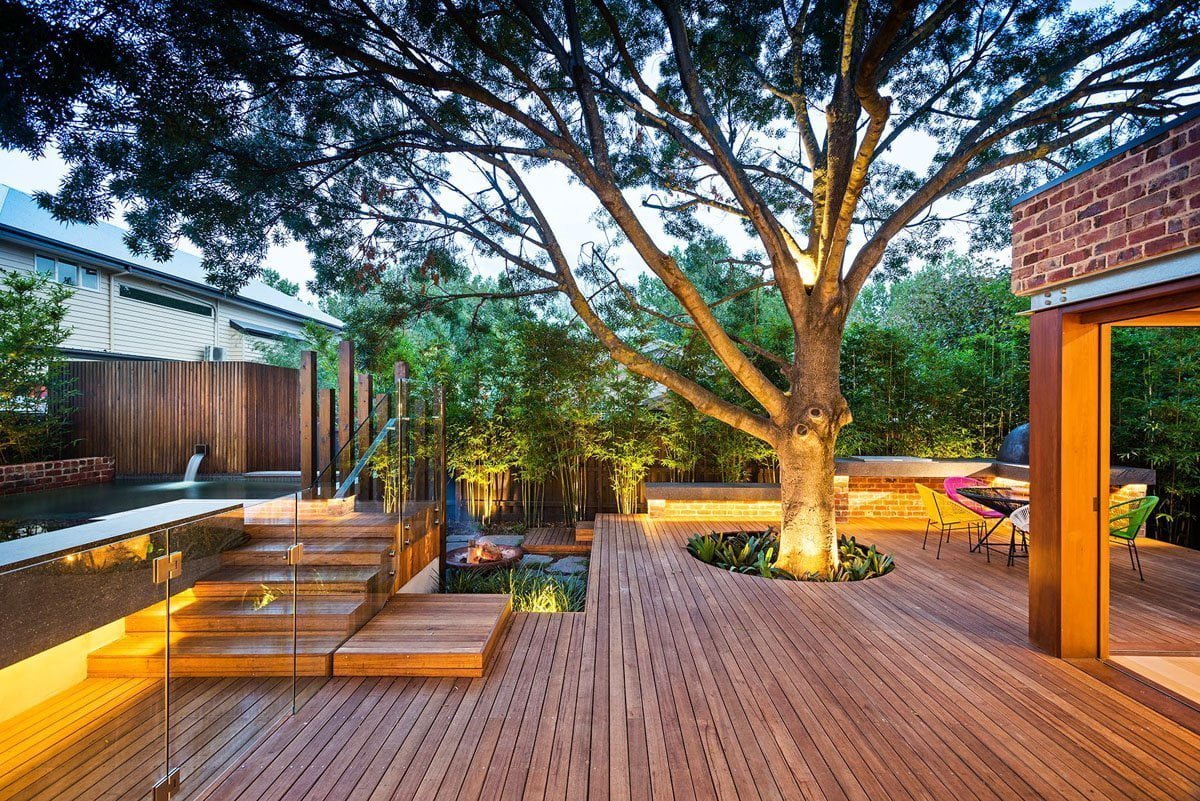 This is another backyard landscaping idea that won't require a lot of water to keep up. Rather than focusing on a stone patio on the ground, this homeowner has created a vast space using wood. This particular idea allows there to be different levels of patio, which gives the space an interesting look. Bamboo planted in a line will eventually form a wall of privacy, which is a nice, natural look. An interesting thing they chose to do was to leave the tree growing in the space, building the deck around the tree and having green plants sneak up through the hole. Cutting down a tree that large would have taken away the natural shade it provides, so this will keep things cool and protect people from getting sunburned.
12. A Flower-Shaped Garden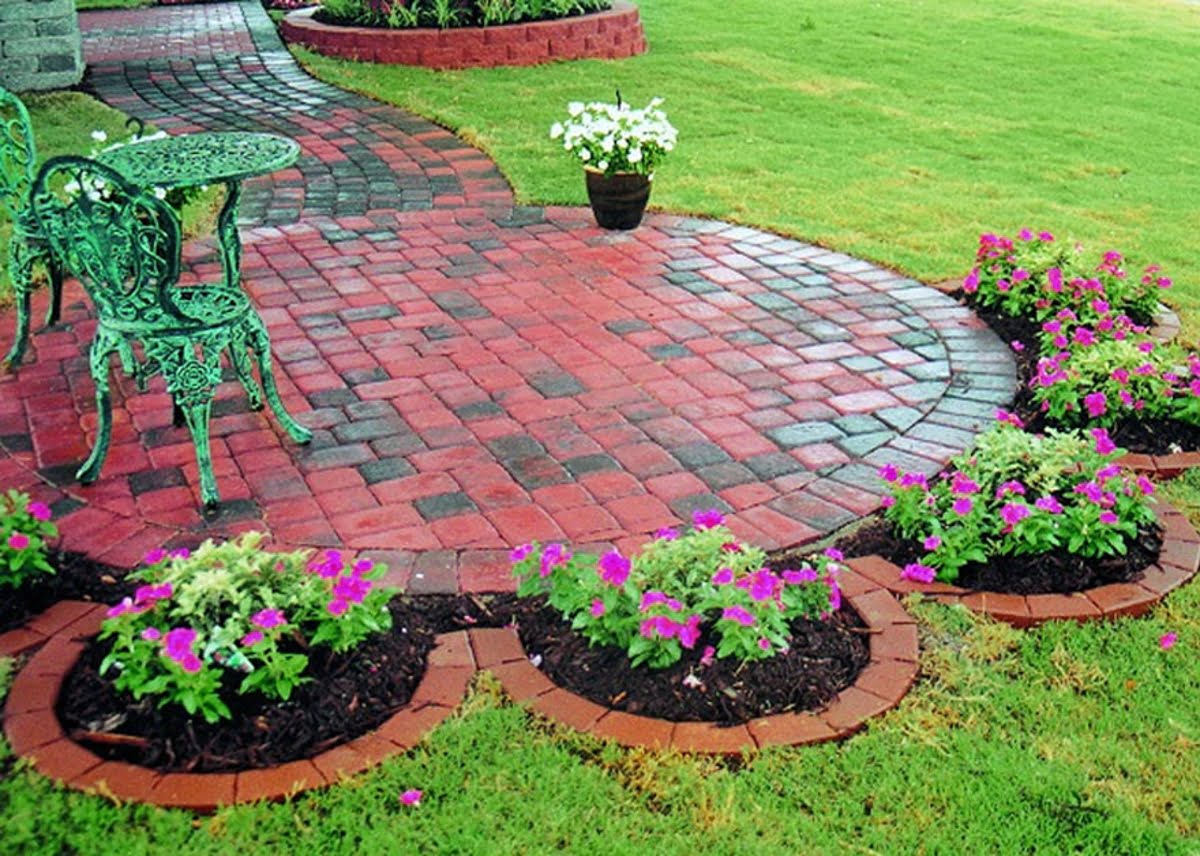 If you're looking for cute garden ideas to go with your home decor, you'll love this idea. A winding brick path ends up at a circular area that's just the right size for a small café table. Jutting off of this circle are smaller half-circles filled with flowers. When you look at it from this angle, it almost looks like a flower-shaped patio, and it provides a nice little retreat. Note that with the small corners between the separate "petals" of the design, you'll need to use a weed whacker to cut the grass. Be careful not to cut the flowers as well!
13. Look Up!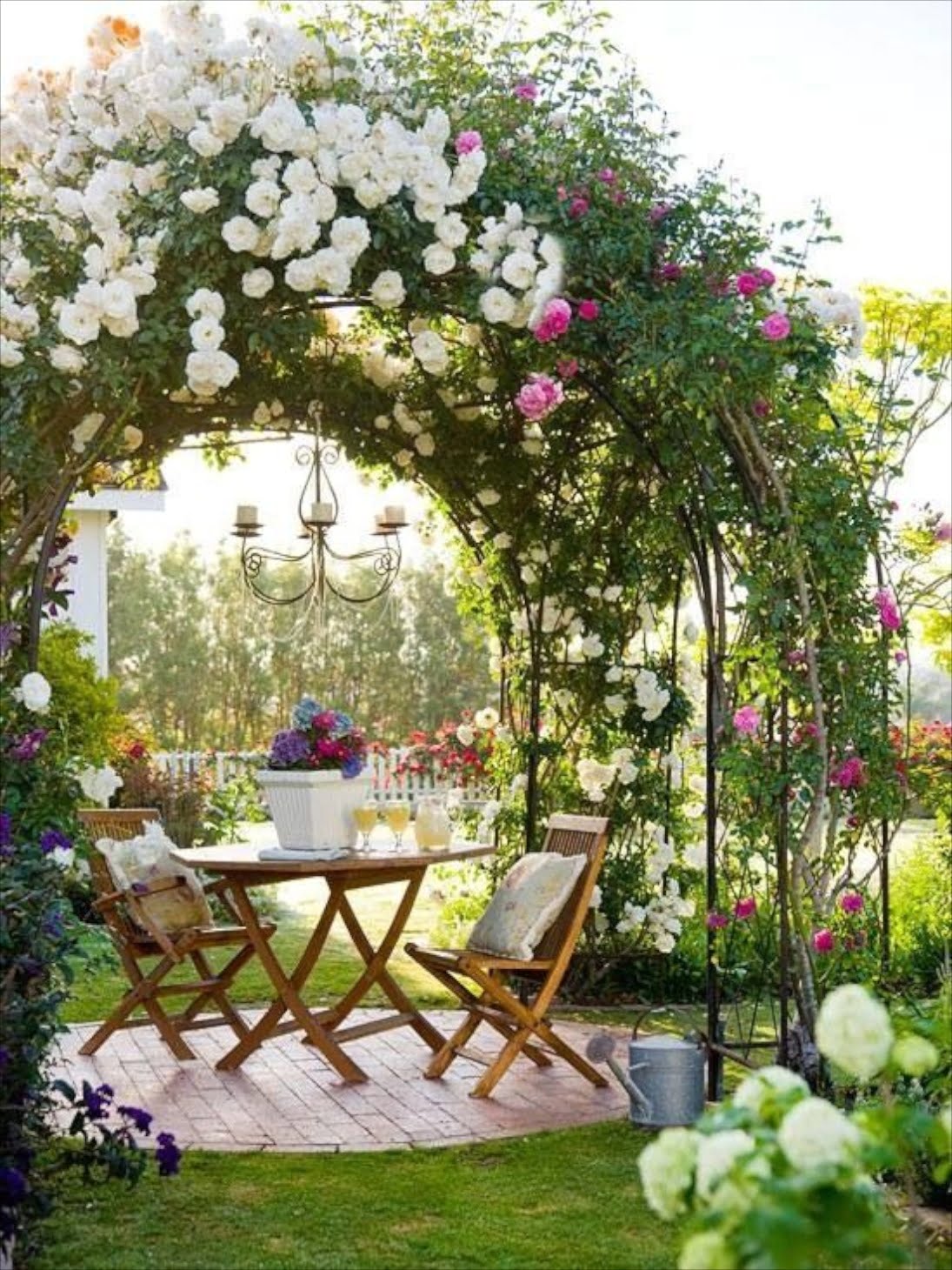 You'll find that most backyard design ideas focus on the various ways you can arrange flowers and other plants in the yard. This homeowner has taken landscape design to a whole new level – literally. The small circular patio area is the perfect size for a table for two, and the surrounding pergola with beautiful roses will make you feel like you're in a room made of flowers. The chandelier adds an unexpected touch that could be practical for enjoying the space in the nighttime.
14. A Room of Your Own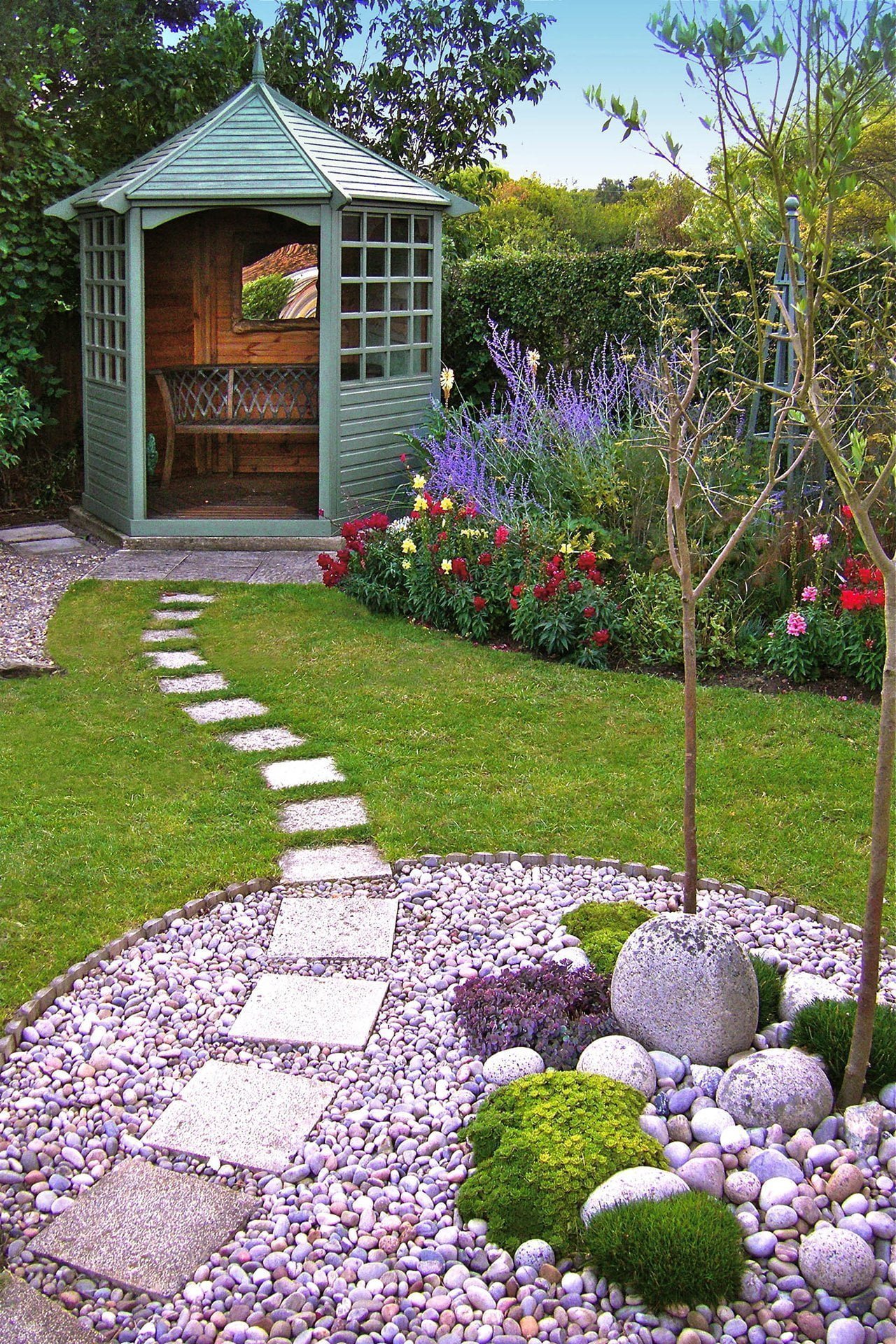 If you're the type of person who spends summers inside to avoid the sun's harsh rays, consider how this creative gazebo will allow you to be outside and inside at the same time. The path in this backyard design is interesting because it cuts through one of the landscaped areas rather than going around it. The tall plants in the area of flowers add depth and color, but they also hold a secret. If you look closely, you'll see that they're hiding a patio table on the other side. This gives you the privacy you might want, creating a cozy little nook in the garden.
More backyard landscaping ideas on the next page…