Check out this incredible listing of 24 of the best red Christmas centerpiece ideas. While you're making your grocery list to prepare for your ultimate Christmas feast, don't forget to consider the center of attention at the meal- namely, your Christmas centerpiece!
26 Festive Red Christmas Centerpiece Ideas to Try out this Season

From rich reds to lots of greenery, there are so many amazing ways to show off your Christmas spirit in the middle of your table. Consider traditional floral arrangements that provide a conventional feeling or opt for a more unique style that features a sleigh, wooden crate, or tin can.
One versatile aspect of your centerpiece is its functionality as a decoration in other rooms of your home too. Place it on the mantel to decorate your hearth or feature it front and center on your entryway table to greet each guest that enters your home.
Red makes the perfect choice for your centerpiece as it blends so well with so many colors and themes. Obviously, it makes a killer statement as a featured buffalo check pattern alongside a friendly gnome. Or look at the elegance it renders when paired with gold. Of course, it makes a festive look anytime it partners with green as the colors of the holiday season.
Including a candle within your centerpiece further adds to the atmosphere you cultivate within your entertaining scene. Nothing warms up a room like a nice fire in the middle of winter, and including the soft glow of candlelight is an easy way to replicate this climate of coziness within your home for Christmastime.
Winter tends to be dark and cold, so be sure to choose a spectacular centerpiece to brighten up the inside of your home with plenty of Christmas cheer!
1. Christmas Candy Cane and Carnation Centerpiece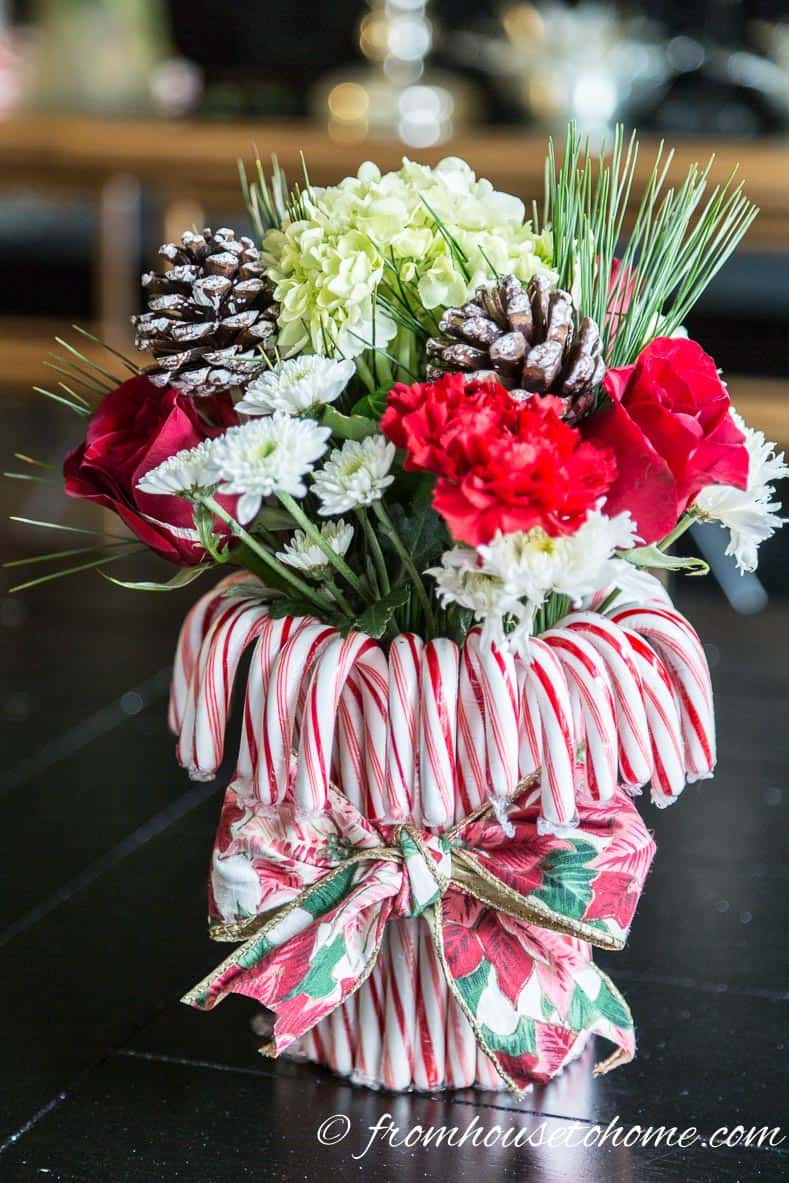 Add some festive red and white stripes to your dinner table with this beautiful handmade holiday centerpiece. The iconic candy cane takes center stage as it creates this gorgeous Christmas time centerpiece to adorn your dining room table. Carry the rich red and crisp white throughout the decoration by featuring red and white carnations within your floral bouquet. Pinecones make the perfect addition to this winter-themed arrangement along with a few sprigs of pine needles. Add the finishing touch by tieing a Christmas-colored ribbon around the candy cane-lined vase to create a fun and festive centerpiece this year.
2. Floating Votive Cranberry and Evergreen Centerpiece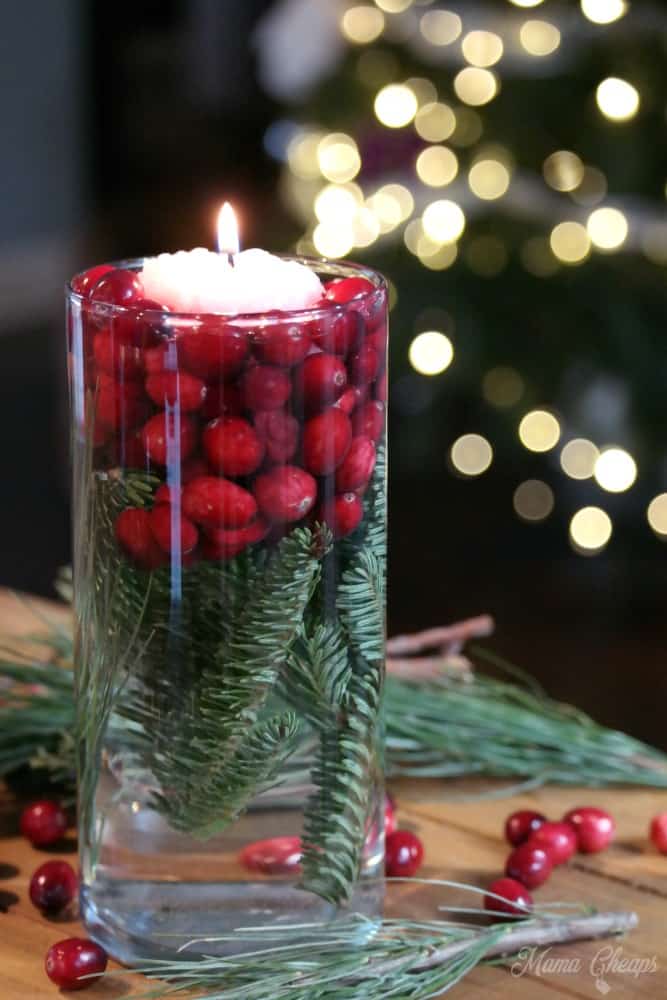 Simple, yet elegant, this charming cranberry and evergreen centerpiece enhances the room with its vibrant Christmas colors and soft votive candle glow. Stay under budget without sacrificing style as you add one or more of these homemade Christmas decoration centerpiece ideas to your home this holiday. Place a few along your mantel intermingled with your green garland to echo the flicker of your warm fire. Line them along the middle of your table for cool holiday centerpieces. They are a great choice for adding to any featured Christmas collection from Santas to snowmen to infuse a comfortable elegance.
3. Reindeer and Buffalo Check Christmas Centerpiece Styling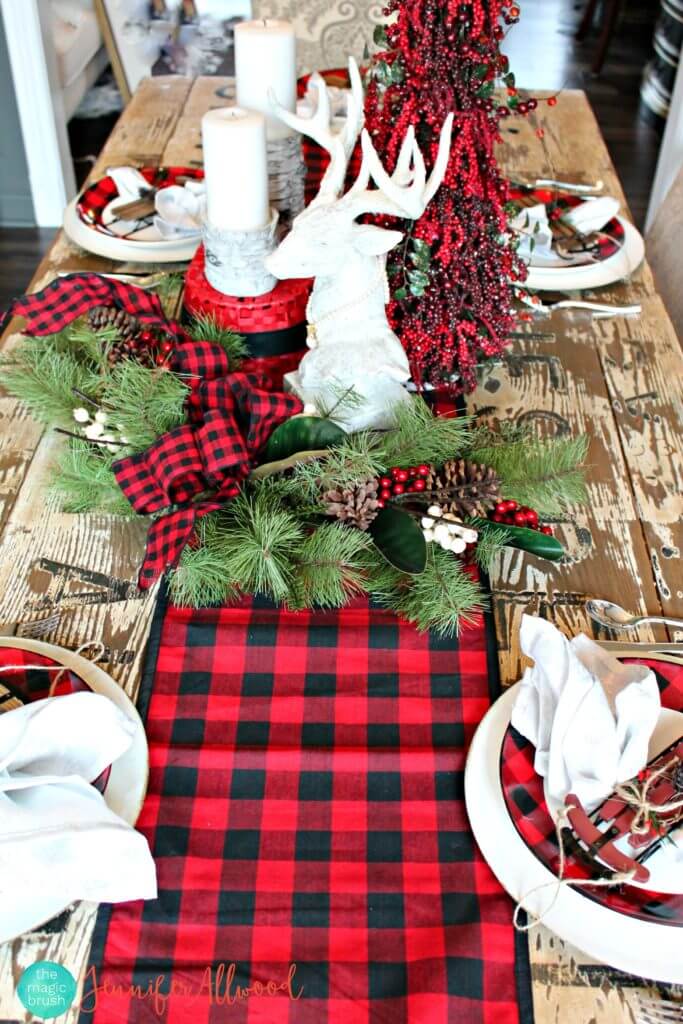 Fill the center of your table with the cool look of buffalo plaid accompanied by a gentle resting reindeer. The long table runner sets the stage for this inspiring and lovely Christmas creation. Cradled around the deer, the perfect combination of rustic greenery mingled with a matching buffalo check ribbon make this centerpiece styling a win-win! Continue the bold buffalo pattern onto our place settings for a complete look. Of course, it's always a great idea to include a candle or two in order to elevate the ambiance at your mealtime setting.
4. Rustic Wooden Box with Tree Trio Centerpiece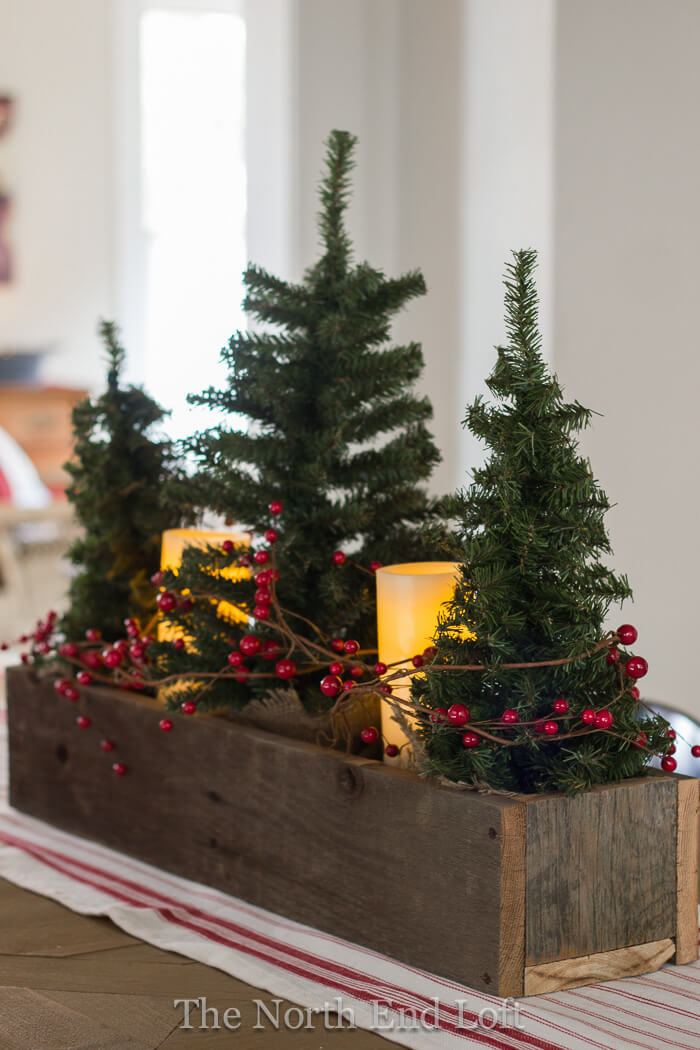 Bring a trio of pine trees to your tabletop this Christmas with this charming rustic wooden box centerpiece. The trio of trees takes center stage within the confinements of this centerpiece as they are nestled in burlap wrappings. Around them, you'll discover a light touch of red as a string of berries hug them in a warm embrace. This embrace is enhanced by the soft and comforting glow of the two candles set among this arrangement. Place this on your dining room table for an everyday centerpiece for winter or use it as a pretty Christmas decoration on your side table, mantel, or kitchen island.
5. Rich Red and Black Christmas Centerpiece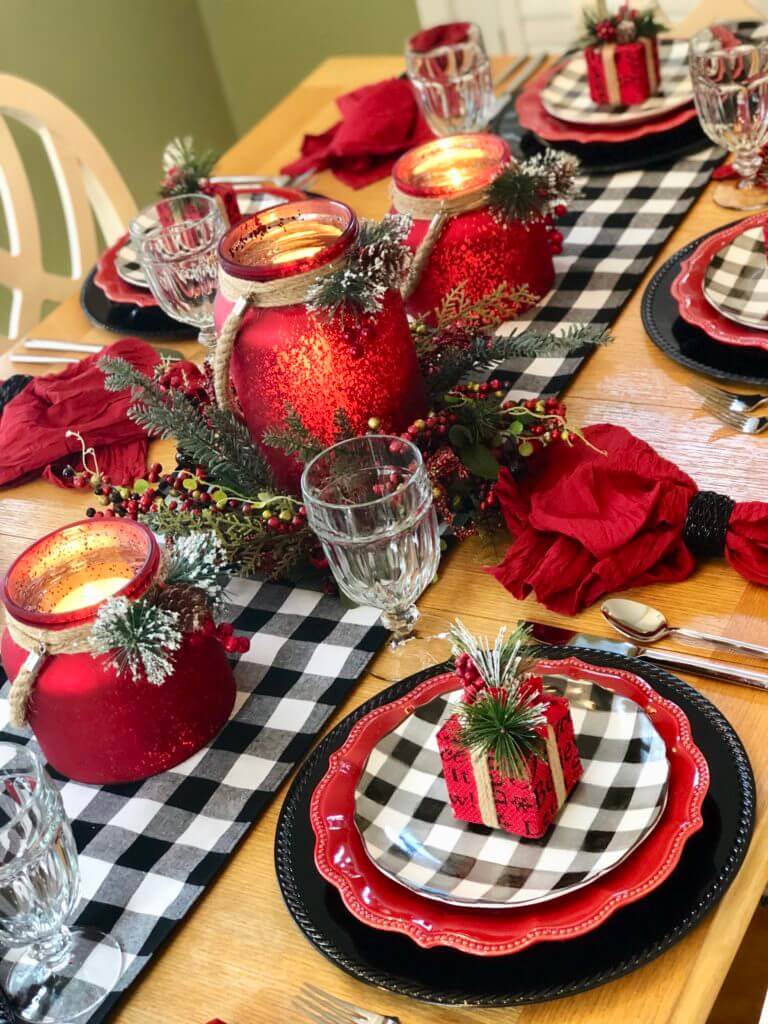 Let this rich red of these glittery jars take center stage as one of the best red Christmas centerpiece ideas. These gorgeous glittery and glitzy candle-holding jars illuminate the party scene with a warm and elegant glow. Make the red really pop as the black and white plaid runner provides the perfect grounding element. A few frosty pine branches enrich the overall design for a true winter feel. For each place setting, a coordinated plate arrangement shows off the black and white accents that make the red remain the star of the show. Each features a miniature present favor that's a unique touch for your next Christmas get-together.
6. Frosted and Frilly Let It Snow Centerpiece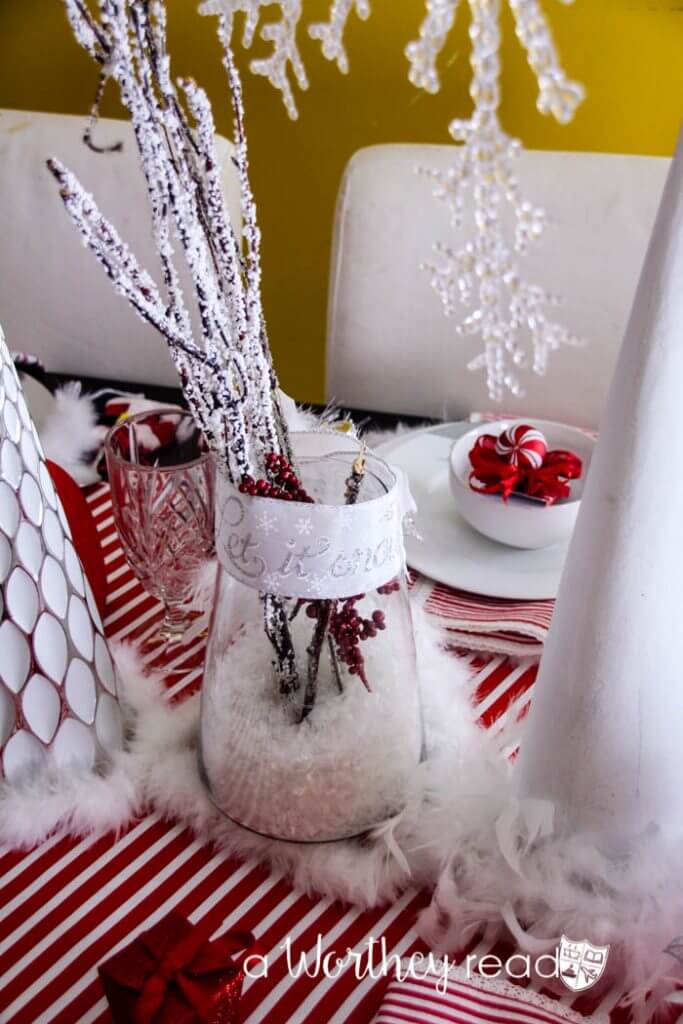 Let the magic of winter fill your dining table with this lovely "Let It Snow" Christmas centerpiece. If you look closely, you'll notice a glass that's half full of faux snow and coordinates with the glistening snow-trimmed brim. A few sprigs of frosted sticks further add to this chilly and frilly Christmas centerpiece. Deep within, a cluster of red berry stems adds just enough festive color to give you the Christmas feeling you covet this time of year. Include a few of these glass beauties along with your holiday tablescape along with some light and airy feathery white garland to give the appearance of soft snow.
7. Charming Coffee Table Christmas Centerpiece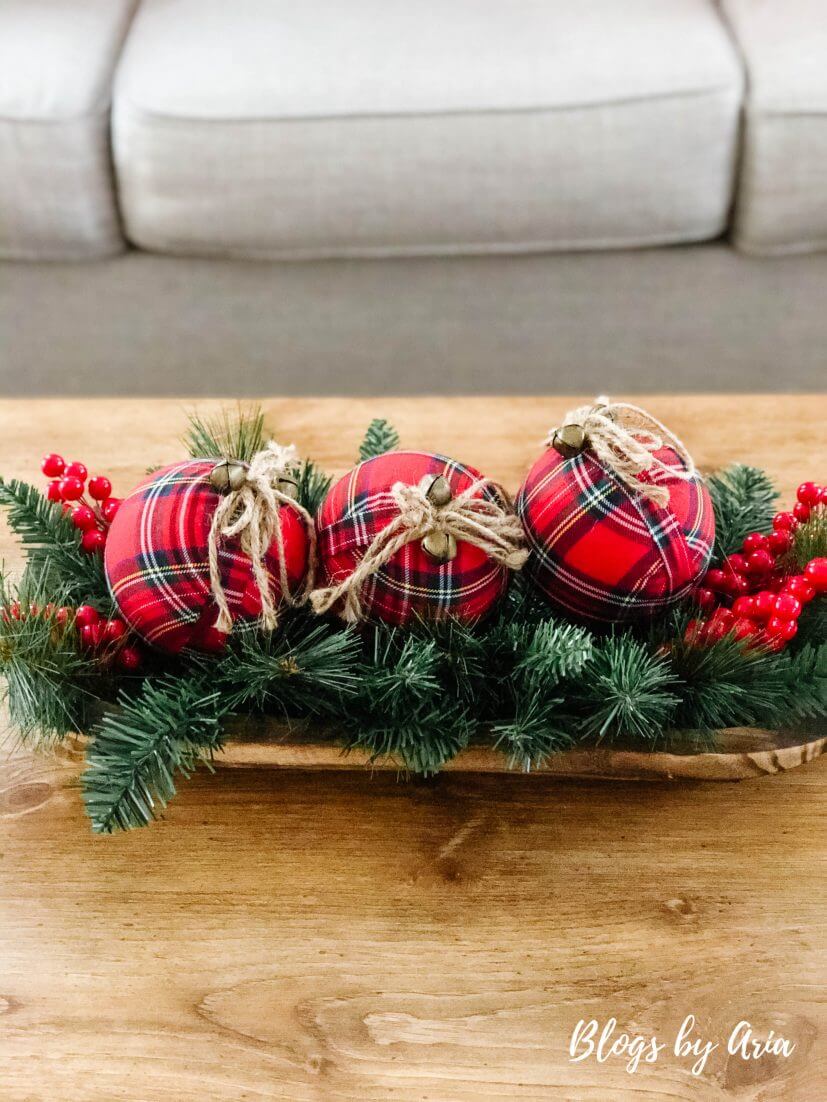 With a coffee table, it doesn't need anything too elaborate when it comes to decorations because there typically isn't the space for it. So, this Christmas centerpiece is an excellent choice in this regard. The dough bowl is a great base for everything too so that the plaid ornaments sit nicely. Their red coloring fits right in with traditional holiday decorations. Furthermore, the greenery and berry pick breathe additional life into this centerpiece. The berries even help stick with the red theme while the greenery works for contrast purposes. Everything about this setup speaks to the festive spirit Christmas brings out.
8. Remarkable Crafted Santa Hats Centerpiece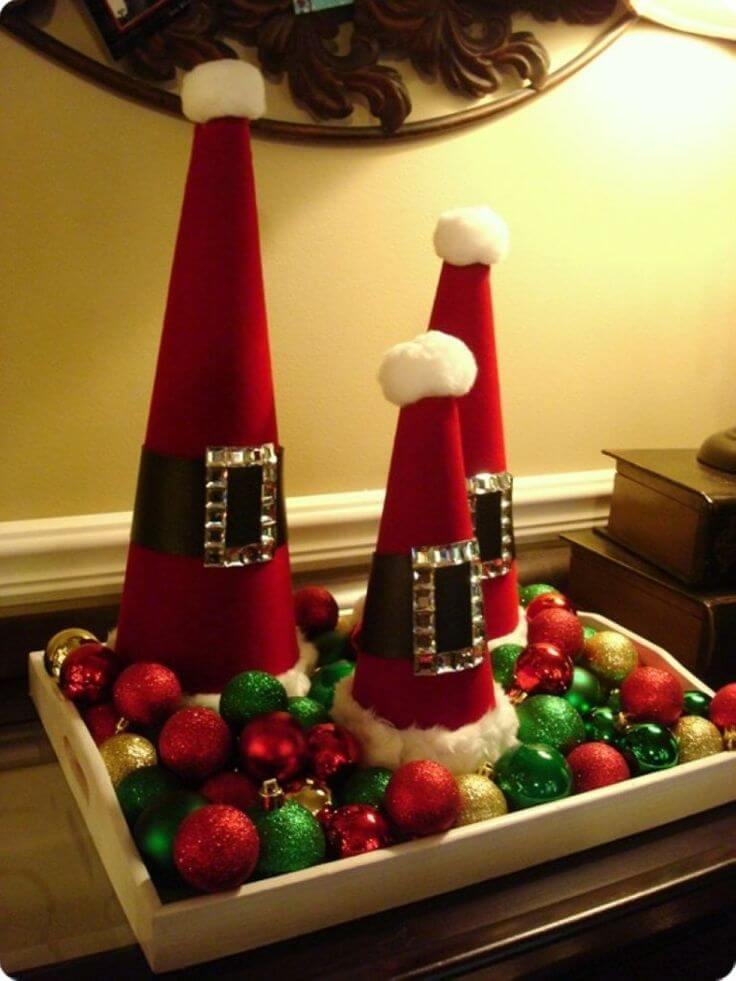 If you have an empty table or two just begging for some love this holiday season, these Santa hats are here to save the day. There is no denying that they capture attention. With them being in multiple sizes, the centerpiece doesn't come across as dull or basic. Instead, there is plenty of life to be found in the setup. This doesn't just stop with the incredible, bold red hats either. What they sit on is remarkable too. They rest in a sea of sparkling ornaments that are all holiday colors such as green, red, and gold. These do well at giving the hats more space to stand out.
9. Cranberry Christmas Centerpiece with Hydrangeas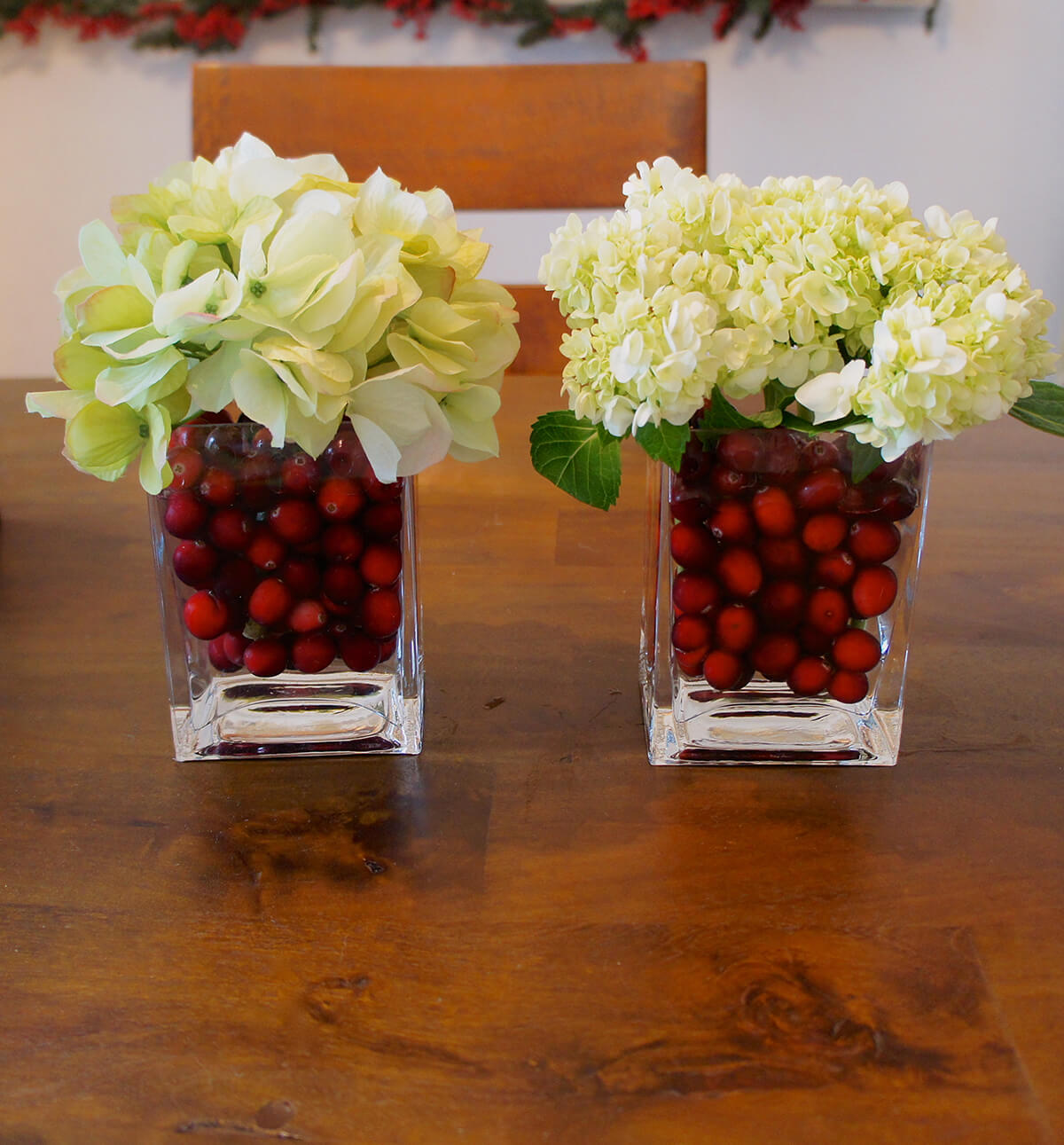 Let the amazing and natural hues of the cranberries captivate your home this Christmas. Floating in a vase of your choice, these gorgeous berries add the festive splash of color you're craving. Secure a few stems of hydrangeas in white to assemble an incredibly beautiful Christmas centerpiece that is easy on the wallet and has the ability to decorate nearly any space. Position these on an entryway table to work their magic within your winter decor or show them off as the centerpiece decorations for your Christmas party. With the rich red of the berries, you'll incorporate the Christmas color quite nicely throughout your home's decor this holiday season.
10. Potted Holly Berry Merry Christmas Centerpiece Basket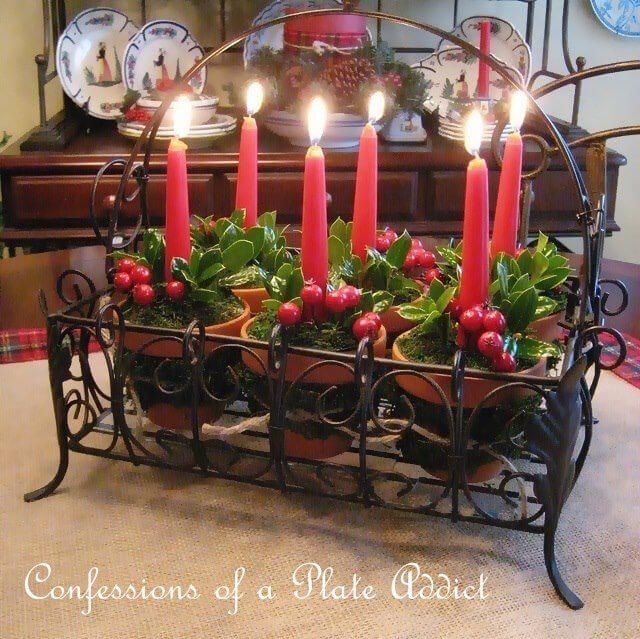 Here's a new way to decorate your home for the holidays. Try out this fun new approach to a festive centerpiece by utilizing a basket you already have lying around your home. You'll need enough pots to fill up the space inside your basket so the number and size depends on your basket. Fill each one with a lovely holly berry sprig set amid a nicely covered mossy top. In the center, a red taper candle makes the overall design quite grand. Using a basket also makes this Christmas centerpiece portable so you can take it from one room to another depending on your hosting needs.
11. Cozy Christmas Red and Green Plaid Garland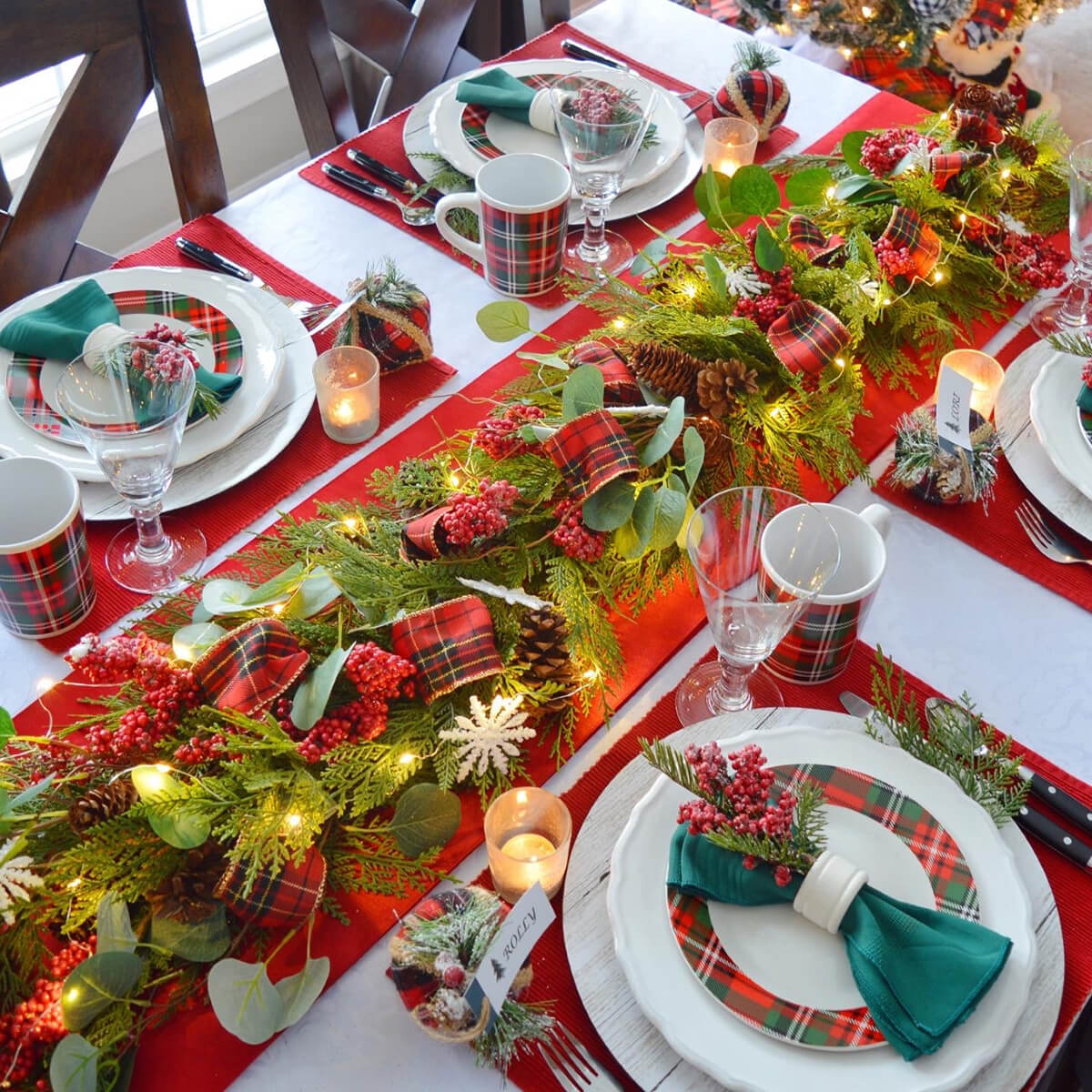 Everyone will be home for Christmas when you indulge them in the cozy atmosphere of your plaid garland centerpiece dining room delight. Highlighted with a plaid ribbon of red and green, this gorgeous garland is a much-welcomed change of scenery from the traditional circular bouquets featured on tables. Line the center of your buffet or table with this spectacular display of red berries, rustic pine cones, pine greenery, white snowflakes, and warm twinkle lights to create the ambiance you deserve at your family's Christmas dinner. Coordinate the entire look with matching plaid napkins, plates, and cups for a picture-perfect arrangement worthy of a magazine spread.
12. Cozy Christmas Santa Claus Belt Tin Centerpiece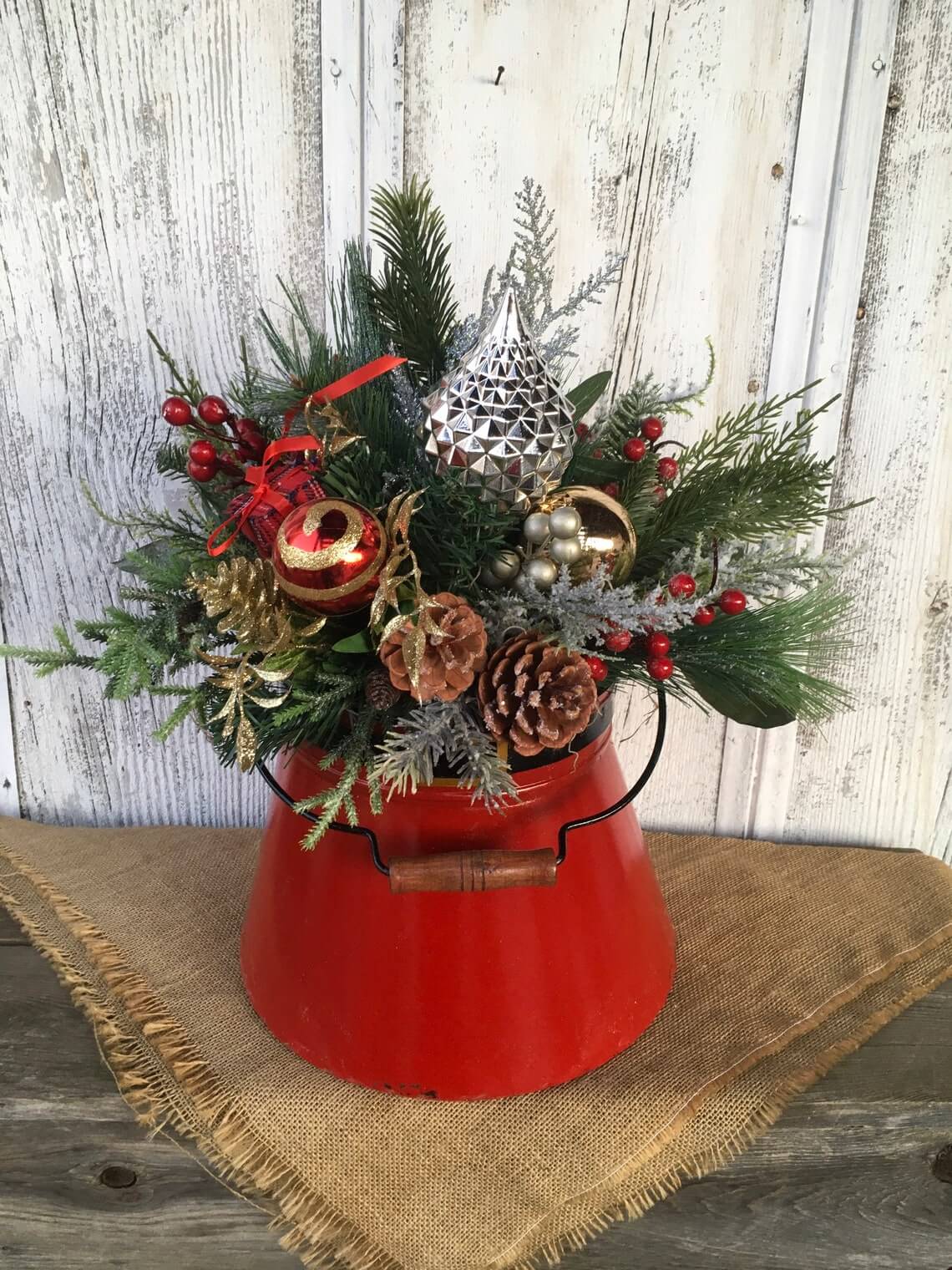 Check out this cool Santa Claus belt tin can! It makes an awesome base for creating a unique and gift-worthy centerpiece for your holiday needs. While it can be filled with nearly anything you choose from candy to treats, the gorgeous greenery adds such a splendid winter wonderland decoration to your home. With a touch of glitz from the gold and silver, the accessories placed within make it a Christmas treat of its own. From the tiny plaid present to the shiny bulbs, the Christmas magic has been sprinkled throughout this pretty centerpiece that's grounded in a cute Santa Claus belt tin vase.
13. Filled with Joy Winter Themed Centerpiece
With pops of red and sprigs of green, this winter centerpiece captures all of nature's wonder within this tin can labeled "joy." From pinecones and berries to the stunning velvet poinsettia, this Christmas centerpiece is filled with joy from the inside out! Consider using this tin can bouquet as an ideal gift for a teacher, hair stylist, or neighbor. The tin can base offers versatility in your decorating needs allowing you to place it within any room of your home.
14. Rich Red and Gold Magnolia Candle Centerpiece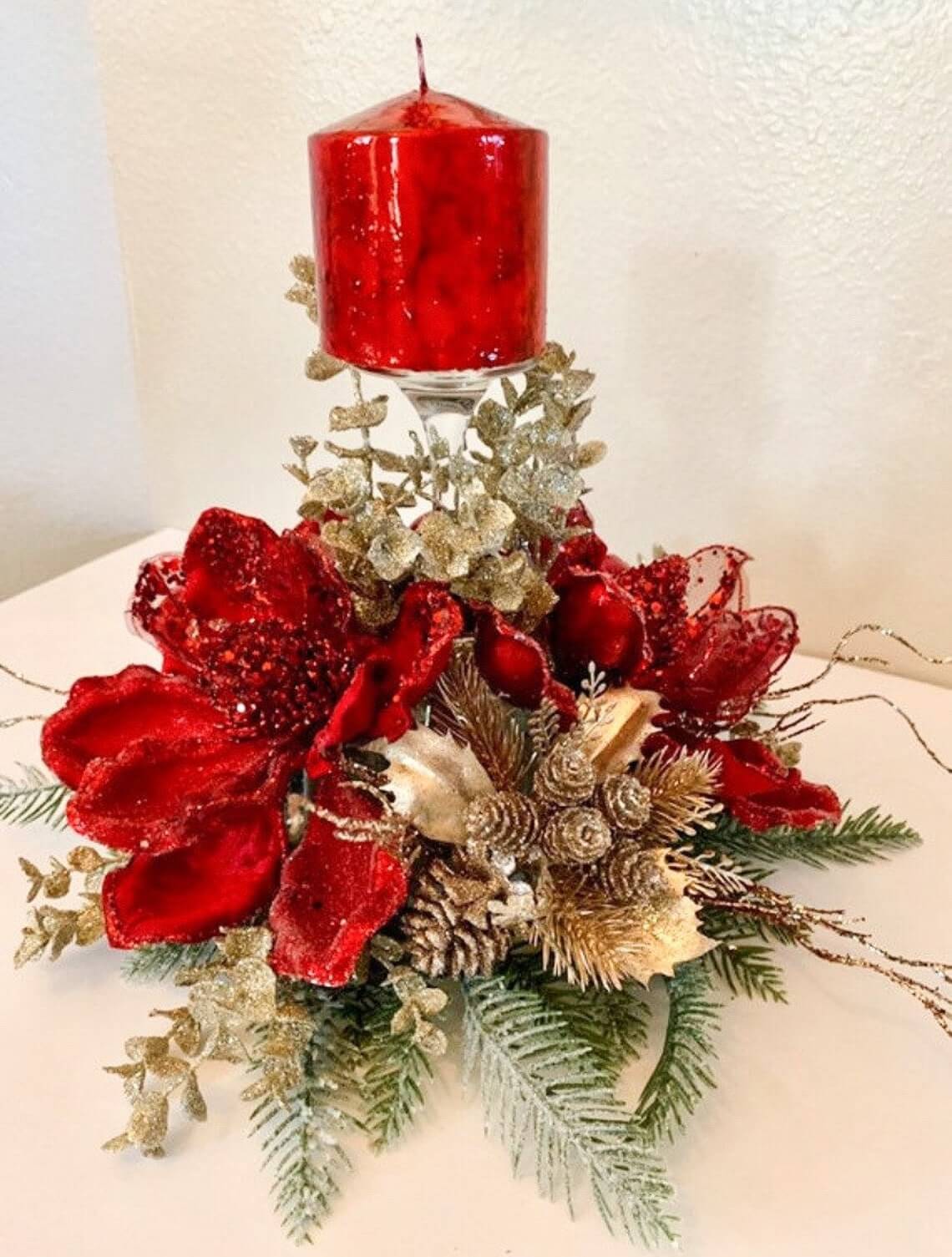 Rich and regal is how you'll describe this brilliantly designed magnolia and candle centerpiece. The vibrant red hues of both the candle and magnolia flower infuse the essence of the holidays right into the comfort of your home. Adding the gold accents, allows even more beauty and elegance to enhance your entertaining space for Christmas. The candle sets above the collection of greenery that's been delicately brushed with a golden touch. Place several of these along with a long dining table or use them as individual centerpieces for a host of tables at a larger-scale event. Small in size, these gorgeous gold, and red centerpieces pack quite a punch in terms of style and take up minimal space on your tabletop.
15. Mad for Plaid Christmas Gnome Centerpiece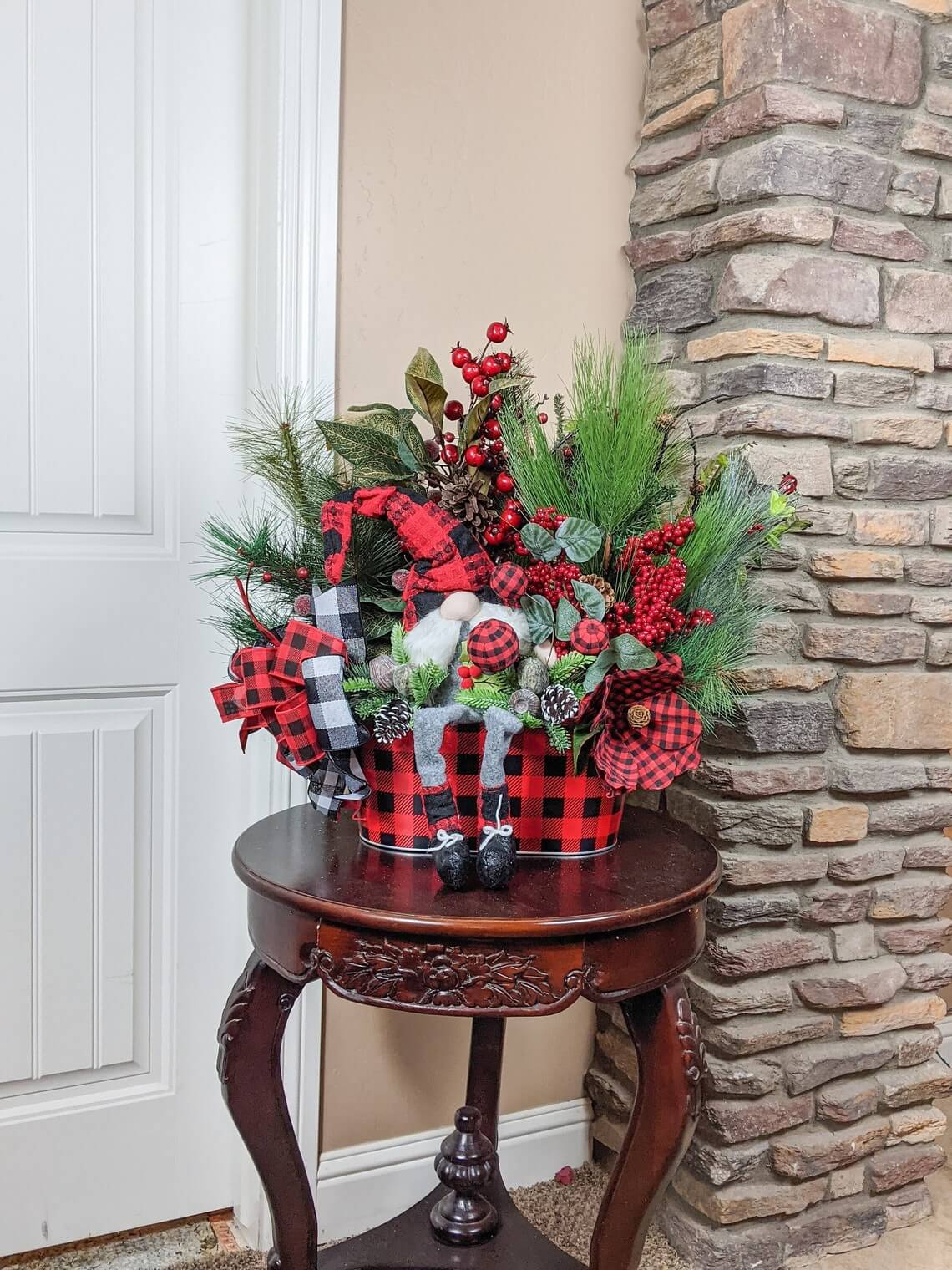 The best of both worlds collide in this unique creation that's one of the best red Christmas centerpiece ideas featuring everyone's favorite pattern, namely plaid, along with the icon of the year- the gnome. This gnome's linky legs dangle gently over the side of this plaid box and he rests within the gorgeous greenery surrounding him in this floral arrangement. The love of plaid is carried over onto his accessories from socks to hats and is coordinated well with the ribbons and balls throughout the arrangement. Enjoy this festive gnome inside your home all winter long!
16. Santa's Sleigh Red and White Christmas Centerpiece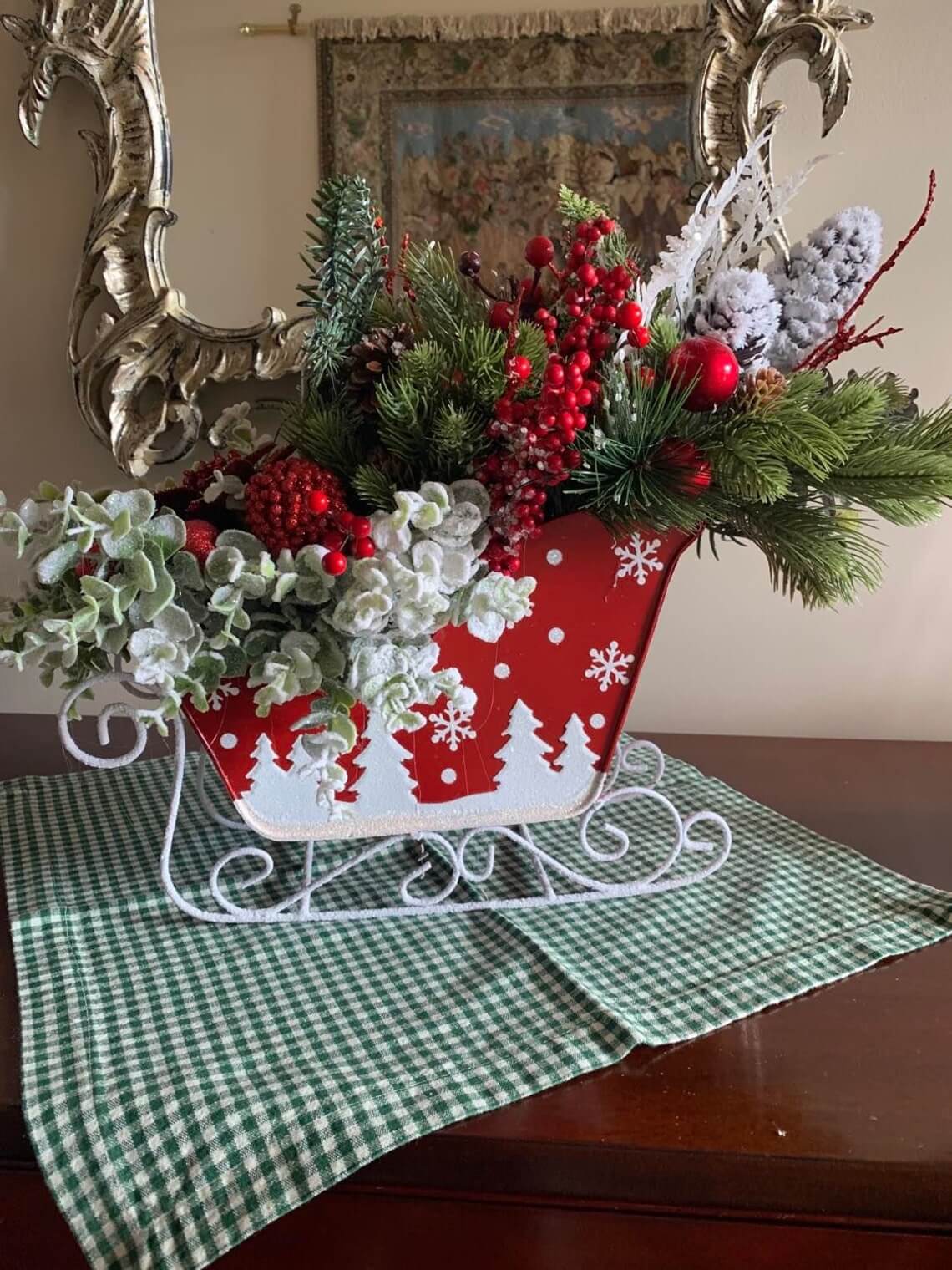 Giddy up and fill your sleigh with all things red and white as you celebrate a family dinner with your family this Christmas. Overflowing with a bounty of breathtakingly beautiful winter greenery, this sleigh makes a top choice in homemade Christmas decoration centerpiece ideas for your dining room table this year. The sleigh is a symbolic mode of transportation for the holiday season and will look fabulous adorning your table during your family meal. Gather together with those you love and share a delicious feast surrounding this pretty sleigh centerpiece.
17. Rustic and Red Painted Mason Jar Centerpieces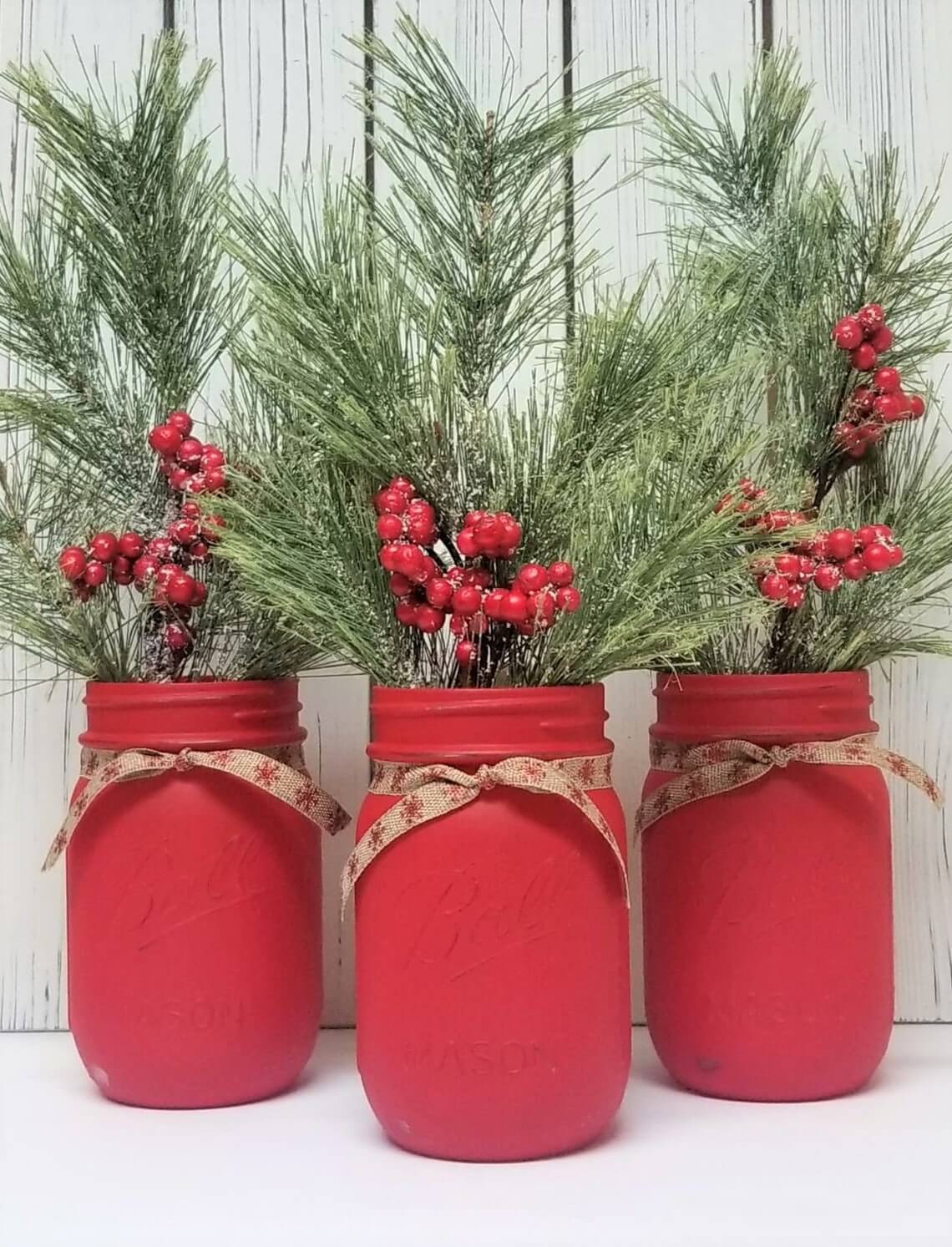 Rev up red in your holiday decor this year with this trio of painted mason jars. They make the perfect centerpieces as they can be featured together for a larger table or individually for a smaller scaled dining experience. Fill them up with your choice of greenery, lights, candles, or flowers for the look you crave. A thin burlap ribbon wraps around the top and features a color-coordinating red snowflake stamp to help welcome winter. These painted mason jars are a fabulous look for both the winter holidays of Christmas and Valentine's Day.
18. Candy Cane Carnation Captivation Christmas Centerpiece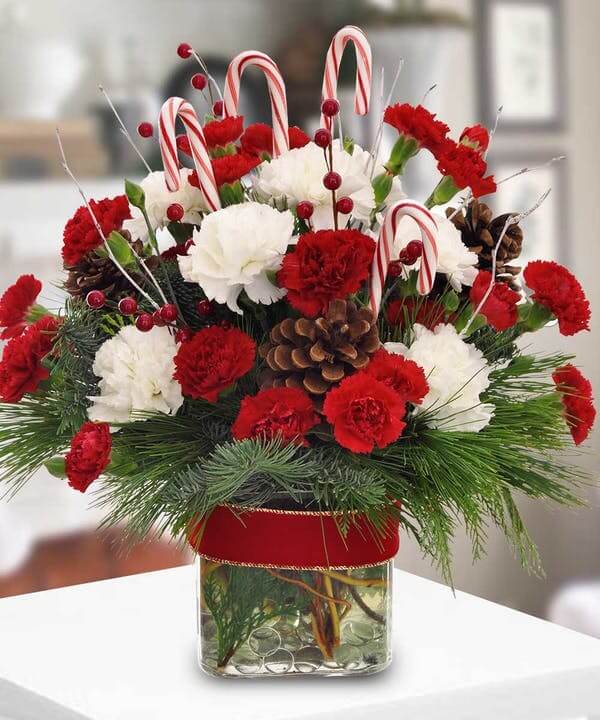 Deck the halls with loads of red, white, and green as you feature this bright and bold candy cane and carnation centerpiece on your table this Christmas. Candy canes always look festive during the days leading up to Christmas so why not include them as part of your holiday decor? The lovely white and red carnations mimic the rich stripes on these candies to tie the entire look together. A simple and soft red velvet ribbon wraps the square glass vase to perfectly complement the grace and elegance of this captivating Christmas centerpiece. Using the pine needles and cones further brings the Christmas season into your home this December.
19. Red and White Winter Wonderland Centerpiece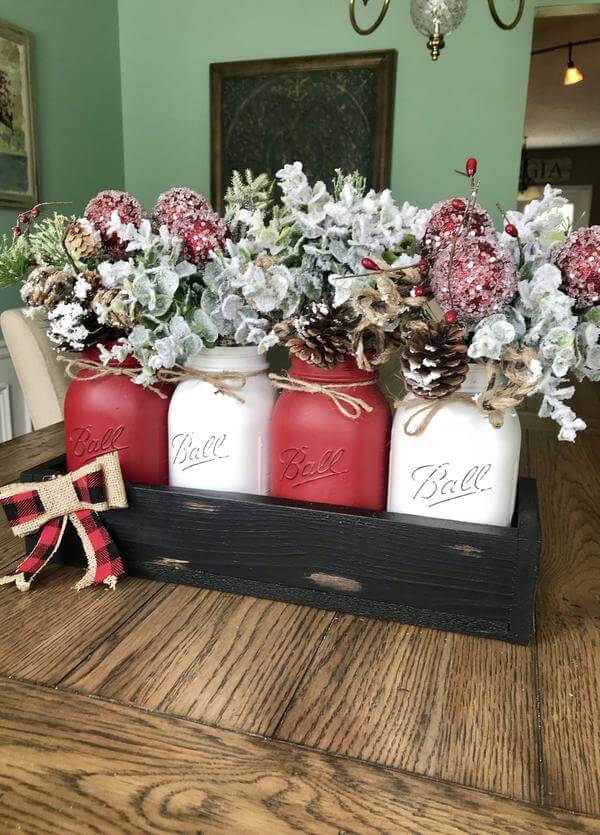 Take a plain wooden box and coat it with a distressed black finish and you're on your way to creating this red and white winter wonderland centerpiece. Four large mason jars fill it up as they show off four stunning frosted winter bouquets. The icy red berries and snow-tipped pine cones bring such a chilly winter feeling into this stylish country centerpiece. How cute is the burlap and buffalo plaid bow that adorns the corner of the box? This handmade holiday centerpiece is a nice creation that will look amazing in your home all winter long.
20. Wonderful Wine Glass and Poinsettia Centerpiece Creation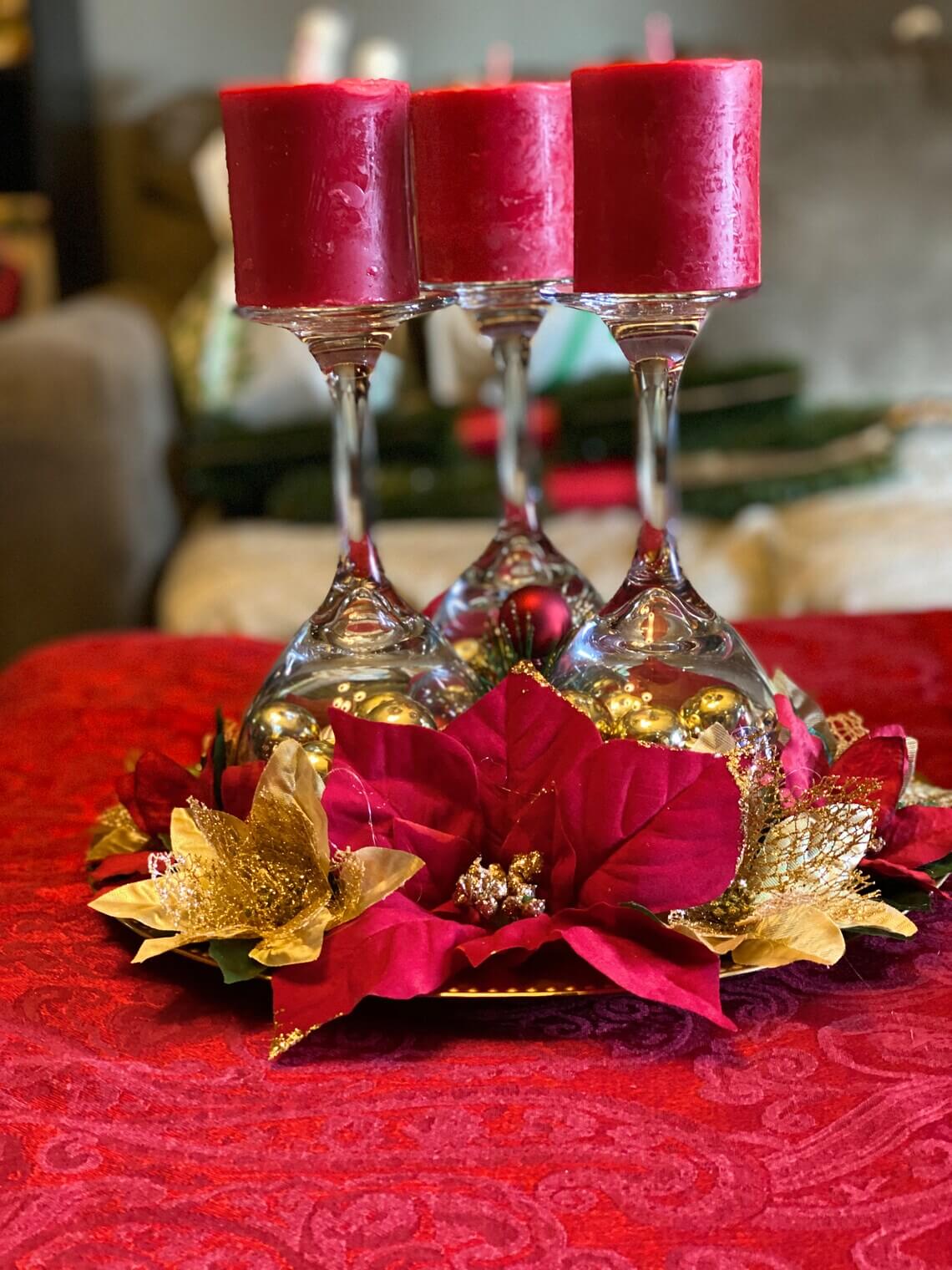 Unleash those creative juices and let them flow as you dive into this wine glass and poinsettia Christmas centerpiece. The dark red and gold make magic as they work together in creating this elegant centerpiece creation. A trio of inverted wine glasses transforms into unique candle holders that show off decorative miniature bulbs at the bottom. Finishing the look is a few poinsettias in dark red and gold to give some grace and elegance to this handmade Christmas centerpiece.
21. Season's Greetings Buffalo Plaid and Flocked Box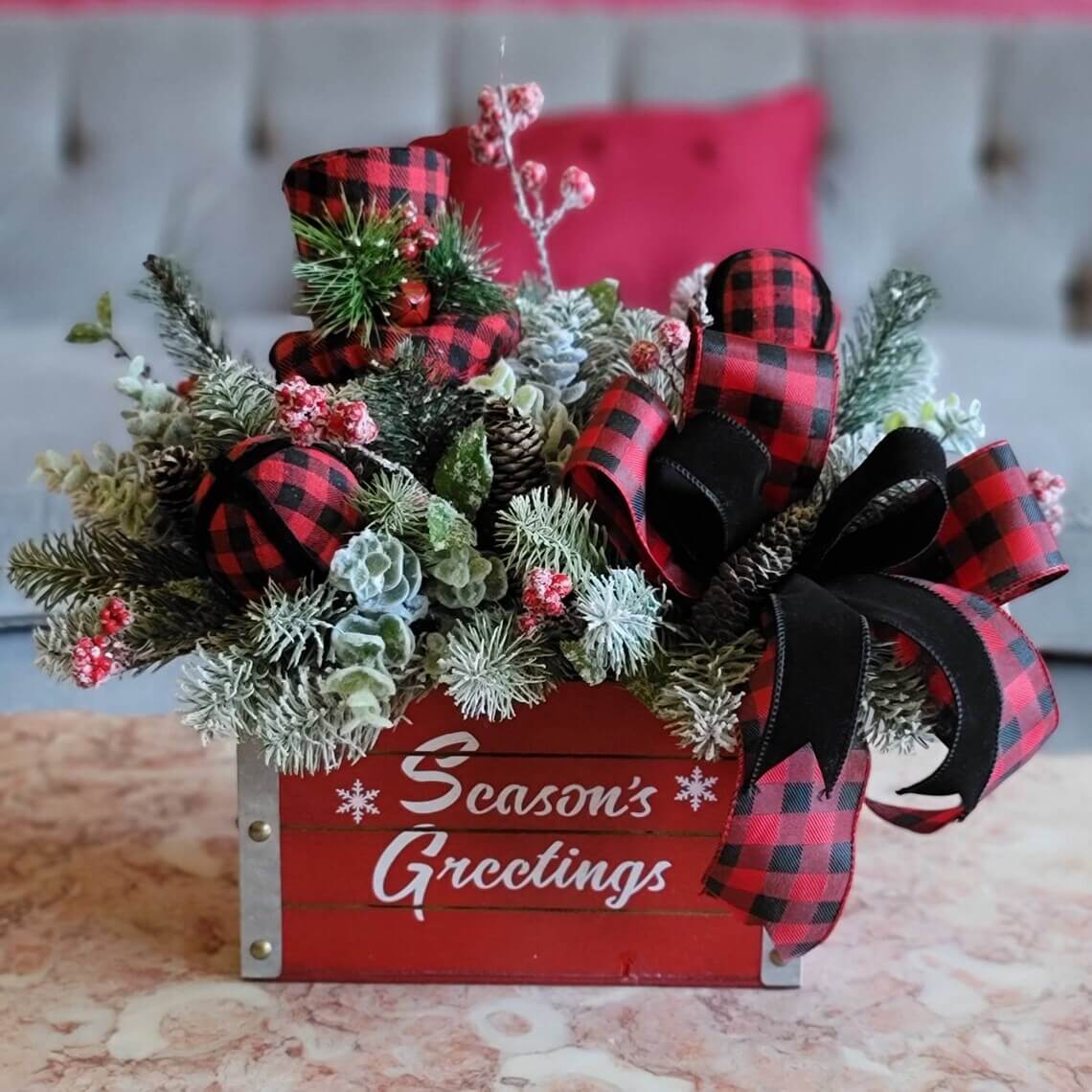 Celebrate the season with this charming table box that makes a fabulous centerpiece idea. Beautiful buffalo plaid ribbons and bulbs highlight this festive creation. The red wooden box is stuffed full of flocked greenery that gives a crisp winter feeling to your home. Place this box on your dining table or on top of your mantel to add that winter wonderland feeling to your home. This is a fantastic gift for a hostess as your holiday dinner parties get underway.
22. Snowy Pinecone and Red Berry Pine Centerpiece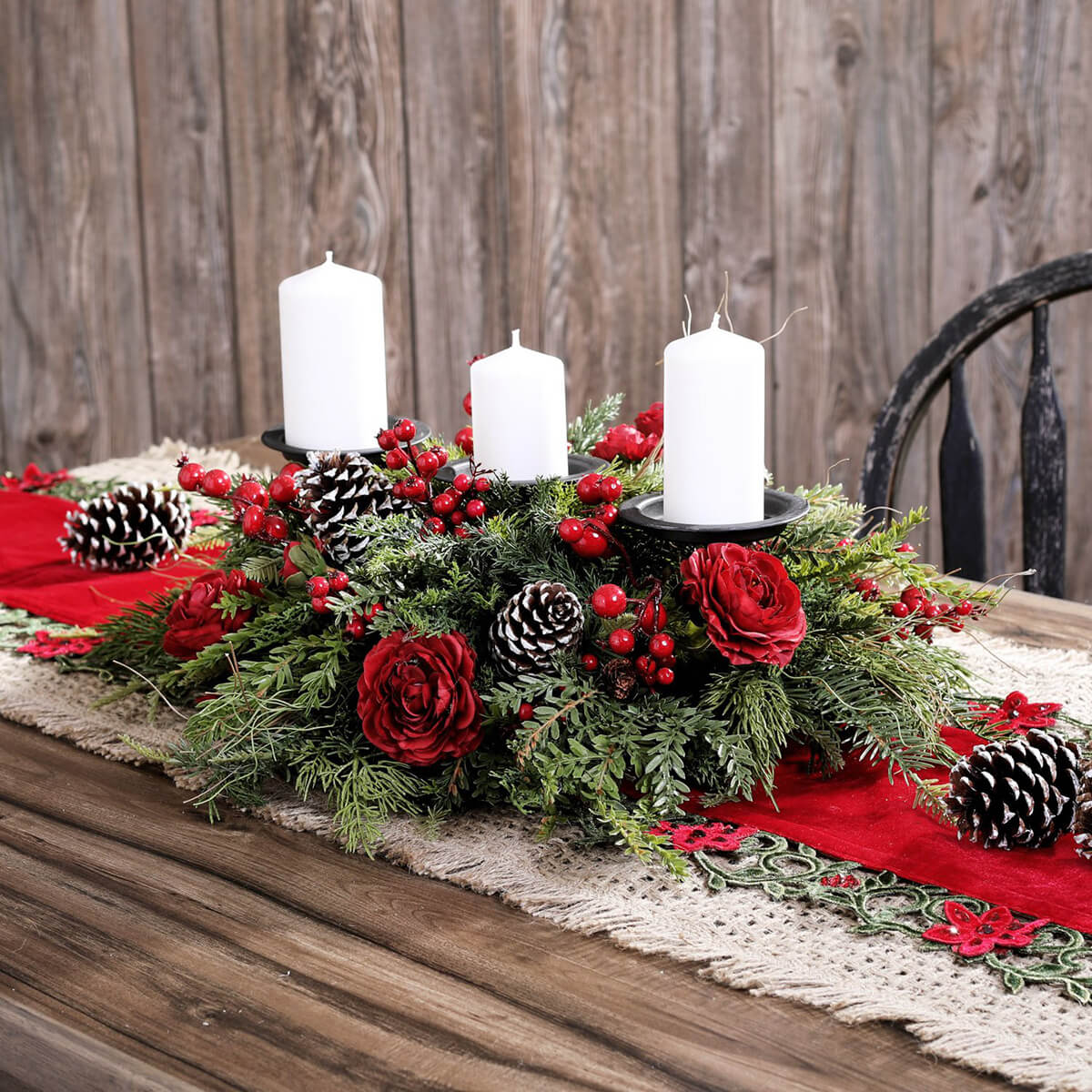 A trio of three white candles is set at the top of this gorgeous greenery-infused centerpiece that's one of the best red Christmas centerpiece ideas for your holiday table. You'll find all of the wintery decor items that speak to your soul during this time of year included in this lovely centerpiece design. With lots of pine greenery, you'll enjoy the perfect snow-dusted pine cones and dainty red berries. The rich red peonies really lend a hand in bringing the love of this time of year into your home. Displaying this Christmas centerpiece on your special table this December is sure to add some heartfelt elegance to your family's holiday dinner.
23. Christmas Centerpiece with Cinnamon and Red Flowers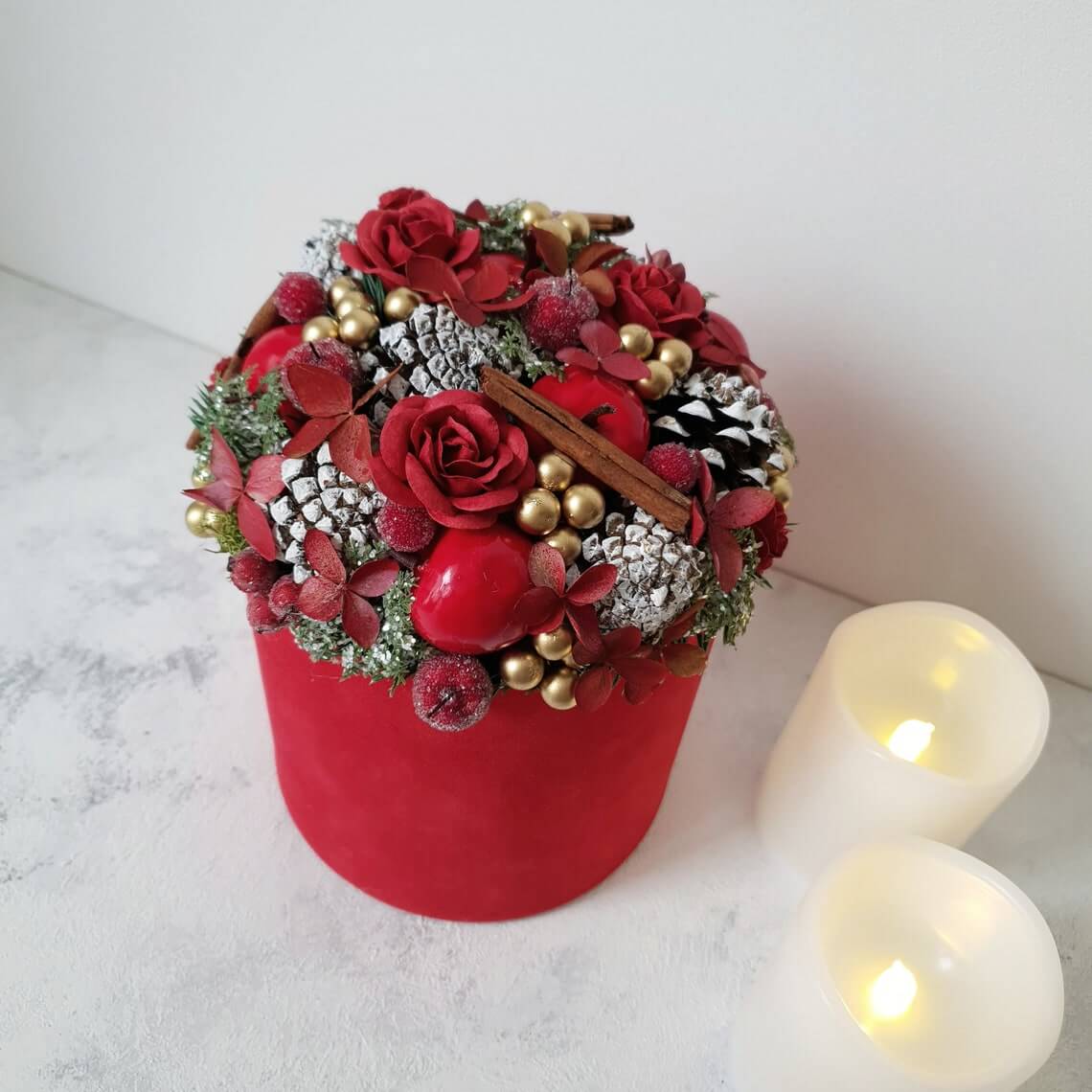 Red is the go-to color when it comes to Christmas decorating so continue this gorgeous hue as you set the table for your family's holiday meal. Plump and proud, this compact bouquet features all of the bells and whistles to ignite some festive beauty for your family feast. Filled to the brim with red hues including frosted red berries and snow-dusted pine cones, the inserted gold accents make this an elegant gift for any hostess welcoming you to such a hearty and heart-felt dinner. Set this on the table for dinner or place it in the middle of your entryway table or coffee table to add some Christmas spirit throughout your home.
24. Mini Pine Wreath Red Bulb Christmas Centerpiece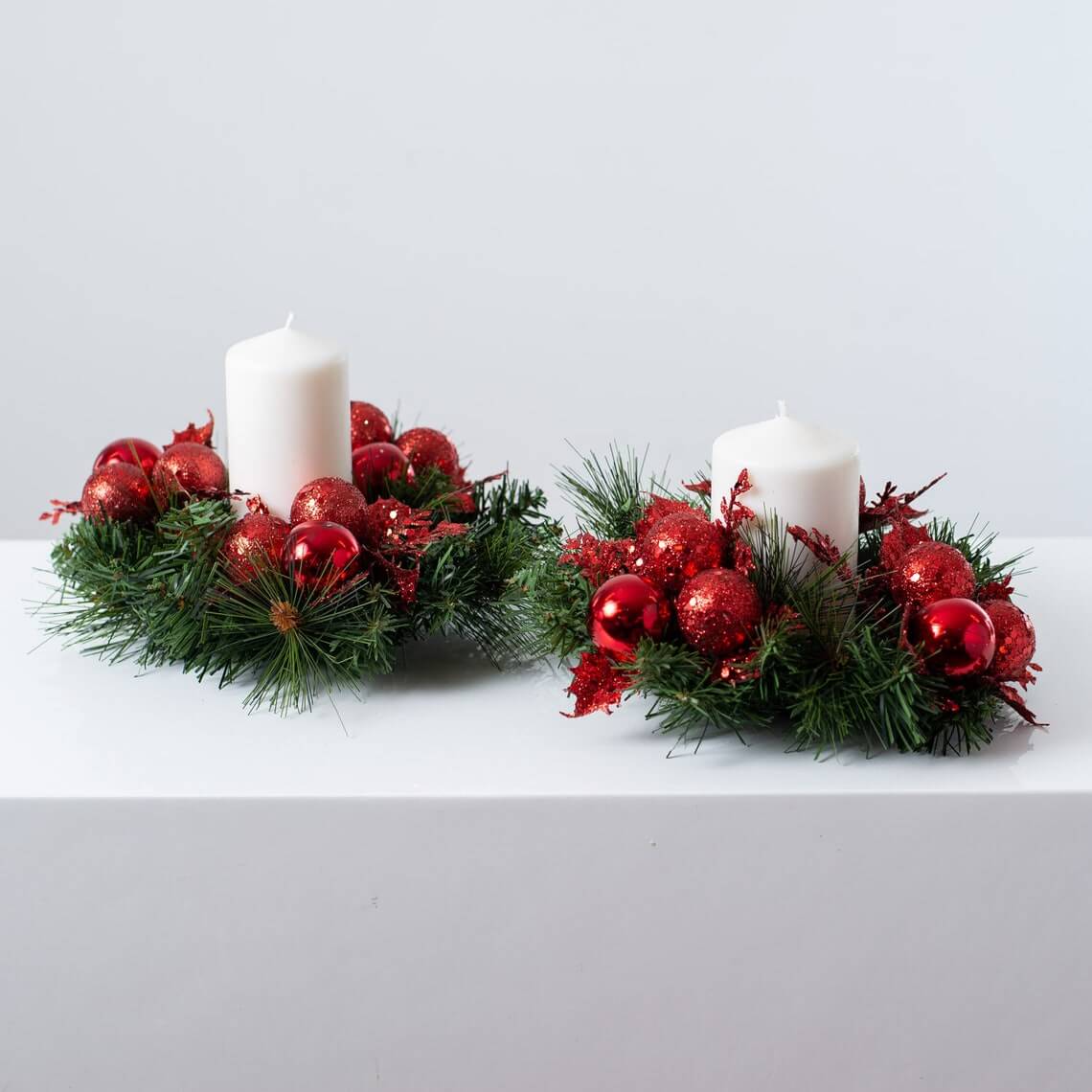 Feature the iconic red and green as you decorate your dining room table for Christmas dinner. These quaint and cute miniature Christmas wreath centerpieces are perfect for individual tables or to use together for a more dramatic look. Perhaps you could place one at the top of each place setting for a personalized and special seating display for all of your guests. Host your dinner on Christmas Eve and turn down the lights while these small candles provide the warm and comforting glow everyone identifies with the sacred and special holiday of Christmas.
25. Rustic Farmhouse Pine Cone and Greenery Centerpiece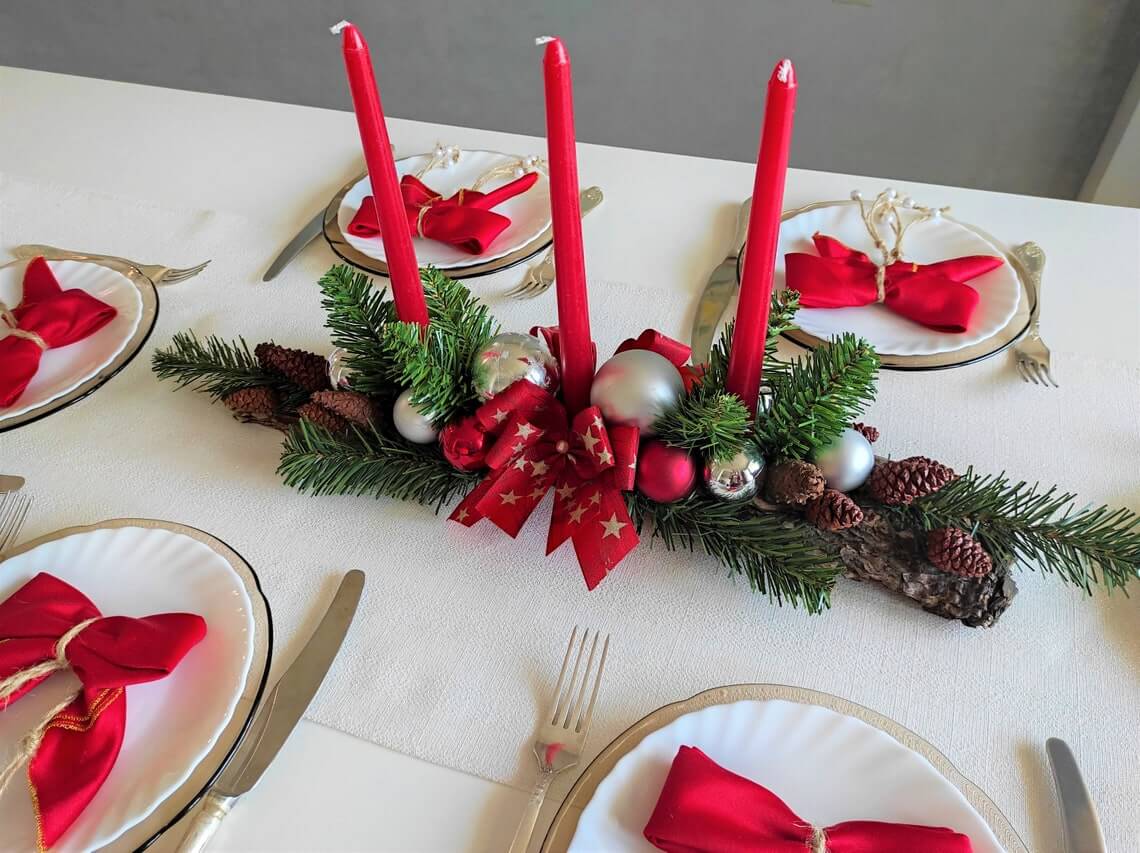 Bring a simple, yet elegant, centerpiece into the dining room as you celebrate Christmas in your modern farmhouse home. The trio of red taper candles lights the way for this slender log that's embellished with greenery and pinecones for a natural rustic look. With the addition of a few ornament bulbs to add some shine and a rich red bow to complete the look, your family will enjoy gathering around this charming and cozy table for Christmas dinner. Additionally, this slender centerpiece makes a great mantel decoration so no need to reserve it only for your special meal. If you have a deep enough window ledge, this would look simply beautiful perched on your windowsill to add even more beauty to your home for the holidays.
26. Magic Hat Snow Dusted Christmas Greenery Centerpiece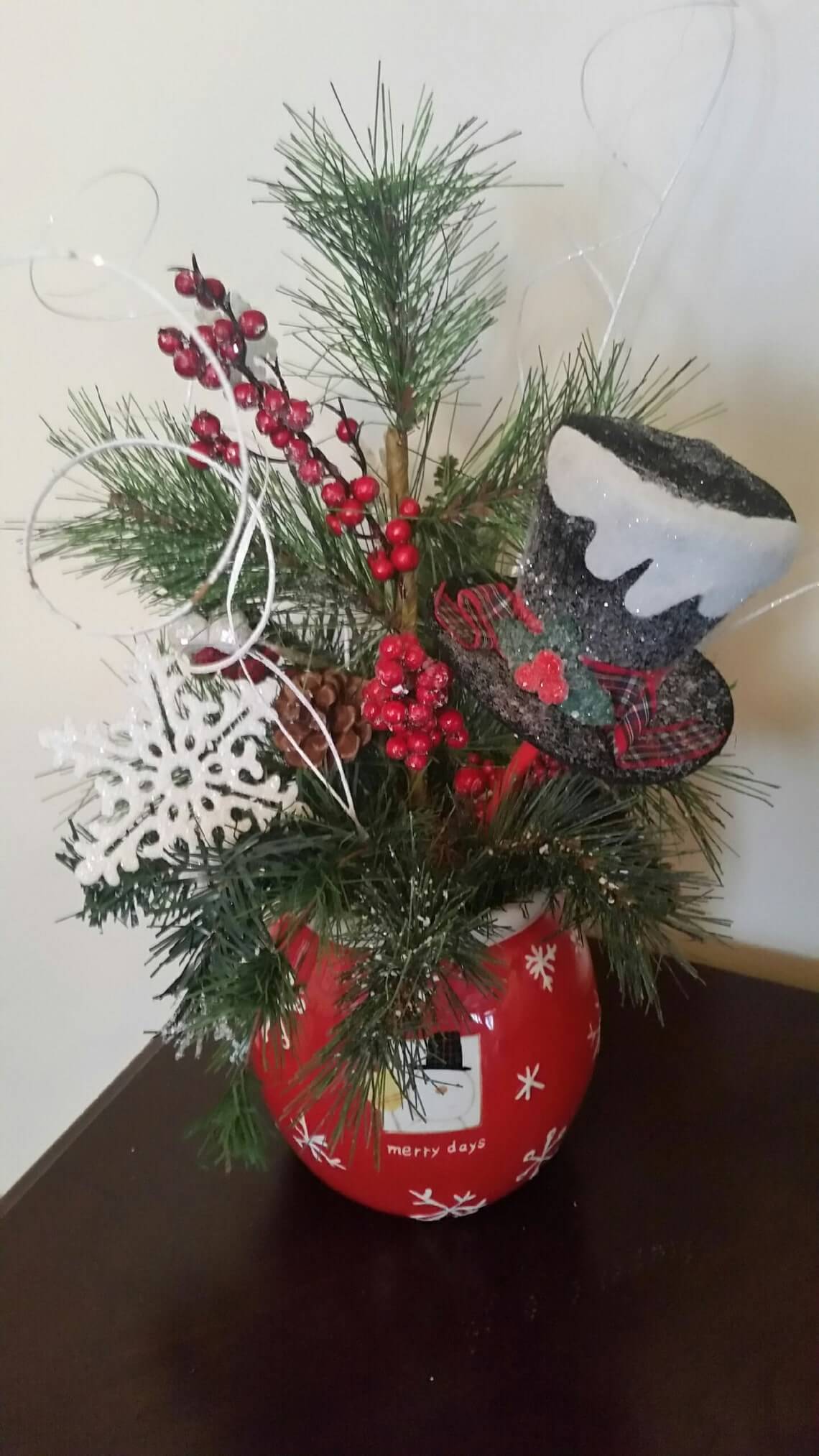 Just like the magic hat made Frosty come to life, this magic hat Christmas centerpiece is sure to bring the Christmas magic into your home for the holidays. With a gentle dusting of snow, the brim sparkles to add some glitz to this festive centerpiece. Inside the red cookie jar vase, a nice display of greenery fills up the space quite nicely and includes gorgeous red berries that really make the design pop. A glitter-coated white snowflake placed in the mix coordinates wonderfully with the snowflake designs on the red cookie jar. Bring a little touch of winter into your home with this magic hat with a greenery Christmas centerpiece.
Make Your Christmas Dinner Unforgettable with these 26 Red Centerpiece Ideas
Gathering all of your family or friends for special holiday entertaining can be quite an overwhelming feat! Keep it simple with great food and a gorgeous red centerpiece. While the focus will be on the relationships of everyone in attendance, it can't hurt to foster a relaxed and cozy atmosphere with the help of some intentional Christmas centerpiece ideas.
Pretty plaids have taken over the decorating scene and Christmas is no exception to this when it comes to decorating. Place a nice table runner down the middle of your table and complete it with some vivid greenery that emulates the dominant color of outdoor life in the winter.
Be sure to incorporate red into your holiday decorating scene as it is the bright splash of color needed for beating the winter blues. From plump floral centerpieces of flowers and bulbs to hand-painted mason jars arranged in a wooden crate, there are a variety of ways to include the look and feel of Christmas into your home with red accents.
If you aren't hosting the main attraction at your home, choose one of these stunning centerpieces to give as a hostess gift when you attend your holiday meal. With some simple greenery and red berries, flowers, or bulbs, you'll have your Christmas meal looking festive in no time at all!