The rustic "shabby chic" decor style has been making editorial waves for well over a decade, with nary a sign of slowing down. Inspired by repurposed goods, antique aesthetic, and vintage finds all punctuated by a uniquely modern eye, the world of rustic design is constantly evolving and offering up new and on-trend ways to transform an interior space. From mason jar sconces to reclaimed and reassembled wooden furniture, what is old is immediately made new with the right DIY rustic home decor ideas.
50+ DIY Divine Rustic Decor Ideas

Below are 50+ delightfully curated DIY rustic home decor ideas to suit every home and style. A day at the beach or walk in the woods can mean a whole new ensemble for your abode, and at last you can implement all your beloved odds and ends into timelessly workable domestic accents.
1. Rustic Rock and Distressed Wood Centerpiece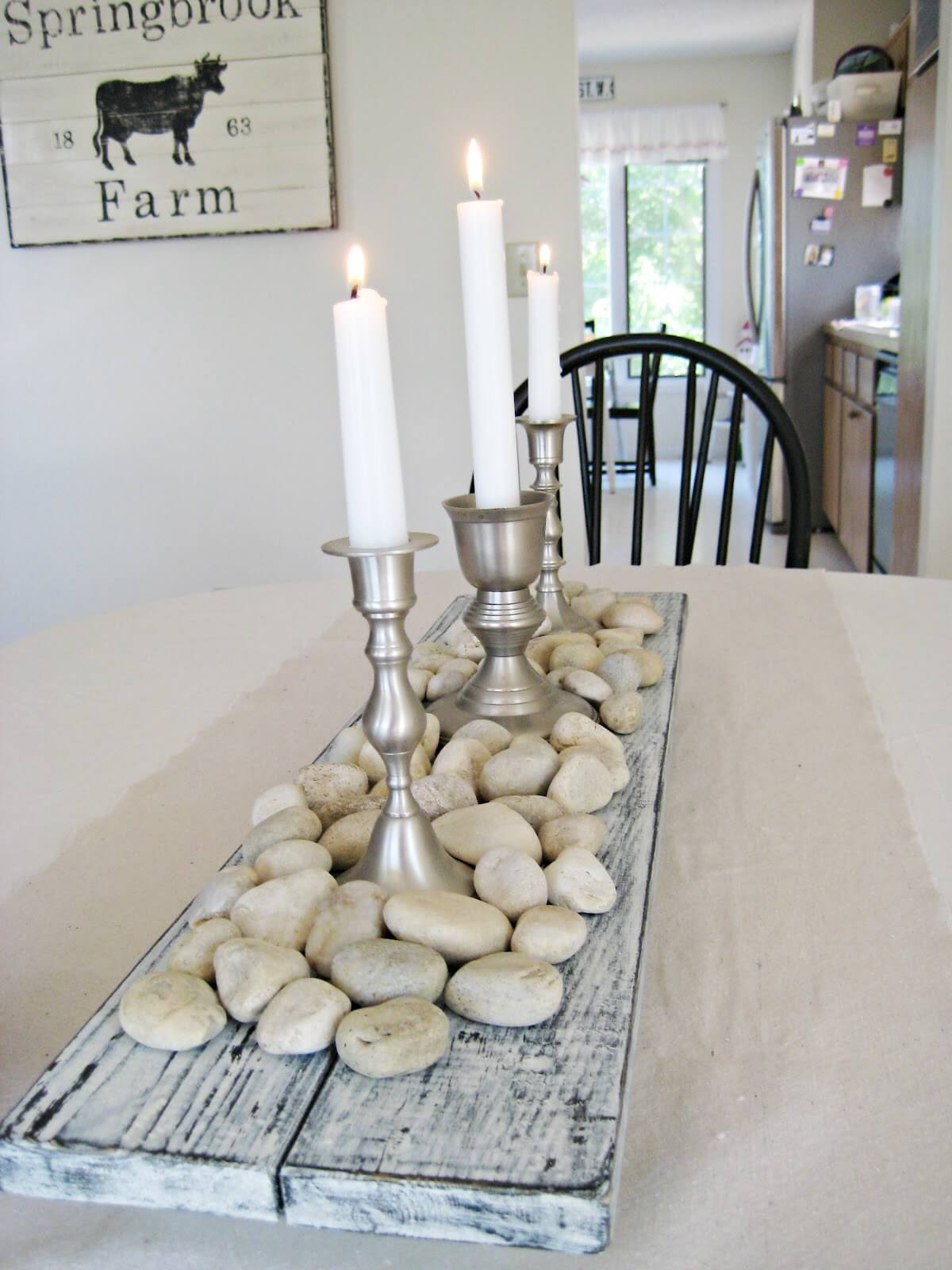 Get creative with your centerpiece design with this wooden board based unit that offers rustic elegance for your dining experience. The distressed whitewashed finish of the wood boards incorporates the farmhouse feel everyone wants, while the rocks fill in nicely around the metal candelabras to create a unified and truly unique masterpiece.
2. Hollyday Berry Painted Mason Jar Vase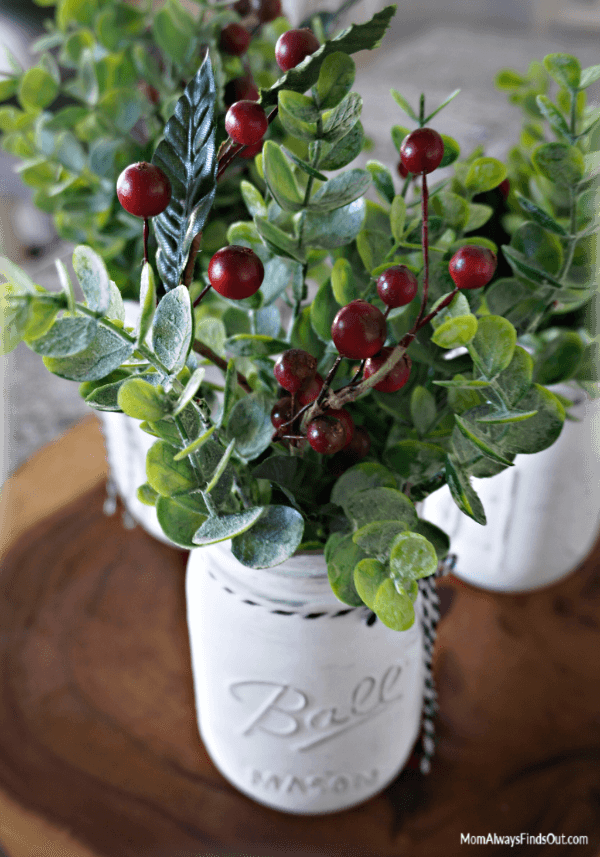 Bring some country charm into your home this winter with this adorable painted mason jar vase that's the perfect way to display some festive holly berries. The red and green in your berry sprigs will come to life as they are nestled within this vintage white vase. Place them throughout your home for a tied-together design or space them out down the center of your dining room table.
3. Modern Farmhouse Rustic Charm Wooden Tray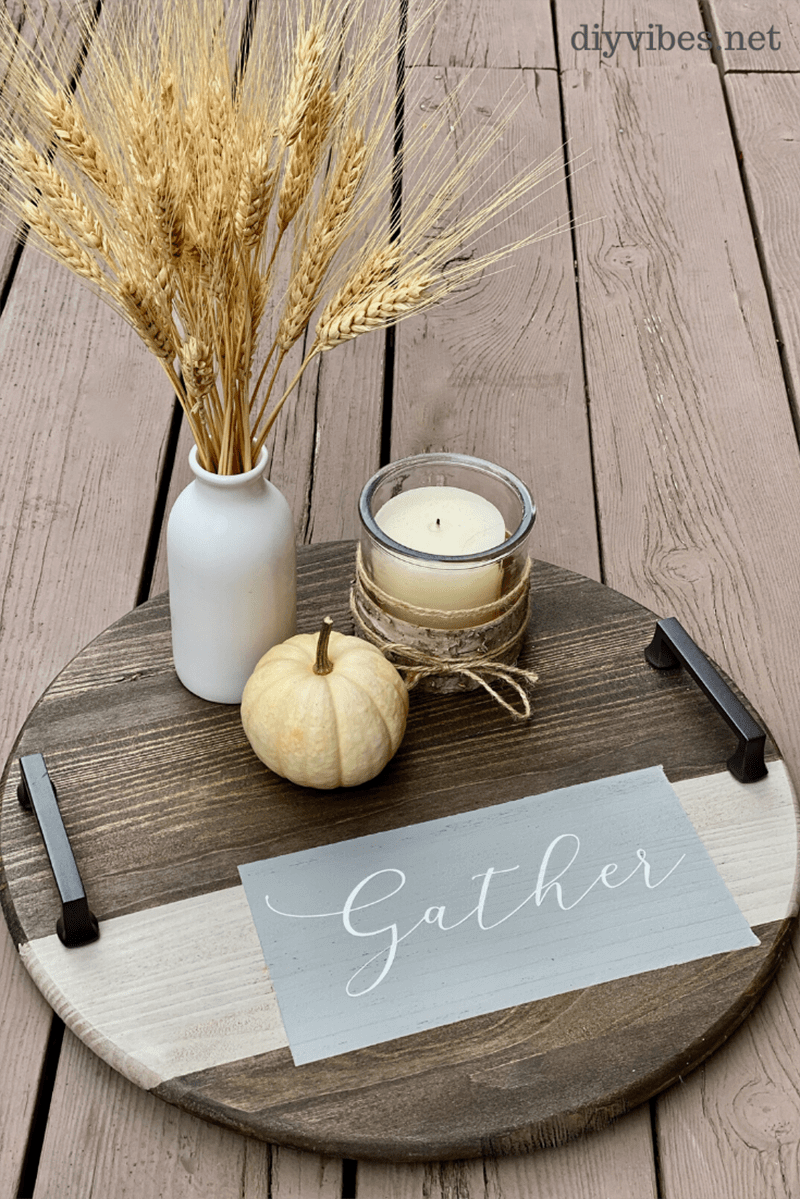 Round up your gang and delight in this charming tray! It's the perfect way to serve some hot cocoa as the temperature drops and looks cute when it's not being used. The metal handles make it easy to carry from one room to the next and it also adds some character when you simply use it as a decorative piece on your ottoman. Another great way to feature this tray is in the guest bedroom to add even more welcoming warmth.
4. Rustic Raw Edge Wood Slab Shelf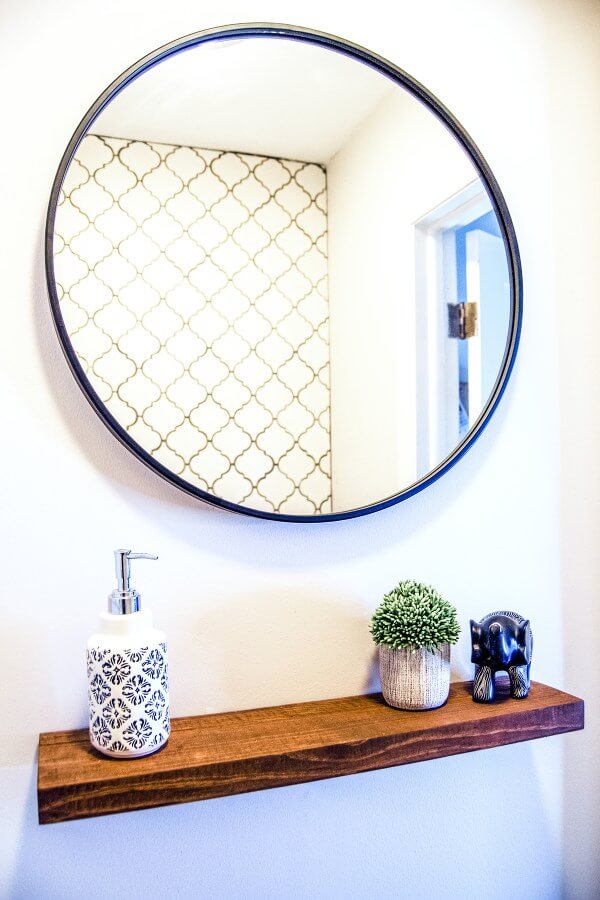 Add a part of nature into your home with this wood slab shelf. Its earthy and rustic texture and color are captivating in a modern white room. Such a simple piece is perfect for nearly any decor from minimalist to the modern farmhouse. And any room of your home would be a great fit for housing this shelf. Place one in the bathroom for an air-purifying plant and some decorative jars or add a few in your kid's room to give them the storage they need for their trophies and trinkets.
5. Small Entryway Wood Stool and Jute Rug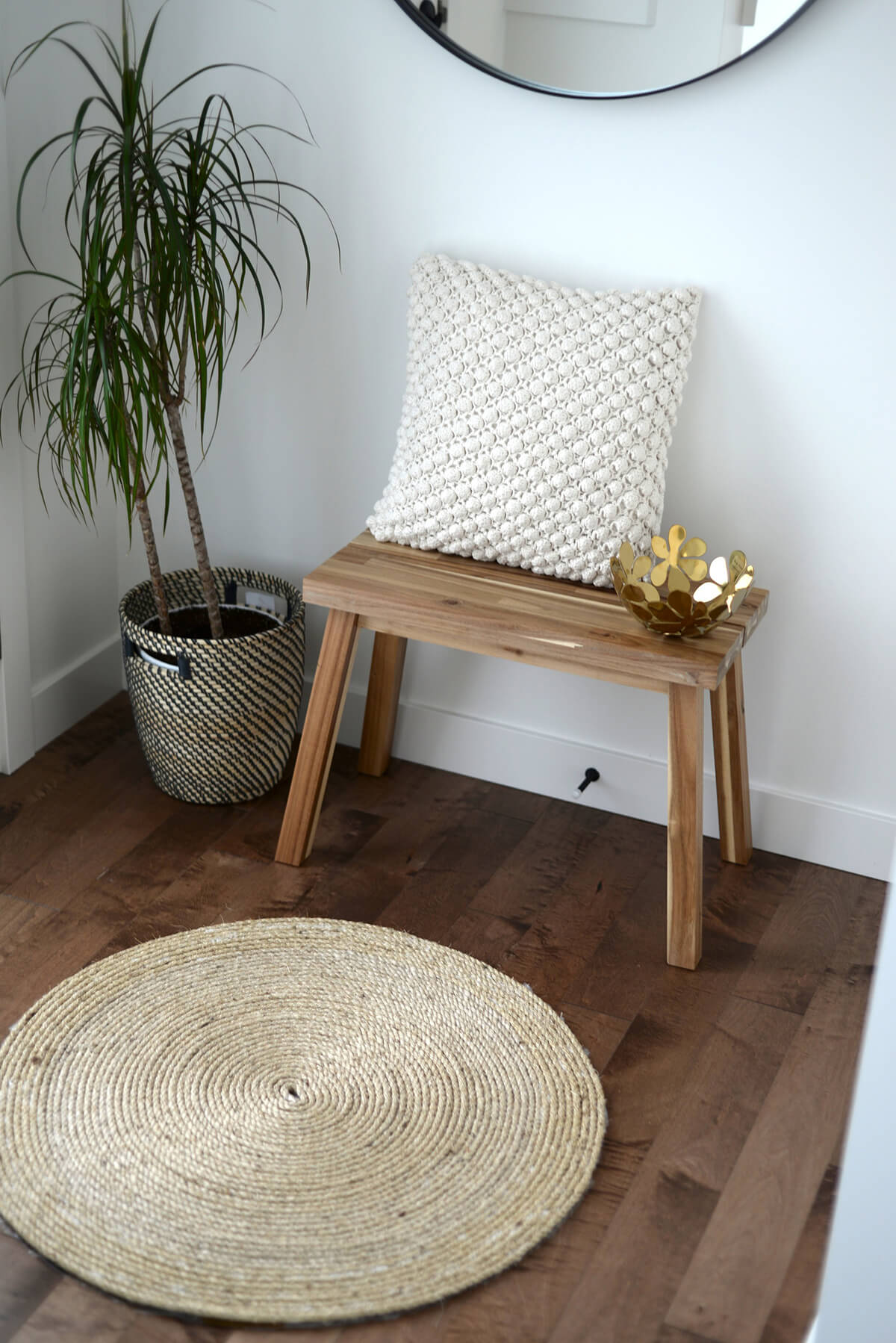 Make the most of a small space with this winning combination of jute and wood. This small-sized stool is the perfect addition to an entryway as it doubles as a nice place to take off and put on your shoes, yet it can also be an ideal small table to hold your bags. The circular jute rug grounds the overall look with the jute plant basket nestled in the corner.
6. Distressed and Rustic Burlap Bow Frame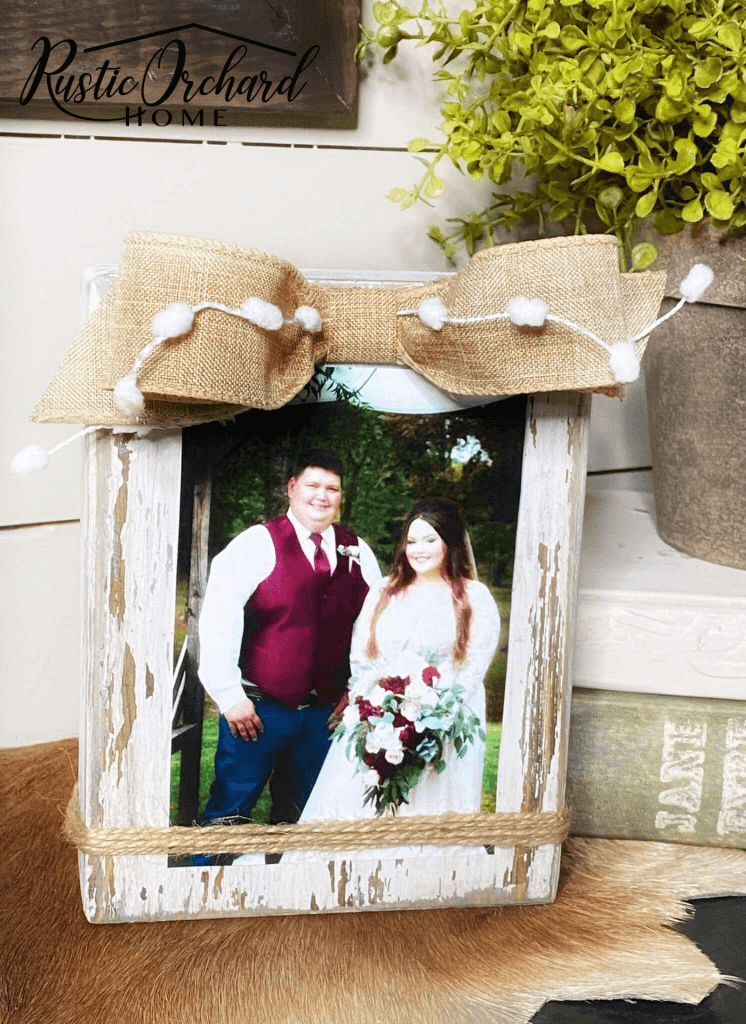 Create a fun and easy gift with this burlap bow frame. It's a perfect gift for nearly anyone you know as everyone loves pictures! Place a favorite photo in it or let the recipient use his or her own. With the distressed white finish, the twine and burlap make wonderful companions for this rustic farmhouse-inspired frame.
7. Wooden Framed Out Rectangular Box Shelf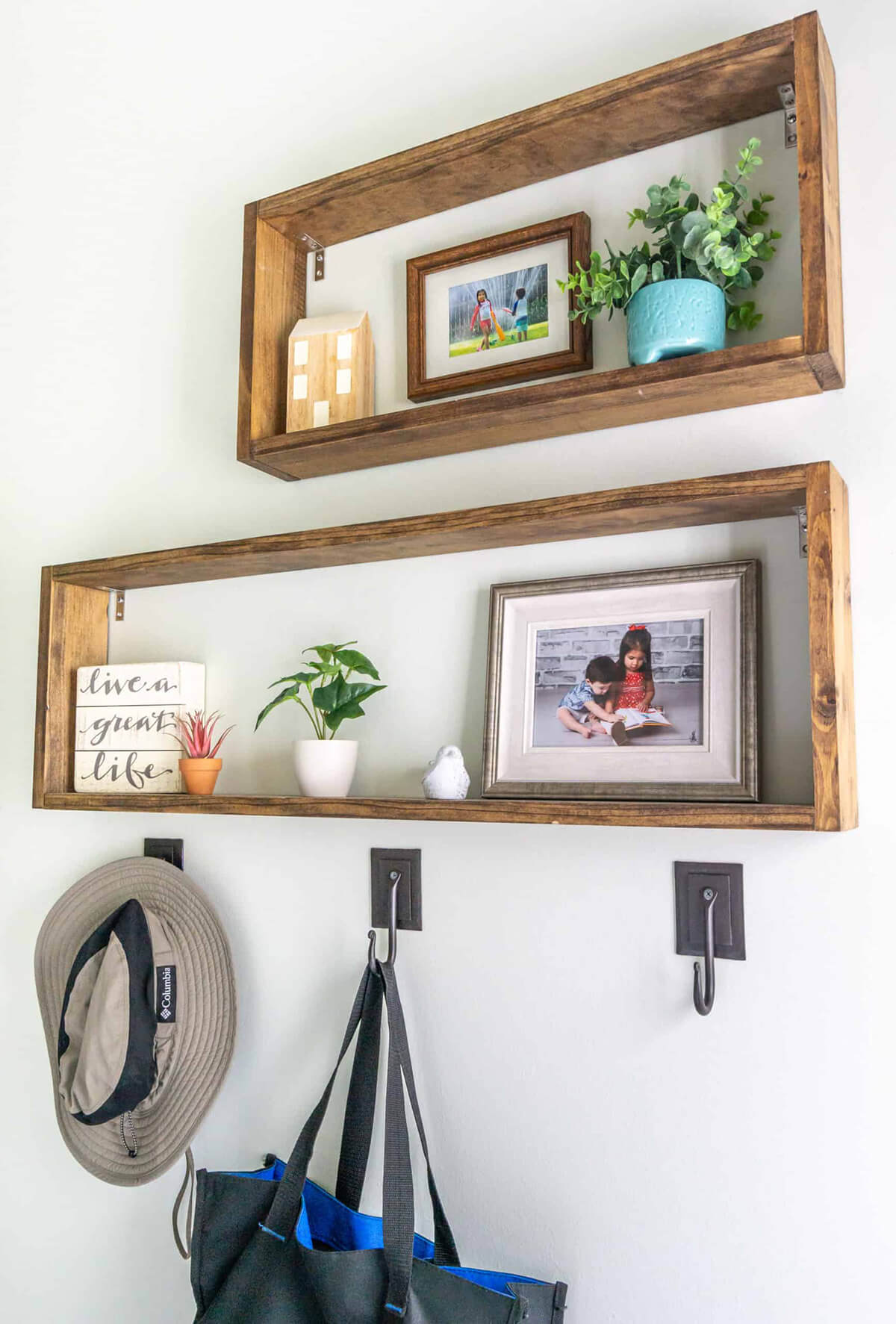 Think outside the box with this gorgeous and simple box frame. It's a little off the traditional path, but not too far to make it weird. Give a new home to some of your favorite family treasures, picture frames, and plants. This is an easy project for some leftover wood that gives it a fresh new purpose and life.
8. Vintage Feel and Rustic Look Mint Credenza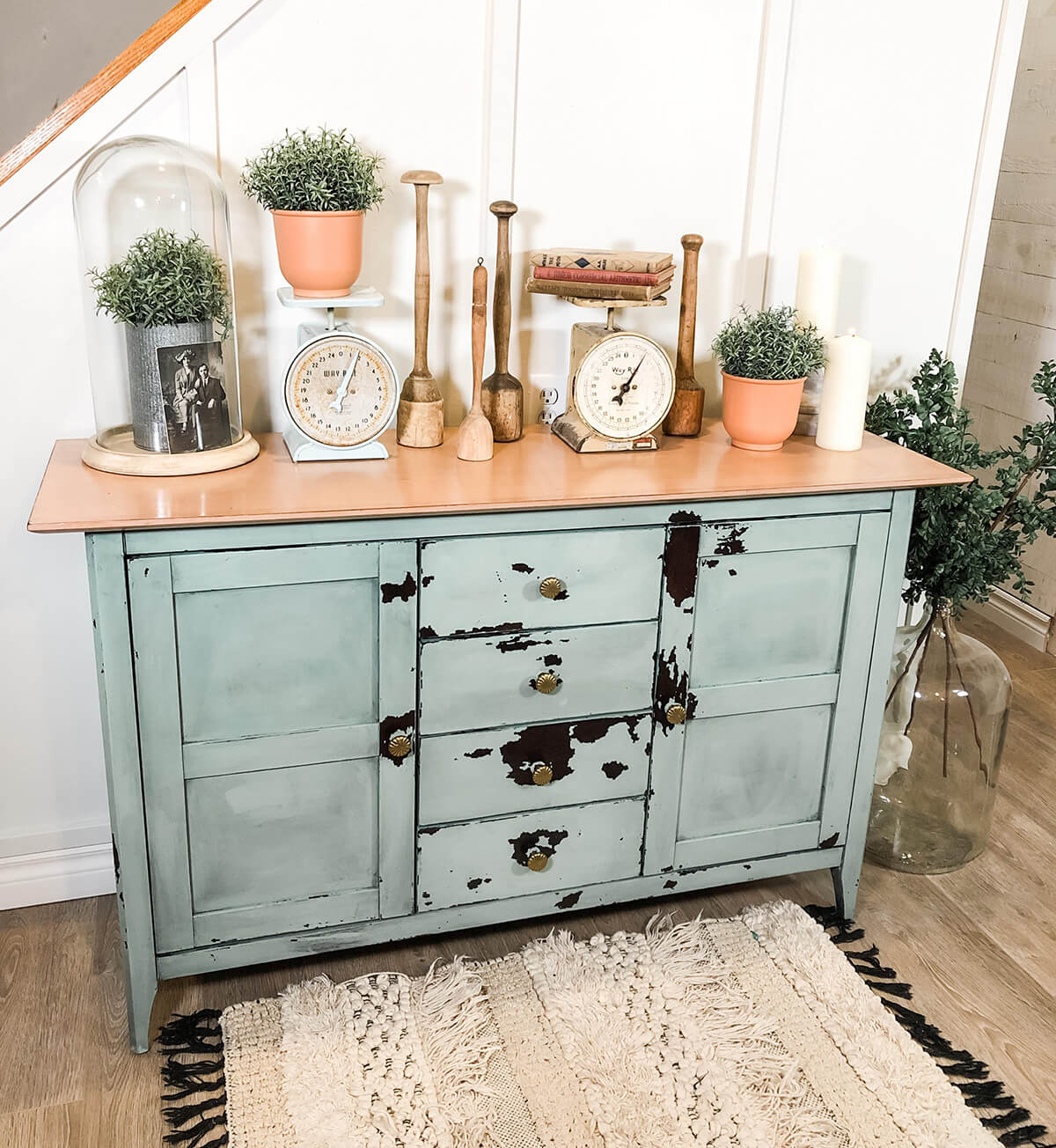 Take a look at this rustic credenza that has left the dining room and found a new life as a side table for your entryway. It's a welcoming hub topped with a variety of antique scales and pieces that nearly make time stand still as they take you back to a much simpler way of life. Add instant charm and character to welcome your friends and family with this distressed mint credenza.
9. Simple and Sturdy Small Stand with Shelf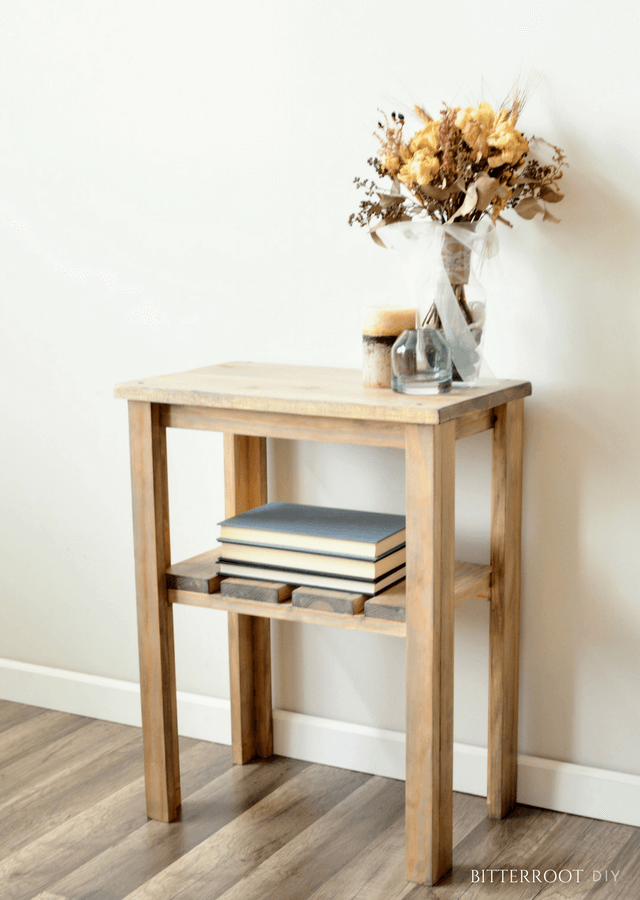 When you need something small to get the job done, hone your DIY skills on this sturdy small stand with a shelf. It offers a great place to drop your keys as you settle in for the night and the addition of a shelf utilizes even more storage space. Maybe you can keep your purse on the shelf or add a bin for gloves and hats for winter. If you're looking for maximizing your space, this small stand is worth its weight in wood.
10. This Week's Menu Chalkboard Kitchen Organizer Board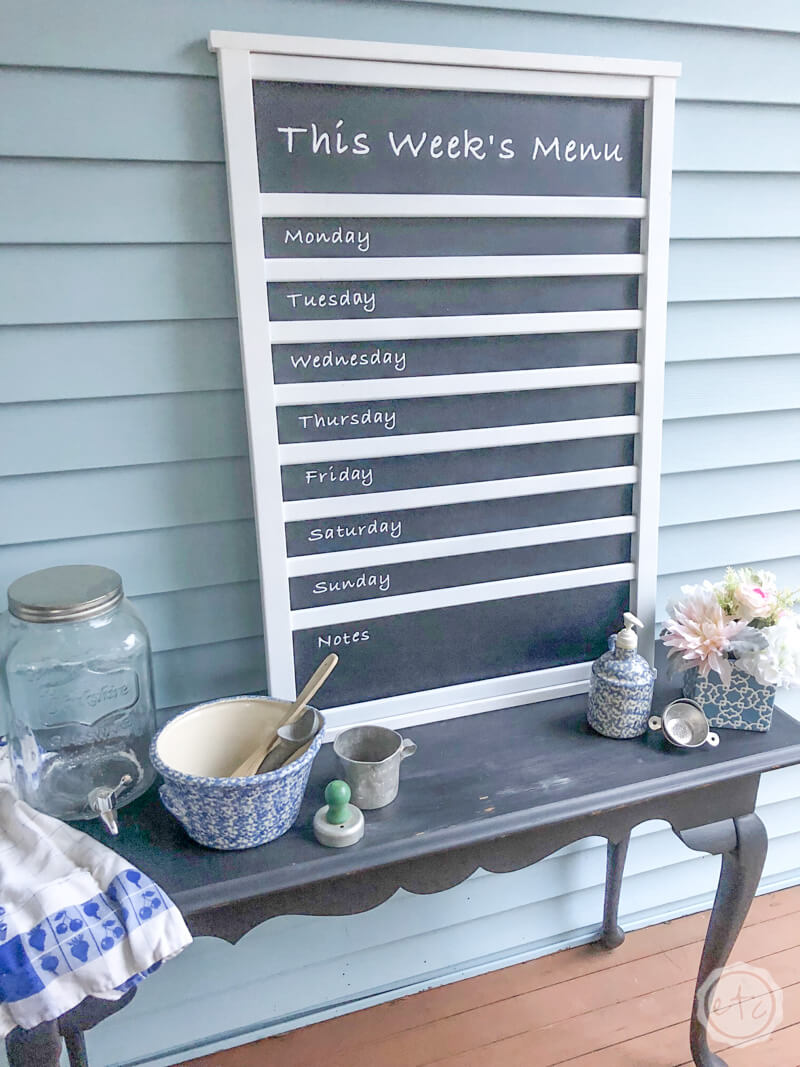 Long gone are the days of kids asking, "Mom, what's for dinner" when you install this amazing chalkboard menu that is a fully functional organizer board for your kitchen. The clean and clear labeling makes it easy to see what's on the menu for today and the rest of the week. It also provides self-help, when meal planning can become tedious and overwhelming since you have a visual plan in view.
11. Round Up Texture with a Jute Rug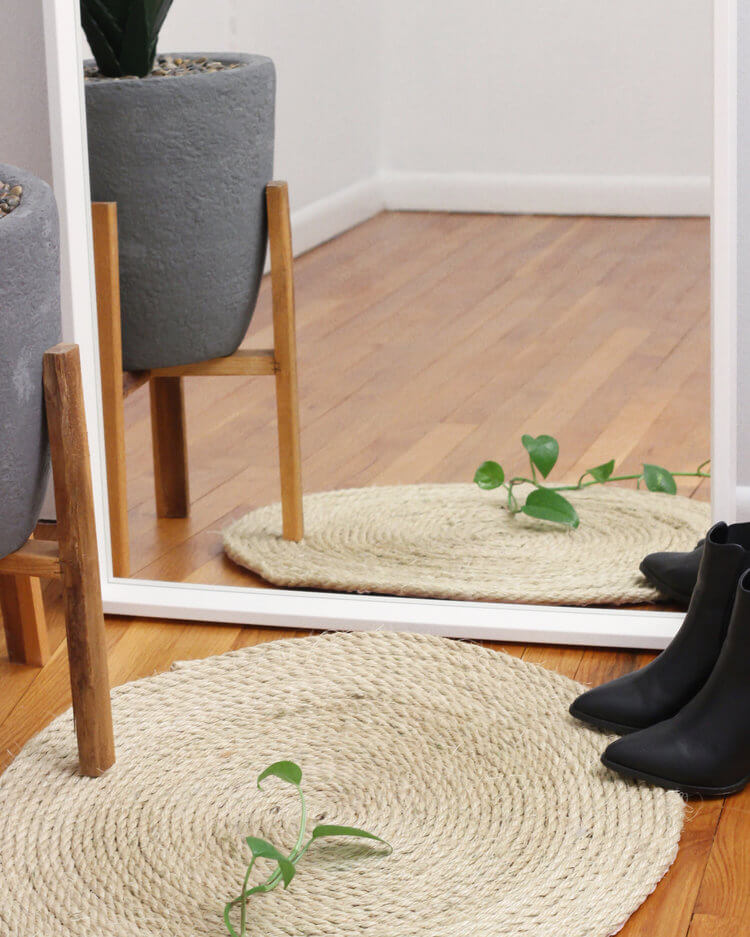 When you need another element of texture to appeal to all of your senses, why not add a jute rug? Its earthy vibe is just what a small area needs to give it a cozy feel or quick update. Choosing one that's a circular shape, instead of a standard rectangular rug, adds a little more interest and fun to your design. This small idea pairs perfectly with a vibrant green house plant and a large leaning mirror.
12. Old World Rustic Chunky Candle Holders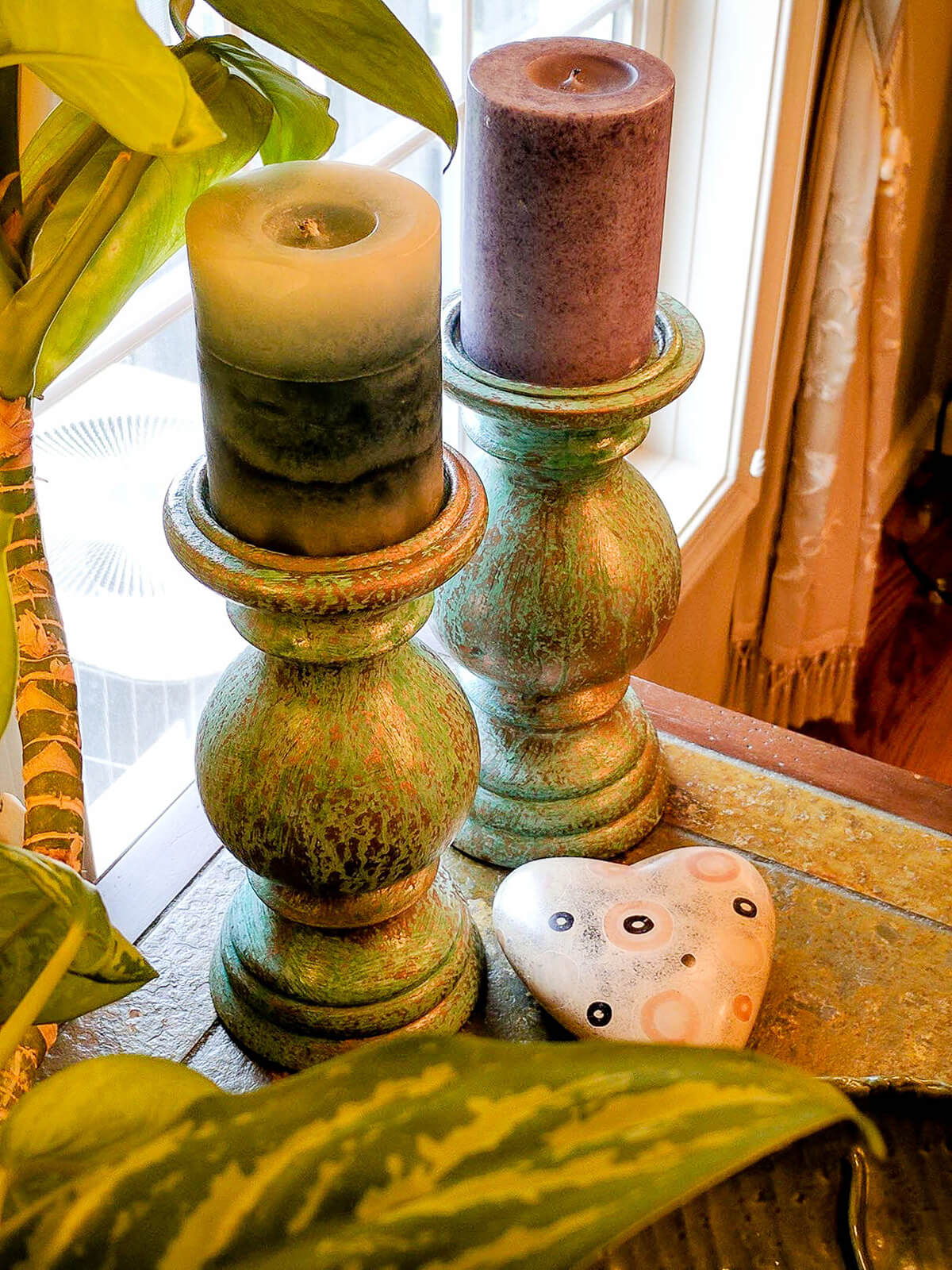 As the sweet smell of your favorite candle fills your home, let it be held in place by a decorative piece that adds some sweetness of its own. These thick and chunky candle holders accommodate most any size candle and add some height to your decorative display. Arrange them on the mantel, or feature them in a side table display where their charming and rustic finish will be the added touch your look needs.
13. Glass Self-Service 24 Hour Laundry Sign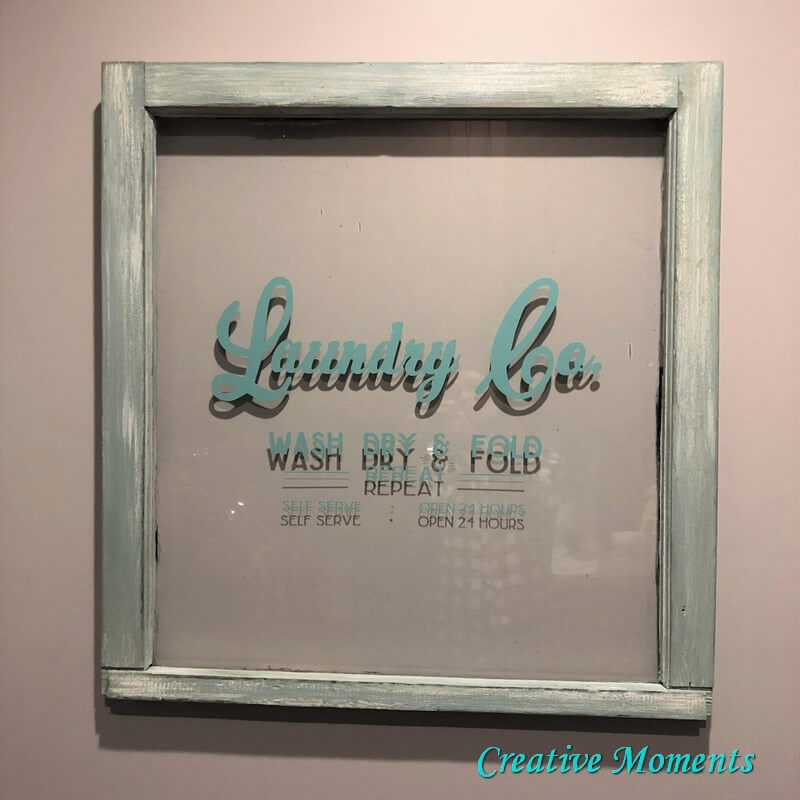 Don't forget to decorate the space you might just dread the most- the laundry room. This cute and fun sign is crafted on a slab of glass and uses vinyl lettering to get its point across. It's a fun way to add some personality to your utility room so it can feel more like an extension of your home and not another work zone. The distressed white and gray framing adds a farmhouse feel to make it a great choice for your favorite design.
14. Embroidery Circle Wall Art Wow Factor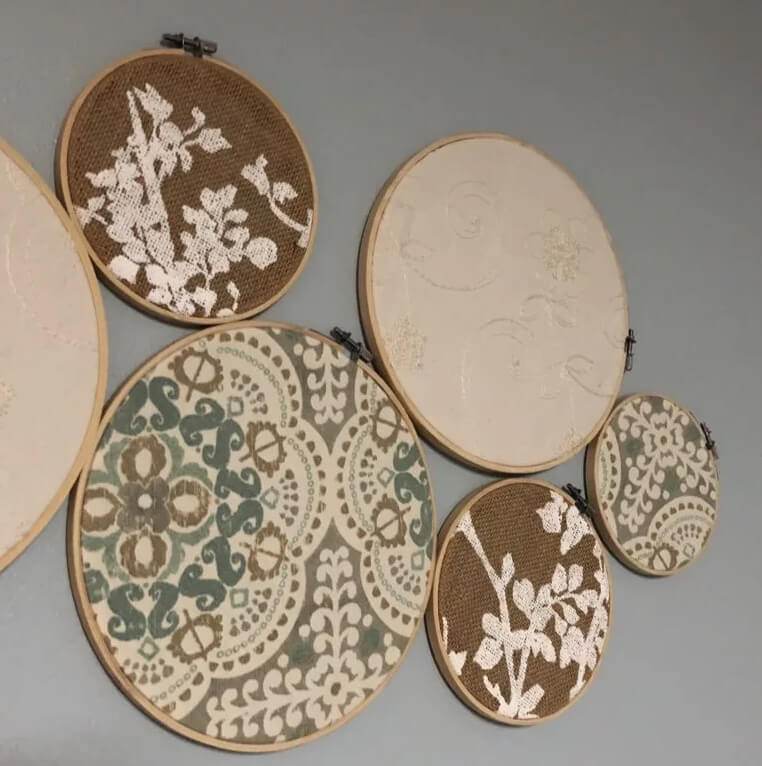 A simple embroidery circle gains momentum and comes to life in a large grouping to make a wow factor on an interior wall of your home. By selecting a variety of sizes and colors, you can customize this look to meet your design needs and even update with the changing of the seasons. It's a fun look for a hallway wall or behind an entryway table to give more texture and depth to the look.
15. Modern Mustard and White Macramé Dreamcatcher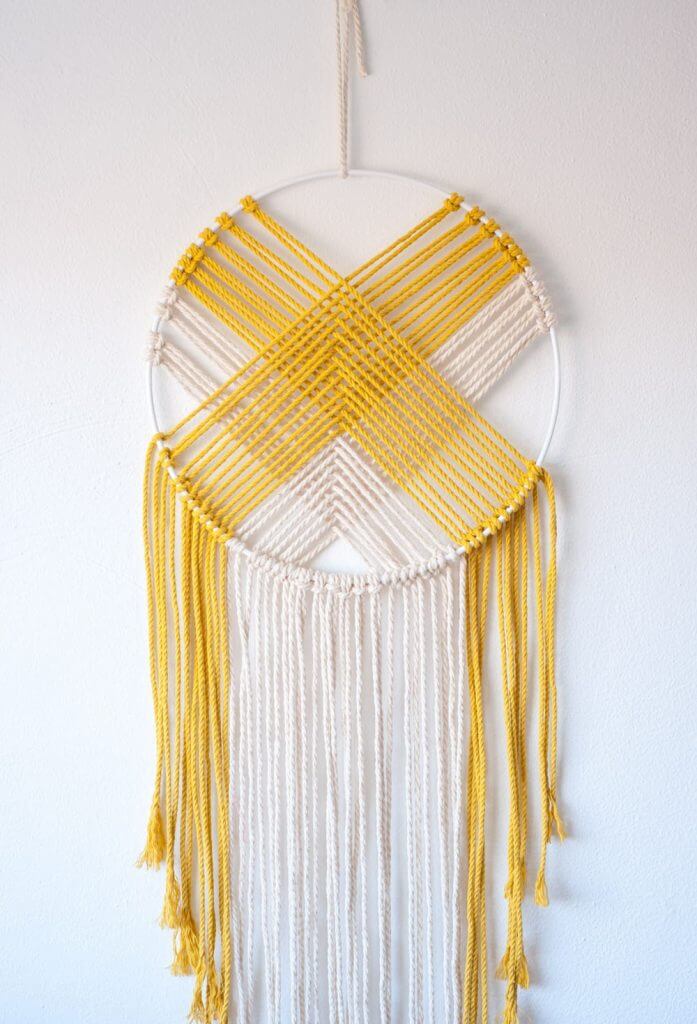 Not everything on your walls has to be shelving or prints. Check out this terrific dreamcatcher that brings a large dose of texture without sacrificing on style. The crisscross design gives the mustard and white material a powerful effect and makes them seem more alive. This modern piece would look great on the wall or a door of your choosing. It lends a subtle bohemian vibe without all the bell-bottoms and whistles.
16. Nautical Novelty Party Favor Bags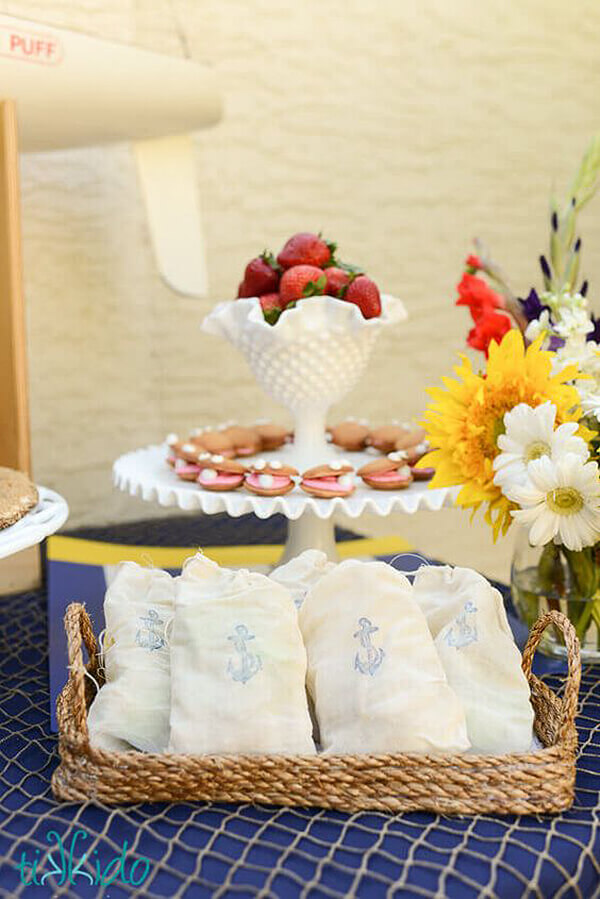 Party themes aren't just for the kid crowd. Bring your A-game when planning your next nautical event with these adult-versions of the party favor bag. These small linen bags display a blue anchor and are arranged in a shallow, rectangular basket to keep them organized on your party tablescape. Everyone will come out of their shells and enjoy a festive time while taking a piece of this memory home with them in this nautical novelty bag.
17. Mighty Oak and Burlap Acorn Wreath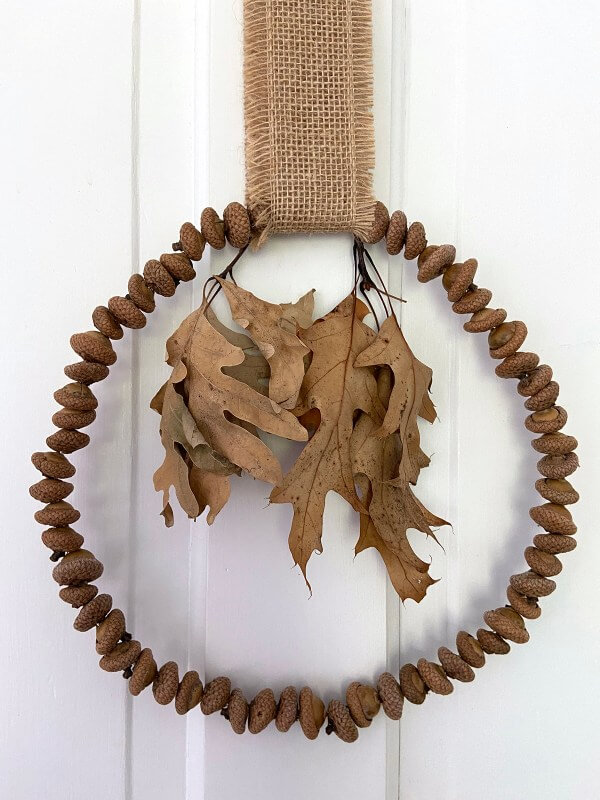 Hit the trails and gather all your goodies like the squirrels. While you won't need to hoard your acorns for winter, you certainly can use them to make this cute and simple wreath. Hang it with a burlap ribbon to add to its natural feel and embellish it with a couple of oak leaves to tie the look together. It's such a fun and friendly way to transition from fall to winter and feels right at home hanging on your exterior door.
18. Twirling Twine Safe and Sweet Beehive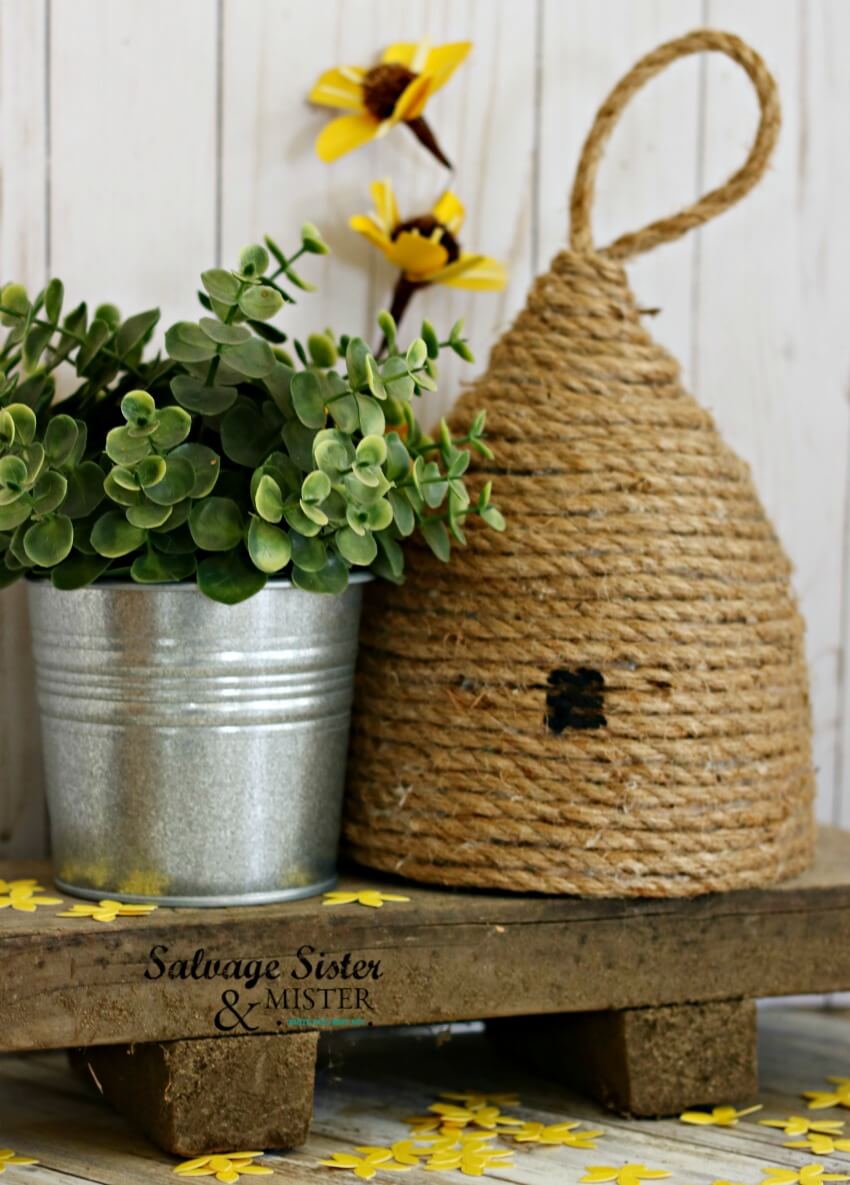 Here's a fuss-free and safe way to pay homage to the honeybee. Twirl some twine into the miniature beehive of your dreams that makes a perfect accessory to your interior home decorating. Place it on a windowsill or squish it in with some of your favorite greenery to add to the charm of your interior design. It's a fun craft that even the younger ones would enjoy and makes a perfect summer party activity.
19. A Soft and Sweet Hello Wire Wreath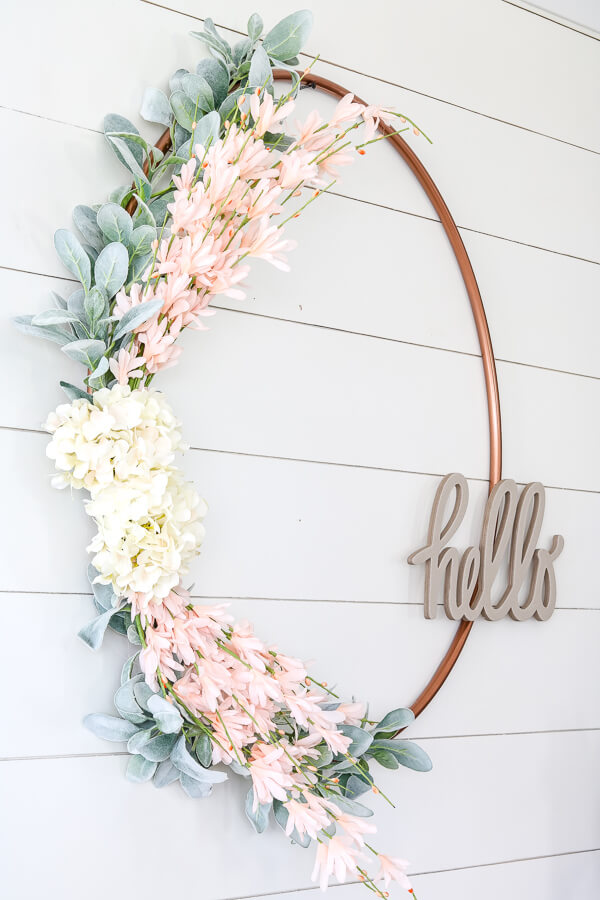 This alluring copper wire makes a unique and pretty wreath for creating a soft and sweet greeting to your friends and neighbors. The luscious pastel flowers on the side create a calming and serene effect while the cut out "hello" bids you an invitation to feel at home.
20. Rustic Raw Edge Wood Chuck Candle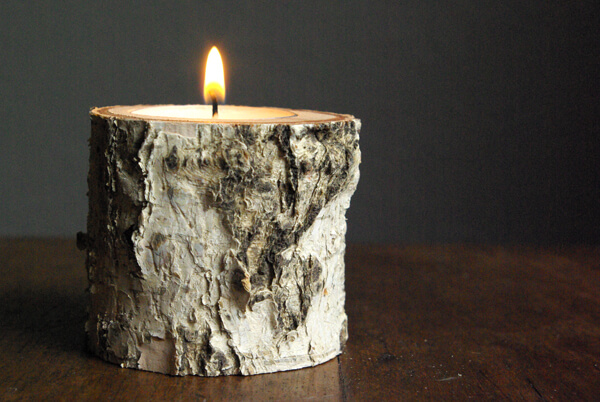 Here's a candle that works for all seasons with its natural feel. The rough and raw edge gives this candle a masculine spin while creating the warm glow you crave. Stand it alone or make it part of a large grouping depending on the vision in your head.
21. Rustic and Wooden Crate Lantern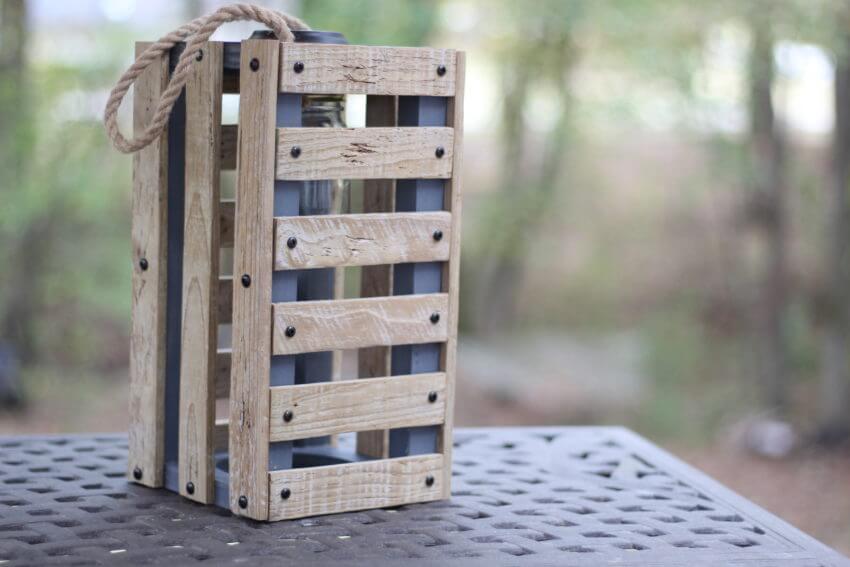 A thick cord of rope and a simple crate construction crafts a charming and unique take on the ever-popular lantern decoration. Forget the traditional metal versions, and create your own masterpiece that embodies the rustic beauty of natural wood. You'll have a great addition to your porch or screened-in three-seasons room while providing some light to extend your time outdoors.
22. Metal Watering Can Dynamic Flower Display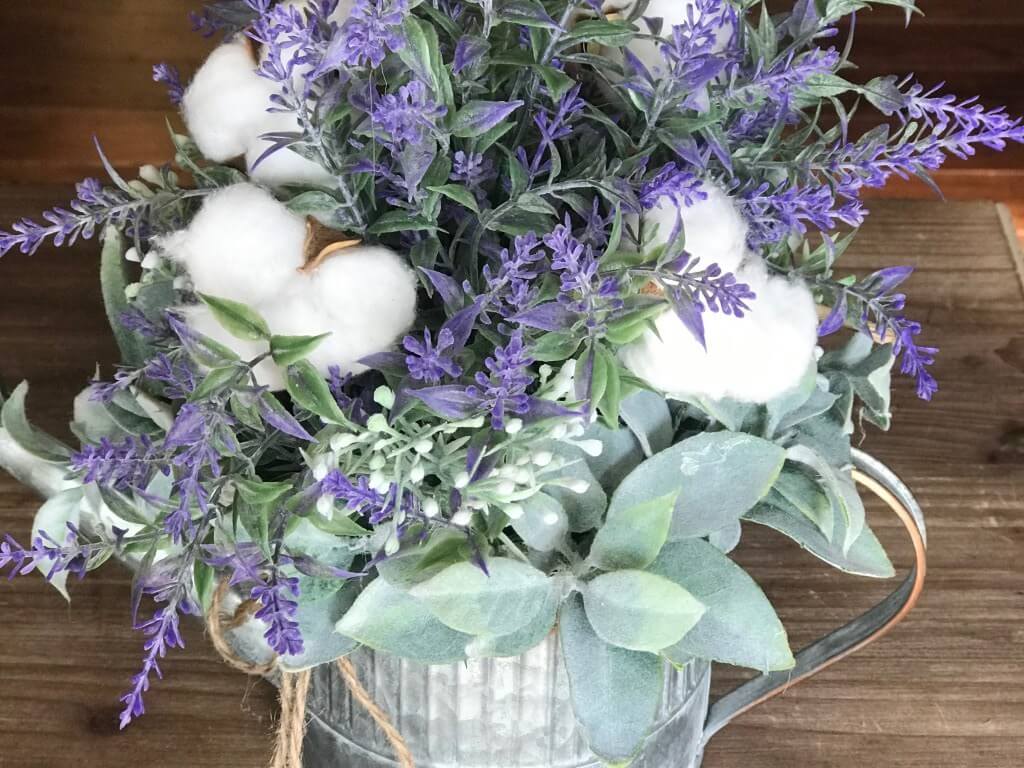 Who says vases only come in one shape and size? Think outside the vase and imagine this gorgeous watering can as your sanctuary for those pretty petals from your flower garden. It can hold a faux bouquet to last all year long, or enjoy a fresh fill of whatever bounty you harvest from your green thumb each day.
23. Weathered and Red Metal Farm Windmill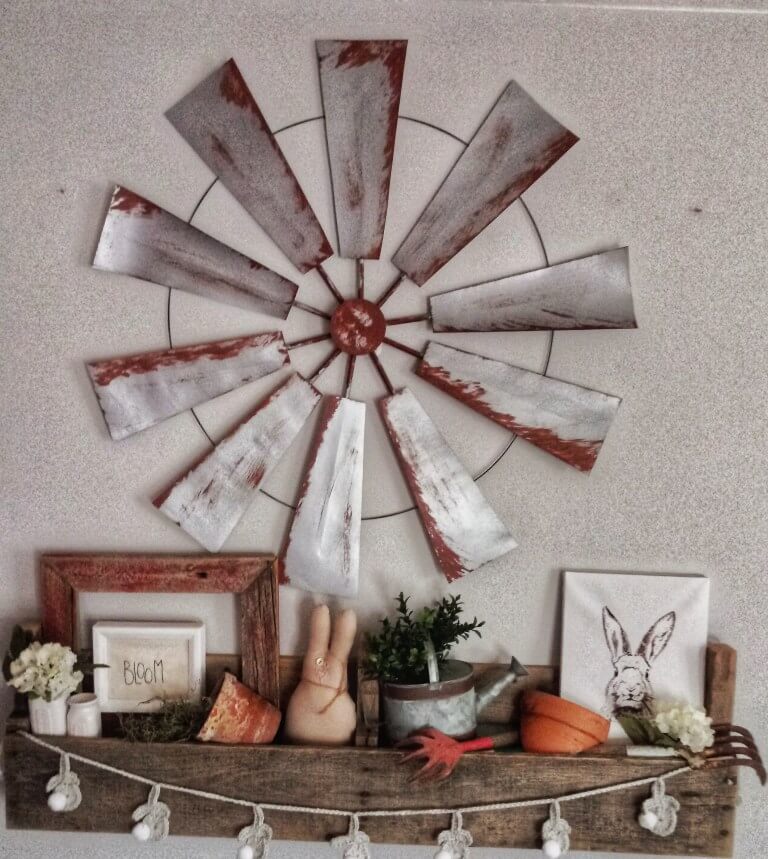 Put the metal to the wall and enjoy the beauty of this weathered red and silver windmill wall art. Its vintage vibe and rustic charm make it a great accessory in your farmhouse home. You may even spruce it up for Christmas by adding some greenery or a string of lights to tie it into your holiday scene.
24. Multi-Purpose Repurposed Mason Jar Decor

Getting started making your own home décor can feel daunting. This super simple Mason jar wall vase is the perfect project to build your confidence and get you started on your DIY shabby chic adventure. The best part about a Mason jar is that you always have the option to use either fresh or silk flowers.
25. Deadwood Style Rustic Headboard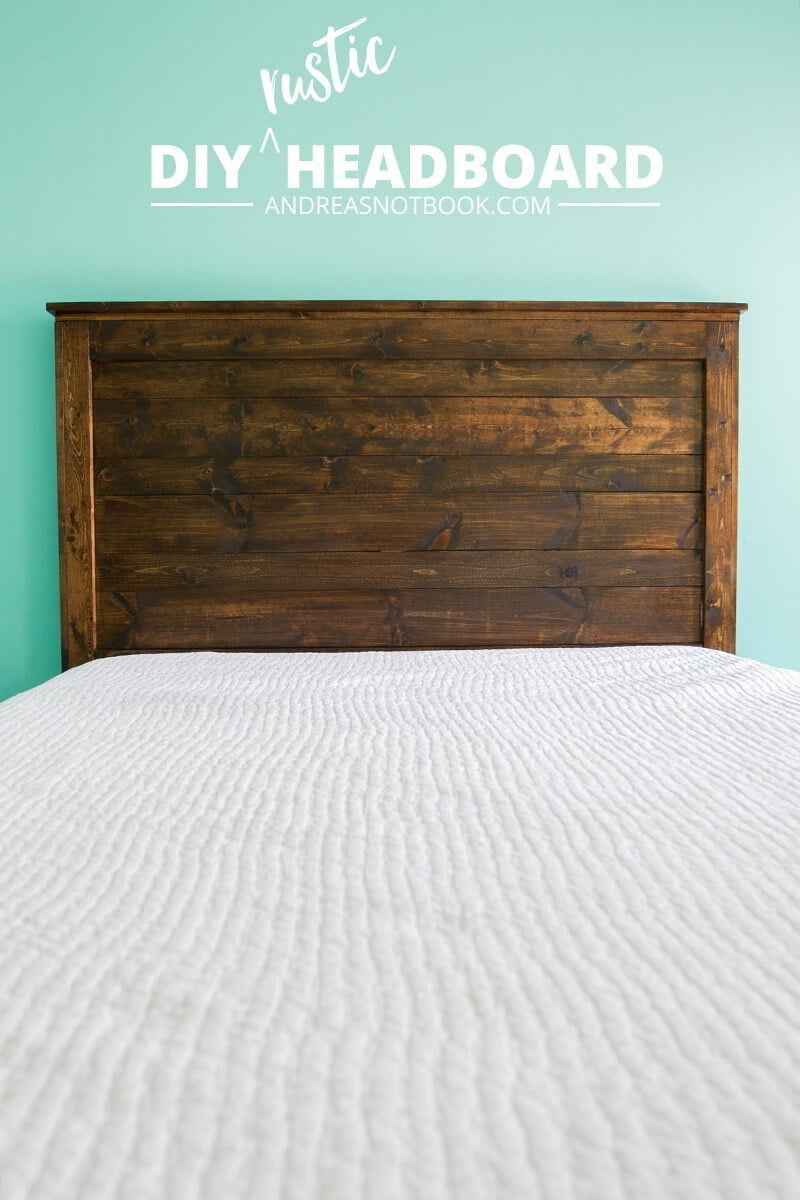 If you are looking to add a rustic yet classy element to your bedroom, then consider this beautiful headboard. You can create this piece on your own using your favorite project wood and simply staining it as light or as dark as you like. Adding a beautiful headboard, while simple, can significantly elevate the look and feel of your bedroom.
26. Chic and Shabby Hotel Door Mirror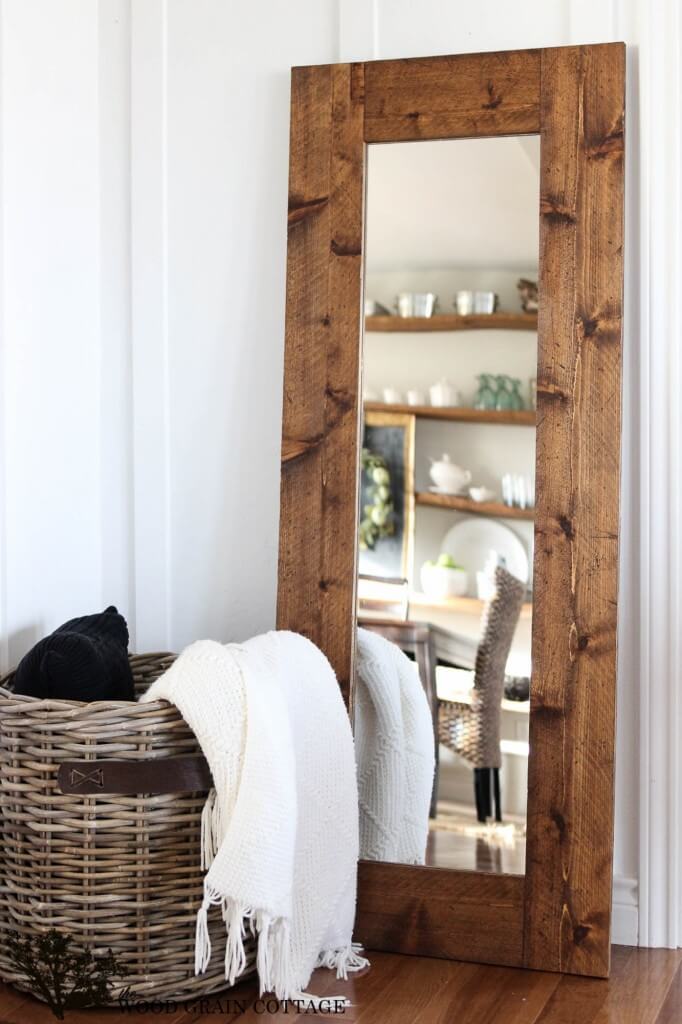 This gorgeous mirror – which may set you back well over $100 if purchased new – can be made at home, by you, with mostly basic home shop tools and supplies. Simply pick up a cheap full-length mirror to use as a base, choose your favorite wood and stain, and then get to crafting. This mirror adds a rustic touch to any bathroom or bedroom.
27. Venetian Blind Bench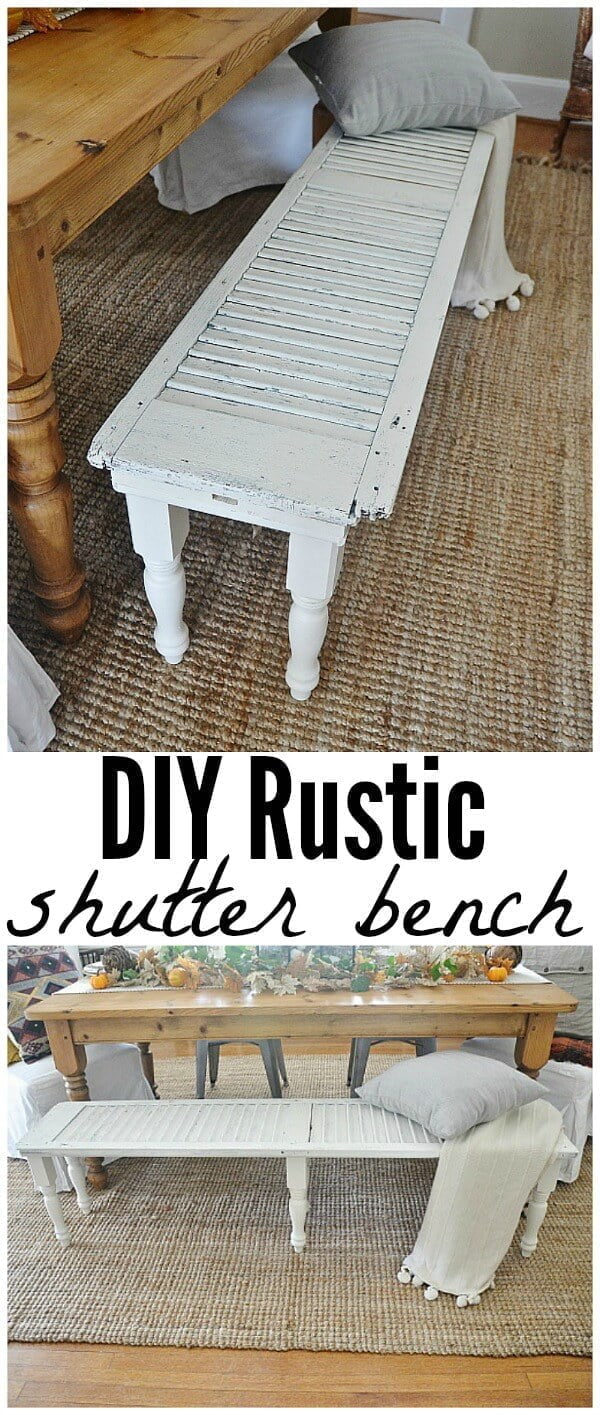 Upcycling is on the rise and is the perfect way to create an affordable, rustic chic-inspired home. This beautiful bench captures the very best of upcycling and shabby chic. Using traditional bench legs for support, you need only find a sturdy discarded set of wooden shutters and stain it all to match.
28. Connect The Blocks Wooden Wall Mounts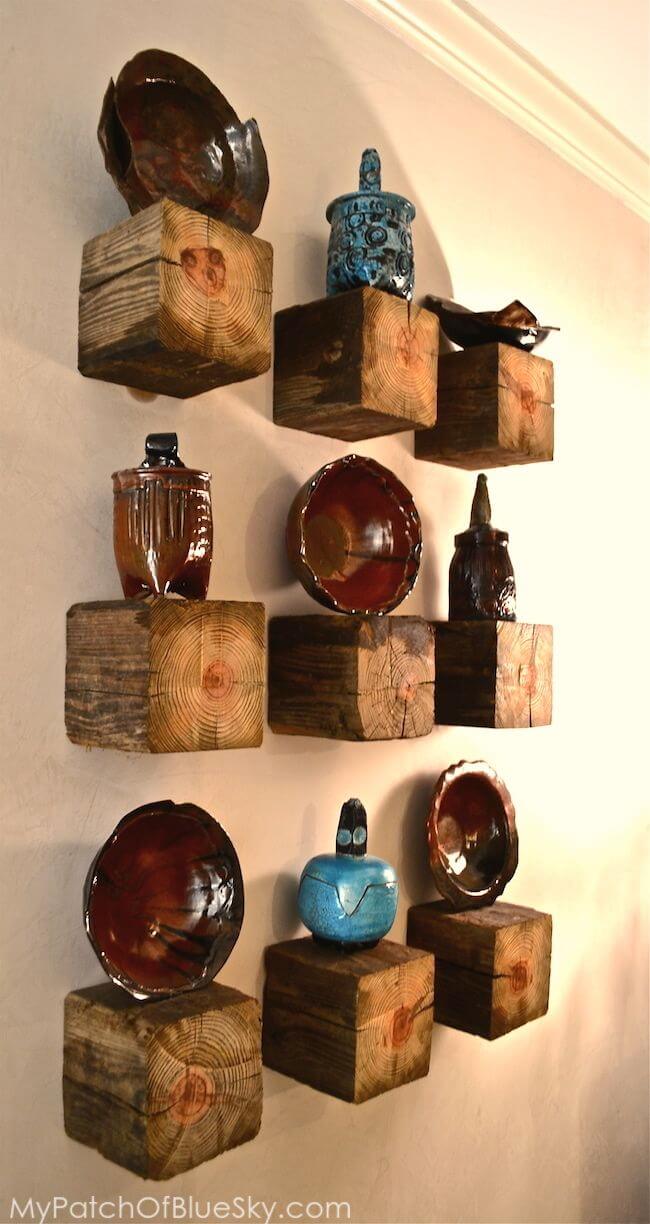 If you have beautiful pieces that get lost in traditional chests or bookcases, then consider adding these DIY wood block shelves to your home. Each square holds a single piece, which allows you to create as many as you like to fill a whole wall or simply use a few to make each displayed item really stand out.
29. X End Marks The Spot DIY Table

A piece this beautiful would be hard to find at your favorite home décor store, and no way would it be exactly the right color and styling to match your home. That is why it is so great that you can create and customize this table on your own by following a super simple step-by-step guide.
30. Pretty Pallet Wooden Planter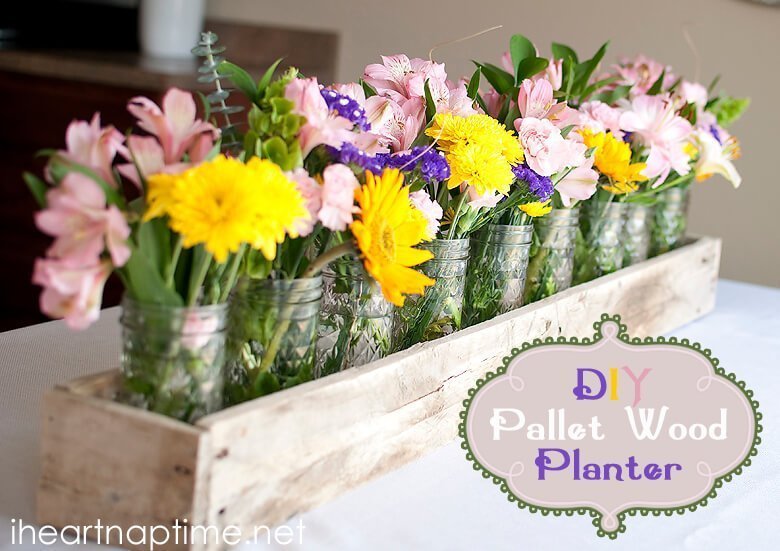 This super cute pallet planter is a great DIY project for any crafting skill level. Super simple yet effective, this planter can be used to directly add soil and seeds, or to store multiple cute vases or votive candles. Use this to accent any free kitchen space, or add to the center of a long table for a warm and rustic centerpiece.
31. Ship's Bottle Repurposed Lamp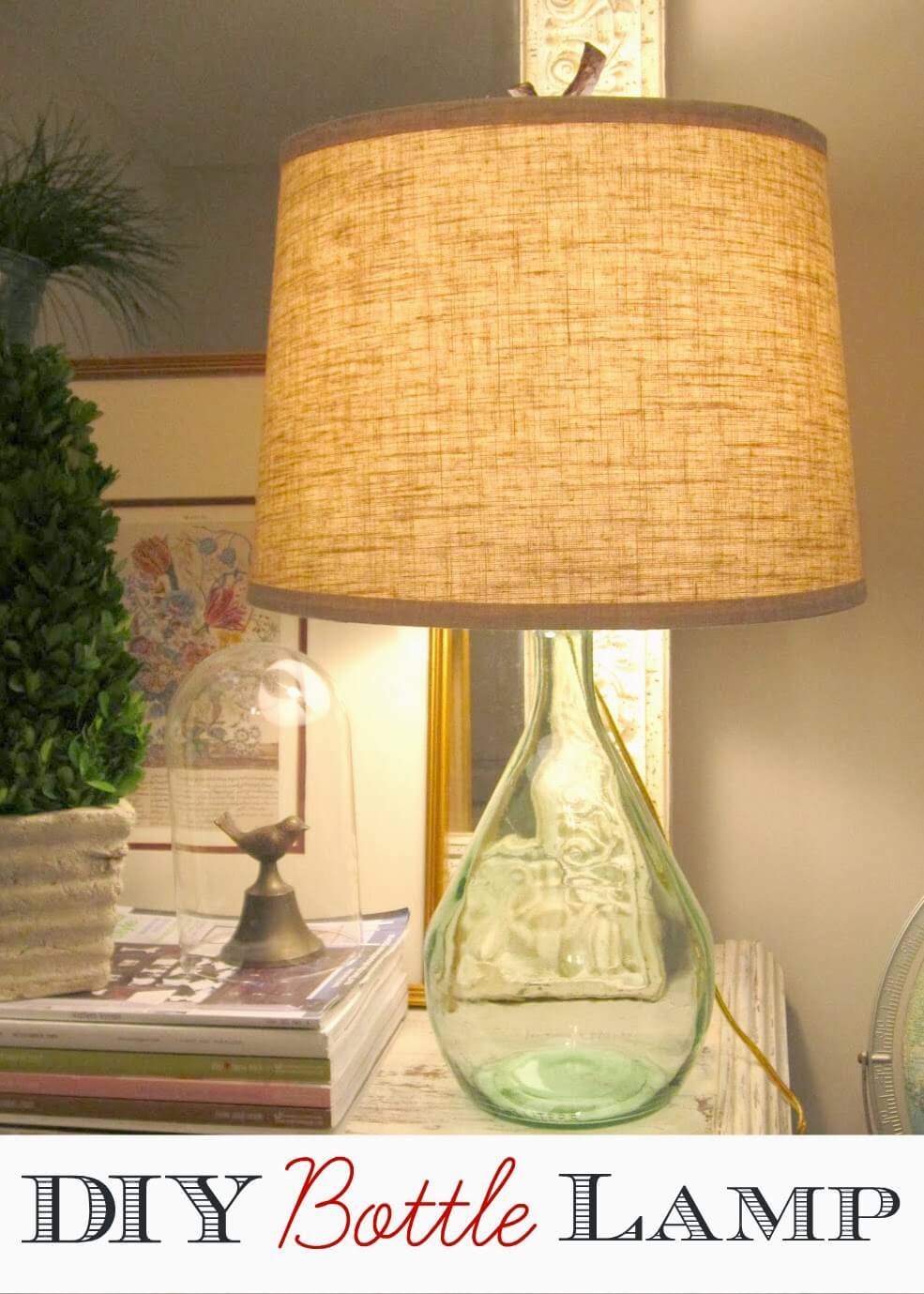 You could buy a vintage, shabby chic-inspired bottle lamp for $200 plus, or you can make your own for a fraction of the cost! Just keep your eyes peeled at your next flea market or estate sale for the perfect bottle or glass vase, pick up a bottle lamp kit and shade, and you will be all set.
32. Crafter's Cottage Shelves

Doing your own distressing can be nerve wracking. You want to make sure you don't do too much, but you still have to do enough to give it the perfect rustic farmhouse appeal. Your best bet is to start with something simple like these cute and sturdy shelves. Just follow the easy tutorial and you will be a shabby chic distressed wood pro in no time.
33. Rustic Industrial Spool Side Table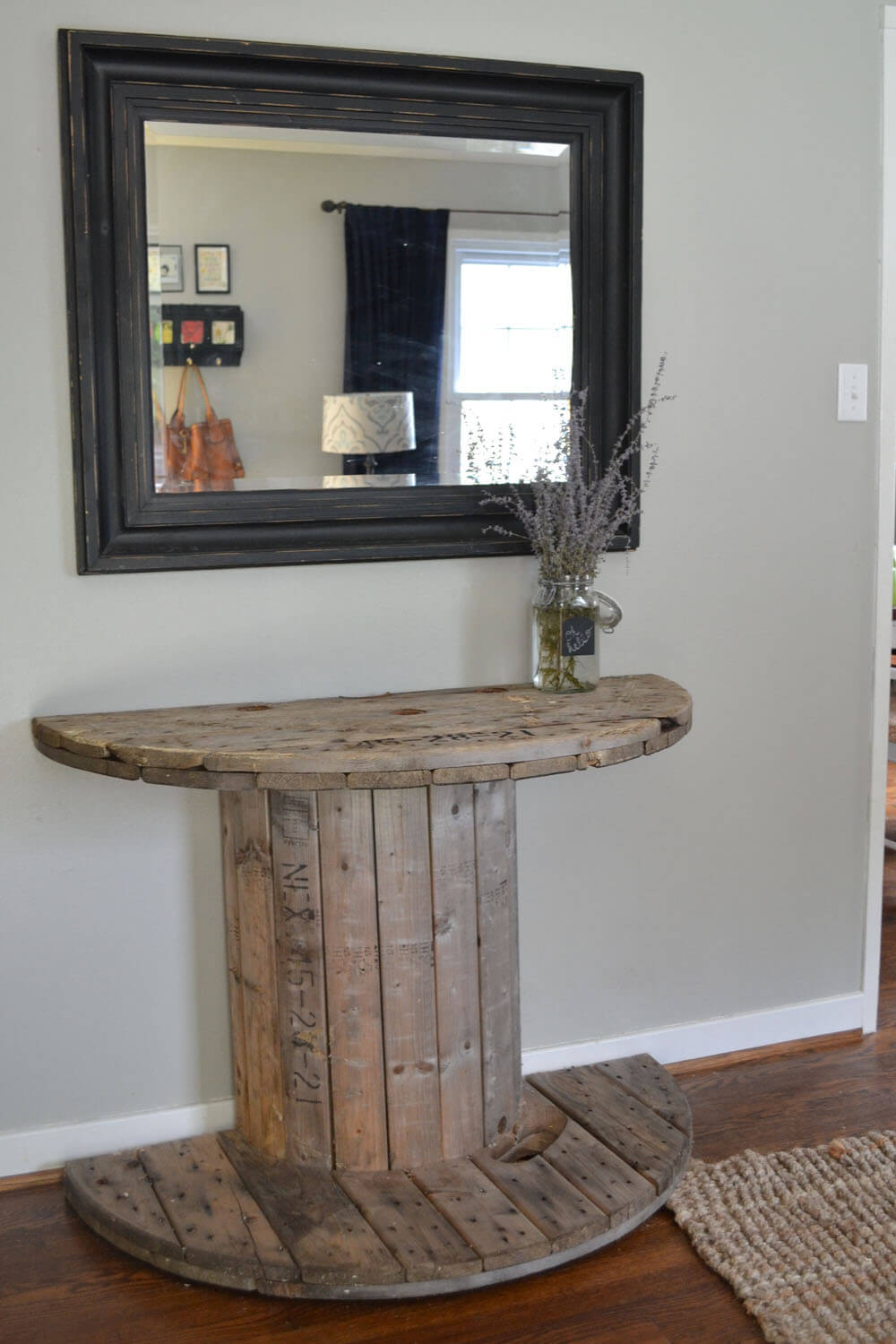 As any DIYer knows, an industrial spool is rustic chic gold. These large pieces are the epitome of upcycling and can be used to make everything from staircases to beautiful side tables like this. This table is so great because you need only saw it down, give it a good cleaning, and put it to use displaying fresh flowers or a family photo.
34. Shabby Manor Layered Candlesticks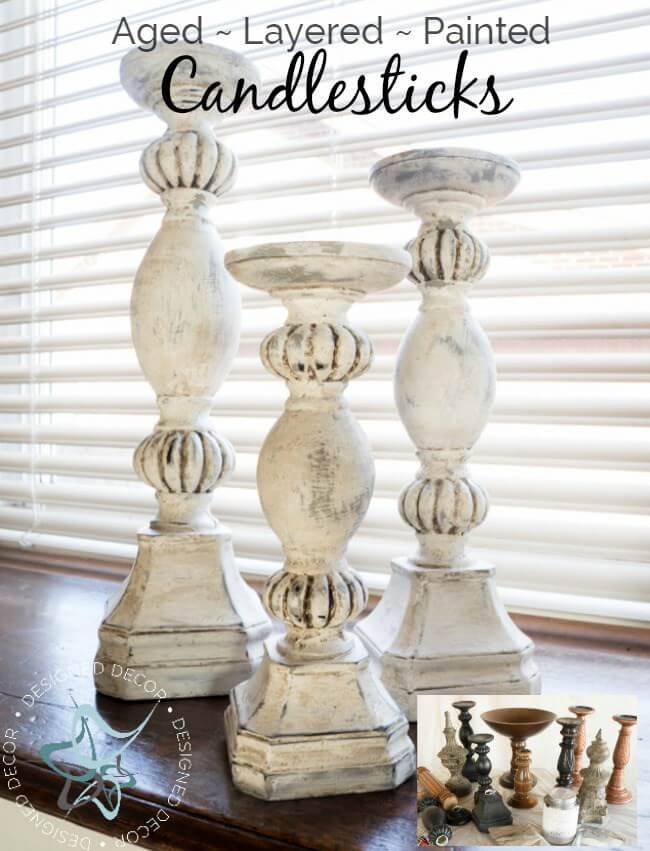 Put those mismatched thrift shop candlesticks to good use by getting crafty and creating a perfect shabby chic set. You can personalize these to match your home décor style and color and, using the techniques in the tutorial, give them the perfect vintage feel. Never worry about finding a complete set of candlesticks again.
35. Homestyle Bedroom Love Sign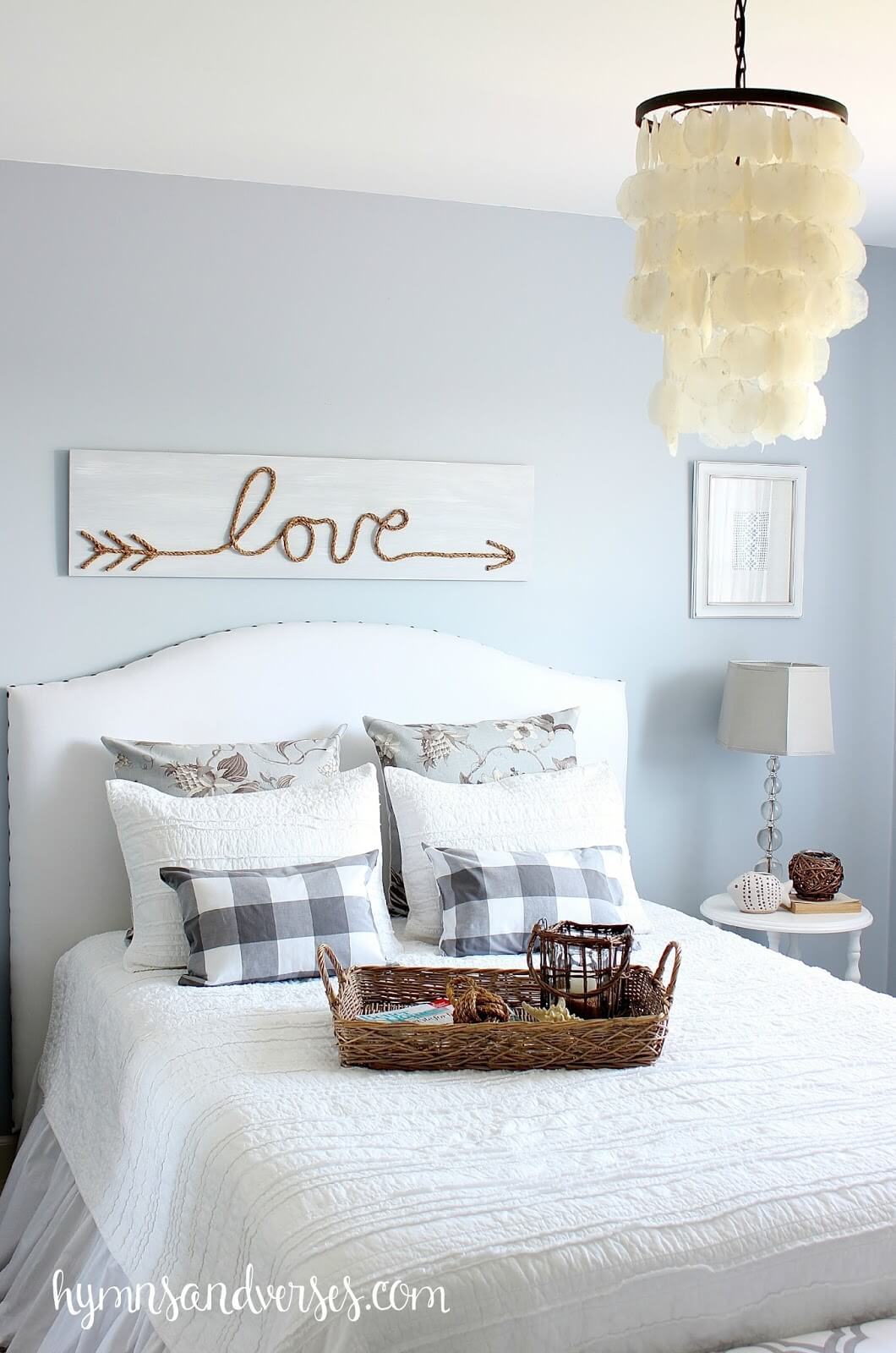 Wall art becomes so much more meaningful when it is homemade. Knowing that you crafted this "love" art by hand makes it that much more powerful. Using jute rope, you can create any design or word that suits you. Add a whitewashed board and you have a perfect, beachy, rustic-inspired piece.
36. Pacific Ambiance Mason Jar Sconces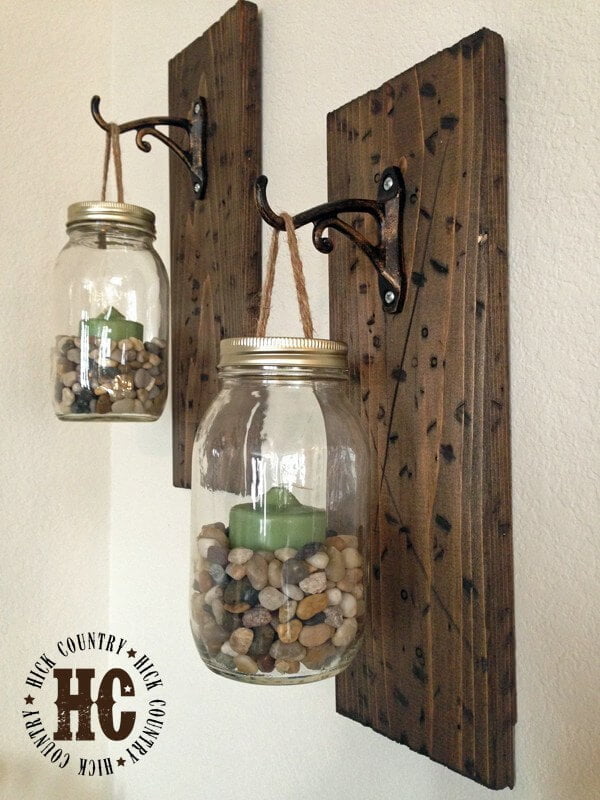 This Mason jar wall sconce can be personalized to any home and adds a warm, beachy feel to an entryway or hall. Fill with your favorite pebbles, sand, or shells, then light a votive candle to create a warm glow. The simple wall-mounted board serves as a clean and chic base for these beautiful home-made wall lights.
37. Edwardian Schoolhouse Coat and Hat Rack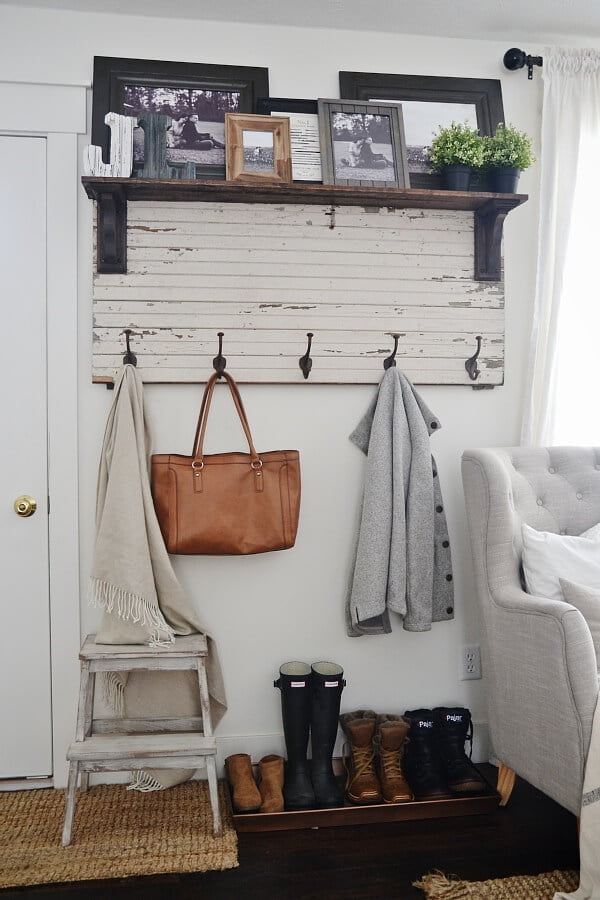 Sometimes it feels impossible to find a coat rack that fits your style and space. The obvious solution? Make it yourself. This project creates a big impact and can be made using a repurposed barn door (or other pieces of wooden board) and a simple shelf. Great for coats, bags, picture frames, plants, and more, this will surely enhance your entryway.
38. Antiquated Railway Headboard Lamps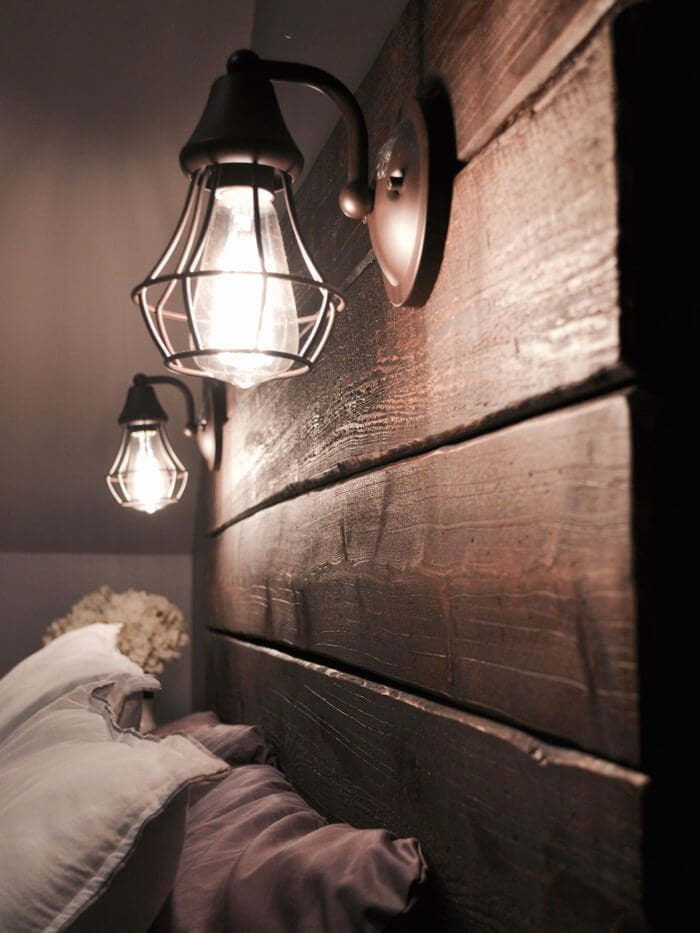 Finding the perfect headboard that exudes your rustic style and includes lighting is just a DIY project away. This project is a bit more involved than some, but is still totally doable for beginners and has a beautiful end result. Just make sure you are extra careful when working with electrical wiring, especially for the first time.
39. Jug and Knot Mason Jar Rope Lanterns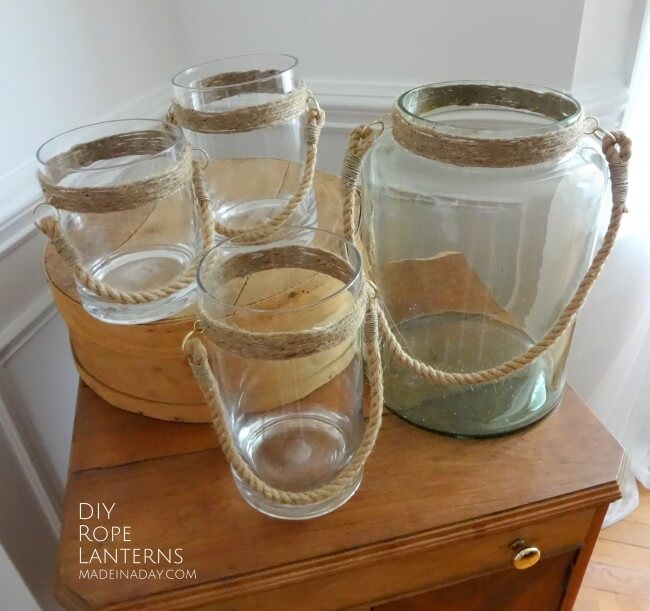 Perfect for a wedding or any beach or farmhouse-inspired home, these rope lanterns will perfectly house any candle, light, sand, shells, or trinket that you choose to display within. They also work very well on their own and can be situated as a centerpiece, hung up, or placed on an end table.
40. Forest Finds DIY Chalkboard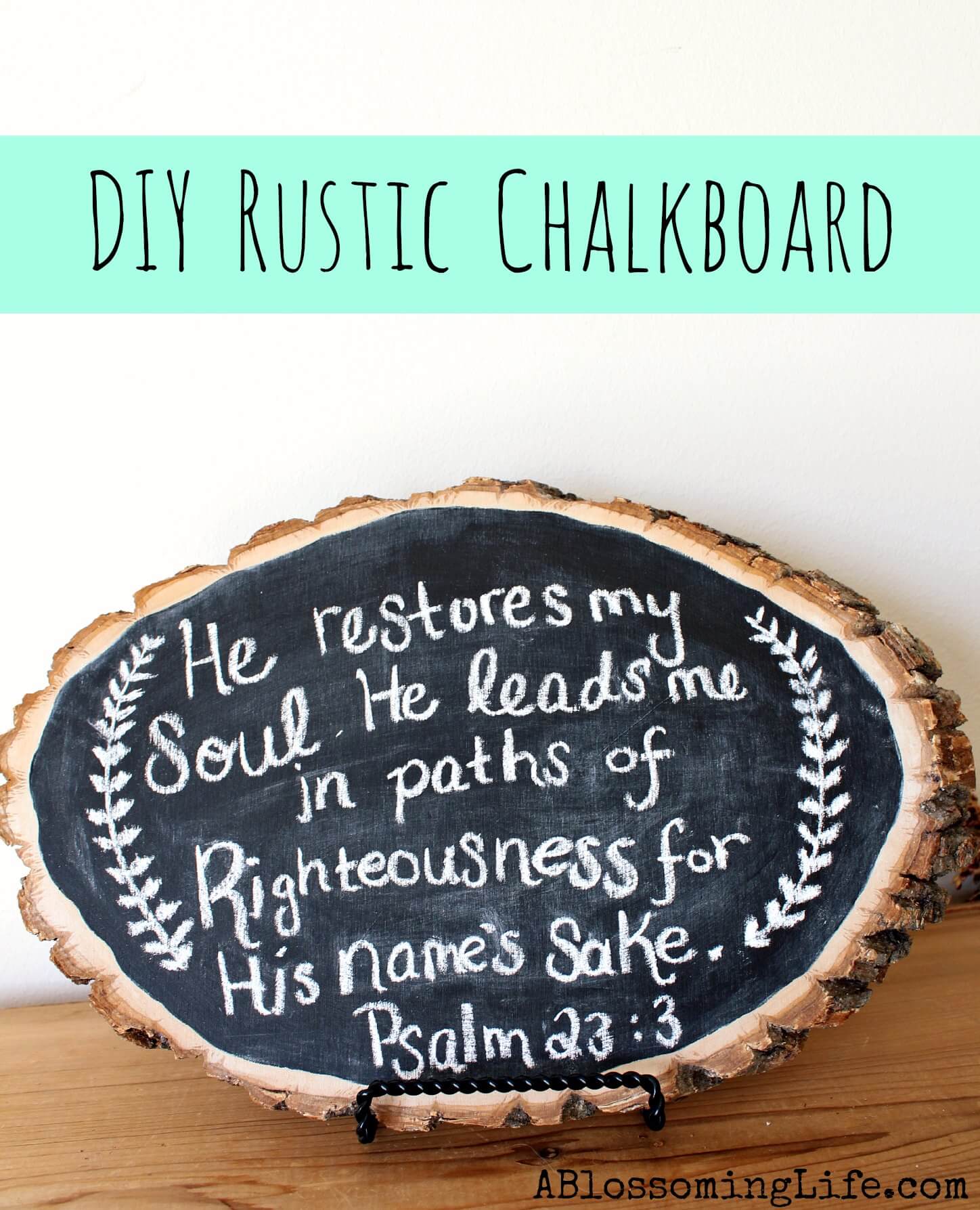 If you are going for a woodsy theme to your home décor, you should consider adding this whimsical and super simple piece to your collection right away. Consisting of only four materials, this cute rustic chalkboard will be ready to go for a home display, a wedding, or a gift in as little as twenty minutes.
41. Rustically Repurposed Barn Door Cabinet

The best DIY projects are often ones that either create or update something functional in your home. Instead of ordering your next sideboard or buffet online, keep your eyes peeled for dumped or donated cabinets. From there you can work your magic and beautify the cabinets until they exude shabby chic perfection.
42. Provincial Governess Style Chalkboard

Creating your own chalkboard is so easy and fun, and makes for endless reuses as you can update the chalk art as often as you like. All you need for this is a frame, a board, and some chalkboard paint. Display in your living room, or let the kids use it for fun and games in their rooms.
43. Wire Basket and Reclaimed Wood Botanical Display
Reclaimed wood in any state can add a charming and homey feel to any space. Throw in some greenery and you really have an inviting piece that brightens up a room. This wire basket display can house live or artificial plants and works great for any bathroom, entryway, porch, or hall.
44. DIY Painter's Ladder-Side Table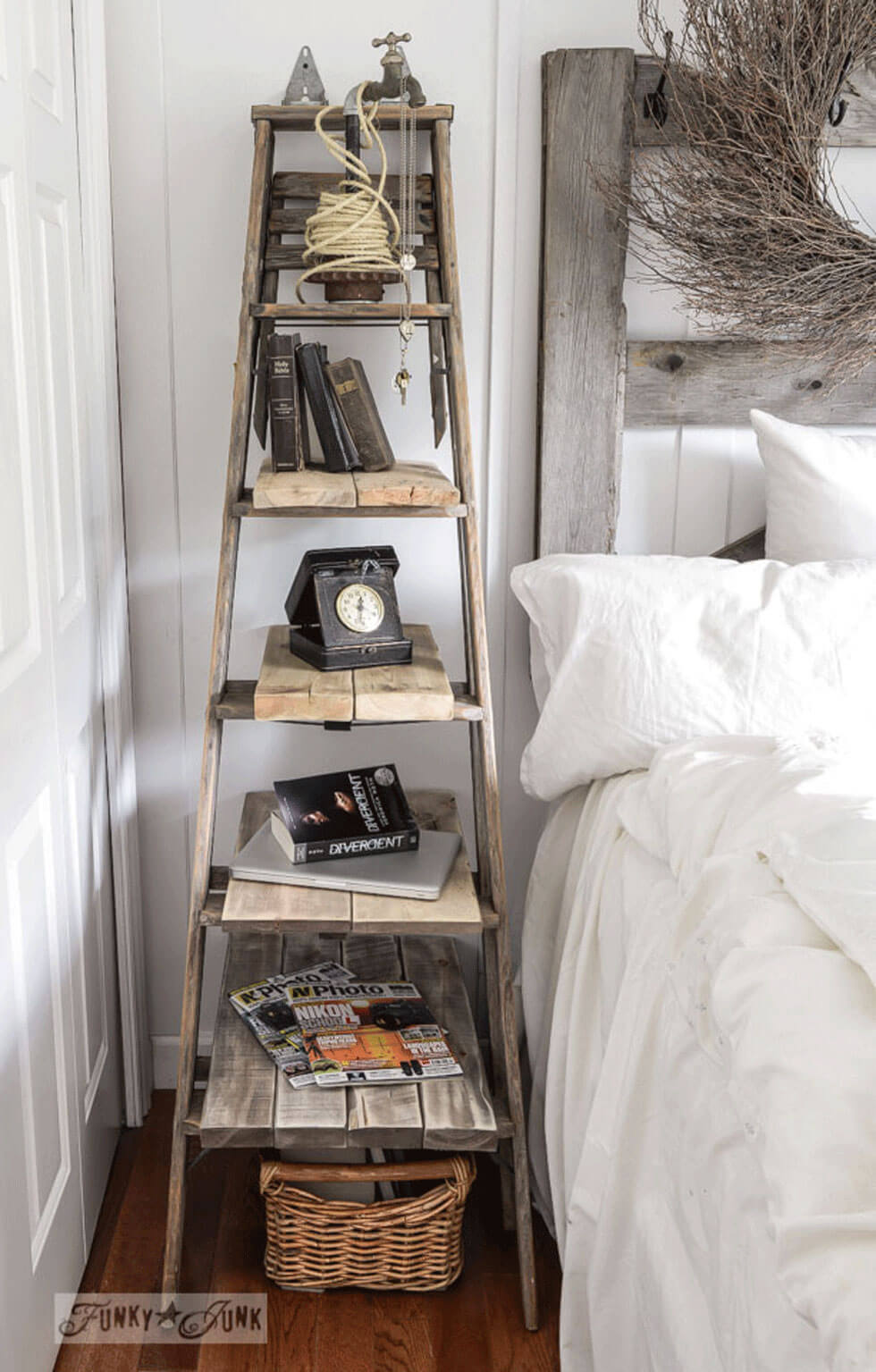 This quintessential shabby chic piece embraces the rustic nature of the wooden ladder by keeping some of its original elements, yet brings it up a notch by adding planks to create a highly functional side table. The height of the ladder lends itself to creativity, as you have so many shelves to display all your favorite odds and ends.
45. Prairie Cabin Chest of Drawers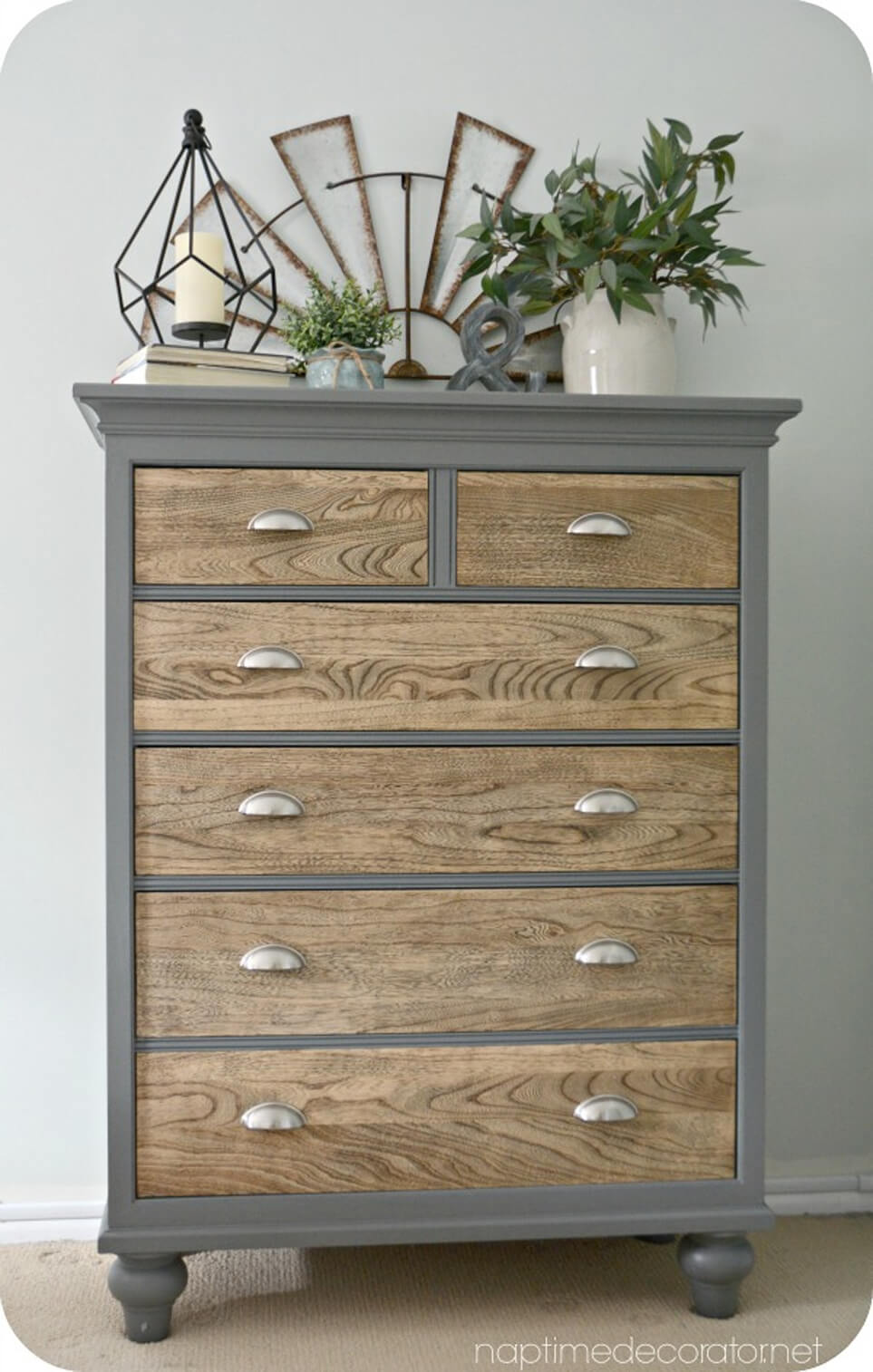 If you are hoping to change up the look of your bedroom without having to go on the hunt for all new pieces, consider making over the pieces you have. With a little sanding, paint, and new knobs, you can update your old outdated dresser as often as you like, changing the whole look without all the cost of traditional redecoration.
46. Homemade Tiny-Twig Frame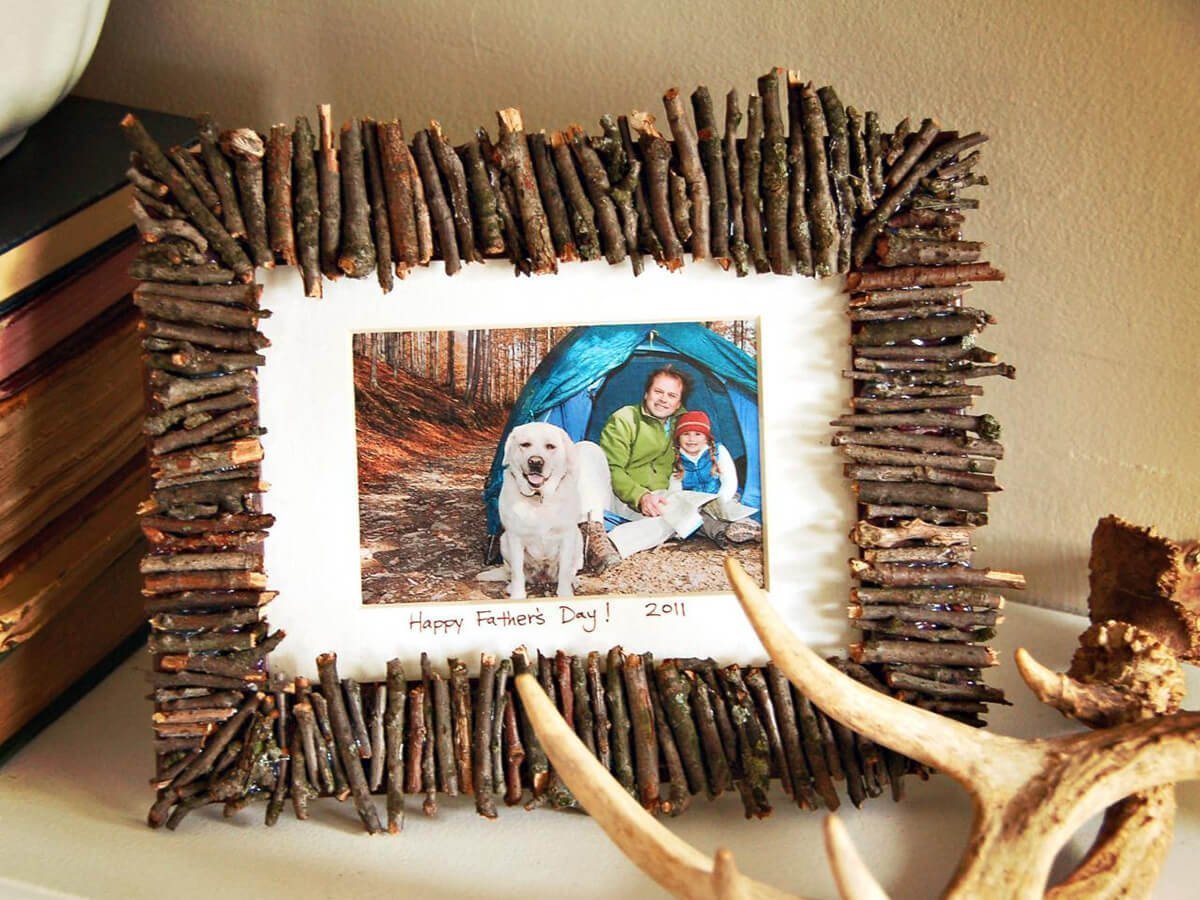 This home-improved picture frame is a great project for the whole family. Head outside and pick out your favorite twigs, then bring them in, break them up, and simply hot glue them to one of the old frames you have sitting around that you aren't super fond of anymore. Then just add a favorite family photo and you're done!
47. Handmade Harvest Fall Wreath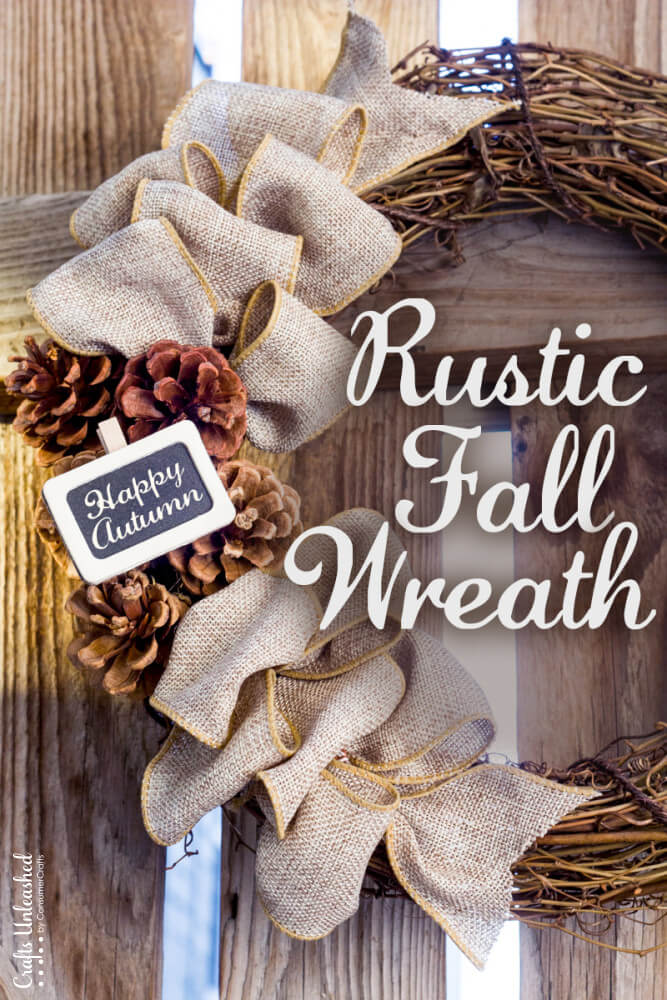 A wreath adds instant warmth and friendliness to any home. This harvest-inspired wreath also adds a touch of rustic charm. With fun fall elements like burlap, pine cones, and twine, everyone will know that your home is one that welcomes the warmth, love, and hospitality that come with the fall season.
48. Restoration Wood Accented Curtain Rods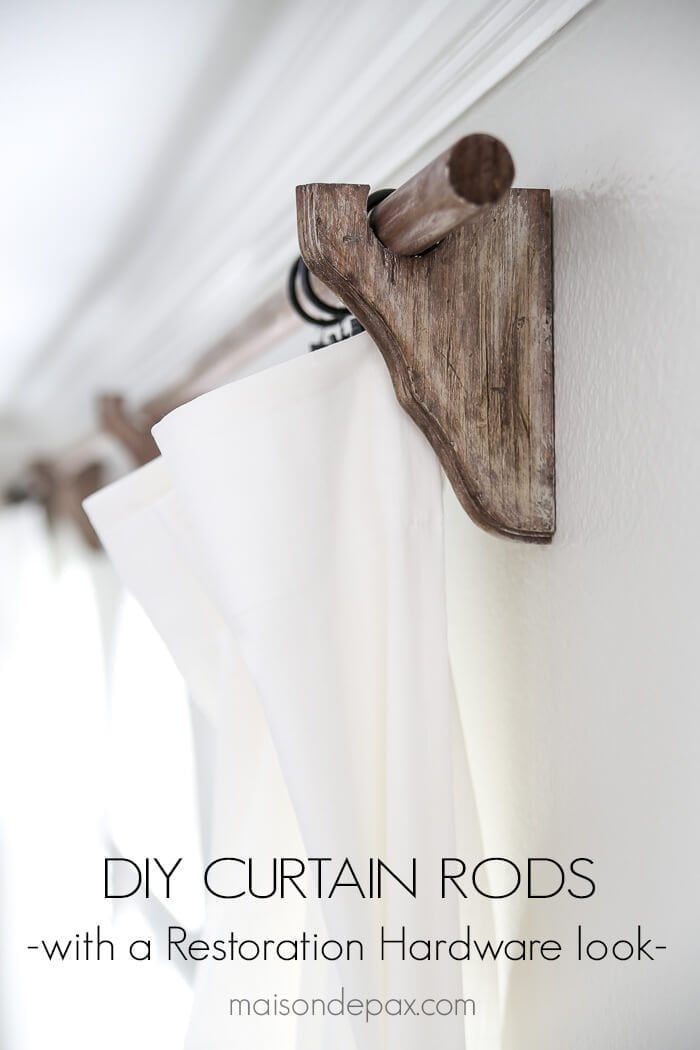 Curtain rods are one of those items that always seem to be more expensive than they should be. With this DIY tutorial, you can turn that around by making your own beautiful curtain rods and holders for a mere $15 – $20. The rustic wood of these rods against soft curtains makes for the perfect marriage in any living space.
49. Rustic Parlor Style Gallery Wall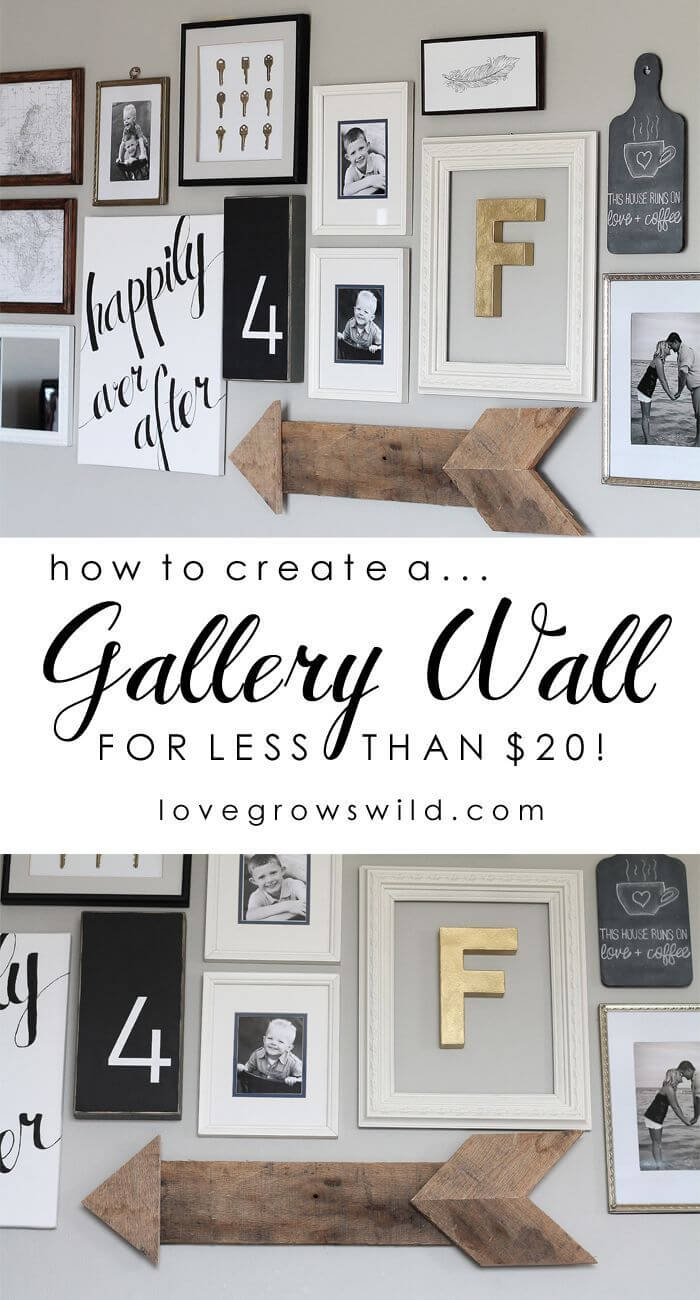 If you have eclectic tastes, than a gallery wall is a must. This DIY project will help you get started on creating a large number of fun pieces for your rustic-inspired gallery wall, including distressed signs and wooden arrows. It will also help you decide how to hang up all your fantastic mismatched pieces.
50. Bed and Breakfast Style Wooden Bath Runner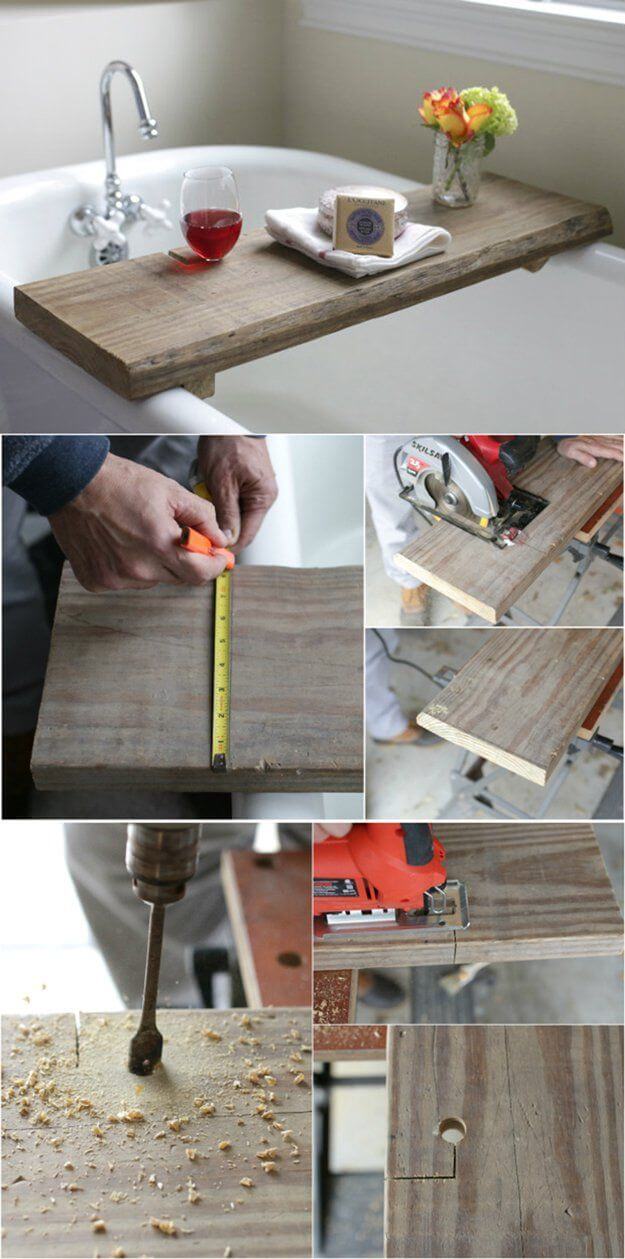 A luxurious bubble bath is the perfect way to unwind at the end of the day. And of course, what is a bubble bath if you don't have somewhere to set your glass of wine? Take on this fun and simple wooden bath runner project to add a little more luxury to an occasionally overlooked room.
51. DIY Wooden Tree Ring Holder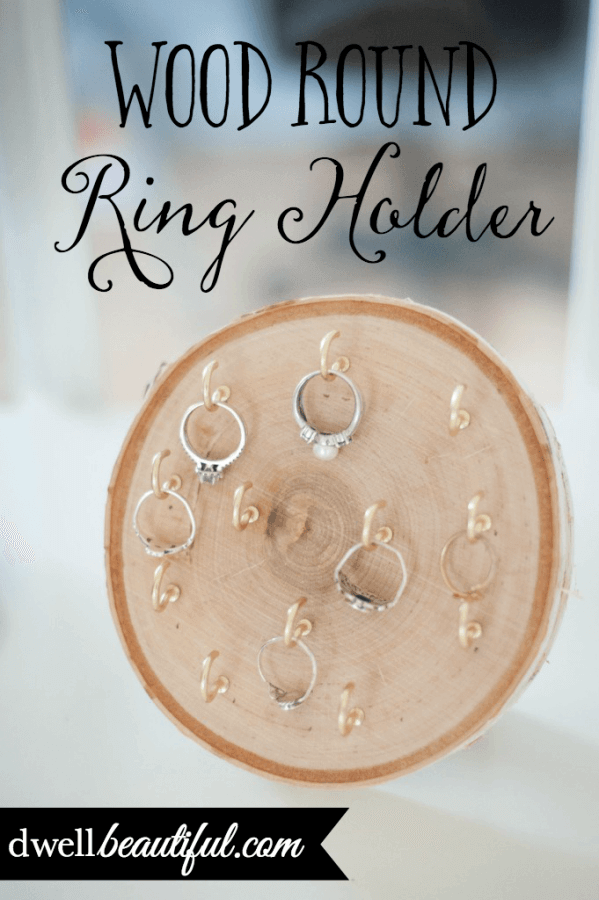 Digging through a jewelry box to find that one special piece can be a nightmare. Take out the hassle while adding a delicate, rustic piece to your bedroom décor with this lovely ring holder. Even though the holder is pretty on its own, once you have your favorite rings adorning the delicate hooks, it will be the perfect blend of sparkly and country.
52. Burlap Of Luxury Repurposed Table Runner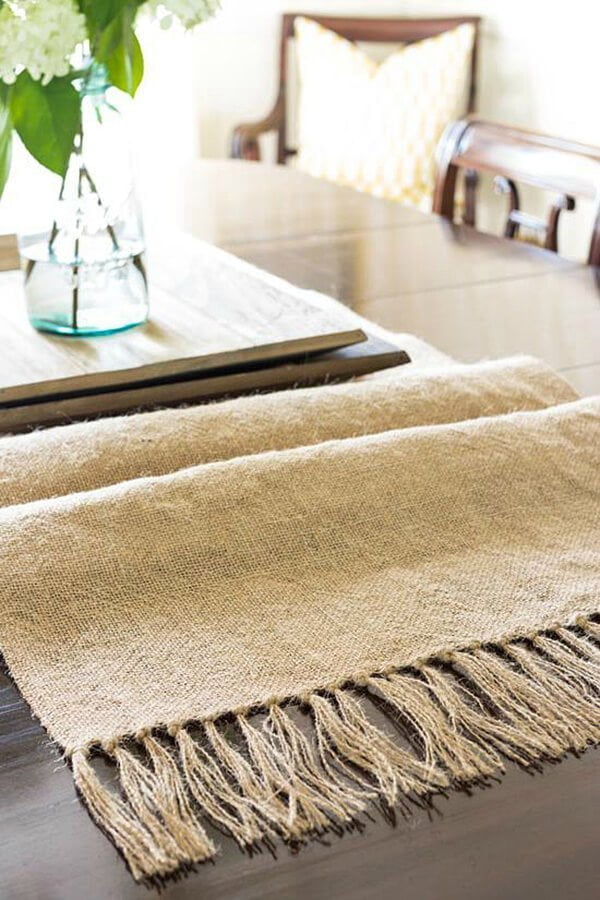 A modest and classy burlap runner can speak volumes about your home's unique style. A table runner is a piece that you won't realize you are missing until you have one. It can make a huge impact on a dining room and will enhance and accent any centerpiece. Burlap is the perfect material to really tie together a farmhouse cottage décor.
53. Reassembled Wooden Cobbler's Bench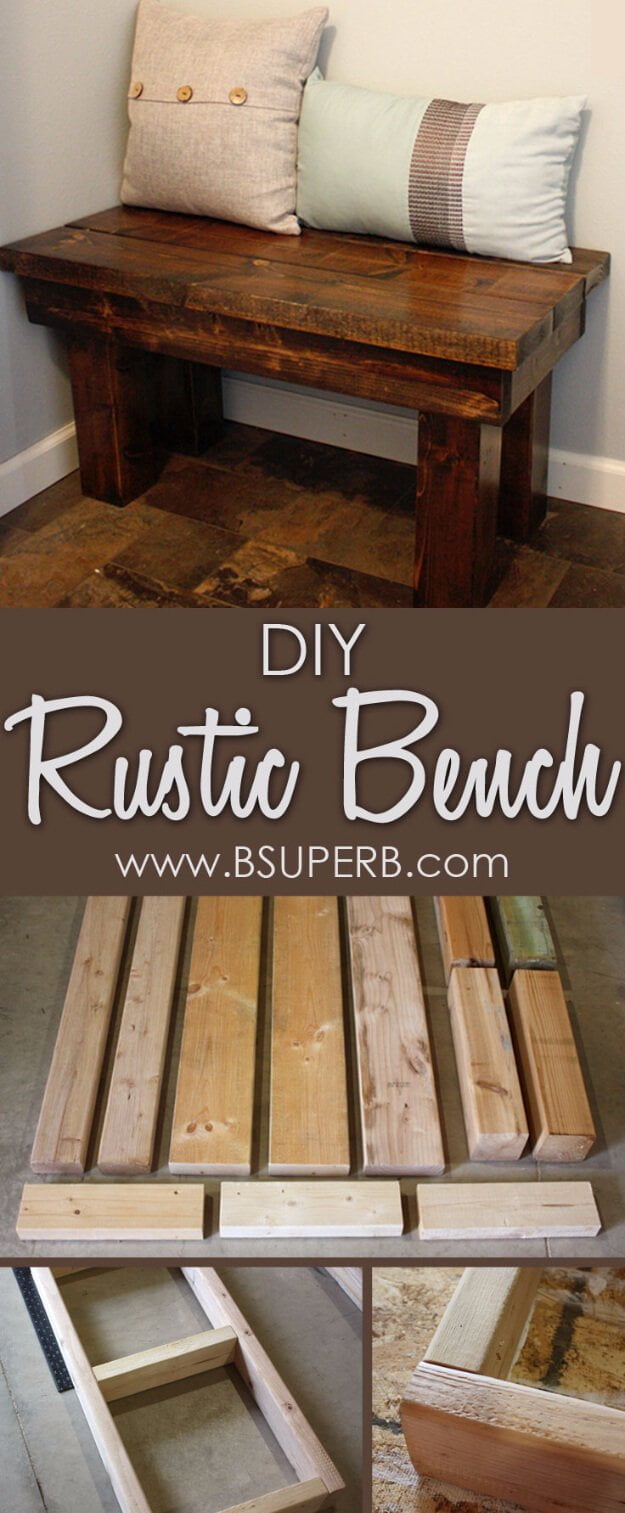 Super cute and functional perfectly describe this small DIY cobbler's bench. Flawlessly complementing any farmhouse décor, this bench is well suited for an entryway, the foot of the bed, or tucked into an unoccupied corner of any room. Simply add a few pillows for a cozy homey touch.
54. Window To The Home Repurposed Frames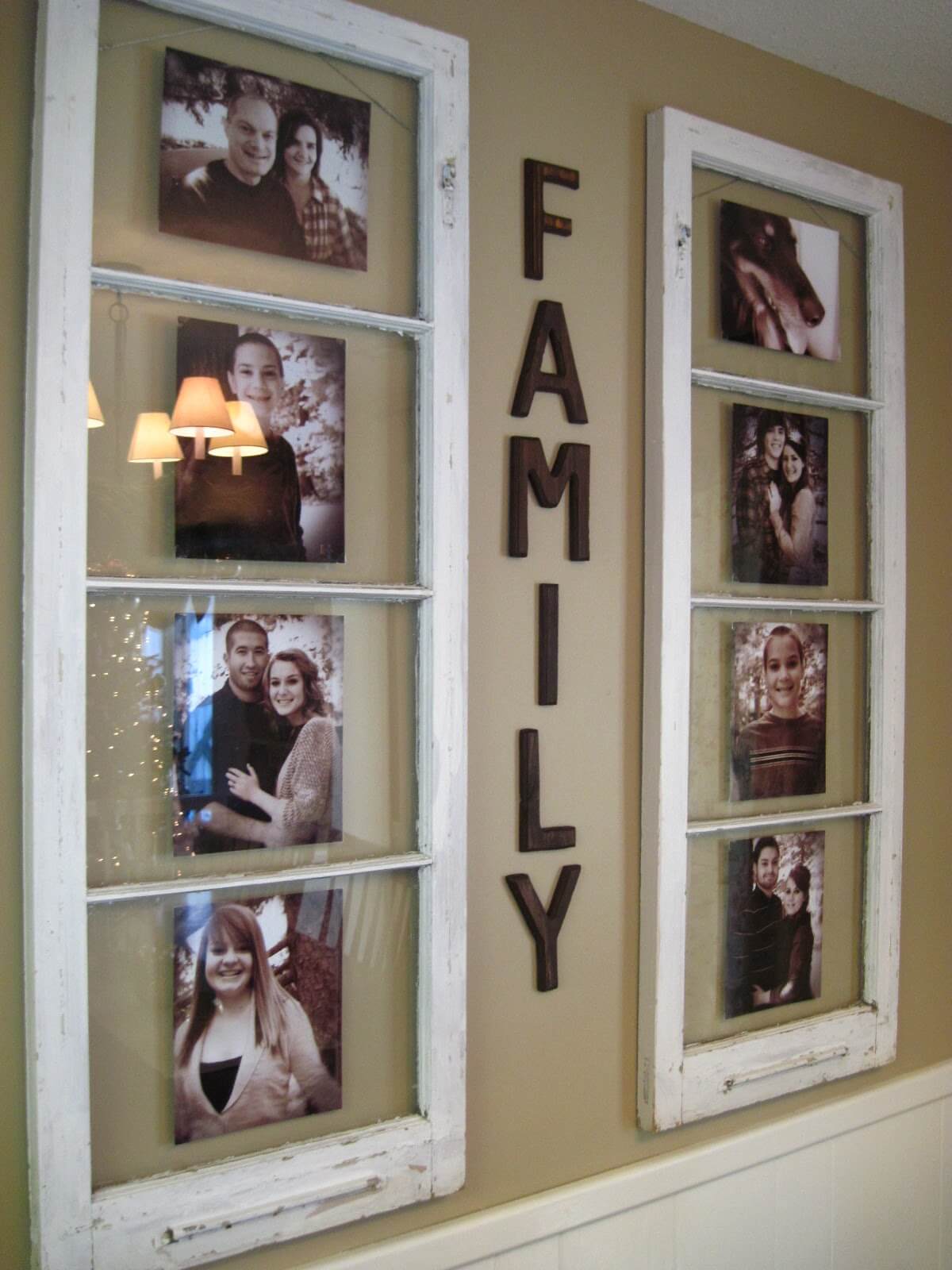 Upcycle old glass windows into this beautiful family photo display piece. The warm and rustic touch of the distressed wood along with the simple "family" really give this piece an authentic and loving feel. To maintain the vintage atmosphere, see if you can get your favorite prints done in sepia tones.
55. Re-pieced Picket Fence Frames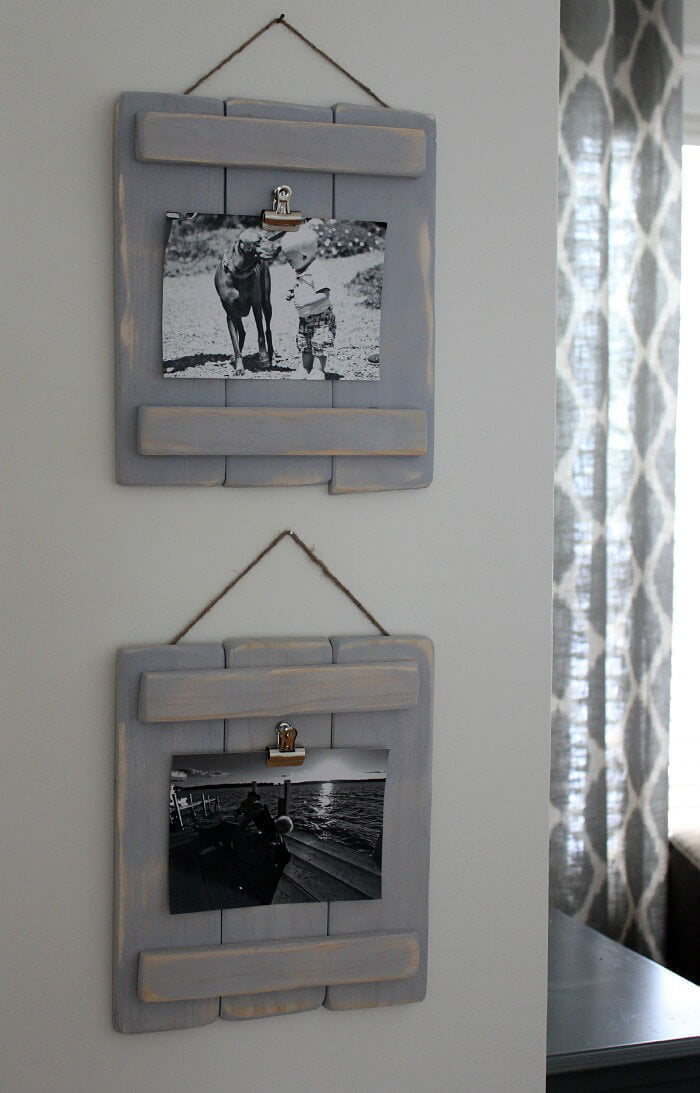 A picket fence conjures ideas of summer, fun, and play. Adding this fence-inspired piece to your home can give you those same warm feelings all year long. Match it to your current décor by selecting your own color, and make it sweet by clipping on some of your favorite family photos.
56. Rustic Wicker Jug and Wooden Table Ensemble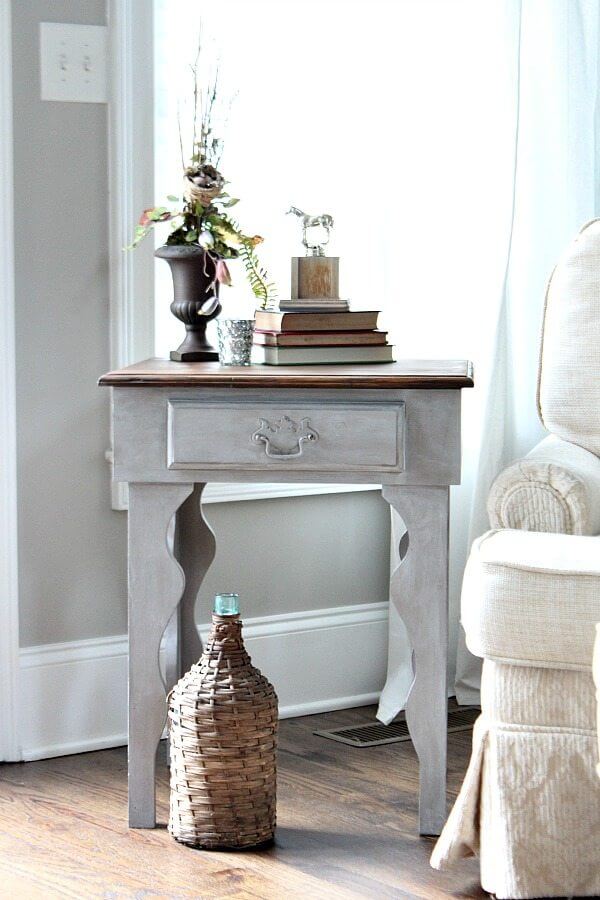 The perfect end table is always available at your local thrift store if you are willing to take the time to spruce it up and give it some custom touches. Find a table that you like the design of, and don't worry about the color because once you get it home you only need follow a few easy steps to make it your own.
57. Elven Decor Repurposed Tree Slab Stool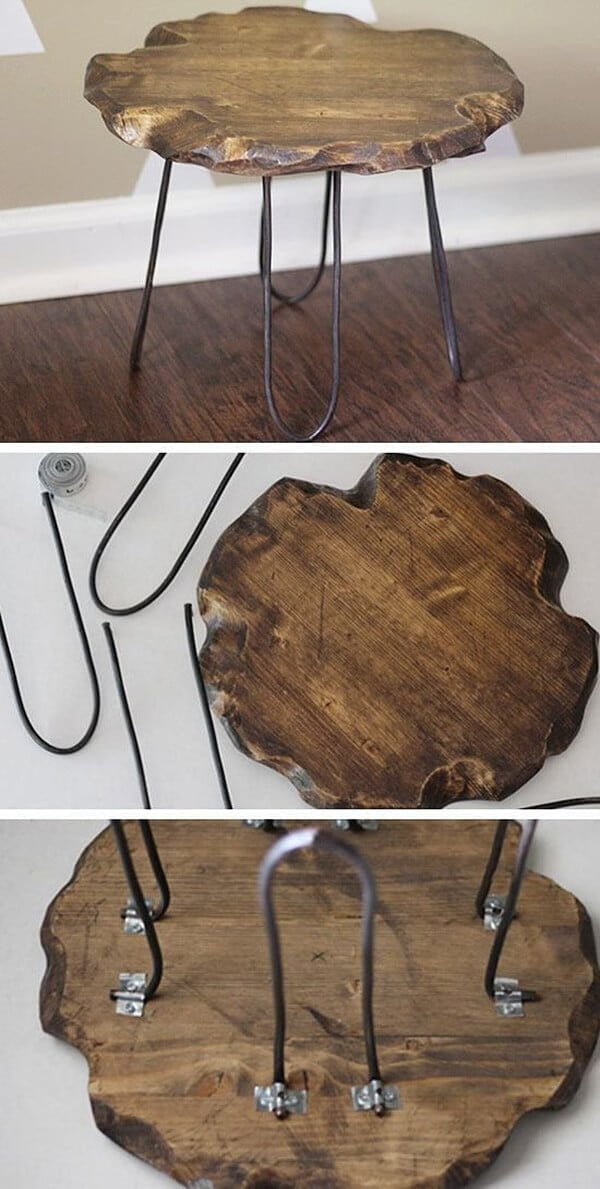 This rustic wooden stool adds an element of a woodland fairy tale cottage to your décor. You can accomplish this beautiful stool without any welding; the only power tool you will need is a sander to add a natural look and shape to your wooded seat. Stain it to match other furniture or flooring.
58. Wooden Coffee Crate Pantry Hanger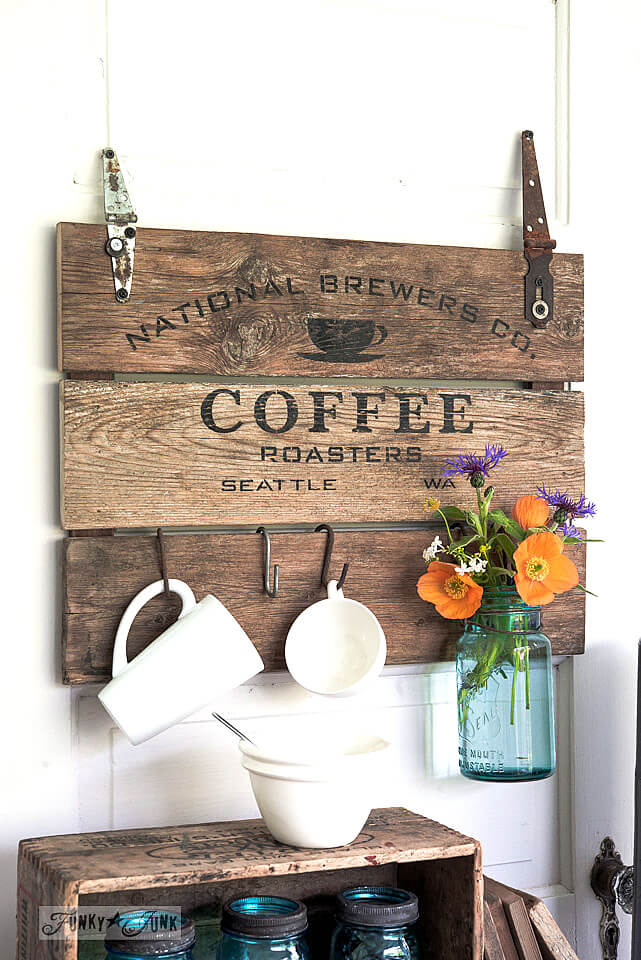 Adding a pop of industrial whimsy to your kitchen, this lovely yet functional piece can give the look of a coffee crate lid by using reclaimed wood, a coffee stencil, and a few vintage hooks and latches. Make sure you use genuine pieces to make this sign feel even more authentic.
59. Driftwood Decor Nautical Starburst Mirror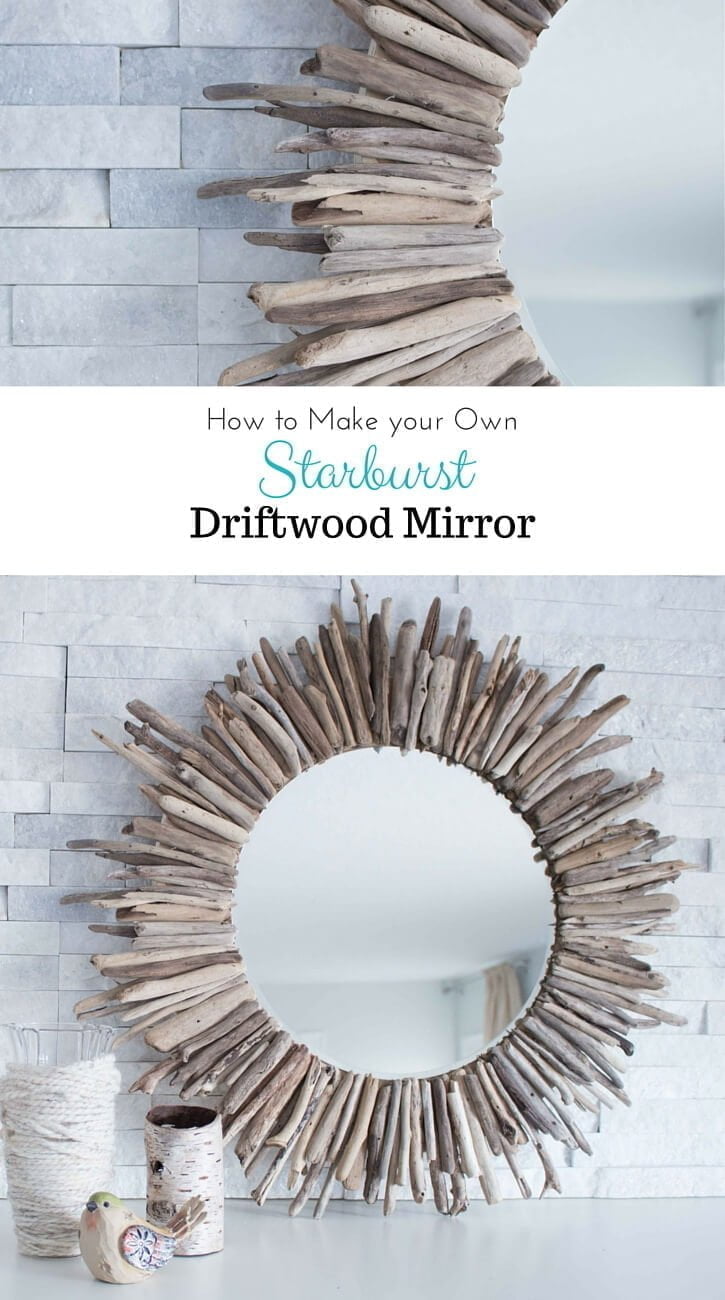 A mirror, apart from being practical, can also add brightness and life to any room. This beach-inspired driftwood-framed mirror will brighten your day both literally and figuratively. Hang or place this in a spot where it will reflect natural light and add life to your rustic or nautical themed décor.
60. Warm Wooden Greeting Sign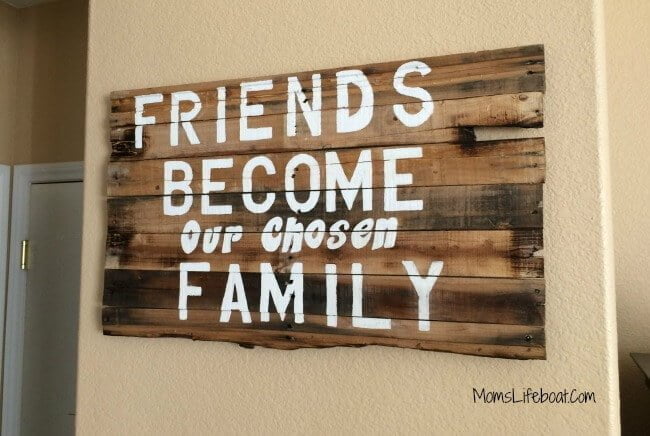 Make the most out of some shabby pallets by burning the edges, nailing them together, and adding a warm, bold, and welcoming saying. You can either juxtapose the shabby and rugged edges of the pallets with clean, bright stenciled lettering or amplify the rustic appeal by painting on your letters freehand.
61. Build-Your-Own Blanket Ladder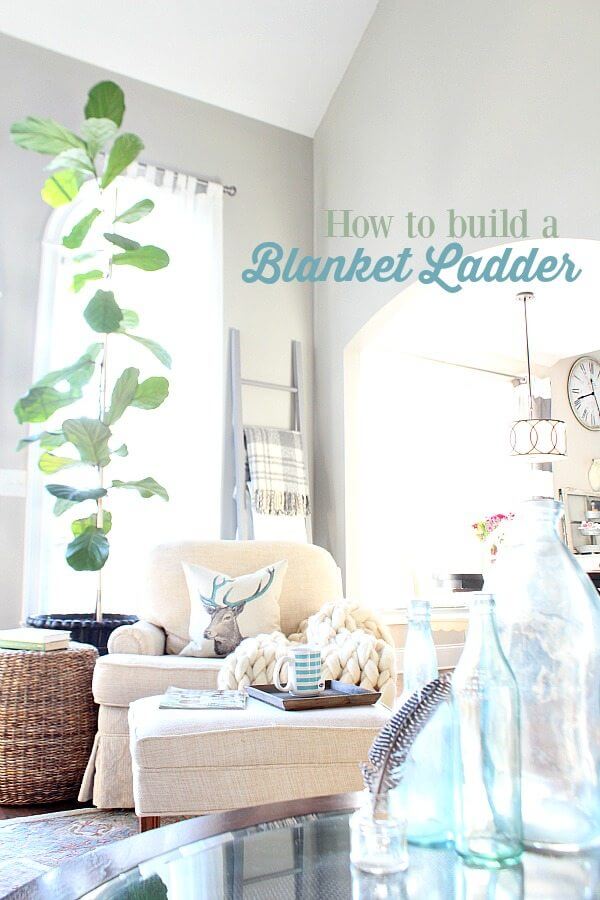 Everyone wants to have enough blankets handy, but no one wants to clutter up a perfectly styled sofa. To solve this problem, take a worn and retired wooden ladder and make it into something warm and cozy by splashing on a fun color and storing your fuzzy blankets on each rung.
62. Rustic Hearthside Plant Holders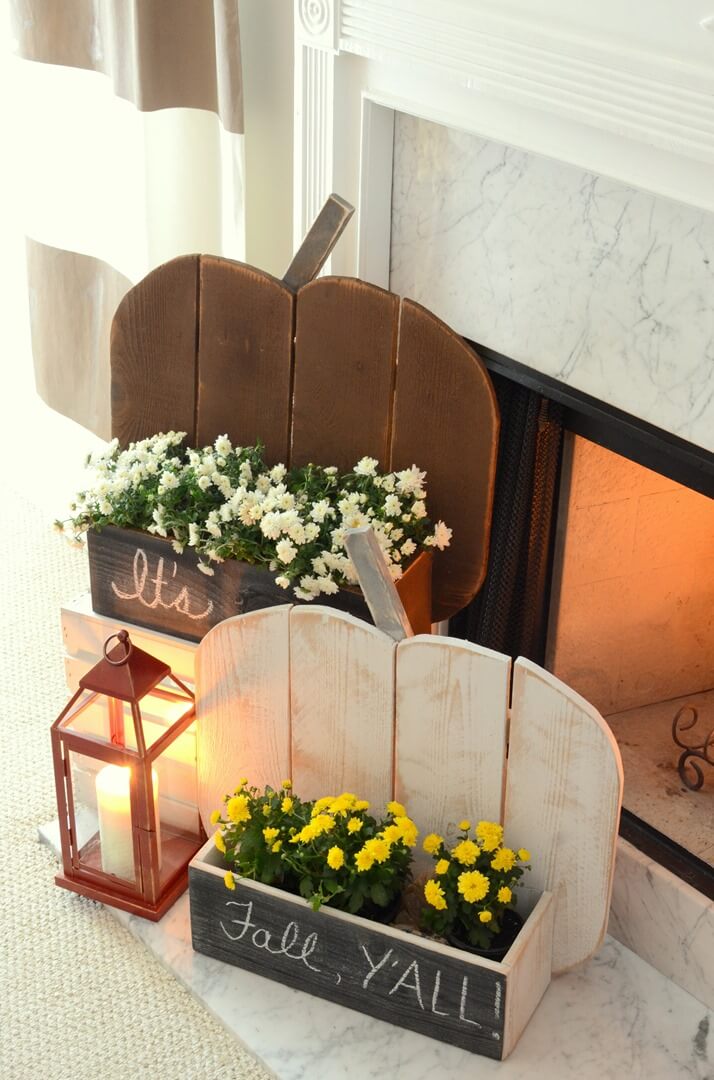 Make your hearth even homier by adding sweet DIY pumpkin-shaped planters. The flowers you choose can either help brighten up a room on a day that's too hot for the fire, or glow sweetly next to the dying embers of a warming mid-fall blaze. Personalize these pumpkins by adding chalkboard paint and your favorite sayings.
Choose Rustic Wall Decor Ideas to Make Your Home Warm and Inviting