If you're looking for a tasteful, vintage-inspired way to brighten up your home, rustic wooden box centerpieces make a charming display from supplies that you might have lying around your house. The process is simple: start with a simple wooden box. Add some paint or a small decoration, or leave it plain. Arrange flowers, candles, jars, fake grass and twigs, stones, bottles, and other earthy decorations inside the box. Now you've got a beautiful rustic wooden box centerpiece that can liven up any room in your house. This project is quick and affordable, and doesn't require much skill beyond some basic crafting knowledge.
50+ Easy Rustic Wooden Box Centerpieces You Can Make at Home

With so many rustic wooden box centerpiece ideas on the Internet, it's easy to find a project that fits your home perfectly. The best ones are focused on a central theme, such as autumn (pumpkins and berries), spring (flowers in glass jars), or the desert (cacti and smooth stones.) Your theme might be focused on a specific season or concept, or might be something broader, like a basic display of fake moss arranged around candles. Whatever the case, a theme can keep your box simple and unified. Looking for ideas to inspire you? Here's a list of some of the best rustic wooden box centerpiece designs on the Internet.
1. Sensational Sea Scape Floral Centerpiece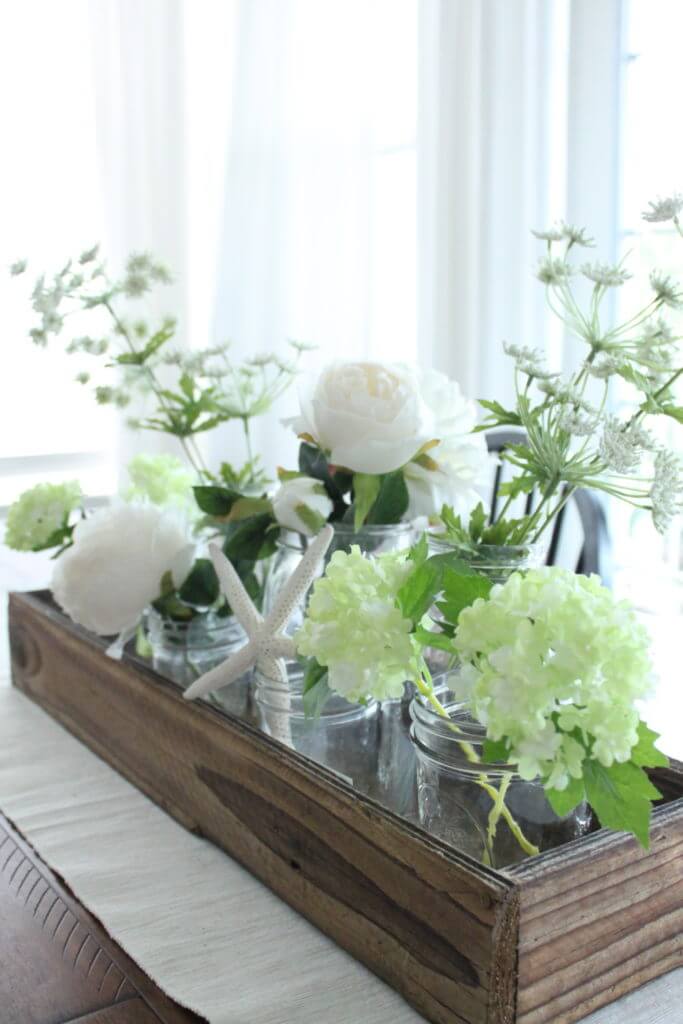 Bring some charm into your seaside escape with this rustic wooden centerpiece. It's the ideal ingredient for creating a blooming and bountiful dining arrangement for all of your guests to enjoy. Whether it's at the center of your table or nestled on your nightstand, this stunning seascape and fresh flower masterpiece is certain to turn heads.
2. Neat and Tidy Wooden Centerpiece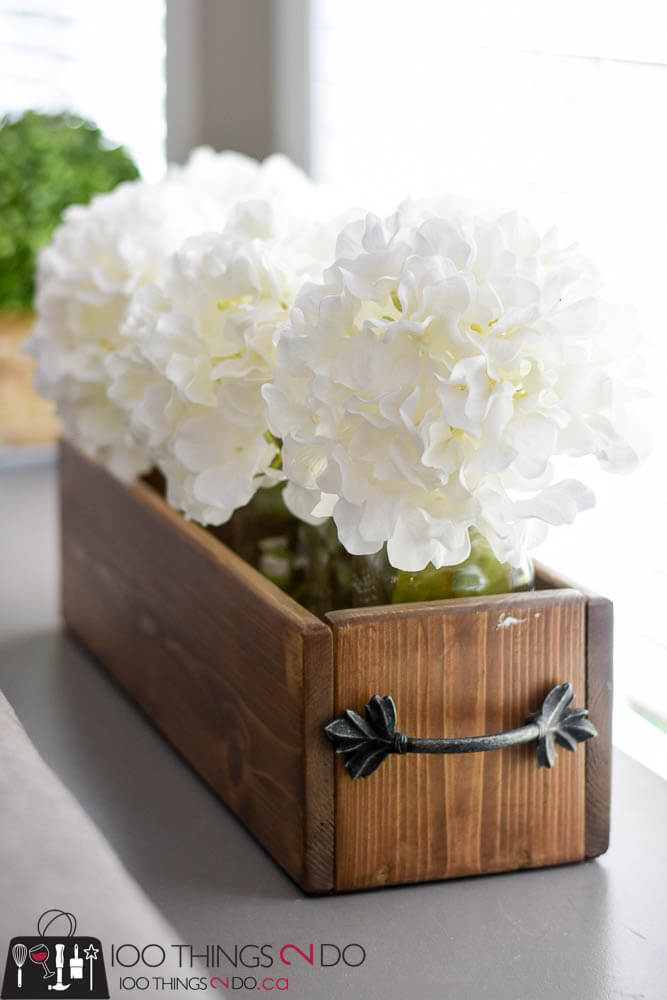 Keep it clean and neat with this cute and tidy wooden centerpiece. With metal handles on the ends, this centerpiece is just the right size for holding your grouping of mason jar vases in an easy to carry display. The slim design allows it to fit on any sized table or even along a gorgeous window sill.
3. Rustic Wooden Scrap Centerpiece Box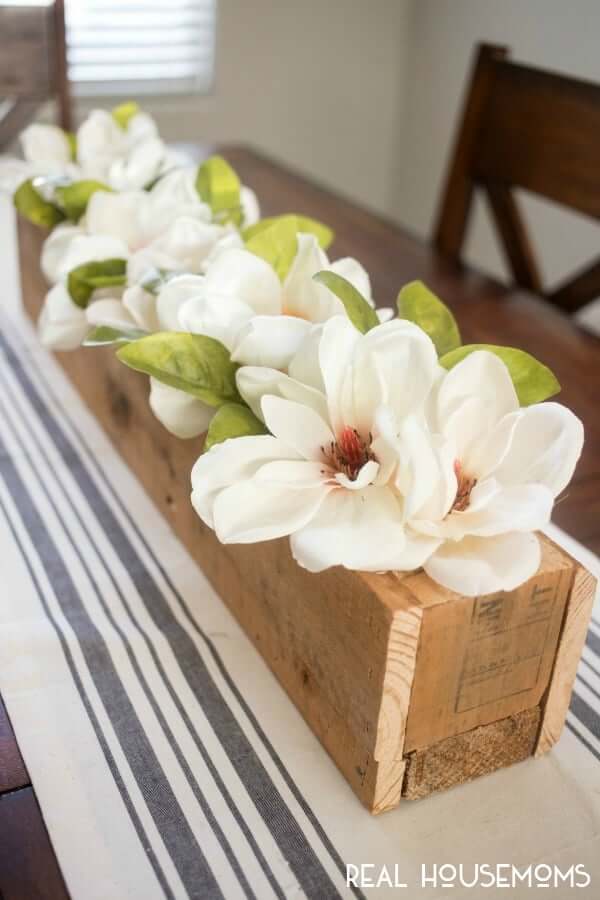 Don't waste a piece of your leftover wood because you can create a rustic and regal centerpiece for your home. This is a great DIY project to enjoy with some of your favorite friends as you roast marshmallows and make a fun fall project together. Craft a bunch to create the perfect centerpieces for a fall wedding. It's a win-win since these can be reused later by the couple as window boxes, front porch planters, or dining room centerpieces.
4. Warm Wooden Glow with Candles and Pine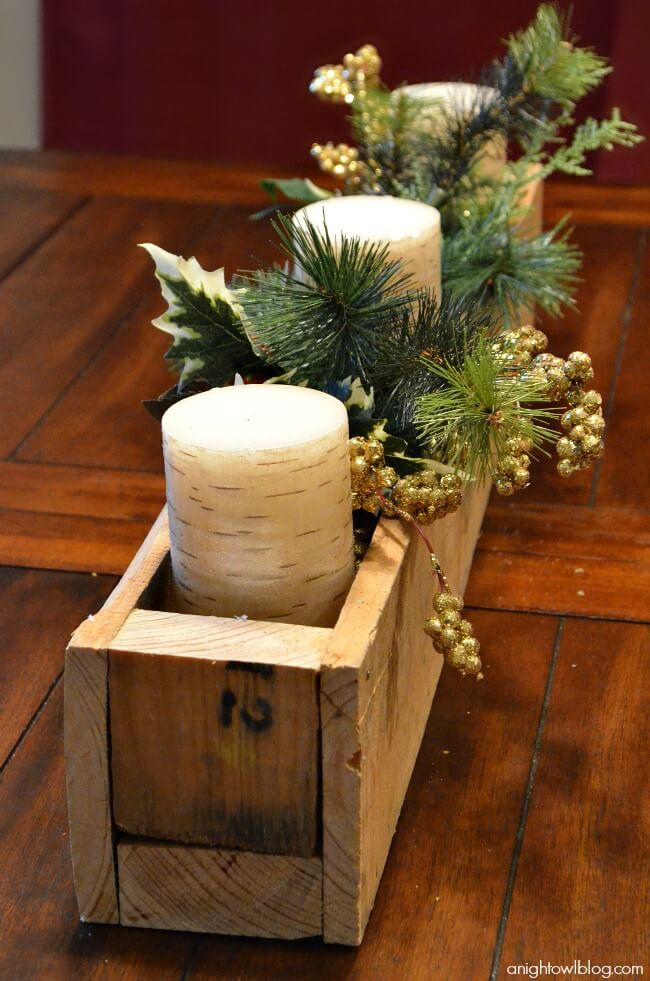 Create a cozy winter-themed display with this rustic wooden box centerpiece that's filled with cold-weather inspiration. From the soft glow of a vanilla-scented candle to the natural element of pine branches, you can bring some of the outdoors into your home as you embrace the cooler temperatures this winter.
6. Slim Wooden Votive and Succulent Centerpiece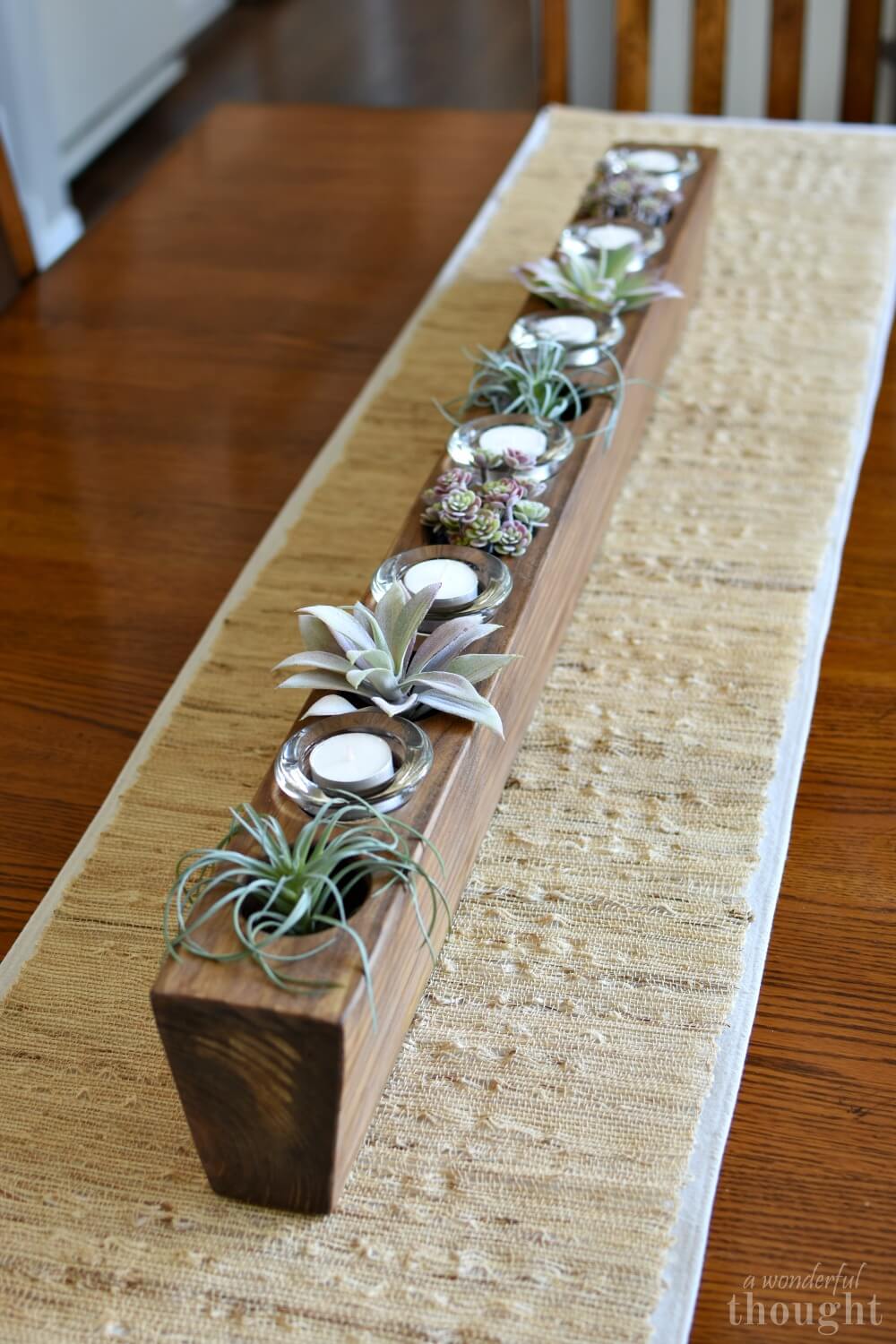 Add a lot of style without taking up much space! This slim designed wooden centerpiece is the perfect way to house your small succulents on your table, kitchen window sill, or living room mantel. Mix up your plants with some candles, or keep all like things together. A neat row of votive candles provide a warm glow for an evening dinner party with minimal effort.
7. Rustic Barn Wood Box with Metal Handle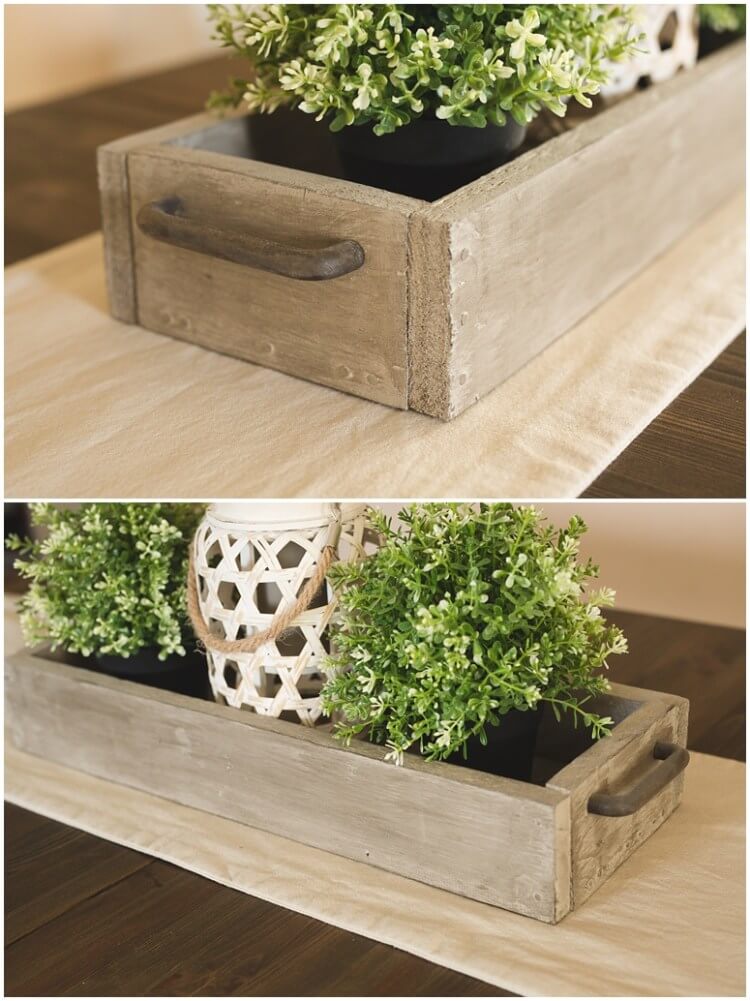 Repurpose some of that weathered and worn barn wood into a new home decoration. The metal handles on each end add texture and function. Fill one of these with fall treats to gift to a friend to celebrate her birthday, or fill them with some hearty soup for a sick friend. Afterward, they make a fabulous everyday centerpiece for your breakfast nook.
8. Herbs Galore with Your Own Miniature Garden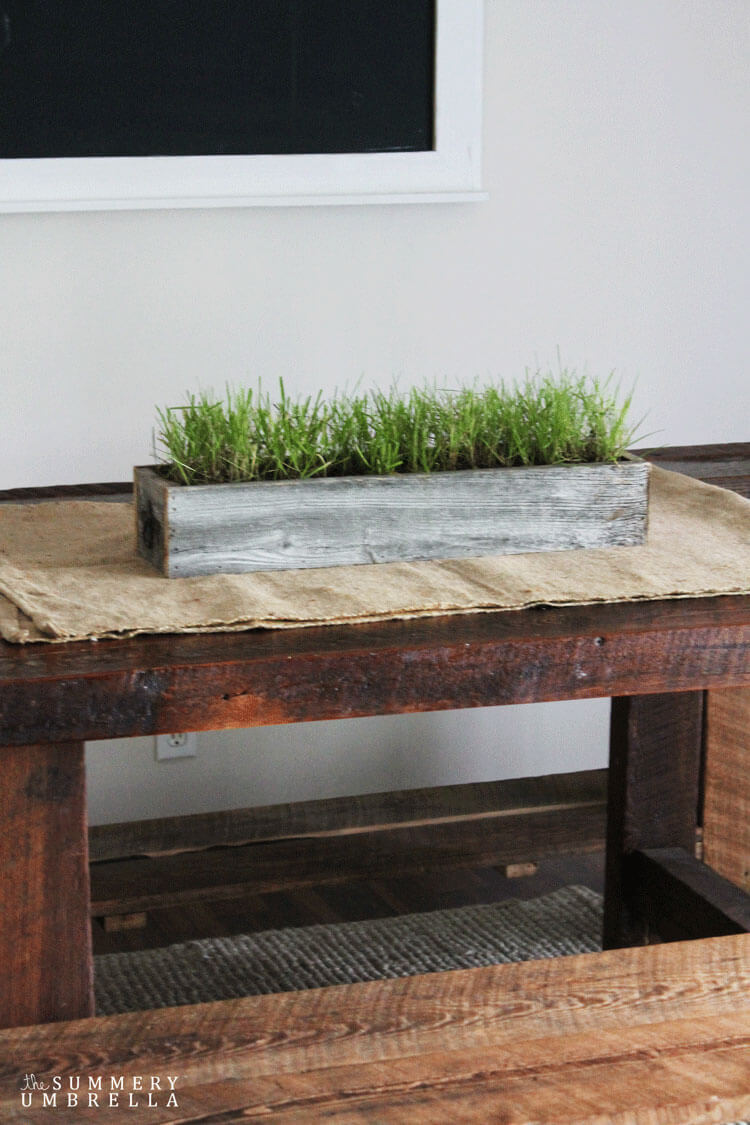 Create your own indoor miniature garden with this rustic wooden box as your base. From basil to thyme, all of your frequently used spices can be within reach when the recipe calls for these fresh friends. Maybe you envision using this purely as a decoration where the grass is greener as you hide some small plastic eggs amid your homegrown grass.
9. Distressed Gray Wooden Box with Decorative Knob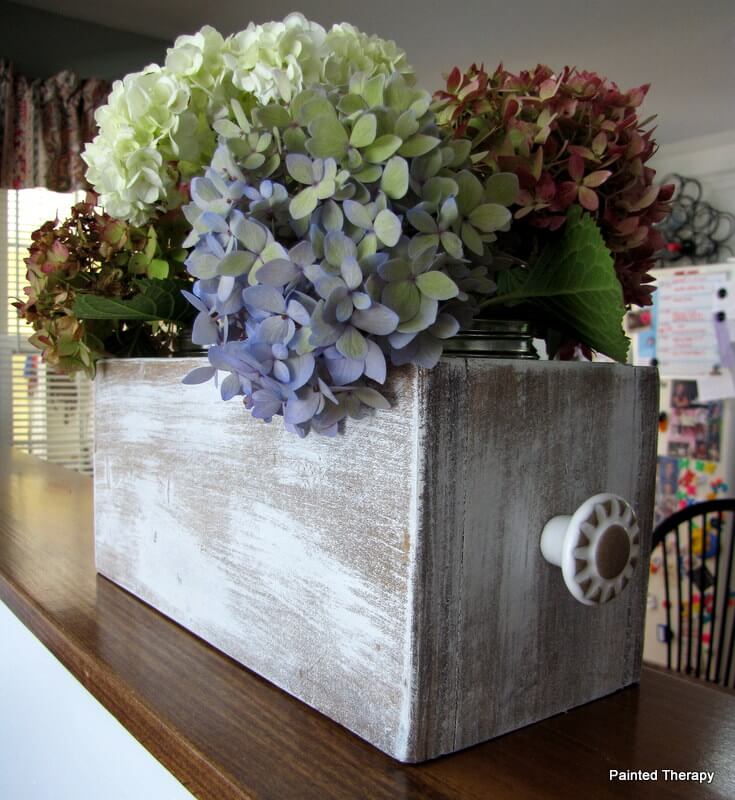 Align your trio of tall mason jars discreetly inside this distressed gray wooden box to add some rustic charm to your dining scene. The height of the box provides some privacy and allows only the pretty petals to be on display. The whimsical addition of the white knob on the end adds a touch of charm to this piece. Change out your hydrangeas as the seasons change to keep this centerpiece up-to-date.
11. Long and Stout Rustic Reclaimed Wooden Trough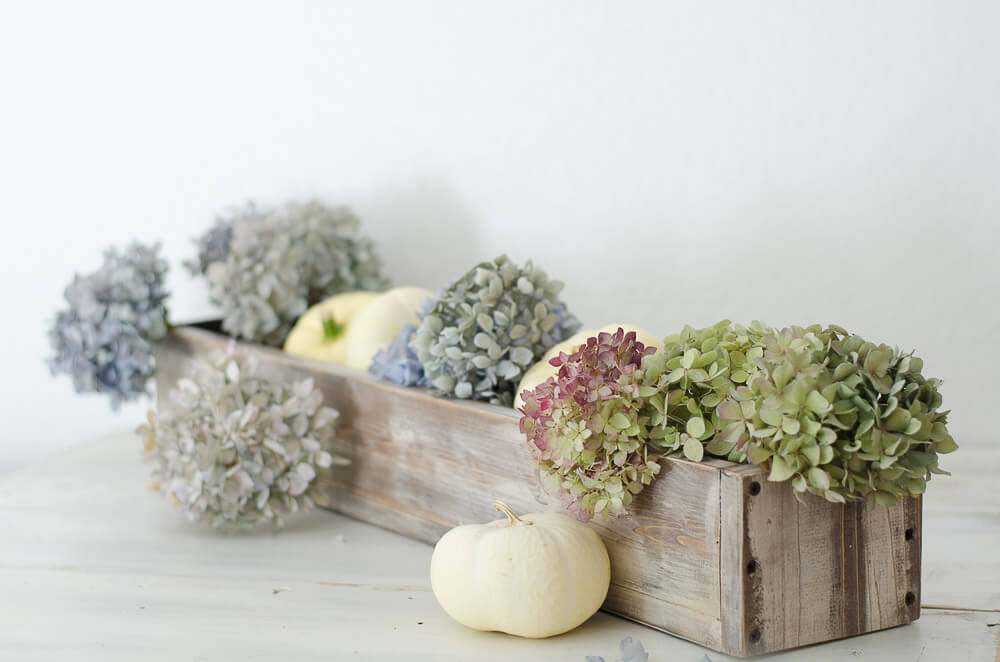 This rustic wooden trough makes a great accent piece in your modern farmhouse dining room. As it rests in the center, it fills the space quite nicely as its long length displays cute floral arrangements for all guests to see. Intersperse a pumpkin, or two to add even more charm and appeal.
12. A Plant Lady's Dreamy Rustic Centerpiece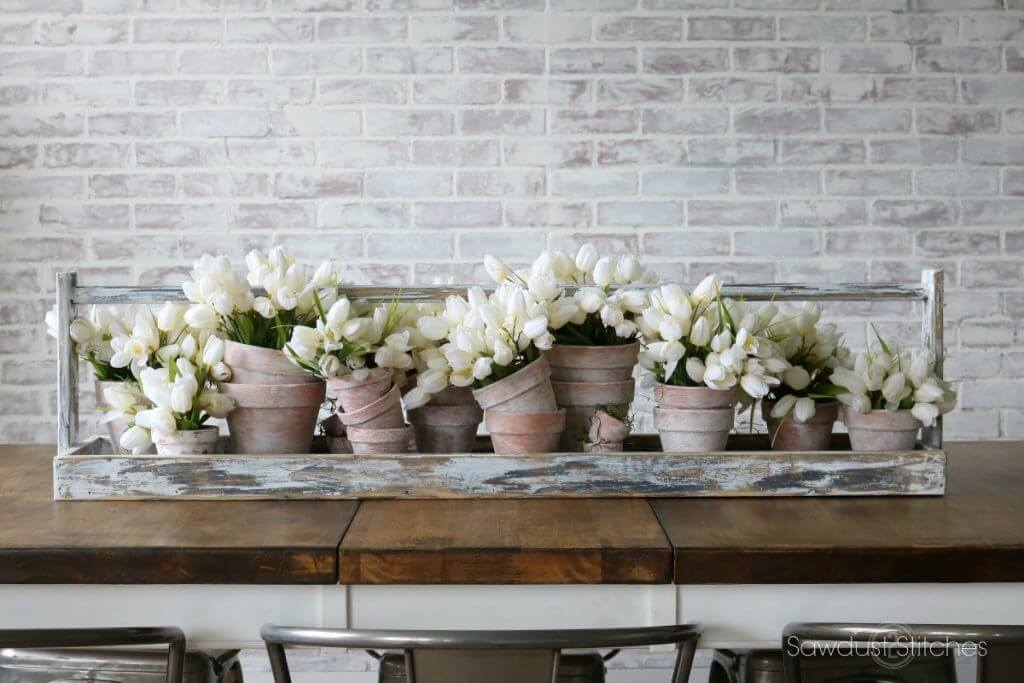 Load up all your favorite miniature pots and plants and gather them in this unique wooden centerpiece that's full of rustic charm! It's a great way to hold some crafty supplies for a lady's DIY evening of fun and can easily be moved with its convenient handle. The distressed white paint finish adds some style to its overall look and feel. When you're not entertaining, it works well on top of the mantel to hold your seasonal goodies in the heart of the home.
13. White Window Box Turned Centerpiece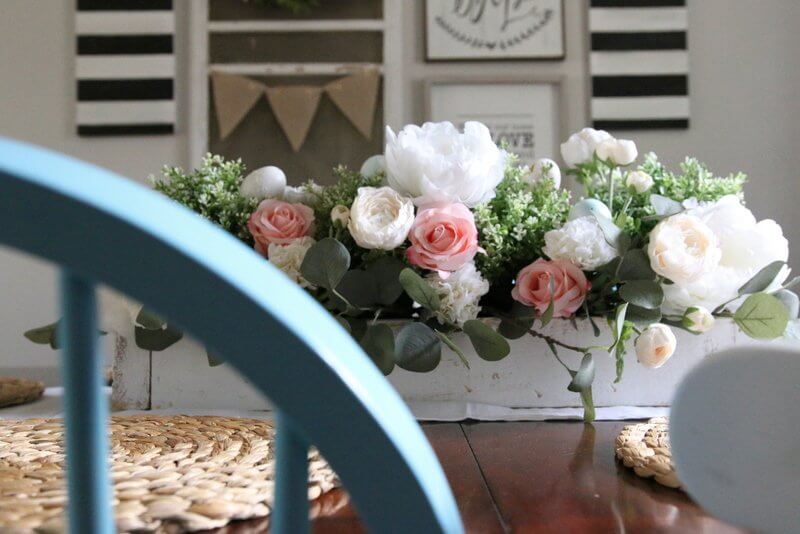 Repurpose an old, unused window box as your new and improved centerpiece. Slap on a coat of white paint to give it a quick update and you'll be enjoying your fresh cut flowers in no time at all! It's a great size for holding all of your freshly picked prizes where their beauty and fragrance can be shared by all!
15. A Helpful Harvest Fall Farmhouse Centerpiece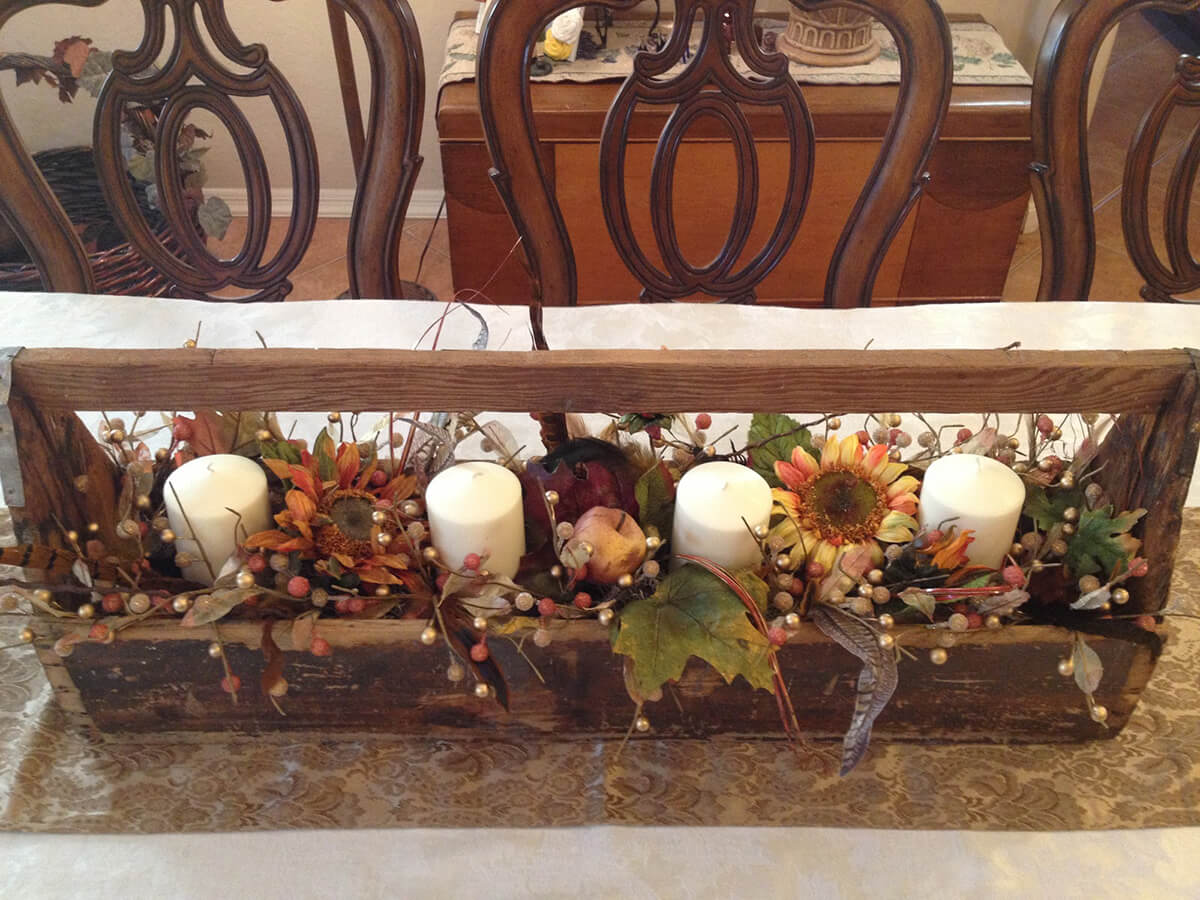 The signs of the season are all over this old world wooden tool case that's being remastered as a dining room centerpiece. Filled with berries, leaves, and flowers all nestled around some white candles; this centerpiece has everything the harvest has to offer. Use this classic and charming centerpiece as a hostess gift when you go to a Thanksgiving feast this year.
16. Bursting Beautiful Bounty with Traditional Woodwork Design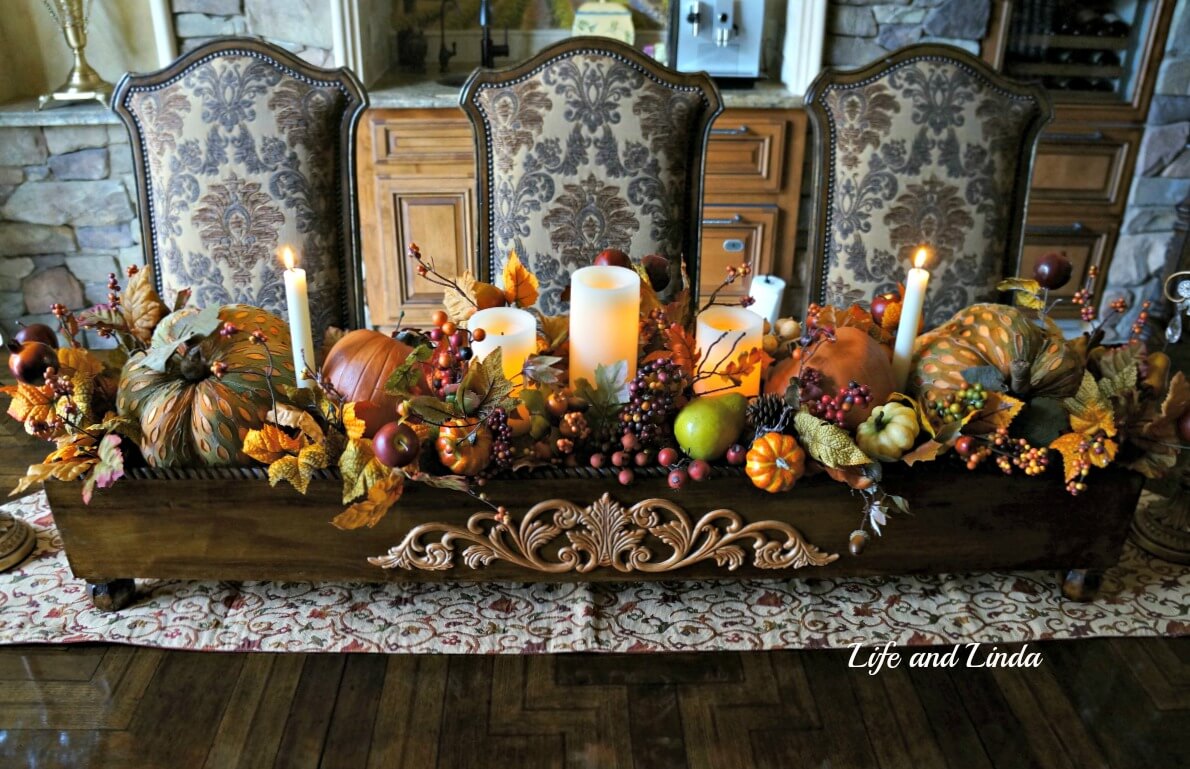 From the scrolled trim to the detailed design on the front, this traditional wooden piece shows grace and elegance in its craftsmanship. Filled to the brim, this centerpiece has all the wealth of the wonderful fall season for your eye's delight. You'll appreciate the warm glow of the candles that are set amid the pumpkins, leaves, nuts, and berries that are synonymous with autumn.
17. Simple and Slated Goldenrod Yellow Wooden Centerpiece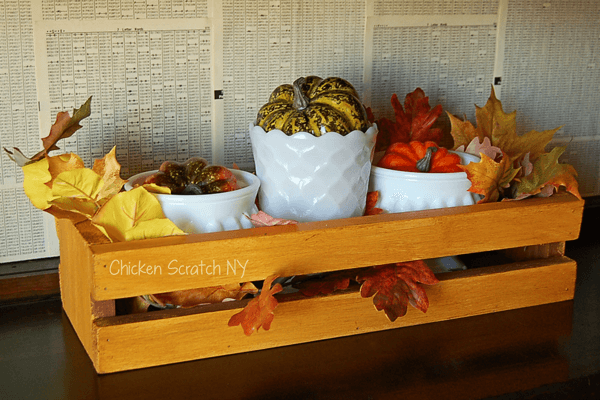 The simple construction of this centerpiece makes it a great option for both the dining room table and the side table in your living room. Its versatile design lends it easily to work in nearly any room of your home and even on your front porch. The bold goldenrod yellow color makes it a great choice for fall as it emblazes the warmth of the sun and golden-turned leaves.
18. Sophisticated Succulents All in a Row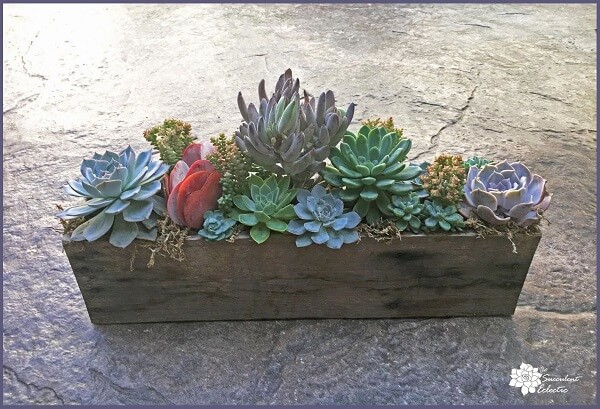 Take this cute little wooden box and let it overflow with your easy-to-maintain succulent friends. As these gorgeous emerald goodies spill over the sides, your home will feel in-tune with Mother Nature. Use this on top of a hallway credenza or along the shelf in your bathroom to give some fresh life to the space.
19. Great Wood Grains and Rounded Grapevine Balls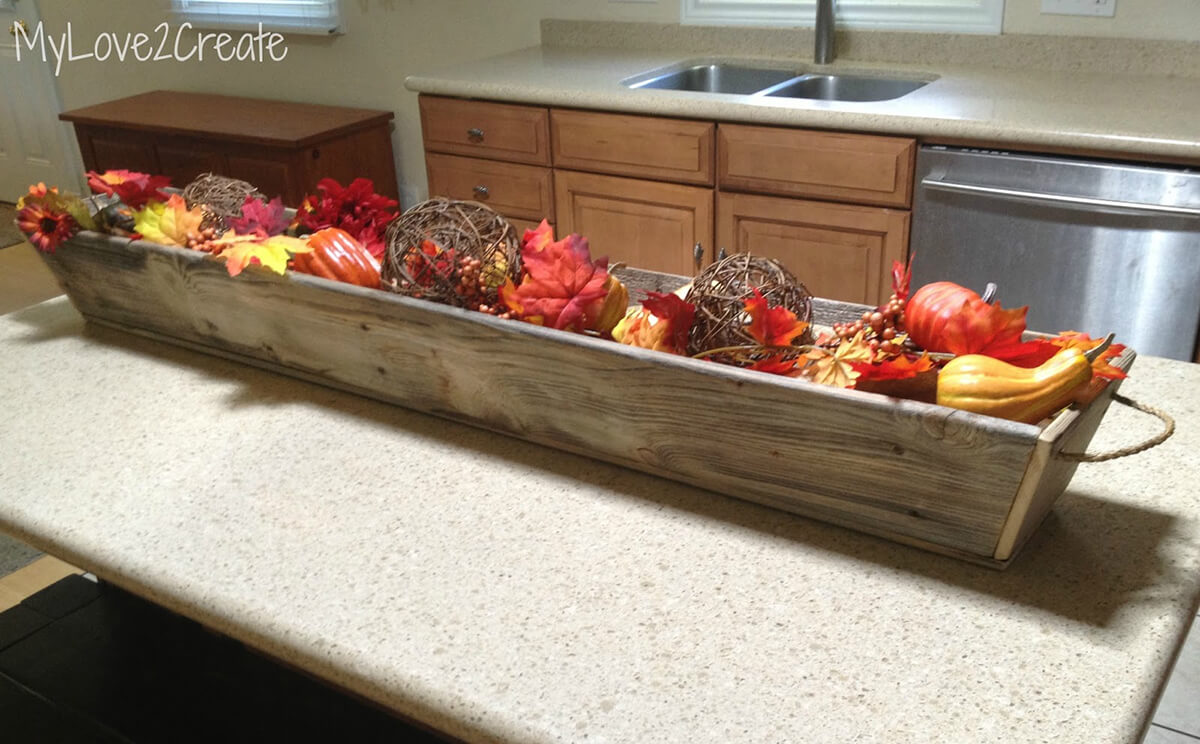 Beckon the changing of the leaves with this breathtaking and bold colored centerpiece arrangement. The warm reds and oranges in the leaves and berries bring this arrangement to life amid the gourds and grapevine-spun spheres found here. The large wooden trough provides the perfect home to contain all of these awesome autumnal pieces in once place.
20. Chalkboard Wooden Box Full of Flowers

Exploding with flowers and looking fabulous resting on the mantel is what you'll find with this chalkboard finished wooden box. You can write a fun new message each day or relish in the quirky anecdotes your youngsters might take pleasure in leaving you. Keep the fun coming as you leave this box in a high-traffic space of your home so you can share sentiments and keep the space looking good with your seasonal flowers housed inside.
21. Reclaimed and Repurposed Wooden Crate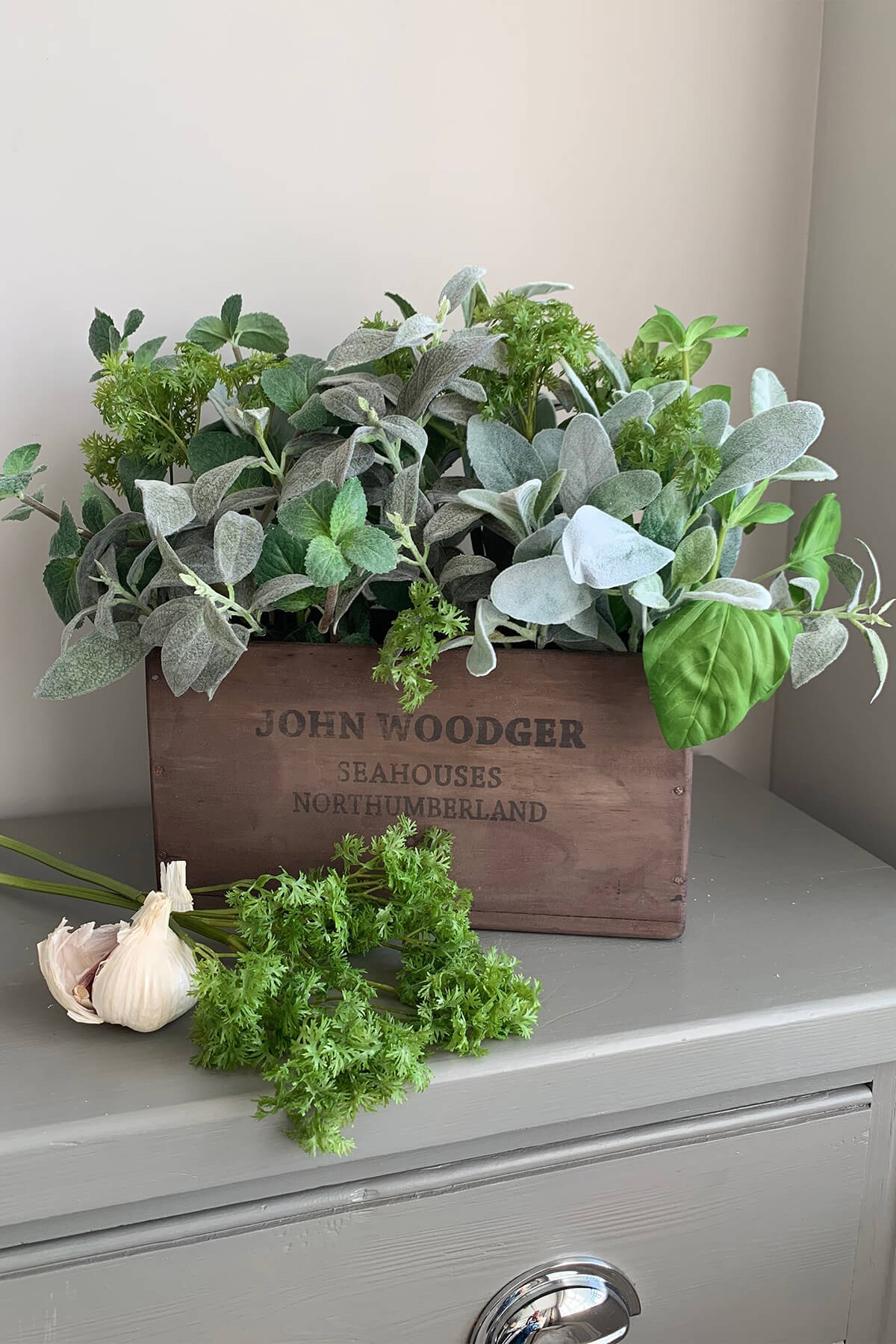 Think inside the box when it comes to floral arrangements. This wooden crate makes a great place to display your favorite flowers this fall and any time of year! Situated in any room of your home, this original and decorative piece is both practical and pretty. Change out your flowers with each season and keep this wooden crate filled with the spirit of each time of year.
22. Old World Small Wooden Catch-All Container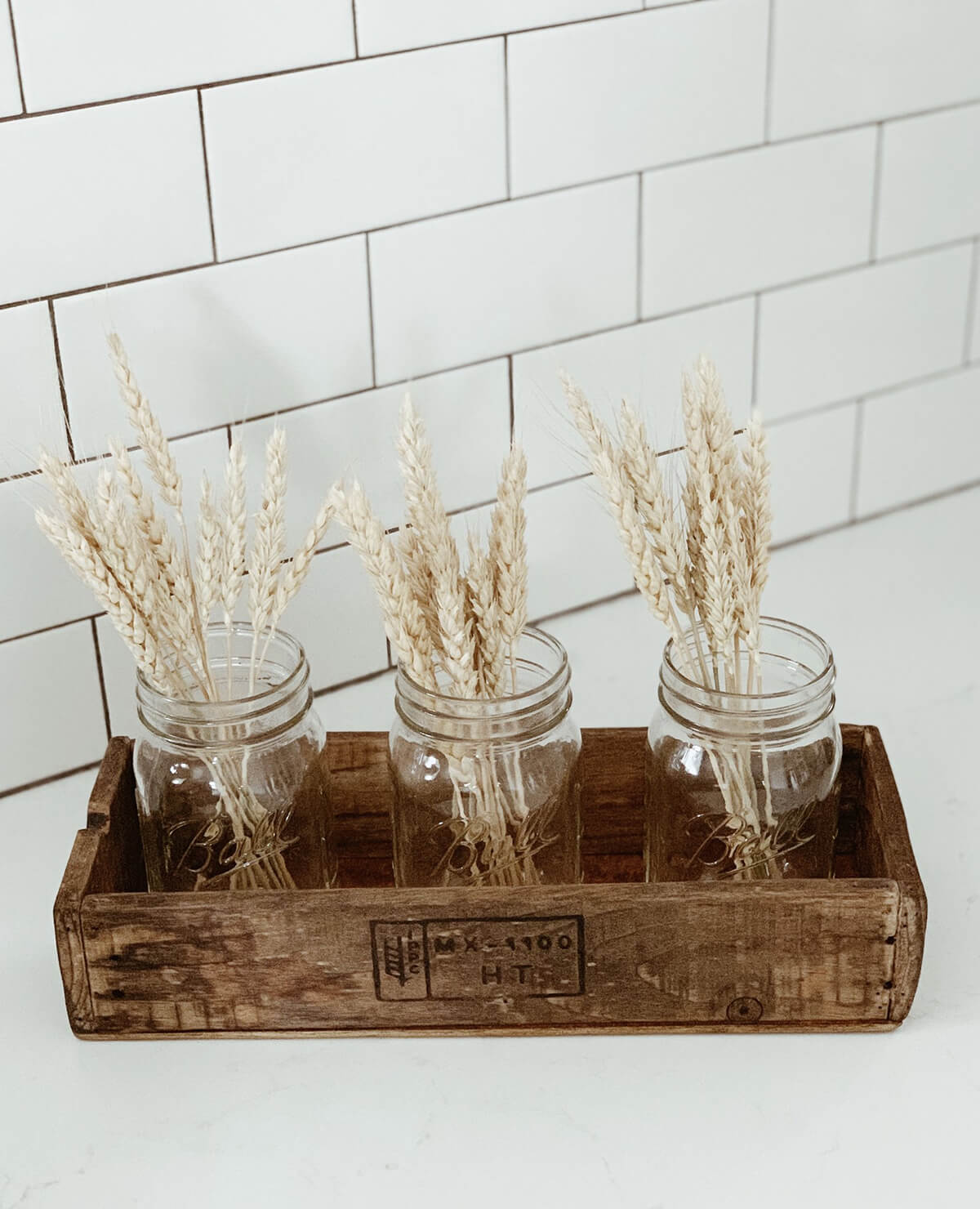 Here's a fun piece that's small in stature, but big in terms of character. This piece channels the charm of old-world styling constructed into a perfectly sized catch-all container for all of those extras that wind up without a place to call home. Whether it's your keys, phone, or wallet, it makes a great hub for whatever small items that need a place of their own. Adding a couple of small vases of flowers is always in style too!
23. A Wood Lover's Dream Cube for Flowers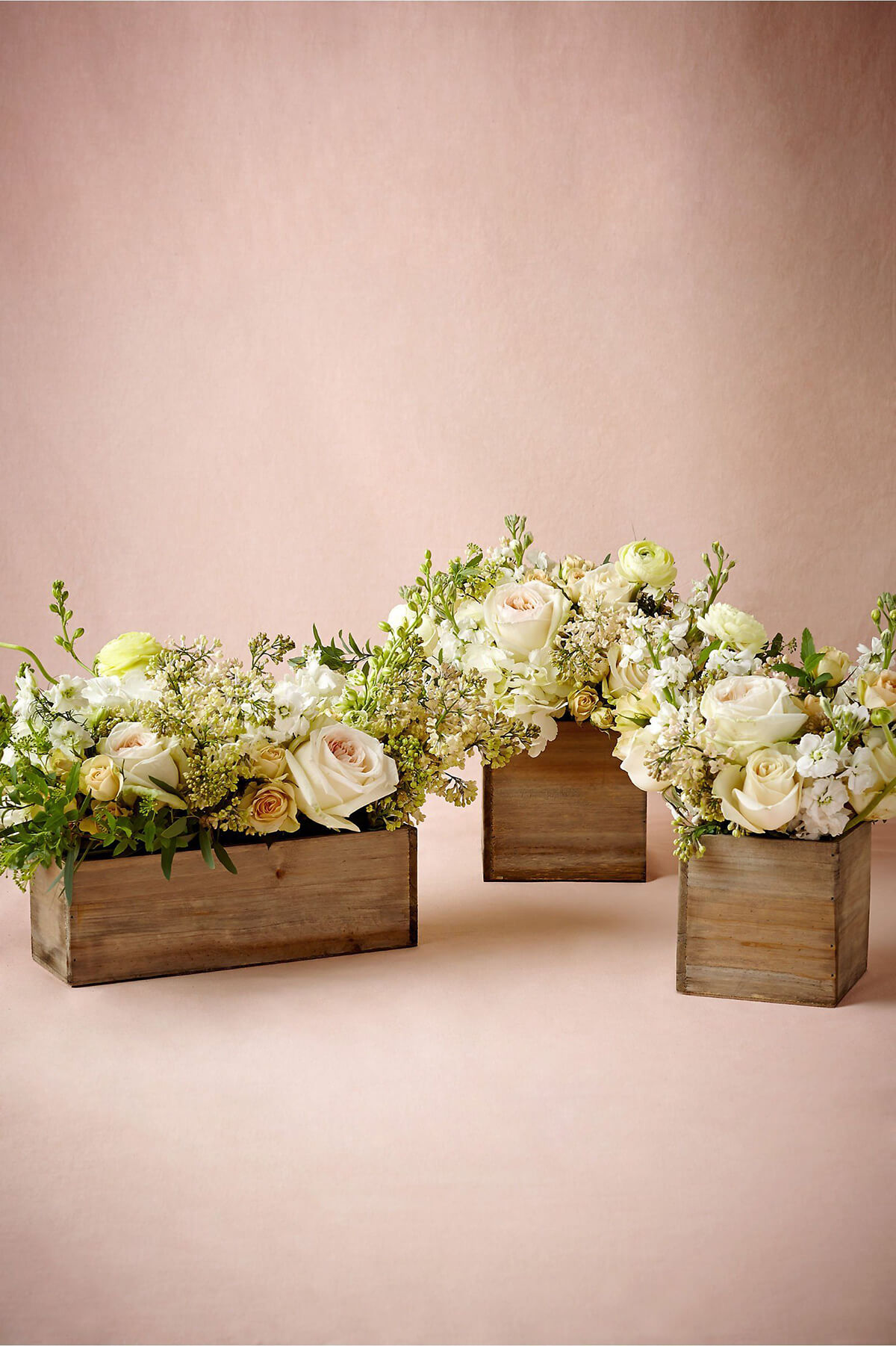 Choose a set of three in different sizes or select your trio in all of the same sizes to achieve the look you want. This set of cubes is cute and contains so much character and charm in the easy-to-see grain lines. Anyone who adores wood will love adding this piece to his/her home as an interesting spin on the traditional glass vase.
24. Neutral and Rough Blonde Wood Box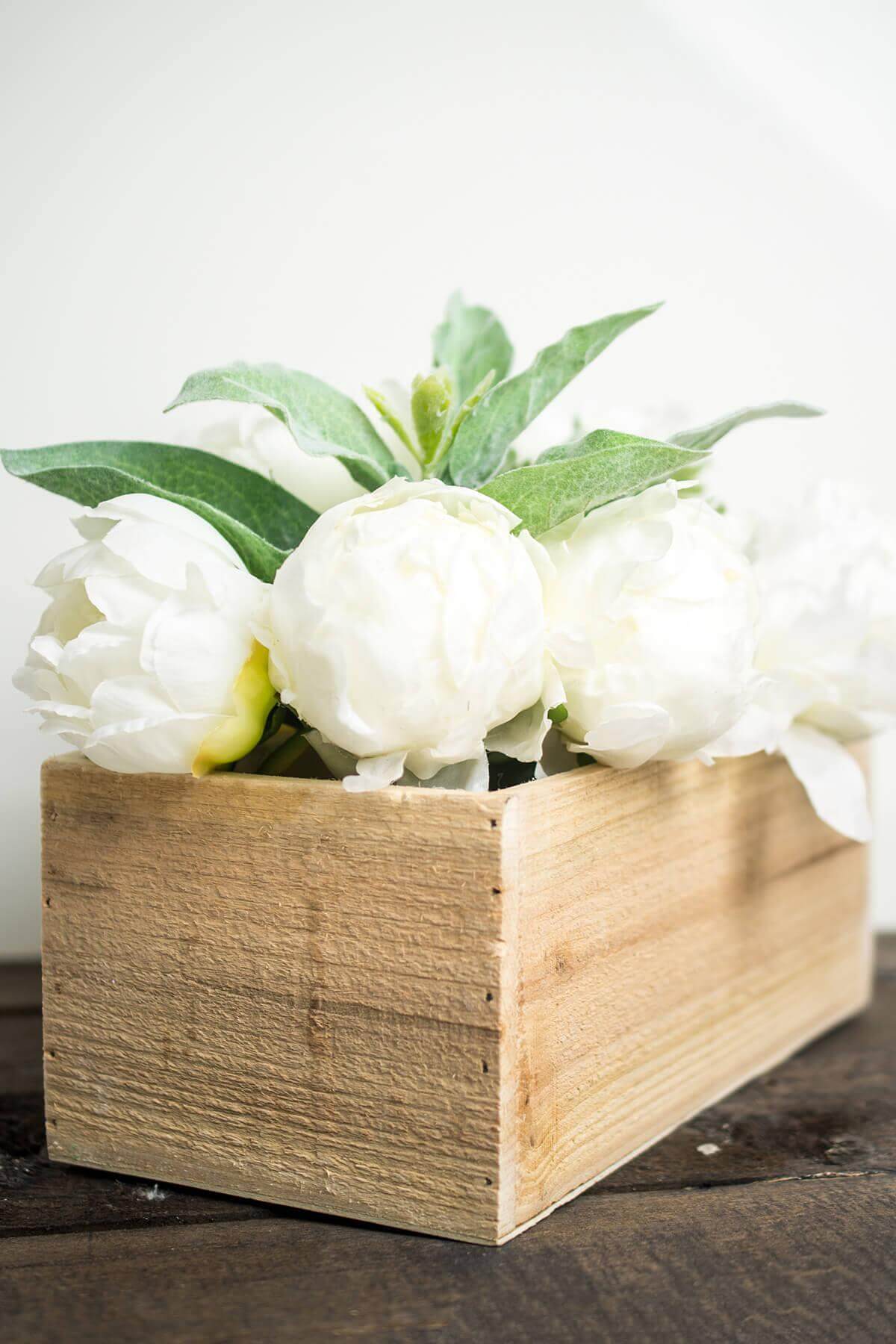 Muted hues are meant to stand out when they are used in such beautiful and natural wooden pieces as this rough blonde box. Your collection of peonies or hydrangeas will pop when resting neatly within the confinement of this neutral cube. It would look just as wonderful on the desk in your home office or in your real office space.
25. White Crackled Wooden Cube with Scroll Design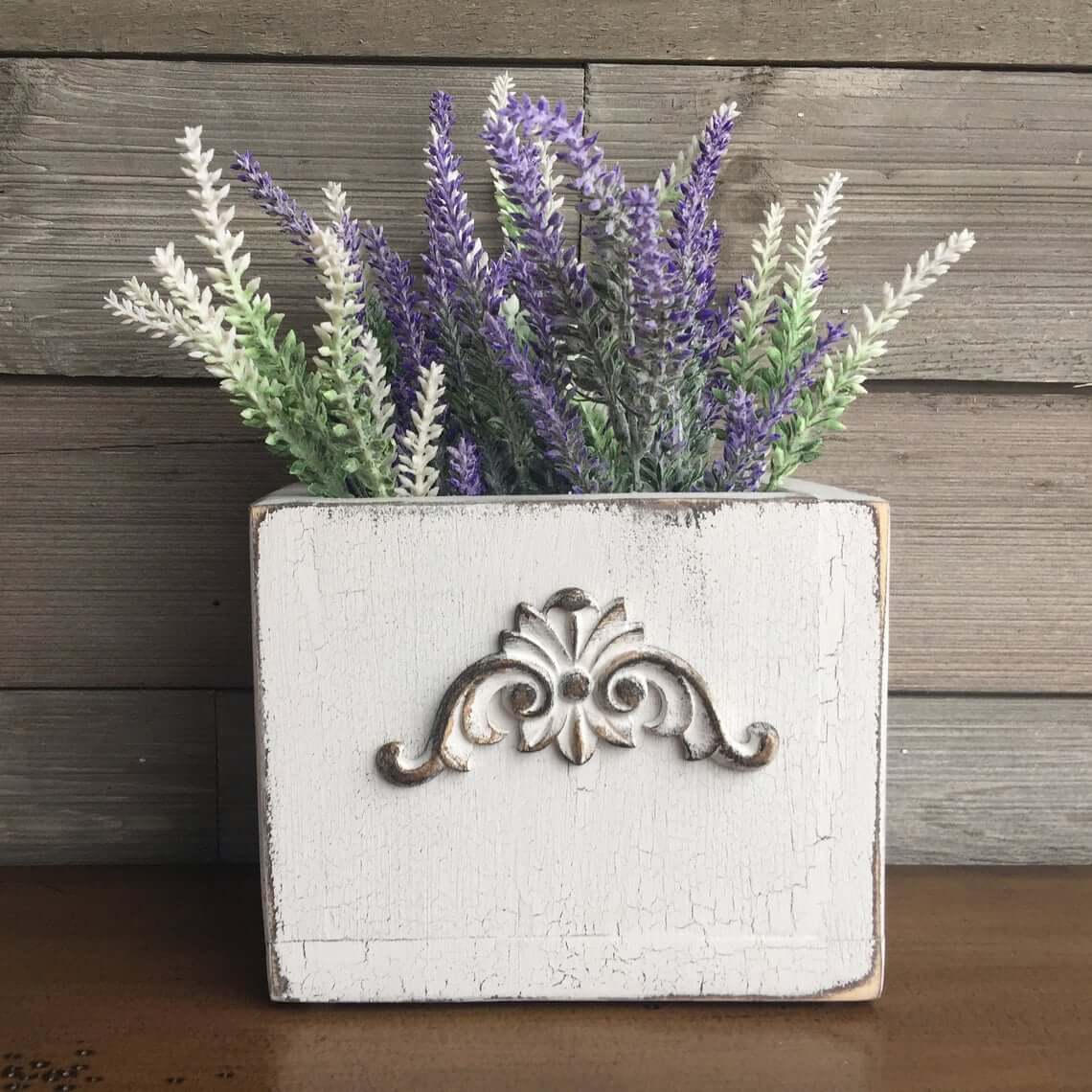 Think cozy shabby chic cottage and you're sure to summons the likes of this crackled white cube. The crackled paint effect provides all the character and charm your heart dreams of, while the scroll design incorporates some texture and romance in the overall design. Choose it as an alternative to a floral arrangement when gifting to a friend. It's a wooden cube that can be repurposed into many items like a pen/pencil caddy or a serving spoon station.
26. Darling Wooden Crate with Handles and Surname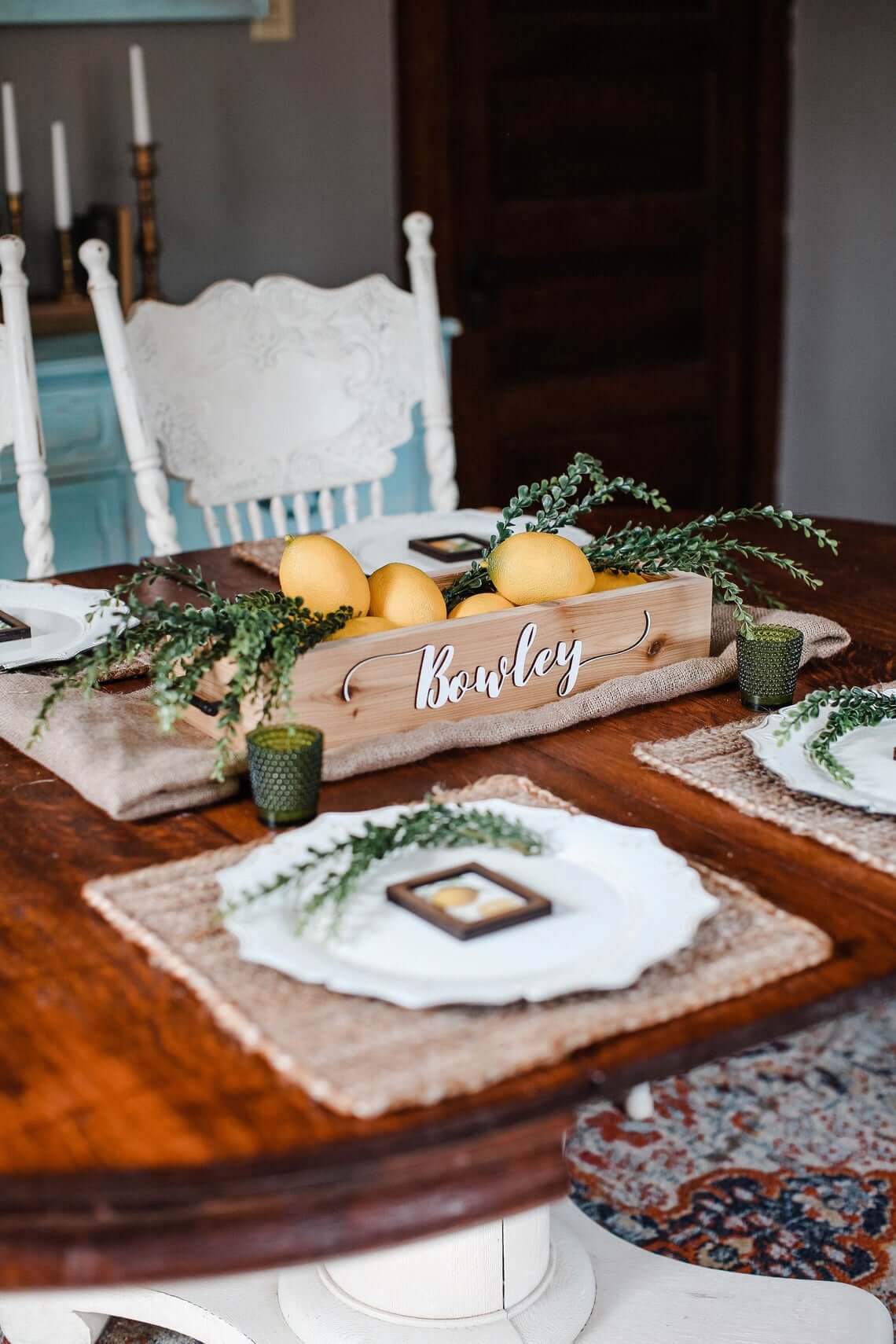 Quite possibly the perfect wedding gift for the newly wedded couple, this wooden crate would be useful at both the reception and home of the bride and groom. Perch it on the wedding party's table during the dinner reception and then take it to their humble abode where it can call their breakfast nook home. It would also be a fun bridesmaid and groomsman gift idea too.
27. Peek-a-boo Rich Brown Wooden Slat Box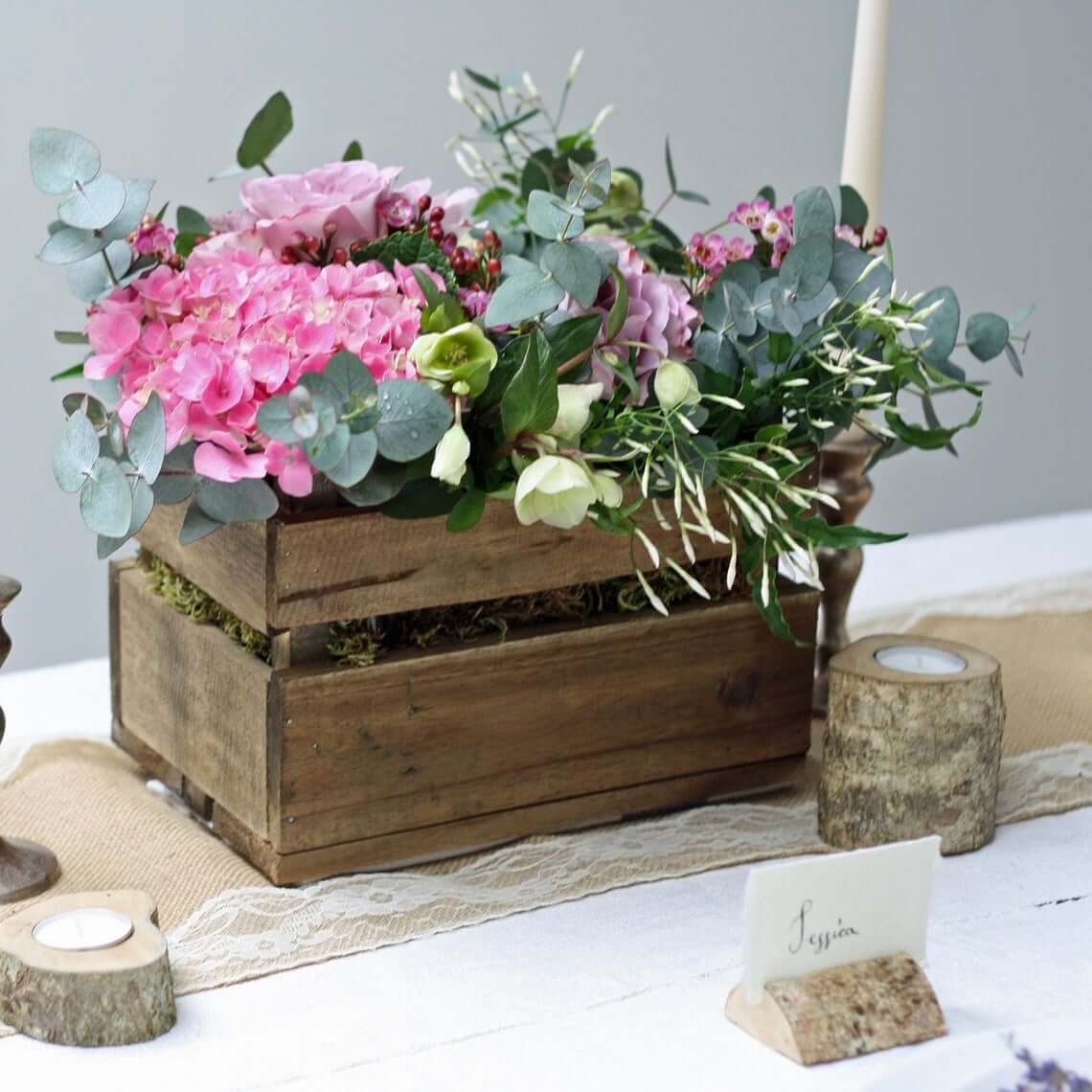 What a cute way to hold your flowers and moss in this peek-a-boo style wooden slat box! The small design allows for it to be useful in any room of the home or pair it among your curb appeal on the front porch for more interest. The rich and earthy brown tone of the wood lends a welcoming vibe to all guests. It's nearly the perfect size as it would fit on any style and size of the table.
28. Distressed White Wooden Box of Blessings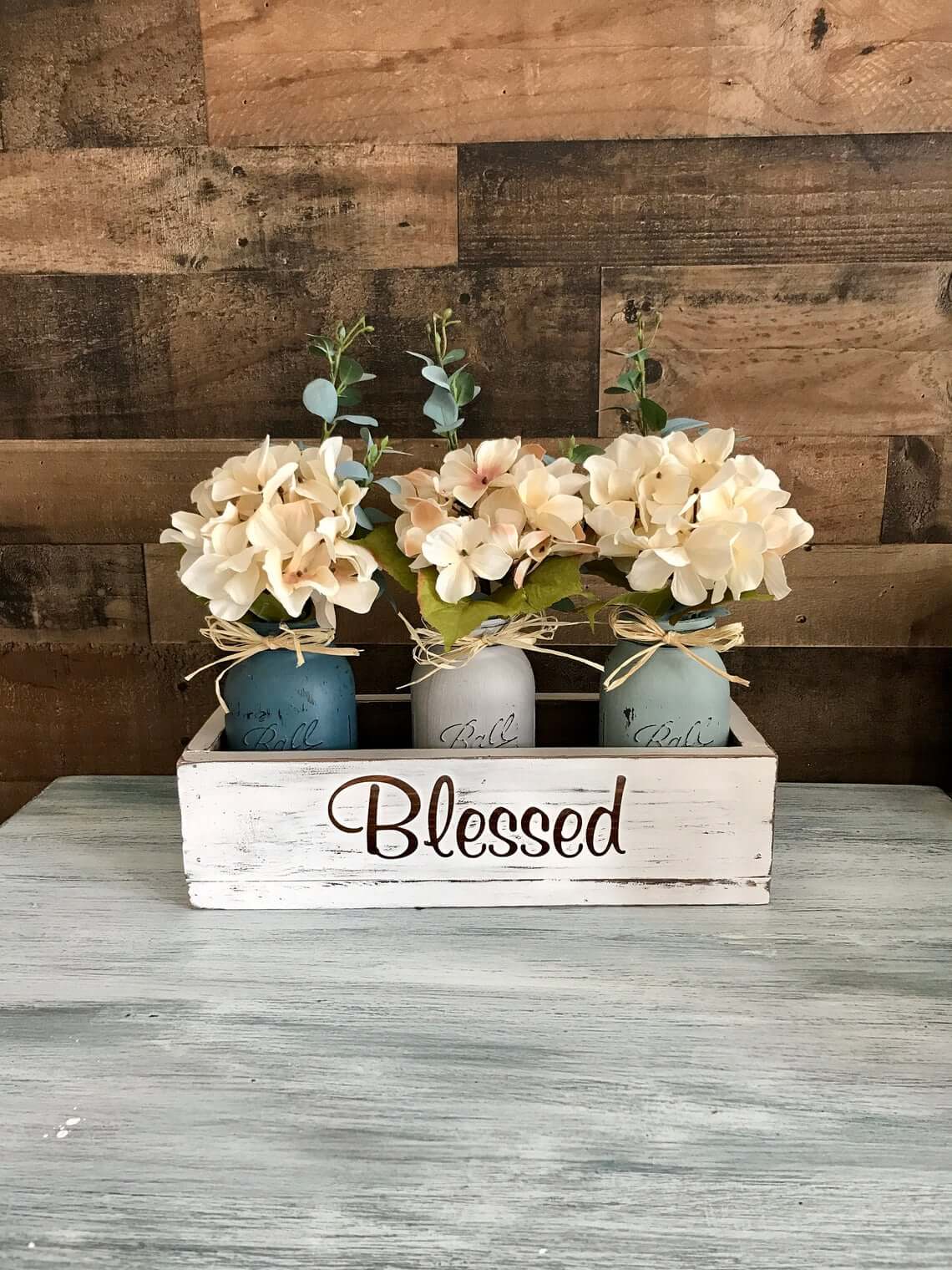 "Blessed" to be stressed should be the sentiment embraced by this fun farmhouse decorating piece. The roughed up white paint adds some charm to this box of treasures. Filled with a trio of painted mason jars, this quite easily becomes one of the best floral centerpiece displays that doubles as a cheap and simple DIY project.
29. Nailed It Wooden Floral Centerpiece Box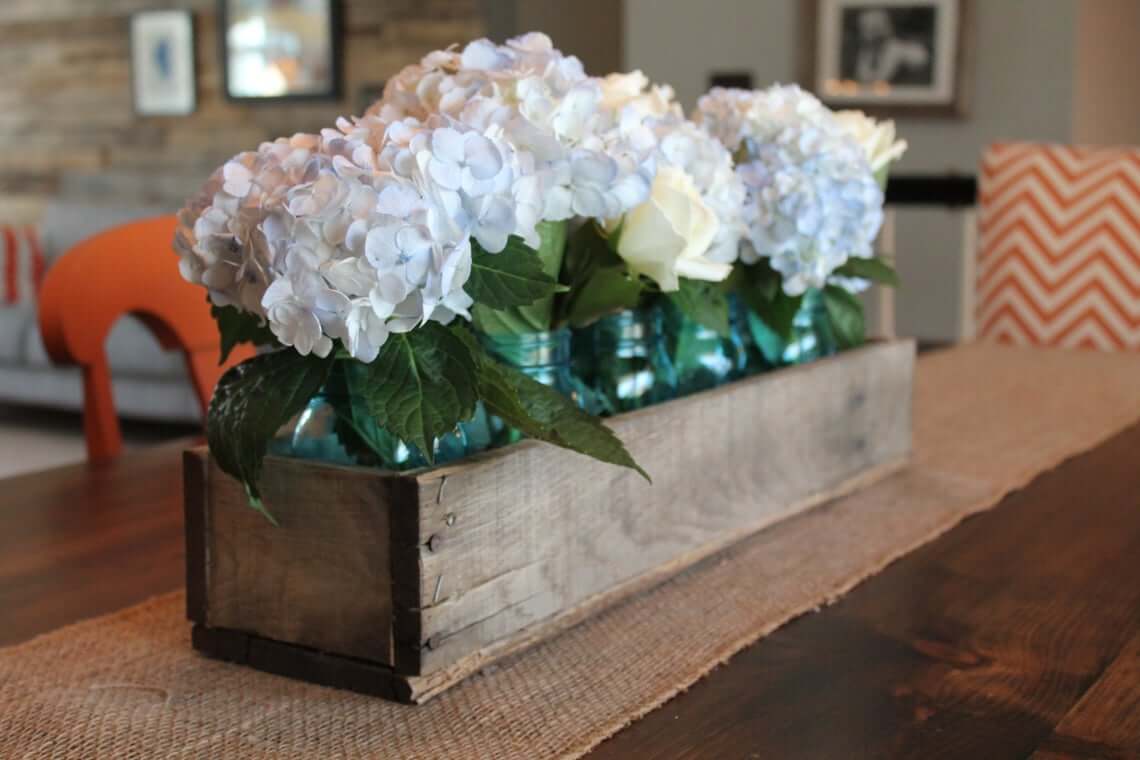 This wooden centerpiece definitely nailed it in terms of its simple centerpiece box design. The driven nails add both texture and charm to this plain piece. The line of blue glass jars looks beautiful as they are filled with dainty white blossoms to brighten up your home.
30. Shallow Wooden Tool Caddy Centerpiece Display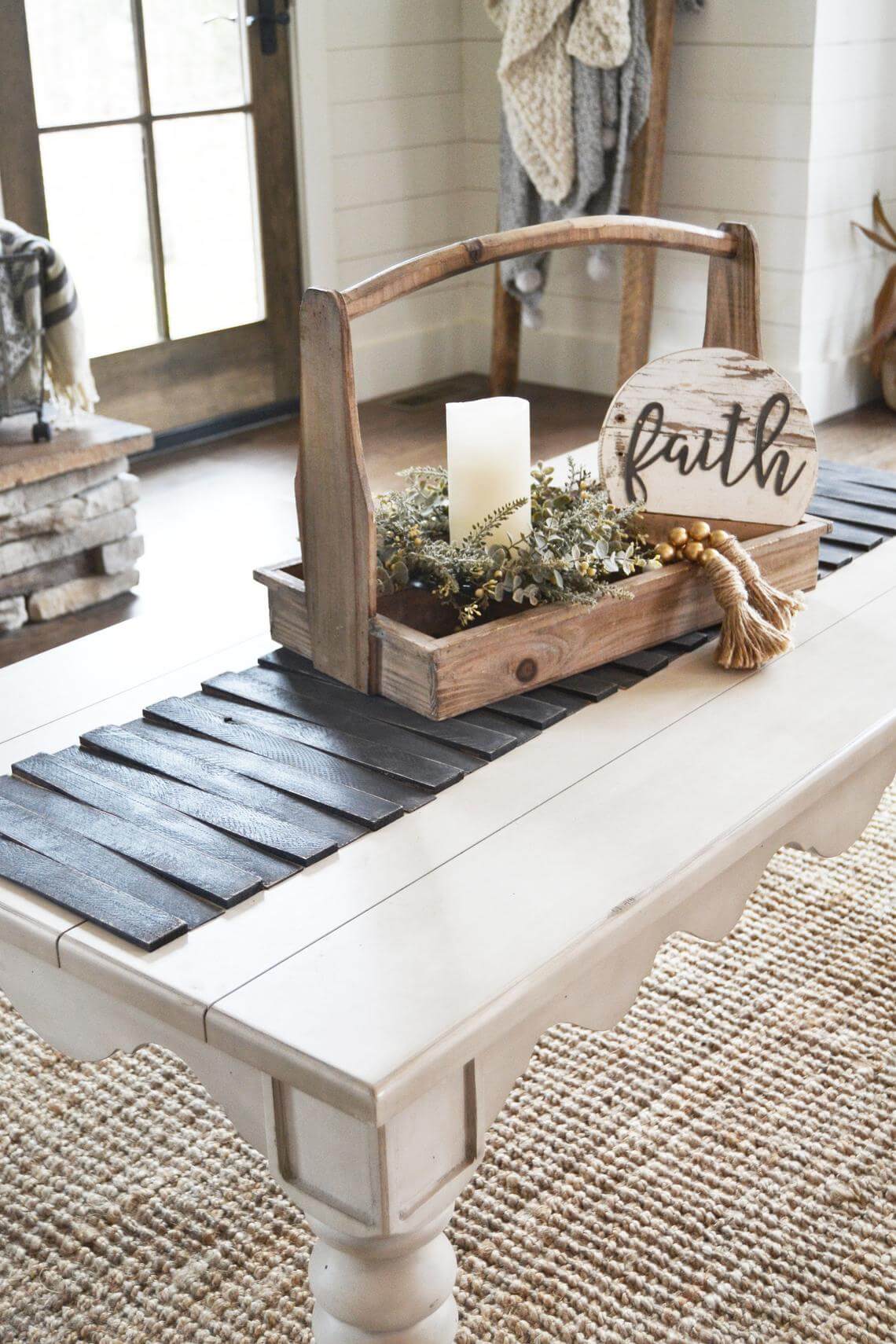 Think outside the box in terms of centerpiece design and opt for this unique wooden tool caddy that makes its debut as a new centerpiece. Even though its interior is shallow, it packs quite the punch in terms of style. Allow it to hold a favorite small hand-painted sign and a delicate and warm candle.
31. White and Wooden Ball Handles Centerpiece Box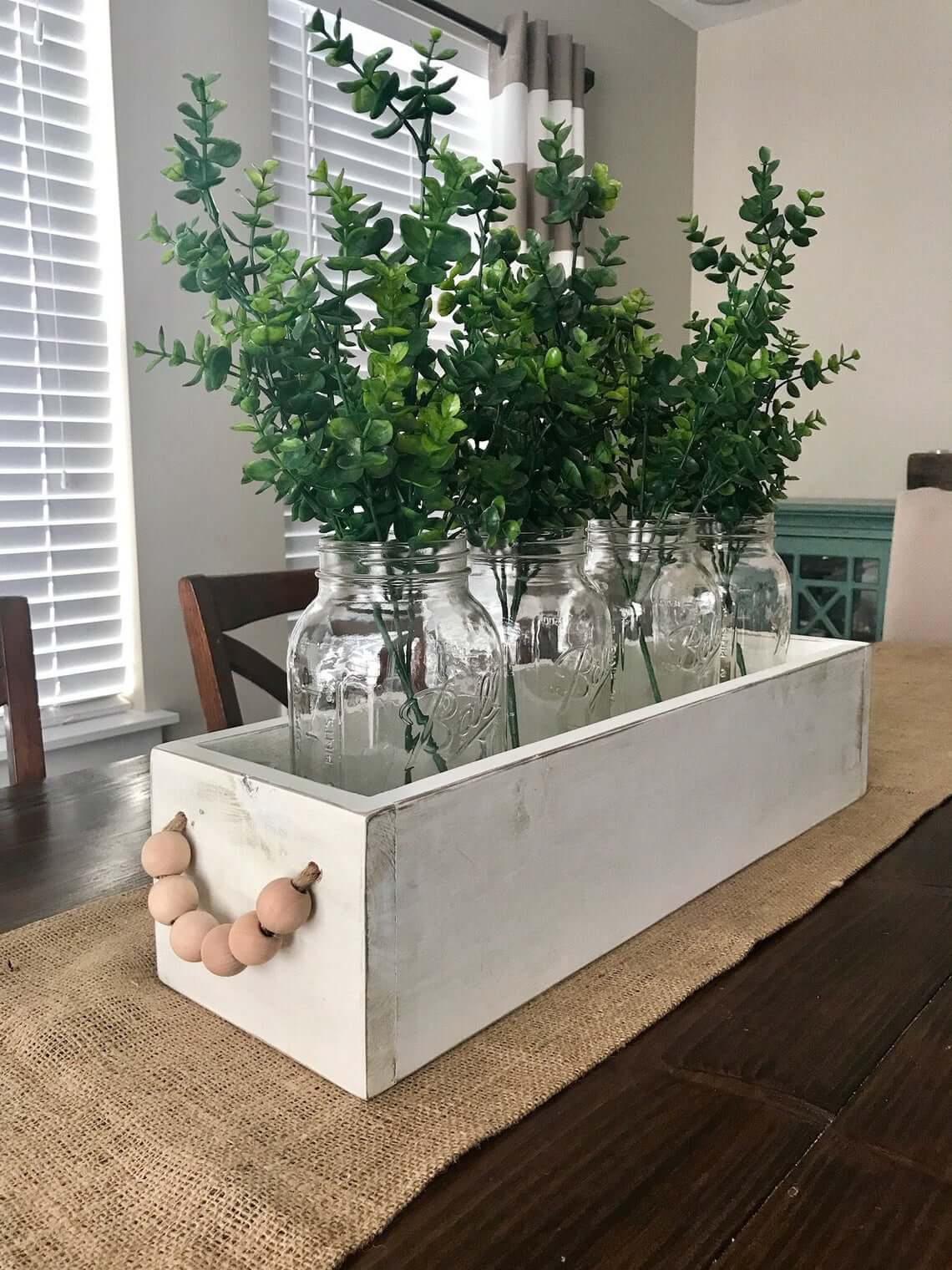 Check out this cozy crate perfect for your comfortable cottage. The simple lines and design of this box looks amazing as the foundation in this centerpiece beauty. Each end holds an unconventional handle that's made from wooden beads. Fill the inside with your favorite fall goodies or decorations to add some lovely charm into your home this season.
32. Great Gray Grains Wooden Centerpiece Box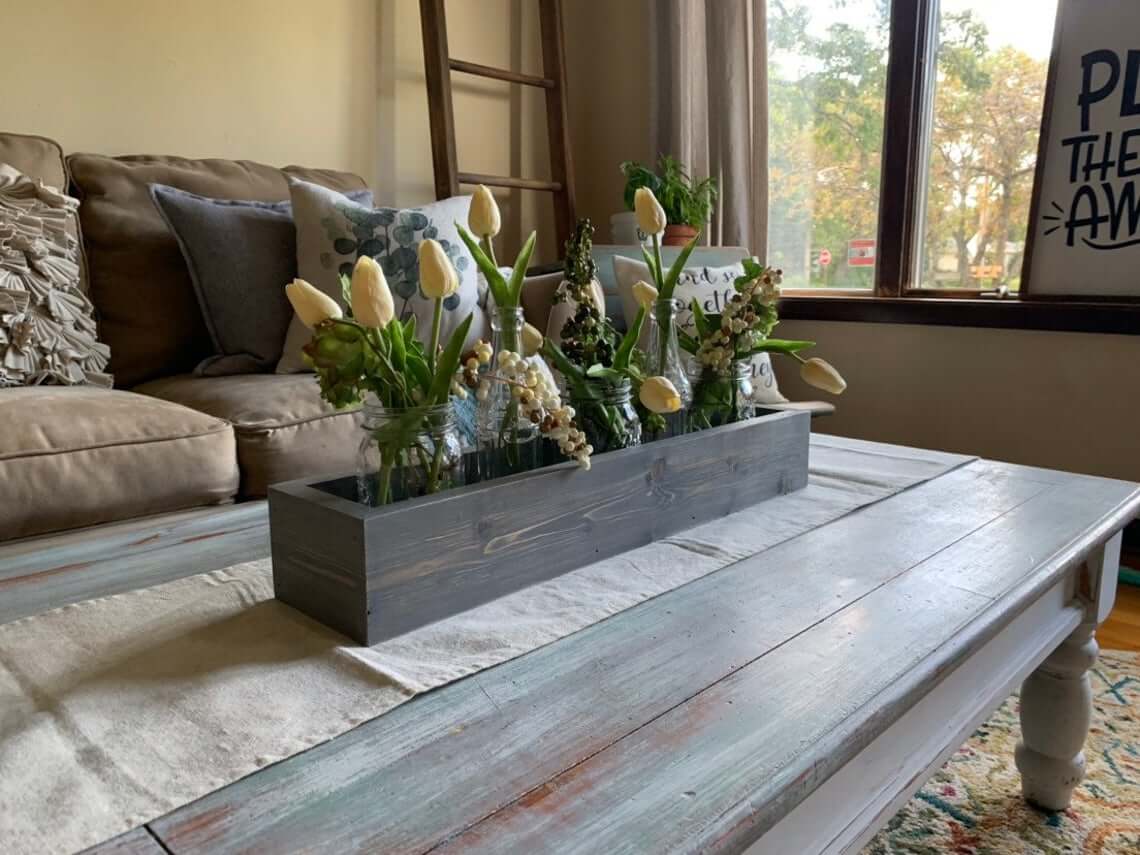 Keep the modern color scheme going with this great gray wooden centerpiece box. It shows off the beauty of the wood grains with its light and airy stain. Utilizing this modern gray, it blends in most any updated decor. It makes the perfect companion for your coffee table or as a centerpiece on your outdoor dining table.
33. White and Wonderful Straight Lines Centerpiece Box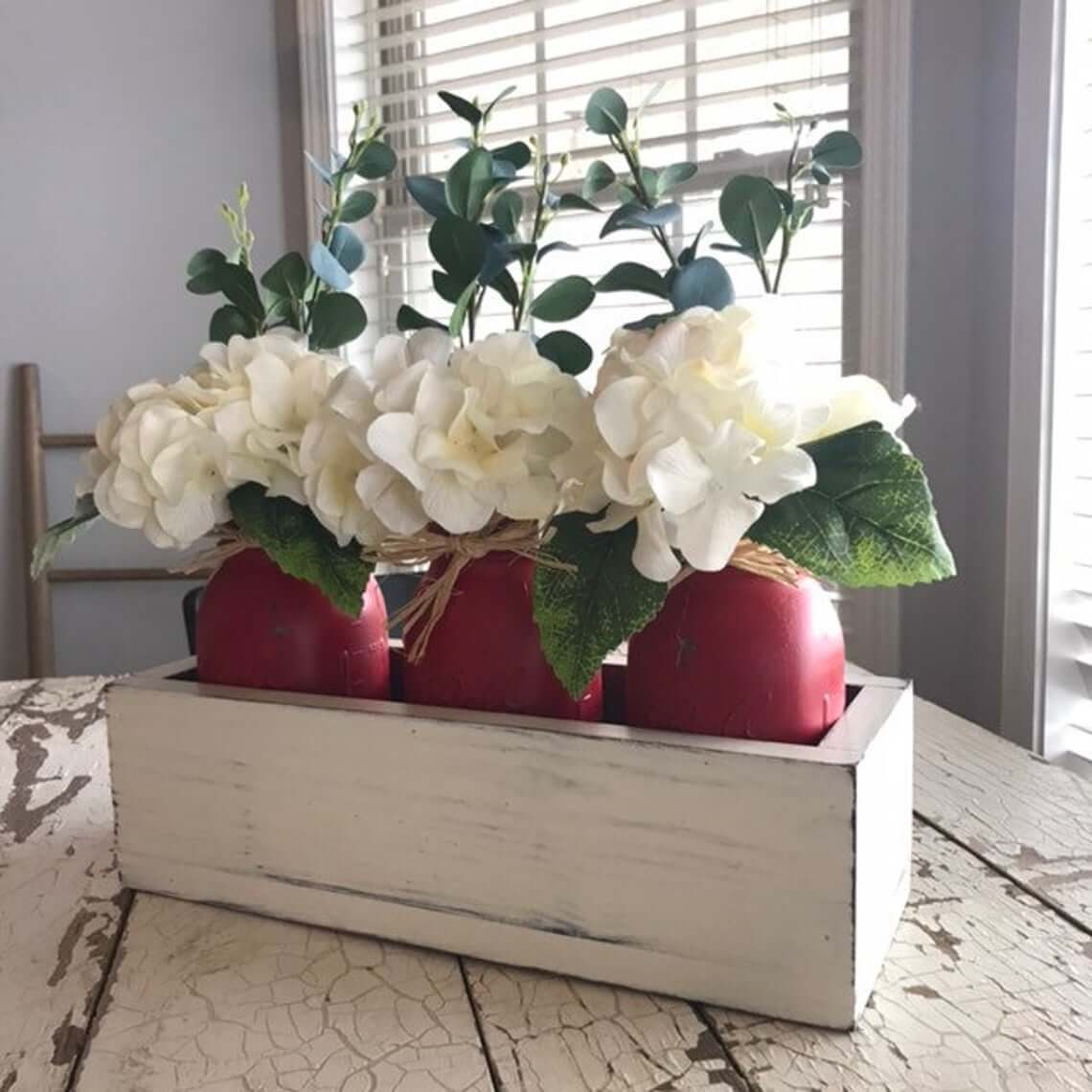 Look at this super simple and wonderful white centerpiece box. It's nearly the go-to box for any decor and easily holds your coveted trio of glass jars. Fill each jar with a different set of office supplies from pens to sharpies to organize your office like never before. Or simply show off your green thumb with some fresh cut flowers from your own garden.
34. Grateful, Thankful, and Blessed Harvest Box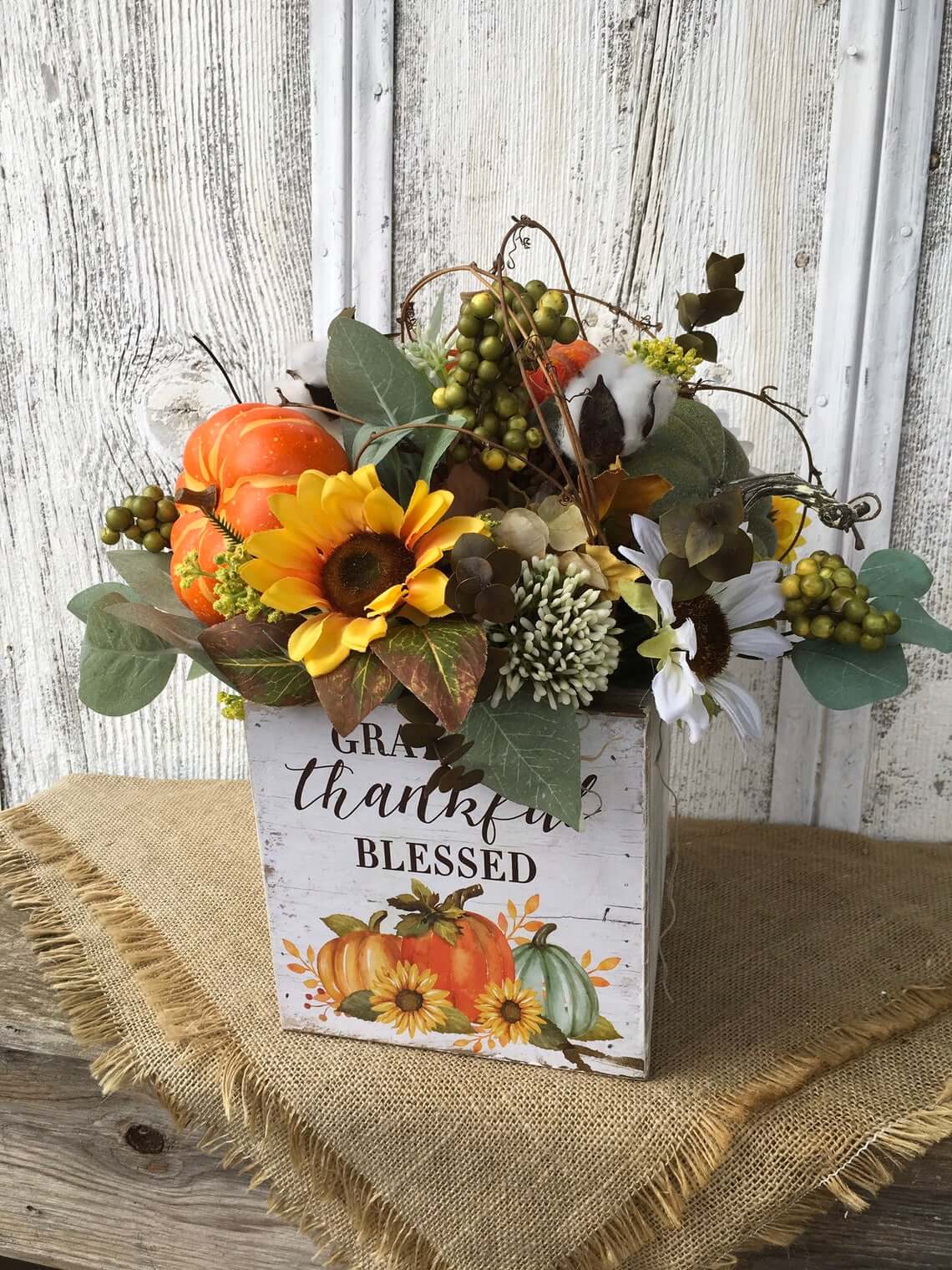 These three words say it all when it comes to the time of happy harvesting. During the season of thanksgiving, we reminisce about how blessed we are and take a moment to enjoy this feeling of gratitude. Capture the moment with this wooden centerpiece box this fall.
35. Hand Sculpted and Chiseled Wooden Trough Bowl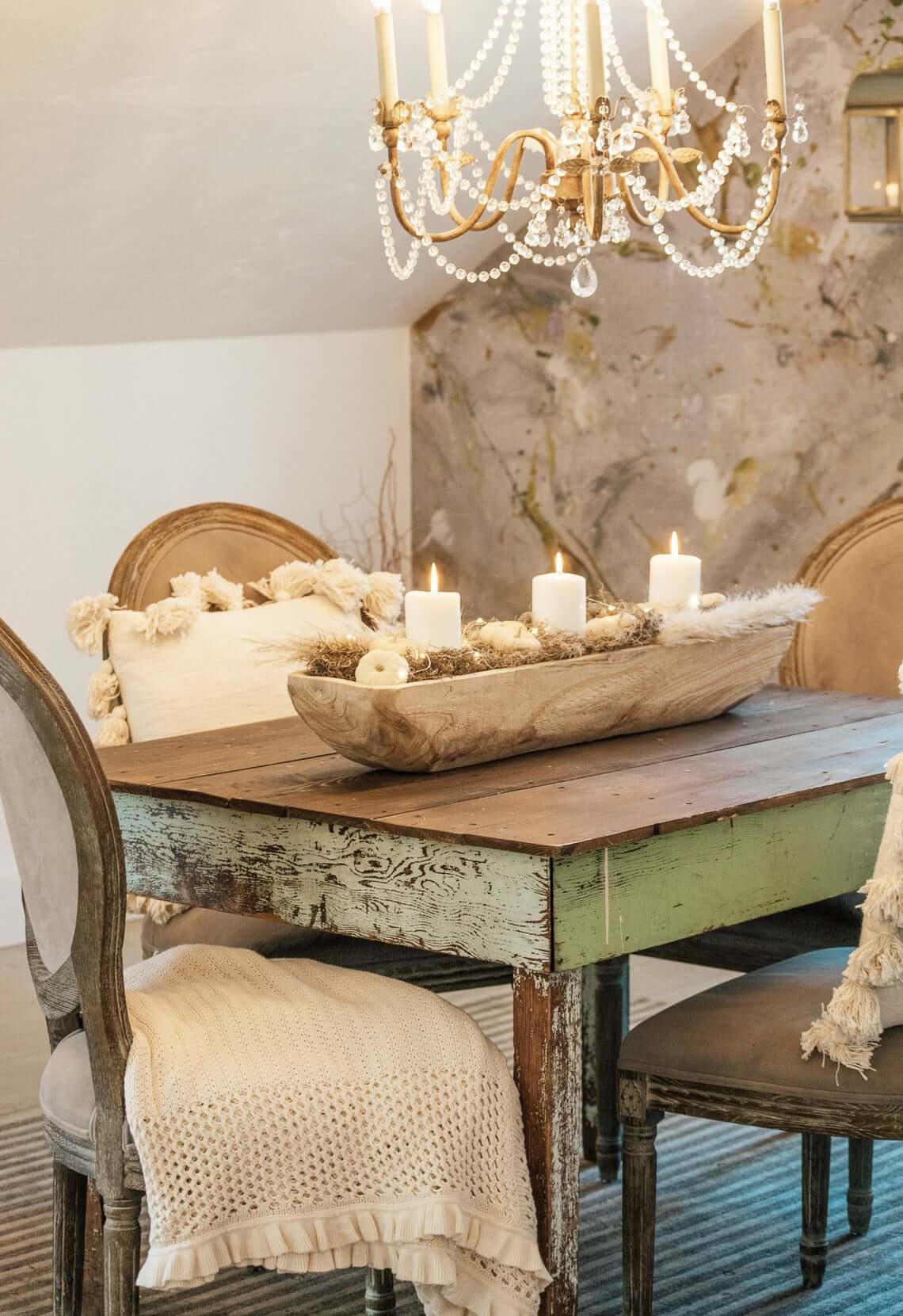 Channel your inner artist or simply appreciate the beauty this unique piece of art has to offer. This hand sculpted wooden trough adds character and beauty to your kitchen and eating space. Fill it to the brim with seasonal favorites and light some candles to complete the welcoming and wonderful look.
36. Unique Painted Black Wooden Thankful Centerpiece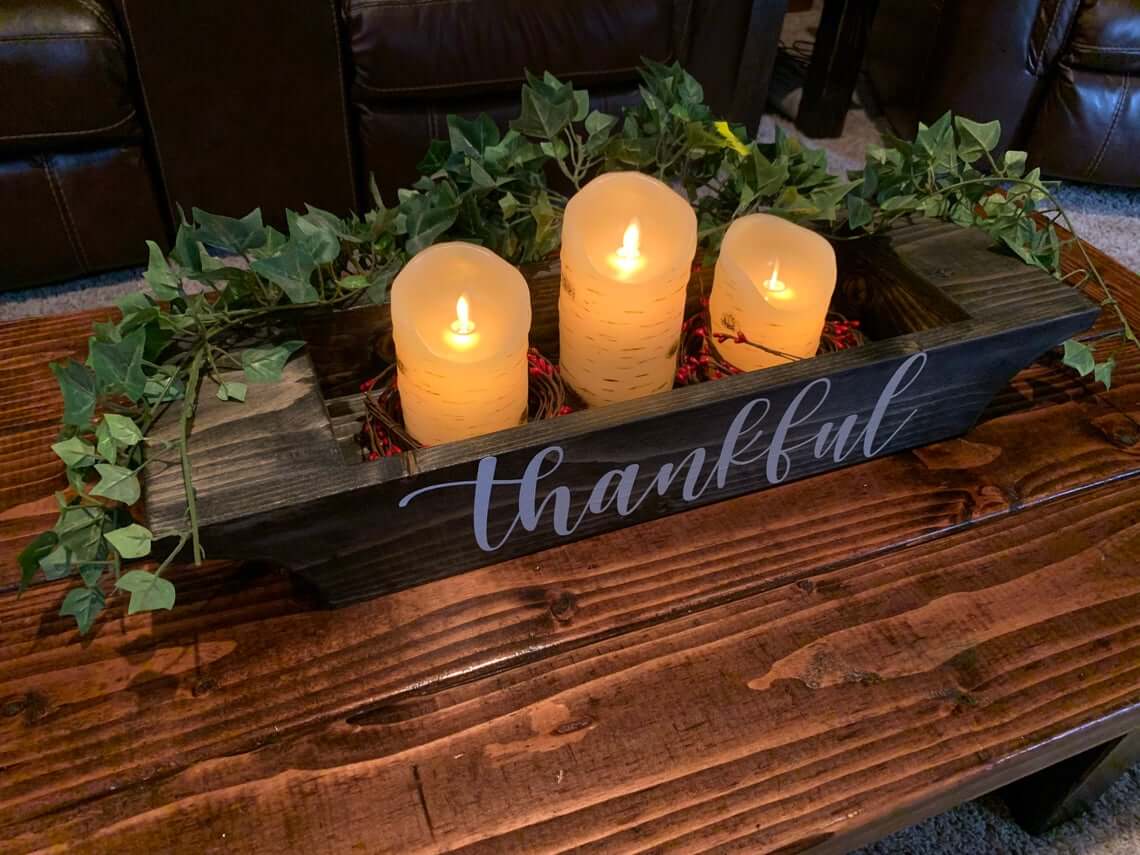 Count your blessings and you'll be sure to feel thankful this season as you incorporate this black painted wooden centerpiece into your fall decor. The interesting design complete with built-in handles gives this centerpiece a distinct look and finishing it with distressed black paint solidifies its beauty. Decorate it with glowing candles or fill it up with candy corn to welcome the lovely harvest.
37. Black and White Grateful Shiplap Box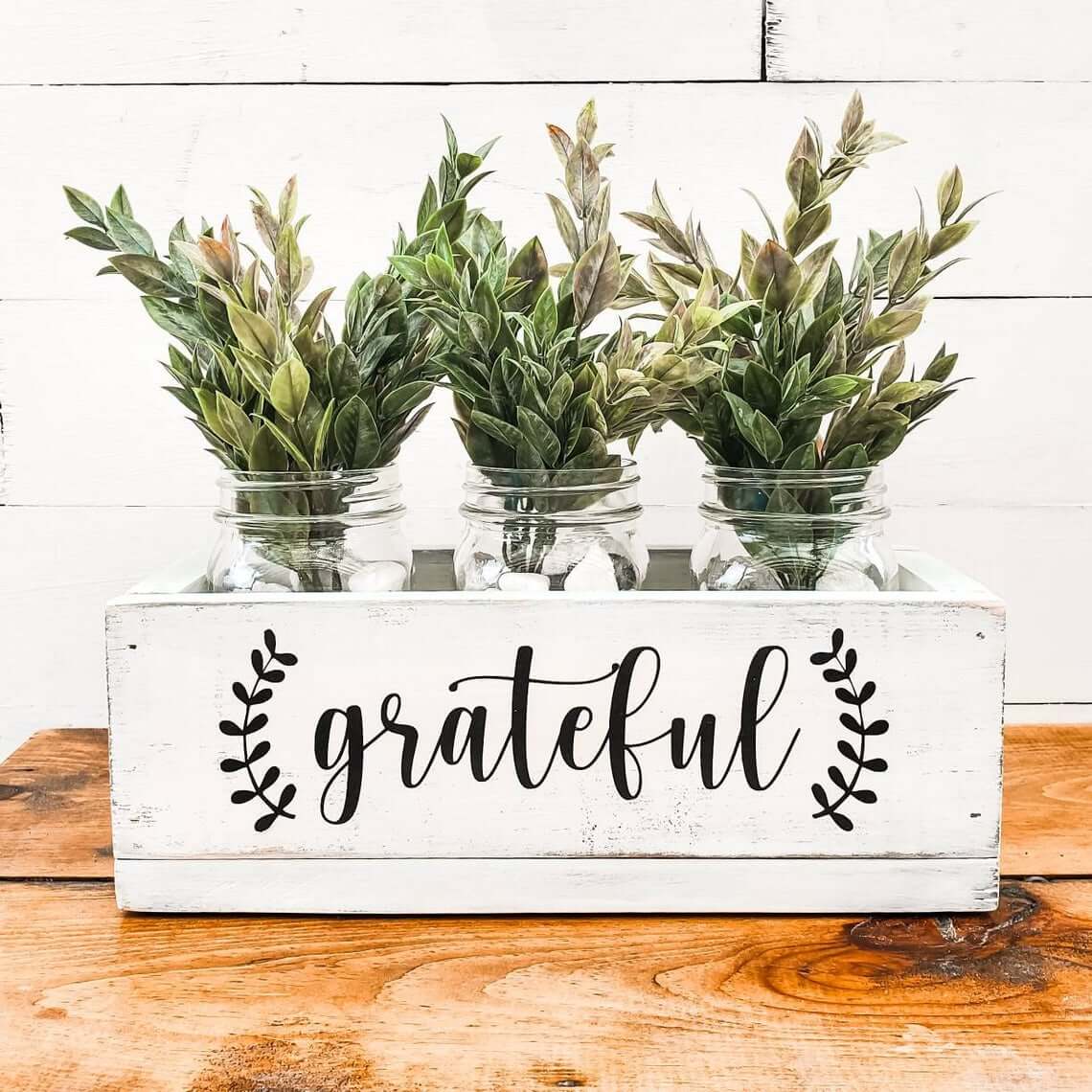 Use that leftover shiplap to create this gorgeous black and white grateful centerpiece box. It's just the right size to fit on the small decorative table beside your sofa or recliner and organize all of your remotes and electronic accessories.
38. An Elegant Wedding-Inspired Table Centerpiece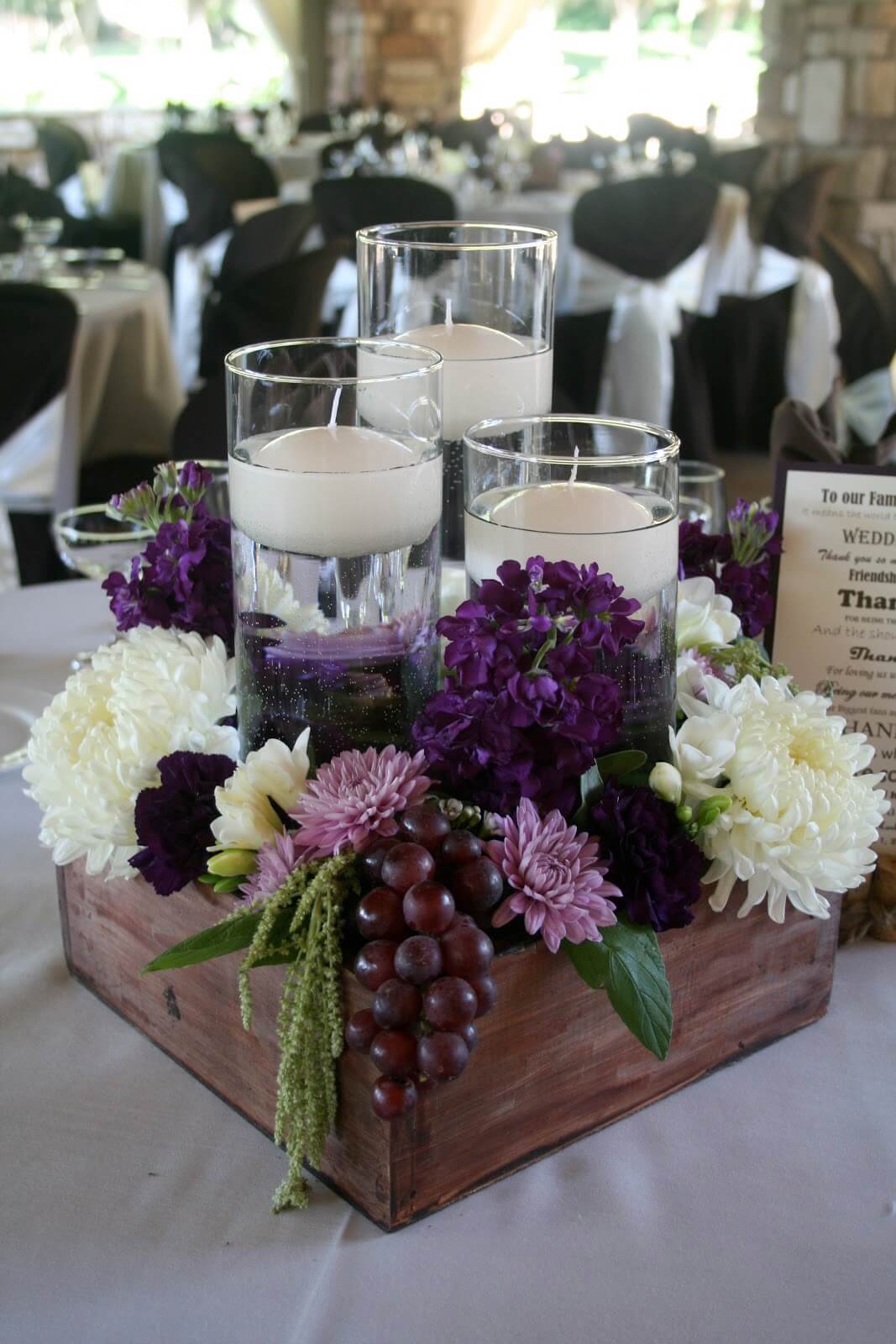 This arrangement is suggestive of purity and passion, and would be an ideal centerpiece for a wedding or romantic dinner. A certain drama attends the interplay of rich, deep colors and softest ivory. The round, purple grapes add lushness, while balancing the square shape of the box. The effect is heightened by ivory-colored floating candles in tall glass vases that draw the eyes and add illumination.
39. A Fresh, Colorful Floral Arrangement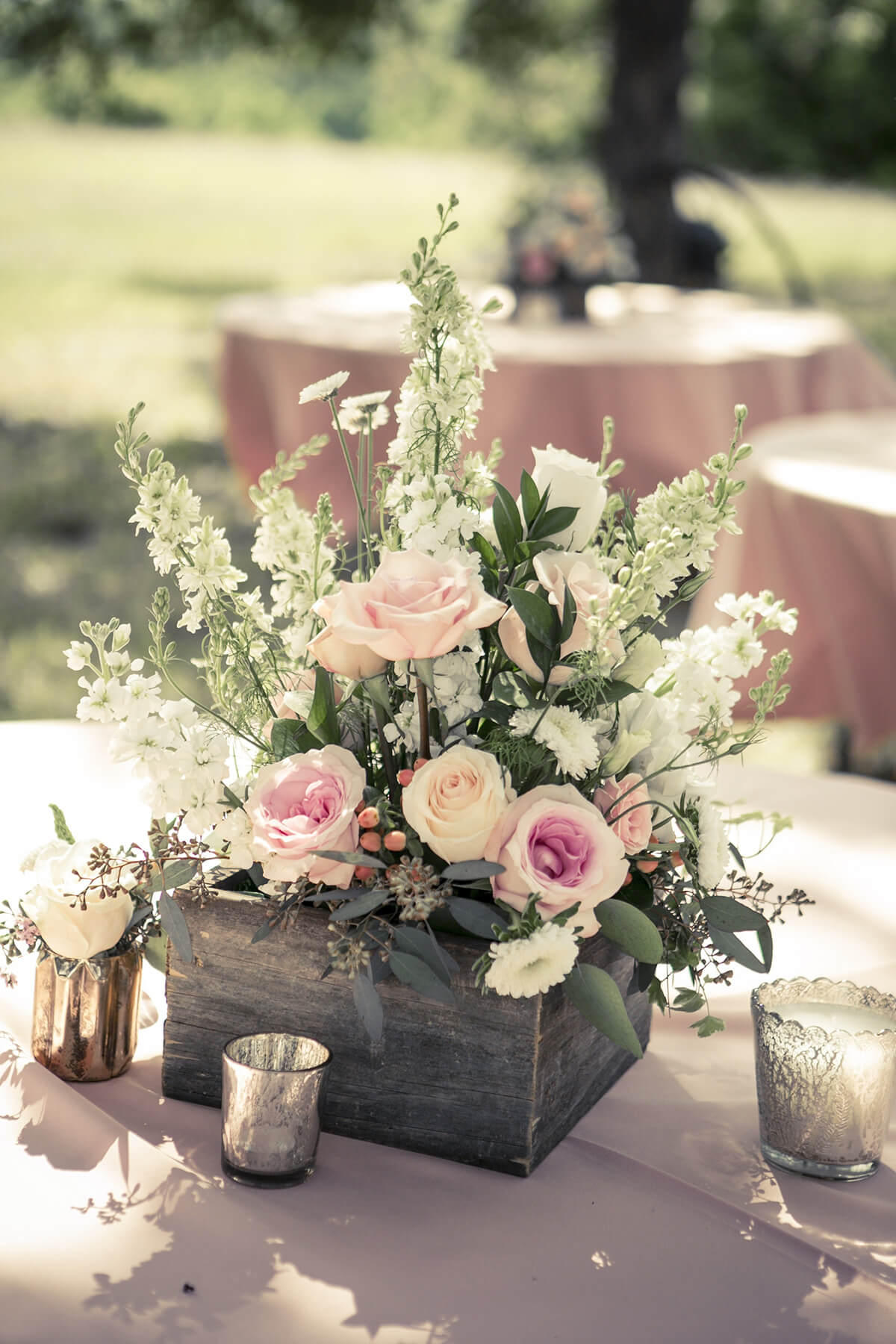 This rustic box, re-purposed from the posts of old fencing, holds a dreamy display that would bring light to any dark corner. Beautifully balanced, vertically and horizontally, the display is full yet airy. The darker foliage and bright berries allow the soft pinks and white to pop. It would be ideal for weddings, engagement parties, baby showers, or as a Mother's Day gift.
40. An Earthy Display with Fake Grass and Pine Cones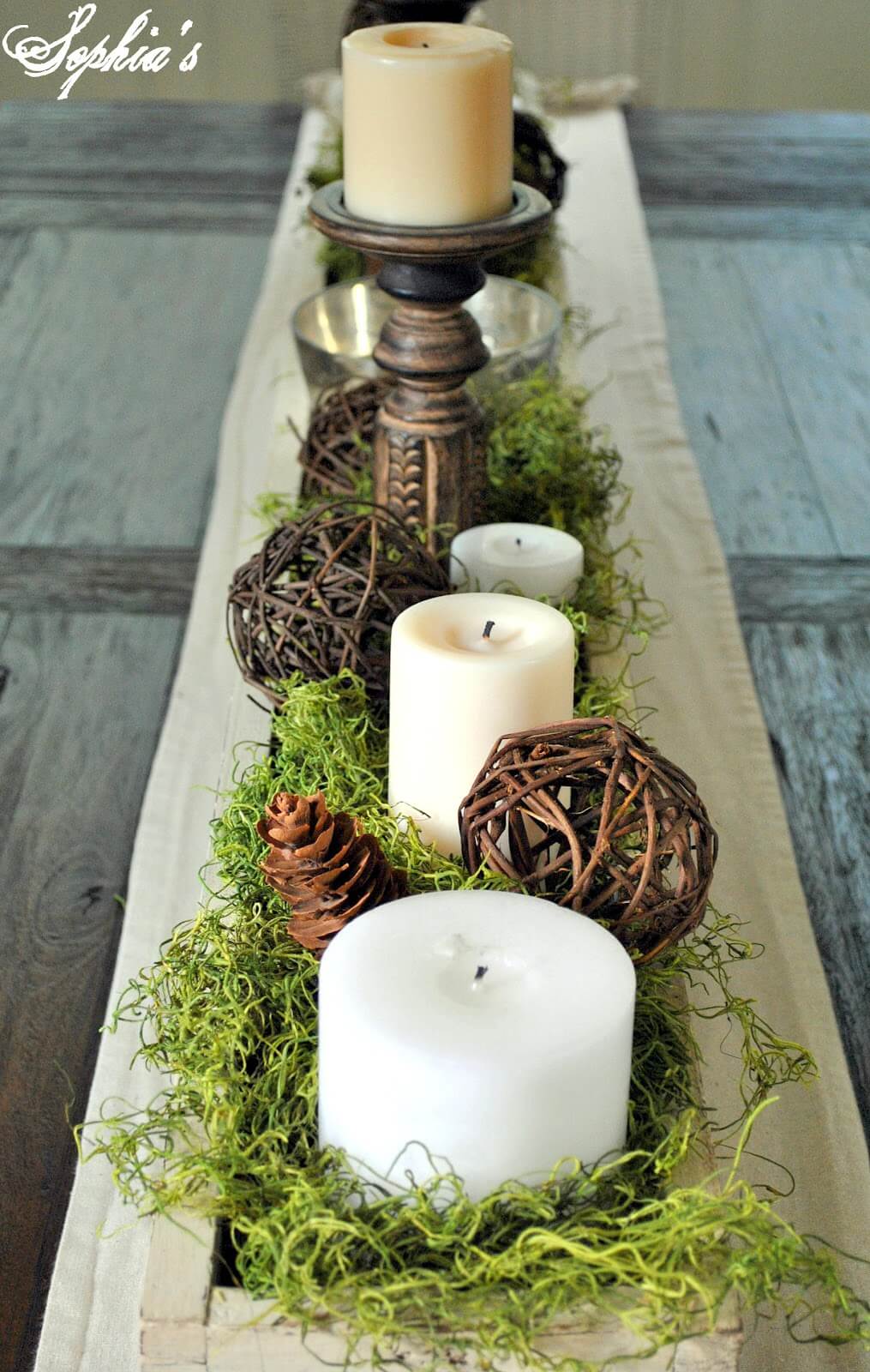 Having an evening/nighttime soiree on the patio or deck? A long table can be accented with this rectangular box, decorated to your taste. This one is filled with an assortment of candles, greenery and various other objects, but fruit, gourds or lines of bottles could be substituted. The possibilities are almost endless.
41. A Basic Floral Rustic Wooden Box Centerpiece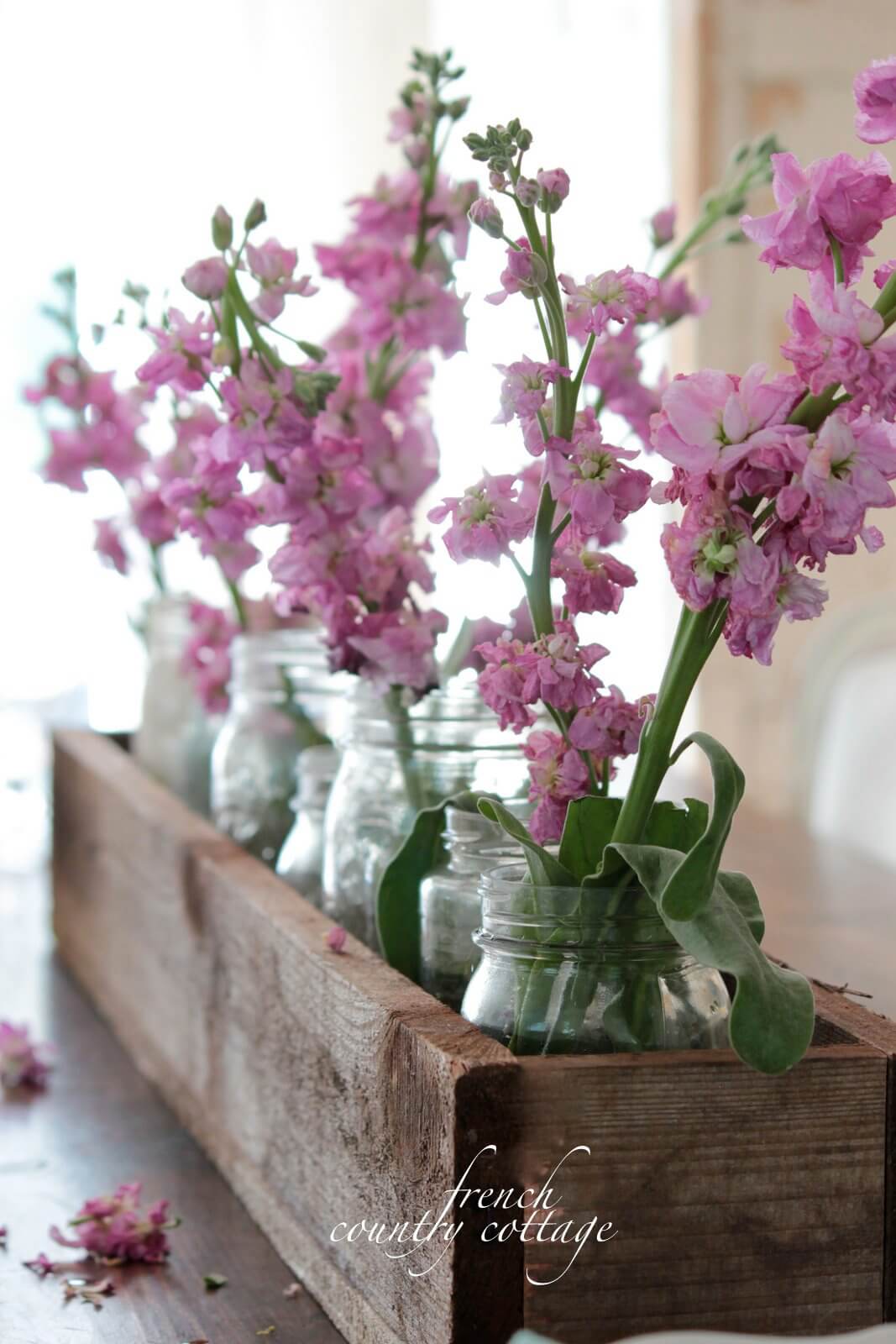 This is a simple-to-make, trough-like box that is made from old, weathered wood. The roughness of the wood, the smoothness of the glass jars and the soft, fluffy texture of the single blooms combine to make the arrangement a study in contrasts. This display would be equally at home on a tabletop, a windowsill, a mantelpiece or in the hearth.
42. A Herb Garden that's Attractive and Functional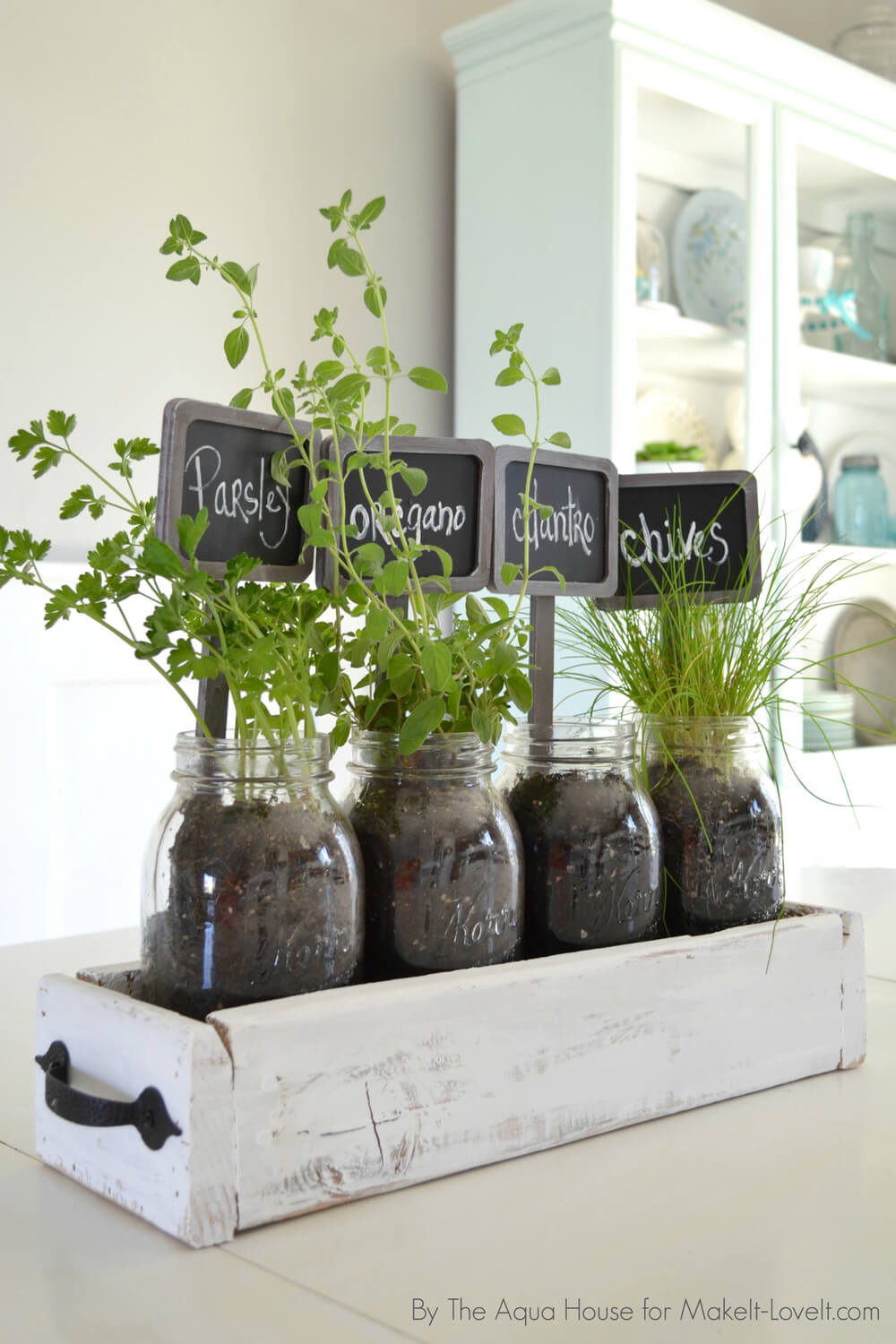 This thriving, aromatic arrangement brings the outside indoors. The windowsill/tabletop herb garden is crafted from five pieces of recycled pallet wood, with the addition of metal handles at each end. Mason jars, with drainage pebbles at the bottom, are filled with potting soil, into which herbs are planted. This is an arrangement to awaken the senses: sight, smell and taste.
43. A Simple Country-Inspired Floral Design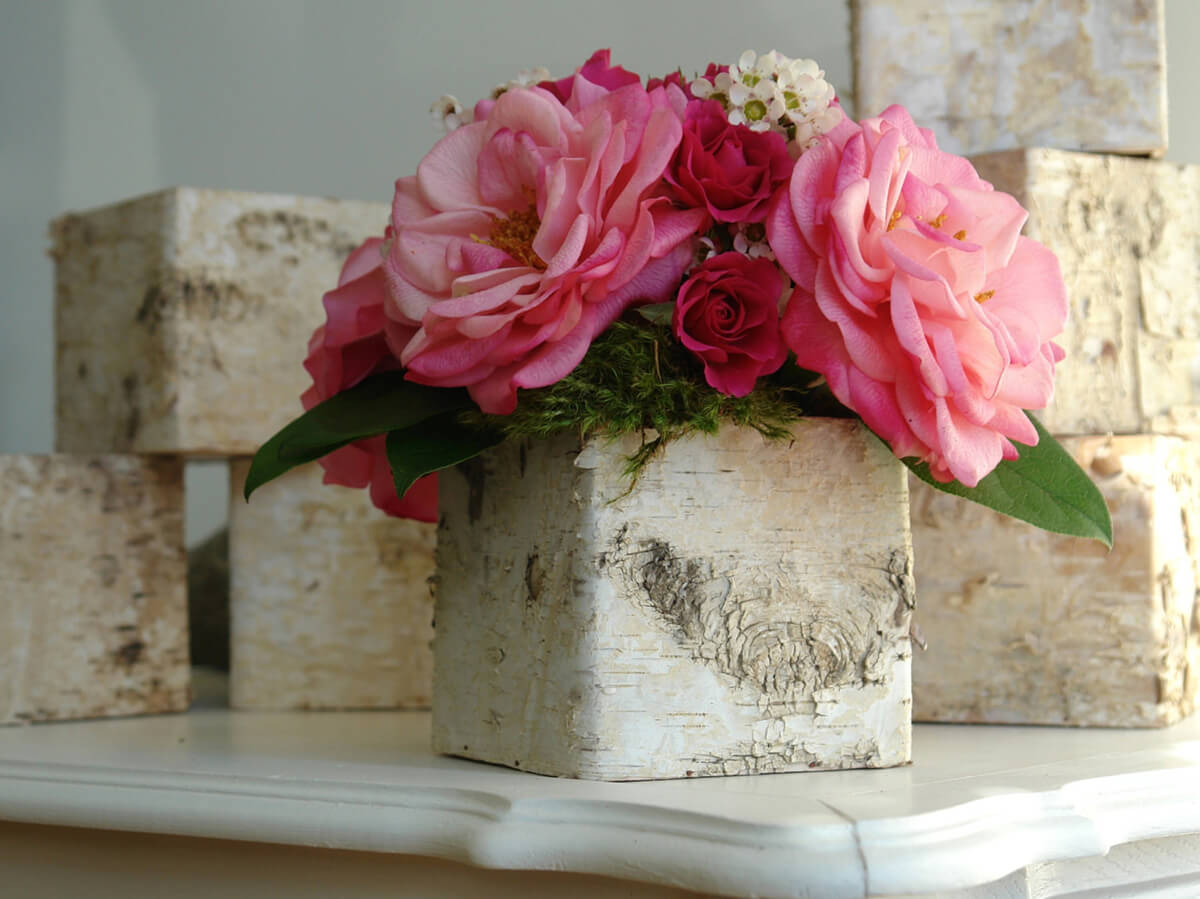 This simply stunning display appears to have been fashioned from hollowed-out and squared-off wood. Small and compact, the wood is lightly whitewashed. The overall effect is big on geometry: a square planter with round flowers in a triangular arrangement. The display would enhance any interior: country, traditional or sleekly modernistic. Image it on a glass-topped table, lit by a shimmering chandelier!
44. Farmhouse Centerpiece with Vintage Jars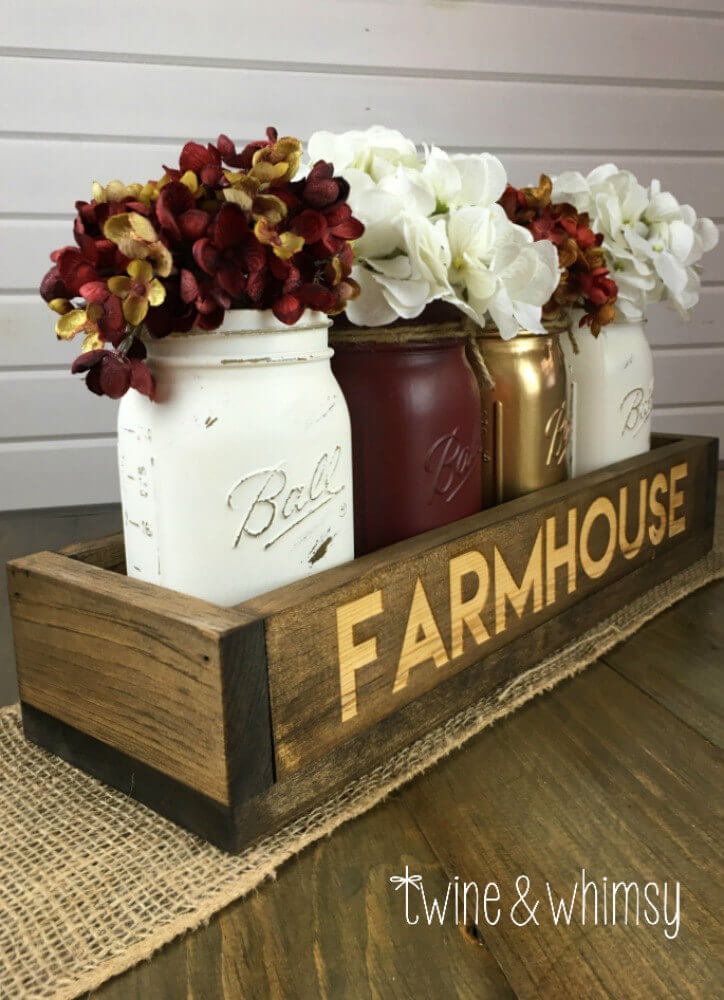 The four vintage jars in different colors complement the multiple hues of the box. Here is a clever use of colors: the blooms echo the colors of the jars, and the gold-colored jar enhances the light gold writing on the box. This is a bold and well thought out display, and would be suitable for a farmhouse table or windowsill.
45. Whimsical Display that Glows with Light and Warmth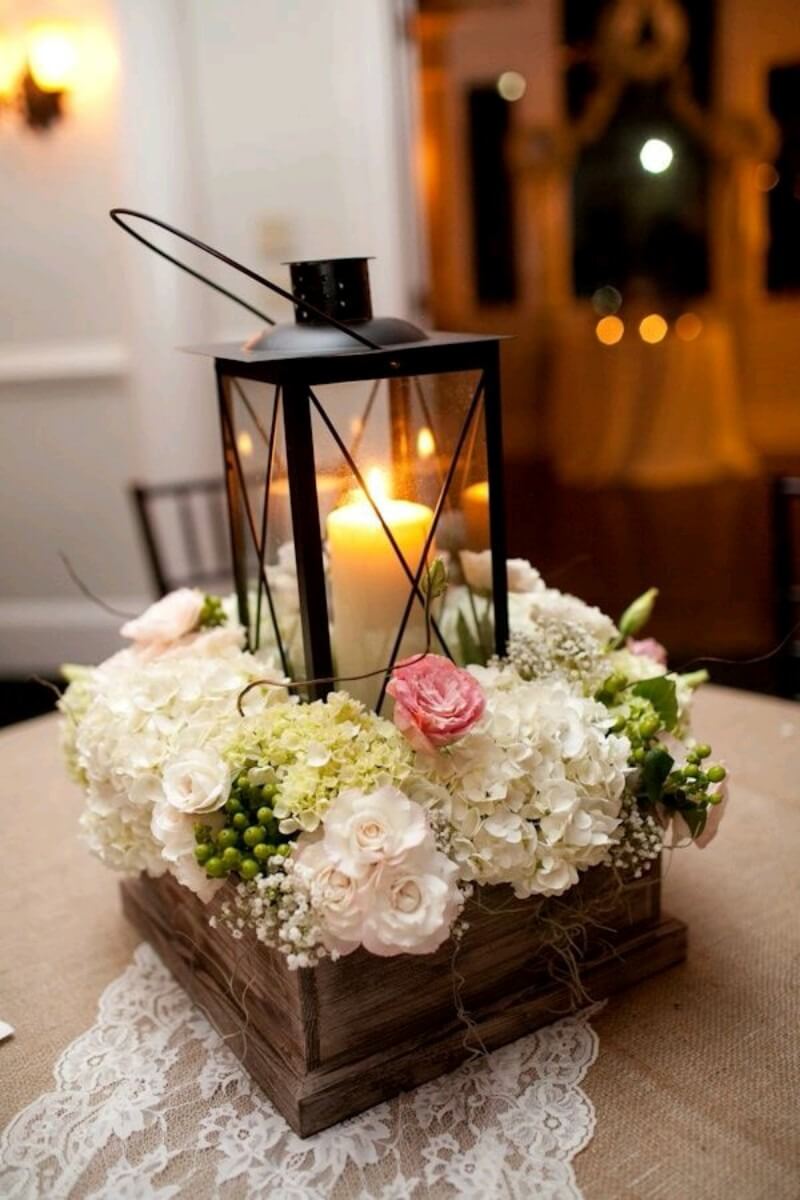 For champagne toasts on the terrace, or music under the stars, here is a display that provides beauty, light and a warming glow. It could be used as a centerpiece on a table, or placed on a garden wall or column. Something more durable could be made for outdoor use by substituting a solar lamp and artificial flowers or small potted plants.
46. Delicate Piece for Weddings and Baby Showers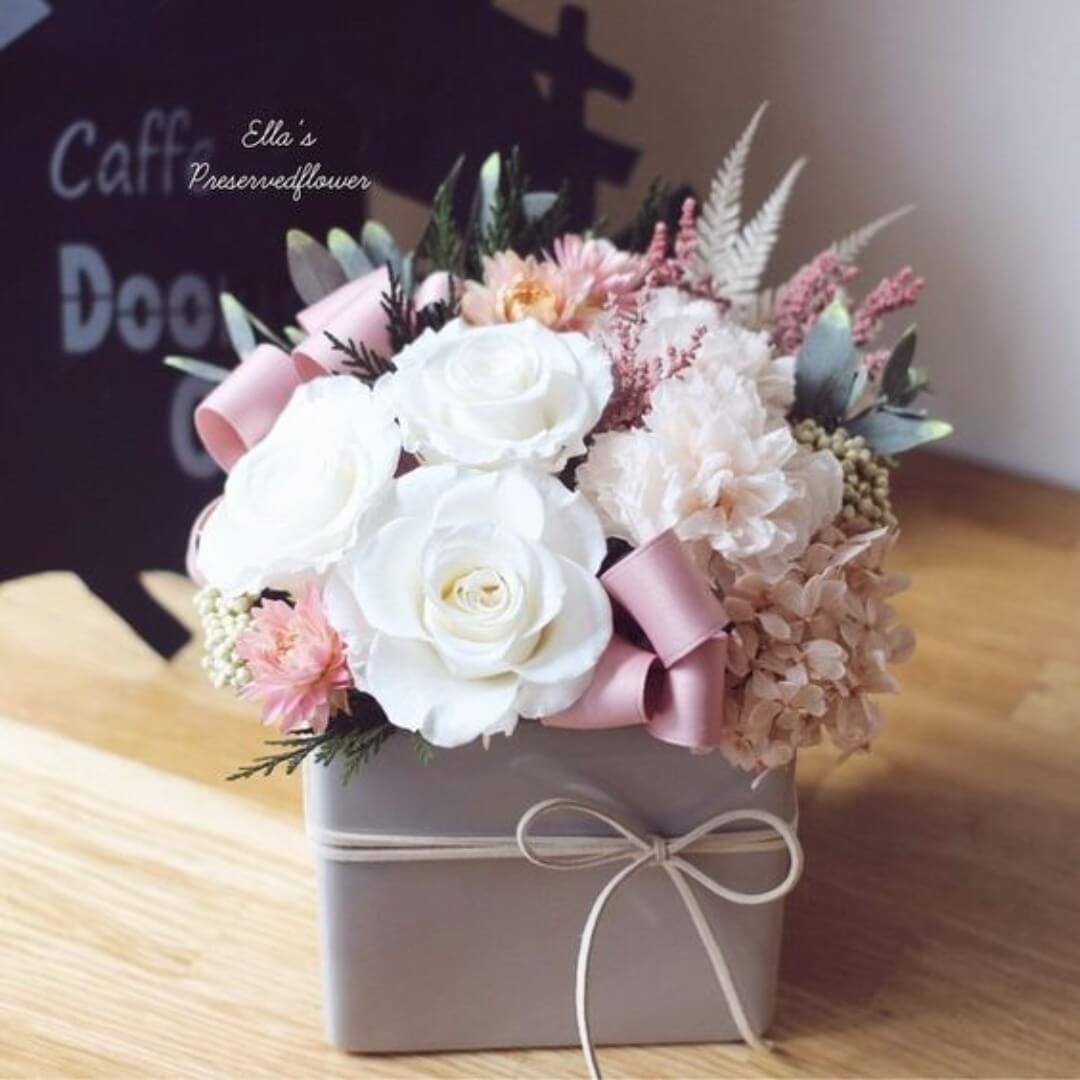 A rustic planter does not have to look obviously homespun. This pastel-colored box and soft-colored flowers and ribbon create a sophisticated and harmonious display. The insertion of strategically-placed dark flora adds dimension and contrast. The string ribbon tied in a bow around the pot provides the finishing touch. The overall effect is muted, full and soft: perfect for Mother's Day.
47. Richly Green Centerpiece with Real Flowers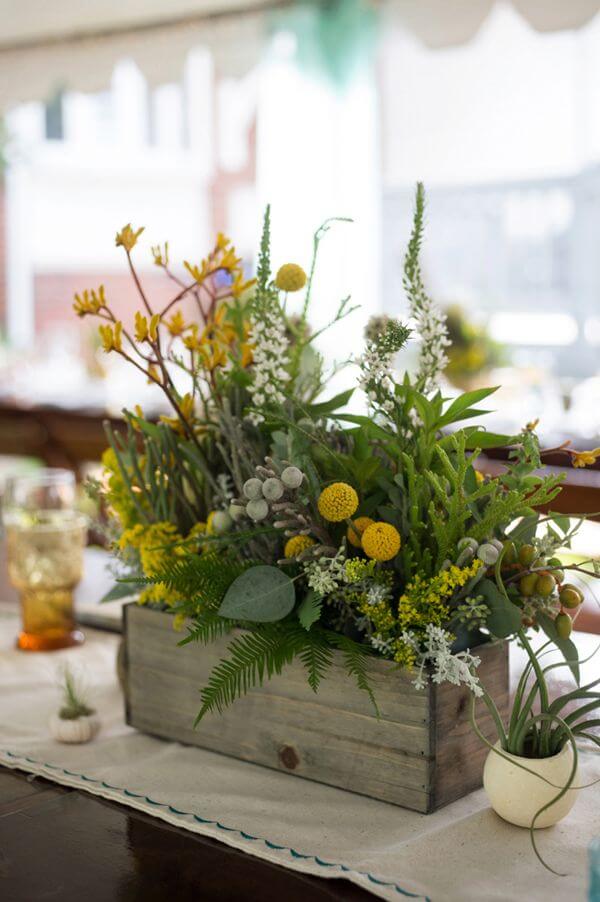 This sunny arrangement, with verdant foliage, berries, seed heads and yellow and white flowers is a wonderfully woven tapestry of multiple textures. The sun-bleached oblong box is a perfect receptacle for showcasing nature's bounty. Place it on a console table by the front door, or add tall corkscrew willow stems and place it on a table in a sunny foyer for dramatic effect.
48. Dainty Display with a Touch of Spring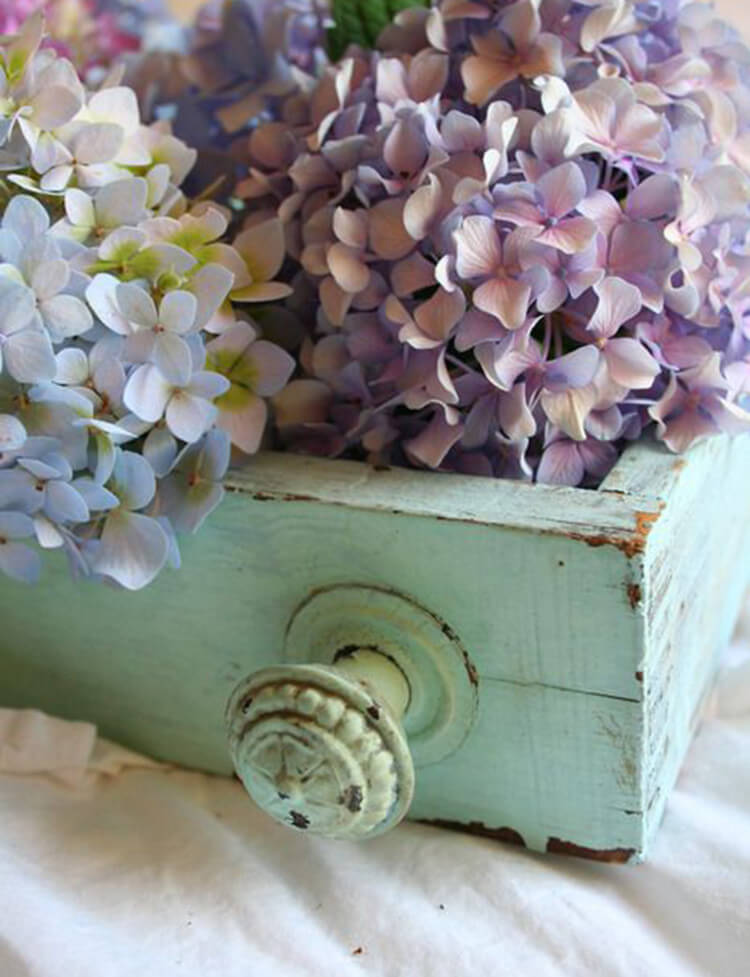 There is an old-fashioned, heirloom quality to hydrangeas. This arrangement, displayed in a blue-painted vintage drawer, is both charming and quaint. The display demonstrates that practically any rustic box can be used to display flowers, even without water. The drawer is shallow, and the blooms are big and full, so they are showcased beautifully. They could be left in the drawer for drying.
49. Lively Autumn Centerpiece with Leaves and Berries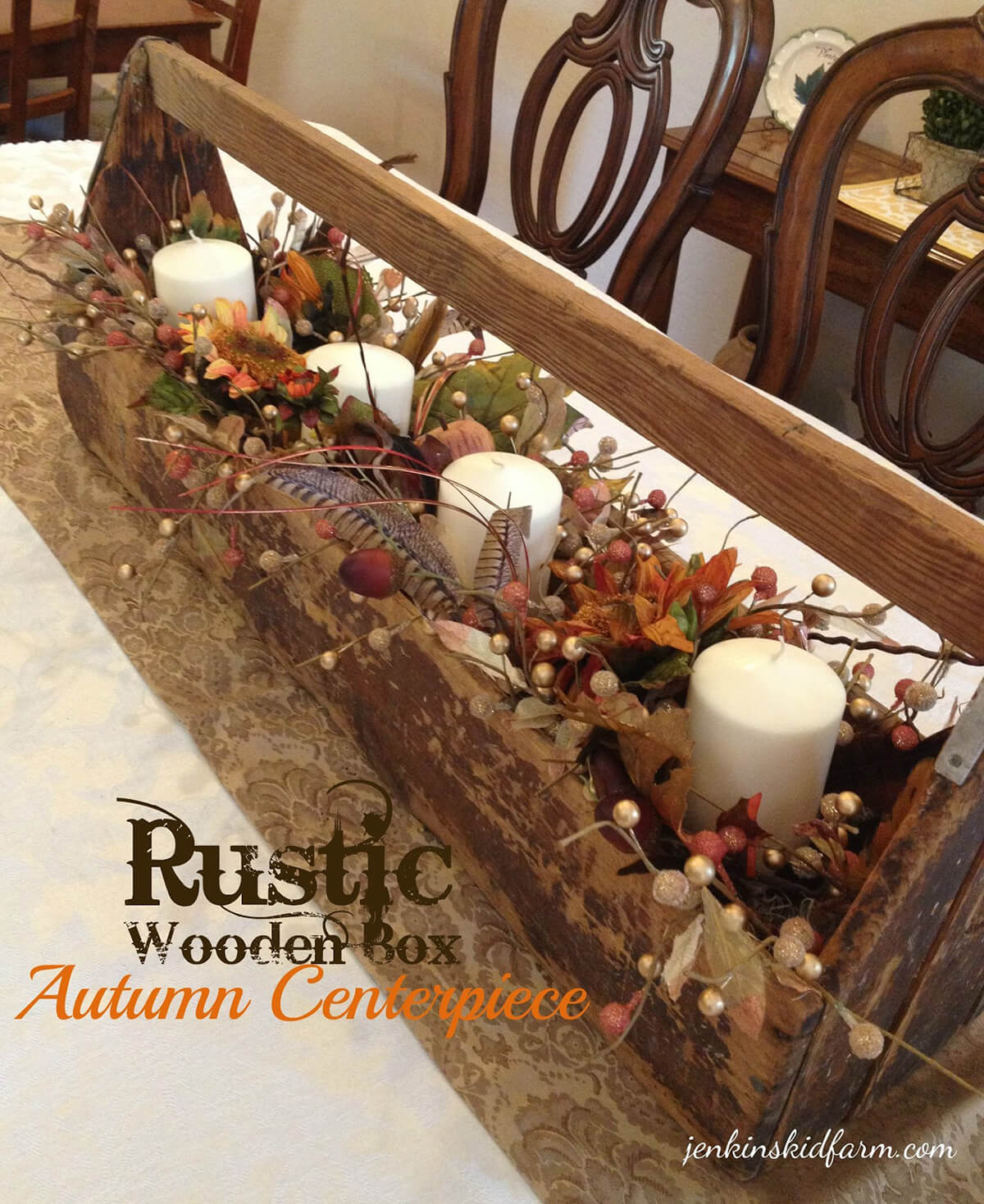 An old wooden toolbox used for a festive display: what ingenuity! Shown here with fall/autumn flora and candles, it would be easy to ring the changes to suit all seasons and all occasions. Additionally, the toolbox could be filled with pots of white orchids for a man's office or study.
50. Delicate Display with Sprigs of Flowers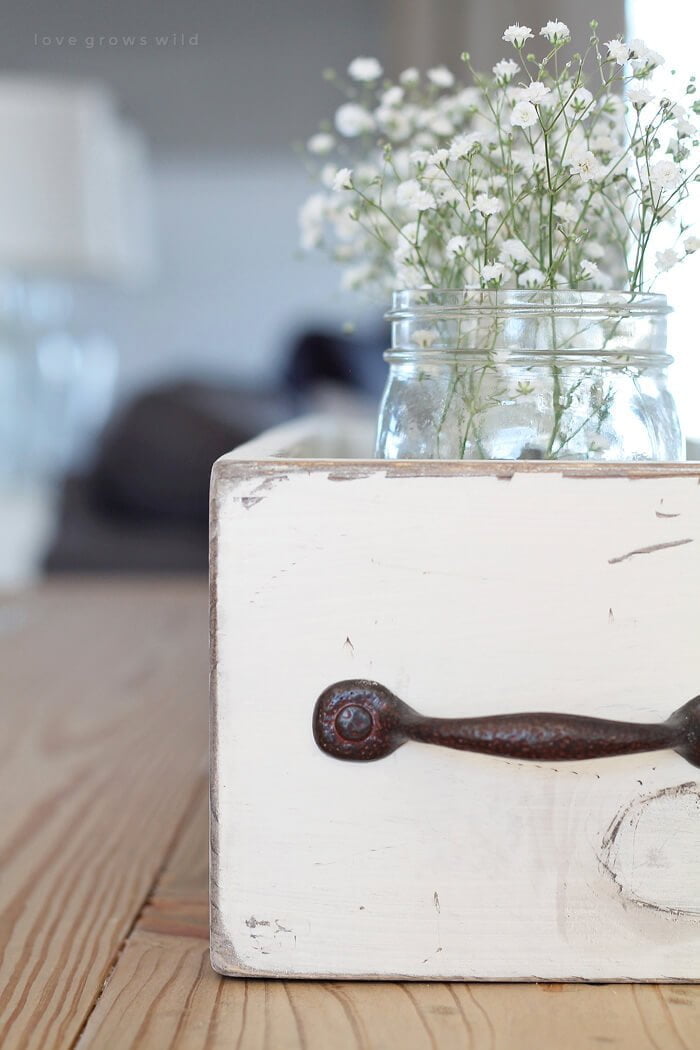 The combination of wood and glass in floral displays is so on-trend. This one keeps it fresh, dainty and innocent. The sprigs of baby's breath create an airy display. This arrangement would be perfectly at home on a kitchen windowsill or an informal dinner table. When using deep boxes, do make sure the glass jar is taller than the box.
51. Fall-Inspired Centerpiece with Bright Orange Pumpkins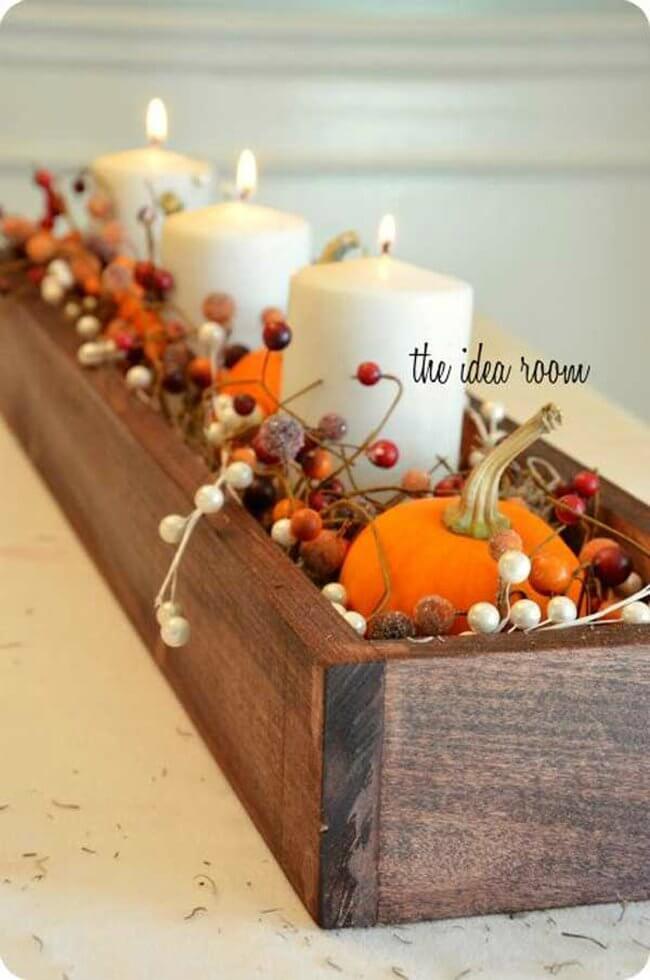 Create a linear Thanksgiving centerpiece with this display. The long box is filled with alternating orange pumpkins and chunky white candles, but the box could also be filled with multicolored gourds, orange candles, acorns and dried corn husks tied with ribbons. Thanksgiving is the perfect time to create centerpieces using rustic boxes and the bounties of fall.
52. A Feminine Box with a Delicate Floral Arrangement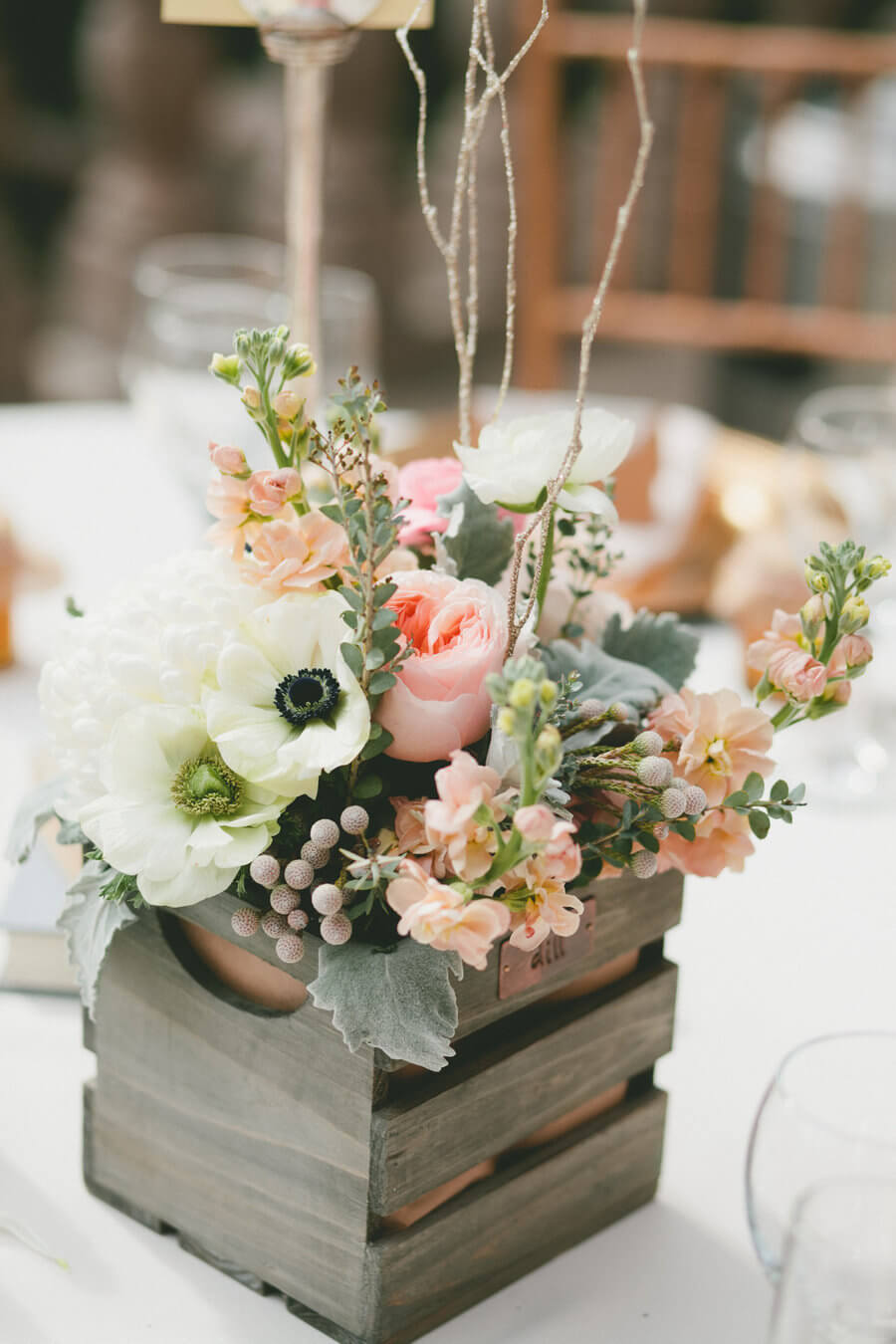 Here is a unique and romantic display for weddings or a dining room. This intriguing box has two slatted sides and two solid sides with cut-out handles. It holds a terracotta pot that contains peachy pink stocks and roses, white poppies, stems, twigs, berries and silver foliage. This would complement a light-colored interior, one with lots of glass/mirrors to reflect the beauty of the arrangement.
53. An Earthy Box with Real Stones and Cacti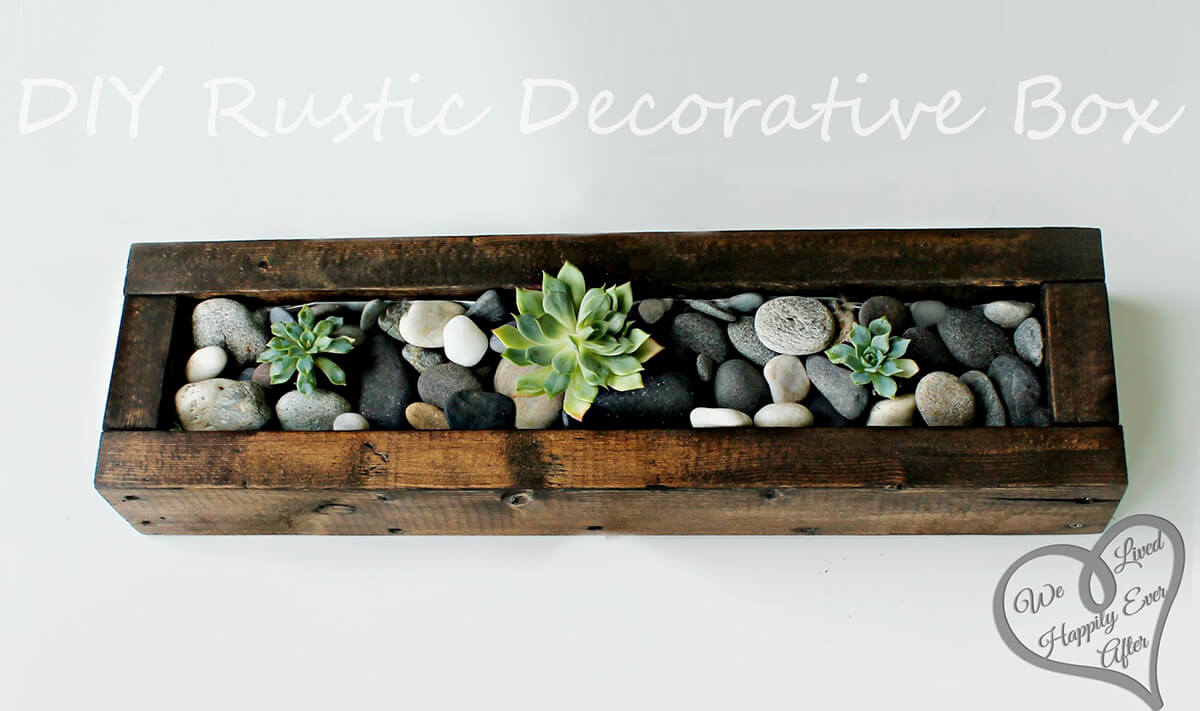 There is a distinct Zen quality to this display. The combination of wood, pebbles and succulents creates an elemental effect that invites relaxation and quiet contemplation. It would look right at home on a coffee table or low bookshelf.
The arrangement is actually perfection in a box: note the symmetry/balance and the interplay of colors and textures. Do you think the effect would be the same if the pebbles were of uniform color for example? Perhaps not!
54. Fall-Inspired Display with Pine Cones and Twigs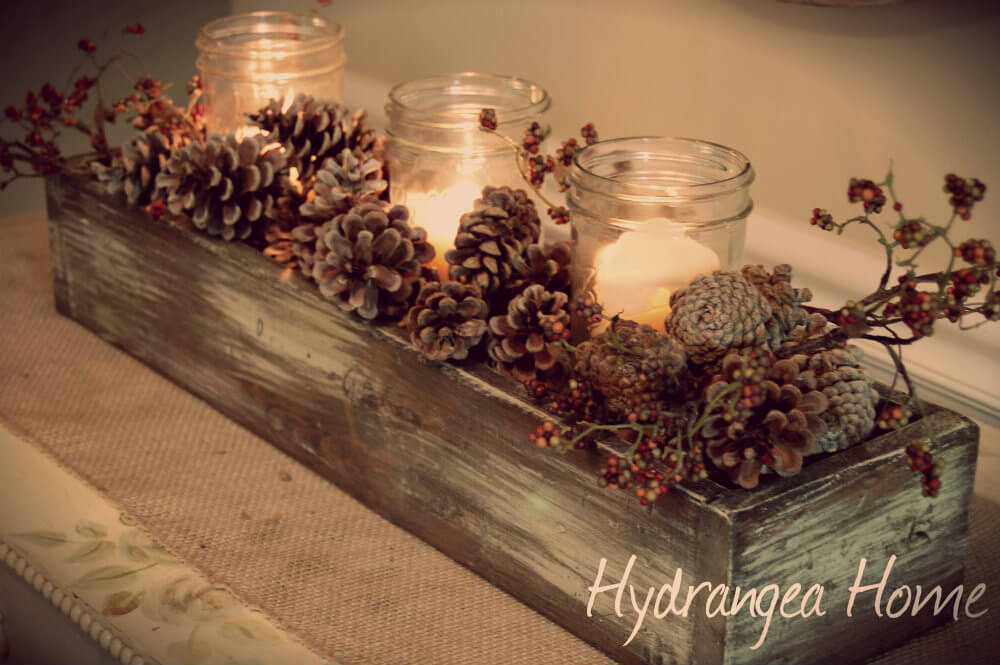 Oblong boxes seem particularly versatile and amenable to creative displays. This one is no different. It is a highly effective fall display. The three mason jars with ivory-colored candles, pine cones and autumnal berries combine for simple sophistication. The colors of the candles and pine cones echo the shades of the wood for an overall harmonious effect. Oftentimes, less really is more!
55. Simple Rustic Box with Real Cacti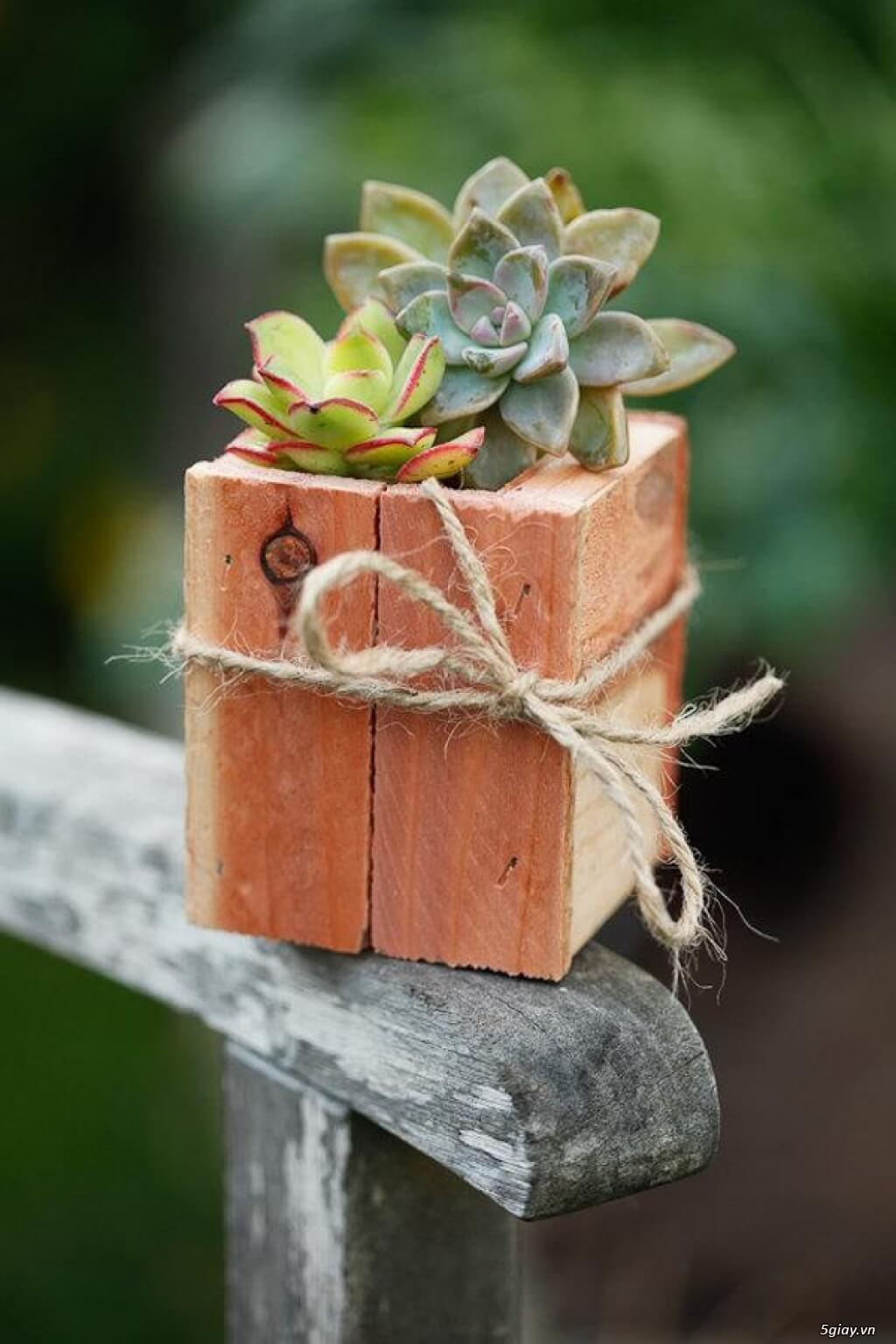 This arrangement makes interesting use of textures and colors. The small, uncomplicated and warmly rustic box complements the succulents perfectly. The string adds another textural dimension. The overall effect is fresh, interesting and arresting. This would be a wonderful accent on the windowsill of a country kitchen, or on a small outdoor table.
56. Elegant Centerpiece for Weddings and Events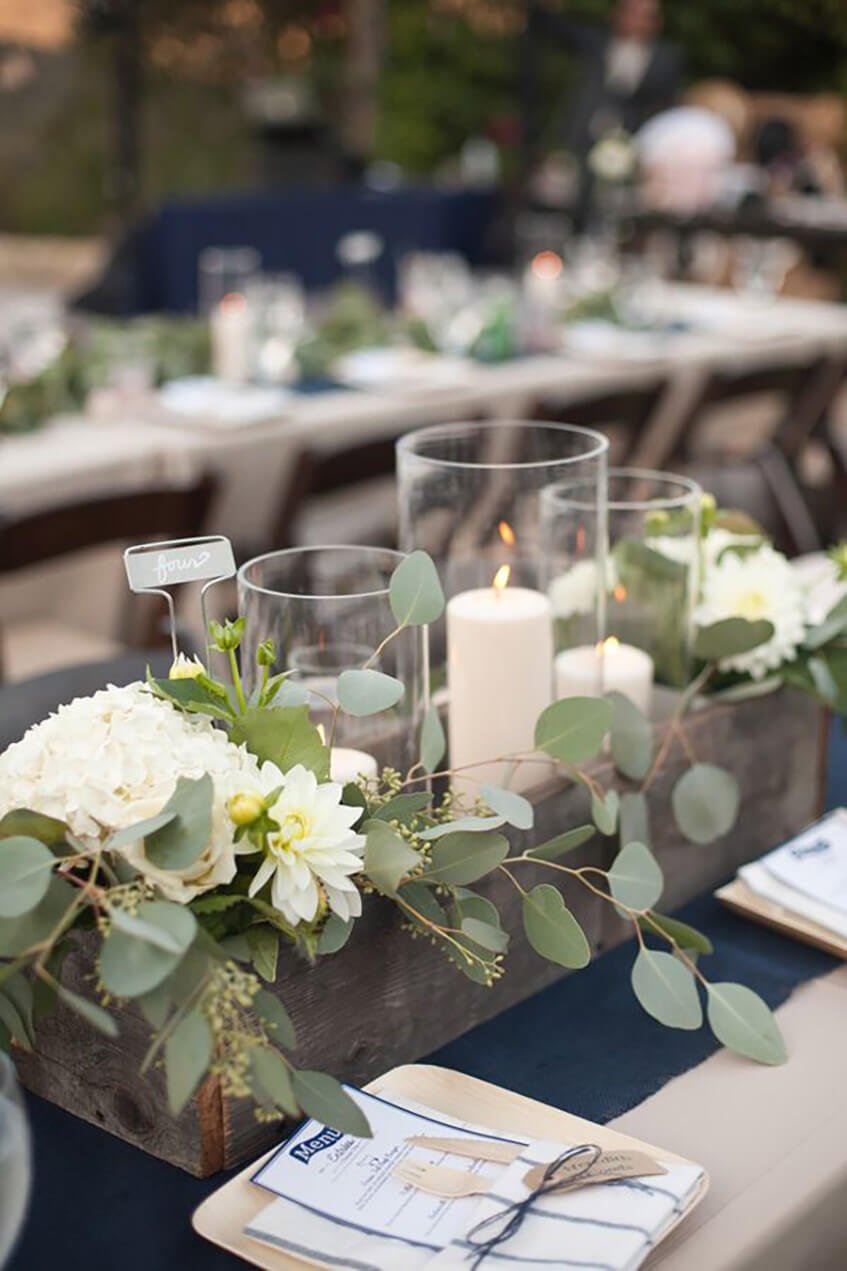 Muted, but eye-catching, this display is ideal for outdoor events. It is attractive without being overpowering. The use of a tall, middle candle holder, flanked by slightly shorter ones, makes the candle arrangement more effective than if all three glass holders were of the same height. Candle collections almost always look better when the heights are varied.
57. A Simple Rustic Box with Gold-Brushed Acorns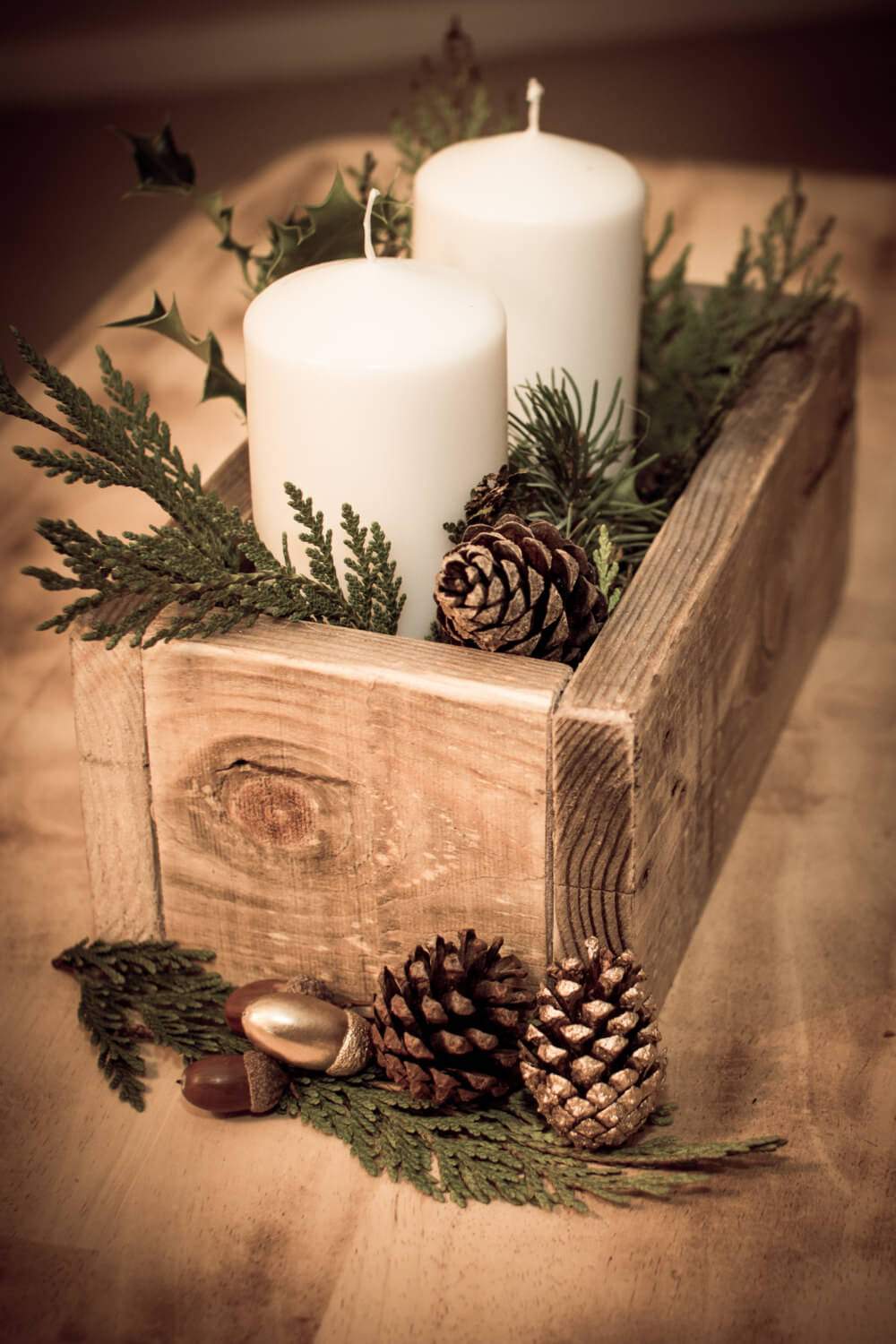 This display is not only seen — it is felt. The chilliness of pure-white pillar candles combine with evergreens, pine cones and acorns to say: winter display. Gold-dusting adds a festive touch that would make it work as a Christmas display also. Placing smaller items next to a deep box is a clever touch.
58. Pastel Box to Welcome the Spring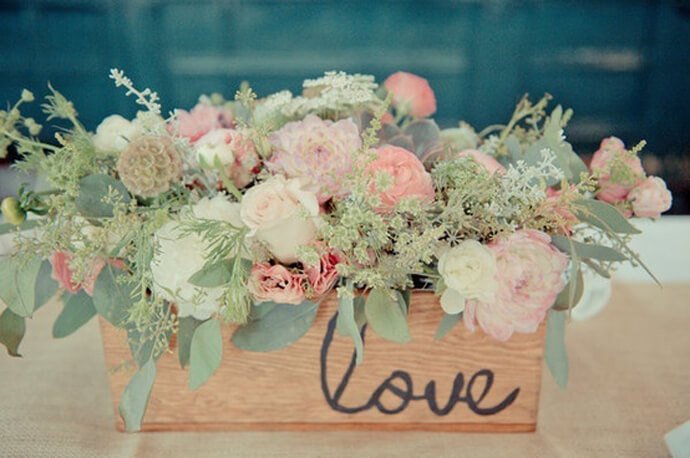 This dreamy arrangement is pretty in pastel. The color of the wood enhances the colors of the flowers. Imagine how the flora would have been overshadowed by a darker box. The arrangement is low, but this is compensated for by its fullness and the variety of flowers and textures that it contains. See how the interwoven leaves provide a uniting element.
59. A Basic Display with Tall Glass Bottles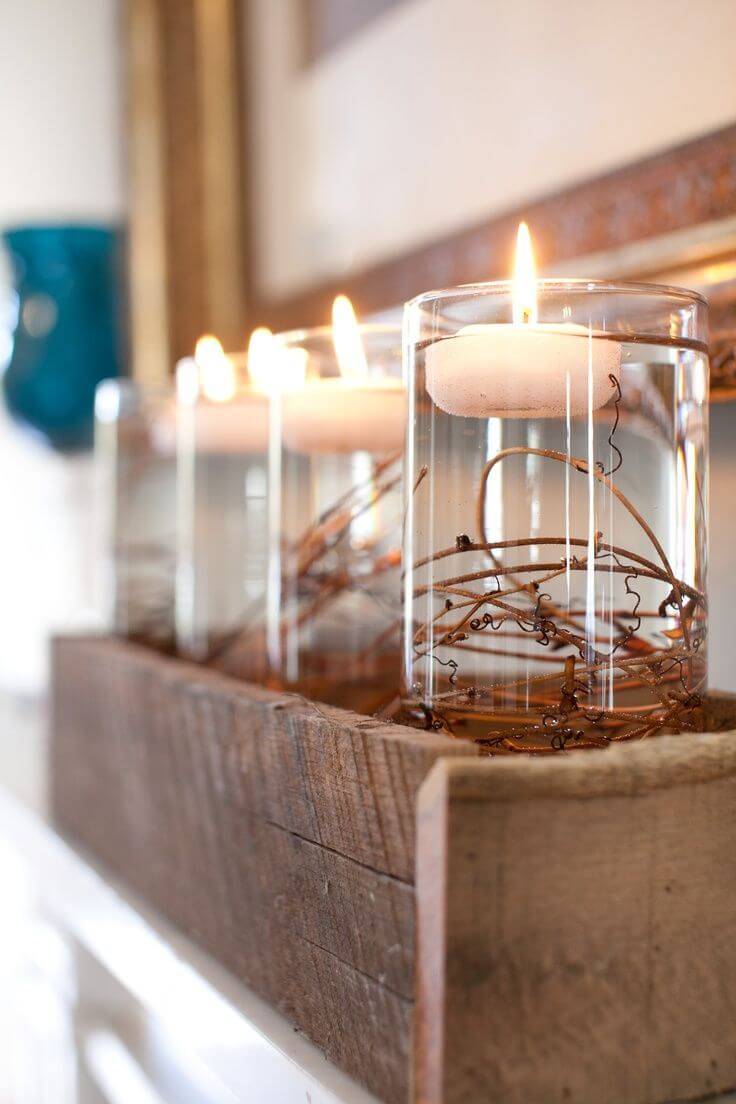 The rustic charm is ramped up on this display, thanks to the insertion of grapevines in the glass vases. The vases are all the same height, and this gives the arrangement a two-level and horizontal appeal: the rustic box, then the floating candles in glass. For vertical appeal, another level could be created by substituting two taller vases in the middle.
60. Rustic Wooden Box Centerpiece Décor with an Earthy Touch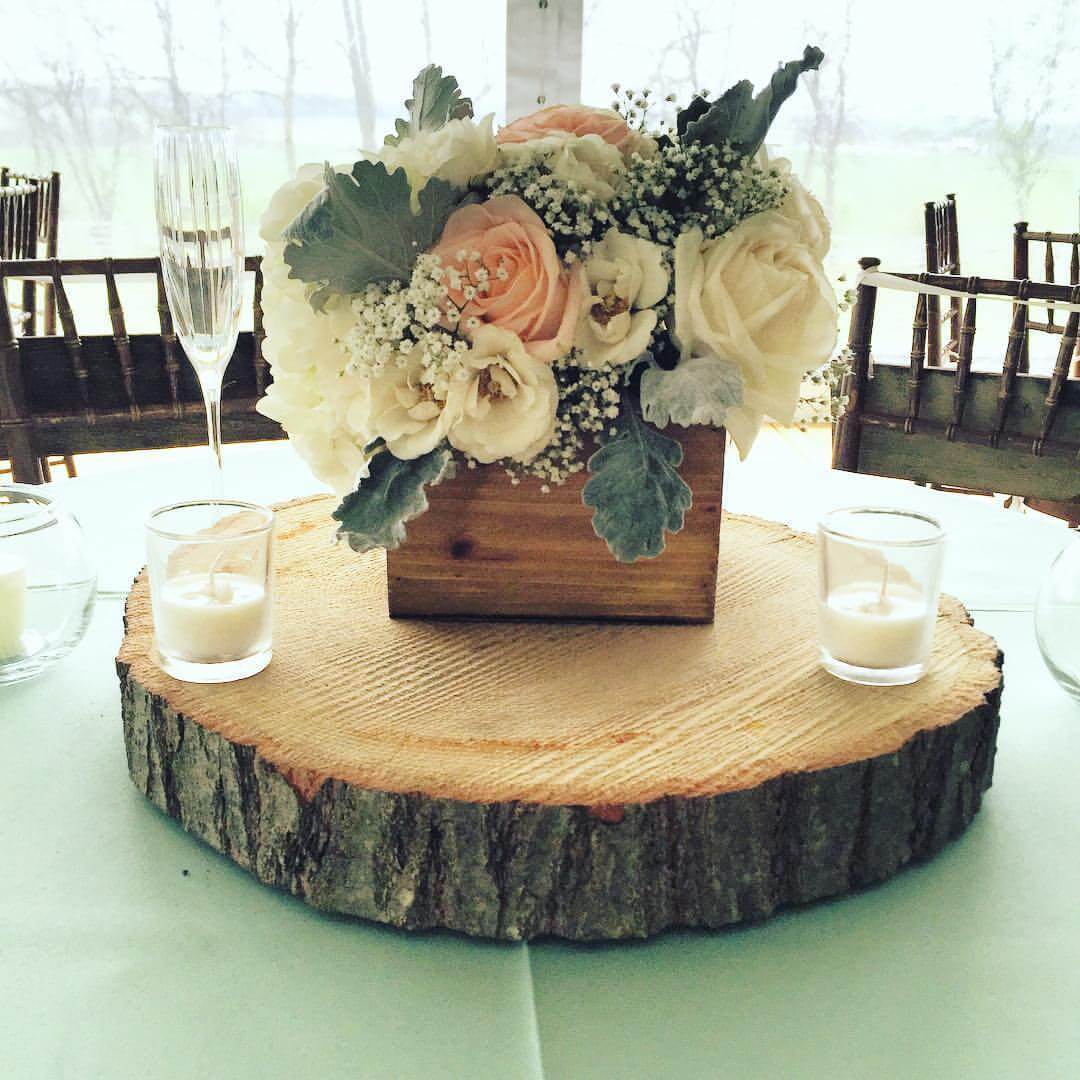 Rustic form meets rustic function. The round slice of tree trunk works well as a pedestal for the posy in a square box. The peach-colored roses notwithstanding, the arrangement is redolent of early frost. The bouquet is brought to life by the warmth of the wood.