Rustic industrial décor is absolutely stunning. This popular style is characterized by brick walls, exposed beams and piping, concrete features, rustic wood, unfinished paint and earthy finishes. It's a liberating style with minor imperfections, think cracked paint and rough wood. If you mix this design style with a rustic farmhouse feel, you'll be incorporating a more on-trend upstate look.
28 Rustic Industrial Decor Ideas and DIY Projects that are Full of Style and Charm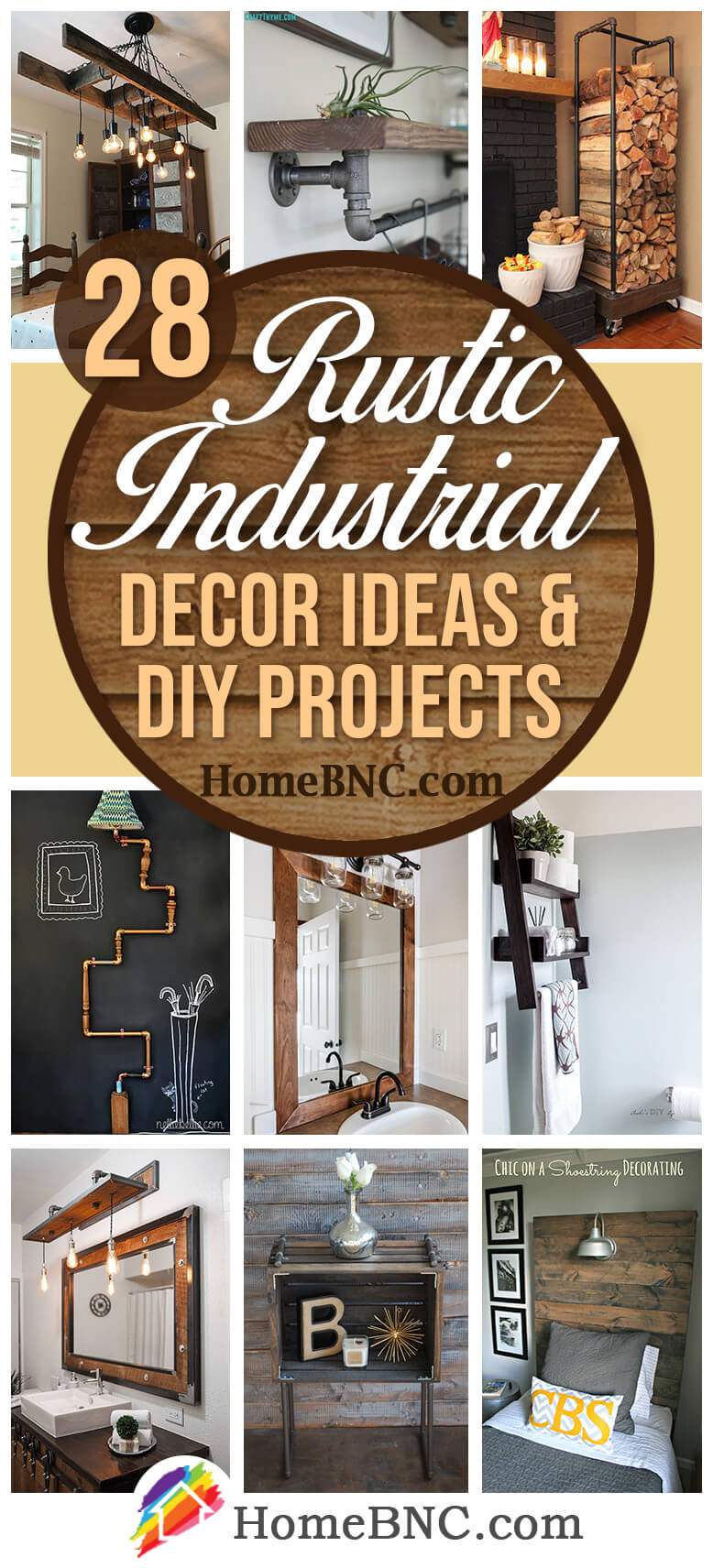 You can easily create a lovely balance of distressed wooden furniture pieces paired with wrought iron doors and aesthetics in your home with minimal planning. People tend to consider this trendy, urban design concept to be cold and gritty, but by incorporating a few rustic pieces into your décor, you can truly enjoy all the architectural elements while still feeling cozy and at home.
When combining these design styles together, keep in mind the overall aesthetics of the two by adding pieces like reclaimed wood, leather and metals. There are several fun projects you can create and add to your home to capture the feel of the whole industrial warehouse look while still keeping things modern and livable. A few statement pieces of furniture to complete this trendy look include metal light fixtures, vintage accessories, brass hardware and whitewashed furniture.
Take a look at these top rustic industrialized décor projects that will add character and style to your home.
1. Steel Base Live Edge Table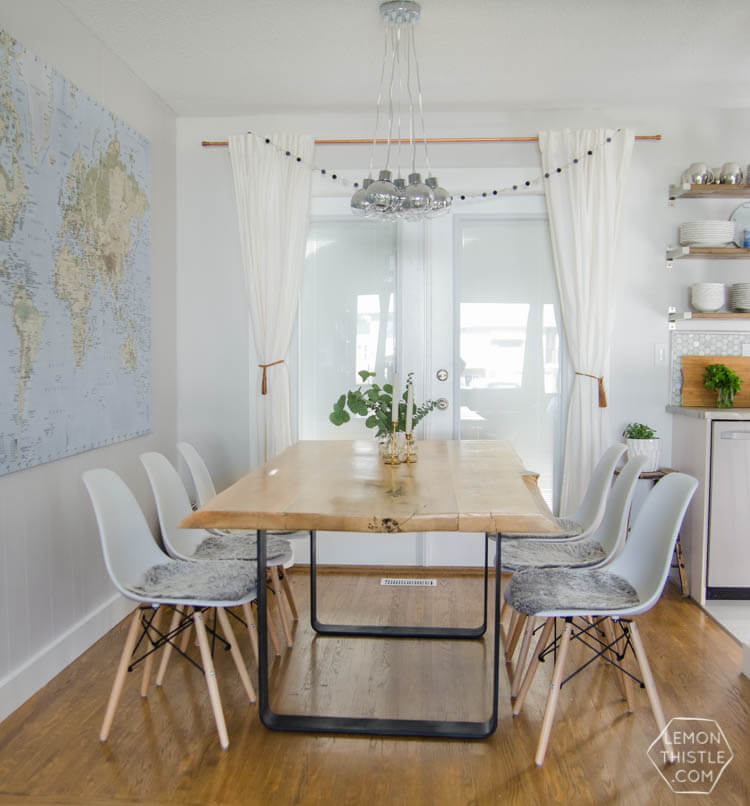 This gorgeous dining room table offers the best of both worlds. The live edge wooden table top paired with the steel base bottom compliments each other so well and provides the perfect raw, farmhouse design elements into your dining area. The imperfections of the live edge table adds so much character and interest to this space.
2. Upcycled Soap Dispenser Bathroom Accessory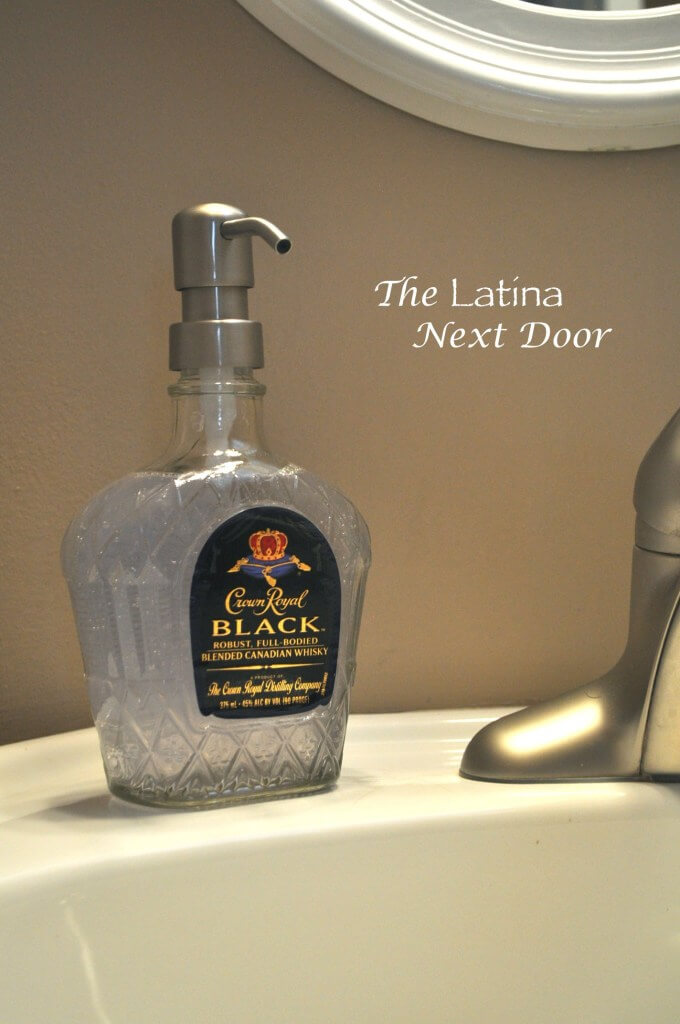 Since space is limited in most home bathrooms, it's important to add statement pieces that stand out. Repurposing an old glass bottle into a unique soap dispenser is the perfect accessory. This upcycled glass liquor bottle with the industrialized pump top is a fun way to add your own personal touch to this small space.
3. Wooden Floating Ladder Shelf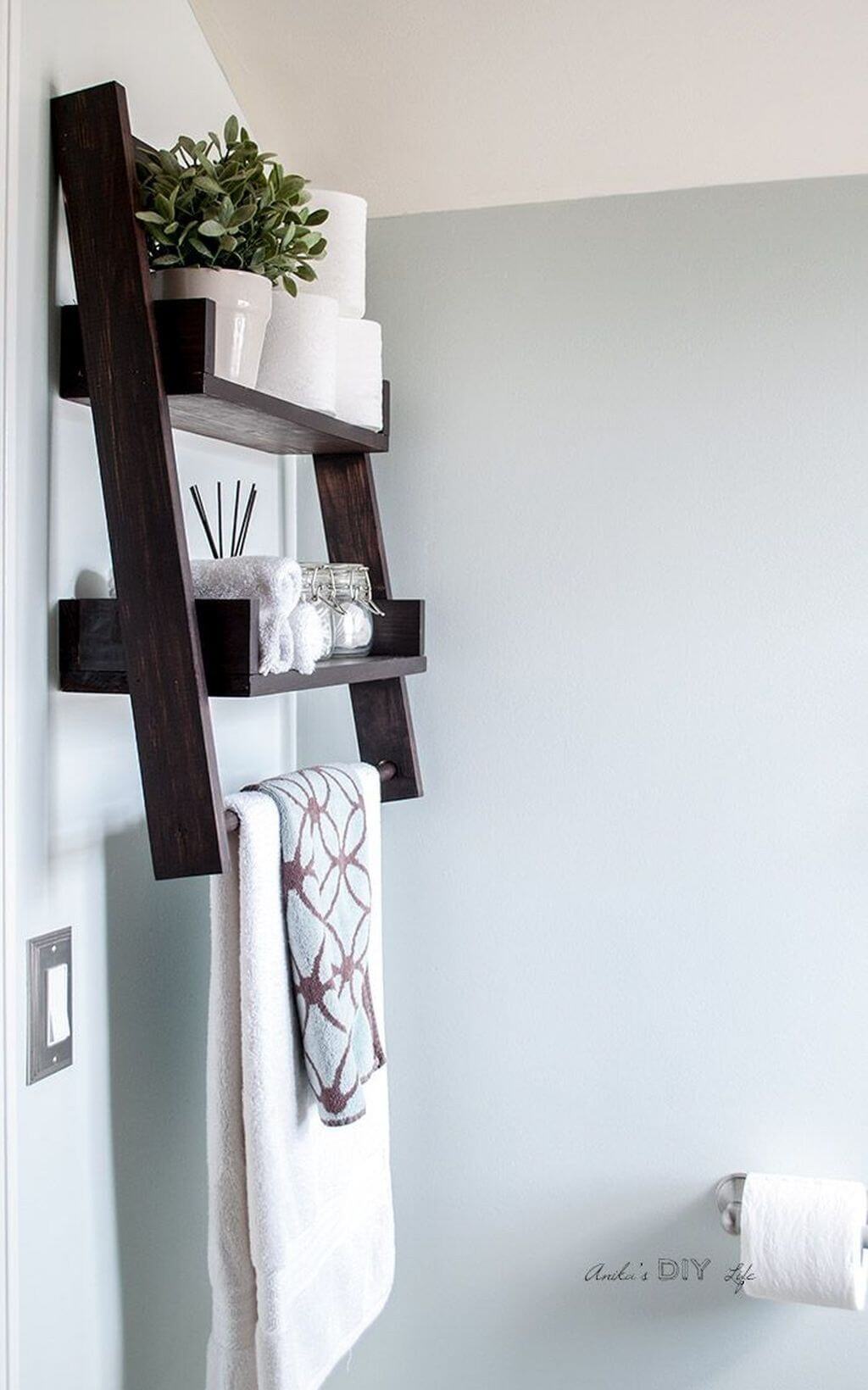 Bring in a touch of country with this rustic wooden shelf. You can place this floating ladder shelf nearly anywhere in your home, while still maintaining the simple and sleek overall design concept. Use the shelving for storage, books, flowers or frames. The styling possibilities are endless with these open concept shelves.
4. Industrial Wrought Iron Shoe Rack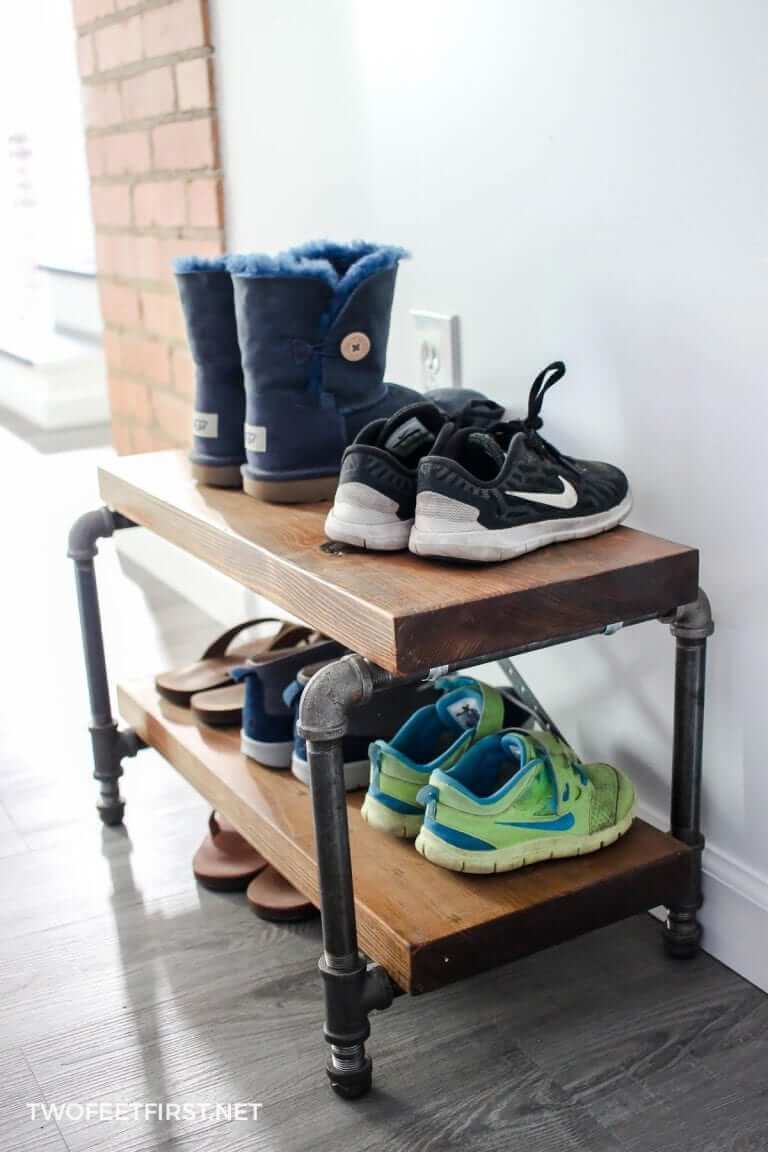 Unless you have a closet specifically designated for shoes, it's hard to find a good storage solution to either keep your shoes hidden or display them in a way that's stylish. This simple structured shoe rack features wooden boards and metal piping and is a great storage solution for your shoes while still complimenting your décor. You could also use reclaimed wood or distress it yourself for a more rustic look.
5. Inventive Firewood Holder with Plumping Pipes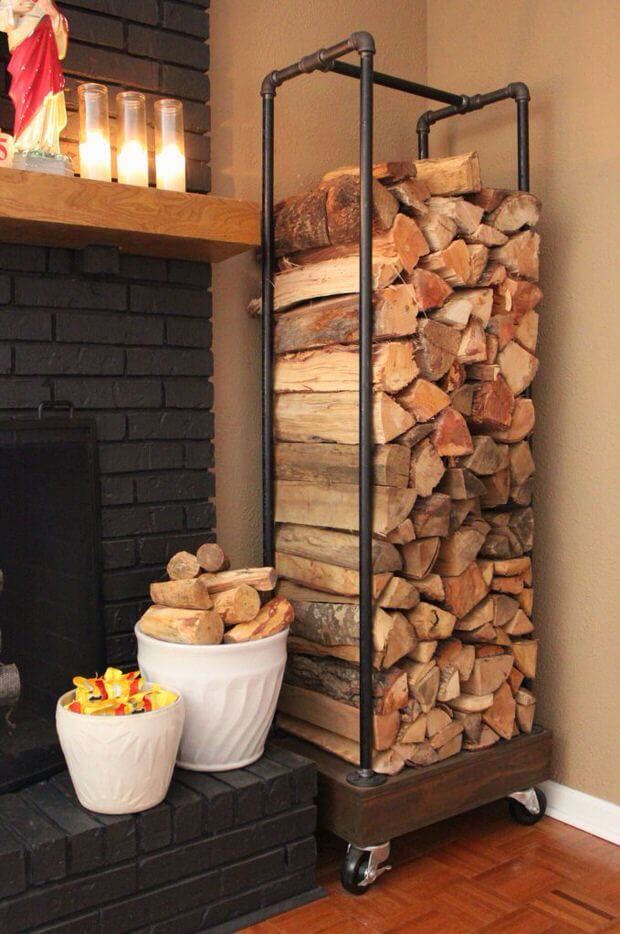 What better way to store your firewood than this inventive log holder? Whether you choose to use reclaimed wood or scrap lumber, this is the perfect addition to your fireplace. Even better is that it's built on wheels so you can roll it close to the door for easy loading.
6. Floating Night Stands for Bedroom Organization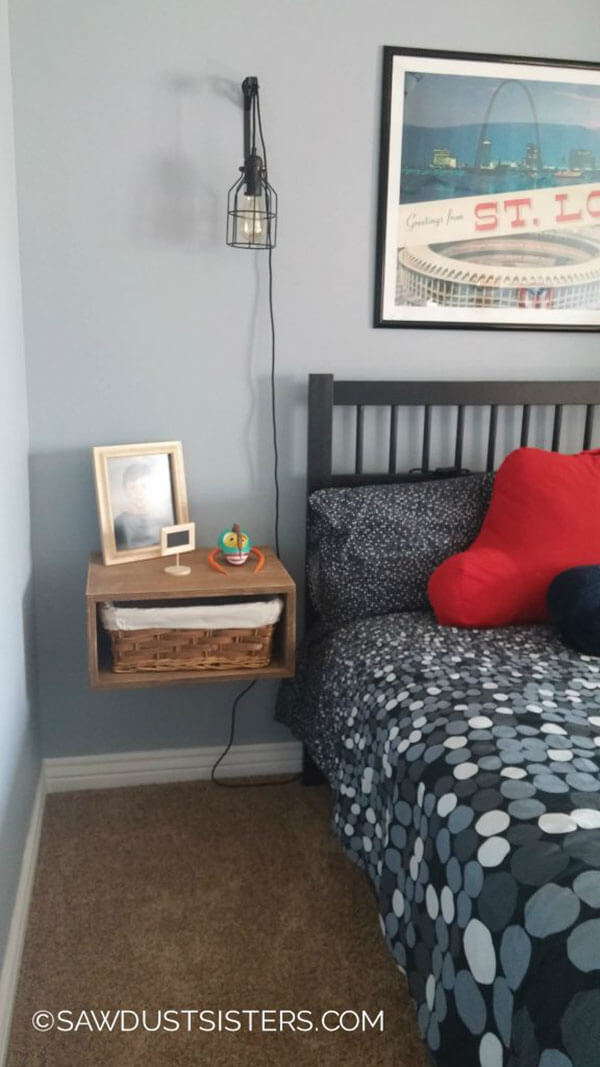 Floating shelves are a modern, minimalistic feature to add into any room of your home. They are an affordable and easy to install display space and can be used in a variety of ways. This floating night stand could be used to display framed photos, hold vases or candles, create a more open concept or simply used for its artistic flair.
7. Wall Light with Industrial Pipes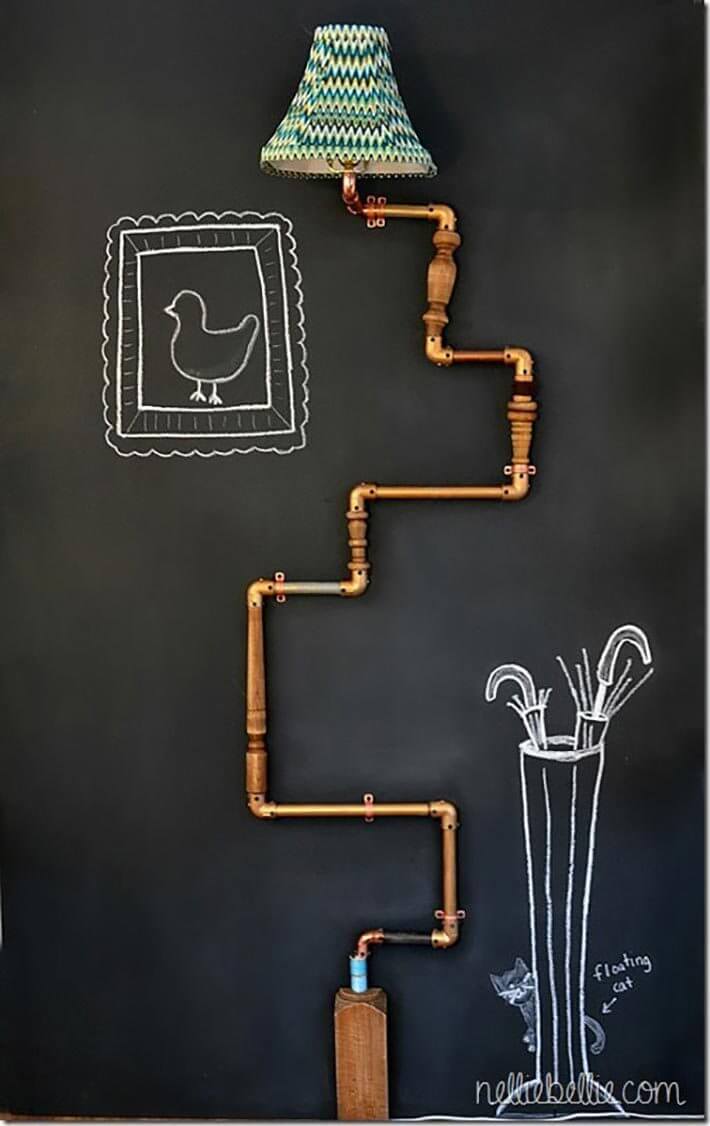 It's all in the details with this DIY pipe lamp. When decorating your home with the fundamentals of rustic mixed with an urban environment, you must get creative and think of innovate ways to repurpose those items you already have to serve new functions. This wall lamp features various sizes of pipes and a small, quaint little lamp shade which gives this wall so much character and texture.
8. Dual-Purpose Utilitarian Pipe Bookshelf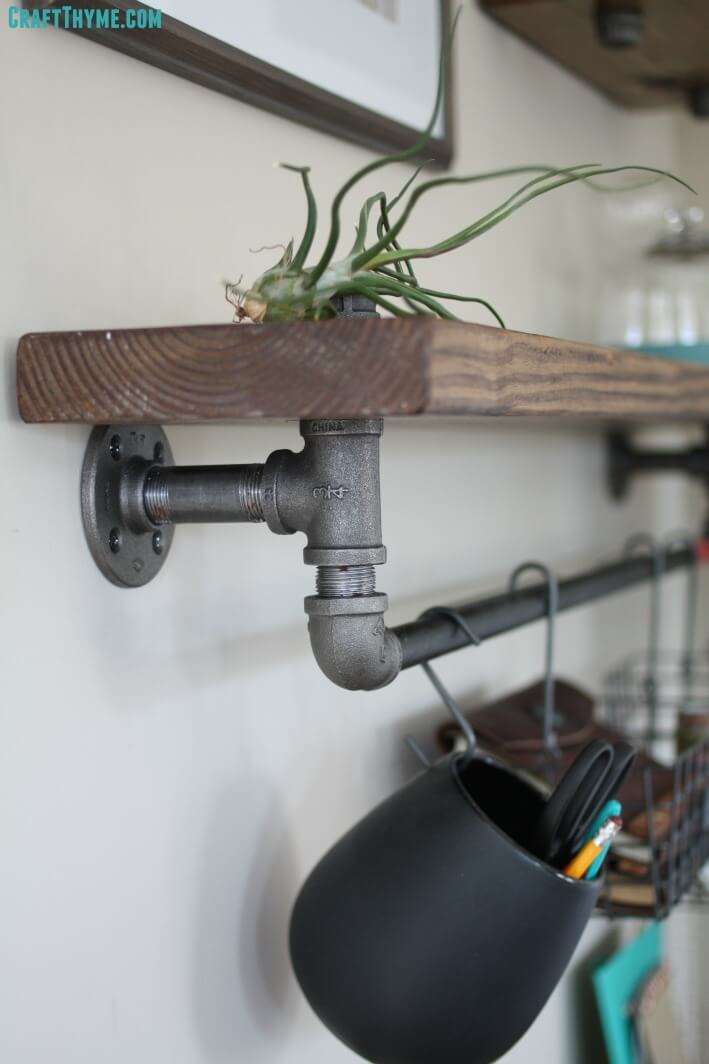 Nothing says urban-ranch décor more than a wooden floating shelf with exposed pipes. This open shelving can serve many purposes in any room of your home. You mostly see them used in bathrooms, laundry rooms, home office or living areas. This particular style of shelving is perfect for displaying plants, books or photos on top while using the bottom to hang keys or other loose items.
9. Lighted, Rustic Headboard Weekend Project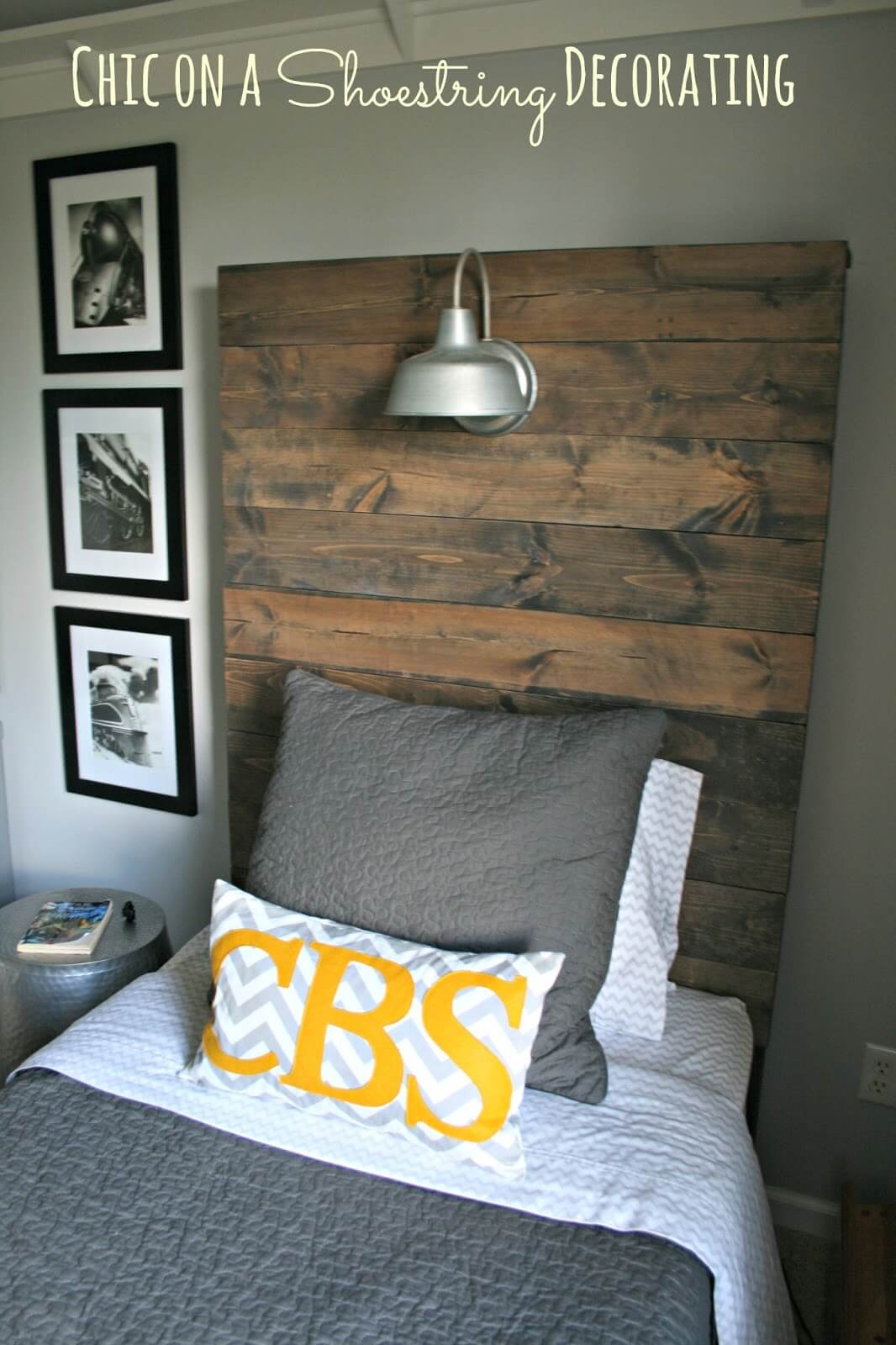 From rustic distressed headboards to modern tufted ones, you can save some serious cash by building your own headboard. Creating your own custom-built headboard is a somewhat simple project and can also totally transform your entire bedroom. It provides a focal point and statement piece to really bring out those natural wooden elements.
10. Ombre Painted Wood and Metal Sign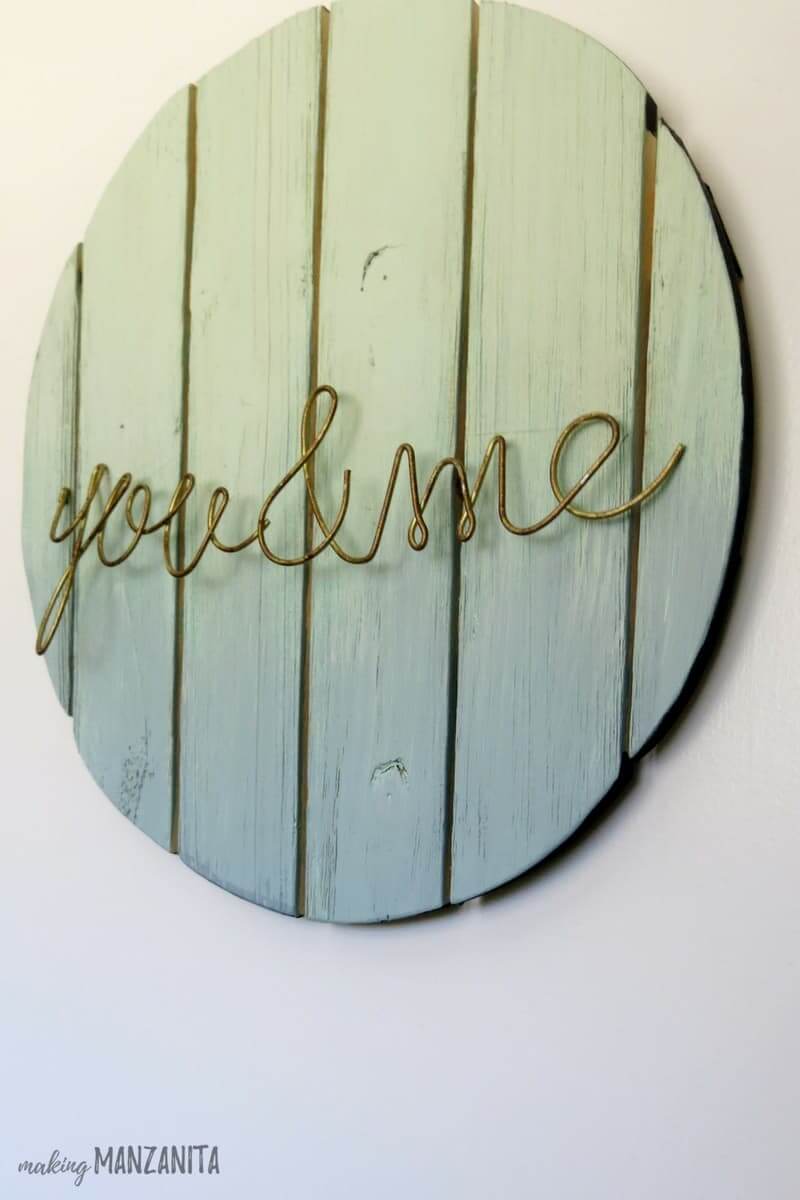 Ombre is an older trend that blew up in the 2000s and is still holding strong. This ombre wooden sign makes a huge statement, especially with the wired words. I love how you can personalize this signage to best fit your own style and personality by using your own favorite words or phrases for the focal point.
11. Wall Décor Accent Pieces that Pop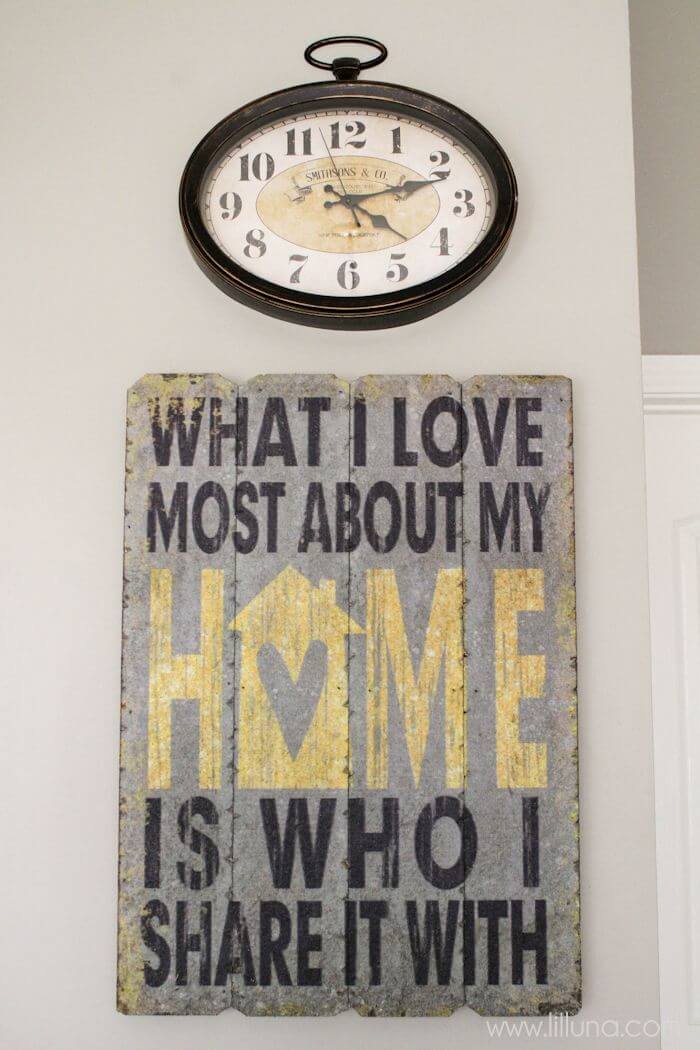 Part of decorating your home is adding your own personal touches throughout. This metal sign lets everyone know that you are family-oriented, and the added clock above is the perfect accent piece that pops. When you are choosing décor for your contemporary ranch style home, you want to add meaningful pieces while still working with those raw elements.
12. Vintage Rustic Metal Lamp Fixtures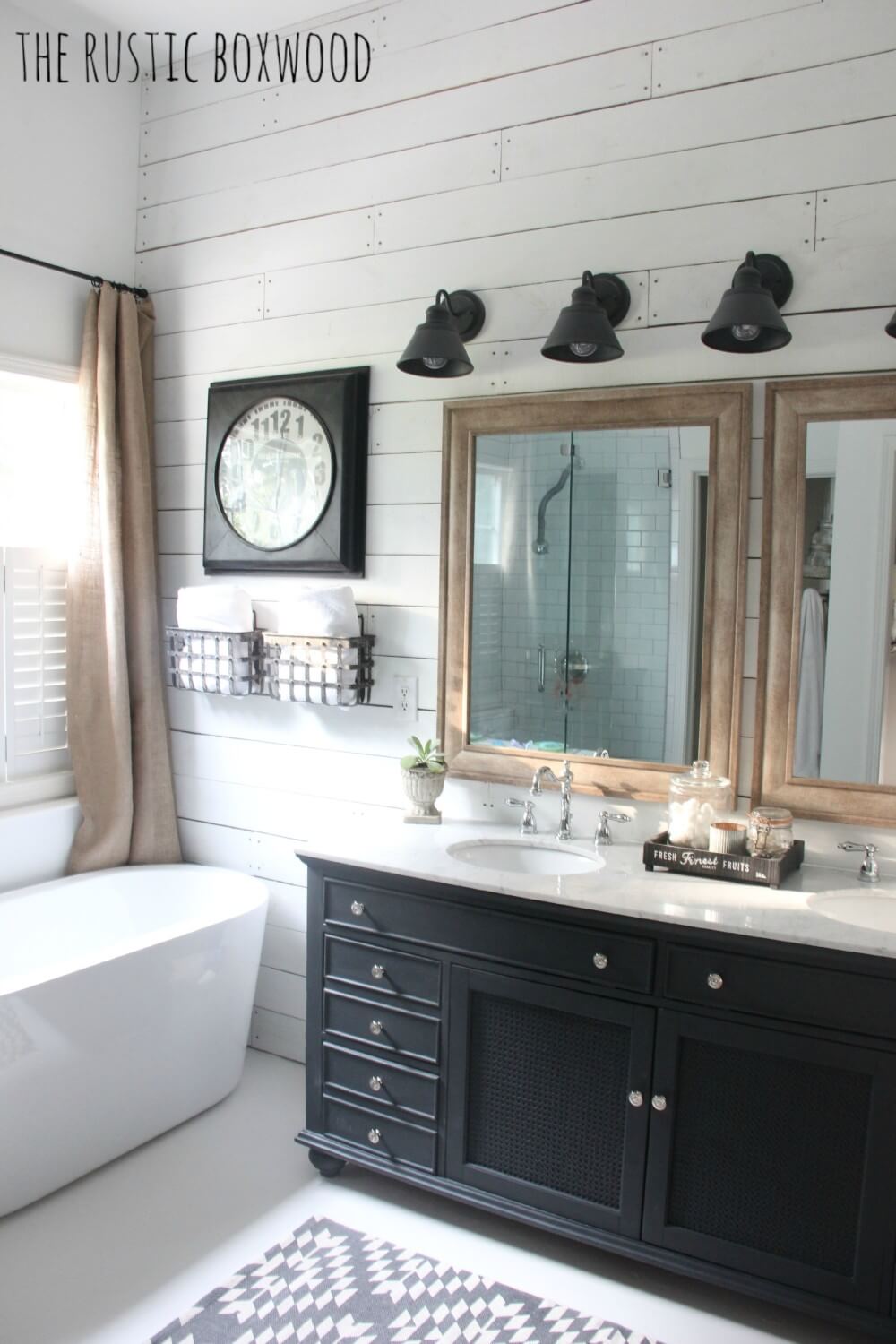 These sconces, which are actually lanterns, compliment this beautifully decorated bathroom so well. The metal framework and shape of the double vanity lights add a charming farmhouse feel while still maintaining that unrefined, utilitarian vibe. You can easily recreate this look yourself by repurposing a few old metal light fixtures.
13. DIY Wood Frame Mirror on a Budget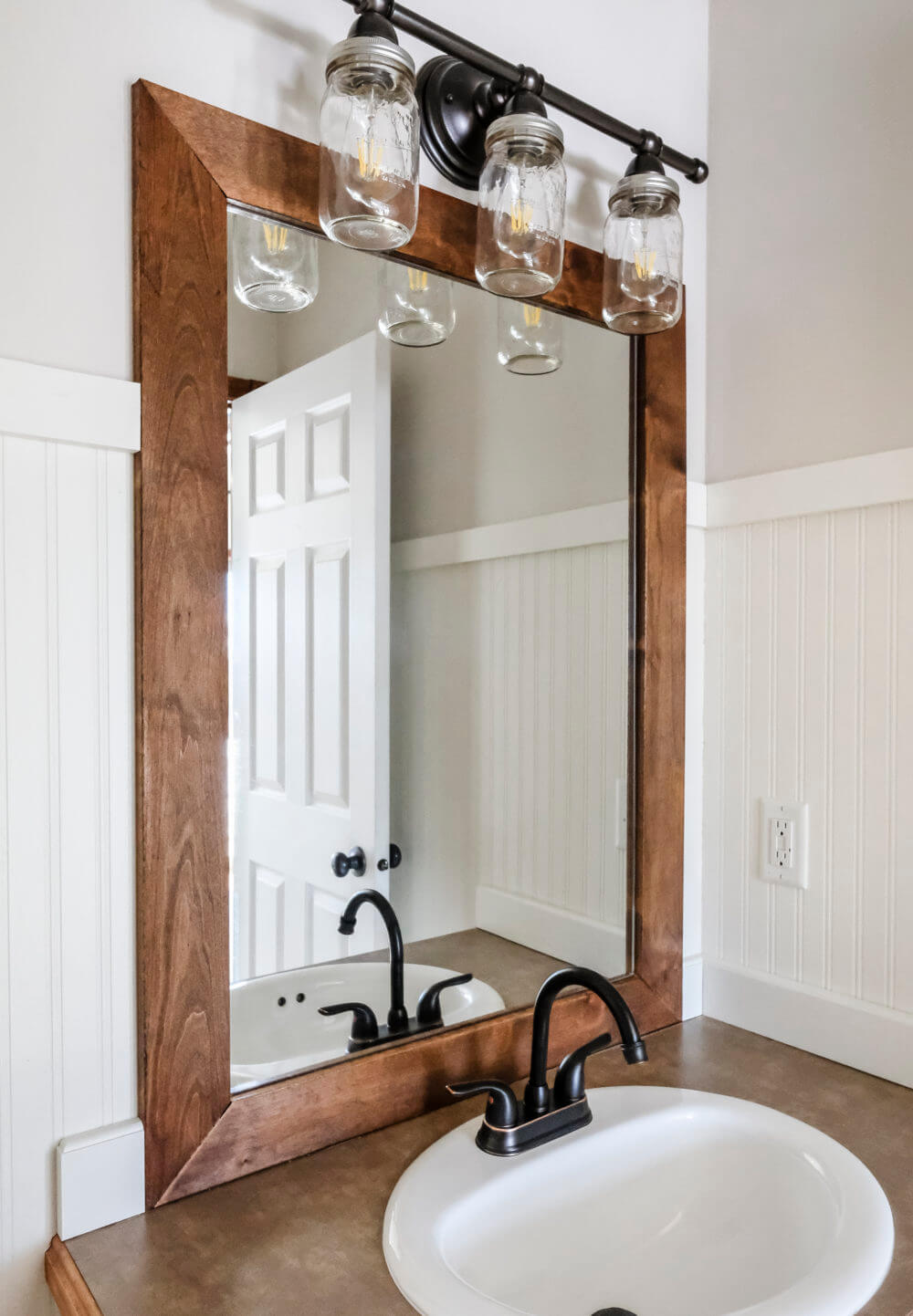 Framed wooden mirrors work well in both chic-factory inspired lofts and modern farmhouses alike. If you're on a budget, you can easily update your bathroom vanity with a few pieces of wood. The opportunities are endless here for creating either a raw, free-edge wooden frame or keep things simple with a clean-edge and polished wooden frame.
14. Chicken Wire Hanging Light Fixture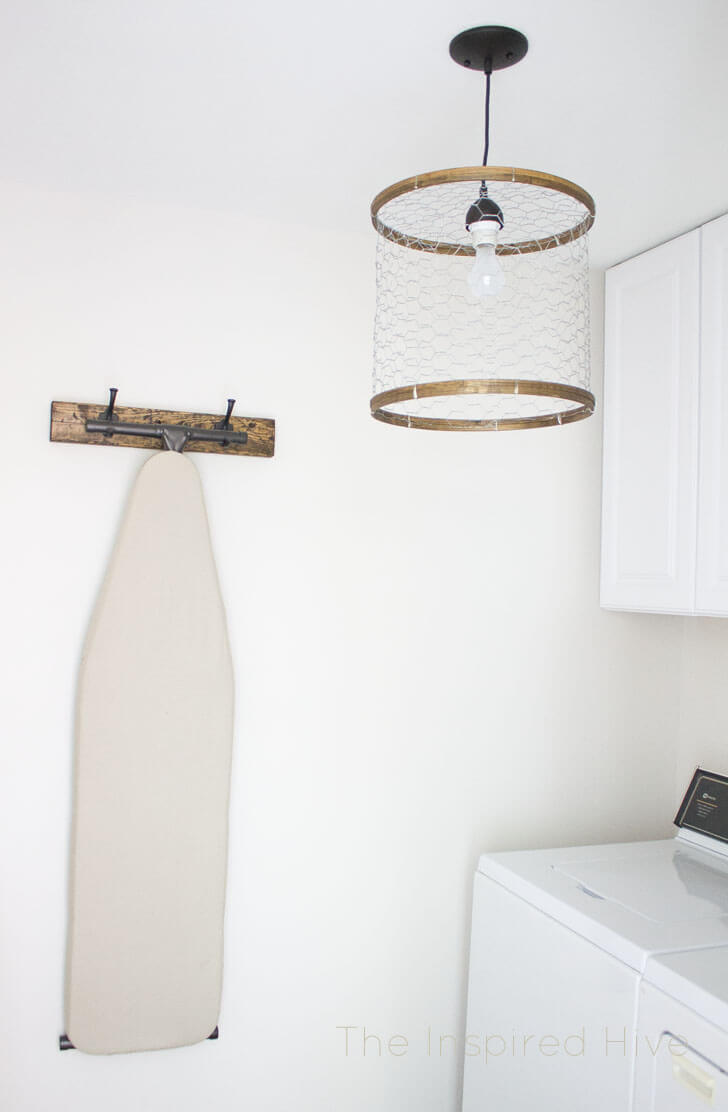 Often times your existing light fixture just needs a little sprucing up. This easy and inexpensive project can turn your current light fixture into a beautiful work of art with just a few materials. It's such a unique piece that incorporates both wood and metal for a farmhouse vintage look.
15. Mason Jar Bathroom Storage System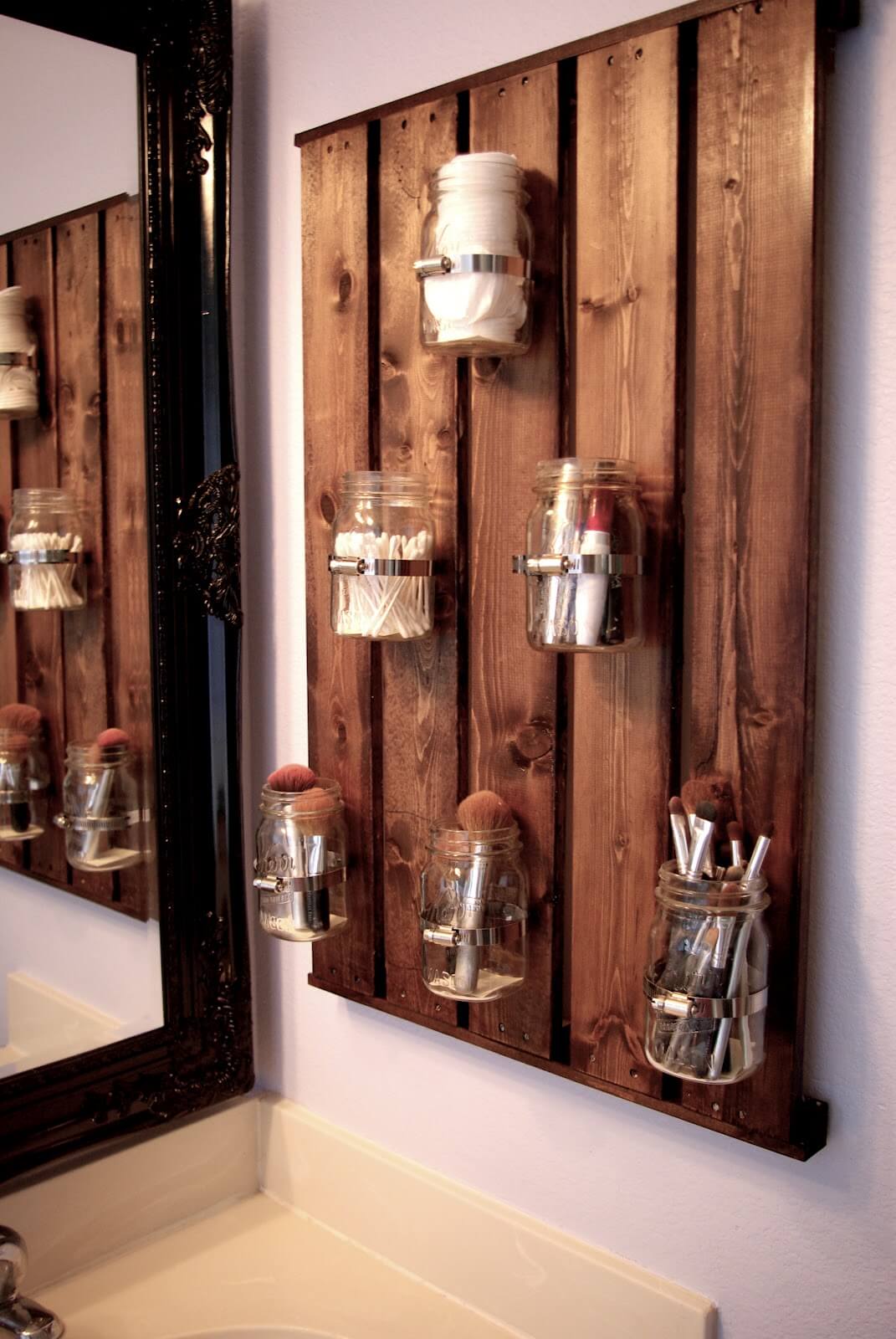 This is such a fun project to upcycle materials you most likely already have on hand. The mason jars held up by metal pipe fittings provide such a functional storage solution, especially in the bathroom. Fill the jars with q-tips, makeup brushes, lipsticks, or even toothbrushes to keep your items easily accessible and your countertop free from clutter.
16. Mason Jar Sconce Light DIY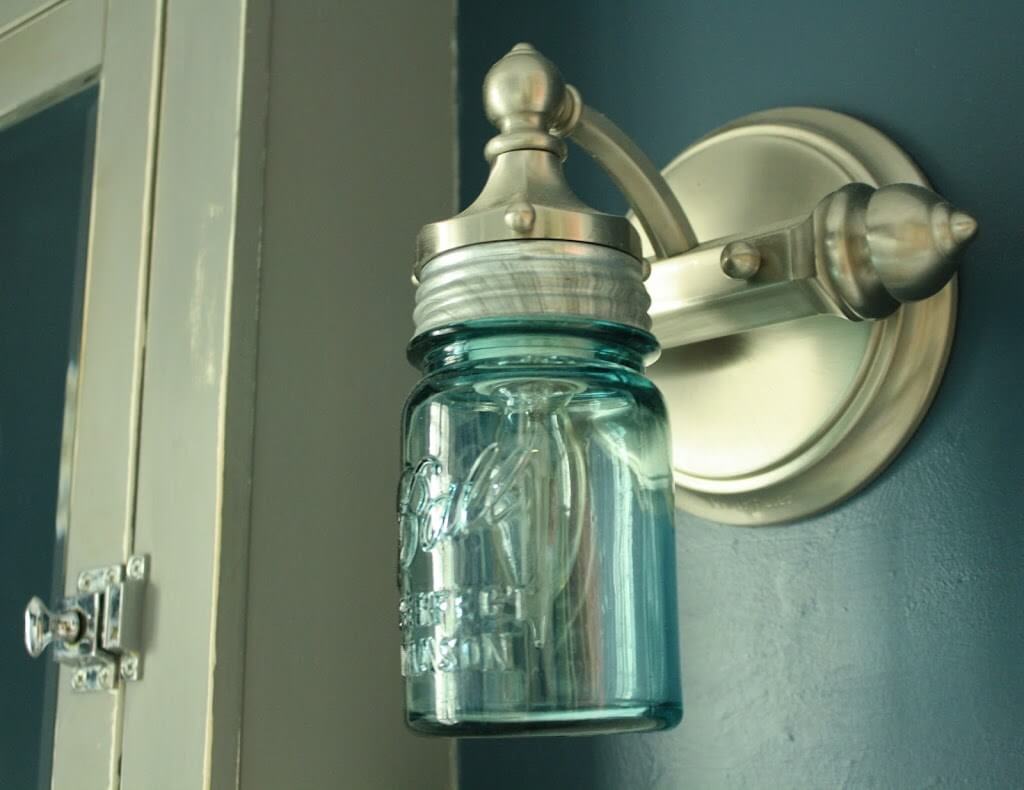 Mason jar projects have been pretty big over the years, ant it's easy to see why. They are such an easy way to add décor to your home whether you use them for storage, as candle holders, paint them for seasonal displays or use them for lighting. This was a simple project with only a few steps that turned an old, simple glass sconce into a chic rustic light fixture.
17. Pipe Pillar Candle Holders Perfect for Display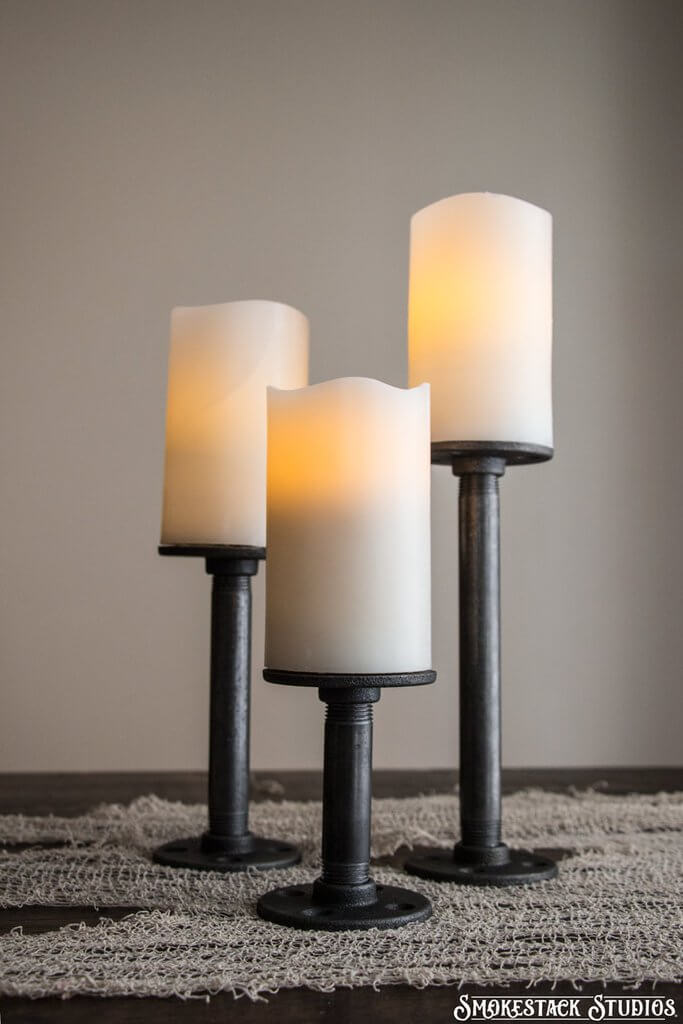 These pillar candle holders made of metal provide a stylish and unique accent to your interior décor. The pipe detailing is so industrial chic with its simple silhouette. These would be perfect for LED candles and fit perfectly on a table top as a centerpiece, a fireplace mantle or an end table. The different heights will add dimension wherever they are displayed.
18. Easy to Make Urban Style Blanket Ladder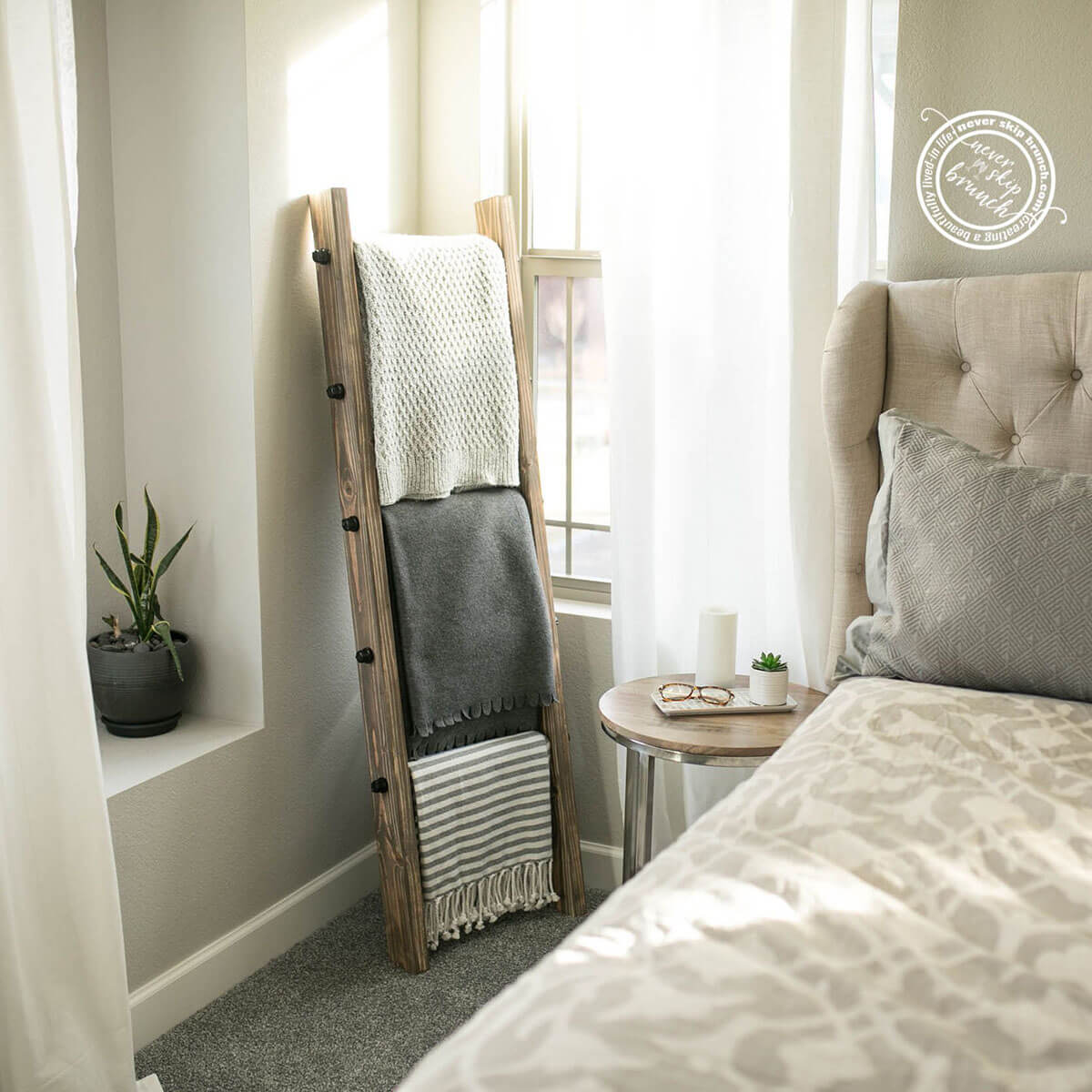 Blanket ladders are not only a unique way to style your blankets, but also an easy way to give your space a more cozy feel. These wooden ladders can be used in a variety of ways to add more character to your space. This one features galvanized pipes and end caps to really tie in the whole rustic, edgy interior decor style.
19. Faux Copper Aged Monogram with Paint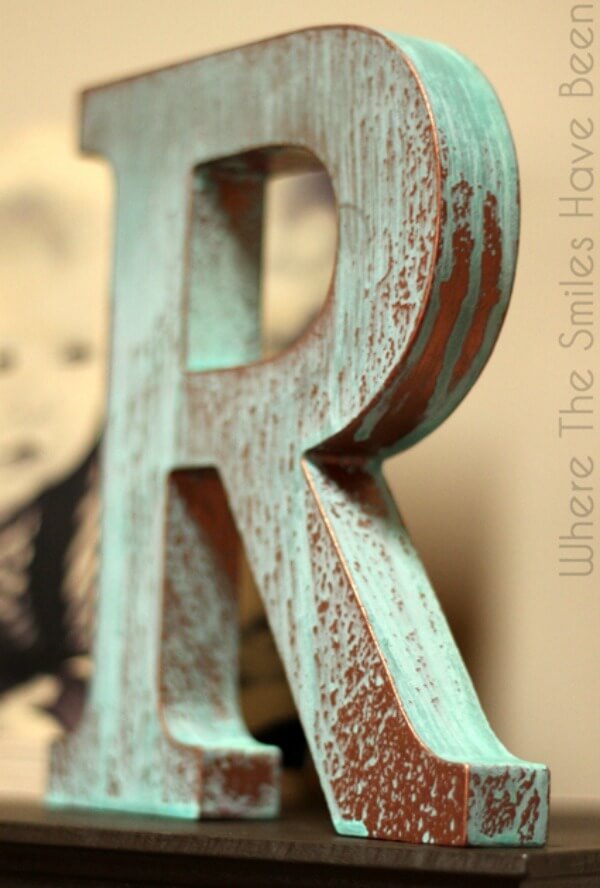 It's rather surprising how just a little paint can truly transform any little project you may be working on. This wooden letter has that utilitarian, rustic charm that really looks like metal. The drip painting of the blue on top of the copper-colored paint really pops and makes a bold statement.
20. Repurpose Old Wood with Love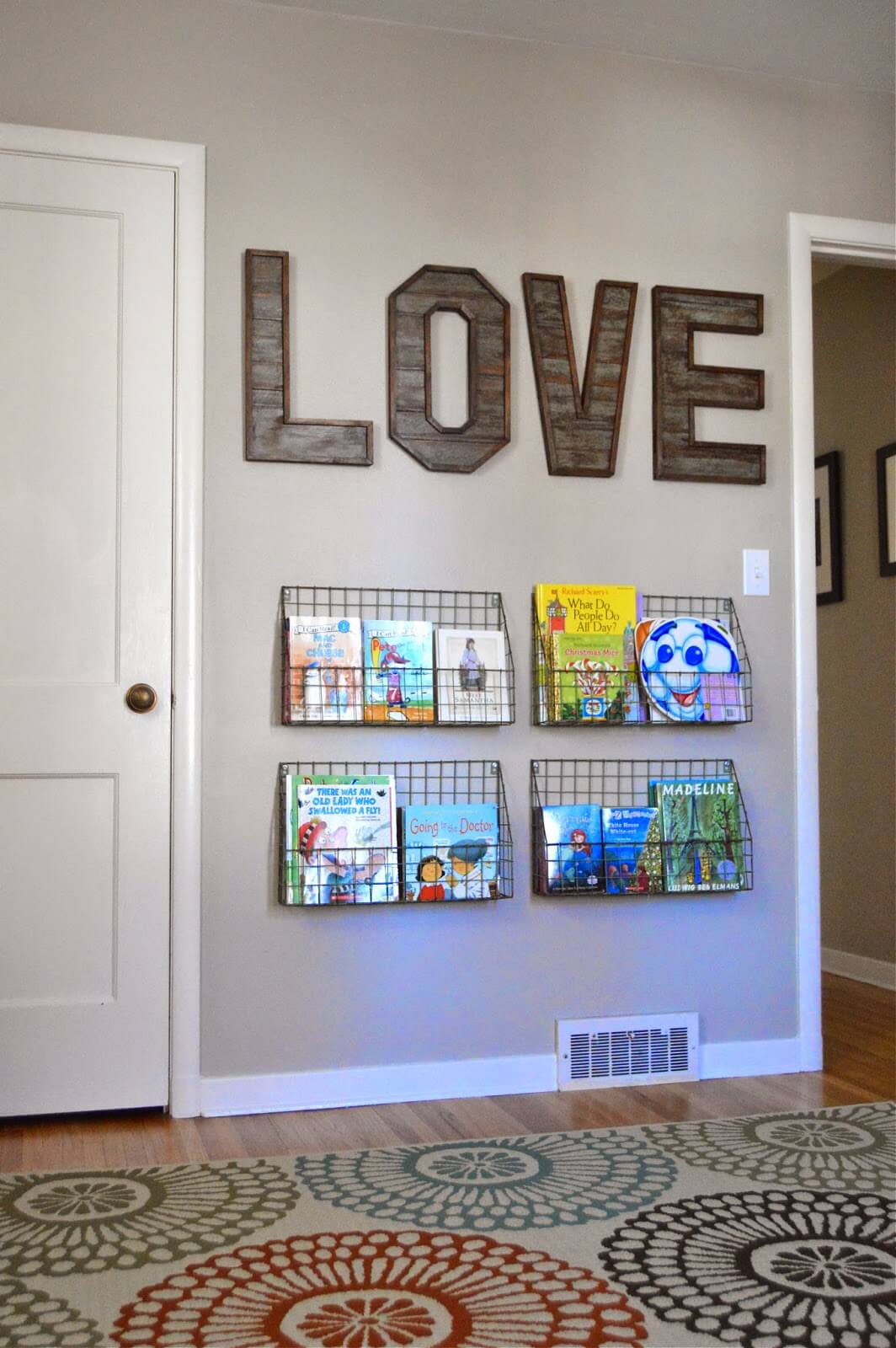 If you have a bare wall in your home and are looking to add a little something that packs a punch, this wooden love sign is it. You can repurpose old wood into beautiful love letters for your home that speaks volumes. You can distress the wood, refinish it or leave it raw for a modern, country design concept that really magnifies your space.
21. Wooden Crate Table with Pipe Detailing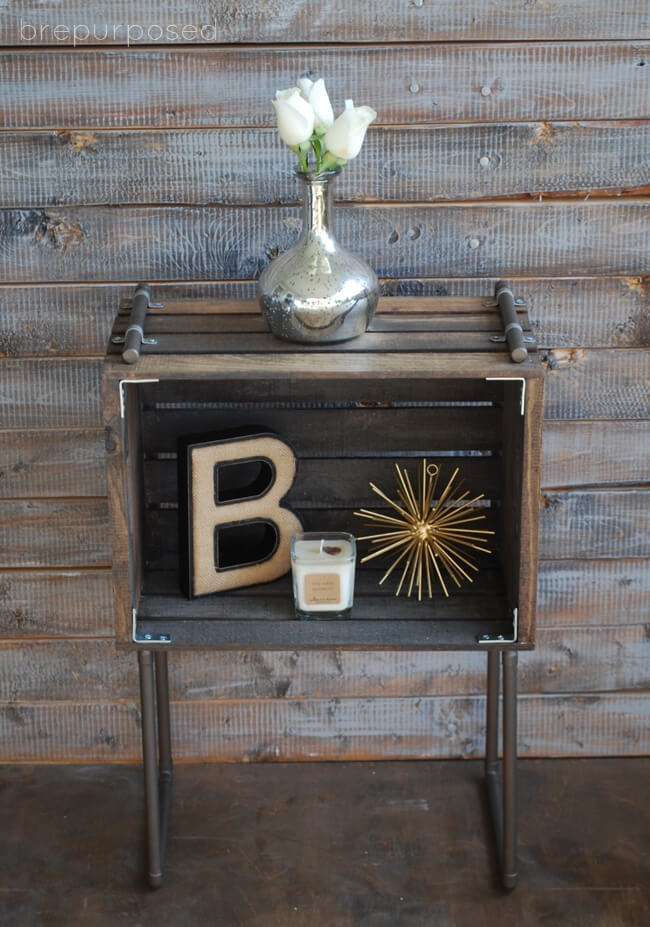 Crates are usually pretty easy to come by, so they're a fun material to work with especially if you're going to turn it into a piece of furniture. This little side table is perfect for added storage and features a rustic matte finish with industrialized piping for the legs and accented on top as well.
22. Hand Painted Rustic Black Frames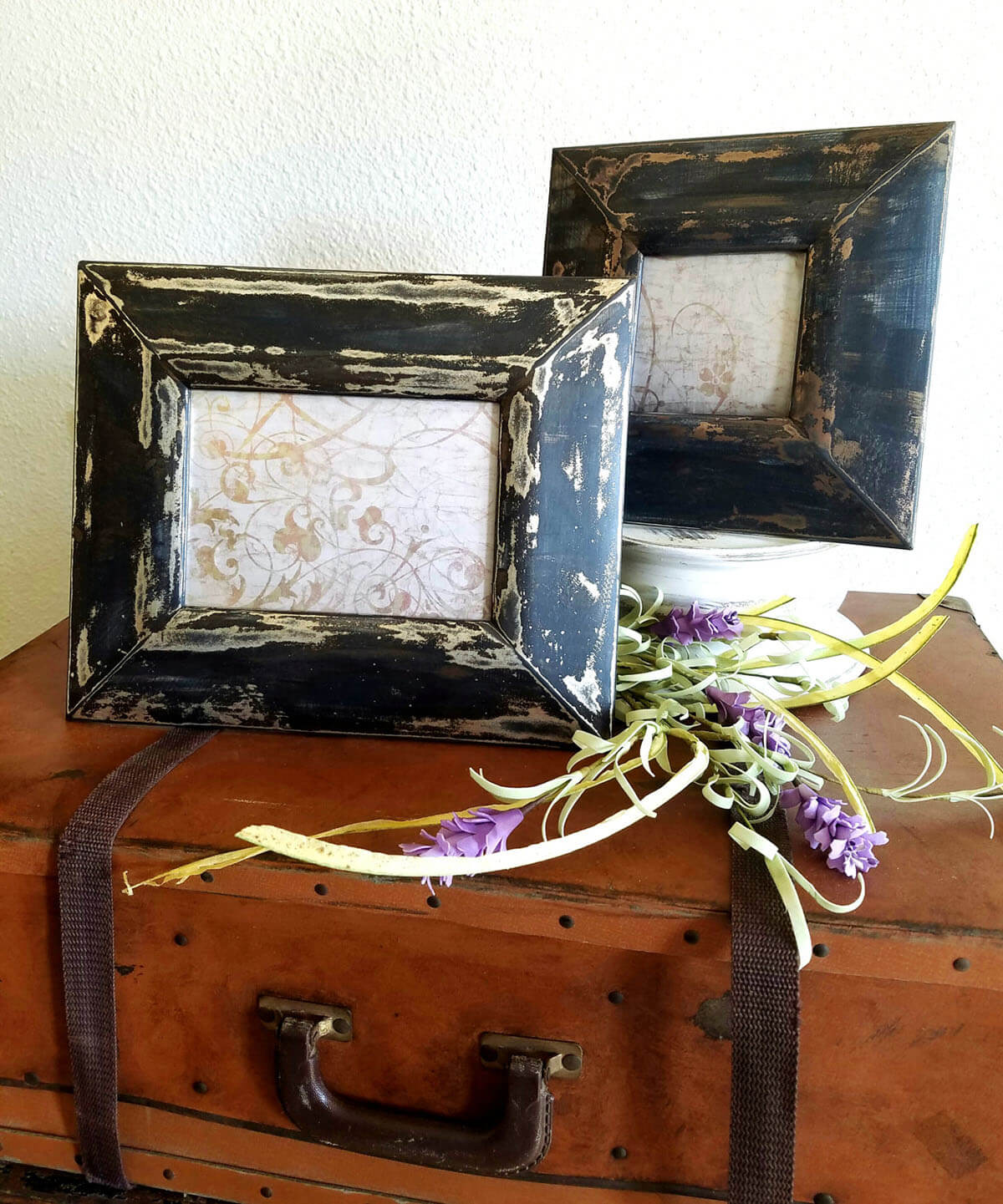 Frames are a wonderful way to add your own style and personalization to your home décor. There are so many different styles of frames to choose from, but these chunky hand-painted distressed frames fit that rustic masculine look that's currently trending right now. The chipped paint with the metal-looking undertones will compliment your space and add a little rustic charm at the same time.
23. Wooden Laundry Room Sign with Clothes Hanger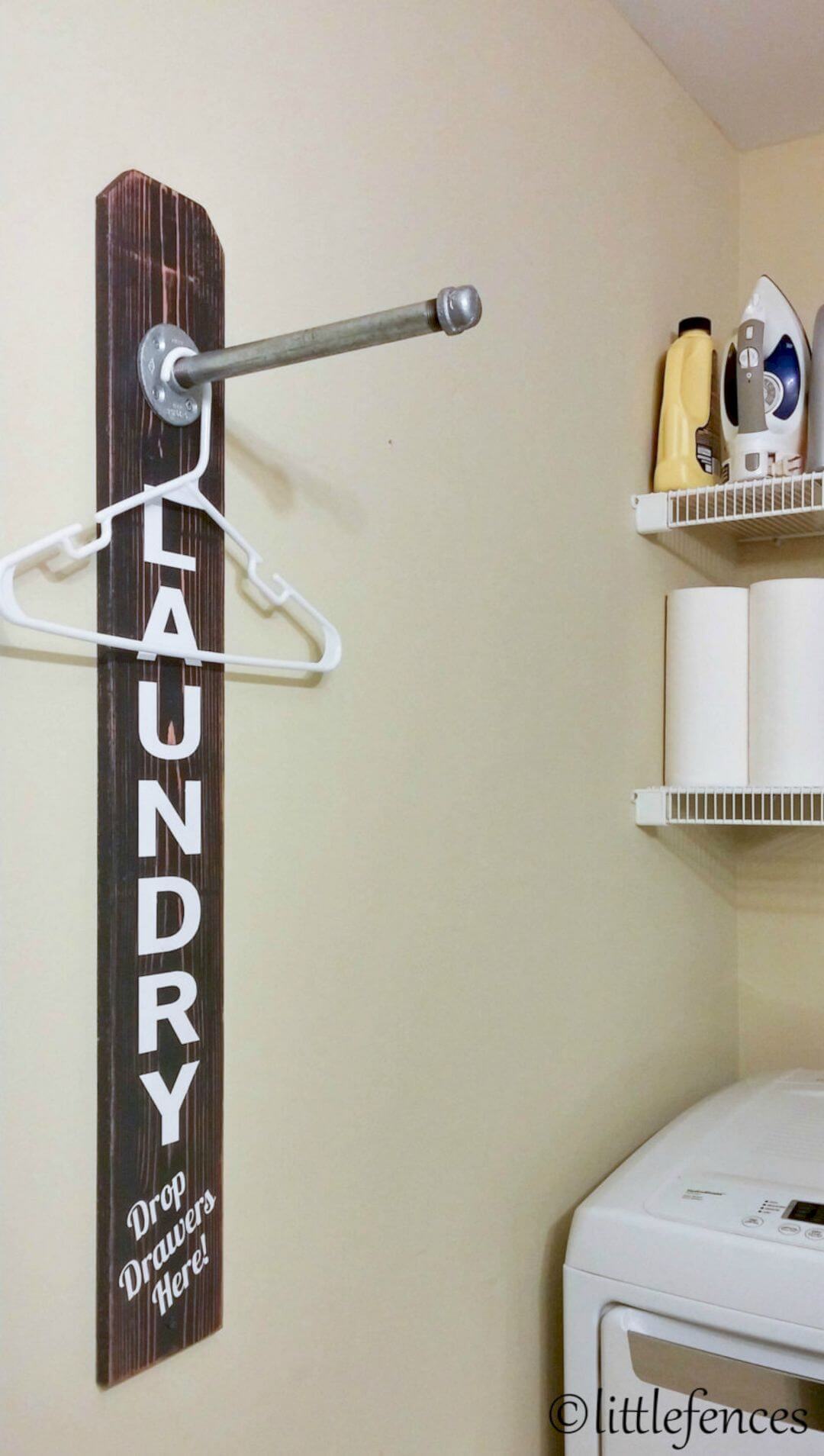 This lovely wooden laundry sign is both decorative and functional which is a total win when it comes to decorating your laundry room. The black distressed finish with the pipe arm for hanging clothes gives us the best of both worlds. This would also be a great project for the hallway, where guests could hang their coats as soon as they walk in.
24. Steel and Barn Wood Vanity Light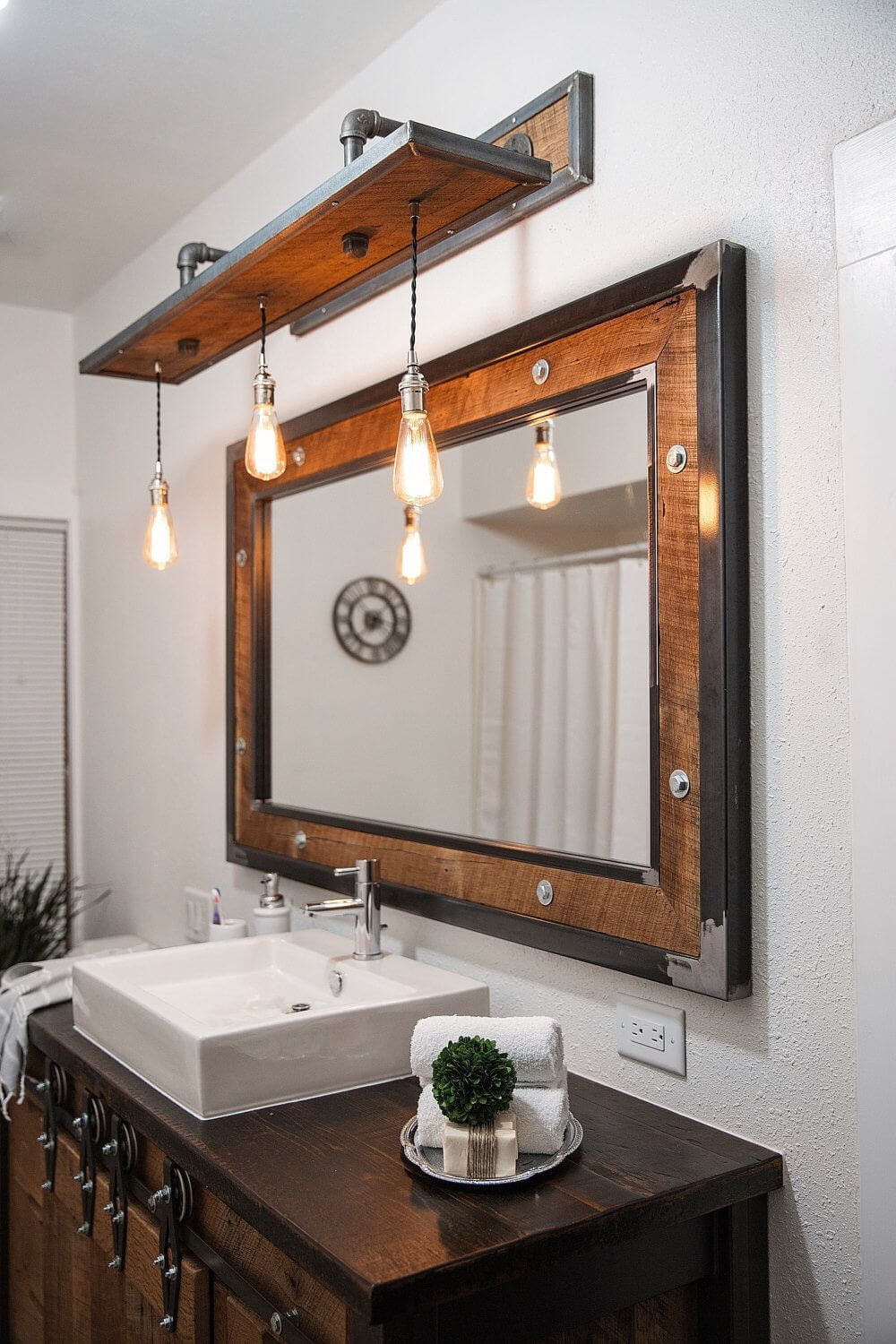 If you're wanting to make a bold statement in your bathroom, look no further. These Edison bulbs hanging down from a wooden slab with industrial piping all around is seriously perfection. It gives off that factory-like rustic and urban feel which is really popular and trending right now.
25. Handmade Jewelry Display Using Wood and Piping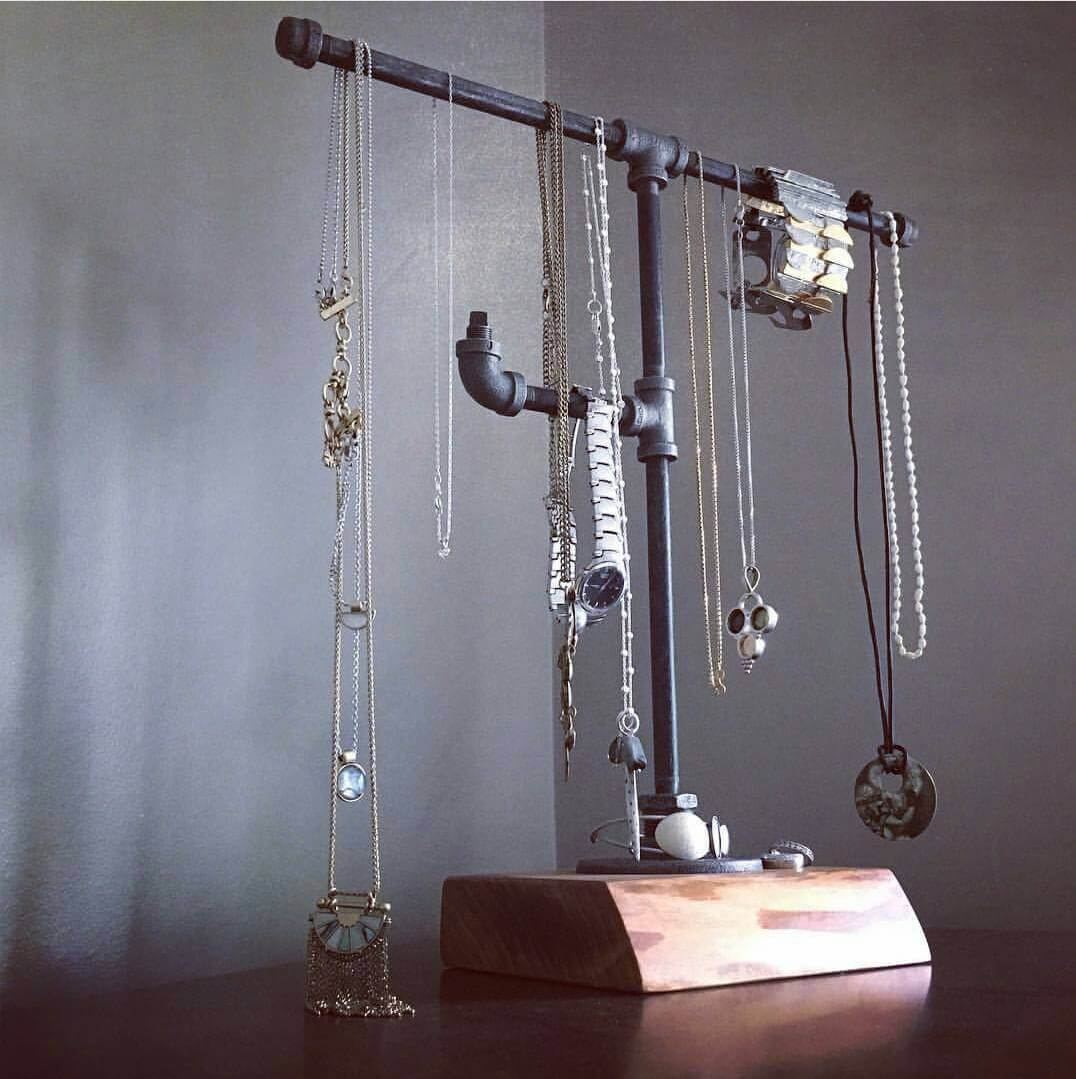 This is such a gorgeous jewelry stand that adds a touch of rustic glam between your precious jewels and the industrialized piping. It's mounted onto a small piece of salvaged wood with a Danish oil finish for a sleek and crisp design. This is such a chic way to store your jewelry.
26. Urban Wine and Glass Wooden Storage Rack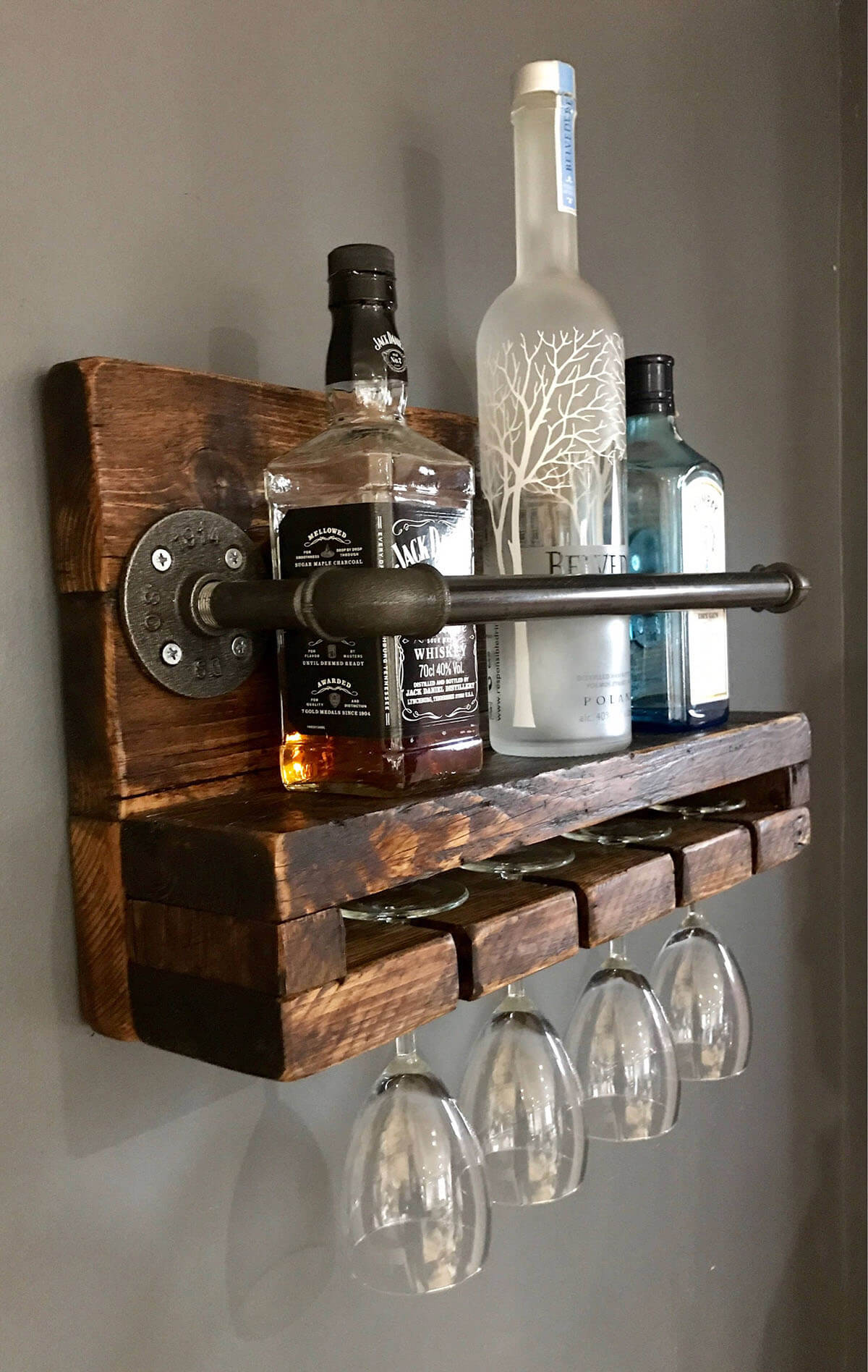 Made from industrial pipes and reclaimed wood, this wine and glass storage shelf boasts craftsmanship and style. Display this beautiful rack in your kitchen or layer them in your basement bar area. The intricate detailing is sure to spark up conversation, all while putting it to good use and pouring drinks for your guests.
27. Custom-Built and Multipurpose Pendleton Shelf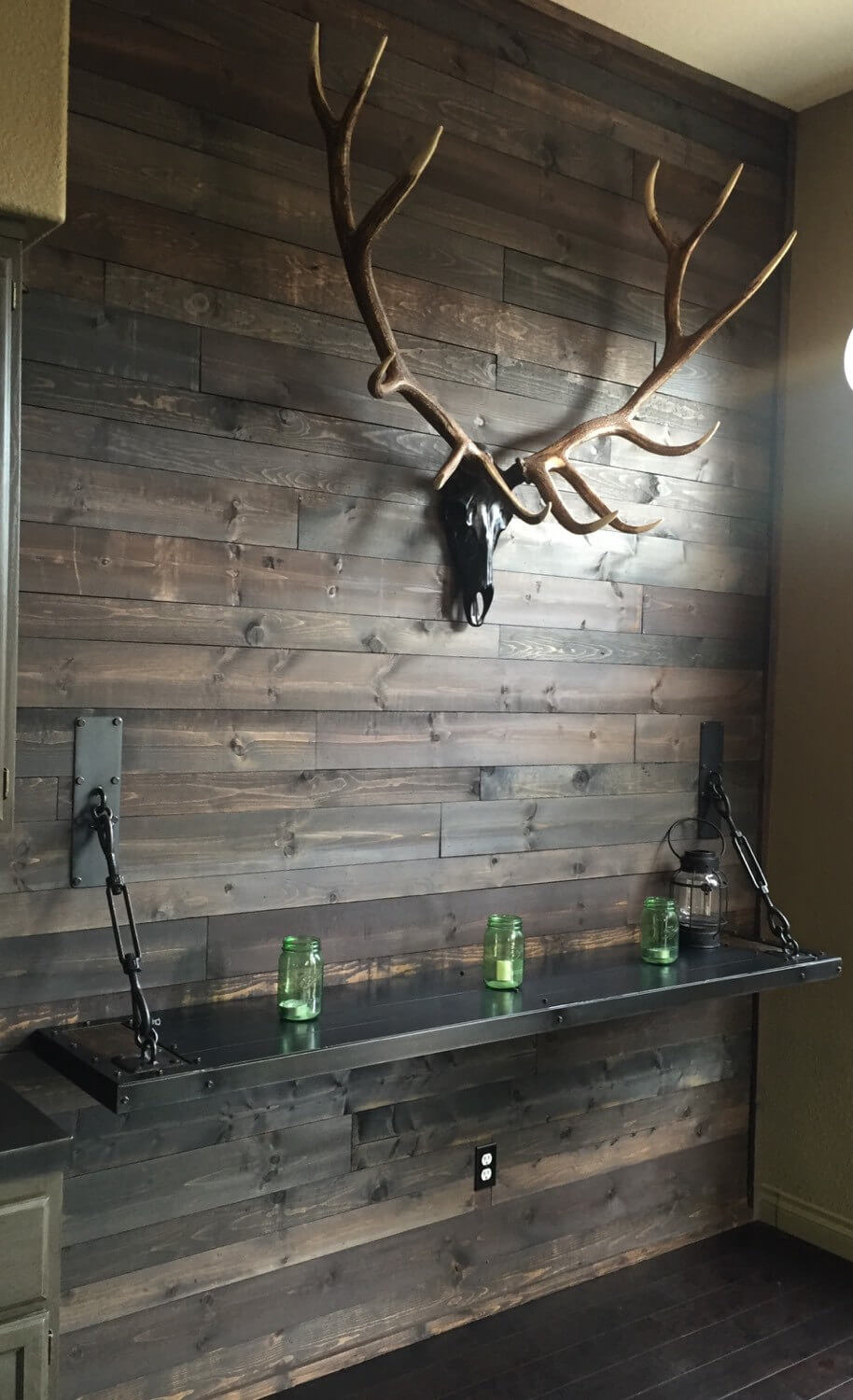 Talk about an eye for detail, this Pendleton shelf is so unique featuring a steel top, metal detailing and a chain to hold it all together. The design is so sleek and modern and can serve so many uses. Use it as a shelf, a bar, desk, mantel, etc. This piece is sure to serve its purpose even if its just to enjoy its intricate beauty.
28. Vintage Farmhouse Chandelier Ladder with Edison Bulbs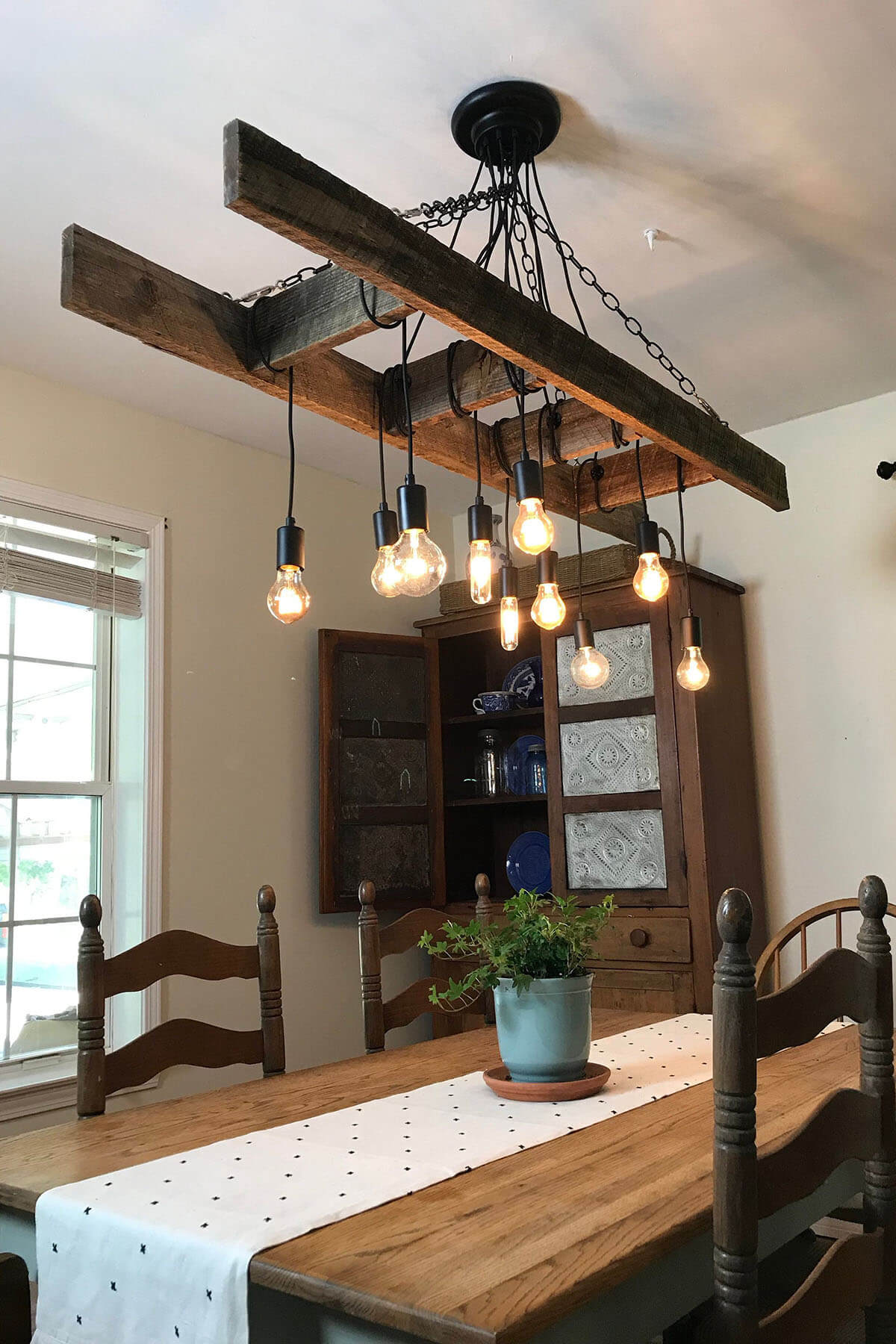 What a wonderful view to enjoy while cozying up to the table and enjoying a meal with your family. This vintage farmhouse ladder sits gracefully overhead with the Edison bulbs just dangling with its exposed electrical wiring. I love how it can also be decorating each season. Can you imagine the things you could do to it during the holidays?
Our Favorite Rustic Entryway Decorations to buy on Amazon