If you need fast, inexpensive storage solutions and love the rustic aesthetic, you'll love these 55 DIY rustic organizing and storage projects! From farmhouse to shabby chic to country ranch, there are projects for all strains of the rustic decorating scheme.
55 Chic DIY Rustic Organizing and Storage Projects To Stash Your Stuff

This list has easy projects you can make in just one afternoon that will keep your house tidy for a lifetime! Whether you are looking for ways to organize your entry way, bathroom, bedroom, or kitchen, these unique and beautiful DIY rustic organizing and storage projects are perfect for stashing your stuff in style.
There are even pieces you can make to keep the kids' rooms ship-shape, like book shelves and a bed with storage built in underneath. Not only are these pieces functional, they also serve as one of a kind décor pieces for your home. Each one adds a touch of rustic charm to the room while helping keep your belongings in their proper places. This list contains projects that are "made from scratch" as well as some made with "upcycled" items.
No matter which DIY style you prefer, there are pretty and practical projects here for you. Keep reading to learn more about all 55 DIY rustic organizing and storage projects!
1. Faux Rural Apothecary Cabinet Storage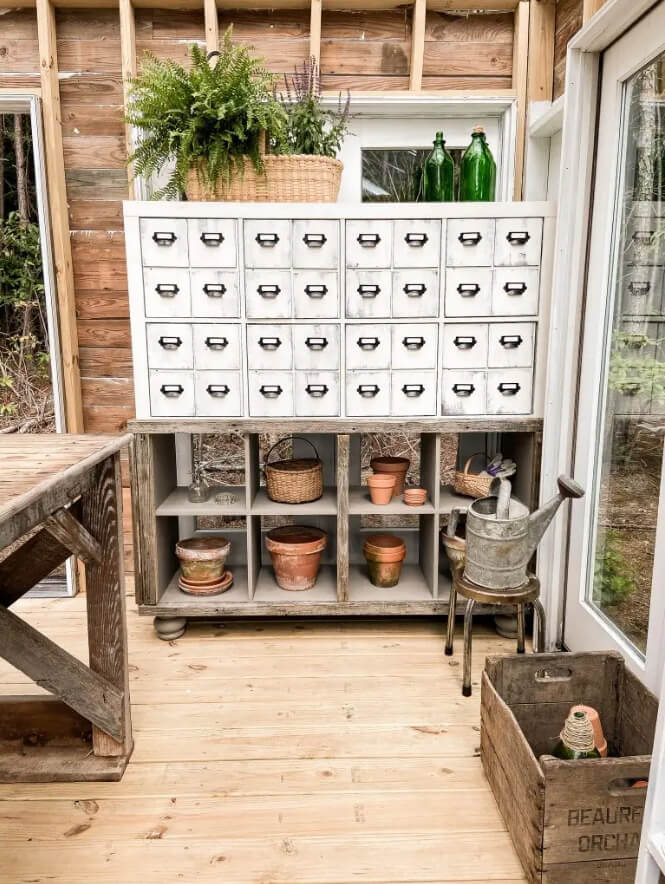 If you want something that is both decorative and functional, consider transforming a storage cube into this cool faux apothecary. Otherwise known as a card file chest, this extensive project will leave you with two different sections. The top faux drawers can add a touch of charm to the piece while adding some reclaimed wood to separate the top from the bottom storage cubes can round out the overall rural feel.
2. Upcycled Aged Wooden Wall Shelves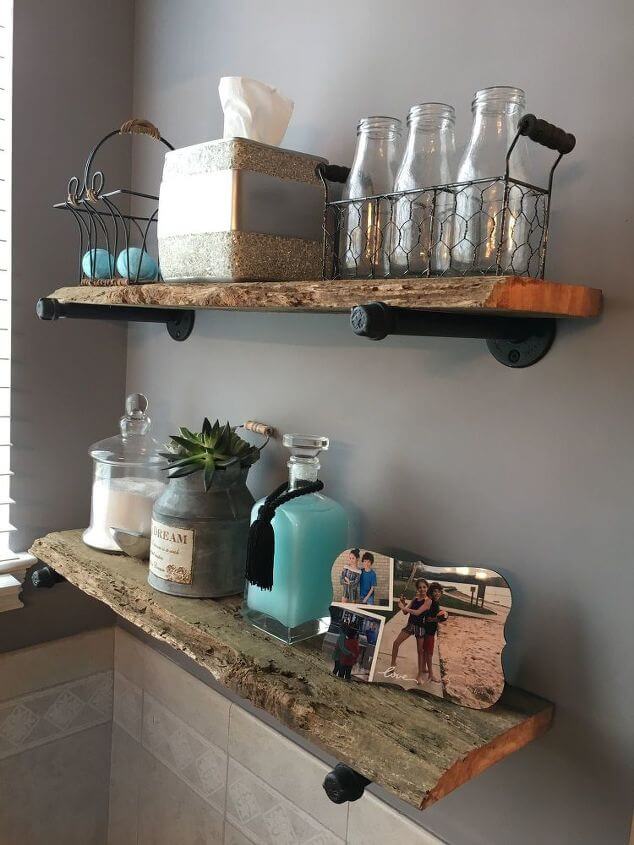 Upcycling projects are a great way to utilize items other people might deem as disposable. For this task, reclaimed wood and some industrial hardware go a long way in achieving an appealing, natural bit of storage décor that can elevate any room in your home from the bedroom to the bathroom. These shelves may stand out even more if the wood has a lovely weathered appearance. They can hold useful items or services to support additional decorations you want to show off.
3. Divan Bed Bottom Storage Hack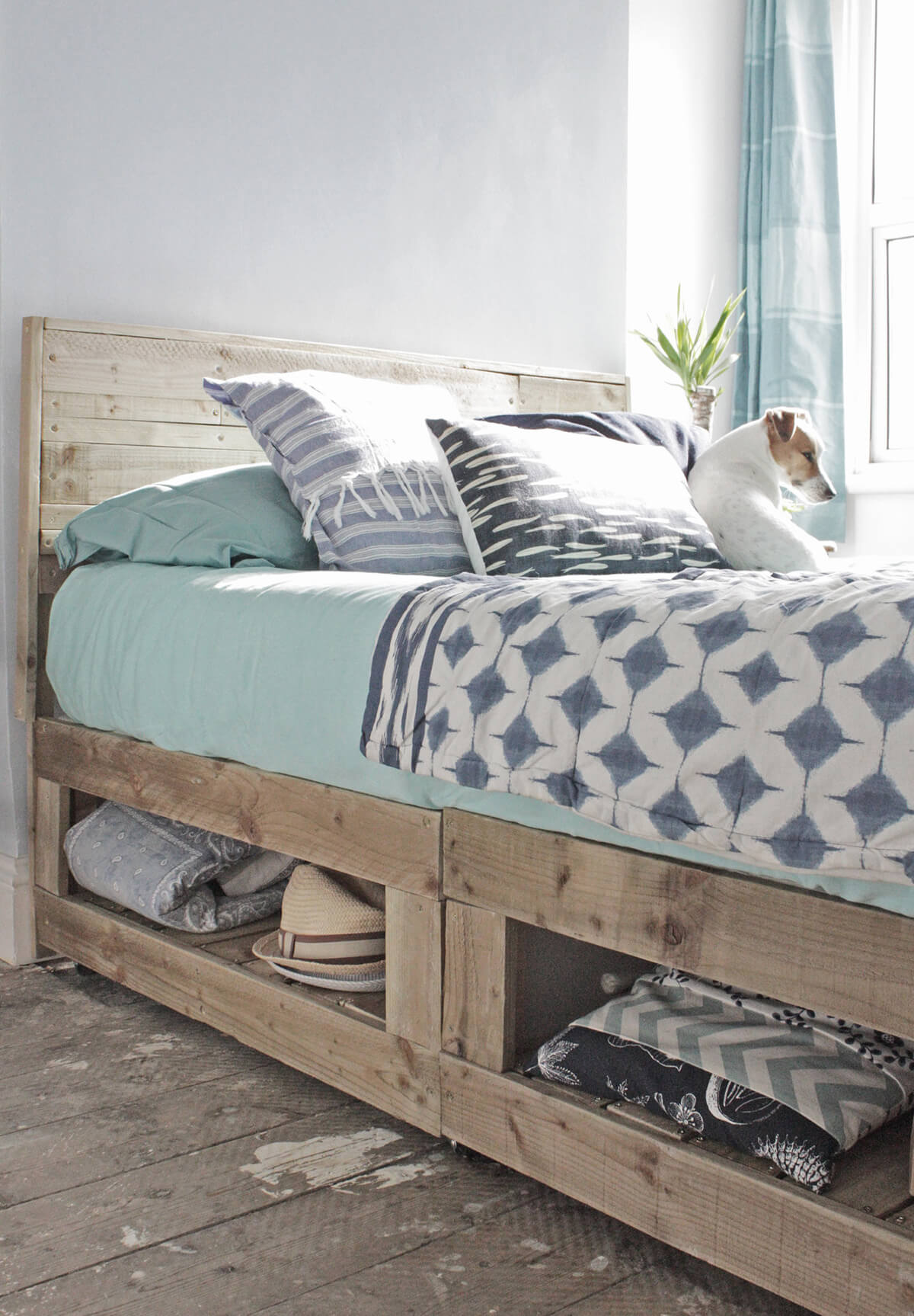 Divan beds have a lot of potential for storage space underneath once you cut away some things. No longer will you have to deal with a common, plain bed. Adding some wood in the spacious area below the bed can transform the section into an attention-grabbing storage cubby without you having to purchase one of those fancier beds. If your bedroom already doesn't have it, the wood used here can work as a natural aesthetic to the overall décor.
4. Small Industrial Wooden Shoe Shelf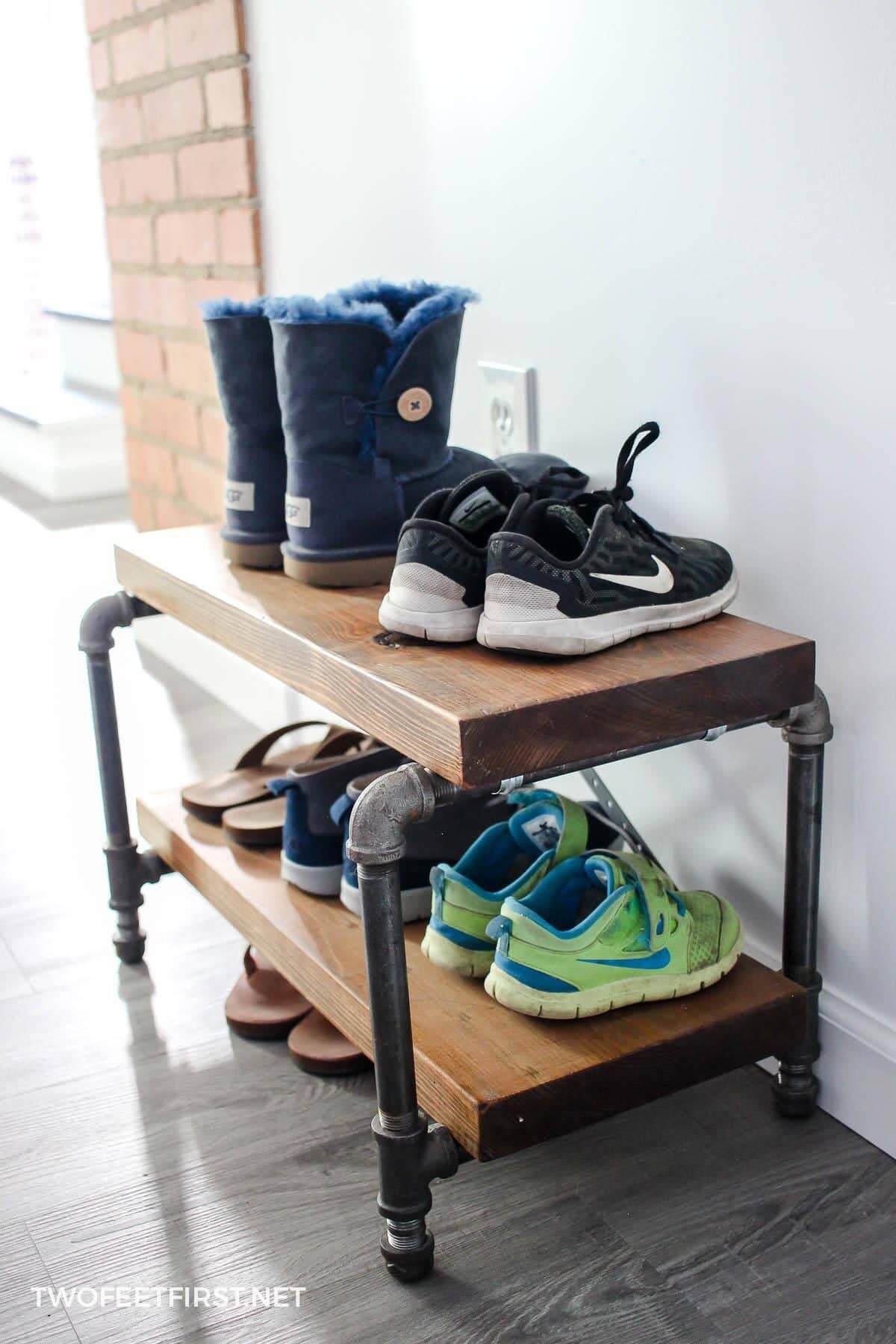 There is always a need for a shoe shelf to keep the house tidier, and what better way to get one that matches a rustic theme than to build it yourself? Smoothing out the wood can give it a cleaner appearance, and it can even let the shelf serve as a bench when properly supported. Besides the metal components working to support the wood, they also simply look good and help nail down that rough, industrial feel.
5. Farmhouse Style Modern Wooden Tray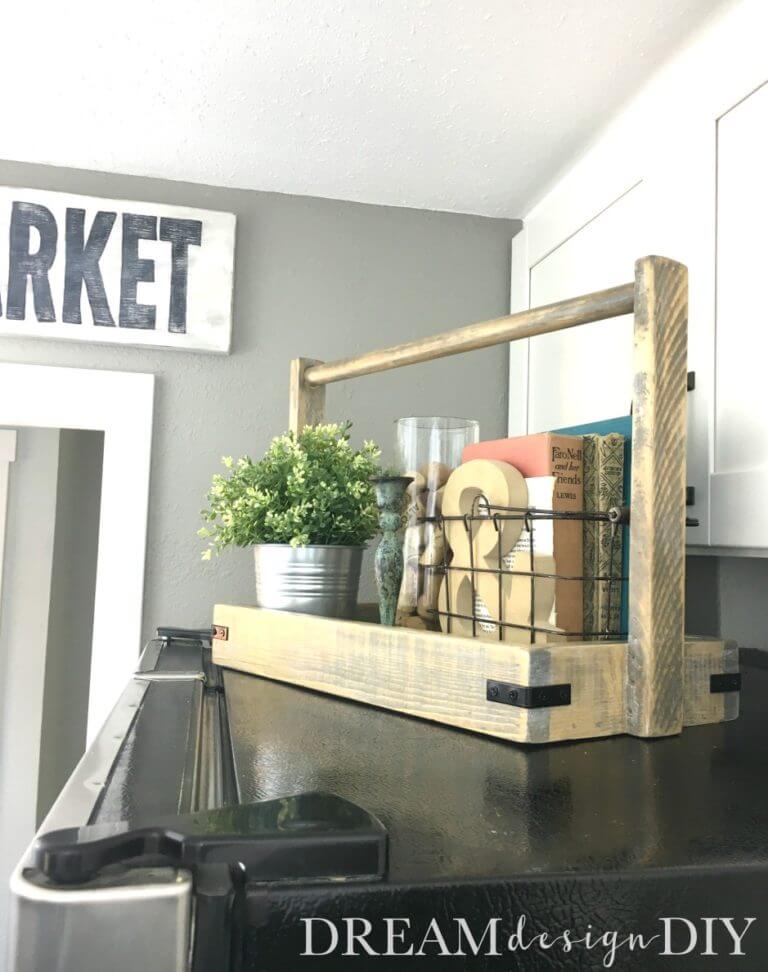 Sometimes you need something to hold all those smaller decorative items, and a quality tray can do the job well enough. Staining and weathering the wood here can help highlight the farmhouse theme. Meanwhile, the sleek design the tray has overall works well in a modern setting if you are looking to combine the styles. It's a straightforward way to give you more room to decorate without clogging up space.
6. Wooden Wall Hanging Blanket Ladder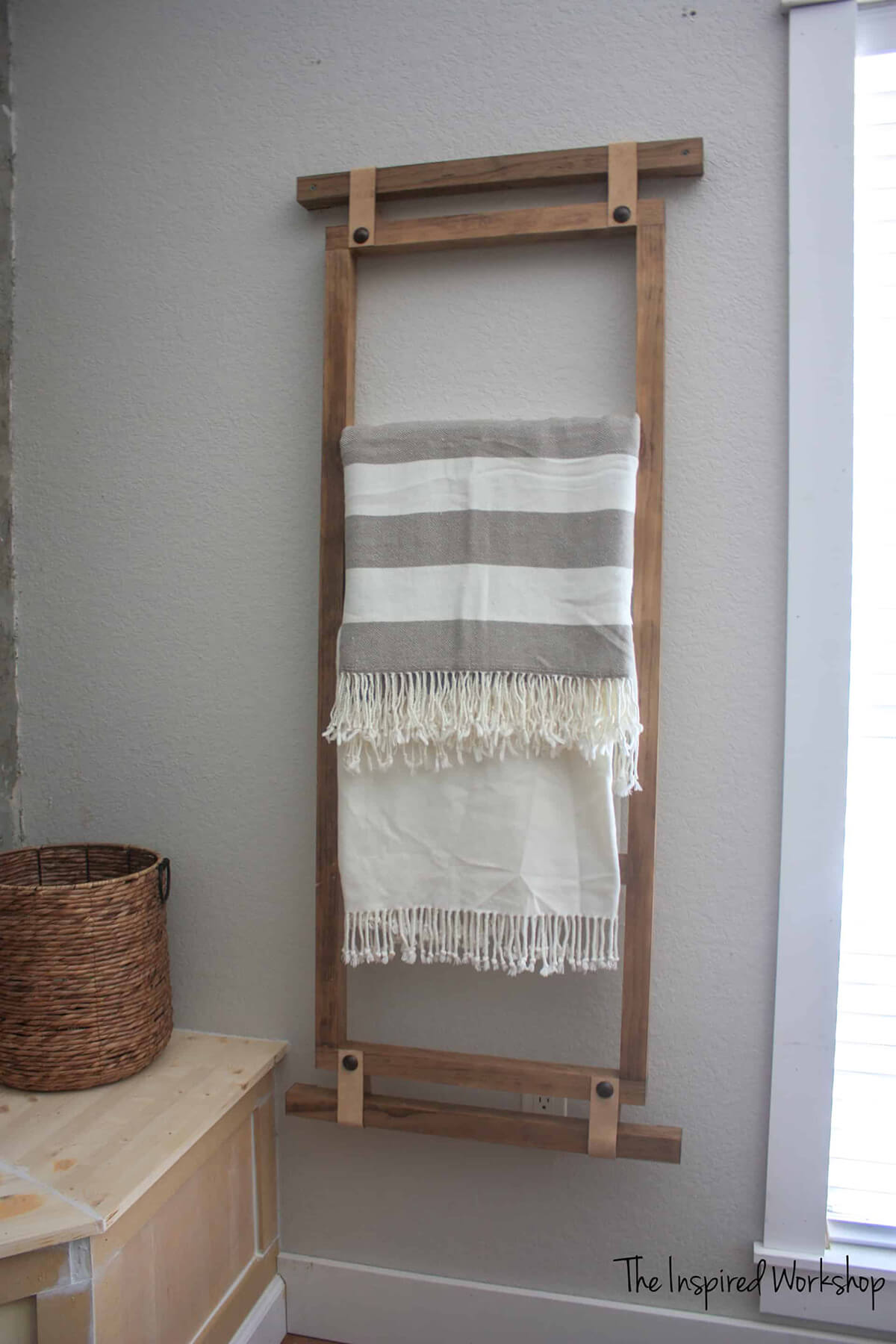 Have nowhere to keep your blankets? Well, this ladder that hangs on the wall can ensure your blankets are kept within reach and off the floor at all times. With some staining on the wood, so it looks more rural, this can suit the décor of a bedroom or living room rather well. Also, the ladder design isn't just useful to hold the blankets, but it simply adds a fun, unique style to the room so much so that it looks good whether you hang something from it or not.
8. Easy Farmhouse Theme Footed Tray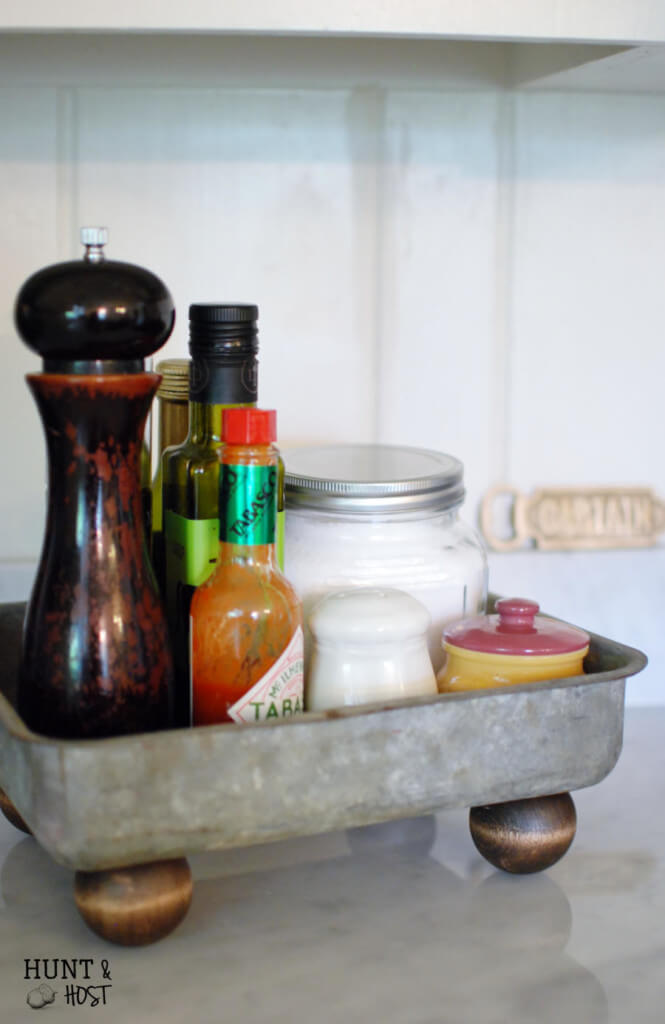 For those of you that really don't have the time for more extensive projects, then consider building a simple footed tray such as this. It is a wonderful upcycle project that takes an old, un-useable kitchen pan and turns it into a tray that can hold miscellaneous items. In fact, it can work phenomenally well on your kitchen counter to do away with any disorder of your spices, oils, etc. Adding on the wooden feet is another good touch as they work to accent the piece while also giving the tray the lift it needs.
9. Wood Pallet Wall Hanging Display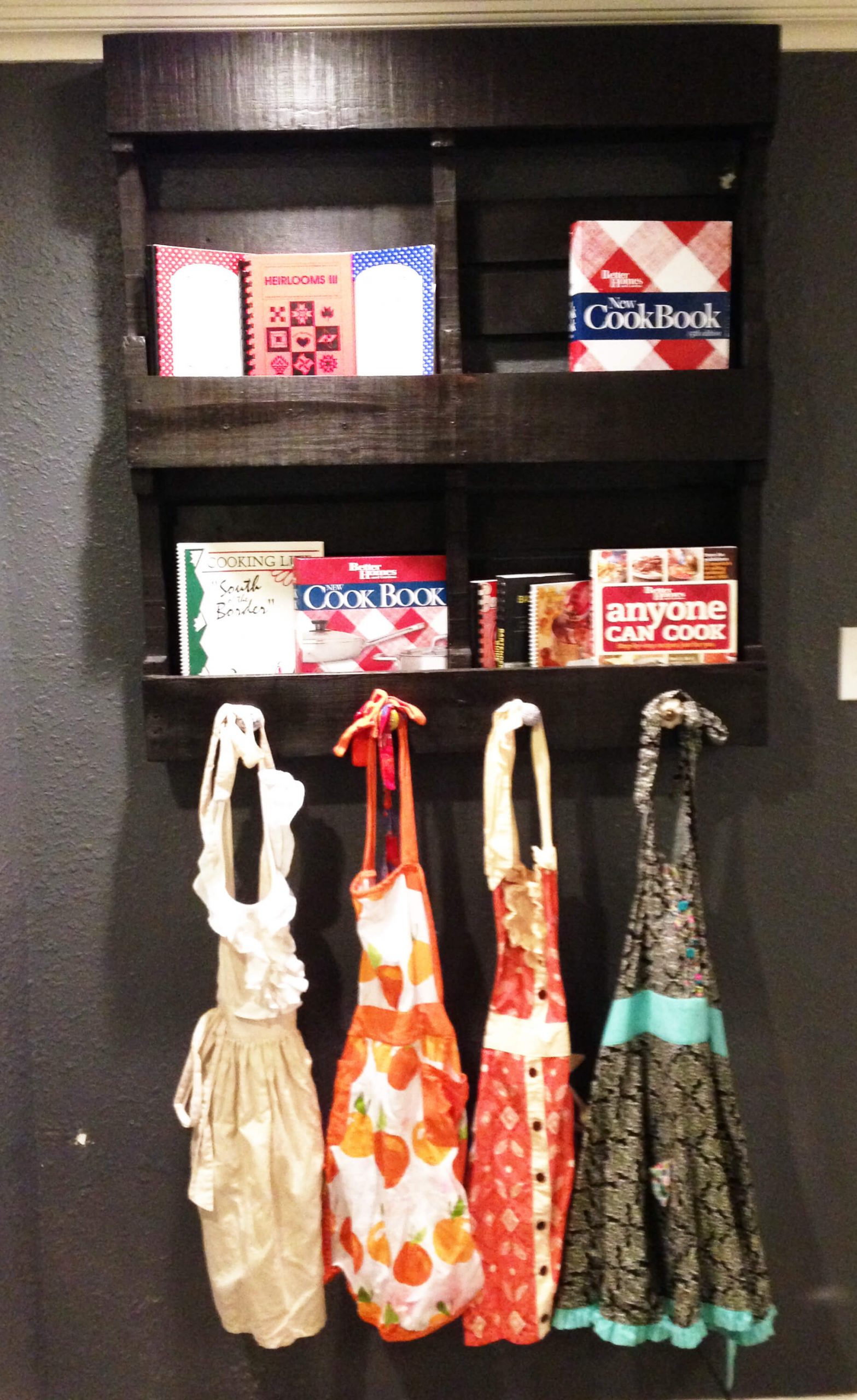 You can turn a common wood pallet into something unrecognizable with this hanging wall display project. The dark coloring of the pallet is a great way to have it stand out in a room. This works well as a shelf to hold books, while the hangers also give you more space to store additional items. It can suit a kitchen if you want to hang up some aprons, or perhaps in your entryway as a coat or bag hanger.
10. Rustic Wooden Key Wall Holder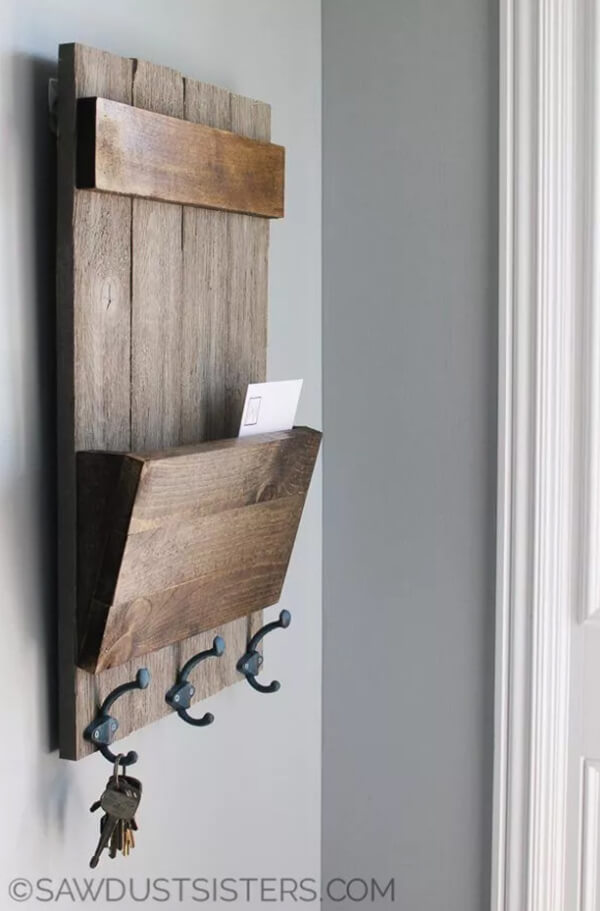 Who hasn't misplaced their keys at some point or another? Keyholders are a lifesaver in a home, but if you want to stick to a laidback, farmhouse style, it's ideal to merely build one yourself. At first glance, this holder looks remarkable as wall décor. Thankfully, it's functional as well since it gives you enough room to hang a couple of sets of keys. Also, there is room to slip mail into as well if you don't have a table in your entryway.
11. Standing Wooden Produce Storage Rack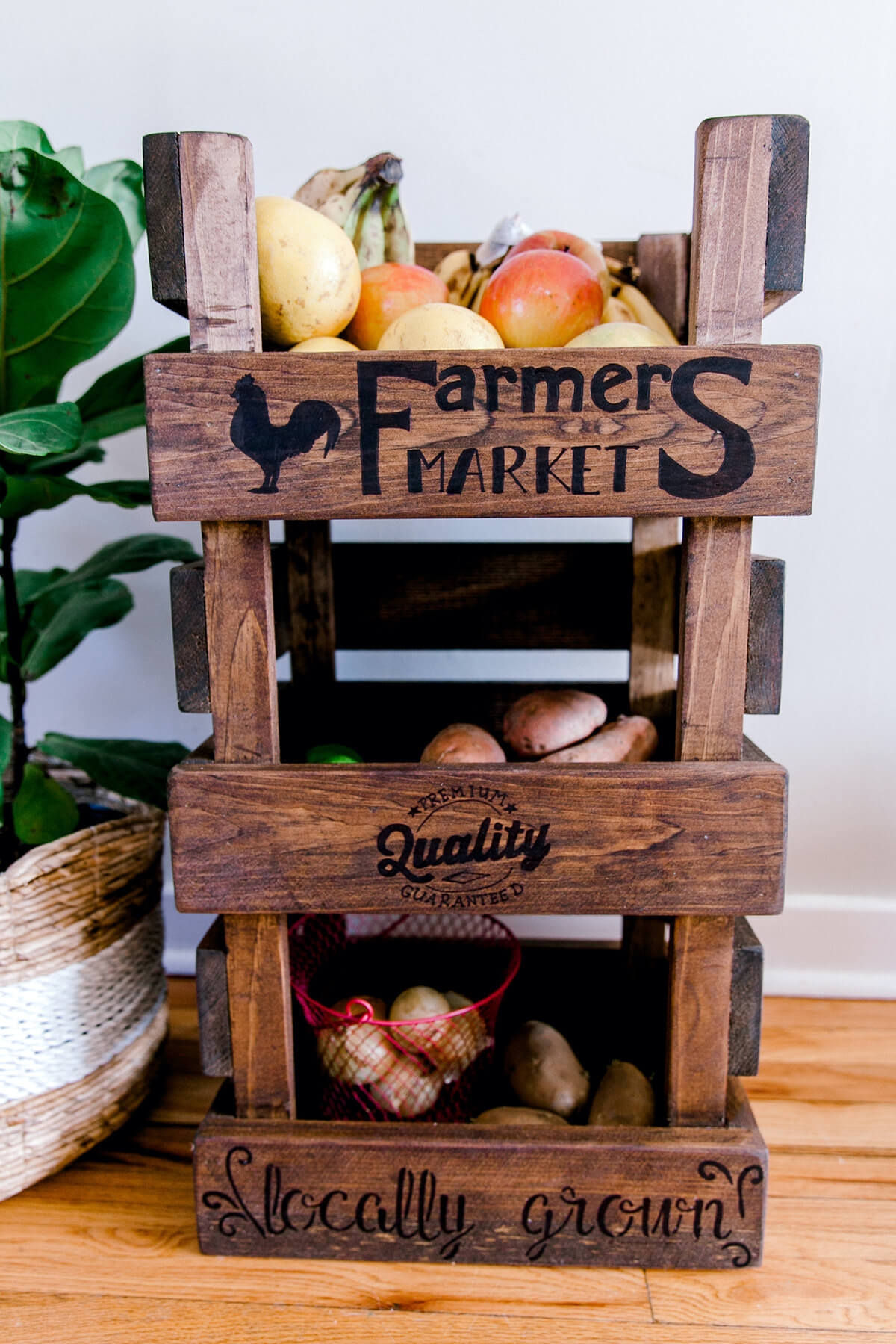 Rather than spend so much on a store-bought produce stand, you can make one yourself that's more affordable and just as appealing to look at. The rustic feel goes beyond the darkened wood. You can add some cool signs and sayings to the rack, giving it a permanent unique touch so not only will you produce have room to breathe, but can also do it in style.
12. Cool Contemporary Earthy Wall Shelves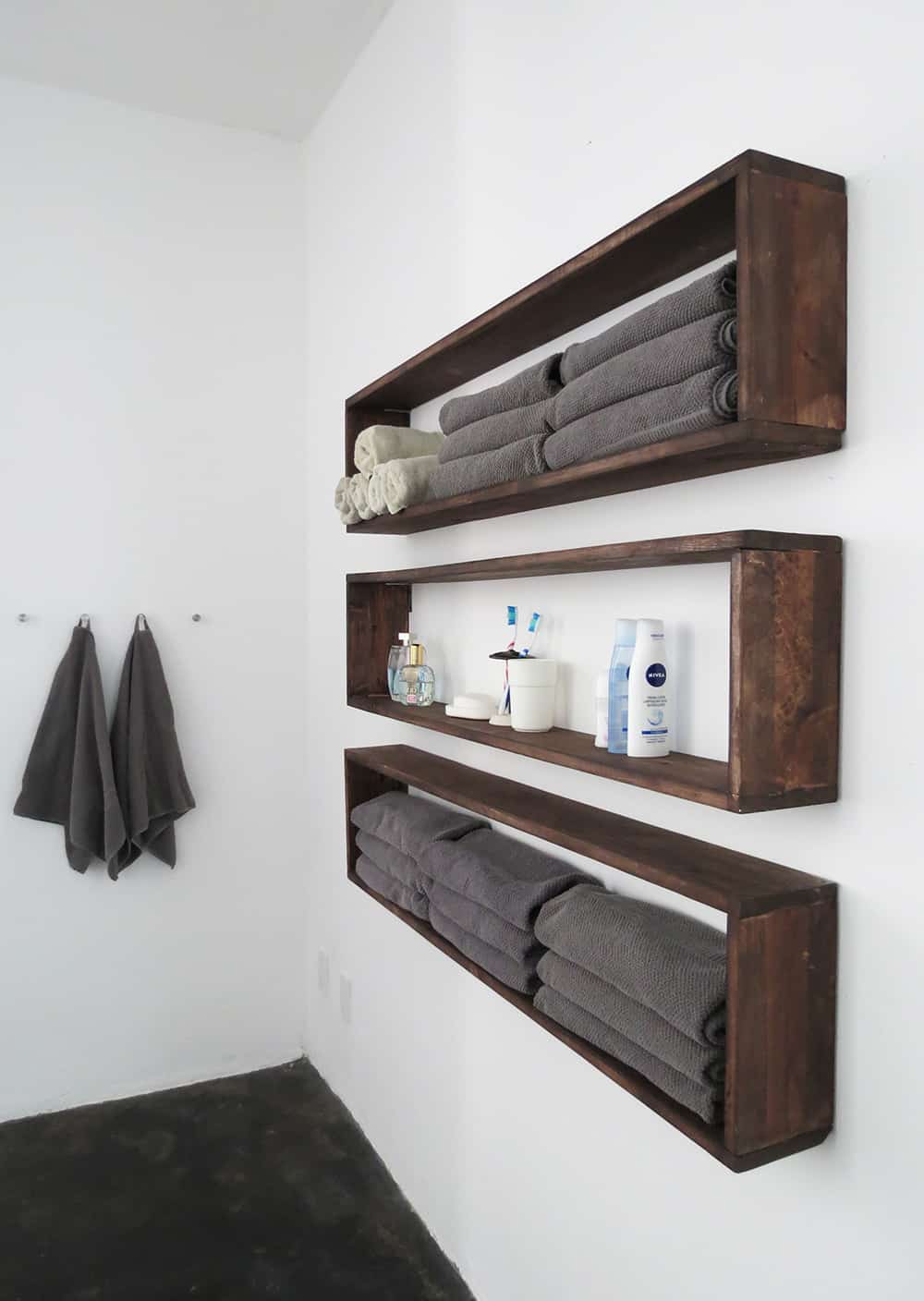 It's always great when two styles can come together, and this at-home project successfully combines a sleek modern look with rustic vibes. The shelves are long enough to support multiple items, so they may work well inside any room such as a bathroom, kitchen, or sitting room. Having a more boxed-in appearance rather than the usual floating shelf design effortlessly gives it that distinctive style.
13. Repurposed Plate Rack Towel Holder Transformation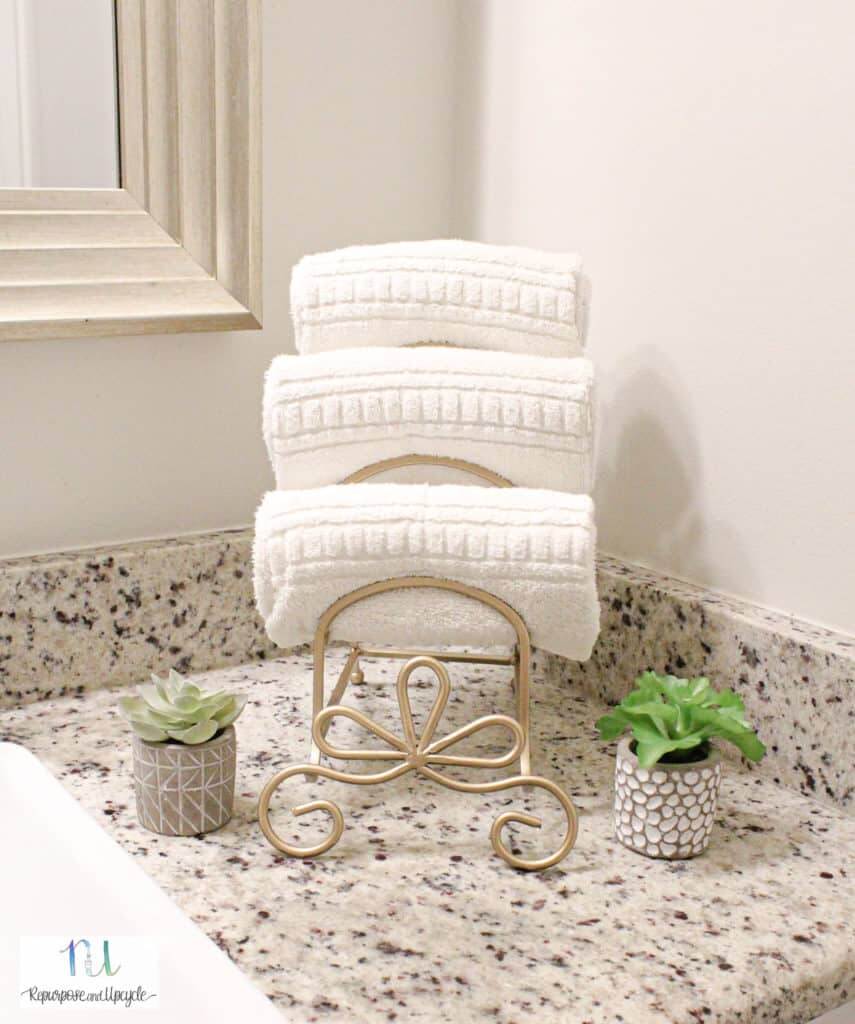 Who said plate racks just had to hold plates? With a little time and crafting, you can transform a basic plate rack into a bold towel rack holder. Using gold for the color scheme helps bring out more rural vibes so it won't look out of place when used in a farmhouse-style room. Also, it's just a nice way to keep your towels neat in the bathroom or the kitchen.
14. Budget-Friendly Farmhouse Theme Tiered Tray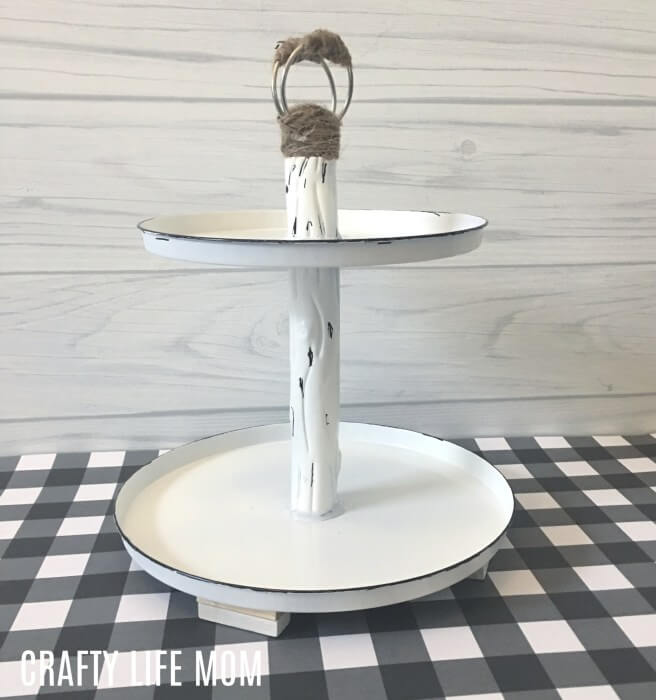 A tiered tray can offer you such versatility in terms of decorating. It has so much room for you to change up what you put on it depending on certain events like decorating for specific holidays or parties. There's a nice, slightly weathered look about this tray that it can stand as decoration all on its own in a rustic-styled living space. Using twine is another interesting touch to help this tiered tray stand out more.
15. Backyard Bench with Hidden Storage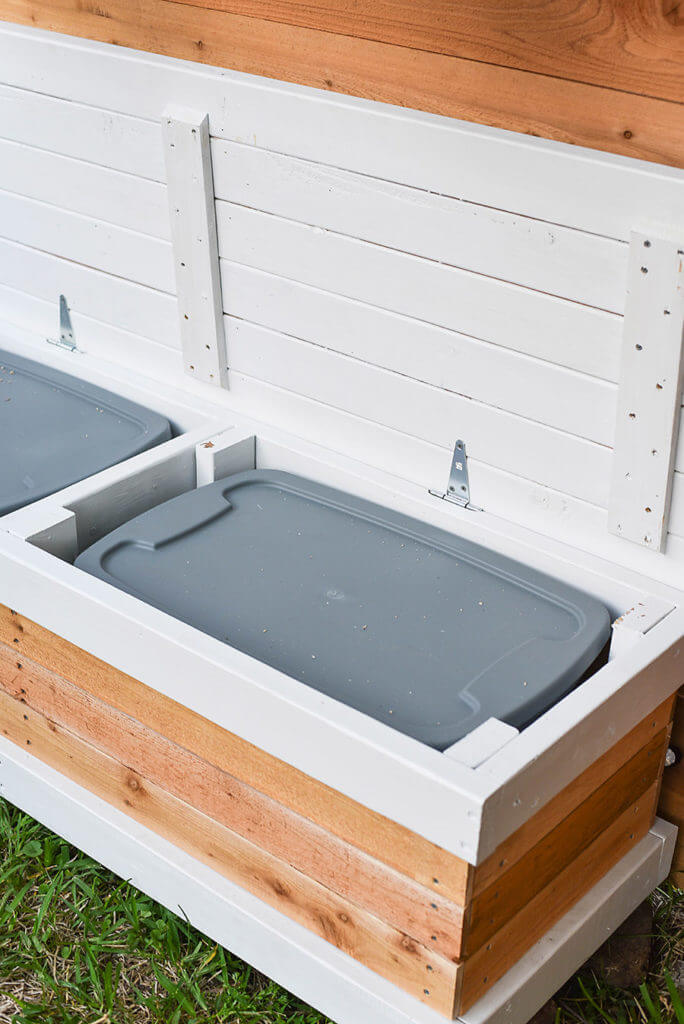 If your backyard area is looking a little sparse, then adding a cute, wooden bench may help liven it up a bit. Painting the top and bottom sections is a great idea to adding some brightness to the overall décor, while the wood still gives that farmhouse accent. With its hidden storage compartment, the bench can also help keep things neat and tidy in your outdoor space without any guests being none the wiser.
16. Hanging Rope and Crate Shelf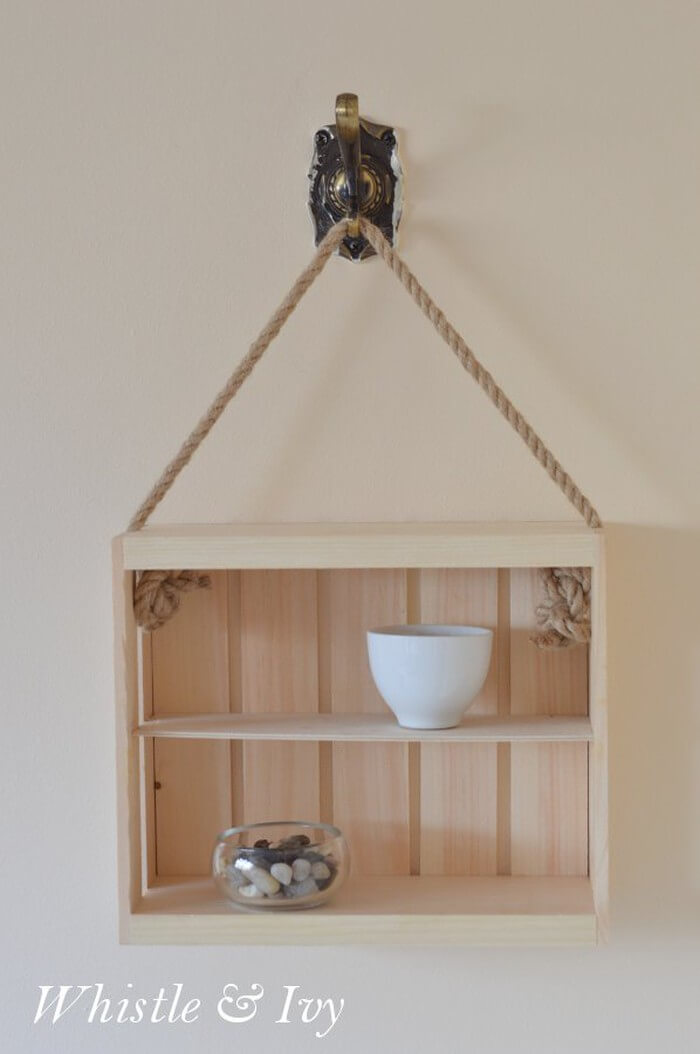 If you're looking to add something that's more simplistic, yet nonetheless attractive, try out this hanging rope and crate shelf project. The design seems universal enough that you may be able to hang it up in any room. It gives you space to store aside some smaller items whether they be functional or meant to add extra decoration. Keeping the wood a natural light color can also help brighten up the room.
17. Painted Woven Produce Storage Baskets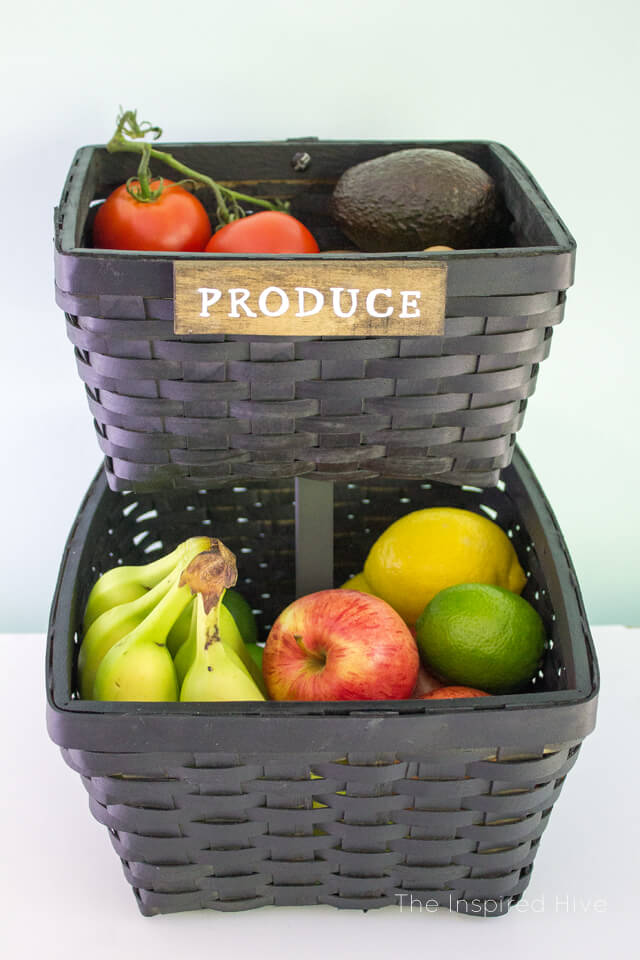 There are numerous ways you can keep your produce together in a more organized way, and these woven baskets are one of many cool decorative options to go with. Spray paint adds a bold touch to the baskets, while their general design pattern keeps with the farmhouse, rustic style. Perhaps you can even add some sort of label to it so that everyone knows what that storage is meant for.
18. Wall Hanging Wire Basket Organizer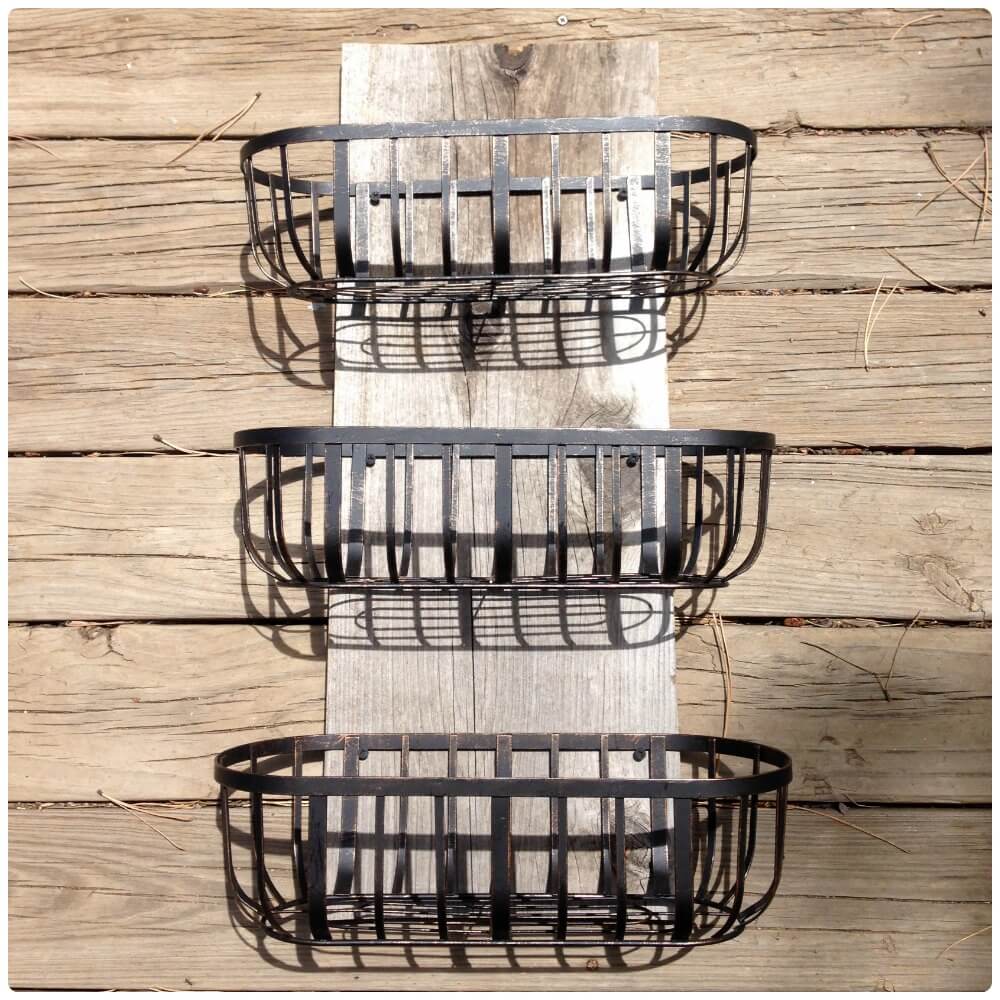 This hanging wire basket shelf is a versatile way for you to organize small items around your home. There is enough space in each basket to hold several items, and it has just enough of that farmhouse look, thanks in large part to the weathered wood, that the organizer can complement any room décor. This is another affordable, easy project that will transform your room for the better.
19. Crate Style Wooden Custom Shelving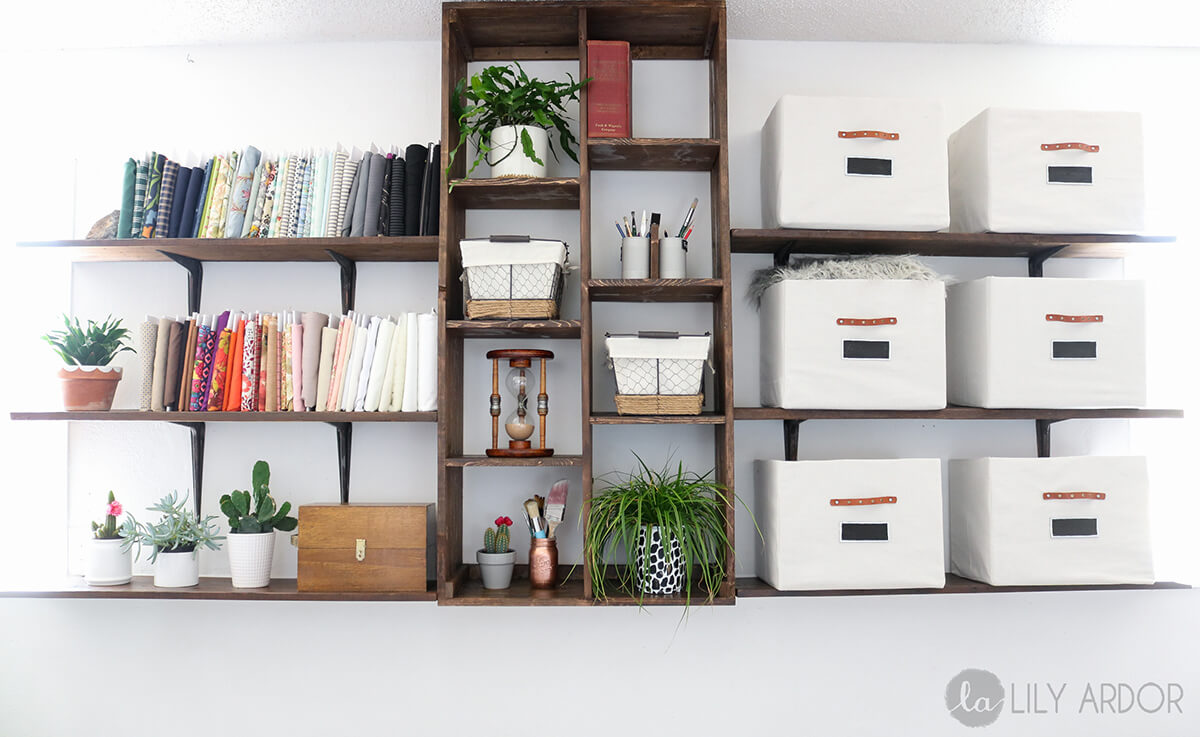 Whether you need to organize your craft or you want to organize a kid's room, this customized shelving system will de-clutter a space in no time. Using multiple types of wooden boards can add a nice texture to the piece for décor purposes. Meanwhile, the varied size shelves allow for filling the furniture with different items. If you wish, you can even use them for just other decorative pieces like plants.
20. Simple Cute Mitten Storage Rack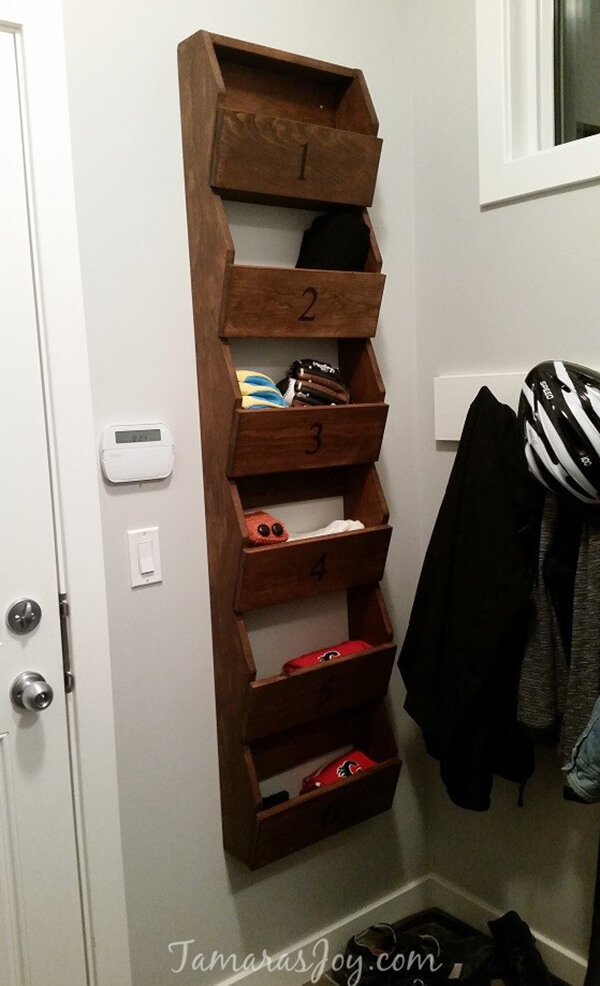 Have some sports-loving kids in the home with far too much gear lying around? This storage rack can at least deal with one problem, and that is having a one-stop place for their gloves. What's so cool about this rack is that it doesn't just have to store mittens. There is enough room inside to handle versatile items like winter gloves. It's a straightforward way to keep them clear off the floor and within reach of children.
21. DIY Mirror Door Bathroom Cabinet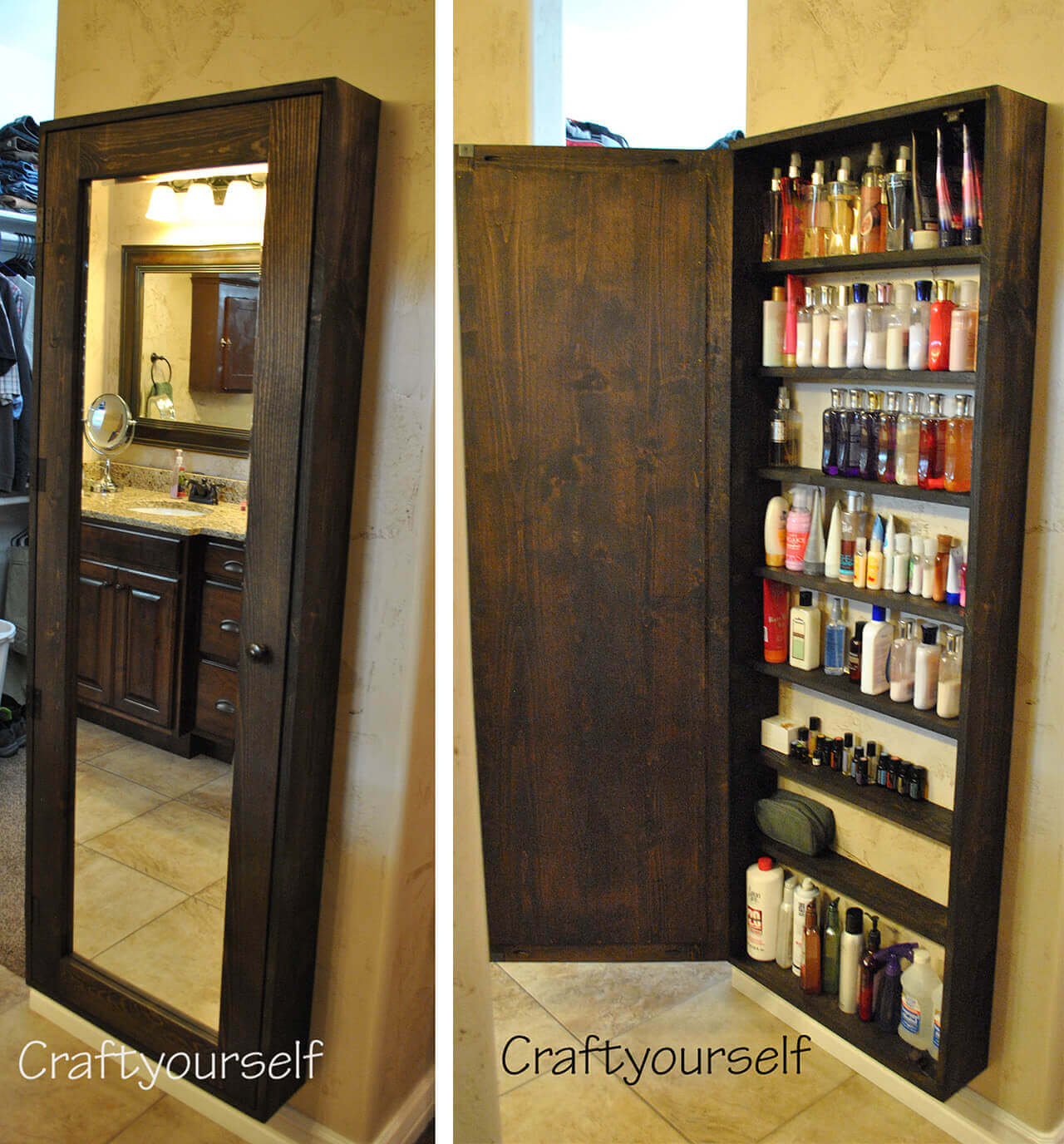 22. Rustic Wood Pallet Wine Rack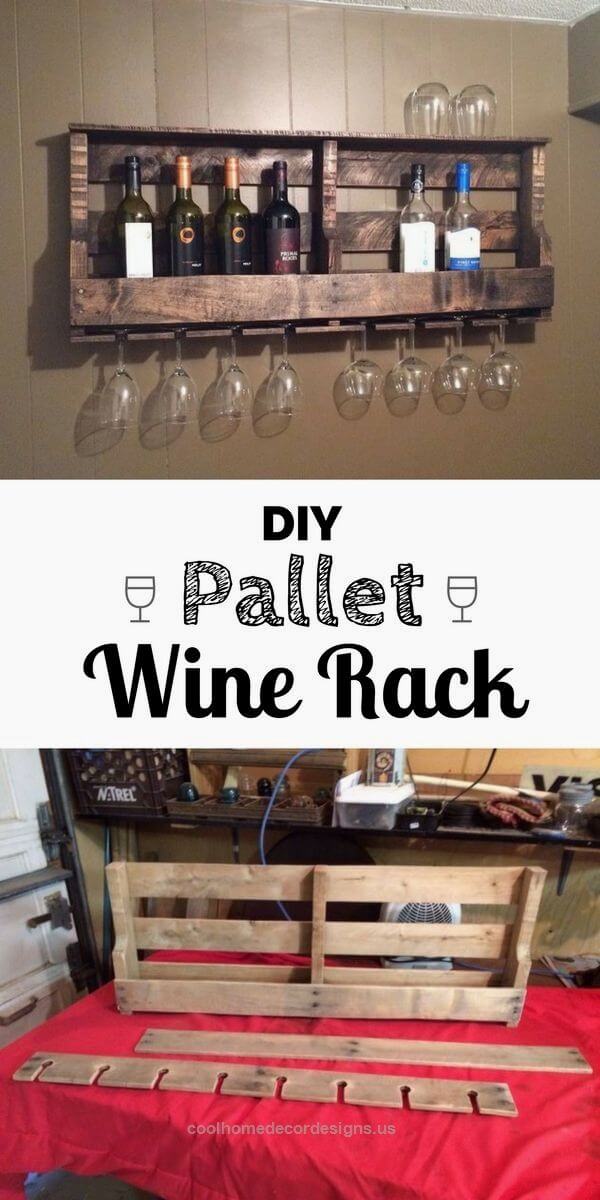 23. Tree Branch Outerwear Wall Rack

24. Fast and Easy Blanket Ladder

25. Coffee Cup Holder With Hooks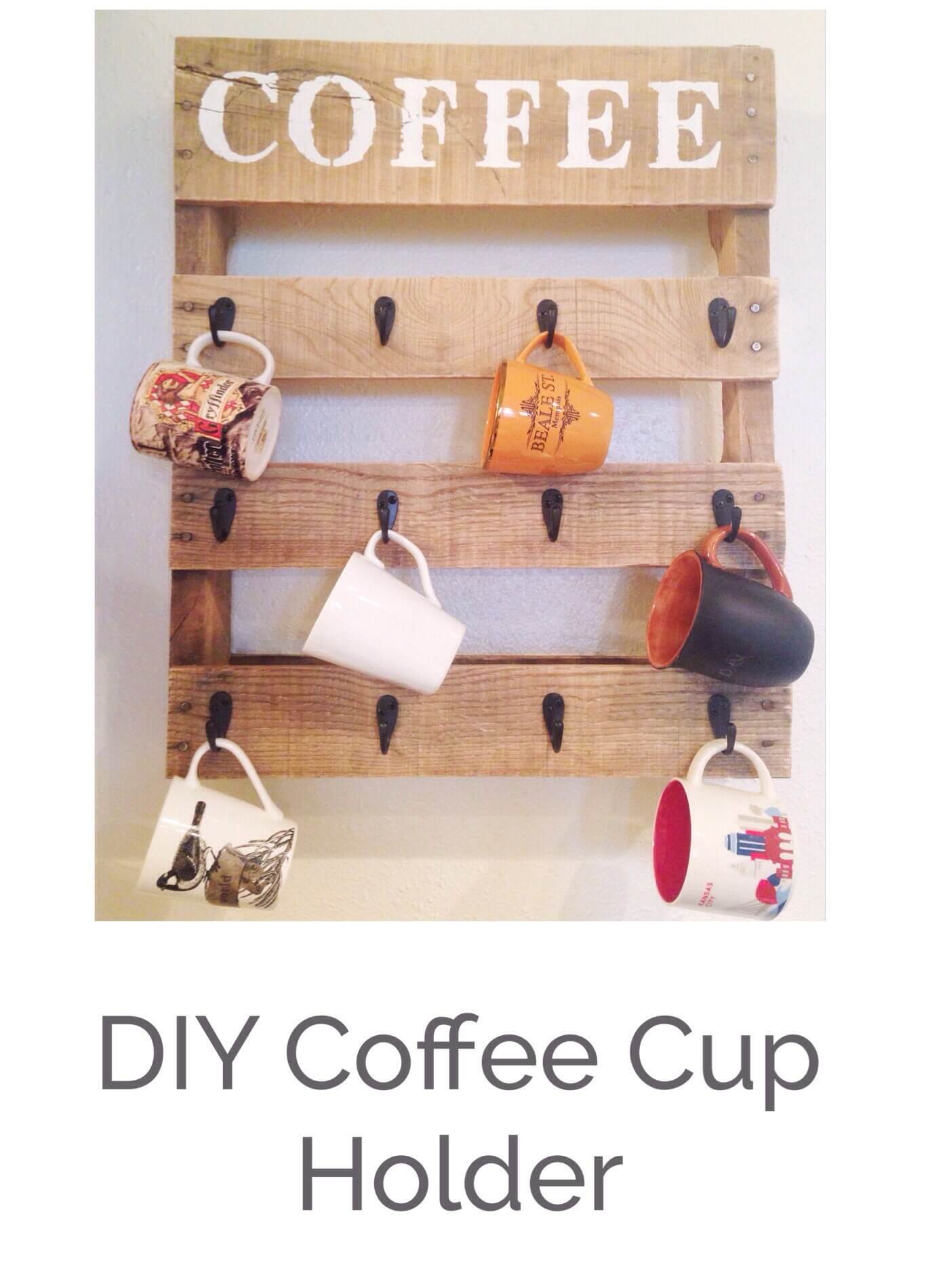 26. Wood Tilt-Out Door Trash Bin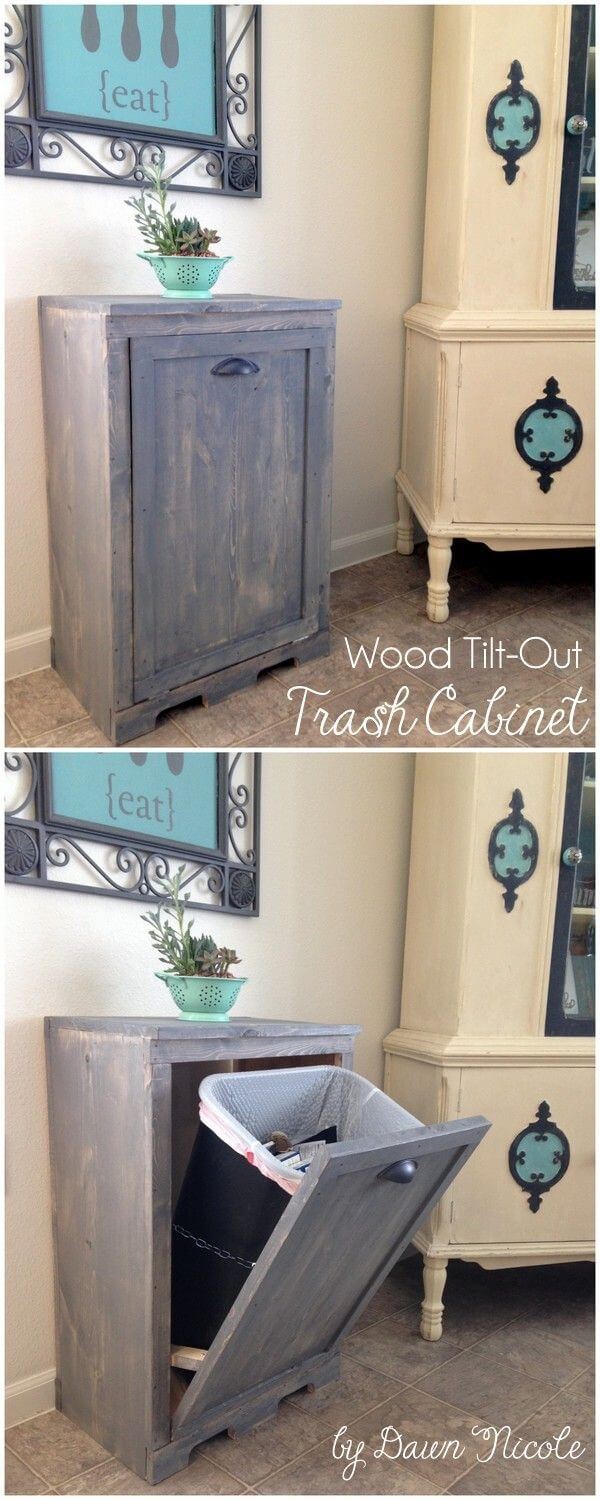 27. Super Simple Wood Crate Shoe Rack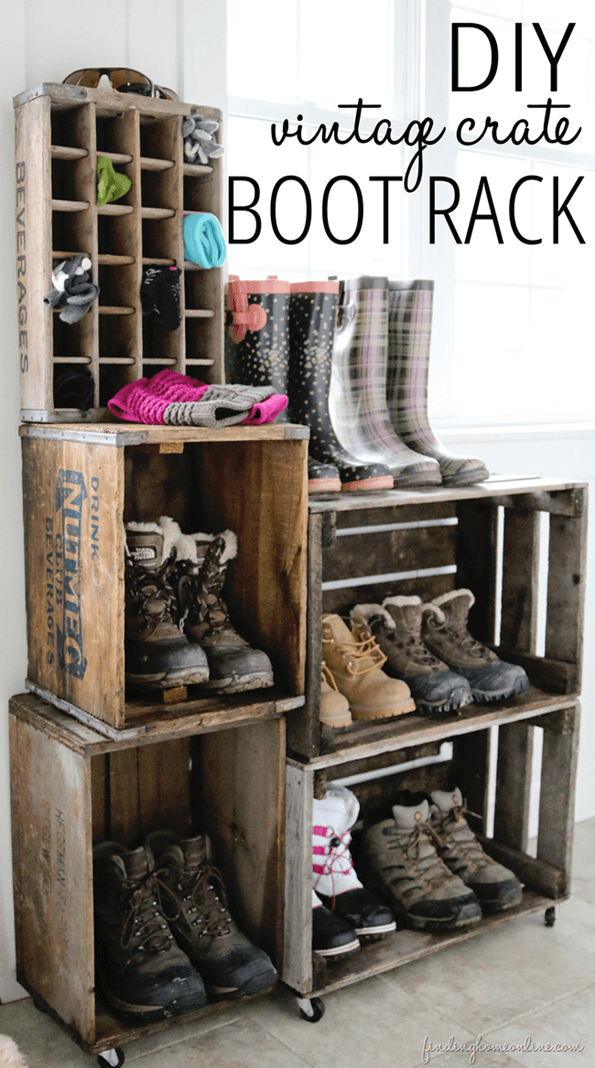 28. Antique Pot and Twine Basket

29. DIY Farmhouse Bench With Bins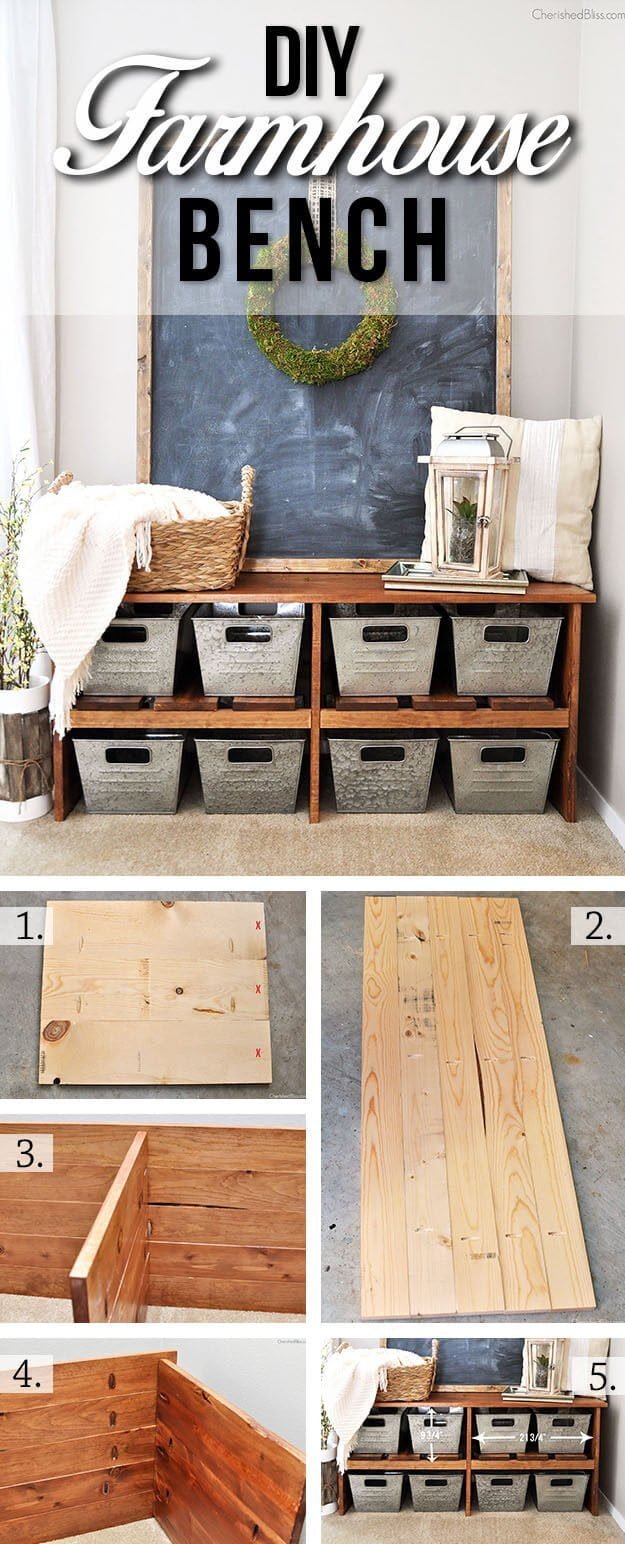 30. Easy Rustic DIY Spice Rack

31. DIY Scrap Wood Produce Rack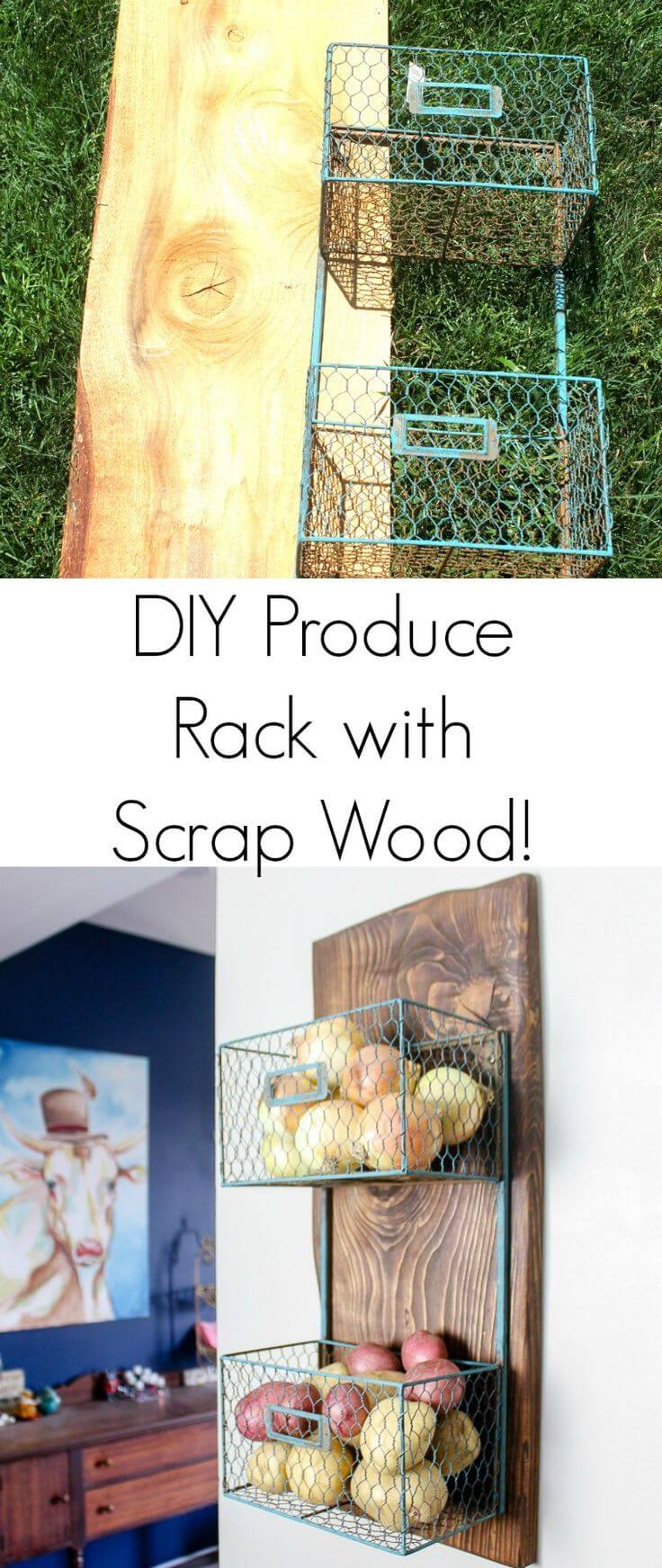 32. Cabinet With Hidden Shoe Rack

33. Easy To Make Toy Organizer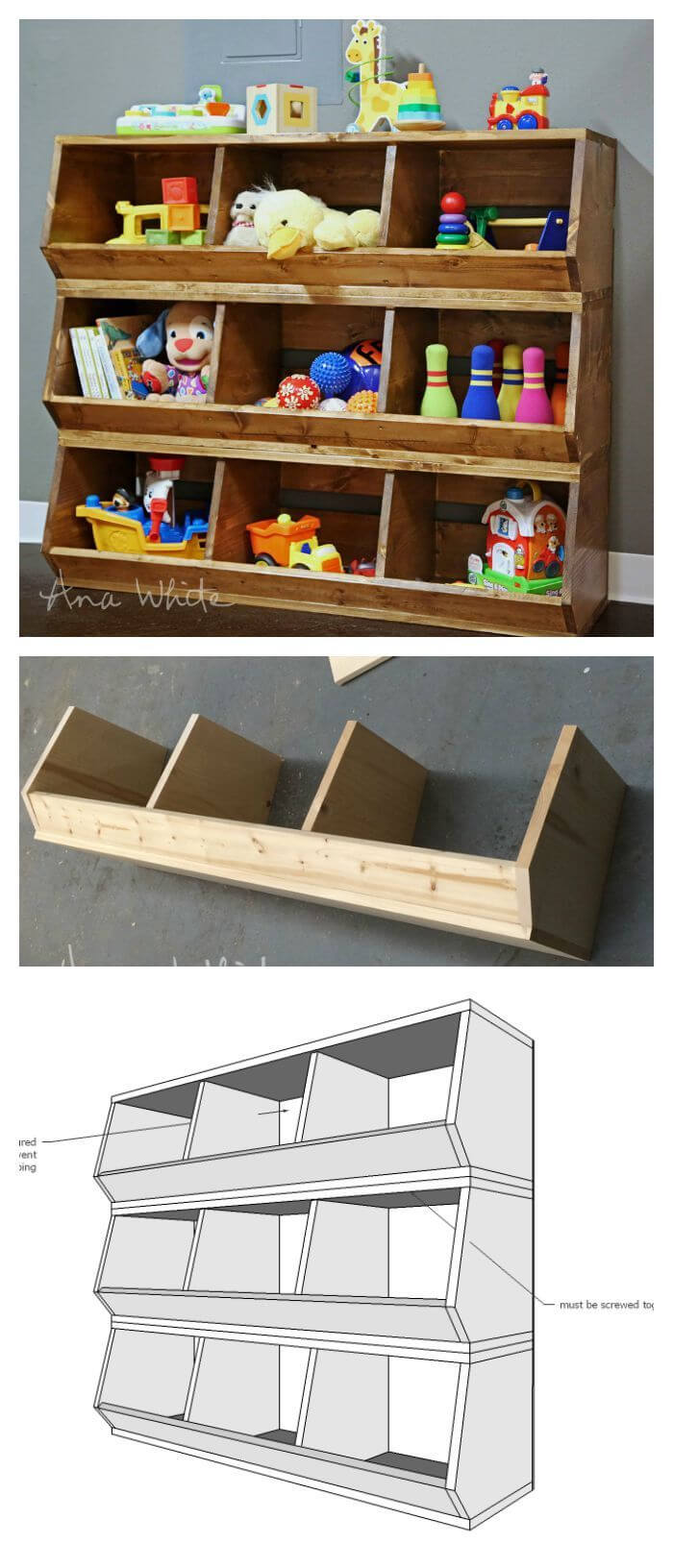 34. DIY Rustic Farmhouse Bathroom Hooks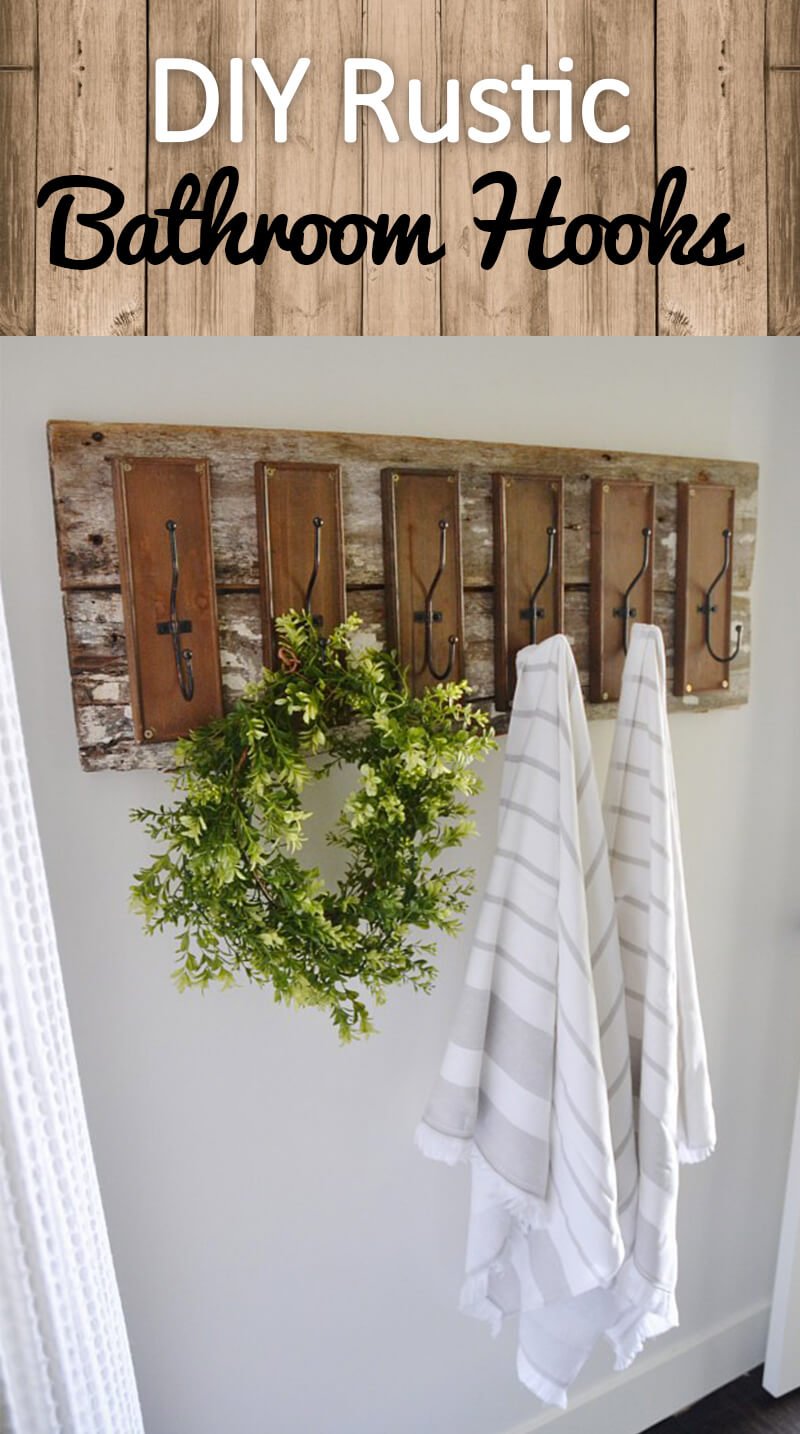 35. Upcycled Wood Fruit Crate Ottomans

36. Toilet Side Vanity Storage Unit

37. DIY Wood Mail Sorter Rack

38. Rustic Versatile Hanging Storage Crate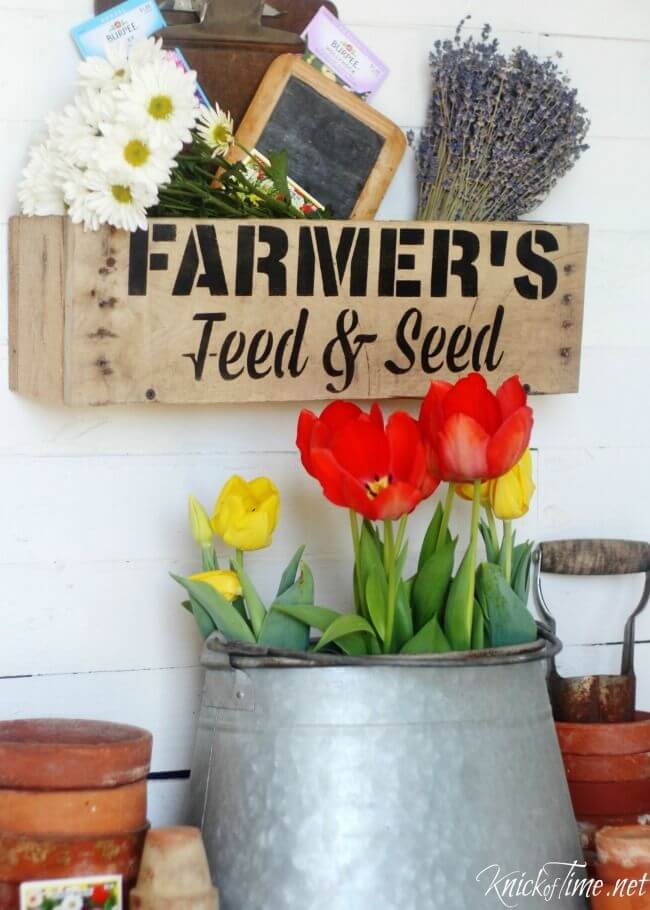 39. Super Easy Rustic Wood Shelves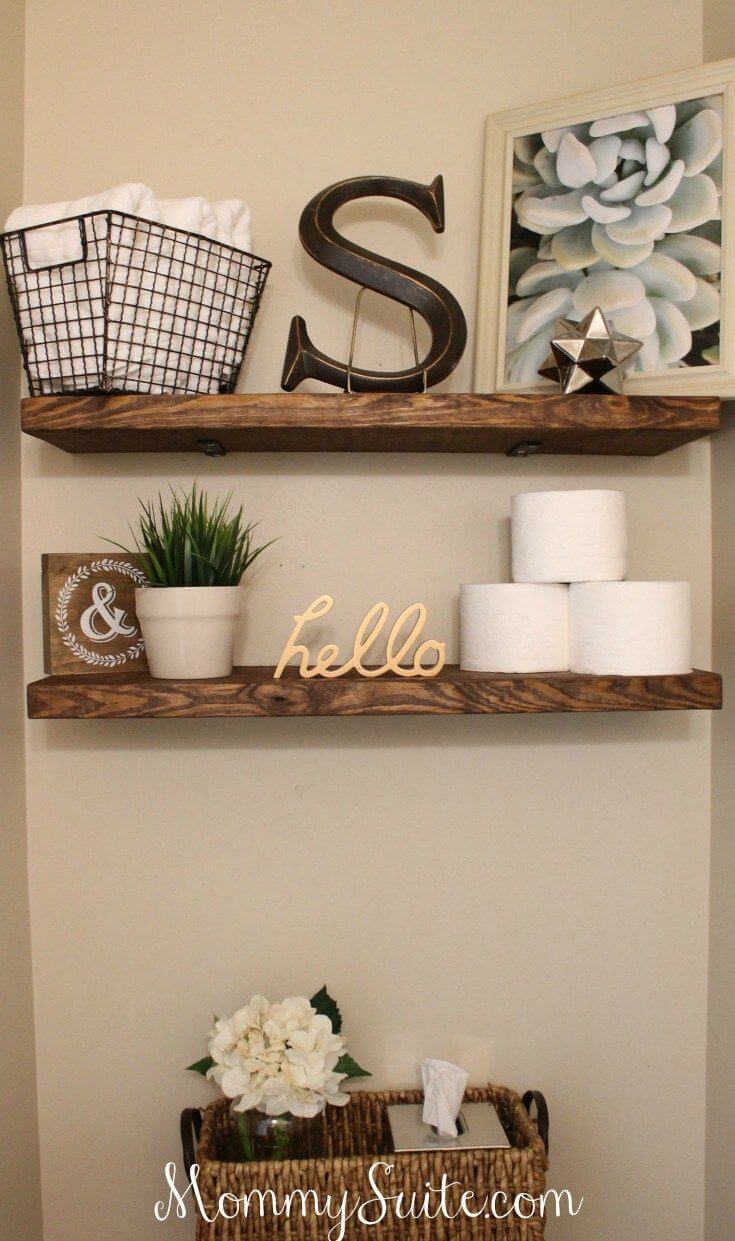 40. Upcycled Ladder Decoration and Organizer

41. Wood Board Umbrella and Cane Holder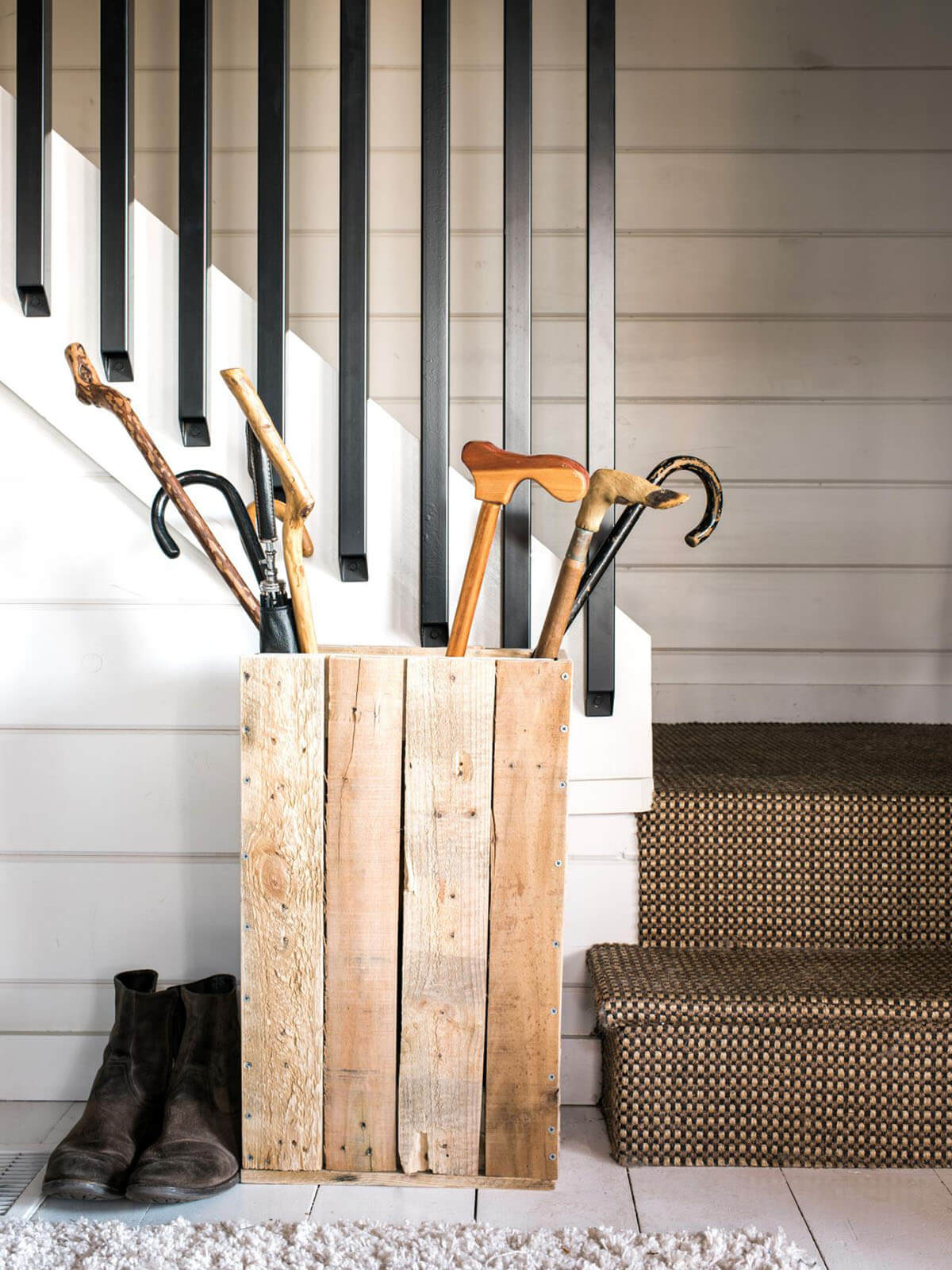 42. Horseshoe and Wood Shelving Unit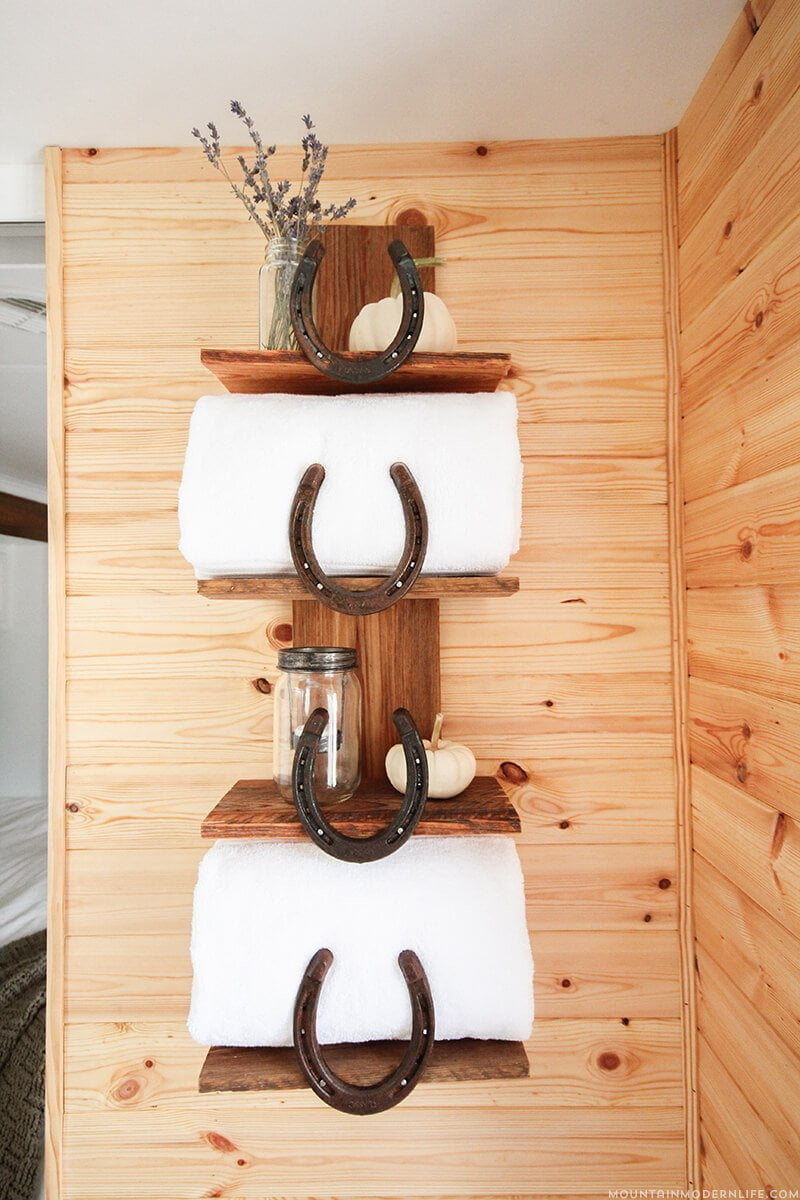 43. Rustic Storage Bed With Drawers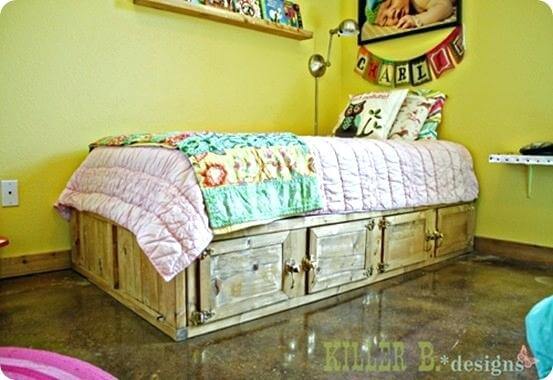 44. Easy DIY Hanging Pot Rack

45. Upcycled Wooden Crate Storage With Labels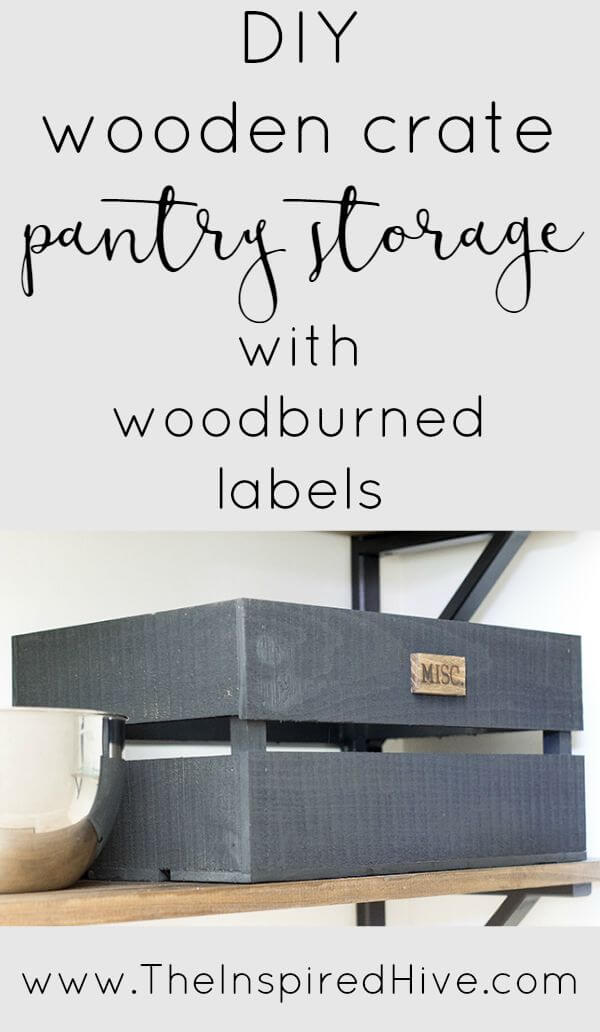 46. Easy To Make Kitchen Utensil Rack

47. DIY Rustic Toy Storage Unit

48. Rustic Numbered Pallet Organizer Crates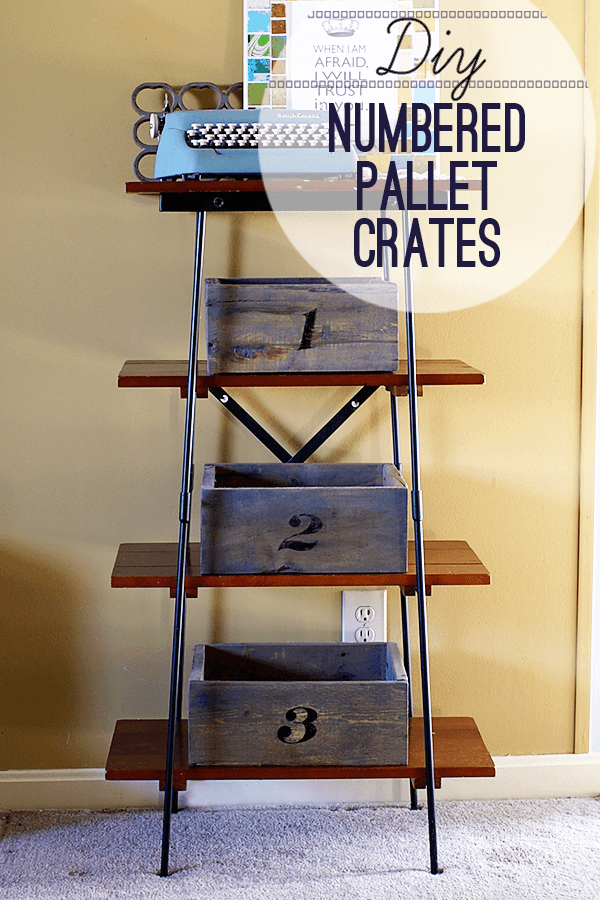 49. Entry Way Storage Chest Project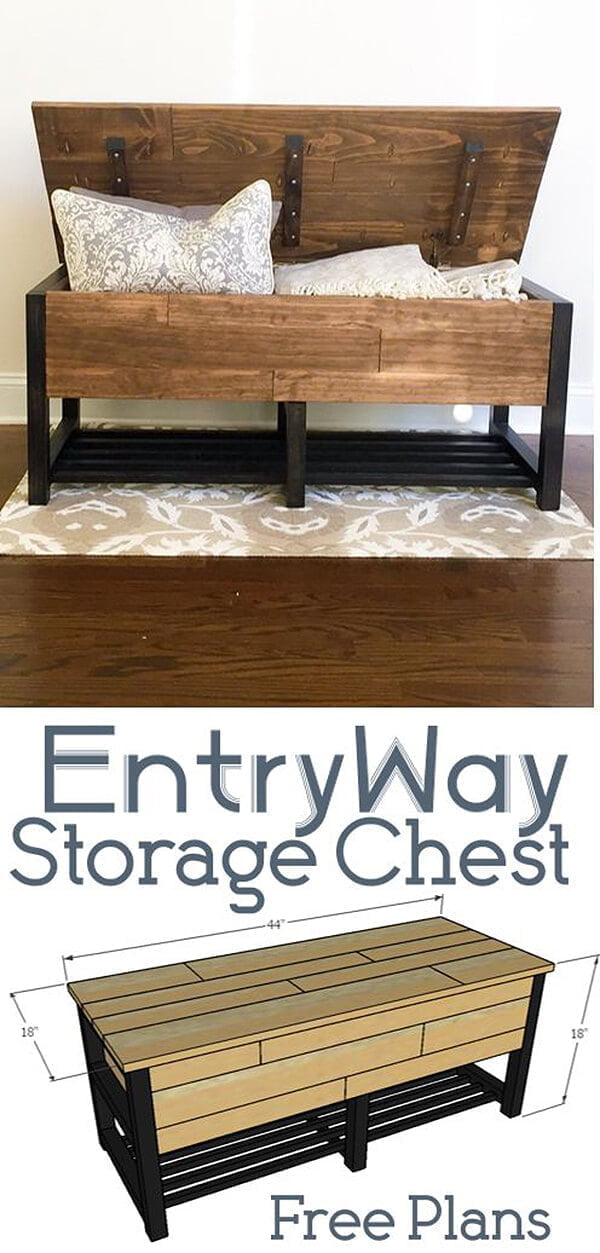 51. Barn Wood and Bread Tins Wall Bins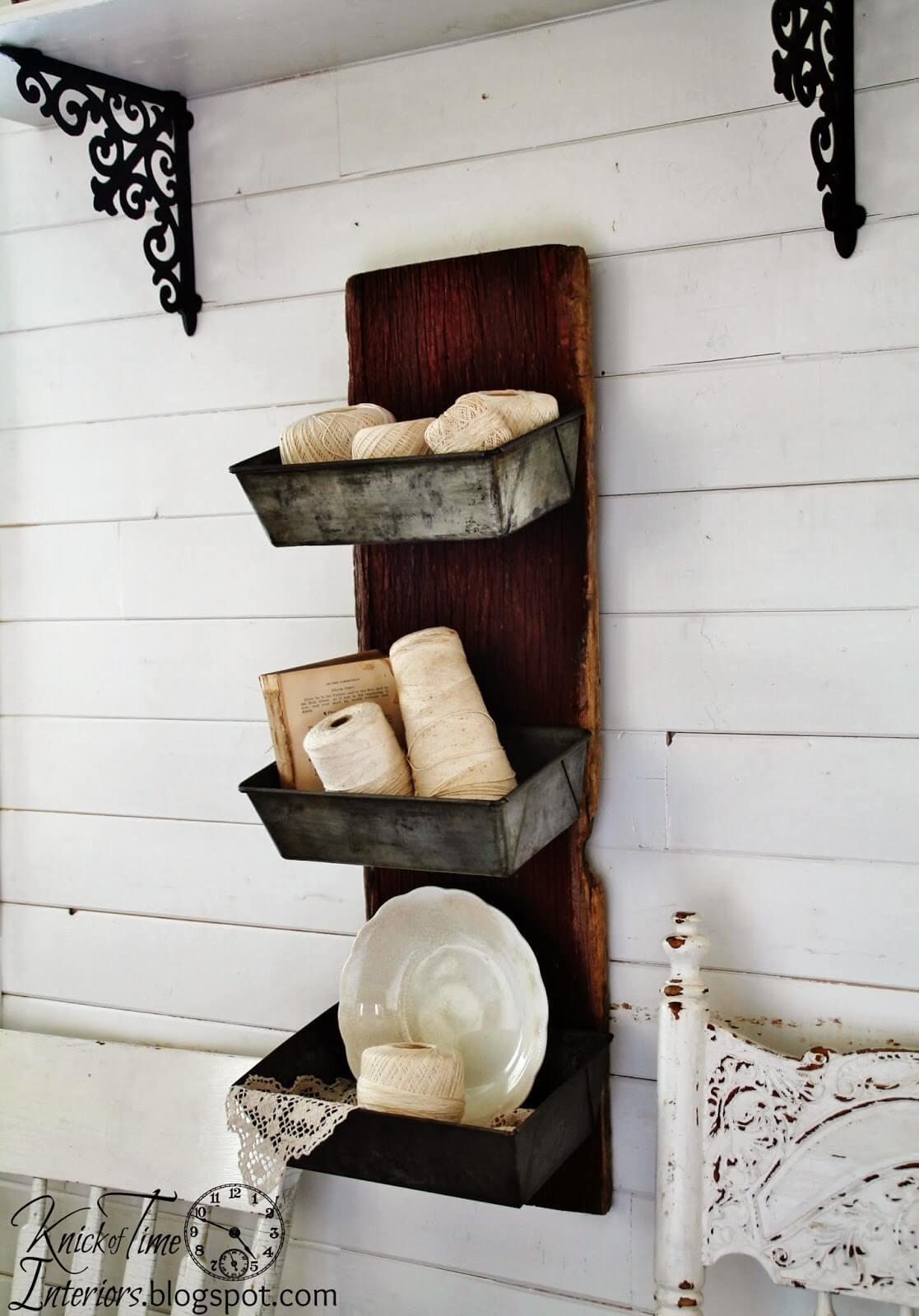 52. Cube Storage Unit Rustic Makeover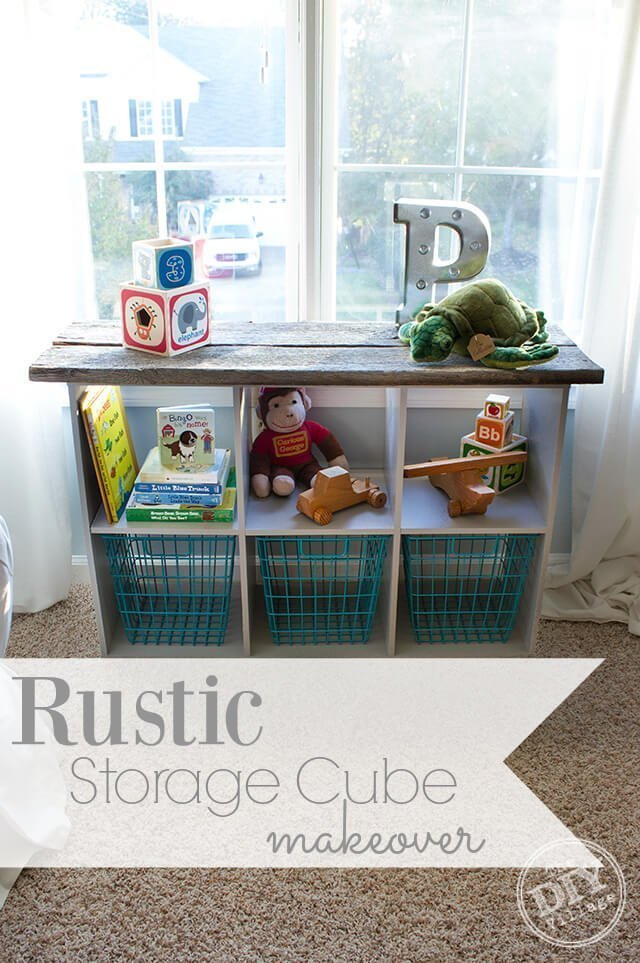 53. DIY Barn Door Jewelry Cabinet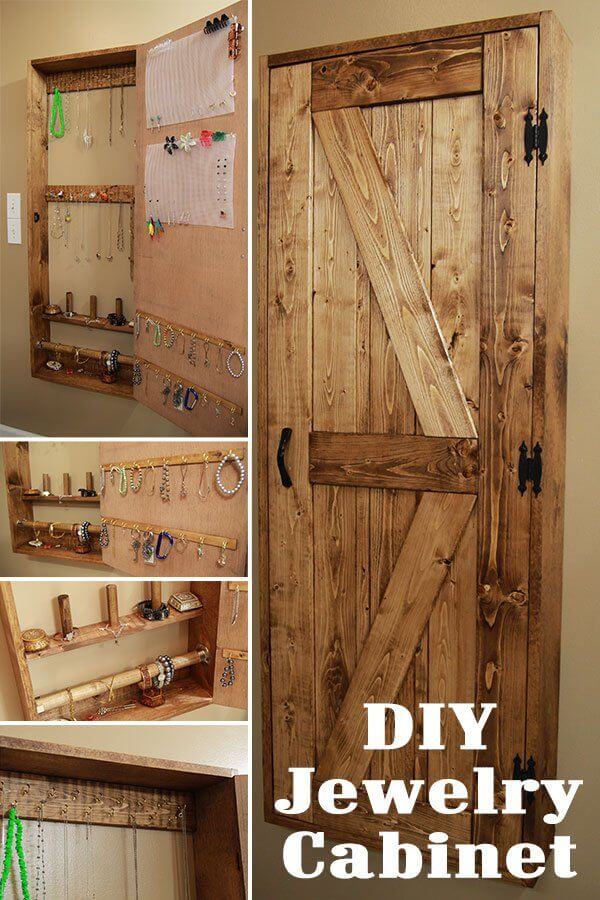 54. Upcycled Wood Pallet Storage Chest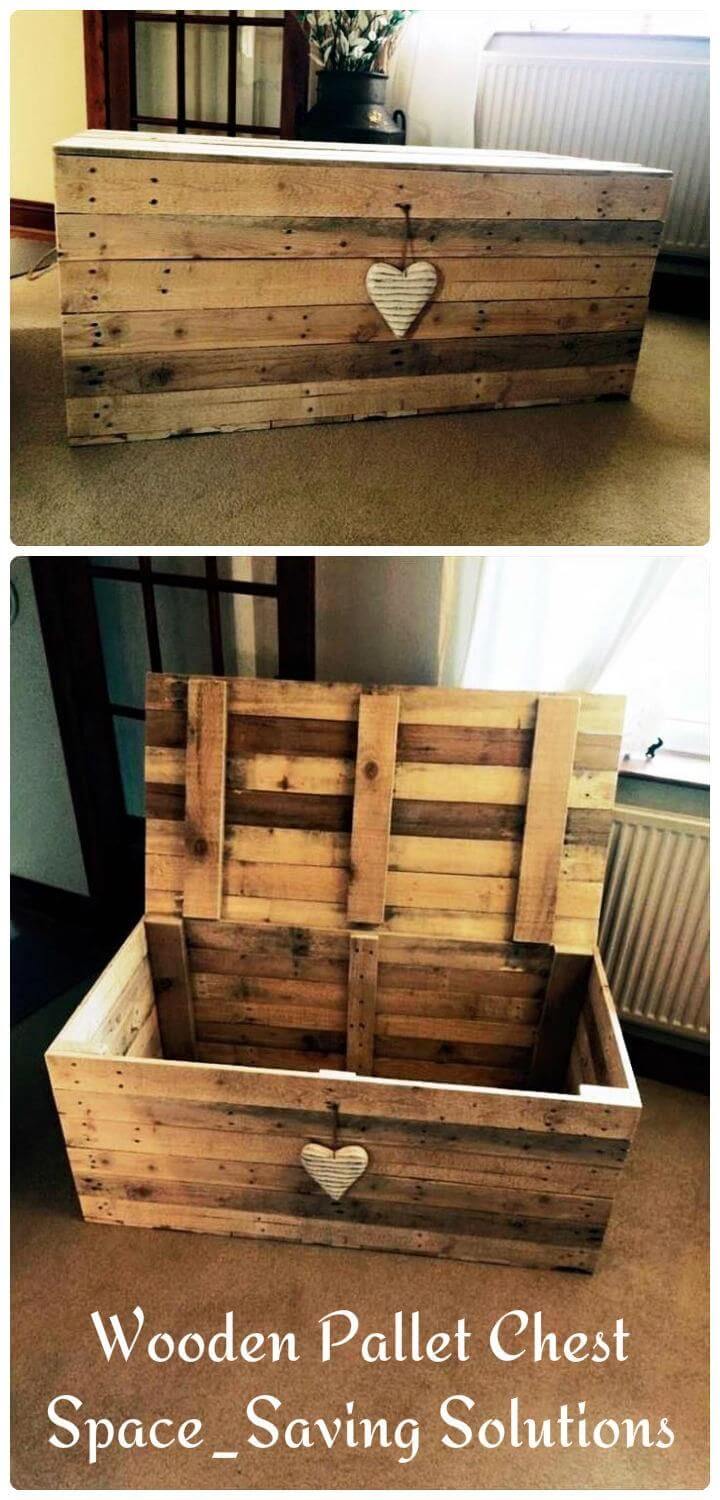 55. Vintage Wood Crate Coffee Table

Our Favorite Rustic Entryway Decorations to buy on Amazon