Summer is just around the corner, and if you are anything like me, one of your favorite things to do on a warm summer day is go to the beach. The soft white sand, the turquoise waters, and the seashells that you find along the coastline are all a part of a visit to the beach.
35+ Creative DIY Shell Project Ideas that are Easy to Create

Unfortunately, not everyone lives near the shore, so if you want to make your home feel like a cottage by the beach, you can take some of the seashells that you collected during your beach vacation and create some amazing DIY shell projects that your guests will envy.
You can make a picture frame out of seashells, make shells into a planter for your succulents this summer, or create a wind chime out of them if you like. The DIY shell project ideas that you can make are virtually endless.
This guide is designed to help you come up with ideas that you can use to create new décor in your home using the seashells that you acquire at the beach. Choose one or more of the ideas that I have put on this list and make it part of your beach inspired décor in your home.
1. Oyster Shell Decorative Catch-All Dish Trays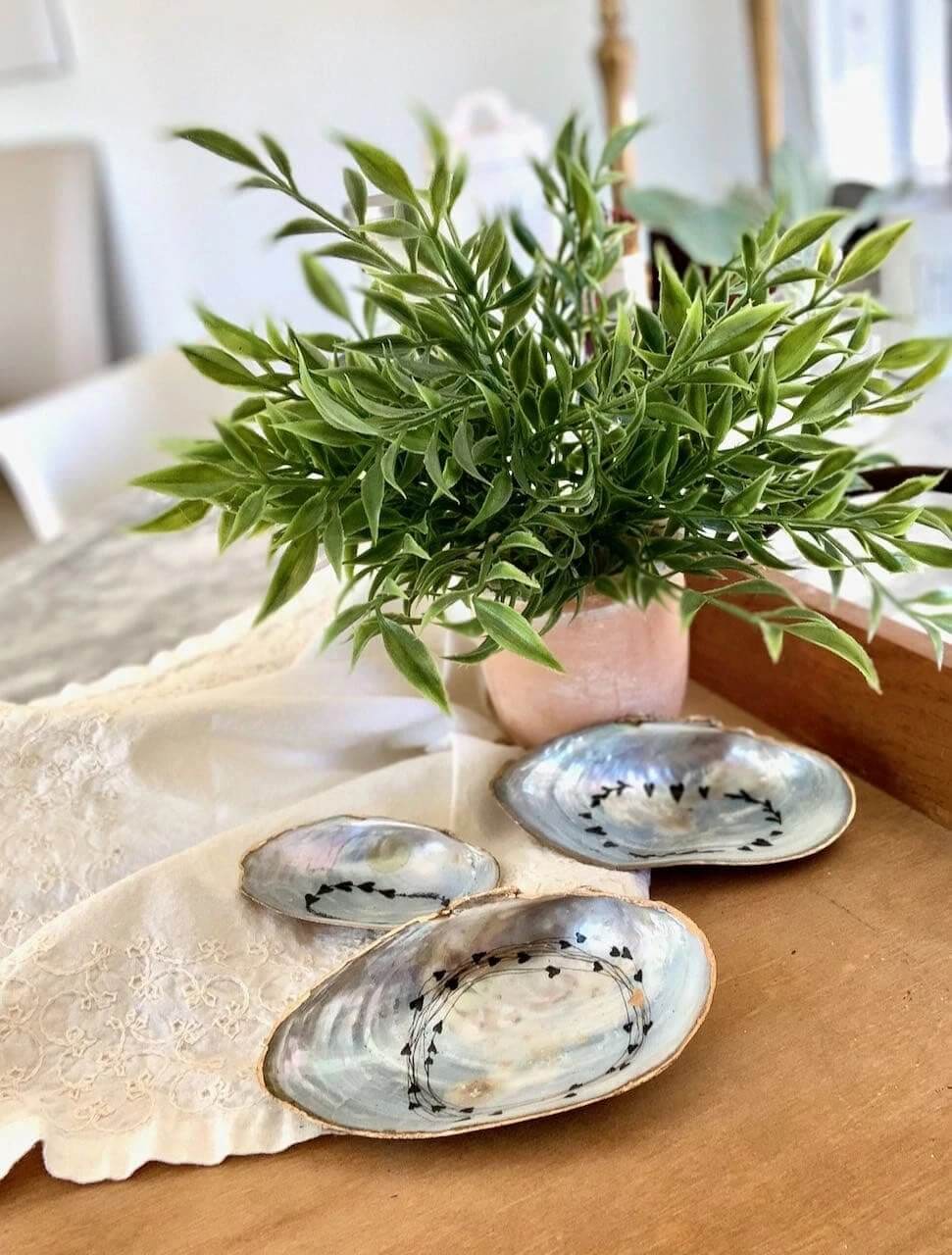 Who doesn't need a small dish to catch all of those tiny items at the end of the day? Your dresser or nightstand isn't complete without one of these hubs. Make it decorative and delightful with an oyster shell. Loose change, buttons, and jewelry items will be easy to find as you use these iridescent eye-catchers for your go-to place of stashing all of your tiny treasures before bedtime.
2. Spectacular Shell Encrusted Planter Nautical Decor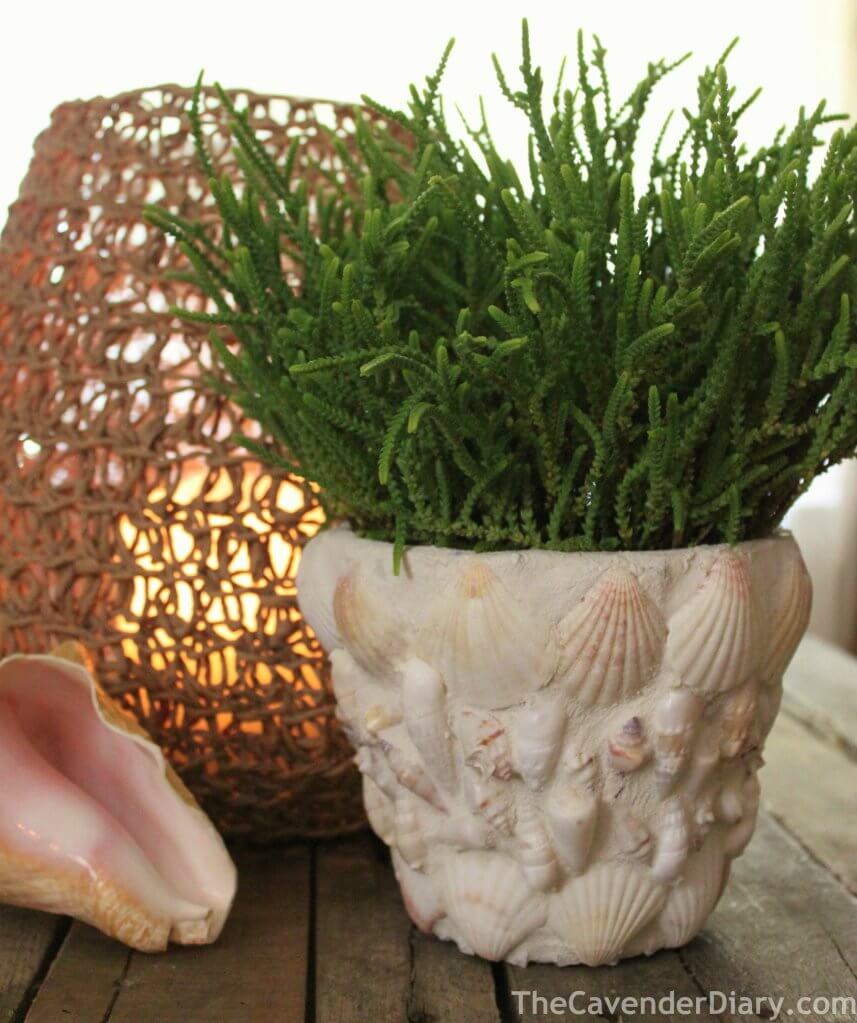 Add some interest and lots of texture to your planting scene with this shell-encrusted masterpiece. By taking an ordinary planter and adding an array of seashells around it, you'll love the new creation that comes to life. This is a great way to incorporate your love of the ocean into your home's decor regardless of your interior design style. Such a lovely shell encrusted planter will look amazing in any corner of your home.
3. Seashell Heart on Pallet Wall Art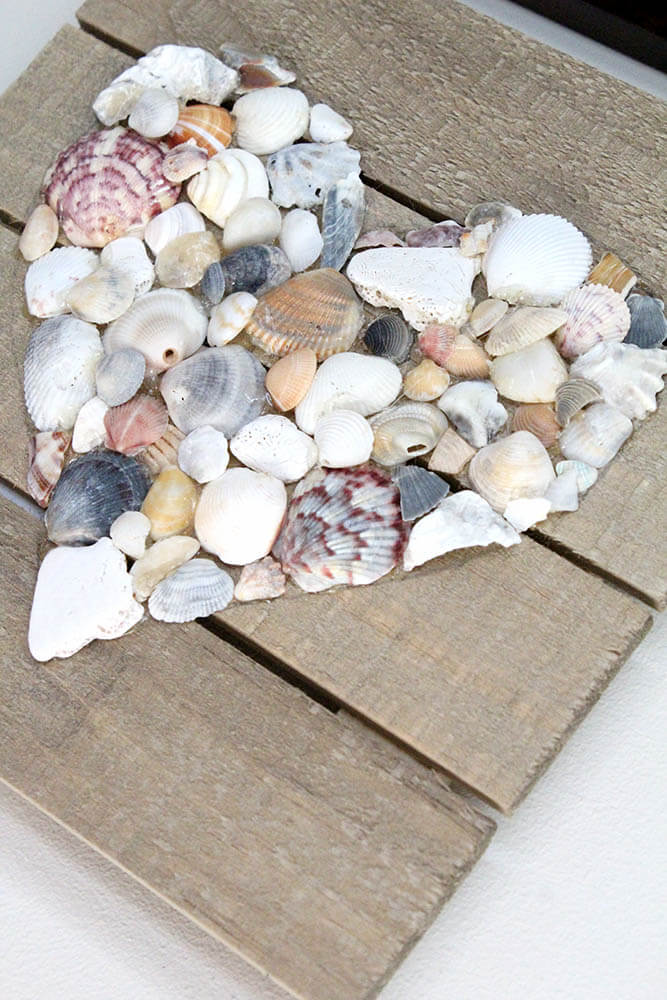 Leave your heart at the sea and bring this unique creation home to remember it. A rustic pallet piece becomes the ideal background for this unique heart that's perfectly formed from collected seashells from the beach. Hang this in your home for your family to admire as the kids point to the favorite shells they found and admire the beauty of nature transformed into wall art.
4. Split Clam Shell Wood Wall Art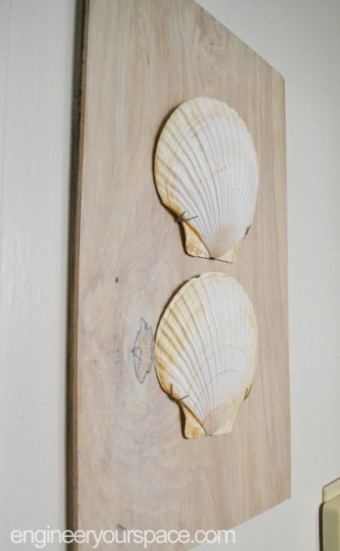 Look at the beauty and simplicity in this charming and delicate shell and wood wall art. A clamshell that's been split in half makes the perfect focal point for displaying on this plain wooden board. It adds just a hint of the beach to your master bedroom. Create this easy DIY project from a favorite shell in your collection and you'll enjoy a personal piece with a story as you're reminded of a cherished vacation.
5. Chain Linked Oyster Shell Lamp Shade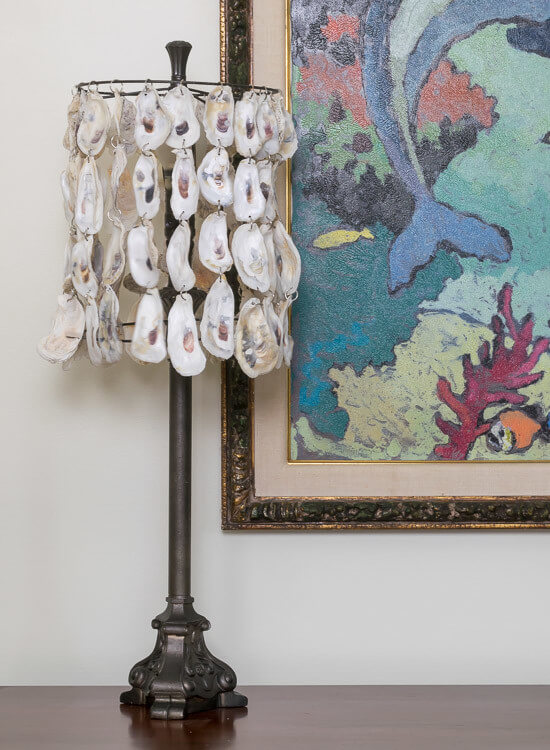 The sea is calling and while you're stuck at home and can't answer, at least you can enjoy the unique ocean beauty of this oyster shell lamp shade. Crafted with four rows of shells, this interesting lampshade is the one-of-a-kind piece your home needs. After an afternoon of walking on the beach, spend the evening crafting this conversation piece that's sure to light up your room.
6. My Heart Belongs to the Beach Art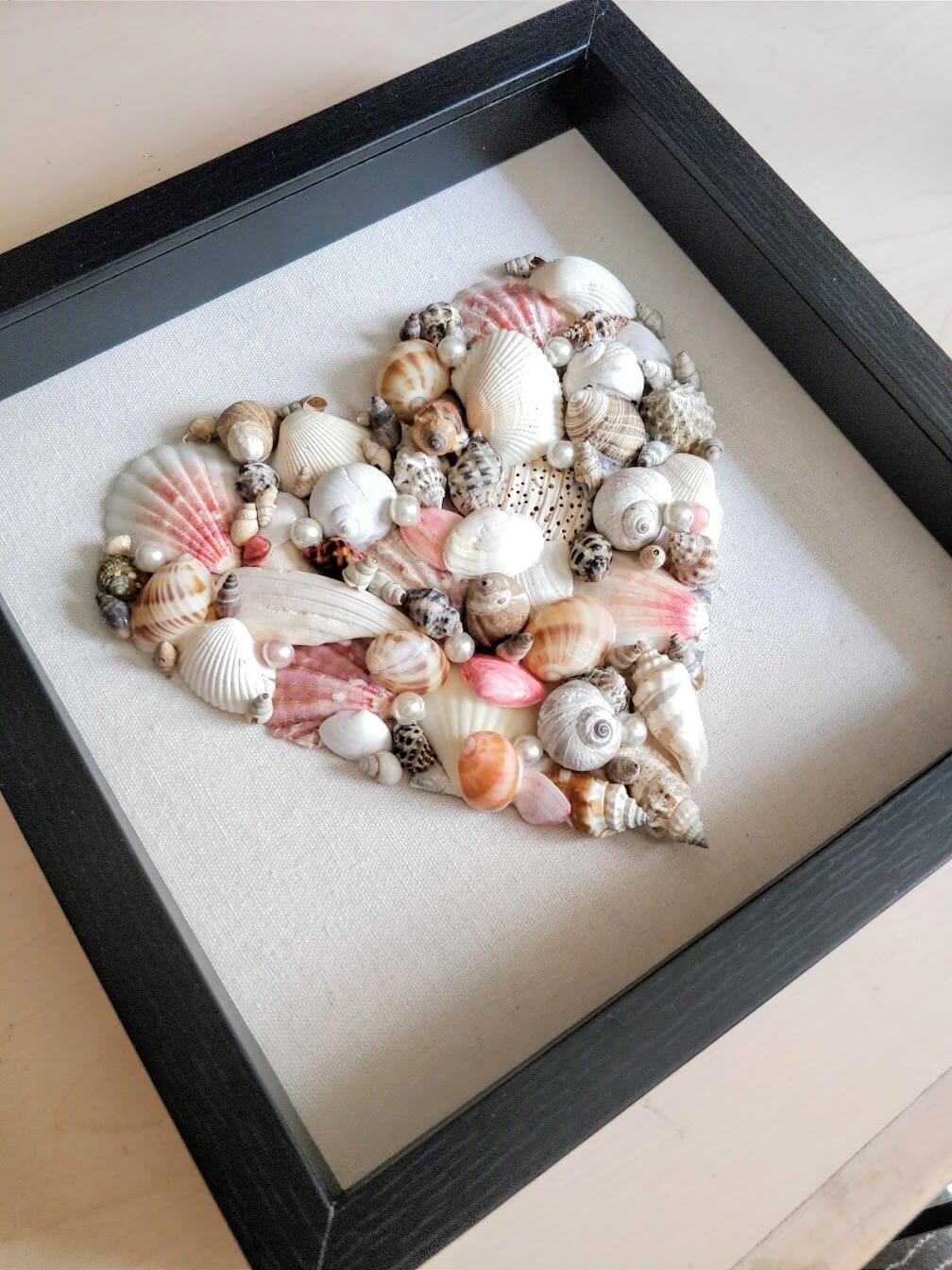 So simple and minimalistic, yet so full of rich beauty and thought. This intricately designed and thoughtfully planned shell art for your wall is a wonderful way to appreciate your love for the beach. A variety of shapes, sizes, and styles of shells come together to form the symbolic icon of love- the heart. Set within a black-framed box, they are mounted onto a blank canvas giving them the attention they deserve. It's a lovely bedroom decoration or gift for a beach-loving companion.
7. Gorgeous Ocean Beauties Shell Cork Stoppers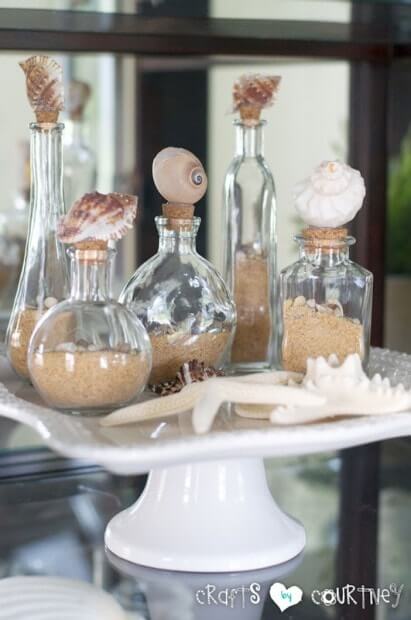 Hear the crash of the waves as you feast your eyes on these lovely shell cork stoppers. They are the perfect choice for securing your sand and shells within a decorative glass jar. Create a beautiful display with several on a raised tray and surround them with some larger beach treasures. This makes a magnificent centerpiece for your summertime entertaining needs.
8. Grapevine and Shell Coastal Country Creation Wreath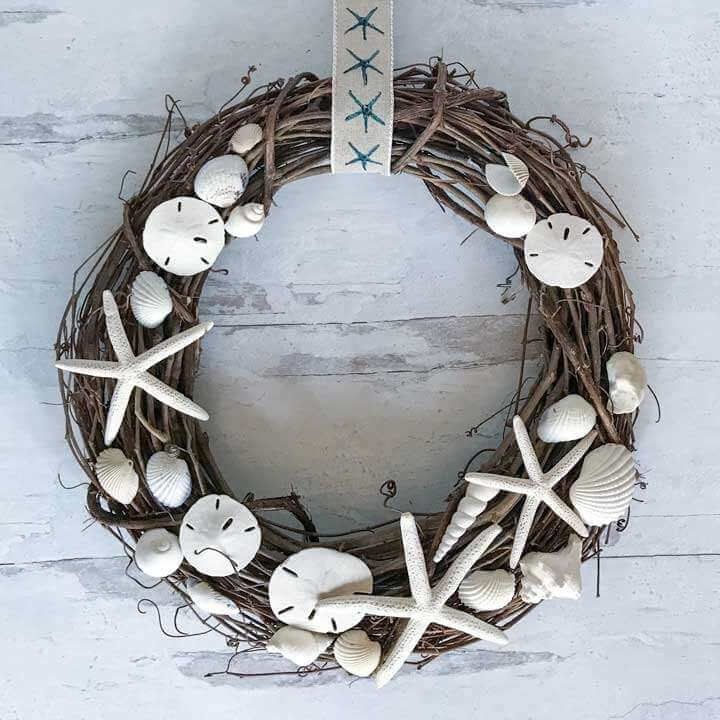 Give your ordinary country grapevine wreath a coastal cuteness by adorning it with some seashells and starfish. The look is complete with a wide nautical ribbon that serves as the wreath's hanger. This simple, but stylish shell wreath makes a great greeting for your front door or a warm-weather accessory for the interior of your home.
9. Decorative Glass Jar for Seashell Displaying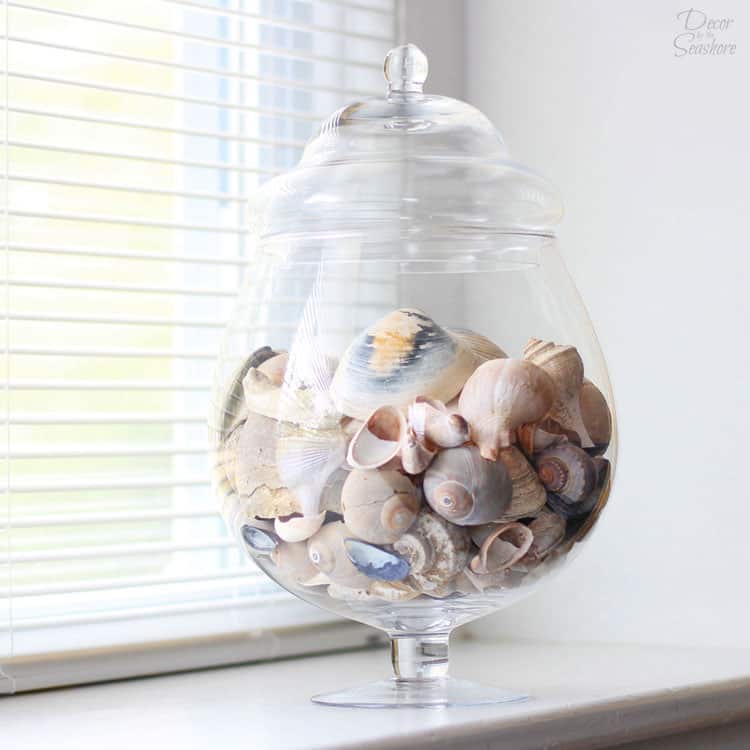 Show off your prized collection of shells in a large, glass jar so everyone can see the treasures you've discovered! The variety in colors will add to the charm of your home's decor. Choosing one with a lid allows the goodies to be free from dust and easily accessible too. A large glass jar offers unmatched 360-degree views as the shells can be seen from every angle. Enjoy showcasing your collection of seashells after a nice cleaning in a large jar on the kitchen island of your home.
10. Bright and Bold Tropical Fish Shell Craft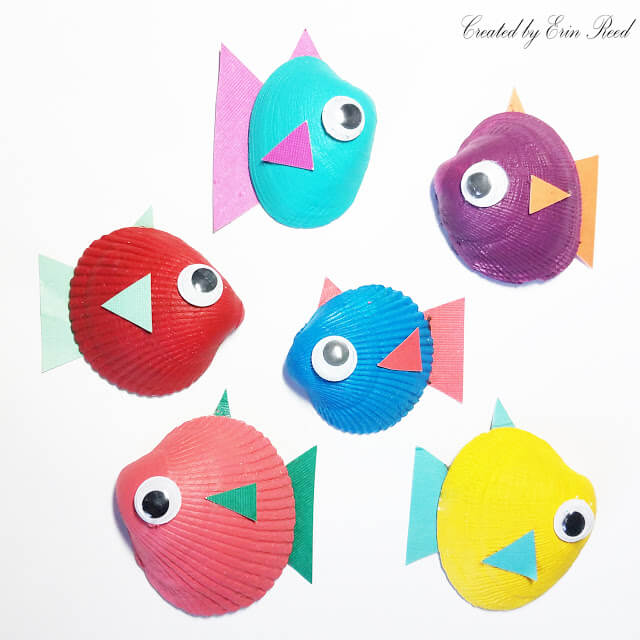 Kids of all ages will love this vibrant and fun fish shell craft! It makes a fabulous summertime activity for kids that doubles as decorative garden items for adults. Glue a magnet on the back for kids to hang on the refrigerator, toss them into your favorite flower bed for a tropical vibe, or adhere them around a plain picture frame for a festive way to display a treasured beach photo!
11. Unique Decoupage Scallop Shell Dish Decoration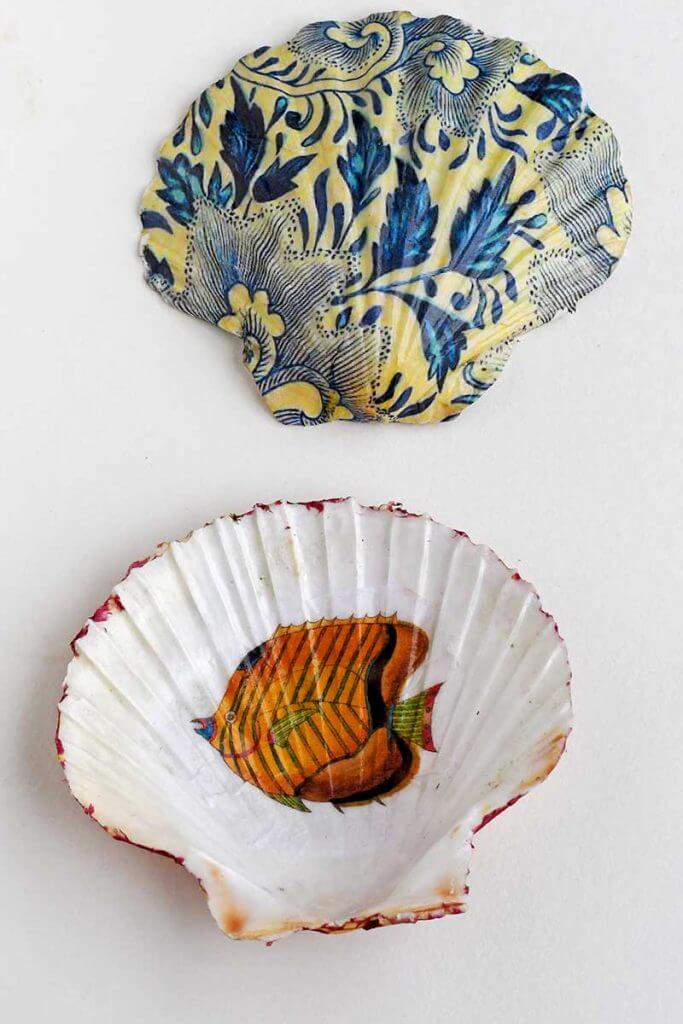 Make an original soap dish for your tropical bathroom with this easy DIY decoupage scallop craft. The natural shape of the scallop shell provides the perfect foundation for this creative concept. Maybe you wish to adhere with a brightly colored fish or perhaps a gorgeous pattern is more your speed, no matter what you choose to apply you are certain to create an original look that's perfect for your space.
12. Super Succulent Sea Shell Bowl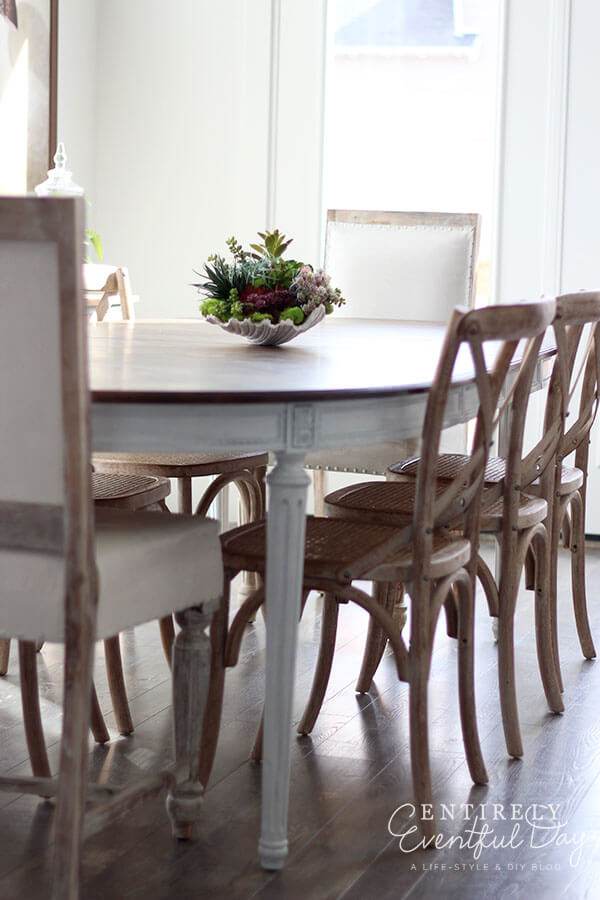 Indulge in the love of house plants and bring some gorgeous, waxy succulents into your home. This large seashell makes an amazing container for housing all of your green friends. Placed as a centerpiece of the dining or coffee table or as an accent on the kitchen island, this gorgeous, natural home decoration adds style and a breath of fresh air into your home.
13. Antique Sea Shell Studded Oval Mirror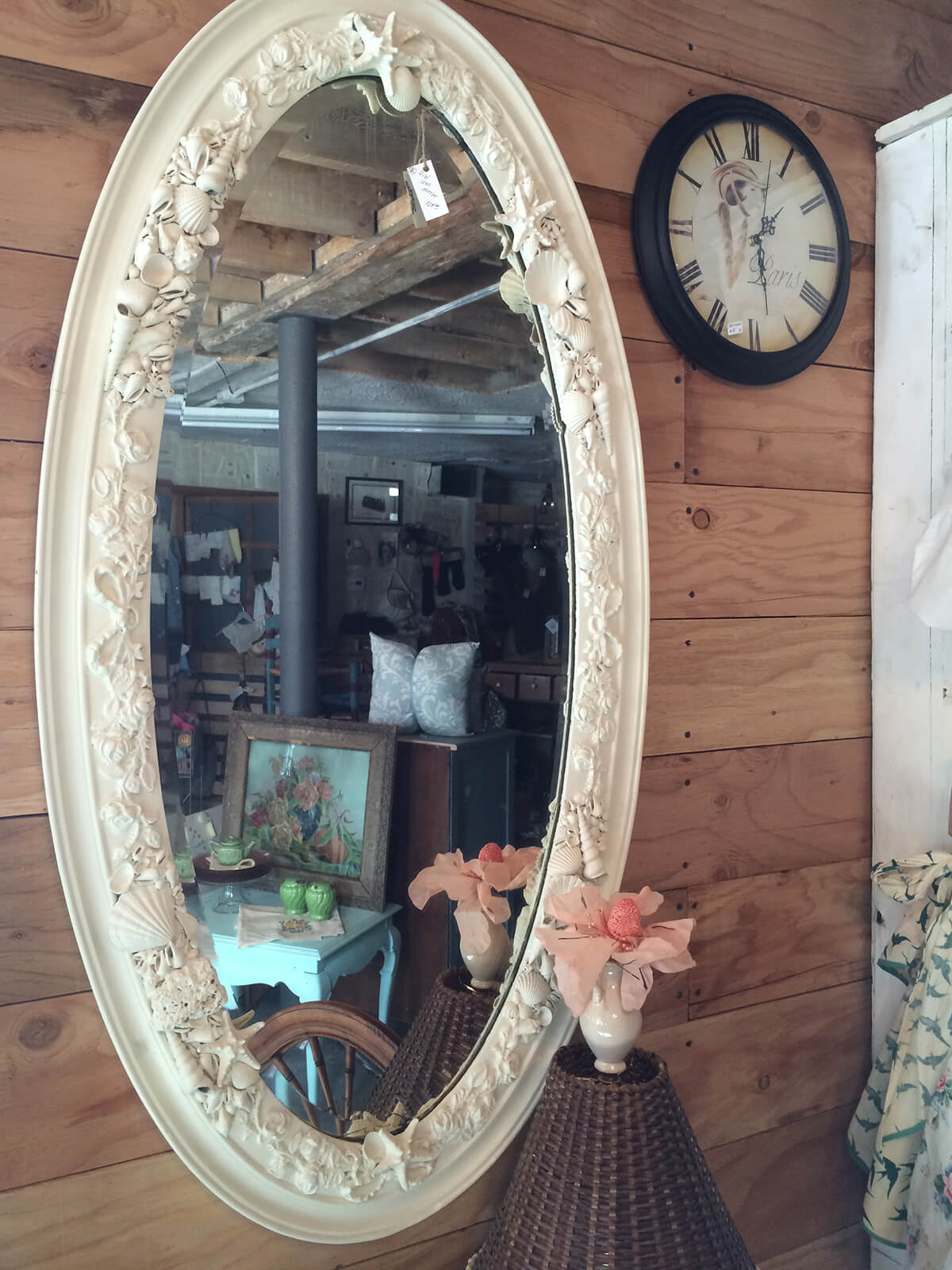 Monochromatic makes this seashell studded oval mirror have an elegant feel without being stuffy! Around the rim of this oval, there is a beautiful shell-lined border that gives a lot of texture in a shy manner. The shells and trim are painted in the same color to provide a smooth and continuous border to the large mirror. Hanging at the end of the hall or over the bathroom vanity is a great idea for displaying this elegant masterpiece.
14. Beach Lover's Coastal Tray Home Decoration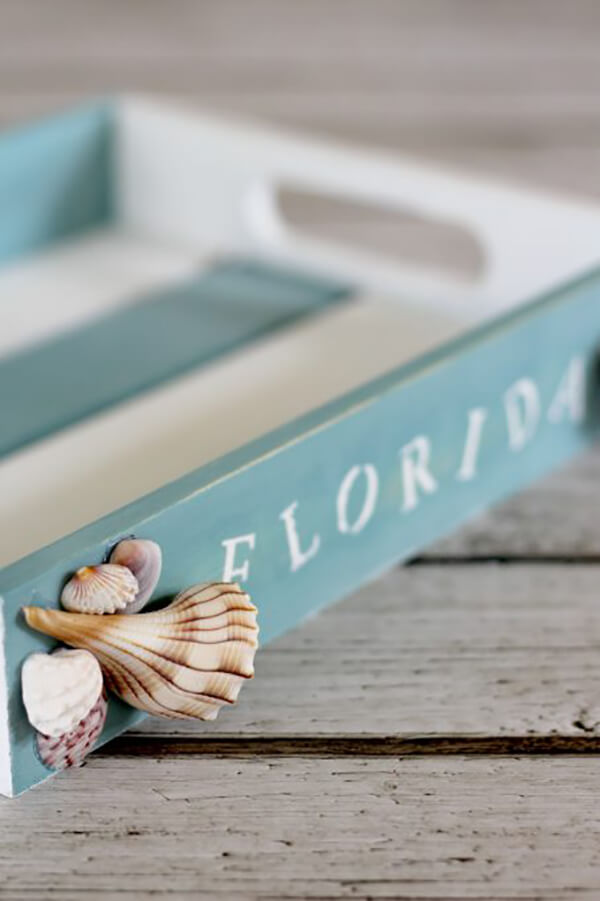 Add some coastal comfort to your coffee table with this beautiful coastal tray decoration. A plain wooden slatted tray transforms into a gorgeous and new beach-inspired home decor piece. Add a few of your favorite shells to the side and stencil your favorite vacation destination too for a one-of-a-kind design that's uniquely yours. Set this on a tabletop and fill it with a candle and large shell to add to the cozy comfort of your coastal climate.
15. Simple Burlap Back Shell Heart Art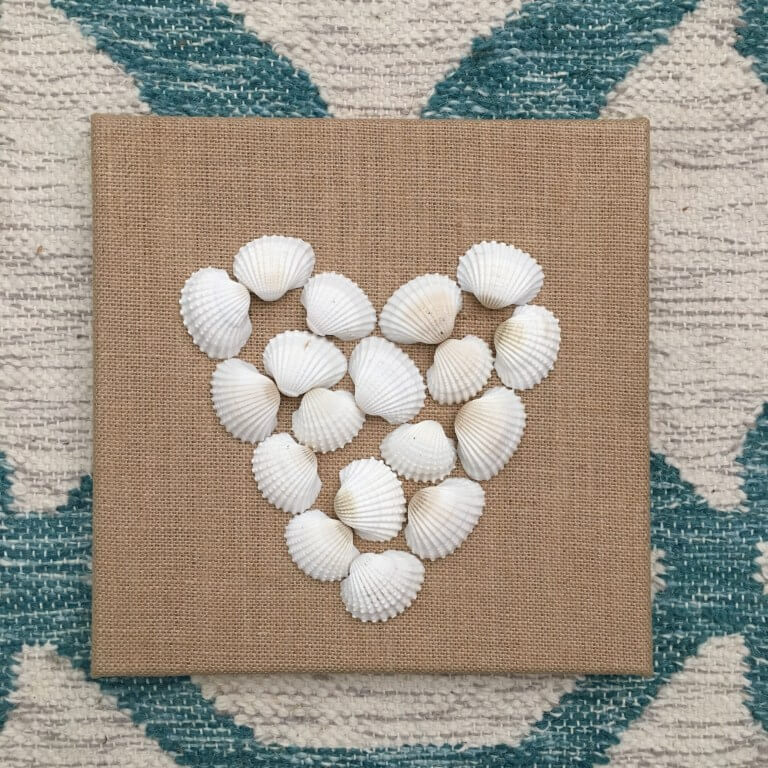 The language of love is alive and thriving in this simple shell heart art. Using a burlap backing, the pretty and small shells form a lovely heart shape while infusing even more texture into the overall design of this square wall art tile. Hang this on the wall as part of a large gallery grouping or let it stand alone as a star on its own.
16. Budding and Blooming Beach Branch Decor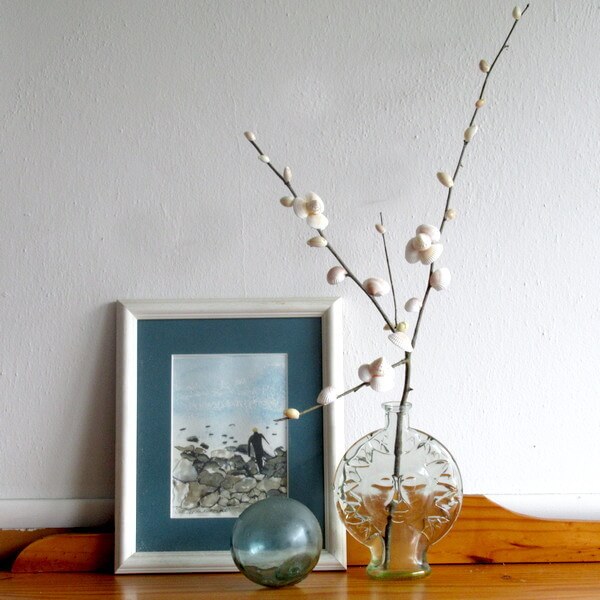 Here's a unique idea for using up all of those seashells from your many adventures to the beach. Using a tree branch and some hot glue, all of your gorgeous seashells steal the show as they transform into dainty buds and blossoming flowers on this beachy branch craft idea. Place it in a sea glass bottle to further add to its character and charm as you show it off as part of your new summer-infused decor.
17. Shell Embellished Frames for Photos and Mirrors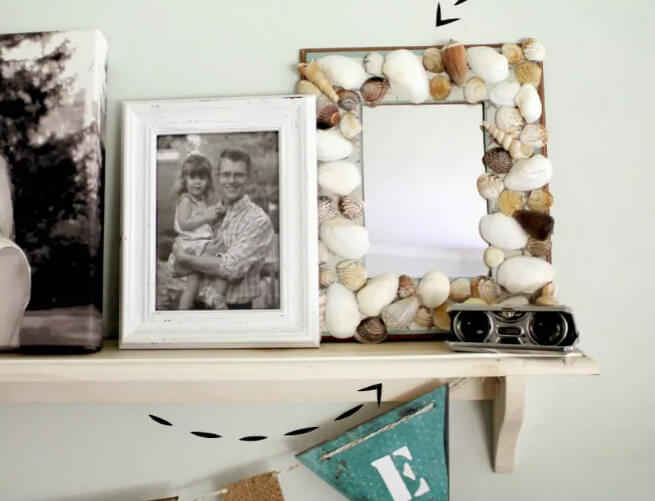 Give your frames an upgrade on a shoestring budget by creating these seashell-embellished picture frames and mirrors. The beautiful beiges and earthy tones will come alive from your shells while adding some warmth to your home. Incorporate one of these embellished frames into a display of white-washed decor. Place a larger conch nearby to further add the love of the beach into your home decor.
18. Fabulous Faux Capiz Shell Wall Art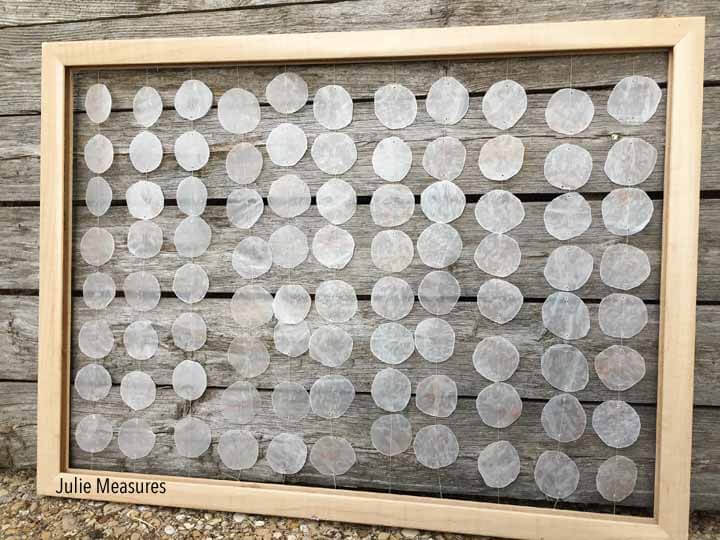 When you don't have a large collection of shells you can still enjoy some beautiful shell wall art. With a little creativity, wax paper circles can transform into pretty circles that resemble capiz shells and give you the look you love about the beach. A large wooden frame shows off these hanging rows of faux shells quite nicely and creates a unique and fabulous piece of wall art for your home.
19. Sand and Sea Shell with Candle Centerpiece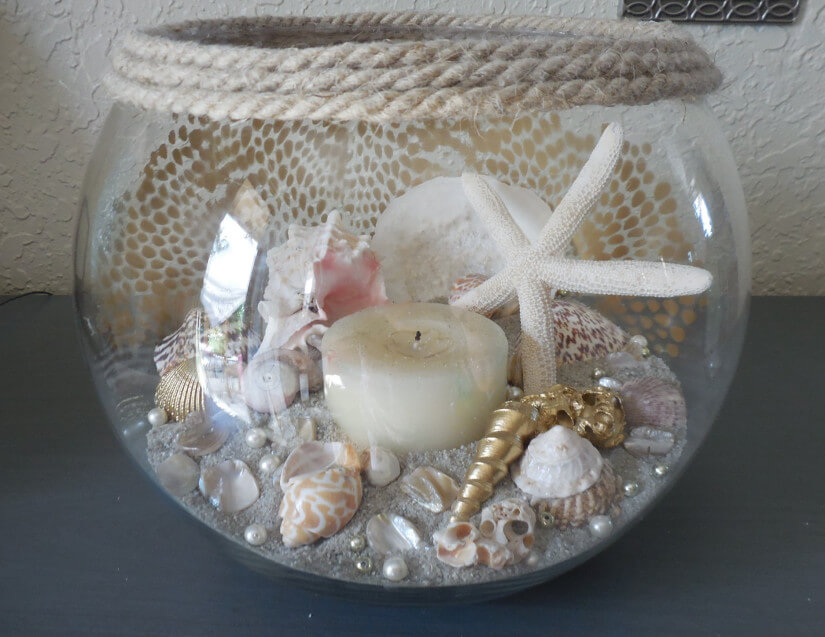 Give your home a fresh new look for summer with this perfect sea lover's centerpiece. A stout glass bowl provides the perfect container for your collection of seashells that are magically placed around a candle in the sand. Embellish the bowl with some metallic patterned artwork to tie into the gold-painted shells. Not only does this look great for a summer dinner, but it would be a wonderful wedding reception decoration idea.
20. Painted Canvas Shell Art Squares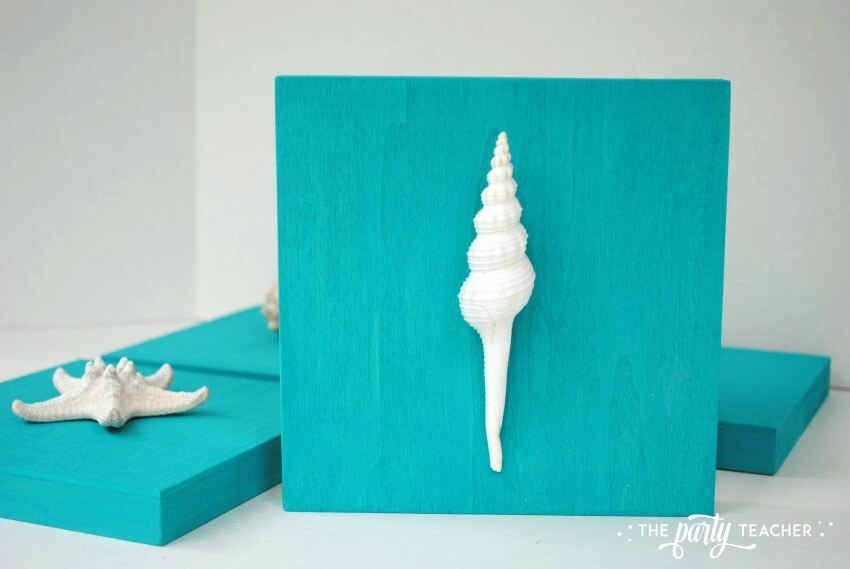 Make a bold statement on a small budget with these square canvas shell art ideas. Using a bright turquoise blue that resembles the sea, the background delivers on creating that beachy vibe in your home. Topping off this notion, a whitewashed seashell is placed front and center to add the perfect contrast and natural texture to this creative canvas square work of art.
21. Sea Turtle Shell Art Home Decoration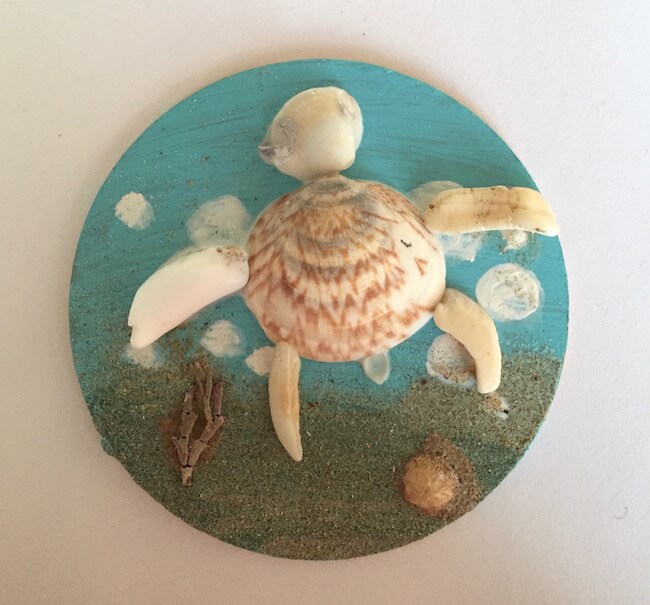 Bring together some of the most cherished beach creatures into one craft with this seashell sea turtle. Paint a beach landscape as the ideal backdrop for this creative craft project and you'll have a cute and happy sea turtle of your own swimming or basking on the beach. The individual shells unite as this cute little sea turtle that would be the perfect addition to a kid's room for summer fun.
22. Magnificent Mussel Shell Flower Bloom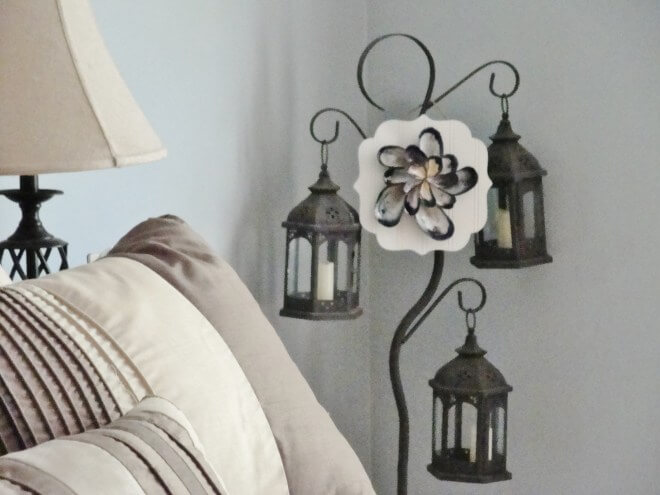 Capitalize on the rich beauty of the dark and shiny mussel shells by layering them into this gorgeous flower bloom. The shell petals form a lovely flower that can be hung on an existing home decoration or on your wall. What's not to love about the deep and dark border that naturally trims the edge of each unique shell? If you have a drab-looking wreath, this would make a perfect update in lieu of a large bow too.
23. DIY Beaded Seashell Night Light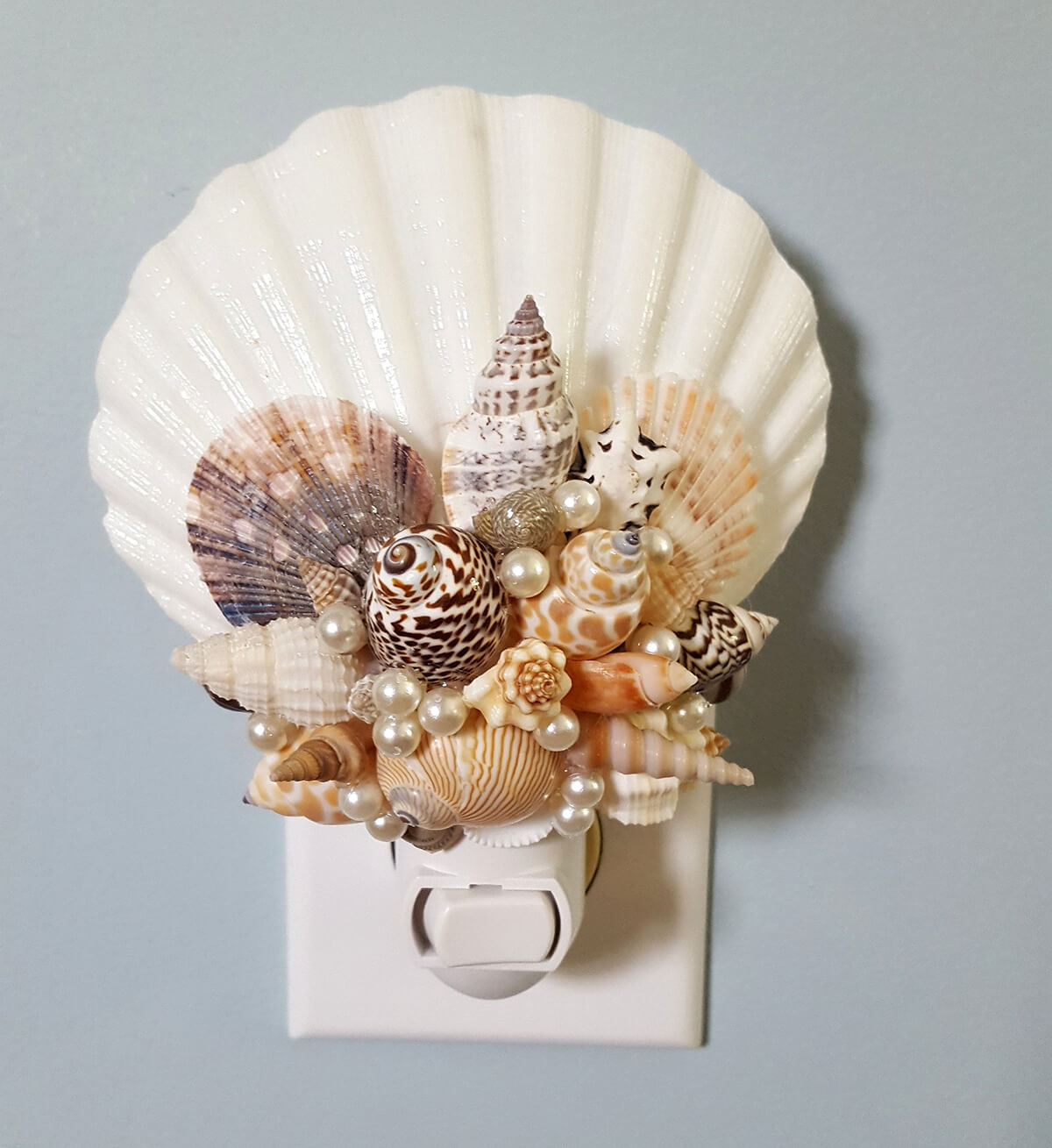 Everyone can use a night light for those trips to the bathroom in the middle of the night, so why not make it part of your home decor? A simple night light gets a big-time upgrade with the addition of beads and shells. Create a unique look that is pretty any time of day and add some comfort to your home after dark. This would be a cute style to place in the hall bathroom for guests to enjoy.
24. Calm, Cool, and Collected Shell Flower Decoration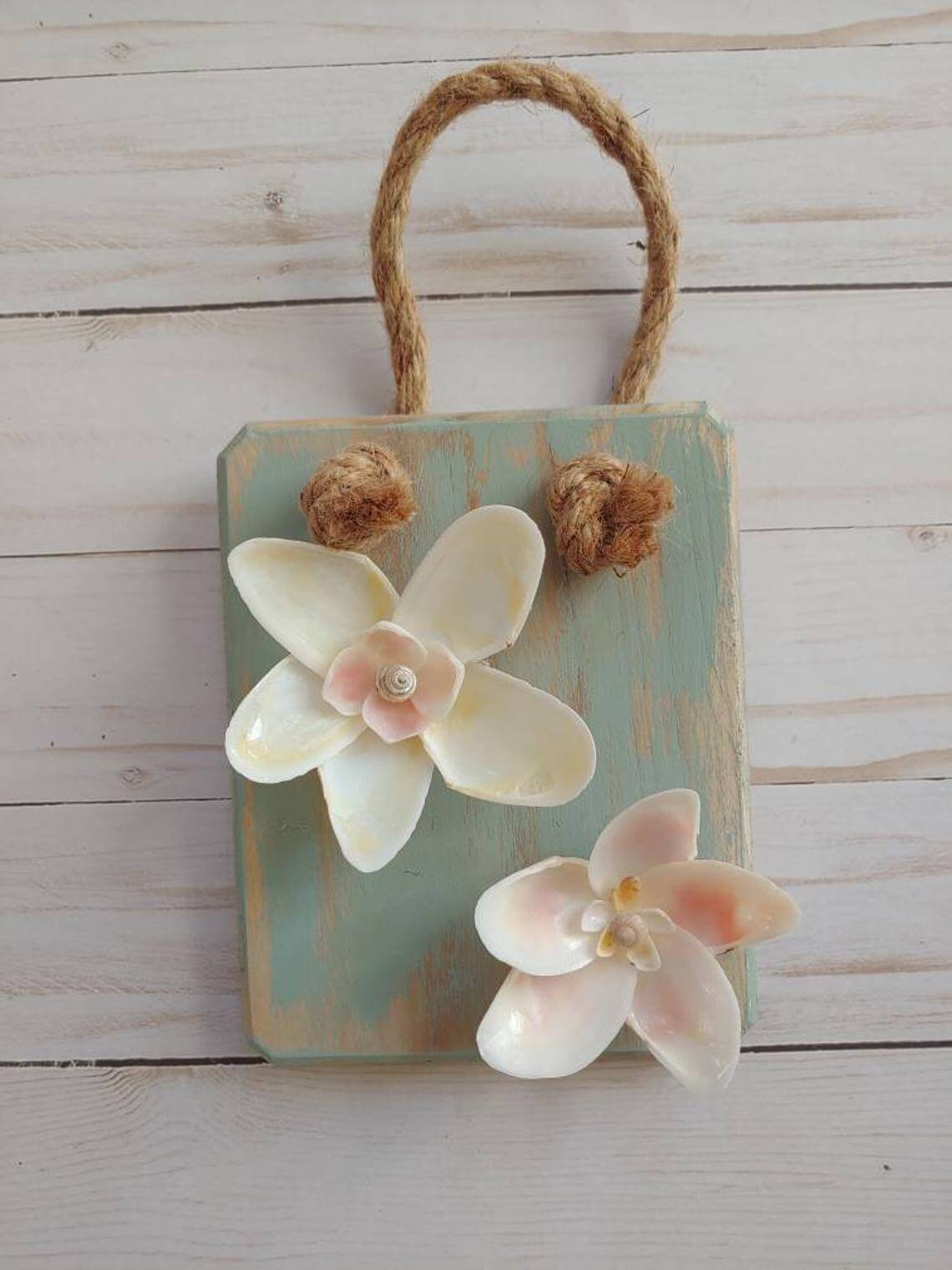 With a hint to Hawaii, this charming shell flower decoration is an original work of art that makes a wonderful gift for any female. The dainty center shell forms a perfect place for the shell petals to blossom. With the delicate pink and white hues, this seashell creation adds interest and beauty to your decor. Set on a rustic blue distressed wooden square, it's easy to hang with the included twine loop. Use it to add a small touch with lots of charm to your tiered tray this summer.
25. Heart-Shaped Shell Design on a Driftwood Background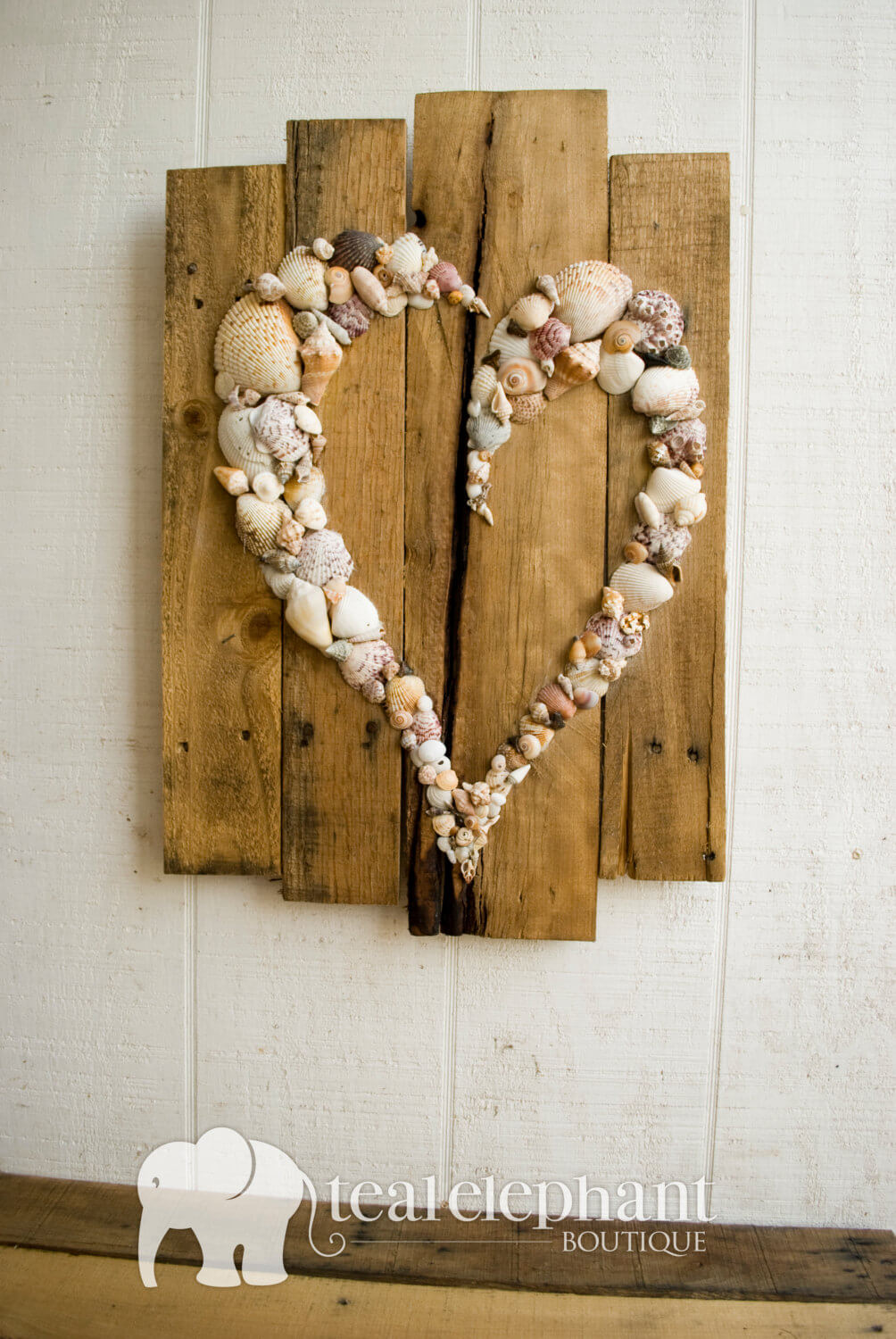 26. Shells and Pearls on the Letter E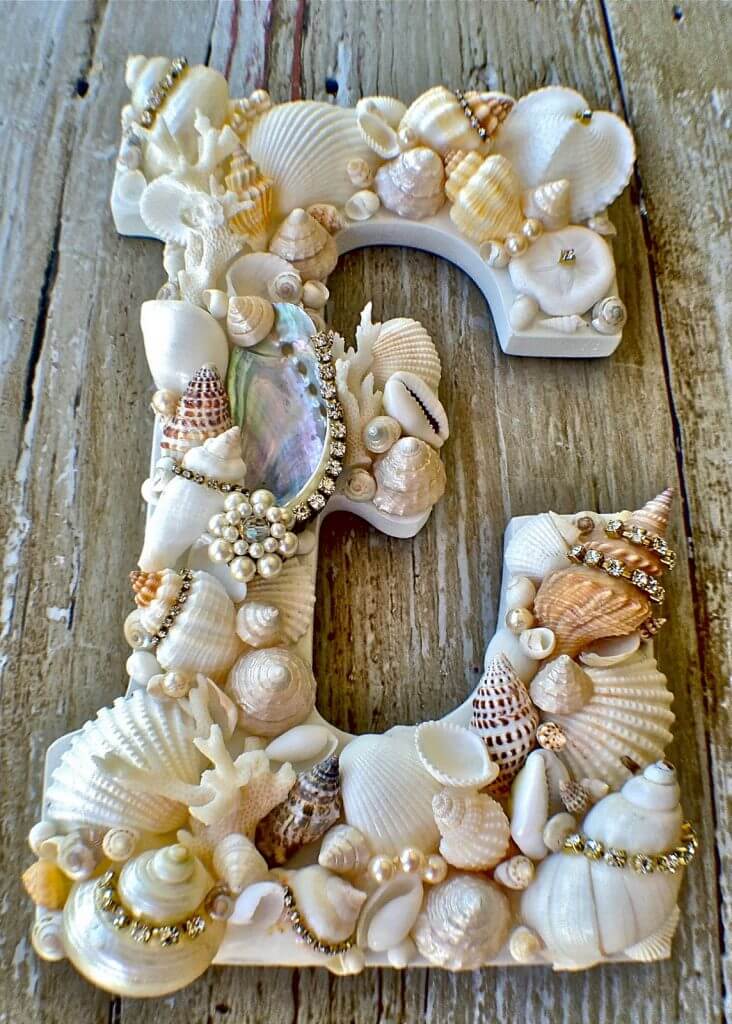 27. 3D Seashore View with Sand and Shells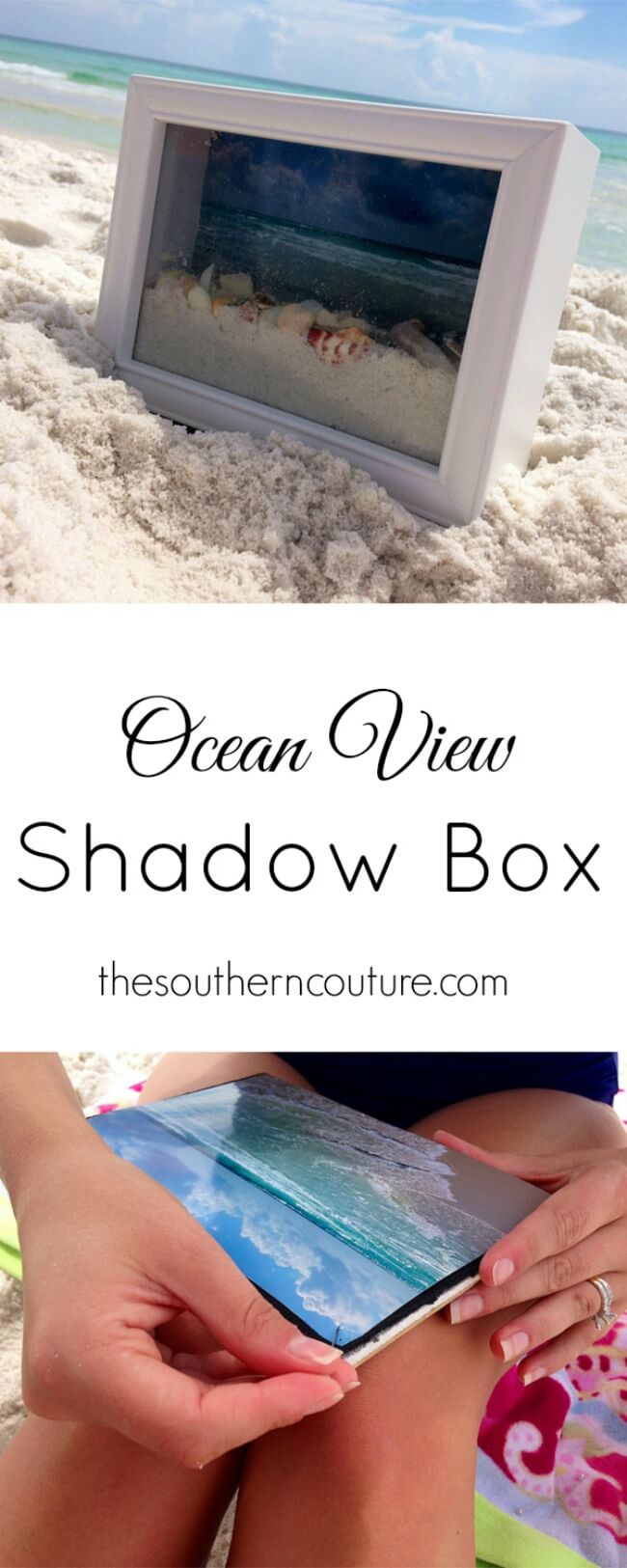 28. Jar full of Shells, Illuminated with Light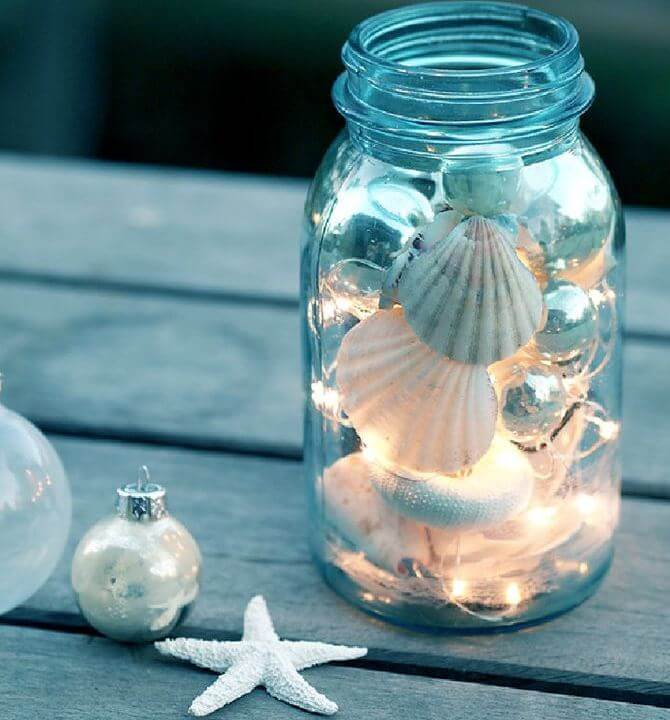 29. Tea Light Candles in a Seashell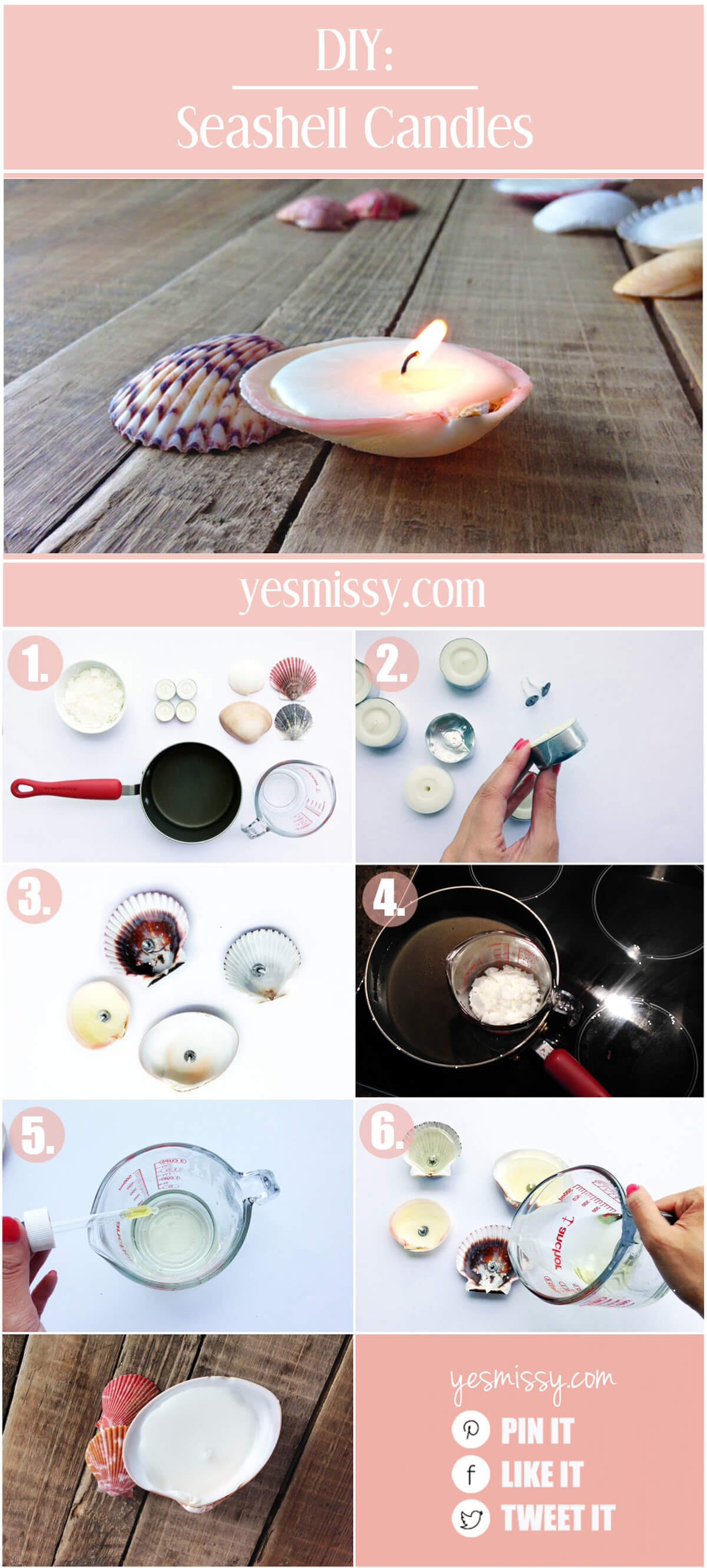 30. DIY String Lights Made of White Seashells

31. DIY Shell Project Ideas for Planters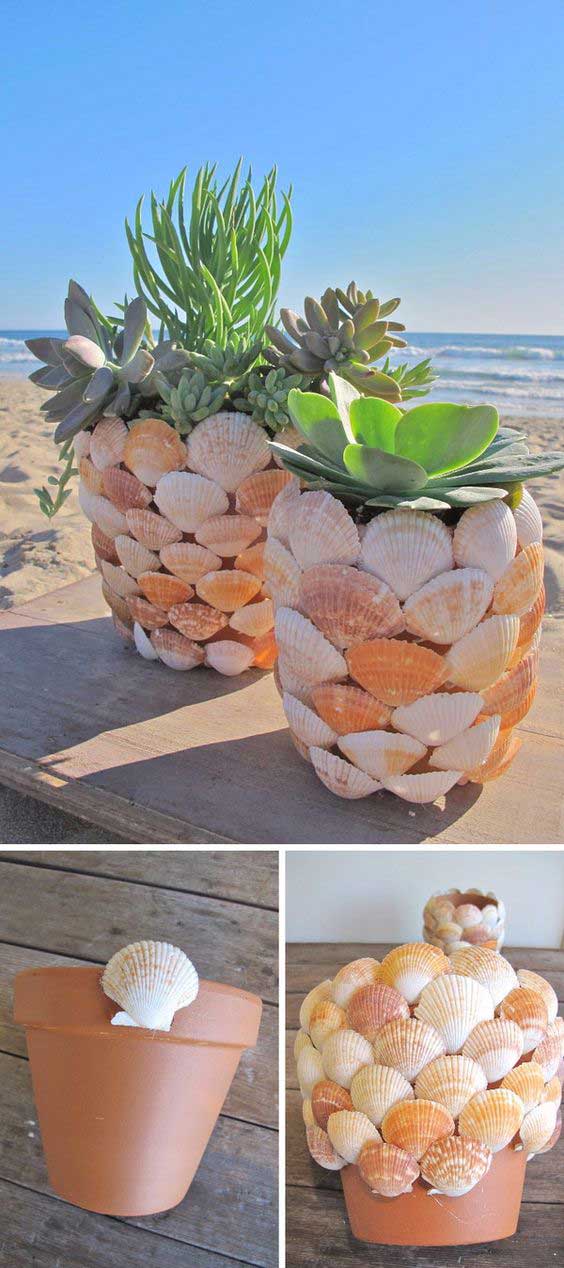 32. Seashells that Have Been Touched by Gold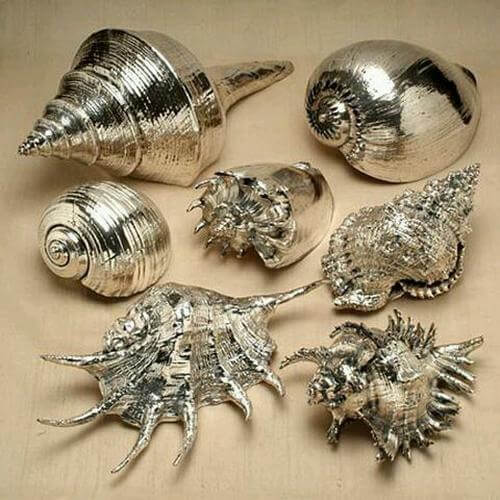 33. Beautiful Blooming Flowers Constructed from Shells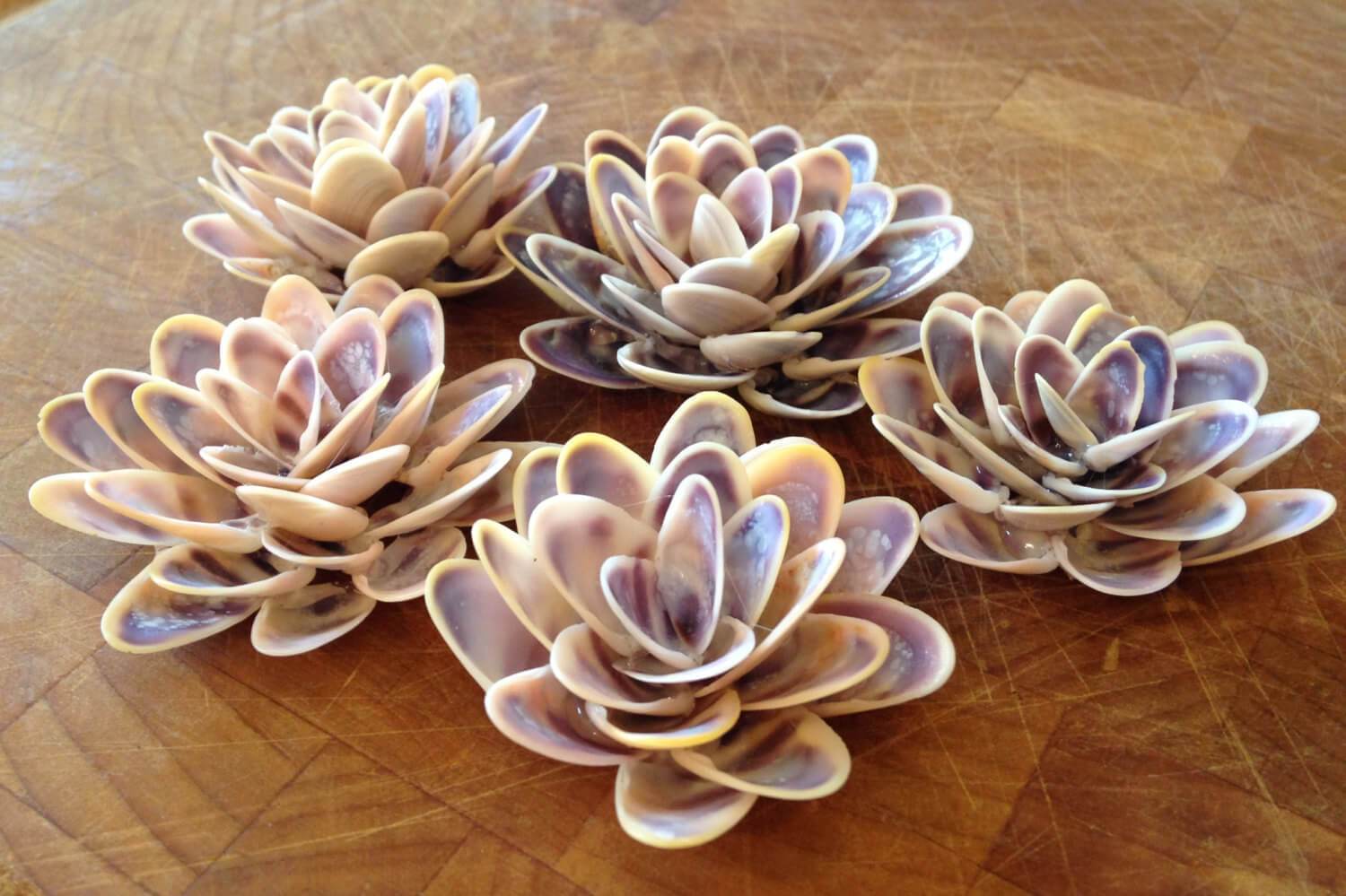 34. A Seashell Wind Chime for Your Porch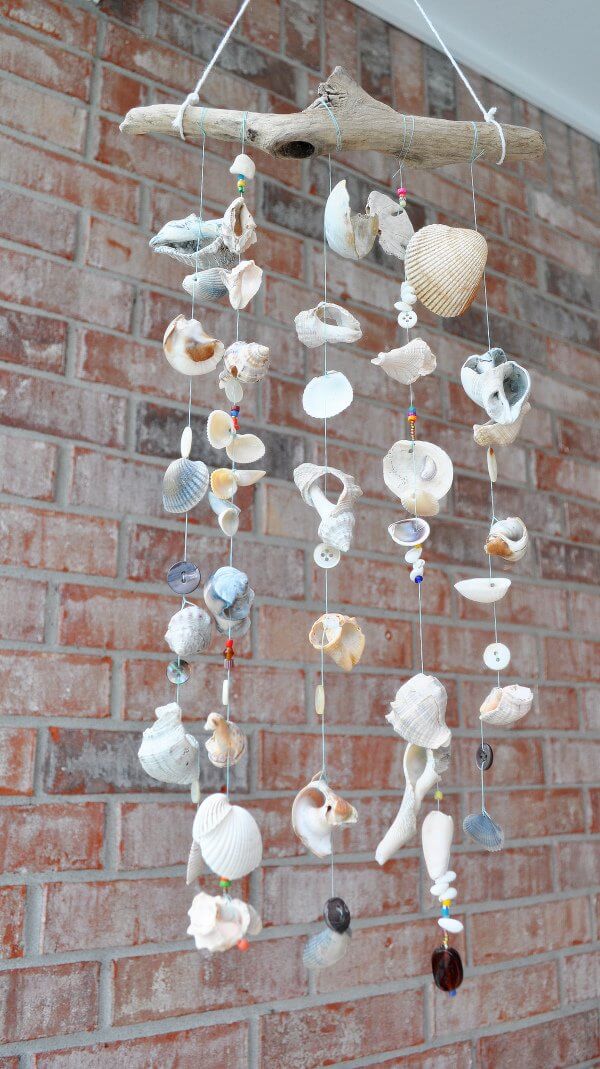 35. A Piece of the Beach in a Jar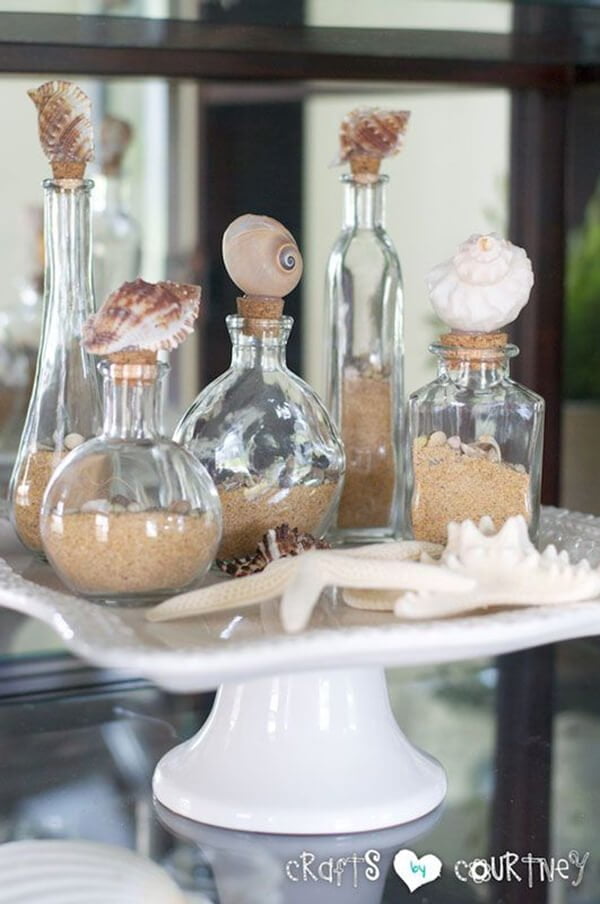 36. A Welcoming Driftwood and Seashell Wreath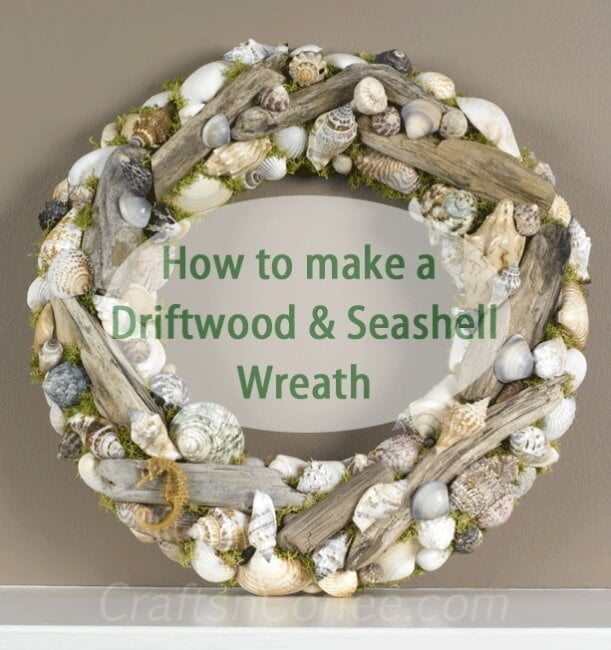 37. A Small Succulent Arrangement in a Seashell

38. A Large Candle Holder Crafted from Driftwood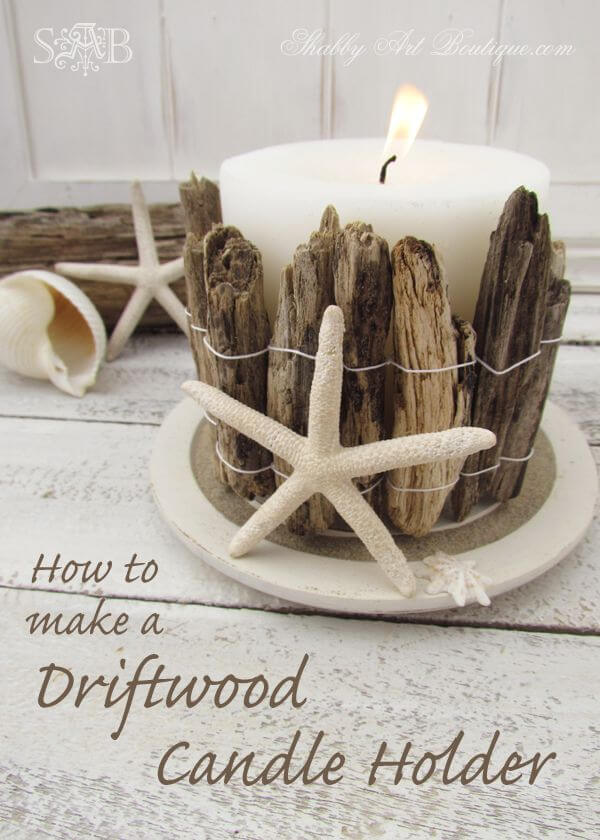 39. Bed of Seashells in a Coffee Table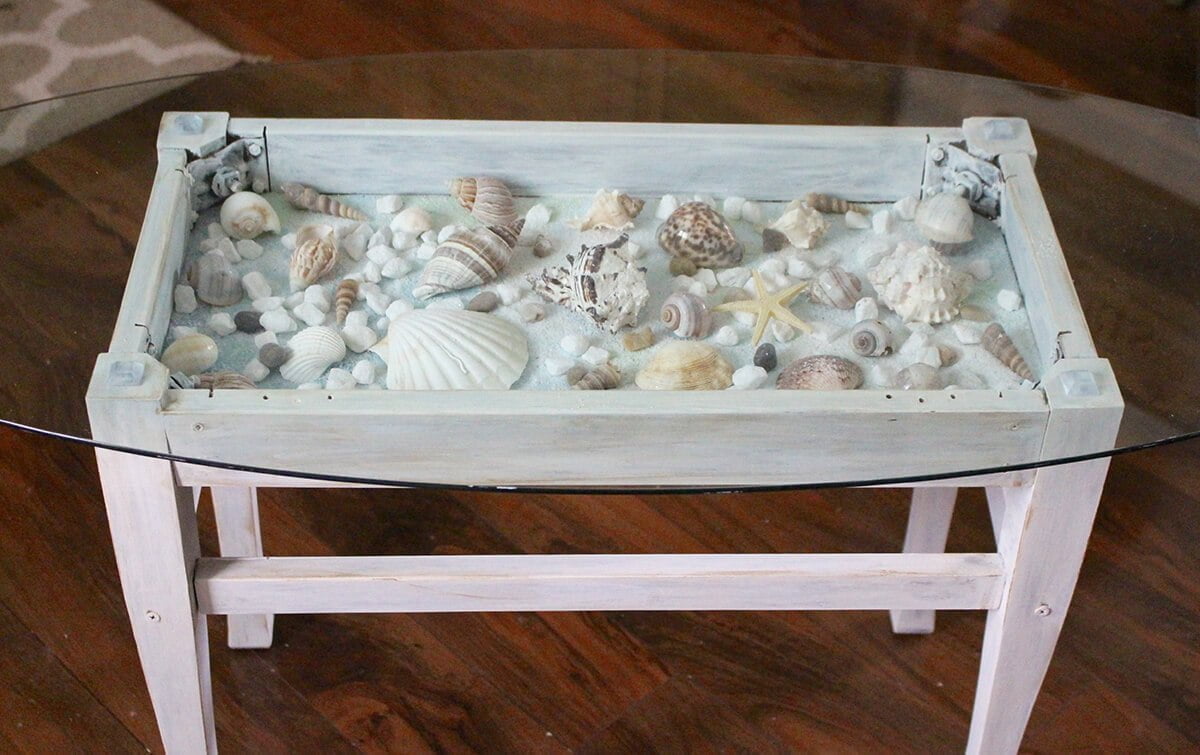 40. A Mirror Inspired by the Seashore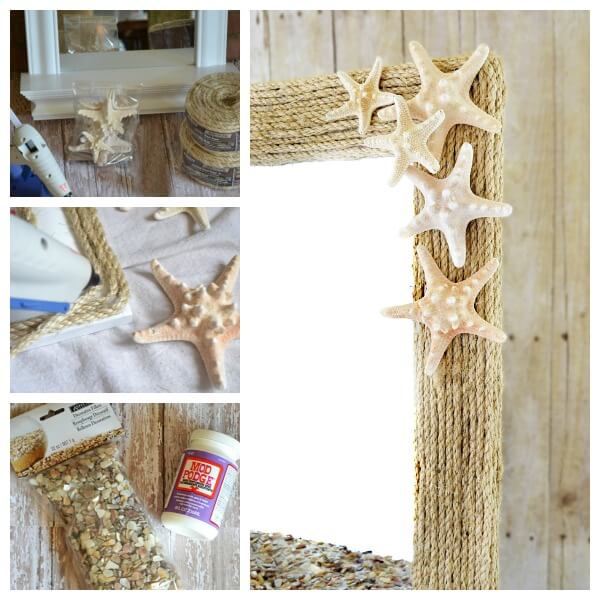 41. 3D Pineapple Art for Your Porch

42. Lantern with Remnants of the Beach Inside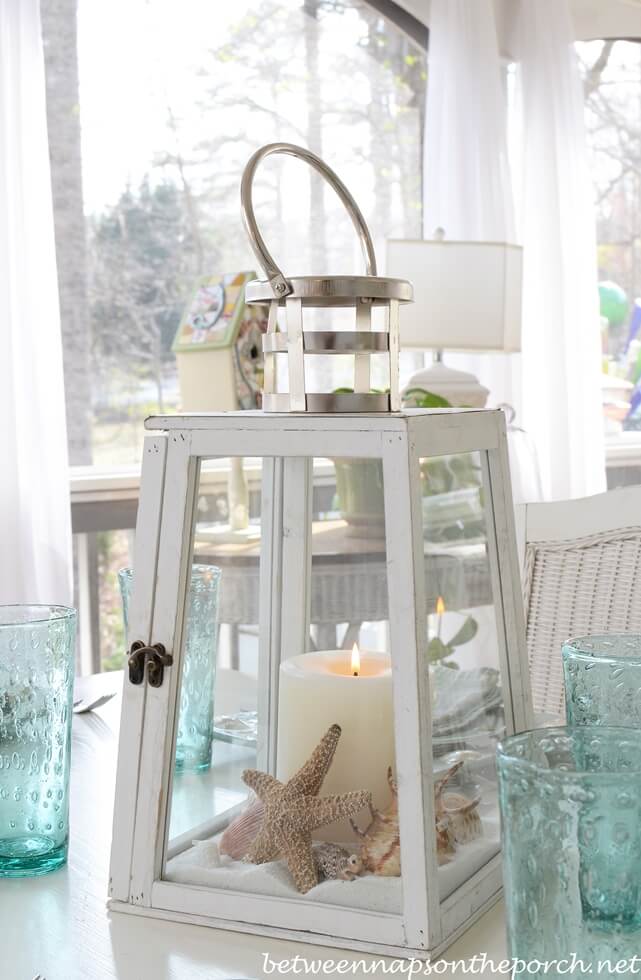 43. Wall Art Inspired by the Shore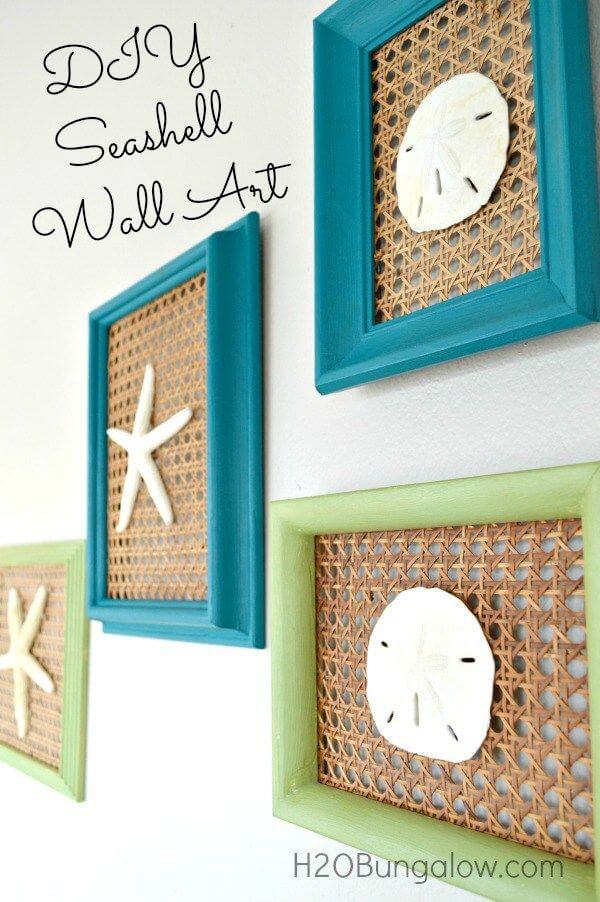 44. Hanging Succulent Planters Made From Conch Shells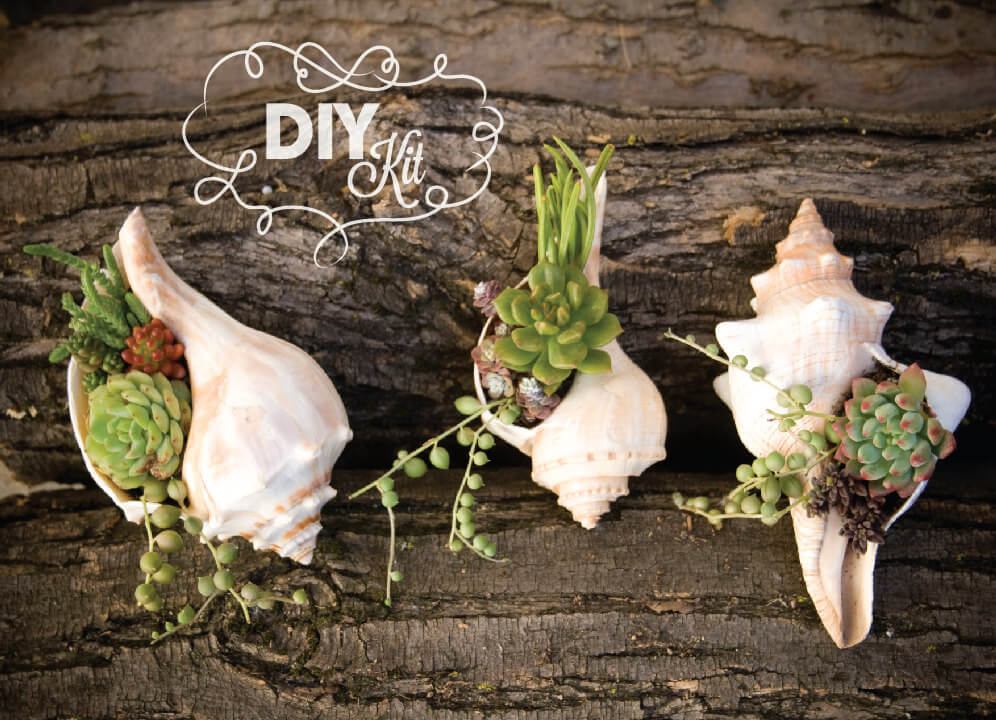 45. Crystallized Seashell that Sparkle in the Sun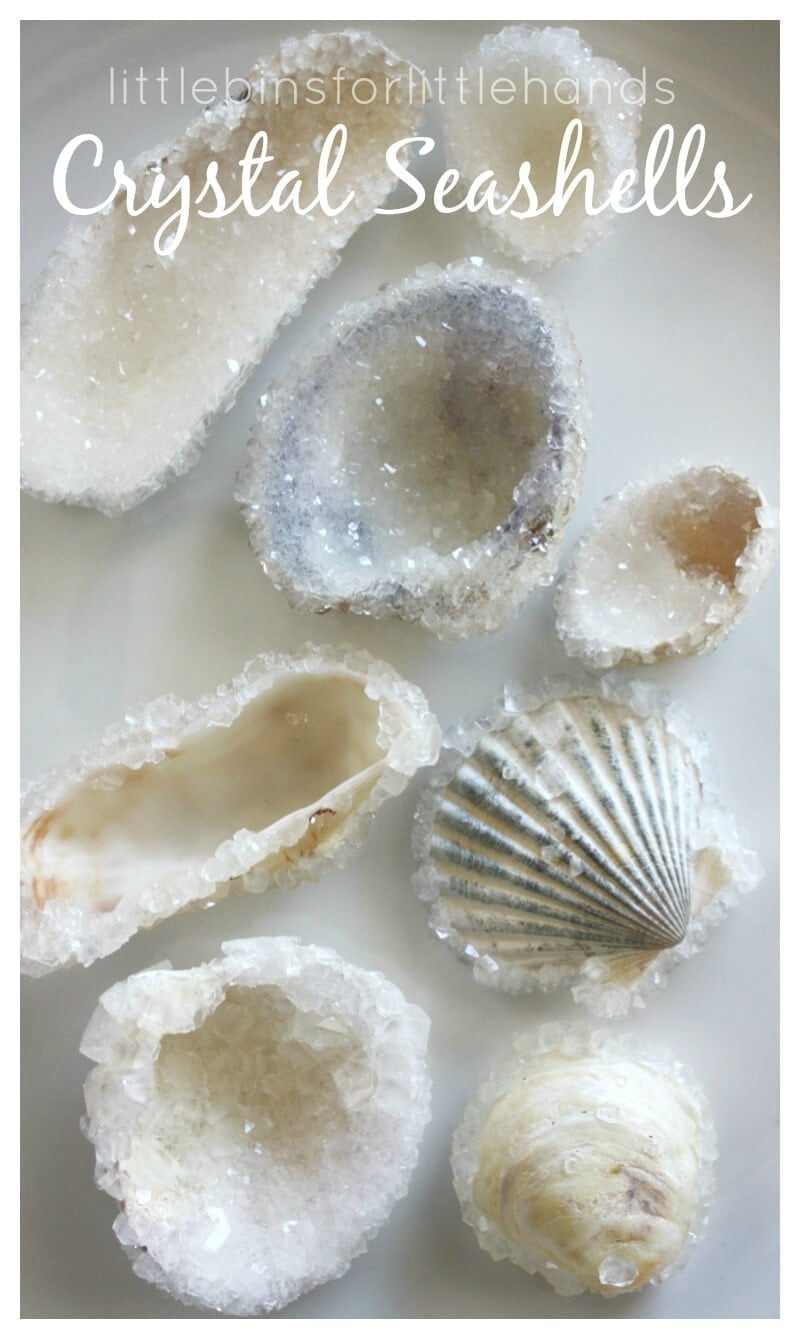 46. Small, Beautiful Shells Encased in a Frame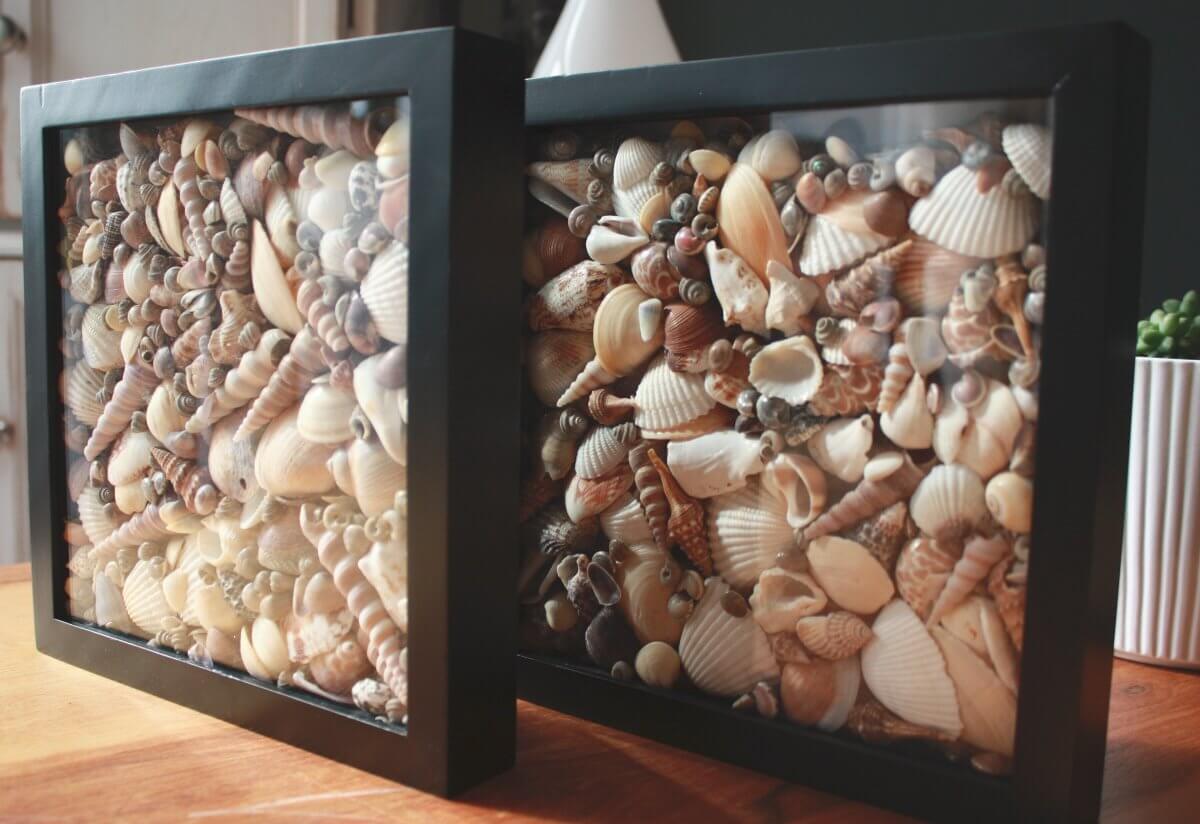 47. Glass Vases Filled with Beach Inspirations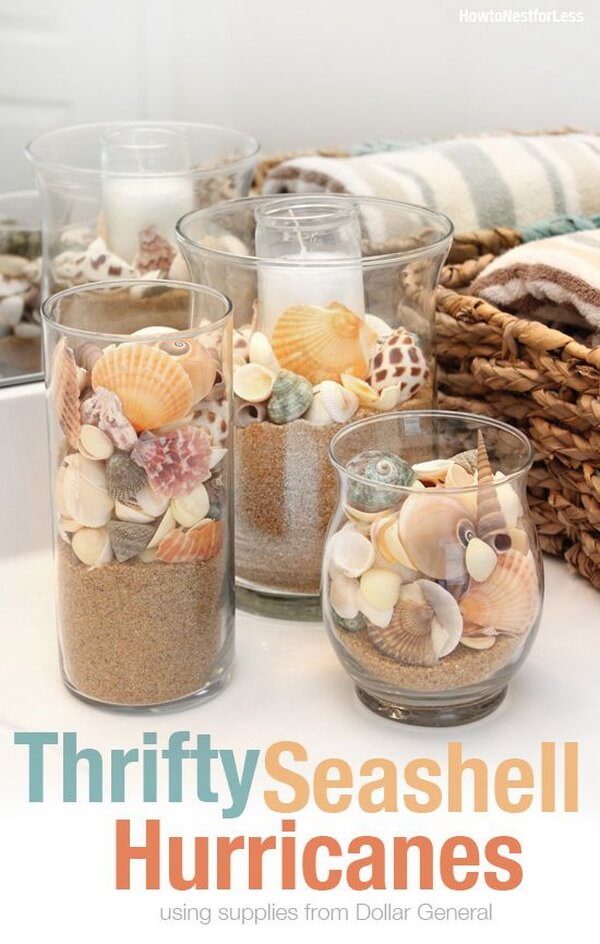 48. A Blue Clam Shell Jewelry Stand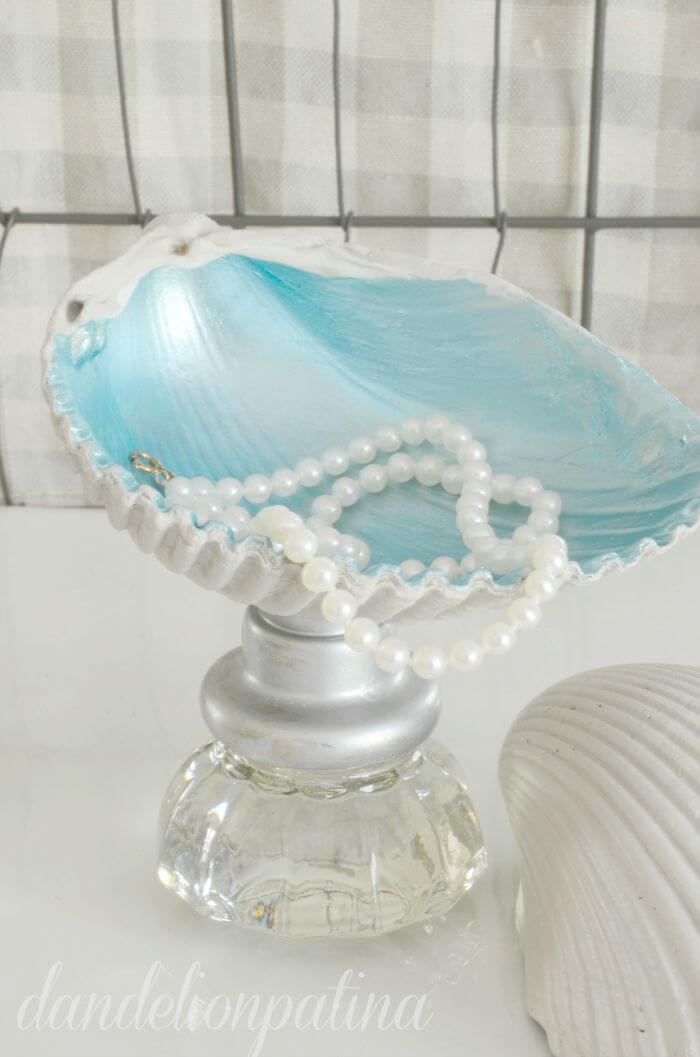 49. DIY Seashell and Rope Creation for Brushes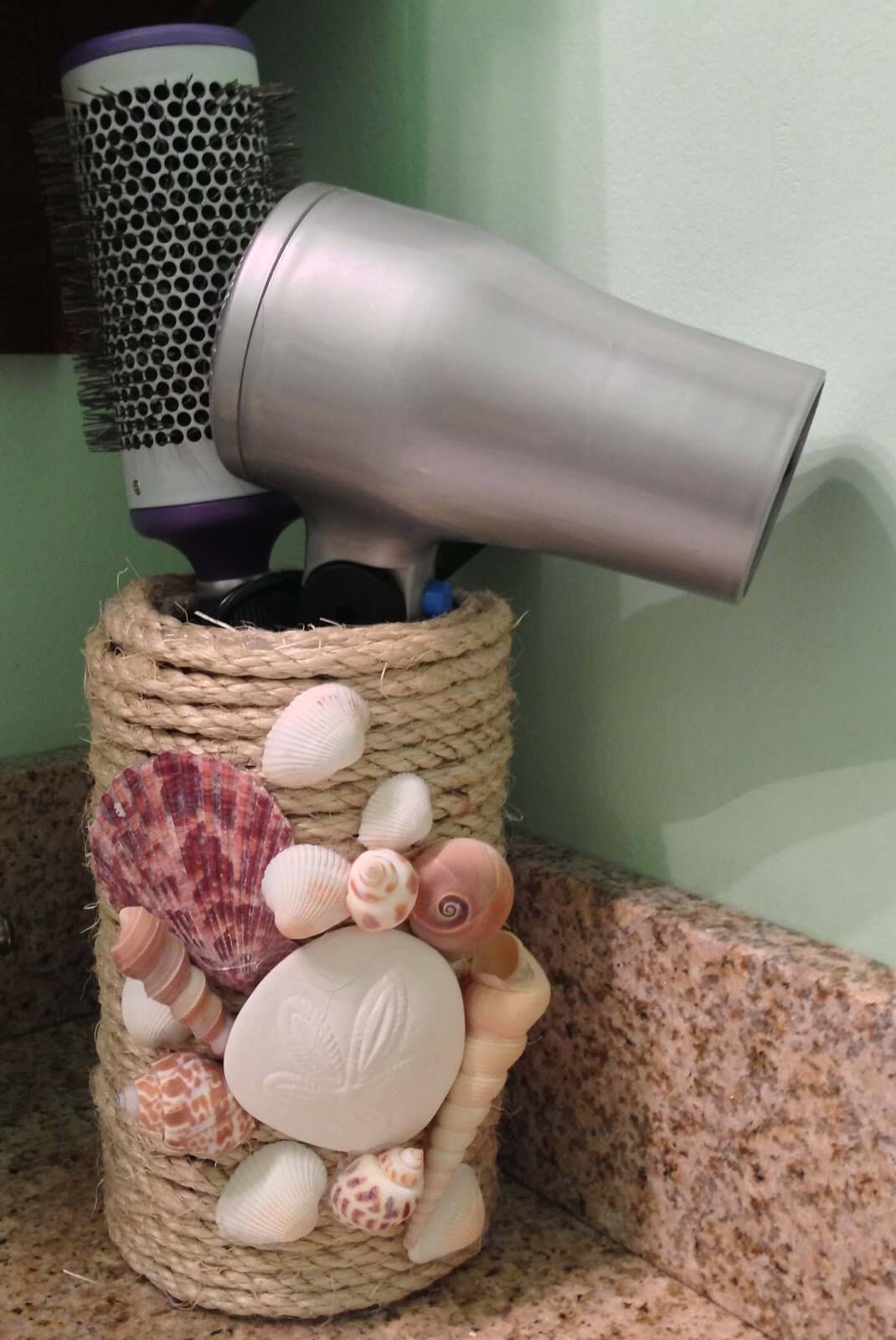 50. A Decorative Planter Rope with Dangling Shells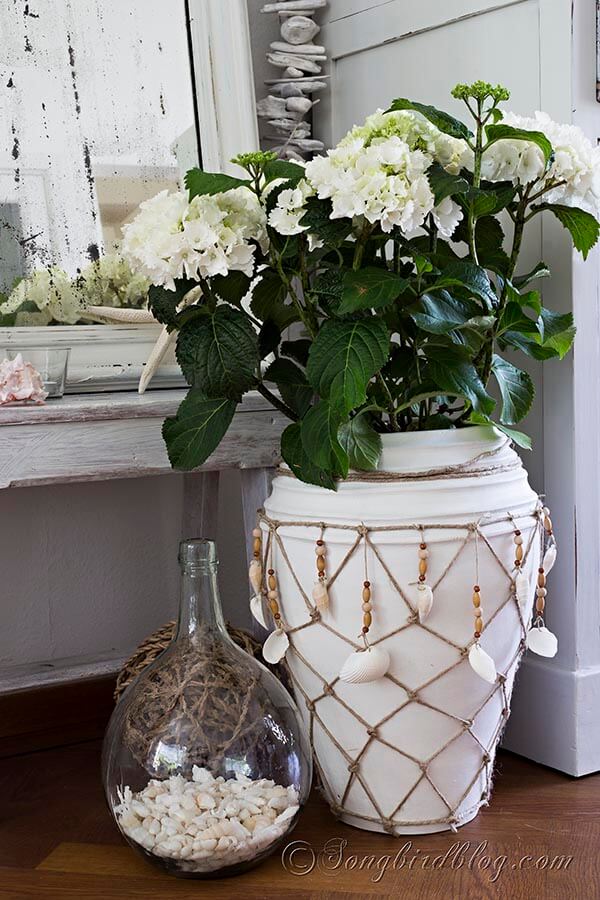 51. Candle Vase Covered in Shells and Starfish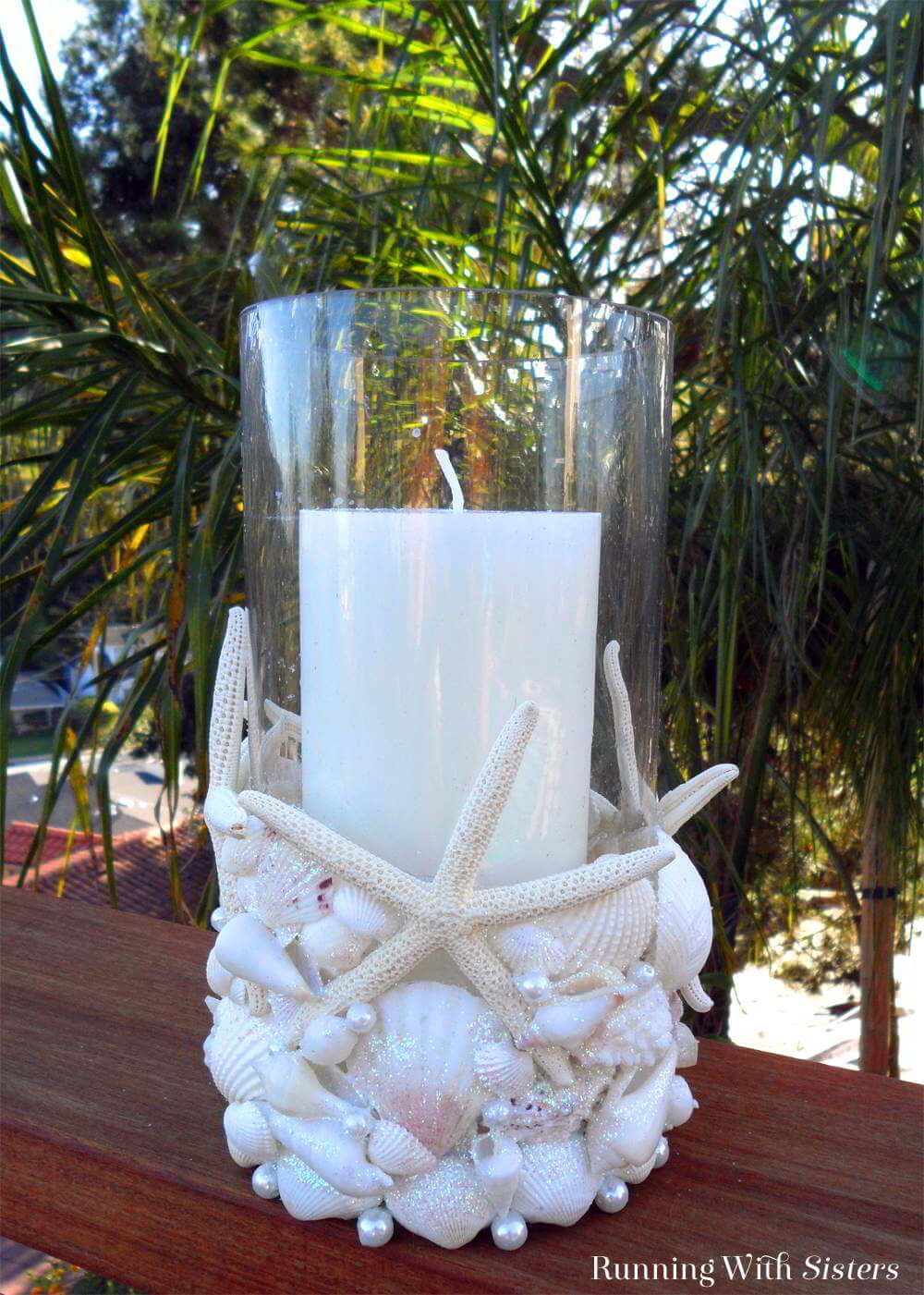 52. Colorful Sand and Shell Stepping Stones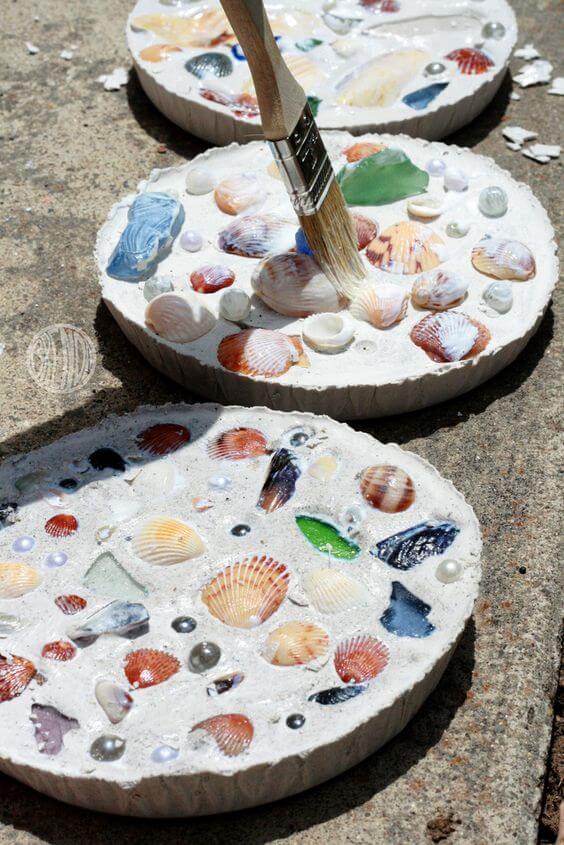 53. A Candelabra of Small Shells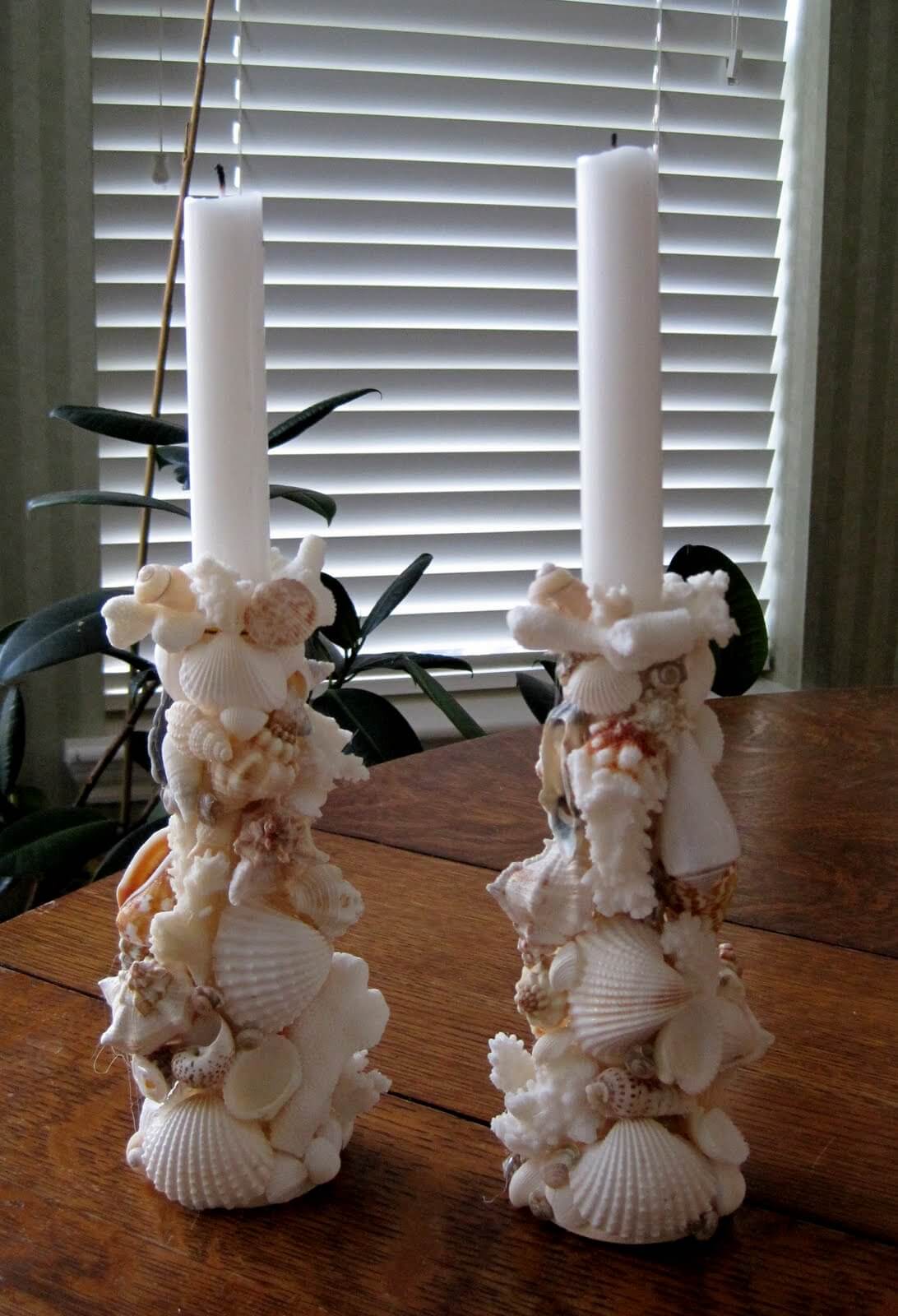 54. A Small Seashell Terrarium Centerpiece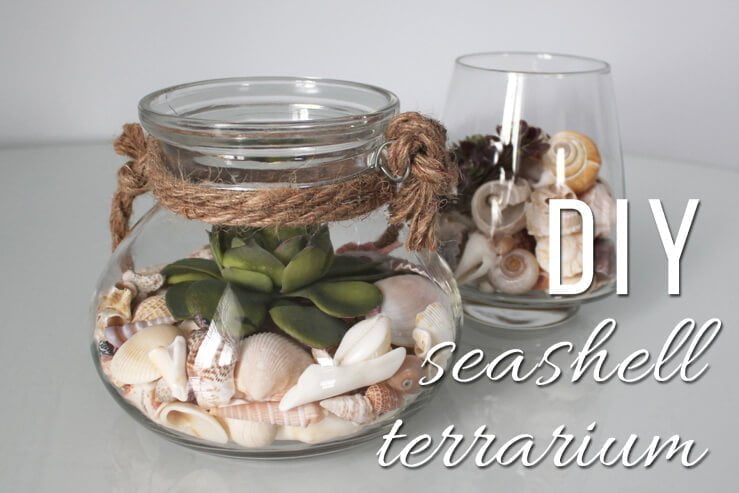 55. A Beach-Themed Mirror on The Wall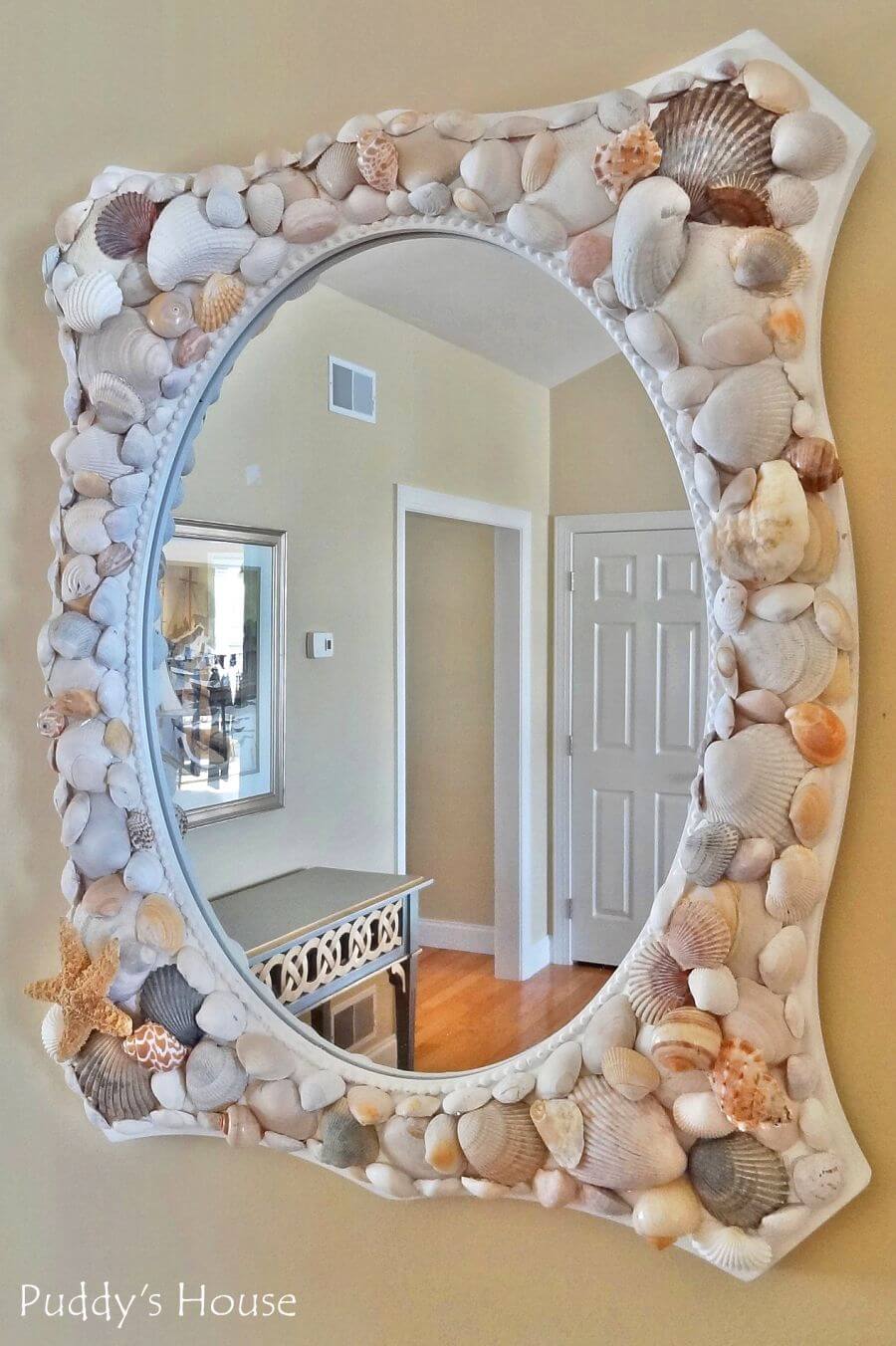 56. A Blue, Shell-Rimmed Wicker Basket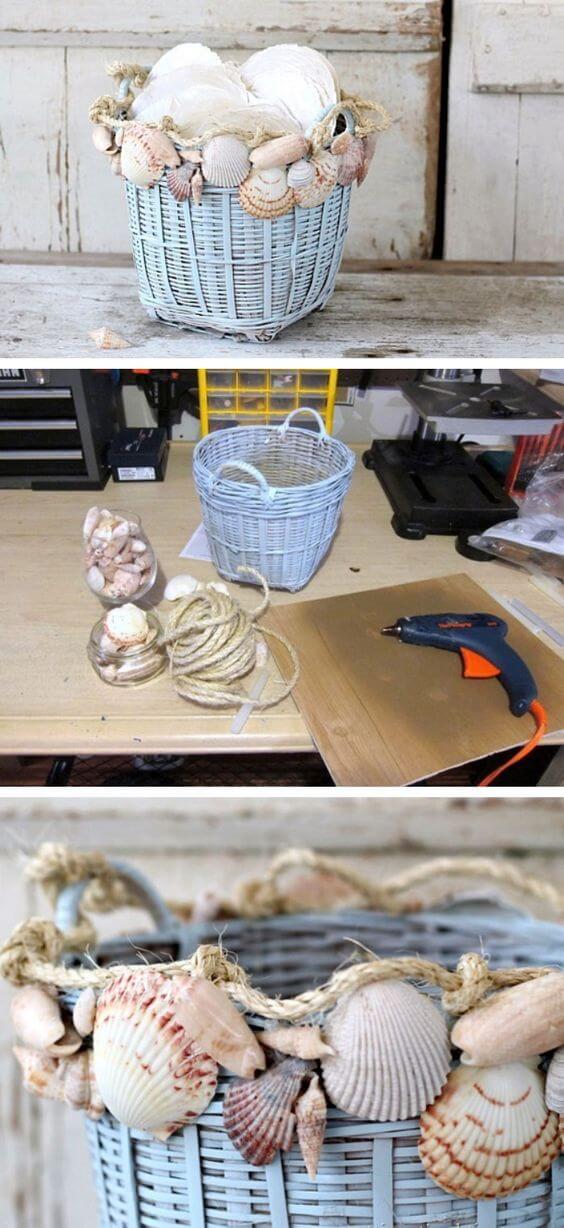 57. Line of Candles in Gold Colored Shells