Nautical bathroom decoration should be a sailor's paradise, a home away from their home in the sea. Nautical bathroom decor has become popular with homeowners due to the beach life effect they bring into the bathroom. With the aid of a few tricks of the trade, you can easily get your dream nautical bathroom in your home.
45+ Ways to Transform Your Bathroom Into a Maritime Paradise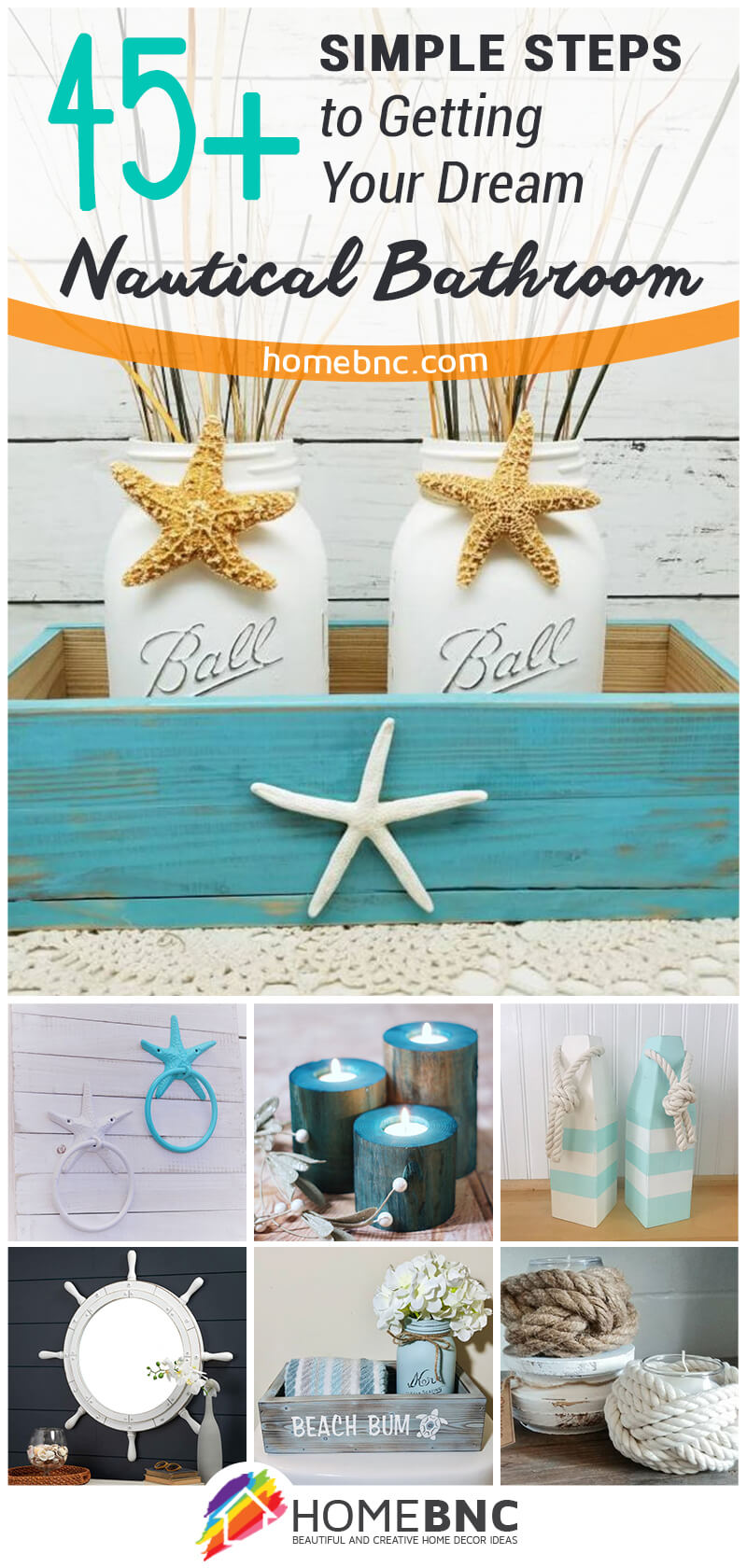 How to Get a Nautical Bathroom in Three Easy Steps
Blue paint
Nautical decoration creates the idea of maritime life from the blue waters of the sea to the ships. The first step towards getting your dream marine bathroom is to have blue accents. The easiest option for this is to paint your walls blue to reflect the colour of the ocean. Individuals have a wide range of different hues of blue to choose from depending on the intensity that they wish to have.
Aside from the walls, you may install blue coloured tiles on your bathroom floor and certain parts of the walls.
Circular mirrors
One of the most distinct features of ships is the porthole, which is often called the bull's eye. This is the circular window that brings in light and air into the ship. For your bathroom mirrors, choose circular mirrors that mirror the porthole. To further accentuate the maritime feeling in the bathroom, ensure the mirrors have similar frames to the porthole or frames with maritime designs such as a ship's steering wheel.
You may opt to install a non-reflective mirror that instead holds the picture of the sea in order to create the idea of a porthole looking out into the expansive sea.
Maritime accessories
There are several maritime accessories that one can choose to complement the nautical feeling in the bathroom. Maritime accessories include anchors, ships, sails, steering wheels, ring buoys, sea shells and corals. These accessories could also be a good way to add a splash of colour to your bathroom with various shades of bright orange, red, yellow, and green. Accessorising is your chance to be creative in terms of coral art, starfish lamp stands and anchor hooks for towels.
Getting a nautical bathroom decoration in your home is as easy as bringing the sea to your bathroom. The main idea is to create a haven that easily reflects life at sea.
1. Starfish and Corals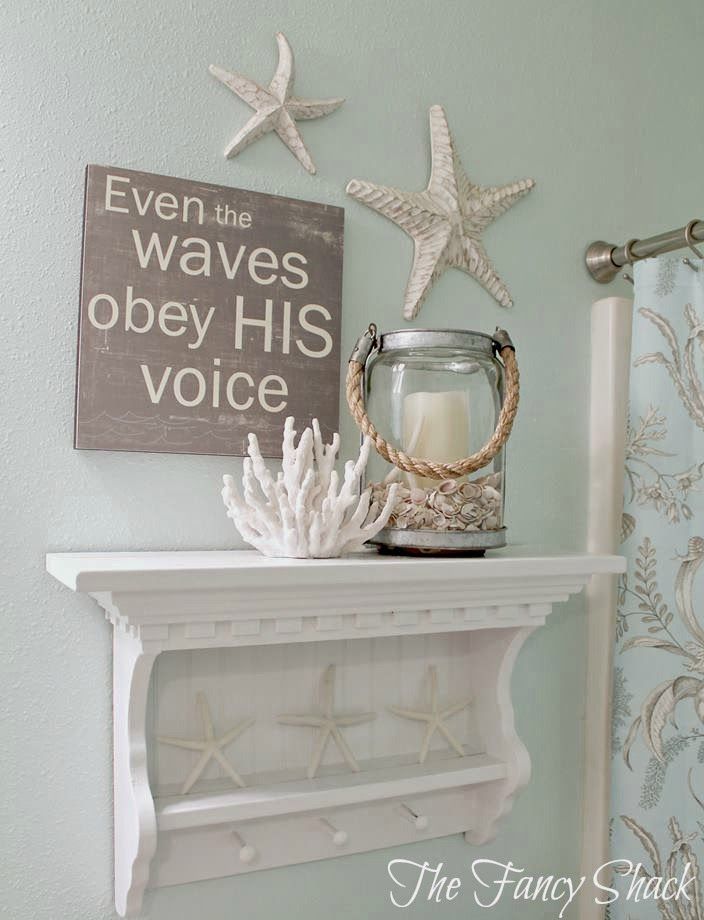 2. Nautical Candle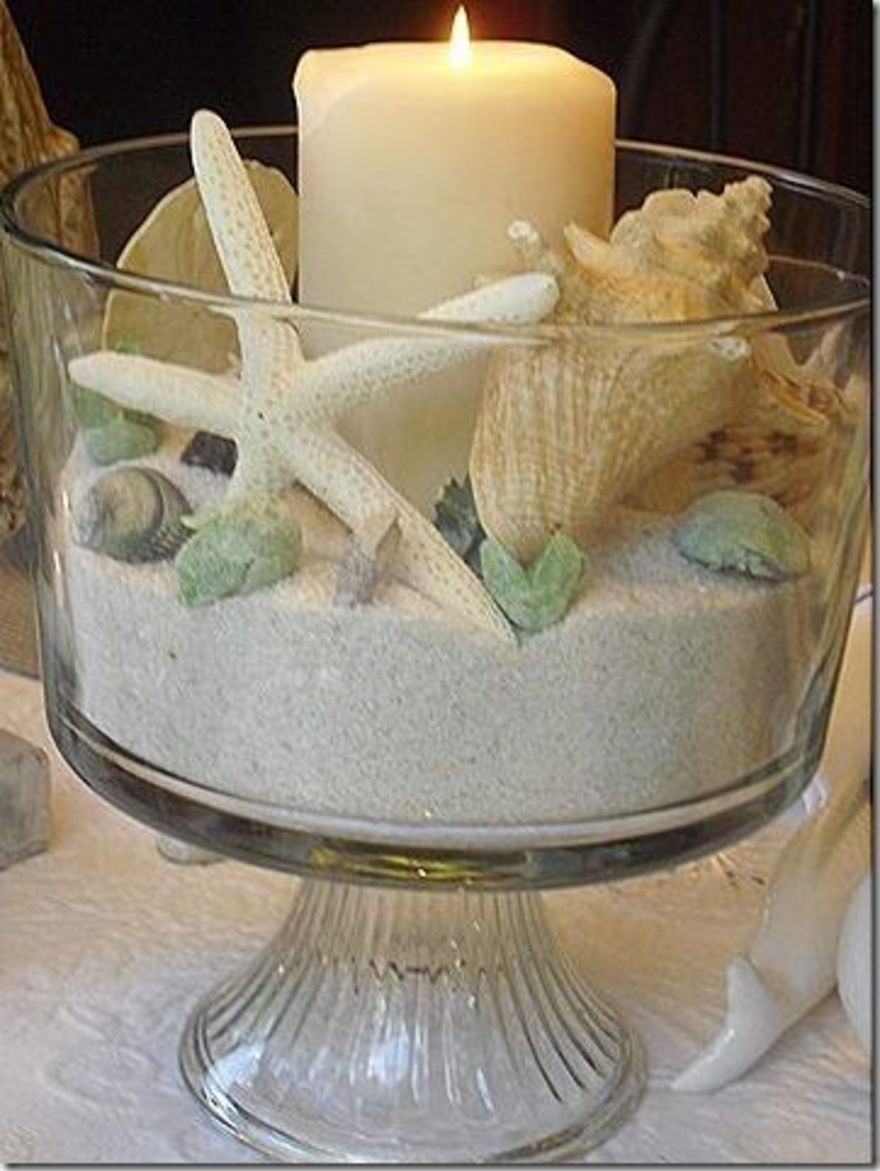 3. "The Beach is Over There"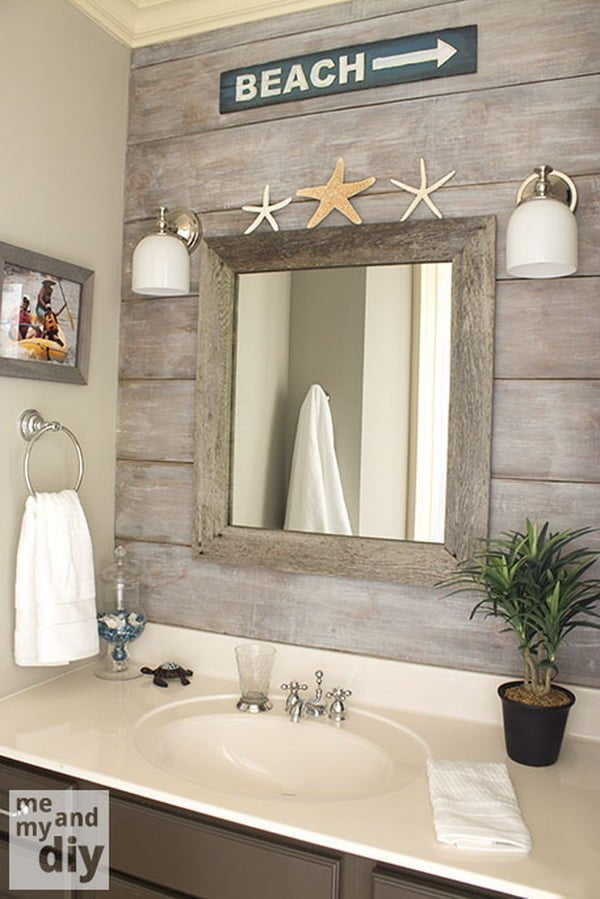 4. Rope Towel Holder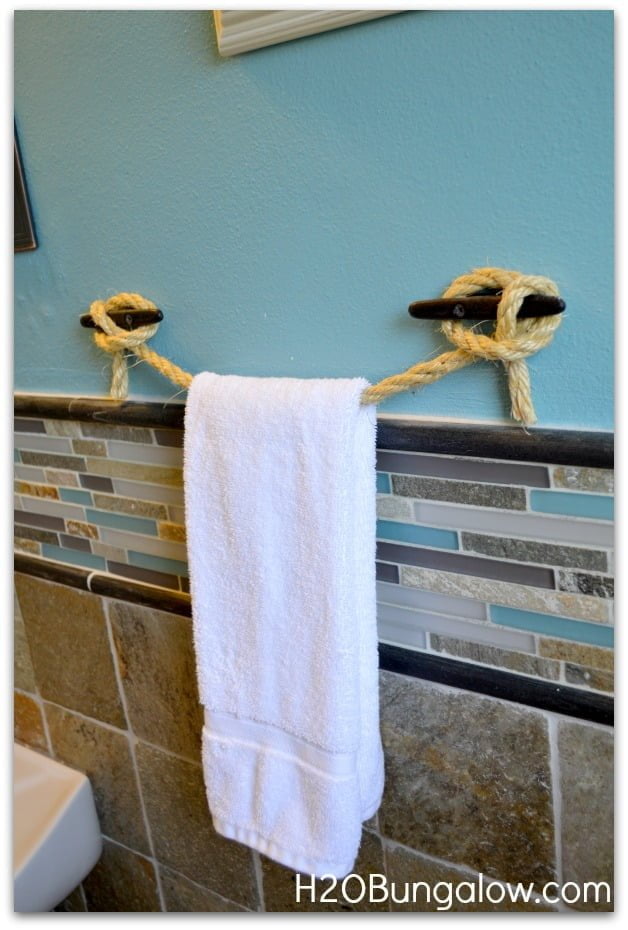 5. Display your Nautical Decorations with Wood Crates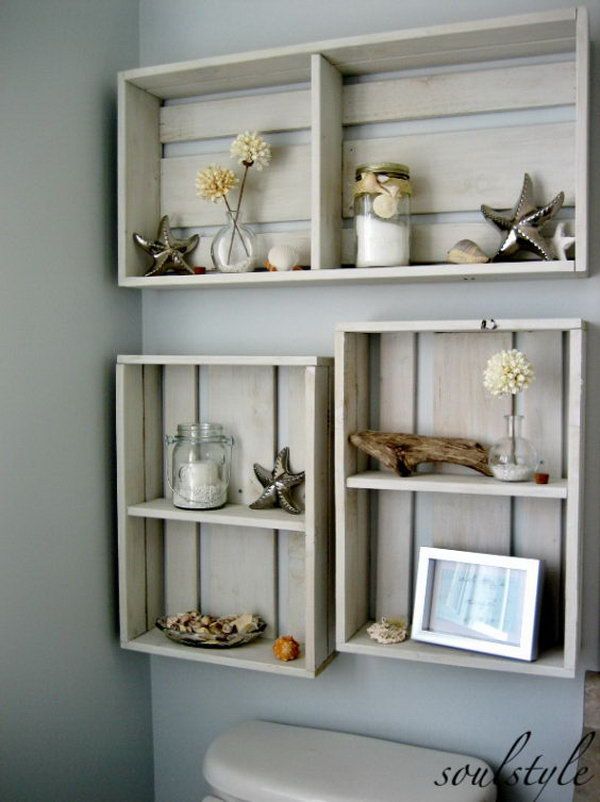 6. A Daily Reminder to Relax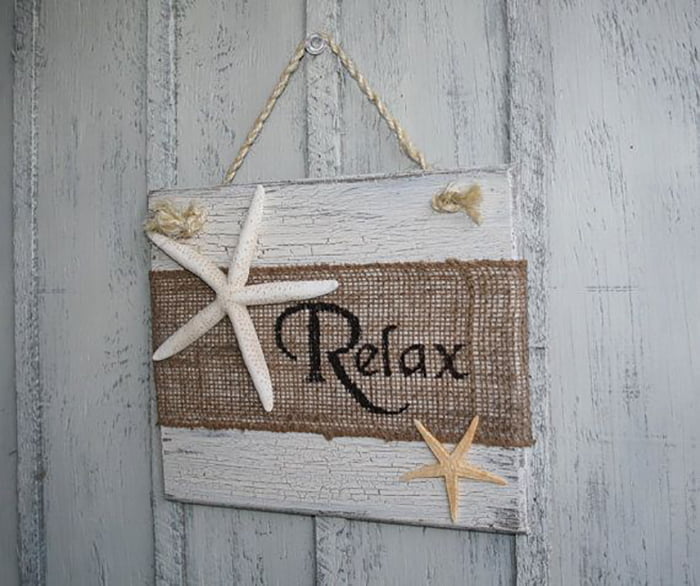 7. You Can't Get More Nautical than This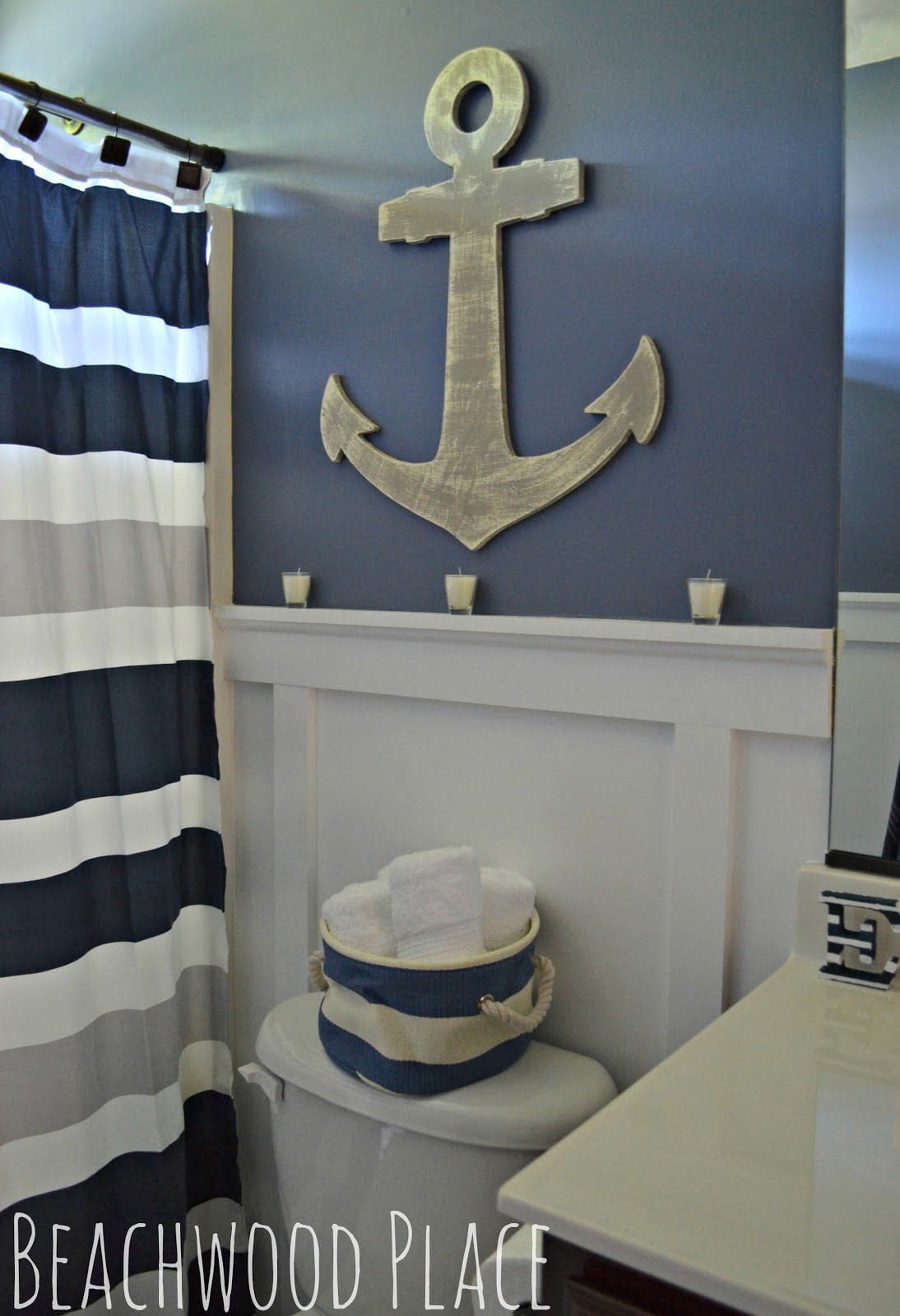 8. Cute Nautical Bathroom Décor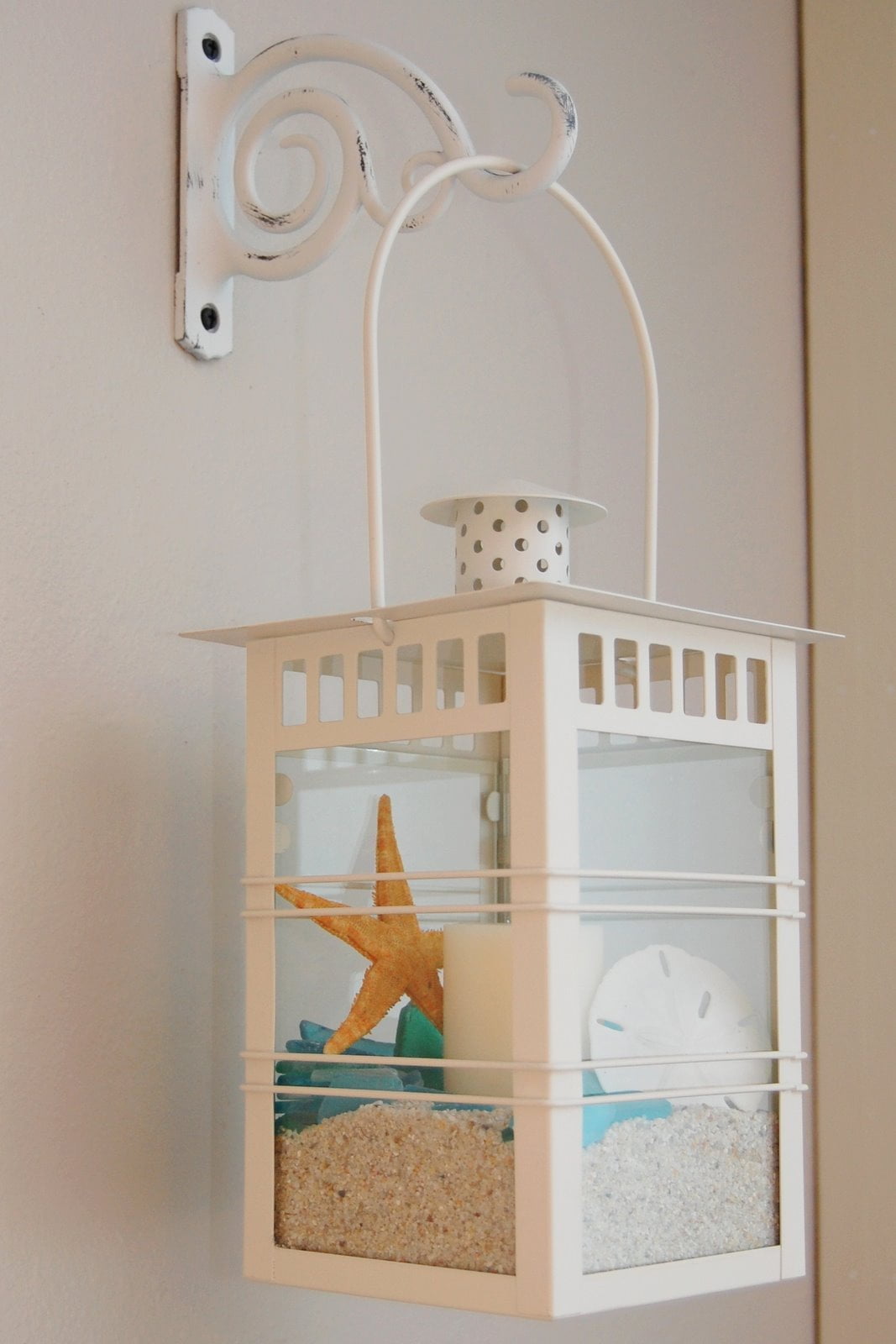 9. A Clever Way to Decorate with Paddles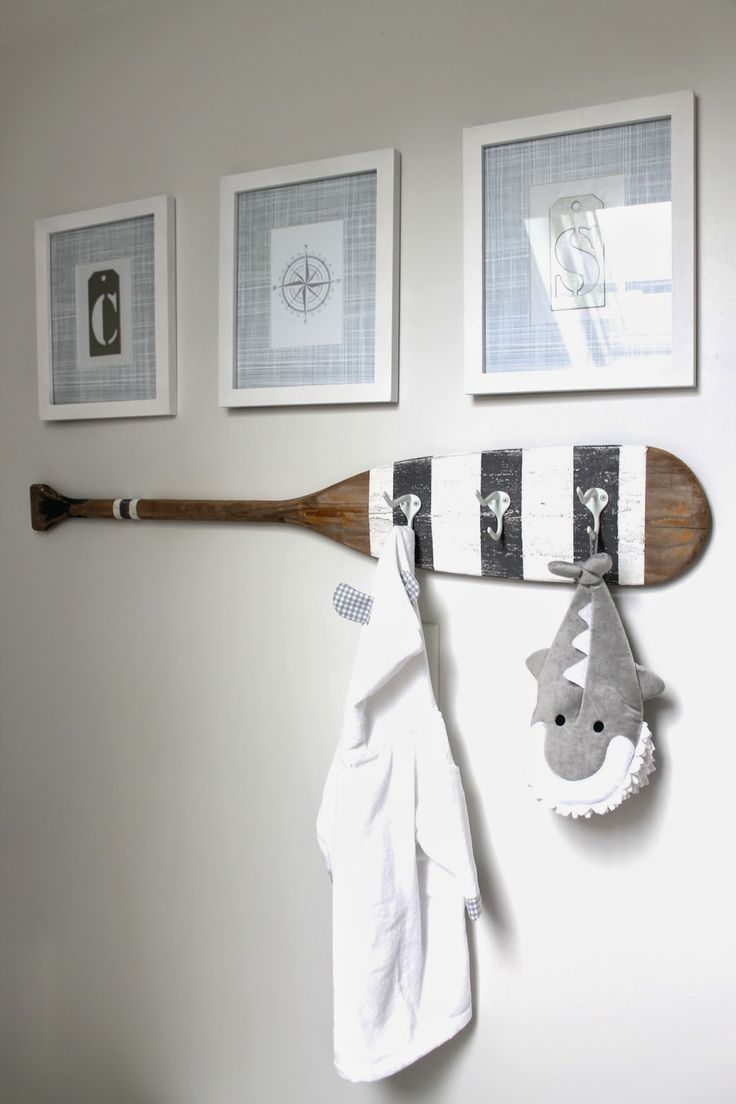 11. Can't Get Enough of Starfish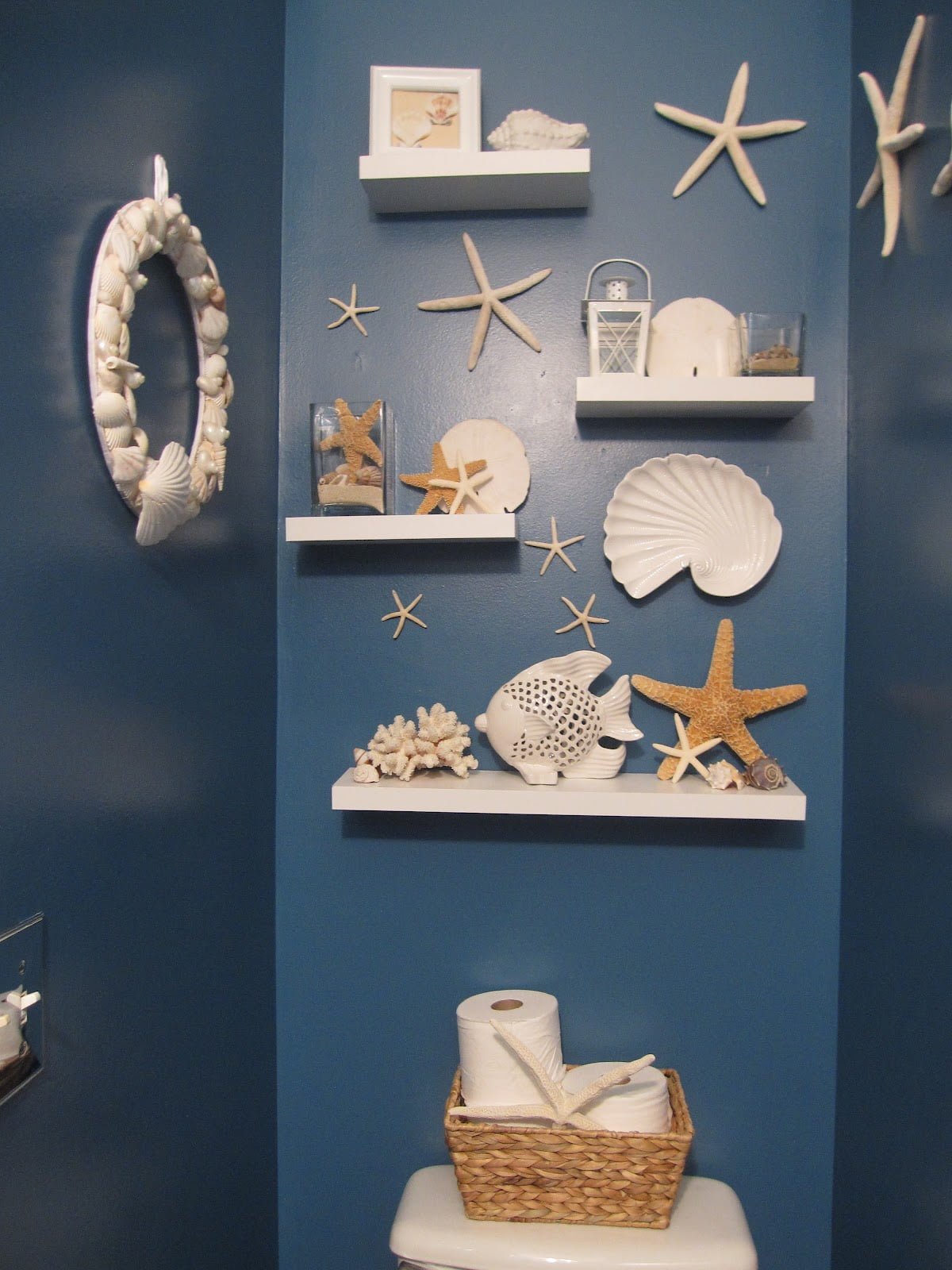 12. Simple but Cute Nautical Bathroom Decoration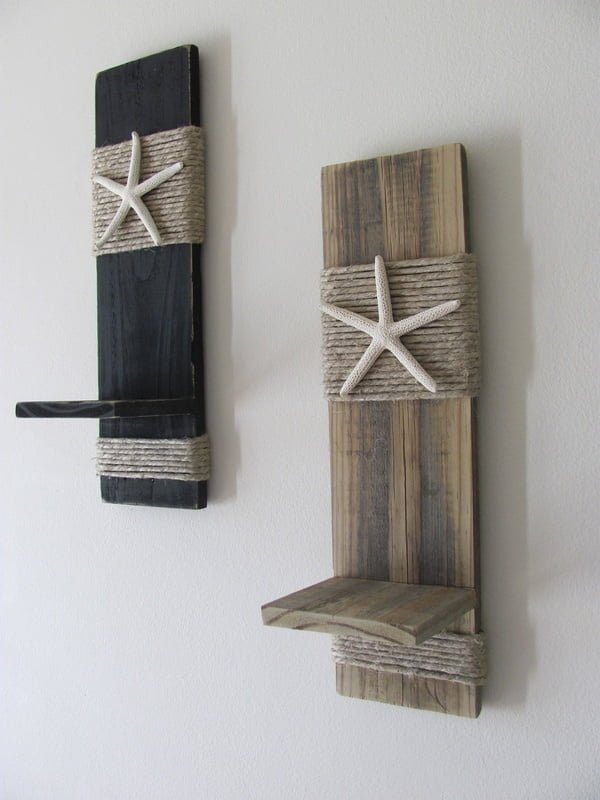 13. Nautical Bath Tray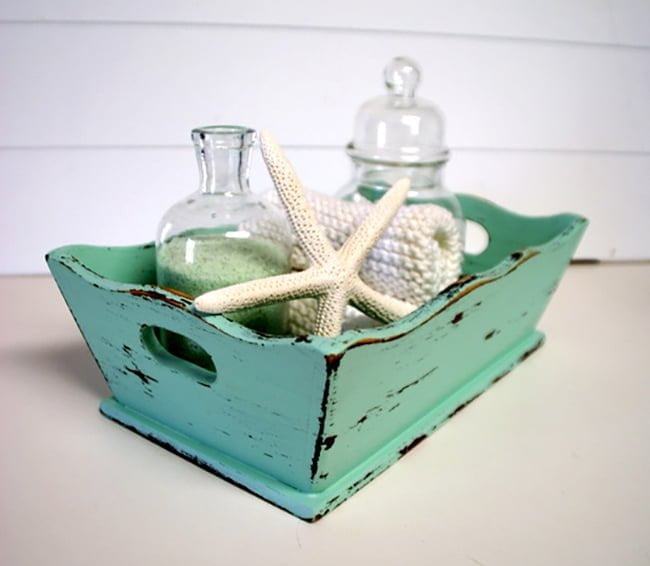 14. Dreamlike Nautical Bathroom Design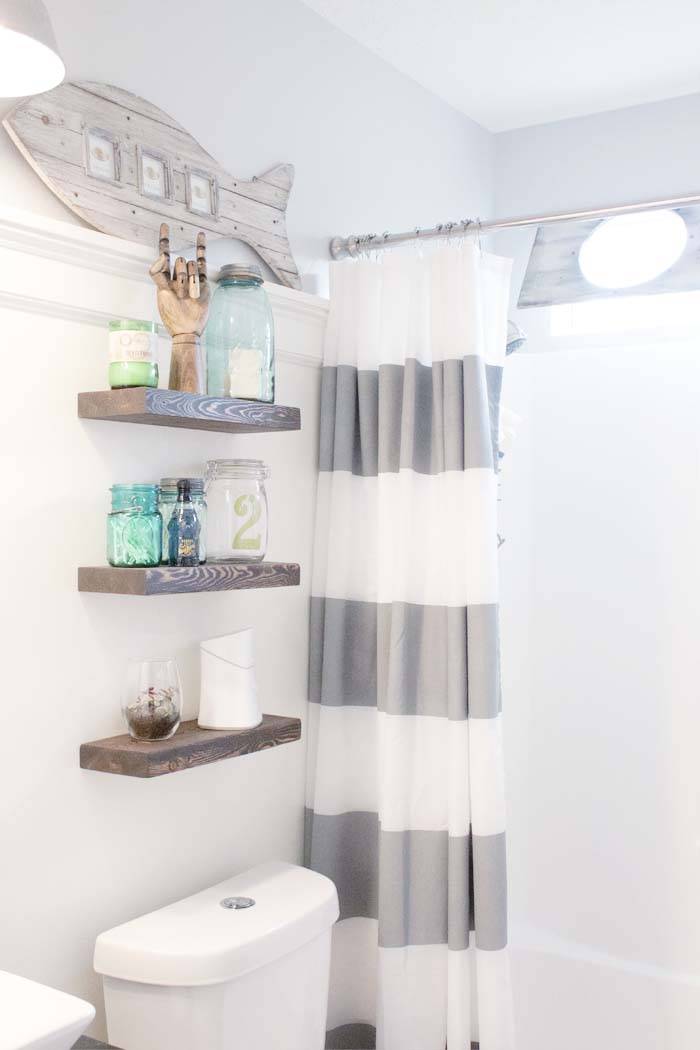 15. Stylish Wall Décor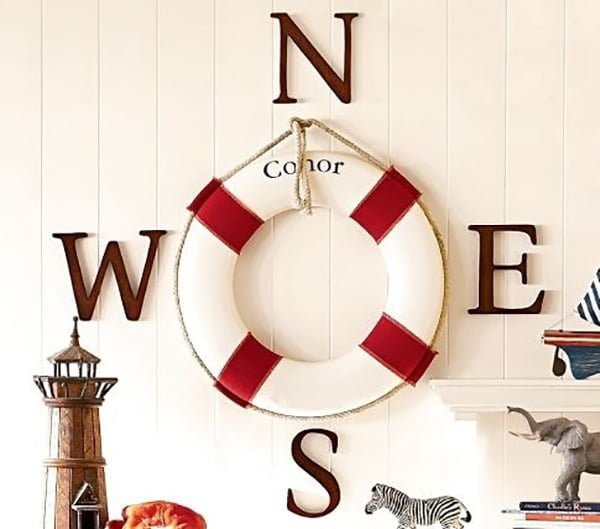 16. Beach in a Bottle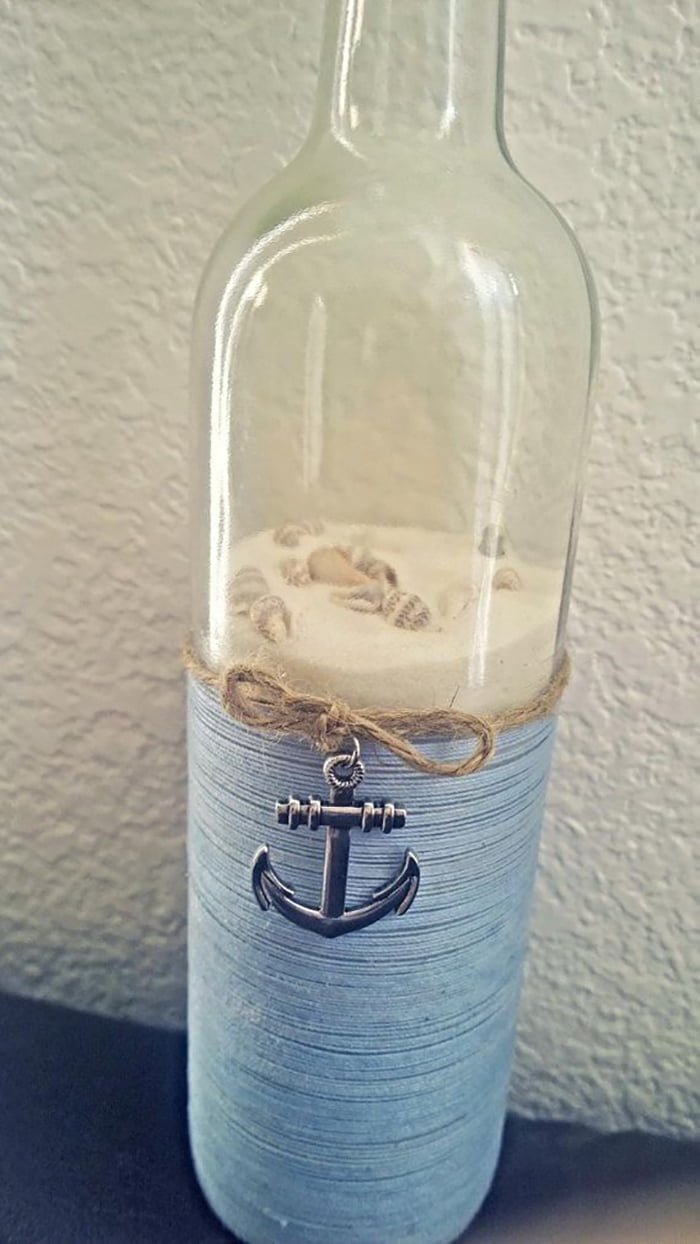 17. Starfish Gallery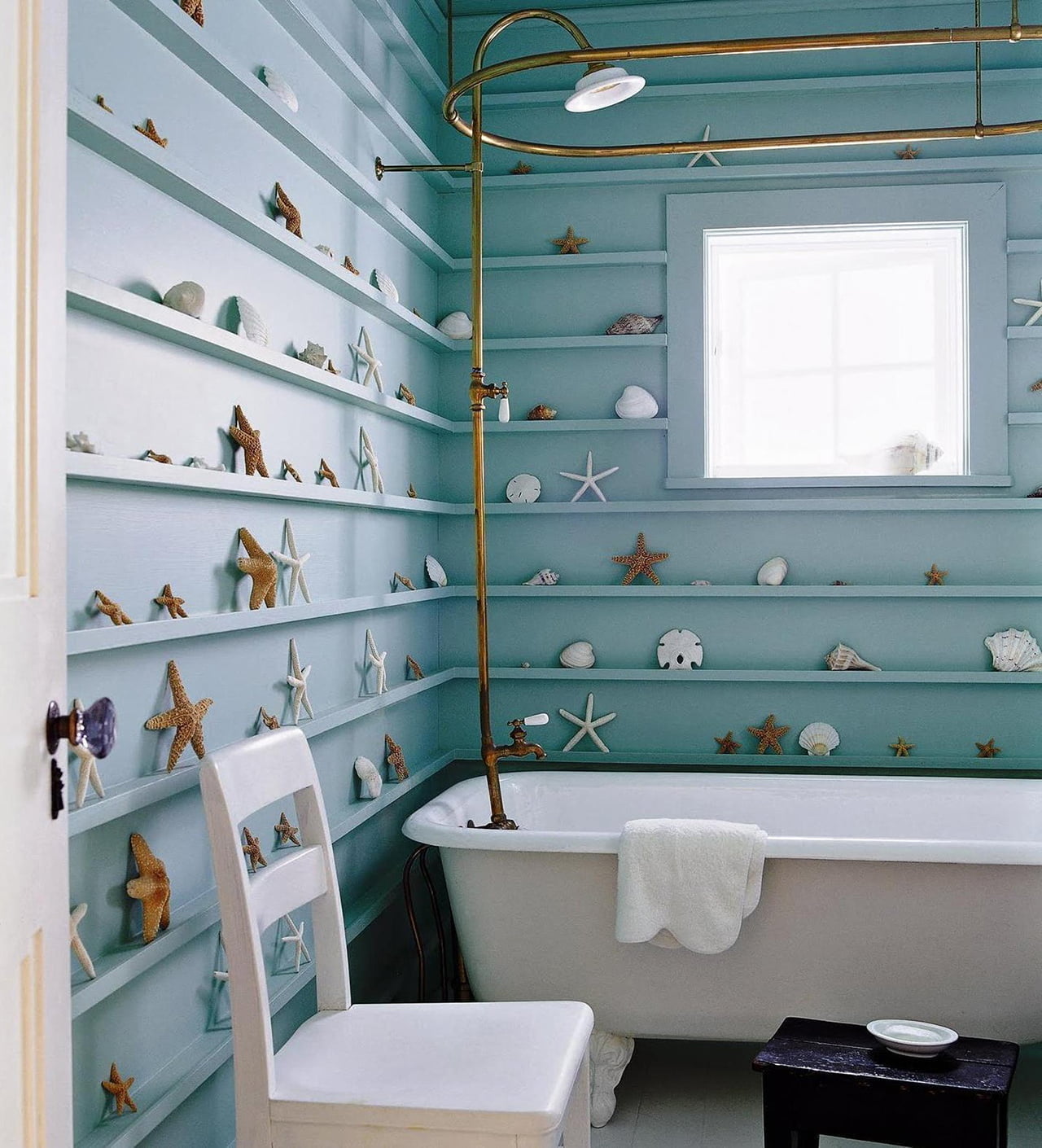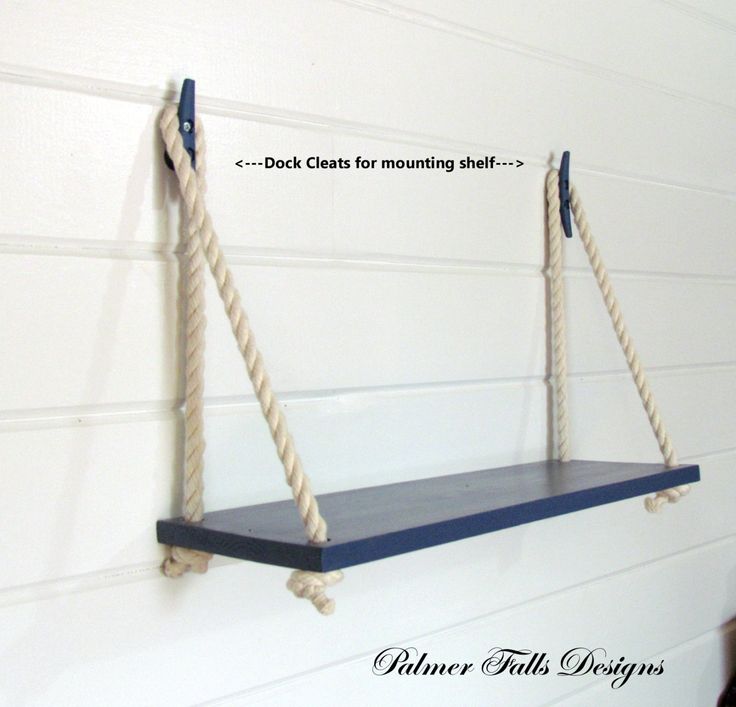 19. A Mini Gallery Wall for the Bathroom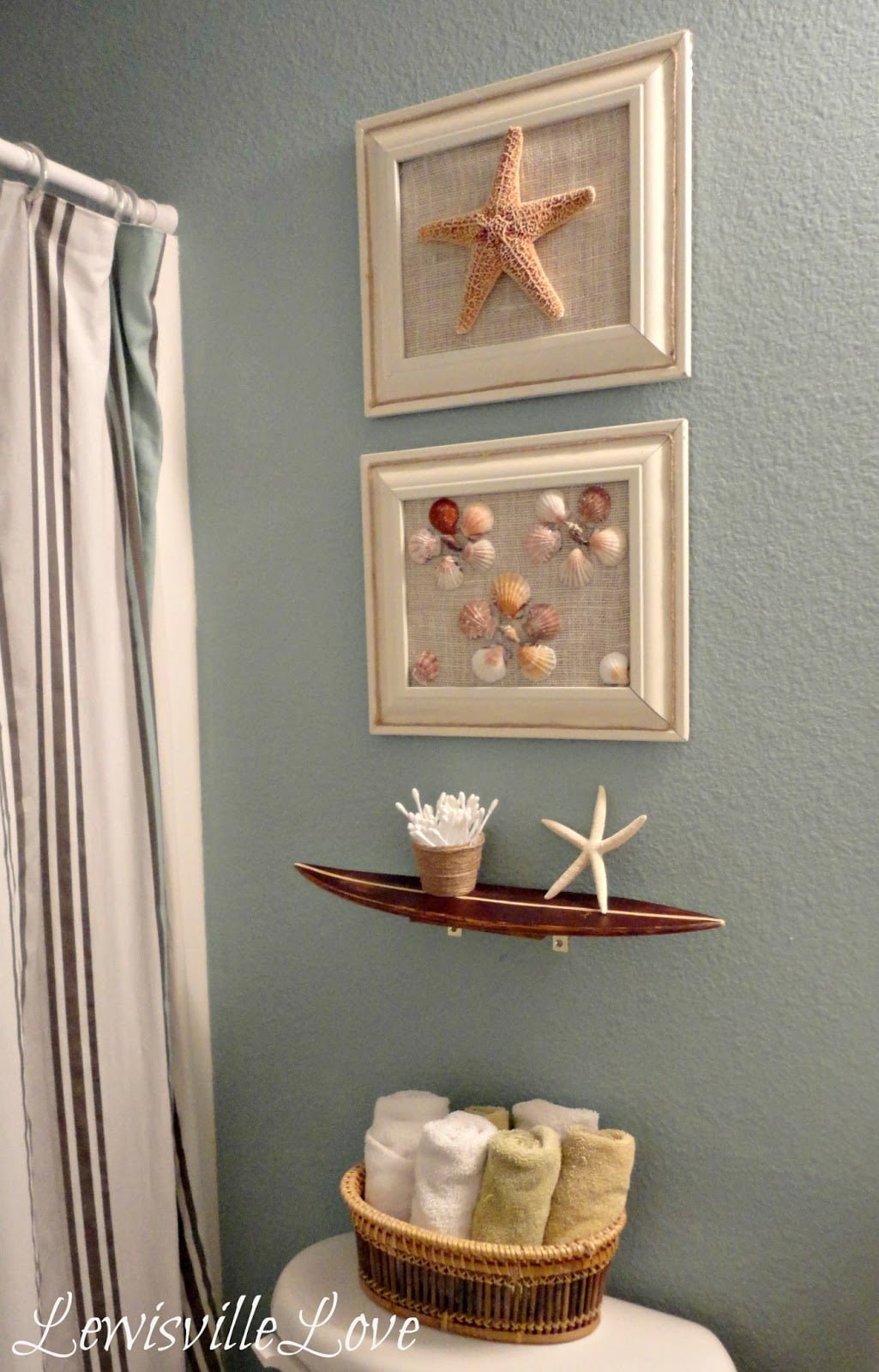 20. Rustic Meets Nautical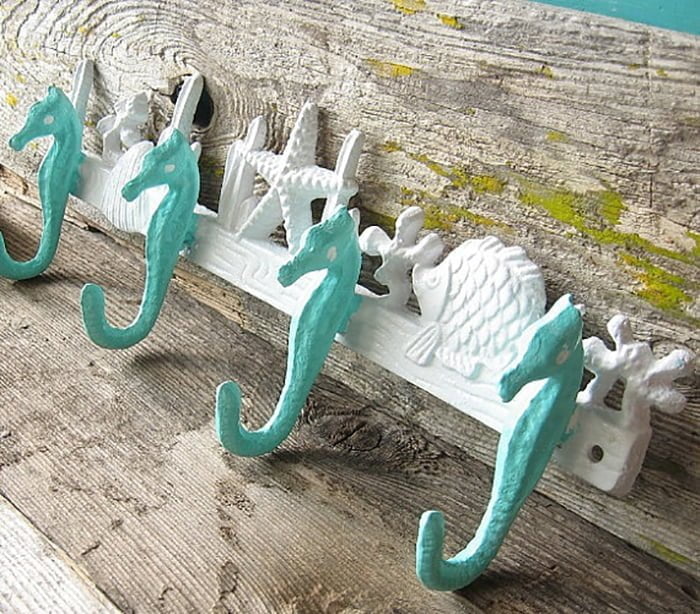 21. Old-School Photo Frame Gives Charm to your Bathroom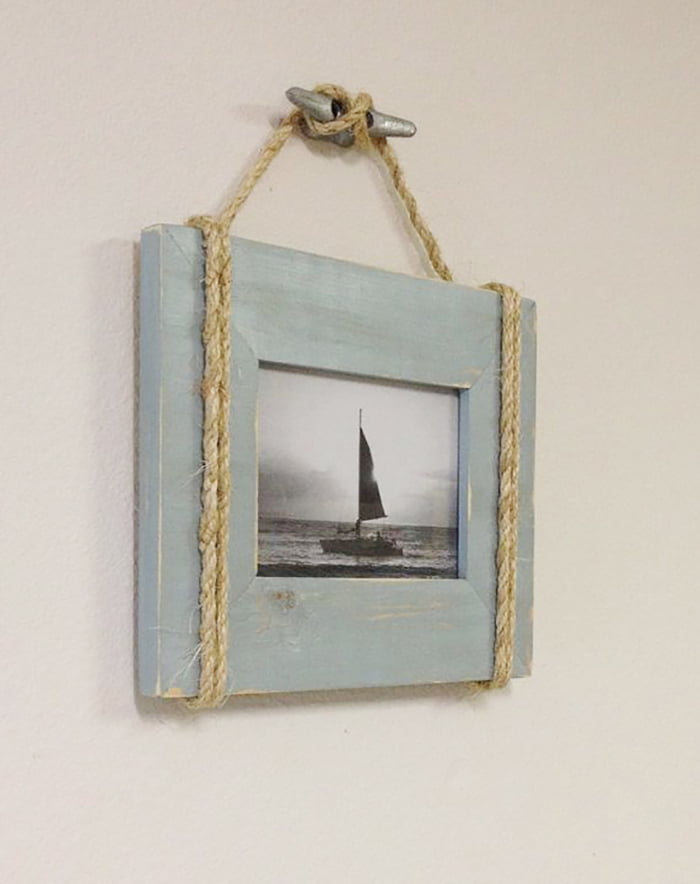 22. Simple but Stylish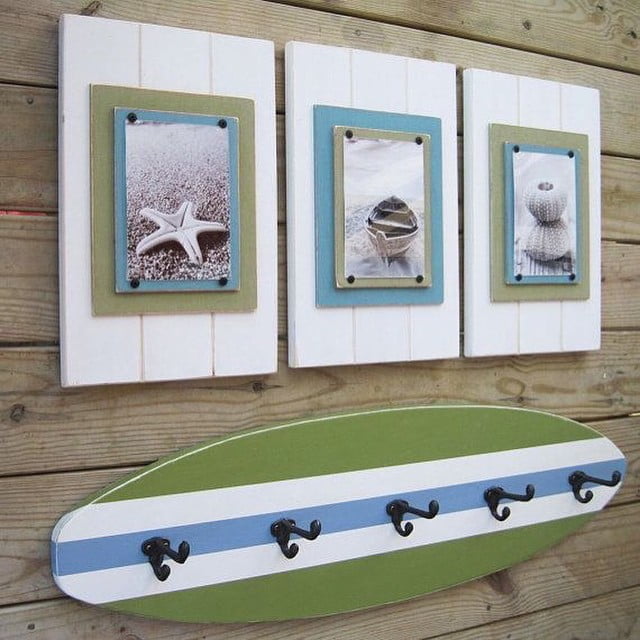 23. Nautical Beach Dresser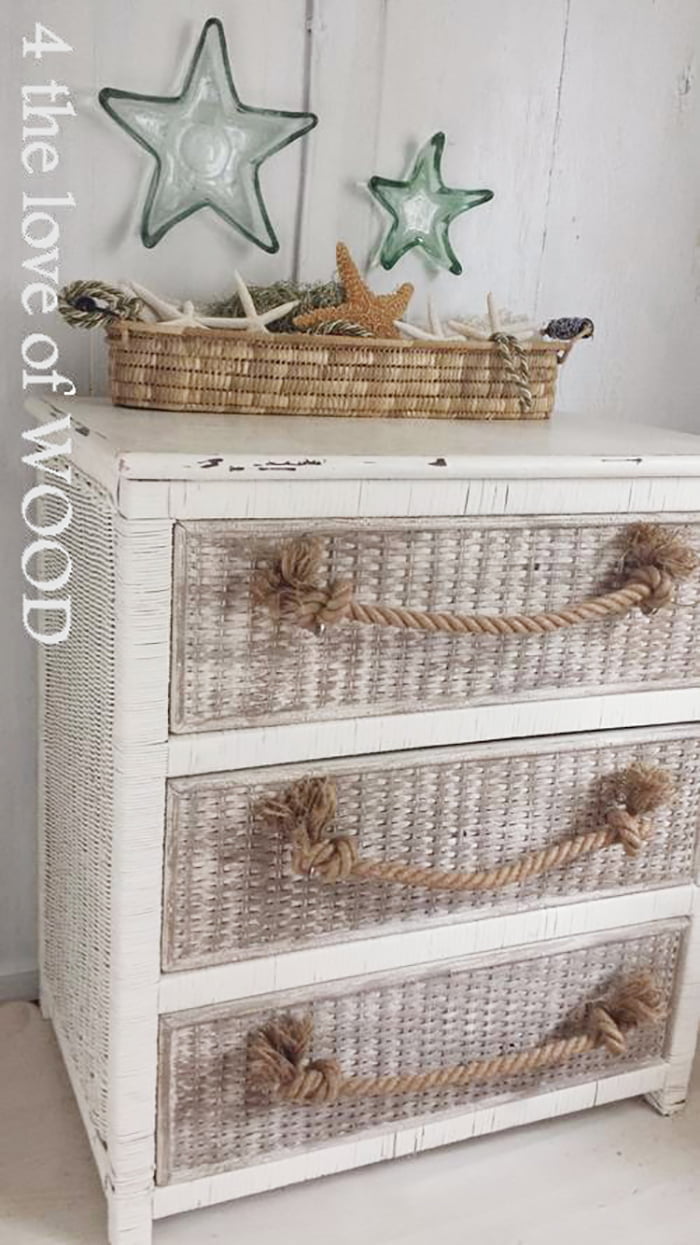 24. Your Very Own Beach House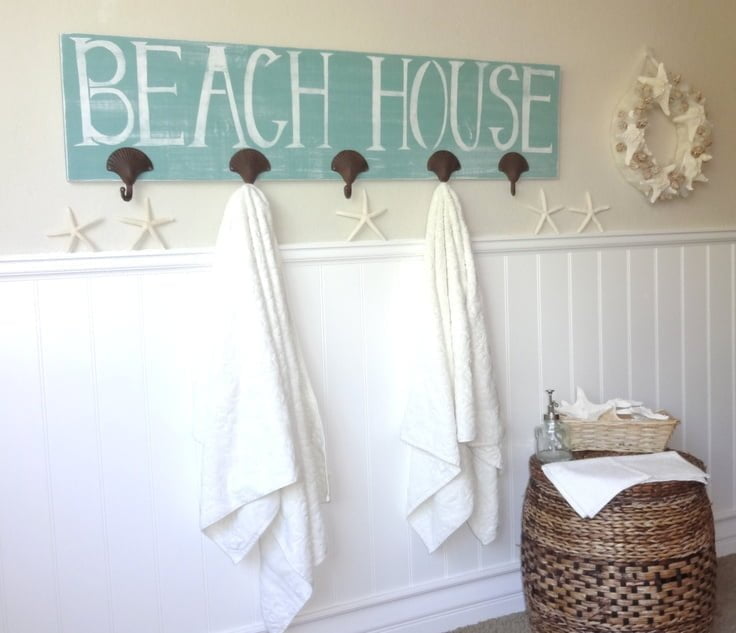 25. Cool Nautical Bathroom Décor on a Budget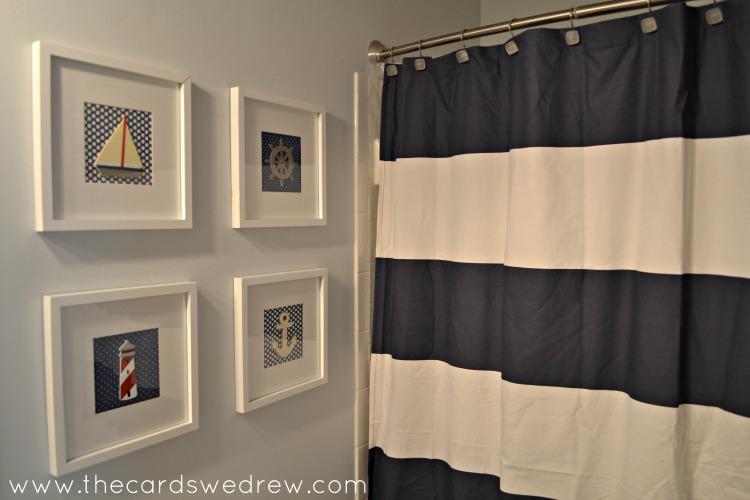 26. Sea Star Decorative Box and Jar Set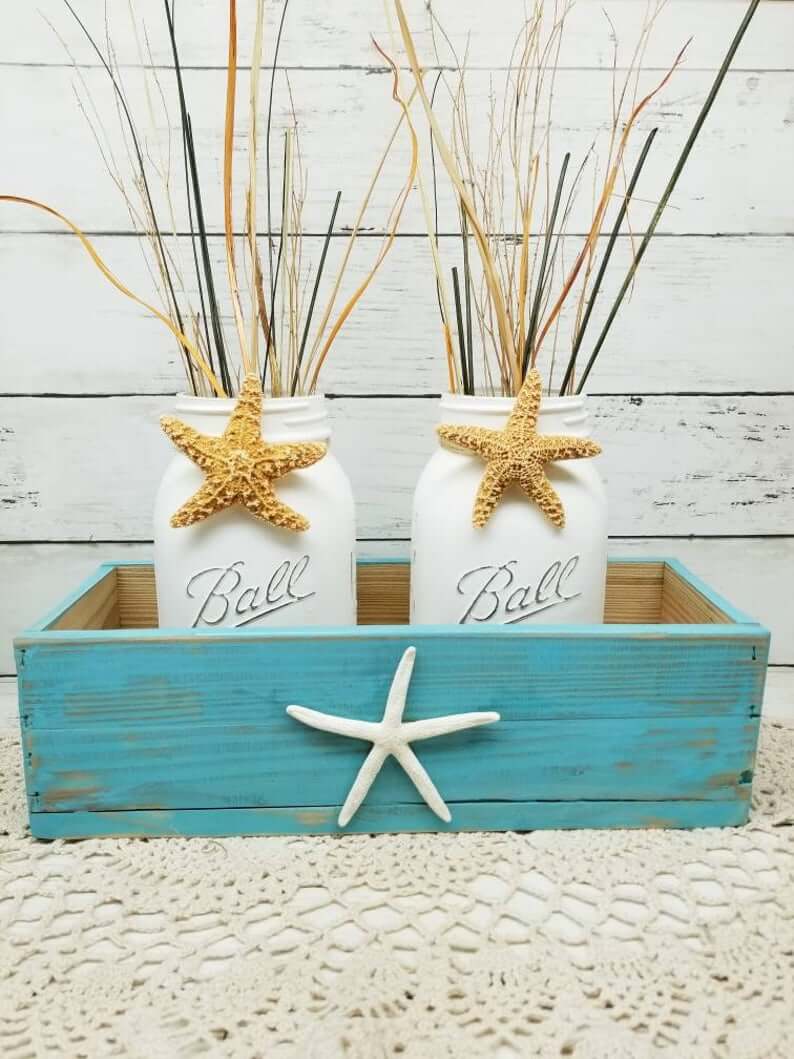 Feature one of the sea's favorite creatures in your nautical bathroom with this decorative box display that includes the star of the seafront and center. As an embellishment on the box and adhered to the mason jars inside, this beach-themed bathroom decor adds a natural element in the hardened starfish as well as a pop of color in the turquoise painted box.
27. Blue and Gray Sea Shower Curtain
The rainy day colors of this sea shower curtain exude a more relaxed beach house vibe for relaxing in your personal spa retreat. Set amid a weathered gray wall, the white accents of the room help bring out the watery blues in the curtain's pattern. Hang this in your home for the summer months to spark some seasonal spirit.
28. Beige and Blue Seashell Decorated Initial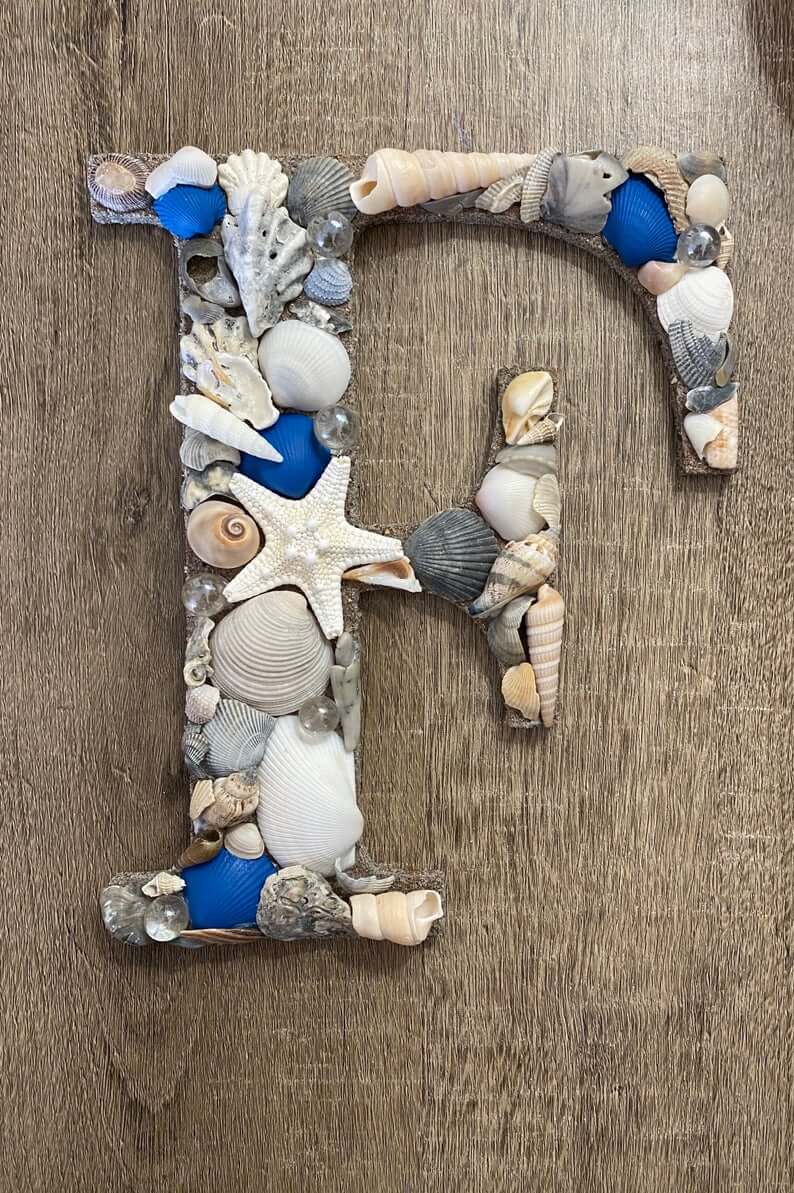 Feature your family's surname initial in your home to celebrate summer with this seashell-covered creation. Combining the beige, blue, and gray hues of these shells adds a perfect beach atmosphere to your home. While it can certainly stand alone, this letter would look perfect as an addition to your favorite front door wreath.
29. Painted Starfish Towel Rings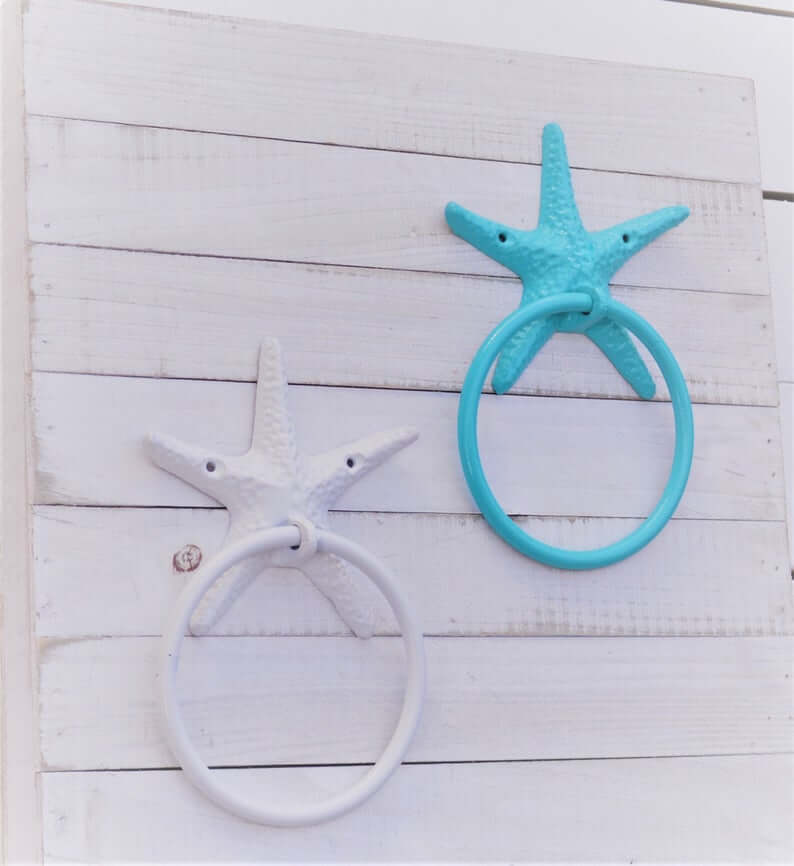 Hang your towel in style in the bathroom with this set of painted starfish towel rings. They are perfect for hanging your towel for showering or for use with a hand towel near the sink. Another great use would be in the guest room where you could hang a soft and cuddly blanket in case your guests get a little cold. In the kitchen, one could hold your dish towel near the sink too.
30. Rough Coastline with Lighthouse Shelf and Hooks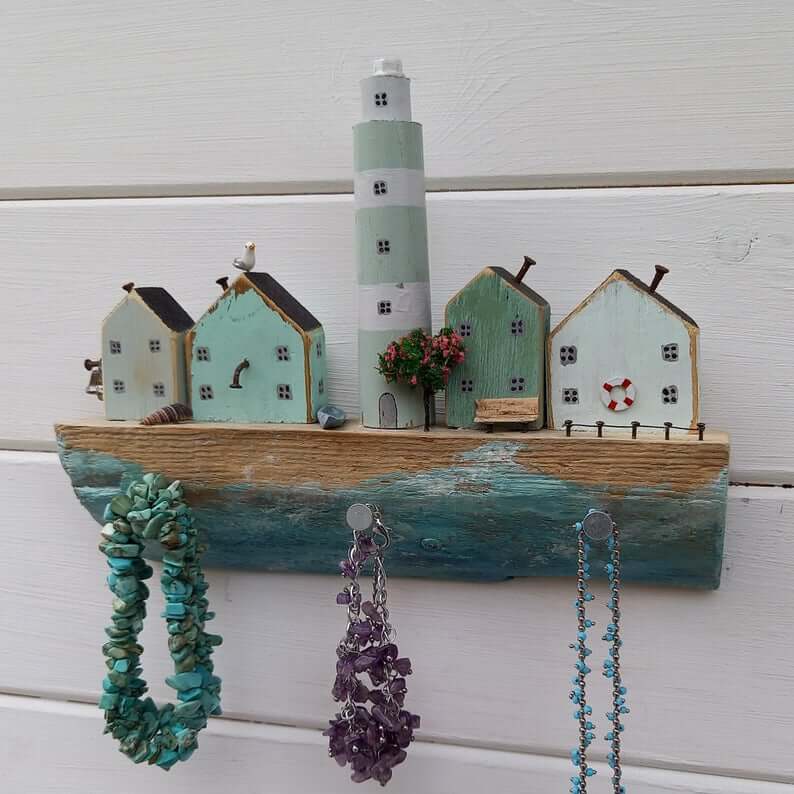 Take a piece of rough wood and make it a statement piece with a little tender loving care. This painted piece resembles the shoreline including the cottages and lighthouse lining the coast. A set of three hooks finishes off the piece giving you extra room to make this a decorative and functional piece of wall art for your home.
31. Anchors Away Nautical Blue and White Rug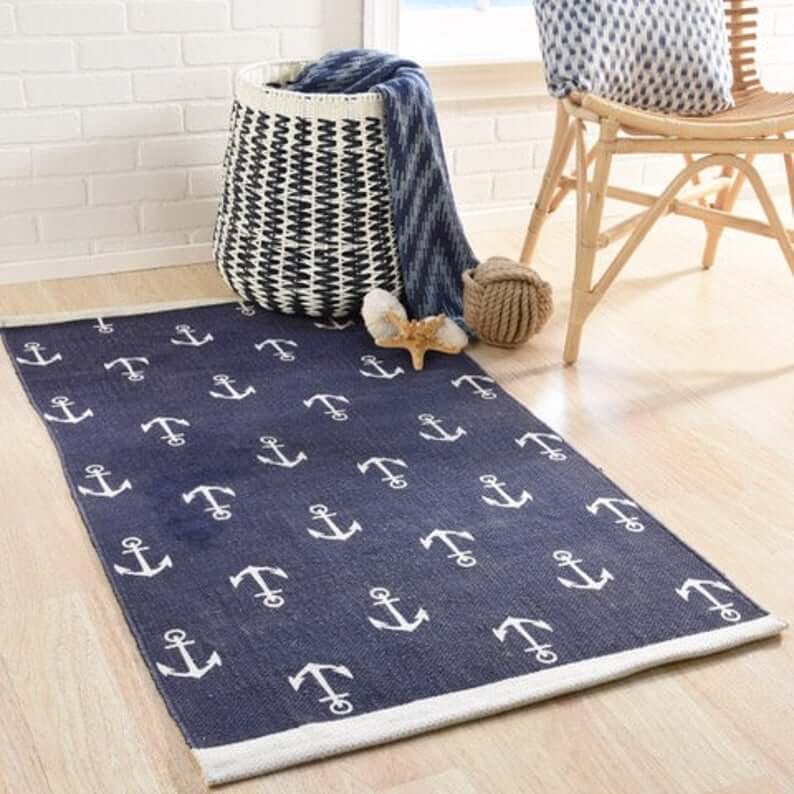 Every bathroom needs a rug that adds to its character and charm. Enjoy a nautical touch with this anchor patterned one. Crafted in traditional coastal colors, this blue and white accent rug looks great in the center of your bathroom. It ties in perfectly with all of your seashells, white accent pieces, and knotted creations.
32. Gnarly Nautical Shelf with Knots and Whales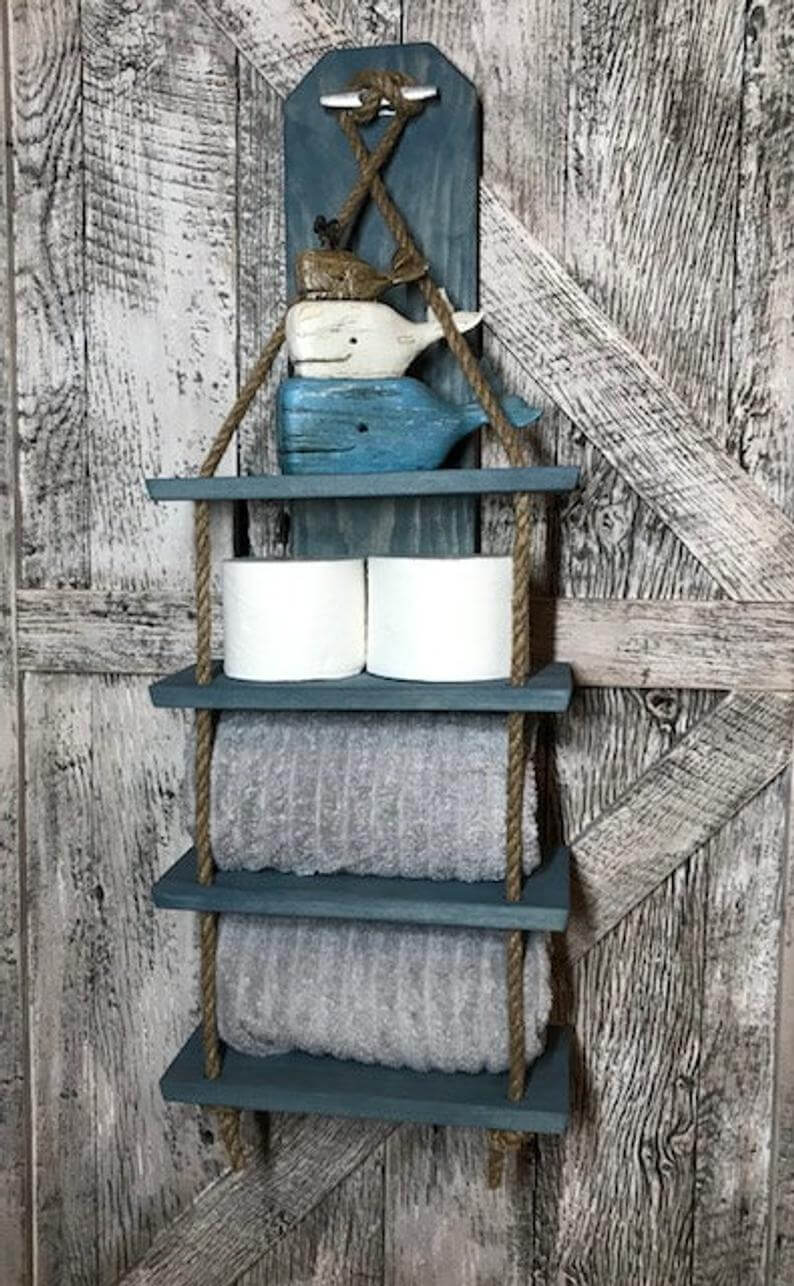 The deep-sea blue color of this three-tiered shelf is a wonderful accessory for your bathroom. With room to store extra towels and toilet paper rolls, this shelf gives additional storage space with style. Including a nautical rope element in the design further adds to its charm that is capitalized with the stacked set of whales.
33. White Washed Crates of Seashells Galore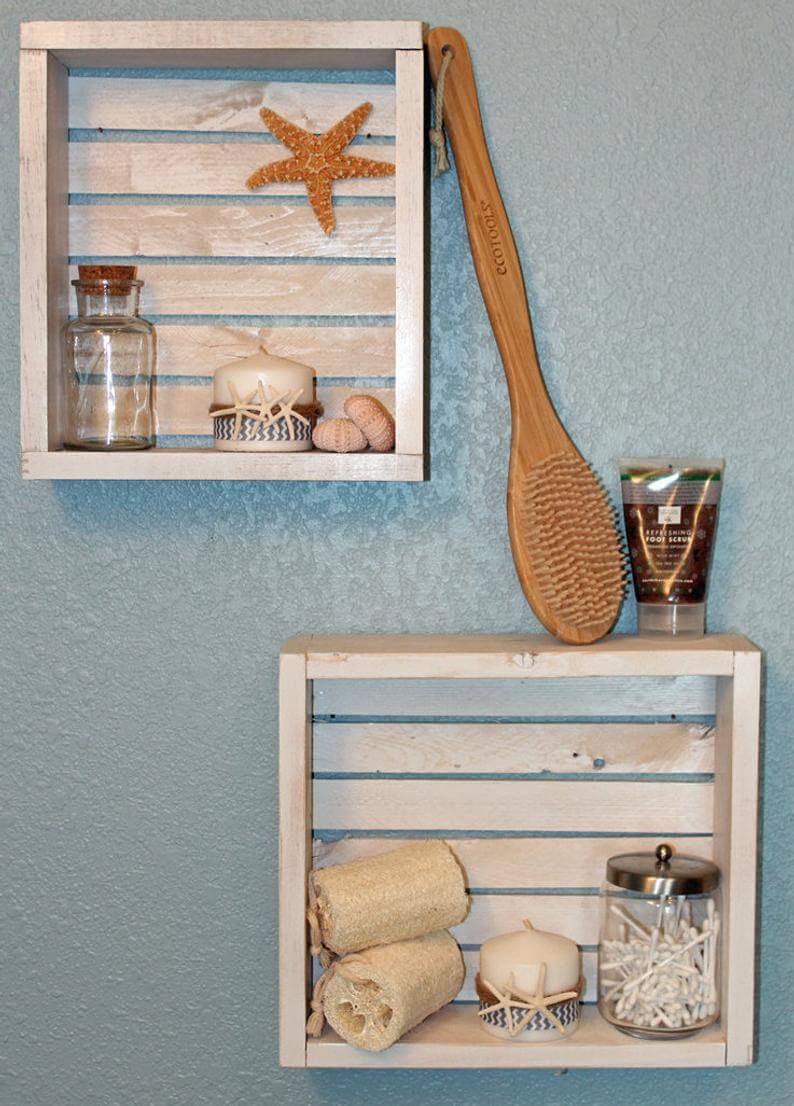 Instead of a traditional shelf, consider using these shallow crates on your wall to showcase some of your favorite sea-themed pieces. From a decorative candle to some plain shells from your last vacation, you can arrange them within these crates to create a fun and happy bathroom display. With a whitewash finish, they give a nod to the weathered and worn patina of beach house porch living at its finest.
34. Humorous Decorative Beach Rules Wall Sign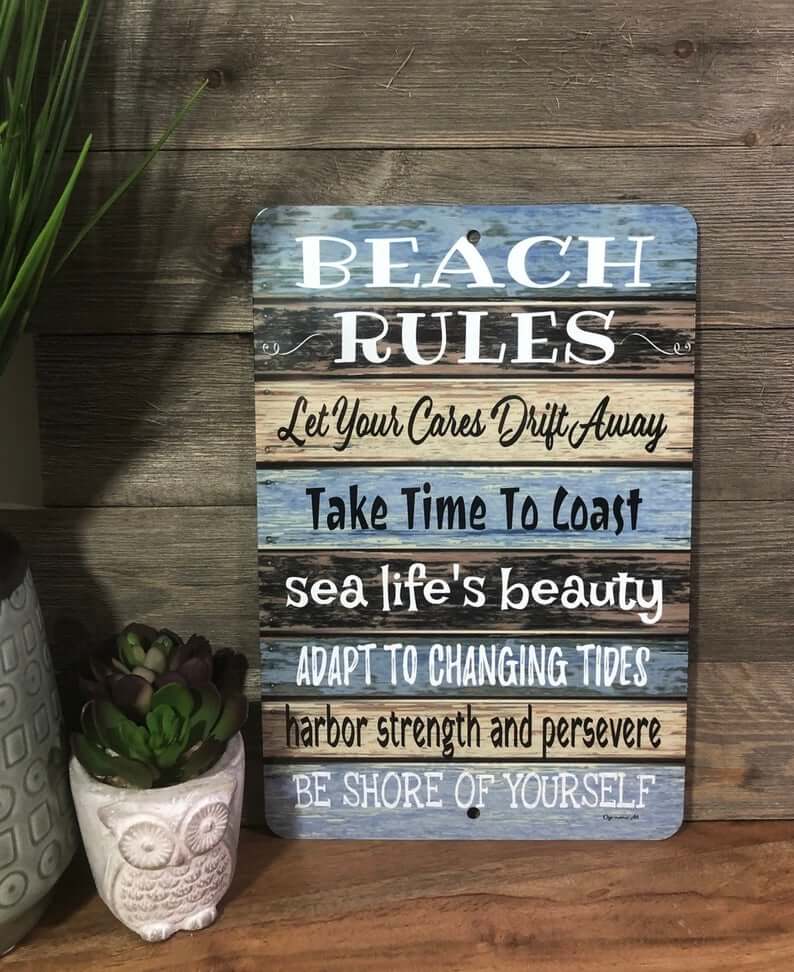 Include this fun sign at your beach house so guests will be reminded to enjoy their time of relief from the real world. With six phrases that make references to beach life, this sign is sure to make everyone grin from ear to ear. Give one as a gift to a newly retired friend who is planning on staying south for the winter months.
35. Twine Webbed Nautical Mason Jar Decorations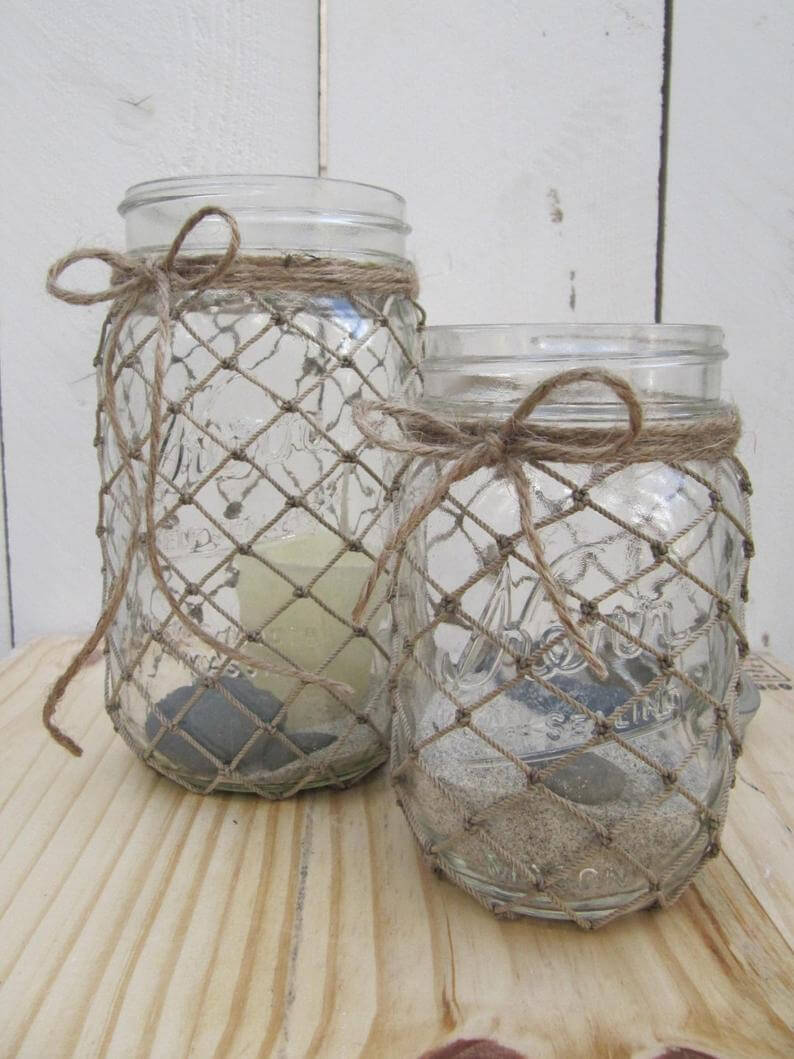 No matter if you could use a nautical-inspired votive holder or simply a fun new piece filled with sand and shells, these mason jar decorations will work for you. Sit them together for a tidy display or arrange them throughout your home to create a tied-together look. With the webbed pattern of twine around the glass, the layers of these decorations further add to the character and charm of the goodies inside.
36. Mint Green and White Wooden Buoys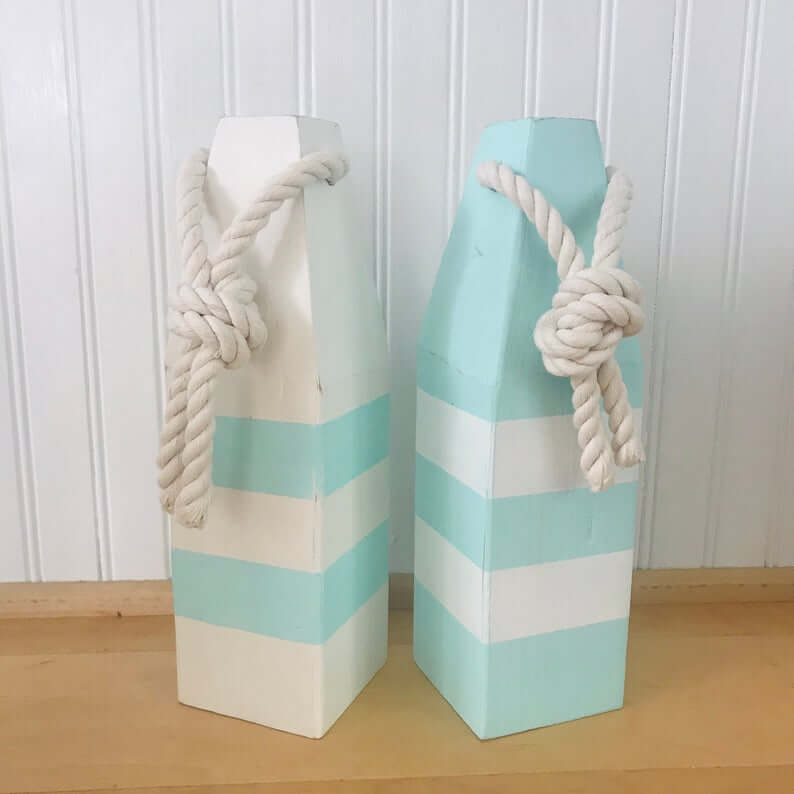 This set of two painted wooden buoys is a charming decoration for any nautically-inspired space. Using the colors of white and mint green gives a modern twist on the sea lover's design style. Perch these on a back patio, bathroom floor, or near the fireplace to infuse the cool breeze of the ocean into your personal living space.
37. White Ship's Wheel Decorative Mirror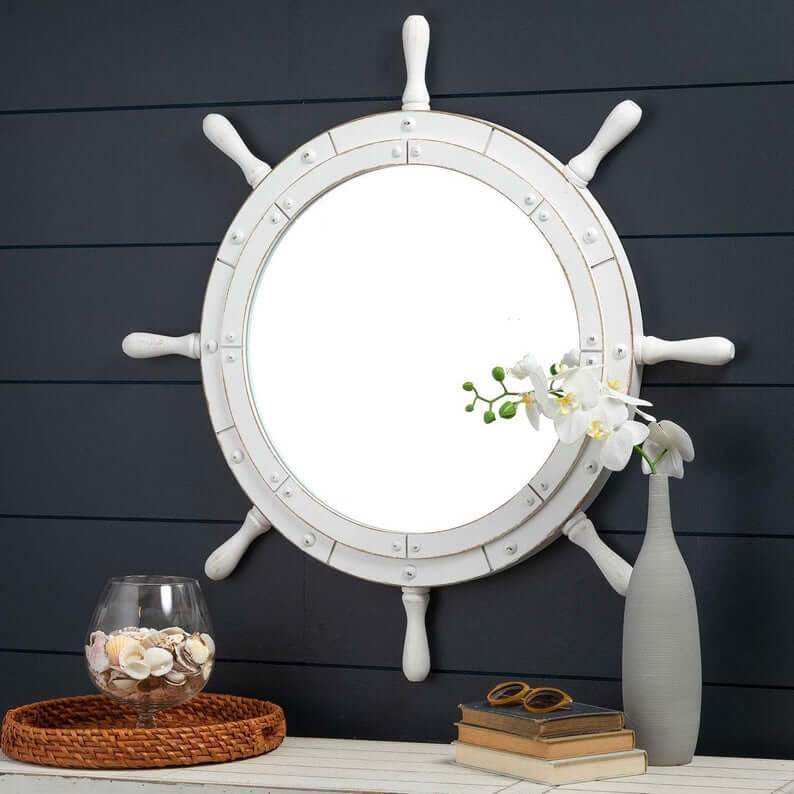 Make your nautical bathroom stand out from the crowd by using this spectacular sea-loving ship's wheel mirror above your vanity cabinet. Brushing your teeth and applying your makeup will be more fun as you have this decorative mirror as part of your routine. Hang one in the bedroom to add style and give you a space to put on your favorite jewelry pieces.
38. Painted Palm Tree Reclaimed Wood Wall Art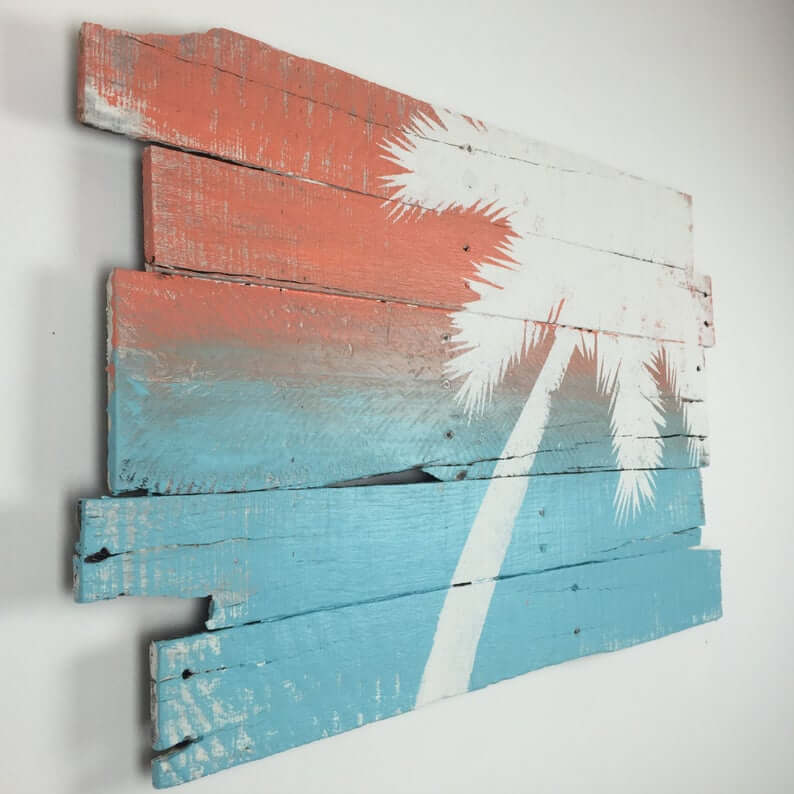 Repurpose those unused reclaimed wooden planks to create a canvas for an amazing painted palm tree. This adds some trendy and modern style to your beach home and beckons memories of the gentle ocean breeze. Hang this on your back porch or place it inside your home to add a soft and gentle ode to the ocean in your space.
39. Deep Sea Blue Anchor Toilet Roll Holder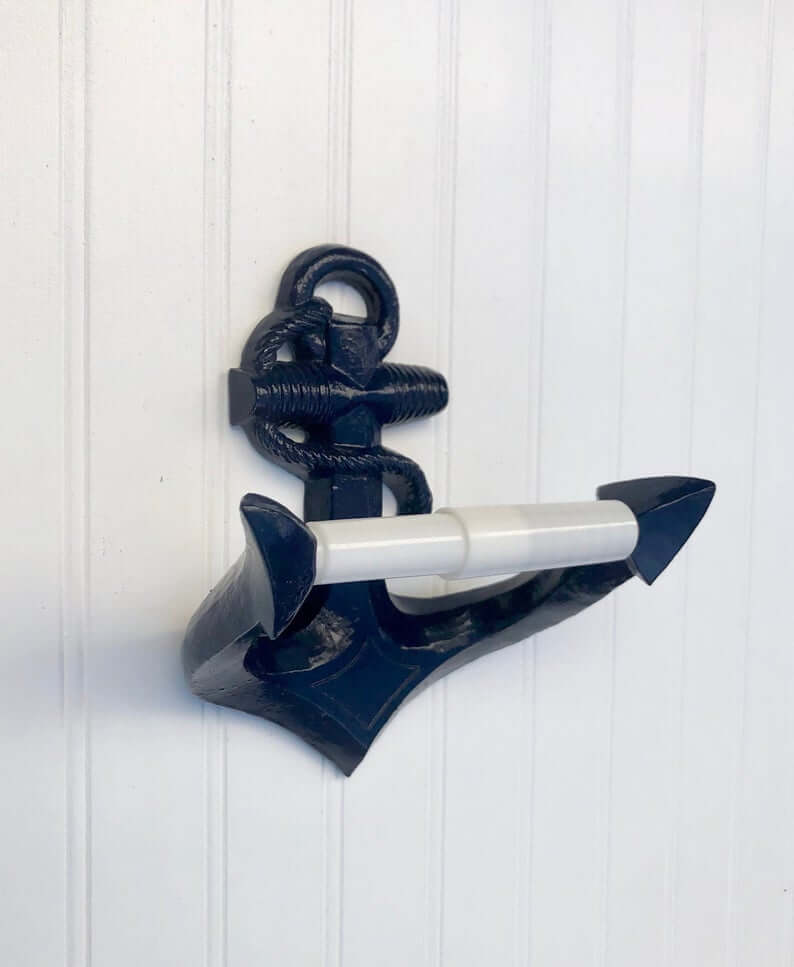 Don't forget any corner of your bathroom when decorating with a sea-loving theme. This unique toilet roll holder is in the shape of an anchor which seamlessly adds to the design without looking like a boring functional piece. Finished in a deep blue, the nautical madness is evident in this rich color and adds lots of character to your home's bathroom.
40. Humorous Bathroom Wash Your Palms Sign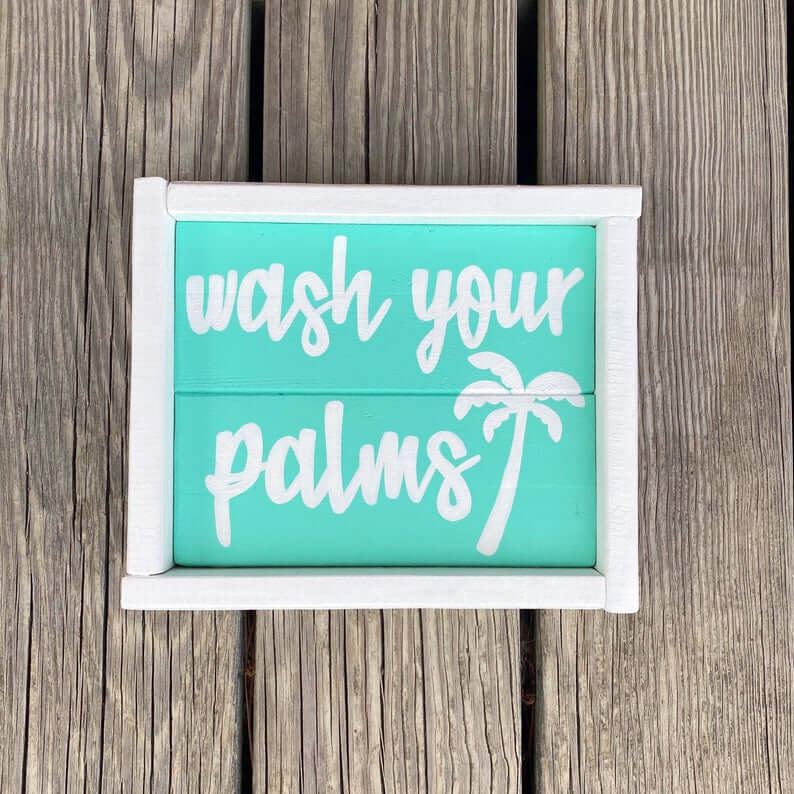 Trimmed in a clean and crisp white border, this fun bathroom sign looks casual and cool in its mint green paint choice. A subtle reminder to wash your hands with the phrase "wash your palms" adds a fun touch to your bathroom decor. Such a small sign works in any sized bathroom space as it takes up just a tiny amount of room while delivering a whole lot of fun!
41. Shark Attack Waves and Shark Fin Decoration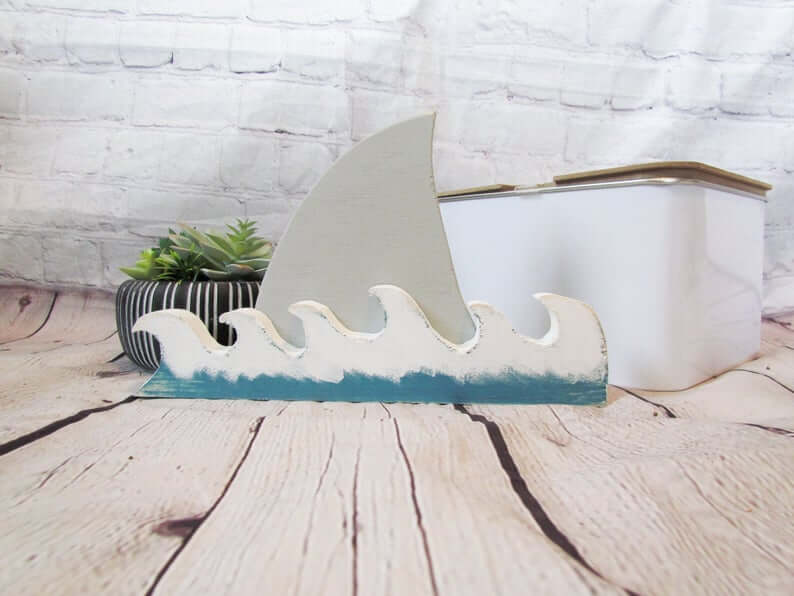 Anyone else hearing the Jaws theme as they check out this cool decoration? The rippling waves curve ahead in this cute decorative piece that can easily sit on any shelf or windowsill your heart desires. Be careful of the lurking shark nearby as his fin is visible from amid the breakers.
42. Sea Blue Dyed Wooden Tea Light Holders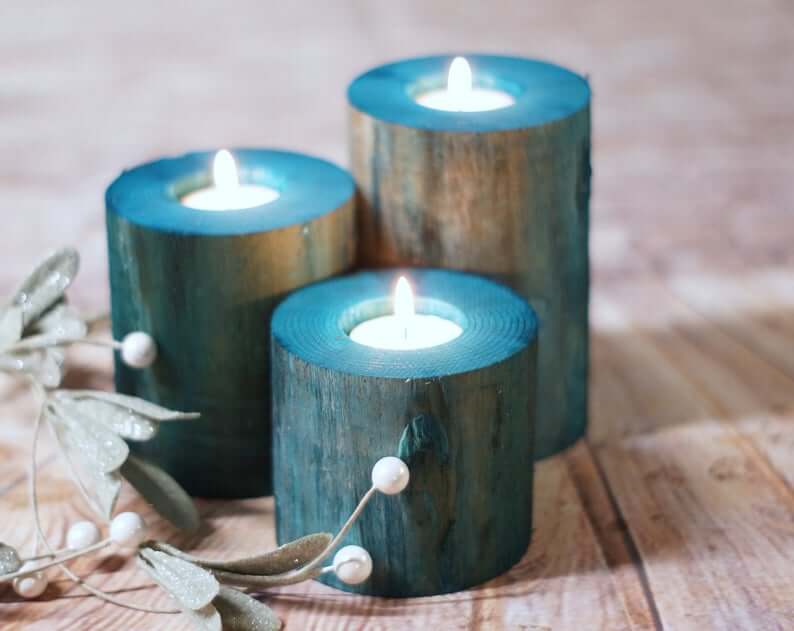 This group of three tea light holders in varying heights is a nice addition to the corner of your bathroom vanity. Let the soft glow fill the room as you enjoy a warm and relaxing soak in the large jacuzzi tub. Finished in a cool blue dye, these wooden holders look nice even when they aren't lit!
43. Striped Mason Jar Bathroom Organization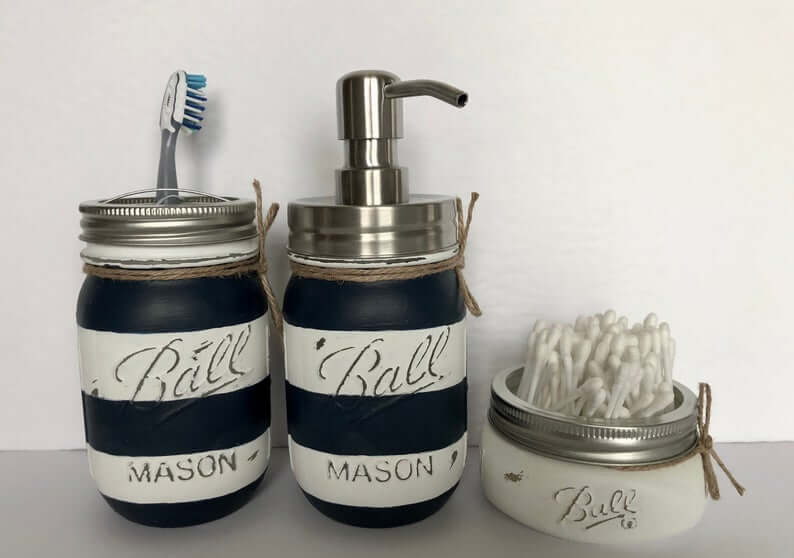 From soap dispensers to toothbrush caddy, your mason jars can be the most incredible bathroom storage system pieces on the planet. Even the small half-sized versions work for holding q-tips. Applying some bold painted stripes adds to their charm and makes them a decorative organizational tool for your bathroom.
44. Natural and Nautical Rope Towel Ring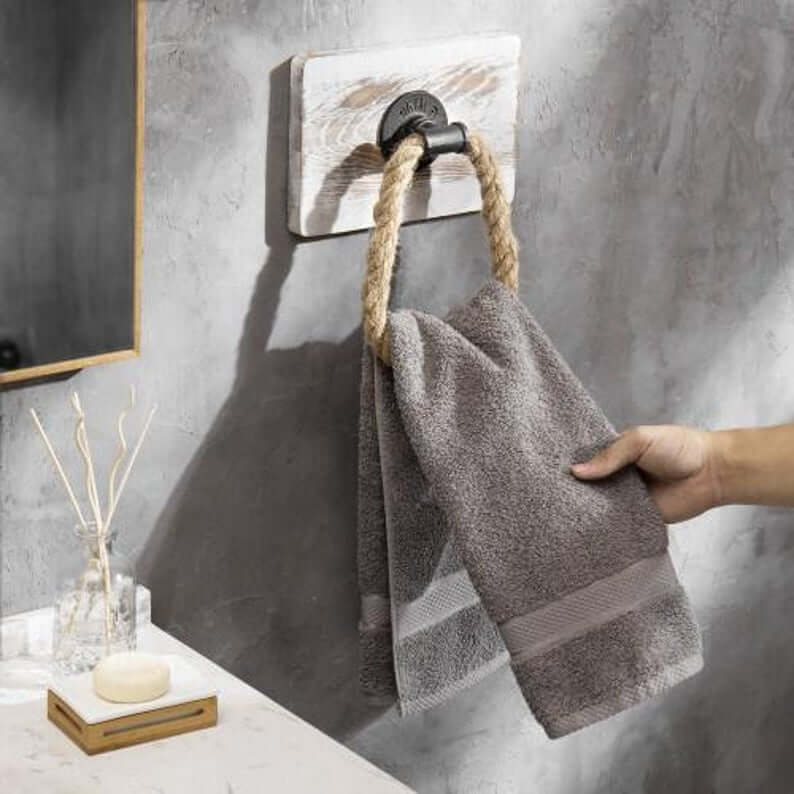 Add loads of charm and character to your bathroom with a purpose as you mount this nautical rope towel ring. The mixture of materials adds to the charm of this piece that features a wooden mounting portion with a rustic and industrial metal pipe section that holds the bristly rope in place. Now every piece of your bathroom can enjoy the look and feel of the sea.
45. Beautiful Wooden Beach Bum Bathroom Box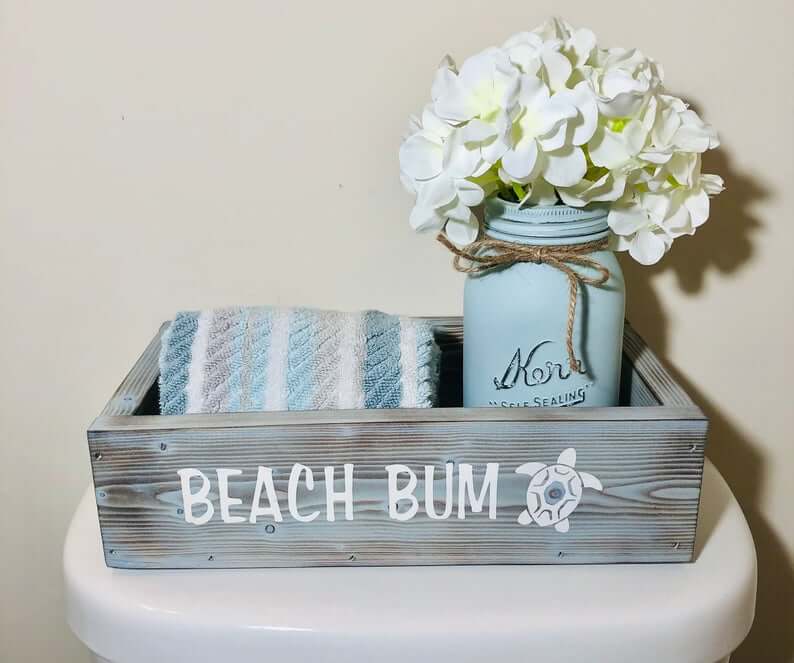 Coral all of your trinkets and treasures into one convenient place with this bathroom box. Finished with a vintage blue washed patina that highlights the gorgeous grains, this box can be used to display a decorative trinket or two while it also has room for rolled-up washcloths for everyday use.
46. Stenciled Row of Beach Huts Wall Accent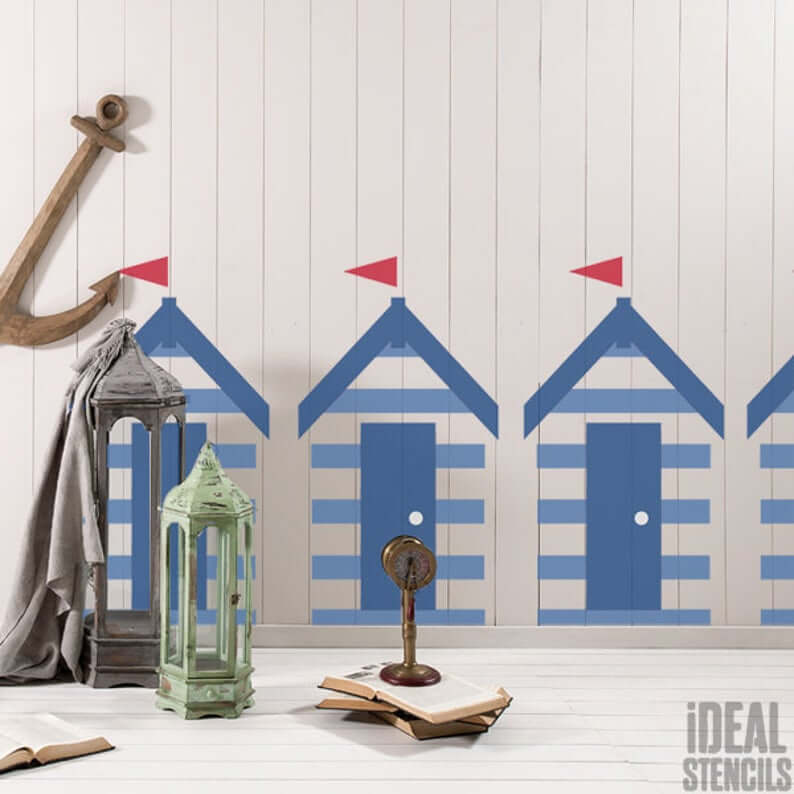 Accent your wall with some stenciled beach staples to make your room feel like part of the shore. The little red flag at the top of the beach hut is blowing in the ocean's warm breeze as the striped facade further adds to the beach appeal. Paint one on the door and wrap a row around the room to create a dramatic beach living room.
47. Cream Colored Interwoven Intricate Nautical Knot Rug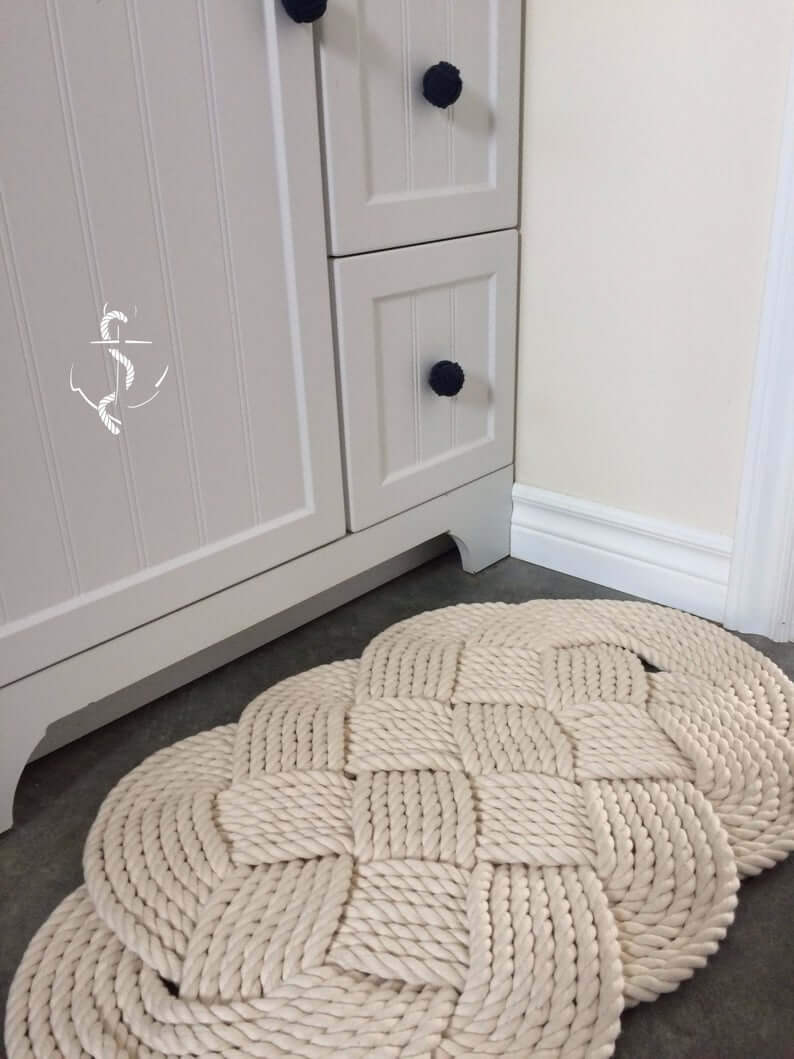 Here's a fabulous rug that works in a full-blown beach theme or any home design. It's so versatile in its creamy neutral hue coupled with its delicate and charming intricately woven design. Rest this rug in your entryway or in front of your bathroom vanity where it is certain to steal the show.
48. Nautical Rope Wrapped Candle Jars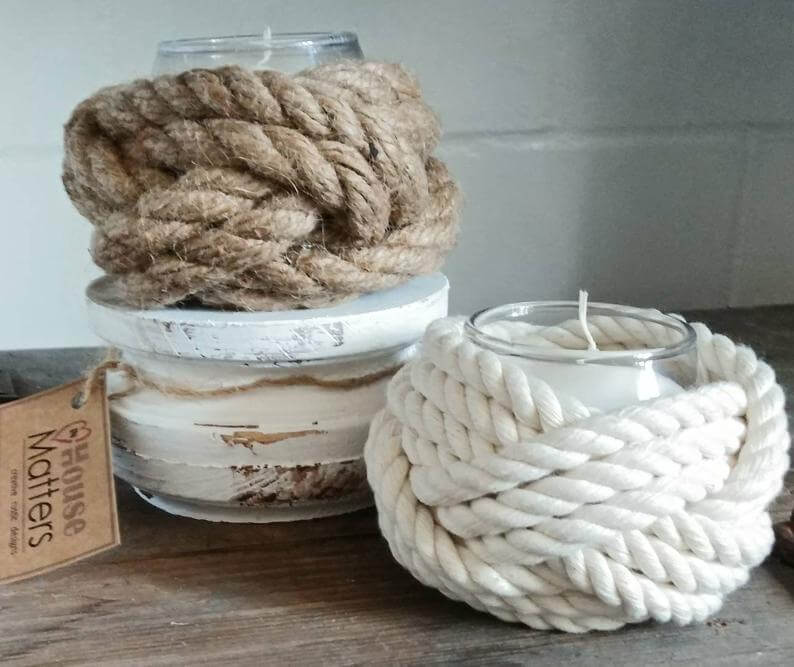 Everyone can use a candle, so why not make it personal by adding some nautical rope around it and give it to your beach-loving best friend? These small candle jars are perfect as they fit in nearly any space or room of your home. Add one next to the bathroom and kitchen sinks, place one on a nightstand in the bedroom, or even take it to the patio table as you enjoy a glass of wine after the sunsets.
49. Decorative Lake Bum Bathroom Box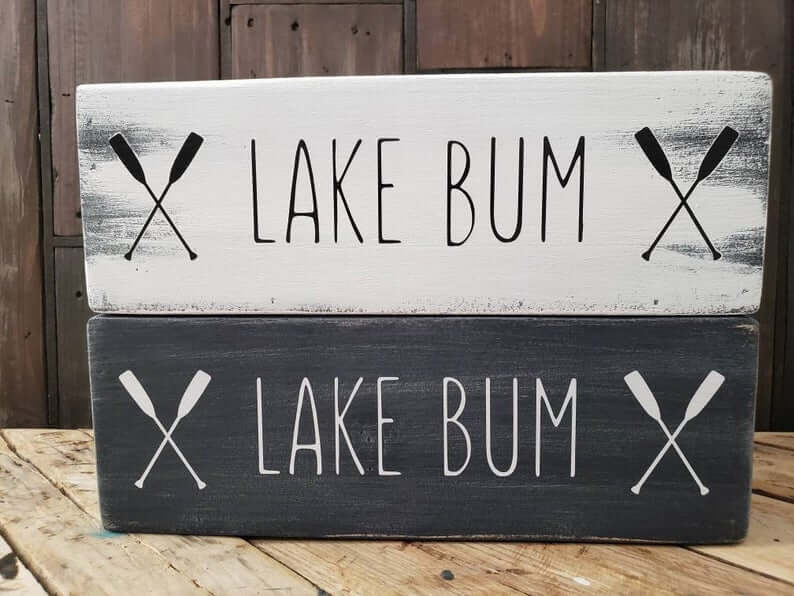 Give your bathroom a fun place to stash some extra toilet paper with this humorous "lake bum" bathroom box. It's just the right size to hold several rolls or even some washcloths or a collection of lotions to make your lake house guests feel right at home. Fill it with some bathroom supplies and make it a fun gift for your fishing buddy.
50. Lighthouse and Crashing Waves Seascape Dresser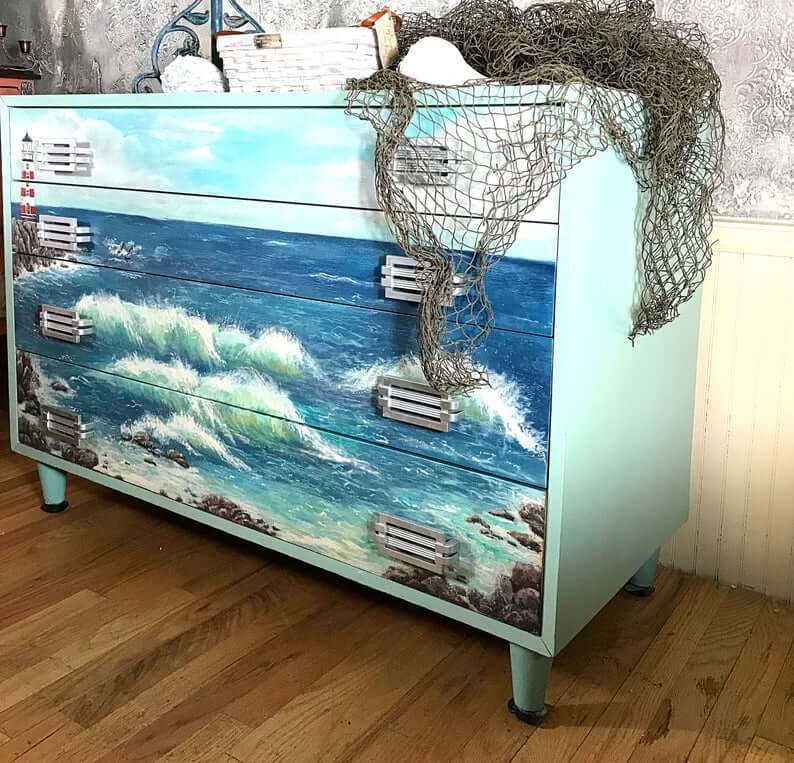 Hand-painted and crashing with character, this seascape-painted dresser sets the tone for sea love in your home. Use it in the entryway to greet guests upon their arrival to the lake house or use it in the kitchen or bath as a large storage base for many of your standard supplies. The gorgeous lighthouse and rippling waves bring to life the mesmerizing allure of the sea in all of its grandeur.
51. Shell, Sand Dollar, and Starfish Art Trio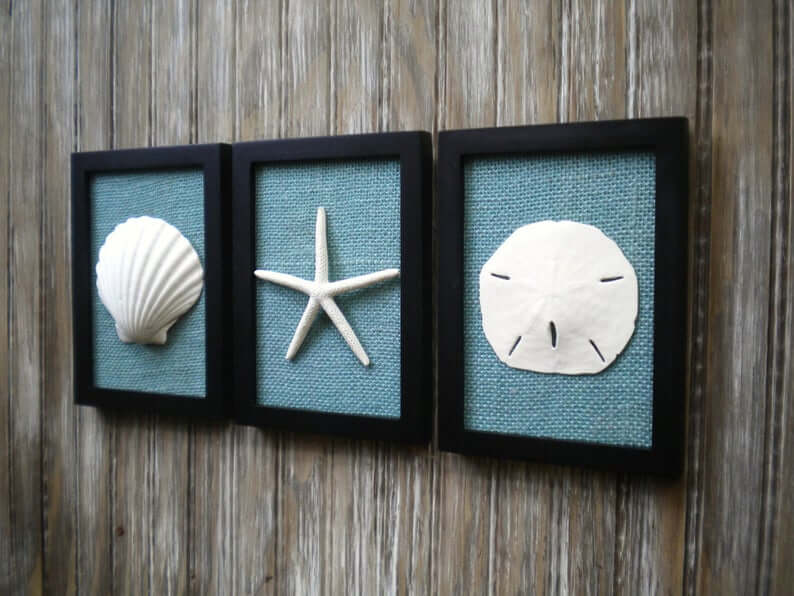 They say the third time's the charm, so maybe adding a trio of wall art will take your beach home's charm to the next level. Featuring the three icons of the sand and sea, they pop on their blue burlap backgrounds and stand out with the bold black trim. Hang them together as a set on your bathroom wall to bring part of the sea into your home.
52. Rustic and Vintage Seahorse Hooks Strip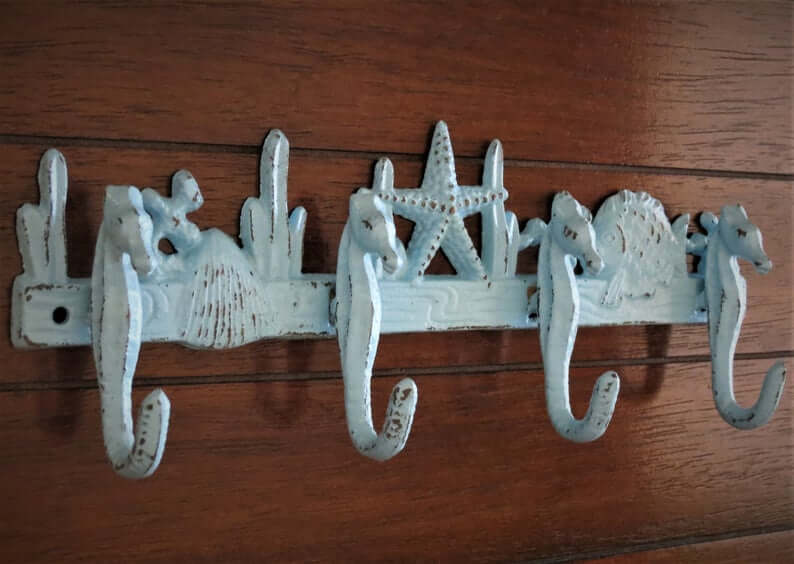 Maybe this hook strip is simply too pretty to use, but in case you ever need a place to hang your robe as you shower, you'll know it's there. The gorgeous and amazing finish gives this metal hook strip a lovely vintage feel as the seahorse infuses the brine of the saltwater into your bathroom's design. Add it to the back of the door, or mount it near the shower to give your bathroom some additional means of clutter-clearing power while looking cute in the process.