When you are in the mood for decorative items that stand out, finding the best DIY silver projects is a good place to start.
Silver is a versatile material whether you use the actual item, or simply opt for silver coloring. It can create such incredible pieces of art that anything made is bound to capture attention. You can discover some stunning silver-based planters or vases to help highlight gorgeous flowers. Or perhaps you want to accent something else like a photograph? In that case, a silver-colored picture frame is even nice to have as it can bring whatever image you have inside to live. You can even go as far as to have artwork where silver is the primary color choice to allow your wall décor to pop.
21 Ways to Add a Touch of Silver to Your Home with these DIY Decor Projects

Any decorative items that turn silver into its centerpiece can further aid in accentuating the other décor around it too. They can be used to give a more unique take on otherwise vintage décor, or they can be used to add a splash of chrome-coloring to an otherwise black and white contemporary setup. The possibilities are just about endless in this case, so you can dive in deep and play around with a variety of options before settling on anything.
Yet another cool thing about using silver items and coloring for your decorative setup is that it can work out well too for temporary purposes. Maybe you are having a party with a color theme that silver works well with such as blues and gold? Or maybe you just want to use it for more holiday-centered décor? It can work well throughout the year, but it can add something unique to Halloween and especially the winter holidays.
We find the prospect of using this to be an exciting one, if not a touch overwhelming as to where to begin. So, we discovered several different ideas and items that should lead you to find the best DIY silver projects that will leave your home glimmering with life.
1. Simple Silver Painted Wooden Dough Bowl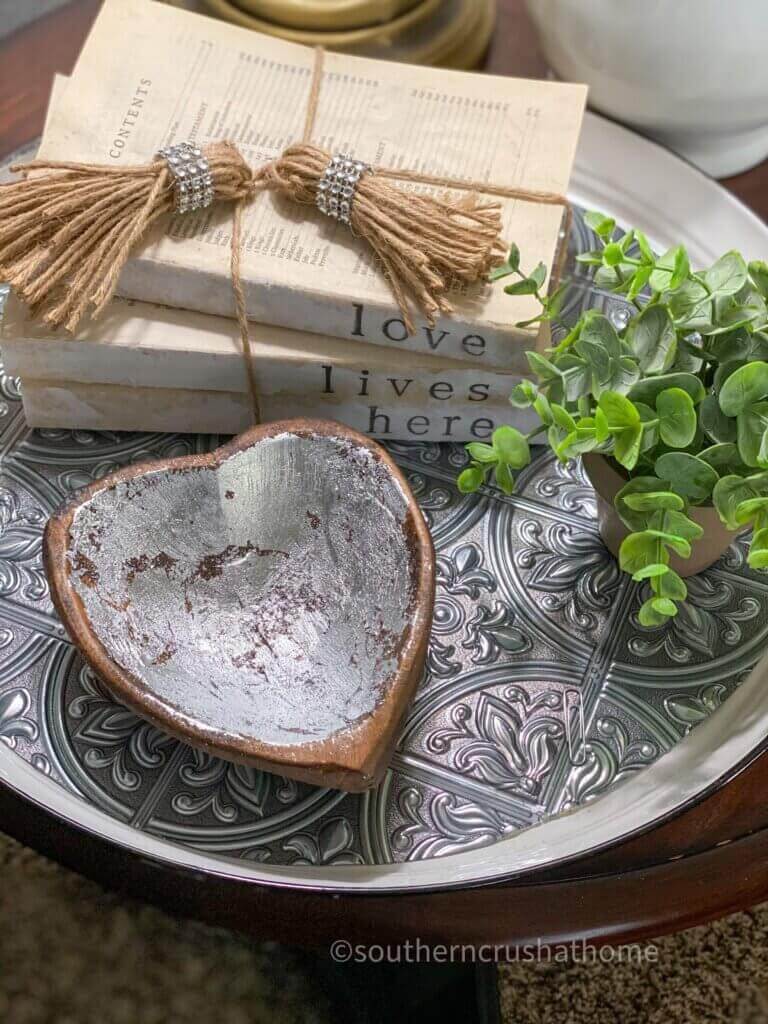 Sometimes the easy homemade projects with silver are the most fun to complete, especially if you are just dabbling into the world of creating DIY decorative items. This project can bring new life to what is otherwise an average wooden dough bowl. It doesn't even require too many items or time to make either so you can have this done fast, leaving behind a more attractive bowl that is perfect for stashing small items like your keys or even just to leave on the table so that the bowl can stand out on its own right.
2. Haunting Mercury Glass Halloween Candle Holders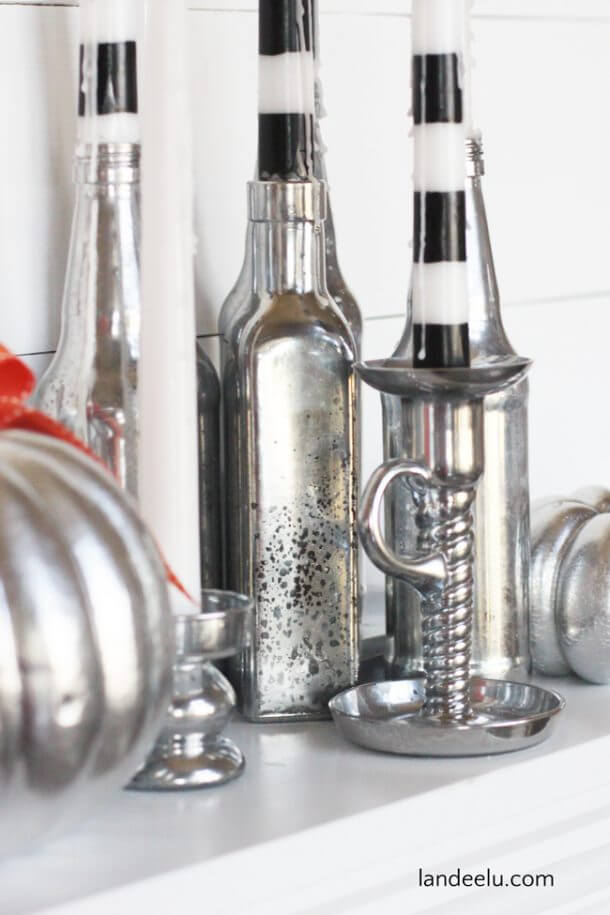 There are so many ways to decorate for the spooky holiday, but rather than go the traditional route of using green color tones, these DIY candles blend well with black and white themed Halloween décor. It is easy enough to create your own mercury glass, and what you are left with are bottles transformed into candle holders that look far more expensive than they really are. Paired with the right matching candles, and you can have some Halloween décor that is just as charming and elegant as they are haunting.
3. Foam Pumpkin Faux Mercury Glass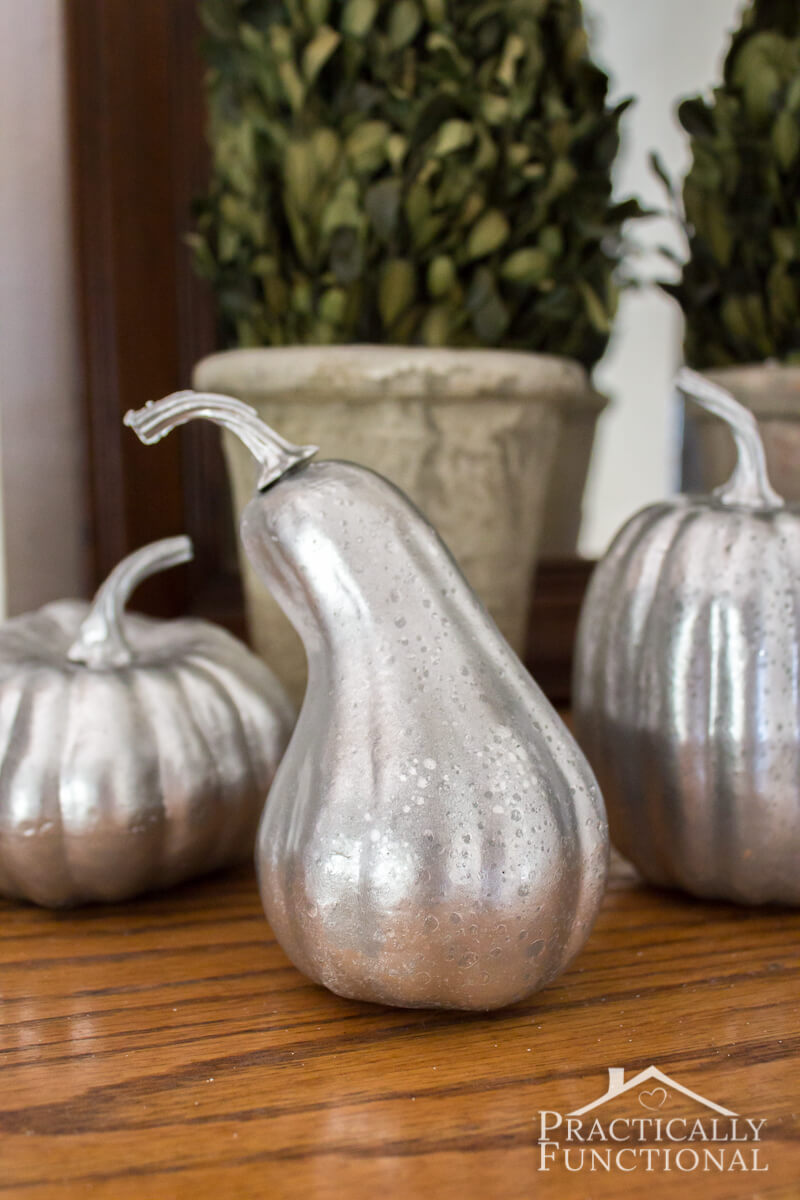 With the fall season coming around, many people look to pumpkins to place around their homes for decorations. With the faux mercury look, you can elevate the typical pumpkin into something that is far more appealing. Once you paint over these pumpkins, they won't even look like they are really made of foam. Instead, they are given the perfect sleek, chrome appearance. Opting for different sizes and shapes can make the setup more fun and attractive. Another nice thing to note is that even though they are painted over to look metal, they will still have some texture from the foam material, and this gives them a touch more personality.
4. Handmade Shining Silver Chanukah Banner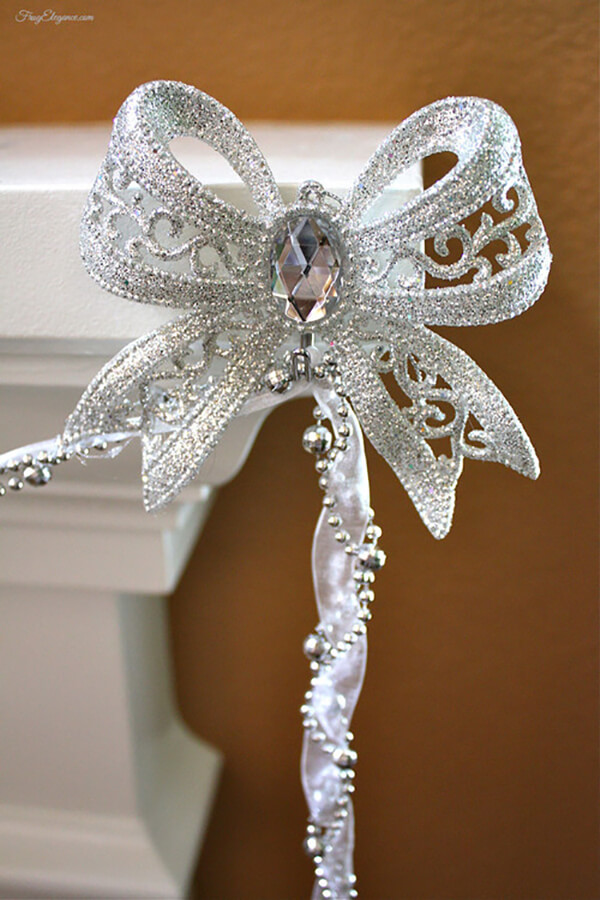 With the holidays come seeking exciting ways to decorate. Of course, there are many items you can purchase, but why do that when you create something like a banner all on your own? With some silver glitter, you can truly make your decorative banner shine and sparkle, especially if you hang it up somewhere that it will effortlessly capture light. If not for Chanukah, you can use this style of decorating for any holiday as silver seamlessly blends in with the other décor you have as it is such a regular and appealing color theme for this time of the year.
5. Cute DIY Framed Emoji Wall Art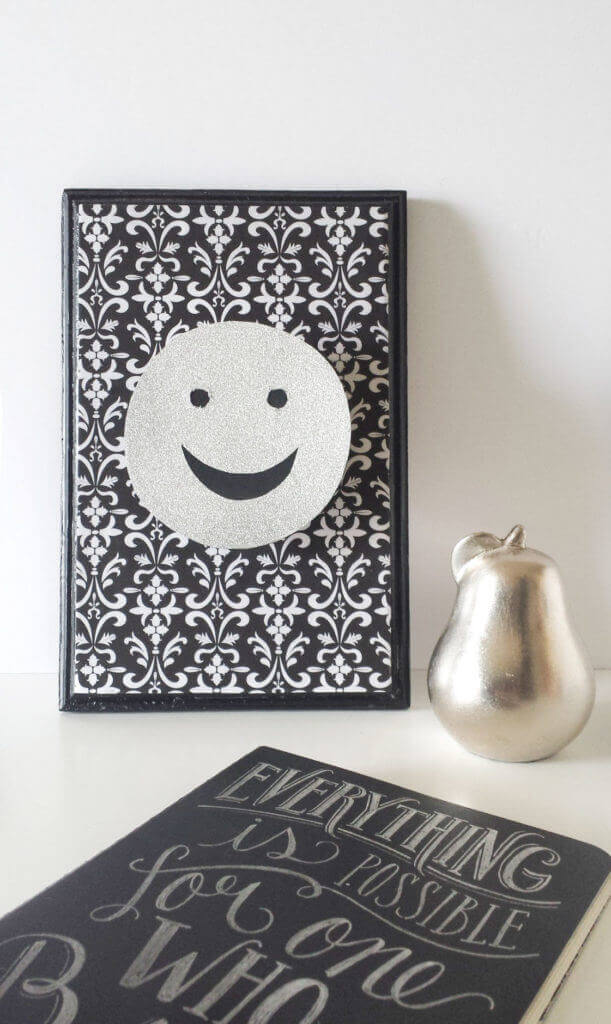 Who knew that using emojis can be helpful in creating fun and lively silver DIY decor projects? This smiley face is anything but basic. With its complete silver color, the large-scale emoji brought to life easily makes a statement in any room you hang it up in. The unique background further allows the smiley face to pop, allowing each portion of this wall art to capture your eye. Its repeating pattern provides this with an incredible amount of flow, more so when you use a black frame as that further helps stick with the color scheme at hand.
6. Faux Mercury Glass Flower Vase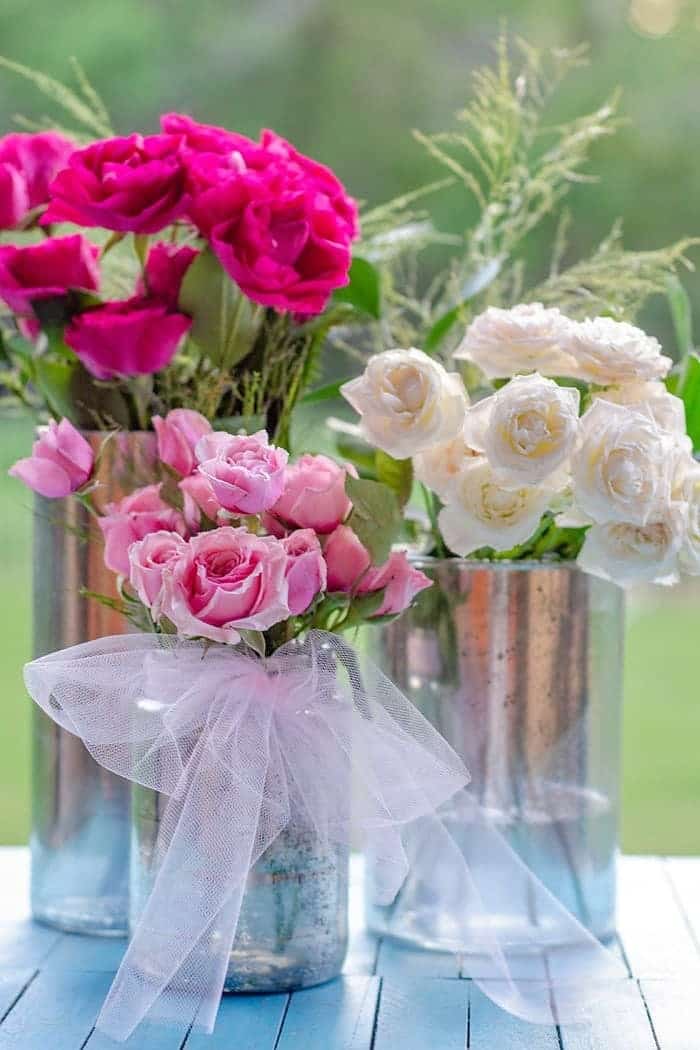 You don't need real mercury glass to have beautiful silver decorations around your home. With the right tools, you can create some faux mercury glass that has the same effect. Applying what you learn to flower vases is a good way to go about it. This design can give vases a touch more texture while leaving just enough of the glass visible to see through it. It is an attractive look that can help any type of flower or other greenery you have stashed in the vase stand out further. This is also the perfect choice when you are looking to upcycle some old glass vases.
7. Vintage Metal Flower Pot Décor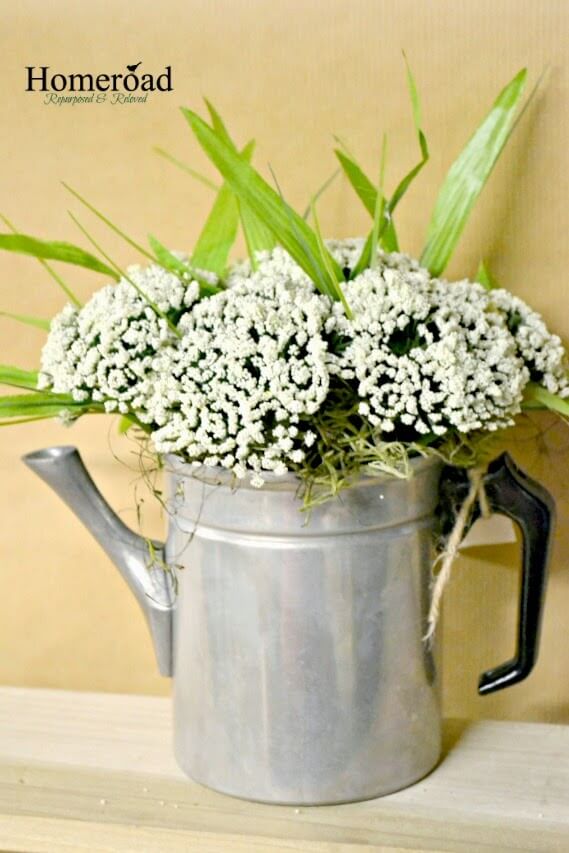 Some good silver DIY decor projects focus more on adding some more color to your home through the use of flowers. You can search through some bargain stores to discover these vintage metal gems. Give them a new shine if needed, and they will look incredible set up around your house whether indoors or outside. There is also something about these types of flower "vases" that feel rural, making them especially fitting to match farmhouse-styled décor. An even nicer aspect is that you can just as well use real flowers as you can faux ones, finding the right setup you need to suit your style.
8. Reimagined Glass Bottle with Silver Leaf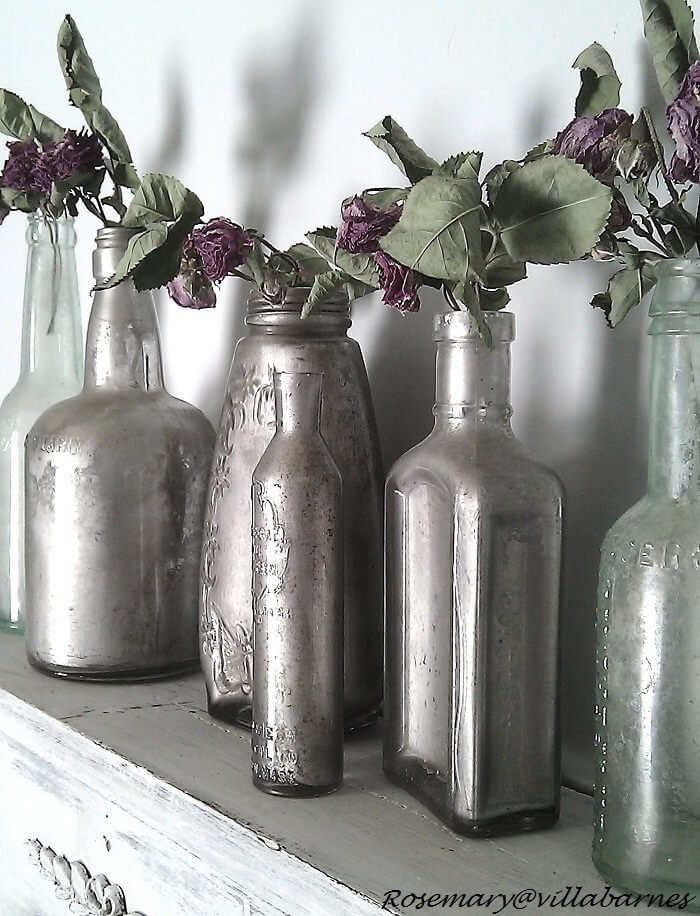 So much character and charm can be exhumed from old glass bottles with just a simple silver leaf technique. For extra blotches, you can add a little water to the inside of the bottles before the silver magic begins. For more grit, you can always sprinkle in some rust or dirt to get the job done. Using a silver leaf inside the bottle changes the entire look of your bottles. Arrange a grouping of these in various shapes and sizes for a lot of style on your mantel.
9. Repurposed Tin Can Mirror Frame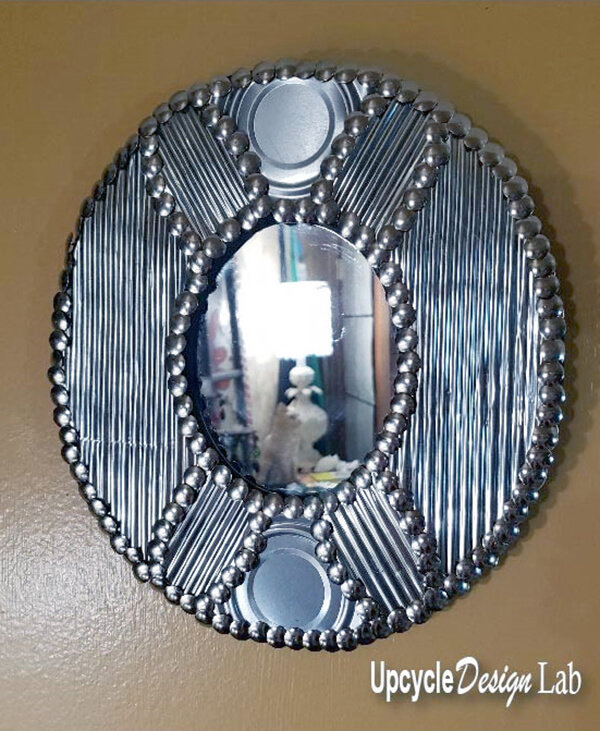 Recycling is a great way to help the environment, but another awesome option is to repurpose those recyclable materials. Turn your used tin cans into a piece of wall art! The corrugated ones provide the additional element of texture while the plain ones add even more shine. Choose cans of all sizes to increase the appeal in this savvy silver decoration. This frame works well surrounding a mirror or would make a fantastic embellished picture frame. Use this as an activity for school-aged kids to celebrate Earth Day. It would be fun for a classroom, 4-H club, or scouting troop.
10. Majestic Metallic DIY Dresser Makeover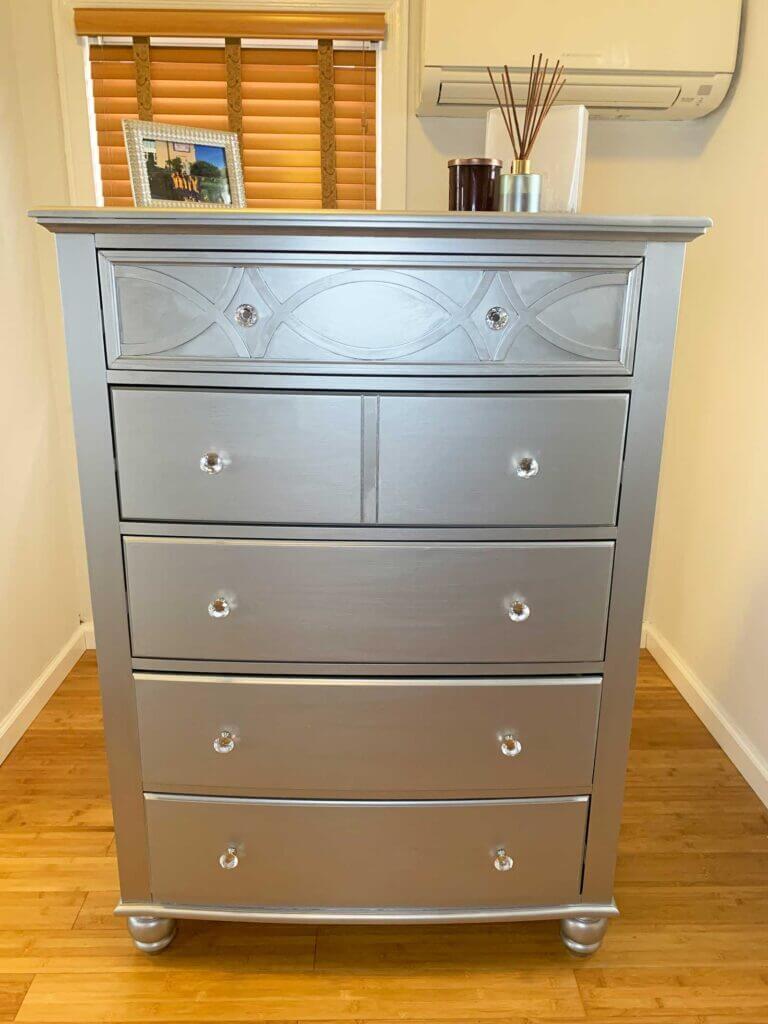 Keeping on pace with the trend of gray tones, this metallic silver dresser takes it up a notch! A light sanding and a few coats of metallic paint will get this dresser looking like a new piece of furniture. This would make a great option for a dining buffet as well. Including glass or crystal knobs adds vintage elegance to the overall look of this beautiful project. In the home office, this would be a classy touch for a workstation or desk. Blending into a gray color palette makes sense; however, this metallic masterpiece would be a wonderful statement piece in another color palette's design.
11. Painted Silver Lamp Upgrade Design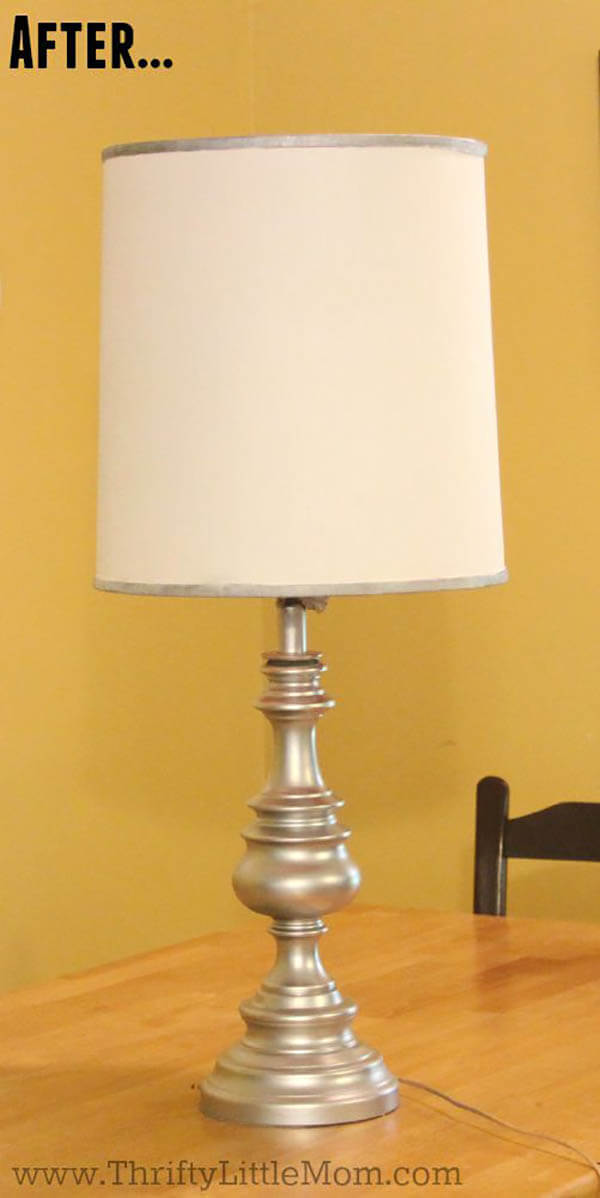 If you have an old lamp lying around that looks a little dated, there is no reason to toss it out. Instead, get the right tools and breathe new life into that vintage lamp. It is a great project to explore for those of you that want to focus more on recyclable decorative items. The finished lamp has a gorgeous silver sheen to it. Best of all, you can pair this with just about any shade since silver is an easy color to match. This lamp style works well in a vintage setting, but it can also look just as good if you have it alongside a more modern-slanted home.
12. Stenciled Silver-Painted Wall Design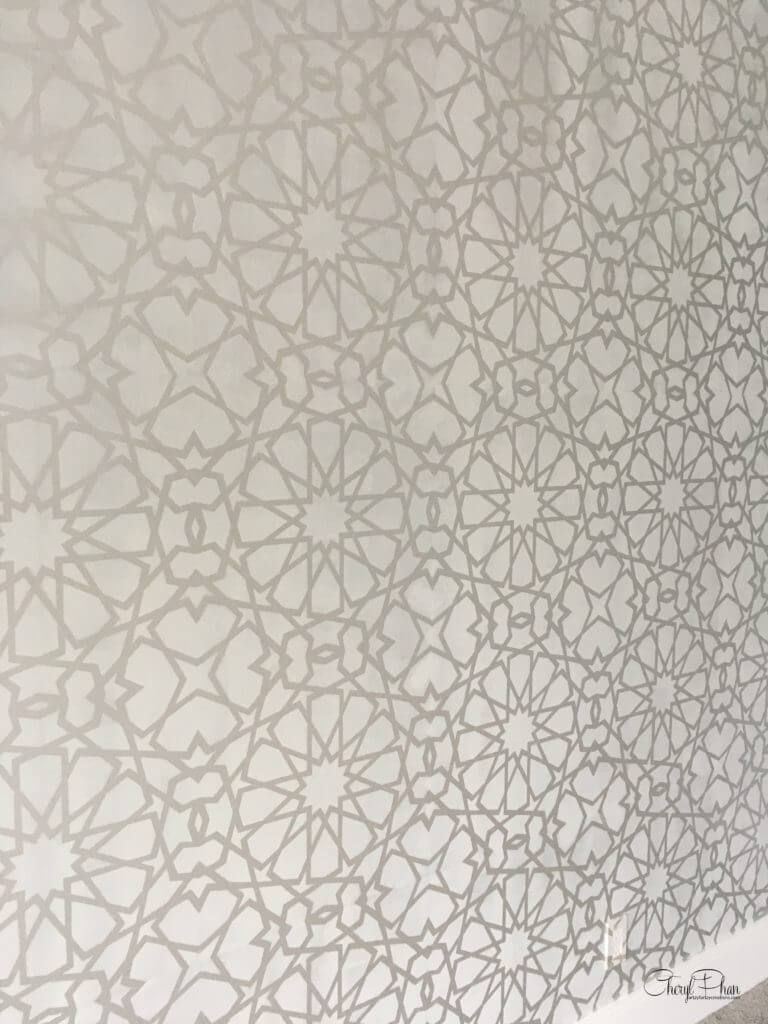 Painting walls can always make for a fun project, especially if you opt for a different design pattern rather than go with a full, single-colored wall. You can start off with silver in this case as it will look great no matter which stencil you go for. Thankfully, there are dozens upon dozens of designs available that work well with whatever type of style you are aiming for. Using white for the stencil to complement the silver paint is a good idea as well. A different shade of silver can work out too, as can black, gold, etc. Silver is a nice basis for several colors.
13. DIY Mercury Glass Plates Decoration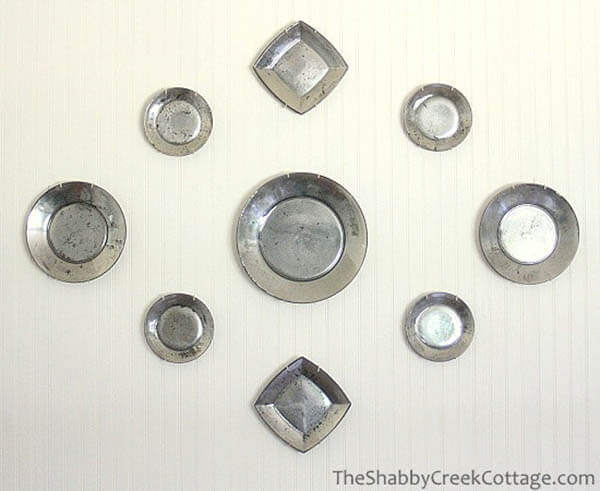 No more will you have to invest in expensive mercury glass decorative items when you can find ways to create the look yourself. This makes for a compelling upcycle project so that you can clear out some clutter with dishware you don't want or use while also gaining some lovely wall decorations. Of course, you can always purchase plates to use for this project instead. No matter which way you go, you're left with some awesome silver wall décor that can look good hanging up in any room. Consider going for different plate designs too so that the setup flows better from one end to another.
14. Incredible Silver Candle Holder Dupe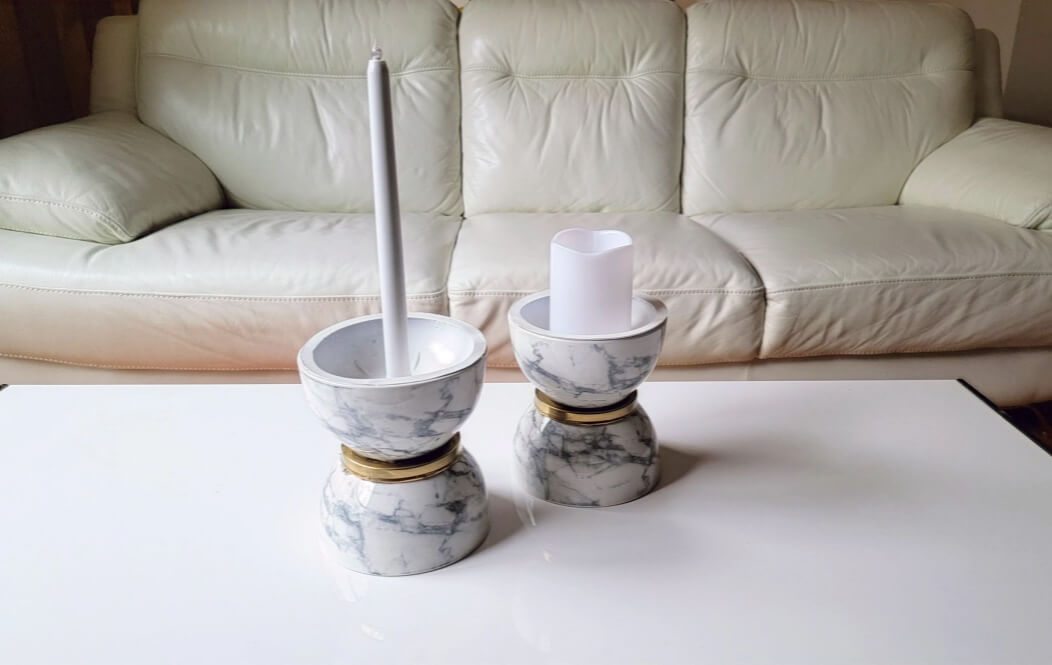 Candle holders are always a nice project to get into thanks to how universally appealing they can be alongside any décor in your home. This task is most ideal when you are on a budget, and you may even have most of the tools needed right on hand already. It is remarkable just how much some paint can transform something as simple as a plunger, yet this project does just that. By the end, you are left with a bold handmade candle holder that will dupe anyone into believing you bought it from some fancy store.
15. DIY Nail Picture Frame Décor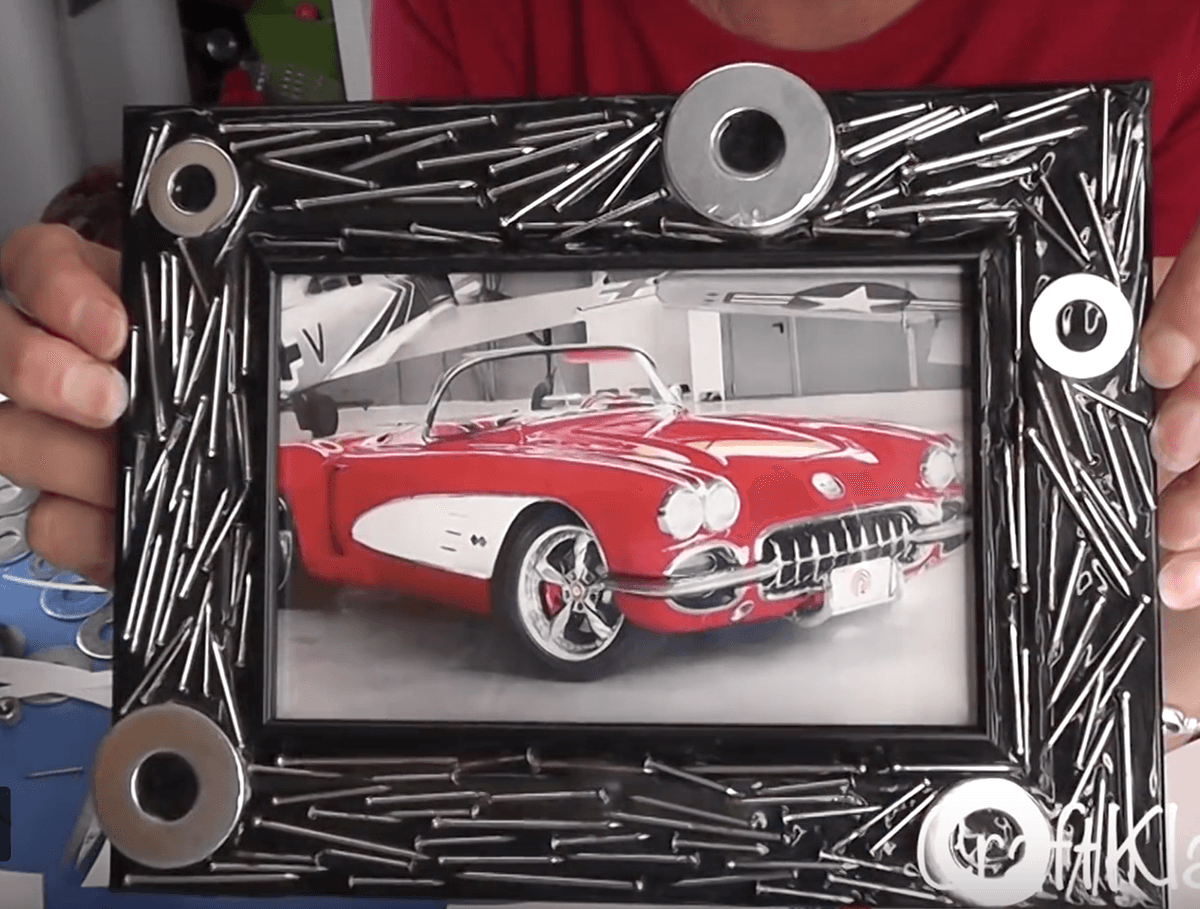 Some homemade projects with silver can take a different approach as in the case with this picture frame. The way silver is highlighted here is through the use of any handy items you have lying around such as nails, screws, and washers. This project doesn't just allow you to get rid of some old things that you probably don't need, but it makes for an awesome gift for the handyman (or woman) in your life. The silver coloring on everything can shine well, while the items also provide the picture frame with some cool texture it otherwise would not have.
16. Tier Silver Crystal Filled Candle Holders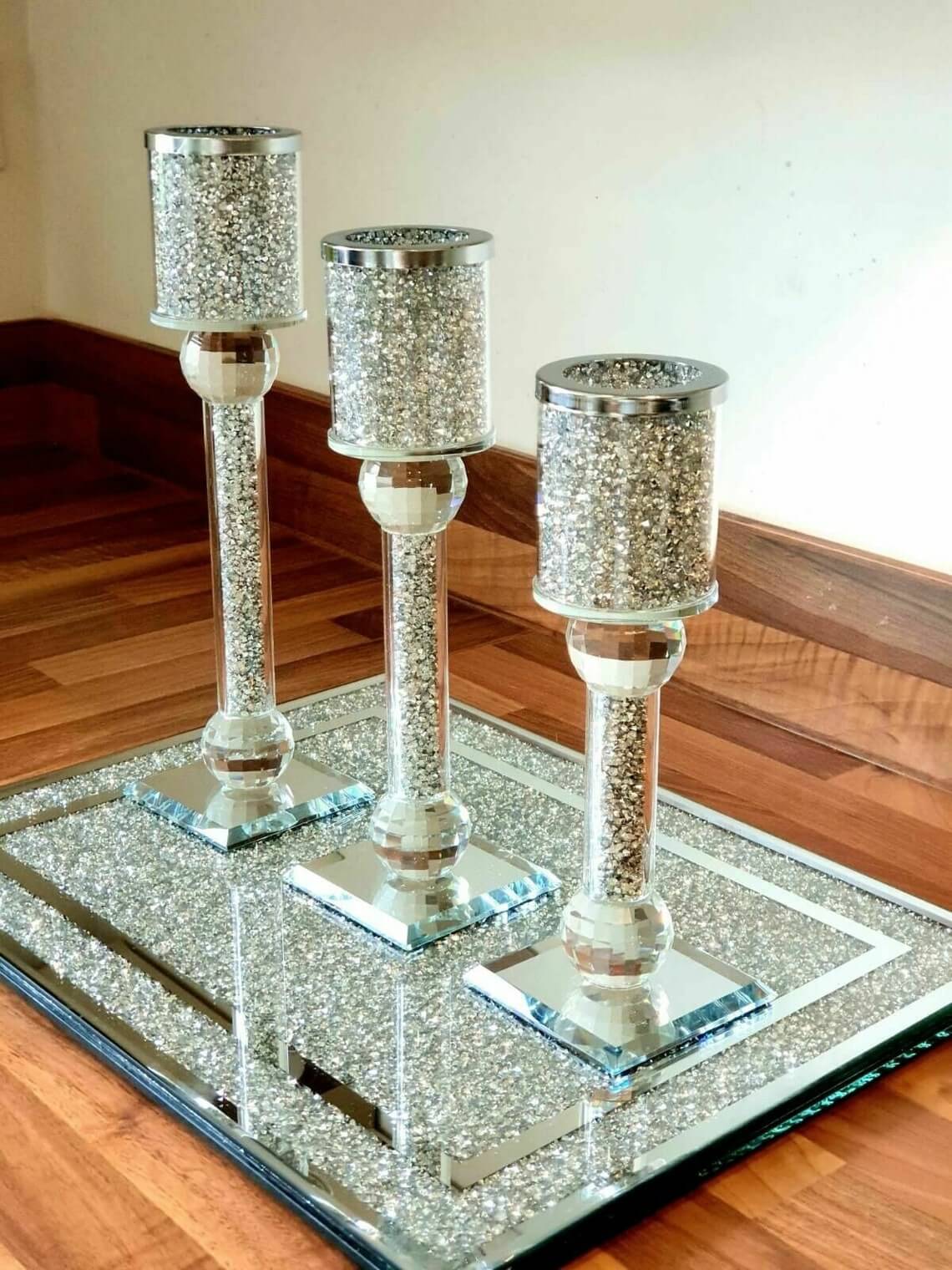 These stunning candle holders, available in a set of three, come freestanding and in a tiered design that lets them instantly capture attention wherever you set them up at. The crushed diamond crystal layout gives them a lovely glimmer that makes them seem like they are truly sparkling, especially if you place them in strategic locations to capture light. These can look well when placed together given that they vary in height from one another, or you can even place them in different areas around the room instead to work alongside any other décor you have.
17. Crushed Diamond Vase with Silver Flowers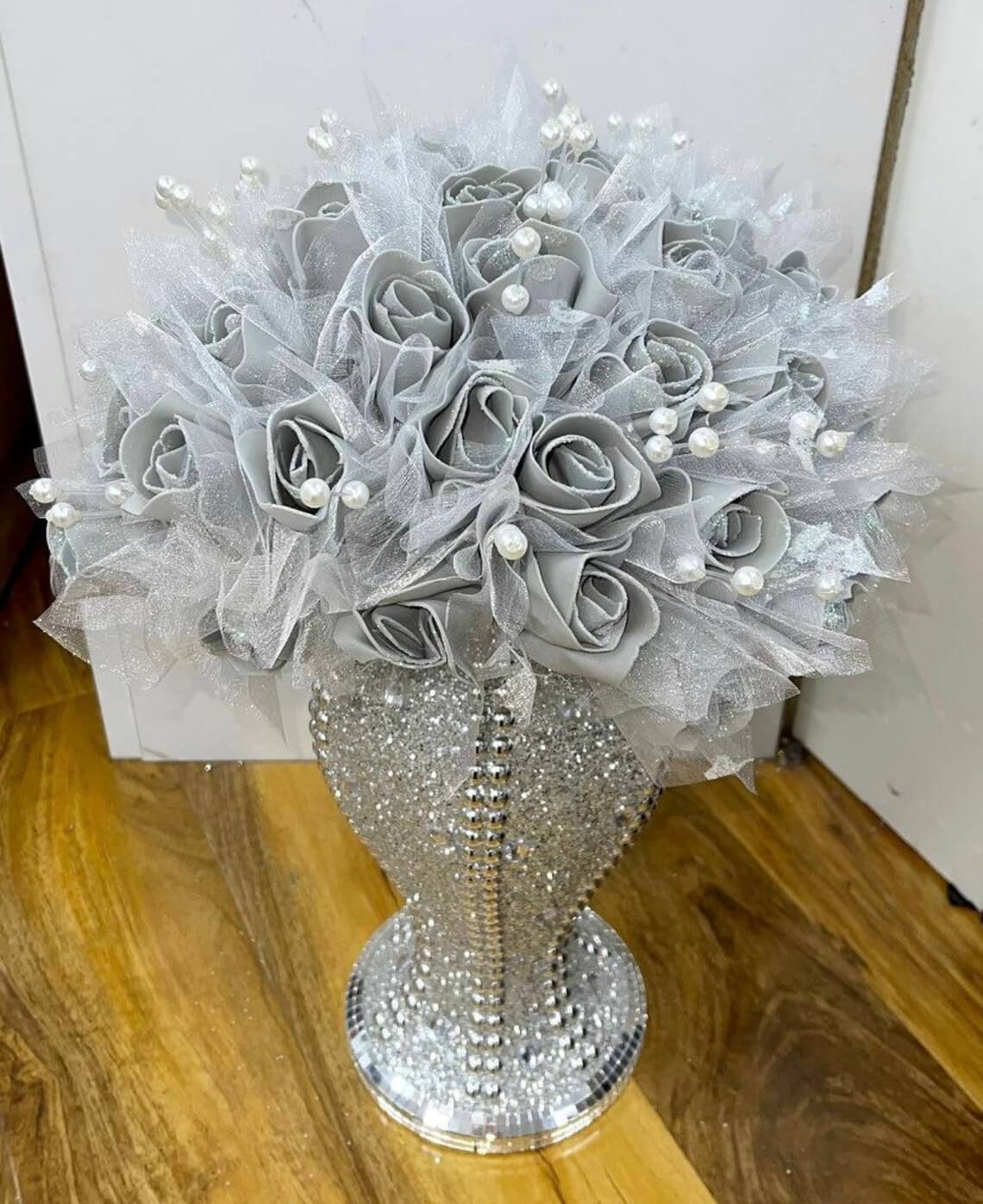 An excellent way to use silver in your décor is with this incredible crushed diamond vase. The style makes everything pop, making this piece an instant attention-grabber. There is a nice elegance to the vase design itself too that complements the color even more. But with this piece, you aren't just getting such a sophisticated vase. Rather, this also comes with beautiful, large silver faux flowers that also have some pearls woven in between. This bouquet-like setup also has a shimmering aspect to it so that this entire decorative item sparkles from top to bottom.
18. Remarkable White Christmas Centerpiece Design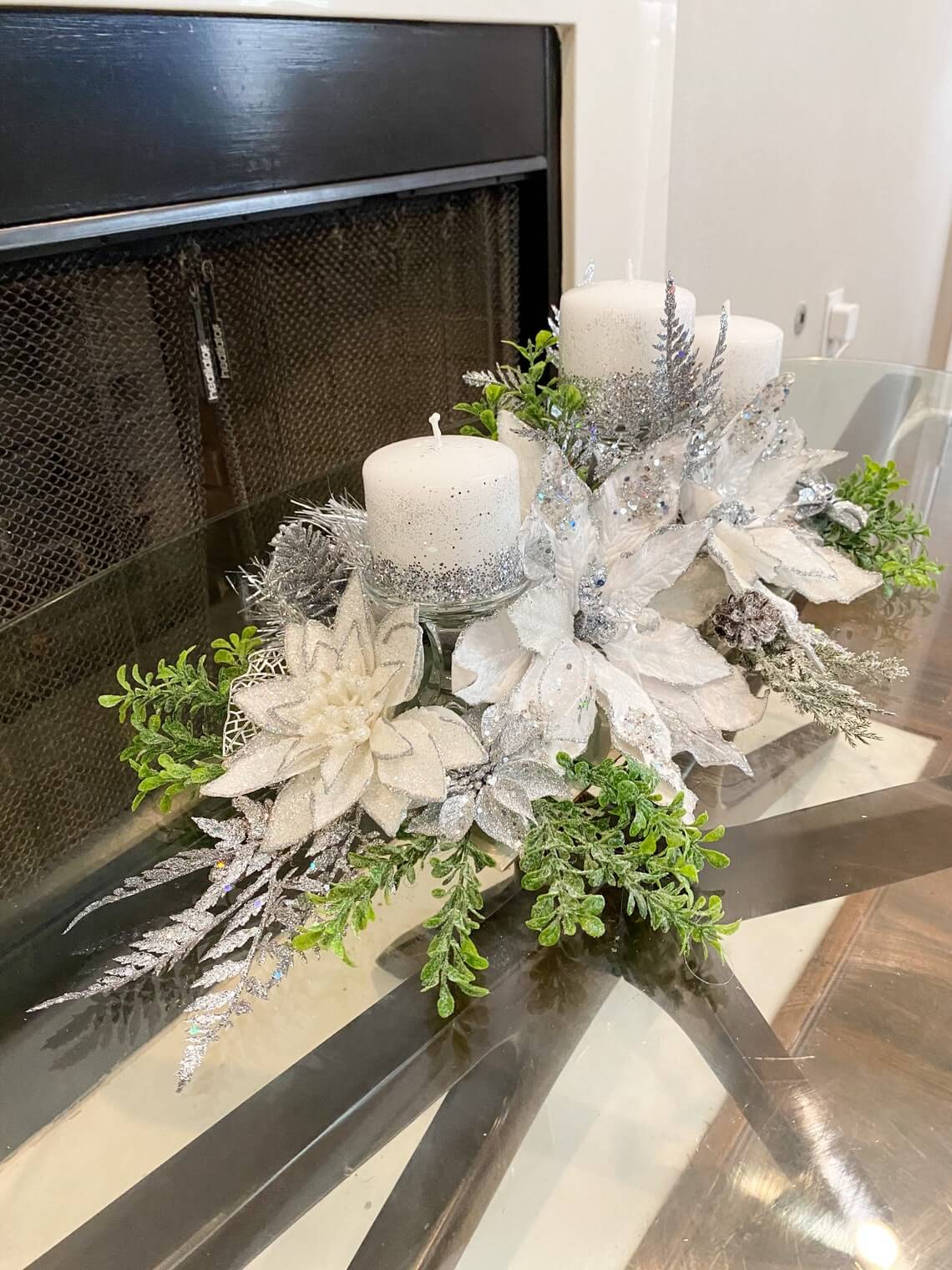 A great way to decorate for the holidays is to focus on that grand dining room table, and a centerpiece effortlessly allows your décor to stand out. This is especially true when it's time for the family dinner. This white and silver centerpiece features three stunning silver pillar candles that sit on glass stands. There is so much else to love with this too such as the poinsettias that are graced with plenty of glitter and attractive beads.
19. 3-Piece Glam Decorative Display Books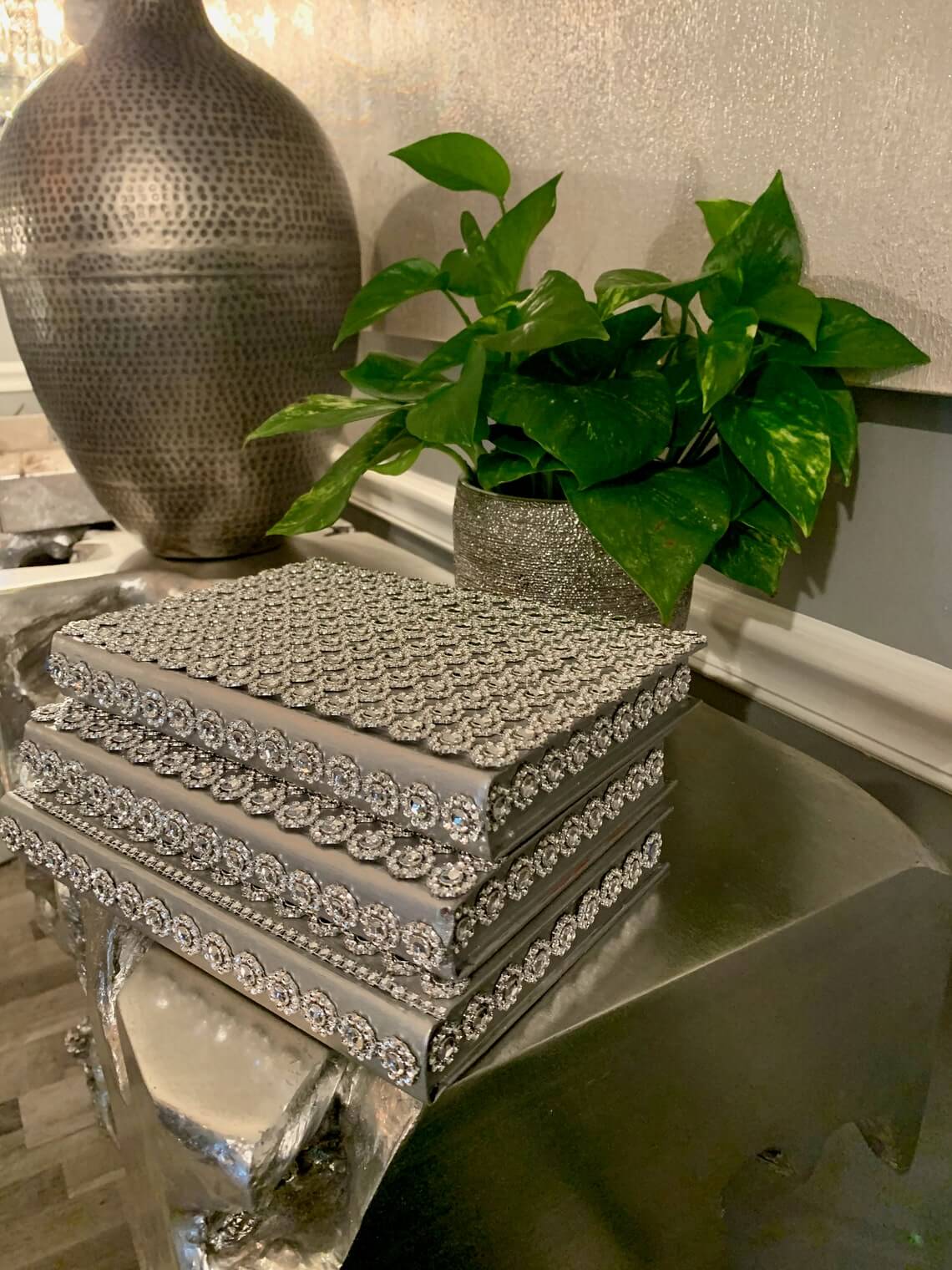 Some books are meant to be read while others are better off being displayed, as is the case with this glamourous set. There is so much flashiness with these three books that it's easy to get lost in them. The silver base alone is appealing. From there, there is a good balance of silver gemstones, silver chains, and clear rhinestones used all around the books that give them a bit of sparkle. You can set these up too either standing side-by-side or stacked on top of each other. They are a good way to transform your décor into something a touch chic.
20. Silver 3D Glitter Painted Art Décor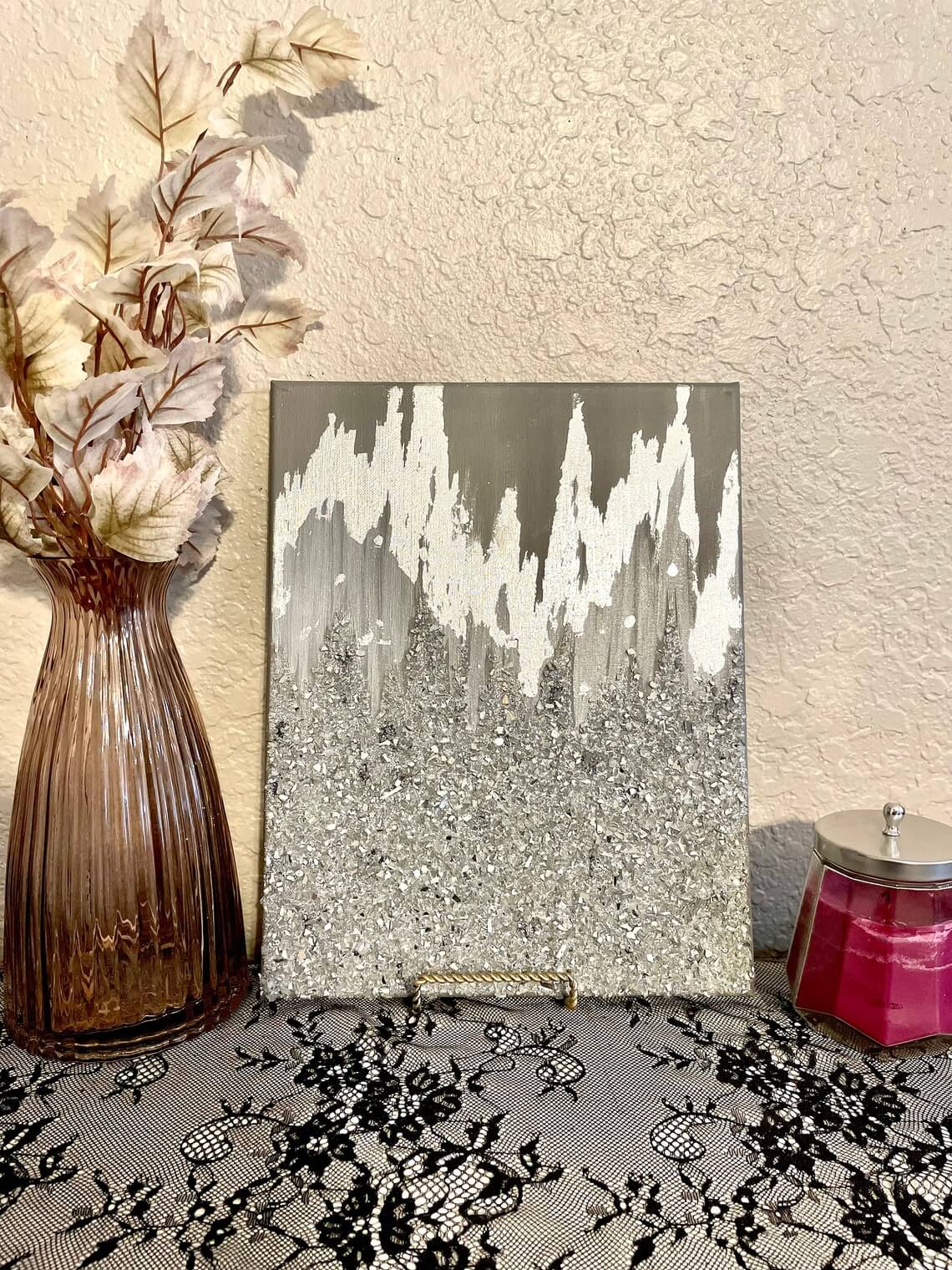 When it comes to homemade projects with silver, this art is an appealing prospect to consider hanging up in any room. This uses silver as a basis in such an incredible and unique manner that it makes anyone want to take a closer look. There are different shades of silver used throughout that give this work of art amazing depth. But the most standout feature is the 3D effect. The glitter really shines when you look at it at different angles, giving it far more life than you would think. There are eight sizes to choose from as well so you can get the one best suited for your home.
21. Glamorous "Love" Canvas Art Design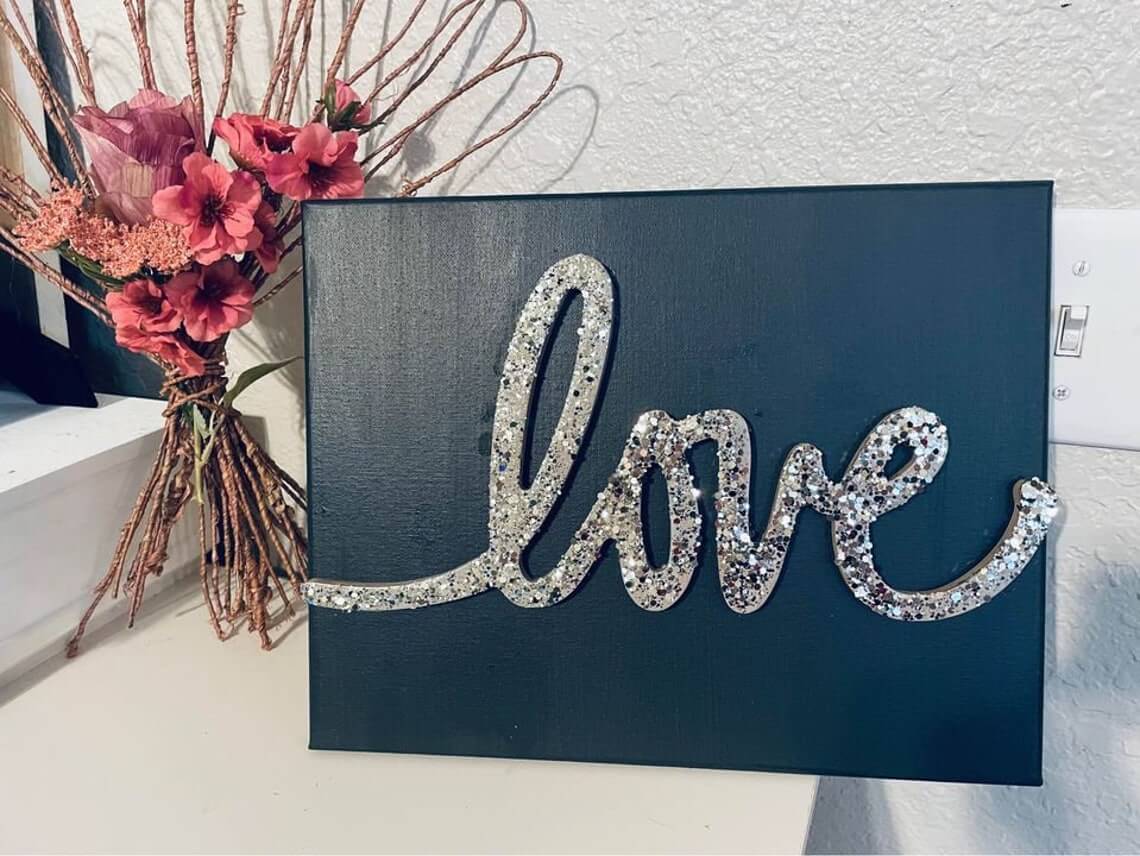 Using silver as your focal point when it comes to decorating doesn't have to mean that the silver takes over the entire setup. Rather, this canvas art only has the bold coloring inside the "love" lettering while the rest of the canvas remains a darker color tone. The silver is backed with a glittering aspect that makes this canvas sign come across as a bit fancy and elegant. It pairs well with the cursive writing of the word too. This is such a beautiful sign that is perfect to hang up on any wall or just to use alongside table décor as it can lean against the wall or another larger item instead.
21 Beautiful Silver DIY Decorations for Your Home
Silver has such an instantly noticeable quality to it thanks to its natural shining nature that it makes sense to use it within your home's décor. There are so many routes that you can travel down when trying to find the best DIY silver projects. It can be thrilling to create a cool decorative item from scratch, upcycle something you already have, or even just purchase an item that best suits your needs. Of course, with there being numerous options, it can be tough to find a place to start.
With our selection of ideas and items, we hope that you find the right project to help spruce up your home. Another great thing about silver is that you can use it in any room. Find some decorative items for the living room, kitchen, bedroom, or perhaps a child's room or nursery. There is no real limit to where you can go, which makes it all the more fun as it allows you to truly explore your creativity. Also, it can go along well with any type of décor from vintage to contemporary.
So, feel free to explore our list more, trying out different project ideas and items until you discover the best silver project to bring some shine into your home.