When the holidays are upon us it can be easy to become overwhelmed by all the activity and excitement; the best silver Christmas decorations could be the furthest thing from a shopper's mind. Extra stress is not welcome, so choosing decorations that are unique enough to make a statement but simple enough to not require a certain aesthetic can be an undertaking of seemingly massive proportions. But that is what guides like these are here for!
30 Silver Christmas Decorating Ideas for a Sophisticated Holiday Décor

So which decor ideas should you go with? Plastic snowmen are cute but for consumers who want a more sophisticated feel to their holiday decor, silver is almost certain to be a universal crowd-pleaser. Silver figurines, manger sets, tree toppers, ornaments, lights, pillows, and other household items complement almost every other color in your home and some can even be left out or used when Christmas is over. Garlands, serving trays, candleholders, and many other decorations are versatile enough that they could even be used for other holidays, and silver has a more universally appealing quality in terms of how it looks with everything else in your home. Plus, silver more tightly flatters snow (real or faux) than do many other colors.
Still, with the endless variety of decorations out there, it may seem like just another chore to go through decoration ideas, pick out the ones you like, and either order the necessary items or drive to the store during one of the busiest shopping times of the year. Buying more when there is already so much to buy adds extra layers of exhaustion. But when the garlands are hung and the figurines are set out against a backdrop of sparkling, softly falling snow, the peace that washes over a person while they sip hot cocoa and gaze out the window at the muted world beyond makes the stress and uncertainty well worth it.
1. Riveted "Joy" Box Letter Decoration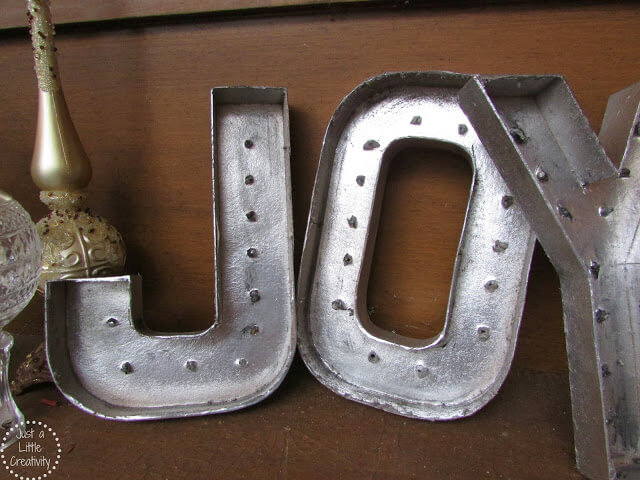 A matte shine and "rivets" along the base of these letters help to create an ambiance that is rustic but polished. With their slightly metallic sheen and deep letterbeds, this decoration is full of vintage charm and cheer. Perfect for a fireplace mantle, as a table centerpiece, or put in the middle of some short poinsettias or pine twigs and branches. The versatility of the Christmas silver design boasted by this three-part figurine makes it a perfect choice for any type of home, from a studio apartment to a multi-bedroom and bathroom estate. The design of these simple letters prevents class divide and makes this decoration universally appealing.
2. Delicate Silver Stag Figurine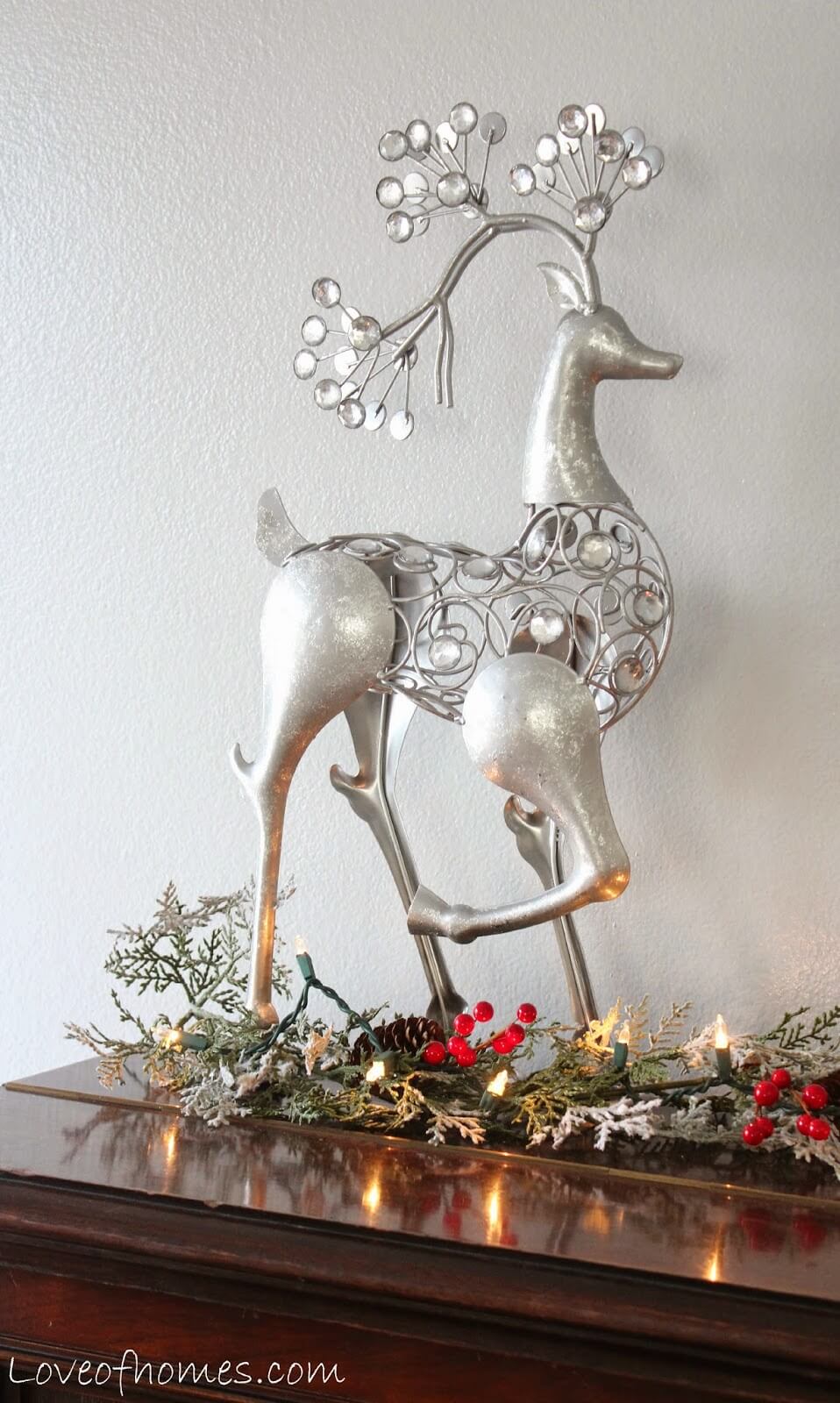 Delicately slender leaflike antlers grace the top of this sleek stag, one front hoof raised and his eared cocked and alert. Perhaps he sees something in the winter wonderland of your home, or perhaps he even smells the delicious holiday food simmering in the kitchen! The curve of his neck below the antlers and slim, blunt-ended nose gives way to a torso made of wire that incorporates the same beads that adorn this stag's antlers. As a piece of silver Christmas decor, the stag is both symbolic and statuesque. This figurine is polished to a shiny but not blinding sheen, his raised tail completing the sense of festive alertness.
3. Hammered Foil Snowflake Chain Garland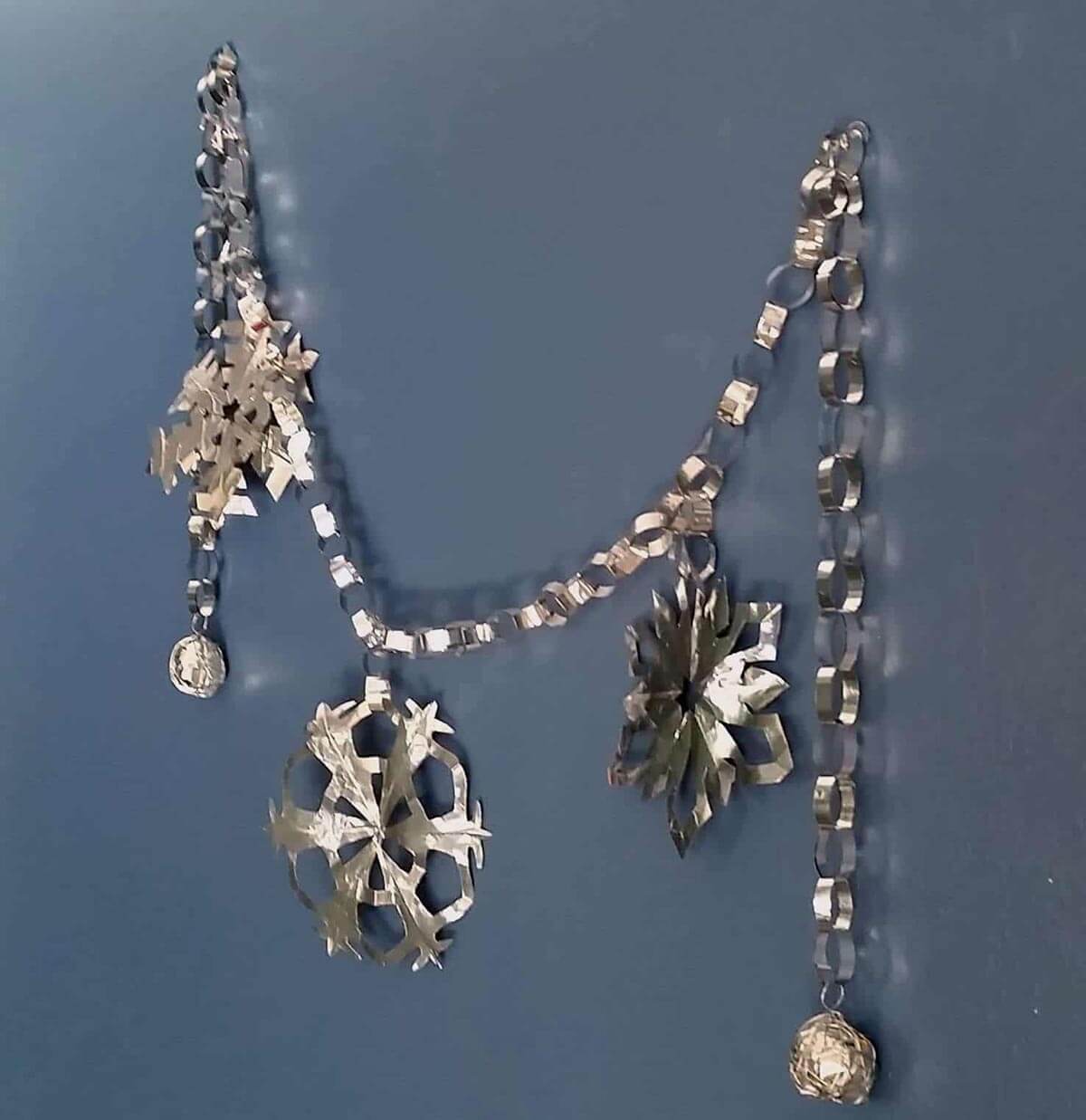 Lots of people remember making chain garlands as children, or perhaps more recently than that. The nostalgia associated with taping or gluing together interlocking strips of paper is one that brings back happy holiday memories for many, so this silver version is sure to delight all residents of and visitors to your home. Adorned with hammered foil snowflaked and framed by two hammered silver sphered on the end, the garland itself is made of tightly interlocking hammered foil pieces to give a final result that brings to mind charm bracelets and other childhood joys.
4. Furry and Bright Wooden Canvas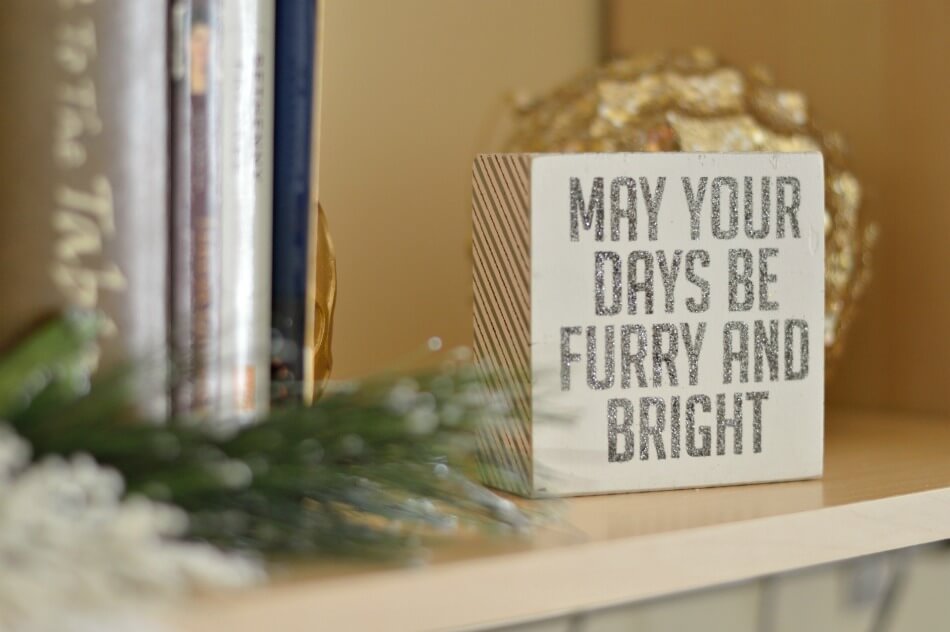 Sometimes the best decoration is one that speaks to the heart. This box displays the phrase "May Your Days be Furry and Bright," bringing to mind images of dogs in bow ties and Santa hats and other furry pieces of Christmas joy. Silver glitter letters on a plain matte white background are eye-catching and easy to see. Behind the letters are stripes that mimic those of a candy cane, another staple of Christmas joy for many people. Sturdy, attractive, and durable, this is a piece of silver Christmas decor that is safe for homes with rambunctious pets or children.
5. Rustic Icicle Forest Ceiling Hanging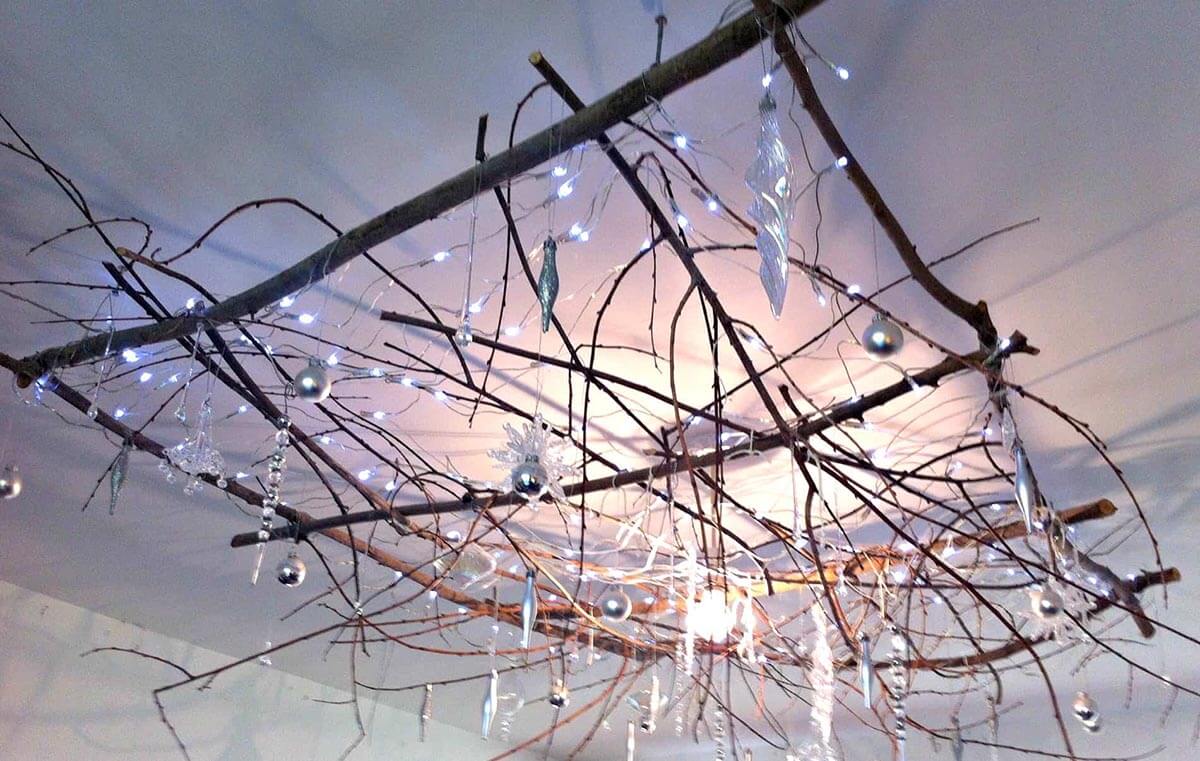 Tightly interwoven sticks and twigs give way to openings that house sparkling white lights and ornaments so similar to dangling icicles the piece looks as if it could have been carved from a winter forest canopy. Framework resembling a tic-tac-toe board is woven around all surfaces with dazzling lights and shimmering silver ornaments. Round ornaments, those shaped like icicles of various shapes and styles, and smaller, thinner twigs are distributed evenly throughout the piece. A unique and festive lighting option, this piece is one of the best silver Christmas decorations due to its individuality and rustic appeal.
6. Snowflake Ornament with Silver Balls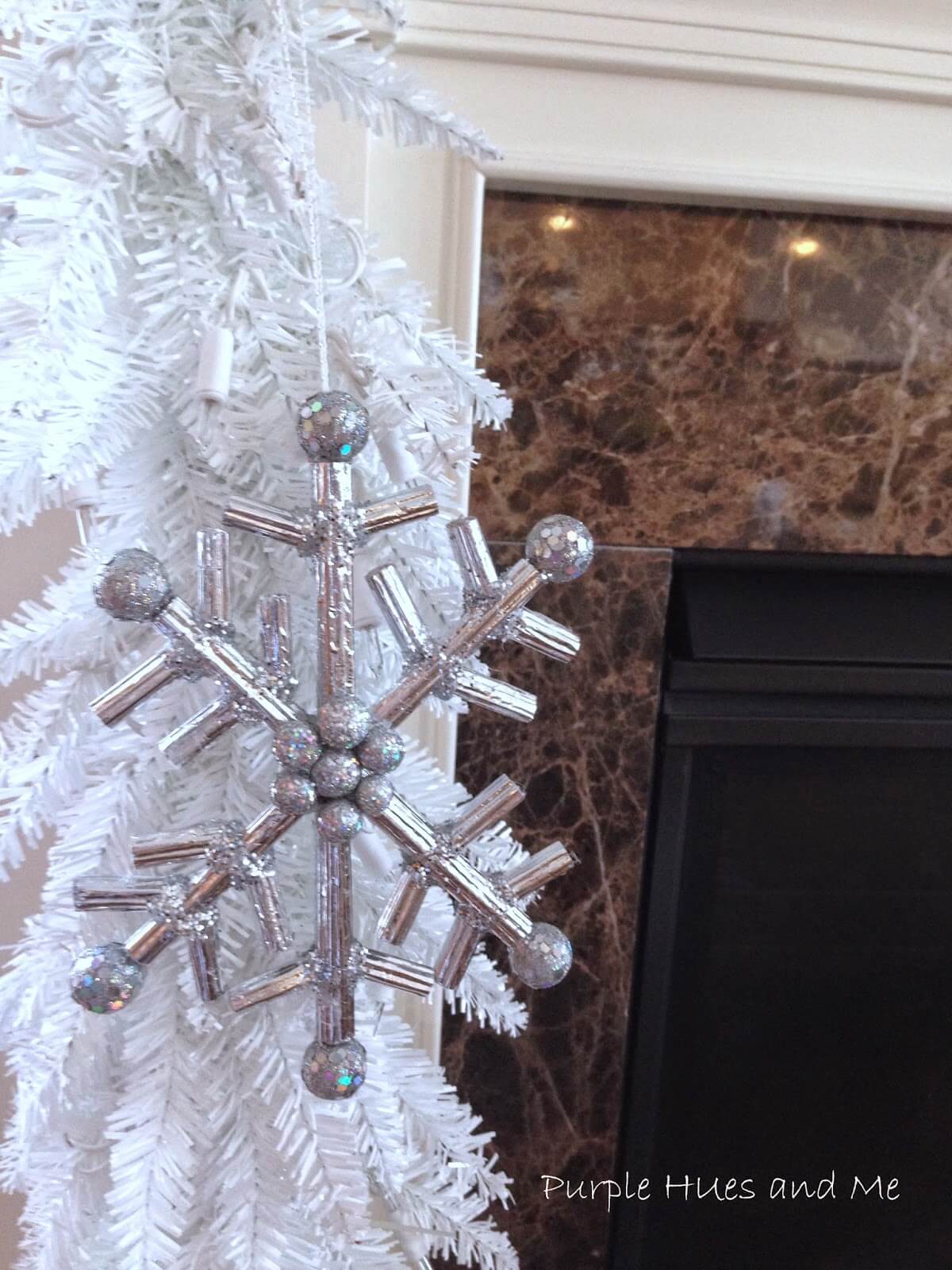 The snowflake is a classic design symbol for Christmas and for winter. Snowflake ornaments are wildly popular for good reason, as they are easy to find, easy to make, and when purchased they tend to be relatively inexpensive. In addition, the shapes of snowflakes make them sturdy enough to stand up to children and most pets. This silver snowflake, solidly built with thick silver stems and tightly sealed end pieces, is sure to delight even the grabbiest of hands when hung on the tree. The sparkling silver balls on the ends of the stems bring to mind the drops of moisture that can cling to the points of snowflakes in nature; when hung on the tree, these ornaments can make you feel as if you really are in a winter wonderland.
7. Silver Crystal Raised Candleholder Set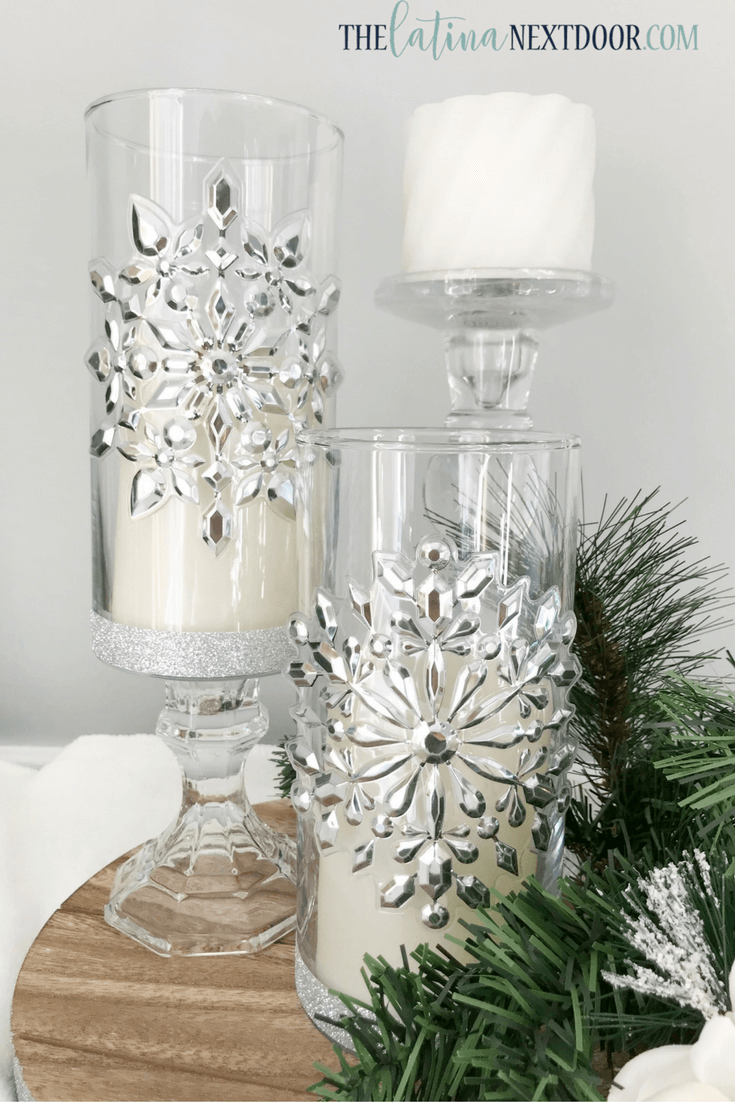 There is something charming and sophisticated about raised candle holders. Not only do they keep any potential mess away from delicate surfaces, they raise the flame of the candle high enough to give a candelabra effect even when there are only one or two candles. These raised candleholders bring some sophistication to your silver decoration ideas by resembling adorned champagne flutes; while the shape is not exact, it is close enough that when coupled with the silver crystal snowflakes fused onto the glass it creates an ambiance of upper-class Christmas joy.
8. Silver Candle Holders with Music Note Candles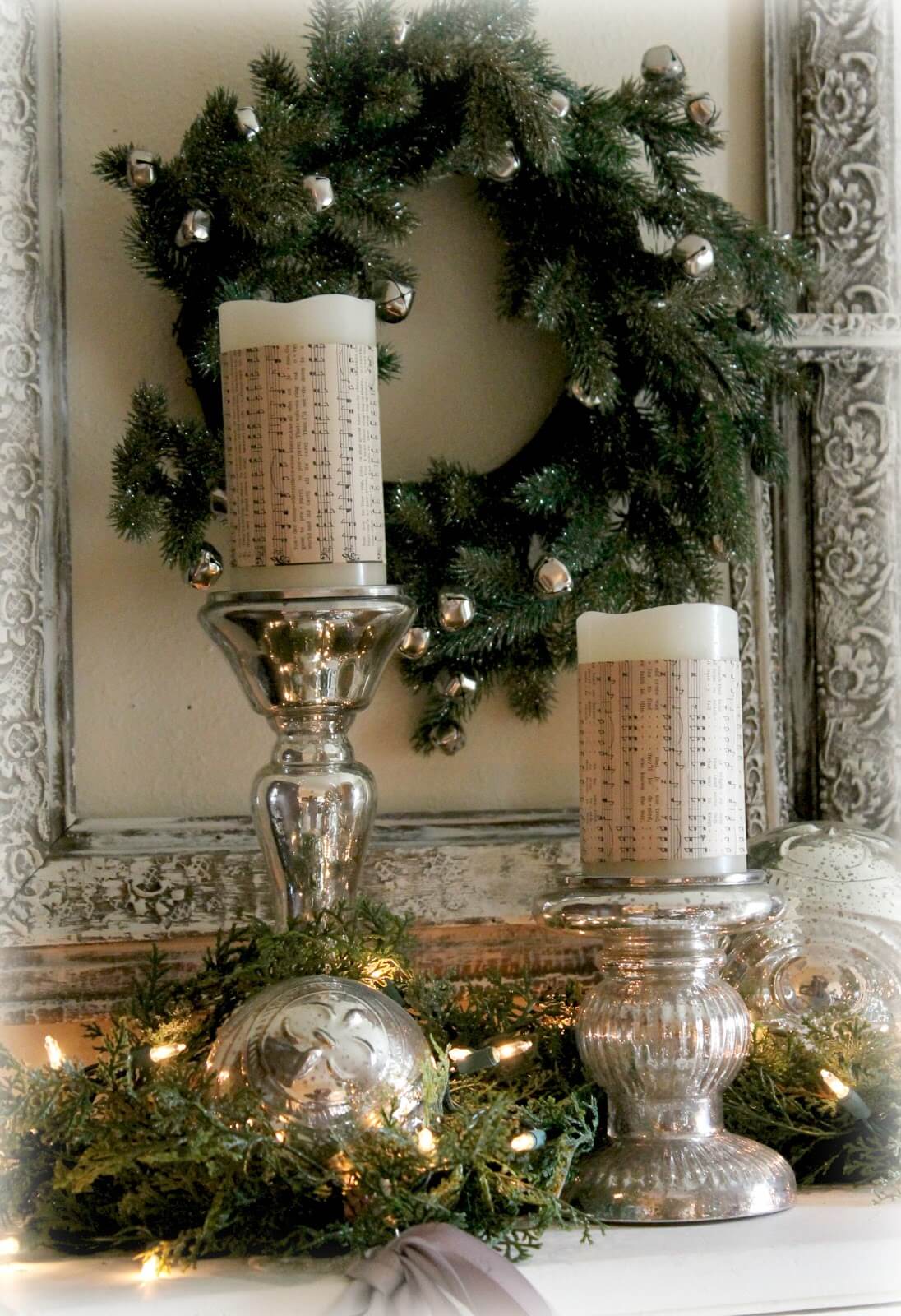 The appeal of candle holders is twofold; not only do they look gorgeous in any home, they keep the waxy mess of melted candle off whatever surface they are placed on. These candleholders, in particular, boast a burnished silver that is both elegant and understated. One is short with a single bulbous protrusion around the middle, the other a bit taller and sleeker. Both holders house a sturdy base to support the included candles. On these candles are wrapping papers covered in music notes and printed on a faded beige background. For the bookish or the musically inclined, this option for silver Christmas decor is simple but incredibly charming.
9. Silver Decor Buckets with Wooden Letters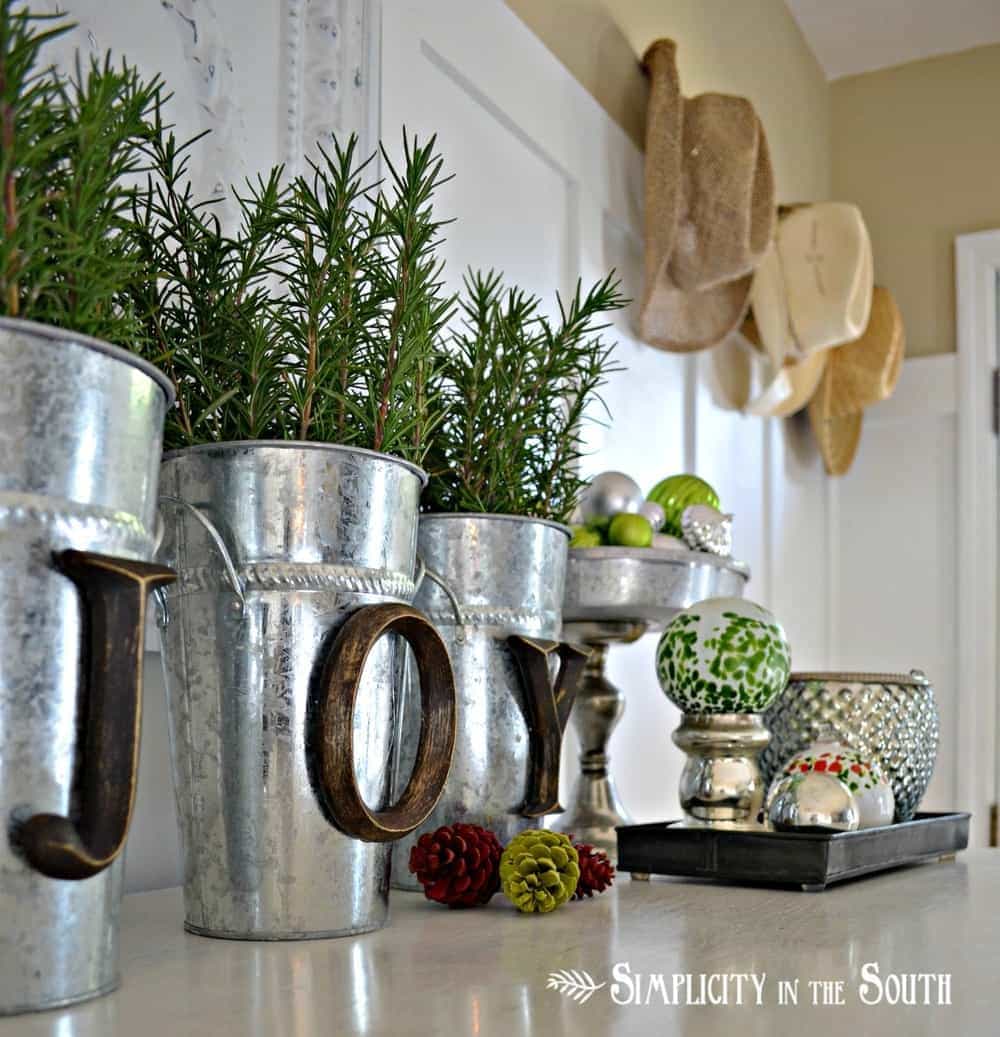 The versatility of buckets as a decor option has long been established. These silver buckets with attached wooden letters qualify as a viable option due to their hammered metal construction and wide content capacity. The polished but scratched sheen of the buckets makes them look high-quality and well-loved, while the dark wooden letters spelling out "JOY" add an extra touch of rustic holiday charm. Pine branches, ornaments, poinsettias, and other Christmas decorations look beautiful when framed by the bright silver and dark wooden letters of these buckets.
10. Soft Plush Hanging Christmas Stockings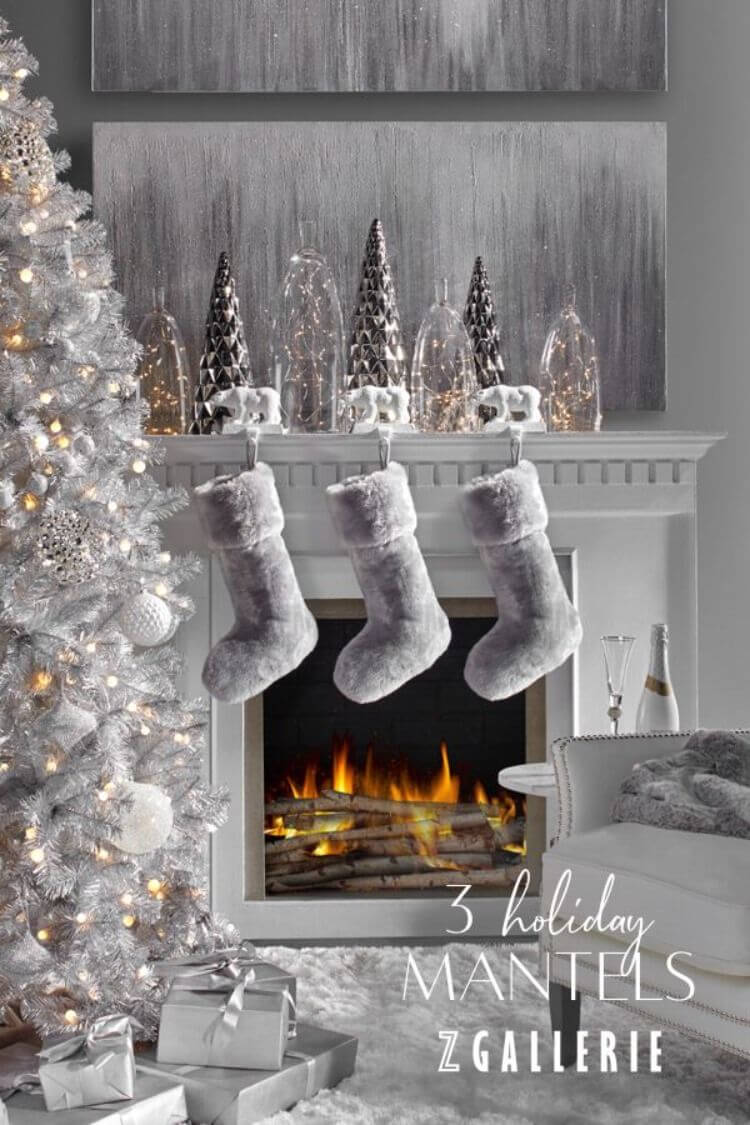 If your silver decoration ideas prioritize comfort, these are the stockings for you! Plush, fuzzy, and soft, they hang on the mantle like any other stocking but with an extra ambiance of warmth and comfort. Holding the stockings to the mantle are ambling bears, their intricately carved forms giving the illusion of movement and perfectly complementing the light silver stockings by playing up their almost-white shade and at the same time providing contrast to show that they are indeed silver, not white or off-white. These Christmas stockings are a subtle but gorgeous addition to any living room Christmas decor.
11. Tabletop Decor and Silverware Set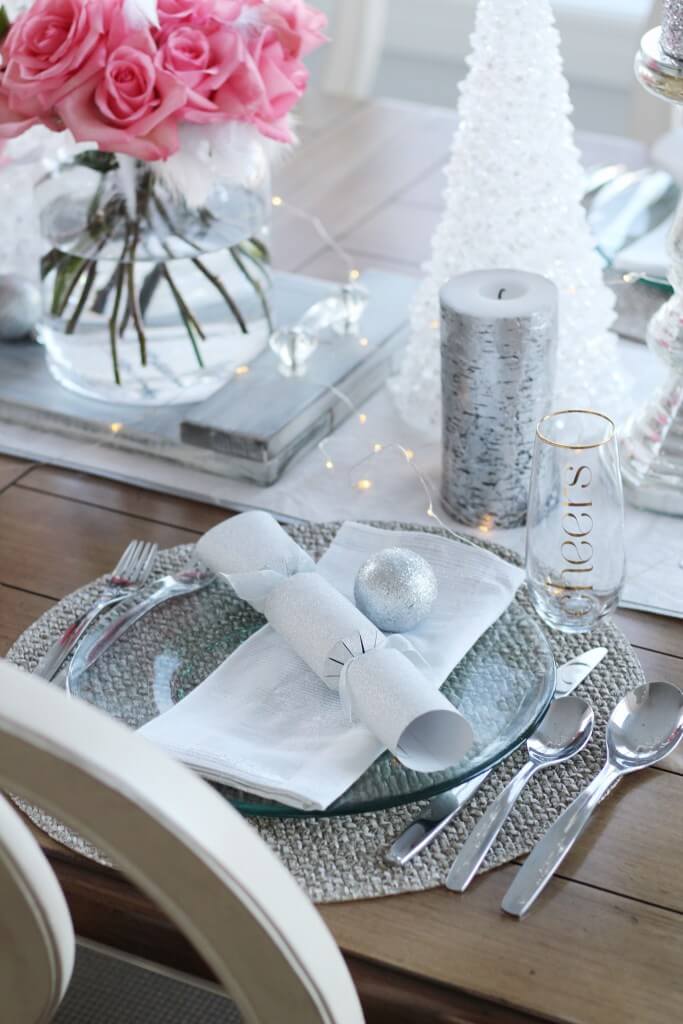 A stark white candle wrapped in silver birch back draws the eye to this set. Accented by a glass offering "cheers" and more bright white accessories, the candles stand out brilliantly. Silver decor ideas are typically attractive, but plenty of them can be practical as well. This is where items like glasses, candles, and utensils come in. The polished silverware and delicately woven silver placemat add a touch of elegance to any setting. As these decor items are festive but don't have any blatant holiday references they can be used again and again throughout the year for other celebrations like anniversaries and birthdays.
12. Silver Glitter Bauble Holiday Garland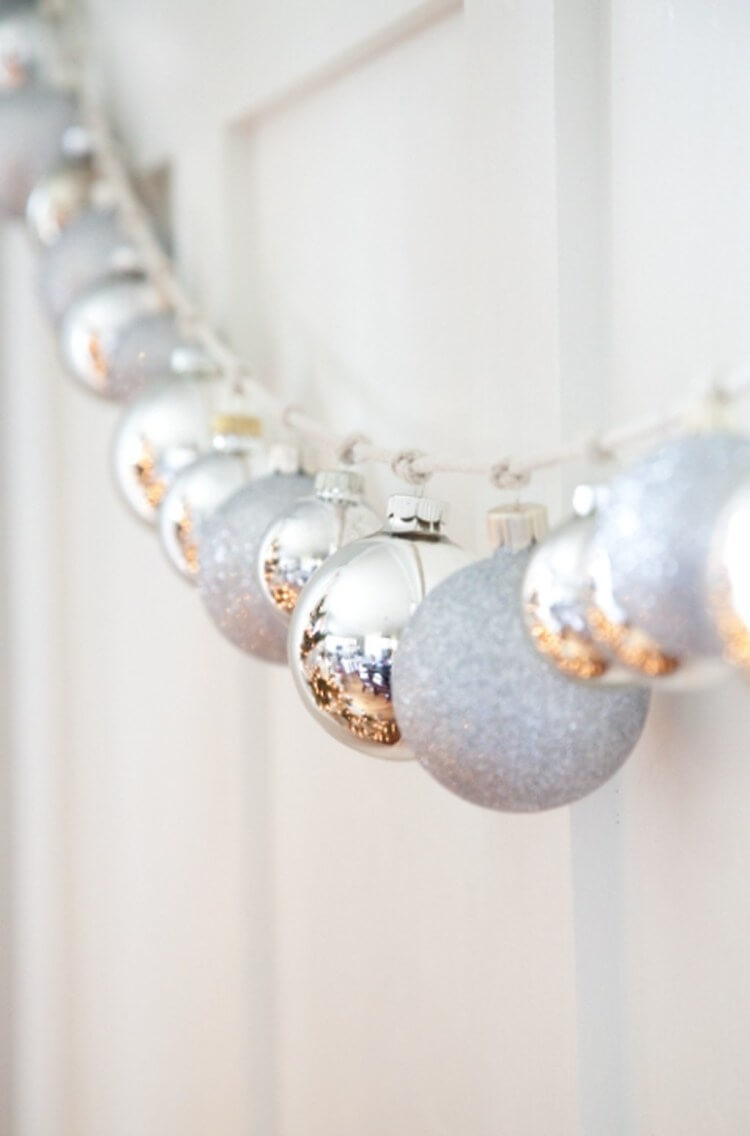 Christmas tree balls, or bauble ornaments, are a staple of holiday decorating. Silver versions of these items are among the best silver Christmas decorations due to their sleek shapes and timeless appeal. With an alternating pattern of shiny, shiny, glitter, and repeat. The baubles hang from a delicately knotted silver rope that blends smoothly with any light-colored background. On darker backgrounds, the bright, sparkling silver stands out in beautiful contrast. For consumers who prefer a more classic look to their silver decoration ideas, this garland is a choice that is both lovely and practical.
13. Elegant Bell Wreath with Ribbons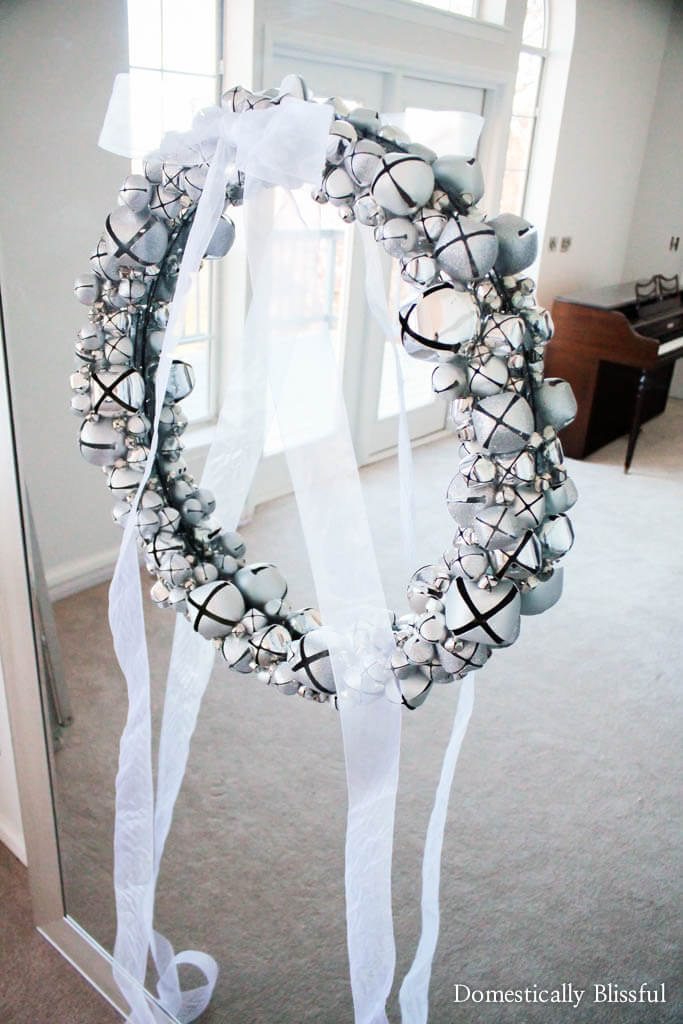 Christmas wreaths are a time-honored tradition going back many years. sleigh bells are also an easily recognizable Christmas decor staple, so when they are combined with the classic wreath shape the result is a striking contribution to holiday silver decoration ideas. Snowy white ribbons cascade from a delicately knotted bow, giving a symbolic impression of snow falling on a jingling sleigh. Some bells are a shiny, polished silver and some are a rougher matte finish. This subtle contrast makes the wreath a perfect holiday addition to homes both modern and rustic.
14. Silver-Dusted Pine Cones in Clear Display Jar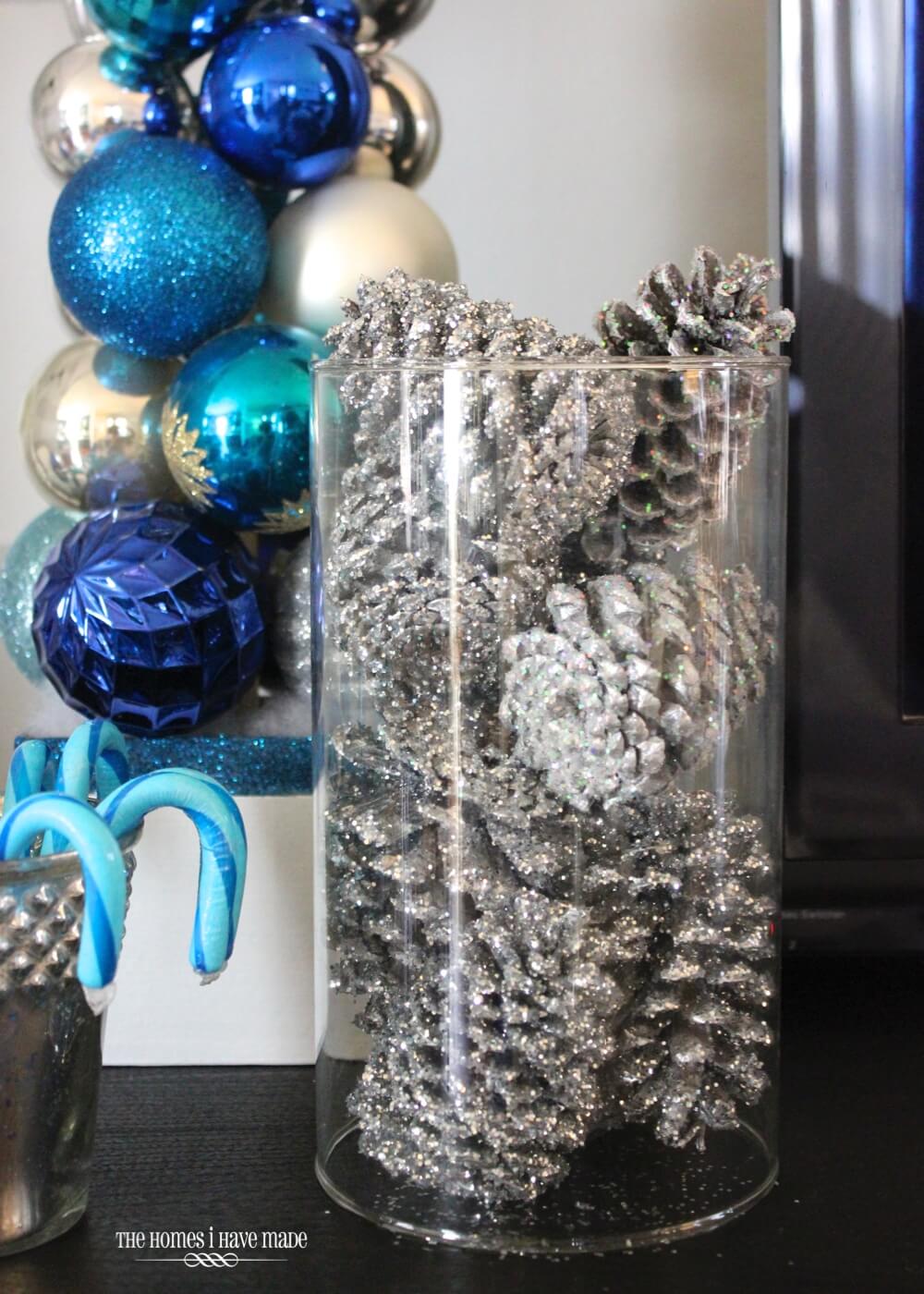 A crystal clear wide glass vase frames sparkling silver-dusted pine cones that can be stacked up, as shown, or spread out along a surface like a tabletop or fireplace mantle. The silver sheen of the glitter covers every surface of the pine cone without the majority of it falling off at the slightest movement. Instead, these pine cones stay together relatively well. However, the glitter can still flake off so it would be a good idea to put something under the cones for easier cleanup. This could mean placing them in a display jar, as shown, or it could mean using a piece of cloth to protect the furniture.
15. Classic Look Holders for Taper Candles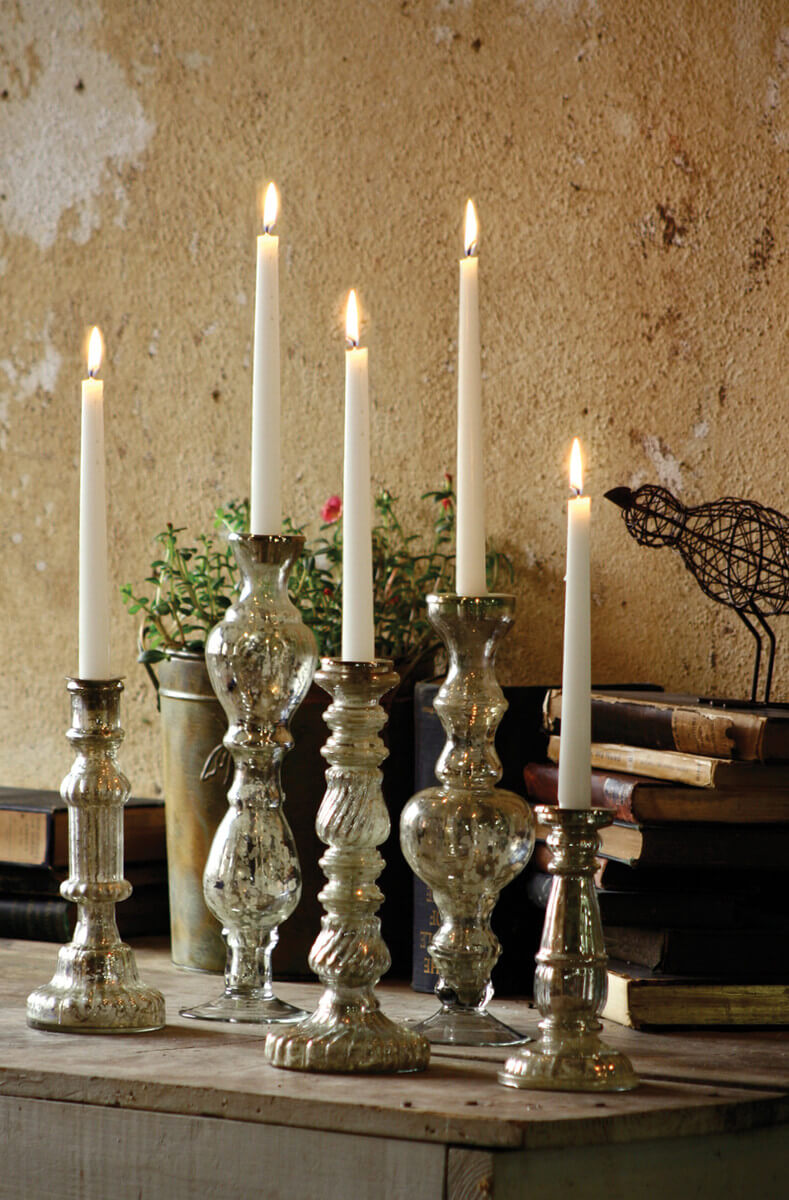 Tall taper candles are a popular addition to many homes due to their timeless, statuesque forms and convenient design. Taper candles and their holders are tall and slim. This shape makes it so they can easily fit into narrow places, and when it comes to silver decor ideas taper candle holders are difficult to beat. While each of these designs is different, they all have a deep pewter-silver sheen with differently sized bulbs and shapes. Each holder is a different height from the others. This creates a dazzling effect reminiscent of Victorian times, a period notorious for pockets of elegance and extravagance.
16. Snow Dusted Christmas Pine Cones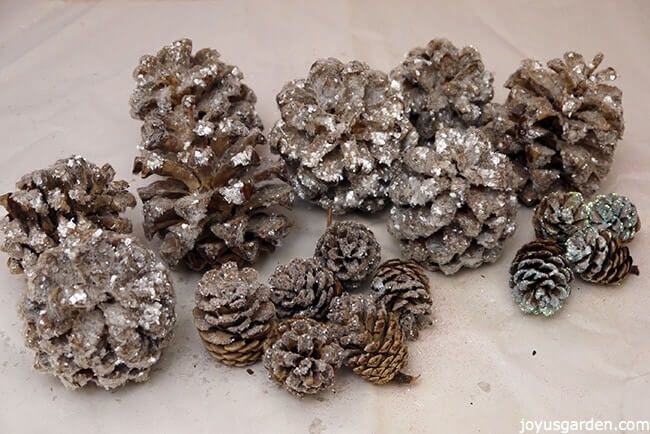 A glittering, snow-covered pine tree evokes nostalgia and feelings of peace. While the cones by themselves may not have as intense of an effect, they do enhance any decor theme. These cones in particular artfully merge the glitter of silver decor ideas with the snow-dusted wood of natural pine cones. Modern and classic silver Christmas designs do not have to be two opposing categories, as evidenced by the skillful crafting of these glittery pine cones. Glitter and other decorations with small parts and fine grains can make a mess, so be sure to have a boundary between your decorations and any delicate surfaces.
17. Gold and Silver Scaly Baubles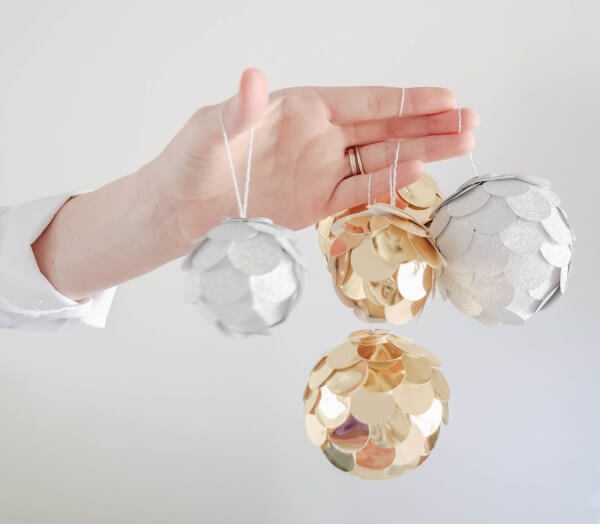 Christmas tree ornaments come in a variety of forms, but one of the most popular designs is the simple round bauble. These decor options are especially appealing because they are versatile and can be outfitted with even more designs than the basic sphere. These baubles in resplendent gold and silver also feature thin, wafer-like protrusions around the entire item. Each scale is arranged in such a way that the surface is textured but still uniform, giving the items the appearance of fish scales or some type of aquatic armor. There is something enchanting about ocean designs and themes, and these decorations fit that description.
18. Shiny Vases and Sparkling Candle Holders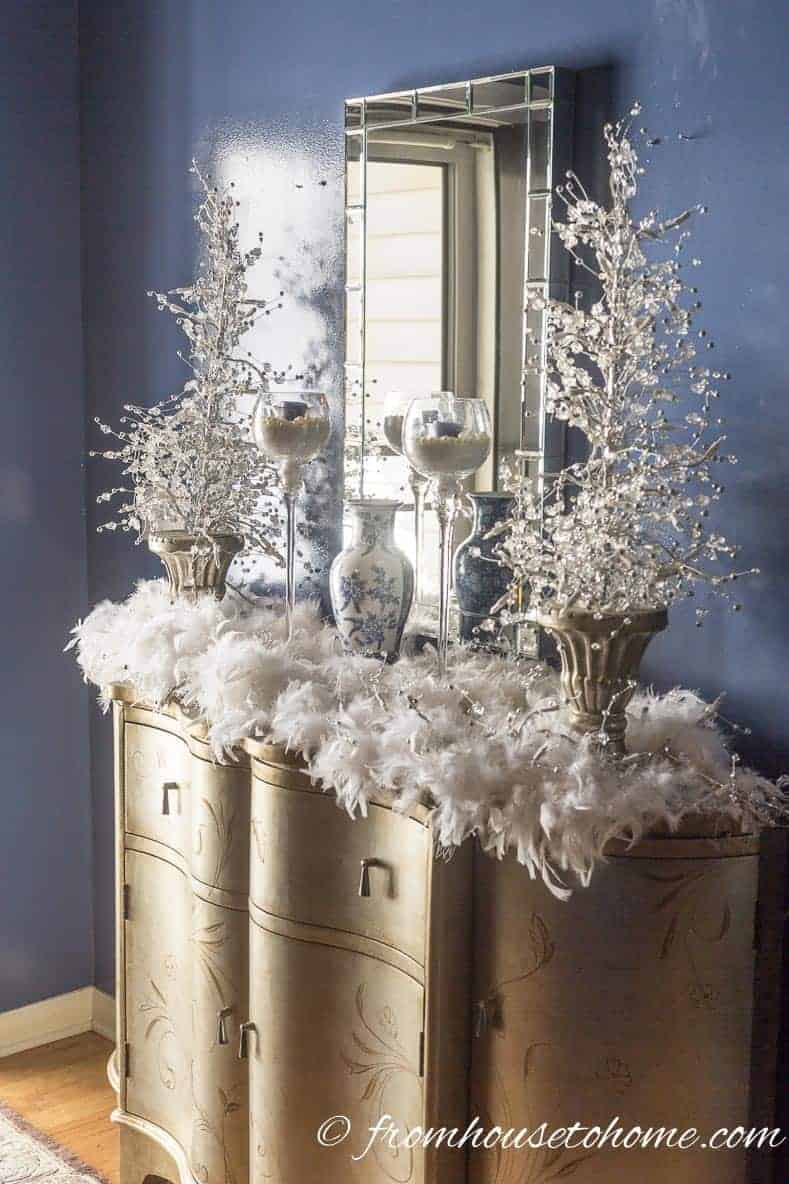 To create a Christmas ambiance, decorations in and out of the house are just as important as what goes on and under the tree. A Christmas silver design that focuses not on the tree but the room around it is this display of silver vases and sparkling goblet-style candle holders. Small snow-dusted faux trees rest in silver urn-like pots and frame the candles and candle-holders in front of the mounted mirror. Pearly beads hold votive candles in place inside the goblets, which is something to remember if you desire to light said candles. Underneath all this, a feathery material cushions the display and adds to it by supplying a realistic snow appearance without melting and making a mess or getting polystyrene foam pieces everywhere.
19. Silver Woodland Candles on Poinsettia Leaves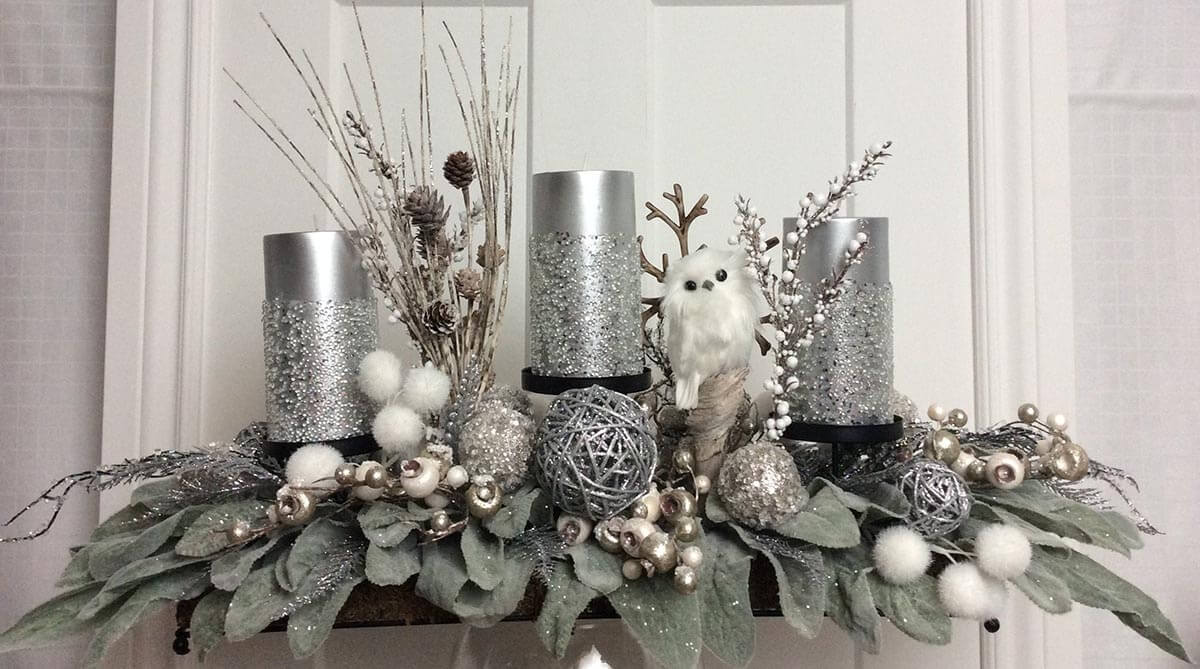 Lacy silver candles jut from the top of this display. Poinsettia leaves form the structure's base while woven twine balls, white puffs, faux berries, pine cones, sparkling silver ornaments, and even an owl are put on glorious display. The best silver Christmas decorations are the ones that are sparkly and shiny but not so much as to be overbearing. The "woodland" theme of this piece helps to balance it out and prevent the design from being too gaudy or tacky. The tiny white owl peeking from the side of one of the candles completes the quiet forest moment.
20. Delicate Tealight Holders for Any Occasion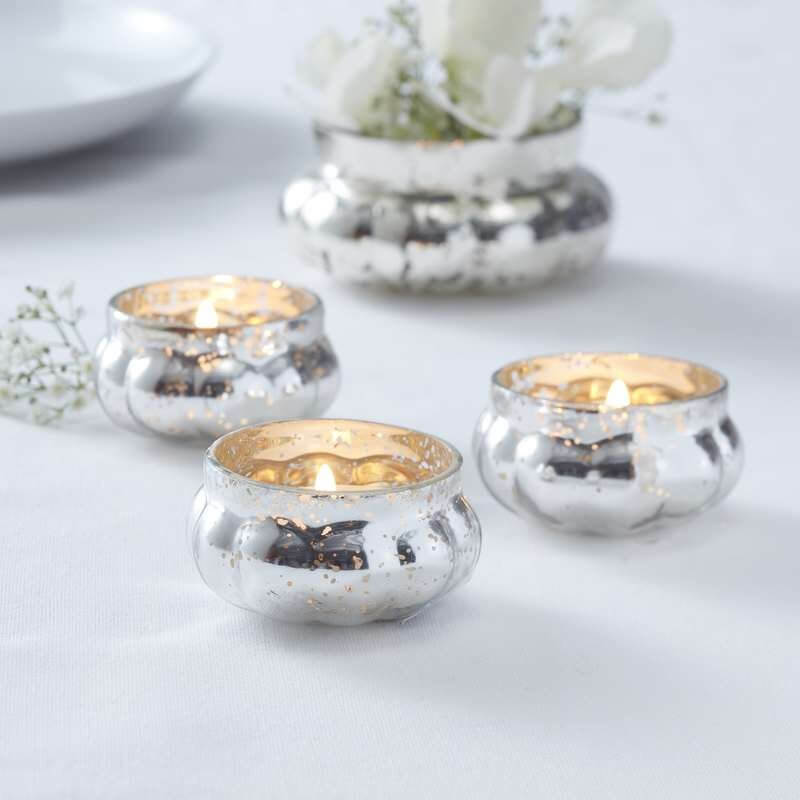 A light golden inner coating and silver shell make these tealight holders a beautifully subtle addition to any Christmas decorating plans. The best silver Christmas decorations are ones that can be used again and again in a variety of different ways. These holders, which can fit either tea lights or votive candles, are sophisticated enough for an upscale dinner party while remaining low-key enough for a relaxed Christmas evening. Small perforations throughout each item not only allow for better airflow, they allow the gentle glow of a candle to spread more evenly across the surface the holders are set on.
21. White Poinsettia Wreath Candle Holder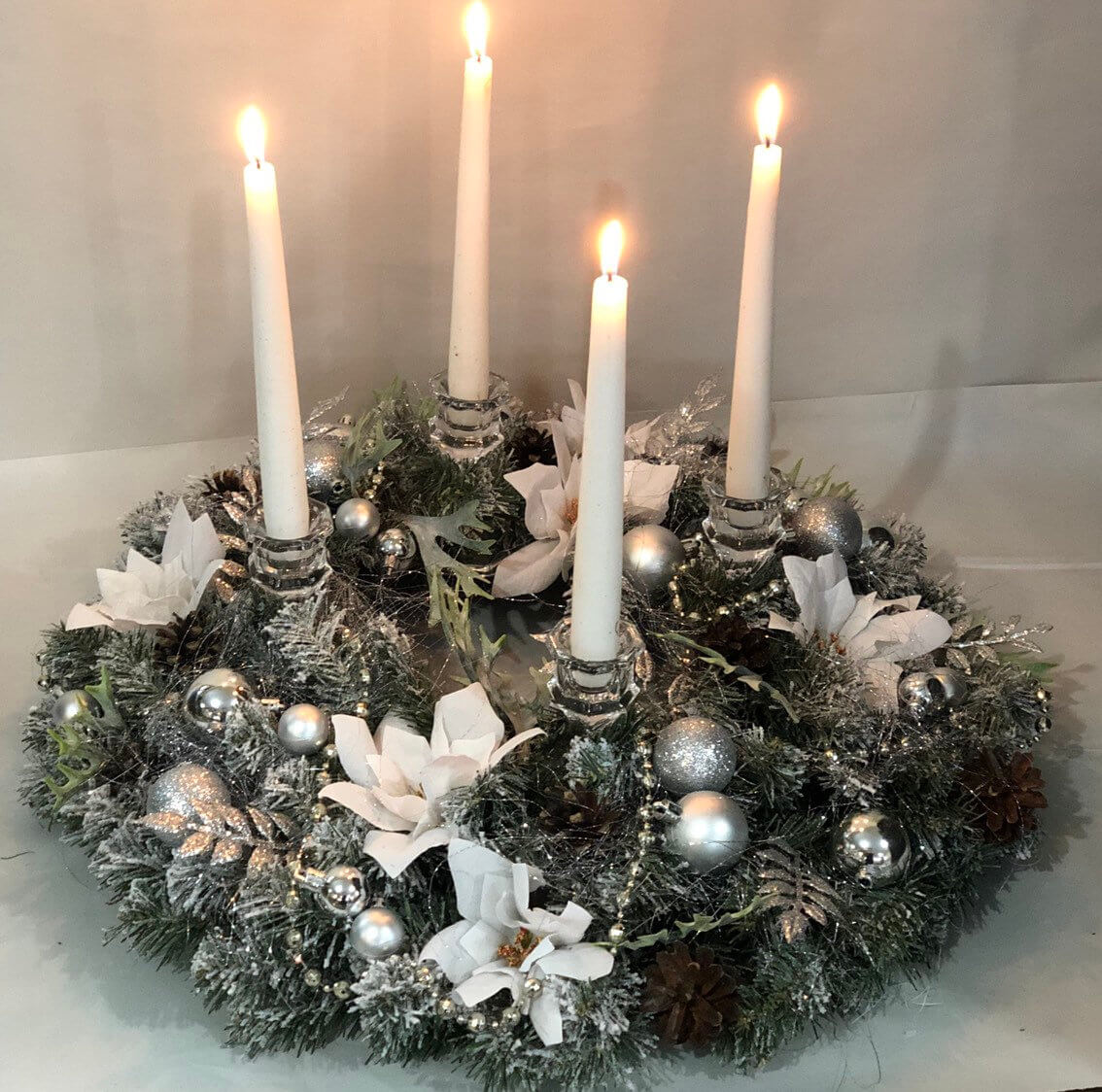 On a wreath adorned in white poinsettias and round silver baubles, four short glass candle holders lift matching white taper candles. To complement the candles, white poinsettia blossoms are placed within the wreath's branches at equal intervals around the candle holders. Two flowers are grouped in front and the entire item (aside from the candles and candle holders) is coated in a whitish silver sparkle, more than likely meant to resemble a light dusting of freshly fallen snow. Light the candles in a darkened room and enjoy the instant ambiance!
22. Frosted Snowman Wonderland Silver Wreath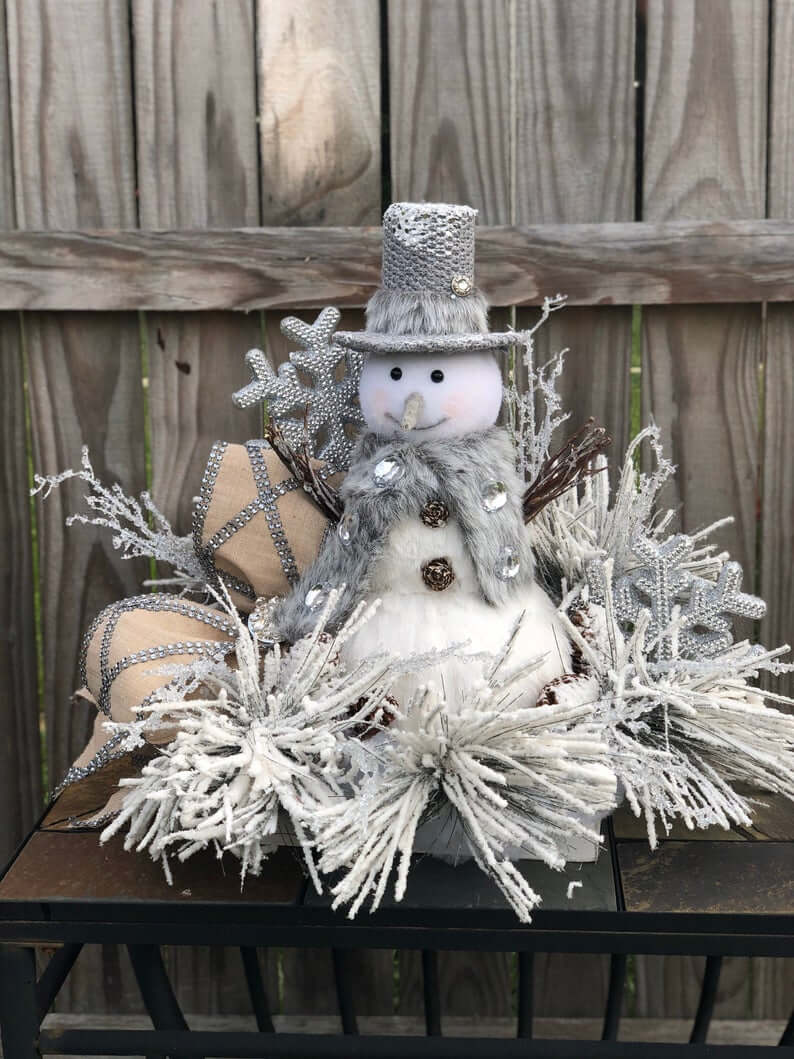 A fuzzy gray scarf adorned with crystals in the image of melted droplets of snow and a shining silver hat decorate the snowman in the middle of a frosted white wreath. The band of the snowman's hat is furry and matches his scarf, while his twig arms reach out in joy towards the viewer. Next to him, a burlap bow with crisscrossing rows of beads adds to this item as one of several good examples of silver decoration ideas. With the aforementioned outstretched arms and a welcoming smile, this piece is sure to delight this Christmas season.
23. Faux Silver Christmas Berry Wreath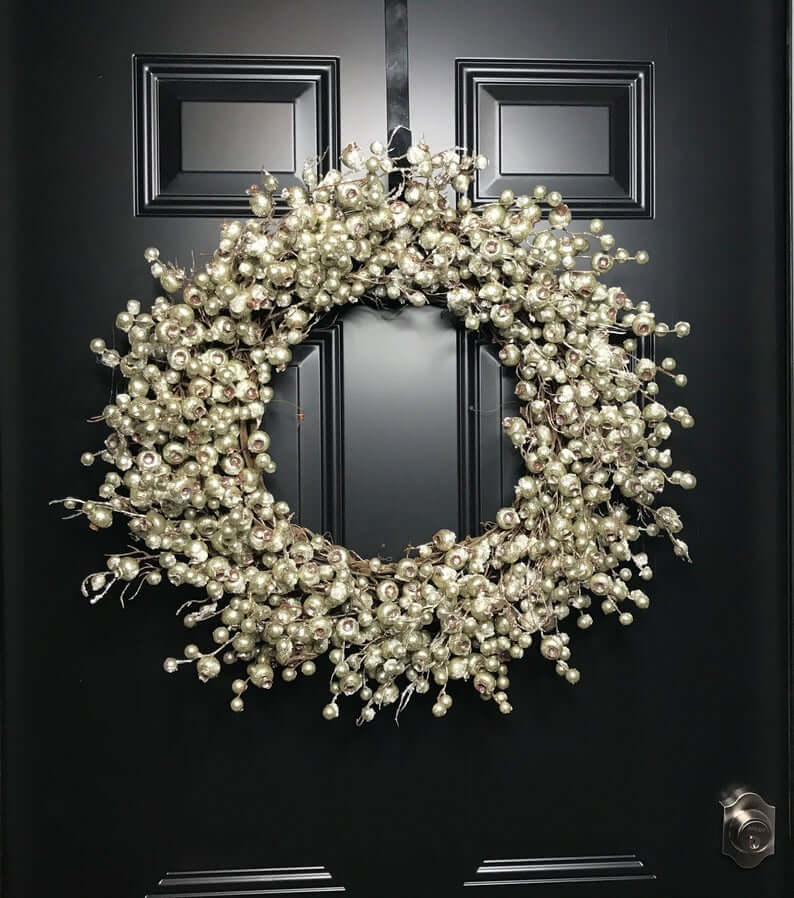 A near-perfect circle forms the basic shape of this Christmas silver design. Set against a door or a wall painted in a dark color, this wreath pops with brilliance and a gentle shine for a festive holiday vibe. Because it is a single piece, this wreath is easy to install and then to take down when it is time to decorate for another holiday or simply to get the home back to its normal decor. For those who prefer to leave decorations up long term or even year-round, silver decorations have the benefit of being less obviously "Christmas" decorations and are therefore more versatile than other colors of decorations.
24. Extra Large Christmas Tree Bow Topper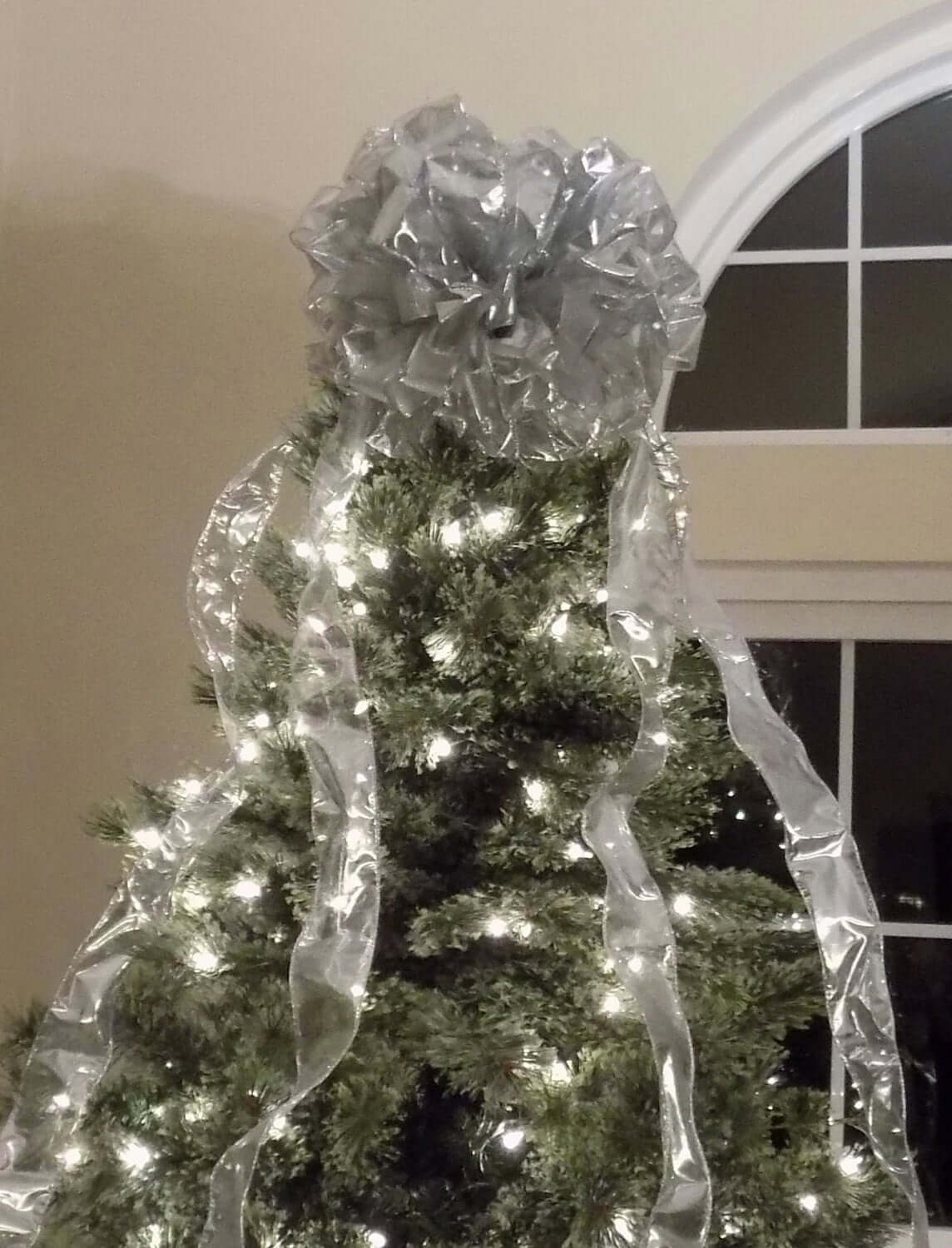 To tie the Christmas tree into the presents beneath with more than just the two being near one another, sometimes you have to get creative. This massive Christmas bow with cascading silver tendrils is one such unique option. It sits atop the sparkling lights of the Christmas tree in place of the traditional star or angel. Pieces of the material are gathered into a voluminous knot at the very top of the tree, the rest of the ribbons flowing smoothly down the branches. When twinkling Christmas lights peek out from behind the translucent material, it creates an otherworldly holiday glow.
25. Metallic Crinkled Foil Ball Ornaments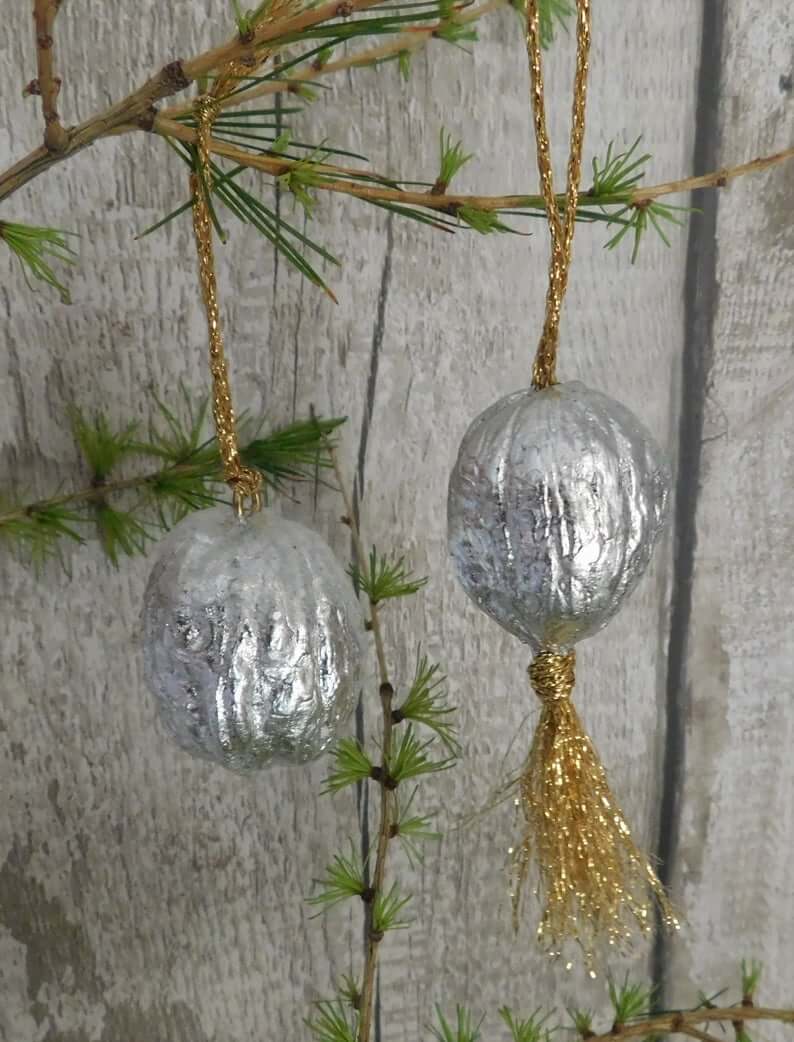 Sometimes Christmas decorations look better when they look or are homemade. These ball ornaments have that sort of rustic charm, the crinkled mango-shaped bodies held up by a sparkling golden woven cord. The silver bases, molded into round shaped with wrinkles running from top to bottom, can be plain or sport a knotted and frayed bit of cord at the bottom. The silver of the body is shiny but slightly tarnished. This gives the impression the ornaments have been used and loved for many years. Simple, unobtrusive, and yet incredibly charming, these ornaments are sure to be a staple of any decoration collection.
26. Glowing Wreath Plate and Pillar Candles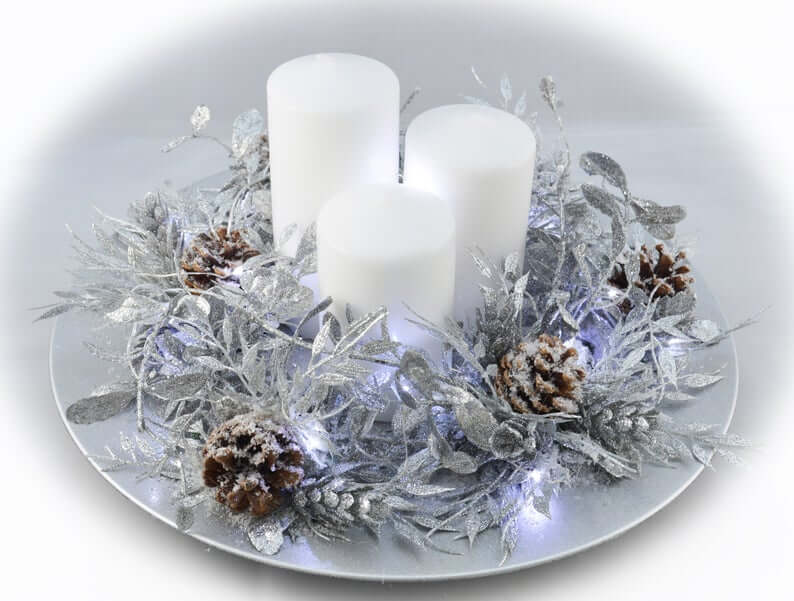 Some say Christmas is the most magical time of the year. Decorating your home to match this theme is a popular choice for many revelers and this plate adorned with a snow-dusted wreath and white pillar candles is one of many mystical and magical silver decor ideas. The plate itself is a matte silver that allows the gently glowing lights and the "snow-dusted" leaves and pine cones to stand out with brilliance. Three different heights of white pillar candles complete the decoration. When lit, these candles enhance the mystical peaceful glow of the piece. Compact enough for small homes but big enough to make a statement, this piece is sure to dazzle all who see it.
27. Pointed Silver Star Wall Hanging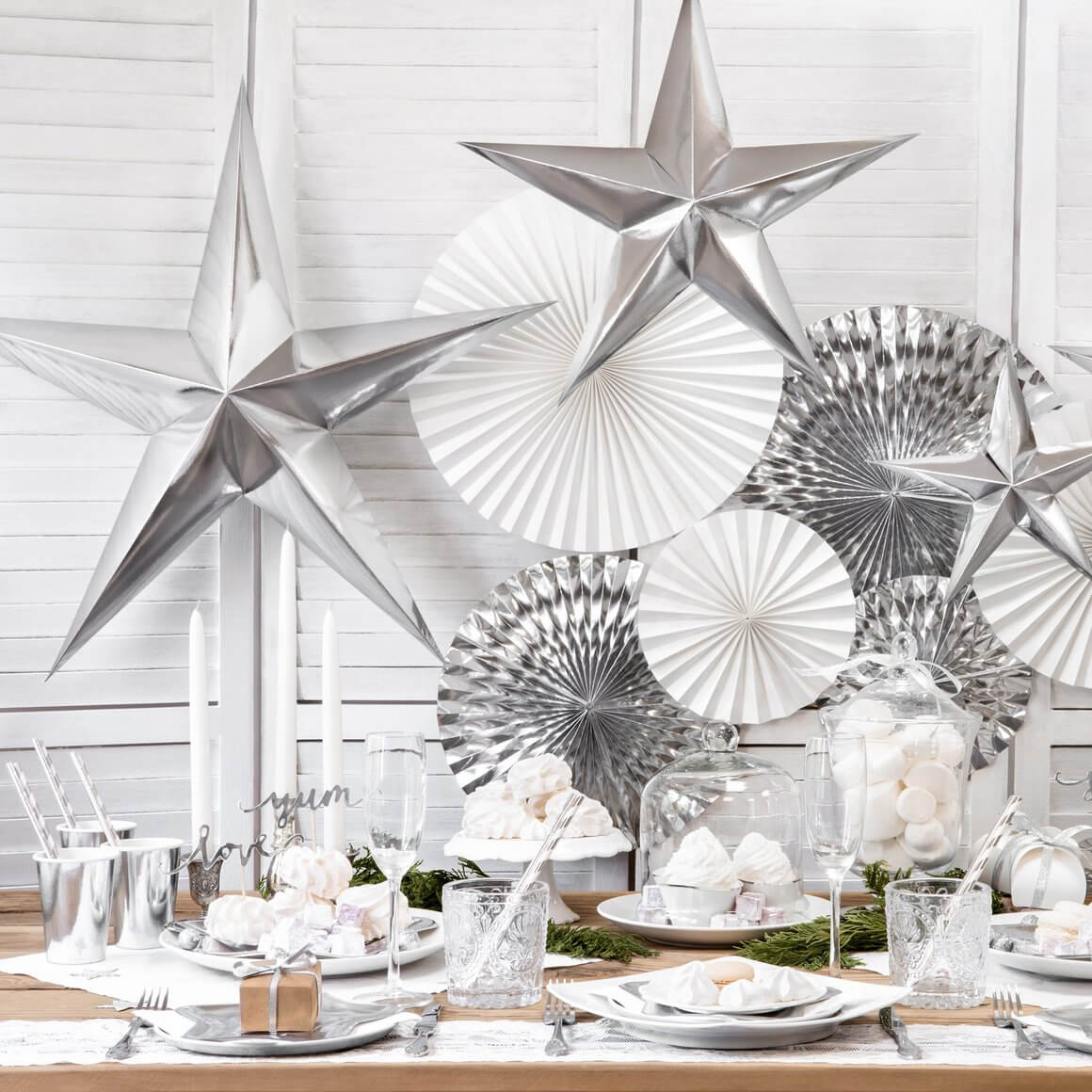 These three stars, one each of small, medium, and large size, are cut with laser-like precision and lightweight enough to hang from a ceiling or even another, larger piece of decor. Silver decoration ideas can become tired and repetitive. The key to avoiding this monotony is to concentrate your decorating energy and budget on as much versatility as you can. Simple items like these stars can be displayed by themselves for minimalist elegance, or they can serve as base pieces for other decorations, like garlands, tinsel, or string lights. With the three different sizes, this decoration can be displayed in a variety of ways.
28. Matte Silver Woodland Set and Candle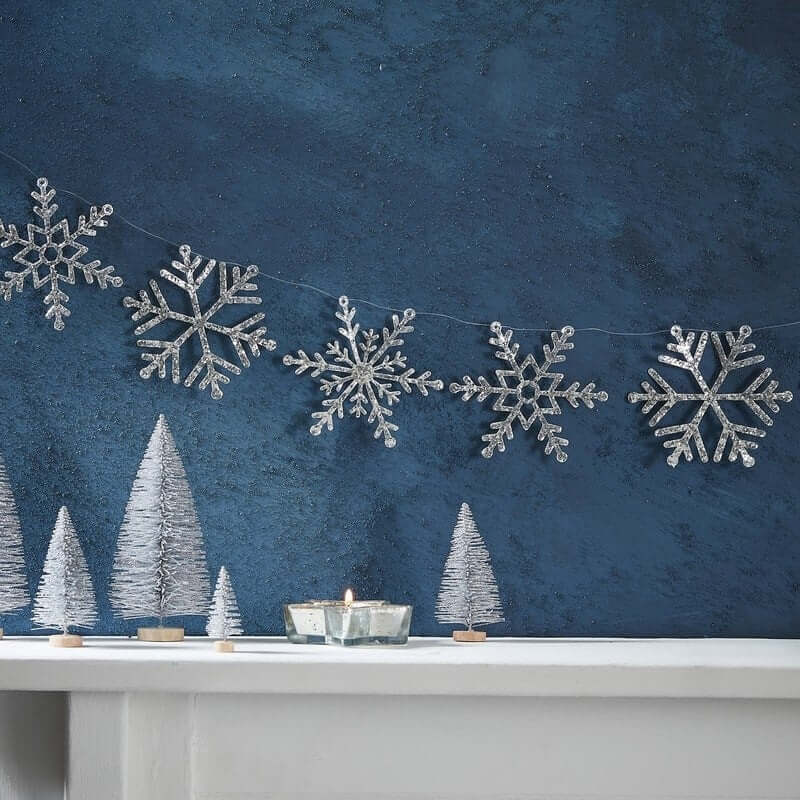 Hanging snowflakes, snow-dusted pine trees, and a snowflake-shaped candle work together to create a miniature winter wonderland right on top of your table, mantle, or even dresser. The best Christmas silver designs can be rearranged, so this set is sure to please and delight. Each piece except for the hanging snowflakes can be moved to a different position. The snowflakes are on a single string, however, so the height and tension can be easily adjusted. Bases on the trees are thick wooden blocks that prevent them from tipping and falling over, even making it safe to gently decorate them with small Christmas decorations.
29. Bauble and Feather Pine Wreath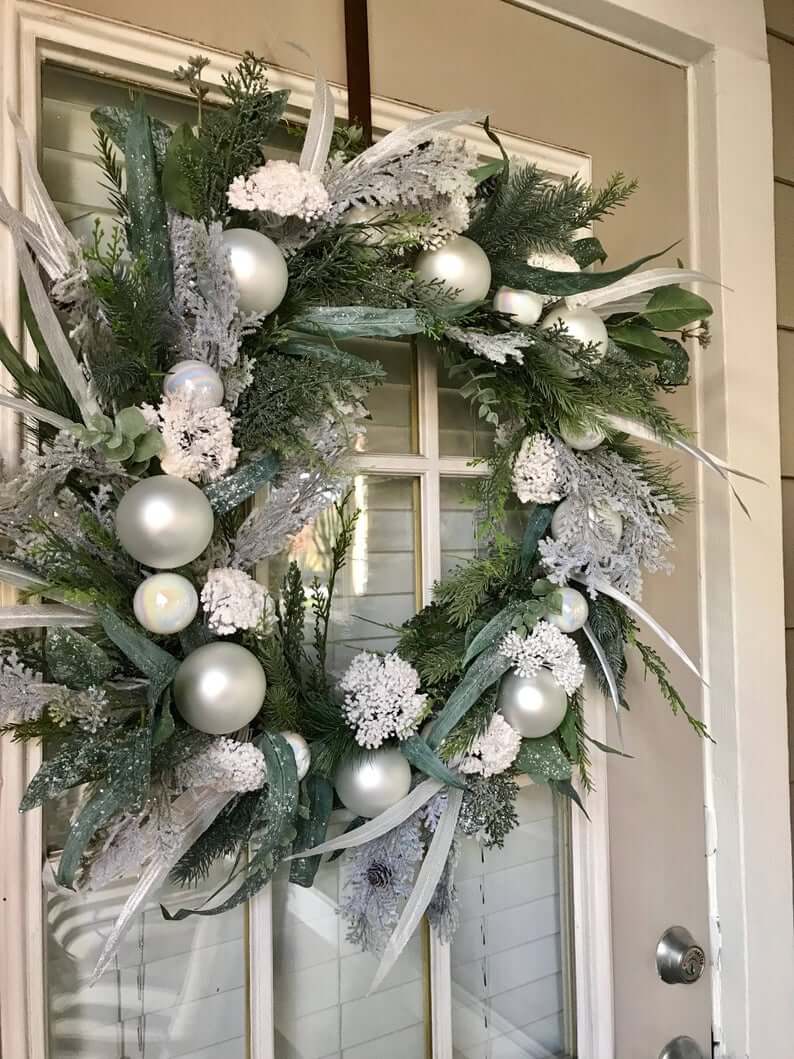 For those of you who enjoy a more nature-centered theme for your Christmas decor, feathers could be a valuable addition. This wreath features feathers, leaves, and pine twigs arranged in a flayed circle and powdered gently by silvery, glittery fake snow. Large silver and small white baubles are interspersed with bunches of tiny white blossoms a similar shade to the feathers. The pointed leaves and feathers of this wreath put fort a less polished, more homey atmosphere. The wreath can also be customized to fit your taste; one example is adding more feathers or taking out a few of the blossom clusters.
30. Silver Stag Throw Pillow Set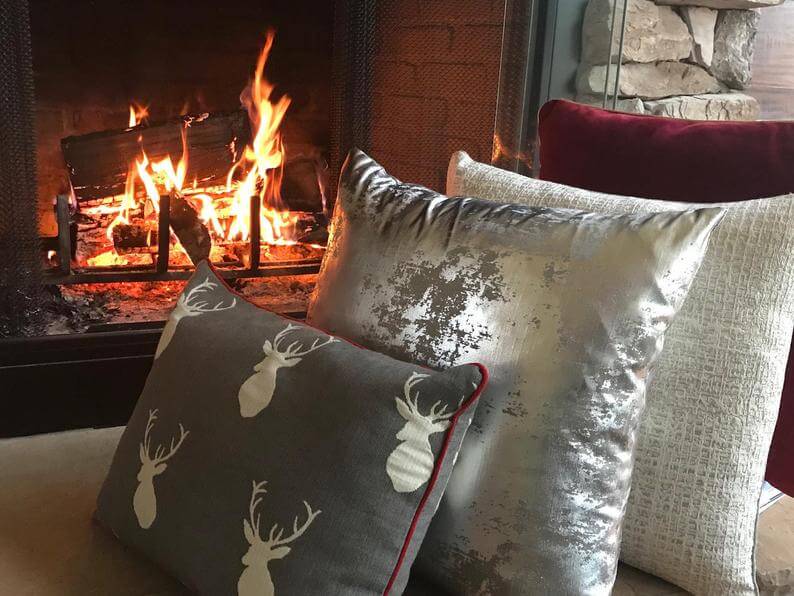 Three festive throw pillows make up this attractive set. One pillow in this sequence of Christmas silver design pillows features shimmery stag decals against a dark gray background. This is then framed by bright red piping trim. The second and third pillows are a bit larger than the first. One is upholstered in a faded silver matte material, a few flakes here and there showing a brighter shine. The third pillow is the same size as the second and is outfitted in a white fabric with a raised waffle-knit design. Small flecks of gray on pillow three complete the cozy picture.
The question of which Christmas decoration styles work best in which home depends upon a variety of factors. Personal taste is the most significant one, though, which is why it is important to thoroughly research any brand new purchases. Regret upon buying a handmade ornament or expensive wall hanging is hard to shake, so full consideration should always be undergone.
Whatever your preference, you can decorate your home in the best way you see fit and come out the other side with a winning combination of your favorite styles! Take these ideas and more and have fun sprucing up your home with sparkling snow and tightly woven wreaths this holiday season.
Our Favorite Christmas Decorations to Buy on Amazon