With the best DIY snowman craft ideas, you can transform your home into a winter paradise. The winter season fast approaches, and with that comes all the joyous sights such as snowmen. A snowman is a staple this time of the year, but perhaps you wish to take it a step further and decorate the rest of your home with it rather than just set it up outside in the cold. Some of us may not even see snowfall, so adding some snowman decorations is a great way to still bring in that enjoyable feeling of winter.
28 DIY Snowman Craft Ideas for Cute Holiday

Many traditions come with creating a snowman. A snowman has a distinctive look from the top hat to the carrot nose, but that doesn't mean you can't spruce things up with some personal creativity. This can happen when you create some handmade snowman decorations in the comfort of your home. You can go with the usual look and body of a snowman, or you can take things a step further and craft a unique decorative item that isn't the typical three-circle shape we've come to love. The opportunities are endless here, so you are free to make decorative items that will stand out while also blending effortlessly with your home's decor.
The only trouble you may encounter is finding a good place to start. Do you want something that goes on a table for all to see? Or are you looking to craft a snowman ornament to hang up on your Christmas tree? Knowing what you want to do and where you want your decorations to go can take some time. So, we discovered more than a dozen different creative snowman craft ideas to help you on your way so that you can kick off this winter season the right way.
1. Adorable DIY Fish Bowl Snowman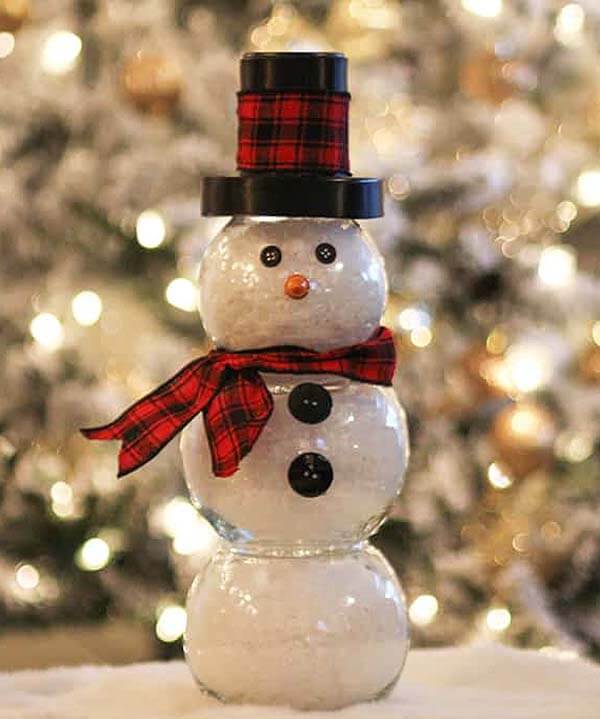 If you are looking for more creative snowman craft ideas, then this fishbowl snowman should be a good route to go down. There are some adorable small fish bowls out there that will work out well for this project once you get them all together. They form the ideal snowman appearance, in fact. The use of faux snow doesn't just help cement the look of the snowman, but it also helps to thoroughly bring the winter season into your home. With how affordable this is to make, you can make several of them if you wish. The more the better to fill up your home with seasonal cheer.
2. Handmade DIY Fabric Snowman Design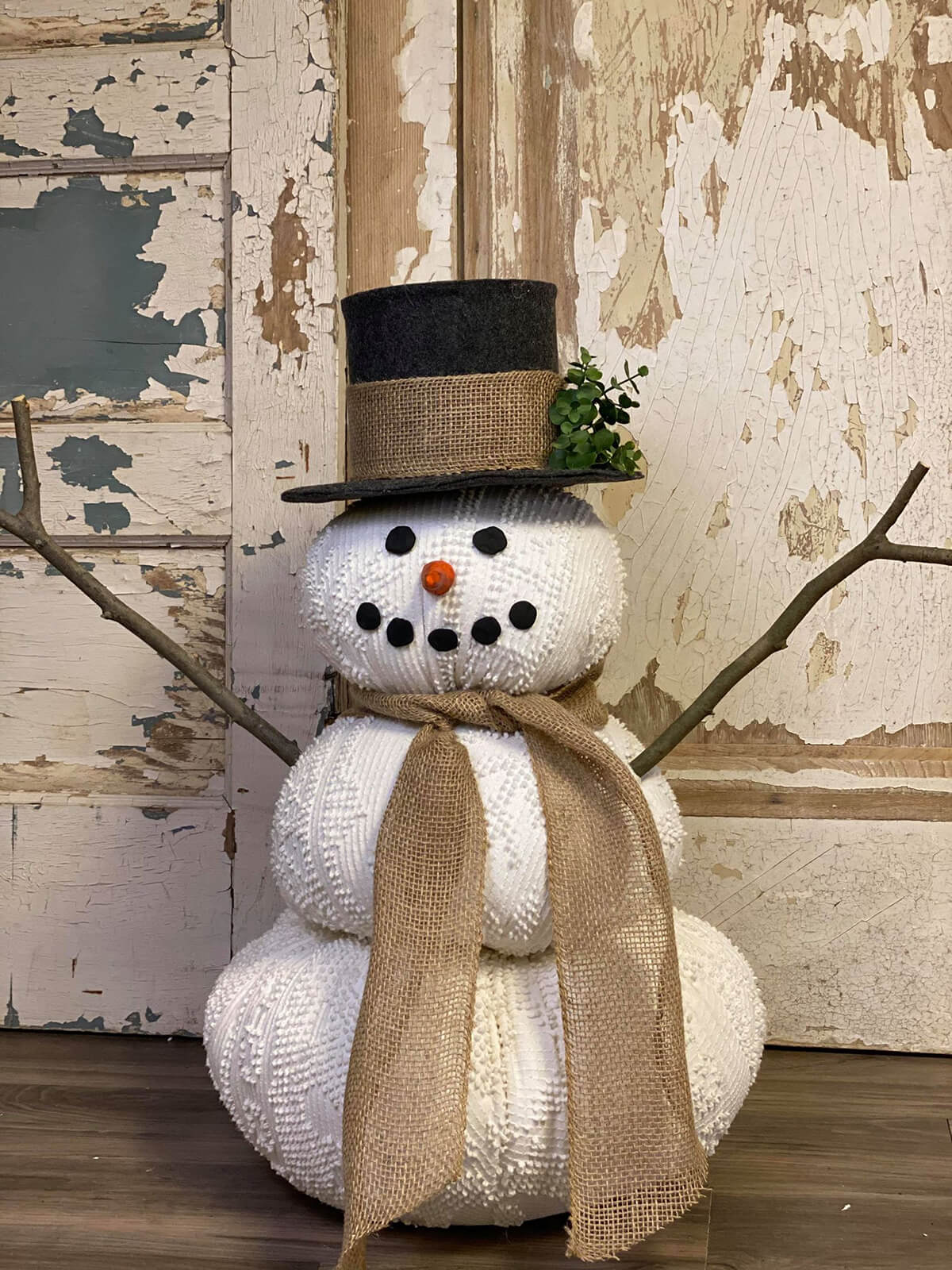 When you are looking for a handmade snowman to keep outside, creating one out of fabric is a good place to start. This is certainly a project to keep your hands full, making it ideal when you really want to push your creative skills. The fabric itself ensures its survival against the outdoor elements so that you can make a lovely companion decorative piece to set up on your porch or by your door. This can even serve as a substitute for when there's no snow outside on the ground and you desperately want to spruce up your yard with something a bit more in the season.
3. Fish Bowl Snowman Winter Scene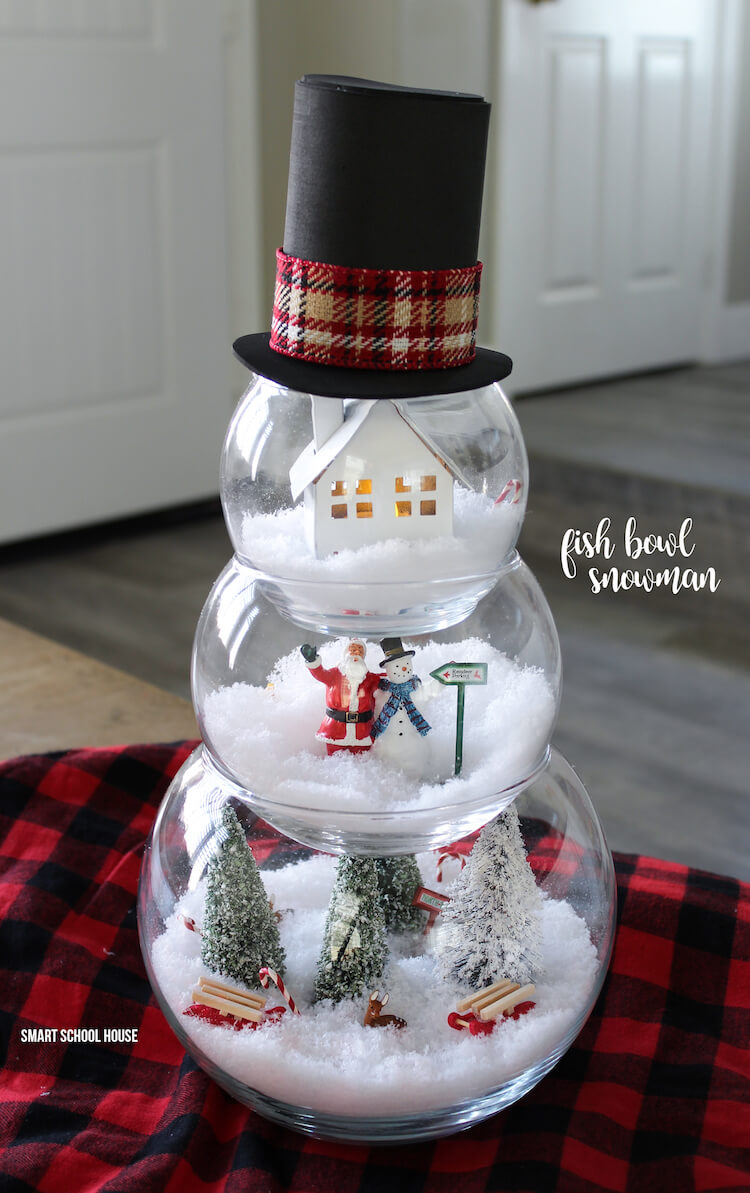 Fishbowls don't have to only be used to create a traditional snowman. Instead, you can use them to get the shape of a snowman while also crafting up a compelling winter scene inside. It's common for many of us to use tiny decorations to build holiday scenes in our home, but they can look even cooler when placed inside these stacked fish bowls. These truly bring the holiday to life, and you can even craft a smaller snowman inside that allows this entire thing to snatch and keep anyone's attention. If you have the time and the materials, you can make several of these with different scenes inside.
4. Unique DIY Mason Jar Snowman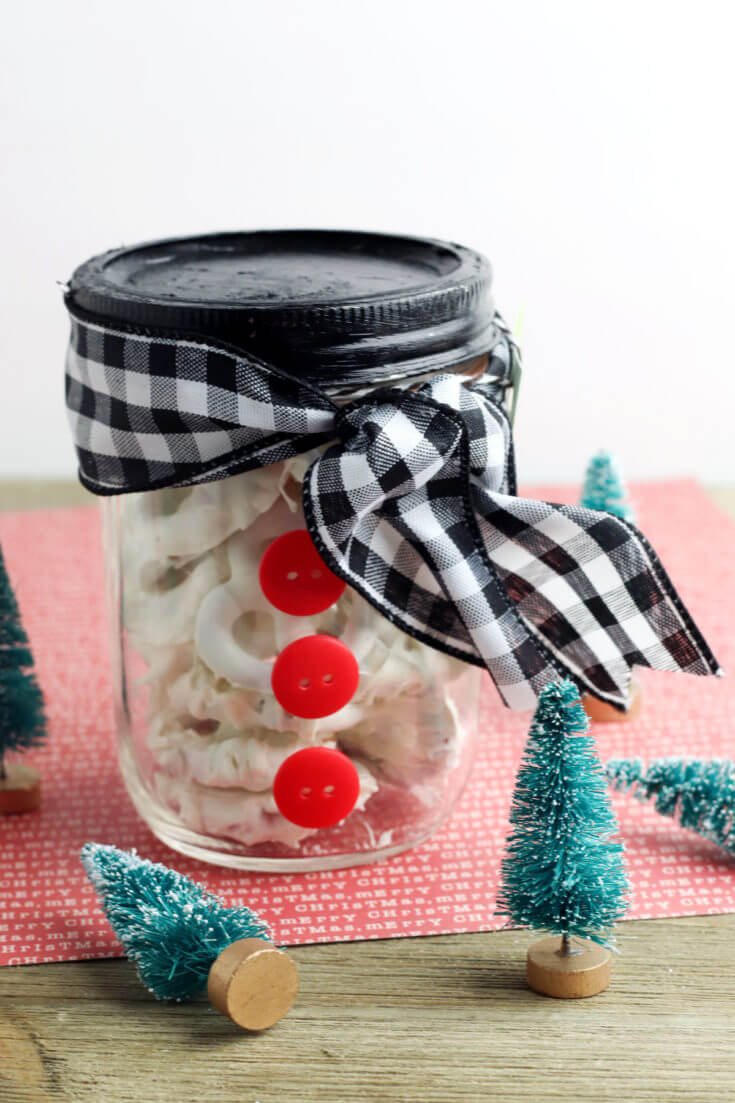 With this snowman craft, you don't just get something that looks charming, but you also end up with something that can taste delicious. A mason jar is a wonderful tool to use considering how versatile it is. You can make this craft in any size too considering how big or small the jar itself is. The project doesn't take much to make either, allowing this to be a good one if you don't have much time. The white chocolate-covered pretzels inside provide it with that "snowman" appearance as it pairs with the outside decorations on the jar. Feel free to pass these out as gifts too as anyone would appreciate such sweet treats.
5. Festive Lightbulb Snowman Tree Ornament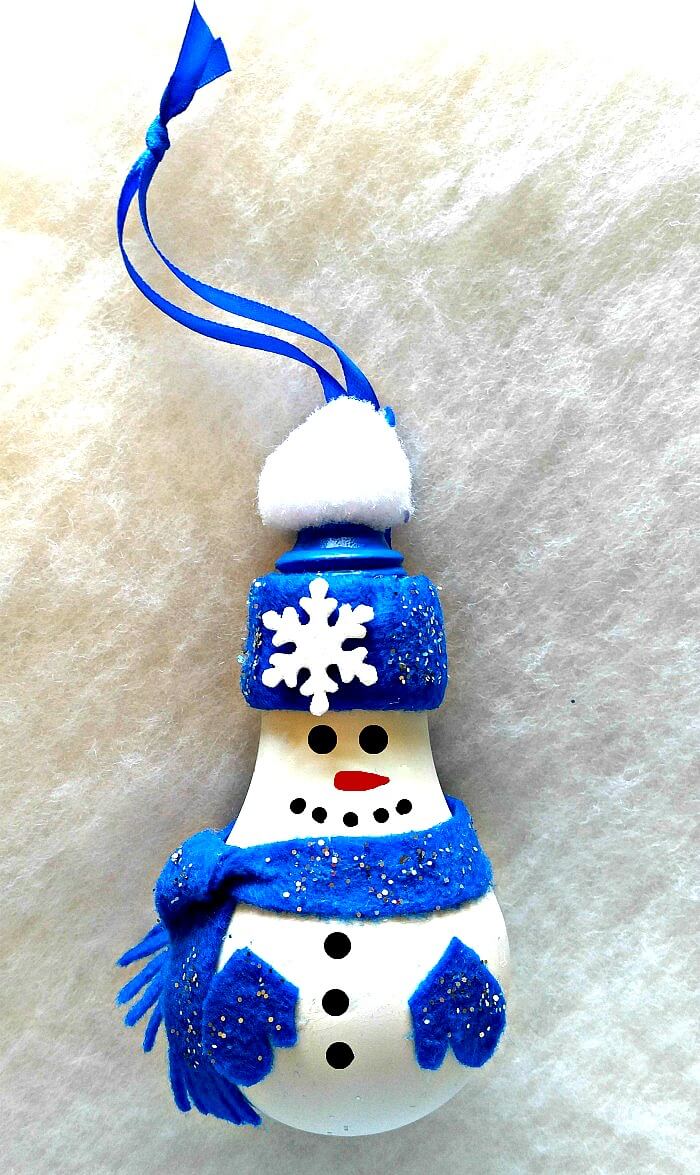 There are many ways you can go about making an ornament at home, but a unique approach to it is to use a lightbulb. There is no reason to throw a used lightbulb out when you have this project in mind. A good spray paint job is all it takes to transform a regular lightbulb into something that is brighter and much more appealing to work with. The real fun comes with building up the rest of the snowman from its adorable little hat and scarf to its smiling face. The lightbulb surprisingly offers such a cool outline for the snowman body that once you hang this up, no one would be the wiser that it isn't a store-bought ornament.
6. Painted Mason Jar Snowman Gift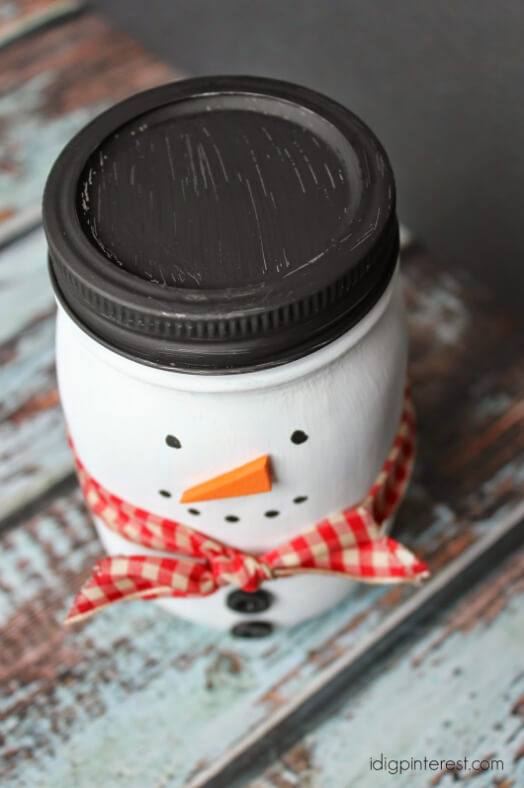 Passing out little gifts for the holiday season can be a real joy, especially if they are handmade as with this mason jar snowman. There is a simplicity to this that helps it stand out, making it fitting when it comes to minimalistic decorations. You can pack these snowman jars up with anything you'd like such as kits to make hot chocolate. Once your family and friends open the snowman up, they'll appreciate not just the overall look of it, but the love left inside of it. This can also be something to pass around the workplace or at school considering how simple it is to create.
7. Rustic Snowman Wall Hanging Decor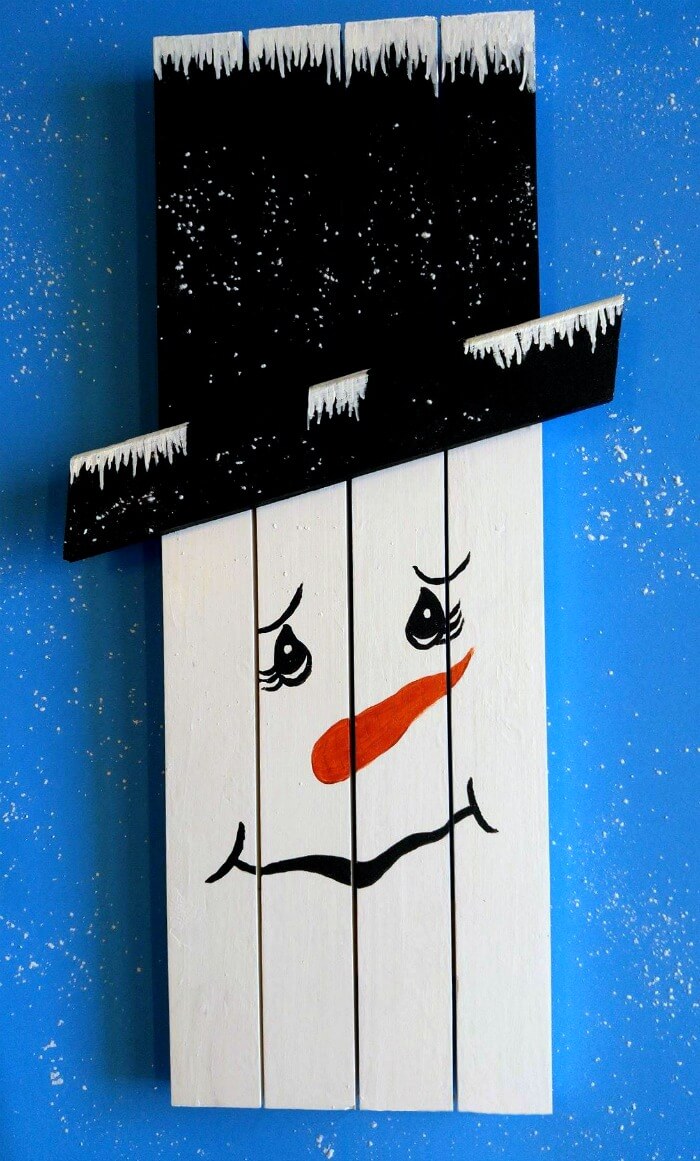 If you need something that is a bit more rustic, then consider this wall-hanging snowman decoration. This is one of the best DIY snowman craft ideas that provide you with something creative that will get anyone visiting your home talking. Since you're painting it yourself, you have even more freedom to build the snowman that best fits your personality. It's even fun to do with kids, allowing them to make their own too to hang around the home. This is also exciting as it shows just how much-powdered sugar can look like snow when you don't have any faux snow on hand.
8. Fish Bowl Glitter and Lights Snowman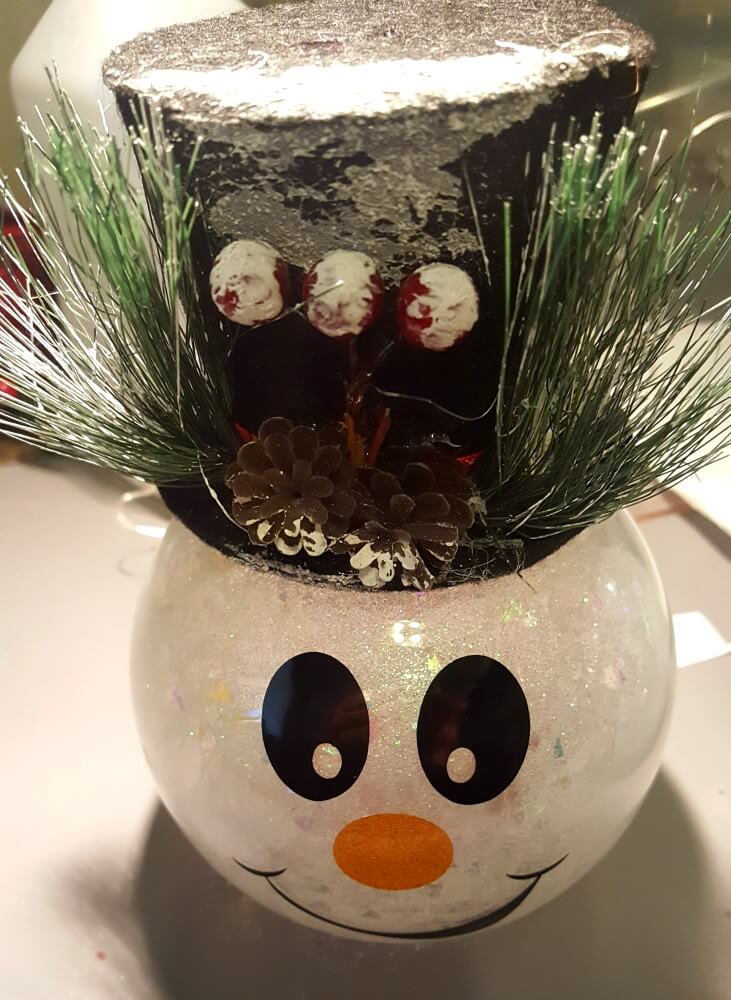 Rounded fish bowls and snowmen seem to go hand-in-hand when you stack the bowls up. You can go for the traditional three or just use two bowls for a smaller snowman. In any case, you are left with the perfect design for a fun snowman decoration. The use of glitter really brings out the snowman's appearance too, making it look as though it was outside in a winter storm the whole time. If you want it to really stand out, you can always add some fairy lights inside too. These lights will truly help the snowman glow, making it extra appealing when used at night.
9. DIY Painted Snowman Mason Jar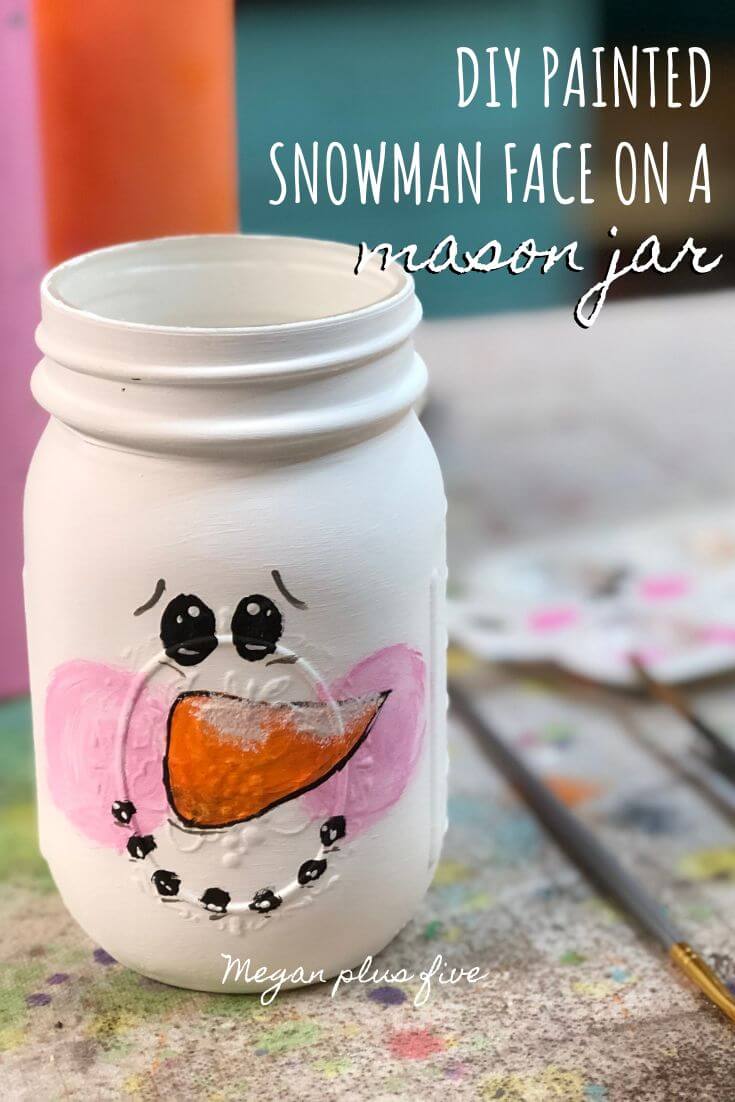 With this mason jar project, you can create a snowman decorative item that is useful for a number of factors. This can, of course, stand out on its own. It's adorable enough with its smiling painted face that it will look cute no matter where you place it in your home. However, since it is a jar, you can actually fill it up with something. Use it to house some winter greenery to keep things more festive in your home, or fill it up with some handy treats to pass the jars out to friends and family. It can even hold cookies, allowing it to serve as a fun set up for Santa on Christmas Eve that kids will love.
10. Hot Chocolate Bar Snowman Tower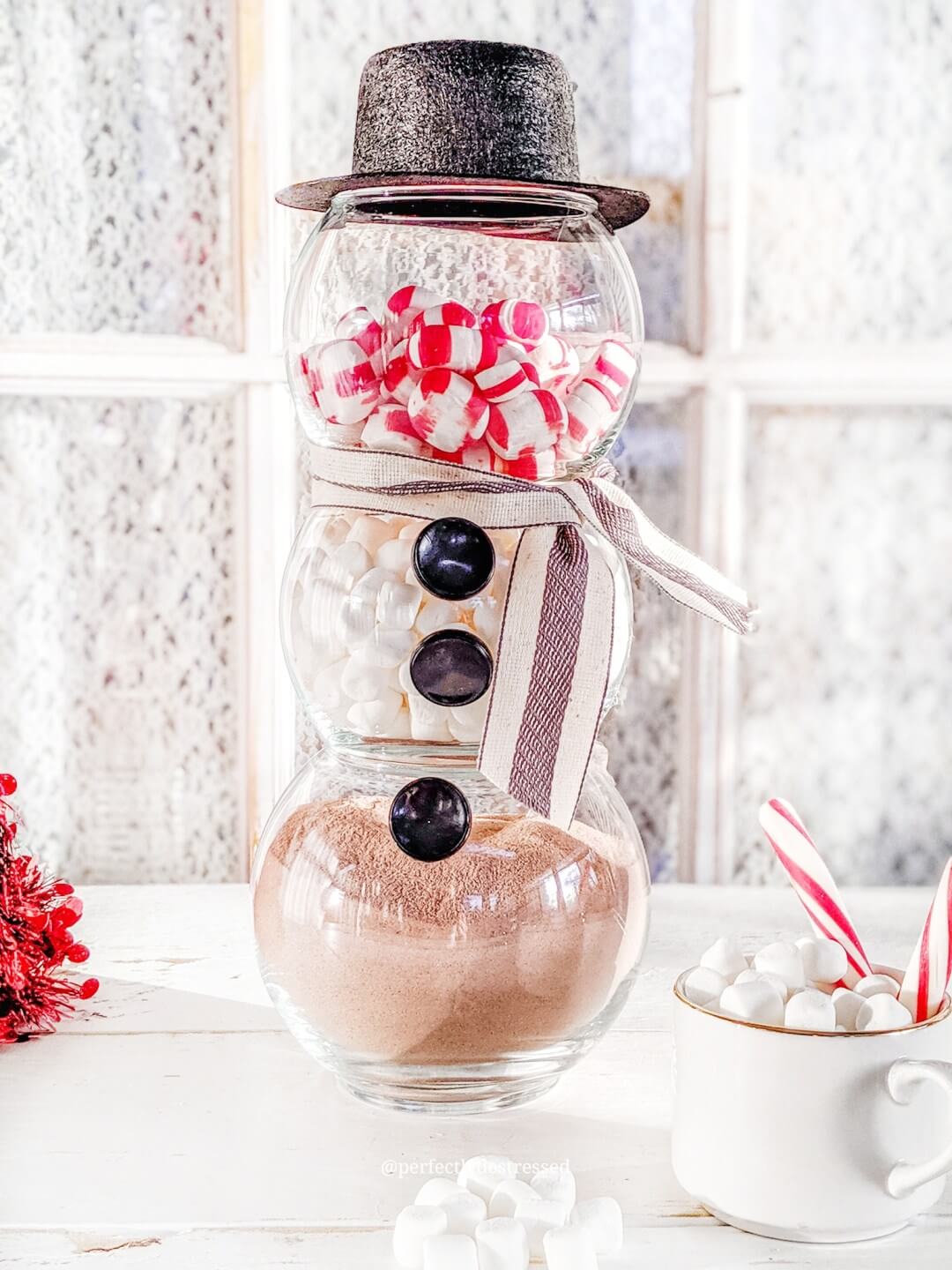 Indulge in the chocolatey deliciousness of a warm cup of cocoa as you watch the snowfall with this adorable snowman hot cocoa tower. Everything you need is easy to see through the snowman's clear body. He even boasts a hat and scarf to embody the accessories of the season. Perch him on your personal coffee bar to add some festive decor to the scene. Friends and family will fall in love with his cute charm and enjoy staying warm with the abundant ingredients he provides for making the perfect cup of hot chocolate!
11. Winter Wonderland Floral Spray with Snowman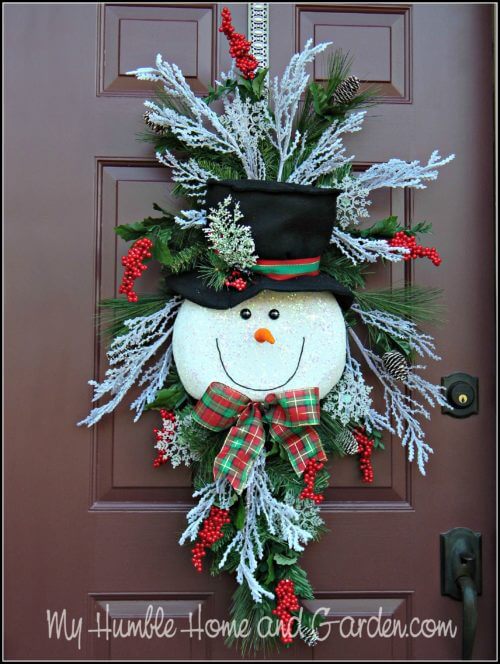 Red, green, and white unite to show off this snowman head in style! With so much flair, this incredibly charming snowman head makes the perfect focal point for your front door. His smile is sure to warm your heart and all guests who enter your home. He looks stylish and well-put-together with his black top hat and plaid bow tie. Including him in your door decor takes the look of this winter floral spray from drab to fab! This creation is a great gift to a friend celebrating a winter birthday. It looks fantastic on any door to welcome guests into your home during the winter months.
12. Greenery Wreath Snowman Door Decor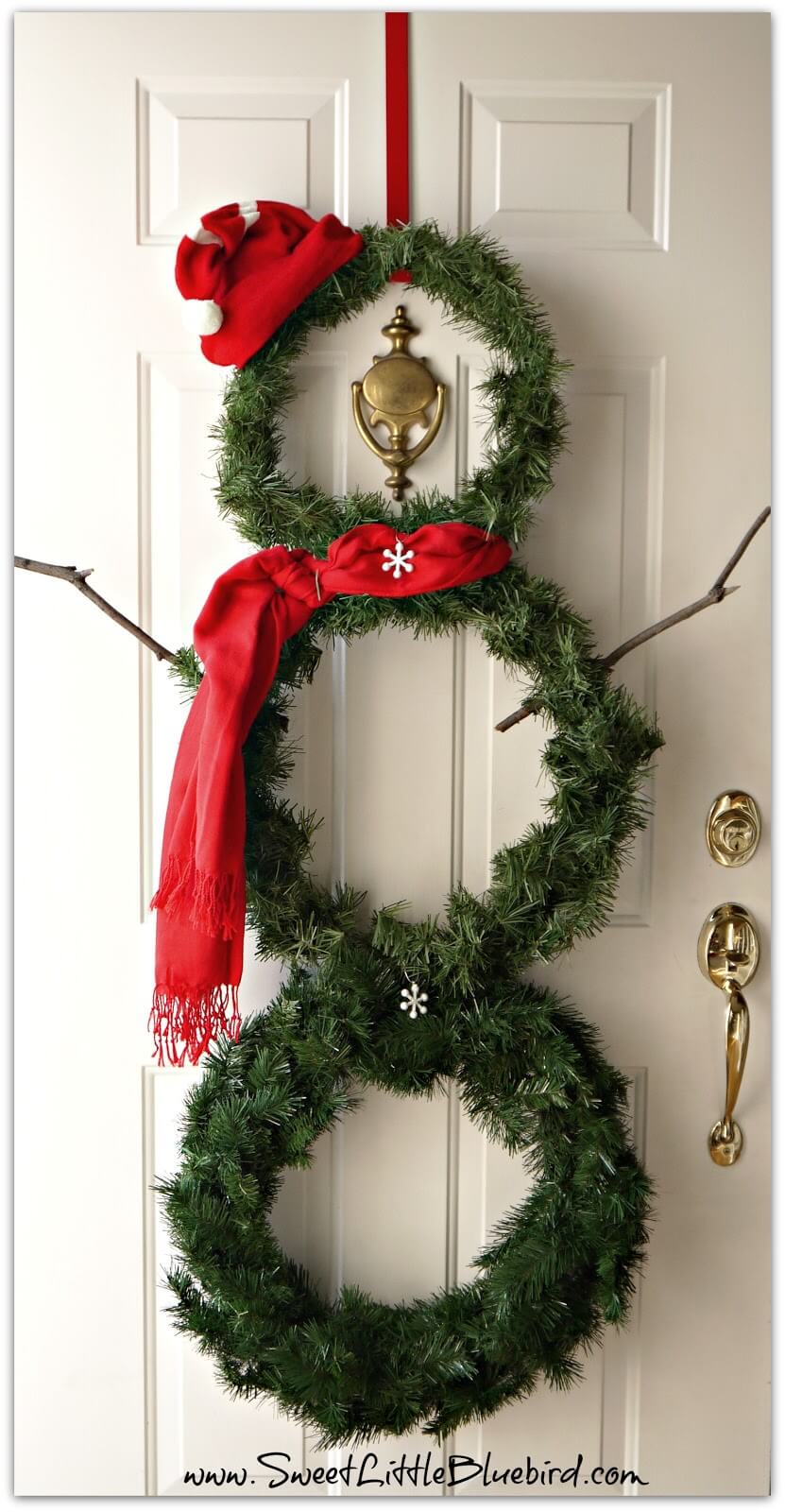 Reimagine the traditional front door wreath by creating this amazing three-wreath snowman! The wreath greenery adds a nice base color to pop on your front door, while the design of the stacked snowman makes a friendly winter icon come to life. Finish this snow friend with a scarf and hat to give him a warm winter look. This is a fabulous idea for dressing your front door with a look that works from Christmas to spring. You may choose to change up his scarf and hat each month to coordinate. Perhaps red for December, blue with snowflakes for January, and something red and pink with hearts for February.
13. Snowman Candy Jar Clay Pot Craft
Knock out a quick and practical craft by creating this snowman candy jar. Created with a clear bowl and a small clay flower pot, this unique design makes a perfect small candy jar for adding to your interior home decorating. The glass jar allows the pretty colors of the peppermint candy to be seen adding a soft touch of color to the creation. If you are acquiring a hefty collection of paintings from all of your girl nights, this might be a good time to change up the game plan and try out this candy jar craft.
14. Pretty Paper Boxes Stacked Snowman Decoration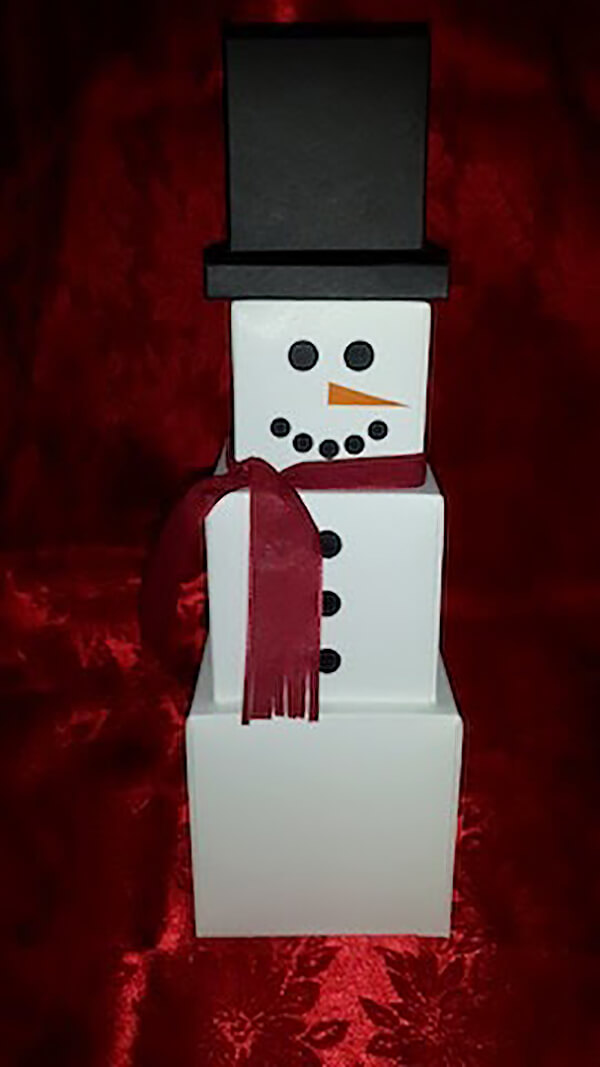 Stack this snowman and stick him in the corner of your living room for some added winter fun! He makes the perfect addition to your home for beating the winter blues. He's certain to put a smile on your face as you enter the room and acknowledge his squared snowman face grinning at you! Not only is he a darling decoration for the home, but he could also be a fun way to wrap some presents for Christmas. Use each box to hold a gift and write the recipient's name on the brim of the hat or the scarf. This is just another way to increase the excitement when giving gifts this holiday.
15. Clearly Unique Bowl Trio Snowman Decoration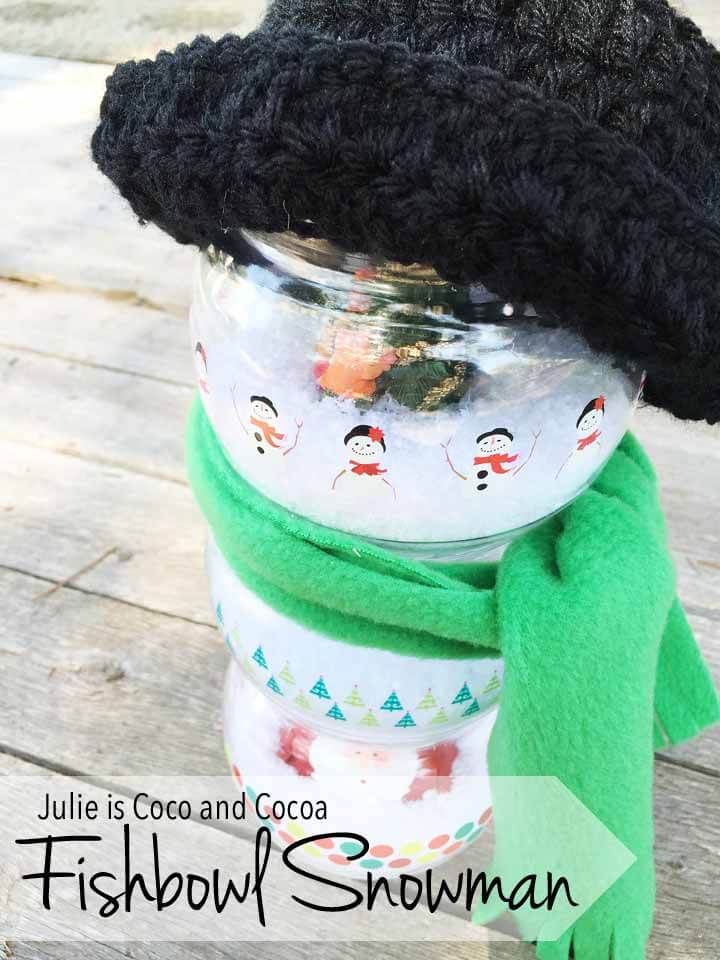 Decorate your home this winter with festive decorations that last the entire season. This original snowman begins with a body composed of three clear bowls. Each bowl is uniquely filled with a winter scene to give even more interest and fun to the overall design. A soft and warm crocheted scarf and hat complete the look and give it a hearty homemade feeling that is perfect for holding off the winter blues. Set this one-of-a-kind snowman on your porch for extra curb appeal or show him off inside as the focal point of your entryway.
16. Simple Styrofoam Snowman Craft Idea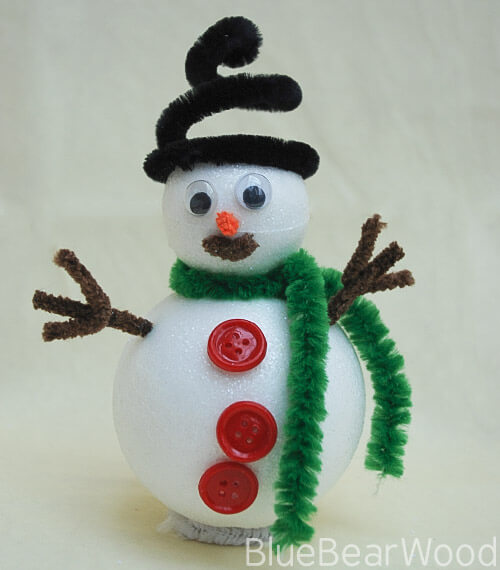 Kids of all ages, from youth to those young-at-heart, will love creating this styrofoam snowman. It's simple enough for young school-aged kids but cute enough to entice grandma back into the crafting scene. Each snowman is unique as it shows off your personality with your custom accessories. Girls will surely add a little extra sparkle with the use of glitter, and some boys might include a miniature piece of sporting equipment as well. Provide the supplies and allow everyone to engage in this craft event as they patiently await the arrival of St. Nicholas.
17. Mr. and Mrs. Snowman Votive Candle Holder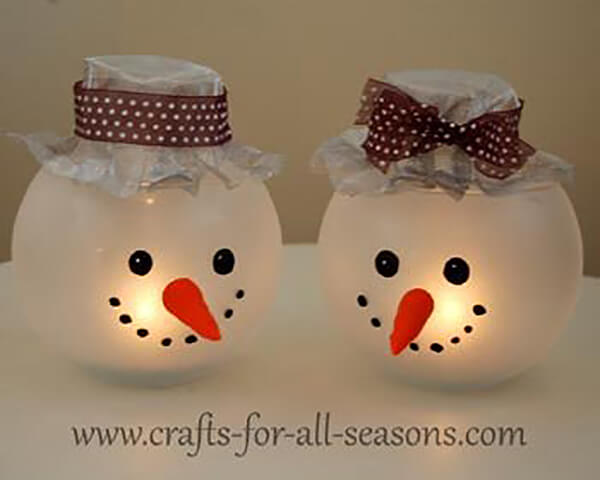 Enjoy the glow from within this frosty globe as you light the votive candle housed inside your snowman. With accessories to turn these glass globes into a male and female snowman couple, these candle holders make a cute addition to the windowsill in your kitchen. They would also look cute as part of your mantel's winter display, or you could create them to give as a gift to one of your favorite couples. At a winter wedding, this pair would be a pretty decoration at the bride and groom's table too.
18. Creative Snow Snowman Winter Decoration Idea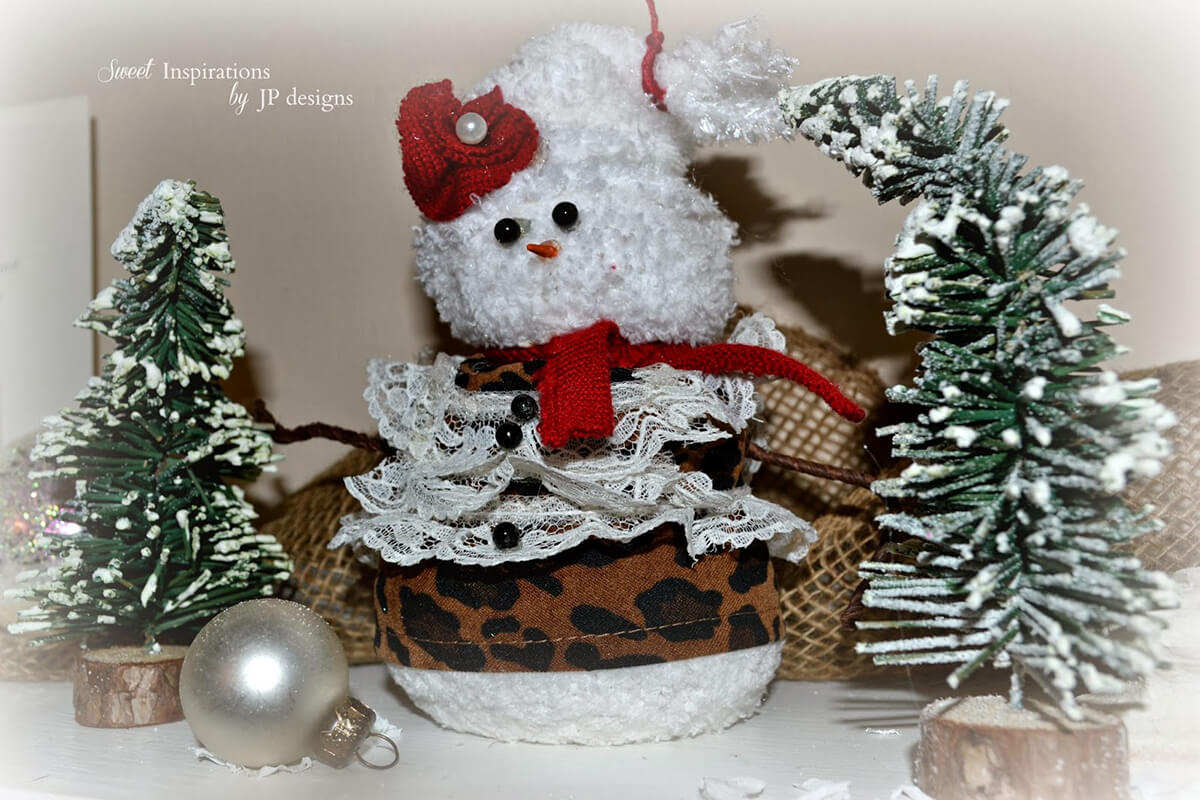 Repurpose an old sock into a charming winter friend! With some leftover craft items and a little creativity, this adorable sock snowman will quickly become one of your favorite winter decorations. A white sock makes an ideal foundation for a snowman body and can be accessorized in so many ways to create a custom snowman for your home. What a fun way to decorate the mantel. Or you might choose to make one for each member of the family. This would be a darling and heartfelt added gift at Christmastime that could be on display the entire winter season.
19. Farmhouse Style DIY Log Snowman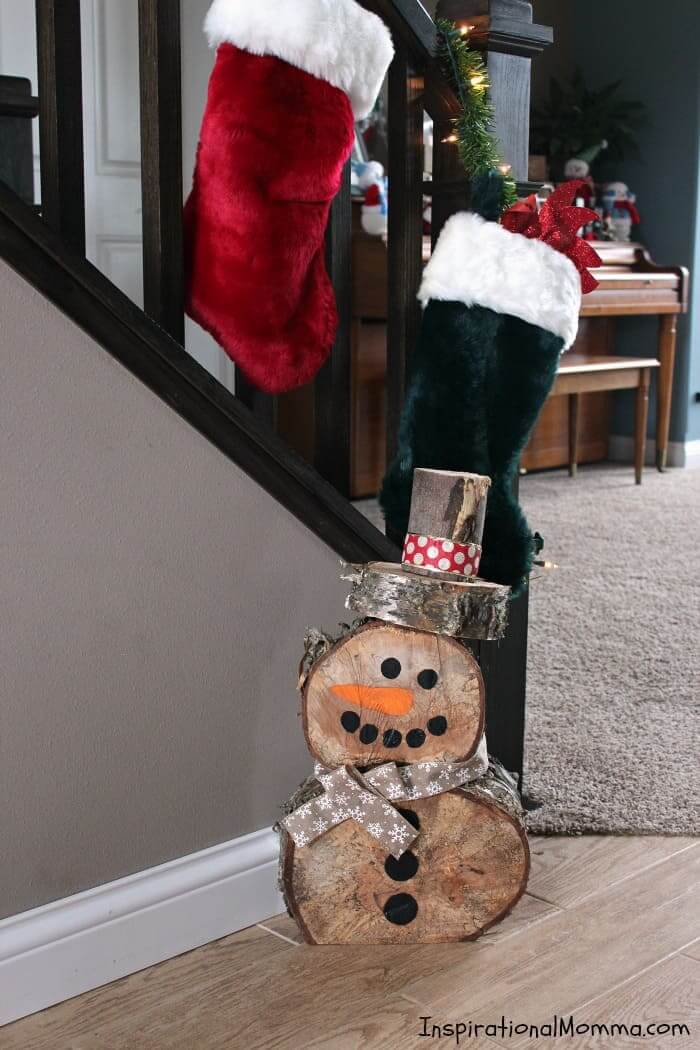 Using logs to craft your ideal snowman is a great way to really nail down a rustic style. It won't look out of place either in a farmhouse-designed home so that you are not sacrificing the rest of your home's decor just to add some seasonal flair to it. At the same time, there is still enough of that traditional snowman look that no one could mistake for anything else. It is a good way to put some of that extra firewood to use, and another wonderful thing about this design is that it will look well no matter where you set it up at. Place it inside by the tree, by the fireplace, or even set it up outside.
20. Whimsical Snowman Hurricane Shade Design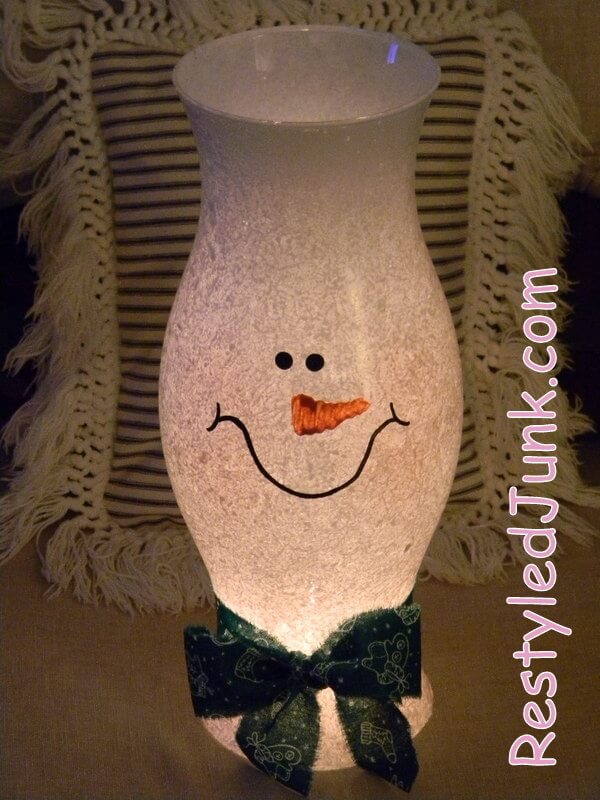 For those of you looking for some warmer decorations to fill your home with this winter season, then this snowman hurricane shade can be the right thing for you to make. The hurricane shade alone gives the snowman its distinct look that's close to traditional while also standing out. The right paint can give it that snow-like look too, allowing it to shimmer in a way as though it was made from a fresh snowfall. Simply draw on the snowman face in any way you'd like to round your creation off. You can place a tea candle underneath to give it that warm glow.
21. Oversized Wooden Snowman Painted Sign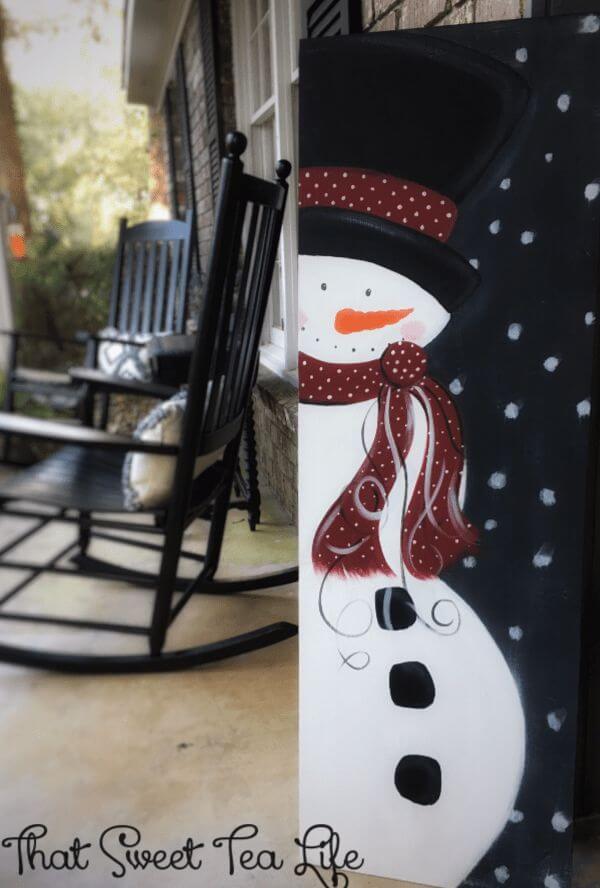 Sometimes you really need to make an impact with your home's decorations, and this snowman sign is a good way to do just that. Wooden signs always capture attention, making them the ideal way to show off your creativity with a festive design. You can draw an outline of the snowman if you don't want to completely freehand the artwork. No matter how you get it on there, the result is effective. You have a lovely happy snowman for all to see anytime they come by your home.
22. Adorable DIY Snowman Tree Ornament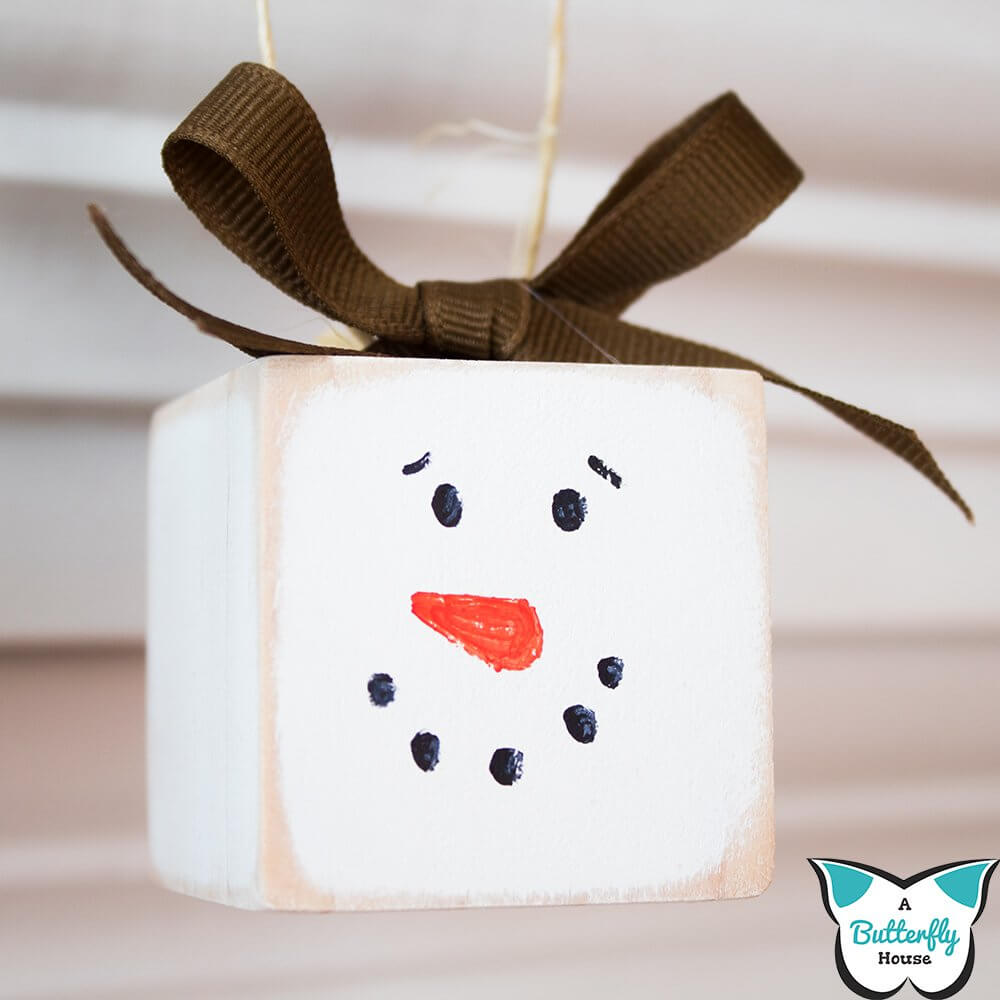 When you look at a Christmas tree, the homemade ornaments are the ones that truly stand out and stand the test of time. They provide your home with a lovely and warm personal touch that easily brings in the spirit of the season, so what better way to decorate one than with a snowman theme? This is a simple project too. The face is painted on, and since it is such a definite appearance, there's no mistaking it for a happy snowman. This doesn't even require the traditional shape of a snowman either as the point is made clear. It has an appeal to it that's straightforward enough to make that you can turn this project into one that the whole family can do.
23. Cute No-Sew Sock Snowman Craft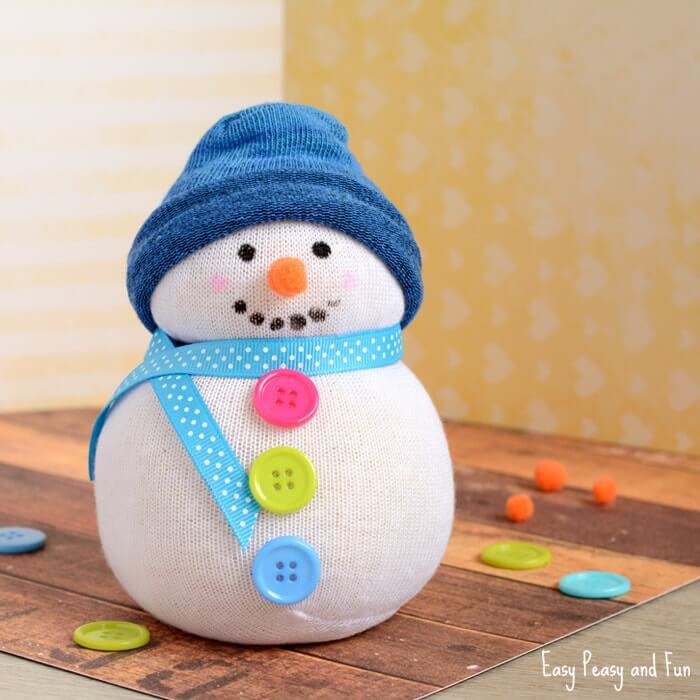 If you don't have any sewing skills, then fear not as you can still make a cute craft snowman just like this one. Tying off the sock in such a way easily gives it that rounded snowman appearance, and from there, you simply apply the rest of your decorations to build on the snowman. You can create several of these to set up around the house or to build on a single winter scene for all your guests and household members to admire. These can be fun handmade snowman decor ideas that can even work out as adorable little gifts to send off to loved ones.
24. Upcycled Book Snowman Decorative Project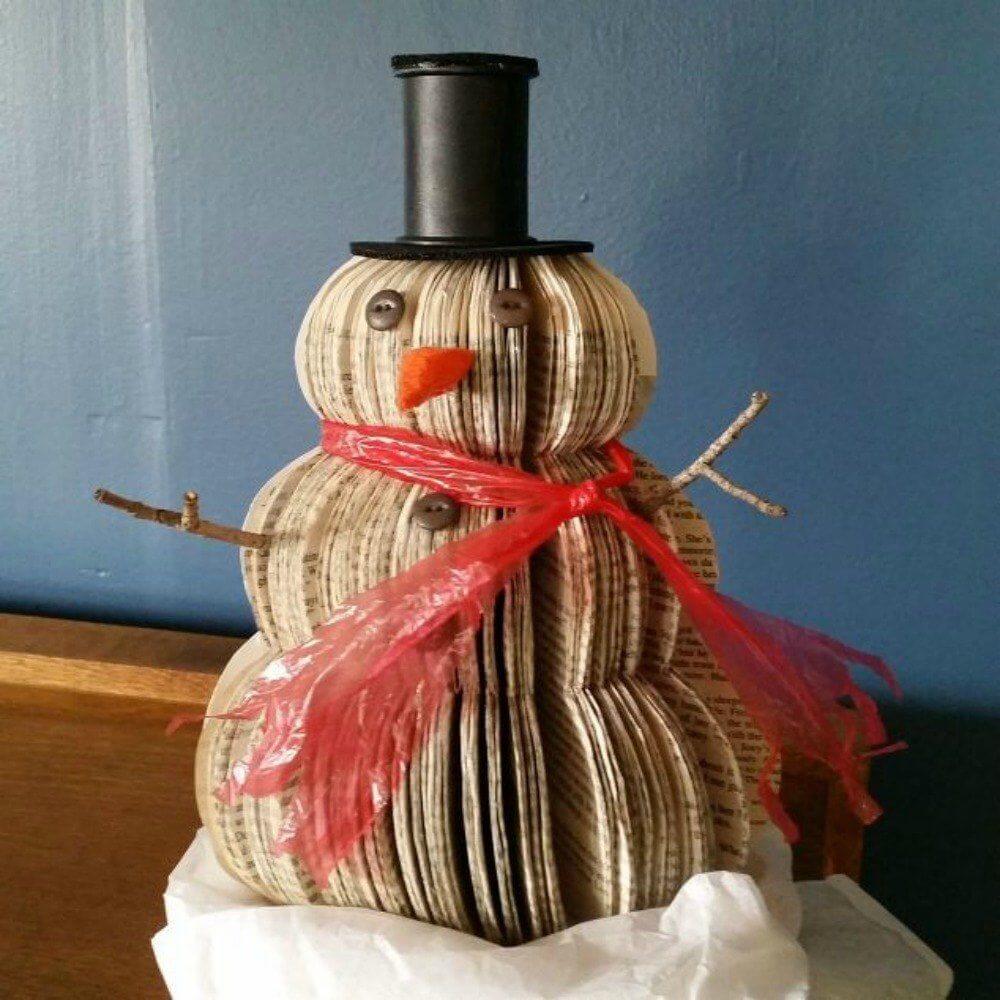 When you're searching for some of the best DIY snowman craft ideas, some of the greatest ones are found in the least expected places as in the case of this book page snowman. This is also a wonderful way for you to upcycle some of those aged or worn down books that no one wants anymore rather than just throw them all away. This cute snowman will instantly stand out too, especially if you set it up around your other seasonal decorations that may be a bit lighter in color as the book page snowman provides some enjoyable contrast.
25. Winter Wonderland Snowman Holiday Hat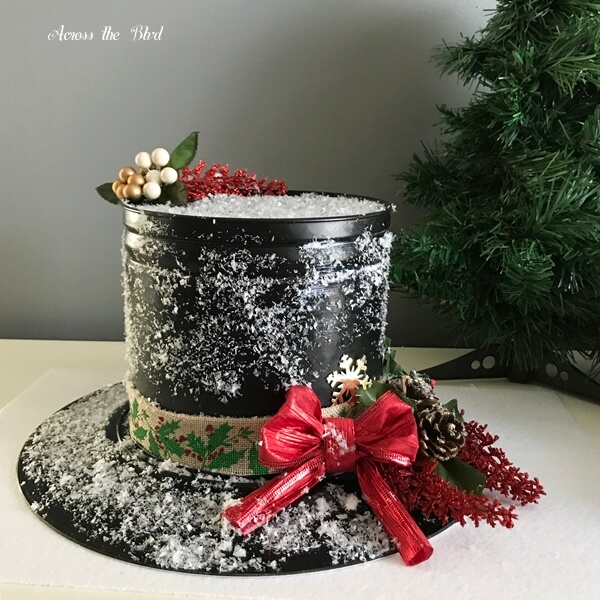 What's a snowman without their traditional hat? The hat itself is such a staple that it works out as unique decor without having the entire snowman. Best of all, you can create this awesome piece at a little cost. The faux snow makes it look like you just pulled this off a snowman right after a glorious winter snowman. This further stands out thanks to the extra holiday decorative items woven throughout the hat. You can even use some things you would usually place on a Christmas tree to save you time searching around for them. Ornament hangers are ideal thanks to their natural fun appearance as are ribbons.
26. Easy Wooden DIY Snowman Crafts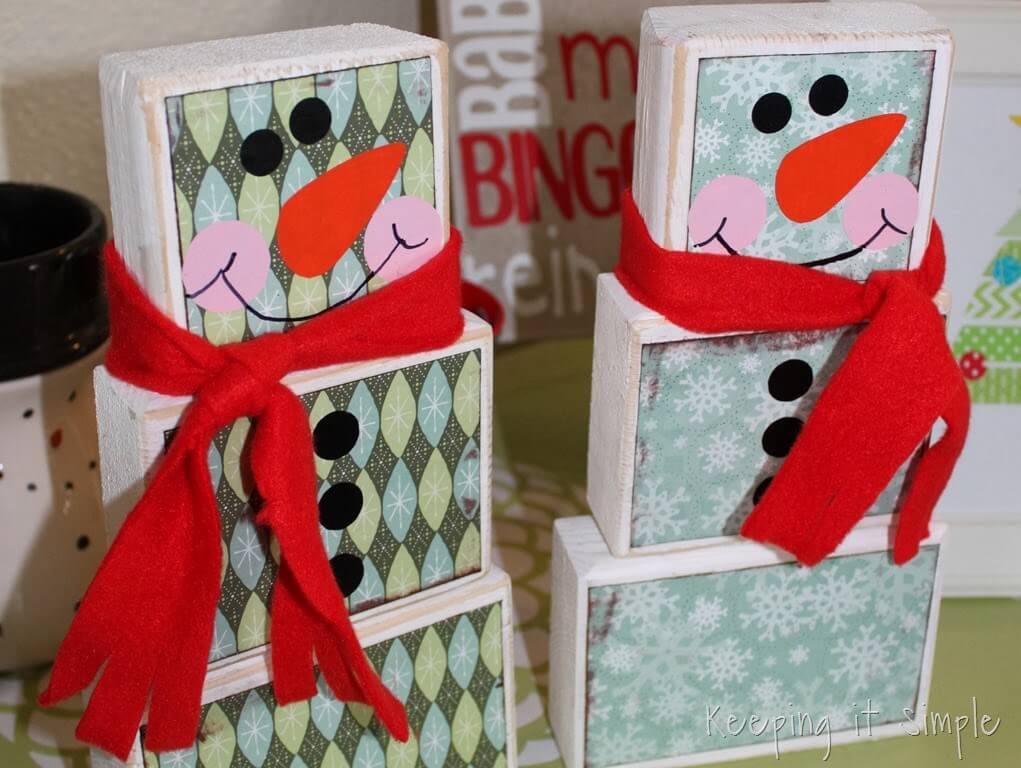 Some handmade snowman decor ideas include using materials that you may have never thought of such as wooden blocks. These certainly do not hold the typical shape of a snowman, but it is what you do with the blocks that allow them to stand out and capture the essence of the fantastical snowman. The right scrapbook paper can go a long way into building up on your snowman too, especially if you have some festive paper. From there, the face and a cute little scarf are all you need to bring this to life, allowing your decorations to have a bit more personality and fit in with the modern decor.
27. Winter Theme Snowman Wine Bottles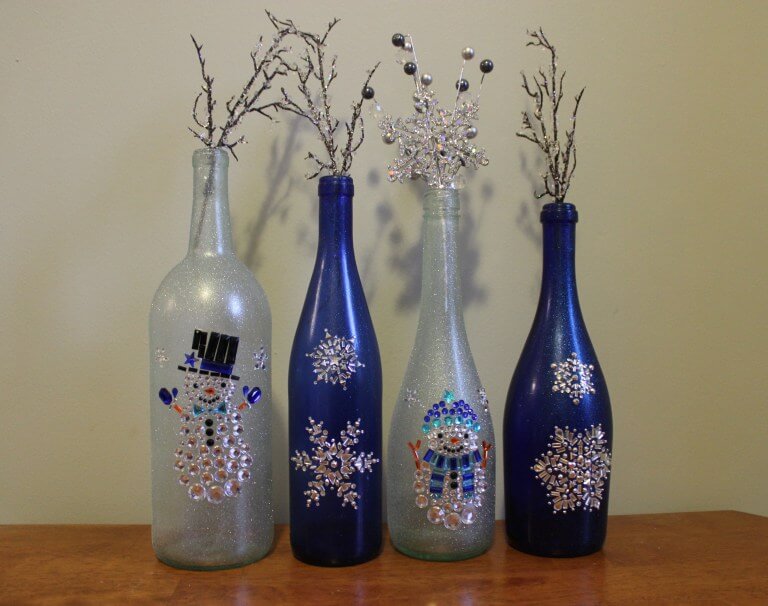 If you have some empty wine bottles lying around, or soon-to-be-empty, don't toss them out. They are the perfect backdrop for you to create some incredible snowman decorations. The bottles offer everything a distinctive, attention-grabbing shape, and using some glitter paint is an easy way to make them shimmer like fresh snow. You can create snowmen, snowflakes, and anything else that reminds you of winter. The bottles work well on their own, but they can also look beautiful with some faux winter flowers inside too. These are wonderful to set up around the home from a console table to the dining room table.
28. Cool Winter Planter Snowman Design
Planter arrangements are always a nice way to bring some life to your planters even when it's cold out. You don't have to buy them though as it's fun and rewarding to build them yourself. Balloons go a long way into creating the snowman look, and though this project can take some time, it is worth it in the end considering what you are left with. Whether you sew the rest such as the mittens yourself is up to you as you can just as easily find the decorations for the snowman in the stores. Making the bodies just give you the opportunity to create a myriad of different snowmen to adorn your yard with.
28 Handmade Snowman Decor Ideas for a Unique Holiday Look
The snowman is a powerful symbol considering just how prominent it is around the winter season whether used for the holidays or just to represent the seasonal changes. Because of its significance, it is a wonderful theme to use to decorate the rest of your house too. Use them for more holiday decorations by making ornaments, or stick to the seasonal theme and set up some handmade snowmen around the home from various items such as fish bowls.
Building a snowman indoors offers such creativity that the whole family can enjoy doing. These are also able to last the entire season too rather than melt away like a traditional snowman. It is our hope that our choice of the best DIY snowman craft ideas helps you come up with some fun and exciting projects to do while you prep for the upcoming season.