Beyond filling blank spaces in your decor, the best DIY spring garland ideas are a fun way to experiment with fresh ideas and new crafting techniques. Because of all the colorful possibilities, spring is such a fun time to decorate seasonally. Is your spring palette packed with pastels or dripping with moody jewel tones? Including a few spring accents like birds, flowers, and bunnies can help your garland sing that springtime is here. From the easy to the intermediate, there are projects here for all skill levels and crafting disciplines.
28 Creative Ways to Use DIY Spring Garlands to Rejuvenate your Decor

Depending on your style, spring can mean romantic pastel colors, rich purples, crisp whites, or a mélange of greens. Whether you prefer a few vibrant pops or an explosion of color, the ideas below can be made in any colors that resonate with your spring decor. All it takes is a pinch of imagination and a dash of determination.
What makes you think of springtime? A few elements that frequently symbolize springtime are rabbits, songbirds, flowers, Easter eggs, and carrots. Choosing the perfect accents for your handmade spring garland ideas can take your spring decor to the next level. To transform your decor from uninspired to uplifting, incorporate a few of the spring accents that make you smile.
Do not be discouraged if you fall in love with a garland idea that you do not feel you have the equipment or experience level to craft confidently. Because the only way to get experience is to do it, these garlands are a great way to build your crafting confidence. It might take a little ingenuity, but it is possible to make each of these projects with tools you already have or can make.
1. Easy Scrap Material Rose Garland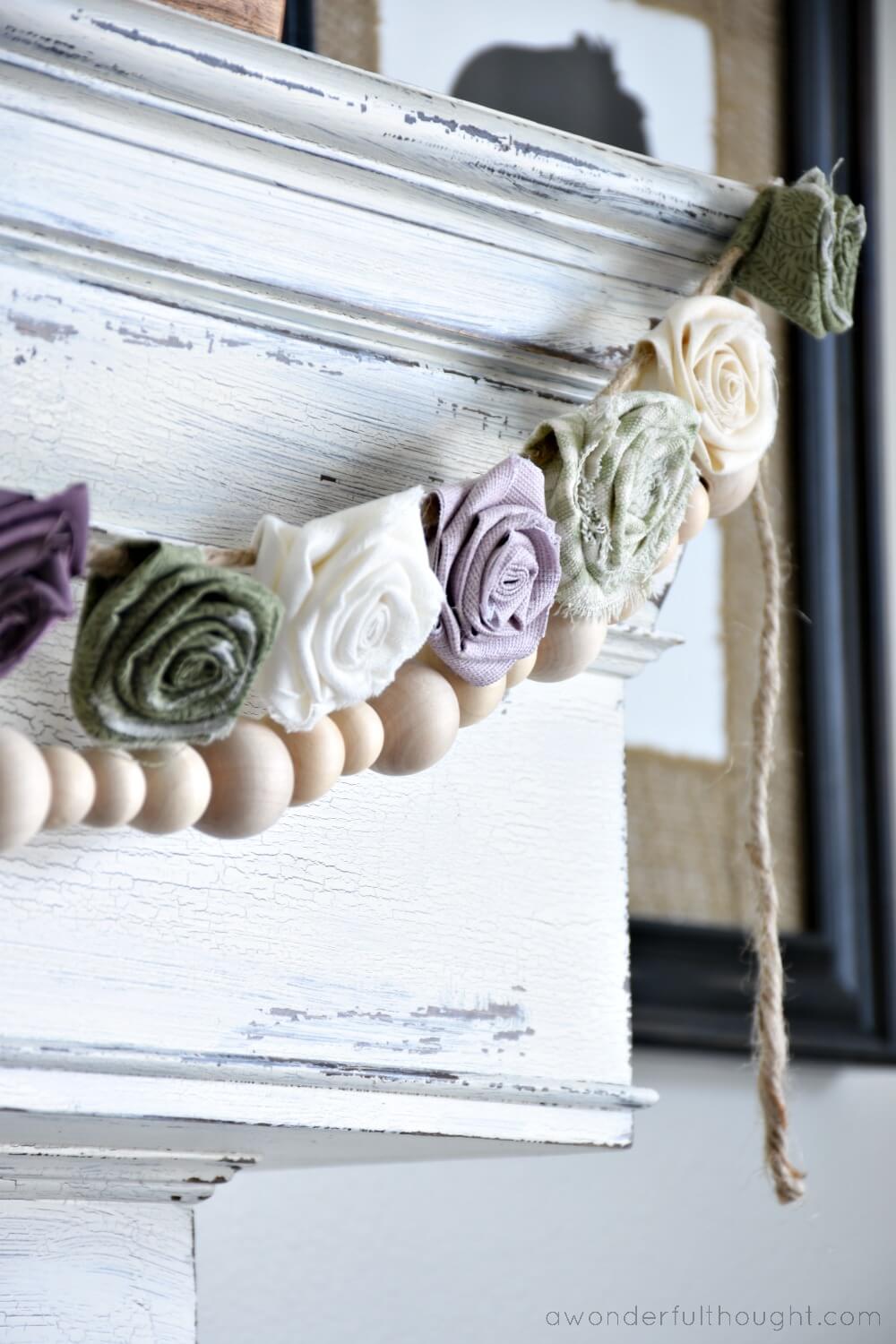 With a few fabric folds and some dabs of hot glue, you can create the rose garland of your dreams. Because you can use any type of material, the possibilities are limited only to your imagination. Choose an assortment of fabric types and colors to cultivate soft variety. Or, stick with a single fabric for a simple and elegant effect. Imagine a regal rose garland made from velvet, brocade, and silk. Burlap, muslin, and buffalo plaid can be the farmhouse garland you did not know your mantle needed. Harness the power of hygge by picking a fabric that makes you feel cozy inside.
2. Felt Leaf & Speckled Egg Garland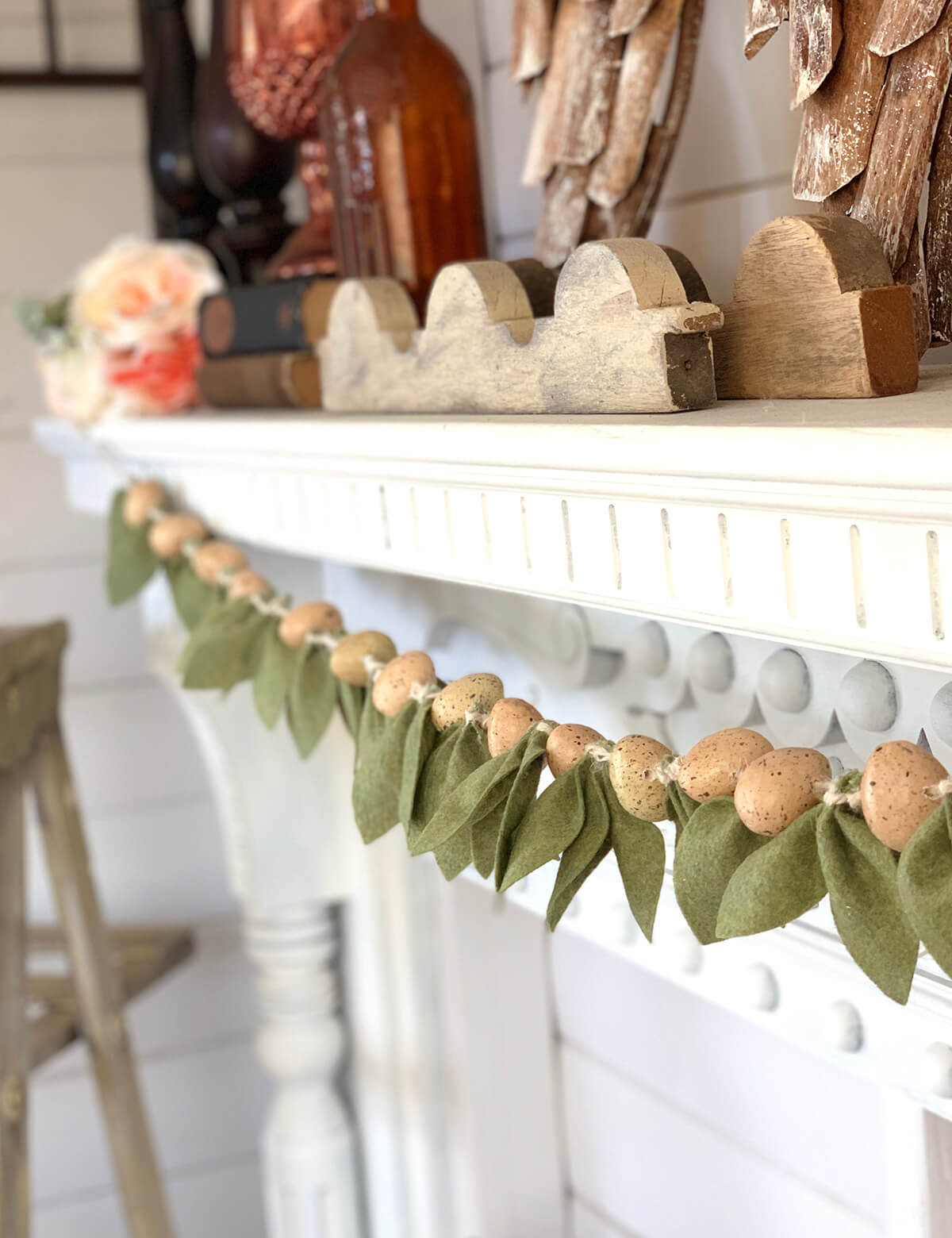 Spring garlands do not need to be an explosion of color to be beautiful. Instead of using bright colors, choose mossy green felt and wooden eggs. Of course, if your style is to use lots of colors, there is nothing wrong with using colorful felt or painting wooden eggs. Regardless of which colors you choose, the felt exudes a softness that makes it one of the best DIY spring garland ideas to soften your space. Because this garland is so simple, it is the perfect candidate for customization. However, when made as shown, it exudes some soft Scandinavian energy.
3. Pastel Doily and Running Rabbit Garland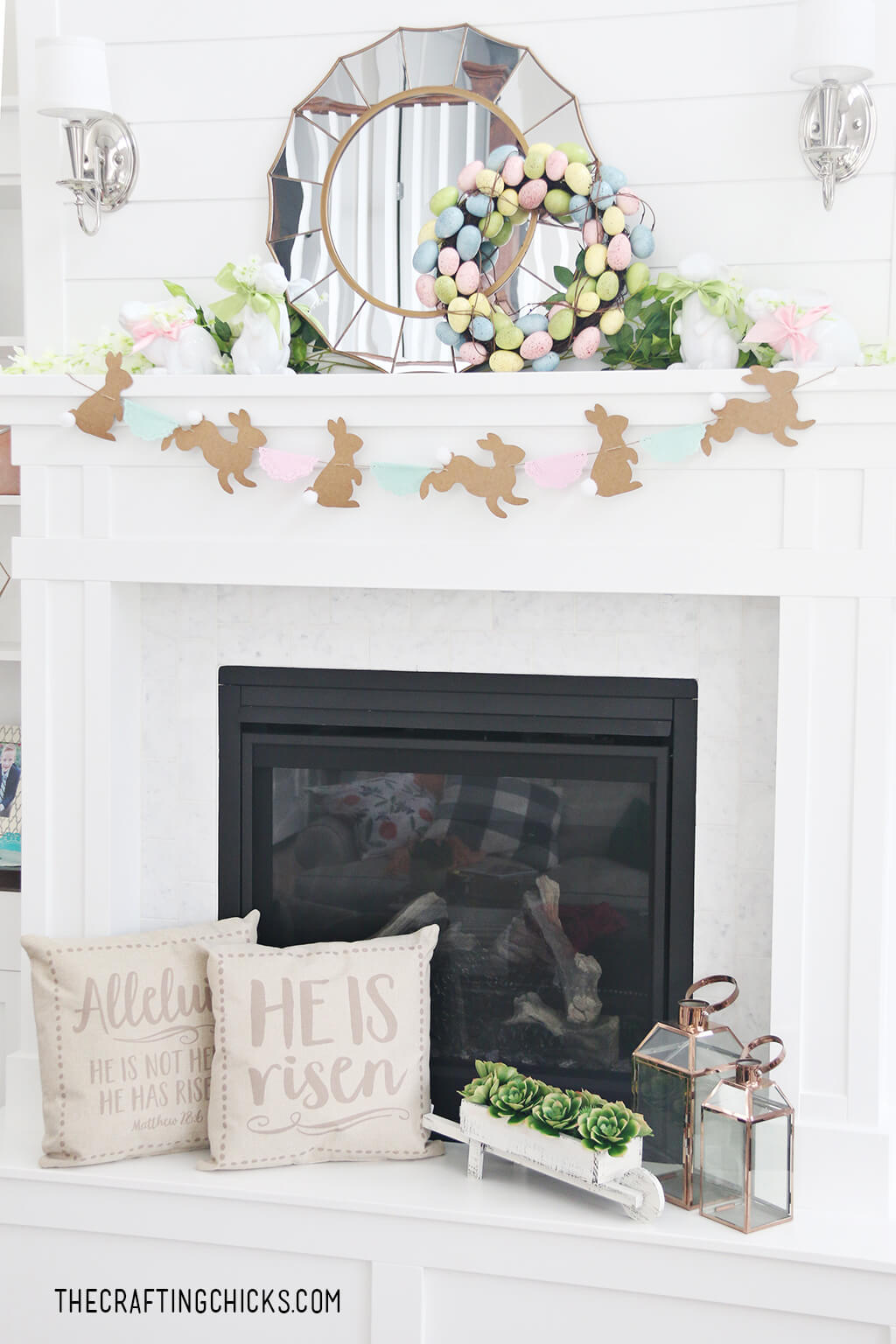 All these jumping bunnies give your space a sense of motion. Accenting these playful beasties with the sophistication of doilies elevates the garland. If you create your own bunny silhouettes, you can go beyond brown and use any color you desire. Of course, brown anchors the garland and imbues it with rustic charm. To glam your rabbits up, consider adding a coat of reflective paint and using sparkly pom-poms instead of white cotton balls for tails. If the doilies are too delicate for your aesthetic, you could use pennants instead. Customize this garland to your style to take your spring decor to the next level.
4. Secret Garden Handmade Spring Garland Idea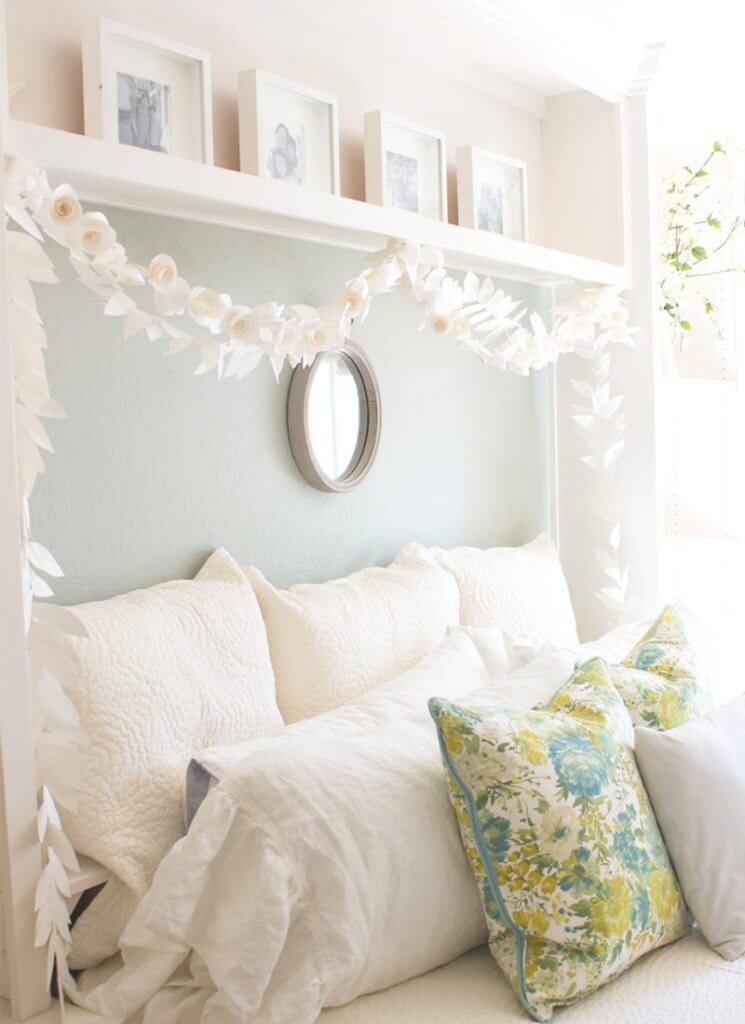 Escape into your own private garden with these double paper garlands. One garland features luscious leaves and the other consists of delicate rosebuds. White paper lifts the space up and provides an ethereal ambiance. While this image shows the two garlands intertwined, you could hang them separately. White is simple and beautiful, but might not be right for everyone's decor. To create your own unique garland, experiment with a variety of paper effects. For some interesting results, try watercolor paint, staining with tea, or even using crayons. Of course, you could skip white paper altogether in favor of patterned paper.
5. Playful Felt Ball Garland Featuring Bunny Ears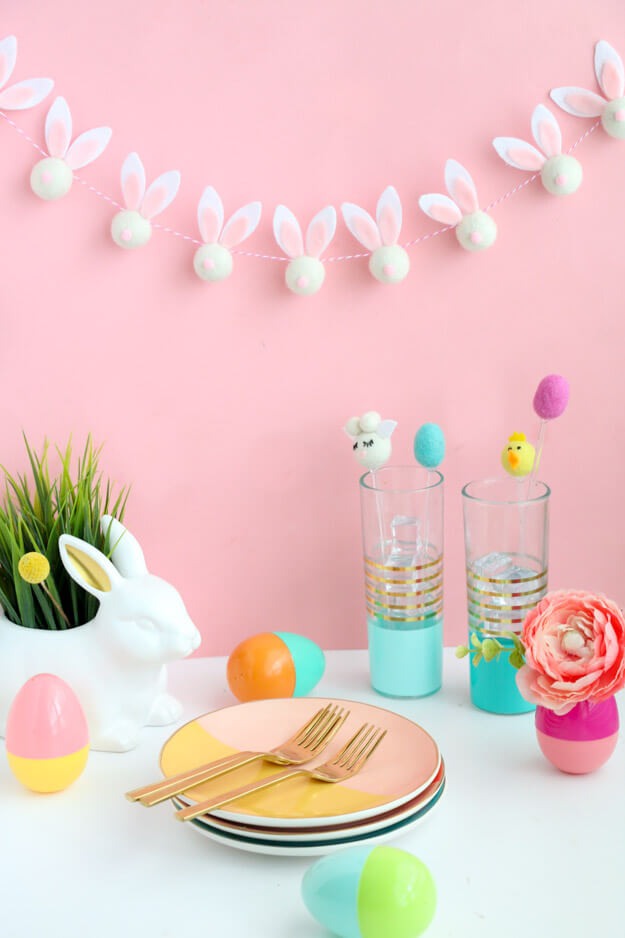 If you need a way to quickly transform your decor, check out this garland. Energizing your space is as easy as assembling these big ears and little noses. While this image shows the potential of white, imagine switching up the colors for some Easter magic. Easter bunnies can be bright blue, neon purple, or even sparkly. As the artist, you can unleash your creativity to design the perfect bunnies for your space. For an extra dose of cuteness, imagine including buttons or bows. Layer this garland with your favorite Easter decor for an ambiance that is both festive and playful.
6. Wooden Plaque Handmade Spring Garland Idea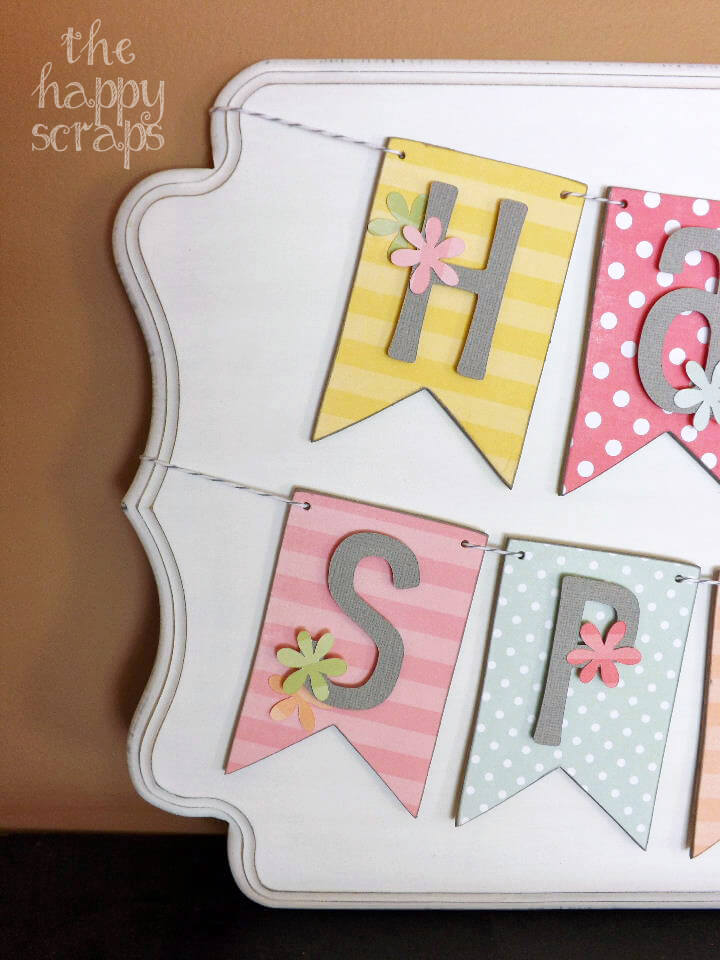 Sometimes, there is just no good place to hang a garland. For a unique way to display your garland, try using a wooden plaque. When you use this garland-hanging strategy, switching up seasonal decor is super easy. All you have to do is tape the new garland to the back of the plaque. To cultivate a springtime atmosphere, this banner mixes pastels, polka dots, and stripes. Remember to feature bright colors like yellow and subdued colors like gray to create some contrast. If worded signs are not your style, try using vintage rabbit illustrations or botanical prints for your homemade spring garland.
7. Vivacious Vining Leaf Green Garland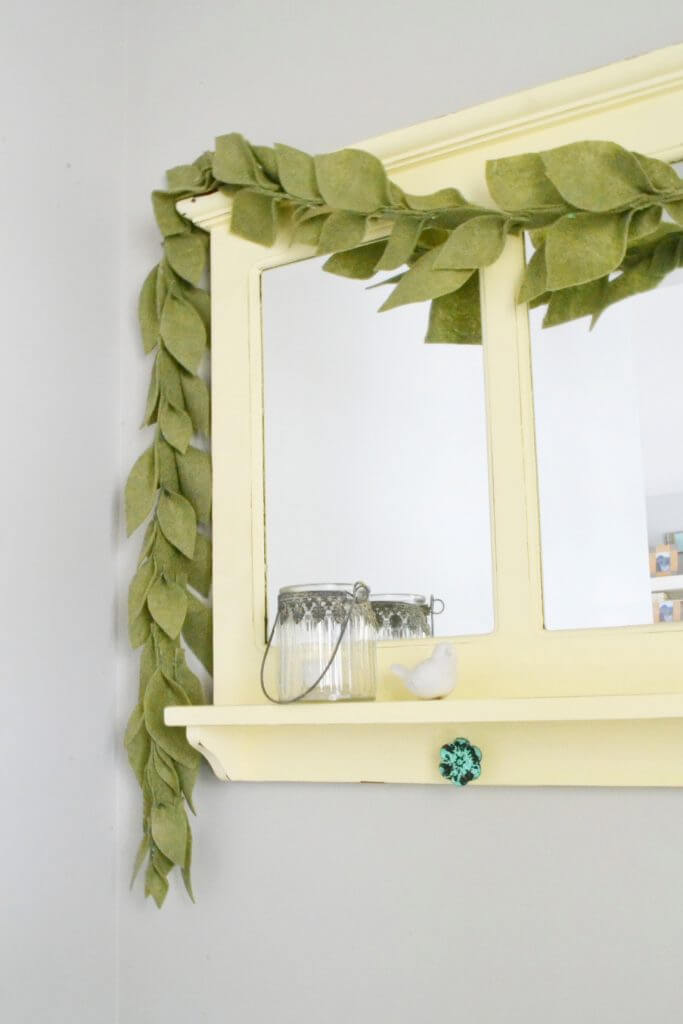 By sewing sage-colored leaves on both sides of the felt base, you achieve a fuller, more abundant vining garland. For a more natural appearance, use a few different leaf sizes. The best part about this garland is how many ways you can use it. Drape it over a mantle, a doorframe, an old window frame, or even as a centerpiece. It is simple enough to be paired with louder decor, but interesting enough to stand on its own. Add hook and loop fabric fasteners to felt balls in different colors to craft a garland that can change with the seasons.
8. Fancy Springtime Banner Using Doilies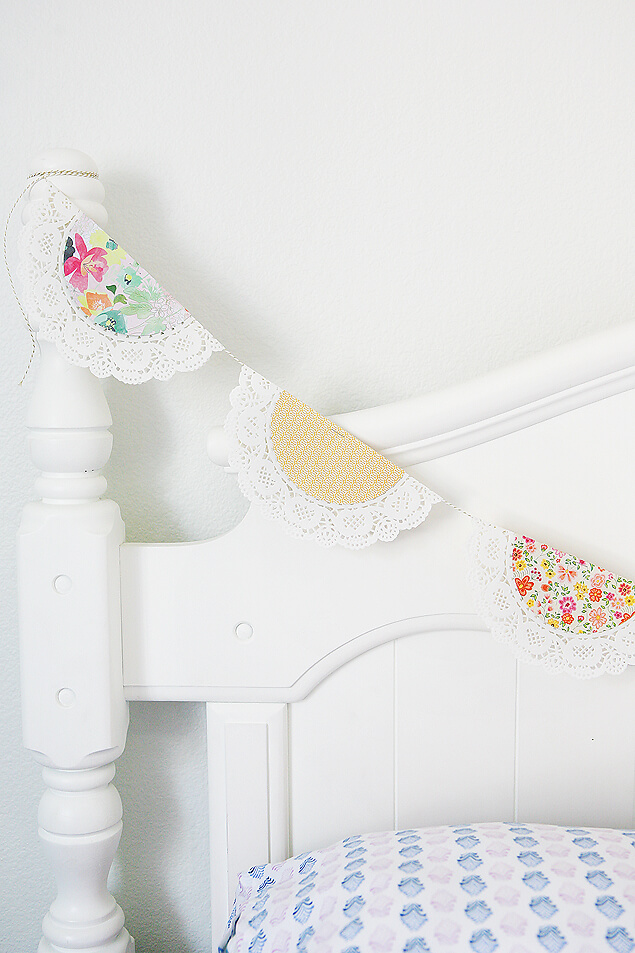 With their crisp white coloring and lacy patterns, doilies bestow elegance and romance in equal parts. Add your favorite patterned paper, twine, and a stapler, and you can quickly craft your own springtime banner. Skip the scrapbook paper in favor of glitter or sequins for a sparkly interpretation of springtime decor. For spring decoration rooted in muted neutrals, switch out the colorful paper for brown paper or even burlap. Because of the half-moon shape of the doilies, this garland looks best when draped bunting-style. Suspend it from a headboard, a curtain rod, or a mantle for some personalized springtime splendor in your space.
9. Vertical Leafy Garland Wall Hanging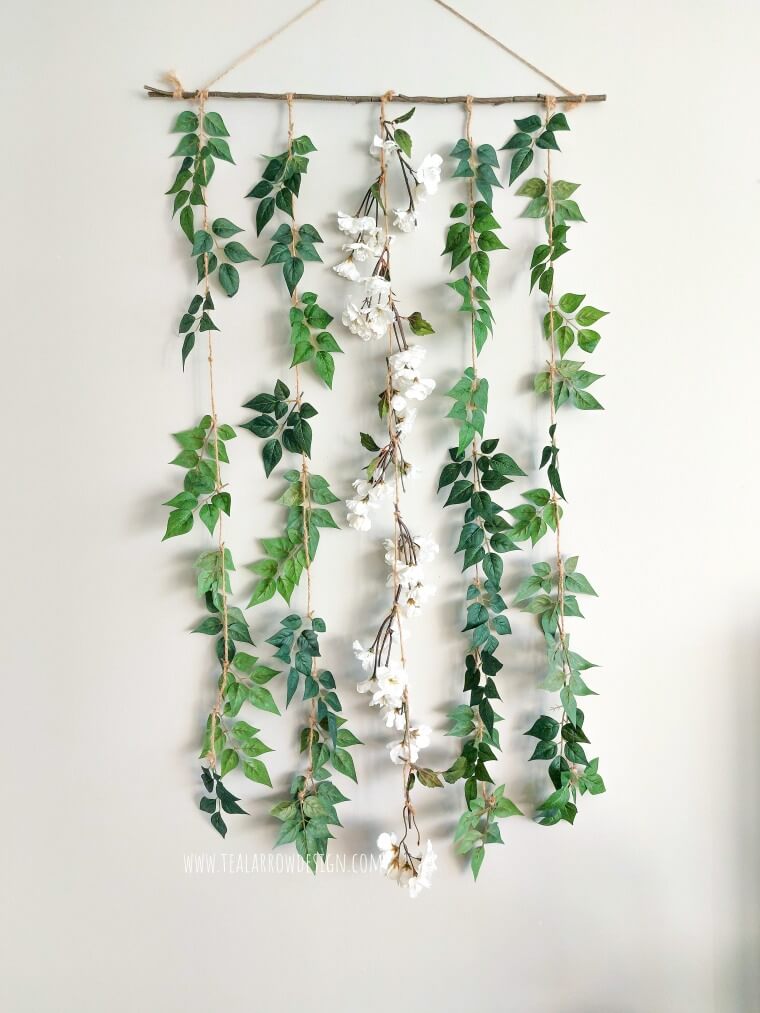 When you hang garland vertically as shown here, you use the power of symmetry to develop decor that soothes. The single floral vine dangling between ivy vines offers a focal point in a waterfall of cascading greenery. Switch out the white flower strand for your favorite handcrafted garland, and you have a unique way to showcase your springtime style. For more color, add long ribbons and bunches of bright blooms. For an ombré effect, use lighter flowers that gradually get darker as they get lower down the garland. With so much potential, do not be afraid to let your personality shine in this vertical garland.
10. Easy Felt Magnolia Leaf Garland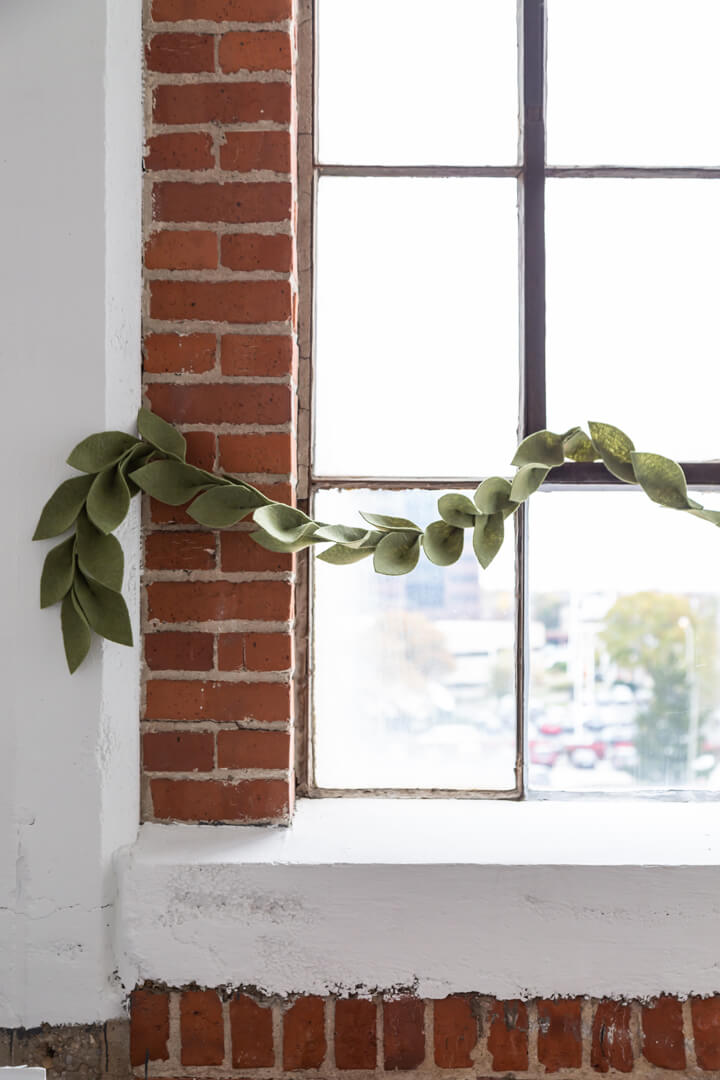 Immersing yourself in spring decor does not mean that you need to carpet every surface in flowers and bunnies. A simple green felt leaf garland is able to boost your spring decor ambiance without going overboard. To develop a space with bountiful spring abundance, use this garland in combination with more ornate floral decor. If you pick the right shade of green, you can leave this garland up all year to help fill out your other seasonal decor. Because it is both versatile and durable, this is one of the best spring garland ideas to increase the amount of greenery in your space.
11. Floating Flower Garland Wall Decoration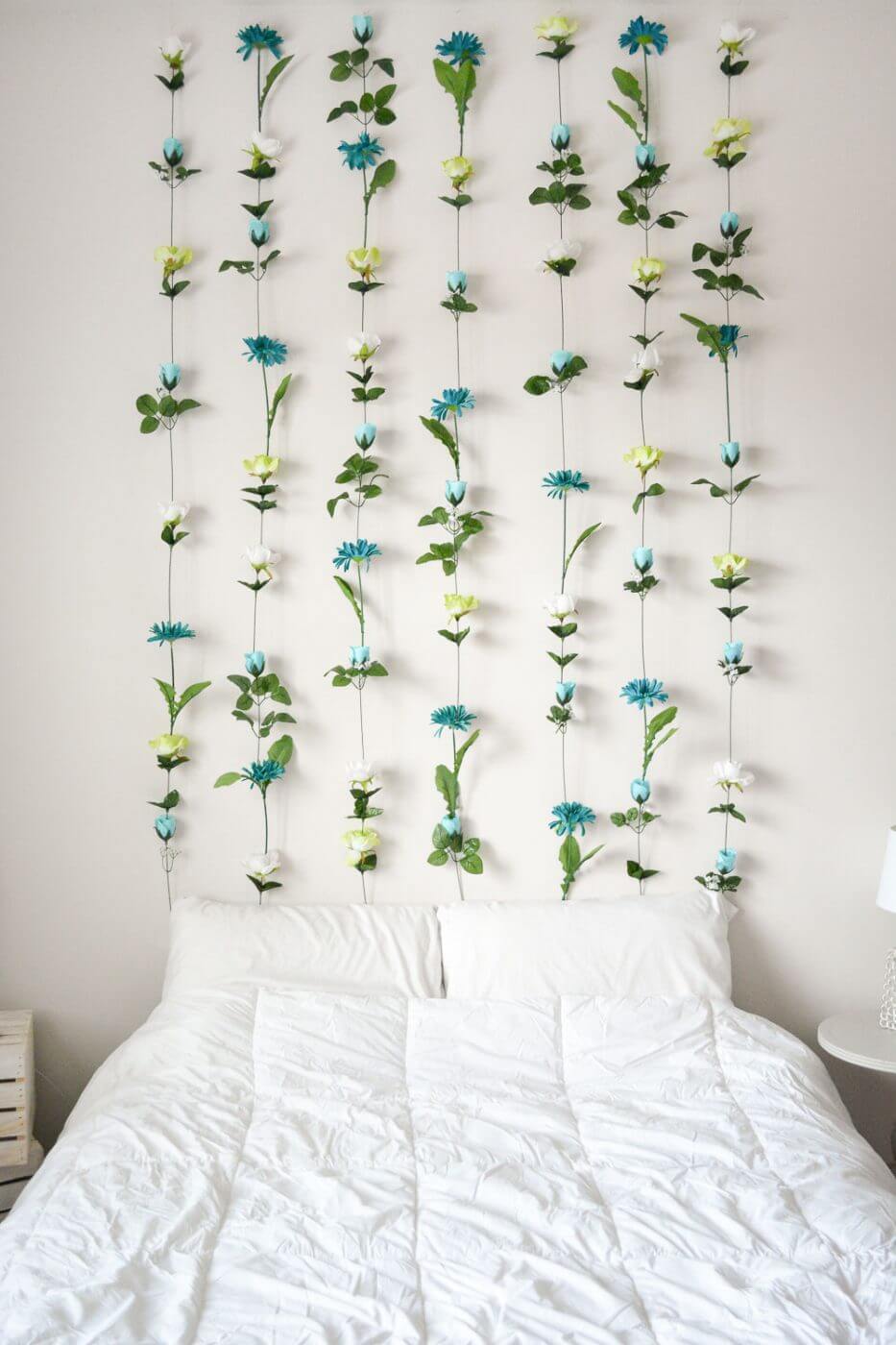 With a loop of fishing line and a pushpin, you can give your springtime garlands the appearance of floating magically upon your wall. Use this technique with any vertically hung garland to achieve this enchanting effect. Although it is beautiful, it might not be sturdy enough for homes with small children. This image shows that springtime decor does not have to include explosive colors like yellow, pink, and red to be effective. Rich green, soothing blue, and refreshing yellow-green give a space a rejuvenating vibe. Of course, you can use any flower types, colors, or patterns that suit your style.
12. Songbirds in Flight Homemade Spring Garland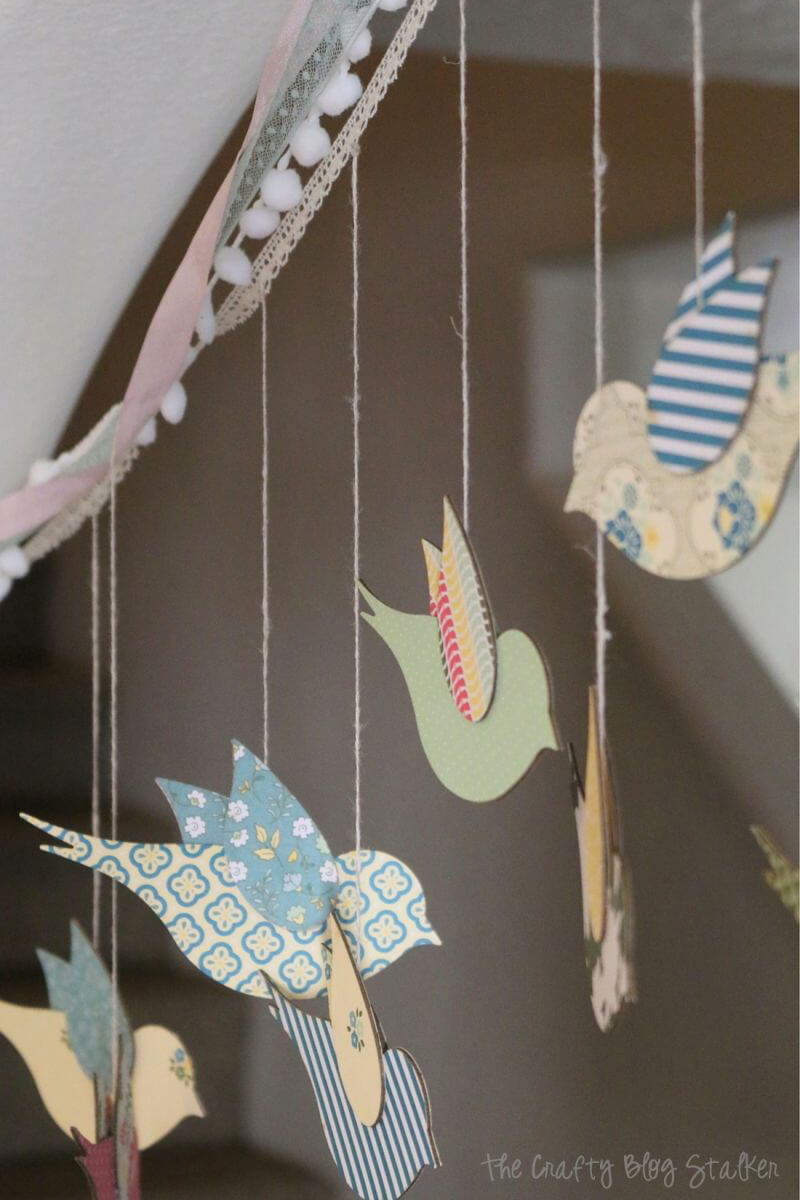 With a beautifully eclectic collection of patterned paper, this songbird garland makes a statement. To achieve a sense of motion, instead of stringing the birds directly together, suspend each bird independently as shown here. Hang this garland in a window, and you can watch the birds flutter in the spring breeze. To follow this tutorial, you will need a cutting machine. However, if your crafting arsenal does not include a cutting machine, you can create a less durable version with cardboard, a pair of scissors, and some patterned paper. For a more Scandinavian, try using wood instead of cardboard or chipboard.
13. Stuffed Paper Flower Hanging Sculpture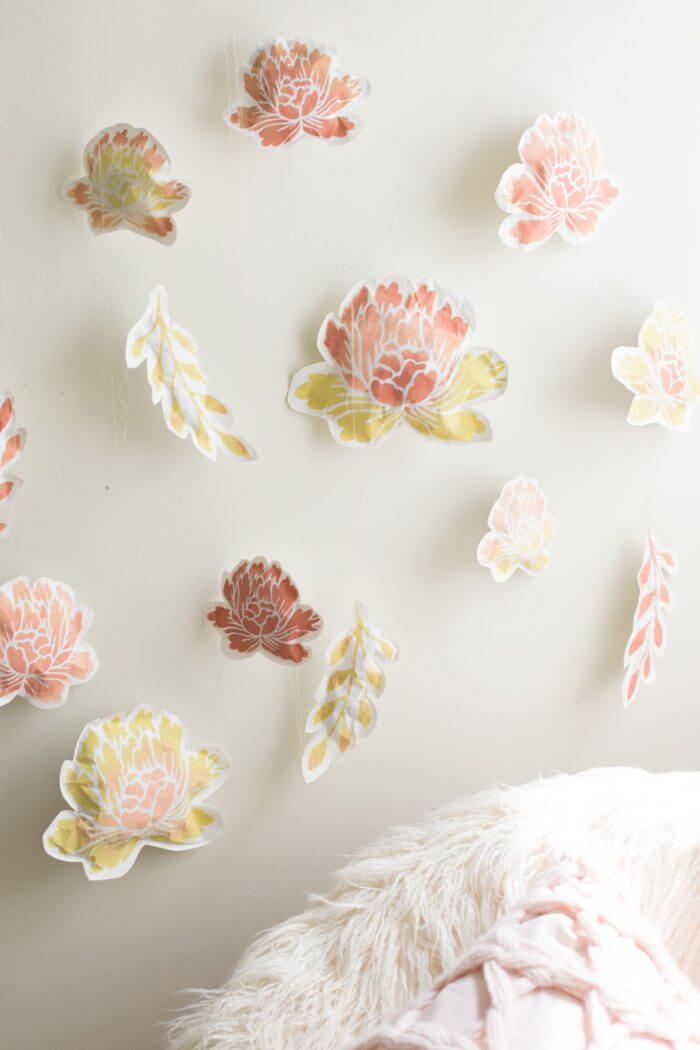 Stencils, paper, and a little stuffing come together to create the most imaginative flower garlands. That small amount of stuffing provides the ideal amount of dimension. Use any stencils, colors, or shapes to decorate your garland according to your style. If you do not enjoy stenciling and painting, you could print out any design and then stuff it. For a unique Easter garland, cut colored paper into Easter egg silhouettes and intersperse it with a few fun bunny shapes. Because this project is as easy as painting, sewing, stuffing, and hanging, it is a great choice to make with kids.
14. Dried Gomphrena Compostable Handmade Spring Garland Idea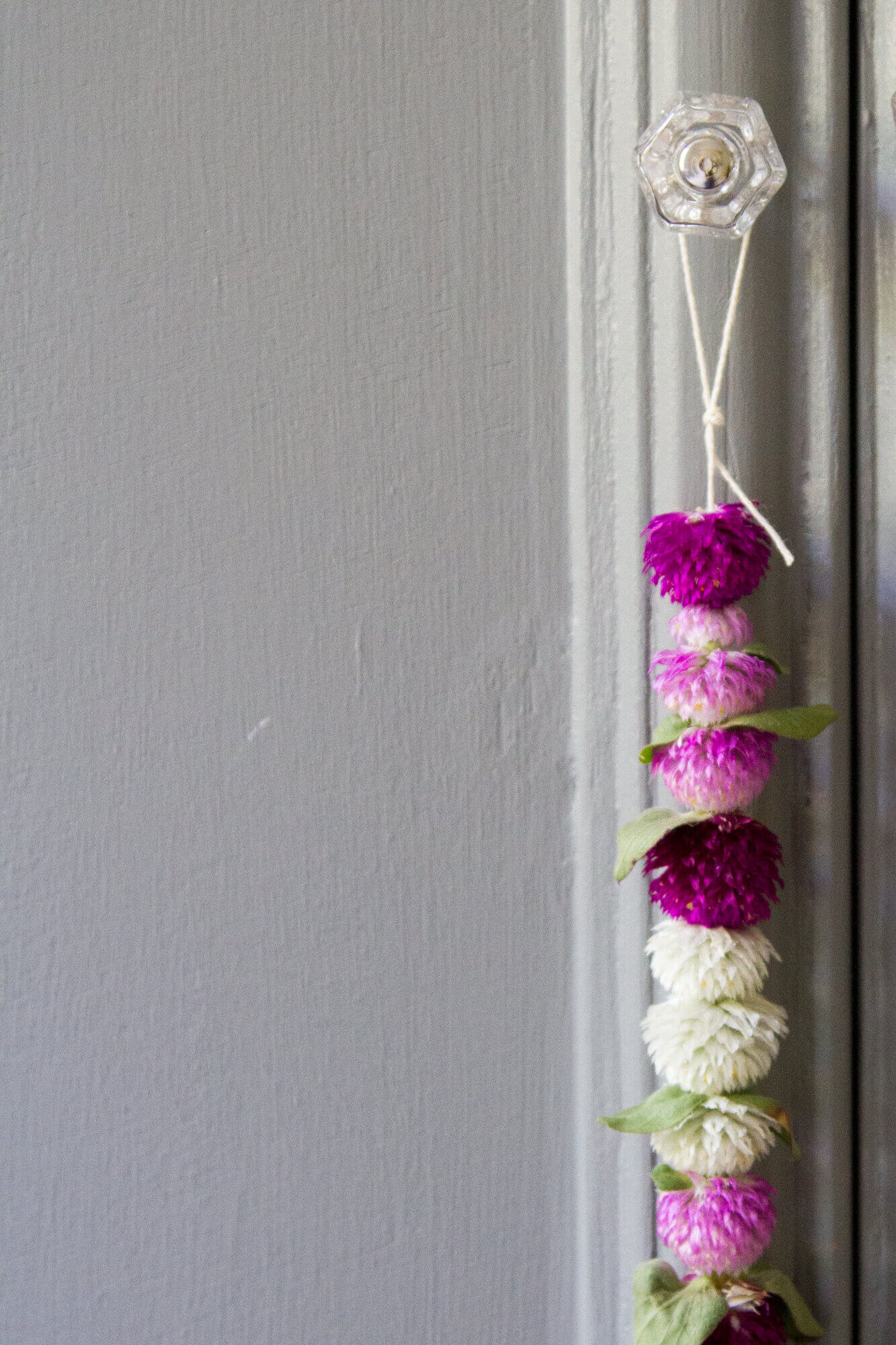 Although fresh-cut flowers are an absolutely glorious addition to spring decor, they do not last very long. Dried garlands like this one imbue the beauty of real flowers with the longevity of your other spring decor. If you use a string made from a natural fiber, you can even compost your garland when you are ready for a change. While this tutorial uses gomphrena, you could use any flower that dries well. Gomphrena blooms in late summer and early fall, so this is an excellent garland to make in advance. Find out which flowers dry well around you, and you can make your own locally sourced compostable garland.
15. Cardstock Wisteria Romantic Springtime Garland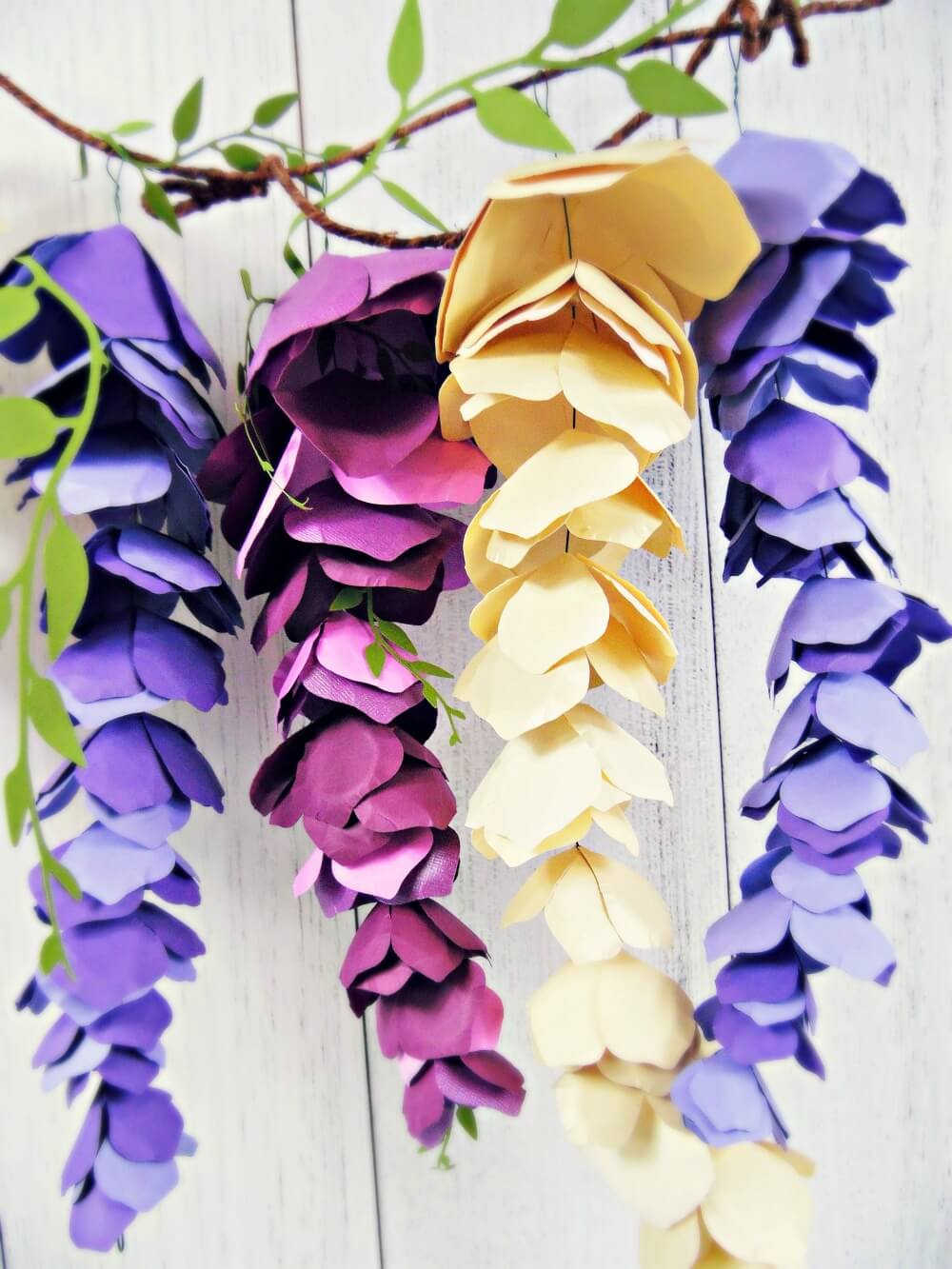 When roses are the only flower invited to the party, your decor can feel a bit stale. While there is nothing wrong with featuring a single type of flower, sometimes your heart yearns for something a little different. Cardstock wisteria is a great way to bring spring's overabundant bounty into your space. Although this tutorial works best when confined to purple or cream, there are so many possibilities that you might not even notice the restriction. Nothing can boost a room's soothing ambiance more than cool shades of amethyst. Alternatively, you can embrace purple's warm side to give your space an inviting atmosphere.
16. Muted Coffee Filter Flower Garland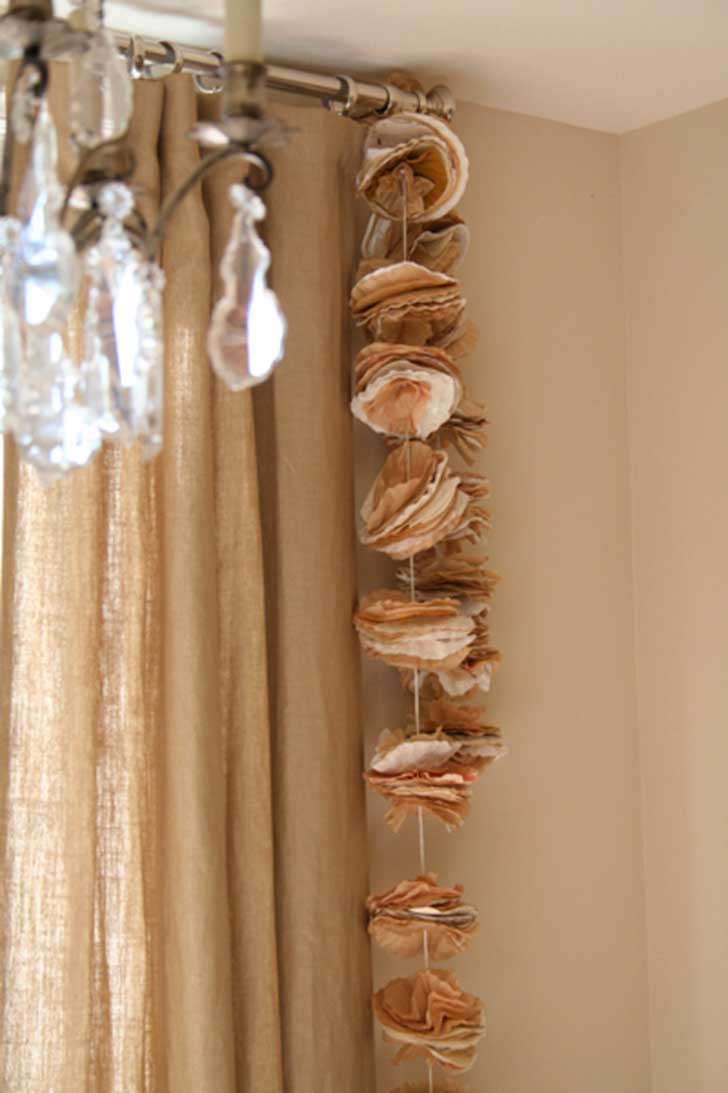 Besides adding some dimension, the brown decor is a way to anchor other, more colorful, springtime decorations. Sprinkle a few bright white bursts of sheet music throughout your coffee filters to add some visual interest. To achieve a little more variety in your coffee filters, you can experiment with tea or coffee staining. Of course, should you desire, you can include color in your coffee filter flower garland. For a delicately soft color, stain some of the coffee filters with different flavors of fruity drink mix. To cultivate cohesiveness in your space, introduce a single accent color throughout the soft brown coffee filters.
17. Fresh Flower Homemade Spring Garland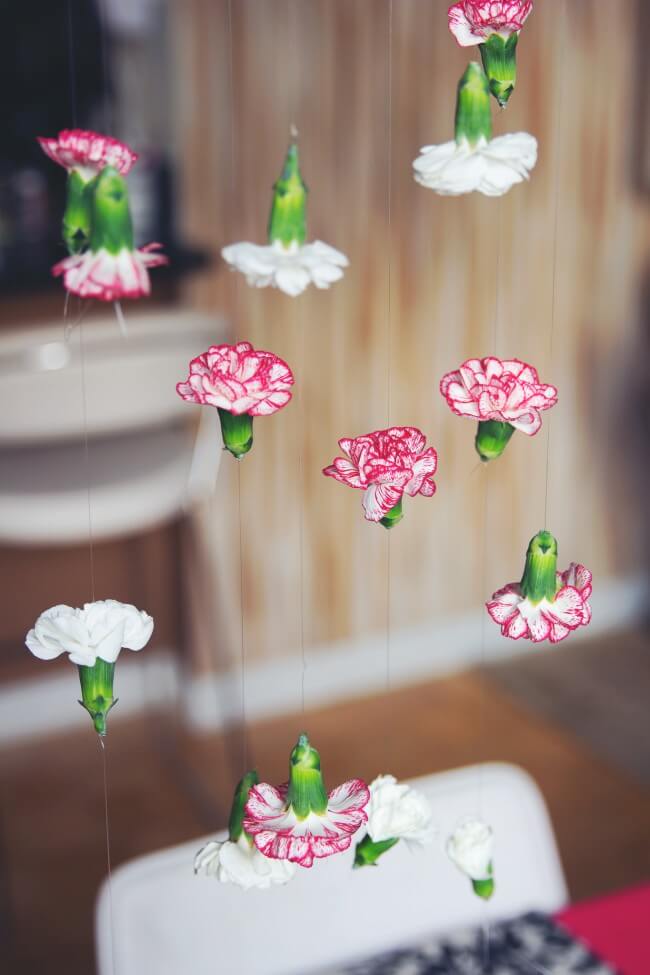 If you need a show-stopping floral focal point for a bridal shower, baby shower, dinner party, or holiday dinner, this ephemeral garland is the one to make. While this tutorial shows it suspended from a chandelier, you could hang from anything with enough elevation. For a flower garland that will last longer than a few days, use high-quality silk blooms instead of fresh-cut flowers. While there is a simple elegance in using only flower blossoms, you do not have to be limited. To achieve playful variety, intersperse the flower blossoms with any lightweight craft materials like buttons, tassels, or pom-poms.
18. Garland with Green and Gold Steamers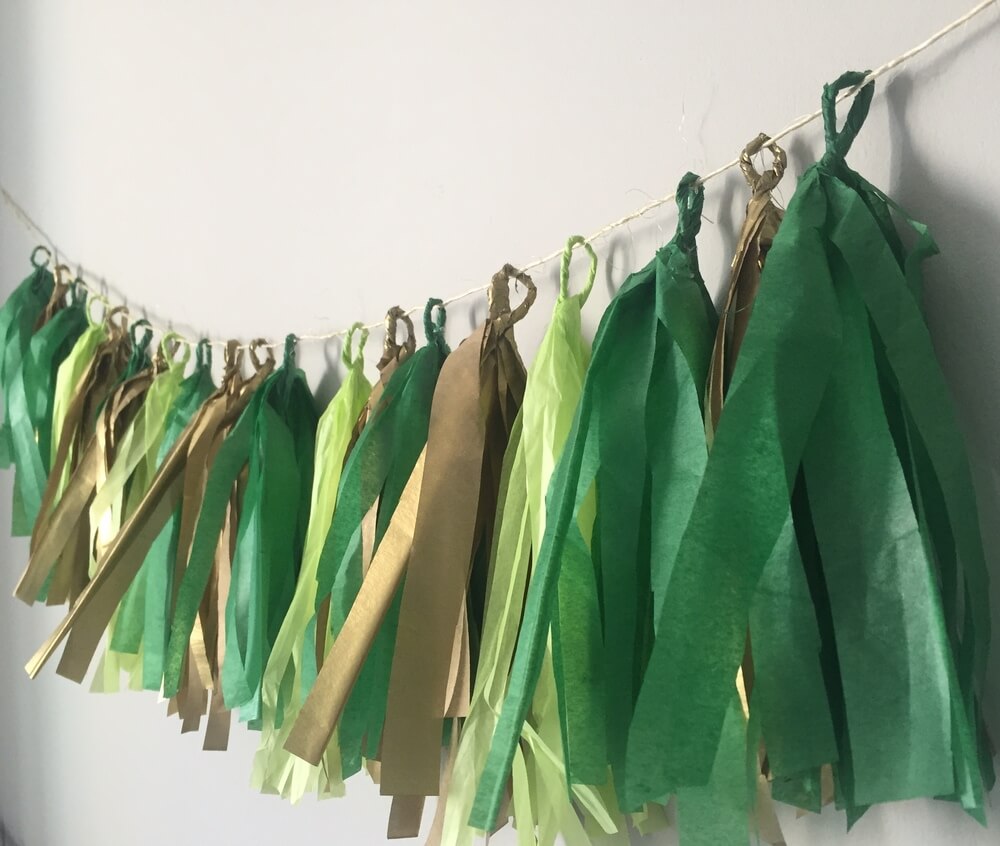 This garland is limited only by what colors of tissue paper you can find. This palette showcases two shades of green and a lustrous gold hue, but you can accessorize with pastel pinks or rich purples. Whichever colors you choose, it is a great craft project to keep kids busy. If hung in a window, the streamers will rustle in the spring breeze and add a kinetic element to your space. To give this garland an auditory component, thread bells onto the twine. To make this garland more romantic, add some lace ribbons. As a unique touch, origami cranes could lend some sculptural sophistication.
19. Flower Blossom Handmade Spring Garland Idea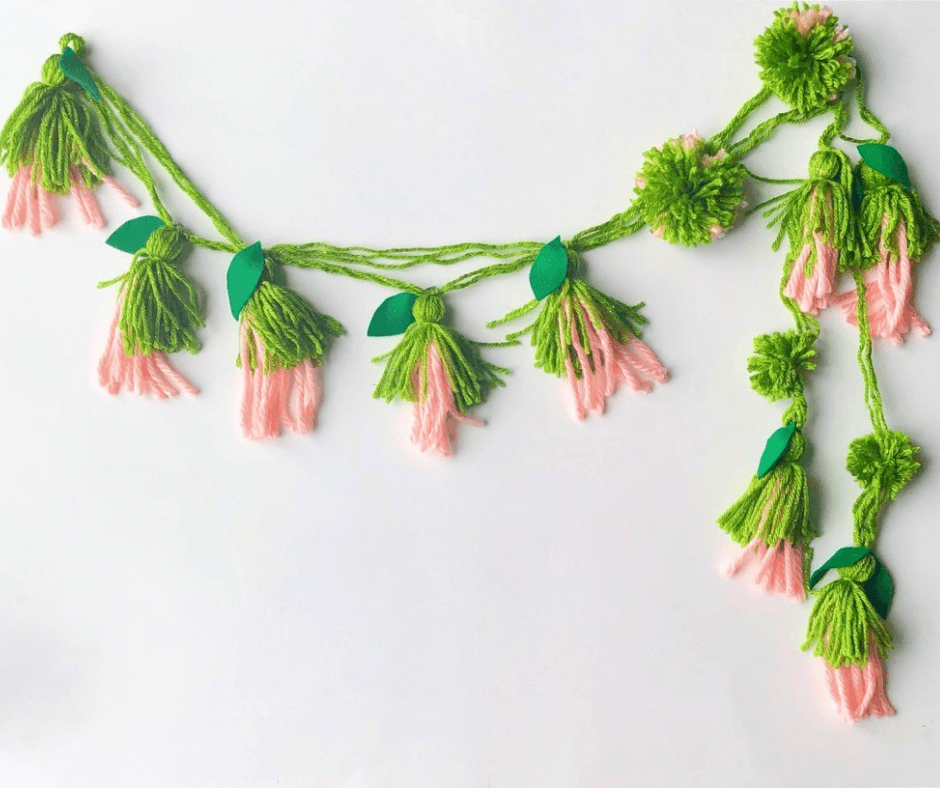 You can craft this garland using only yarn, felt, and glue. Of those, the felt and glue are optional. After picking your favorite floral colors, making the tassels is easy. As shown in this image, pink flowers and yellow-based green add warmth. For a cool effect, use a blue-based green with white, blue, or purple flowers. Although this garland features flowers that are the same color, you could mix and match to create the perfect palette for your space. Pastel flowers may be pretty, but bright colors can produce a tropical springtime garland. Imagine the possibilities for a jungle-themed nursery!
20. Ribbon & Easter Egg Spring Garland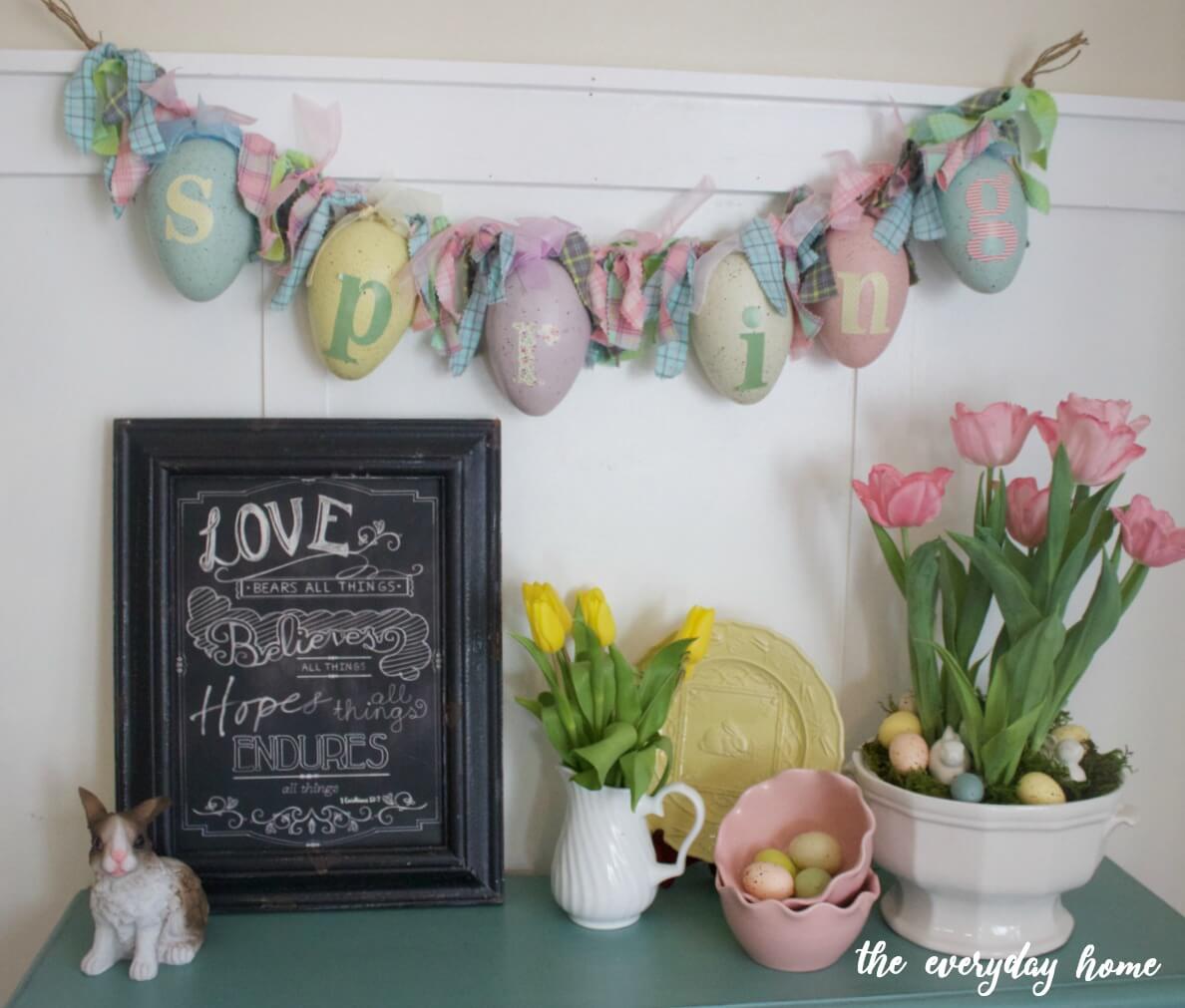 Large pastel-tinted speckled eggs are the perfect focal point for this Easter garland. Pick your favorite ribbons or rags to fill in the space between the eggs. All that cloth will imbue the garland with the feeling of springtime abundance. The best part about this homemade spring garland is that you can use whichever colors and materials look good with your space. Imagine showcasing crushed velvet and glittery silk for a glamorous space or burlap and pastel-hued buffalo plaid for a farmhouse look. Because lettering is part of this project, your garland can spell out anything you desire.
21. Upgrading Your Banner with Buttons and Burlap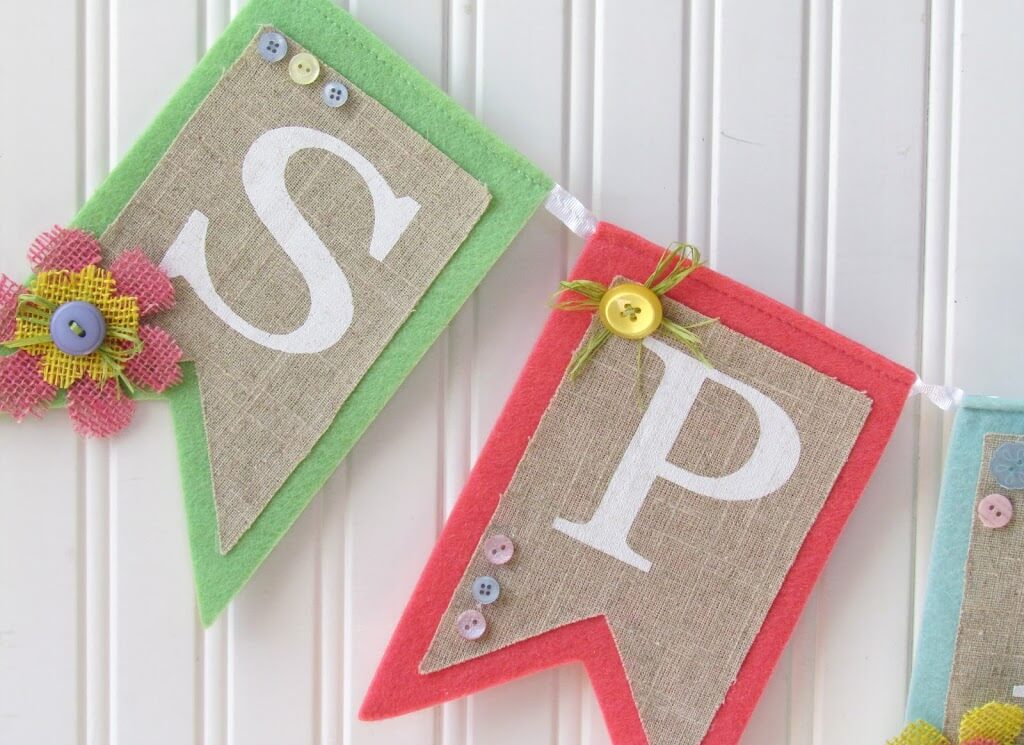 If you already have a spring garland that needs a little extra magic, it might be time to break out the buttons and burlap flowers. Because they are so easy to add, buttons are a great way to emphasize the shabby chic character. If none of your buttons are the right color for your springtime decor, break out the paint. Burlap flowers are easy to make if you do not have any on hand. Of course, you do not have to stop at buttons and burlap flowers – raid your craft room for anything that would look good with your spring decor.
22. Brown Paper Bag Bunny Silhouette Garland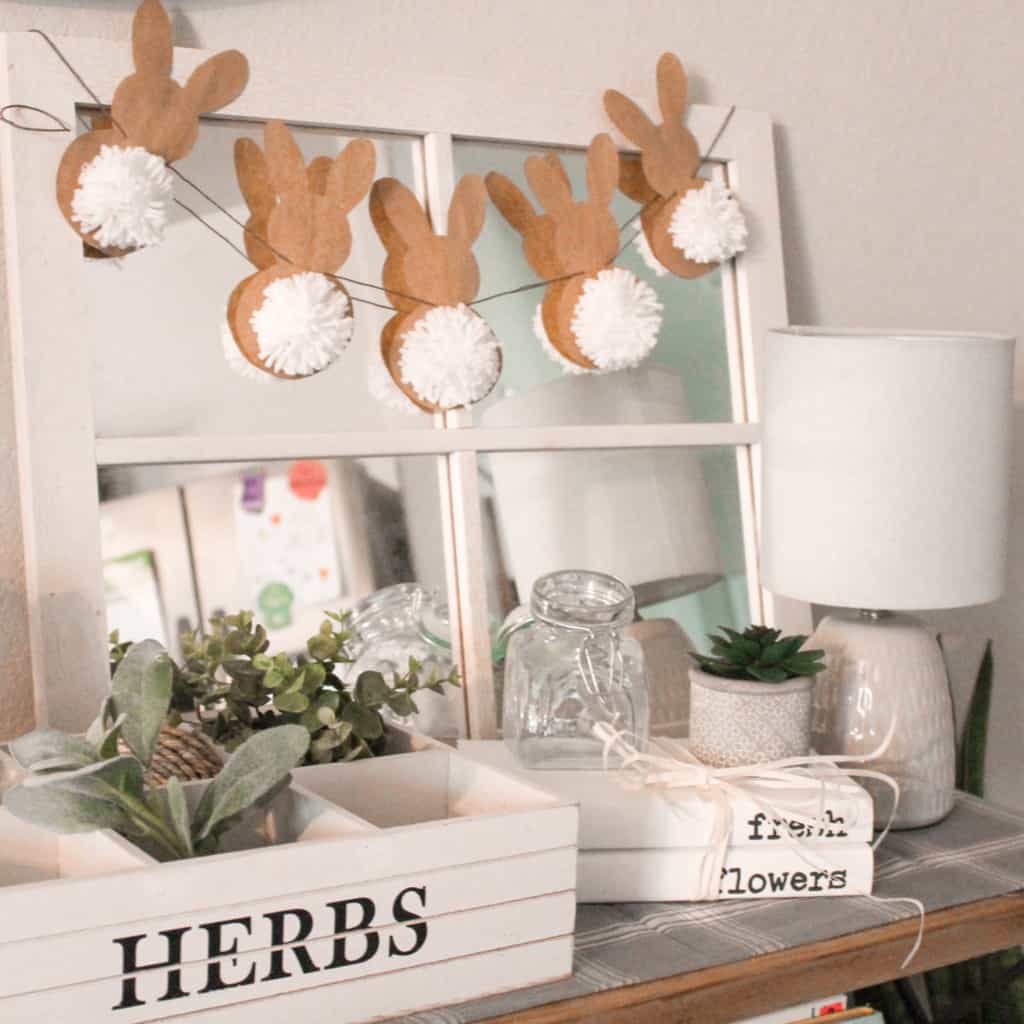 Made from materials you most likely have around the house, this bunny garland is a way you can decorate for spring in a hurry. For a space dominated by neutrals, the brown paper bags and fluffy white tails turn these bunnies are more than a garland – they are a cohesive element. However, you can use whatever you have to make these bunnies just right for your space. If you prefer a Bohemian feel, use some exciting yarn colors for the tails. To give your garland the perfect finish, try making the bunny silhouettes with wrapping paper, scrapbook paper, or even gift bags.
23. Three-Dimensional Easter Egg Book Page Garland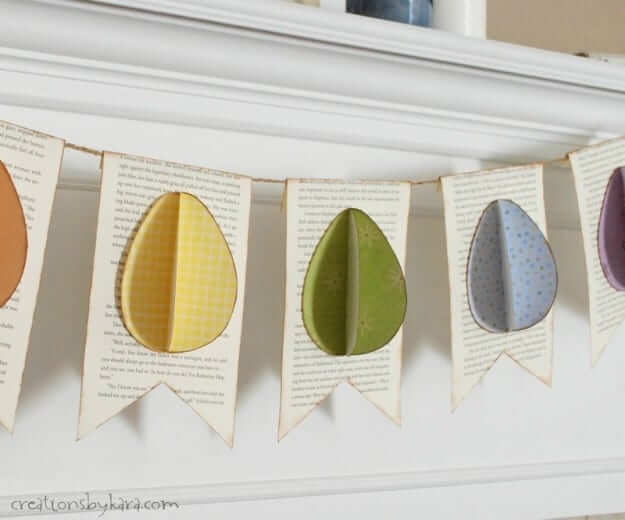 When it comes to balancing spring playfulness and subtle elegance, this garland is the way to go. Decorating with book pages is an easy way to add a sense of sophistication to your space. Patterned paper creates the perfect amount of spring exuberance to the garland. To make this garland fit your space, include buttons, ribbon, burlap, silk flowers, tassels, and even pom-poms. However, like all old book crafts, you may want to scan the contents of the page for anything unpleasant before starting on your craft. If you do not have any old books, you can use sheet music.
24. Carrot and Mossy Egg Garland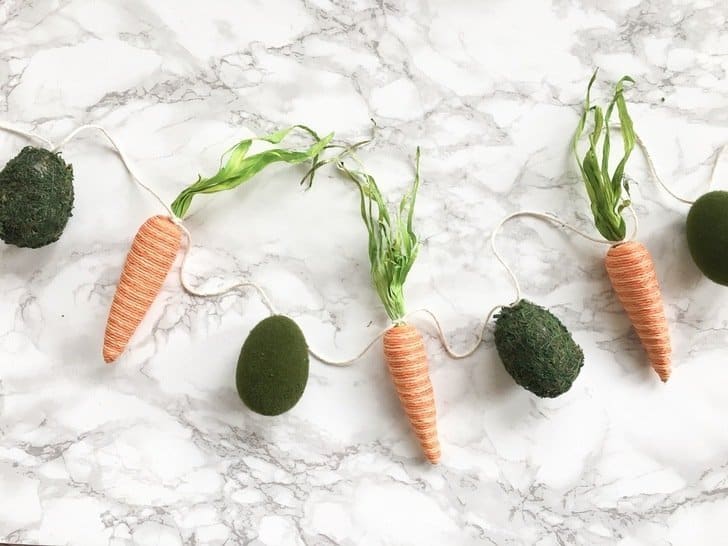 If you do not want your springtime decor to feel overrun by bunnies, try including some rabbit-friendly accessories as well. Carrots, while beloved by rabbits, are also a great way to begin decorating for spring. Vibrant orange and fresh yellow-green are bright and refreshing after winter's subdued palette. Pair those exuberant colors with rich, mossy green, and you have created a lush landscape of color. While these were purchased as they are, you can use this idea as inspiration to create your own homemade spring garland. Use your imagination and form carrots from yarn-covered cardboard, cloth, crocheted yarn, wood beads, or nearly anything.
25. Faux Birch Wood Pennant Garland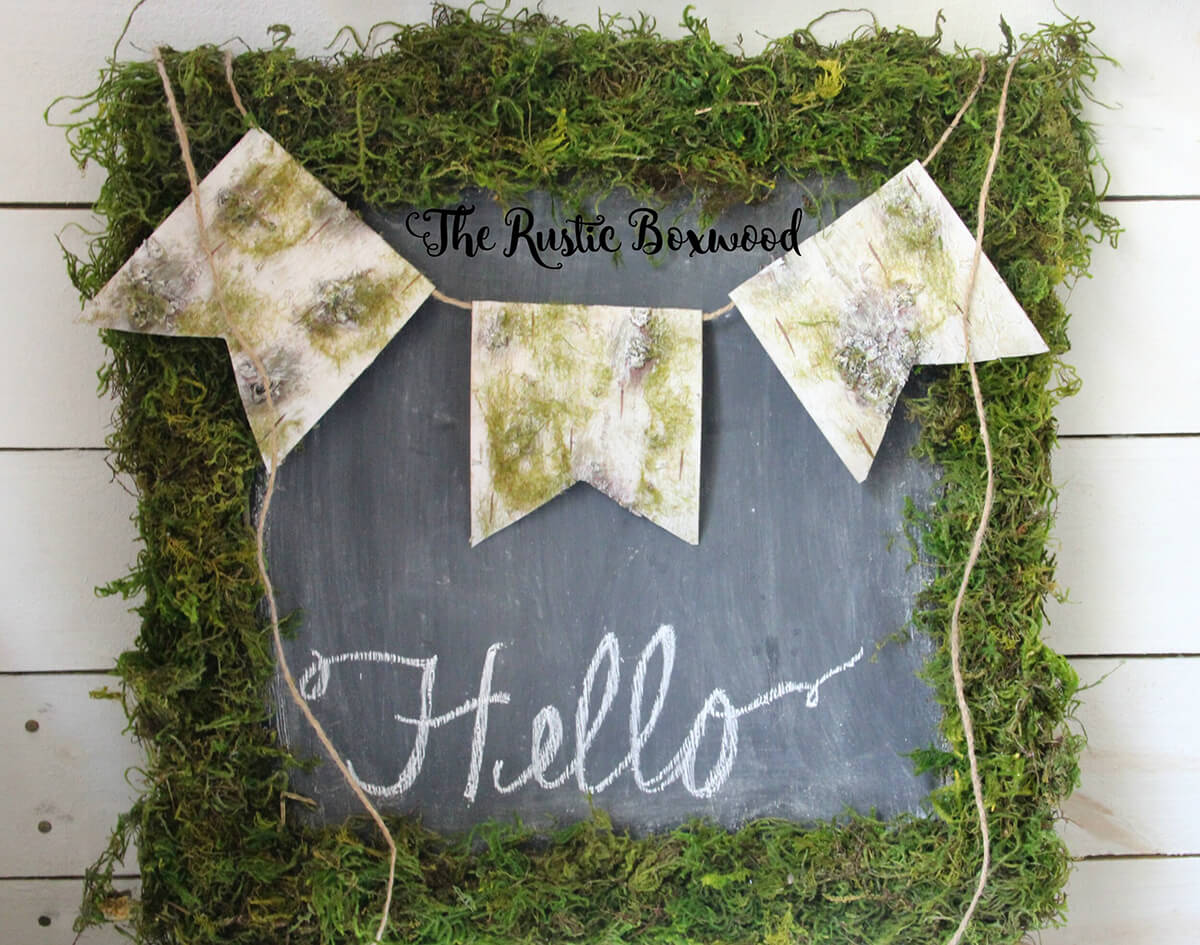 Garlands do not need to be a room's focal point to be an effective part of your decor. In fact, some of the best DIY spring garland ideas fade into the background to develop an immersive ambiance. With a spool of faux wood, you can bring the outdoors into your space. Depending on which faux wood you choose and how you decorate your pennant-style garland, it can stay up all year long. Layer your seasonal garlands over these faux wood pennants for some absolutely exquisite effects. If blank pennants are too dull for your decor, spice them up with buttons, flowers, or letters.
26. Playful Springtime Gnomes in Pastel Colors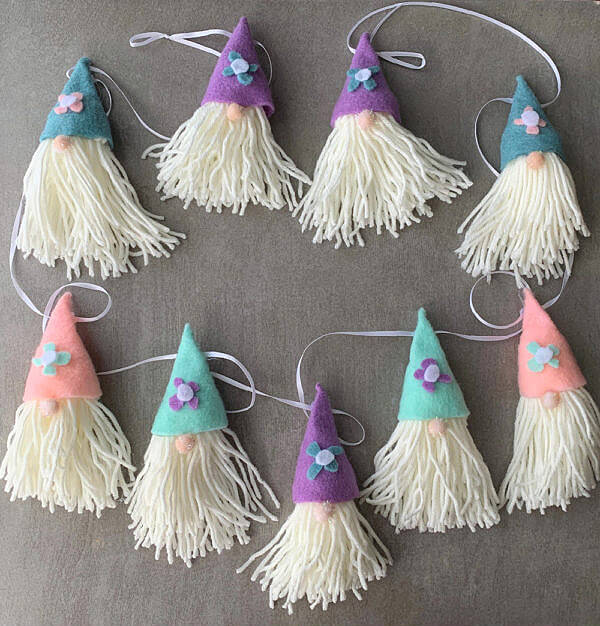 If gnomes are welcome in your decor, this tutorial might be just right for your space. While this image shows white-bearded gnomes with pastel hats, you could create gnomes in whichever colors you desire. Choose yarn and felt in whichever colors work in your space. Imagine gnomes with sparkly purple beards and bright white hats. To add another layer of texture, experiment with different yarn types. Alternating fuzzy, acrylic, and chenille yarn for your gnome beards can create a scintillating effect. Customize even further by creating your own springtime hat design. For a cleaner feel, leave the flower off altogether.
27. Kid-Friendly Bunny Tail Garland Craft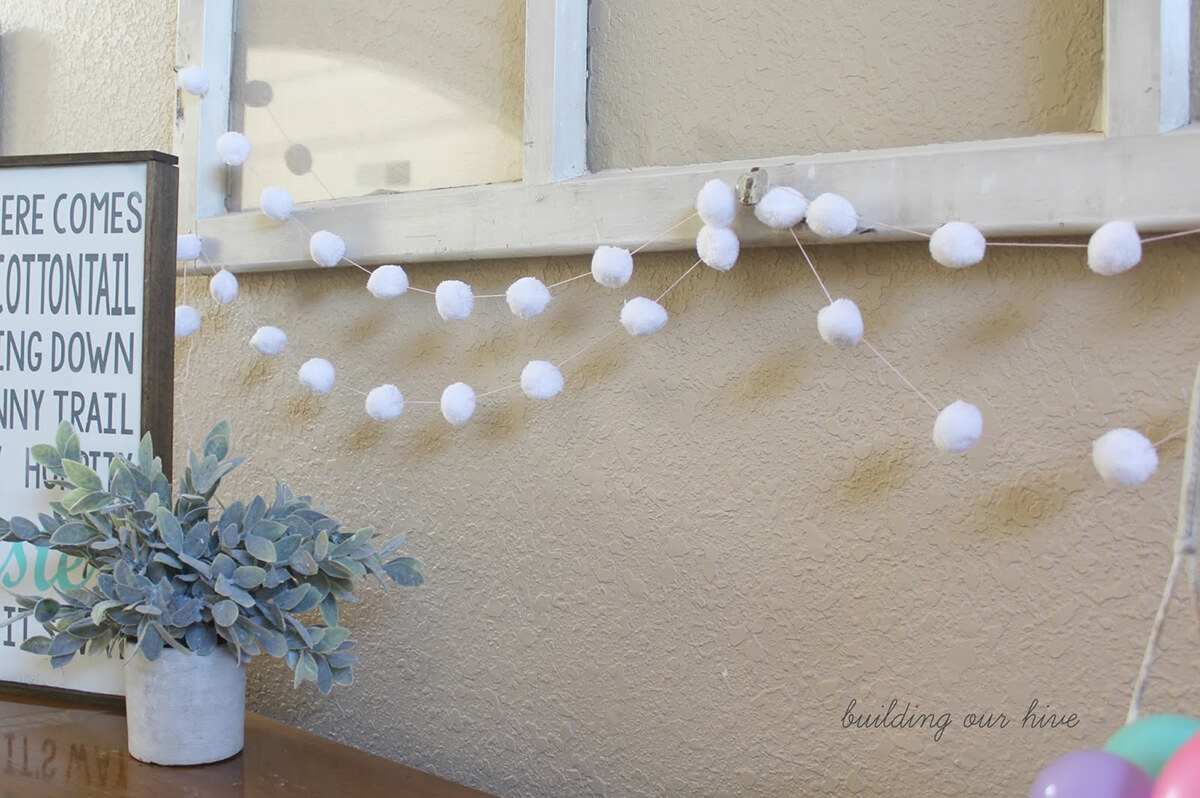 As one of the best DIY spring garland ideas to make with children, this bunny tail garland is both easy and fun to make. All you need are white cotton balls, thread, and a needle. When paired with bunny decor, these garlands are dynamite. To give your rabbit tail garland a more festive feel, intersperse the white cotton balls with pastel pom-poms. For an opulent upgrade worthy of glamorous decor, add tassels. Burlap flowers or wooden beads are a great way to bestow some farmhouse flair. The best part about this garland is that it is so versatile and open to customization.
28. Faux Flower Garland Perfect for Photo Backdrops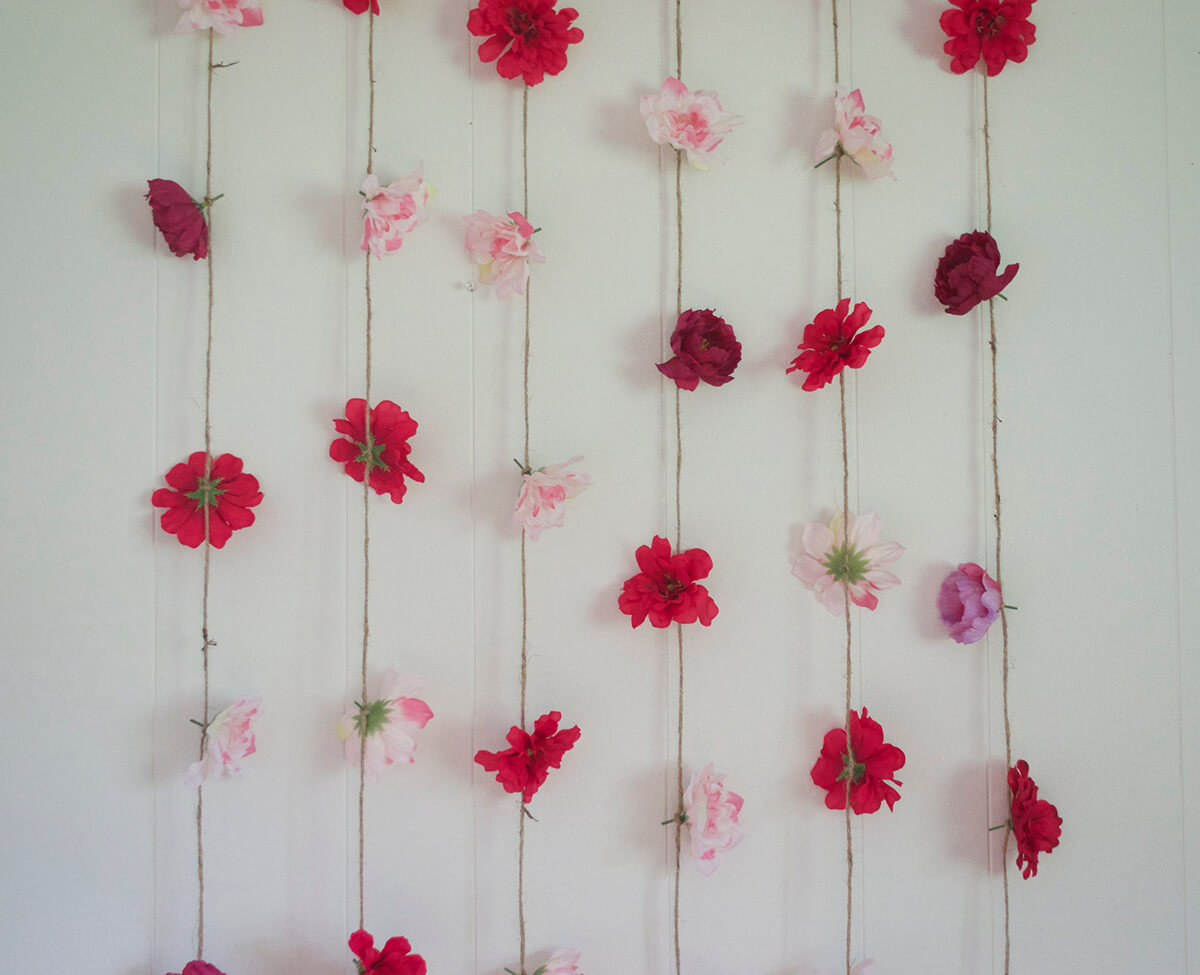 A wall of tumbling flowers makes it easy to embrace spring. You can use this technique for a fun photo backdrop or identify an accent wall. Will you use twine as shown in this image for a rustic effect, or is moss-hued chenille yarn the right look for your decor? For a cleaner look, try using some fishing line. If this garland is a little sparse for your space, add more blooms for less negative space. Of course, this technique is not limited to flowers. Any item is fair game as long as it is lightweight, can be tied onto the garland and reminds you of spring.
The Top 28 Best DIY Spring Garland Ideas to Make Your Space Feel Like Spring
How you display your garland changes how it feels. If you are decorating a small room for spring, try hanging your garland vertically to make the space feel taller. Of course, hanging garland with dramatic swoops can add a little romance to your space. Maybe the right look for your decor is to drape your homemade spring garland across a doorframe or mirror. To fill out your space, try layering two (or more) garlands. If you do not love how it looks at first, you can always reposition it and try again. No matter what your style, theme, or palette, there is a way to modify these spring garlands to fit your space.
Spring is a time of transformation and includes a wide variety of looks, feels, and styles. It is also the perfect time to experiment with new crafting techniques, fresh colors, and invigorating textures. Spring decor can consist of anything from Easter bunnies and pastels to vibrant St. Patrick's Day greens. It can consist of bright explosions of color or muted browns with refreshing greens. Building the best DIY spring garland ideas for your space can mean different ideas for different styles. Fill your home with decor that represents springtime splendor and brings you joy. If it makes your heart smile, include it in your garland.