The best DIY star decorations exude feelings of hope, warmth, and wondrous possibility, just like stars themselves. Who hasn't looked up at the night sky and made a wish on the first twinkling star? Wishing on a star is a rite of passage for most children, and a lovely tradition for adults to continue. The unique thing about a star is that its symbolism transcends many cultures and religions, giving it broad appeal. By viewing a star, we are reminded we all are as unique as they are. Like a fingerprint in time, their uniqueness mirrors our uniqueness.
24 Cool Ways to Shine with DIY Star Decor

The perfect way to bring these heavenly bodies and all of their magical appeal into your own home or office is to create handmade star craft projects! There are a myriad of techniques of all skill levels that you can explore to achieve the best DIY star decorations for your space. Free star patterns and templates can be found in online to assist. Supplies can range from free wood or recyclables to higher end LED lighting kits. Whether your aesthetic is calm and cool, rustic chic, or eye-catching glitz, here are great homemade star decor ideas, perfect for all kinds of vibes.
1. Oversized Woodland Whimsy Pinecone Star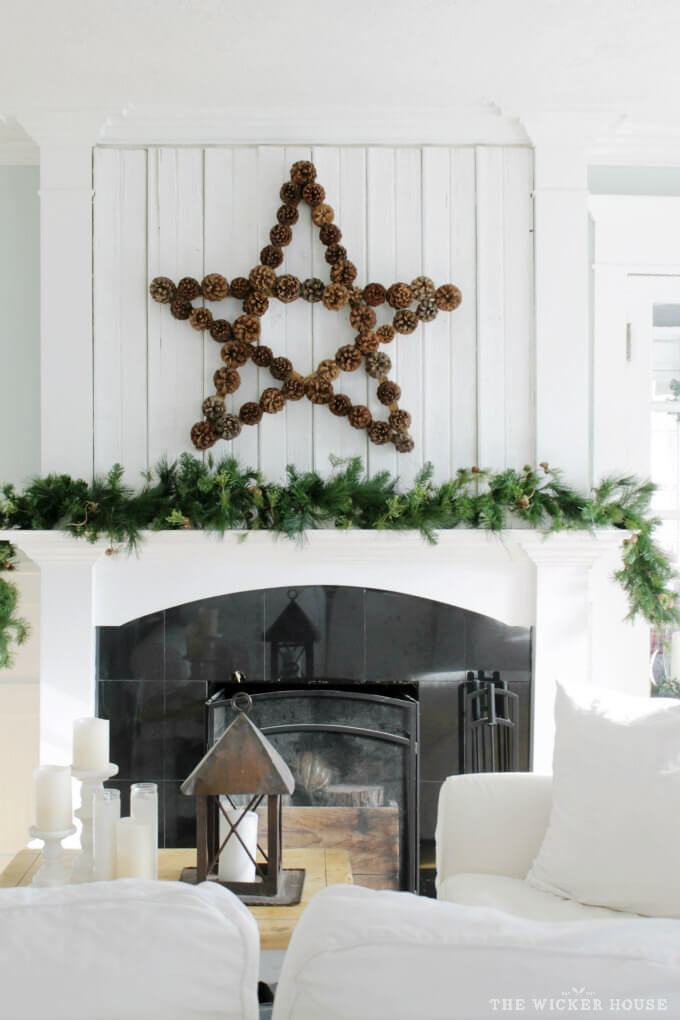 What is the secret ingredient to making this? Yardsticks! Add wooden pinecones to easily craft a homemade star that will leave your home looking and smelling great (try the cinnamon-scented pinecones!)
2. DIY Paper Stars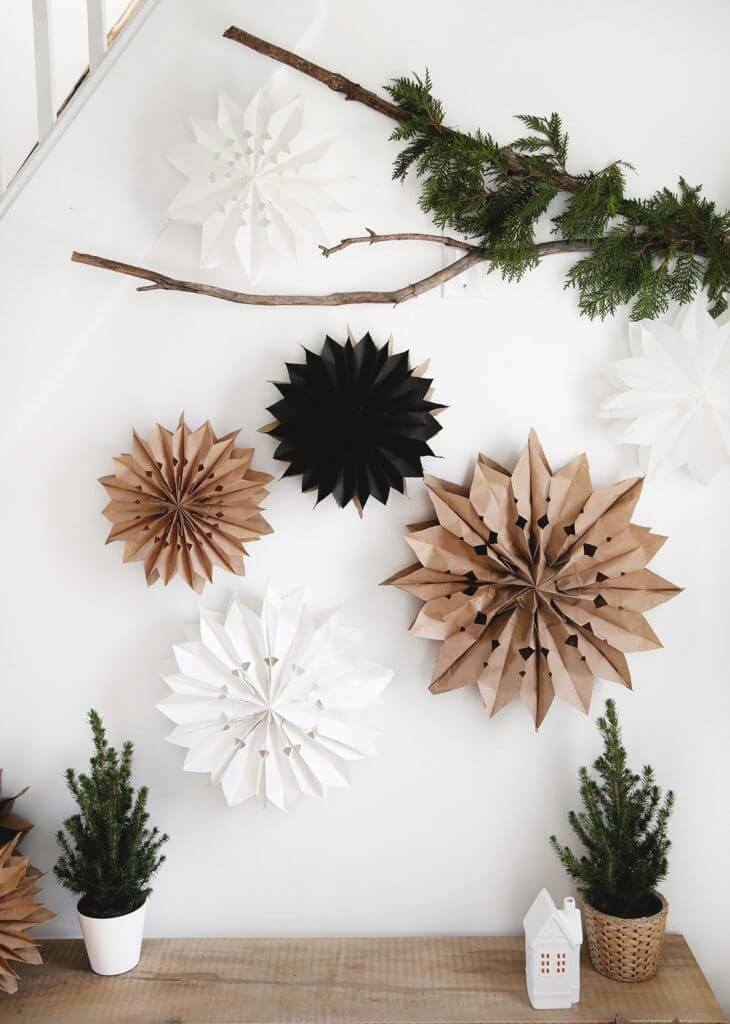 Using paper with a grown-up color palette, fold extra crisp pleats and add varying snips with sharp scissors to create homemade star decor ideas with an ethereal look.
3. DIY Wood Bead Ornaments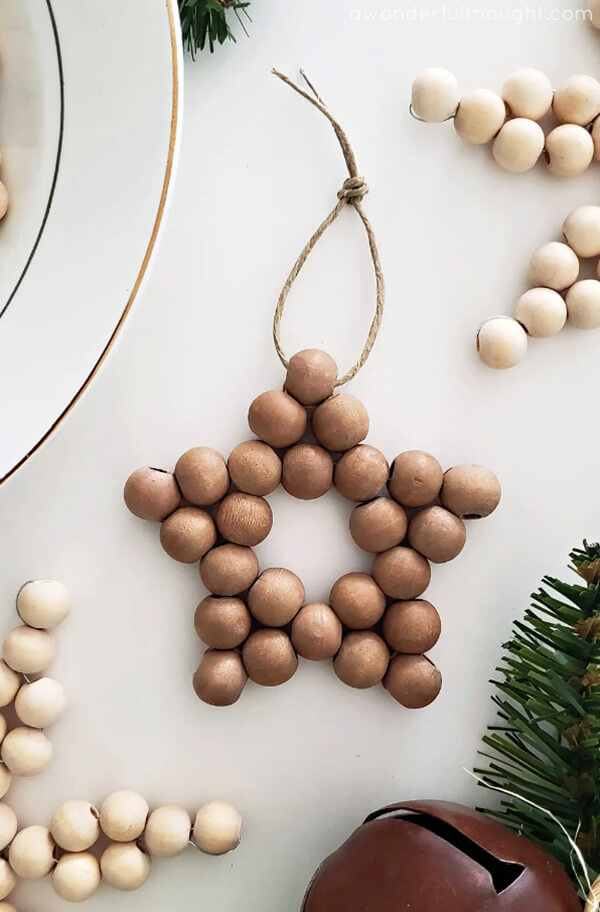 A divinely inspired holiday tree can be filled with stars of all varieties. For a unique take, experiment with natural colored beads in different sizes. Top with a humble jute loop.
4. DIY Cardboard Barn Star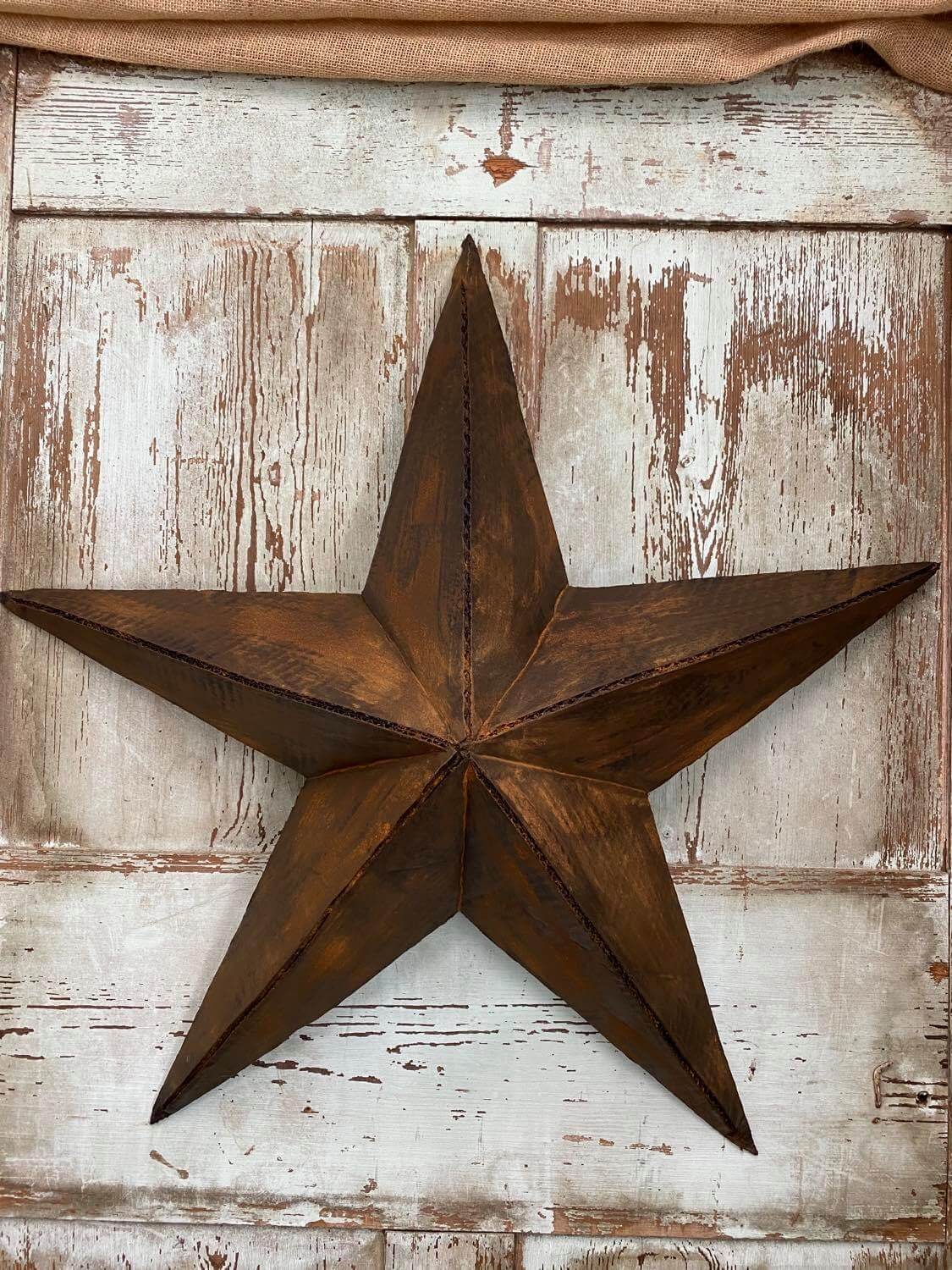 This homemade star decor idea gives a vintage feel; The elements will lend a weathered patina over time, adding a layer of earthy chic.
5. Cost-Effective Coat Hanger Wreath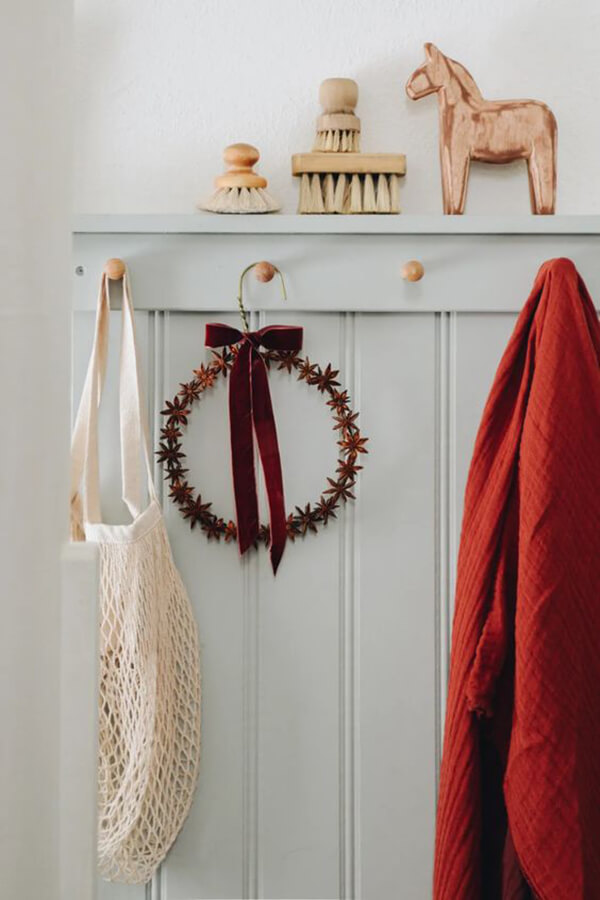 You can add new life to your mudroom by simply adding the star shape to a simple coat hanger bent into a circle and adorned with ribbon. For pennies, you can add whimsy and warmth to a dull space.
6. Twinkle, twinkle, glitter stars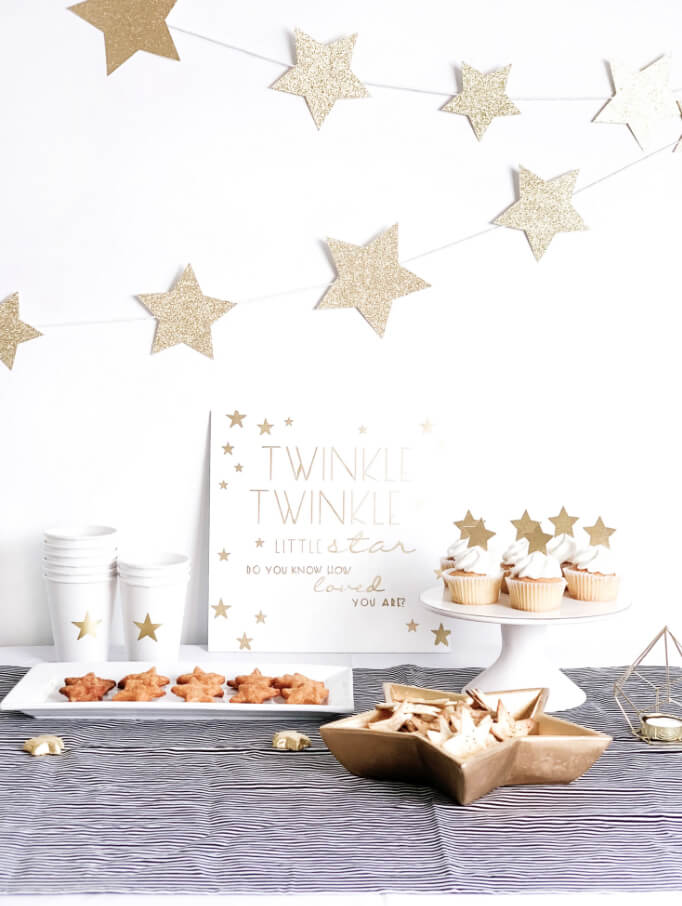 Shine on your next special occasion by going full glitter mode in one of the best DIY star decorations for pizazz–glitter buntings! Got parties on the horizon? Glitter star garlands will have your guest of honor feel like the star of the show.
7. Starry Glow Garland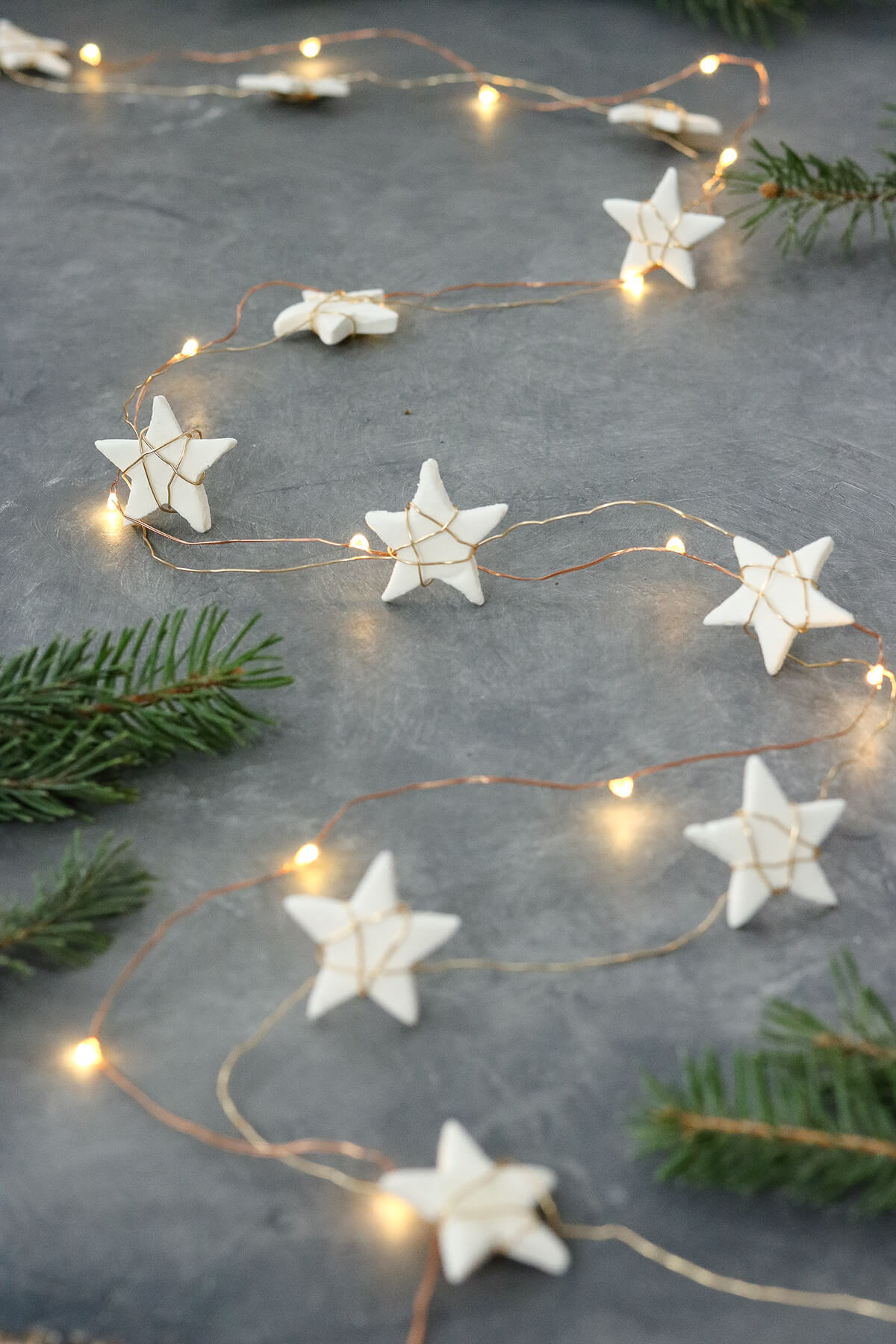 Wrapping fairy lights around stars cut from air-dry clay can boost the starry glow around a teen's desk or a college dorm room. Make several strands for a child's personal Christmas tree–or better yet, involve them in the star-making.
8. Chunky Wall Stars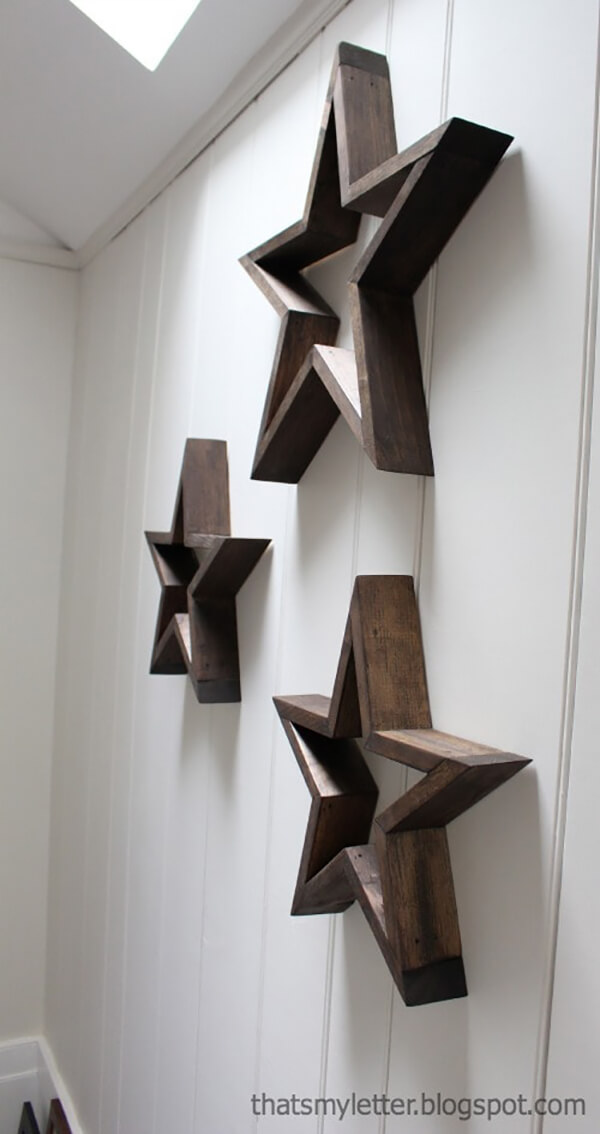 Though these have tricky angles to construct, your reward for all that precise measuring is sturdy star stoppers with warmth and dimension that will hang beautifully with just one nail.
9. Wooden Star DIY Christmas Decoration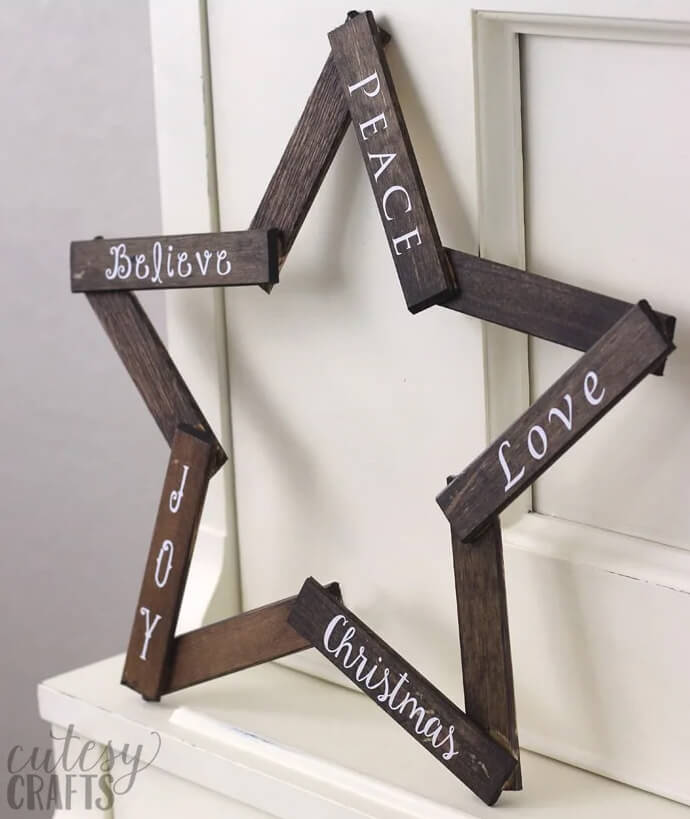 Make a star as unique as yourself by staining your own slats to suit your mood and applying words with a stencil or vinyl stickers. Whether festive or inspirational, this handmade star craft project has personalization potential.
10. Sweet Plushie Crochet Star Pillow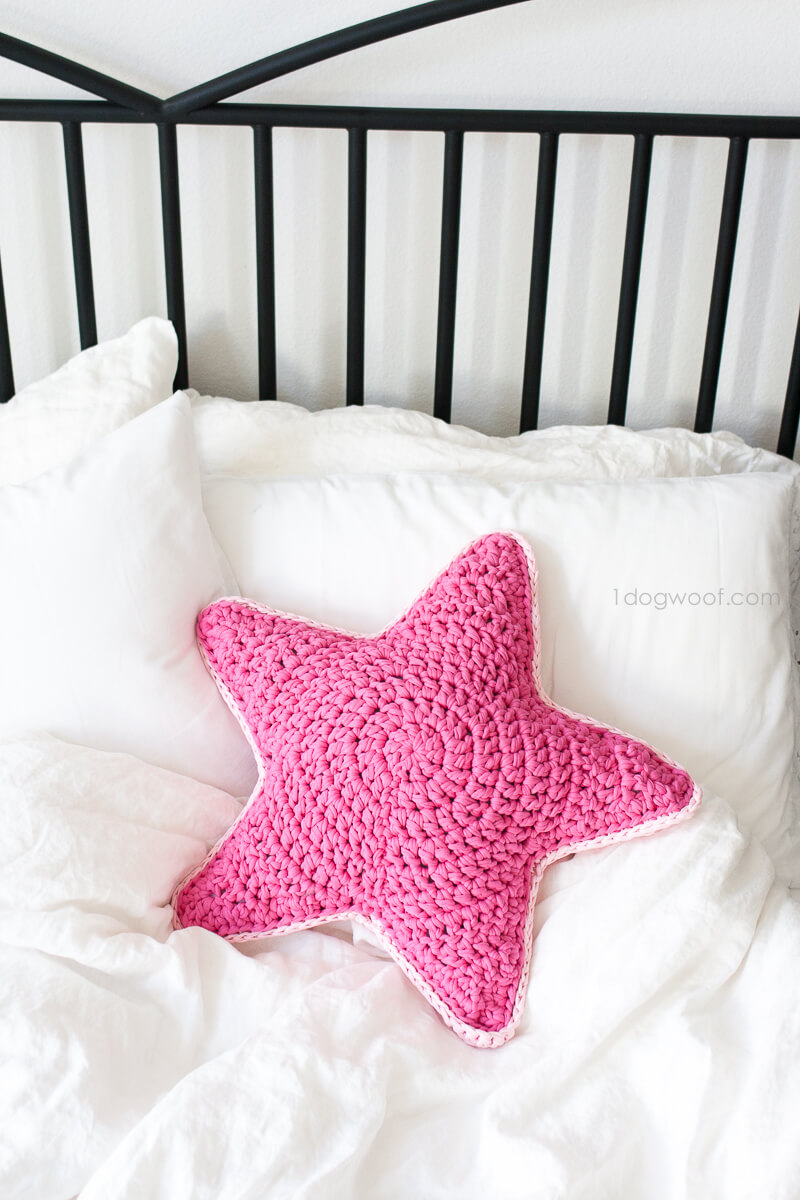 This sweet homemade star decor idea can be the next stellar addition to a baby nursery. Following a simple pattern with colorful yarn, this plushie will encourage sweet dreams.
11. Scandi Style Star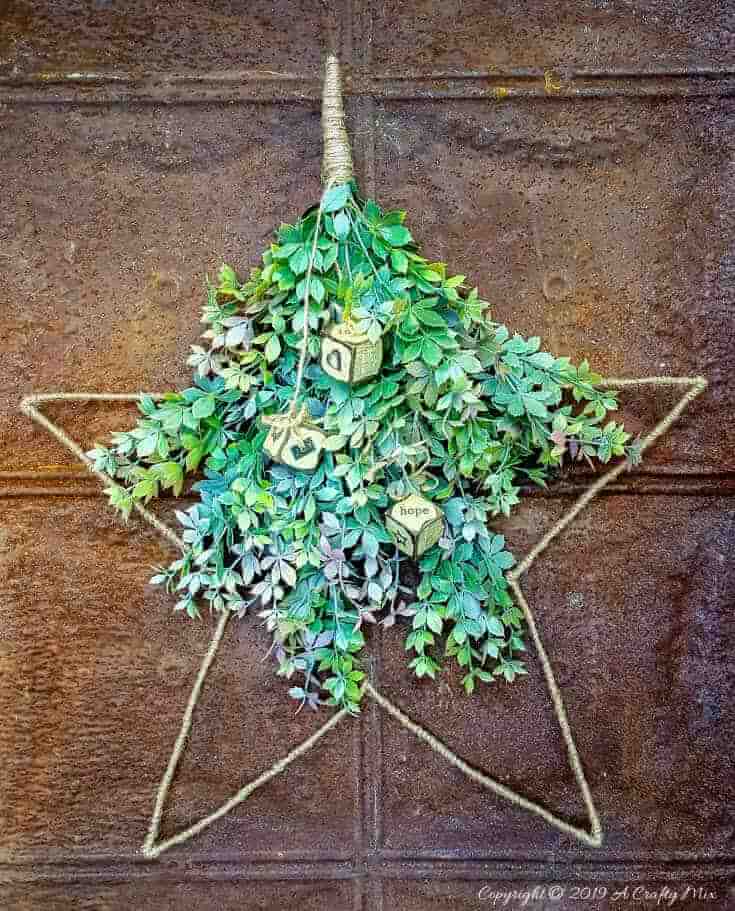 To create the simplistic style, wrap some twine around stalks of faux greenery, and tie them onto the top of a wire star. Hang on a wall or give away some Scandi Style cheer.
12. Pop a can (or two, or three) for a starry wreath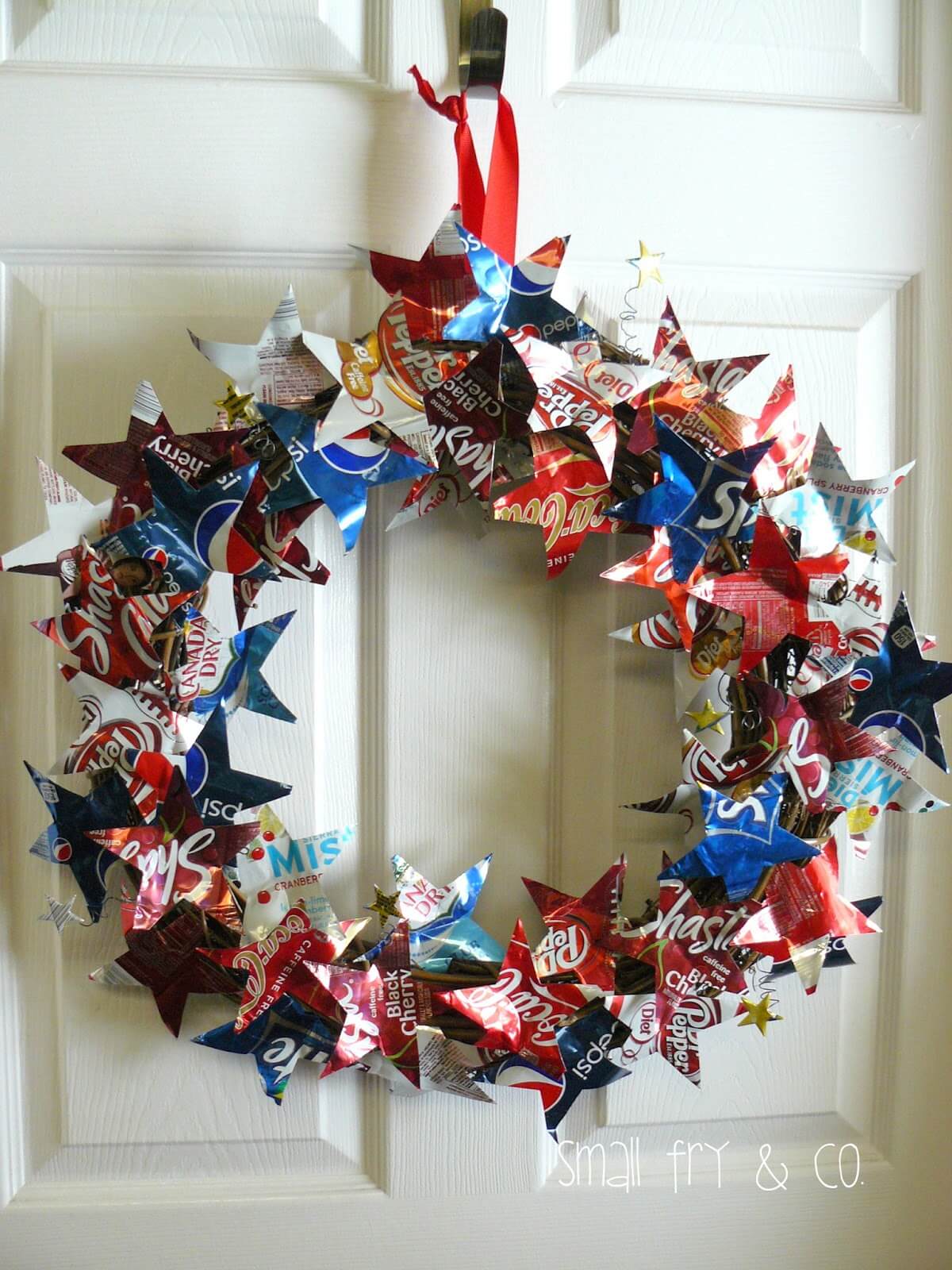 Soda pop can wreaths can be an inexpensive way to embrace the starry theme as the cost is minimal and the recyclable supplies are usually on hand.
13. Simple Stick Stars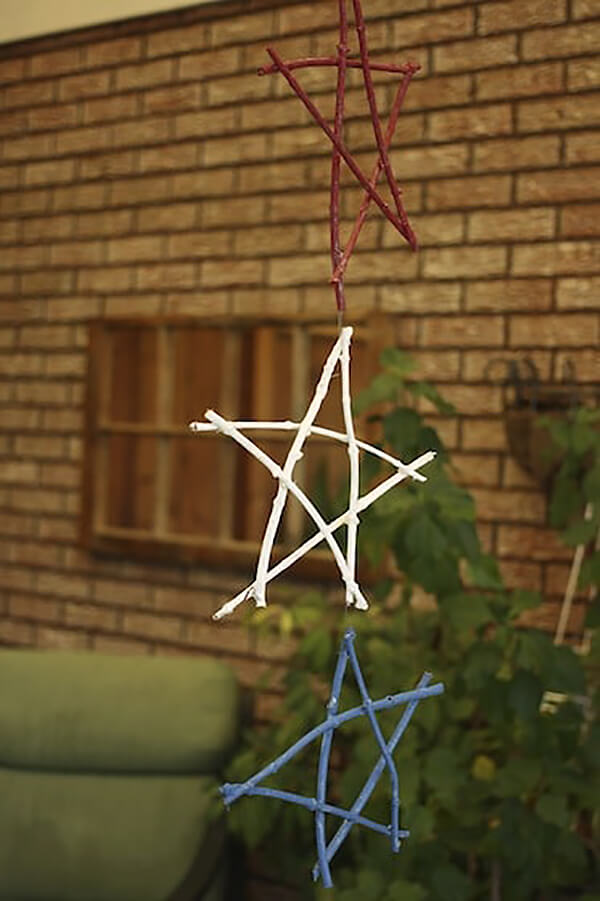 For the best DIY star decorations to do with youngsters, take them outside for a hunt and gather stick session. The goal is to find five sticks of about the same length. Fasten together and color. This lovely nature craft is easy for all and encourages fresh air and collaboration!
14. Starry Mini Mobile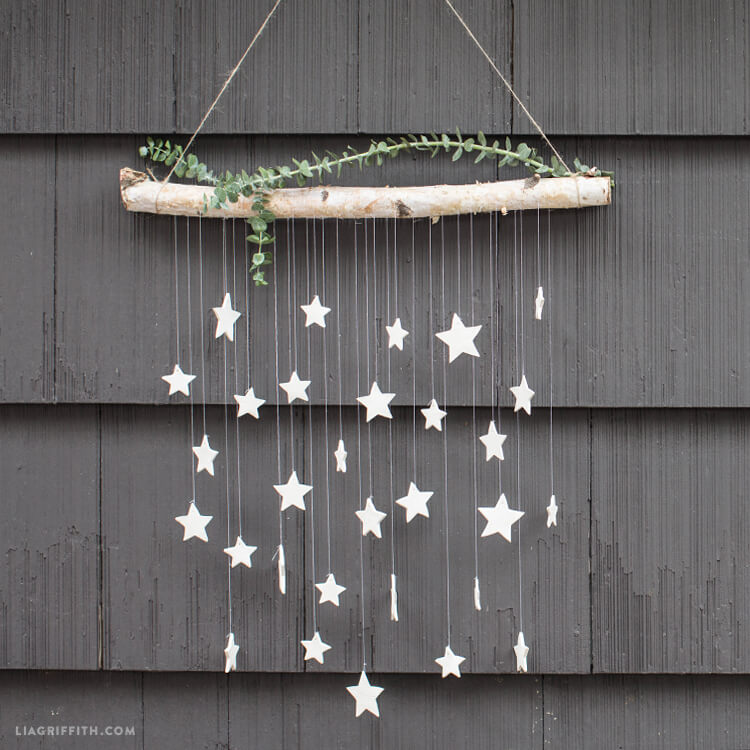 This is one of those handmade star craft projects that can be used outdoors on a porch, or inside adorning an infant's nursery.
15. Origami with a Vintage touch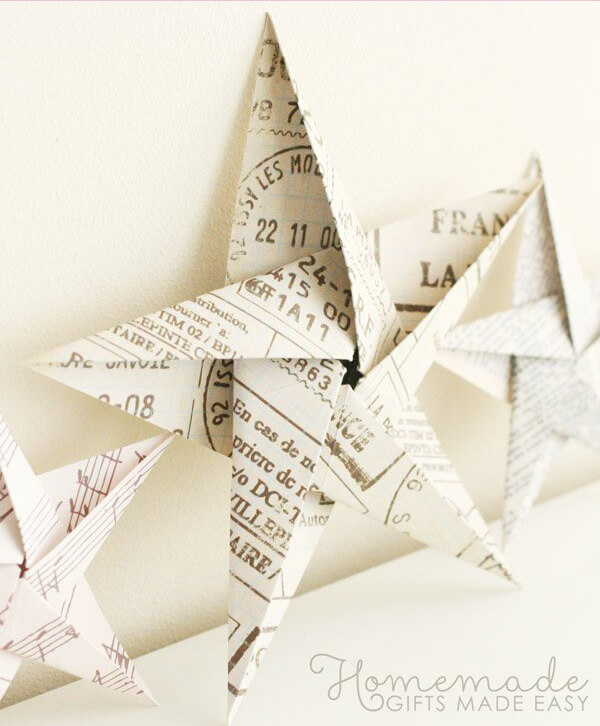 This is one of the best DIY star decorations to go green with by recycling vintage paper. Play with scale to create a bunting bursting with starry variance.
16. Patterned and Patriotic Paper Assemblage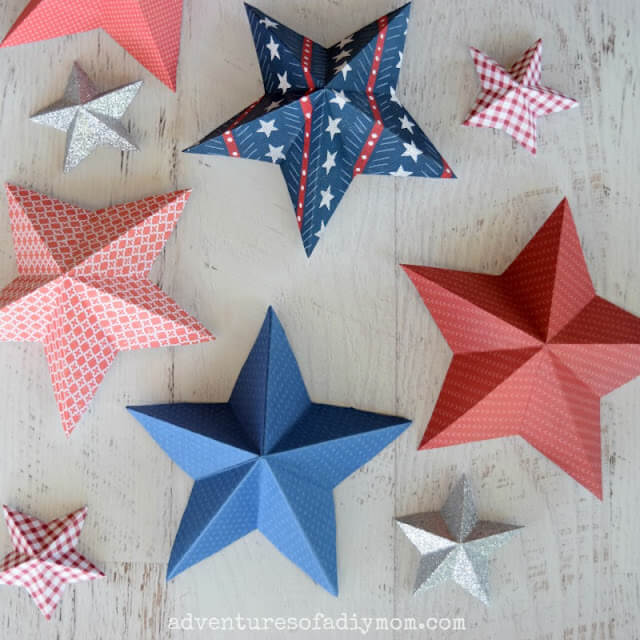 Red and white gingham 3D stars next to a subtly patterned navy 3D star grouping create the perfect blend of American patriotism with sophistication.
17. Stars in Knots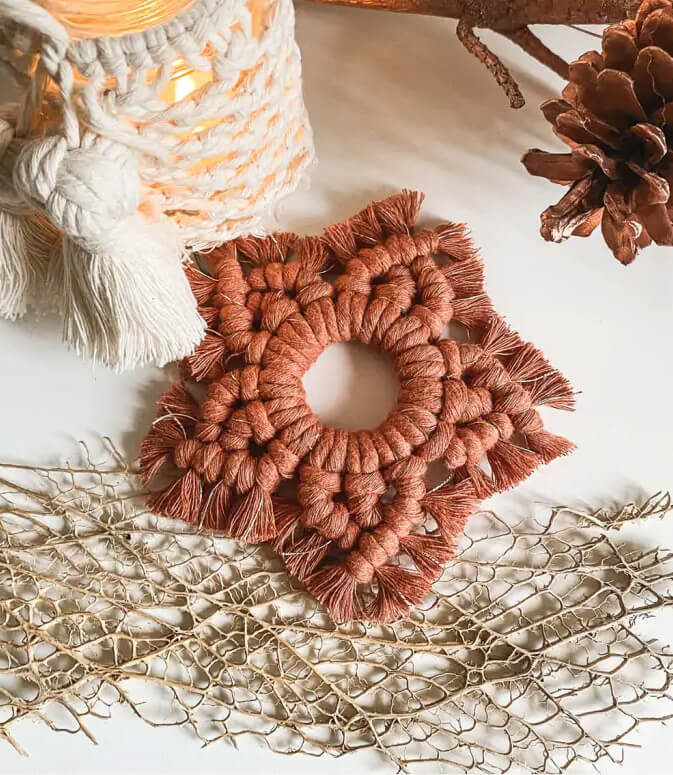 With some patience and a basic macramé tutorial, you can rock this fringy star variation that is so pretty that you will want to keep it on display all year long.
18. Crochet a Cache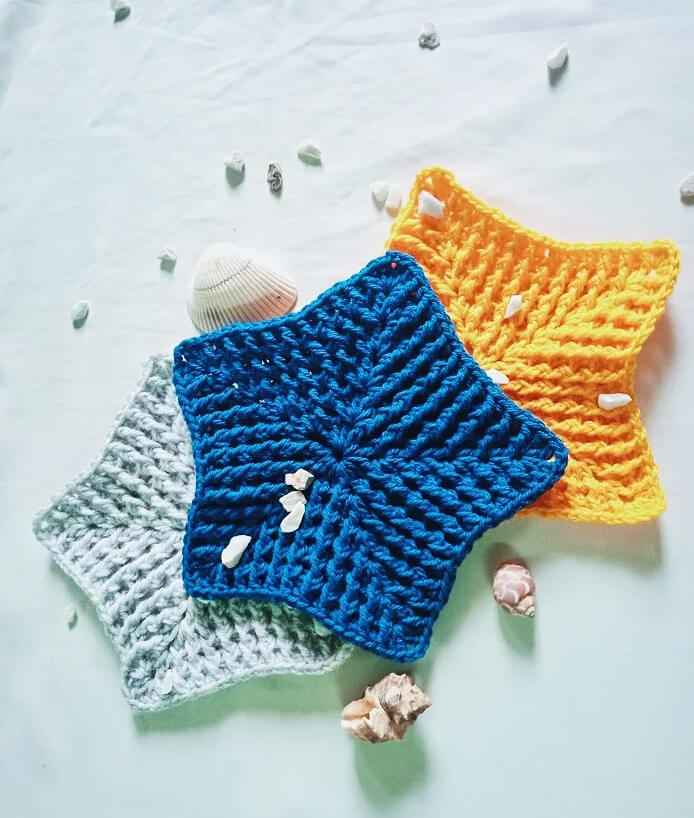 Stars aren't just for the heavens. Channel your inner starfish with a simple crochet pattern. Place the stars on a tray with a shell assortment, and your starry display is now a beachy vibe.
19. Flexible Fireplace Stars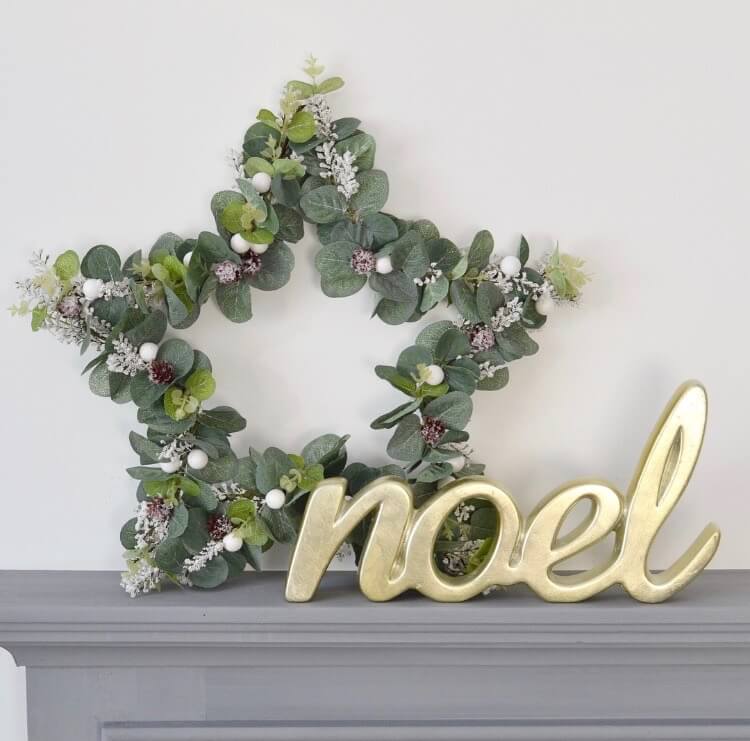 Flexible faux eucalyptus vines are a cool way to form stars. The cost of an artificial eucalyptus garland is lower than fresh eucalyptus because the live plant calls for care and hydration. This fireplace showstopper just needs to be dusted!
20. Cream Colored Cardboard Star Wreath from Thrifted Books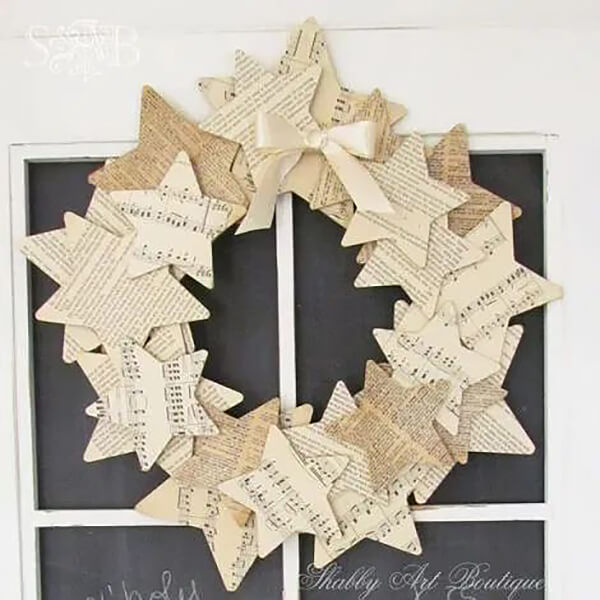 Don't worry librarians! The books cut up and used for these cardboard stars will be cut from thrifted books! Old dictionaries, poetry books, or even songbooks can be decoupaged onto various cardboard star shapes. Perfect gift for the book lover in your life!
21. Primitive Wooden Star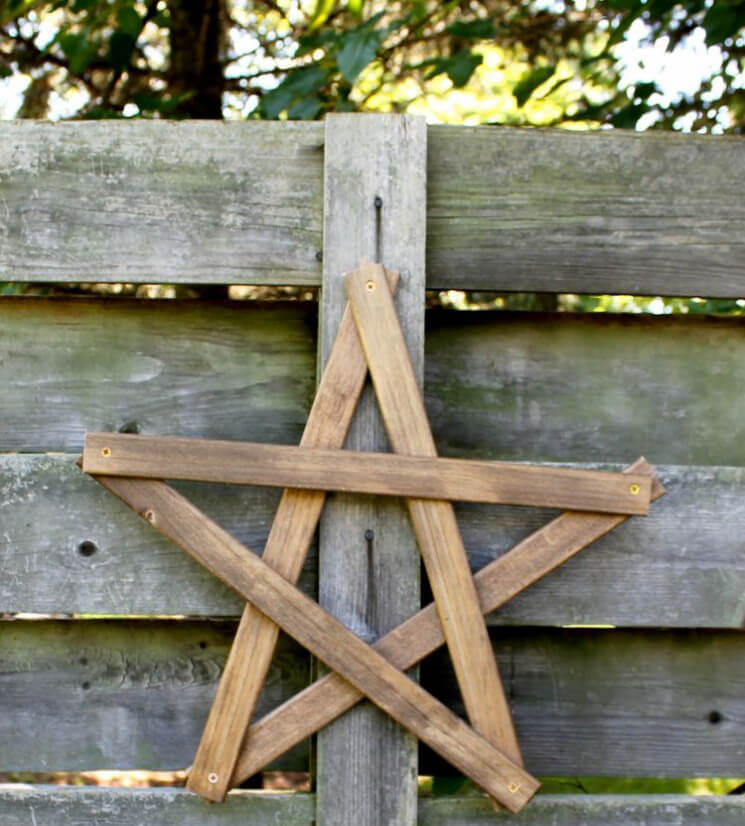 If you feel connected to natural and rural life, this primitive wooden star is your best bet for DIY star decorations! Fashioning finished wood into a star is an easy start.
22. Dollar General Budget Buster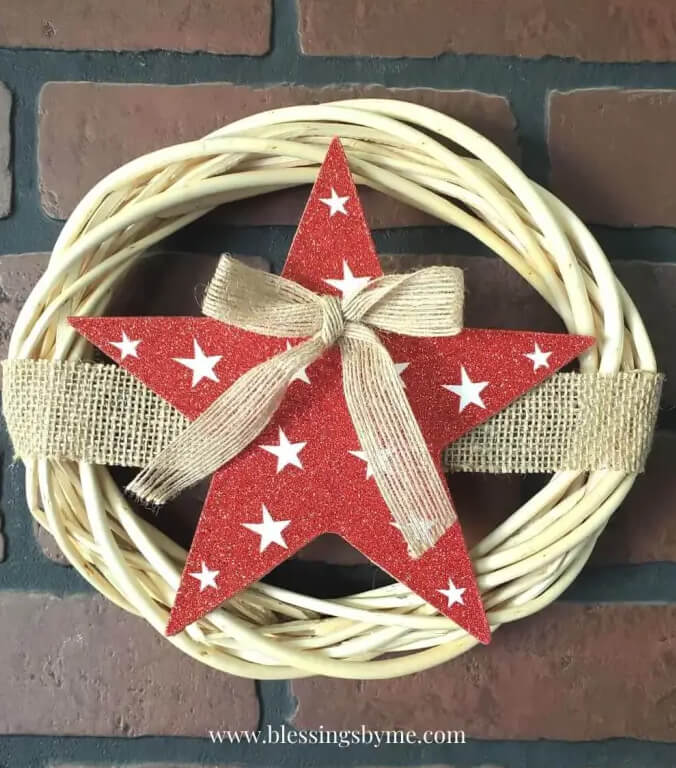 Here's a tip: go to the Dollar Store after the 4th of July and pick up decorations that didn't sell. Head to the craft aisle and find a premade wreath. Put it all together for less than $4! Would make your summer BBQ bashes pop.
23. Double up for 3D Results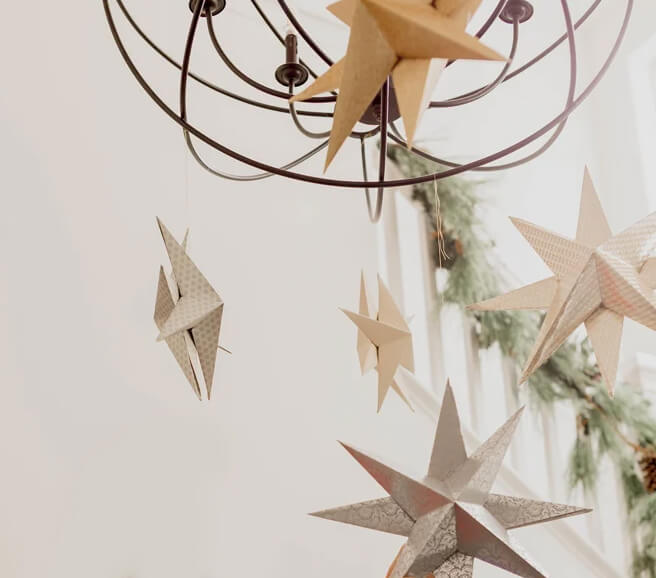 Three-dimensional stars that can be viewed from all angles are homemade star decor ideas that make a great impact statement! By taking two of the same size stars and rotating one clockwise before fastening in the middle, the results are an elevated visual, worthy of hanging from your dining room chandelier at your next gal pal get-together.
24. Multipoint Star Lanterns add Festive Flair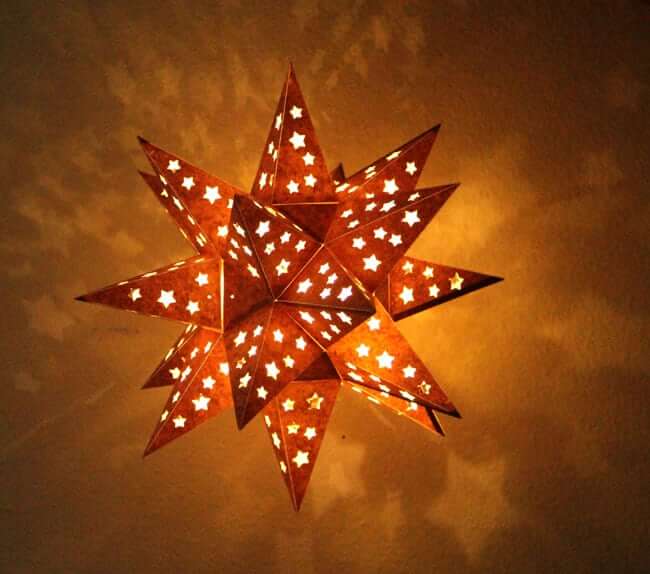 Star Lanterns, with their intricate designs and glow, create an ambiance of delight. Basking under them might cause you to nosh appetizers, smile more, or want to slow dance! All you need is a template, rust-colored cardstock, glue dots, and LED lights. Instant atmosphere!
24 Best DIY Star Projects to Razzle, Dazzle, and Shine Your Home
With so many handmade star craft projects to choose from, you can narrow it down by focusing on the sentiment you want to express, your skill level, your time, and the availability of materials. Maybe you try a neutral star display and change it up depending on the seasons? No matter which DIY star project you choose, remember that stars are universally appealing and a versatile choice in a number of different instances-the sky is the limit!