One of the easiest and cheapest ways to update your space is with the 26 best DIY stencil decor ideas found here. You can't go wrong with a simple stencil and your favorite color of paint when it comes to improving your most loved home space.
25 DIY Ideas to Spruce Up Your Space with Spectacular Stencils

There really is no limit to the fabrics and textiles that can be used as the foundation for these gorgeous and intricate stencil designs. Maybe you want to create a relaxing backyard oasis so you can have a go-to hang out space as the weather warms up. Stencils take a boring concrete wall and/or floor and give it some style as they dress up an otherwise blank space.
Even within the comfort of your own craft room, you can utilize stencils to extend the creativity to your storage closet doors and drawers. Jute rugs can jazz up a front porch door with some bright and beautiful stenciled fauna to welcome your summer guests. Any sign your heart desires is possible with stencils because you can design them yourself. Here are 26 interesting inspirations to take your stencil game to the next level.
1. Leaf Me Alone While I Unwind DIY Leafy Stencil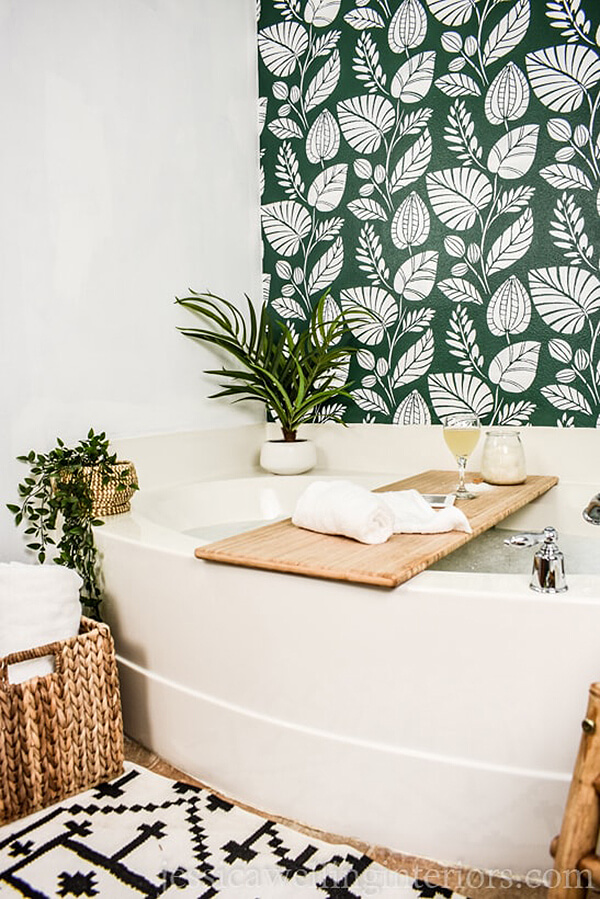 Create your own personal oasis in your master bath with this large and leafy stencil. Roll it out and onto a white wall space to provide the perfect canvas for your green with envy paint choice. As you roll on the green, the multiple sized leaves will spring to life and paint the picture-perfect backdrop for you to relax in your big, jetted tub. A few scented candles, a good book, and a glass of wine will take your cares away quicker than Calgon. Whether you continue this stencil pattern all around the room or feature it on an accent wall, it is sure to give you the laid back look you need.
2. Great Geometric Stenciled Kitchen Backsplash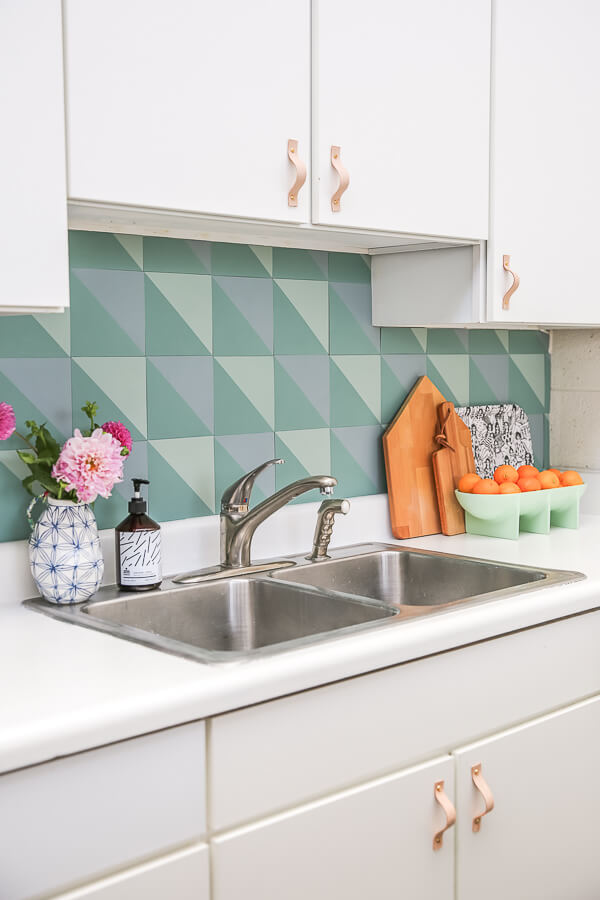 Update your kitchen with one of these easy homemade stencil ideas where you create a backsplash without the expense and extra time it takes to use tile. This geometric square and triangle design is an awesome idea for a stenciled look that transforms a space in a budget-friendly way. The multi-faceted look of this stencil pattern works well in modern and contemporary designs and adds depth to even the smallest and coziest of kitchen spaces. This is one of the best DIY stencil decor ideas for delivering that pop of color needed to bring your white kitchen to life.
3. Spectacular Stenciled Bakery Sign and Rolling Pin Holder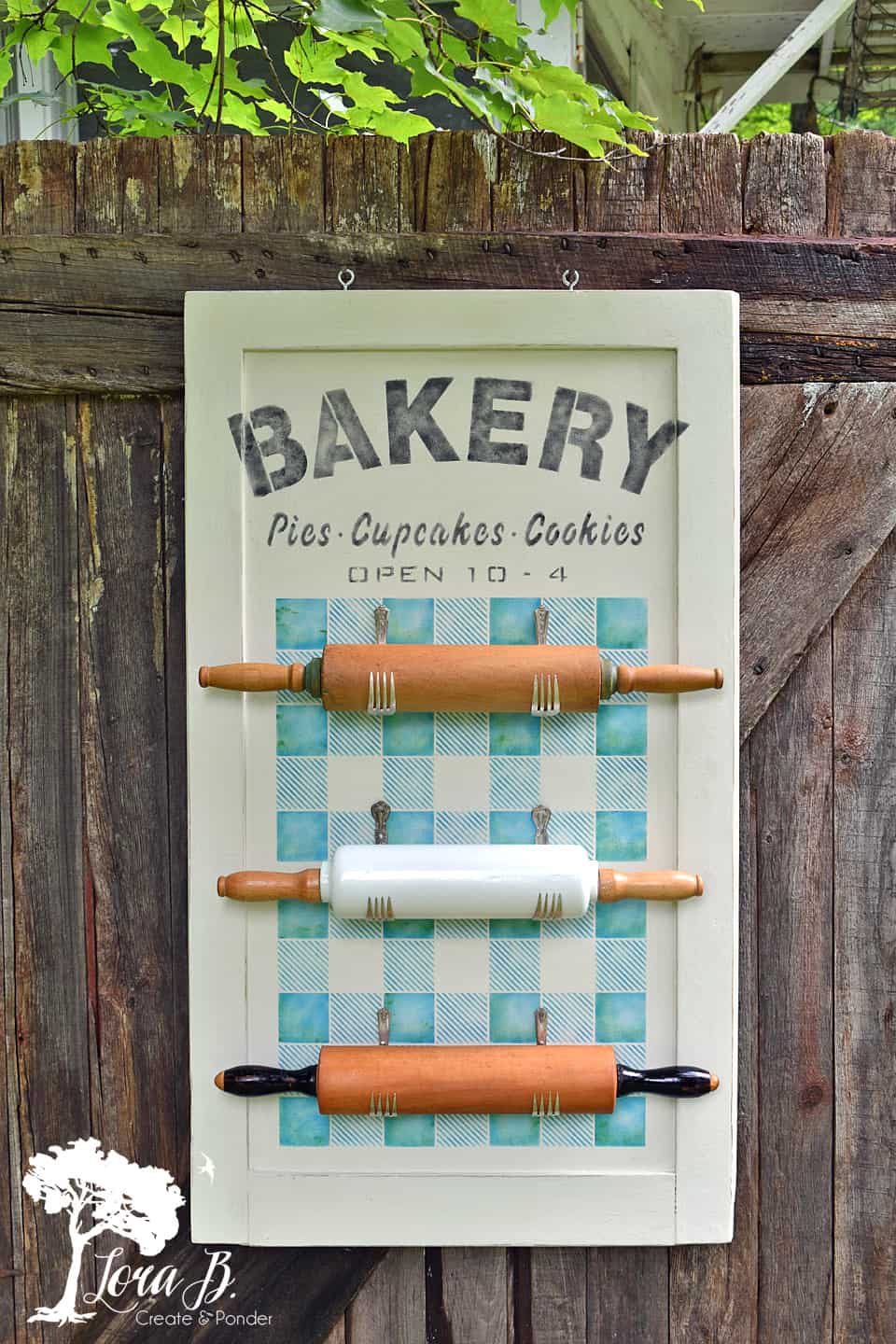 Your favorite gal pal who adores baking would certainly love a sign like this! Choose your favorite combination of colors to create this fun and functional bakery sign that holds three rolling pins. The stenciled plaid background is on-point in terms of pattern trends while the use of bent forks makes the most unique holders for her rolling pins. Gift this to your baking buddy for a personalized present that will make her heart smile. You could also hang it in your own kitchen to add some charm to the heart of your home.
4. Soft Double Delightful Hexagon Stencil Curtain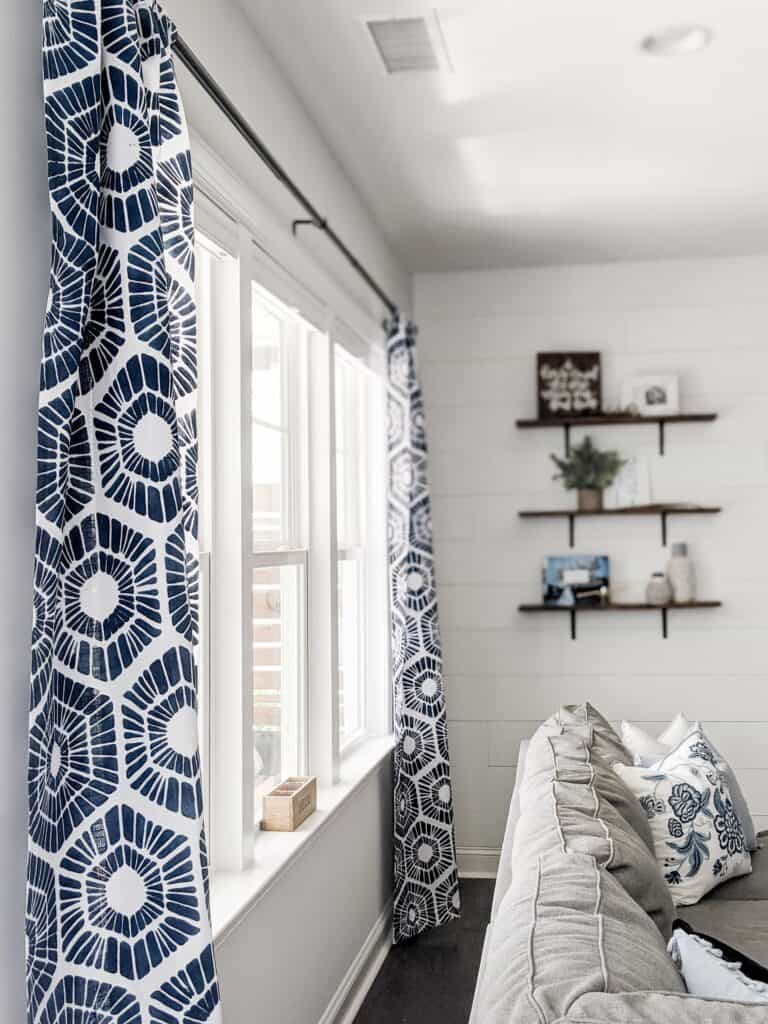 Add a dramatic flair full of your personality by creating these unique and one-of-a-kind curtains with a double hexagon stencil. Set on a blank, white canvas, these long drapes go from drab to fab with a few strokes of paint. The small hexagon surrounded by the larger one appears almost flower-like as they work together to make a truly fabulous pattern design. Shown in the most classic of color combinations, black and white are always in style, but you can choose any pair of hues to make the most of your window dressings.
5. Soft and Airy Palm Branch Wall Stencil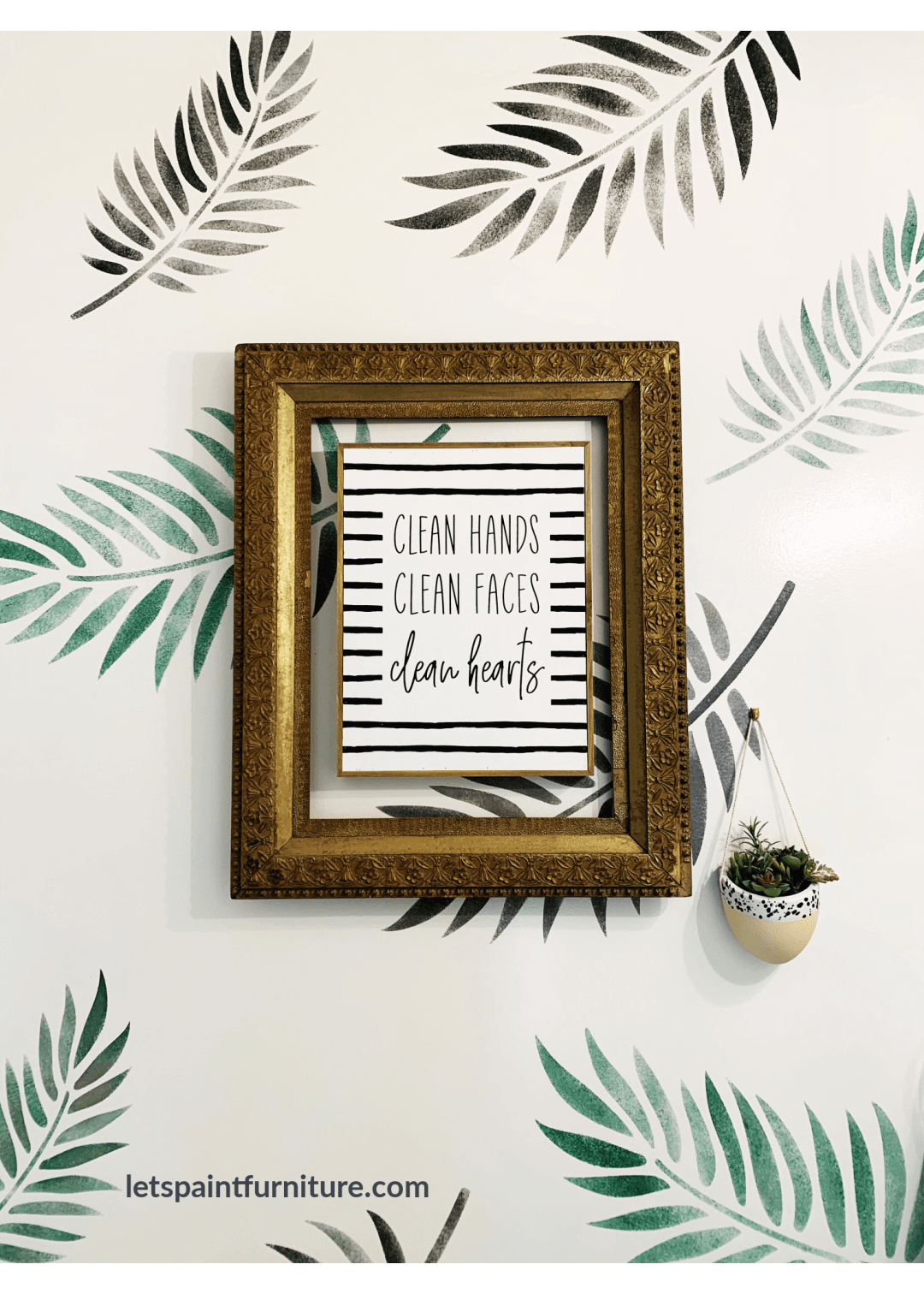 Set in both black and hunter green, these palm branch stencils use soft strokes to establish an airy feel to the depth and color of these wall stencils. Set apart with plenty of white space to add contrast, these branches give some girth to the wall as you decorate it with classic signs. Using a combination of two colors for the branches set on a white wall makes this one of the best DIY stencil decor ideas for filling the walls of your hallway or living room space.
6. Treasure Your Home and Family with this Unique Stenciled Lamp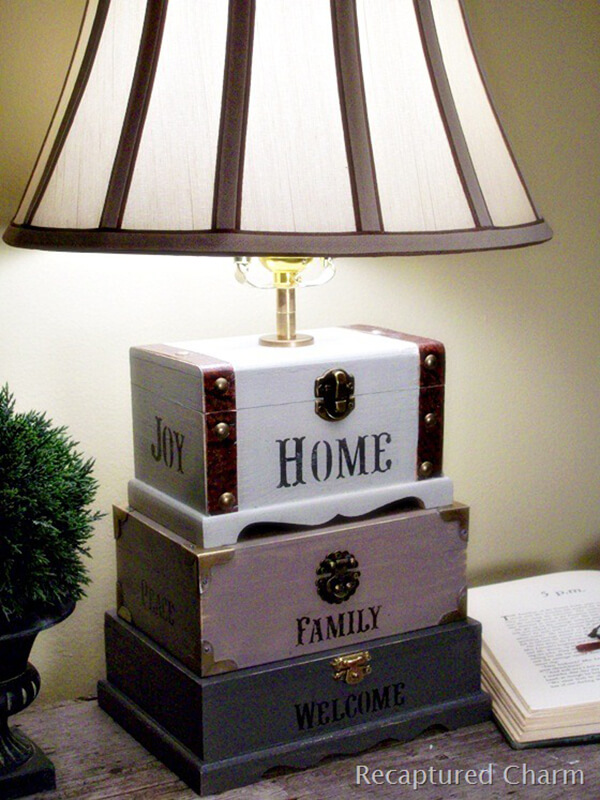 Stack your treasure up and underneath a light as this unique lamp displays a warm greeting to welcome family to the home. These stair step boxes are cute and charming as they are arranged on a side table near your comfy couch. The squared, flat sides provide the ideal place to work your stencil magic as you label each one with three important words: welcome, family, and home.
7. Fun and Ferny Fronds Unique Stencil Art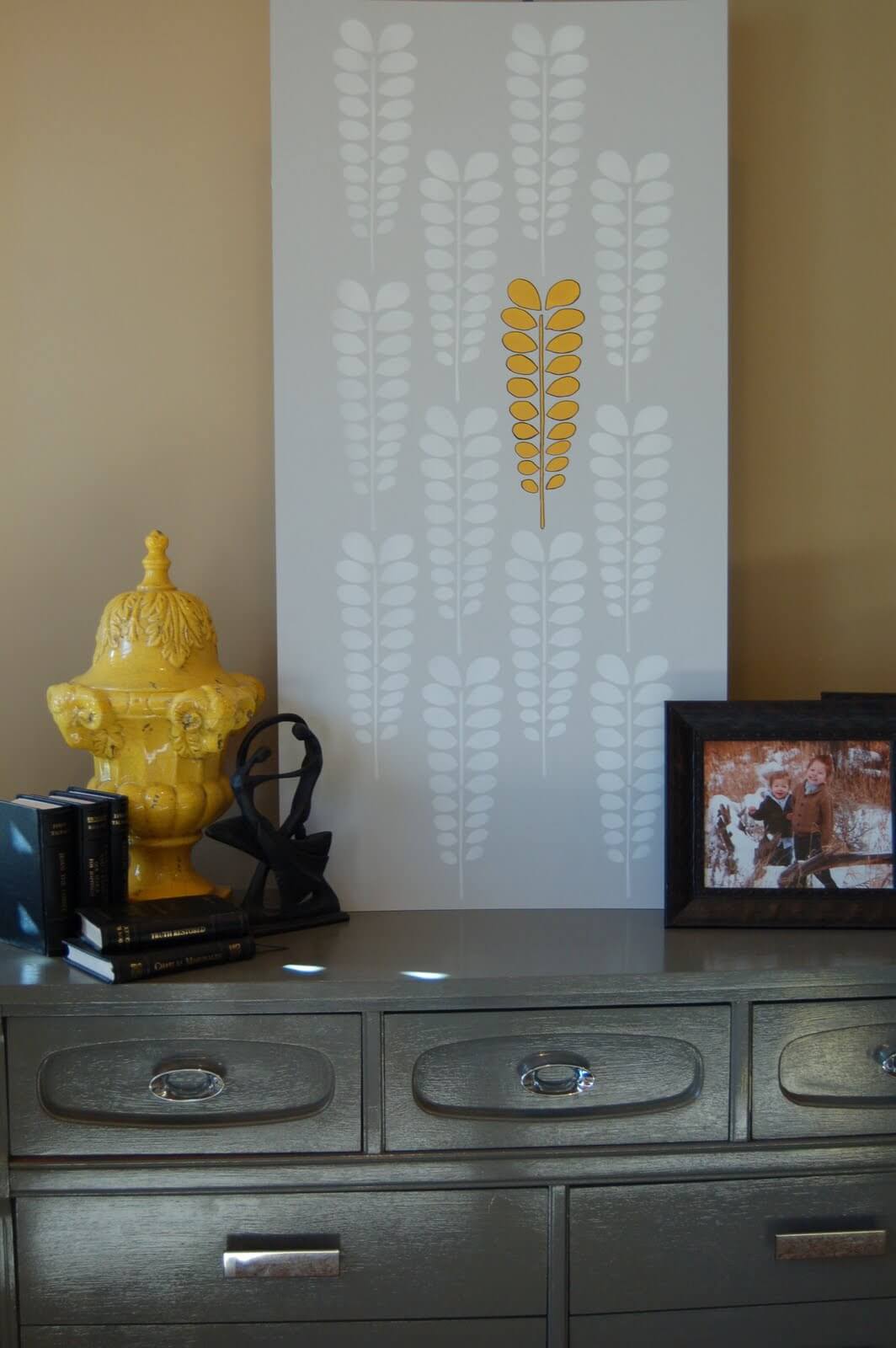 This oversized rectangular sign houses an artistic place to put your stencil masterpiece on display. Arrange these fern fronds with one as a highlight by painting it in a different and contrasting color choice. It looks lovely resting against the wall on top of a side table or setting in the corner of the room. This use of color adds a great deal of style in a small way. Such a simple, yet stylish pattern is perfect for a variety of spaces like a home office, entryway, spare bedroom, and guest bath.
8. Say Hello to this Hand Painted Stenciled Flower Pot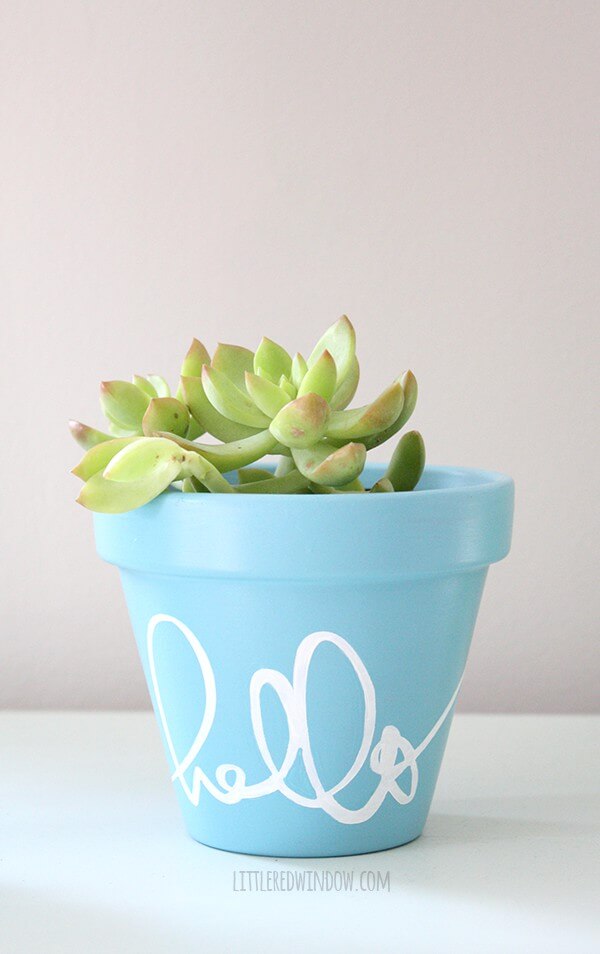 Jazz up your garden by incorporating a bright and vibrant flower pot with a friendly greeting. This aquamarine painted pot is the bold background setting for stenciling "hello" in classic white. Get your hands dirty by using it as a new home for your favorite succulent. It is an awesome idea for a house warming gift or simply an addition to your kitchen countertop. This perfect plant lady planter would be a welcomed addition to the front porch to add some extra curb appeal too.
9. Classic and Contemporary Black and White Stenciled Floor Tile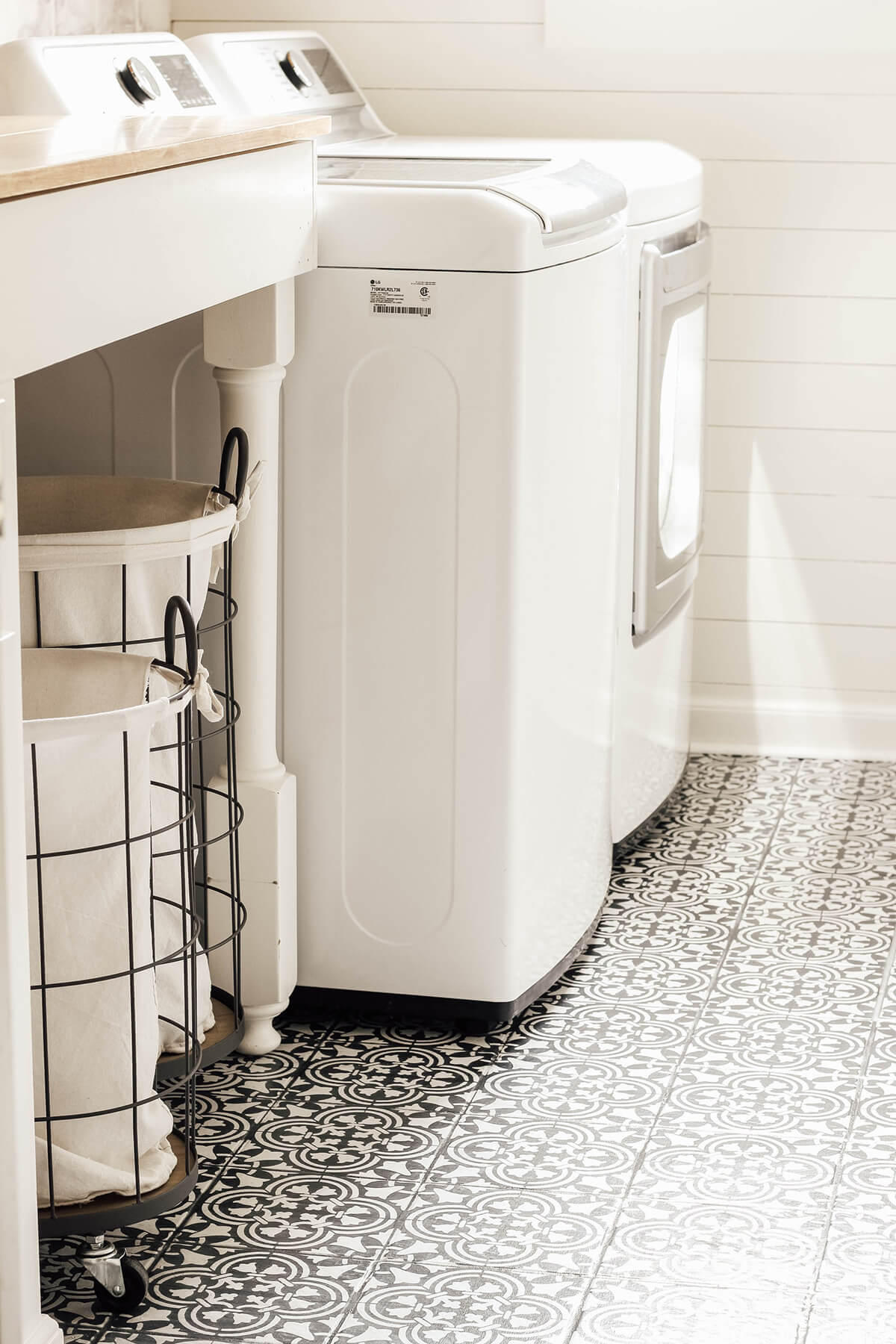 Create some big style in a small space by adding some stenciled tile to your laundry room. Make the never-ending pile of clothes a little more tolerable chore as you enjoy the cute comfort of this stylish laundry area. With the use of classic black and white as your color choice, this intricate stencil design is an attractive way to add style and spark to a small space. The busyness of this tile floor pattern gives this blank canvas all the interest it needs while keeping the overall scheme simple and sleek.
10. Step-Up Your Stencil Game with Stair Riser Art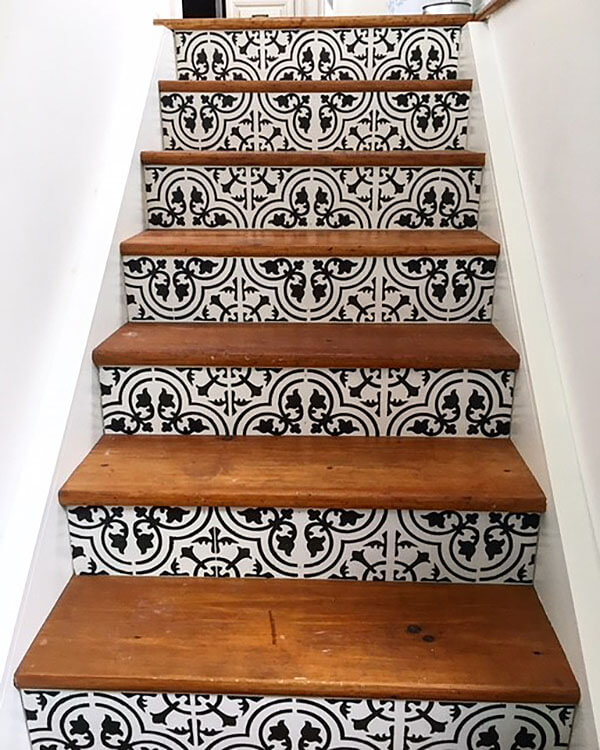 Add some pizazz in one of the most overlooked and definitely overstepped spaces in your home. The risers on your set of stairs give some of the most unused blank canvas spaces in your home. Take full advantage of this by using your stencil skills to take your staircase to the next level. This cool stencil DIY can be completed in just an hour or two, yet it provides years of style and interest to your living space. The contrast of the hand-painted risers with the warm wooden steps adds character and charm to almost any decor.
11. Black, White, and Plaid All Over the Bathroom Floor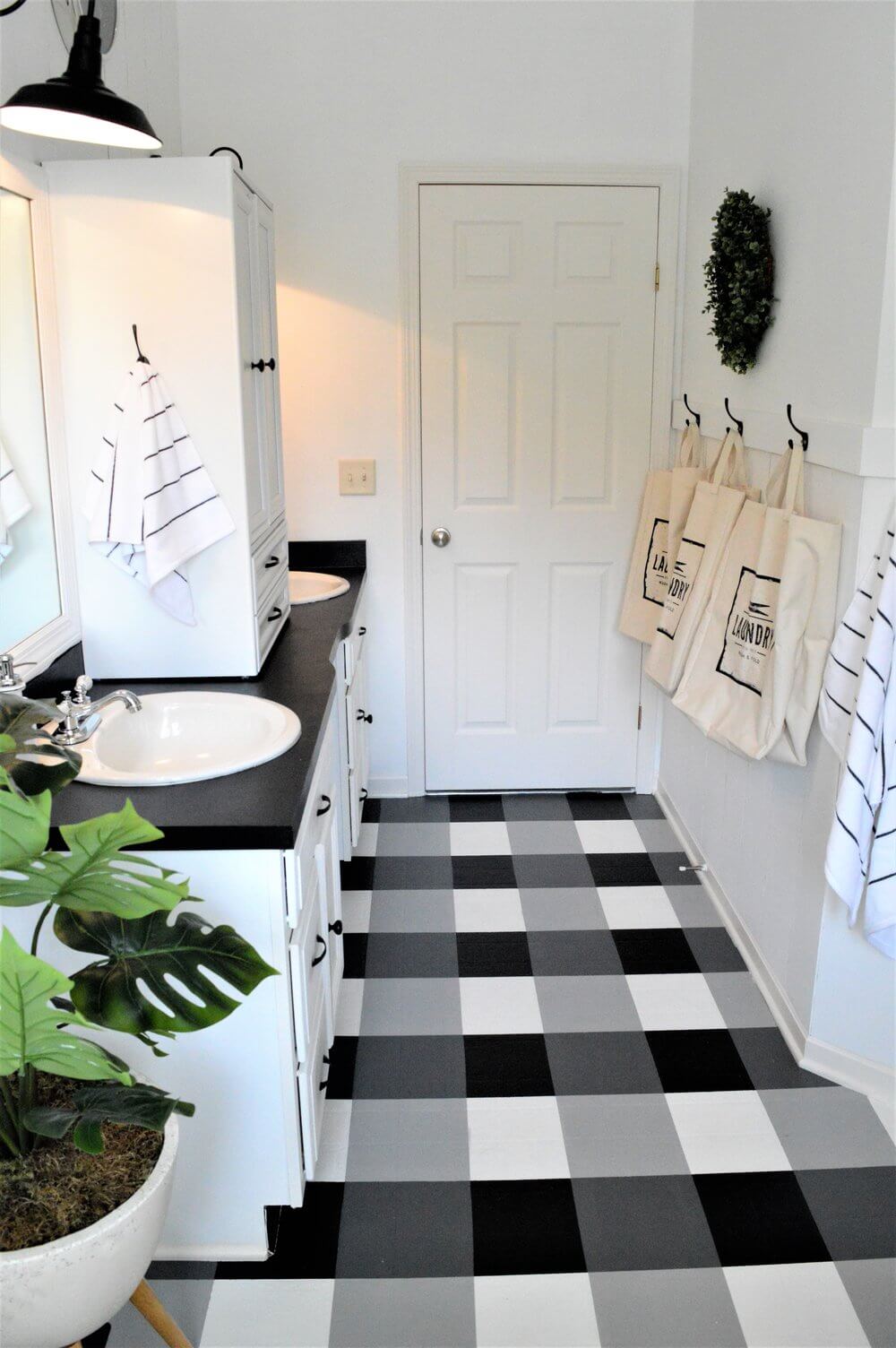 Elevate your interior design with this cool and clean easy stencil DIY to give your bathroom the facelift it deserves. Making the most of your floor space by livening it up with such an amazing buffalo checked plaid pattern enables the walls to remain blank and crisp. Using a classic go-to combination of black and white, homemade stencil ideas like these keep the entire room looking its best. Having such a bold flooring option makes the room feel so much larger since the wall space seems bigger than before. You could make this bold statement in your master bath or your kids' shard bath because this color combination and style works nearly everywhere.
12. Delicate and Vintage Pretty Plate with Golden Stenciled Initial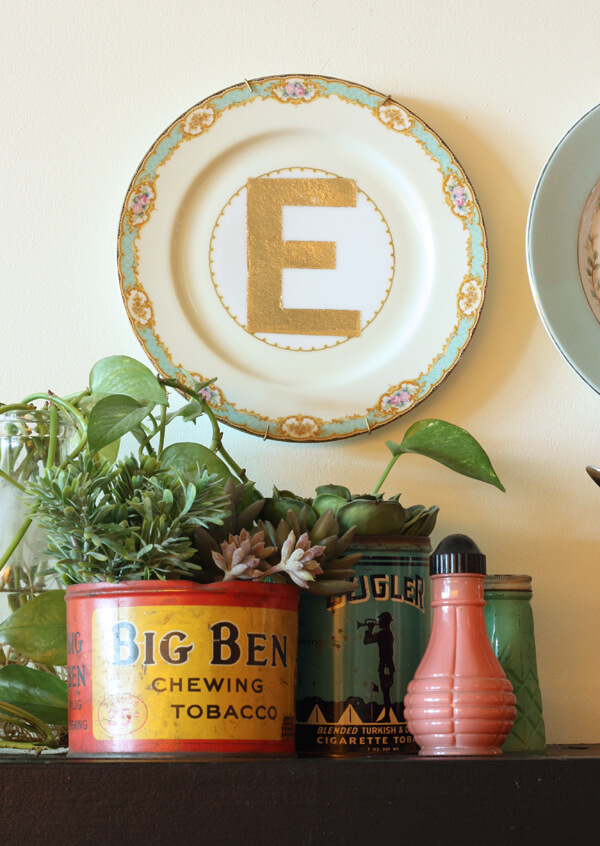 From trash to treasure, take a single vintage plate and give it new life as you emblaze your initial in the center of it. Using golden paint that works with the existing highlight on the color scheme on the rim of this plate, you can create a cool and unique piece for the dining space of your home. This would be a one-of-a-kind gift for a newlywed couple as well, especially one who appreciates the finer things in life that are full of character. Bring some frivolous fun into your next family dinner by hanging this stenciled plate on the wall. This would also be a perfect paint night event for your gal pals as you sip some wine and unwind on a Friday night.
13. Black and White Moroccan Inspired Stencil Wall Mural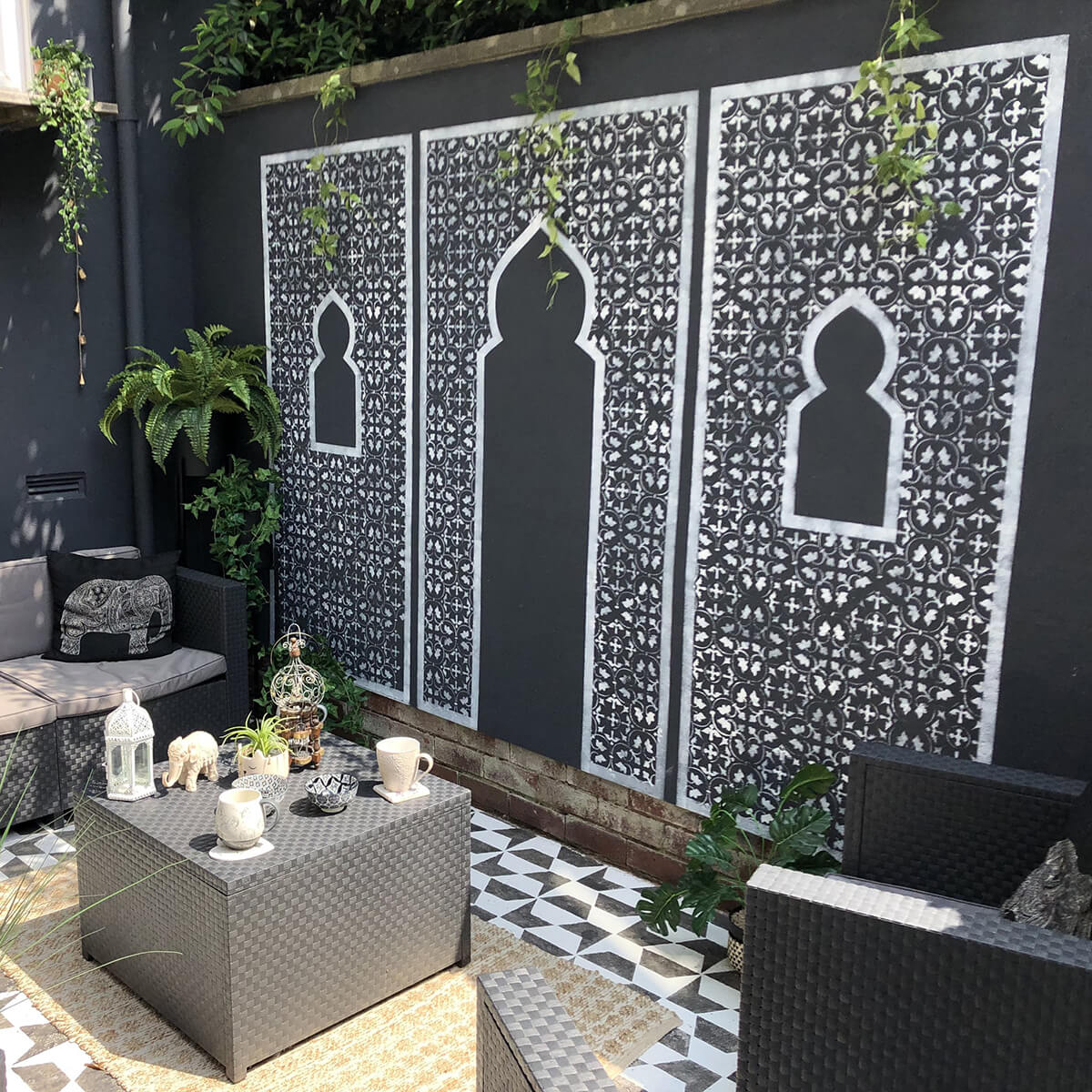 Look within yourself and you'll find the need for a home haven of relaxation. Create this backyard oasis in a small space behind your home where you can relax and unwind. Instead of boring concrete walls, liven up the area by using hanging sheets of stenciled works of art. These new "walls" will breathe some fresh air into your soul as you enjoy the serenity of their Moroccan black and white tile patterns featuring two windows and a doorway. Perhaps it's the door to discovery or simply the door to peace. Either way, you can kick back and let loose as you enjoy the comfort and contemporary feel of your new urban oasis with some of the best DIY stencil decor ideas for your outdoor space.
14. Trying Hawaiian on this Plain Jute Door Mat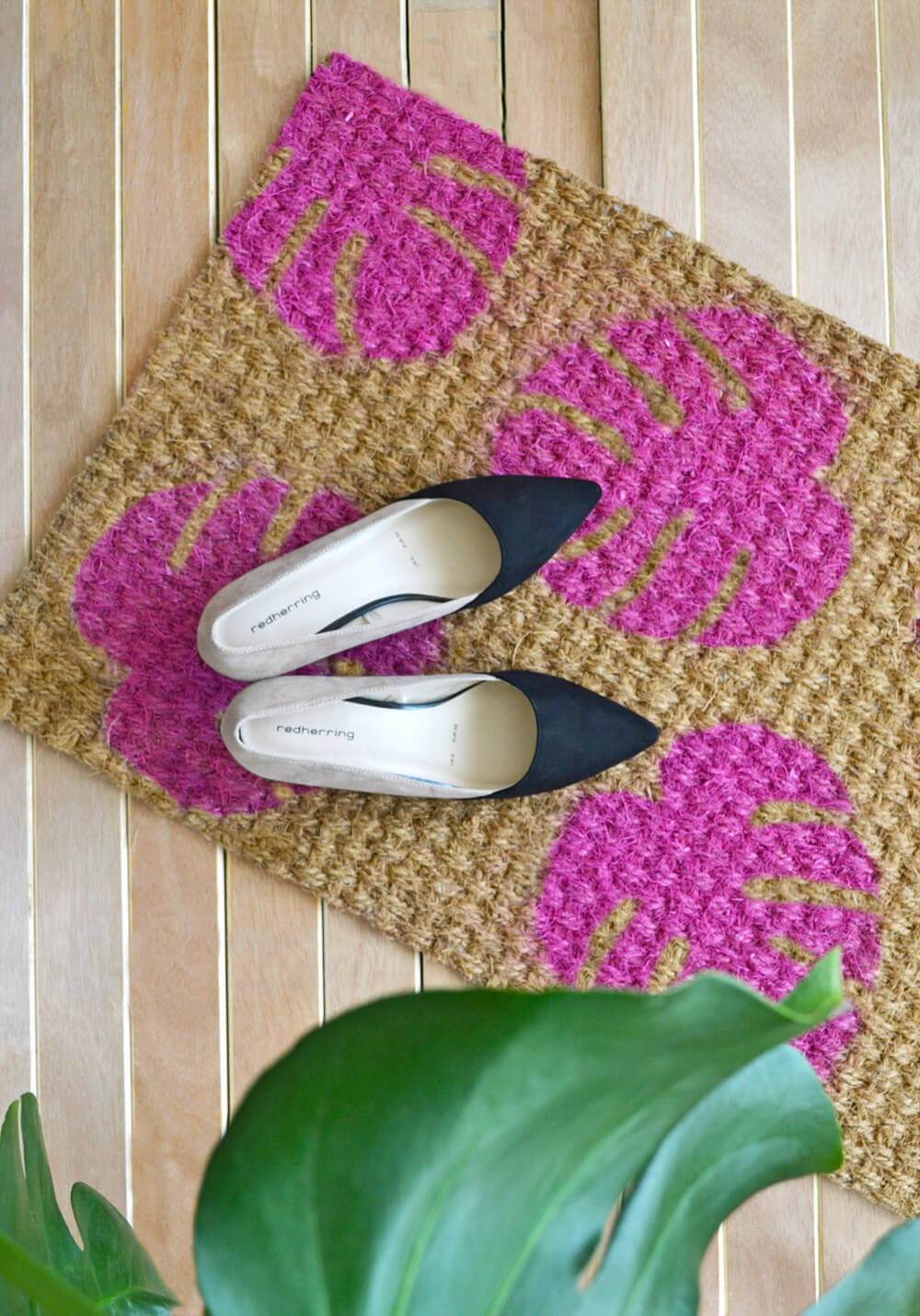 Welcome guests with a tropical vibe as you upgrade a plain and boring jute rug with a stenciled palm branch. Pick your favorite vibrant Hawaiian hue to make this design nearly pop off the front porch. The wild magenta color featured is a wonderful choice for a summertime scene.
15. Rough Stenciled Crate Container Number Date and Item Wall Art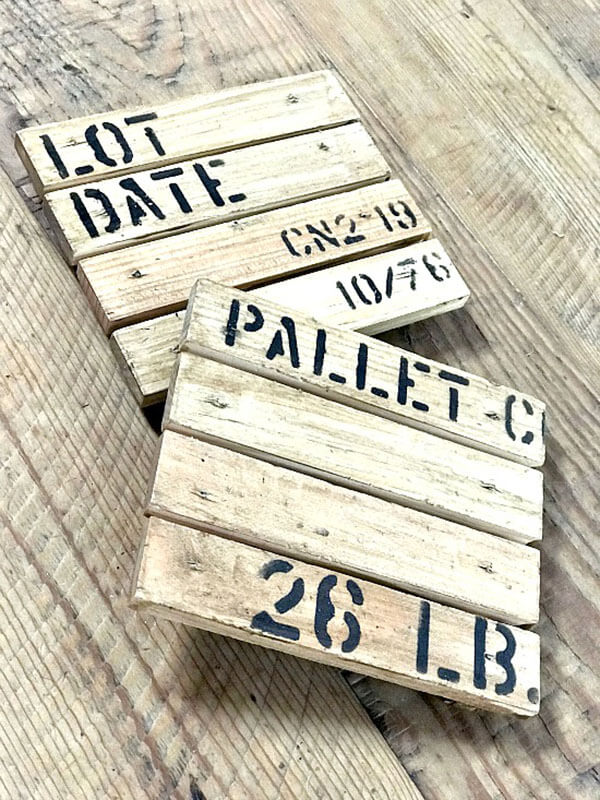 A small square of wooden pieces works perfectly as a blank canvas for displaying some industrial and modern home decorations that are an easy DIY project. Utilize those number and letter stencils left over from science fair days and let them work their magic on these pieces of wood. Identify the item, name, number, and date with whatever ones have meaning to you so you'll have some personal connection to this awesome idea. Hang a duo at the bachelor's pad or display them in a utility room. These squares are sure to claim a special spot somewhere in your home.
16. Pretty and Pastel Stenciled Fabric Napkins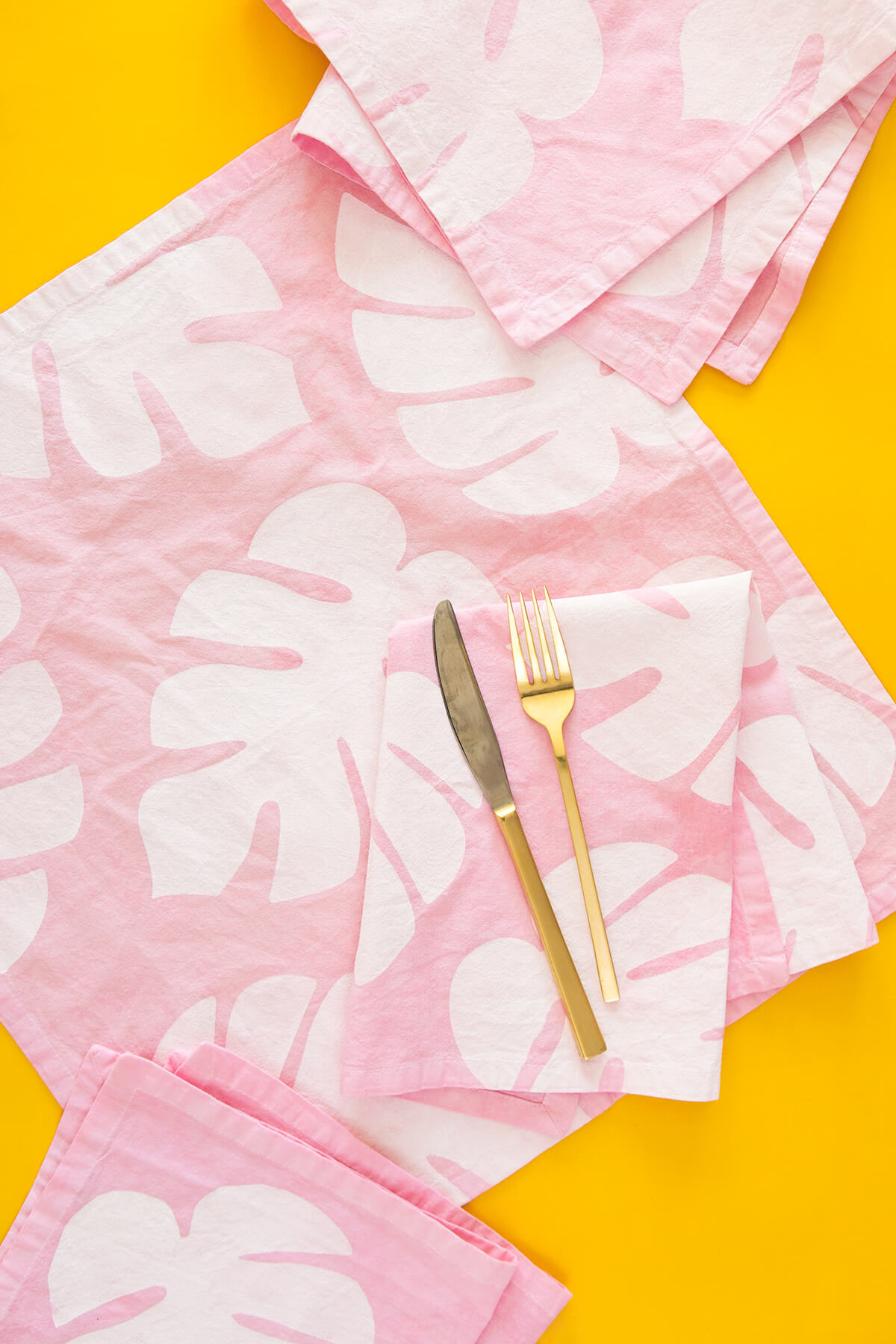 Most any textiles can be painted or dyed so why not try your hand at stenciling too? These cotton napkins printed in pastel pink are pretty yet plain without a stencil. Have no fear because some white paint will take care of business. From boring to bold, these stenciled plant pieces in white paint are just enough to brighten up the tablescape of a plain pink palette. You may simply need a pop of color for your friends and family at your next dinner party or you make wish to host a full-blown luau as the sun heats up the summer. You can accomplish both with this fabric stencil masterpiece.
17. Flower Powered DIY Stenciled Crate to Collect It All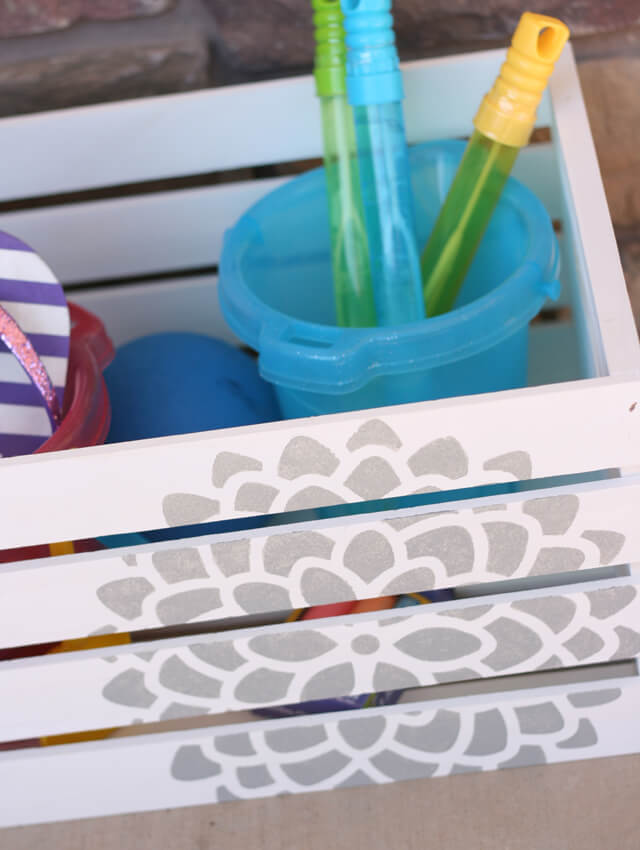 Every outdoor space needs its own version of the junk drawer, so here is the collect it all crate. Constructed in clean lines and painted white, this Plain Jane crate gets a modern look with a dainty flower stencil on its side. Choose your favorite color to make this flowered bin the ideal place to store all of those odds and ends for your backyard fun. When everything has a place and everything is in its place, it's easier to find what you're looking for so you can spend more time catching up with family and friends to make more memories.
18. Great Galvanized Metal Bin with Handles Farmhouse Stencil DIY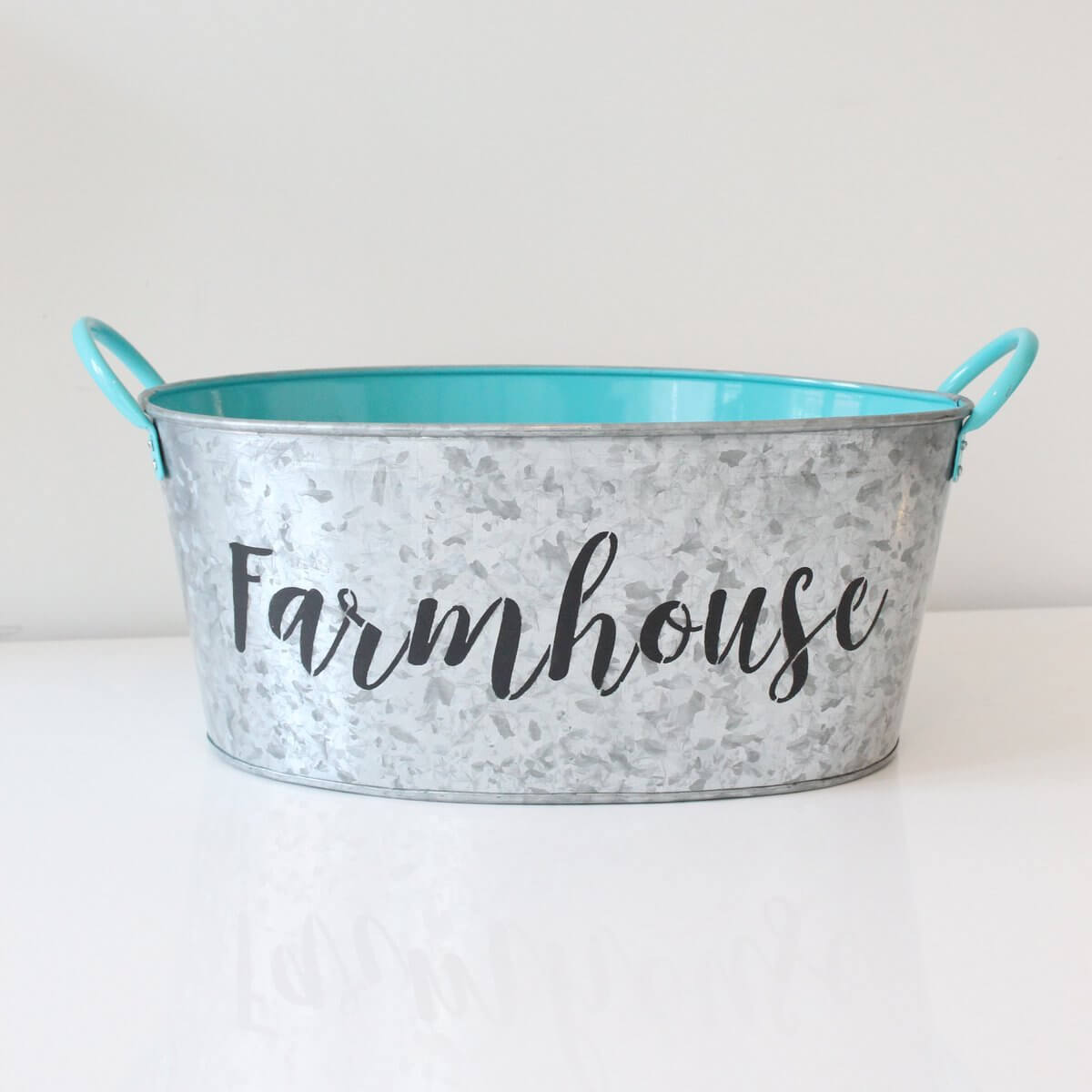 Take a plain, galvanized metal bin and give it some character by hand painting a word on its side. Even if you don't have the best handwriting, it doesn't matter because that's the whole purpose of using a stencil. Choose a word, such as farmhouse, and fill the letter spaces with painted brush strokes to make this bin look like it didn't just come from the convenience store shelf. You could label bins or use a decorative term depending upon your needs.
19. Be the Star of the Morning with this Morning Star Burst Stencil Flooring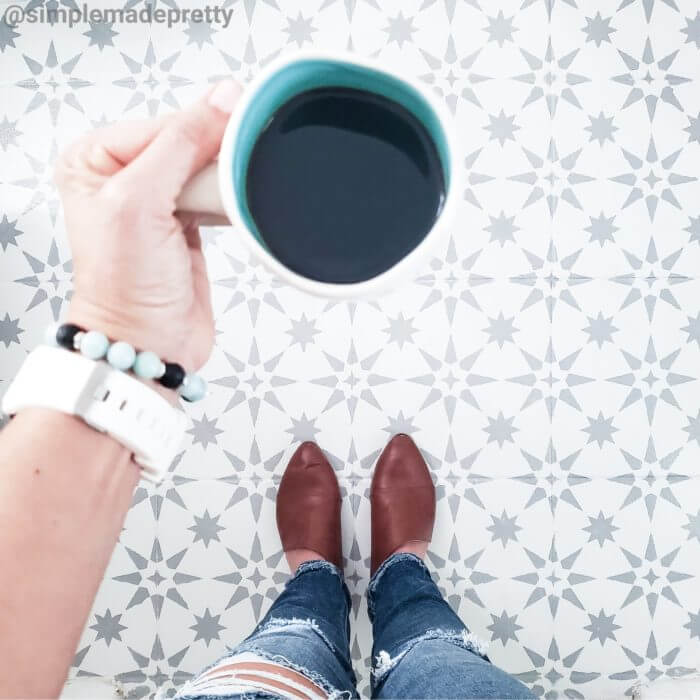 Muted gray works well on this white floor as you entertain the idea of a starburst stencil to add a little character to your small kitchen space. Tired tile, worn wood, and casual concrete flooring can all use a little love now and then. Give them the hug they deserve with one of these homemade stencil ideas to give some life back to your space. Stay calm, cool, and collected as you drink your morning cup of Joe in the peaceful solitude of this crisp and muted gray starburst kitchen floor.
20. Here We Go Round the Mulberry Bush Stencil Border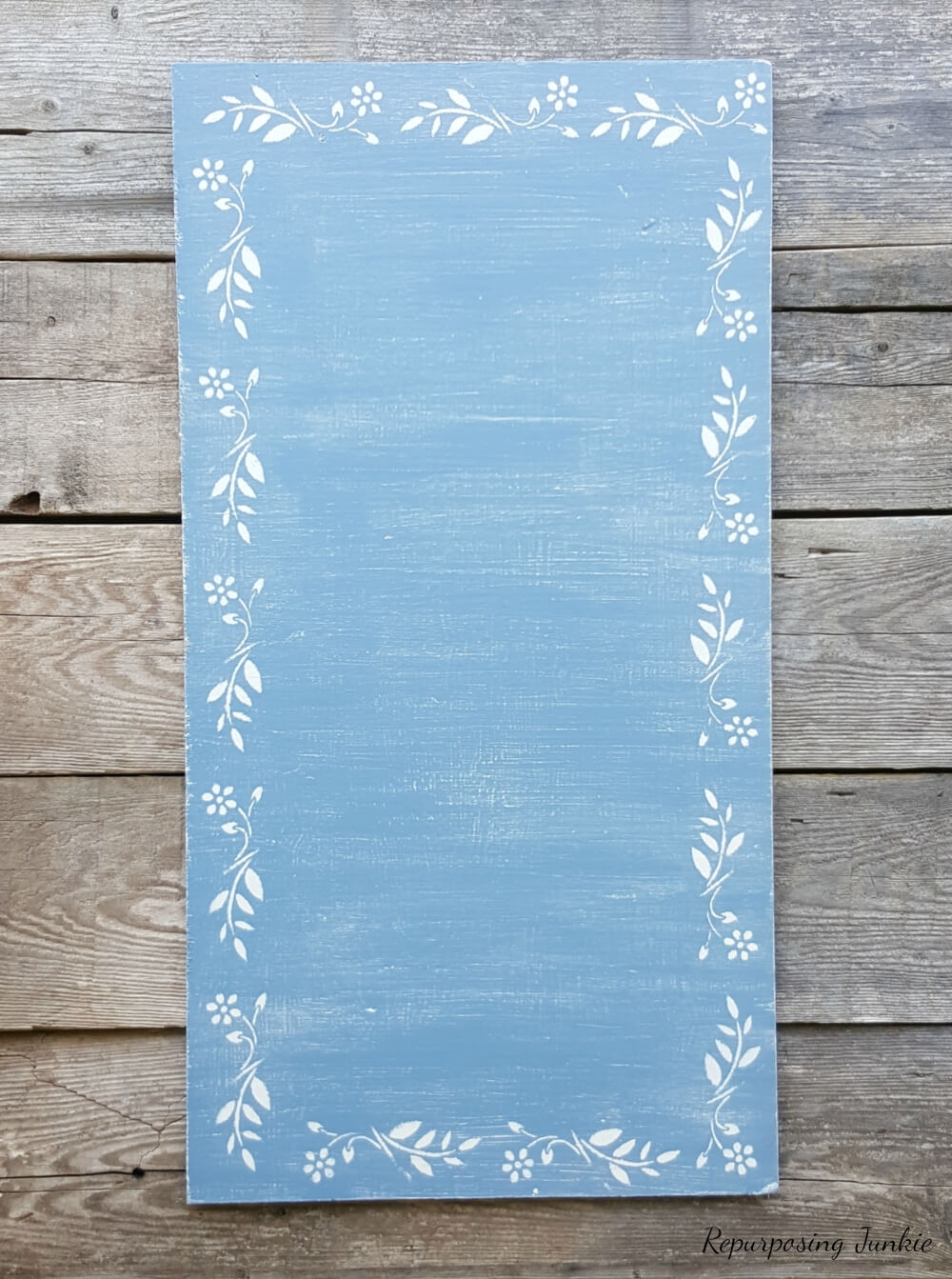 Set upon a distressed old world blue background, this pretty flower and leaf stencil winds its way and wraps around this rectangular sign to outline whatever you wish to emphasize. If you choose to set it on the table top, you can arrange a trio of candles or glass jars to create a great and simple home decoration. Or you can hang it on the wall and place something prominent in the center portion. Maybe you wish to add your family surname front and center or just a favorite word you repeat as your go-to mantra. The charming floral garland in this stencil makes a wonderful frame for whatever your heart desires.
21. Modern and Neutral Stenciled Accent Rugs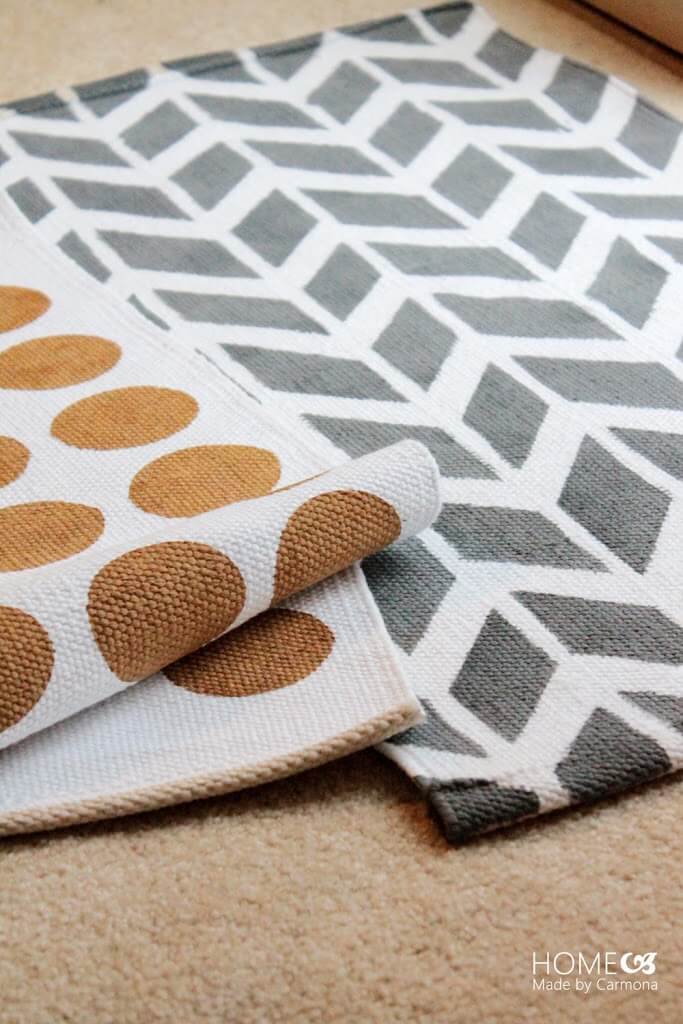 Toss a rug into your home and increase the design power at the same time. These two accent rugs feature a simple and classic stencil design by using polka dots and chevron prints. Either of these two patterns works in most any existing home decor. From light chocolate brown to medium gray, you will be able to blend these accent rugs into your current decor while staying up-to-date.
22. Stenciled Geometric Flowered Black and White Outdoor Tile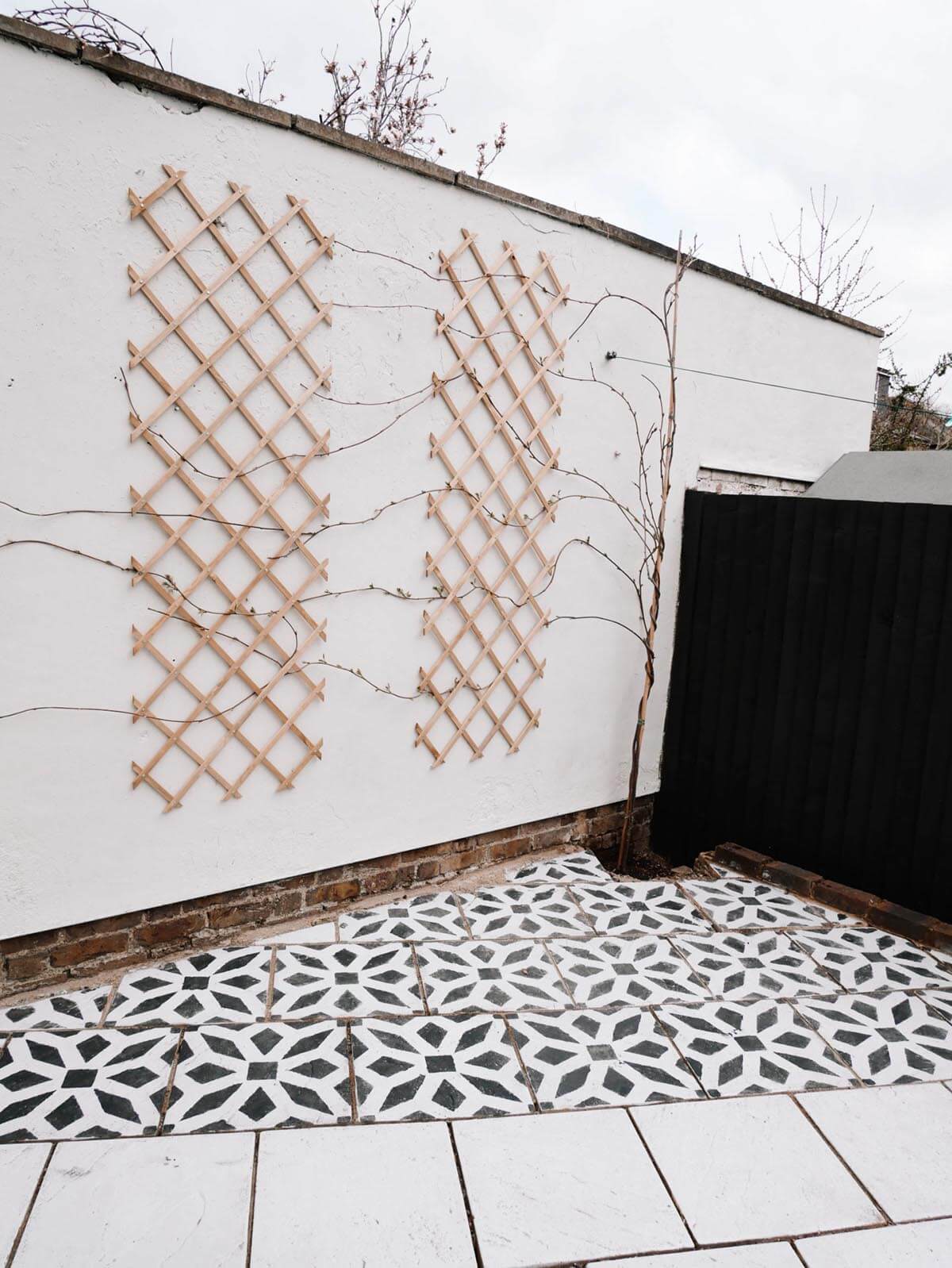 Keep the vision and decorating power extended from the inside to the outside of your home with stenciled geometric flowered outdoor tile. Set in timeless black and white, these large tiles keep the outdoor space grounded and united. The geometric lines in these flowers add just enough extra interest to give the flooring the impact it needs.
23. Natural Wood with White Intricate Stenciled Storage Closet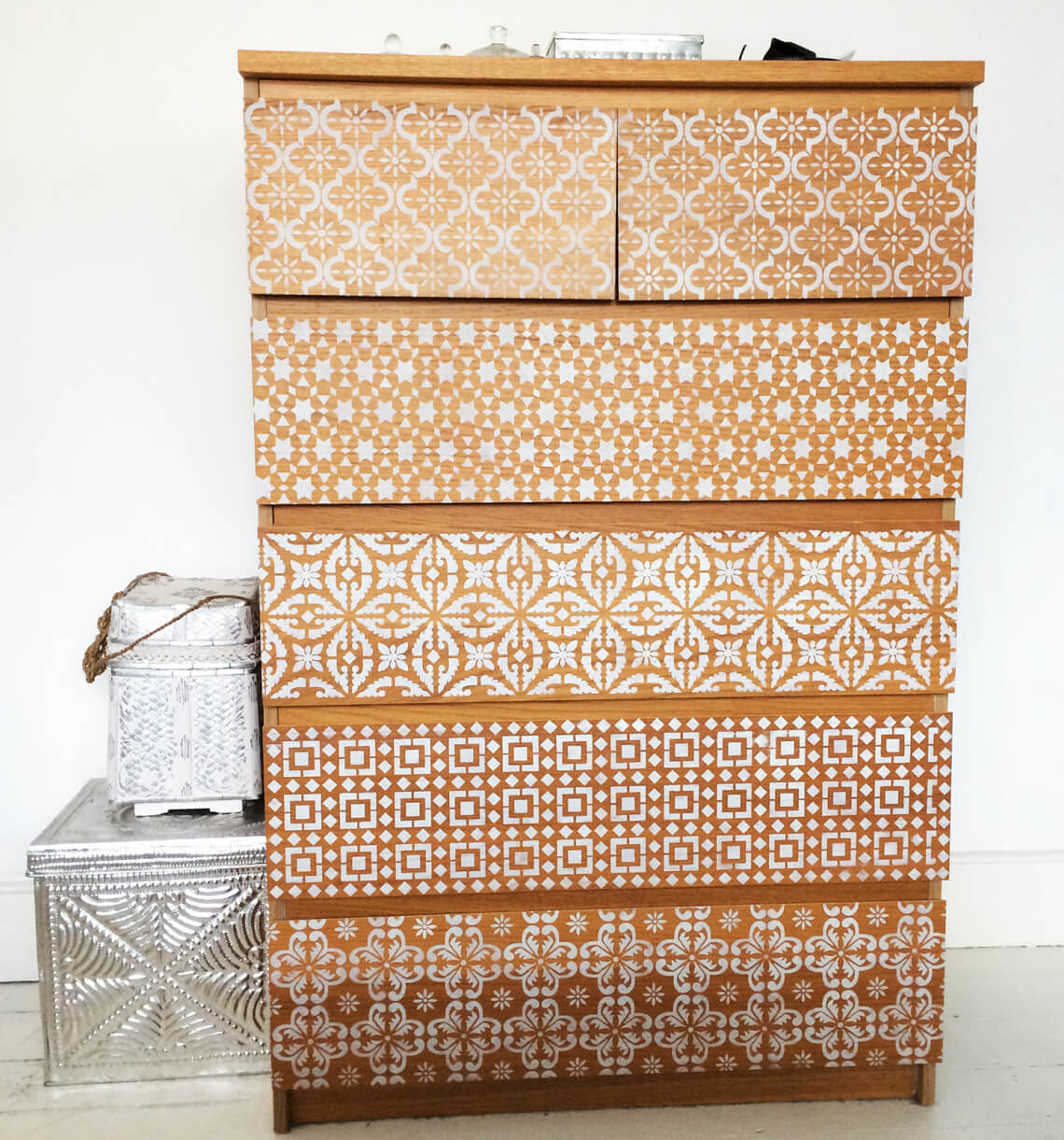 Make an ordinary storage closet an extraordinary organizational space with the use of some paint and stencils. Give each drawer its own personality by using a different stencil pattern. And tying it all together is a breeze when you use the same paint color throughout your design. The use of affordable stencils is a great way to transform an ordinary, oversized, and boring piece of furniture into a focal point in your home. These small and special stencils offer a variety of options in similar shapes and sizes so they work well on the entire unit. Now you can put your stuff out of sight but in a pretty and purposeful place.
24. DIY Modern Farmhouse Farmer's Market Sign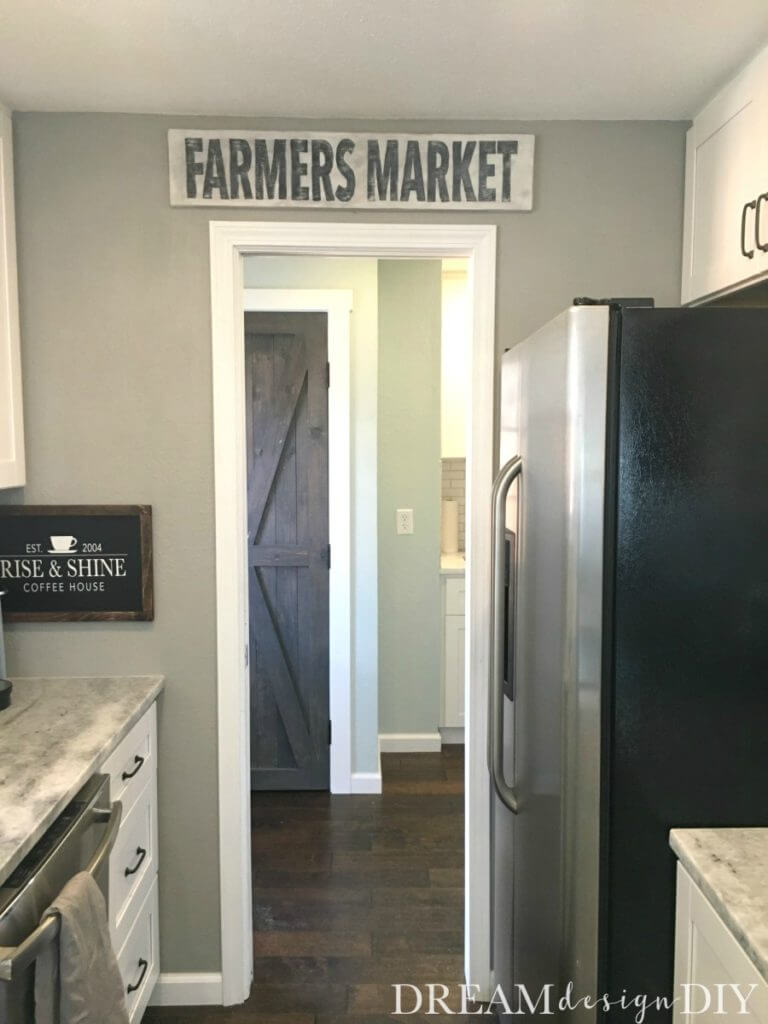 Add some swag to your modern farmhouse kitchen with this trendy and easy to make stenciled sign. It's a top-notch home decoration for resting just above the top of your doorway. The use of black lettering on the white background makes the words pop and easy to read. Head to your local flea market or festival to get inspiration for all of the simple DIY sign ideas you can create for your home.
25. Stenciled Antique Duncan Phyfe Dining Table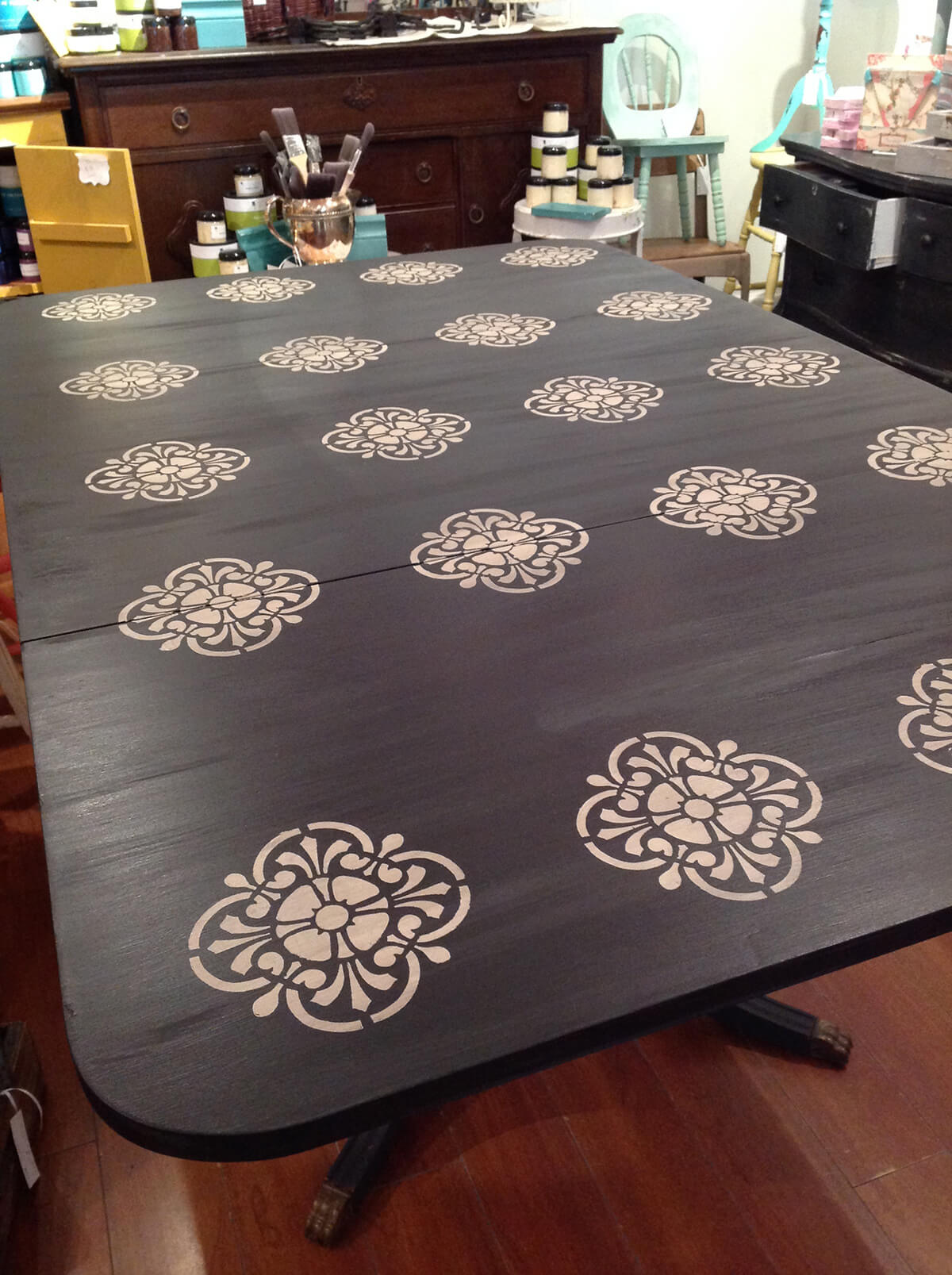 Make your mark on the treasures from the old world by adding your own design to this antique dining table. This once vibrant and all-the-rage Duncan Phyfe dining table features a unique drop-leaf design with loads of tabletop space. It's the ideal platform for presenting a fun stencil layout to give it a modern facelift. Although it can still function as a dining room table, with its new look it would also look great as a sofa table that holds all the wonderful pictures and home decorations you've collected over the years. In an open floor plan, this table provides a good piece that works as a transition between two large rooms.
25 DIY Stencil Decor Ideas for an Instantly Prettier Home
At the end of the day, everyone wants to feel good in the space they call home. And making your house a home is the best way to do that. Incorporate some personal touches and unique features to achieve this goal.
A statement wall in your home office or dining room can be the perfect place to showcase your stenciling skills. You may even wish to create your very own curtains since you can choose a design and color scheme, and bring it to life with your very own stencil. Pillowcases can take the same role and tie the room together quite nicely.
Nearly any sign you can think up can become a reality with stencils. A large, oversized rectangular "farmhouse" sign adds a fun touch to your modern farmhouse design. Or you may wish to pay homage to your favorite baker by displaying their rolling pins in a cute and crafty plaid sign.
Leftover pallets can be repurposed into the perfect square wooden signs to give some character to your wall space by using some plain alphabet letters and numbers as your simple stencil. And don't forget about your luau summer parties where you can decorate your own fabric napkins to infuse that tropical vibe into your party climate.
Don't forget the little touches that really make your house a home. At the stairway, make the most of this space by adding some design right onto the risers to put some spring in your step. And the laundry room is another terrific place to take your stencil skills as you can lay the foundation with some painted tile floors.
Another floor space to test out your stencils is in the bathroom. You can make a strong statement by putting the power of your design onto the floor as it is the focal point as soon as you open the door. With such a bold bottom, the remainder of the room can be streamlined and clean with basic colors and patterns.
You can even turn an old, antique drop leaf table into a modern behind the sofa table by staggering your most cherished stencil into an amazing layout on your tabletop.
Whether it's a backsplash in your urban kitchen or a statement wall in your master bath, you can find the right place for your next stencil adventure if you look outside the box. With a million ways to write your message on a galvanized metal bin or as a decorative touch on some boxes or books, keeping your stencils on-hand proves to be an incredible way to update your look even when you're short on time and money.
Our Favorite Outdoor Decor Lighting to buy on Amazon