Nothing completes your backyard barbecue like the best DIY summer centerpiece ideas to make your outdoor dining space feel like an extension of your home. One of the best parts of summer is the laid-back atmosphere it projects into our minds. Days are longer and time nearly stands still for moments that allow us to reunite with family and friends. And there's no better way to reunite with those we love most than with food.
26 DIY Summer Centerpiece Ideas on a Budget

When we meet, we eat is a common phrase you'll certainly hear among many groups. From families to churches, sharing a meal brings people together. Summer makes this even easier since there's no need to slave over a hot stove inside your kitchen. The warm weather draws us out of our homes and into our backyards where we can entertain for easier cleanup and fire up the grills for cooking.
Even if you can't make it outdoors, these beautiful DIY summer table centerpieces will fill your interior space with some of the hearty goodness this season of the sun has to offer! Some of the top picks include using freshly cut flowers from your personal garden to liven up the greenery. And while you're at it, don't keep all the lemons for drinking. These bright and lively citrus fruits make amazing accents to a large white floral arrangement.
Maybe you're not one to typically plan the party but attend as a party-goer. No problem! These gorgeous summer centerpieces are a great choice for using as a hostess gift. I mean, who doesn't love receiving fresh flowers unexpectedly? Not only will they add beauty to the setting, but they will fill the space with a sweet and fresh aroma to bring a little bit of the great outdoors into the home.
1. Great Grapefruit and Greenery DIY Centerpieces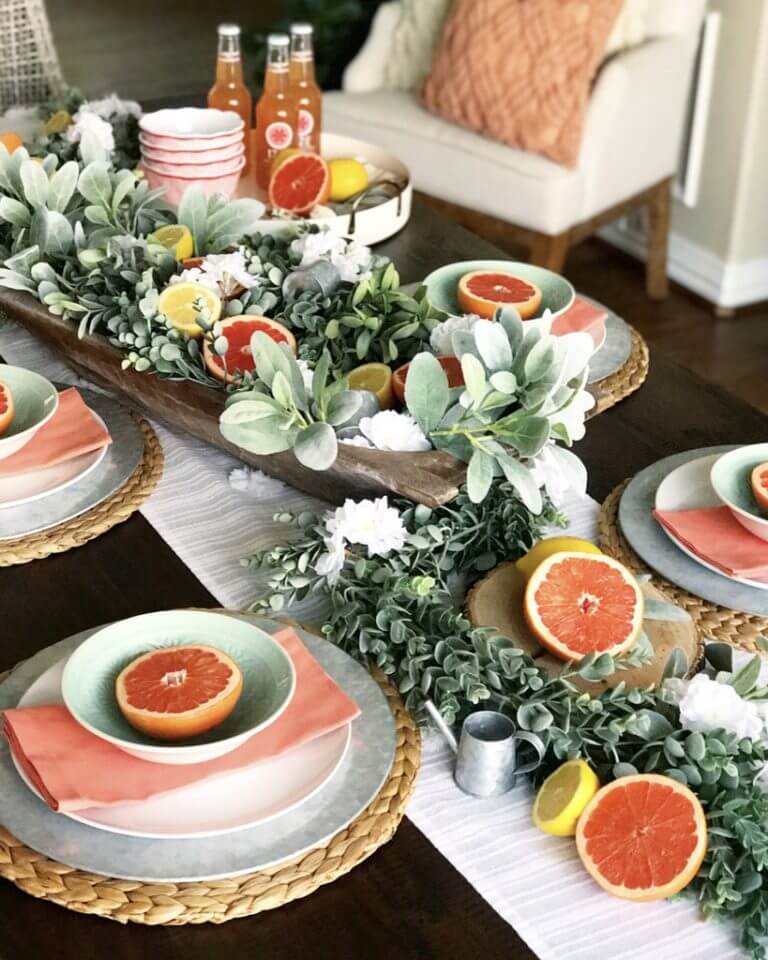 Use the gorgeous natural color of a grapefruit as your muse for creating this stunning summer centerpiece. To begin, rough wood grounds the look with a shallow trough and wood end circle. Fill up the trough with an array of greens in muted hues along with some pops of white flowers for a pretty touch. Highlighting with some citrus fruits adds a fresh scent to this centerpiece and is the perfect bright burst of color. Your healthy and fresh summertime lunch is set for all of your friends with this sensational citrus DIY centerpiece idea.
2. Sea Blue Glass Mason Jar Vase Centerpiece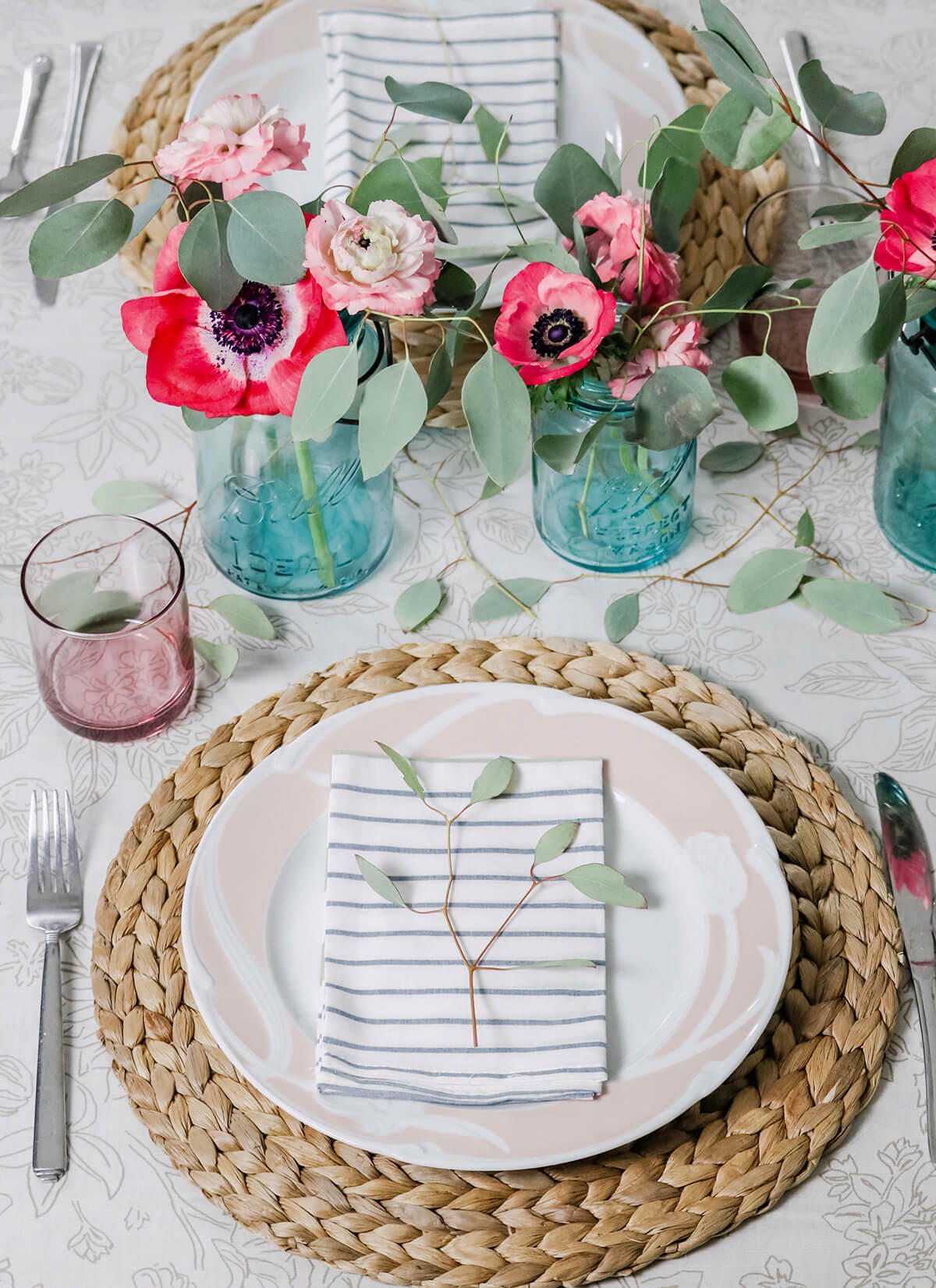 Add a timeless look to your table this summer with these simple and beautiful mason jar centerpieces. Created using a sea blue glass version of the traditional mason jar, these vases provide the perfect sized vase for your miniature tabletop bouquets to come to life. Line them down the middle of your long dining table or set one at each place setting to personalize each guest's dining experience. Filled with seasonal petals, these mason jars add a classic and timeless style to your summer tablescape this season.
3. Perfectly Pineapple Natural Flower Vase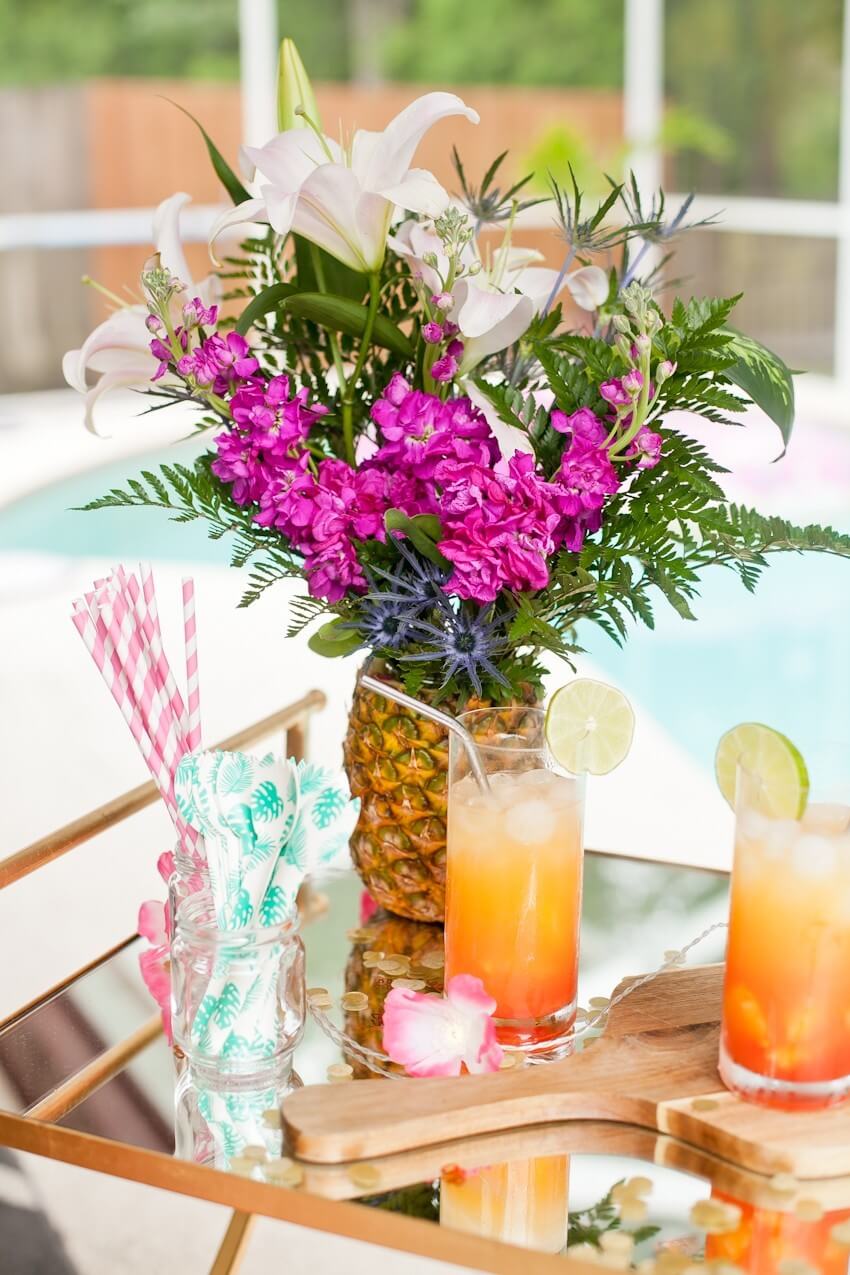 Think outside the box and into the produce section of your grocery store for these creative and easy DIY summer table decor ideas. Simply hollow out all of the juicy and delicious pineapple chunks from this fruit and keep transforming the remaining shell into a natural and sweet-smelling flower vase. It's an exceptional poolside way to display your flowers and give your outdoor dining experience a cool look for al fresco eating. This reimagined fruit makes one easy DIY summer table centerpiece that gives a unique look to your backyard barbecue without breaking the bank.
4. Circular Scrolled Edge Tray with Vase Centerpiece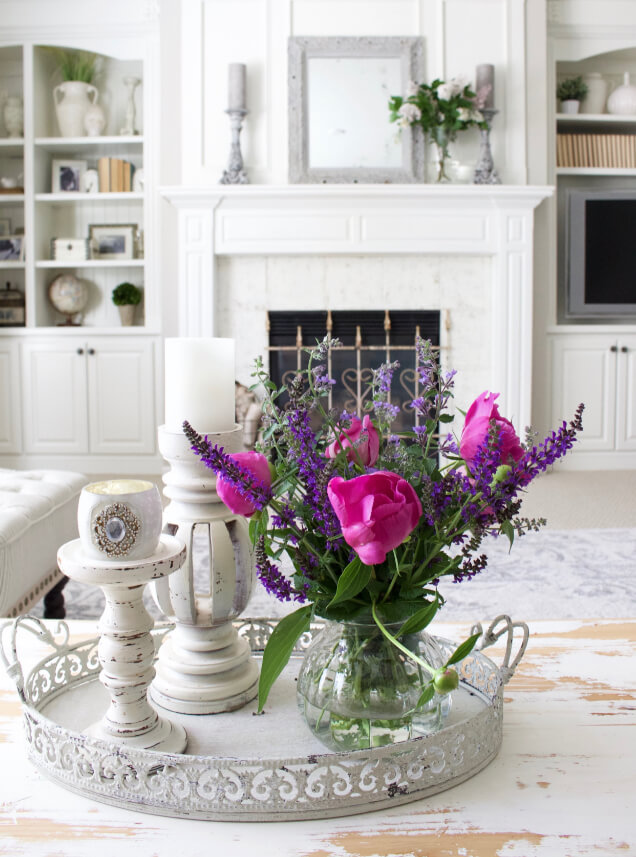 Check out this unique and cool circular tray that shows off a distressed white finish adding character and charm to your summer table decor. The simple glass vase is a great place to hold your freshly picked flowers so your interior feels like an extension of the great big backyard. Continuing the distressed white finish are the candle pedestals and candles tying the look together quite nicely. Set this tray on your large ottoman or coffee table to bring a touch of summer into your main living space this summer.
5. Sand and Seashells Summer Centerpiece Style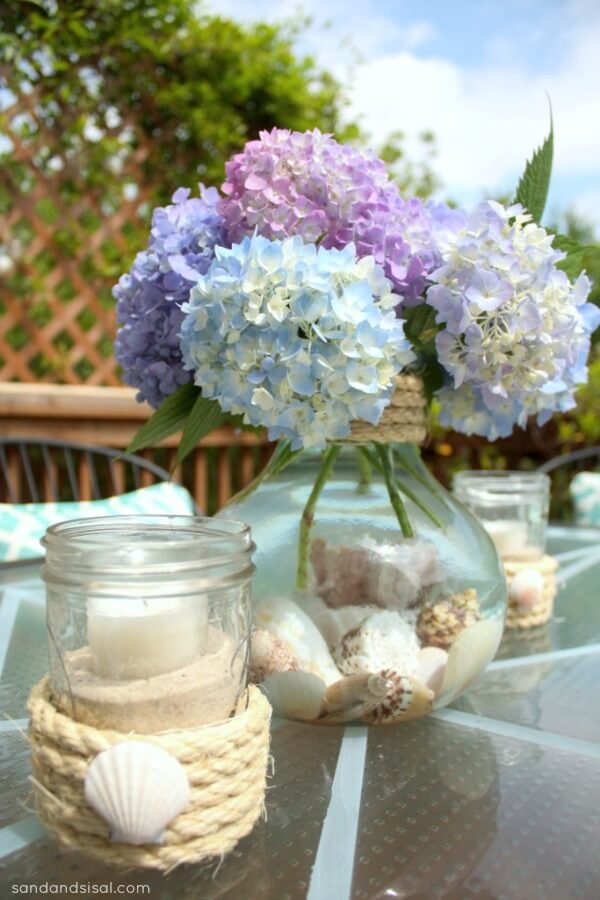 One of the best DIY summer centerpiece ideas has to include sand and seashells as they unite as a dynamic duo for the warmest season of the year! A plain glass jar filled with sand and adorned with a single shell adds the perfect companion to the larger central focus centerpiece vase. Filling the main vase with a variety of larger-sized shells adds so much style and character with their texture. Really make your hydrangeas pop with this trio of sand and seashells creating spectacular summertime centerpiece ideas.
6. Simply Shoreline Chic Driftwood Centerpiece Idea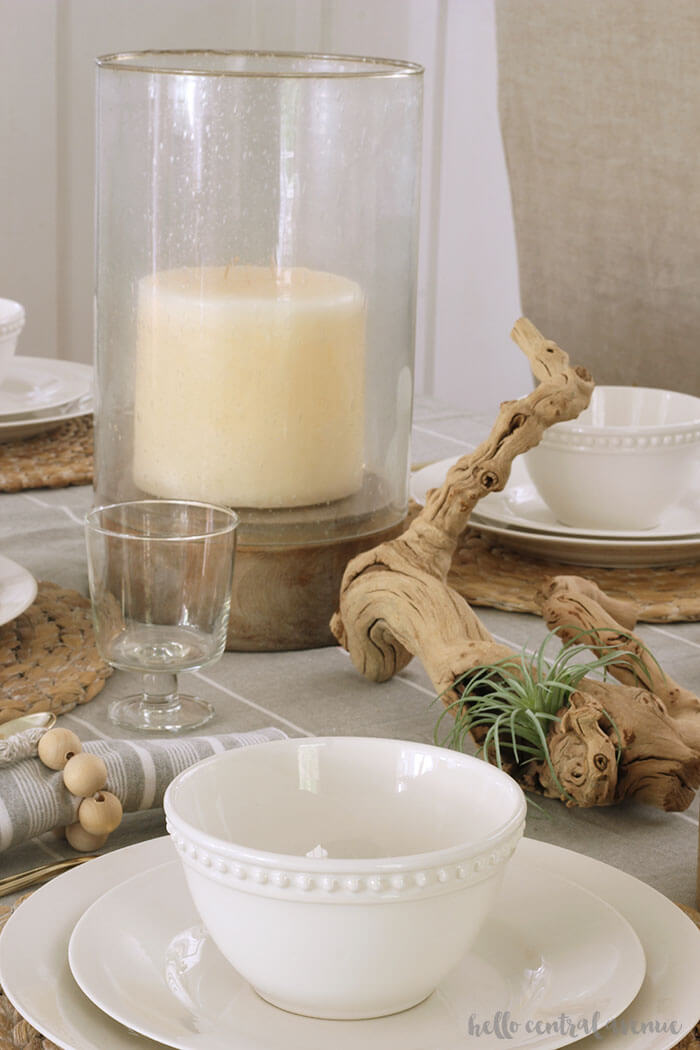 Let the beauty and grace of the ocean inspire you in your summertime centerpiece design. Lovely driftwood winds around into a unique shape and creates a cozy space for a delicate air plant to call home. Setting on the center of your table along with a hurricane vase, this combination is one of the best DIY summer centerpiece ideas as it includes a candle, plant, and wooden element in its design scheme. Invite your favorite dinner guests over for an evening filled with delicious seafood dishes to complement your seasonal summertime table design.
7. Monochromatic Madness All White Summer Tablescape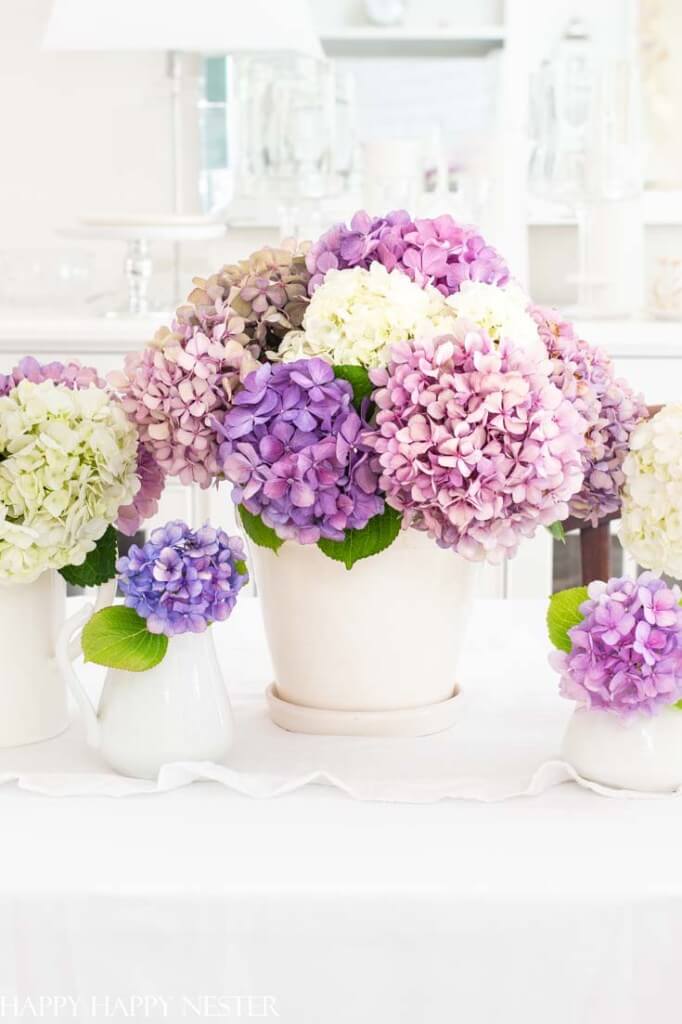 Keeping it simple and chic is an all-white classic centerpiece design. Using a monochromatic palette allows for a variety of items, textures, and styles to be included within the design. Different pottery pieces from mugs and pitchers to plates and planters become ideal items to work in creating your fresh and new summer table decor. Featured in an all-white room, the use of bright and lush flowers emerge as the focal point on your dining table as the only non-white item in the room. You'll love the look of enjoying your favorite freshly-clipped flowers from your garden taking up a permanent residence in your kitchen and dining room this summer.
8. Staggered Single Stem Peony in Vase Centerpiece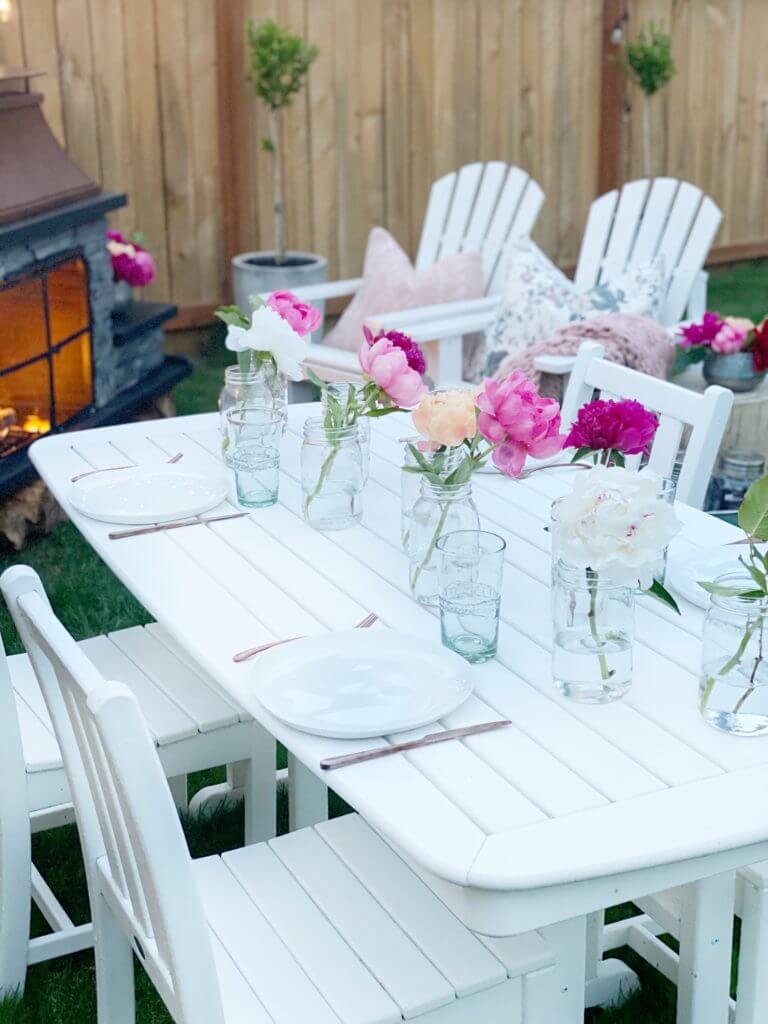 One of the reasons summer is such a beloved time of year is the manner in which it encourages a respite from the hustle and bustle of everyday life. Why not channel this spirit in your summer decor for your home? Using plain and simple glass jars, you've got the start for an amazingly easy and practical table centerpiece look. Placing a single peony stem in each, line them down the center in a staggered formation to create a powerful look from such a simplistic design. The thick and stout peony blossoms will steal the show so no need for any extra frills.
9. Trio of Tiny Boxed Potted Greens Centerpiece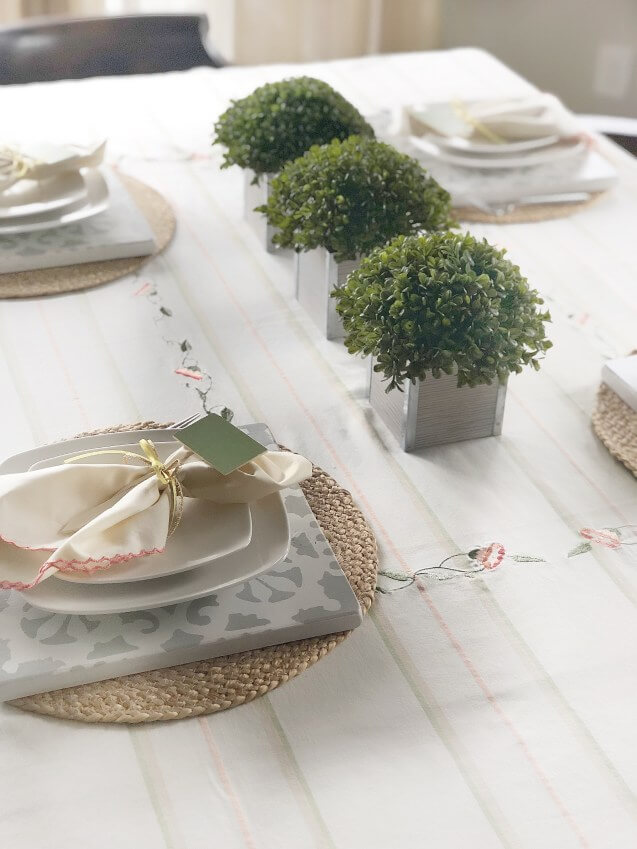 If you see leaves of three, let them be, but when it comes to design style three is a magical number. This trio of tiny boxes works together to create a fun and simple centerpiece design. Such a look works well for a low-key event that needs to feel understated, yet professional. The short and plump greens stick out of the boxes to reveal their full boxwood beauty. Place them together in the very center of your dining table or add three groups down the middle of a long rectangular table for more appeal. The square box container adds rustic and shabby chic goodness to your DIY summer table centerpieces.
10. Glass and Paint Elegant Flower Vase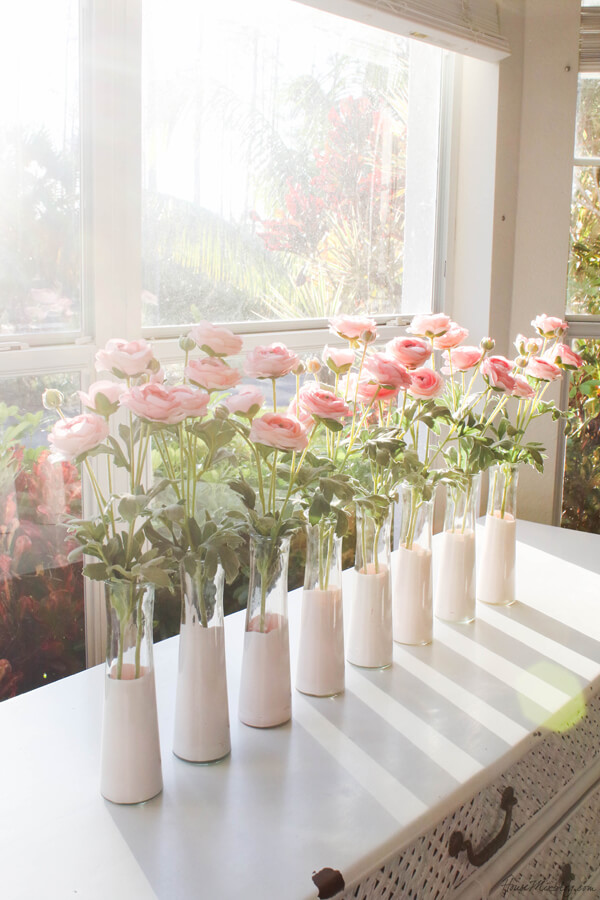 Putting your own personal touch on a plain glass vase results in a captivating creation perfect for a summertime wedding. These vases have been painted in a soft blush hue on the inside to give them a unique and cool new look. Holding a pretty assortment of pink roses really embraces the subtle pink in the blush paint tone. Arrange these as the focal point on the reception tables or add one to your nightstand to give your bedroom a fresh update for summer. Personalize the paint color with the flowers you feature to further add to the style and charm of these flower vase creations.
11. A Timelessly Traditional Arrangement in Pinks and Whites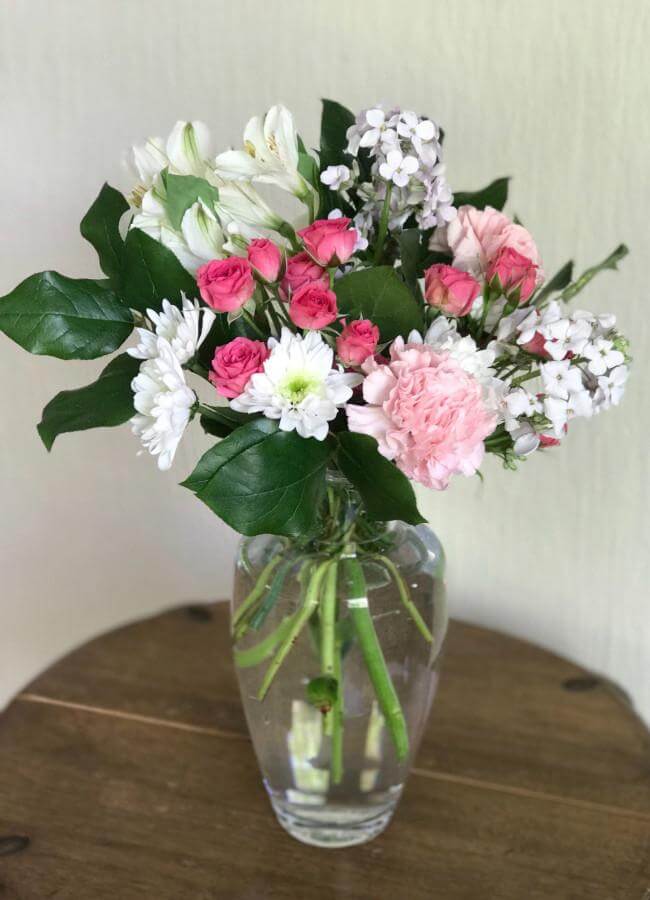 By far one of the simplest centerpieces can be created by arranging a few blooms in a smooth, sleek glass vase. This one combines delicate pink roses, bold white lilies and waxy green leaves with other bright blossoms in an eye-popping bouquet perfect for any table. By mixing colors, sizes, heights and textures, this arrangement draws the eye from one flower to the next, inviting you to bend down and breathe in each fragrance in turn. The narrow mouth of the vase holds the stems together at just the right angle to send the flowers tastefully tumbling out of the top in a design that is sure to wow from any side.
12. Centerpiece Simplicity with a Single Paperwhite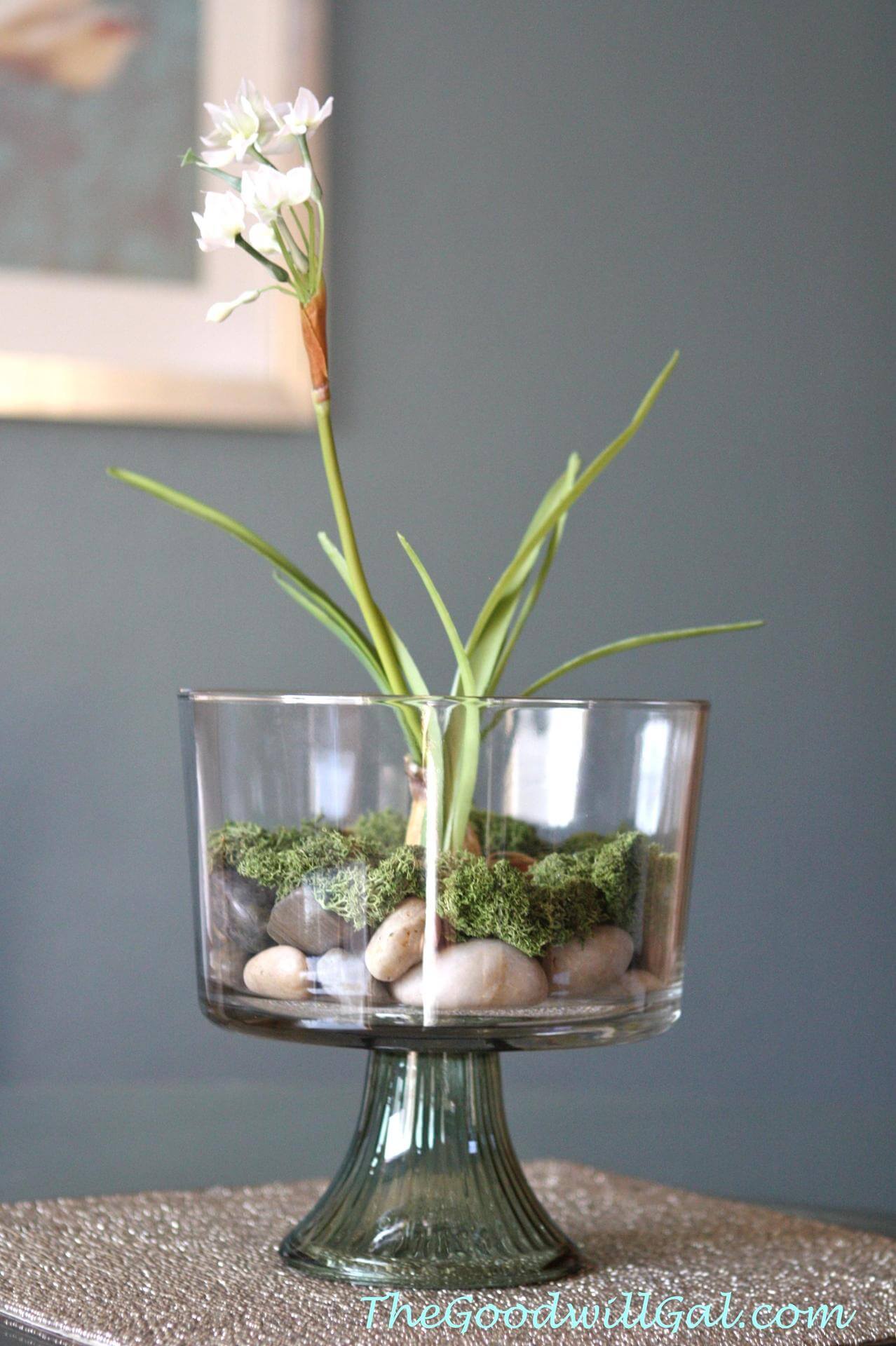 By pairing a heavy glass vase with a tall, delicate paperwhite, this piece has an effect that is both graceful and grounding. The vase balances a sturdy bowl on top of a ribbed pedestal and is filled with smooth river rocks. Soft green moss covers the stones and serves as a verdant safety net for the flower climbing above it. The elegant paperwhite reaches toward the sun, thin leaves splayed out at in all directions, defying gravity. The entire design looks as if it was carefully plucked from the bank of a babbling brook and transplanted into the home, recreating the sense of peace and stillness you might find on a sun-dappled shore.
13. A Sweet Homespun Succulent Oasis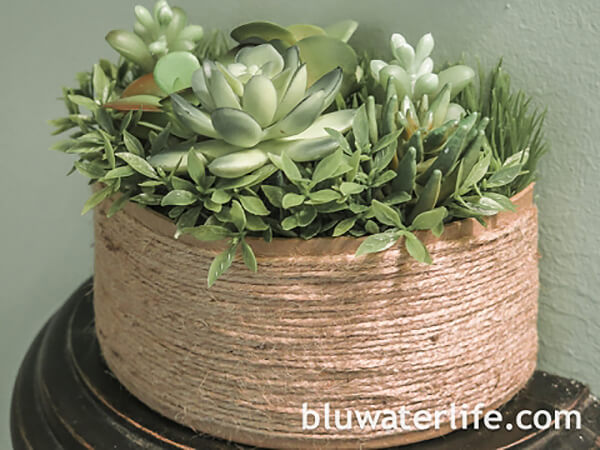 Succulent gardens have gained popularity in recent years, due to both their innate allure and their ease of upkeep. This sweet basket combines rough twine with smooth succulents for a rustic centerpiece that would enliven any space. The half-circle pot is decorated with rows of simple, brown twine and settles perfectly against the wall, while the numerous succulent varieties add texture and depth to the planting. The combination creates a lush mini-garden sure to inspire conversation.
14. Zesty Lemon Pitcher Summer Flower Vase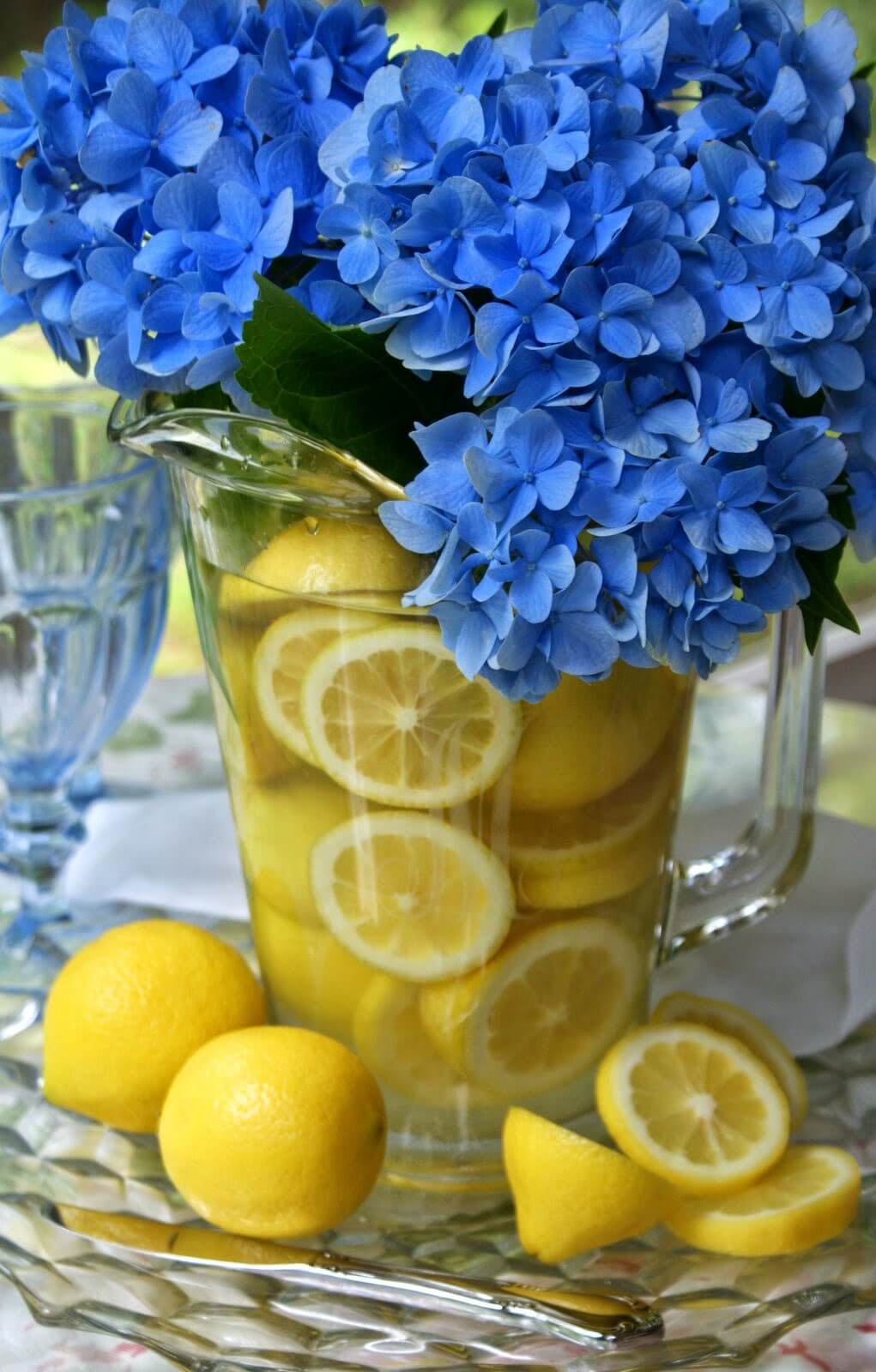 Rethink your glass pitcher this summer and fill it with some hearty citrus to make a splash as your summertime centerpiece. The glass pitcher is the perfect container for holding all of your freshly cut hydrangeas and the lemons floating in the water provide a perfect contrast to the petals. When hosting your next outdoor dining event, this is a fun way to decorate the beverage station to add a unique touch. Nothing says a backyard barbecue quite like lemons so be sure to include this cool display for your warm-weather outdoor eating adventures!
15. Wet 'n Wild Watermelon Floral Centerpiece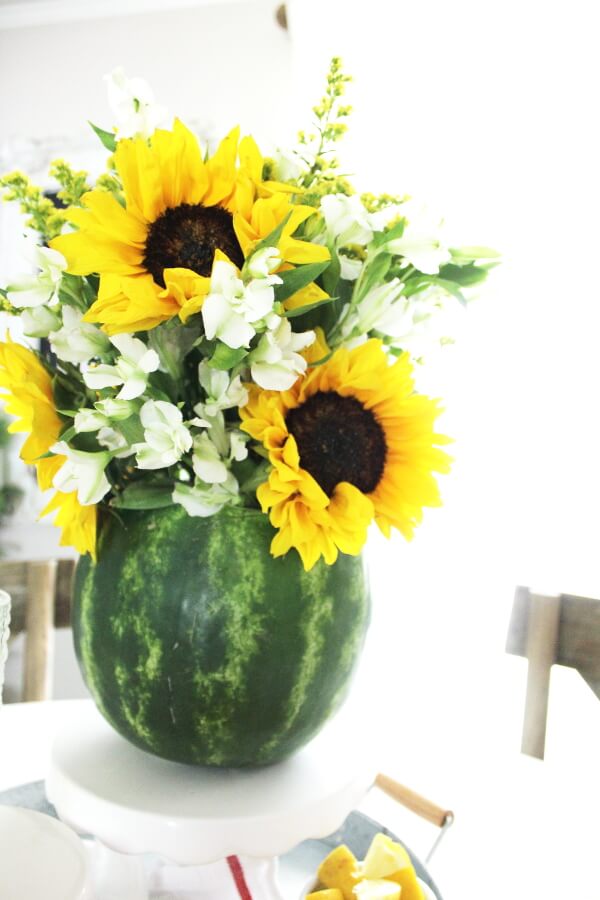 Be kind to Mother Earth as you consider your choice of summertime centerpiece displays. Find ways to utilize natural items in your arrangement. One of the simplest ways to do so is by using leftover fruit carcasses. After all the juicy goodness has been cleaned out of this ripe watermelon, it becomes a fantastic base for showing off your favorite bouquet of summer beauties. Place one or a few on your food table to enhance the mealtime atmosphere during your next al fresco dining experience.
16. Timeless and Classic Glass Vase Flower Centerpiece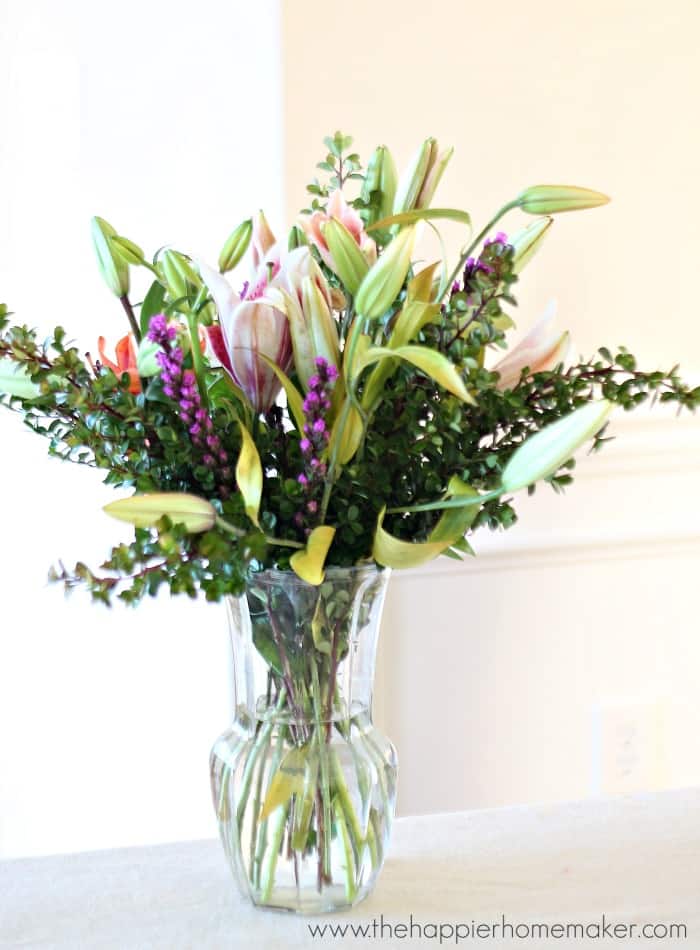 If keeping up with the latest trend isn't your thing, you might want to think about sticking with the basics in terms of summer centerpieces. In the center of your table, this classic glass vase makes a great foundation for your collection of mixed flowers. Swap them out every few days with the latest freshly cut blossoms and you'll enjoy a friendly and fun summertime accent all season long. You can place one of these traditional glass vase bouquets throughout your home as they work in any room and even look pretty on the porch.
17. Sunflower Summer Tiered Tray Display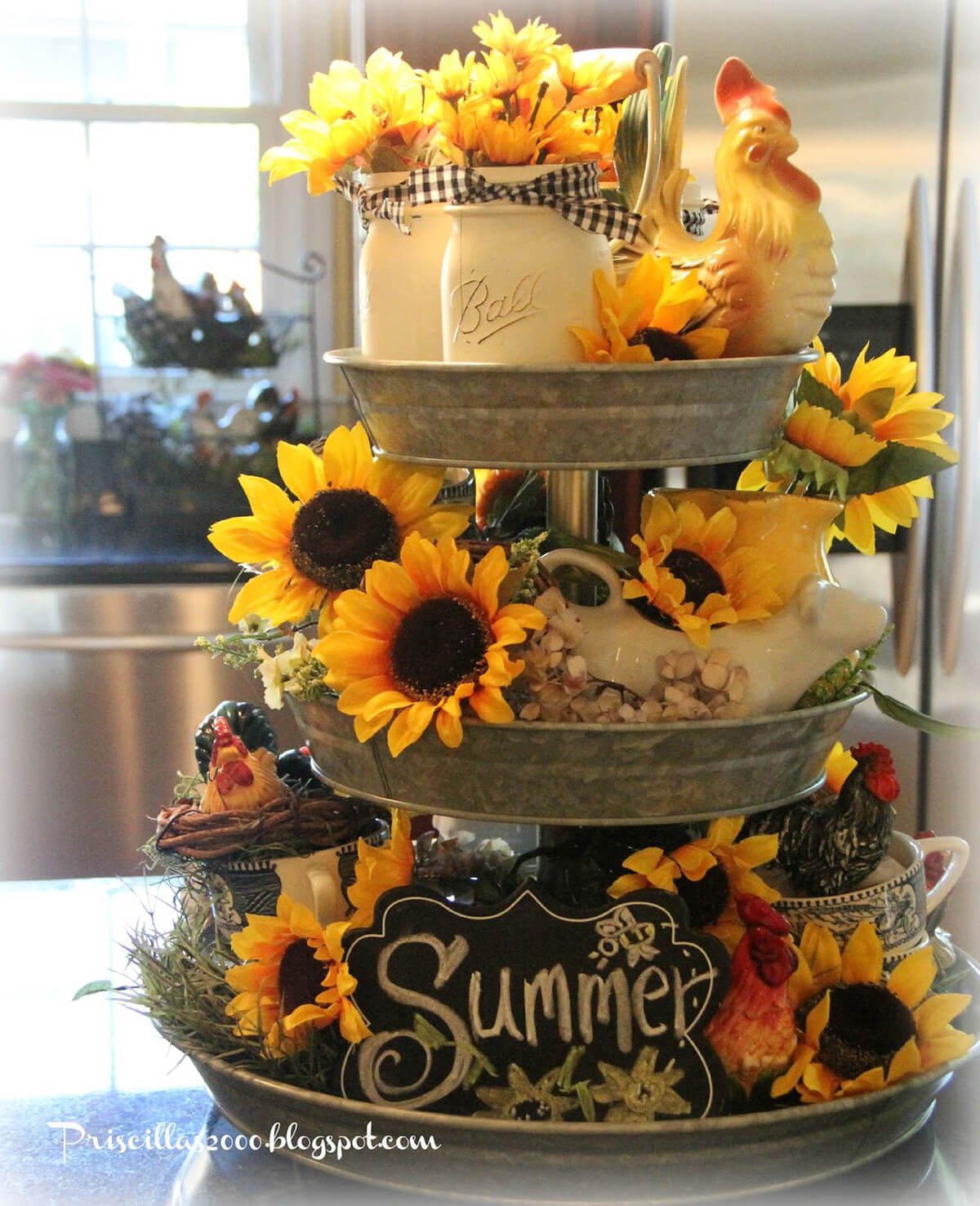 Perhaps the flower that signifies the end of summer like no other is the sunflower. Allow its rich, buttery petals to bring summer's warmth into your home by including it into your seasonal tiered tray display. Each tray includes several of these stunning sunflowers and is highlighted with a pot filled with miniature ones on the top. The addition of ceramic hens really adds a nice touch to this display that's a wonderful modern farmhouse centerpiece idea for summer.
18. Bloom Stenciled Crate Flower Caddy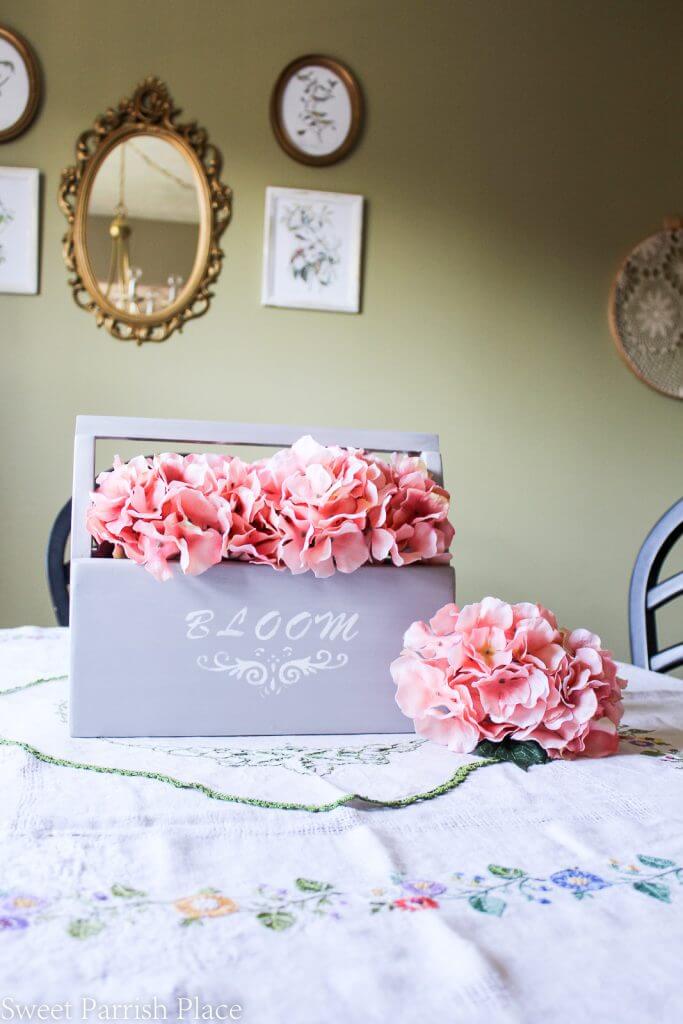 Put your personal touch on this wooden caddy and transform it into a cute stenciled flower crate. With a handle on top, this caddy makes creating a bouquet a cinch since you can carry it along into the garden as you cut your favorite blooming beauties. Stencil a single word or phrase on the side to enhance it with your personal touch. Paint the entire wooden caddy in your favorite hue so it blends right in with your existing decor this summer season.
19. Pitchers and Pails Americana Summer Table Decor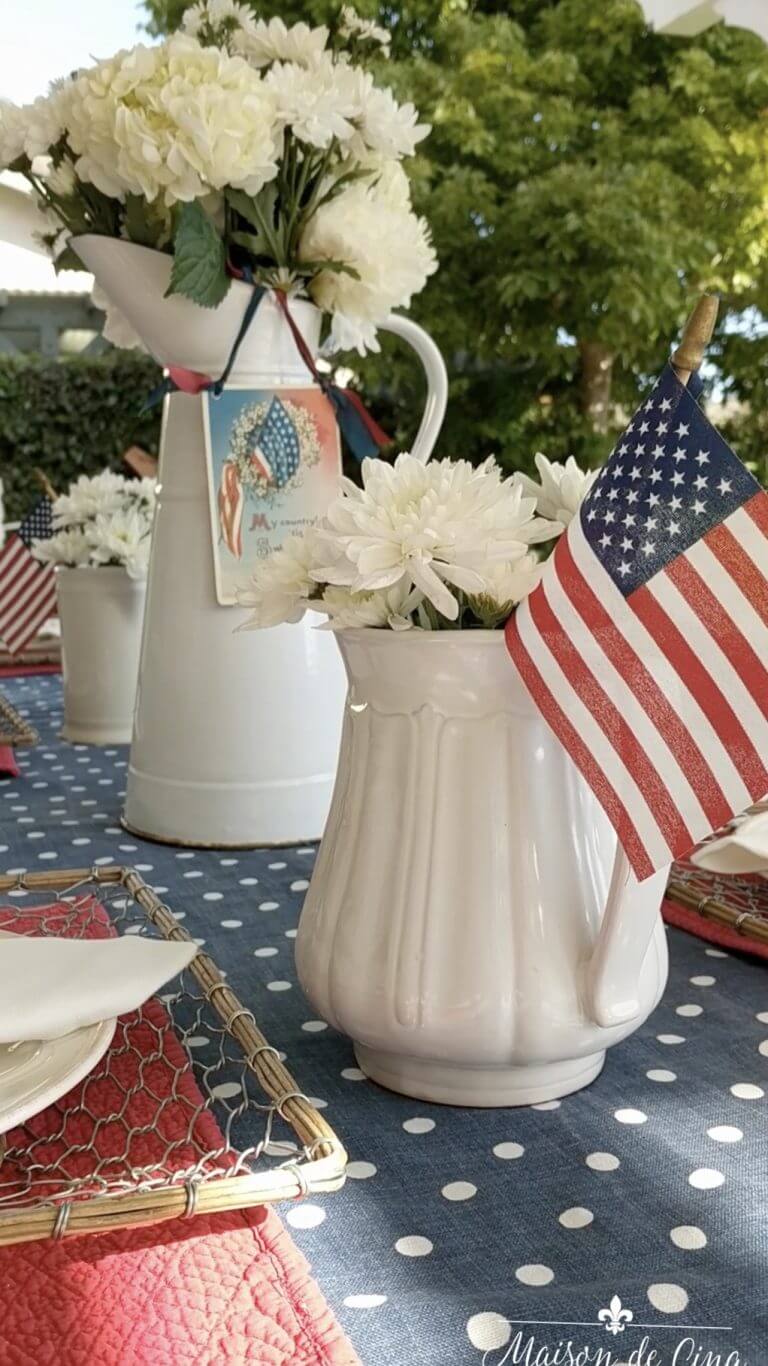 Liven up your Independence Day celebration with these red and blue-accented tablescapes. The look is grounded firmly in the white pottery pieces of various sizes. Each pitcher or pail provides enough room for comfortably housing your white flowers to create a uniform monochromatic centerpiece design. Trim them with some beads and small flags to enhance their country-loving pride. Keep freedom alive with these simple and charming summer centerpiece ideas this year.
20. One-of-a-kind Driftwood Succulent Planter for Summer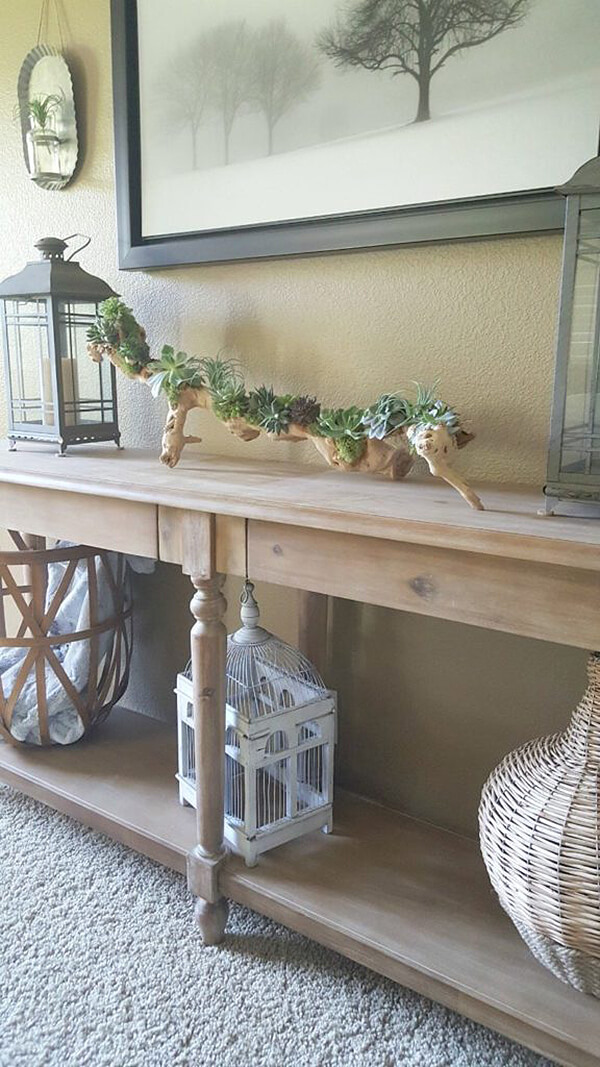 Bring a part of the beach into your home without feeling too much like you're going with a theme in your interior decorating. This amazing and unique piece of driftwood has been given a real purpose in life as it creates a cozy haven for your favorite succulent friends. What a charming centerpiece at a bohemian wedding celebration or on the mantle of your fireplace. The rich and natural texture and blonde hues of the driftwood are a fabulous look for the deep green and waxy petals of this succulent family of plants. Enjoy a fun scavenger hunt with friends to find the perfect piece of driftwood before embarking on a crafty night of adventure.
21. Wooden Box Planter Summer Centerpiece Idea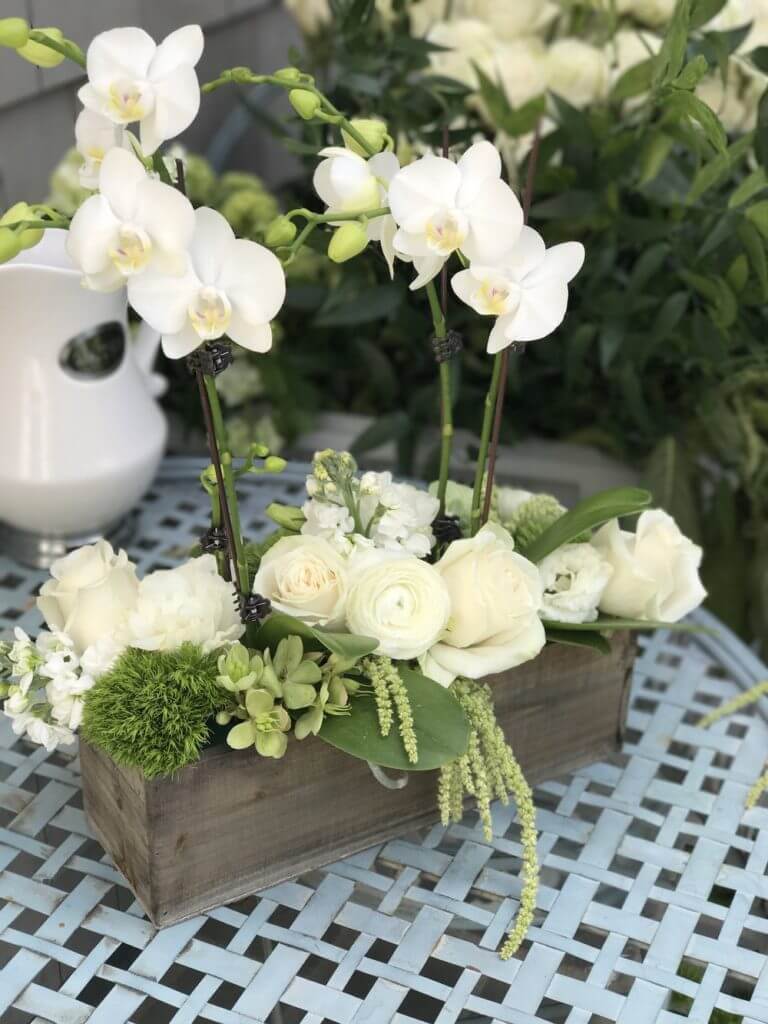 Make an amazing centerpiece for your next event with a simple wooden box planter. Filled with your favorite flowers, this box is just the right size to hold an assortment without taking up too much space. For this idea, a pair of white orchids are the power couple making this piece the brilliant showstopper it is. Surrounding them are a variety of similarly colored choices that complement quite nicely. From roses to ranunculus, you can't go wrong with a white color palette to achieve an everyday elegant centerpiece look.
22. Distressed Painted Mason Jars with String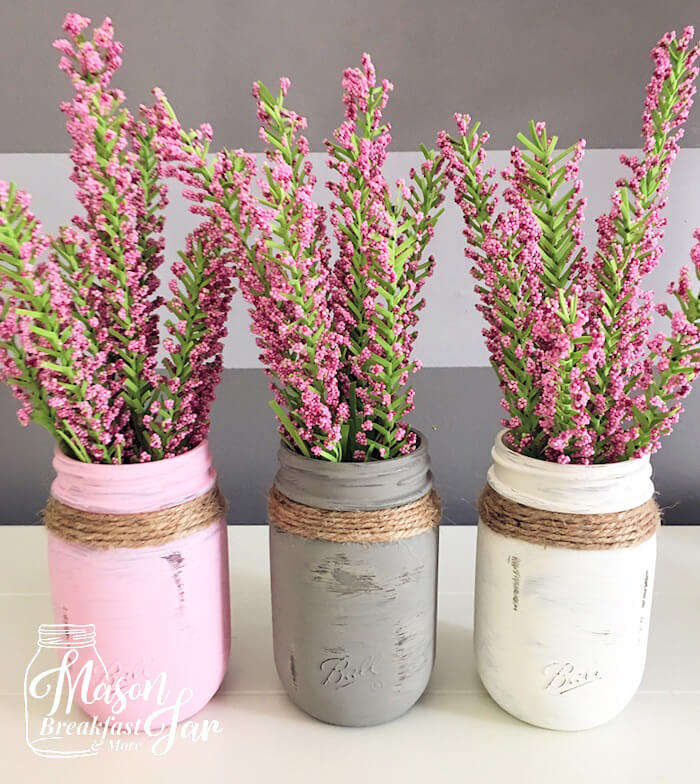 Shabby chic crosses over to modern farmhouse design with these cute and charming painted mason jar vases. With your choice of paint color, they match your decor or party color palette to at. Adding a little distressed finish gives them more character for their overall look and feel. Around the neck, the addition of wrapped twine completes the vase for your flower holding needs. Place these as the centerpiece base on your guests' tables at your next party or event. To take it up a notch for a nighttime fiesta, consider using glow-in-the-dark paint to help light up the atmosphere.
23. Wooden Trough Coffee Table Centerpiece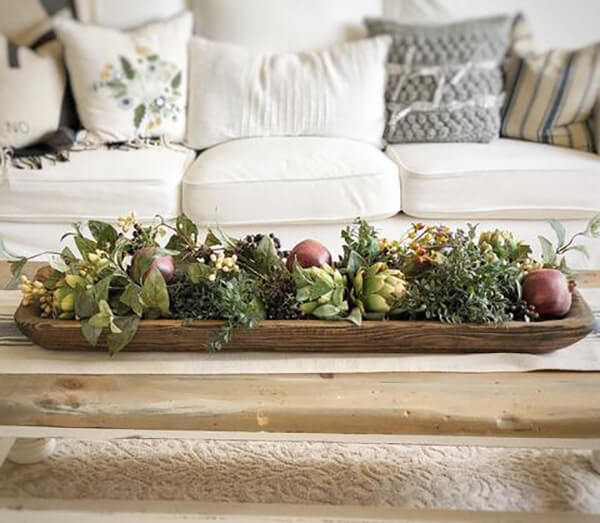 Change up this awesome coffee table centerpiece each season to add a fresh new look that coordinates with the temperatures outside. For summer, this wooden trough can be filled with so many phenomenal looks. Maybe a collection of summer fruits winding through this trough, with a few flowers tucked in, is what you're looking for. Or you might like the thought of dried treasures from a stroll through the woods containing acorns, persimmon, and grapevine pieces. Whatever your taste, this simple wooden trough turns your vision into reality as it offers the best place for showing off your favorite summertime items.
24. Milk Glass Chrysanthemum and Lemon Summer Centerpiece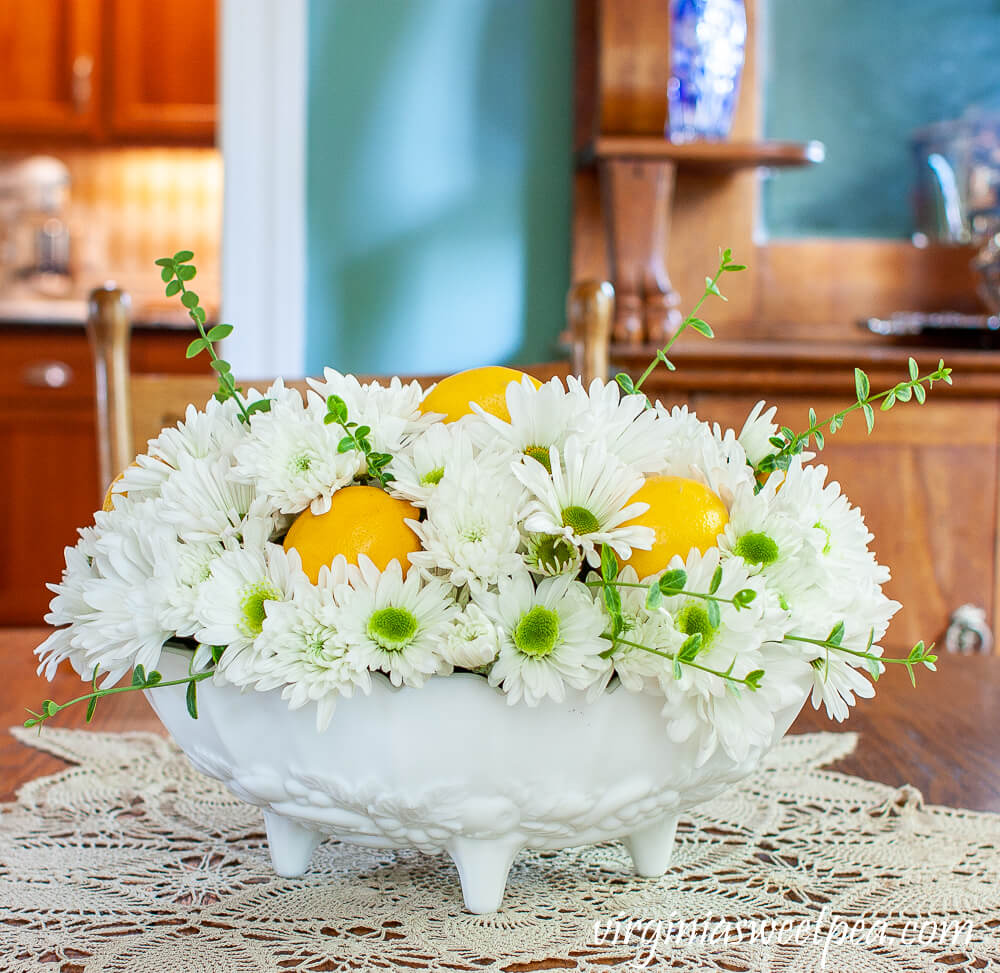 Add a touch of the past into your summer centerpiece design with milk glass. This timeless look works great with all of the white materials and color palettes are seen everywhere in today's designs. A large fruit holder crafted from this milk glass material makes a wonderful base for your summer centerpiece. Continue the white scheme by filling it up with a few bunches of chrysanthemums and interspersing a few bright and lively lemons throughout. The result is an airy and outdoorsy feel that's sure to be a hit for summer and make your home welcome the season with open arms. Place this on your entryway table to greet guests or set it in the middle of your kitchen island to infuse the room for summer.
25. White Painted Jar Trio with Lavender Bunches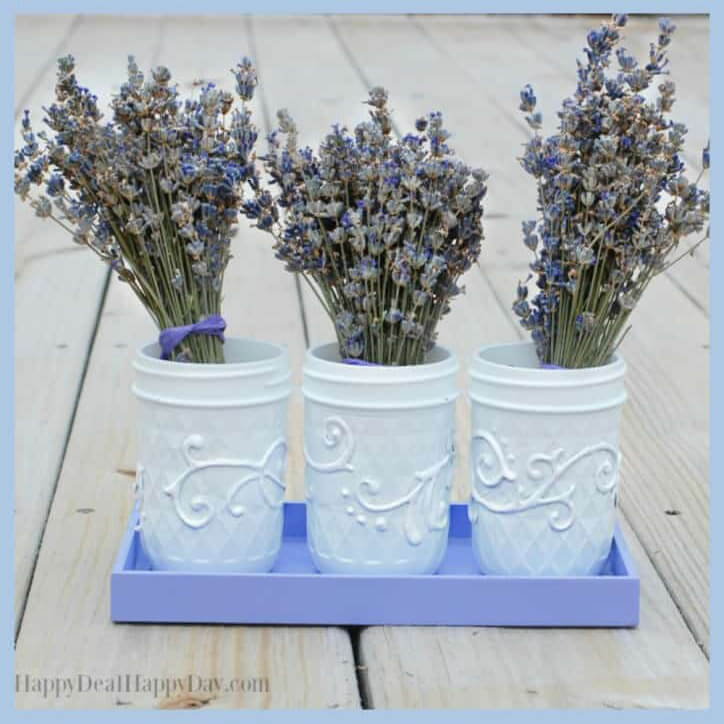 The soft and gentle feel of lavender not only looks nice but exudes a calming and soothing effect. Bring some of this calm into your summer centerpiece style by displaying a tied bunch of it within a hand-painted white mason jar. Each bundle can be secured with a simple jute string or a more refined and polished ribbon, depending upon your design preference. Arranged in a trio, this group is a showstopper for any warm weather get-together. Line them down the table for some relaxing dining with your friends.
26. Dainty Wooden Box with Votives and Succulents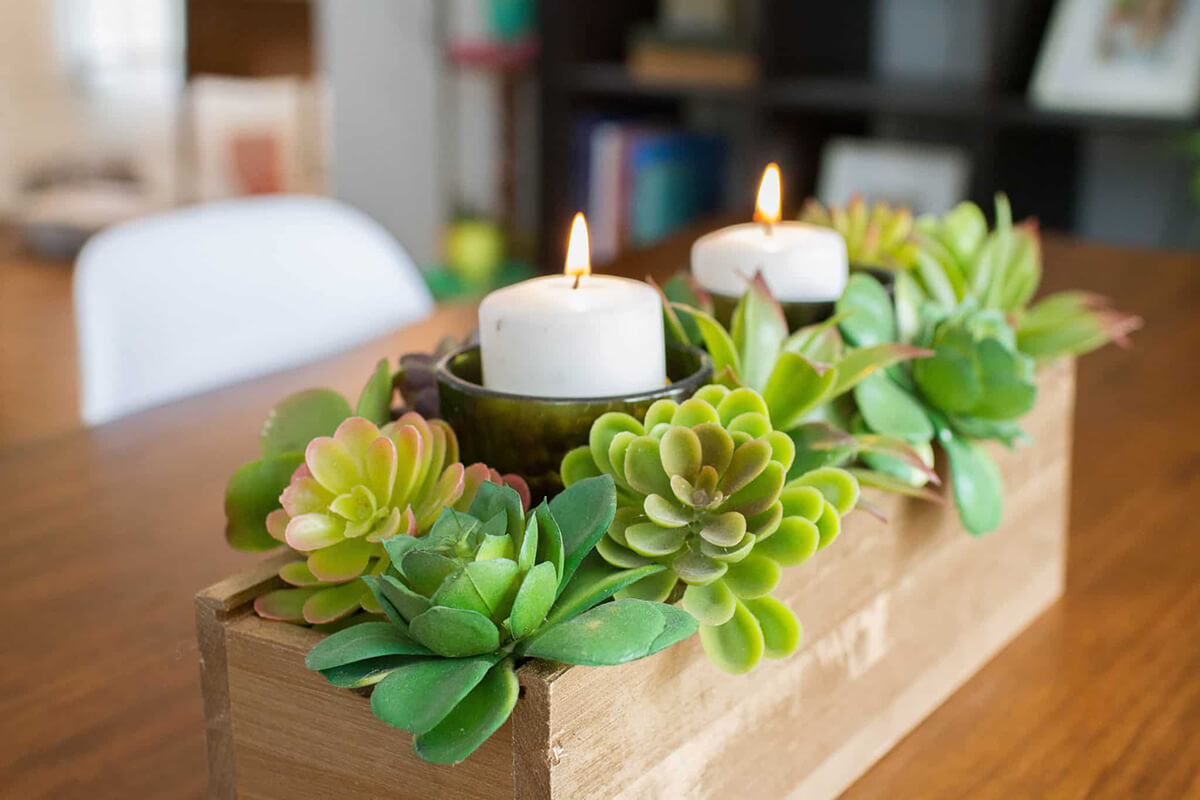 You can't go wrong with plants and candles as part of your decor. Feature both in a delicate way by adding a couple of votive candles alongside your favorite succulents inside this simple wooden box planter. This crafty centerpiece easily transitions to the outdoors for enjoyment after the sun has set. Place one on each side of your porch or patio to light up the night in a low-key way. The subtle glow will add to the atmosphere of your late-night conversations with friends as you sit under the stars and watch the fireflies.
27. Wire Hat with Sea Treasures and Succulents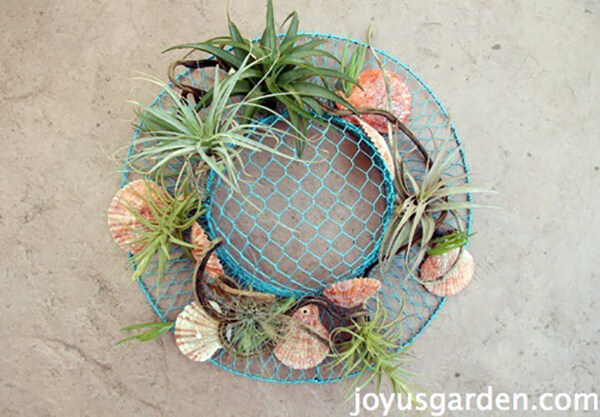 Here's a completely unique and original centerpiece design that starts with a simple wire hat form. Spray paint the hat in your favorite hue for summer to begin. Fill it with treasures you've collected from the sea from shells to sea sticks. Placing succulents and air plants throughout gives it a living look that's a wonderful spin from a standard and boring pottery planter. This creation is sure to spark conversation so place it in a prominent area like a coffee table in the center of your seating arrangement. It's a fun way to add some personality to your outdoor space without a lot of work.
28. Cheeky Cherry Pom Pom Adorned Mason Jars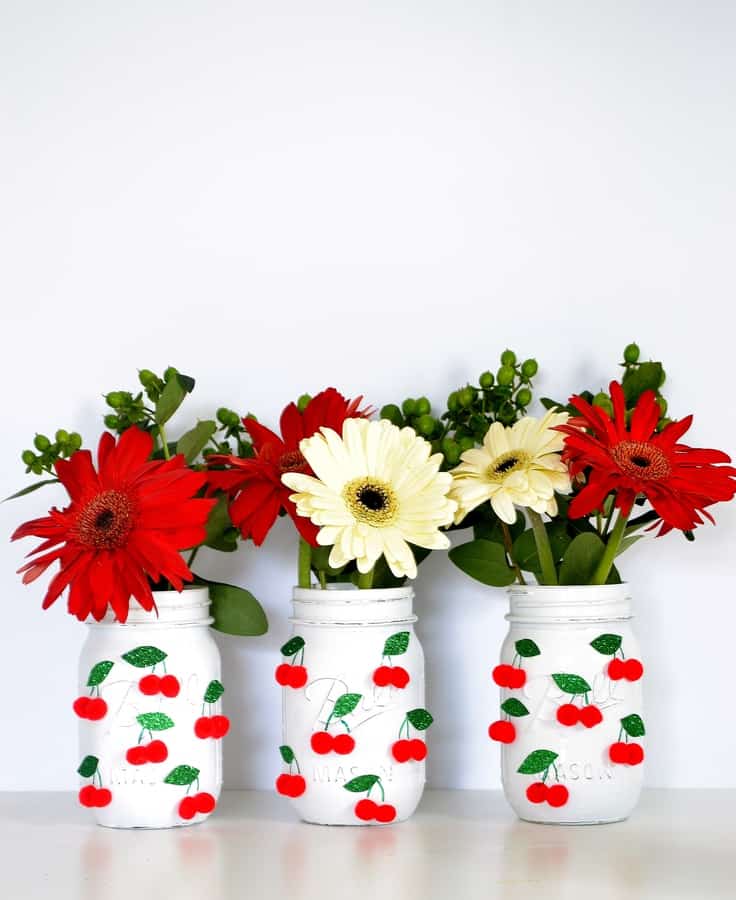 How cute are these cherry pom-pom mason jars? Mason jars have been painted white to give a fresh and crisp backdrop for these bright red beauties. Featuring pom poms as the fruit, the three-dimensional effect is on-point and looks amazing for your vintage and nostalgic vase trio. Fill the jars with some red flowers to keep the color scheme going. Place one of these cute cherry bombs on every table at your next backyard barbecue to make the picnic tables come alive.
29. Super Simple DIY Ombre Vases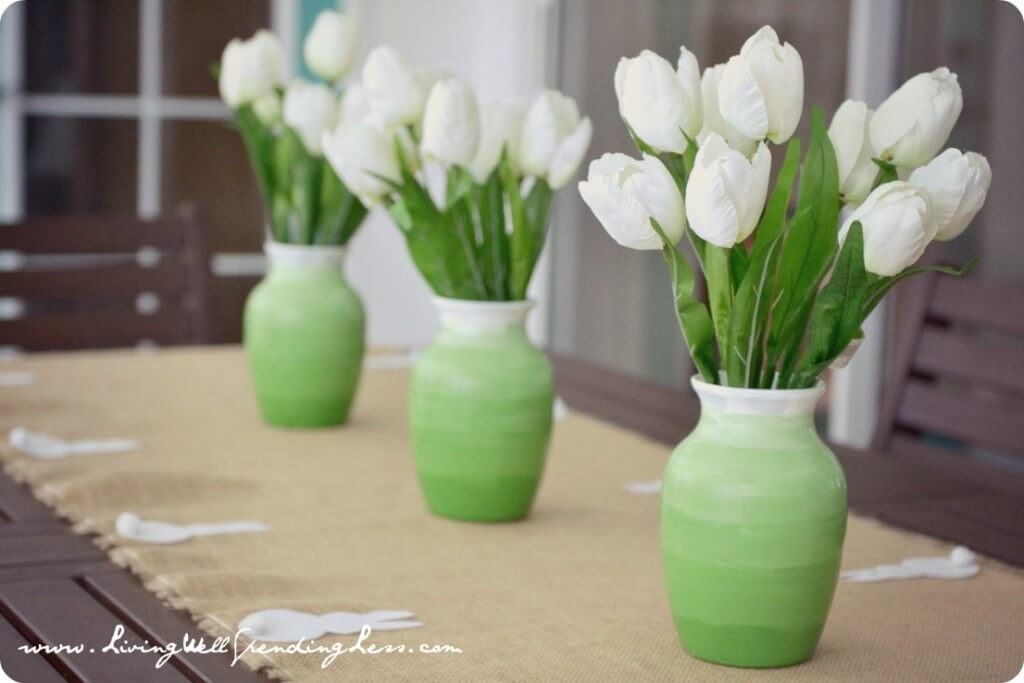 Who doesn't love a super simple DIY that's cheap and complete in under 30 minutes? For any spring or summer celebration, consider these easy ombre vases as your centerpiece design. With a bottle of white paint and your choice of color, you'll be an emerging artist as you put your brush around this vase to create an amazing ombre effect. As the lines slowly darken, your vase transitions from plain white to shades of your favorite color. Green or yellow would be a great touch for these warmer months and blend in with most any decor. Arrange this trio together or set them throughout your food buffet as you host a spectacular spring or summer celebration.
26 Affordable and Easy DIY Centerpieces You'll Adore
After perusing this list of 26 fabulous options for the best DIY summer centerpiece ideas, you might find yourself making a list and heading to the store to create one or two on your own. Even for those who pinch pennies, these budget-friendly ideas will give you the look you love without overstepping your budget boundaries.
There are so many options in containers from mason jars to wooden boxes and they can be dressed up and disguised in so many ways. One of the best DIY summer centerpiece ideas is the transformation of plain glass vases into painted ombre works of art! It's truly incredible how simple this project is, yet how gorgeous the finished look becomes.
Another unique concept was the wired hat used to create a completely original centerpiece design that shows off air plants, succulents, and a variety of shells from the beach. Anyone who likes a little eclectic design will fall in love with this particular project.
Throughout all of the ideas, you'll notice a theme in plants and candles used across the board. Plants range from freshly cut flowers to succulents and air plants. So no matter how much of a green-thumbed goddess you are, there is a way for you to incorporate some plants into your design too.
The addition of candles, namely votives, adds such a relaxing mood to your after-dinner endeavors as you enjoy some conversation under the stars. Placing several centerpieces around your outdoor space will help accentuate the atmosphere you aspire to create. Your vision will come to life with a little careful planning and cheap supplies from your local dollar store.
In the end, giving your home a quick update for summer is simple with a new summer centerpiece. Remember, you can use it both inside and outside depending on your needs. The look and feel of fresh flowers along with lemons and candles is the perfect combination for a timeless, seasonal accent piece.