Have some fun and breathe a fresh breath of air into your patio decor with 21 of the best diy summer crafts art design ideas! This list features some awesome ideas for bringing bold colors and fun lighting fixtures into your decor.
As the sunsets push back and extend the daylight hours, take advantage of this extra enjoyment by creating some lavish and lush summertime crafts. To create the best DIY summer crafts, you don't have to break the bank. In fact, you probably have most of the supplies lying around your shed or garage. Scan the shed for those unused planters and breathe some new life into them by repurposing them. From a hanging bell on a hook to an interesting water feature, you can de-clutter and decorate all in one clean sweep!
21 DIY Summer Crafts to Breathe a Fresh Breath of Air Into your Decor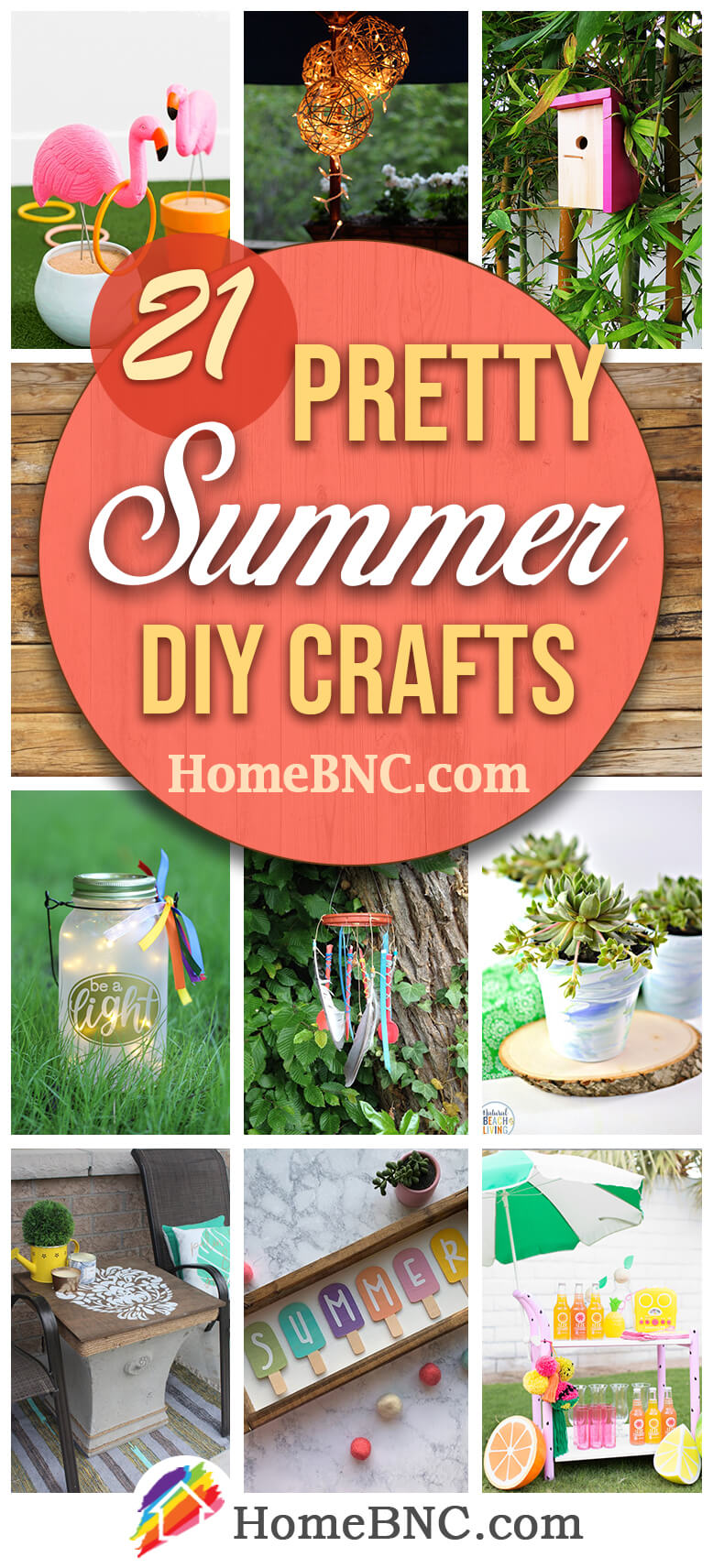 Maybe your favorite part of summer is transitioning into your favorite footwear- flip flops! These summertime staples are not only easy to slip on and slip outside in, but they are super affordable as summertime crafting supplies. You can buy several pairs at your local dollar store, and along with some hot glue, you can design an awesome welcome sign. If you prefer to stick with simple paint and stencil, you can work your creative magic on a piece of white washed boards to design a friendly sign outside your back door.
From cheap supplies to simple directions, these fun and festive summer arts and crafts are the way to go for a fun project that doubles as a great outdoor decor piece. Grab the girls and get your groove on as the temperature rises and create some memories and magic like these 21 amazing and awesome summer DIY craft ideas!
1. Passionate and Pink Flamingo Ring Toss DIY Game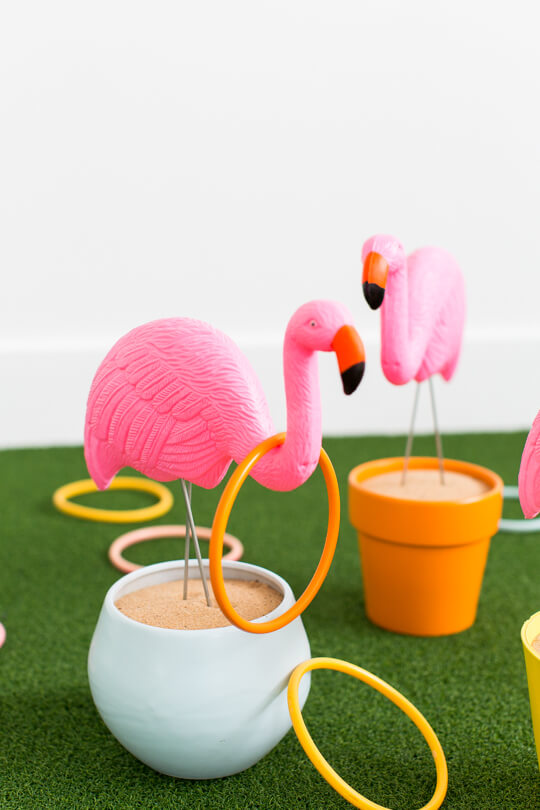 Get the last laugh with all of those plastic, pink lawn ornaments by creating a fun DIY summer game kids of all ages will enjoy! Check the garage or shed and you'll likely find an old pot that is the perfect base for this flamingo ring toss game. The filled sand adds to the beachy summer vibe of this easy to make game. Use this for a quick game, while the burgers are cooking on the grill, to keep the younger ones happy. Or as a drinking game for those 21 and over. This DIY flamingo ring toss is sure to be one of the go-to games for your backyard barbecue during the summer holidays or for a weeknight dinner on the grill.
2. DIY Summer is My Favorite Color Outdoor Wall Art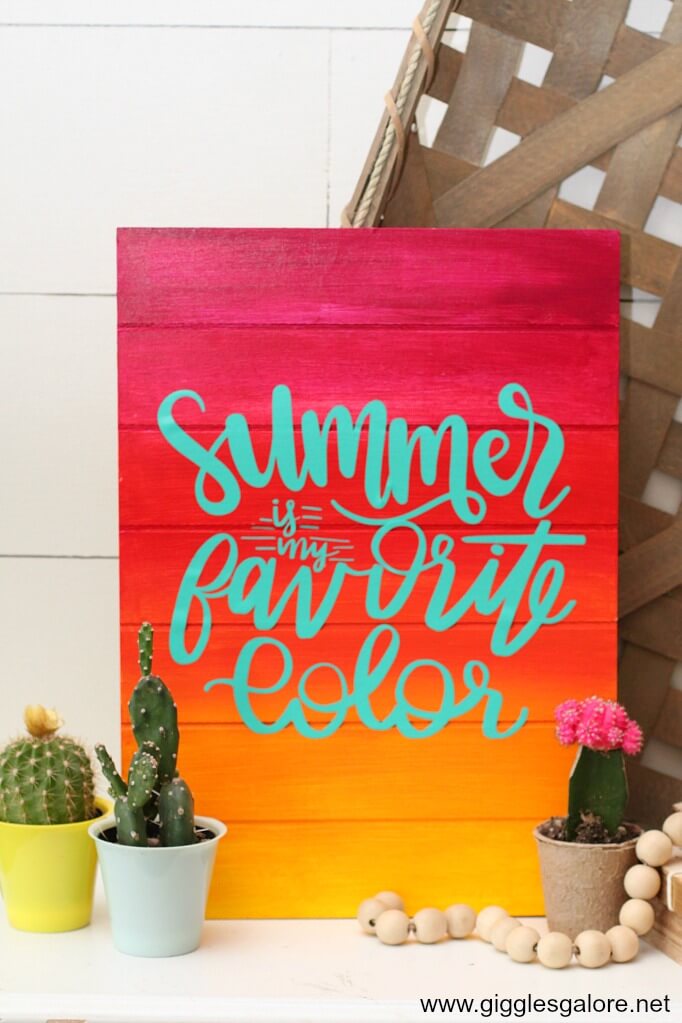 Bright and bushy-tailed is the way to welcome summer with this bold "Summer is My Favorite Color" DIY wall art sign. The background color scheme sets the tone for the overall piece with its ombre effect from warm, deep yellow to punchy, preppy pink! And what an awesome idea to select light teal/turquoise as the color choice for the lettering! Perhaps allowing the background paint to dry is the longest part of the project. If you can hold a paint brush, you can easily complete this cute and happy summer sign. It's a great addition to an outdoor tablescape for a cookout or small get-together with family and/or friends.
3. Super Cute and Tart Summertime Lemonade Cart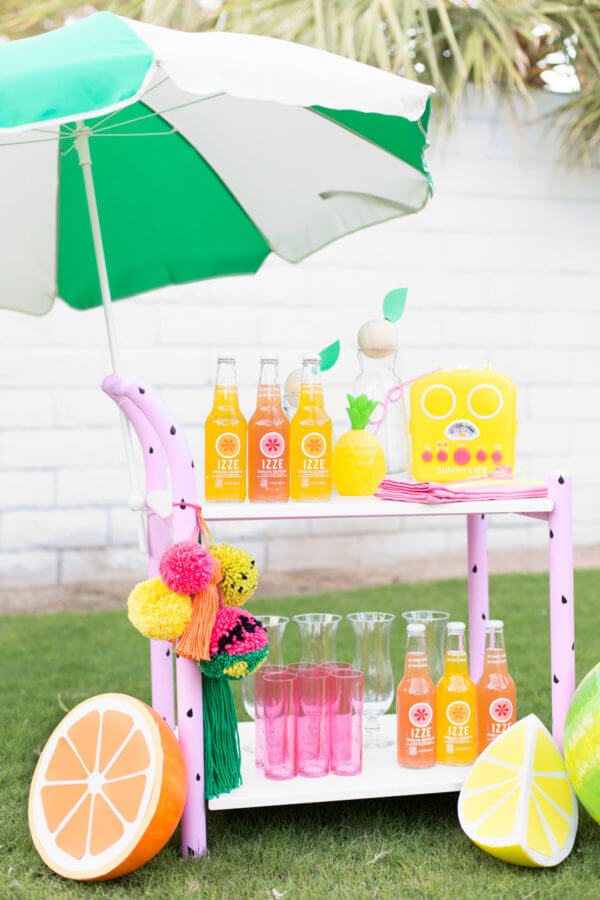 When you think of summer, who doesn't picture a cool and refreshing lemonade stand? Give this summertime staple an update by creating a unique and modern grown-up version. With all the great attention to detail, this cart is complete with an umbrella, over-sized lemon decorations and festive, yarn pom-poms. Set out your guests' drinks on this sweet and tart lemonade cart to make your backyard the go-to hangout during the warmer months.
4. DIY Outdoor Wooden Sphere Twinkle Lights Display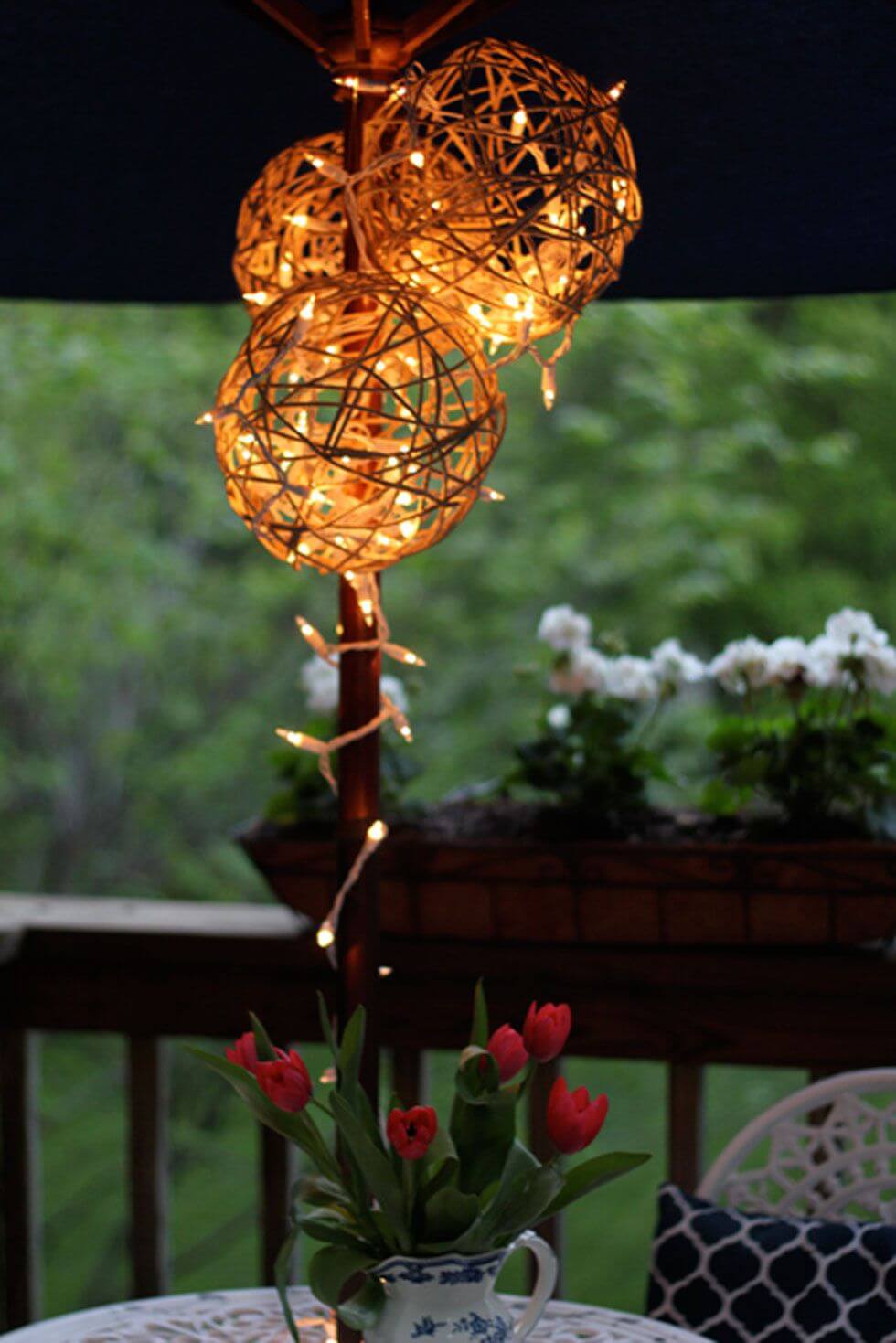 Keep the party going well past sunset with these ornamental wooden spheres filled with twinkle lights. Hanging them on the back patio or around the pool, these wooden vine balls get the job done by lighting the way to the fun! These spheres can be handmade or simply purchased at a local craft/hobby store and are easy to stuff with a strand of warm, white lights. Another way to utilize the benefits of these unique lighting features is to arrange them on the food table so going back for seconds or dessert isn't hard to do. While they would work well at a backyard party, they would also be a cool way to set the mood for a romantic alfresco dinner.
5. Whimsical Repurposed Eclectic Wind Chime DIY Project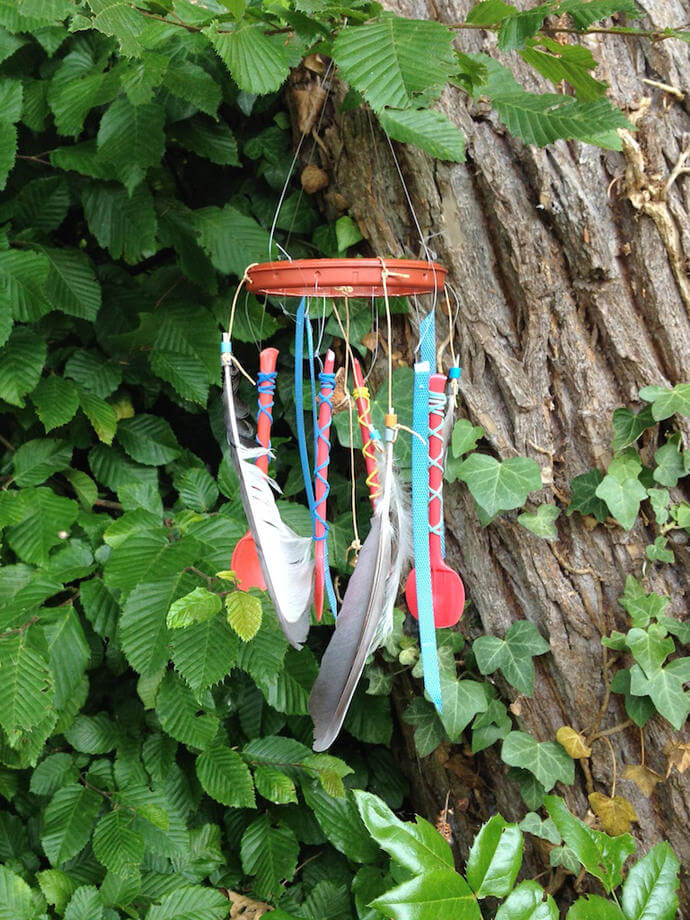 Before you throw out the trash, take a moment to scan for some useful items that could be repurposed into this whimsical and eclectic wind chime! From old cords to wooden spoons, this DIY wind chime project produces a one-of-a-kind design that is as unique as the artist him/herself. An old and unused plastic ring is the foundation for holding all of these interesting chime pieces. Incorporate some soft texture to the piece by adding a few feathers to the design and upgrade the interest to your front porch design.
6. DIY Pastel Popsicle Summer Sign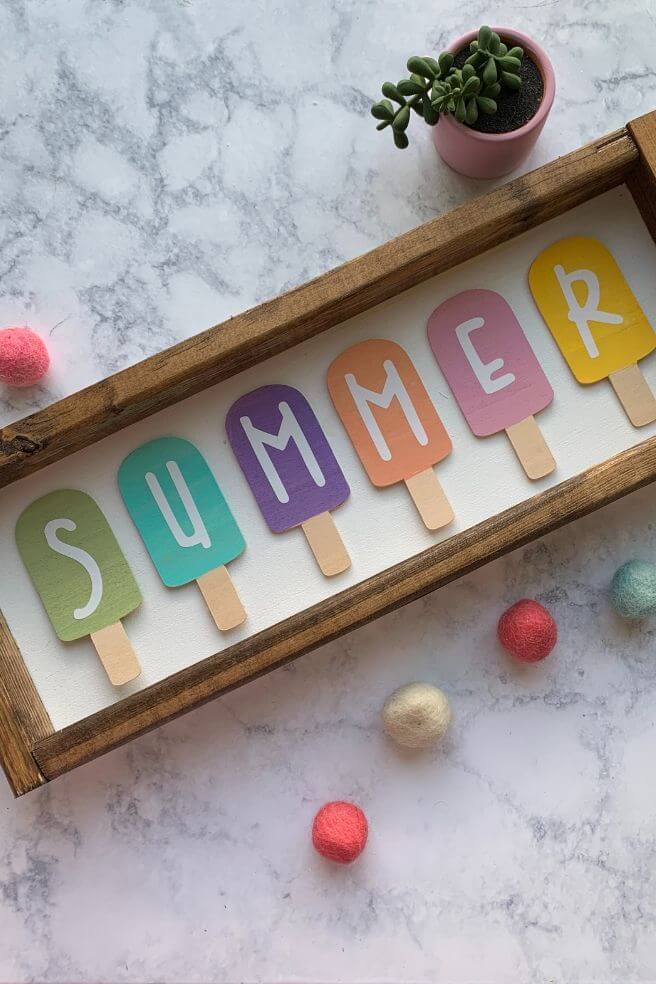 Housed inside a rustic wooden frame, this cute and lively summer pastel popsicle sign is the perfect addition to anyone's summer decor! This is an easy craft idea for summer that will be re-used for many warm seasons to come. It would also make a fun gift for the hostess of this year's firework spectacular! Pretty pastel popsicles are a wonderful way to spell out the letters of summer to make this sign such a perfect home decoration.
7. Summer Swirled Succulent Mini Planter DIY Project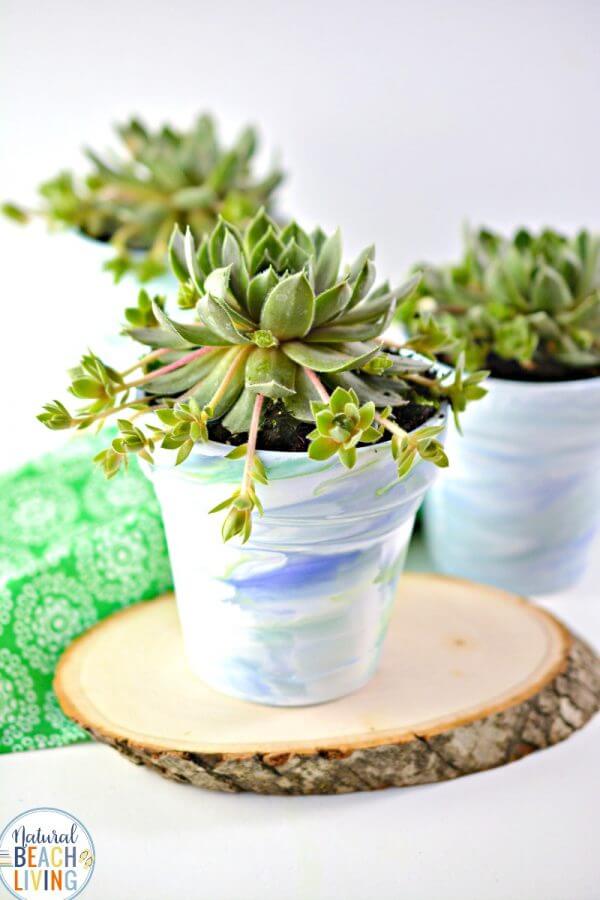 The best DIY summer crafts combine fun and function and that's why this super swirled succulent mini planter is a sure winner! Choose your favorite color and white to create this sweet little plant holder. The paint swirls add a cool and refreshing contemporary look to the cutest succulent display around. Resting on a natural and rustic wood slice, this summer craft transitions into all seasons as the life of a succulent is long-lasting. The best part is that you don't need a green thumb since succulents are the easiest plants to thrive in most any environment because they're low maintenance. Perch one on your kitchen windowsill or add them to your patio decor.
8. Modern Fuchsia and Natural Wood DIY Birdhouse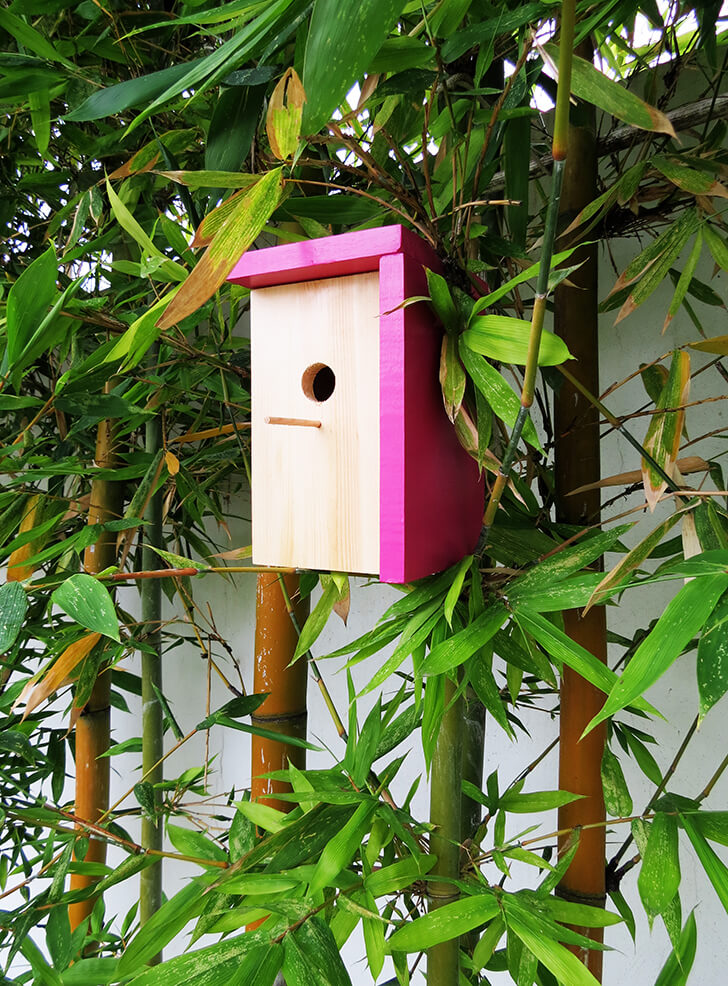 Clean lines and easy design describe this modern and contemporary DIY birdhouse. Summer DIY arts and crafts makes an update to the old-fashioned and boring birdhouses of the past. The sophisticated, clean lines of this bird haven include the cool color of deep fuchsia on the roof and one side to highlight its modern appeal. Hang this eye-catching bird box in your yard to give your feathered friends a cool pad to call home.
9. DIY Summertime Tropical Themed No-Snow Globe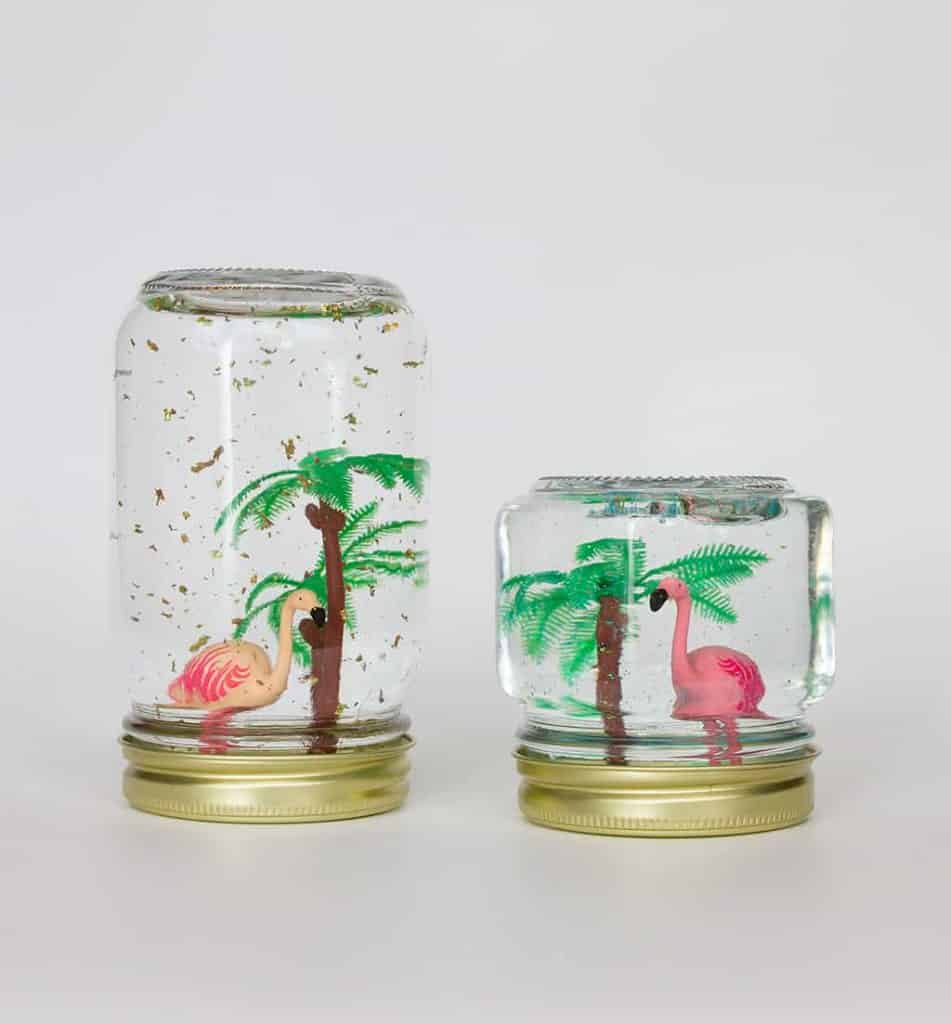 Take a cold weather classic and give it a new, warm weather twist by creating one of the best DIY summer crafts with this no-snow globe. Perch your pink flamingo front and center as summer's ambassador along with tropical palm trees and a little glitter, of course. These cute globes add some water to the scene without making a splash! They would look super cool scattered throughout the food table or at each place setting for your summer kick-off party.
10. Fair Weather Friends DIY Picture Holder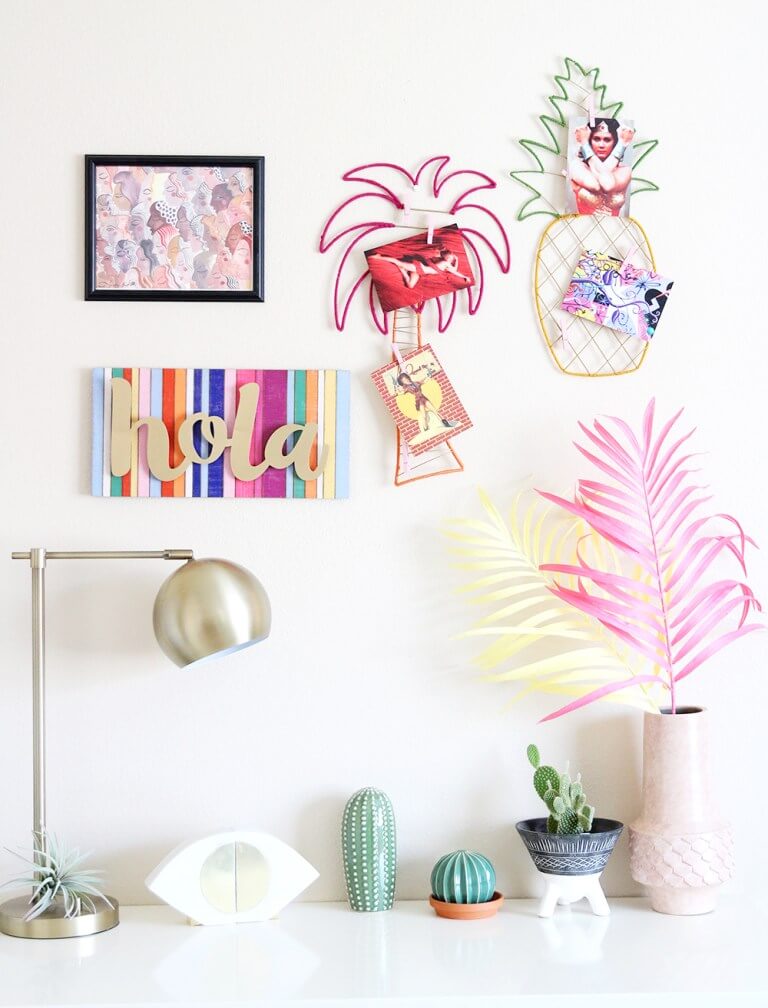 Grab some thin metal fair weather friend shapes like a pineapple, flamingo or palm tree along with some twine and you're on your way to one of the spectacular craft ideas for summer. Arrange this picture holder alongside a bright welcome sign above a writing desk or next to the back door. It's a super cool way to display some of your favorite pictures from vacation or postcards from a friend. Such practical and pretty holders would look great on the wall of a beach-themed bedroom too!
11. DIY Tropical Green Leaves Garland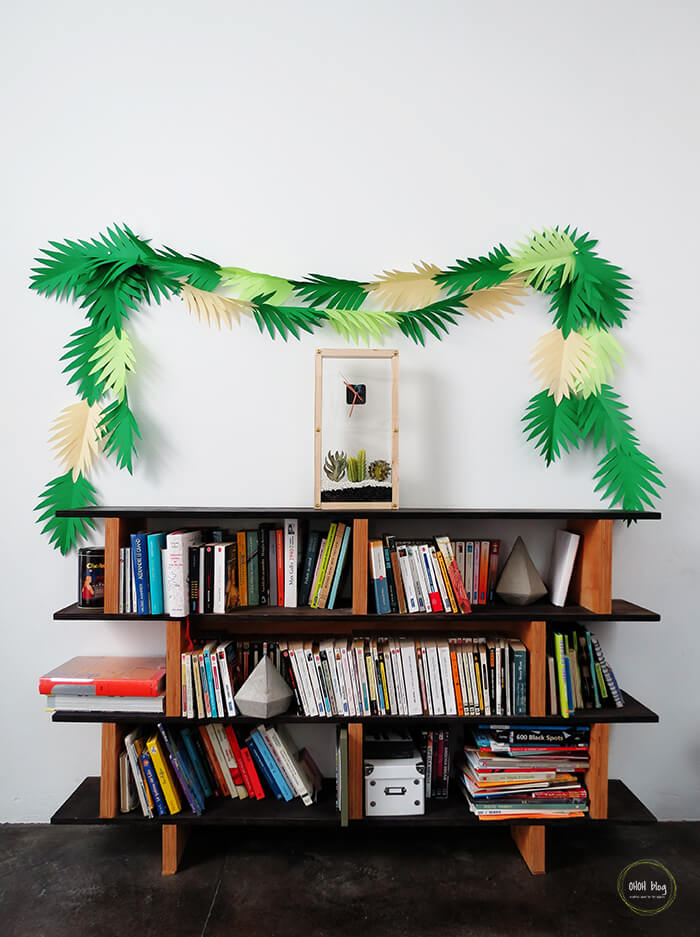 Leave the hard work to someone else and jump into creating one of the best DIY summer crafts with this super simple leaf garland. The shades of green along with the soft tan color bring the tropics right into your indoor living space. A nice way to add some lavish rainforest vibes around your book case or along the fireplace mantle. This would also be a fun way to decorate for a Moana kid's party or an adult luau. The simplicity of this easy green garland is a win-win DIY since it's easy to make and easy to store for next year!
12. Stencil and Twine Repurposed Patio Side Table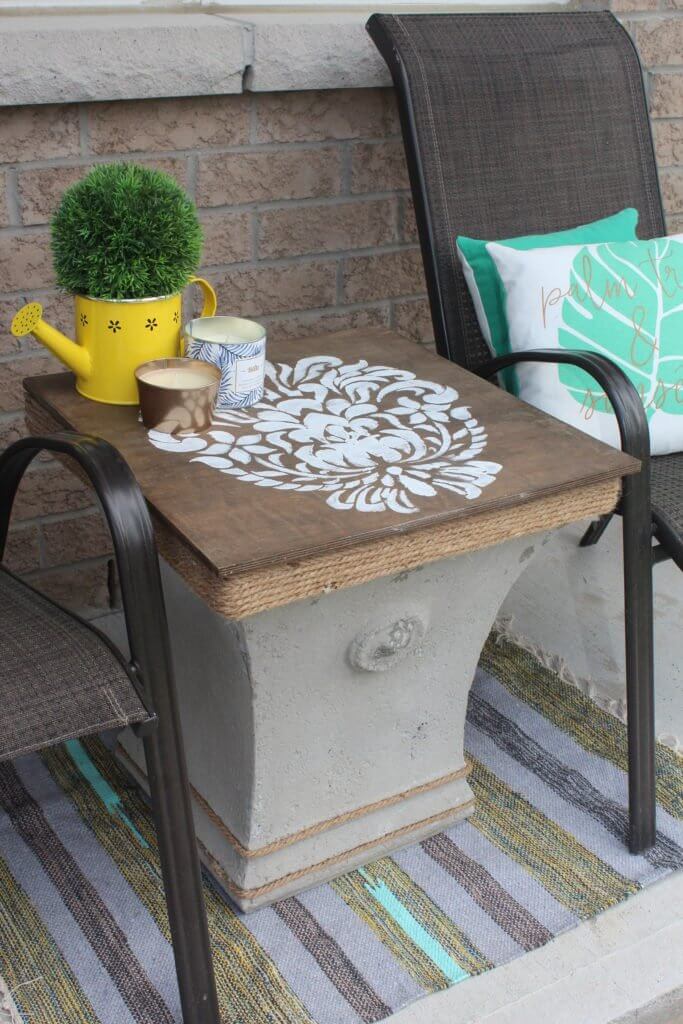 Give a new life to an old, square plant pot by adding some cheap embellishments as you turn it into a fun and quirky side table for your back patio. A square wooden top can be finished in your choice of stains. Then, you can add your favorite stencil design to embellish the top to add some contrast and dramatic flair! Finishing it off with some twine wrapped around the wooden table top and at the bottom really ties the look together quite nicely. This practical patio table is one of the craft ideas for summer that will be used over and over again!
13. Cute and Creative Ribbon and Flowered Windsock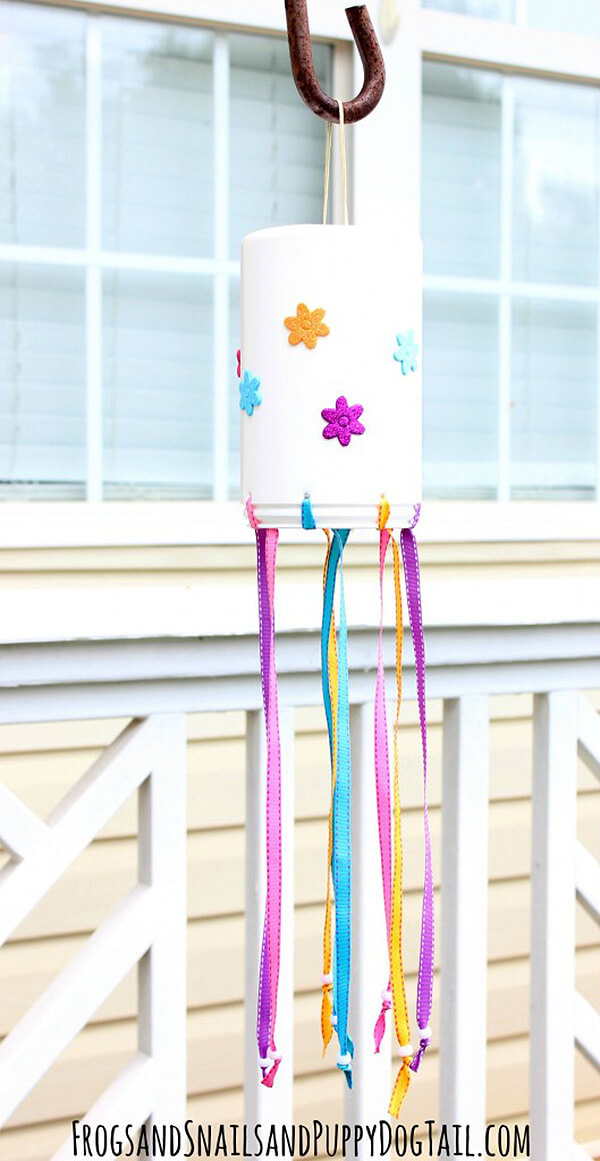 Host a fun girly gathering and get a great gift as you supply all of the lovely ladies with the frugal supplies for crafting this easy and cute ribbon and flowered windsock. The base of this windsock is a plastic container that has taken a detour from the recycling bin. Around the outside of it, you can add as many or few flowers as you like and choose your choice of colors to create whatever look you desire. Holes are placed about an inch apart around the bottom for pretty ribbons to effortlessly hang so they can blow in the breeze. Girls of all ages will enjoy this easy and quick DIY windsock. It will add some charm and character to your front porch as you enjoy those relaxing summer evenings.
14. Inspirational Lighted Mason Jar Unique DIY Patio Light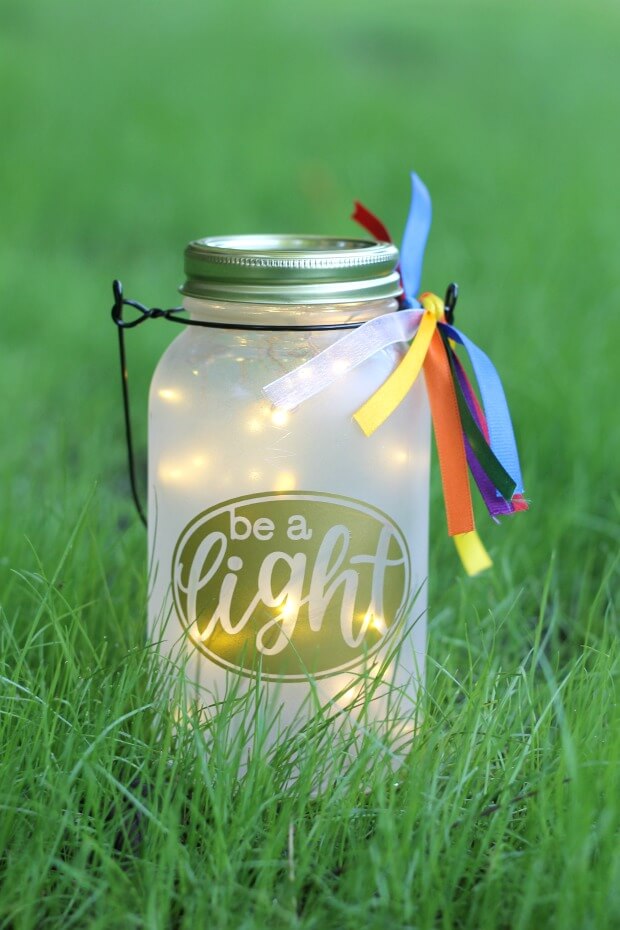 Spray a mason jar to achieve an opaque look, and then adhere an inspirational sticker to the side. Once you're finished, throw in a strand of lights and tie a colorful ribbon around the top and voila! You can make this backyard buddy for when you need a small gift for a friend, teacher or neighbor. Anyone would enjoy placing this cute jar in their conversation space to light up a good chat on a warm summer night.
15. Pretty Painted Woven Catchall Bin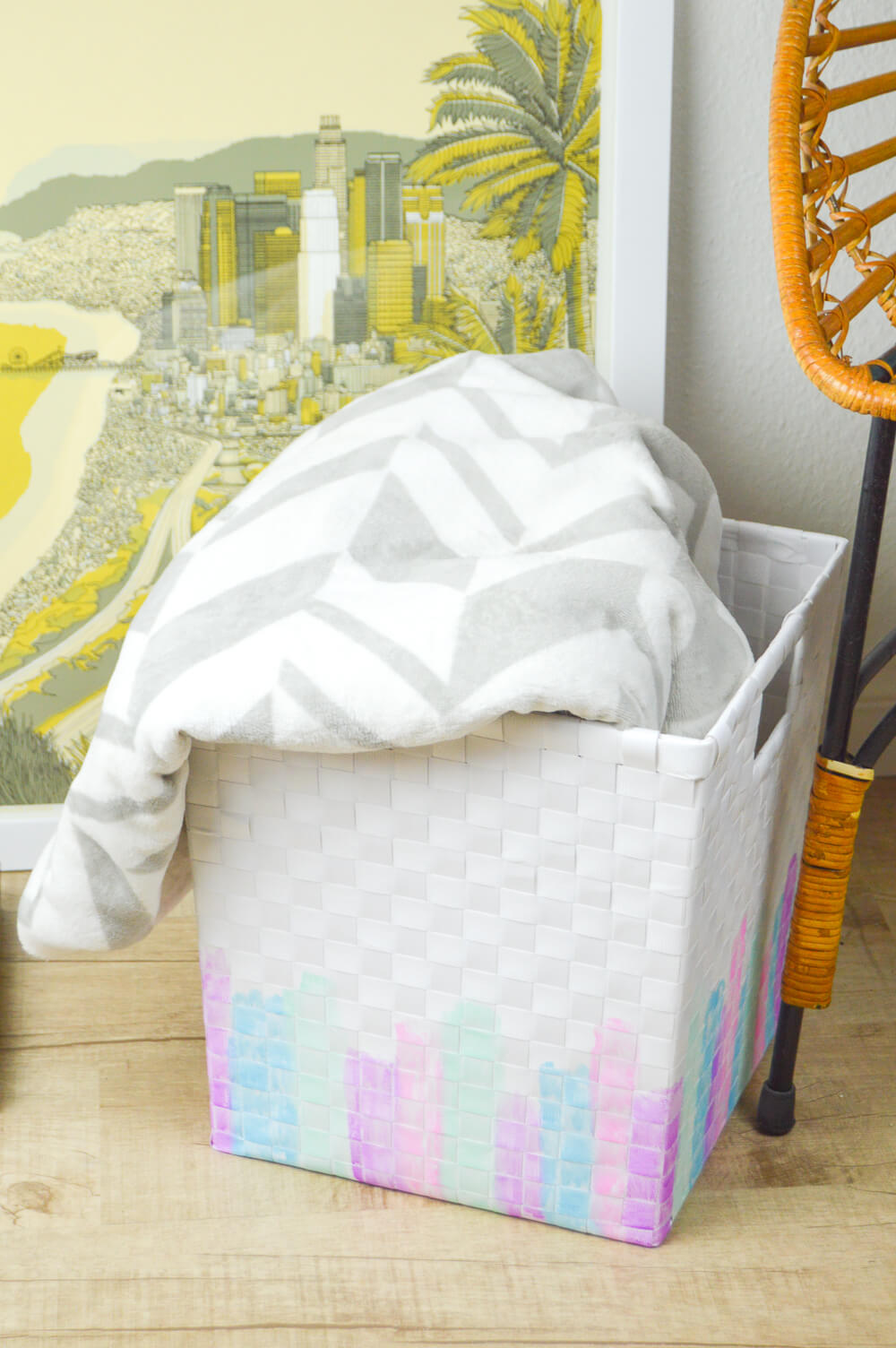 Add a little or a lot of color to a dull and boring catchall bin with some pretty paints and a brush! Your blank canvas comes to life as you stroke some life into the weaves of this bin. No matter if you use it to hold blankets, magazines, or toys, this pretty and practical catchall brings some color to the room. Add your favorite pair of colors or have a combination of 3 or 4 to make this woven bin as unique as your own personal style.
16. Colorful and Creative Flip Flop Welcome Sign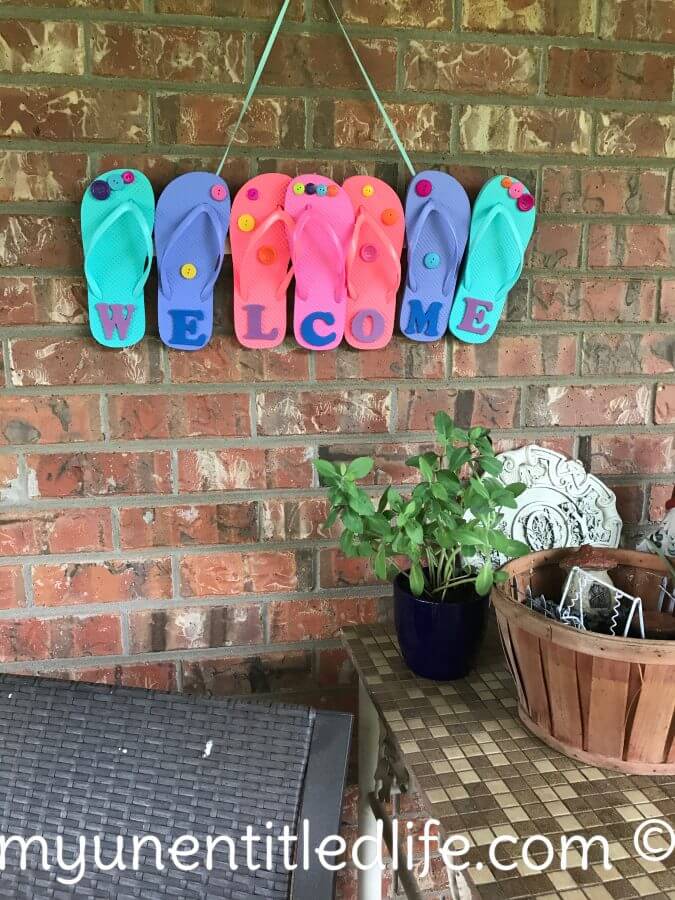 Kick off your shoes and get your toes dirty as you create a bright and cheery flip flop welcome sign for your front porch. Just some flip flops, a ribbon, some stick-on letters and a glue gun will get the job done. You can add some buttons or flowers for extra embellishing if your heart so desires. In less than a half hour, you can have this colorful and creative greeting completed and stay under budget as most of these supplies are readily available at your local dollar store.
17. Upside Down Pots Turned Colorful and Unique Bell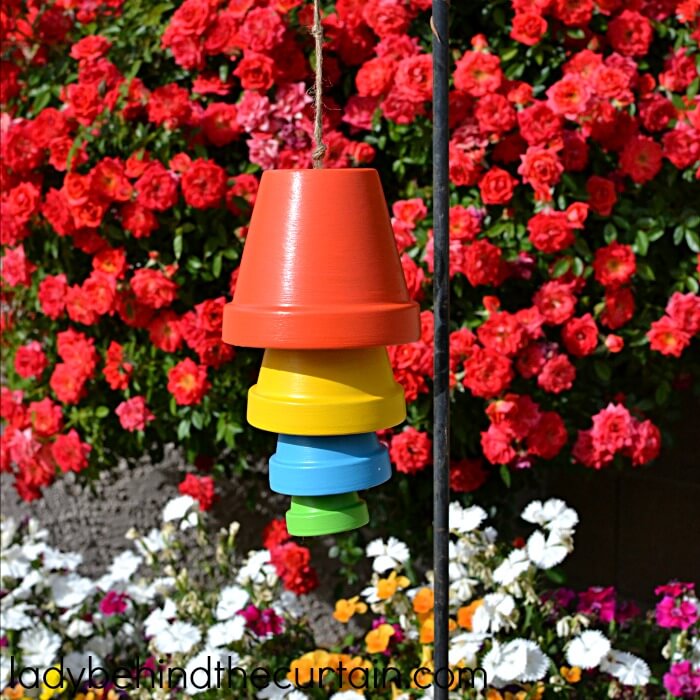 Show off your mad DIY skills by finding a new career path for traditional flower pots. Arrange four of them, in large to small sizes, to create a useful backyard bell. Paint each one a different, but complimentary color, and brighten up any plain space to add some curb appeal to your yard. A traditional shepherd's hook is a wonderful way to hold this colorful bell instead of an ordinary hanging flower basket. You may call the family to dinner or just use it for a fun decoration. Either way, these stair step flower pots show their potential as much more than a place to hold your dirt.
18. White Washed Beachy and Better Flip Flop Life Sign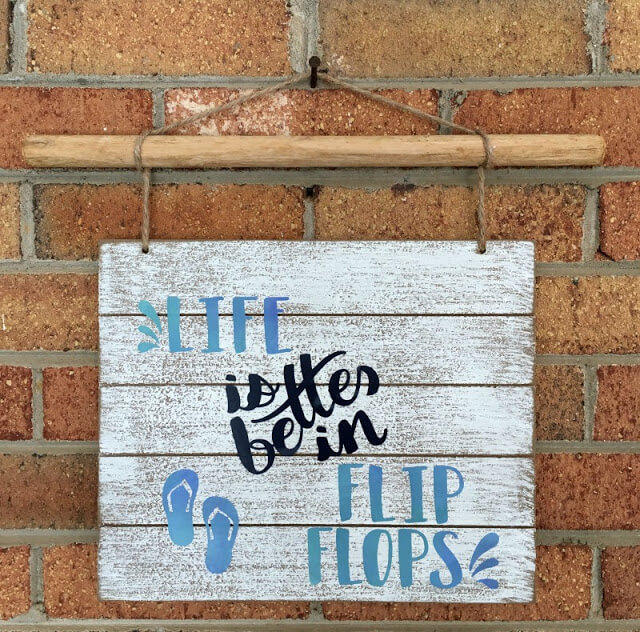 This white washed sign looks amazing in most home decoration schemes and encourages guests to keep it casual and cozy. "Life is better in flip flops" is the thing to say for a relaxed and lazy day at the pool. Hang this stenciled sign near the pool deck to add some charm to your outdoor living space. If you're lucky enough to have your very own she-shed, this would be a lovely addition to it as well.
19. Color Outside the Box Light Up Summer Craft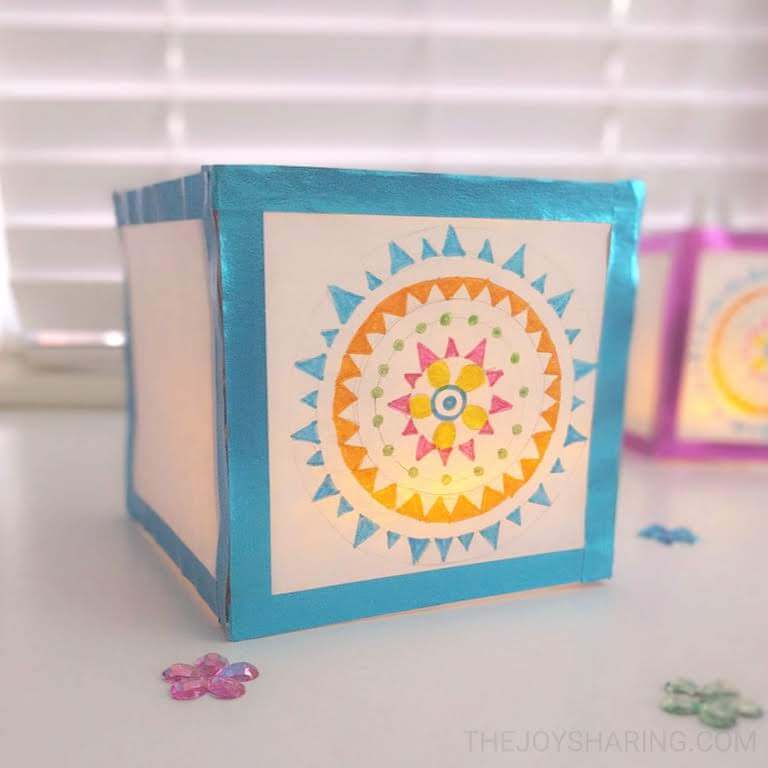 Summer DIY arts and crafts projects are a fun way to spend a warm afternoon and this bright box light is one of the best! The four symmetrical sides are opaque and allow the warm glow to illuminate from within the box. On the outside, you can design any motif your heart desires which gives this box light a unique and pretty look even during the day time hours. A few markers and some wasabi tape are a wonderful combo for adding the pop of color your box light beauty so rightly deserves. Add this squared superstar to your front porch or back patio to light up the night as you enjoy a peaceful evening as the sun goes down.
20. Sweet Showstoppers on a String Sink Vase Garland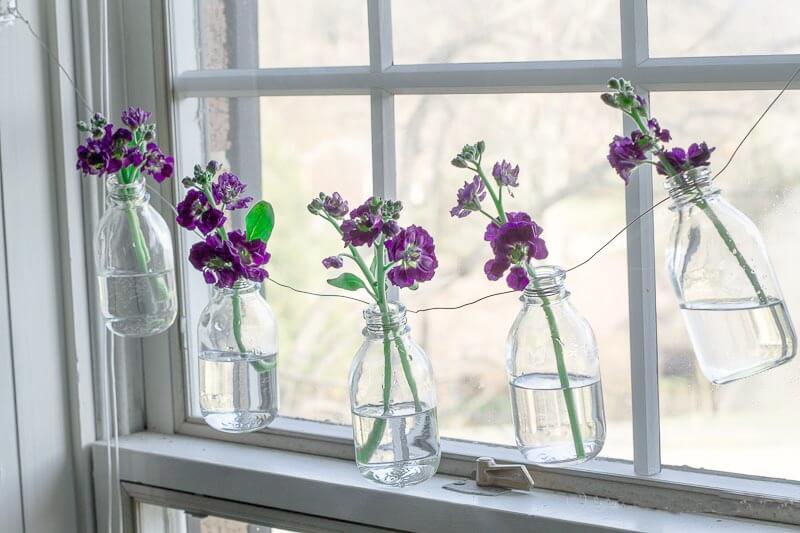 String up some of your favorite summertime flowers in this creative and unique glass jar flower vase garland. From one end to the other, this strand of clear glass jars house the petal pleasers of your choice and provide a superb warm weather accent to the window above your kitchen sink! This delicate flower display would also work well strung across the mantle to give it a summertime update. Secure with some sturdy wire string and you're sure to enjoy this eye-pleasing petal powered flower vase garland in your home.
21. DIY Backyard Planter Rock and Water Feature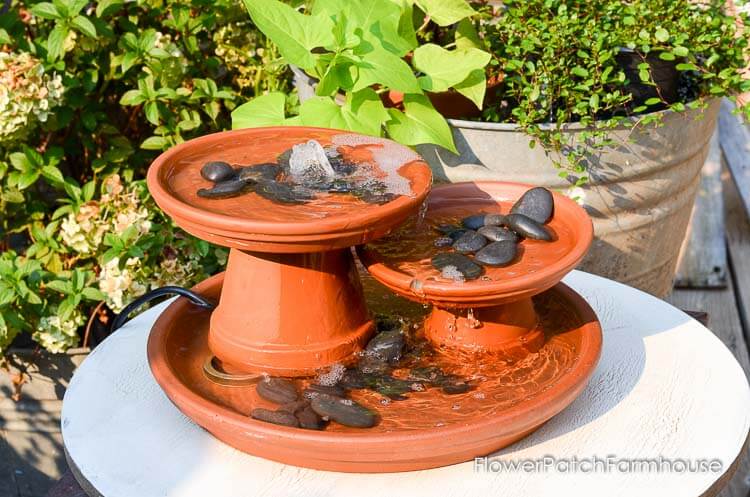 Put a new spin on some classic garden staples by turning a few planters and some leftover decorative rocks into a gorgeous water feature. The bi-level design allows the water to spill and wash over the smooth and beautiful rocks below. Listening to the gentle flow of this water feature is a sure fire way to unwind and relax after your evening meal. Place it near your porch swing or next to your lounger for added comfort as you enjoy the breeze, chirping birds or a good book.
21 DIY Summer Craft Ideas to Create some Lavish and Lush Summertime Crafts
Since it's that time of year when we host grilling gatherings, from parties to picnics of all shapes and sizes, why not make your guests feel a warm welcome that rivals the rising temperatures with a fun and creative DIY creation? You're going to be spending most of your time outside now, so make yourself feel right at home by decorating the outside space just like you would the inside.
As the sun sets, maybe a unique lighting fixture is more your speed. Consider the wooden wrapped spheres filled with twinkle lights to add a warm glow to your outdoor space. These strands of spheres can be hung above head on the porch or pavilion to extend the gathering for a few more hours. Of course, you may want a more colorful addition to your space that not only lights up the night, but stands out during the day. Here's where you can have the best of both worlds with the box light that you personalize on the outside. Your unique design on the exterior shows the true beauty and boldness of your choice of motif and color to create a backyard paradise any time of the day.
You may seek something as simple as a beachy sign or you may need an idea for your leftover planters. No matter the goal, these 21 summer craft ideas are an amazing way to give your space the attention it deserves. As you head into these warmer months and bring your entertaining outside, be sure to bring some bold and beautiful summertime colors and designs along for the ride.
Our Favorite Outdoor Decor Sculptures to buy on Amazon