The change of seasons is the perfect excuse to spruce up your home — and if you're on a budget, why not look to the best dollar store summer decoration ideas for inspiration? The dollar store, with its inexpensive supplies and wide selection, is a treasure trove for people who love DIY projects. Go in with a glimmer of an idea, and you'll emerge with the supplies to transform your home for summer, all without breaking the bank.
19 Creative Dollar Store Summer Decor Ideas to for a Seasonal Home Refresh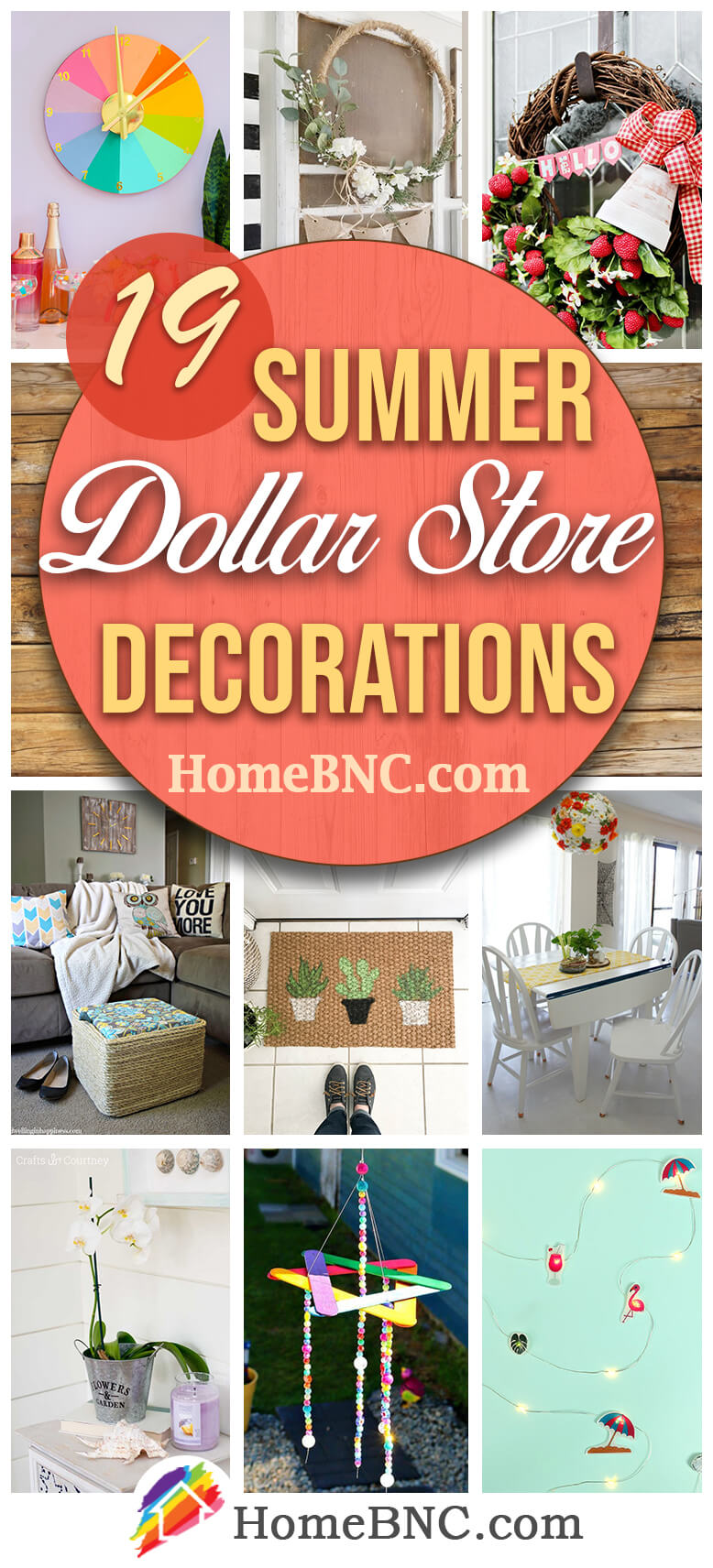 After a long, cold winter, a bit of color is just the thing to refresh your space. Welcome in the sunshine with bright colors, or go with a beachy theme to celebrate the season. If you're going for a minimalist look, you can still embrace the warmth and new growth of summer with vibrant green plants. The key is to choose projects that add a vibrant, fresh twist that reflects the vibe of the summer months.
If you're pressed for time, don't let the word "DIY" scare you. Many of these projects take less than an hour, so you can whip them up on a weekend. Just grab a few inexpensive supplies at the dollar store and you're all set. The best part? You have complete creative freedom. If you don't have a specific component, swap it out for what you do have. Change the colors to match your existing decor, or integrate in a special thrifted piece that's been waiting for a home. That's the beauty of dollar-store DIY — it's an outlet to express your personality and individual style.
To give you some inspiration, we've gathered the best dollar store summer decoration ideas. From contemporary planters to a color-wheel clock that's sure to make you smile, there's something for everyone — and every skill level.
1. Oversized Twine-Wrapped Hoop Wreath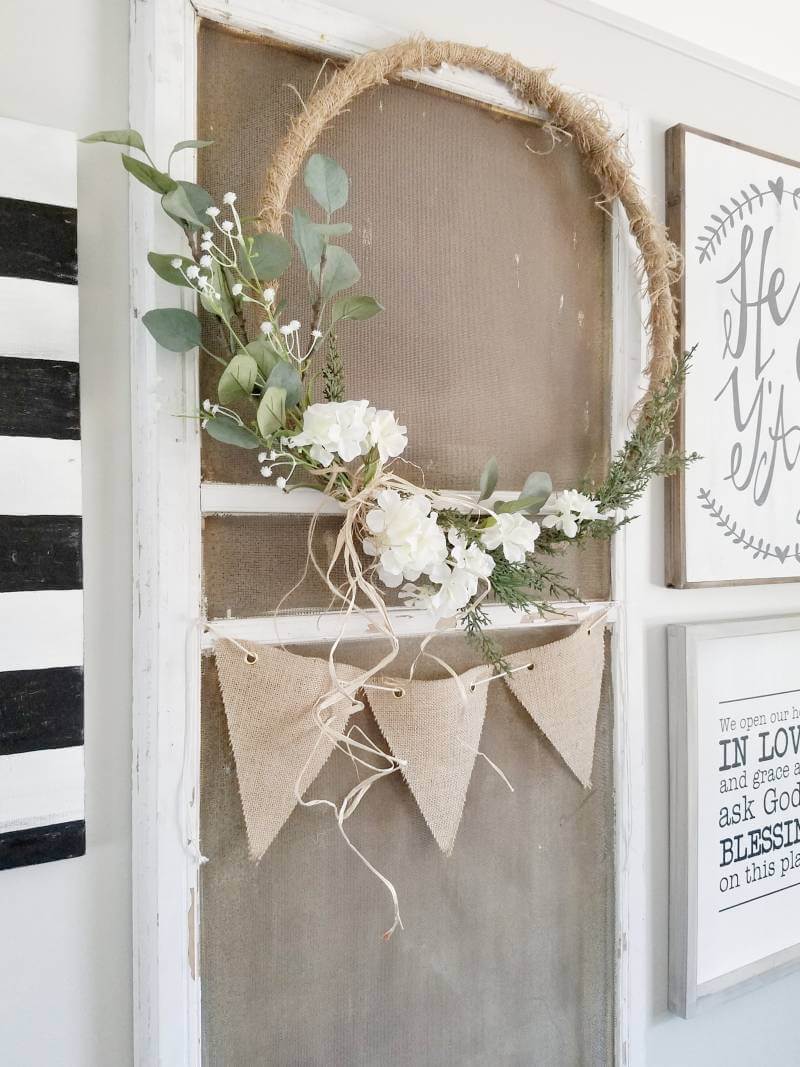 To look at this unique wreath, you'd never guess that it was made from a dollar-store staple — a hula hoop. Wrapped in twine and accented with artificial greenery, this simple hoop is transformed into a lovely accent for your front door. You can swap out the hula hoop for whatever you can find; an embroidery hoop is a good solution if you're looking for something a little bit smaller. If you're new to DIY projects, this is the ideal place to start. The construction is quick and easy, and you can customize it with whatever materials you have on hand.
2. Galvanized Metal Planter with Stenciled Artwork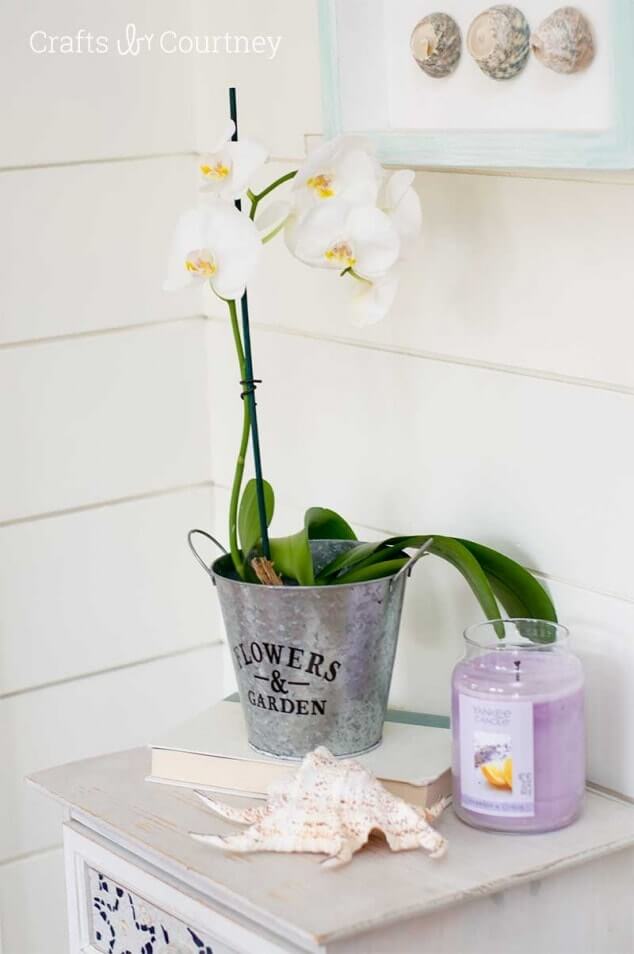 Indulge your inner artist with this gorgeous rustic planter, which is one of the best dollar store summer decoration ideas for people who are short on time. The texture and the color variation of the metal looks stunning next to virtually any type of plant, from flowers to greenery. All you need is a metal bucket, some paint, and a stencil. Add your initials for a classic monogrammed look, or use a simple floral image. If you're up for a challenge, create your own stencil using a cutting machine for a one-of-a-kind piece.
3. Colorful Country-Chic Strawberry Wreath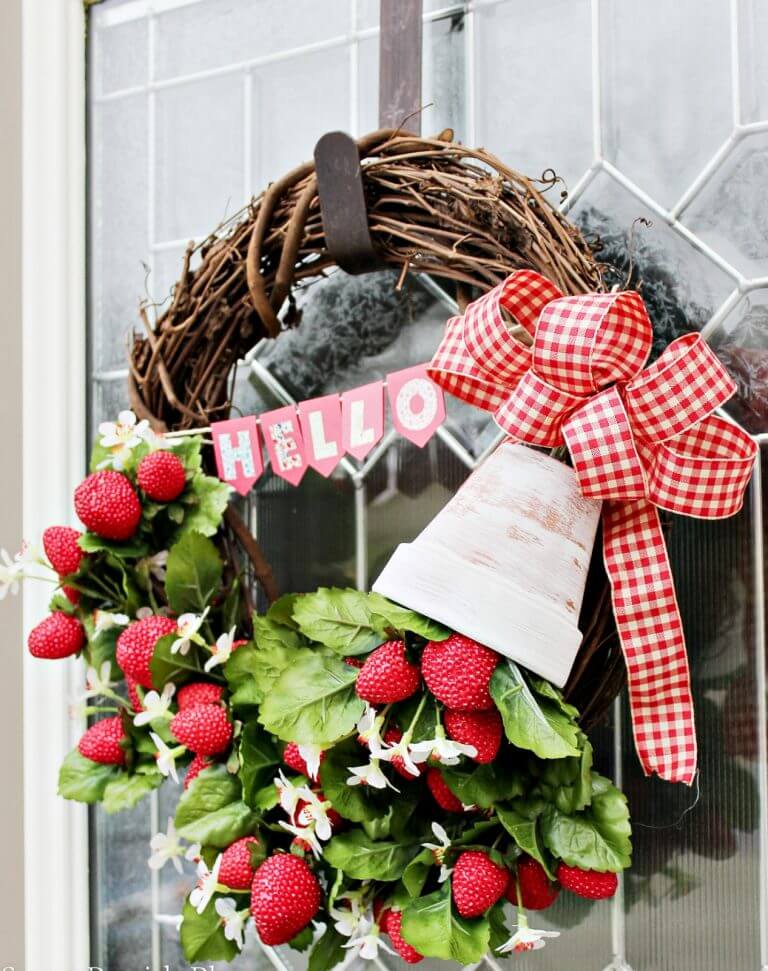 Nothing says summer quite like fresh strawberries, and this adorable wreath is a cute way to celebrate these juicy and delicious fruits. The artificial berries cascade from a tiny terra-cotta pot, perfectly capturing the bounty of the season. We love the tiny "hello" banner, which adds a welcoming touch as guests arrive for barbecues and lemonade on the porch. Add a gingham ribbon for a farmhouse-inspired finishing touch. Thanks to the natural texture of the wreath itself, this piece feels feminine but not over the top. Plus, you can rest assured that no one on the block will have anything like it.
4. Vibrant DIY Color Wheel Clock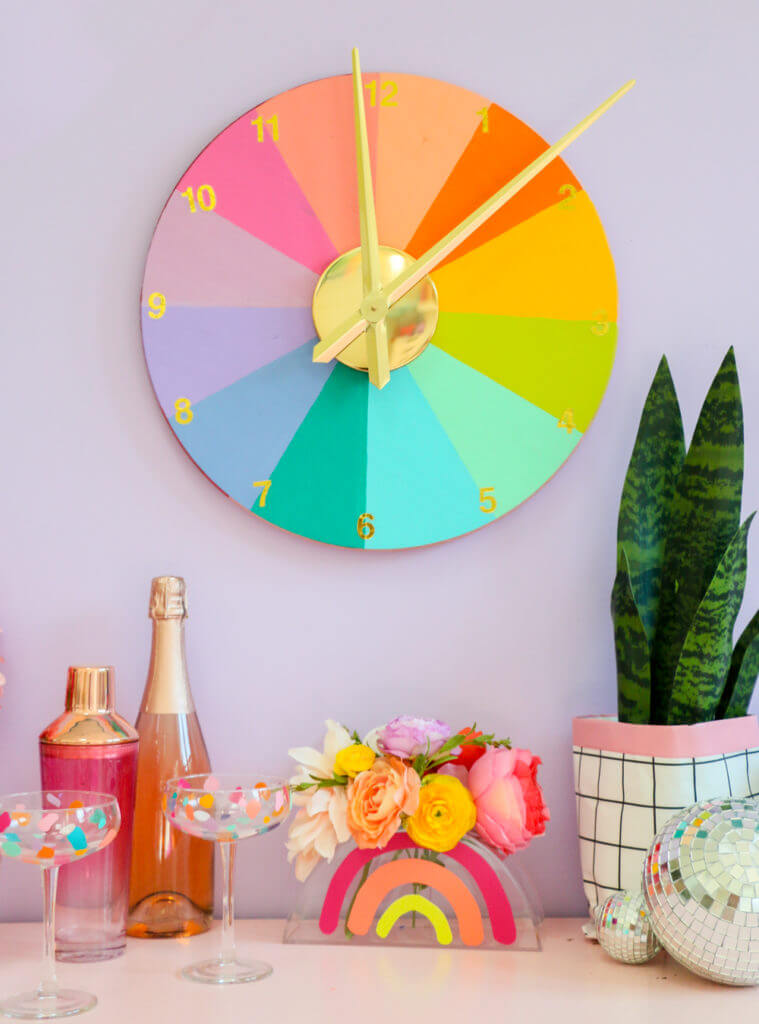 With its brilliant colors and impossibly cheerful vibe, this clock is sure to make you smile each time you check the time. The magic is in the sheer exuberance of the color choices — the beautiful balance between pastels and jewel tones captures the happy vibe of summer. You can recreate this look with a few tubes of craft paint from the dollar store; use painter's tape to create straight lines. Plus, it's a cool way to repurpose an existing clock or upcycle one that you find at a thrift store or dollar store.
5. Rainbow Balloon Wreath for Summer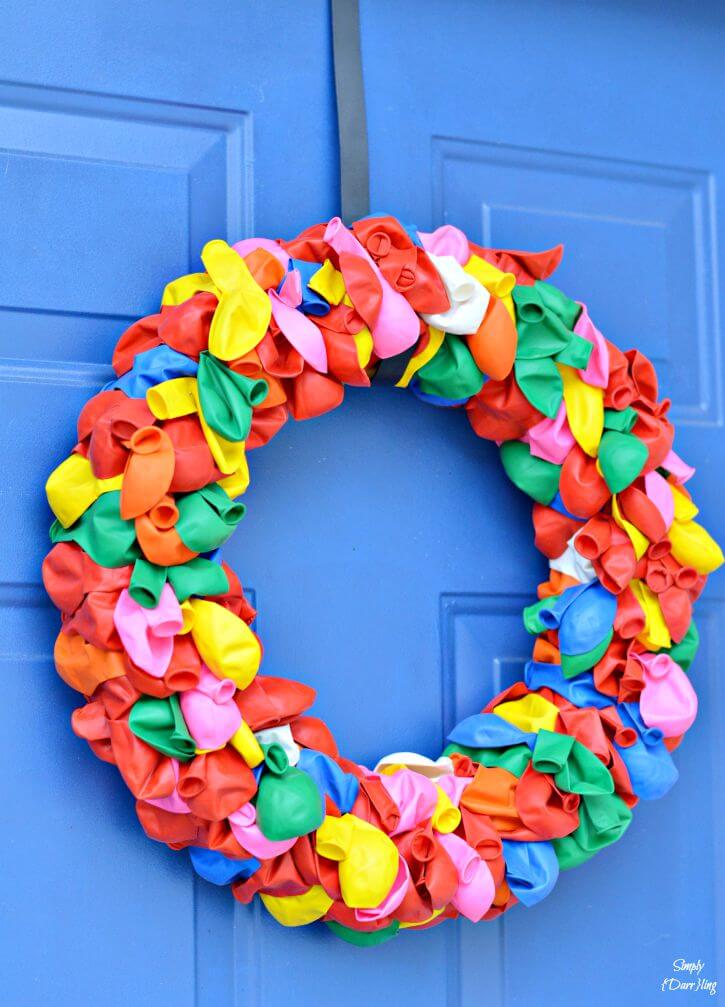 Remember the joy of filling and tossing water balloons as a child? This fun wreath is a physical representation of that youthful fun and excitement. It looks complicated, but it's a surprisingly cheap and easy dollar store summer decor project. Just grab a few bags of colorful balloons from the store; for the base, you can use a cheap foam wreath. The balloons fasten to the foam using simple straight pins, so there's no need for messy glue. If you have older kids, this makes a fun craft project to do as a family. Since it only takes about an hour to complete, your crew will feel accomplished without getting bored.
6. Brilliant Bouquet of Felt Flowers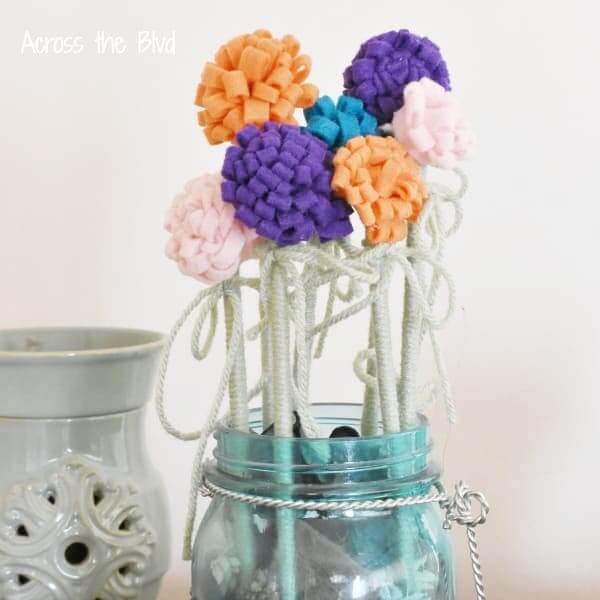 If flowers are your favorite part of summer, this cute felt flower bouquet makes a fun afternoon craft project. You can find all of the materials at the dollar store: felt, yarn, and wooden skewers. Can't find felt? No problem — a thick fabric works just as well. Making the flowers is easy, even if you're completely new to DIY; in fact, this is another fun home decoration project to do with kids. Once you've completed a bouquet of custom flowers, just tuck them into a vase or a Mason jar, and you have an adorable decoration for a desk, a child's room, or the dining room table.
7. Hand-Painted Green Cactus Doormat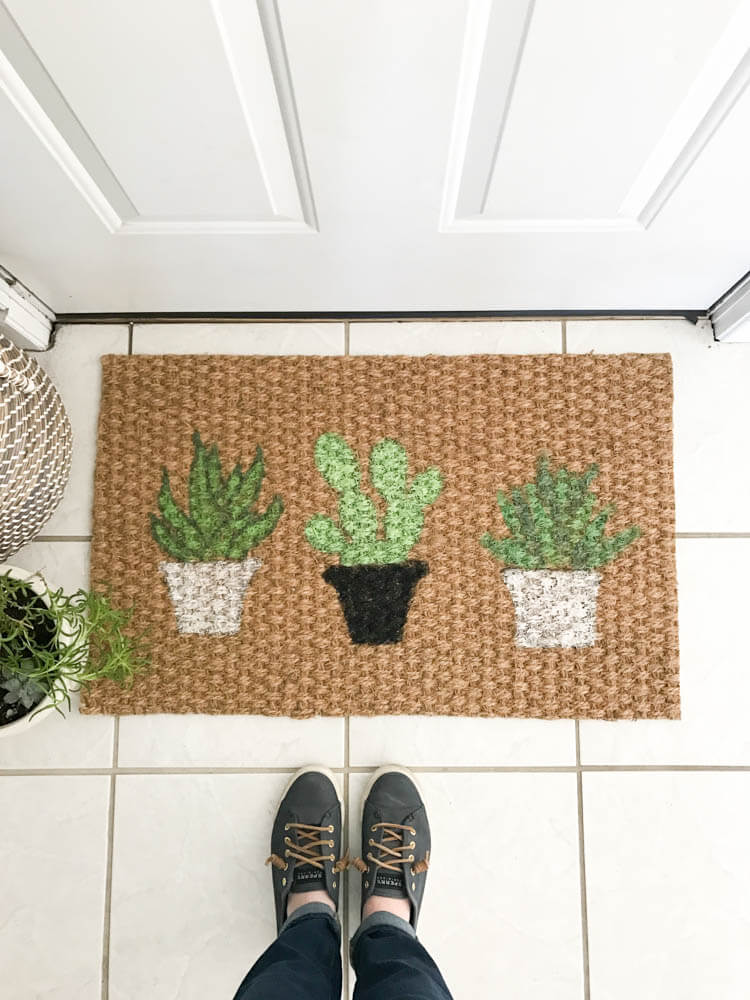 Make your own version of a high-end custom doormat at a fraction of the price with this cool project. Cheerful cacti brighten your front entry, creating an inviting vibe for summer parties and get-togethers. Use any solid-colored doormat that you have at home, or pick up one that's made from natural fibers for a laid-back look. The plants are painted on using acrylic paints, which you can find for cheap at any dollar store. If you're not confident in your artistic skills, just use a stencil to sketch out the plants.
8. Flower-Covered Paper Lantern Decor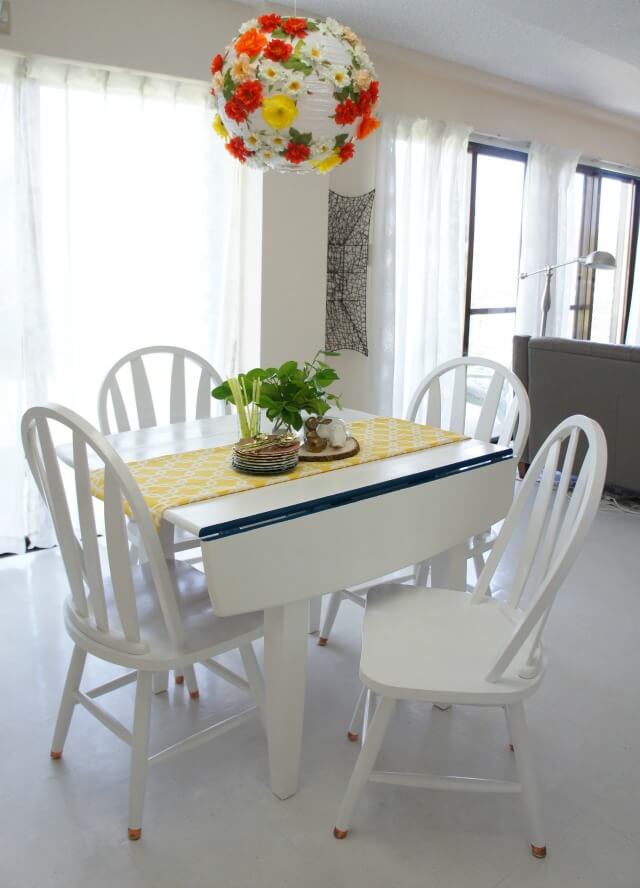 Surprising and unabashedly summery, this gorgeous piece is sure to set your home apart from the crowd. It takes an everyday paper lantern and upgrades it to a true work of art by adding vibrant artificial flowers. The result is a burst of color and texture that enlivens any room in the house. Suspend it in a child's room, or hang it above your breakfast nook to start every day with a smile. Since you can buy all of the supplies from the dollar store, this lantern is a great way to make a bold impression on a tiny budget.
9. Affordable DIY Topiaries with Artificial Boxwood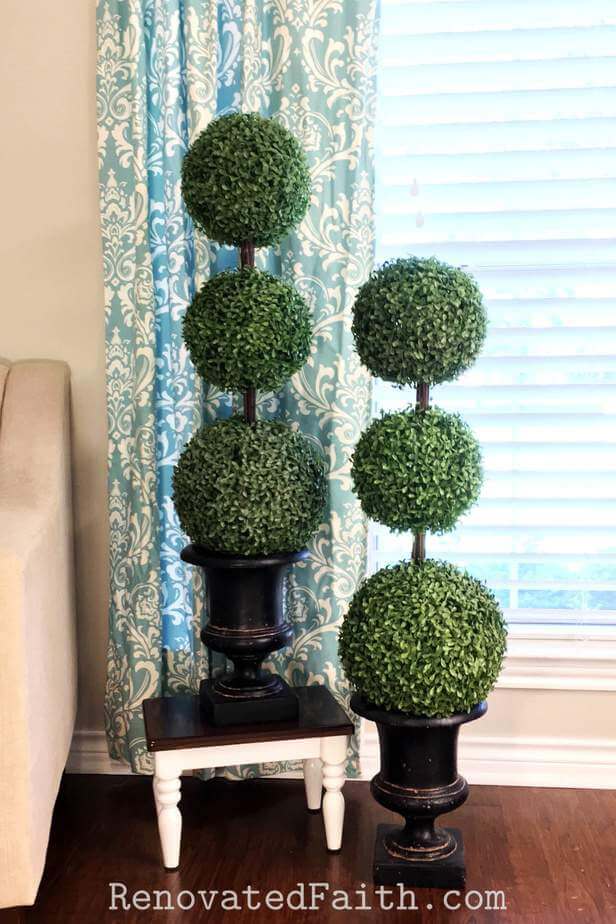 Echo the fresh green summer foliage by flanking your front door with these DIY boxwood topiaries. If you have a bit of extra time, you can make these towering trees without breaking the bank. The magic is in the spheres; they're made from artificial leaves, so they create the look of real foliage without the cost or maintenance. Go with boxwood for a classic look, or choose a floral ball for a fun summer vibe. With the addition of a few dowels and two planters, you can create a high-end look to upgrade your entry.
10. Cheerful Flamingo Twinkle Light Strand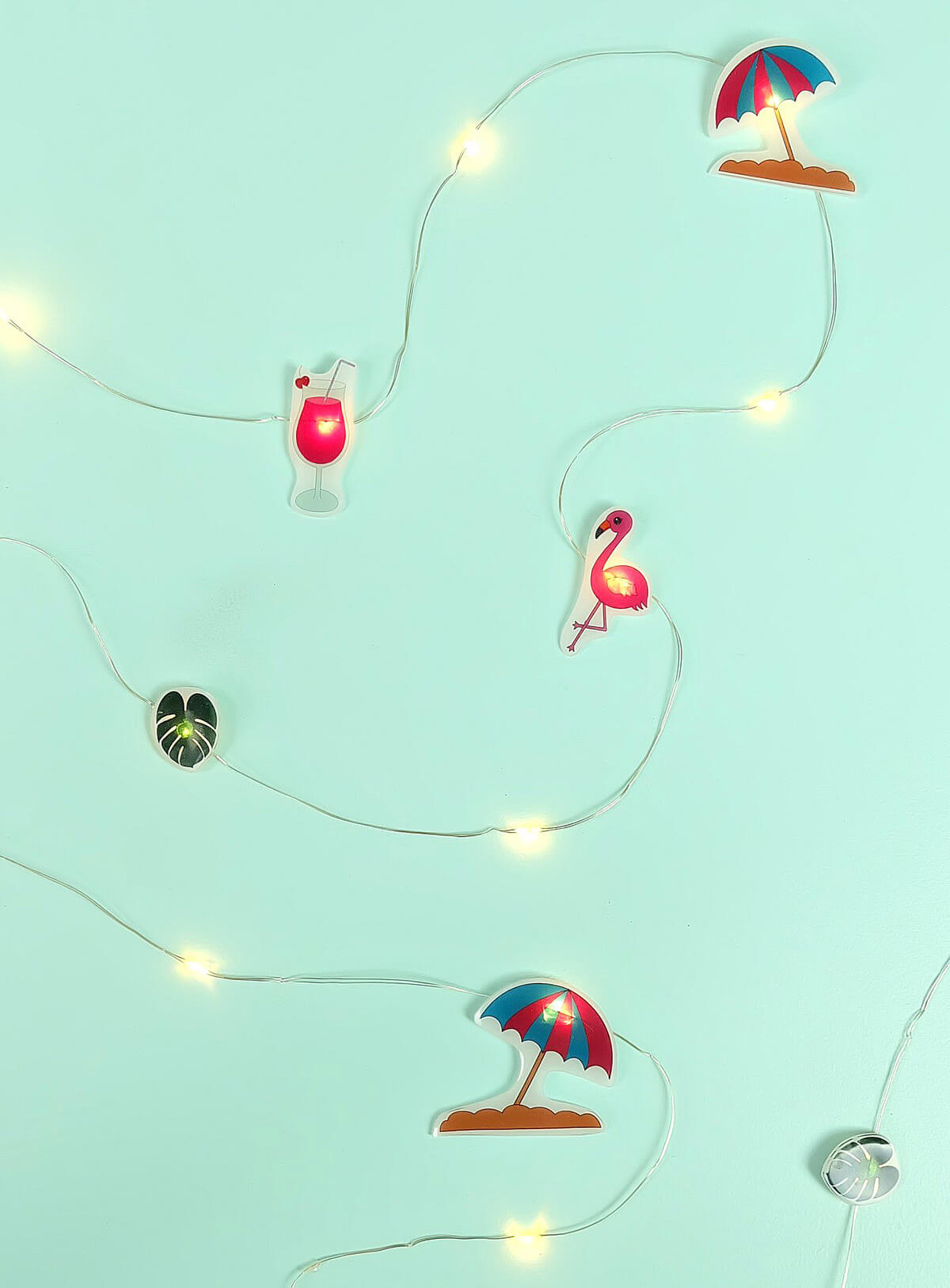 Are you dreaming of blissful backyard barbecues this summer? Set the mood by stringing these unique flamingo fairy lights around the patio or porch. This project uses any type of light strings you have on hand; just make sure that the lights are LEDs, which run cool and reduce the risk of overheating. Each light is covered with a colorful plastic cutout, creating a soft glow. Use a cutting machine and shrink plastic to make your own, or just pick up a pack of straw toppers or stickers to achieve the same effect. These lovely lights look gorgeous strung up outdoors or indoors.
11. Artistic Photo Frame Sun Catcher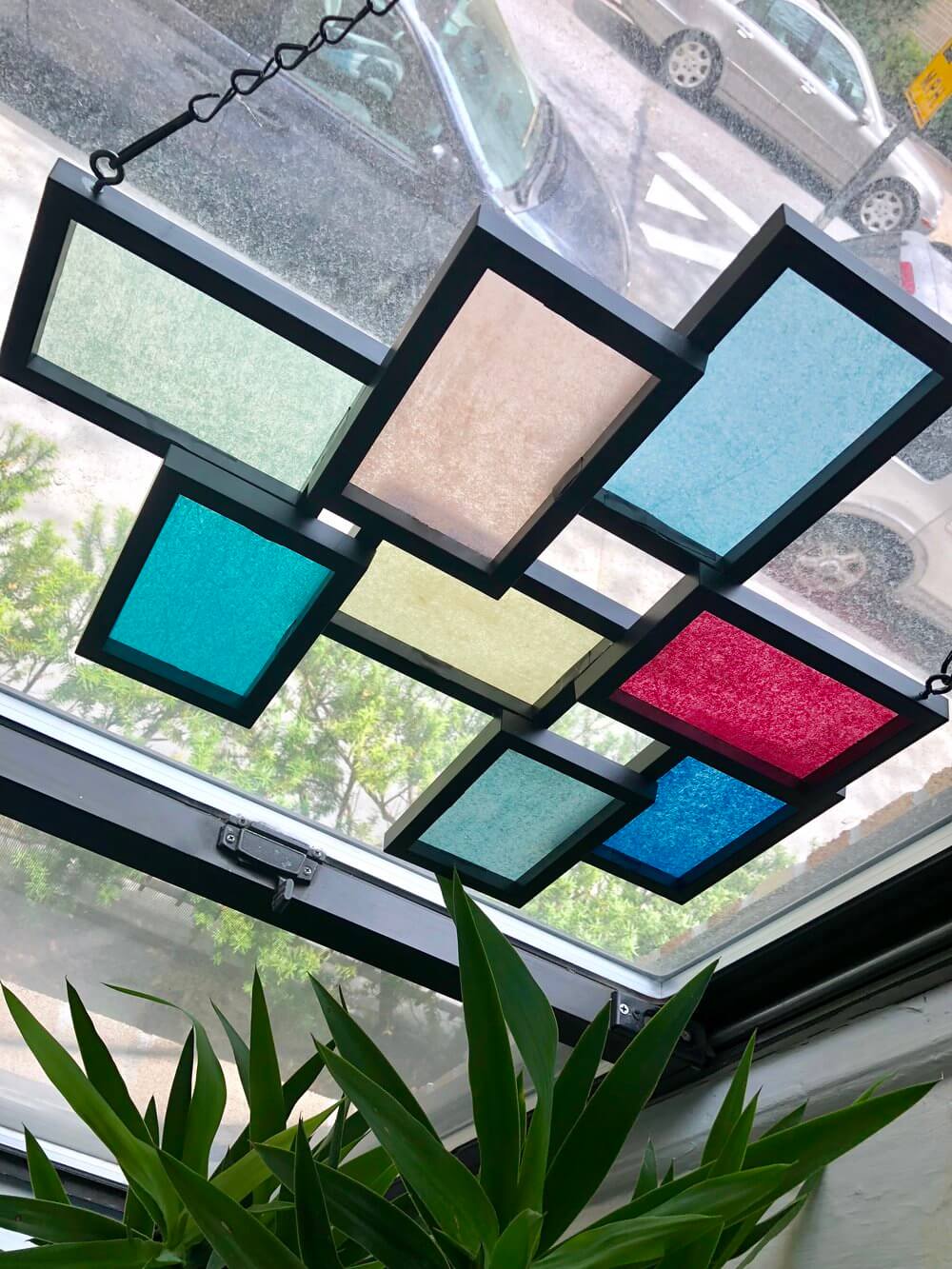 Flood your living room with brilliant colors using this DIY suncatcher — as the sunlight streams in, the vibrant panes seem to glow. Using dollar-store materials, it recreates the look of a stained-glass window for a truly unique home decoration. This piece looks so elegant, in fact, that your guests will be shocked to discover that it's made from tissue paper and cheap photo frames. Adjust the size and shape to fit any type of window; you can even use this project to increase privacy in a bathroom or bedroom without blocking the light. To change things up, experiment with different frame shapes and sizes.
12. Kid-Friendly Wind Chime with Beads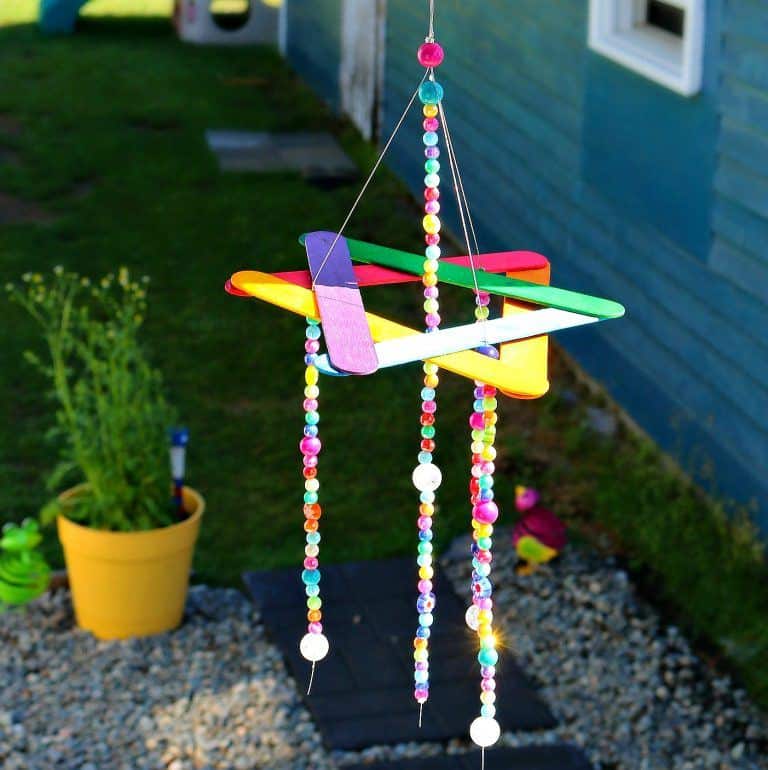 When you need a way to keep your little ones busy for a few hours, turn to this DIY wind chime. Made from inexpensive beads and craft sticks, it's one of the best dollar store summer decoration ideas for families. The "chimes" are made by stringing beads onto a length of fishing line, a process that's sure to be fun for children who are obsessed with DIY jewelry. Study craft sticks — or painted tongue depressors, depending on your supply — amp up the colors for a result that's sweet and joyful. After your kids are done, honor their efforts by hanging the chime in the garden or near a kitchen window.
13. Rope-Covered Ottoman with a Fabric Top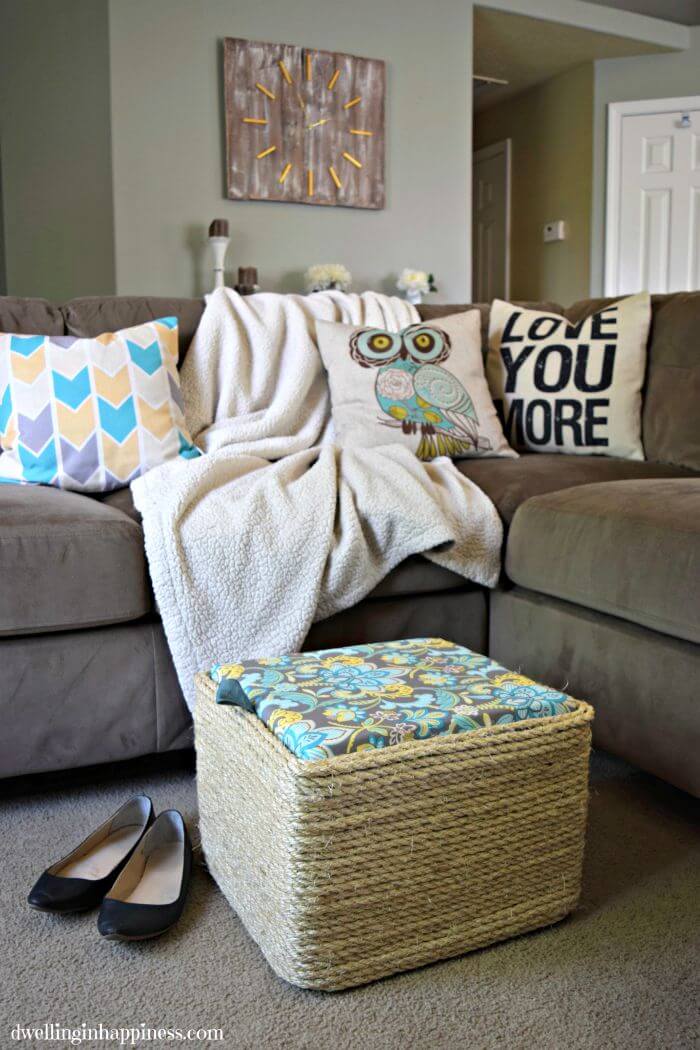 Store extra blankets or other living-room odds and ends in this innovative ottoman, which is made with a milk crate. Do you have a plastic crate left over from your college days? This dollar store summer decor project is a fantastic way to make use of it. A layer of thick rope instantly turns the unsightly plastic into a high-end rustic piece; when you add a padded, fabric-covered top, the transformation is complete. While this piece isn't tough enough to serve as an extra seat, it's a great way to cut the clutter in a family room, bedroom, or kids' play area.
14. DIY Modern Farmhouse Planter with Faux Greenery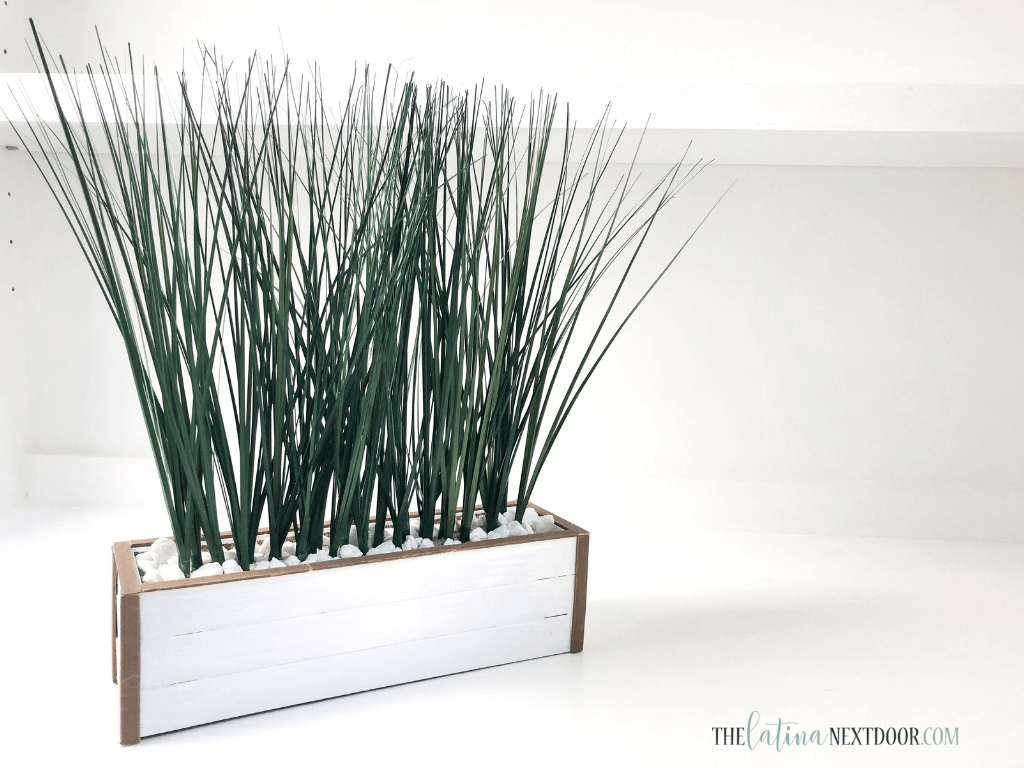 Created with a nod to the minimalist style, this planter combines contemporary design with rustic-chic decor — in other words, it's perfect for a modern farmhouse. It's also an ingenious way to use cheap dollar-store canvas artwork; the planter itself is made with three inner frames stacked together. A coat of paint and a few carefully chosen accents complete the construction, making this one of the most innovative dollar store summer decor options on our list. Plus, since the plants are artificial, it doesn't matter if you have a black thumb. Set this planter on the center of the dining-room table for a fresh, summery centerpiece.
15. Fairy Garden in Clear Plastic Planters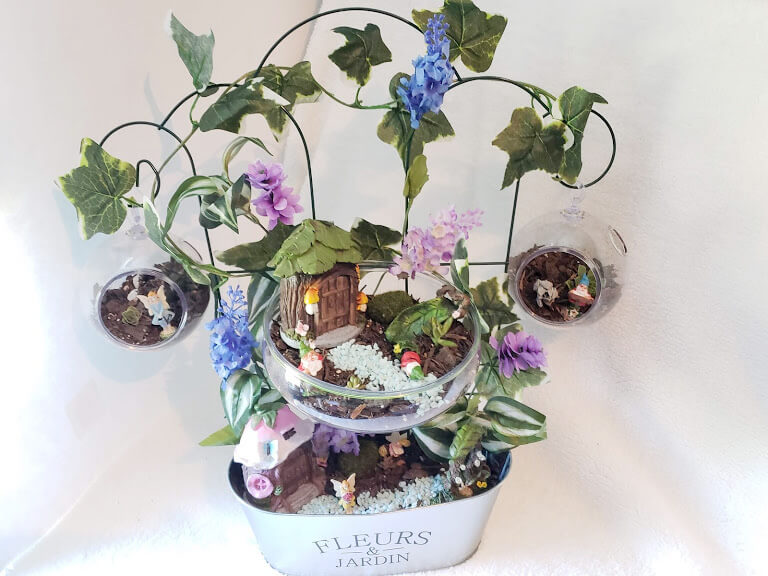 Spark your little ones' imaginations with this impossibly cute fairy garden. Packed with tiny creations, including a miniature gnome and a door to the fairy world, this is one of the best dollar store summer decoration ideas for parents — especially if you want to keep the kids away from screens this summer. Find all of the supplies you need at the dollar store, including flowers, river rocks, and more. This garden can be as complex or as simple as you like. For a more affordable and faster version, use a single bowl to create your miniature world. Can't find garden figurines? Check the toy aisle for tiny fairies and other mysterious creatures.
16. Brightly Colored Flip-Flop Wall Art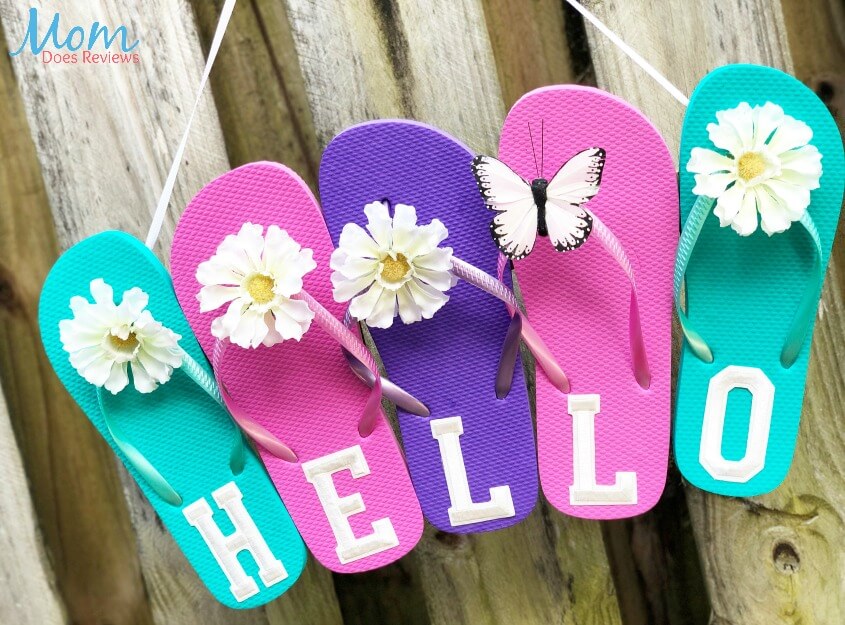 Breezy and completely unexpected, this flip-flop wall hanging is an awesome idea for summer decorating. It combines the best of the season: beach days, flowers, and good cheer. The base is made from three pairs of brightly colored flip-flops, which you can buy at any dollar store. Applique letters spell out "hello", welcoming visitors to your home with a burst of color and fun. Personalize this project with faux flowers, insects, birds, or anything that calls out to you. With its brilliant colors and adorable design, this piece makes a fun addition to the front door or the foyer.
17. DIY Painted Pots for Summer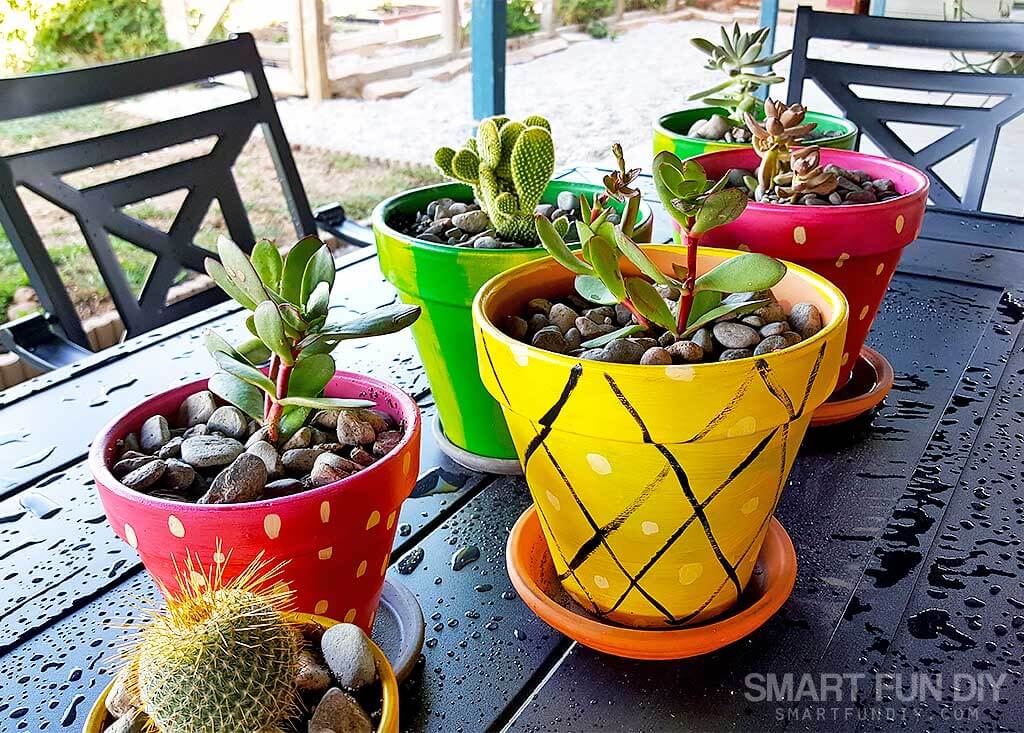 Do you spend sunny days tending to your plants? These fruit-inspired pots add a unique twist to your front porch. The vibrant colors and patterns of pineapples, strawberries, and watermelons are a subtle way to celebrate the warm weather. If you already have terra-cotta pots on hand, spruce them up with a quick coat of acrylic paint. Once they're dry, add your favorite plants for a bright, refreshing collection. Set them on your steps to enliven the entry, or use them as a centerpiece on the patio dining table to add an element of fun to every outdoor meal.
18. Colored Glass Mushroom Garden Decor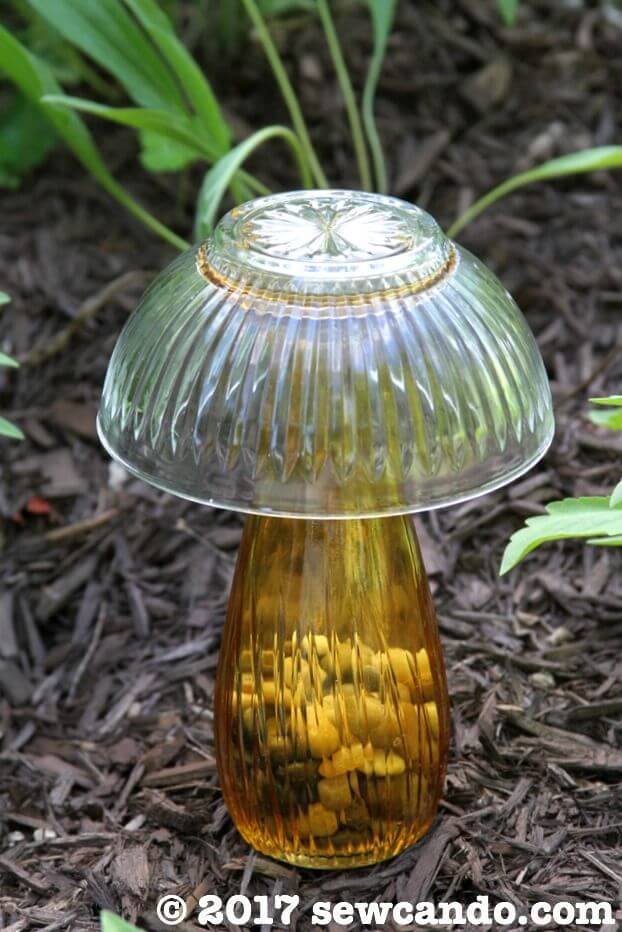 Have you ever thought about buying the colorful plastic bowls and vases that appear in the dollar store every summer? This whimsical project gives you a reason to do so. When a bowl is inverted and placed on top of a vase, they create a magical mushroom that glitters in the sunlight. Tuck these tiny mushrooms in your English garden for a pop of color, or set them among the potted plants to welcome in the fairies. The surrounding greenery shows through the glass, adding to the magical feeling. For outdoor use, a handful of pebbles or river rocks provides just enough weight to keep the mushrooms upright.
19. Painted Plate Floral Garden Stakes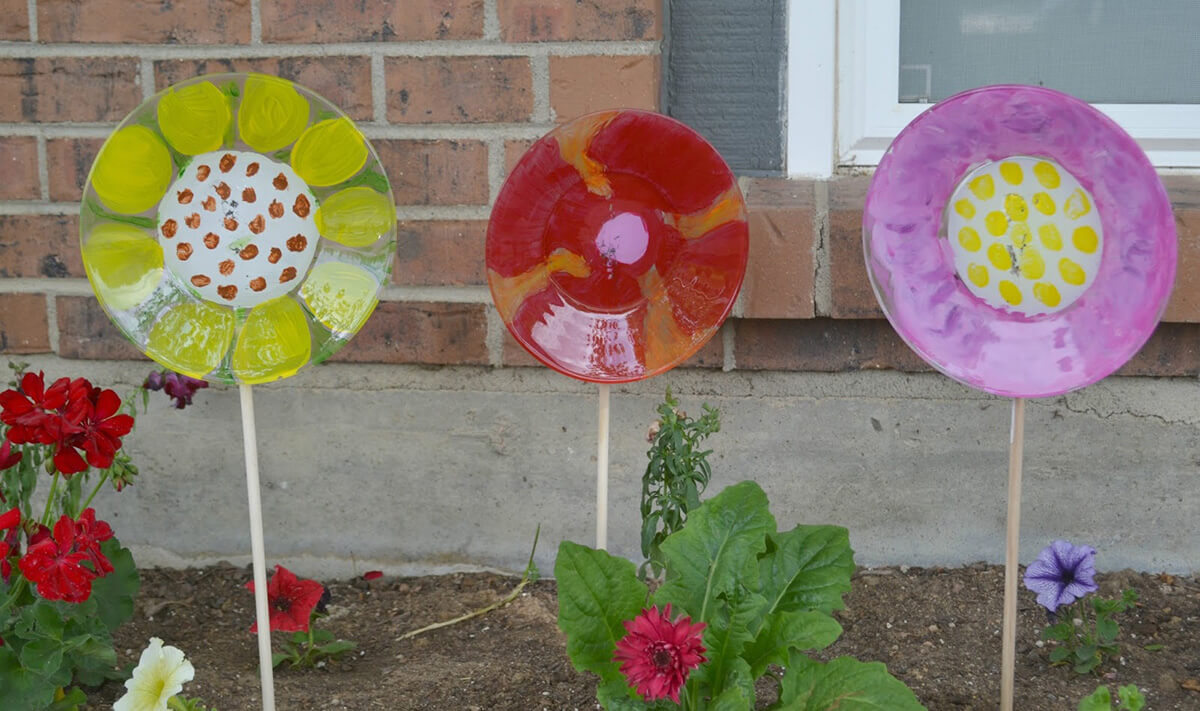 Give your summer garden an extra burst of color with these plate flowers. Made from simple wooden dowels and the clear relish plates you can find at any dollar store, they add a bit of texture and height to a row of tulips or a free-form collection of greenery. This is a chance to express yourself through art — create swirls of color for a pinwheel effect, or design your own fanciful flowers. Kids love to participate, and they'll be delighted to see their creations gracing your beloved flower bed every time they play outside.
19 Delightful Dollar Store Summer Decor Ideas to Welcome the Season
As the seasons change, a few new decor items can help you mark the transition out of spring and into the hot, sunny days of summer. This is the perfect time to indulge in all of the things you miss during the winter months — splashes of bright colors, brilliant greenery, and seasonal fruits that make your mouth water. By integrating these themes and objects into your home decor, you can create a space that feels unified and cohesive with the happy summer vibe.
When it comes to DIY decor, the most awesome idea is the one that feels most accessible to you. That's different for everyone; if you're a serious crafter, you might be delighted at the thought of spending an afternoon creating a gorgeous fairy garden. If you're new to DIY projects, or if you just don't have much time to spare, you might start with a fast, simple planter upgrade. The key is to keep it fun; when you enjoy the process, the end result will always be something you treasure.
It's our hope that this list of project ideas gives you the inspiration to get started. As you consider different options, you might even find yourself dreaming up summer DIY projects of your own to amp up the summer feeling in your home.
Our Favorite Outdoor Decor Pots and Planters to buy on Amazon