Welcome the warm weather this season with the best DIY summer signs to brighten up your porch, patio, or poolside. From rounds to verticals, you'll be amazed at the variety in shapes and sizes offered and thrilled at the ease of crafting these charming summertime decorations. First, you might want to focus on your summer favorites. Are you a devoted pool lounger, front porch sitter, or burger-flipping backyard grill master? No matter where your heart lies, there's a summer sign that's just right for you!
21 Ways to Spruce Up Your Patio for Summer with DIY Signs

One of the best parts of incorporating these easy and amazing DIY summer signs is how quickly they liven up your outdoor space. Choose a vertical sign to stick into a drab corner of your porch or patio to really enhance the atmosphere of your outdoor gathering space. Or if you love keeping your front door current with the season, swap out a wreath with a round. These circular painted wooden signs add so much character and style as they are a slight detour from your traditional front door decoration.
For those rainy days when you're stuck indoors, be sure to add some of these best DIY summer signs into your interior space as well. From a dainty garland of painted popsicles to a tabletop wooden plate featuring a cute garden gnome, you can't go wrong with your choice of summer favorites.
1. Wonderful Wire and Wood Watermelon Sign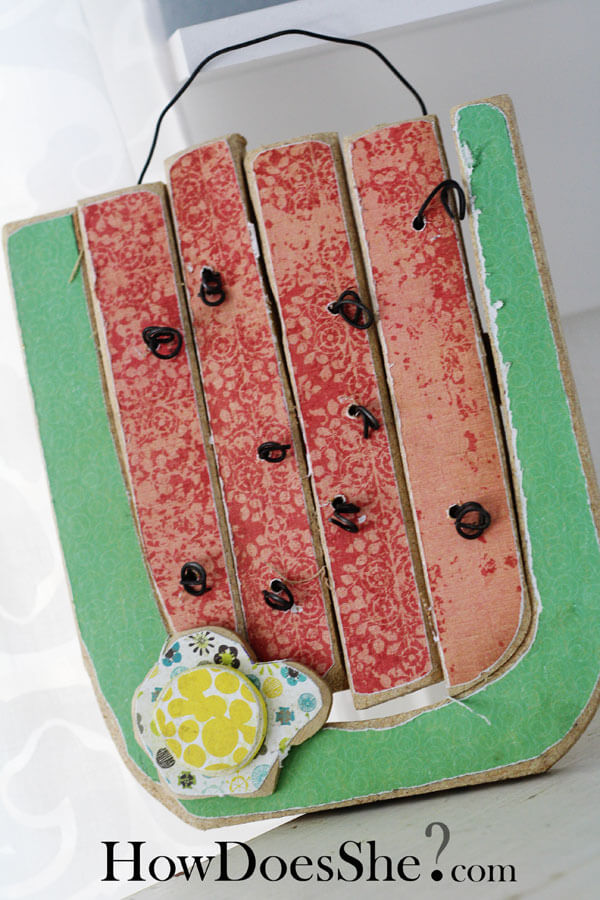 Fasten your seatbelts for some summer fun with this super cute and juicy watermelon sign. It's the quintessential fruit of the season, so why not feature it in your summer decor? This quirky wooden sign features wires that serve as the seeds to this ripe and really neat pink and red melon. There is even a decorative flower bow of sorts in the corner to further accent this cute and clever craft idea. Every kitchen or back porch would be thrilled to show this off as family and friends gather for some seed spitting fun!
2. Colorful and Fun Fish Summer Sign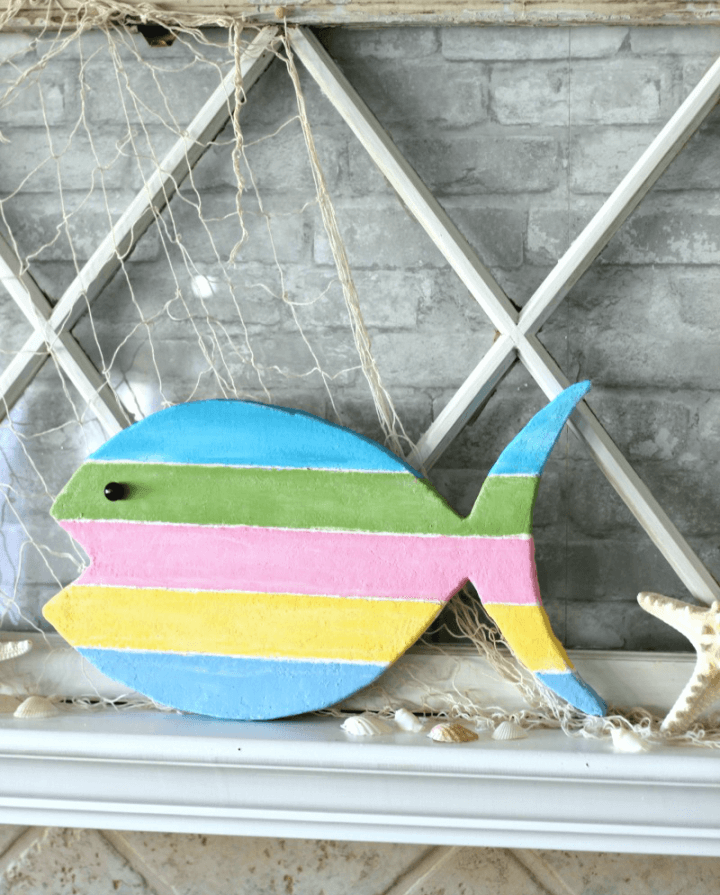 Add some fun to your summer scene at home with this colorful fish sign. Constructed in a fish cut-out shape, this sign features stripes to give this fish friend his bright sense of color. The colored stripes boast vibrant summer hues of some of the most beloved colors from the rainbow. This would be a fun decoration for a Rainbow Fish first birthday party or simply any beach-loving get-together. Hang this on the wall along with some nets and seashell decorations to make it a full-blown seaside retreat. A tropical-toned fish makes a great DIY summer sign idea.
3. Chillin' & Grillin' BBQ Grill Master Sign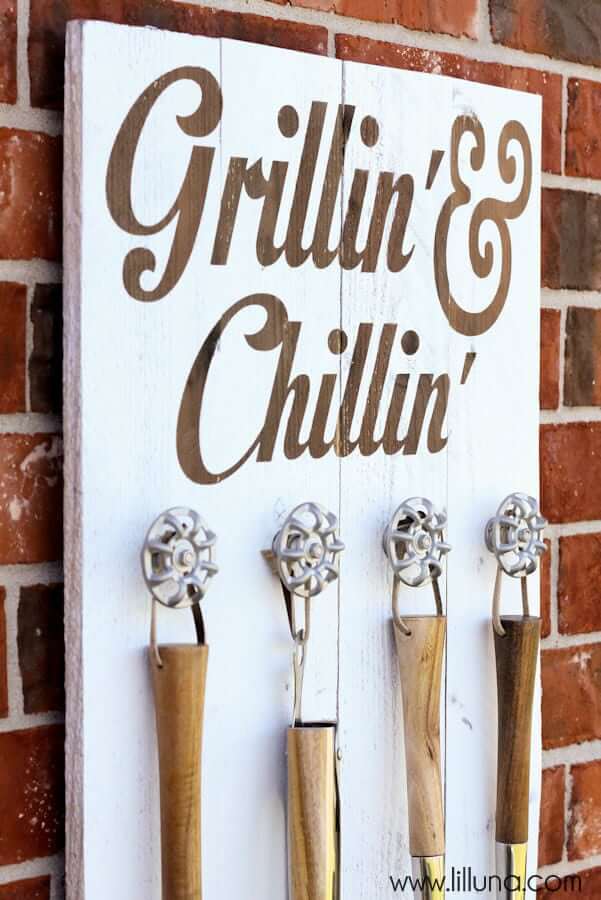 Every backyard BBQ grill master deserves this sign in his/her backyard to decorate the designated space where the meat magic happens. Give one of these handmade signs for summer to your next host to show your appreciation for his/her impressive grill skills. Your gift will be a hit as it's a unique and cool spin on the bottle of wine traditional hostess gift idea. If you have a special grill master in your family, create one of the best DIY summer signs yourself to honor him/her. This chillin' and grillin' sign is a perfect addition to the back patio where the grill calls home and it gives a nice hangout for all the tongs and spatulas to rest.
4. Summer Activities Crossroads Outdoor DIY Sign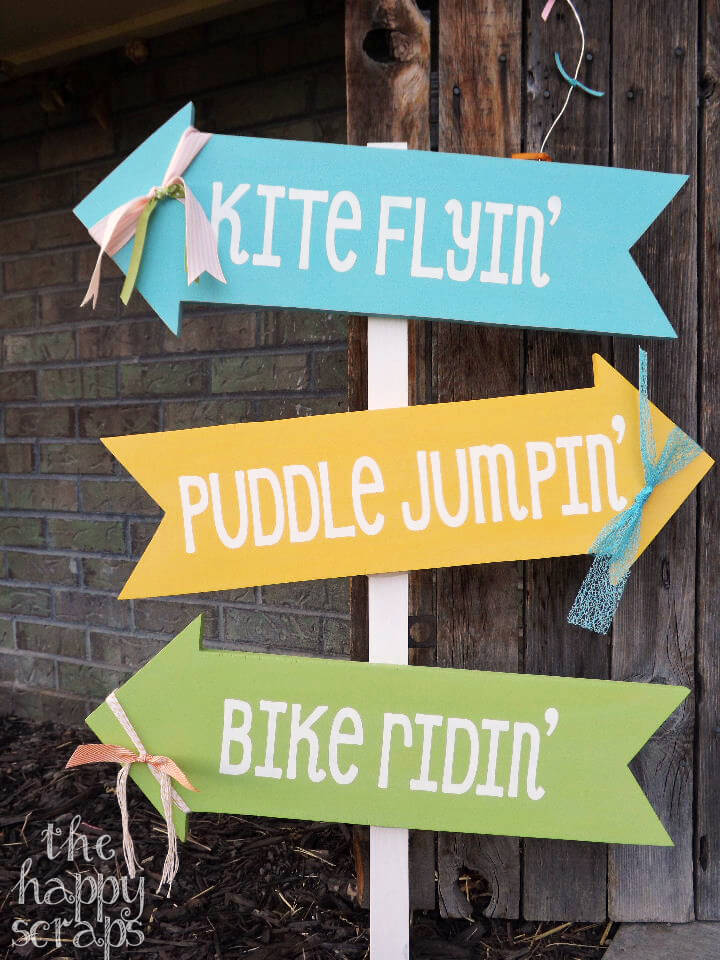 Here's a cute and crafty outdoor sign that's an awesome addition to your summer decorating scene. Three of the season's most cherished activities are showcased on this lovely crossroads sign that points you in the right direction for kite flying, puddle jumping, and bike riding. Enjoy some relaxing and timeless summertime classics with this friendly reminder for a more laid-back schedule as the temperature climbs. Instant curb appeal is what you'll have when you place this bright and fun sign on your front porch this season!
5. Cheerful DIY Hello Sunshine Summertime Porch Sign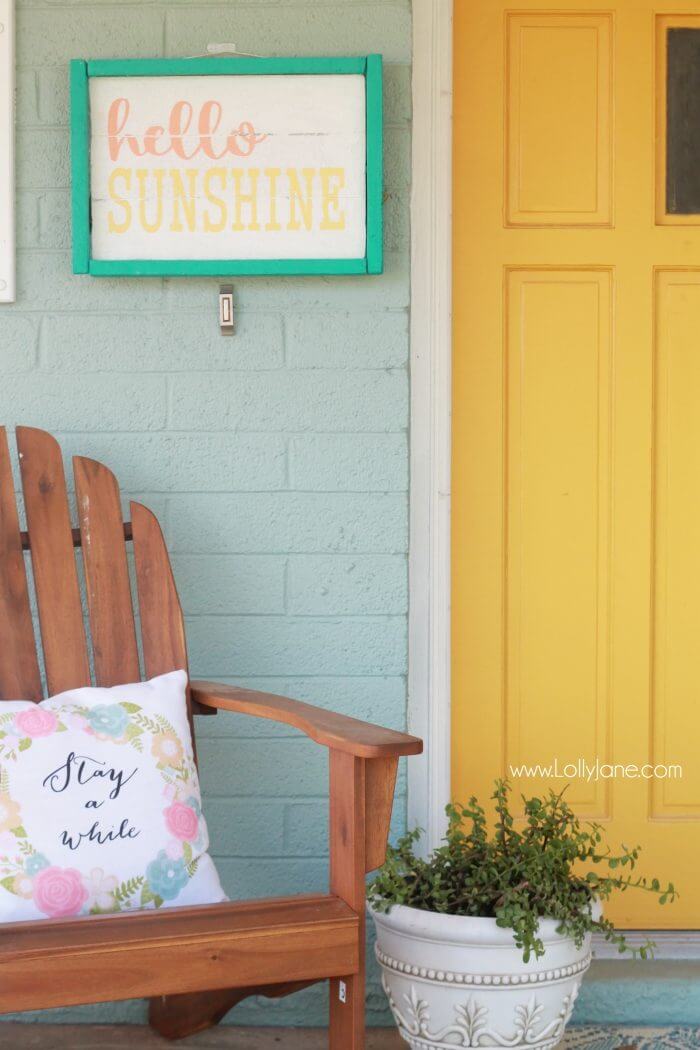 Brighten up your front porch for summer with this charming and cheery "hello sunshine" summertime sign. Showing off some of the fresh and cool colors of the season, this sign is the perfect decoration to liven up your front porch space. The two fonts are used to create a simplistic and sweet summer attitude that fills the atmosphere where your friends and family love to gather together. Hang this on the front door or any wall space so it can be easily seen by all of your guests and passersby. It would also look fabulous hanging on the pool house in your backyard where the splashing is highlighted as the sunshine beams hit the water.
6. Find Joy in the Journey Summertime Sign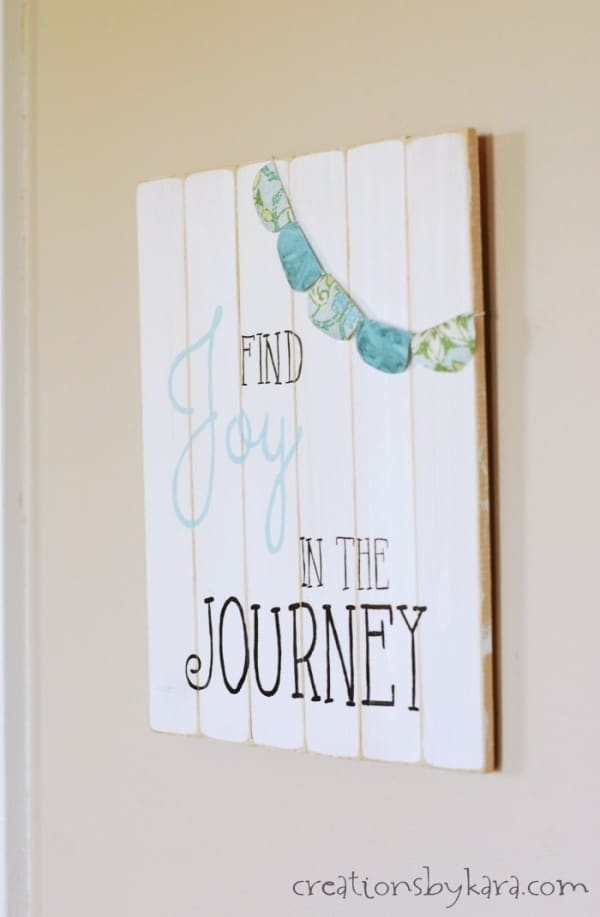 Such a sweet sentiment makes for a great and simple DIY summer sign idea. Beginning with a vertical white shiplap backdrop, this summertime sign uses cool blues and greens to add to its warm-weather appeal. A decorative pennant garland adorns the top right corner to add charm and character to the overall design. This is a perfect choice for a lady's painting party and the finished product makes an amazing gift for a close friend or family member. Celebrate graduation, promotion, or retirement with this unique and pretty sign that focuses on the joy within the journey of life.
7. American Summer Coastal Shoreline Beach Sign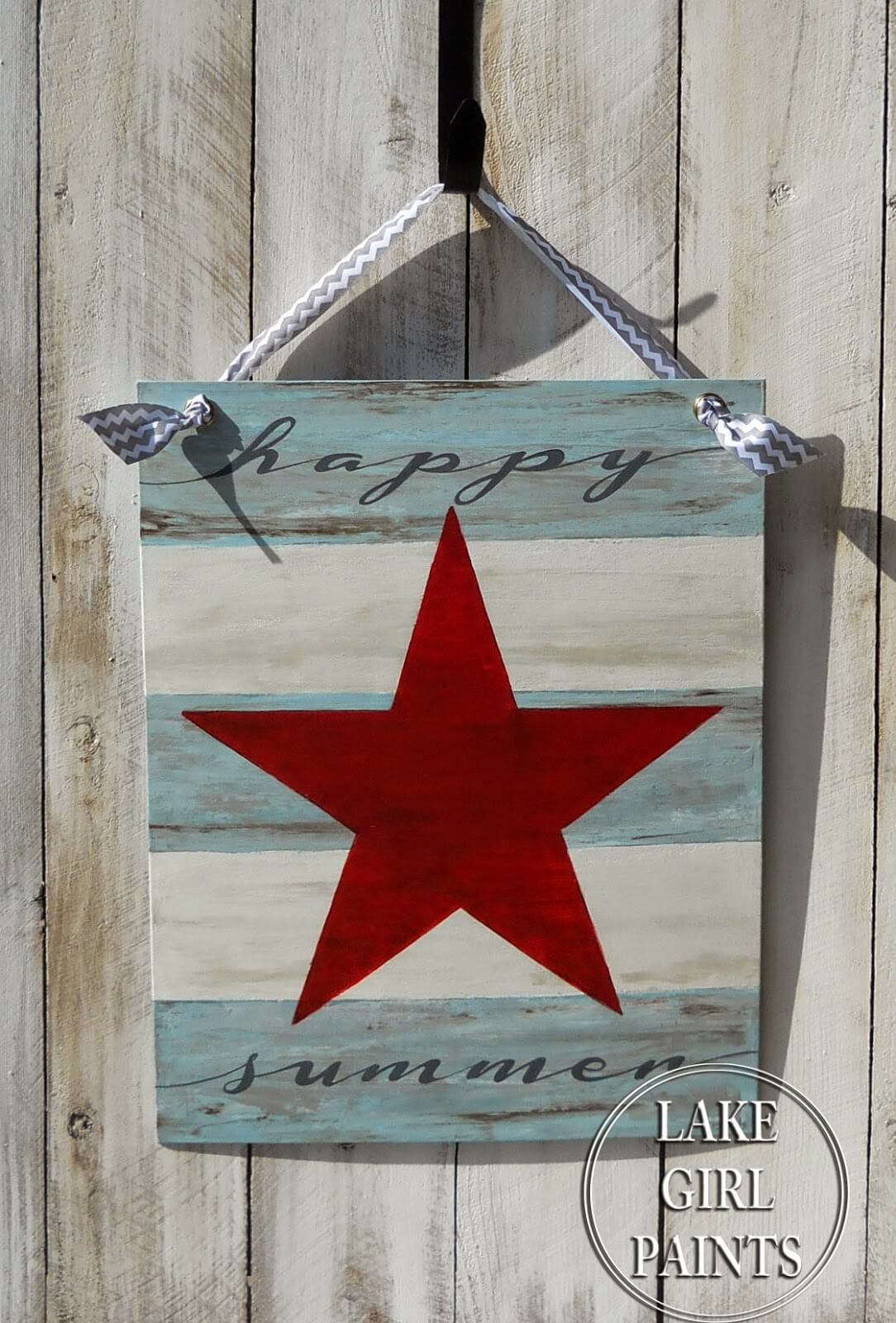 Bring a touch of Americana into your coastal creation with this red star-studded shoreline beach sign. Created with a beautiful sea blue and white striped background, the red star really pops from the design. Gorgeously scripted lettering depicts "happy summer" to finish off the overall look of this lovely American summer sign. Consider hanging this in lieu of your traditional wreath or add it to an existing one to spruce it up for summer. It would be a wonderful decoration for celebrating the Fourth of July and would make an amazing favor for adult guests while the kids enjoy face painting, kindness rocks, and other kid-friendly craft ideas.
8. Cute Coastal Life Square Summer Sign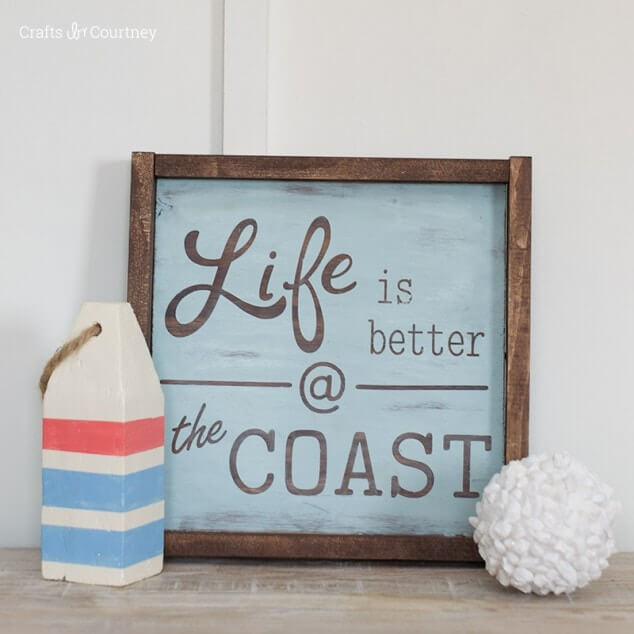 Rough, natural wooden trim is a nice nautical touch on this coastal life sign. With a sea blue background, this "life is better at the coast" summer sign is a fun addition to a tiered tray display this season. Your family beach house or home that becomes your personal coast-wishing summer retreat is the perfect place to include this dainty square sign in your seasonal summer decor. Add it to a gift basket filled with coastal creations and warm weather goodies for a friend's birthday or secret sister gift. Better yet, make it part of your mantel line-up nestled beside your buoys, driftwood, and shells for a pulled-together coastal collaboration.
9. Vintage Country Blue DIY Summer Sign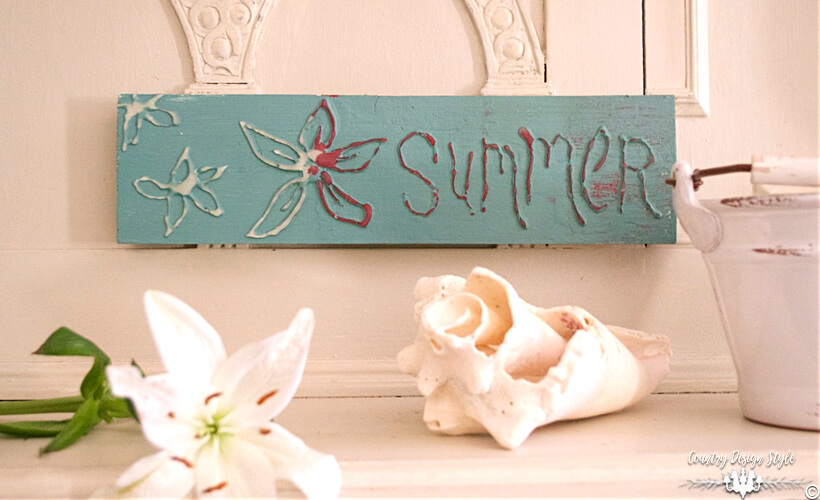 Keep it simple and understated by simply using the name of the season on your next DIY handmade signs for summer. This slim rectangular sign works on your mantel or windowsill to help label the season of fun in the sun. Using a country blue color beckons to the waves of the ocean as they crash onto the shore. With a touch of red distressing, this unique finish adds a lot of character and charm to this understated sign idea. Less is more, especially when you are merely striving to accentuate the beauty and simplicity of the season of road trips, rest, and relaxation.
10. Summer-Sign and the Livin' is Easy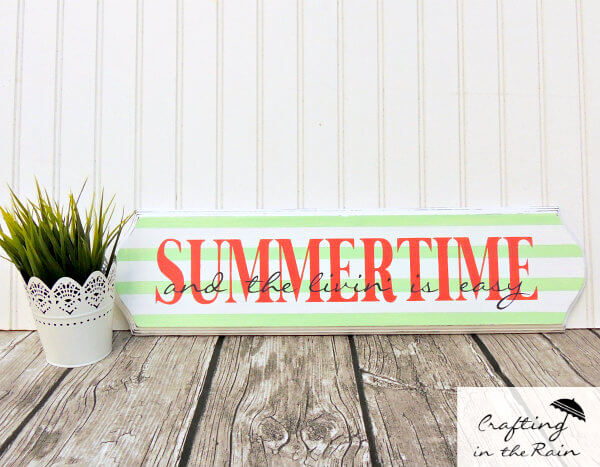 This vibrant wooden sign pairs contrasting fonts with bright green and white stripes on a beveled background to create a fun, festive message board for summer. The bold, red block letters at the center immediately highlight the season, while the more delicate, black script hints at the laid-back easy living it describes. The combination of light green and white stripes with the red and black lettering conjures the image of beach umbrellas and cabanas along with the taste of juicy, sweet watermelon. This sign is bursting with color and light; can you smell the seaside already?
11. Time to Soak Up the Sun-Sign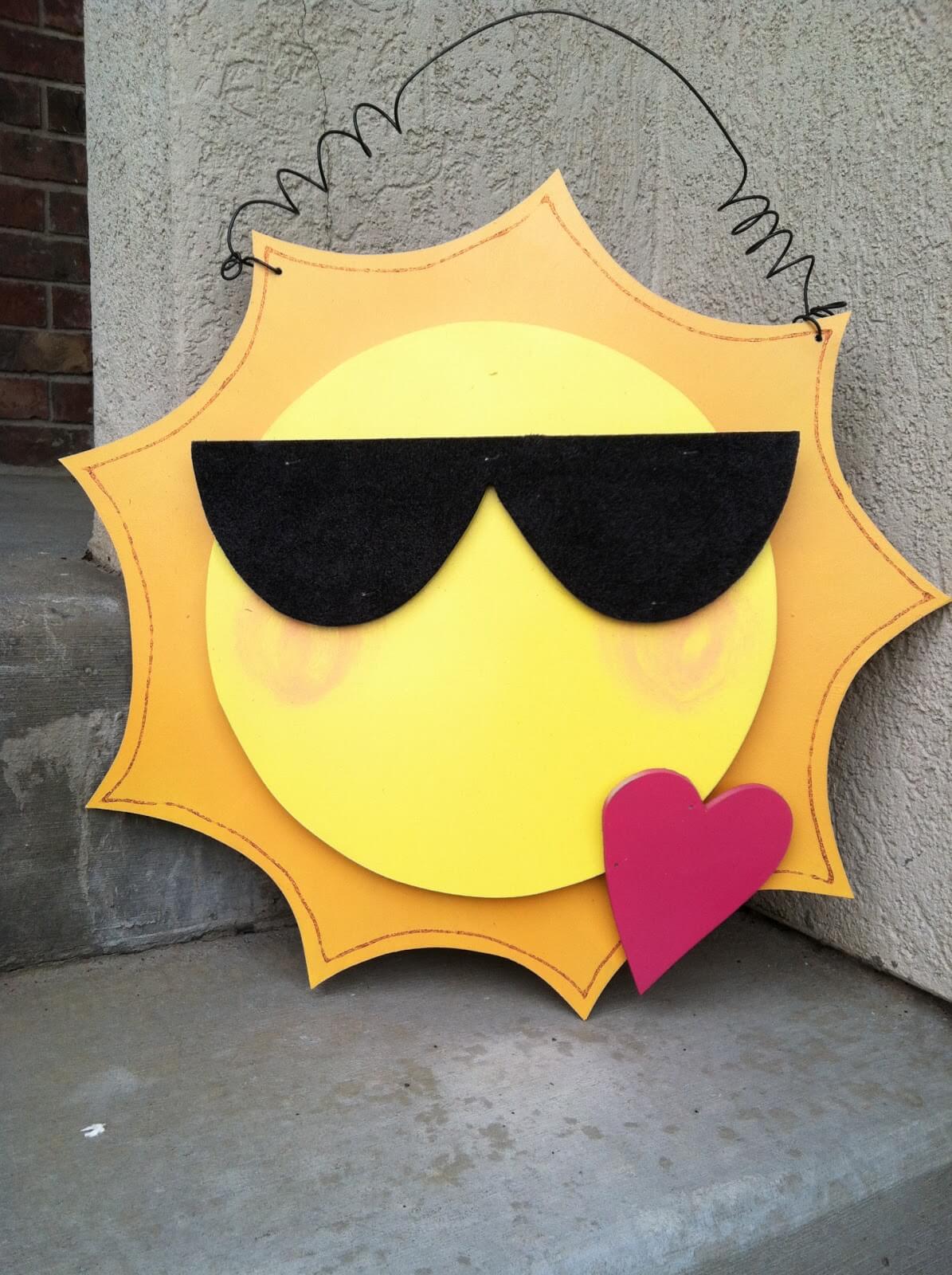 Nothing says summer like a bright orange sun and some cool shades, and this whimsical sign has both! Complete with a ready-to-hang, twisted wire, this sun's dark orange corona contrasts perfectly with the bright yellow center, and the rosy cheeks and dark sun glasses make it clear this sun is enjoying its own brilliance. The red heart cut-out is a perfect accent to this playful piece, undoubtedly signaling that everyone loves the summer sun!
12. Laser Cutout Circular Shiplap Signs for Summer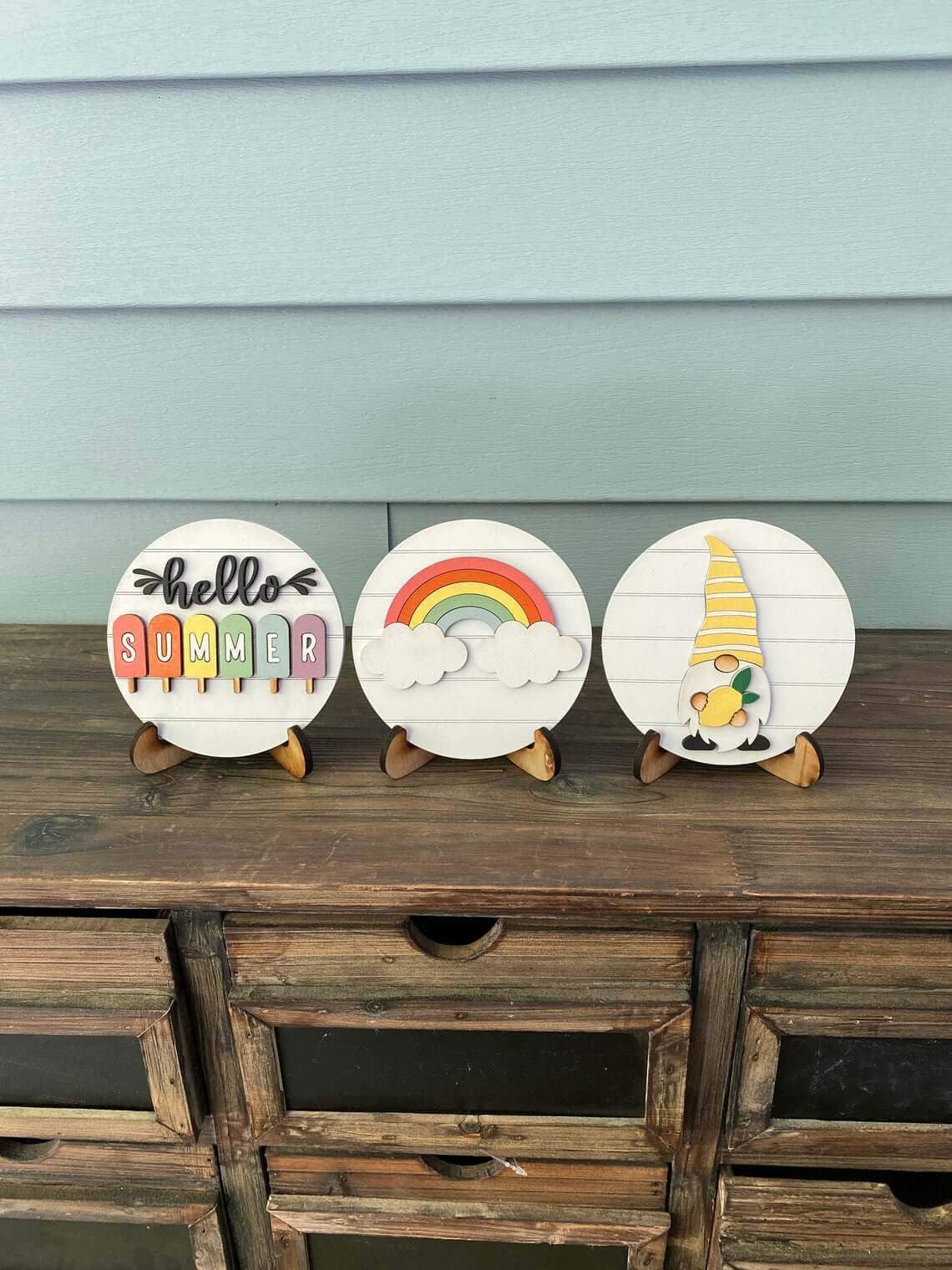 Here is a wonderful way to decorate a tabletop for summer. These laser-cut circular shiplap signs come with a stand so they are easy to display on your favorite tabletop this summer. Arrange them across your mantel, down the center of your kitchen island, or spread them out throughout your entire home to tie the entire look together. What a fun project with friends as you can customize them with your favorite colors and items that remind you of summer. They would look nice on top of your cabinets as well to add a decorative touch that draws the eye up the room. Popsicles, rainbows, and gnomes are just a few choices you have to make these cute circular signs an extension of your personality this season.
13. Fill with Summer Sun on Repeat Sign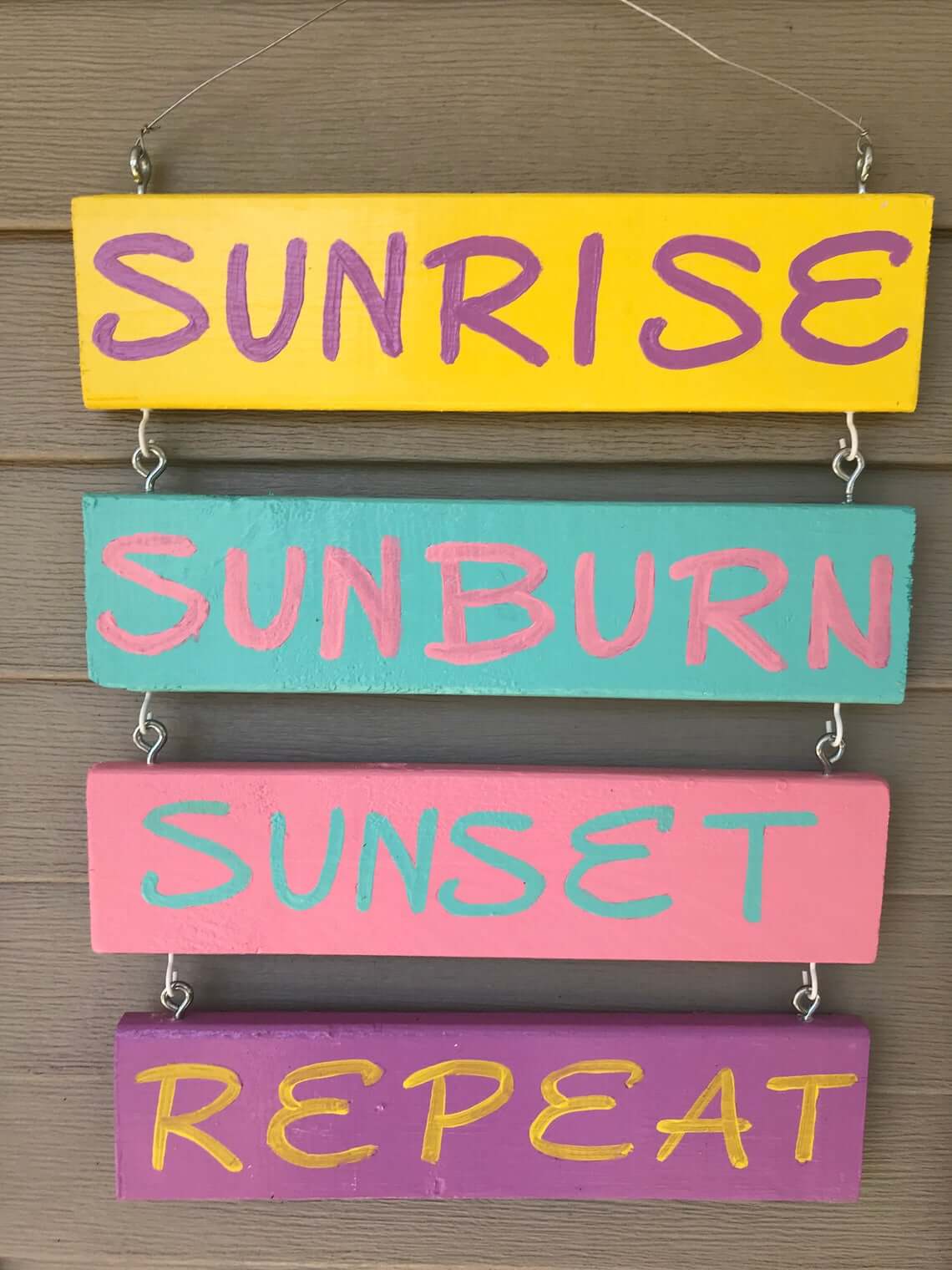 Check out this fun play on words for all things related to the warm summer sun. This quirky and humorous sunrise, sunburn, sunset, repeat sign is exactly what your backyard pool area needs. Whether it serves as a friendly reminder to lather up and reapply the sunscreen or simply make a point of capturing a morning sunrise or evening sunset, the pretty pinks and purples will liven up your outdoor space. Maybe you could even create a cozy sun-kissed station next to this sign to provide guests with all of the lotions and oils they need.
14. Vertical Wooden Sweet Summertime Sign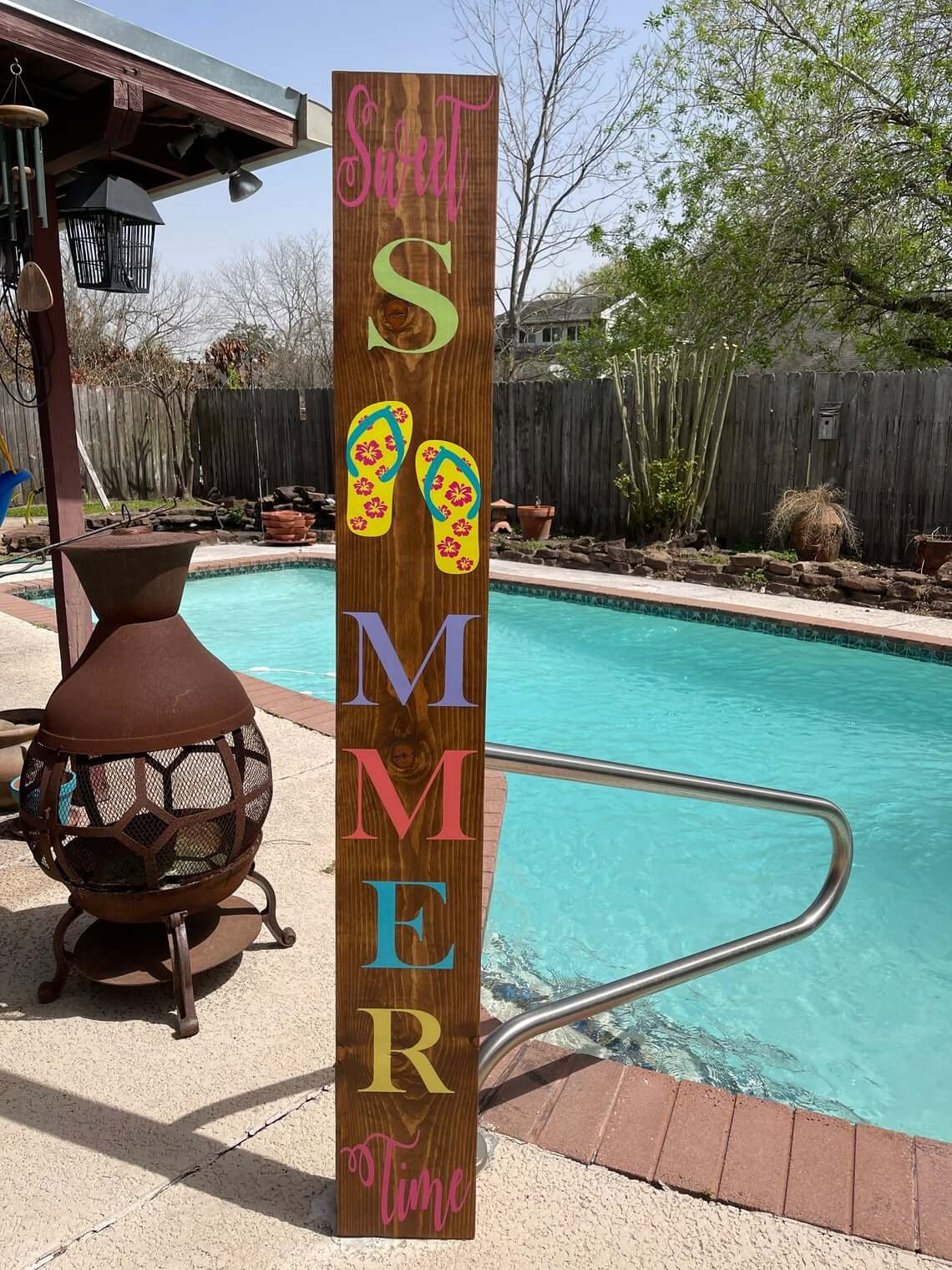 Add some dimension and height to your summer decor with one of the best DIY summer signs. This interesting vertical sign features a rich brown wooden background for the bright and colorful lettering to easily be seen. Incorporating a pair of flip flops as the "u" in summer further adds to the charm of this easy, breezy summertime sign. Nestle it in the corner of your porch or stand it up in the backyard near the pool to add to the atmosphere of your summer hangouts with family and friends. Although this is a larger-sized sign, it doesn't take up much space since its construction is vertical instead of horizontal.
15. Vintage Farm Fresh Oranges DIY Sign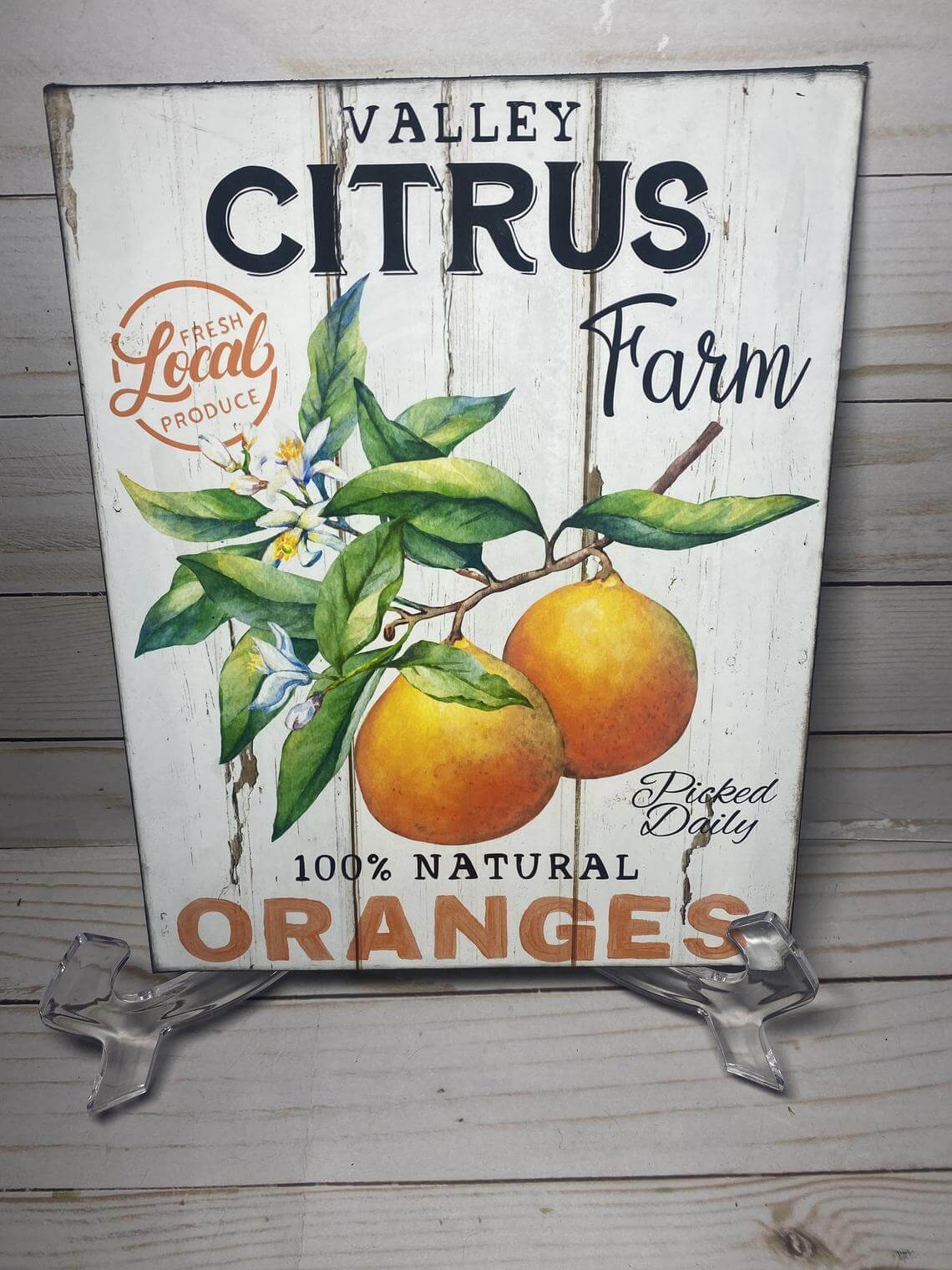 Bring in a bit of nostalgia into your summer decor with this DIY vintage farm fresh sign that highlights the citrus fruit forerunner- the orange. No matter if you prefer the oranges of California or Florida, this DIY sign offers a loved and lived-in finished look. Your modern farmhouse kitchen will adore showing off this fresh produce sign on its interior walls. Place it next to a bowl full of fresh oranges and lemons to completely immerse the room in the summer goodness of the citrus harvest.
16. Popsicles, Flip Flops, and Watermelon Summer Sign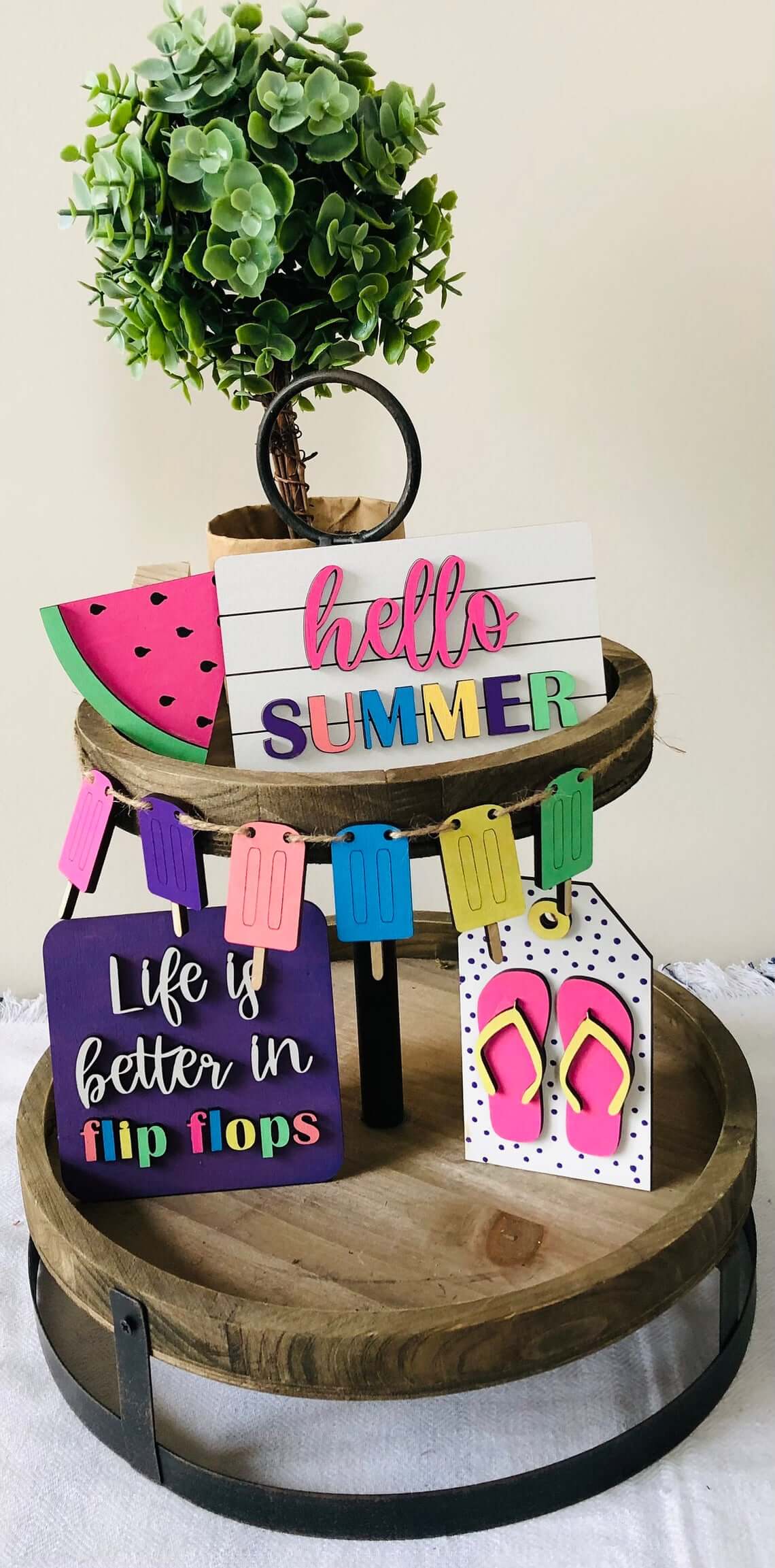 Nothing captures the aura of summer quite like the taste of juicy ripe watermelon on a hot summer day! Well, maybe a frozen popsicle comes close which makes this set of tiered tray decorations such a hit for the season of the sun! A multi-colored and brightly-hued garland of popsicles will melt your heart as part of this adorable miniature tiered tray decoration set. Including a pair of faithful flip-flops is necessary as they represent part of the ultimate dress code for summer weather. Show off this set on your kitchen island so all of your guests will be sure to enjoy the bold pops of color and miniature mascots of everyone's favorite time of year!
17. Bright Flip Flop Hello Summer Sign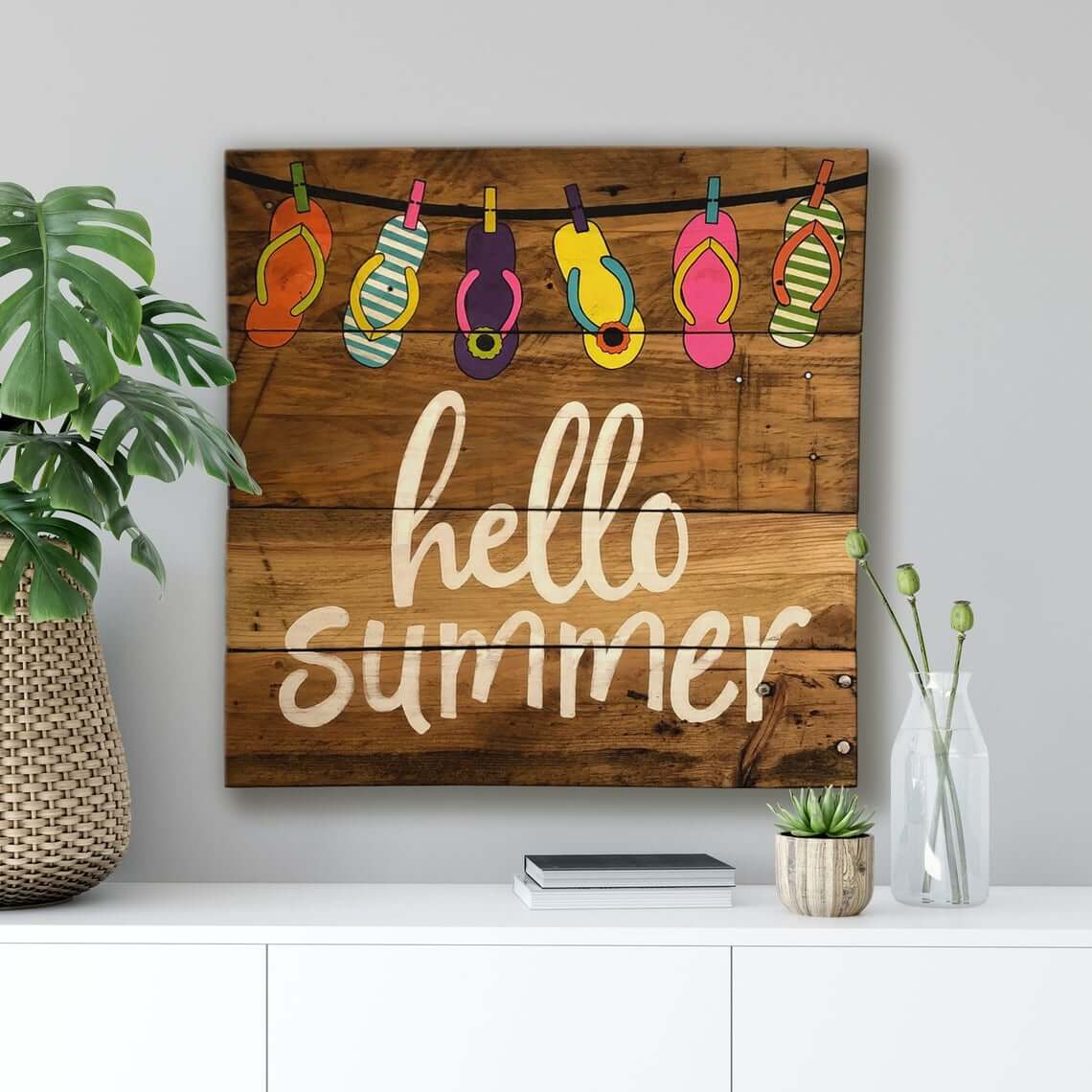 Greet everyone's favorite season of the sun with a bright and bold wooden sign! The gorgeous grains in this natural wooden shiplap sign provide an ideal backdrop for this lively and colorful DIY summer sign idea. At the top, a string of flip flop garland adds a nice and fun touch to the overall sign design. This would be an amazing way to greet your guests as they enter your mudroom as it provides a fresh burst of color and might even remind them to take off their shoes and stay awhile. All of the beautiful colors nearly leap out at you as they are a dynamic contrast to the natural golden brown beauty of the wood. This large sign would also look fabulous in your outdoor space on the patio or near the pool.
18. Sunset Circular Hello Summertime DIY Sign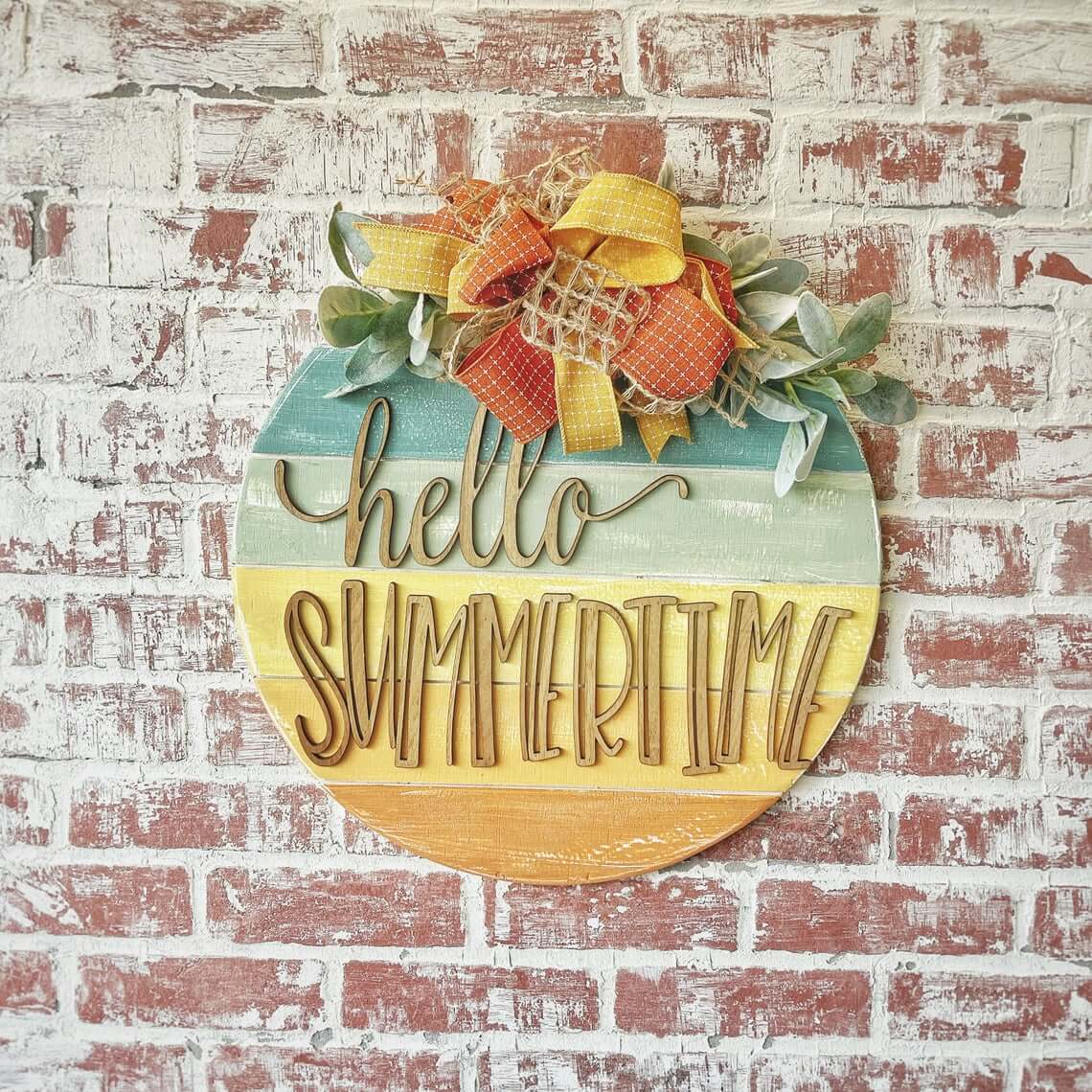 Toss out those outdated and overused traditional wreaths and hang this circular sign on your front door! The laser-cut letters really pop from the sunset-colored stripes that make up the background. At the top, a nice bow with burlap and greenery adds a wonderful finishing touch. The combination of warm and cool colors really works together in the sunset ombre to give this DIY summertime sign an original look and feel. Using a distressed paint finish really gives the circular sign some much-needed character and charm so it doesn't look like a cookie-cutter decoration. Make it your own by incorporating it into an existing wall display with some lemon garland to get your home ready for summer.
19. Name Tag Letters Beach Lovers Sign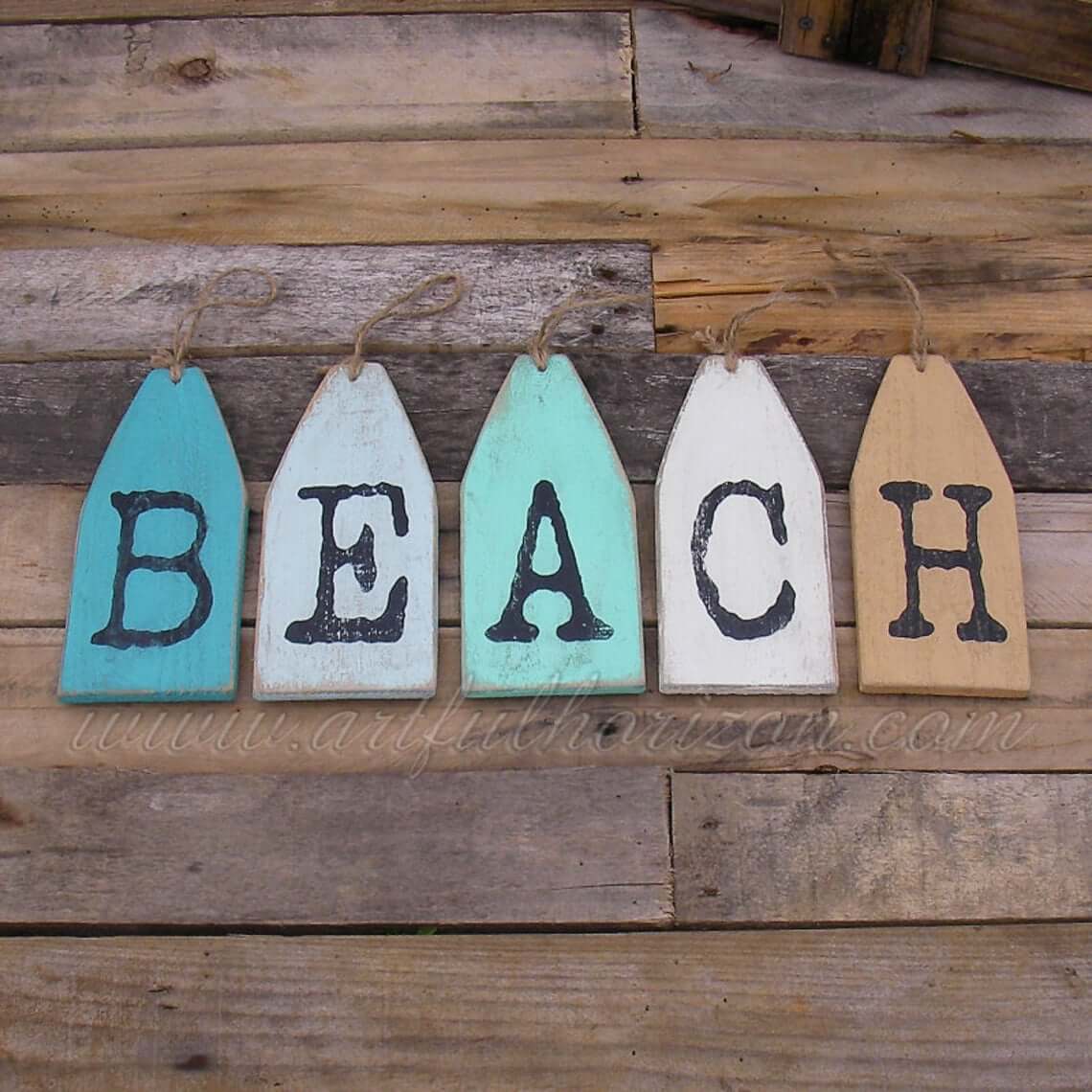 Spell out your favorite summertime destination with these nametag letters to create an awesome sign this season. A piece of rugged twine loops through the top of the nametag letter so you can string your favorite word across your home like garland or hang them from hooks on a wooden shelf. You may even wish to spell out a different word on the backs of these tags to make a reversible sign that gives you options for summer or allows you to transition this one into fall. Whatever you choose, this cute name tag design puts a new spin on the way you spell out your newest DIY beach sign.
20. Tasty Watermelon Summer DIY Sign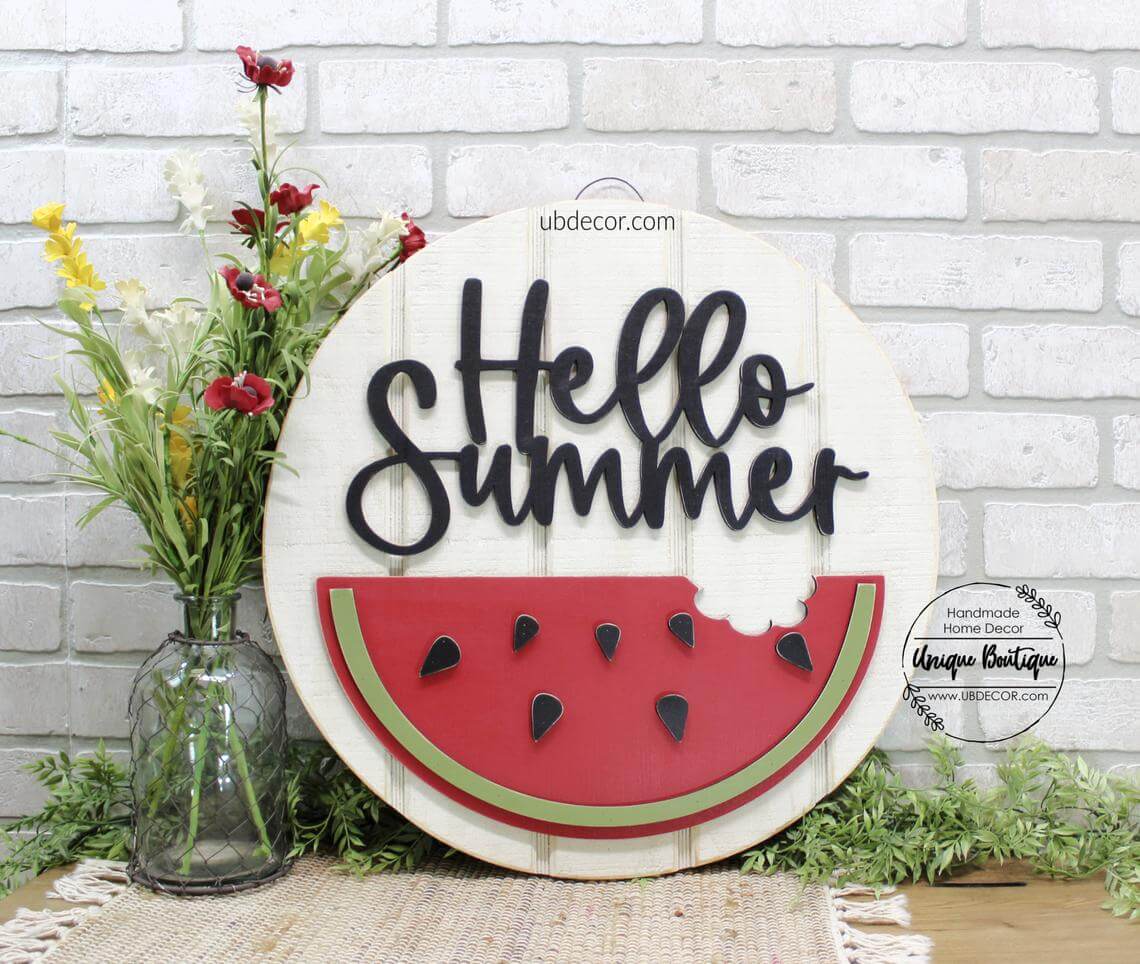 Perhaps one of the best parts of summer is the delicious display of fresh fruits and vegetables. And it's no wonder many folks picture watermelon as synonymous with summer. Here's a perfect pairing of DIY decor and summer's juiciest fruit in this circular and cute sign. The contrast of the pink fruit on the clean white sign is a great way to add a spectacular summertime decoration to your kitchen. Whether you choose to hang it on the wall or prop it up on a tabletop display, you can't go wrong. Nestled near a glass jar of freshly cut flowers further adds to the look and feel of the season.
21. Vintage Flair Feelin' Beachy Summer Sign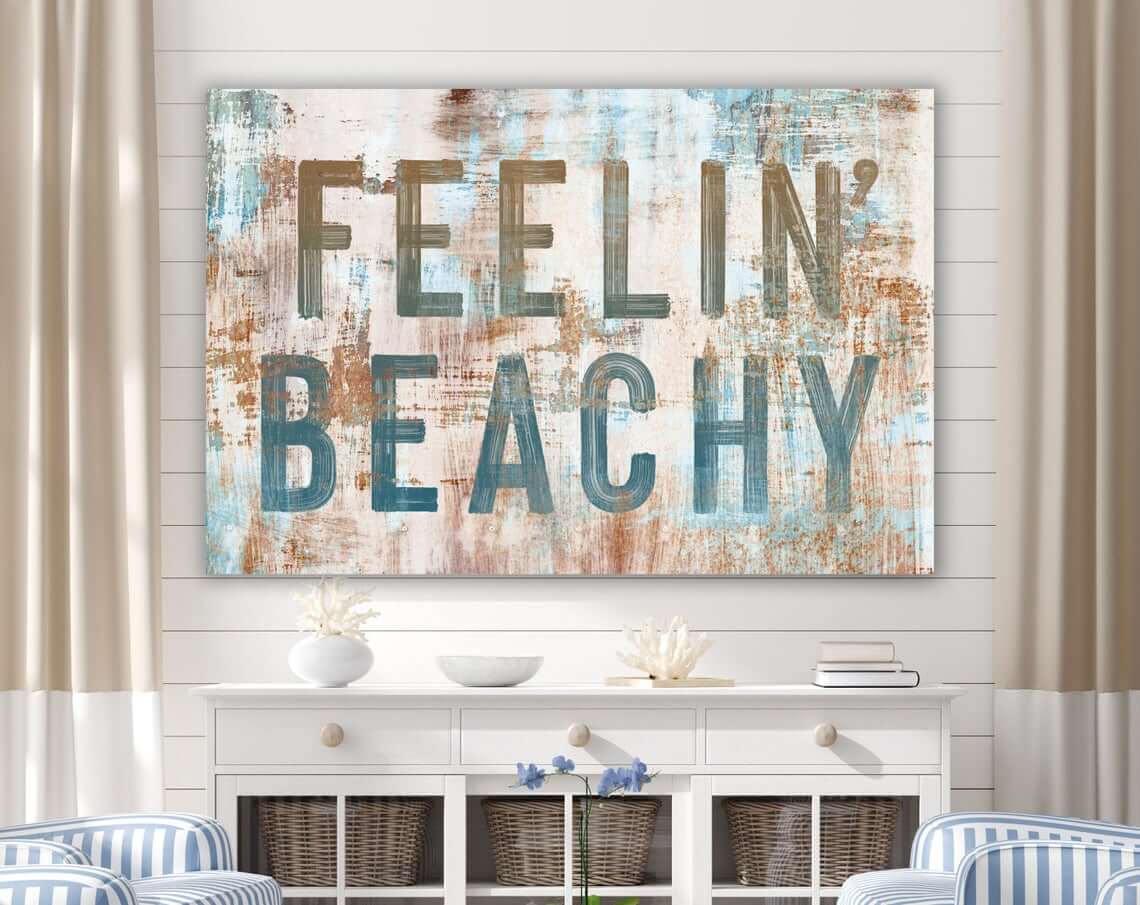 Combine your love of all things beachy with all things vintage and you're certain to enjoy this distressed "feelin' beachy" summer sign. Its large size makes it a great choice for hanging behind your couch or a king-sized bed to serve as the focal point on the wall. The one-of-a-kind vintage finish blends it into existing decor quite nicely too. With an almost rusty addition to the white and blue color palette, this summer sign gives your home a beachy feel without becoming a full-blown-themed decorating scene. Add some throw pillows in rusty orange and teal to further complement this gorgeous piece of vintage-looking wall art.
22. Hello Summer Sunshine Square Sign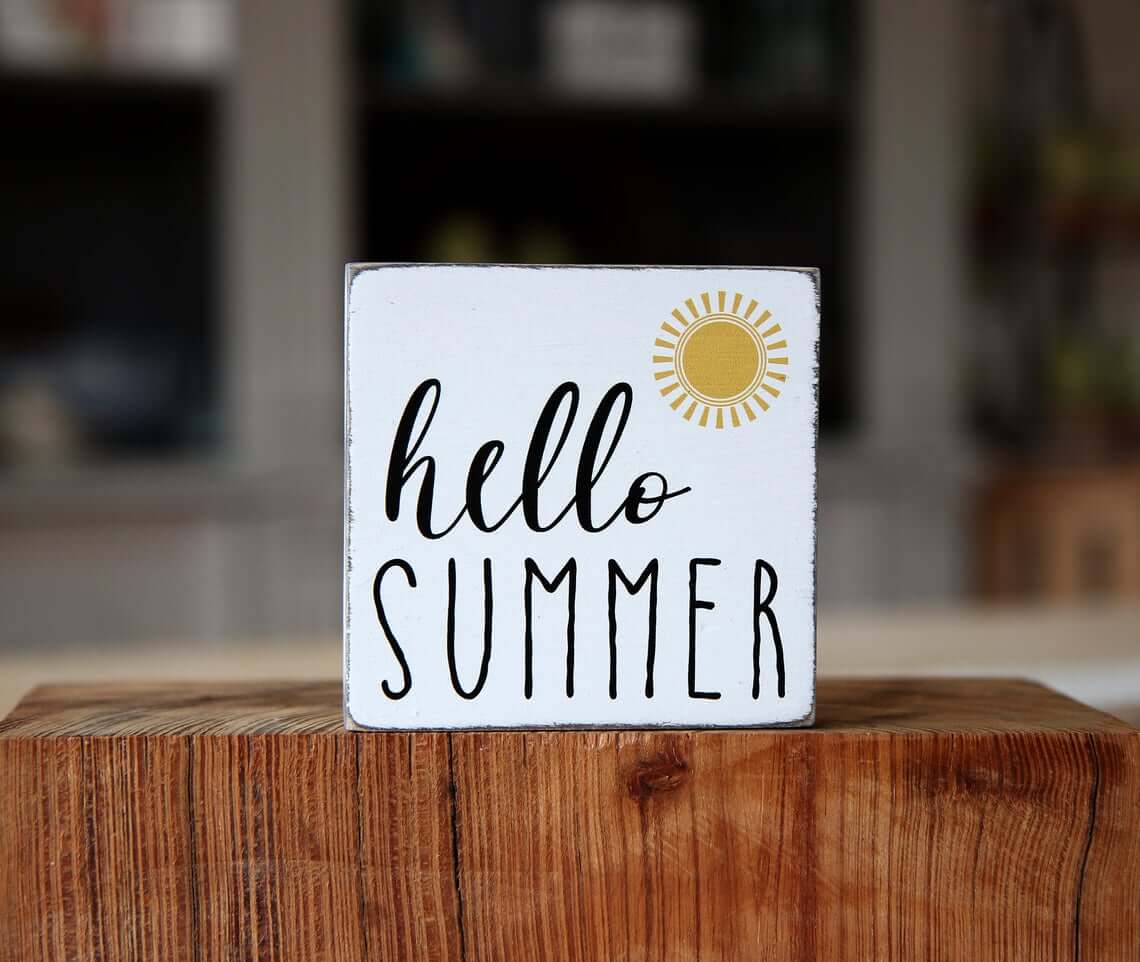 You'll be able to place this small square sign nearly anywhere your heart desires with its quaint and practical size and design. Give your desk a refreshing facelift with this warm greeting and sun-friendly creation. Adding a touch of character, the edges have been roughed up for a nice worn look while the buttery yellow sunbursts from the classic white painted background. Add this to a yellow-themed sunshine box to send to a friend that simply lets them know you're thinking of them. Complete it with a lemon kitchen towel, scented candle, yellow nail polish, and any other yellow accessory you find to pass along your own personal sunshine to brighten up someone's day.
23. Hello Summer Colorful Popsicle Wooden Sign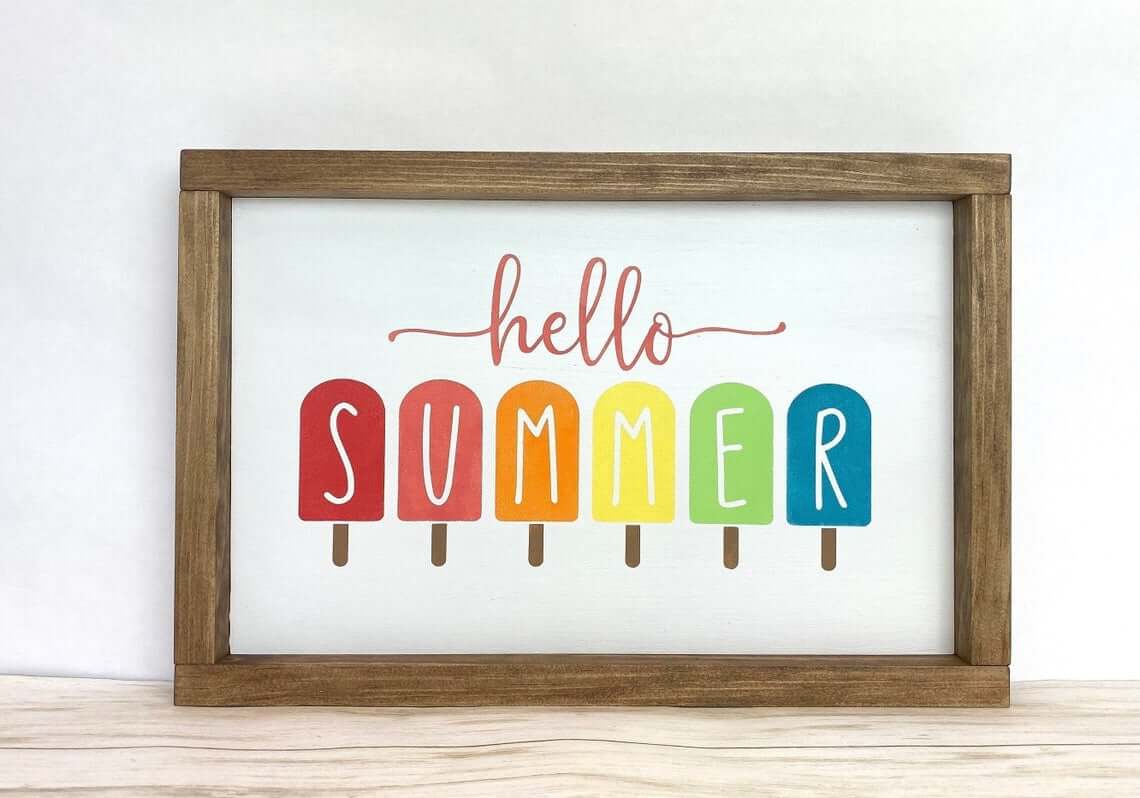 Gorgeous grainy wood frames this fresh and crisp white sign with bright popsicles to welcome summer onto the scene. Wouldn't this look amazing in your kitchen or bathroom? Such a fun and colorful sign is a fantastic way to sprinkle a little bit of the season throughout your entire home. Since many like to decorate more than one room to keep up with each season, this sign is a wonderful choice because it is the perfect size for any room and has such a clean and fresh finished look. Hang it over your toilet or above the window at your kitchen sink and you're sure to enjoy this friendly summer greeting all season long.
Keep It Simple but Beautiful with DIY Summer Signs
At the end of a long summer day, it's refreshing to come home and enjoy a respite from the heat and hectic nature of daily life. Freshening up your home, both inside and out helps alleviate the stress and encourages a time of recharging and relaxing.
Glancing at your beloved summertime sign featuring favorite treats like watermelon and popsicles is just one way to wind down. While your mouth is taking in all of the coolness of the season, your eyes continue to recognize the comfort of a summer lifestyle with flip-flops and beach-loving additions to your decor.
Whether you are updating your tiered tray for summer with watermelons, popsicles, or gnomes in the kitchen or desiring a vintage-inspired "feelin' beachy" sign for your living room, you'll be sure to find what you need in this amazing collection of 21 of the best DIY summer signs that will give your home that seasonal touch you've always wanted.