If you're stuck with thoughts of organizing all your child's toys, the best DIY toy box ideas can help make things more orderly. Perhaps you have stepped on a doll or a toy block one too many times. From your child's room and playroom to your living room, toys can quickly scatter and seemingly duplicate over time. Toddlers and older kids alike can accumulate far too much to the point that your home doesn't look like your home anymore. That is where the benefits of toy boxes come in. There is no denying that you can find some incredible toy boxes in the store, but if you want to organize things and stick to a certain theme, it is better to build a box yourself.
17 Creative Toy Box Ideas for Efficient and Budget-friendly De-cluttering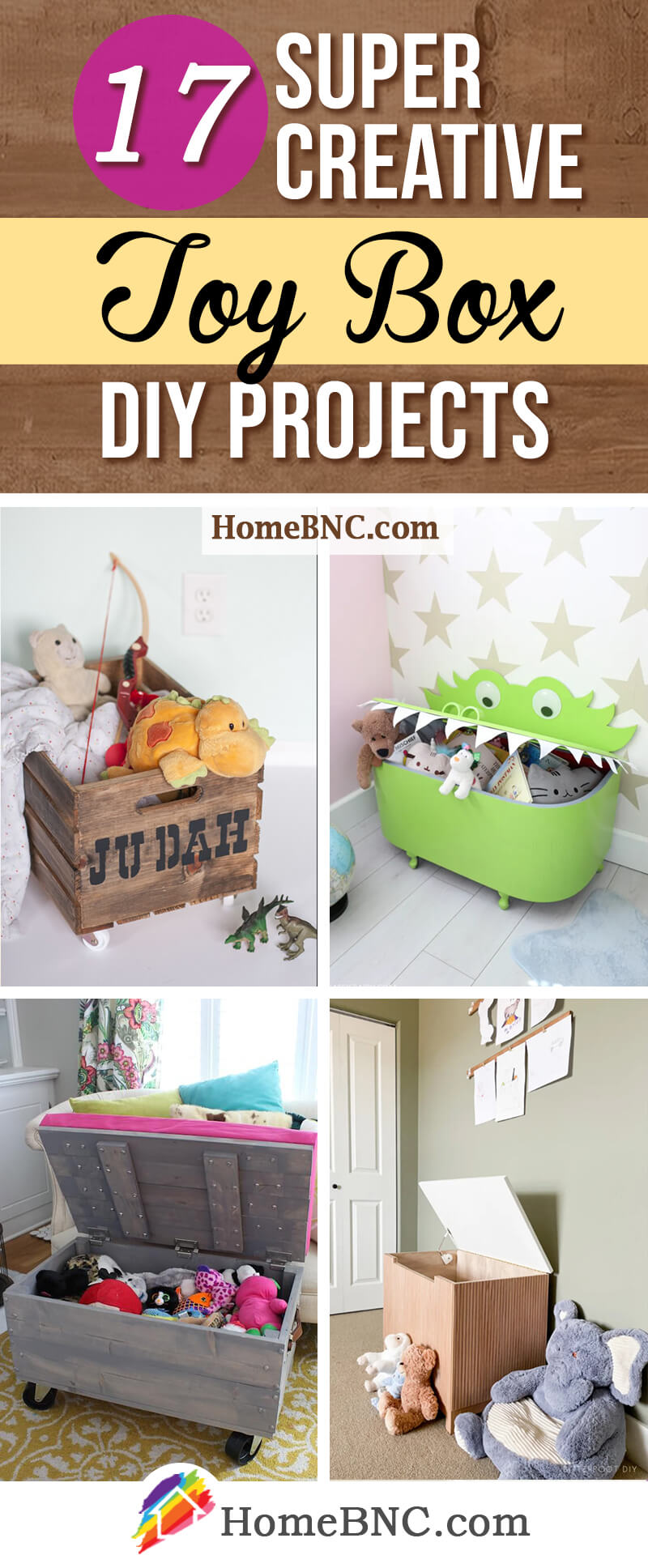 For anyone who has done DIY projects before, you understand just exciting they are for personalizing things around your home. So, why not get your hands dirty to build a creative toy box? This gives your family something more personable and unique, something that kids can hold onto for years. Plus, building the toy box yourself allows you to make it as small or as large as needed. Perhaps your elementary-aged child needs less space. In this case, a smaller box will do the trick. Or maybe you have a toddler with overwhelmingly larger toys. You can always design a toy box that's deeper yet easy for them to get things in and out of. Perhaps you just need a space-saving option for a smaller room? A handmade box helps with that too.
With the major benefits that come from DIY toy boxes, they are certainly worth your time to build. If you find yourself uncertain where to begin, you can refer to our list of some quality handmade toy box ideas to get started on your project.
1. Playful Monster Toy Box Project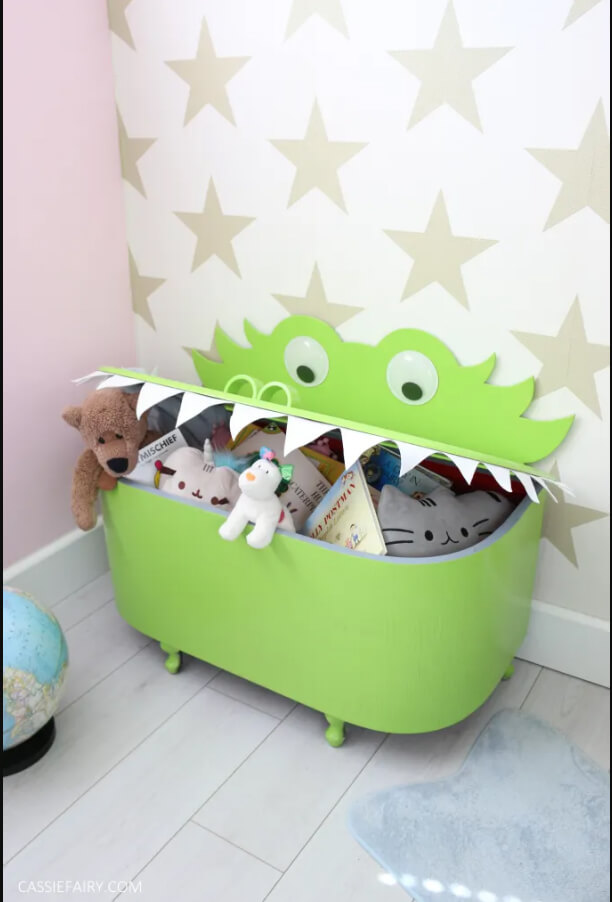 Why not inspire your child to want to clean up their toys with a fun and playful toy box? This monster box is full of cute with no scare. It is bold, bright, and vibrant enough to instantly attract attention. Plus, it all starts with upcycling an ottoman. This way, you can save something you might have otherwise gotten rid of while providing your child with a more exciting place to store all of their toys. In fact, they may want to fill it to the brim just to see how well the monster eats the toys.
2. Easy and Vintage DIY Toy Box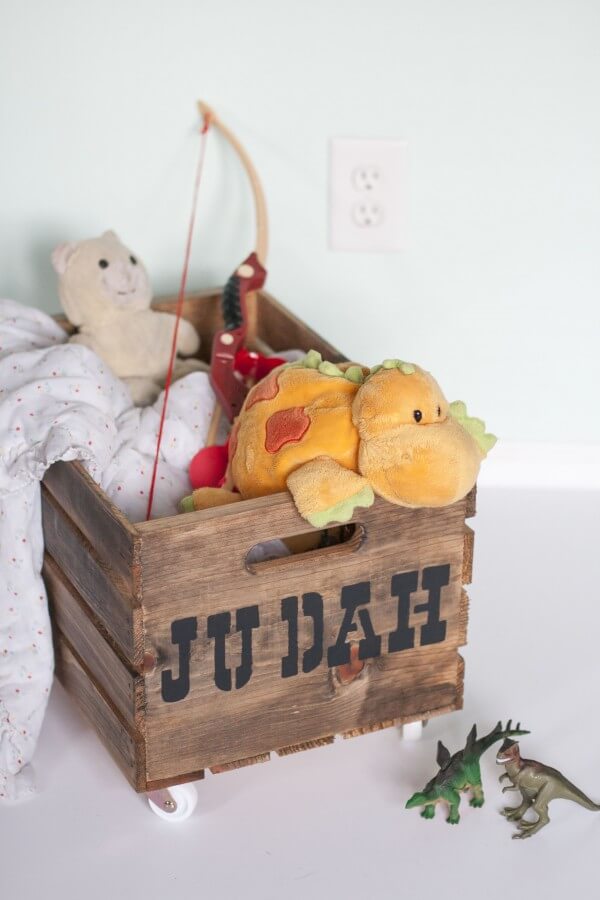 It never hurts to take the vintage route when it comes to homemade toy box ideas. Oftentimes, it is the simpler route if you need something basic to control the overflowing toys or plushies hanging around your home. This one isn't overly large, so it generally supports smaller items or just a couple of toys. The nice design has a rustic look to it as well, which gives more style to the room overall. You can round it all out by applying the child's name to the side of the box too.
3. Charming Rolling Wooden Crate Storage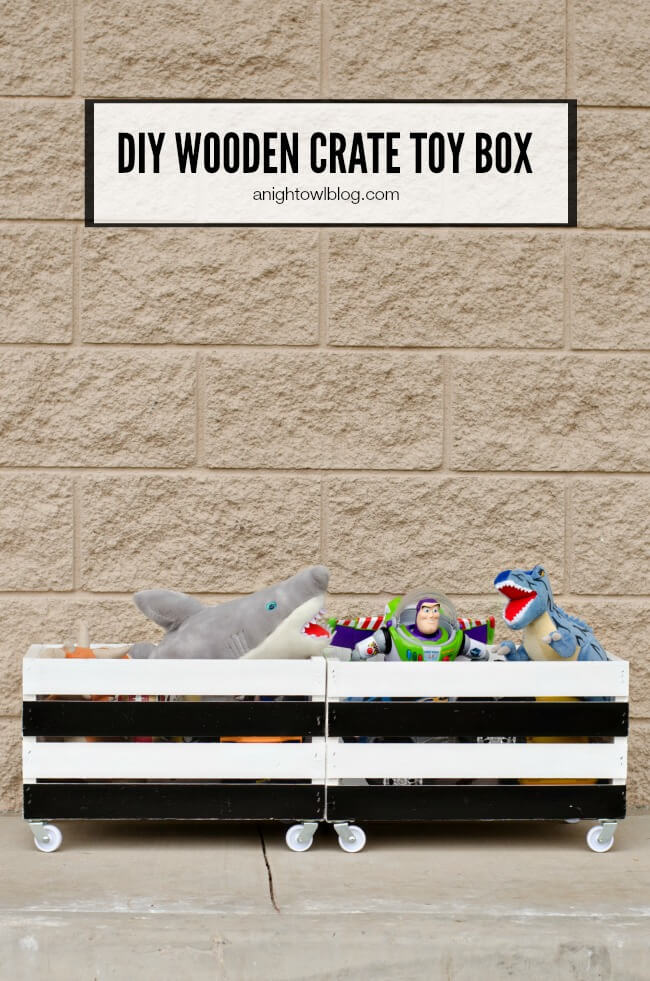 Put a toy box on wheels if you want to make things simpler for children to enjoy. Rolling storage can help them bring their toy box closer while they play. At the same time, it can help make clean-up a fun and stress-free endeavor. This is a wonderful option if your child doesn't have too many things to store. Alternatively, it can also be used to just keep their favorite toys or plushies inside of for quicker access. Feel free to give the crate a nice paint job so that it has more personality.
4. Oversized DIY Toy Box with Wheels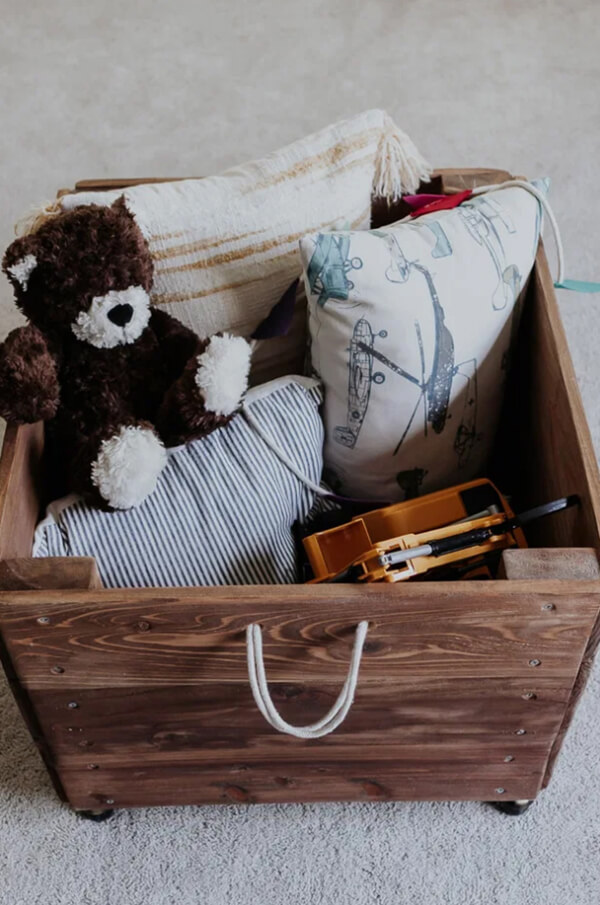 This is a good toy box for a child that needs to store some large items or a lot of items. The wooden box itself simply looks good too. It has a charming, old-fashioned appearance that makes you do a double take. Meanwhile, the caster wheels allow for easy mobility around the room as needed. There is even a fun pull string on the wooden box for more style and ease of use.
5. DIY Rolling Ottoman Toy Box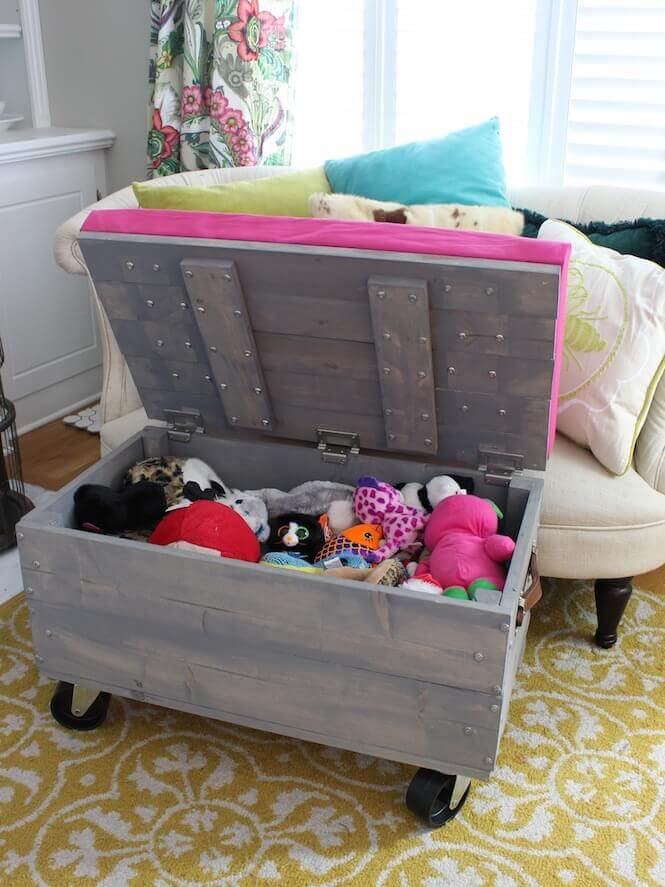 Rolling storage is a fun option when looking at the best DIY toy box ideas. Kids can move it around with them as they play and clean, making it more exciting to use. Plus, the wheels can help you set it up in various areas around the room as needed whenever you decide to reorganize the place. The ottoman has a nice soft lid too. This way, kids can lounge on it also, making the toy box far more versatile and useful throughout the years.
6. Peaceful Styled DIY Toy Box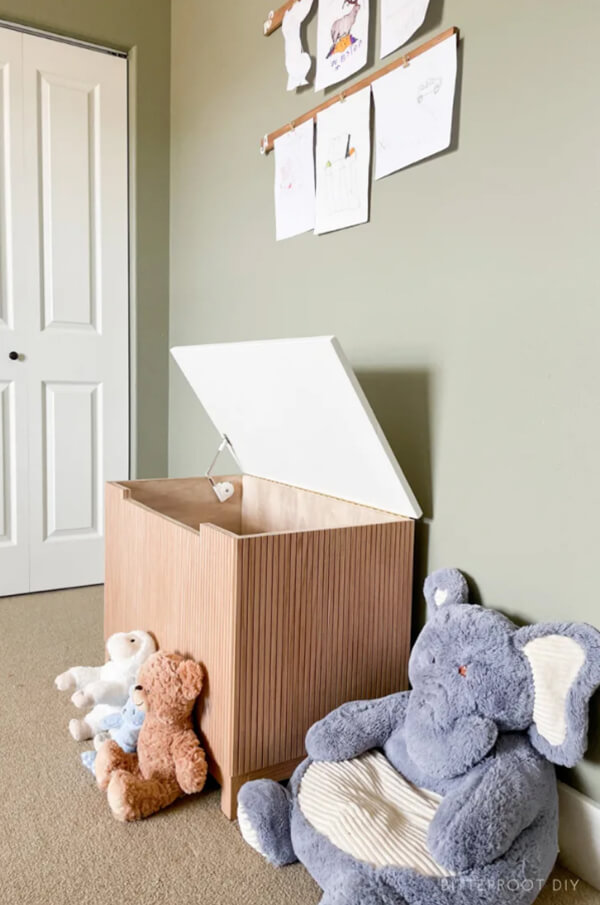 When you need something laidback and relaxing to admire, this DIY toy box can do the trick. There is something charming about the design that makes it fit into various children's bedroom styles as well as nurseries. There is enough space to stash some stuffed animals or larger toys too. The lid is a safe and reliable design as well to reduce any chance of injury, especially for younger kids.
7. Nice DIY Upholstered Toy Box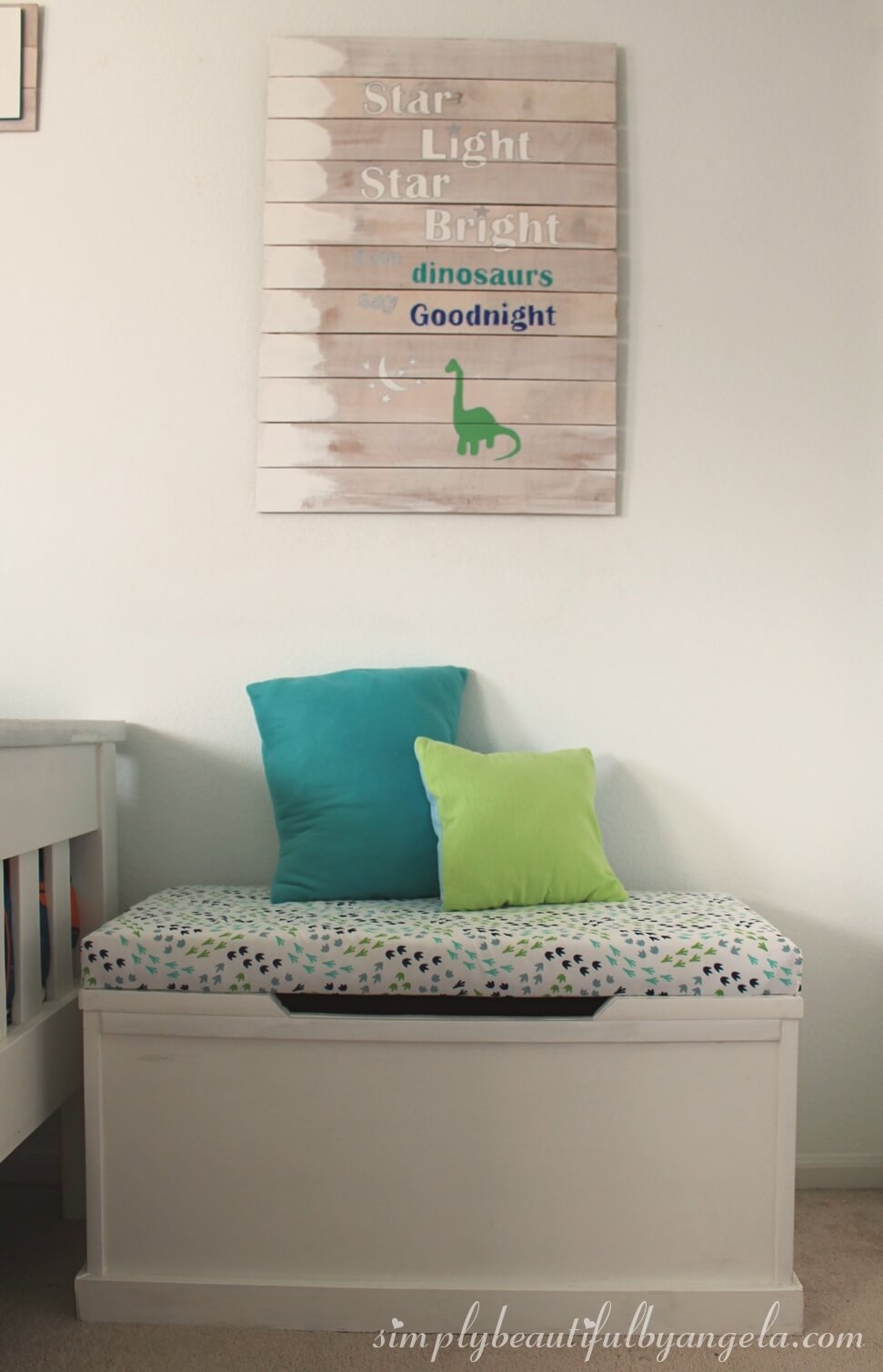 A toy box this large is a wonderful addition a child's bedroom. It looks simple at first glance, but the upholstered lid sells its style in an understated, yet appealing fashion. You can use any design you wish for the fabric too, choosing something that perhaps best fits in with the room's theme. The lid is well-designed too so that kids aren't at a high risk of slamming their fingers when they close it. You can add more decorations to the box itself by tossing some pillows on top too that work well with the fabric lid.
8. Personalized Painted Wooden Toy Chest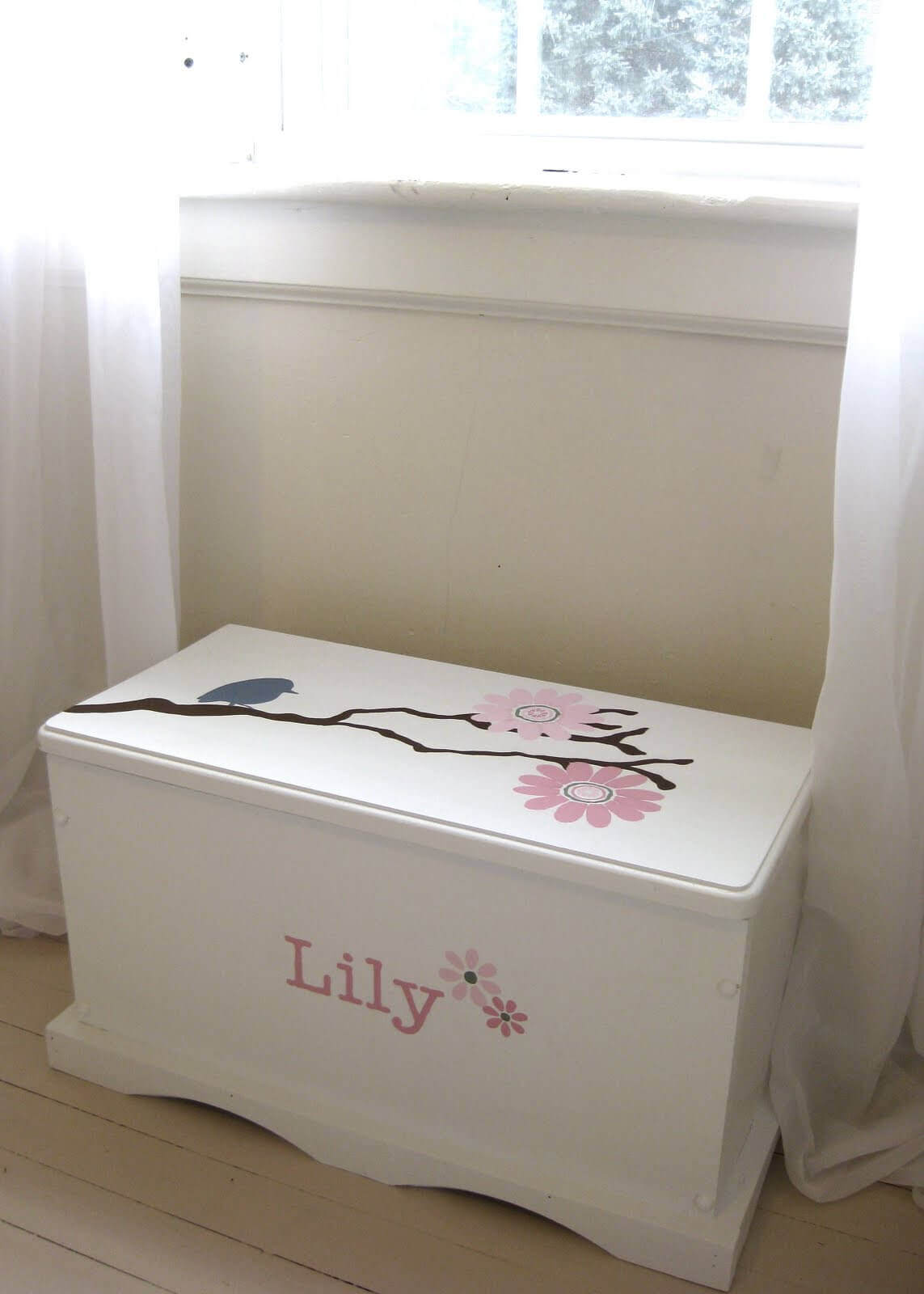 If you want to build a toy box for your child, why not go all out and personalize it for them? The wooden box is one thing when it comes to storage as it has plenty of room. What really stands out is the outside of the toy box. The paint job is lovely, and against a white background, you are free to spruce it up with accent paints or specific artwork. Consider applying your child's name to the box. This can make it even more official that everything belongs to them. It is also a fun way to add a unique touch to the room's style.
9. Oversized Wooden Toy Box Crate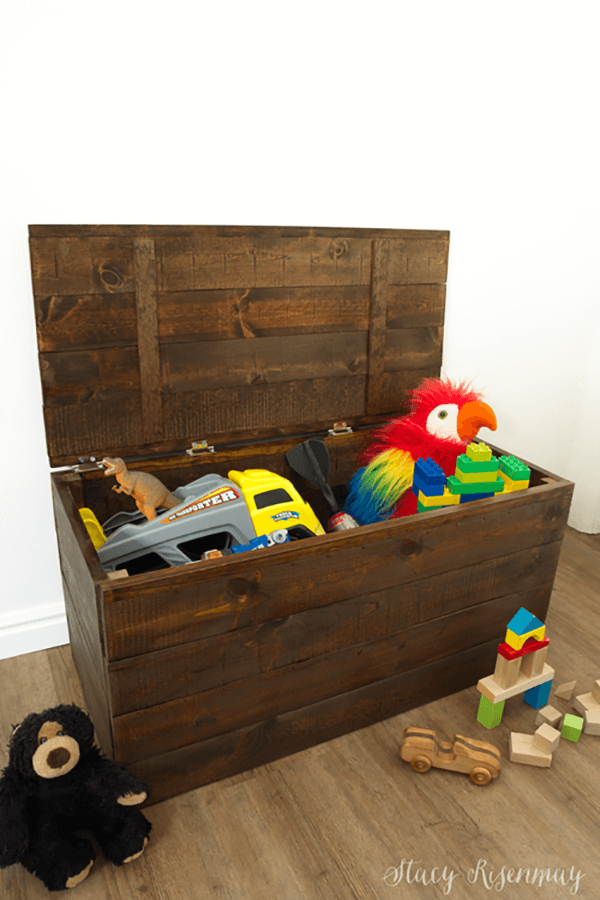 This wooden toy box crate is a perfect choice when you need something that lasts for years on end. There is an impressive depth found in this chest, allowing for the storage of numerous toys. However, thanks to its stylish, rustic appearance, the chest can grow with the child, adapting to support a multitude of items like boardgames. With its hinged lid that stays open when needed, the chest is easy for children of different ages to use too without worry of it closing on them.
10. DIY Toy Box Makeover Project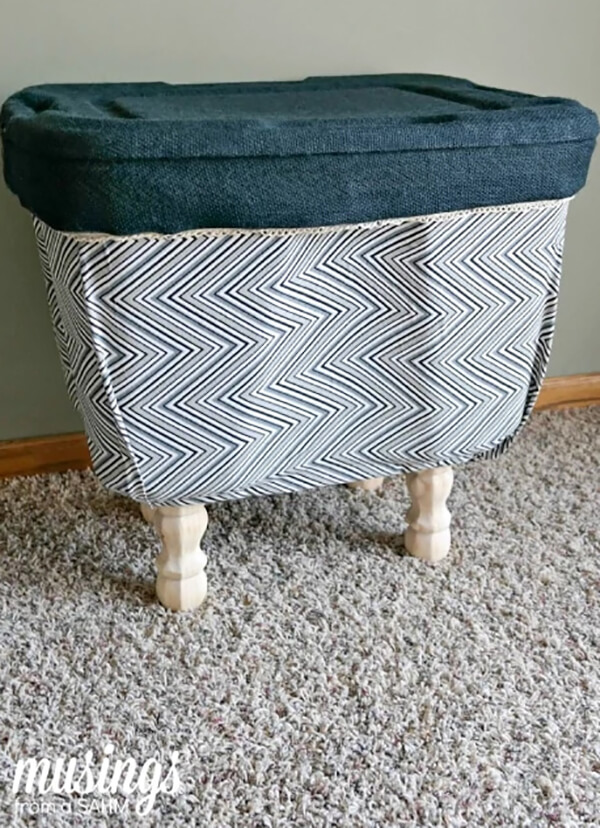 For those that perhaps need a simpler handmade toy box project, consider this upcycling idea. Get yourself a large, plastic tote with a lid and you can completely overhaul it and transform that into your child's toy box. Once you're done, you would never believe what it started out as. The result is a cool box that has a distinct and charming appeal to it. Give it some legs to properly elevate it off the ground too for easier access for kids.
11. Labeled Wooden Toy Storage Crate
This wooden crate offers a creative toy box solution that still has an air of simplicity to make it fit into a more minimalistic setting. Painted white, the crates instantly stand out. Of course, you can opt for any color that best suits your style. Alongside that, there is simple labeling applied thanks to the chalkboard on the crate. This can make it easy and fun for the younger kids to play around with and recognize.
12. Recycled Cardboard Toy Box Design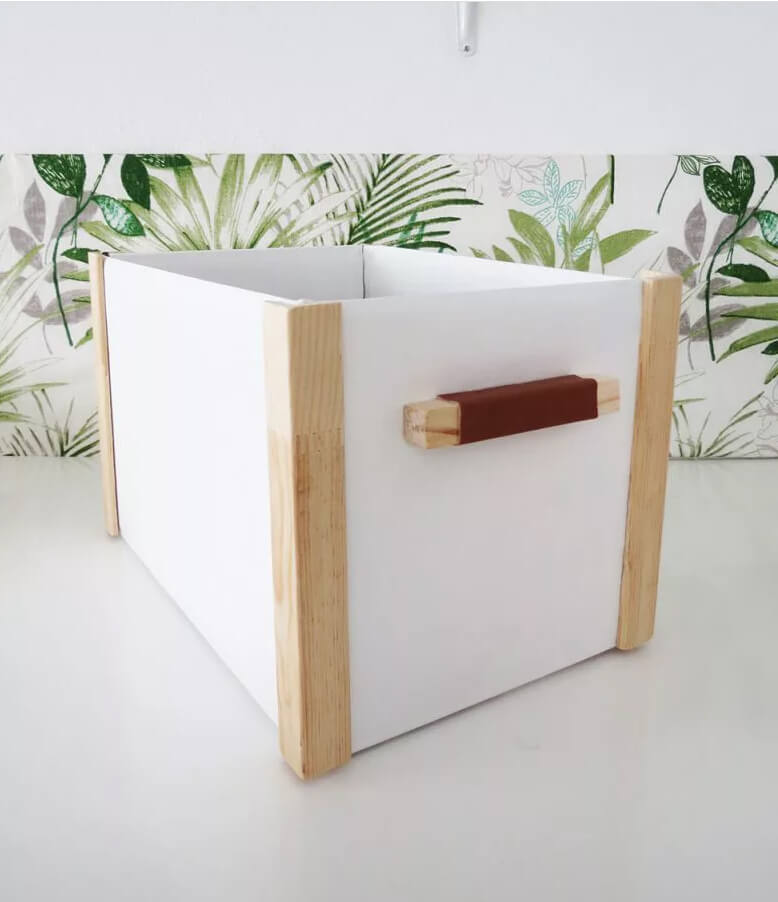 Who said you needed to buy anything large to design your child's toy box? If you have a baby in the house, consider saving that diaper box. It is the perfect size for you to use as your toy organizer for them. All it needs is some extra support on each of the corners to ensure that it remains upright. A little paint goes a long way too so that no one would ever think this started out as a diaper box.
13. Upcycled Shipping Crate Toy Box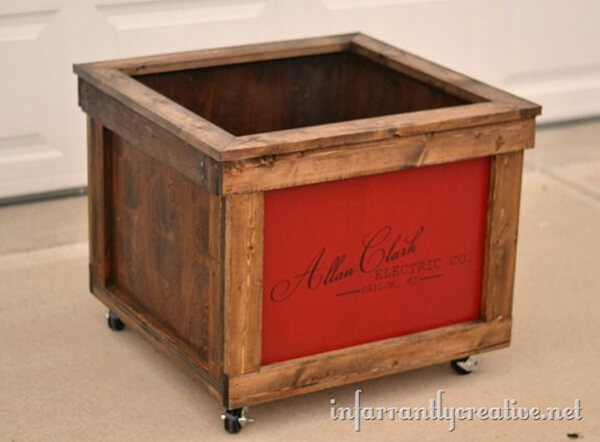 Who knew how useful a shipping crate would be when it comes to your child's toys? For a quick clean-up experience, consider using one as the base for your DIY toy box project. The opening is just wide enough to make it easy for those fast clean-up jobs around the room. All kids have to do is just toss their toys in on the go. Plus, the wheels will make it even easier for cleaning all those scattered toys.
14. Vintage Painted Toy Box Chest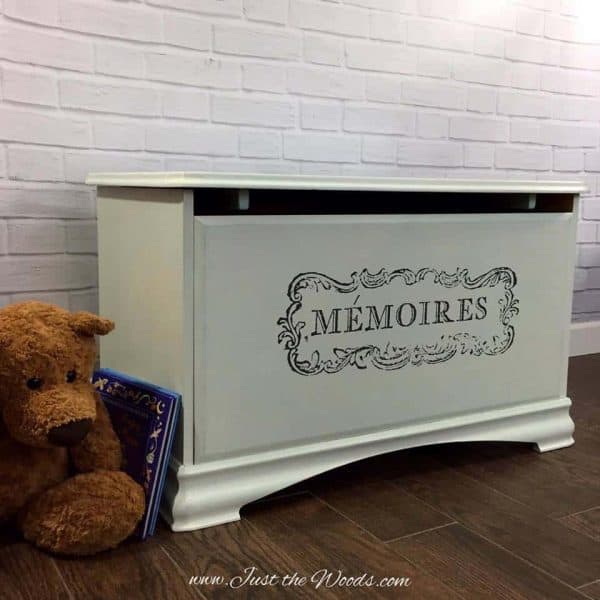 Rather than just make any toy box for organizing your child's things, why not make something that also serves to complement the room? In this case, consider a paint transfer on the toy box. This can allow the chest to have a vintage flair that makes it far more stylish. This can also allow it to work well in the bedroom or playroom as the child grows up. Consider also adding some color to the inside of the chest for that extra bit of style.
15. Classic DIY Wooden Toy Box Design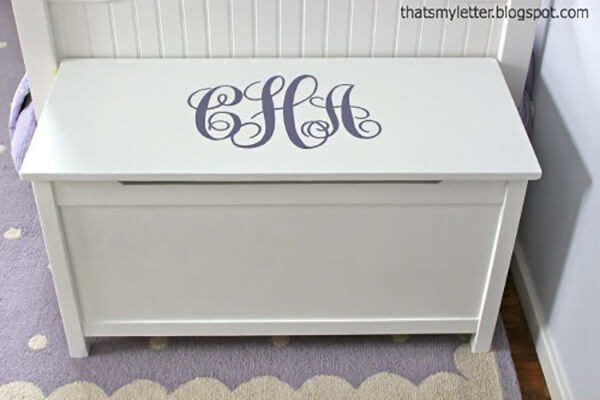 This wooden box definitely has a classic vibe to it. There is a mixture of simplicity and elegance applied thanks to the paint job of the box. With how spacious it is, it is an excellent solution to store larger toys or dozens of smaller toys. Maybe a child can even use it for all of their stuffed animals. What also ranks this high on the list of wonderful homemade toy box ideas is the lid. Not only is it hinged, it has a torsion hinged lid. This way, there is no risk of a child's fingers getting smashed when they close it.
16. Upcycled Wooden Crate Toy Storage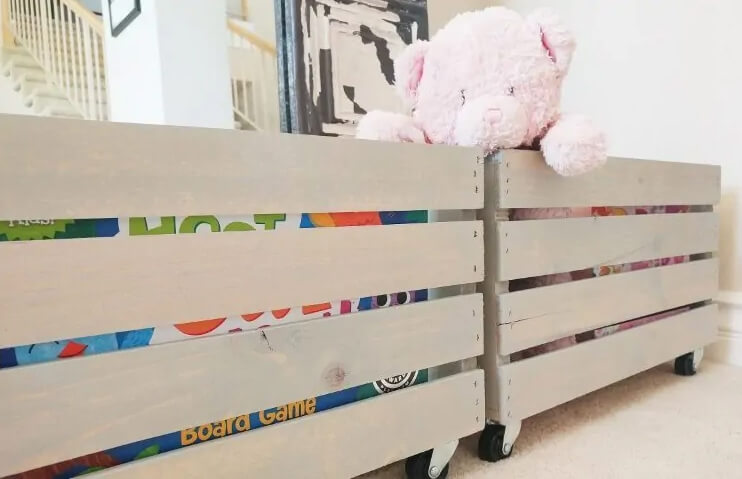 Wooden crates are great sources when you need to create toy boxes at home. Give them a little extra love to elevate them and make them safe and easy for kids to use. You can take multiple crates and put them together too, creating partitions in between them to better contribute to the organization of the toys. Also, the lack of a lid can make things more straightforward for younger children and toddlers to handle everything. With the crates on wheels, they are even easier to move around.
17. Simple Hinged Lid Toy Box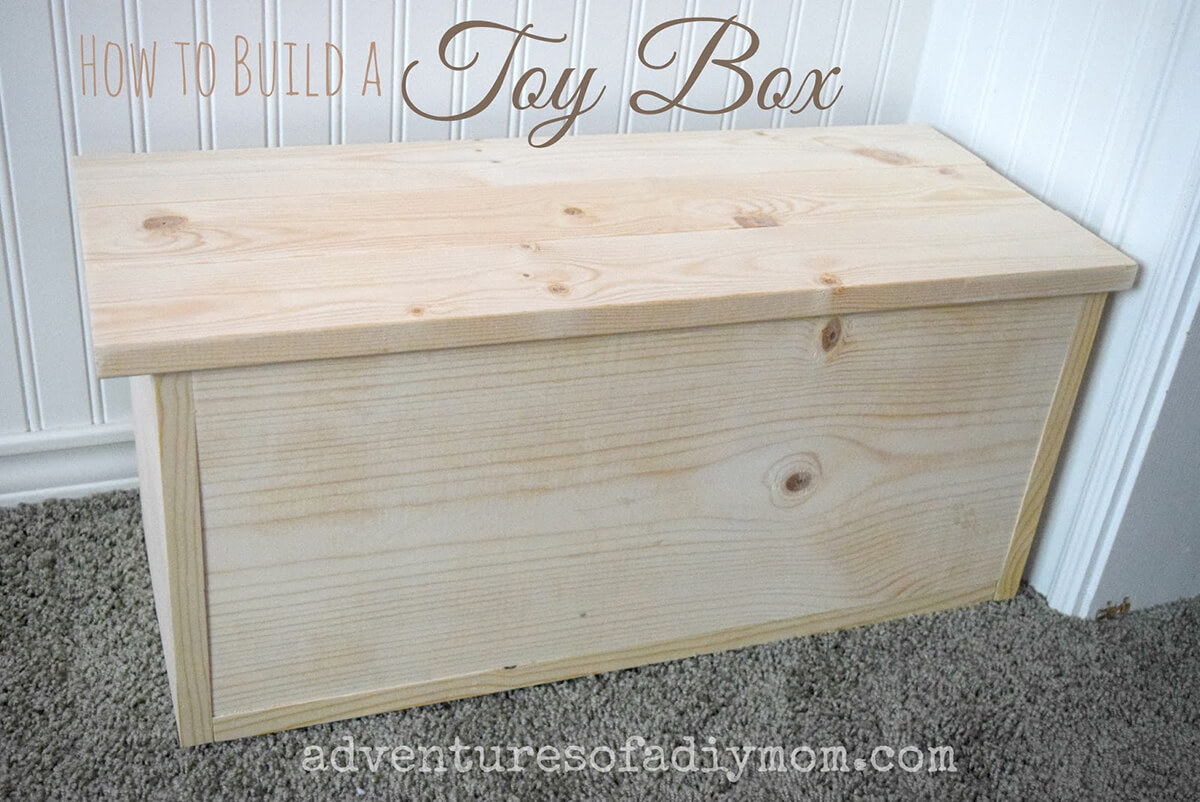 Sometimes, the best DIY toy box ideas are the most straightforward ones. Just check out this wooden toy box project. There is nothing fancy here, which allows the toy box to blend in with just about any décor you have going on in the room. It can even work as a cute option in a nursery or a toddler's bedroom to perhaps store plush toys or even some fun kid books. There is a reliable hinged lid with this box so there is no worry about it ever slamming down.
17 Useful DIY Toy Box Ideas to Organize the Playroom
In a house with a child or perhaps multiple children, a toy box becomes an invaluable item. A lifesaver, in fact. It's so easy for a room or the entire home to become overwhelmed with toys. Give a child a cool place to put them all up in, and you can ensure that everything looks neat and tidy at the end of the day. Plus, this can make it far easier for them to retrieve anything they want to play with quickly and make certain that nothing is lost over time.
There are many toy boxes in the store you can buy, but it is a great idea to make one yourself. This not only allows you to play around with your creativity with something more budget-friendly, but it also helps you create something long-lasting. A homemade toy box has a much better chance of staying with a child throughout the years even when they move on to bigger or smaller toys. So, if you are ready to take the plunge, we hope our picks for our favorite handmade toy box ideas give you some inspiration for your next DIY weekend project.