If you've got kids, you've got clutter. There's no doubt that toys can take up a lot of space. If your child isn't good at putting his toys away, they take up even more space. This isn't just an eyesore – it's dangerous as well. Just ask any parent who's stepped on a LEGO in the middle of night.
Sound familiar? It's time to take control of your kids' toy clutter and reclaim the space in your home. The key to keeping things organized is to make sure that everything has its own place. Teach your child to put his games in one place, stuffed animals in another, and cars in yet another place. It's fine to keep a box of "random toys" for all the smaller things collected over the years that don't really fit in a single category.
We've collected some of the best toy storage ideas from around the web to help spark your imagination. Consider the space you have and how well your children will be able to follow your plan. Younger children may need a bit more help putting things away, but your goal should be guiding them to eventually do this independently. Best of all, most of the ideas you'll find here aren't expensive to implement. With just a few supplies, you'll be able to rest easier.
44 Toy Storage Ideas to Contain the Clutter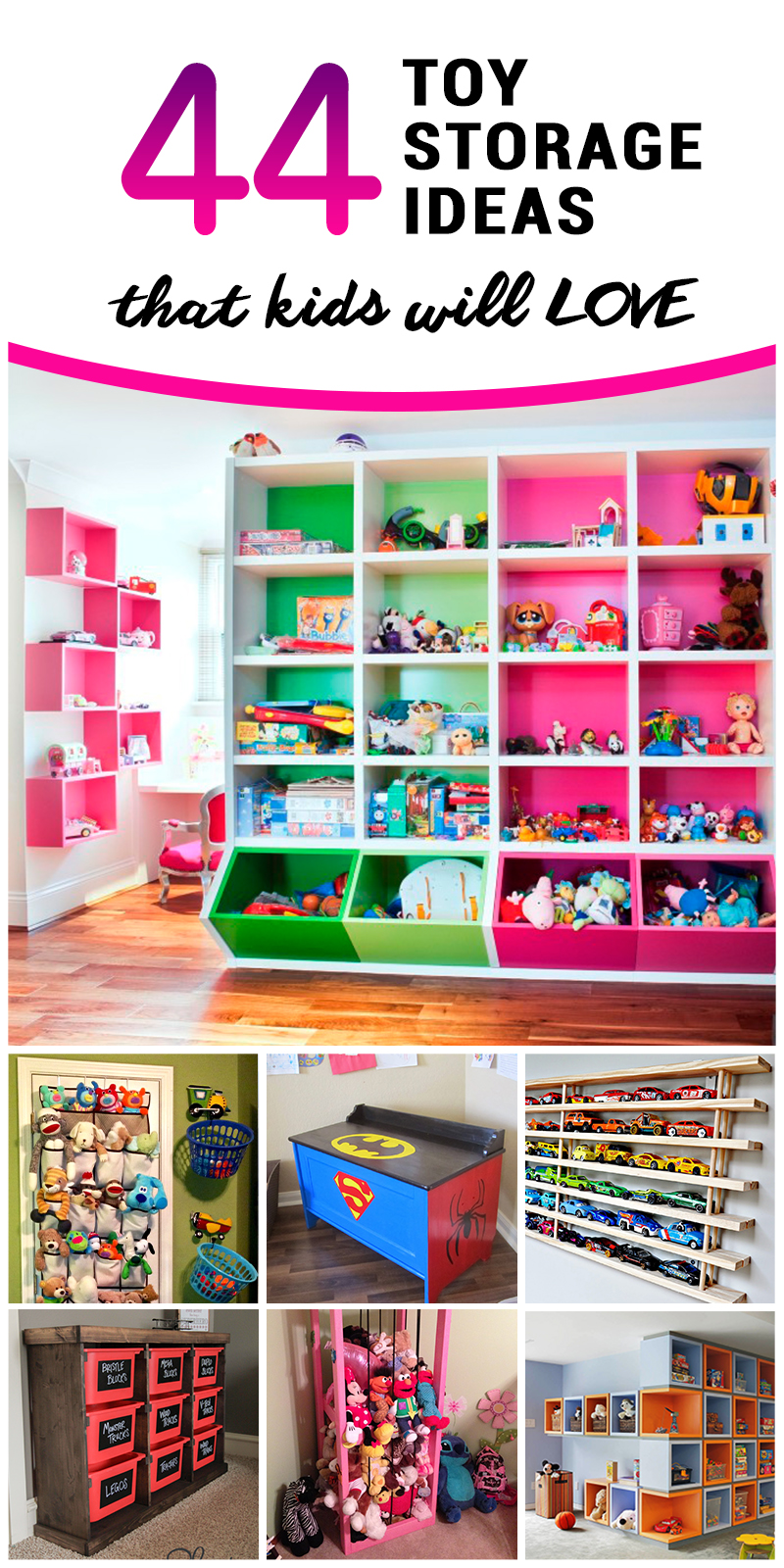 1. The Leaning Tower of Toys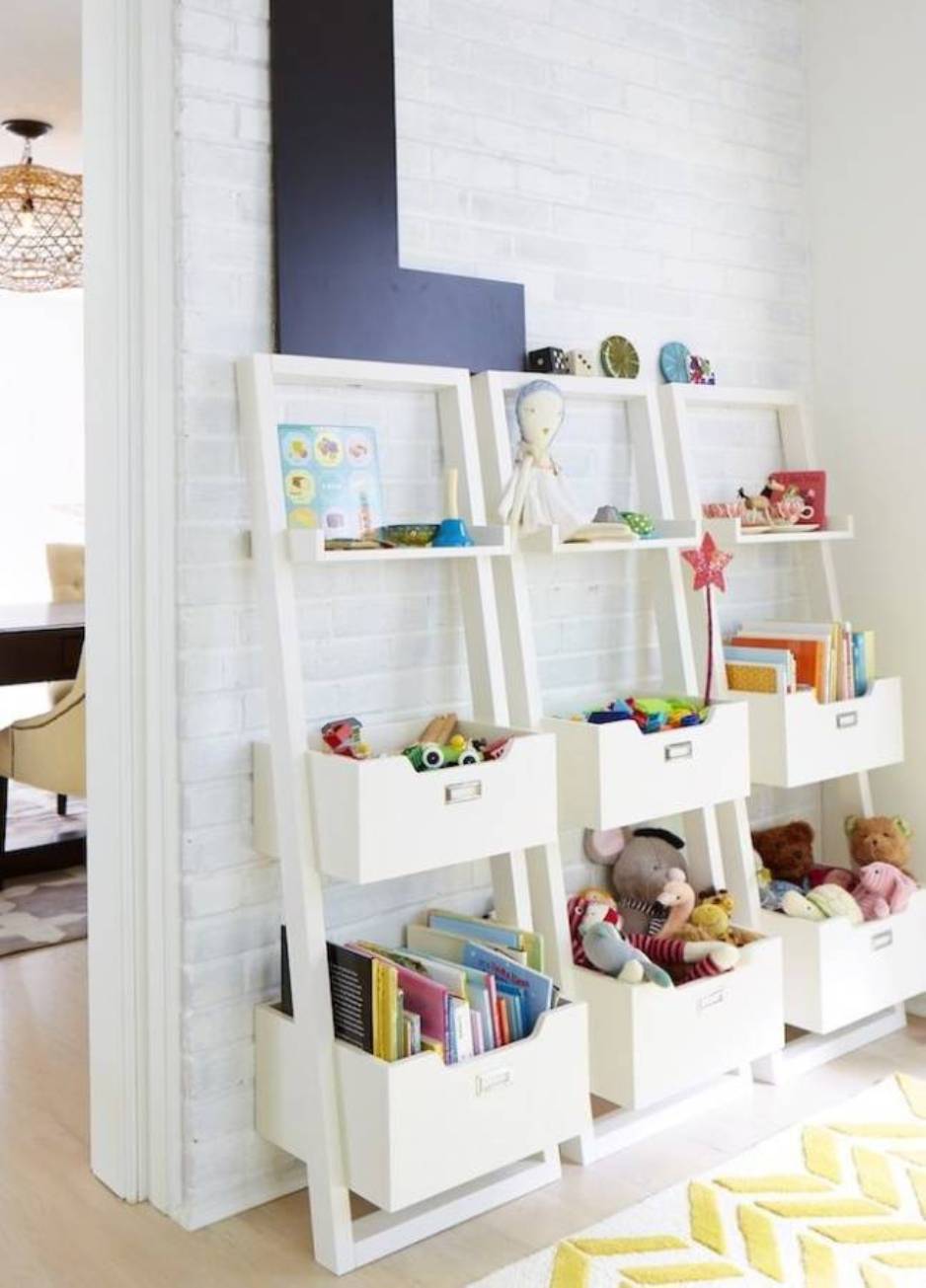 These simple shelves would look just as great in your living room as they would in the play room. While many people start with a basic shelf and place boxes on the shelf, this tower is unusual because the boxes are built right in. With large boxes on the bottom, middle-sized ones in the middle and a basic shelf on the top, you'll have plenty of space for toy storage. Space for labels in the front can help children keep things organized. Paint this shelf any color to match your décor.
2. Functional and Inexpensive Mesh Hangers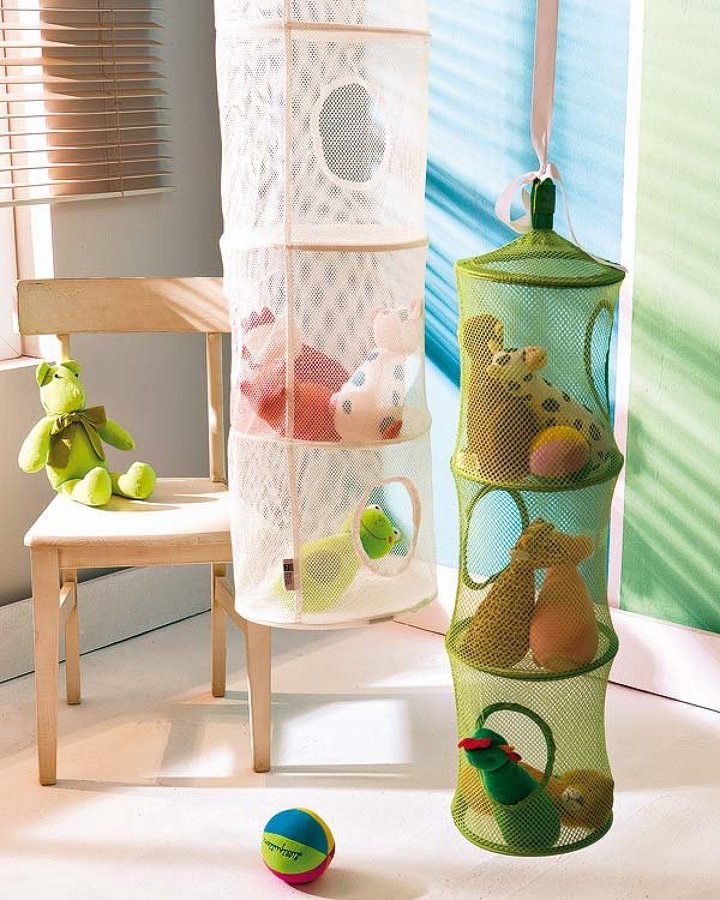 These hanging containers are easy to use and will keep things off the ground. It's the perfect toy organizer for lighter toys like stuffed animals or dolls, but could possibly hold something like balls as well. Keep in mind that young children will probably not be able to reach the upper "shelves" on the hanger, so it might be best as a place to store toys that your child will use occasionally rather than ones that get a lot of daily use. When not in use, thing hanger will fold down flat so it won't take up a lot of space.
3. Classic Cube Shelves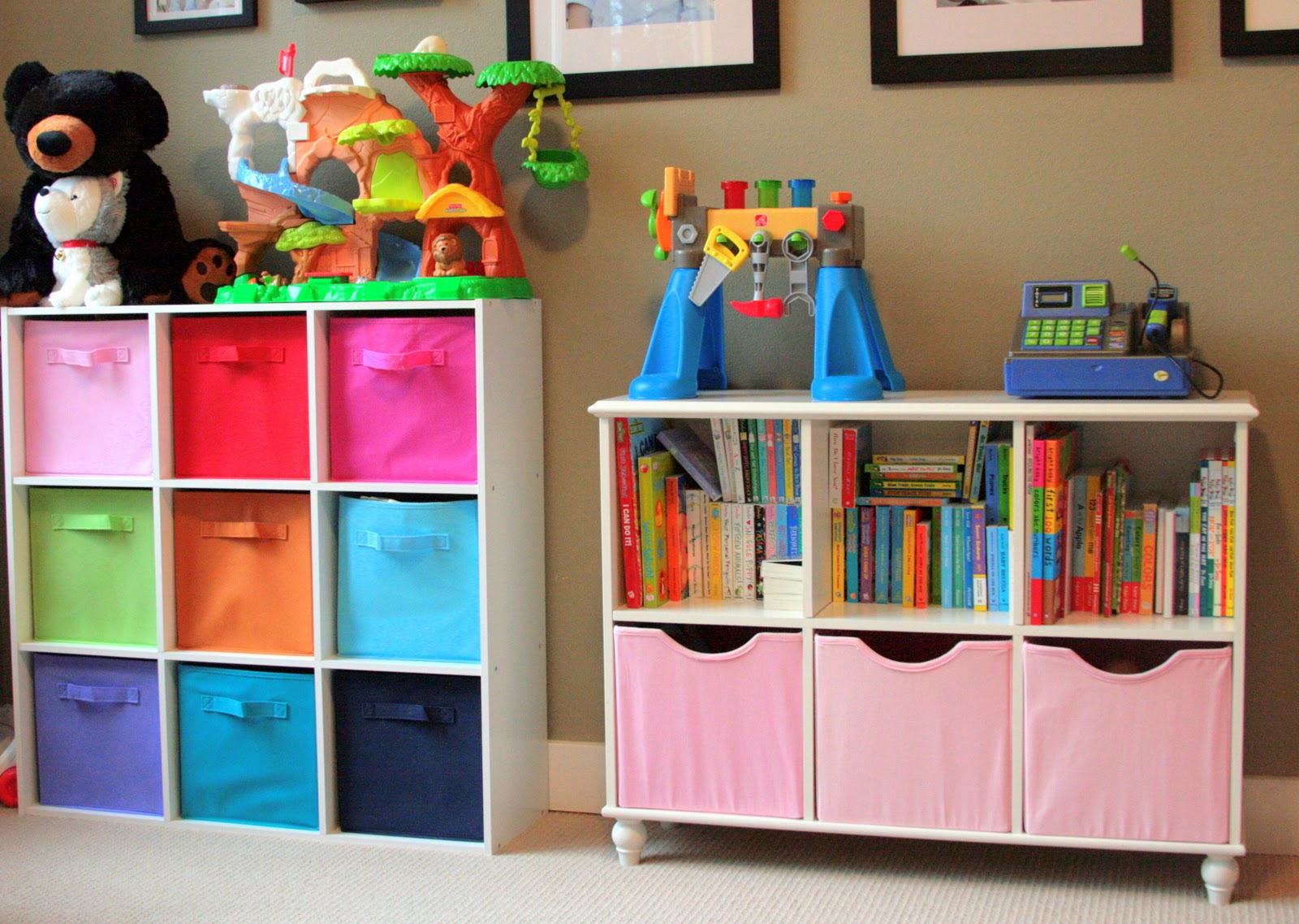 Source: The original source is not available anymore.
It doesn't get more basic than these classic cube-style shelves. They're readily available at most big-box stores, and the prices are quite reasonable. Use the storage boxes – which come in a variety of colors and can be purchased separately – to easily stash toys, then store things like books and games in the open cubes. Place larger items on top. Cube shelves typically come in a variety of sizes, from a single row of four cubes to large units of six by six. Remember that the larger the unit, the more difficult it is for children to reach things on top.
4. Cheap Storage Off the Floor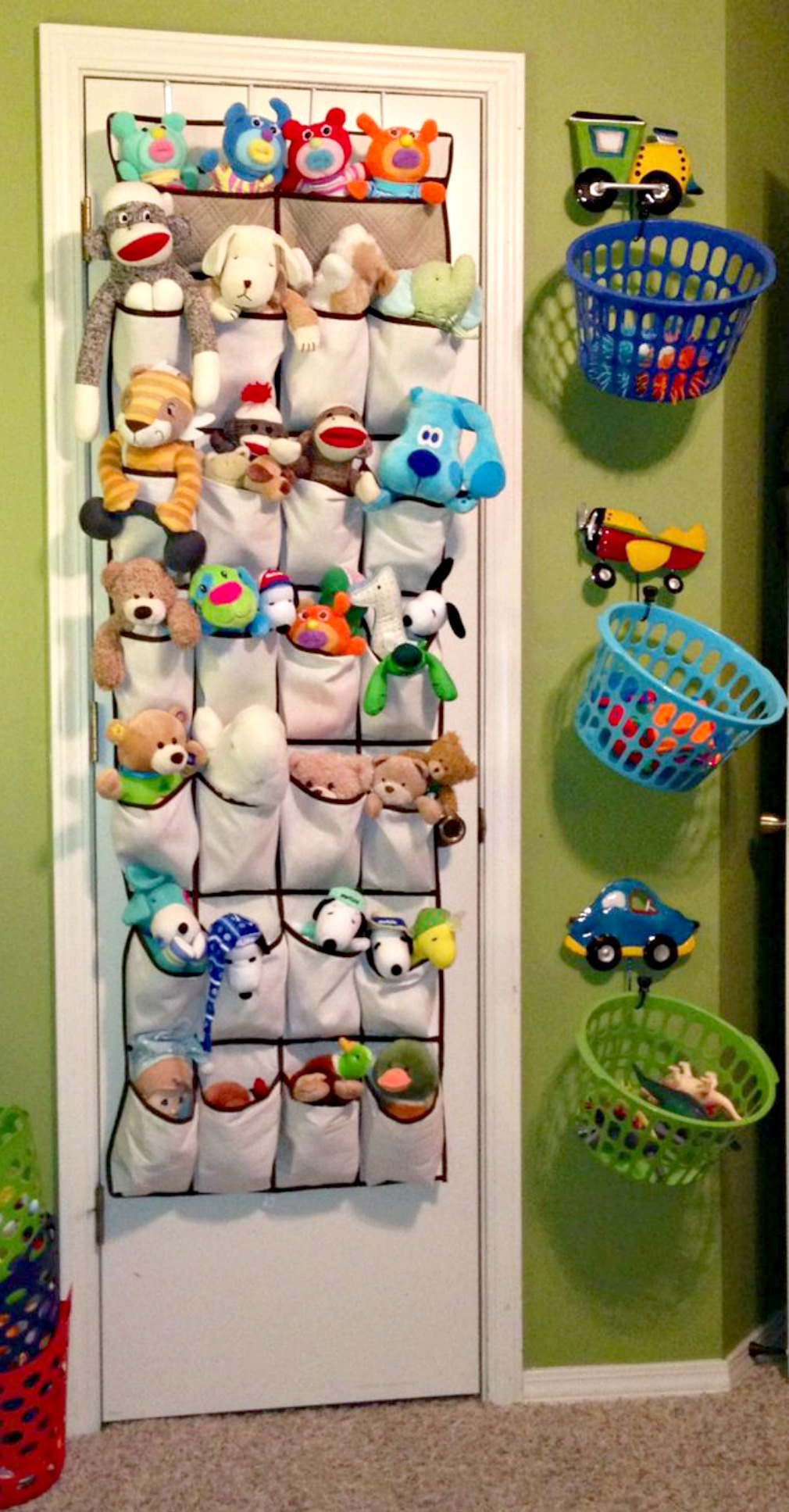 When it comes to finding a good toy organizer, most parents simple want things off the ground. That's what makes this idea so effective. The over-the-door hanger is the perfect home for smaller stuffed animals. Tell your child that she can only keep as many animals as there are pockets and you'll help keep the numbers to a minimum. Additionally, note how they've used inexpensive laundry baskets for storage. You can keep them off the floor with the large hooks, but easily take them down when your child wants to play with the toys. This works well for things like dollhouse furniture, toy cars and trains, or dress-up clothes.
5. Easy Wall Garage for Cars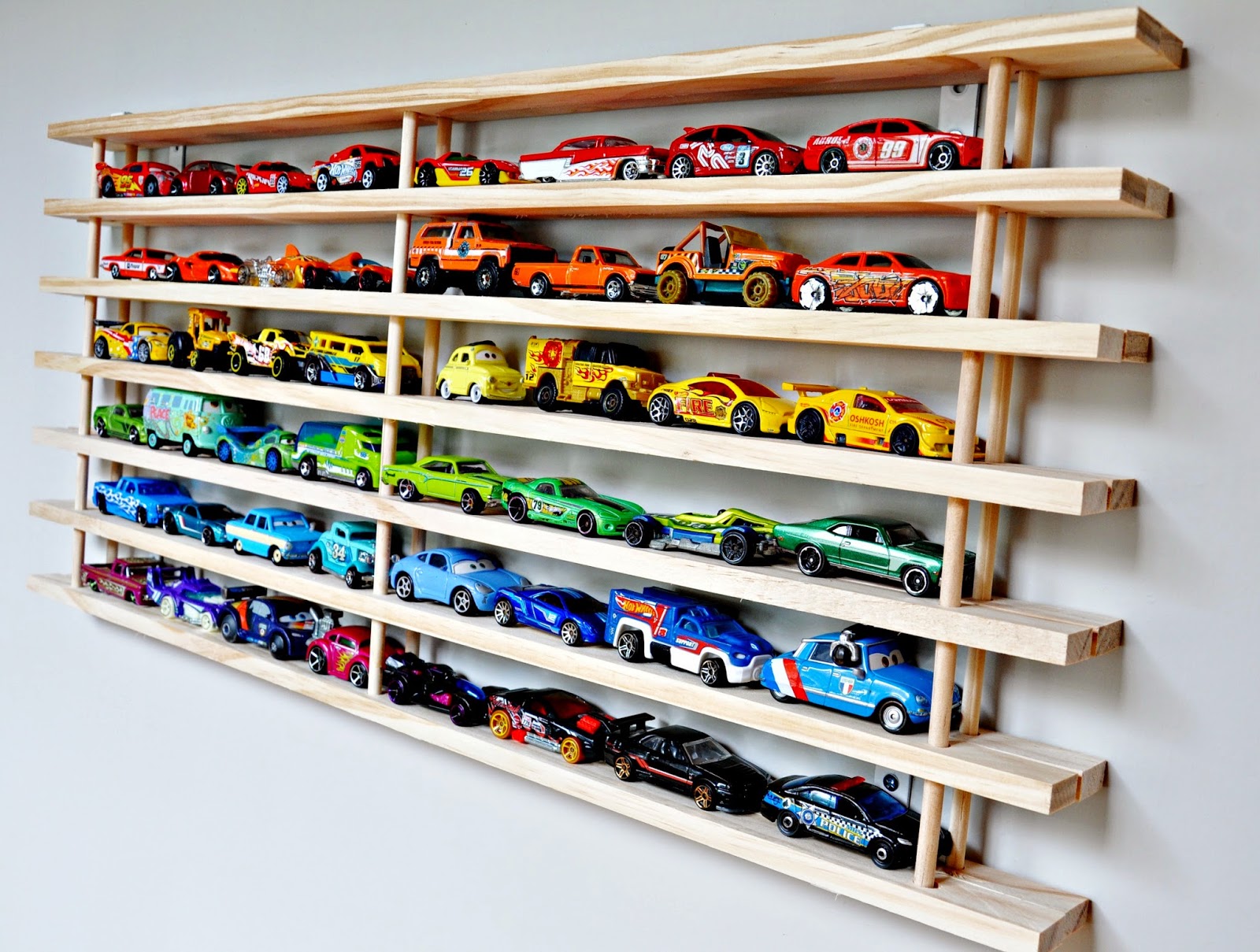 This cute "garage" is actually made from a shoe rack. Rather than assemble the shoe rack as you're supposed to, simply mount the pieces on the wall for a convenient place to park the toy cars. It could be easily made with small planks of wood and wall brackets as well. If you're going to do this, plan the height carefully so that your child can easily put his own toys away. You may also need to take care to design it so that they don't roll off.
6. The Stuffed Animal Zoo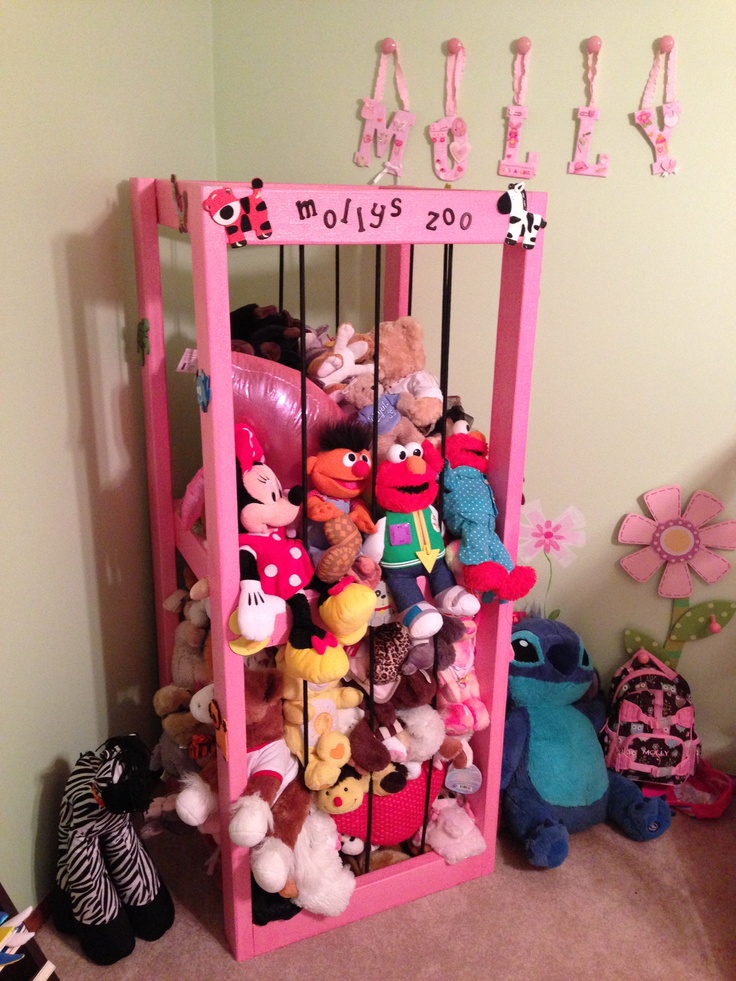 Stuffed animals seem to multiply like little stuffed bunnies. They come from carnivals and well-meaning relatives. If you've got an imaginative child who loves animals and gives each one a name, you'll have a hard time getting rid of them. Enter the "animal zoo." This is a simple open box with strong elastic cables forming the "bars." Since it's open, your child can easily see all of the animals inside. When putting an animal in or taking one out, the bars simply pull over to the side. Personalizing it and calling it a "zoo" might just make your child a little more enthusiastic about using it.
7. Slide-Out Under-the-Bed Storage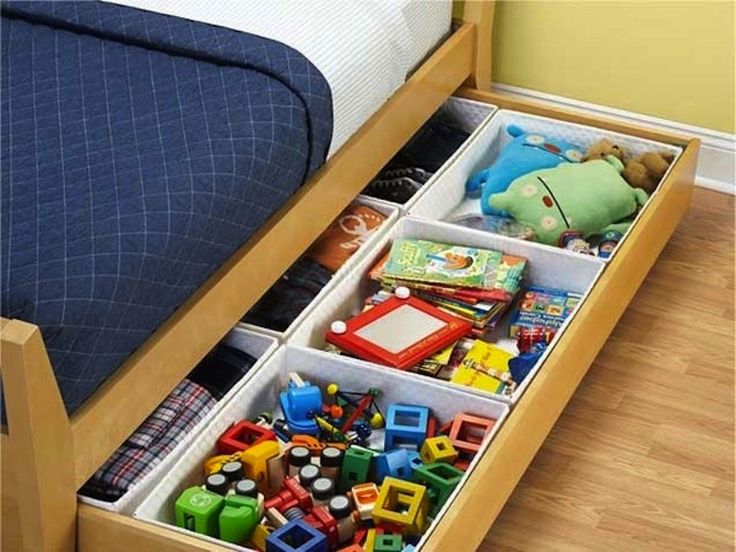 In a small room, space is at a premium, so you have to make use of every square inch. Drawers that go under the bed are an ideal way to access all of the space under the bed. Purchase a bed frame that already has drawers underneath or consider a trundle bed without the mattress. What makes the design in this picture so perfect is having the additional containers inside the drawer. This allows you to better sort the toys and easily take them out when your child wants to play.
8. The Peek-a-Boo Toy Sack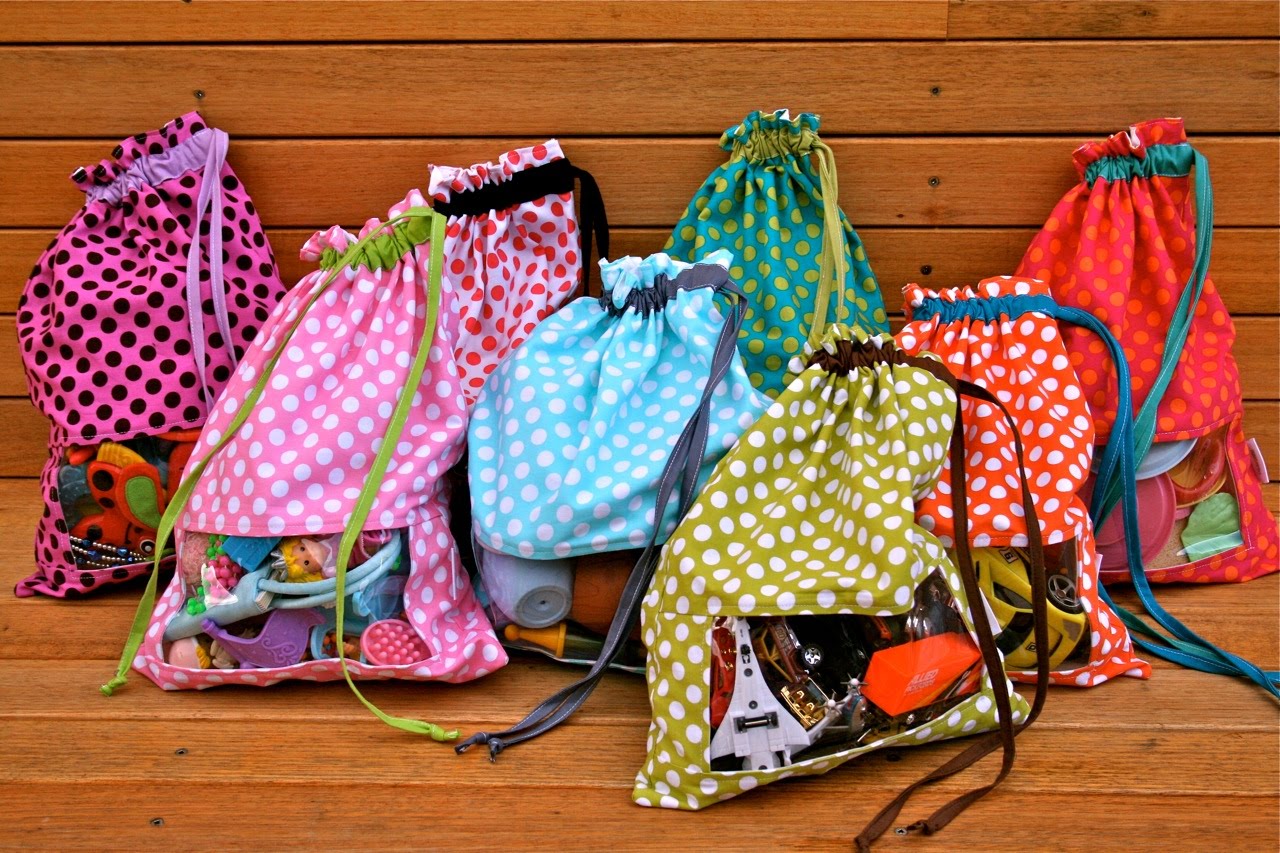 These little bags make toy organization easy because all your child has to do is throw her toys in a bag and put the bag away. The little "window" in the bag makes it easier to identify which toys are in which bags. The best thing about these little bags is that you can customize the size. You might need a large one for trains and train tracks, but a small one for a tea set. Want to take the idea a bit further? Create these as "swoop bags," which open out to a large circle for play time. When it's time to clean up, simply put all the toys on the circle, then pull the strings to swoop them up.
9. The Royal Toy Box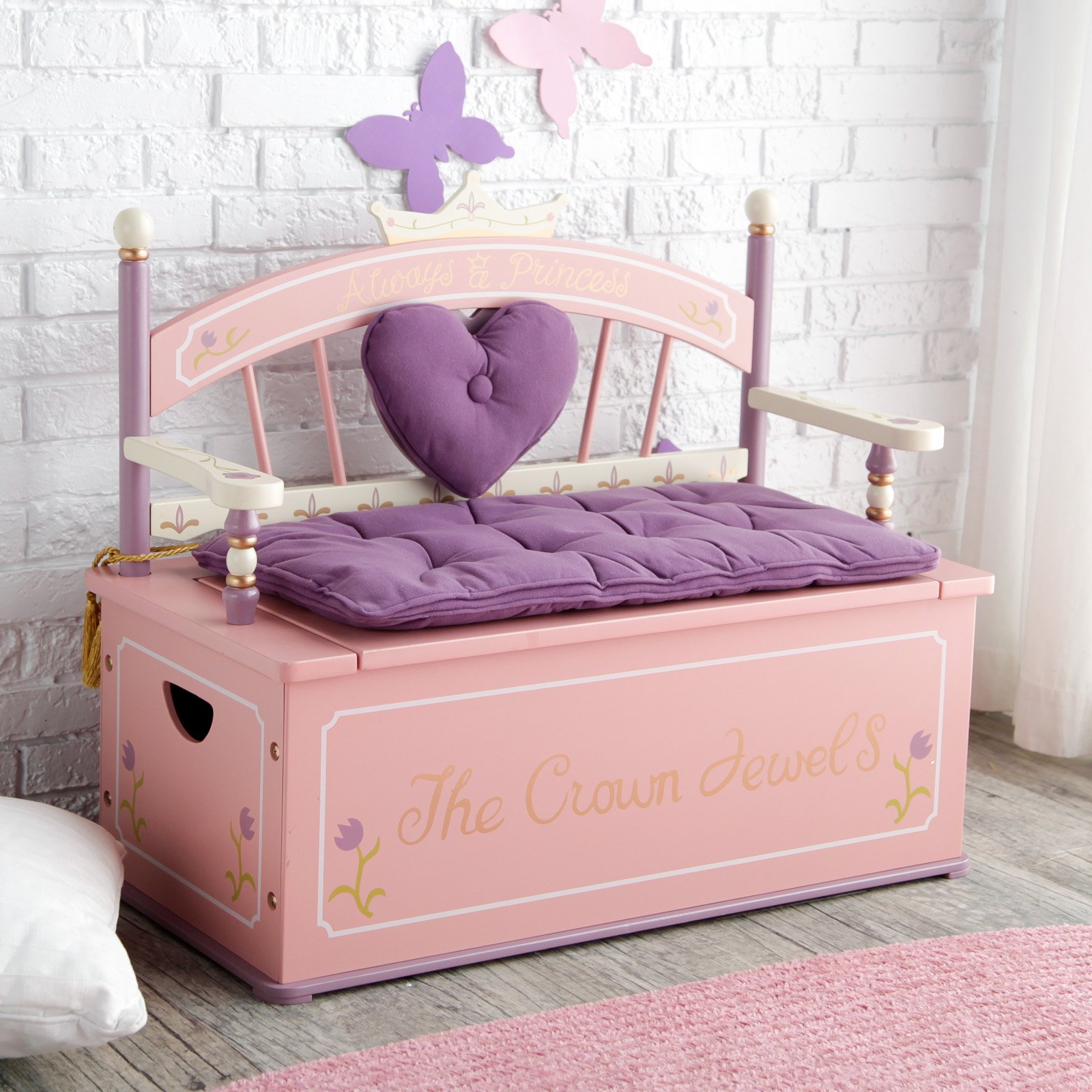 Source: The original source is not available anymore.
Your little princess won't need a fairy godmother to help her put her toys away when she has this adorable toy chest. The top opens up for toy storage, but the cushion on top is the perfect place to sit with a good book or share secrets with good friends. Best of all, the colors and design will fit right in with any princess-themed bedroom.
10. Baskets of Toys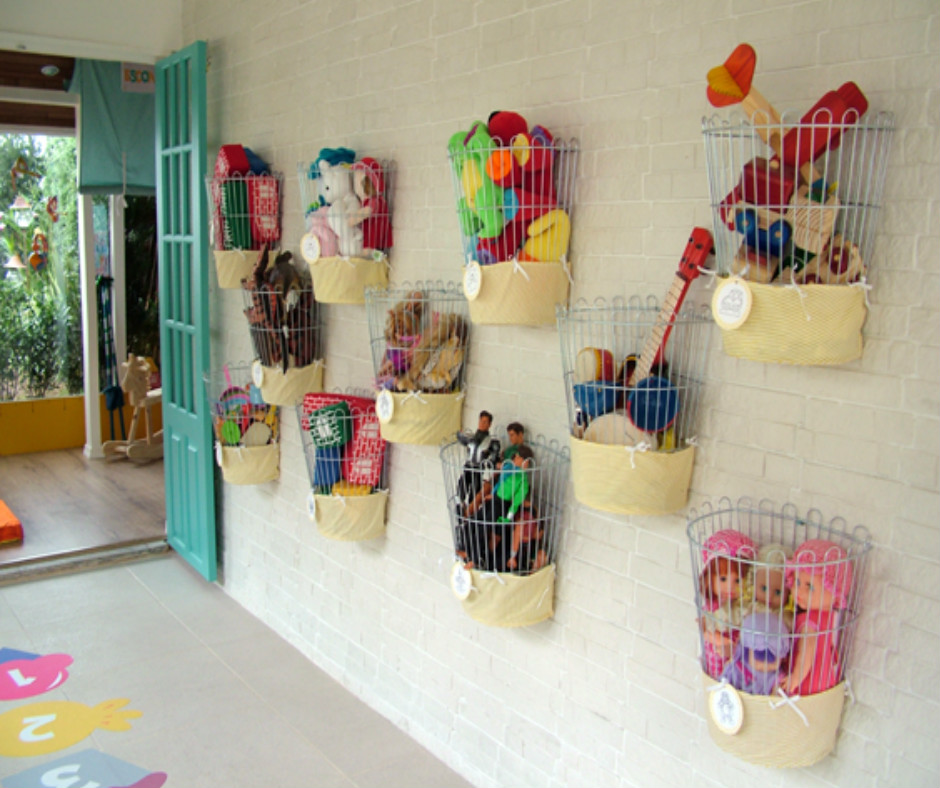 Source: The original source is not available anymore.
The wire baskets in this toy storage might typically hold blooming flowers, but they're still a good way to contain toys. With their open design, it's easy enough to hang them on the wall with a few nails, but you'll be able to take them down for playtime. Small coverings at the bottom ensure that toys don't fall out, and labels help with sorting, though many parents keep the mess at bay by only allowing the child to play with one basket at a time.
11. Wall of Cubes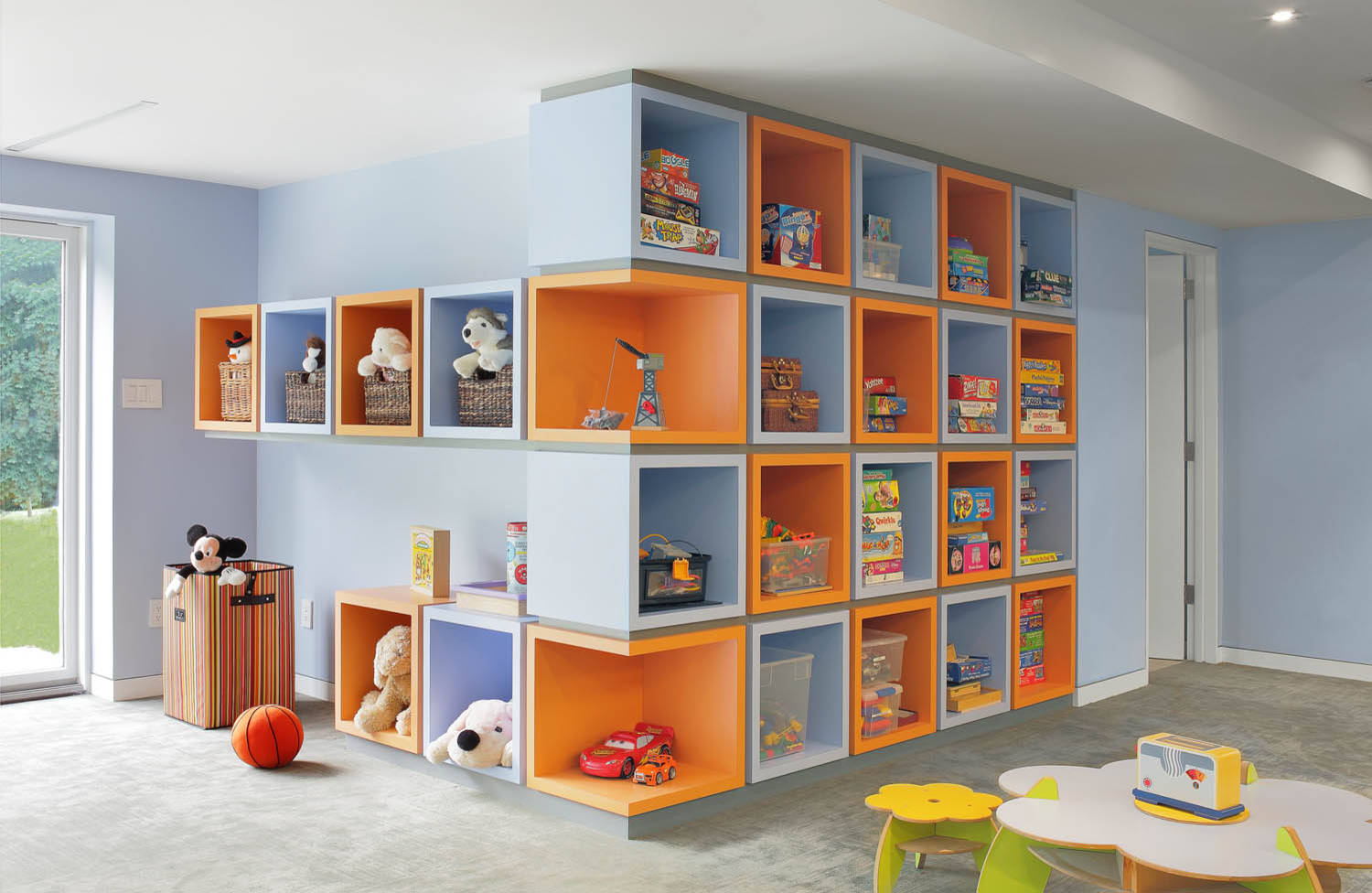 Source: The original source is not available anymore.
We've already mentioned how convenient cube storage units are for those looking for toy storage ideas, but this picture illustrates just how nice it can be to have a full wall – or two – covered with storage cubes. This ensures plenty of space for neatly organizing toys, and you can see how easy it is to pile games in some cubes, put larger toys in others, and use separate toy boxes for toys that have smaller parts. The unique color pattern of this wall unit really helps it stand out.
12. Labeled Beach Bags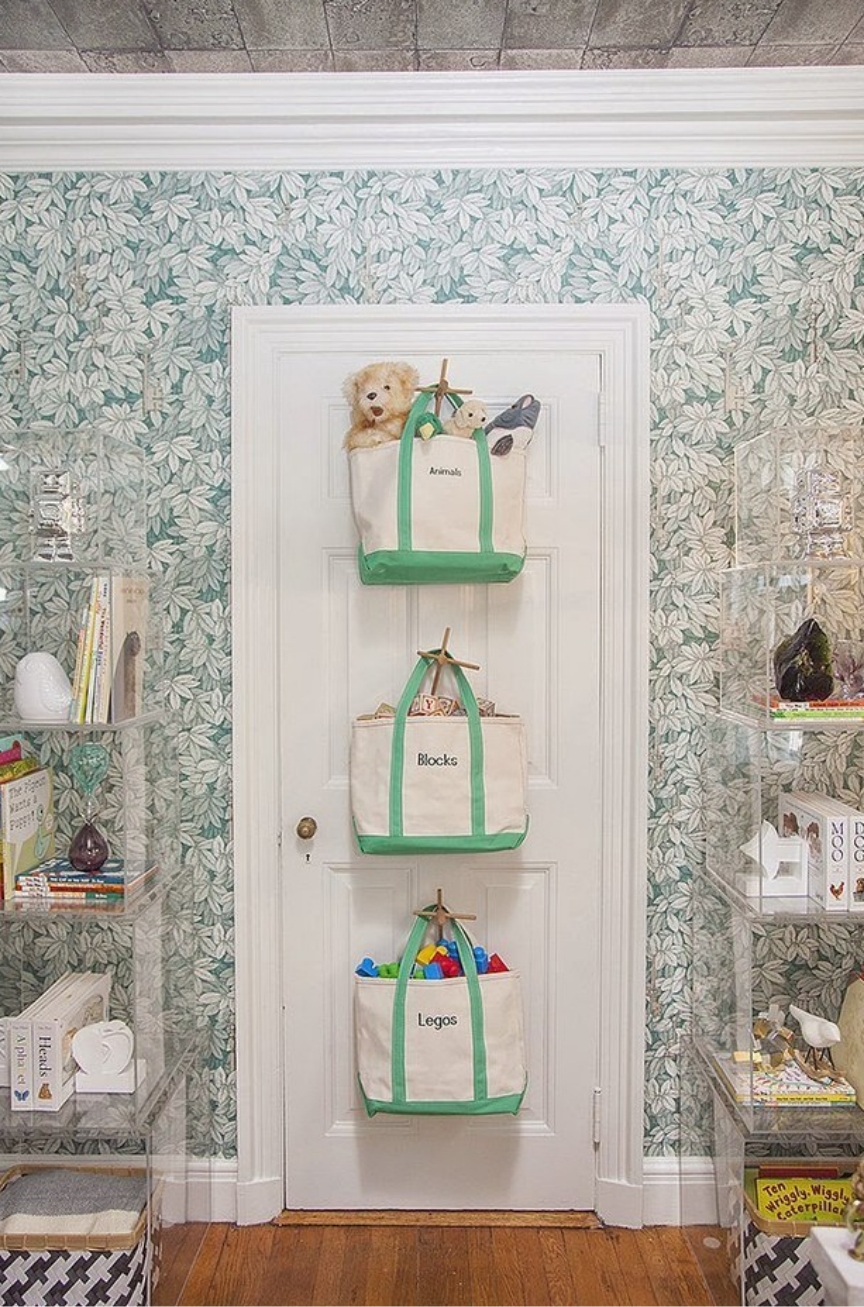 Source: The original source is not available anymore.
You've undoubtedly seen these types of personalized tote bags. Most people, though, wouldn't think about using the personalization option to label the toys that go inside. If you've got a set of toys that would fit nicely in this size bag, have the company label it for you with their professional embroidery and use them as toy boxes. Younger kids who can't read may have an easier time if you color-code the bags – blue for blocks, red for dolls, etc. Keep them out of the way by hanging them on the back of a door, but make sure that the hanger is sturdy enough to hold the bag full of toys up.
13. The Toy Hotel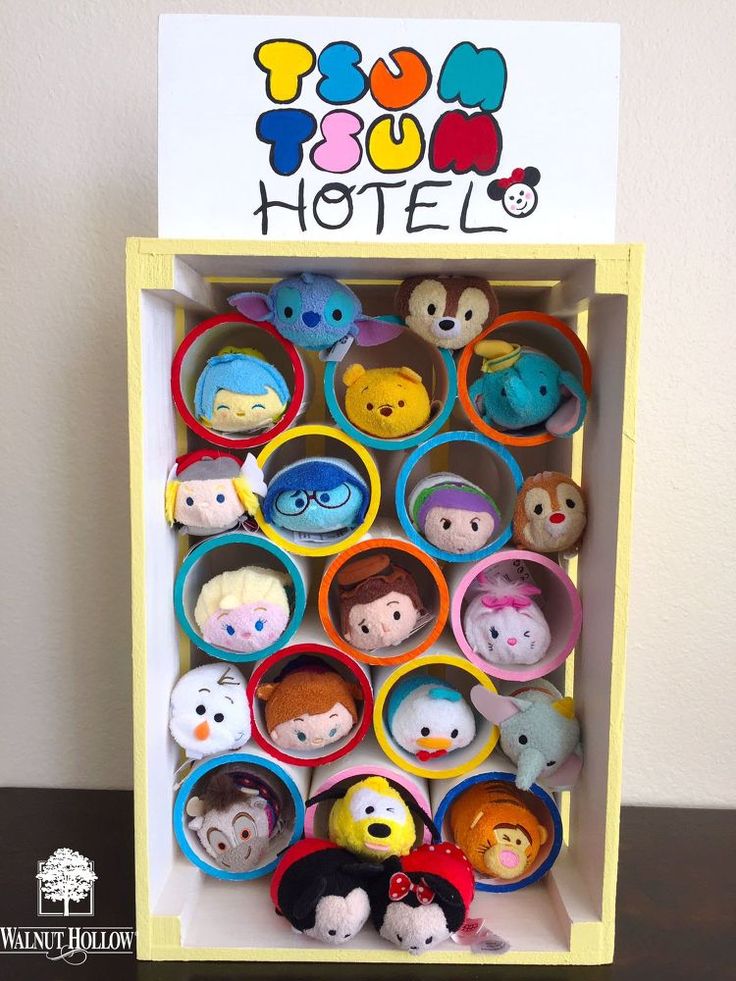 This cute DIY toy organization idea is ideal for kids who have a lot of a particular type of toy. It's made simple from several pieces of cut-up PVC pipes glued into a wooden storage box. A touch of paint on the ends livens it up a bit. The original design was for Tsum Tsum toys, but you could also use it for stuffed animals, toy cars or Barbie dolls. PVC pipes come in many different styles, so select a style that easily fits the toys you want to store.
14. Mine and Yours Toy Storage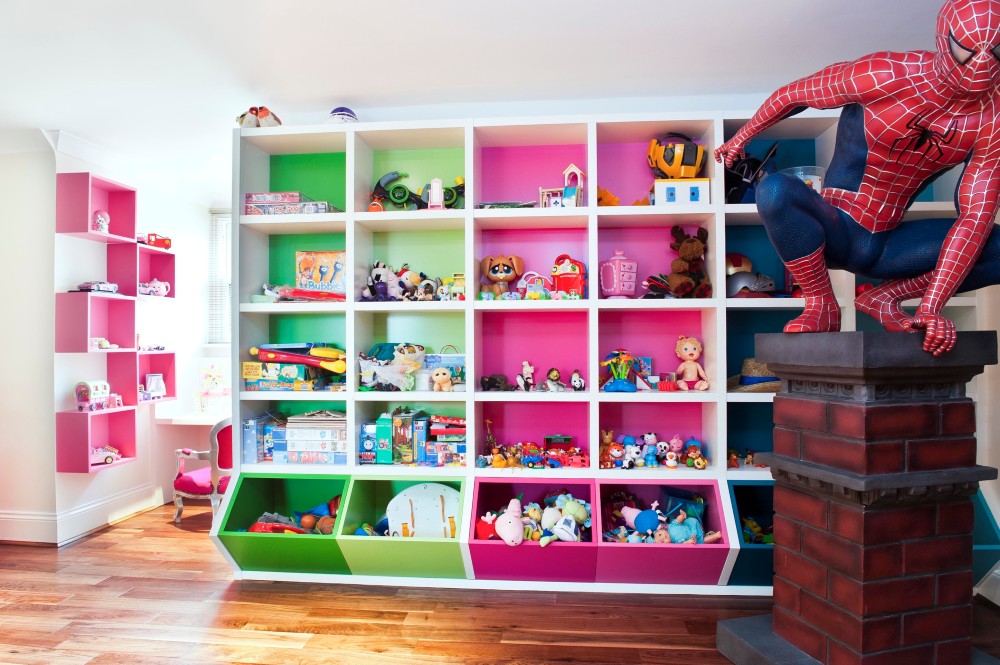 Source: The original source is not available anymore.
This great toy organization idea works well for families with multiple kids who need something that will fit in nicely with the regular home décor. It makes use of the cube-style toy organizer idea, with larger bins located at the bottom. What makes this stand out among other toy storage ideas is the way that the back wall of it is painted in different colors. The primary white color makes the unit look uniform, but children will know which shelves are theirs by the colors on the inside. Assign each child a different color and personalize this for the number of kids you have.
Our Favorite Farmhouse Baskets and Bins to buy on Amazon
15. Animals Hanging Around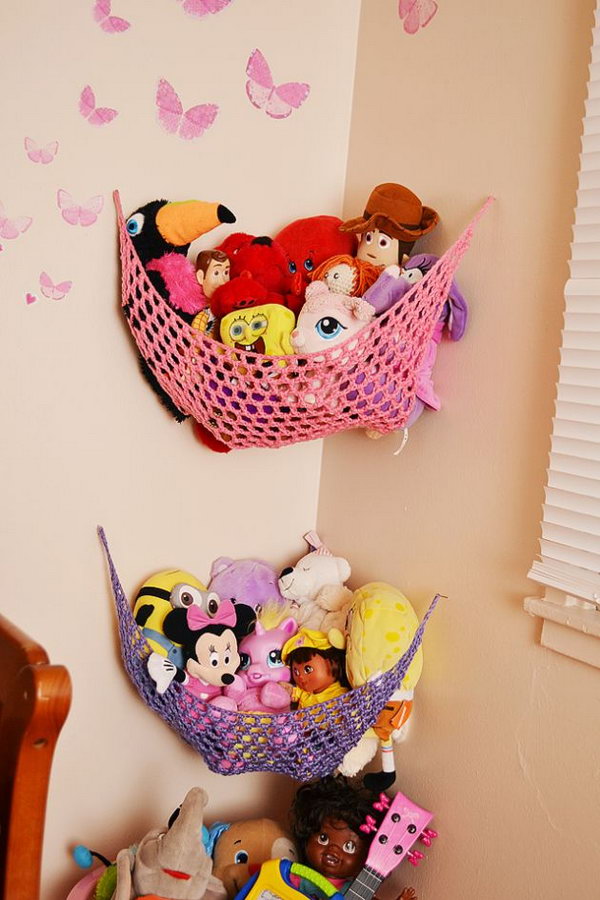 Source: The original source is not available anymore.
A colorful toy net can make use of some of that corner space that would normally go unused. It's easy to hang up and can hold a lot of the stuffed animals. It's perfect for the tweens and teens who don't want their rooms to be cluttered with such childish things but who aren't quite ready to get rid of their old friends. Since you can purchase these in a variety of styles and colors, it's easy to personalize them for any room.
16. Simple and Inexpensive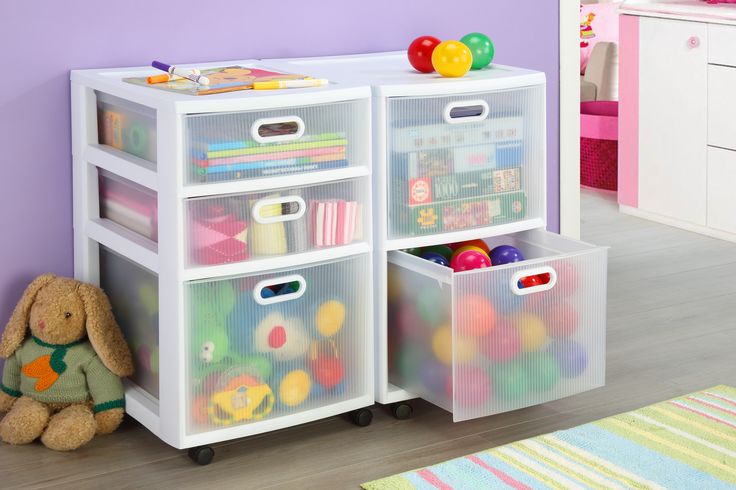 Sometimes, you just need some easy kid's toy storage, and you don't want to spend a lot of money on fancy toy organizer ideas. Plastic storage drawers come in a variety of sizes and configurations and are definitely reasonably priced. If you're going to use this idea for a toy organizer, think about what you need to store before you make your purchase. As you can see here, some have smaller drawers, which may not be large enough to store your items, while large boxes might be too big and have a lot of wasted space. Note also that items that are too heavy will warp the drawers, making them difficult to use.
17. Reading Bench Boxes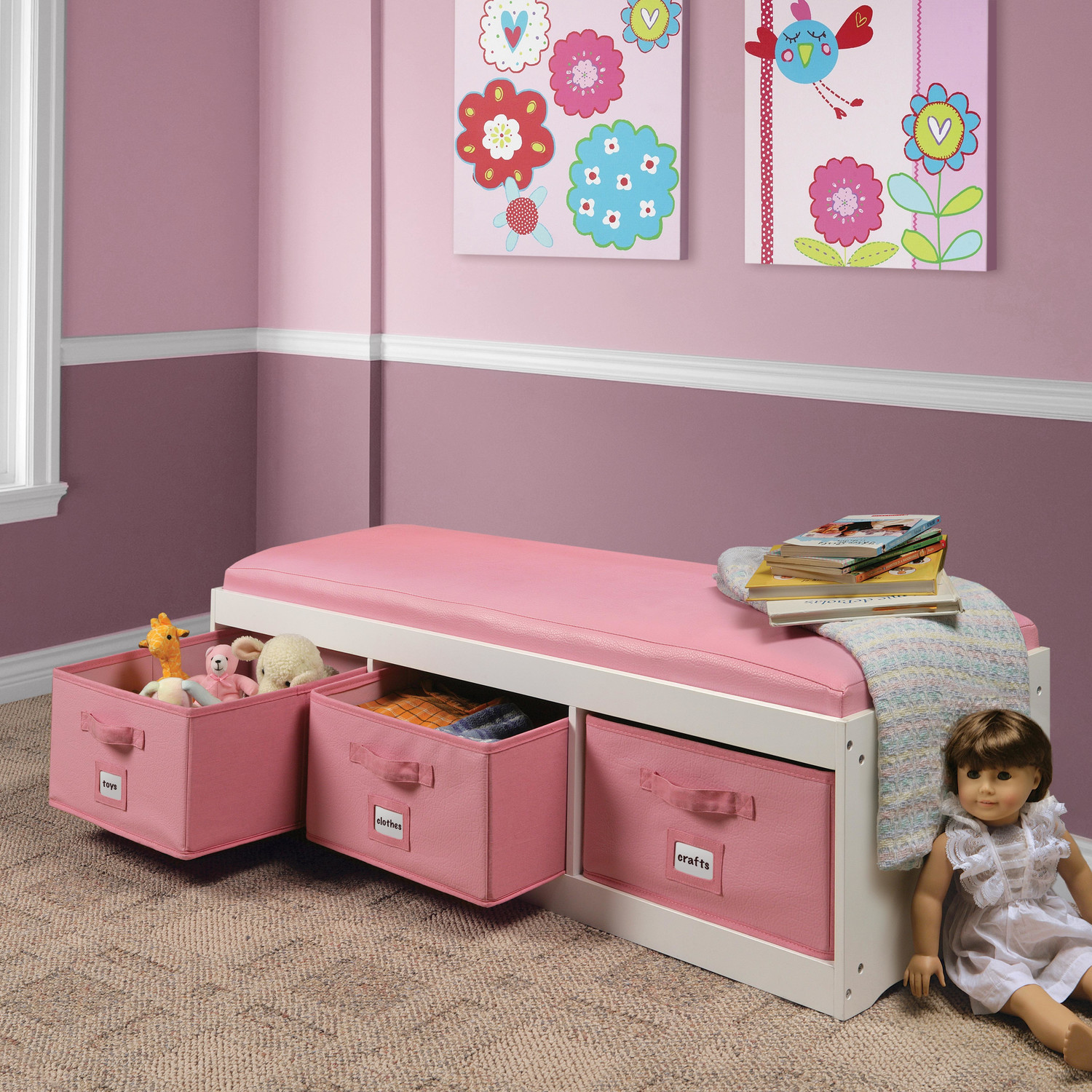 Source: The original source is not available anymore.
A little nook for sitting like the one pictured here is a great addition to any child's room, but you don't want to waste the space underneath. Choose a bench that has little cube areas for storage. You'll then be able to buy smaller toy boxes for storage that complements your home design while containing the clutter. When you fill them up with light toys like stuffed animals or doll clothes, even the youngest children will be able to easily open and close the drawers to help put things away. However, you have to make sure to match the box shape with the openings. The ones in this picture aren't the same size as the traditional cube shaped drawers.
18. A New Twist on a Classic Idea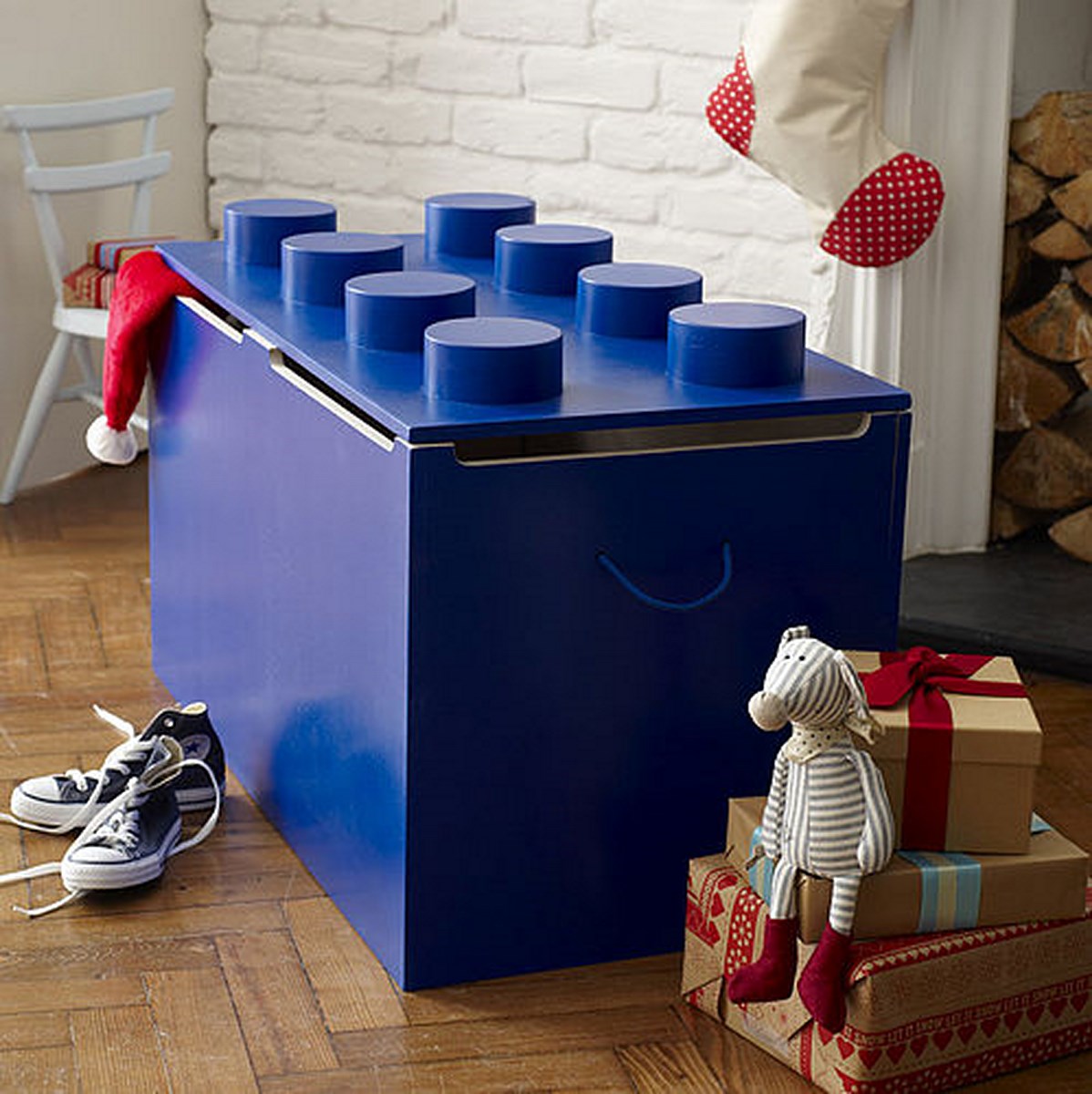 Source: The original source is not available anymore.
Toy boxes are a popular idea for kid's toy storage with good reason – there's nothing easier than telling a child to clean up and having him simply be able to put all of his toys into a single box. However, this box is just a bit more fun because it's designed to look like a LEGO toy. Best of all, the lid to this toy chest is a bit safer than some others. There's a small space around most of the edges which makes it much safer for little fingers that might get pinched when the wooden lid slams down.
19. Outdoor Ball Storage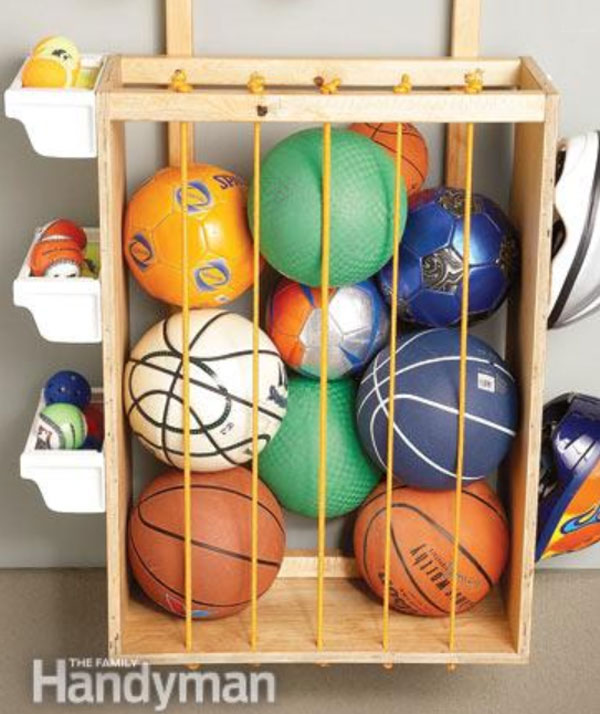 Sometimes, you get so focused on keeping everything neat and tidy inside that you forget about toy storage ideas for outside. The best toy organizer ideas for the outside toys have enough space for storage while allowing the children to easily use the container. In this box, the stretchy ropes along the sides hold the balls in, but allow kids to take out whichever ball they want without digging through all the others. When it comes time to clean up, they can easily toss them in from the top. It's also nice because it makes use of the side space as storage for smaller balls and bike helmets.
20. Making the Old New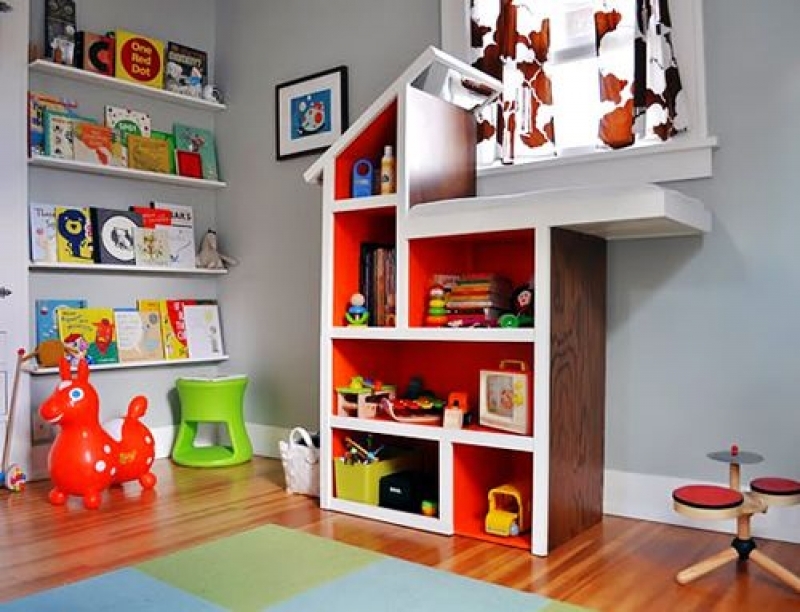 Source: The original source is not available anymore.
With some minor modifications, an old, unused dollhouse becomes the perfect place for kid's toy storage. Use a dollhouse that your child has outgrown or one that you pick up at a garage sale or flea market. By painting it a solid color and possibly adding new "rooms" by rearranging the wood, you'll have a great new shelf for toy or book storage. This family has created an additional cute modification by incorporating a comfortable bed for their cat to sit in the sun.
21. Squirreling Toys Away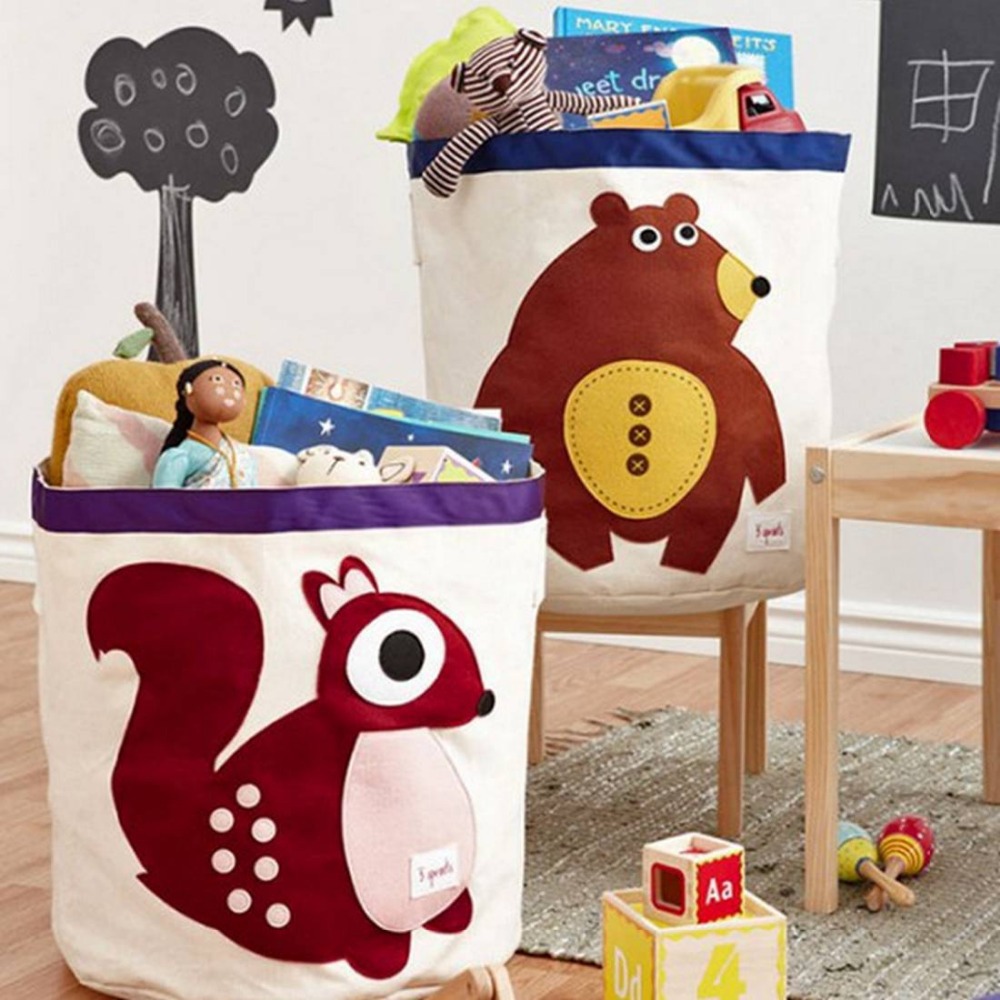 Source: The original source is not available anymore.
Sometimes, the best way to get your child invested in toy clean-up is to have cute bins that are appealing. With these adorable toy storage boxes, kids will happily put their toys away, especially if you tell them that the squirrel or bear is hungry for toys. These animals aren't the only options, so consider choosing bins that feature your child's favorites, and purchase separate bins for different children or different types of toys.
22. Over-the-Door Barbie Holder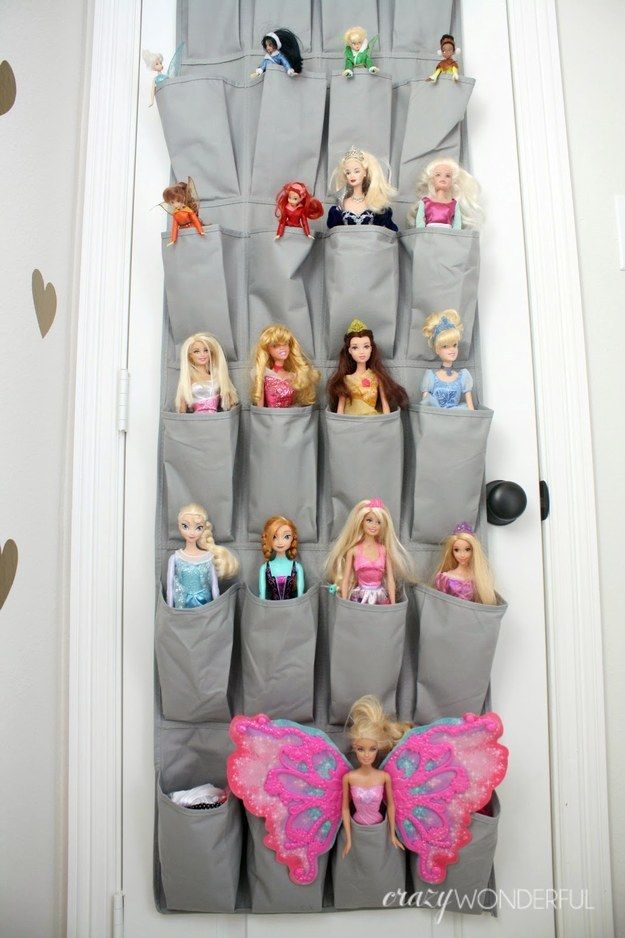 If you've got a little girl who loves playing with dolls, you know how easy it is for the Barbies to take over the house. A simple hanging shoe holder is the ideal solution. Each section is the perfect size for holding a single doll and each one is easily visible. When you get her in the habit of putting her Barbies back in their places when she's finished playing, you'll never again have to deal with the problem of her not being able to find the exact doll she wants to play with at that moment.
23. Toy Storage Cubbies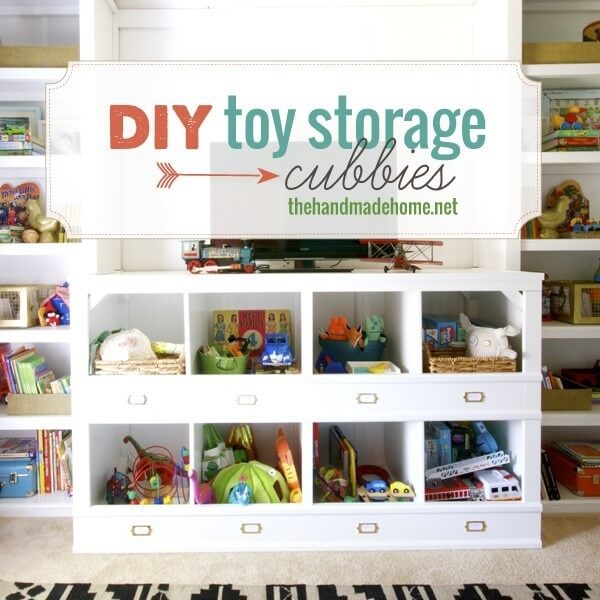 This is a fantastic storage idea with cube-shaped shelves that can store a lot of different toys. This particular white version will fit in with most home décor, which is great if you're looking for some toy organizer ideas for the living room. Chalkboard labels on the shelves pictured are ideal because you can easily change them if you want to start using the bin for a different type of toy.
24. Personalised Toy Box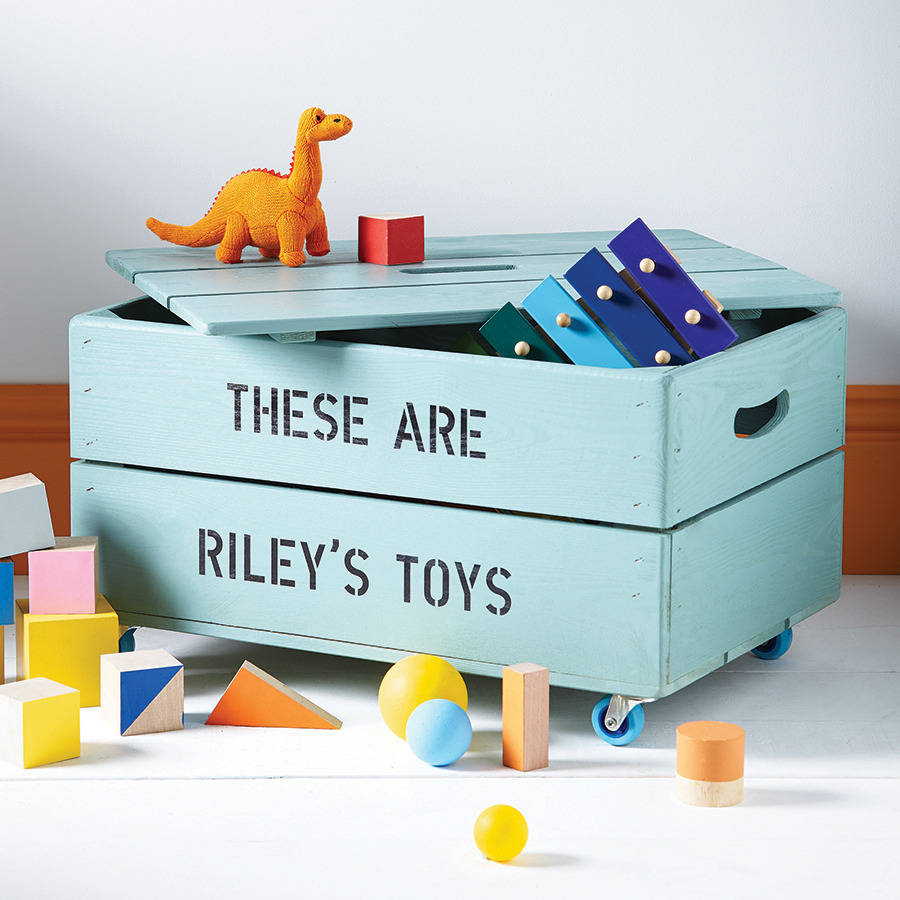 This cute toy box will let everyone know who's toys are inside. Purchase one kid's toy storage boes these for each of your children and it will be easy for them to put their toys away. The nice thing about this particular personalised toy box is that it's on wheels and has a small handle on the size. Once the box is full of toys, it can be hard to move it from place to place, but the wheels make this easy to do. You won't have to make a bigger mess taking all of the toys out if you simply want to rearrange the furniture.
25. Peg Board Perfection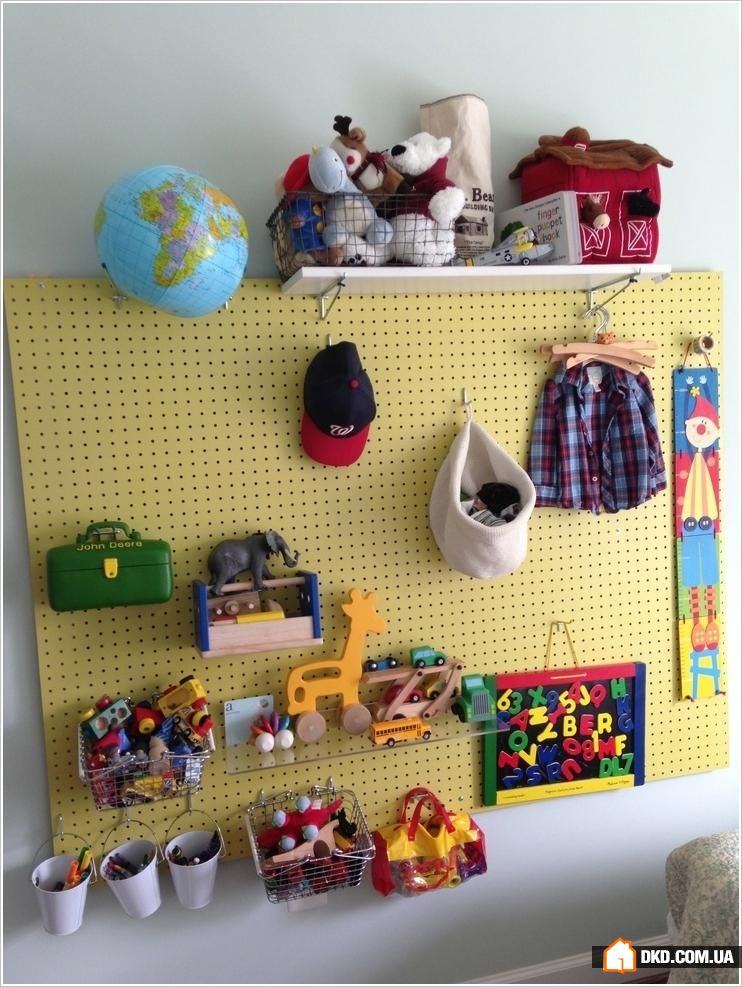 Source: The original source is not available anymore.
Peg boards like you see on the wall here have hundreds of holes, making storage a breeze. If you can hang it, you can fit it on this board. Hooks can go into any of those holes, so it's easy to move things around to accommodate things of different sizes. Use it to hang things like hats or clothes, and also smaller containers of toys. Note that this won't be able to hold up heavy items, so it's not the place to put blocks, but it can definitely hold smaller things like craft supplies.
26. Doll Clothes Closet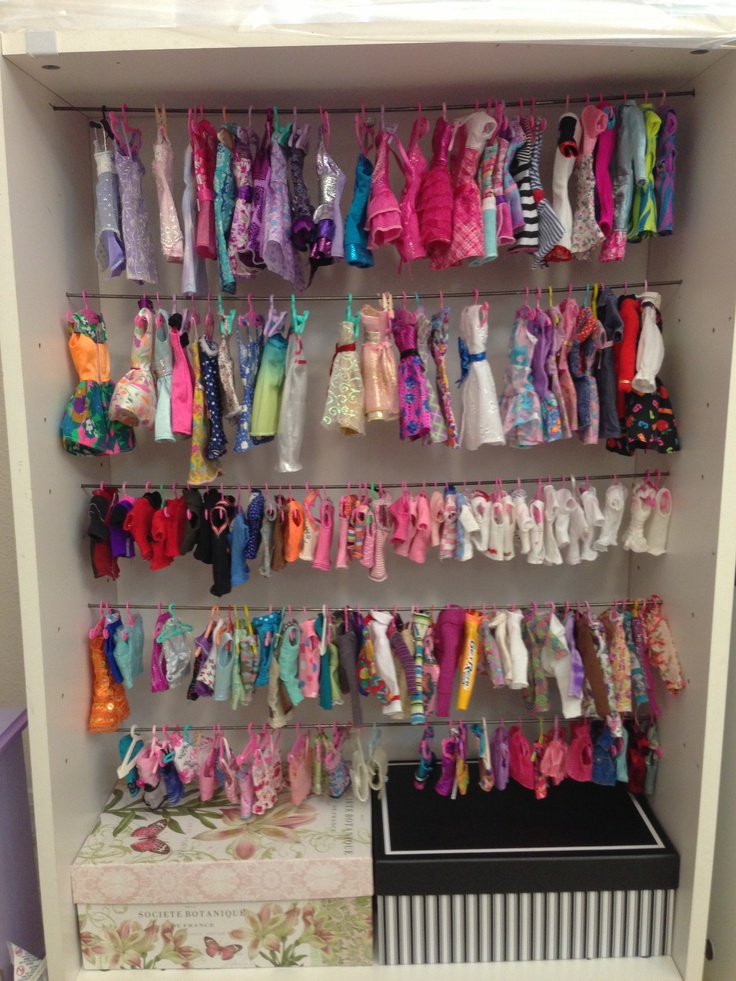 Source: The original source is not available anymore.
If your little one loves dressing up her dollies, you probably have a lot of doll clothes lying around. It's tempting to stuff them all into a shoe box, but this can make it difficult to find the clothes she wants. Instead, transform an old bookshelf into a doll clothes closet. Simply remove the shelves and put poles along the inside. Specially-purchased hangers will hang the doll clothes nicely, but clothespins can also do the trick, especially for things like pants. You can keep some of those shoe boxes on the bottom for the shoes and accessories.
27. Super Toy Box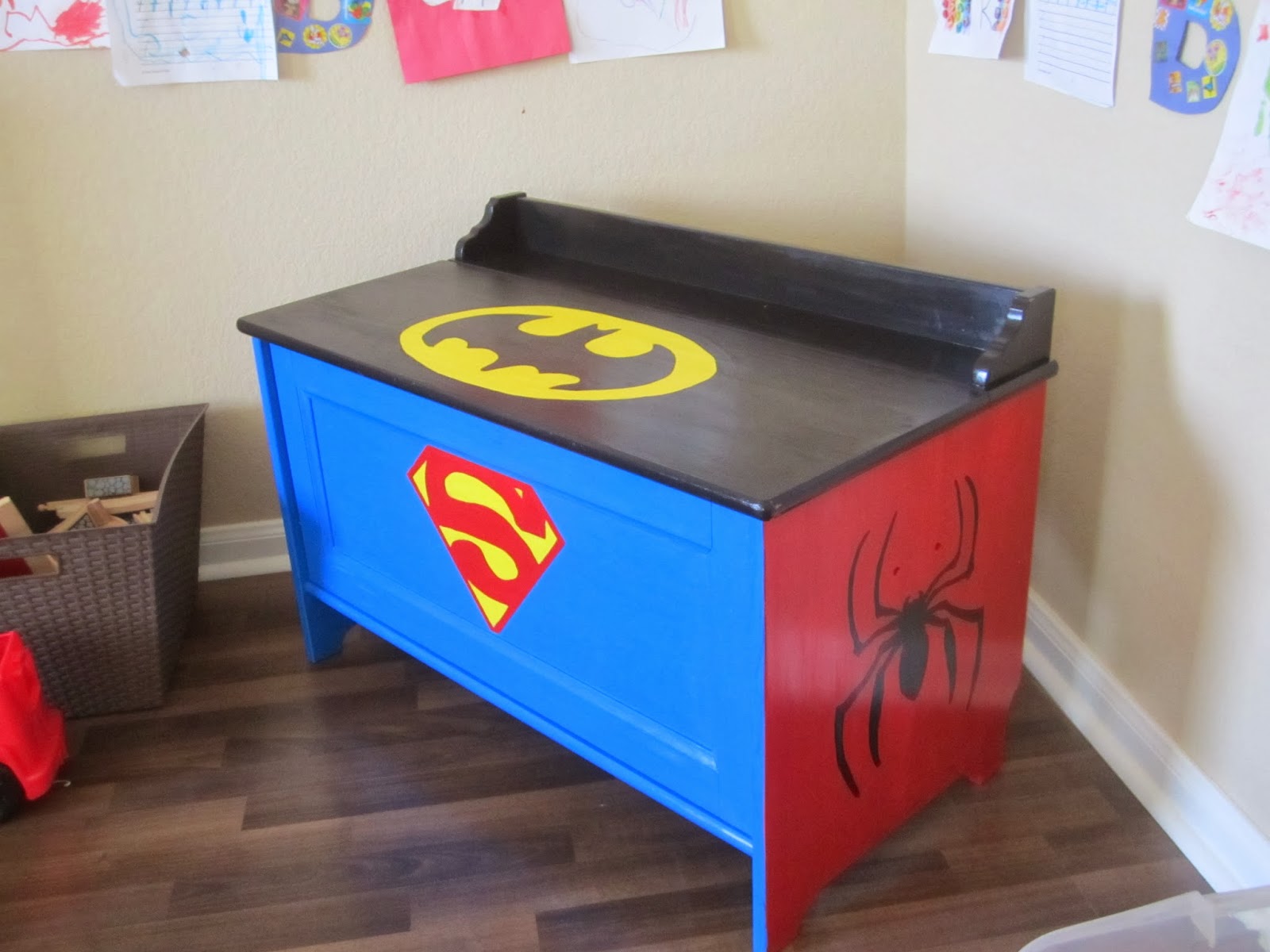 A personalised toy box doesn't necessarily have to include your child's name. Instead, have it painted with something that relates to his or her favorite character. For instance, this toy chest features designs that relate to Spiderman, Super Man and Bat Man, and the designs are easy enough to do on your own. Even a basic toy box that's been painted in her favorite colors or with a favorite animal could be a big hit. Any little thing that makes your child more excited about using the toy box is a good thing.
28. Built-Ins for Play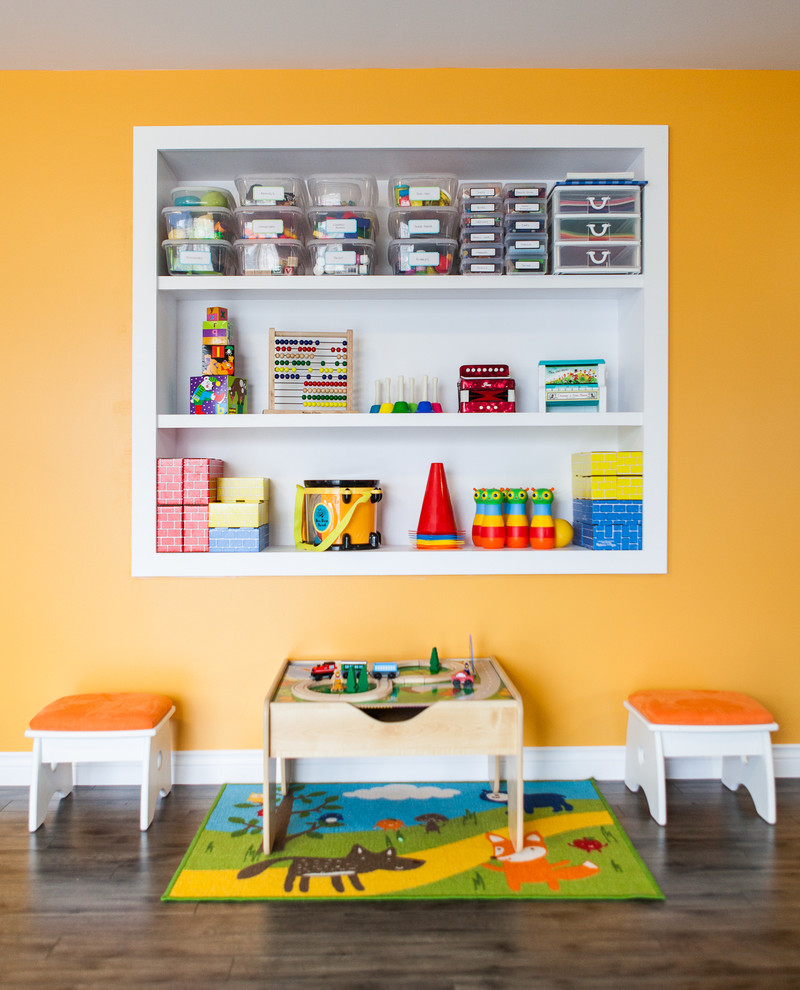 Source: The original source is not available anymore.
Many older homes have built-in shelving units that could work perfectly as kid's toy storage in your play room. For an interesting look that fits in with your home design, consider painting the shelves a color that contrasts with the walls. One of the benefits to using built-in shelving is that it's typically high up. This might mean that young children aren't able to help as much with the cleaning up, but it also means that they can only play with the toys you help them take down. Smaller plastic shelves placed on the built-ins help keep smaller toys organized.
29. Tables and Boxes for Fun and Storage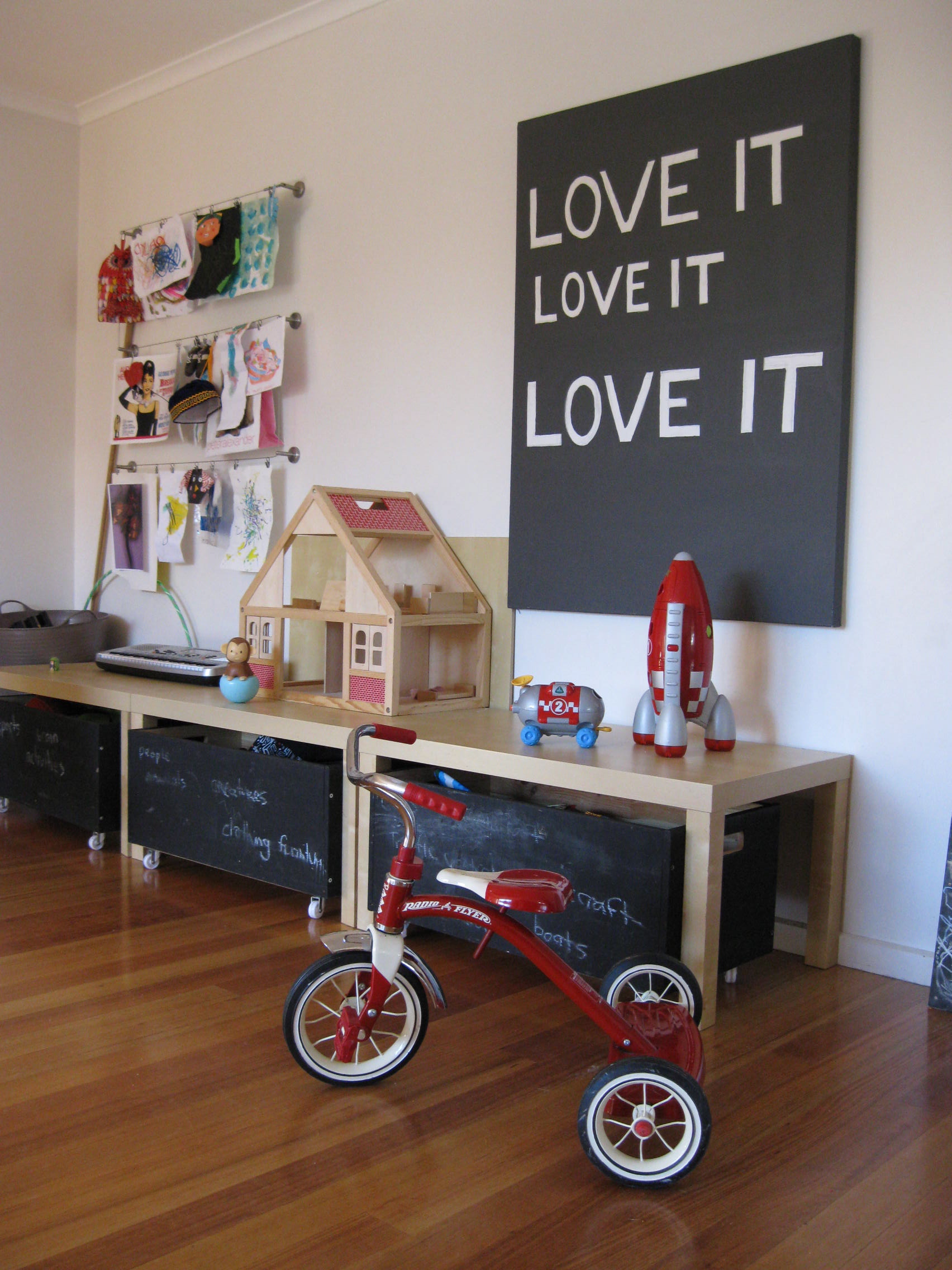 This is a fantastic DIY idea that can work well for just about any family looking for toy storage ideas. They've lined three low tables in a row, and these tables act as a place to store larger toys, but children can also use the table for play. The boxes were purchased separately and have been placed on wheels to easily slide in and out. Best of all, the boxes were painted with chalkboard paint, allowing children to unleash their creative side in a way that won't hurt your regular home décor.
30. Storage Buckets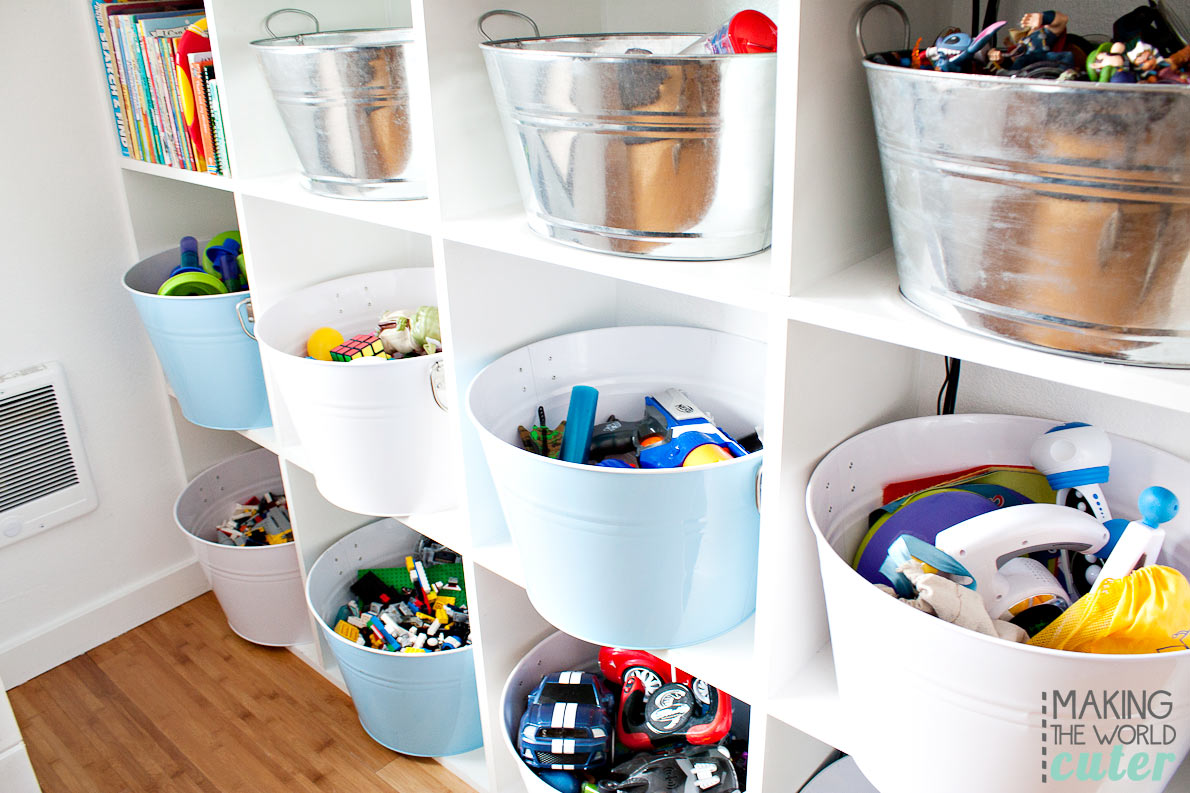 When making use of cube organizers, most people think of using the canvas boxes that are designed to fit in the cubes precisely. However, you needn't limit yourself to this idea for toy storage. Many other types of storage containers fit nicely in the cubes, as you see here with the metal buckets. You might also use baskets or smaller plastic containers that you could stack in the cube as a toy organizer. The downside to some of these looks is that you might be able to see some of the toys sticking out of the top, but most people find that this is a small price to pay for having a more unique look that fits in with their home design.
31. Milk Crate Bonanza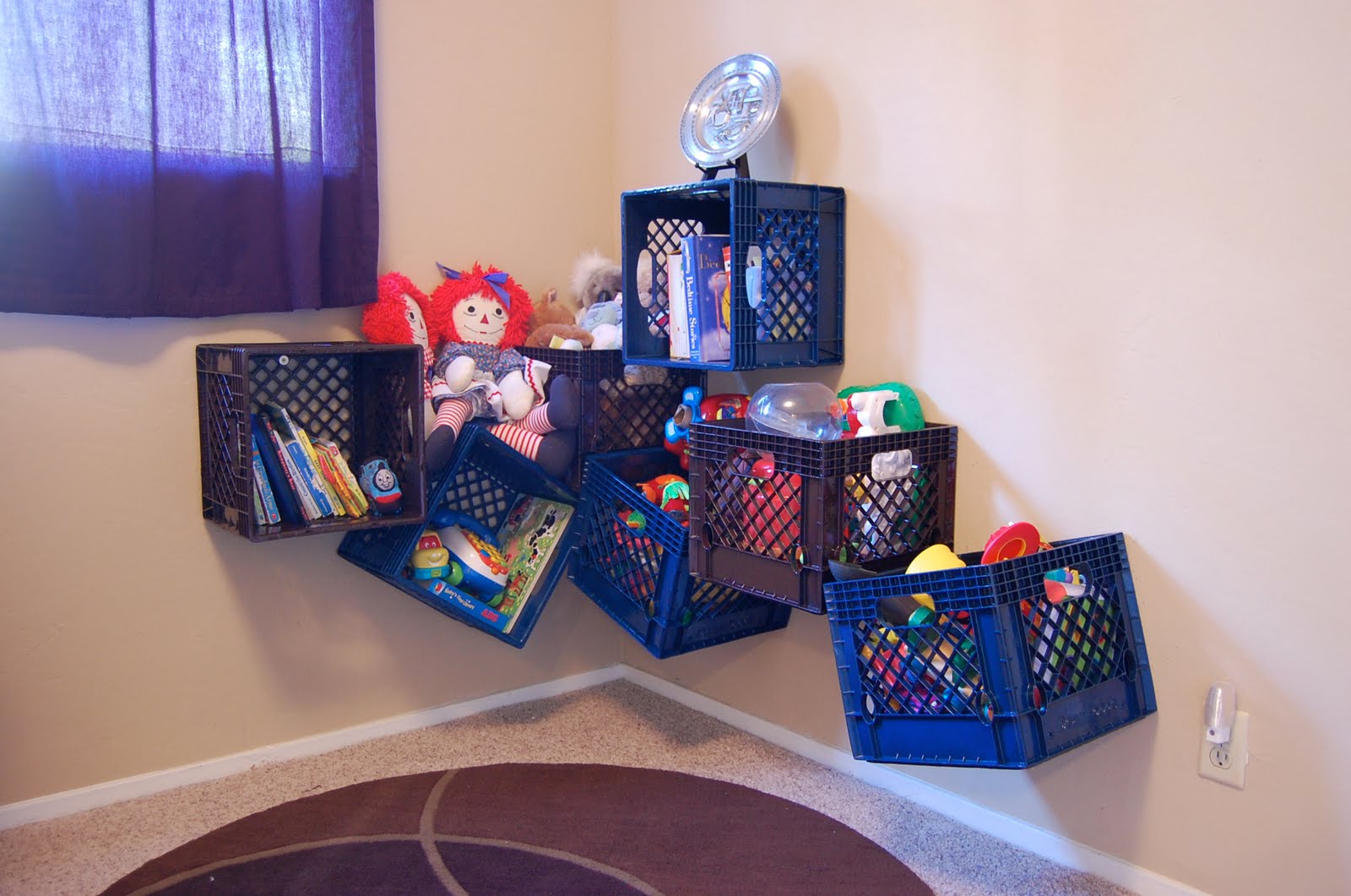 Source: The original source is not available anymore.
Many people have stacked milk crates for makeshift shelving in the days when they couldn't afford a traditional bookshelf. This idea makes that cool again. Rather than stacking them on the floor, it shows how you can mount them to the wall. What's especially interesting is the way they've mounted them at different angles to look like a jumble of crates. Some are mounted so that they could easily be used as a bookshelf while others are tilted more like a bucket to hold little things. Hanging at odd angles makes it even more unique.
32. Double-Duty Storage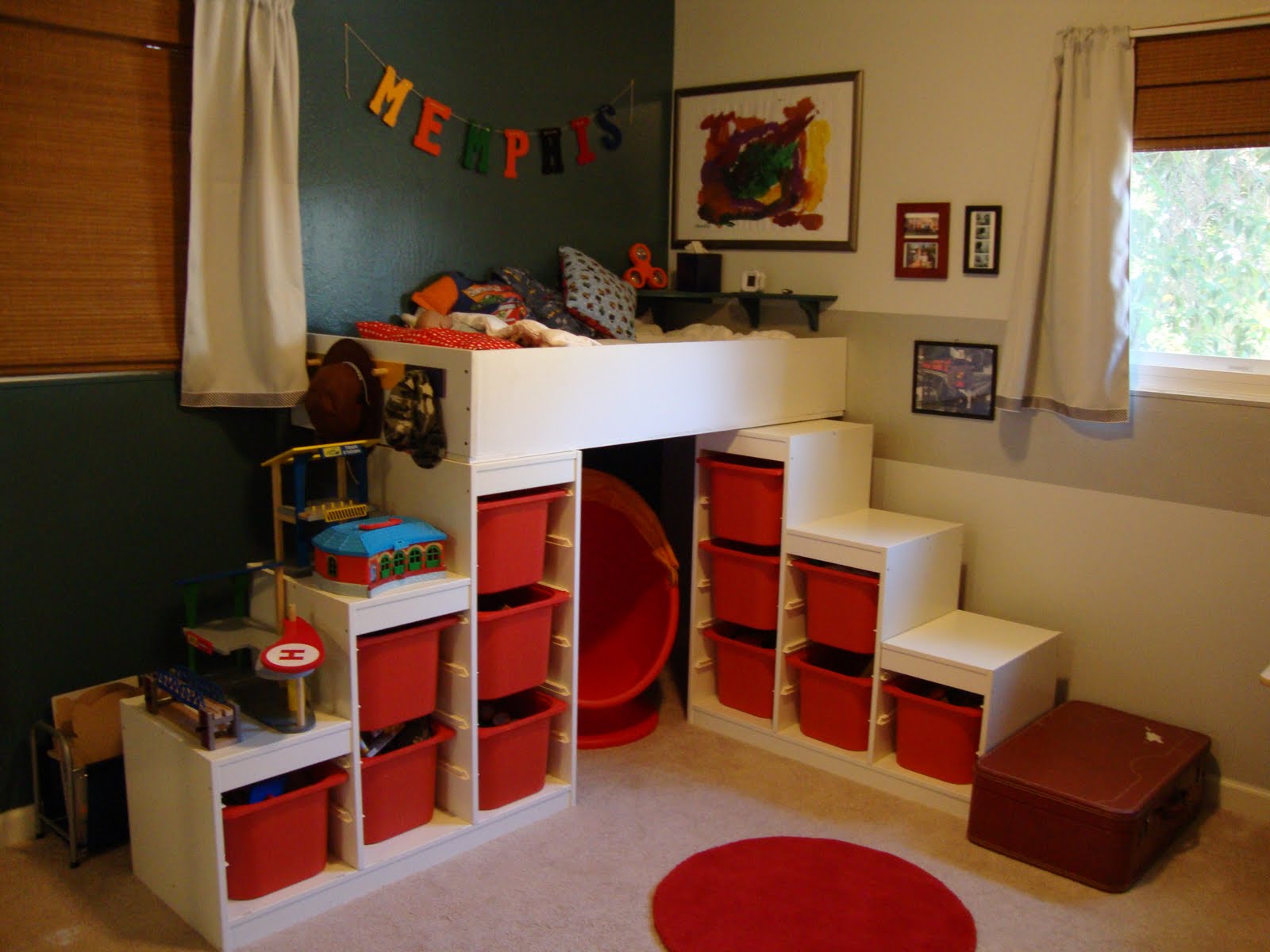 Source: The original source is not available anymore.
When it comes to toy storage ideas, sometimes you need something that serves more than one purpose. Loft beds are ideal in smaller spaces because they offer additional space underneath the bed. This family makes use of step-like shelving to prop the bed up. Toys are stored in the plastic buckets, and the child can use the "steps" to climb into bed. Note that the shelves are able to accommodate smaller storage containers as well, and that there's space to stash additional items behind one of the sets of stairs.
33. Unique Floating Shelves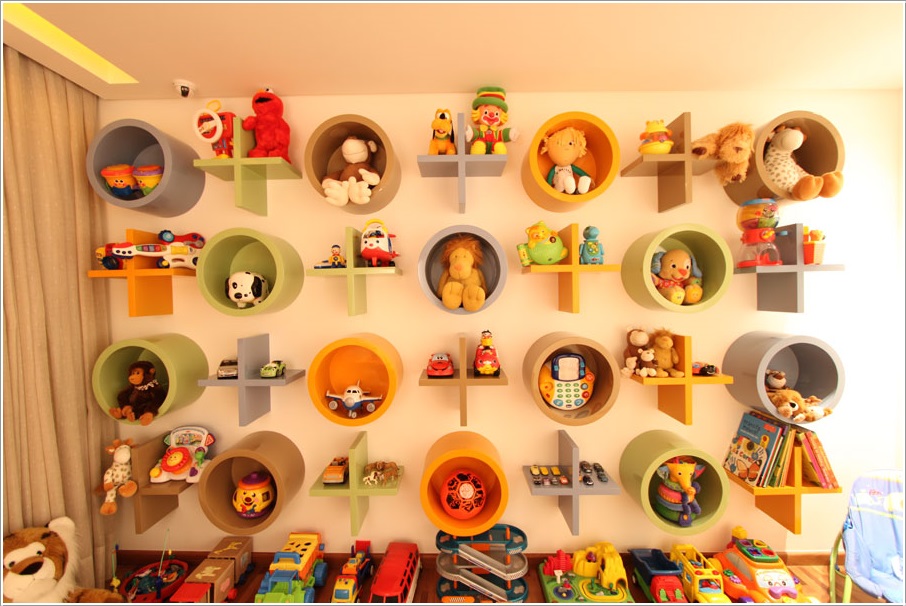 Source: The original source is not available anymore.
As you can see here, floating shelves don't have to be boring. They've painted O- and plus-shaped shelves in bright colors and hung them in a pattern on the wall. What really makes this idea work is that they've committed to covering up the entire wall. Note that each of these shelves doesn't hold a lot. That makes it ideal for younger children who have toys that don't have a lot of pieces. For instance, it works well for books, stuffed animals, or a few toy cars, but it wouldn't work well for LEGOs or doll accessories.
34. Toy Boxes for Grandma's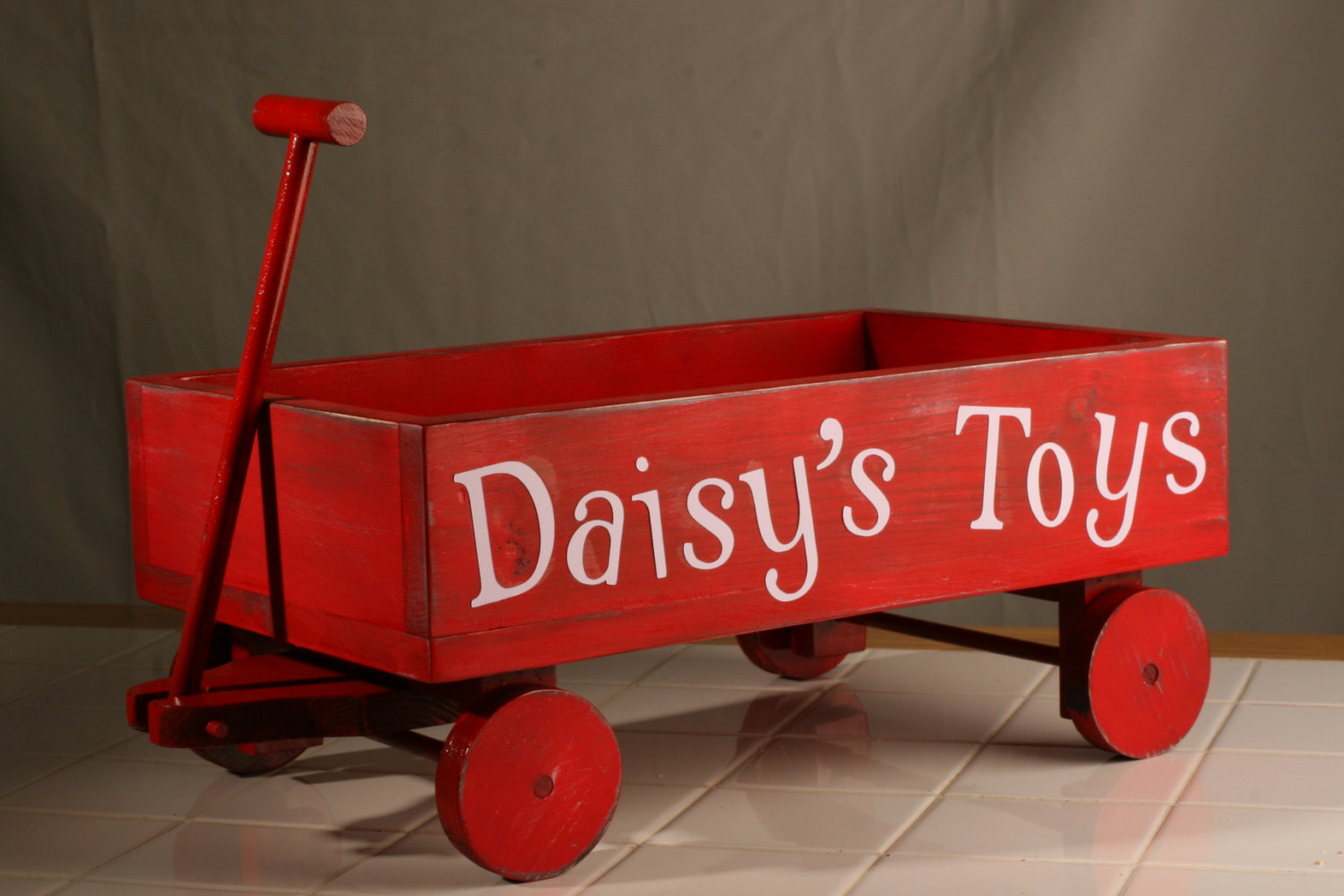 This personalised toy box is a clever way to upcycle an old wagon. Even if it doesn't work, it will look nice sitting in the corner of the living room or a garage. Since it's a fairly large piece that doesn't offer a lot of storage space relative to its size, it's probably not the best idea for homes that are overrun with toys. However, this would really work nicely at a grandparent's house, where the child only has a few favorite toys.
35. A Child's Work Bench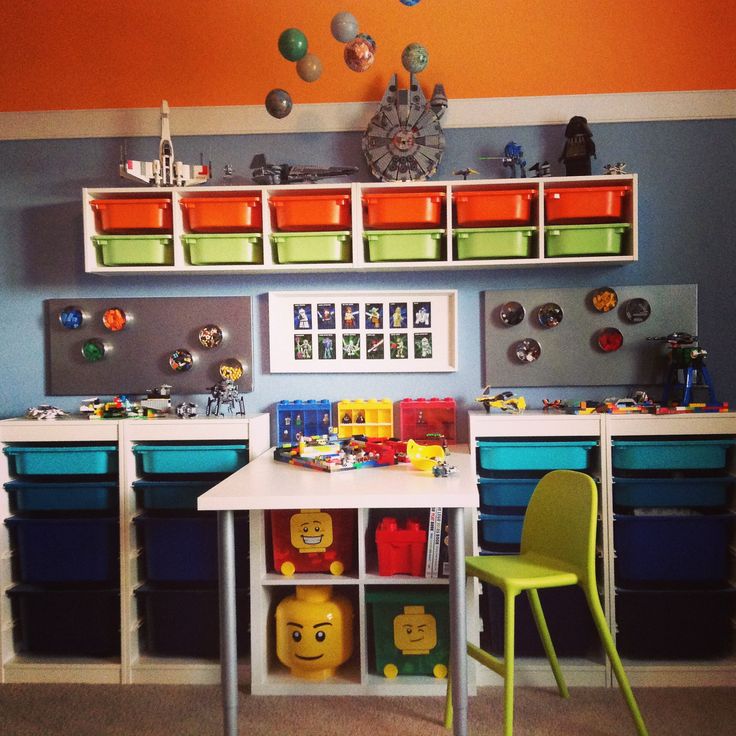 It's been said that play is a child's work, and this is readily apparent in this brilliant toy organizer. This particular picture is set up for LEGO use, with space to display models at the top, many bins for sorting LEGO pieces and a large table to work on. However, it could also work very well as a crafting space or a doll area if your child isn't that into LEGOs, and it can serve as the child's desk for homework. If you've been wondering what to do with the play room now that the children have outgrown it, you've found your idea.
36. Sailing Off to Play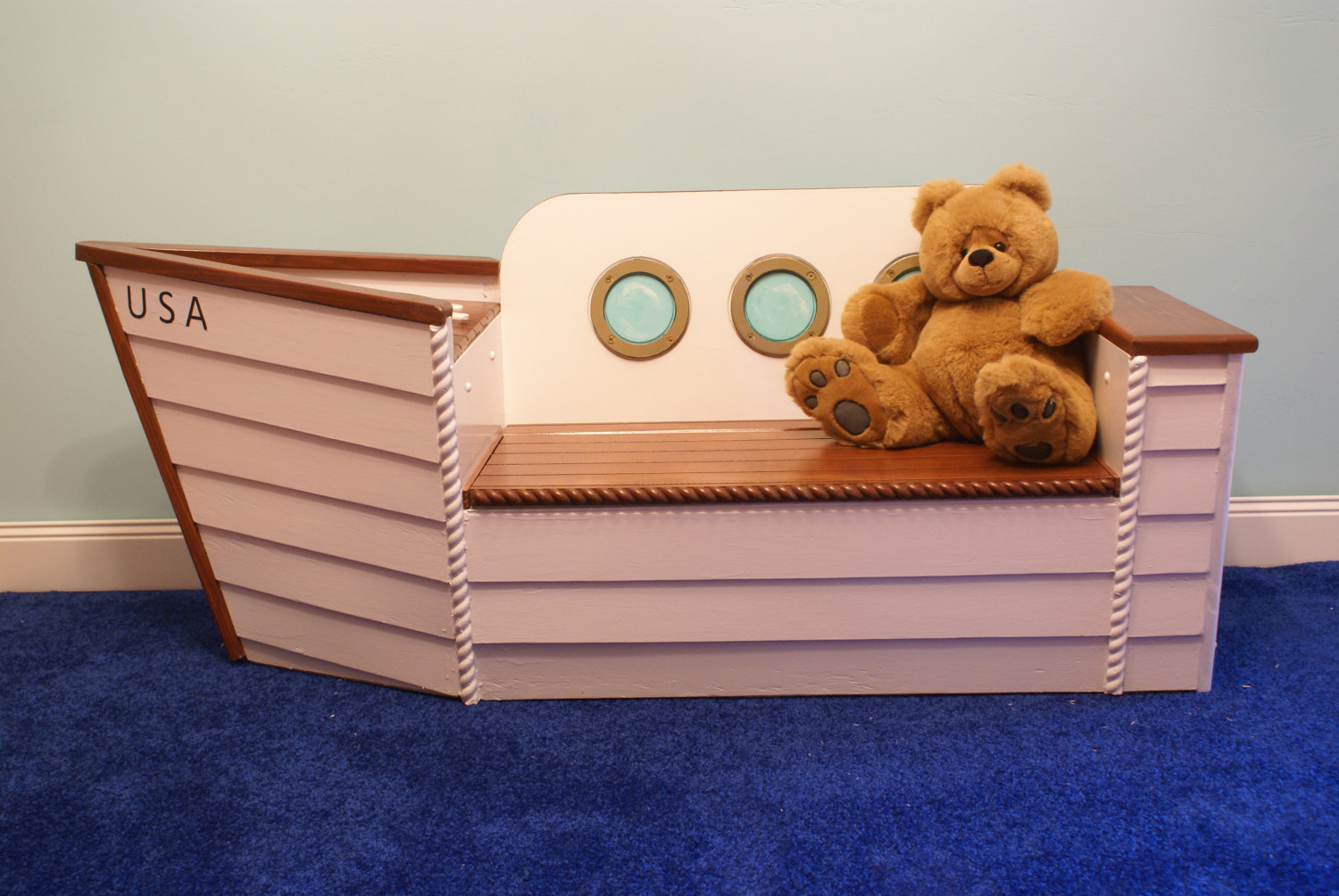 Source: The original source is not available anymore.
Shaped as a boat that your child can easily climb on, this toy box is classy enough to fit in with your home decor, but fun enough that your children will love it. Get ready for hours of pirate play. When it's time to clean up, simply lift the lid and have the children help load up their "booty". If you want to get really creative, you can occasionally swap out the toys that are stored in the box so that the kids are constantly finding new treasures inside.
37. Another Doll Closet Idea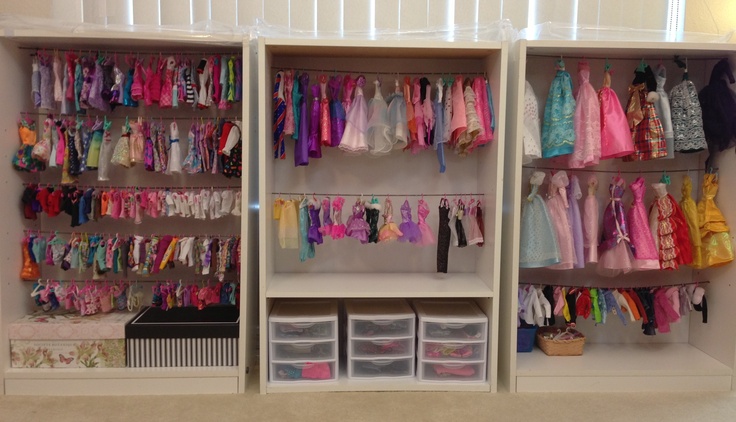 This idea is similar to the other idea we've shown about converting an old bookshelf into a doll's clothes closet, but it illustrates how versatile the idea is. In this image, the racks for hanging clothes have been hung further apart to accommodate the longer evening gown dresses and clothes for larger dolls. They've still used a shelf at the bottom to separate the other storage containers, which have small drawers for storing smaller items. These small drawers are definitely better than larger boxes for keeping small accessories organized. Don't have enough doll clothes to make this idea worth your while? Consider creating something similar for child-sized dress-up clothes.
38. Cube Storage Strikes Again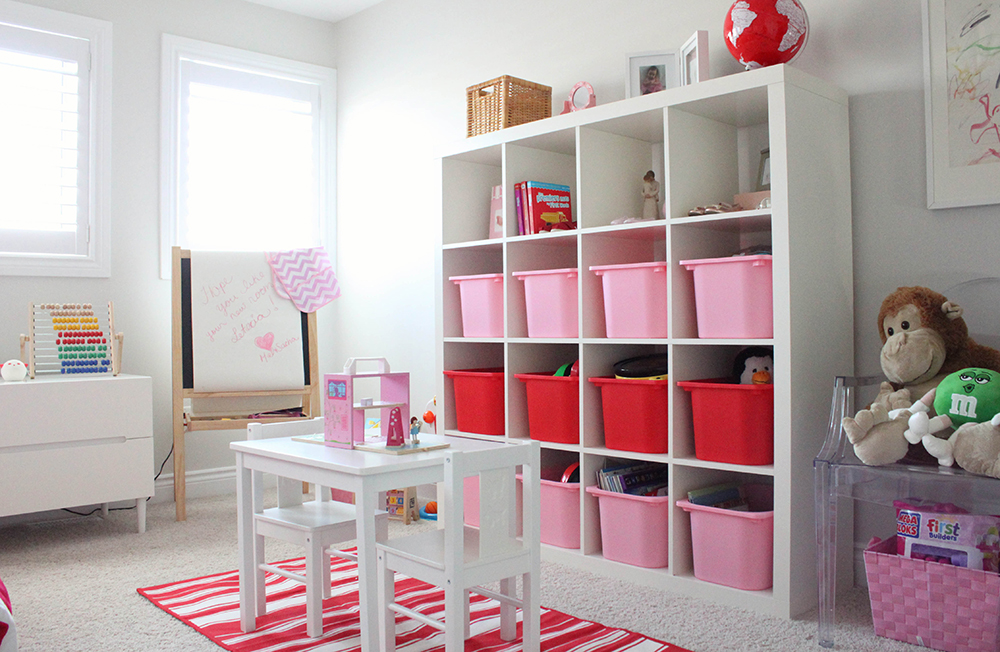 Source: The original source is not available anymore.
It's easy to see why everyone loves the cube storage units for storing kids' toys. Through using different types of containers, you can instantly make it fit in with any home decor. The pinks used here obviously make this perfect for a girl's room, but swap them out for blues or greens and they'll fit in any room. What's especially nice about this room here is how the toys all have a place along the wall and there's a clearly designated play space at the table. The child-sized table could be used for coloring, tea parties or building with blocks, yet it helps to contain the toys while playing.
39. Desk with Toy Storage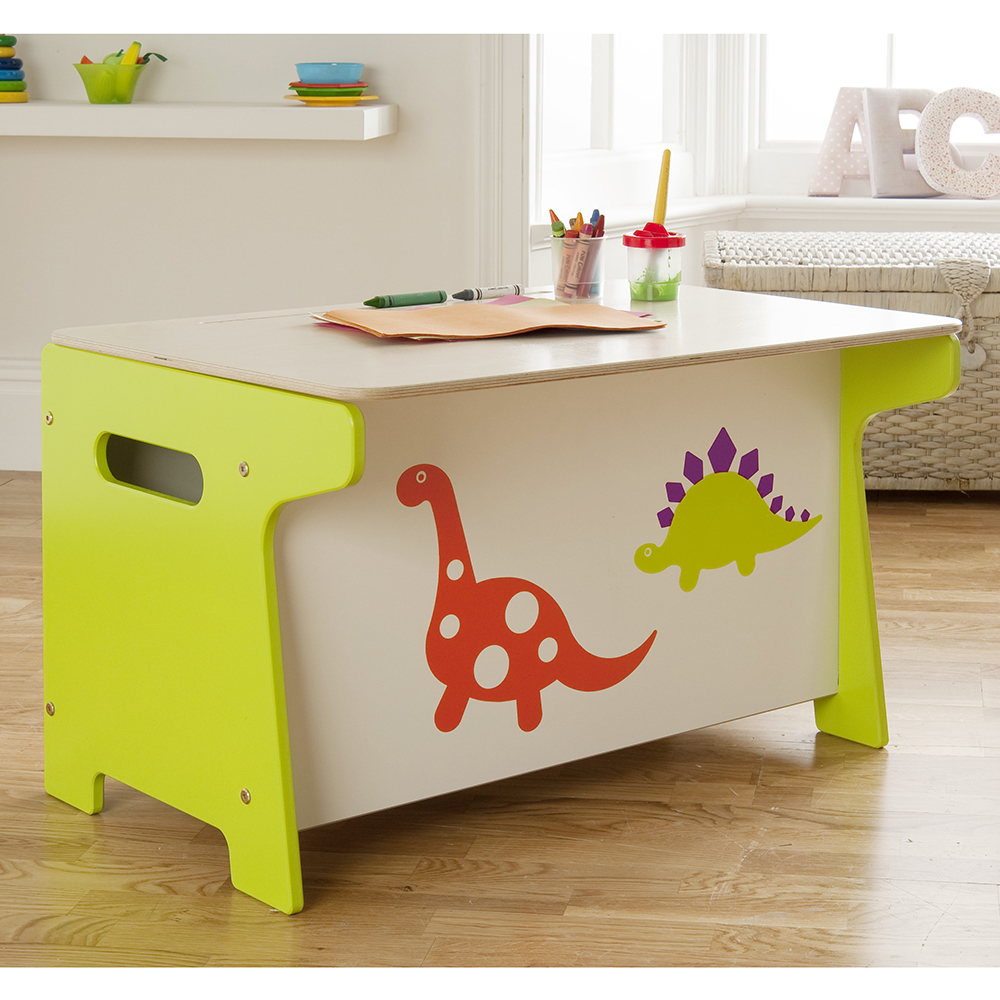 Source: The original source is not available anymore.
Most desks are designed to hold the types of things that a person might need when working at a desk – drawers for papers, pencils, and other such items. This child-sized desk is a little bit different. The top opens up into a regular toy chest, where your child can store balls, trucks, or dinosaurs. This is a much more practical use of a desk for a young child than other kids. It gives the storage you need with the convenience of having a separate space for art work or writing practice.
40. Toy Baskets in the Air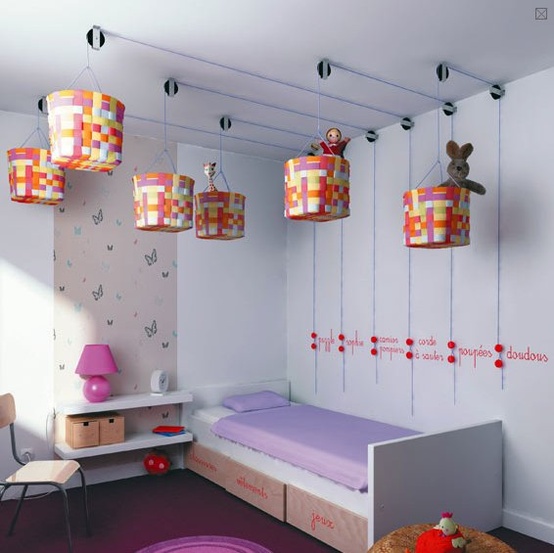 Source: The original source is not available anymore.
This toy organization idea is probably unlike anything you've ever seen. Making use of the space at the ceiling – which would normally go unused – a system of pulleys lifts baskets into the air. When the child wants to play with the toys, he simply loosens the ropes to let the basket come down to the ground. Markings on the wall help identify the toys in the baskets and show the proper placement for the rope for everyday storage. To make this work safely, fill the baskets with lighter toys and always be there to supervise when raising and lowering the baskets.
41. A Pyramid of Buckets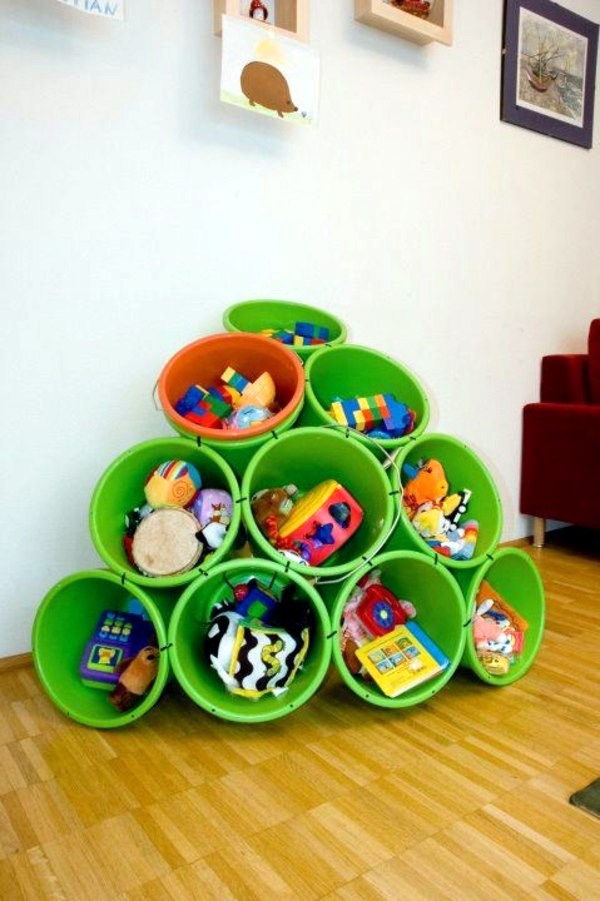 This toy organizer idea definitely has a unique look that might fit in with your home decor. The brightly colored buckets have small holes pre-drilled in the tops, and the person who did this used these holes to securely tie them together. One thing to be careful with if you use this idea is that the angle of the bucket can make it easier for items to fall out. You'll have to choose carefully which types of items you place in the buckets. If you want an easier way to take toys out for play, consider putting toys in separate buckets that you can just slip back in when play is done, as you'll see with the single orange bucket.
42. Simple Toy Organization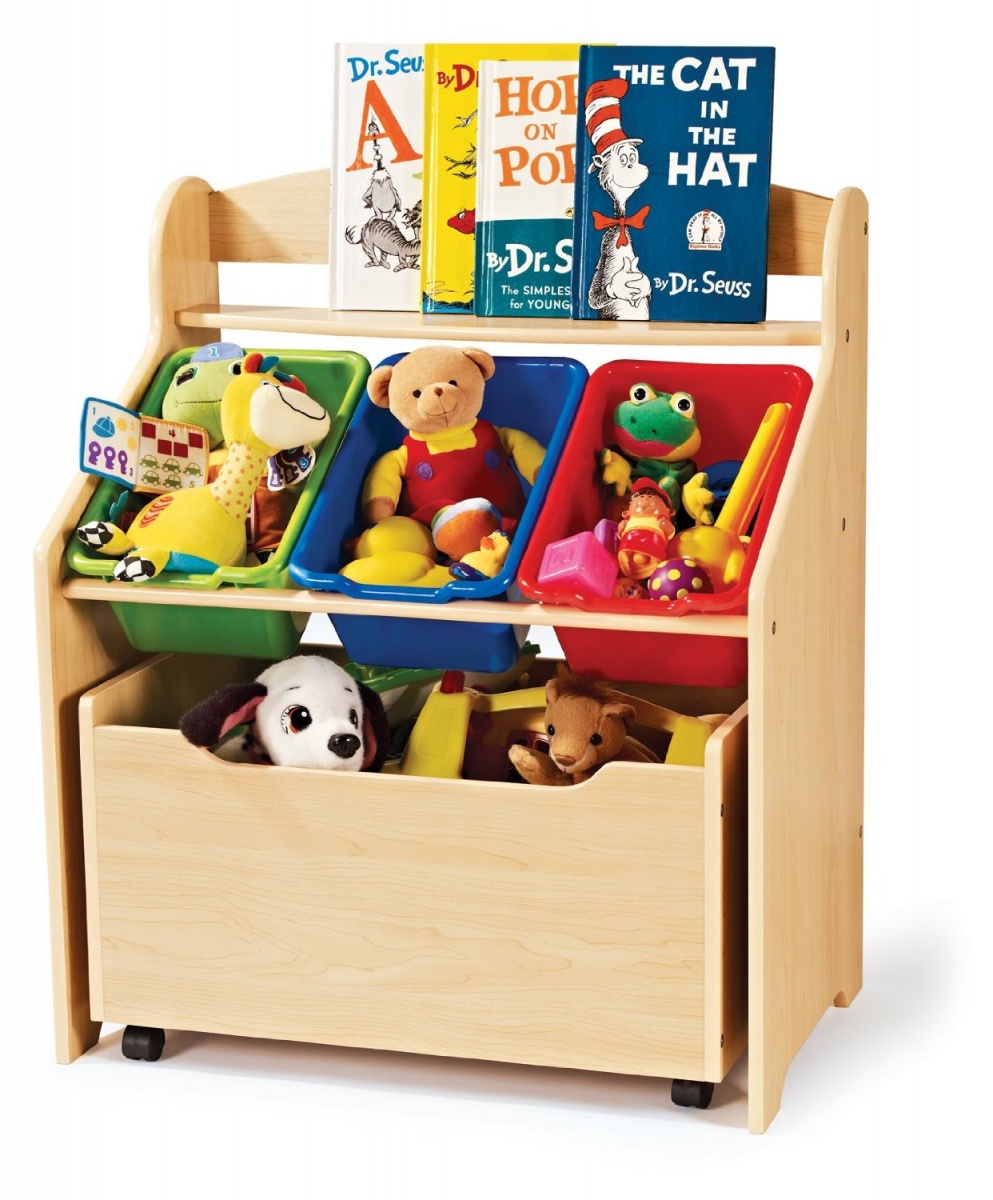 Source: The original source is not available anymore.
This toy chest might seem basic, but many times the basics are best. The large box at the bottom can be used for larger toys that need a place, while the smaller buckets are good for organizing small toys that your child can easily see. At the top, you can place books to encourage a love of reading. Wheels on the bottom box make it easy for your child to slide out to search for her favorite toys.
43. Craft Material Organization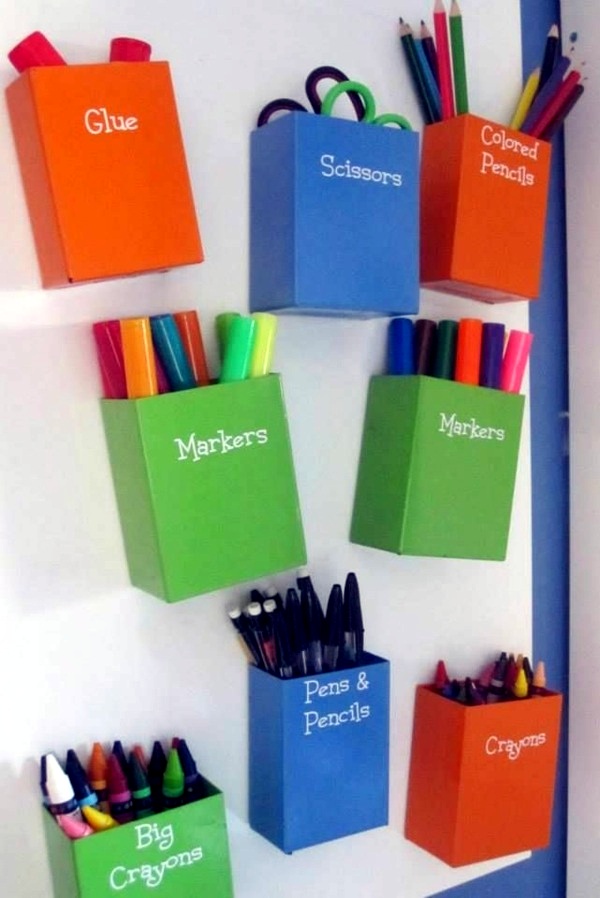 If you've got a little artist on your hands, you know how hard it can be to contain the creativity. Yet when your child knows exactly where to find the things he needs, he'll have an easier time creating. With this toy organization idea, you separate things out in these little boxes, which you can make from covering up old cereal or pasta boxes. With a magnet on the back, you can easily hang them up on the wall so that your child can take them down when he wants them.
44. Simple Bed Sling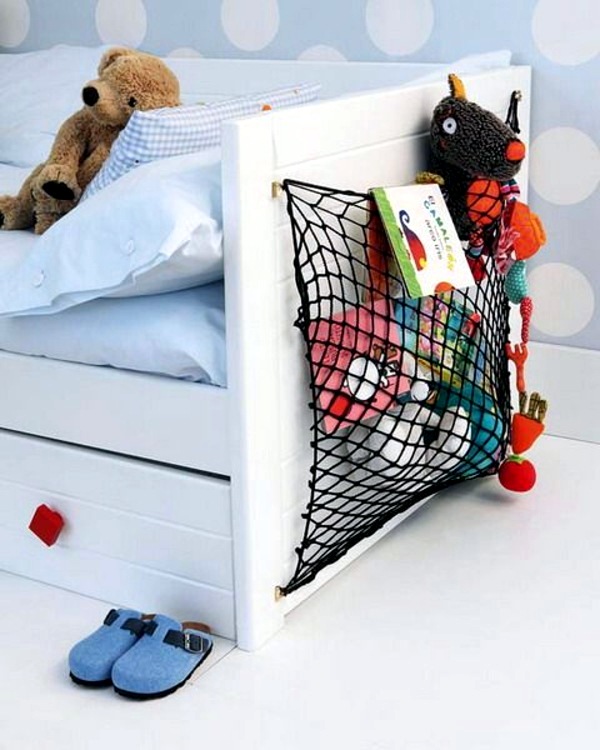 Attaching this simple sling to the end of your child's bed allows her to stash the little things she might need. She could put a favorite stuffed animal, the book she's reading, and an extra blanket. There might not be a lot of space here, but it's practical and it makes use of an area that would normally go unused. It's a great fit for those who might not have space for traditional bedside table.
44 Ideas for Keeping to Kids' Toys at Bay
The best toy organizer is one that fits in with your home design while still meeting your child's needs. Some families have enough space to have a dedicated toy room where toys can be highly organized. Other families have rooms that serve a dual purpose and might need a quick way to get toys out of sight before company comes over.
Remember that nothing is permanent and your child's needs will change over time. Babies and toddlers often have larger toys that can be hard to store, while older children have toys with many pieces that you need to contain in one place. As your child grows, make sure that the toy storage grows with them. Don't be afraid to reassess your needs.
As you get inspired by these toy organizer ideas, you'll also need to think about the practicality of them. Will your child use the idea once you've set it up? Does the idea require you to exert a lot of effort helping to keep things organized and are you willing to do that? Do you want something that your child will be able to do on his own or do you want something that is more obsessively organized?
No matter what your needs are, it simply takes a lot of thought to figure out the best way to organize your child's toys. Once you choose a design and set things up, following through keeps your home looking great all the time.