Featuring one of the best DIY upholstered headboard ideas is the first stop on the path of giving your old bed a much-needed makeover. Providing a professional-looking headboard instantly makes your bed frame look like a wanted and loved piece of furniture. Begin with the overall look and feel you desire and get started.
Give Your Bedroom a Makeover with these 17 DIY Upholstered Headboard Ideas

You'll find yourself spending a little time at your local home improvement center in order to obtain the few necessary items to make this headboard a reality. Then, you'll need to check out a craft store for some lovely fabric or you may wish to use some curtains or a blanket for this part of the project. The key is to choose a material that you simply adore! While an upholstered headboard is enough on its own, some may wish to extend this look onto the entire bed frame. This is a great option, especially for smaller twin-sized beds, as this extra fabric adds more character and charm to such a quaint piece of furniture.
Headboards not only provide style to your room, but they can be practical as well since they give you a sturdy and comfortable place to sit and read before falling asleep. Consider embarking on a fun DIY upholstered headboard project and enjoy the final results. Your bedroom will appreciate the extra love and attention and so will you!
1. Cool Camelback Fabric Covered Headboard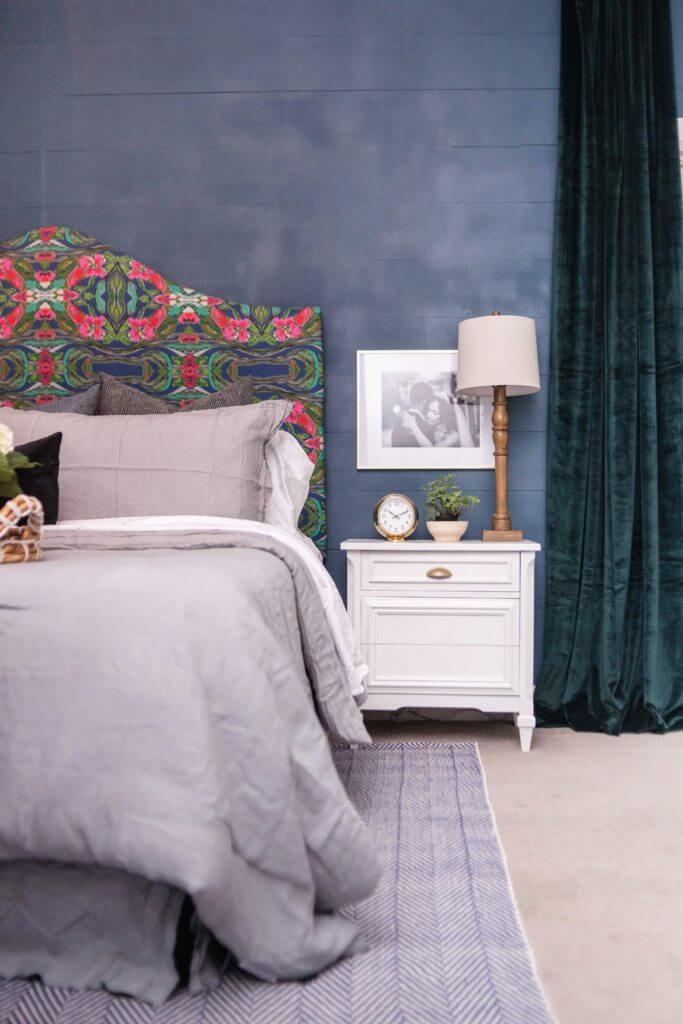 When the upholstered headboard you want is way over your budget, head to your local home improvement center and begin creating it yourself. You'll also need to make a quick pit stop at a craft store too in order to select a fabric that rivals the designer dud that inspired you to initiate all of this upholstered headboard buzz in the first place! Cut the plywood piece into the camelback shape and you'll have the foundation for this gorgeous creation. Attaching the fabric over the foam is a lot easier than you think, so get your staple gun ready and get to work! This homemade headboard is going to take your master bedroom from average to awesome in no time.
2. Squared and Simple Upholstered Headboard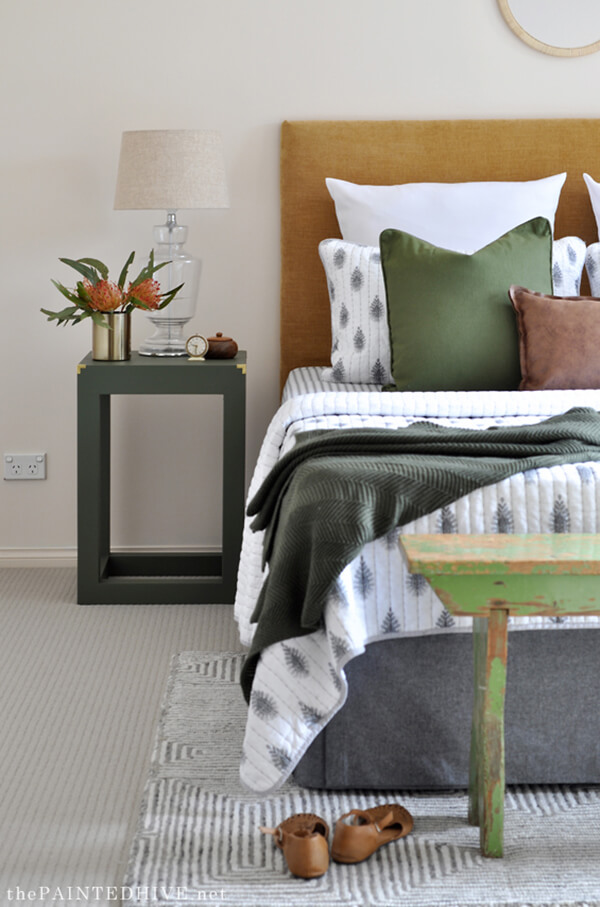 Quick and easy is the way to go when choosing your next DIY project. And this handmade fabric headboard makes a great choice. With clean lines, this squared headboard is a classic design that will blend in with any existing bedroom decor. It's a wonderful option for all bedrooms from master to guest. This particular style would work in a kid's space too while adding a more sophisticated and polished look and feel. Feature a bold color or add a little more intensity with a pattern. No matter what fabric you choose, this simple and squared headboard will give your bed the cool update in which it's been dreaming!
3. Fashionable Fabric DIY Tufted Upholstered Headboard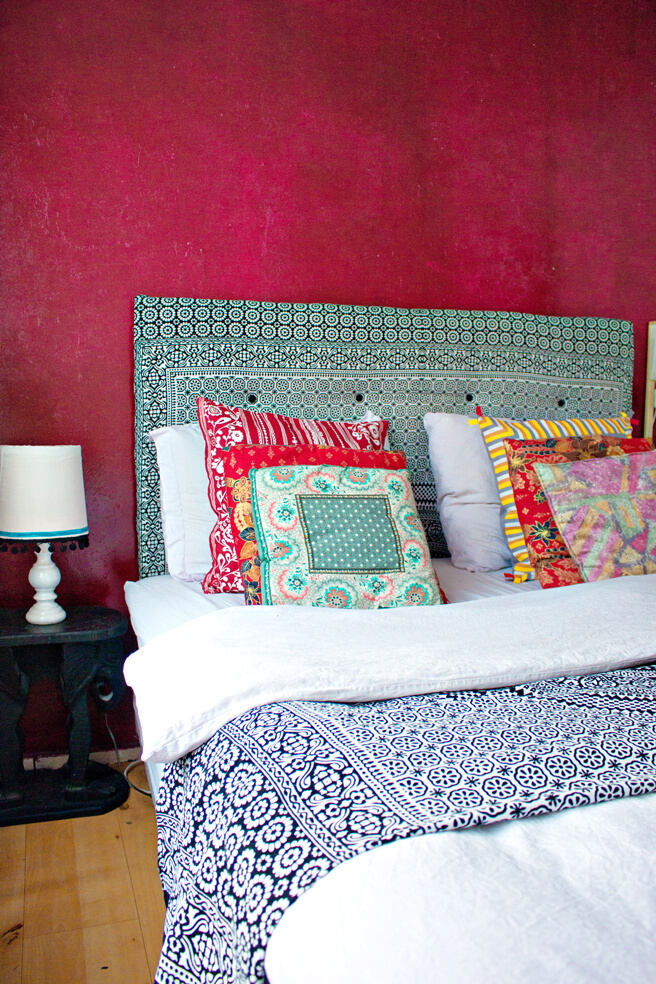 It's truly amazing what a little DIY project can create for your master bedroom. You can have the resting place of your dreams when you challenge yourself to make it happen. This handmade tufted headboard features a stunning and fashionable patterned fabric that can be found from a craft store or you can use a blanket that catches your eye. Either way, once you have the fabric you love, apply it to the canvas and finish it off with some button details to give that tufted look everyone loves!
4. Traditional Tufted Diamond DIY Upholstered Headboard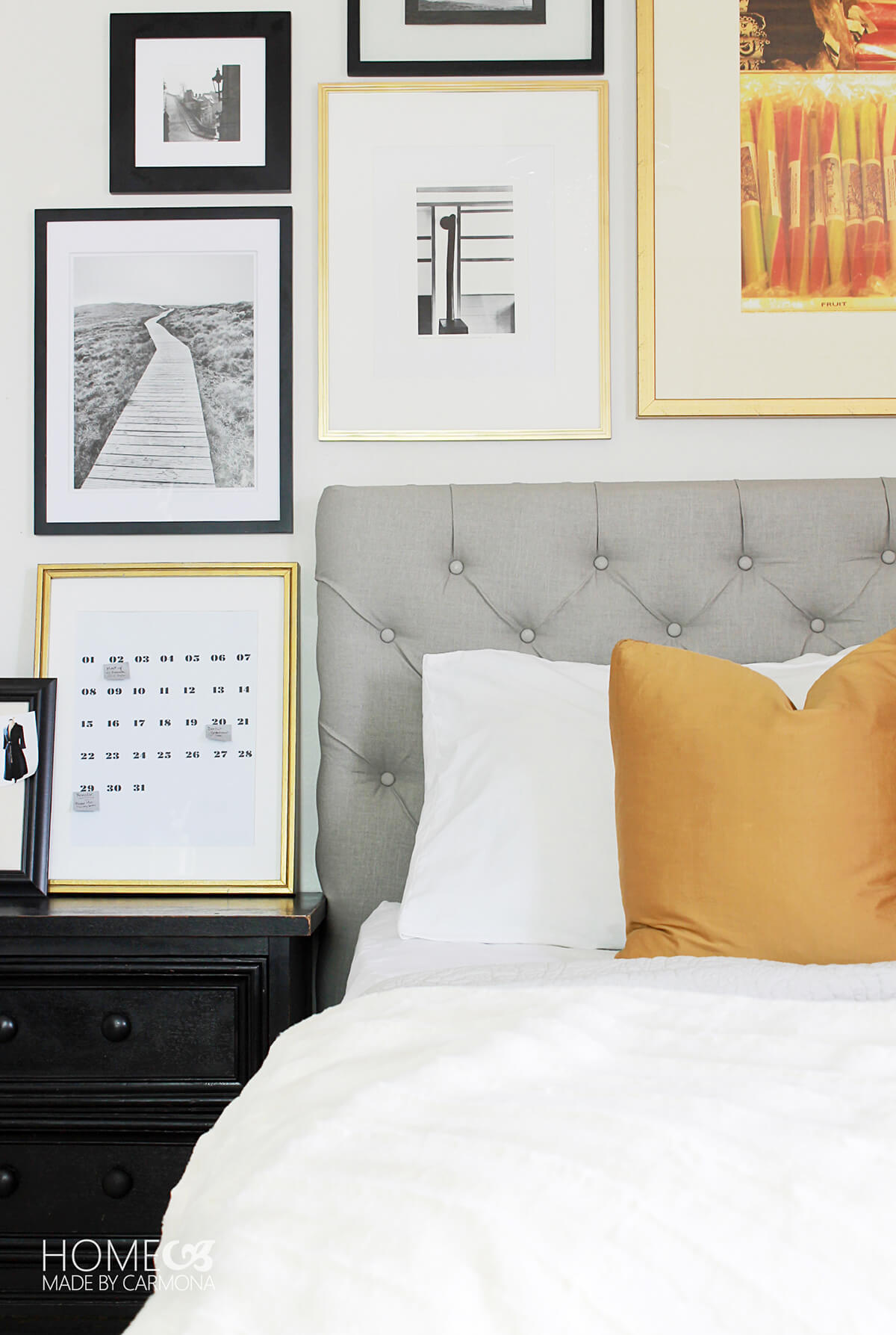 Diamonds are a girl's best friend and not only when found in a jewelry box. This traditional homemade tufted headboard capitalizes on the diamond shape making it a gorgeous backdrop for your master bedroom. It's a style choice that spans the test of time with its classic beauty and grace. Tufted touches always bestow a polished and refined style no matter how they are used throughout the home. Feature this stunning diamond pattern in your bedroom to give your master bed the elegant makeover it's been craving.
5. Upholstered Wingback Tufted Handmade Headboard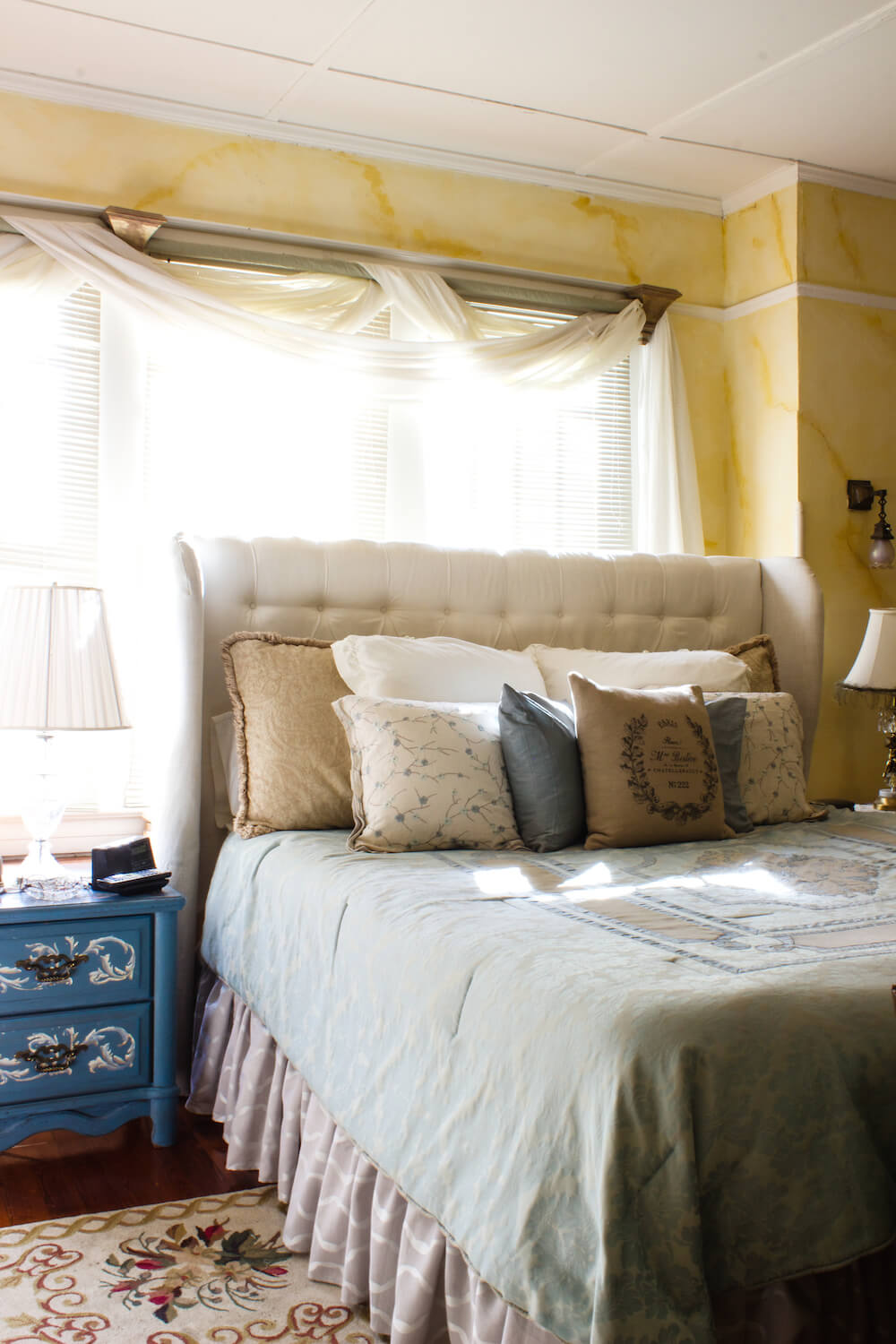 Bring some timeless design into the bedroom with one of the best DIY upholstered headboard ideas you'll find. The structure of this board features a wingback design that completes a bed like nobody's business! On the main portion of the board, attention-to-detail is evident with the precise tufting adding so much class and style to this piece. Choosing a creamy tone keeps the neutral scene flowing without feeling stuffy. This makes a great option for making a growing pre-teen feel a little more grown-up and creates a professional-looking guest room too.
6. Elegant Tufted and Nailhead Trimmed Headboard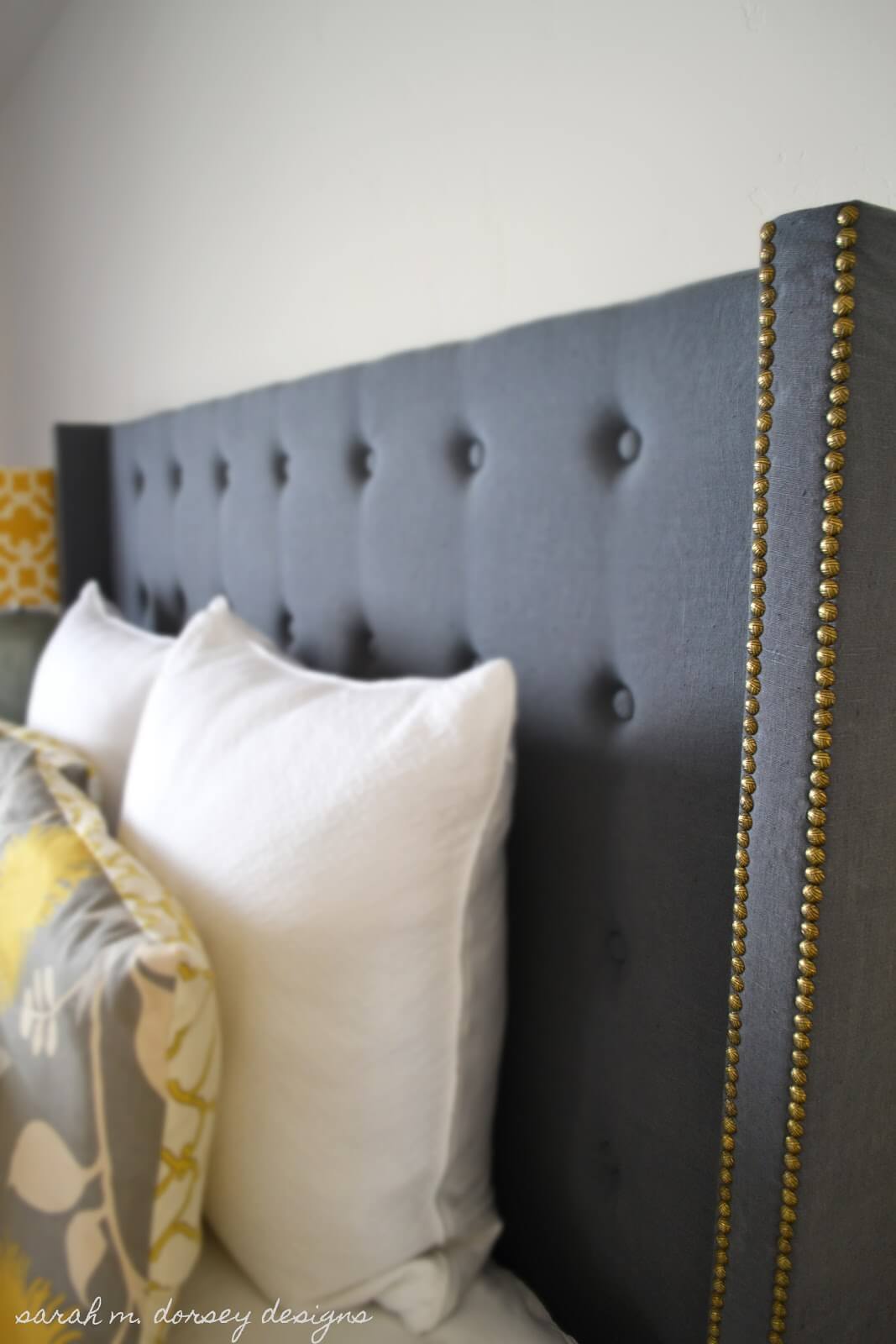 Finished with nailhead trim that's to die for, this upholstered headboard is an elegant and easy DIY project you should try. Featuring a piece of textured slate-colored fabric, the inclusion of buttons for tufting only further increases the elegance of this upholstered masterpiece. With wingback style, this head-turning headboard looks like it came directly from an upscale hotel or pages of a renowned home magazine. Either way, including this cool and contemporary headboard in your master bedroom, is a thumbs-up idea for sure!
7. DIY Striped Upholstered Headboard Project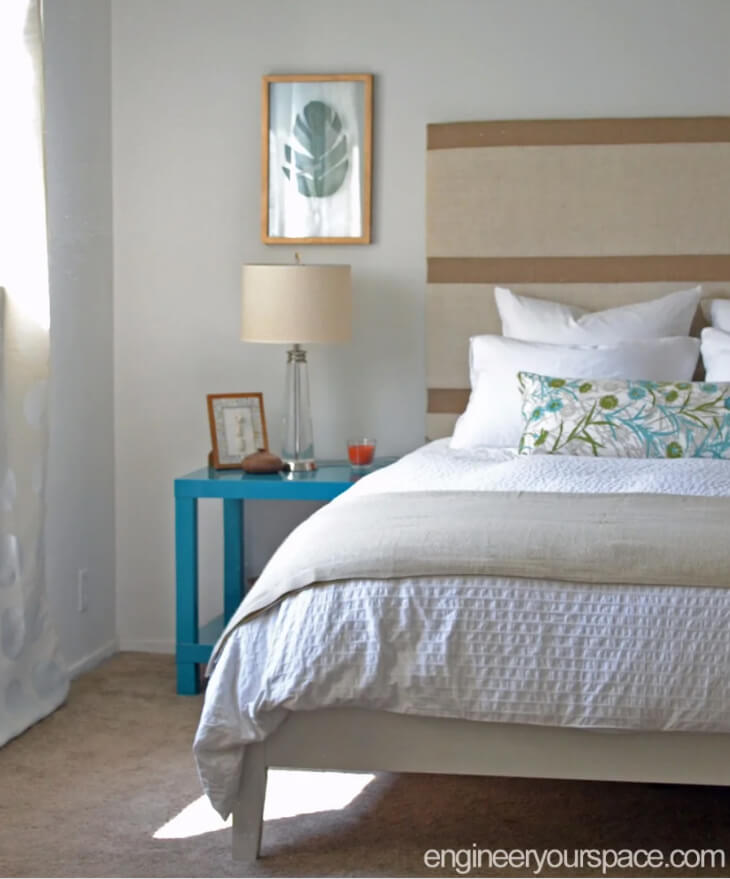 Transform your guest bedroom into the look you love when entering a hotel room. Perhaps the perfect way to begin this process is by creating an upholstered headboard that will serve as the fundamental element in your design. Since your creation will be used in a home and not a hotel, add a more cozy feel by featuring a striped pattern on the board. Keeping the stripes in the same color family allows the look to remain elegant without being too formal. Your guests will be delighted to spend the night in this designer-looking suite in the comfort of your own home.
8. Elegant Wingback DIY Upholstered Headboard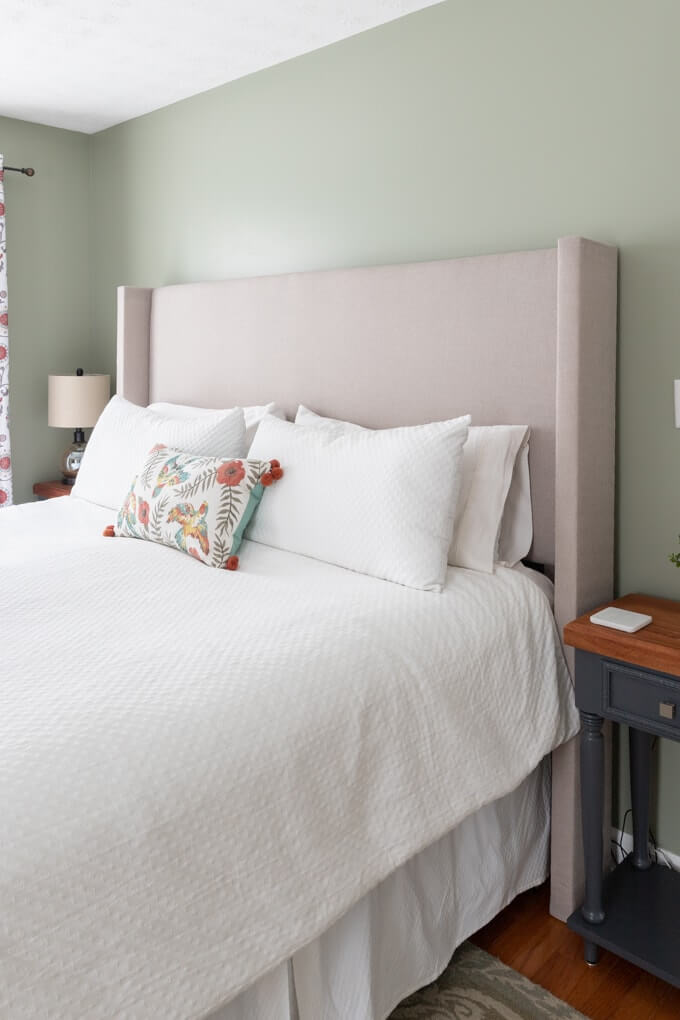 Elegance and ease are what you'll discover with this handmade fabric headboard. It's a great and simple way to give your master bedroom a quick makeover as this focal point of the bed is generally the grounding design element in the room. Choose a muted color like the blush shown here to add a touch of color that provides the understated elegance you crave in this room. Solid and tall, this upholstered headboard looks amazing and allows you to enjoy some recreational reading before slipping off to sleep. The wingbacks add some character and help to define this headboard's space as they connect to the rest of the bed.
9. Quaint and Cute Totally Upholstered Bed Frame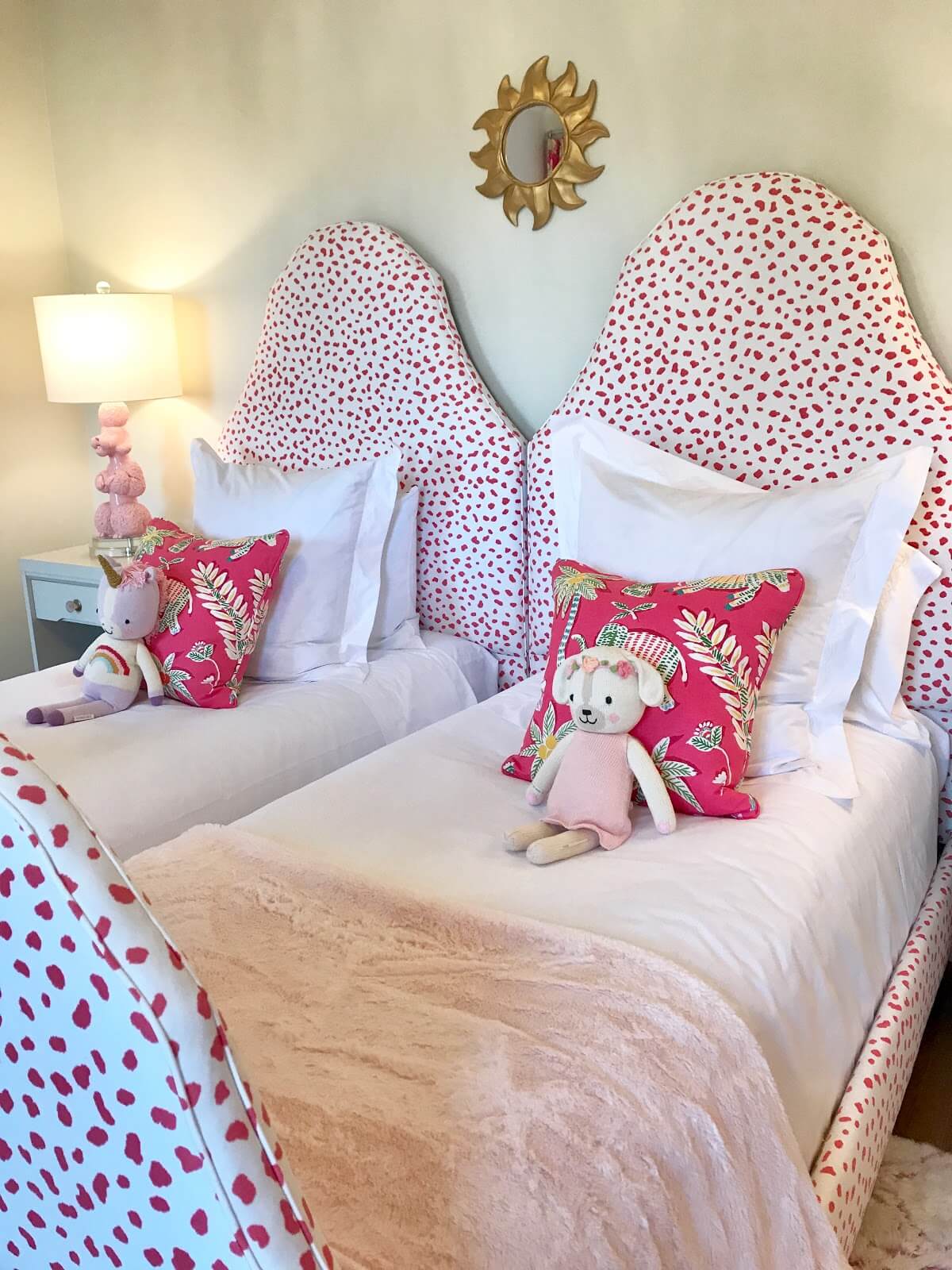 Every little girl deserves a fun and pretty place to call her own. That should begin with her bedroom. This personal space provides many hours of make-believe, pretend play, and dressing up. Show her how special she is by crafting a custom handmade fabric headboard and bed frame so she has a personalized look all her own. Who wants to blend in any way, when they are meant to stand out? Am I right? Give her a fun pattern in a girly color that's sure to please her eye. Coordinate her curtains with similar colors for a designer's touch.
10. Floor-To-Ceiling Channel Tufted Upholstered Headboard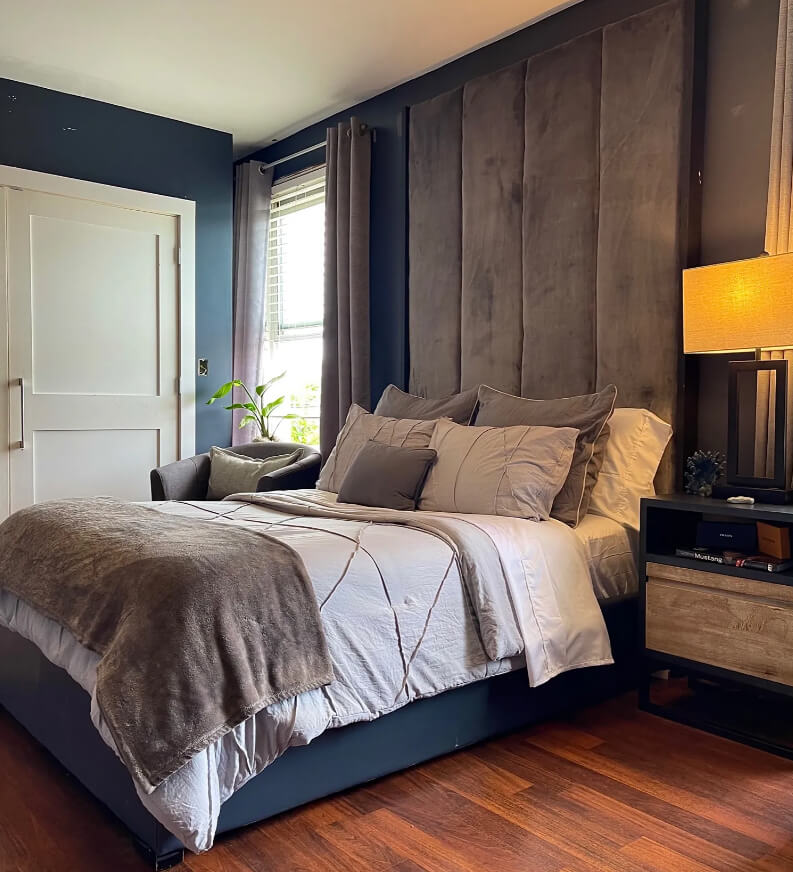 Make an over-the-top dramatic design statement with a floor-to-ceiling upholstered headboard. No matter the size of your bed, this homemade tufted headboard can be customized to meet your needs. Using the channel-tufted style exudes a unique detail that adds more interest to your bedroom. What's not to love about the abundance of texture exhibited in this incredible DIY design? Using a cool and modern gray makes this a great choice for a more mature kid's room without feeling stuffy or too grown up, yet a more vibrant hue works to provide a more youthful feel if you are redecorating a younger child's home base.
11. Wood and Window Treatment DIY Upholstered Headboard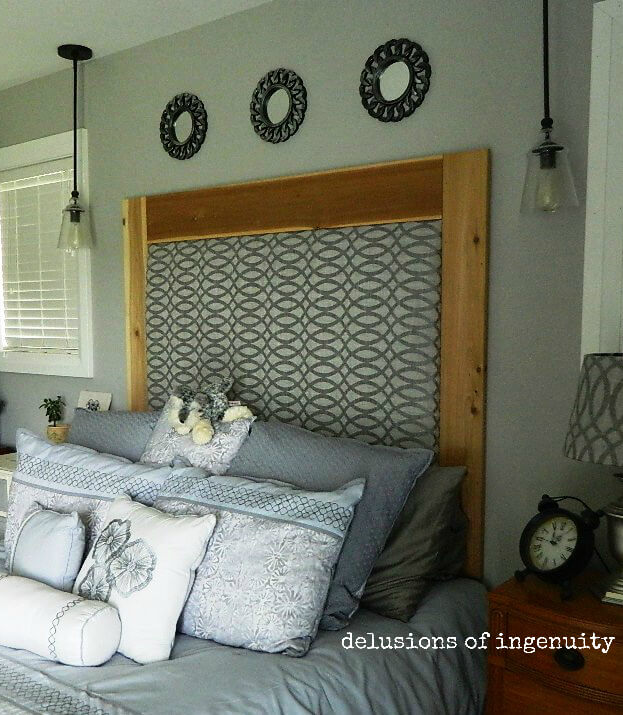 Mix it up in the bedroom with some wood and fabric. Using a curtain provides a sturdy material as your decorative fabric that will be featured in the center of this upholstered headboard. To give a nice contrast to this fabric, thick planked wood boards act as a frame around it. Keep the natural finish of the wood for a more rustic flair or choose a stain that works with your existing bedroom furniture.
12. Upholstered Leather Headboard with Wood Frame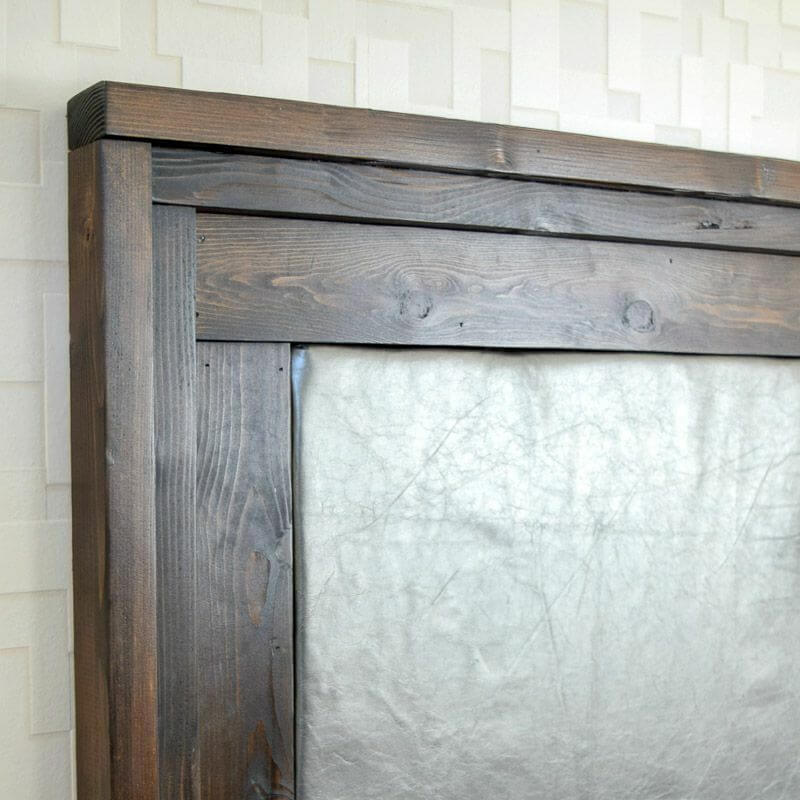 Texture, texture, texture is what you'll love about this leather and wood headboard. Perhaps the perfect contrast, the combination of smooth leather with rough and rustic wood is a match made in heaven. Drift off to dreamland amid this tasteful and modern handmade headboard. It's a great mixture of masculine and feminine making it an ideal choice for a master bedroom. Husband and wife will both agree on this designer-approved headboard. It's a nice way to begin a total bedroom transformation and a style that will last for years to come.
13. Striking and Stunning Stenciled DIY Upholstered Headboard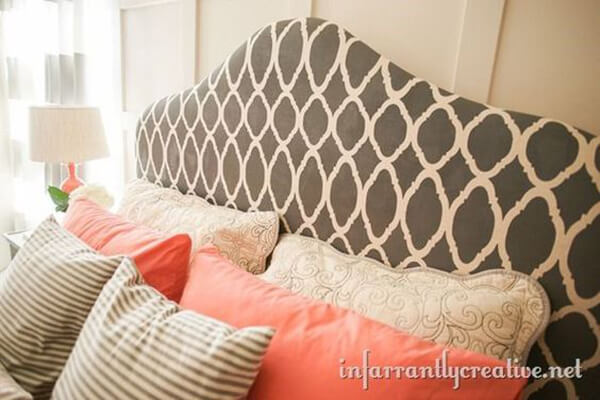 When you can't find exactly what your creative mind conjures up when decorating a room in your home, don't sweat it! Choose to use those creative juices to bring your vision to life with a little elbow grease and a fun DIY project. This handmade fabric headboard is one way to do that. To create such a custom design, find a stencil and get to work. Stenciling is a simple process that leaves a unique pattern on your fabric headboard that quickly becomes the focal point of the room. Dress it up with a variety of accent pillows and you'll enjoy the personal retreat of your dreams.
14. Fabric Wrapped DIY Headboard Under $100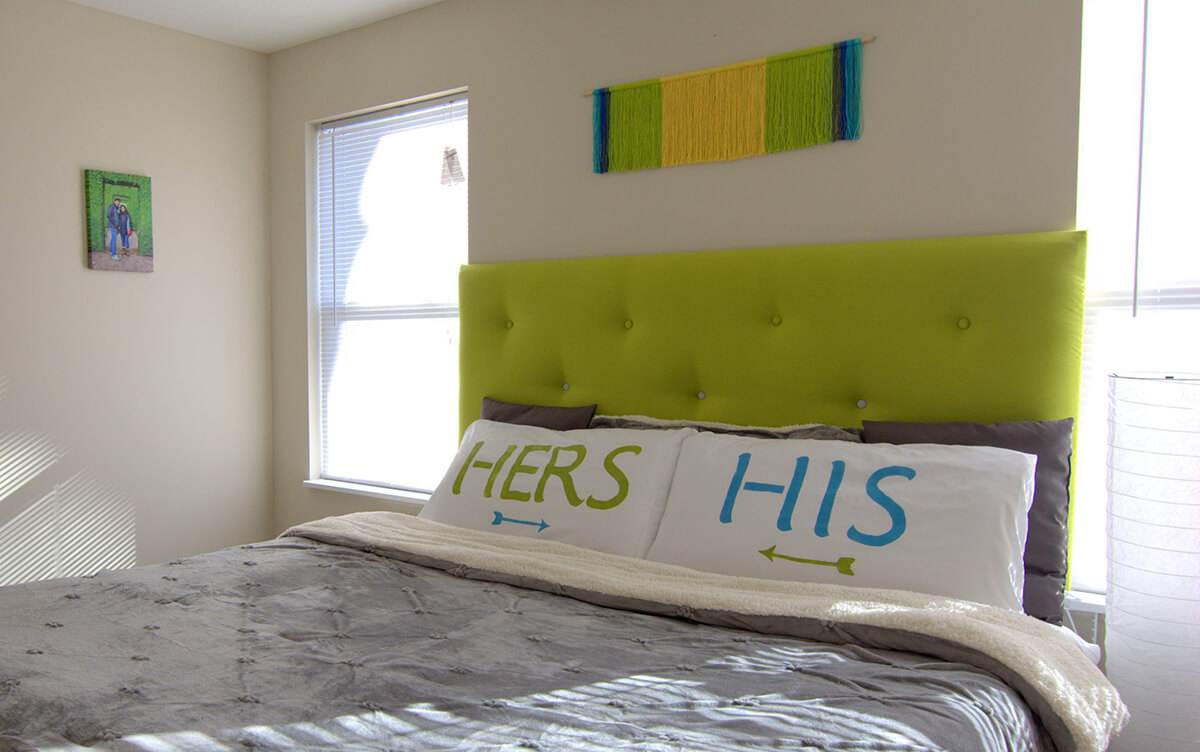 Hone in on your handy skills and save some money by creating this fabric-wrapped headboard. It's easy on your wallet and looks amazing on your wall. Your bed will love having a custom headboard to add some style and flair to the overall look of the bedroom. Featuring button details makes this homemade tufted headboard a real gem in terms of style. It's a classic detail that is always in style with its timeless look. Go for a monochromatic style with coordinating buttons or choose buttons in a complementary color for a unique design.
15. Plain White Tufted Fabric Headboard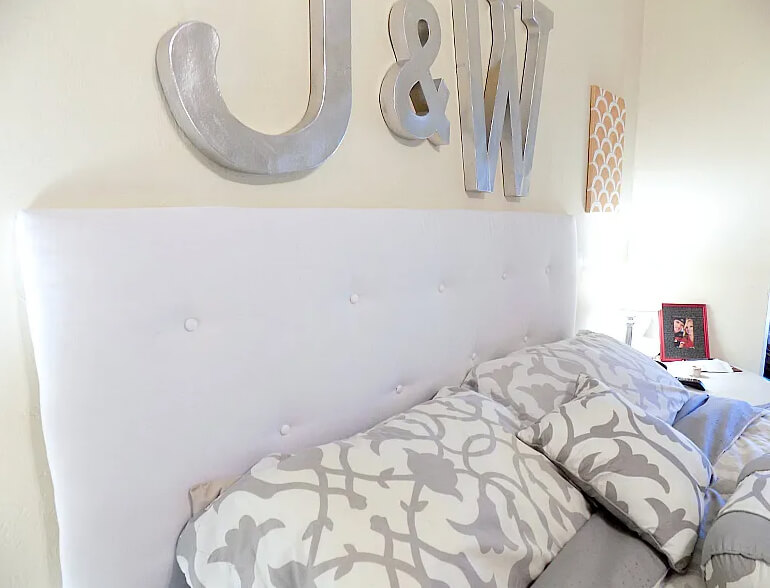 Allow your headboard to blend into the background of your bedroom by choosing a plain white fabric with a few complimentary buttons and the result will be a simple homemade tufted headboard that's beautiful. Adding this simple headboard allows your bed to feel more polished and pulled together. There's no need to spend hundreds of dollars to buy such an upholstered piece of furniture when creating this easy option costs under $20. Save some cash and enhance your bedroom with the simplistic beauty of this easy DIY tufted headboard.
16. Easy DIY Upholstered Fabric Headboard Project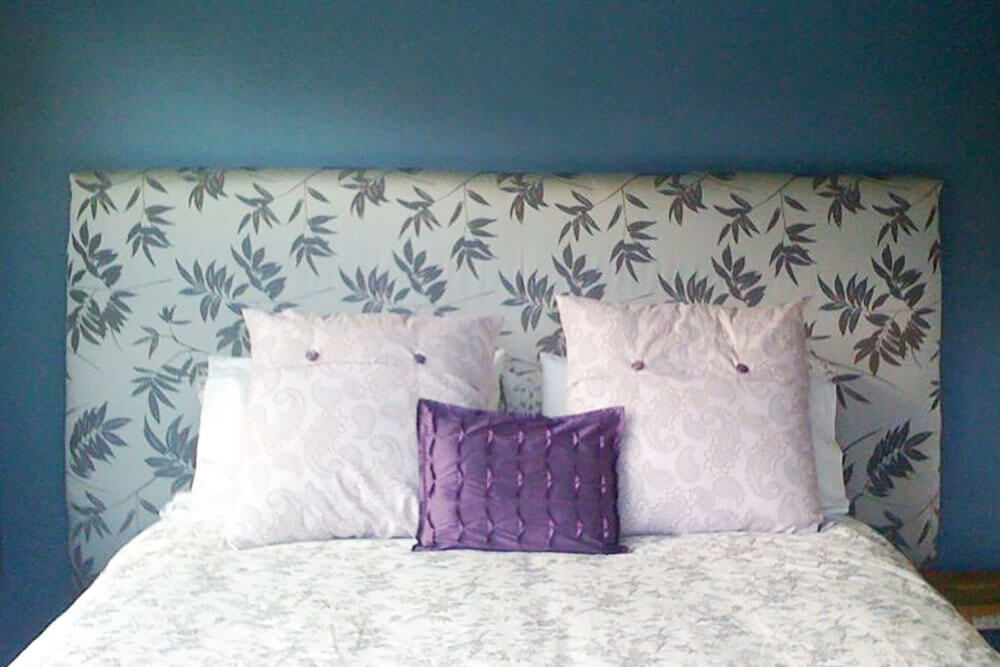 No bed deserves to be a completely blank canvas. Give it a little upgrade by adding a custom headboard. If you're thinking this is a tall order, think again. Creating an upholstered headboard is actually a fairly simple DIY project, even for the novice. Start by constructing a frame for the size of your bed and be sure to use plenty of foam and batting. Next, you'll want to choose your fabric wisely as this will be the pride and joy of the final product. From solids to stripes and every pattern in between, finding the right fabric might be the hardest part. After you've carefully selected the material and finished your headboard, take a moment to admire the payoff of your hard work.
17. Cute and Cozy Corner Daybed Upholstered Headboard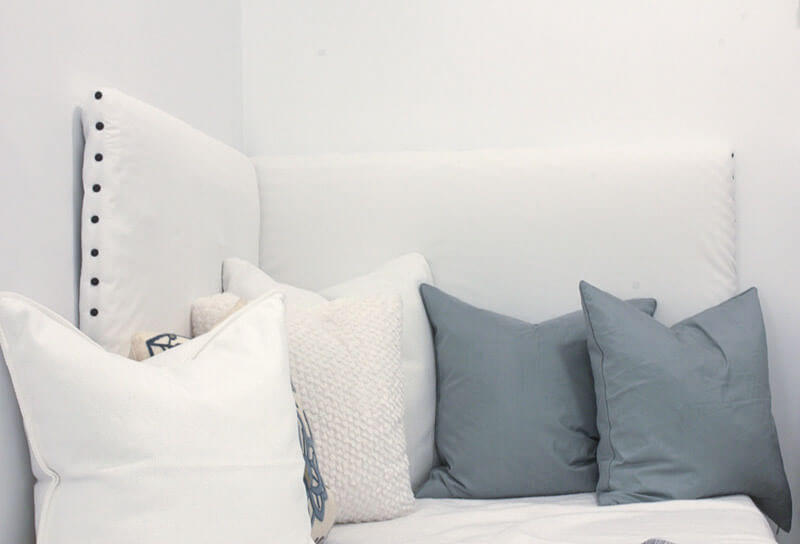 Every home needs a cute and cozy corner nook like this little DIY daybed. Its quaint size makes it a possibility for nearly any size room. Kids will enjoy this as a relaxing corner for quiet time when naps are a thing of the past. Older adolescents will cherish it as a homework hangout or chill space for listening to music. Obviously, it makes a fabulous reading nook too. Featuring a homemade headboard adds a finishing touch that gives a more tasteful design choice.
Transform that Old Bed with the Best DIY Upholstered Headboard Ideas
From twin to king, a DIY upholstered headboard is a fast and easy way to update your bed. Maybe you are converting a room into a guest space. Give the look and feel of a welcoming and professionally styled hotel room with a great custom headboard. It offers an everyday elegance that's ideal for styling this room. For a kid growing up, adding a headboard often instantly adds a mature look without feeling all grown up. No kid wants to feel like he/she is living in a guest room so carefully consider the look of the fabric to keep the youth alive on this finished bed.
Adding a cozy corner nook to your home is always a good idea. Everyone will enjoy this new favorite hangout and it can look classy when you feature an upholstered corner daybed design. Catch up on some reading, complete homework assignments, or chill with some good tunes.
No one wants to spend more money than needed and you don't have to when you choose one of these DIY upholstered headboard ideas. From the kid's room to the master bedroom, there's a look you're sure to love that's well within your budget.