If you want to leave a personal touch behind, then you can't go wrong with DIY wedding gifts. There are a couple of reasons to focus on gifts when it comes to weddings. As a guest, you want to further celebrate the happy couple. Of course, you can always get something off their registry, but crafting a homemade wedding present will really get at their hearts. Meanwhile, as a couple, you also want to show how much you appreciate your guests by sending them home with some favors. Handmade wedding presents work out well in that case too.
24 Adorable and Personal DIY Wedding Gifts any Couple Would Love

The real question comes to deciding what you should make. You want something that is unique to show your creative side and how much you appreciate the recipient. If you want to craft something for wedding guests to go home with, then consider going small-scale with your homemade presents. Gift baskets in mason jars come to mind here. Meanwhile, those of you who are gifting something to the couple can go as large or as low-key as you wish. Think framed images, wine, kitchen accessories, etc.
In any case, you need some ideas to get started. Thankfully, we compiled a list of the best handmade wedding gift ideas so you will get a surge of inspiration.
1. DIY Wedding Photo Coaster Design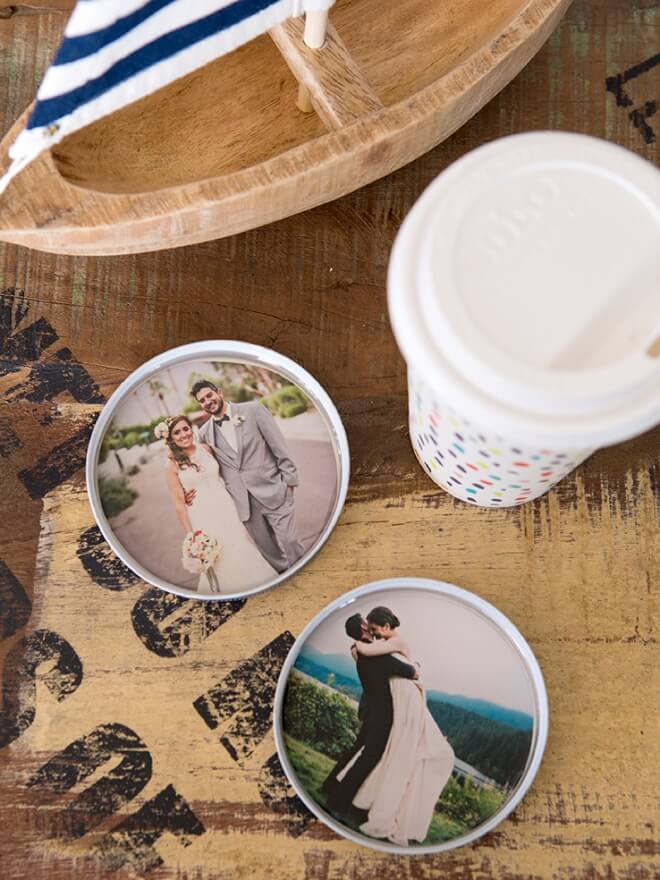 Coasters are a fun way to share the wedding celebration whether you gift this for the happy couple or this is gifted to wedding guests. As favors, they are a great size to easily take home. Plus, the fact that they are coasters makes them functional décor. It's an affordable DIY project too as the coasters are made from mason jar lids.
2. Cute Handmade Wedding Match Favors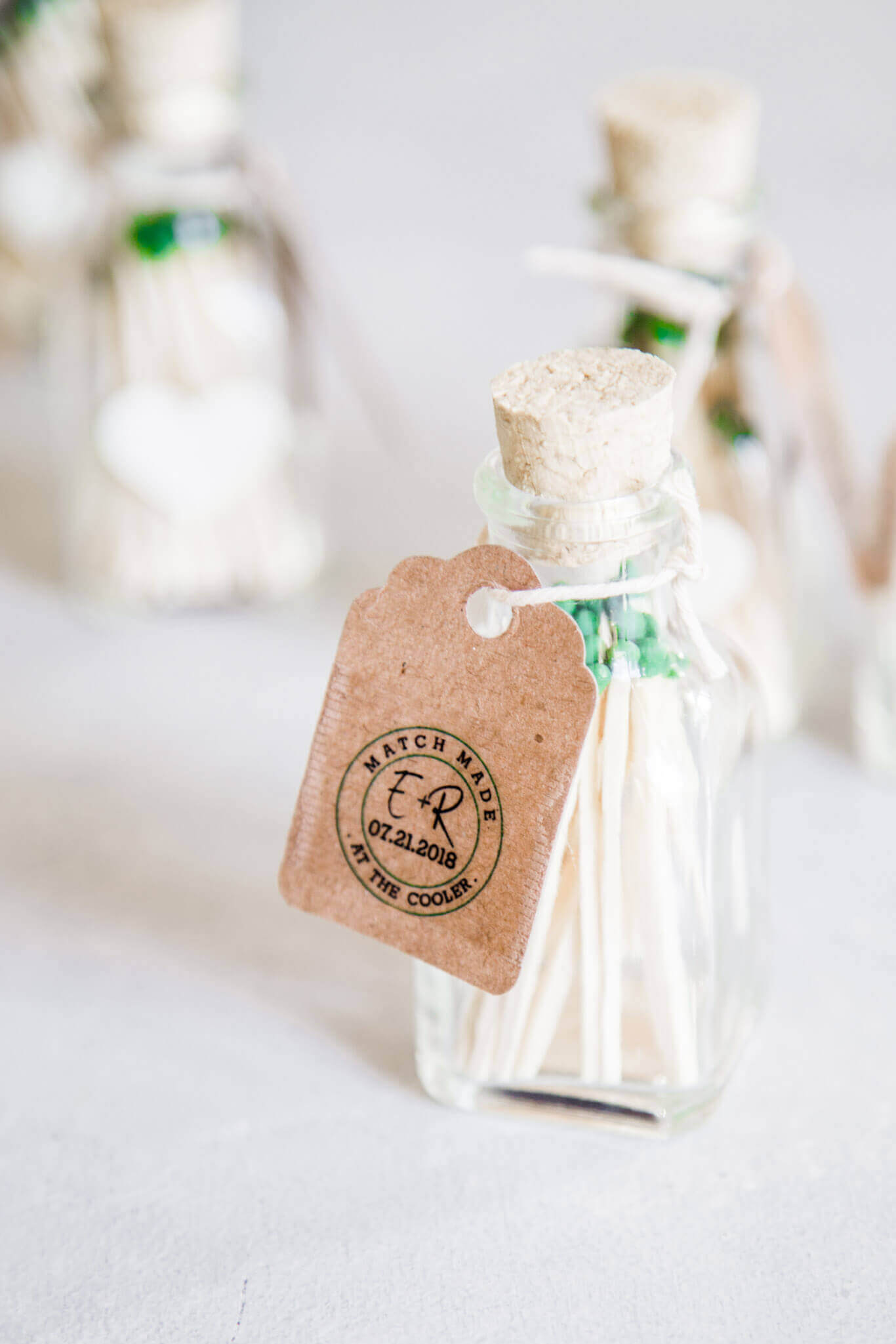 Wedding matches are certainly a way for you to give guests gifts that are unique. The container of said matches is what really makes this gift distinct and significant. Rather than just loading the matches in a tiny bottle, you can place the tag with your initials, wedding date, and anything else that's personal to you as a couple. This way, guests will always remember the fun time they had.
3. Beautiful DIY Personalized Photo Clock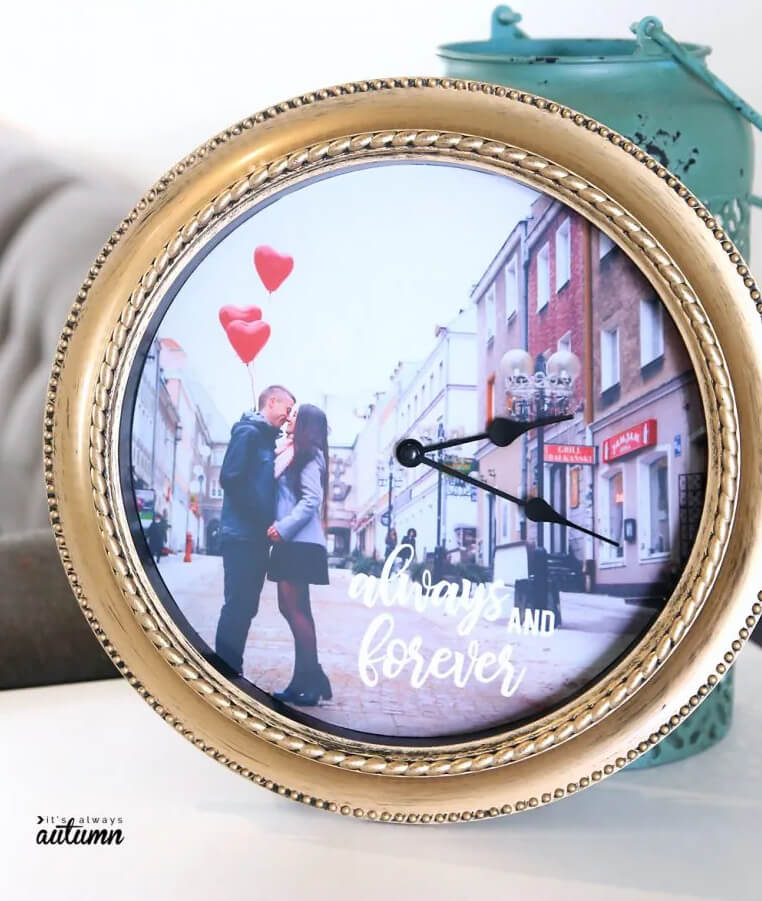 Give the married couple something they will enjoy day after day with this adorable photo clock. It is a DIY gift that happens to look high-end in design. Choose the couple's favorite picture to highlight in an item that they and anyone else in their home will look at and admire all the time. This also makes for a rather distinctive gift to leave your mark in their hearts.
4. Mini Bar in a Jar Gift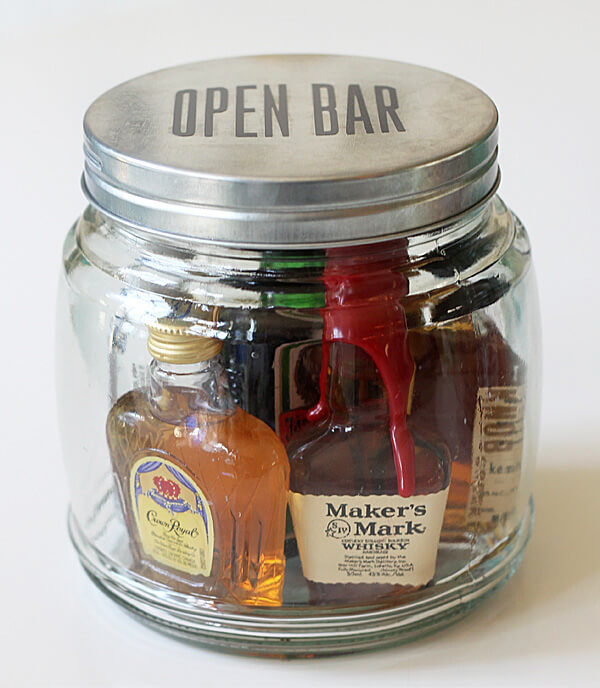 Know of a couple who enjoys a good drink? Or maybe you want your guests to leave with a more adult-oriented gift set? Either way, this jar makes for a great mini bar setup. It's a cute and fun way to celebrate long after the wedding is over. Plus, you can add that sweet "open bar" stamp on the lid to give the gift a personal touch.
5. Sweet Pancake Breakfast Gift Basket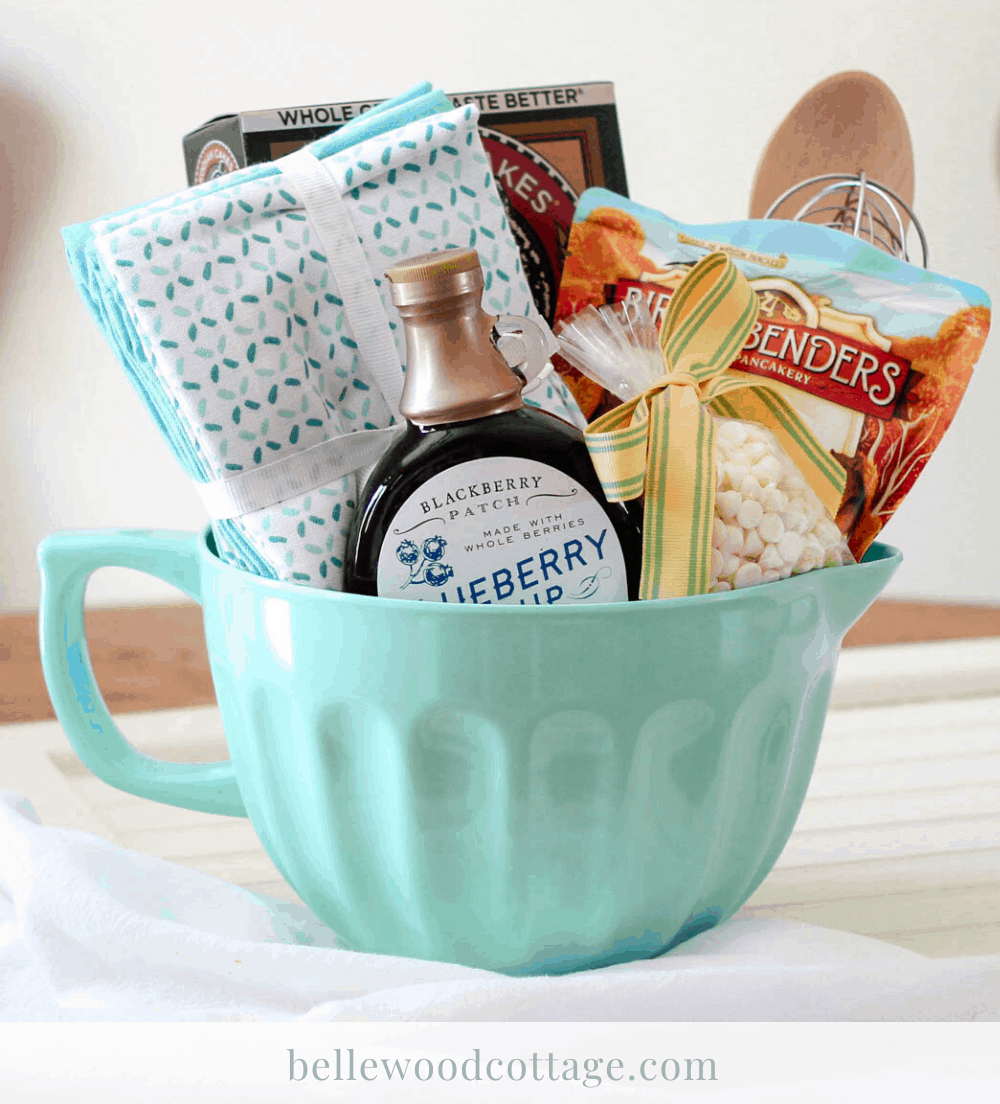 Know of a couple who loves breakfast? Then they will jump for joy with this cool gift basket. This has everything they need to create a hearty breakfast filled with love. Feel free to add in some extra goodies too like syrup, a whisk, and anything else they may need to ensure that their breakfast goes off without a hitch.
6. Stylish DIY Marble Dipped Vase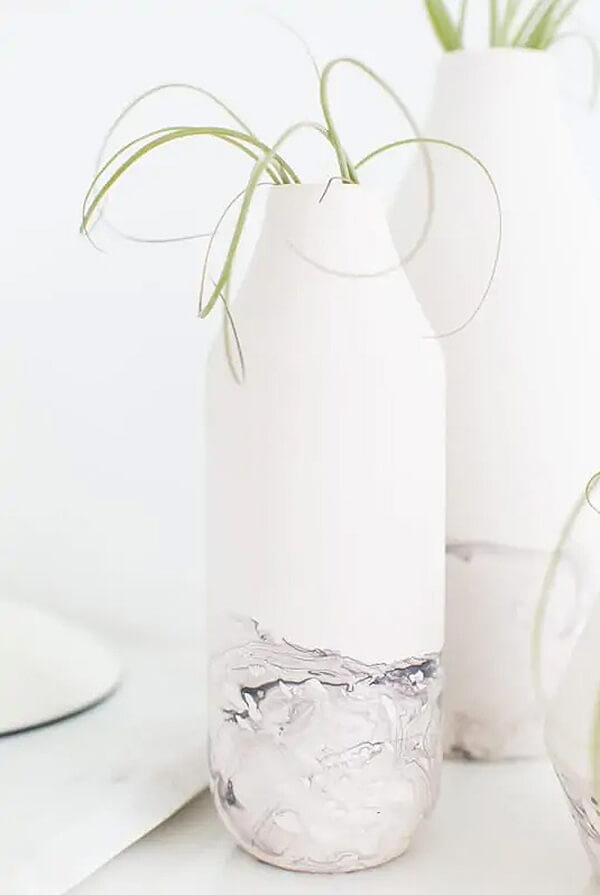 Give something that has a stylish, chic flair with this gorgeous marble dipped vase design. It is a great way to honor the sophistication found in a wedding. The couple will surely appreciate how this homemade gift looks store bought. Just take care though because these may be such a hit that you will find yourself creating even more of these elegant vases.
7. Faux Ceramic Utensil Holder Gift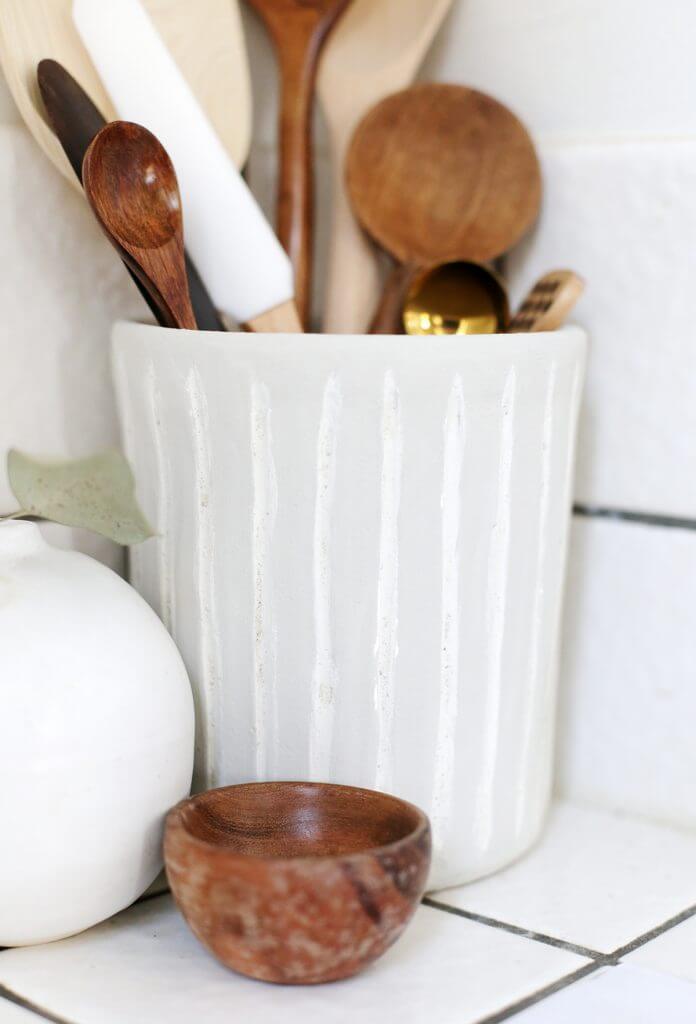 You don't need real ceramic to get the same decorative feel. Rather, the right DIY method can make it seem as though it is the legit thing while being more affordable and creative. It fits perfectly for the couple who adore being in the kitchen, serving as functional décor for them. Also, the utensil holder has a way of blending in so it won't put off any style they already have in the kitchen.
8. Fun DIY Cocktail Kit Gift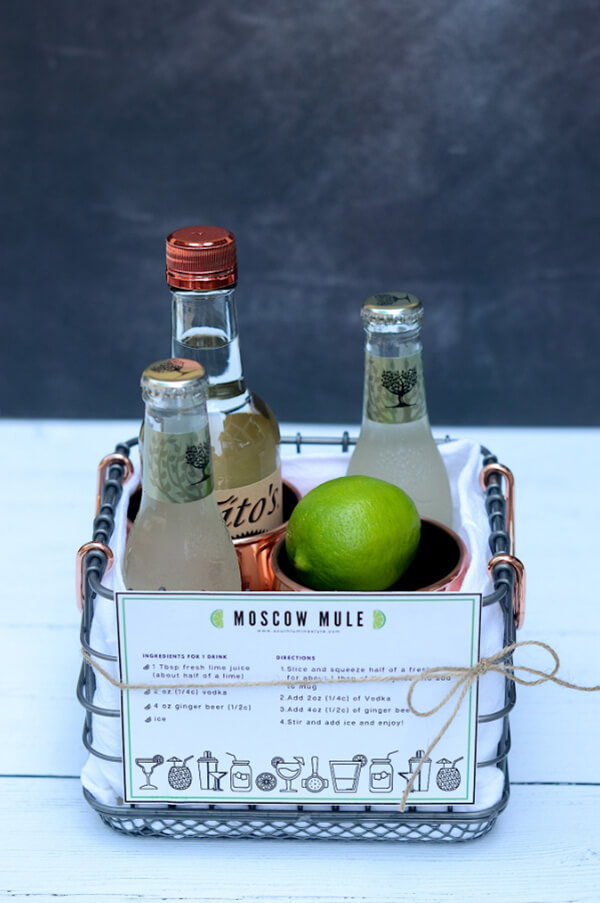 It's time for some cocktails with this awesome DIY gift set. Get the couple everything they need to create their favorite cocktail to keep the wedding celebration going long after the ceremony and reception is over. Besides adding all the drinks and mixes they need for a cocktail, you also want to add the recipe in a fun way to the front of the kit. It makes the gift look that much more professional.
9. DIY Wooden Bathtub Caddy Gift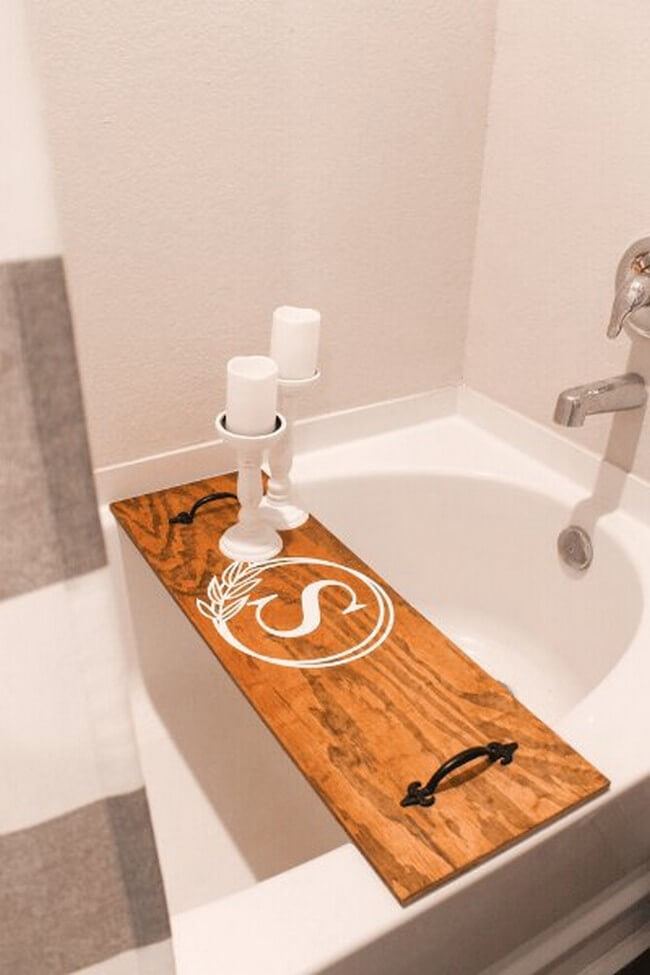 Who doesn't love a good tub soaking? Well, the happy couple will probably appreciate this after the wedding day and for years to come. The wood makes this functional and reliable. Meanwhile, the overall design makes it easy to use, giving anyone a chance to fully relax while they take a welcoming and warm bath. You can even personalize this with their initials if you want to give that extra impact.
10. DIY Bling Ring Dish Present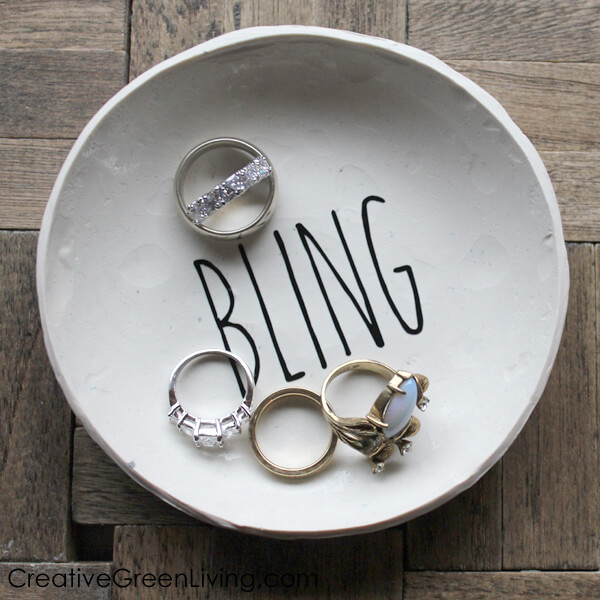 For the couple that has quite a few jewelry, this bling ring dish sits high on the list of the best handmade wedding gift ideas. It is so simple that you may wonder why you didn't think of it before. Personalize this dish with "bling" or any other word you feel best suits the couple. They will thank you when their jewelry isn't haphazardly lying around or lost.
11. Charming Kitchen Mitten Gift Set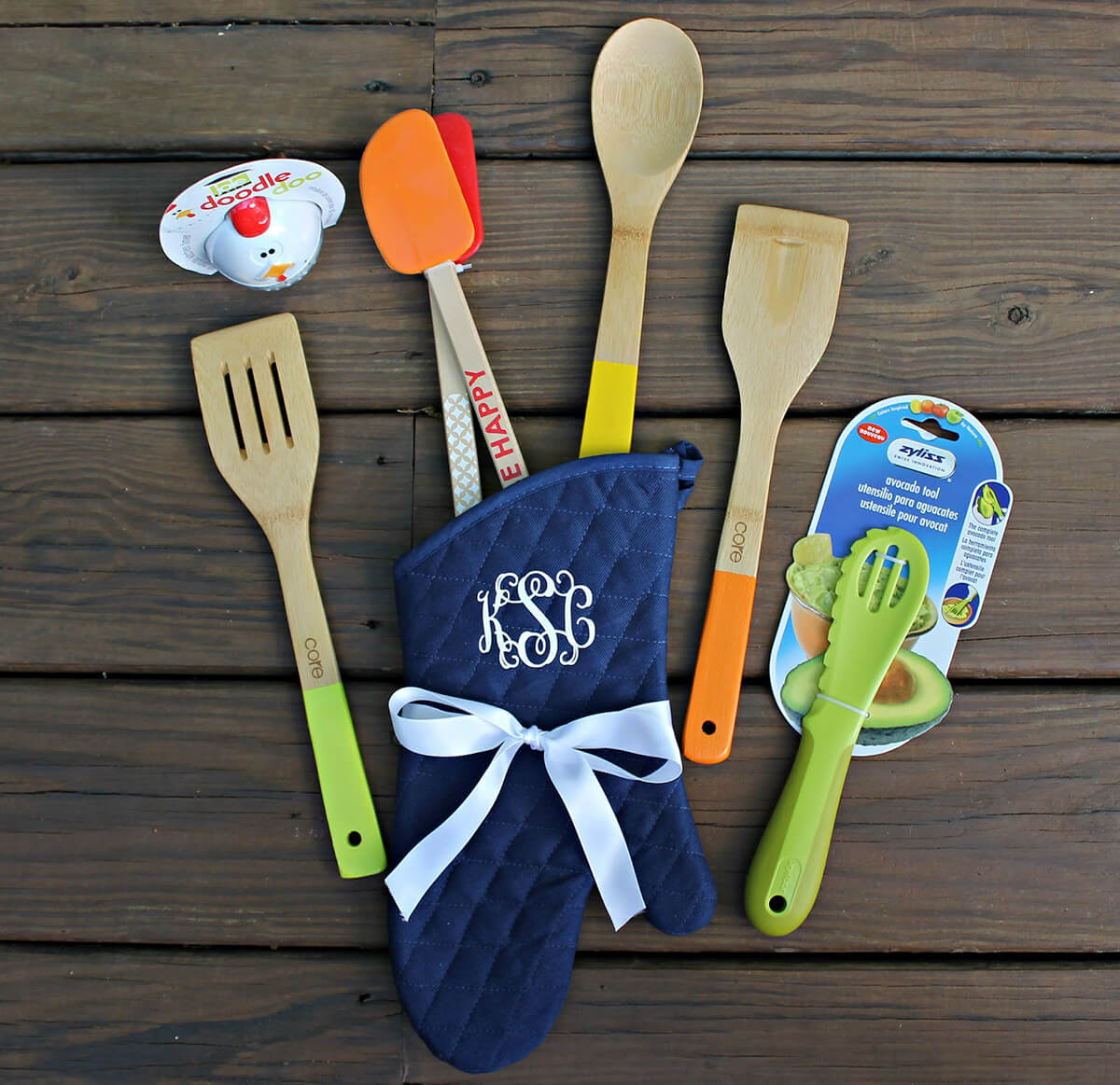 Who doesn't need a kitchen mitten? With how useful they are, why not transform it into the perfect "gift box", so to speak? If you know a couple who loves to cook, then this is among the best DIY wedding gifts for them. Feel free to monogram the mitten for that extra personal touch. Meanwhile, you can load it up with kitchen essentials like utensils for baking.
12. Sweet "Mine + Yours" Pillow Covers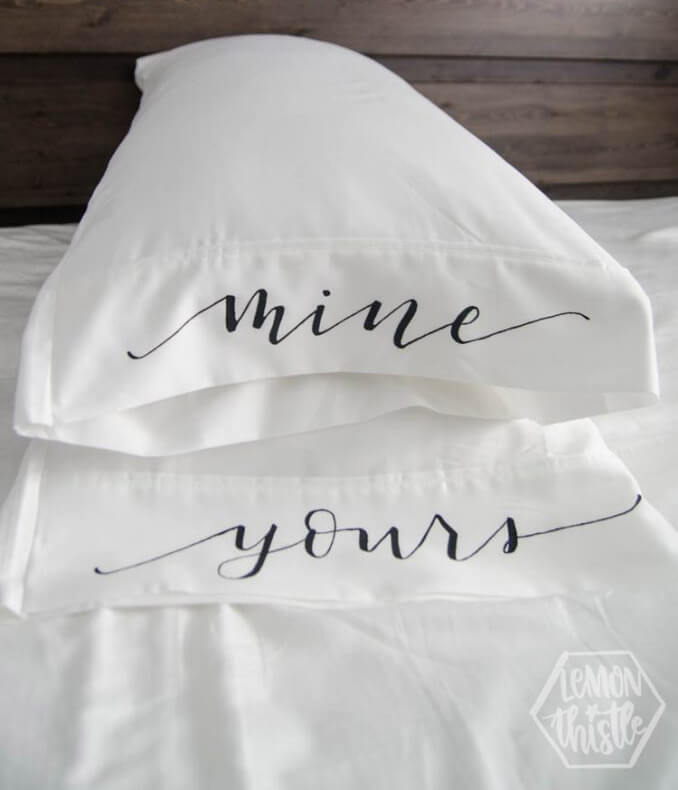 If you are looking for a simple, yet beautiful homemade wedding gift, consider these painted pillow covers. It is straightforward enough to whip out some fabric paint and design these pillow covers the couple is sure to love. These suit well in a more minimalistic setting, and they are ideal at showcasing your love for the couple in a more understated way.
13. Cool Wedding Gift Wine Basket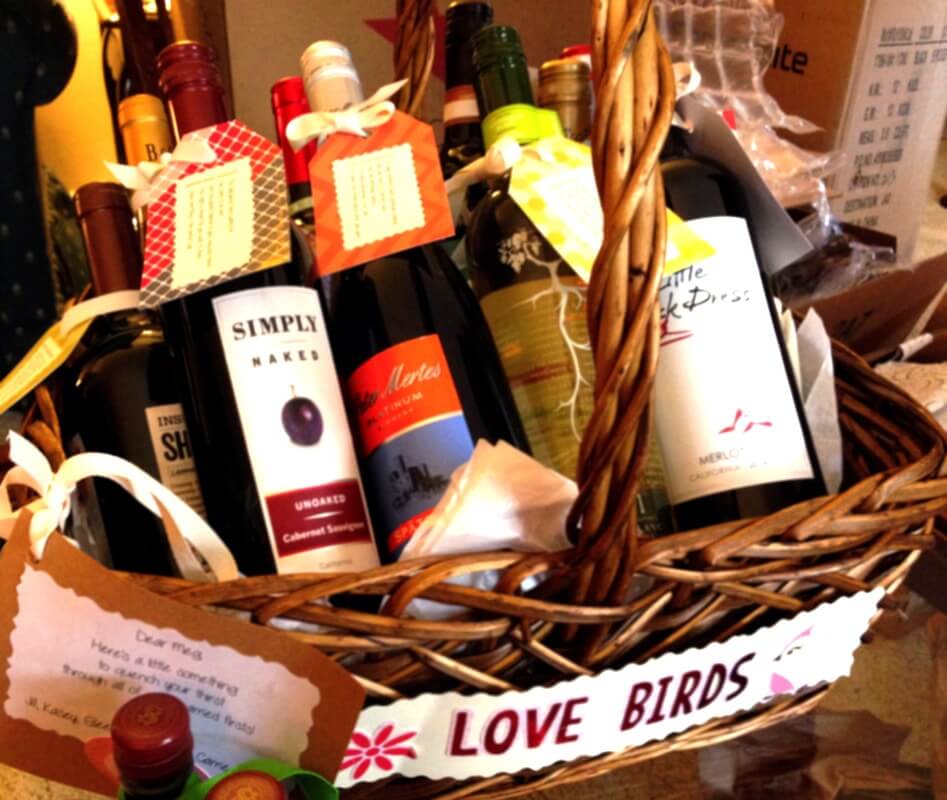 A perfect way to celebrate a wedding shower is with this amazing wine basket present. If you know the couple well, then you know exactly what to add inside of it to absolutely delight them. A basket like this isn't only suitable for wine though. Consider adding their favorite beverage like whiskey or beer instead. The basket is versatile enough to work with anything.
14. Quirky Wine Bottle Wedding Gift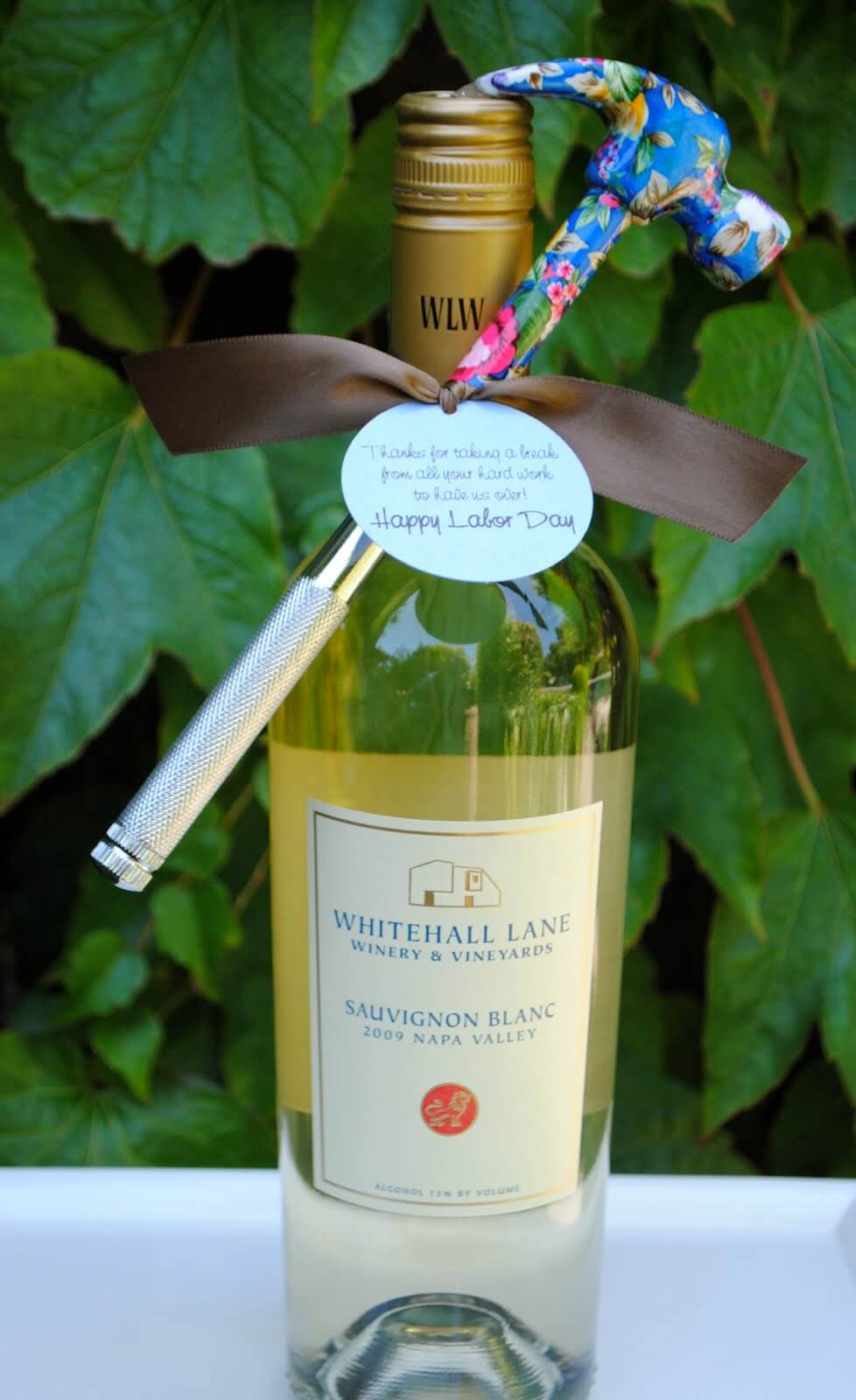 Perhaps you share fun jokes with the delightful couple. If so, then they will get a laugh out of this charming wine bottle gift. They don't just get the bottle of wine. Rather, they also get a fun hammer in preparation to "get hammered". It is a silly way to show how much you care and how close you are with the couple.For more inspiration click here!
15. Elegant Paper Flower Shadow Box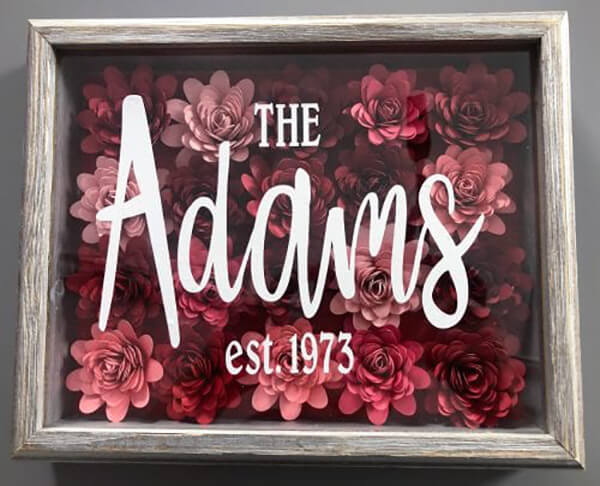 A shadow box is a creative and bold decorative item, and one you can make in the comfort of your home with the right supplies. Paper flowers are ideal, and having them in different shades helps sell the shadow box even more. Add the finishing touch with the couple's name and wedding date, and you have yourself a wonderful, homemade gift.
16. Creative and Unique Wedding Photo Frame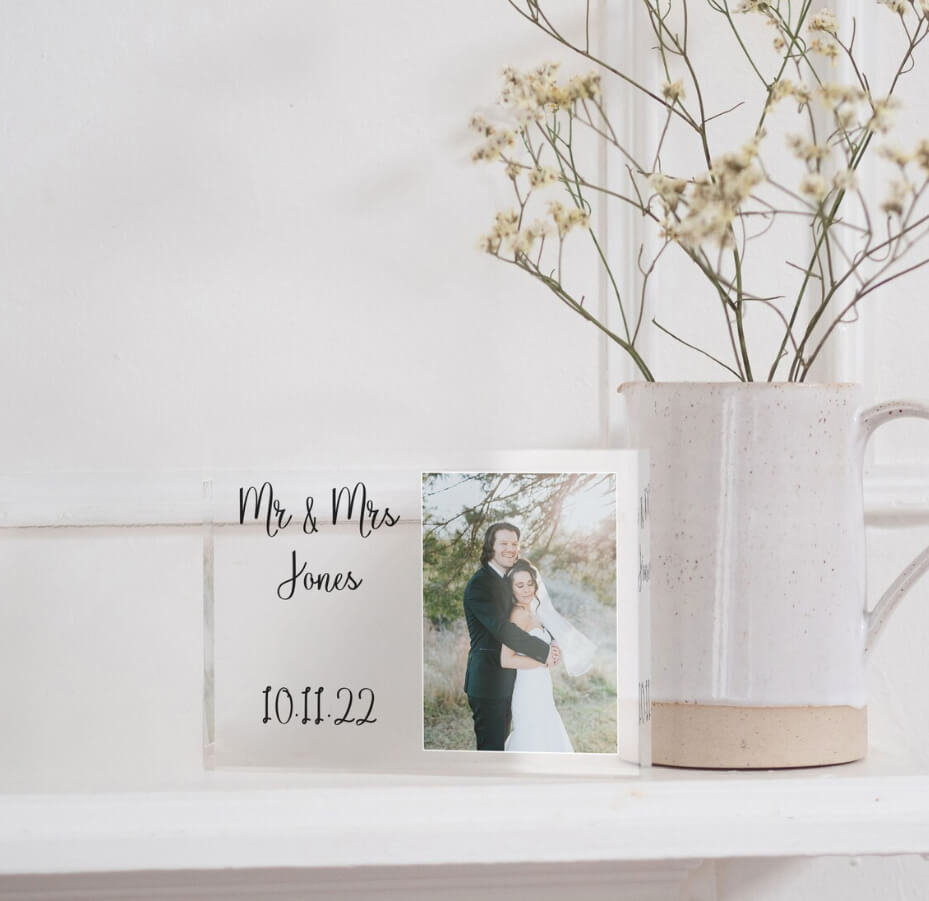 This sweet photo frame is a wonderful way to celebrate the married couple. The simplicity in this homemade gift is what makes it so lovely to admire. It makes the couple's picture the focal point while the lettering serves to merely enhance them. Having it made of glass helps give it an exceptional feel too that stands out.
17. Personalized Wooden Wedding Keepsake Box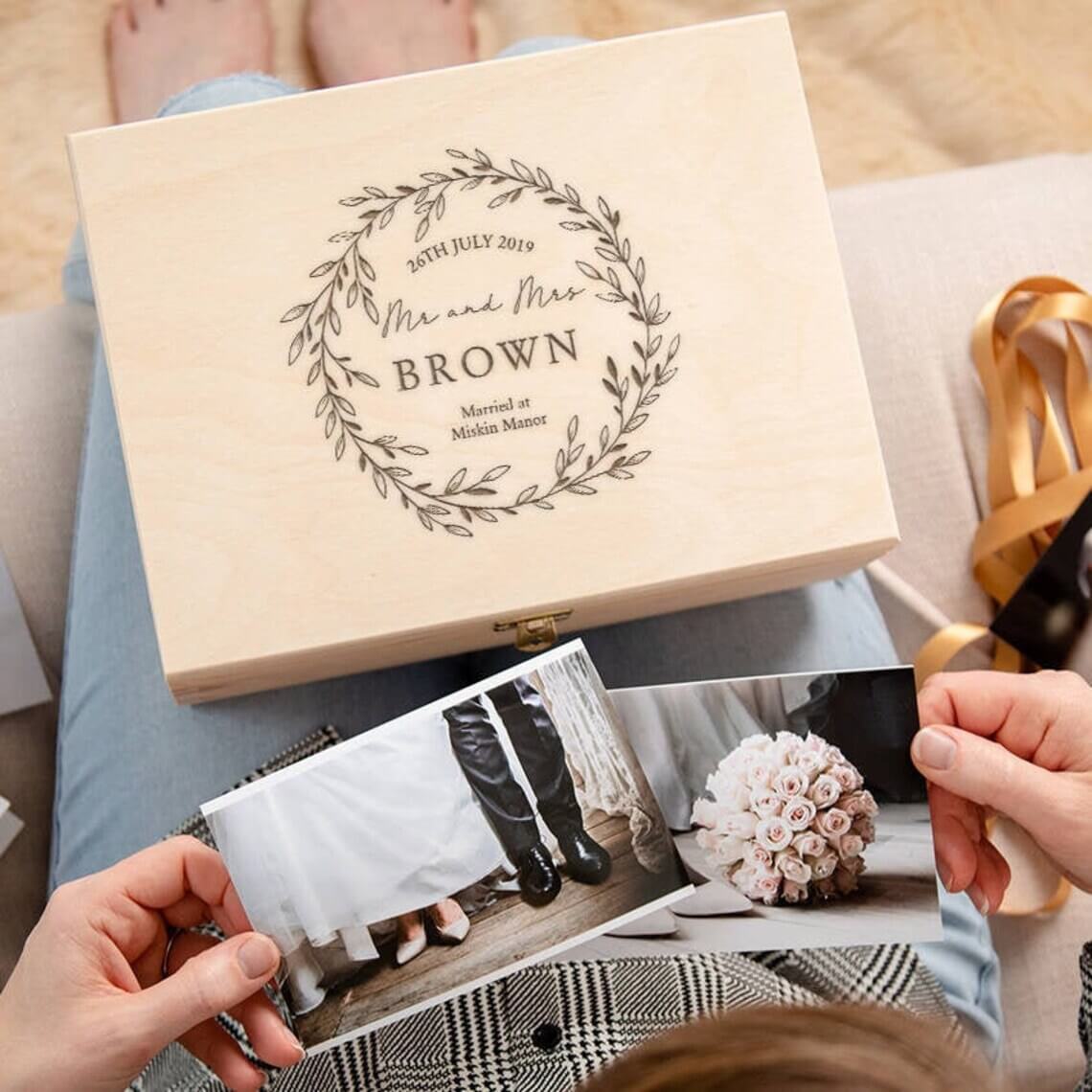 Couples always find mementos that they cherish over the years, and after the wedding, they may leave with even more favorite pictures of themselves together. So, why not give them something to put all that in with this homemade wedding gift? The keepsake box is made from reliable wood to hold up over the years, and it features their name and wedding date on top to truly customize it to suit them.
18. Personalized "… Why We Love …" Frame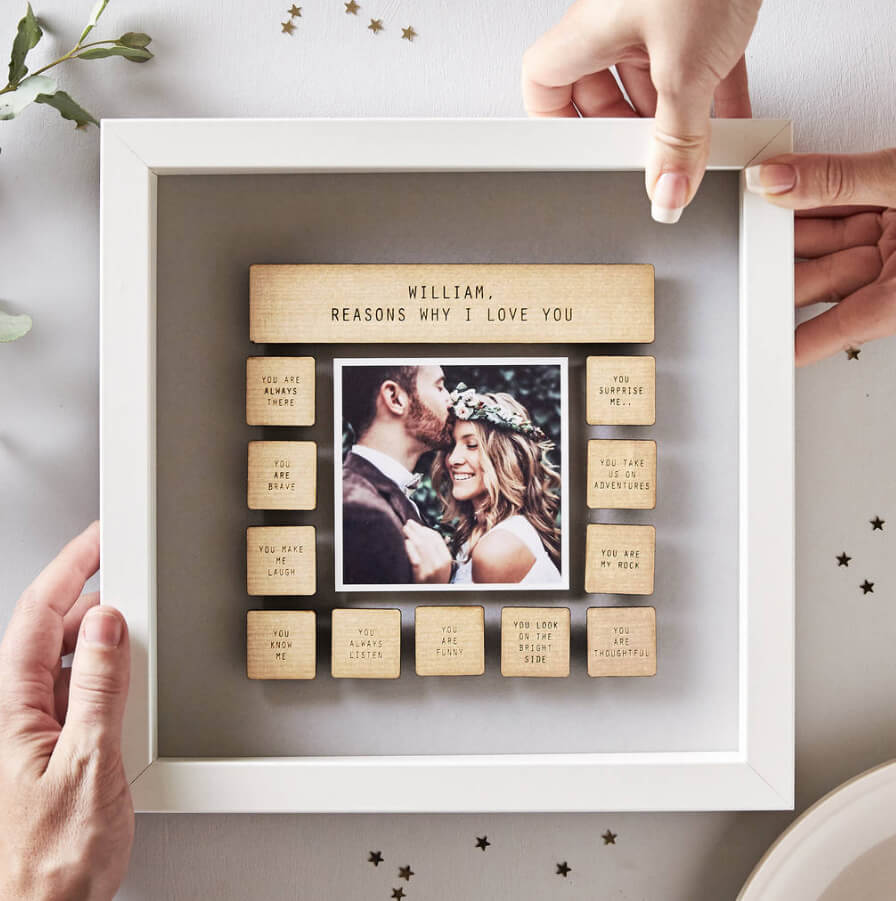 This personalized frame is a perfect solution for the couple. There are 11 plaques you can personalize with any saying you wish. Use words that best suit the couple too, allowing you to give them something that is truly distinct. With a loving picture of them in the center, you can give them a gift they will cherish for years.
19. "Wifey" and "Hubby" Tumbler Set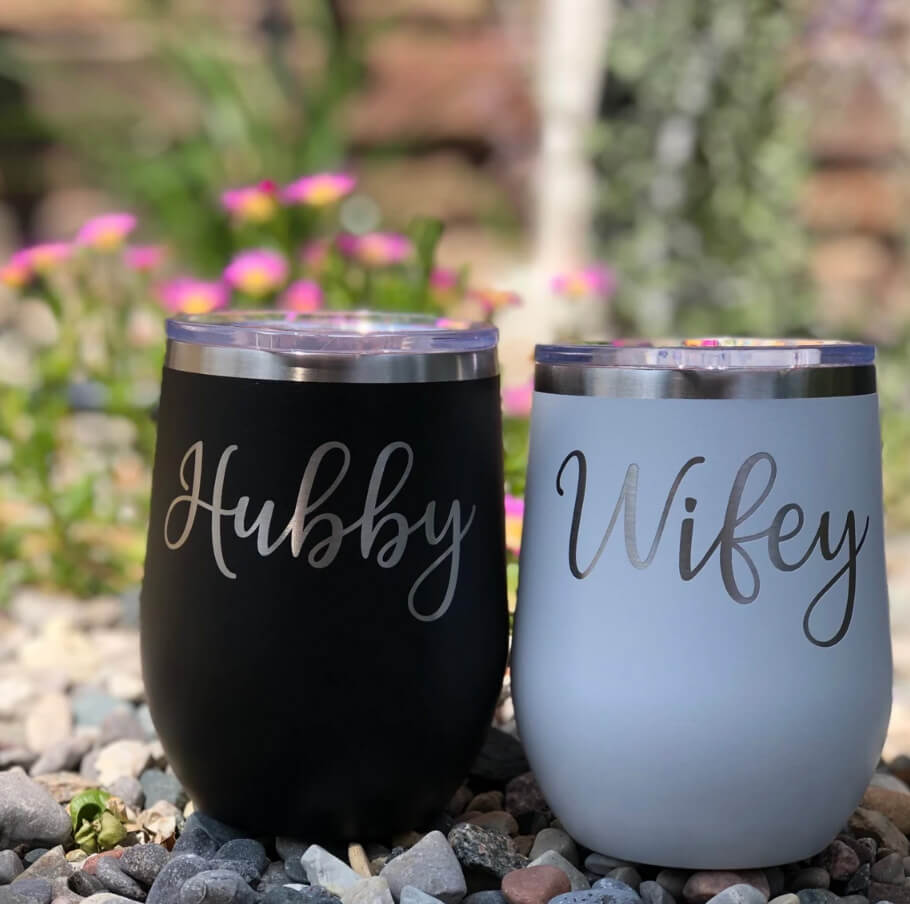 If you know a married couple who use these sweet nicknames for each other, they will love this tumbler set. The steel tumblers are as appreciative to look at as they are to use. These tumblers are great for hot and cold drinks, so they don't need to only be used for wine. Plus, the engraving is long-lasting so they will appreciate using these over time.
20. Adorable Wedding Book Gift Bundle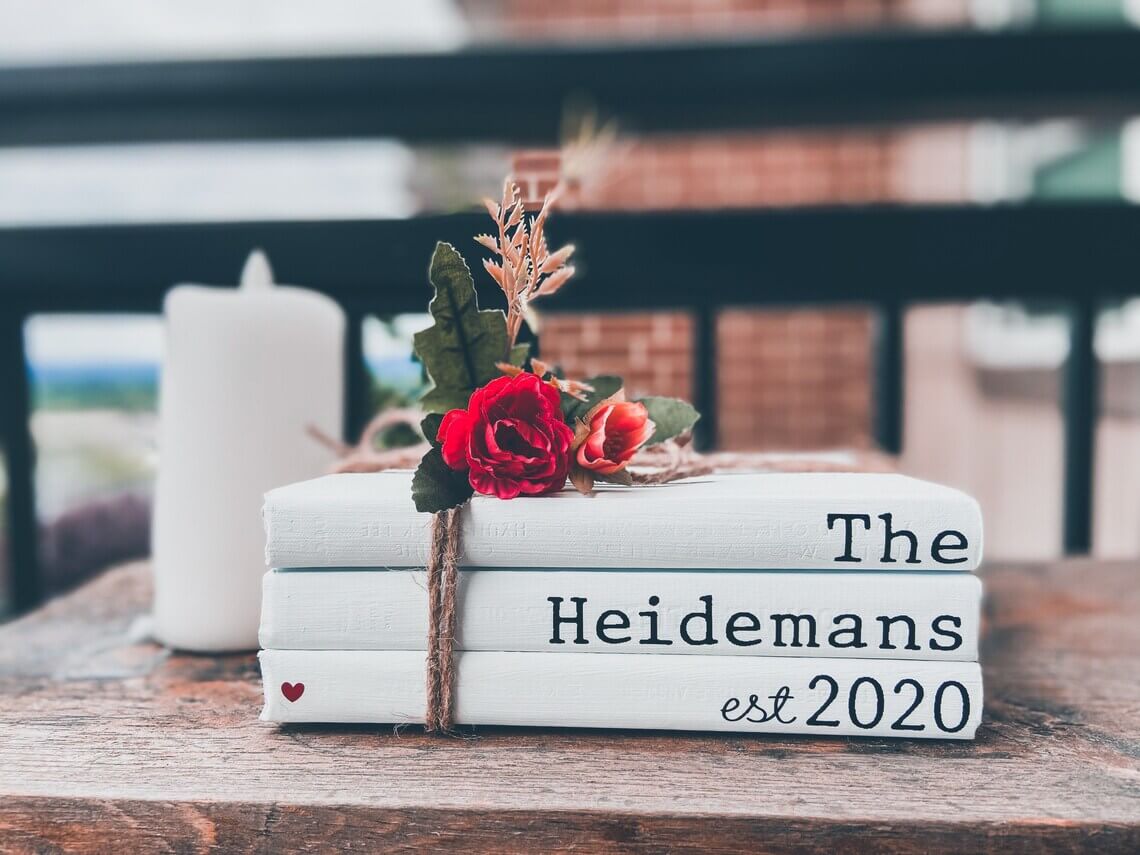 Gift the couple you love something vintage with this beautiful wedding book bundle. Made in a set of three or four, this is a distinctive way to create something personal for the couple. You can opt for the flower on top to add a splash of color to the books. Otherwise, there is an appreciative simplicity found with these books that allows this to blend in well with a farmhouse or vintage styled home.
21. Personalized Photo Throw Pillow Gift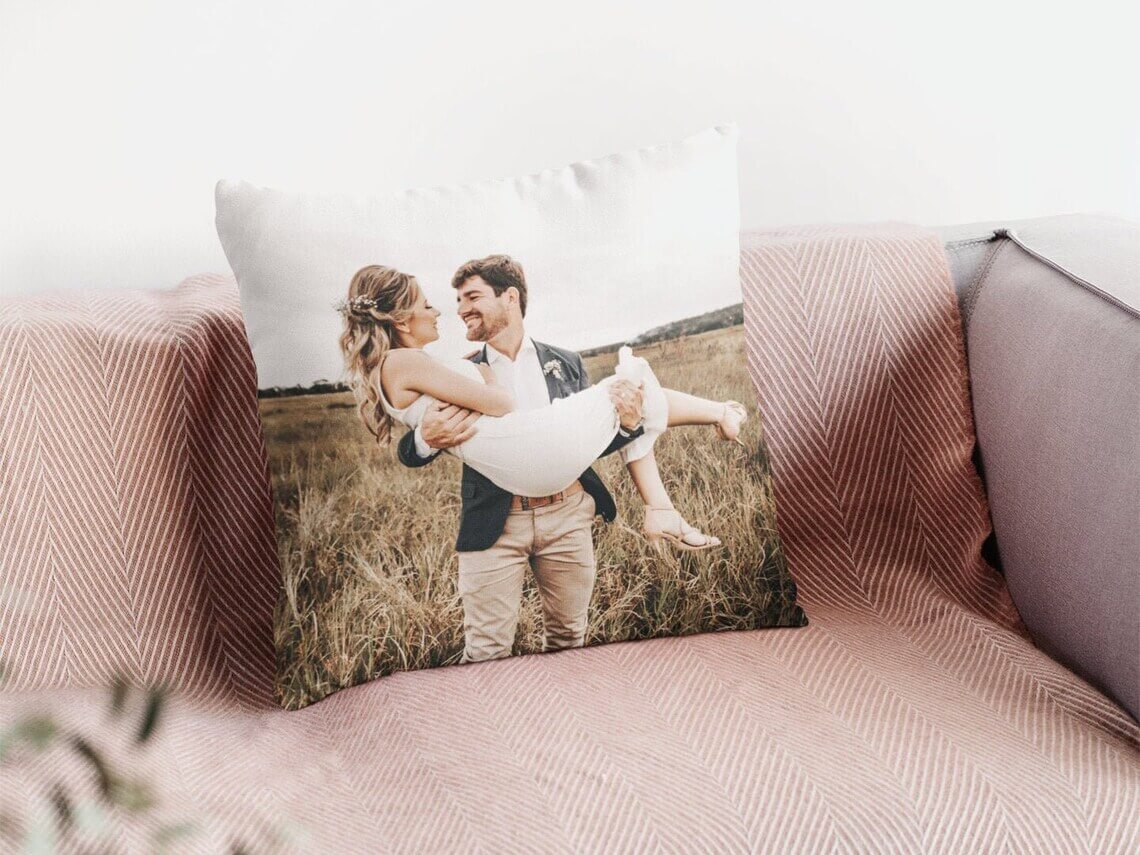 With this homemade wedding gift idea, you can give the couple something that they and everyone will appreciate every day. You can choose to get the full pillow or you can just get a cover that will fit a pillow that they may already have. As a throw, this will certainly be seen and put on full display. You can choose their wedding photo or any other photo of the couple that they love the most.
22. Engraved Custom Wedding Memory Box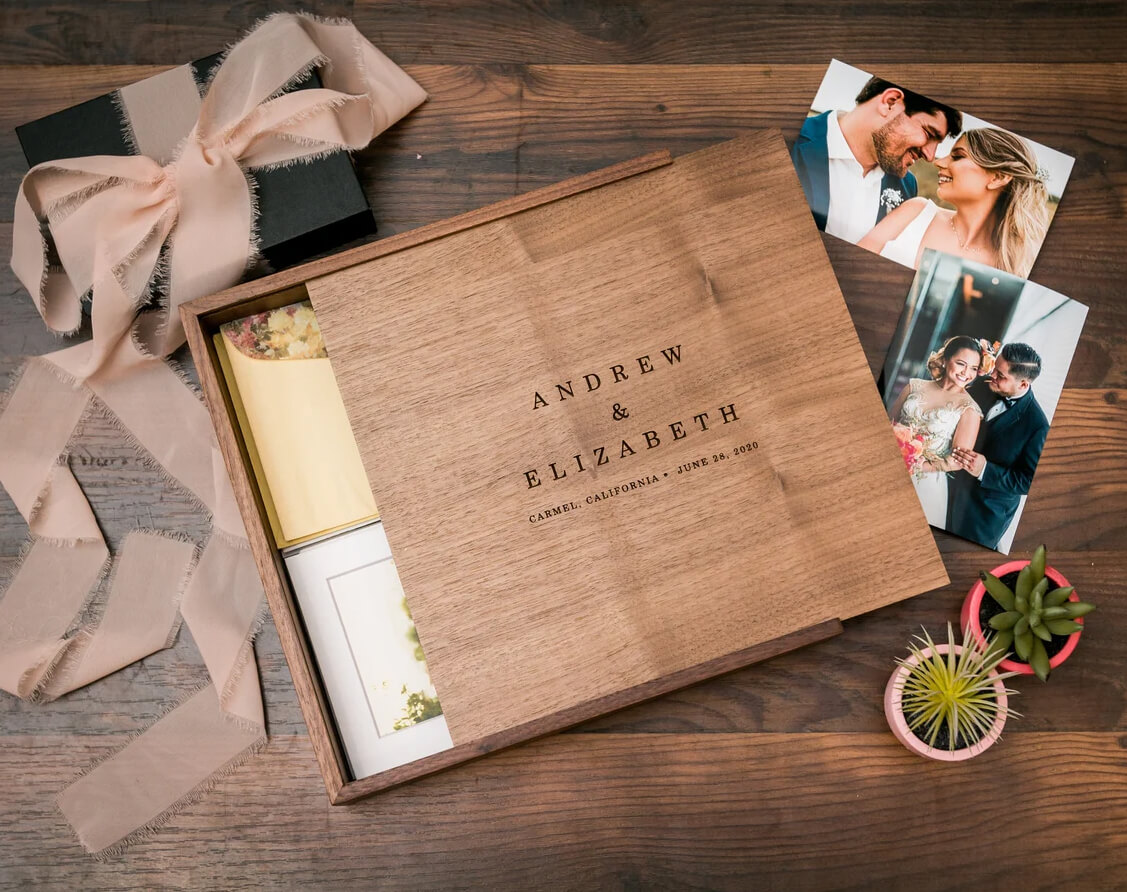 With all the pictures taken at a wedding, the couple is sure to have their favorites. So, you can gift them this wooden box that they can take full advantage of after the ceremony. It comes in numerous sizes too. You can opt for the box to be engraved, adding their names and wedding date to it. The lid slides off, a feature that gives this an even more elegant design.
23. Appealing Personalized Record Display Gift Design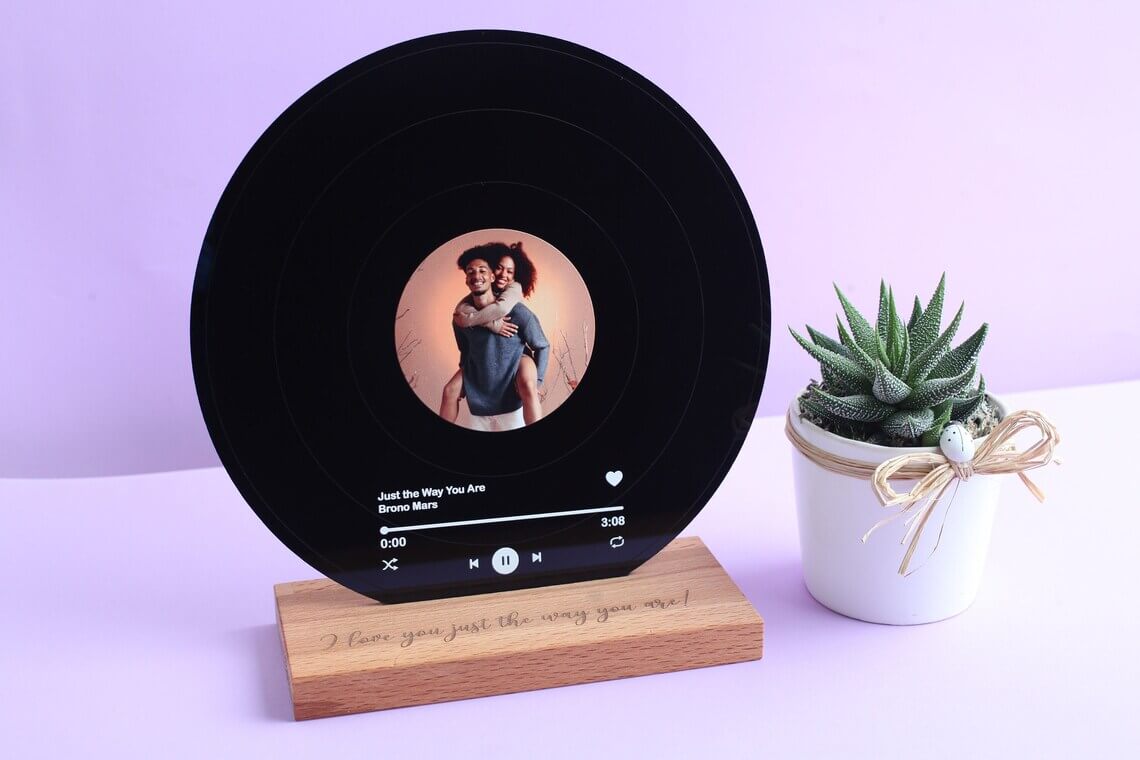 It's common to gift the happy couple some type of picture frame suited for their wedding photo. However, this record display takes that tradition to new levels. It is such a compelling design that it will instantly capture attention. Also, this display is ideal if you know the couple are music lovers, particularly record lovers. Add on the song they danced to at their wedding to really emphasize just how personal and full of love this gift is.
24. Personalized Engraved Wedding Gift Sign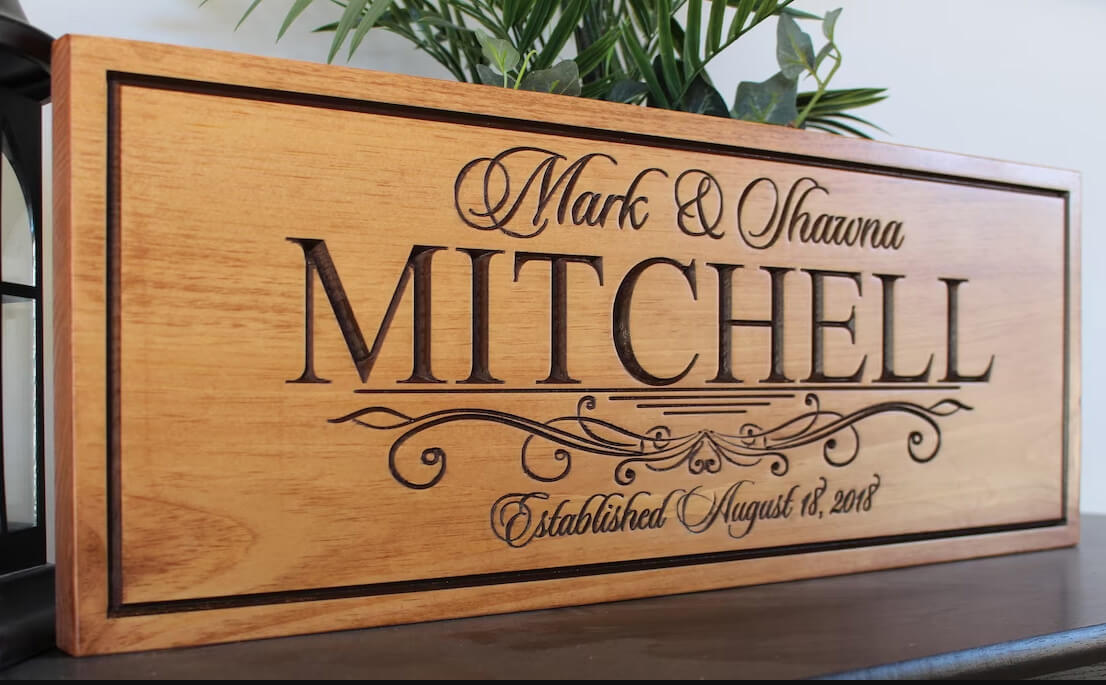 Some of the best DIY wedding gifts puts the couple front and center, and this large wooden sign does that well. The couple's name is boldly on the top in such attention-grabbing and elegant lettering. Meanwhile, there is extra decorative flair along the wooden sign as well as their wedding date below it. You can choose from two different finishes for the wood to best suit the couple as well.
Thoughtful DIY Wedding Present Ideas to Fit Any Budget
Whether you are leaving a gift for the happy couple, or you're the couple who wants their guests to take home some fabulous favors, homemade wedding presents are the way to go. These allow you to fully express yourself and leave a piece of yourself behind, letting the recipient know just how much you care. Beyond that, they are affordable without looking cheap.
With numerous routes, we understand how some of you may take some time to decide what type of present is best. Some people appreciate something that includes images of the happy couple. Others like something a bit less personable but no less considerate. If you put all your love and care into it, you will craft the perfect DIY wedding gift anyone would love.