Utilize those recycled and spare items lying around your home to create the best DIY wind chimes on the block! You may want to jazz up your space with some spare planting pots that you can arrange as an original work of art. There is also beautiful music to be heard from beads, bells, and spoons. Nearly any item can be used to create these one-of-a-kind homemade wind chime designs.
19 Creative Wind Chimes that will Make Your Yard Look More Stylish
Summer days and nights might be best spent on the front porch so why not add some charming rhythmical sounds to enhance the mood? While you rest in your rocker or glide in your swing, there is something special about enjoying the gentle breeze on a warm July day.
Or you can spend little to no money to create these charming and quirky crafts for yourself or as part of a fun, kid-friendly activity. Whatever your motivation is for designing and constructing these great garden goodies, you are sure to find one that suits your fancy in this list of 19 of the best around!
1. Cute Porch Wind Chime in the Key of Whimsy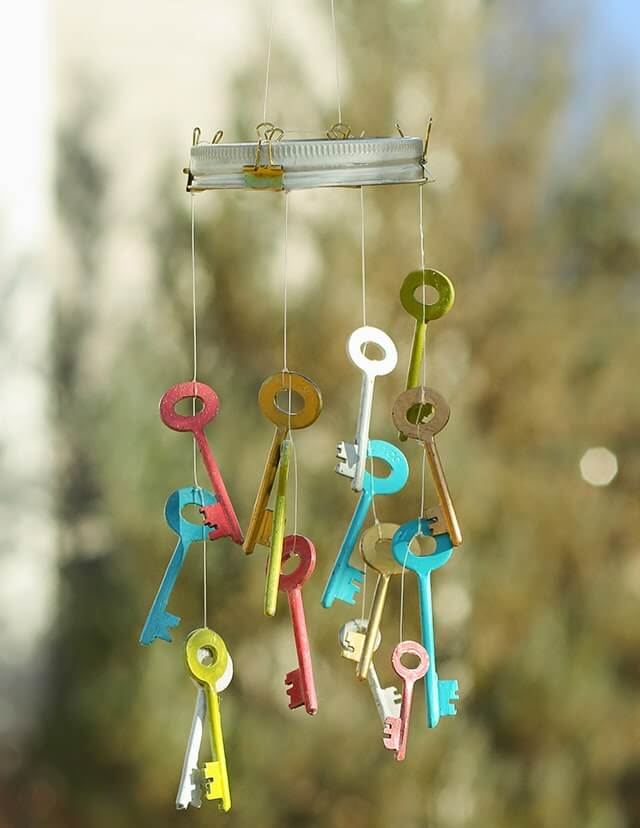 Head out onto your front porch and enjoy the gentle breeze and the soft chime of your simple DIY repurposed key and Mason jar ring wind chime. Grab a handful of old keys and pick your perfect palette as you transform these former security keepers into charming chimers. A Mason jar ring makes the perfect foundation to suspend these cute and colorful chimes. Everyone loves the subtle sound of a summertime wind chime as they kick back and relax with the warm breeze. Whether you hang it on your own porch or make it for a new homeowner friend, you can't go wrong with this whimsical wind chime.
2. Bold and Bright Bottle Cap, Bell, and Bead Stick Wind Chime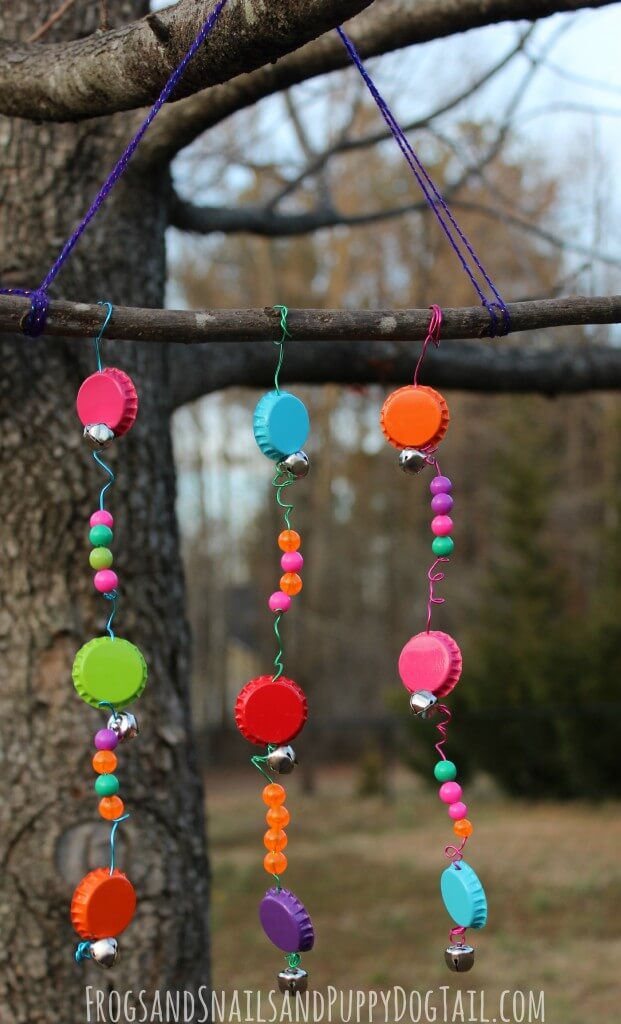 Grab a stick and some string and let the trio of "bs" do the rest! Paint some bottle caps, arrange your beads, and add a bell or two and you have the necessary elements for this fun, wind-frolicking instrument. An easy DIY project, this windchime is easy on the wallet too. It would be an awesome idea for a Girl Scout meeting or summer birthday party activity. You can tune your ear into the hint of the metal song from the bottle caps along with the slight ringing of the bells. Together, you achieve a unique and brightly colored demonstration of a creative wind chime.
3. Lovely and Lacy Mason Jar and Key Wind Chime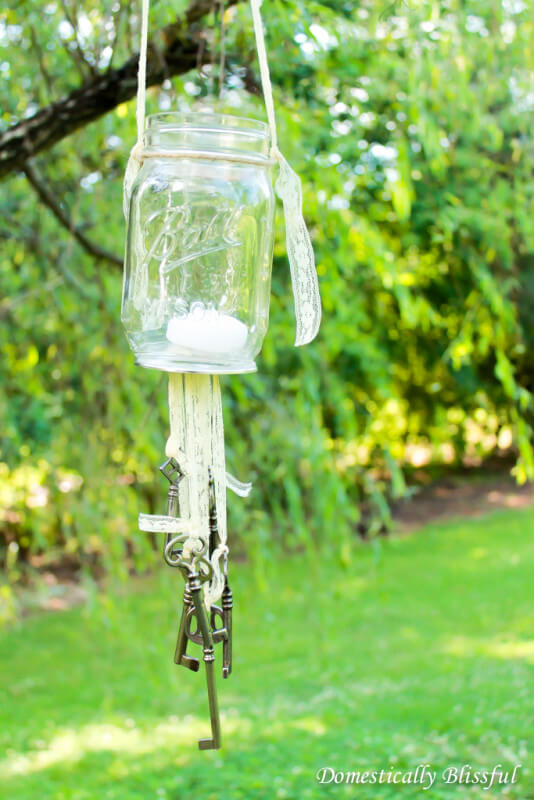 This large Mason jar lends itself nicely to a lovely wind chime as a sidekick to several metal skeleton keys suspended from pretty ribbons of lace. You could even place a solar or battery-powered light inside to add a little extra twist to this wind chime when the sun goes down. Hang it from the branch of a backyard tree or on your front porch to give your outdoor space the shabby chic feel it desires. The use of mixed materials in this creative and delicate wind chime adds to its interest and appeal.
4. Cool and Contemporary White and Gold Macramé Geometric Wind Chime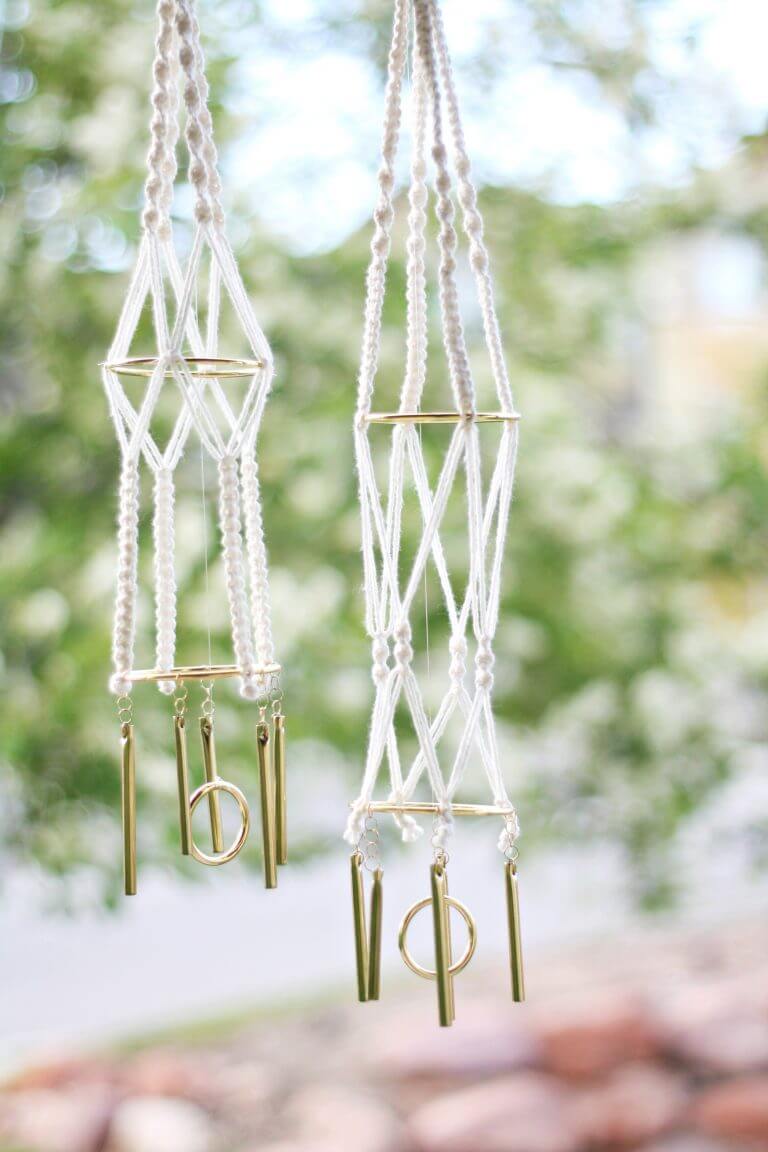 Remember those super cool macramé plant hangers? They are back with a vengeance and have crossed over into the wind chime world as well. Here you can find them weaving their magic in geometric triangles and rhombuses as they hang down to suspend gorgeous gold lines surrounding a circle. A single or a set of these contemporary wind chimes would be cool on the balcony of your urban loft or inside and near a large window as they are a perfect companion for modern design.
5. Marvelous Mother-of-Pearl Shell with Beads and Chimes Unique Wind Chime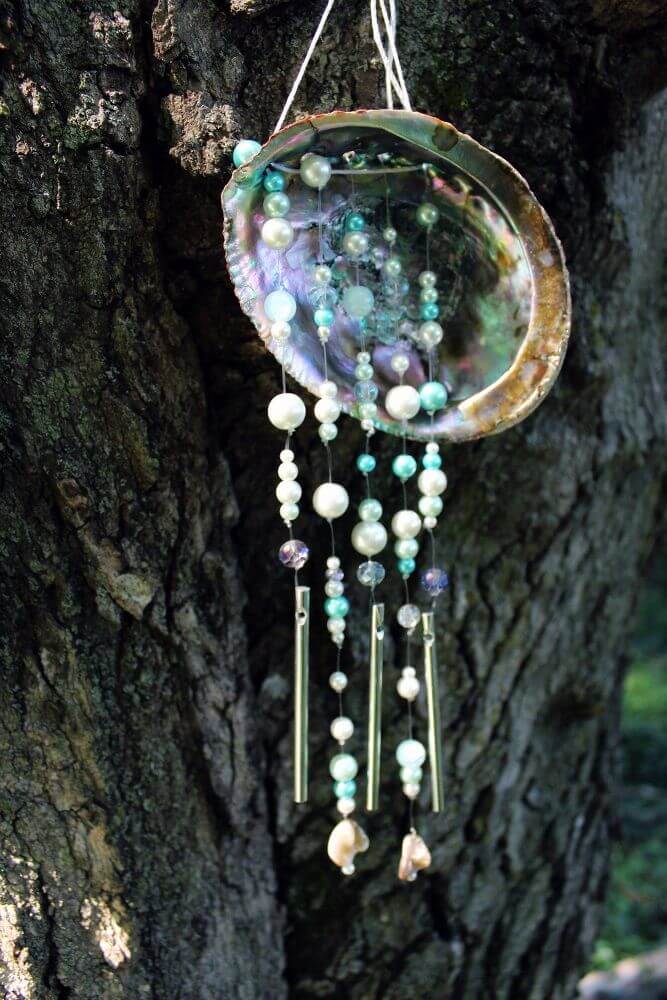 Make a statement with this large Mother-of-Pearl shell as it sets the stage for the ideal home of several beaded strands and chimes to create this gorgeous and unique wind chime. What a perfect addition to the backyard splash pad as you hang this superstar from the sea near your saltwater pool. Have some extra fun by incorporating this opalescent piece with some mermaids and other underwater creatures. Crafting your wind chime in this manner will create a truly one-of-a-kind beach vibe into the world of your backyard summer oasis.
6. Upside Down Flower Pot with Beads and Bells Cheerful Homemade Wind Chime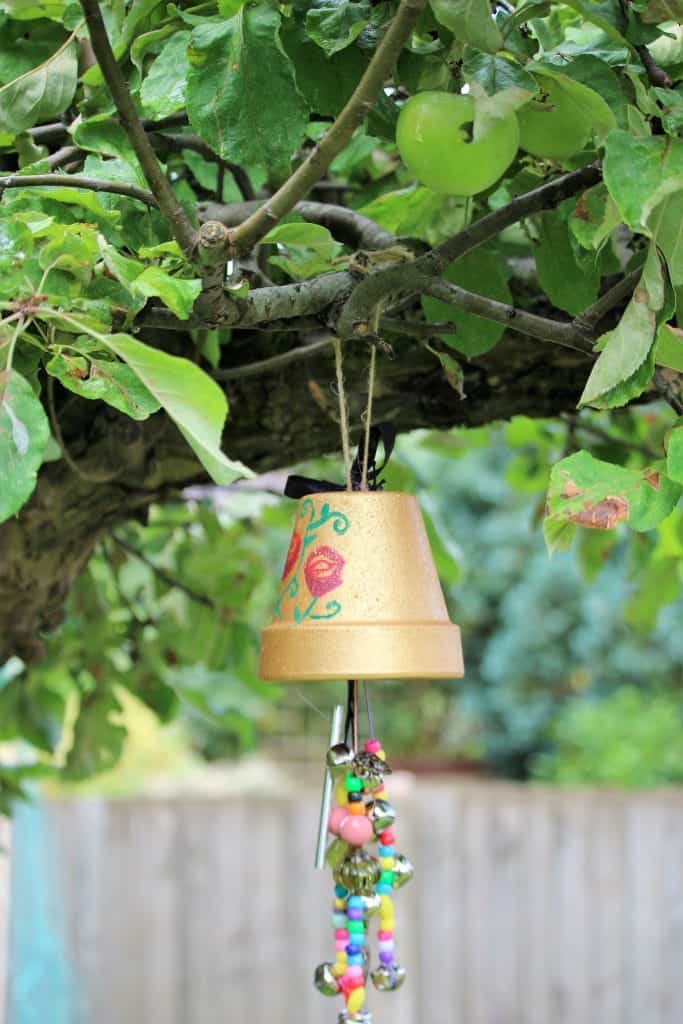 Cheer up your porch or patio space with this cute and happy handmade wind chime. Paint a pretty flower on the side of your flower pot to add even more charm to this chipper chime. A collection of beads and a few bells gives this wonderful wind chime a pop of color and a hint of music. You could also place this beauty in your flower garden to give it a nice and cozy wonderland to call home.
7. Ombre Blue to Green Glass Rock and Stick Wind Chime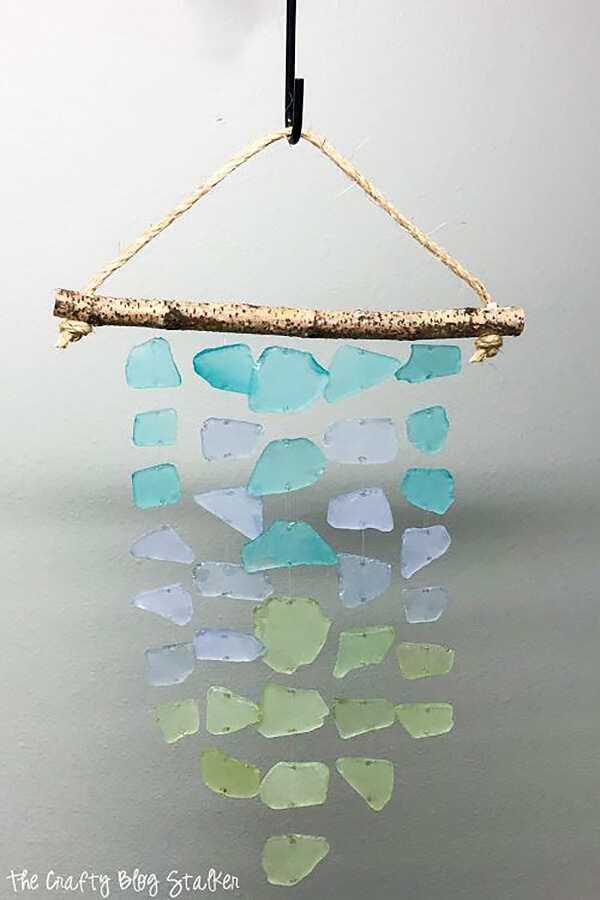 Natural colored clear resin rocks look like beautiful glass pebbles as they cascade down their stick holder into an almost waterfall-like design in this green and blue wind chime. Feel the breeze and listen to the gentle whisper as this wind chime reminds you of the gorgeous hues of watercolors from blue to turquoise to green. Earth, wind, and fire unite as these natural elements fuse together into a unique wind chime that would look amazing hanging from a tree in your backyard. You could even change up the color scheme by using a breathtaking morning sunrise or evening sunset as your muse with red, pink, and orange. Either way, you are sure to enjoy many moments watching the wind whisper through this little wind chime.
8. Fairy Garden in a Cup Repurposed Homemade Wind Chime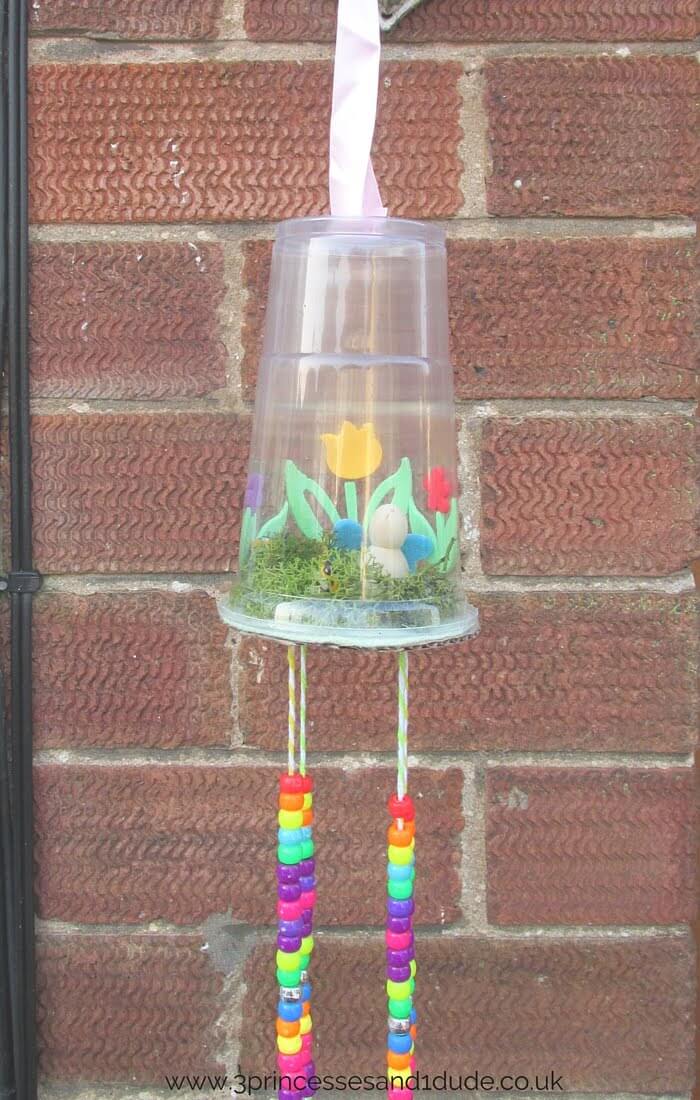 Rinse out your to-go cup and give it a new life as you create a cute and pretty fairy garden inside the lid. This summertime globe features moss and flowers instead of the wintertime snow globe and is transformed into a crafty wind chime as colorful strands of beads shoot out from the bottom. What a perfect party activity for little girls and a wonderful way to teach them the importance of recycling and reusing.
9. Spectacular Silver Bleeding Hearts Handmade Wind Chime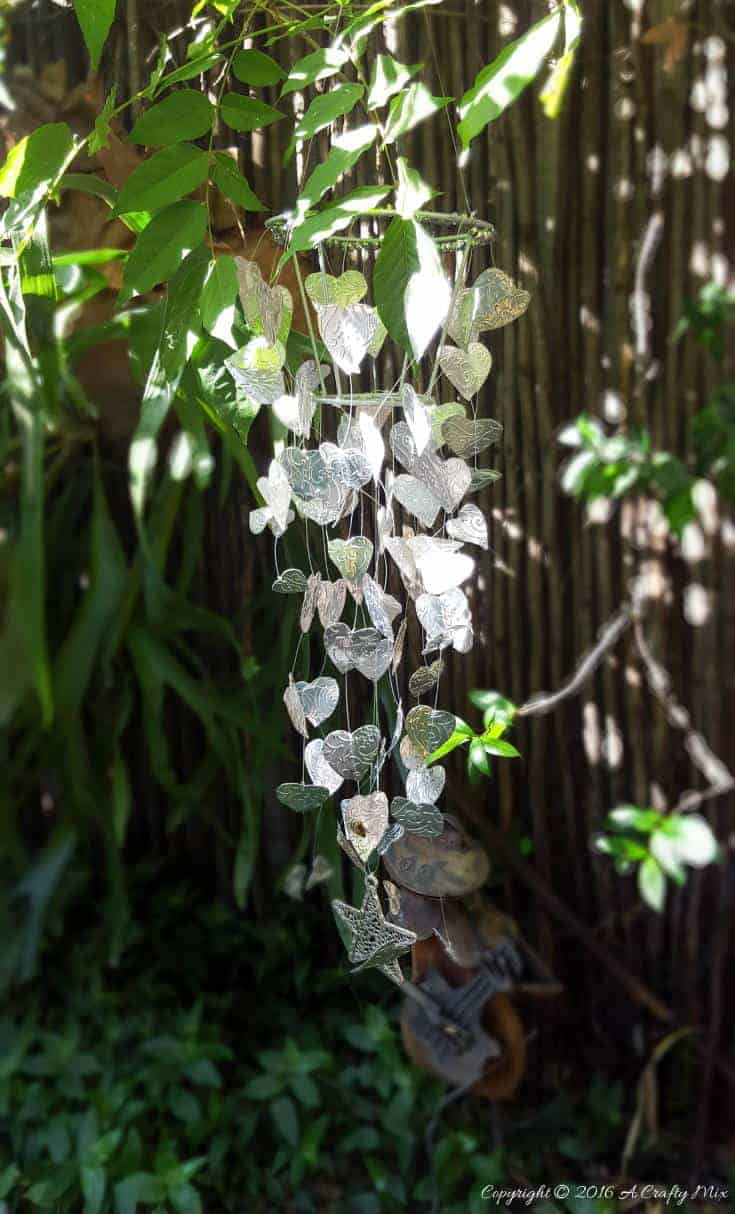 Add some texture to your outdoor garden with this spectacular silver metal heart wind chime. As the bleeding hearts softly flow down in the gentle breeze, this great home decoration works within the walls of your home and outside on the comfort of your back porch. As the wind whips through the metal strands, the hearts seem to create beautiful music for you to relax and unwind to. You can hang it from a tree or on a short shepherd's hook to a little extra love to your garden space.
10. Miniature Flower Pot Trio with Bright Beads String Wind Chime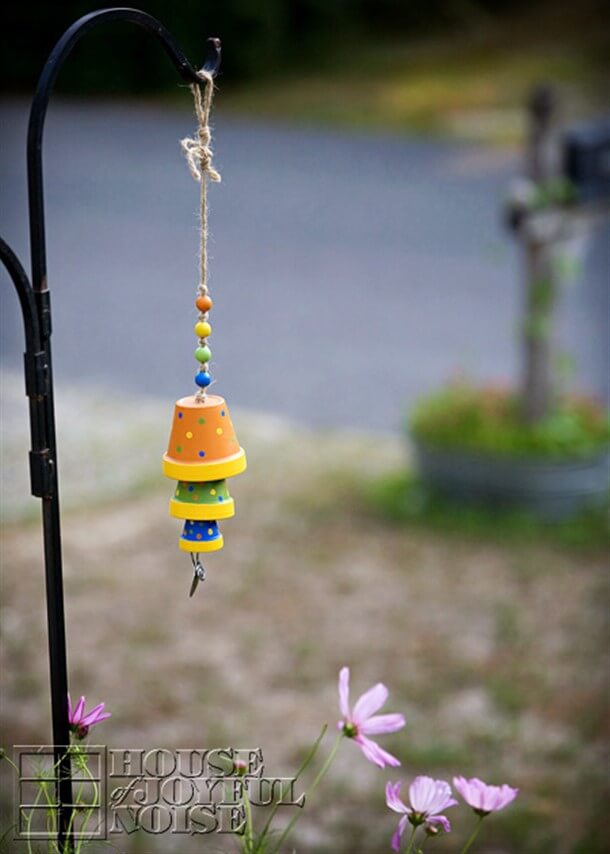 Orange, yellow, blue, and green lead the way for this small, but mighty miniature wind chime. Take a trio of terra cotta flower pots, turn them upside down and voila you have a handmade and happy little wind chime. String a row of beads up the top to finish off the overall look. This would be a great craft for young children as well as an activity for residents at the local nursing home.
11. Somewhere Over the Rainbow Repurposed CDs and Case Wind Chime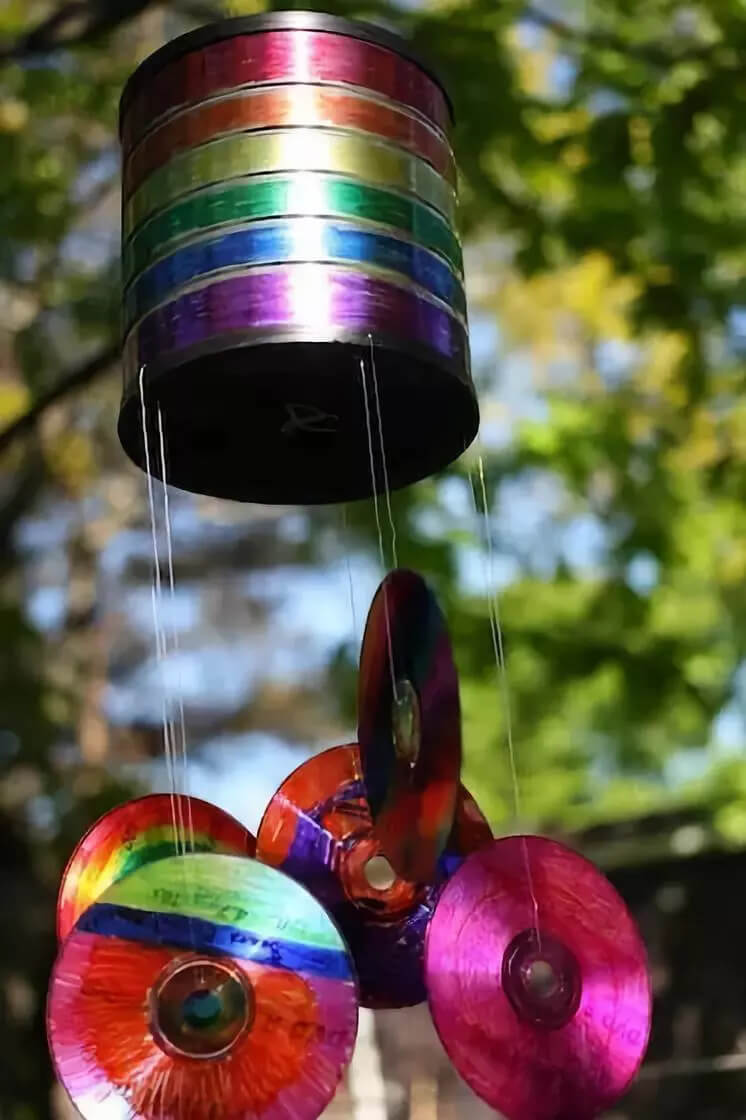 You may not find a pot of gold, but what you will find is a fun way to reuse some of those unused CDs and their holder by creating all-new wind chimes. Use your markers to customize the design of your choice or use the rainbow idea on display here. The CDs provide a prismatic projection as they are suspended from the colored case to create a bright and charming wind chime. This is a pretty handmade wind chime that would also be a great helper in the garden as the reflective powers of the CDs will keep leafy nibblers at bay.
12. Bright and Bold Colorful Popsicle and Beaded Star of David Wind Chime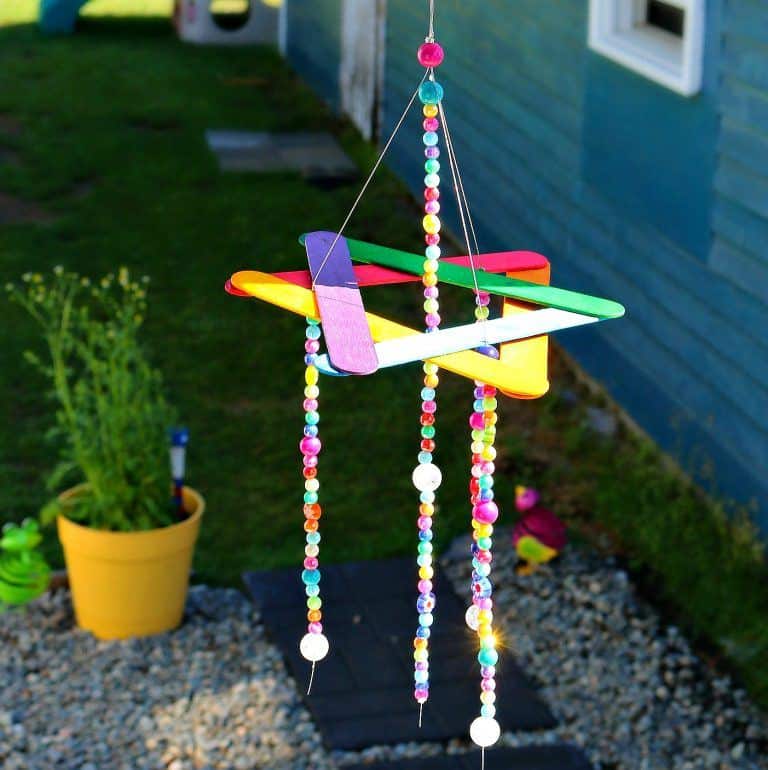 Hit the craft box and grab a handful of Popsicle sticks as you create this Star of David to form the base of your original wind chime. One of the easiest handmade wind chimes, this beaded and Popsicle stick masterpiece is easy to assemble and projects a bunch of color for your porch-sitting guests. The brightly colored glass beads allow a shimmery shine as they reflect the sunlight hitting them. Gather the girls and spend an hour creating this summer camp-friendly wind chime.
13. No Longer Washed Up Pretty Painted Metal Washer Wind Chime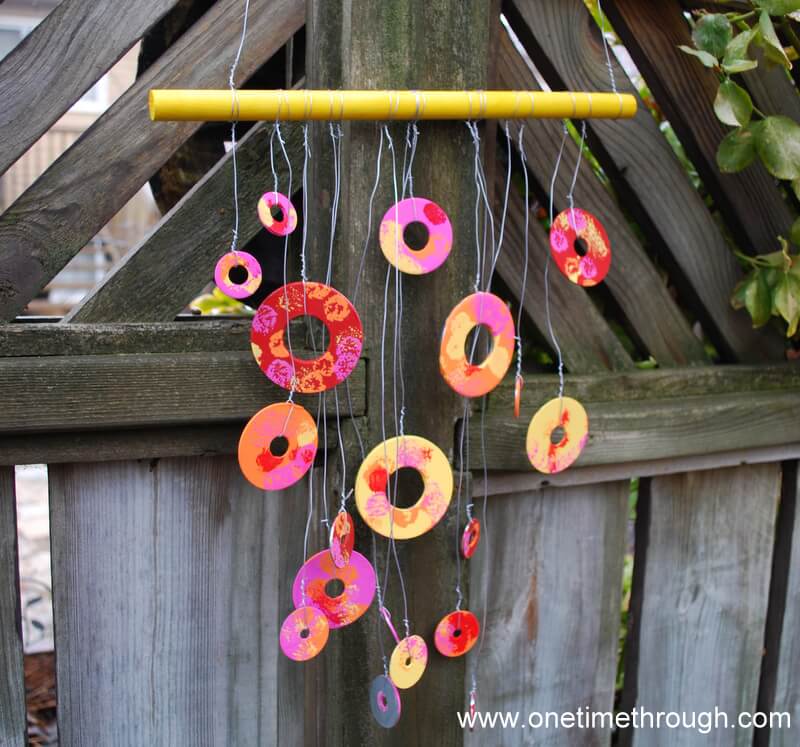 Here's a cheap DIY project to put all of those extra metal washers to good use. Pick your favorite colors and paint your very own homemade wind chime. Available in a variety of sizes, these circles take center stage as they play pretty music throughout your garden getaway. The red, pink, orange, and yellow used here are reminiscent of late sunsets or early morning strolls on the beach. These vibrant colors are fun and festive for a backyard barbecue or a simple afternoon project for the younger folk at a picnic or family reunion.
14. Silly and Spiraling Out-of-Control Colorful Wind Chime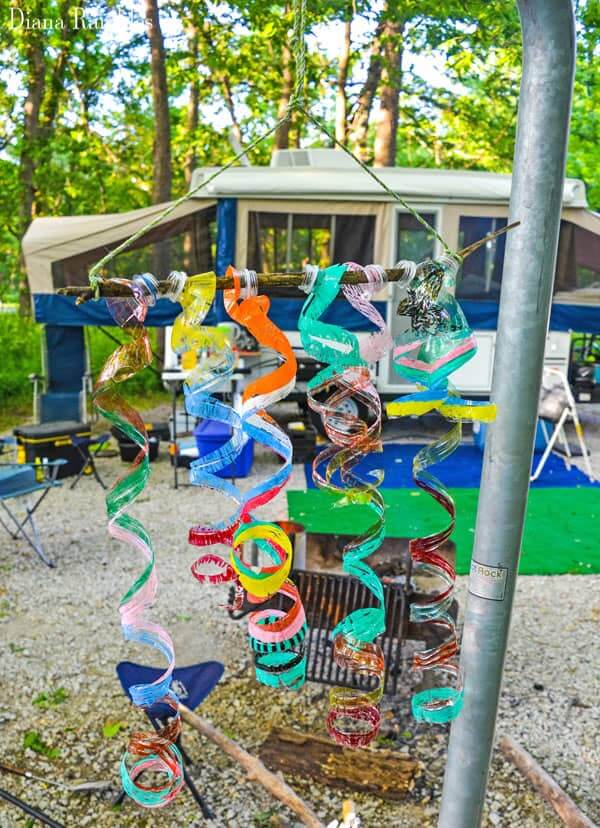 While everyone is practicing good recycling habits, take your earth-friendly game up a notch by giving a new life to some of your recyclable plastic bottles by creating one of the best DIY wind chimes for celebrating the earth! You can design any combination of colors as you bring the clear strands to life with your favorite markers. You can make stripes, polka dots, or the pattern of your choice to make these unique plastic spirals spin out of control in the world of creativity. Place them near your garden to ward off pests or hang one above your kitchen window for a pop of color. No pun intended.
15. Bronzy Brown Metal Chain, Pipe, and Bird Wind Chime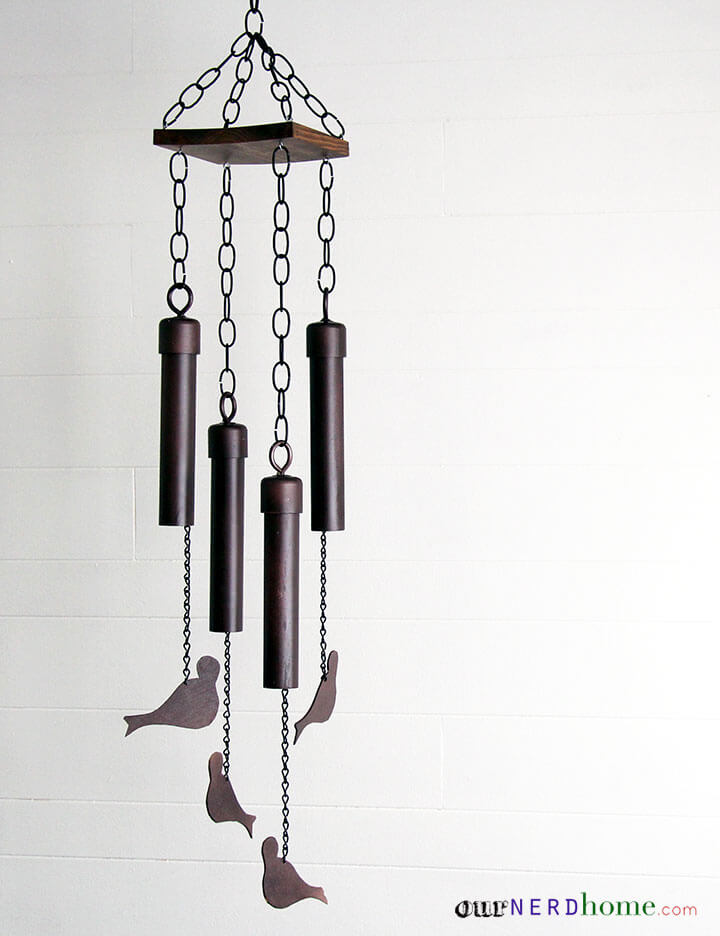 Bring some warm and bronzy brown into your garden to give it some modern and industrial appeal with this interesting and original wind chime. The feathered friends of the sky can be found nesting near the ends of these metal chimes. Utilizing metal pipe pieces gives the modern feel to bring art and nature together. The varying lengths of the chimes provide an enhanced sound to bring music to your ears. Hang this beautiful industrial bronze bird wind chime on your front porch to welcome your not-so-feathered friends.
16. Red and White Jingle All the Way Home DIY Wind Chime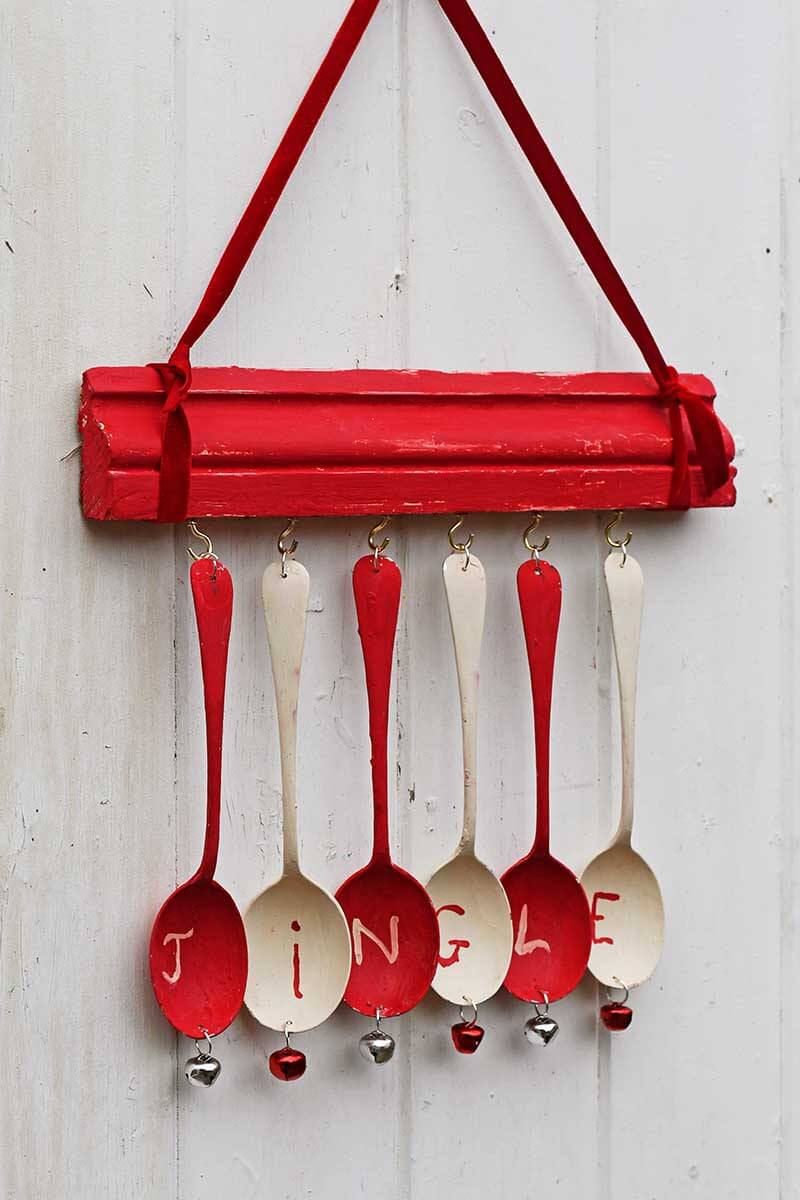 With a piece of extra trim painted red, you have the ideal base for this fun and a festive spoon wind chime. One of the best DIY wind chimes for welcoming the winter holidays, this red and white piece of art is a real charming addition to your holiday decor. As an indoor home decoration or friendly porch partner, this creative homemade wind chime is more fun than function. It's a new way to bring the jingle bells onto your decorating scene.
17. Pretty Pipe Cleaners, Beads, and Bells Handmade Wind Chime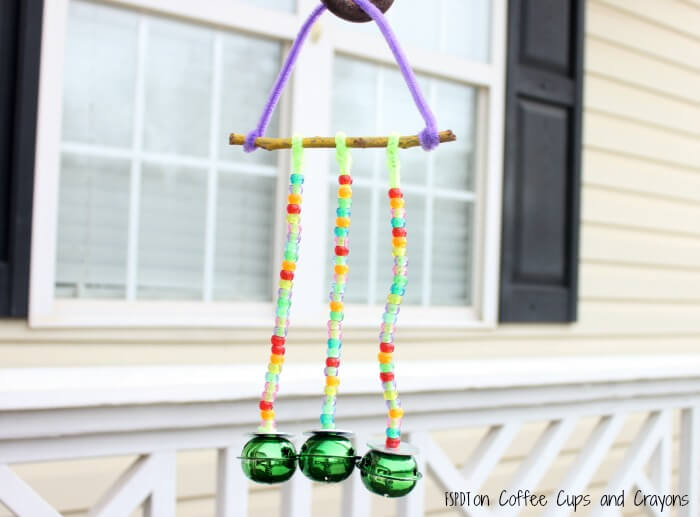 A pipe cleaner shaped into a triangle lends itself nicely as the foundation for this light and a bright wind chime. The stick positioned as the bottom of the triangle is where you will hang your creation of beaded strands featuring a bell at the very end. The larger bells add some dimension to the thinner beads that line the way of these pretty chimes. For the ear, the sound of the beads along with the bells adds a different and delicate sound to your outdoor gathering space.
18. Star of the Show Shell and Rock Handmade Wind Chime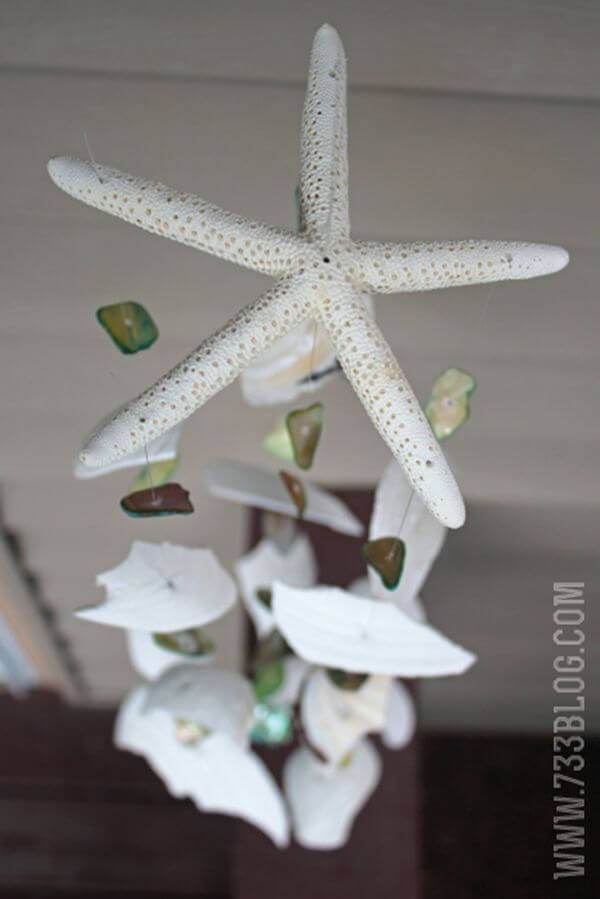 Have you ever wondered what to do with all of those beach goodies you've collected over the years on vacation? If so, check out this handmade wind chime featuring the gorgeous white-washed beauty of a sea star along with pieces of rock and shells. Using this pretty natural white of the star and shells beside the greens and browns of the glassy rocks makes a unique and interesting design element for this sea-inspired and handmade wind chime.
19. Something's Fishy Around this Homemade Wind Chime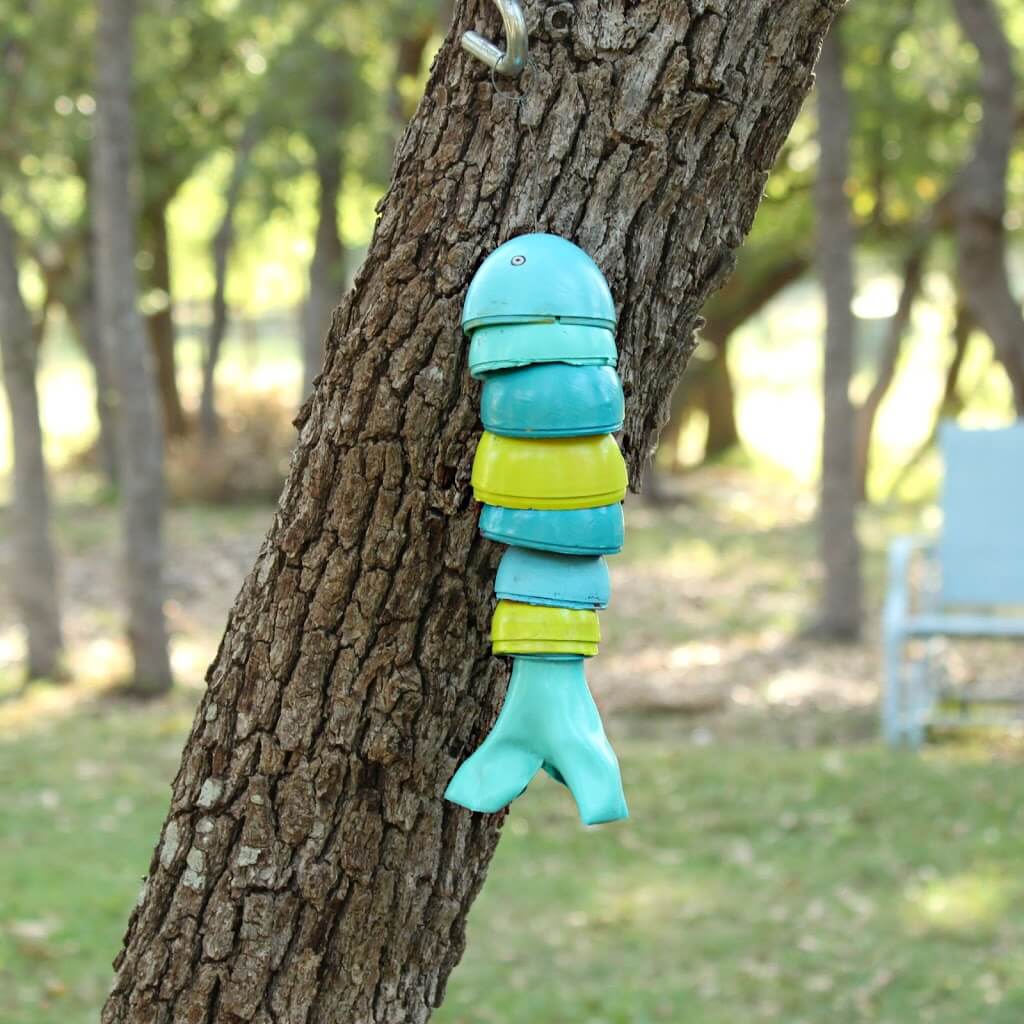 Twisted turquoise tones and charming chartreuse captivate the eye as they come together to form this out-of-water fish wind chime. Crafted from two sizes of Easter eggs, this creative wind chime is a cute and fun addition to your pool or pond area. You can display this catch on a tree or near the back patio. The water-friendly blues are a great contrast to the green-yellow chartreuse. This is a unique idea for reusing some of those plastic eggs you have just lying in the storage of your attic space.
19 Ways to Bring the Charm to Your Backyard with DIY Wind Chimes
Check out your hub of craft supplies to see if you have any leftover Popsicle sticks, pipe cleaners, beads, and markers so you can create some of the fun and fabulous handmade wind chimes on this list. If your expertise is in the garden, you might need to head to your shed to find some essential supplies like flower pots or metal washers to do the trick. Both places can become treasure chests full of wind chime fun!
One of the best DIY wind chimes is the awesome idea of revamping those stacks of CDs taking up wasted space around your home. With some string and a set of markers, you can achieve a bright and bold rainbow extravaganza for the eyes.
Maybe your heart is at the beach, so why not incorporate the souvenirs of the sea into one of the handmade wind chimes on this list. Start with a dynamic sea star; add a few shell pieces and some rocks to make your nautical necessity a part of your porch.
If you would rather be fishing, then you might seize the day by repurposing some unused plastic eggs into a flopping fish out of water. The colors used truly bring the scheme of the sea to life and brighten up your water-loving space.
And don't forget the garden goodies galore to fill up your porch space. Suspend one of these potted trios on a miniature shepherd's hook to add some charm and coziness to your fairy garden or flower bed alike. Either way, you can't go wrong with these pots turned chimes as you bring some soulful sound into your green space.
You might just need some not-so-heavy metal in your life. If so, don't be afraid to fulfill the order by using spoons, pipes, or cut out hearts for an awesome idea in original wind chime design.
No matter how many ideas you choose, the sky is the limit in designing these one-of-a-kind pieces of art that are some of the best DIY wind chimes you will find. Take some time this summer to kick back and relax as you listen to the subtle sound of this porch staple for summer. You can't go wrong by adding a wind chime to your porch to welcome guests and encourage them to stick around for a while.
Our Favorite Outdoor Decor Sculptures to buy on Amazon