Your porch is the perfect place to enjoy the outdoors during the summer, and you can help make it an inviting area with the right summer porch decor ideas. As an extension of your home, your porch should not only be a place to sit and drink a cool beverage, but it should also display your personality.
55+ Cool Summer Porch Decor Ideas That Will Be Hot This Year

The first thing you should look at is the kind of furniture you need. Whether you prefer contemporary designs or rustic wooden seats and tables, be sure to make use of items that are both practical and comfortable. If you want to use cushions and pillows, it's best to find those that are weather durable and can withstand sun, wind, and rain. Second, choose some kind of lighting. Lanterns for candles or battery powered fairy lights are good choices if you don't have an electrical outlet handy. Finally, consider including lots of potted plants. Not only are most plants at their best during the summer, but some flowers and greenery go a long way towards creating an inviting and lively porch.
Don't stay cooped up inside! The 55+ summer porch decor ideas below will help you make the most of your outdoor living spaces this season.
1. Yawning Under the Awning of Your Summer Porch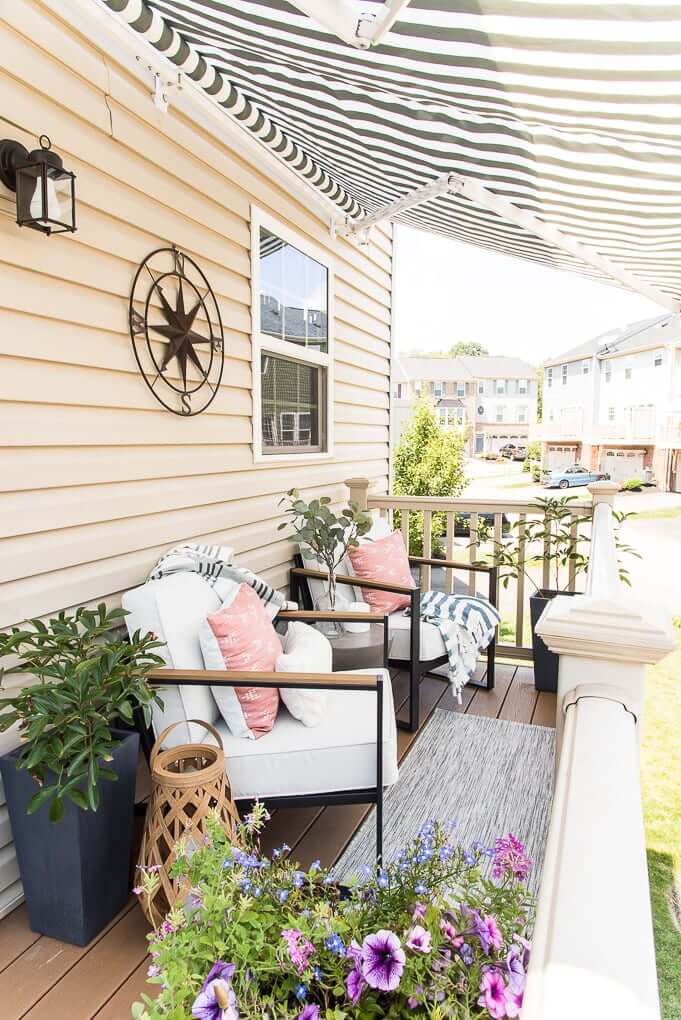 Your porch is the perfect place to relax on a gorgeous summer day. And when you can't find a nice shade tree for added comfort, you can always nestle under a striped awning to beat the heat. Cheaper than a brick and mortar construction, adding an awning upgrades your patio to the in a budget-friendly way. Create a cozy conversation zone to catch up with an old friend. Don't forget to incorporate some live plants to solidify the outdoor appeal of this summer porch haven. And hanging a metal compass rose helps to keep you on the right path to those good vibrations of summer.
2. Cozy Up the Porch Corner with Crates and Planters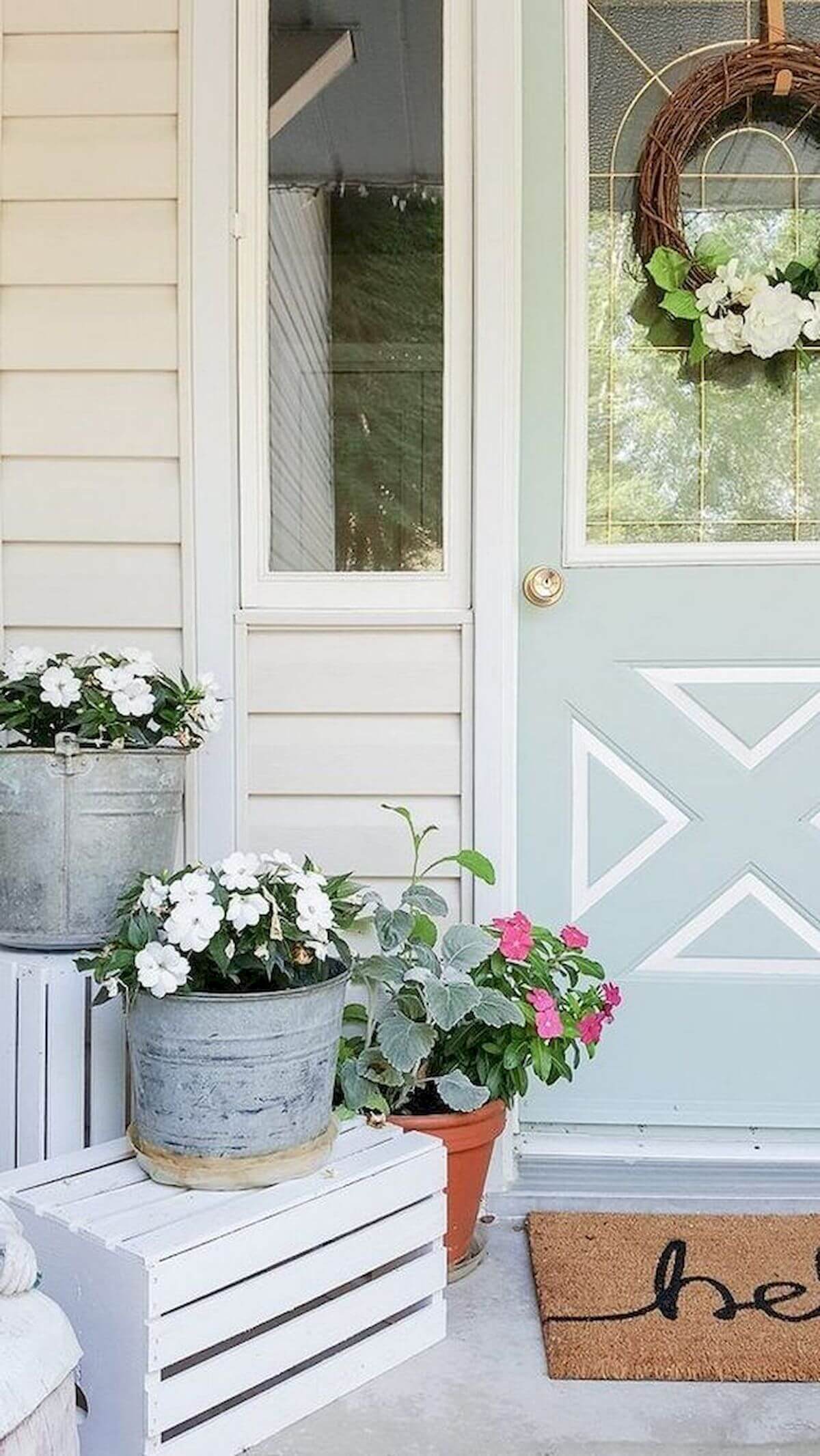 Pick a pair of crates and paint them white to provide the ideal resting place for some of your most prized plants and flowers. These crates add depth and dimension to your corner porch space as well as loads of curb appeal. A galvanized tub or two are great options for containing your flowered friends. While visually interesting and appealing, this arrangement gets the job done by taking up minimal space so it can be used on nearly any sized porch.
3. Serve Up a Side of Comfort From Your Front Porch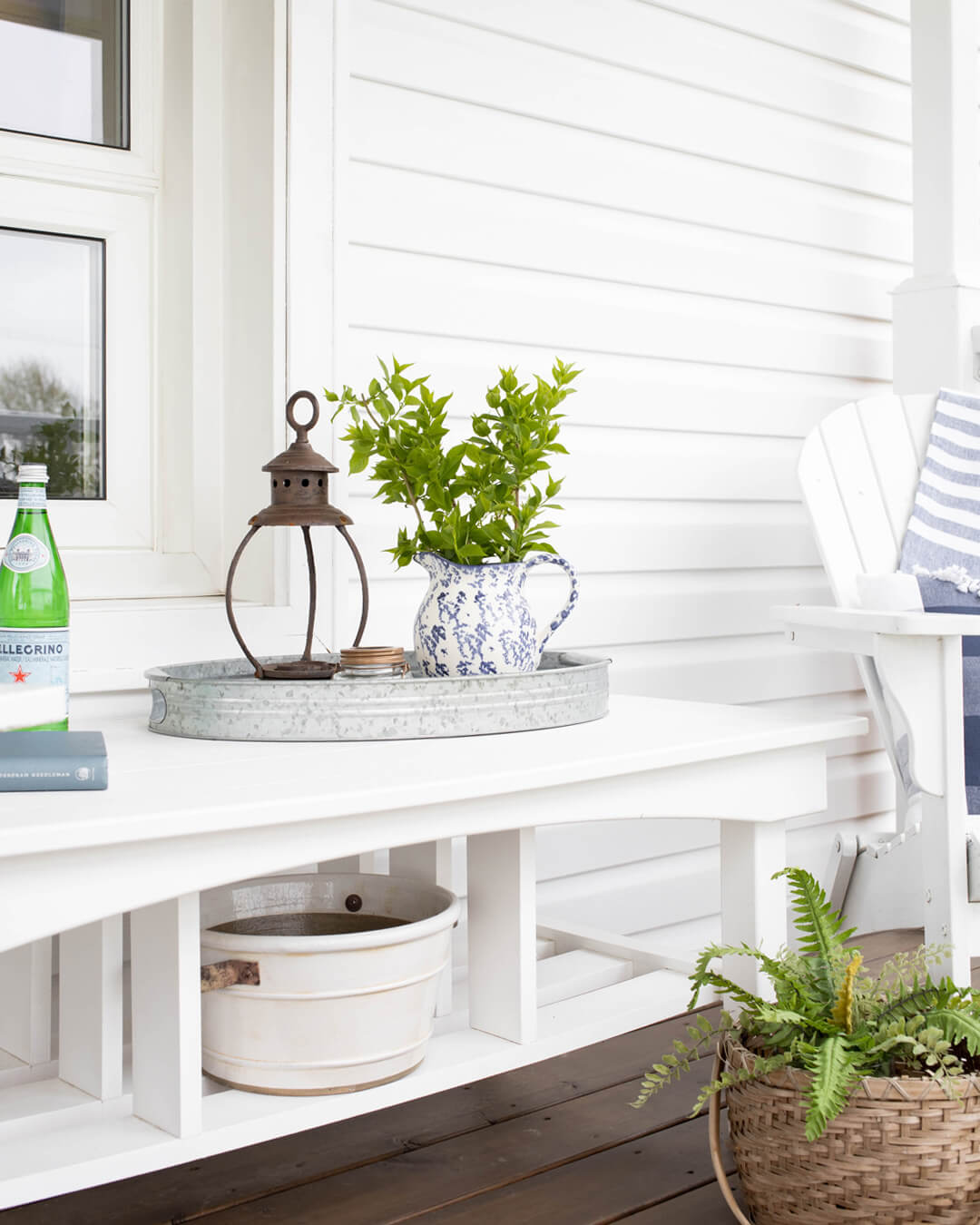 Whether it's holding a glass of lemonade or a pretty petal-powered display, a galvanized serving tray is a great addition to your front porch. Making it easy to entertain or organize some outdoor decor, this server creates a hearty hub for housing your go-to items. A dainty glass jar and a lantern are wonderful extras to keep on hand too. Maybe the younger kids will collect fireflies to fill the jar on a dark night or you will feel cozier with the soft glow of a lantern. Either way, this galvanized serving tray works nicely on top of your outdoor table and gives some extra pleasure to the eyes.
4. Overhead Overload with Lights, Ferns, and Fabric Garland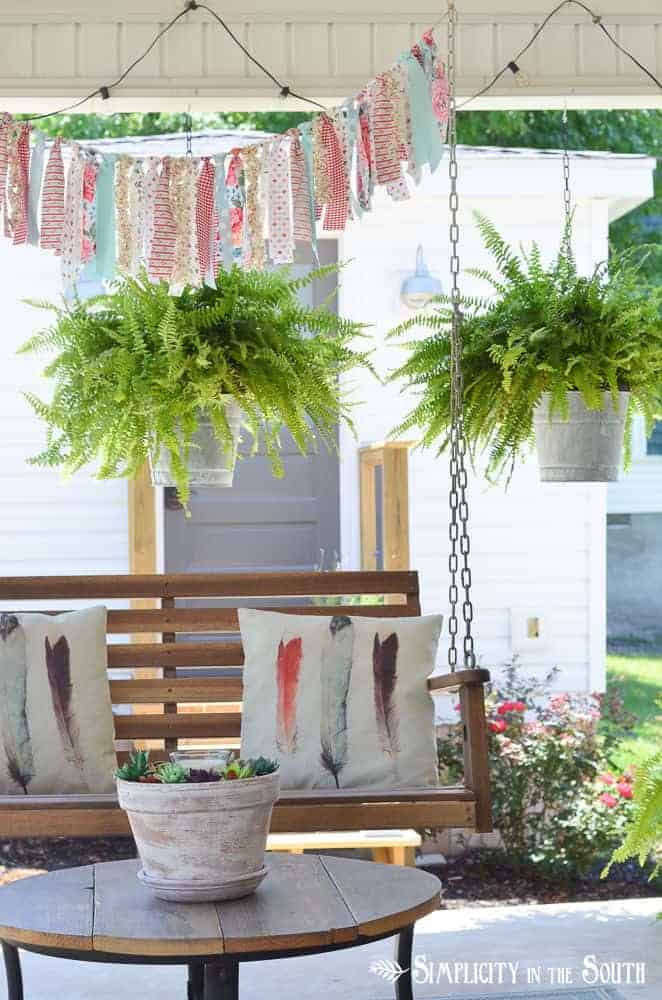 Draw the eye up and overhead on your back porch by embellishing the ceiling space. Ferns are hearty and top-notch porch companions as they enjoy lots of shade. A string of Thomas Edison bulb lighting provides style and practicality on a late summer evening event. Finally, the use of some handmade fabric garland is certain to put some pizazz into your outdoor space. You can customize your look with whatever design and color of material your heart desires.
5. Create Your Own Relaxation with Vinyl Lettering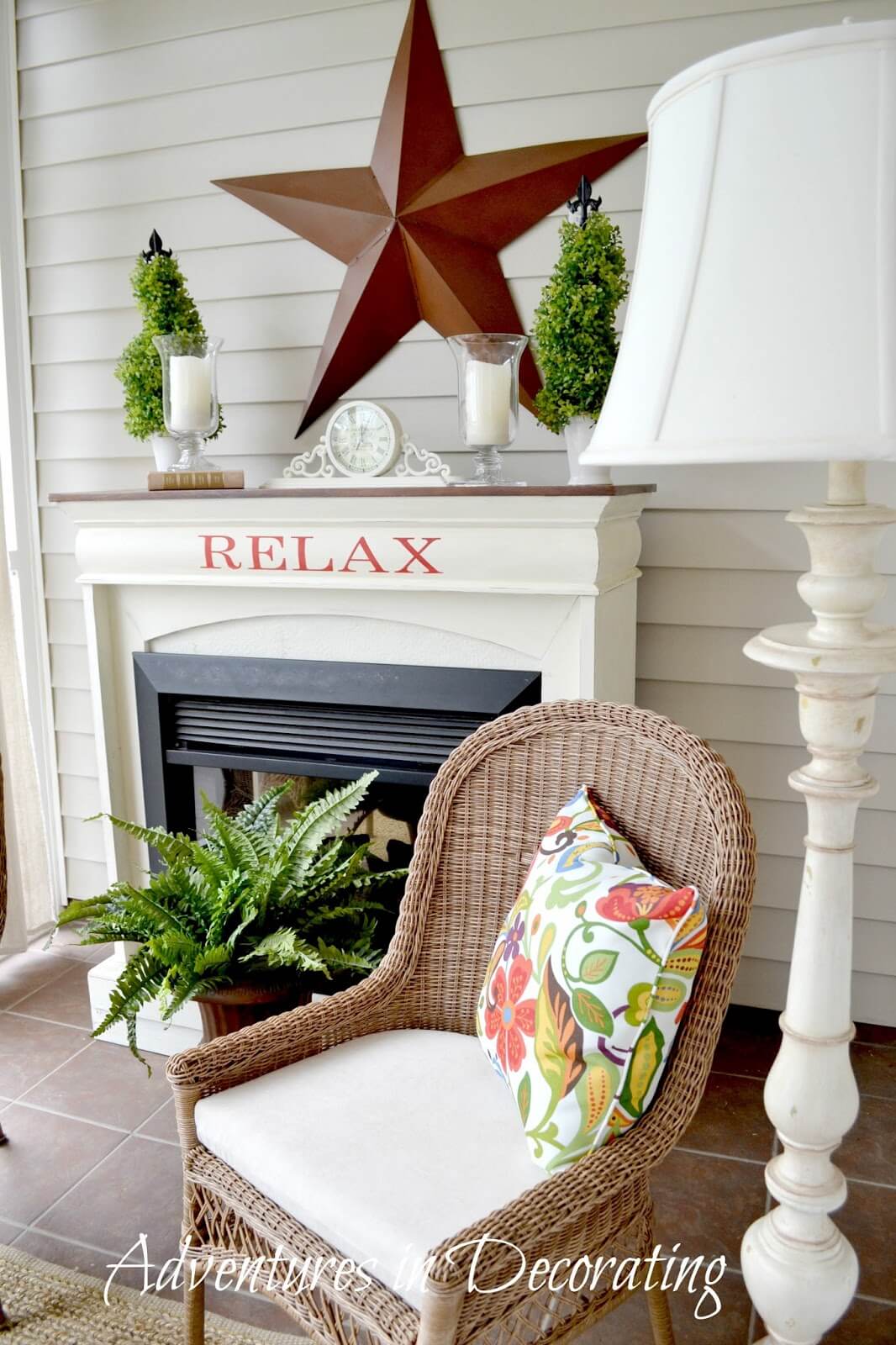 Make your porch a warm and inviting space to kick back and unwind by slapping your mantra right above the mantel. The vinyl lettering of the word "relax" tells guests and serves as a friendly reminder to yourself to leave the cares of life and focus on rejuvenating your soul. A comfortable chair adds to the ambiance of your outdoor retreat complete with candles, a clock, and a throw pillow. Some greenery is just the right touch for rounding out the space that lures your mind into the recovery it needs.
6. Shabby Chic Gardener's Dream Summer Porch Workspace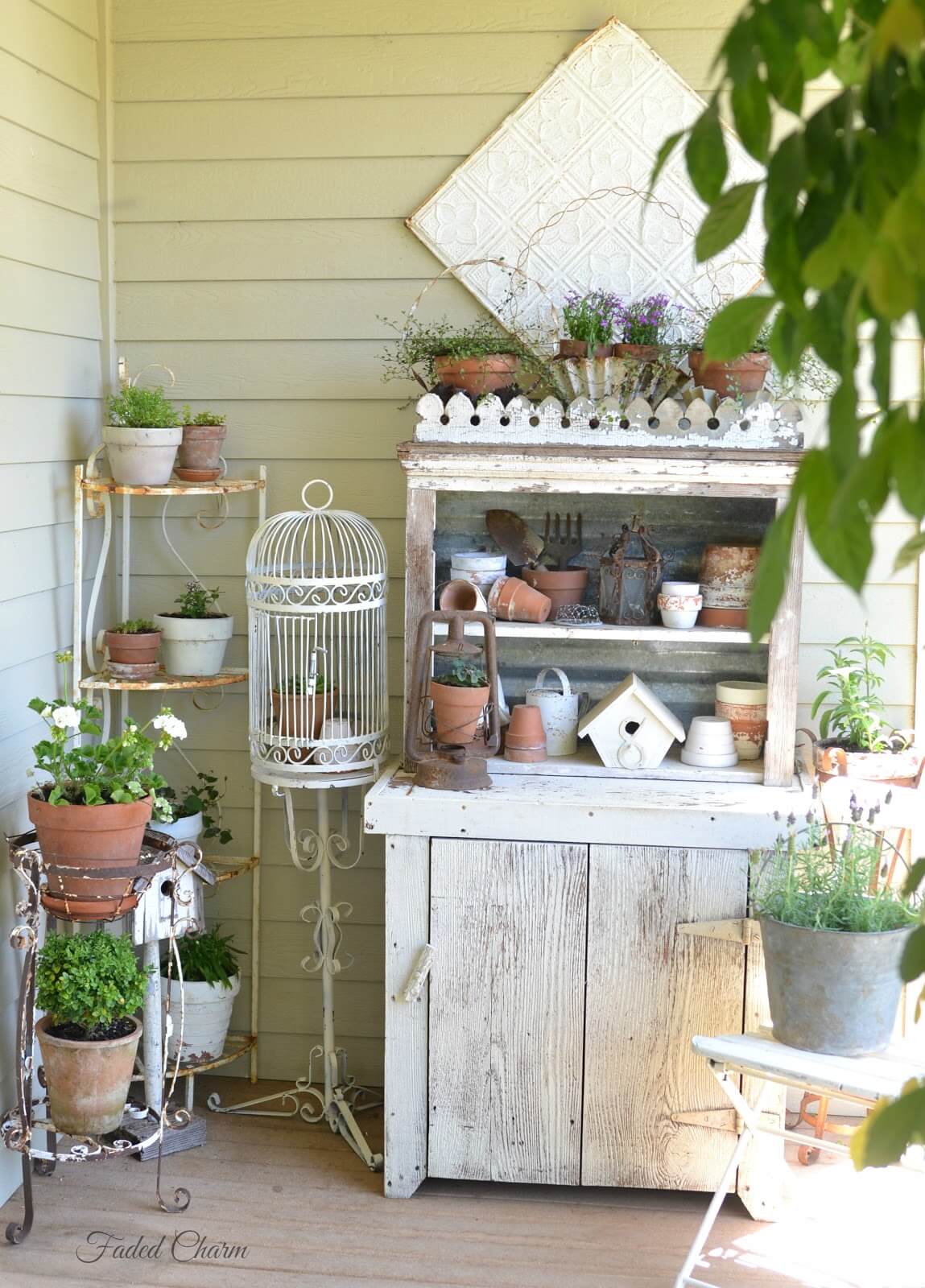 There's no need to lack style when housing all of your gardening goodies and this shabby chic design is perfect for any green-thumbed diva! Featuring a fabulous distressed white cabinet to store all of your tools and supplies, this gardening oasis looks as great as it functions. Secured in the corner is a tiered plant stand to help maintain and hold all of your coveted pretty plants, while a whimsical, white birdcage adds some charm and fun. All of your warm weathered green buddies will enjoy congregating in such a nice porch palace this summer.
7. Tall and Lean Wooden Home Farmhouse Sign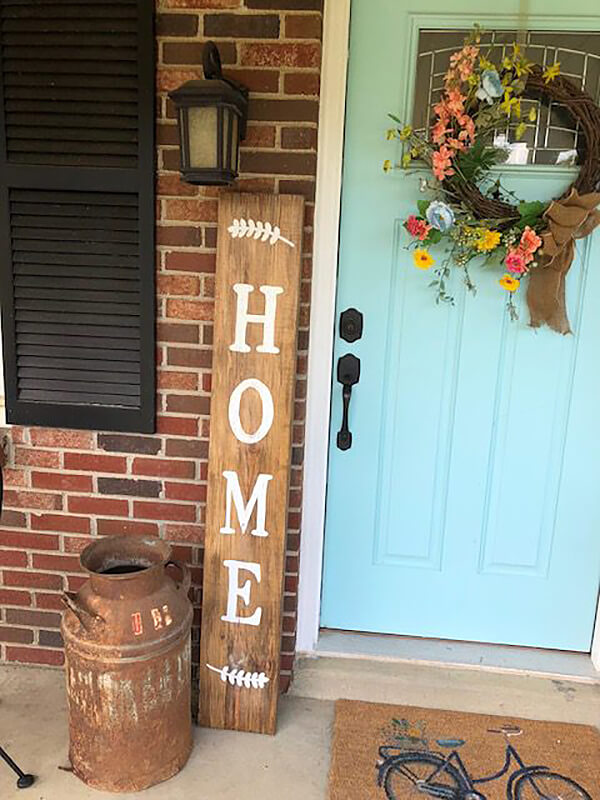 One of the easiest ways to warm up your welcoming space is with a home sign. And with all of the farmhouse style signs popping up everywhere, now is the time to add one of these cherished charmers to your front porch. With their upright design, they work well in nearly any sized space and go with almost any decor. So for a quick and cheap update to your summer porch, you can't go wrong with a wooden home sign like this.
8. Easy Peezy Lemon Squeezy Set of Trees to Decorate Your Front Door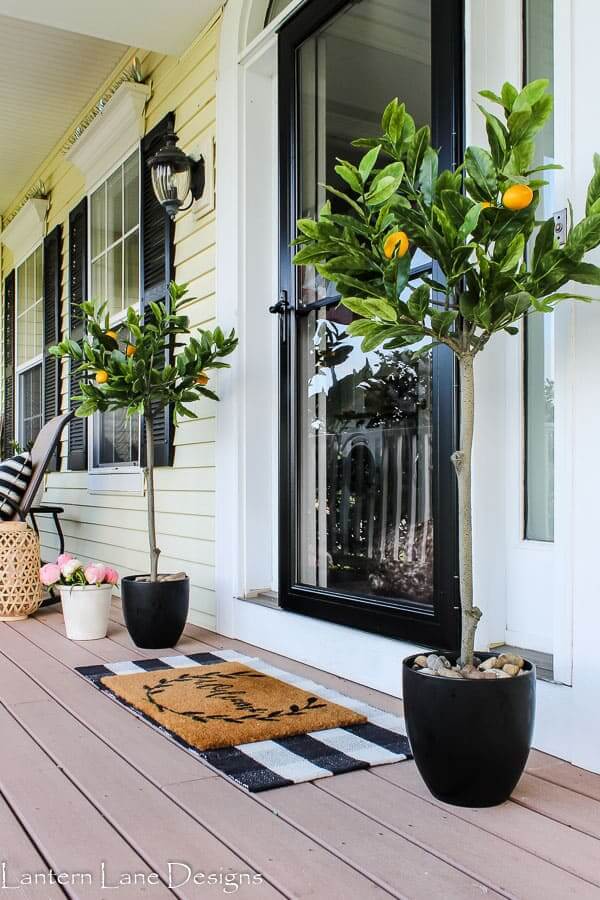 What screams summer better than fresh-squeezed lemonade? And what better way to add some zest into your summer porch scheme than with this cute pair of faux lemon trees. Planted in simple black pots, these faux trees are hassle-free and make a great splash of color on your modern black and white design palette. Add a doormat and you've completed the look to your front door design.
9. Industrial and Modern Black Lantern and Accent Pillow Dynamic Duo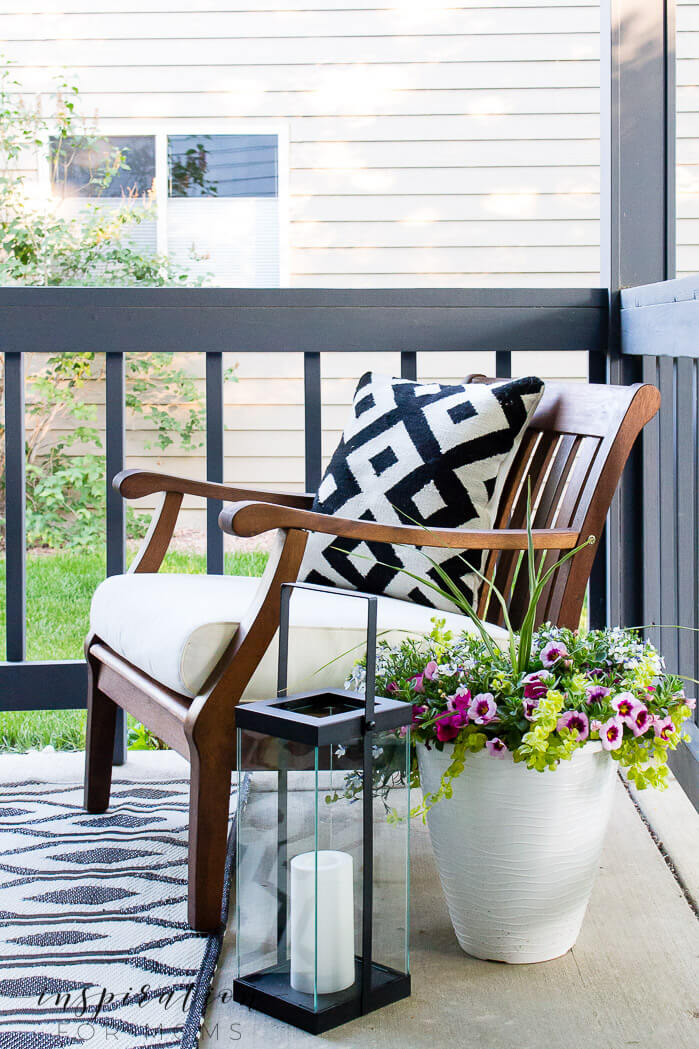 Everyone knows an accent pillow is a tried and true trick of the trade for infusing some style into your corner of the world, but did you know a fun and functional lantern is moving up the ladder in terms of charm? Most everywhere you look, you're certain to see these sleek and modern spins on the timeless lantern as a cool accessory to dress up your front porch. Pairing the two together is a definite winning combination!
10. Black and Boxy Geometric Planters Perfect for the Front Entryway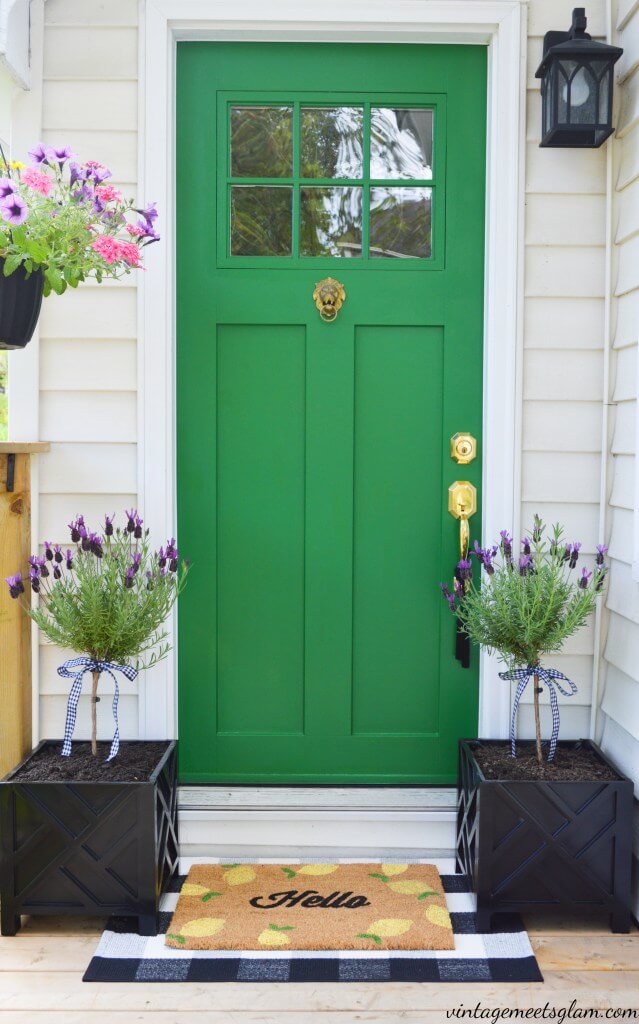 Make a big statement in a smaller space with these sleek and geometric designed square planters. Finished in modern and classic black, they are a great contrast to a white house and provide a nice foundation for some of your favorite flowering friends. Whatever plants your pick, it's sure to feel right at home as it remains grounded in these square securers. The added detail of the geometric pattern on the sides of the boxes gives this simple structure an easy upgrade. Along with a black porch light and a fun doormat, you've reached peak perfection in simple front porch decor.
11. Burlap Bushel and a Peck of Porch Plant Perfection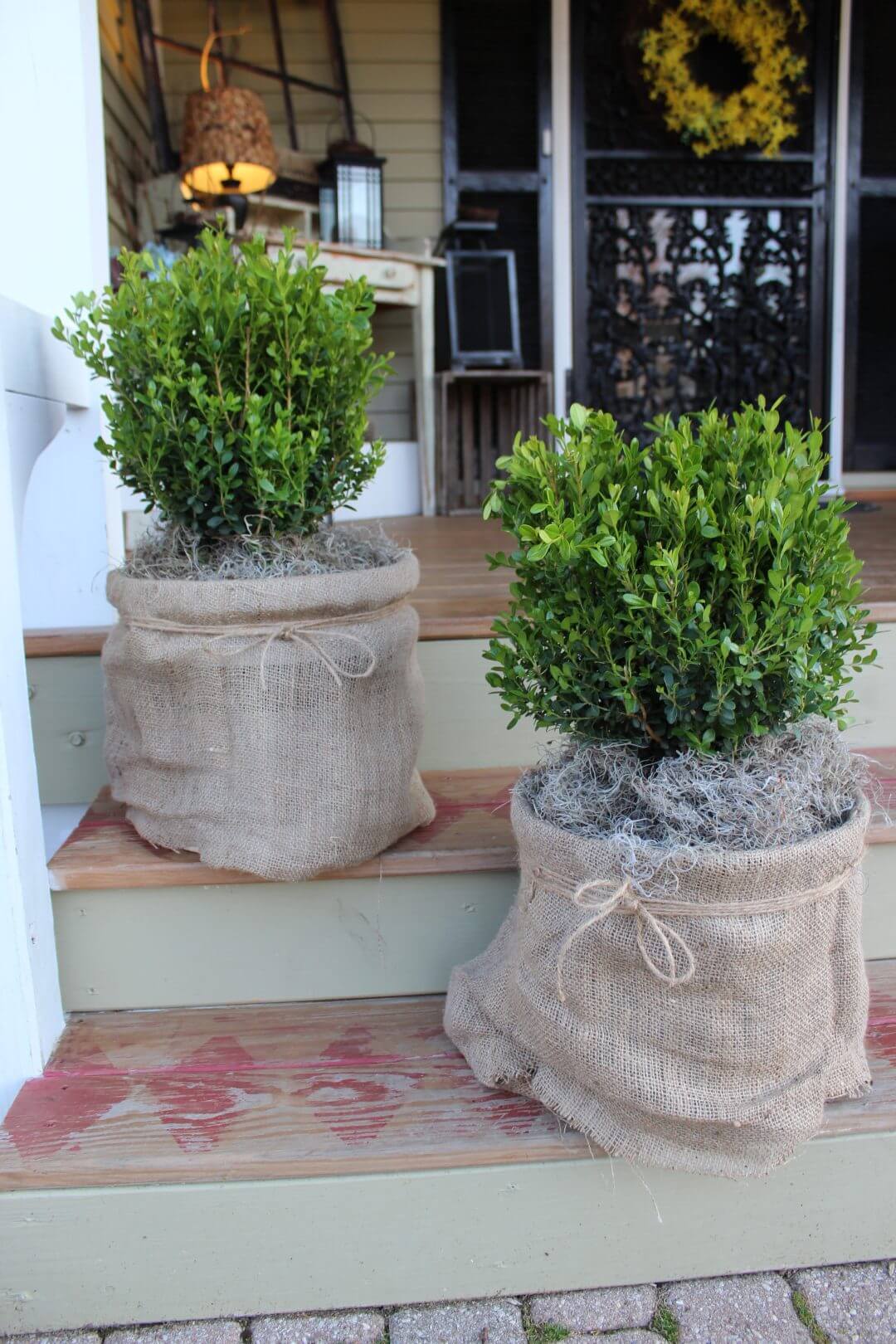 Grab a couple of boxwood plants or your favorite natural beauties and give them the love they deserve in this burlap bushel and a peck planters. Finished off with a twine ribbon, these burlap planters are cute and won't break the bank as your plan your trip to the garden center this summer. The natural texture and tone of the burlap and twine is an ideal backdrop for any vibrant color in your plant preference. Add one on each side of your front door or position them along your steps to greet guests with some gracious garden goodness.
12. Sign, Sealed and Delivered- This Porch is Yours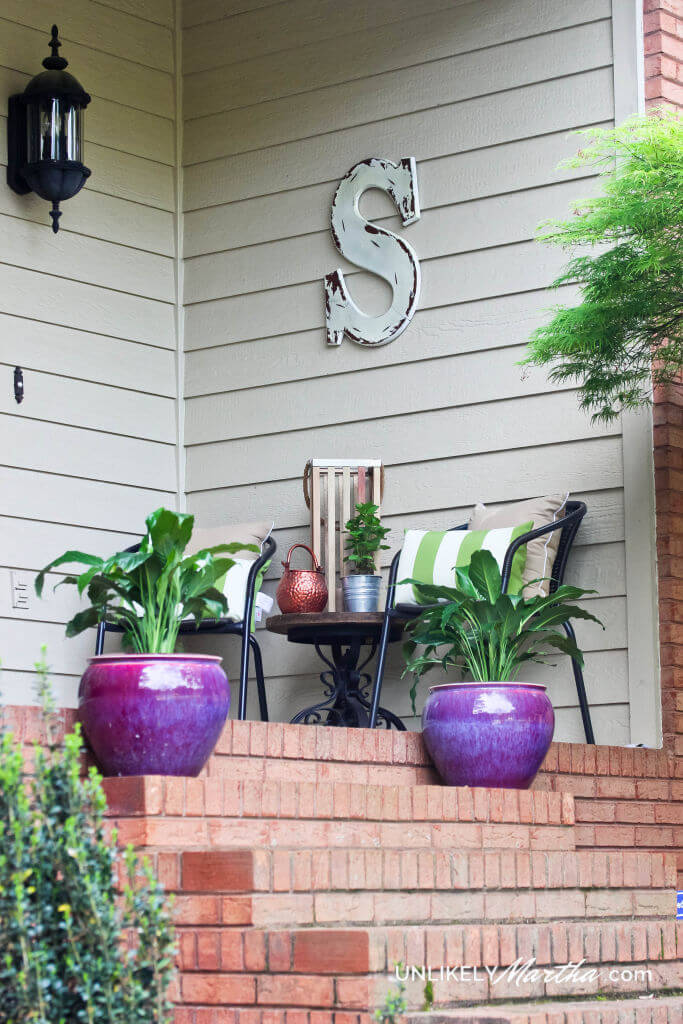 While plants, chairs, and doormats are essential to cultivating a fresh summer porch, it's always in good taste to add your own touch by hanging your family initials there too. This would be a simple DIY project as you could paint it any color of your choice and decide to distress it or not. Adding a single letter to highlight your family's surname is a super speedy way to update your porch on a warm summer night.
13. Wild for Flowers and Butterflies Summertime Print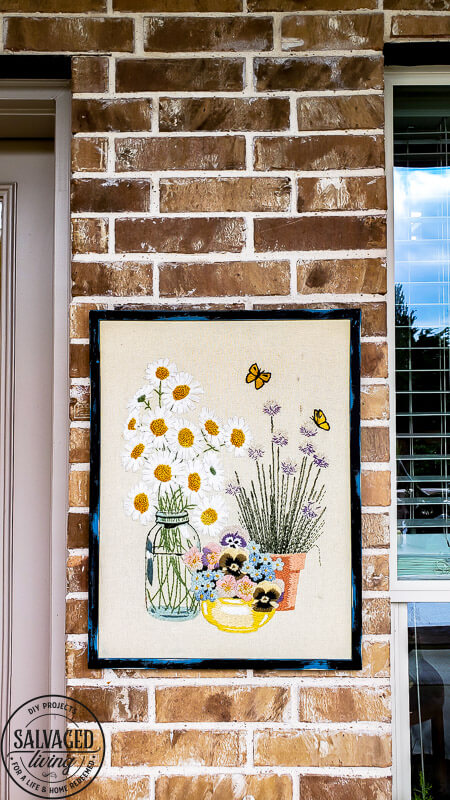 Capture some of the prettiest stars of the season with the arrangement in this whimsical and charming summer print. Featuring wildflowers and butterflies, you can nearly smell the fresh air and feel the sunshine dancing upon your face. The warm and buttery yellow hues really bring the feeling of summertime to life. The distressed black, with a touch of blue, the frame adds some character and takes the charm up another notch. Place this print front and center on your back porch or on the sidewall of your front porch pavilion.
14. Let Freedom Ring Fabulous Firework Throw Pillow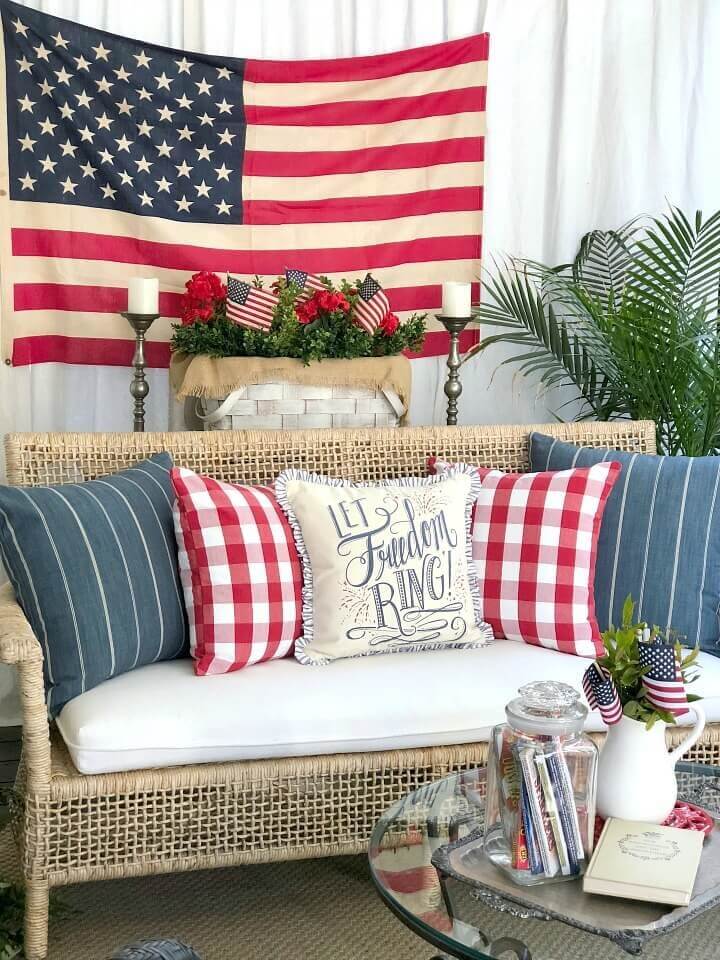 Forget those who say less is more because when it comes to throwing pillows- it's the more, the merrier. Displayed on a wicker bench, this arrangement of patriotic pillows packs a punch of power in the red, white, and blue department. Celebrate America's freedom all summer long with the colors and focus the attention on the main message by placing the fabulous freedom and fireworks pillow in the middle of the bunch. You can't go wrong with any amount of flags, no matter their size, to accompany this spectacular American inspired pillow placing.
15. Earthy and Brown Textured Letter with Ribbon Door Hanger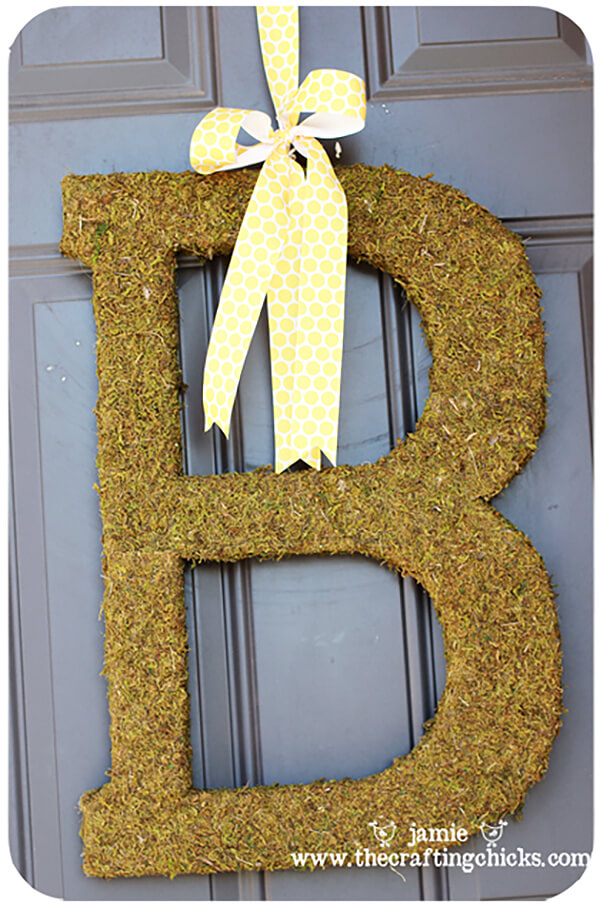 Replace the wreath with a surname sentiment as you freshen up your front door. Choose a large, over-sized ribbon with the color and pattern of your liking to hold this single initial on your front door. No matter what season, this initial is always in style although you can interchange a different ribbon for the changing seasons. The rich yellow honeycomb pattern featured here is a cute and cool way to display this letter for the warm, summer months.
16. Pop of Color Painted Patio Furniture Set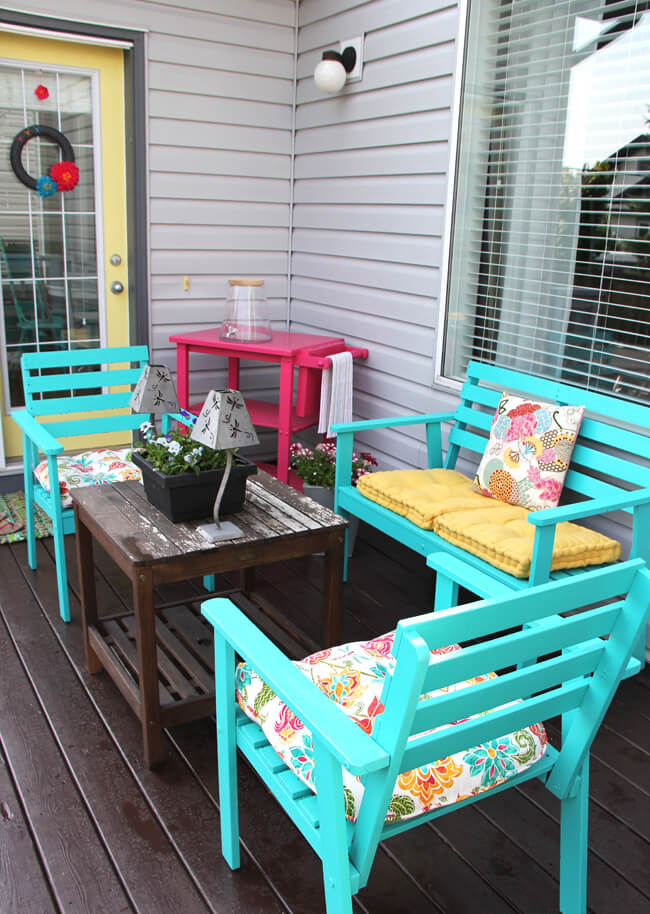 Those soaring summer temperatures deserve some cooling down and what better way than with some tropical hues for your outdoor furniture. Your smooth lines will stand out as you sit and unwind in these bold and beautiful beach-friendly colors. Consider one color for the seating space and another for a side table to achieve a unique and fun look. Whether you choose a Caribbean blue or a Starfish Pink, you can't go wrong with some inspiration from the tropics. The addition of a set of seat cushions and throw pillows in coordinating hues are a perfect touch to cozy up your outdoor living room into the relaxation haven you dream of.
17. Grey Porch Providing Plant Paradise for Summer Serenity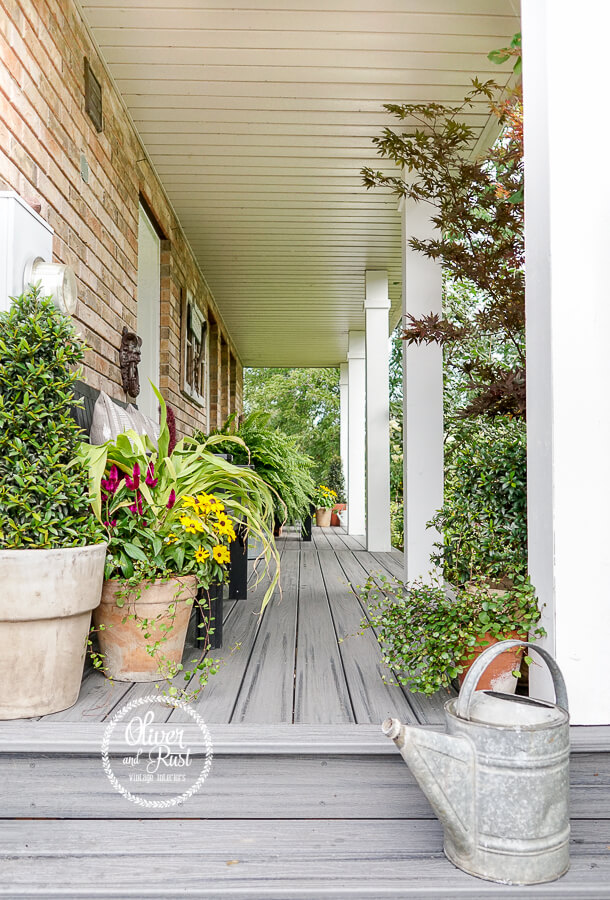 Go from drab to fab with a modern spin on your porch foundation with these gorgeous gray wood grains. Since grey remains a dominant design color, you can take it out of the house and onto the front porch. A collection of planters filled with perennials and/or annuals provide some pretty and welcoming warmth as you take a step onto this porch paradise. Leave the metal watering can out where it's handy to grab and give your garden friends a quick drink as it doubles as a decoration when not in use. Watch the sunset from the comfort of your own outdoor space or greet the morning light with your first cup of coffee from this serene sanctuary of grey space.
18. Set Sail by the Seaside from the Comfort of Your Own Porch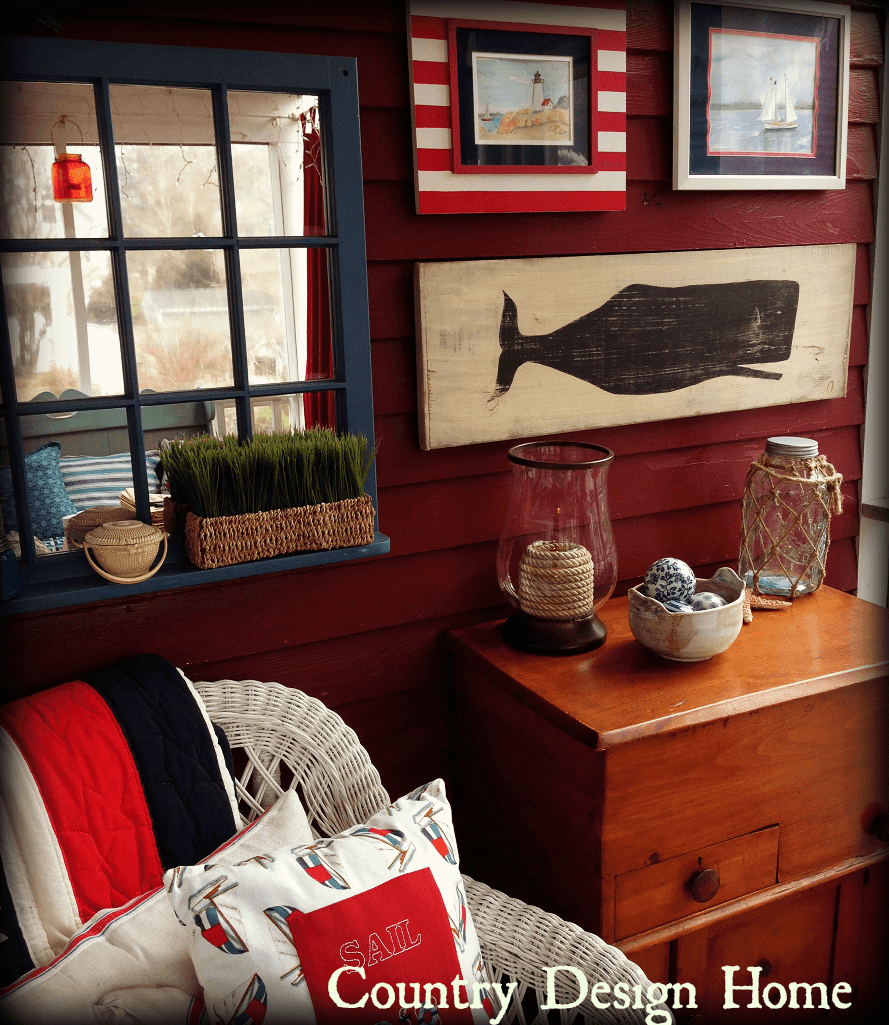 Reel in the grandeur of the sea with a seaside porch decoration sensation. From lighthouse prints to whales, the nautical nature of this design navigates from knots to nature. Set amid a background of red, white, and blue, there is a hint of the American spirit in the overall look and feel of this water lover's safe harbor.
19. Crazy Eight Flip Flop and Lei Summer Fun Unique Wreath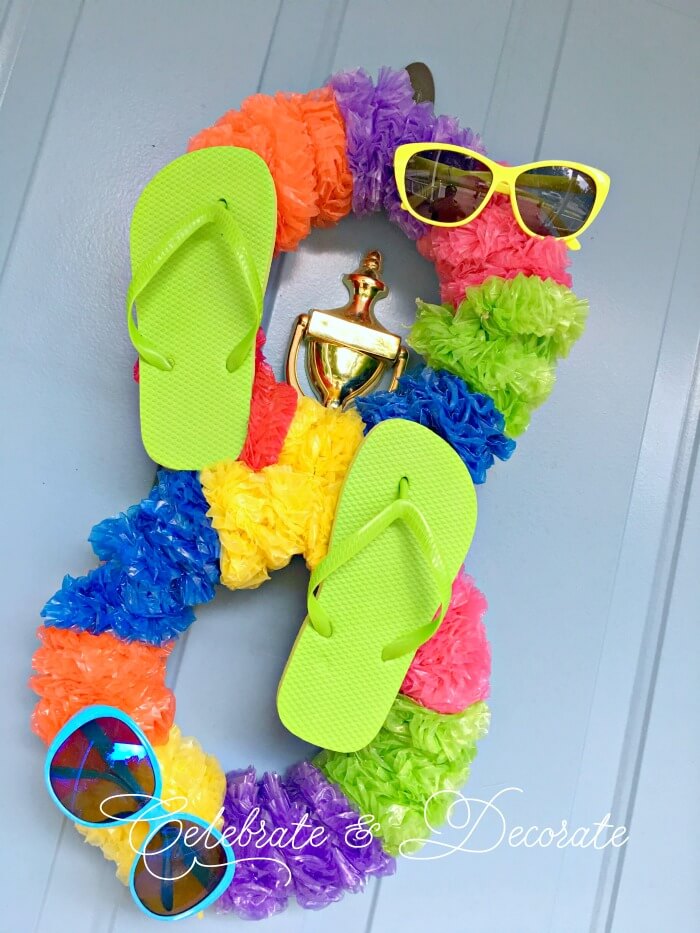 Forget the fake flowers and forge ahead of the game with this truly one-of-a-kind double summer fun wreath. The bright and bold colors of the plastic leis set the stage for some fun as this double wreath comes to life with lots of embellishments. With sunglasses and flip flops, this crazy eight looks festive and fun as it's hung on your front door.
20. Patriotic Firecrackers Stair Step Trio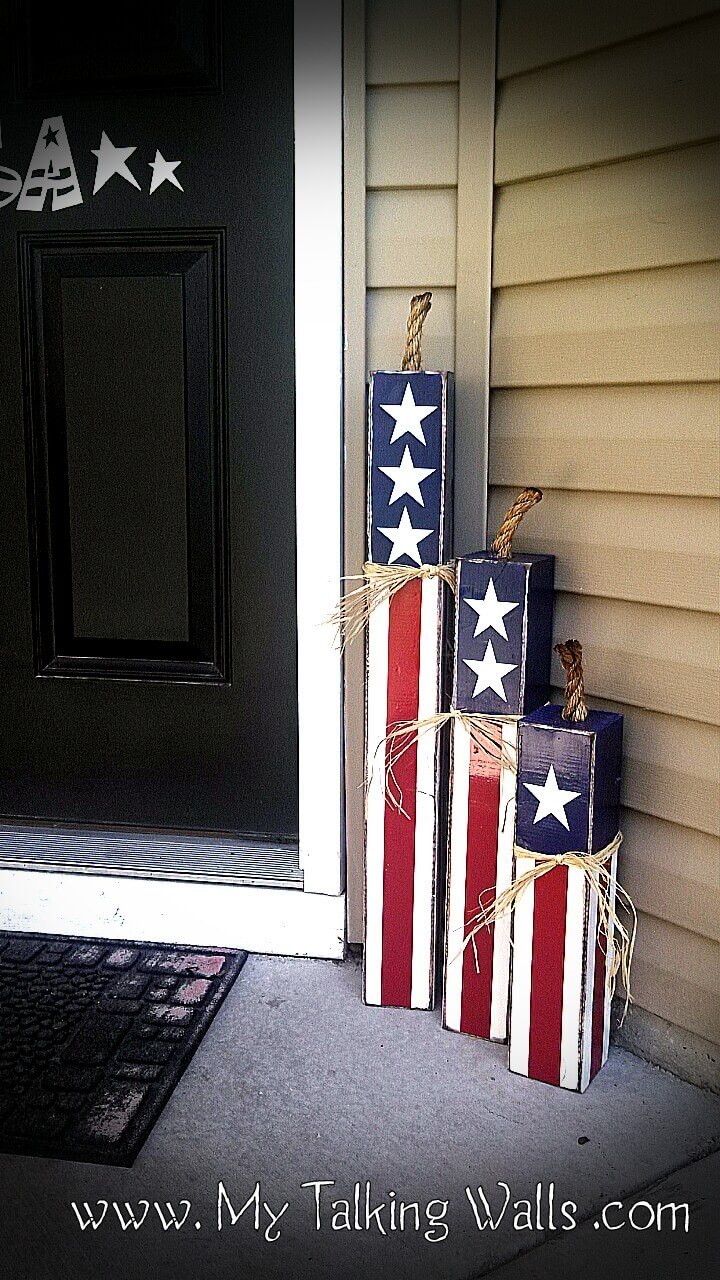 Short on space? No sweat when you've got this star-spangled set of firecrackers to light your way. The small to large set of three wooden firecrackers is complete with rope wicks to top them off. Raffia ribbon rounds out the top of these rectangular risers that show off a cascading number of stars from three to one. The stars and stripes never looked better in the sideshow of your front porch splendor. Arrange them together for a dramatic effect or scatter them around as single statues to put some American spirit into the entire porch scene.
21. Sleek Lines to Sit and Stay a While Back Porch Space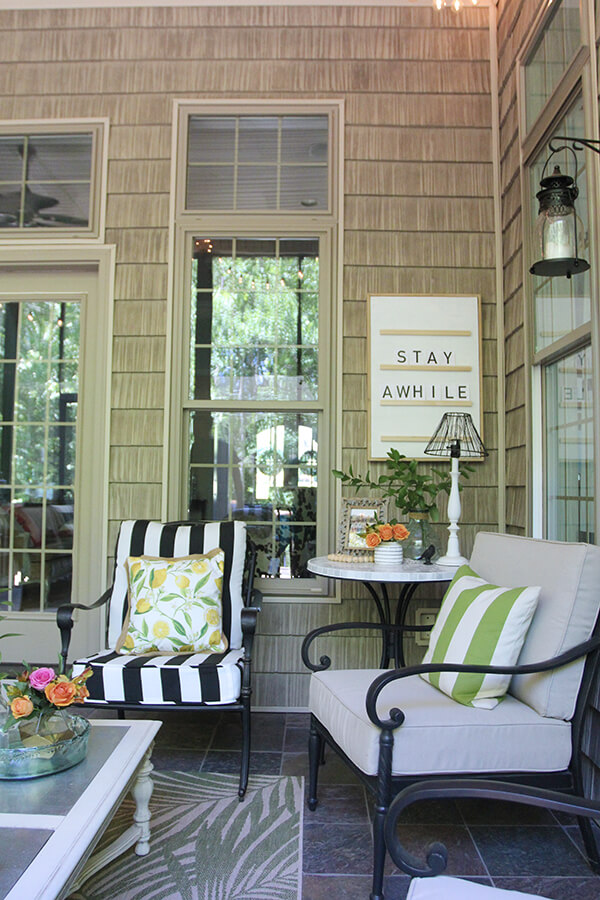 From the lines in the shaker shingles to the stripes on the chair cushions, this space screams clean lines in a gentle, yet commanding way. With a cute and cozy circular corner table, this conversation space is as cool as a cucumber. The black and white "Stay a While" sign is a welcoming addition to this nearly perfect porch area. Whether you wish to sip some freshly brewed sweet tea or guzzle down a cold one, you can marvel in the simple things of life with this relaxing oasis.
22. Five Fabulous and Fluffy Modern Neutral Accent Pillows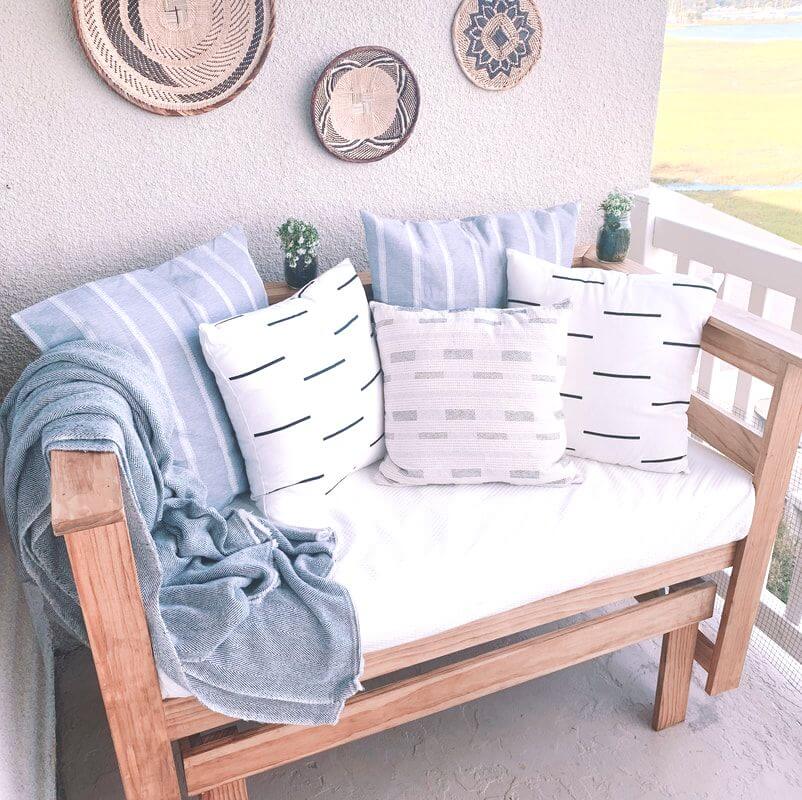 Set your favorite fluffy five squares in a neat row to give yourself a place to enjoy a warm summer breeze. This arrangement of simple square pillows utilizes the modern neutral palette of black, white, and grey to stay at the top of its style game. Be sure you have a soft and cuddly throw for a quick snuggle with your favorite book and coffee mug. Listening to the birds or watching the sunset is equally enjoyable from this cozy seat sure to be your favorite summer space.
23. Spectacular Spindle Front Porch Swing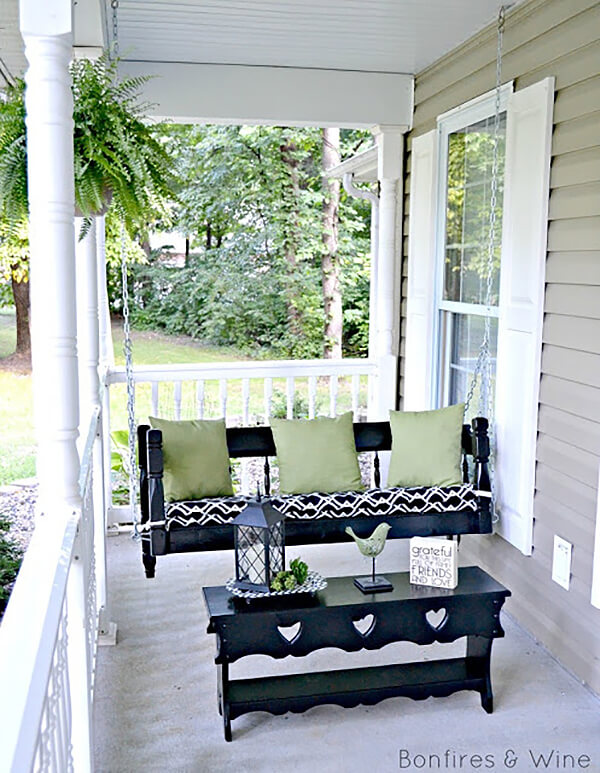 Dramatic and bold is how to describe this front porch swing. Crafted from sturdy stair spindles, this unique swing offers a place to kick up your feet and enjoy a beautiful summer day. Add a black and white cushion for added comfort and an extra design element. A small table creates a cozy space that resembles your main indoor living area. Invite your closest gal pal over for a quiet evening or let the kids join you for a late evening story on the swing. You'll soon discover this special spot on the porch is the favorite of each member of the family.
24. Old Treasure Chest Comes Alive in Your Outdoor Seating Area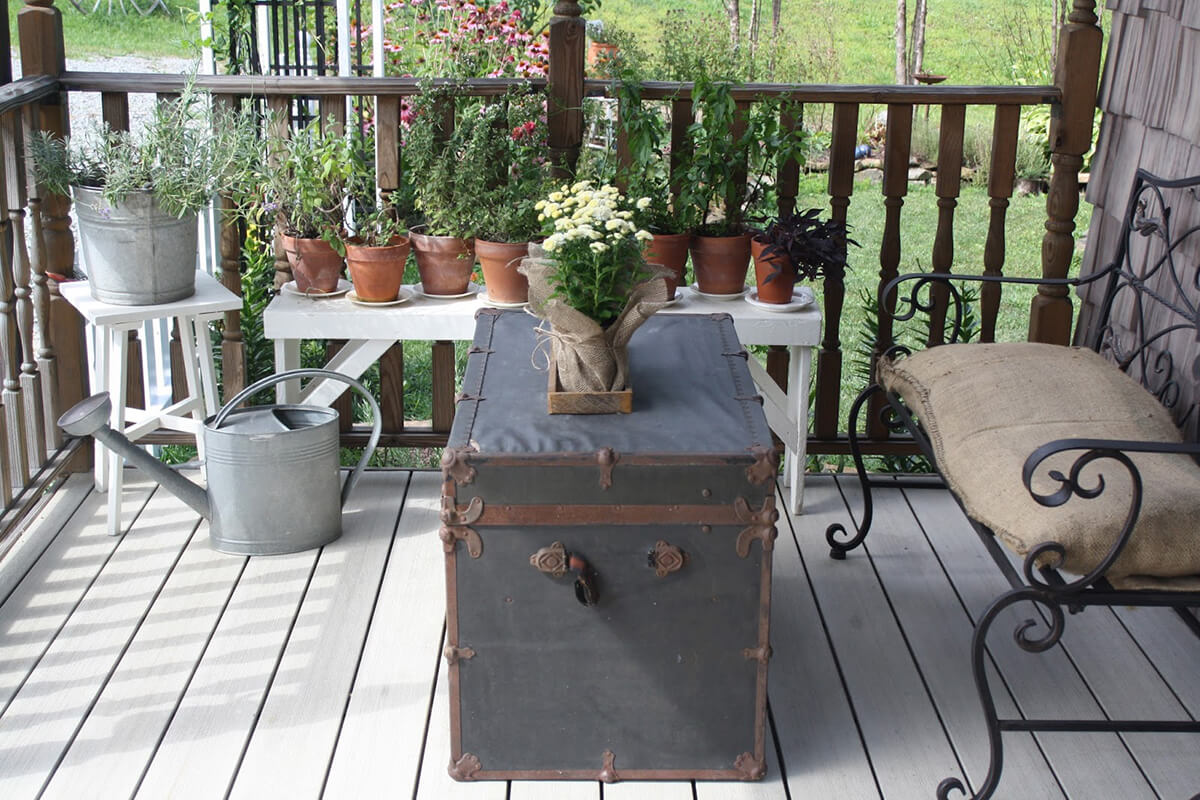 Turn an old treasure chest trunk into a repurposed piece as an outdoor coffee table. Perfect for holding your drinks or resting your feet as you unwind outside. Surround yourself with potted plants to further intertwine nature into your outdoor living space. A quaint bench is a great place to take a load off and an old feed sack makes an original cushion in a budget-friendly way.
25. Charming Church Pew Finds Peace on the Porch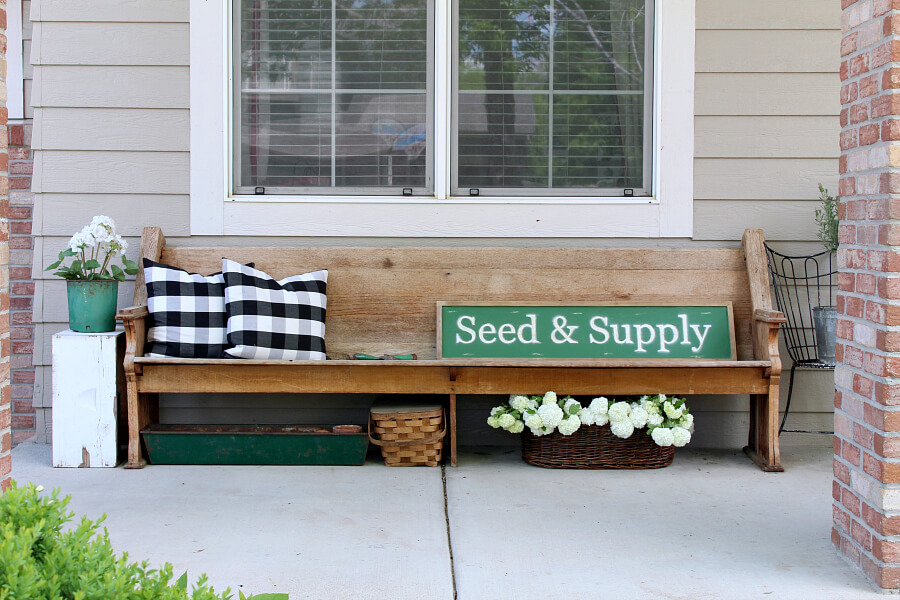 Add an abundance of seating and some additional storage space by re-envisioning the traditional church pew into an oversized front porch bench. Line up a few of your favorite throw pillows along with a whimsical sign and you've got a posh place to sit and some extra curb appeal. Just underneath the seating area is a great place to store some of your extra supplies from baskets to shoes. A cute and small side table offers just the right amount of surface space to sit your drink as you cool down after some yard work in the summer sun.
26. Cuddle Up with This Cozy and Comfy Cushion Collection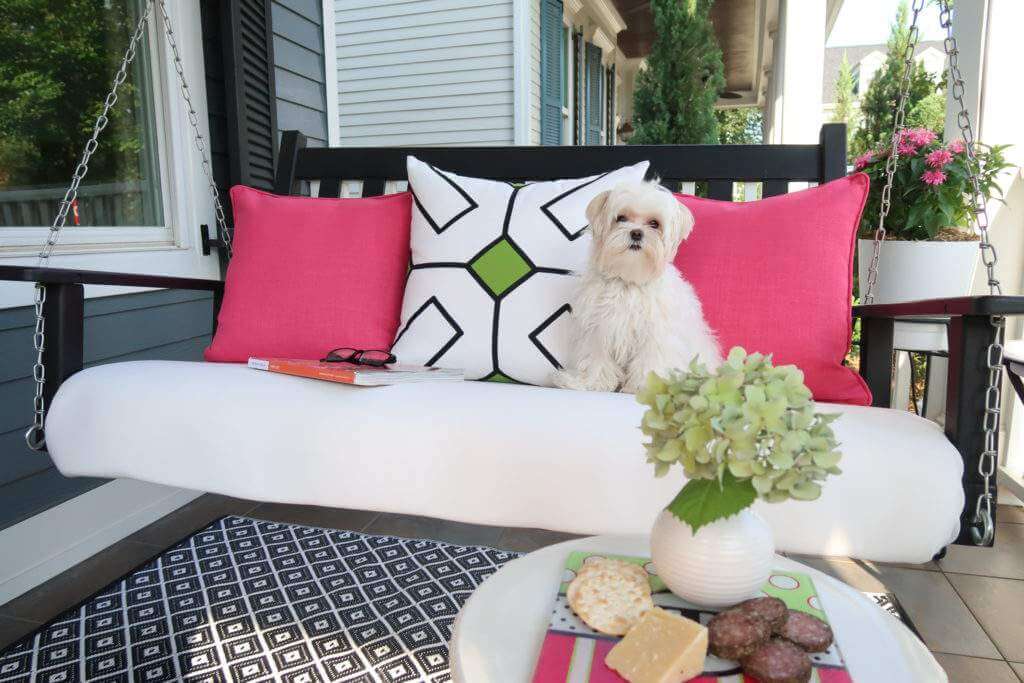 Even your four-legged family member will enjoy the softness of this ultra-comfortable seating cushion and throw pillow collection. Using the staple neutral of white as the base in this seating extravaganza, the trio of throw pillows really packs quite a punch with their pop of color. The overall look channels sophistication and clean lines to create a more contemporary and modern feel to freshen up your porch this season.
27. Turquoise, Green, and Plenty of Pink Flamingos Outdoor Rug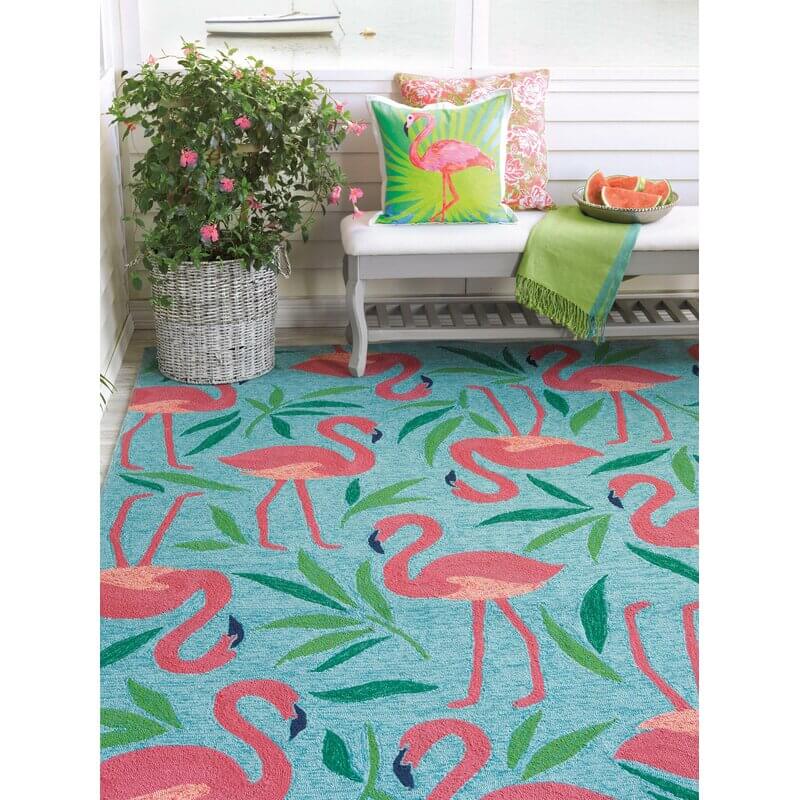 One of the easiest and most practical ways to update your porch or patio space is with a new and exciting rug to celebrate the season. The bright and bold tropical colors are the best foundation for creating your summertime sanctuary. With a few additional flamingo inspired pieces like a throw pillow, you can complete the overall look and tie the bird of summer into your outdoor decorating design. Girls of all ages will enjoy flocking to this summer scene.
28. Squared Off and Spun Traditional Wooden Porch Planters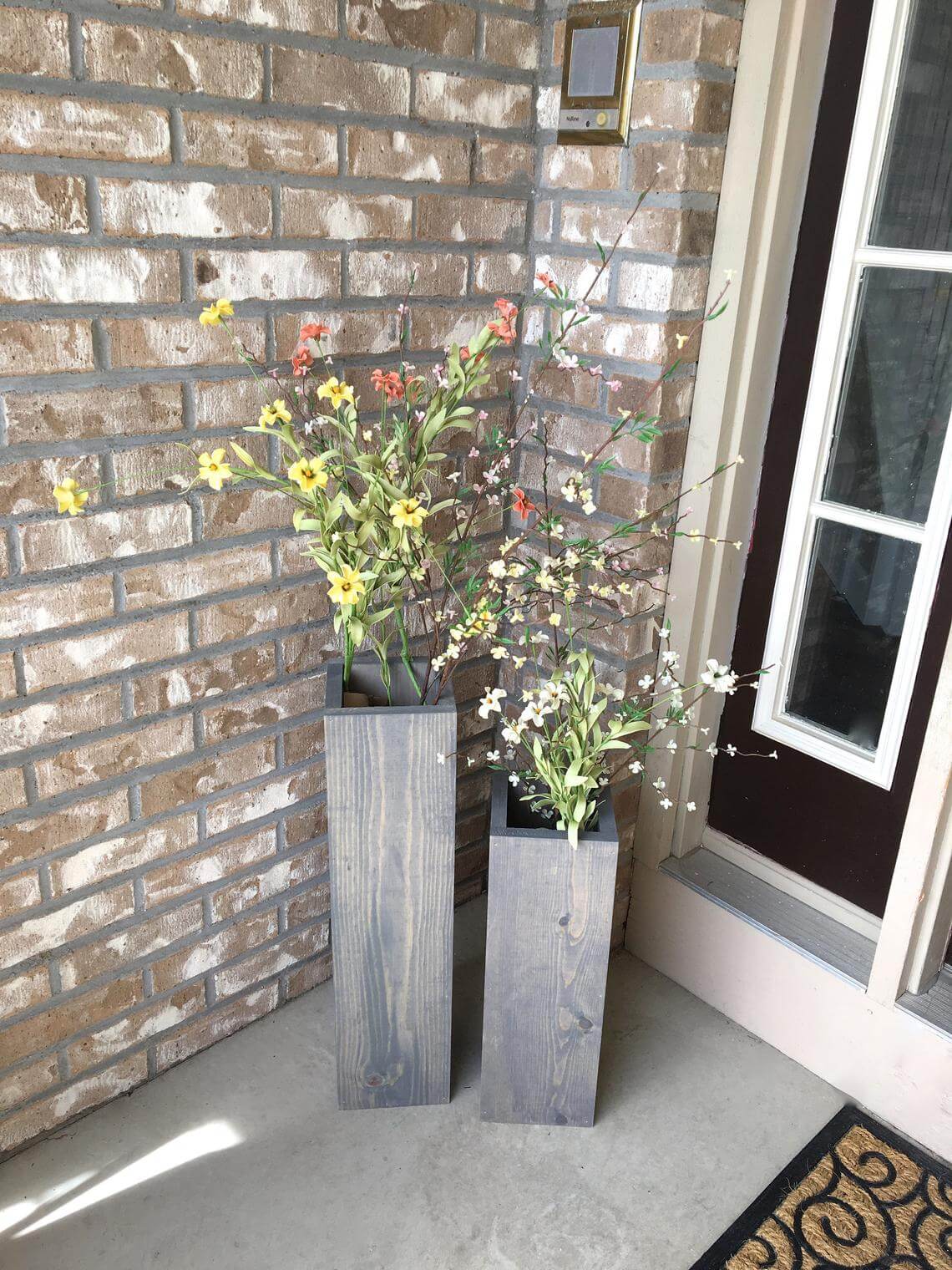 Add some height into the flower arrangement on your porch with this set of boxy and tall rectangular planters. Enjoy the character of the wood grains as the lines and knots peek through the stain. Both of these planters provide contrast in their heights while maintaining consistency in their design style. Often flowers sit on the bottom of the porch or hang overhead, so these squared off planters find a nice middle ground to add just the extra touch of style to the summer scene.
29. Prickly Cactus and Flower Sign Seated in Cheetah Print Planter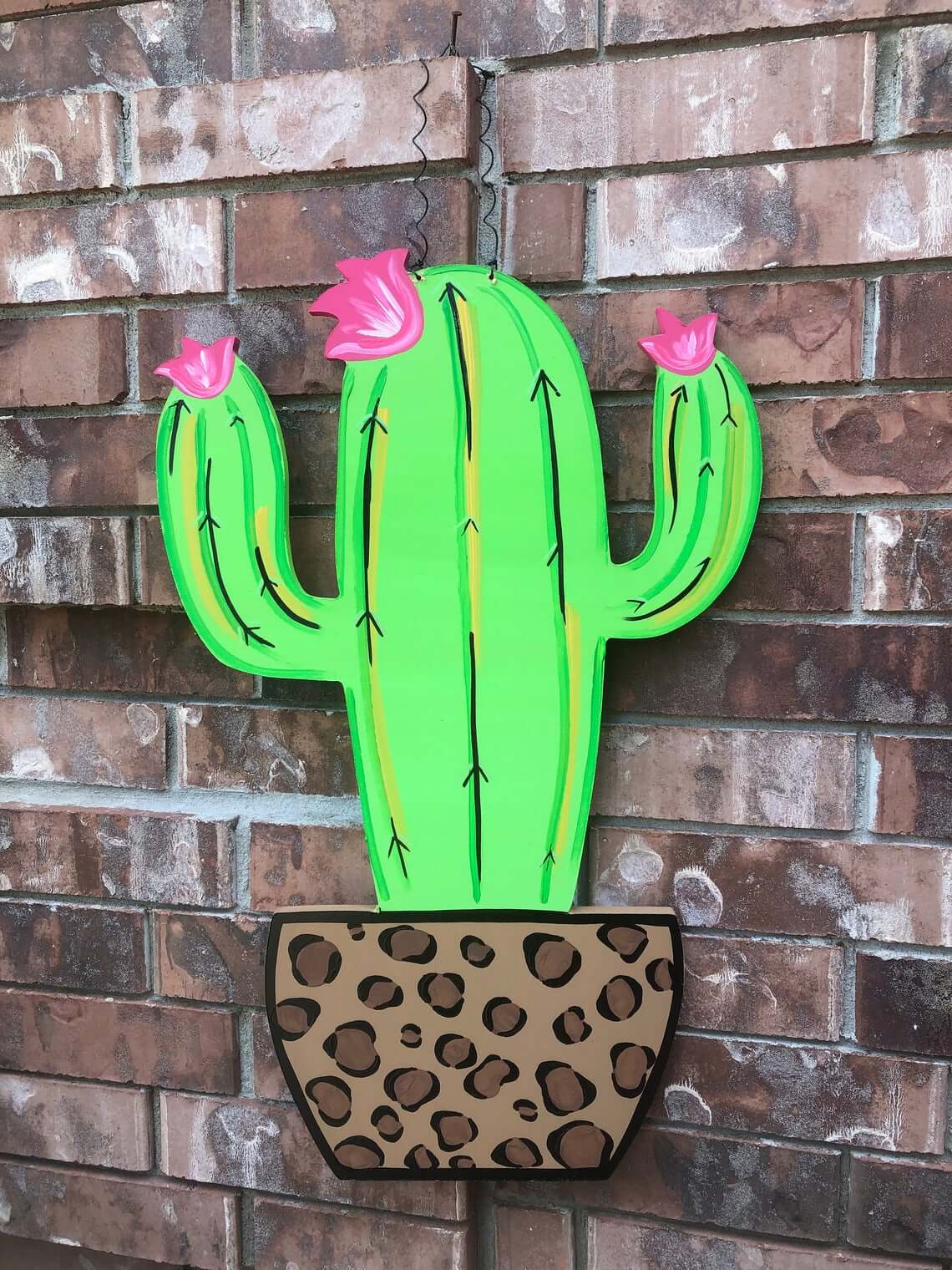 Master the print of the season by incorporating the animal print of the moment with a fun cheetah print planter sign. Holding a strong and poky cactus plant, this cheetah print sign boasts a heat-loving plant favorite. For extra style points, the cactus on the sign has bloomed with vibrant fuchsia pink flowers. So even if you don't live in the southwest, you can still enjoy some of their famous desert companions in the form of a cool sign for your outdoor space.
30. Love Grows Here Chalkboard Porch Sign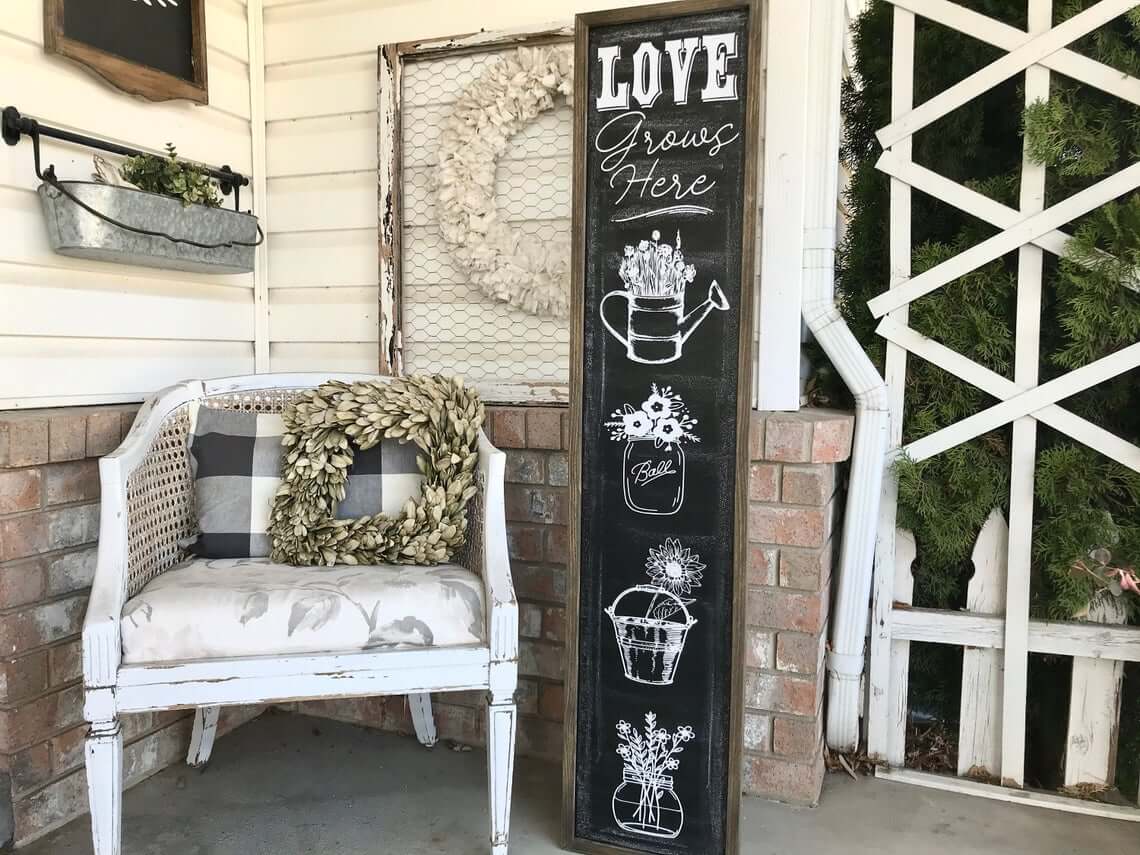 Every green-thumbed girl will delight in this tall and terrific "Love Grows Here" chalkboard sign. The black chalkboard paint gives some character as the background for this perfect porch decoration piece. With a warm sentiment topping it, the assortment of chalk-drawn gardening tools makes for some charming porch appeal. It also serves as inspiration for a variety of ways to use your essential gardening goodies repurposed as vases for your favorite freshly-picked garden bouquet.
31. Flippin' and Floppin' Summer Decor Extravaganza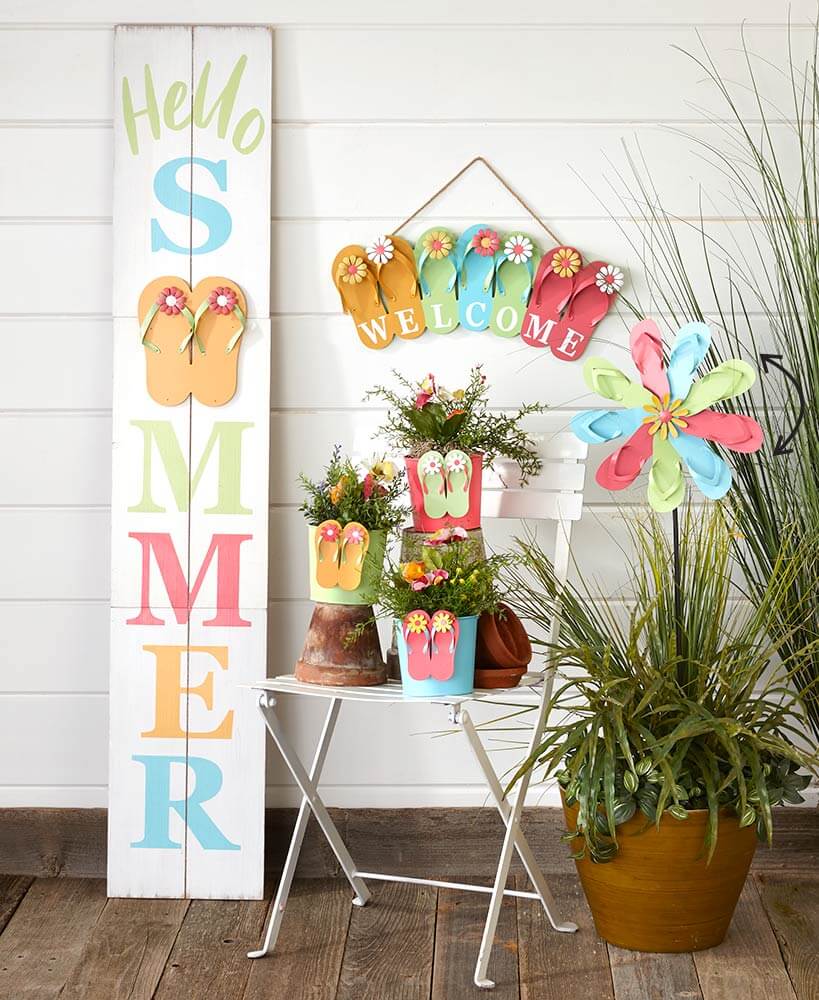 Highlight the shoe of the season with your choice of this extravaganza of flip flop home decorations. Perhaps the most original design, the flip flop wind spinner, whips the fun into your yard as it embraces each friendly breeze. Or you could have a cute welcome sign spelled out on a series of pairs set side by side. If you want to draw a lot of attention, prop the larger-than-life "Hello Summer" sign in your porch corner. And since summer is the season filled with an abundance of blooms, you can never have too many planters so don't forget to grab one or two of these cool flip flop embellished pots. Collect them all as you host a flip flop themed backyard deck barbecue and maybe even buy a few extras to serve as door prizes for your guests.
32. Flashy and Floating Fuchsia Flamingo Welcome Sign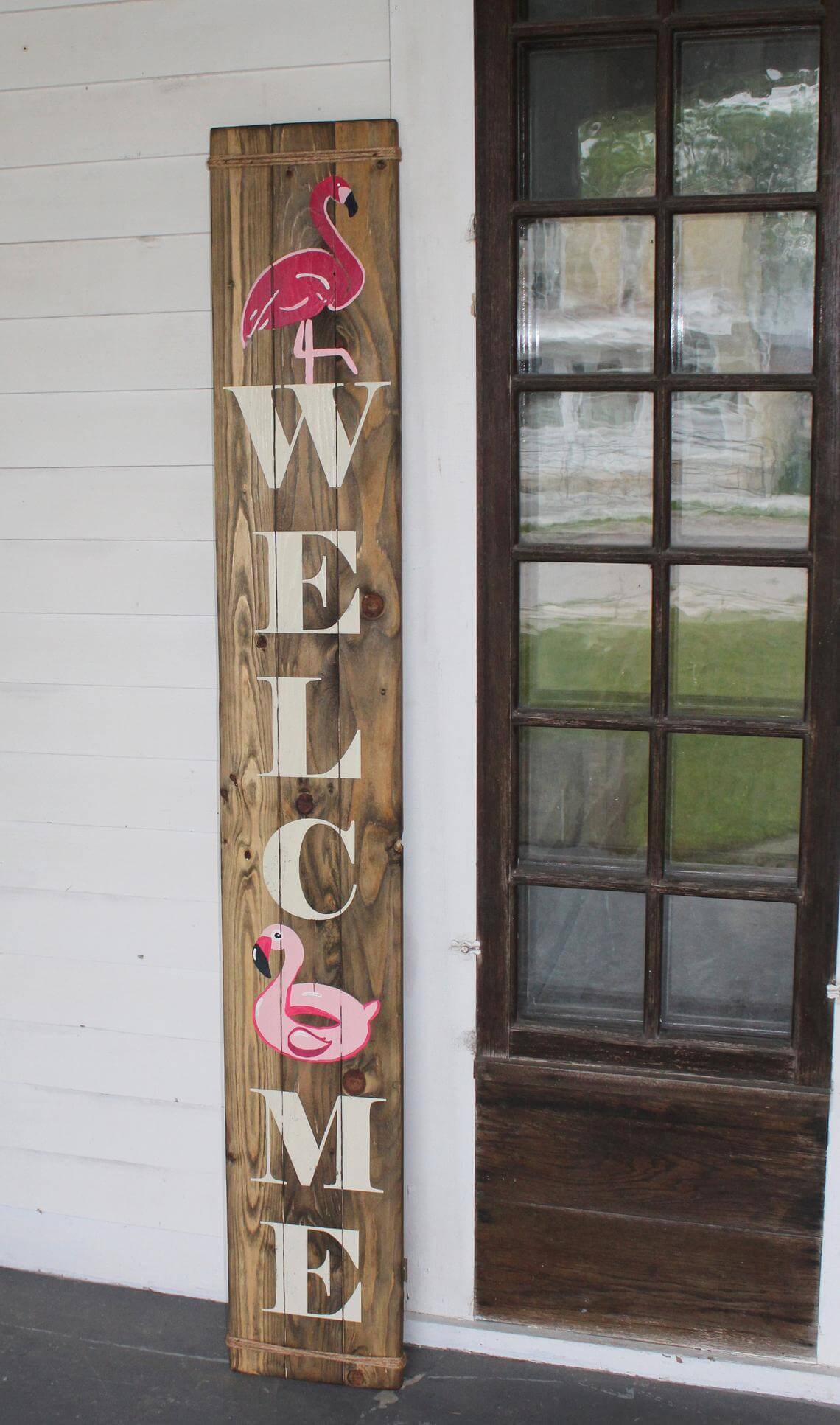 Your pool party just got a lot more fun with this flamingo welcome sign. Set it up on your porch to welcome guests or place it next to the pool house off your back patio, either, this is a pretty in a pink sign that will make a splash at your next bash. It doesn't take up too much space, but it certainly houses enough flash and flair with the pair of pink flamingos that adorn it to make a statement.
33. Contemporary Gray Wicker Furniture with Colorful Cushions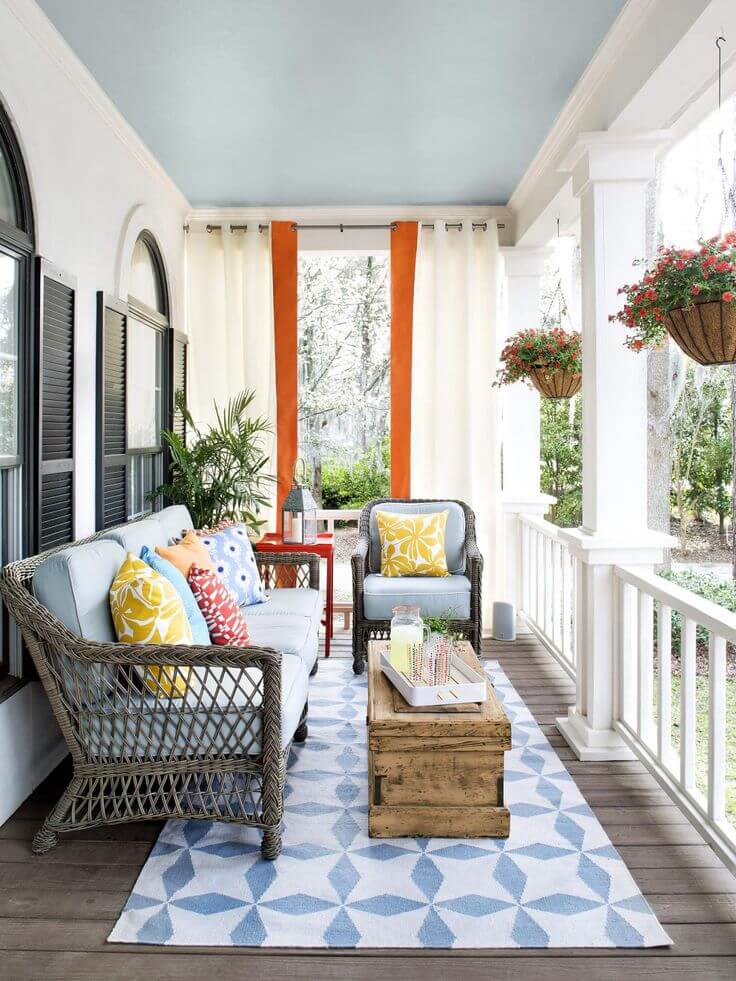 34. Antique Whitewashed Metal Porch Planters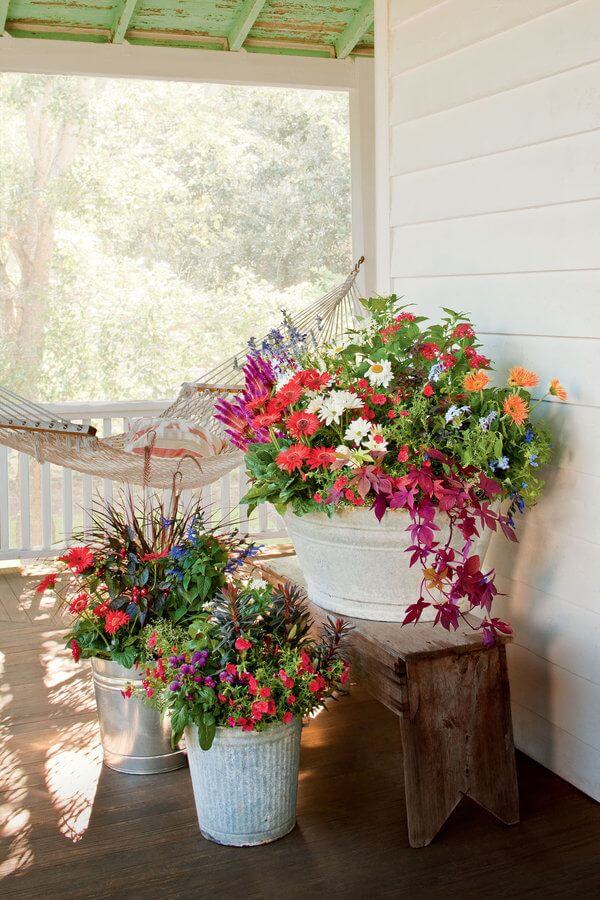 35. Repurposed Wooden Cable Spool Table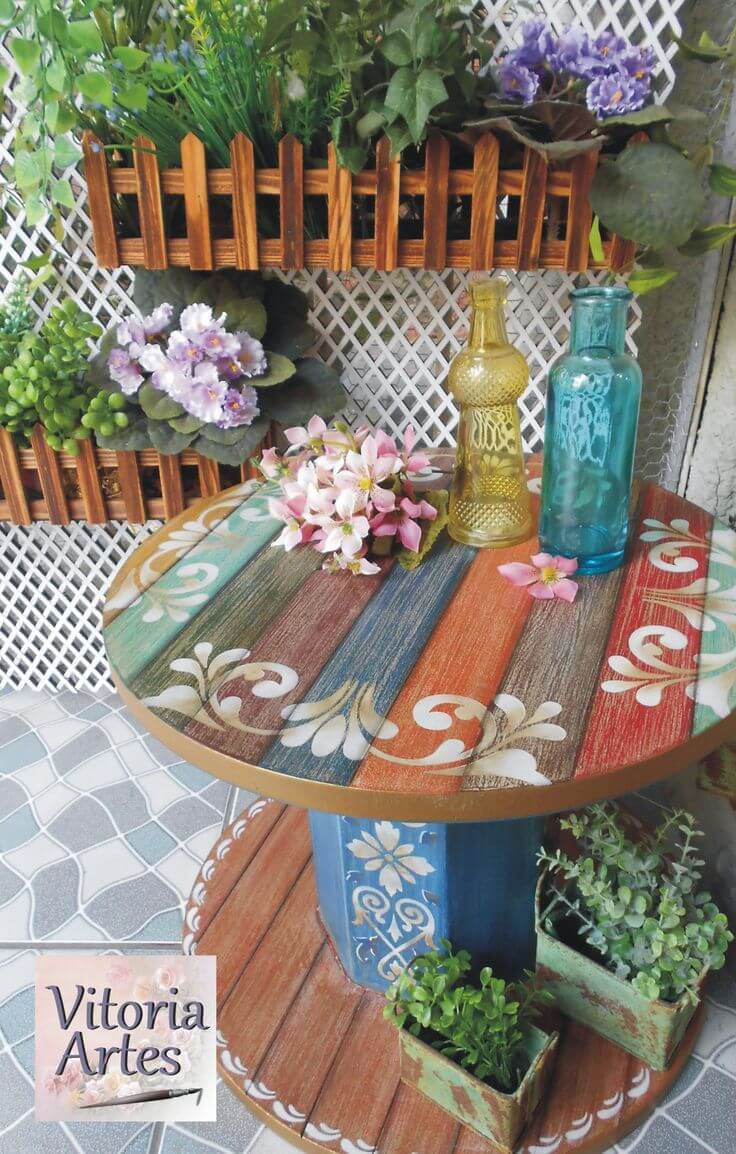 36. Tall Rustic Wooden Welcome Sign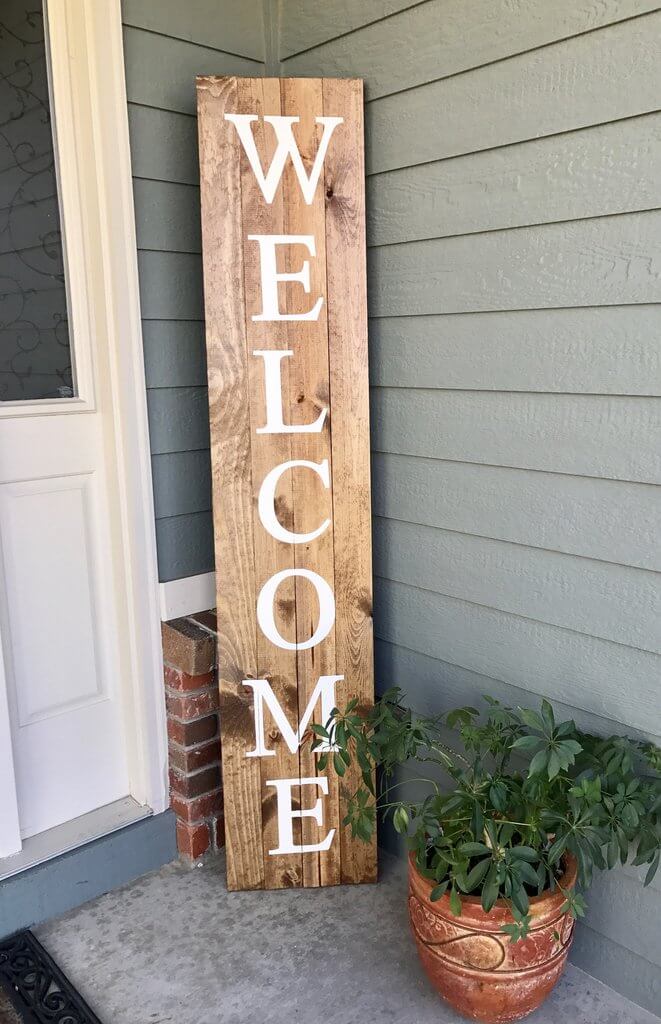 37. Modern Porch Seating and Geometric Rug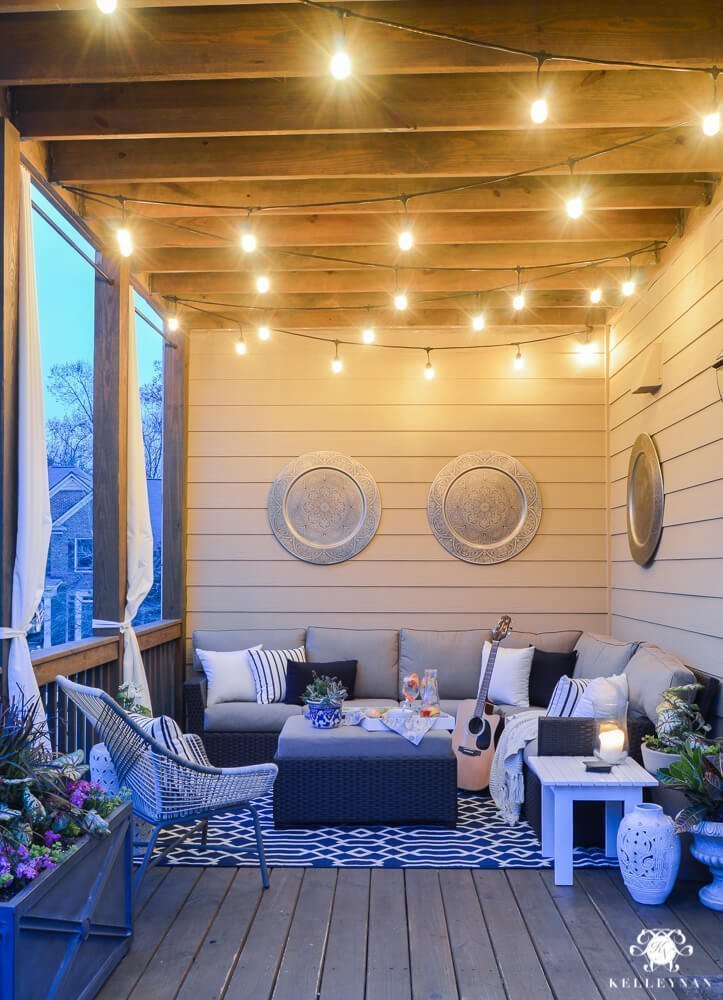 38. Sweetly Simple Summer Welcome Wreath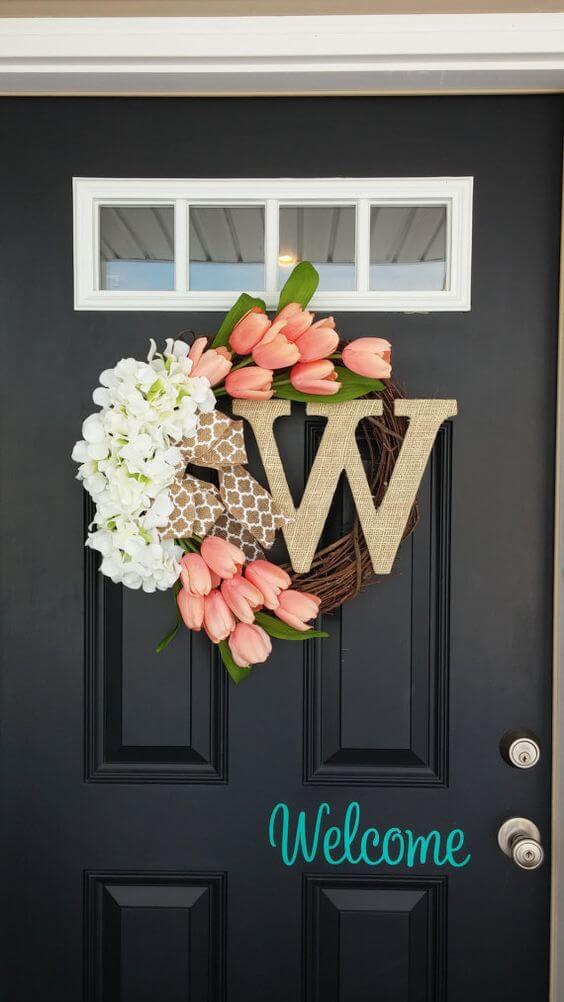 39. Inexpensive DIY Mason Jar Lanterns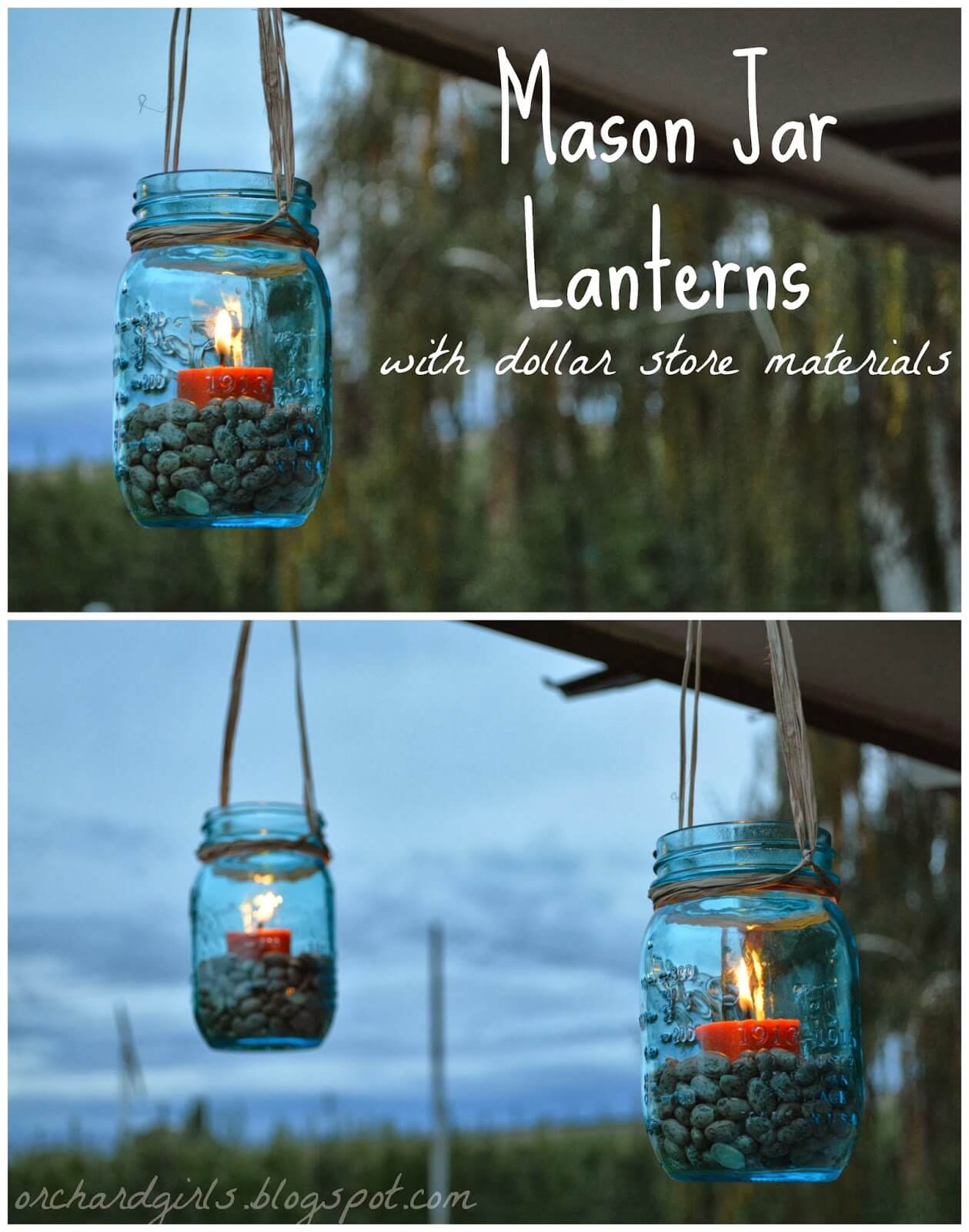 40. Blue and White Mediterranean Seaside Porch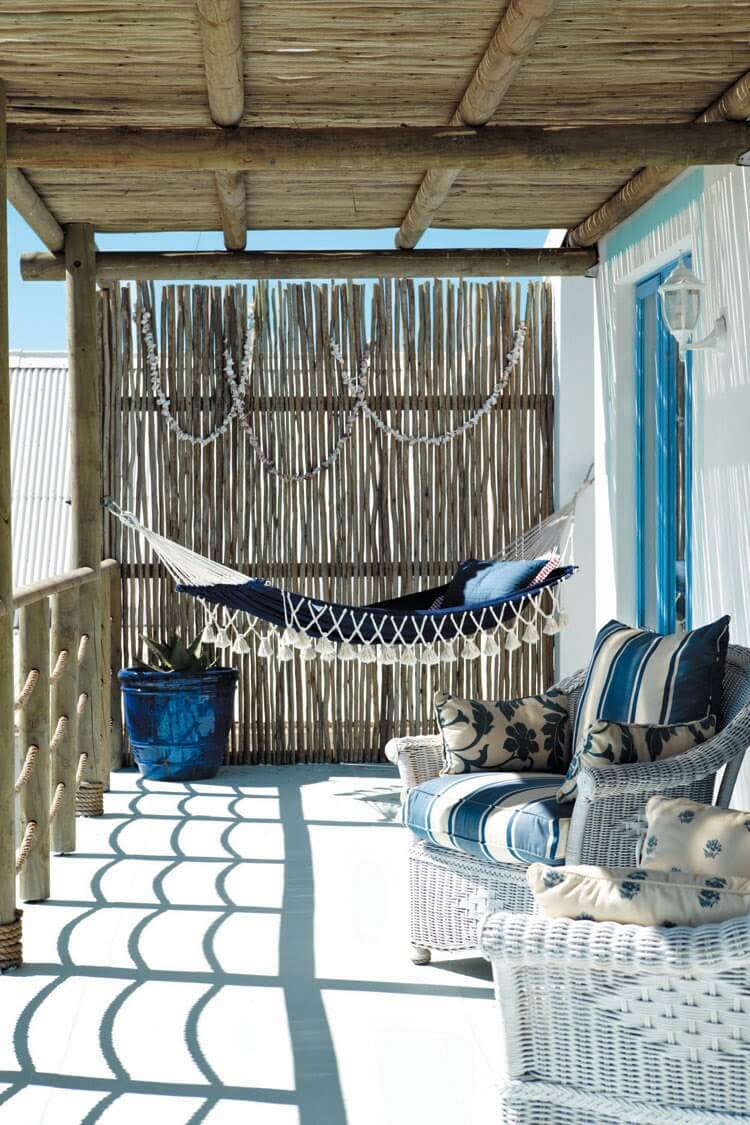 41. Elegant Potted Ferns and Classic Hanging Baskets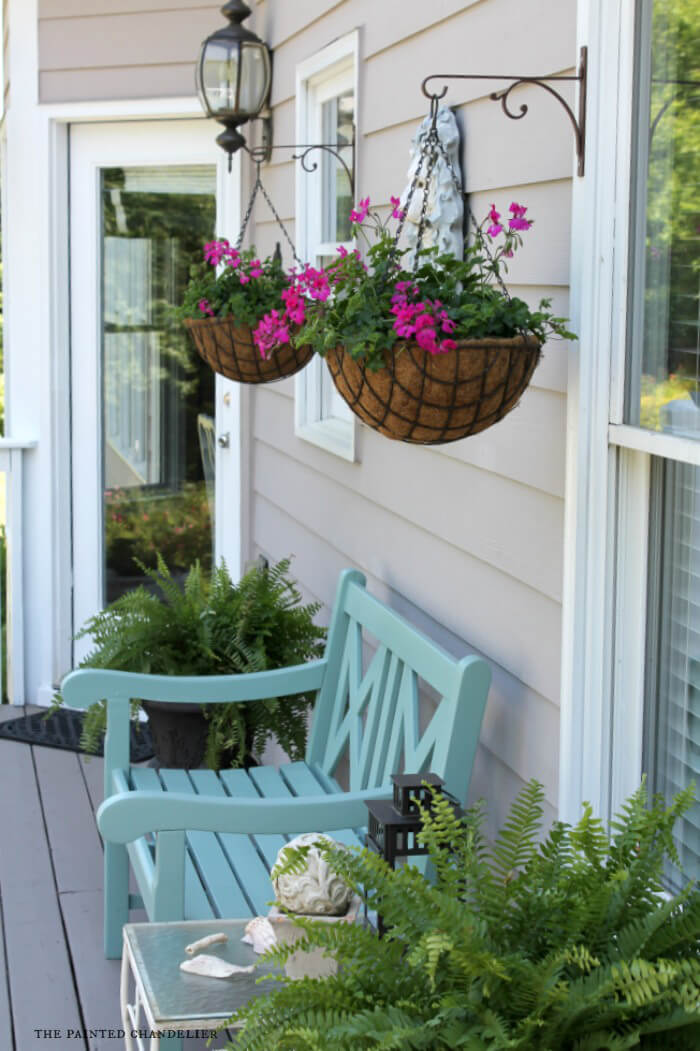 42. Brightly Painted Rocking Chair Planter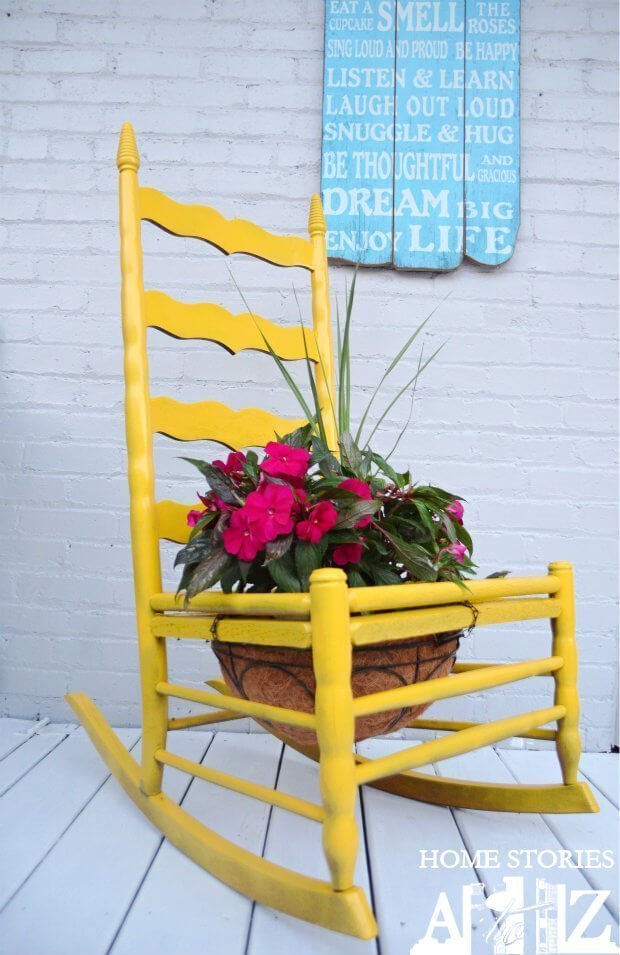 43. Hanging Entryway Sign and Planted Gardenia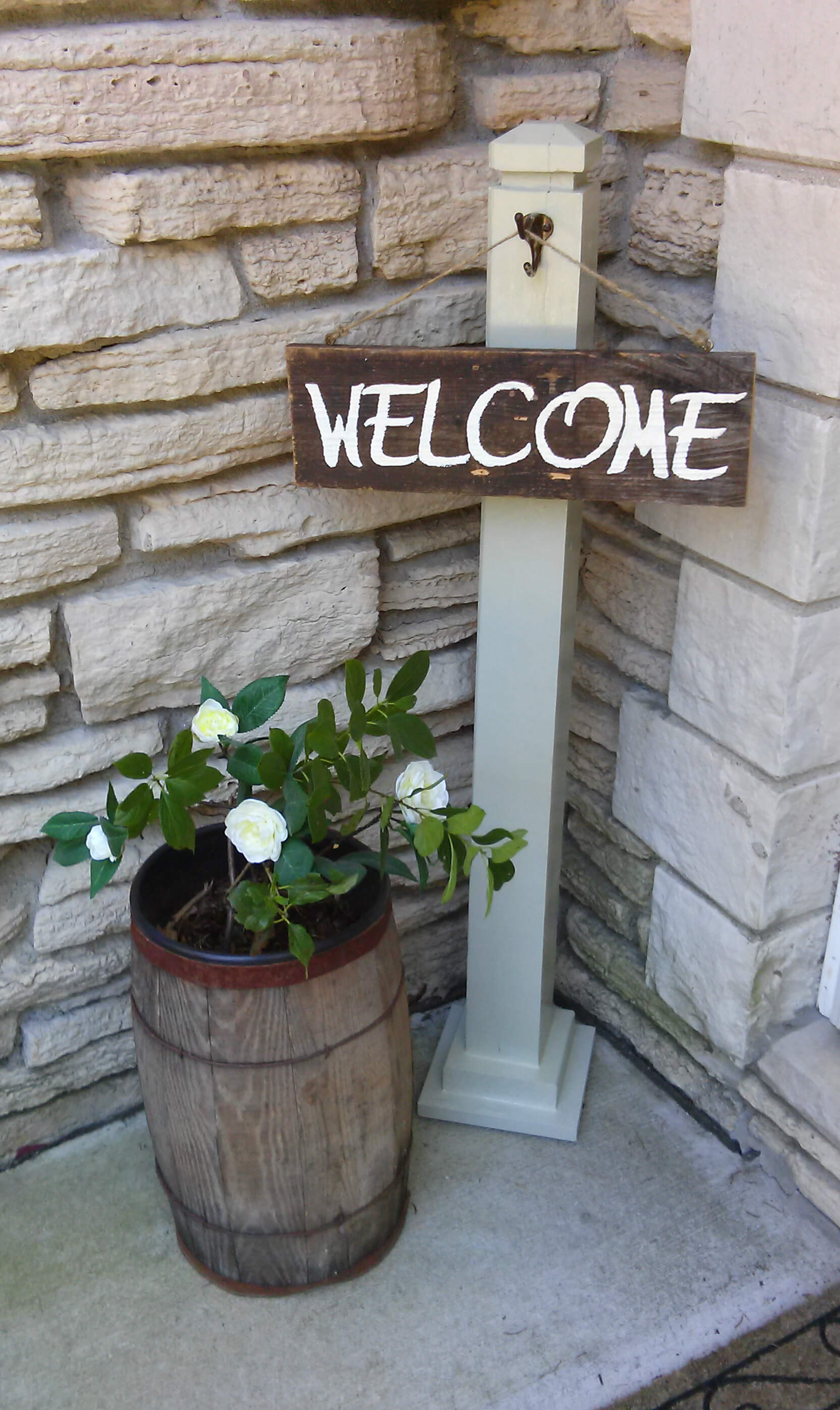 44. French Country Metal Flower Planters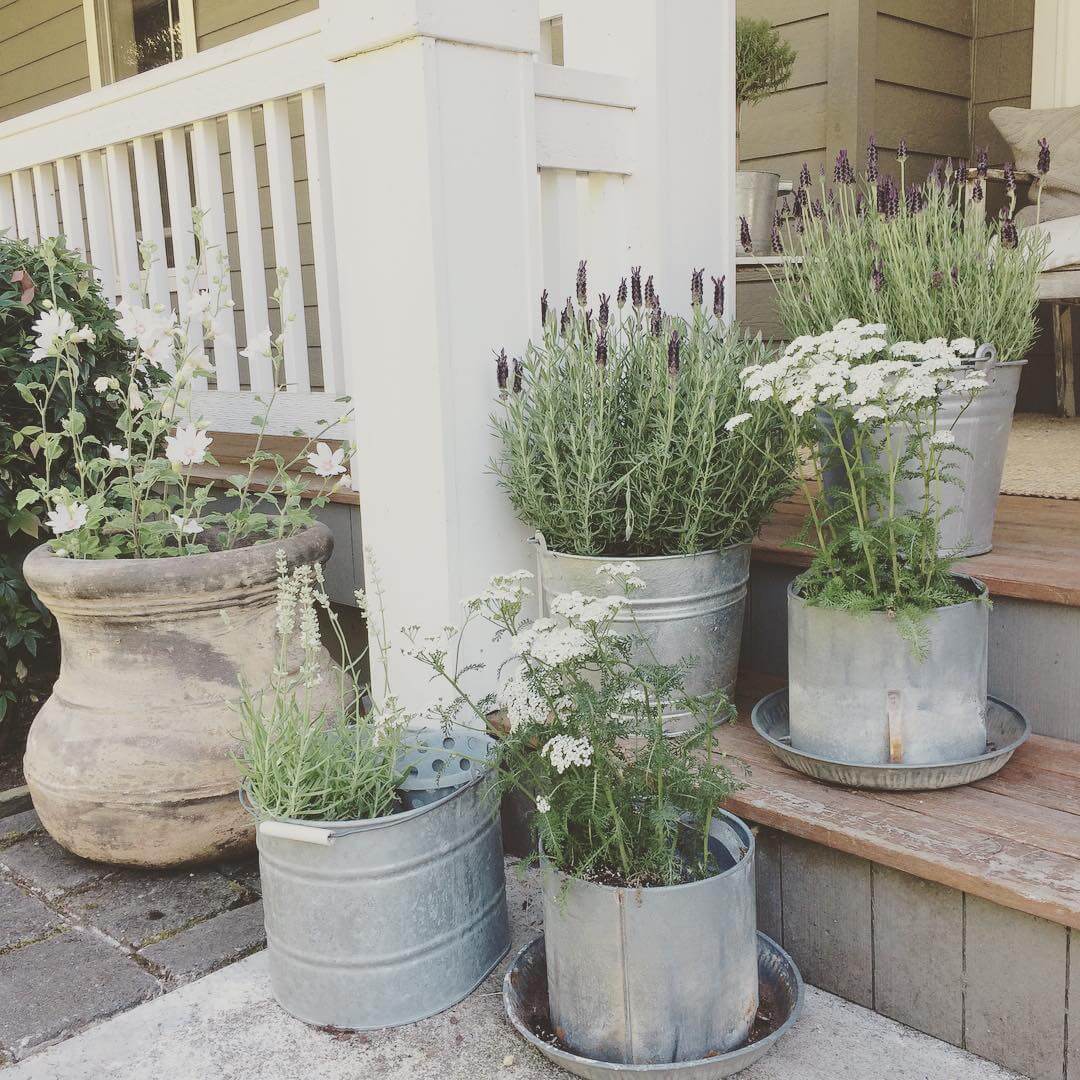 45. Whimsical Summertime Seashore Porch Decor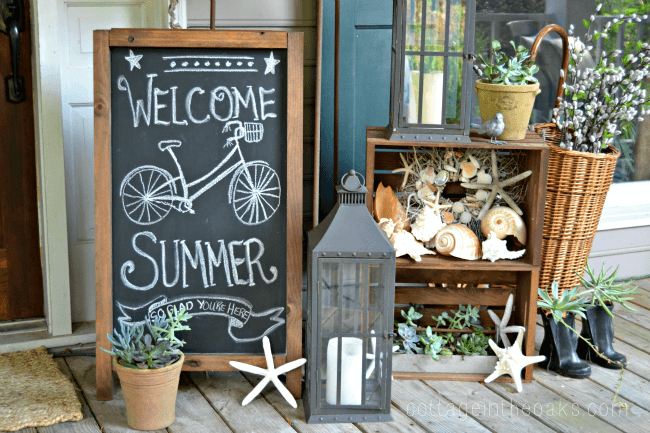 46. DIY Painted Terra Cotta Pot Tower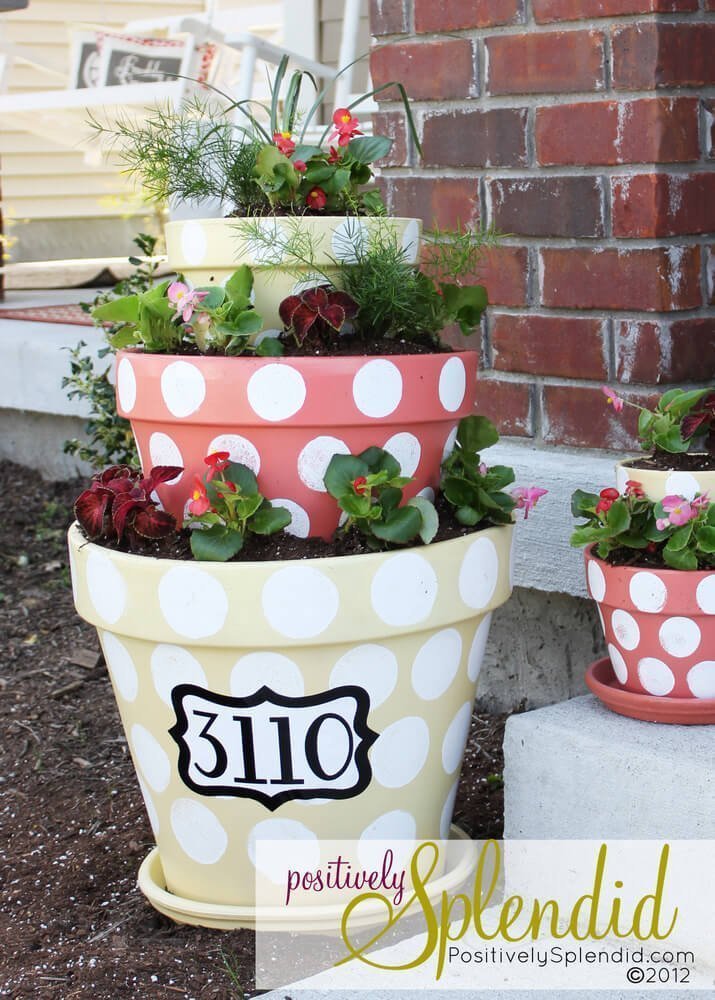 47. Oversized Rustic Porch Candle Lantern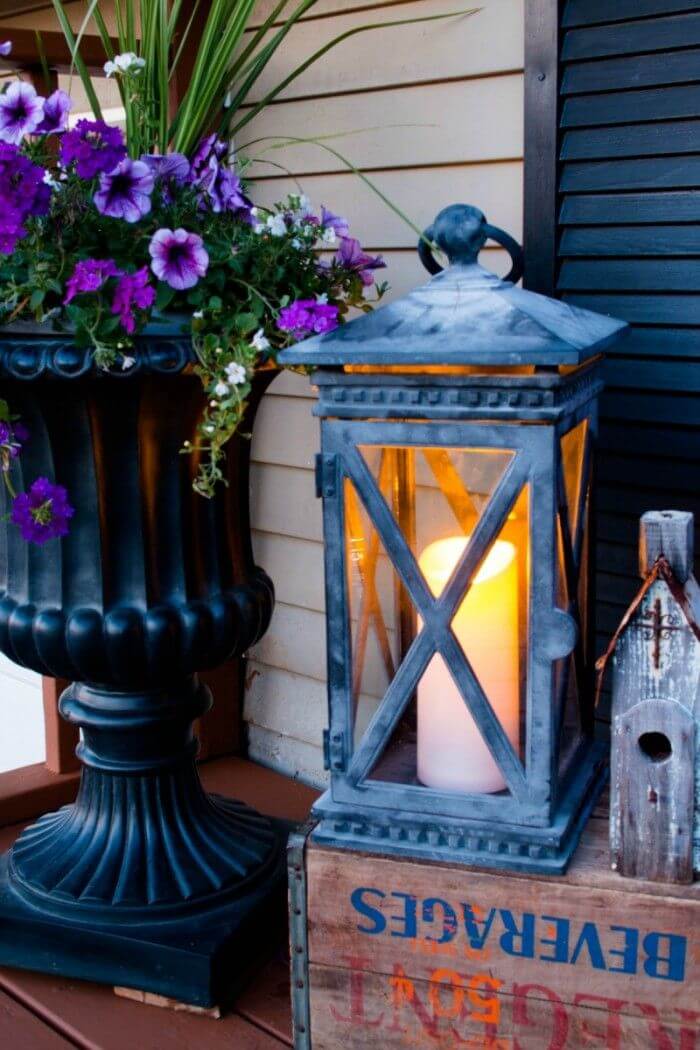 48. Summer House Outdoor Hutch Display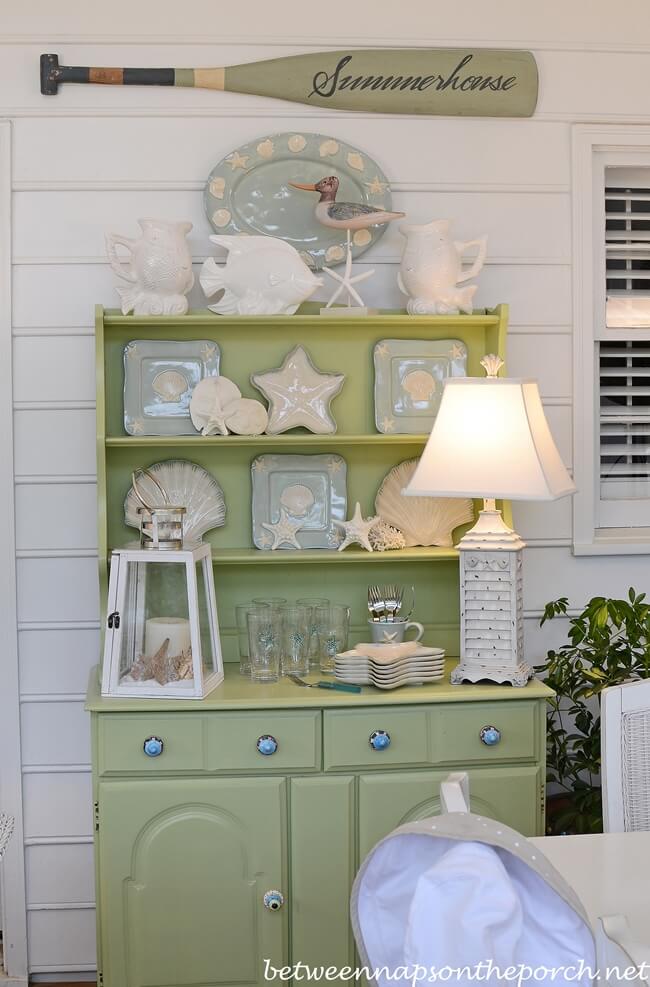 49. Moroccan Inspired Summer Porch Decor Ideas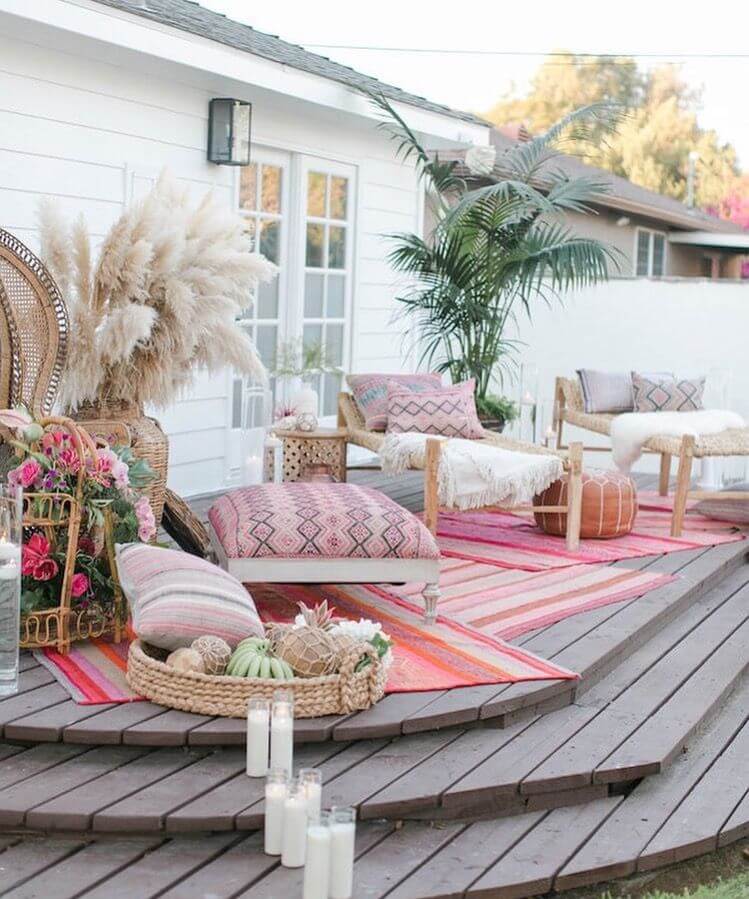 50. Miniature Tabletop Glass Greenhouse Planter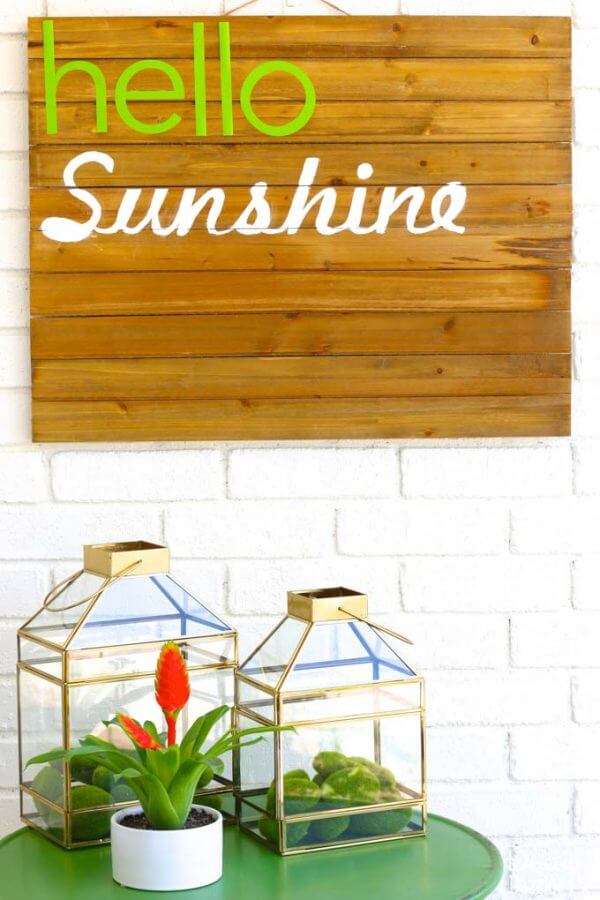 51. Cool Mason Jar Drinking Glasses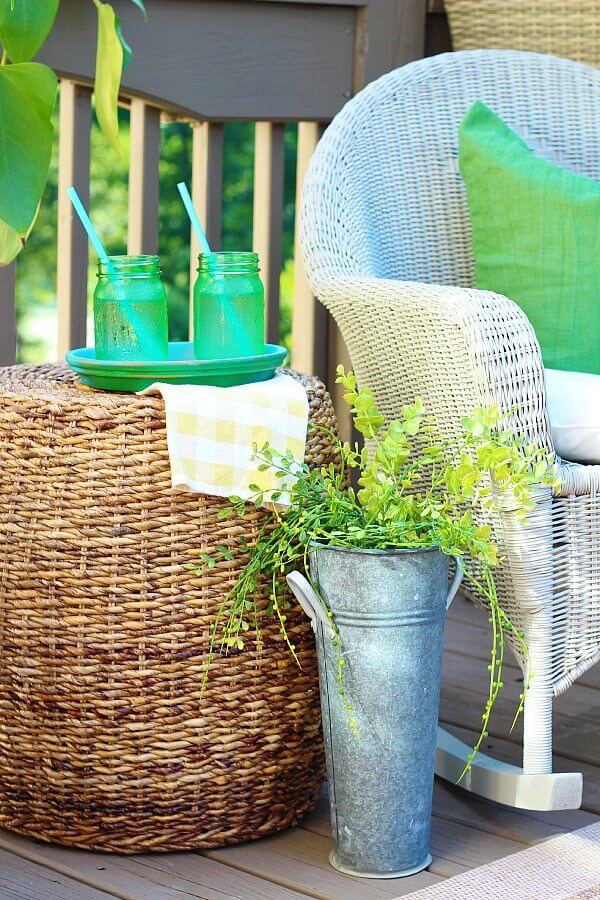 52. Modern Garden Seating Area with Industrial Touches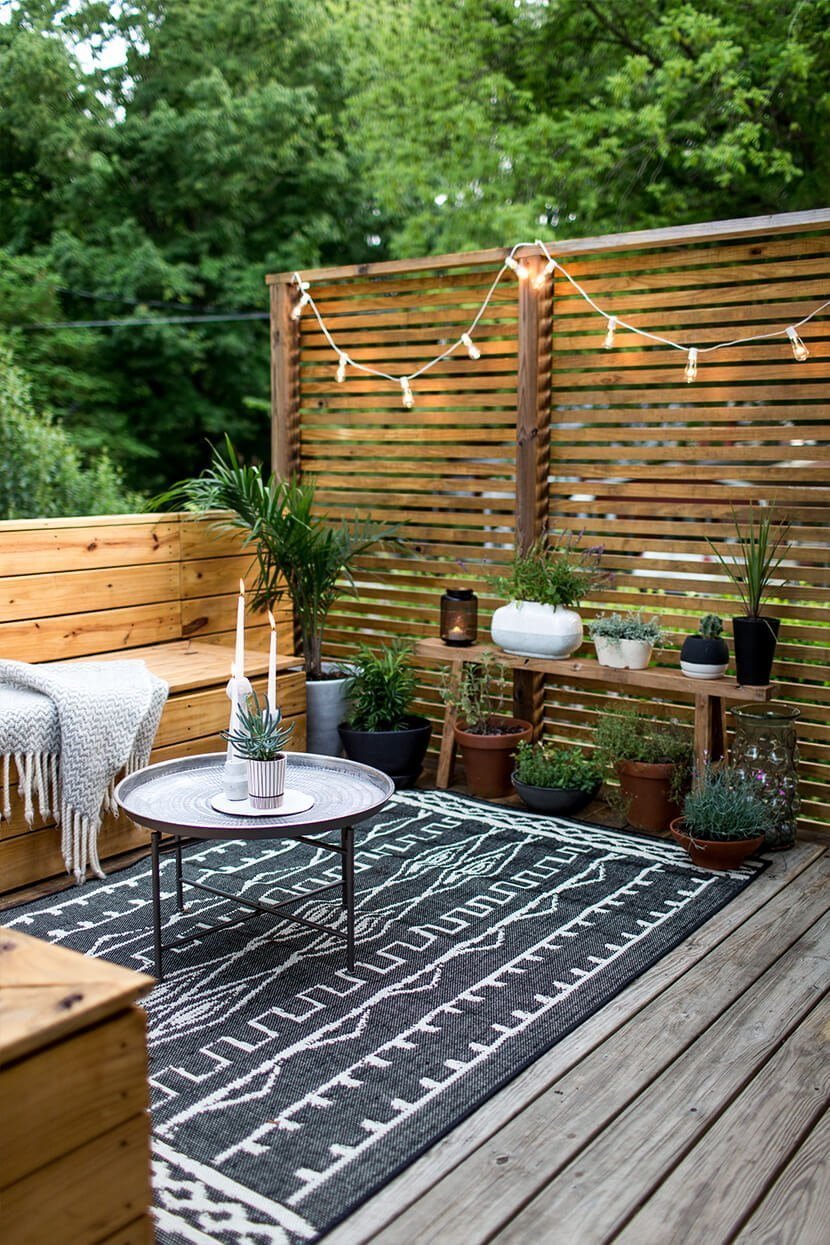 53. Colorful Contemporary Porch with Creative Planters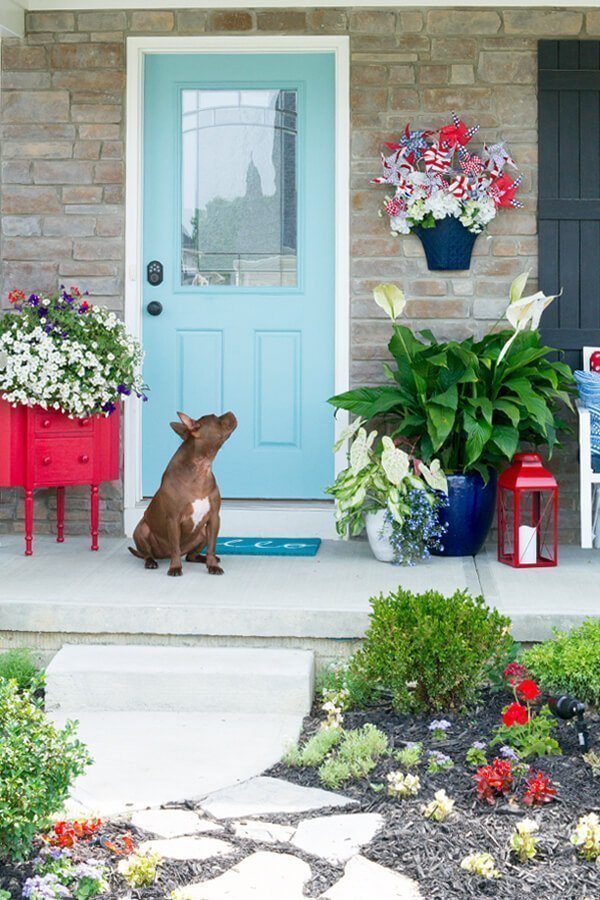 54. Edison Bulb Porch Railing String Lights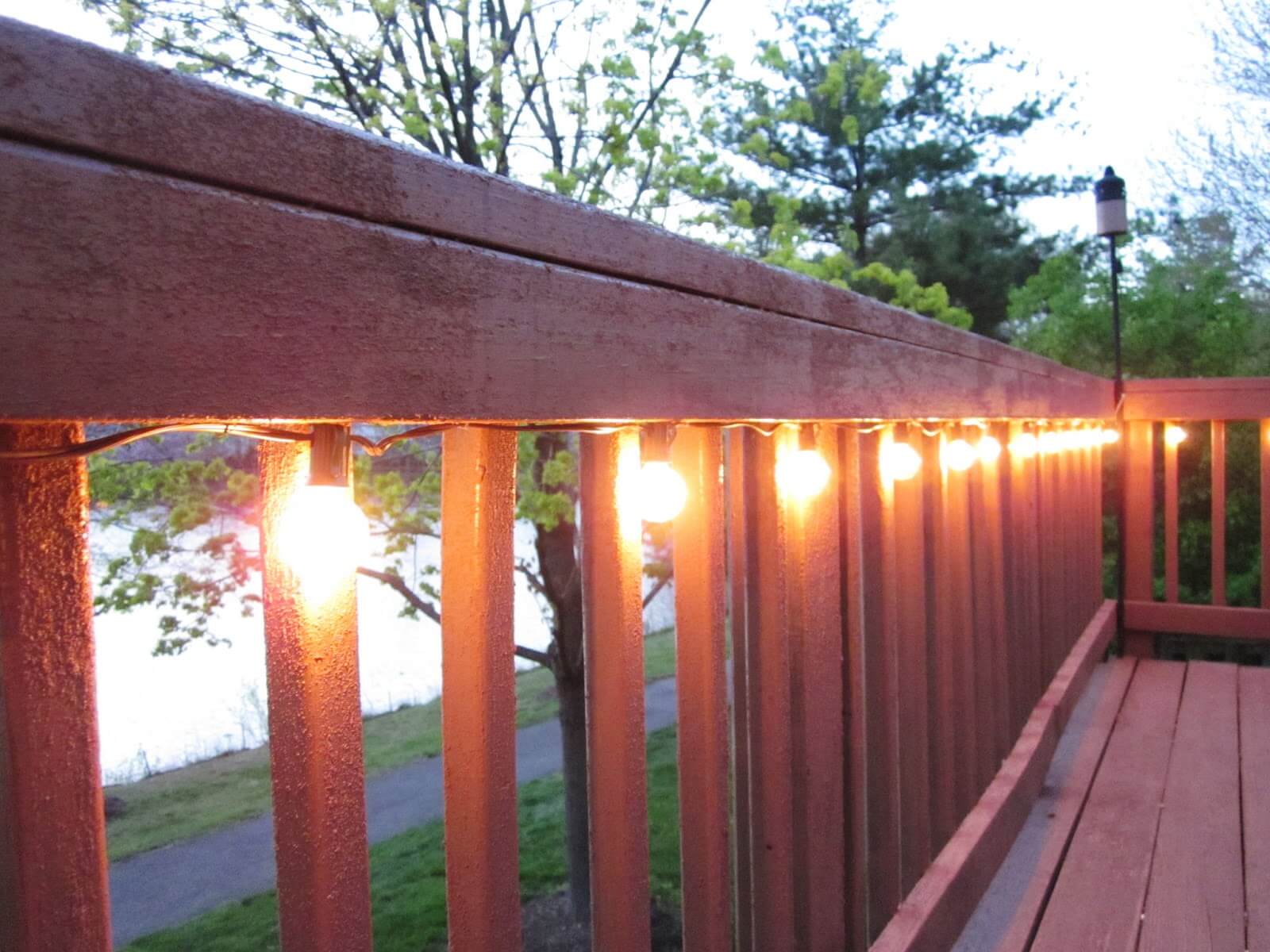 55. Sweet Potting Bench Planter Display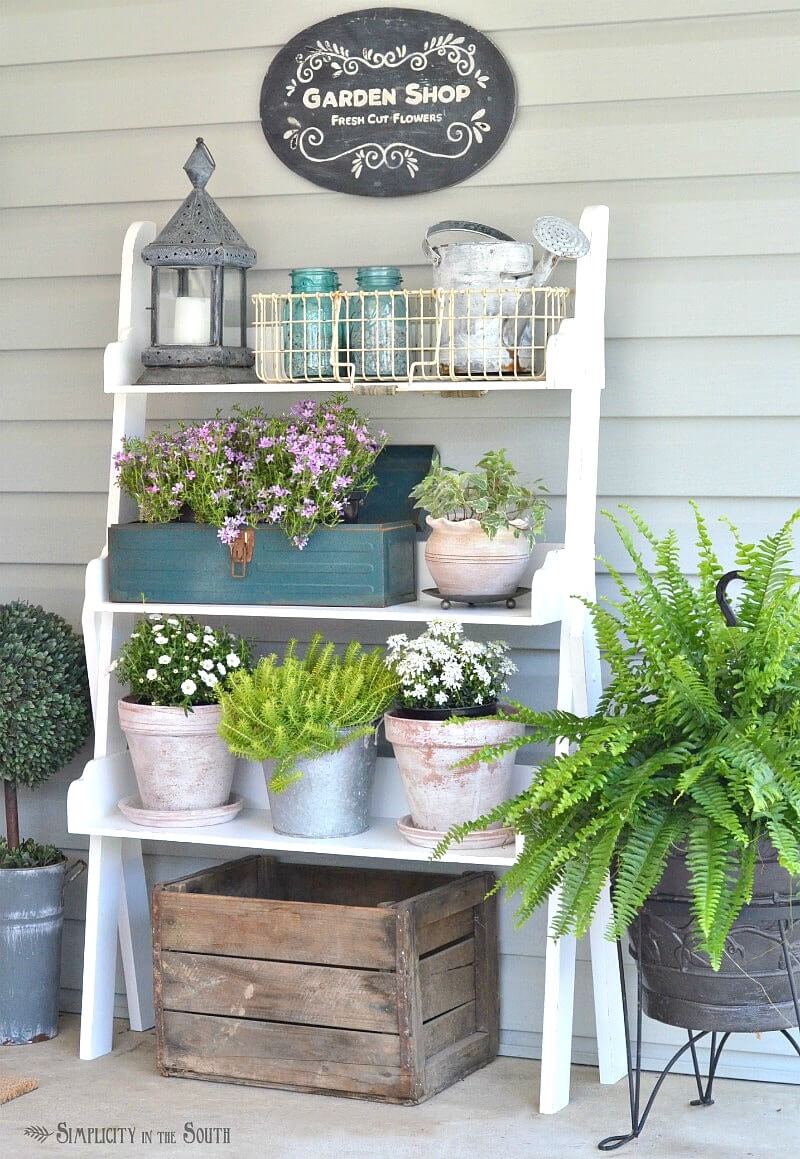 56. Succulents Planted in Mini Metal Lanterns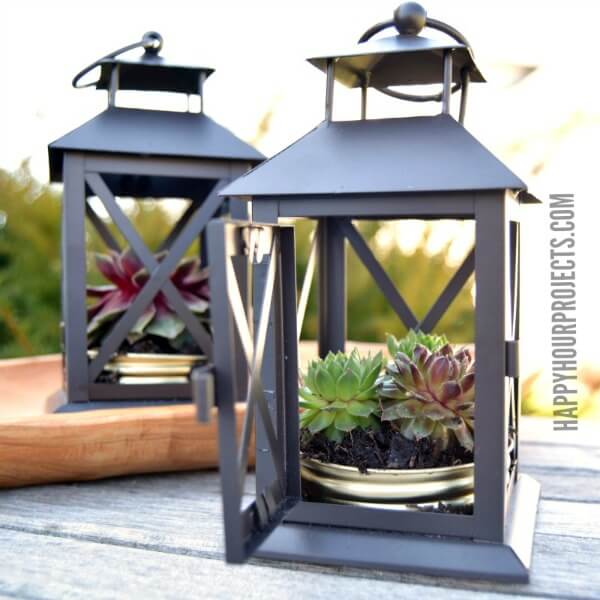 57. Nostalgic Pink Flamingo Outdoor Cushion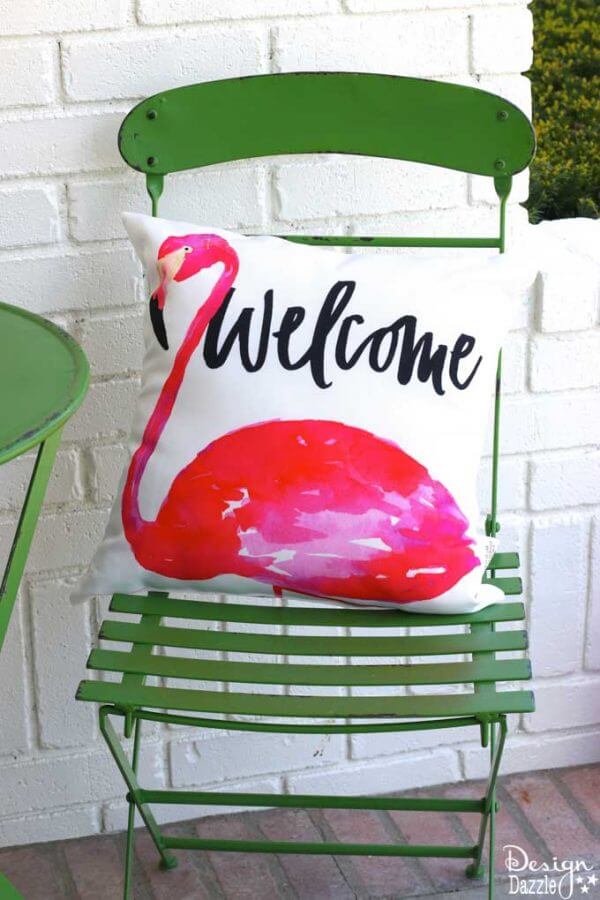 58. Wicker Door Hanger Flower Basket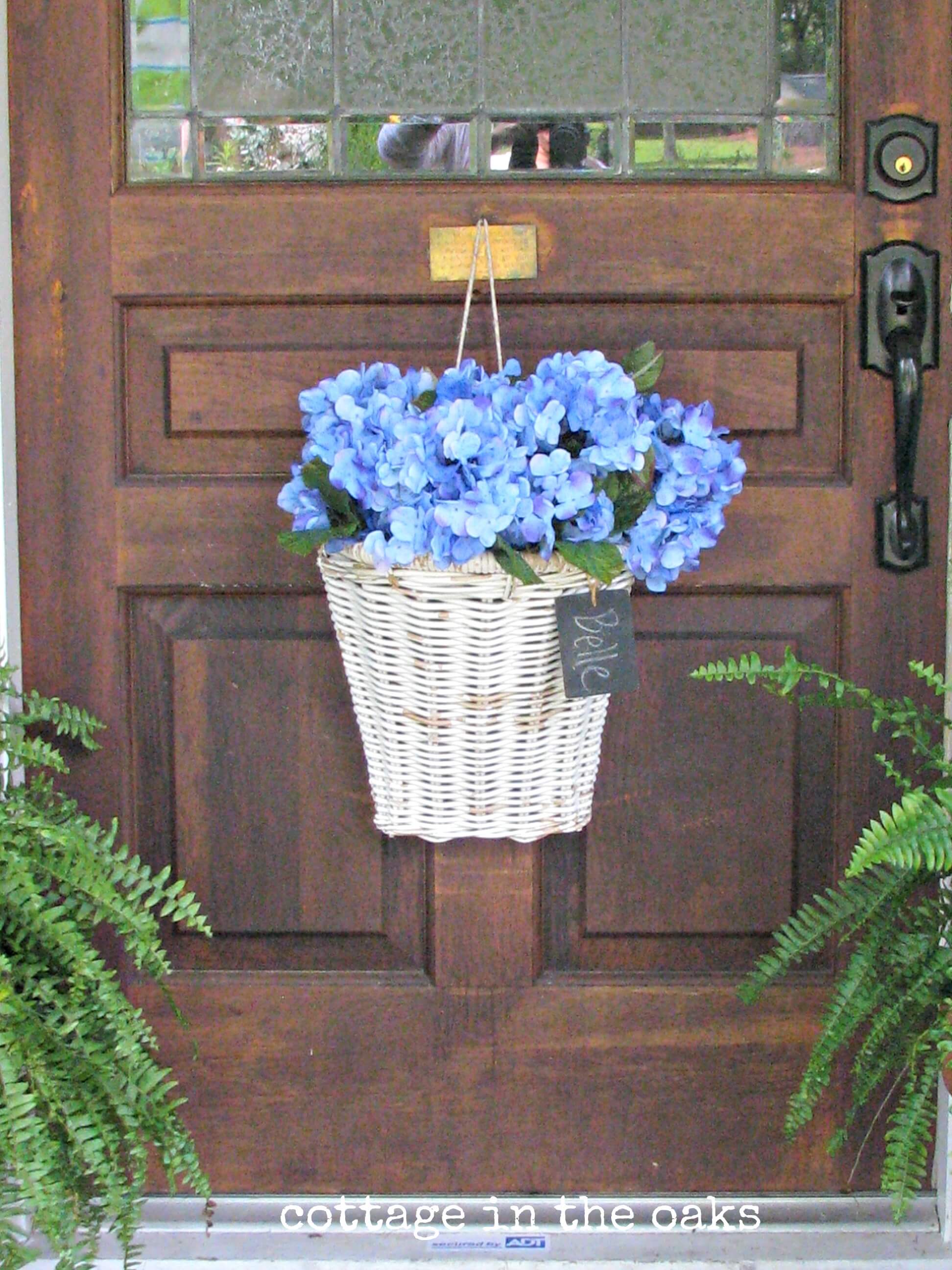 59. Potted Hydrangea Entryway Display with Lanterns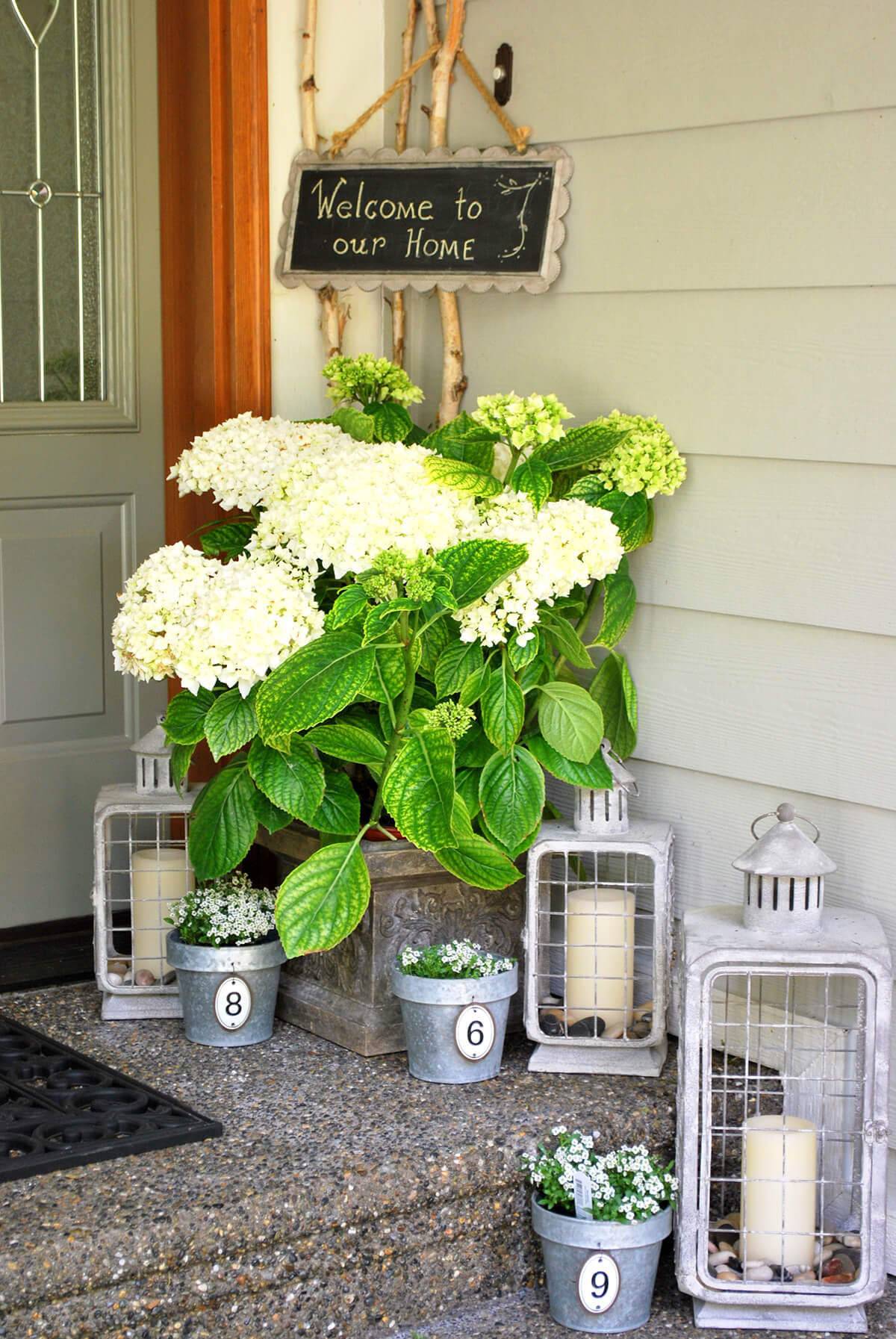 60. Bohemian Porch with Woven Bench Seat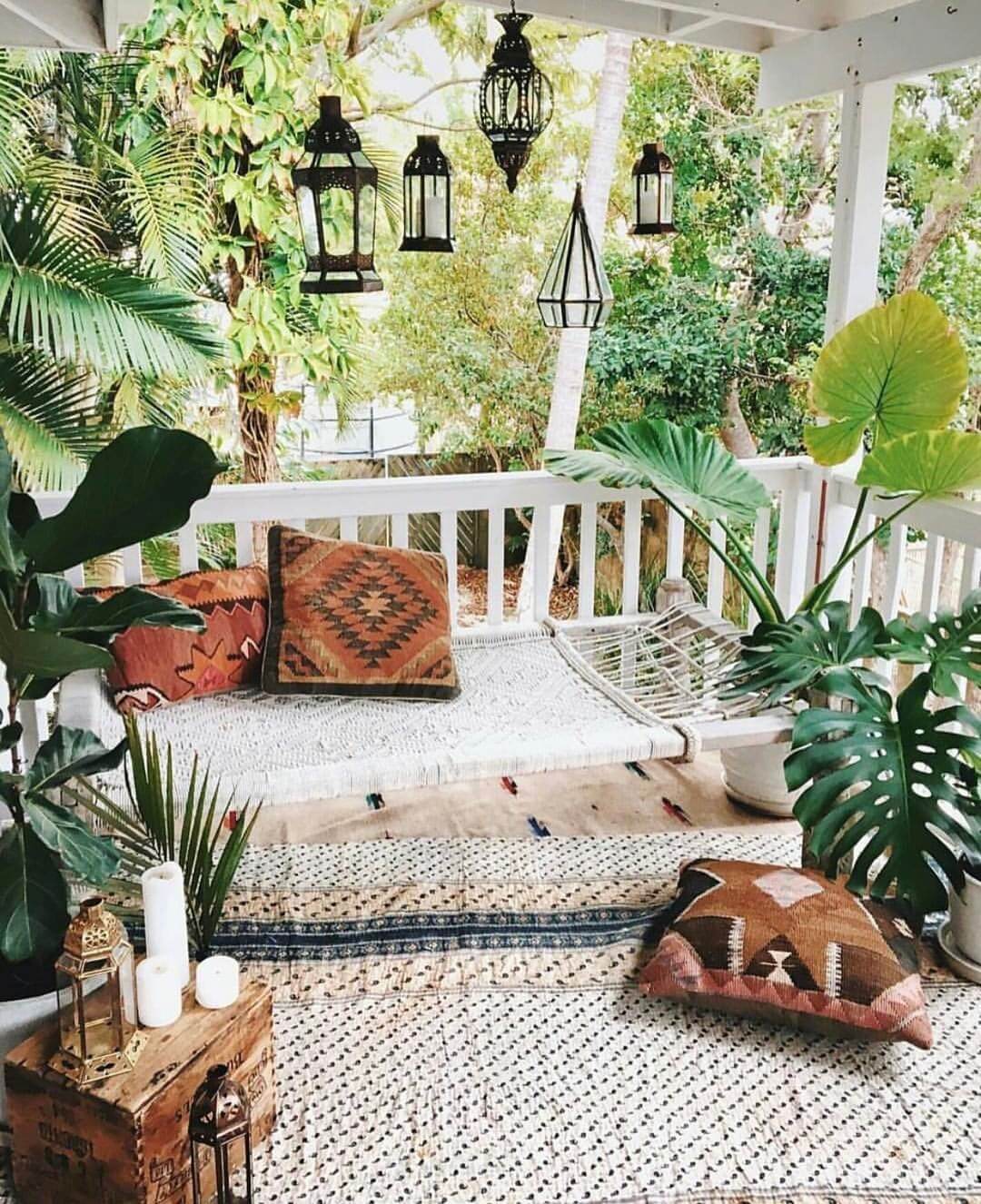 61. Simple Painted Wooden Crate Plant Stand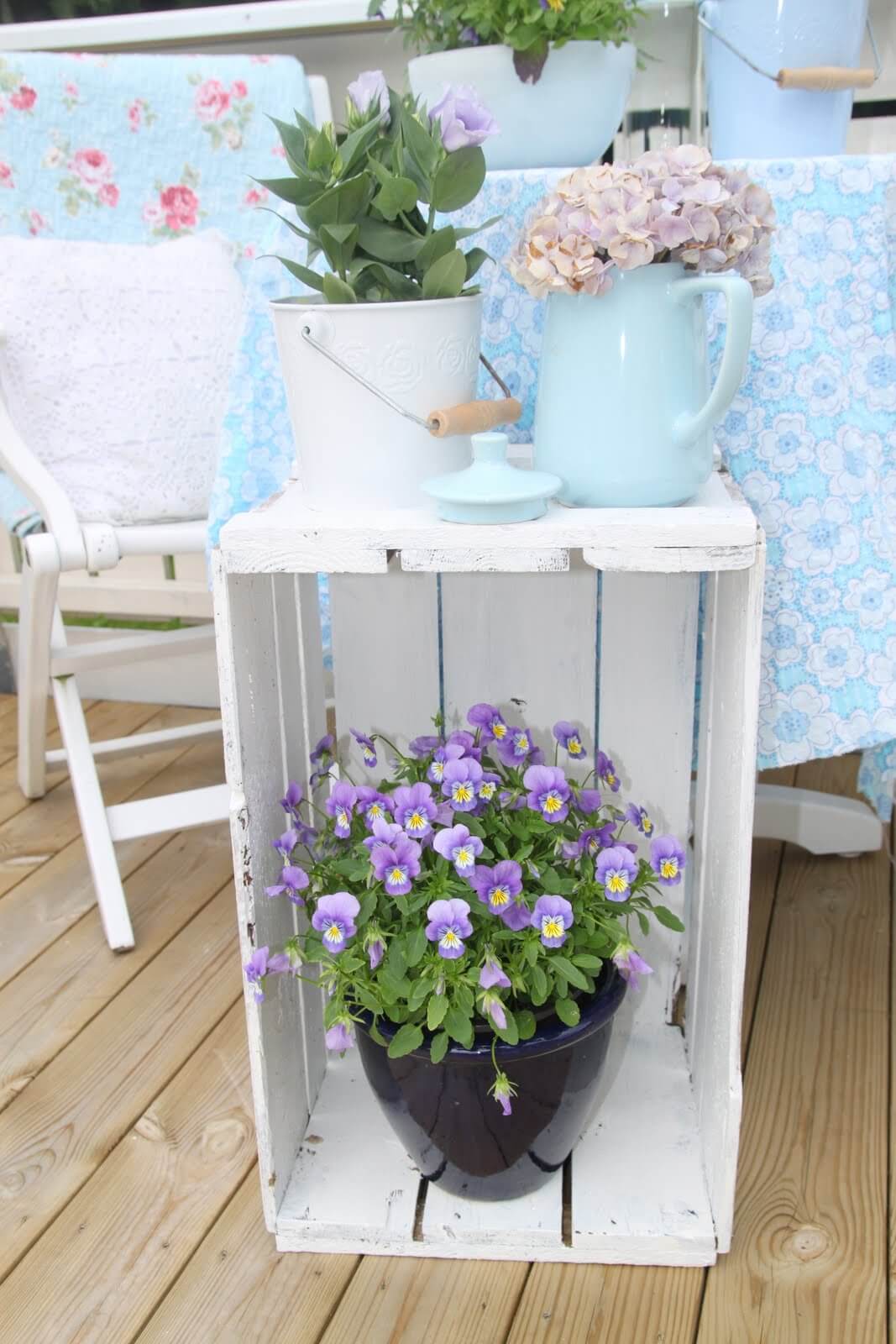 62. Rustic Cut Log Planter Pedestals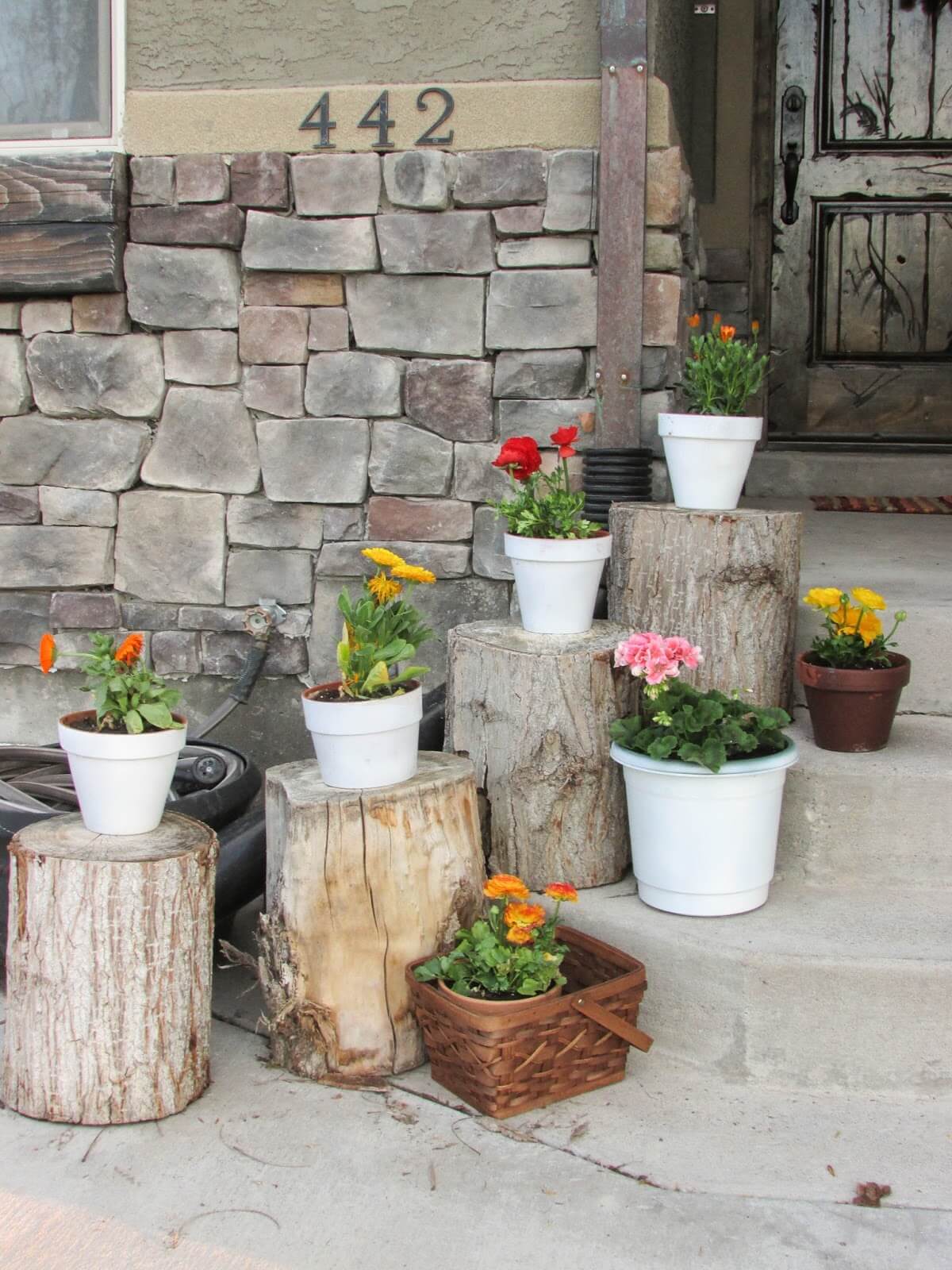 63. Recycled Copper Kitchen Implement Porch Decor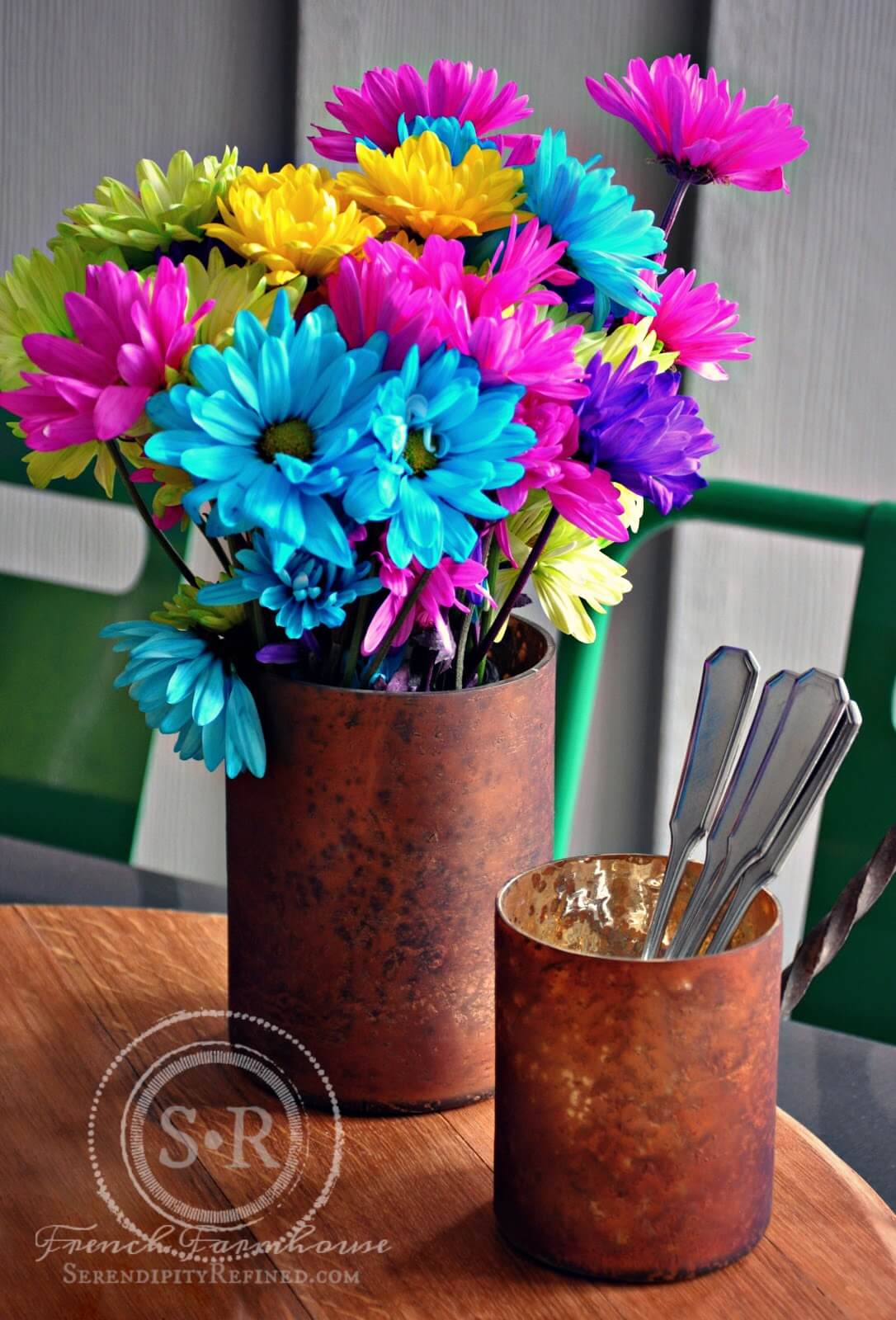 64. Elegant White Metal Porch Side Table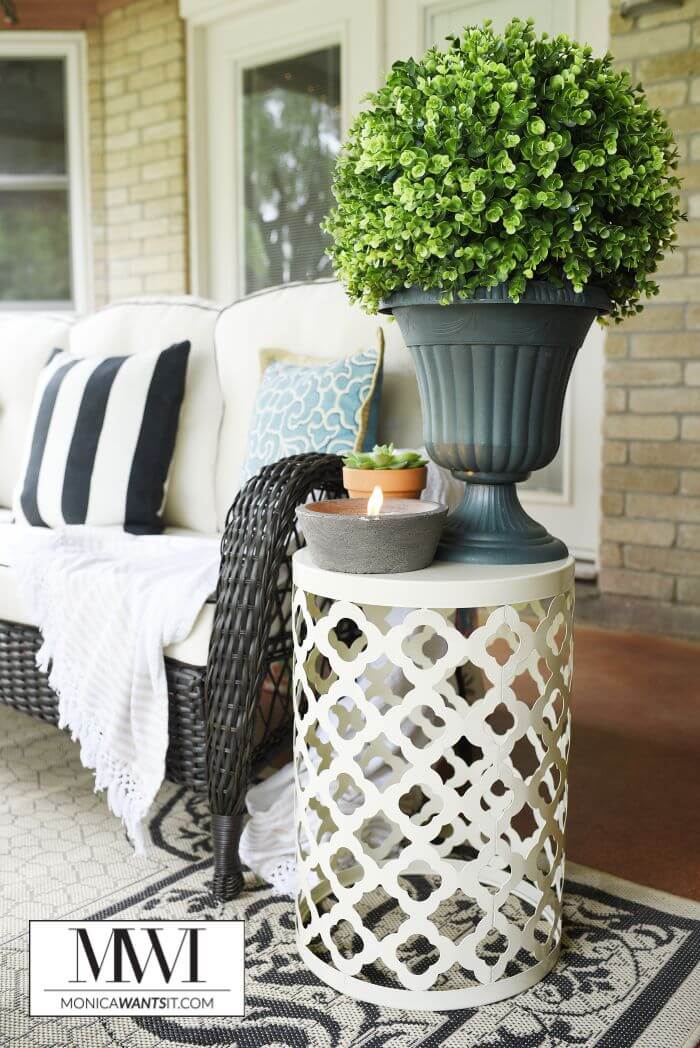 65. Cozy Summertime Bohemian Porch Hammock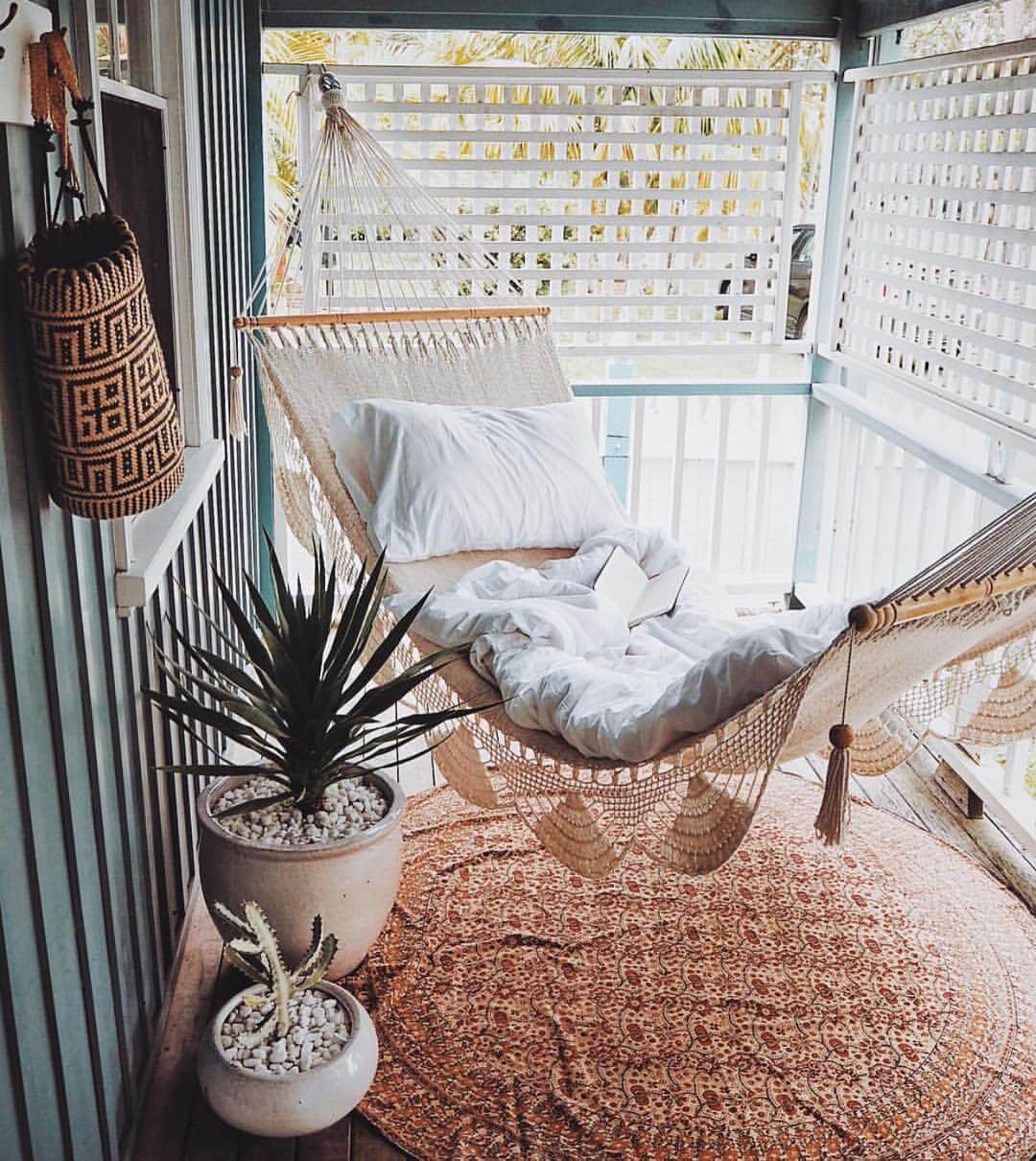 66. Fourth of July Porch Decor Inspiration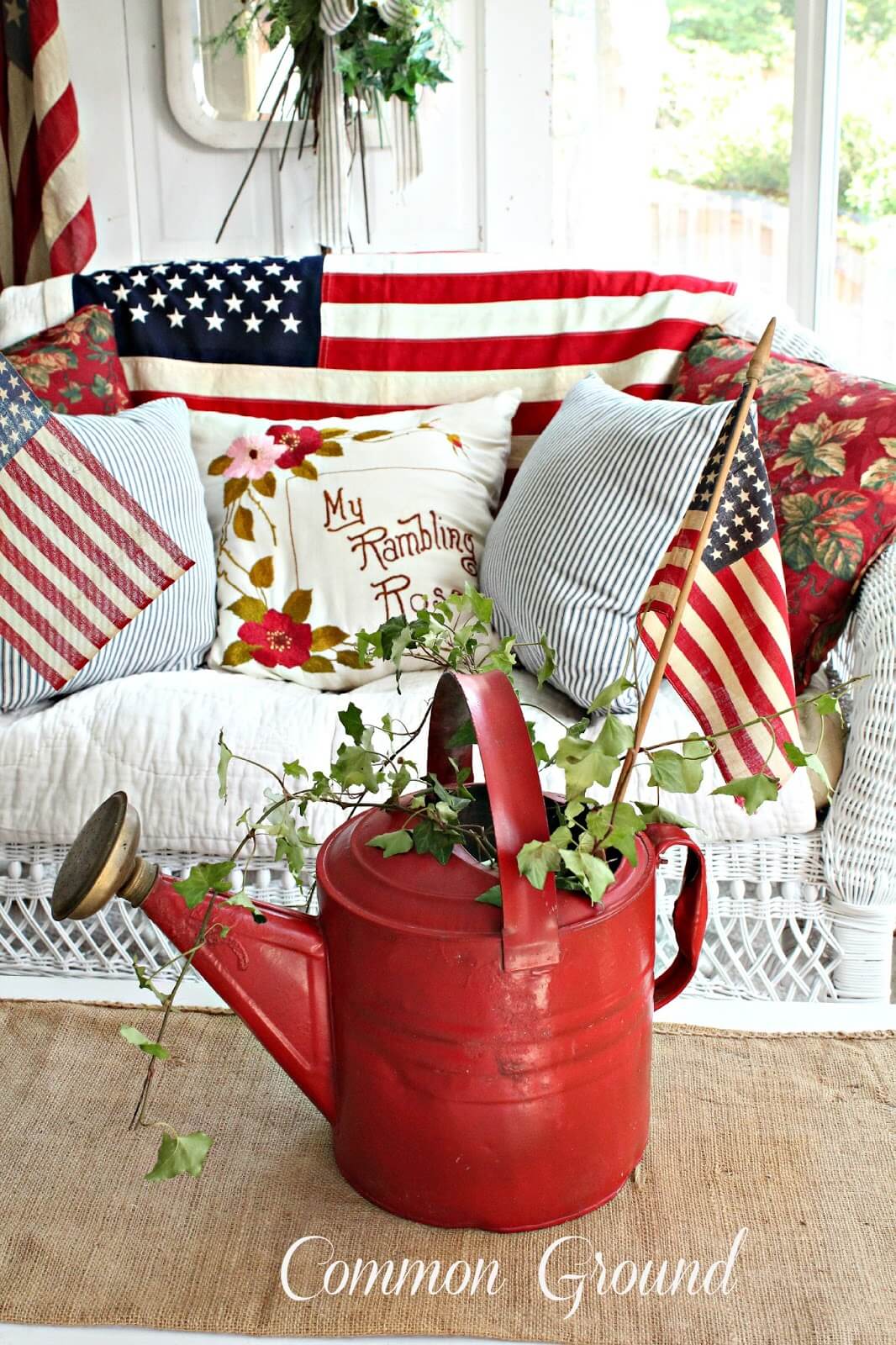 67. Turquoise and Green Modern Porch Design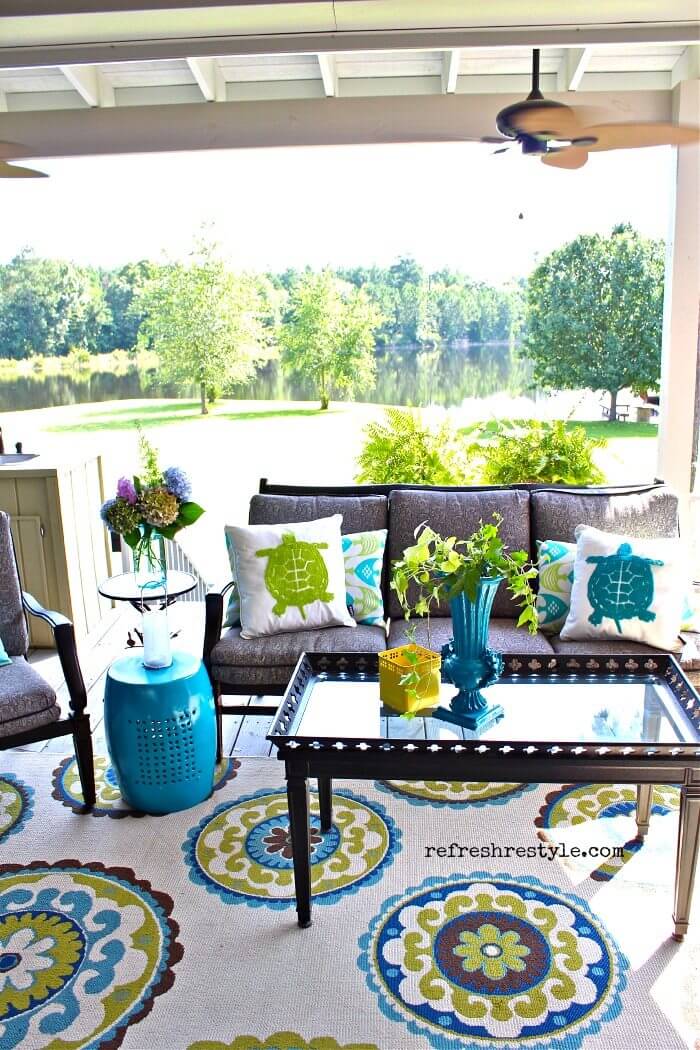 68. Amethyst Open Air Summer Seating Area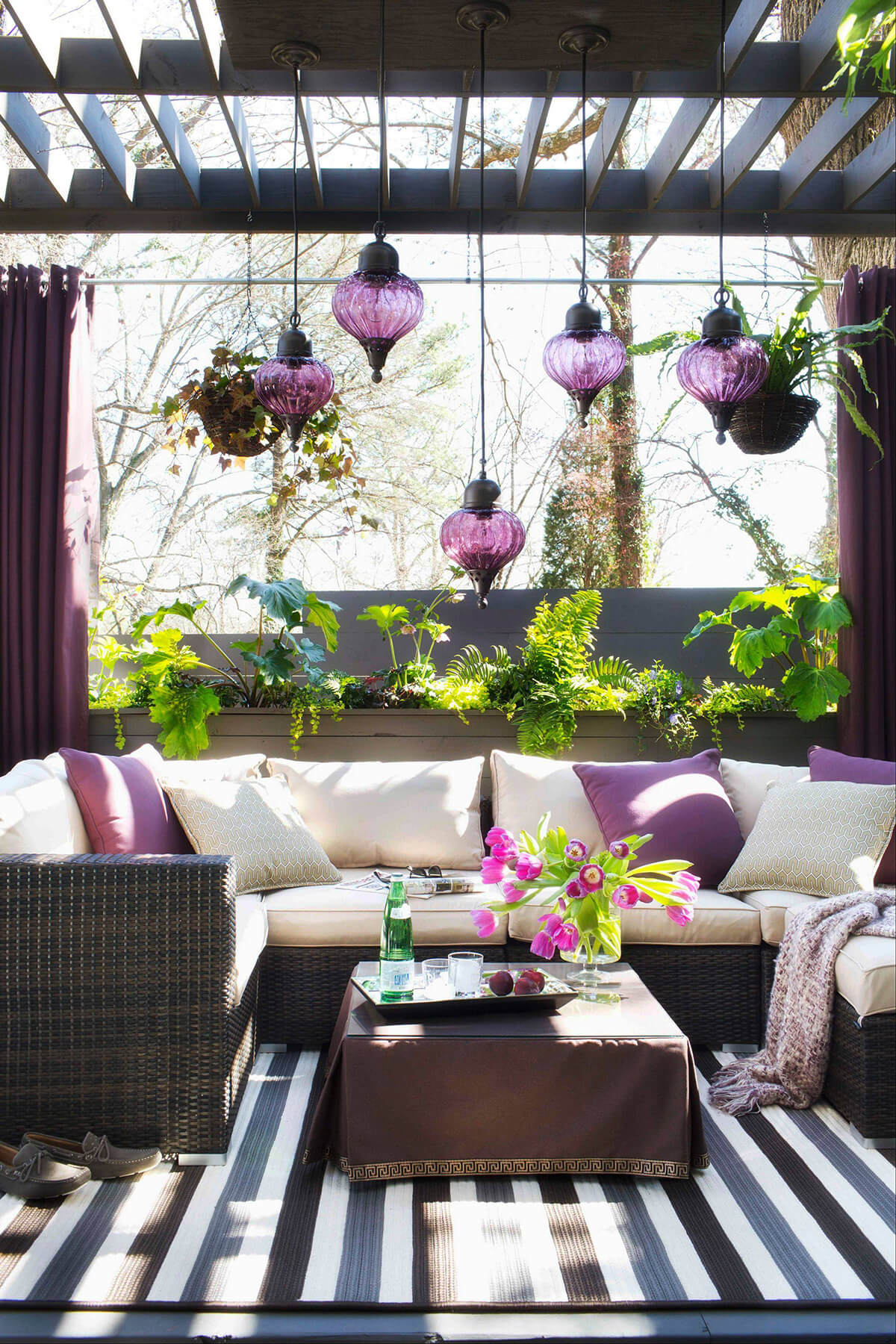 69. Updated Wicker Summer Porch Decor Ideas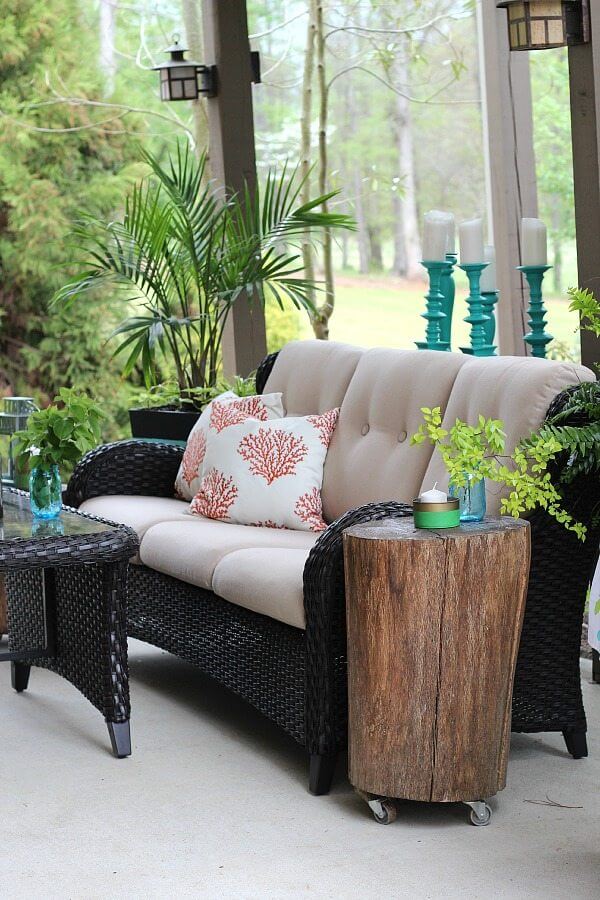 70. Multi Level Rectangular Concrete Planters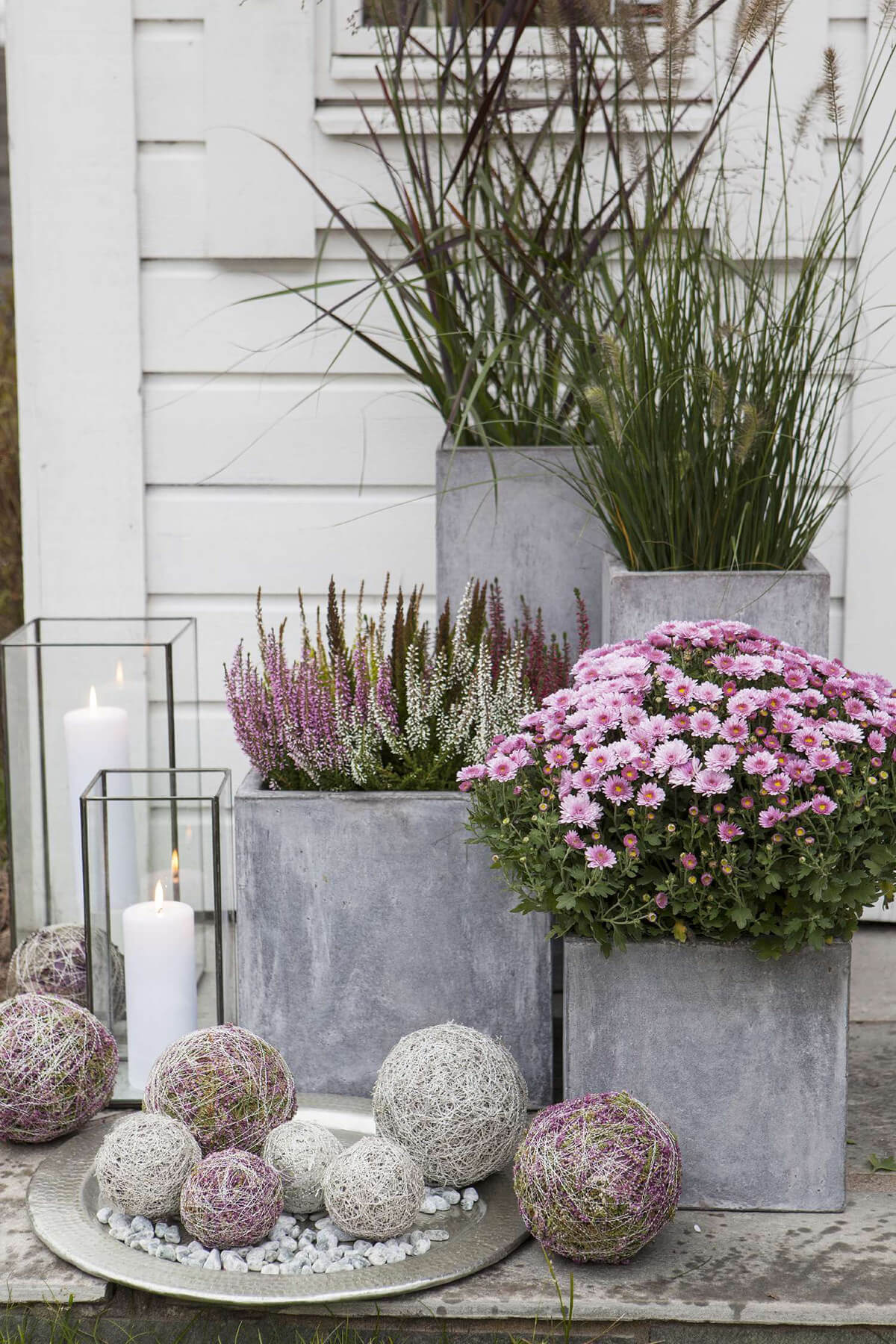 71. Rustic Farmhouse Galvanized Tub Planter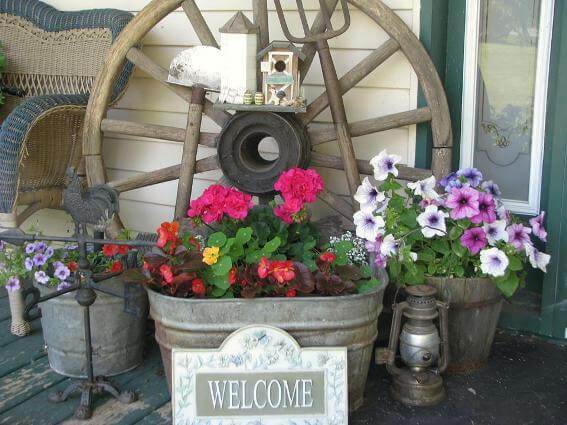 fleamarketgardening.org
72. Modern Zen Porch Seating Area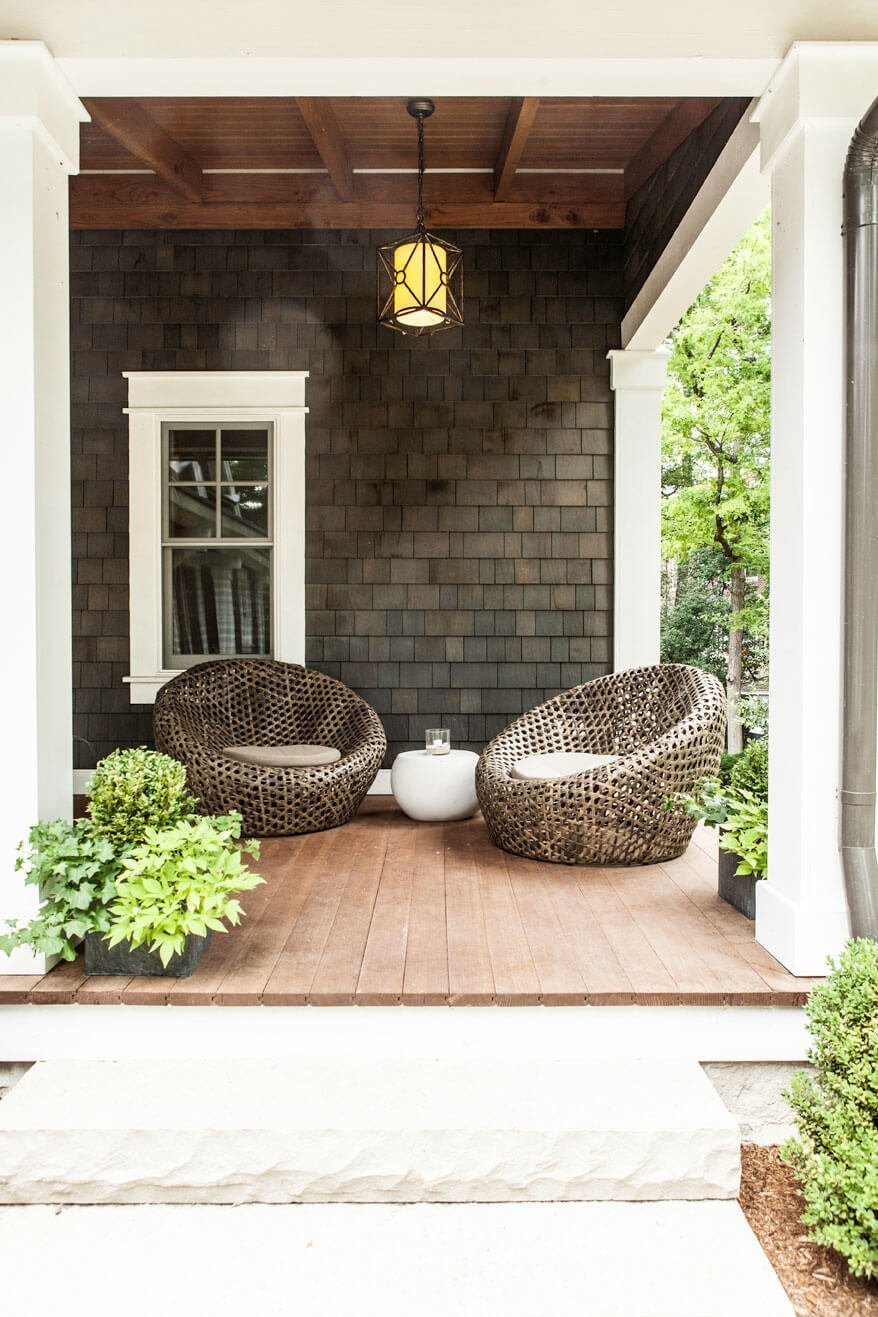 Our Favorite Outdoor Decorations to buy on Amazon