Does your front room need a facelift? Is the bedroom looking blasé? Are the kid's rooms still sporting nursery décor even though you traded the crib for a bed ages ago? If you're in desperate need of some redecorating but are short on time, funds, or both, then we've got a perfect solution for you in our DIY window treatment ideas collection. Window treatments are an incredibly quick and easy way to update your décor in any room and are notoriously simple and forgiving DIY home projects.
35+ Beautiful DIY Window Treatment Ideas to Shine Some Light on Your Home

You can use window treatments for purely decorative purposes to enhance your décor, but don't forget the functionality; privacy curtains let in light but keep the eyes of passers-by out, black-out shades let you sleep peacefully even after sunrise, and a variety of adjustable shades allow you to adjust light as the sun moves lower in the sky in the afternoon. Whatever your needs, from full-length curtains to tie-up shades to valances, we have DIY window treatment ideas for every taste, style, and function.
Get inspired with our DIY window treatment ideas and prepare to inject some new life into your window décor this season.
1. Try Your Hand at a Roman Shade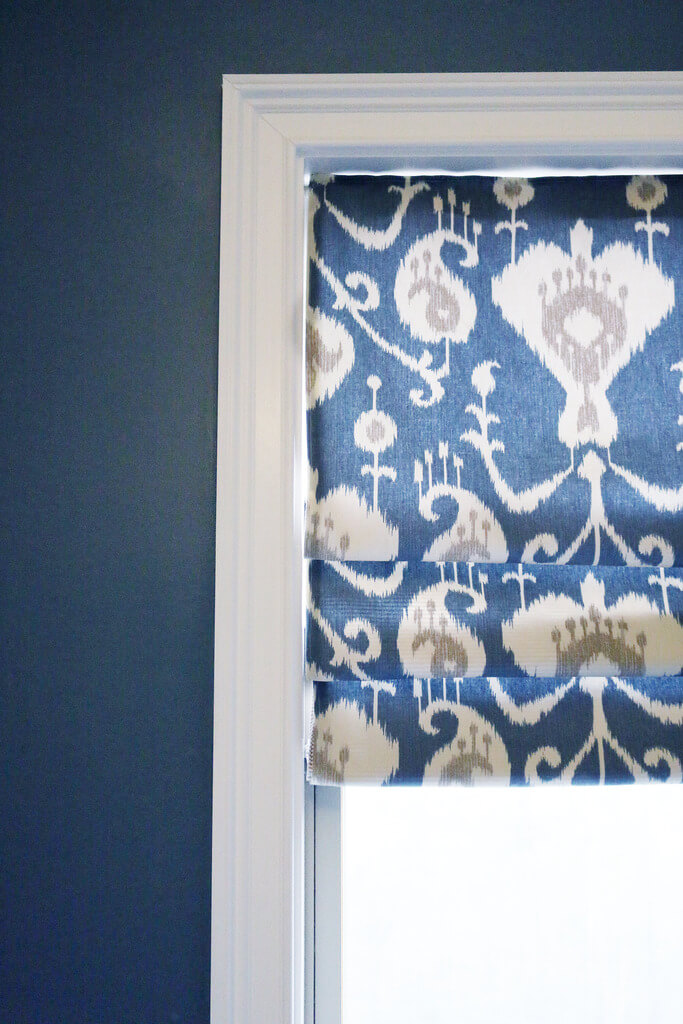 They say that Rome wasn't built in a day. But, these Roman shades sure can be. This versatile DIY window treatment is perfect for almost any room in your home. Made with two different fabrics, it is easily reversible with a tension rod for ease of installation. Pick fabrics that enhance your decor for the perfect look.
2. Easy and Pretty Back Tab Curtains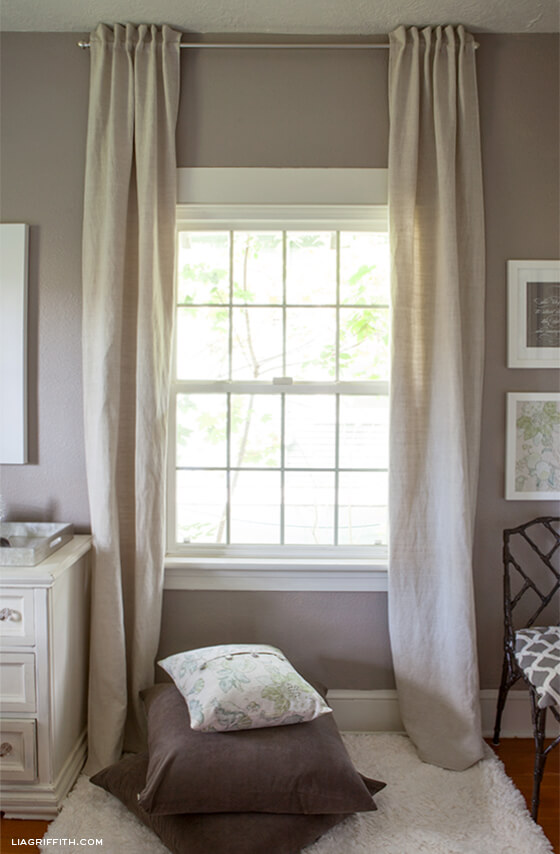 Back tab curtains offer a modern look, perfect for your dining room, living room, or bedroom. If you can use a sewing machine to stitch a straight line, this project will be a breeze. Simple twill tabs attach to the top edge then get folded back and sewn into place. Within a few hours, you can create a custom look.
3. Pretty Lace Privacy Windows for Pennies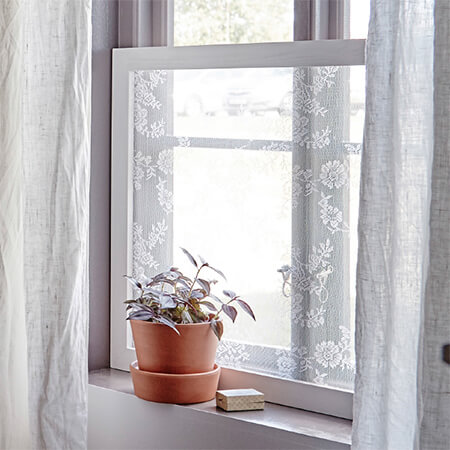 Want to add a bit of privacy without blocking all the light? Simple lace attached to a wooden frame is an uncomplicated way of accomplishing this goal. All you need to do is measure the inside dimensions of your window and build a frame to match. Paint the frame a pretty color, then attach fine lace fabric with staples. Insert and enjoy.
4. Repurposed Object Curtains for a Simple Solution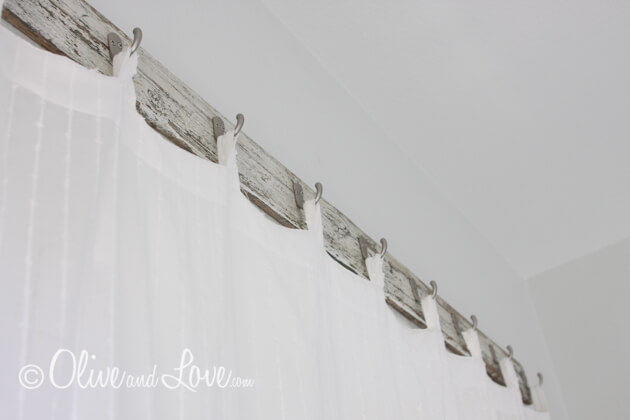 Curtains can be held up by many things besides traditional rods. A simply painted board with hooks attached make a stylish alternative. It's even better if the board comes with a weathered look from being outdoors for many years. Add a filmy tabbed curtain to hang from the board's hooks and the look is complete.
5. DIY Window Treatments for a Fast Makeover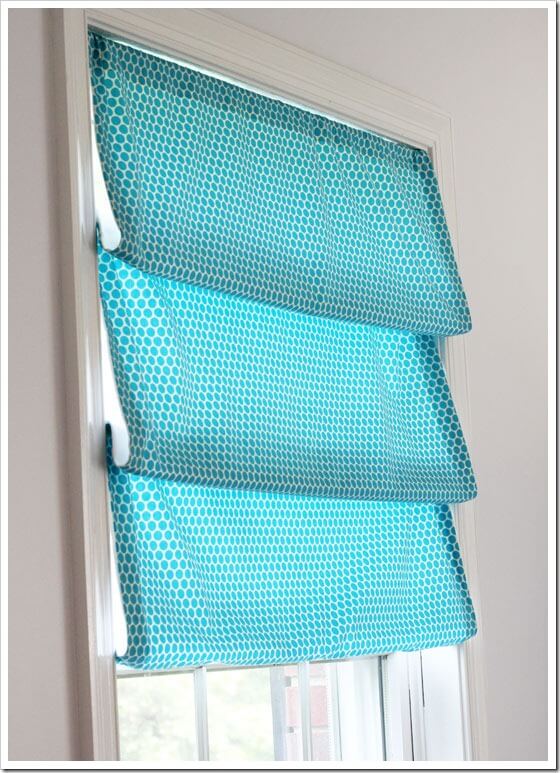 Want to make over a room this weekend? Use one yard of fabric, some fabric glue, and four tension rods to create this Roman shade look. This easy project requires no sewing, yet you achieve the look of a high-end Roman shade. The best part, you can get this project done in minutes.
6. Give Your Mini-Blinds a Makeover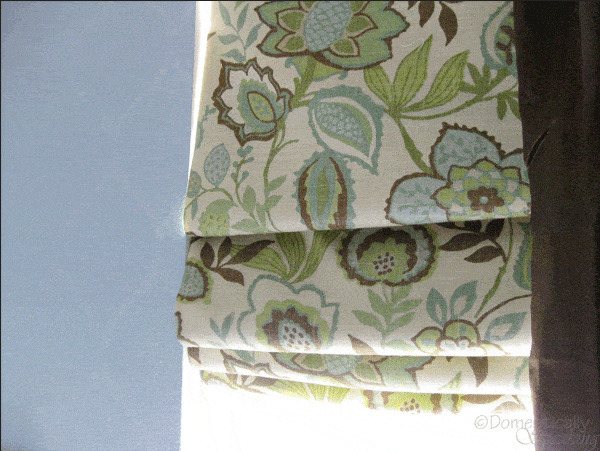 Transform your old mini-blinds into sophisticated Roman shades. This project allows you to use the functional part of the mini-blinds while getting the beauty of the fabric you put on top. All you need to do is remove a few slats and then glue fabric to the remaining ones. Ta-da!! You have a beautiful window treatment that matches your decor perfectly.
7. Whimsical Balloon Shades for Little Girl's Room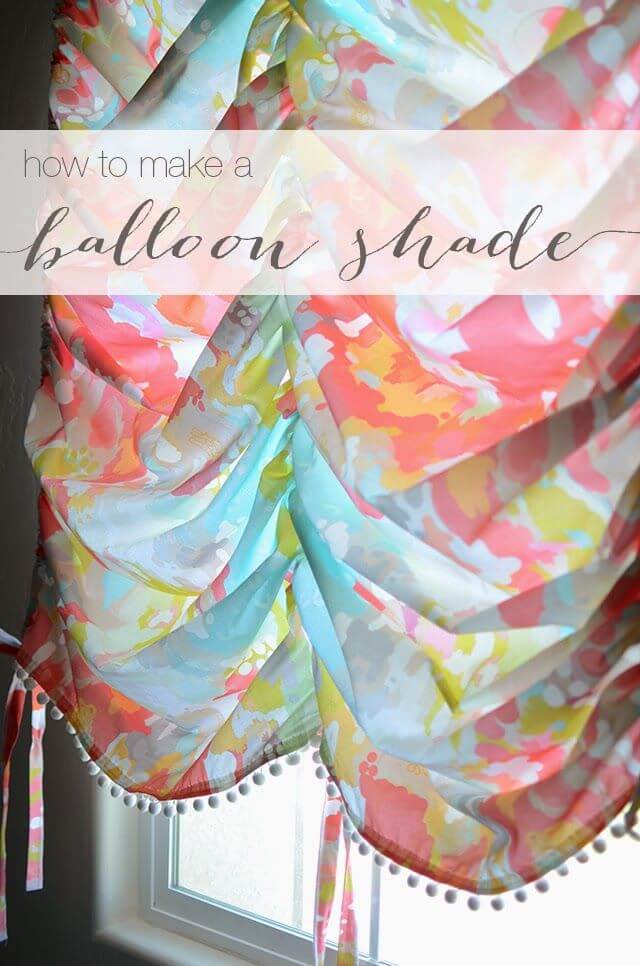 Balloon shades, done in a fun fabric, is a perfect addition to any child's room. The gentle curves of this DIY window treatment give it a subtle sophistication, but the tassel border adds a bit of whimsy. It's the perfect project if you want to cover a plain roller shade or mini-blinds while introducing a pop of color to the room.
8. Crisp Roller Shades are Clean and Classic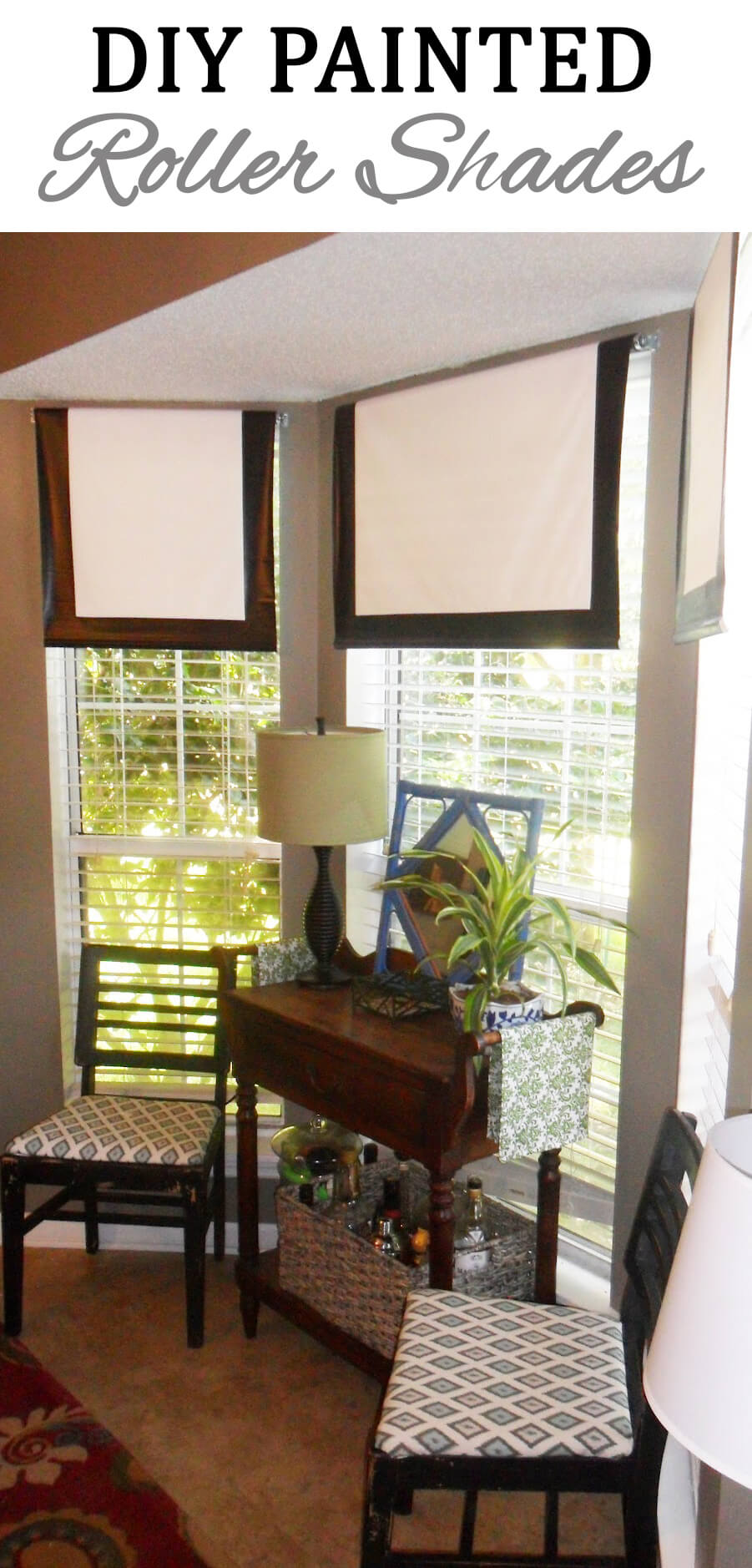 Roller shades offer a simple way to gain privacy and light control in any room. However, most of them tend to be bland and uninspiring. Take some fabric paint and frame the edges with a darker color. You just transformed your blah roller shades into a sophisticated window treatment you can be proud to show your guests.
9. Repurposed Grain Sacks Make Quaint Curtains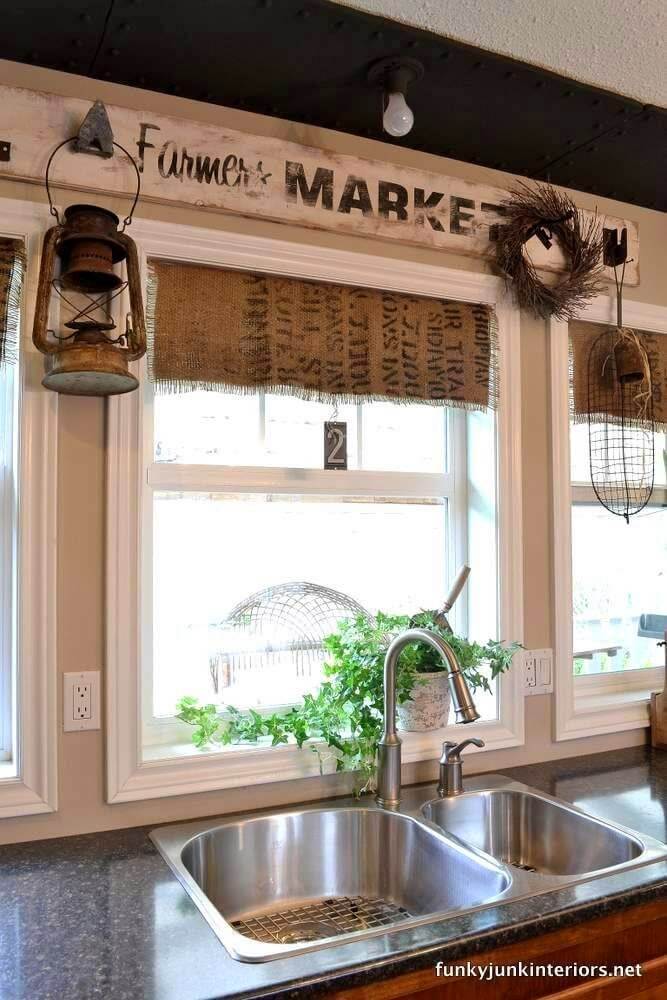 Window toppers allow you to dress your windows without blocking any of the fabulous light coming through. For a farmhouse decor, old grain sacks make the perfect window treatment fabric. Made from rough burlap, these sacks often have stenciled writing which gives it an artistic flair. A simple dowel rod slips easily through a pocket at the top for easy installation and maintenance.
12. Mini-Blinds Morph into Roman Shades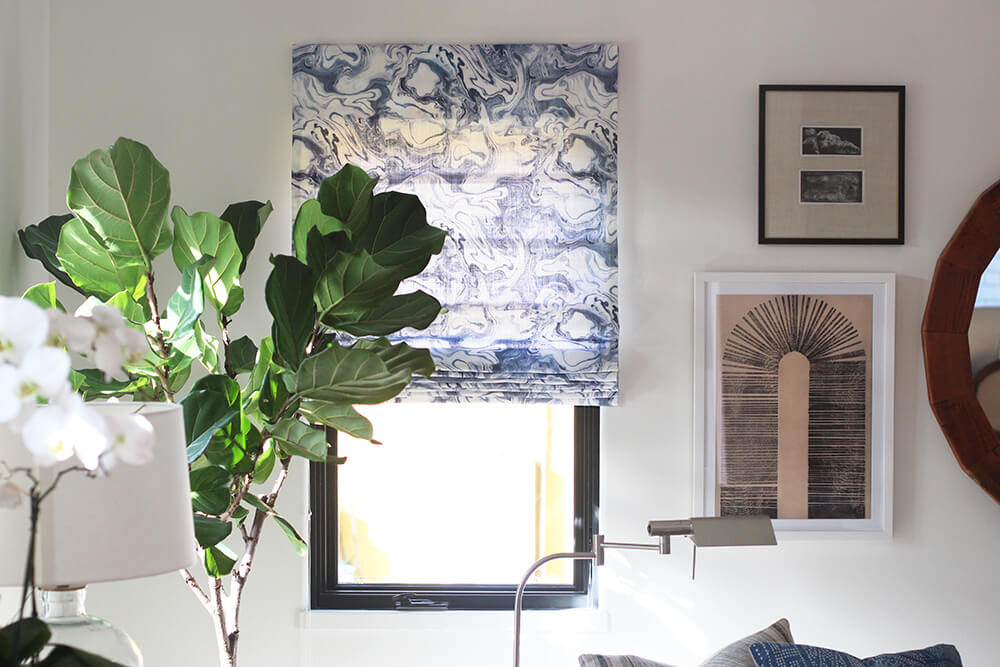 A beautiful window treatment doesn't need to cost a lot to look good. Combine a sophisticated fabric with a simple mini-blind to create your own Roman shade. Remove most of the slats, leaving the remaining ones evenly spaced. Sew a lining to the back of your fabric of choice, then glue it to the mini-blind.
13. Cheap and Cheerful DIY Valance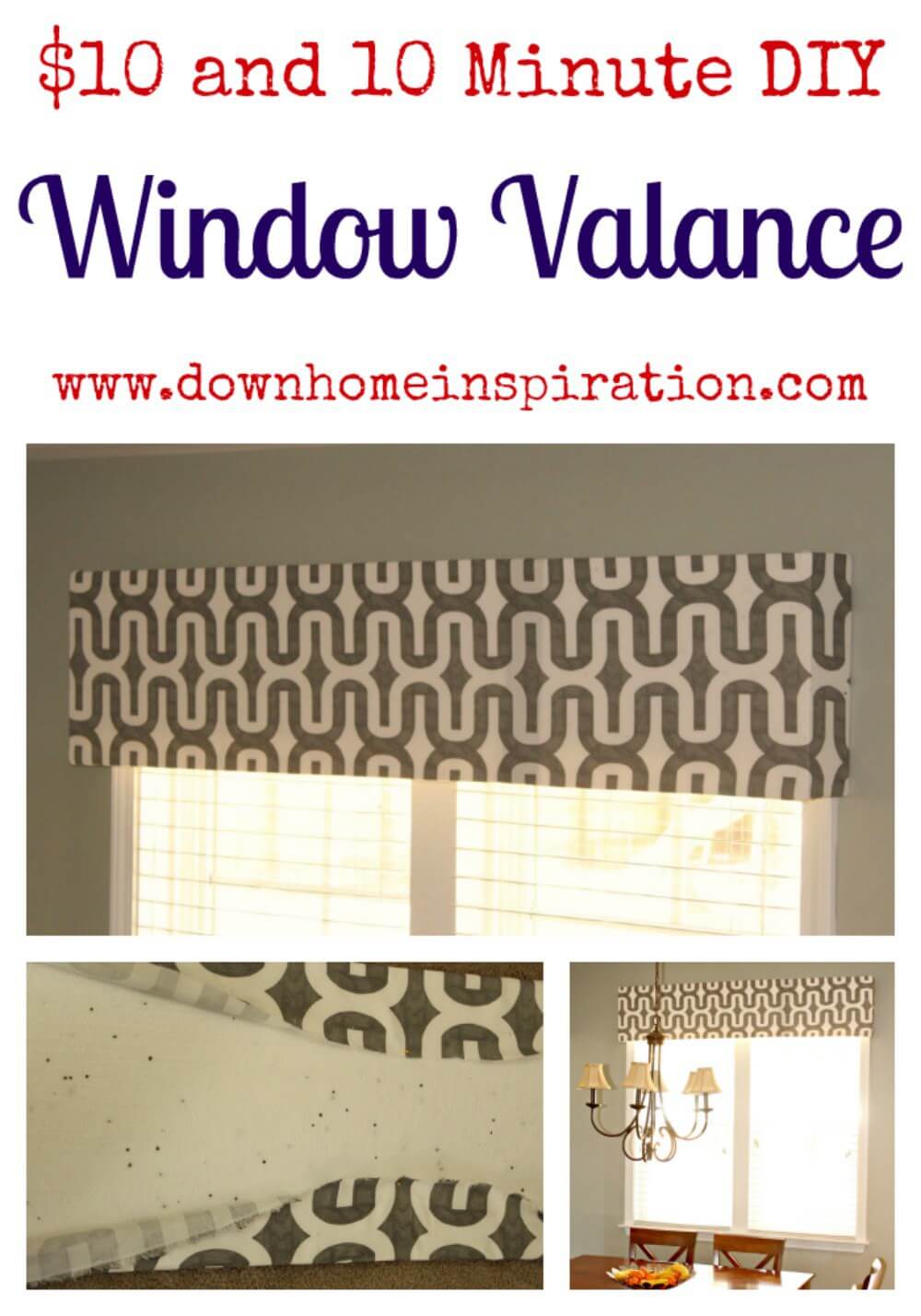 Straight lines and modern fabric combine to create a simple elegant window valance. The backing for this simple DIY window treatment is foam board you pick up at the home improvement center. Top it with a modern print, which gets pinned into place. It's the perfect way to bring a modern touch into any space in your home.
15. Simple Ways to Let in Some Light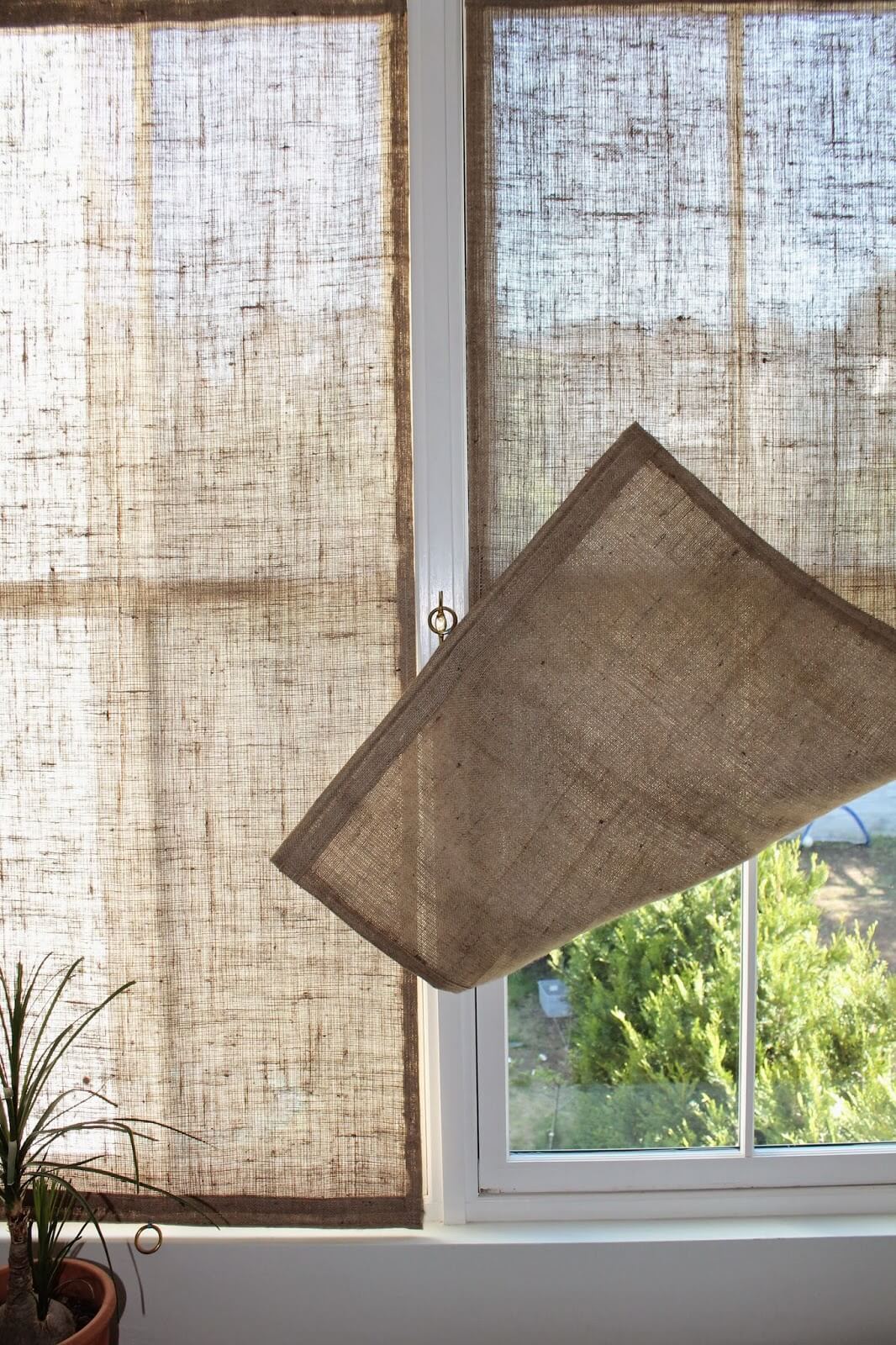 Need to find a way to filter out the sun with a simple window treatment? Fine burlap fabric will do the trick. These burlap panels require simple straight line sewing for the hems and rod pockets. If you want to open the panel up so you can enjoy the sun, hook the ring over a cup hook installed on the window casing.
16. Quick and Easy Privacy Solutions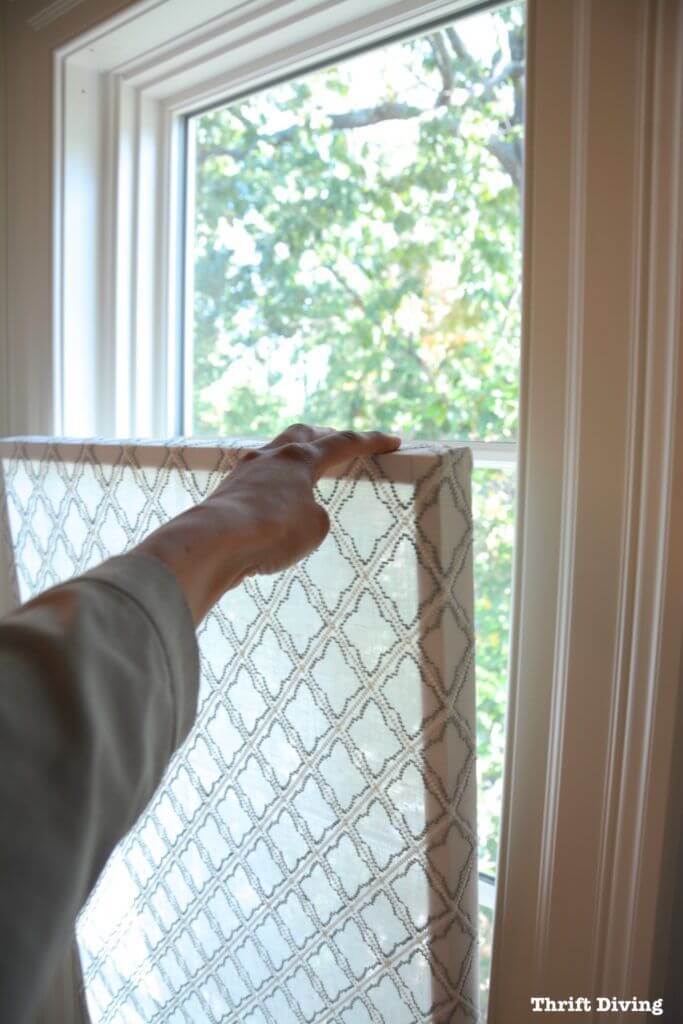 Some rooms, like the bedroom and bath, just require a bit of privacy. If you want to let the light in, without losing your privacy, a simple fabric screen will do the trick. Create a frame that fits snugly inside the window casing, then cover it with a light fabric like muslin. Instant privacy for a very low cost.
17. Add Some Pretty Ruffles to Update Curtains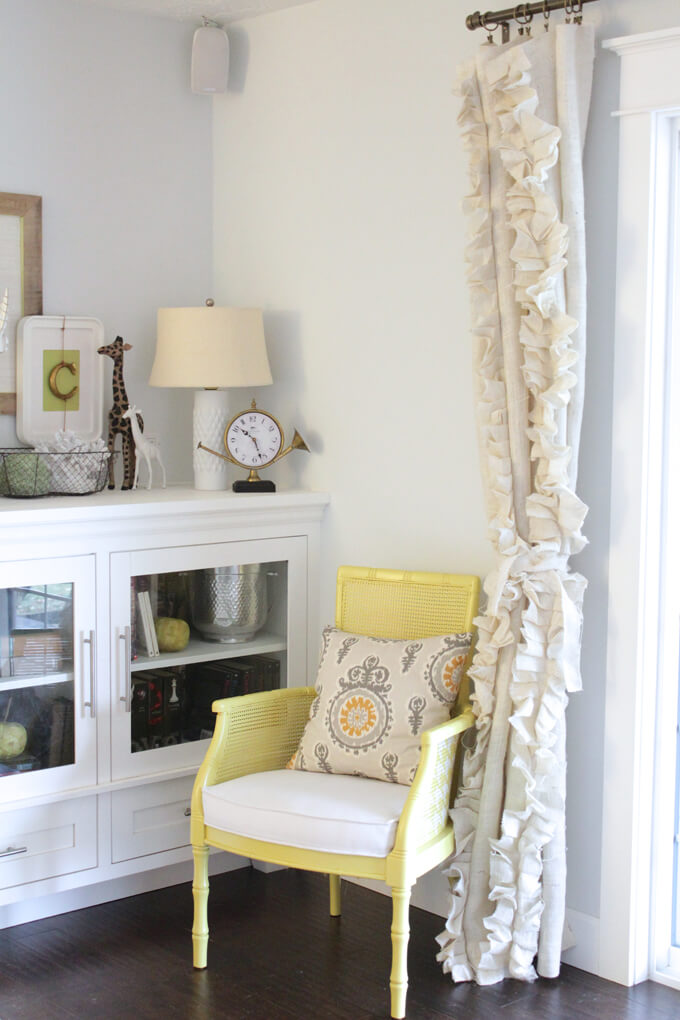 Jazzing up your existing curtains is one way to get a new look without a big price tag. This project brings ruffles to plain fabric curtain panels. Fine burlap easily draws up into pleats and attaches with a simple straight line stitch down the middle. Add a few lines of ruffles for a brand new look.
18. No Sewing Machine? No Problem! Try No-Sew Curtains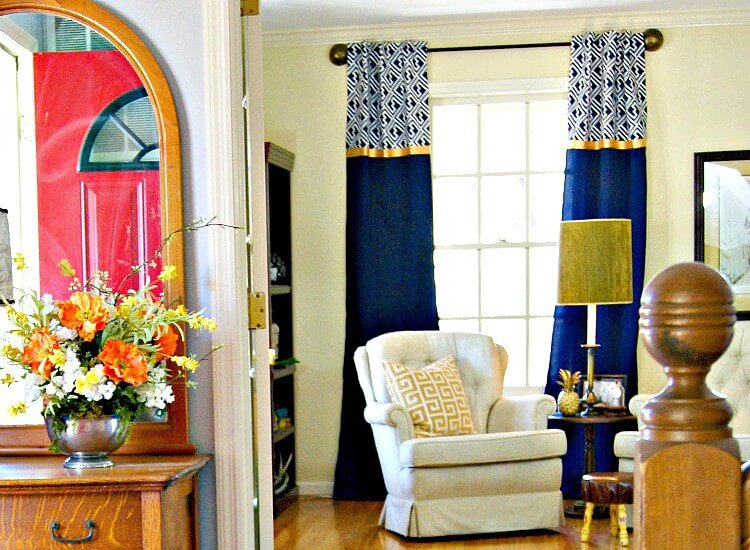 You can transform store-bought curtains into custom designer window treatments with some coordinating fabric and contrasting ribbon. These panels came from your typical big box store. Adding a coordinating fabric gives the pane's height while a contrasting ribbon gives it a swath of sophistication. Using fusible web makes it a DIY project for a single afternoon.
19. Linen and Lace for an Artsy Shabby Chic Look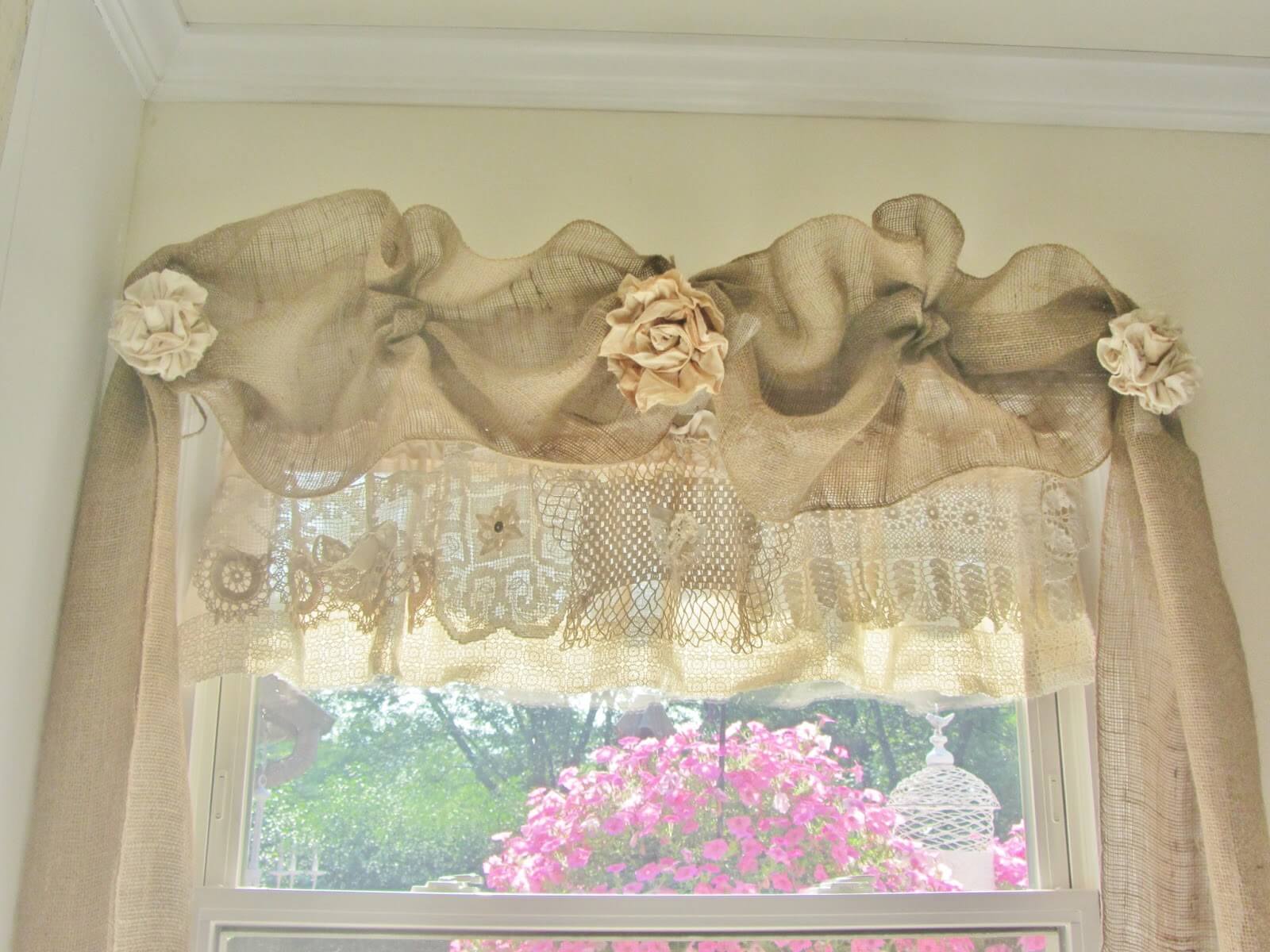 Layering linen and lace can give any window a shabby chic look for mere pennies. Linen is a low-cost fabric you can find just about anywhere. Drape it around the window and play with its lines until you find the right look. Staple it in place, add some fabric roses for an upscale touch. Layer it over a lace valance for that perfect shabby look.
20. Ribbon and Bright Fabrics for Cute Kids Curtains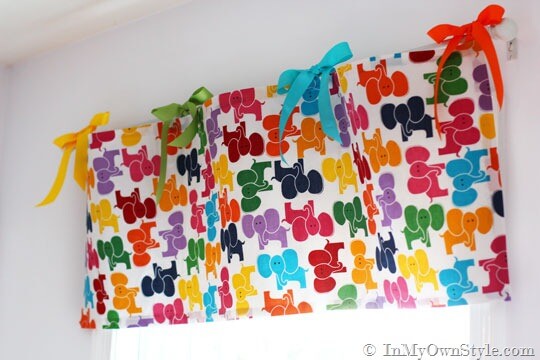 Kids' rooms offer a place to bring in color and fun. Simple window valances made in a colorful fabric tied up with bright ribbon offer simplicity and fun in one. The panel itself is just fabric hemmed on all sides. Ribbons, sewn at different points along the top, tie up to the curtain rod for the easiest installation possible.
21. Trade Sewn Curtain Projects for Pretty Tie-up Shades
Fabric choice makes all the difference in window treatments. This sophisticated print works well in a traditional space. This simple DIY tie-up shade allows the fabric to shine without a high cost. Simply attach the fabric to a wooden base that installs in the window, drape ribbon over the top and ties it up. Easy and sophisticated.
22. Drill in Your Custom Window Coverings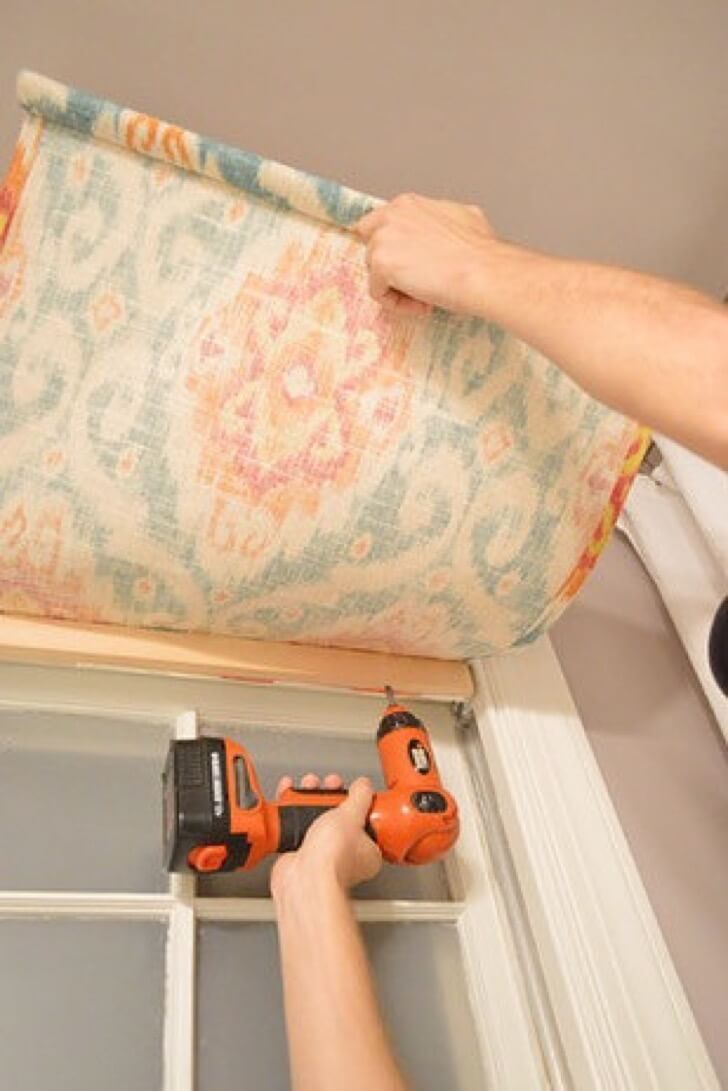 Flat fabric panels offer a simple, easy-to-install window treatment. It's a great way to display a fabulous fabric print while dressing your window at the same time. Simply hem the fabric on all four sides, then attach the top to a piece of wood cut to the inner dimension of the window casing. Install with a few screws and it's done.
23. Choose Privacy Curtain Fabrics that Let Light In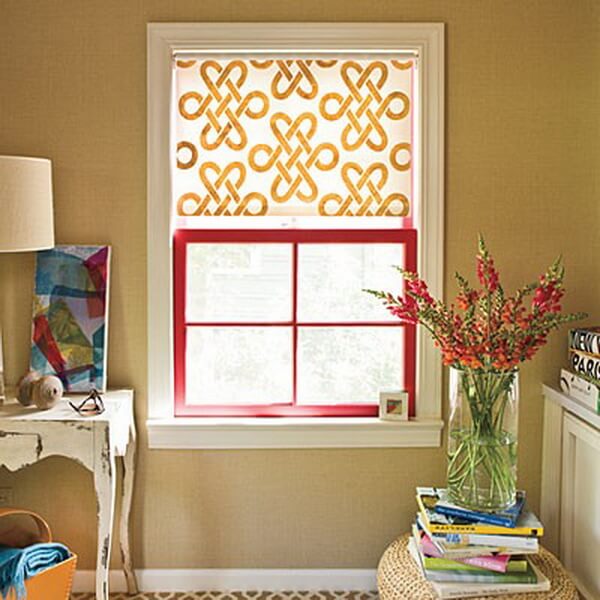 Stencil your way into a sophisticated shade. Roller shades are a cost-effective option for filtering light and gaining privacy. Their neutral color actually makes them a perfect choice for stenciled designs. Choose a stencil design you love and match it with a color palette of your choice. With a few dabs of paint, your shade becomes elegantly beautiful.
24. Hook and Ring Styles Aren't Just for Shower Curtains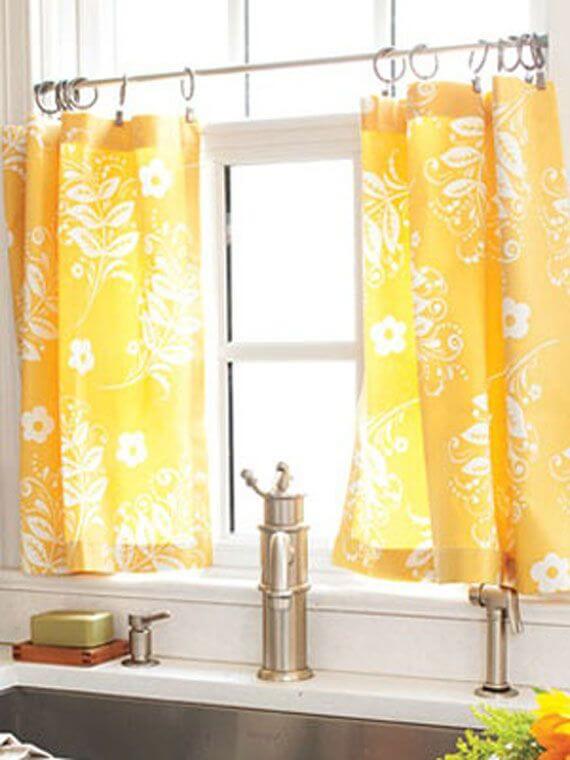 Stylish cafe curtains let you control the light without sacrificing privacy. These easy to make curtains feature a designer fabric, but you can easily do this project with vintage napkins. Hemming the fabric creates the curtain panels. Attaching clip-on rings to the fabric allows it to hang from a simple tension rod. Perfect over a sink or in the bathroom.
25. Simple Tie-Ups Make Curtain Projects So Much Easier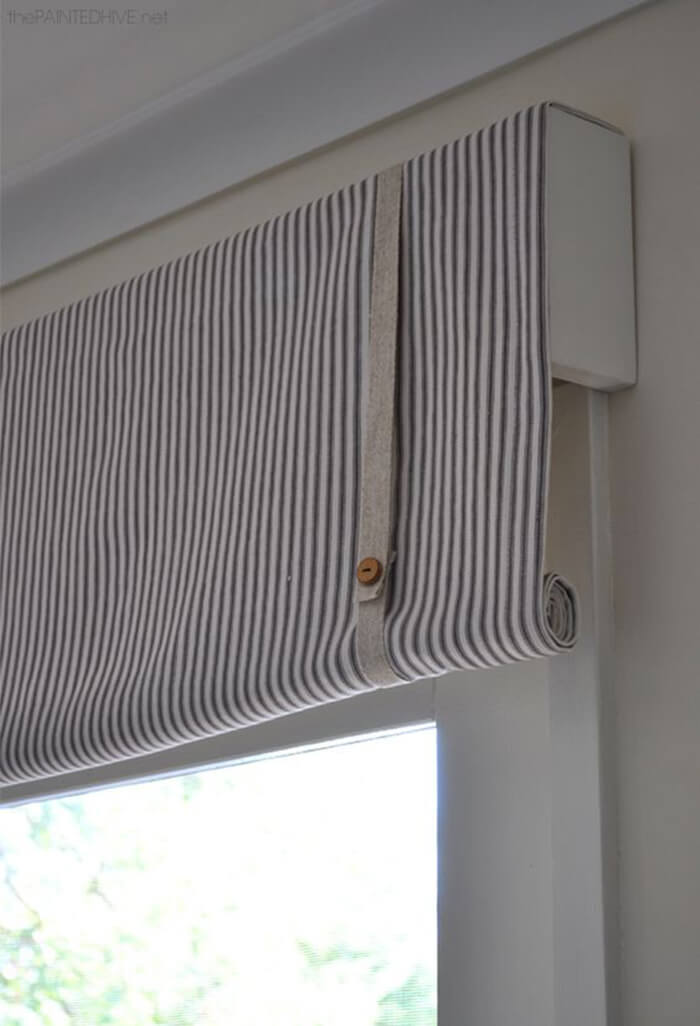 Trying to hide not-so-pretty window blinds is easy with a pelmet and some mattress ticking fabric. Hem this timeless fabric to create rectangular panels. Attach the top of the panel to a pelmet designed to hide window blind hardware underneath. Roll up the bottom of the fabric and secure with a cotton ribbon and a wooden button.
26. Sliding Door Treatments for a Unique Blackout Option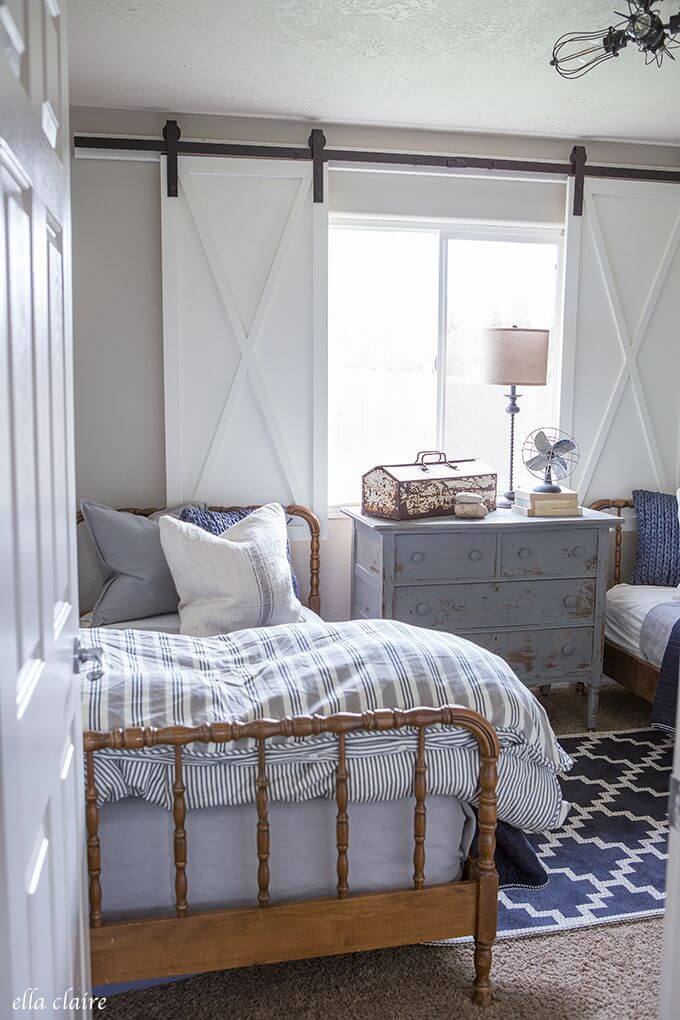 Simple barn doors, attached to a sturdy rail, allow a way to easily block the light while bringing a sophisticated look to this bedroom. This easy-to-do project uses birch plywood and MDF to create the classic barndoor look. Painted a fresh white, these doors hang from sturdy rails available at any home improvement center.
27. Store-bought Bamboo Shades Can Be Customized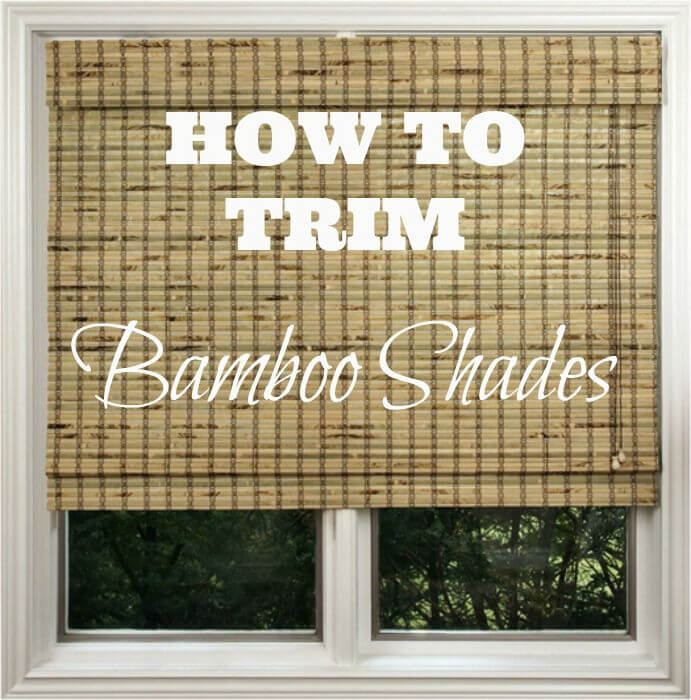 Fabric and vinyl seem to be the material of choice for most blinds. However, the texture and color of bamboo make it a perfect choice to bring a natural touch to any room. One of the best reasons to use bamboo shades is the ease with which you can customize their size. You can give each window a custom look for a very low cost.
28. Bring Vintage Shutters Indoors for a Window Update
Window shutters bring a vintage vibe to this kitchen space. Custom fitted to the window opening, shutters make a great choice for light control and privacy. This project involves using low-cost bed slats to create the shutters. A bit of paint, some rustic handles, and mounting hardware complete this custom window treatment.
29. Quaint Fabric Square Valance for a Country Vibe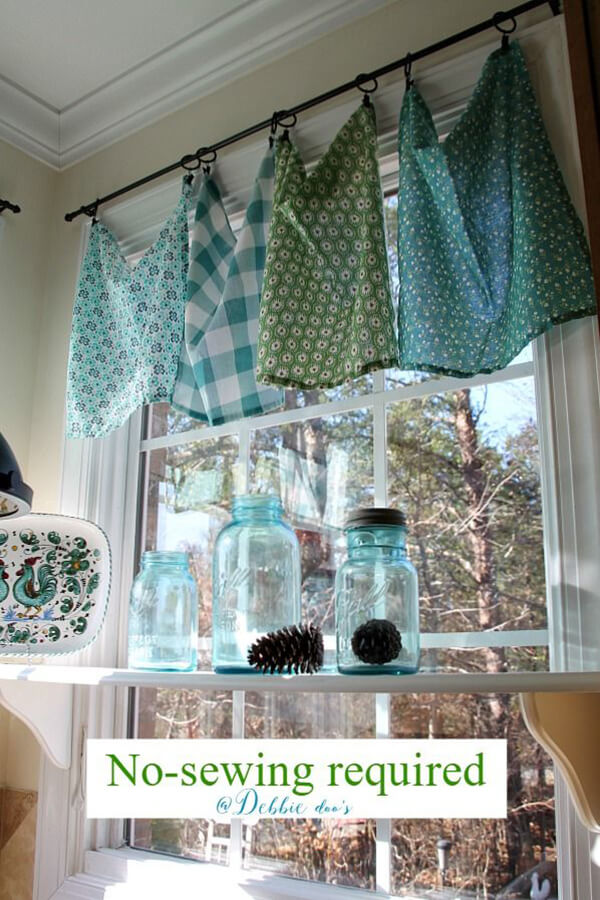 Table napkins in fun country prints make a perfect window valance that requires zero sewing or even fabric glue. Simple clip-on rings hold the corner of each napkin up. The different fabric patterns offer a colorful collage that gently swags for a relaxed country vibe. Use different napkins or fabrics for a new look every season.
30. Get Creative with the Fabric Paints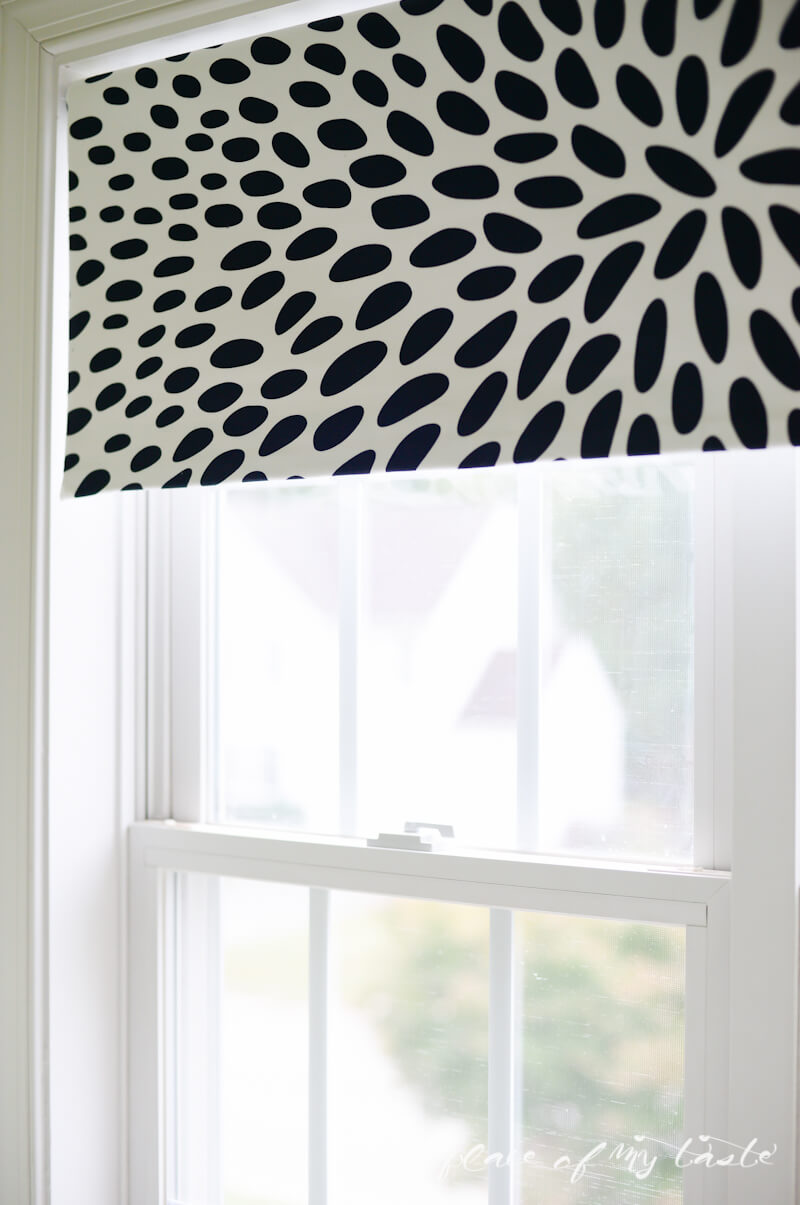 Fabrics come in so many fun patterns and textures. If you want to bring one of these fabrics into a room, a great option is to adhere it to a plain roller shade. Special fabric glue adheres the print to the surface of the blind, making it function as one piece. Get as traditional or as funky as you want with the fabric print of your choice.
31. Change Café Curtains for a Quick Update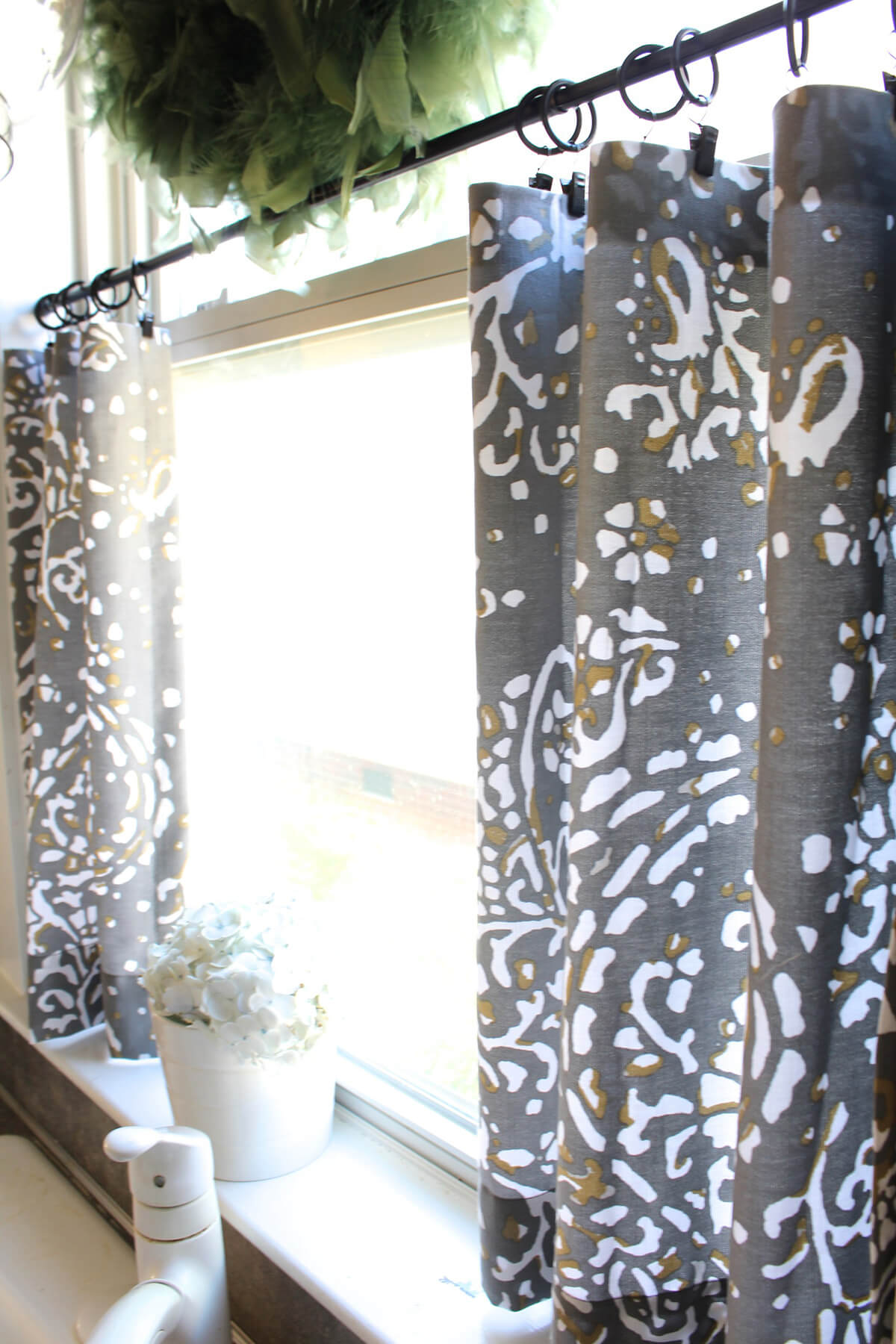 Got a tired looking window treatment? This simple project uses a shower curtain and a few clip-on rings to give this window a complete makeover. Find a shower curtain or a curtain panel with a stylish pattern. Then, using hemming strips and an iron, create two new cafe curtain panels. Add the rings for an instant window makeover.
32. DIY Roman Blinds from Tired Mini-blinds

Plastic mini-blinds offer the hardware and a sturdy base for this DIY Roman shade project. A few clips of the scissors remove unneeded slats in the blinds, creating a framework on which to attach the fabric. Select a sturdy fabric and attach it to the mini-blind framework. Hang the blinds and adjust the folds to create the Roman shades of your dreams.
33. Customize Cornices with Your Chosen Fabric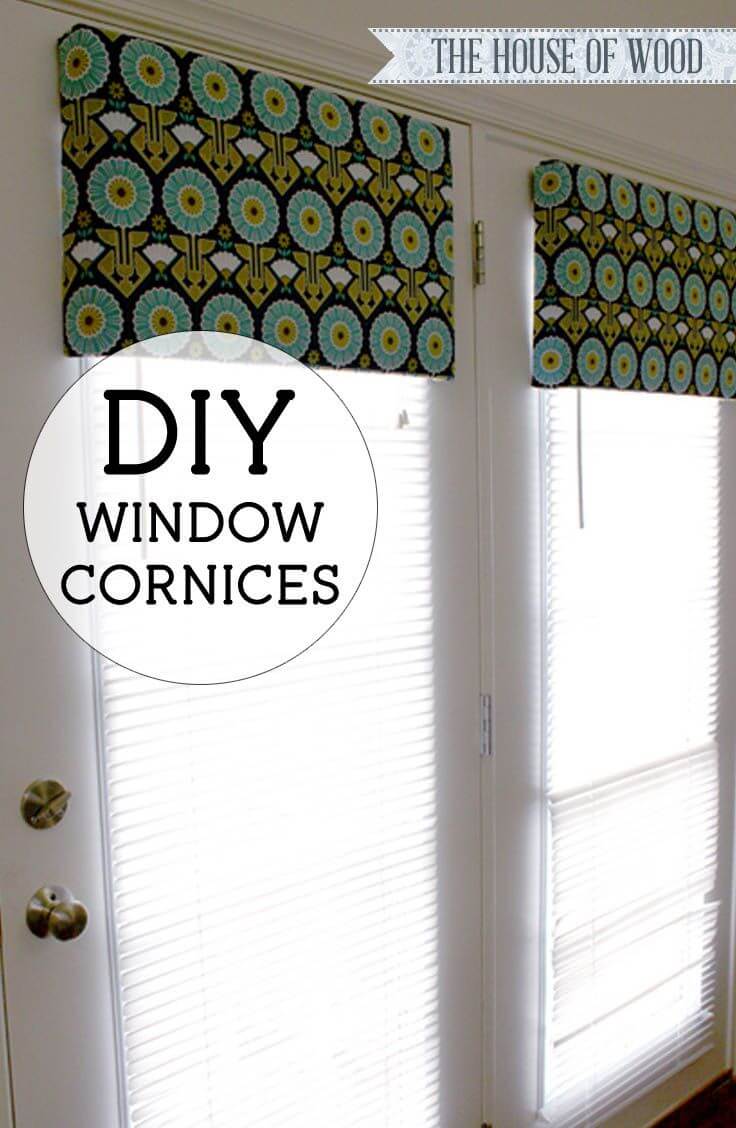 Foam board makes the perfect backing for these modern, straight edge window valances. Found at any DIY or craft center, foam board offers a sturdy structure for the fabric of your choice, in this case, a colorful modern print. Staples or masking tape secure the fabric to the foam board but allow for quick changes in the future.
34. Craftsy Color Block Privacy Curtains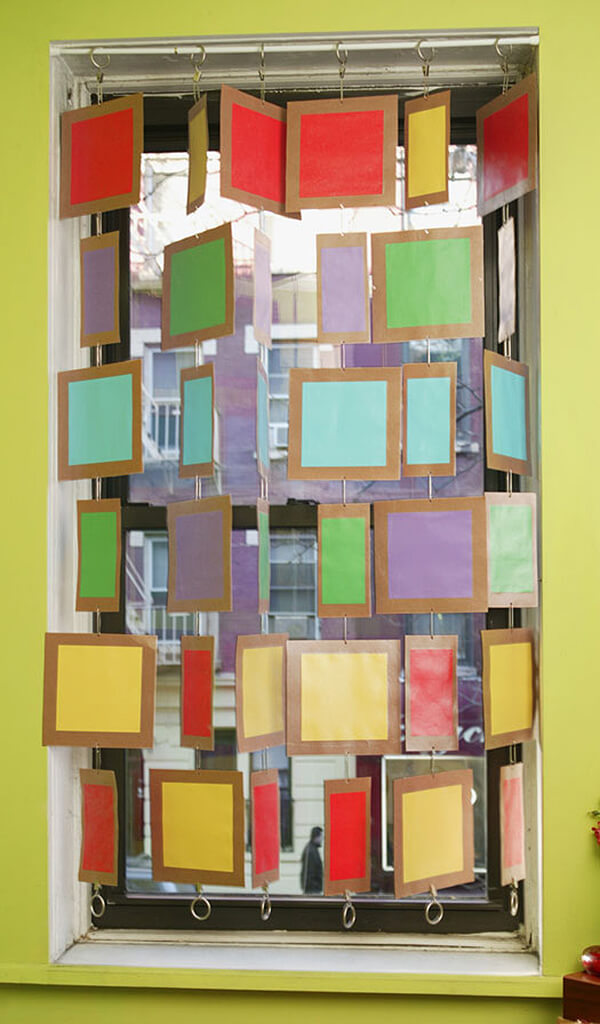 Window treatments come in all shapes and sizes. Color blocks hanging from a simple tension rod make this project perfect for an apartment dweller or someone on a tight budget. The colorful squares can come from wallpaper, wrapping paper or even vintage greeting cards. Everything hooks easily together with paper clips and contact paper.
35. Simple Tie-up Curtains are Easy to Make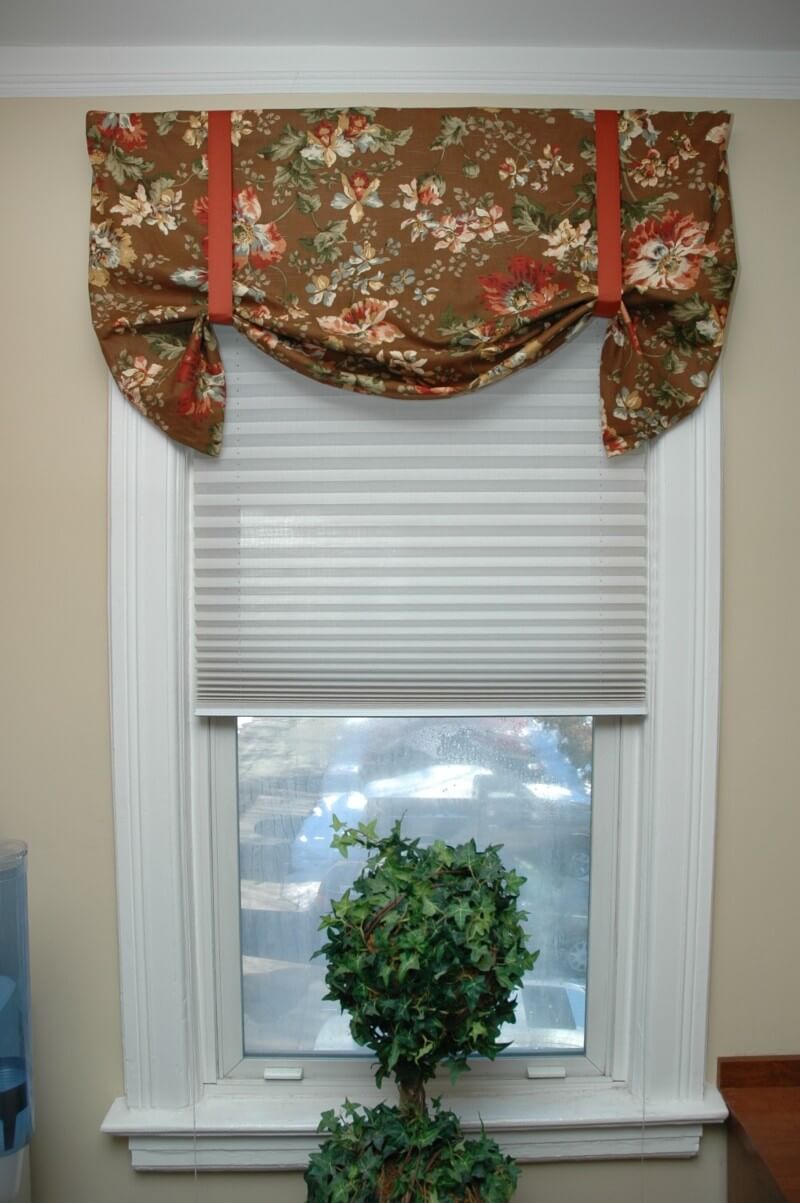 A gorgeous floral print and grosgrain ribbon combine for a rich window treatment that requires no sewing. A 1″ x 3″ piece of wood forms the solid base of this beautiful valance. Two pieces of fabric get fused together with hem tape, then attached to the wood with staples. Strands of ribbon hang down on either side, allowing you to tie it in different configurations.
36. Think Outside of the Box with Fabrics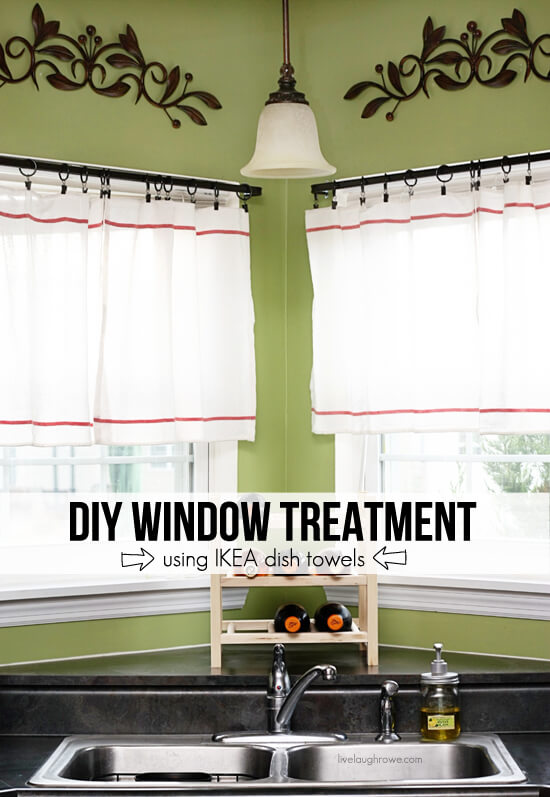 Looking for the simplest window valance possible? Dishtowels available at your favorite fashion store hang from simple rods using clip-on rings. The only installation required is putting the rods and clipping the rings to the dishtowels. That's it for a simply beautiful look that anyone can put together in minutes.
37. Charming Rustic Vibe No-Sew Valance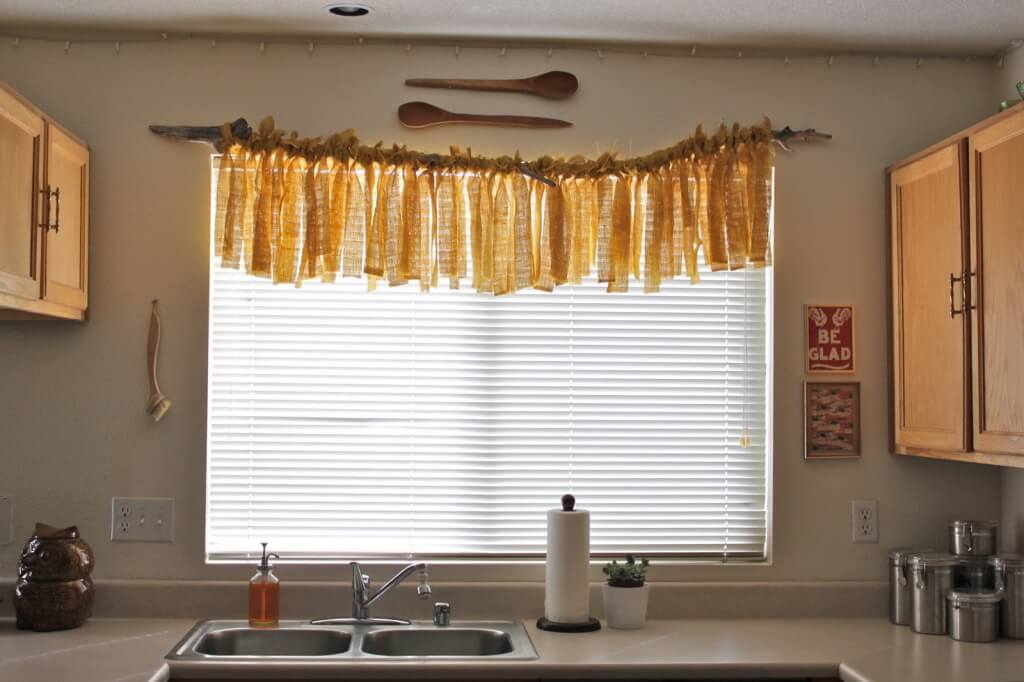 You can't get much more rustic than a tree branch hanging above a kitchen window. Add some fabric strands along the entire branch for a floating valance that dresses up even the plainest mini-blind. The rustic elegance of this window treatment would work in any space with a vintage, rustic, or farmhouse decor.
38. No-sew Tie-up Valance for Baby's Room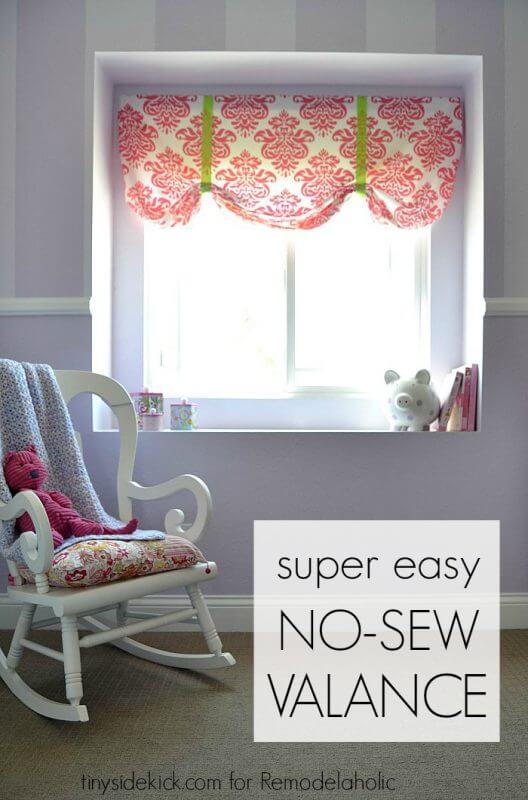 A baby's room is a precious space you make special for the newest member of the family. A simple window treatment helps bring color and texture into space without being hazardous to curious toddlers. Using a fitted crib sheet gives the bottom edge a built-in gentle swag that works well with the contrasting ribbon used to hold it in place.