If you are looking to be on-trend with your home decor, then you will want to check out these best DIY wood burning ideas. Pyrography is an art that has been around for centuries, but it has recently become very trendy as the next DIY crafting craze. It is the art of decorating wood with burn marks, and it is commonly referred to as wood burning. This art has become so popular that you can find wood burning tool kits in most craft stores. They come with a variety of tips for making different types of marks.
28 DIY Wood Burning Ideas for a Charming Home Decor Upgrade

One of the best parts of wood burning is that you can easily add personalization. Even if you use a stencil for your design, you can choose to add family names or dates to any of the projects. Adding a family name to a picture frame or a cutting board will turn a simple object into a time-honored heirloom to pass down through the years.
While you can start from scratch with wood burning, you can also add some design to wood that you already have. You can add a pattern to the back rails of an old chair or rocker. You could add a pattern or family name to a wooden spoon. It is so easy once you get started, but always be sure to plan out the pattern ahead of time.
There are many DIY ideas as well as already made gift options available with pyrography. There are lots of ideas here for you to peruse as you decide on the projects that you want to have in your home. Will you make them yourself, or will you choose from one of the artists' selections on Etsy? Either way, you will find exactly what you are looking for in this awesome collection.
1. Wood-Burned Color Block Wall Art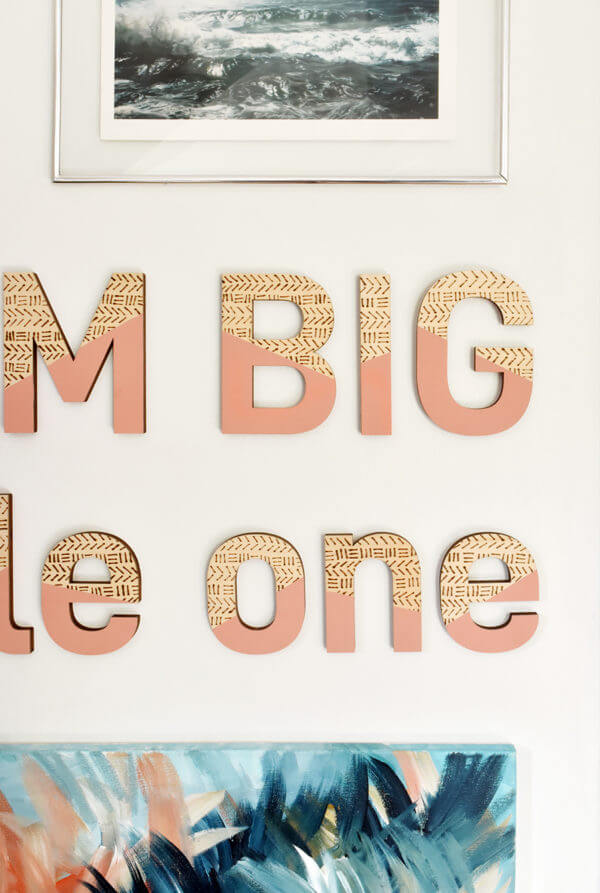 This wall art is simply stunning. The phrase "DREAM BIG little one" is made from wooden cutout letters. The bottom of each letter is painted and creates an overall pattern when the letters are beside one another. The top of each letter boasts the gorgeous wood burning in a mud-cloth style pattern. Planning out the exact design ahead of time helped the execution to be flawless. Wood burning patterns were first traced onto the wood and then burned into the wood with the tool. This is an easy DIY project that can be adapted to any room with different sayings.
2. Quilt Block Wood Burned Coasters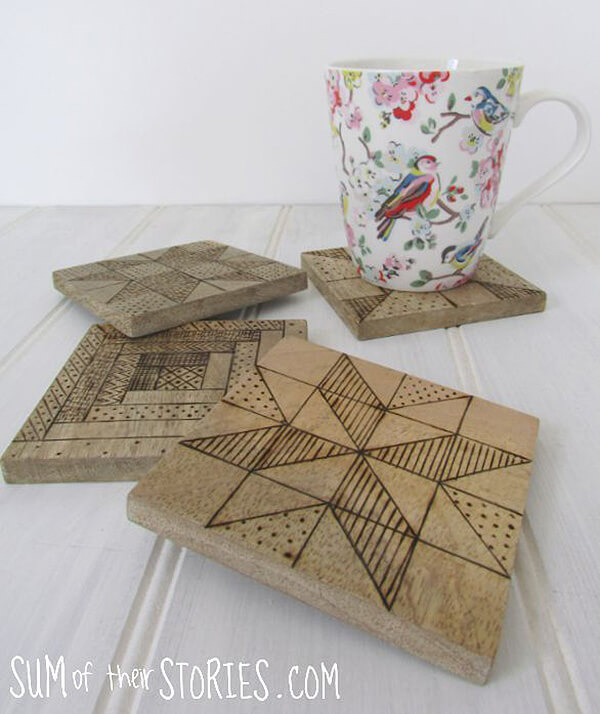 These coasters are one of the best DIY wood burning ideas, and they will allow you to let your DIY skills shine. A simple wooden coaster is ideal for this project. There are tons of premade quilt block patterns that you can copy, but you can also design your own. Each one can be unique with its own pattern. The samples shown use a series of lines and dots to create fun and interesting designs. These would make wonderful gifts for friends or family who make quilts. They are also nice for anyone who loves country or farmhouse decor.
3. Cool Wood Burned Cork Trivets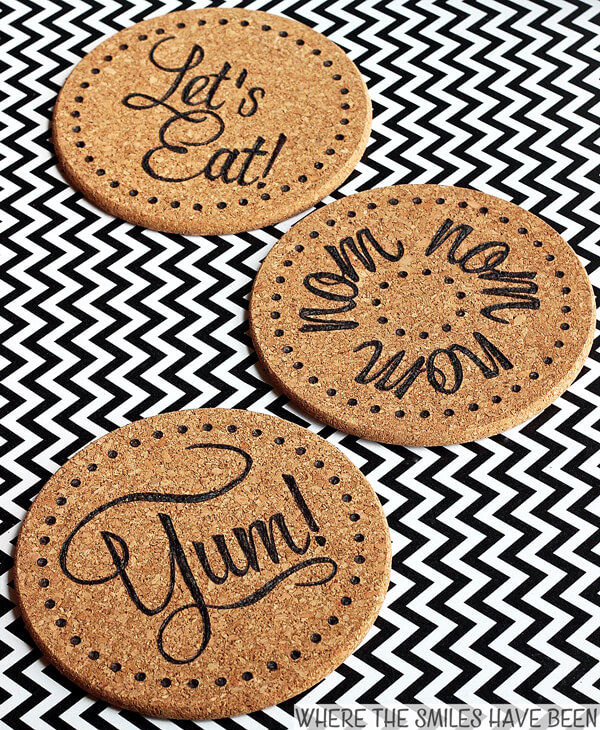 Spruce up your kitchen table with some awesome DIY trivets. The trivets are made from cork and were purchased in a pack of three. By creating your own designs on blank trivets, you will save a lot of money. You can also have a one-of-a-kind design since you will be creating your own stencil. Your family name would look really nice on a trivet. Pro tip: Since cork is not as strong as a solid piece of wood, a lower temperature needs to be used. The results are just gorgeous, and all of your guests will surely ask you where you got them.
4. DIY Wood Burned Serving Tray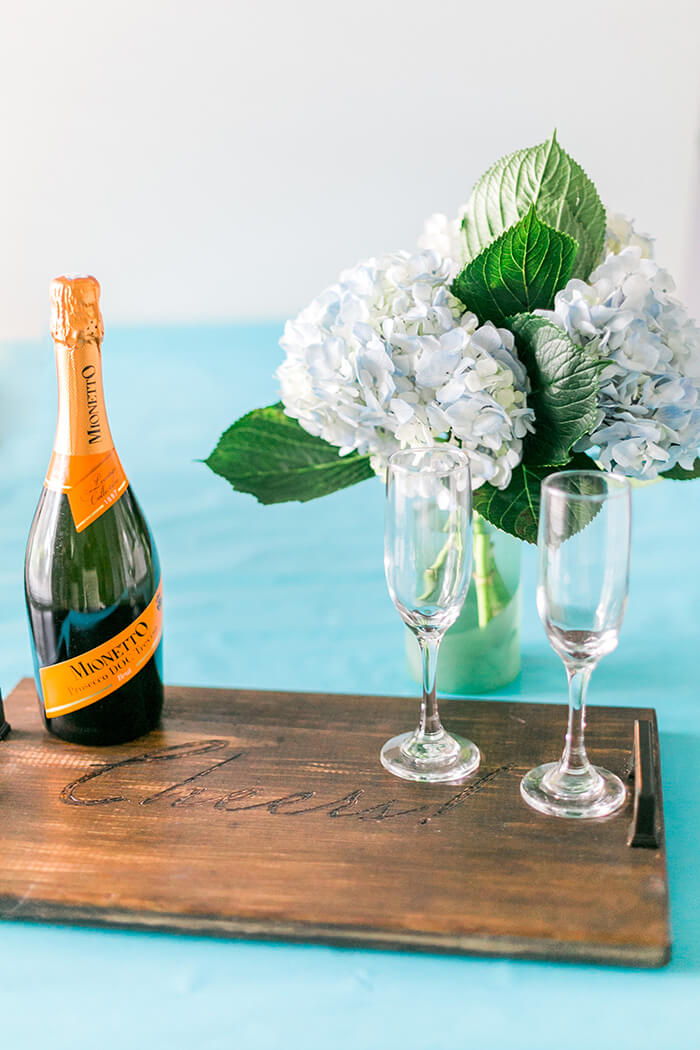 This tray is an awesome idea for a wedding gift, a new home gift, or a simple thank you gift. It is a wooden tray that was cut-out and stained. Then the word "Cheers" was burned into the top. The options are endless with the words you could use on the top and the different colors of stains that you can use. The date of a wedding or the date of the purchase of a home would be a nice acknowledgment on the tray. You could also use a name or a short phrase such as "Be Merry" on the tray.
5. Wood Burned Kitchen Cooking Utensils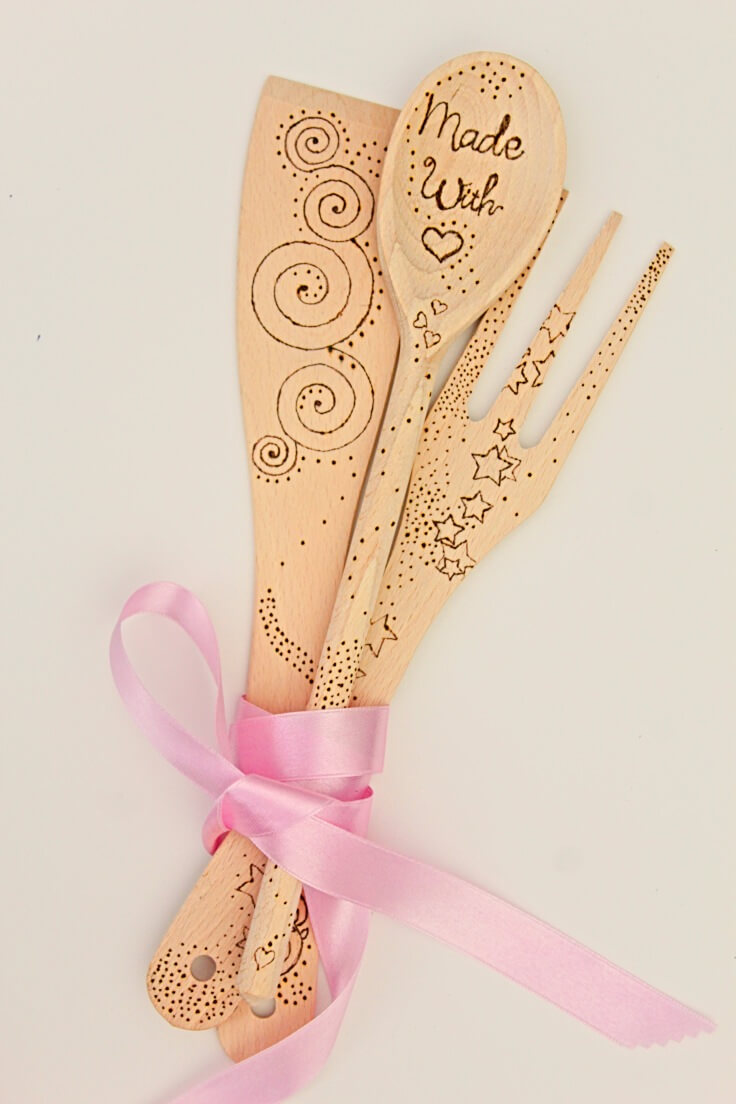 Wood burning art takes over the kitchen with these gorgeous wooden cooking utensils. A standard in many kitchens, wooden spoons, and spatulas are the ideal backdrops for your wood-burning designs. Patterns are available for this awesome DIY project, or you could design your own. A large swirl from the center of the spoon, trailing down the handle with some dot features would look nice. Smaller, more intricate repeated patterns, would work great on kitchen utensils. These can be displayed in a utensil holder, along the sides of picture frames, or even on a wreath with some cookie cutters.
6. Round Cutting Board with Pyrography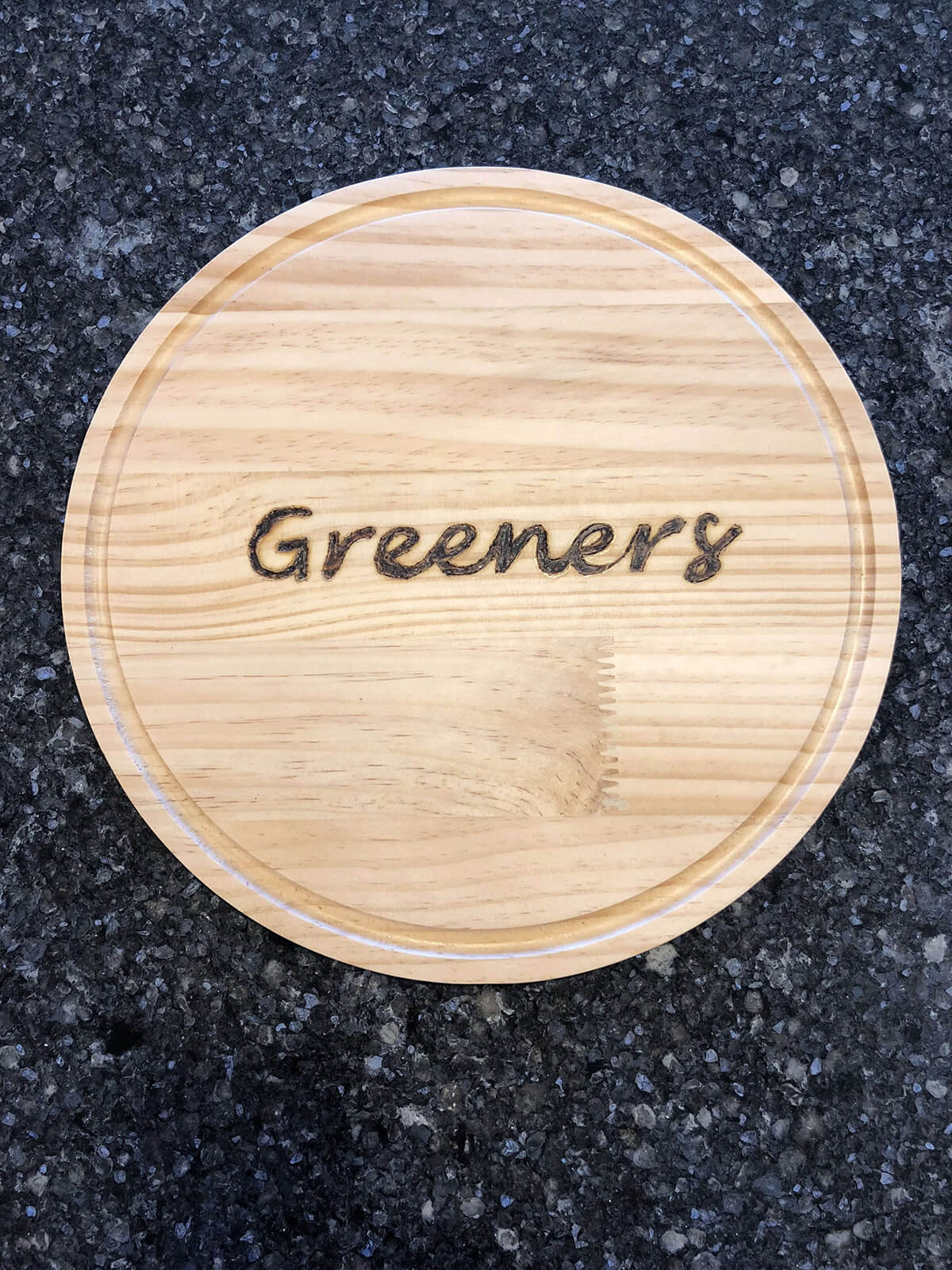 A round cutting board looks fantastic with a monogram, name, or design burned into the center. A small decorative edge could also be added around the perimeter. While this could be used simply as a decoration on the wall or as a trivet on the table, it would also serve as a nice charcuterie board. They are all the rage right now, and this would be ideal for all of your charcuterie needs. It would make a fantastic gift, along with some cheese, olives, and wine. You could also add in a nice kitchen towel, wine glasses, or salted meats.
7. Best DIY Wood Burning Ideas for Signs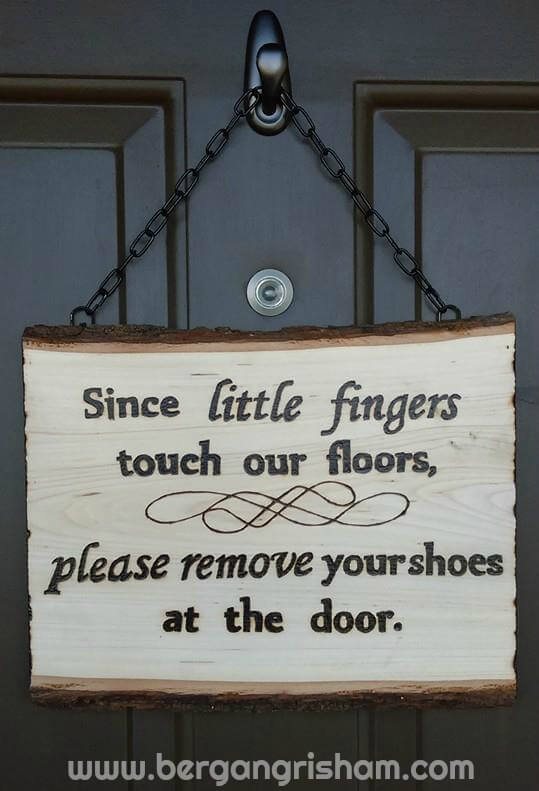 With the different ideas included here, you will definitely find the inspiration that you need to make your own unique wood burned sign. If you love farmhouse decor, then these signs are a must for your home decorations. The sign can be as simple as "welcome" along with some decorative scrolls. You can also make a sign like the sample about removing shoes so your visitors are aware of your expectations. You may wish to just burn a picture too. There are so many different options. If you can think of it, then you can burn it into a wooden sign.
8. DIY Wood Burning Art Growth Chart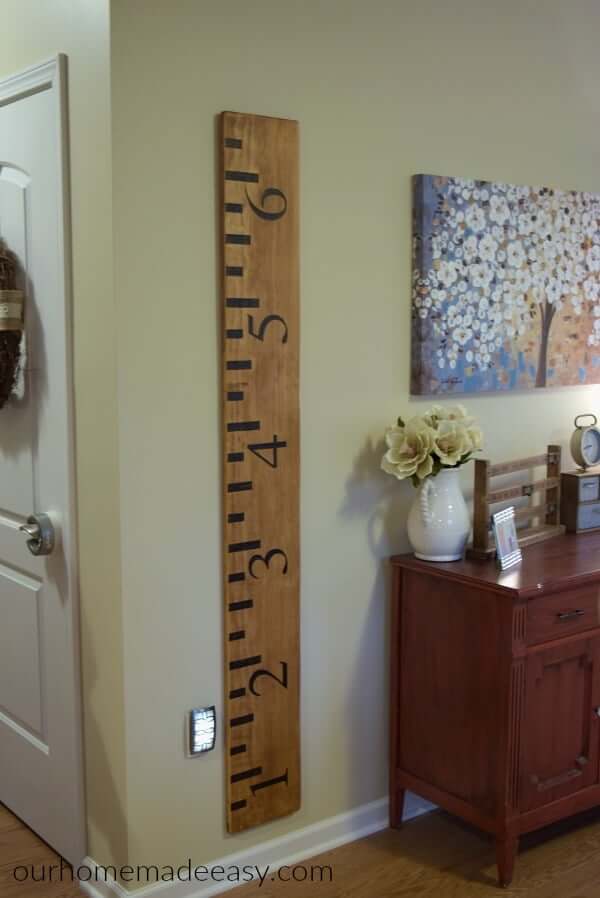 Many people have a wall that they use to measure their child's height, and they usually add a mark to it with the date and height. This is awesome unless you move. Having a growth chart that you can take with you in case you ever leave that home is important. Those memories of children's growth throughout the years will mean a lot to them as they get older. That is part of why this DIY growth chart is so awesome. The other part, of course, is that it uses some gorgeous wood burning. It will definitely be one of your most talked-about home decorations.
9. Wood Burning with Watercolor Home Decoration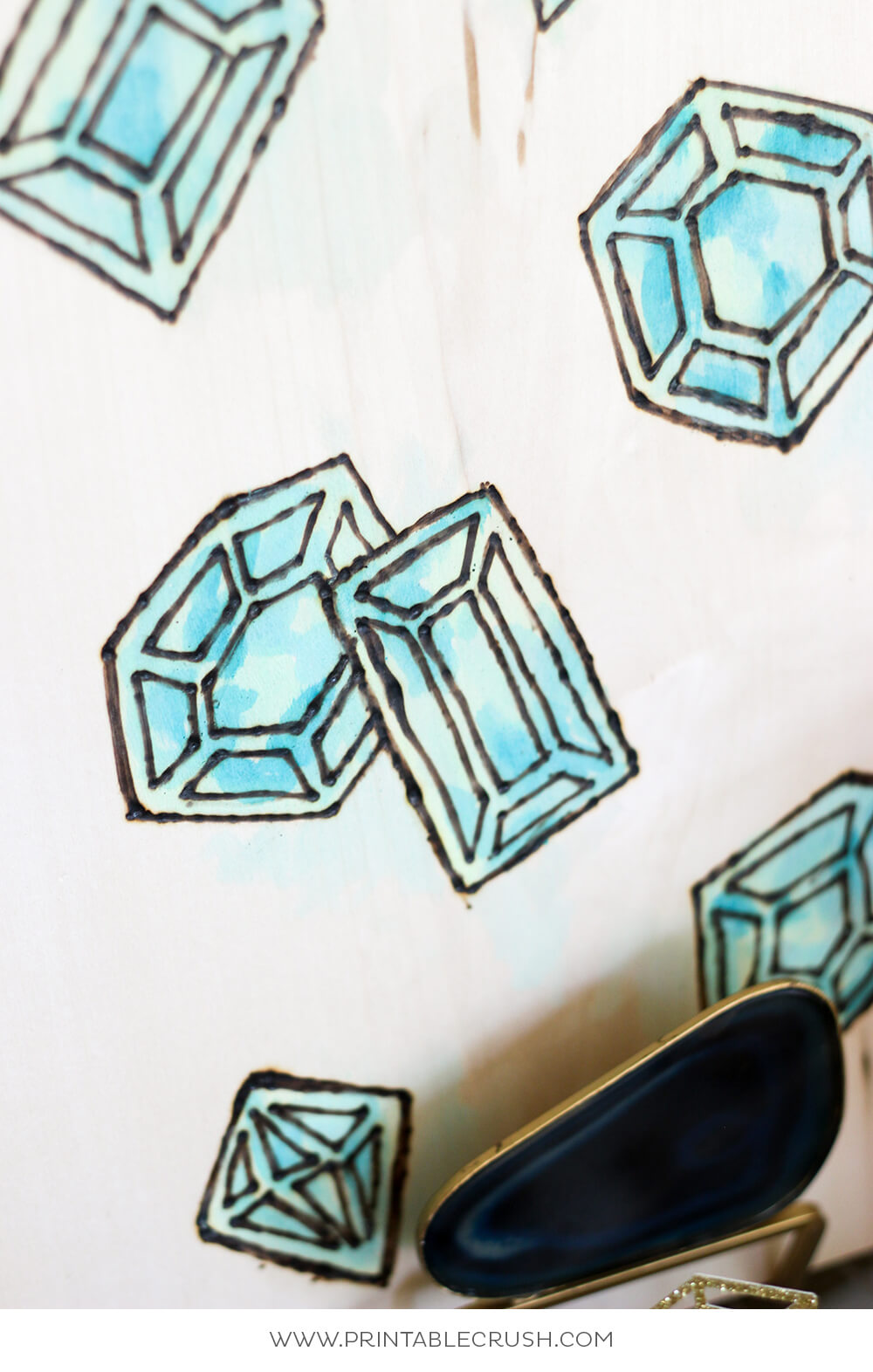 This one-of-a-kind piece combines wood burning with painting. The technique makes it look like the wood was painted with watercolors. It is a truly special look that you will not find in most stores. The best part is that once you learn the process, then you can do this with any piece of wood and with any design that you want. You can also use any colors that you would like, so your piece will match your own personal style. This technique is truly worth learning because it will help you to create unique masterpieces to display in your home.
10. Sliced Wood Ornaments with Sentiments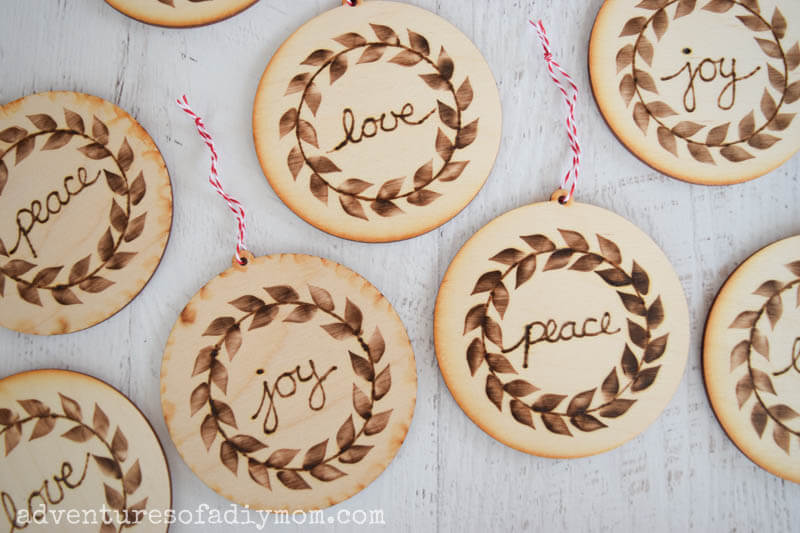 These sliced wood ornaments are perfect for the holidays and for year-round decorating, depending on what you choose to add to them. These samples have lovely one-word sentiments burned into them. Wood burning patterns then surround the word to add to its overall beauty. These could also be made with a monogram, a family name, or just a simple design. The options are endless once you get the hang of using the wood-burning tool. These make excellent gifts too. A set of four is ideal for a gift, or simply tie one onto a gift as a cute topper.
11. Farmhouse Style Slice Wood Ornaments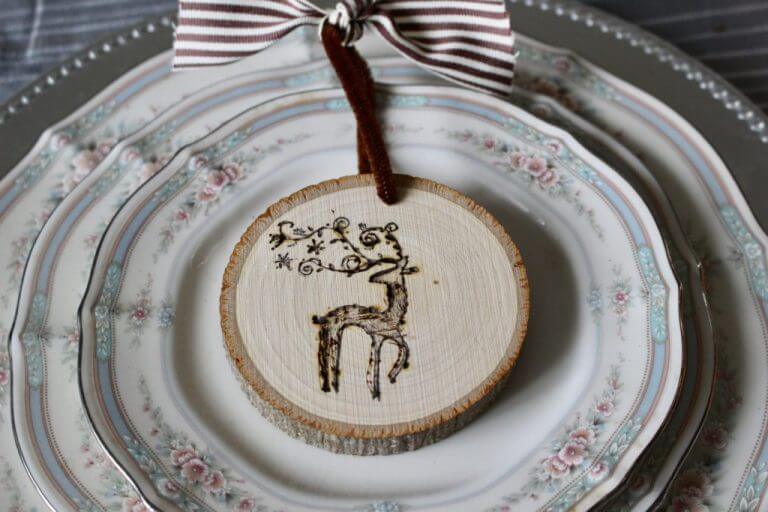 In this awesome DIY, you will learn more about working with smaller pieces such as the sliced wood ornaments. You will learn how to transfer a design onto the wood as well as how to carefully choose the correct tip for the small spaces you will be burning. Color is also introduced if you prefer to give your ornament a little more excitement. Embellishments are also introduced with these fun ornaments. Adding a little pinecone will truly help to bring out the farmhouse decor style. Hang them on a tree, on a wreath, or from a doorknob to add some cheer to your home.
12. DIY Wood Burned Letter Tiles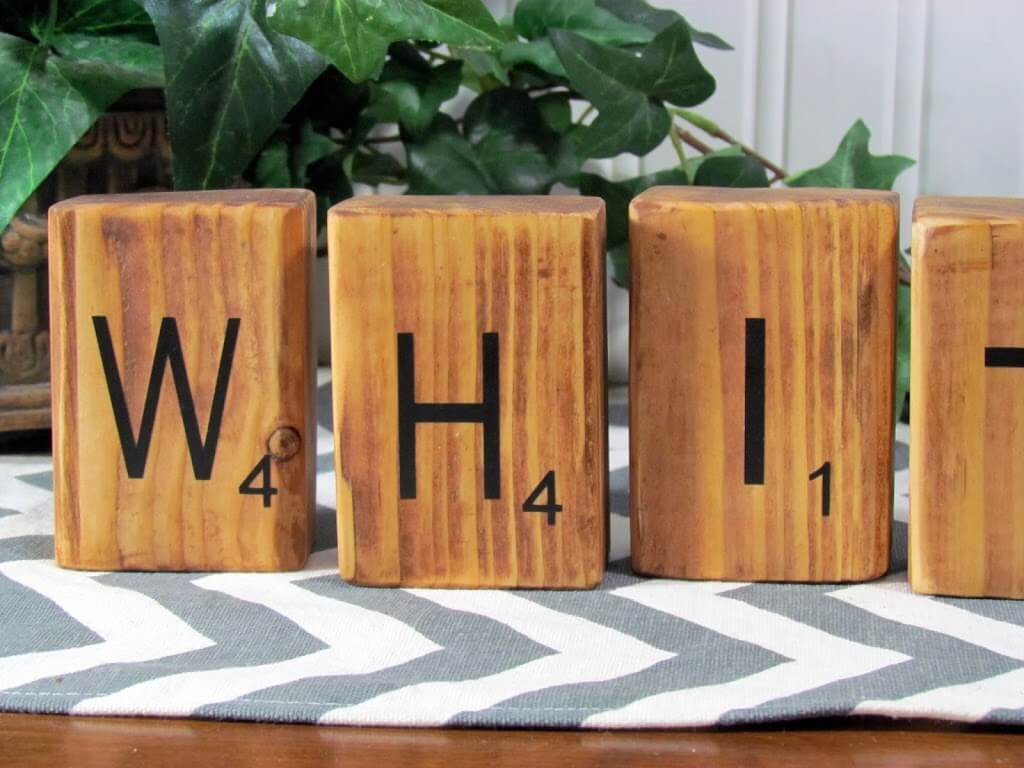 These letter tiles are just perfect for your rustic or farmhouse decor. They can be displayed across a mantle, on some shelves, or even on a dresser. They could even be attached to the wall or added to a wreath. There are so many ways to incorporate them into your home decorations that you will want to be sure they are on your list of to-do DIY projects. Simply follow the tutorial with just a few additions. After applying the vinyl, trace around it and remove it again. Use your wood-burning tool to burn the letters and numbers into the wood.
13. Wood Burned Magnets with Leaf Designs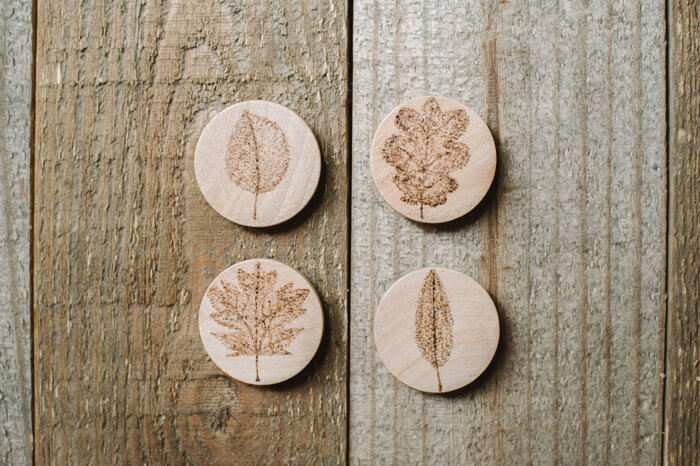 These cute magnets are just ideal for your refrigerator. This artist chose leaf designs for her magnets, but once you get the hang of it, you definitely could try other designs as well. Nature prints do look fantastic on wood, so perhaps try some with flowers, butterflies, or even feathers. This wonderful tutorial will show you all of the steps that you need to take in order to burn your design, seal it, and protect it before adding the magnet to the wood slice. These would make excellent gifts, particularly for someone who loves rustic, farmhouse, or country decor.
14. Wooden Picture Frame with Pyrography Design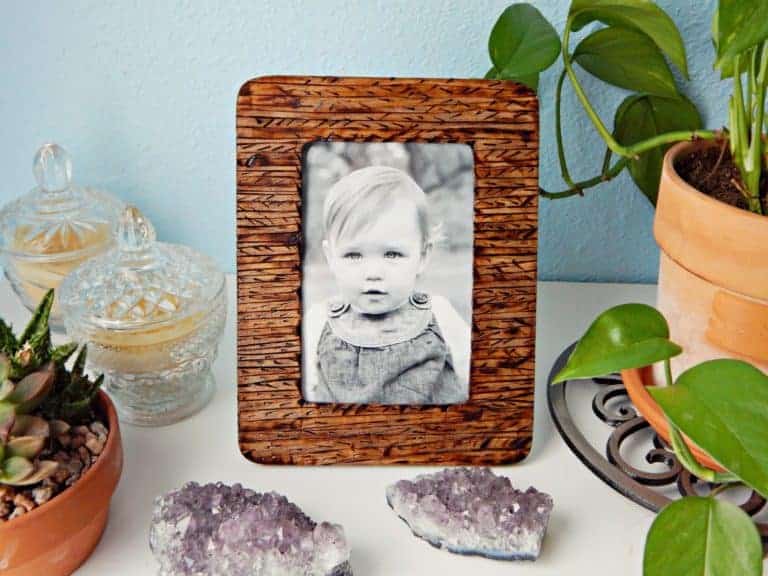 Many of us have walked past those unfinished wooden picture frames in craft stores wondering what we would do with them. Paint is an obvious choice, but not a very exciting one because you can buy frames in different colors. This awesome idea, however, is perfect for that unfinished wooden frame. Adding stain and burning a design into the frame gives it a whole new look. Choosing a pattern with lots of burning close together, in small sections will give it a more defined look. You could also burn a name or a special phrase into the frame.
15. Recipe Box with Wood Burning Letter Stamps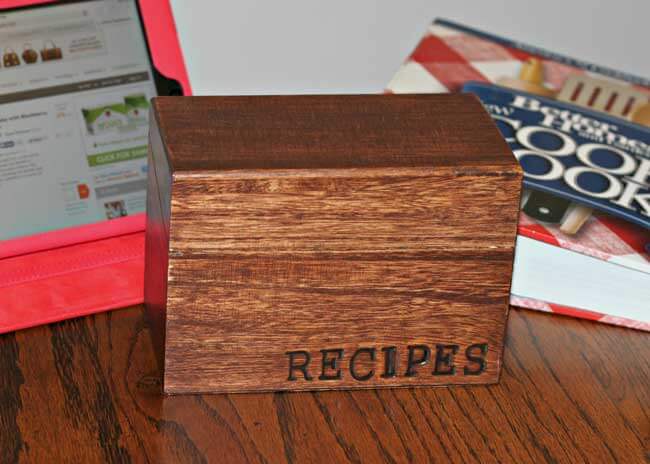 Our best DIY wood burning ideas would not be complete without a project that uses wood burning letter stamps. Basically, they brand your wood for you. Of course, you can use the different tips that come with the wood-burning tool to create letters on your own. The stamps may give you a bit more accuracy and look more uniform. Either way, this recipe box looks fabulous with its stamped on design. Once you get the hang of using these letter stamps, you may want to brand every piece of wood in your home. They truly add a special touch to anything.
16. Wood Burned Table DIY Using Blow Torch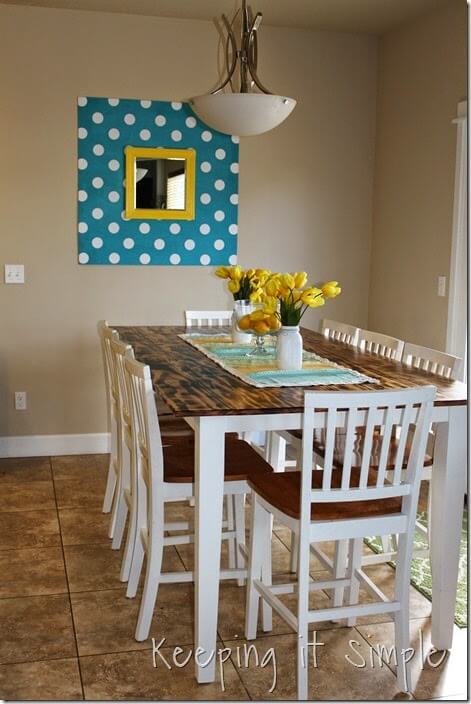 This wood burned project takes wood burning to the next level. You will not need that little tool that we keep referring to. For this awesome idea, you get to use an actual blow torch. Use it with caution, following this step-by-step guide. You will learn how to design a tabletop and how to use a blow torch to give it a wood-burned look. This is awesome for rustic and farmhouse decor. It will be a true one-of-a-kind piece. Friends and family will be lining up to request that you make them one too. Keep this awesome idea handy.
17. Wood Burned Glowing Sun Art Piece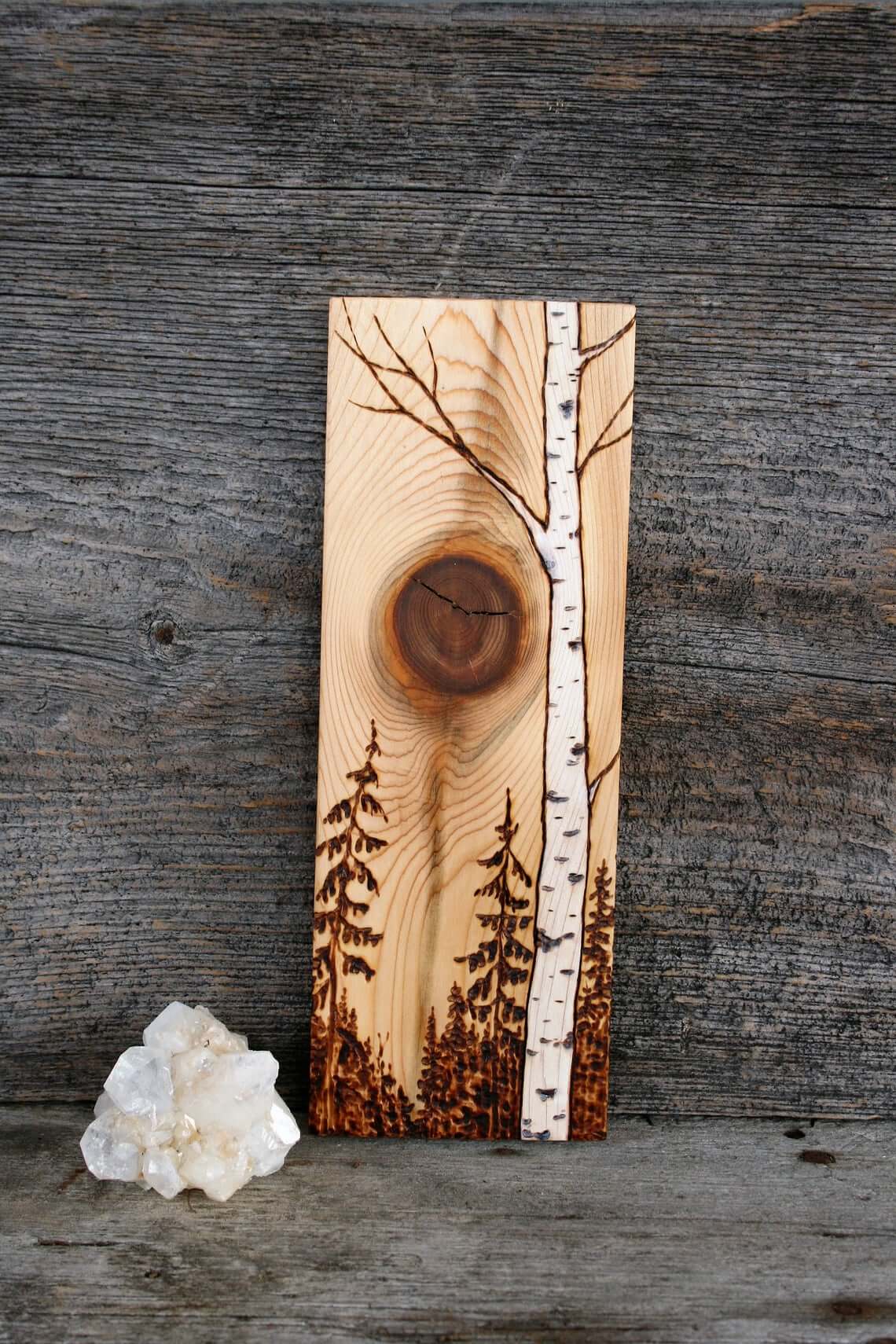 The artist who created this piece took special care in choosing the salvaged wood so that the knot in the wood could stand out as the glowing sun. The addition of a white birch tree in the foreground along with pine trees in the background gave depth to this picture. The addition of the color white on just the birch tree added a great deal of interest. A finish is applied with walnut oil to bring out the natural beauty of the wood. This is truly a wonderful piece of art that would look fantastic in a home with rustic, farmhouse, or country decor.
18. Wood Burned Wall Clock with Sasquatch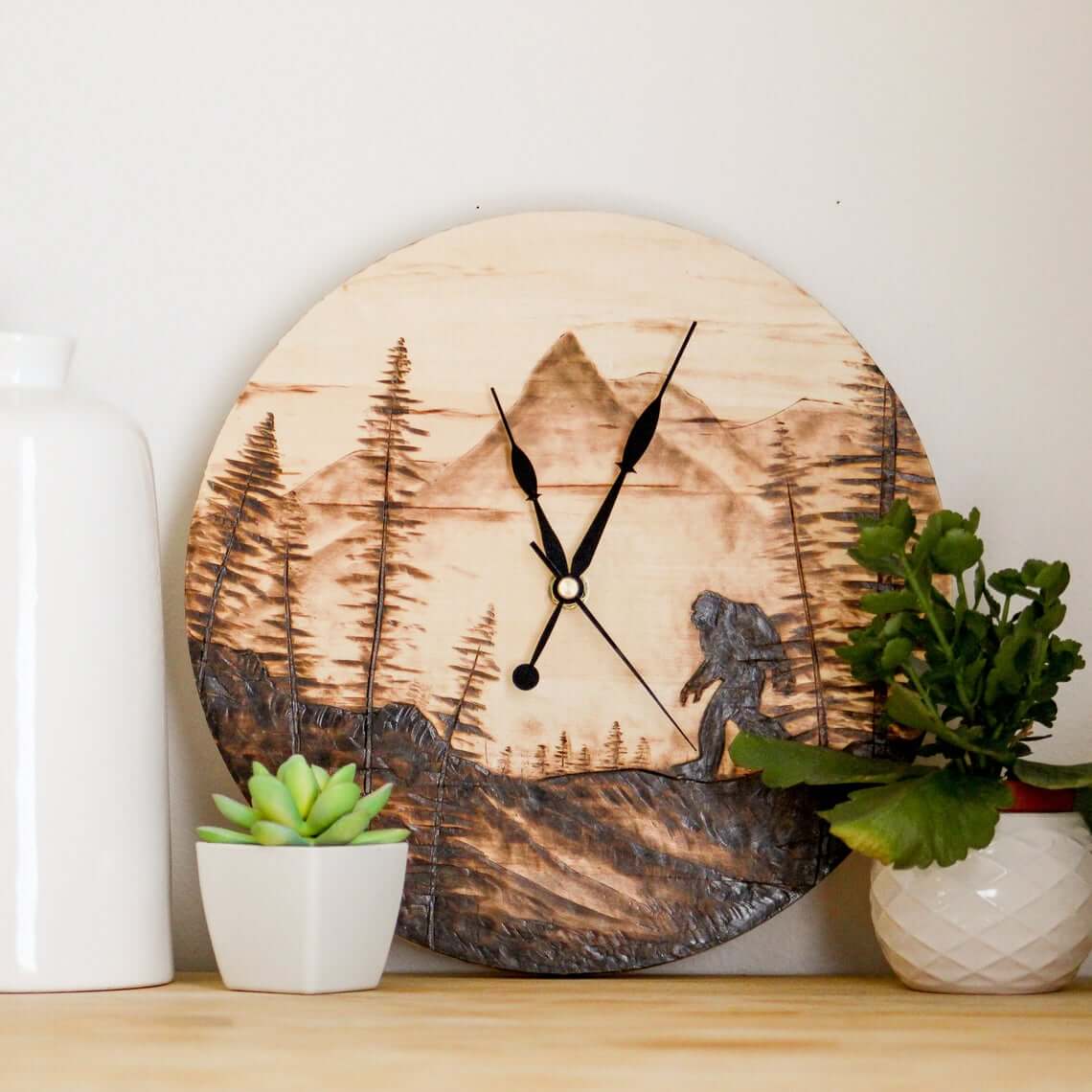 This wall clock may just turn a few heads. It has such a serene and peaceful scene burned into the face of the clock, with a Sasquatch casually walking toward the hands of the clock. It is sure to be a talking point because it is not every day that someone sees Bigfoot in your home. The true beauty in the design of this clock is definitely the depth of the trees in the foreground against the mountains in the background. It is an exquisite piece that would look nice anywhere in your home. It would also make a fun gift.
19. Tree Trunk Styled Wood Burned Vase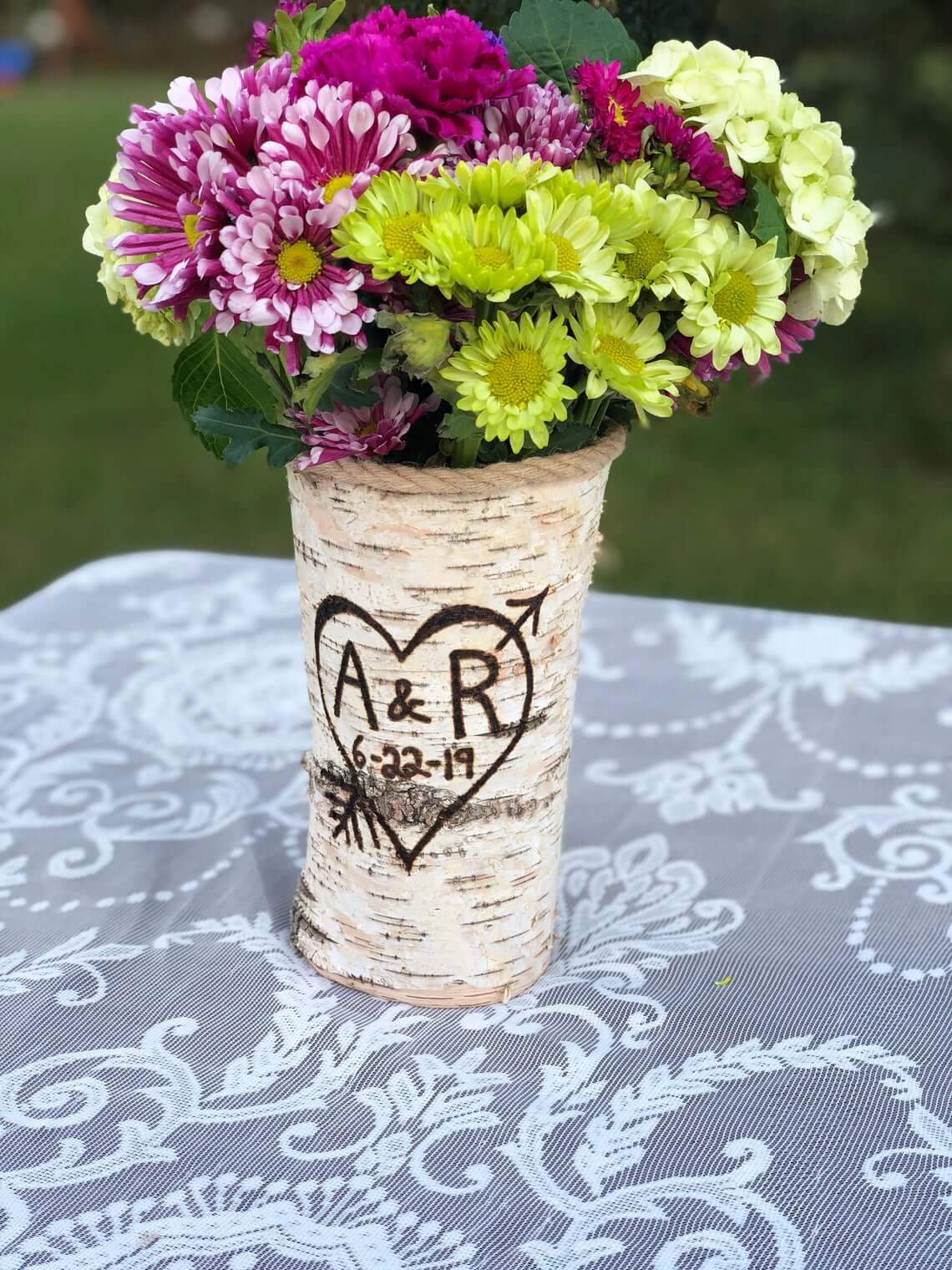 This vase is truly a one-of-a-kind piece that you will want to add to your home decorations. It is styled to look just like a tree trunk. The artist then burns initials inside of a heart with a date so it resembles carved initials in a tree trunk. These are excellent for decorations at a bridal shower or a rustic wedding. They would also be fantastic just sitting on an end table in the living room or as the centerpiece on the dining room or kitchen table. These can be customized for any occasion and will commemorate that occasion for years to come.
20. Wood Burned Signed Made of Pallet Wood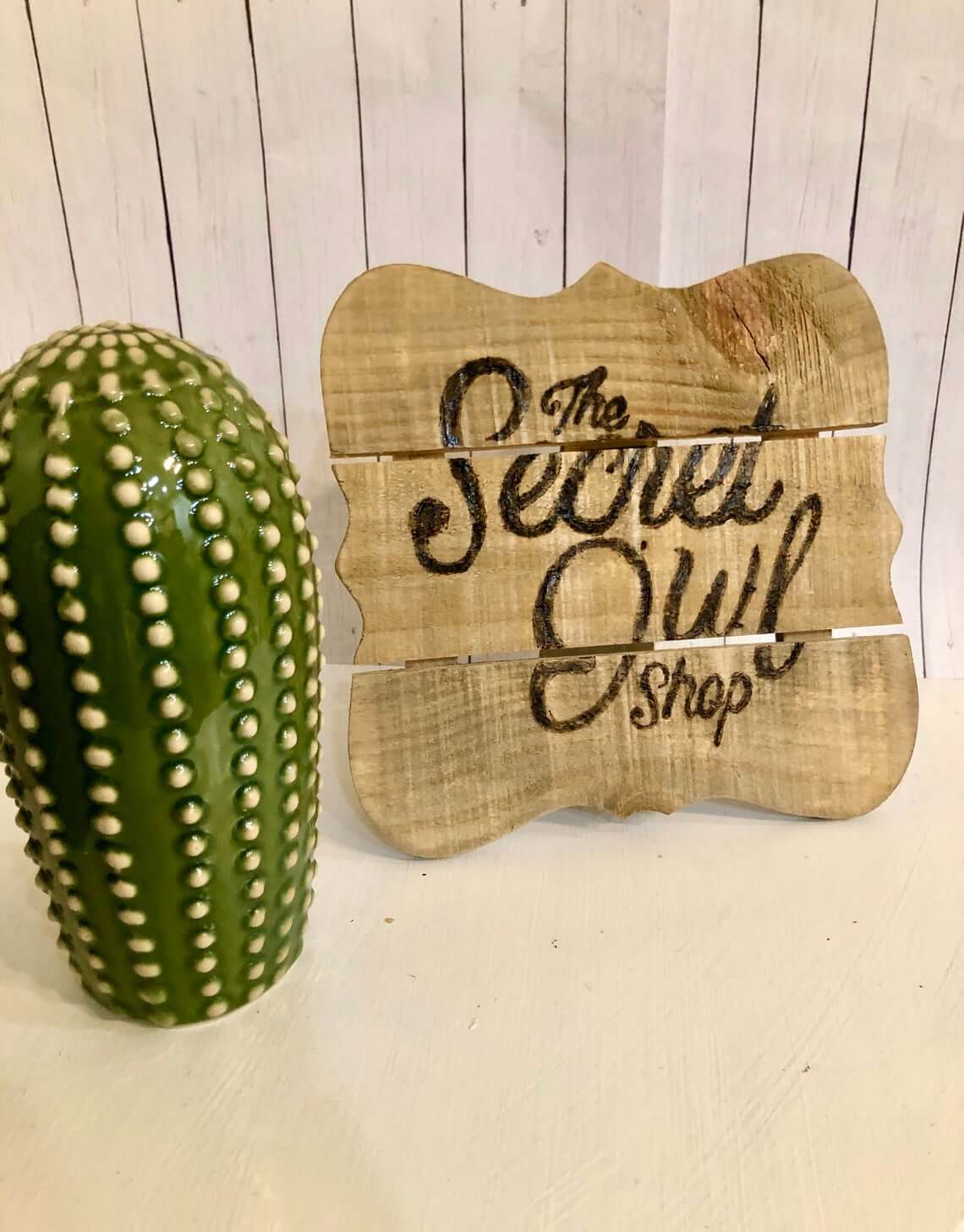 These customizable signs are made of pallet wood planks for a rustic or farmhouse look. The artist will burn any logo, business name, family name, or phrase onto the sign for you. It could even simply state "welcome". The sign is eight inches by eight inches, with a fancy decorative edge. It comes stained, sealed, and with the hanging hardware included. It can be hung, but it is also the perfect size for tucking in on a shelf with other home decorations. This sign would also look nice in the center of a seasonal wreath or hung on a door by itself.
21. Decorative Solid Wood Personalized Tray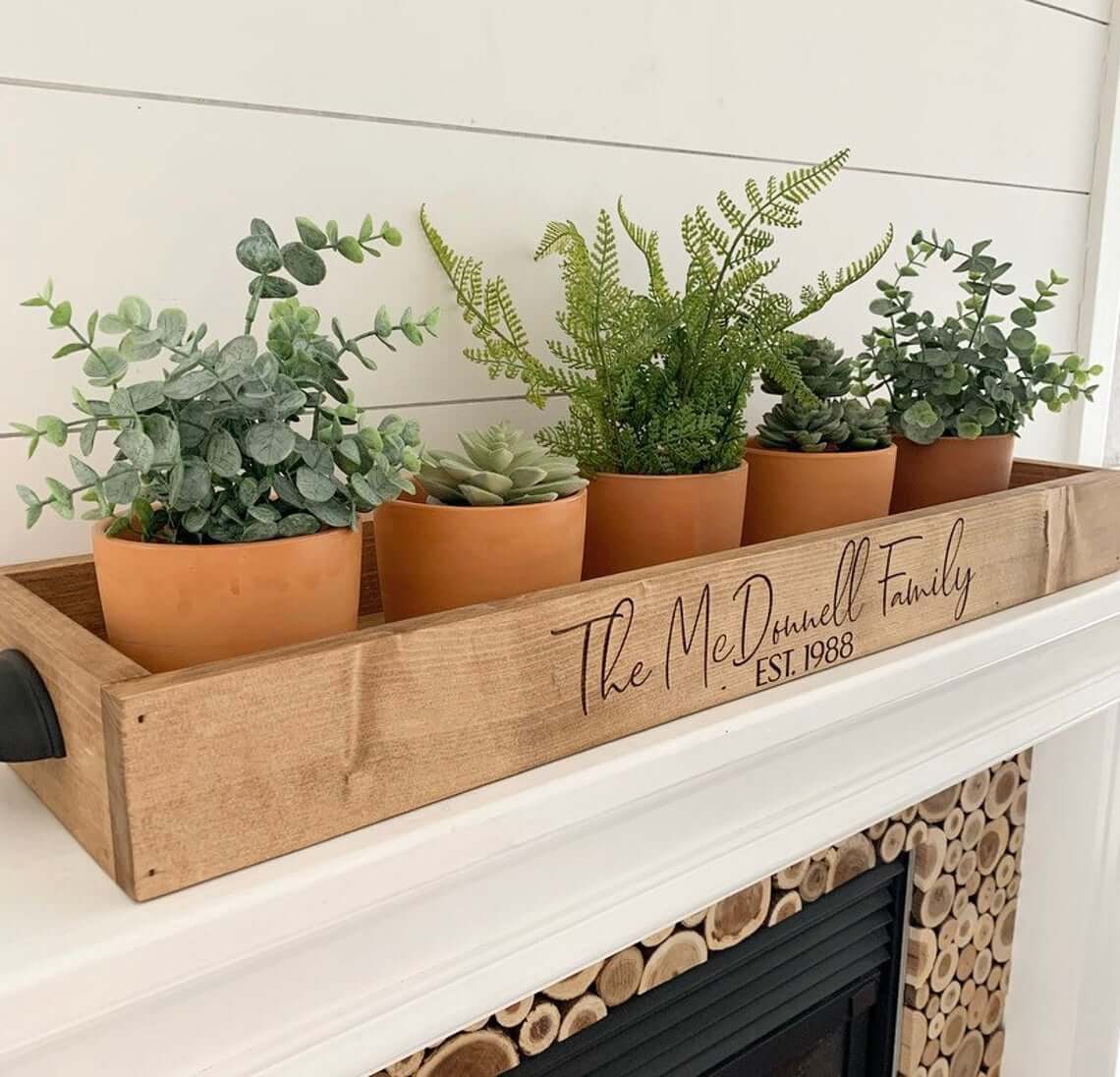 This gorgeous tray is made of solid wood and is stained in medium walnut shade. It is available in three different sizes. The side is engraved with the family name, along with "EST" and the date your family began. This is perfect for a wedding shower gift or a wedding gift. It is also perfect for a single parent who just gave birth or adopted a new child. It would also be nice for a bunch of roommates who consider themselves to be family. There are many beginnings to families, all of which can be celebrated with this beautiful tray.
22. Wooden Tissue Box Holder with Wave Design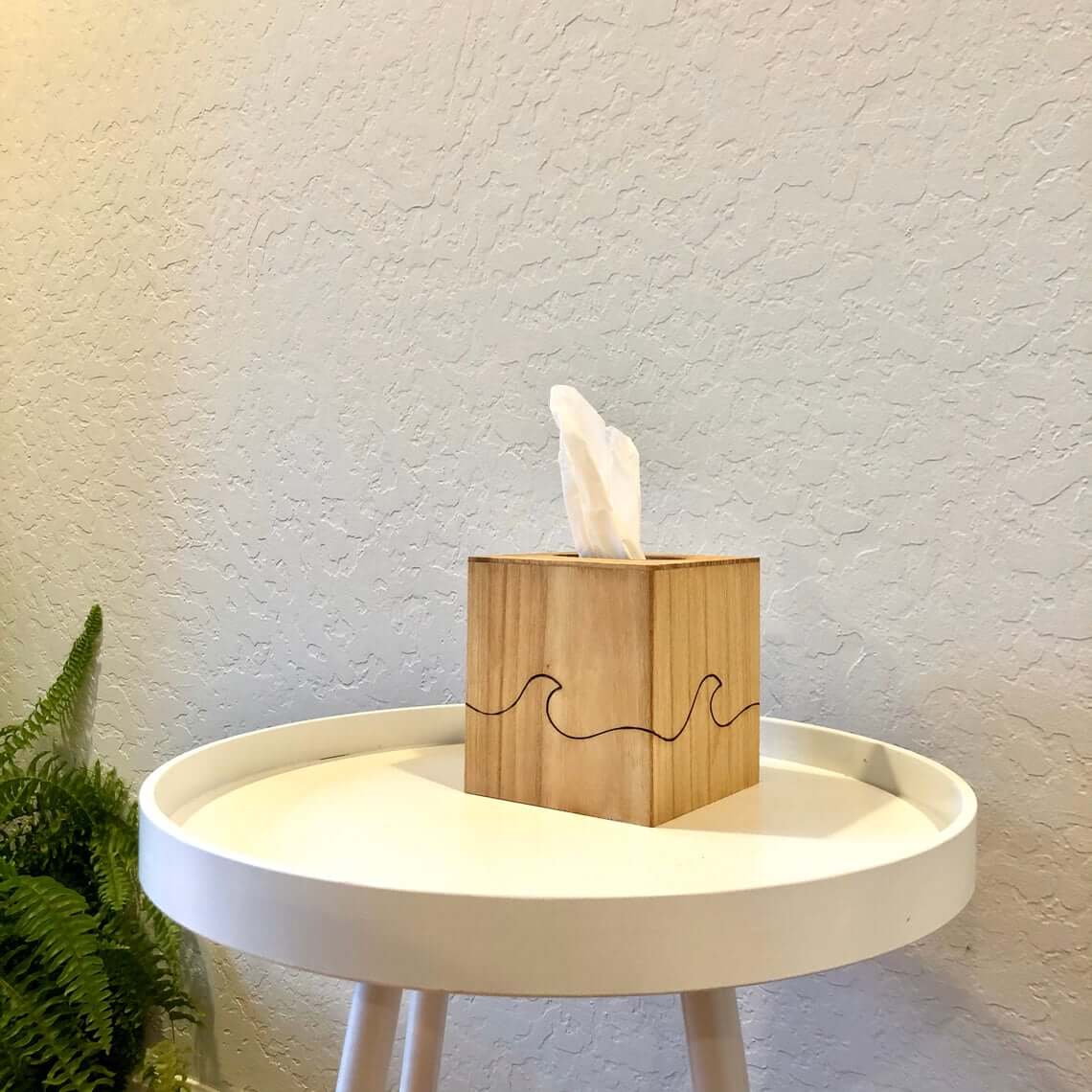 This one-of-a-kind tissue box has a wave pattern burned into the wood. The wave continues around all four sides for a coherent and flawless look. It is simple and understated but will add a great deal of charm to your coastal beach decor. It is made of lightweight wood to fit a standard square tissue box. It simply sits overtop of the tissues nicely. This tissue box is perfect for hiding the odd colored boxes that come in large packs. It also helps to keep the tissue box from falling on the floor by anchoring it down.
23. Mini Chest of Drawers with Owls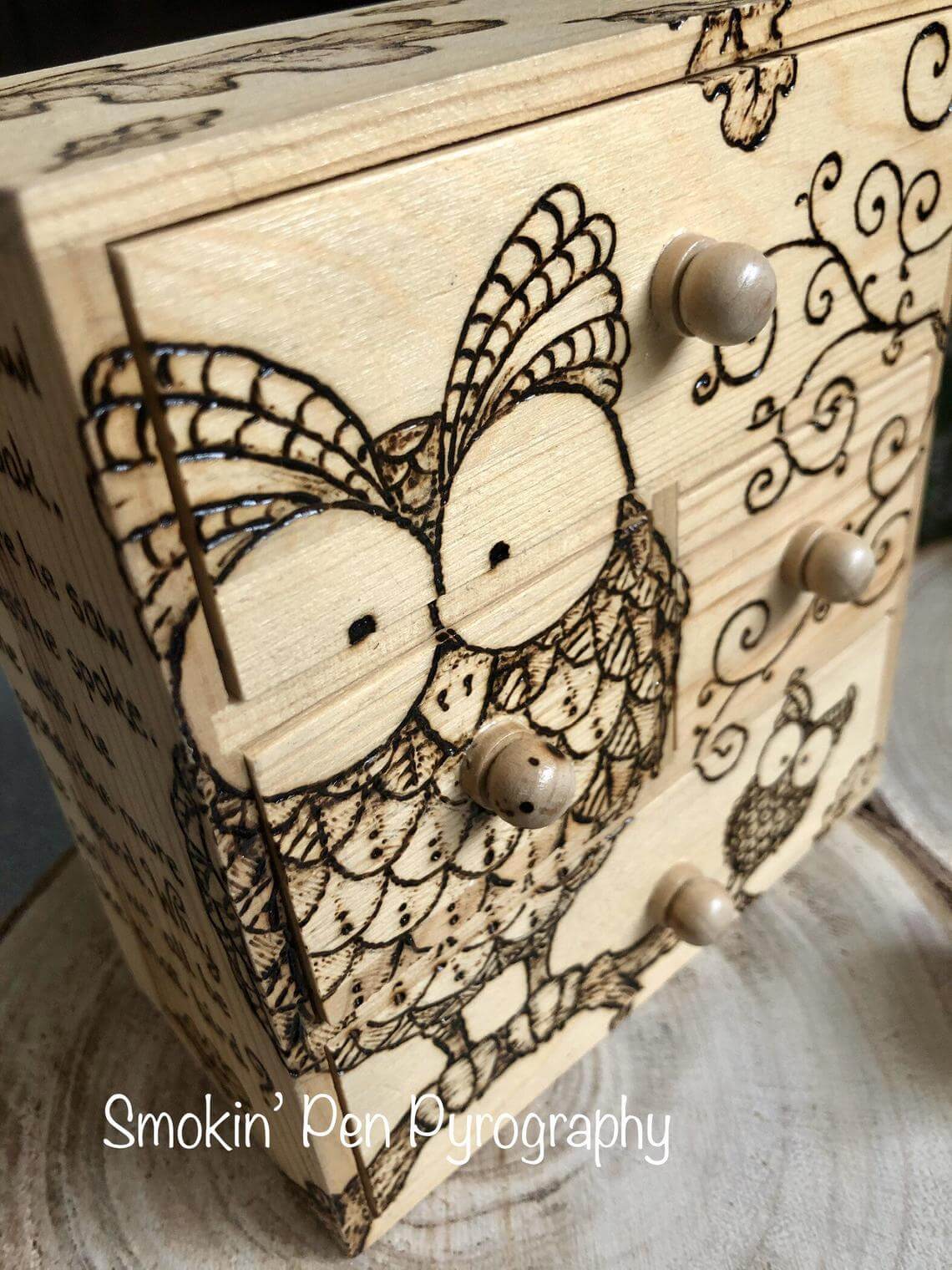 An adorable owl and his little friends adorn this cute chest of drawers. Any child would think that this is just totally cool. The whimsical design nearly disguises the drawers, but that is the fun in it. It will be an awesome place to stash some treasure where they will not easily be found. It could also be used for small pieces of jewelry. The owls and scroll-shaped branches are burned on with a wood-burning tool. The side has a poem burned into it as well. This truly special gift will be treasured for years to come.
24. Lichtenberg Burned Wood Monogram Letters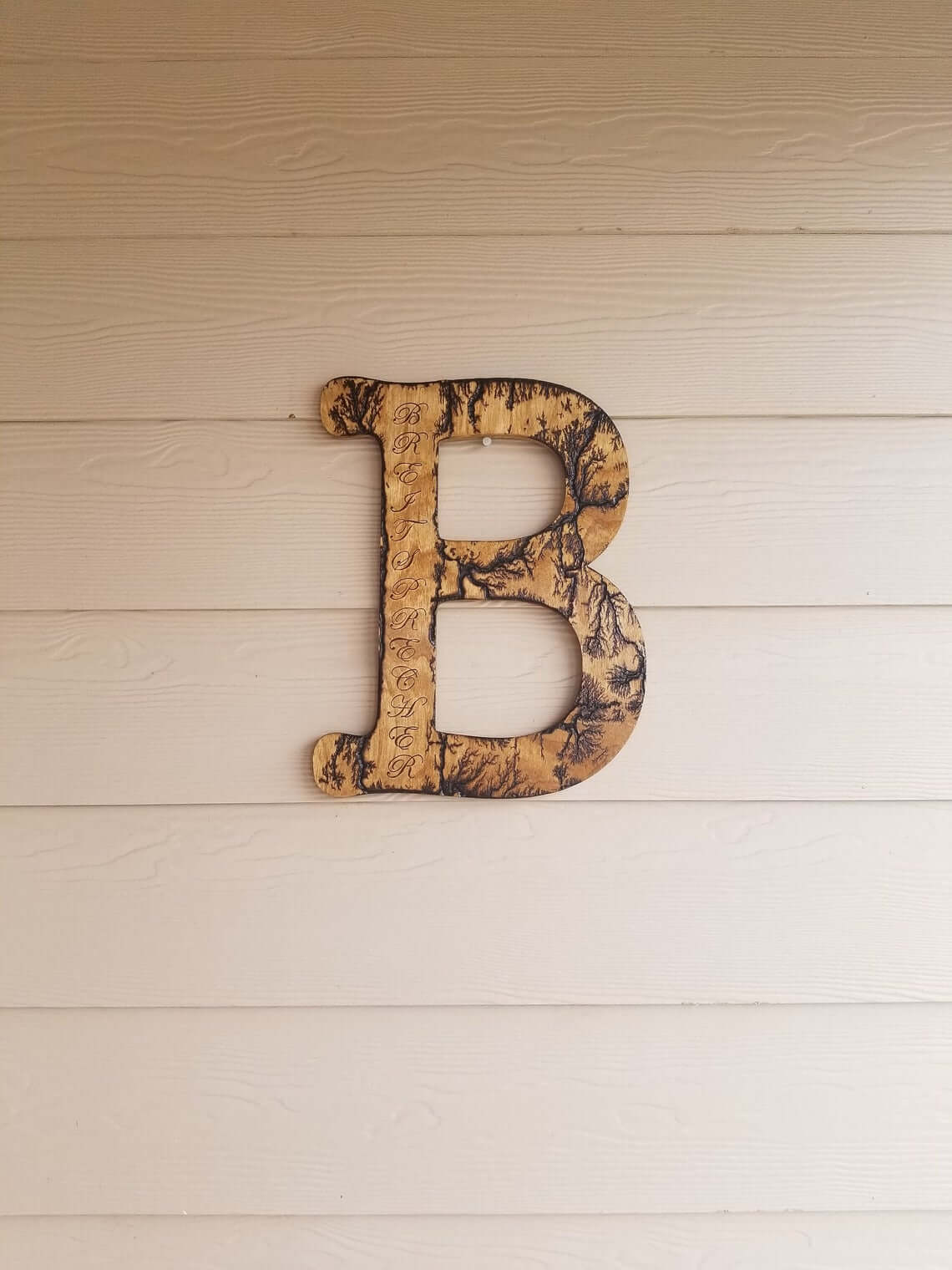 High-voltage wood burning takes place in this project. Lichtenberg burns are unique patterns that are created in the wood when high-voltage electricity is applied to the wood. These artists create amazing pieces on a monogram letter of your choice. The burns are super interesting all by themselves, but you can add your family name to the letter as well. They are stained and a clear coat is applied. There is a keyhole for hanging in the back of each one as well. These would make one-of-a-kind gifts and would look awesome in any part of the home, particularly one with rustic style decor.
25. Cutting-Board Shaped Cookbook Holder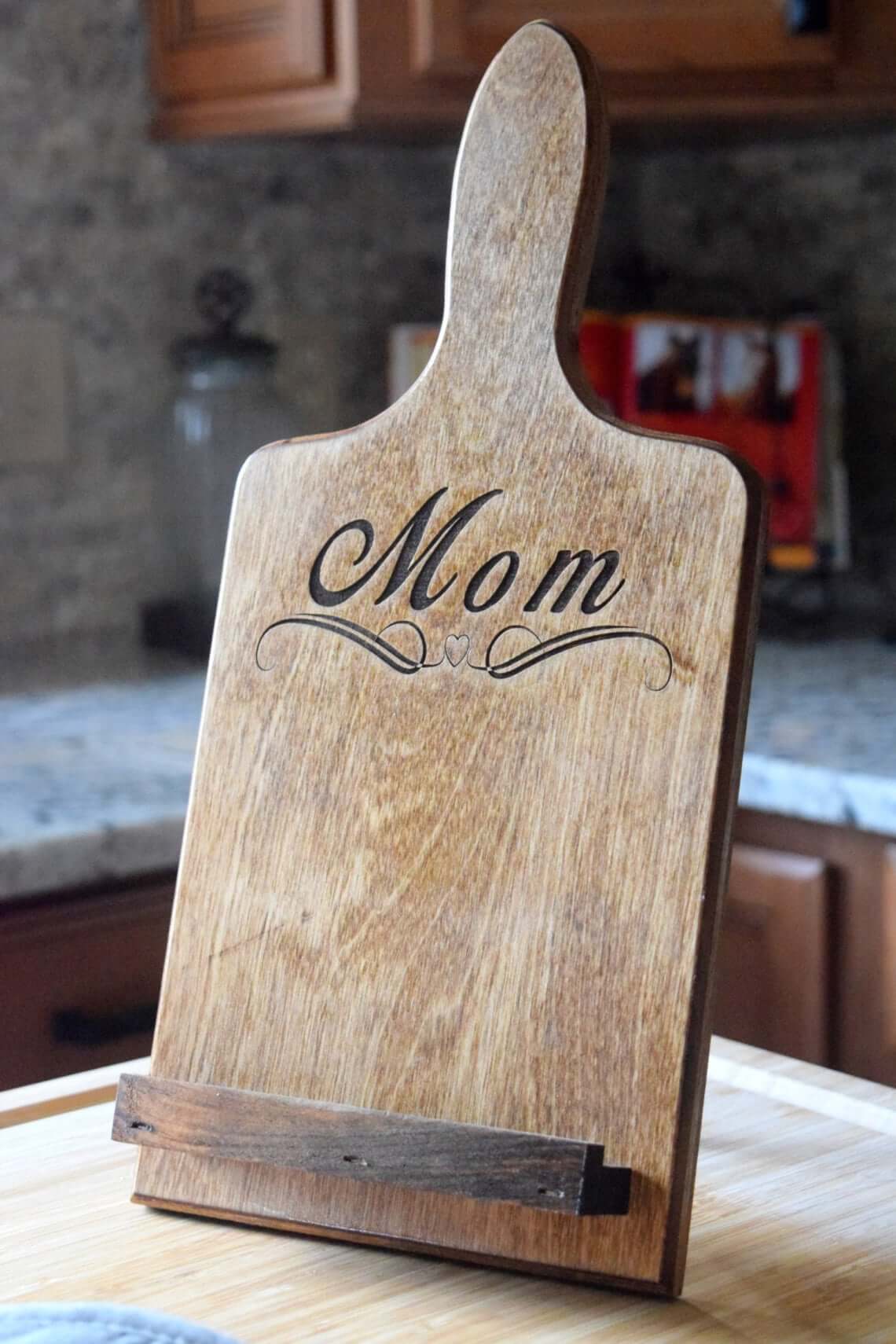 This cookbook holder is so cute, shaped like a cutting board with a handle. It is designed so that it can also hold a tablet if that is how you prefer to get your recipes. It has a beautiful stain that can be changed out for any color stain that you choose. The cookbook holder is also personalized with whatever you would like. It could be a name, a phrase, or even just "mom". The font is customizable as well. Finally, an added touch of some scrolls can be found under the personalization, and they are also customizable.
26. Personalized Wooden Baby Picture Frame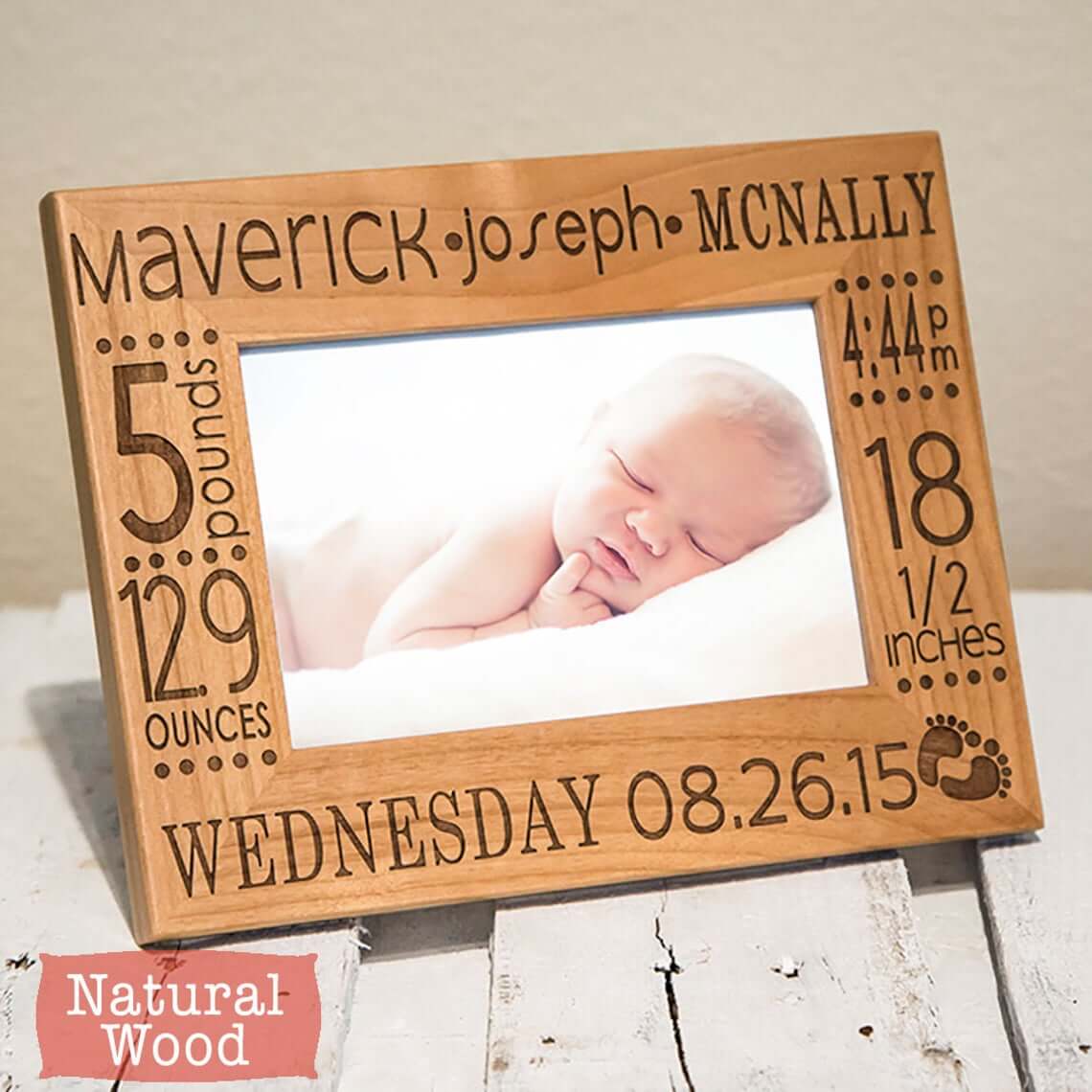 This wooden picture frame is absolutely precious. Across the top, the baby's name will be displayed. Along the left side, the baby's weight in pounds and ounces will be displayed. The time of birth, along with the baby's height in inches, can be found on the right-hand side. Finally, along the bottom, is the day of the week that the baby was born on along with the month, day, and year. This will become an heirloom for the family for sure. It is available in two different sizes. An ornament can also be added to your order.
27. Personalized Wood Slice Family Tree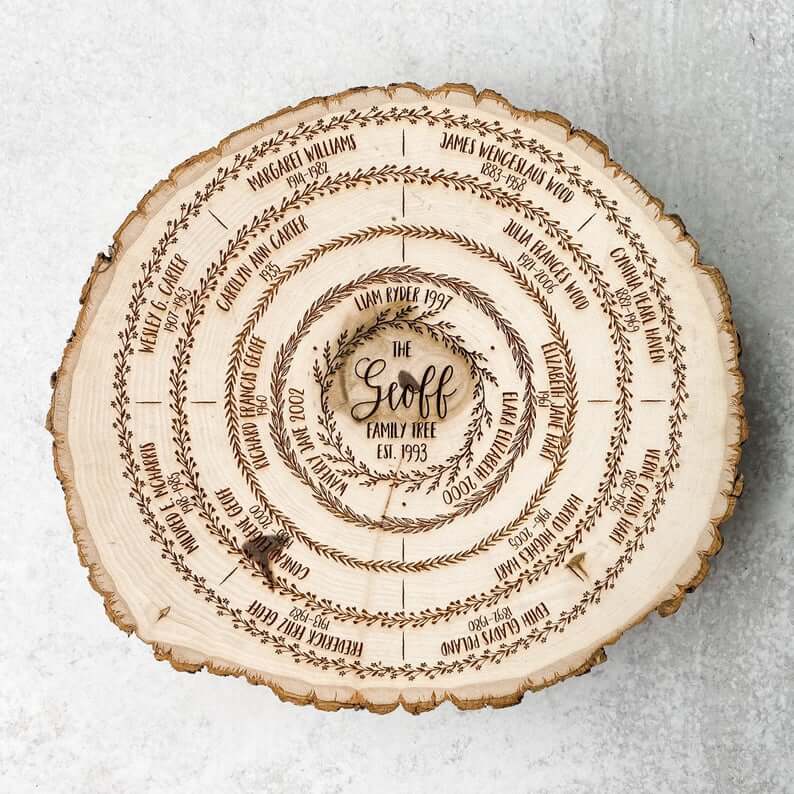 This wood burning art is truly amazing. It is a wood slice with your family tree engraved by burning. Each generation is separated by a beautiful ring that has a delicate design of flowers, wheat, or leaves. It is breath-taking just to look at. Each piece is carefully selected from a sustainable source and hand-crafted with love. Marriage dates and birth dates can also be added. These are about ten inches high and ten inches wide. The shape will be slightly different for each piece. This family tree wood slice would be the perfect gift for anyone in your family, and it will become a cherished heirloom.
28. My Old Kentucky Home Wooden Garland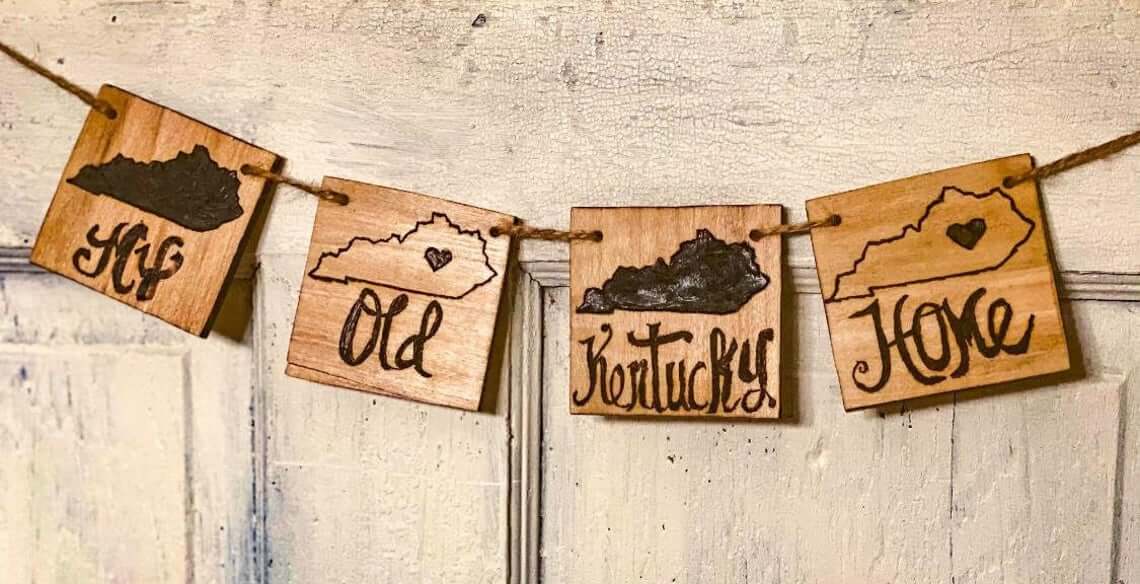 Wooden garland has become very popular as rustic and farmhouse styles continue to move to the forefront of the decorating world. This unique garland is made of four square pieces of wood that are threaded onto the twine. Each piece is stained beautifully. "My old Kentucky home" is burned across the pieces, with one word per piece. Above each word is an outline of Kentucky that has been burned onto the wood. The first and third are filled in while the second and fourth are just an outline of the state with a heart for the home.
28 On-Trend DIY Wood Burning Ideas for Your Rustic Home
Rustic decor art has certainly made it to the forefront of the design world. It is only natural that we see new and amazing wood burning art to add to this design aesthetic. With the wood-burning tool, the options are absolutely endless for what can be created. You can learn some new DIY projects and master the tool yourself, or you can place custom orders to have someone else make the piece. Either way, the wood burned look is going to be a fabulous addition to your home decor.
We hope that you found these ideas to be inspiring and that perhaps you would even like to try making some yourself. Once you master the wood-burning tool, you can make personalized gifts for everyone in the family. Holiday gifts will be a breeze. They will be fun to make, and quite affordable. Most of all, the recipients will love receiving something that was handmade from the heart.
Perhaps wood-burning is not for you? That is okay. Our friends at Etsy have lots of wonderful items ready and waiting for you. Take some time to decide where you may like to add some wood-burned decorations in your home, and you will be at the forefront of leading home decor.
Our Favorite Farmhouse Wall Storage Items to buy on Amazon