A common problem in modern homes is a lack of storage because closets get stuffed, mud rooms show hard to use, and kitchen counters get cluttered. It can take some serious storage solutions to get organized, but store-bought units can be expensive and plain looking. With a little creativity and some DIY know-how and without breaking the bank, you can calm the clutter beautifully.
13 Practical DIY Wood Crate Shelves to Add Functionality to Your Space

Wooden crates are functional, inexpensive and multi-purpose and they can be sanded or left rough and either painted or stained to create endless decorating possibilities. Use adhesive to add decorate paper embellishments, the careful use of construction adhesive can fix tile to the top of wood crate tables. You can add wheels, fixed legs, or let the crates stand on their own. Premade wooden crates aren't your only option for DIY shelves and pallet wood can often be reclaimed and mixed with crates to add interest. Vintage soda and milk crates make wonderful conversation pieces.
Don't let the clutter claim your home. You can put together several of these pieces in a single weekend and add functionality to even the smallest of spaces. From the smallest of shelves to wall-filling shelving units, wooden crates are a great way to decorate on a dime.
1. Add a Simple Frame for Crate Drawers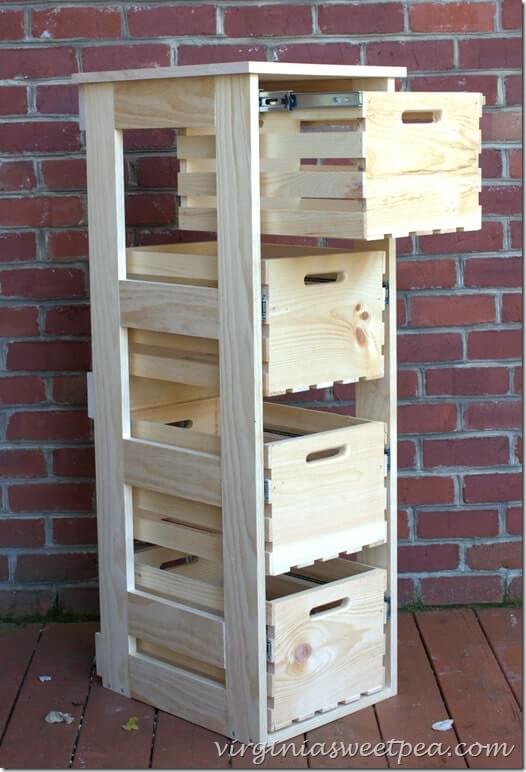 If you need extra storage virtually anywhere in your home, an easy crate cabinet is a perfect way to store a multitude of items. You can use this cabinet in your kids' playroom to store toys, in the bathroom for linens or even in the kitchen as a snack cabinet. It is easy to build and you can paint it to match the color of any room.
2. Fun Colors Make Standout Bathroom Organization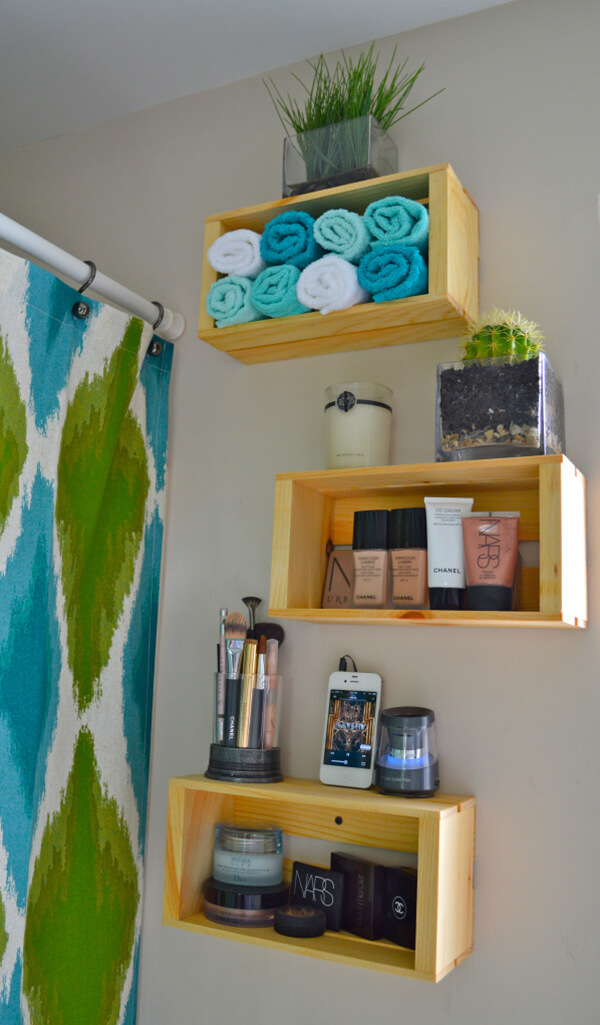 If your bathroom is on the smaller side, you are probably in need of extra storage. One of the easiest and cheapest ways to add extra storage space to your bathroom is to use these crates to hang floating shelves. These DIY wood crate shelves can give you extra space for your towels and toiletries without taking up valuable counter and cabinet space.
3. Alternate Drawers for Cute Locker Cubbies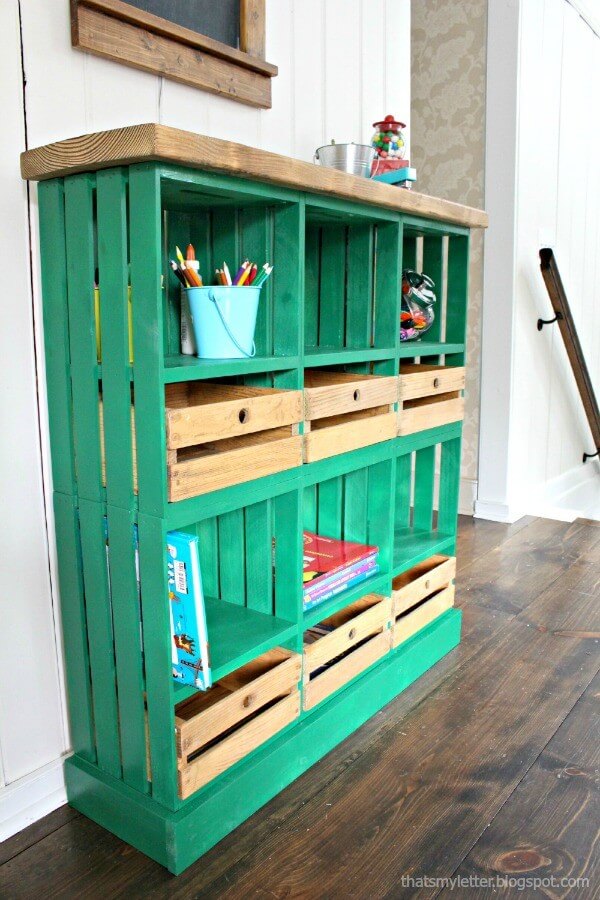 Whether you homeschool or have a designated homework space in your house, an adorable locker unit with cubbies and crate drawers can be a great way to store all of your kids' school stuff. These DIY wood crate shelves can help to organize and separate supplies so that everything is easy to find and easily accessible.
4. Stacked and Painted Open-Front End Table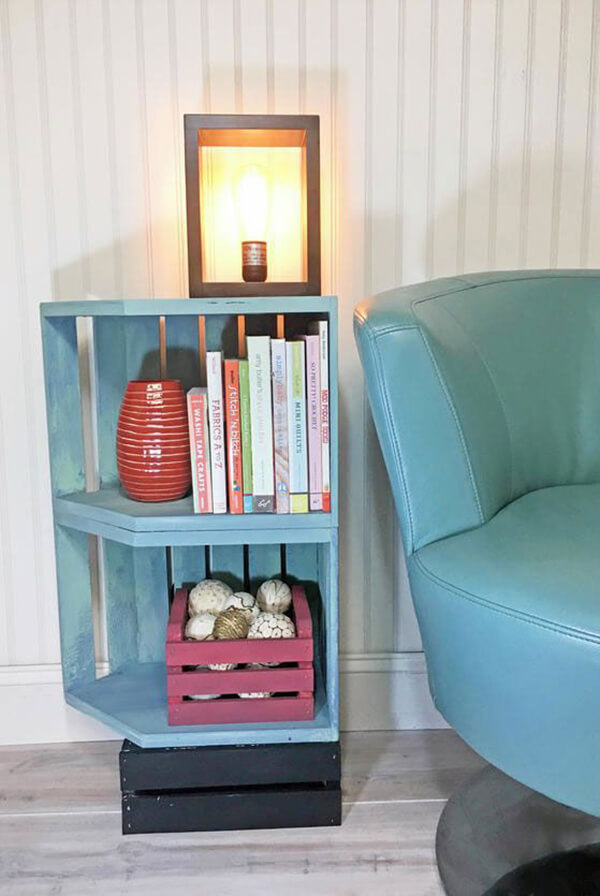 To make your living room a little funkier while also keeping it rustic, go with these vegetable crates turned on their sides to make a fun and functional end table. This end table is easy to construct and paint, and it will give you some added storage for your living area. Make a couple for either end of your sofa.
5. Add a Door for DIY Crate Lockers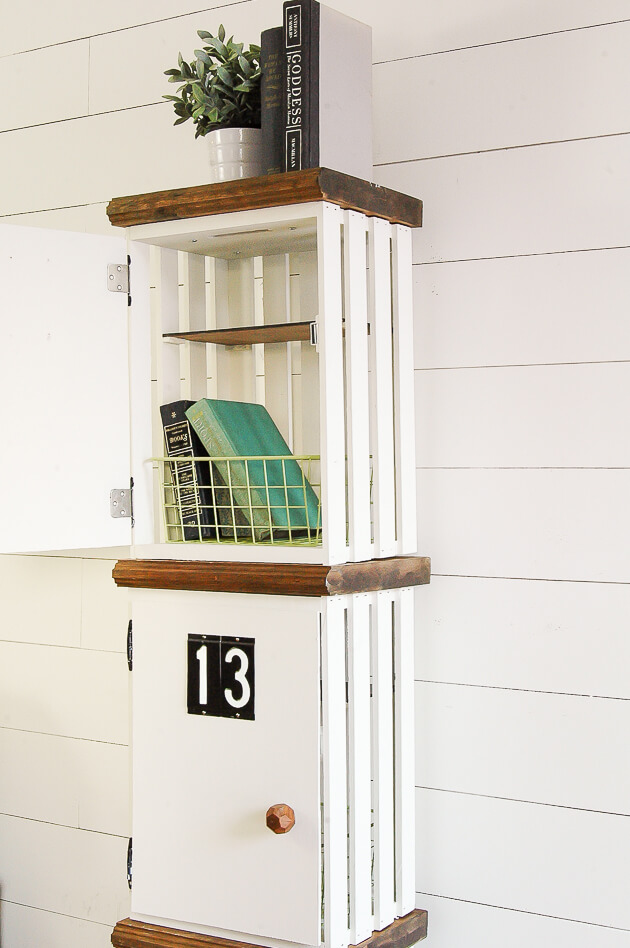 These DIY wood crate shelves lockers are perfect if you need closed storage space. The metal numbers add an industrial look and you can choose numbers that are important to you and your family for a personal touch. You can insert shelves and baskets to help you organize items inside. These lockers can add extra storage to your kids' rooms or in your own bedroom.
6. Simply Stacked DIY Wood Crate Bookcase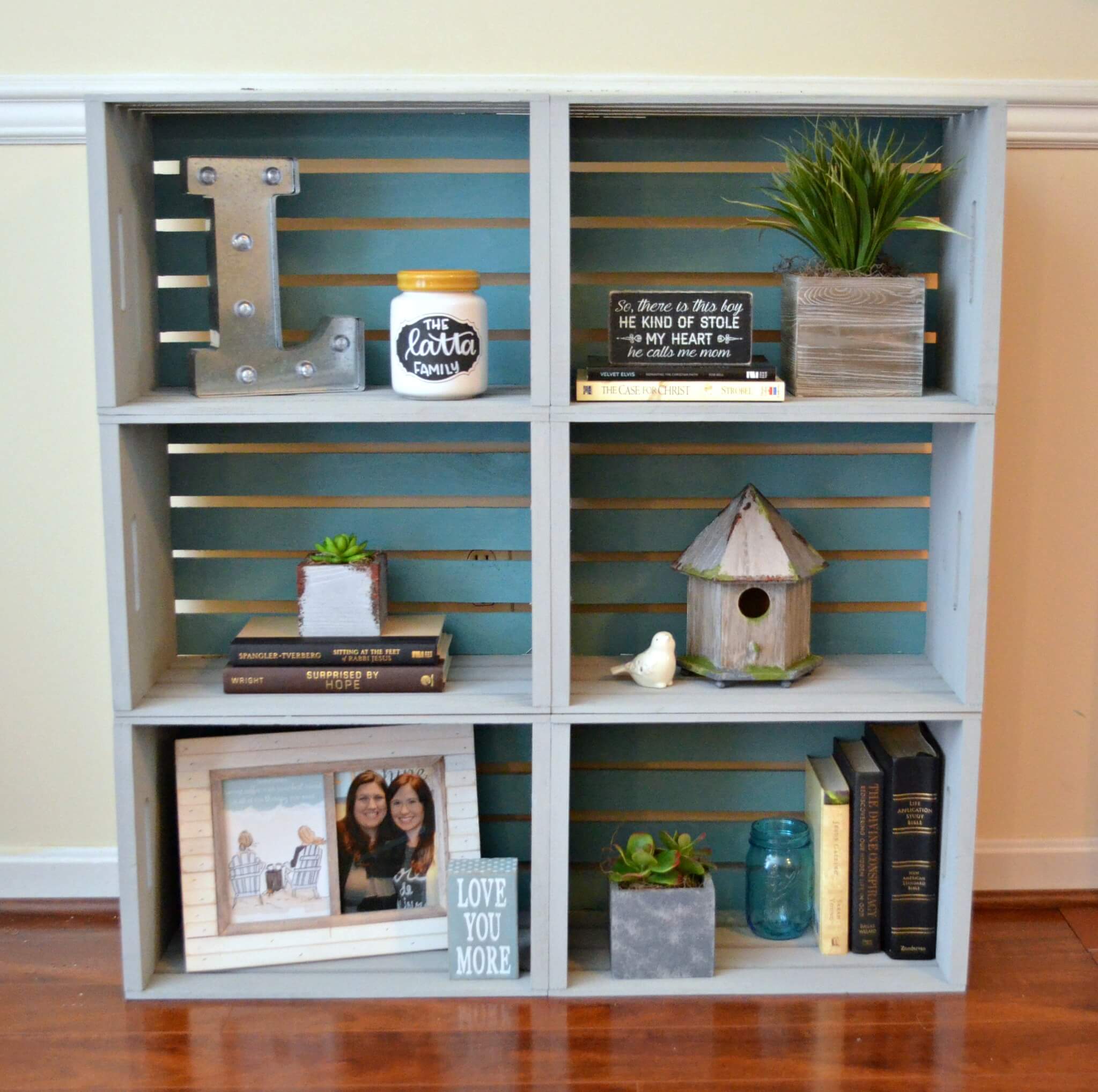 This stacked crate bookcase is so simple to build. It takes only some staining or painting and then you nail the crates together. The finished product gives you a rustic bookcase that you can use both indoors and outdoors. This bookcase looks great with books and other decorative items but would look just as great outdoors as storage for potted plants.
7. Turn Wooden Crates into a Produce Rack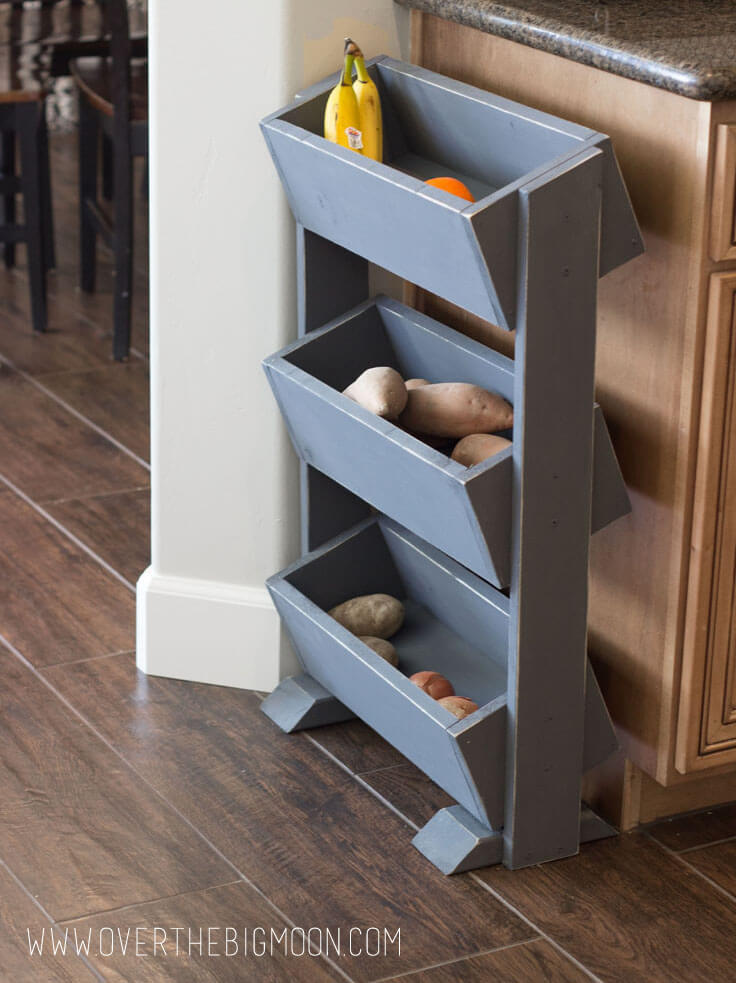 To add some quaint cuteness to your kitchen, this DIY produce stand is a wonderful addition and can be painted in an accent color to match your style. Not only is this a decorative way to store fruits and vegetables, it gives your family easy access to the fruits and veggies you buy, encouraging your kids to eat healthier.
8. More Kitchen Storage for Your Items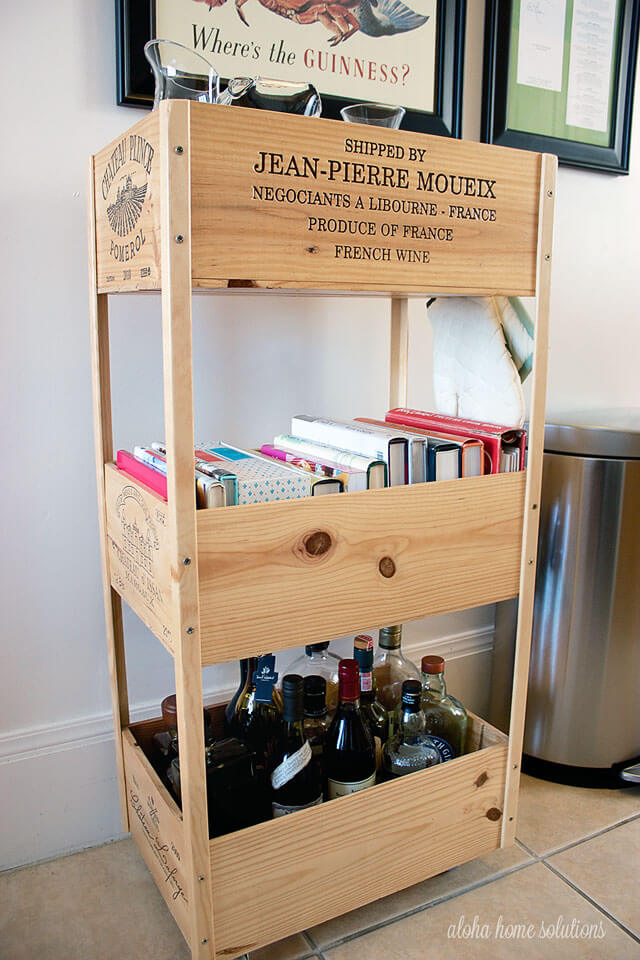 If you are looking for wine storage in your kitchen, this wine cart made with DIY wood crate shelves featuring wine crates is a fun way to organize your wine. Wine crates are inexpensive and a beautiful design element that can also be used for other items in your kitchen, such as cookbooks.
9. Easy Crate Shelves Add Functionality to Corners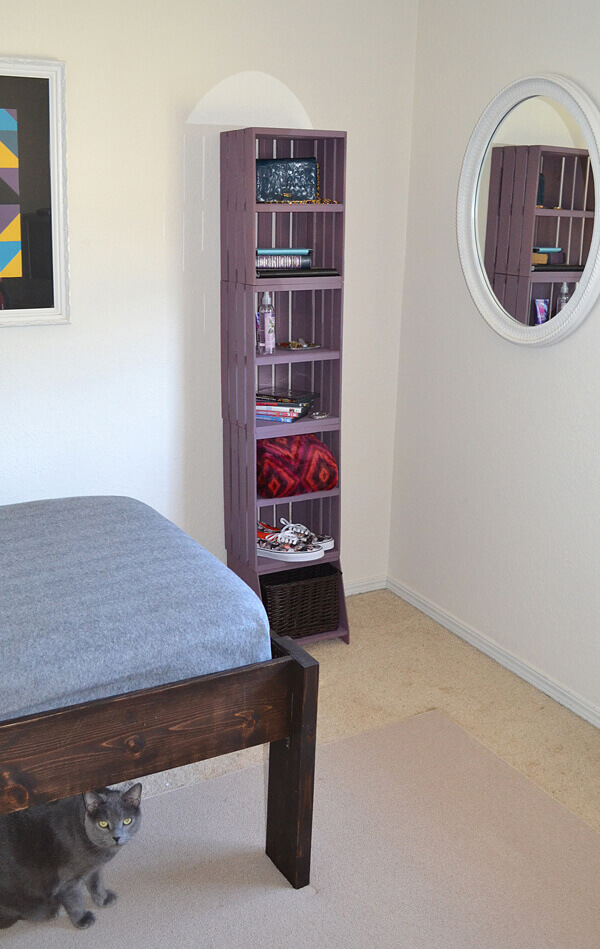 You may feel that the corners in your house are wasted space, whether in the living room, bedrooms or bathrooms. These slim DIY wood crate shelves can be stacked to almost any height to give functional storage to any corner. These shelves are simple to construct and can you help organize your extra items.
10. Mix Reclaimed Pallets with Crates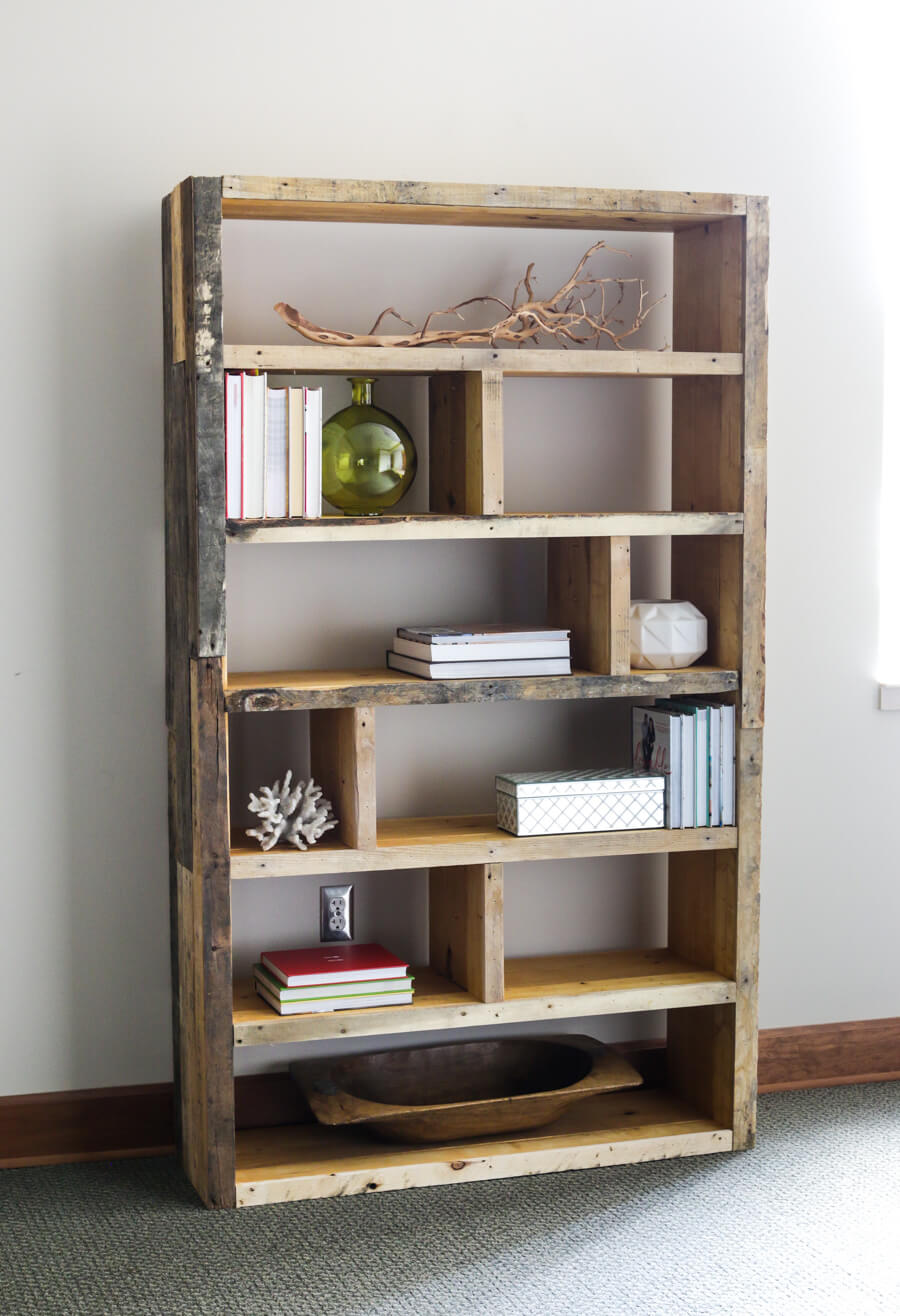 If you are going for a truly rustic look, consider mixing reclaimed wood with simple wooden crates to make a shelving unit for your living room or bedroom. This beautiful piece is subtle enough to display your prettiest decor items and will serve as a statement piece wherever you decide to place it.
11. Beautifully Rustic DIY Crate Bookshelf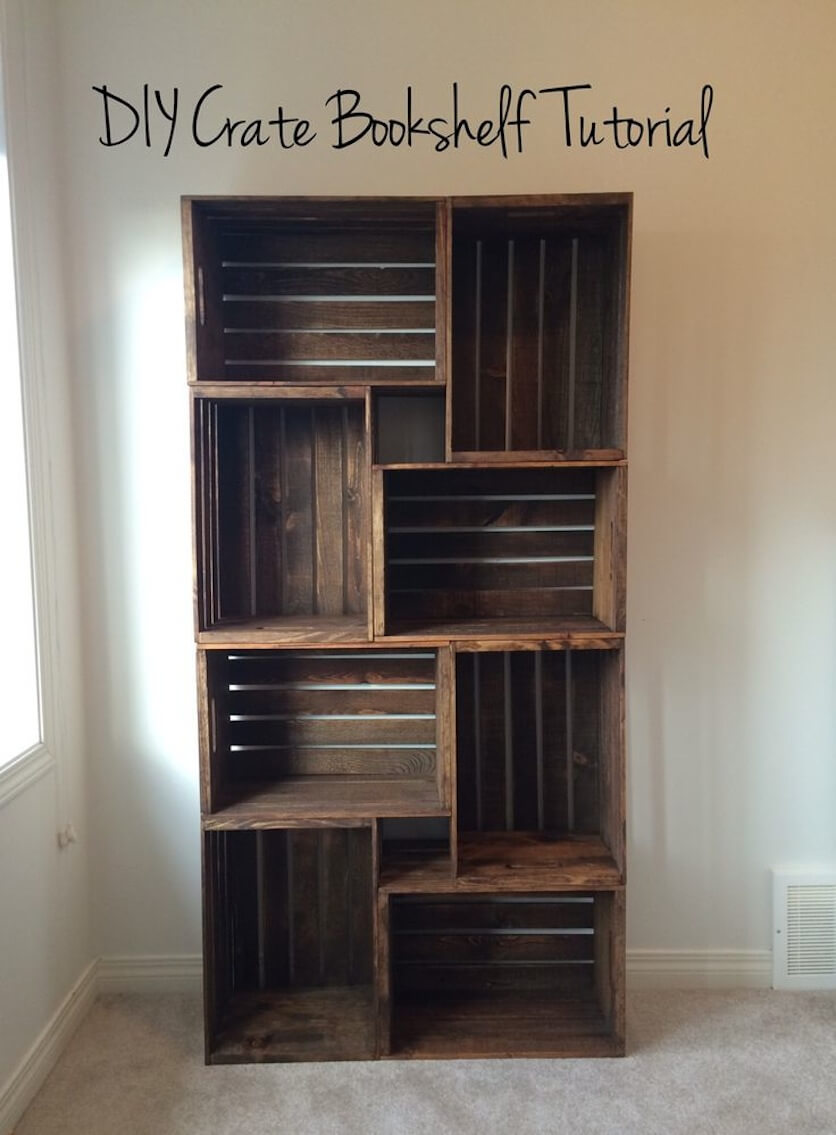 If you are a kind of person who loves to build a furniture for herself and if you love playing with puzzles you will love this project.
The arrangement results in the bookcase so aesthetically pleasing you may hesitate to put anything in it!
12. Stylish DIY Wheeled Wooden Crate Cart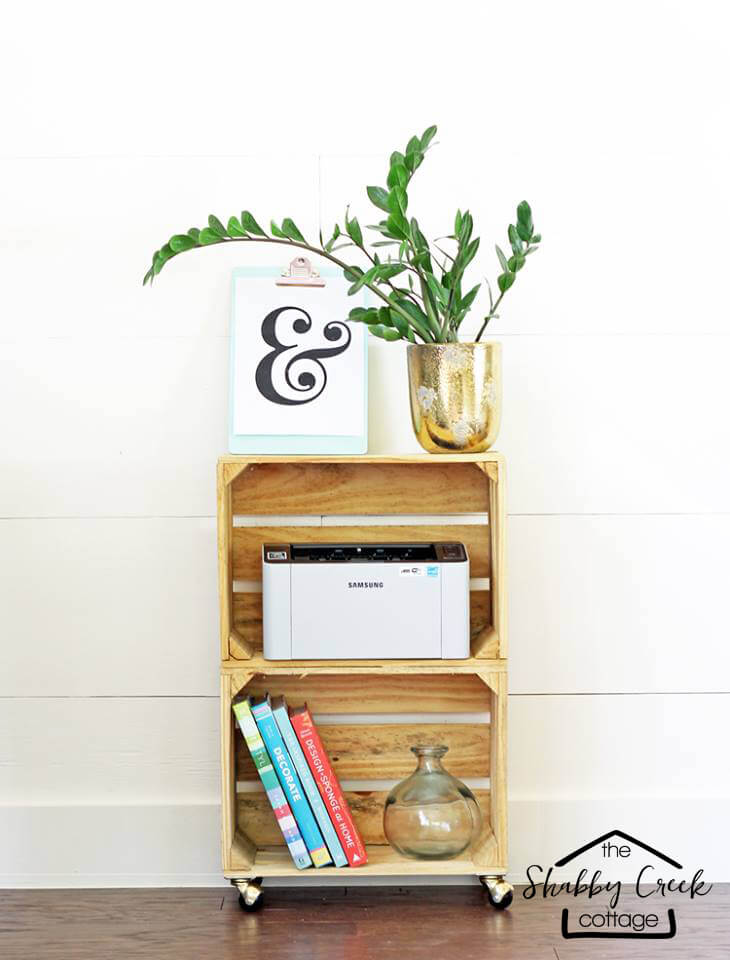 How fun is this?! The light color of the wood gives it a little pop and goes well with the gold color on the wheels. This is a fresh fun piece that adds some rustic charm to the eclectic minimalist decor. Just crew the 2 crates together along the long side, and screw in the wheels to the bottom.
13. Antique Beverage Crate Succulent Garden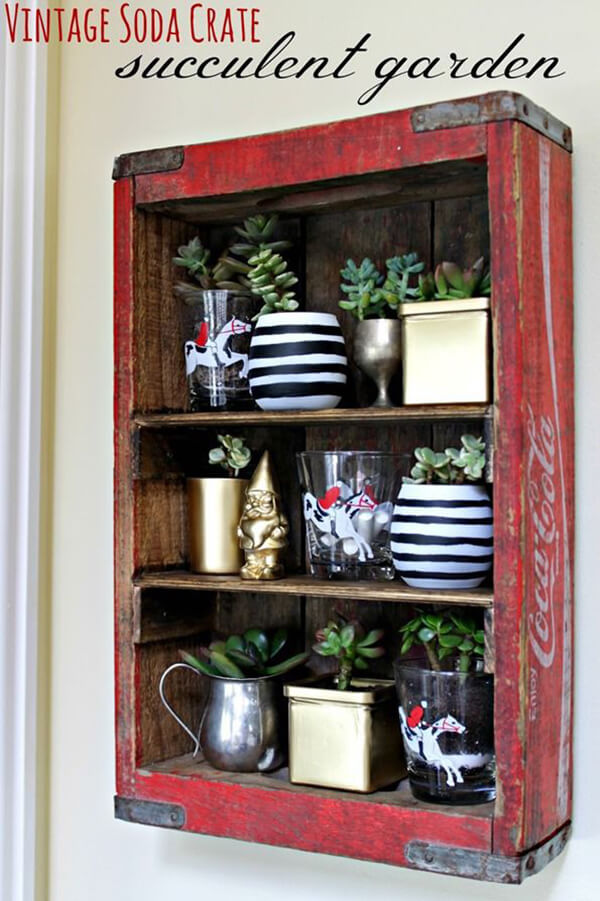 Antique crates have such awesome character. They really add a point of interest compared to regular old shelves, and they're a great way to fill in a small empty wall space like at the end of a hallway or in a nook. Just hang up the crate and fill it with items like these colorful vases and succulents.