With the best DIY wood slice art and wood painting ideas, you can fill your home with some rustic and outdoorsy décor that stands out. Wood slices offer you such a distinct way to decorate. The wood material alone does wonders for creating a natural look inside your home. Of course, this can fit well in a rustic-themed home. However, in many cases, wood slices work well with numerous styles. This is because you can do a lot with them. You can paint them completely, use some woodburning techniques to make a design, or paint some artwork on it instead. How you design the wood slice will help it lean toward one particular style. This way, you can hang it up in just about any room in the home.
26 Unique DIY Wood Slice Art and Painting Ideas to Adorn Your Home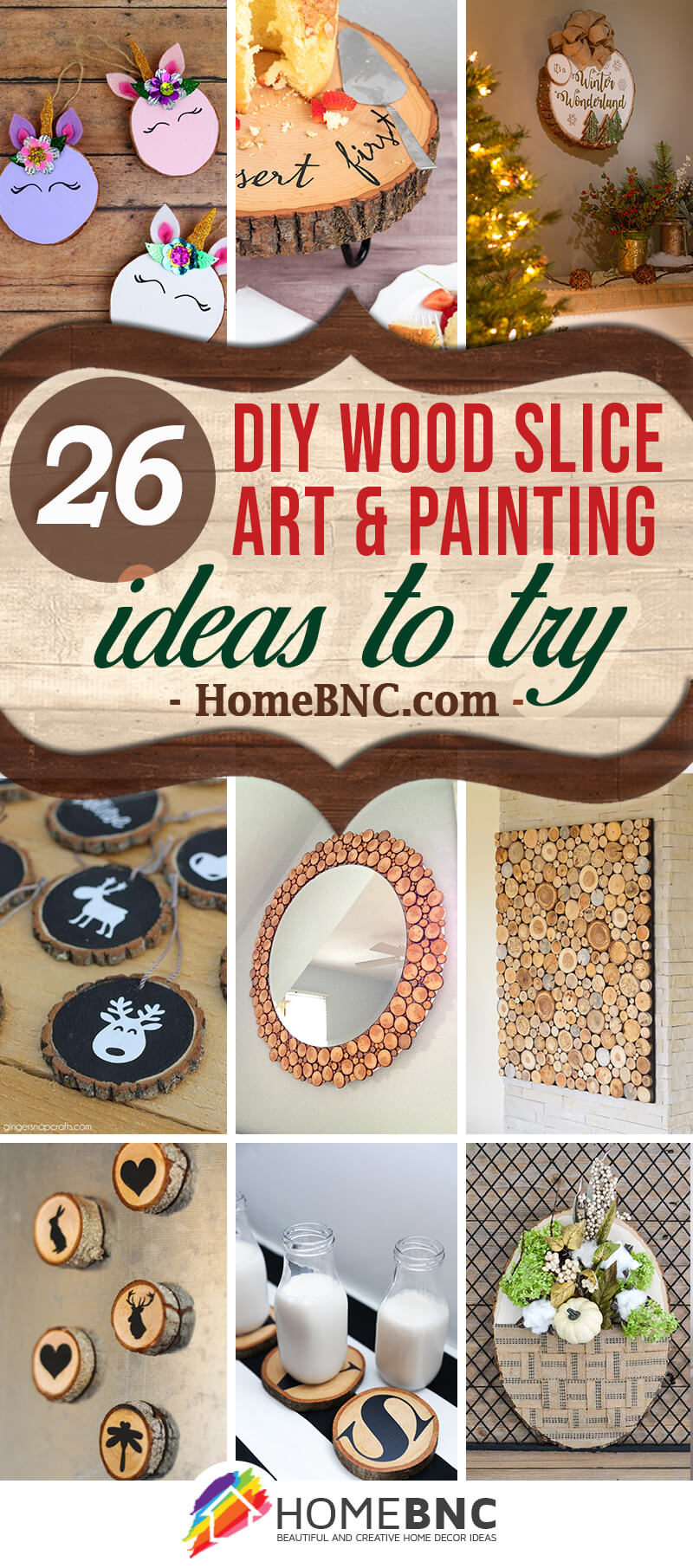 Although wood slices have a common circular shape, you can find some that are more oval in design if you wish to have something a bit different. These slices come in numerous sizes too, and the different sizes offer you even more freedom in terms of creating distinct decorative items. You can let the wood slice speak for itself, or you can decide to use them as picture frames. They even work well when used with other items such as being the frame for a mirror.
If you are unsure about which way you want to go with using wood slice art, then you can check out our list of some of the best DIY wood slice art and wood painting ideas. Hopefully, one of these will help guide you down the right path to decorating your home.
1. Wood Slice Unicorn Designed Ornaments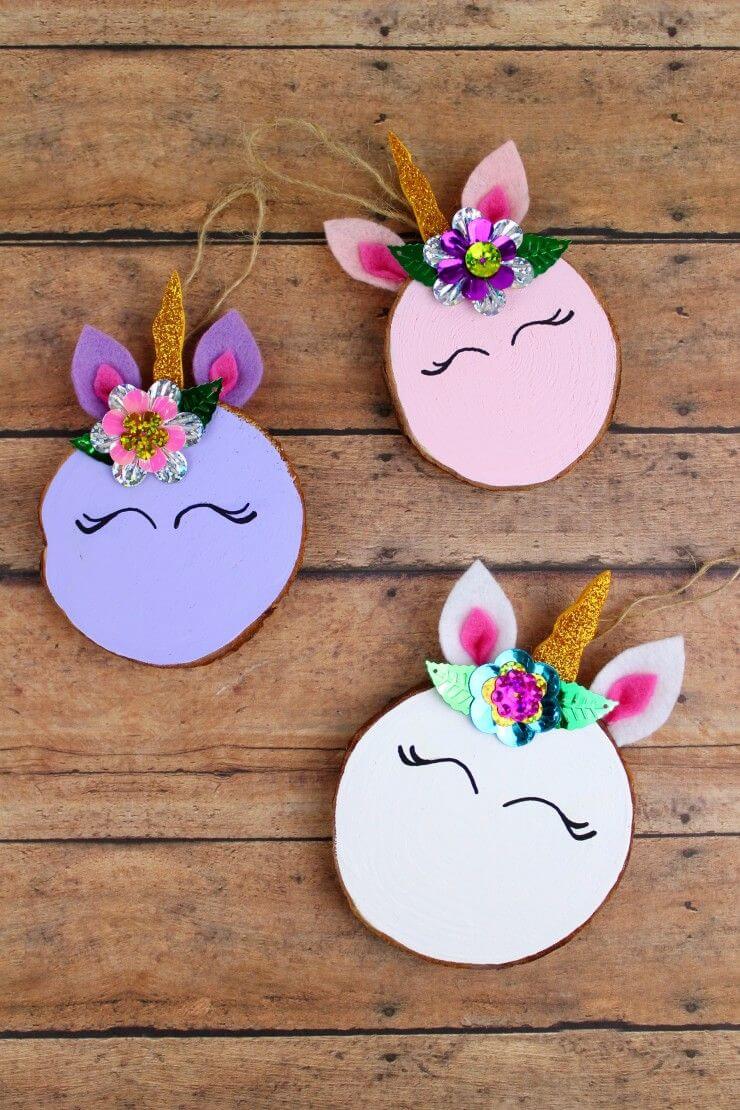 Want a cute and fun project to tackle with the kids? Then try your hand at creating these lovely wood slice unicorns. The circular shape works well with the style of the unicorn and painting them a variety of colors gives them some nice contrast when they hung up around each other. Also, there is plenty of space to add on the extra decorations that truly sell the idea of these being unicorns. Kids can enjoy hanging them up in their room or on the Christmas tree as their own personal ornaments.
2. Incredible DIY Wood Slice Cake Stand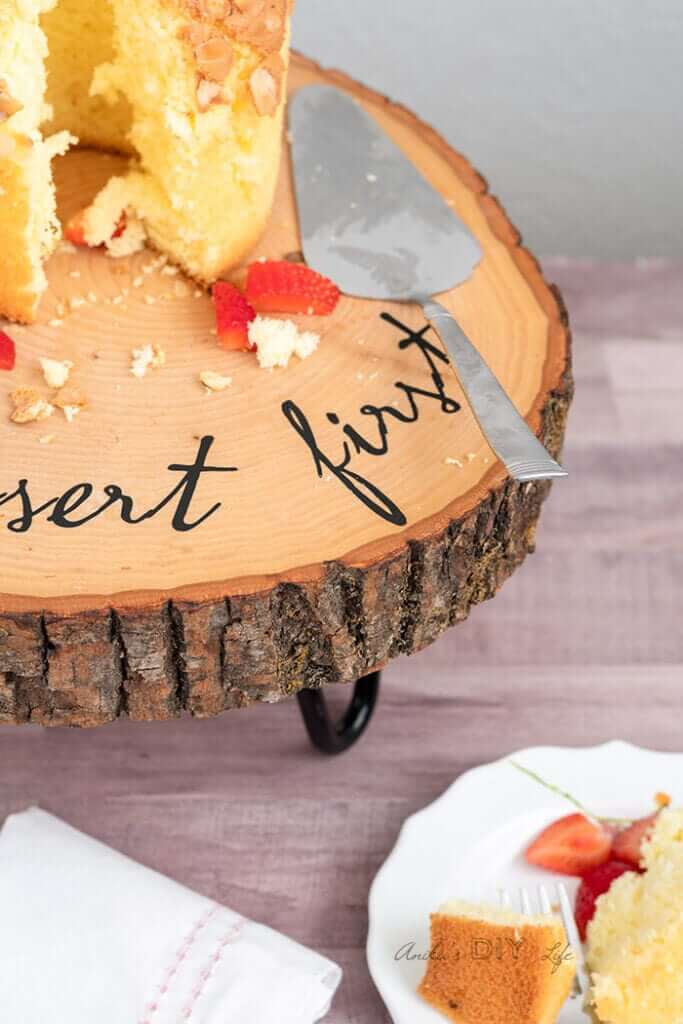 Wood slices have many uses depending on their size, and with a larger one, you can build an awesome cake stand. Feel free to add on some decorations as you please. You can keep things simple if you'd like, decorating the wood slice with some words instead of anything too elaborate. This is a good way to let the wood slice speak for itself. It is also easy to raise this, giving the stand some height to perfectly show off your cake creations. This can look good enough to serve as décor when you're not using it for the cake too, and it works even better when placed in a kitchen with a farmhouse or rustic style.
3. Attractive DIY Wood Slice Wreath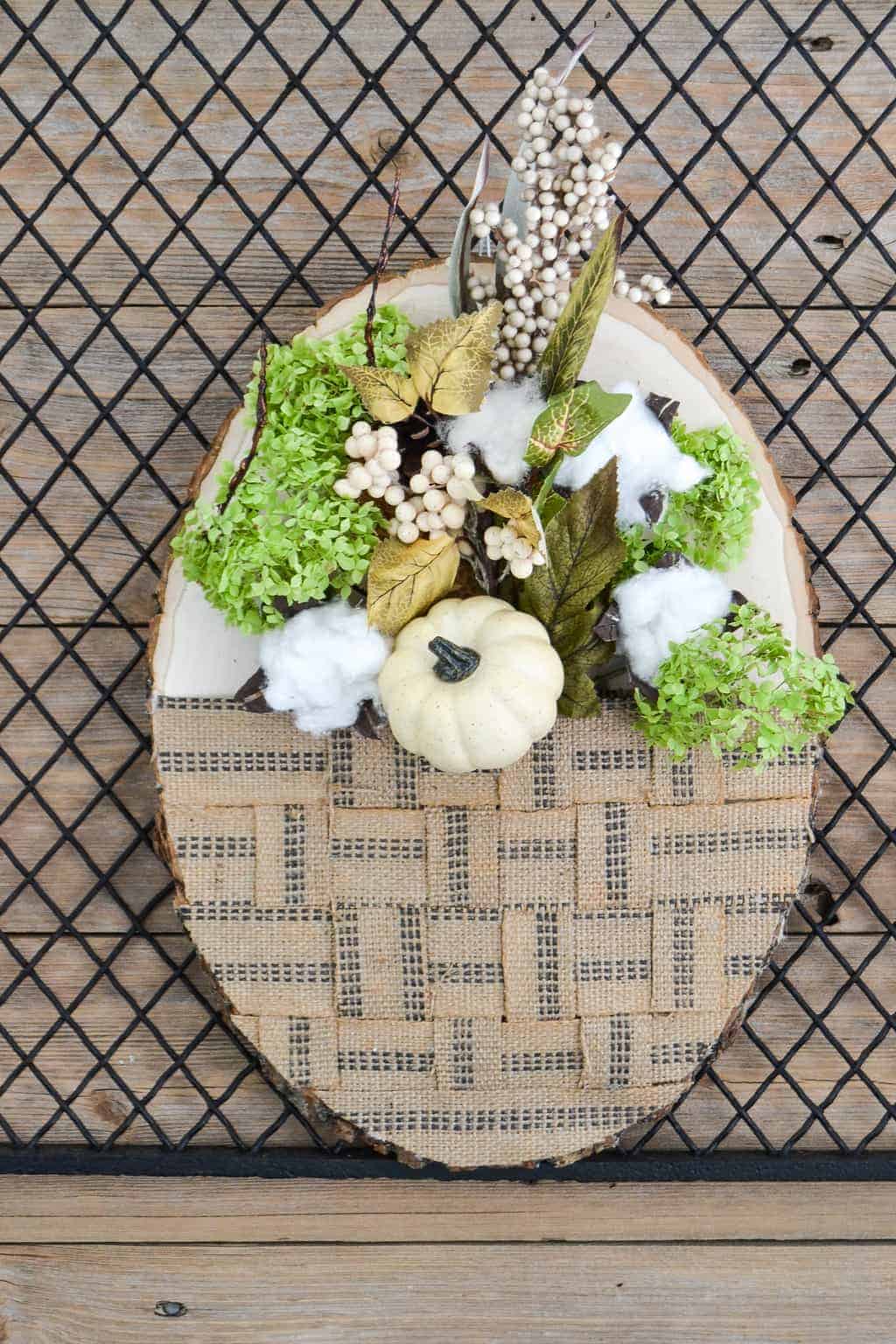 You can create an awesome handmade wreath using a wood slice and other decorative materials. There is nothing traditional about this, which is fitting if you are looking for a non-traditional design to add to your seasonal decorations. When it comes to adding the extra embellishments, the use of more outdoor-like items such as greenery works well with the wood slice. It allows everything to stick to the same theme so that the wreath comes together in a more cohesive manner. This works well hanging on a door or somewhere on the wall to show off just how ready you are for the season.
4. Rustic Decorative Owl Wood Slice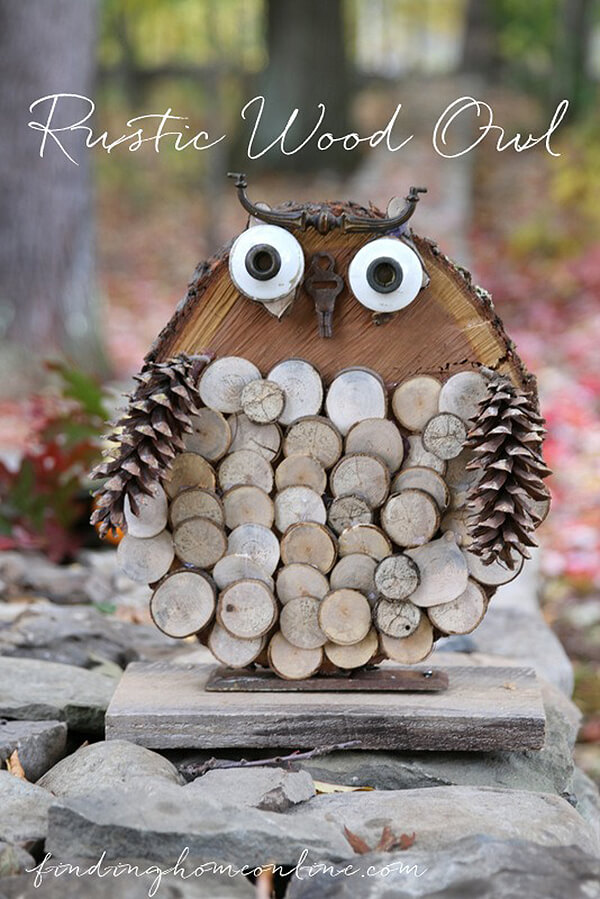 In the search of the best DIY wood slice art and wood painting ideas, this decorative owl definitely leaves an impact. There is something that is so appealing about this at first glance. The owl is highly expressive with its wide-eyed stare. Something that makes this even cooler is the fact that there is a more natural material used throughout to make the body of the owl. There is no denying the outdoor feel of this. It helps fit in with any type of nature theme you have going on in your home.
5. Elegant Wood Slice Place Cards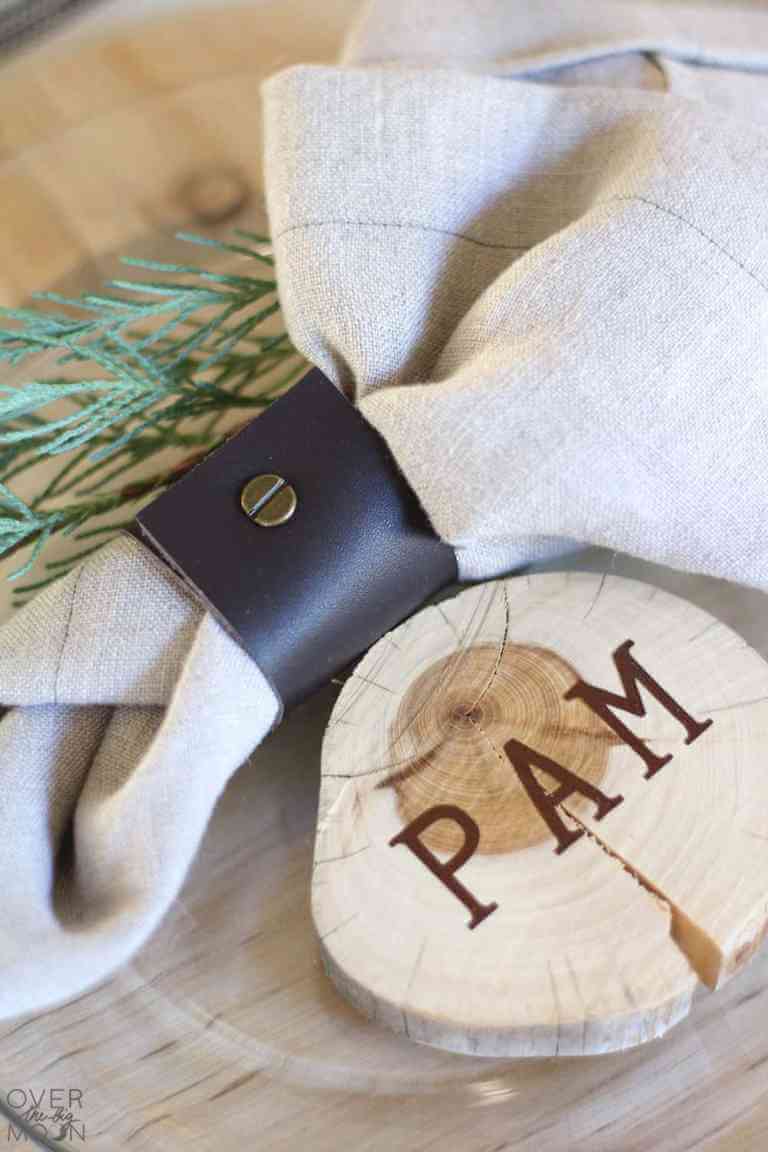 Planning for a nice dinner party? It is always nice to have some indication of where your guests should sit if you have a more formal and organized party in mind. Thankfully, you can make some stylish place cards using wood slices. These don't exactly fall into the elaborate paintings on wood slices, but their simplicity of them allows them to stand out. When placed down among the rest of your table setting and dinnerware, they will instantly grab the right attention. So, think of it as a way to impress your guests with something personal and decorative.
6. DIY Seasonal Wood Slice Wreath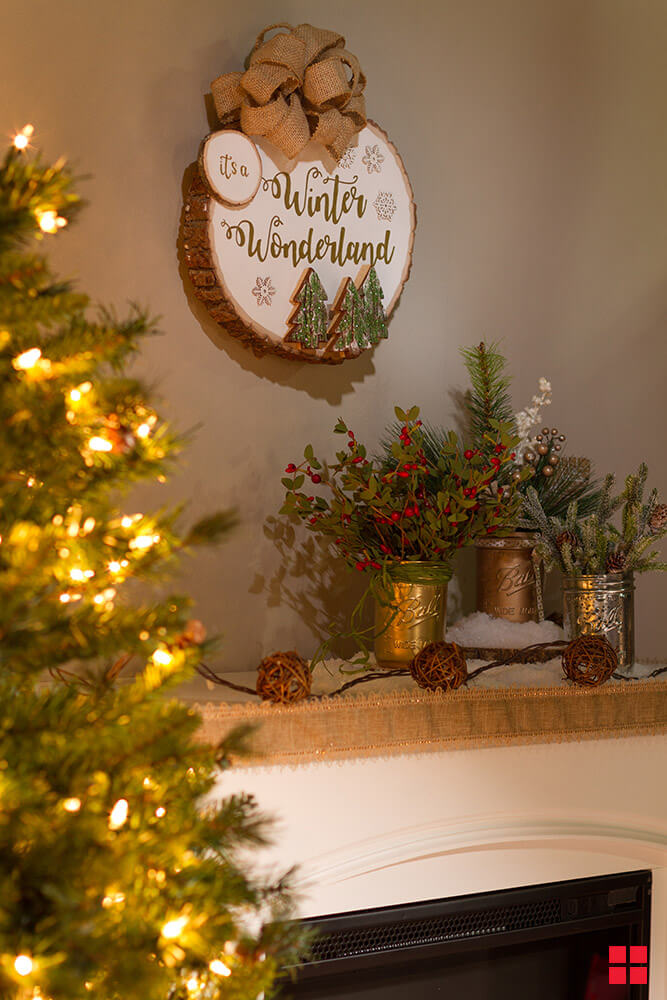 Provide a bit more life to your winter décor with this incredible wood slice wreath. Pick out whatever size of the wood slice is most fitting for the space you wish to fill. From there, you can decorate it as you see fit. The white paint is wonderful at bringing out the overall design of this beautiful winter wonderland. Using a large burlap bow is fitting too as that helps keep with the rustic and natural theme you have going with the wreath. The wreath will look well hung up on the wall with the rest of your winter decorations, serving to elevate your setup even more.
7. DIY Wood Slice Photo Memory Ornaments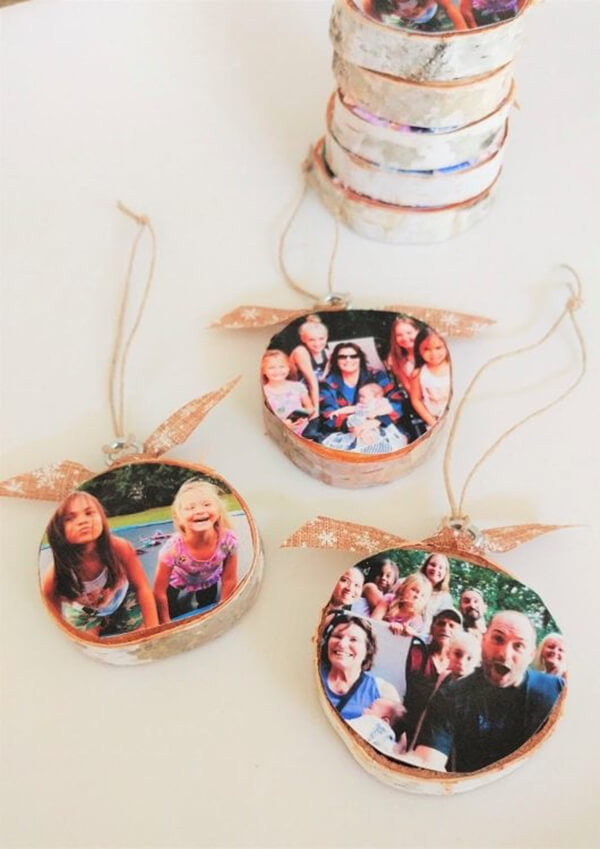 To show off just how versatile wood slices are, you can create beautiful photo art on wood slices. It is a good way to hang up all those pictures you've been meaning to pull out. Also, it allows you to show off those beloved memories in a far more interesting manner than you would with the average picture frame. With the added adornment of ribbon and twine, these wood slices are given new life. Freely hang them up with a tree or dangle them in different areas around the home to proudly show off not just your creativity, but just how much you cherish all those memories.
8. Seasonal Wood Slice Snowman Ornament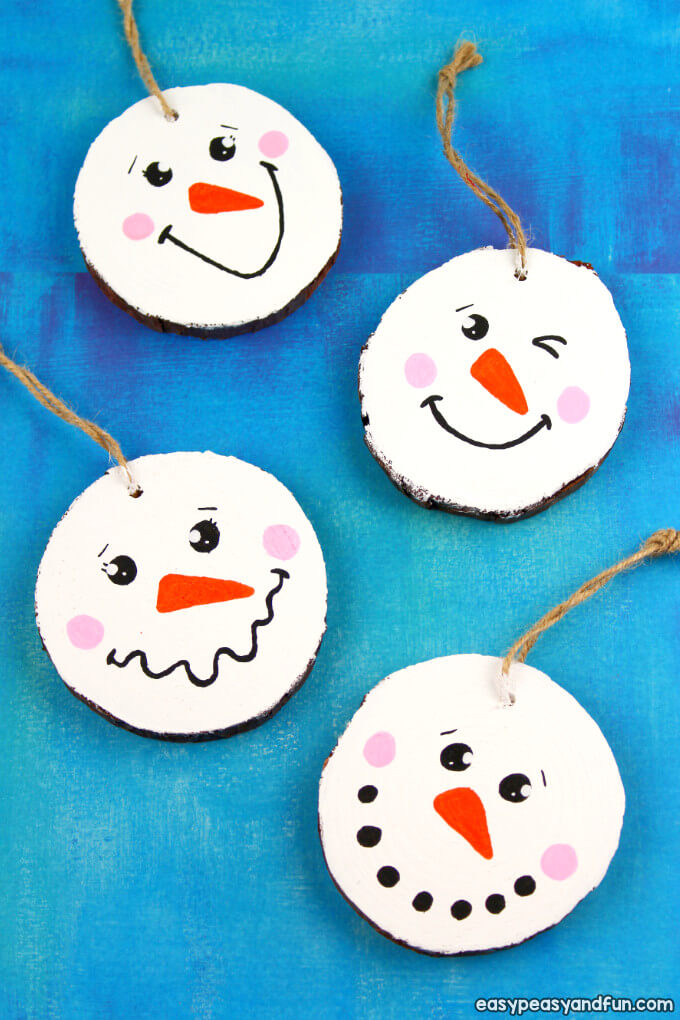 If you want to get ready for the season in a unique way, then check out these handmade snowman ornaments. These are an excellent way to take the average wood slice and make it far more attractive and fun. In fact, this can be a nice project to do with the kids. With a handful of slices, you can create a different snowman face for each one. This way, there's no uniformity for them to get lost. At the same time, they are undeniably connected in a way that makes them work well for extra holiday décor.
9. Painted Wood Slice Holiday Ornaments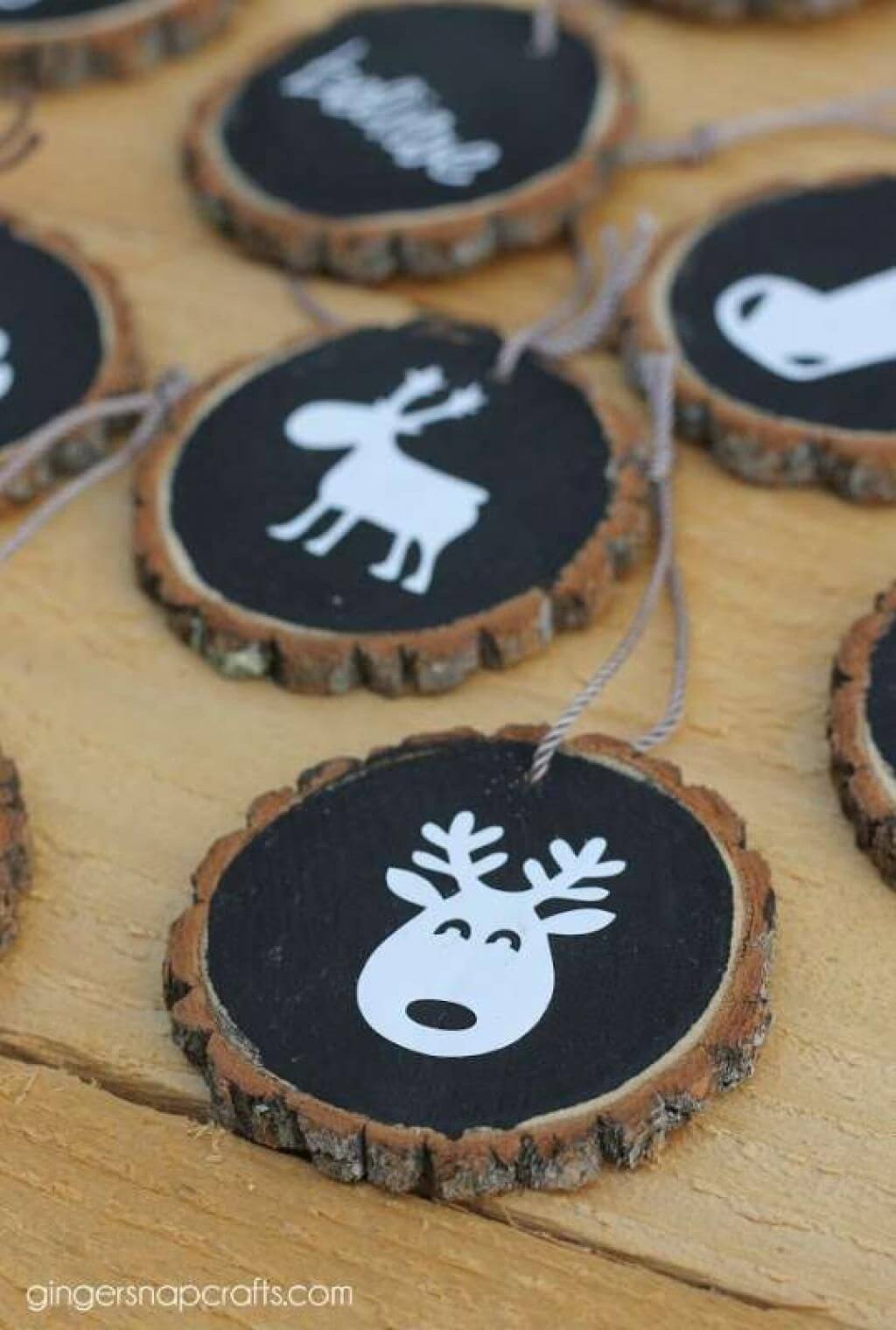 Are you looking to add a bit of a rustic appeal to your holiday decorations? Then these wood slice ornaments are perfect for you. The black painted background is wonderful for providing these with some contrast. From there, the stencil design will stand out even more. The wood alone does well at attracting attention when you hang these up on a tree, more so if you have holiday-based stencils on each slice. These don't just need to be used for a tree though. They can look just as well hung up around the home to provide the space with some more distinctive style for the holidays.
10. Creative DIY Wood Slice Coasters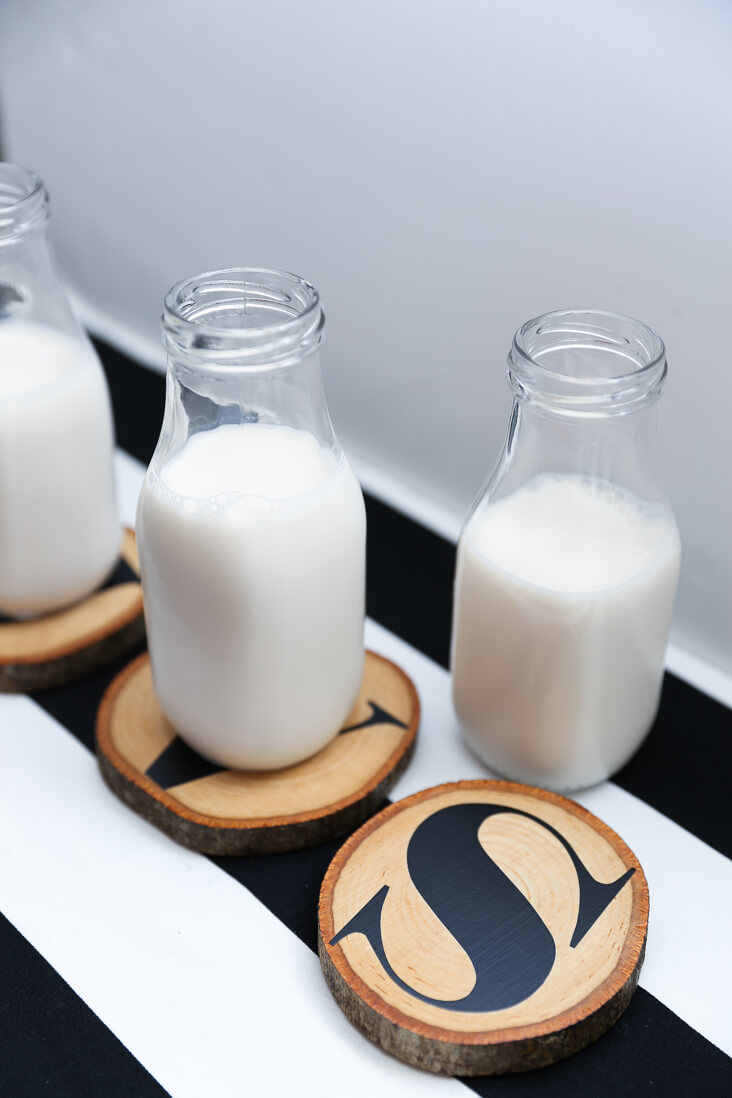 It's easy to see just how well wood slices work when used as coasters. They are the ideal size, and their thickness makes them highly reliable to hold up to frequent use. Also, thanks to the idea of wood slices, you can spruce them up a bit by adding any type of artwork to it. It can be as elaborate as some type of drawing, or it can be as simple as lettering. No matter which route you decide to take, these coasters will look wonderful, especially when you pull them out for guests.
11. Stylish and Decorative Wood Slice Mirror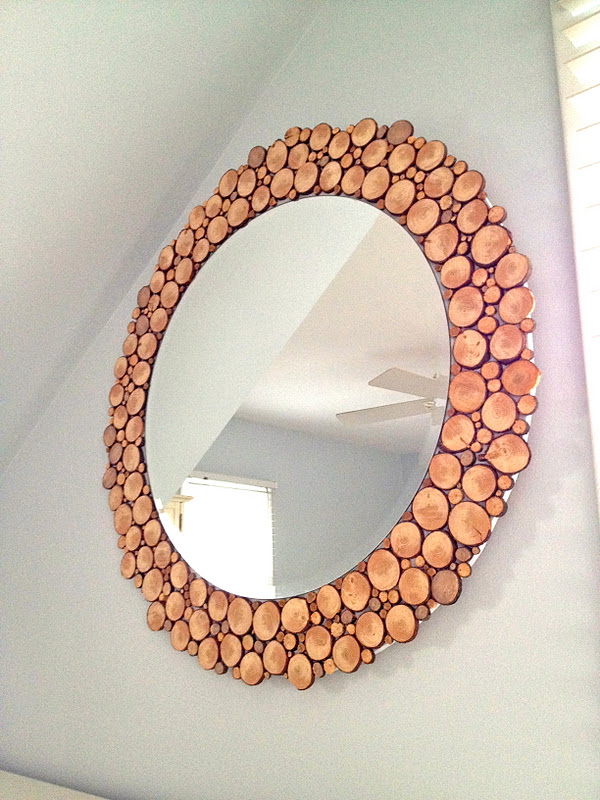 Who wants to settle for just hanging up any mirror in a room? Put your creativity to the test by building this awesome wood slice mirror. There are dozens of small wood slices used to build this creation. Even though they are made somewhat the same, they each still have a distinctive look about them that you can still see the individual ones even if they are set up so close together. They work well to frame the mirror itself. Also, thanks to some of the varied sizes seen in the slices, the mirror as a sense of movement to it that makes it more decorative.
12. Fun Decorative Wood Slice Ornaments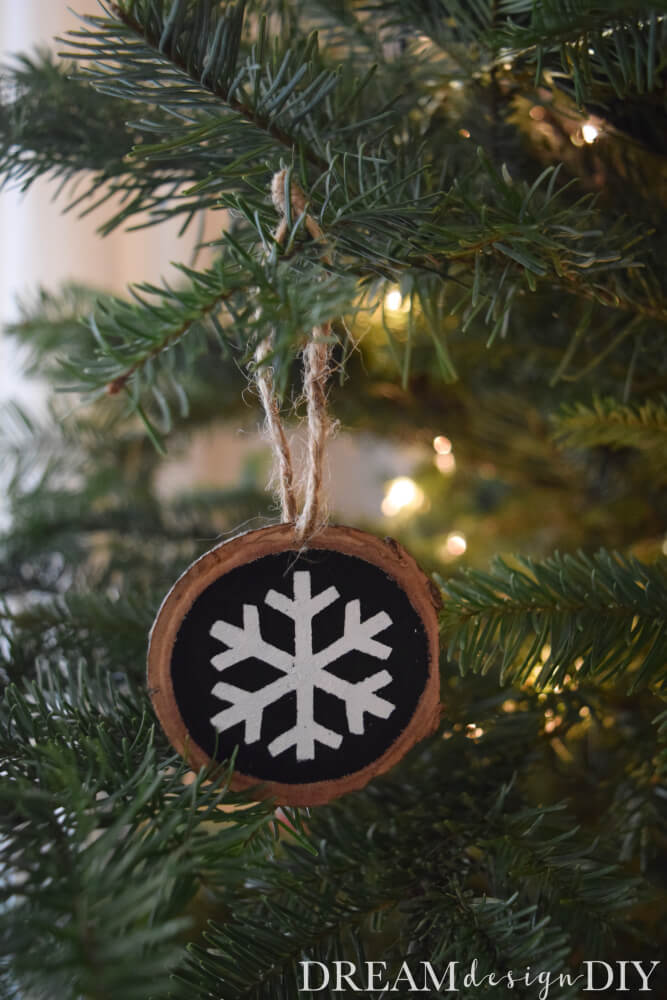 This holiday season, bring the outdoors inside with these nice wood slice ornaments. Due to what they are, they immediately have an attractive natural look that goes great with a Christmas tree, real or otherwise. Also, the thick jute or twine material that it hangs from further adds to the natural appearance and rustic feel of the ornaments. The stencils on them make them ready for the holiday season. What's even nicer is that the stencils are multi-colored, giving these wood slice ornaments more of a holiday feel.
13. Pretty Wood Slice Christmas Wreath Ornament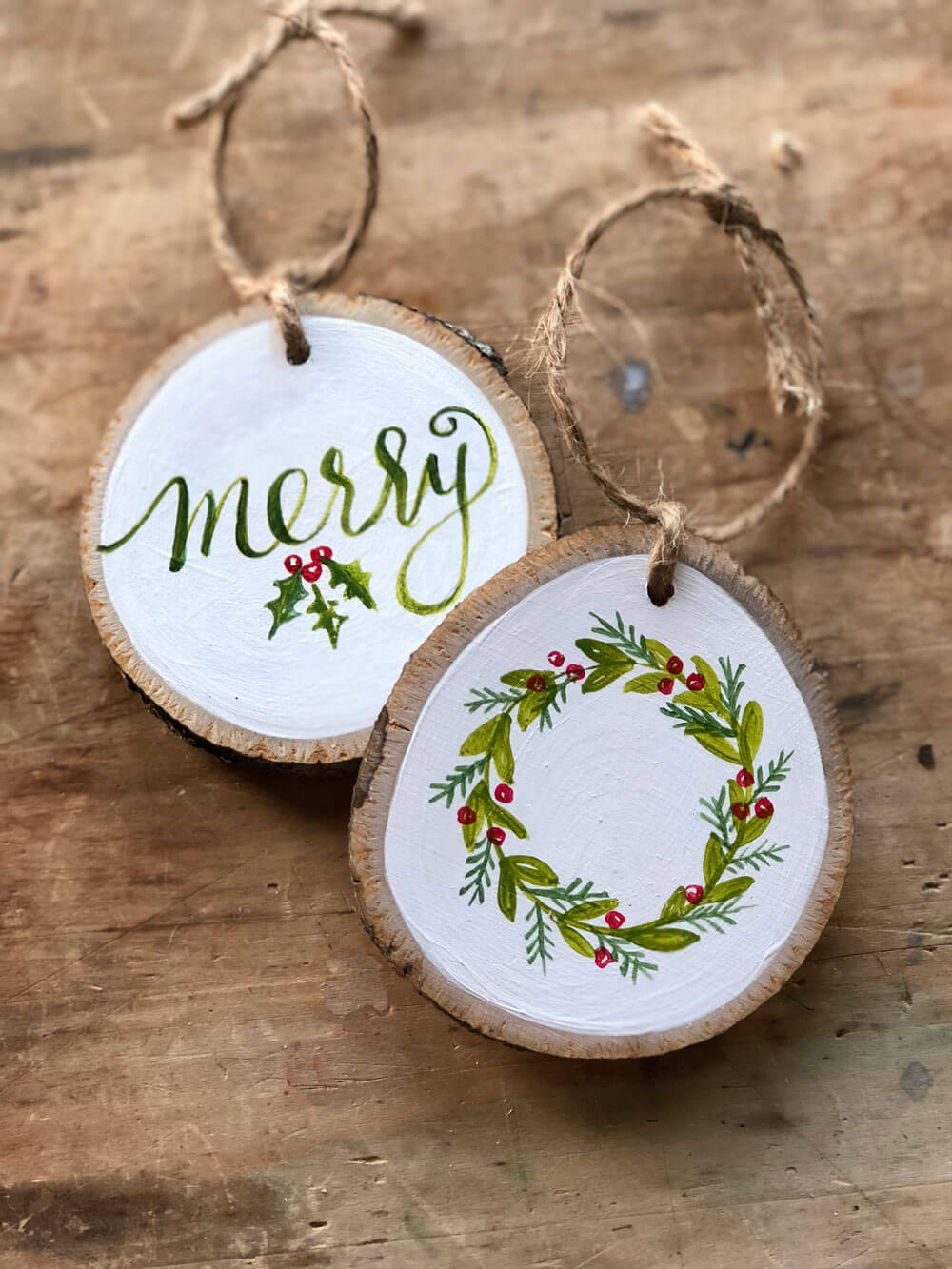 Dainty and rustic describe these slices of Christmas heaven that look amazing hanging on your family's Christmas tree. Each wood slice features a two-sided custom painting. On one side you'll enjoy a seasonal word with a green and red wreath on the other. Set on a white painted background, the traditional Christmas colors stand out and look festive! These are great ideas for decorating gift bags and packages too. Secure one to each present and add a sprig of faux holly for an over-the-top Christmas present look.
14. Custom DIY Wood Slice Initial Sign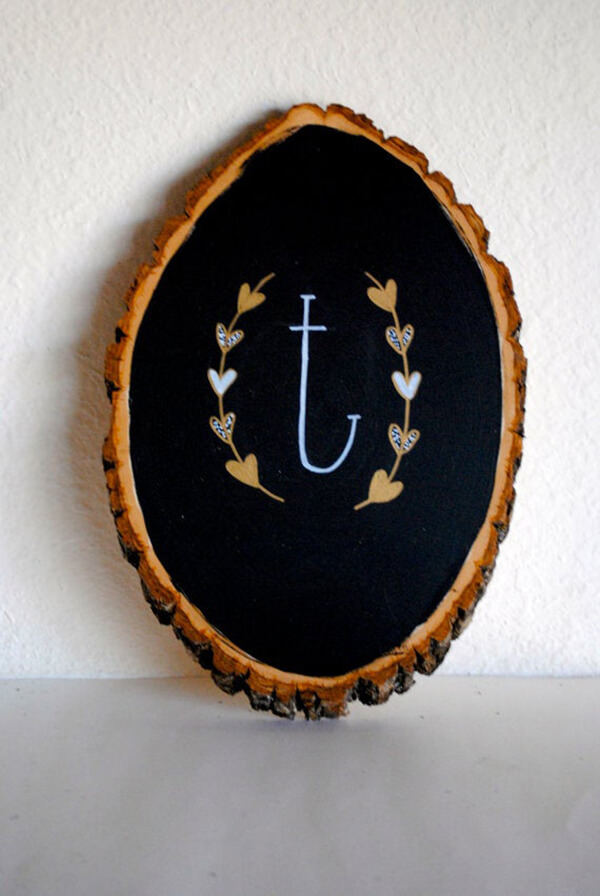 Make a bold statement with an initial for your own home or design one to be used as a gift. The rustic oblong wood slice adds great texture to your smooth interior wall. On top of the chalkboard paint, your selected initial is featured in the center with decorative embellishments on each side. Use colors that highlight existing room decor or tend to be favored by your gift recipient. This wood slice initial sign looks great hanging on a door or wall for a personalized piece of wall art.
15. Kid-Friendly Fingerprint Snowman Wood Slice Ornament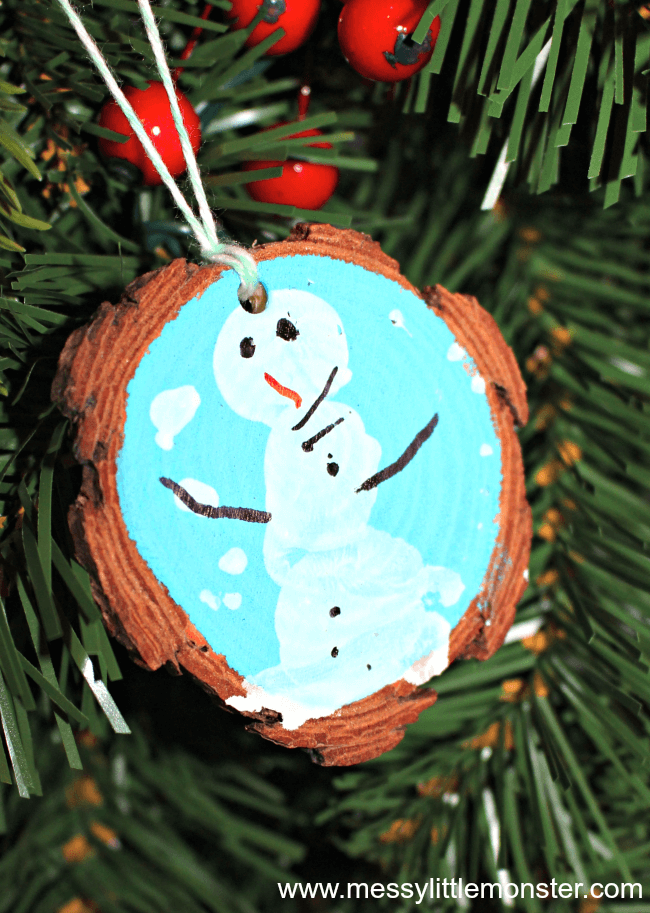 Keep the youngsters busy and occupied as they eagerly await Santa's arrival with this fun and cute fingerprint snowman ornament. Small slices of wood make the ideal base for crafting these sweet and sentimental works of art. Each child will use his/her own prints to create a custom snowman, then complete the look with his/her choice of snowman accessories. From simple stick arms to a black top hat, no two will be the same. Just like snowflakes, these creations are one-of-a-kind and represent the special nature of each child behind the design.
16. DIY Wood Slice Stenciled Coasters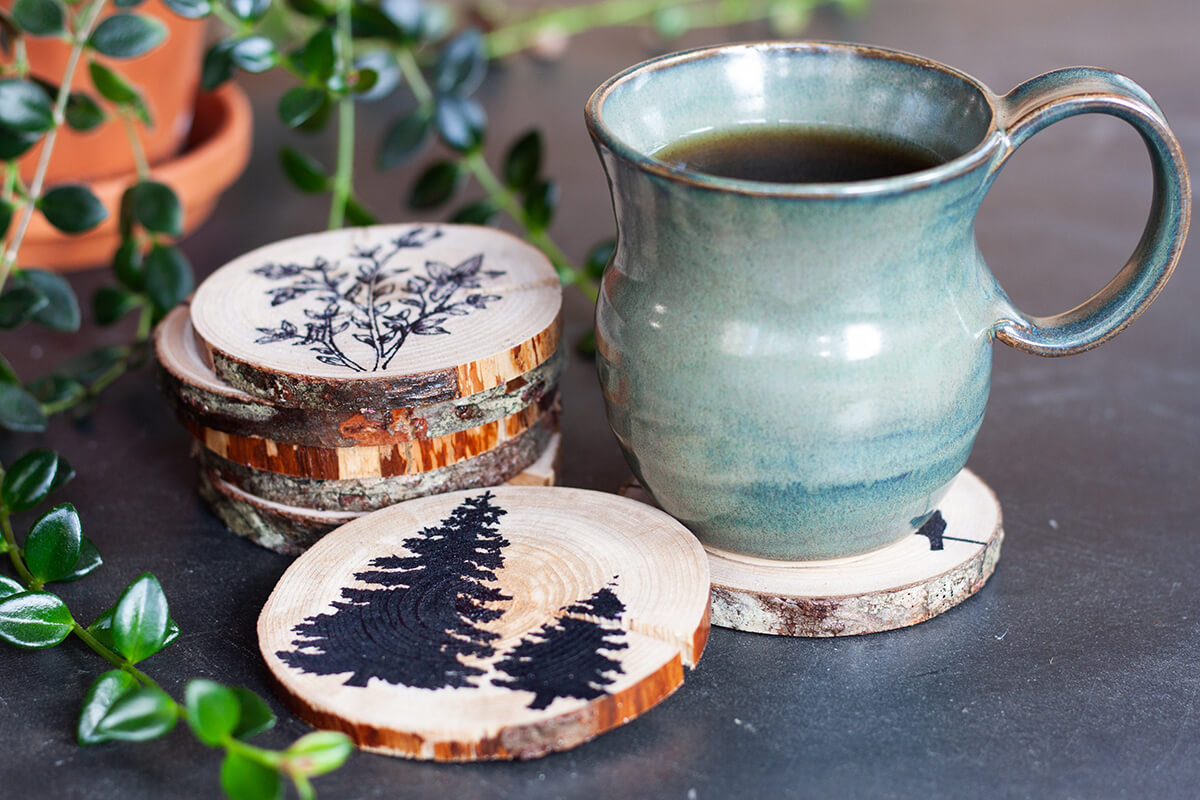 Here's a fabulous project for a group of friends. DIY wood slice coasters are easy and fun and the finished product is actually something everyone can use! Prepare the wood rounds in advance and sand them off for a smooth finish that's ready to customize. Use a stencil or freehand your chosen phrase or object. A hearty coating of sealant makes your design durable and capable of lasting for many years to come. Create a custom set for your child's teacher or give one to a friend with all of her favorite things applied to the slices to make a complete coaster set.
17. Black and White Wood Slice Christmas Ornaments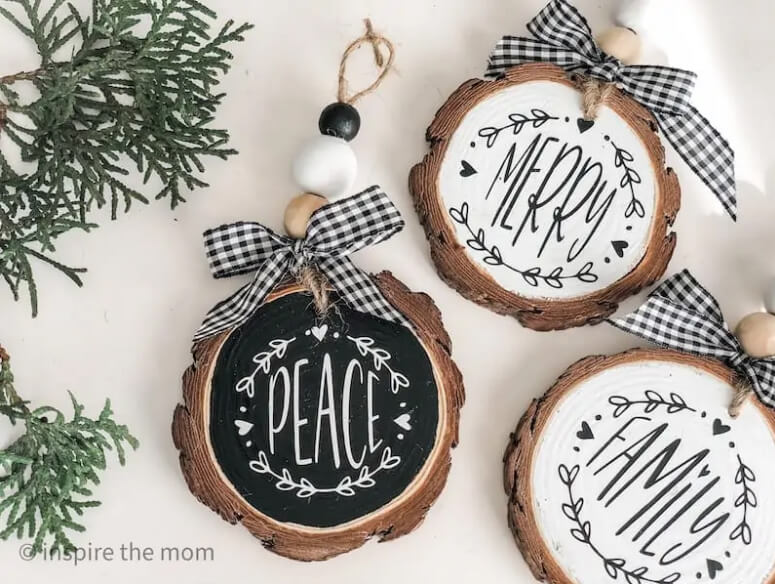 Bring some homemade goodness to your tree this Christmas with easy DIY wood slice ornaments. These cute wood rounds are the perfect size to hang on your tree and can be crafted in your favorite colors and styles. A black and white color combo looks amazing for a modern look along with the added gingham ribbon to finish it off at the top. With some decorative scrolls and dots, you can bring your heartfelt vision to life when you make these darling family ornaments for all of your loved ones to cherish.
18. DIY Rustic Wood Slice Ornament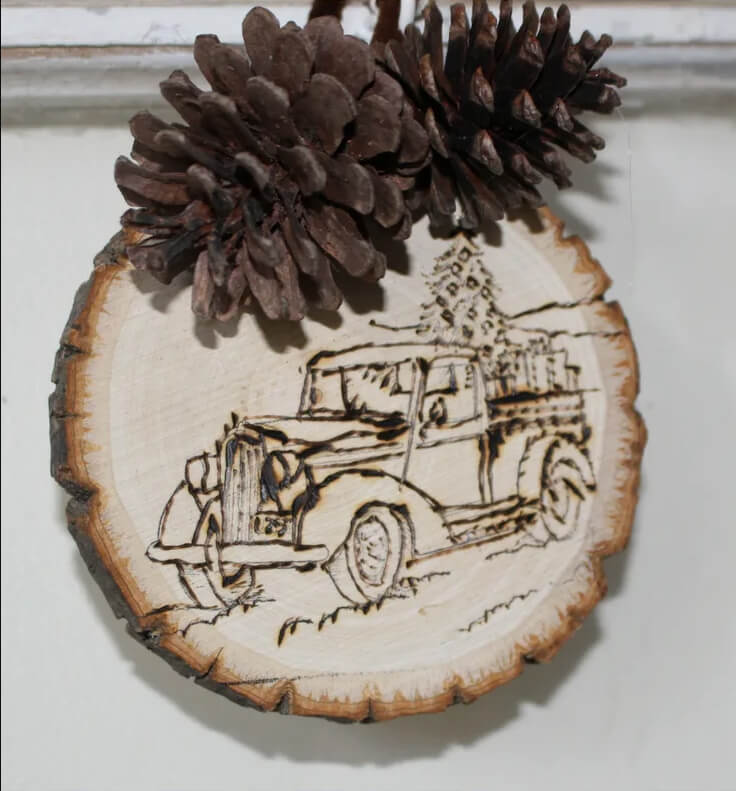 If you are looking for art on wood slices that keep with the rustic theme, then these ornaments will be perfect for your décor. Besides that, it is a fun way for you to push your creative skills. This uses a woodburning technique to create the intricate artwork. You can make any design you wish too, with this. Feel free to hang these up alongside your other décor for the season. Alternatively, you can always hand these out as personal gifts to loved ones as the results of your hard work can make these decorative wood slices look store-bought.
19. Cool Decorative Wood Slice Magnets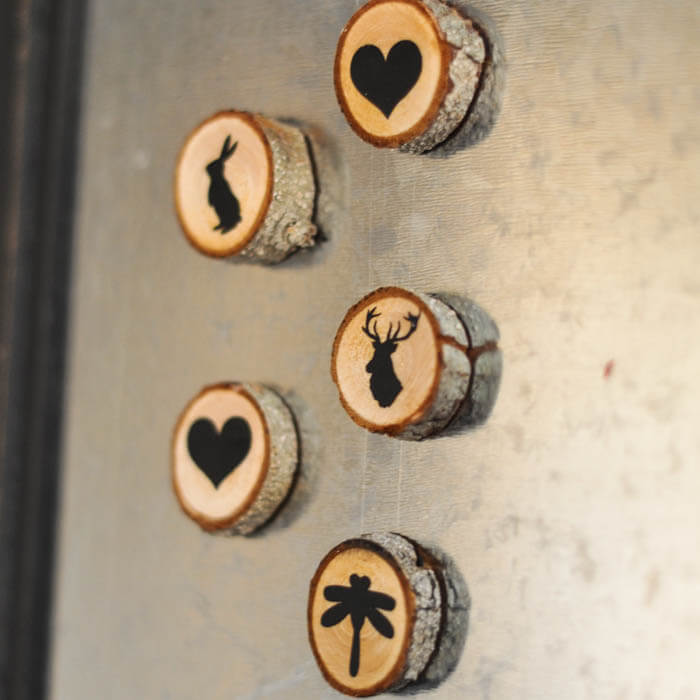 A fun way to show off art on wood slices is with these awesome magnets. Depending on how many of these mini slices you have, you can place a variety of designs on them. This is a simple and good way to add some extra décor to a room without taking up any wall space. It's an especially beneficial aspect if you don't have that much wall space in the first place. Place them in the kitchen on the refrigerator or any other room that has a board capable of holding magnets. These are simply attractive in terms of being functional décor.
20. DIY Wood Slice Photo Holder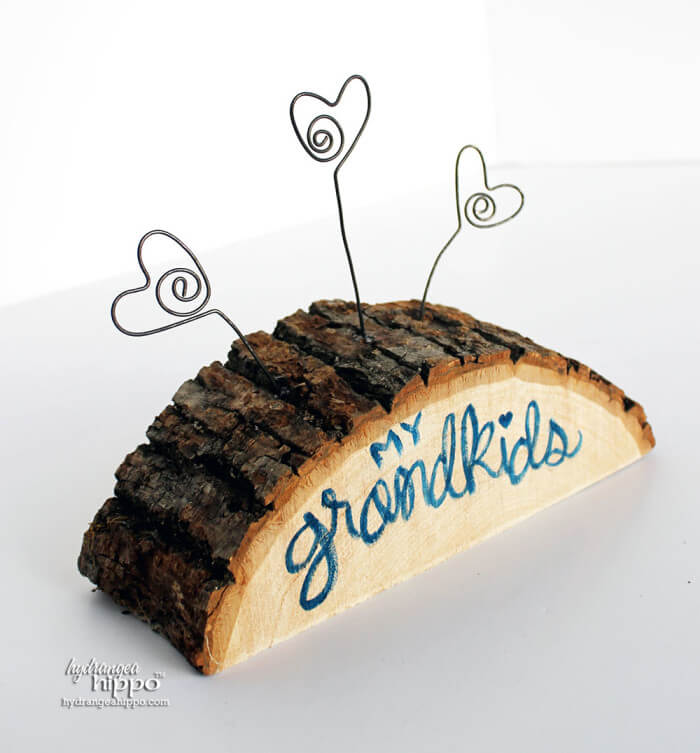 Among the best DIY wood slice and wood painting ideas is this incredible photo holder. This holder can make for such a heartfelt gift that any loved one will cherish. With the wood slice cut in half, you are left with a great shape that sits up well. You can have any sort of art on the wood that you have left be that a saying or type of drawing. No matter what you put on there, the loving impact remains. The wire tools work perfectly at holding any pictures you want to use with this handmade photo holder.
21. Attractive Wood Slice Napkin Ornaments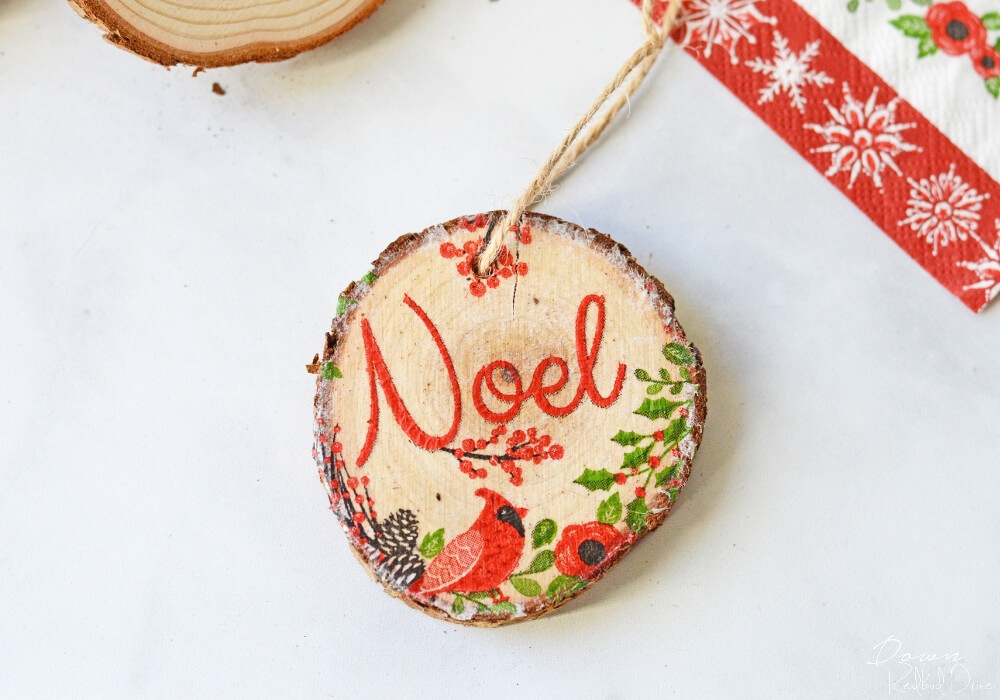 There are many ways you can add some flair to a wood slice, especially if you don't know how or simply don't want to do any painting yourself. Instead, you can use a napkin and create a pattern that looks as though it was professionally made. This is such a nice way to get that flawless design you crave, and it is also a nice way to completely fill up the wood slice so that no space is wasted when you create these. Once finished, they look great hung up on the Christmas tree or used as makeshift garland elsewhere in the home.
22. Rustic Bohemian Wood Slice Clock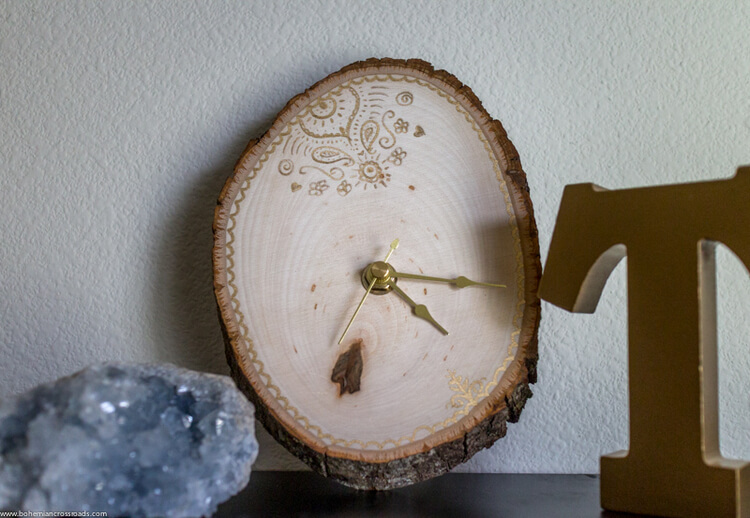 A decorative wood slice can be as functional as it is appealing to look at as it is in the case of this wood slice clock. There are many circular shapes a wood slice can have, but this one has a more distinctive appearance that gives it that much more fun personality. Feel free to add on some decorative design to the wood slice too. It is a good way to allow the handmade clock to better blend into any other décor. This fits well with a lot of styles such as rustic, bohemian, and even some modern or contemporary homes what with the twist on the traditional clock look.
23. "Be Still" Hand Painted Wood Slice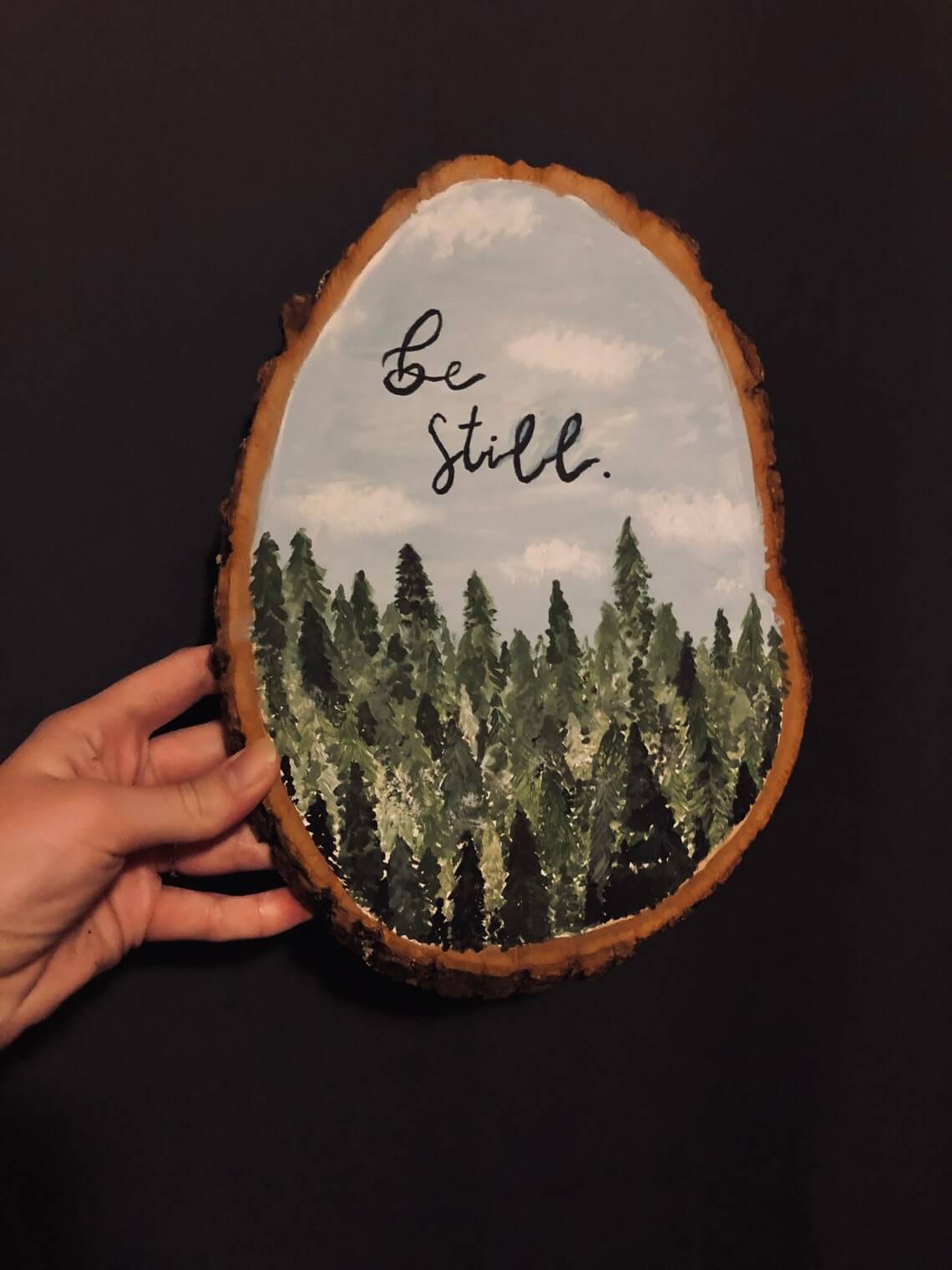 With this handcrafted wood slice, you can further bring nature into your home. It's among the best paintings on wood slices that feature a lovely woodland theme. Even with the many trees painted on, this still has a simple layout that makes it far more peaceful to sit back and admire. The bold and vibrant blue sky helps this out even more. Everything is brought together with the beautiful "be still" words painted onto the art. Also, since this is hand-painted, each one will always be distinctive.
24. Reclaimed Wood Slice Wall Art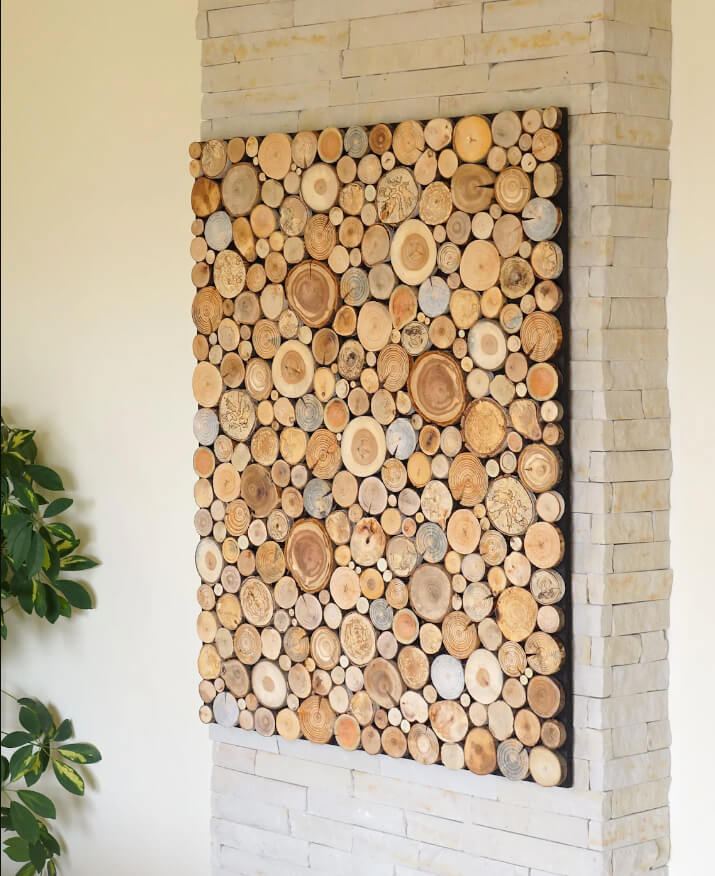 This piece allows you to have something that is both handmade and upcycled since this uses reclaimed wood. It is made from a variety of tree species, and the use of the different species grants this wall art a lovely bout of contrast. Also, the wood slices are of varied sizes too. This provides the wall art a hint of motion that keeps it from being plain or otherwise stagnant. Available in numerous sizes, this wall art is a bold item to hang up on any wall in your home, giving your décor a beautiful natural feel.
25. Custom Baby Name Wood Slice Art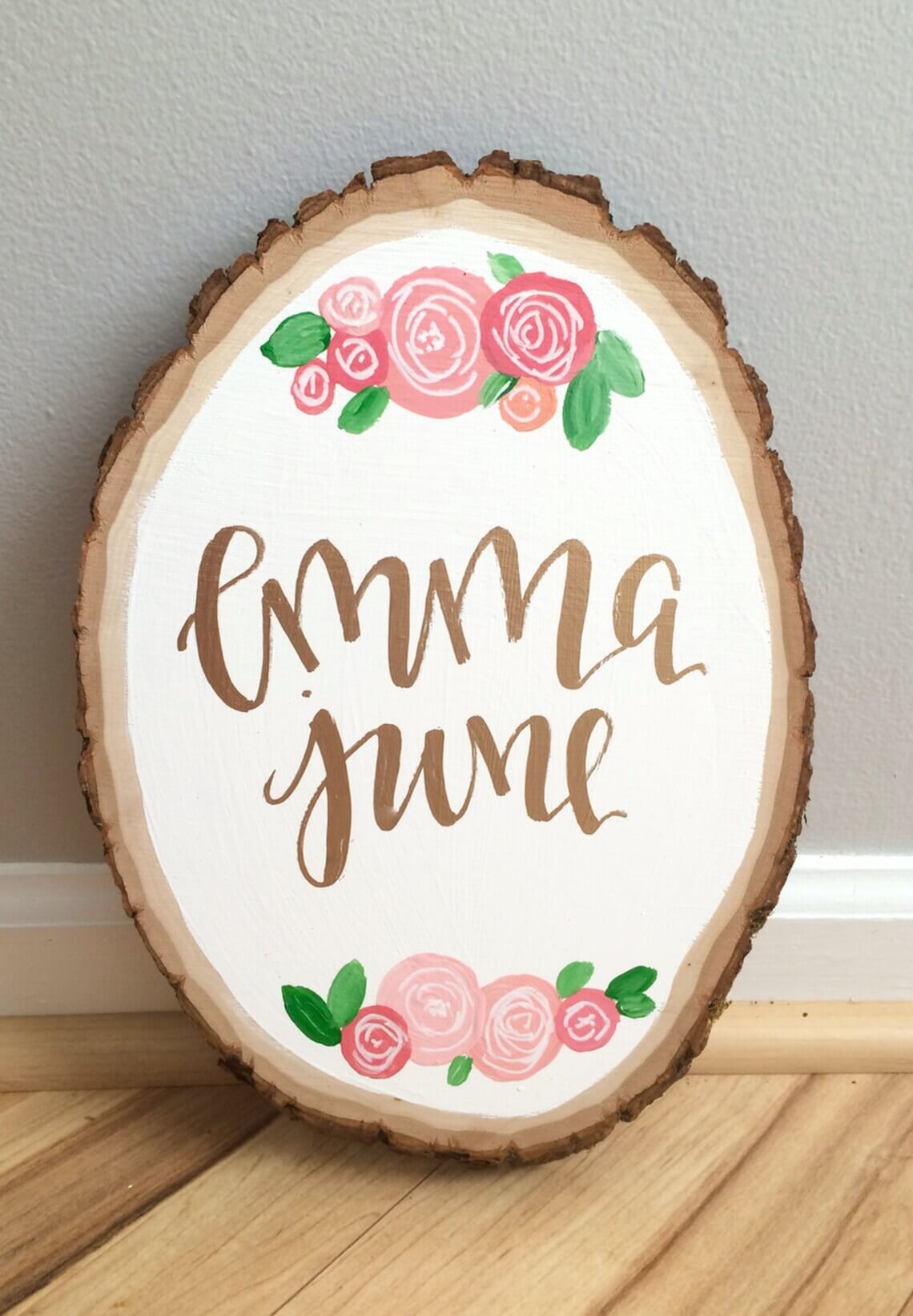 Are you looking for something charming and unique to hang up in your nursery? This wood slice art is a wonderful item to choose from. Available in three different background colors, this wood slice elevates simplicity. What sets it apart is the gorgeous floral design on the top and bottom of the wood slice. It is stunning and fitting for a nursery or child's room. Also, you can customize it with a name and even choose from four different colors for the lettering so that it best fits in with the style of the room.
26. Wood Slice Mosaic Wall Art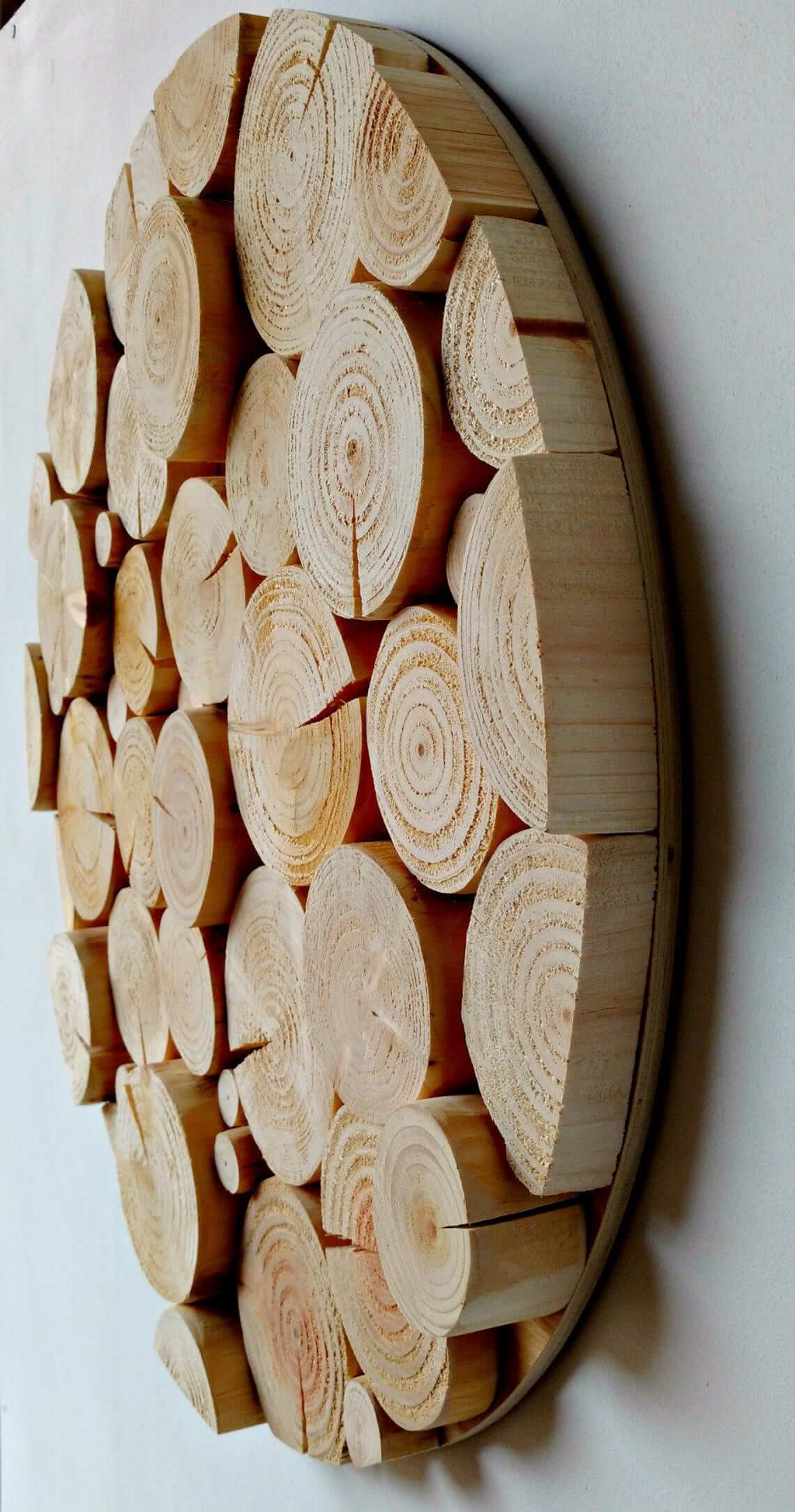 This mosaic wall art is perfect to add some texture to your walls. It uses real dry wood slices, making this fitting for anyone who has an appreciation for more natural, handmade decorative items. Also, since the art is made to order, each one has its own touch of individuality to them so that you will receive a distinct work of art to hang up. You can get this in a single size, and this even comes with a hanging bracket attached so that you can set it up right away.
26 Best DIY Wood Slice Art and Wood Painting Ideas for Rustic Home
Decorating with wood slice art is a cool and unique way to add some texture and personality to your home. There is just so much you can do with them. Carve them, paint them, and even stick pictures on them. The possibilities are endless. This is just one of the many ways that make them so appealing. They look great when hung around other rustic or farmhouse-styled décor.
At the same time, these pieces can blend in with other styles. Use them in a room with a modern theme to add a bit of texture to your décor. They can work in various rooms around the house too from the living room to a bedroom or even a child's room. In many cases, making them yourself isn't a task that requires experience as it's simple and fun to learn. All the same, you can buy them too if you wish. With some of the best DIY wood slice art and wood painting ideas, you can add more personality and flair to your home.