There is just something so unique and versatile about these cute little pieces of nature, whether real or faux that are perfect for any home decor project. Wood slices add such warmth and rustic charm to your decor. It's no secret that these little slices of the outdoors have become so popular these days, and luckily so many people have created the cutest ideas on how to decorate with them.
21 Versatile Wood Slice Projects and Decorations that will Make Your Space Unique

Do it yourself crafts featuring these inexpensive wooden slices are not only fascinating but can also bring great satisfaction as they are such a statement piece of decor for your home. You'll find it so gratifying building and creating your own unique pieces that can be used for years to come and will be a hot topic of conversation when you have guests in your home.
Whether you are looking for a wooden decor piece for your wall, a centerpiece for your table or for a special event or holiday, you have come to the right place! Check out these beautiful, yet simple wooden projects and decorations that bring the charm of the outdoors into your home.
1. Rustic Flair Woodland Mini Magnets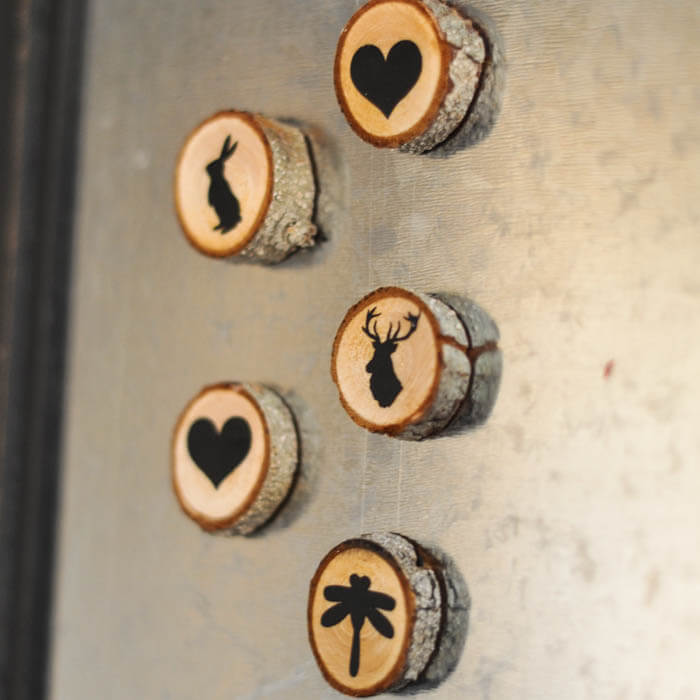 Add a little rustic flair to your fridge with these adorable woodland creature mini magnets. These are so simple to create and the contrast of the wooden slices and magnetic board or fridge is so visually appealing and aesthetically pleasing. Wouldn't these make such a cute and quick little gift?
2. Creative Hanging Wooden Planter Shelf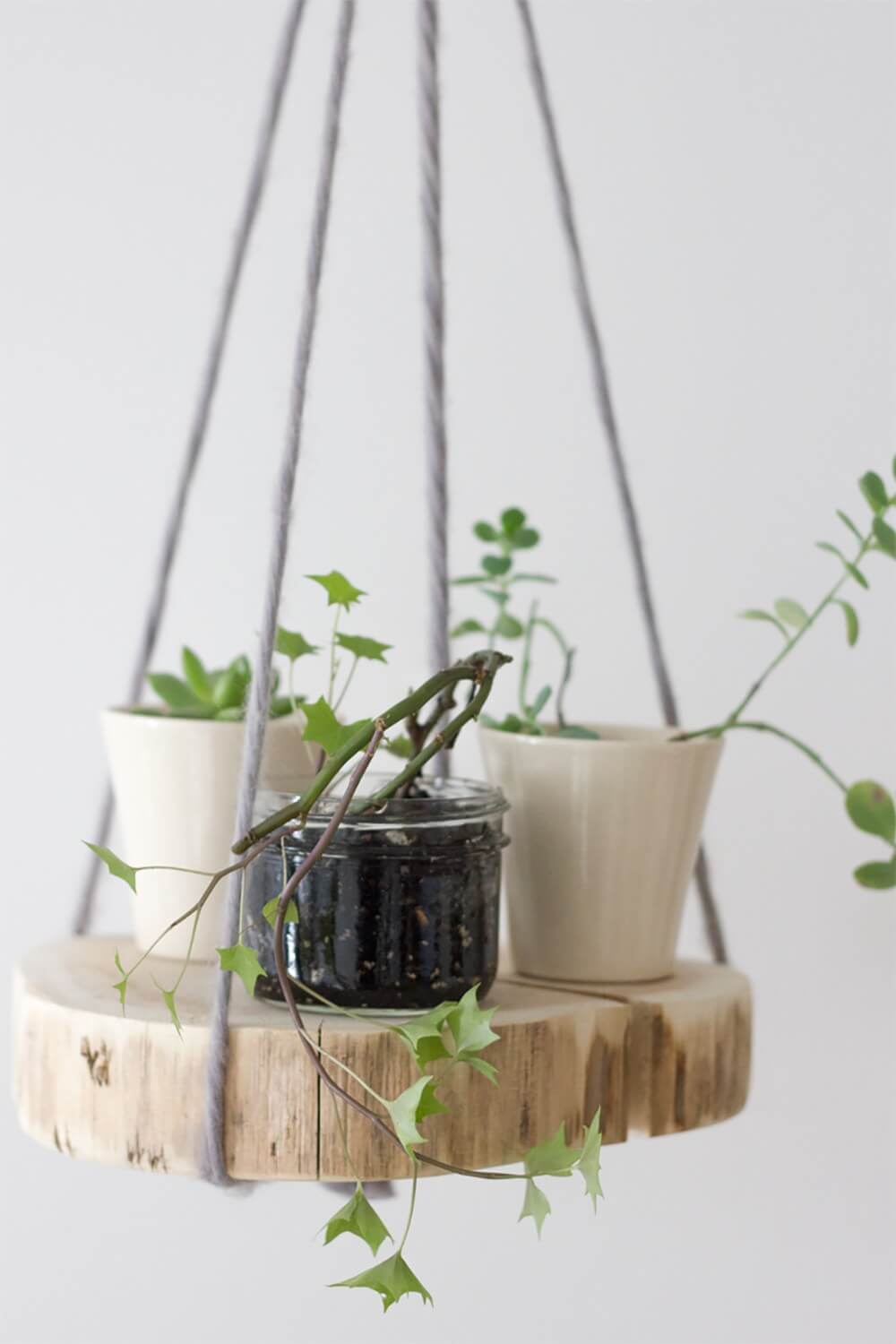 Bringing the outdoors in can be as easy as adding a few plants, but topping this creative shelf off with a little wood really ties in the great outdoors into your home. This hanging shelf is great if space is limited in your room and if placed next to a window, your plants can grow and prosper right in front of your eyes.
3. Mid-Century Rustic Wood Slice End Table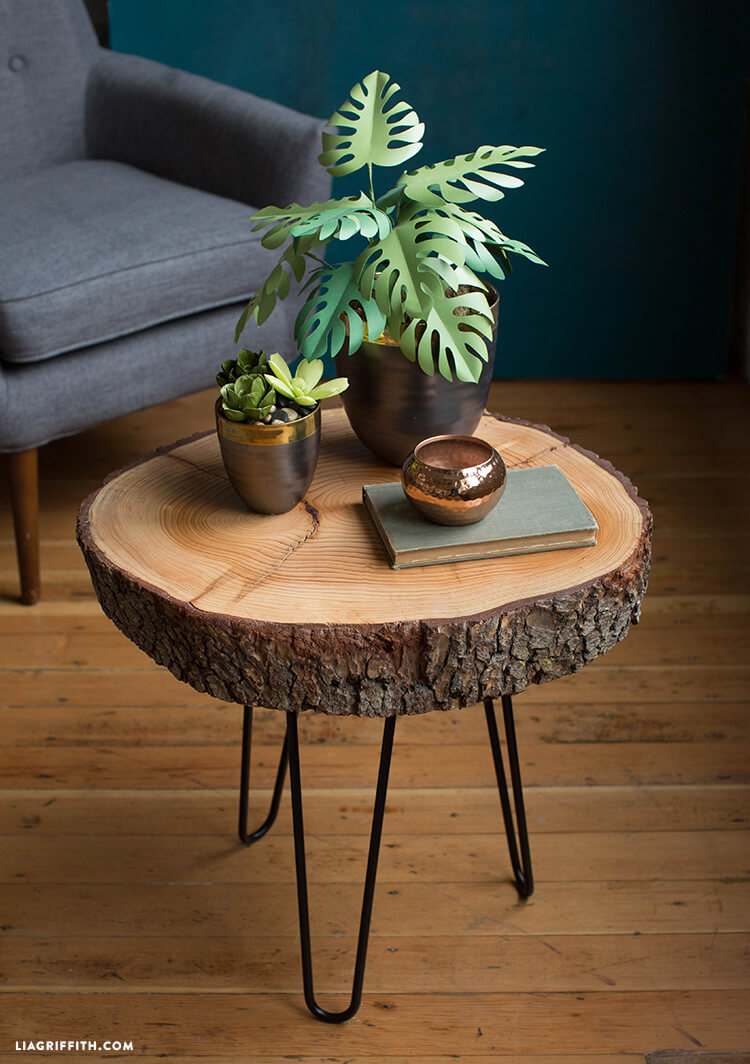 What may look like a daunting project, this gorgeous wooden end table is really quite simple to create. Using just a few natural materials, you are on your way to crafting a stunning piece of furniture. How perfect would this end table look in your living room or bedroom?
4. Simple Wooden Stencil Sign Using Mod Podge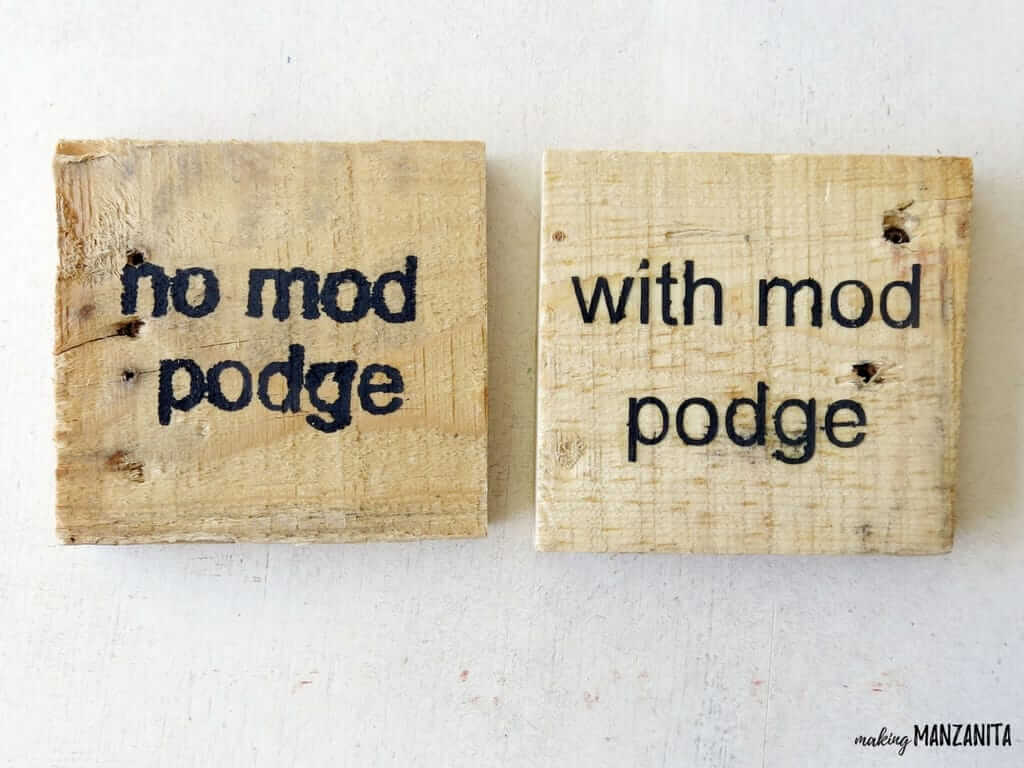 Sign making is a popular DIY project but can get a little troublesome if you aren't familiar with a few little hacks that can help you along the process. One, in particular, is using mod podge for any wooden sign that you plan on stenciling. Mod podge is great for sealing and protecting surfaces. These wooden stencils would look great on display on a table, countertop or even a shelf.
5. Floating Plant Shelf from Birch Wood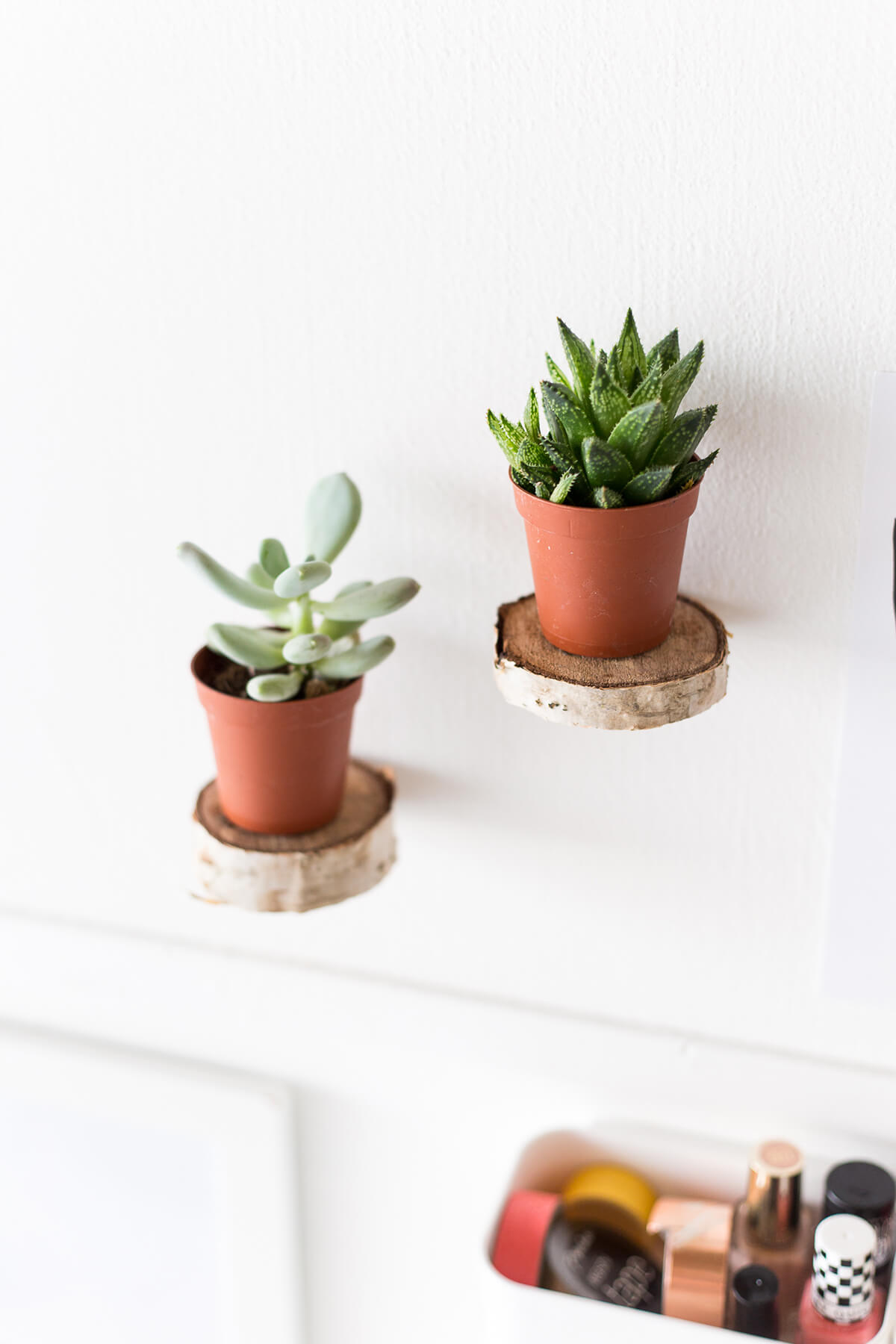 Succulents are all the craze these days, so why not incorporate a tiny little-potted succulent into your wooden decor by creating a floating shelf. Sounds easy enough right? This minimalist wall decor feature is simple, yet stunning! Place this floating plant shelf next to a window or beside your desk for an extra boost of refreshed air.
6. Budget-Friendly Wood Slice Wall Mirror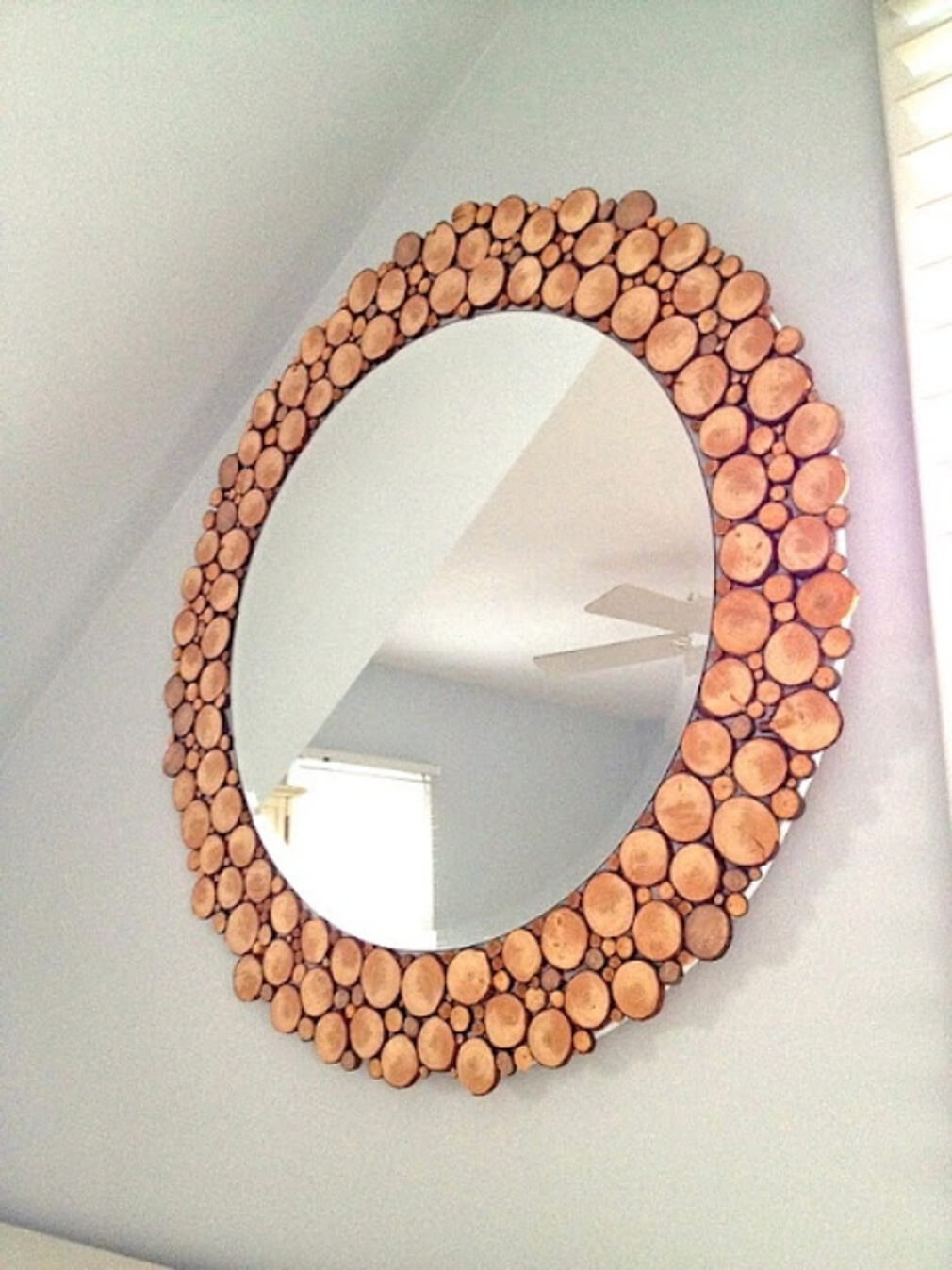 If you're looking for a super fun weekend project, this may be just the one for you! With a variety of sizes of wooden slices, you can create such wonderful pieces of wall art for your living space. You could place this nature-inspired mirror virtually anywhere in your home… the entryway, living room, dining room, bedroom or even above the bathroom sink!
7. Beautifully Painted Wooden Slab Key Holder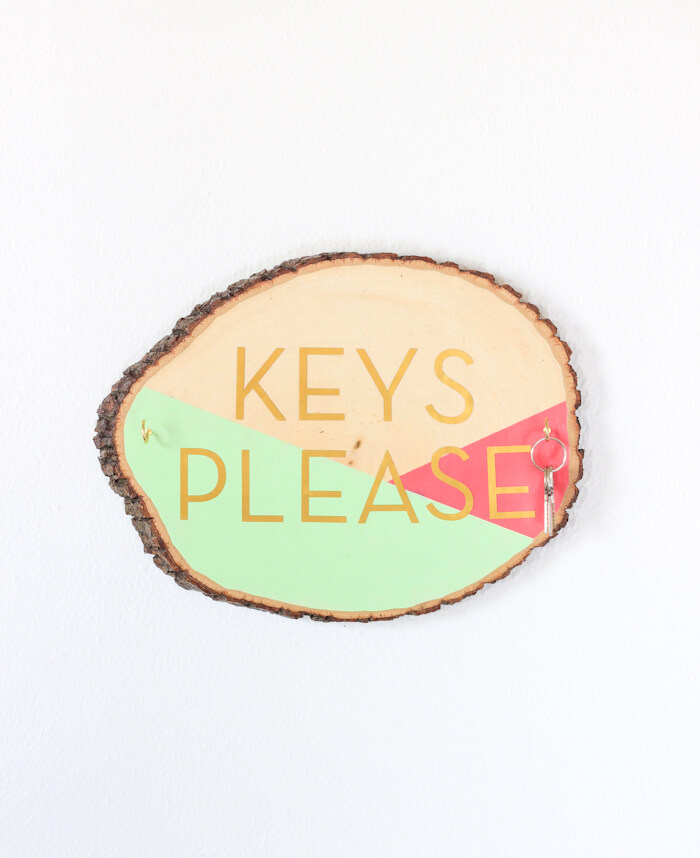 What a fun and unique way to keep your keys in a safe place where you can always find them. Painting a thin wooden slab in vibrant colors is eye-catching and creates a unique decor feature perfect for holding your important belongings when you come home from a long day. What I love the most about this piece is the versatility. You can leave it sitting on a shelf in your entryway or nail it to the wall and add little hooks to hang your keys.
8. Holiday Sliced Wood Display Dome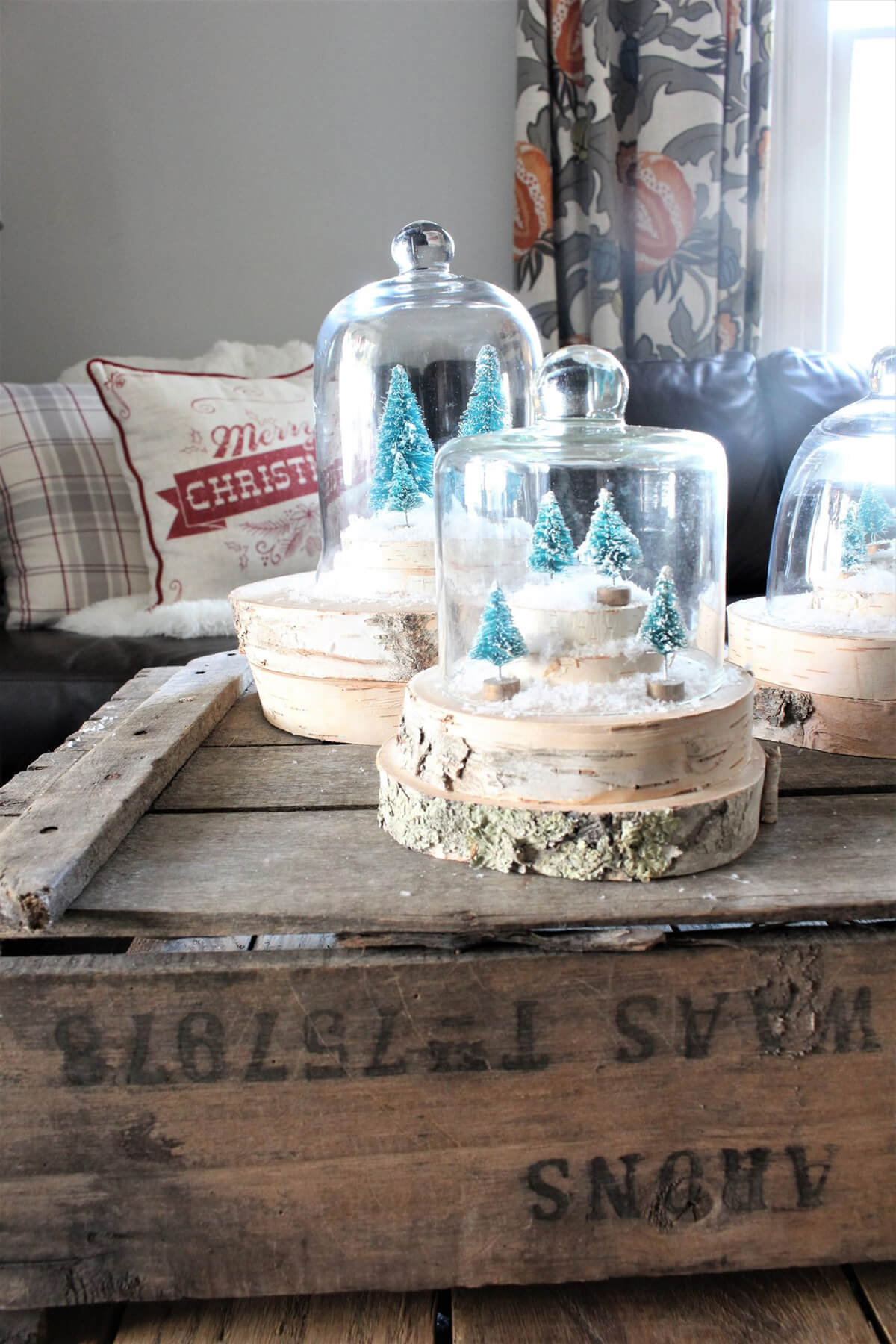 This homemade display jar is charming and a great holiday table decor piece. The clear jars help visualize your theme and they are so easy to switch up no matter what holiday or occasion it is. You can present your display as a centerpiece on the table or on the kitchen counter. The possibilities are endless with these nostalgic wooden displays.
10. Monogrammed Stencil Wooden Sliced Coasters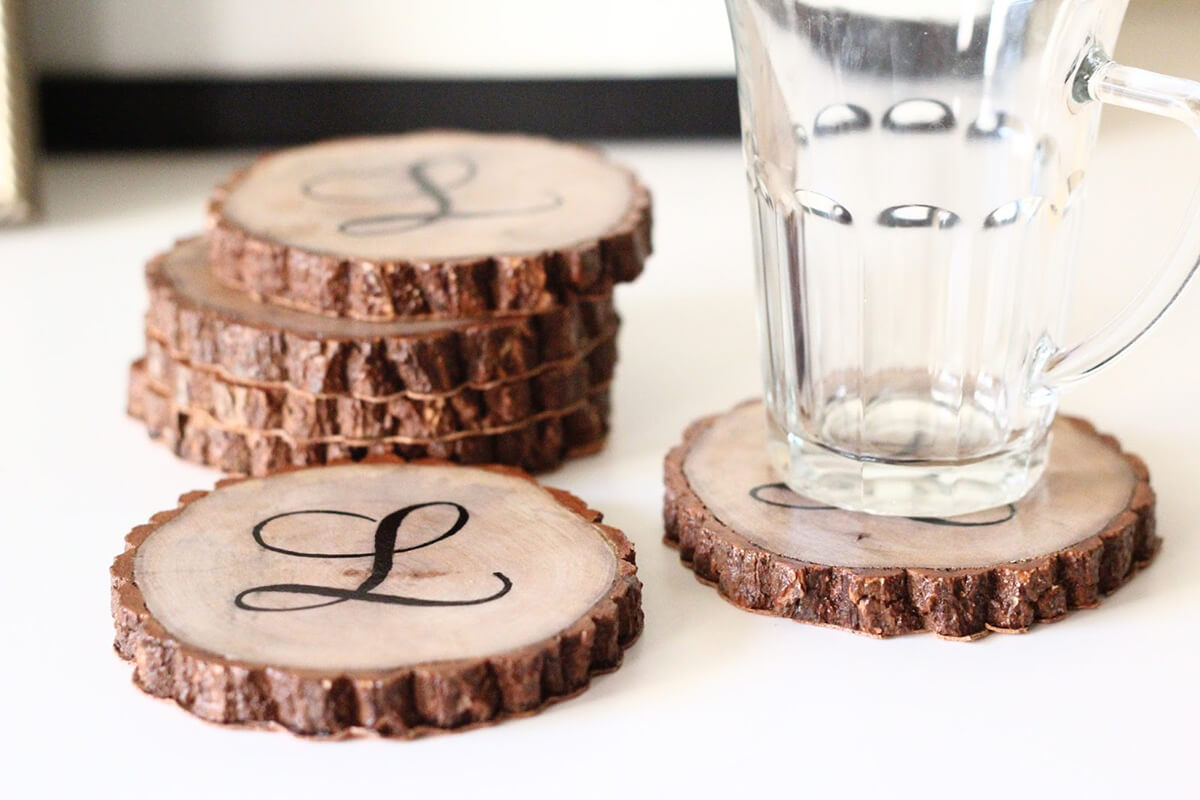 These stenciled wooden coasters not only make a great accent to your tabletops but also a great gift for a wedding or bridal shower gift. The blank ink looks professional and sophisticated and you can totally create your own using leftover trees in your own backyard.
11. Rustic Wood Wreath to Add Curb Appeal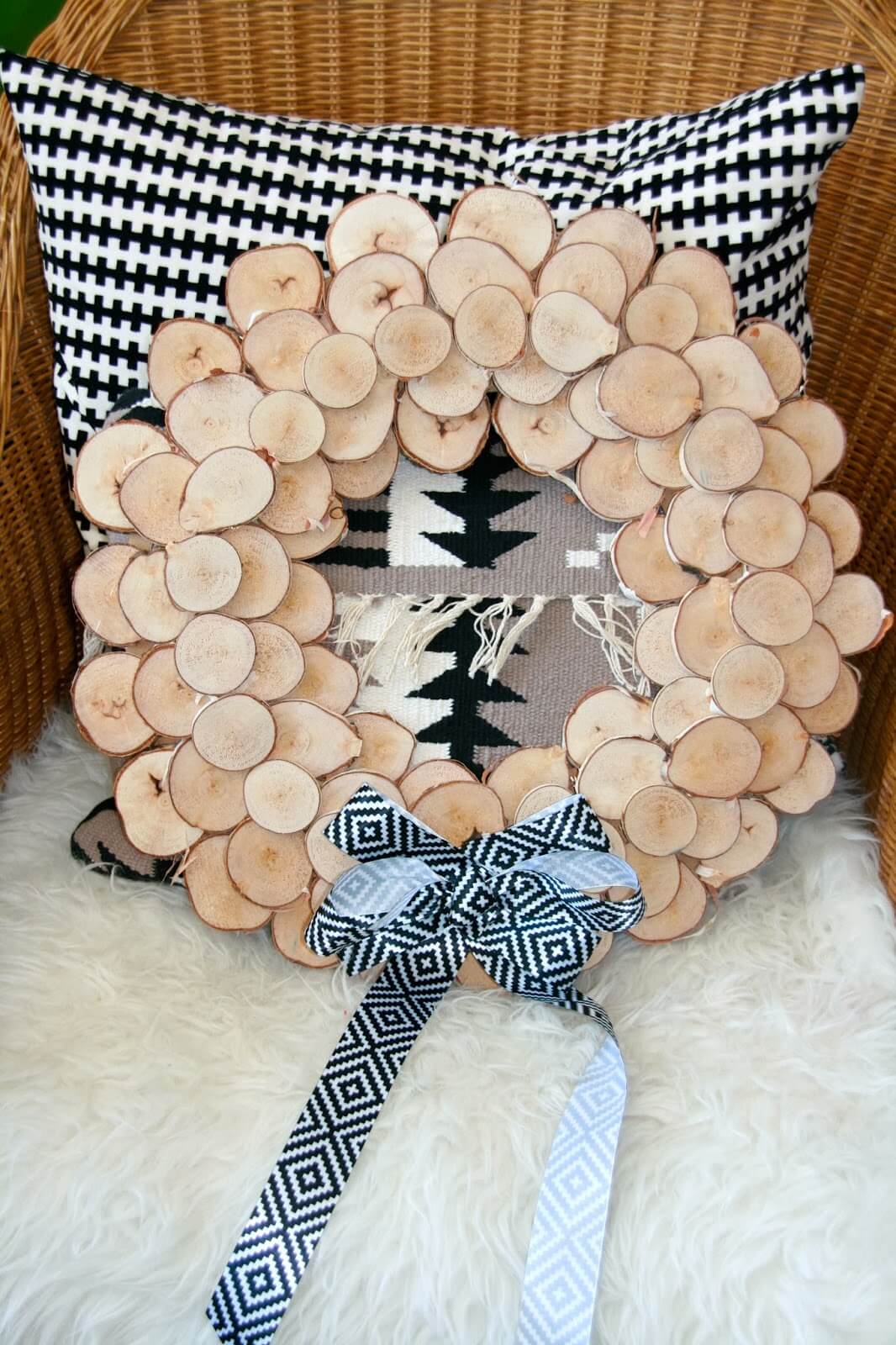 Working with wood brings in a rustic and warm touch to any room as well as your front porch. This rustic wreath is the perfect addition to your front porch decor during the colder seasons but also can be transitioned into spring and summer by adding a few simple decor pieces such as ribbon, flowers, paint and more. For even more versatility, use your wood sliced wreath as a centerpiece for your table during a family gathering.
12. Add a Crafty DIY Element of a Wooden Clock to Your Home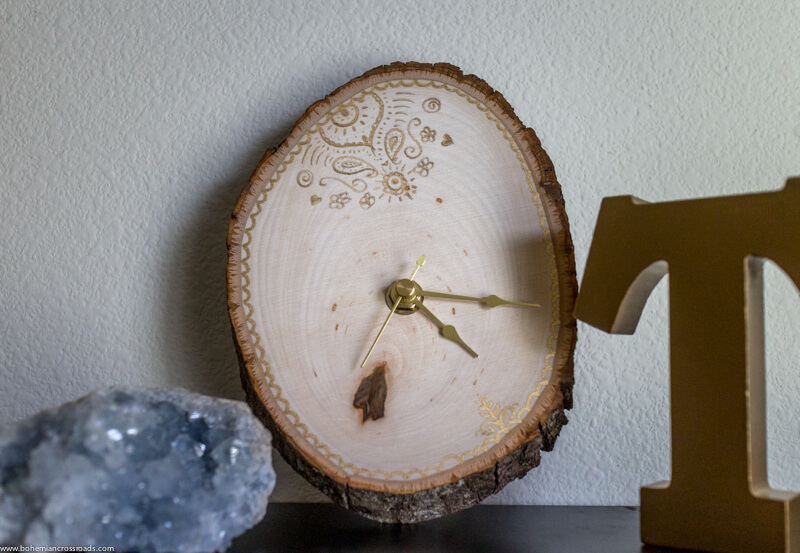 You can literally make a clock out of anything, but what better decor piece than a wooden disk? This is such a fun project that is crafty and magazine worthy. You can purchase your clock mechanism at nearly any craft supply store and with a little paint, your clock is ready to tick in no time.
13. Wooden Grazing Board Straight Out of a Magazine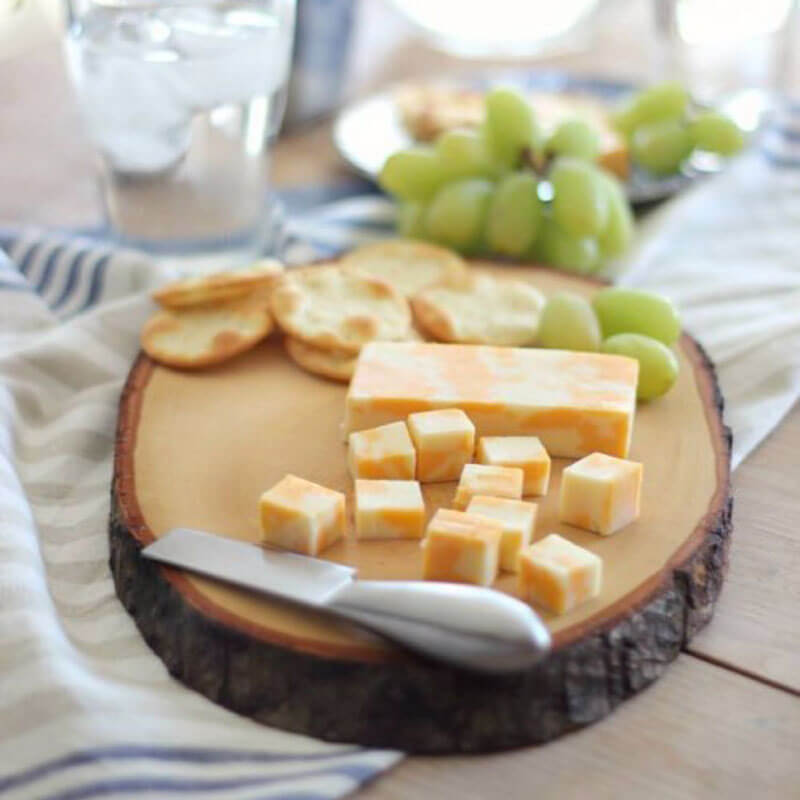 Looking for the ultimate snacking experience? Create the most impressive party platter of the season with this wooden sliced tray. Finding a wooden slice that is large enough to artfully arrange your appetizers is key to this simple project. Don't forget to coat it with mineral oil or butcher block oil so it is both safe and sanitary for food.
14. Creative Wooden Pencil Holder Perfect for Organization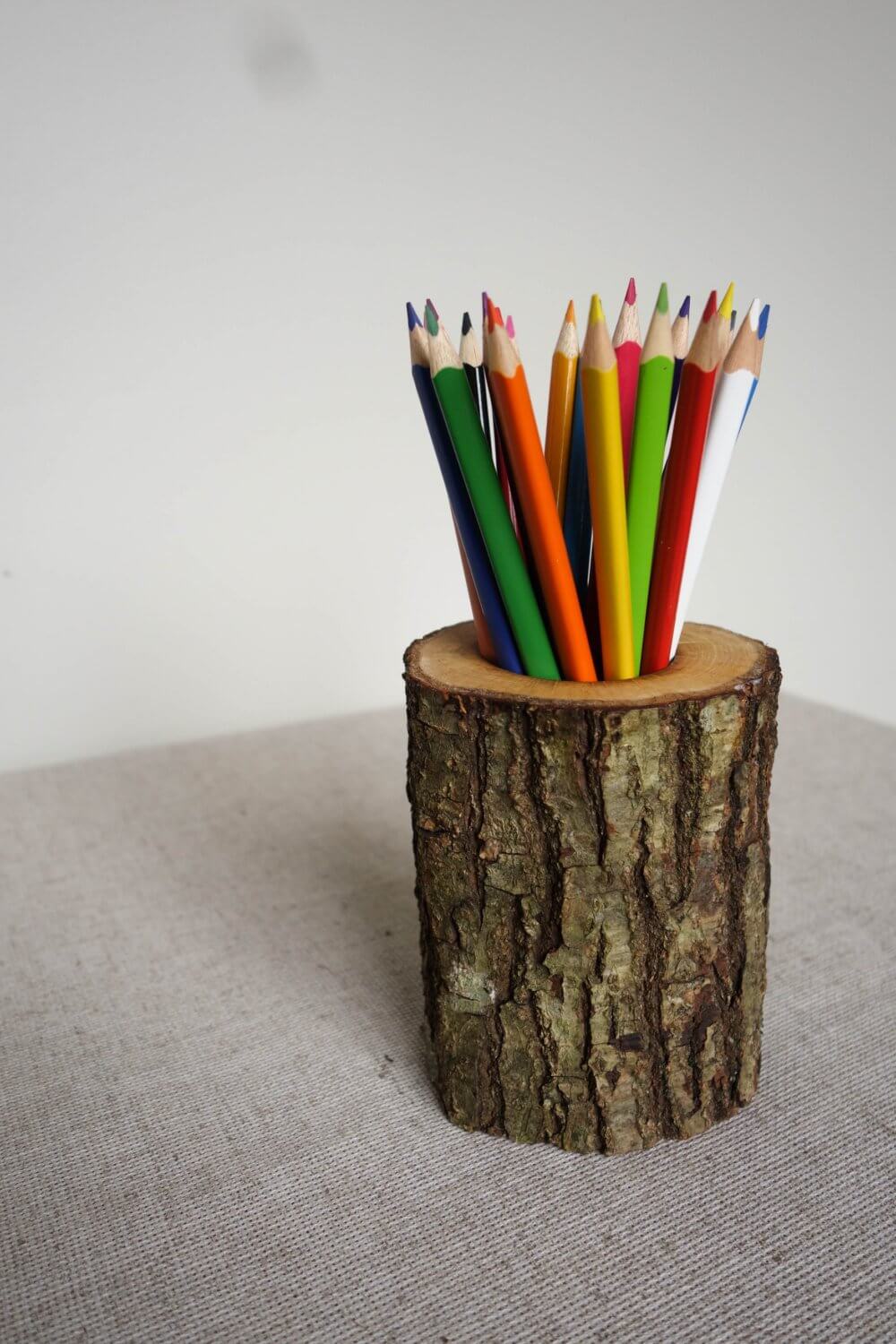 There are a few ways you can create a rustic wooden pencil holder. You can simply cut out a ring in your wood slice to place all of your pens and pencils inside or cut out individual holes to place each one individually inside. What a unique and fun gift this would be for your child's teacher or displayed on your work desk.
15. Year-Round Table Top Wooden Centerpiece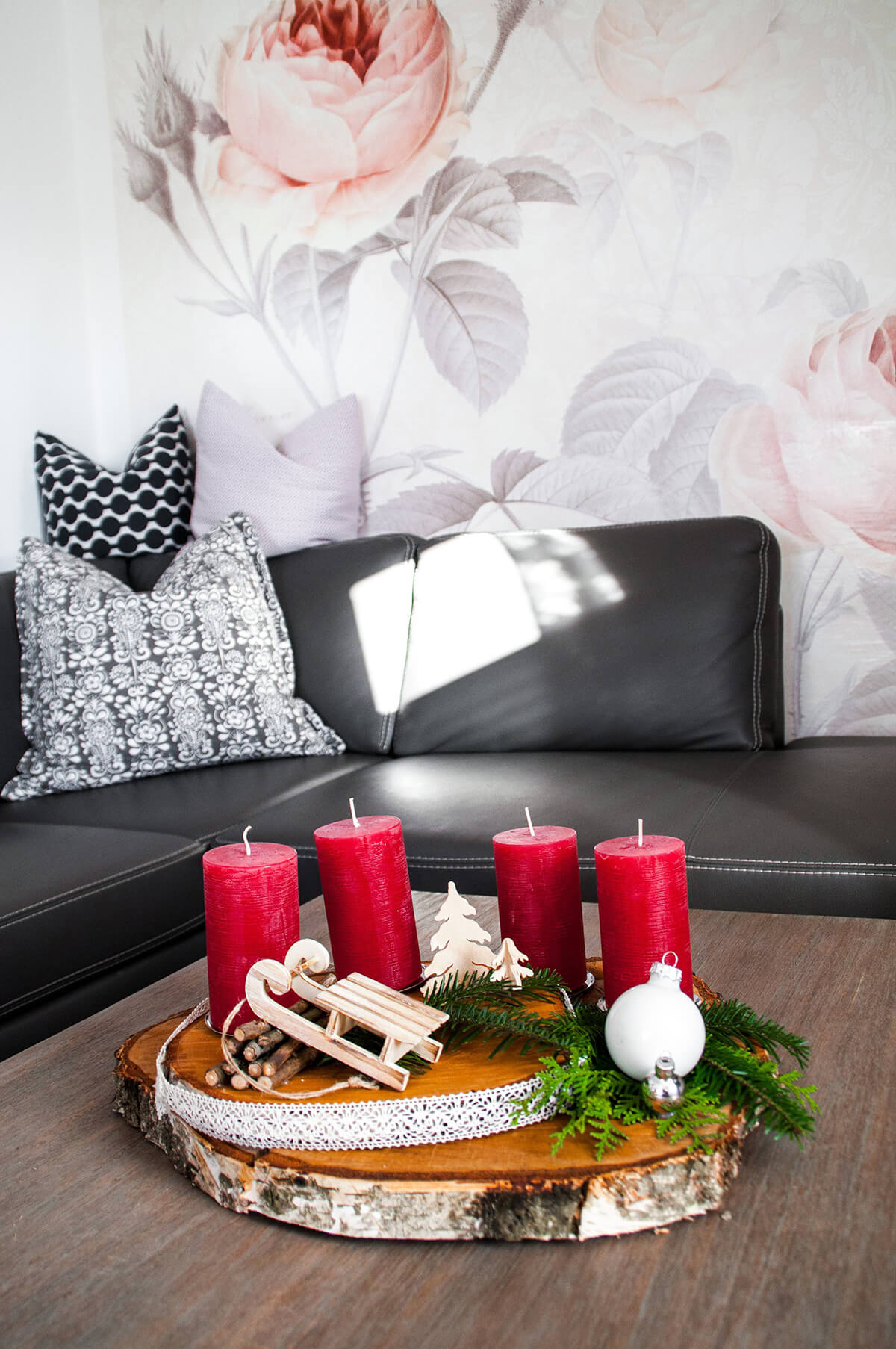 Talk about fully functional, practical and simple to make… this wood sliced centerpiece is the perfect decor piece all year around. Create a little winter wonderland theme with trees, pine cones, ornaments, and candles. In the spring, place a vase with pastel flowers on top along with sprinkled decorative eggs. I'm loving this versatile, easy to create centerpiece!
16. Spice Up Your Entryway with Rustic Charm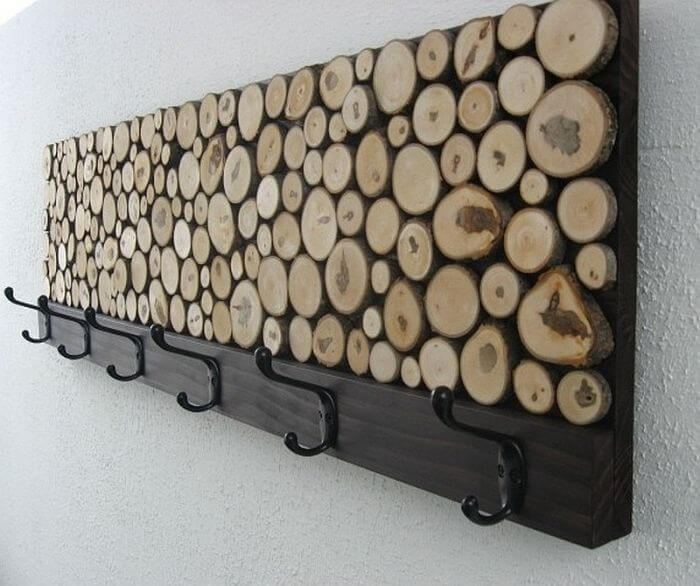 Update your existing coat rack with wooden slices to create a rustic piece that will have everyone talking. Use a variety of sizes of wood slices for this fun project that you don't even necessarily need to build. Simply add on to your existing coat rack! This is such a pretty focal point you can place in your entryway or hallway.
17. A Rustic Slice of Pine You Can Carry Everywhere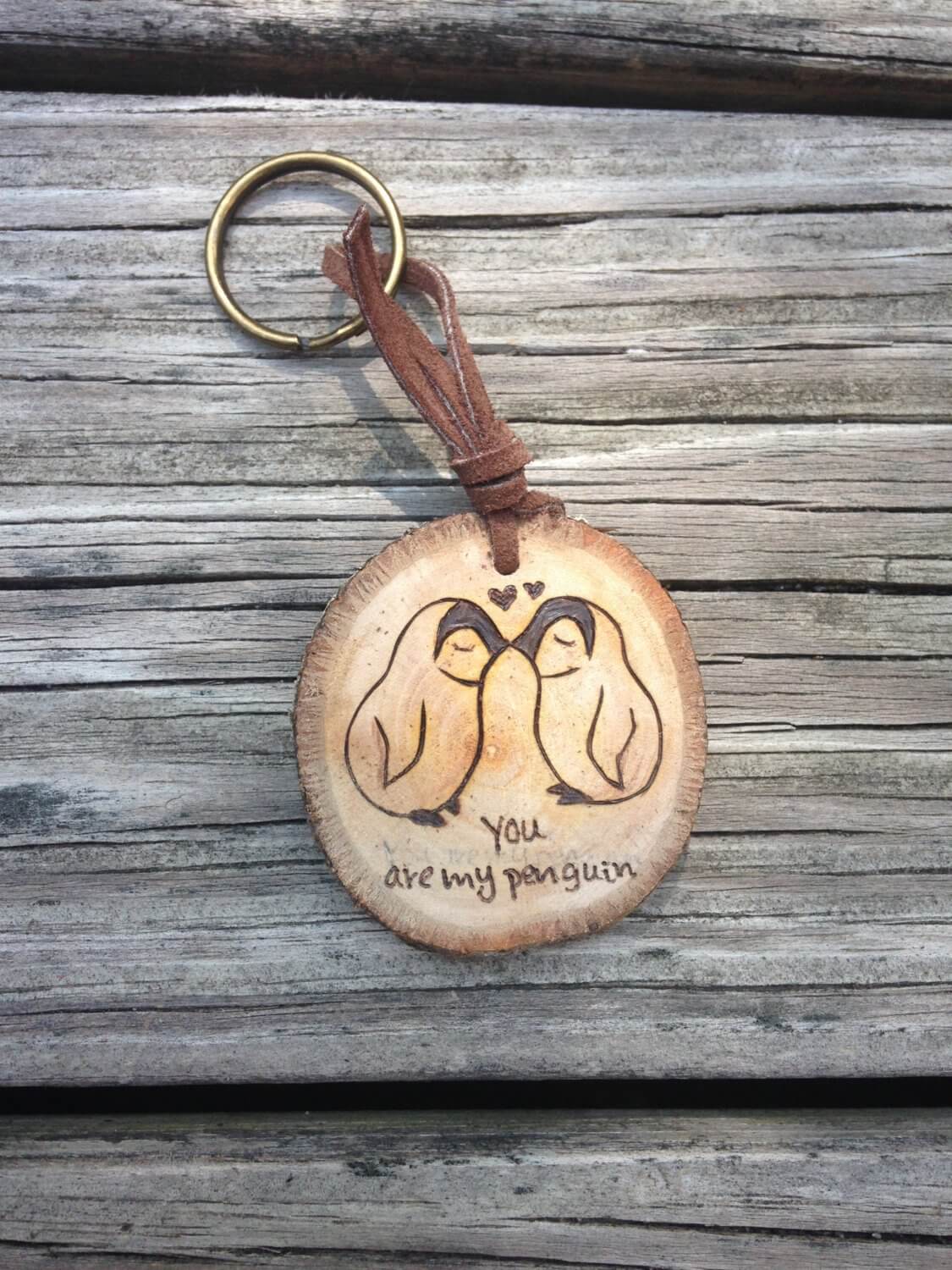 Whether you want to keep this one for yourself or gift it to a friend, simply by using a few rustic materials laying around the house you can create such a cute little keychain in minutes! With a few natural materials, you can bring the outdoors with you everywhere you go.
18. Hand-Painted Woodland Creature Ornaments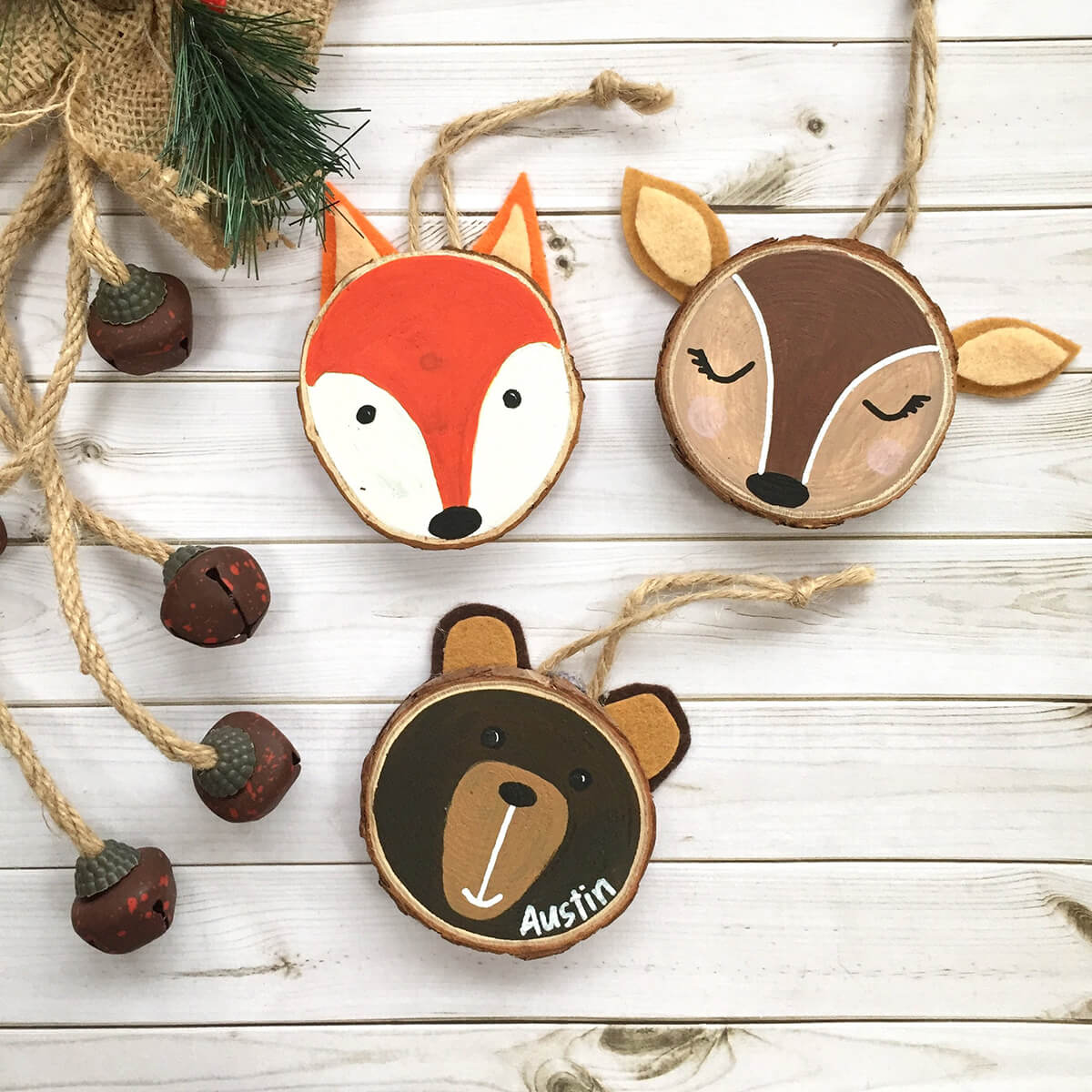 Woodland creatures are all the rage right now. You can create these adorable little friends by using wooden branches outside or purchase them at the craft store. The best part about these little animal ornaments is that you can free-hand the faces on without any artistic expertise, which makes it fun and easy to recreate!
19. Natural Live-Edge Wooden Slab Coffee Table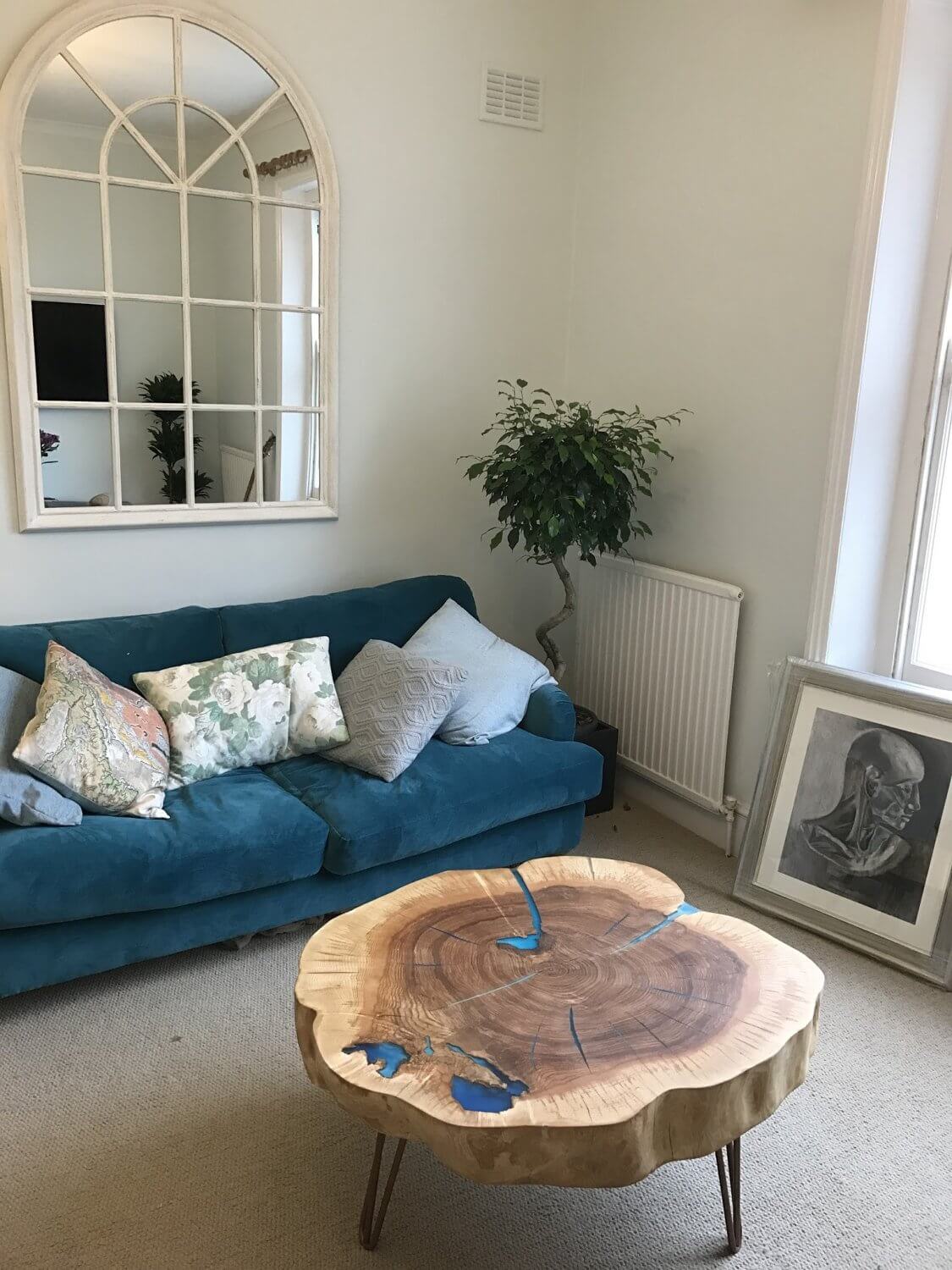 Using tree trunks as furniture pieces has become increasingly popular by adding a little eco-friendly, natural touch to your space. The raw edge literally looks as if the tree just came from the woods and by simply adding a top coat to seal it and a few metal legs, you have a super nice coffee table that looks quite expensive.
20. Wood Sliced Natural DIY Wall Art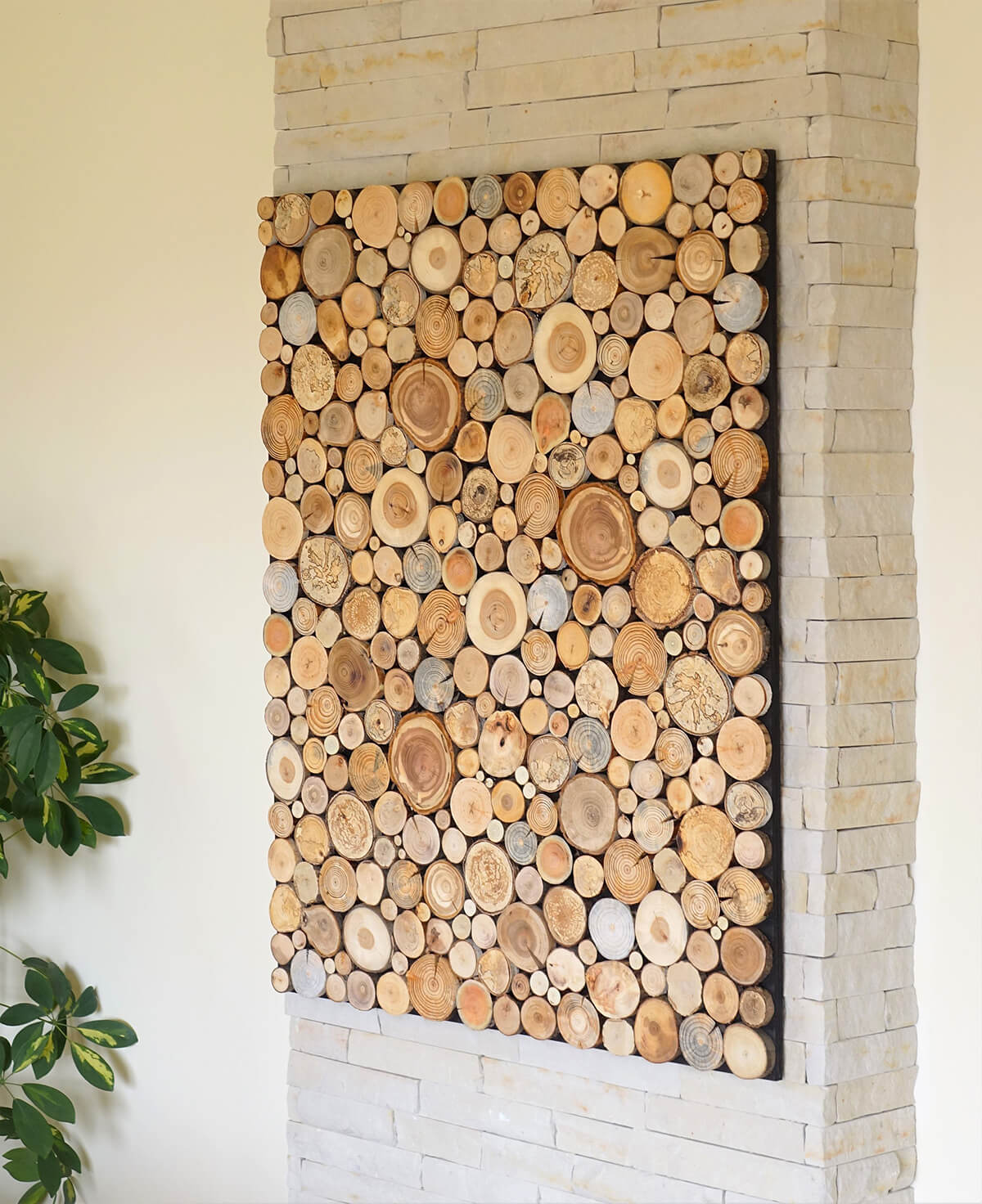 What a wonderful way to spruce up your living room wall on a budget. Using only a few items, you can create this stunning wall art with ease. If you want to enhance the look of this piece, add in a few painted slices to match your existing home decor.
21. Mini Wooden Slice Table Mat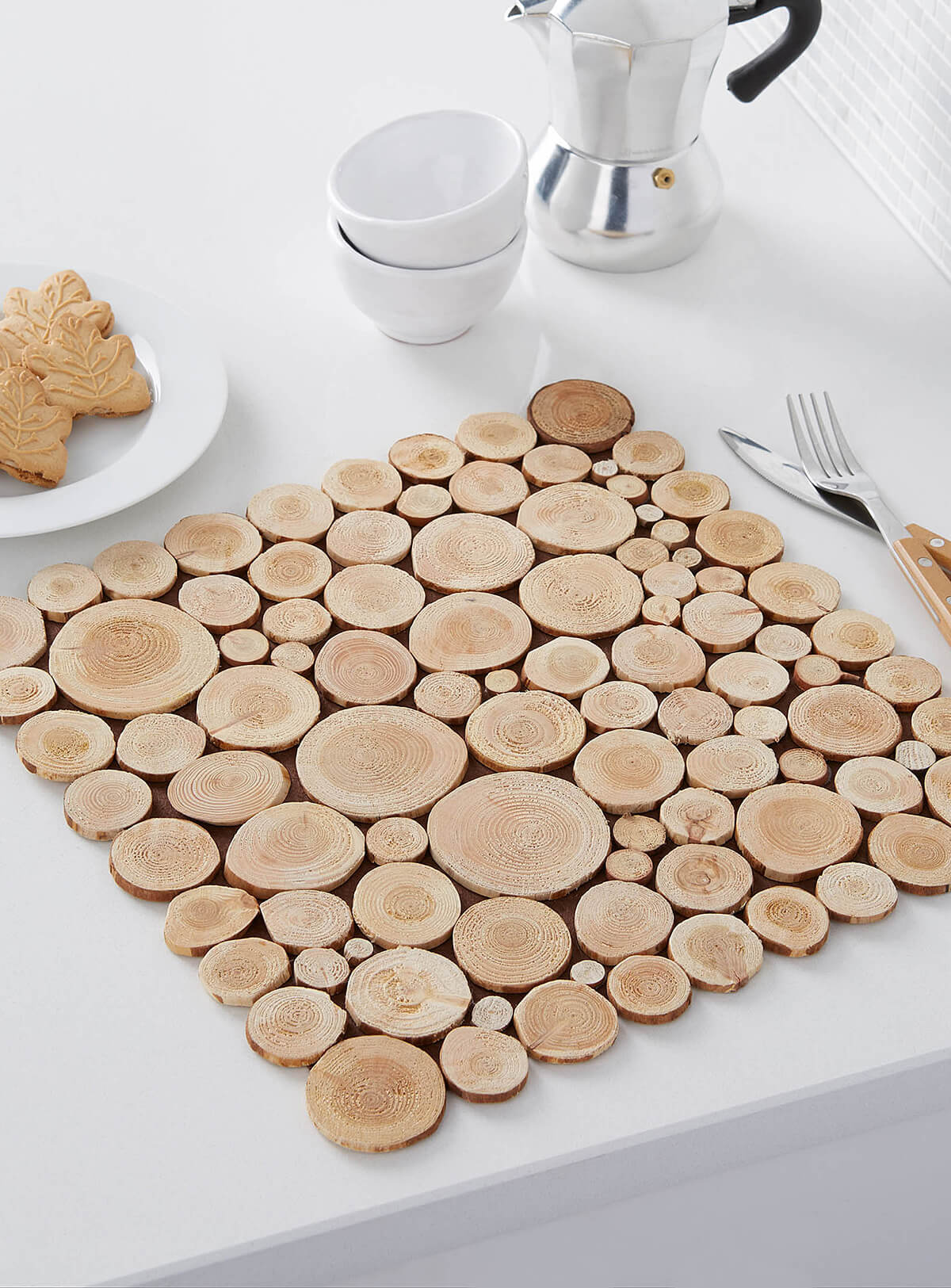 Yet another genius way to tie in the nature of the outdoors into your home is with a wooden sliced table mat or runner. This is a great easy-to-make project and would be great decor for any season. You could even stain the wood or paint it to fit your existing decor. How awesome would this same design concept be for a rug?