Cheap and easy to find, a great starting point for creating some of the best DIY yarn crafts is with a skein of yarn found at your local craft or hobby store. What's not to love about the affordability coupled with the availability of this fabulous crafting supply? Perhaps the best part is the ability to customize your creation since there is such a wide variety of yarns from which to choose.
23 of the Best DIY Yarn Crafts that are Full of Creativity and Charm

Don't think yarn is only for those handy with a hook for crocheting or knitting. That couldn't be farther from the truth as evidenced throughout this amazing assortment of awesome DIY homemade yarn decor ideas.
Maybe you need a one-of-a-kind gift idea for that hard-to-buy-for person in your life. Creating your own gift is the ultimate solution! Not only will you guarantee the recipient won't already have one of these, but you'll also be able to customize it to make it showcase his/her personal preferences.
One of the most popular decor ideas has to be yarn used as wall art. Typically crafted from macrame, these yarn wall art pieces are easier with less knotting and deliver a much brighter pop of color. From draping some threads over a rod to designing a dreamcatcher, there is an easy-to-make wall art solution for you.
Another great use for handmade yarn decor is for girls' night activities. A tassel chandelier or an accent pillow are top choices for getting girls of all ages together for some craft time fun!
Or if you simply want to give a quick and cheap update to a space in your home, creating one of these interesting pieces just makes sense. These projects are perfect for the DIY beginner and most are even kid-friendly. So grab some yarn and get started making some of these gorgeous and gift-approved handmade yarn creations!
1. Creative Yarn Noodle Rainbow Wall Art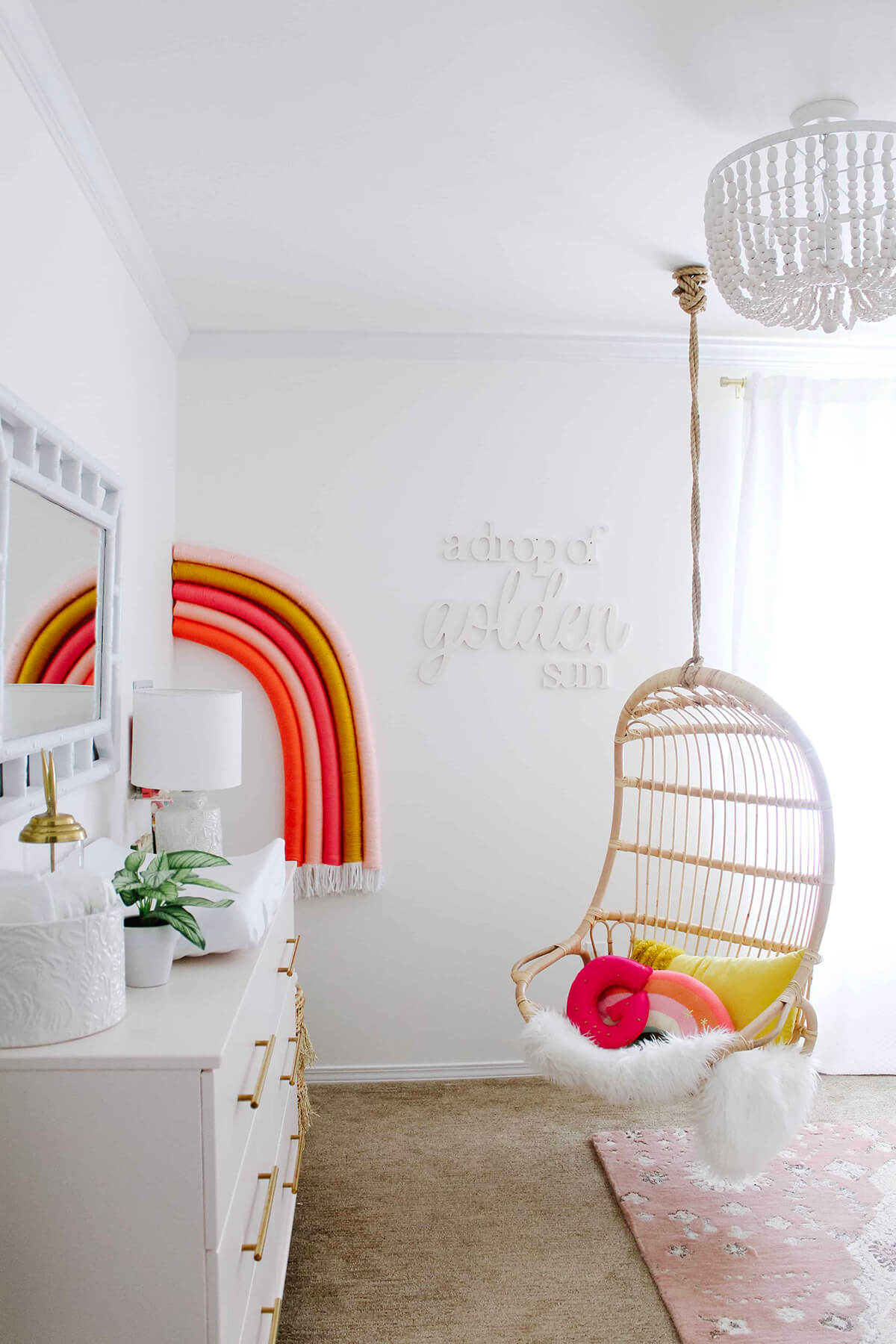 At the end of summer, here's a great DIY art project for all of those marked-down pool noodles. Grab some yarn and get to work wrapping these noodles to create unique and happy rainbow wall art. Positioned in the corner, this half rainbow brings happiness and joy into the room. Perfect for a bedroom from nursery through teen, this wall art design can be created in your choice of colors. Muted tones or neutrals show off a modern spin on this timeless shape. With white ends, the overall look is clean and finished making it a perfect choice for a new decoration for your home.
2. Curtain Rod Thread Wall String Art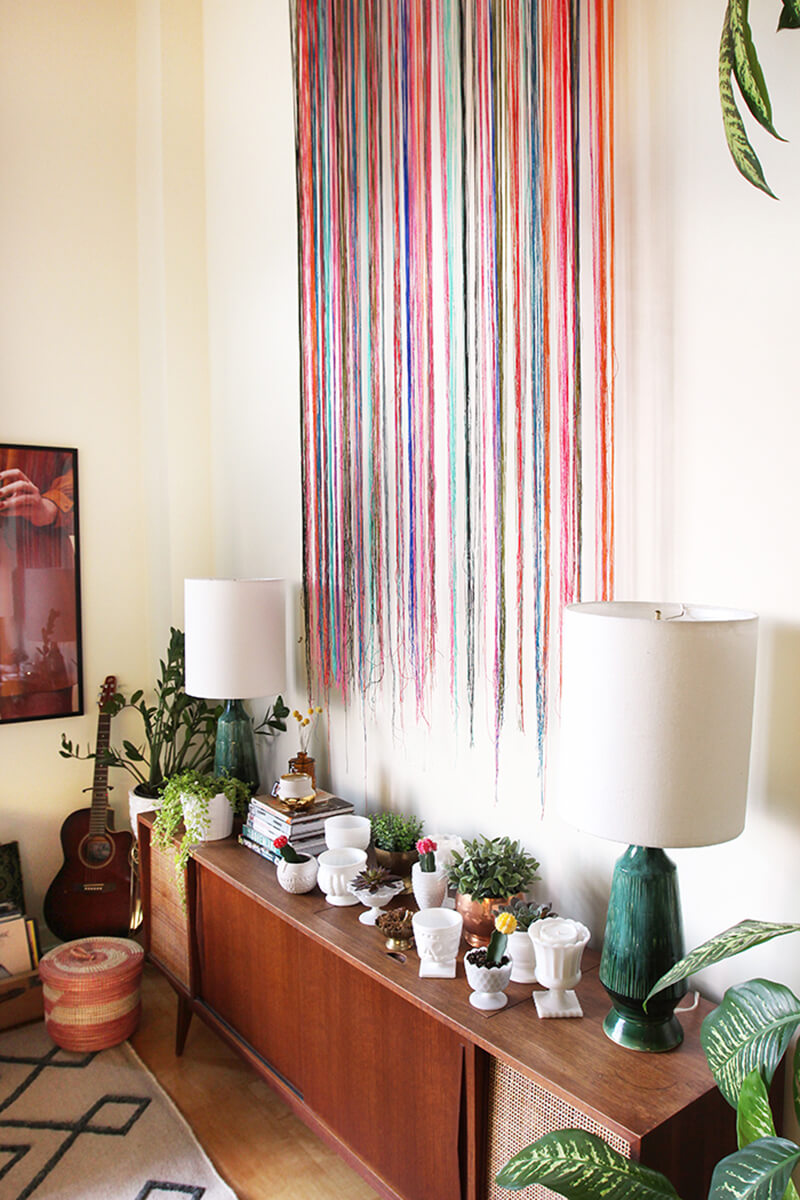 Forgo a large painting or mirror and choose a different approach to a bold focal point behind your couch. This unique and bright wall art is constructed from a vast collection of colorful threads gently draping over a curtain rod. The finished product is this amazing and one-of-a-kind piece. It's large enough to cover the main area above the couch in the living room or over the headboard in the bedroom. Use your favorite color combinations from an ombre effect to a random selection of strands.
3. Neutral Stripes Yarn Wall Hanger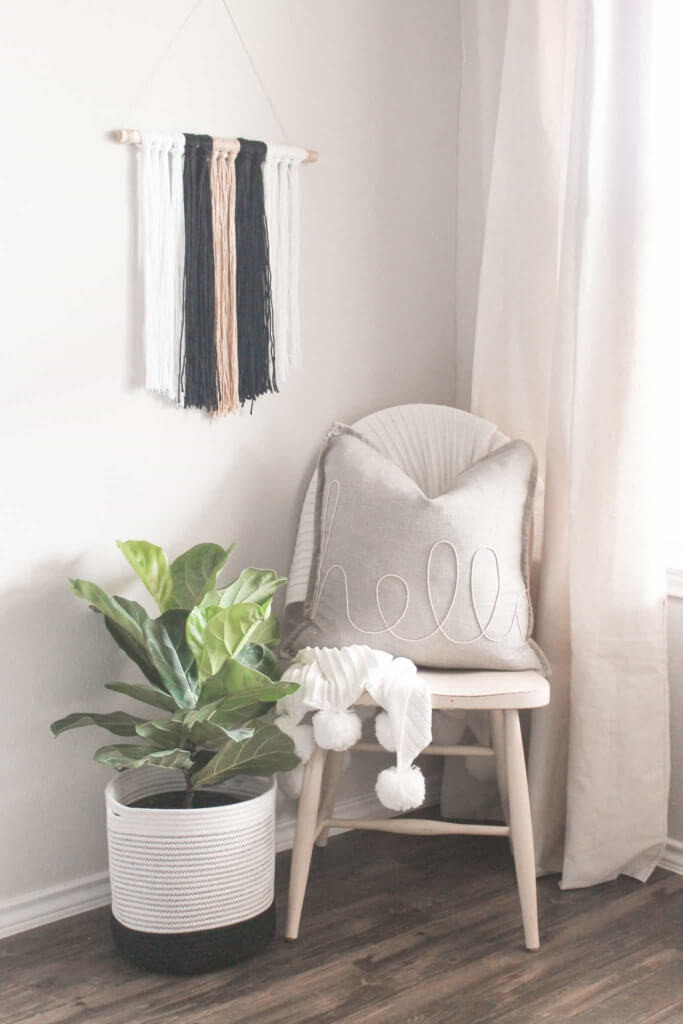 Bring some budget-loving bohemian flavor into your home with this cheap and simple DIY wall hanger. Using neutral yarns to achieve the desired stripes, the final result is one of these gorgeous handmade yarn home decor ideas that stays within your budget. The contrast of the deep black yarn in the center exudes a contemporary and modern edge to its look. This gives a cool vibe for the room as it easily hangs behind your favorite reading chair or over the crib in the baby's nursery.
4. Rustic Boho Branch Yarn Wall Art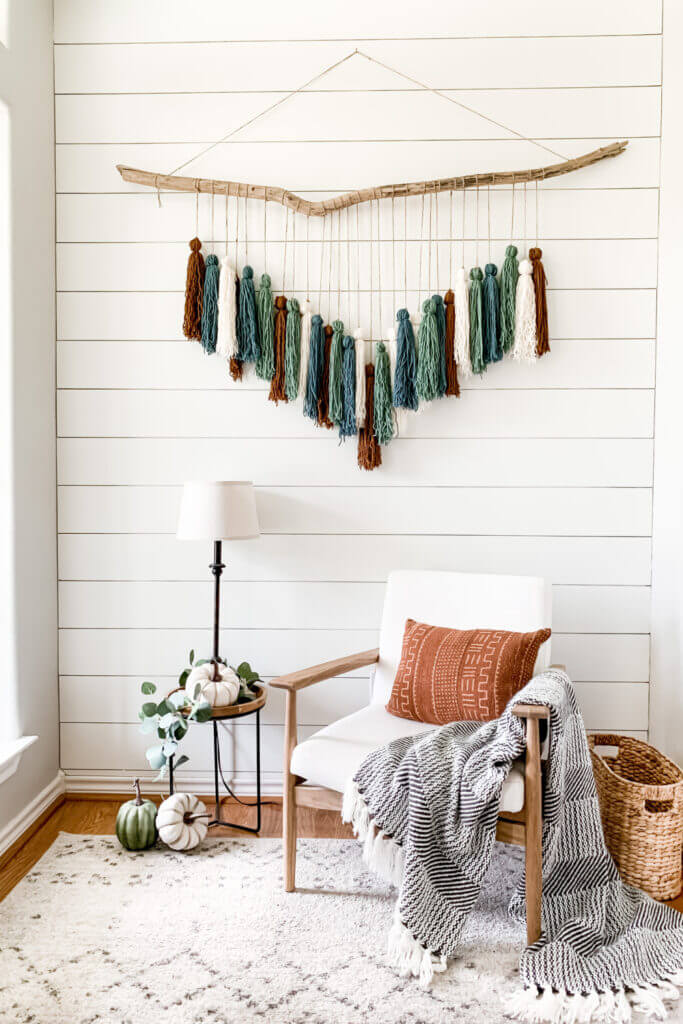 This wall art effortlessly combines boho with rustic. The type of branch plays a huge role in this case as the one used here boasts a lovely slant to it that gives it more personality. From there, the wall art only builds with the use of yarn. Going for different colors is beneficial with this design as it allows your eye to travel across the entire piece, taking it all in. Also, you can take advantage of the slant of the branch when setting up the yarn to fall at different lengths. It's a simple, yet compelling way to add a bit of color to the wall without it being overwhelming.
5. Cool and Fun DIY Yarn Pumpkins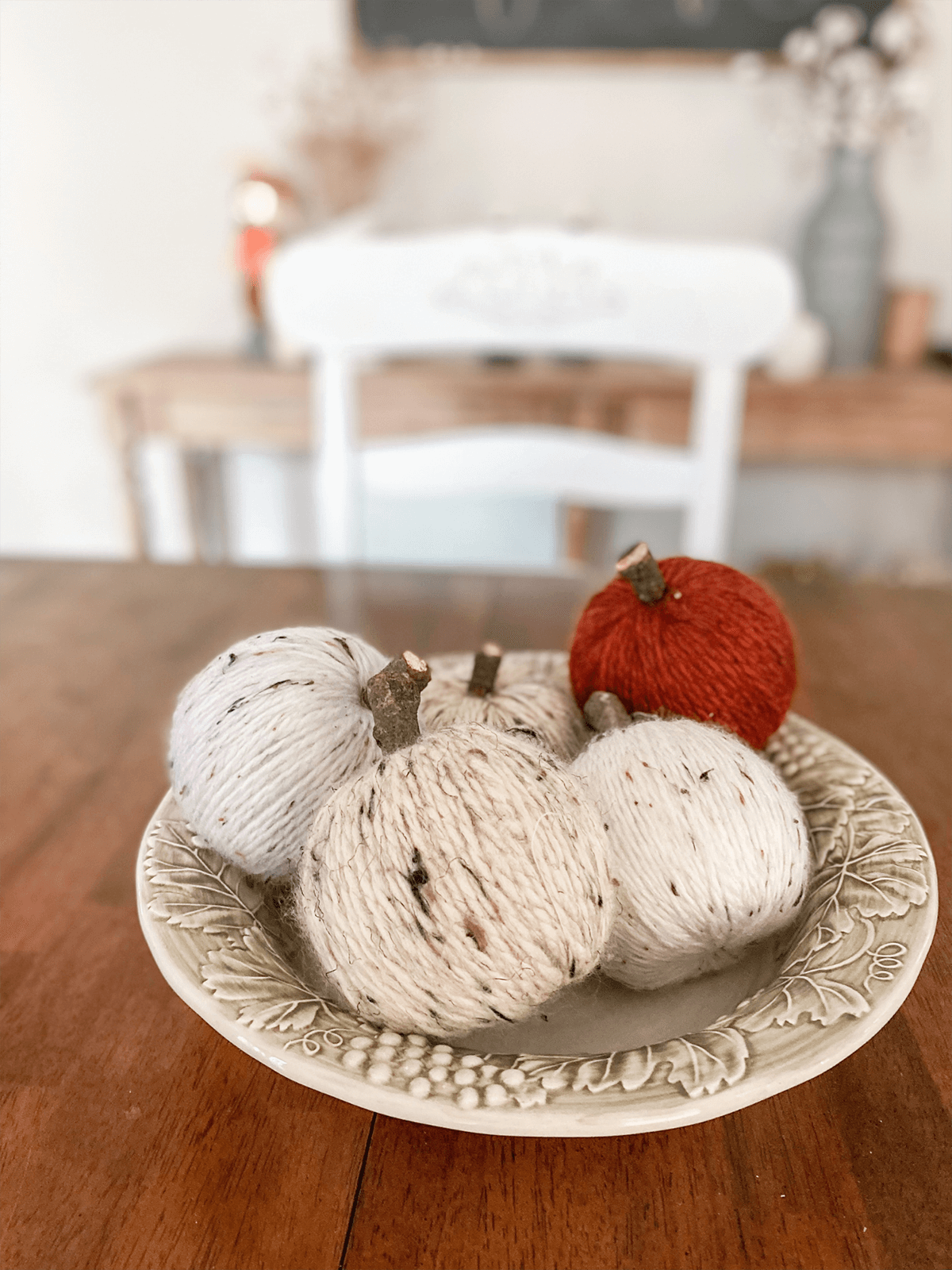 With the fall season, decorating with pumpkins is a staple. However, if you want to do something that's a bit more unique, then consider these homemade yarn pumpkins. Styrofoam balls are the perfect base for these pumpkins too as all you need from there is the right colored yarn. Pumpkins come in a multitude of colors too, so you have a bit of freedom here to mix and match. Creating yarn pumpkins in different colors certainly helps this setup to stand out even more. It's easy to connect these with the warm autumn theme, and they make for a wonderful centerpiece on a dining table or coffee table.
6. Disney Inspired Yarn Wall Art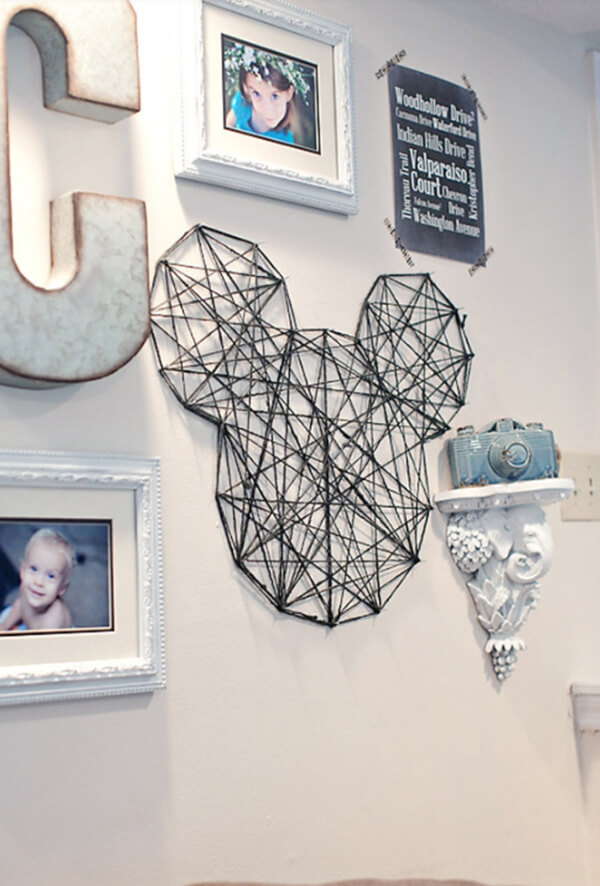 The right handmade yarn home decor ideas can help you combine some of the things you love as is the case with this Disney-inspired yarn art. It is a wonderful way for you to show off your passion for Disney while still keeping things a bit more fashionable and mature. Using Mickey is a great place to start as the outline of his head is a wonderful choice considering how iconic it is. The use of dark yarn material works too as it helps nail down the Mickey appearance while keeping with the more modern theme. It is a worthwhile way to add that touch of Disney to a wall in your living room or bedroom without resorting to adding anything that is more cartoonish.
7. Adorable Handmade Rainbow Yarn Wreath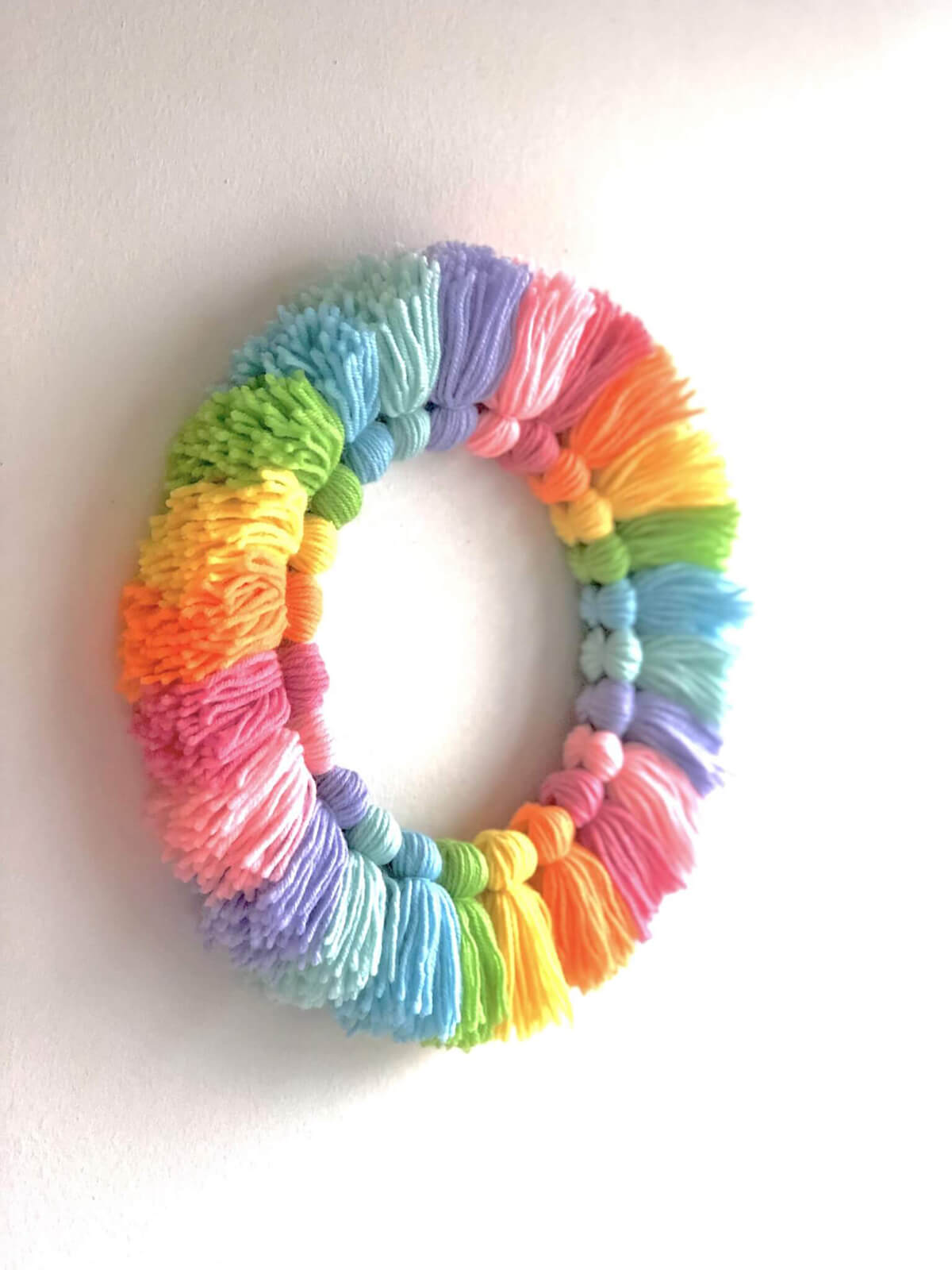 Nothing can brighten up a room the way rainbow-colored decor does, and this wreath manages to do this rather well. The colors alone pop, more so depending on where you decide to hang the wreath up as it can blend with just about any color style or theme you have in a room. However, the design choice that makes this mini wreath more distinctive is the tassel design. The use of yarn is an effortless way to create a fun vibe but ensure that this comes across as a tassel wreath. It just looks better and is filled with far more personality than if the wreath was more basic in design.
8. Simple and Beautiful Yarn Wall Hanging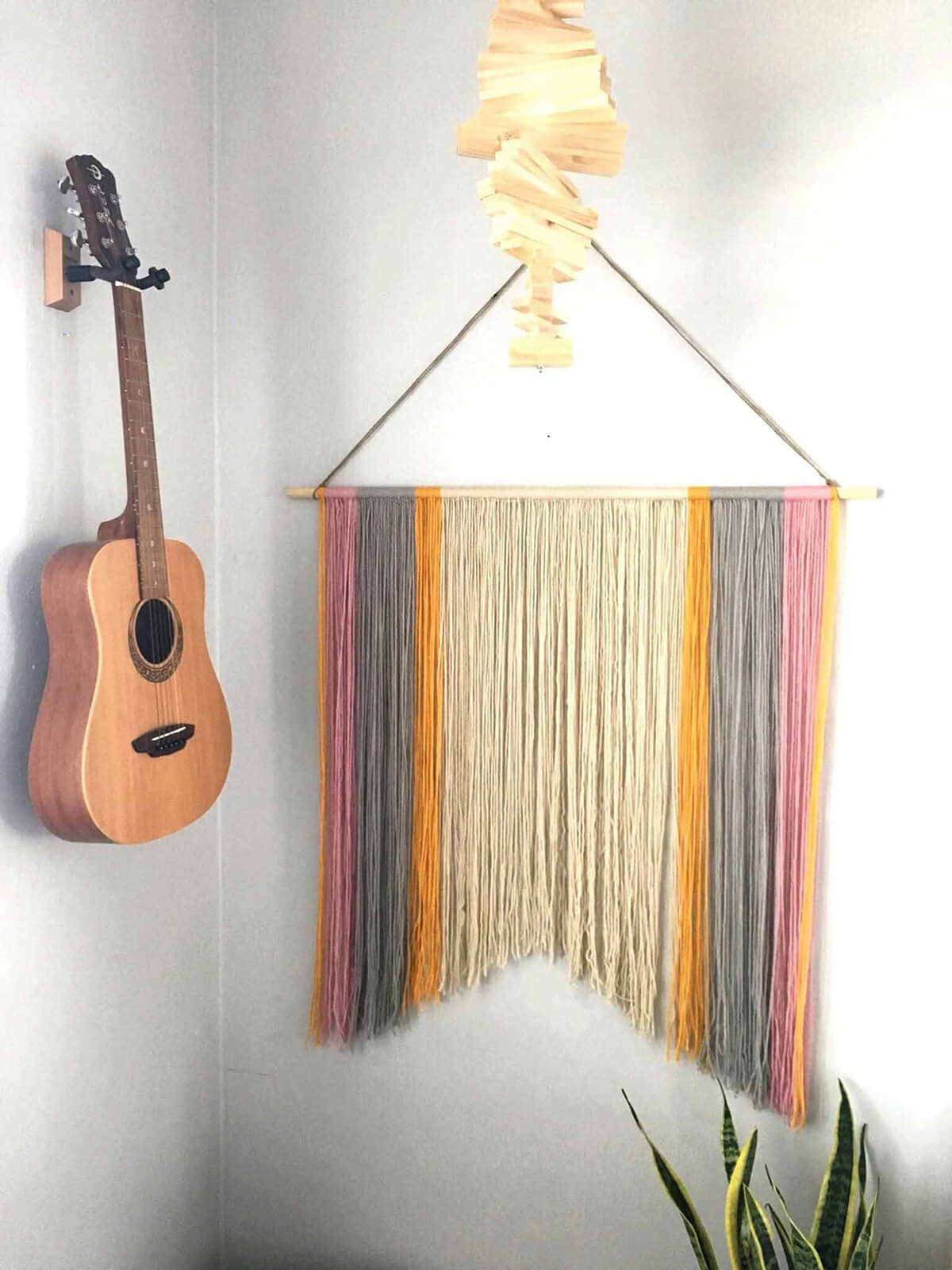 It is always nice to see how something so straightforward can come across as a meaningful piece of art, and this yarn wall hanging piece manages to capture that vibe well. The dowel is simple enough, there purely for the purpose of being the base while allowing the yarn to be the standout star in the piece. The way the individual colors are set up in a pattern elevates the design so that it isn't so standard. This is further helped by the fact that the yarn is cut at different lengths to form a different design near the bottom.
9. Colorful Loop Yarn Mini Wreath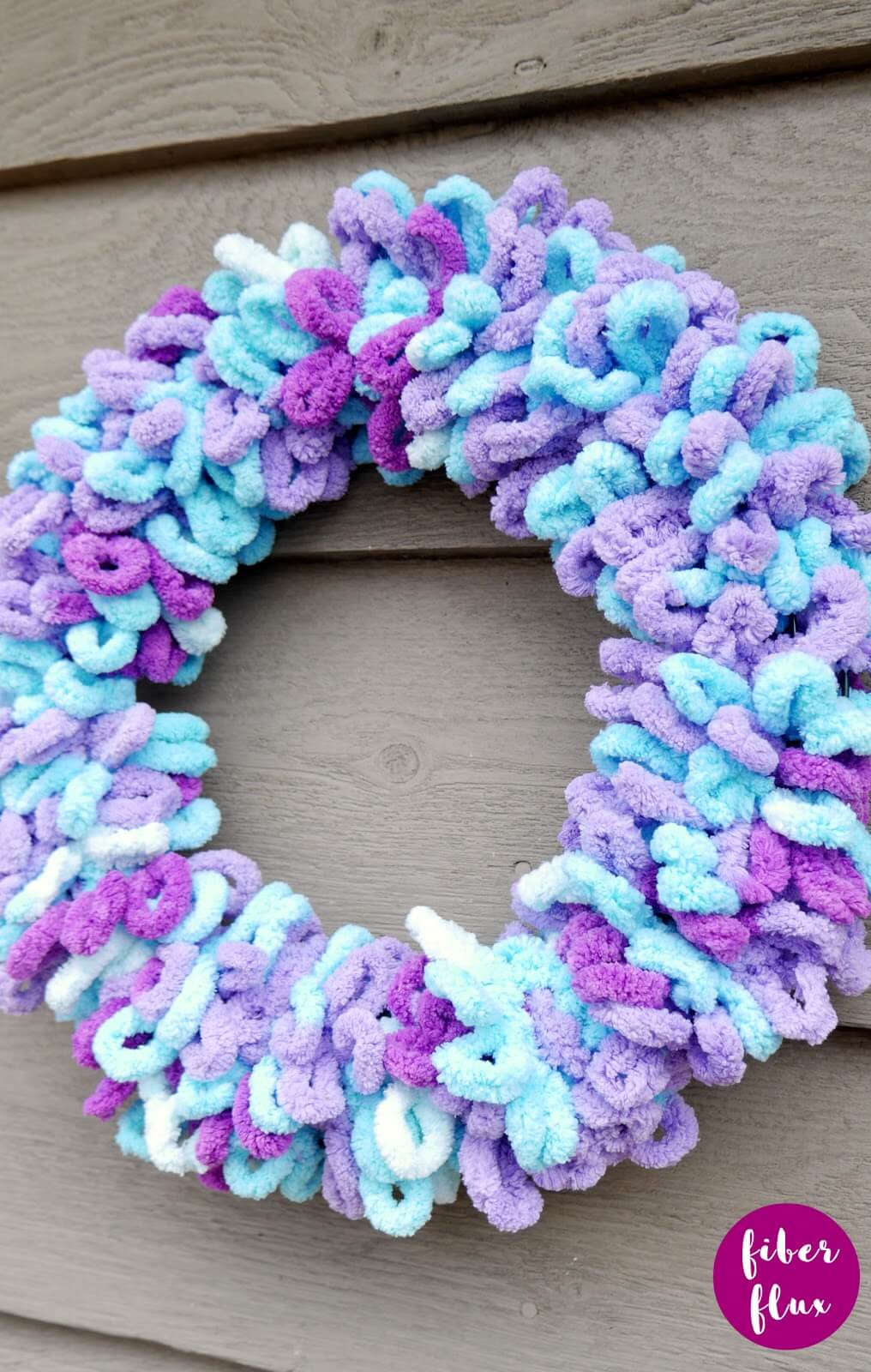 This loop yarn mini wreath is among the best DIY yarn crafts that keep things simple for a minimalistic setup. The project doesn't even take long to finish, and what you are left with is a stunning, mini wreath that can hang up anywhere inside and outside your home. Using fluffy yarn helps this piece leave more of a lasting impression too as it provides it with some amazing texture that urges people to take another look. Going for a multi-colored design helps too. Nothing is static in this piece. Instead, the wreath feels like it has a sense of movement.
10. Dainty Heart Shaped DIY Yarn Ornament Decorations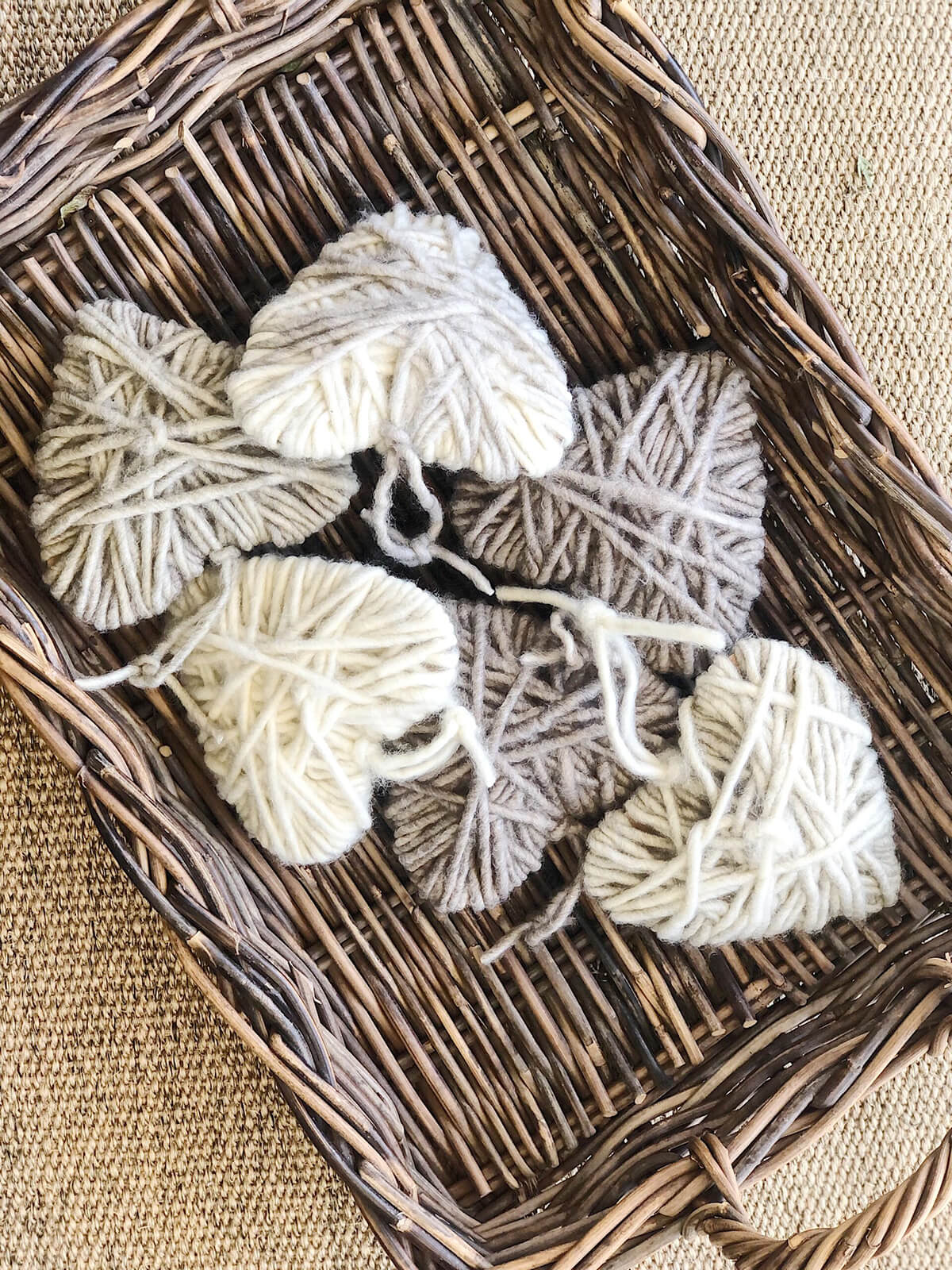 Whether it's Valentine's Day, a special anniversary, or just another decorative addition for your home, these homemade yarn decor ideas in the shape of a heart will be a hit! The super-simple process is easy enough for kids to adults and the cost is minimal as well. Choose the color to either coordinate with your home decor or holiday to make this a totally custom look. There are so many great ways to use them. String them along for a heart garland, gather them in a basket, or use them as ornaments for a miniature tree to achieve the perfect look for your own space.
11. Yarn Wrapped Candlestick with Pom Pom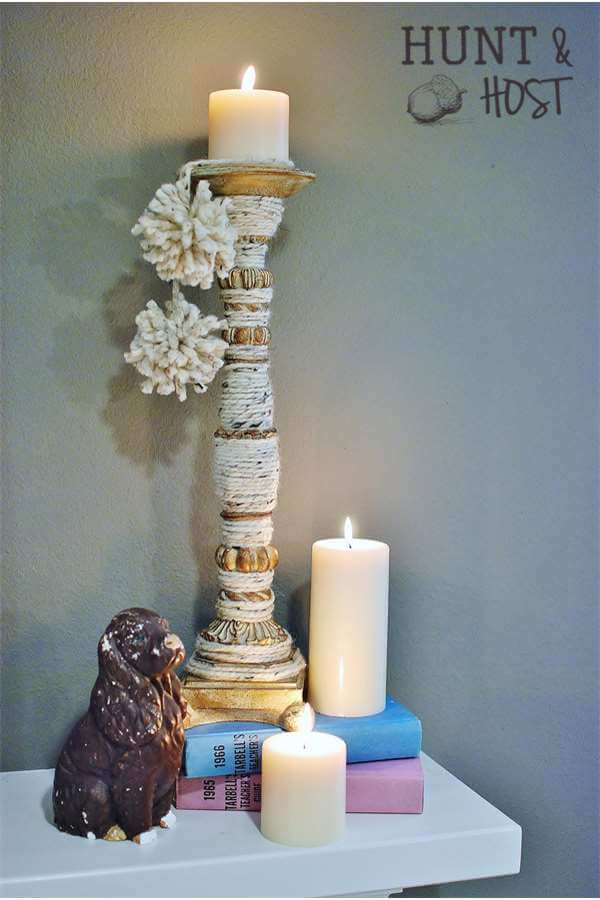 Give your wooden candlesticks a make-over with some yarn and creativity. These show off some of the best DIY yarn crafts that are as easy as they are unique. Wrap different amounts of yarn to make your stripes stand out as you create this shabby chic candlestick. At the top, a pair of fluffy pom poms add some extra texture and attention to detail for a completed look. These are a perfect addition to your fireplace, end of your staircase, or nestled in a corner of your home.
12. Magnificent Macrame Braided and Feathery Leaf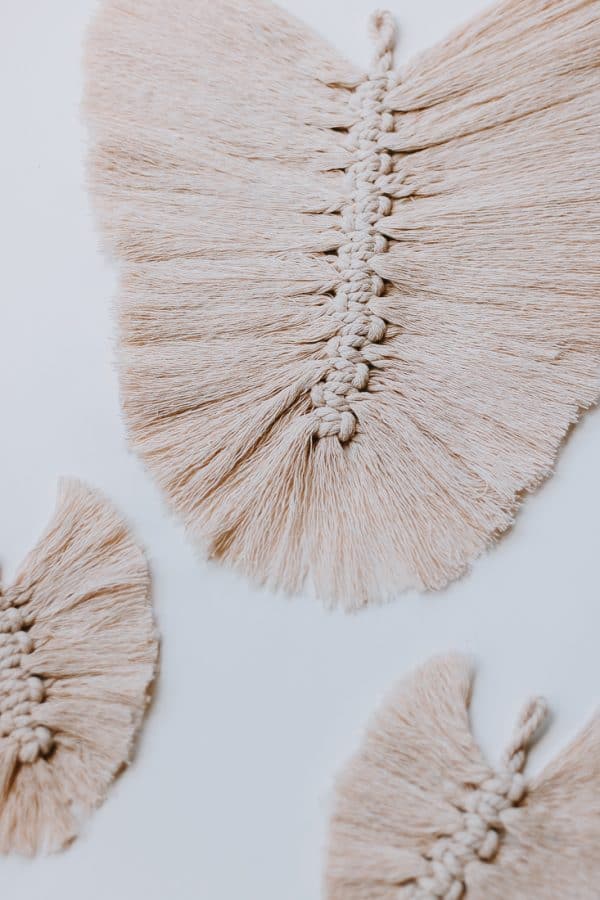 With a hint of mid-century modern style added with bohemian flair, this macrame creation was born. The center of this feathery leaf is a sturdy and spectacular braid that frays out on both sides to create the billowy feather effect. Hanging on the wall, this creation comes alive as a true work of wall art. It would really highlight a room filled with large houseplants as it carries a similar pattern onto your walls and it would also make a nice accent to a living room or bedroom design. Complement it by including a similar shade woven basket to tie the room together.
13. DIY Jute Covered Lamp Shade Pendant Light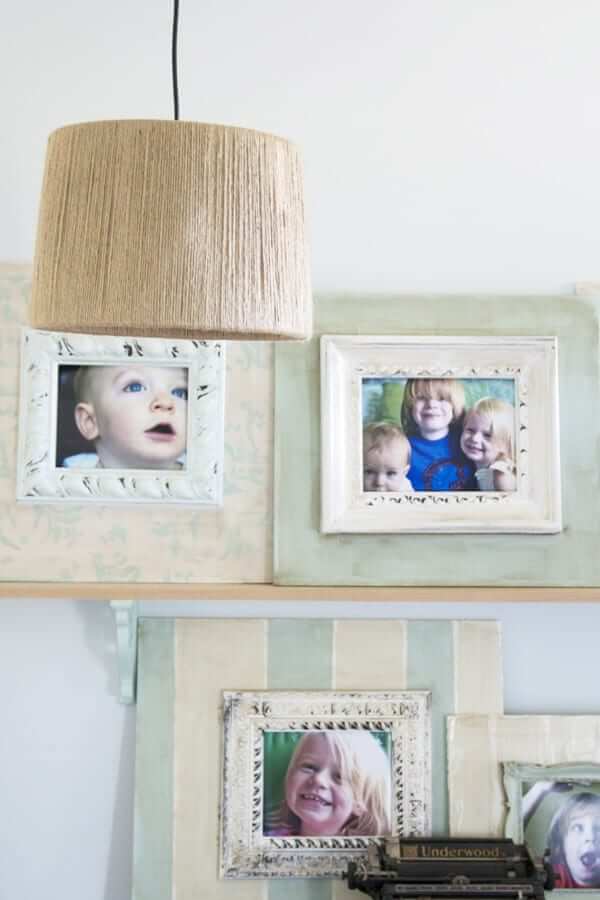 Give a lamp or pendant light a quick update with a roll of jute string. A plain shade comes to life with loads of texture when you wrap its entirety with some neutral and natural jute. For an entryway, you'll keep the main focus on the rest of your decorations and allow this light to remain a background character. The simplicity of the design and color allow it to work in almost any setting. From a coastal cottage to a suburban single-family home, this example of one of several handmade yarn home decor ideas gives your lighting fixture a new look while staying in line with your home's design.
14. Beautiful Blue Ombre Macrame Tiered Chandelier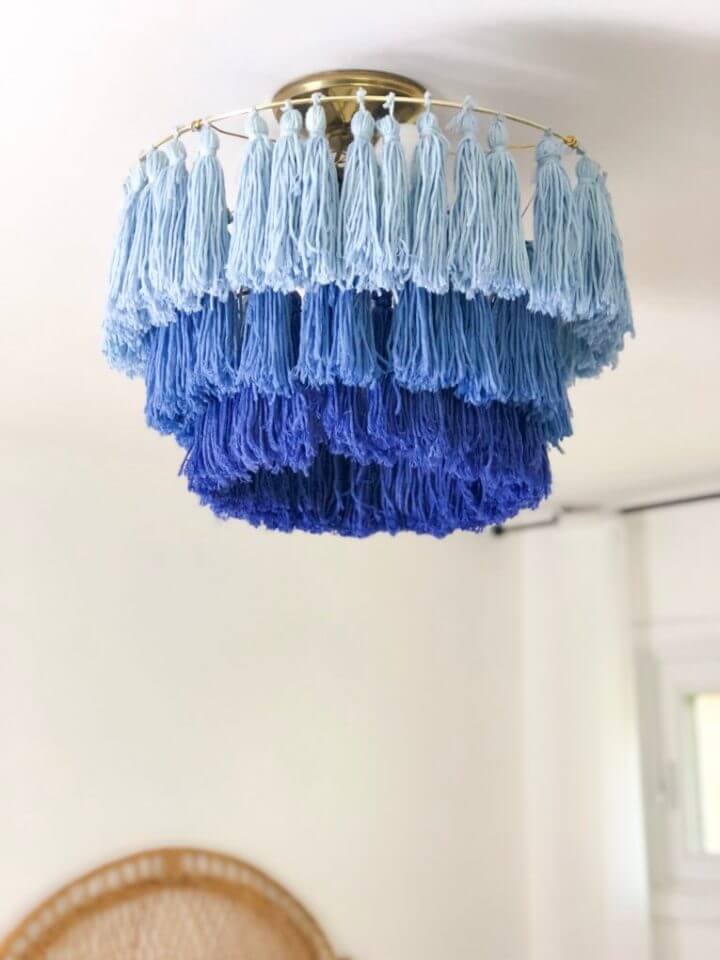 One of the best DIY yarn crafts comes in popular chandelier form. This tiered treasure shows off gorgeous hues of blue in an ombre effect that is a definite design must-have. Using a hoop to secure the yarn tassels, the final product sports a spectacular circular chandelier that's a nice modern version of traditional crystal designs from the past. Use this layered beauty in any room of your home for added texture and design drama. If blue isn't your cup of tea, use shades of your favorite color to make it work for you.
15. Beaded and Beautiful Boho Yarn Wall Decor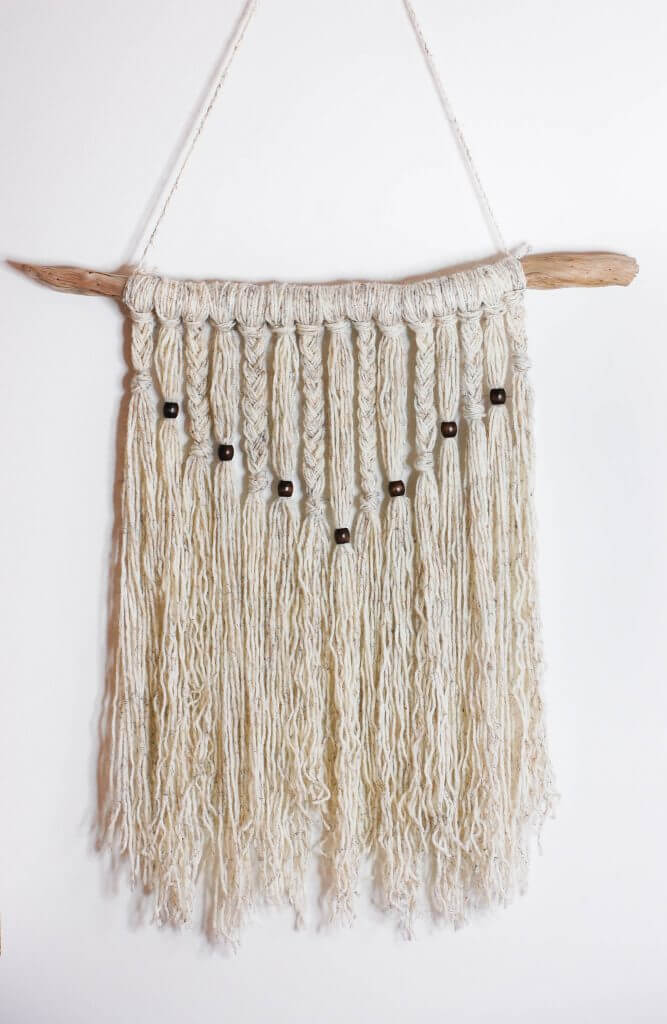 If you're looking for a beautiful homemade yarn version of the ever-popular macrame wall decor, you're in the right place! This creative yarn version boasts a truly bohemian vibe that will look perfect hanging on your wall. Behind your bed or sofa, or adorning the wall in the hall, this braided and beaded yarn design adds interest and texture to your home. Using a soft, neutral color palette featuring a natural driftwood hanging base, you'll love the beauty and natural artistic design of this boho-chic look.
16. DIY Woven and Wonderful Macrame Hoop Chandelier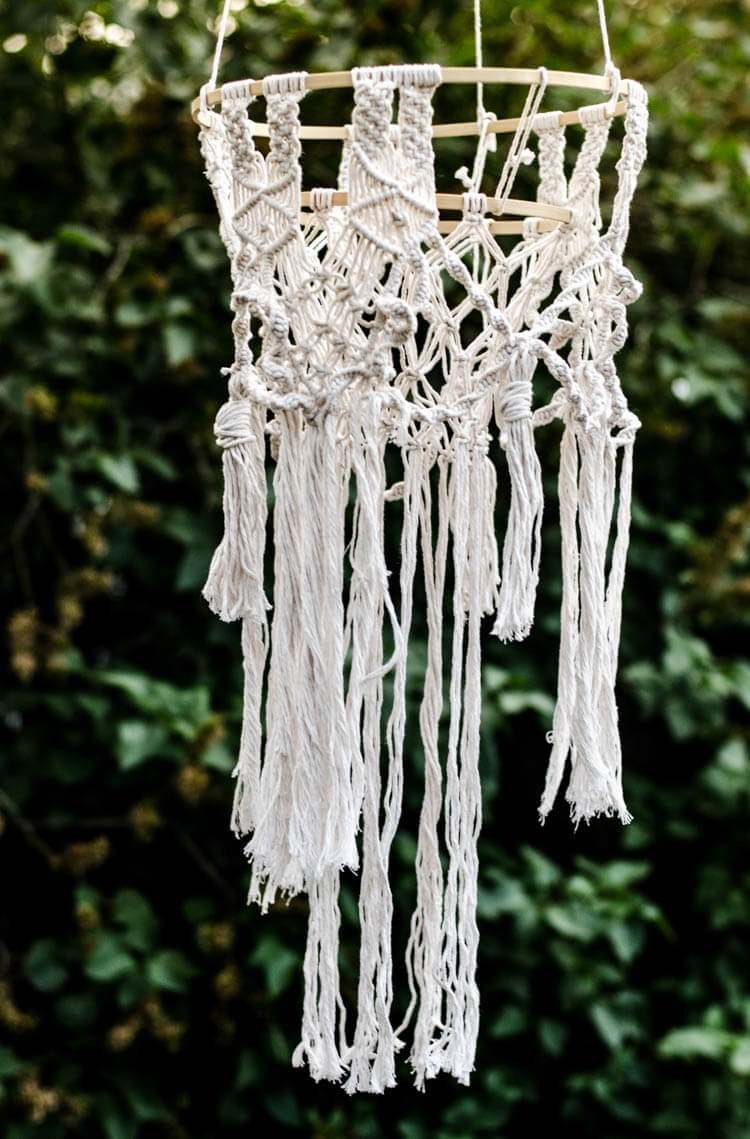 Perfect for indoor or outdoor use, this interesting and bohemian chandelier is made of macrame and offers a nice textural element that draws the eye up. This medium-sized macrame hoop chandelier adds the finishing touch to an outdoor eating area or an indoor bedroom corner. The hanging strings provide a subtle feminine frill that secures a bohemian nature for the overall design. Add some twinkle lights or a floral garland for extra emphasis.
17. Yarn Poles Tell Your Family's Story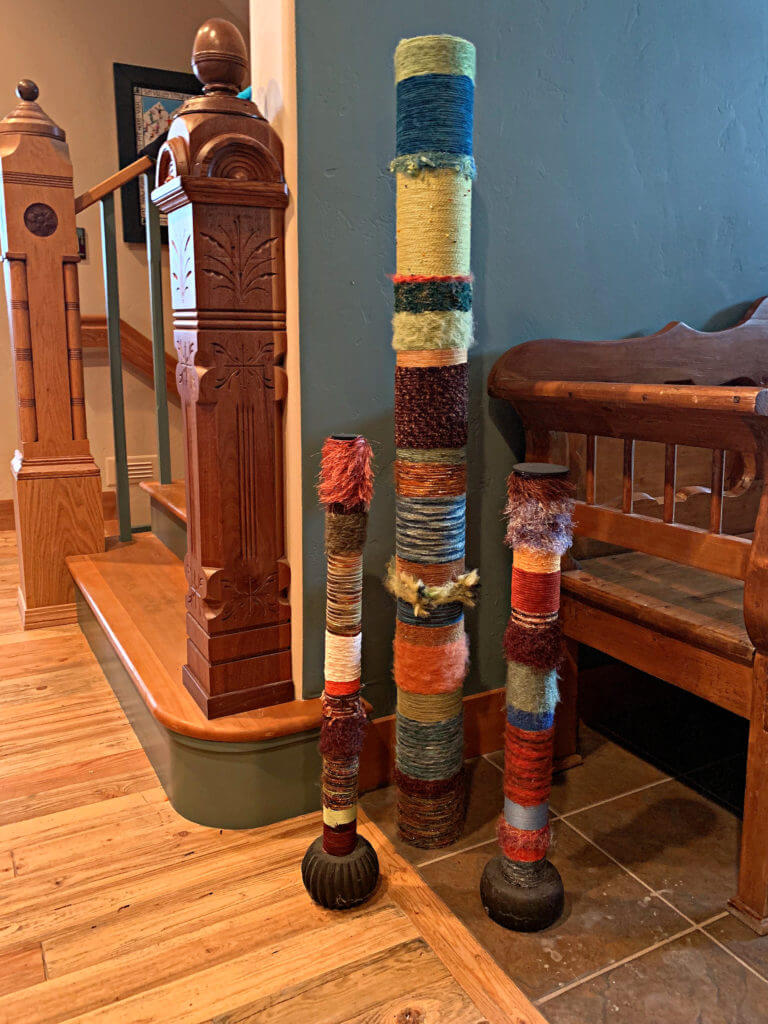 Add some interesting decorations to your home that not only look fabulous with bright colors and patterns but tell a story at the same time. These yarn-wrapped poles made with PVC pipe offer just that. Each section can represent a highlight or milestone of life for the entire family or you could use a pole for each family member. They take up minimal floor space while delivering a lot of color to the room. Nestle a grouping of them in the corner where they are easy to see and offer a great conversation piece for guests to enjoy.
18. Triple Bead and Double Hoop Dreamcatcher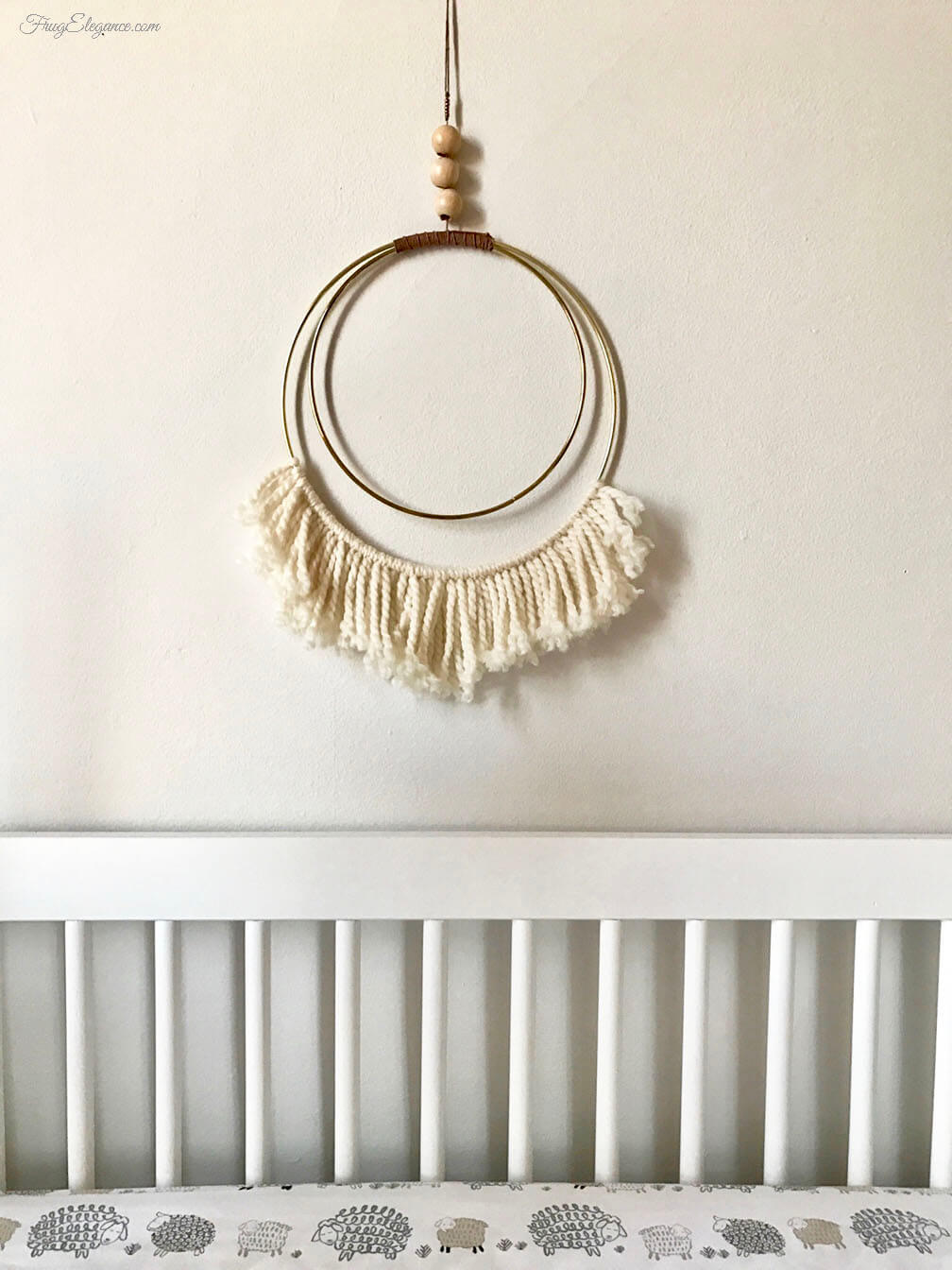 Bring some beauty into your home on a small budget with this easy to create dreamcatcher project. The mixture of textures in the wooden beads, frayed yarn, and metal hoops adds all the visual interest you need to make this one of the best DIY yarn crafts. Catch all the bad dreams and release all the good as you hang this on the wall of your newborn's nursery, kid's bedroom, or even above the bed in your master. You'll easily tie in your modern boho-chic style with this lovely dreamcatcher.
19. Colorful Pom Pom Throw Blanket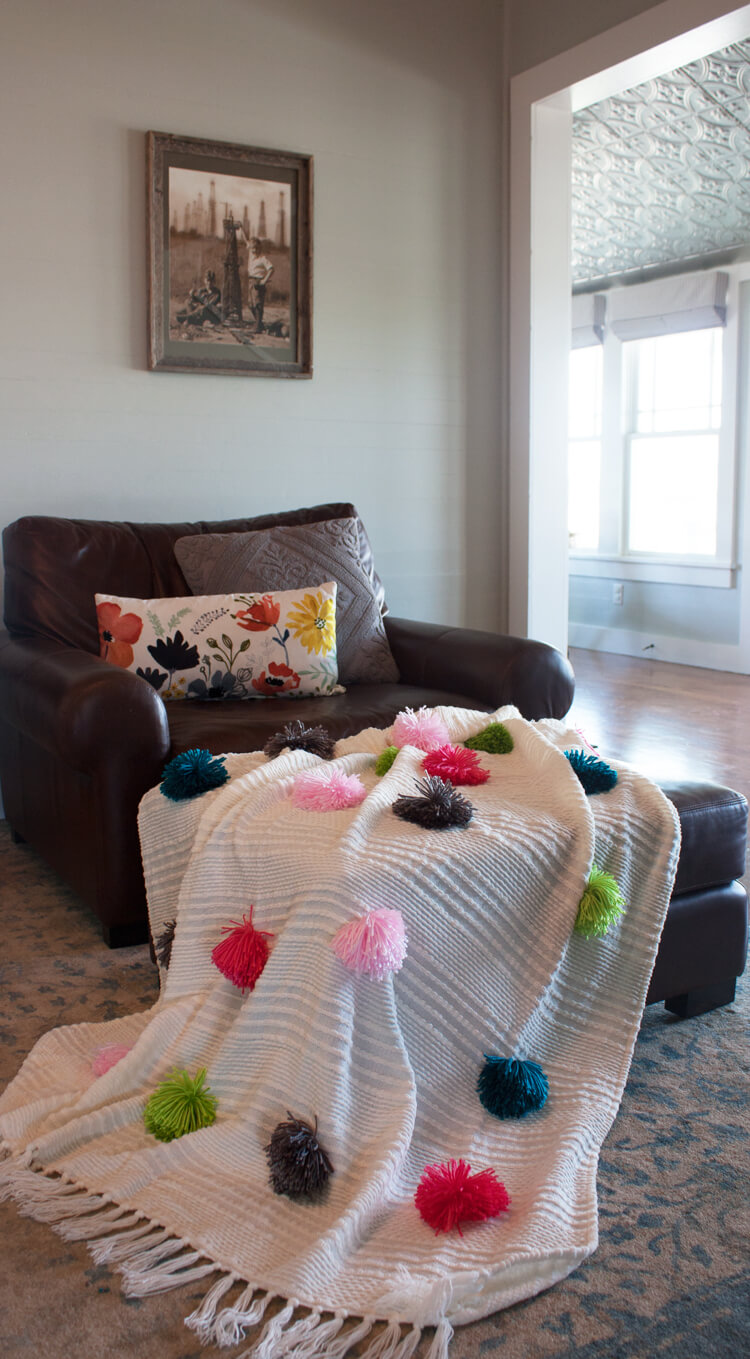 Take a plain white blanket and put some spring in its step with these cute and cool colorful pom poms. Choose a collection of all colors in the rainbow or a winning combination of your favorite two or three colors to use as the inspiration for your pom-pom creation. What a fun cheer squad DIY to help as a team-building exercise. Gather all the girls and have them create one of these cool and comfy cover-ups in their school colors. Or you could have a fun night for a group of friends before they leave for college to create one in their new school colors of their chosen university.
20. Macrame and Flowers Peace Wreath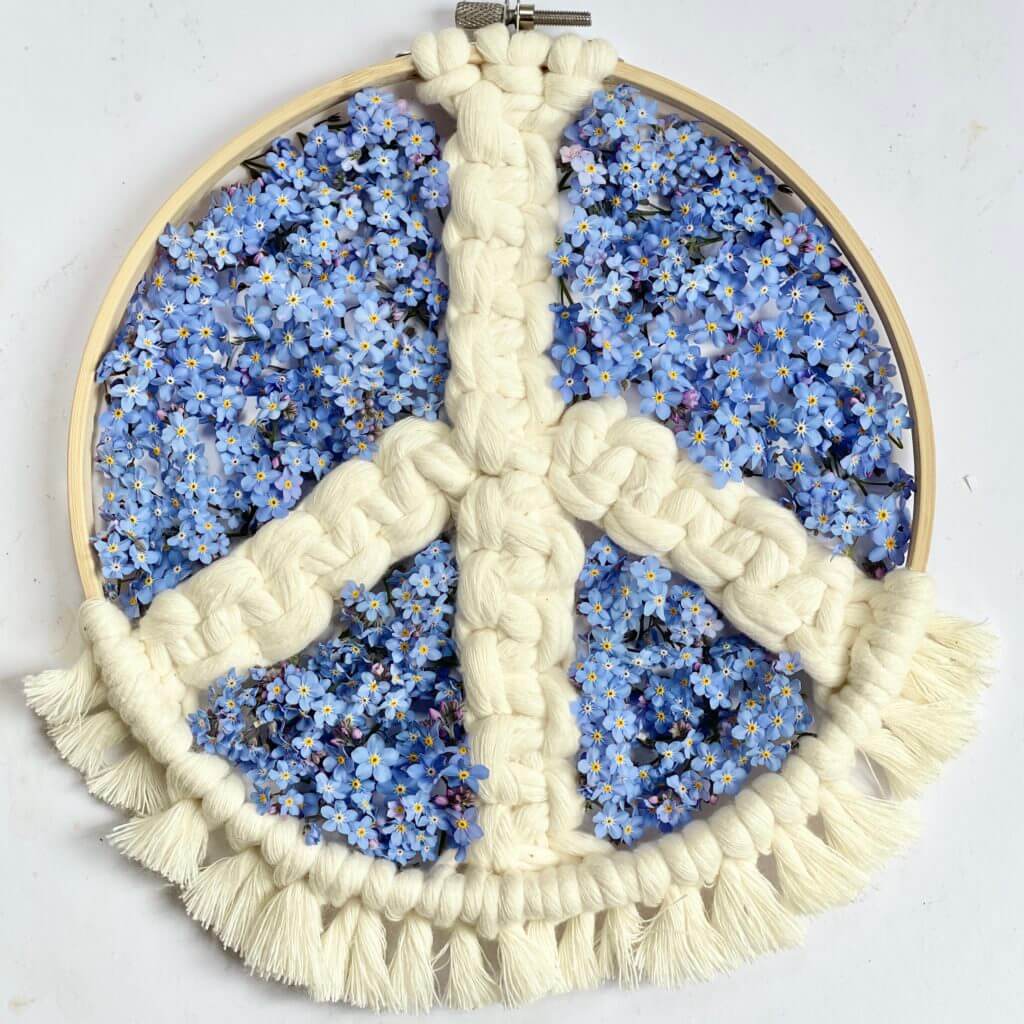 When it comes to homemade yarn decor ideas, macrame offers such a unique way to weave yarn to show off your personality and style. This decorative design piece is all about feeling content and at ease, creating a relaxing vibe in any room you decide to hang this up in. The colors help this stand out even further. Using white yarn allows this wreath to appear bold and instantly attention-grabbing. It pairs well with the use of bright blue flowers, helping the tiny flowers pop even further to complete this pleasing peace sign. Hang this in your home or on your front door to let everyone know your true feelings on peace and love.
21. Giant Wall-Hanging Decorative Yarn Piece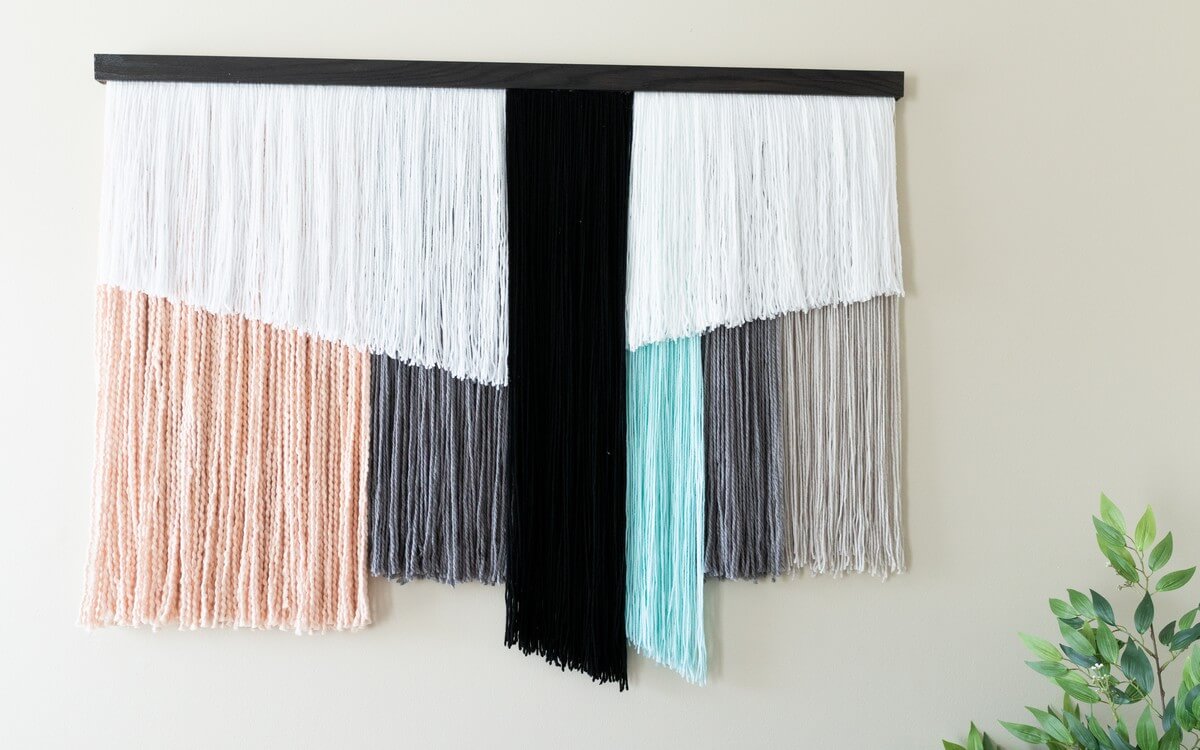 When you have a lot of empty wall space, it helps to have a single large piece to fill up a bit of that empty room and give it some life. This project takes something simple and transforms it into something remarkable. The yarn falls in a beautiful pattern, and the use of multiple colors drives home this flowing theme. The colors blend well too with the black in the center providing some incredible contrast to the lighter colors that surround it. Such a design allows this oversized decorative piece to work well when hung in a room with a modern or contemporary setting.
22. Black and White Yarn Accented Throw Pillow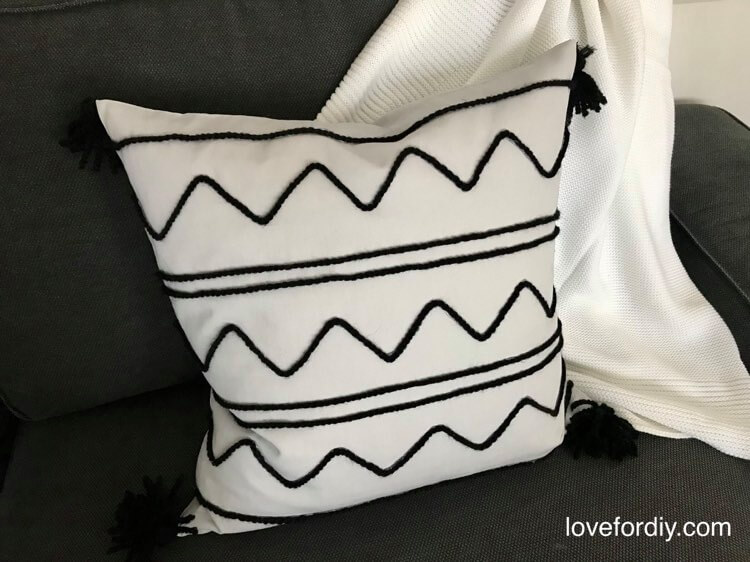 Create this unique and easy DIY project to add some style to your couch, chair, or bed. A plain throw pillow gets a fashionable update with a simple design from strands of yarn. Using the classic color combination of black and white, the finished pillow adds a modern and stylish touch to your home. Host your daughter's first sleepover and include this as the main activity. Every young girl will enjoy creating her own pillow with all of her friends while making unforgettable memories at her first girl's night event!
23. Glistening Gold Leaf Battery Powered Pendant Light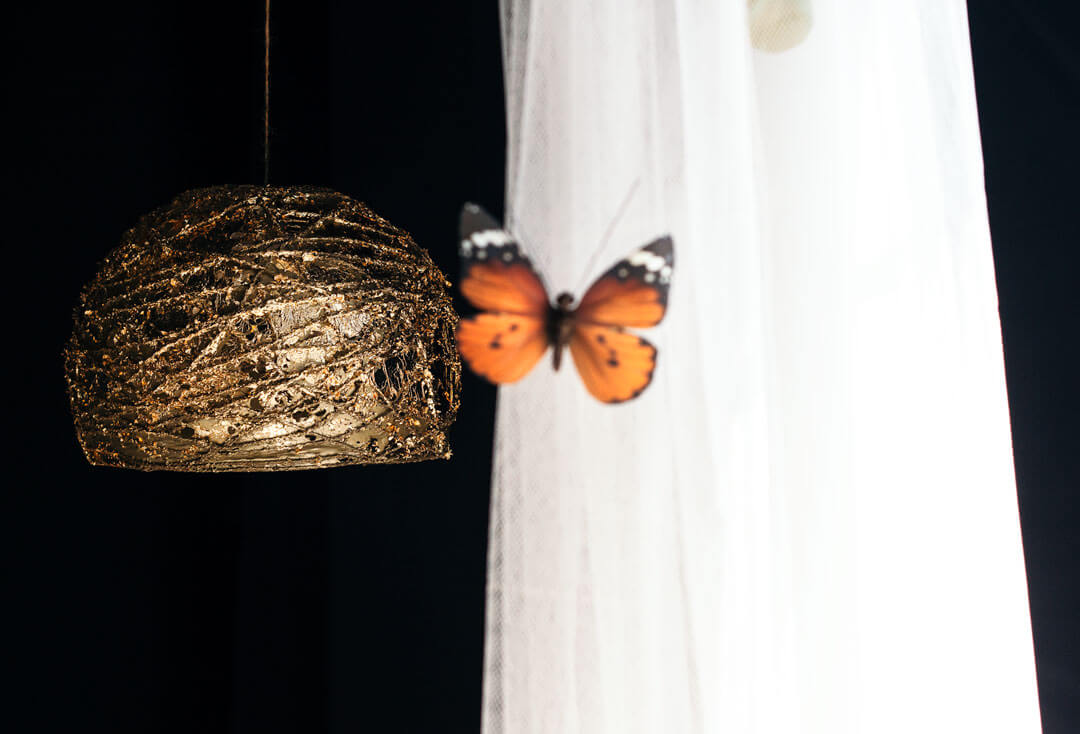 Grab some cheap materials and you'll be mesmerized by this glistening golden globe you've created to hang in your home. Lightweight and battery-powered, there's no need for a handyman to help build or install this unique pendant light fixture. It's a cool look for a modern girl's hangout space and works well amid other gold accents from hardware to decorations. Add several overheads of a desk space where a little extra lighting would be useful or hang one above the bed for a cute and crafty reading lamp.
23 Fantastic Handmade Yarn Home Decor Ideas
There seems to be a never-ending list of ways you can create magnificent and simple masterpieces from yarn. No matter how large or small your space, a unique piece of yarn art can give it the updated look you desire.
Behind the sofa in your living room, you can hang an oversized piece that makes a bold statement. In a neutral space, consider making this the burst of color that captivates the entire room.
For a nursery, there are plenty of options from which to choose. A dainty dreamcatcher or a decorative hoop creation adds beauty and texture to the serene space without overpowering the room to make it appear too busy.
In a teen space, add an overhead creation from yarn in the form of a gold leaf pendant light or a chandelier. For chandeliers, there are many options from a lovely round tiered and tassel ombre creation to a woven macrame-styled version.
And if making your sitting area a little more cozy is what you crave, check out the stylish accent pillow and colorful pom-pom embellished throw. Each of these creations offers a decorative element that is also functional. Enjoying a good book or cup of tea is always better when you are wrapped in the comfort of a snuggle-worthy blanket and one that has these plump clumps of color makes it even better.
From fun girls' night activities to gifts or personal home decor, there are so many cheap and simple DIY yarn creations waiting for you to get your hands on! Choose one to tackle this weekend or grab your girl gang and plan one each month to get through the winter. No matter how you decide to spend your time, these homemade yarn goodies are the way to go!