Decorating is easy when you feature one of the best DIY yarn wall hanging ideas listed below. Using inspiration from nature makes simple yarn come to life like never before. Techniques that are so easy a child can complete them are another big benefit of handmade yarn wall hanging ideas. To get started, gather some cheap supplies. Yes, you can finally embark on a mini-makeover for a room in your home without breaking the bank. Some of these items may be found lying around your home or outside in your yard. Common foundations to begin these yarn wall masterpieces include embroidery hoops, metal rings, branches, or pieces of driftwood. Obviously, use whatever supplies you have on hand and consider the overall look you wish to achieve.
26 Charming and Welcoming DIY Yarn Wall Hanging Ideas

If you aren't looking for a mini room makeover, keep in mind how gift-friendly these amazing hangings are as well. For an upcoming baby shower, bridal shower, birthday, retirement party, or house warming one of these handmade yarn wall art pieces will be a crowd favorite. Consider the size of the wall space you'll use to feature this DIY yarn art. Above a couch or over a bed necessitates a larger statement piece so choose something with some size. A longer and thicker branch or a wider dowel works in this case. Then, smaller spaces could use miniature versions of your favorite yarn wall hanging patterns. For an end of the hall or thinner space, consider making a longer yarn string art design.
No matter what you choose, incorporating a lovely and cozy yarn wall art hanging in your home or as a gift is a wonderful choice that warms the heart!
1. Artistic Giant Pom Pom Yarn Wall Hanging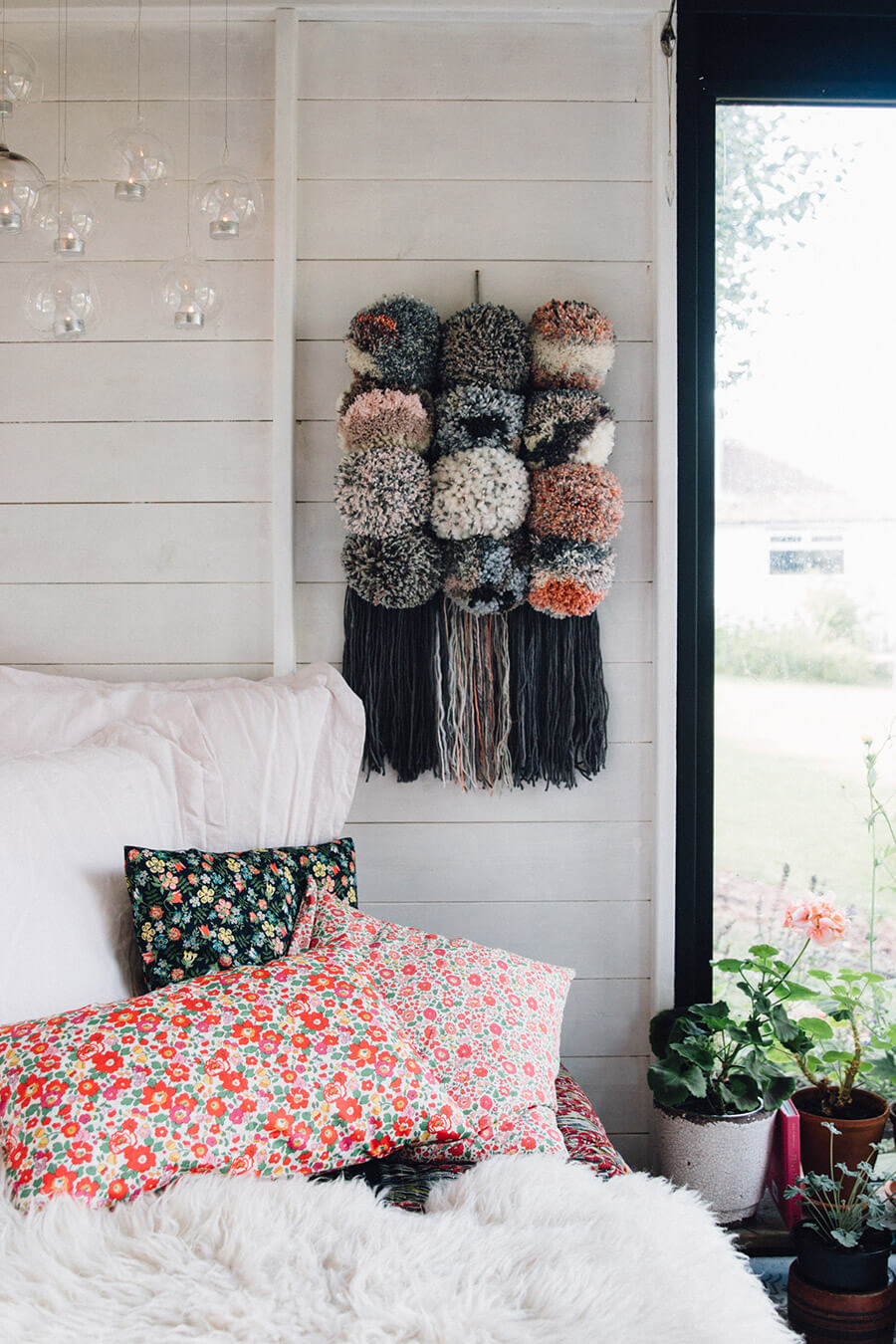 Wow! It's amazing what a skein or two of yarn can do! From tassels and strings to big, bushy pom poms, yarn has become one of the most useful materials for creating interesting and loving DIY wall hangings. One of the extra bonuses of yarn wall hangings is not just the custom color combinations you can use, but the cost-efficient projects you'll enjoy! For this handmade design, long yarn strands create the bottom portion while the upper is crafted from handmade large pom poms. Enjoy shopping for your favorite colors of yarn and hurry home so you have time to dive into this artistic masterpiece so your wall will get a much-needed makeover.
2. Sea-Inspired Driftwood Homemade Yarn Wall Art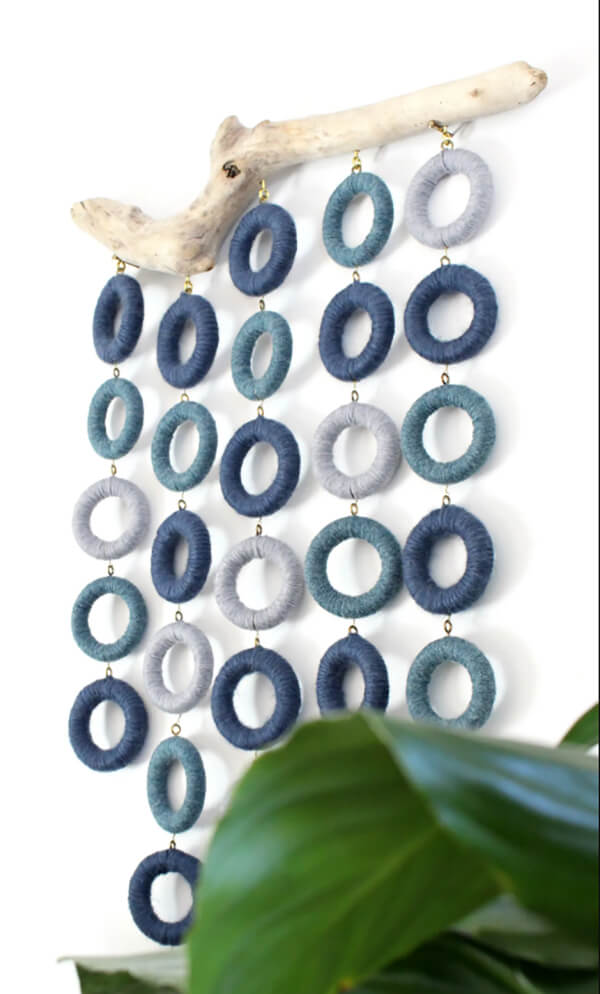 If you're loving the trend of woven wall art to warm up your home, you're going to adore this sea-inspired driftwood creation! Featuring curtain rings woven with yarn in myriad sea tones, this unique wall art creation sets them off in a cascade from a beach-friendly piece of driftwood. The contrast of the rough driftwood and the soft yarn makes for a cool combination as this eye-catching beauty hangs on your wall. It would be a great addition to a beach house or a fun way to update your everyday home for summer. Any wall space would welcome this piece of yarn artistry or you could even show it off on your door in lieu of a traditional wreath.
3. Darling Details Bobble Stitch Mini Yarn Hanging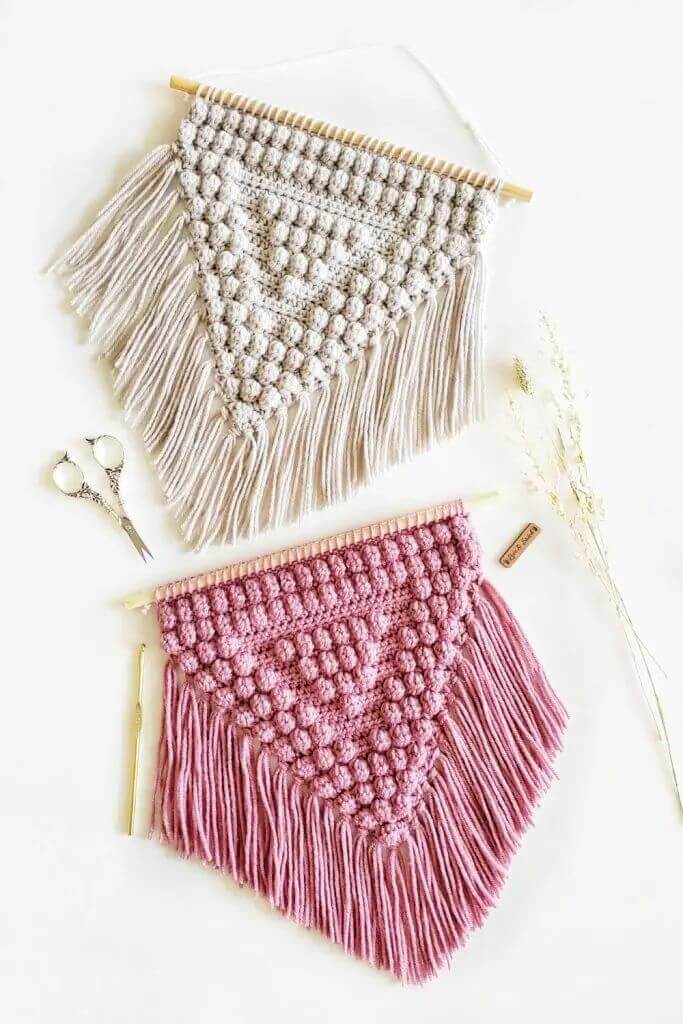 Sometimes less is more and this is certainly evident in this mini yarn wall hanging. These cute creations can stand alone or be paired together for a warm and cozy look. Using a bobble stitch, there's plenty of detail in the design of this delicate and darling wall hanging. It's a perfect choice for smaller-sized spaces like bathrooms, dorms, small apartments, and smaller bedrooms. Gathering all the girls for a fun night together would be a fabulous setting for hosting a DIY party where everyone creates her own mini yarn hanging to take home.
4. Elegant and Simple Modern Yarn Hoop Dreamcatcher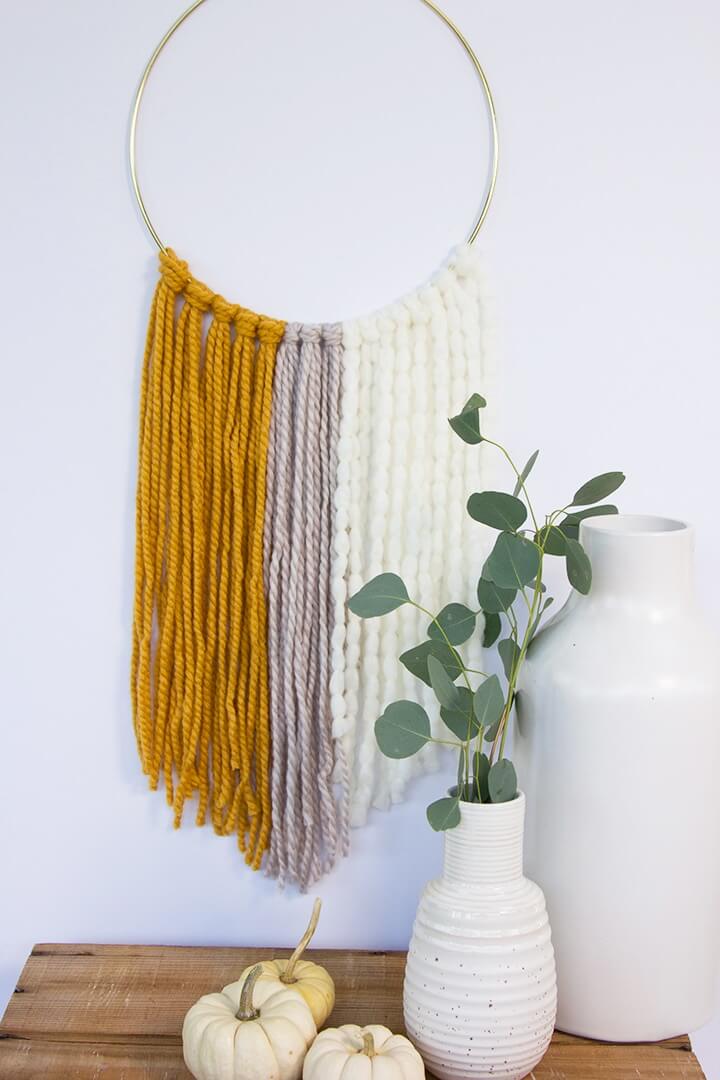 Dreamcatchers were once the staple decoration found at festivals filled with tribal attire, gypsies, and incense-burning booths. Now, dreamcatchers have evolved into their modern design that's present in many homes across America. From baby nurseries to main living rooms, decorating with dreamcatchers is more eye-catching than ever! One of the best parts of a DIY dreamcatcher is the ability to customize the colors. For this piece, three yarn colors have been selected that exudes a down-to-earth neutral palette and are featured in a thick and chunky variety. Wrapping them on a gold metal hoop further enhances the artistic beauty of this dreamcatcher with the element of metallic in its design.
5. Boho-Chic Neutral and Natural Yarn Wall Hanging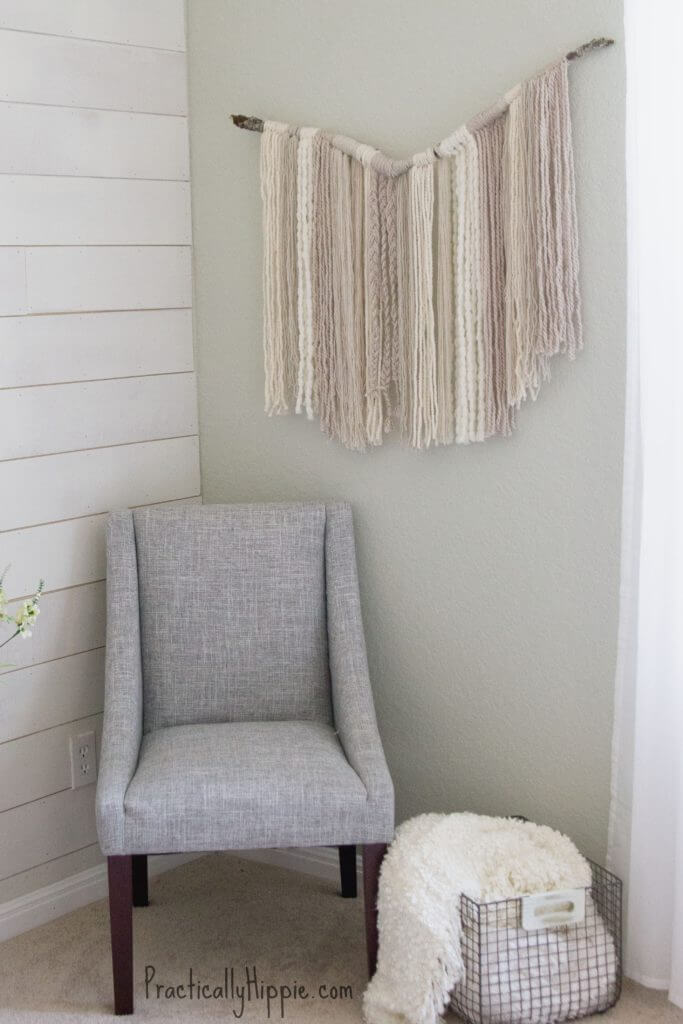 Create the illusion of peace and tranquility that's only found in nature within the privacy of your own home. A rustic and bare tree branch becomes the humble beginning of this natural work of art. To contrast its rough exterior, soft and thick chunky yarn is wrapped around it for a calming and comforting design. This yarn wall hanging is so versatile as it looks incredible in nearly every room of your home, yet it can also work well in an office or more professional setting. Customize one for an expecting mother as she begins her nesting process. She'll glow with happiness as she adds this lovely and unique hanging to her baby's special room.
6. 5-Strand Dip-Dyed Beautiful Yarn Wall Art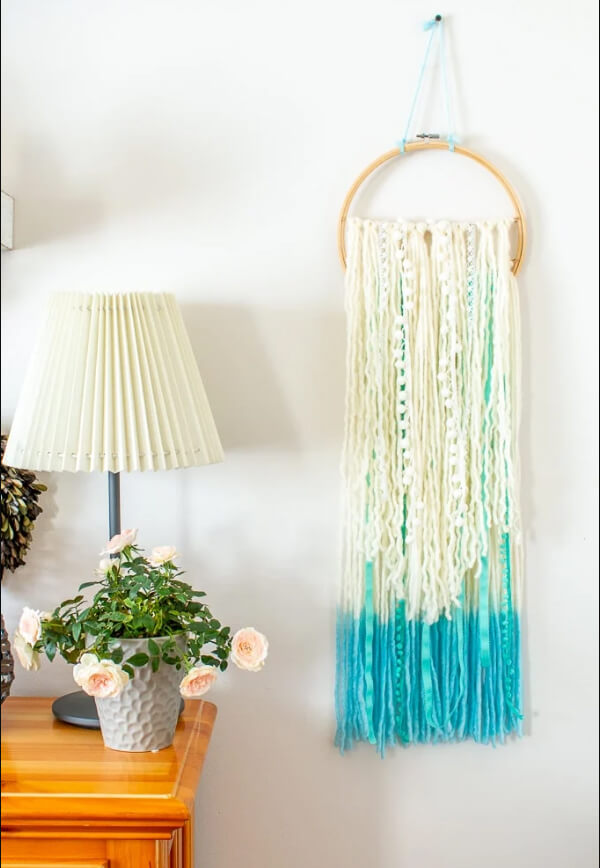 For a home decoration as unique as you are, consider dip-dyeing your homemade yarn wall art. Using bundles of multiple yarn strands adds so much depth and texture to the overall design making its beauty easy to recognize. Using a thicker blend of creamy yarn allows for the dip-dyeing process to emerge in all of its glory. Add this rockstar piece to the wall in your teen's bedroom for a dramatic wall statement. Miniature versions would be a fun and easy option for pairing with it to tie the entire room together.
7. Lovely Lap Loom and Stick Wall Art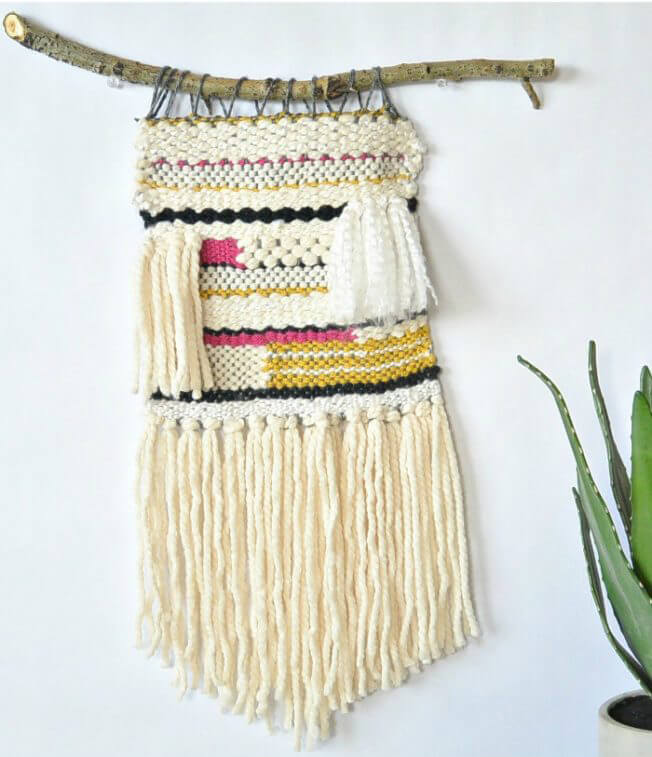 Rugged and rustic collide with soft and warm in this lovely lap loom woven yarn wall art. Who doesn't love a perfectly contrasted decoration in the privacy of his/her own home? Using a tree branch portion as the base, this lovely wall hanging comes alive as it gently glides down the wall in all of its cozy yarn glory. Choose a neutral main color, then incorporate some lively accent tones like yellow or pink for a beautiful creation. Customize one for your gift-giving needs and the recipient of such a gorgeous present will be more than thankful!
8. Black, Beige, and White Bohemian Yarn Art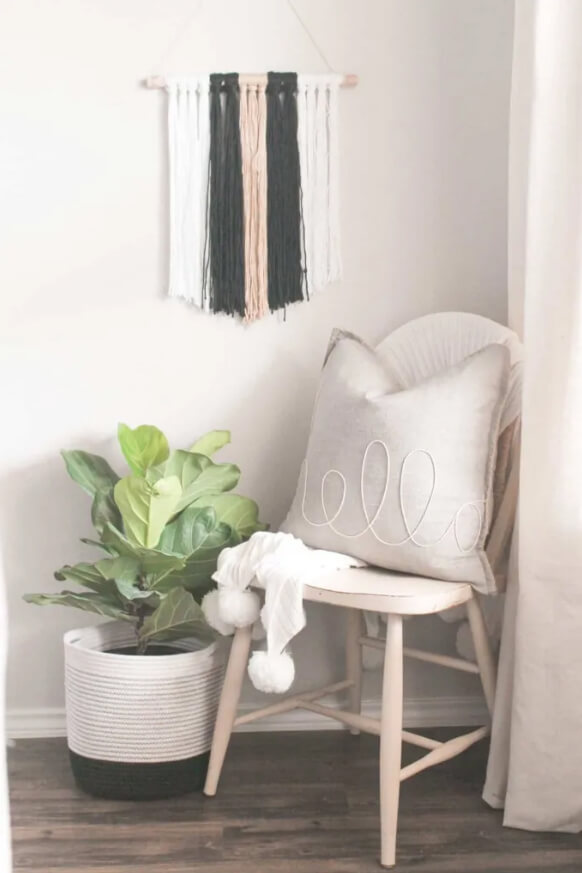 Pack a whole lot of style in a little amount of time with this bohemian black, beige, and white DIY yarn art. The difficulty level is extremely easy as you only need to be able to cut and tie strings. It's that simple! Perhaps the hardest part is choosing your yarn colors. For a laid-back boho-chic look this version is a great choice as the black, beige, and white provide a sense of color while remaining neutral.
9. Handmade Yarn Wall Hanging Ideas with Tassels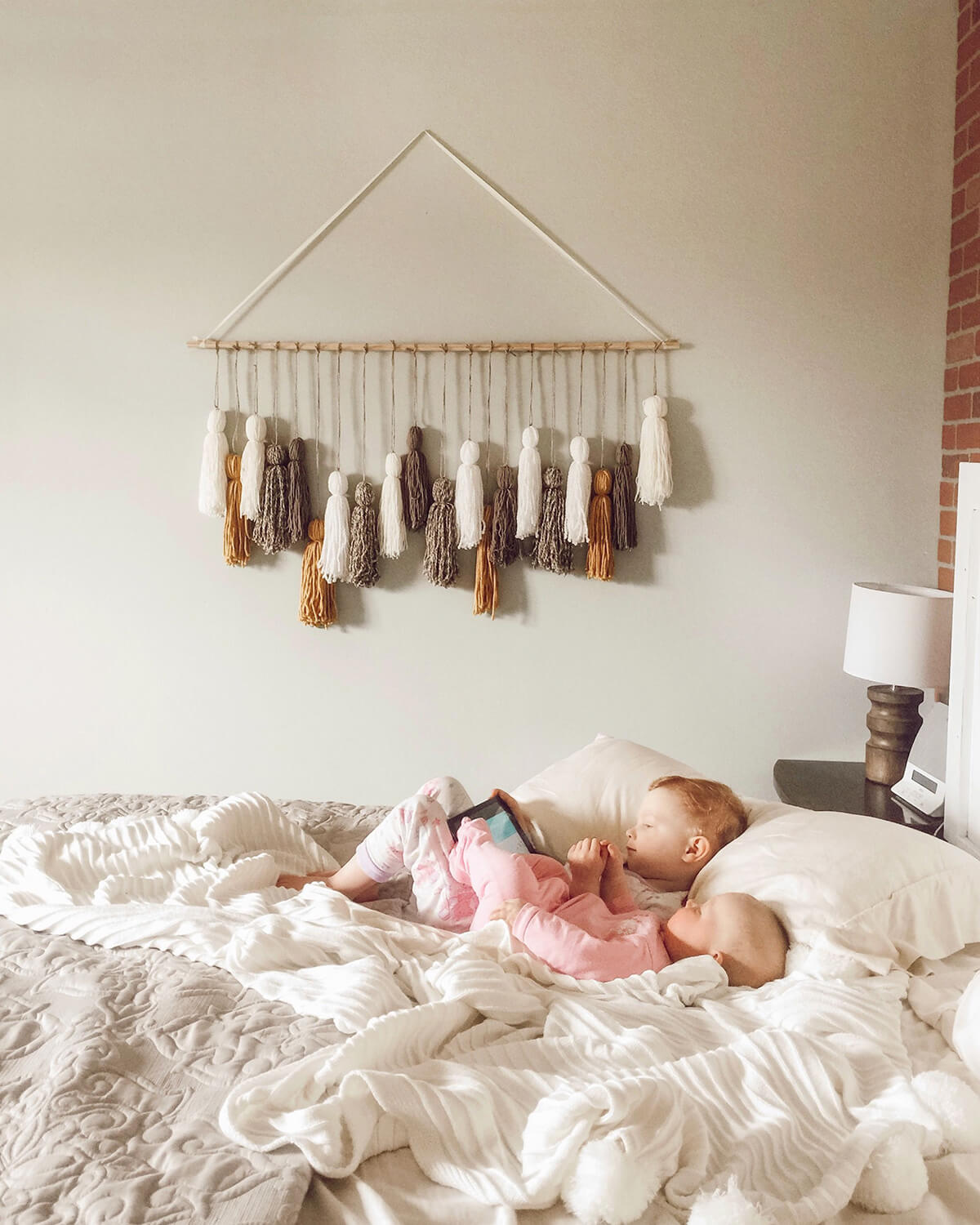 Suspend a dowel rod on the wall and you'll have a great starting place to show off your arrangement of yarn tassel beauties! Choose a variety of colors or keep it neutral and you'll add a splendid texture-loving piece of wall art into your home. Created in a medium-sized display, this yarn tassel decoration would be gorgeous hanging above your bed, over your couch, or on the mantel. The colors can be selected to coordinate with your existing palette or they can be a complete contrast to be the new focal point of the space.
10. String Heart Wall Art DIY Valentine Decor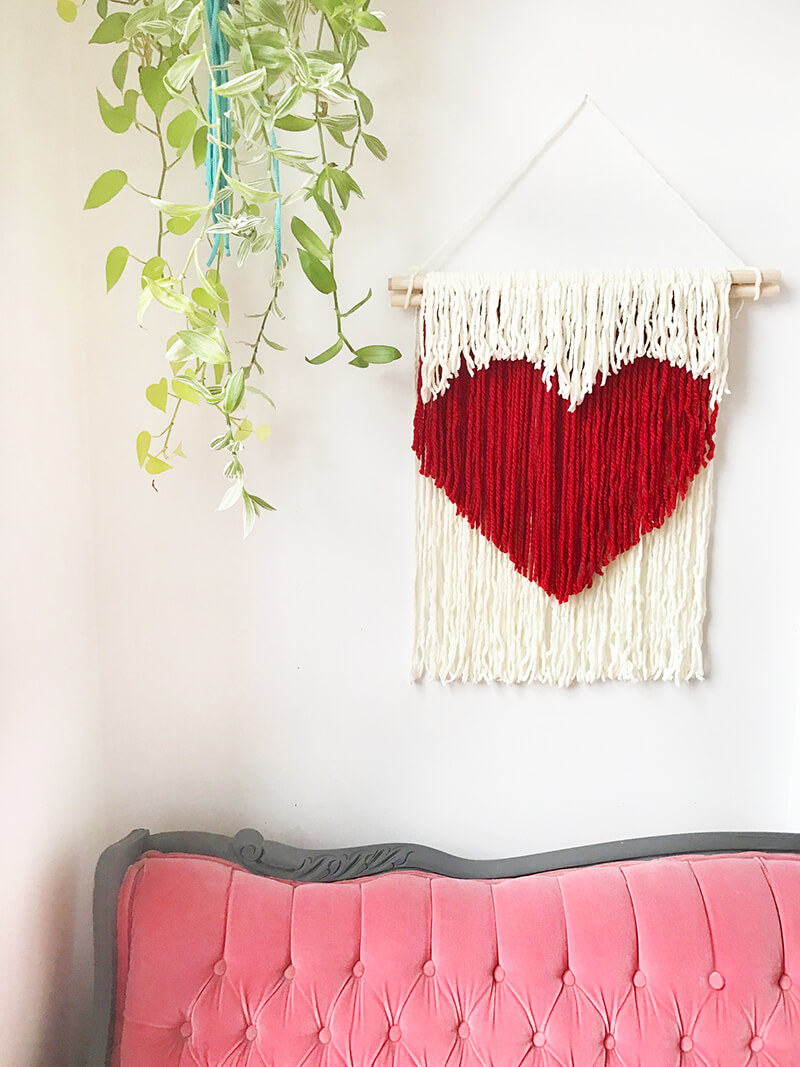 Put your heart on a string with this cool string art that's sure to catch cupid's eye. No longer does your holiday decor need to be over-the-top. Accent the room for a special event or Valentine's Day by simply swapping out one hanging for this red and white heart creation. It's an easy way to share the love with someone special as you can craft this and send it as a thoughtful gift. There's always more love involved when the gift is from the heart and hands of the giver.
11. Beachy Boho DIY Macrame Feather Wall Art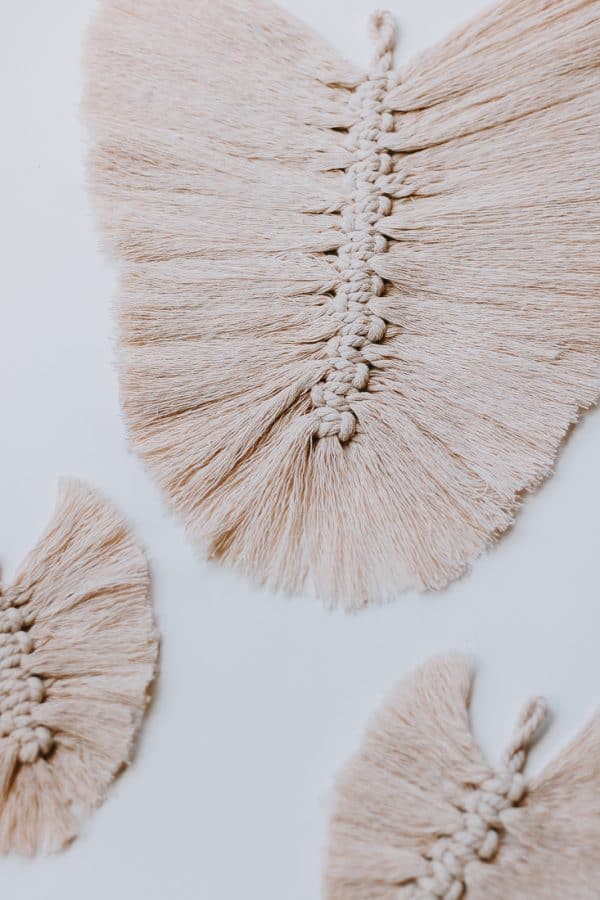 Straight outta the 70s, macrame is making a comeback or maybe it was already here. However you look at it, macrame is a budget-friendly material that offers a variety of projects for the motivated DIYer. From plant hangers to wall art, these macrame creations are generally woven wonders of art; however, this wall art concept utilizes a different approach creating a texture-rich feather to adorn your wall. Add this as an accent to your bohemian or shabby chic interior design. The creamy neutral beige works in all color palettes as well.
12. Big Impact, Small Budget DIY Wall Hanging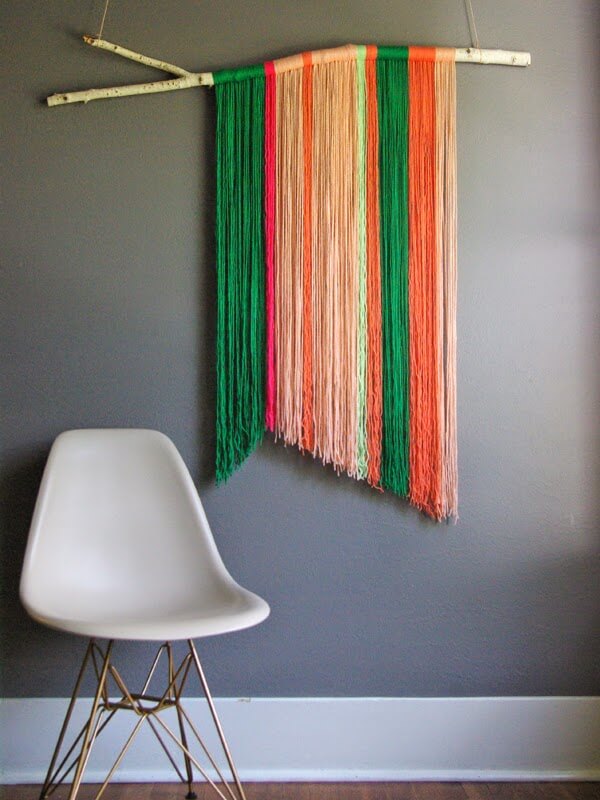 Your big bare wall meanders from boring to amazing with a fun and easy DIY yarn wall hanging project. Choose a random stick with a little character and hang it on your chosen wall to get started. From this, you'll bring your art to life by wrapping and tightening yarn strings around it. As they fall down with the assistance of gravity, your creative vision will begin to emerge. Go for bold and vibrant eye-popping colors for a major impact or keep it neutral with a classic black and white or creamy beige palette.
13. DIY Rainbow Pom Pom Tassel Wreath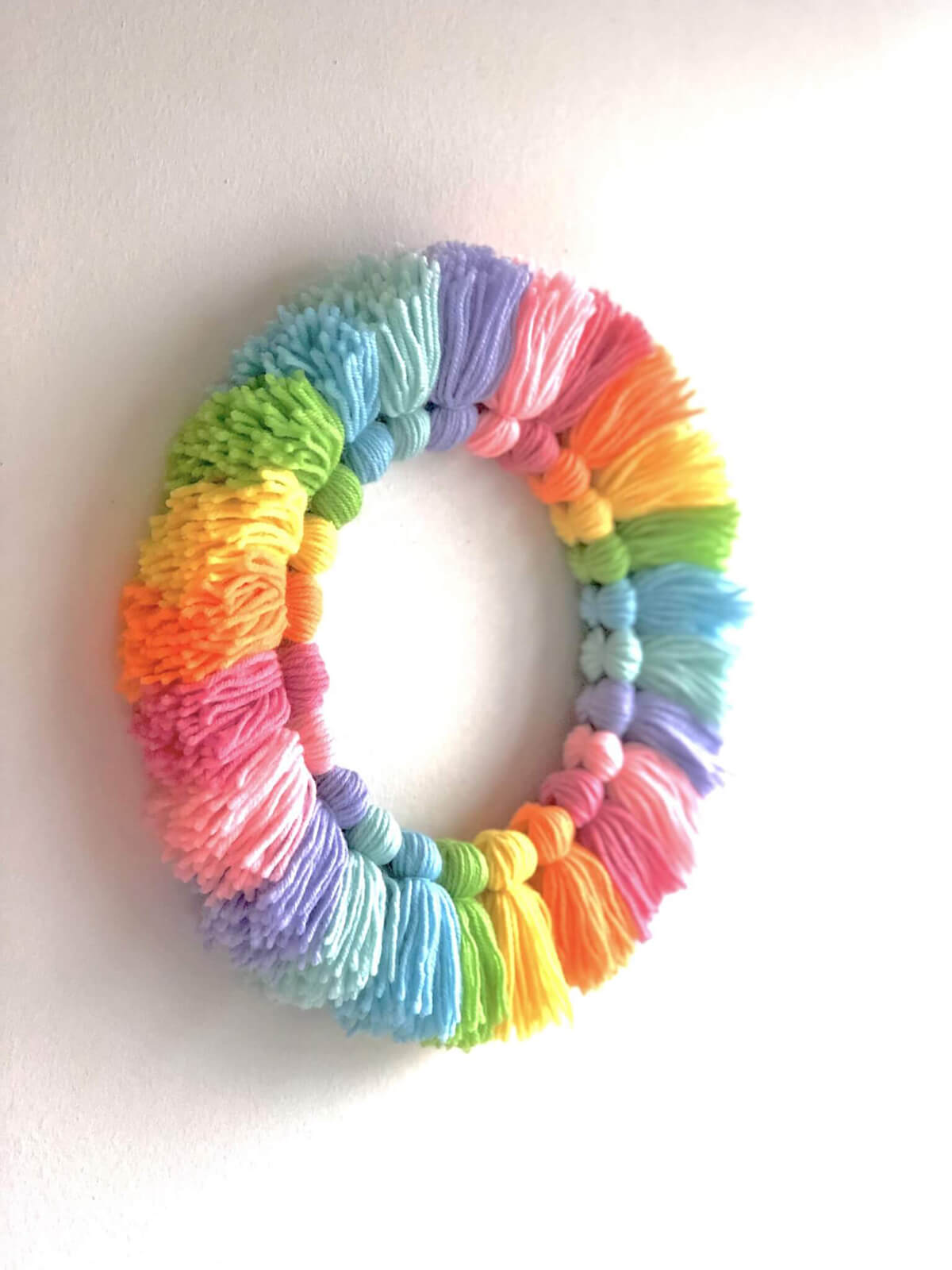 Every little girl on the planet will enjoy crafting this rainbow wreath and then hanging it in her room! It's a cheap and easy project for kids and adults alike. Feature this at a sleepover or birthday party. You'll have a win-win as it keeps the kids busy and doubles as a party favor. Pretty pastels spill around the ring in all of their rainbow splendor to form this magical wreath that's sure to look awesome above your daughter's bed or on her door.
14. Braids and Beads Yarn Tassel Wall Hanging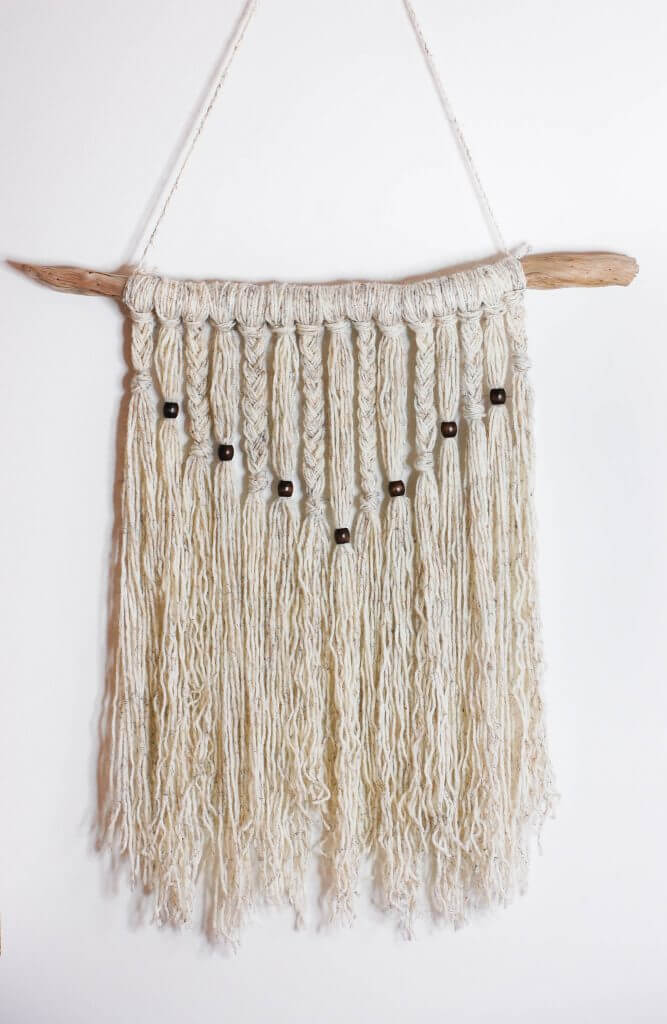 Wrapping yarn around driftwood seems simple enough, yet the final product is anything but ordinary. One of the best DIY yarn wall hanging ideas is formed in this way. Mix up the tassels of yarn by braiding a few for extra interest. Include some rich brown wooden beads as a cool accent to alternate the creamy beige hanging tassels. Hanging yarn wall art brings a warm and cozy texture to the room so this creation is a great choice for a living room, bedroom, or nursery.
15. Felt Leaves on a String Wall Art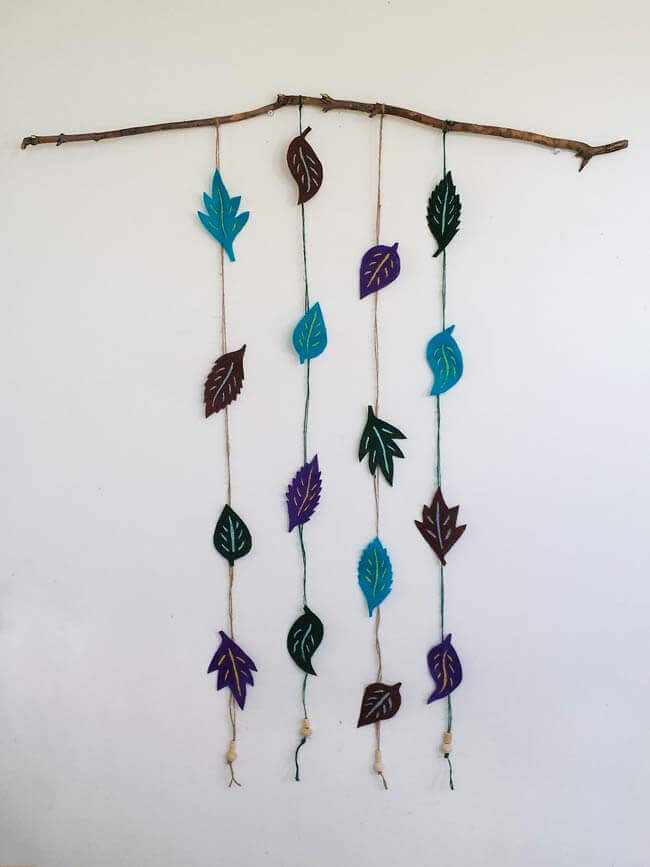 Encourage your younger friends to join you on this journey of stringing felt leaves for a creative DIY project. For the season of fall, choose felt leaves in traditional red, orange, and gold hues. Or if you want to enjoy this wall art year-round, feature your favorite colors to include on the strings of this decorative kid-friendly project. Enjoy making this a fun activity at your next backyard barbecue. You could also include this simple arts and crafts activity at a nursing center during your volunteer time or visit with Grandma.
16. Summer Fun Kid DIY T-Shirt Wall Hanging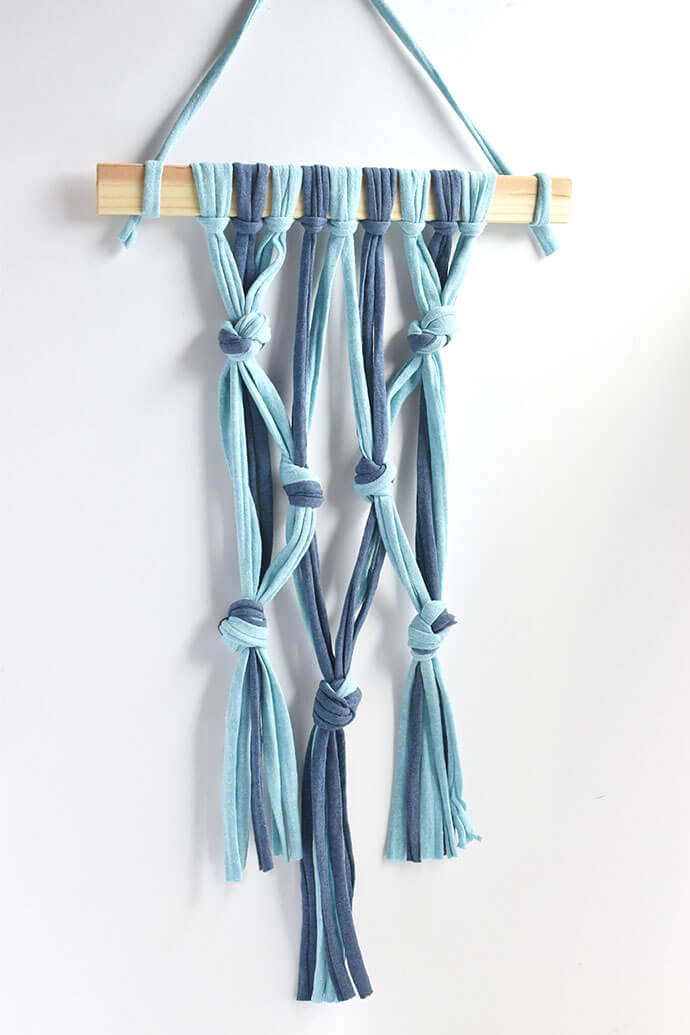 Working with a material like t-shirt yarn is simple and fun. Kids of all ages will have a ball creating their own custom wall art out of the same super soft material they live their lives in. A knot here, a knot there and you're on your way to an original work of wall art. Use a paint stirrer or other slim piece of wood as the foundation for your handmade yarn wall art. Kids can hang this above their beds or feature it on their bedroom door.
17. Three Strand Accent Scrap Yarn Wall Art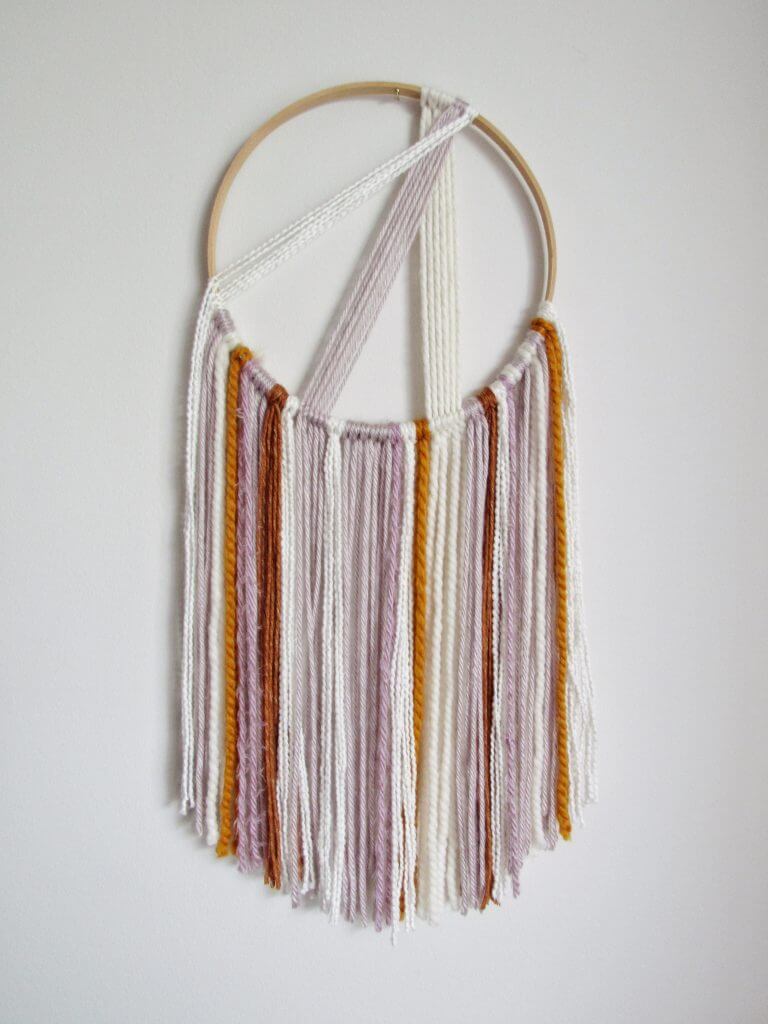 Gather all your scrap yarn and an embroidery hoop and you're all set for a fresh piece of wall art. Make it your own by featuring an unconventional asymmetric three-strand accent from one corner of the hoop to its diagonal counterpart. Not only will you love the look of this scrappy wall art, but you'll be happy to have cleared out some of your crafting corner leftovers. Any teen girl's bedroom would be a top pick for hanging this beauty. Creating a cozy study atmosphere in a dorm room would be another featured use for this gem.
18. Pull-Through and Woven Tassel Yarn Hanging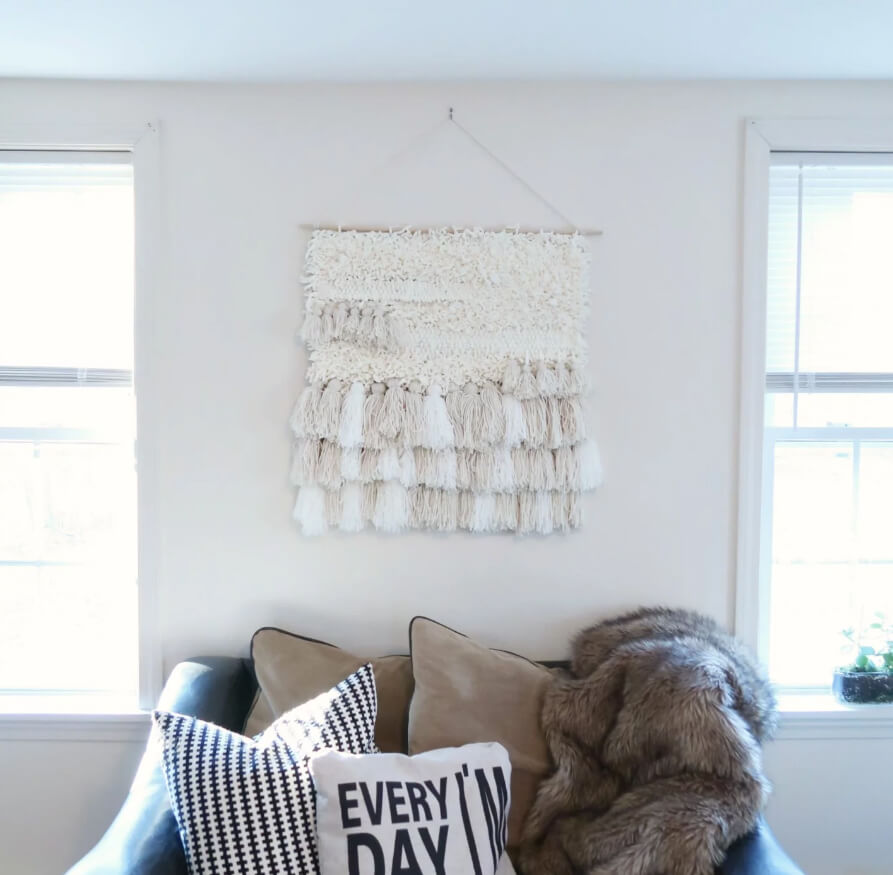 Simple strands and techniques transform into one incredibly cool yarn wall hanging! You don't need to purchase the expensive yarn either as the budget-friendly skeins will get the job done. A collection of white and off-white yarn works together to give a soft and cozy look that makes you feel at home. Featuring a yarn wall hanging on the wall instantly increases the interest in the room with the addition of a relaxing texture that nearly brings the wall to life. Although this looks crisp and clean on a solid white wall, it would be sure to stand out if featured on a wall painted in anything but white. Let it steal the show in your home decor as you feature it in a prominent spot as a quick and easy decor update.
19. Double the Fun Holiday Yarn Hanging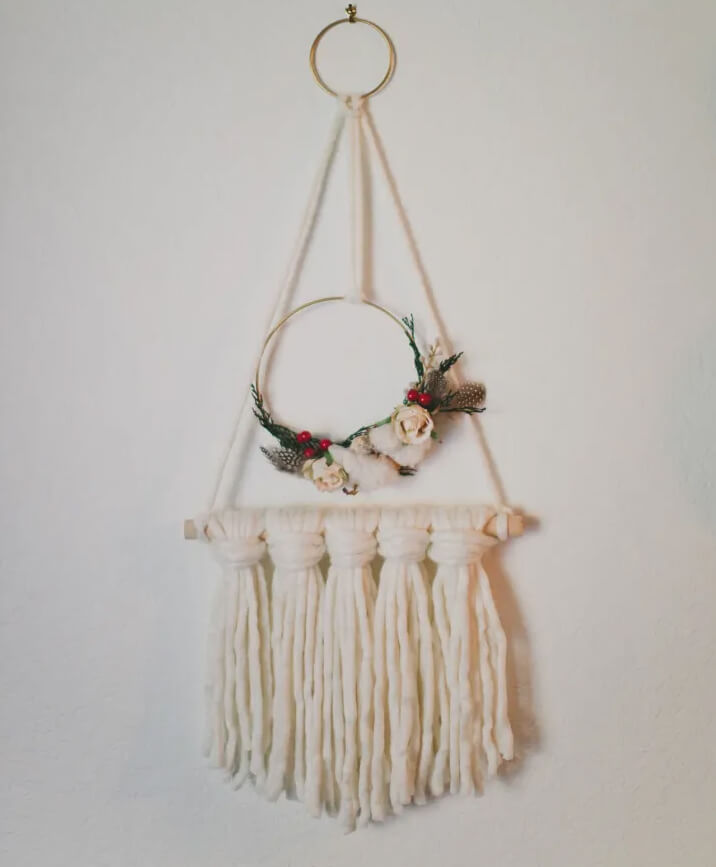 This Christmas double the fun on your wall decor with this festive holiday yarn wall hanging. A traditional yarn hanging with looped strings sets the stage for this dainty red and green accented miniature wreath formed on a golden hoop. Guests will notice this interesting and unique modern holiday decoration that is sure to stand out among others. Accessorizing with cotton and feathers adds a farmhouse and bohemian touch that will look great on your wall this winter.
20. Half Wood Half Yarn Oval Wall Hanging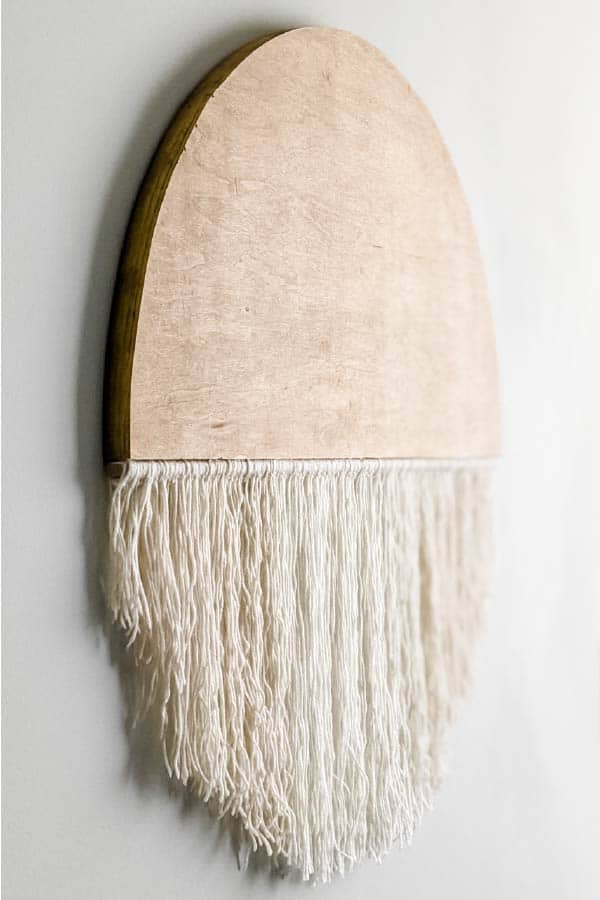 A portion of this amazing oval is constructed from a piece of plywood and finished off with some carefully positioned yarn strings. As the yarn tendrils hang on the small dowel, you can cut them into a perfectly shaped oval bottom with a sharp pair of scissors. Now you have a designer look at a fraction of the cost. This unique wall hanging adds a modern feel for a bohemian-loving style.
21. Inverted Chevron Yarn and Dowel Wall Hanging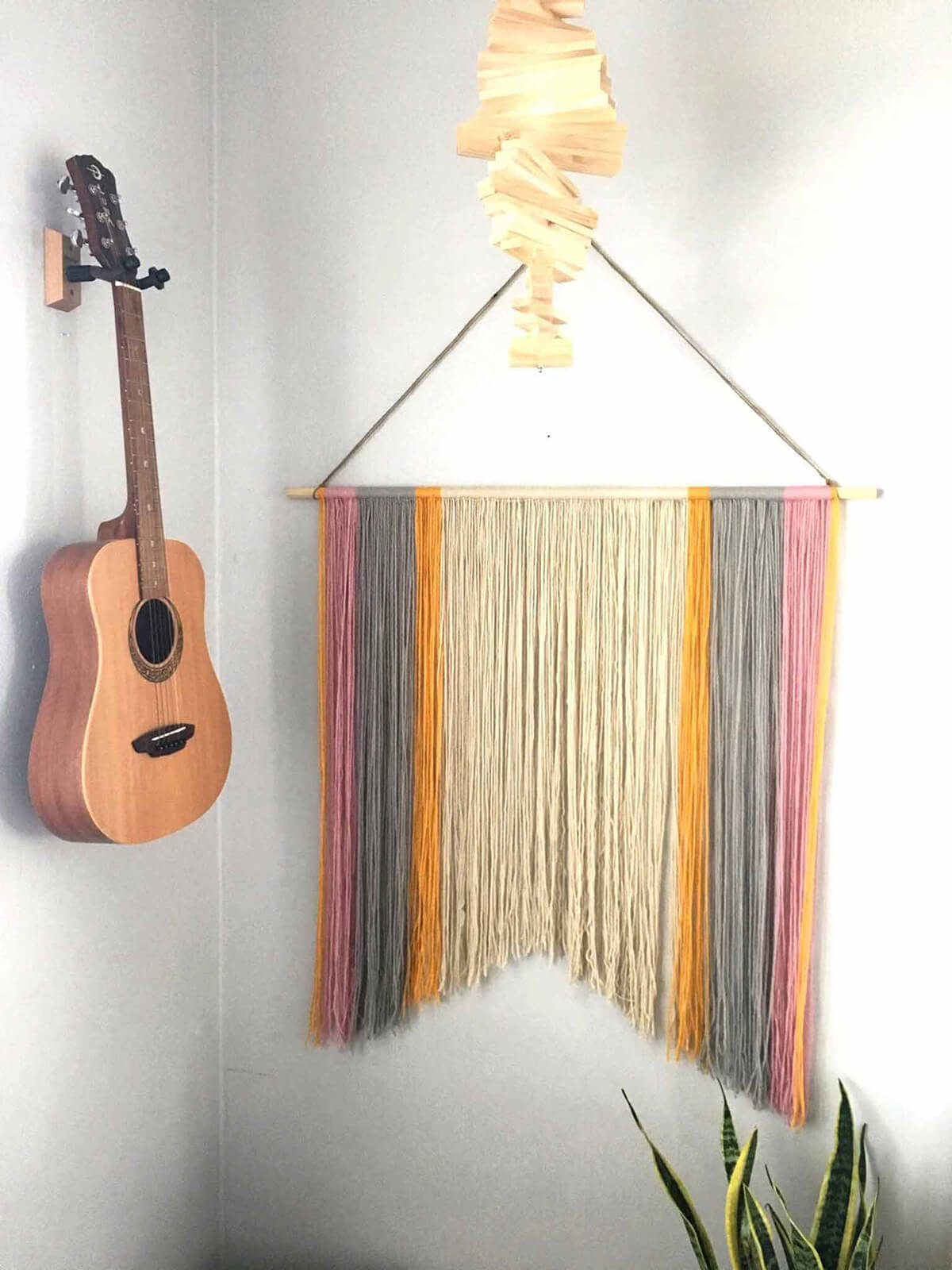 Using simple and cheap supplies, you'll be delighted with the handmade yarn wall hanging ideas you'll be able to create. Simply wrap your yarn around a dowel and you're on your way to a wonderful wall art design. The length of your yarn pieces can vary depending upon the look you wish to achieve. You can have them all the same length or cut them for a geometric design like a slant, point, or inverted chevron like the one featured here. Choosing a cool custom color combination is a fun way to make your wall art more personal and it adds a nice burst of color into the room.
22. Double Hoop Wooden Bead and Macrame Hanging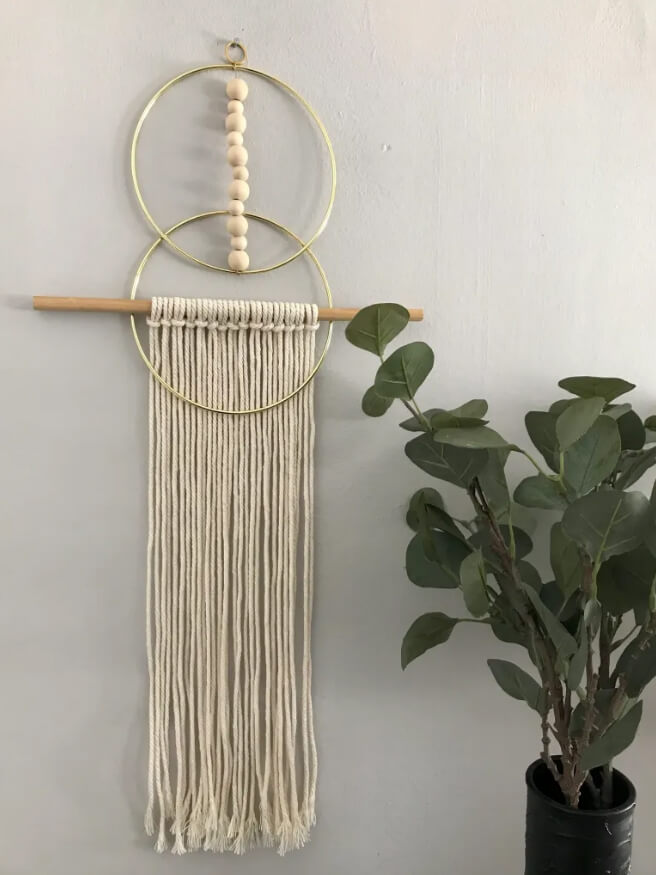 Decorate from ceiling to floor with this beautiful double hoop macrame wall hanging. There's a lot of interest packed into this single creation. From natural wooden beads as accents to shiny golden hoops, the soft and creamy macrame is the perfect touch for the main material in this handmade wall art idea. The simplistic beauty of the long, lean lines from the macrame strands lengthen the eye and make the room feel a little bigger. Such simplistic beauty makes this overall look a little more sophisticated than other yarn wall hanging pieces.
23. Metal Hoop, Beads, and Yarn Wall Art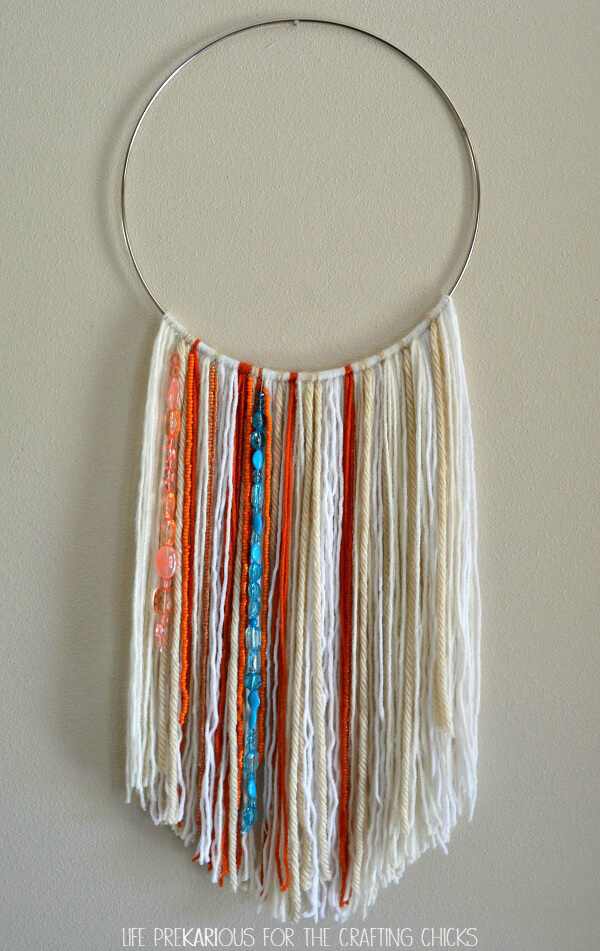 Create your own unique homemade yarn wall art boasting a bohemian vibe! This classic metal hoop provides the perfect base to get started. Choose a color combination from neutrals to some bright pops of color for extra pizazz. Additionally, including a few statement strands of beads will bring this cool yarn wall art to the next level. This would be a wonderful gift for a baby's nursery where you could add your personal touch by coordinating the color scheme or even some decorative accents like faux succulents or a wooden name cut-out.
24. Double Hoop Hemp Dreamcatcher Wall Art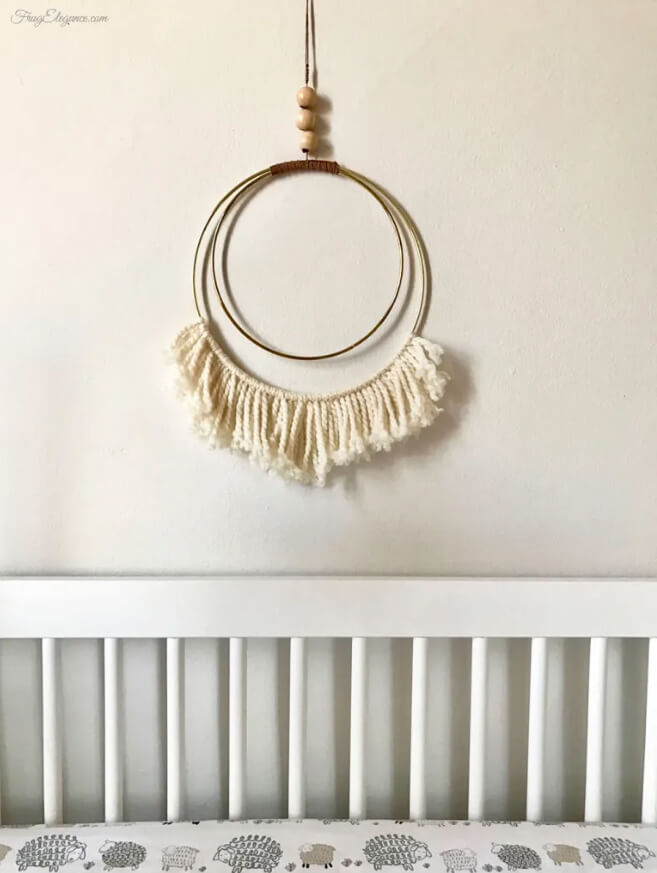 High style on a tight budget is how we roll! Find that designer piece you love and imagine your own version that doesn't cost an arm and a leg! Inspired by a piece from Anthropologie, this boho-chic dreamcatcher is the finishing touch you need for the intimate space of your home. Hanging above the bed, this stylish double hoop catches all the bad dreams so sleep comes easy. The double metal hoops in gold bring a nice metallic sheen to the design and look amazing paired with the soft hemp string and rough natural wooden beads.
25. Drop Stitch Design Crafty Crochet Wall Hanging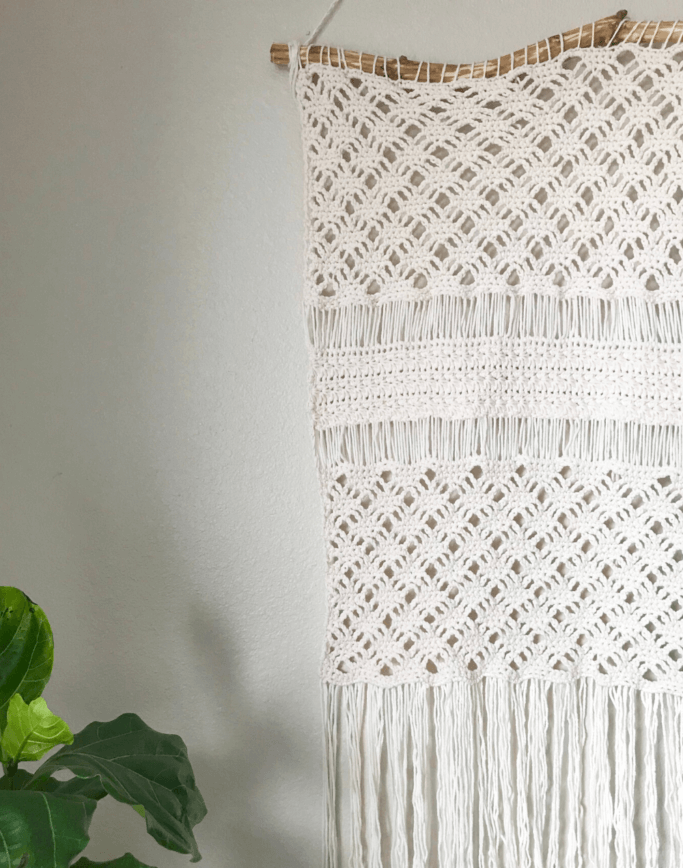 Appreciate the tender care of crochet in this gorgeous wall hanging that features a drop-stitch design for a more realistic macrame look. This statement piece should be displayed on a focal wall in your home. Choose the main entryway so everyone who enters will take notice of this beauty as soon as they arrive. Or hang it behind the couch in the main living room. Its versatility allows it to also work in bedrooms and hallways. Feel the love of this handcrafted creation when it's presented as a gift for a special friend.
26. Olive, Black, and Ivory Mini Yarn Hanging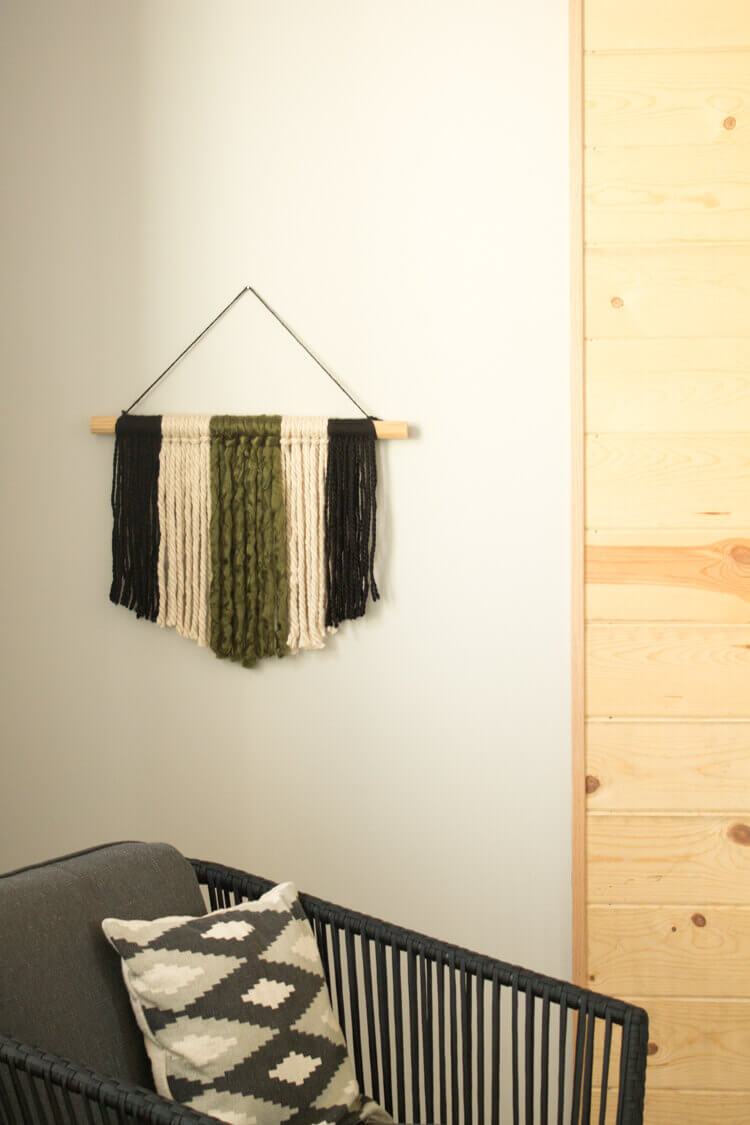 Even if you have a small space, you can cozy up a corner with a miniature yarn hanging. This lovely design works magic with a combination of olive, black, and ivory yarn for a modern and mostly neutral creation. Combine this crafty DIY with another similar one for a larger wall or leave it alone for a more confined space. The finished edge at the bottom can be your choice. Use some scissors to shape it into a sharp point, angle it for an abstract vibe, or leave it messy and natural while putting away the scissors altogether.
Update Your Home with the Best DIY Yarn Wall Hanging Ideas
Felt leaves, string hearts, and plush pom poms are a few components of the wide variety of handmade yarn wall hanging ideas from which you can choose. And one of the best parts of these ideas is how user-friendly they truly are! From young to young at heart, the difficulty level is easy peasy!
Jazz up a wall dedicated to holidays with the heart on a string yarn creation. Or for a festive Christmas creation, use a smaller winter wonderland wreath inset to add some special cozy warmth to your family gathering. Working with t-shirt yarn is soft and fun for kids. They may even enjoy creating their own yarn from t-shirts they've outgrown. What a great lesson for recycling and creativity! All they need to do is cut some strips and tie a few strings together and their masterpiece is within reach.
Bringing some extra love into nursery decor is another fabulous way to feature yarn wall hangings. Some extra details with bobble stitches or unique dreamcatcher designs make outstanding additions to the baby's first home. Including wooden bead accents is a simple way to add more depth and character to the design too. Also, the choice of colors in the project makes the largest impact on the overall design.
Have fun with your handmade yarn wall hanging. From gift-giving to a mini-makeover, you're certain to appreciate the simplistic beauty offered by such a little DIY project.