You don't like to waste most fabric. It isn't cheap, and you bought it because you liked the feel, the color, the pattern, etc. So, what can you do to eliminate waste, organize your home as well as the scraps, and/or create some storage ideas that will be as much fun to make as they are useful?
Scraps Don't Need to be Trash with these 15 Best DIY Zero Waste Sewing Projects

If it's not storage you seek, there are plenty of home decor ideas that actually prefer that you use the scraps from your scrap pile. That's great news because no money, cloth, or time is ever wasted created such things. In fact, you may even find it a nice addition to your sewing hobby and sewing cupboard.
Better still, you can keep these items all to yourself, or give them as gifts. Something homemade is always appreciated when people see the time and effort it takes to create it. If you can't make anything without a pattern, don't worry. There are several homemade zero waste sewing patterns available.
If you need inspiration, here are 15 cool and classy DIY, zero waste sewing projects. Every one of these projects does a great job utilizing scraps of cloth you already have laying around while also creating fun and useful objects to decorate your home. These handmade zero waste sewing ideas don't take much time at all either. They're perfect for a rainy afternoon with nothing else to do.
1. The Farmer's Market Bag: Sew It or Buy One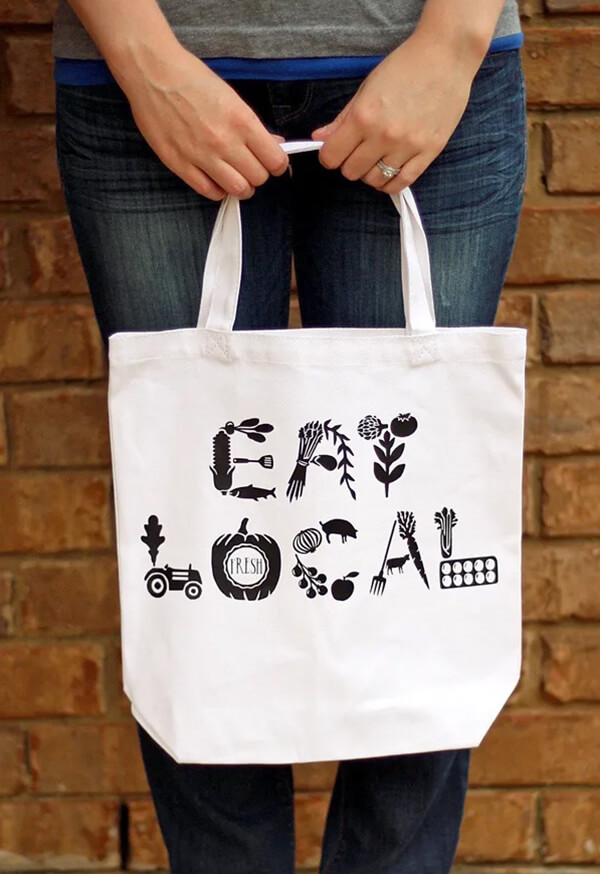 A farmer's market bag is useful if you find yourself buying fresh produce from a farmer's market all summer long. You can sew one if you have enough spare canvas laying around. You can also buy a pre-made bag and just decorate it.
Some ideas for decorating the bag include vinyl heat transfer, sewing letters and shapes of scrap cloth to the bag itself, and/or using craft paint to make a design.
2. Bookmarks of a Very Cool Sort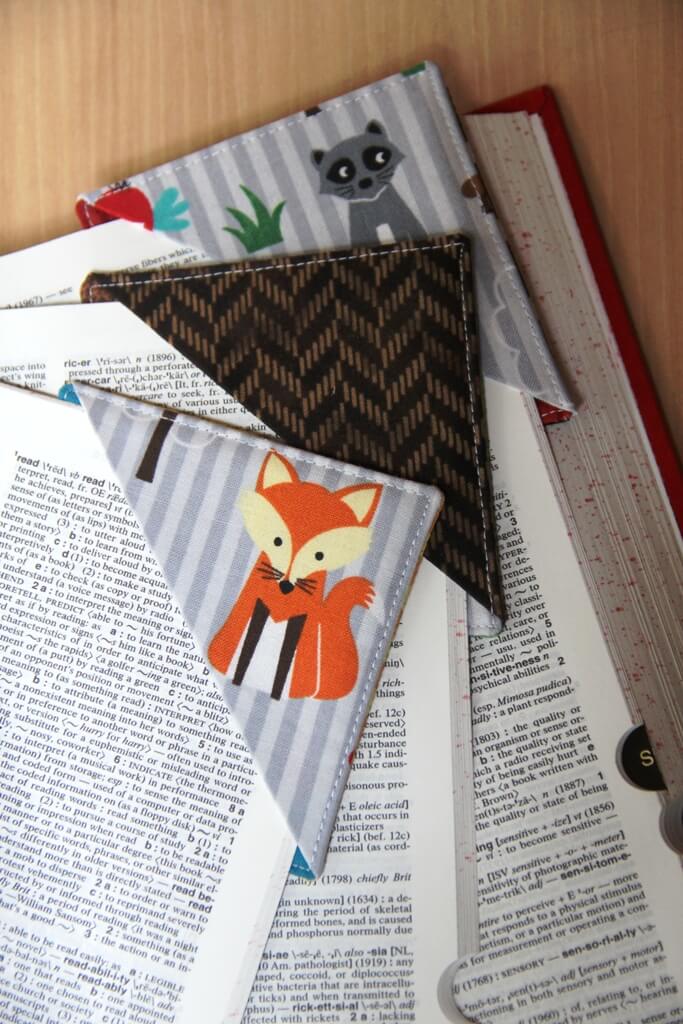 One of the best DIY zero waste sewing projects so far, these are the cute bookmarks you never realized you needed! When your pieces of scrap fabric are smaller than two inches by two inches, this should be your go-to project.
Comprised of a backed triangle of fabric sewn to a durable square of fabric, these bookmarks prevent those tattered and bent page corners nobody wants. They also hold a section of pages you intend to read and finish next, thereby creating a goal-oriented bookmark.
3. There's More Than One Way to Make a Potholder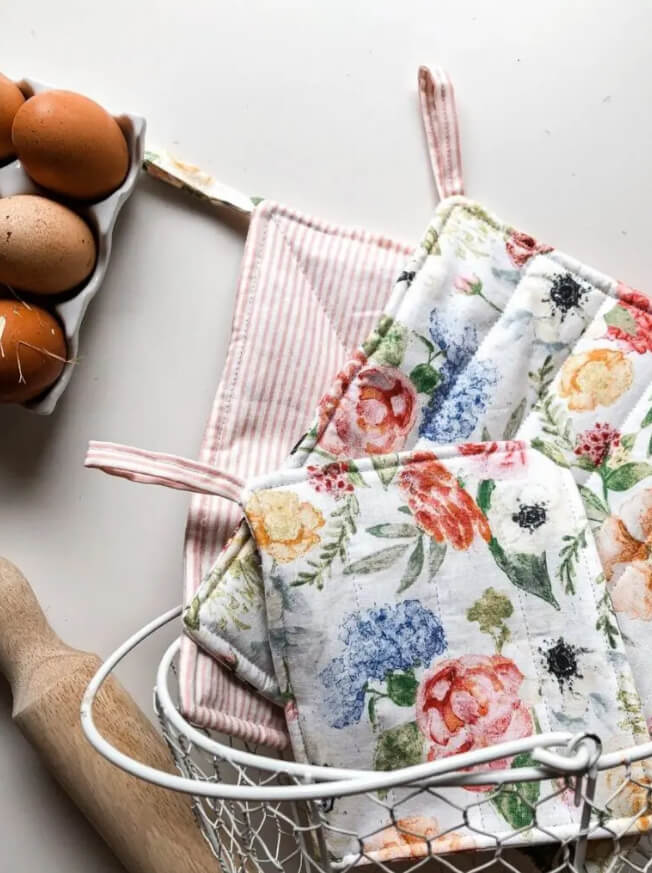 If you have ever sat down and used a square weaving loom and stretchy terry cloth or nylon loops to make a potholder, you can relate. It's a relaxing activity that makes a very useful kitchen item. If you are really industrious, you can make enough potholders to create a potholder quilt.
However, there's more than one way to make a potholder. Out of all the handmade zero waste sewing ideas out there, making a potholder has to be at the top of the list. You can make them as big or as small as your hand, and with whatever thick, heavy-duty fabric scraps you have. Just make sure they don't burn easily.
4. Unique Reusuable Bowl Covers You Can't Resist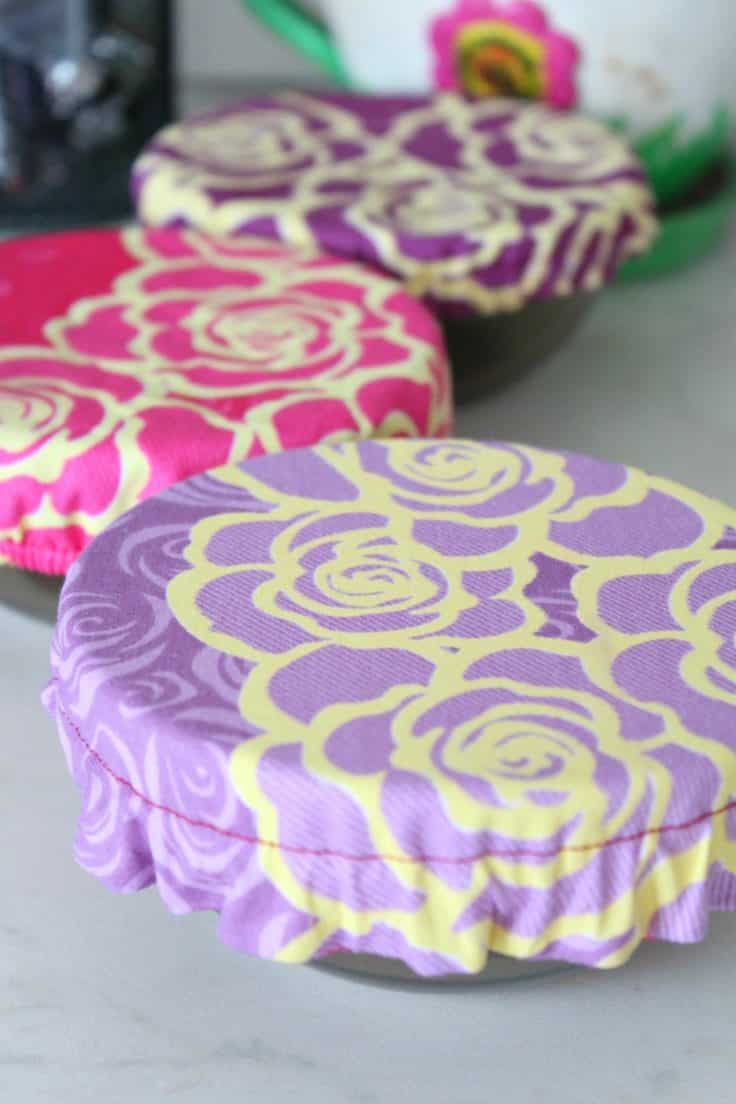 This is one of the cutest and best DIY zero waste sewing projects so far. Circles cut from some of your favorite scraps of cloth and a little scrap elastic create an instant bowl cover to keep food from spoiling or drying out. If they get any food or sauces on the underside, simply toss them in your washing machine and let it go. They're so much fun to make and use you might forego using cling wrap or aluminum foil ever again.
5. The Perfect Reusable Grocery Shopping Bag Is in Your Scrap Pile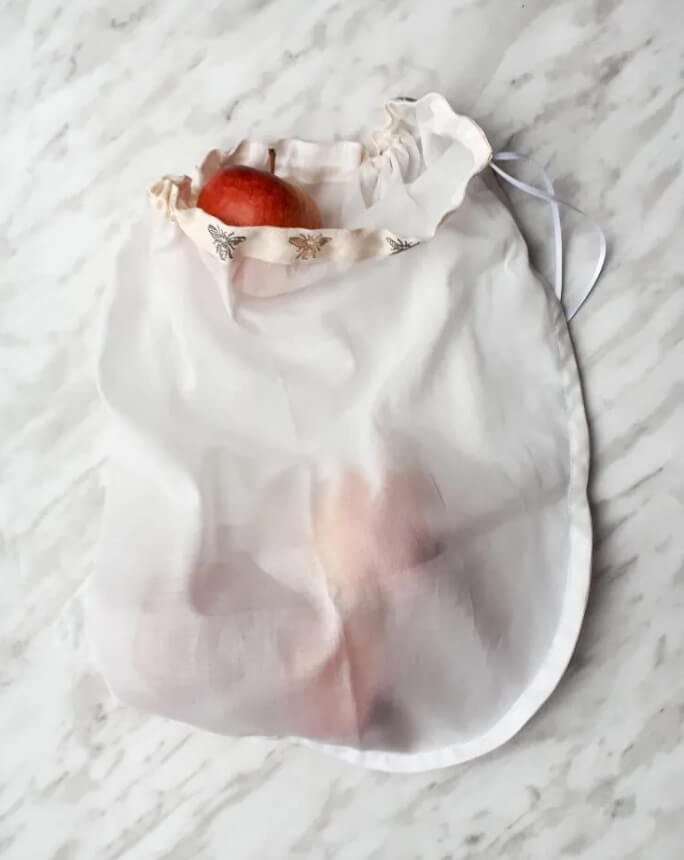 Speaking of grocery bags (see previous sewing idea above), this idea is taking scraps from your scrap basket and turning it into your newest grocery shopping bag. Now you won't have to use paper or plastic when you shop. Use the scrap cloth bag you made for yourself!
The only thing you have to keep in mind is that the cloth scraps you use have to be really strong and durable. The rest is easy, and the bags you make are oh, so washable. This one can even be used to store produce out in the open.
6. Pretty and Perfect Snack Pouches Hide Your Guilty Pleasures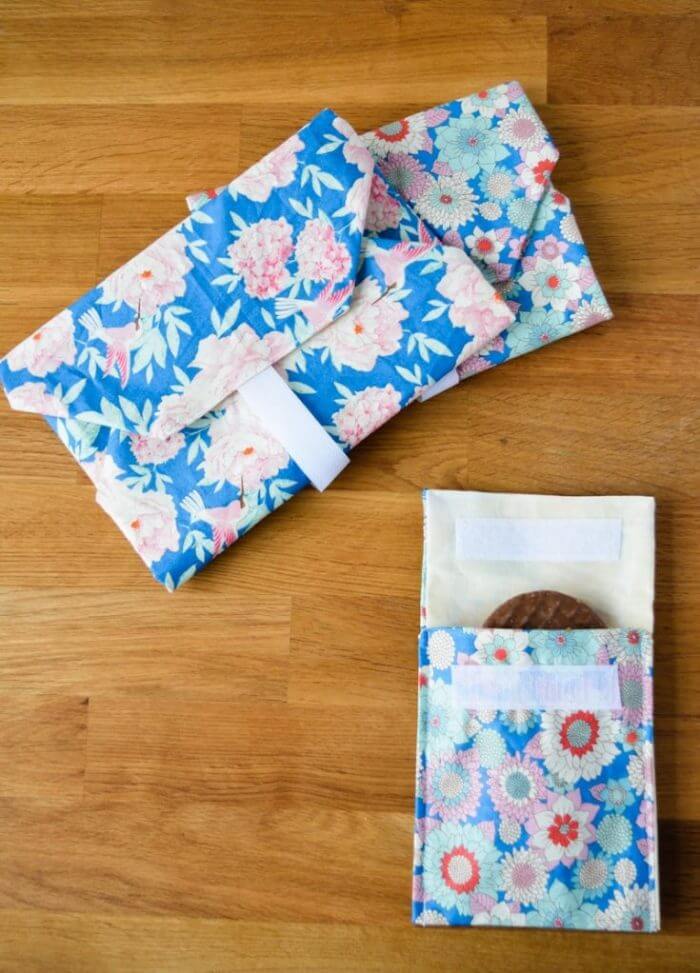 Nobody wants to be the person carrying an entire purse or briefcase full of snacks around and have them tumble out at the wrong moment. You can make this easier by sewing little scraps into pouches for your snacks. The great thing is that these snack pouches can be made from any size scraps and close tightly with an addition of a little Velcro.
7. Step Back in Time When You Step on This Braided Scrap Rug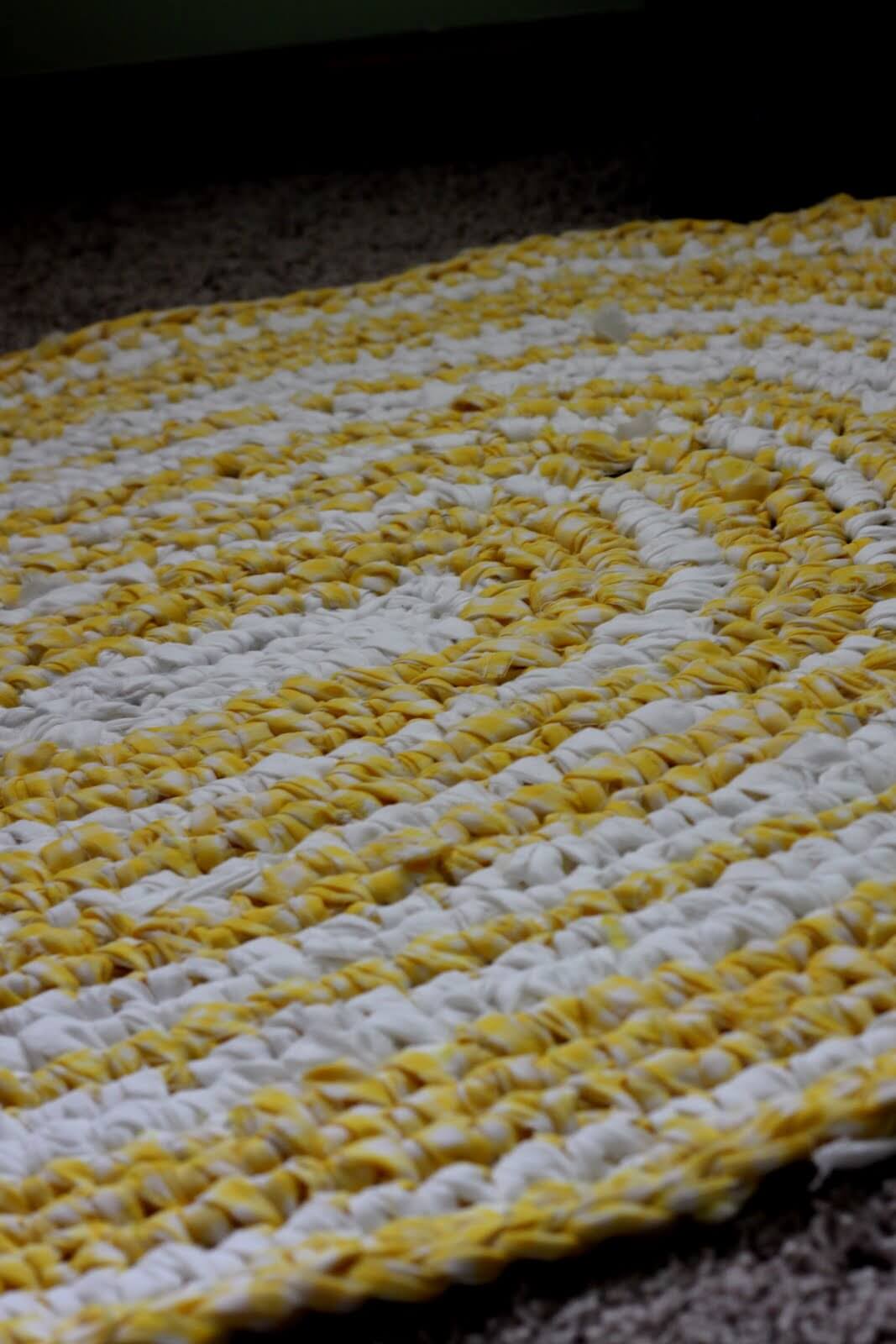 Maybe your grandma or great grandma made rugs like this. They were especially popular during the Great Depression and WWII when nothing was allowed to go to waste. Take long strips of scrap fabric, braid them together, and stitch ends to ends to keep making a rope. Then create a circular or oval rug by winding the rope into the preferred shape and hand-stitch each loop in place.
The fun thing about these rugs is that you can just go willy-nilly with the scraps and create something so unique that it can't be recreated again. You can also be quite methodical and intentional about matching color and pattern scraps to create a rug that looks like it was store-bought and factory-made. The choice is yours.
8. The Best DIY Zero Waste Sewing Projects Help Organize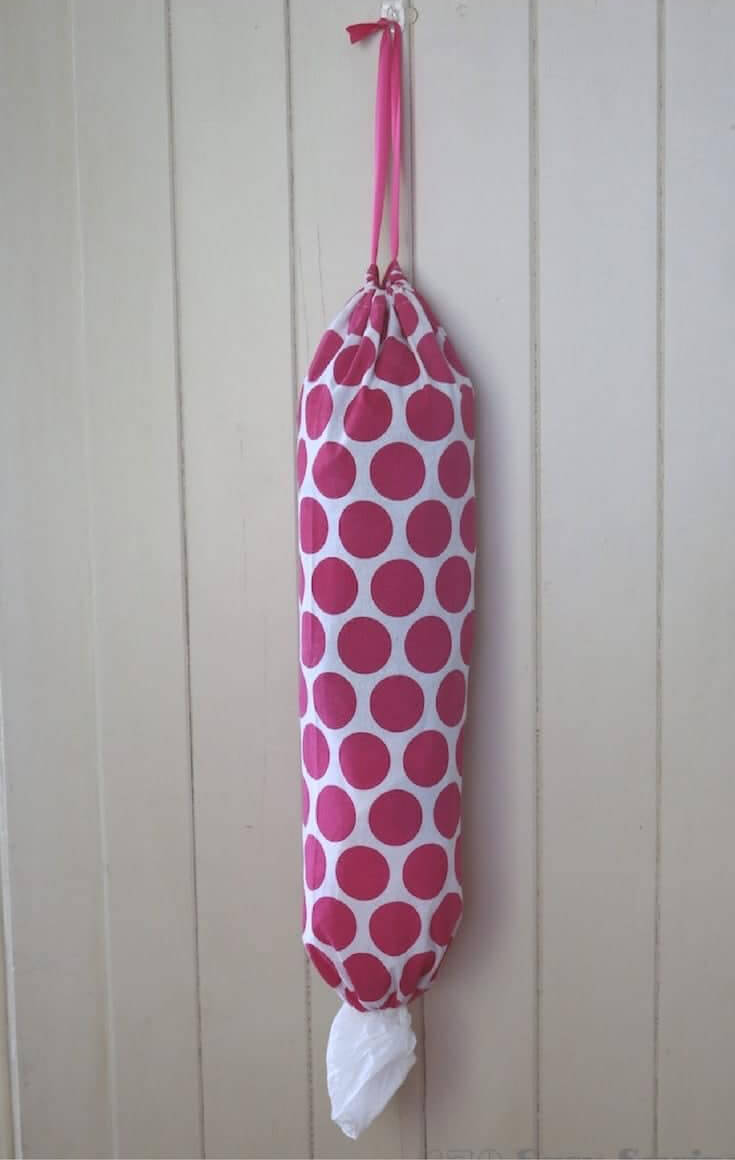 A sewn bag to hold bags? Well, yes, when you consider that this cloth bag repurposes or reuses cloth you had laying around and hides your stash of plastic grocery bags. If you don't use plastic grocery bags from the store, you can always use this cloth one to dispense garbage bags and then recycle the box in which the garbage bags were packaged.
The cloth tube is hung from ribbon or rope, whichever you have laying around. The hanger is also the bag's cincher so that the bags you're trying to organize in it can't creep out of the top as you pull them from the opening in the bottom.
9. A Unique Cloth Alphabet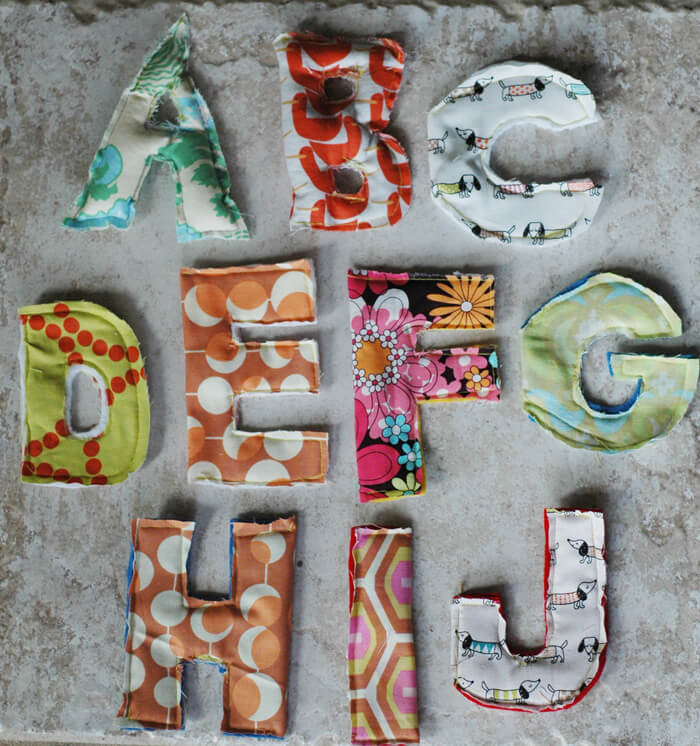 What can you do with scraps that are just too small and too oddly shaped to make anything else? You make a cloth alphabet, of course! What can you do with a cloth alphabet? Well, you can add magnets to the back and stick them to the fridge. Sew them onto toss pillows for a 3D effect. C'mon! Get creative with these handmade zero waste sewing ideas!
10. No Waste for Fabric or Bread Loaf? Cool!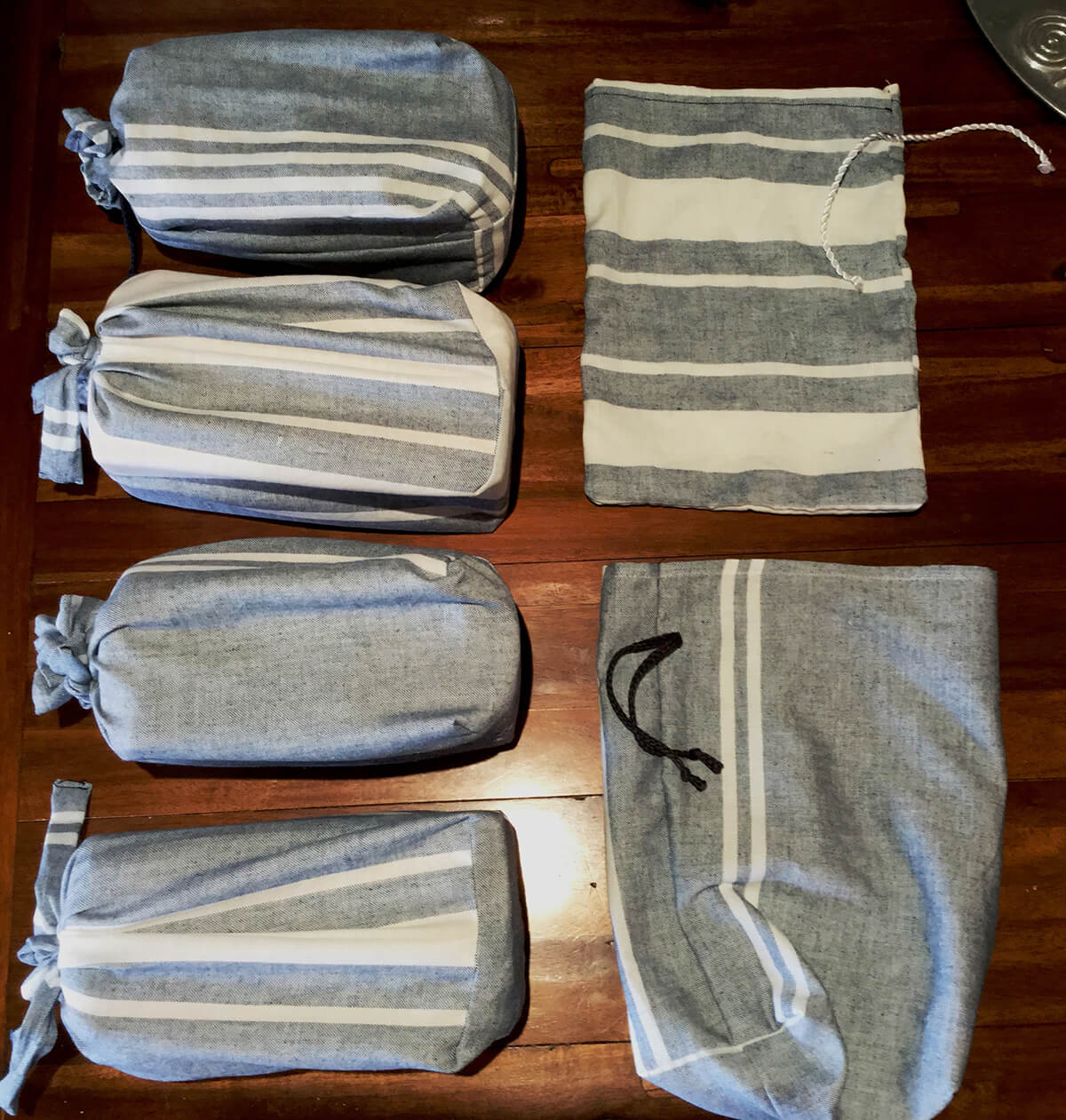 Homemade bread is a treat, but it has one major drawback. It doesn't stay fresh and soft unless you have a way to protect it. When you make bread and sew, you can kill two no waste birds with one stone with this homemade zero waste sewing pattern of sorts.
Instructions show you how to hand-mark and cut something as simple as a scarf, shawl, beach towel or cotton pillowcase to make a bread loaf bag. It's a beginner's sort of craft, but it makes something that will keep your golden loaves of yummy goodness fresh and soft for days. Use up long, rectangular scraps of cloth and you're set.
11. Fitted Tablecloth for Your Kitchen Table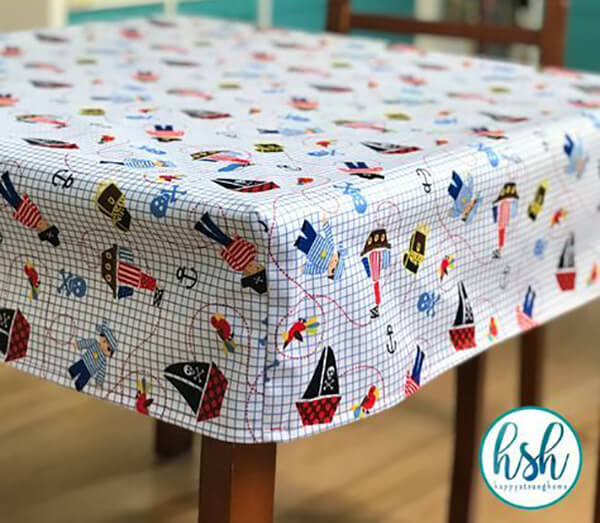 Having an odd-shaped kitchen table comes with its own set of issues. You can never find a tablecloth that is the right size, shape, color, etc. Nothing looks right and even when you do find a tablecloth that sort of fits, it slides all over your table.
Skip that frustration and use one of the easiest and best DIY zero waste sewing projects around. One large scrap of fabric that can't really be used for much else doesn't have to become several smaller scraps. Instead, turn it into this secure, tucked, and fitted tablecloth you can use again and again.
12. Bundles and Bundles of Perfect Cloth Rounds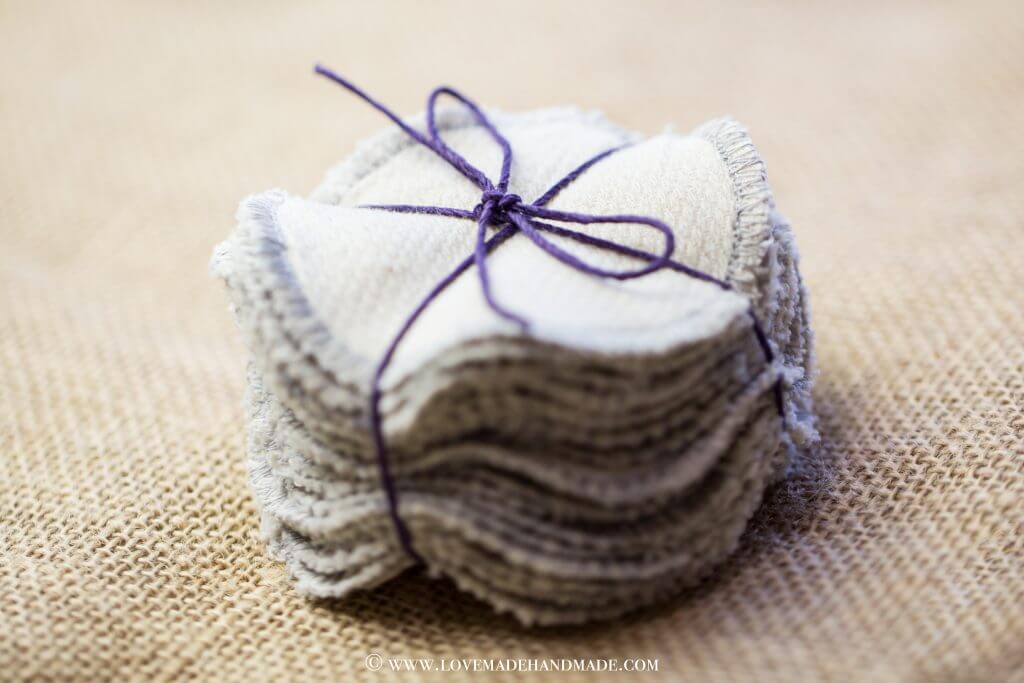 No waste is ever warranted. That is definitely true of these cloth rounds. Use them to wash your face, remove nail polish, scrub tiny areas other rags can't get to– you get the idea.
The best scraps for rounds are rougher fabrics when you intend to make them clean things. Lighter, smoother fabrics may be used to make a unique quilt or patch torn clothing. When you're done using each round, toss them in the wash and use them again. It's the "circle" of cloth life.
13. Homemade Zero Waste Sewing Pattern Creates Bowl Cozies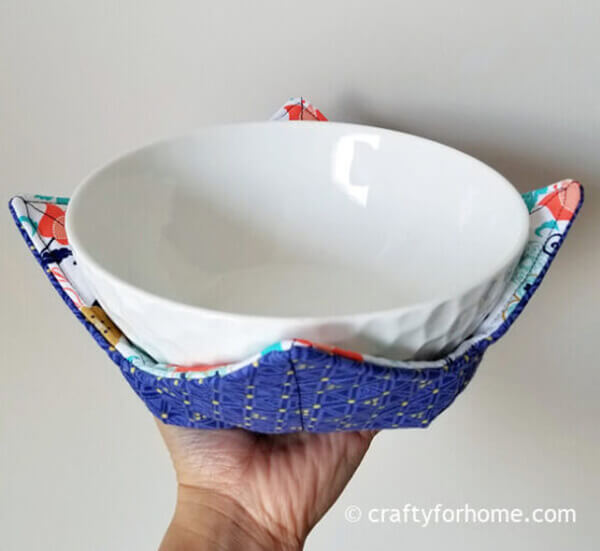 Serving bowls get a bad rap. They are often very plain on the outside, with minimal decor. Yet, a few fat quarters, some batting, and this pattern and you can make serving bowl cozies that would impress the Queen of England.
A few snips, some stitching on your machine, a flip inside out with finishing stitches, and voila! The perfect bowl cozy! The best part about it is that it is completely reversible. If you don't like the side facing out, turn the cozy inside out to have another fabric color or print staring back at you.
14. Hide Your Popcorn Stash in a Unique Way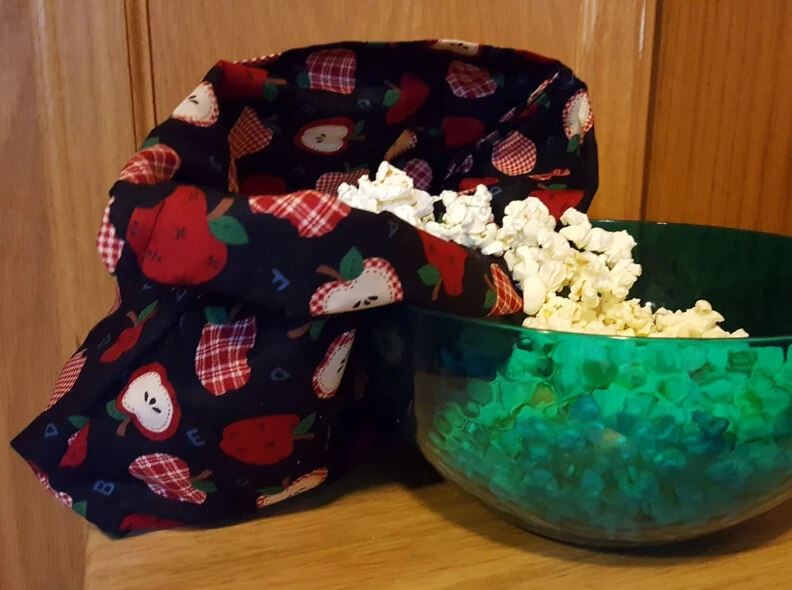 Kids will literally consume everything you have in plain sight. Hiding it in your own personal stash cupboard is often the only way to save something for yourself. A giant sack of popcorn that also lets you microwave with minimal mess is a bonus. (If it does get oily or greasy, just wash it.)
The idea of saving something for yourself is what's behind taking larger scraps of cloth and sewing this cool cloth popcorn bag. There's no way the kids will ever suspect that you're hiding popcorn here!
15. Simple Draft Stopper Costs Almost Nothing to Make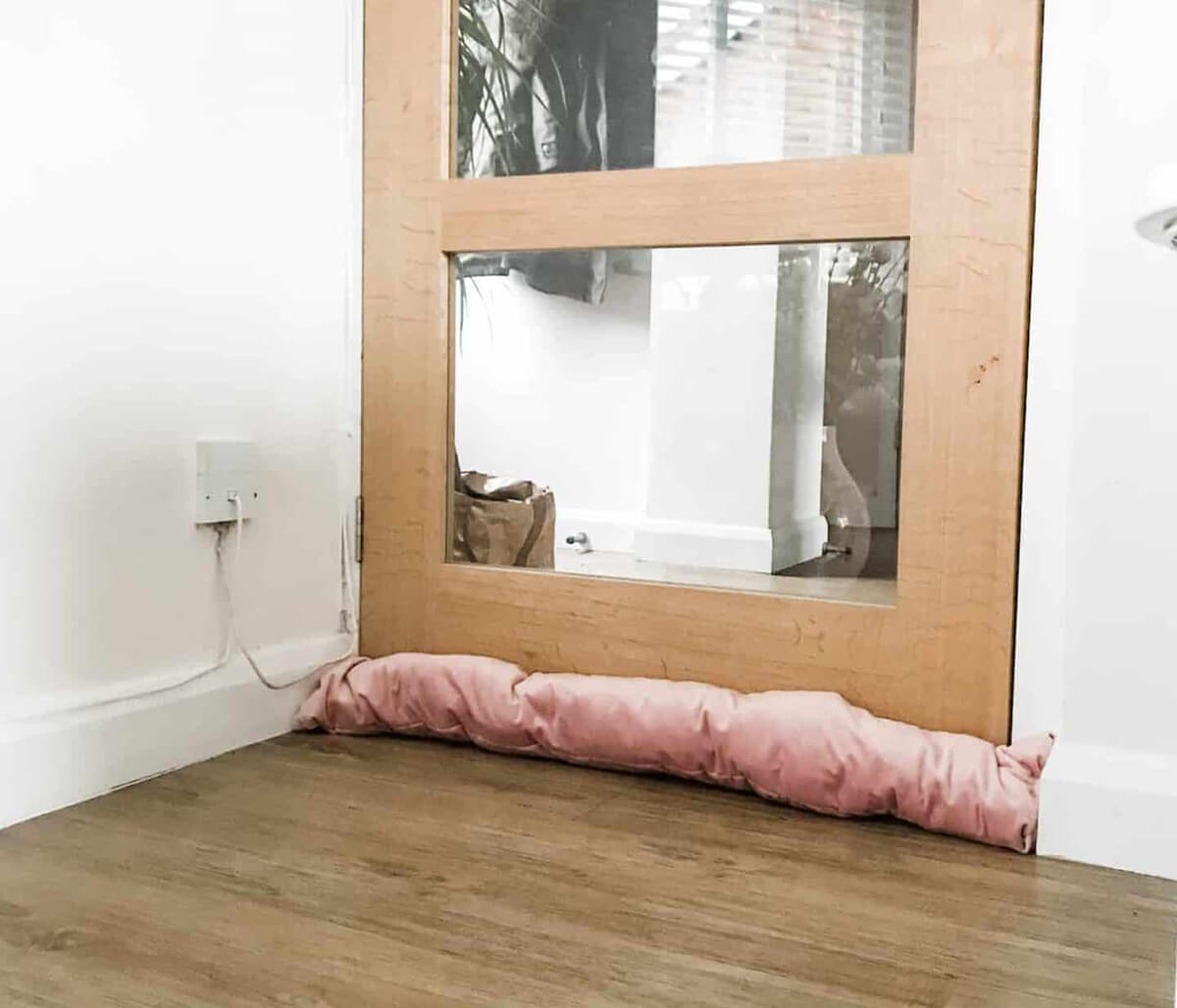 If you have seen draft stoppers for front doors then you know that the ones you can buy cost an arm and a leg. Make your own for mere pennies or next to nothing by using a long tube of scrap fabric and some batting or beans. If you need it to have a lot of weight, opt for beans because they are very dense and heavy.
Some other filler options include dried rice, pea gravel, old, rolled up socks, and/or recycled bubble wrap. The best fabric scraps are dense so that the drafts can't seep through the draft stopper. A good suggestion is the cut off legs from blue jeans, but you can use whatever you like.
15 DIY Zero Waste Sewing Projects to Make Use of Everything
These ideas represent just a miniscule fraction of the total number of ideas and patterns available for zero waste fabric scraps. If you can sew a square, a rectangle, a triangle, a circle, and create hems, you can create virtually any and all of these ideas and then some.
Take your inspiration from some of the above to create your own. Copy the above ideas and use your scraps to create the projects you love best. There are even more ideas to be discovered on sites like Etsy and Pinterest, not to mention sewing and crafting websites.
Still desperate for ideas? Head into a quilting shop to see what they do with scraps. Some incredible quilts from dollhouse miniature-size all the way up to King-sized bed size use some sort of scraps in beautiful and creative ways. In fact, it's really neat to see how the tiniest scraps that you might throw away can actually be made into a dollhouse quilt.
Once you see what you can do with scraps of any shape and size, it's almost impossible to throw away any scrap at all. It practically becomes a challenge to see if you can throw away a scrap of material. Maybe that is half the fun of using your scraps to create decor and organizational items for your home.