When you have a kitchen that is gone out of control dollar store kitchen organization ideas are great. Every kitchen has a drawer that has random items cluttering it from corner to corner, or a cabinet that includes pots and pans that are placed about randomly. Kitchen organization can help you pull in the reins on those cluttered drawers and cabinets and allow you to arrange your kitchen space so that it is more orderly and functional for you and your family.
15 Ways to Incorporate Dollar Store Organization Ideas for a Neat Kitchen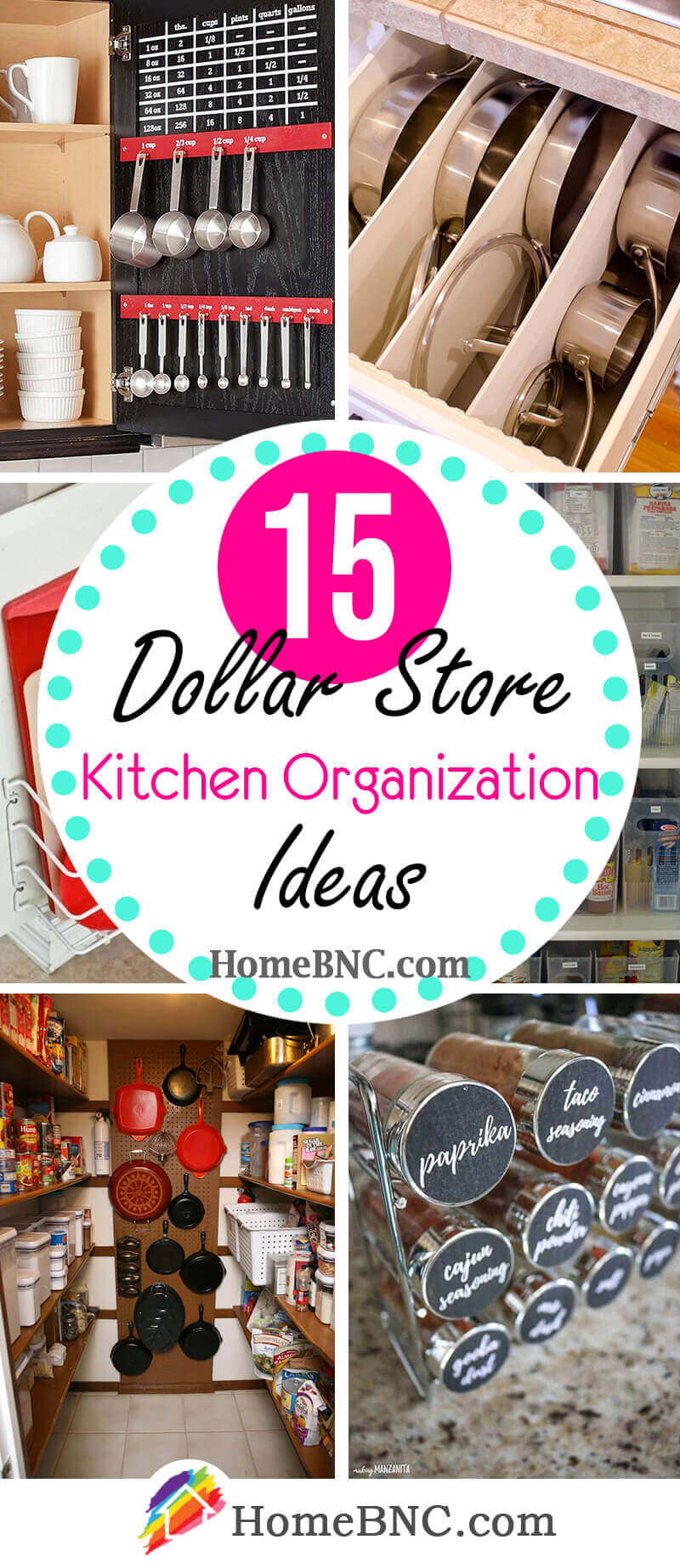 Anything less than organization, is pure chaos. Chaos is the last thing you need in your kitchen. By purchasing a few items from the dollar store and incorporating them in your kitchen cabinets and drawers, you're able to create wonderful ideas that allow you to remain organized while operating in the most important room of your home. Organization ideas are ones that help to bring structure to an area that can become quite hectic. After all, not only do we cook in this area, but we allow family and friends to visit, review homework from school and have conversations with our loved ones in this very space. For this reason, having an organized space is essential.
The beautiful part of bringing organization to your kitchen is it doesn't have to be an expensive task. Gathering a few items from the dollar store and assembling them to suit your needs, is an excellent way to bring organization to the heart of the home. Dollar store kitchen organization ideas can be easily implemented and maintained. By applying simple hooks to your wall, you can create an area that is ideal for oversized pots and pans. Likewise, purchasing a few tupperware items from the dollar store allows you to declutter your pantry and organize it so that you are able to easily find the items you're looking for.
1. Classy And Perfect Organization For Pots And Pans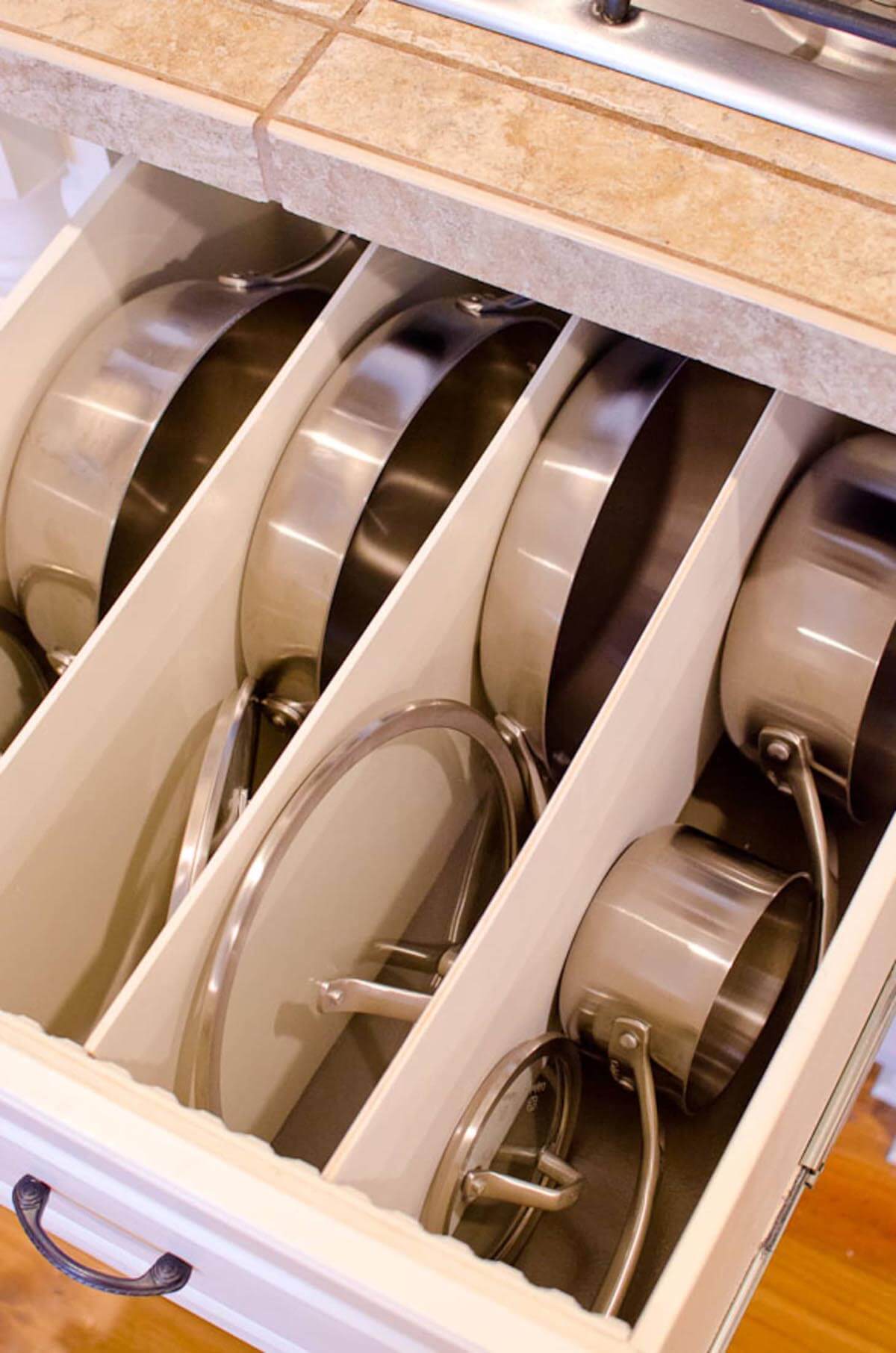 This is the ideal setup for pots and pans. Instead of having them strewn about the cabinets or the drawers, you can incorporate organization by placing slabs in the drawer slots and appropriately placing any small pot or flat pans within the slots. Not only does this create an appealing look, it is an excellent way for you to stay organized while preparing meals in the kitchen. It is also a wonderful way to remember exactly where each item goes. This unique organization technique is not only a great way to organize for yourself, but it helps keep the other people in your family organized as well. Implementing an organization system and sticking to it is the best way to reinforce the rule.
2. Wonderful Cheap Organization Ideas For The Cupboards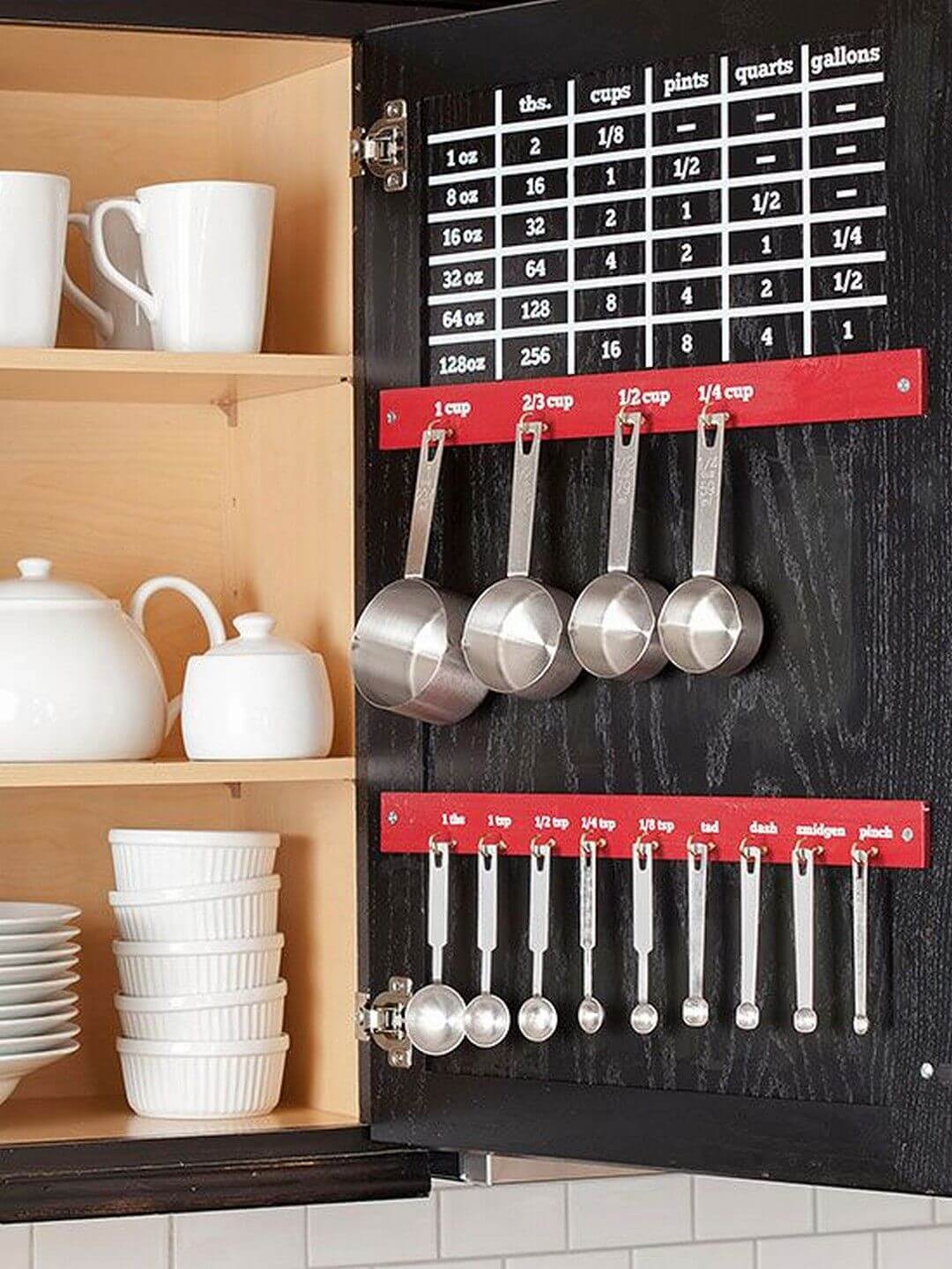 This wonderful organization idea is an awesome idea for kitchen organization and helping with measurements. Incorporating this technique in your kitchen cupboards helps you stay organized while putting away the dishes and in preparing your meals. Anytime you need to reference measurements, all you have to do is open your kitchen cupboard and all of the information is there at your disposal. Not only is this a unique way to organize your cupboards, it is also aesthetically pleasing and colorful. Using small hooks to affix measuring cups and spoons are a wonderful way to organize them by size.
3. Excellent Home Decoration Technique For Kitchen Organization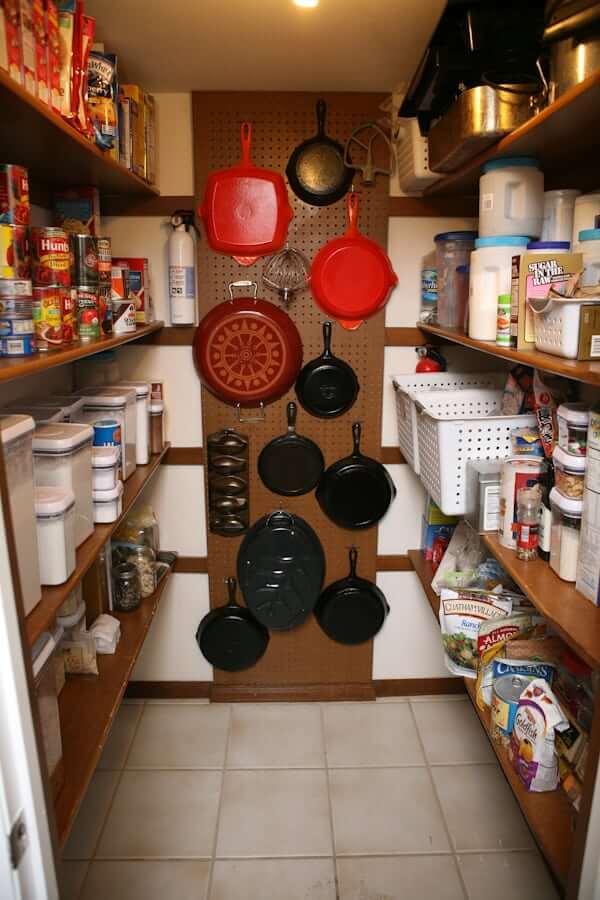 If you have oversized pots and pans that cannot fit into your regular cabinets or drawers, this organization method is an excellent way to store bulky items while displaying them in a structured manner that makes them easy to find, easy to use and easy to store. By using simple home decoration items, you are able to create an organized and structured place to store oversized pots and pans. Purchasing hooks and affixing them to the wall allows you to appropriately place each oversized item exactly where you need them. It is also helpful when it's time to select the right size pan for a particular meal.
4. Spicy And Awesome Idea For A Spice Rack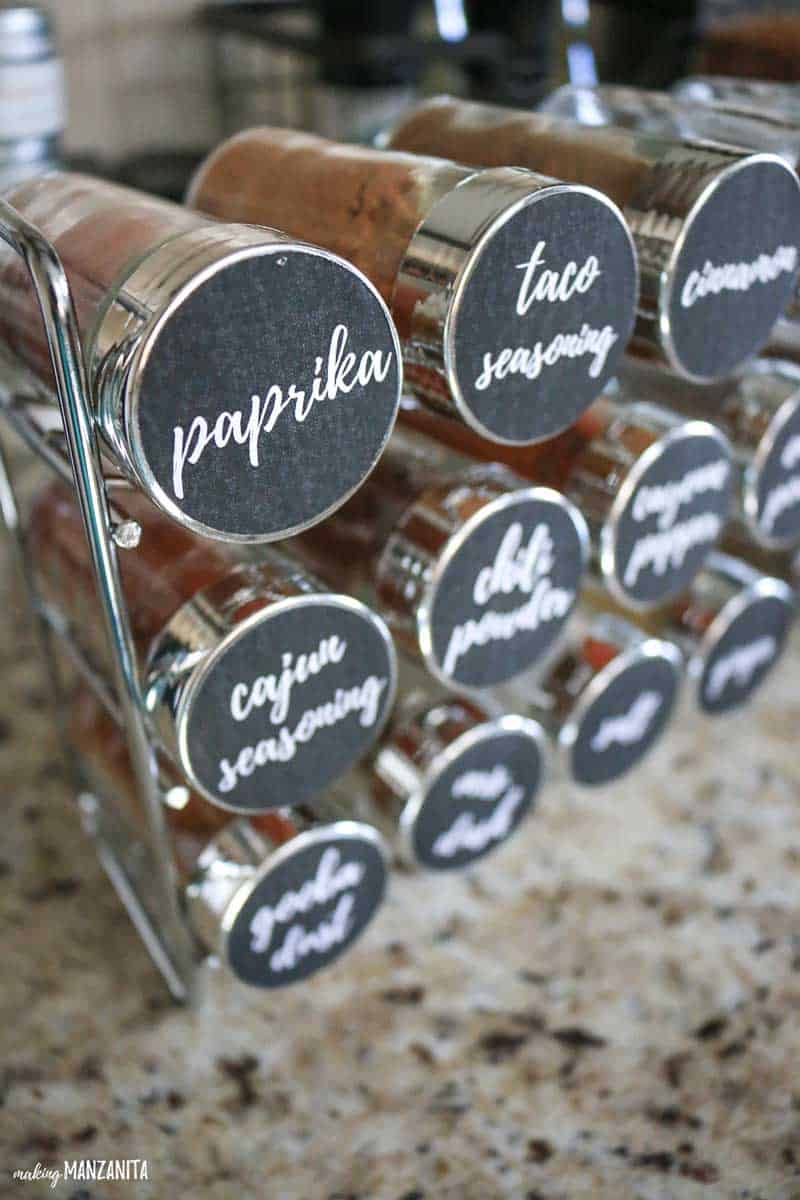 This display rack is a cool way to store your spices. Cheap organization ideas like this are a great way to display your exotic spices. The finish of the rack is appealing and goes with any kitchen decor. It can be placed on the counter or neatly in the cupboards to create more space in your kitchen design. The rack is large enough to be seen as a decorative element but small enough to be out of sight. This rack is for the more interesting spices and can be used for special meals where regular salt and pepper won't do.
5. A Perfectly Unique Way To Charge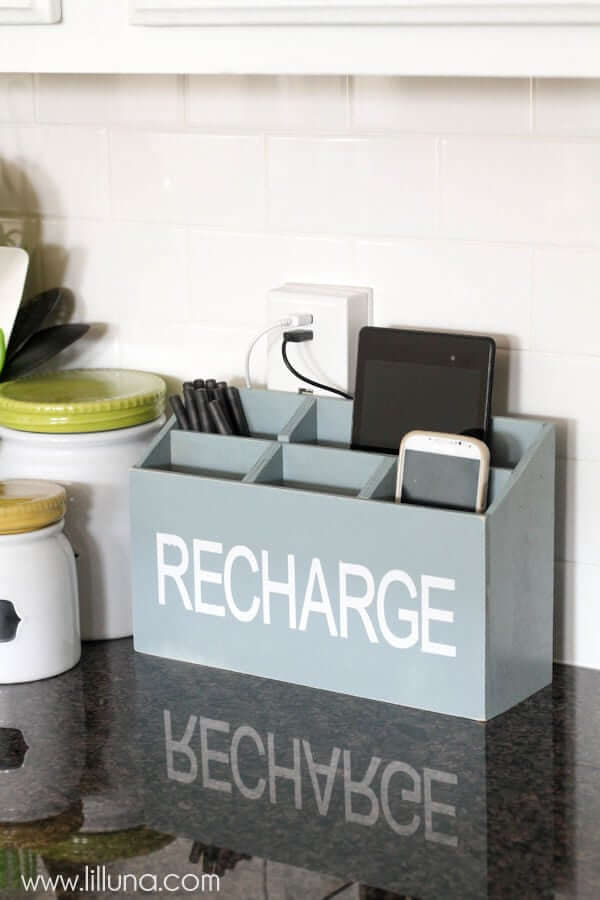 This organization idea is excellent for the times when you're in the kitchen preparing meals, doing homework or cleaning the dishes and you need a place to store your phone or iPad out of the way. This is considered one of the best dollar store kitchen ideas because it will not let your electronic items get damaged. This charging case fits well within the kitchen decor and allows you to organize multiple items at one time. By appropriately placing this charging tray next to an outlet, you're able to successfully charge your item while performing the task at hand. Not only is it excellent for electronic items, it is also great for storing pins and pieces of paper when you need them.
6. Neatly Appointed And Cute Kitchen Pantry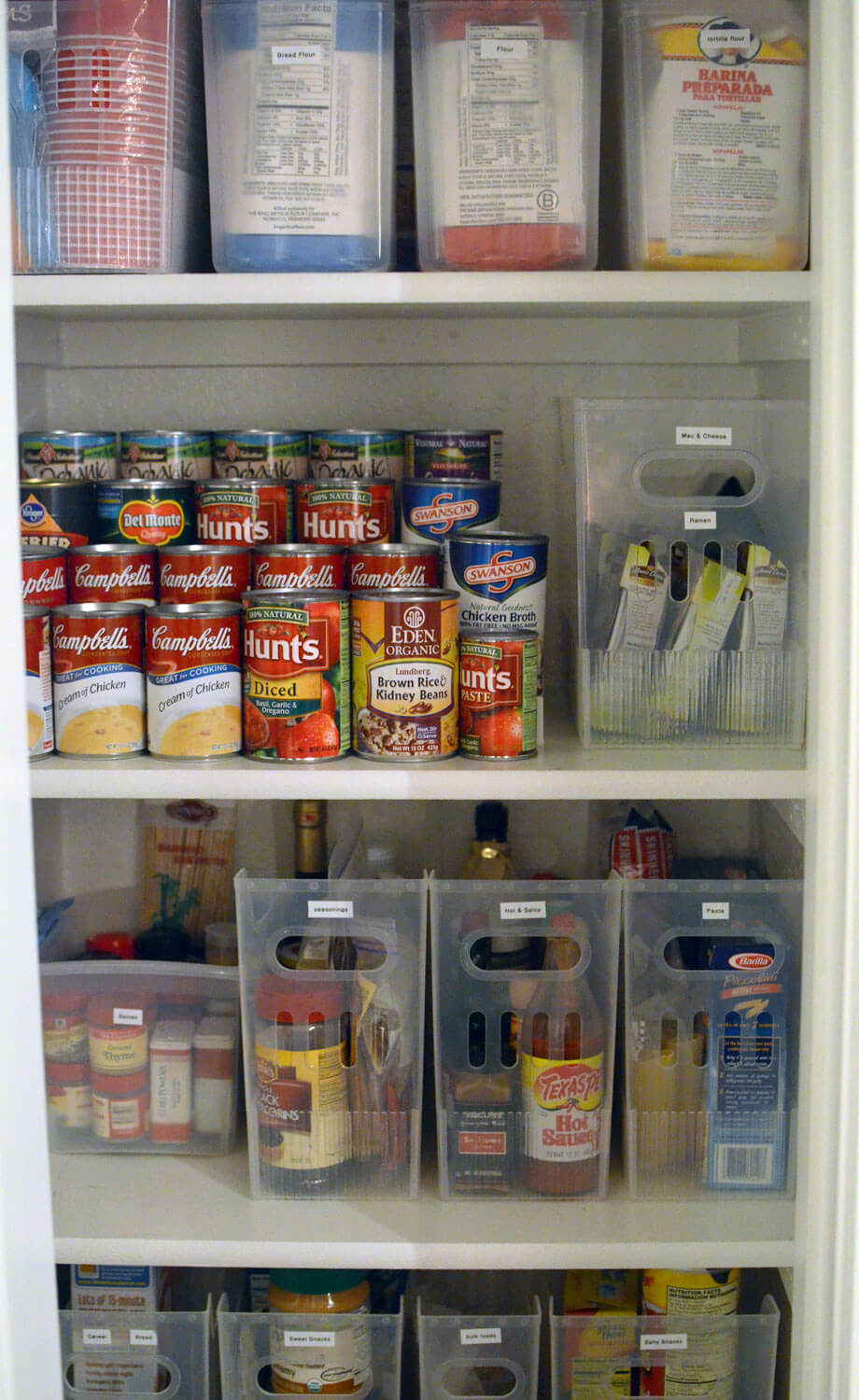 These clear storage bins are an excellent way to store condiments and other items. It is a great way to keep these items in plain view while storing them. Not only is this an excellent way to store your items, it also allows you to keep an eye on items that are about to expire. These clear storage bins provide great storage but they are also able to save you money. If you're able to clearly see what you have in your cupboards, it is less likely you will allow the items to expire or spend extra money buying items that you already have.
7. A Cute Cookie Jar Idea For The Kitchen Counter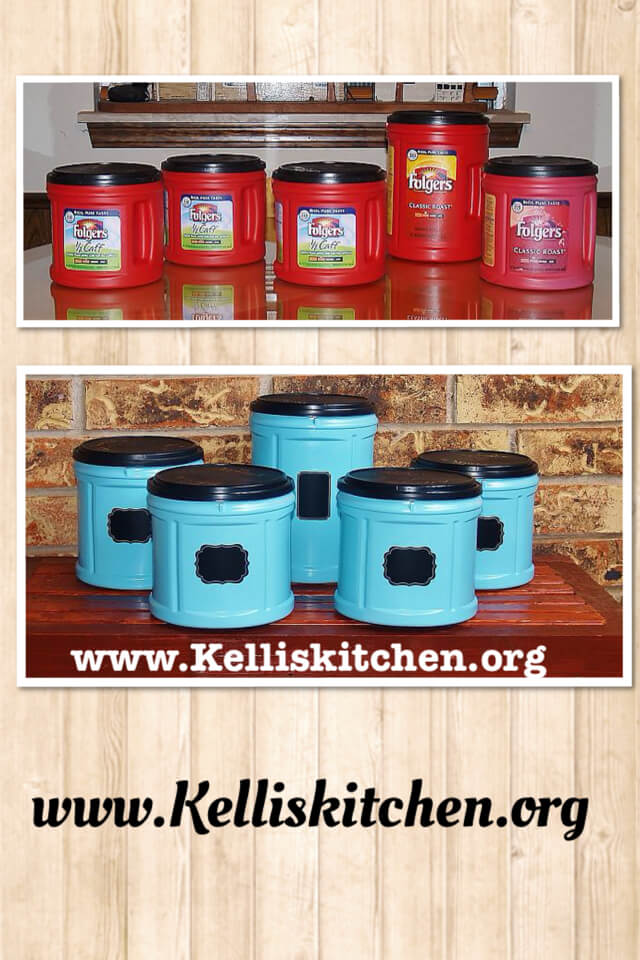 It is amazing how a coat of paint and a few coffee canisters can create the cutest cookie jars. With a simple coat of paint, you can create eye catching storage items that can be used for cookies, sugar or flour. If you are a hoarder of condiments, this is a cool way to store the condiments from your favorite delivery restaurants. These decorative and functional canisters are great for keeping small knick knacks out of sight to keep your kitchen counters a drawers organized and free from clutter. These eclectic storage bins can be stored in the pantry, cabinets or on the counters.
8. Perfect Drawer Organization To Start The Day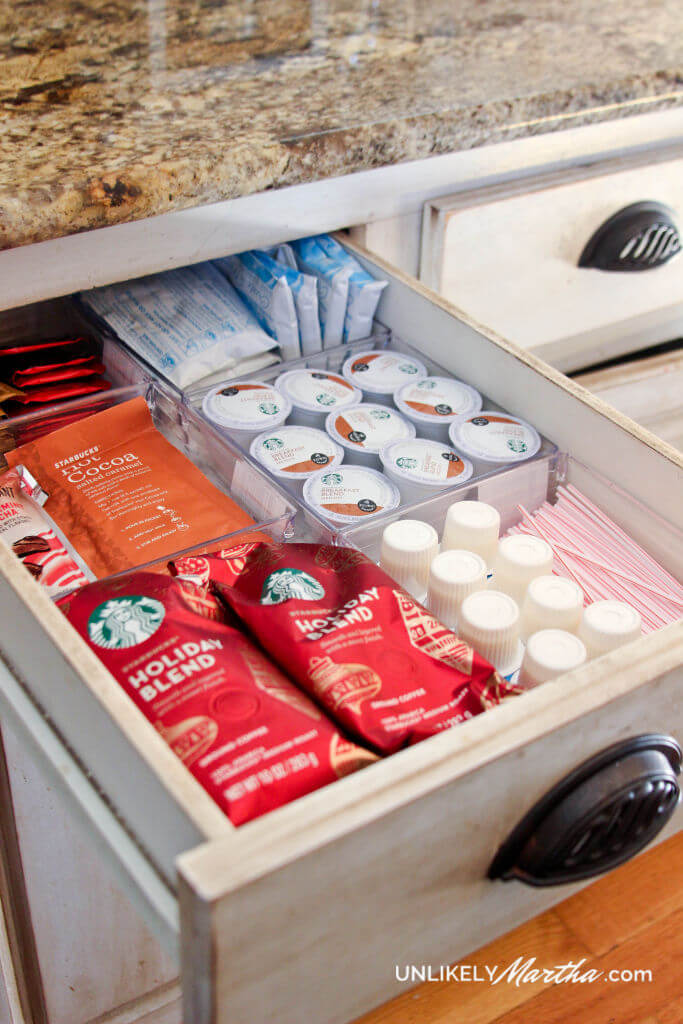 These clear storage trays are a cool way to store your favorite morning beverage. This storage technique makes accessing your favorite items easy and keeps them organized while they are stored. Not only is this organization technique great for coffee or other edible items, it is an excellent way to organize pens, writing pads or other essential items you need to store in your kitchen drawers. These clear trays are a wonderful way to store multiple items in one drawer. This is among the best dollar store kitchen ideas because you're able to combine multiple items in one drawer and keep them out of sight and organized.
10. Wonderful And Perfect Storage Ideas For Snacks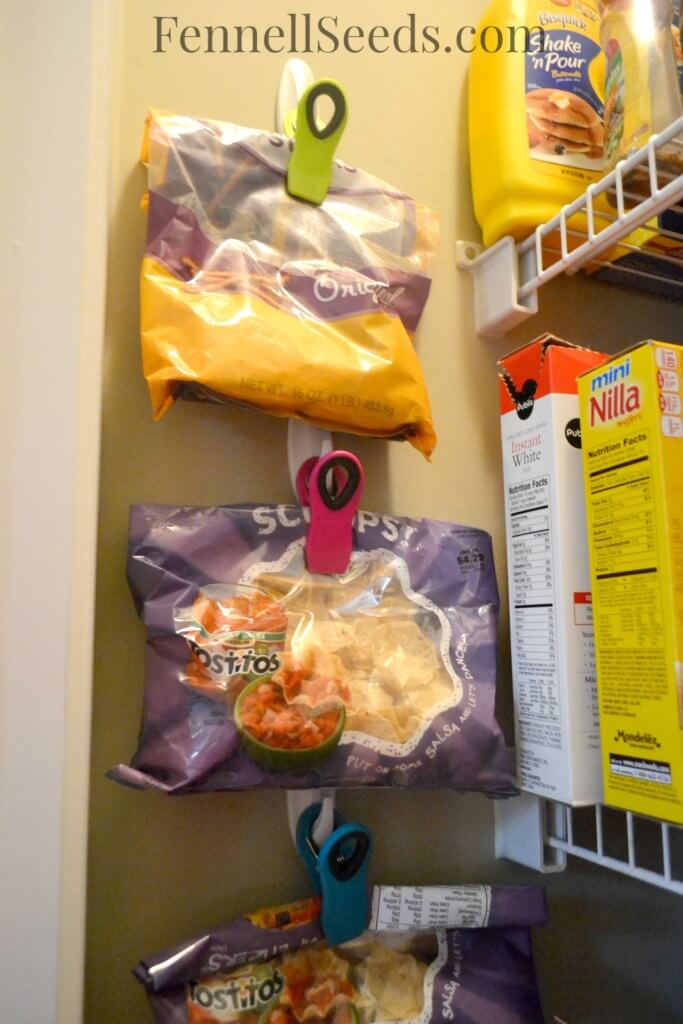 This is a creative way to utilize your chip clips. It allows you to store chips in a way that is easily displayed and visible and gives you an indication on when it's time to replenish your favorite snacks. The chip clips can be purchased at the dollar store along with the wall hooks. The best dollar store kitchen ideas are the ones that are simple, functional and save you time and money. When preparing your grocery list, you're able to take a quick look to see which items need replacing. This can save you time by not having to dig through multiple bags of snacks to find out which ones you need to buy.
11. A Really Cool Take On Storage For Spices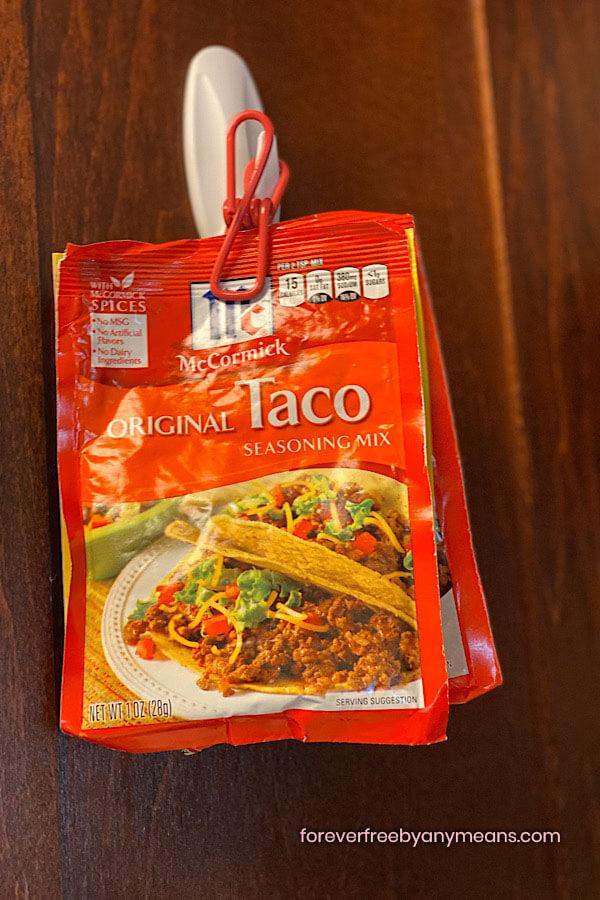 Don't you hate it when you have those small packs of seasoning that get lost in the back of your pantry or cupboards? You don't have to fall victim to a multitude of teeny tiny packs of taco seasoning getting lost in the back of your cupboards anymore. Now, there is a cool way to neatly store these items while keeping an eye on how much of the seasoning you use, when it expires and get a better gauge on the best time to replace the seasonings. With a couple of neat clips, you can create a way to store these small packets so they don't go to waste.
12. An Excellent And Unique Way To Organize The Fridge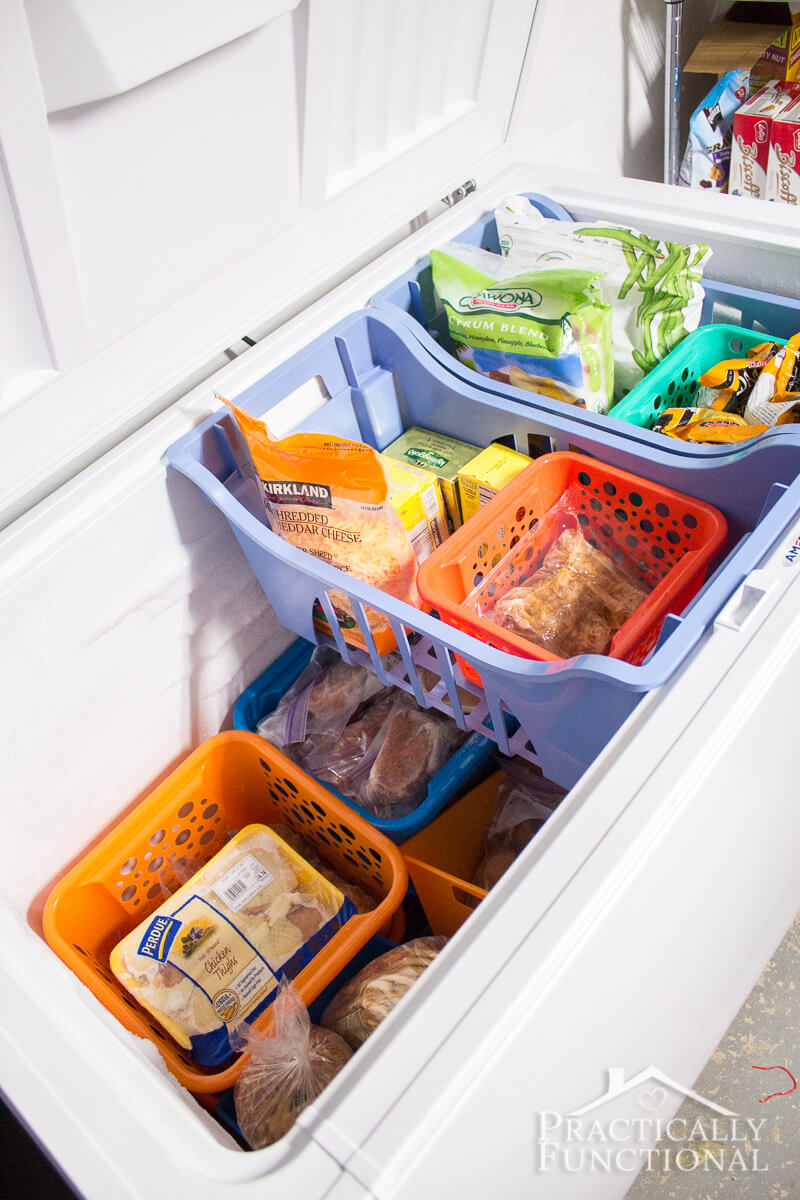 Utilizing plastic storage bins for your deep freezer is an awesome idea. This storage technique allows you to keep your deep freezer fully stocked and neatly organized. The purpose of your deep freezer is to buy items in bulk and store them in an attempt to save money. If you have items that are buried beneath a block of ice, it makes it a little difficult to find a particular item. The best dollar store kitchen ideas incorporate functionality, convenience and money saving ideas that any consumer would appreciate. Eating foods that are freezer burned was not the goal when you made the investment in a deep freezer.
13. A Creatively Perfect Way To Organize The Cleaning Supplies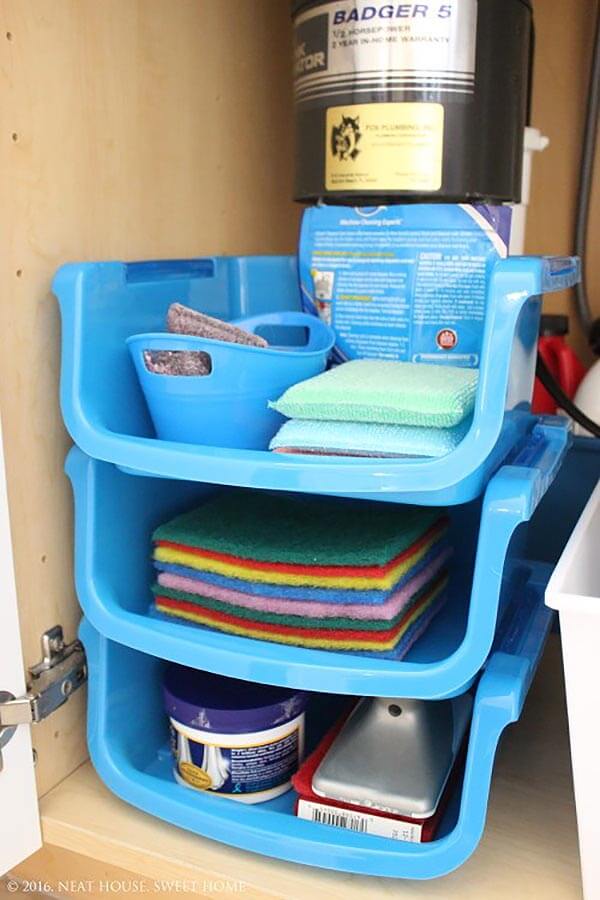 Since edible items are not the only things we store in our kitchen cupboards and cabinets, it is best to provide a storage solution that organizes food items and keeps them separate from our cleaning products. Incorporating stackable trays in your kitchen organization projects are an excellent way to keep the chemicals separate and our foods safe. Often, with kitchen cabinets there isn't enough space to spread things out, so the only alternative is to go up. Utilizing stackable storage units gives you the extra space you normally would not have. Keeping chemicals contained separately from other food items is a neat way to keep your family safe.
14. An Awesome Idea For Under Sink Organization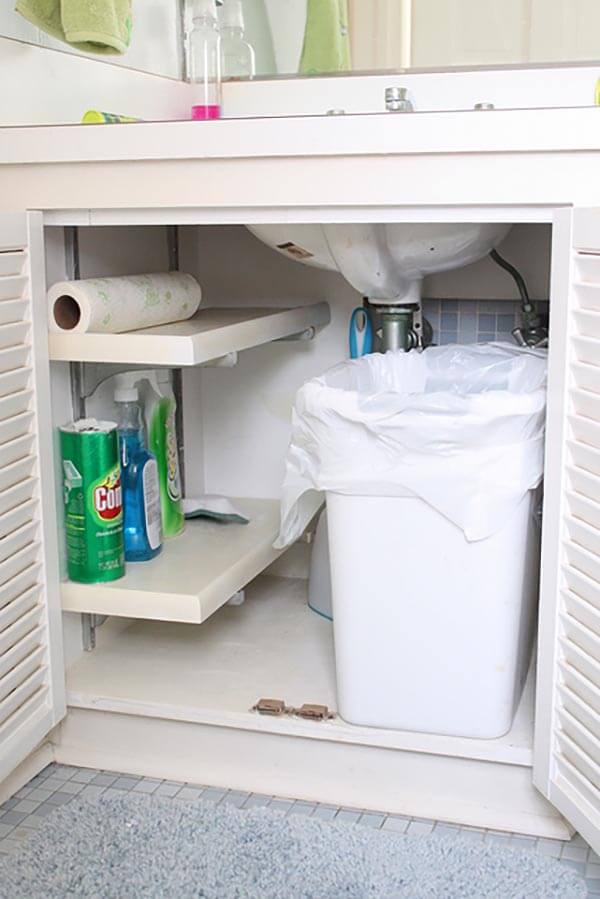 If you're limited on storage space underneath your sink, incorporating shelves in your cabinet space is a perfect way to create extra space by stacking items. This allows you to keep certain items separate. The space underneath the sinks are often used for chemicals or other non-food items. Utilizing organization techniques offers an excellent way to keep items organized. This shelving idea is among the best dollar store kitchen ideas because it allows you to save money by keeping you from purchasing products that you already have.
15. Excellent Cheap Organization Ideas To Store Accessories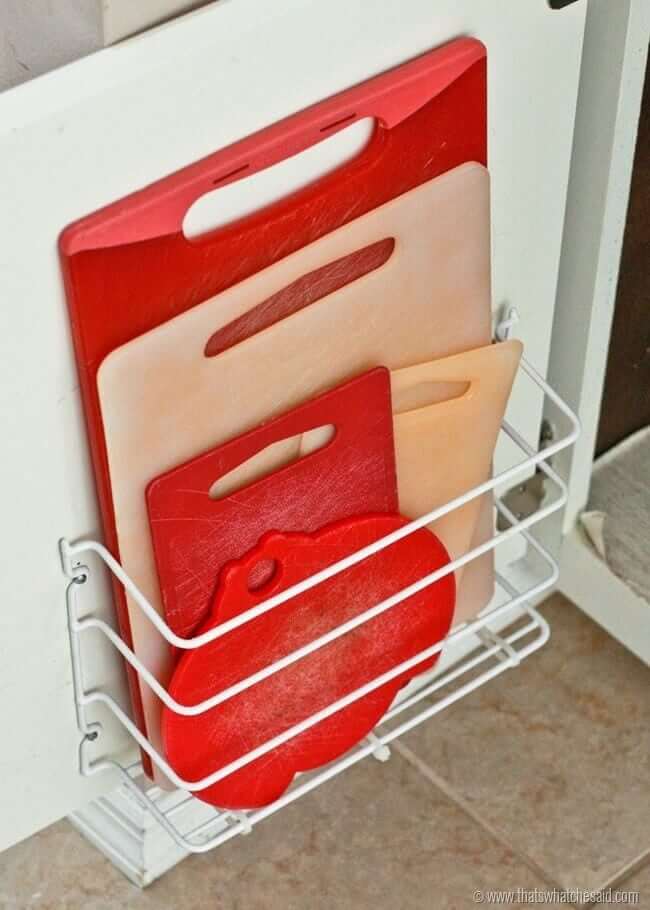 Cutting boards and other accessories often find their way into multiple drawers or multiple cabinets. You may be the type of person that has multiple cutting boards in one drawer. Either way, finding a unique storage technique that allows you to combine all of your cutting boards and other unique accessories into one space is a neat idea to keep them visible and ready for use. This storage method is also a way to store those plastic shopping bags or smaller cleaning items you need to keep out of the way in your cupboards.
15 Easy Ideas for Dollar Store Kitchen Organization to Make Your Kitchen Beautiful
Dollar store kitchen organization ideas are ideal for kitchens that have cluttered spaces. A visit to your local dollar store can provide you with a multitude of items that will help you in your quest to organize your kitchen. With this space being the most popular space of the home, it is important you are able to bring order and structure for this area. Kitchens that are organized are more aesthetically pleasing and gives kitchen goers the opportunity to move about without confusion.
Implementing organization ideas is a great way to organize the items that you use the most. It is also an excellent way to organize the items you don't use as often by placing them in a designated area. When this type of organization is lacking, the kitchen becomes overcrowded and unappealing to homeowners and guests. Organizing your kitchen allows you to find items easier and helps you save money by not allowing older items to expire and become outdated. With this type of organization, you will know what you have in your kitchen at all times. It also saves you the trouble of purchasing duplicate items because you're able to see what you already have. These organization ideas are an excellent way to bring back the functionality of your space.