Why do you need the best duvet cover? Well, for starters, your drab old comforter needs a new look. But more importantly, the old comforter you love so much (because it helps you achieve the sleep you need) desperately desires some tender loving care.
28 Fantastic Duvet Covers to Give Your Bed a Facelift

What that means is in order to maintain its sleep-inducing abilities, it needs to have some carefully considered ways to preserve it. Choosing a duvet that covers it, is by far the way to go!
Think of it as a slipcover for your favorite bedding. Just as a slipcover allows a sturdy and solid piece of furniture to extend its life, a good duvet allows your favorite comforter to go the distance.
And this is obviously important because not much outweighs the need and desire for a good night's sleep. It all begins with your bed. From the bottom to top, namely your mattress to your bedding, you need to carefully construct your plan for reaching your goal of restful sleep.
Now, where adding a duvet to your arsenal gets fun, is with all of the incredible options available. This is your chance to give your bed a personal touch by extending a piece of your own personality onto its top layer.
You'll be thrilled at the choices of patterns you'll find to deliver a designer's touch to your room. Or maybe your minimalistic nature craves something a tad simpler. No sweat as you can always enjoy a spectacular solid color or choose a textured style that shows off delicate details or tufting designs.
Go for bold grid lines, powerful plaids, or fancy florals to rev up the attitude in your master bedroom. Or if you're sticking with solids, you won't be disappointed with the variety in choices and hues available.
Jazz up your guest bedroom with something modern and simple or let your almost-grown daughter redecorate her room without breaking the bank. The ease in tying and zipping these duvets into place makes them even more enjoyable.
What's not to love about a quick and cheap way to update your tried and true treasured comforter that almost threads barren? Check out 28 of the best duvet covers to make this a reality for your home.
1. Sleek, Soft, and Simple Duvet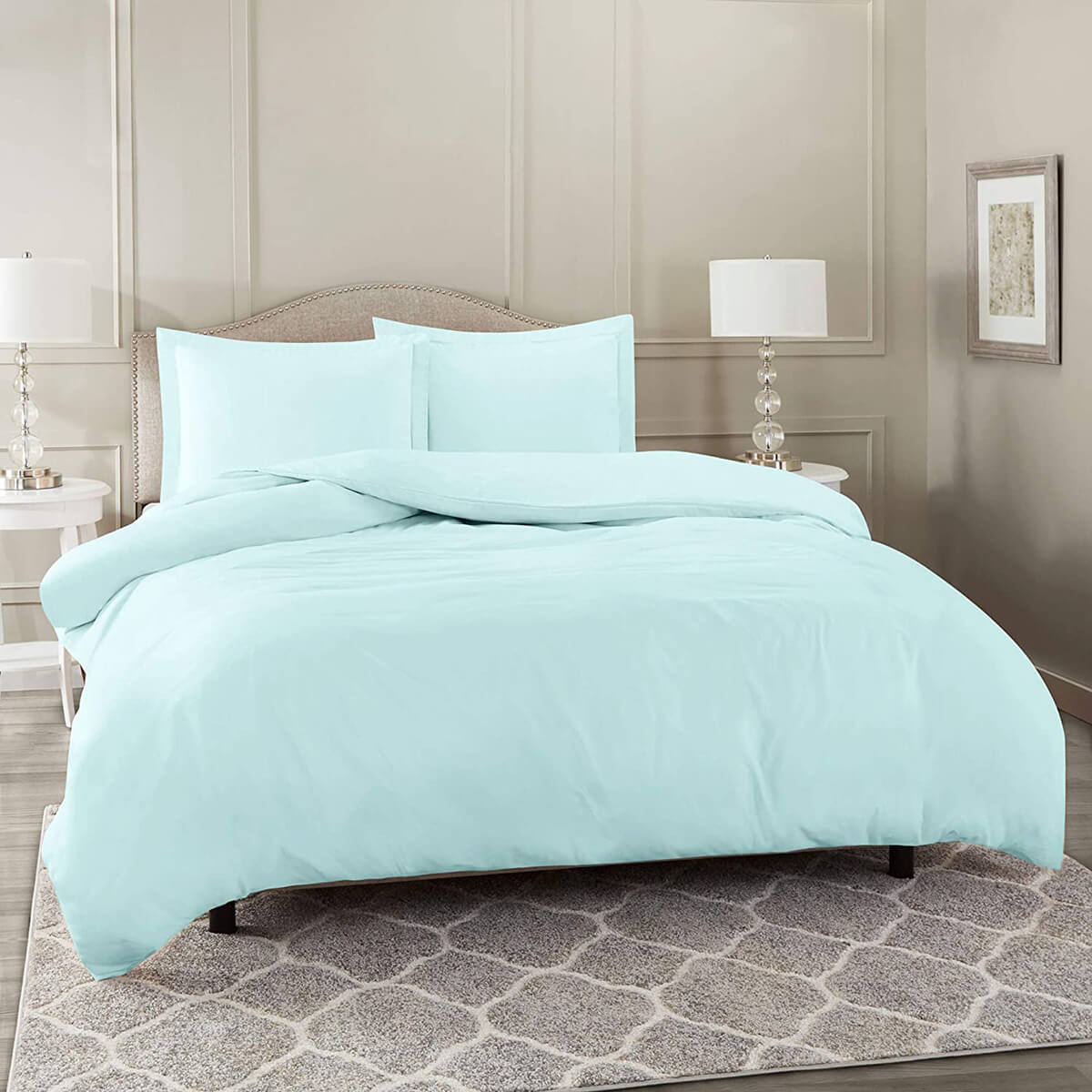 Cover your bed in the cloud all of your own with this amazing Nestl set! For your personal comfort, this hotel-quality duvet cover set creates the serene solitude you crave at the end of a long, hard day. With matching pillowcases, this bed duvet is the perfect set. Crafted in nearly every color of the rainbow, there is sure to be a color you crave and the size you need. Relax and unwind like never before with this duvet set that adds a gentle pop of color to your modern and contemporary neutral space. It looks great as the bedding in a master bedroom but works equally well in the confinements of a teen's private quarters.
2. Bedsure Bright and Bold Duvet Bedding
When you need to make a bold statement, choose your bedding as the focal point. It's a quick and reliable way to update the look of your bedroom without breaking the bank. This luxurious set features zipped matching pillowcases that are constructed from washed cotton just like the coordinating duvet. You can't go wrong with this microfiber set that's comfortable and cool at the same time. The zipper makes transitioning from a cooler quilt for summer to a warmer comforter in the winter an effortless task. In addition, this zippered feature allows for complete ease in the washing process and alleviates the clumpy bulkiness of other competitors.
3. Bowtied and Tufted Washed Microfiber Bedding Set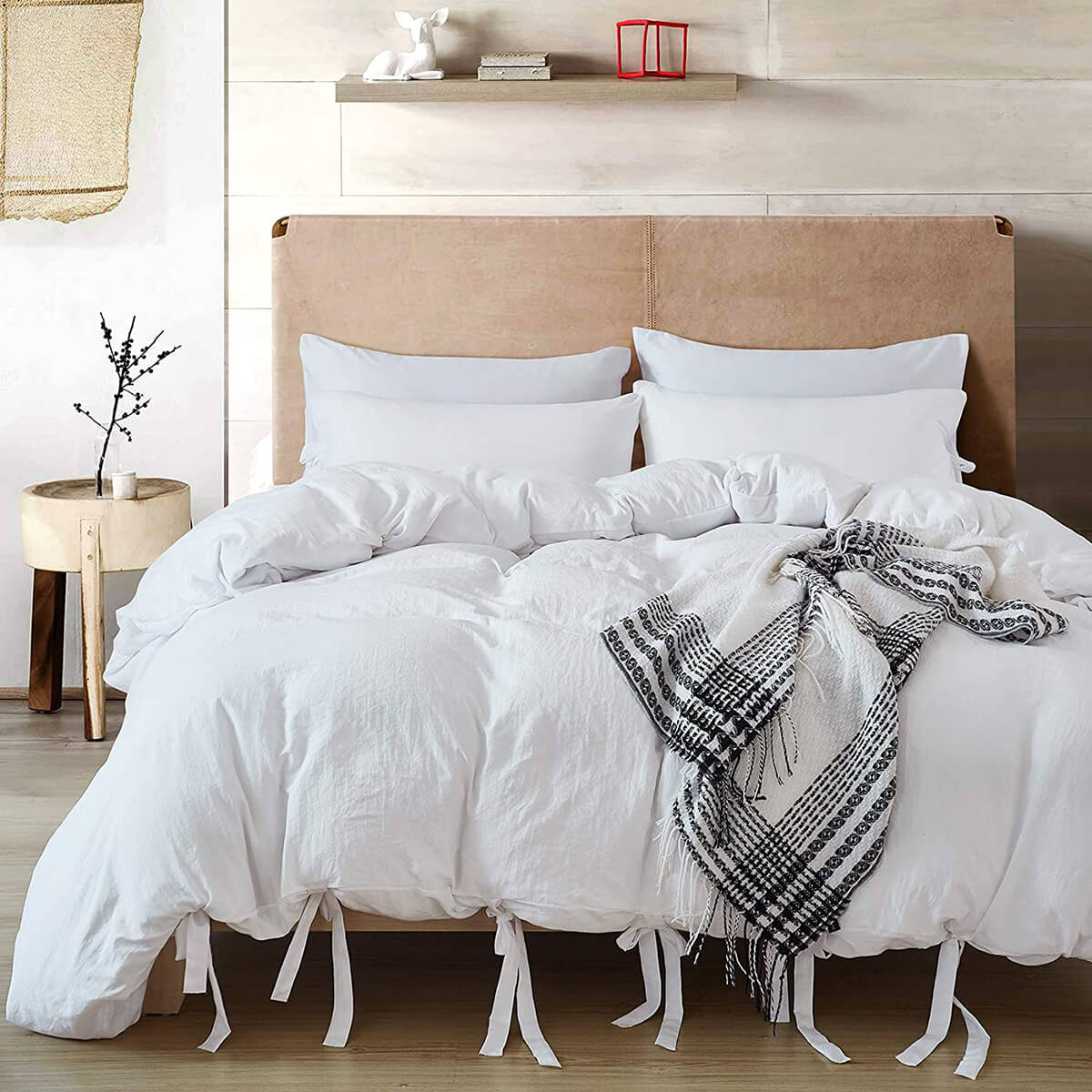 This just may be the best duvet cover to offer both style and comfort in a variety of colors. What's not to love about the lush pillows that billow across and down the top of your bed when you toss on this bowtied and tufted beauty from Annadaif? In the end, so much detail has been created with the bowtied knots to give an extra dose of character and charm. An added bonus to this super soft set is the improved microfiber material that limits pilling. Enjoy more longevity in this pretty and popular knotted bow tie set.
4. Fabulous Faux Fur Soft and Shaggy Duvet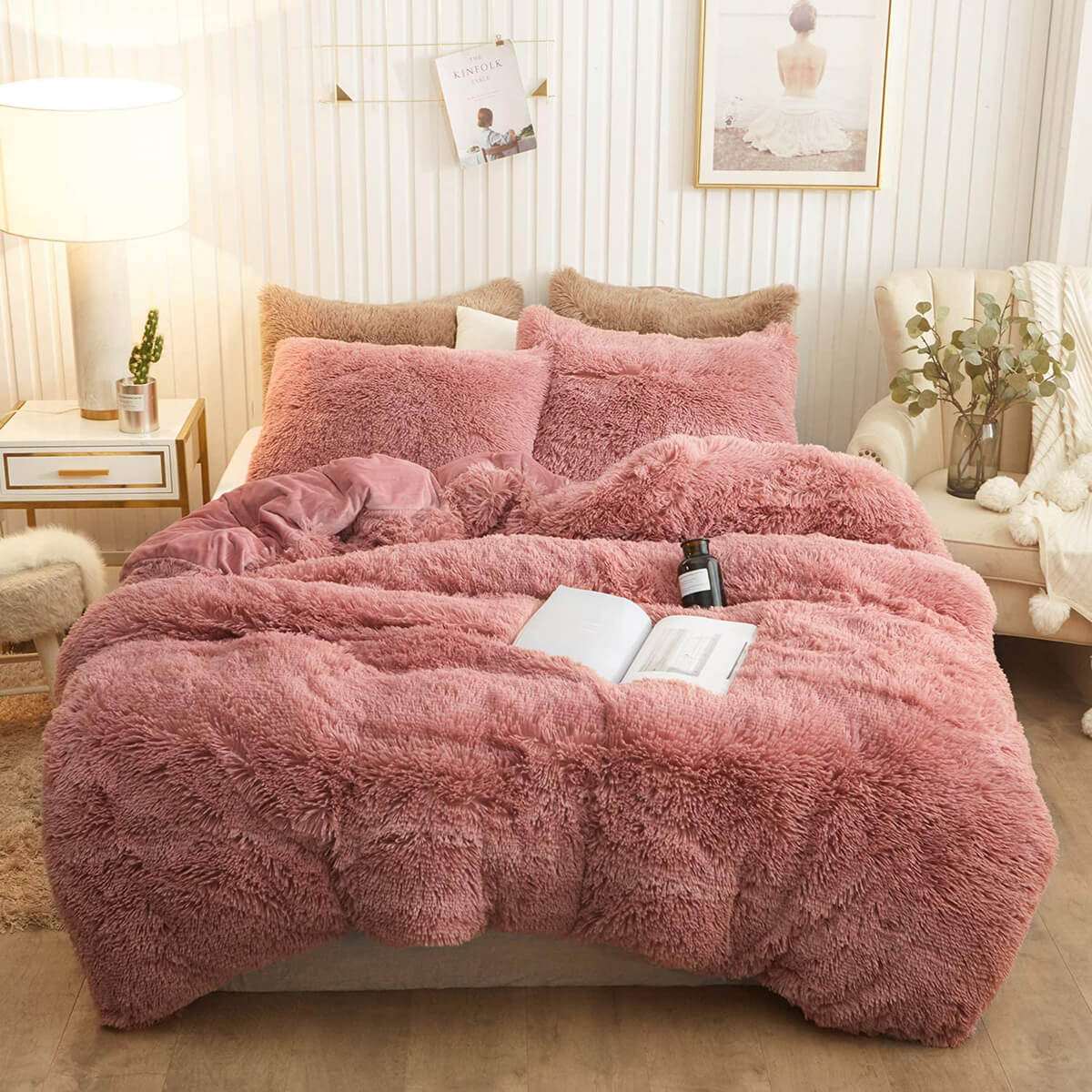 Change up your fabric game on your bedding with this retro 70's inspired look of shaggy comfort in XeGe's crystal velvet bedding collection. Complete with matching pillowcases, the ultra-rich and luxe feel of this material will lead you to dreamland. Careful zippered closures allow for easy washing practices. After unzipping, turn the material inside out for best results. This additional textural element is a perfect fit for any bedroom and offers a nice contrast from traditional sleek duvet materials.
5. Reversible Branch Pattern Brushed Microfiber Bedding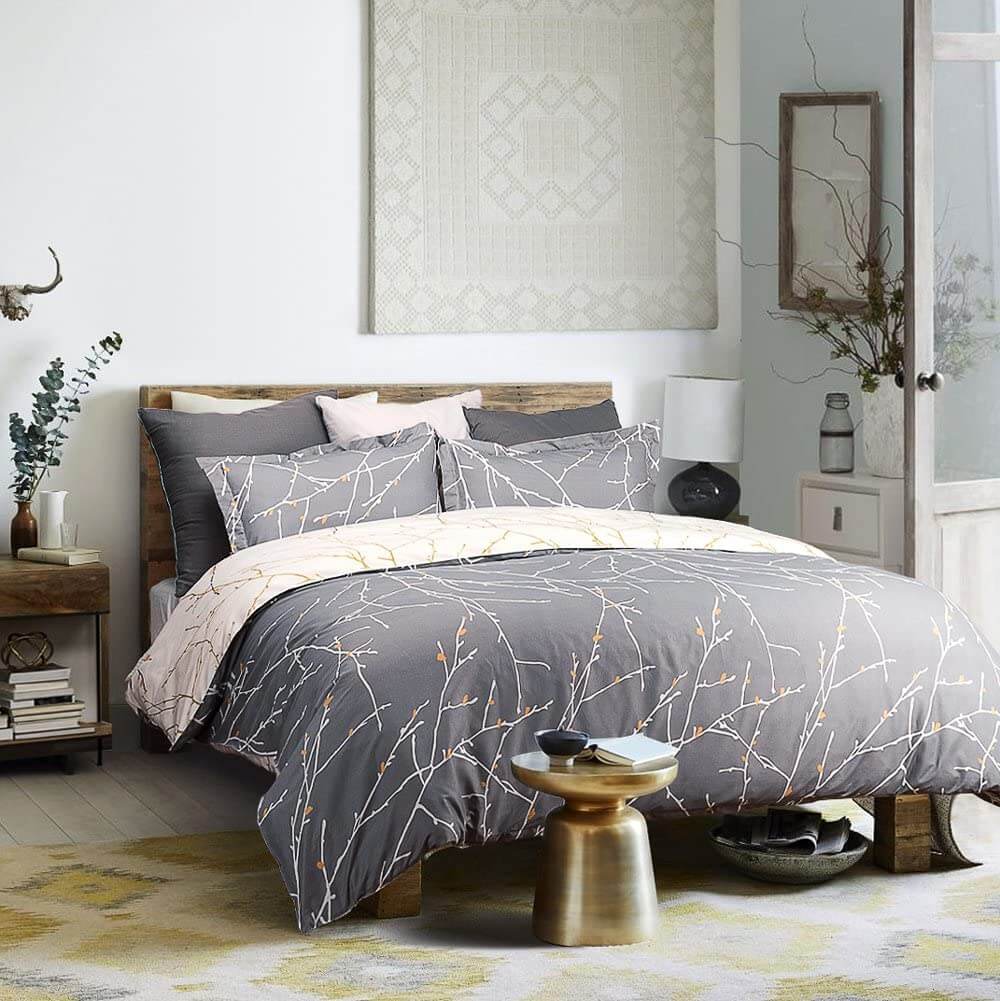 Add a little extra style into your bedroom with a new bedding set that stays on the neutral path, but includes a nice pattern. The lovely and natural branch pattern livens up the look of the microfiber duvet to give your special room a unique and earth-loving feel. This Bedsure item features a printed duvet that includes ties at the corners for assistance in keeping your bedding secured as you toss and turn during the night. For more restful slumber, enjoy the carefree nature of this branch pattern duvet that's available in three gorgeous colors.
6. Printed Striped Pattern Jellymoni Cotton Duvet Set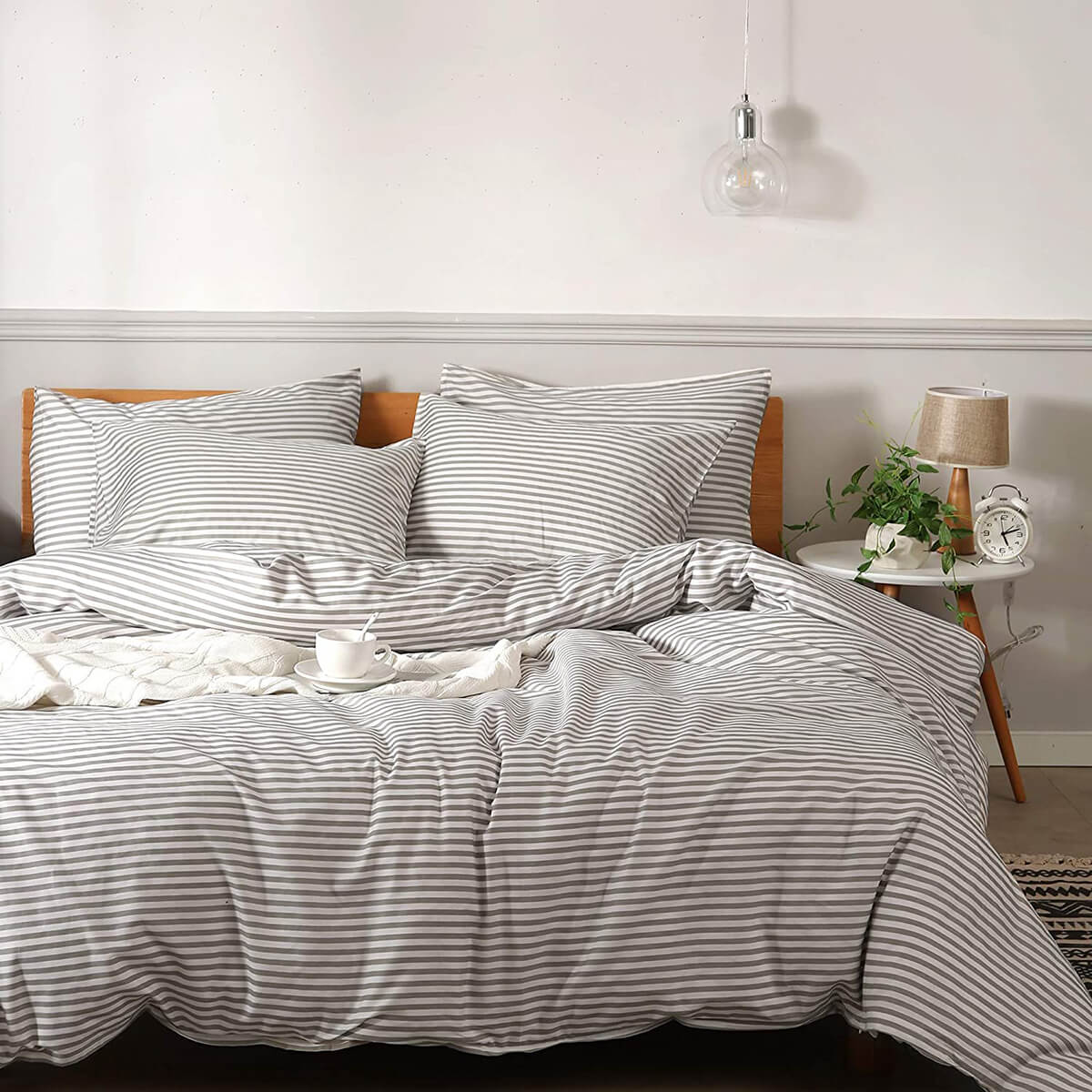 Complete with zippered closer and corner ties, what's not to love about this cute and stylish striped duvet? Using 100% cotton fabric, this subtle and soft bedding gives you the comfort you need with the style you crave. The striped pattern makes a wonderful option for boys and girls as well as most any adult. You can keep it simple with understated accessories or vamp up the lines by continuing them in some of your other decors. With such breathable material, you're sure to be satisfied as you'll enjoy a year's worth of satisfaction service from this company.
7. You Choose the Pattern Linen Market Duvet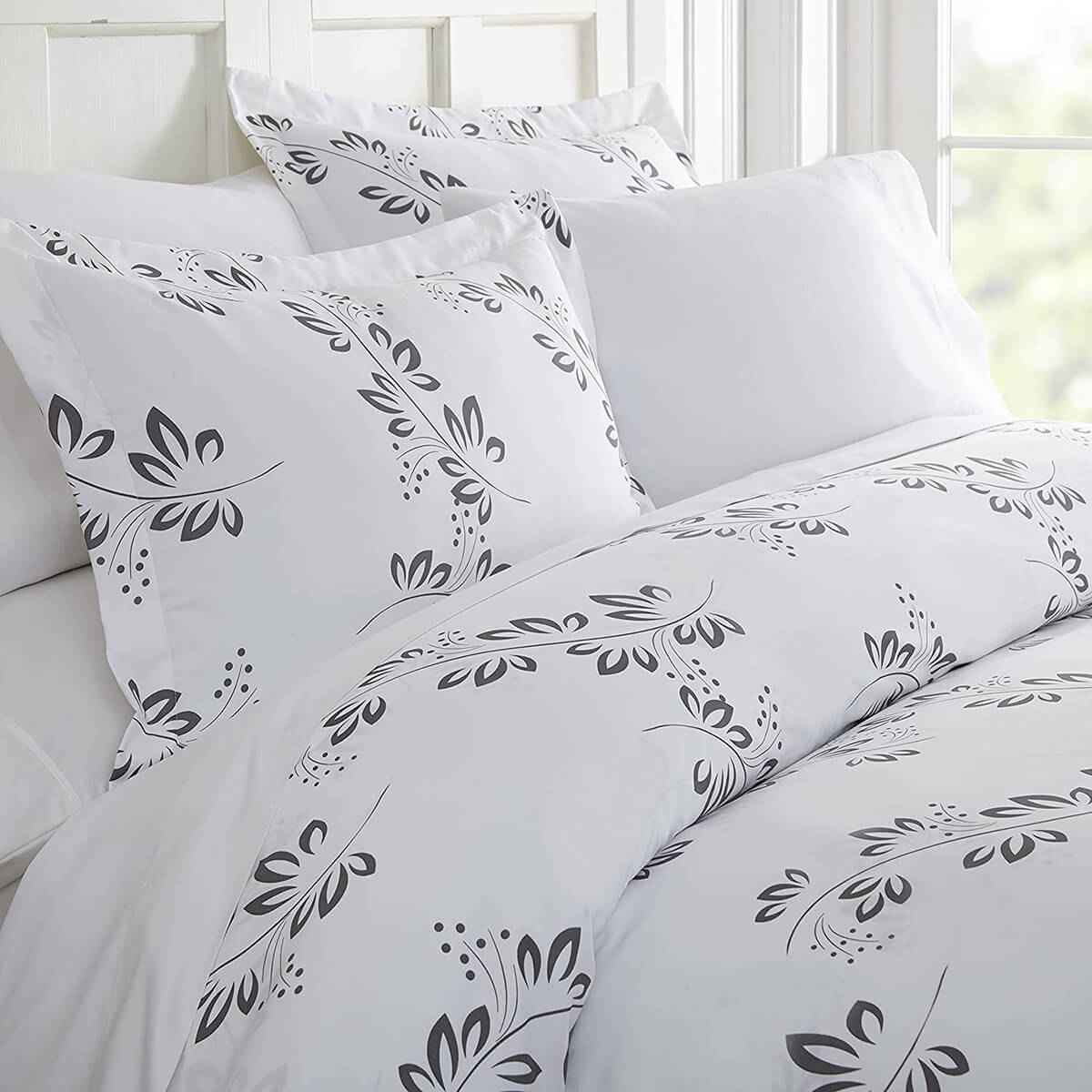 Check out all of the options available in this duvet cover set! No matter if you prefer stripes, chevrons, or vines, you'll find one that will look lovely in your personal retreat. An added bonus is the value for this amazing set as it's kept at such a low price. This affordable and luxurious microfiber set would be a fabulous gift for someone moving into their first place or forever home. With the size option including twin xl, this even makes a great purchase for your favorite college dorm occupant.
8. Warmdern Comfy Cotton Bed Cover in Bohemian Stripe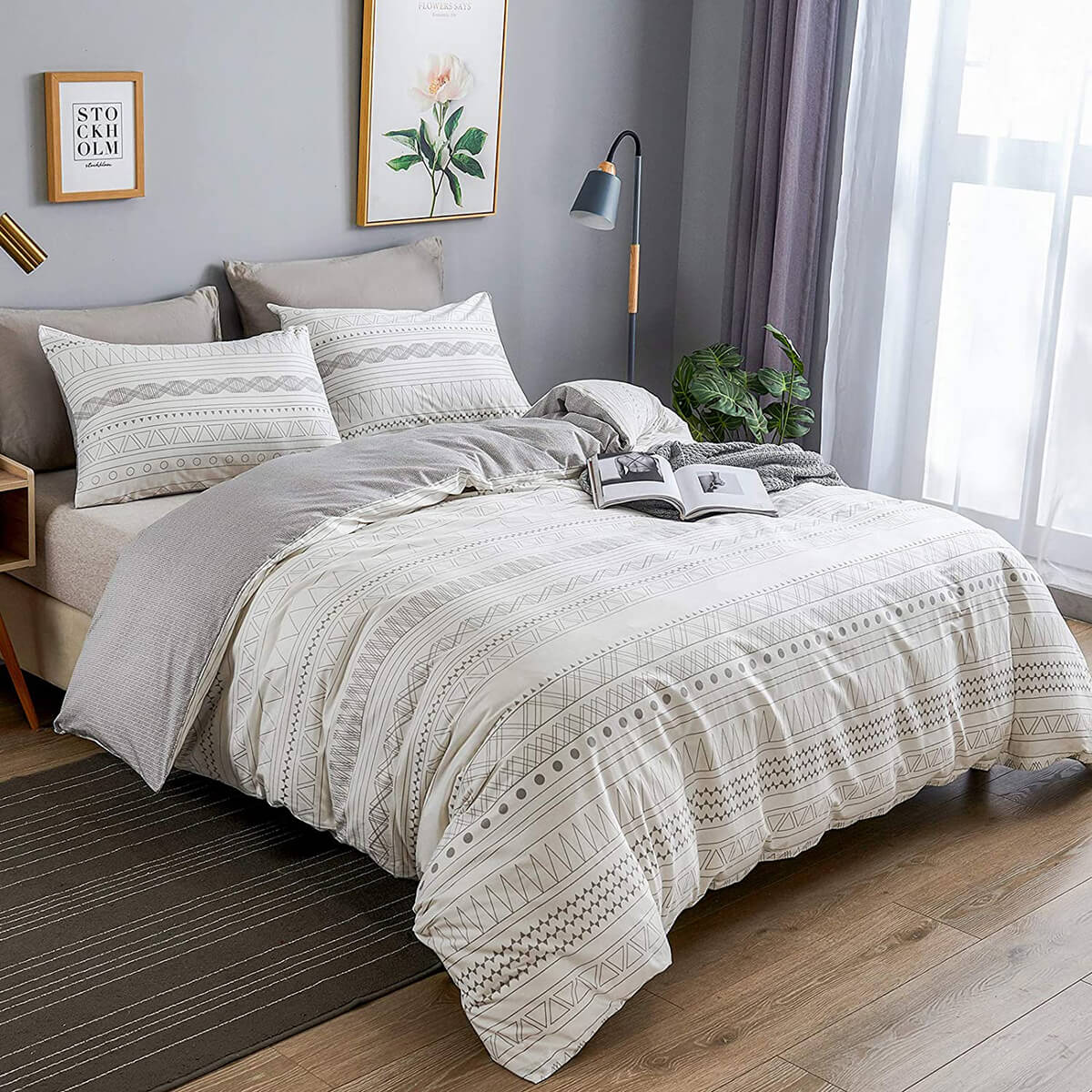 Add some warmth and style to your master suite with this beautifully striped bohemian Aztec printed bed cover. The subtle color combination gives it a lived-in and loved-on feeling that's a perfect addition to the bedroom. With a variety of stripes presented in each of the three color options, the look and feel of boho life continue throughout all. Update your teenager's space with a look they'll love growing into with this modern pattern of stripes presented by Warmdern.
9. Button Closure Detail Lovely Duvet Bedding Set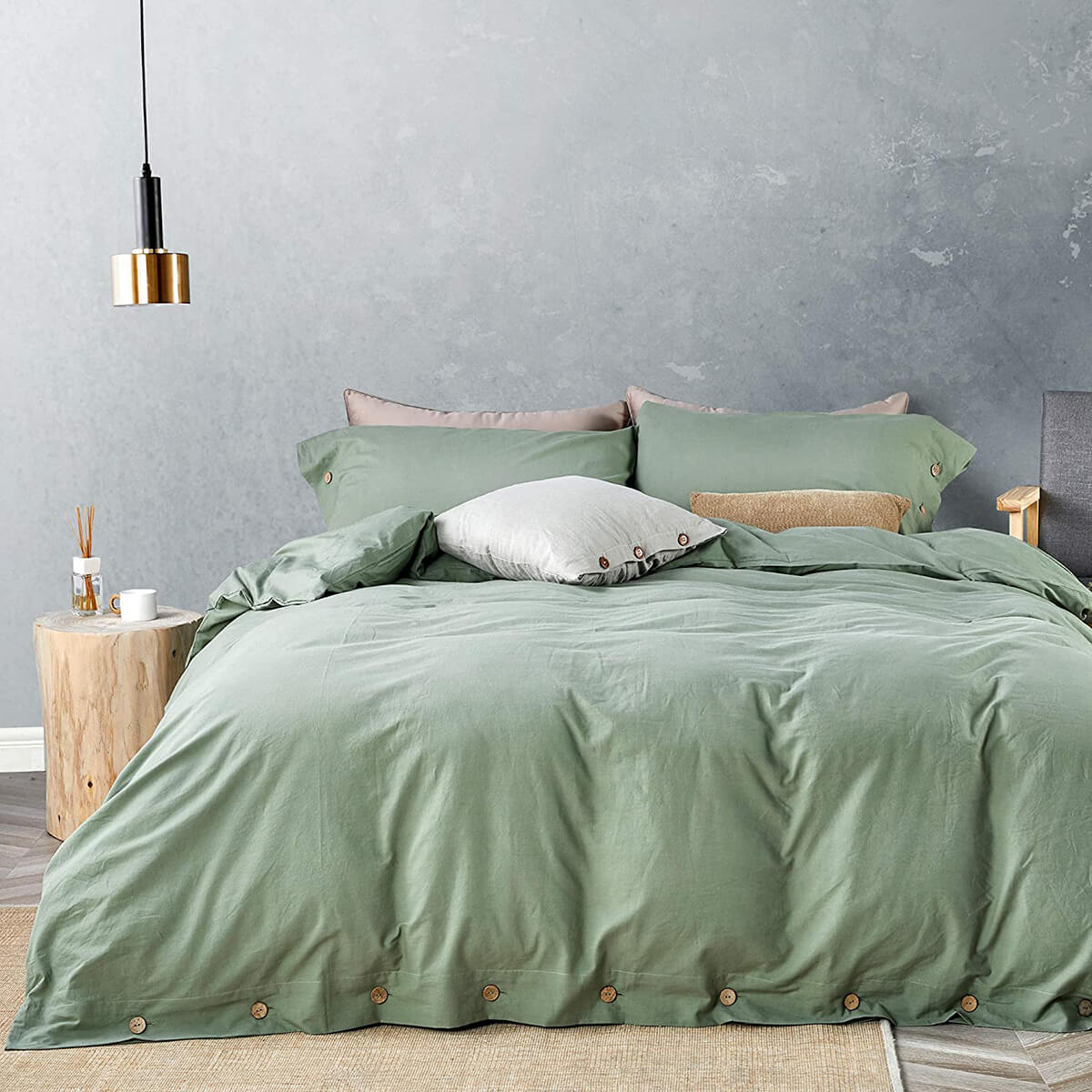 Jellymoni delivers this gorgeously detailed, yet simple duvet set that's a true power couple. With matching pillowcases, this soft and plush bedding is trimmed with detailed button closures to add extra style without sacrificing your bedtime comfort. Available in a nice array of muted colors, these options exude a soft, vintage wash look that makes for a lovely addition to your home by adding a classic, home-friendly touch. Sizing extends all the way up to California King so your dream bedding is ready to purchase no matter what sized bed you choose to lay your head-on.
10. Cool Colors Polyester Cooling Duvet Cover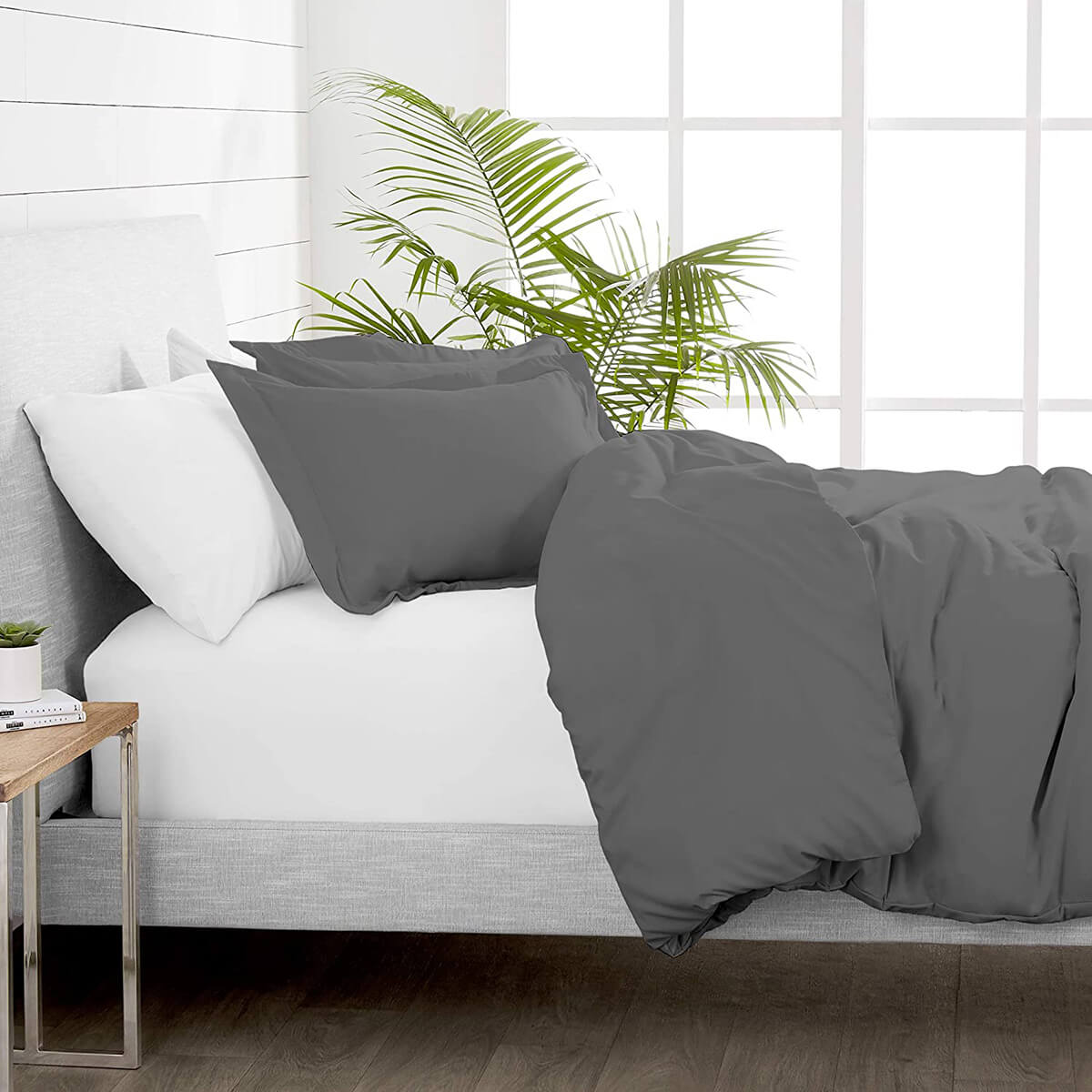 Don't break a sweat when you hit the sack! Discover the benefits of a cooling duvet cover set that offers you a pleasant resting place each and every night. You'll enjoy the cool color palette array with hues of blue, purple, and gray to steal the show. These classic cool tones complement the cooling effect of the duvet's design. Part of the 1800 Super Soft collection from Bare Home, you'll be able to add this to your bed after a quick toss in the wash as you enjoy its polyester wrinkle-free nature.
11. 3-Piece HoneiLife Various Patterns Best Duvet Covers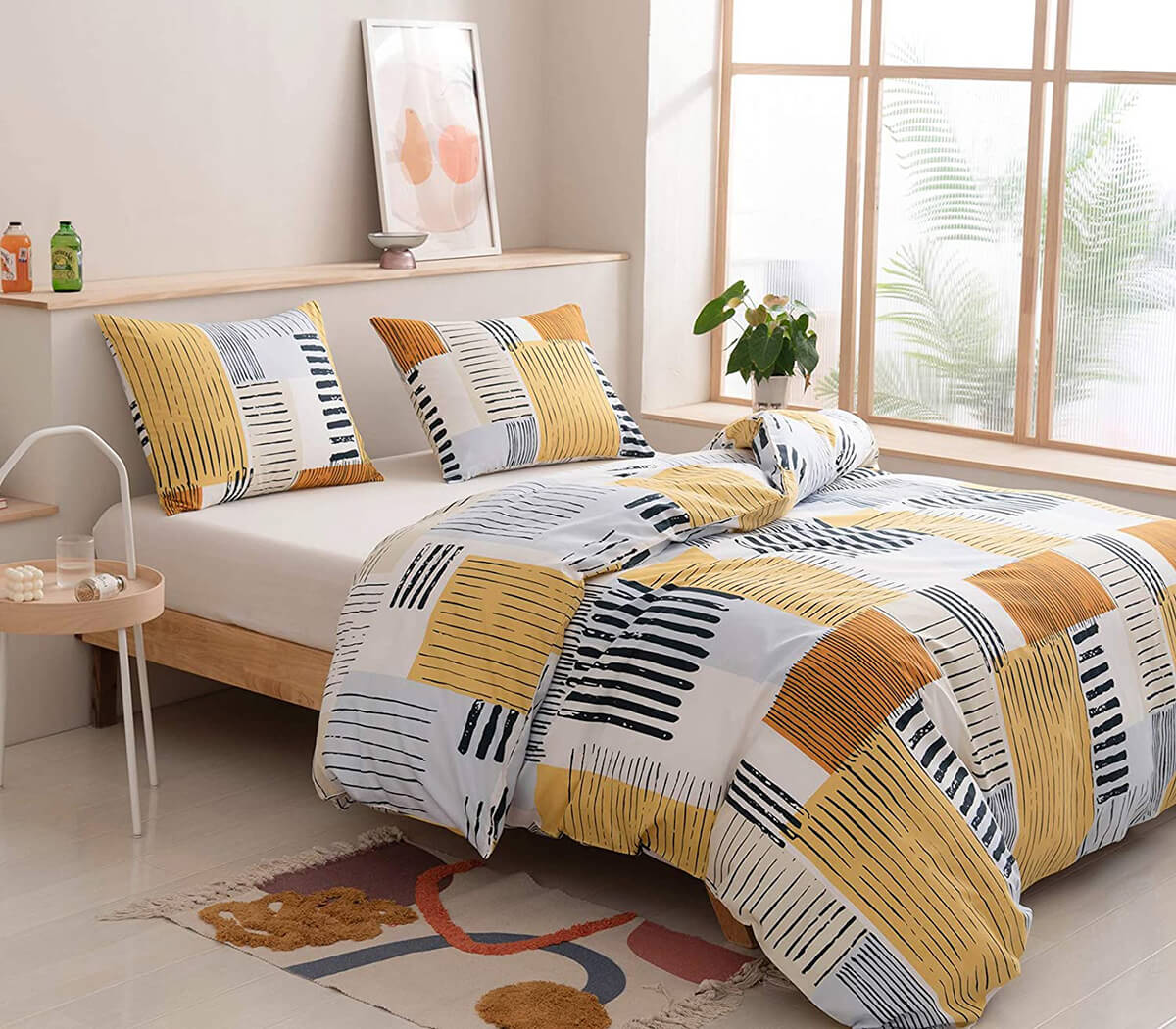 They say variety is the spice of life and that rings true in bedding too. Bring some spice into the bedroom in a modest way. The gorgeous pattern possibilities showcased by HoneiLife's duvet cover set really get the ball rolling when you're on the hunt for a new look for your master bedroom. Featuring a smooth and simple removal system with zippers and corner ties, the function provided makes tossing into the wash a breeze. Crafted from 100% cotton makes this bed duvet set a top contender in comfort.
12. Uozzi Cozy and Comfortable Duvet Bedding Set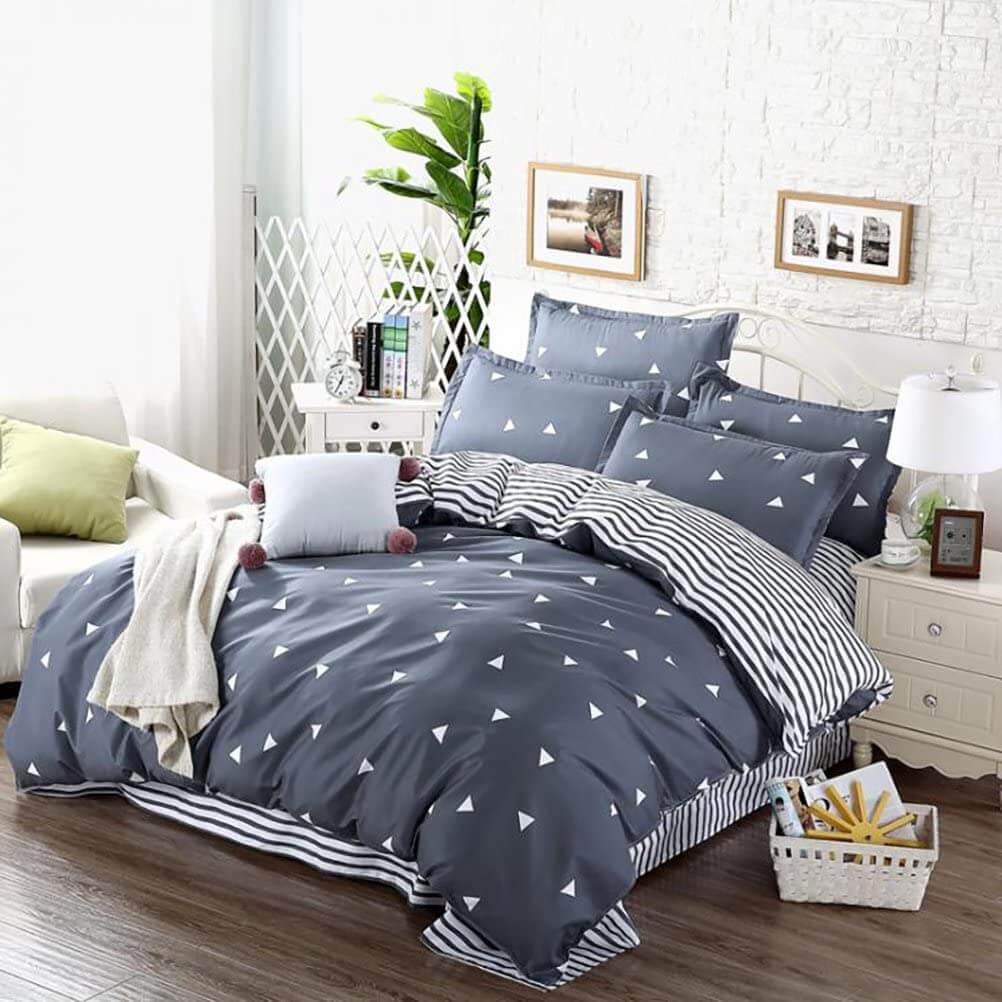 Let Uozzi update your existing favorite comforter giving you the fresh new facelift your bedroom deserves. The tranquility and peaceful designs of these playful patterns provide a touch of personality without going overboard. Ideal for any age, kids to adults will delight in changing up their bedroom's look with this simple, zippered 3-piece set. Give your guest room an easy touch-up to welcome guests this weekend or inspire your preteen to rise to the next level of maturity.
13. Soft Microfiber Duvet Bedding Set for Everyone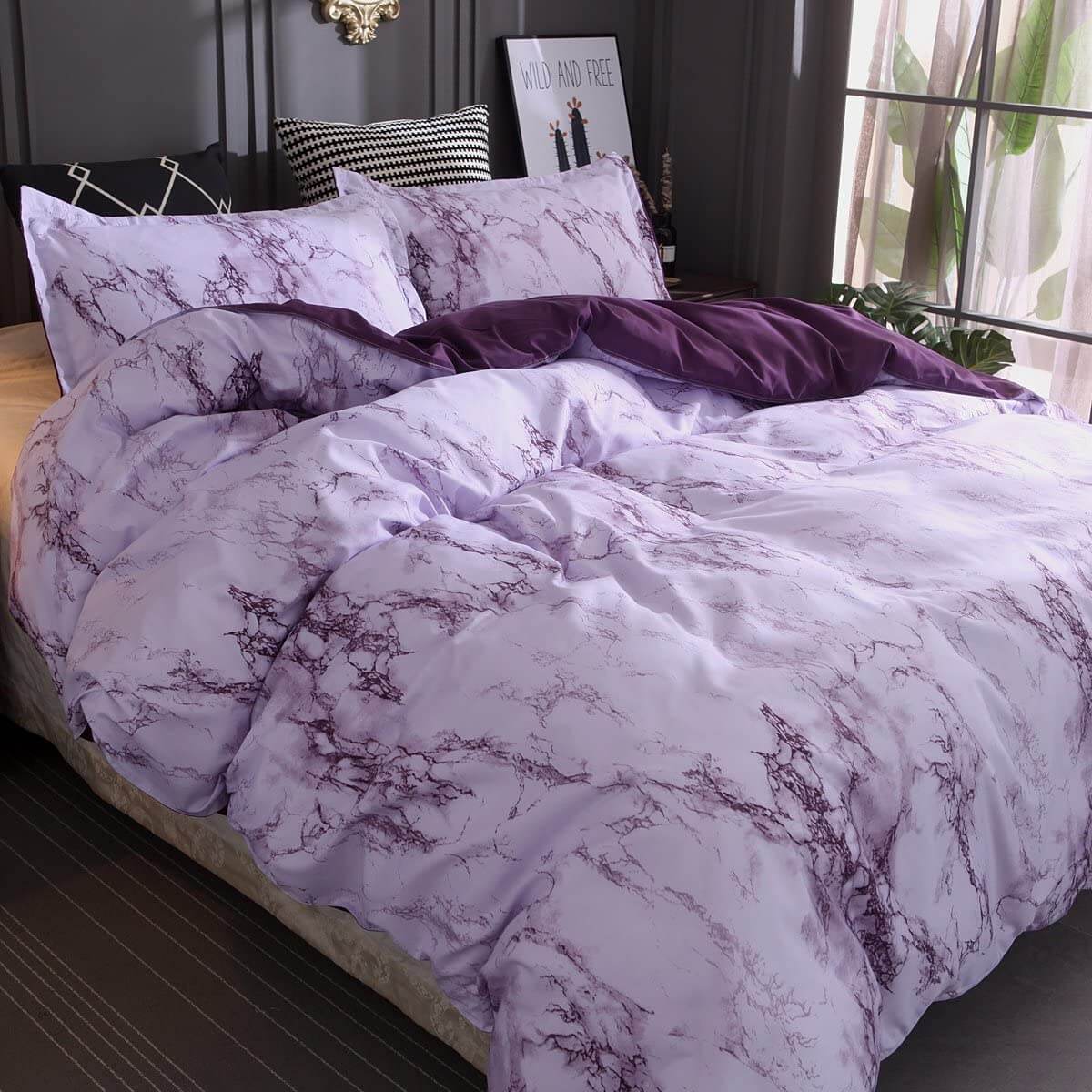 Using a reactive dyeing process, the spectacular prints on these duvet sets by feel you will give your room a vibrant and fresh new look! From marbled or tufted to buffalo check or holiday celebration, you can refresh your guest bedroom for the special weekend visitor you're looking forward to seeing! The softness of the polyester microfiber adds comfort to your nighttime sleeping escapades. No matter which novelty style you choose, you're certain to love the way your bed transforms with this cuddle-worthy bed duvet.
14. Natural Cotton 210 Thread Count Ecocott Duvet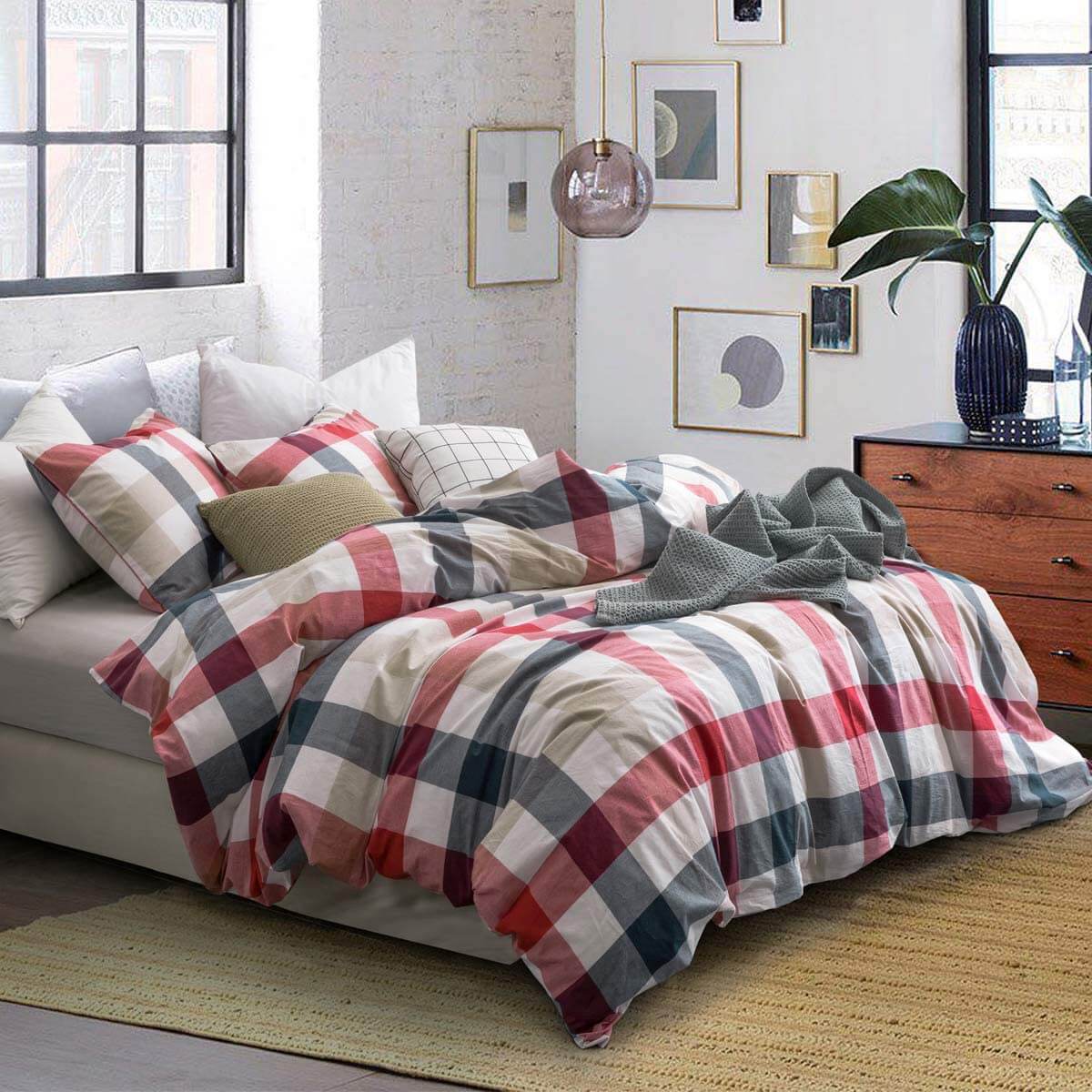 Embrace the comfort of natural cotton when you drift off to sleep under this Ecocott duvet bedding set. With a nice variety of plaids and plain colored covers, your old comforter will enjoy the quick facelift as it's secured with this duvet. This company prides itself on selecting only the best cotton straight from the fields to ensure the finest finished product for your home. Make over every bedroom in your home by zipping up your old comforters inside these stylish new natural cotton duvet covers from Ecocott.
15. Solid Colors Bedsure Microfiber Duvet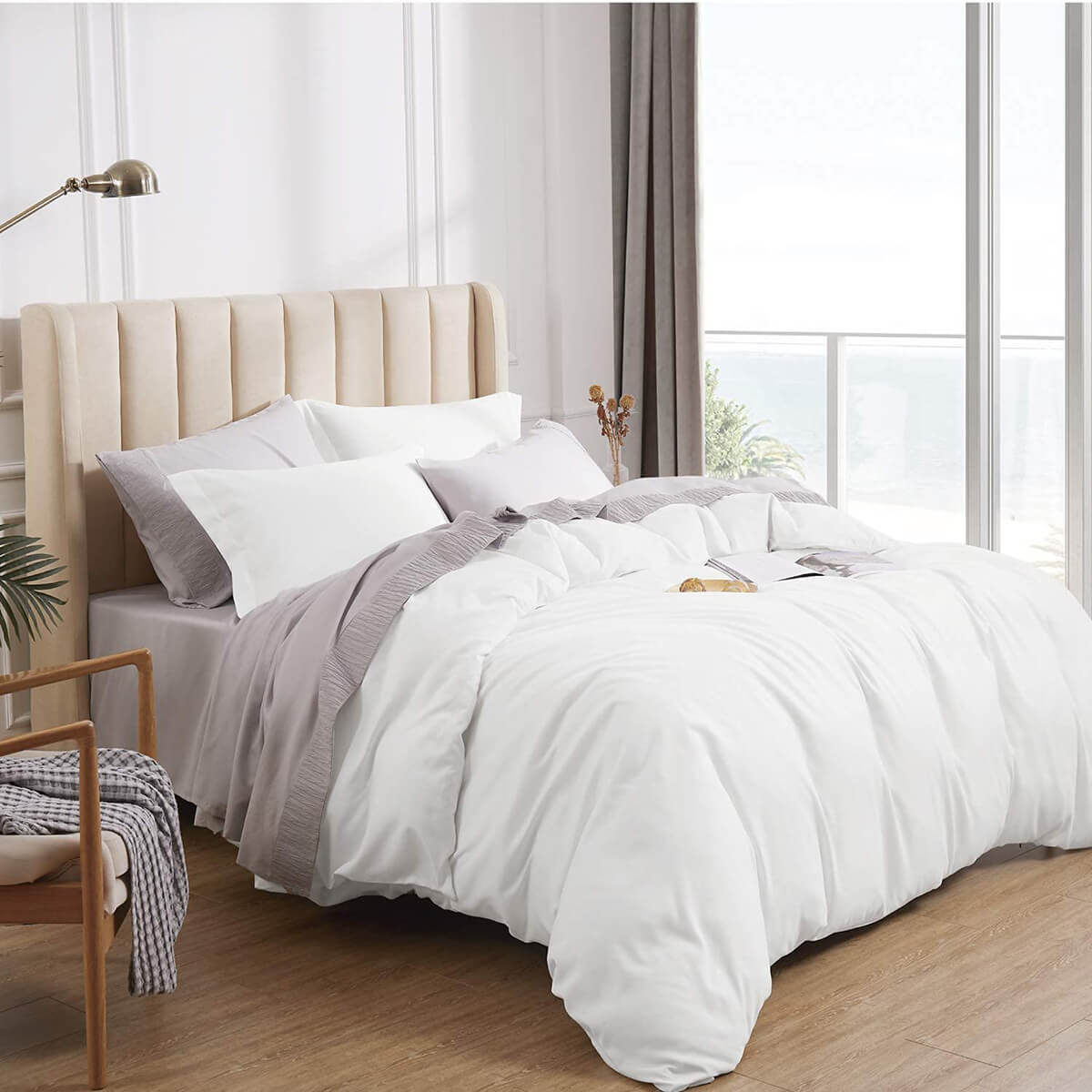 Add a soft and subtle pop of color to your bedroom with this serene set from Bedsure. From twin to king, your outdated comforter will treasure its new partner in giving you a restful night's sleep. The super-soft texture of the microfiber material will ease your care from the day as you drift off to sleep. No more counting sheep, this is one of the best duvet cover options for a plain and simple look. Capitalize on the comfort of soothing microfiber along with the familiarity of your tried and trusted existing comforter. Washing is simple with the tied corners and zippered design.
16. Wonderful Washed Microfiber Dreaming Wapiti Duvet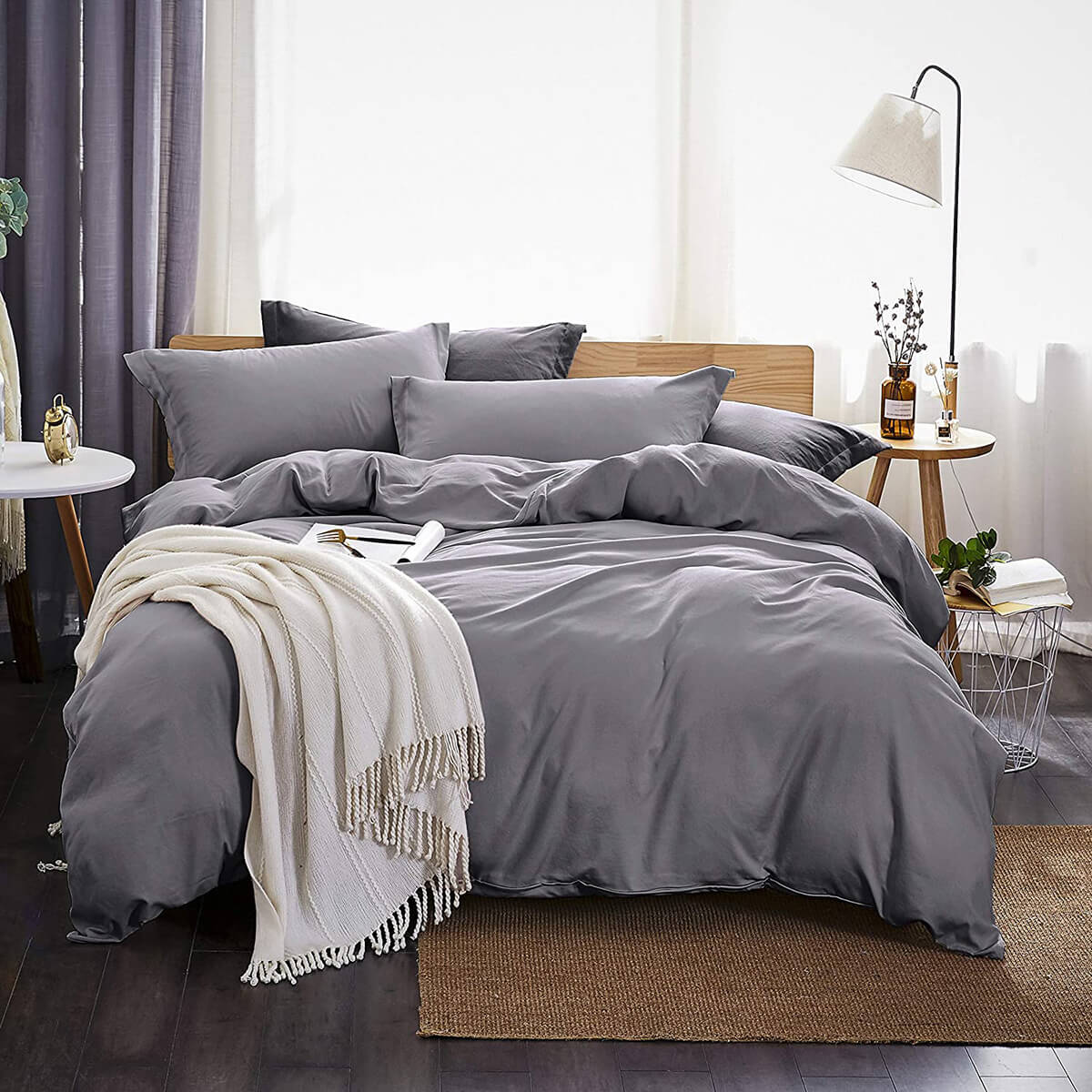 Crafted with breathable and super soft microfiber material, this classic and simple duvet makes a great choice for updating your personal place of rest in the bedroom. Using a standard and smooth style, this is one of the best duvet cover sets and is easy to use with its zippered closure. The softest of materials makes the perfect foundation for utilizing your bed as a focal point in your bedroom decor. You can choose a timeless solid and accent it with some seasonal and/or patterned throw pillows to give it a personal touch.
17. Amazing Natural Patterns Egyptian Cotton Duvet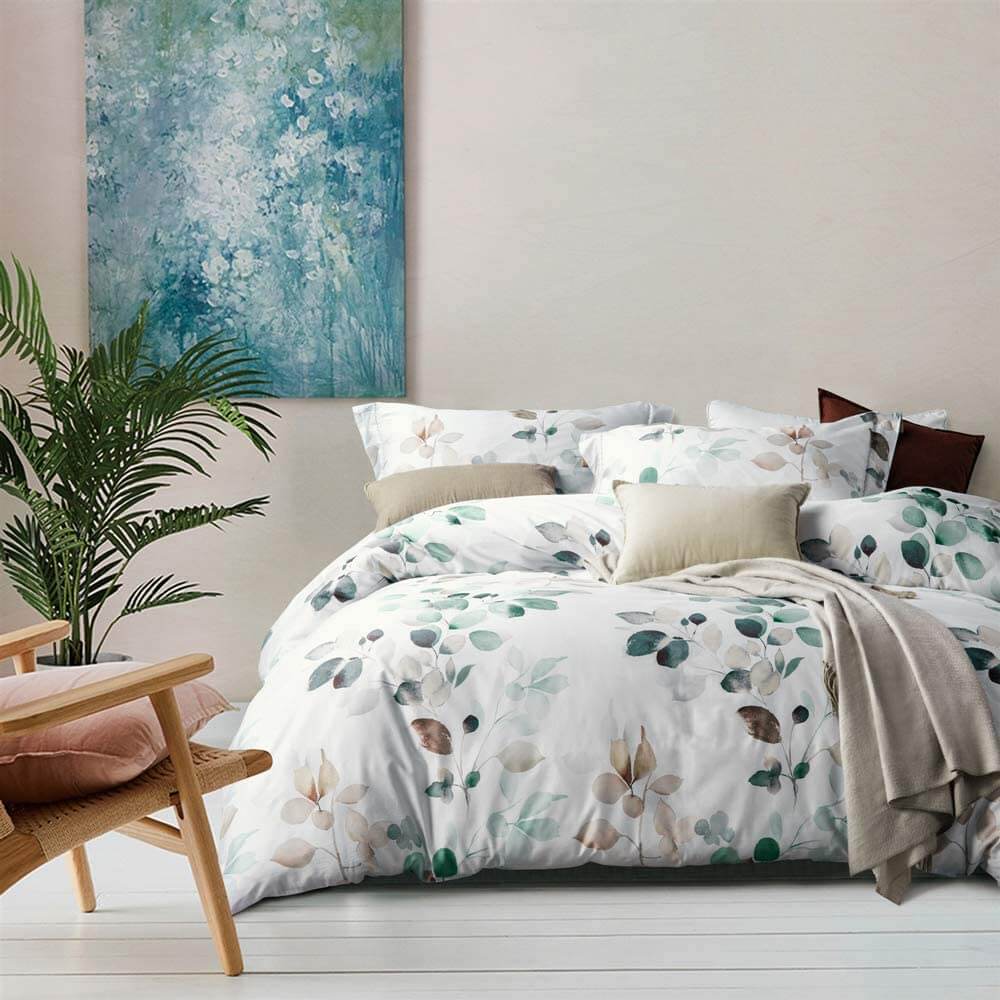 This incredible bedding set from Mildly works well for any season of the year. It's the ideal weight for both the warmer and cooler months due to its lightweight construction. With your choice of lovely leaf and other nature-inspired patterns, this three-piece duvet cover set makes a great Christmas gift for anyone on your list. Everyone will love the serene and soft tranquility that engulfs you as you drift off to sleep in 100 percent Egyptian cotton comfort.
18. Wonderful Waffle Weave Cotton Duvet by Bedsure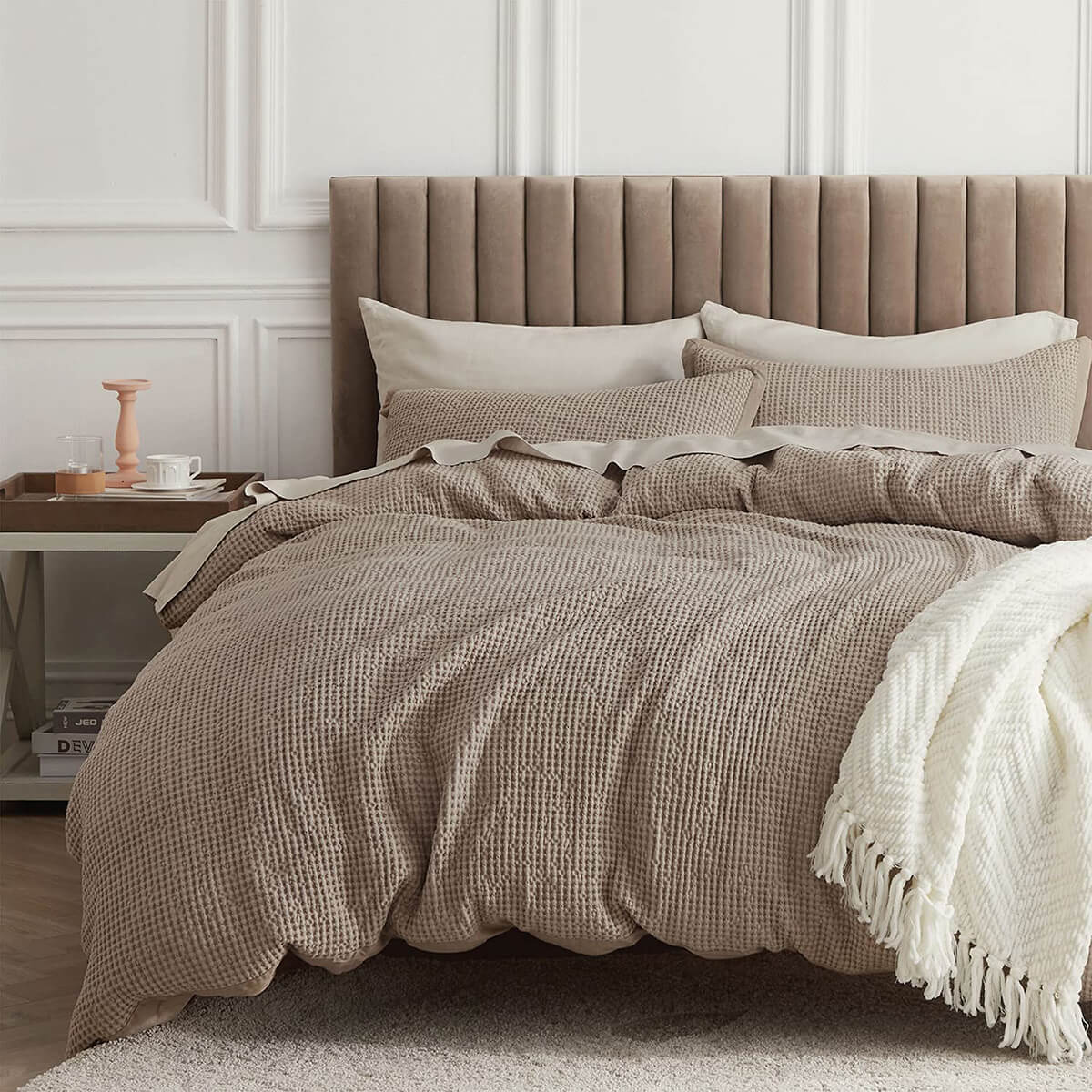 If you enjoy your classic thermal shirt as the leaves change this autumn, you'll fall in love with the look and feel of this waffle weave cotton duvet created by your friends at Bedsure. The added texture of this mini-pocketed design provides a stylish and unique look without overwhelming your bedroom space. Pick your favorite color as you add this wonderfully woven piece to the top of your bed. It's a top choice for throwing on a guest bed that appeals to both men and women alike. This universal design creation is a great choice for people of all ages.
19. Floral Luxury Patterned Mixinni Duvet Bedding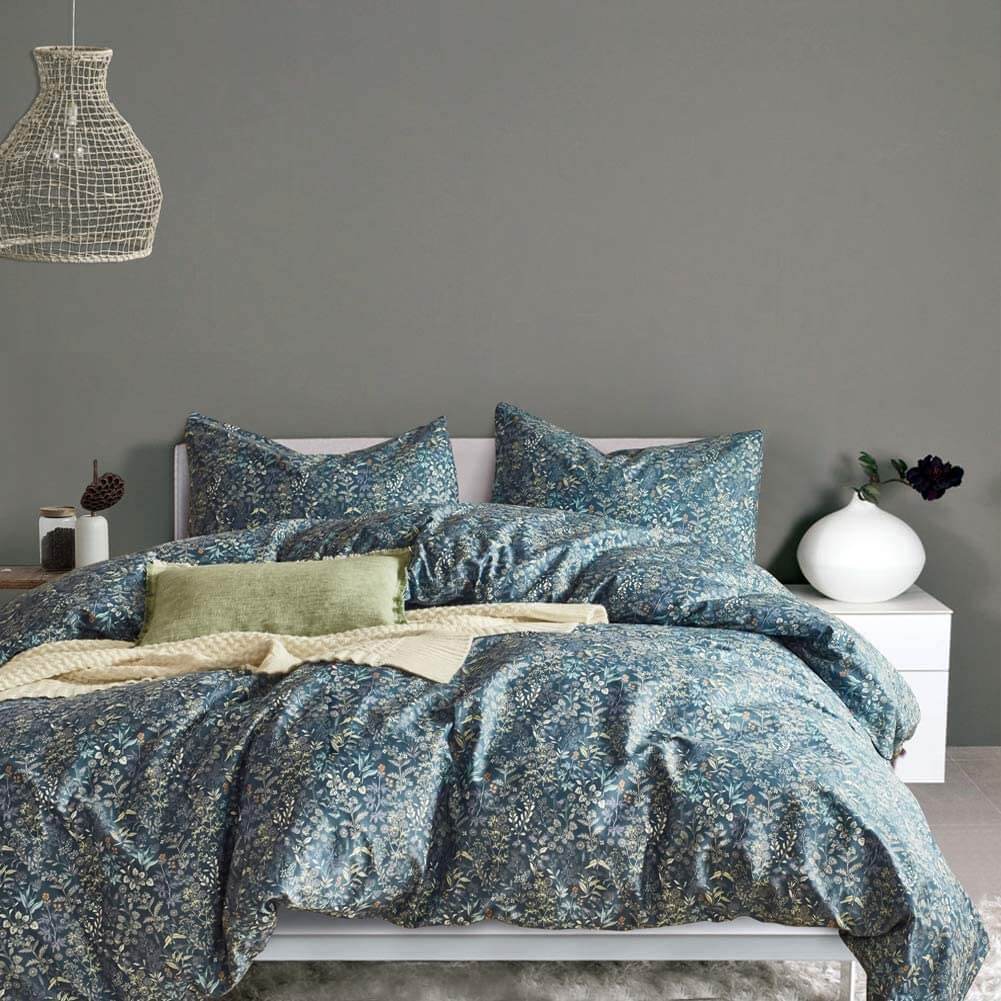 Sprinkle a pinch of feminine beauty onto your bed with this beautiful design from Mixinni. Choose from more detailed or more abstract floral looks to achieve the style you love. In a variety of colors, your flower-powered creations will look fabulous as they blend into your already established and decorated bedroom. Give everyone in your home and on your friend's list the deep and restful night's sleep they deserve with this amazing zipper and tie duvet.
20. Washed Cotton Plaid or Solid Soft Duvet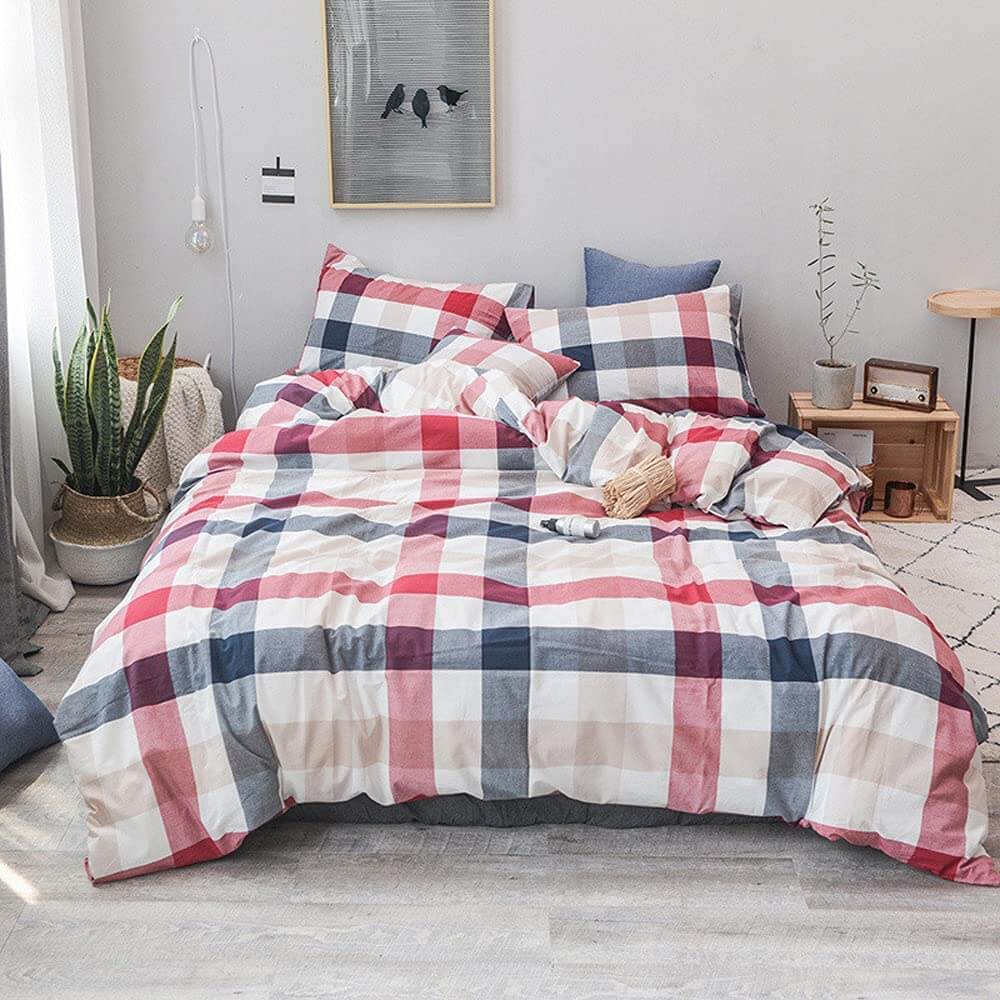 Who wouldn't love adding this soft duvet to his or her king-sized bed? Cradle yourself in the serene comfort of this washed cotton duvet set from Cotton Life. Each time you tuck yourself in at night, you'll be glad you're resting underneath this breathable and cozy bedding. Crafted in stain-resistant and fade-free material, this incredible duvet makes a great addition to your own bedroom as well as a perfect gift idea for that hard-to-buy-for person on your shopping list.
21. Twin to California King ATsense Gorgeous Duvet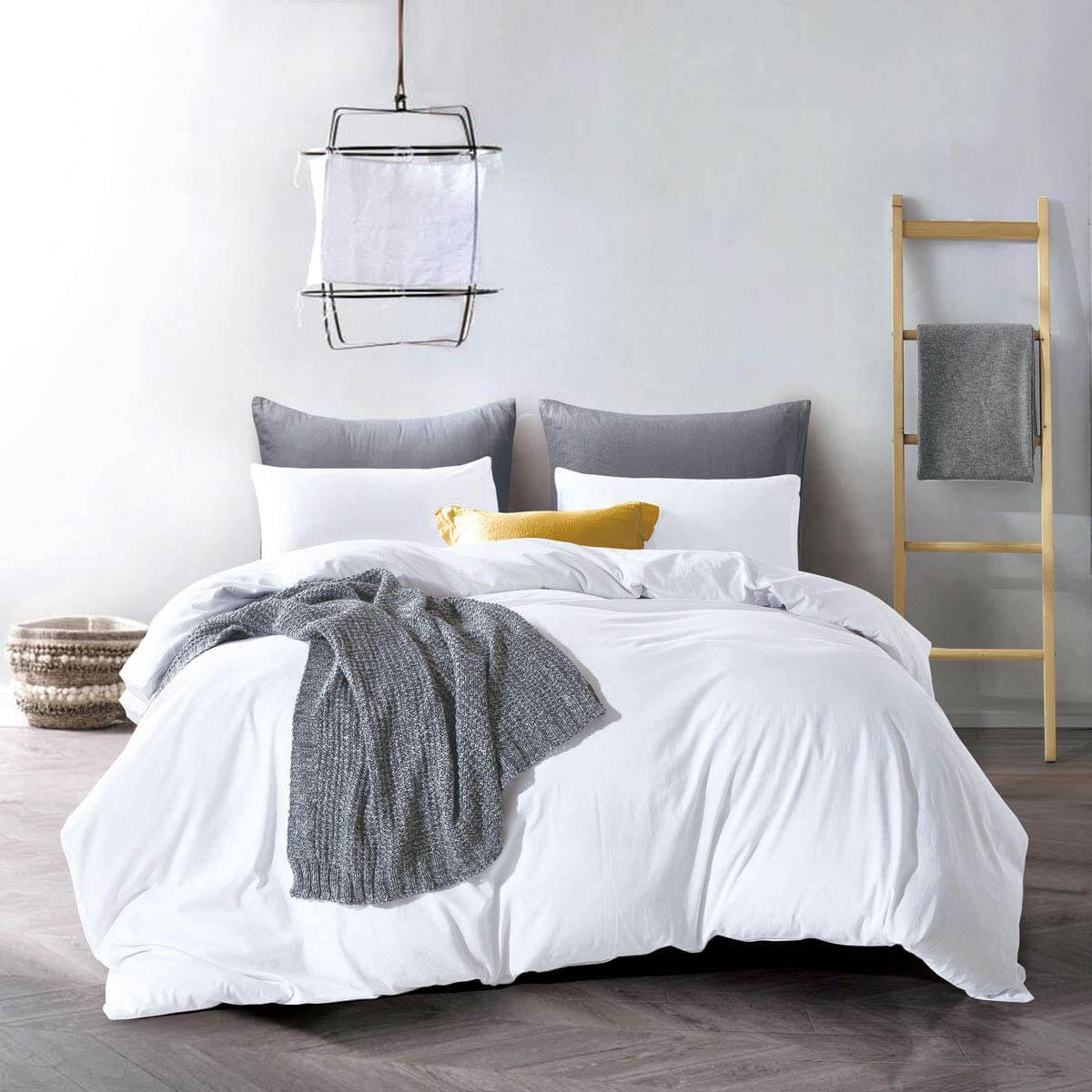 No matter what you call your favorite color, there is an ATsense duvet cover that's got your name on it! Fashioned in a collection of amazingly pretty hues, this great duvet gives a second life to your existing and comfy comforter. With available sizes ranging from twin all the way up to California king, every bed in your home can enjoy a sweet update in five minutes or less. The cotton washing process in this item ensures a much softer finished product that makes a more enjoyable night's sleep. Homes designed with a modern farmhouse vibe or perhaps an urban loft would equally enjoy this style of duvet bedding.
22. Luxurious Solid Striped Texture Duvet Bedding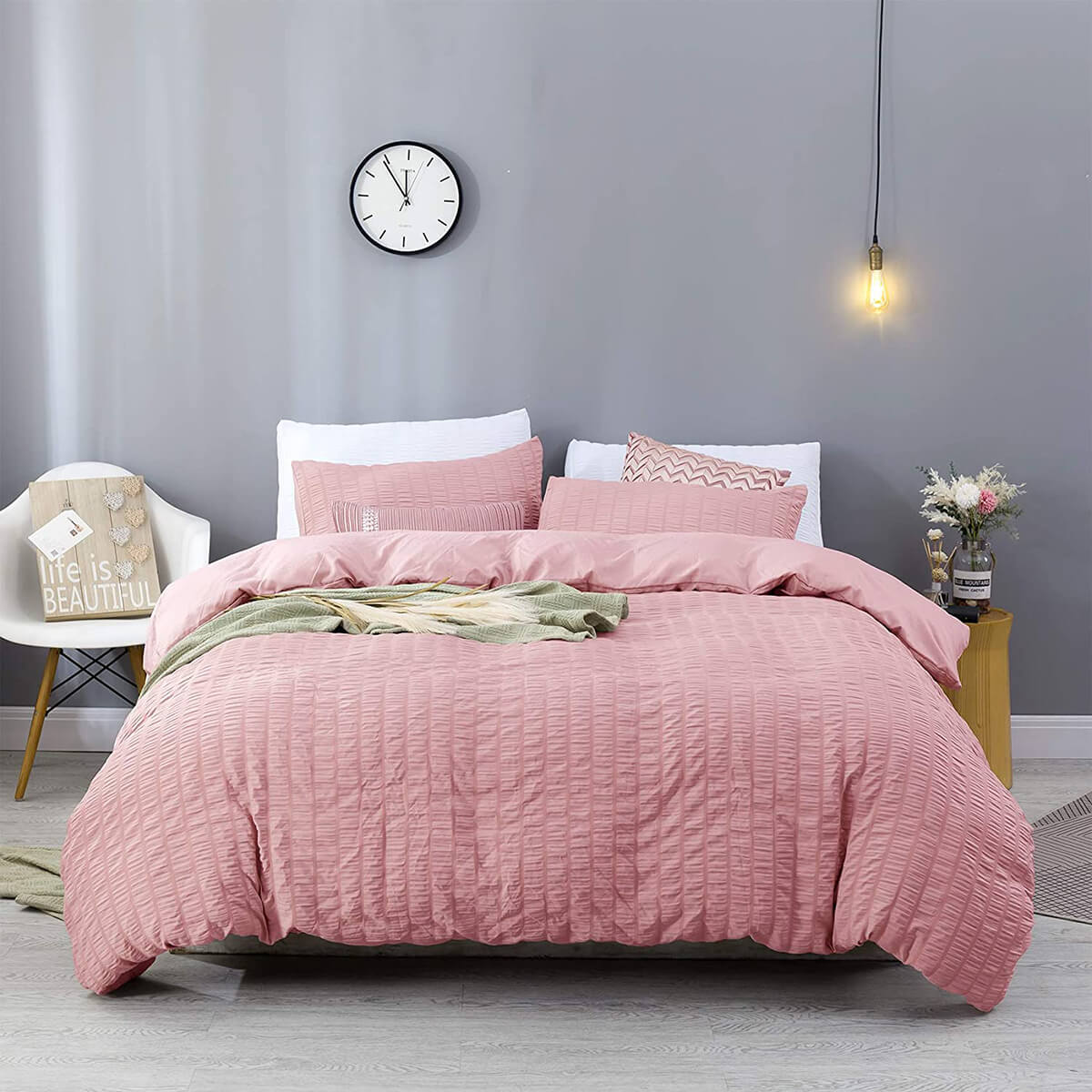 Add some luxurious texture to your bed with this incredible duvet from Estoulen. Constructed using high-quality microfiber material that mimics the luxury look and feels found in your favorite hotels. Slip into your sheets beneath this advanced microfiber duvet that's complete with two matching envelope closure pillowcases. Get the good night's sleep you deserve with this duvet that not only looks fabulous but creates a cozy sleep-inducing atmosphere for your master suite. Bring a little luxury into the privacy of your own home by including this Estoulen duvet as part of your personal sleep routine.
23. Pretty Linen Market Various Patterns Duvet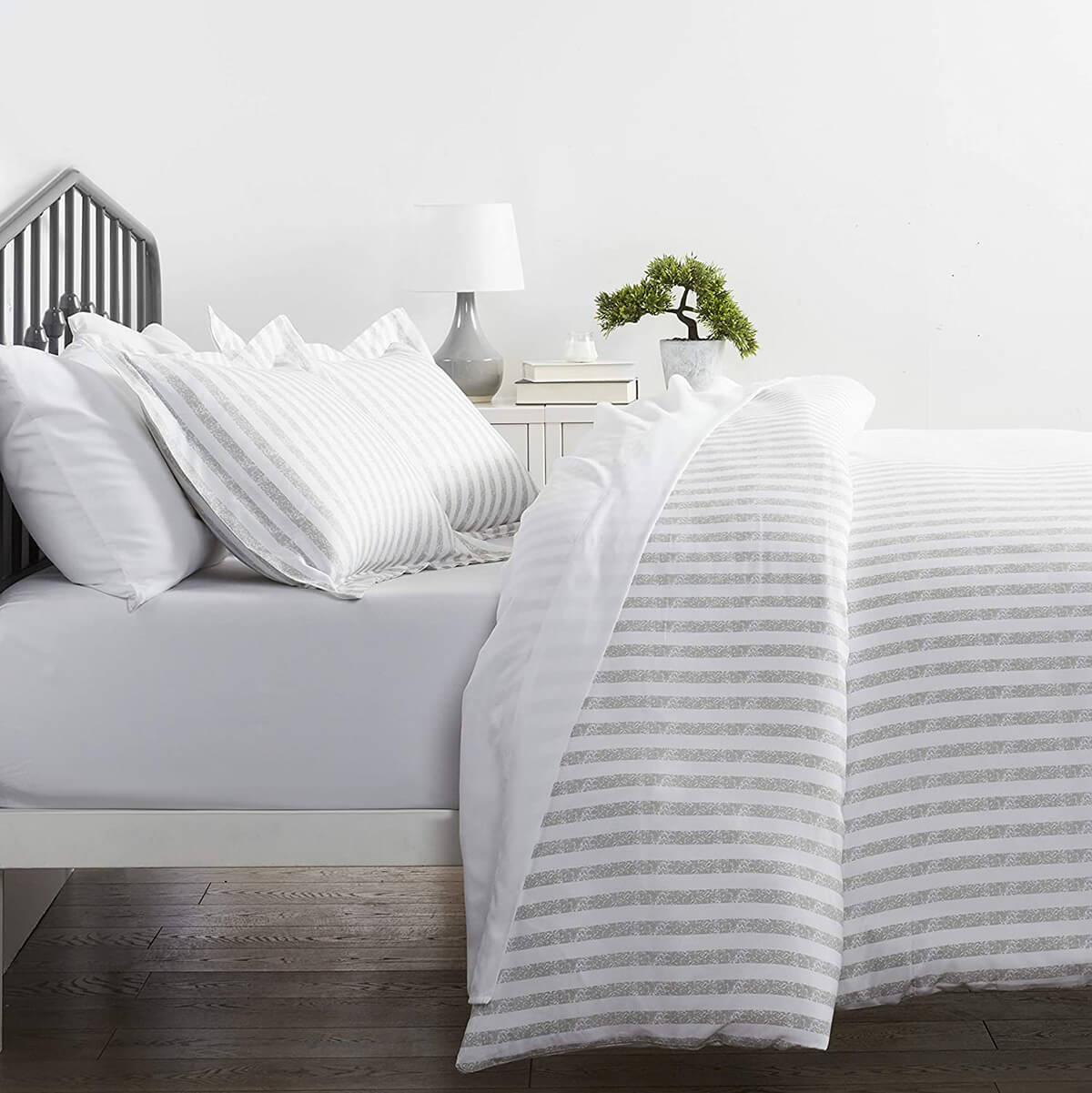 Everyone looking for a way to breathe some new life into their old and worn comforter will treasure this assortment of duvet covers from Linen Market. Maybe you like a good striped pattern to cover your bed or perhaps a feminine floral print is a way you decorate your bedroom. No matter your preference, this brand features an amazing array of choices to meet your needs. Made with machine washable material that is not only fade and stain resistant but wrinkle-free, choose your favorite pattern to show off on your own bed. Available in twin/twin xl through king/California king, you'll find the size you need in the design you want!
24. Delicate and Detailed Tufted Duvet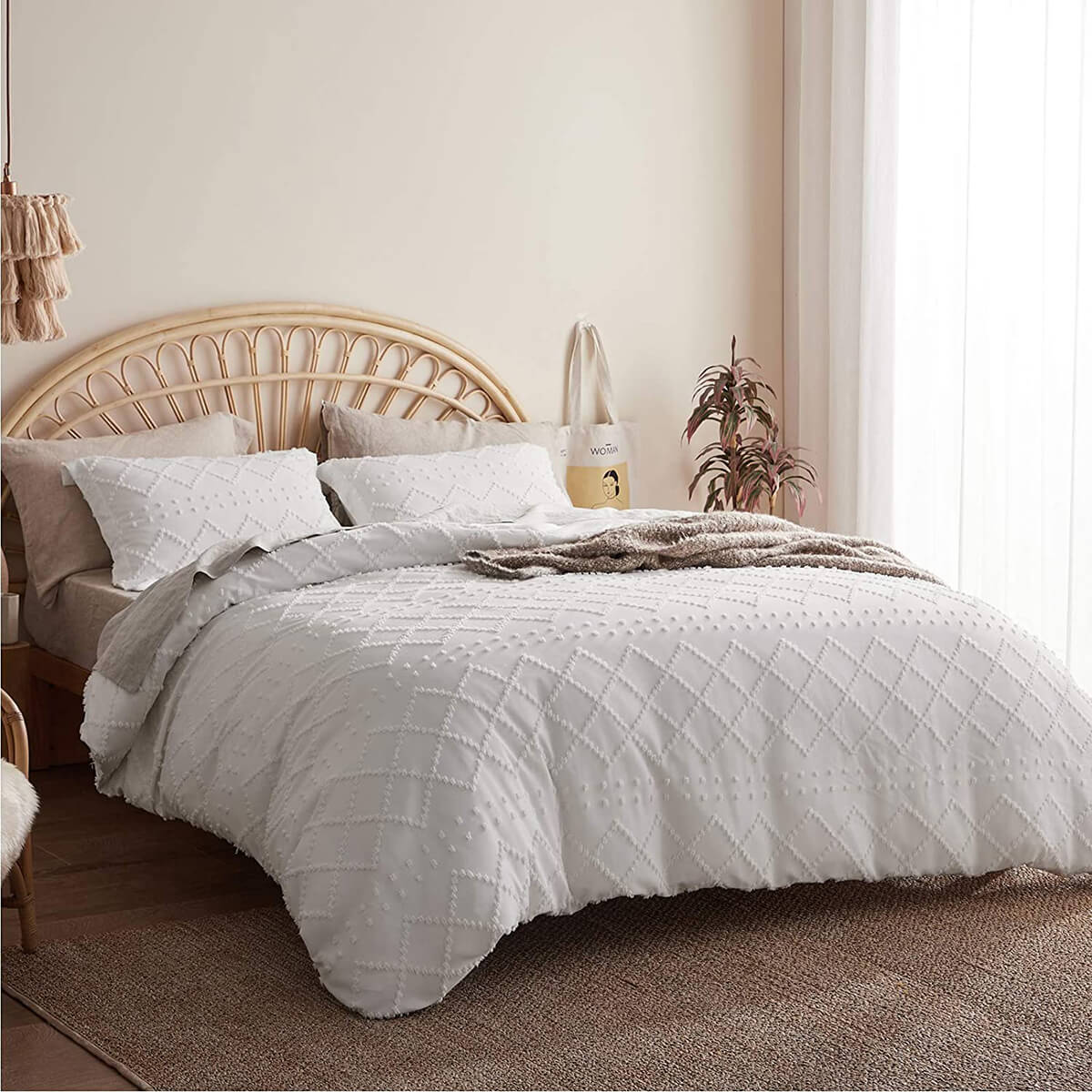 Sometimes less is more and that is most certainly the case with this delicate and detailed duvet from Bedsure. You'll find enough options of muted hues to tickle your fancy while bringing this detailed delicacy into the comfort of your own home. The unique tufted design nearly incorporates a vintage undertone to the overall look of this bedding. It's perfect for use in a guest room, teen room, or master suite of your own and of course, it makes a great gift option too. The delicate nature of the detailing in the tufting contributes to the versatility of this duvet's design.
25. Pom Pom Fringe Solid Color Duvet Bedding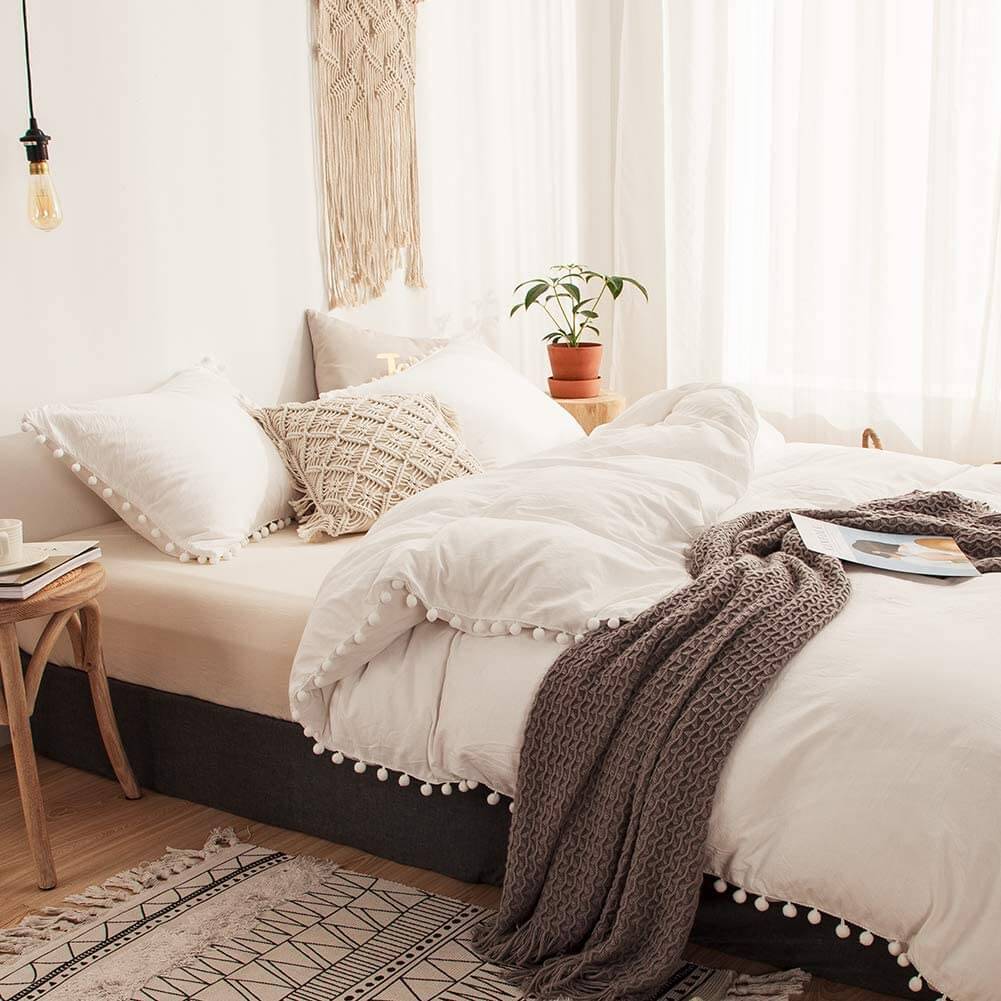 Look at the beautiful fringe framing this classic and comfortable duvet. Complete with identical pom-pom fringe on the pillowcases, this solid color duvet bedding will work in nearly any bedroom of your home. Accessorizing this duvet with such a classic pom-pom fringe definitely adds an unexpected embellishment without overdoing it. What a fun way to update your teen daughter's space to make it feel a little more grown-up, but not looking like a stale hotel room. Or you might choose to use it for yourself. It may be the best way to make a minimalist's space feel a bit more cozy and comfortable without sacrificing style.
26. Bedsure Cotton and Linen Duvet Bedding Set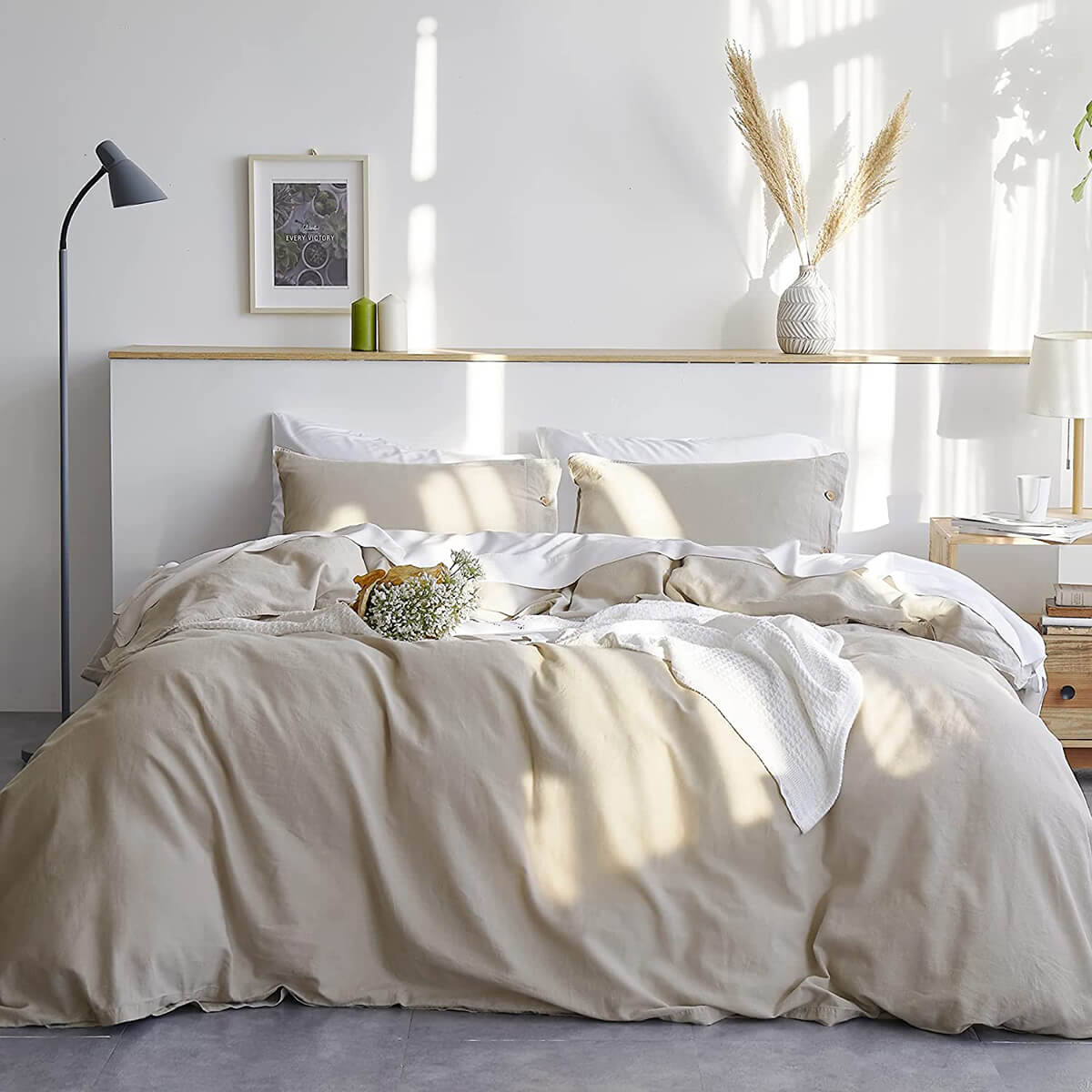 Using a combination of cotton and linen, this duvet from Bedsure is a wonderful combination of comfort and class. This combo of natural fibers offers a superb blend creating a highly-desired atmosphere for pure comfort and solitude. You'll feel like you're sleeping upon a cloud when you unwind underneath this half cotton and half linen duvet. The oatmeal-hued color, named linen, delivers a good choice in matching most any decor. Warm it up with bold wall color, or keep it understated by a crisp white wall.
27. Simple and Soft Washed Cotton Duvet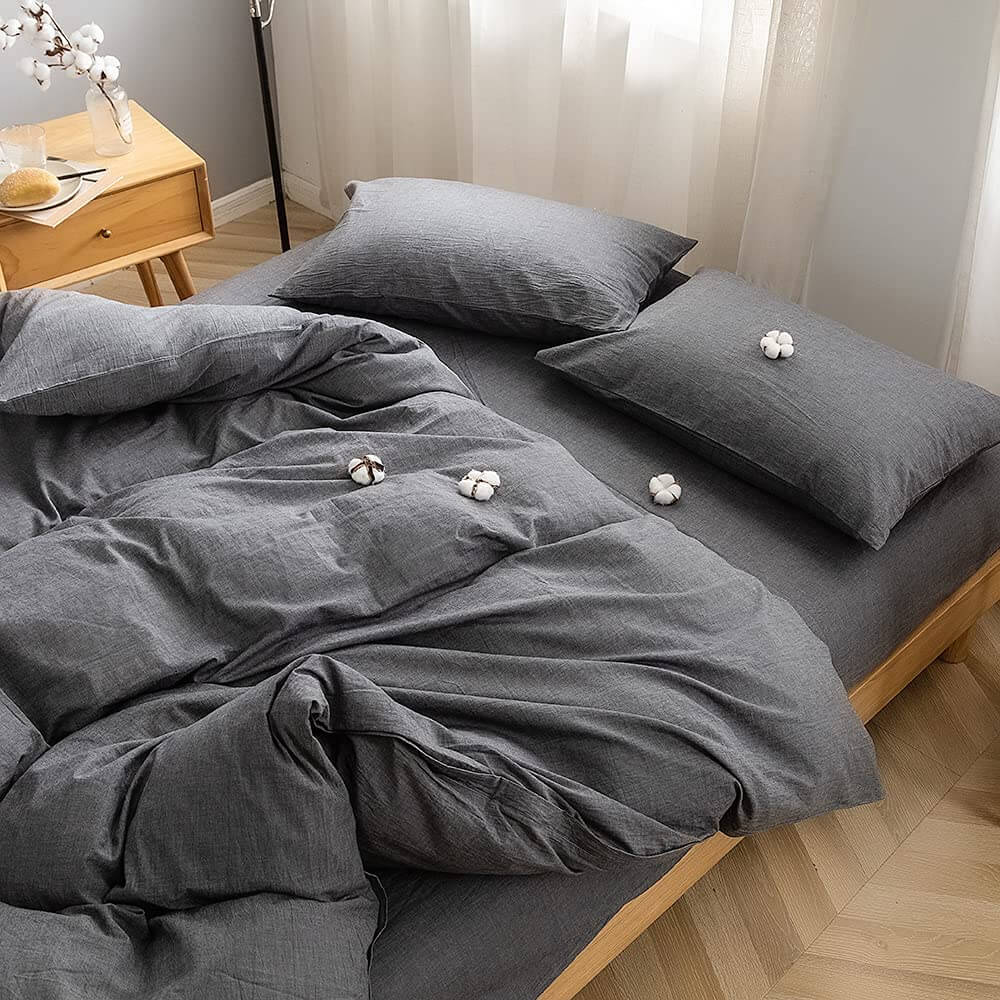 Meeting your needs with any size you desire, this washed cotton duvet from Face Two-Face gives you a bounty of color options as well. From solid neutrals to bold gridlines, your old comforter will thank you for its much-needed and long overdue update. In contrast to standard cotton, this duvet uses washed cotton providing you with a richer softness for added comfort. The classic styling of this Face Two-Face set aids in giving your bedroom a more sophisticated look while keeping the comfort level at the top!
28. Diamond Tufted Microfiber Duvet Bedding Set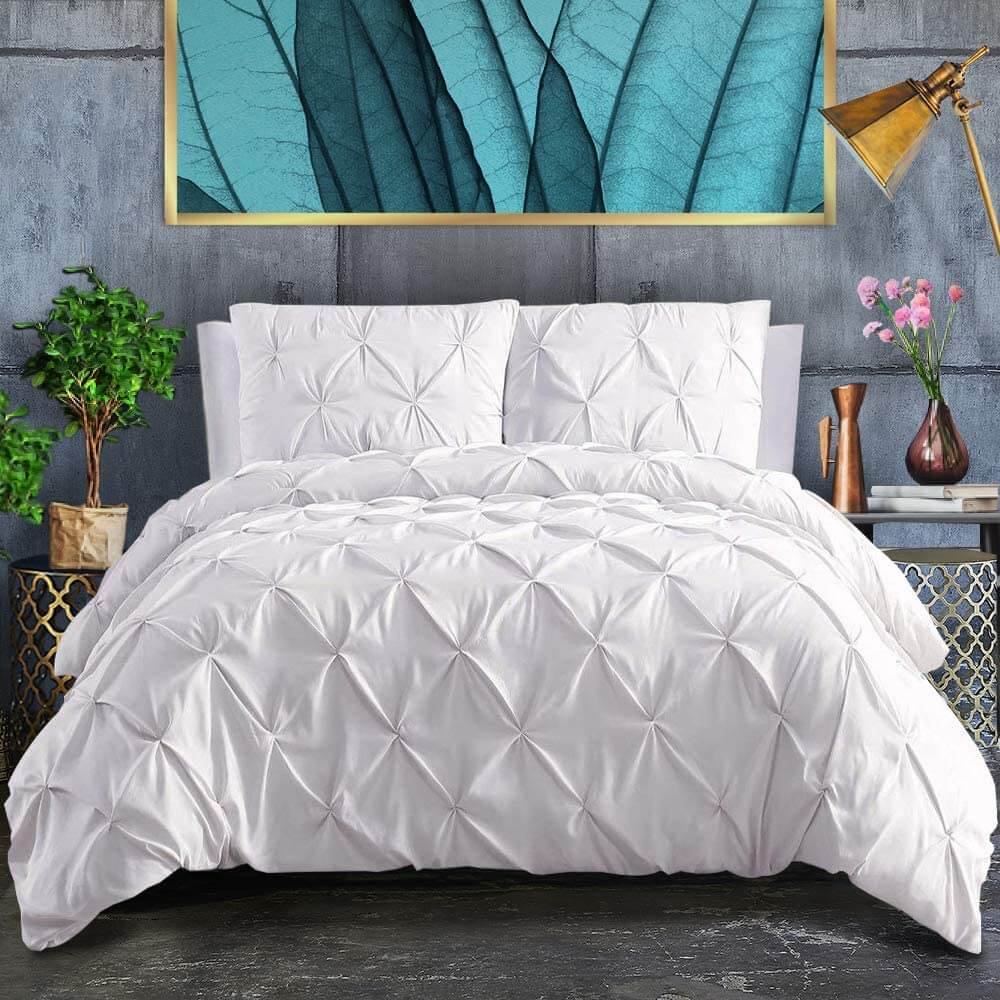 Ashley River makes quite a statement with this interesting take on a tufted duvet. The carefully tucked pieces create a lovely and dynamic diamond pattern across the entire duvet giving a truly unique and elegant design. With a nice selection of blue hues, gray, white, and soft blush pink, there is a way to bring this geometric goddess into your home for keeps. Crafted in microfiber, the ease of care and the soft comfort will make your heart content as you drift off to sleep.
28 Ways to Dress Up Your Old Comforter
At the end of the day, you'll be glad you decided to give your go-to comforter a fresh, new look. Since you're not sacrificing any of the comforts of your good 'ole boy, your body, mind, and soul will relish the relaxing atmosphere it's grown to call home.
Underneath the classic solid cotton duvets or snuggled below a gentle nature-loving motif or feminine floral, your inner-self will notice the facelift while appreciating the everyday routine comfort of your trusted comforter.
Maybe you choose to go with a modern and fresh look with a solid color embellished with a pom-pom fringe. After a long day, you might prefer a gentle vine pattern or simple stripe to freshen up your personal retreat.
In a more sophisticated space, you should consider a tufted solid creation that keeps it simple, yet adds an intricate design that embodies an understated elegance in your grown-up bedroom space.
Next, you might travel down a more traditional path with a set of stripes. Straight and narrow or chevron both do the trick in bringing a good striped look as part of your existing bedroom decor.
Finally, you can't go wrong with linen and cotton, microfiber, or washed cotton to give yourself the exact softness you deserve. With ties at the corners and zippers all around the edges, converting your old comforter into a new and fresh bedding set is simple. This incredible collection of 28 lovely and luxurious duvet cover sets allows you the flexibility in holding on to the comfort of the past while giving you all you need to recharge and move forward into the future.