One of the greatest ways to create an inviting place to lay your head is with one of these best earth tone colors for bedroom ideas found here. Bringing in some colors born in nature is a key ingredient in laying the foundation for achieving your serenity now.
29 of the Most Natural Earth Tones for Your Bedroom

To begin, you'll need to identify which earthy elements intrigue you most. Maybe you lean toward the cool tones mostly seen in the sky, ocean, and mountain tops. On the other hand, you may favor warm hues that are a force with which to be reckoned in the fall. The rich reds, oranges, and golds trigger memories of campfires and sipping hot cider.
Next, you'll decide how much of these earthy elements you wish to have in your bedroom. From earth tone painting colors for the bedroom to finding that complete bedding set to accent the top of your bed, you can mix and match pieces until you find the overall look you crave.
A large collection of accent pillows on the bed is a quick and easy way to update your look. An arrangement of houseplants or a dominant fiddle leaf fig tree near the window adds some real beauty and a breath of fresh air to space. Or you may bring in some wood elements from a rustic shelf or exposed beam to a sturdy bed frame to warm up the room and fill it with some character.
Whichever is the case, you can unleash some green into the mix with minimal effort. From the bright green of a freshly cut lawn to the chartreuse and olive blends found in shady spots filled with moss, you can't go wrong with this color in your bedroom.
Choosing to use these earth tones is just the beginning. As you decide to paint your walls with them or top your bed, you can place them anywhere you wish. And we are just getting started since you can further incorporate natural elements like leather, rocks, wood, and cut blooms into the design.
Take a look at these 29 incredible ideas for making your personal space come to life with these naturally beautiful earth tone colors.
1. Rich and Creamy Chocolate Brown Bedroom Comforter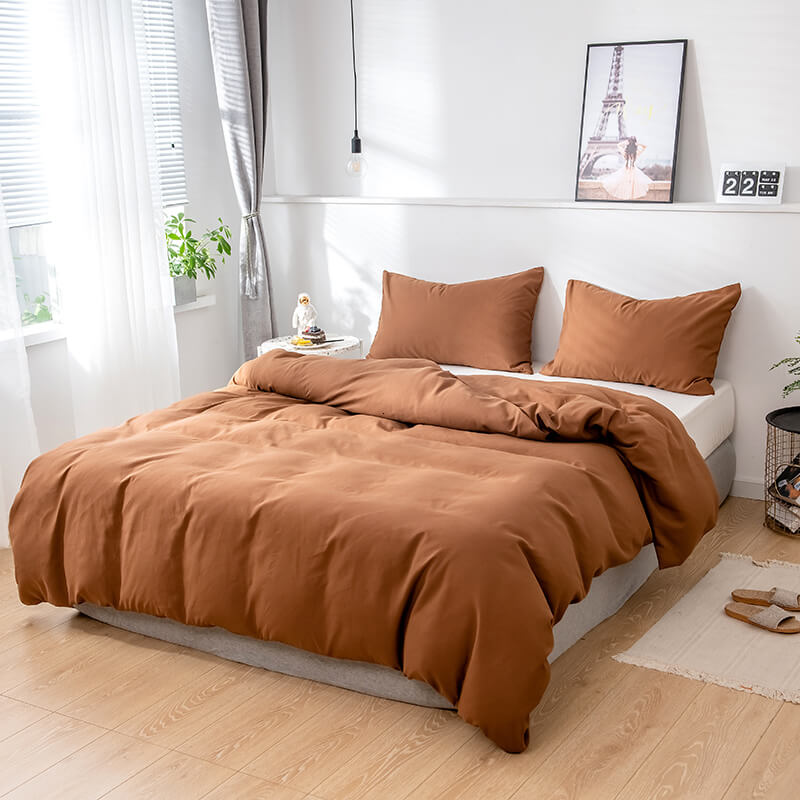 Nothing says cozy like a warm cup of hot chocolate on a rainy day. So why not bring that rich and creamy comfort into your bedroom? Top your master bed with a luxurious and super soft comforter in this creamy chocolate color that's sure to create a relaxation station in your own home. Using an earth tone like this gorgeous brown makes this bedding an awesome idea in home decoration for any season since it channels vibes from Mother Nature herself. Dirt is the cornerstone of life, and this makes brown one of the best earth tone colors for bedroom decorating.
2. Warm and Earthy Terracotta Wall Master Bedroom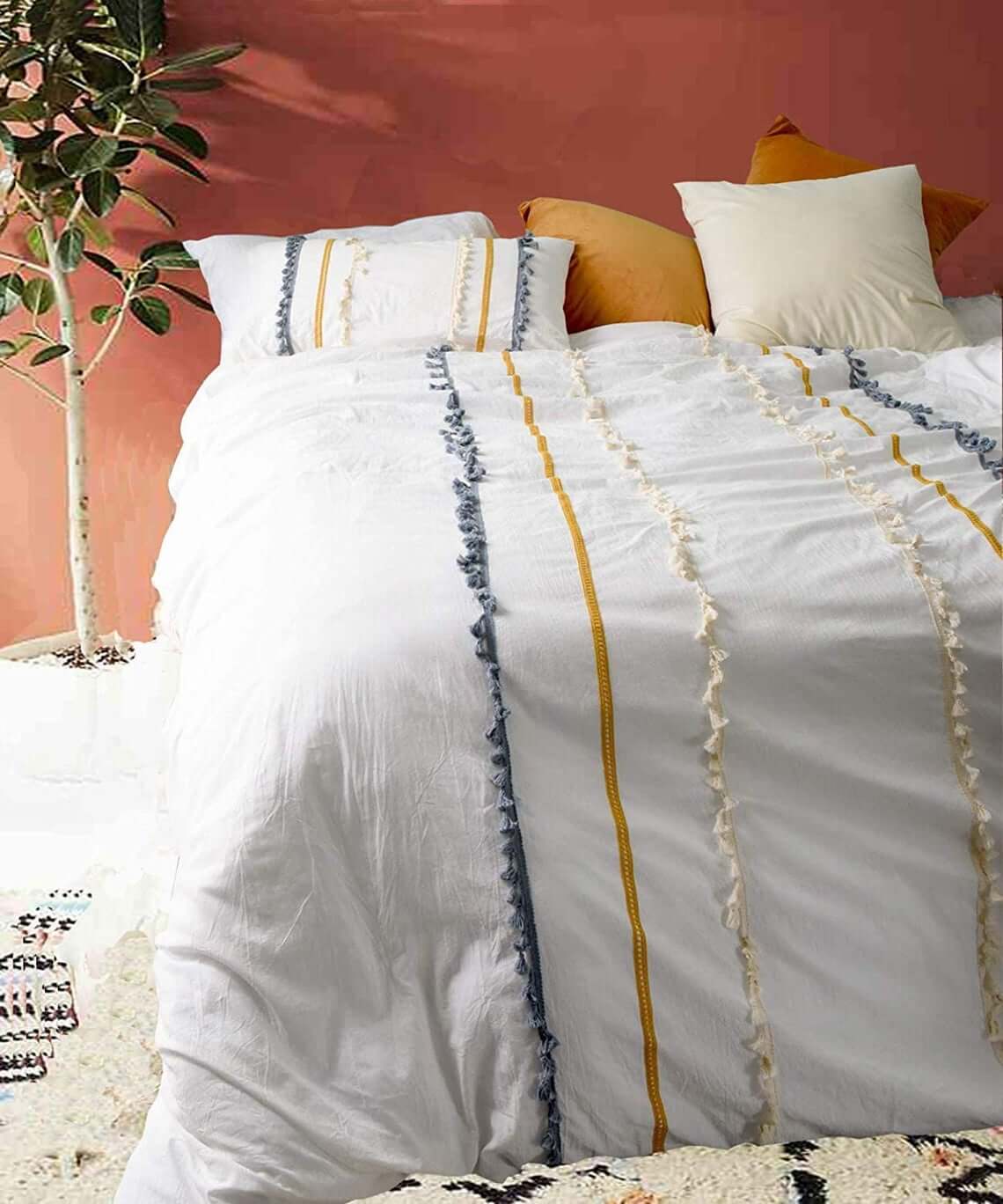 Warm-up your bedroom with some sun-dried and rusty terracotta wall color. This bold, yet neutral wall color choice livens up your interior space with a feeling of a sunny patio atmosphere. The contrasting bright white bedspread sets the tone for a lovely bedroom design. Place a large house plant like a fiddle leaf fig in the corner to further bring some natural elements into your living space.
3. Charming Rustic and Full of Texture Brown Bedroom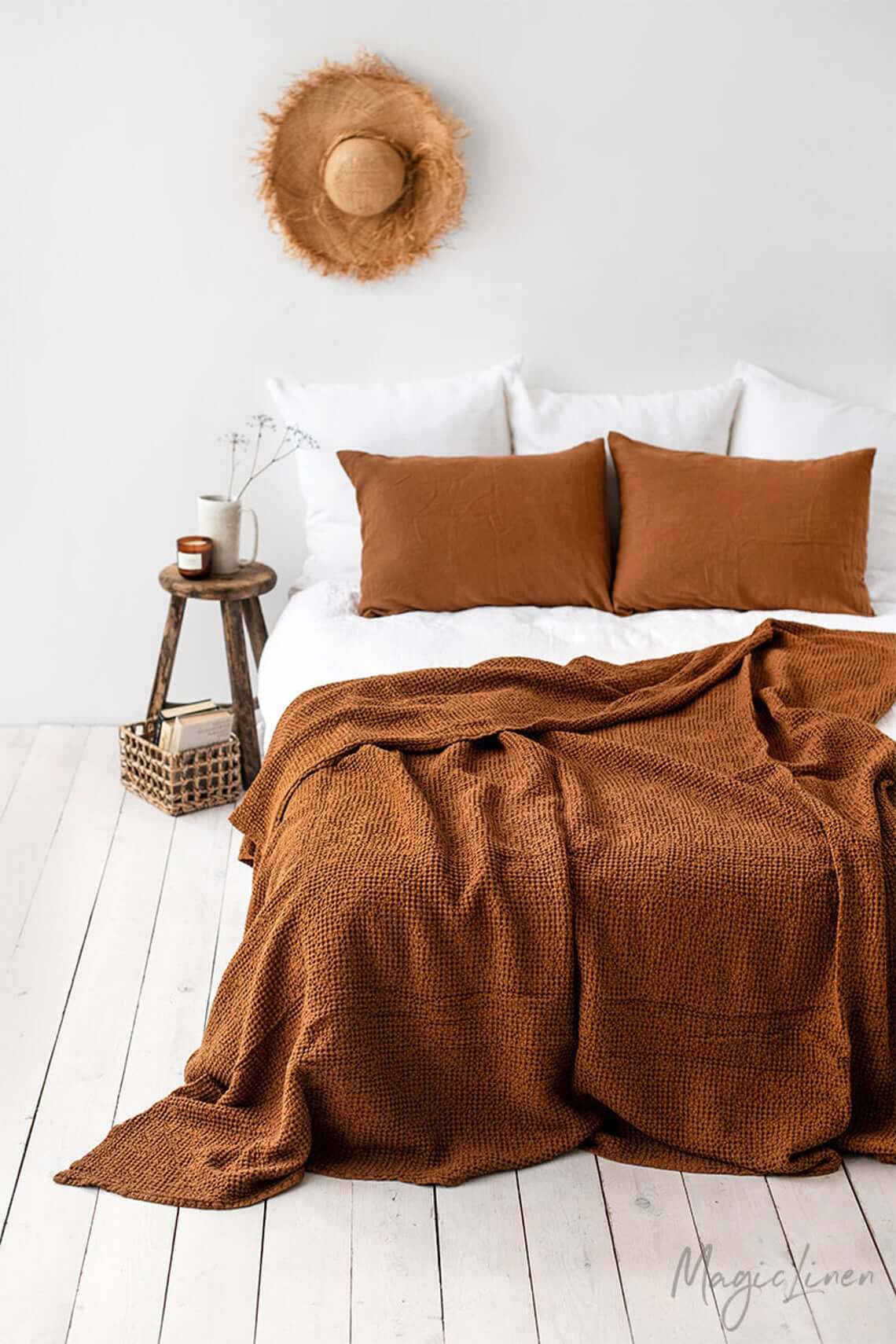 If the classic black and white color combo isn't your cup of tea, have no fear! Their close combo cousin, namely brown and white, offers some of the same appeals. Featuring a rich brown instead of black gives a little depth and a warmer feeling to the atmosphere of your room. The rich brown brings to mind adventures in the great outdoors. Maybe it reminds you of a hiking or camping adventure from your younger days or simply fuels your love of nature. This lovely textured bed covering ties the rustic three-legged side table into a charming minimalist-loving rustic retreat.
4. Tons of Texture from Creams to Browns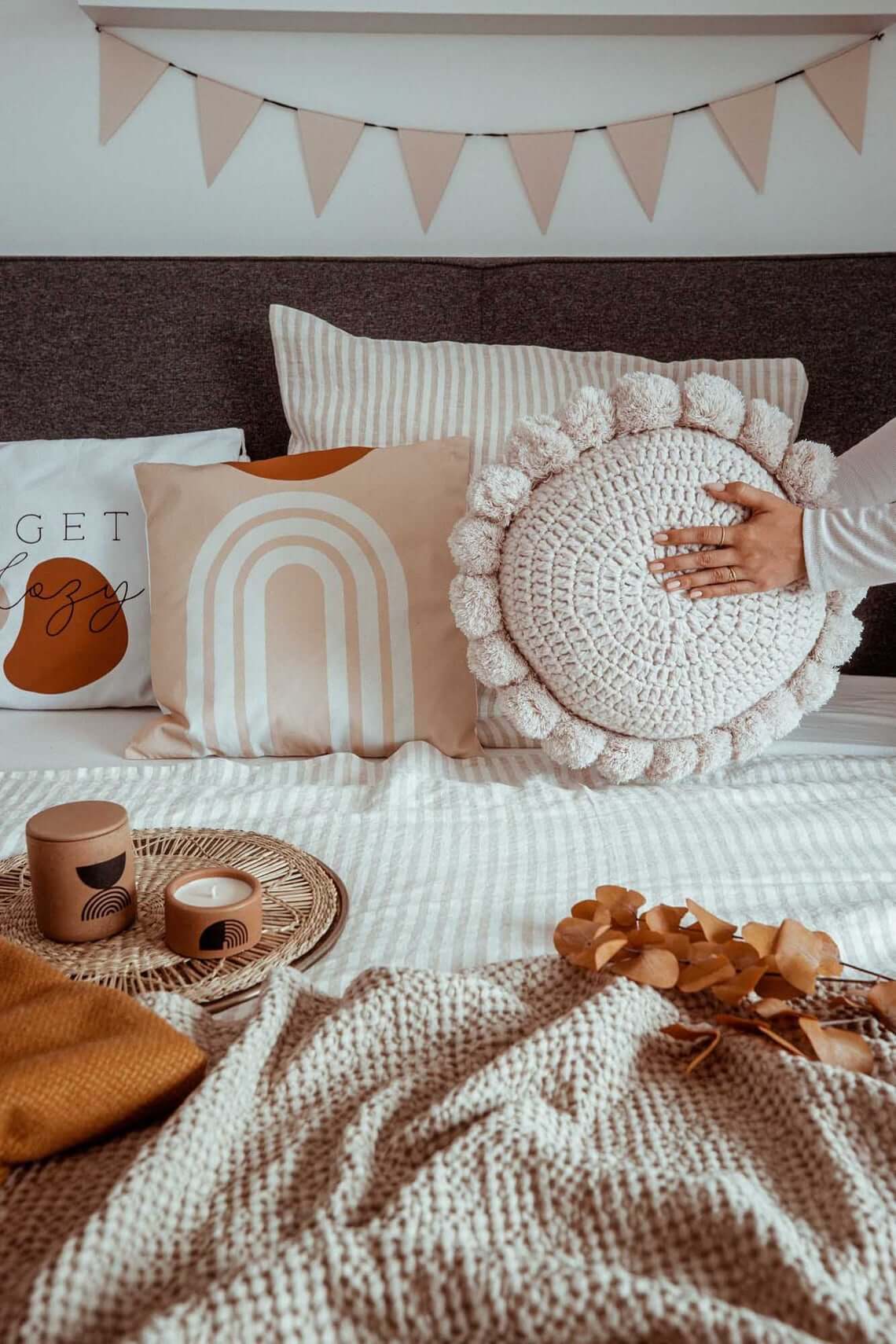 Load up on your texture addiction by incorporating as many varieties as you can! From a cream-colored crocheted pillow to a rough, woven placemat, the soft bed display provides a perfect contrast to these interesting items. Decorating the space with a variety of shapes continues to add to the charm of this creamy tan and brown bedroom. Above the bed, the pennant garland adds texture, shape, and style. With lined sheets and round candle accessories, there are design elements everywhere you look!
5. Wood Wall and Terracotta Brown Bedroom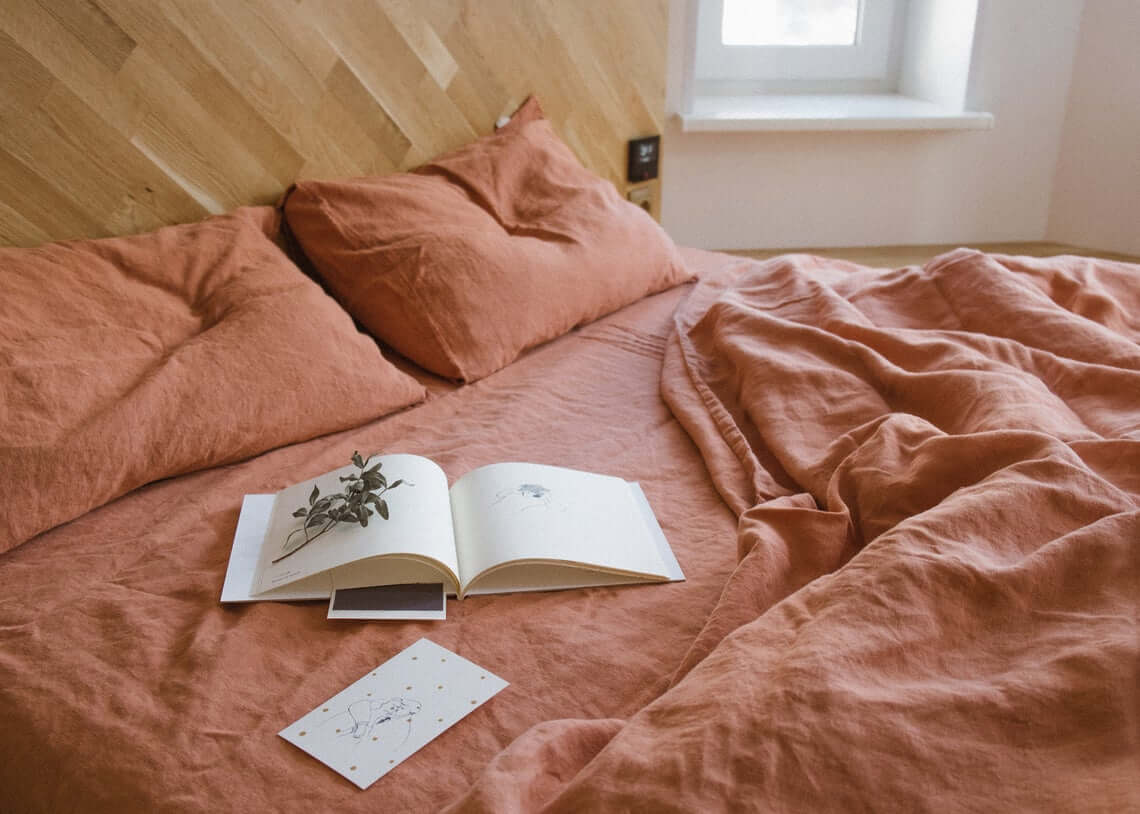 Clean and minimal are great ways to describe this cool bedroom. Create a fun statement wall by laying some wood planks on a slant for added interest and appeal. Anyone can have a traditional drywall backdrop, but the gorgeous grains of this wooden masterpiece really catch your eye! There's no need to add a lot of home decorations to the mix either. Simply use a dramatic brown terracotta overstuffed comforter to spice up the space.
6. Terrific Textures Abound in this Breathtaking Bedroom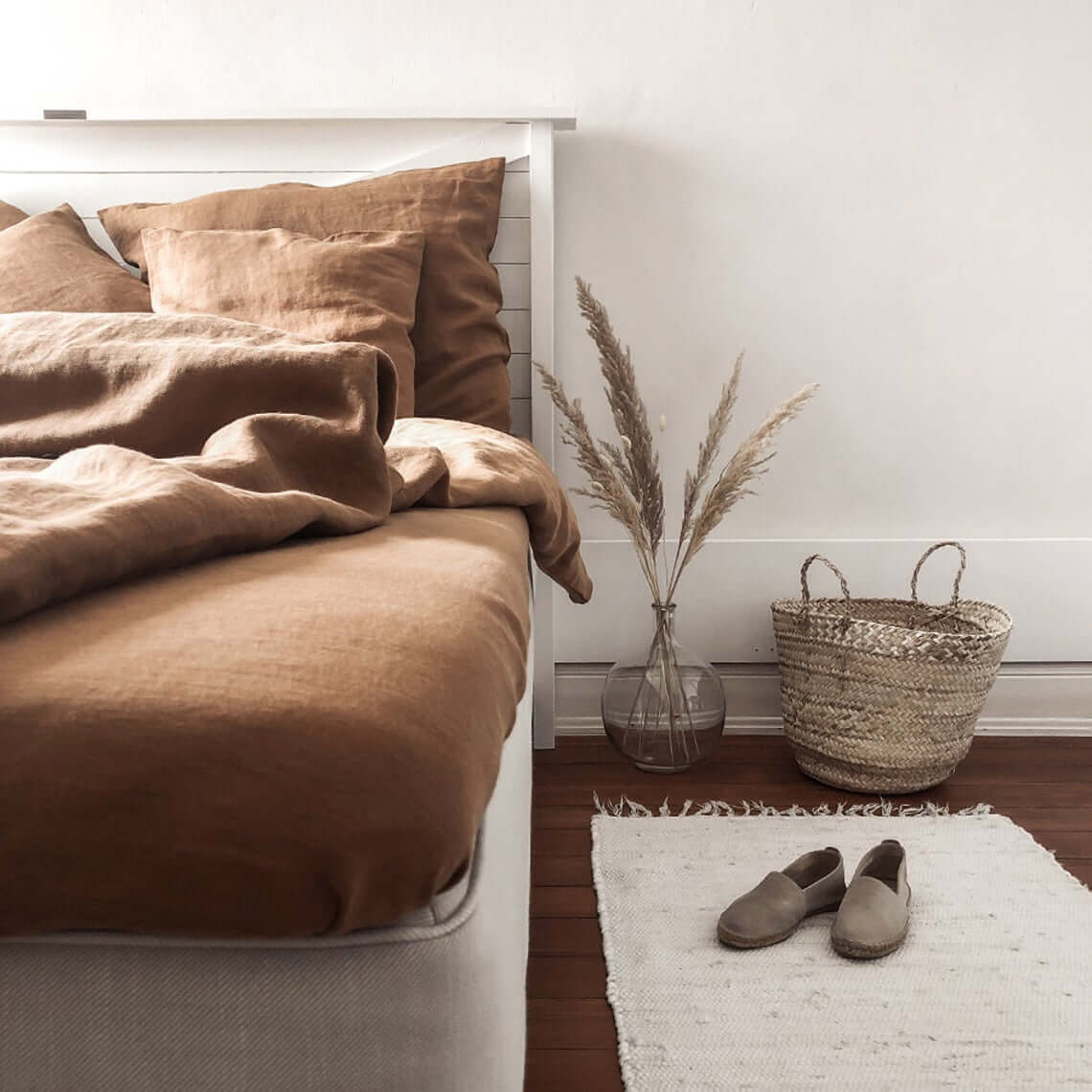 Tweed, cotton, shiplap, and wood wonderfully weave their magic throughout this unique and welcoming bedroom. The top of the bedframe features a modern farmhouse shiplap facade while the bottom piece showcases a warm and thick tweed finish. Coordinating the floor color with the bed covering adds a cool look to the overall design. Placing a soft rug on the floor as well as a woven basket and vase of plumes from the outdoors continues to incorporate even more textural elements than ever before.
7. Modern Native Villager Inspired Bedroom Decor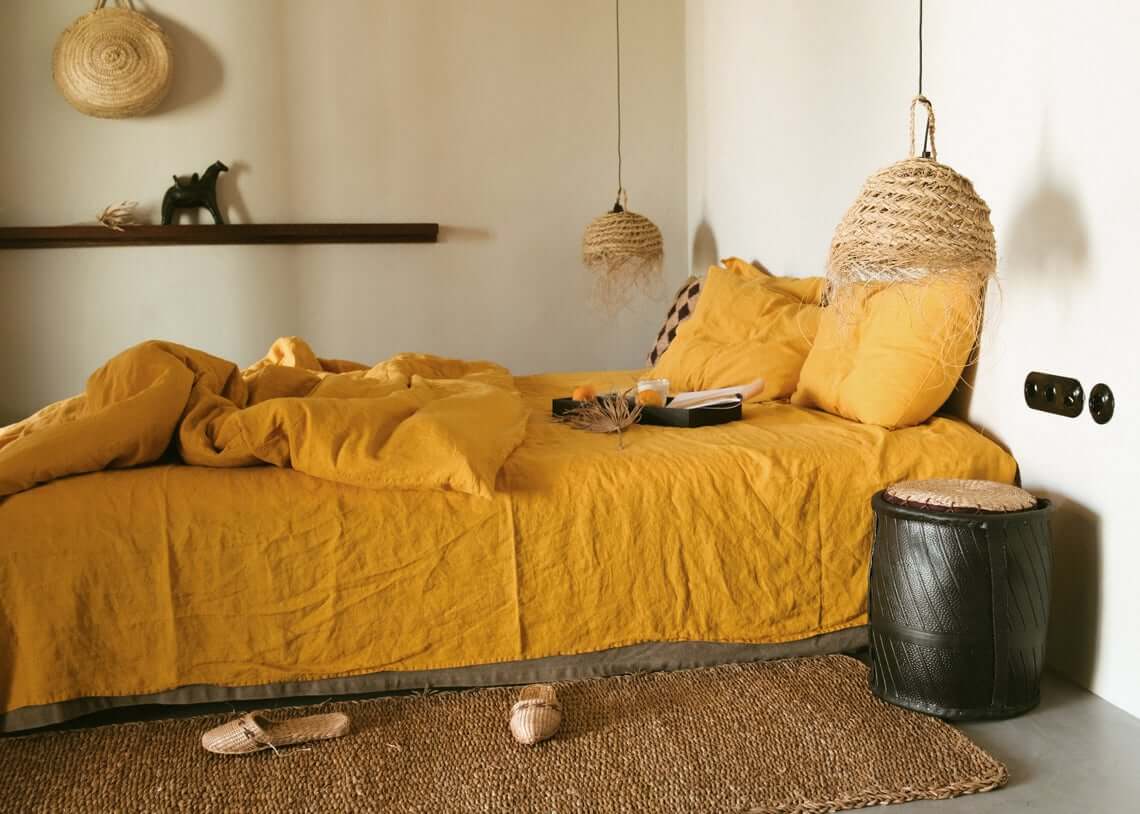 Design a well put together bedroom with pieces from some of your favorite adventures from around the world. If you're not an avid traveler, you can still enjoy this cool design with a few trinkets from some quick shopping. Weaving is the central theme of the decor from the lighting fixtures to the rug and you can even squeeze in a straw tote hanging on the wall. These woven goodies bring some earthiness to your scheme and keep everything feeling light and natural.
8. An abundance of Earthy Elegance Bedroom Design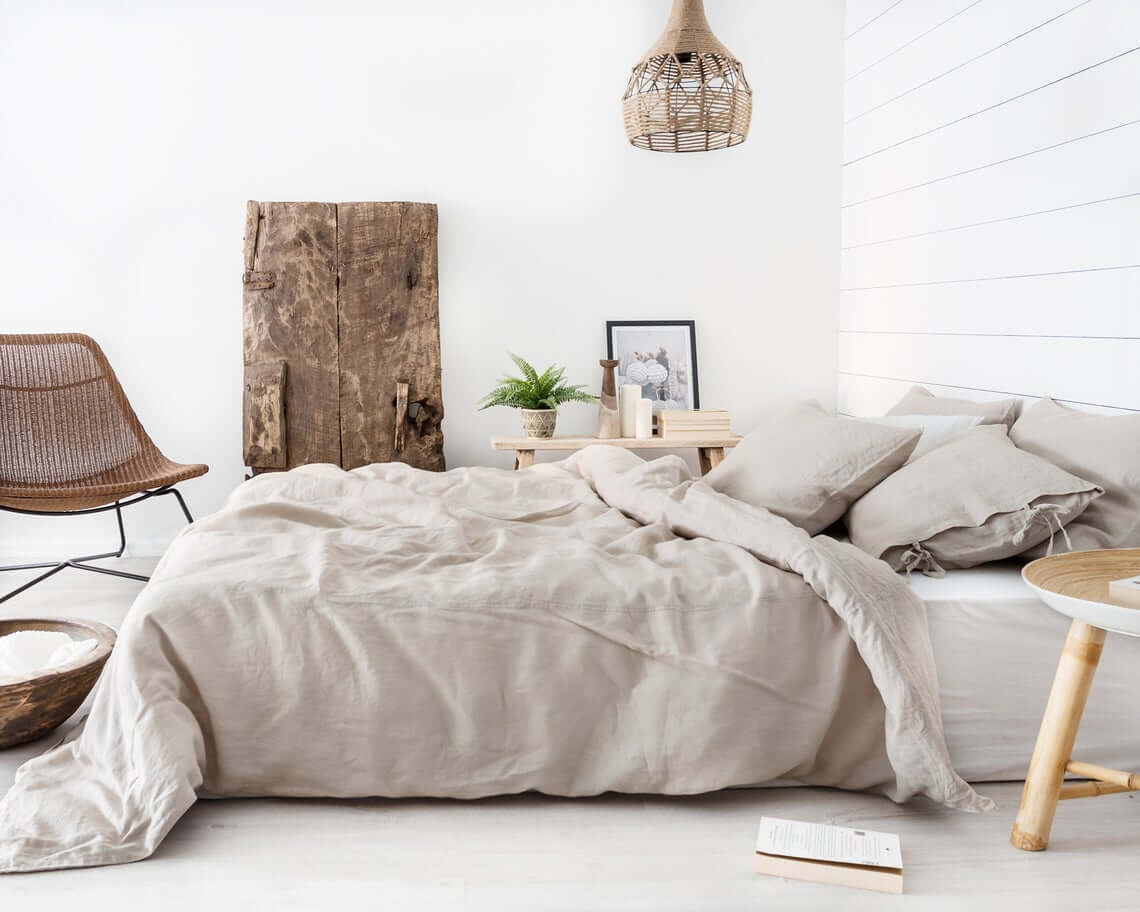 One of the best earth tone bedroom ideas begins with a fresh coat of white paint along with some color pops of brooding browns. A low profile platform bed keeps the lines clean and creates a minimal look for your master. The shiplap wall adds some texture in addition to the wooden pieces interspersed throughout this unique space. With a circular side table and a reclaimed wooden door, there are several awesome ideas for mixing some wood into the room without feeling like a cabin in the woods.
9. Natural and Earthy Low Profile Lounging Lair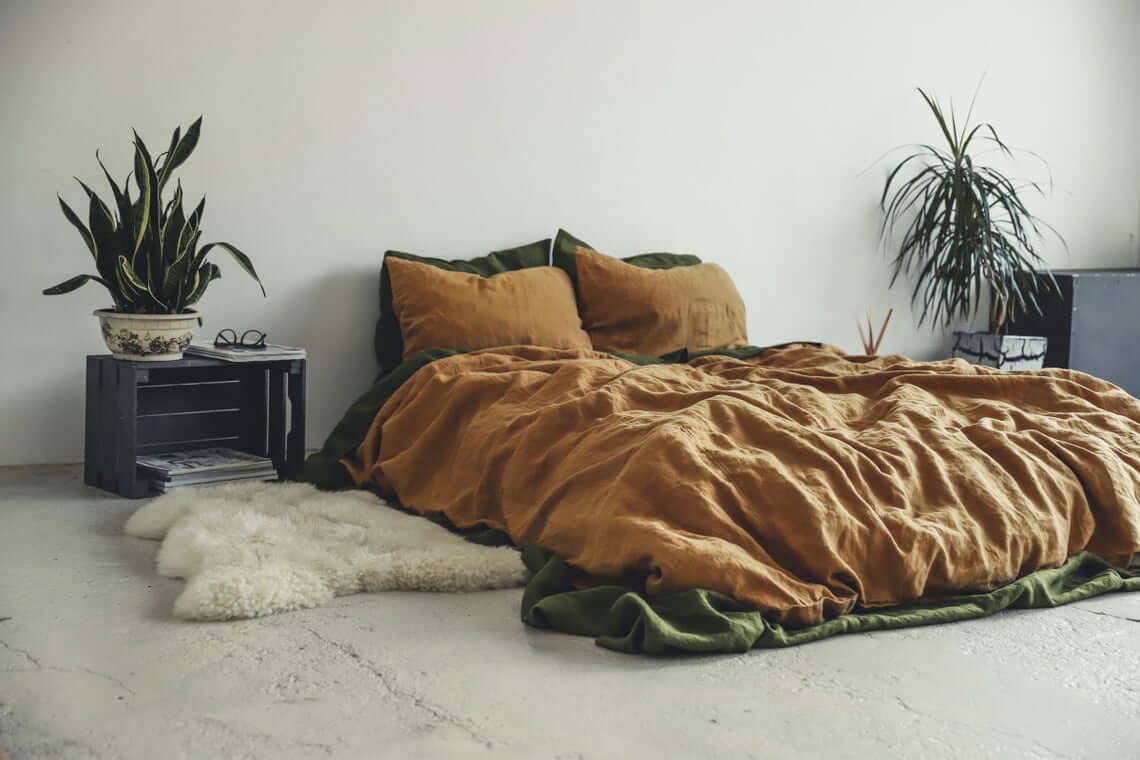 Add comfort without sacrificing on style with this lounging lair that's an awesome idea for a bachelor or a modern couple. Staying low to the ground keeps things in sync and modern. The gorgeous inclusion of house plants increases the beauty of nature in the room and the soft white rug makes getting out of bed easier to bear. Wrapping up with a brown and green bedspread is reminiscent of nature's beauty.
10. Honeycomb Headboard with Mid-Century Modern Elements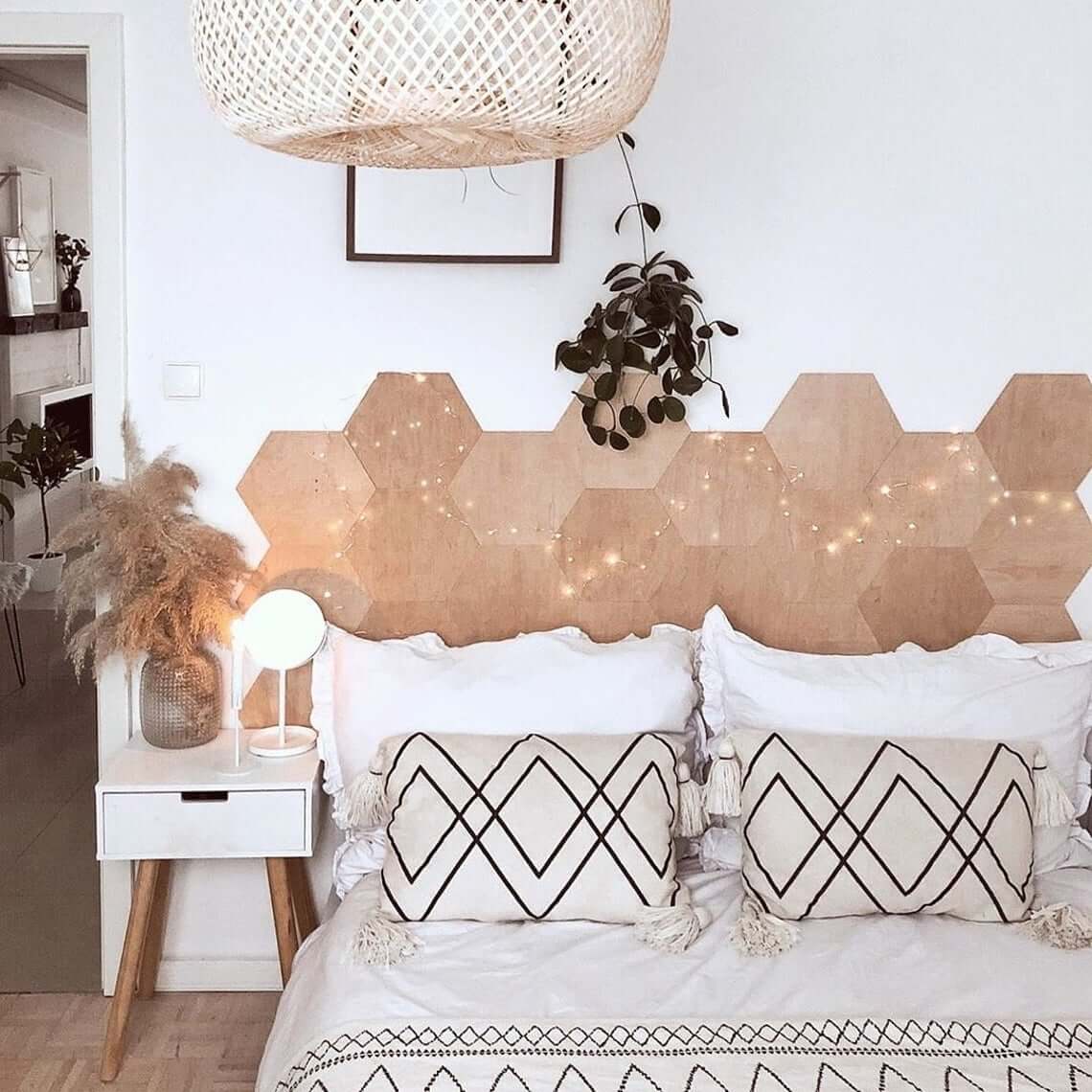 Nestled next to the bed is a charming nightstand full of fun style in mid-century modern design. This piece brings design and intrigue to the room that is grounded in the gorgeous honeycomb headboard. This unique headboard doubles as a focal point and furniture. A dainty set of twinkle lights give a soft glow to brighten up the space. Completed in a predominately white motif, this modern decor works in almost any home. Subtle black design in the bedding adds just enough contrast while keeping the neutral color scheme.
11. Bohemian Cloudy Sky Earthy Wall Art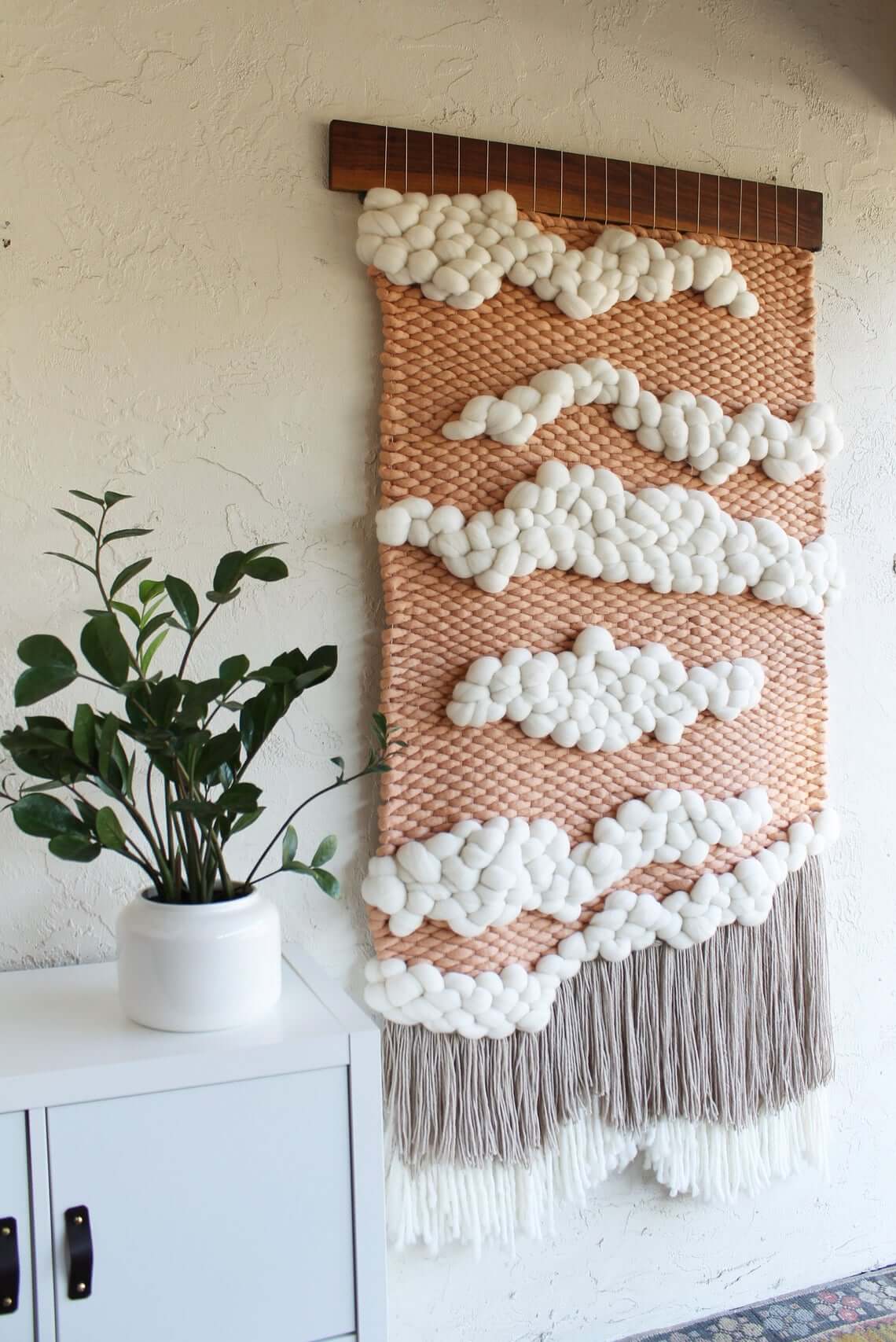 Infuse your home with some natural elements by hanging some sky art on your walls. This large cloudy decorative wall hanger looks amazing in a simple southwestern inspired bedroom design. With textural elements evident throughout, this piece of artwork nearly leaps off the wall as the clouds are raised and puffy to soften up the space. Set amid a neutral white wall, this use of tans and tassels work as an awesome idea for creating a neutral bedroom that's anything but boring.
12. Chartreuse Meets Olive Green Pom Pom Pillow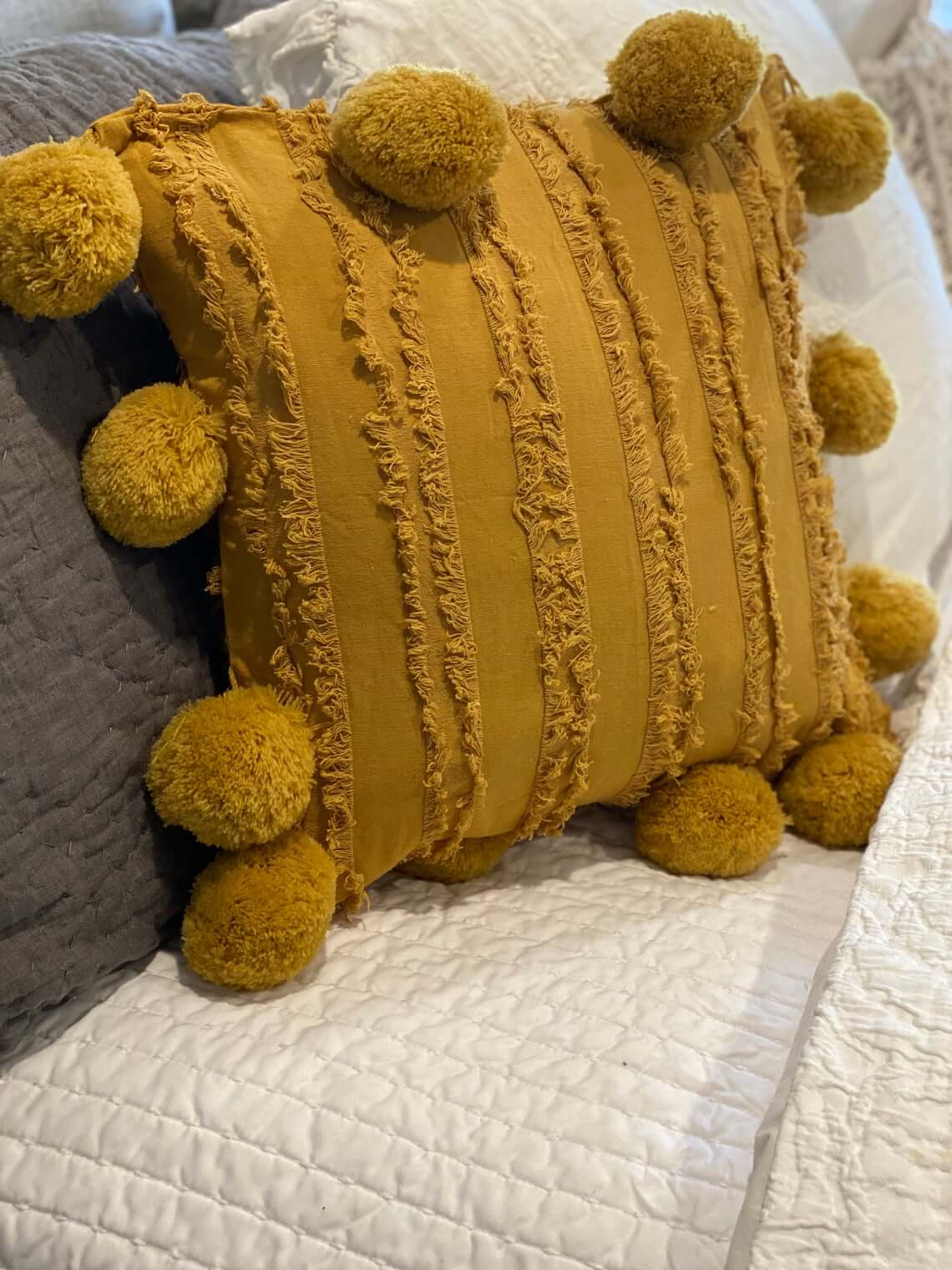 Floating somewhere between olive green and chartreuse is this gorgeous swampy green that captures the essence of the great outdoors. It's a much cleaner way to add some fresh pond and algae goodness to your interior living design. Adding the pom-pom embellishments make this a unique piece that exudes a little charm and femininity. Toss it on your bed and let the other pillows be green with envy as it steals the show!
13. Old World Travels Birdcage Bedroom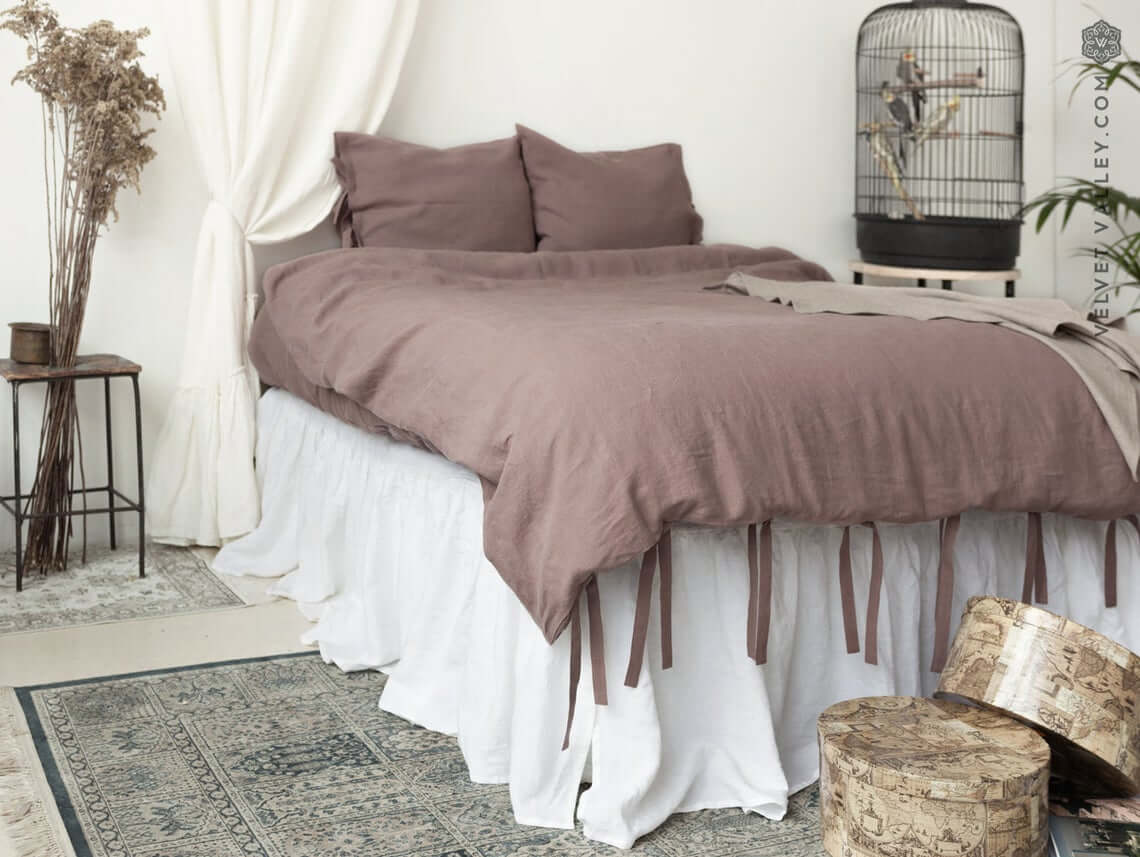 Secure your recharging room with a large and old-world style rug that keeps your overall design in line. The muted and aged appearance cast by this area rug is just what your bedroom needs to turn up the heat on style. A mushroom hued duvet is a perfect choice for a bedcovering in this mostly white haven. Nestled in the corner, the wired birdcage adds beauty and life to this old world intriguing room. You'll feel like you've taken your passport to a new destination each time you go to sleep. A couple of hat boxes further exude this feel with their global decoupage print.
14. Clean, Crisp, and White Bedroom Design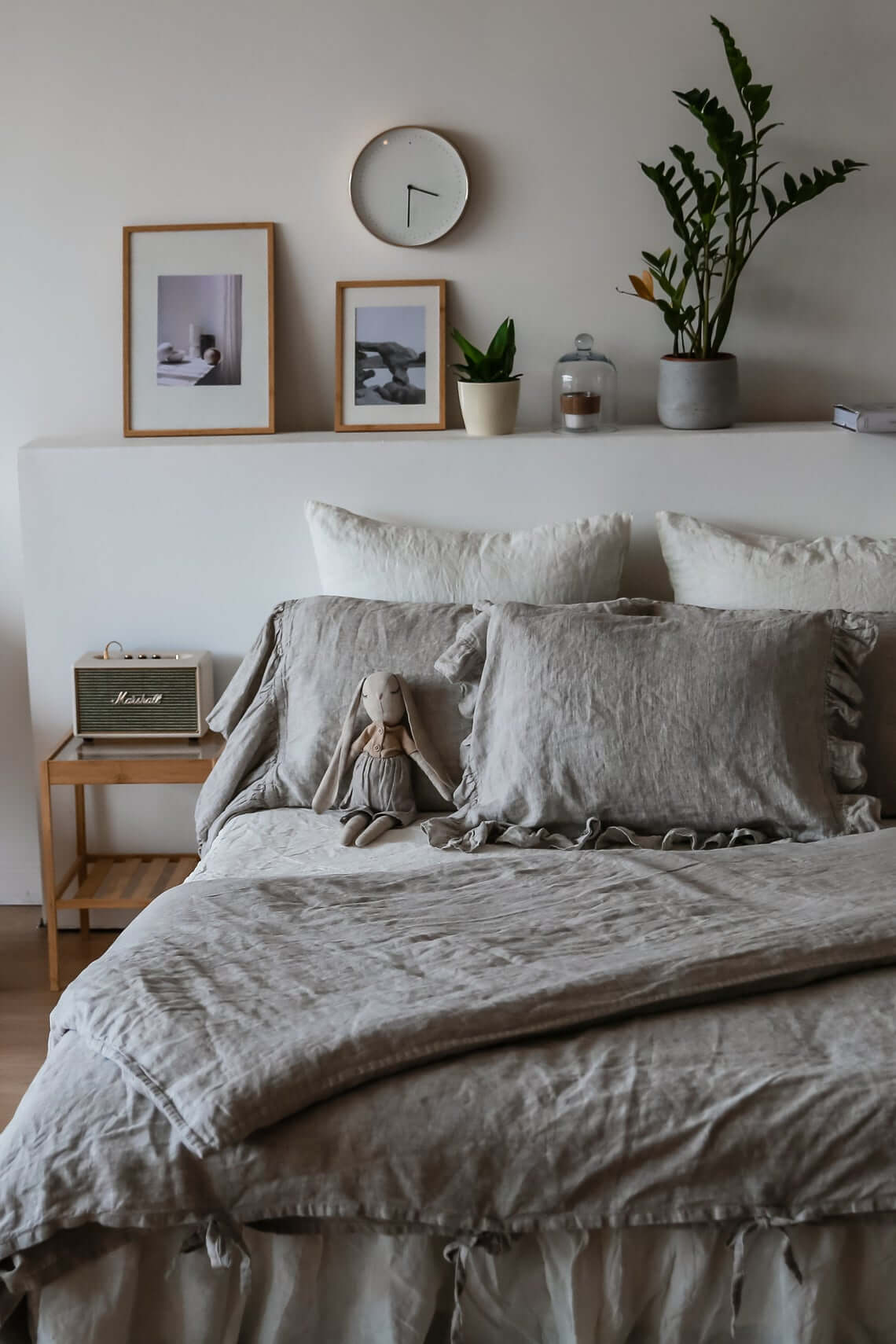 Keep it simple and classic with this clean and white bedroom design. From the walls to the bedding, the look stays understated yet achieves a comfortable style that feels like home. A built-in ledge gives plenty of space for leaning your favorite black and white prints along with some beautiful and natural greenery. An extra blanket and plenty of pillows arranged on the bed take this sterile scene into your comfort zone.
15. Bronze and Blue Earth Tone Bedroom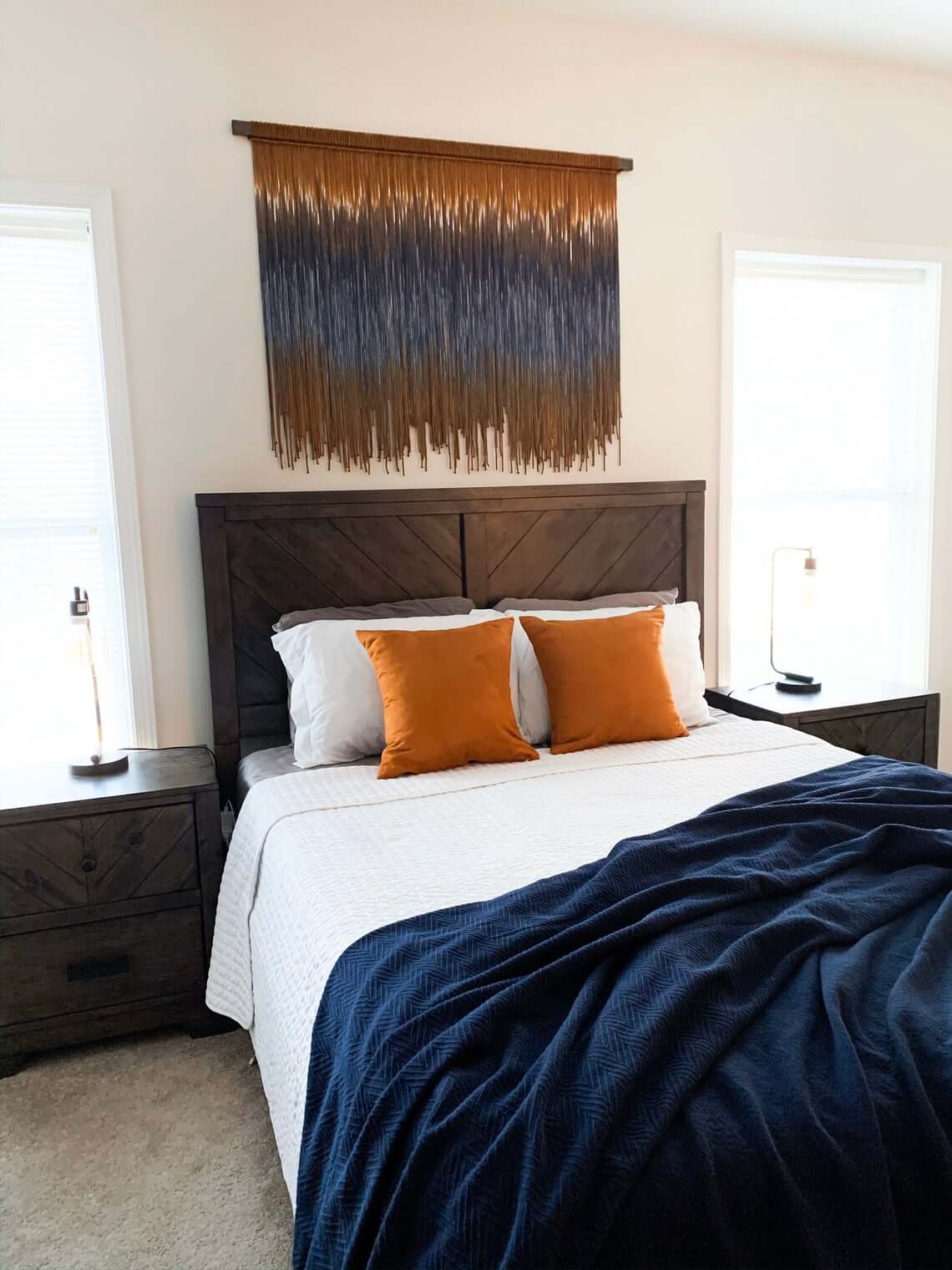 Thinking about adding some natural tones into your all-white bedroom? Check out this dynamic duo of bronze and blue to get the job done! The powerful duo really comes to life in this bright white space and looks amazing together. Over the bed, a large ombre statement piece of artwork features craftsmanship and a crisp color combination. The herringbone pattern throughout gives it an extra cool factor as it unites the bedding set marvelously. Continue the rich earthy tones with a matching bed and nightstand grouping that unites the overall look and feel of the space.
16. Hand Carved Natural Beauty Wooden Headboard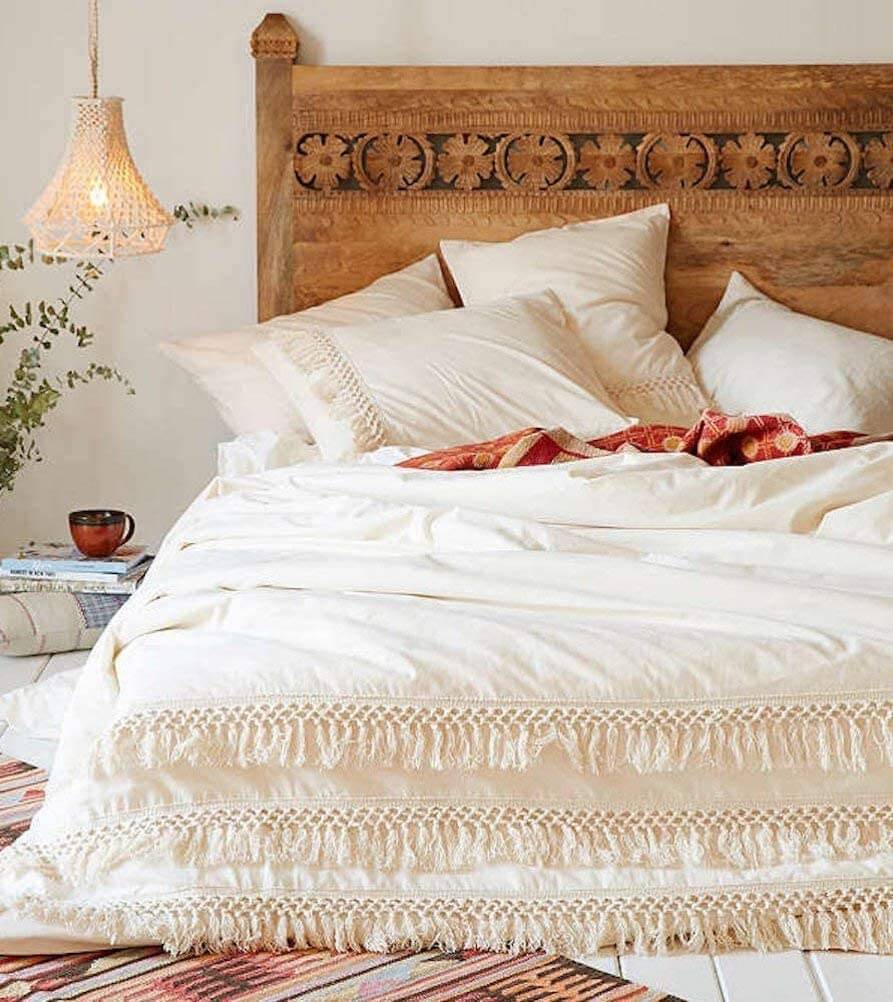 You must appreciate the craftsmanship and divine beauty in this unique and natural piece of bedroom furniture. Hand-carved with gorgeous flowers and small patterns of lines, this headboard is like no other you'll find in the mass national chain stores. Give some character and distinct personality to your room with this beautiful wooden masterpiece. With such a big beauty in the room, keep the remaining details low key by sticking with a simple white palette.
17. Dusty Rose Earth Tone Bedroom Design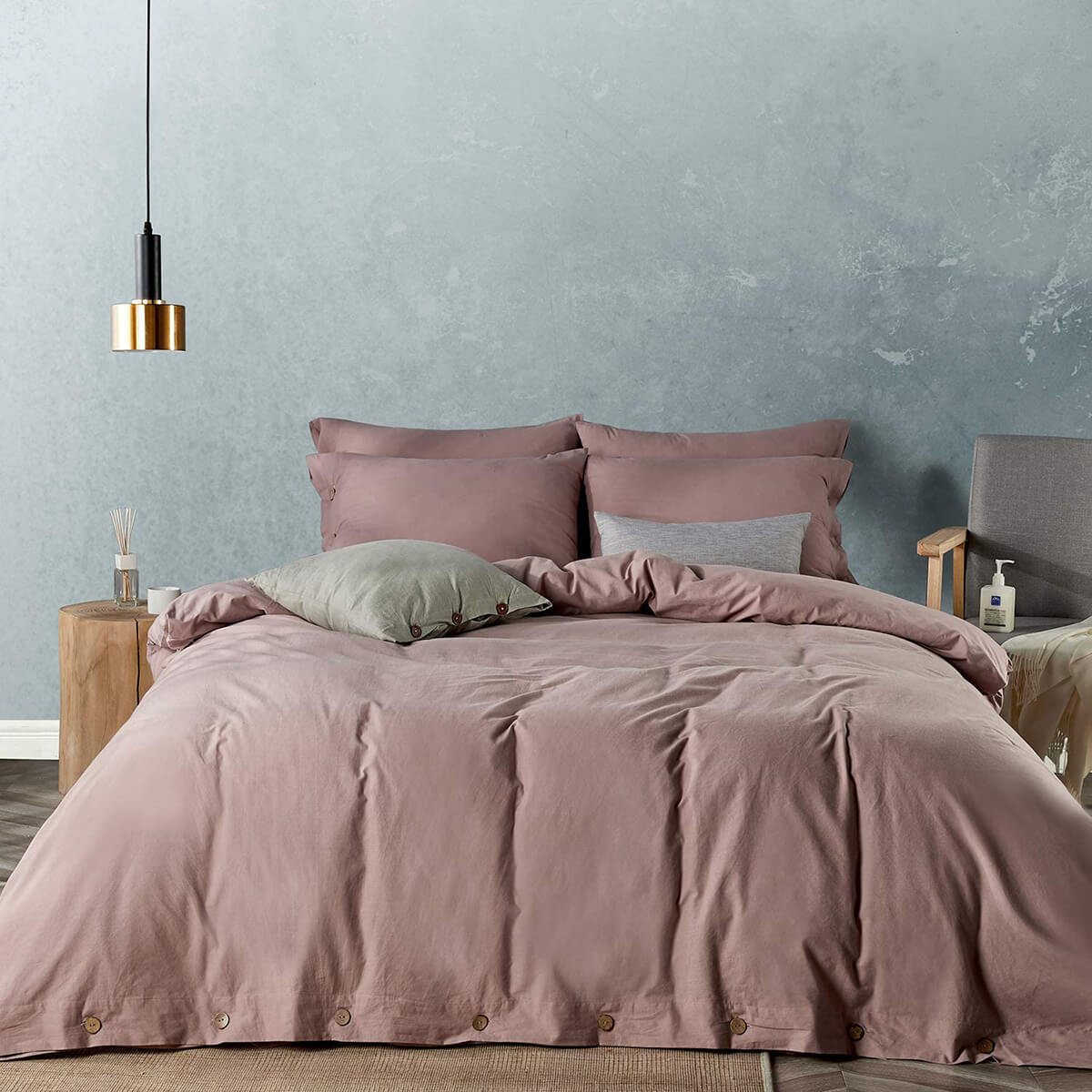 A faux grey concrete wall gives this bedroom a near underground vibe. Bring a sweet whisper of color into this mysterious space with a pretty and understated dusty rose duvet. Your bedding is one of the easiest and hassle-free ways to change up your look and this ruby grey hue blends femininity with nature. A stout and small in stature wooden stump makes for a delightful side table for your bed while the metallic detail on the overhead light incorporates another textural element into the room. Crawl into your personal cave and recharge for tomorrow.
18. Teak Wood Platform Bed with Puffy Grey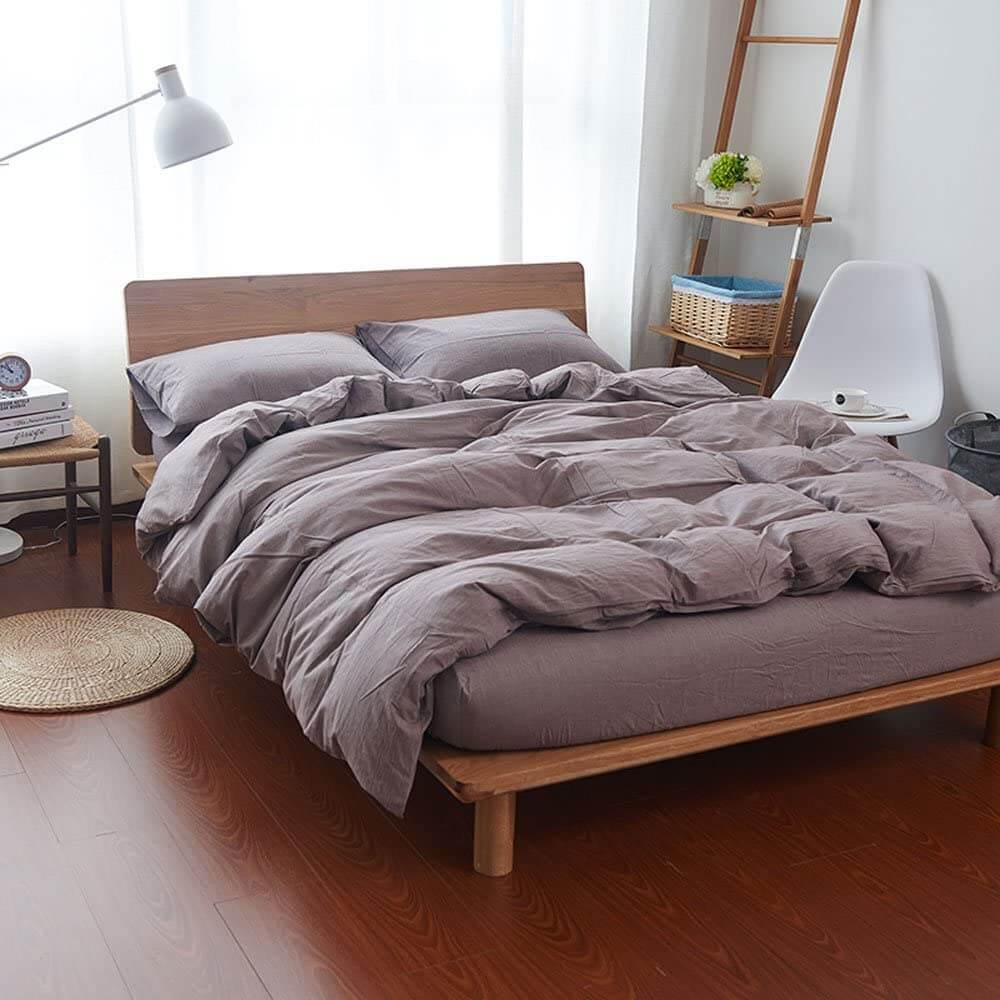 This stuffed and puffy grey comforter exudes loads of soft slumber for the lucky owner of this bedroom retreat. Set on top of a teak wood platform bed, this space speaks to mid-century modern design lovers of today's world. A ladder shelf offers plenty of storage for fun trinkets and a way to organize everyday items in your bedroom. As the natural light floods the room, the white egg chair mimics the sheer white curtains. This would be a fun look for a city loft of a young couple or bachelor, but would also work in the confinements of traditional detached home space.
19. Muted Eucalyptus Puffy Down Comforter Bedroom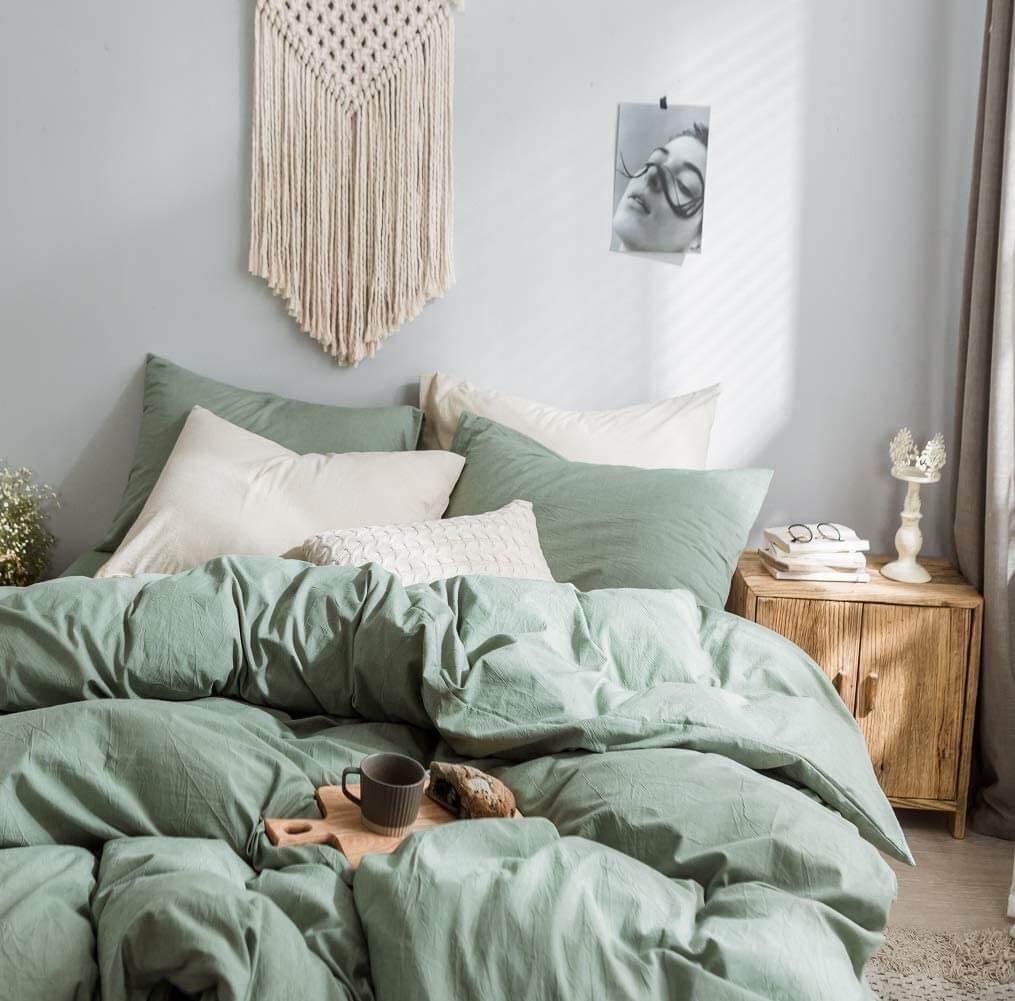 A hardy and earthy eucalyptus combines natural and stylish elements when used as the central color in this bedding collection. Cream and grey tones are an interesting choice in accent colors and make the most of this earthy toned bedroom design. The black and white print on the wall is a fun detail that looks great without drawing too much attention to it. Your reading materials are on hand nearby in a neatly organized two-door side table that's the perfect size and finish for this room.
20. Plush, Cotton, and Plants in Plenty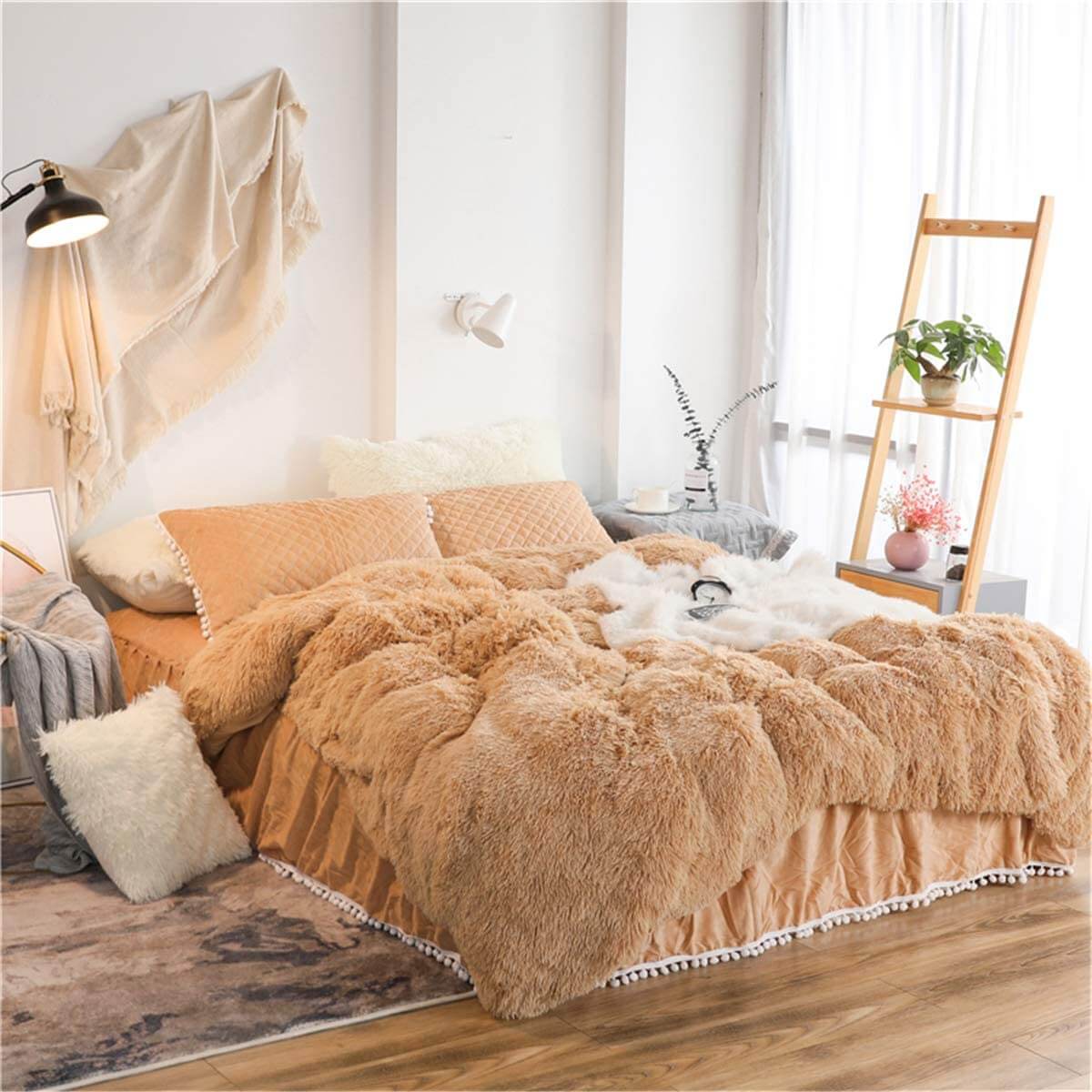 Mix in as many textures and shades of neutrals and the result might just be this awesome idea of these best earth tone colors for bedroom design found here. This overstuffed and super-soft comforter offers all the warmth and snuggle-factor you'll need in the bedroom. Light brown wood accents the room with the flooring choice and shelving unit. Airy sheer drapes encourage all the natural light that can fit into this space to come on in and stay awhile. Heading off to bed is more fun when you can enjoy the design of your bedroom space that echoes your own personal style in a comfortable way.
21. Work Hard Be Awesome Tribal Print Bedroom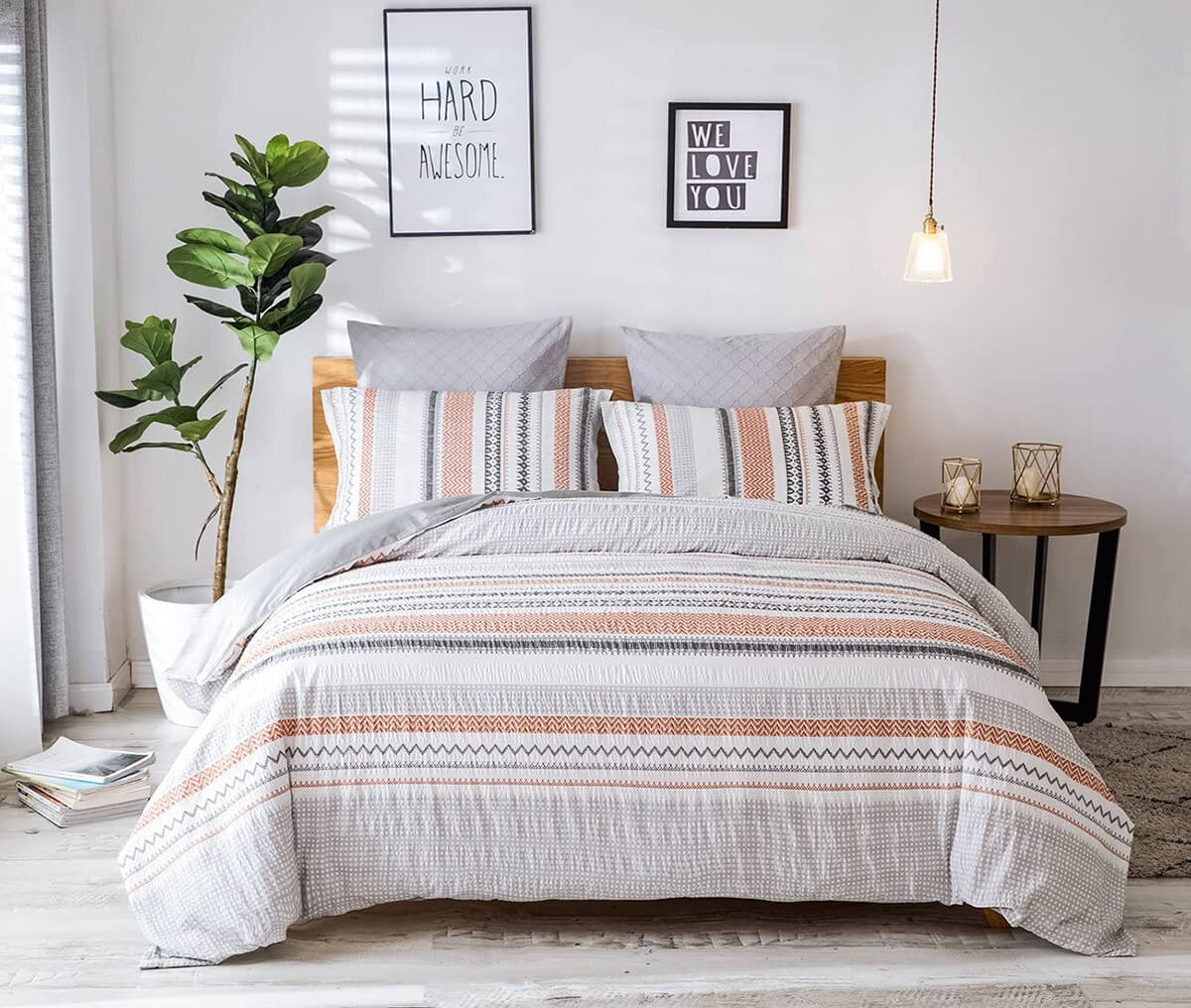 Who doesn't love this subtle tribal printed bedding? It is the perfect way to add just a touch of color to a neutral white space. The fun signs above the bed further infuse some personality into the room that hints at the character of the home dweller. The large fiddle leaf fig is an amazing choice to bring a big natural element into the space and gets plenty of sunshine next to this bedroom window. This modern and earthy space is perfect for a modern couple as they put a fresh face on their existing master space.
22. Brown and Green Fresh Air Bedroom Decor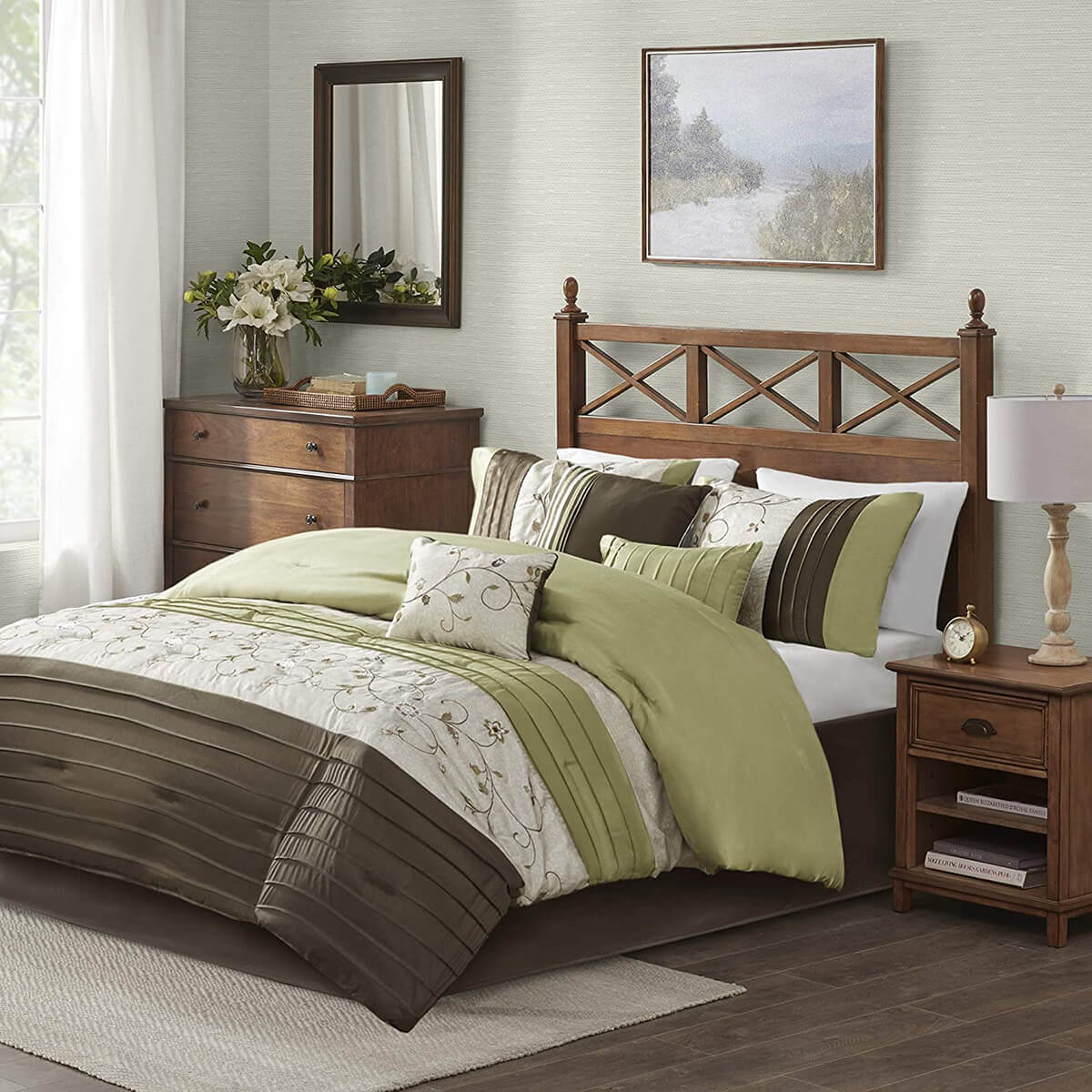 Breathe some fresh air into this gorgeous meadow colored bedroom full of natural greens and browns. Your deep brown bedroom group will stand out as it's accessorized with these gorgeous hues. A large spray of woodland looking flowers fit perfectly into this nature-loving design. On the bed, the duvet and pillow shams match into a pleasant medley for putting a finishing touch on your special space. The wood grain in the bedroom furniture is carried throughout onto the flooring and the frame of the large mirror.
23. Plant Lady's Paradise White Botanical Garden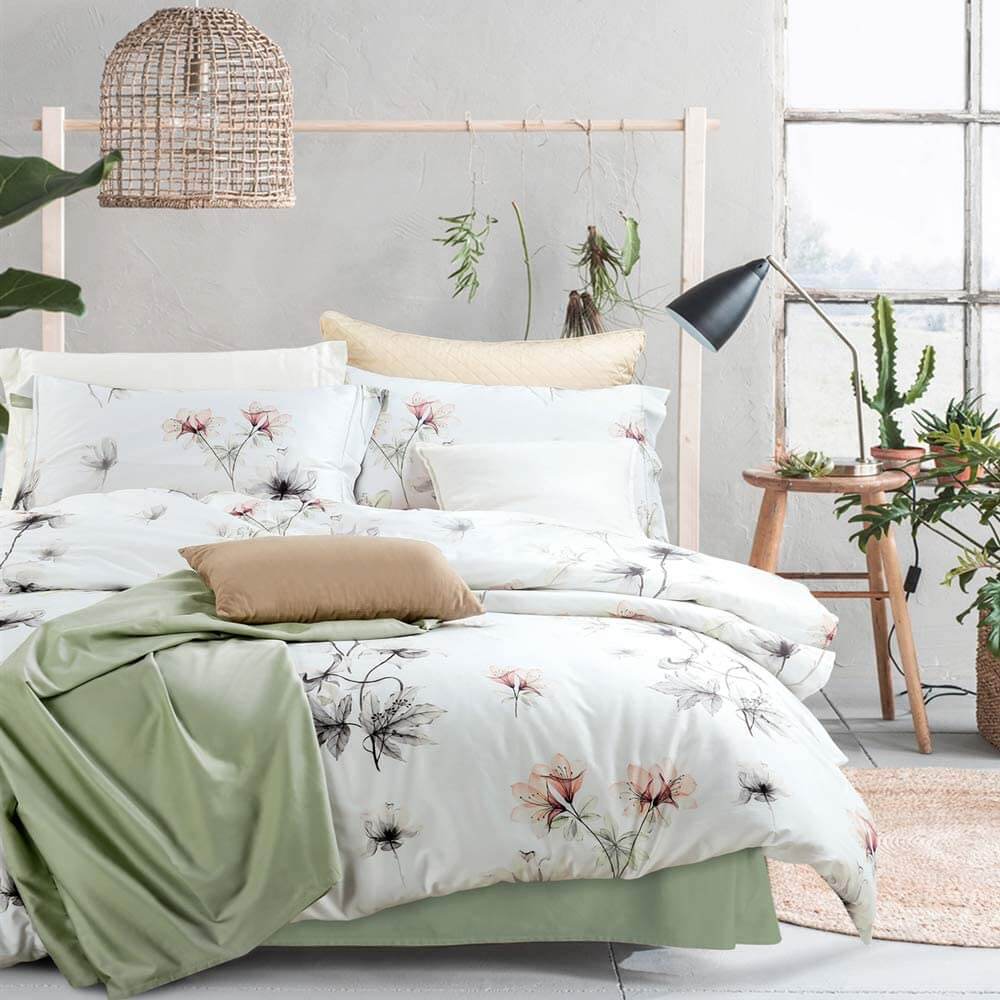 A solid white backdrop is great as earth tone painting colors for the bedroom since it's a clean slate to incorporate all the earthy hues your heart desires. On the bed, the pale sage green sheet set is an intriguing choice to cozy up the space with some natural beauty that is echoed around the room with the various house plants that are present. All of the stunning natural light further emphasizes the botanical beauty of this clean and happy bedroom space.
24. More Sleep in This Grey Green Space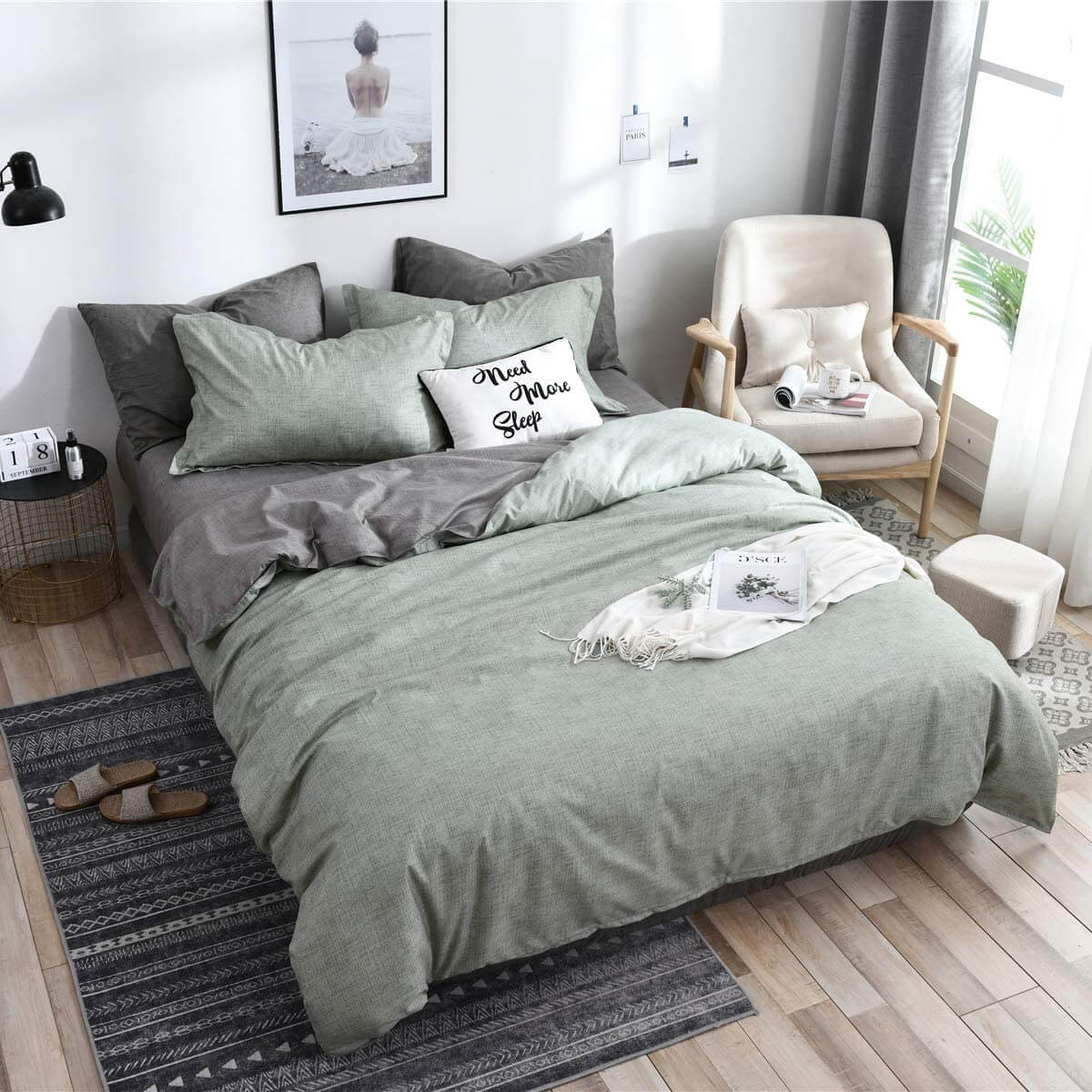 There's a fine line between two gorgeous gems on the color wheel in this fresh and new bedroom look. A patterned area rug and plain bedding set create a nice place to rest your head at the end of the day. The gorgeous hue combines one of the best colors of the moment with a tried and true hue from nature. A comfy and sleek creamy beige chair adds a touch of style as well as the necessary nook to cozy up to a good book in the comfort of loads of natural light. The round black metal wired accent table adds a fun modern touch to the room too.
25. 50 Shades of Brown Master Bedroom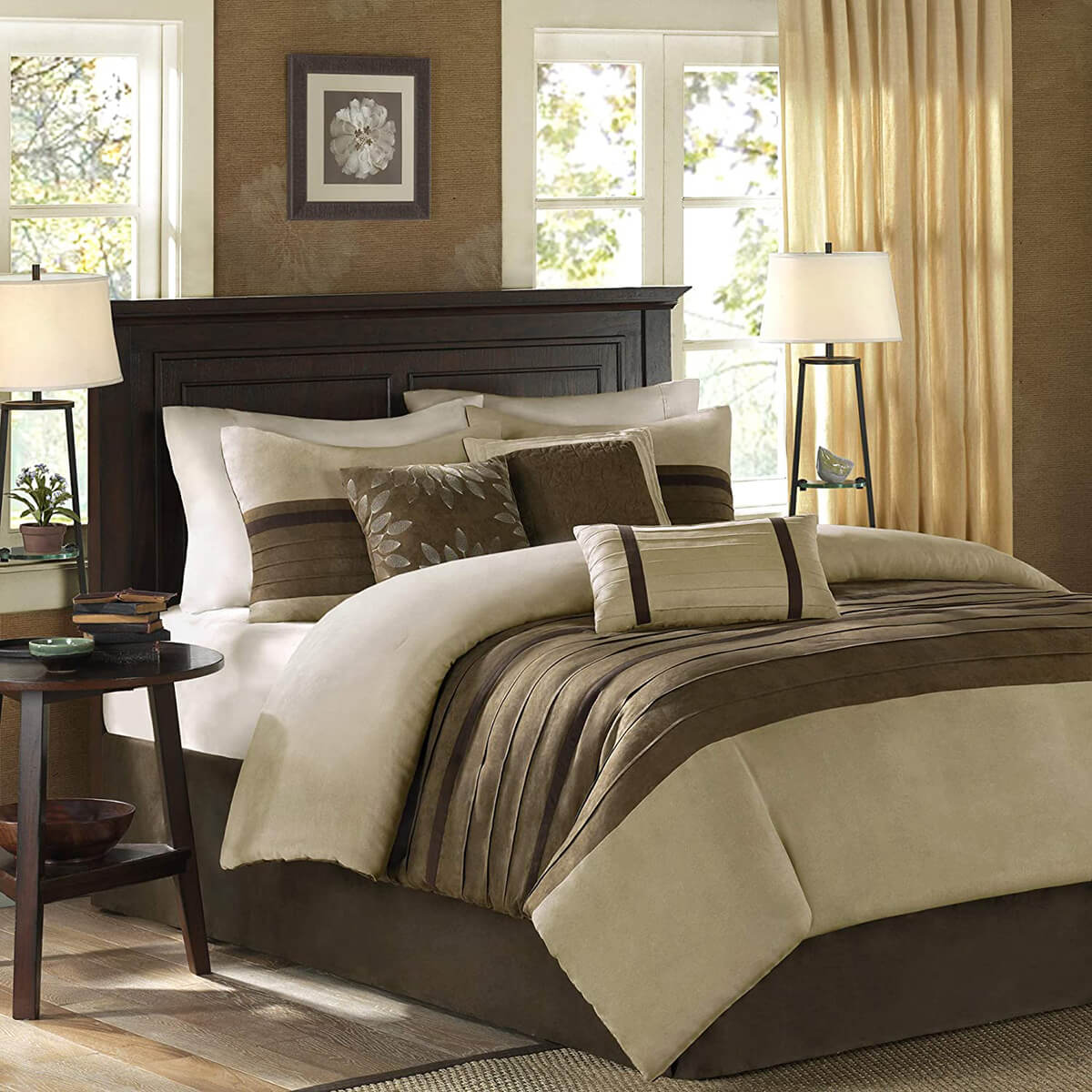 Masculine meets traditional warmth in the everyday elegance of this master bedroom. From the deep and dark espresso bed to the buttery rum curtains, this space is filled with a wide variety of pretty hues of every shade of brown. The white trim in the room provides a charming contrast to the rich chocolatey walls. Dressing the bed, a collection of creamy off-white and walnut finished pieces unite the entire room on this superstar standout furniture piece.
26. Fall Toned Seasonal Southwest Bedroom Decor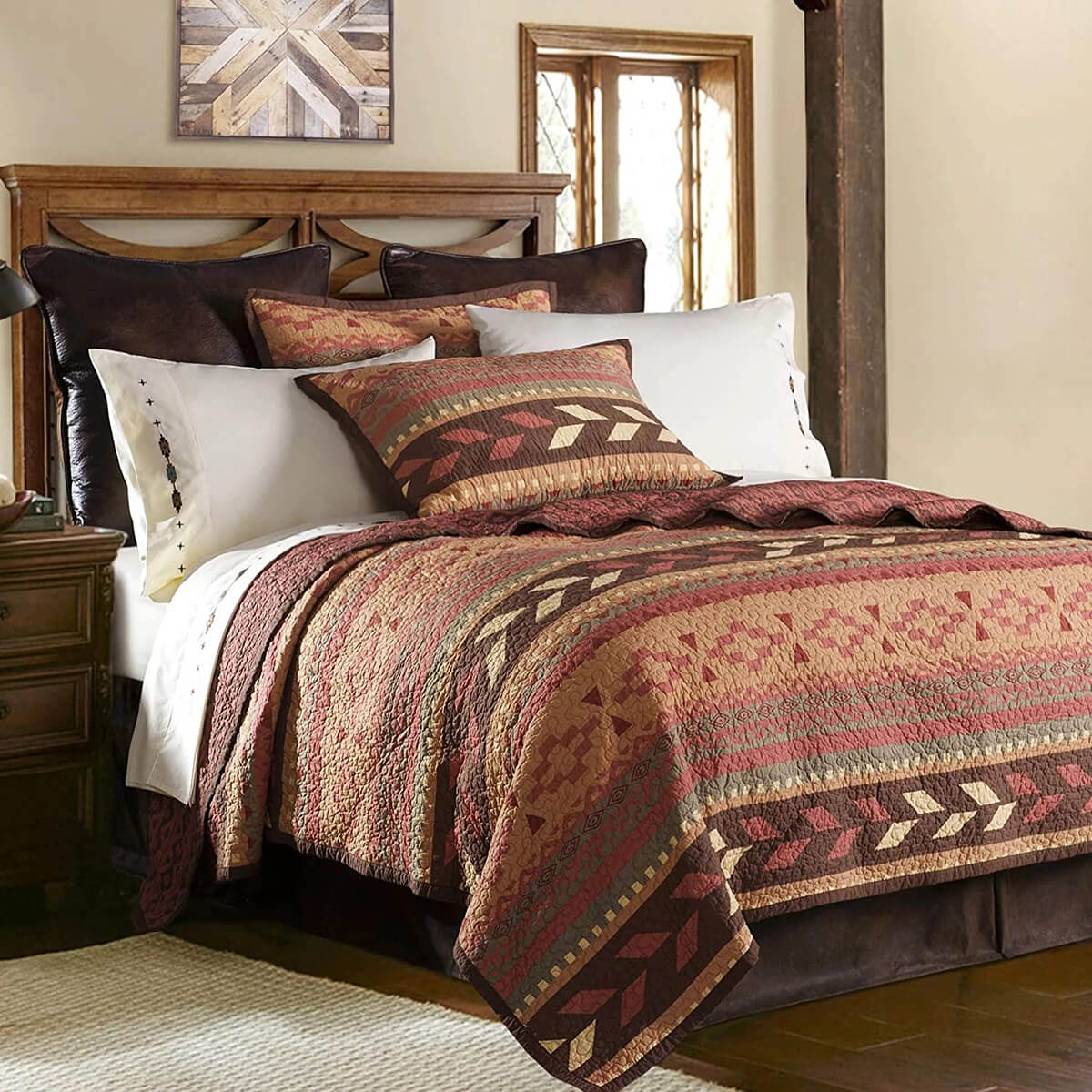 Distressed and full of character is how you can describe the large leather pillows that form the foundation of these stunning earth tone bedroom ideas in this large pillow display. You can never have too many accent pillows to decorate your bed, so let them do their magic on top of your bed. The ruddy red and brown palette of the bed covering hints at a southwestern motif, yet it's set in some of autumn's most awesome colors. Bring some of the forest inside with the gorgeous grains of the bed, featured wall art piece, and rustic exposed beam. Together the look creates a warm and inviting retreat you're sure to enjoy.
27. Grey From Head to Toe Bedroom Style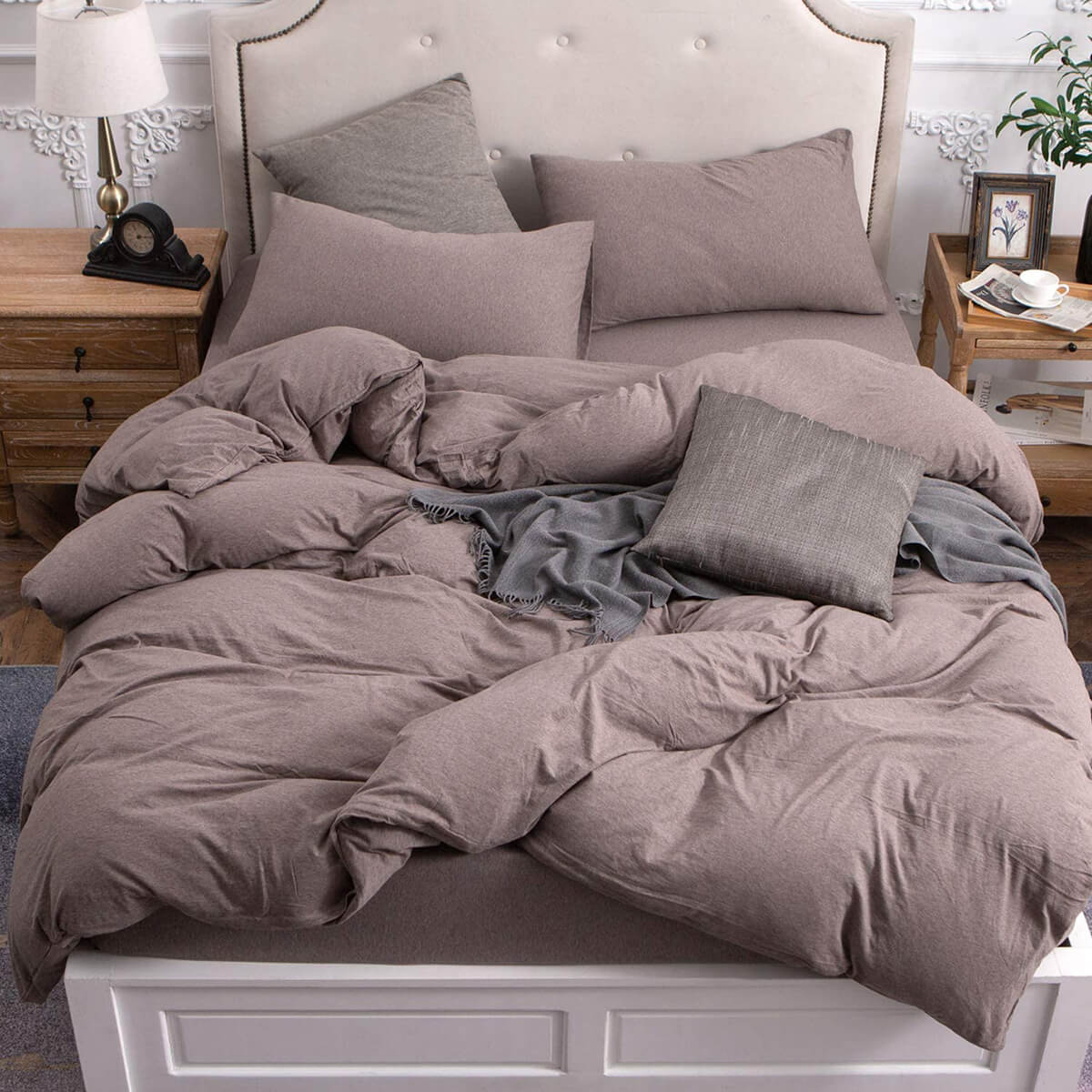 One of the best earth tone colors for the bedroom is a choice in the cool category of greys. This modern hue offers many shades and is a great option for adding some natural neutral tones to your bedroom. Nestled in between two medium brown wooden nightstands, this plump, and comfy grey bedding looks right at home. Find the comfort you deserve in your night time nook and enjoy the beauty in this stylish space. An accent picture of a wildflower next to a vase of green foliage gives a green-thumbed grin to complete the look.
28. Neutral and Natural Look and Feel Master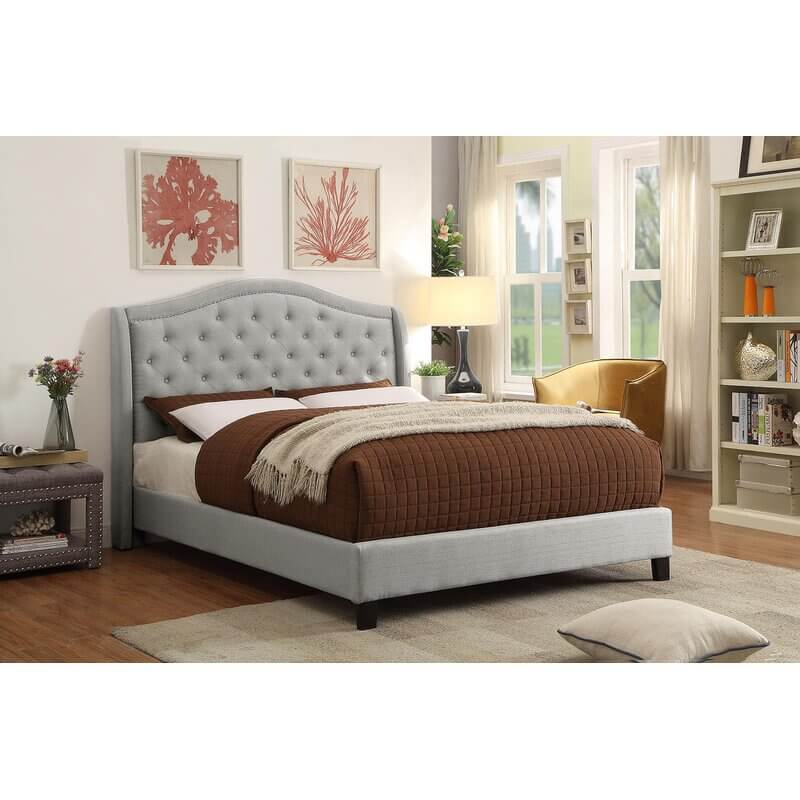 From the red coral prints above the upholstered headboard to the waffled chocolate brown duvet, this pulled together master looks like a professional designer sleeps here. The white bookcase is painstakingly arranged for fun and function. A tiny corner nook houses a medium house plant and keeps it close to an abundance of natural light. Wildflowers filled in a clear vase are a warm and homey touch for a nightstand table. On the bed, the cool grey headboard contrasts quite nicely with the chocolate brown covering and gives the room a nice, unexpected color combo.
29. Mid-Century Modern Earth Toned City Bedroom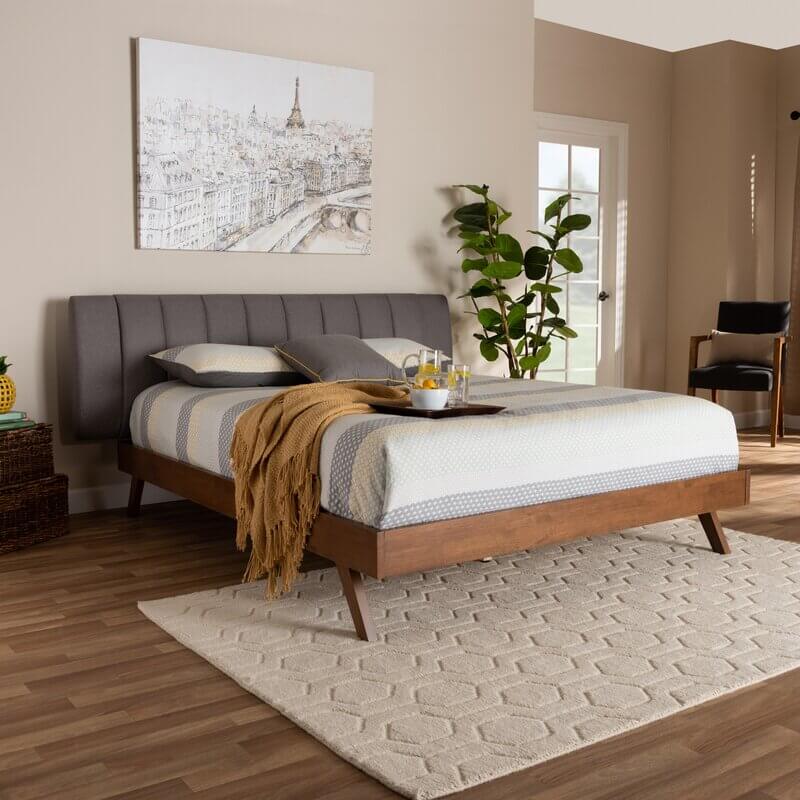 Make the mid-century modern design come to life again in this city bedroom scheme. The slim and slanted legs on the bed are the line synonymous with this design and they work well with the streamlined upholstered headboard. On the floor, a creamy honeycomb-patterned plush rug works wonderfully resting on the dark blonde wood flooring. For the wall color choice, a hearty khaki hue is a quintessential choice for earth tone painting colors for the bedroom. Selecting a simple striped sheet set adds some style without taking away from the overall modern design. Look forward to your next nightcap as you create this intriguing and relaxing masterfully styled master bedroom.
The Beauty Without the Mess: 29 Amazing Earth Tone Bedroom Ideas
If you are looking to re-decorate your bedroom with some simple and natural choices one of these 29 best earth tone colors for bedroom design should do the trick. You may seek to re-create your own cave in which you retreat at the end of a long day. With low profile platform beds, concrete floors, and gorgeous grey color choices you can put your own touch in every nook and cranny of the room.
On the floor, it's always a good idea to add an accent rug in your choice of size to add some textural interest. You may choose a traditional style with a muted and worn design, a woven masterpiece reminiscent of a tribal village, or opt for a lavish and luxurious plush one that you will sink your toes into every morning your feet hit the floor.
Choosing the right side table or nightstand captures another part of the design element in your completed bedroom look. Many are small in stature as to not distract from the other pieces in the room, yet they certainly can carry their weight in terms of organization. All of your everyday essentials are conveniently placed right next to the bed in these little personal treasure chests.
Your choice of furniture speaks volumes in the room since it's the largest and most dominant of items in the space. Maybe you want to indulge in the hand-carved wooden headboard full of character and charm? You might want something a little more suited for comfort if you resort to bedtime reading, so a large upholstered one might better suit your needs.
Then there is the choice of bedding to consider. Some people gravitate to the thick and overstuffed down-filled comforters while others only desire a thin duvet to cover them at night. Either way, many come in solid earth tone choices; however, you may choose one of the options where a simple repeating pattern is present.
Birdcages and real plants are additional accessories that work well in an earthy hued room. Other ideas are simple black and white photos, woven works of art, and a ledge to display several treasured items. At the end of the day, you deserve a room that encourages you to relax and unwind. Create that cool or warm space your heart yearns for with a color scheme that's grounded in the goodness of mother earth.