These days, people are decorating trees for all holidays and occasions. There are Fourth of July trees, Halloween trees and even Valentine's trees so it's no surprise that decorating an Easter egg tree is a huge hit.
18 Unique Easter Egg Tree Ideas to Add More Color to Your Home

Although this may sound like a new trend, it's actually been around for centuries. It originated in Germany where they called it Osterbaum, meaning Easter tree and it symbolizes new life. Decorating trees in Germany is a custom tradition, where people decorate the trees and bushes in their yard with brightly colored eggs that can be hollow, plastic, wooden or even real painted eggs. The tradition gained its popularity when a man named Volker Kraft added more and more eggs each year to a tree in his yard topping it off at 10,000 eggs hanging from its branches!
Today, you can find this whimsical traditional still alive with most people using their trees as decor inside of the home. These lovely trees make great centerpieces as well as fun focal pieces displayed throughout the home on tables, mantles and countertops. The tree itself can be made of branches, bushes or plants and you can add your own touches to it as well using a wreath, nest, ribbon detailing or whatever else your creative heart desires. Give your home a little seasonal update and get inspired with these Easter egg themed ideas.
1. A Creative Children's Easter Tree Pail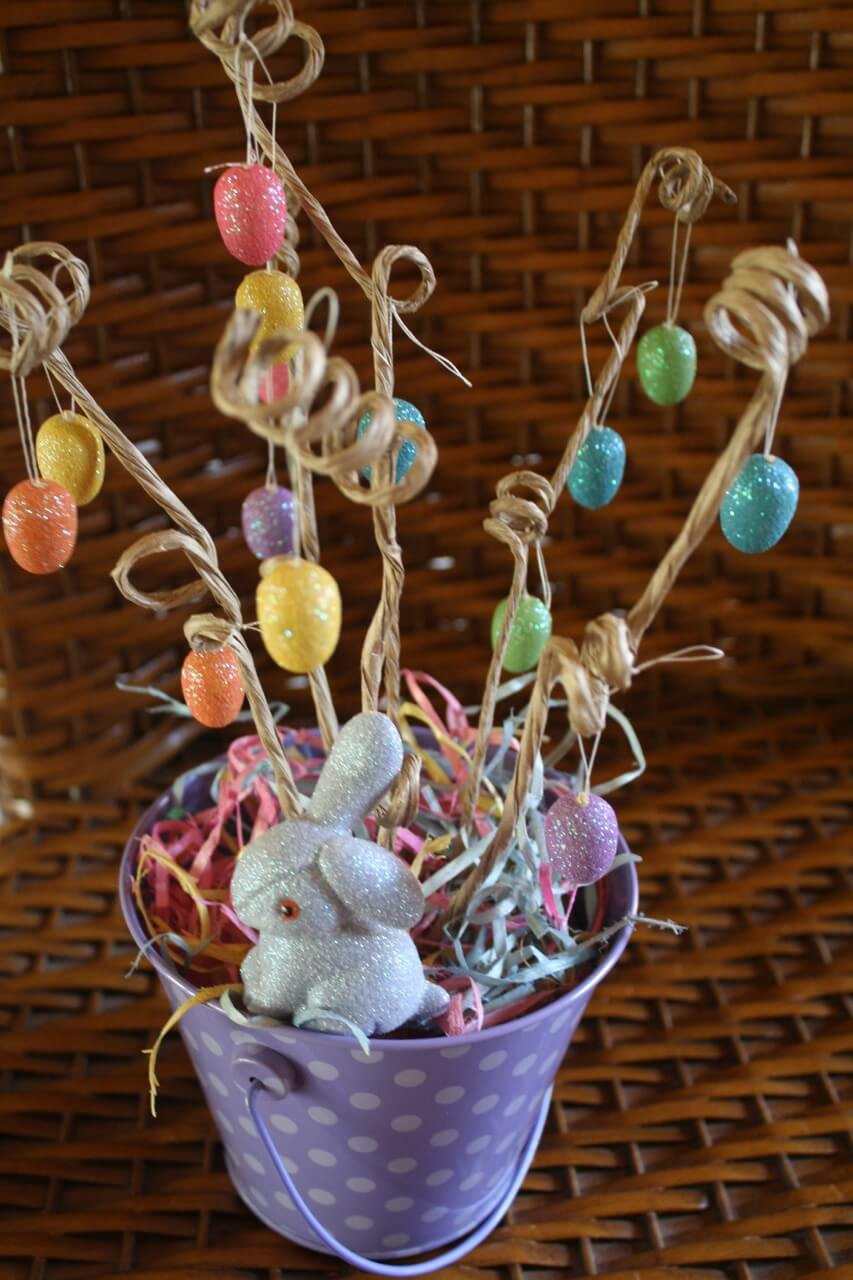 Easter eggs come in all sorts of sizes, colors, shapes and designs which makes it so much fun when making these festive trees. This cute and creative tree in a pail would make a great gift for children and is quite simple to make. The sparkles, ribbon and the adorable little bunny all add a youthful touch.
2. Jelly Bean Topiary in Pretty Pastels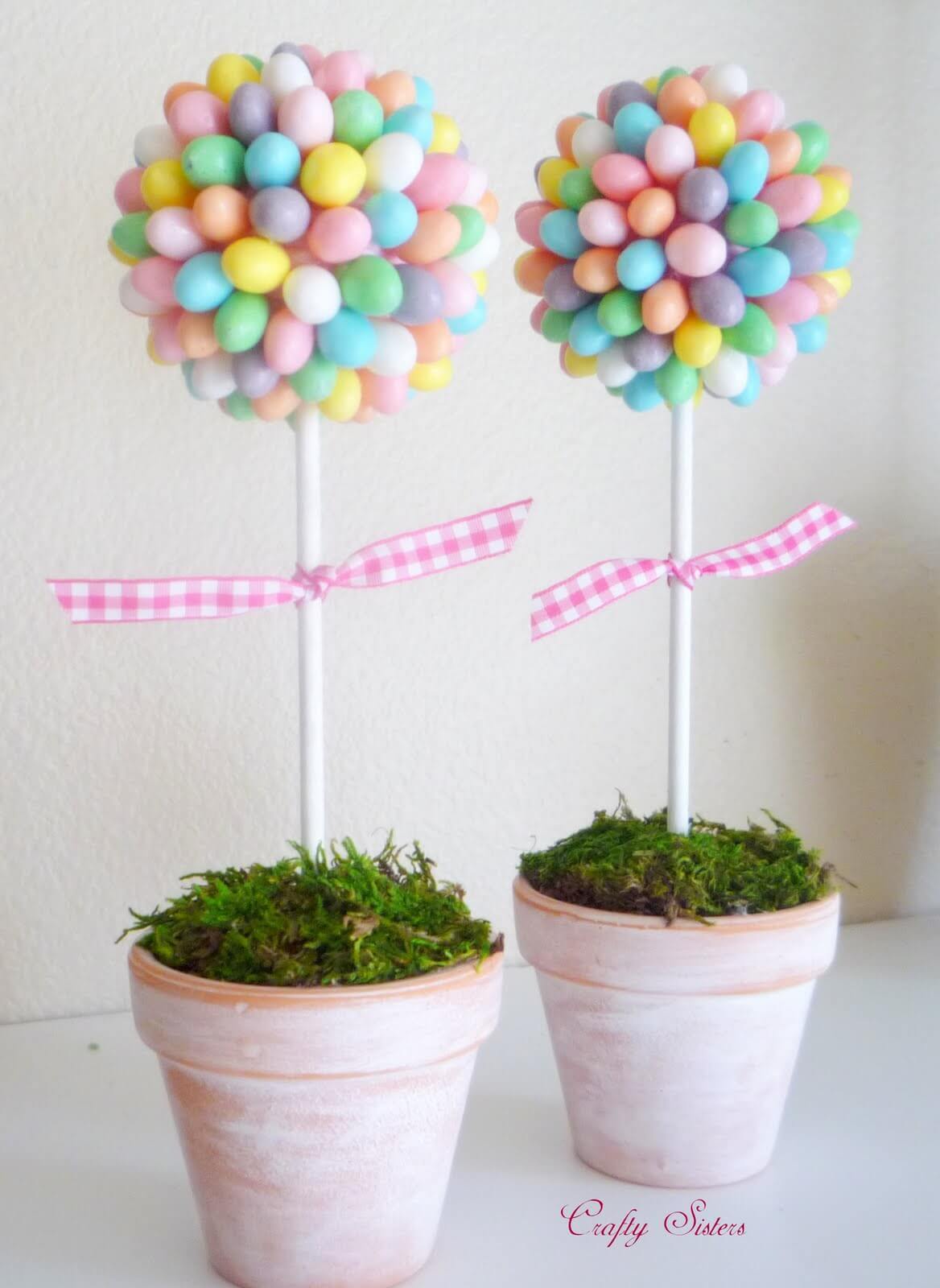 Who says that you aren't allowed to play with your food? This pretty pastel tree uses jelly beans in place of eggs, which is so unique and eye-catching. The tree itself stands tall making it a wonderful focal display that is sure to gain some attention (and maybe even a few bites).
3. A Natural, Minimalist's Dream Tree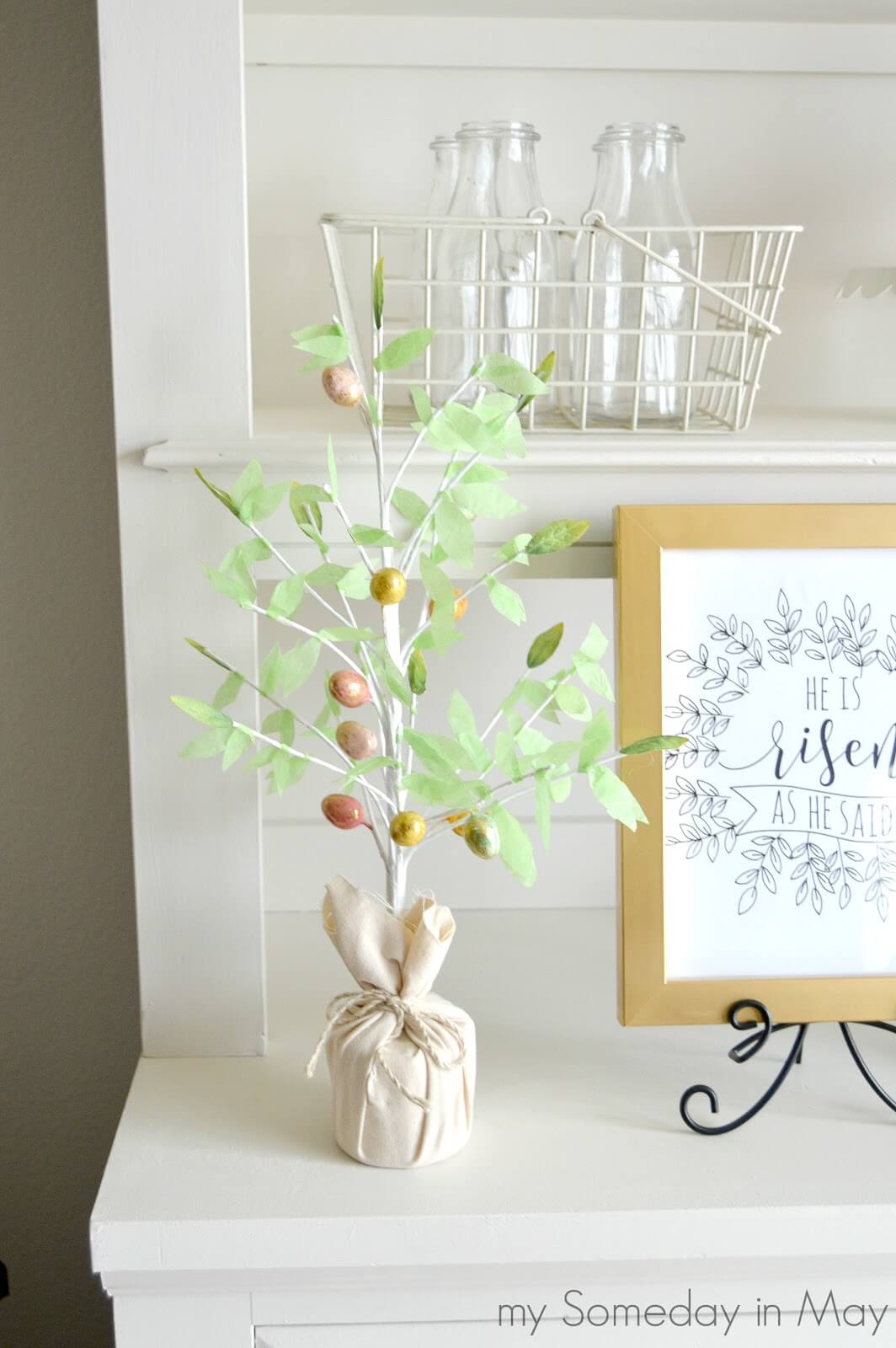 You don't always have to go over the top when it comes to decorating an Easter egg tree. As the saying goes, less is more and this couldn't be more true with this simplistic natural toned tree. The bareness of it all really allows the eggs to pop alongside the leaves.
4. A Budget Friendly Spring Egg Tree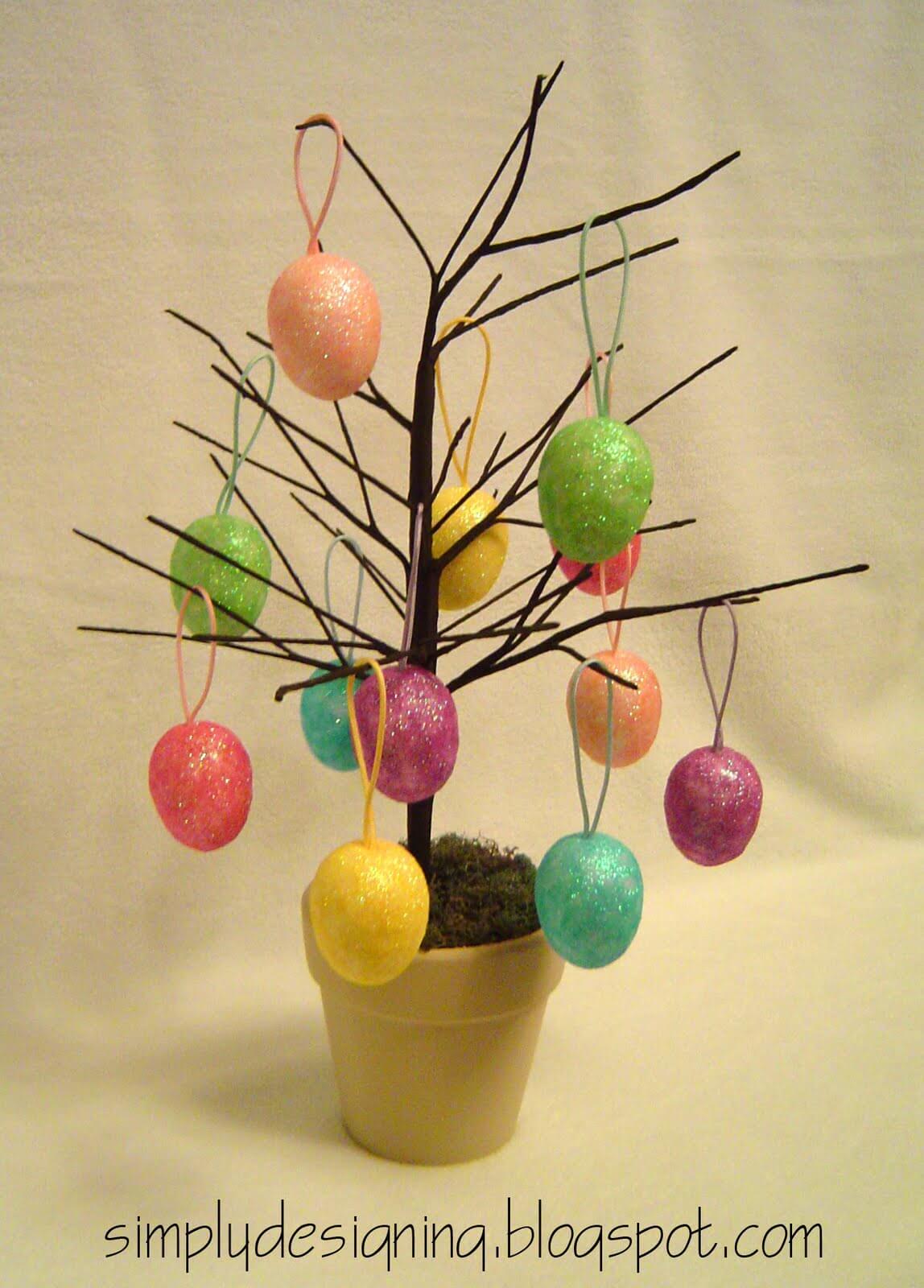 The title says it all here with this tree. There isn't anything better than a super cute crafting idea that only costs a few bucks at the Dollar Store. This version of a Pottery Barn inspired tree boasts color and interest with all of the bright hanging eggs and yellow potted base.
5. Stunningly Sweet White Branch Tree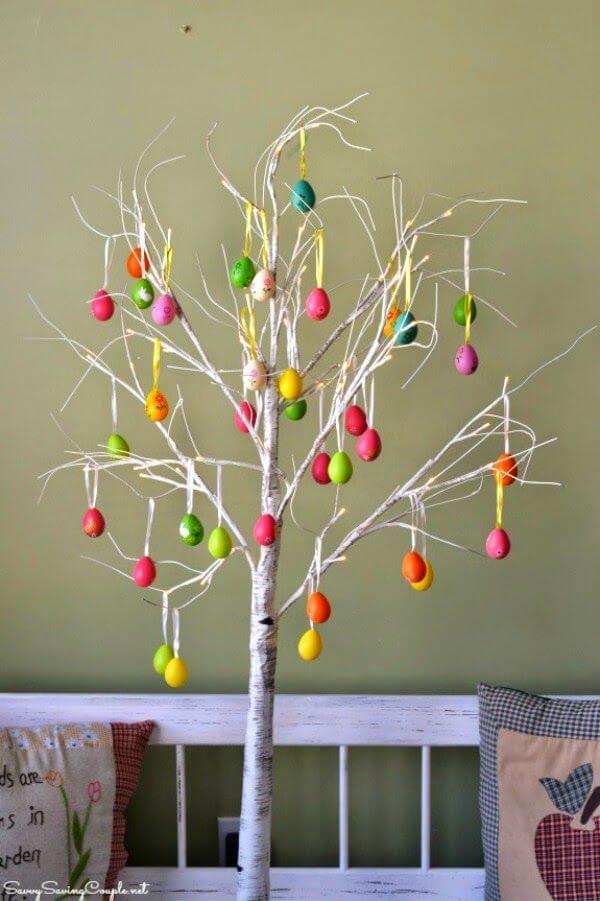 This charming tree is a great versatile piece of decor to have all year around, but decorating it with fun festive eggs makes it all that much more exciting! Bring this tree to life with just a few simple, colorful eggs and you are on your way to a decorative and festive statement piece you can decorate over and over again.
6. Upcycled One-of-a-Kind Egg Tree Design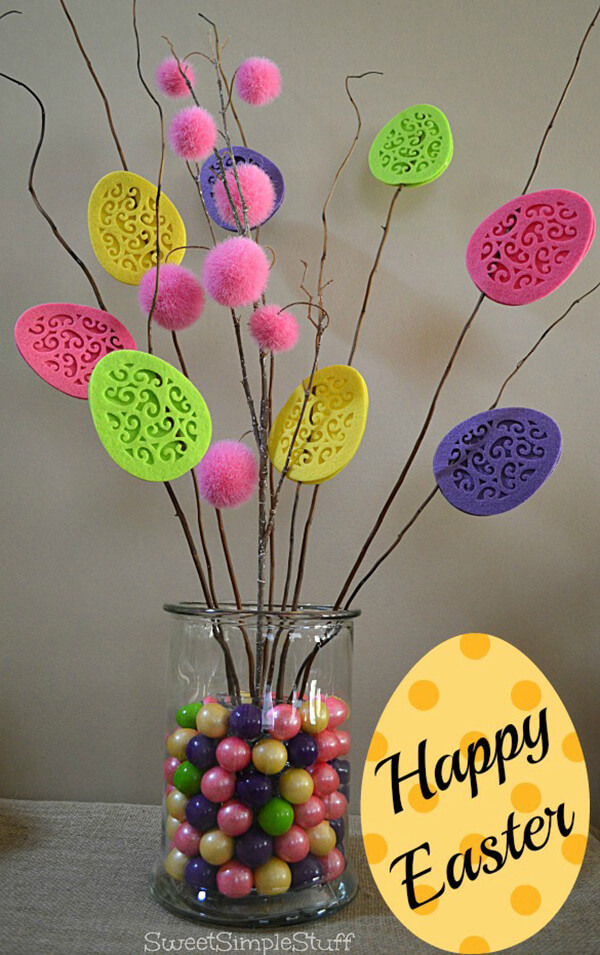 Not sure what to do with all of those scrap materials leftover from old projects? Gather them all together to create this unique masterpiece! This is such a fun tree to decorate using those upcycled materials you already have on hand and have trouble finding use for. I love the one-of-a-kind design that is sure to get noticed at your next family gathering.
7. A Blooming Display of Colorful Eggs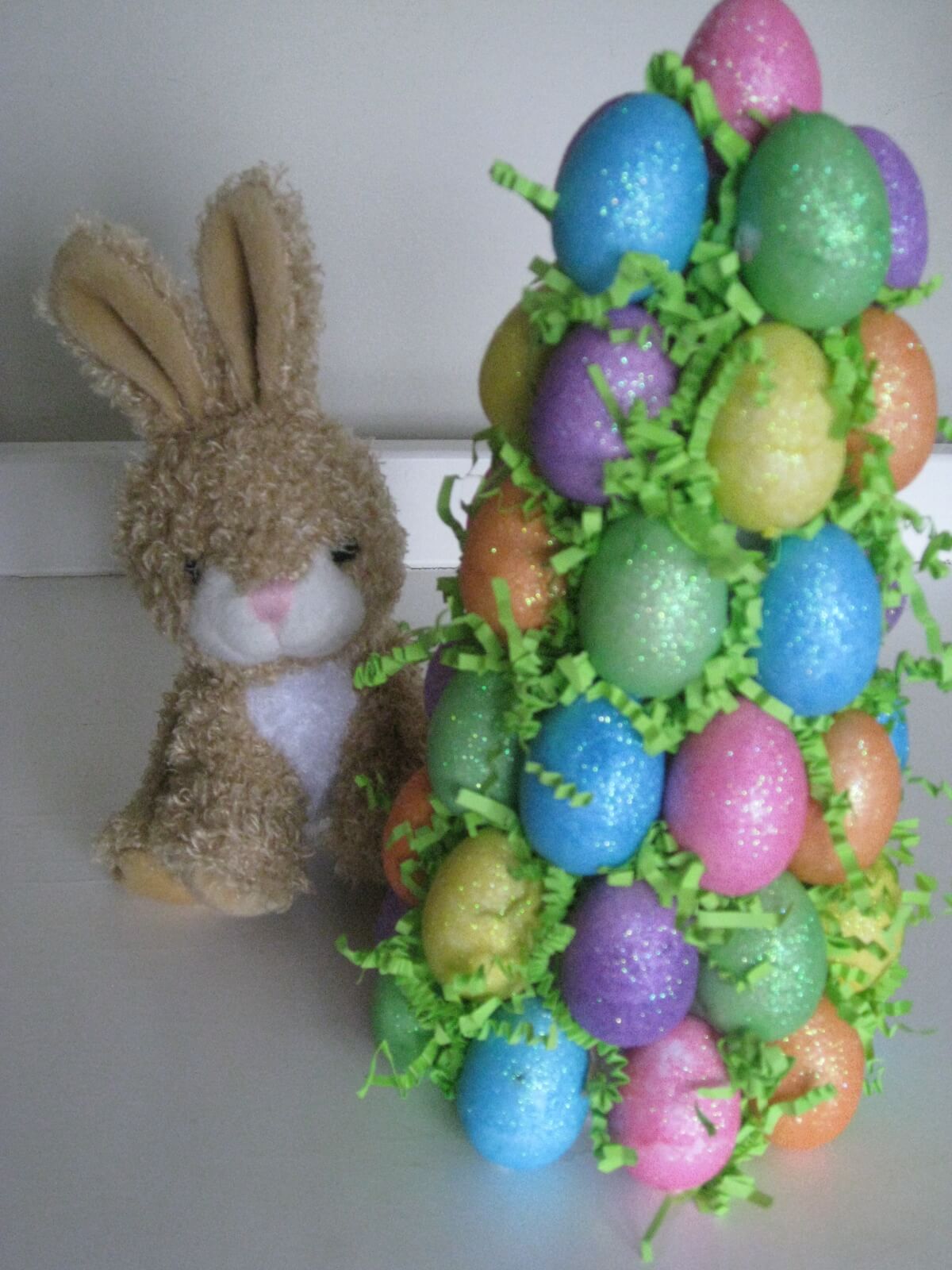 If you're looking for a fun and easy craft to do with the kids, this is it! You can choose to create a variety of colors for your tree or pick a color theme… the choice is yours. The litle paper grass detailing really gives the illusion of a tree and adds dimension.
8. Darling Farmhouse Easter Egg Topiary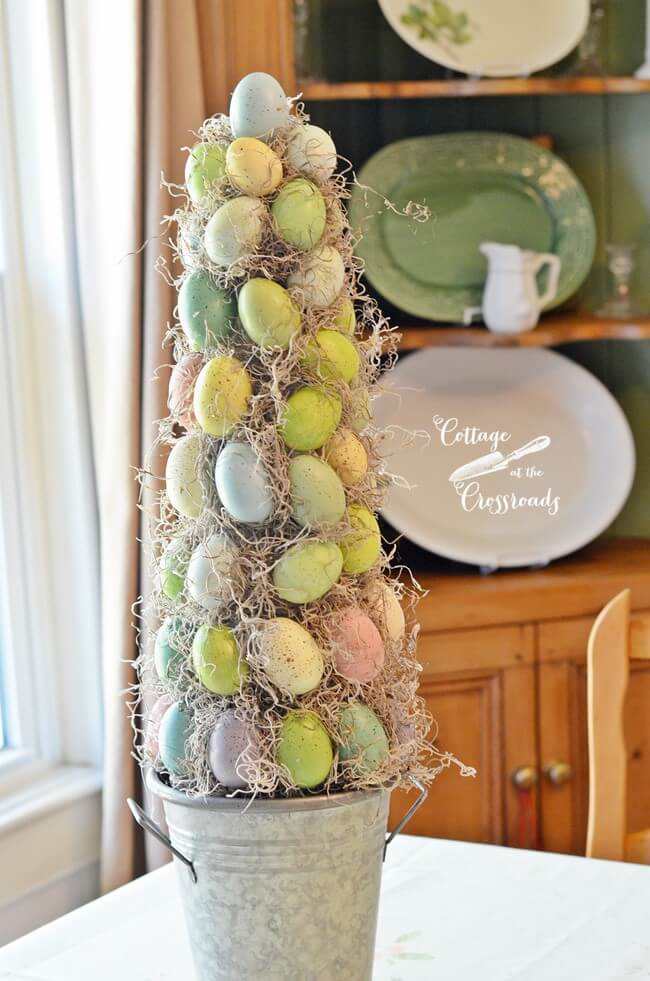 Farmhouse decor is becoming more and more popular these days thanks to Joanna Gaines, so it's always nice finding those country-inspired crafts that look great with our existing home decor. These soft pastel eggs look darling blended in with the Spanish moss. You can leave the tree just as it is or feature it inside a bucket you already have on hand.
9. The Perfect Easter Egg Spring Tree with Sun Catchers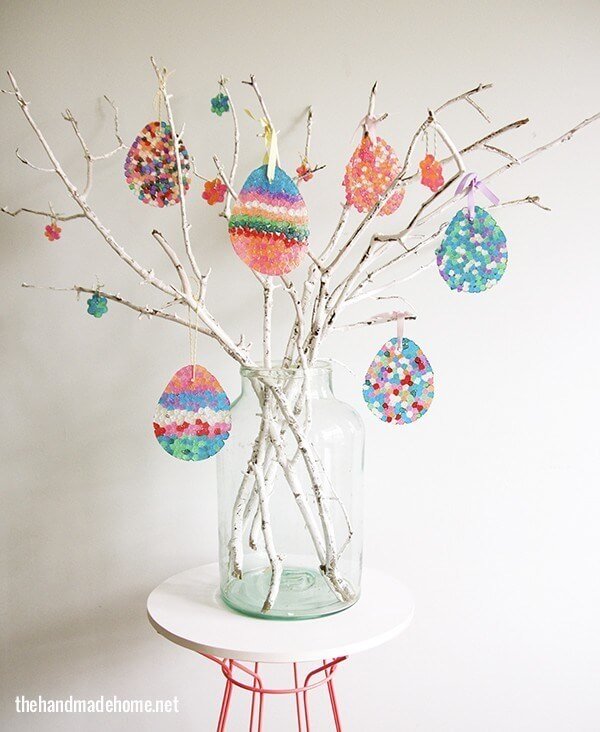 The possibilities are endless with this rainy day activity. You'll be using the oven for these gorgeous sun catchers along with cookie cutters in whatever shape you wish to use. Simply hang your creations onto your tree and place your finished product near a window so they can catch the light!
10. Decorate Your Mantel with a Pretty Pastel Tree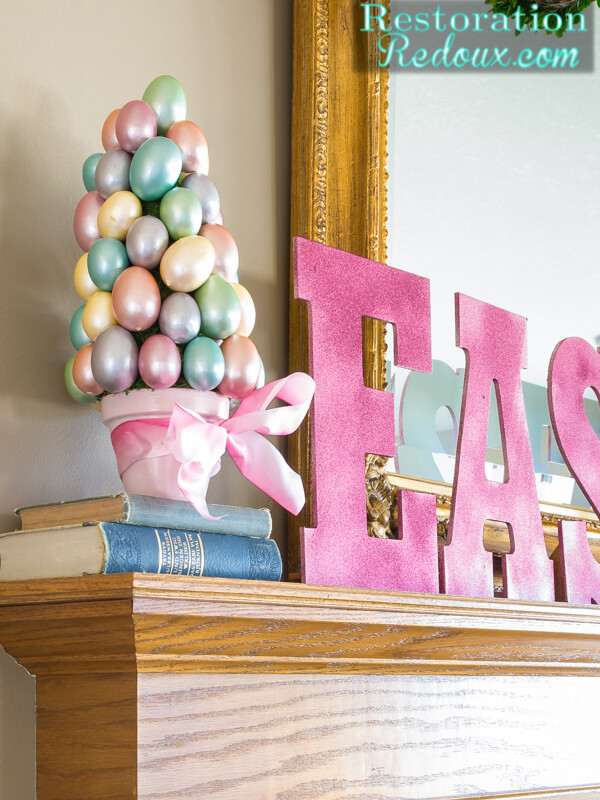 Brighten up your mantel or end table with this gorgeous pastel egg tree. The painted potted plant matches so well with the colorful eggs and gives the tree a great base for added height. Finish it off with a pretty bow and you are good to go with a super cute and simple spring tree.
11. Spruce Up Your Tree with Felt Ball Ornaments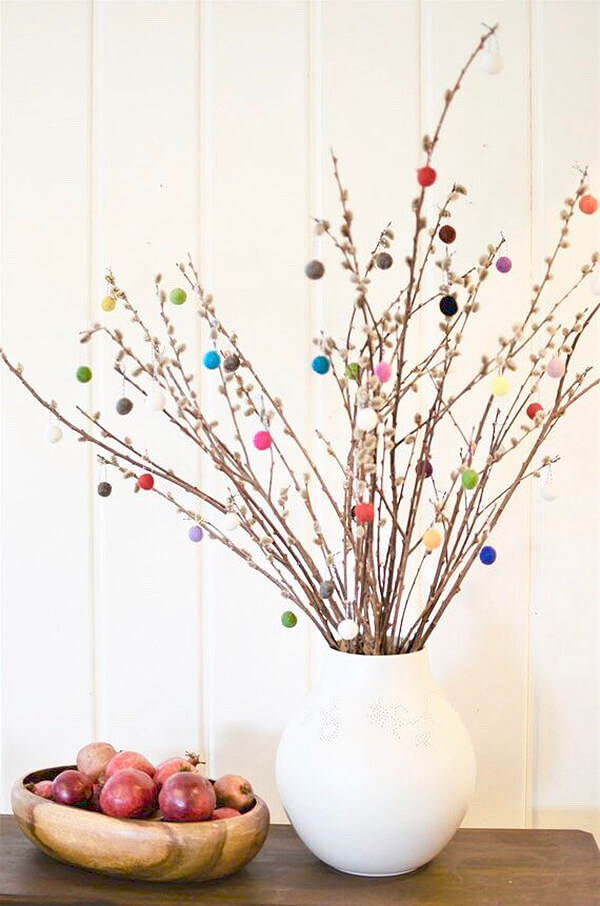 Already have an existing plant or tree at home that's ready for a touch-up? These felt ball ornaments are the perfect addition to your bare tree. Made with 2cm felt balls and cotton twine, these ornaments are great for year-round decor. Choose between a rainbow set or multi-color set and make sure you select your quantity to ensure you have the correct amount for your beautiful egg tree.
12. Hand-Crafted Spring Easter Egg Topiary
This stunning Easter egg topiary was hand-crafted with a beautiful floral arrangement that you're truly going to want to display all season long. Perfect for festive centerpieces as well as featured in entryways and anywhere else you want to sprinkle the Spring season. The design features beautiful blooms such as roses, daisies and carnations with pops of colorful eggs throughout.
13. Planter Box Styled Spring Tree Centerpiece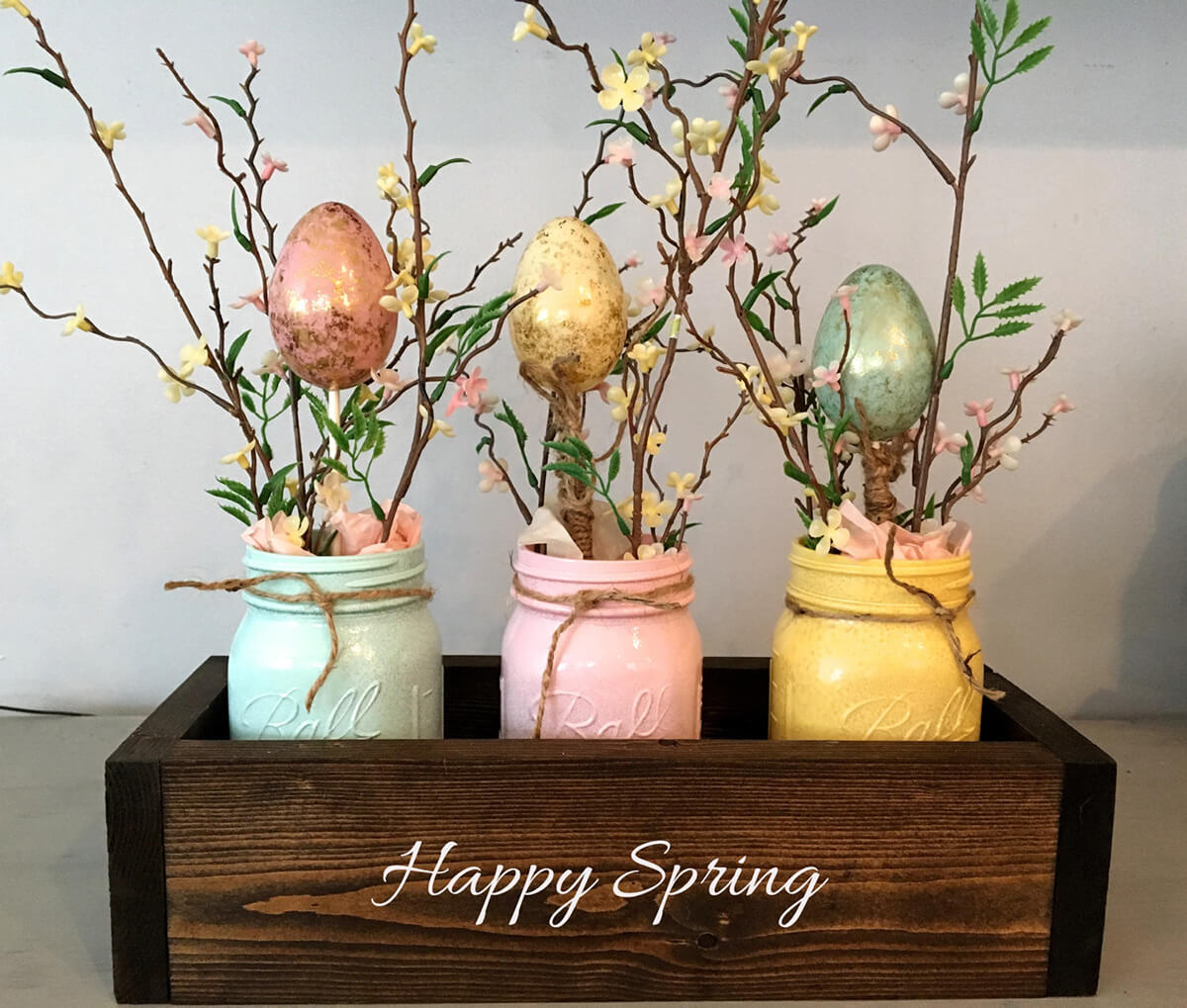 Whether you are decorating for your home, a wedding or special event this wooden mason jar decor centerpiece is perfect for the occasion. The wooden planter box measures 13.5 x 5 x 3.5″ and fits the 3 pint size mason jars in perfectly. The jars have been hand painted beautifully in pastel colors that you can use again and again. Tip: Add your own text to the front of the box for a touch of personalization.
14. Custom Easter Tree with Topper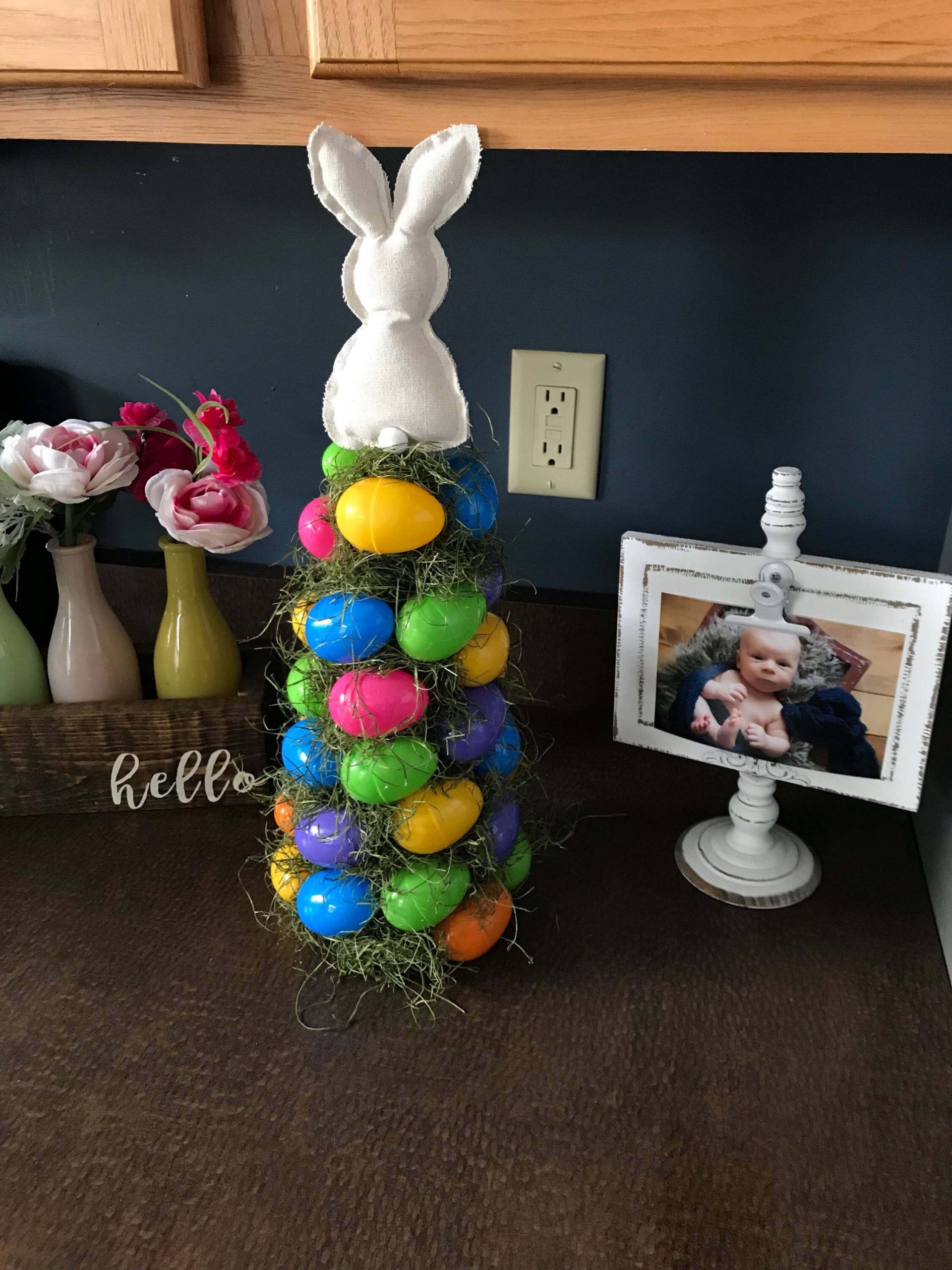 What better way to welcome the Spring season than with a festive egg tree complete with your choice in tree topper! This classic Easter tree features plastic eggs, a green mossy structure and Styrofoam to hold it all in place. Don't forget to add your custom request for either a bunny, carrot, egg or initial topper!
15. Artsy Metallic Wiring Easter Egg Tree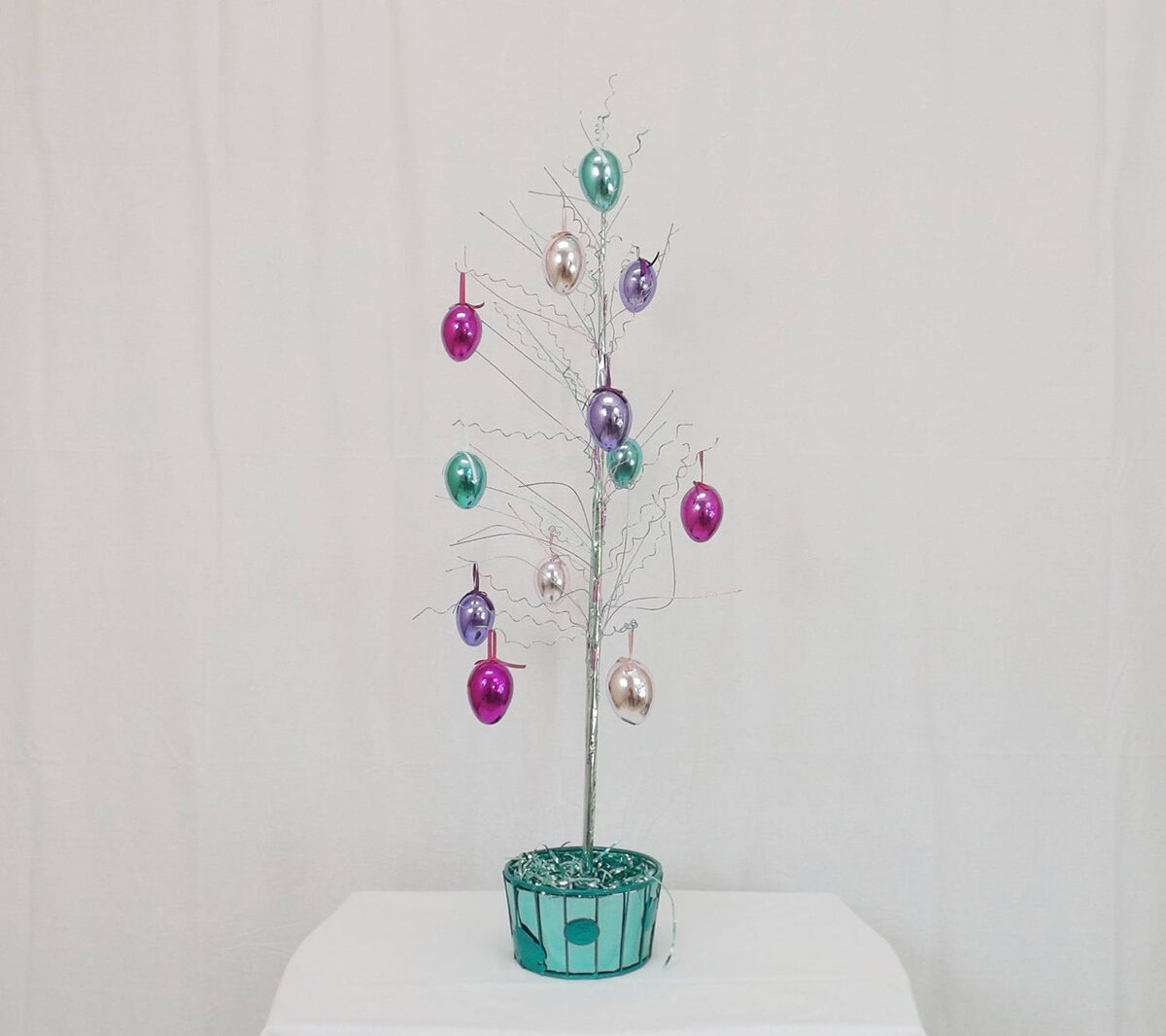 This tree is truly a work of art standing at 36 inches tall and made of metallic wire in pink, silver and turquoise. The branches on this tree are a visionaries dream with straight and curlicue branches that are bendable and posable. The basket itself features metal cutouts of rabbits and tulips with matching grass. The ornaments hang with ease using ribbon loops and the base is weighted so you don't have to worry about it falling over.
16. Easy to Make Crochet Easter Tree Pattern
Create your own Spring egg home decor arrangement using this easy skill level crochet pattern. This instant digital download includes easy to follow step-by-step instructions along with high resolution images to easily follow along. After you purchase your download, you can instantly start crocheting your beautiful tree!
17. An Eggceptional Easter Egg Tree Display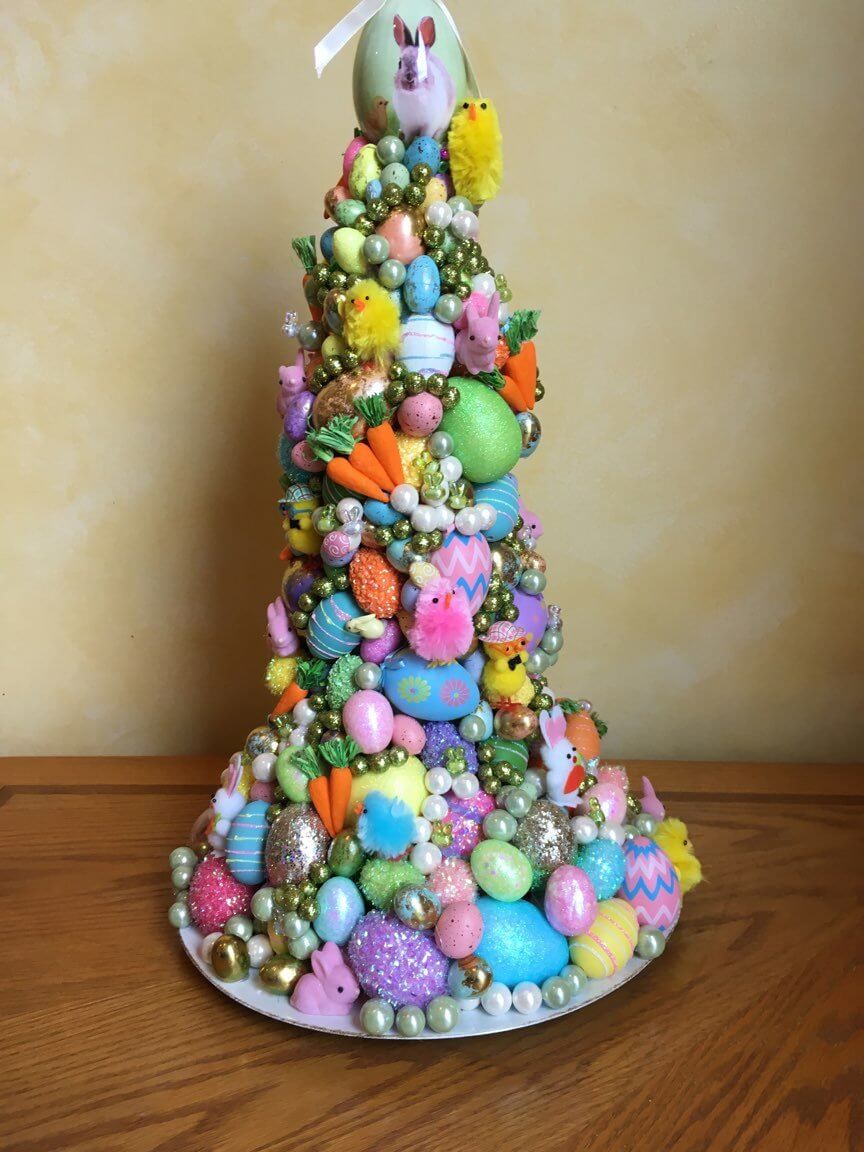 This tree is certain to brighten up your dinner table featuring over 100 plastic, styrofoam, sequin, glitter and foil eggs in a variety of sizes. It comes completely decorated with tons of unique treasures that are hidden all around this hand-made egg tree. So many fun textures, colors and sizes of all things Spring that is sure to spark up conversation at your next get together.
18. White Yarn Egg Tree Centerpiece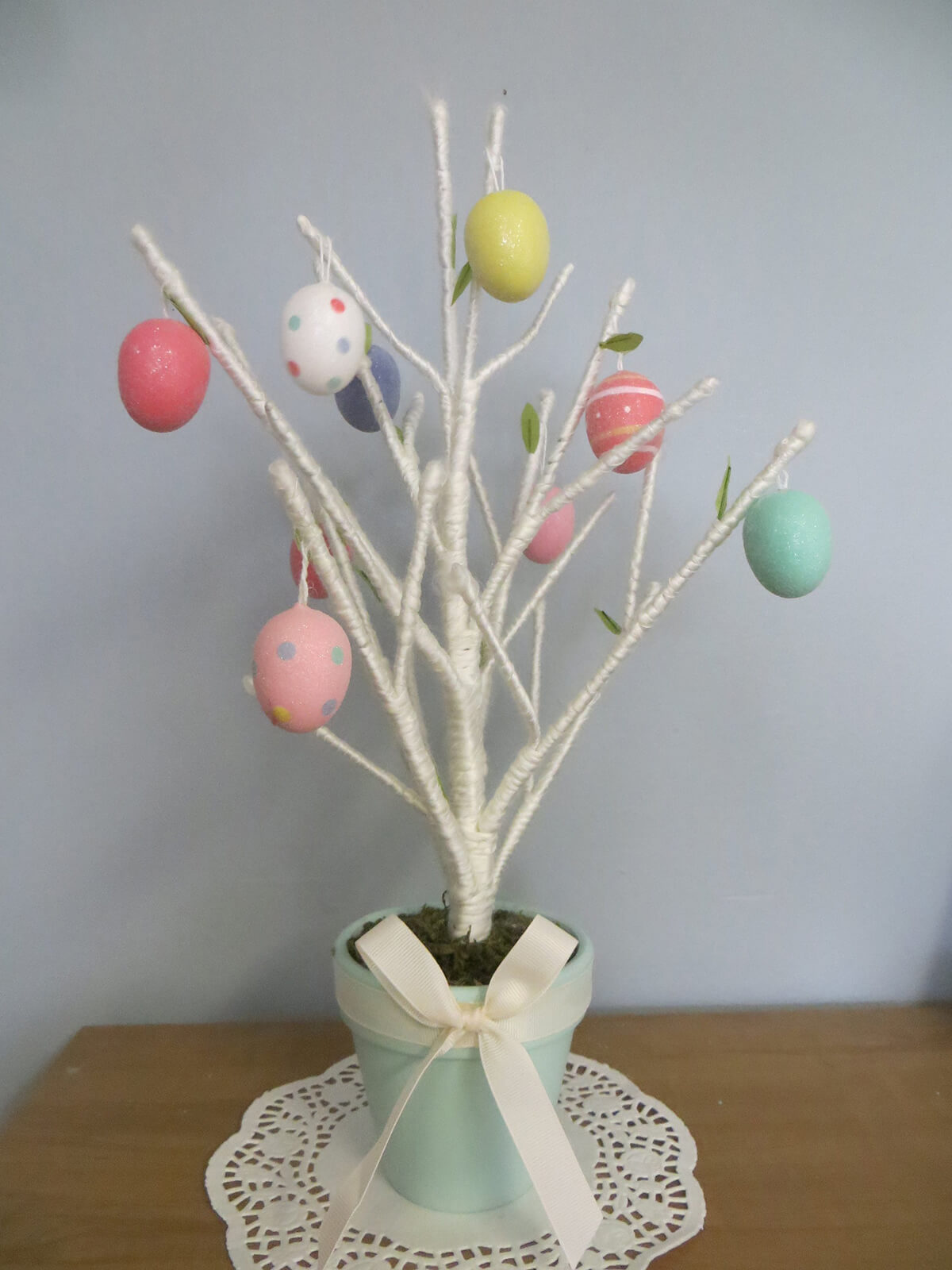 What a soft and gentle take on egg trees, as this tree is made from white yarn, pastel hand-painted eggs and a beautiful robin's egg blue potted base. It's finished off with a simple white bow to really allow the design of the eggs to come to life. This is a perfect display piece in your home.