As we are hopping ever so close down the lively and colorful road toward Easter, we figured it was long overdue to take a look at some of the best Easter Mason jar ideas around. For those of you who have a brimming festive spirit, the holidays are always a great time to push your creativity by decorating your home. Why settle for common decorations you can pick up at any store though? With online handcraft stores like Etsy, there are a host of ideas you can play around with so that you liven up your home in a more distinctive fashion.
21 Best Easter Mason Jar Ideas to Make Anyone Smile

Easter is a rather colorful time of the year. So, when it comes to your home decoration items, you have a vast color palette in front of you to utilize. This may help you discover decorative ideas for various areas in your home as well as ideas that may work better for children, used at a party, or simply placed as outside decor. Beyond colors, you can play around with common Easter themes like bunny rabbits and Spring-colored flowers.
Once you pair Easter with Mason jars, you will notice just how versatile the jars can be. They initially appear so simple, yet this simplicity allows you to do just about anything to them. You can paint them in an assortment of Easter and Spring-like colors. Feel free to use the lids or disregard them completely based on the decor you're trying to accomplish like creating a holiday vase for beautiful flowers. You can even hollow them out to make the decoration more fun or different.
Before you take a dive down the Easter rabbit hole, we discovered 22 incredible ideas for Easter-themed Mason jar decorations. This list should help put some things in perspective for you so that you can start decorating your home for the holiday season.
1. Easter Mason Jar Tea Light Candle Holders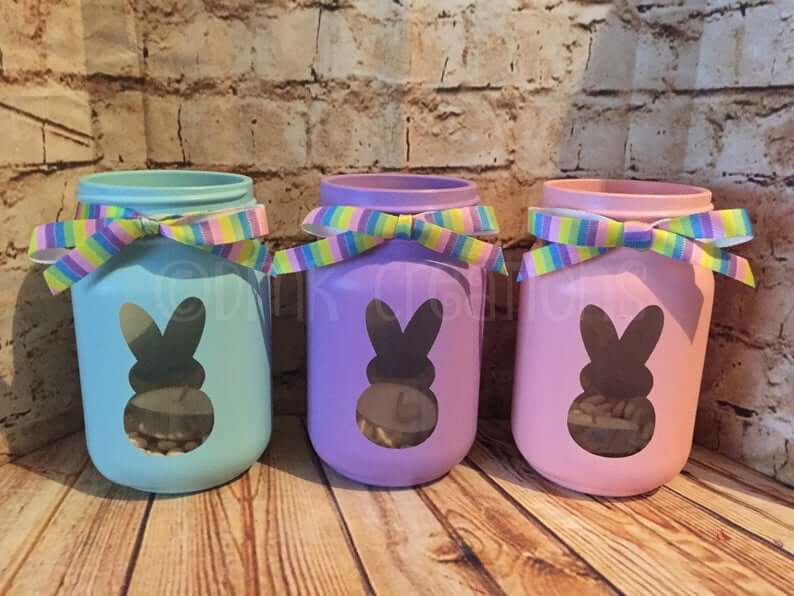 On our first stop to find incredible Mason jar ideas for Easter decorations, we discover an undemanding piece that still leaves a strong impact. These candle holders are able to easily take tea lights to a new, adorable level. The three holders are each painted Easter colors with pink, purple, and blue. They even feature a cute colorful ribbon tied to the top. With the outline of a bunny rabbit in the center of the glass Mason jars, the tea light candles shine even brighter. This is a straightforward, perfect way to substitute common household items like candle holders with more festive, lively ones instead.
2. "Hop" Easter Mason Bunny Jar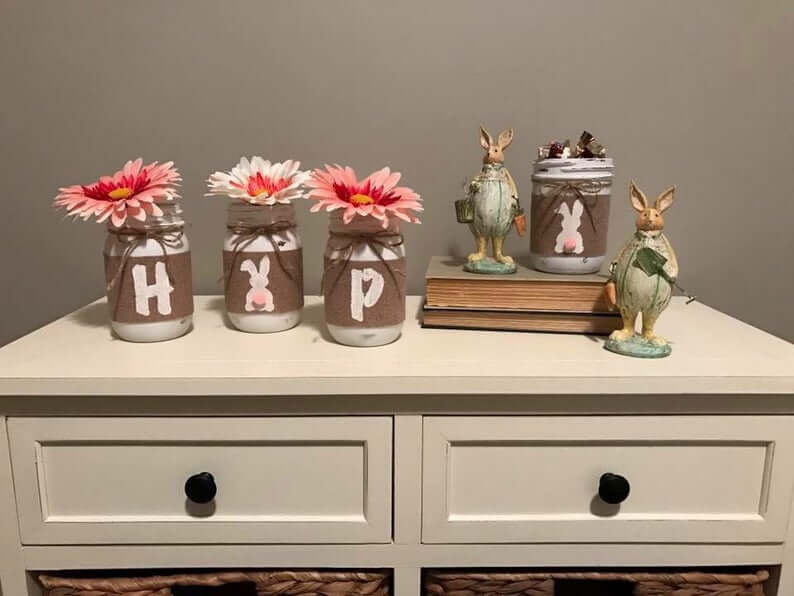 This is a wonderful idea for those of you who want to explore Easter-themed Mason jar decor without all of the loud colors that usually come with it. Hand painted using chalk, these three jars touch on chic and a more mature sense of style. The use of thin rope ties on the top can add a hint of rustic to the decoration along with the overall distressed appearance of the jars and paint. What's so clever about these jars is that, when put together properly, they spell out the word "hop". Instead of an "o", there is a simple drawing of an outline of a bunny rabbit. It's a more unique, understated celebration of Easter, all rounded out with a cute, fuzzy pink tail.
3. Painted Flower Crown Bunny Mason Jar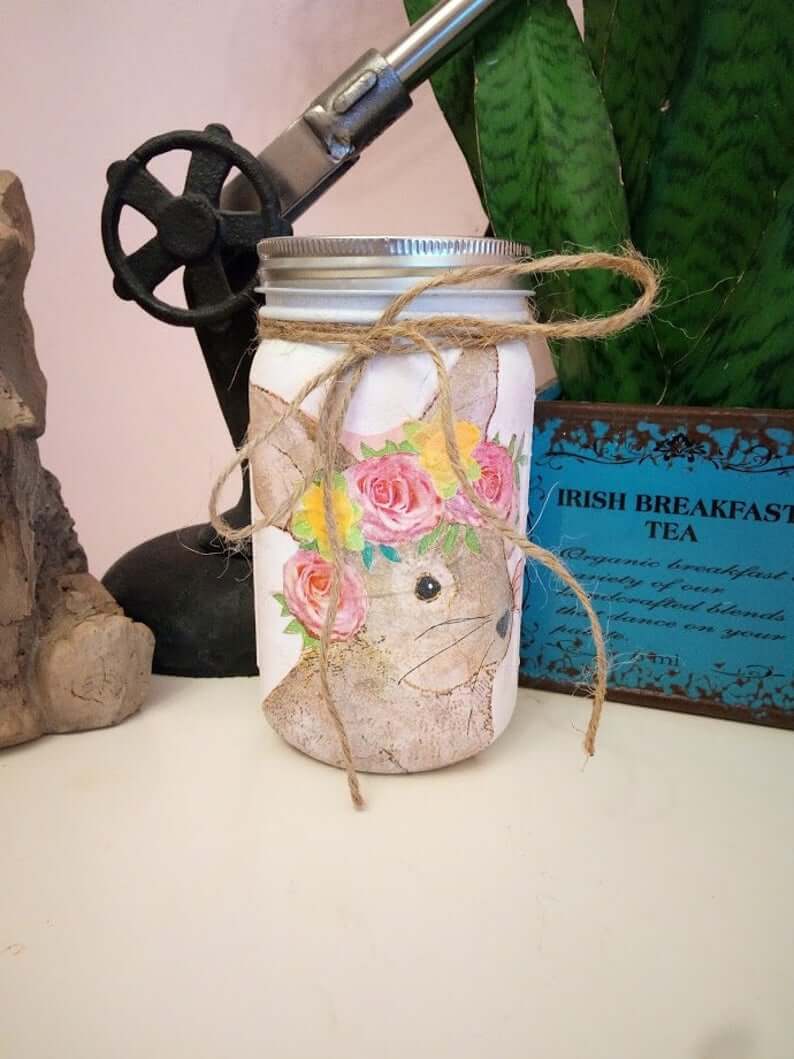 If you're looking for a more adaptable decorative piece, consider this gorgeous Easter Mason jar. This may not seem like much at first glance as the jar has an incredible amount of white space, but the painted rabbit on the front more than makes up for it all. Still cartoon in fashion, it takes a slightly more realist approach in terms of coloring and style. The entire piece is lovingly has a colorful crown of flowers adorning the rabbit's head. A thin, distressed rope tied to the top finishes it off. What's cool about this jar is that the way it's painted allows it to be made into a nightlight as well.
4. Happy Easter Bunny Mason Jars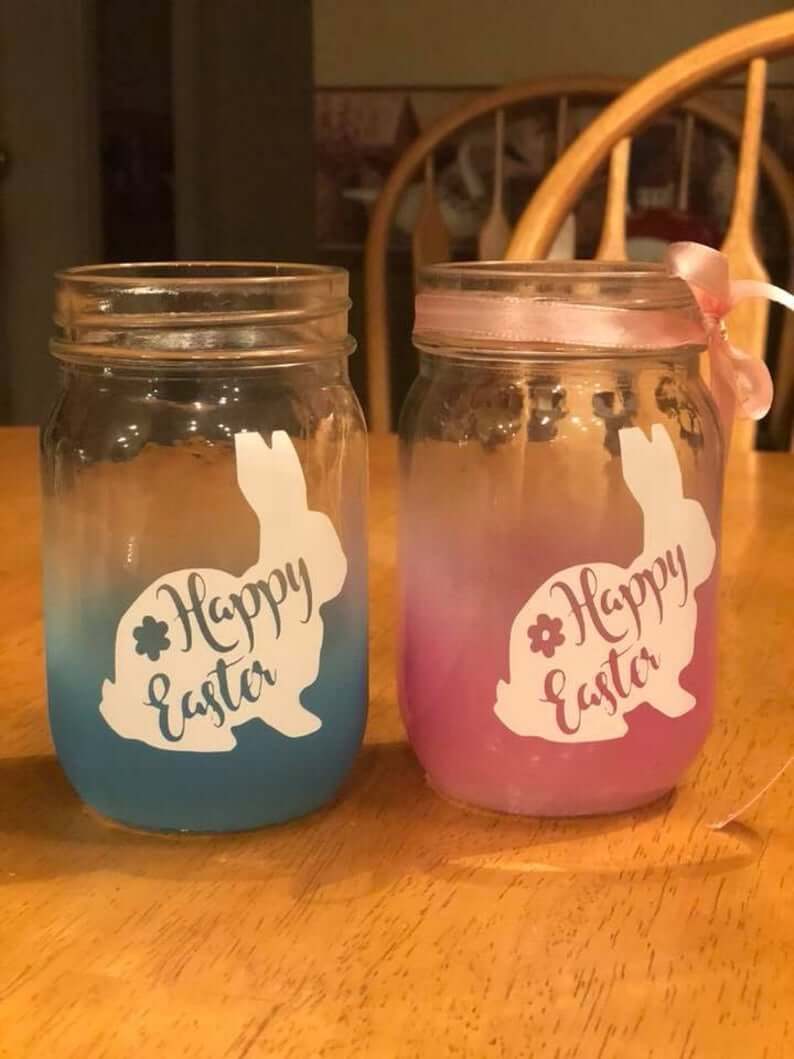 For those of you with two little Easter bunnies running around your home, these jars are an awesome idea to decorate for them or perhaps fill up with different delicious candies. One jar features a blue color, while the other has pink. Both colors start at the bottom and go up about halfway, fading a bit for a cooler touch. They both also feature a white outline of bunny rabbit with "Happy Easter" carved out in elegant writing. There's even a simple little flower next to the words too. You can use these as a fun addition to your kids' Easter baskets or simply just to decorate their rooms.
5. Rainbow Easter Bunny Mason Jar Centerpieces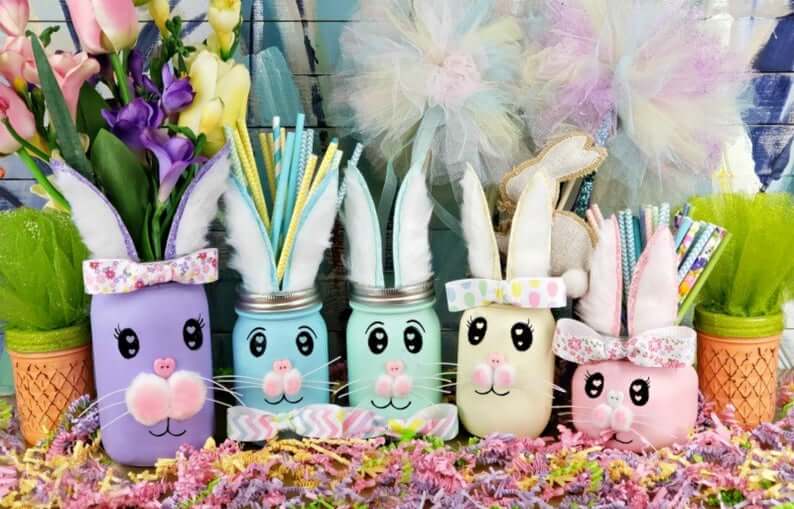 When you think of Easter, you may envision whimsical decorations, beautiful colors, and charming bunnies. This Mason jar decor gives you all of that. Available in different sizes, each jar offers you a playful way to celebrate the holiday season. You get a rainbow of colors to choose from too such as purple, pink, yellow, gray, mint, and blue. The jars have adorable bunny faces painted on along with fuzzy noses and whiskers, while the tops see bunny ears matching the color of the jars. Beyond picking out the colors, you can customize the type of ribbon you may or may not wish to use so that you can further personalize your home decorations with whatever you wish to put inside these centerpieces.
6. Cool Distressed Colored Easter Bunny Mason Jar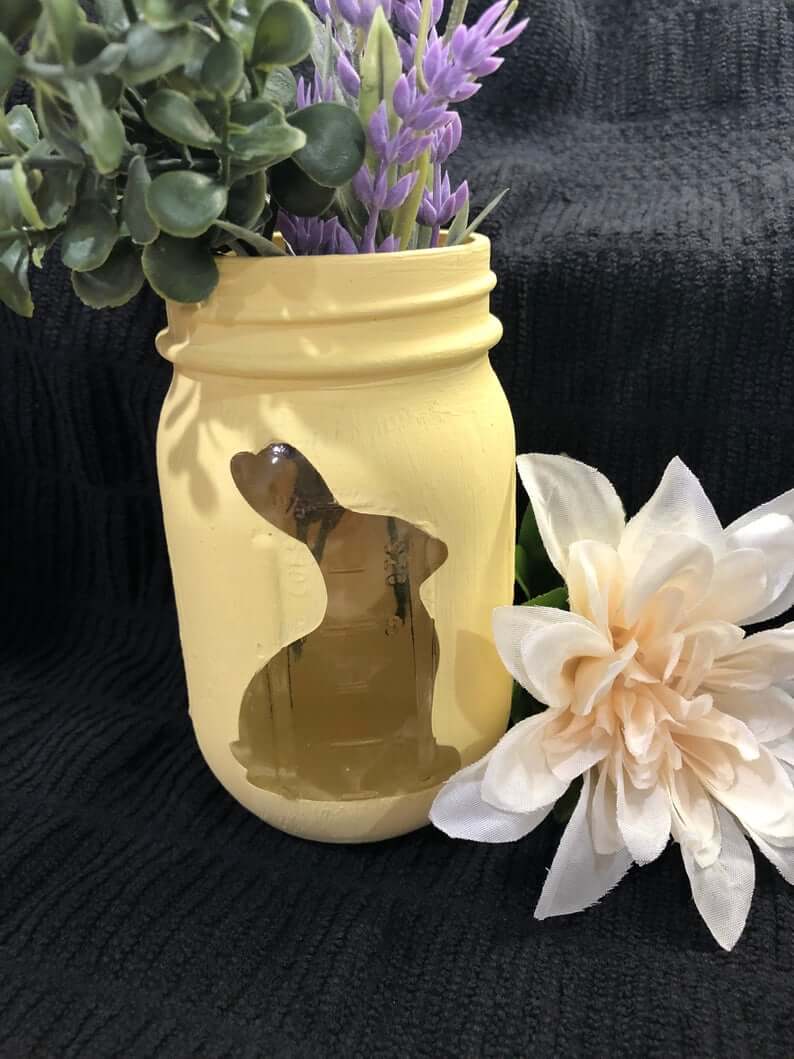 This modern Mason jar decor offers you a chance to show your love of Easter in a modest way. It is simply a Mason jar that has been painted via chalk, distressed, and sealed off with wax so that it may last season after season. The chalk paint is available in lovely tones of yellow, purple, pink, blue, and green. You should also note the simple outline of a bunny rabbit that looks as though it was carved out of the paint. This little window can help you show off a tea light candle, candies, flowers, and anything else your imagination can think of to help celebrate the holiday season.
7. Stunning Floral Easter Bunny Mason Jar Decorations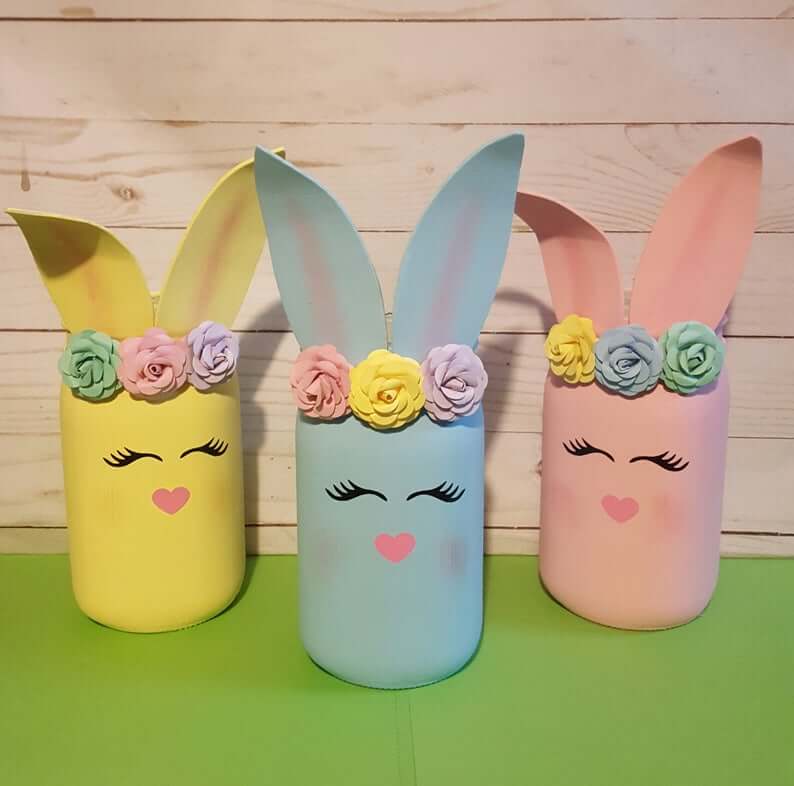 Parties around Easter time can be exciting to decorate, and these centerpieces are some of the best Easter Mason jars ideas that will help you amaze your guests. From birthday parties, to baby showers, to Easter egg hunts, these vivid jars offer a wonderful place for you to setup flowers or other goodies. You can get them in attractive colors like light turquoise and pastel pink, or you can opt for an appealing white color instead. All the jars have painted on closed eyes and a tiny pink heart in place of a nose and mouth. They're adorned with flowers and tall ears in addition to a fuzzy round tail on the back, making them among the cutest decorations in the whole party.
8. Easter Bunny Kilner Mason Jar Storage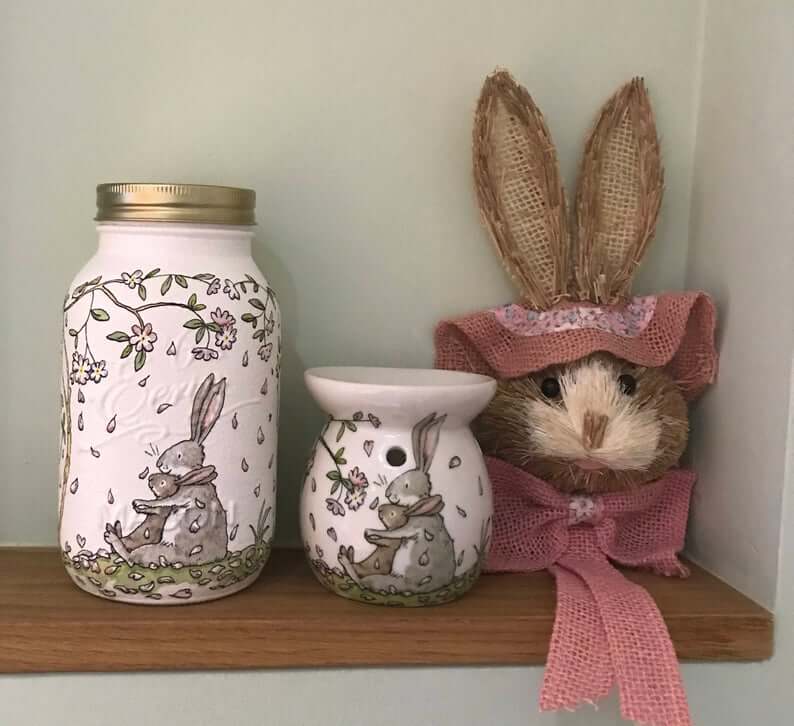 This storage container is a great way for you to utilize Easter decorations year-round. Instead of using any of the bold coloring choices most holiday embellishments opt for, this Kilner Mason jar focuses more on the loving feeling of the season. It features an endearing rabbit pair, one an adult and one that looks to be a child, sitting together in the grass and enjoying the colorful flowers falling around them. This is such an understated work of art that can liven up your home decoration without overflowing it with pure Easter style. You can use it as storage in various ways such as holding your larger utensils in the kitchen, or placing it in a bathroom to stash makeup brushes or toothbrushes. This rabbit design is beautiful enough to work anywhere in your home.
9. Charming Easter Mason Jar Flower Vases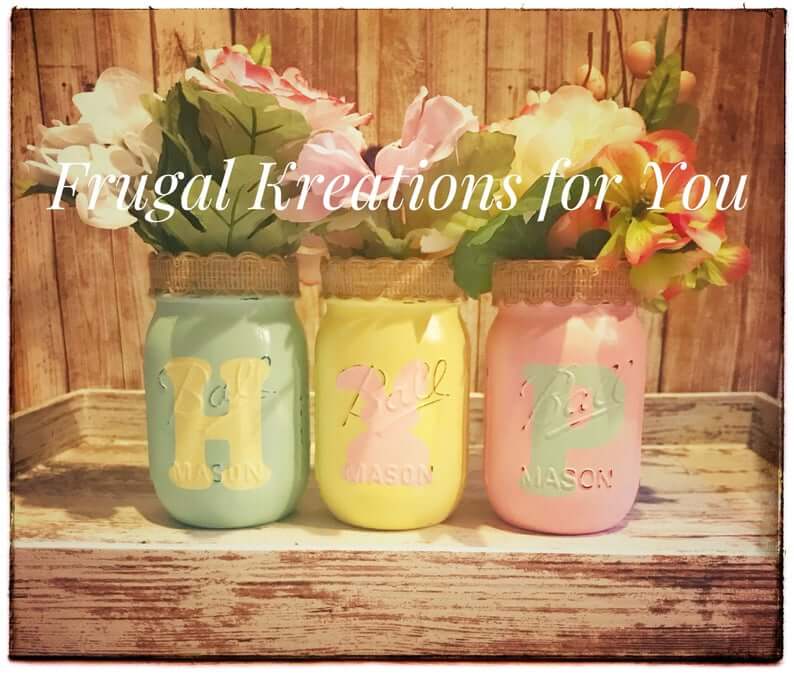 The fact that the original wording on these jars is still visible through the paint adds an amazing rustic charm to your decor. It is unique in its own way. Painted using chalk, the jars come in pink, green, and yellow. What helps them standout beyond the original decoration showing underneath the paint is the fun spelling of the word "hop" if you put the jars together. There's a simple bunny outline used in place of an "o", cementing the idea that these jars are a wonderful Easter decoration. The fanciful ribbon tied to each jar gives them an added stylish touch so you can use these to hold flowers, real or fake, so you can further adorn your home with all colors of the season.
10. Shabby Chic Easter Mason Jar Centerpieces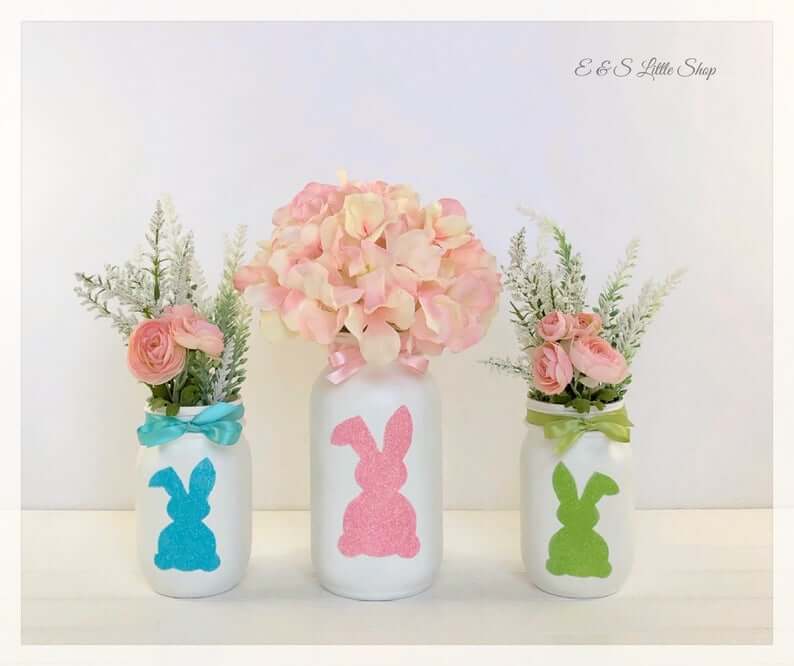 Looking for a way to blend chic with farmhouse style? These Mason jar centerpieces may be the perfect choice. Chalk painted in all white, the jars each feature the outline of a cute bunny rabbit in the center. One rabbit is blue, the other is pink, and the third is green, and each rabbit features glitter added to them so that they really sparkle. Along with that are pretty bows tied to the top of the jars, the colors matching the individual rabbits. These work amazingly well to decorate tables at any special occasion like baby showers and kid birthday parties.
11. Great Easter Bunny Charm Mason Jar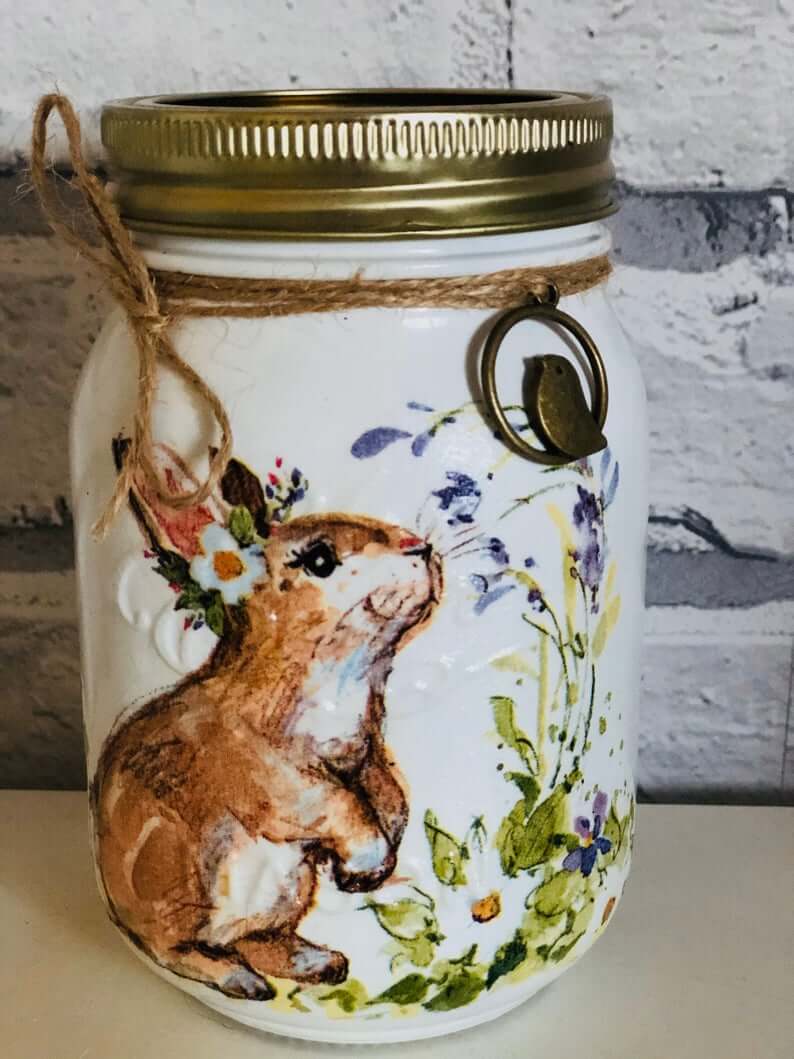 Whether you're looking for the best Easter Mason jar ideas to decorate your home or to gift to a loved one, this jar can serve your needs well. It's a half-sized jar that's all white besides the gorgeous painting of a slightly realistic rabbit along with an assortment of leaves and flowers. This lovely design can give you a fresh take on a flower vase or even a utensil storage container. It includes a double lid as well so that you can use it however you need to. The design is rounded out by a thin rope tied to the jar that holds a beautiful charm. You can choose from a mother charm, a rabbit charm, or a bird charm.
12. Spring Decorated Bunny Mason Jars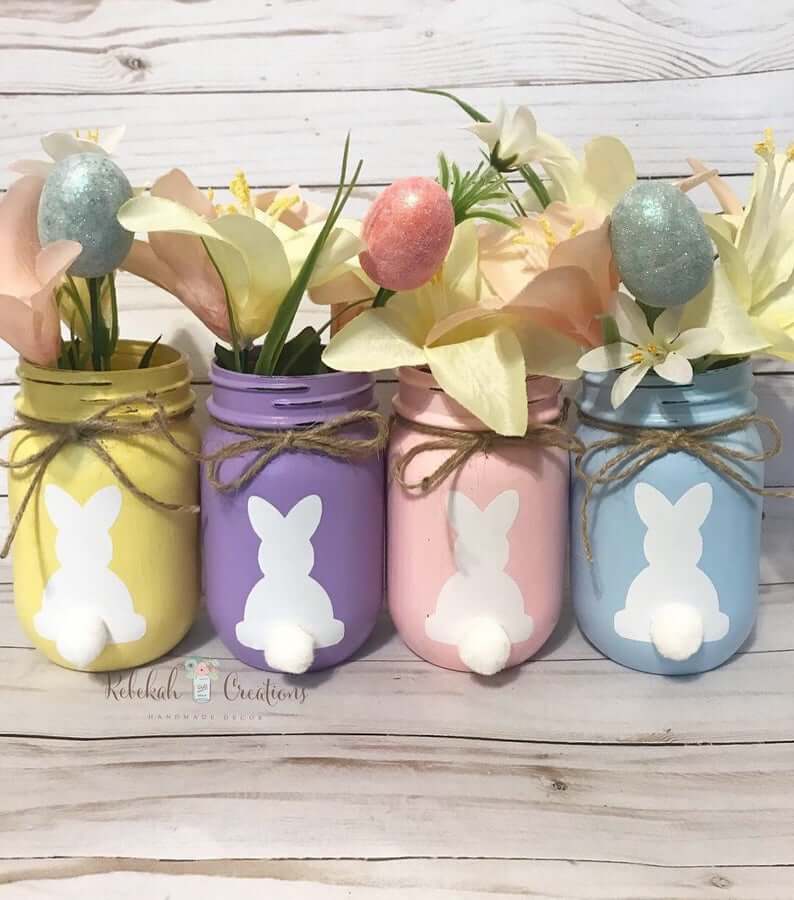 Bright pastel colors and Easter seem to go hand-in-hand, and these jars take full advantage of that. Using the likes of pale pink, purple, yellow, and blue, these jars bring the season to life around your home. They feature the simple use of a thin rural rope tie near the top, while the jars themselves have a white bunny outline painted on. To finish it off, they even have the most adorable little fuzzy ball tails attached to the rabbits. This is an awesome idea for centerpieces to hold your smaller Easter decorations inside like flower bouquets, or even to secretly stash some eggs for that always enjoyable Easter egg hunt.
13. Fanciful Spring Bunny Rabbit Mason Jar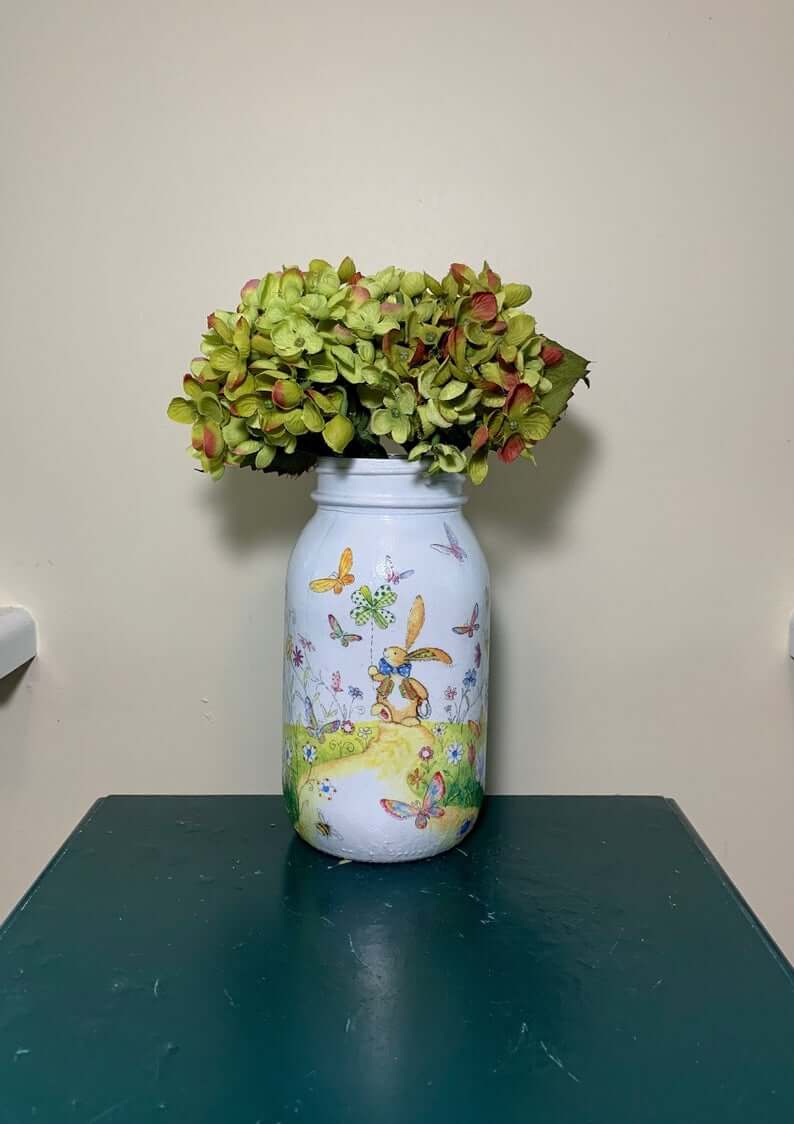 Such a playful and free-spirited piece of art like this can work wonderfully for a nursery, in a child's room, or for decoration at a baby shower. The entire scene with the bowtie wearing bunny rabbit is perfect from vivid butterflies soaring around to the beautiful flowers in the grass. This hand-painted glass Mason jar can fit a number of different items like flowers and candy. If used in a nursery or child's bedroom, you may even want to just have it sit atop a shelf or nightstand, perhaps even with a small light inside so it provide a more unique base for a lamp.
14. Ribbon Adorned Easter Bunny Mason Jars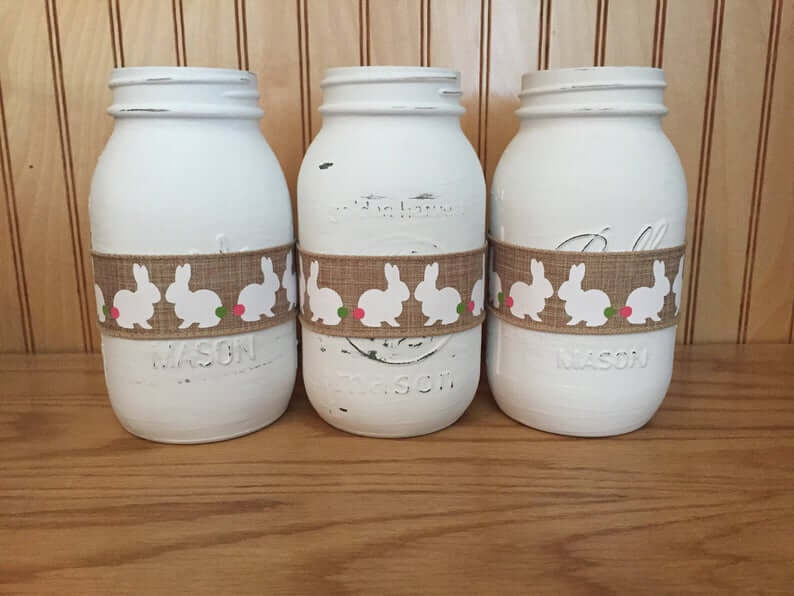 There may not be much to these jars compared to some other Mason jar decor ideas, but these are just as sweet. The jars themselves are mostly painted over in a bright white color tone with some of the original jar writing still showing through. What gives them the Easter vibe is the burlap ribbon that's draped over the middle of each of the jars. The ribbons are then decorated with white rabbits that feature either green or pink painted tails. Straight to the point in terms of style, but still appealing enough to decorate your dining room table or to hold Easter treats for loved ones.
15. Rustic Easter Mason Jar Table Centerpieces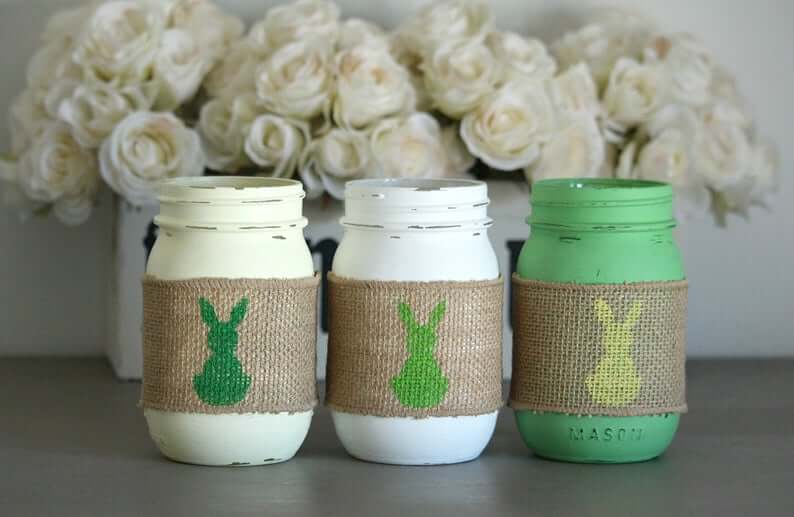 Need to setup the table to hold centerpieces or utensils? These rural-styled Mason jars are up to the task. They're simply painted in an assortment of springtime such as shamrock green, pale violet, and pure white. They also feature a burlap ribbon wrapped around the center with a colorful bunny outline painted on each side. These jars are undemanding and effortlessly provide you with a means of adding Easter-themed Mason jar decor to your home.
16. Farmhouse Style Painted Bunny Mason Jars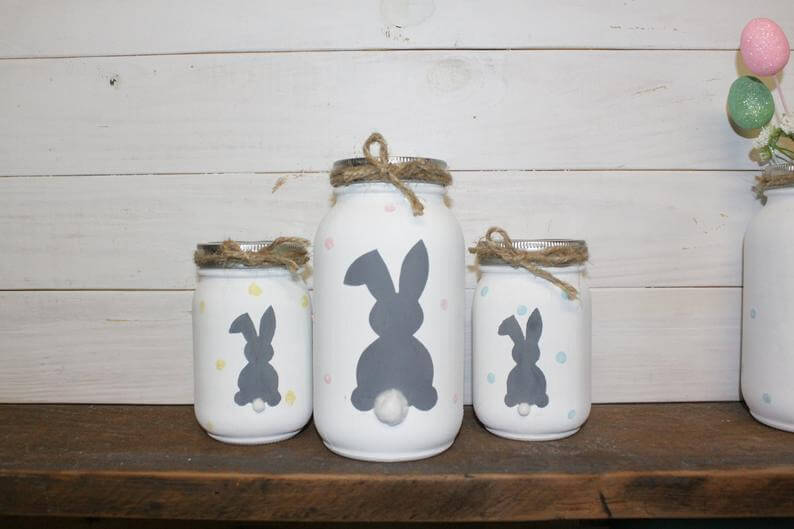 An awesome idea for gift-giving this Easter holiday is with these Mason jars. Coming in a quart size and two pint sizes, you can fill them up with various goodies or pass them out as is. Or you can decide to keep them and place them up on a shelf or a table to proudly show them off. The ideas are limited in how you can use these amazing jars, especially how well the design comes across. They're painted white with colored polka dots along with a solid black bunny outline in the center. Small rounded tails on the bunnies along with rough twine brings the rest of the design together.
17. Vintage Easter Mason Jar Floral Arrangement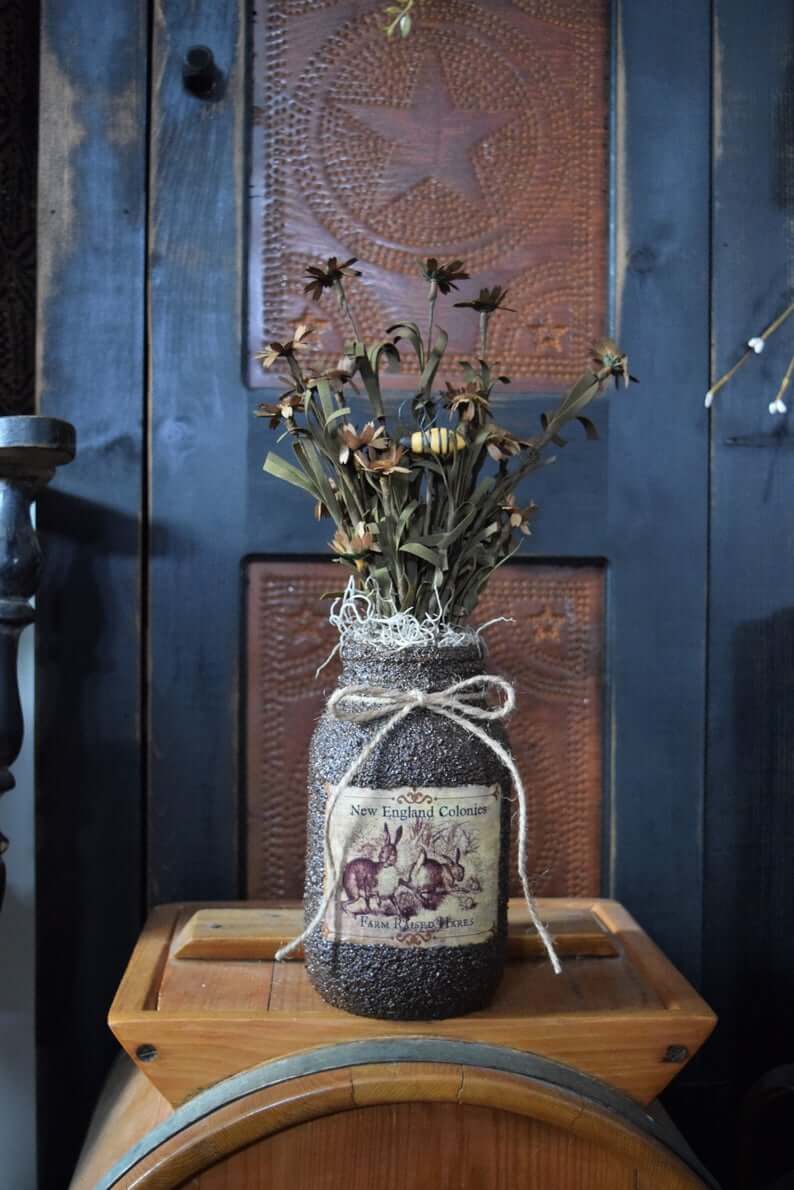 A vintage style can always add a more interesting touch to your home decor. This Easter-themed Mason jar does a tremendous job at creating an exceptional design that you can display during the holiday season. What makes this jar so unique is the sealed coffee ground mixture that gives the glass jars a grubby feel and appearance. Springtime is felt thanks to the classic Easter label attached to it. There's some nice twine tied to the top, and you can choose from various floral arrangements to come inside of the jar.
18. Elegant Easter Bunny Basket Mason Jar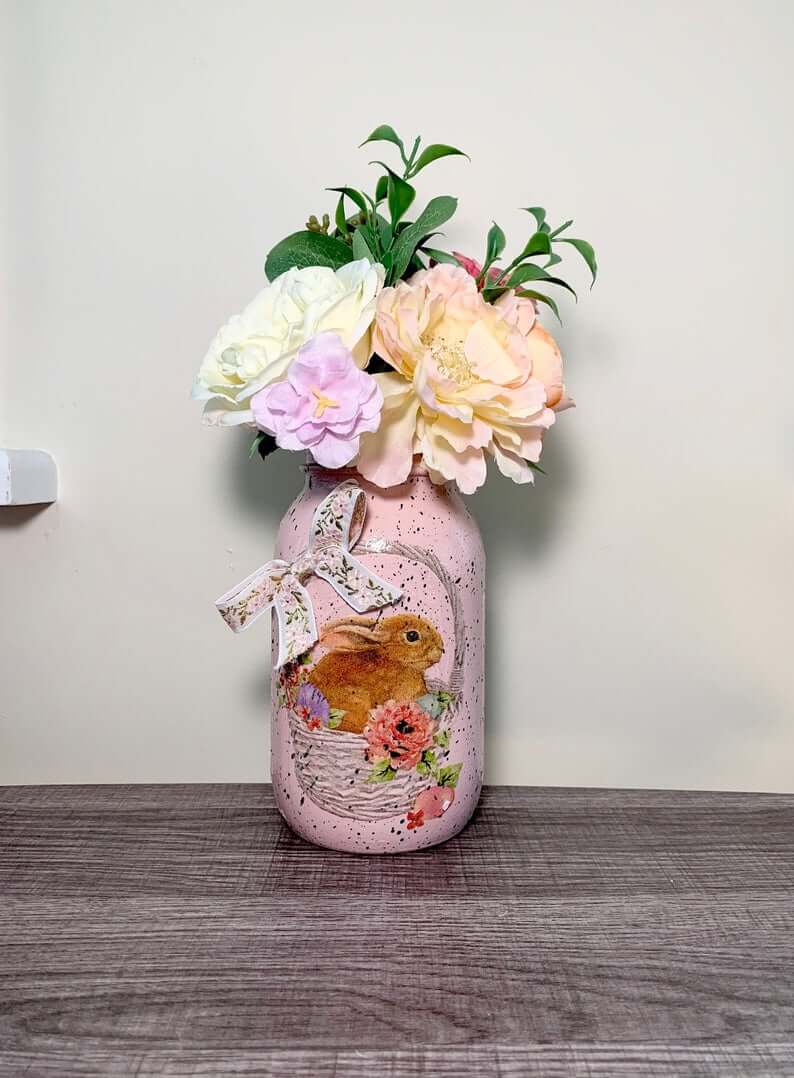 Who's to say that Easter decorations can't be fashionable? This glass jar features acrylic painting along with a decoupage paper napkins technique, and you can receive the jar in pink, ivory, blue, or purple. There's a delightful painting of a bunny rabbit inside of a floral-covered Easter basket on the front of the jar. This jar even has a beautiful Spring-themed ribbon attached to the front looking as though it's hooked onto the painted basket. You can do what you will with this jar, but it may work exceptionally well as a flower vase.
19. "Hop" Easter Bunny Floral Mason Jar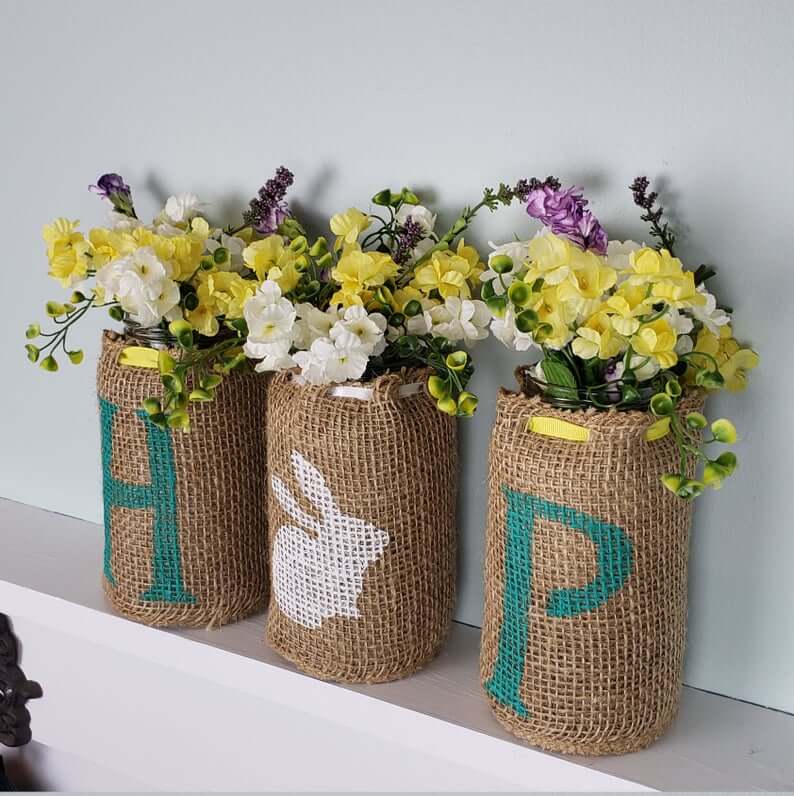 Finding a cuter way to spell out "hop" is one of the best Easter Mason jar ideas concerning decoration. This simple creation uses burlap to nearly completely cover the jars. On each burlap sleeve is paint, with one having an "h," the other a white bunny rabbit, and the last a "p" to complete the word "hop" if you place them all together. These jars also include a floral arrangement inside. This way, the jars arrive ready to greet the Spring season.
20. Farmhouse Easter Mason Jar Lantern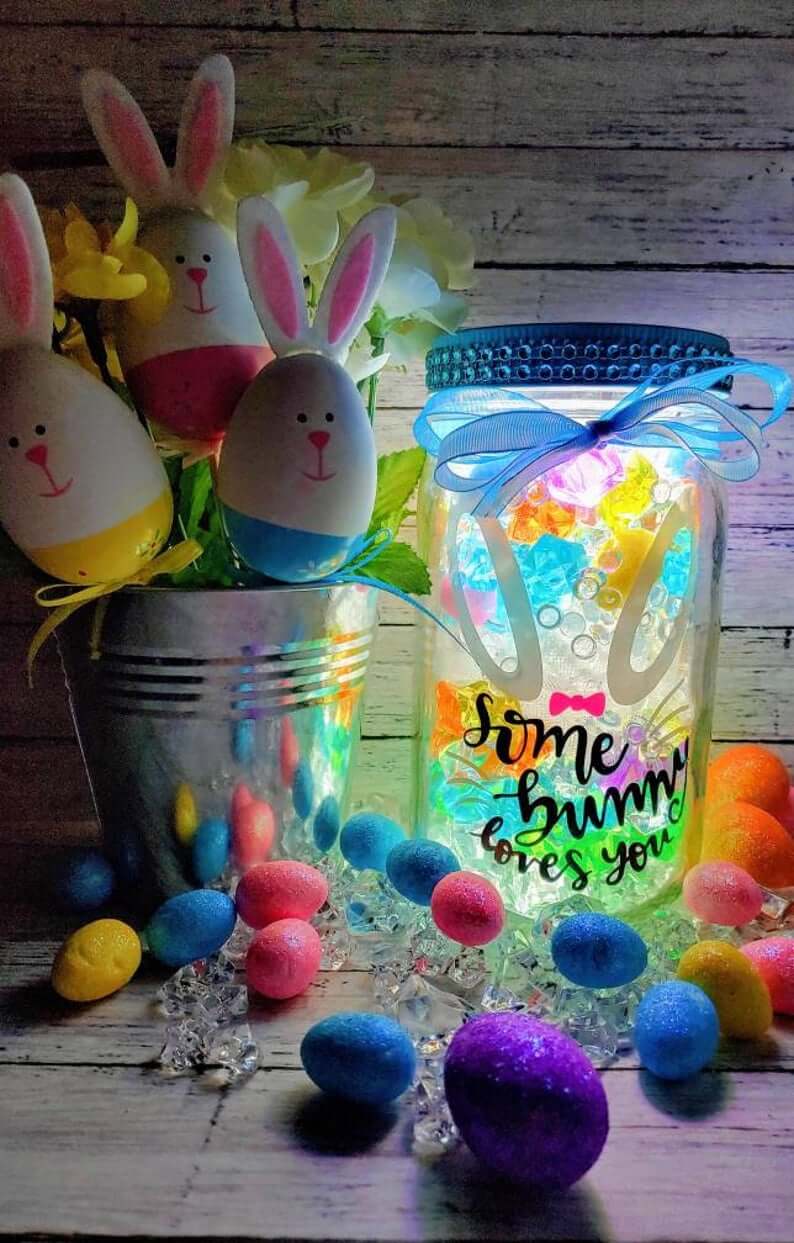 A fun approach to Mason jar decor is turning the jar into a lantern instead. Featuring an adorable little bow and large bunny rabbit ears, this jar brings Easter to life by sporting an incredible light show. Inside are numerous of crystals and glittery eggs colored in traditional Spring hues. The lid and ribbon coordinates it all. You'll receive a remote control that allows you to change the lighting color, creating a remarkable lantern or even a nightlight. It's finished with a cheeky "some bunny loves you" quote on the jar.
21. Colorful Easter Spring Mason Jar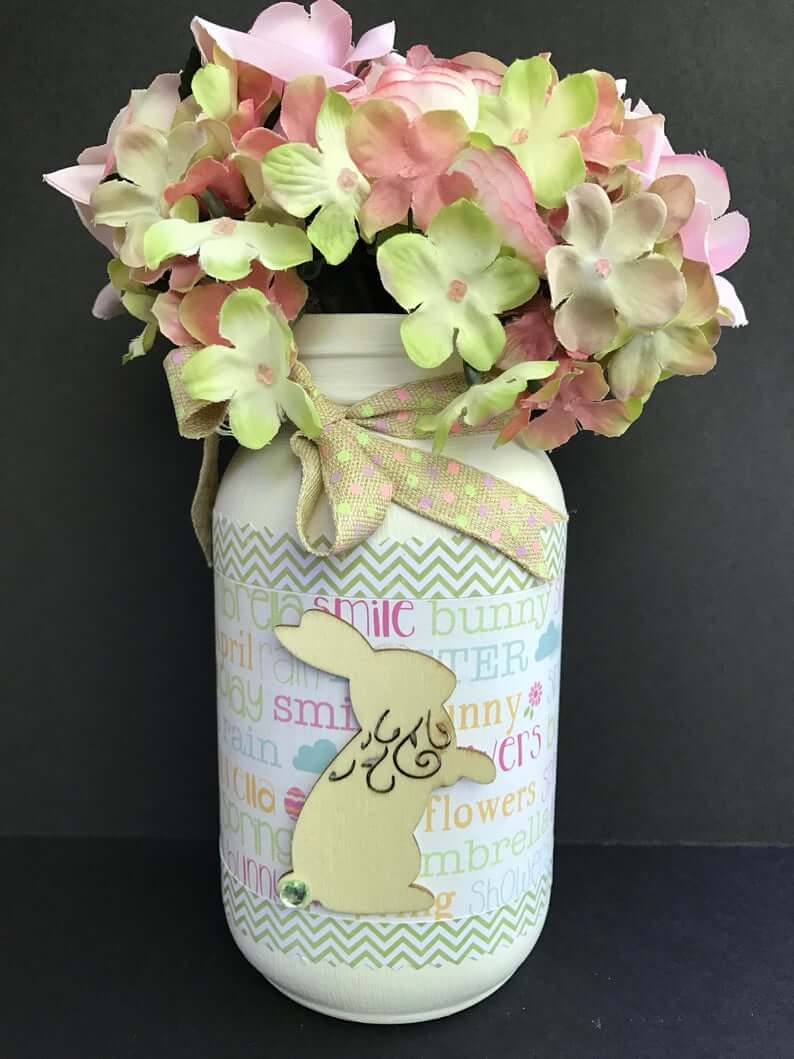 Brighten up any room with this lively decorative Mason jar. It features a colorful pattern against an all white painted jar. Along with that are motivating and sweet words that further highlight the season and the holiday. It's finished with the outline of an enhancing bunny and a large colored bow tied along the rim of the Mason jar. This is an easy, great way to create an Easter vase for flowers or just add some joyful decorations around your home.
21 Beautiful Easter Mason Jar Ideas to Capture the Holiday Spirit
Easter is a blissful time of the year, and with the right Mason jar decor, you can fancy up your home or special occasions with beautiful handcrafted items. There is nearly an endless amount of ways you can use these jars from creating lanterns and nightlights, to having a fun place to store utensils or flower arrangements. You can even make great use of colors usually associated with Spring as well as the always popular bunny rabbit designs.
The best Easter Mason jar ideas should help you freely dive into your imagination and creativity not just for your home, but for gift giving and bringing a whole new life to a special occasion like a baby shower or birthday celebration. It's our hope that this list of ideas ignites that artistic side of you as you go into decorating mode this holiday season.