Tree huggers don't have to give up on their eye for design since it's easy to care for the earth with 27 of the best eco-friendly seagrass home decor ideas found below. With a little bit of careful planning and thoughtful purchasing, you can easily create a space you'll be happy to call home while remaining faithful to your dedication to the preservation of the environment.
27 Reasons to Decorate with Seagrass in an Eco-Friendly Way

Seagrass makes an easy option for a material to select in your interior home decor as it is a sustainable element and can be dyed in almost any color you desire. It's amazing with all the multitude of ways it can be intricately woven to create detailed designs and patterns into pieces of furniture, rugs, baskets, doilies, and so much more!
Perhaps one of the most incredible aspects of using these eco-friendly seagrass decoration ideas in your home is its handmade construction paired with the ability to assist in establishing a carbon-neutral atmosphere in your own home.
Unlike many of its plastic competitors that are molded in a factory, it is handmade giving it a more unique feel and less negative impact on the earth. Of course, another reason these items might be considered the best eco-friendly seagrass home decor ideas is their hypoallergenic attributes and composition of completely natural elements.
Since seagrass is such a sustainable material easily intricately woven and dyed to the colors of your dreams, it's worth considering for your interior home decor. Check out this incredible collection of 27 amazing products to infuse your home with a beautiful design in an environmentally-friendly way.
1. Stunning Round Seagrass Decorative Area Rug
Think beyond the traditional carpet area rugs and discover the stunning seagrass creations to update your space. Look at the amazing details in this one. The circular shape is echoed throughout the design giving this unique rug a special and intricate detailed design. The large center circle is surrounded by a border of smaller circles before being finished with a nice-sized bordered edge to complete the look. Since most rugs and furniture pieces are squared off, this is a great alternative to jazz up your room. Place it in the center of your living room or in the middle of your entryway to bring an unexpected shape onto the scene.
2. Shades of Blue Seagrass Pom Pom Garland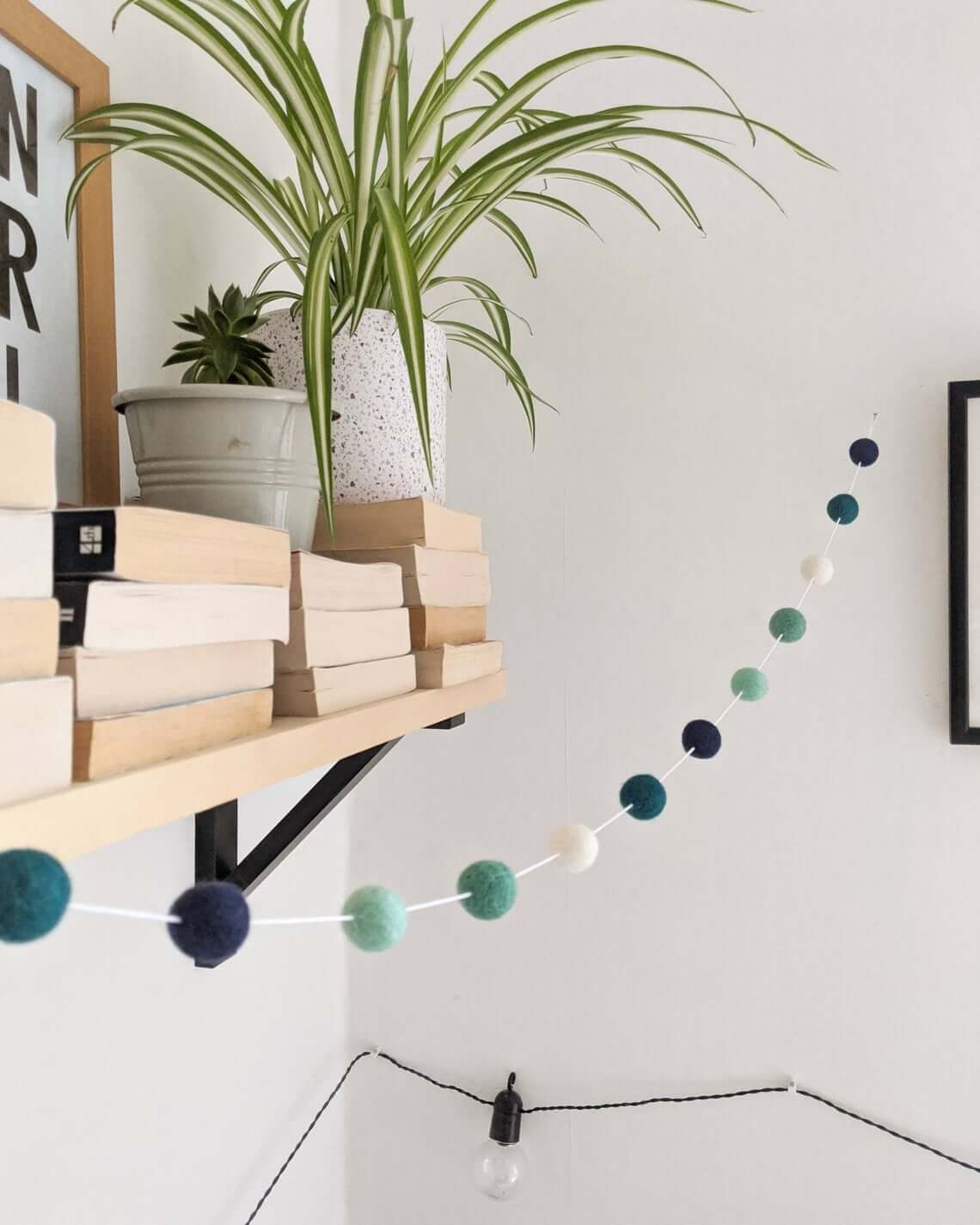 Garland is one of the most interesting and fun ways to add a little swag to your home. It's quick and easy to add into almost any room and certainly capitalizes on depth and style making it such an awesome idea for decorating. This cute and happy pom-pom garland carries the multi-hued blue spheres from one corner to the other in your favorite cozy reading nook. Cuddle up with a mug of hot cocoa and dive into a good book in a space that gives new meaning to the winter blues. Alternatively, you could use it to decorate the space of a future reader by hanging it in an adorable nursery. The delicate nature of the pom-poms coupled with the soft texture and hues makes it a wonderful option for modern nursery decor.
3. Bold Black and Beige Striped Hanging Planter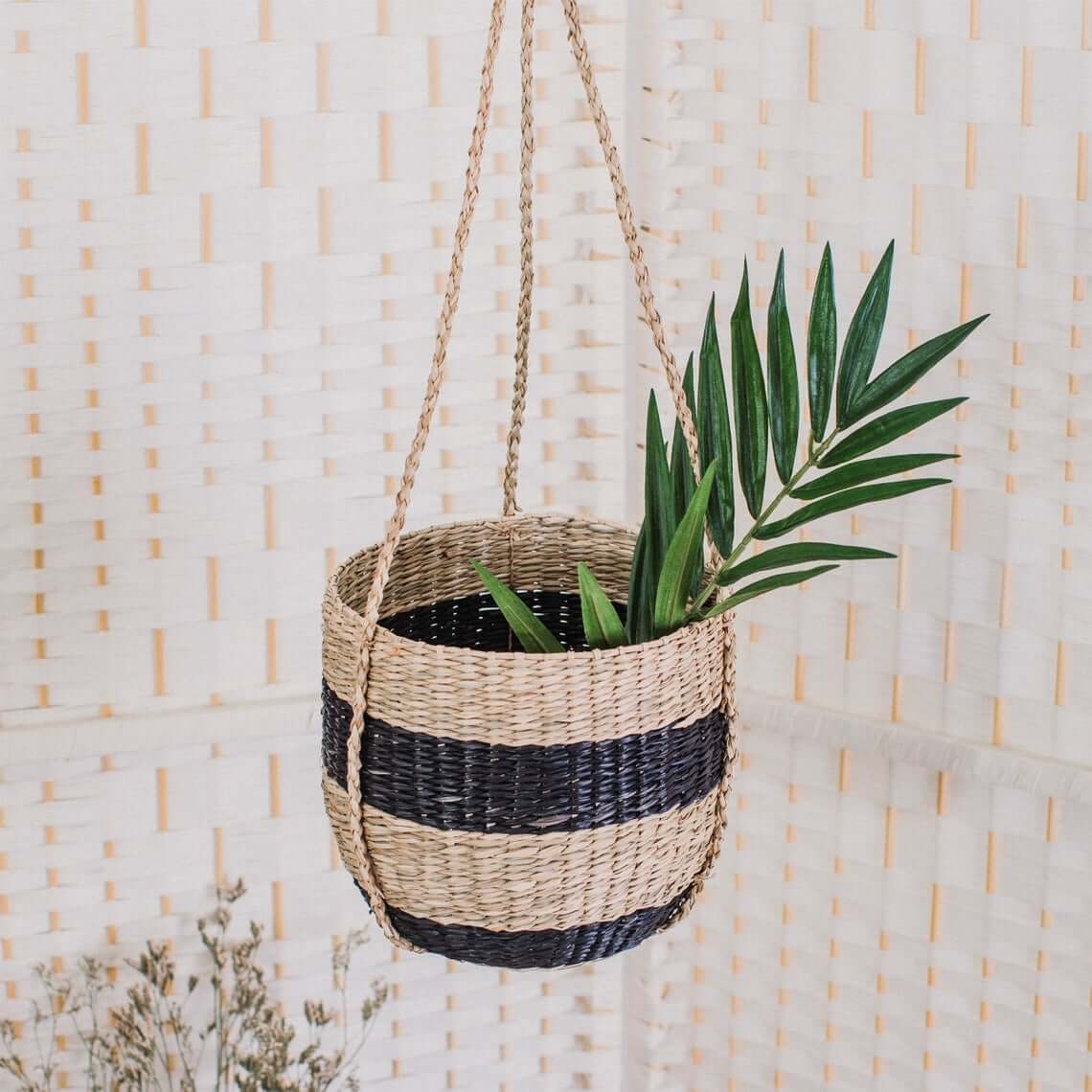 Every green-thumbed goddess will adore this black and beige hanging planter that seamlessly blends into your existing home decor. It's a wonderful addition to your interior space, as well as your three-season room or porch area. We all know your choice of the plant will be the star of the show, but this gorgeous striped holder will demand the attention of its own. The contrasting of the stripes along with the greenery within will add the touch of color your dreary walls need to get you through this winter.
4. Multi-purpose Blonde Natural Seagrass Utility Basket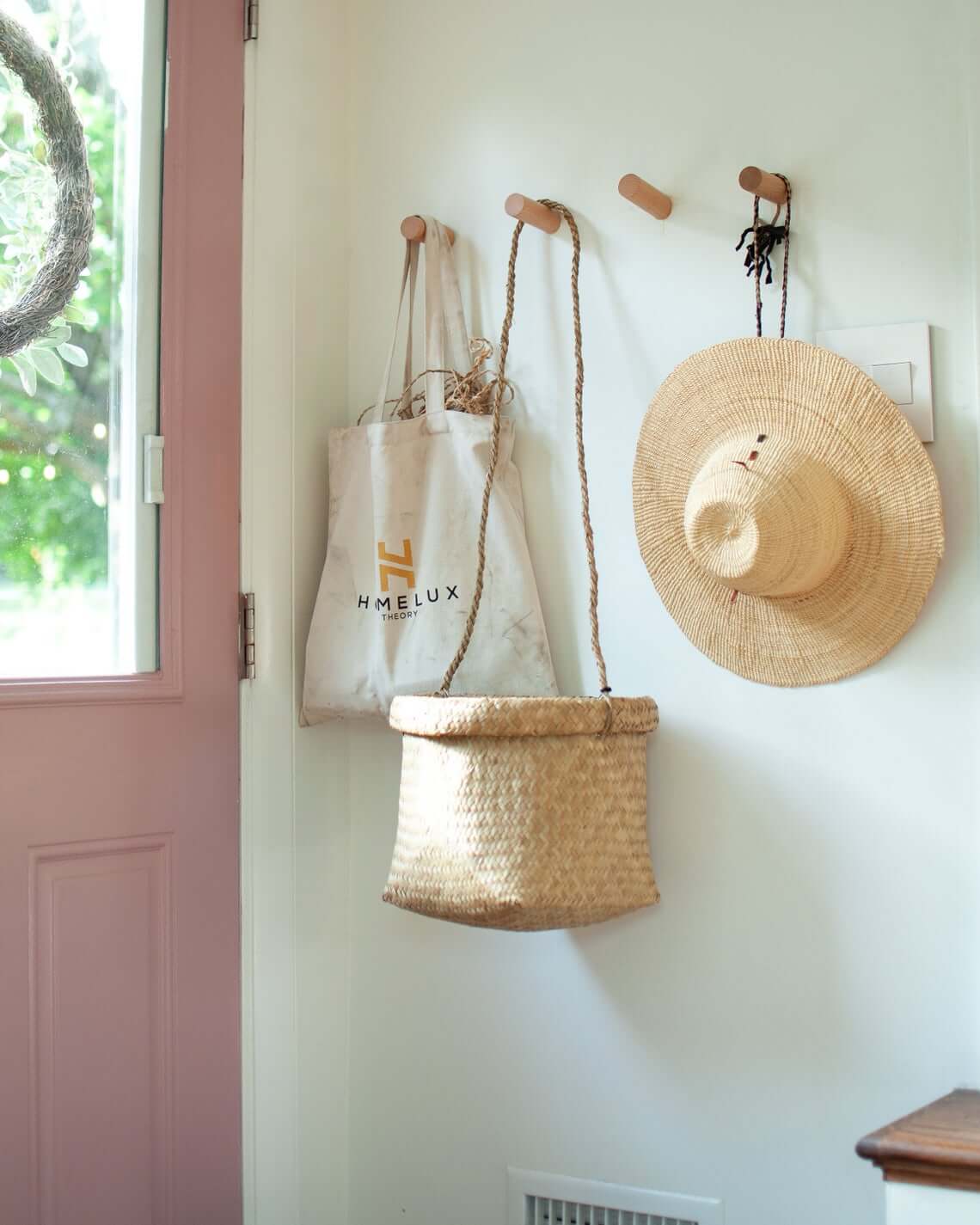 Now here is a practical, yet pretty way to carry all of your items from the garden. Sling this multi-use woven seagrass basket over your shoulder to free up your hands for hours of harvesting your favorite fruits and vegetables. Its lightweight design and large opening make it a top choice for transporting items from the backyard to the kitchen table. If gardening isn't your cup of tea, this utility basket can serve you in other ways like carrying in the drive-thru goodies, picking up the kid's toys, bringing in the mail and so much more. The possibilities are as endless as its woven squares!
5. Earthy and Airy Lightweight Seagrass Table Accents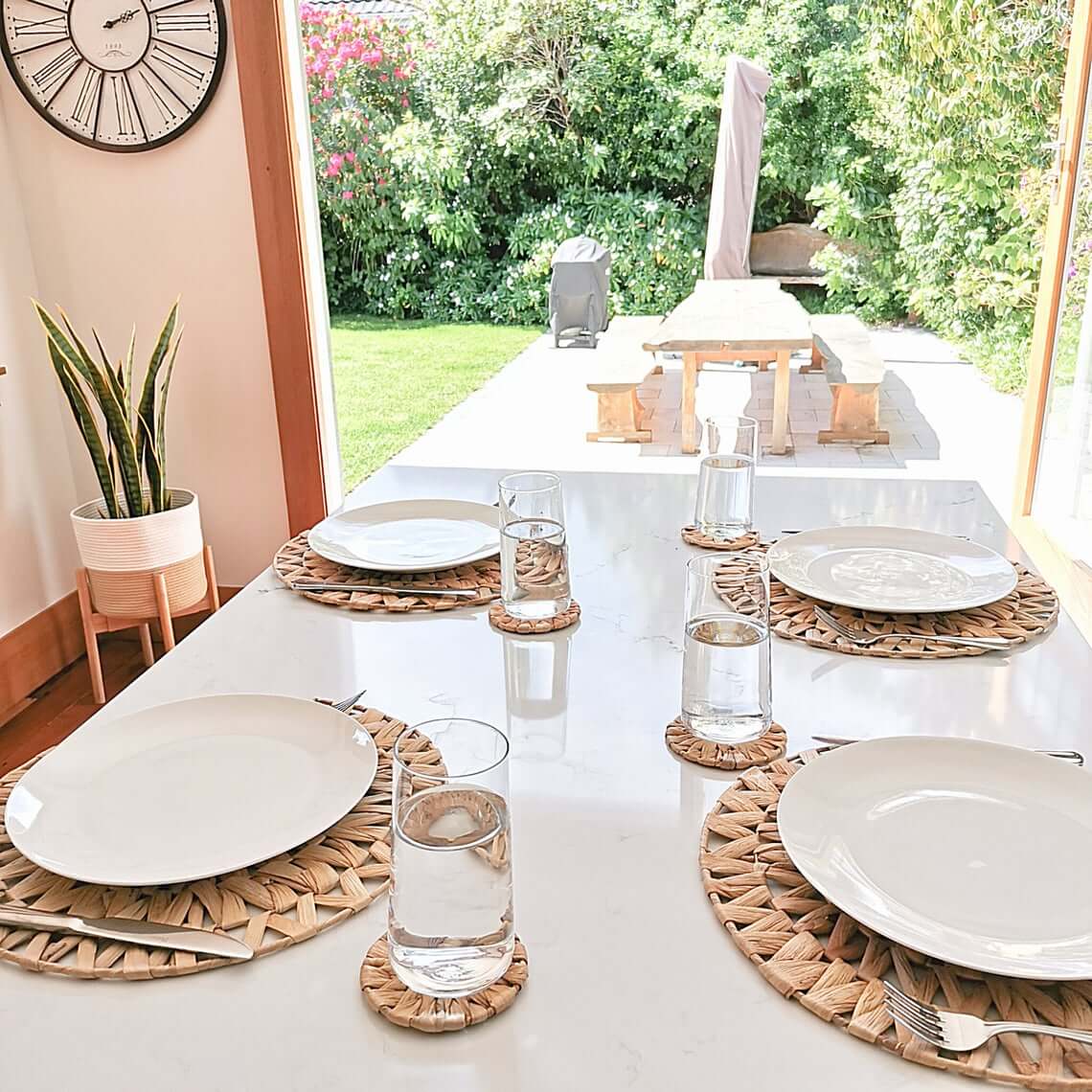 Dine inside with the outdoor elements when you incorporate these charming seagrass placemats and coasters into your dining experience. The intricate work that weaves this seagrass so beautifully into these dining room accents creates a casual and inviting atmosphere for your summer lunch. These cool circular pieces add so much style and charm without taking up unnecessary space on your table. They leave plenty of room for you to arrange all of the delicious foods or a focal point of a vase filled with vibrant colored fresh flowers.
6. Shades of Beige Catchall Woven Seagrass Basket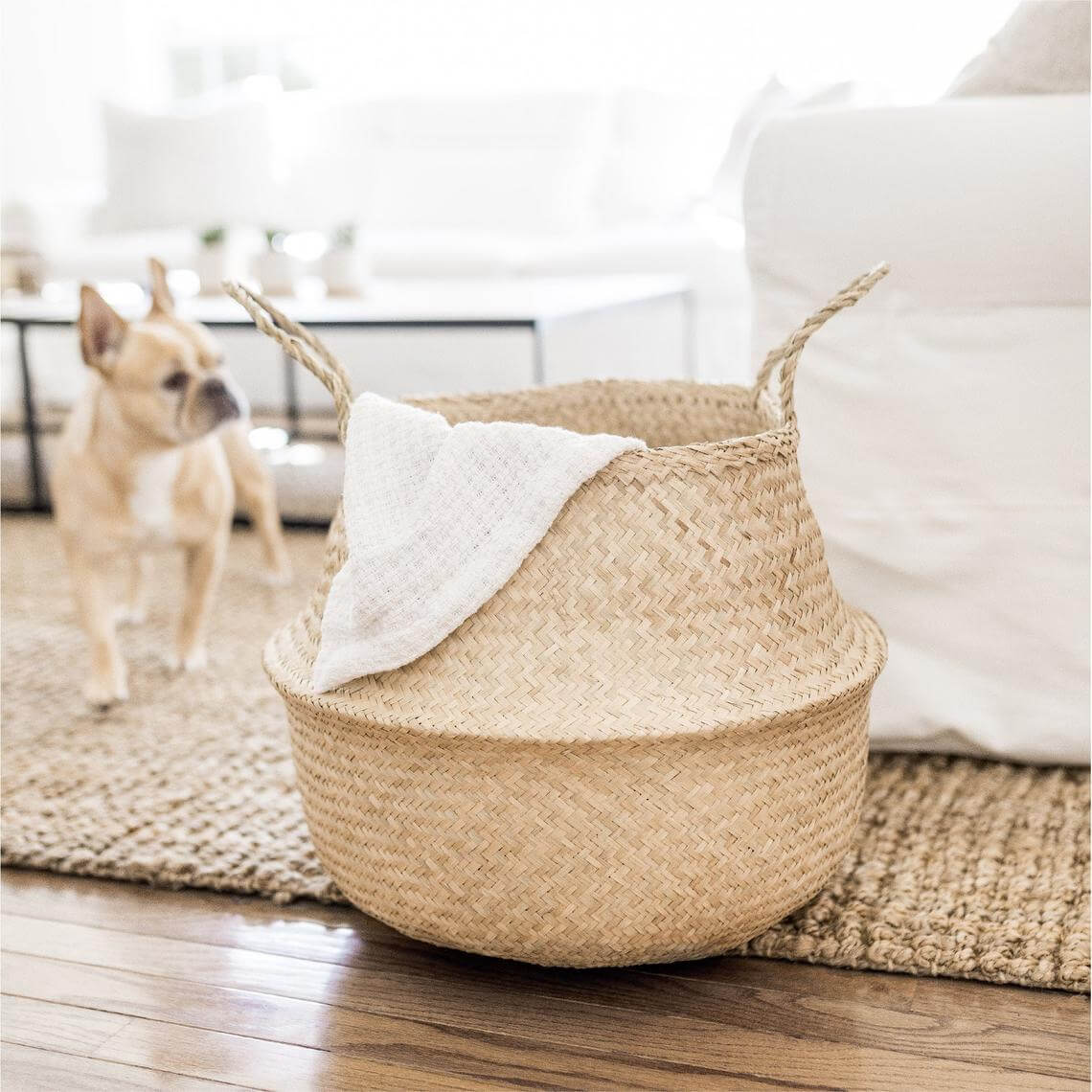 Here's an eco-friendly seagrass decoration idea that not only brings some beauty into your living space but delivers on function too! The gorgeous woven strands of seagrass create a beautiful arrangement of beige tones that will work in any decor. Everyone needs a go-to place for all of those little items from toys to blankets and using a belly basket adds a little unexpected twist on the shape of your traditional basket. Now, this is a storage solution that adds a charming decorative element to your family's favorite room in which to relax and unwind.
7. Tremendous Trio of Seagrass Wall Art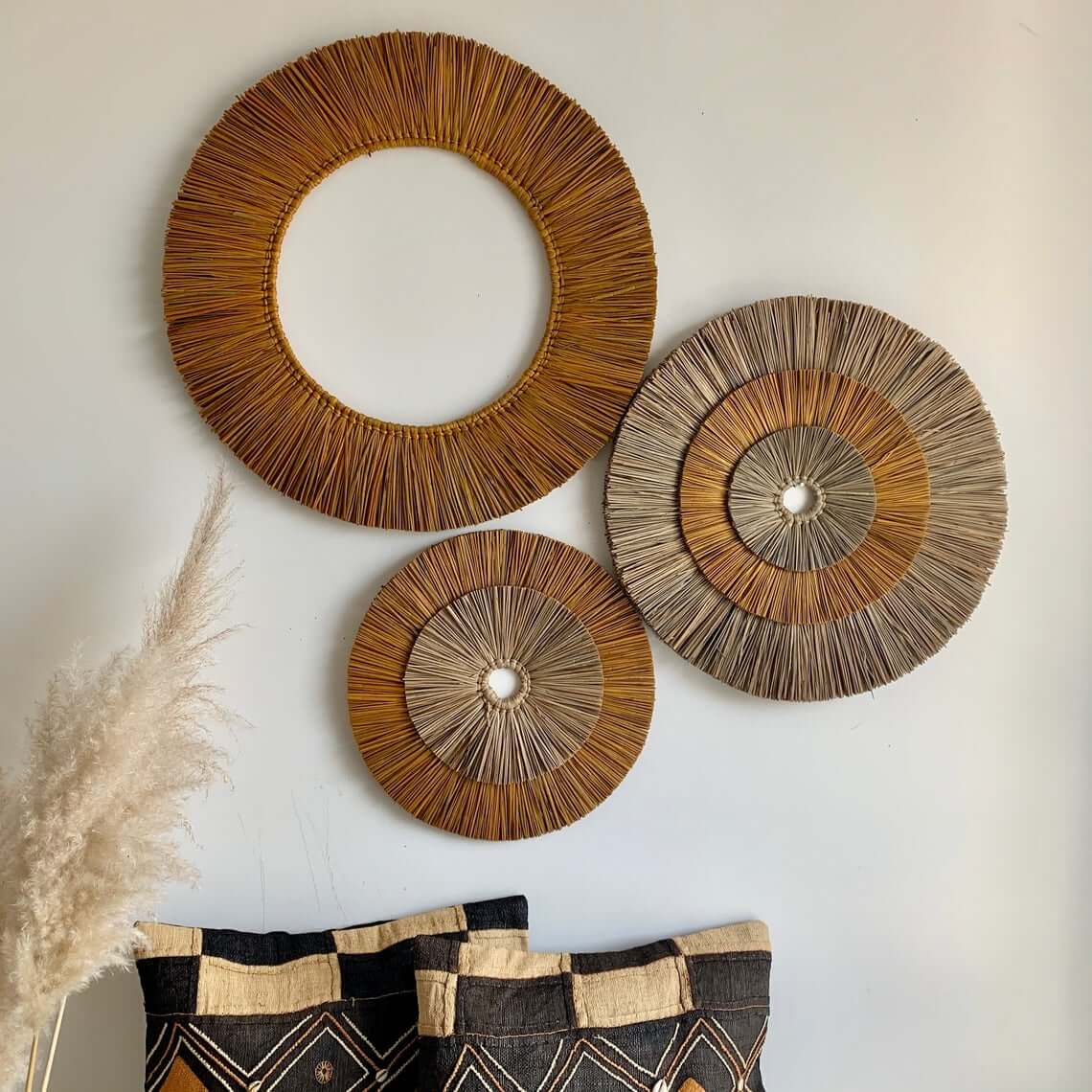 Check out this trio of seagrass wall art pieces. They work together to create a statement on one wall in your home. From a single ring to a three-ring display, this set features gorgeous neutral tones in two distinct colors. The golden tone has a rich depth and is perfectly contrasted with the more natural grain tone counterpart. Choose the main wall in your front entryway where everyone will immediately be greeted with this unique and bold earthy arrangement. One of the best parts of this eco-friendly seagrass decoration is its ability to add some style to a neutral space.
8. Savvy Seagrass Storage Solutions Bathroom Baskets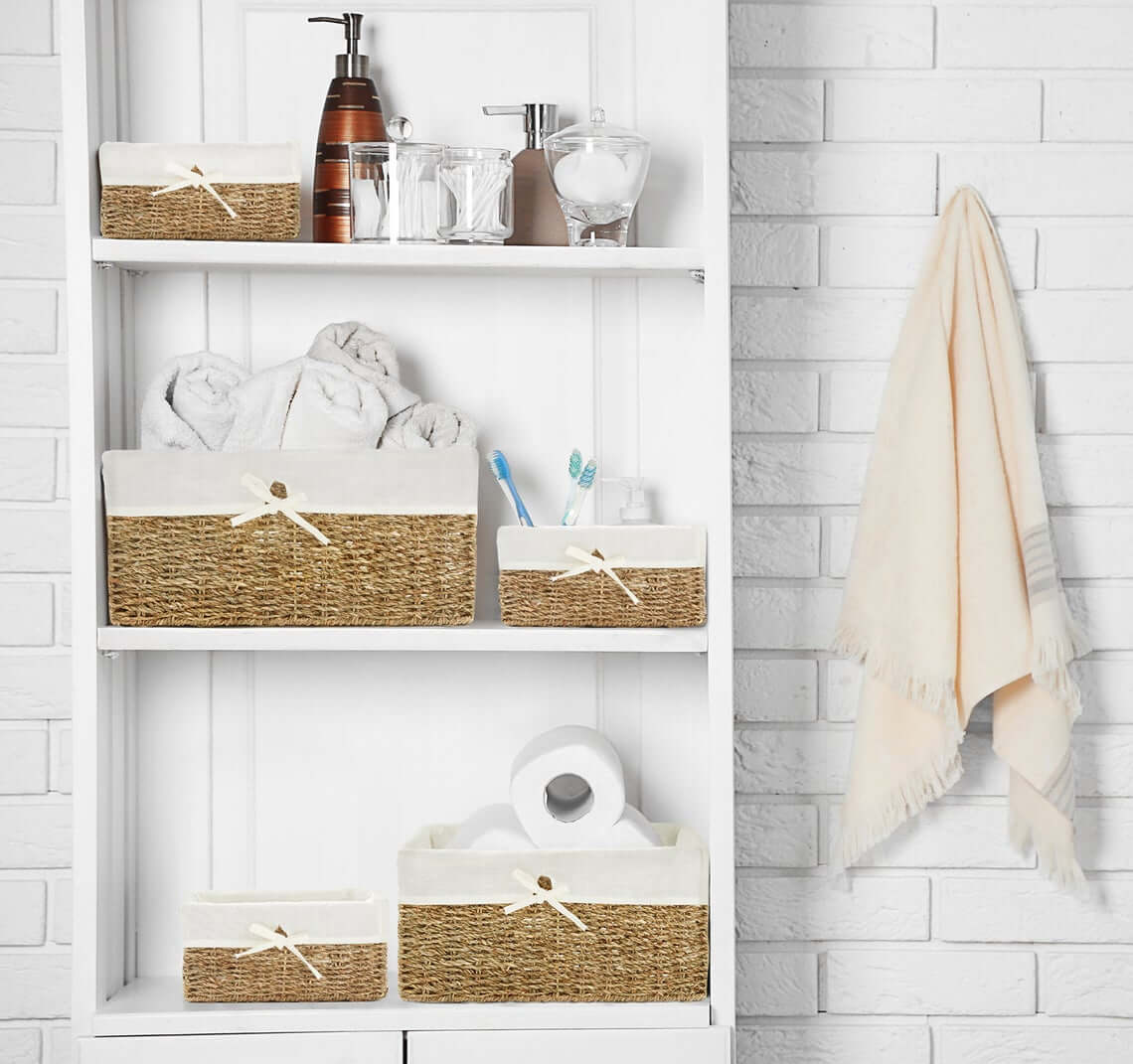 There are plenty of rooms in your home that need extra storage and the bathroom is an ideal place to start. In your restroom, you'll be pleased to store your go-to essentials from toiletries to washcloths in this darling set of seagrass baskets that are lined with a crisp white linen material. When it's time to apply your face in the morning, it's so simple and saves you time since you can grab the basket with all of your make-up essentials housed in one place. And even if you spill something, the handy liner can be removed and tossed into the wash making clean up a breeze!
9. White and Beige Hamper to Handle Laundry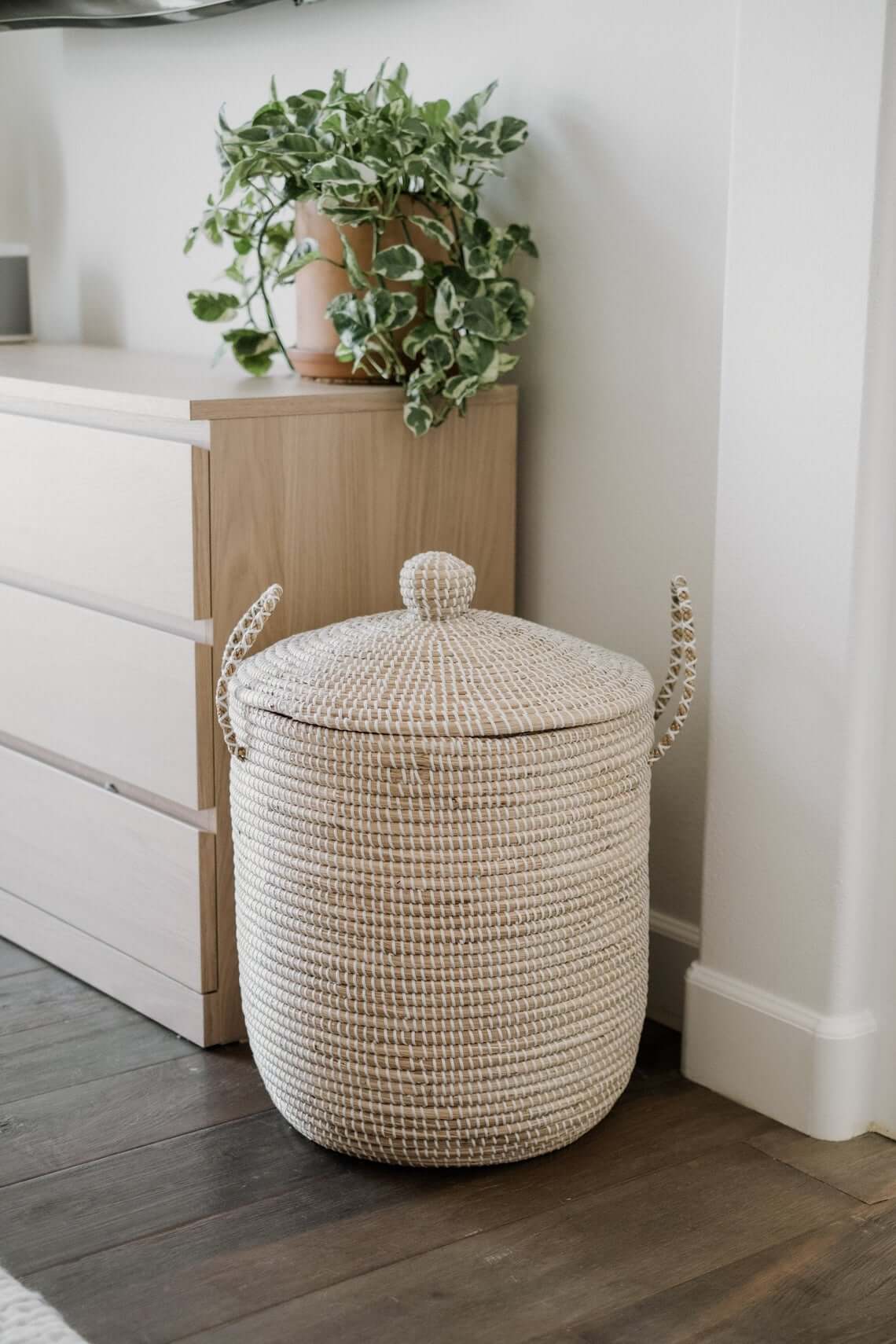 No pile of laundry is too much for this seagrass hamper. Featuring a set of handles on the sides, its portability makes doing the laundry a pleasure. And one of the best parts of this hamper is the lid that sits on top of it. It's such an awesome idea because now you have a necessary place to hold all of your soiled laundries while keeping them out of your eyesight. Another great use of this handy basket is as a toy bin for the youngsters or a holder for all of your canine essentials.
10. Duo of Seagrass Straw Hat Plant Holders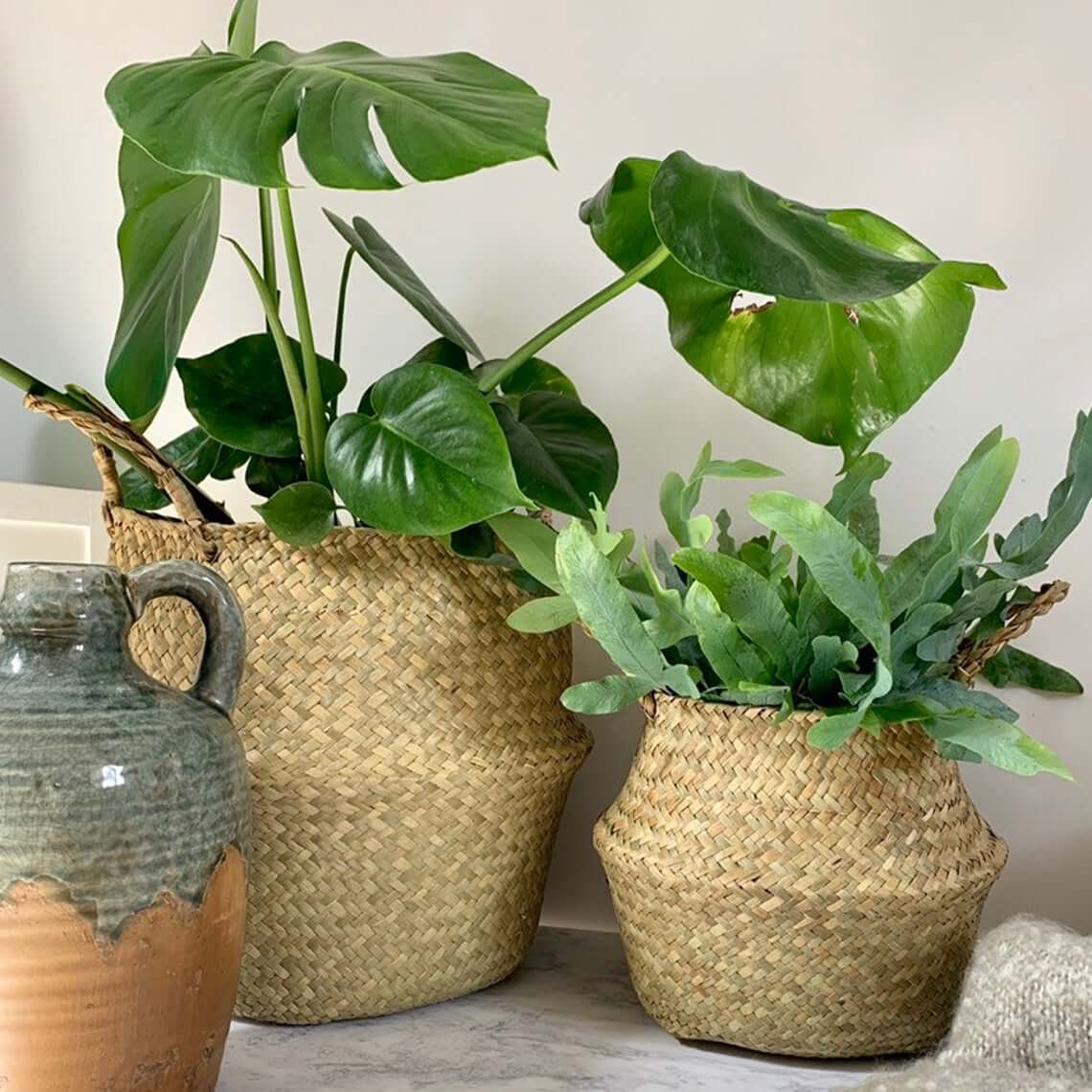 This pair of seagrass plant holders features a woven style reminiscent of grandpa's farming straw hat. Each has a set of handles on the sides to add some style and function to make transporting them around your home a little easier. The rich green of your foliage will be an ideal contrast to the clean and subtle blonde in the natural seagrass hues of this belly basket. Feature this dynamic duo near a large window to allow for plenty of fresh sunlight for your interior garden goodies to thrive.
11. Shallow Black, White, and Beige Catchall Basket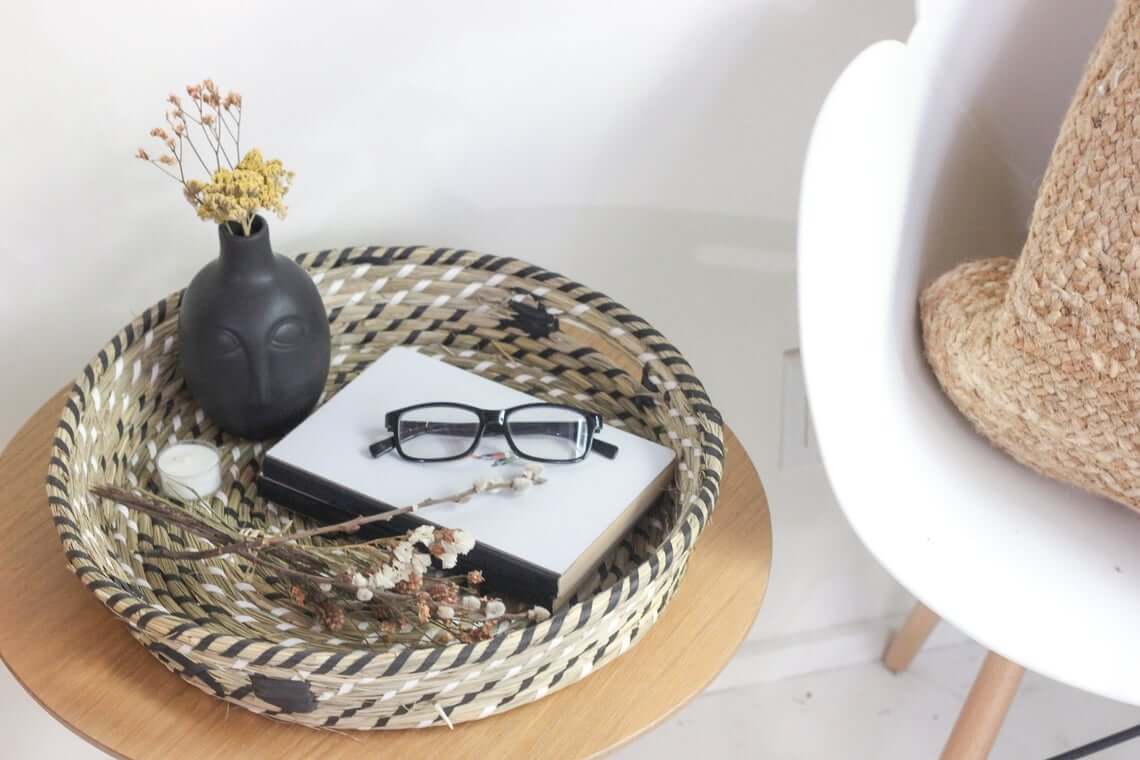 No matter if you need a corral to hold all of your little items upon entering your home or a place to stow some goodies beside your bed, this interesting shallow seagrass basket gets the job done. It's just deep enough to keep all your items together, but not too deep to make it a difficult task in finding them. Another fabulous option is to use it as a decorative layering element underneath your favorite collection of trinkets. If you're short on tabletop space, there is always the option of mounting it on the wall for an upgrade in texture and pizazz.
12. Two-Tone Seagrass Black and Beige Basket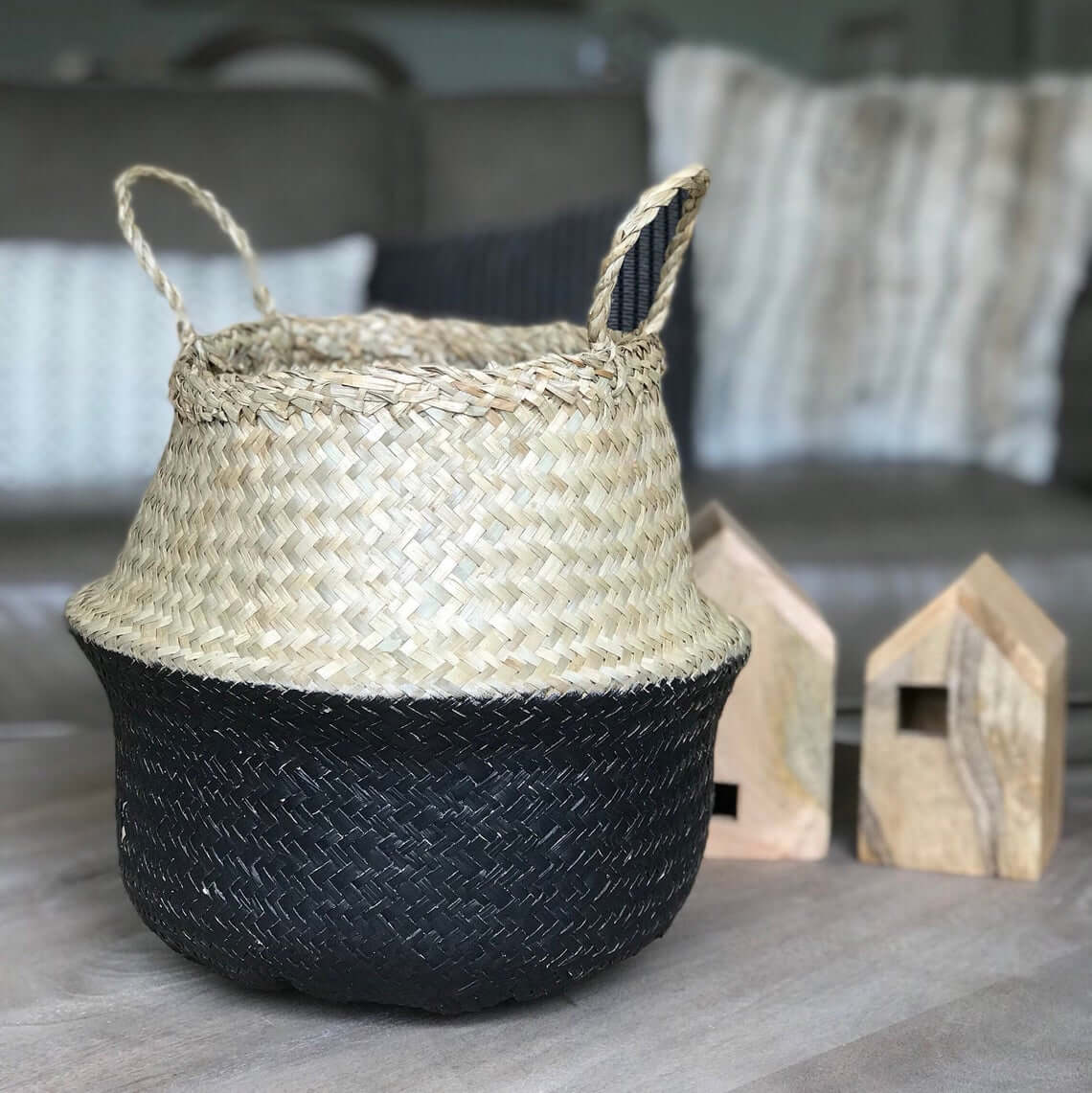 Put a modern vibe into a classic woven basket by incorporating this stunning and simple seagrass belly basket into your home. The rich and luxurious painted black bottom gives a pretty sheen and dimension to its overall look. Placing a favorite plant, as a small fiddle leaf fig, within this contemporary modern basket is a fun way to add some green into your home. What's not to love about this fascinating basket, since it would be equally adorable in a guest room filled with scented lotions and relaxing essential oils to help your favorite houseguest unwind?
13. Beaded and Beautiful Decorative Seagrass Wall Art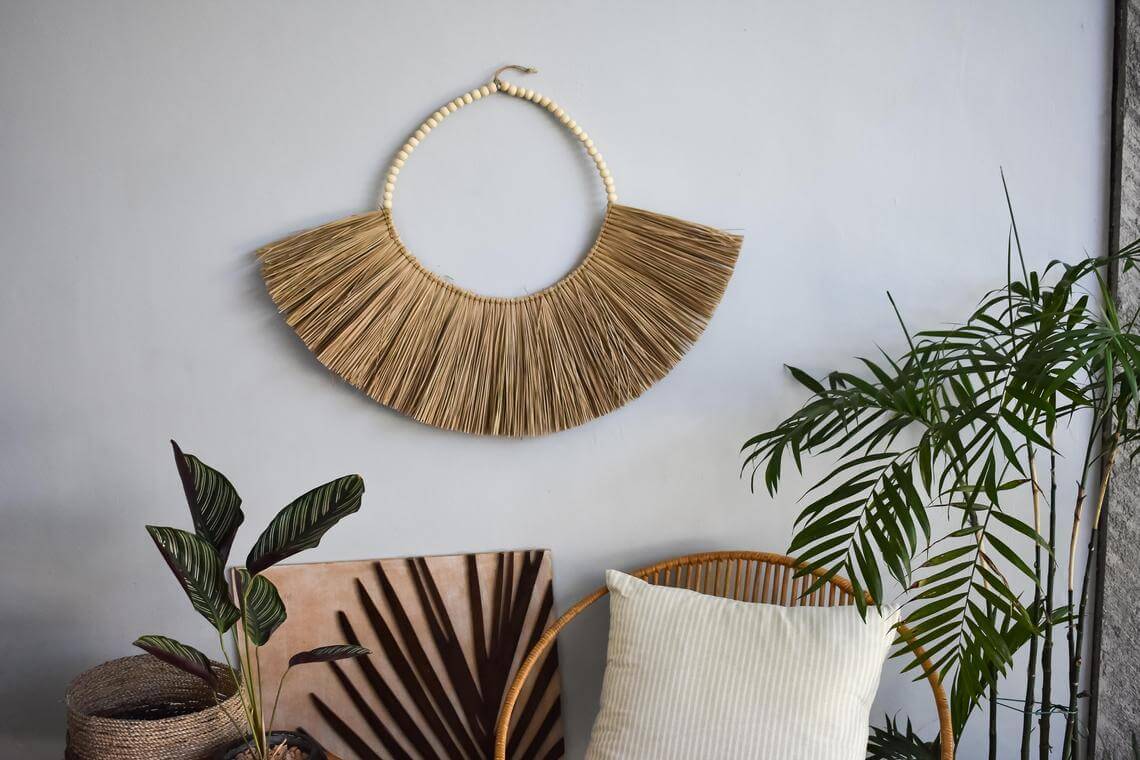 Simplistically add some style with this amazing piece of wall art. At the top, the beads add a slick and smooth contrast to the bushy and earthy seagrass tasseled semi-circle below. This would be super cute hanging in a bohemian-inspired baby's nursery or equally charming on the wall in your main living space. The mix of textiles makes it a delight for any eclectic-loving decorator. There is a subtle underlying sense of youth in this piece so keep it in your home to stay forever young.
14. Chevron Beige and White Perfect Sized Basket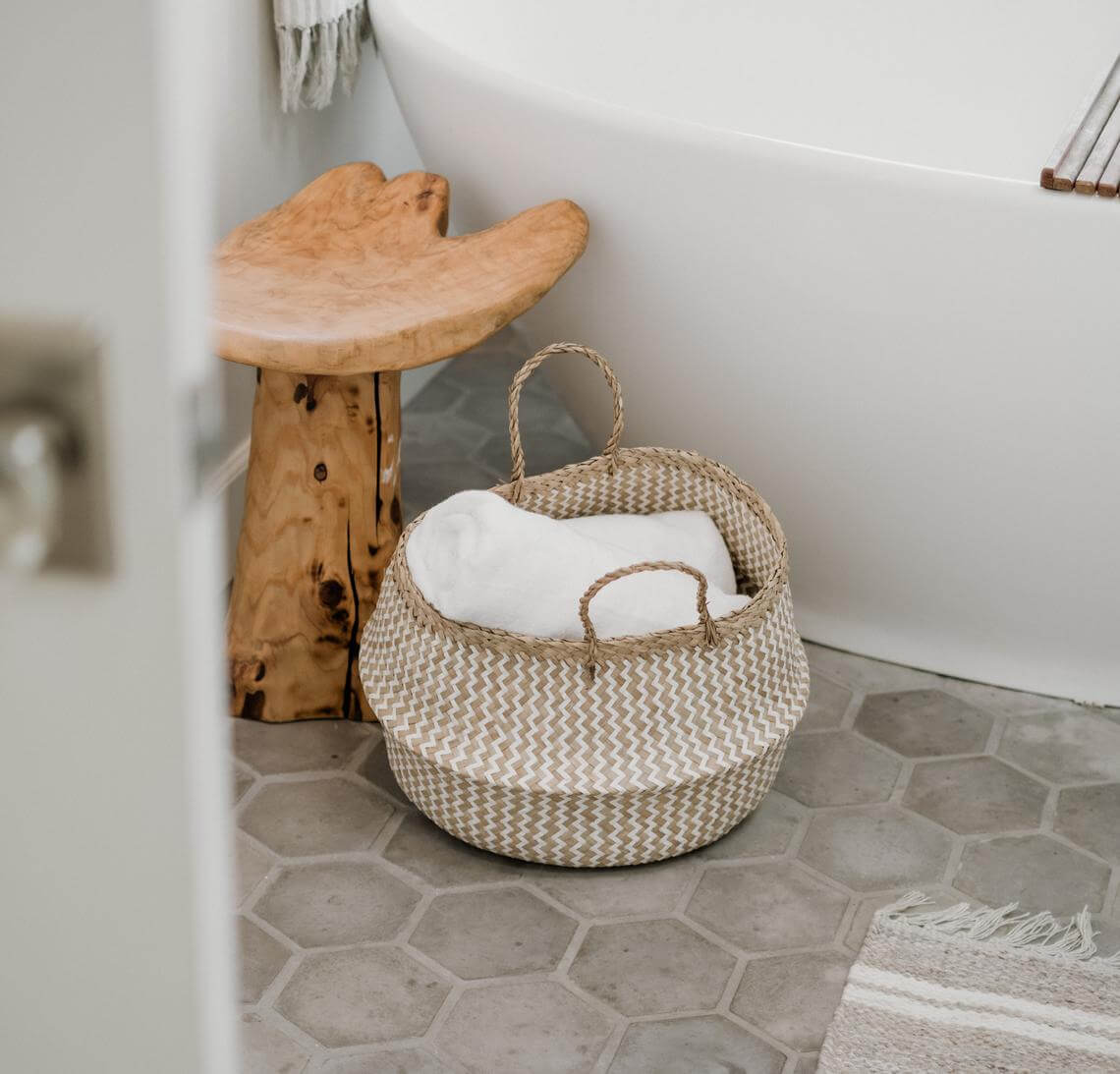 Here is the perfectly sized belly basket for adding to your home! It comes complete with a fun and modern chevron design set in a beige and white color combination. What a great way to hold your bath towels to make your bathroom feel a little more spa-like. It would be an incredible choice for holding doggie chew toys near the couch or a haven for art supplies in your kid's craft room. Nostalgia admirers might even place a few favorite magazines inside. No matter where or how you choose to use this chevron beauty, you won't be disappointed.
15. Rectangular Natural Seagrass Boxy Flower Vase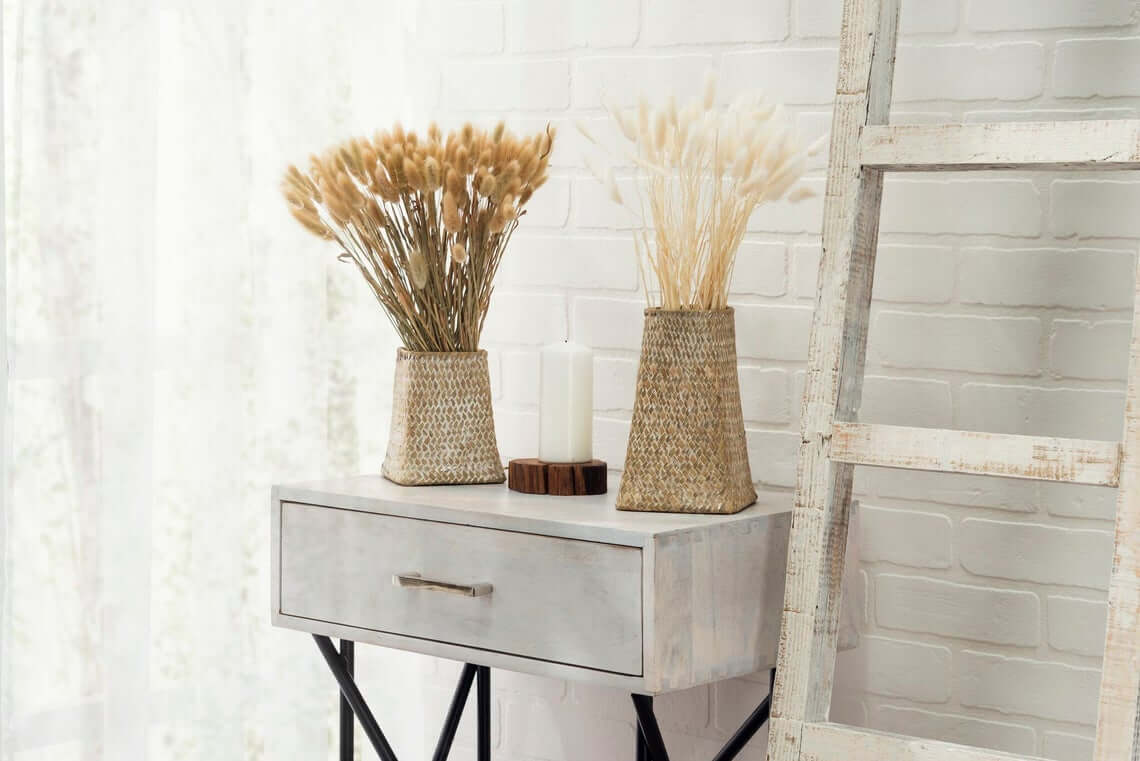 Don't let your breathtaking fresh flowers or bouquet of the harvest's bounty go unnoticed. Check out this unique spin on a flower vase. It remains with the same purpose while its design has been completely transformed. The sides are rough and smooth at the same time as the seagrass blades weave together to create the beautiful texture and interest in this vase. Fill it to the brim with your choice of flora and fauna. Set it on a side table or dining room table to add some height to your tablescape design.
16. Spectacular Sunburst Seagrass Decorative Mirror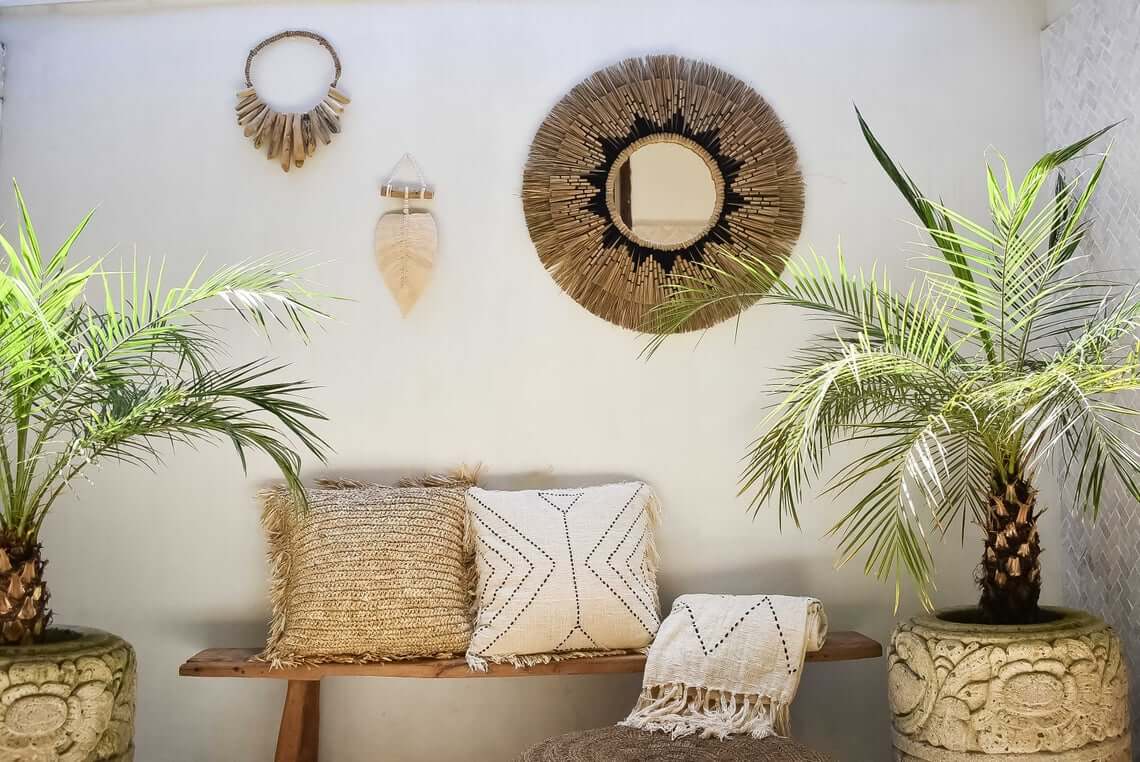 No matter the season, you can always have a ray of sunshine with this spectacular sunburst seagrass decorative mirror. The center mirror is trimmed with the triangular detail that makes it pop as it's finished in matte black paint. Around the remaining portion, the earthy tan seagrass plumes engulf the rest of the piece. It's a fun addition to a back patio space or anywhere it can reflect some beams of natural sunlight. Placing it in a space where it can enjoy some greenery makes perfect sense and is an important item to consider.
17. Airy Natural Seagrass Beach Bag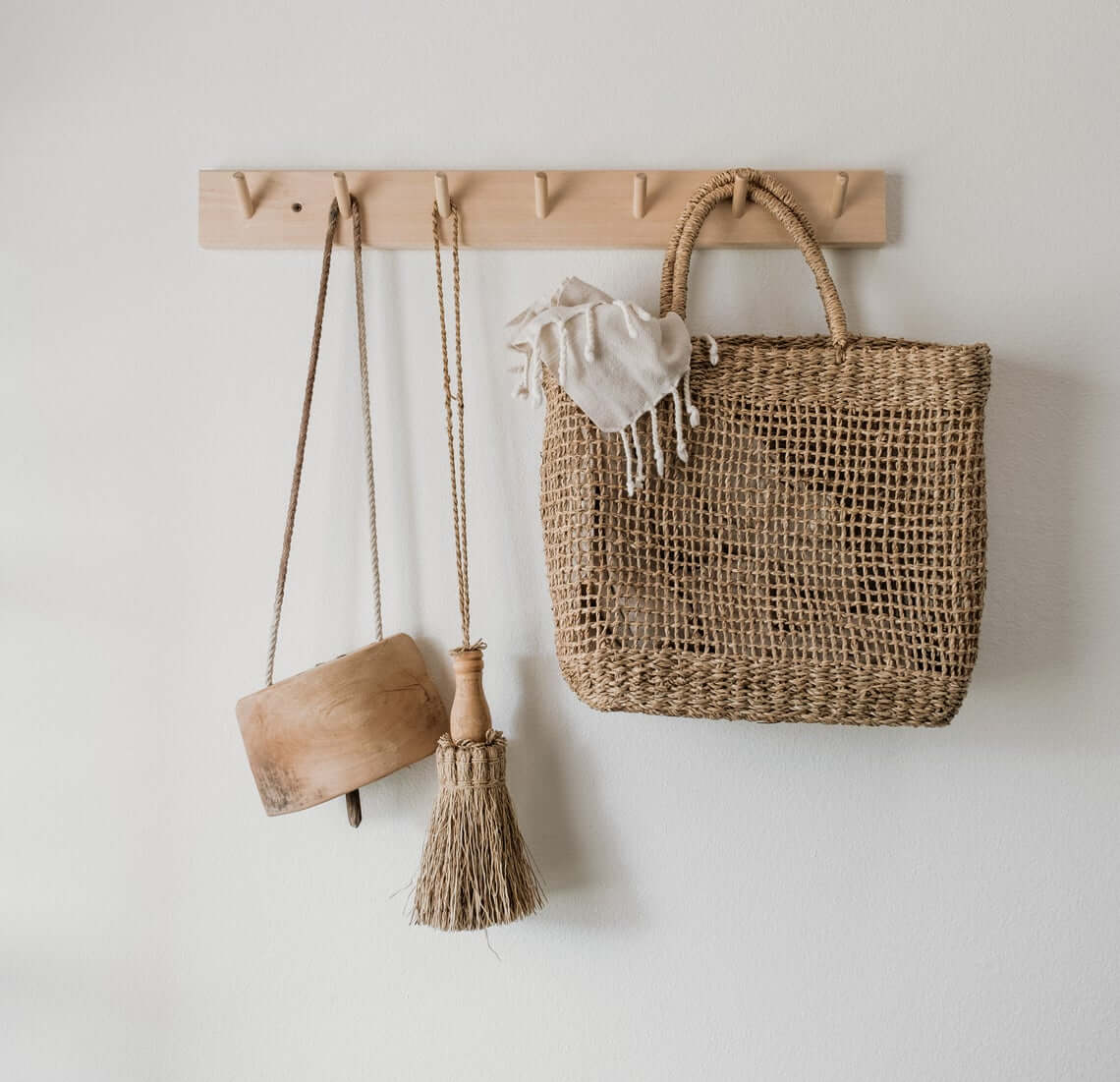 Every girl adores a day at the beach and having a cute bag makes it even more fun! Fill this open and airy beach bag with some summertime essentials like sunscreen, sunglasses, and a beach towel to be ready to go or to make the perfect gift for your girlfriend. The handles make it easy to carry everything you need and hang it up when you arrive at home. All that sand won't be able to settle and take up residence as the airy design keeps it clean with a simple shake. Take it while strolling around some of the small business shops while you vacation to hold any souvenirs or treasures you might find.
18. Pretty Meets Practical Woven Serving Tray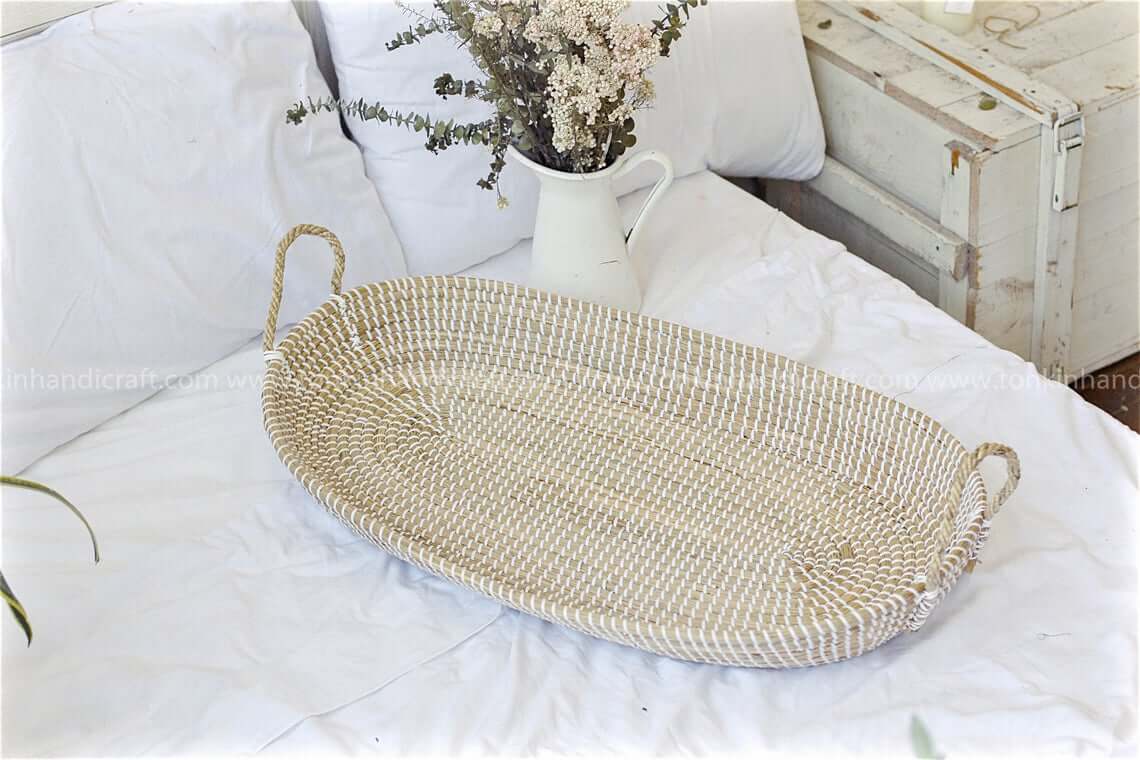 Place this pretty serving tray at the end of your bed to add a bed and breakfast vibe to cozy up your weekend at home. It adds style and texture to your interior design and can be used in so many other rooms too. Set it on your entryway table to hold your mail each day or fill it with a collection of candles to set the mood for your soak in the oversized tub. It is also a great choice for gifting to your favorite hostess as you arrive at her party. Just be sure to fill it with a tasty charcuterie board or some decadent chocolates as your way of saying thanks for the invitation.
19. Decorative Frayed Edge Seagrass Doily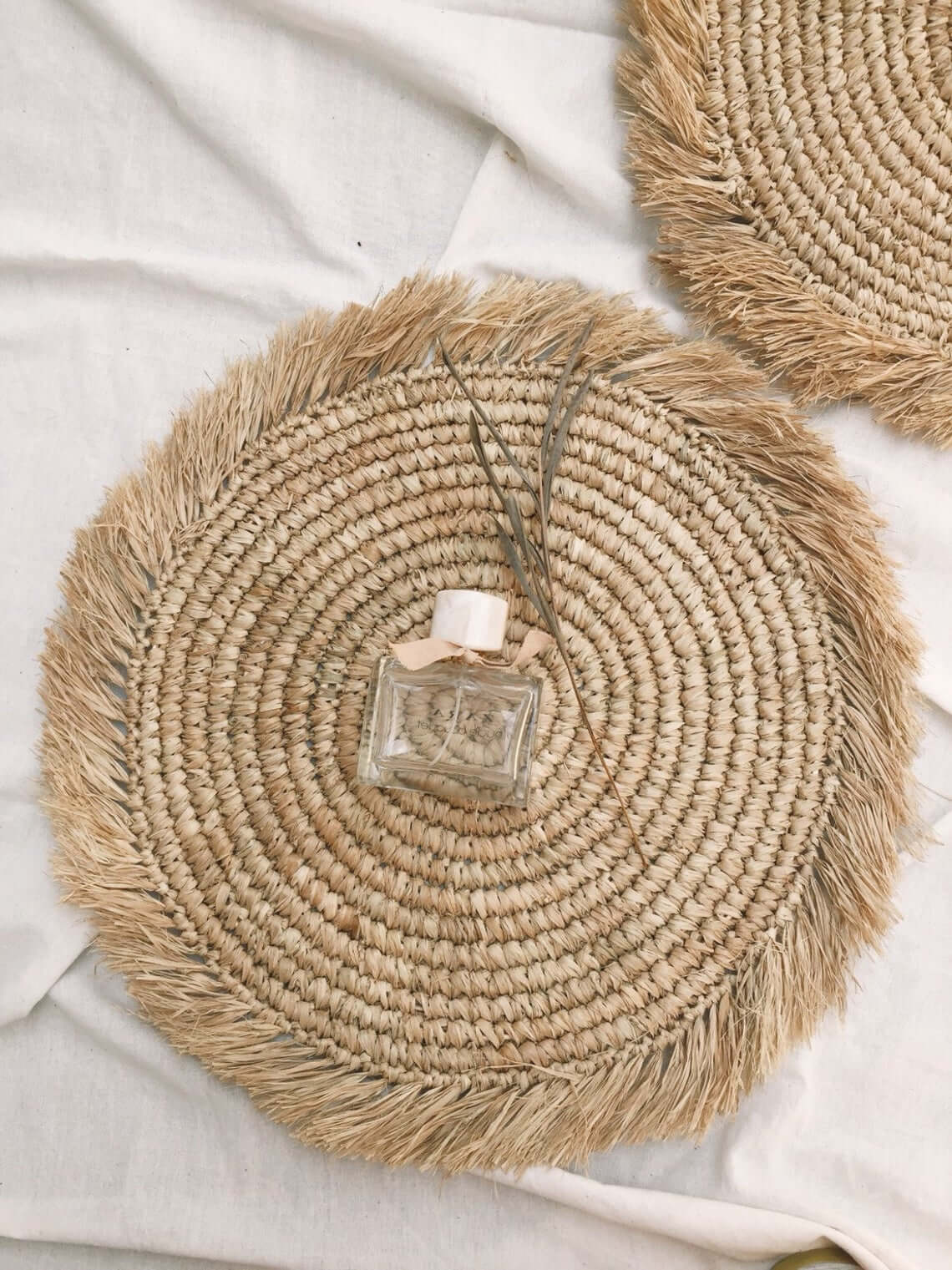 This modern twist on the timeless classic doily is both interesting and fun! The frayed edge adds an element of texture completely unexpected from your everyday lace counterparts that showcase a smooth, sealed border. There are so many ways to style this seagrass creation so it will feel right at home in nearly any room in your house. In the bedroom, it makes a great place to rest your spectacles and a favorite book or a bedside companion for holding your essential electronics. For the kitchen and dining room, you can use it to ground a lovely vase filled with flowers for a dramatic centerpiece effect.
20. Airy Netted Woven Seagrass Lamp Shades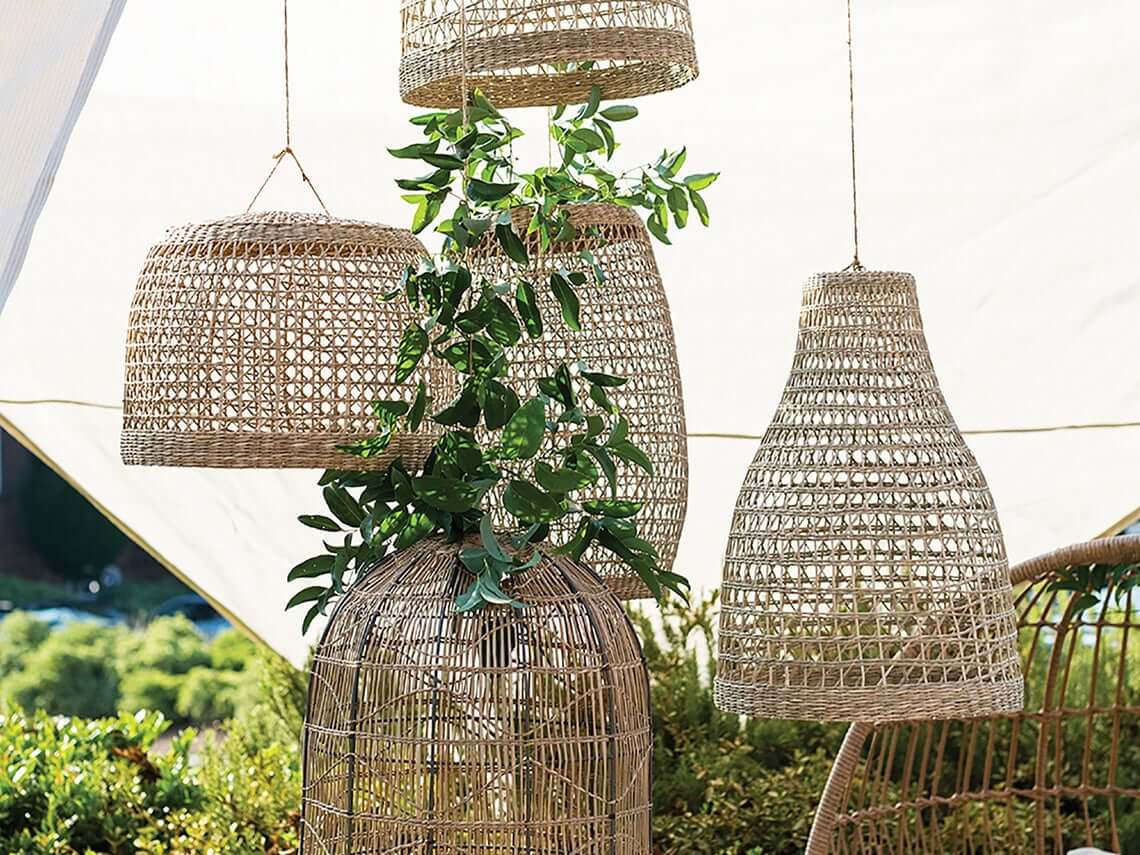 Choose from a variety of shapes and sizes to find the stunning seagrass shade that's the perfect fit for you! The open pockets created from the woven netting of the shade provide plenty of places for light to shine throughout your space. This is a fun and interesting look for a back patio or side porch, yet it also looks great dangling above your kitchen island as an alternative to the traditional metal pendant fixtures. Hang along with some of your favorite vine sprouting plants for an additional touch of fun!
21. Tribal Design Beige and Green Shallow Basket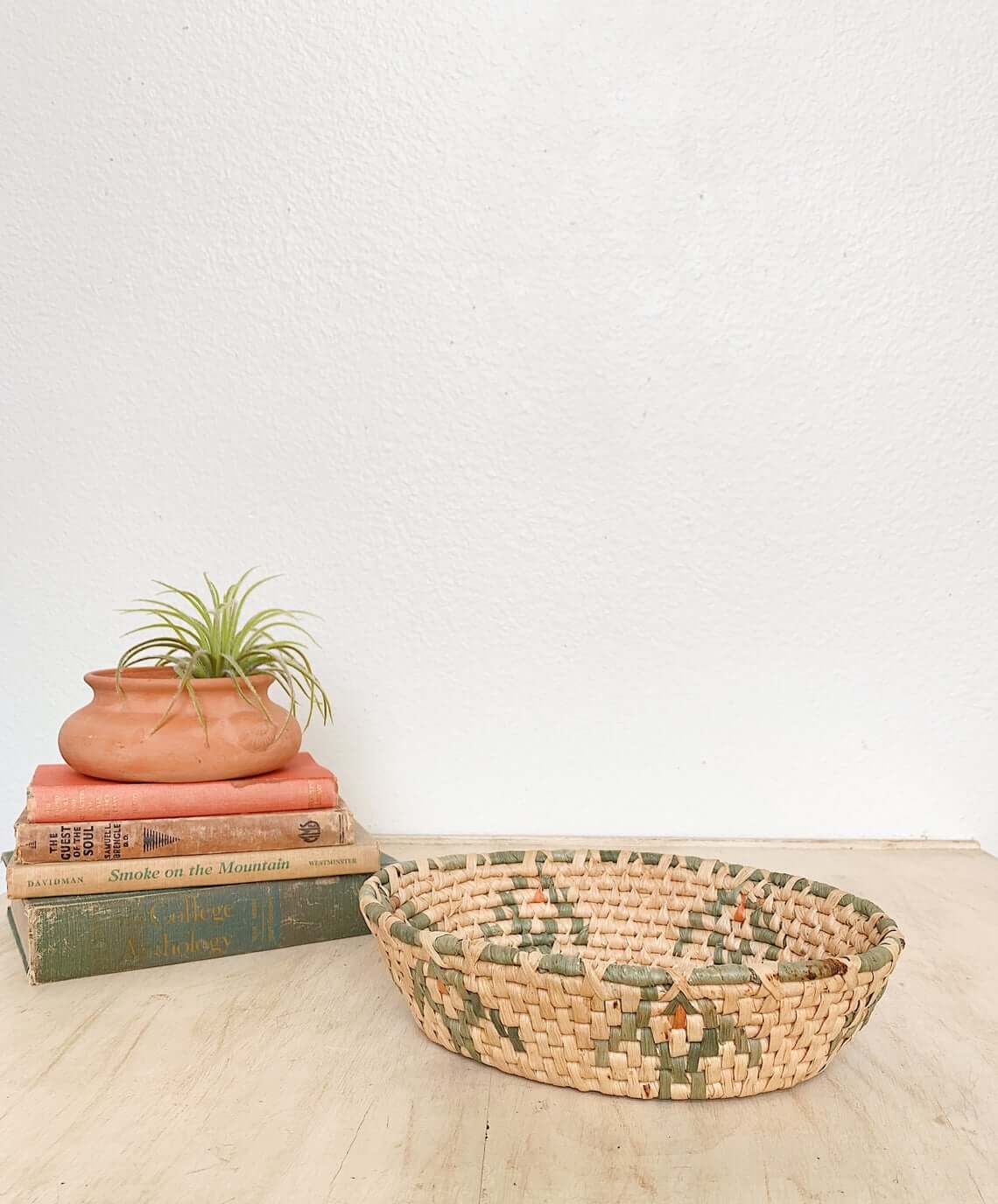 Who doesn't love a shallow basket that's small enough to fit on every flat space in your home? This lovely blonde beige seagrass creation includes a pop of color by including a tribal-inspired design in a muted olive green tone. You can fill it with some special trinkets and serve it up as a gift basket for a friend or neighbor. It's always nice when the packaging of a gift doubles as part of the gift itself. Serve up some gratitude as you enter the home of your next hostess and embark on an evening of fun.
22. Medium Seagrass Belly Basket with Tassels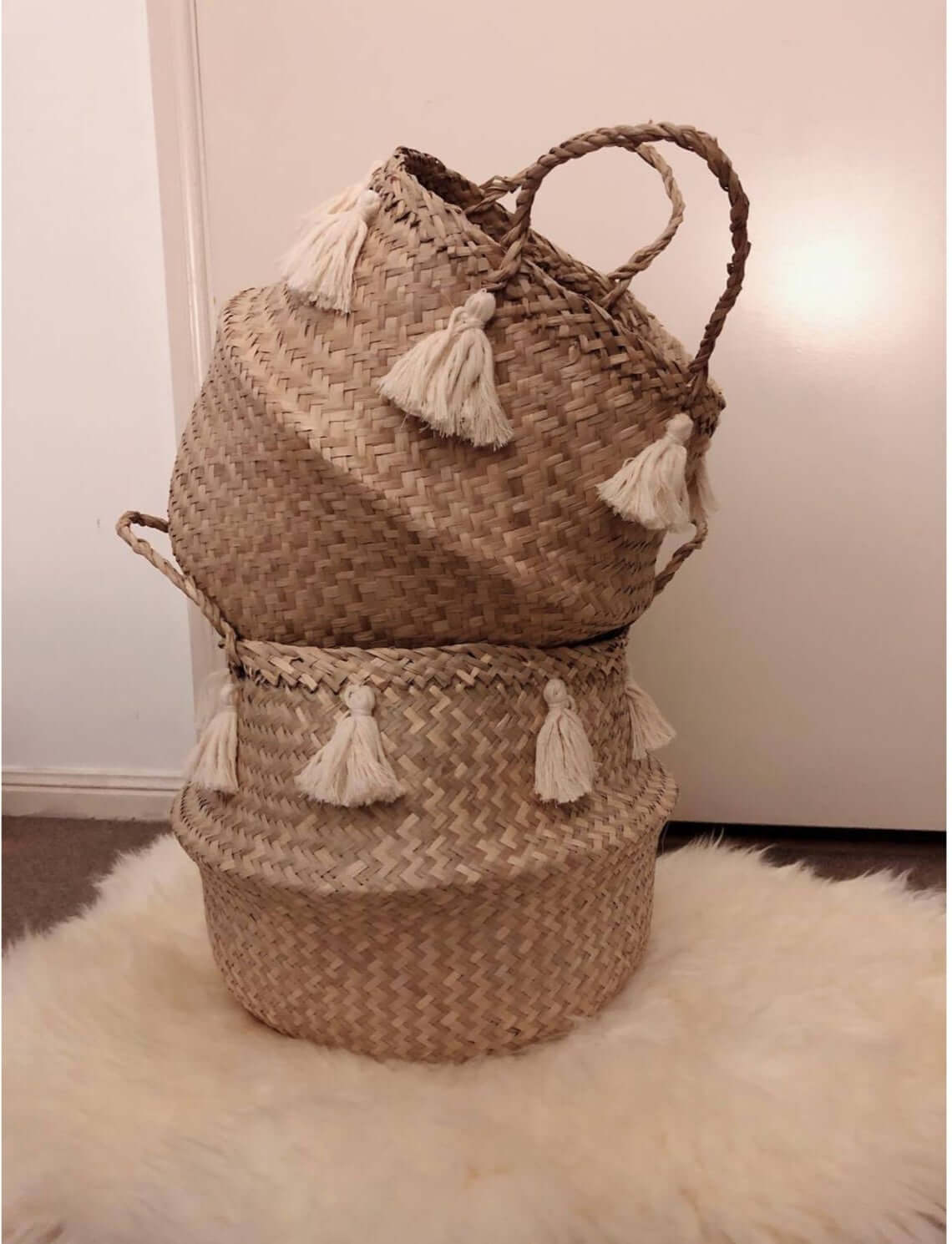 Add a pop of fun into your interior design and storage system with this cute seagrass belly basket embellished with tassels around the rim. The gentle sway of the tassels gives a soft comfort to the atmosphere in your home. Add one to your nursery or kid's room as an extra bin for all of those endless toys and figures to keep from getting lost. Or nestle one in the corner of your living space so all of your reading essentials are within arm's reach, from your book to your blanket.
23. Special Seagrass Woven Rims Wreath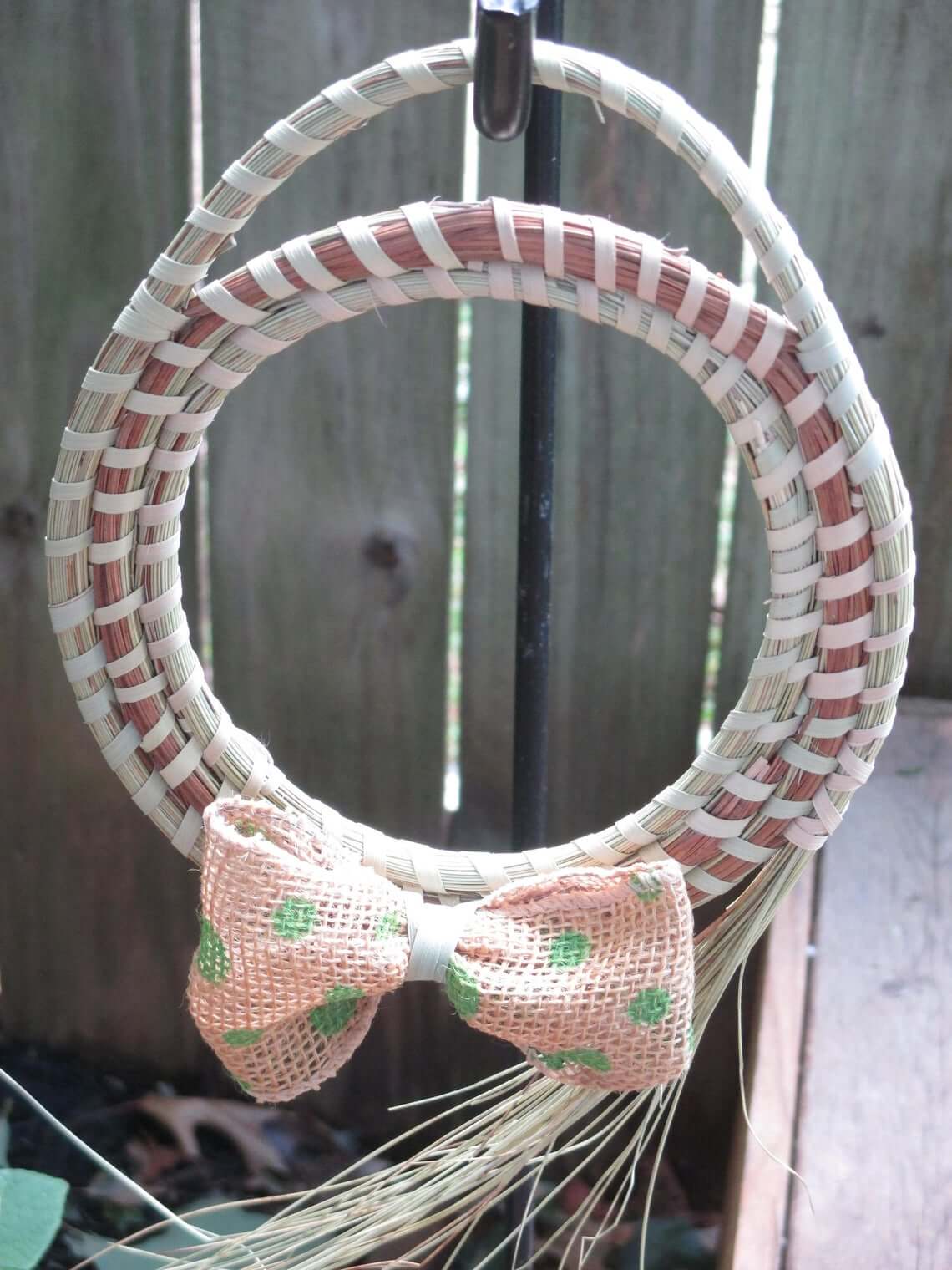 Go beyond the grapevines and channel a little seagrass into your wreath-making scene. This lovely and cute little wreath is a splendid change-of-pace from the traditional grapevine wrapped ones. At the bottom, the colorful and patterned burlap bow adds even more texture and a hint of color to this guest-welcoming home decor accent piece. Perch it on your front door or on the shepherd's hook in your flower garden for a nice addition to help welcome all of your guests.
24. Indian Motif Woven Seagrass Flower Vase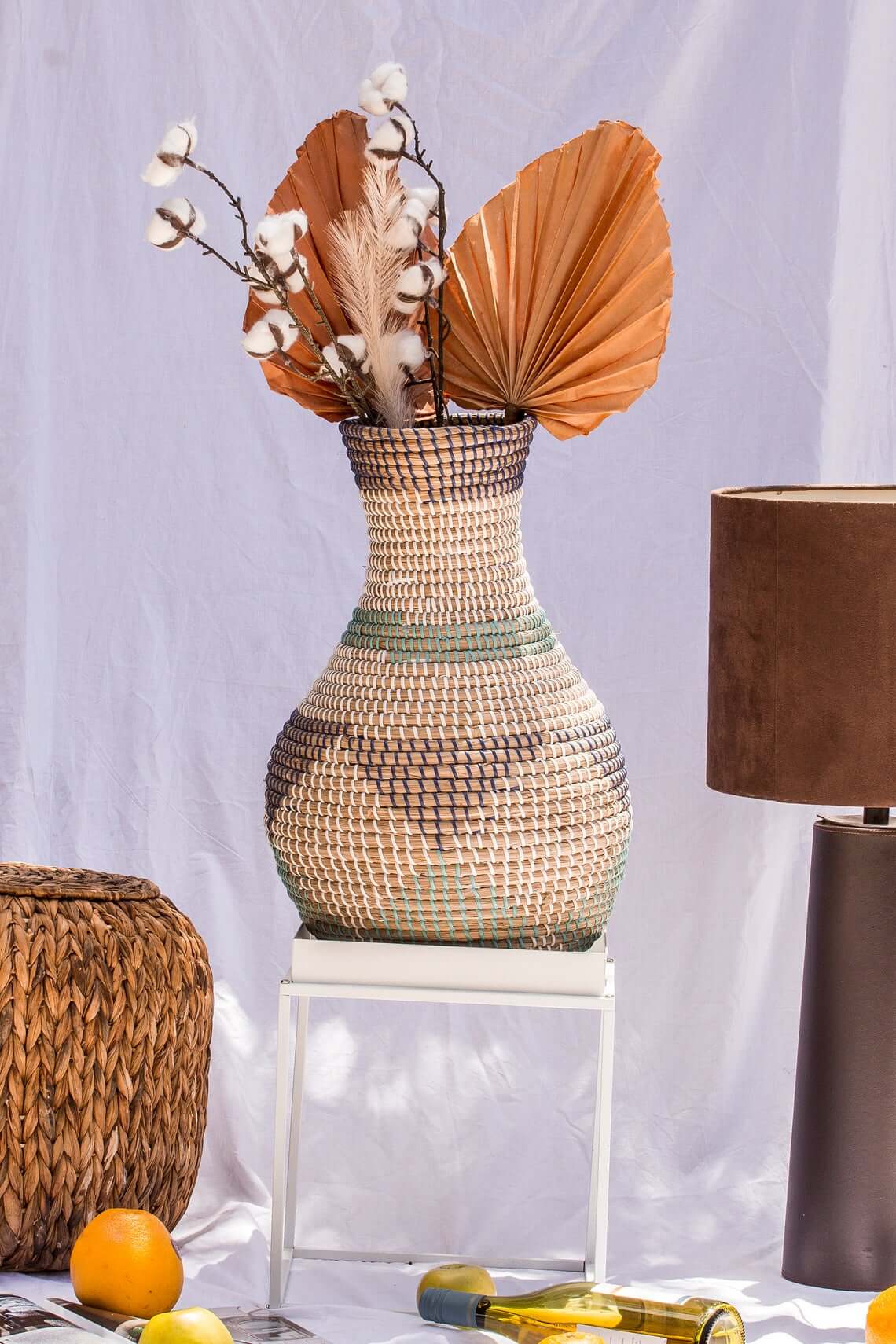 Culture and creativity collide in this beautiful woven seagrass vase featuring a pretty palette of neutral tones set in an Indian motif. The pyramids enhance the silhouette of this vase that is reminiscent of the patterns on some of the most dangerous slithering creatures on the planet. This natural beauty would make a statement in a home office or work as a hub for treasured plumes from personal nature explorations. Toss in a store-bought bouquet to make a semi-homemade hostess gift at your next dinner party.
25. Decorative Black, White, and Tan Zigzag Plate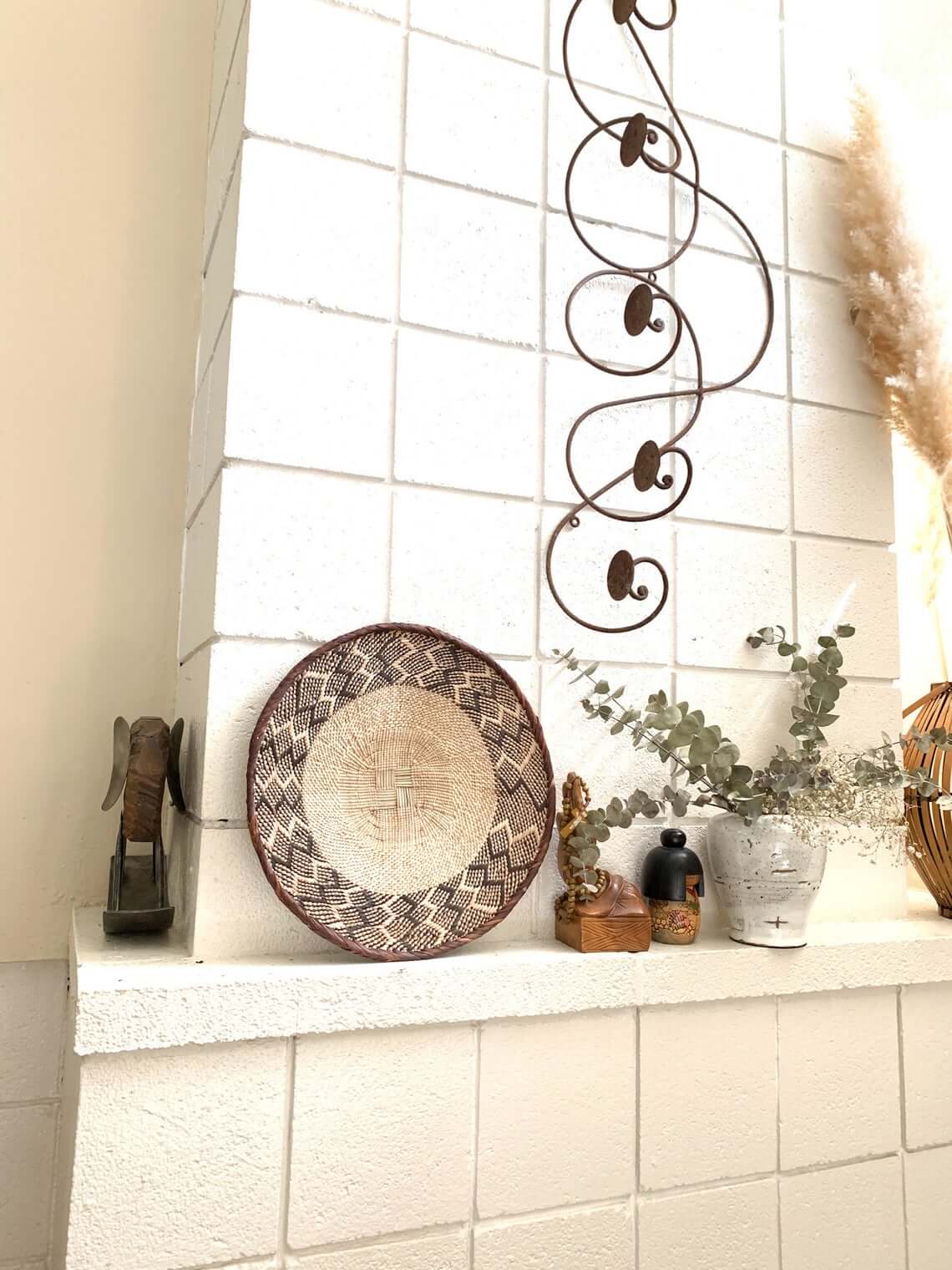 The attention to detail in the zigzag pattern of this decorative plate is right on the money and makes it one of the best eco-friendly seagrass home decor ideas! All around, the border comes to life with the alternating black and white hues captivated in this clever pattern. Propped up on the mantel is a perfect perch for this classic beauty to call home. Bring a part of your world travels into your design by including such an authentic jet-setter souvenir into your home.
26. Seagrass Belly Basket and Box Basket Set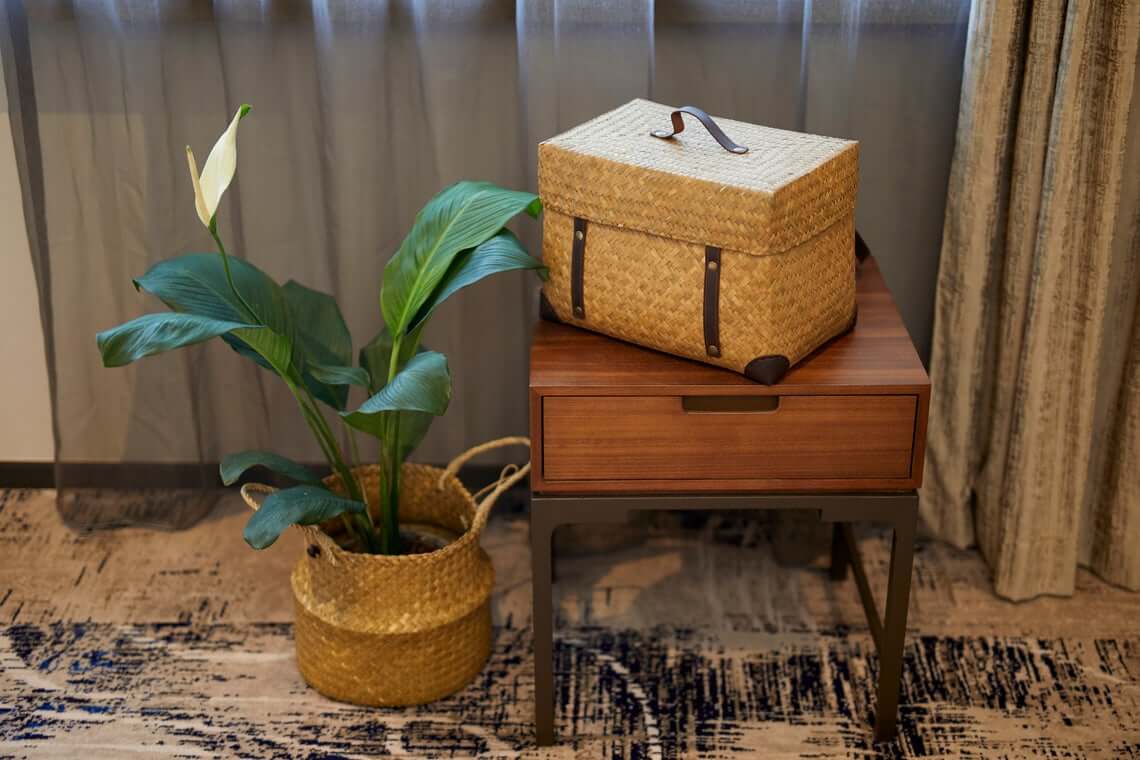 Here are two distinctly differing seagrass baskets and how they can be arranged. Take your standard belly basket and utilize it as an everyday house plant holder on your floor. Or, discover how this non-conventional basket shape of a box can be functional on top of your side table as a perfect storage solution for books, candles, and almost any household item. Maybe you need a new hub for your remotes, chargers, and other everyday essentials. You can neatly house them in this box basket and secure the lid to keep the clutter out of sight. The addition of its lid makes this box basket a number one pick for seagrass baskets full of purpose and charm!
27. Seagrass Storage Cube Companion and Caddy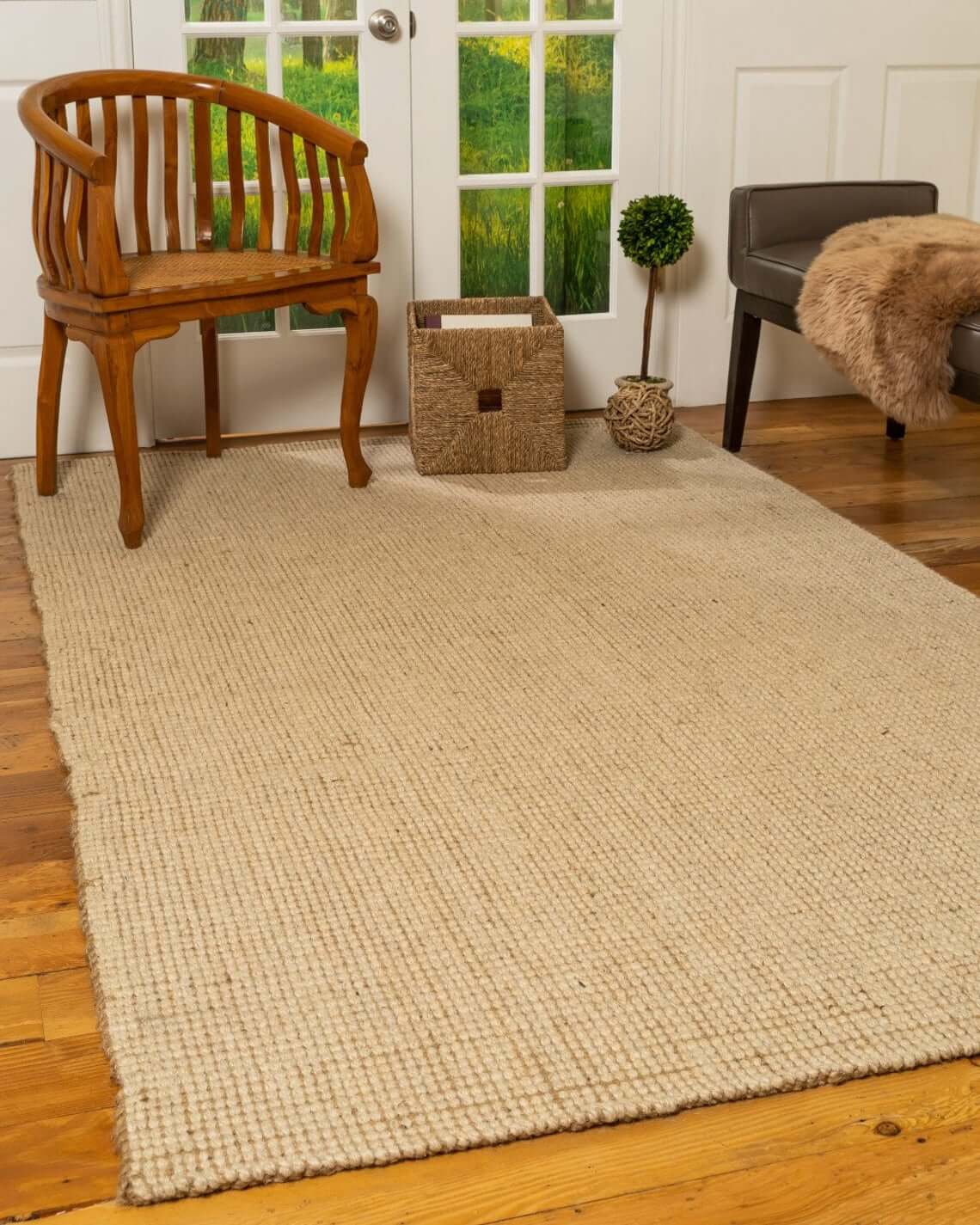 Storage cubes have been appearing in all sorts of designs and they continue to evolve in their style and design elements. Move beyond the norm and forget the collapsible canvas types as you embark on a more sophisticated path with this seagrass version that is one of the best eco-friendly seagrass home decor ideas. On the floor or top of your credenza, you will appreciate the modern twist the seagrass offers. Fill it up with your toddler's building blocks or car collection or use it to hold all of your teenager's video games. It's a cool hang out for a craft-making station as it can be picked up and taken to your favorite comfy crafting nook to crochet that scarf or string along with a new bracelet.
How Seagrass Beats the Bark Off Woven Wood Baskets
At the end of your shopping journey, make sure you're equally happy with both the look and feel of your choice(s). To put it simply, don't settle for a boring piece just because it's good for the environment; however, remember you can stay true to saving the planet while staying in style.
Out of this collection of eco-friendly seagrass decoration ideas, you can't go wrong with your choice! Maybe you need a rug to ground the overall look in your warm and welcoming entryway. Or you might just need a few simple storage solutions and the amazing look and handiwork of seagrass belly baskets is the right choice for you!
While it's always exciting to receive an invitation to a dinner party, often it's difficult to choose a hostess gift. Make it less stressful by keeping a few woven serving trays or shallow baskets on hand that is easy to fill and make the perfect gift for any hostess you know. You will set the tone for a most enjoyable evening while also giving inspiration to others with a gift of one of the best eco-friendly seagrass home decor ideas floating around.
At the end of the day, it's nice to sit down and relax in a space that channels your inner being. From designs that define your passions and interests to details that make the environment happy, choosing to use eco-friendly materials in your home is always a win-win!