Egg chairs are a phenomenal choice for many reasons from being decorative to giving you a good place to relax, so we discovered some of the best egg chairs to add to your home.
24 Cool Egg Chairs to Bring Your Personality to Your Décor

This type of furniture is a bit unusual at first glance as it doesn't look like anything else we usually have inside our homes. The egg shape stands out right away, but it aims to provide you with something more comfortable, something that nests around you and settles you in. Because of this, it can provide an incredible amount of comfort, so it is understandable why these chairs are so popular. Due to that popularity, there are numerous egg chairs on the market, so discovering which one is the right one for your home can take some time and a process of elimination. A good way to do that is to understand exactly what you're looking for.
Do you need something to fit with a specific type of décor? Some egg chairs are more modern than others, while some take a different approach by giving you a beach-like design that fits a boho style more than anything else. Others are made simply to sit in, while some feature more support so that you can completely lounge back to the point that you are almost laying down. There are egg chairs meant to hang up and others that are on the ground like any other chair. You can even find some made with everyone in mind no matter the size, while others are geared toward children.
With how many options were available, we wanted to ensure you had a good deal of choices to pick from. So, we discovered a healthy variety of chairs with the hopes that you are better able to come away with the best egg chair to suit your home.
1. Encase Wicker Rattan Porch Lounge Egg Chair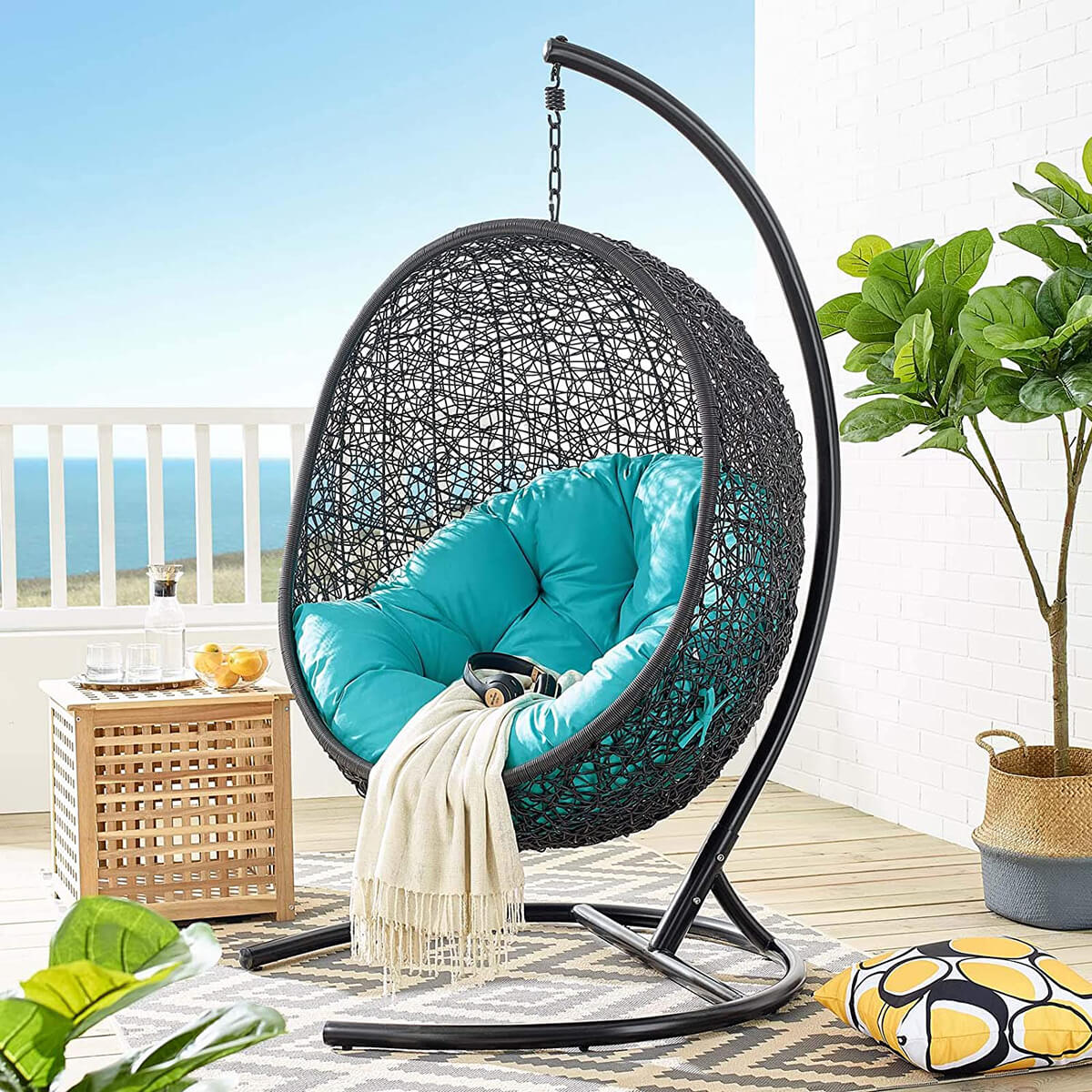 Modway has created a refreshing Porch Lounge Egg Chair that comes with a reliable stand so you can set it up and lounge back in no time. It is well-made so that just about anyone can sit in it, making it a good choice for the whole family to use. The egg shape alone gives it a captivating design so that it will instantly stand out no matter where you place it. If you want to use it outside, rest assured that the cushion will last thanks to the all-weather fabric. In case anything happens, it has a machine-washable cover that you can remove for easy maintenance.
2. Cozy Faux Fur Saucer Chair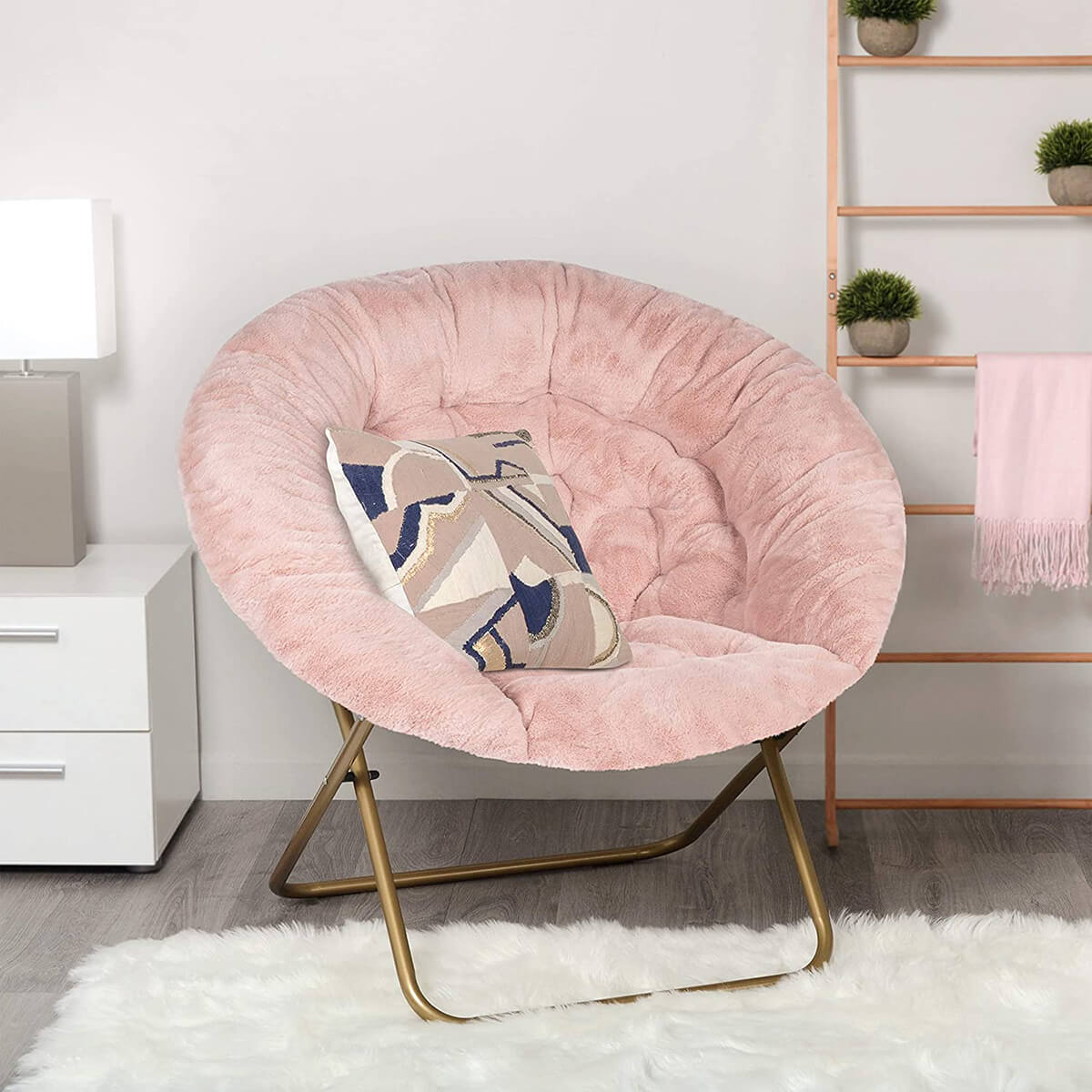 Are you in the mood for something that just screams cozy? The Milliard Faux Fur Saucer Chair is a great option for you thanks to its fluffy-like style and soft-to-the-touch fabric that feels good against the skin. It is large so that various adults, teenagers, and children can fit inside it comfortably enough. You have seven different colors to choose from also so that you can find the one that best fits the décor or your style. Furthermore, this is one of the best egg chairs that you can fold and stash out the way, making it ideal if space is minimal in the room.
3. 3-Piece Outdoor Acapulco Bistro Set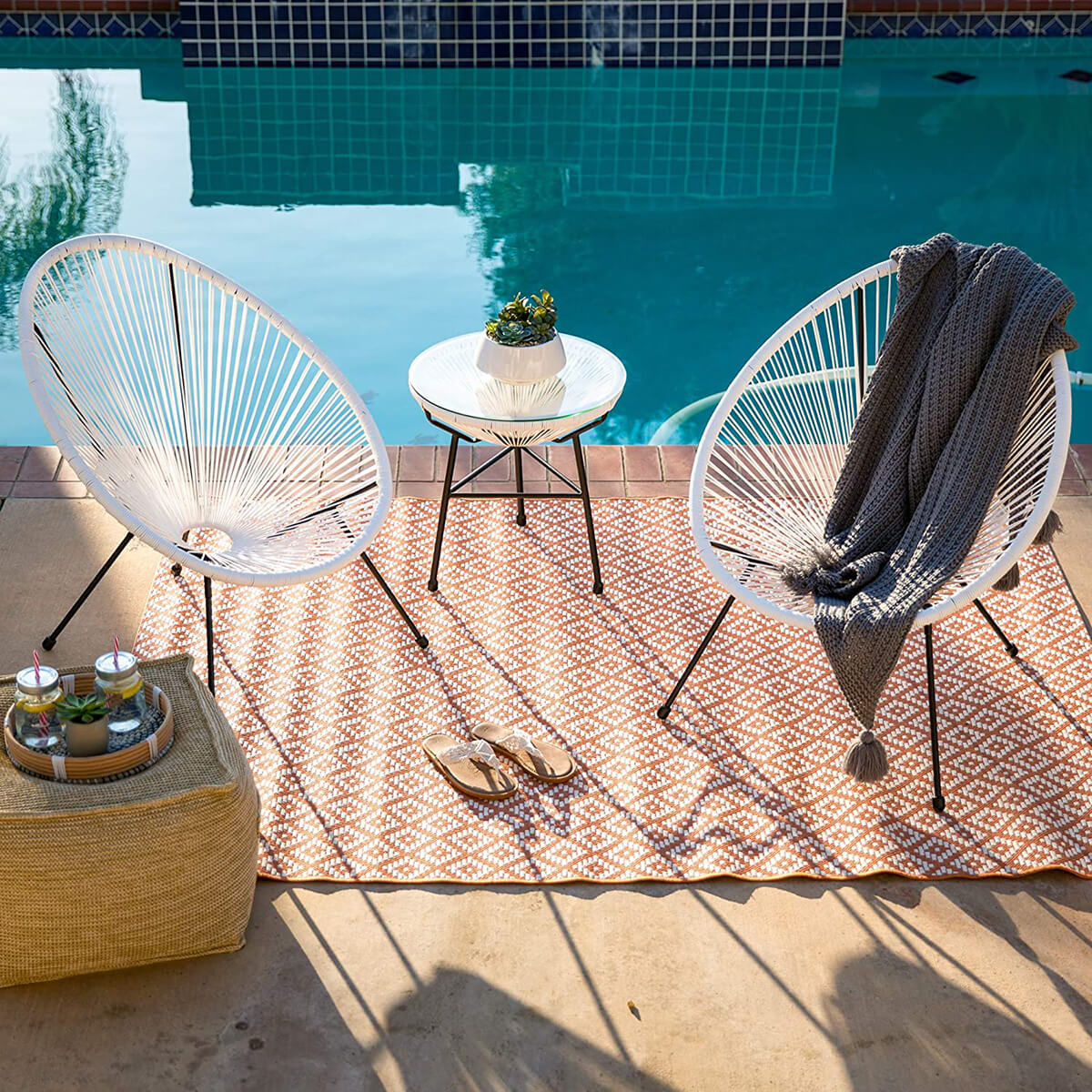 If you need the best egg chairs that come as a full set, then this 3-Piece Outdoor Acapulco Bistro Set is great for decorating your entire patio while also fitting a minimalistic decorative style. This comes with two cozy chairs as well as a matching round accent table that's fitted with tempered glass, giving you just the right amount of space to set your drinks on. The chairs are well-made while also being simple to move around, letting you decorate your space without difficulty. This trendy, bistro-style design comes in four different colors as well to better fit with different types of decorations.
4. Boho Themed Hammock Swing Chair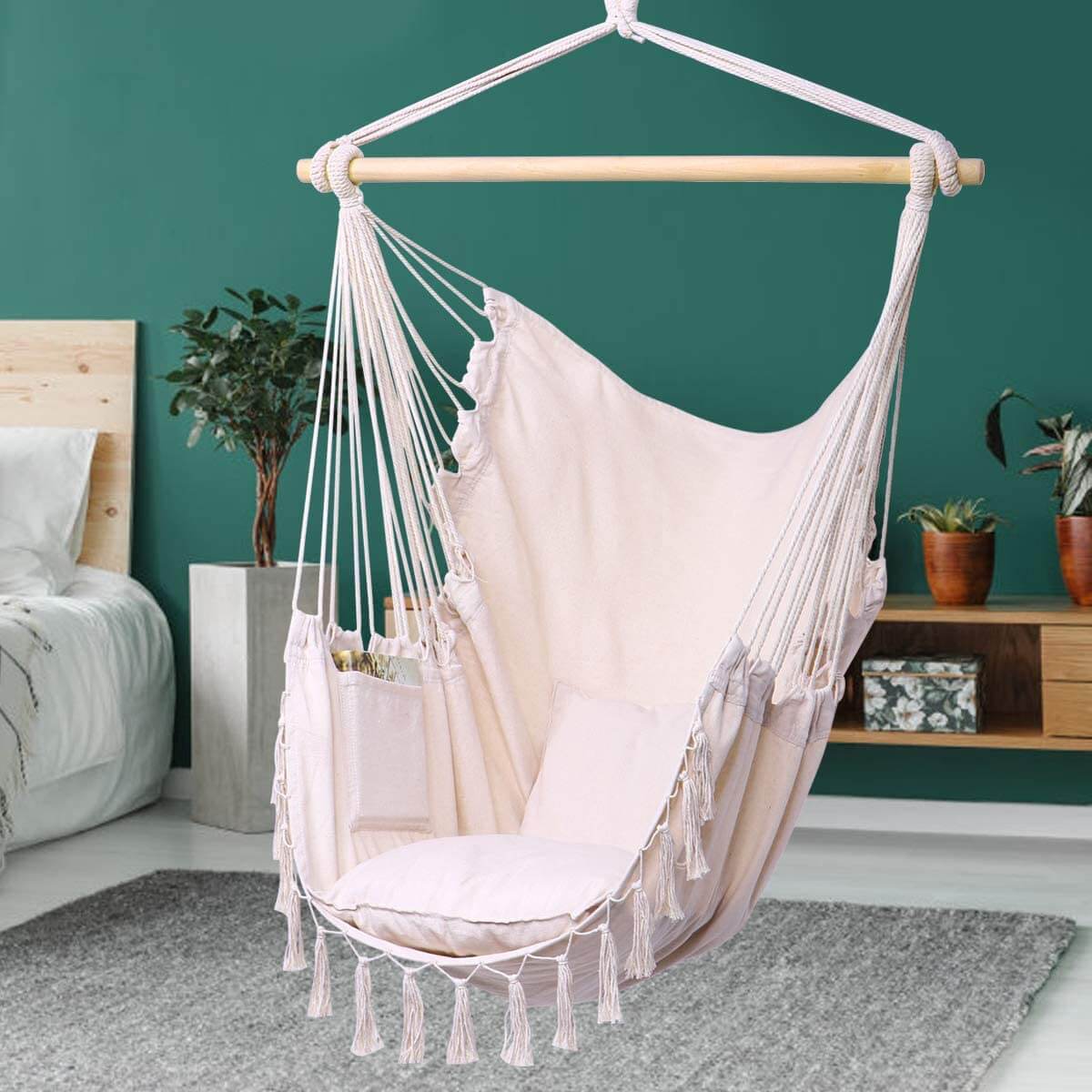 Another contender from Y- STOP, this hammock swing chair has a boho, romantic design to it, allowing it to serve as a decorative piece as much as being functional to sit in. As this hammock features a larger design, you are easily able to recline in it while still getting the proper head and back support for a comfortable experience. Available in two different colors, another cool element of this chair is that it features a pocket inside that is big enough for a small book, glasses, and perhaps even a cup. So, you have everything you need within reach without having to get up from your cozy nook.
5. Wicker Rattan Patio Hanging Swing Chair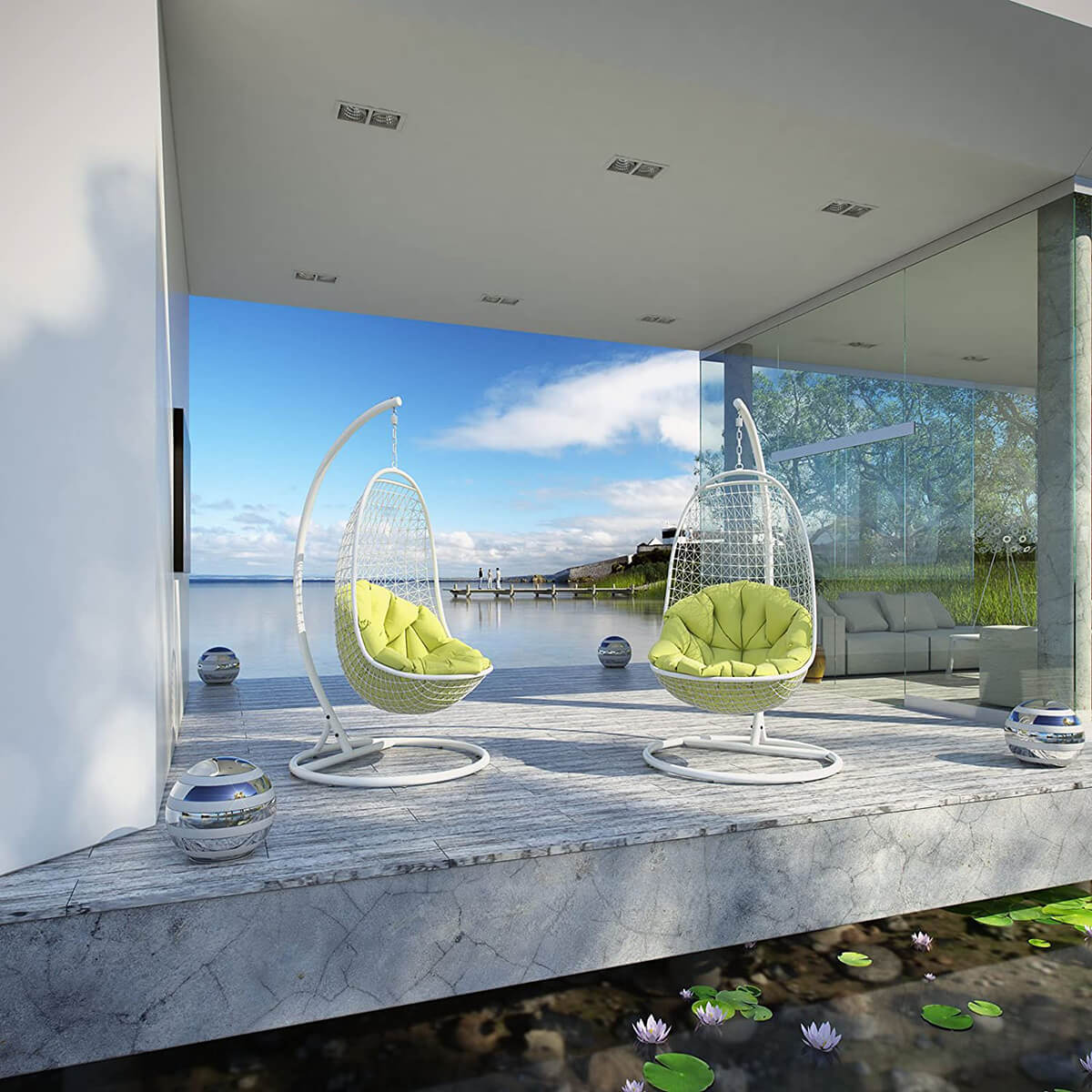 Make it easier to relax outdoors with the Modway Encounter Wicker Rattan Patio Hanging Swing Chair. This contemporary style features a pleasant woven texture that blends with ease into any modern setting. It's enjoyable to lounge in thanks to how smoothly it swings, and it offers good support due to the powder-coated steel frame. There are two different color styles available, but no matter which you choose, the cushion features fabric that is both water-resistant and UV-resistant. So, you can leave this lounging by the pool without the worry about a little splash of water or constant sunlight leaving behind any damage.
6. Cutter Teardrop Wicker Lounge Chair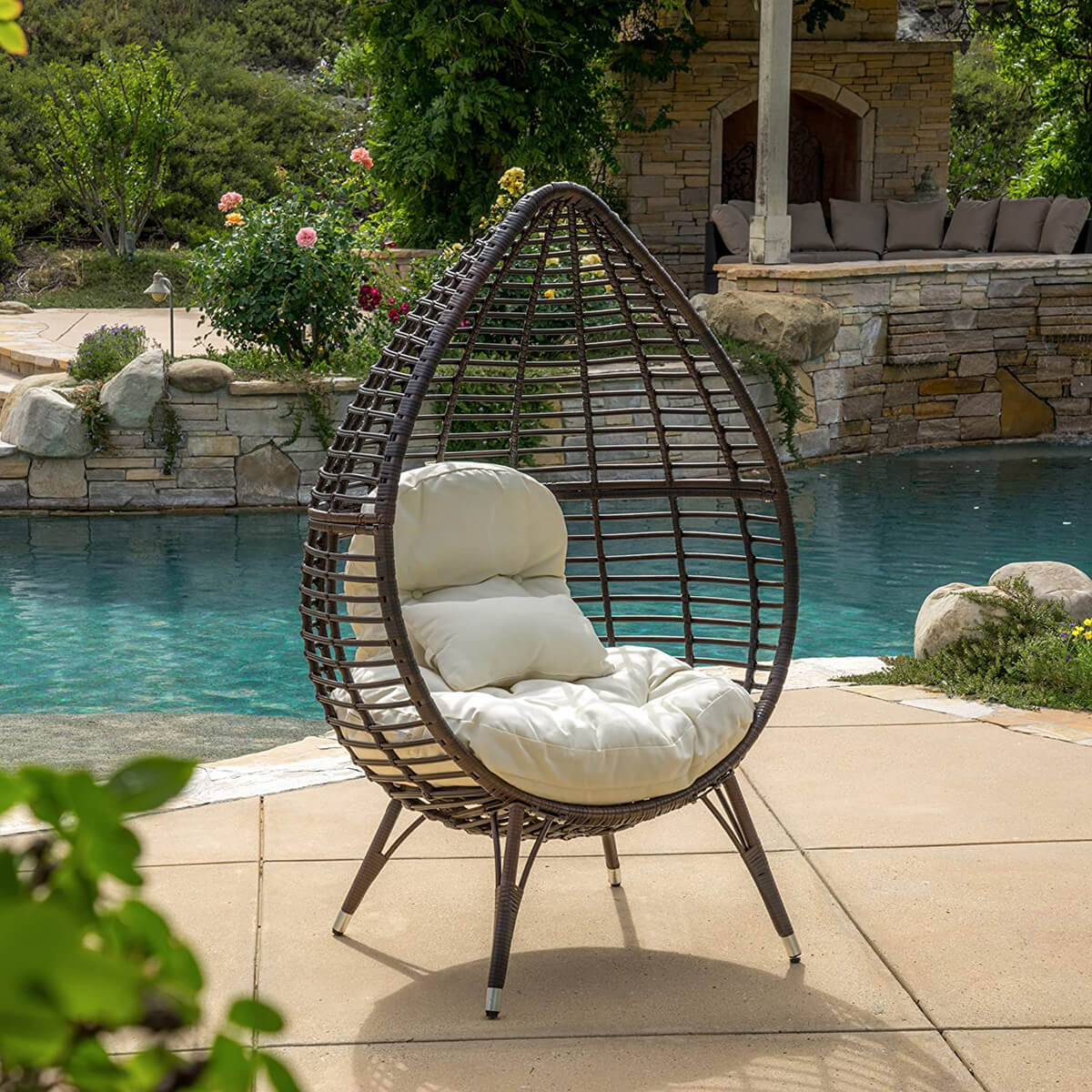 Put a spin on the traditional outdoor furniture with this Teardrop Wicker Lounge Chair. It features a sturdy metal frame with all-weather wicker woven around it that is both straightforward and chic at the same time. This even comes with water-resistant cushions that are plump to offer good comfort with a bit of support so you can lounge in them for hours on end. Also, the cushions are a neutral color so that they blend well into any type of décor you have around. This is also remarkably easy to put together so that you can get to relaxing soon after opening it.
7. Hanging Rope Swing Hammock Chair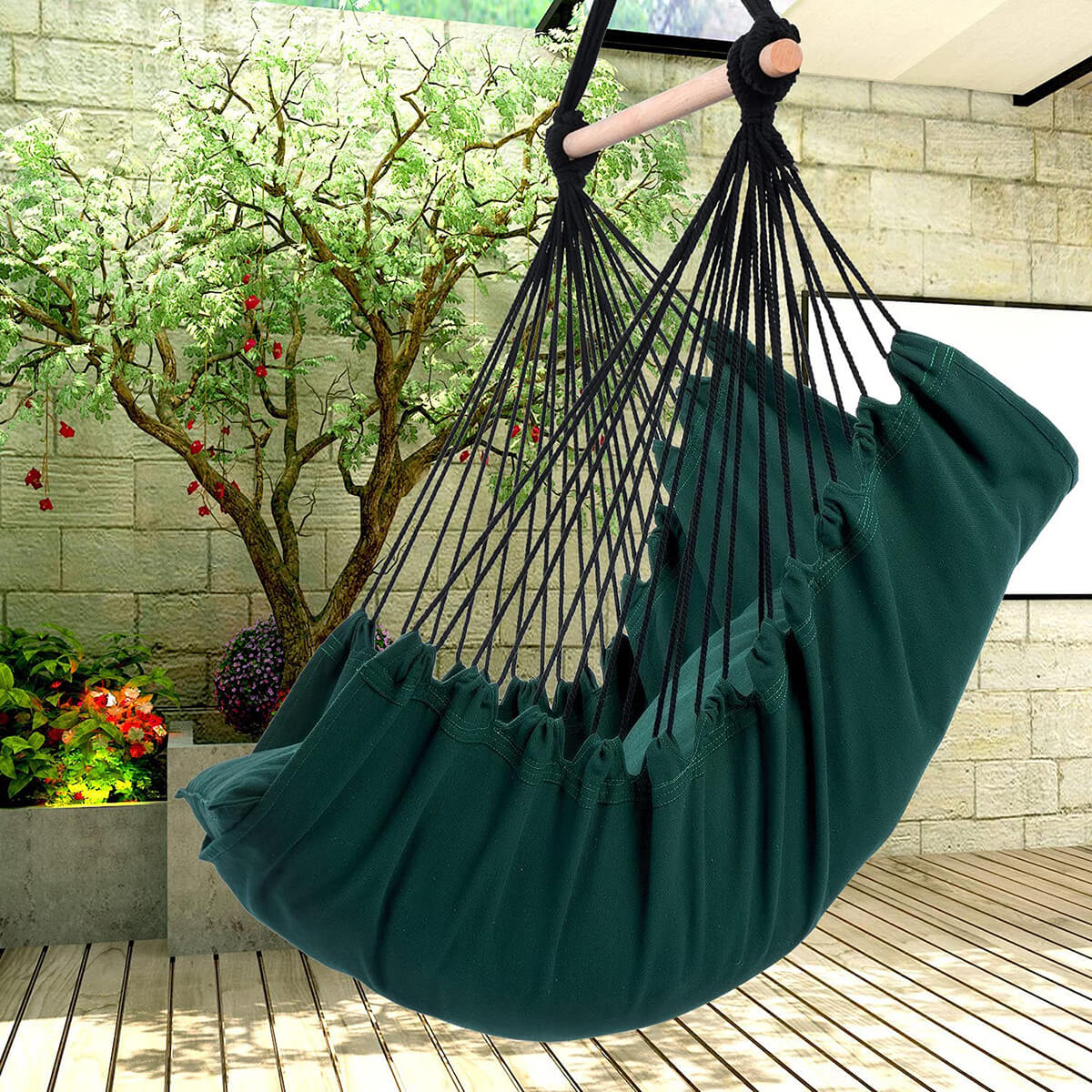 With this swing hammock chair from Y- STOP, you can relax in both comfort and style. This oversized chair is made from a blend of polyester and cotton, and thanks to its larger size, it is just as comfortable to lay down in as it is to sit on. The ropes are robust as well to provide you with the right amount of support, more so as the chair has a nice 320lb weight limit. On the notion of style, this is the perfect chair when you need something to fit your décor as it is available in three different colors.
8. Sophisticated and Modern Accent Lazy Chair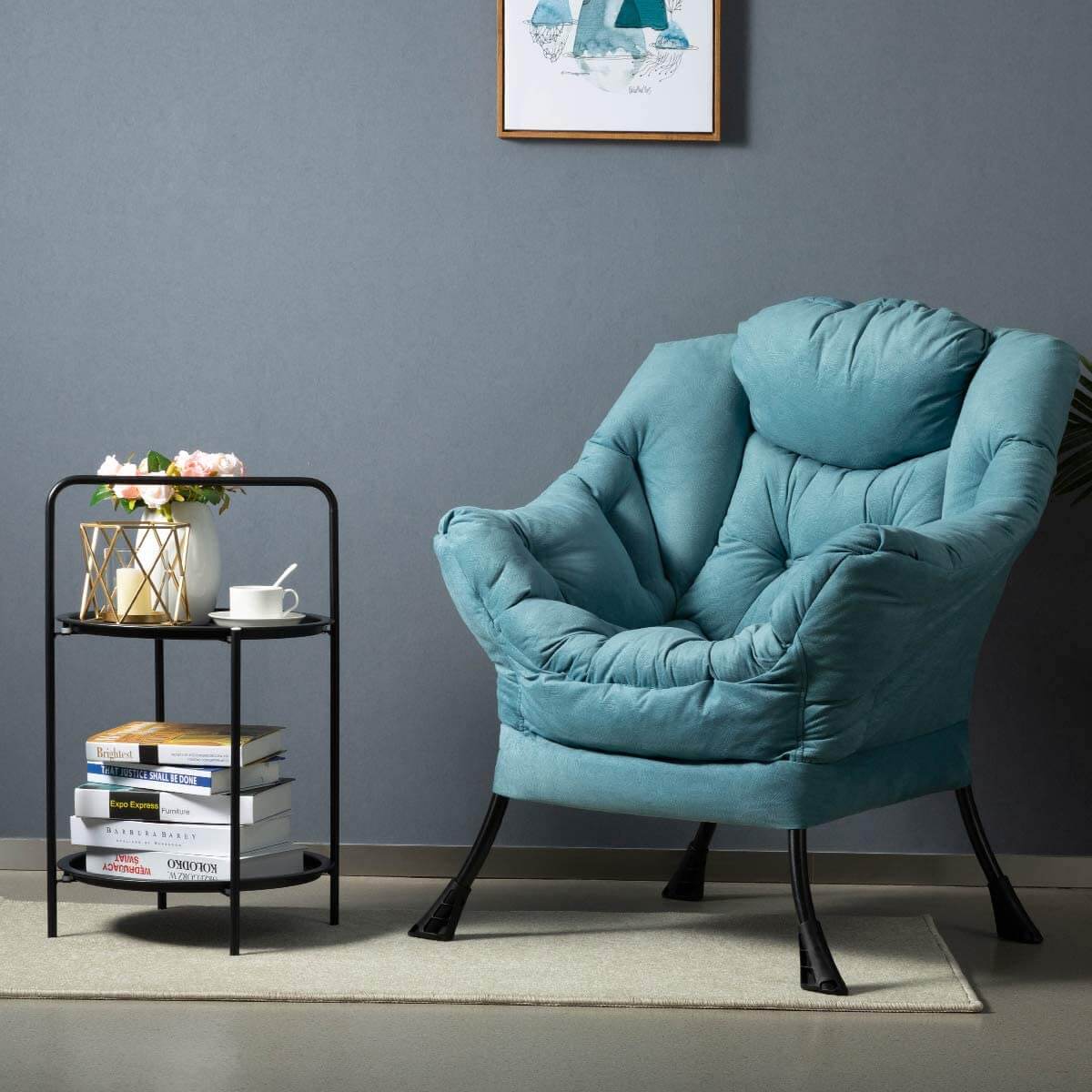 The HollyHOME Modern Accent Lazy Chair proves that elegance can be just as relaxing. The chair offers a lovely contemporary style that will fit well into any room you need to use it in from the living room to your bedroom. It has a wonderful, blended style that elevates the usual egg chair design into something that won't look out of place next to the rest of your furniture, and it even comes in 11 different colors with three of them being fun patterned prints. This is lightweight, so moving it around until you find the right spot is effortless.
9. Isaiah Indoor/Outdoor Wicker Tear Drop Hanging Chair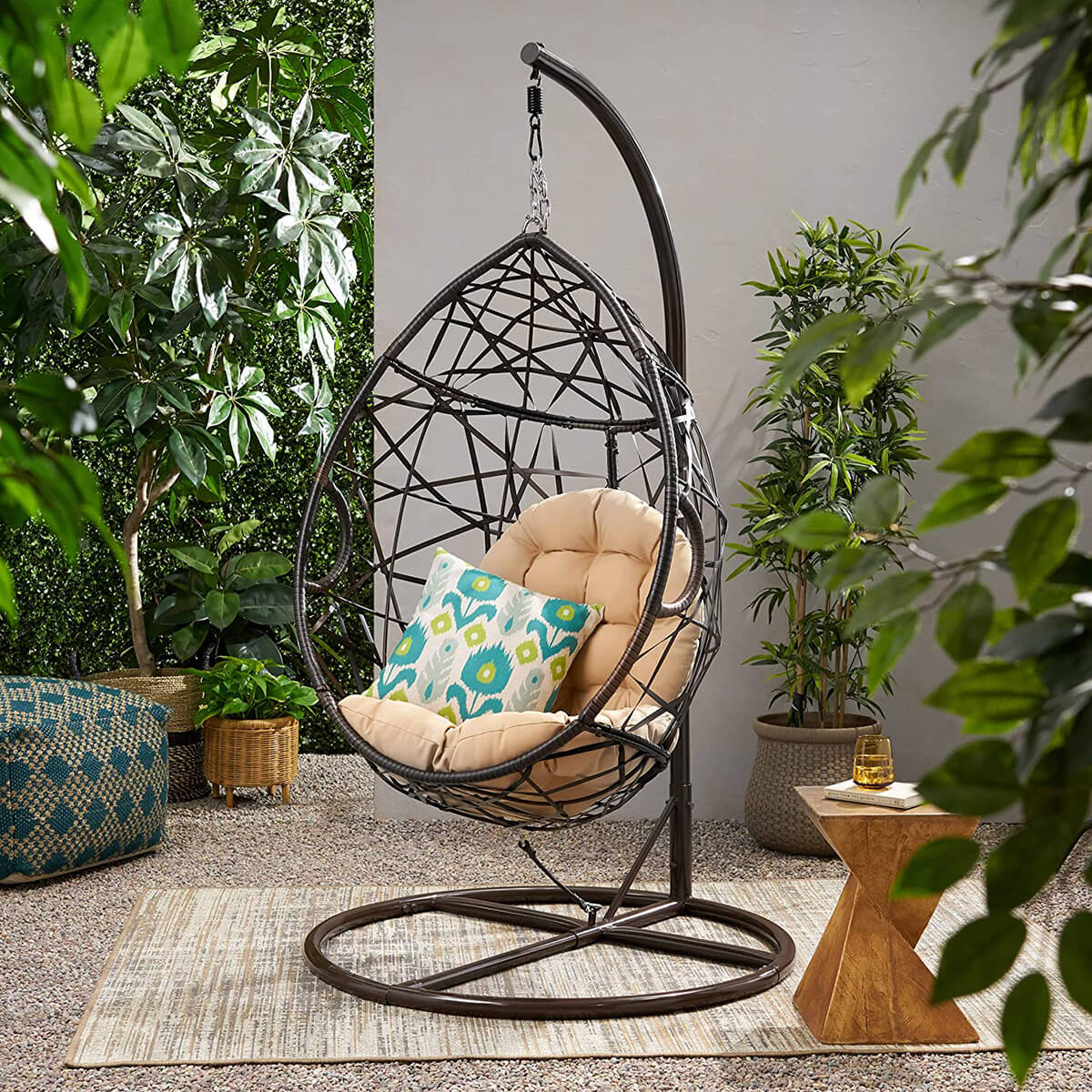 The Isaiah Wicker Tear Drop Hanging Chair is one of the best egg chairs with a graceful, sophisticated design. It has a pleasant appearance with an intricate weave layout, making it good for use on your patio or around your garden. At the same time, this chair works wonderfully as indoor hanging furniture since it has a modern look about it too. Besides that, it is a quality rattan egg chair thanks to the long-lasting material used as well as the water-resistant cushions. These cushions are supportive also thanks to their plush design, and the tufted style allows it to blend effortlessly with your décor.
10. Hanging Hammock Swing Egg Chair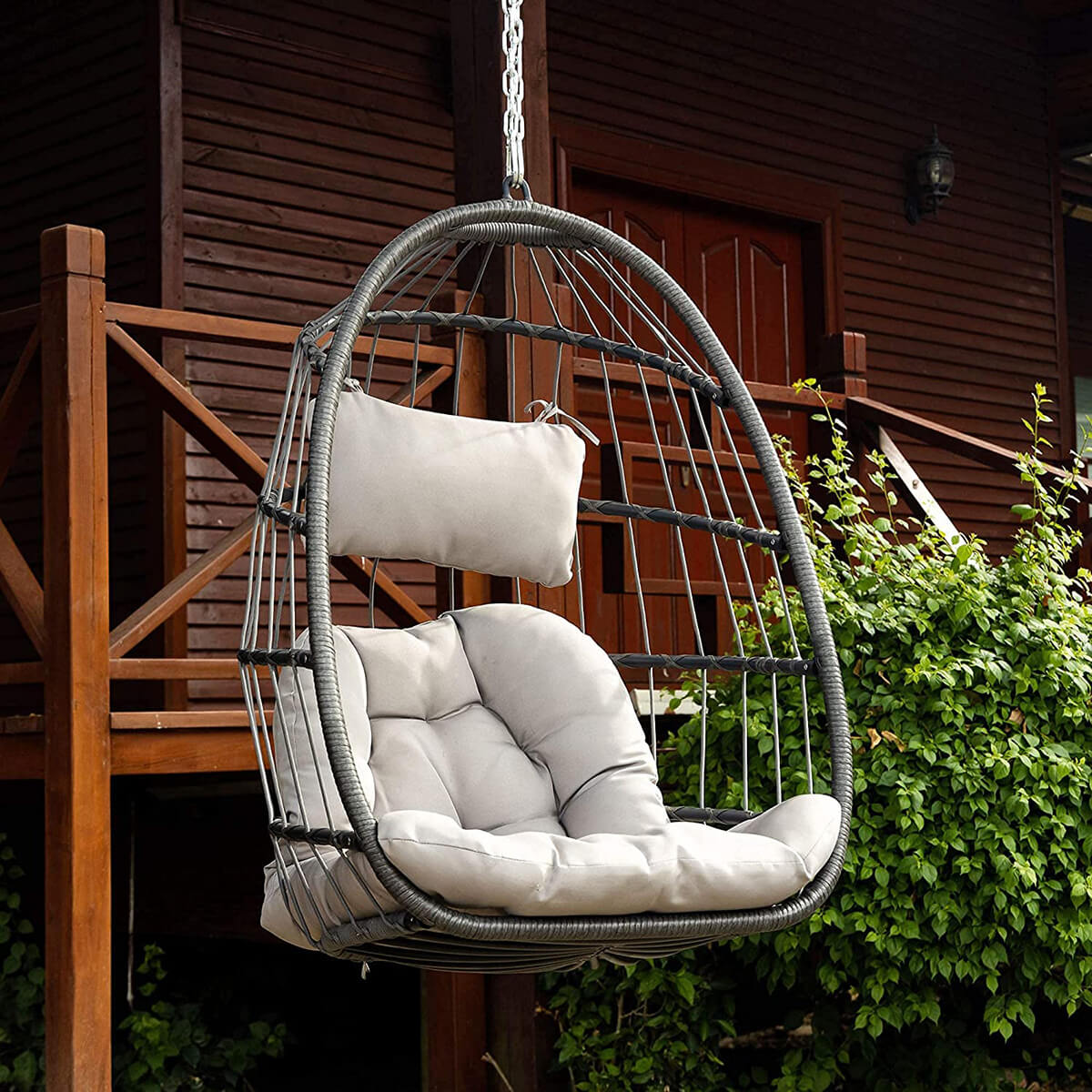 Available with a stand, this Hammock Swing Egg Chair is designed so you can use it indoors or outdoors. It takes little time to put together easy-to-follow instructions so you can start relaxing quicker. With a sturdy hanging chain and a wide base, the chair offers good support for various users of different sizes. This even has a nice and supportive cushion and pillow made from soft fabric. Cleaning is simple too as you can easily unzip and remove the inner cushions. If you ever need to make room, you can take the cushions out completely and fold up the basket portion of the chair.
11. Hanging Hammock Chair with Lights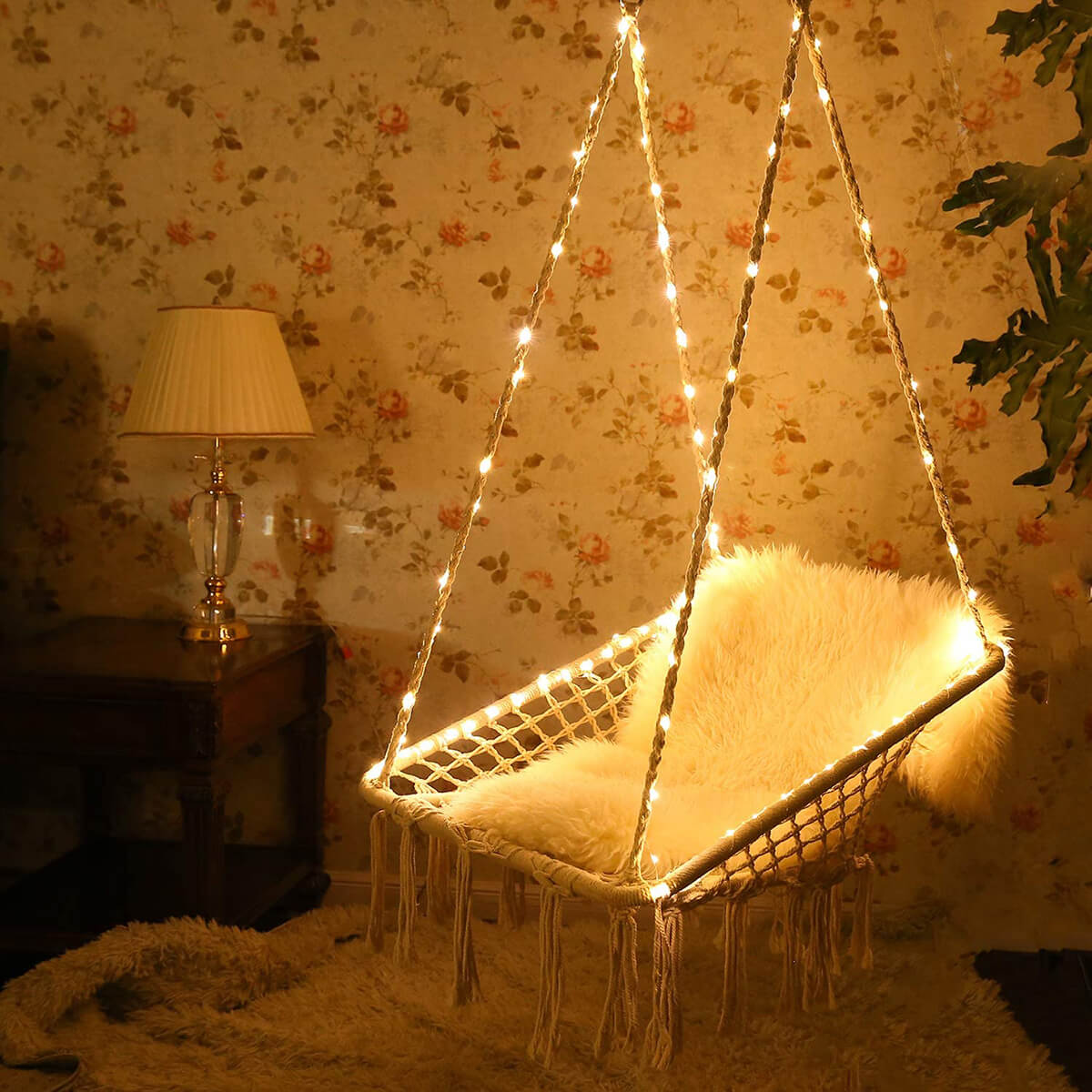 The Hanging Hammock Chair with Lights is a unique approach to setting up an egg chair. This features an ergonomic, square-like seat that easily lets you lie back and relax. It comes with LED lights too so that you can set up the lighting function right away, making it an instant eye-catcher when used in low-light conditions. With the solid rope design, it is near-impossible to fall out, so this chair is fitting for children as well as pets, giving you something that the whole family can freely use. There is a comfortable 270lb weight capacity too for sturdiness.
12. Hanging Macrame Hammock Swing Chair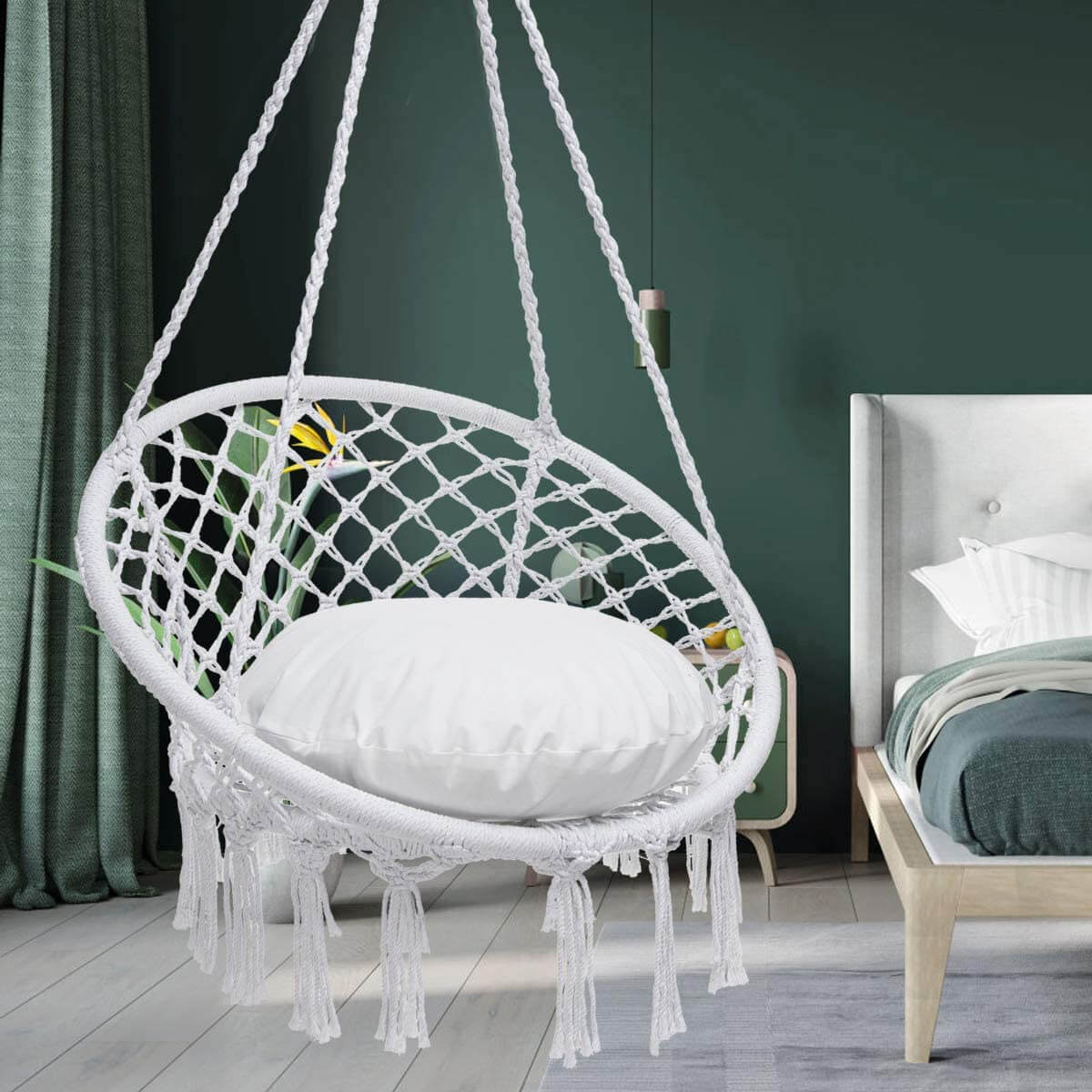 Macrame is such a unique style that is readily captures attention when used for the likes of a hammock swing chair. From Y- STOP, this is fitting for outdoor egg chair ideas since it features material that can hold up to use inside and outside your home. Available in three different colors, cozy hand-woven cotton in a style that gives it a touch of elegance so it can befit various decorative styles from modern to boho. Although it comes with an optional cushion to use, there is plenty of space provided so that you can add in your own or additional pillows.
13. Simple Wicker Papasan Lounge Chair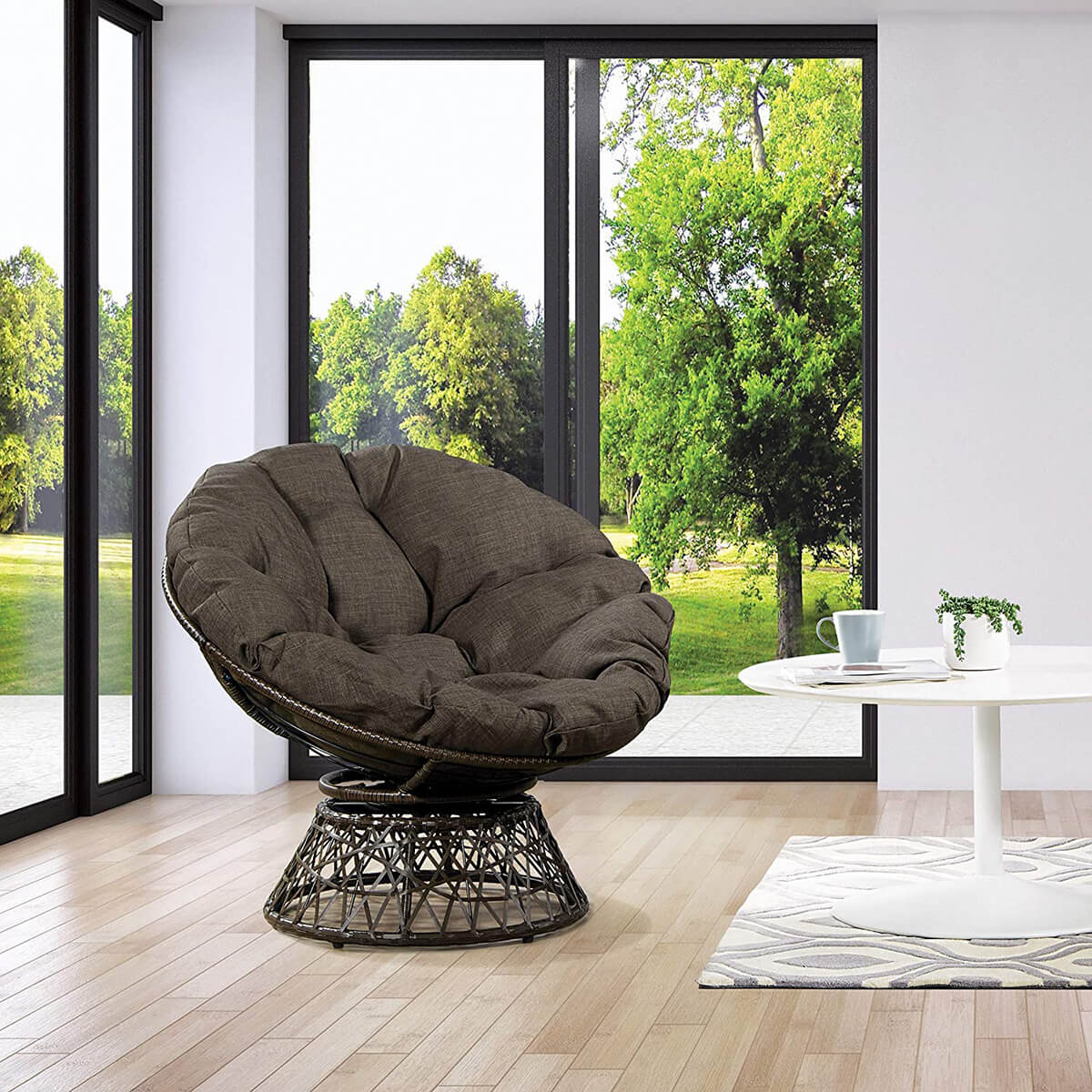 The Wicker Papasan Chair from OSP Home Furnishings is an ideal chair when you need something more laidback to fit your style. This cushion is a wonderful size to support adults and children comfortably so you can add it to your room or a kid's room. It is designed with a fun, 360-degree swivel function as well, giving you more options in how you want to set it up and lounge in. There is also a tremendous amount of personalization provided seeing as this chair comes in 17 different colors, all of them vibrant and bold enough to easily stand out among your other furniture and decorations.
14. XXL Indoor/Outdoor Hammock Swing Chair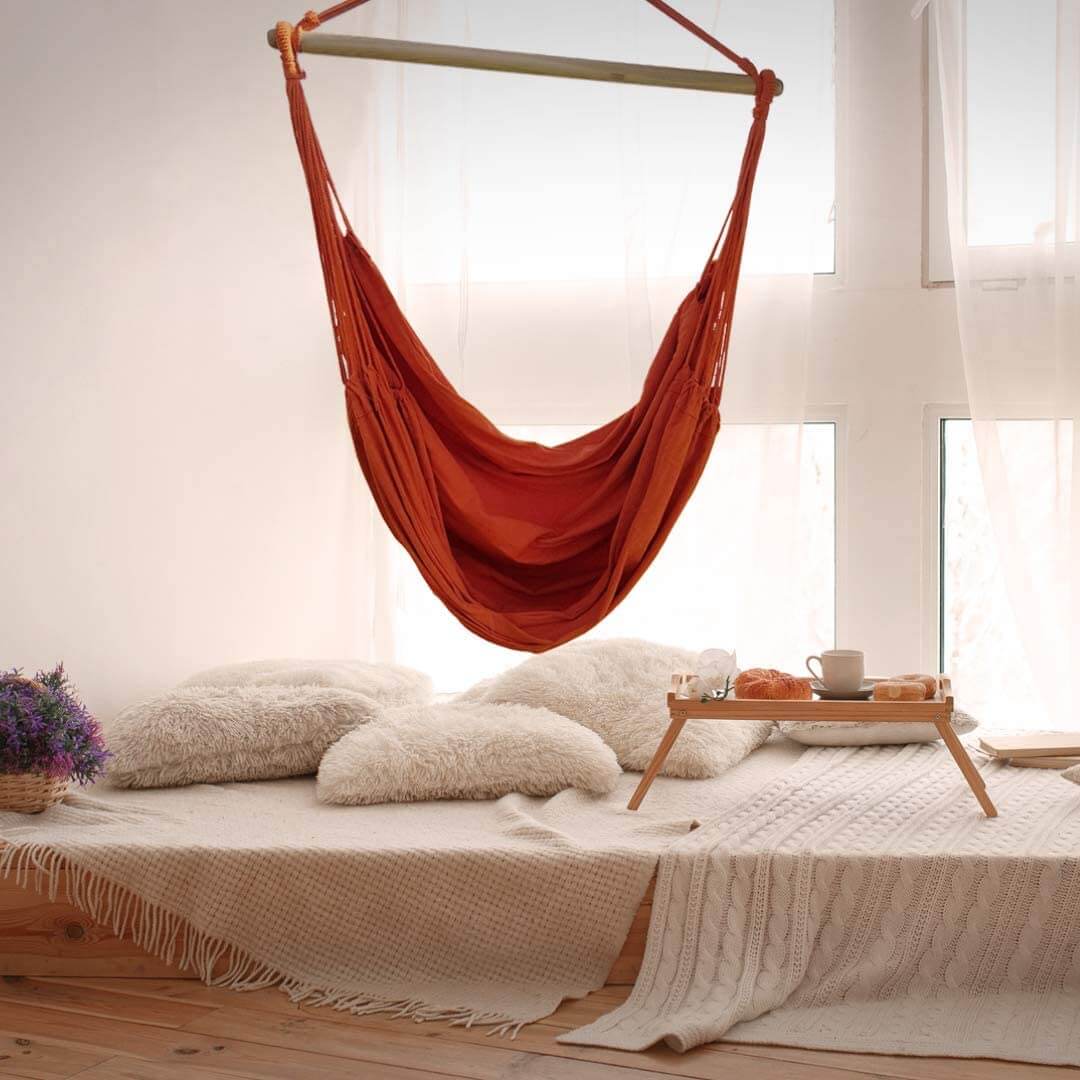 For those of you looking for oversized outdoor egg chair ideas, the XXL Hammock Swing Chair is fitting for the job. With this being 77in. in length, an adult can easily lounge back. Additionally, it has a solid fabric bed so that kids and pets can jump in and out without the risk of falling through any gaps. The fabric is made from soft woven cotton too, making it feel good against the skin so that you can feel even more at ease while sitting or lying in the chair. Made in three colors, this is also a versatile egg chair since you can bring it indoors and enjoy it all the same as if you were outside.
15. Hanging Egg Hammock Cushioned Chair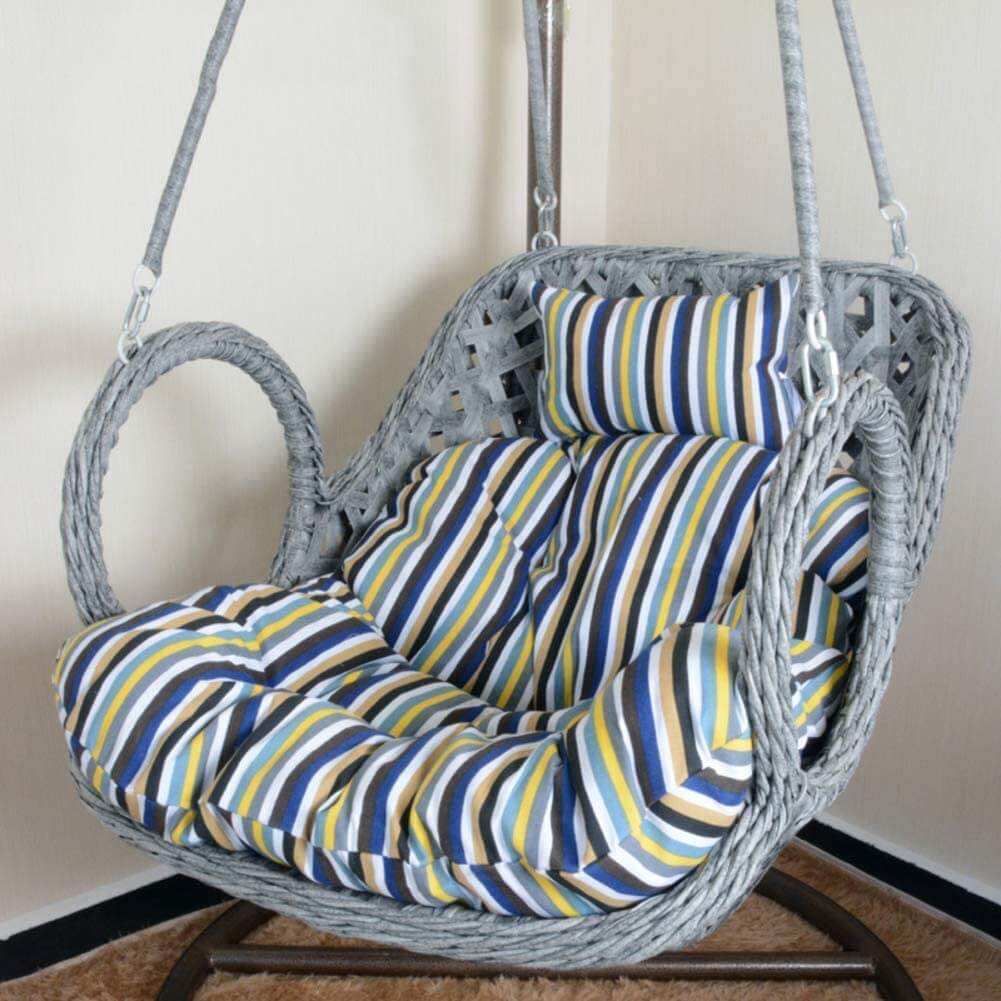 This Hanging Egg Hammock Chair is great to hang up out by the garden or even indoors so you can relax in it whenever you please. There is a nice reclining nature to this chair, ensuring that you can peacefully lounge away. With that reclining style, there is a good curve to the seat so that users of different sizes can fit well into the seat. As it is filled with doll cotton, this has nice elasticity to it so that it can hold up to a good deal of pressure without flattening out. There is good breathability to the cushion too as well as a moisture-absorbing nature so that it is easier to maintain if you ever get too cozy and spill a drink on it.
16. Deluxe Hanging Egg Chair Swing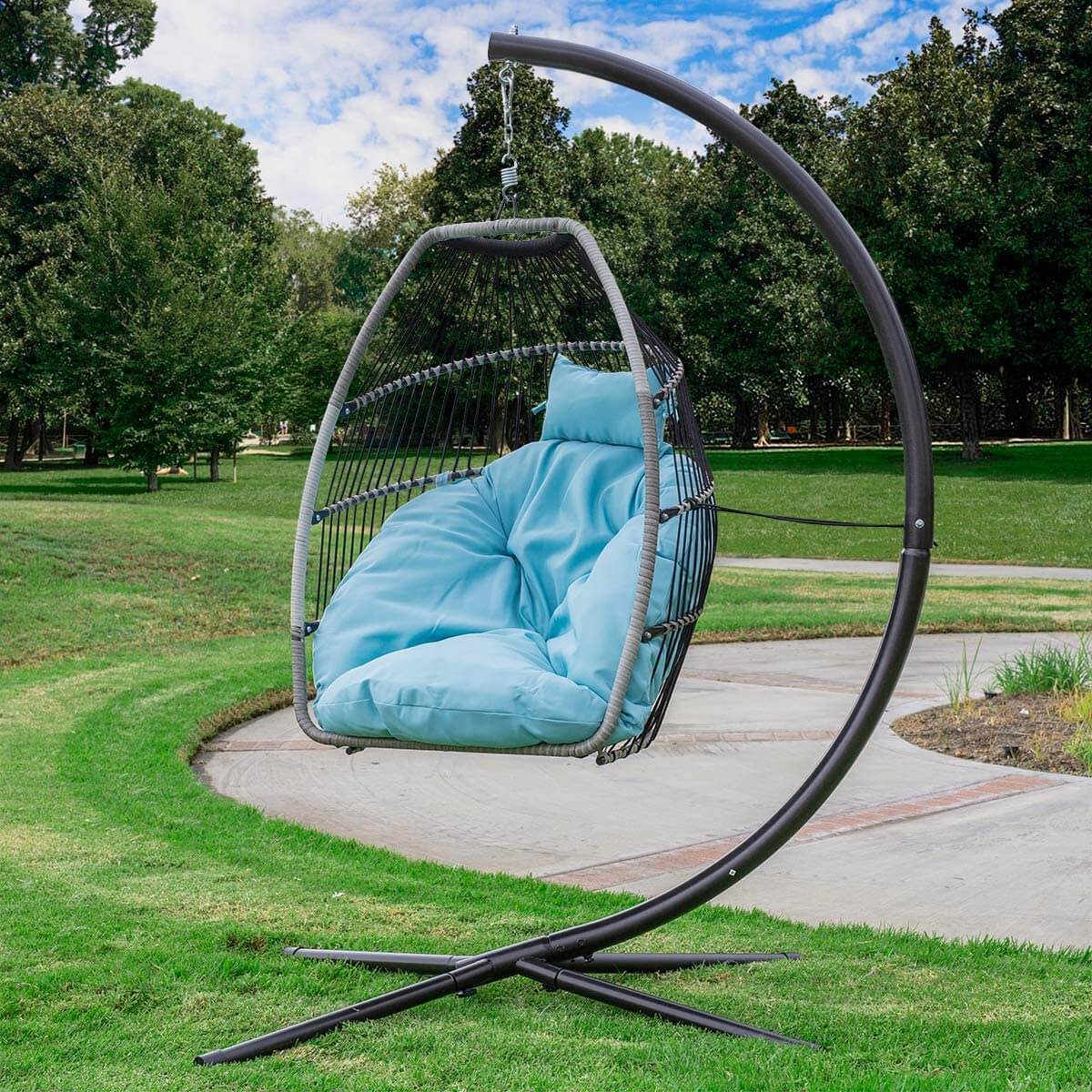 The Barton Deluxe Hanging Egg Chair Swing is a unique way to spruce up your deck, sunroom, and more since it can be used inside and outside. This comes in five light colors that look well with any type of décor, which can make it easier for you to add it seamlessly to your home. The premium cushion has a comfortable layer of thickness so you can feel at ease relaxing in it, while the base is sturdy to give you a more secure experience. Overall, it is a reliable rattan egg chair that has an all-weather construction to provide peace of mind if you leave it exposed to some outdoor elements.
17. Hanging Hammock Chair and Rope Swing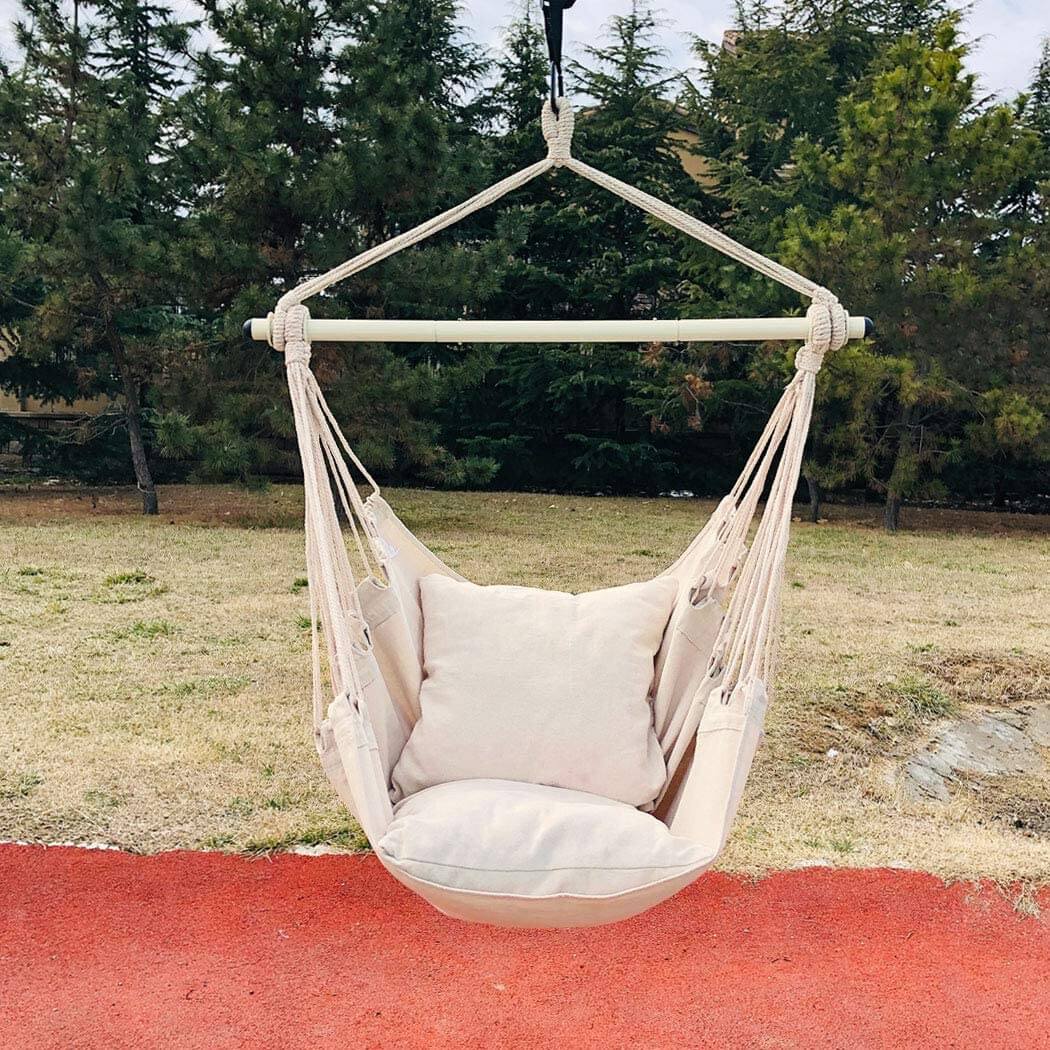 The Highwild Hanging Hammock Chair is a highly supportive patio egg chair thanks to its 500lb weight capacity. It combines durability with style and comfort as it features a relaxing appearance as well as canvas fabric for softness. There aren't any gaps in the two cushions and fabric either, making it a nice choice for kids to relax in. This has great versatility in how you use it too since you can freely hang this up outside around a garden area or inside in a bedroom. It comes either in a nice beige color tone or a vibrant, multi-color style with blues, green, and yellow tones.
18. Lovely Hammock Hanging Swing Chair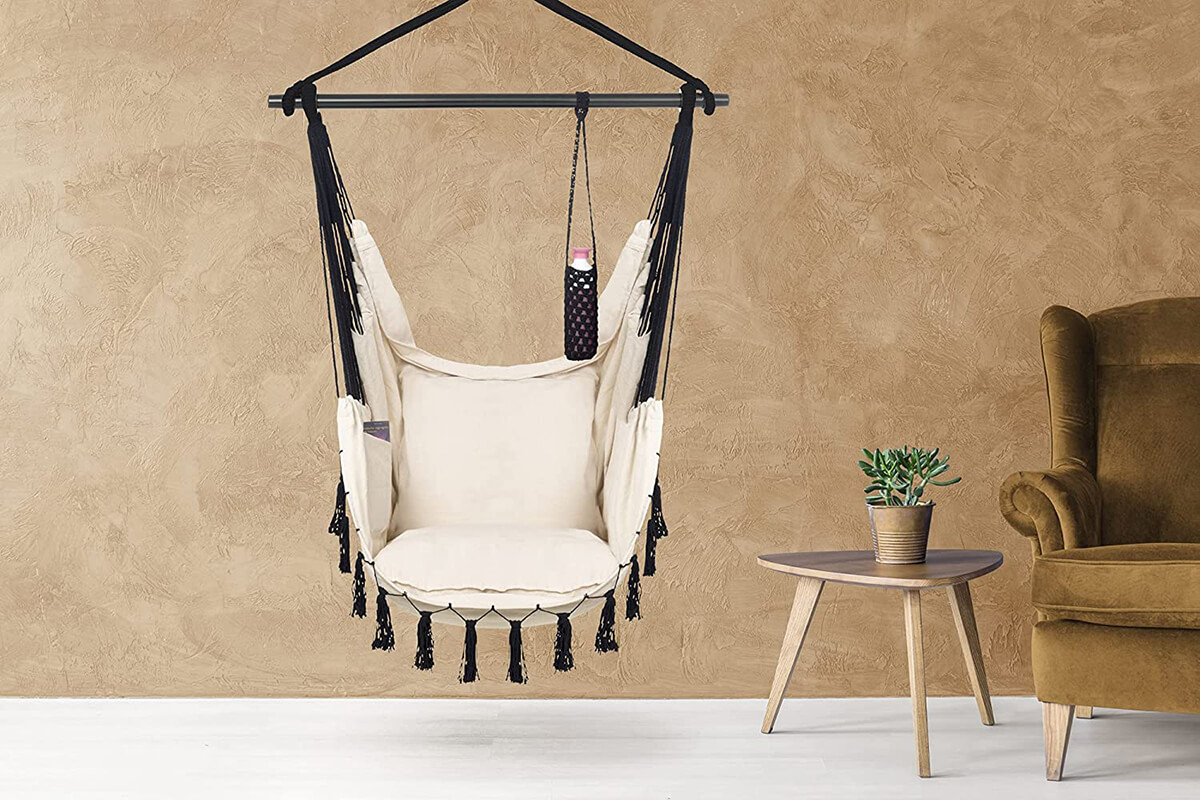 The VITA5 Hammock Hanging Swing Chair takes relaxation to new levels thanks to the extra features it boasts. For one thing, it features a book compartment that is 8in. x 8in., making it spacious enough to support numerous types of books with ease. There is also a separate cup holder section so you can lay back with your drink within reach. This even has two comfortable cushions to make your destressing experience even better. You can find these in seven different color styles, and since it comes with straightforward instructions, it's easy to set up right out of the box.
19. Nested Hanging Egg Hammock Chair Cushions
When you need a quality cushion to go along with your egg chair, then this Hammock Chair Cushion can be a good choice. This is a larger-sized cushion made from 100% polyester material that is fade resistant and features UV resistance so you can leave it outdoors without having to cover it up for protection. The fabric is even known to hold up against stains too, so feel free to let children have fun lounging on it as it wipes down well enough. It is also designed with comfort in mind thanks to the headrest pillow and armrests that make it more supportive. You can find the cushion in several different color styles.
20. Cool Wicker Papasan Swivel Chair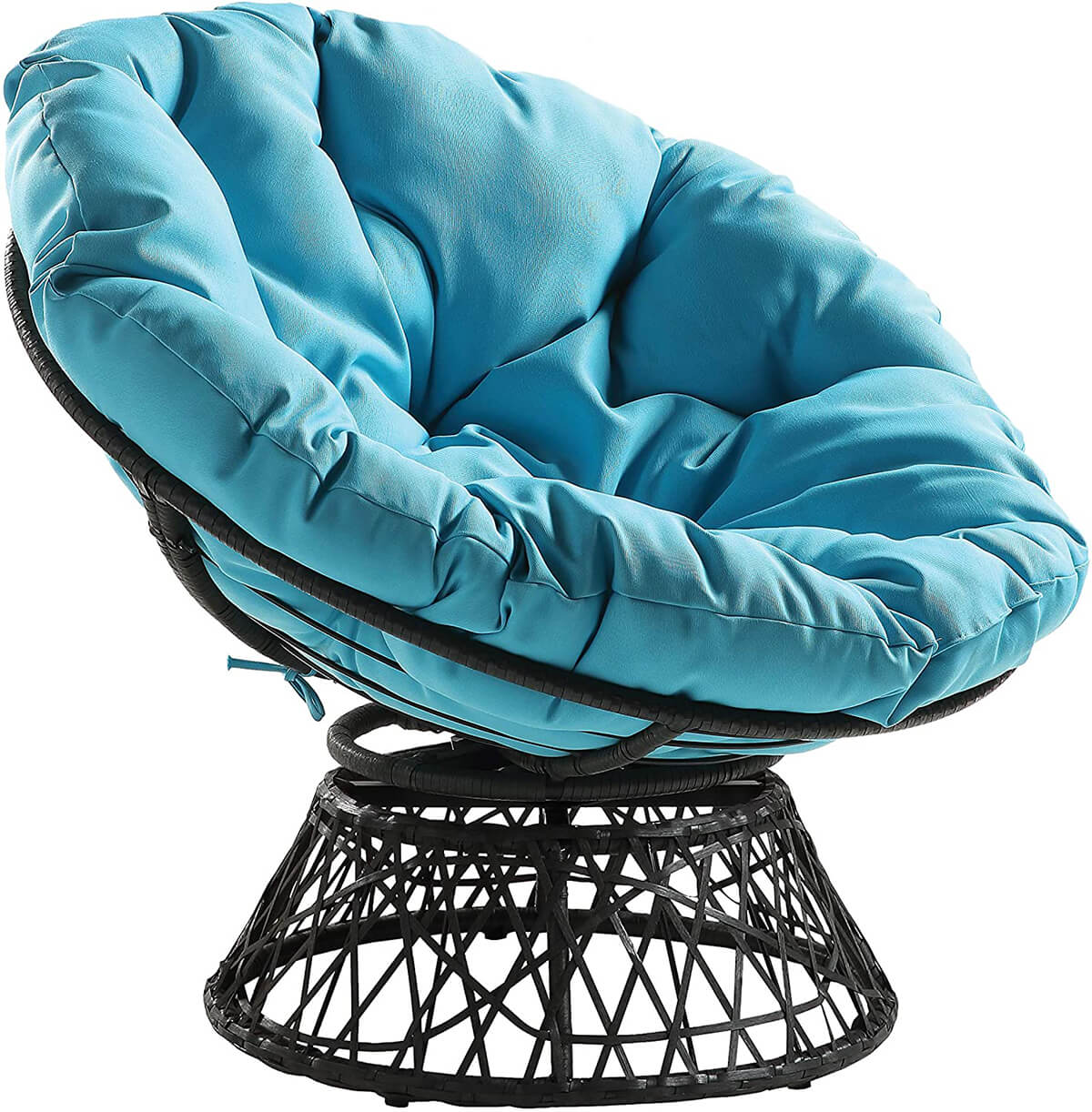 OSP Home Furnishings has designed an egg chair that is pleasing to look at and lounge in. With its 360-degree swivel base, you can set it up as you see fit and at different angles around the room, or simply have some fun spinning around. The metal frame is wonderfully supportive, and the built-in fabric straps work well at keeping the cushioning in place and not slipping around each time you get in and out of the chair. Also, the cushion simply feels good to relax in as well as being long-lasting thanks to it being thickly padded with a blend of polyester and cotton.
21. Luckyberry Wicker Egg Rattan Chair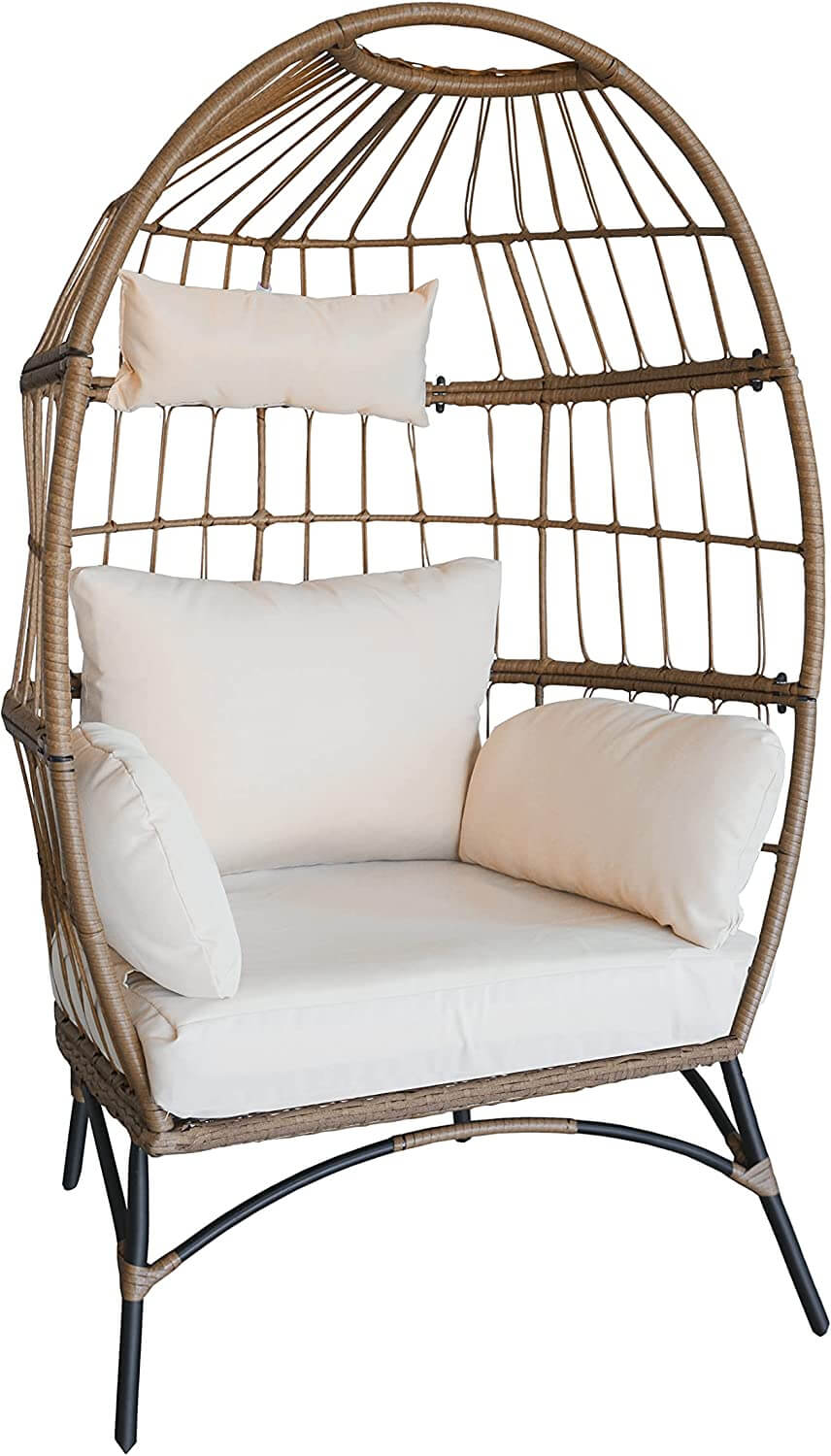 The Wicker Egg Rattan Chair is a reliable, trendy chair that is the perfect fit for your outdoor living space. It has a lovely light brown wicker color that fits well with another décor, and thanks to the metal frame, it can hold up to frequent use by supporting a max of 300lbs. This is easy enough to maintain too, more so as it is both UV-resistant and water-resistant. The cushions are also thick without being uncomfortable so that this chair can work just as well indoors as it does outdoors, and it is rather spacious too so you can relax without feeling cramped.
22. Stylish Ps Lömsk Swivel Chair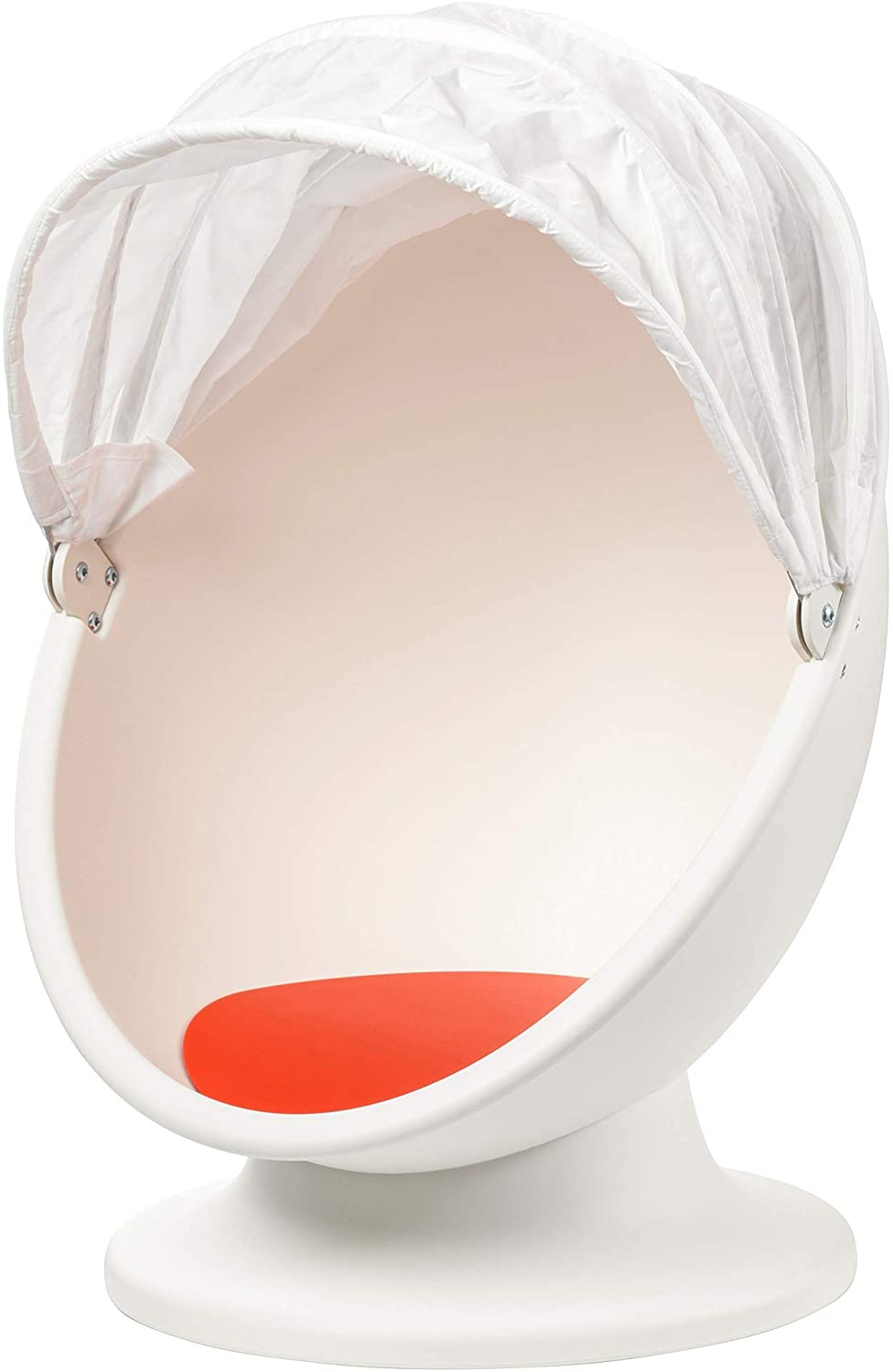 This Swivel Chair from IKEA is one of the best egg chairs for children that is fashionable and cozy. Fit it right within their room as it has a space-saving design, and you've given them their own little nook to hide away in. It even has an adorable hood that can come down, but the fabric is thin enough that a little bit of light can still get through. This even has a swivel design, and the movement is highly beneficial for children not just for their entertainment, but it can help with sensory impressions. The chair is easy to spin too so younger children can handle it with ease.
23. Deluxe Cushioned Hanging Swing Chair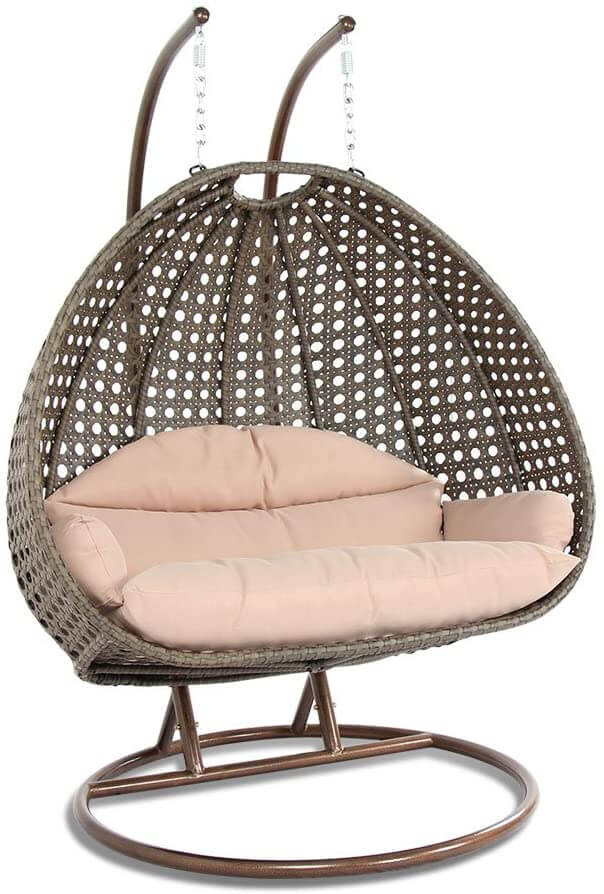 This Deluxe Hanging Swing Chair is completely handcrafted and handwoven, making it a nice choice for those of you that want more unique furniture. It makes for the best rattan egg chairs that has an all-weather, reliable construction to withstand consistent exposure to outdoor elements. This even has some UV protection added to it as well so you don't have to worry about leaving it under the sun for too long. It can still work indoors too if you prefer a chair to lounge around in a bedroom, sunroom, etc. For comfort, the cushion is wide enough so you have a good deal of room, and it has a headrest and armrest.
24. Rotating Metal Hanging Hammock C-Stand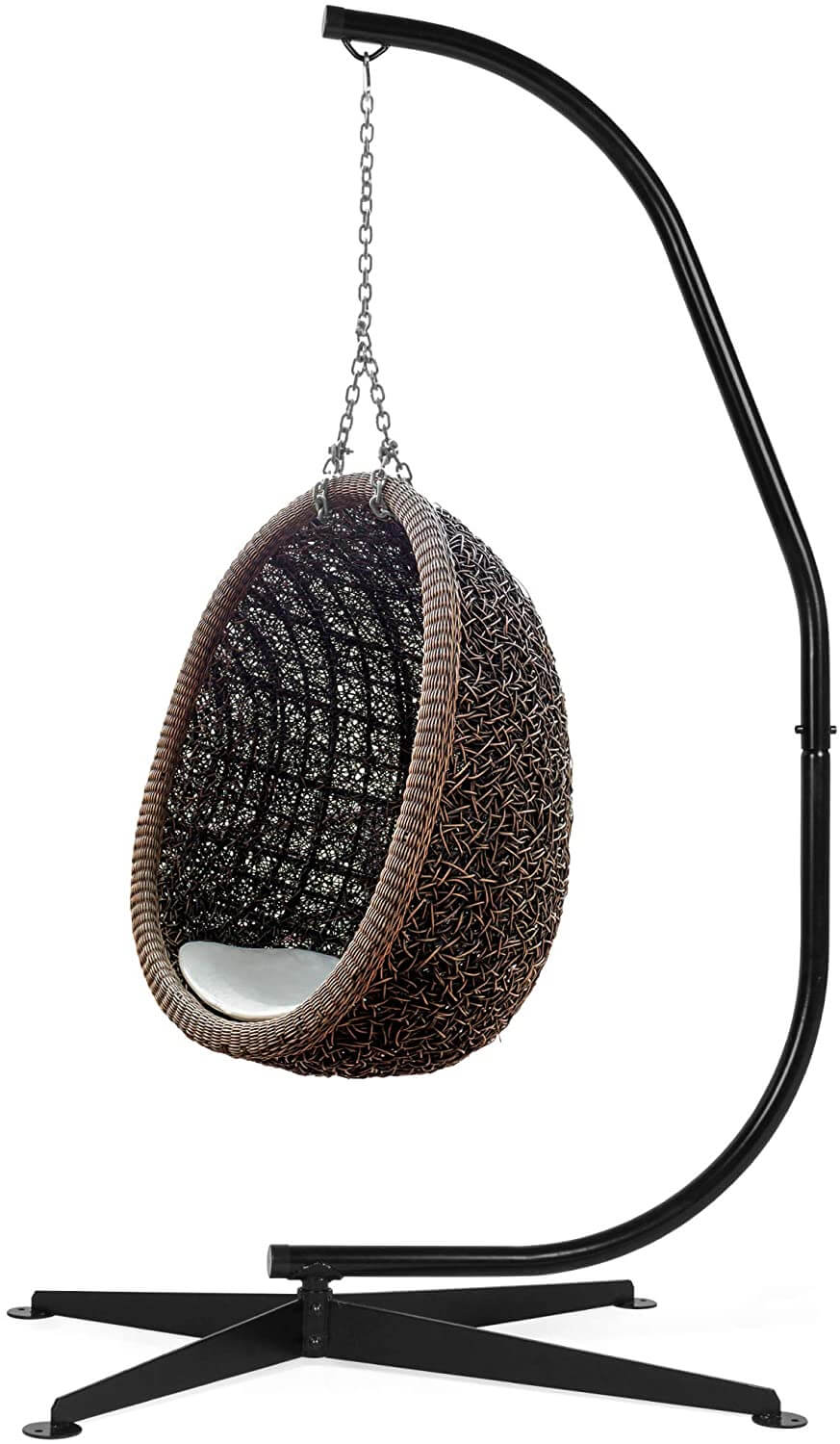 With the Metal Hanging C-Stand, you have the perfect platform to hang up your chair, one that is easy to put together thanks to its 3-piece design. Made from alloy steel, it features a rust-resistant powder coating. This way, it can work well for your patio egg chair as it will hold up to the outdoor elements. The chair is further durable thanks to the 300lb weight capacity as well as the wider, 4-legged base that provides it with much more stability. With the 360-degree rotating steel carabiner, your chair can hang more freely while remaining secure as you lounge on it.
24 Best Egg Chairs to Spruce up Your Backyard
Egg chairs are a fun and popular option for many people these days when it comes to adding some extra furniture to their homes. In many cases, the chair works as a decorative piece as much as it is functional with many offering a chic style that is eye-catching. Others aim to focus more on the comfort side, creating a hammock-like chair that you can easily lounge and fall asleep in on a nice day. With the number of options available, it's important you understand what you're looking for so that you get the right one for your home.
If you want a patio egg chair, for instance, then consider seeking seating that has weather-resistant capabilities. This way, you aren't forced to always cover the chair or worry about the fabric of the cushion fading under the gaze of the sun. So, we hope you keep our options in mind as you continue your search for the right egg chair to fit your home.