It's almost summertime, and for most people that includes visions of long summer nights spent outside with friends and family. A quick look out your window may have got you thinking that an outside upgrade was in order. In no time at all it seems, you went from looking at those cheap, basic, run of the mill patio chairs and ended up in a home improvement spiral leading you to the conclusion that no yard is complete without a complete tear down, demolition, renovation, overhaul, and makeover running into the tens of thousands of dollars. Do not despair, however, there is a solution to your woes and a way to transform your outdoor space into the envy of the neighborhood without breaking the bank (or the foundation for that matter).
It's entirely possible to change the feel of your yard with just a couple of chairs and an area rug. Or you can choose a single statement piece to pair with some eclectic outdoor accessories to create a whimsical and charming yard. By making the right combinations in the best areas of your yard you will maximize the use of your patio furniture for year-round comfort and enjoyment. The hard work is done for you with this list of the Best Patio Chairs to Buy for Summer (and beyond); let the attractive and stylish selections inspire your imagination so you can create the outdoor living space of your dreams!
25 Outdoor Furniture Items to Transform Your Space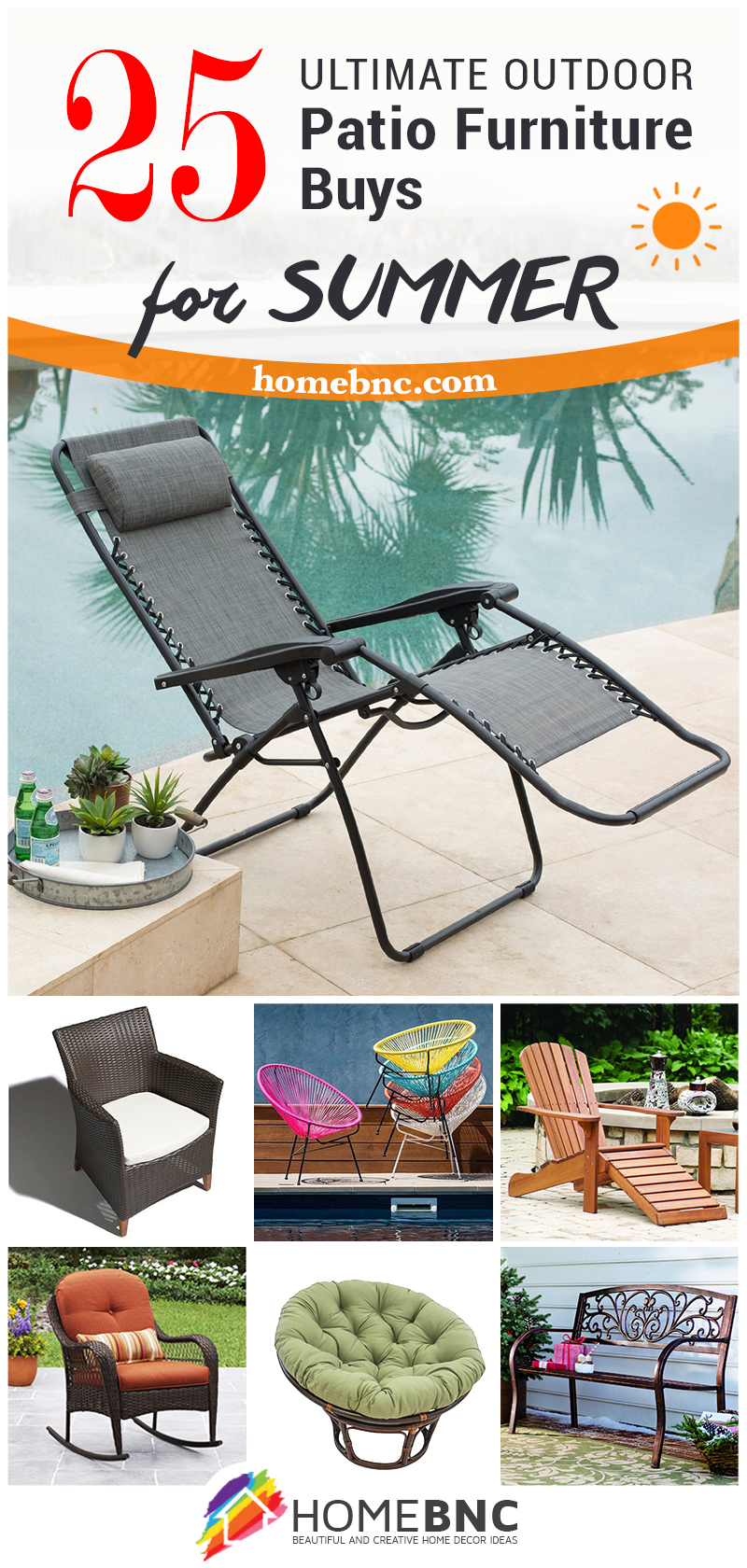 Patio Chairs: Under $100 | Under $200 | $200 and more
Patio Chairs Under $100
Zero Gravity Chair
Ever wanted to know what it feels like to be in zero gravity? This is the chair for you with its sporty and fun design you can relax with friends in style this summer with this patio chair available in a variety of options to fit your home decor. Not all patio chairs are created equal in terms of comfort and value; this zero gravity chair is affordable and durable enough to last through all your outdoor seasons. Perfectly suited for any outside space you'll want to set back and kick up your legs after a long day of yard work with this stylish and cozy patio chair. (Around $43.00)
Classic Papasan Chair
If overwhelming indulgence is on your summertime agenda this papasan is the perfect addition to your patio furniture collection. A true chameleon, this chair is perfectly suited with an eclectic style, a contemporary style, or anywhere in between. This chair is as comfortable as your favorite worn-in recliner and adds an unbelievable level of livability to your yard. Choose a colored cushion to complement your existing patio chairs or pair a neutral color with fun outdoor decorations to introduce this versatile chair to your outdoor space. (Cushion around $75.00)
Hatched Diamond Pattern Metal Stool
Looking for a multi-functional conversation starter? This eye-popping metal stool is practical but funky, both durable and fun. These metal stools are perfect resting spot for you or your favorite tropical cocktail because this stool doubles as an attractive end table. The modern hatched diamond pattern is a stylish look that is sure to catch the gaze of your outside visitors, particularly when placed under a garland of unique lighting or on top of an area rug in a neutral color. (Around $70.00)
Bronze Finish Blooming Garden Bench
If you prefer an elegant bench with a bit more flourish this is the perfect pick. Imagine sitting, sipping your morning tea seated nestled among your springtime flowers or taking a few moments to crack open a book under your favorite shade tree. With its scroll and vine design the romance and delight of a summer's day are captured every time you stop to smell the roses. The romance doesn't need to be confined to your garden or even to warm weather–the bronze finish also accents perfectly the reflected turquoise of a swimming pool or the golden glow of a roaring fire. (Around $99.00)
Outdoor Patio Storage Bench
Rustic charisma with a practical use; this charming, durable, and functional piece of patio furniture provides convenient storage with a comfy seating space. The bench style provides cozy seating for two adults and the ample storage chamber keeps your outdoor toys dry and ventilated. To complete the charm, try complementing this handy bench with a strand or two of globe café lights, or a couple of potted plants on either end. Whether filled with pool toys, tools, or grilling utensils you're sure to appreciate the double functions of this attractive all-weather patio bench. (Around $95.00)
Patio Chairs Under $200
Resin Storage Club Chair
To get the most out of your summer days in your yard you need outdoor furniture that can withstand all the unpredictability of the season. The benefit of patio chairs with storage is two-fold; you have extra space to store your outdoor items as well as protection from the elements. The neutral color and simple design of this comfortable chair will look handsome in any backyard either alone or paired with a trendy accent pillow. Lightweight and durable you can easily change your seating season by season to maximize the lifetime of the chair. (Around $108.00)
Wicker Adirondack Chair
To get the comfort of a classic Adirondack chair with the ease and durability of all-weather wicker this is the number one pick. Placed under a shade tree in your garden, a towering palm, or poolside this choice lends an understated elegance to any of your outdoor spots. Easy to maintain without losing any of the stylistic elements that make Adirondack chairs so inviting. Combine this look with other outdoor patio furniture, such as a low coffee table, to create a charming and welcoming entertaining space. (Around $106.00)
Cedar Rocking Chair
Perfect for a cabin in the woods or your rustic city retreat, this cedar rocking chair oozes country charm. The handcrafted charisma and look along with the contoured seat pair to transport your backyard into a serene summer retreat. Resistant to weather and insects this rocking chair utilizes a renewable byproduct of log homes in its construction. Easy to assemble, the Adirondack-style adds comfort and elegance to this classic rocker. Picture perfect in any outside space you'll be sure to enjoy many laid-back evenings in this timeless patio chair. (Around $139.00)
Deck Lounge Chair
For the ultimate in outdoor patio furniture luxury this eco-friendly acacia hardwood lounge chair adds classic style to your yard. Fitted with a stylish cushion this beautiful chair can blend seamlessly with your existing home decor, or you can leave the gorgeous and durable slats uncovered to showcase the natural elegance of the wood. This lounge invites you to stretch out and relax in the sun, cool drink in hand, on a warm summer day, and as an added bonus, the leg rest folds under for more casual seating. (Around $157.00)
Resin Wicker and Eucalyptus Rocking Chair
If you're looking for handsome furniture with all-weather durability (summer thunderstorms can be brutal) this rocker delivers. With versatility to fit in with your home design and durability to withstand the elements this chair is a must for any outdoor space exposed to hard weather. Entertaining your friends and family conveniently and comfortably outdoors this summer is a breeze with these welcoming and attractive resin wicker and eucalyptus chairs. Plus, the neutral design provides ultimate relaxation without distracting from any of your other favorite outdoor features. (Around $180.00)
Copper Finish Cast Aluminum Bench
To create a memorable seating nook in your yard think more than just chairs and consider all of the other furniture options at your disposal. This copper finish bench can be nestled under a tree or placed alongside a fire pit to get that cozy, cuddly, lovers-in-a-park feel. A welcoming bench begs your family and guests to sit closely to one another while it can also convey a more casual and conversational mood when paired with other patio furniture. The elegant yet understated design complements any backyard or entryway with a rustic grace and charm. (Around 148.00)
Single Rocker with Star
This patio chair is a literal rock star; a solid pine and fir rocker, the rich finish and star cut-out combine to create a unique charm for all of your backyard relaxation needs. You can pair this easily with your existing patio furniture with a wrought iron table decoration or even all on its own—this piece is a statement in and of itself. In colder weather you can cozy up with a nice flannel blanket and a cup of cocoa or in warmer weather sip some ice-cold lemonade in total comfort and style. (Around $131.00)
Outdoor Wicker Chairs
Backyard grilling is one of the best parts of summer, and to complete your outdoor dining table these wicker chairs are a perfect partner. The neutral wicker color can be jazzed up with a colorful cushion or left as they are to provide a seamless and subtle elegance. Perfect for when you prefer to focus on what's on the grill rather than where you will sit when you eat it, these patio chairs are durable, easy to maintain, and arrive pre-assembled. Another option is to pair these chairs with other outdoor patio furniture to create a conversation area or cozy reading nook. (Around $158.00 for two)
Outdoor Patio Glider Bench Swing
No outdoor garden would be complete without a cozy bench swing. This sturdy glider bench swing provides a comfortable spot to chat, read, or just enjoy the glory of summertime. Its neutral color allows you to seamlessly blend this patio furniture into your existing outdoor theme, or you can place it in a quiet garden nook and let nature do the decorating. Add a couple of accent pillows to match an outdoor area rug and you can completely change the look and feel of your favorite outside space. (Around $140.00)
All-Weather Love Seat with Cushions
To create a refined and contemporary feel with your outdoor furniture the implied luxury of a love seat will add charm and grace to your patio or garden. Complete with comfortable cushions the neutral brown color complements any outdoor environment. Pair with other outdoor patio furniture such as a low coffee table or a set of end tables and you will have a welcoming place to entertain guests all summer long. Add to the mix some unique lighting like whimsical lanterns or string lights and you may not even be able to get your guests to leave. (Around $130.00)
All-Weather Wicker Rocker
To make the most out of the work you put into your outdoor space you want garden furniture that can last season after season and year after year. This all-weather wicker rocker is perfect to enjoy all the seasons in your backyard. Made of durable wicker and paired with a mildew and stain resistant cushion you can take in the changing of the seasons in comfort and style. Warm colors add a welcoming and relaxing charm to the luxury of this gentle rocker. (Around $160.00)
Patio Chairs Above $200
Mayan Hammock Lounge Chair
For a more unique look try this funky Mayan-inspired hammock lounge chair. Crafted to blend comfort and style this will the piece de resistance of any yard. Not your average patio chair the gorgeous turquoise blue of this lounge adds a bright and lively mood while maintaining an inviting level of comfort. This blend of whimsy, comfort, and style looks fantastic poolside or under a large outdoor umbrella. The time-honored tradition of hammock weaving is combined with modern design to craft a truly unique, yet durable, patio chair. (Around $318.00)
Eucalyptus Adirondack Chair
There's no better way to relax and enjoy the result of your gardening efforts than a classic Adirondack chair. This beautiful eucalyptus option has a built in ottoman so putting your feet up after a long day enjoying the outdoors is a breeze. The natural wood color is a complement to any home design on its own, or placed next to a low table to relax in your yard all day long with your snacks and beverage close at hand. You could also try nestling it next to a fire pit for cozy relaxation well into the evening hours. (Around $239.00)
Outdoor Recliner with Accent Pillow
A perfect way to bring the indoors outdoors, this recliner is comfort through and through. What better way to spend the long summer days than outside while still feeling like you're inside. Place this patio chair in a shady spot and you can relax in unsurpassed luxury all day long. An included accent pillow helps to make this a stand-alone piece, but if you prefer just replace the pillow with another one matching your home decor. After curling up with a good read on this beauty you will never look at garden furniture the same way again. (Around $320.00)
Stacking Dining Chair
For a truly one-of-a-kind patio chair this injection-mold stacking dining chair will make your outdoor patio furniture the thing of legend. This is the option for when the average chair just won't do and you want your outdoor space to make a bold statement. The convenient design stacks for easy storage and the high quality materials make this among the most durable of patio chairs. Try pairing these chairs with other neutral furniture such as a dining table or low coffee table and accessories in the same color palate as the bold orange chairs for a striking but not overwhelming atmosphere. (Around $232.00)
Swivel/Rocking Arm Chair
Enjoy your outdoor space to its fullest with this versatile swivel/rocking arm chair. Placed at a dining table the swivel function is convenient for the master griller who is always at the ready, and the rocker feature allows guests to enjoy the smells, sounds, and sights of your summer garden. Pair with other furniture around a fire pit or water feature and you can create a serene spot for friends and family to relax and converse. With a coordinating cushion these patio chairs are easy to tie into you existing home design. (Around $223.00)
Other Patio Chair Ideas
All-Weather Outdoor Armchair
Care to bring the sleek contemporary feel of your home decor into your yard? This luxuriously comfortable cushioned armchair almost makes you feel like you're in your favorite recliner. Alone in a peaceful spot or paired with other patio chairs and a low table this provides the ultimate in outdoor comfort. With this style you can enjoy the comfort and sophistication of your indoor furniture with the joy of being outdoors. Try using a colorful cushion if you would like to liven up the palate to coordinate with other outdoor patio furniture. This chair also has the option to use all pieces or simply what you need so you can combine the luxury of this armchair with a more casual style.
Swivel Rocker Arm Chair
A true find, these swivel rockers provide complete dining comfort. Perfect on your deck, porch, or patio you'll want to invite family and friends over all summer to enjoy outside eating with these at the table. A cast-aluminum frame adds durable yet lightweight style for comfort and convenience. These chairs can be used alone or in coordination with other garden furniture for a welcoming entertaining space to share with your loved ones in the long evening hours of summertime. Easy to clean and easy to enjoy these swivel rockers will be sure to keep your guests relaxed and content.
Wicker Bistro Chair
Another handsome all-weather option is this sleek and stylish wicker bistro chair. Easy to maintain and fully-assembled you can pair this chair on an eye-popping outdoor area rug to give your yard a panache that can change with the seasons. A lovely floral patterned rug in spring or a warm plaid in winter these seats will blend seamlessly with any outdoor or home decor. The comfort of a 100-percent cotton cushion begs you to curl up with a good book or your favorite glass of red wine to unwind and enjoy the outdoors in complete relaxation.
Chaise Lounge with Fabric
To spice up your pool or patio deck with a sun lounger, this chaise lounge with fabric is a perfect complement to your existing outdoor furniture. Soak up some rays or dive into a good book while relaxing on this handsome and comfortable chaise lounge. The minimalist style can pair with any pre-existing furniture or you can build around it and instead jazz up the space with a funky table, an understated lantern, or festive lighting. With multiple reclining positions for maximum comfort this chaise oozes indulgence and class and is perfect to make the most of those sunny days.
Ultimate Summer Outdoor Patio Furniture Buys
The days are getting longer and longer and so too is the urge to spend those extra hours outside enjoying nature with friends and family. There's nothing better in summertime than reaping the fruits of summer on the grill and eating a fresh homemade meal outside in the waning hours of a summer evening. With this handy guide to the best chairs to buy for your patio before summer you can take the guesswork out of outside home design and find a way to easily incorporate a new piece of outdoor furniture to your existing backyard set-up.
So whether you're looking to completely makeover your favorite outside space or simply looking to spruce up the backyard with a few pieces of new outdoor furniture, the options and possibilities are endless. A simple piece of garden furniture with the right accessories can completely transform the feel of your outdoor haven and provide you with endless hours of enjoyment with minimal effort. From chairs to benches, chaises to Adirondacks, wicker to eucalyptus and everything in between, the world of outdoor furniture holds a seemingly infinite offering of moods and atmospheres so you can create your very own outdoor oasis.
More great patio chair deals on Amazon